Here it is: the Ben Sopra S13 380SX. Based on unique pageviews, this is the winner of our Feature Car of the year Award 2013. Surprised? We are. I know you're thinking this is an obvious winner, right? R35 VQ motor, S-chassis base, iconic Japanese tuner and cutting edge bodykit, designed for 200mph plus top speed runs. When I put it like that, it's a natural, right? Maybe but what's amazed us is the sheer, relentless force with which this one feature keeps on being so popular and I'll mention just how much later on.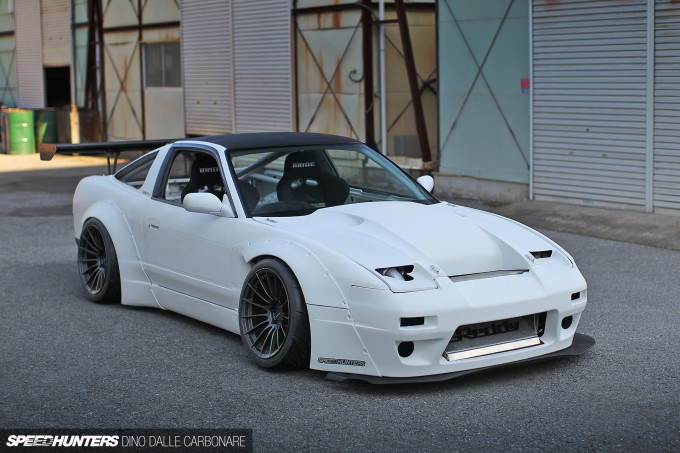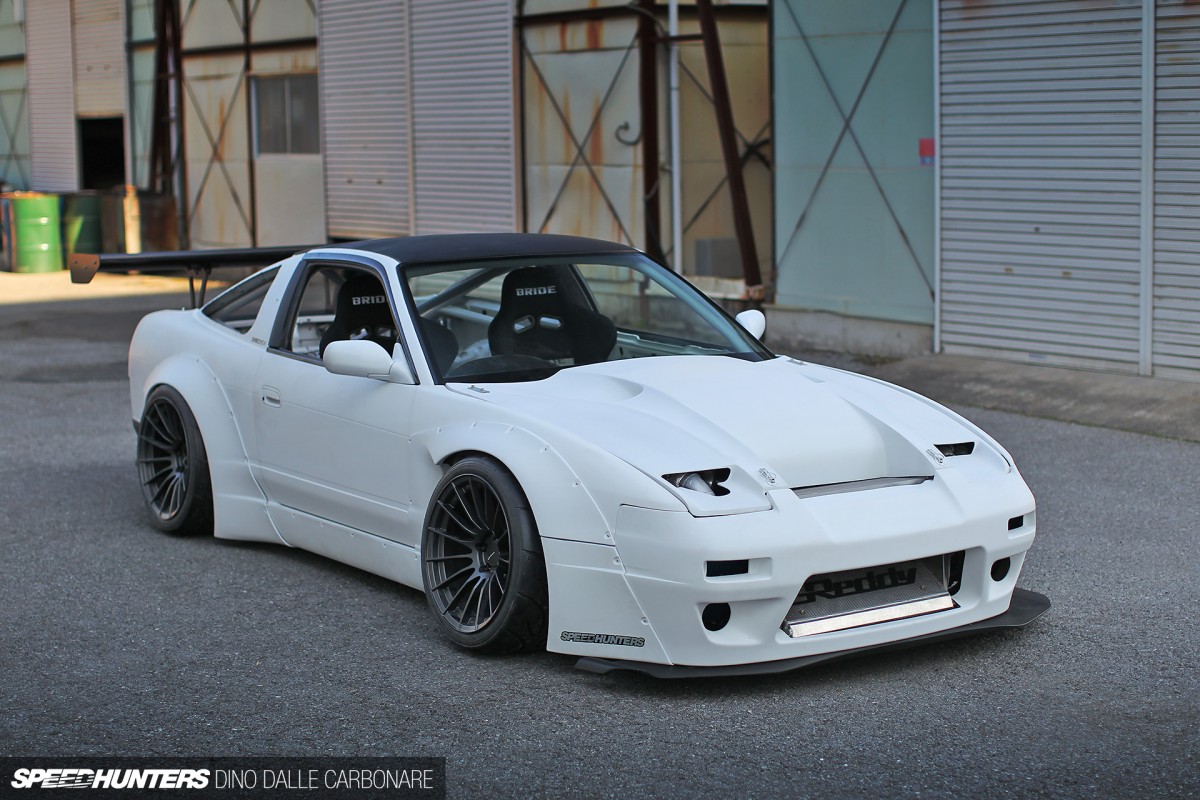 In present company, this achievement is monumental and really makes an interesting case for us here in the Speedhunters cave. 2013 has been an incredible year for feature cars. I know everybody who takes a look back through their archives says that but more than most, we can justifiably say this has been a year like no other before it. I cannot think of another automotive outlet that covers vintage hot rods and F1, drift missiles, classic brutes, street cars and wild competition machines like we do. Just flicking through my personal archives brought up feature cars with outrageous power figures, incredible attention to detail and a ground-breaking approach.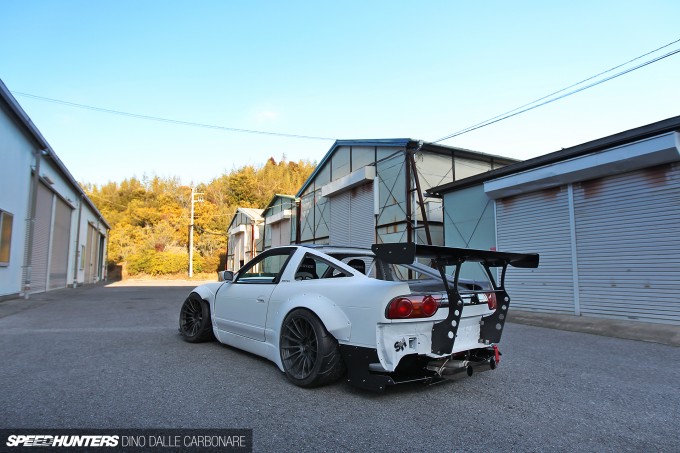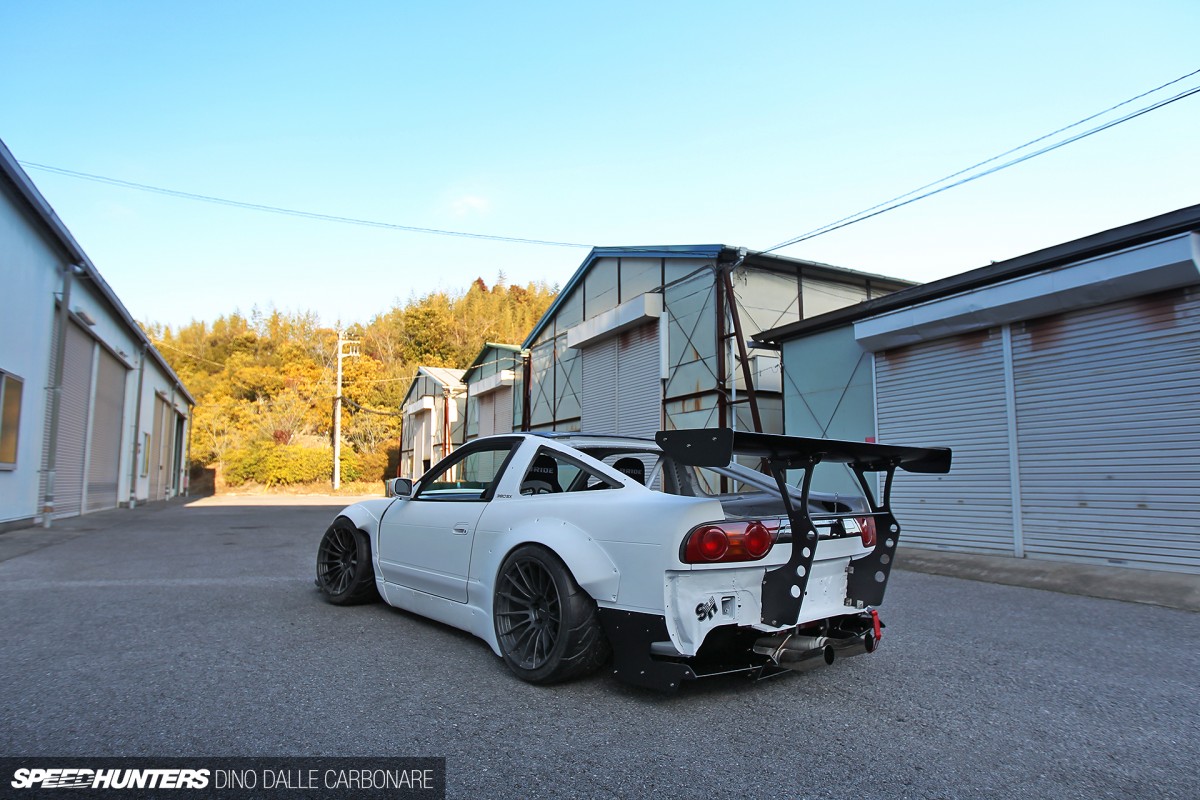 So why did the Ben Sopra S13 eat the competition for breakfast and once fuelled up, stride so far ahead? The first thing you get to interact with are the looks; you recognise the popular base model but then the screw-on arches and purposeful rear wing sink in. Devoid of graphics, the shape is unfinished, which leaves you to fill in the blanks and let your imagination loose. BenSopra and TRA Kyoto are two big names that garner attention when mentioned, but they've created a look that's faintly reminiscent of so many race cars, yet fresh at the same time. The fact it was shot by Dino and Sean on tarmac owned by Trust just adds to the recipe. Neither of the guys would say the photography was particularly amazing as it was bitterly cold and time was very much limited, but the bland background adds to the intent even more for me.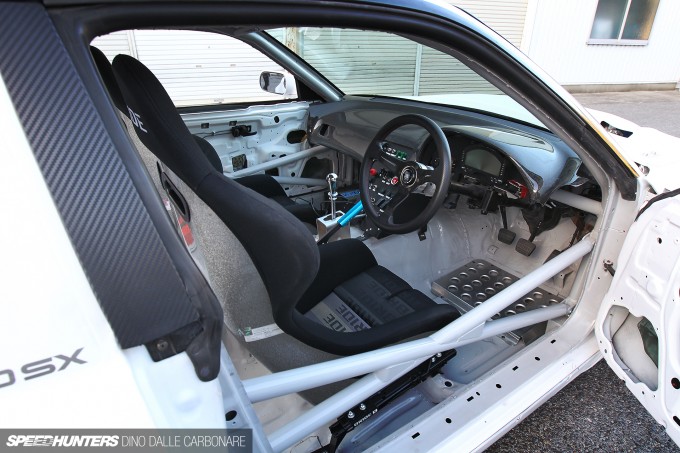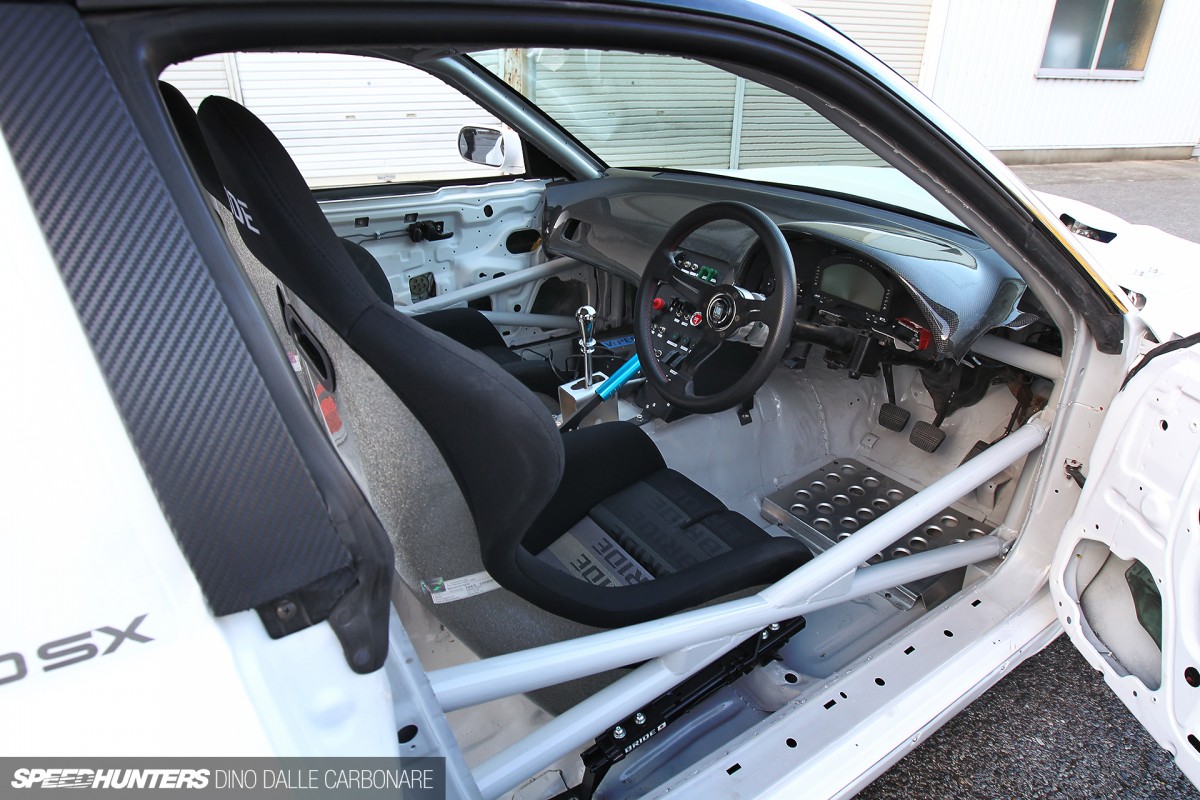 Inside it's pure fun and function. This view is begging me to get in and abuse everything available. Sat on the other side of the world, Dino's shot puts us in the position of power. Can we get in? Can we? What about now? A hint of iconic Bride seat material and the roll cage gets me giddy. Add the carbon dash top and the hi-tech AIM digital dash display and it all becomes so removed from the standard car you begin to realise just how far the build had travelled at this time. It's all full of potential and dreams – anything is possible!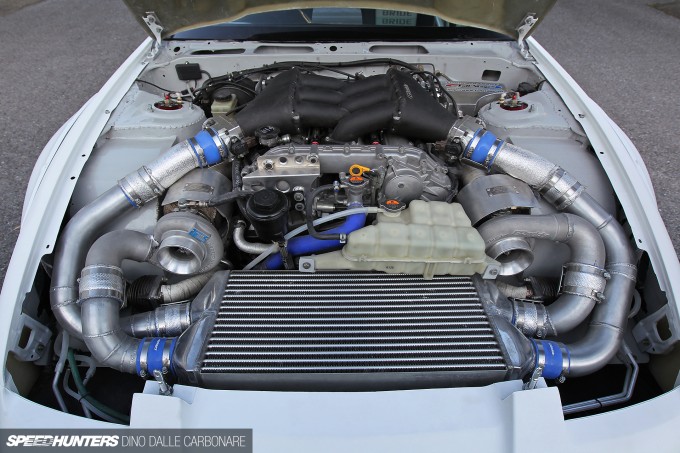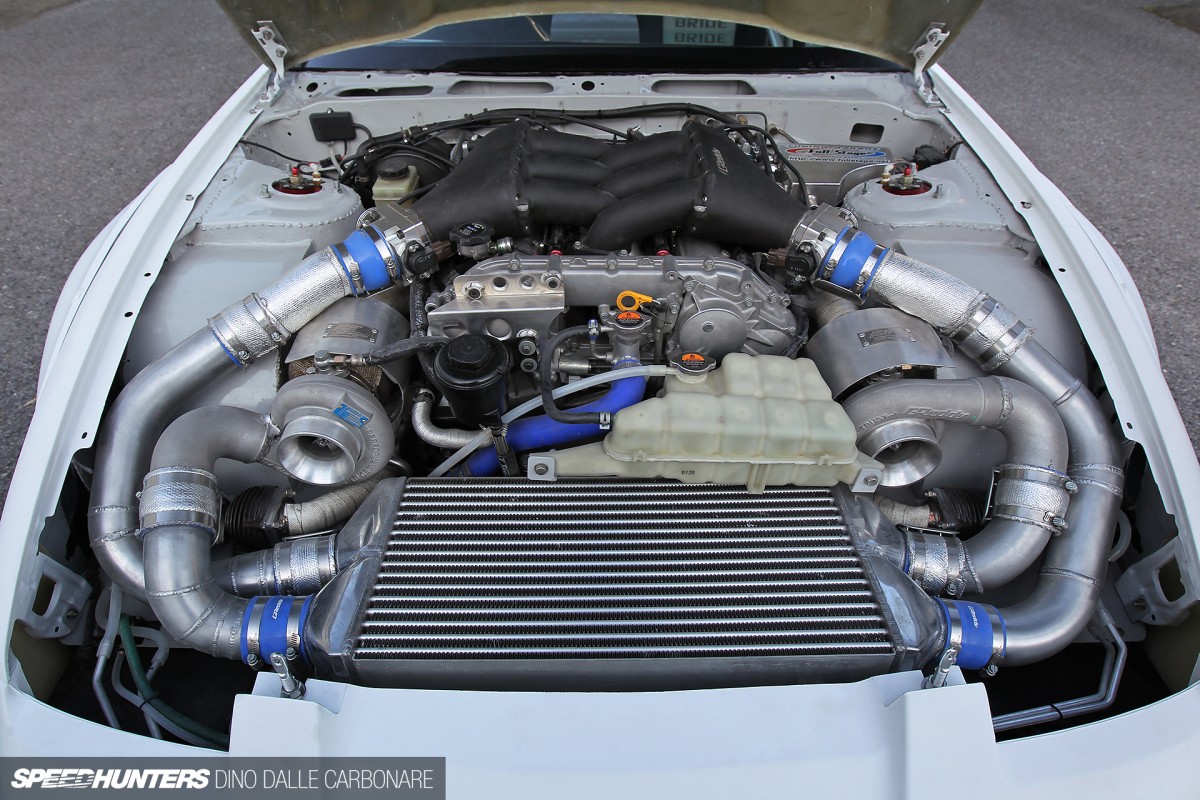 Or maybe this is the reason? The ground breaking VR38 V6 twin turbo conversion, straight out of an ex-Blitz R35 GT-R. That's a world first and a frankly insane swap right there. Who would tear such a motor out of its home and stroke it to 4 litres? BenSopra that's who. I think as a talking point, this will have pushed the story around the world on an hourly basis, because if you'd tried to track this article globally it would have taken an army with an airforce of private jets on standby. It hasn't powered the S13 at Nardò yet, but hopefully one day we'll find out if it's capable of what the team think it is. And it's not just me that thinks the turbos have arms with interlinking hands holding down the top of the engine? Right?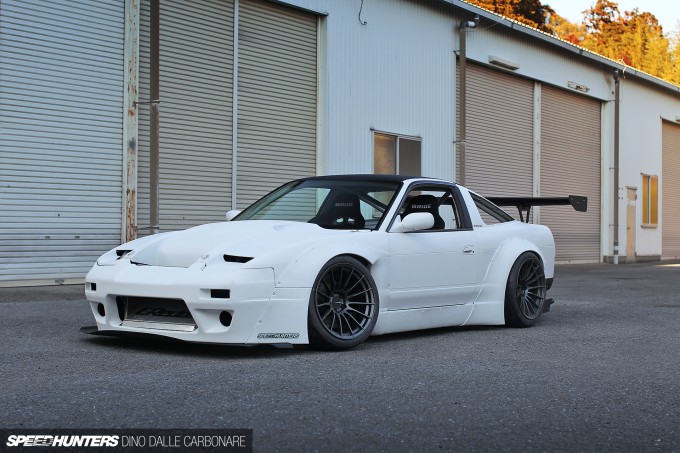 As to the scale of popularity that this story has that I alluded to… Currently the original, unaltered article that is somewhere nestled deep within our archives, over 1000 stories back from the front page is somehow managing to still grab attention. In the last month, nearly three thousand new people have read it. An incredible figure and just to give you another idea of the scale, it's total viewing figures to date (which would be inaccurate within hours of this piece being written) are over double the number two car slot.
Here's what Sean has to say about it.
"I had a pretty good idea before I saw the 380sx that it was going to be a very popular build, albeit a controversial one. When I first saw it pulling into the parking lot at GReddy atop the vehicle transporter that freezing morning in January I realized it was going to make the Internet explode. Only moments after it rolled off the truck I quickly posted a photo to the Speedhunters Instagram feed where mania ensued."
Conclusion: that one moment in the Speedhunters 2013 year that things went crazy without us realising, which means we are as much a part of this wild ride as you are. Who knows what's coming next? We can guess, plan and track but the potential? Limitless. Yes the story is nearly a year old, but look at the results and you'll see content from far more recently shot features floating around the top ten. No, for me this is a stand-out example of right time, right place, right car, right team.
This is Speedhunting. Thank you Dino and thank you Sean.
The Ben Sopra 380SX produced by Dino Dalle Carbonare and Sean Klingelhoefer