Doubling up
All the best things come as a pair – from legs to marriage, the fundamentals of life are made better, stronger and longer lasting by the duality of life. I know a few businesses which work better than others because of this too: Roger Clark Motorsport in the UK is most definitely one of them. In case the name is not familiar to you, here's a bit of history to start off this incredible story and build. Roger was quite possibly one of the greatest rally drivers of all time. His list of works drives and achievements that spanned four decades justify an article on their own. He seemed to bond best with Ford and is arguably part of the reason why the MkI and II Escort are so popular with enthusiasts nowadays. Among those victories, Roger Albert Clark's win on the 1972 RAC Rally of Great Britain is famously touted as being the one that beat the Scandinavians at their own game. Now here in 2013, over forty years later I'm wondering if his sons Matt and Olly Clark have just beaten the Japanese at their own game. Is this the world's ultimate Impreza?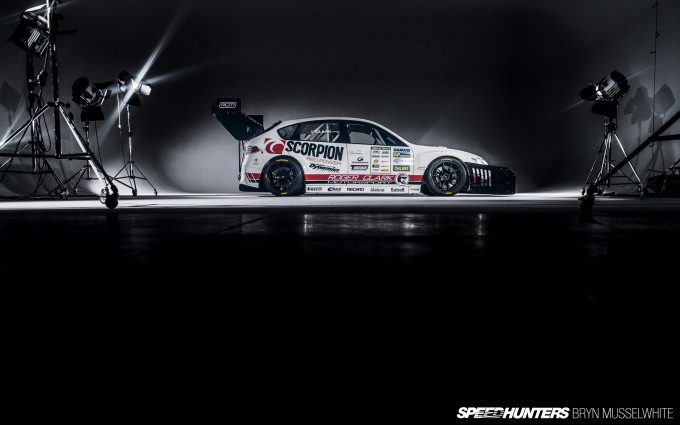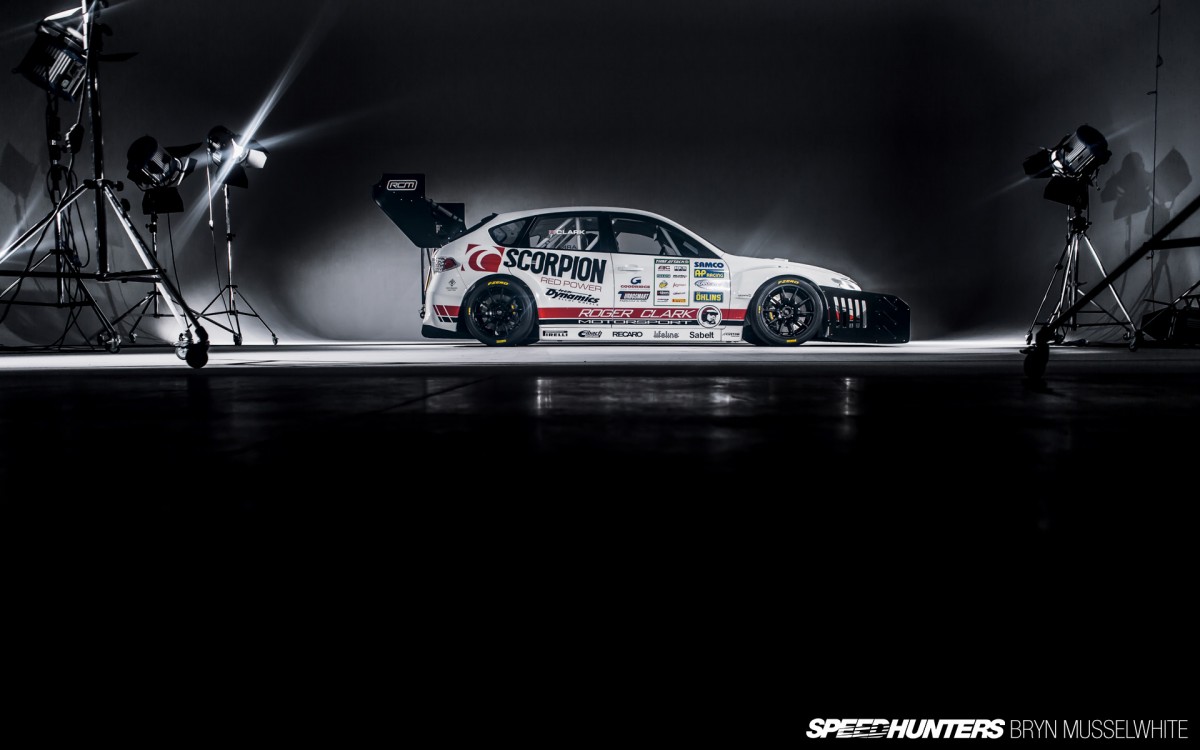 It's a bold and controversial claim. It's also one I fully intend to explore, because the more I think about it, the more I'm convinced it is. For starters it's been built predominantly for the Pro Class of Time Attack, so it's pretty much free rein to do whatever you want. No regulatory restraints. To give you an indication of the level of build we're looking at here, RCM started with the last ever Prodrive prepared, bare metal WRX shell. Dave Richards is an old family friend… but we're getting ahead of ourselves just briefly.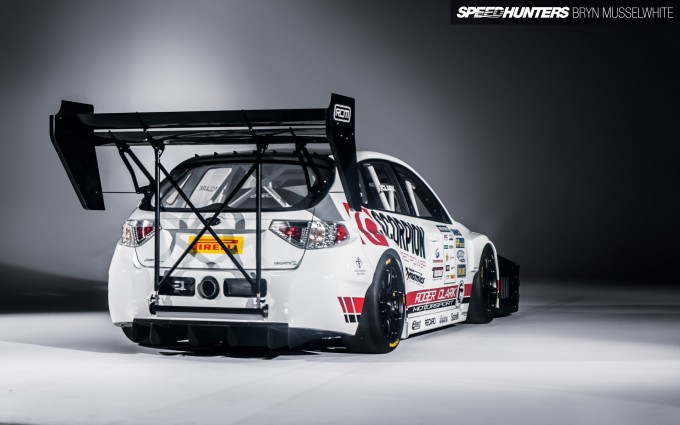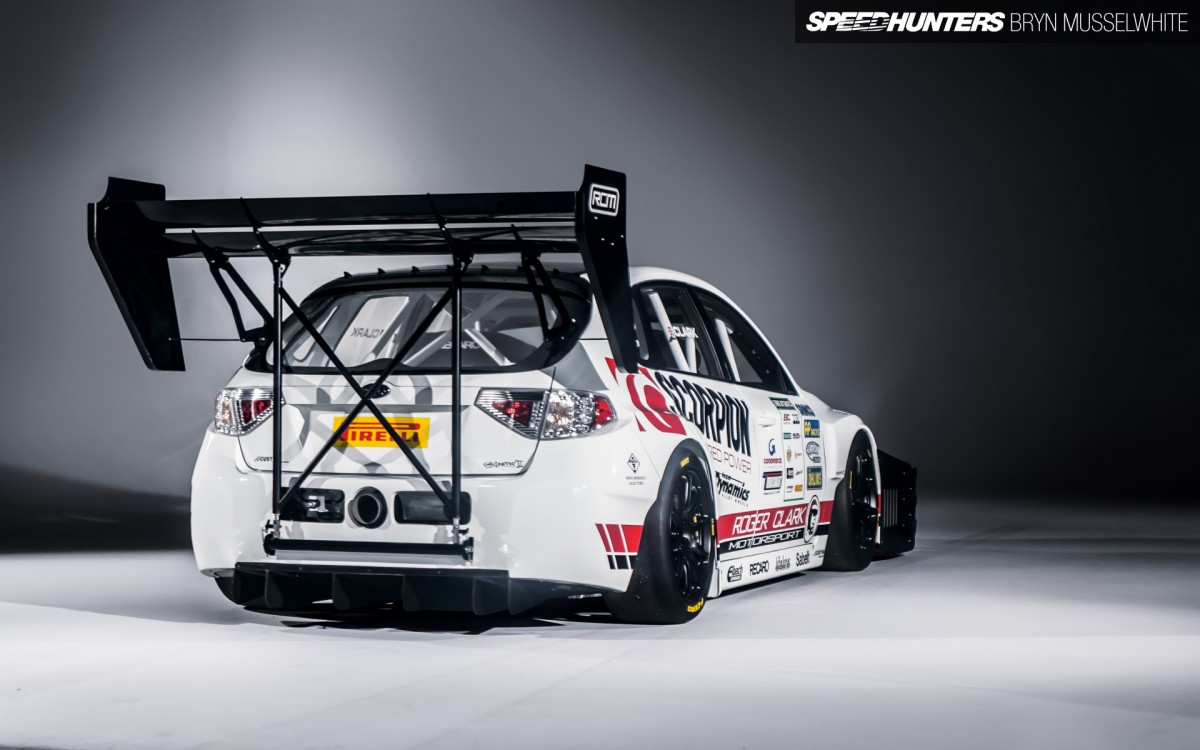 What a lot of people don't know is that Roger Clark started rallying with Subaru in the early '90s, initially in the Legacy. So the link was forged then and since Roger passed away in 1998, Matt and Olly have continued to push, develop and compete in a number of different areas. It's not all about Subaru for RCM, as they can and do turn their skills to many other makes but the original Gobstopper, a GC8 Impreza, has become the stuff of folklore after its incredible success, having debuted in 2005.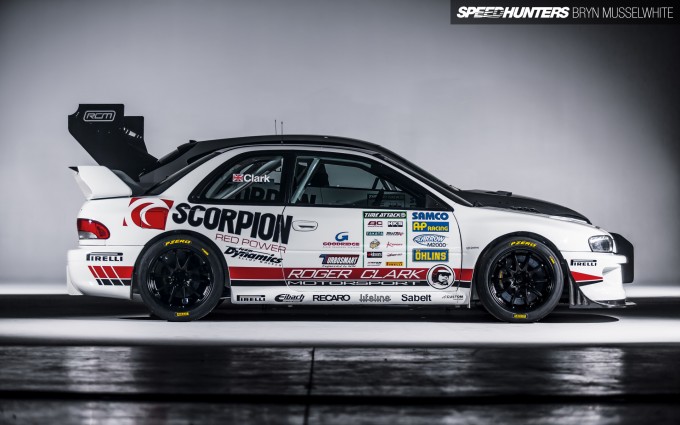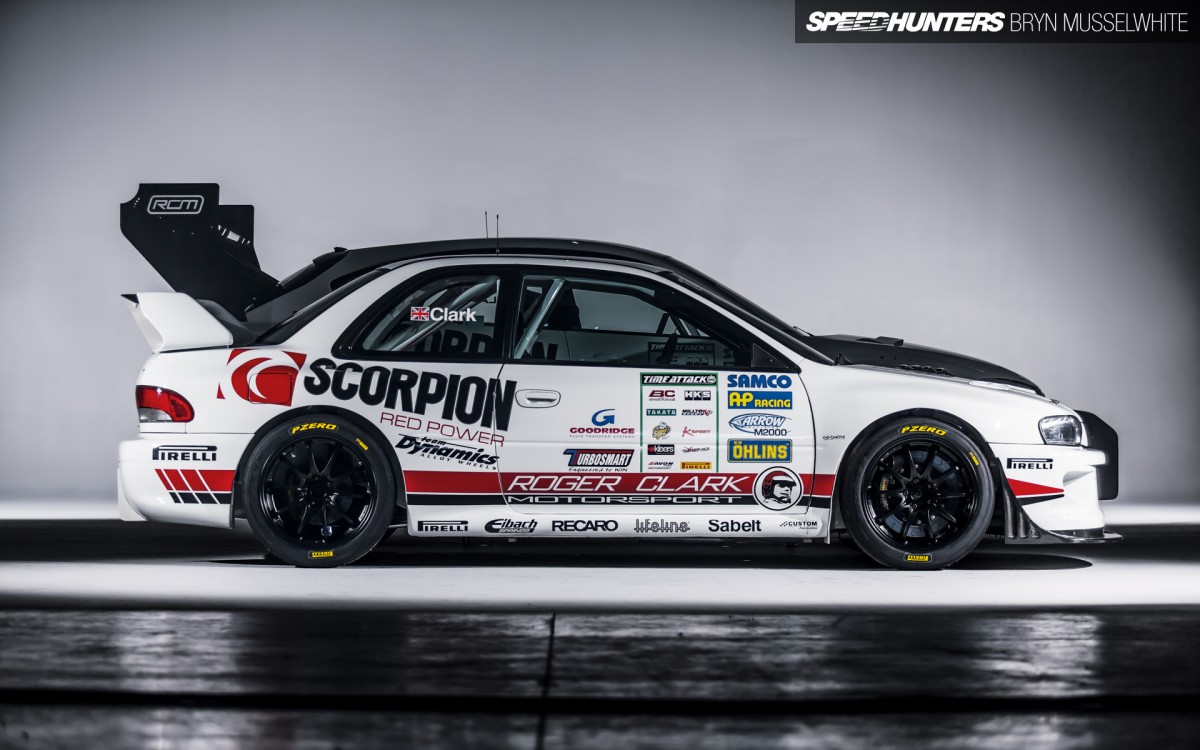 I can remember first seeing it at the Ten of the Best at Elvington in the north of the UK, where the top European tuners and privateers would compete against each other across a handling track, quarter mile and top speed event. The overall capabilities of this Impreza were hugely impressive, but to look at it now is to look at a mobile phone from the same time. It almost looks analogue, subtle even, yet this car took the team to three overall Ten of the Best victories and Tuner of the Year titles. Toy manufacturer Corgi even replicated it in small scale for the global market. I'll whisper so it doesn't hear me… but it's a bit of an icon. If you need proof, check out this video. Lurking in the background is the reason why we're here today though.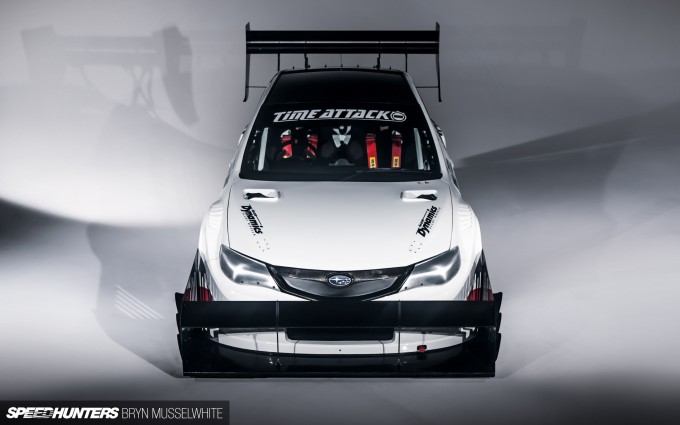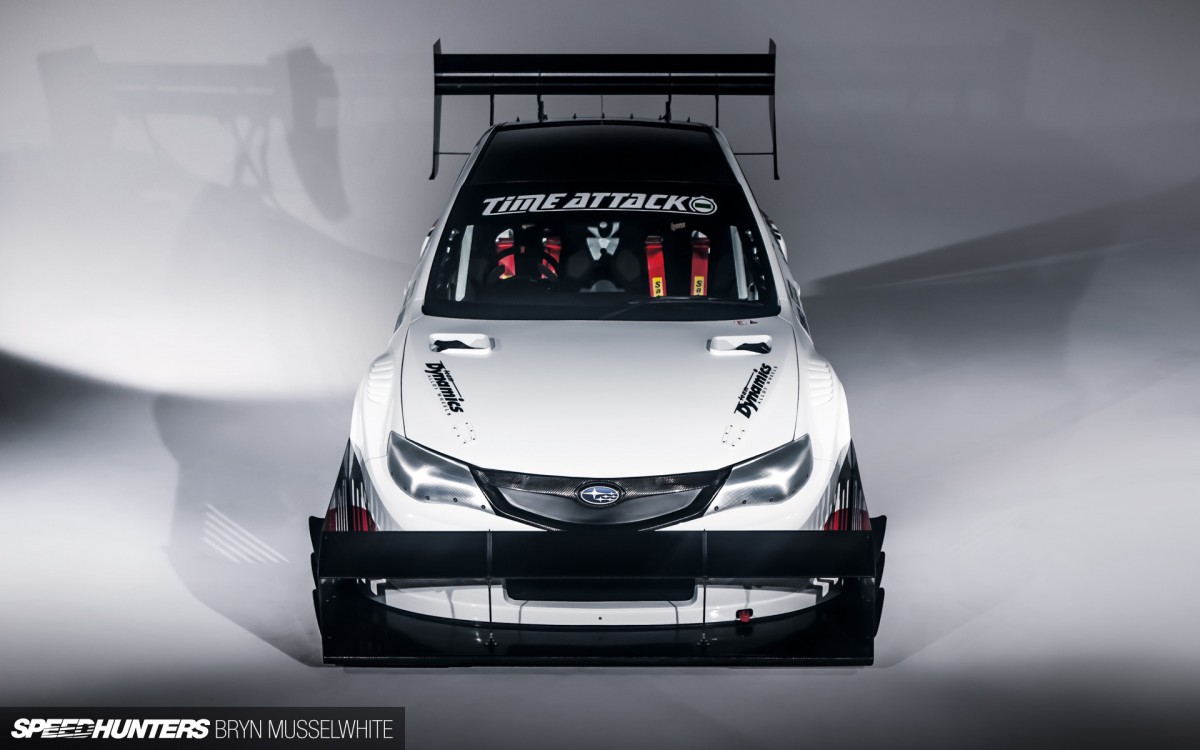 You have to move on, innovate and show the world what you can do in the motorsport arena. Literally resting on their laurels wasn't an option. Olly and Matt have been on the cutting edge for a long time and to keep a race car for eight years is almost unheard of. Although it makes more sense when you realise that Gobstopper 2 (GS2) has been in the works for at least the last three years. So essentially Gobstopper 1 (GS1) only did a few seasons before the team started to formulate a new plan, because GS1 was never going to be redeveloped or rehashed. Matt said it would have been sacrilege to do so after everything it's done for RCM, but to follow such success?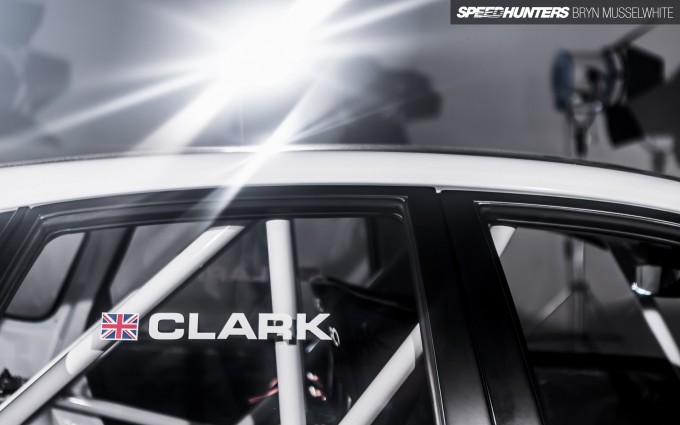 Matt, who's affectionately known as the 'Mad Professor' by brother Olly, must have known the task he was setting himself. Like I said at the start the pair form a tight team, with a small crew at RCM filling other vital roles. Matt's fastidious attention to detail is one thing, but what would you do given a free rein? I mean really? Where do you start? Or more appropriately where do you go first or then finish? That is after you've collected your new WRC shell from Prodrive…
The best of the best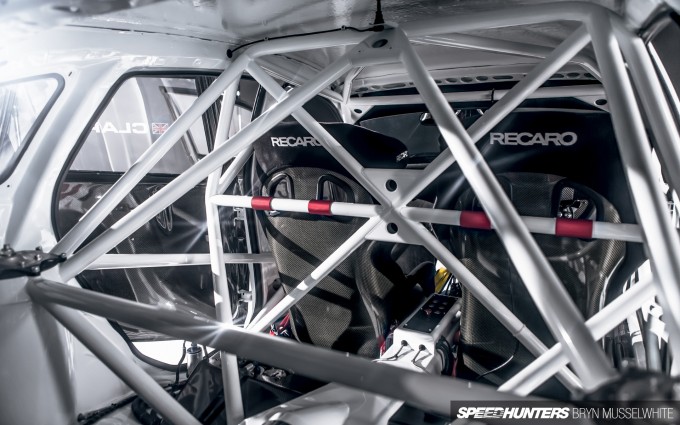 The new build had to reflect the latest thinking in technology, whilst also serving as an immaculate showcase for RCM. Whereas GS1 had evolved from a competition prepared GC8, for GS2 Matt wanted to create a cage that formed the skeleton of the racer, with the bodywork almost being the clothes rather than the strength.  That would give him the ability to create everything he needed in one package, rather than adapting what was presented to him.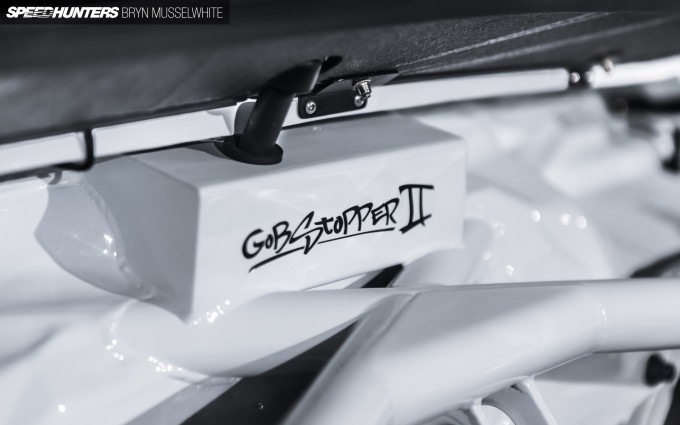 Given that we're talking about a naked shell intended for WRC use, it's now something higher again. Andy and Simon at Custom Fabrication have filled it with T45, both having a WRC background too, but they've also added suspension pick-up points and other features like air jack tubes, front wheel tubs and additional strengthening to Matt's own design.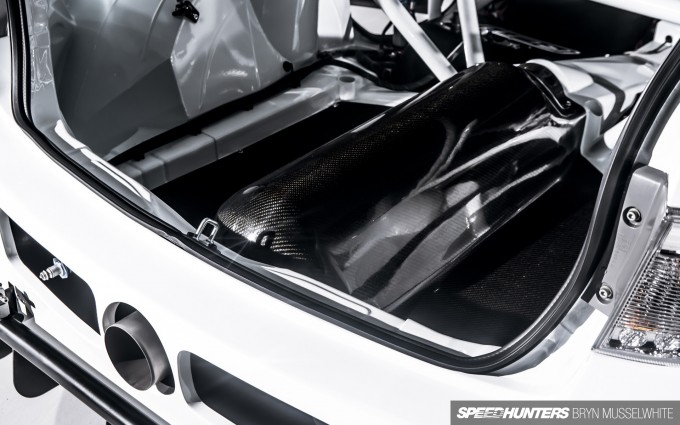 With the shell back at RCM HQ in central England, the build got started. First up was the panel fitment. Again starting with WRC spec kit, Matt set about modifying everything to his own specification. Vents were added, profiles changed and the whole lot smoothed off in filler. The track was then set at the lowest and widest point for a WRC car, then all the panels were sent off to F1 carbon fibre manufacturers KS Composites. Because yes friends, the roof, wings, doors, bonnet and bumpers are all high-end, pre-preg carbon.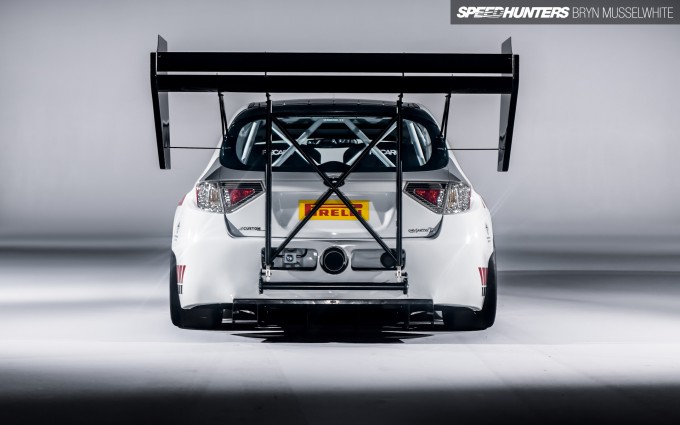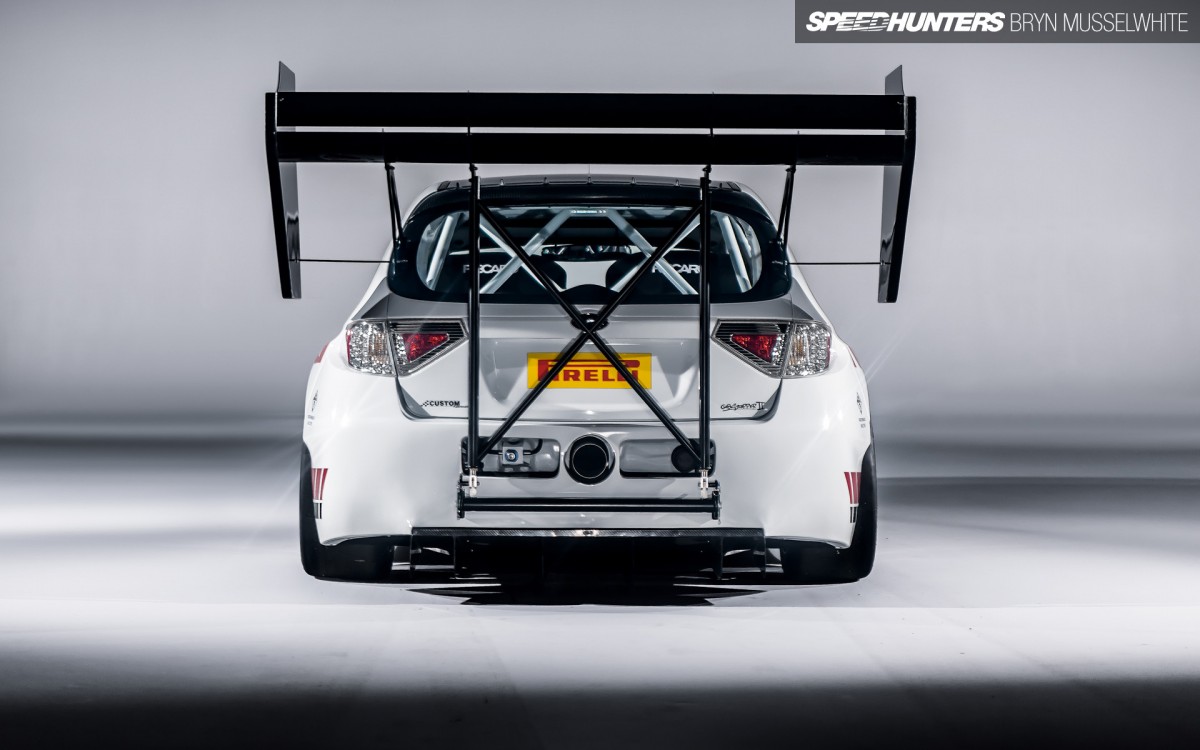 Okay, okay… it's aero time. It's quite possibly some of the wildest air-forming equipment we've seen this side of Pikes Peak and initially wasn't part of the game plan. Matt refers to this part of the build as future proofing, but having looked further afield at the Global Time Attack arena and wanting only the most effective tools for the job, this is what the team created. Don't think this is some flight of fancy either – you've read the story so far, so you know how deep the levels of prep are we're talking about. It's all been tested in the wind tunnels at MIRA in the UK. That's where manufacturers go to test new vehicles…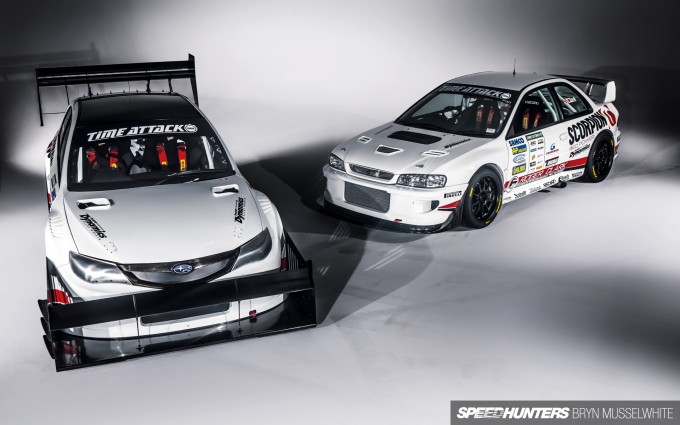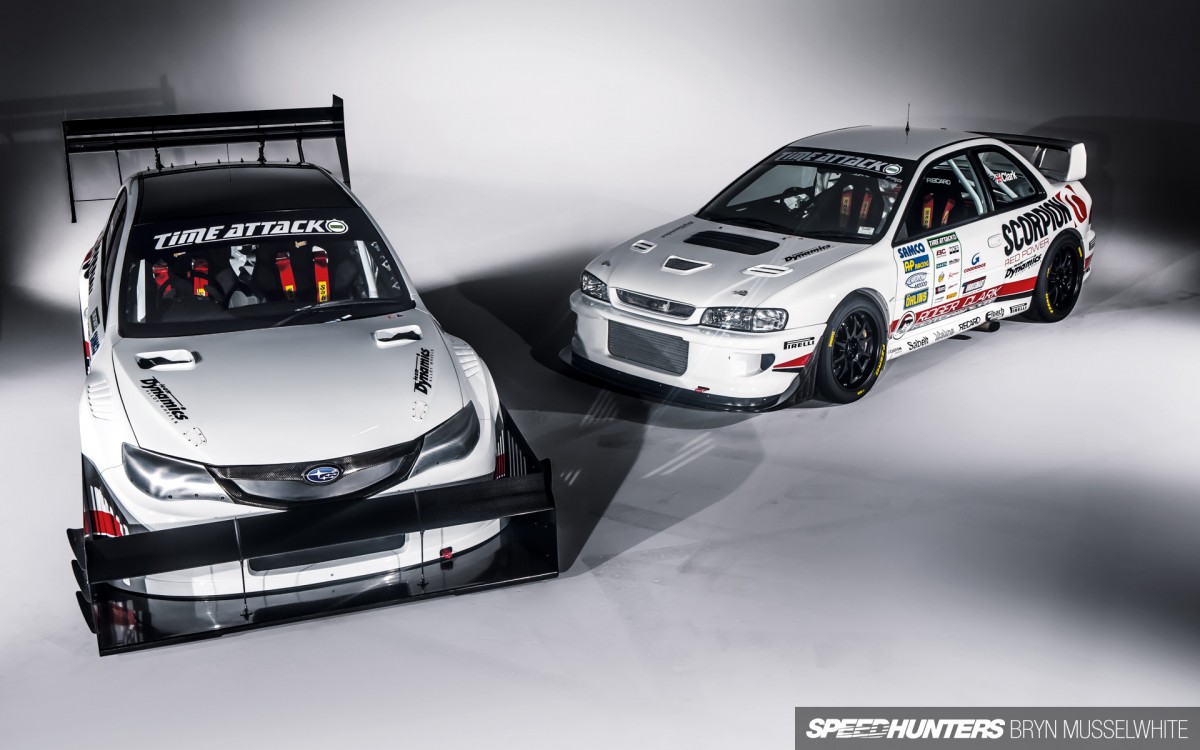 This one picture says it all for me, about just how far the team have pushed and travelled already with GS2. Forget your tired clichés about snow ploughs or speed humps – what this Impreza can do is so far removed from what most of us understand about tuned car capabilities it's untrue. We'll be taking a deeper look at the build process in a follow-up post later on in the year, when we explore the design and aero elements deeper. Suffice it to say, GS2 was completely laser scanned and rendered in 3D, then computer fluid dynamic simulations were run to perfect the size, design and position of the aero. That was then created in carbon by KS Composites and the testing at MIRA could happen…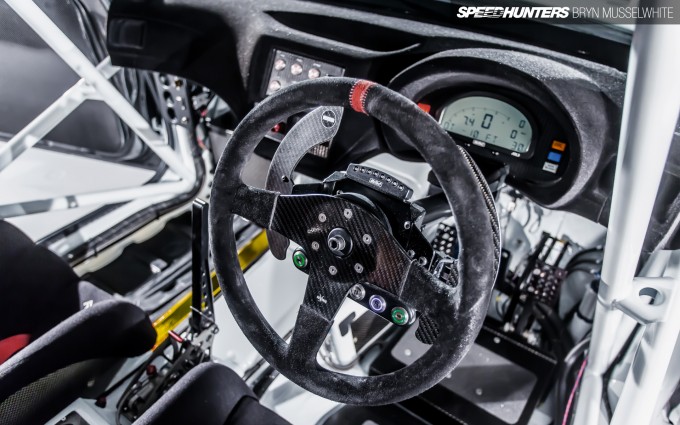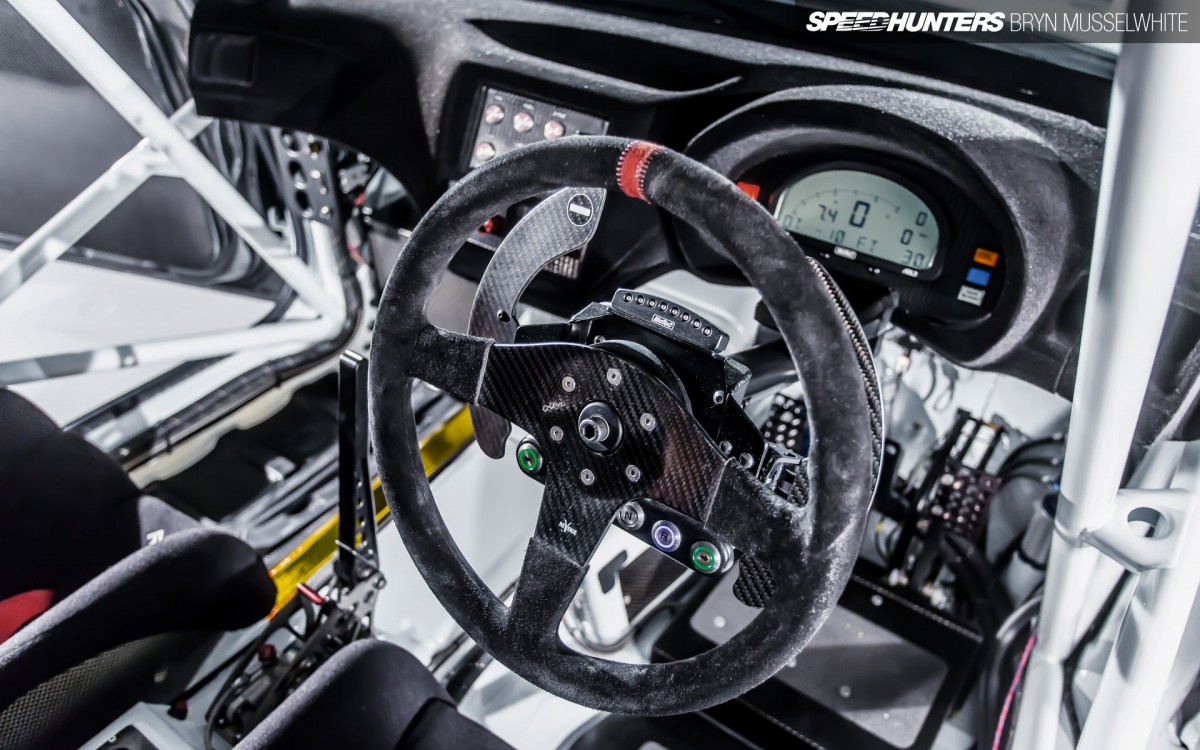 For now though I'm reveling in the details: the Reverie carbon fibre steering wheel, the Zytek paddle shift connected to a six speed box by an RCM sequential mechanism and that wonderful button panel just south of Olly's hands. Yes you may feel I'm getting carried away with the praise and compliments… but why not? Take a real good look and understand this has all been put together by a small team devoid of manufacturer backing. Yes the Clark brothers come from the right background, but if anything, that adds pressure. Again I'll reiterate that the GS2 hasn't been built to conform to anything other than the wonderful world of Time Attack, where we arguably see some of the most impressive builds in the world. So you know what? I'm going to carry on heaping that praise because it's due.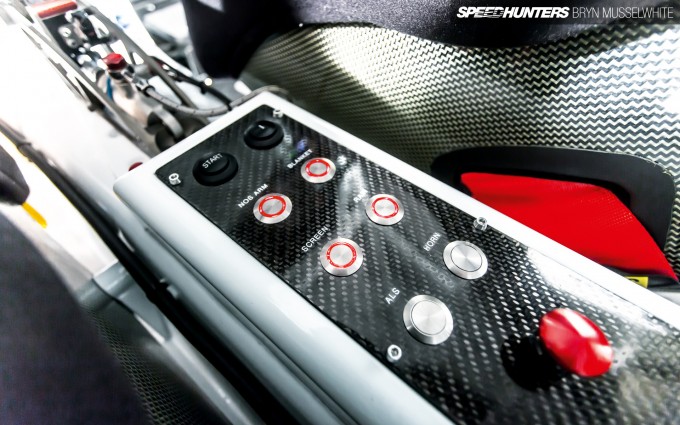 Focusing on the central control panel, the illuminated switchgear winks at me as I arm the ignition to bring the dash to life. The ECU is mounted just behind the driver's seat in a fan cooled and secure environment, accessible through the cage from the rear driver's side door.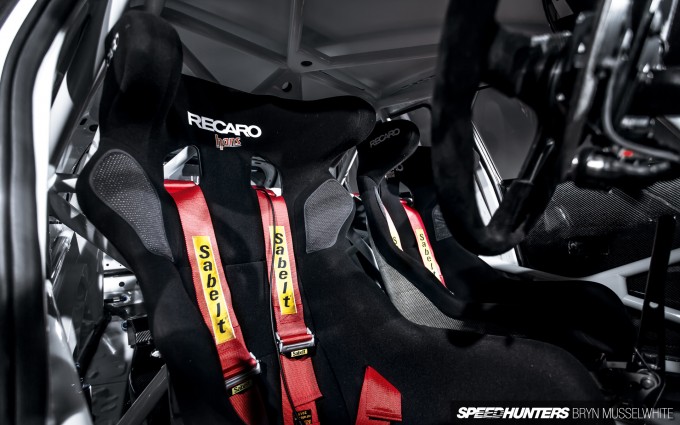 The Recaro seats are HANS compatible of course, Matt assuring his mother he'd look after his little brother Olly as best he could.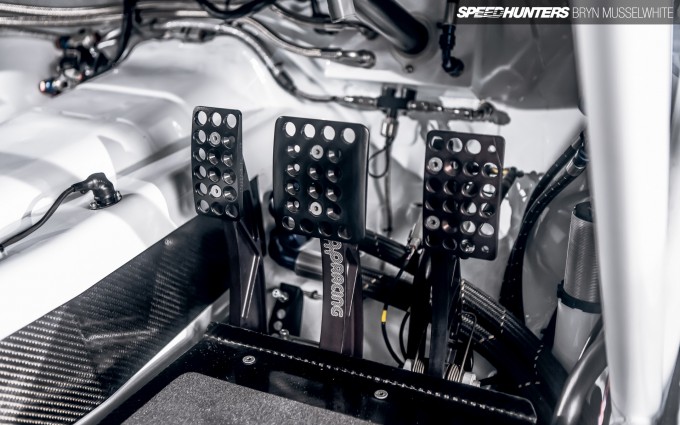 Because Olly will be the driver, and it's been built around him. Olly is a rally driver at heart, having competed all over the globe, so is he the best possible driver for the Gobstopper? Aside from the obvious bond of trust and understanding the brothers have, which is invaluable and couldn't be built with a hired-in professional driver, Olly has an instinctive ability to control a car when it's past the limit, and to use that extra bit of track. To know what it's like on the edge of adhesion means he can push a little harder than a normal grip driver. That combination of the two skills really shows when you see him in action.
Powering legends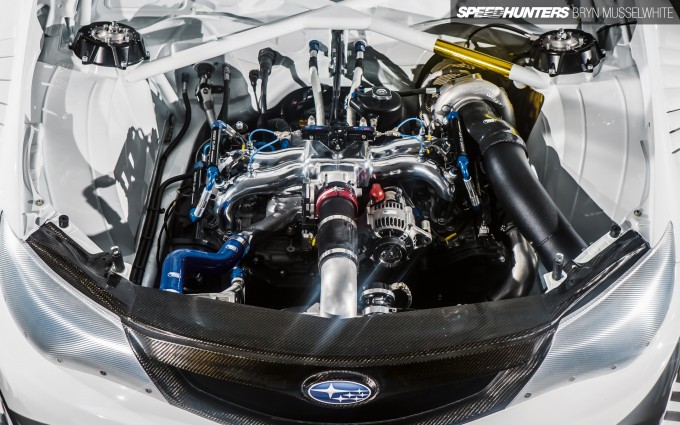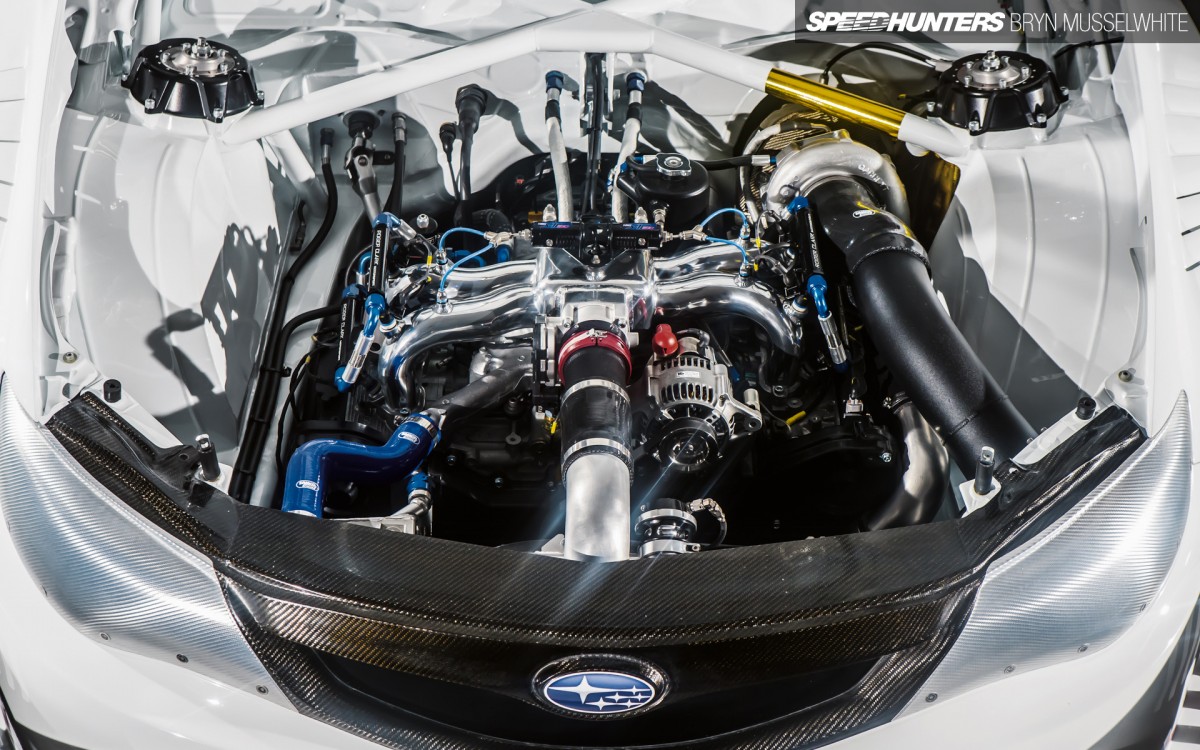 So what's going to propel the pair along?  Surprisingly a 2ltr EJ20 block is the base of this motor, and there are no hidden secrets… If you want some of the same, you can call RCM and order one yourself. Olly and Matt have a refreshingly simple policy of transparency. What's the point of hiding it all away and keeping it secret? The whole point is to get out there and advertise the solutions they've created to the age old question, 'How do I go faster?'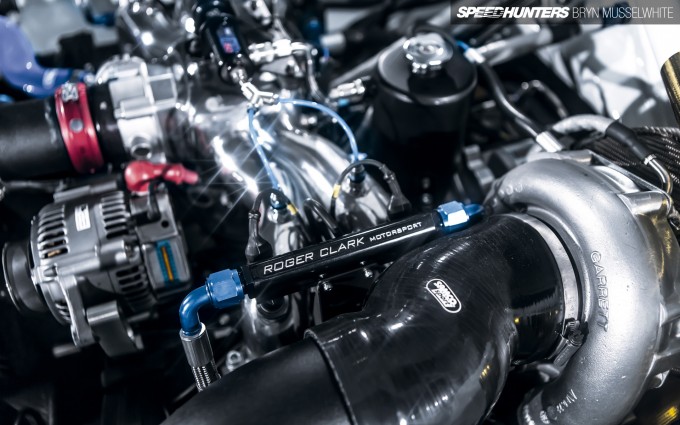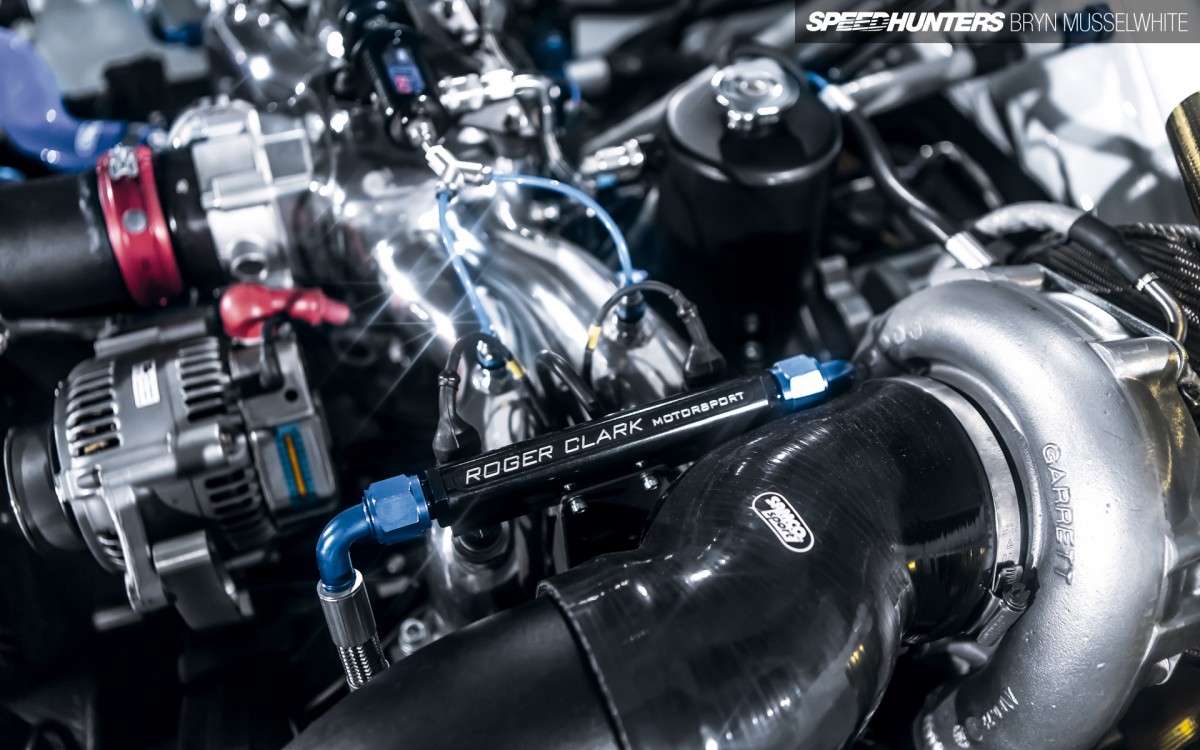 It's based around a 2.0ltr closed deck block, with RCM gas ring conversion, then a whole raft of RCM parts used throughout – lightweight Omega pistons, a WRC S10 inlet manifold – as with the rest of the GS2, there's so much more. Flick to the specification list and take it all in, just don't ask how much power it makes unless you're talking about buying one yourself. For now, all RCM are saying that just like Rolls Royce, power is adequate… Which given the intention to be successful from day one, probably means a lot.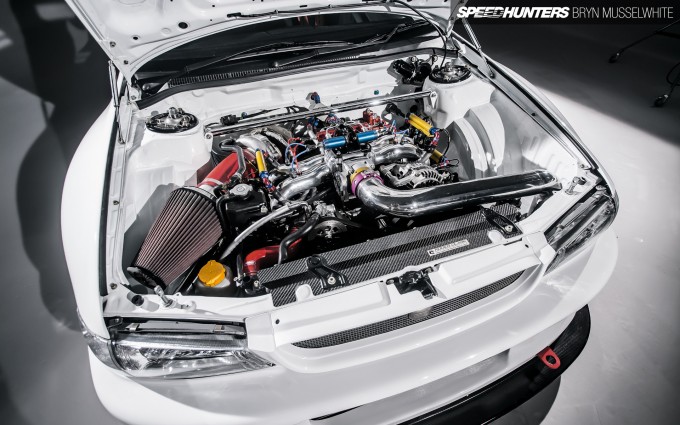 What you may not know is that GS1 attended the Croft Circuit round of Time Attack earlier in 2013 with an identical engine fitted to test the theories that had been put into practice. A first in class and trophy proved Matt right and he finished the GS2 engine to a similar spec.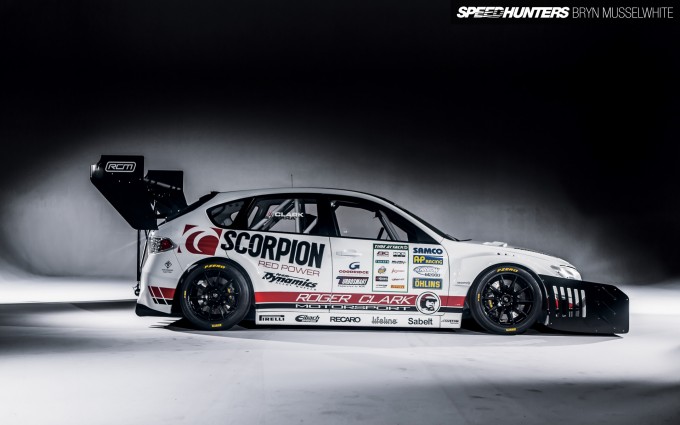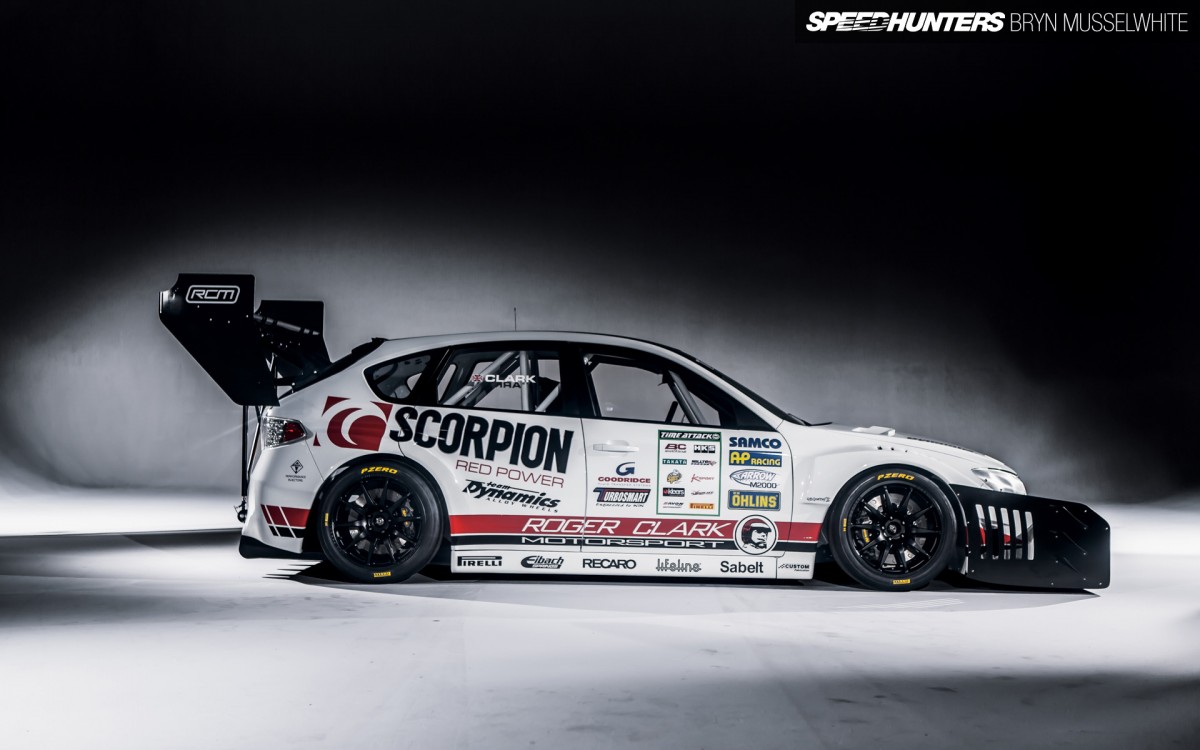 There's simply not enough space here to show you all of the details, but if you've gotten this far I know you're serious. Just the wiring loom alone took five weeks to create. Lightweight 'Spec 44′ aerospace wire and military grade connectors were used, friend of the team Paul Blamire was brought in to hook all the systems together and Matt is more than complimentary of his work – high praise itself.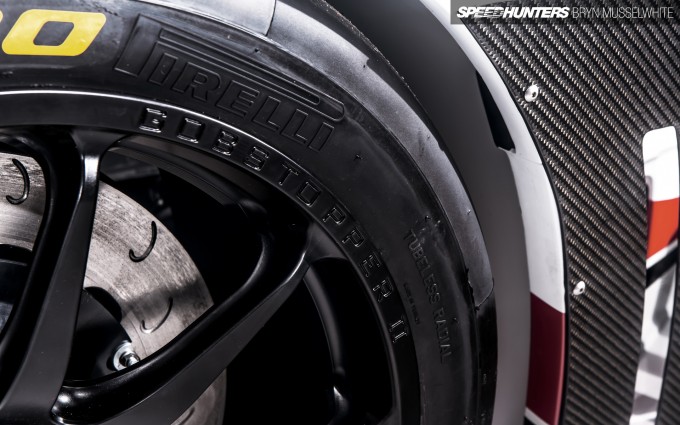 The wheels were bespoke – created by Team Dynamics to Matt's specification. That's right, not even the wheels are off the shelf… Created by BTCC driver Matt Neal's company Rimstock, they used their five axis mill CNC machine to create them from one solid forged billet. When I ask Matt if he mounted the tyres, he looks at me coyly and says "Yes, why?" I replied that the Pirelli logo is alongside the unique Gobstopper II script and surely only he would be so OCD about tyre mounting. He just smiles. The brakes are supplied by AP all round and are carbon, with the option for steel alternatives if conditions dictate. AP also supply the pedal box and quad plate clutch. A close relationship has been grown between the two and it's a go-to source for RCM now.
Putting it to the test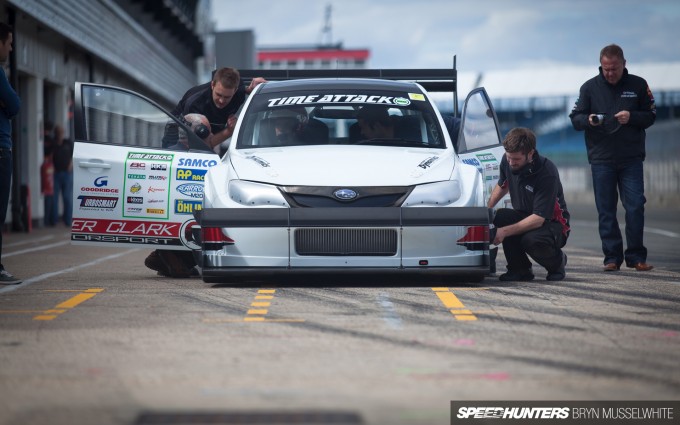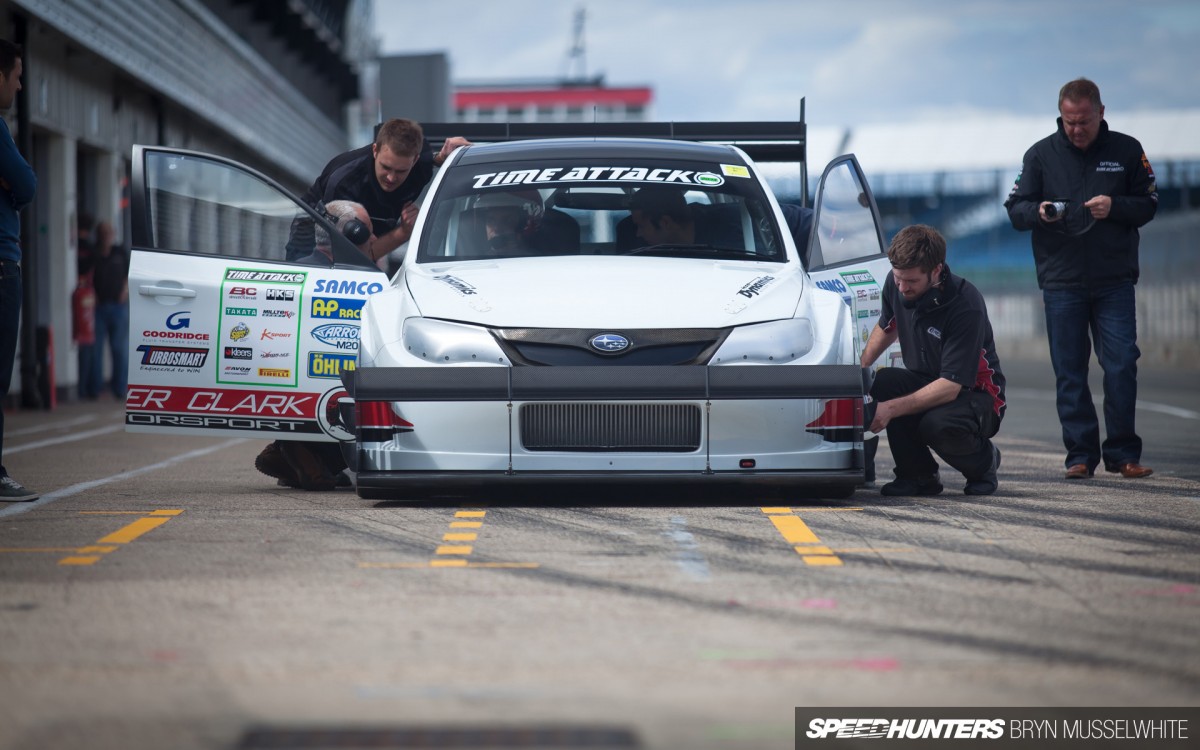 All this talk is nothing if it doesn't downright do the business. The build has been long and protracted at stages but Matt and Olly's insistence that everything was as perfect as possible before it turned a wheel in the real world, has meant the team have had to wait until a day in August 2013 at Silverstone to roll it out for the first time. The anticipation is palpable, but the boys know that this is just a shakedown, a few laps to see if the theory works in any form.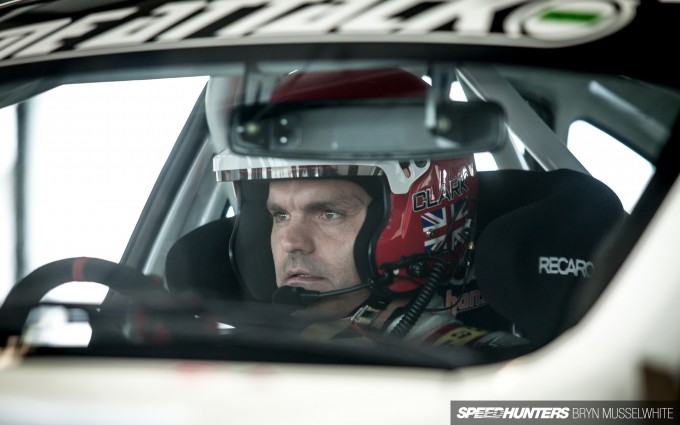 Now it's down to Olly to do his bit. Like I said back the start, put Matt and Olly together in one place and amazing things can happen, each serving his own very specific role that compliments the other perfectly.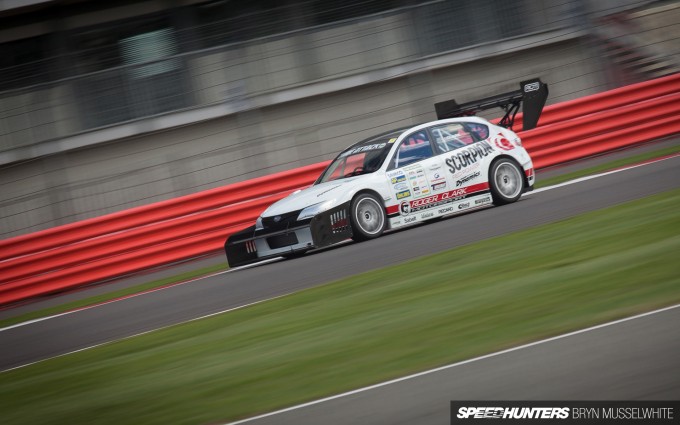 Being perched out on the circuit waiting for GS2 to appear amongst the other cars being tested here today, it's a special sight when it comes into view. It looks outrageous out in the open… a modified renegade looking for prey.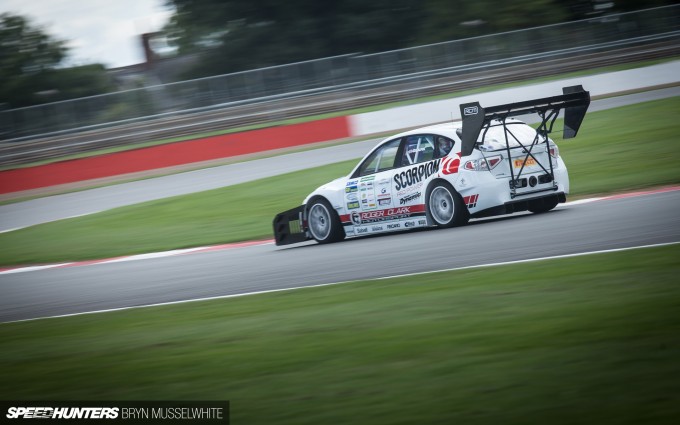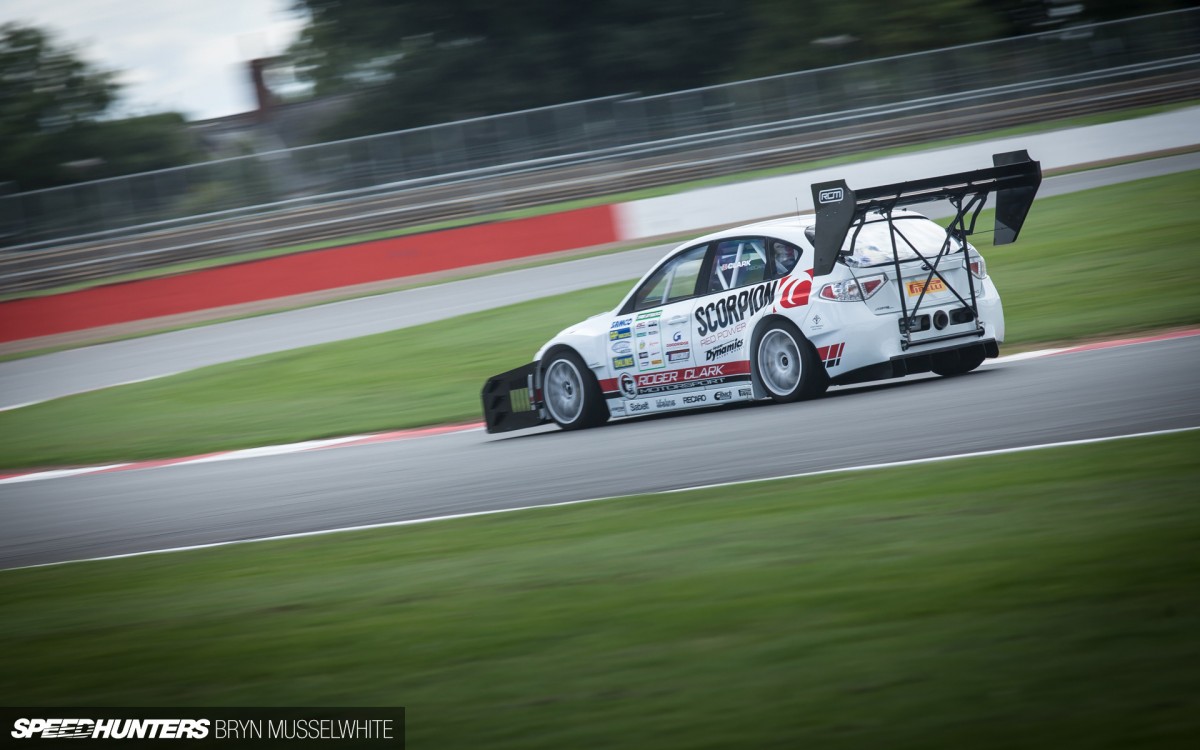 I really can't imagine how Olly and Matt must feel right now – the amount of man hours, brain power and money that it's taken to get this far and in reality it's only just beginning.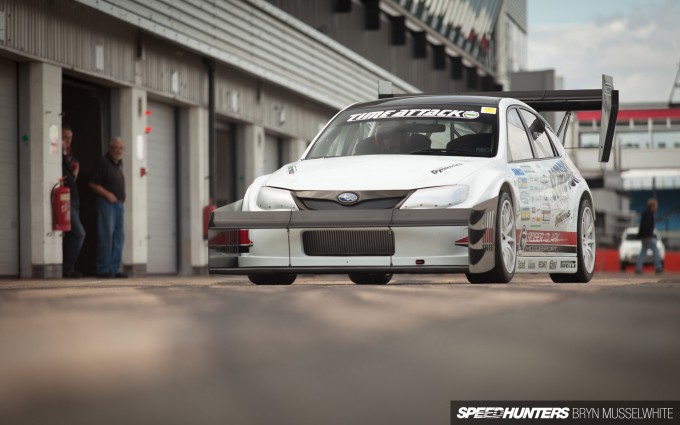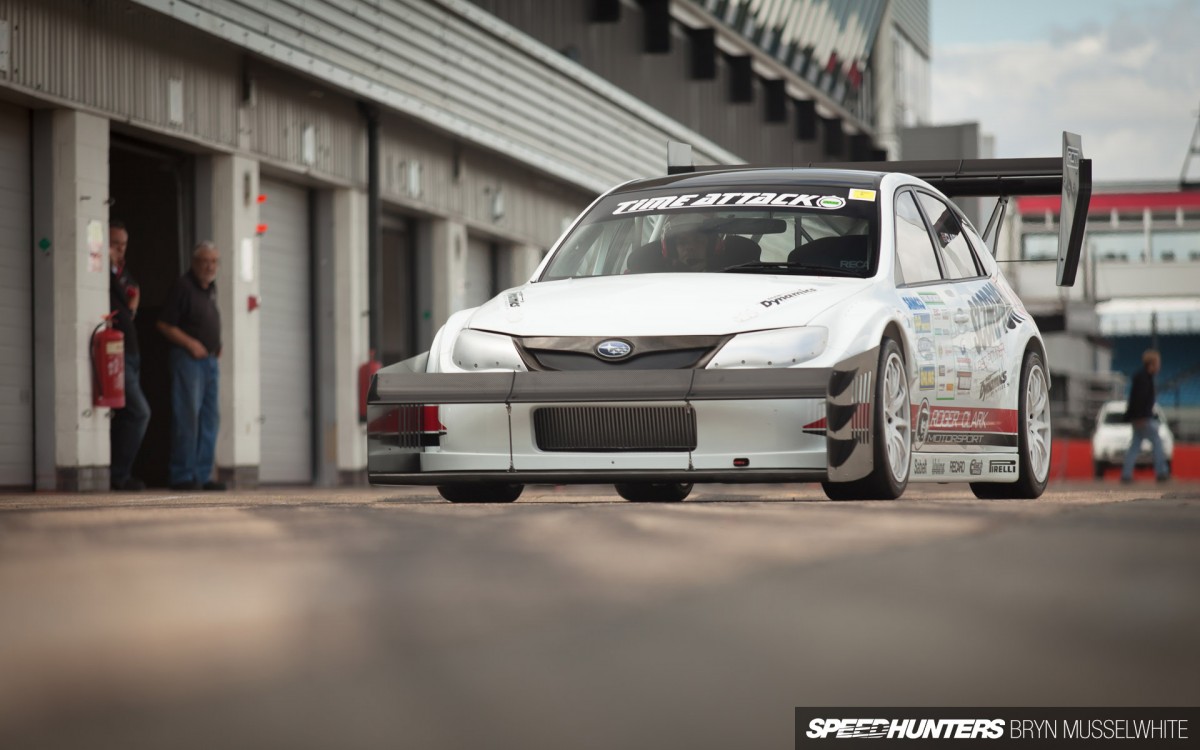 So was it worth it? Of course Matt and Olly are suitably low key and modest about today's testing. There are a few minor teething problems but Olly looks intent, his trademark smile wide and eyes alight as he says, "It feels like it's got fingers under the tarmac, it's incredible."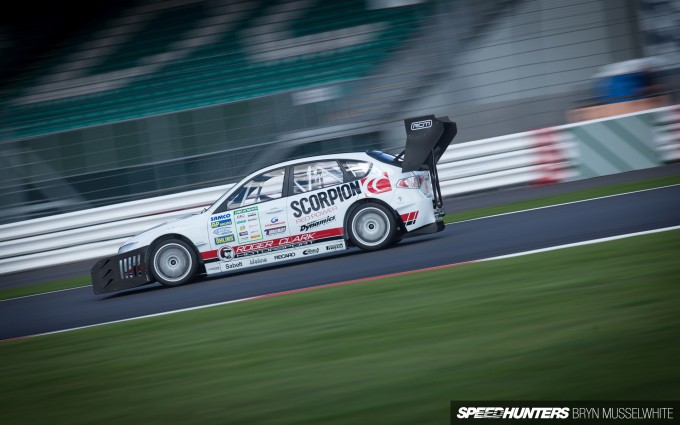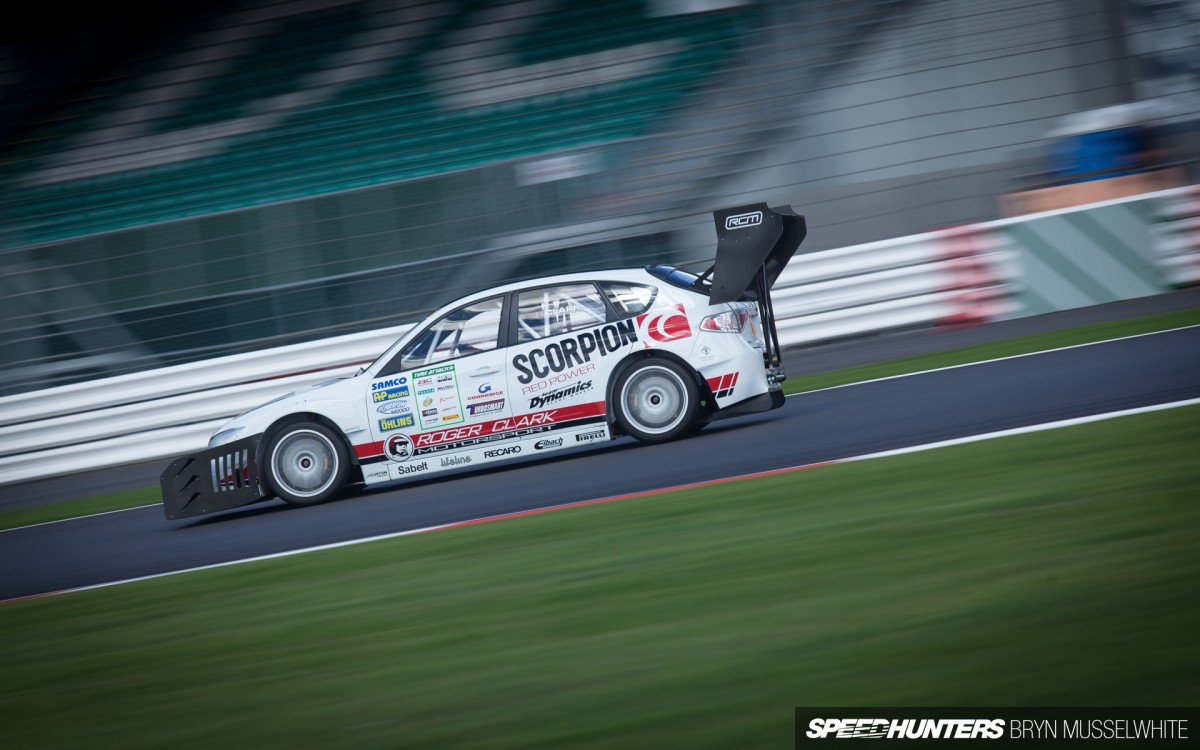 The one thing that GS1 did so well was make people smile and spread the RCM word, creating connections for the boys and also becoming a global mascot for Subaru owners. It's something that Olly and Matt are extremely proud of, and something that they also hope to see happen with GS2 – more so than anything else, they want to see people inspired. In fact just about the only people who don't want to see the GS2 are the competition. That said, I've been listening in behind the scenes and in all fairness the rest of the Time Attack field are also pretty keen to see what could well be the world's best Impreza out doing its thing. Hopefully we'll get to see it very shortly in the UK Time Attack series, although if it's 2014 now it wouldn't surprise me as the Clarks do everything right. Not right now.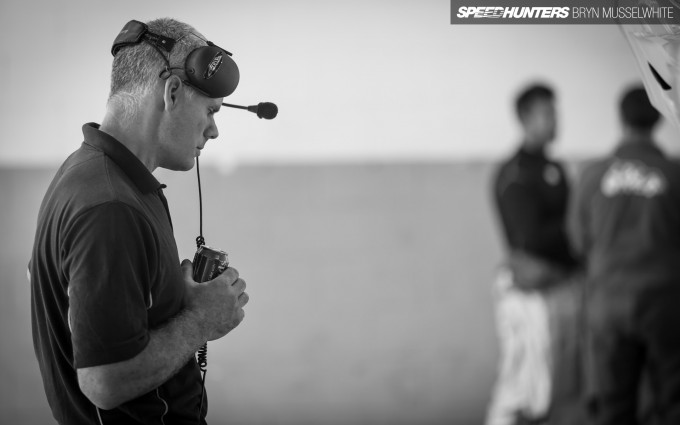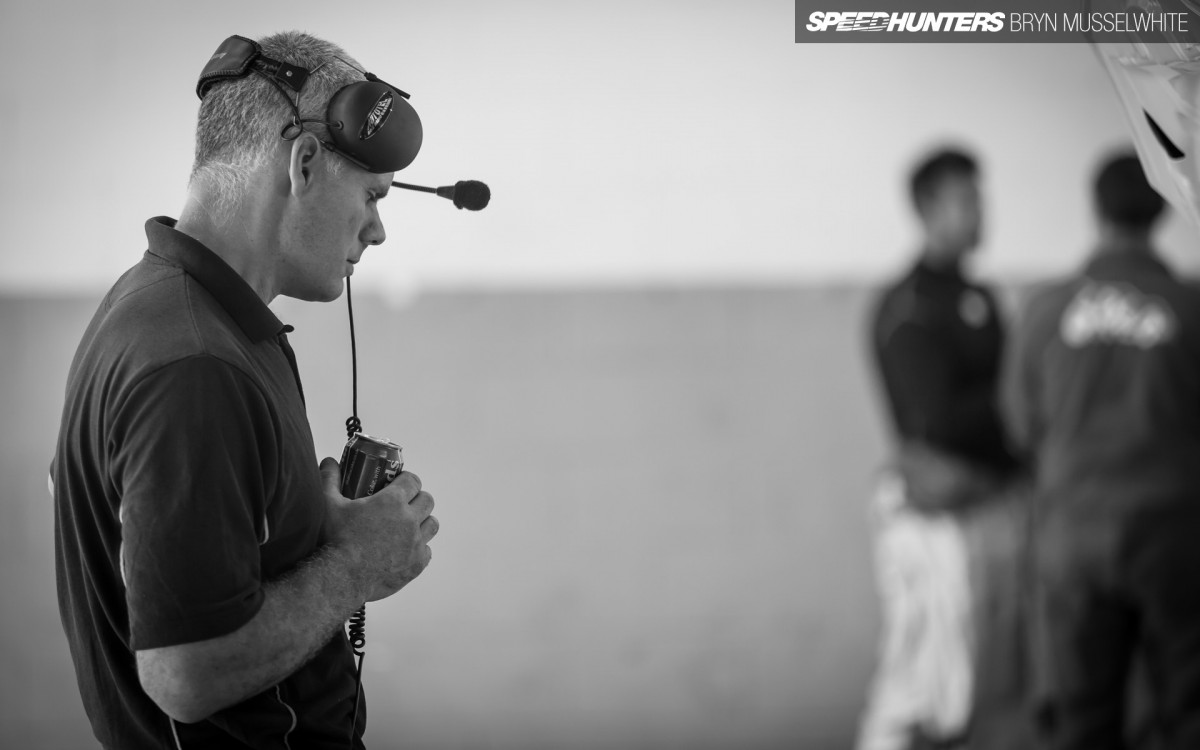 Which for me sums it up as that's the effect that Matt and Olly have. These guys are some of the nicest, most genuine people you'll meet in this industry and what they create in their cars aren't just sales tools, projects or race car builds.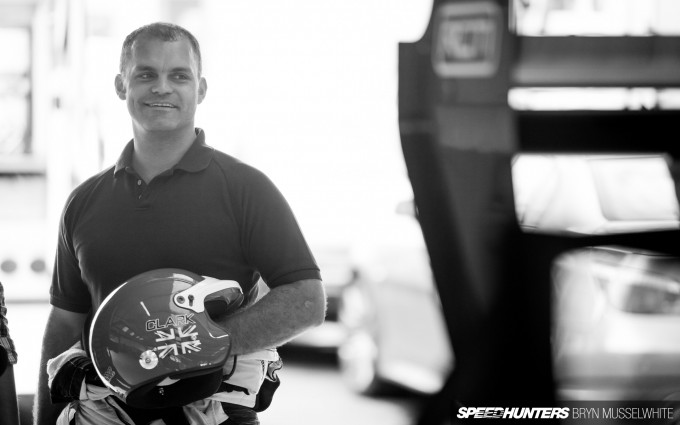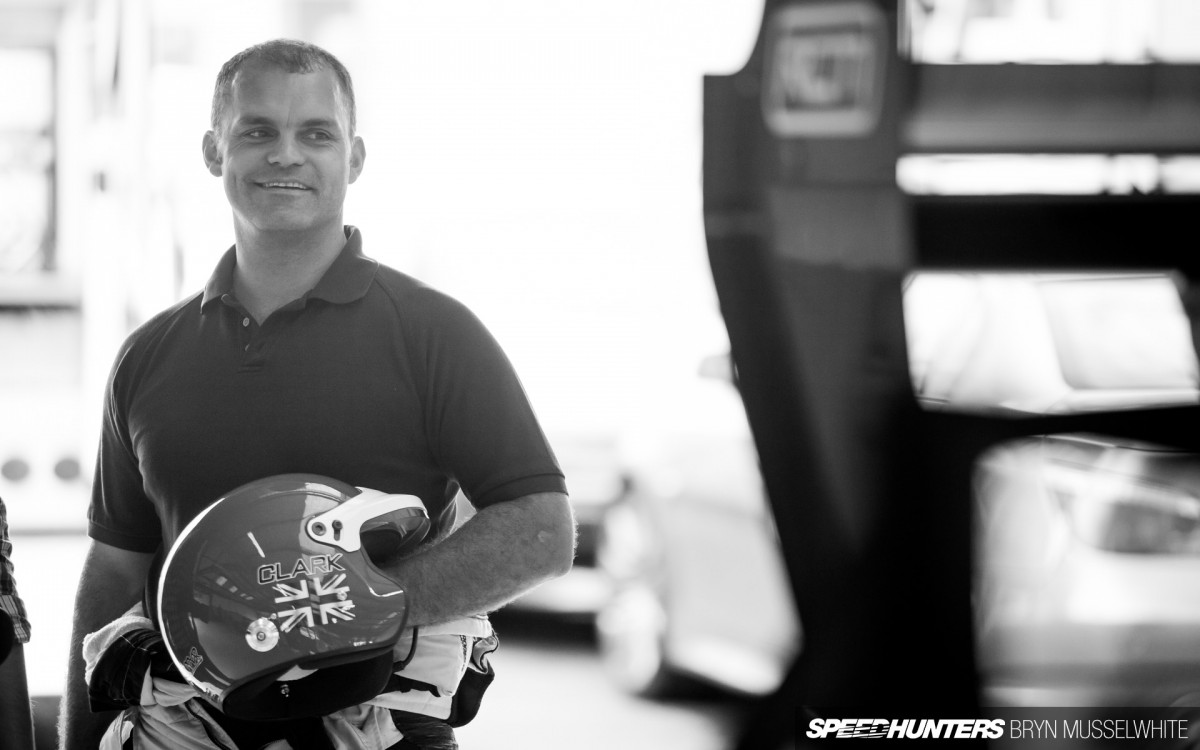 They're mechanical incarnations of the sweat, blood, energy and exhaustion exerted by every member of this expert team. Every component has been loved and crafted like a child and through that their creations become extra members of the team; GS2 being the newest addition to RCM and a family of followers.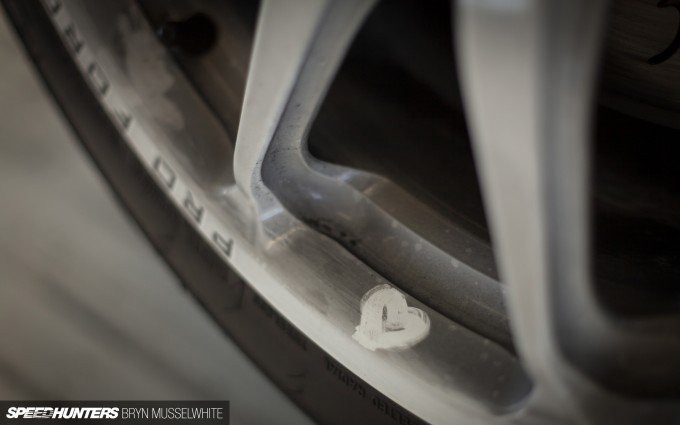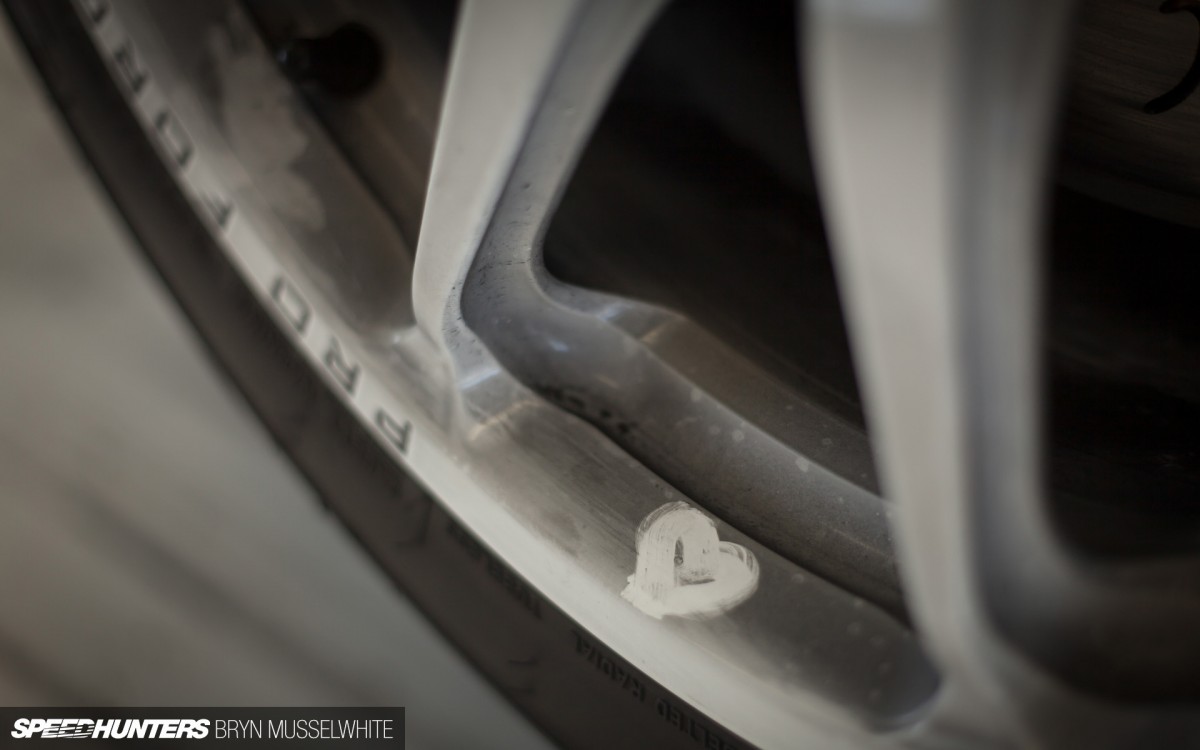 So this is a story and a build about so much more than just parts, trophies and showing the world what you can do. There's a lot of love here… a lot of love.