It's not often I get stopped in my tracks. I've been a lucky boy over the years and have seen a lot of different things around the globe. I'm not jaded or tired of it, no, but usually I can take in the details with relative calm. Not today though. What you see above is the very first picture from the very first moment that I saw Phil Penny's Honda S600 coupé. I actually uttered the words 'Oh man…' as I raised the camera up to my eye. As natural reactions go, I'm pretty happy with that. At least I can type it here.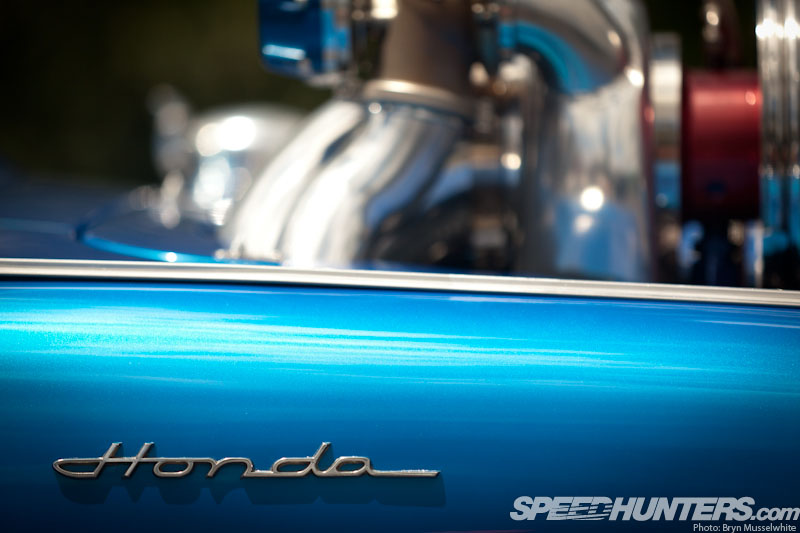 I am a massive fan of obscure vehicles with what appear to be random modifications. When I first saw the four-rotor Lexus that Brad shot recently I got the same feeling. I boldy said that it might end up being my car of the year – words with weight considering it was only January. Now here I am in February, at Willowbank Raceway just west of Brisbane and this little Honda has just stolen that title. If this is an omen of things to come, it's going to be the best Summer.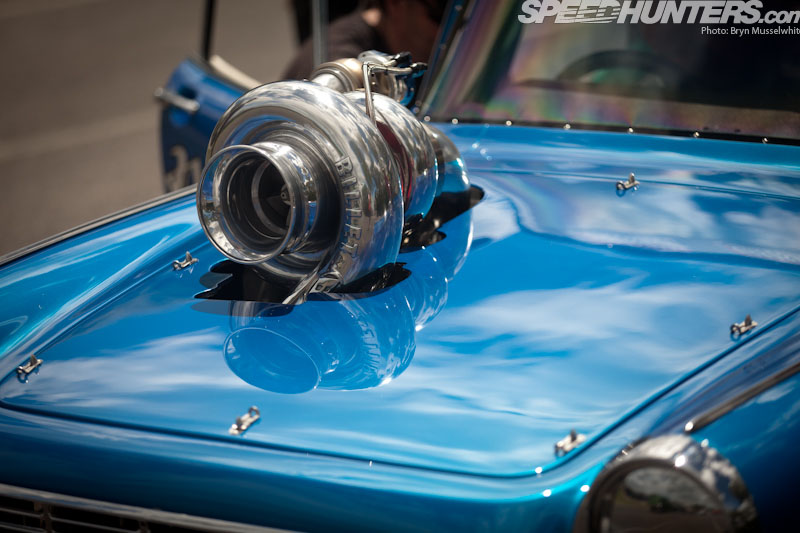 Because yes, that turbo sucked me in from a hundred feet away. Just look at it. In fact, I dare you to try anything else. I don't care if you think the air flow from the bonnet edge causes disturbance problems or it's aerodynamically flawed. Just look at that sucker. It's so offensively large, so seemingly out of place with its home, as though the Honda coupé has been attacked by an alien lifeform that's clamped on and is burrowing its way under the metal skin.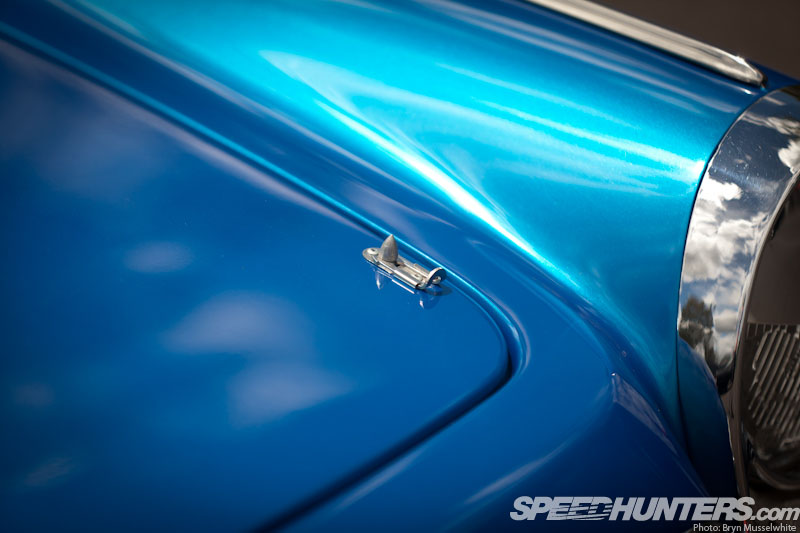 With the small bonnet removed by releasing these exquisitely simple, old school clips…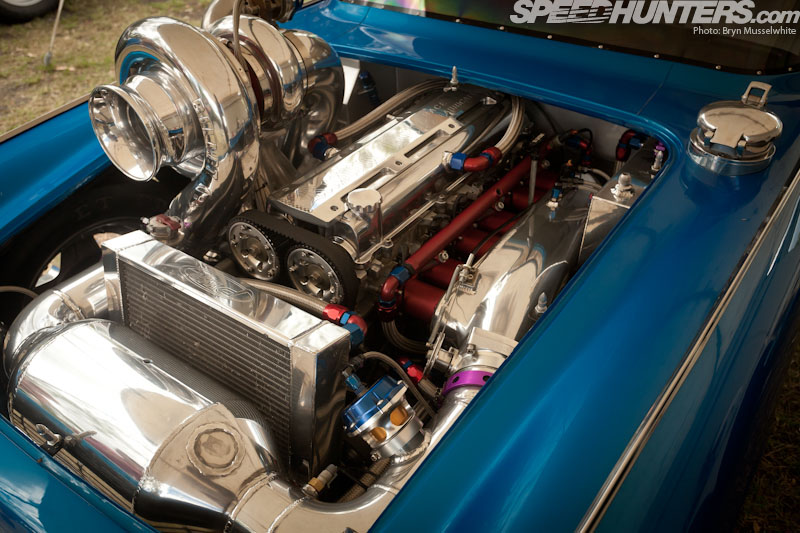 …it all makes sense. I genuinely didn't know what to expect. Maybe an SR? But surely the capacity couldn't need such a large turbo. Could it be a blown F20 Honda engine? The trouble is with such an off-the-wall build, you can't predict anything. So when I first saw the Toyota 2J, inline-six I laughed with joy. I'm not sure where you cross the line between necessary and overkill, but just one cylinder from this engine is nearly equal to the entire original capacity of 600cc. Oh and it runs on methanol. This thing just gets better by the second.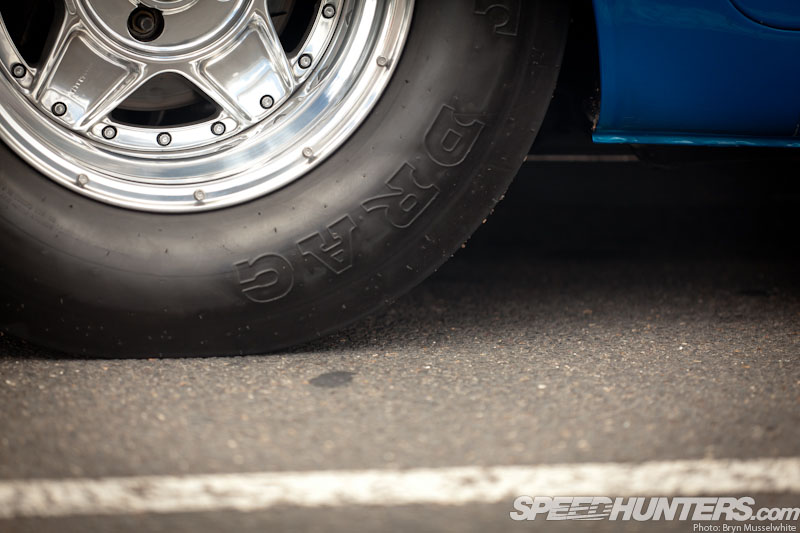 In fact I do know where you cross the line: it's when you go drag racing. I don't know a racer who has ever had enough power – they always seem to need more, so if you're going to fit a turbo, fit a really big one. And if you're thinking lag, think again. Phil specified the Billet turbo with a .96 air ratio, meaning it can spool up far quicker than you'd expect looking at the size of it. Trust me, I've seen it go from idle to Defcon-scream in a second or two – hardly a long wait when you're sat on a dragstrip start line. Remember, this is no circuit racer.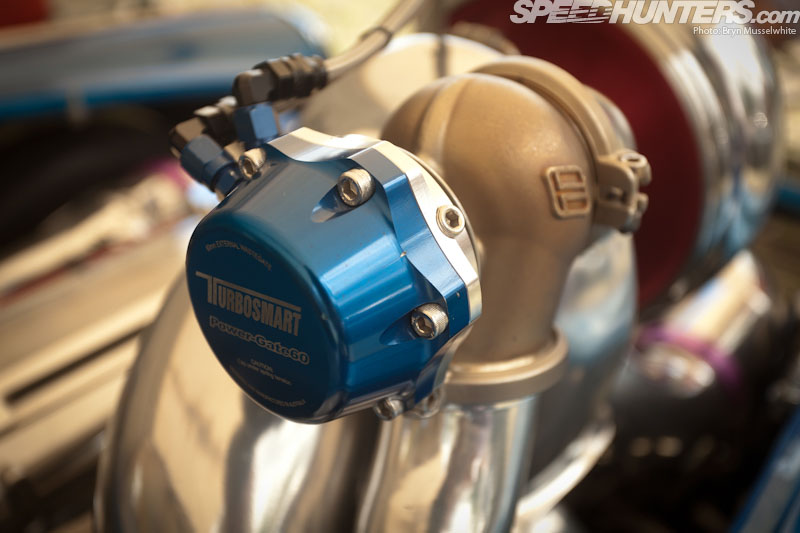 In total there are three Turbosmart wastegates taking care of the boost, their high-end quality matching Phil's immaculate build ethos. He's a big fan. The detail is seriously impressive everywhere you look on the engine, but there are just so many questions I have about the whole car as I look at it.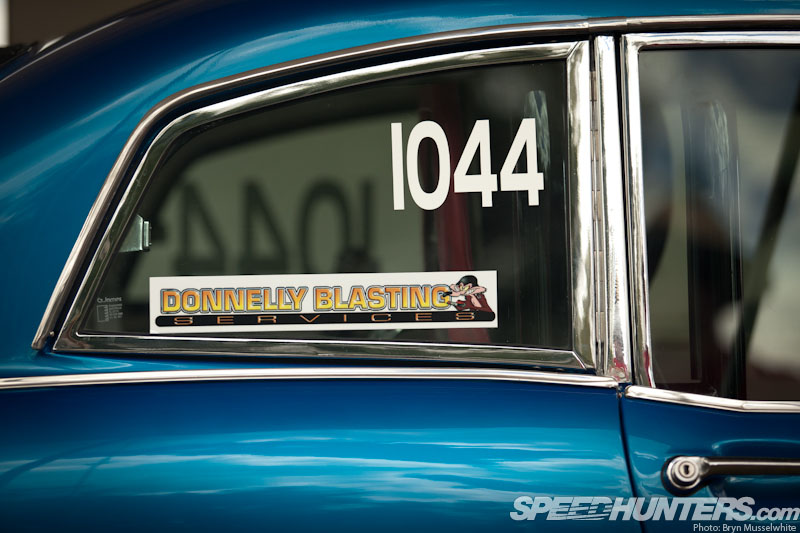 Phil tells me he's been a fan of the baby Honda since he found one years back. The fact he also loves the lines is undeniable too, which is another thing I noticed as I took a look around. There are some really well thought-out angles and details here.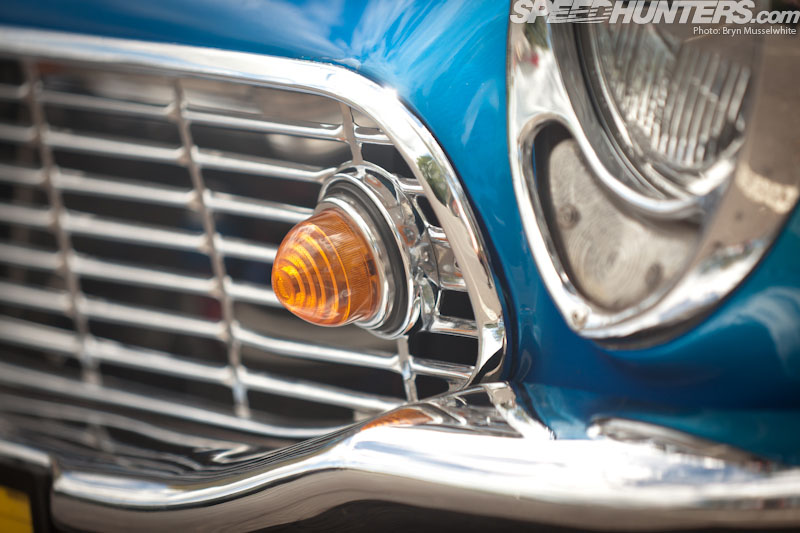 He's kept the standard body trim all over, as it's not like he has to worry about weight saving with the 2J up front. Power? Not a problem my friend.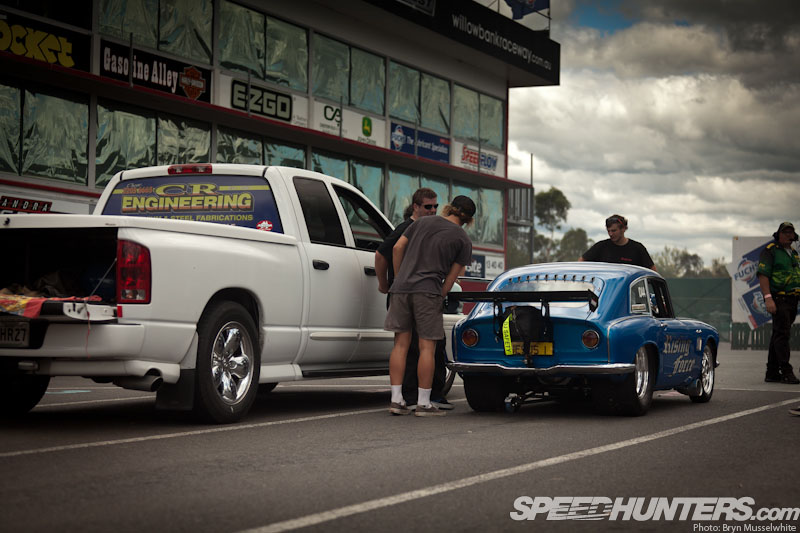 So let's get to the figures. All up the Honda weighs 1,000kg. For a start look how small it is compared to that Dodge Ram. Unreal! There are 12 1,500cc methanol injectors feeding the Toyota engine and Phil is running it at 28psi today, which equates to roughly 870bhp at the wheels, but he has the ability to wind the boost up to 35psi and more.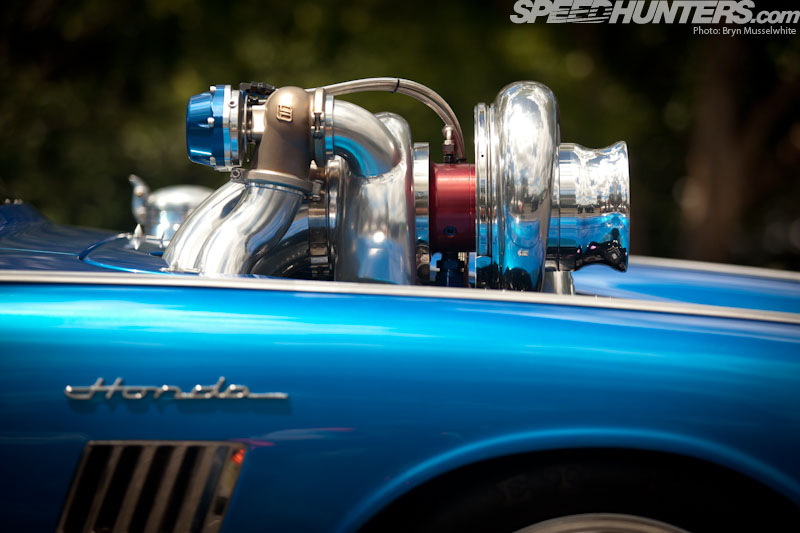 The engine was put together by a very gifted builder named Dave Stevens, whose work has been used to great effect by a number of the fastest space-framed import drag cars in Australasia. In its current guise it can generate 1,650bhp… Yup, the surface hasn't even been scratched yet. If Phil fancied, with another rail of six injectors fitted the engine has been built to generate and handle 2,000bhp. No messing around: Phil figured he'd do things right the first time. Although he grins and tells me somebody else can try it with that much power.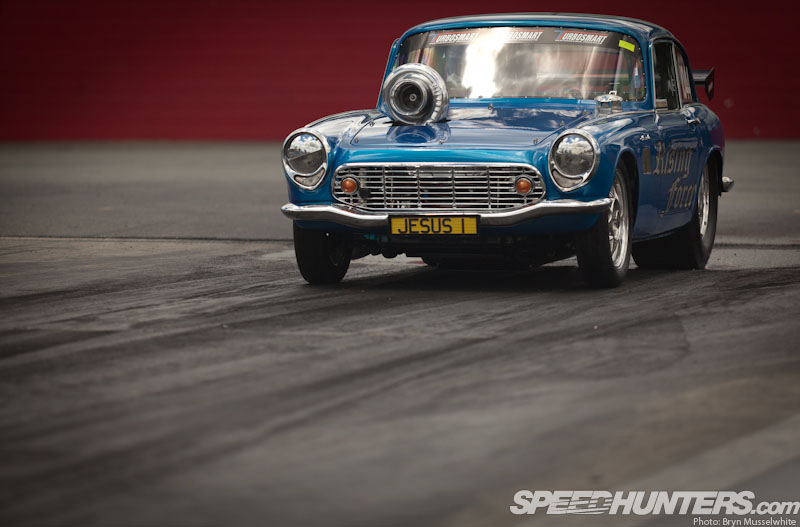 Another reason Phil loves the S600 is that it comes with a separate chassis and body, lending itself to such wild modification, and with the motor mounted as far back as possible in the tiny 79-inch wheelbase it's almost mid-engined. His self-proclaimed fascination with boost means drag racing gives him the purest platform to explore the potential it gives him.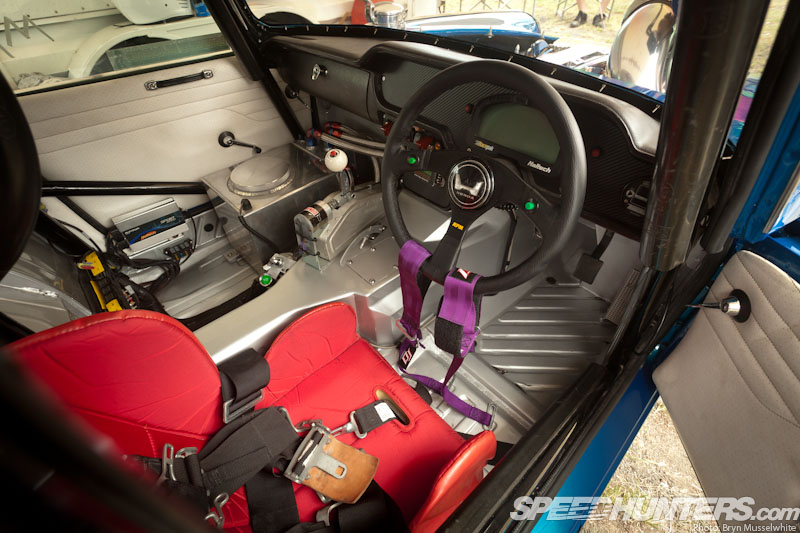 Obviously he's put a lot more strength into the frame now, with the cage…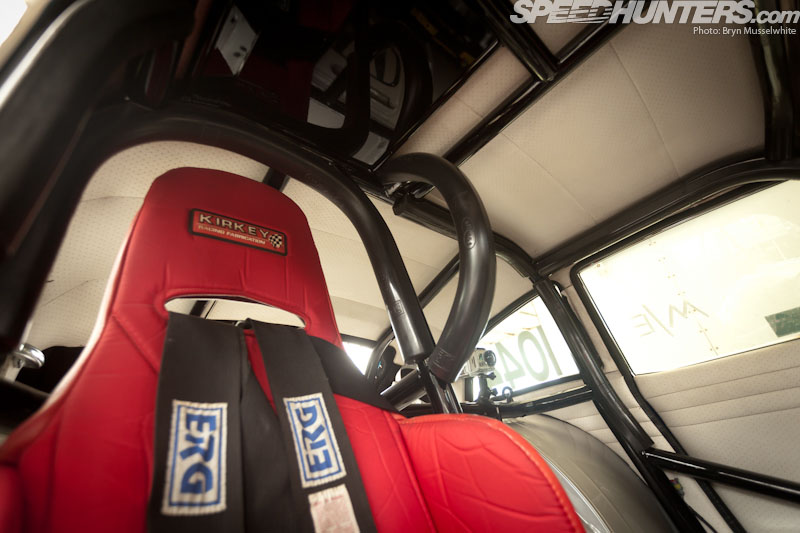 …and driver safety cell. Just like the gorgeous standard external chrome, Phil has kept the full interior trim too, although that Kirkey alloy seat is anything but standard.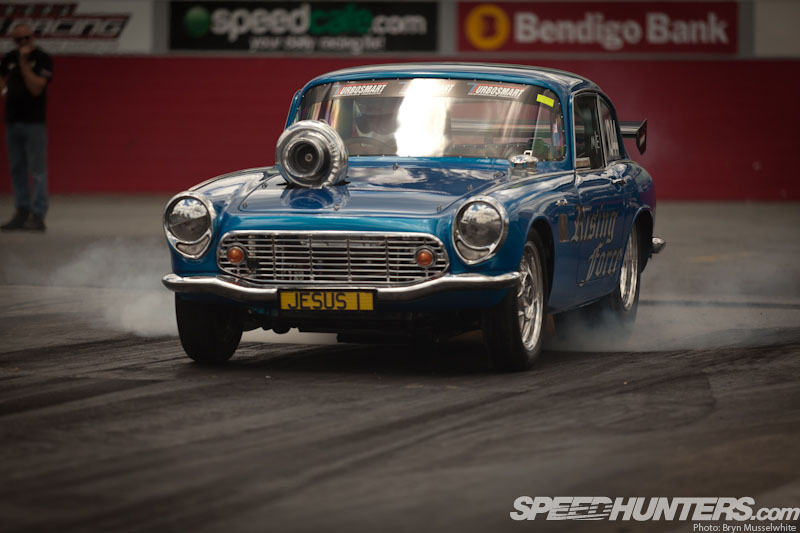 Because when this thing spools up, things get serious pretty quickly and you'd want to know you're strapped in safe, right?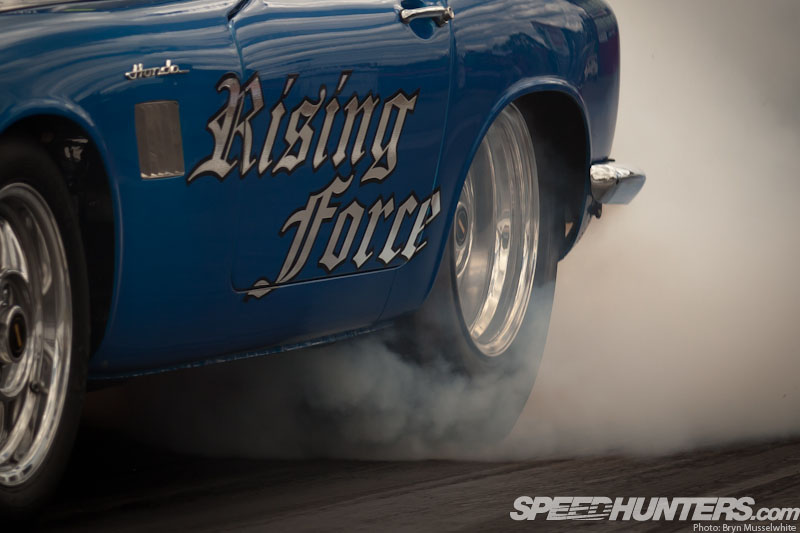 The fury that emanates from the tiny racer is crazy. The noise and sight of it make me smile and retreat at the same time, all the while taking pictures like a grinning loon.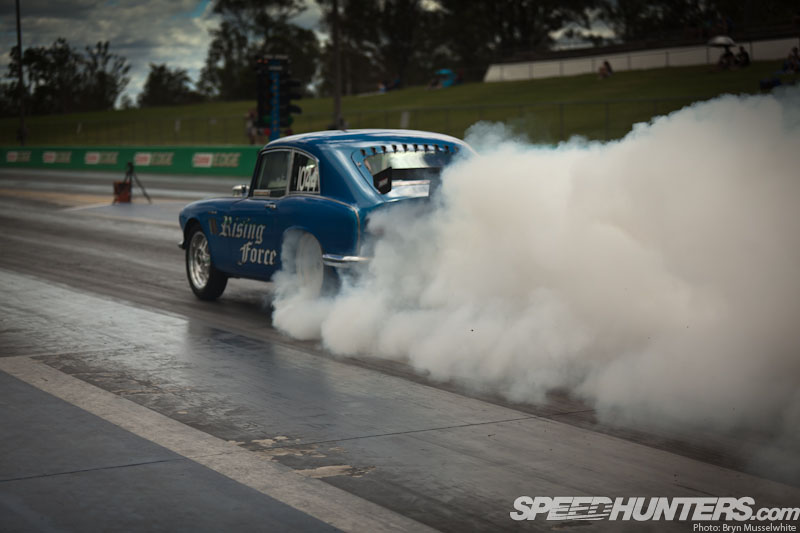 I turn to a nearby photographer as Phil reverses back to the start-line after another smoky burnout. Smiling manically I nod and he just looks back at me with a deadpan face. Man, I hope I never get that jaded. I don't care if this is your 'thing' or not – he should probably check his pulse.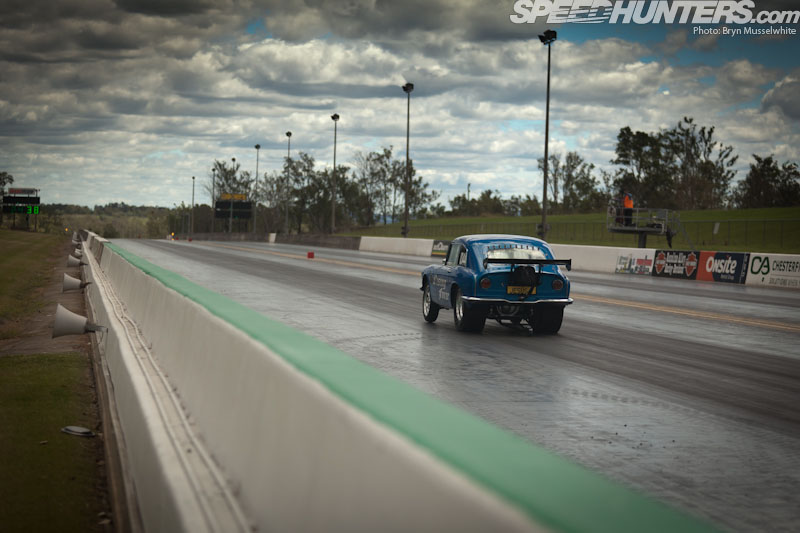 Along with minimal lag, the other surprising skill the Honda has is its ability to leave the line straight and true. After the drama of first seeing it and the explosion of power in the burnout, I kind of expected it to point both front wheels somewhere in the sky and fire off the line sideways, spitting fire whilst playing this through speakers that could equal a sonic boom.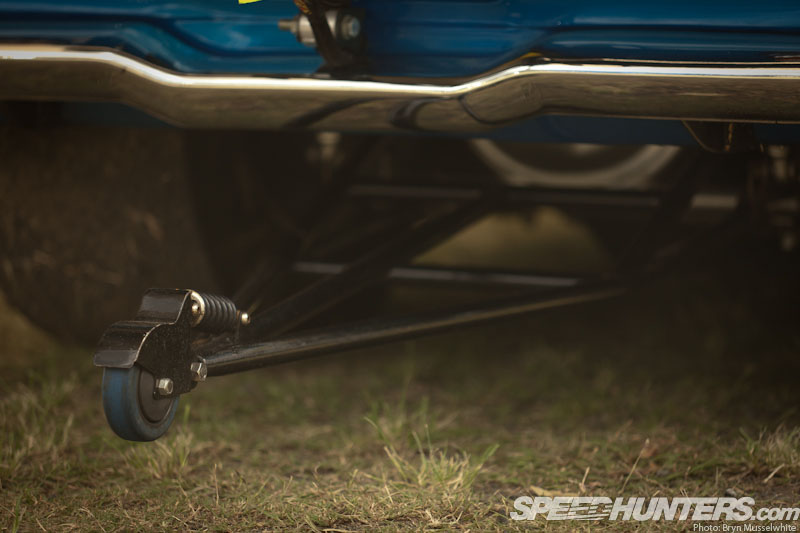 But just as you'd want it if you were in the driver's seat, there's no drama: it just squats on the single rear wheelie bar and goes.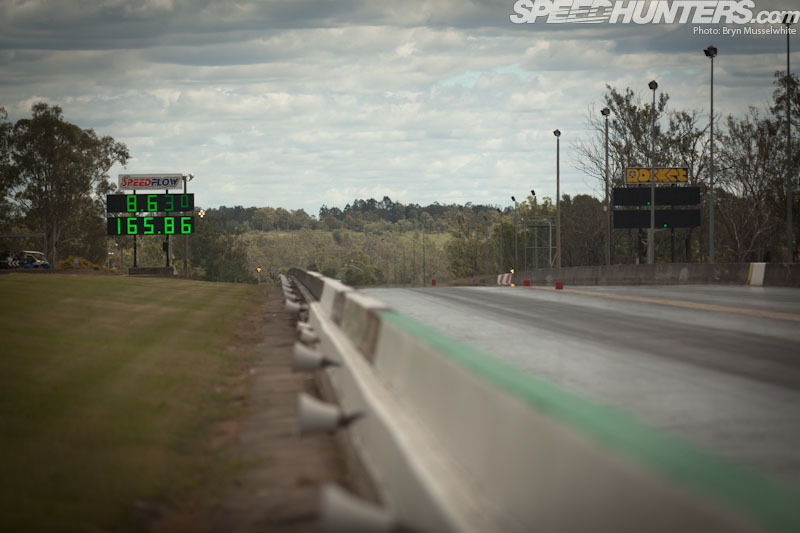 Proper goes… This run was a personal best for Phil, but he insists it's still early days with somewhere around six to seven passes under the wheels so far. He has some interesting data from this run thanks to the Racepack iQ3 dash unit: in first and second gear he's pulling 3.5G until roughly half-track, with a time to the 60-foot mark of 1.3 seconds and 5.6 seconds and 130mph at half-track.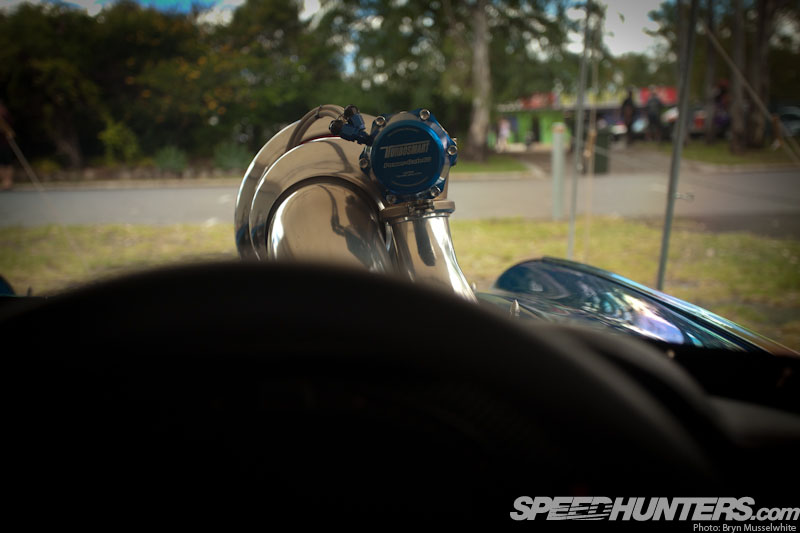 When Brad put up a picture of the Honda in his Jamboree 22 coverage, (which is kind of odd, as today I've been stood where Brad was last year) there were a lot of comments about the turbo position and how Phil could physically see around it, so asking permission I climbed into the hot seat to see for myself. This is that view: so yeah, pretty distracting… But what a place to be sat. It feels as if you're connected to the turbo itself, Phil saying of the position that he figured instead of having it poke through the bonnet, this way he didn't have to lift it to show people.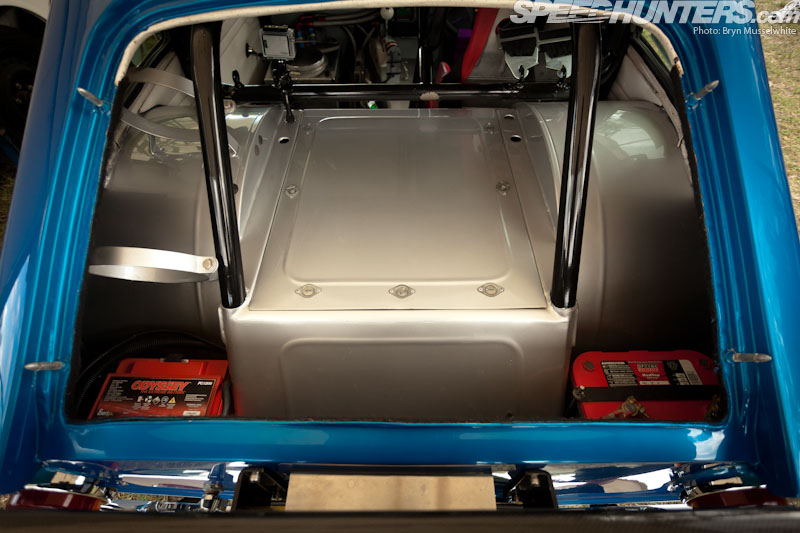 Everything has been so well packaged inside, Phil saying that the original S600 transmission had two chain drives for the rear wheels, so although there are now dedicated tubs in place to deal with what the C4 auto hands out, the original 14-inch wide items were actually ideal for his early wheel and tyre upgrade plans. It's almost as if this thing wanted to go fast right from the outset.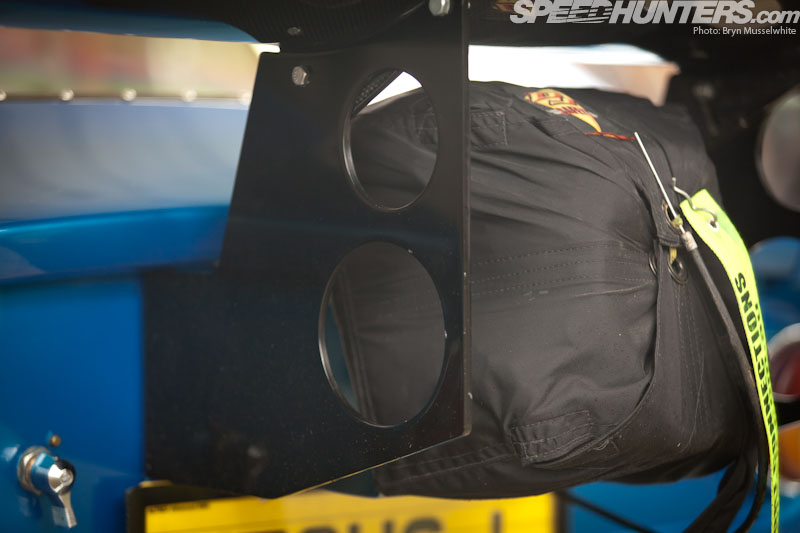 Now, an 8.65-second run is quick – quicker than quick in fact, and it's all too often that we take things for granted. The work Phil has put in to get here is immense. The Honda was his daily driver for nine years – it then ran a blown Fiat twin-cam motor.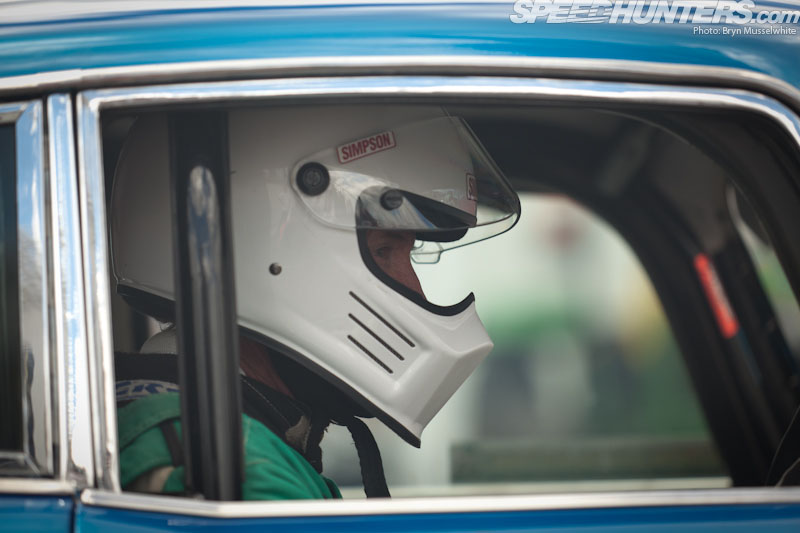 But he's nowhere near stopping yet.We've hinted at the potential of the coupé, and as Phil says: "My goal is to run in the low seven seconds at 185-plus mph. It's a reality; the power is there… It's still very early days". Splitting his time between drag racing, building a twin-turbo Porsche 930 and surfing, Phil has got plenty of plans and we'll be seeing him again for sure.
Here's a video which gives you a small taster of just how amazing the Honda is…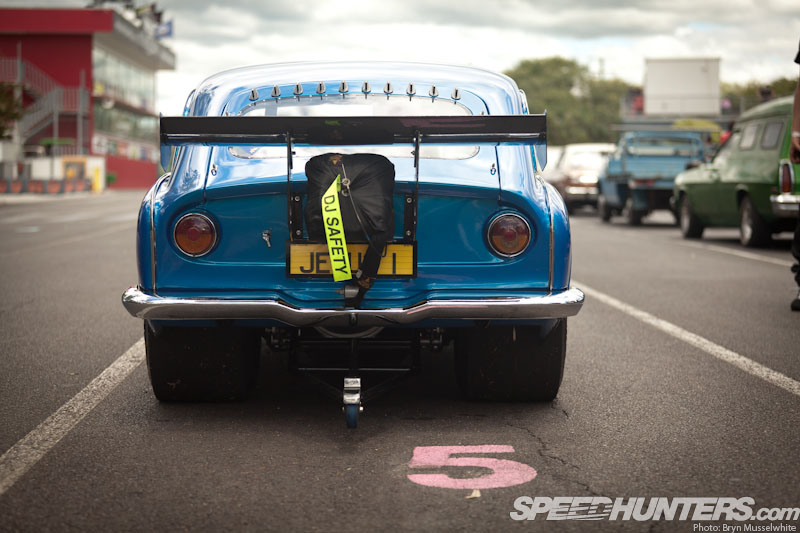 No matter which way you sway, you can believe in Phil Penny and his ability to entertain, enthrall and make things happen. The man's a legend in my book.  This is not the end, this is just the beginning.
Bryn Musselwhite
Engine
3.2 stroker 2J inline six, resin-filled to core plugs, GRP aluminium rods, Arias ceramic/thermal coated pistons, piston pins 22mm and 8mm thick, factory 3ltr crank offset ground, hardened steel main caps, ARP stud kit, line bored, ATi balancer, 3mm Chromoly flex plate, Dave Stevens modified standard oil pump,  2JZ turbo head, flowed, Ferrara valves, titanium retainers, collets and springs, Sure Cams (NSW) with Dave Stevens grind, head machined for lobe clearance, L19 head studs, Titan front pulley wheels, Hypertune manifold (Sydney), twin fuel rails, 12x1500cc methanol injectors, 102mm throttle body, Engle 110 mechanical fuel pump, custom high rise inlet manifold, 60mm Turbosmart wastegate off the manifold plus another from the turbine housing, Billet Turbo (Gold Coast) 88mm front, 94mm rear, rear housing .96 Air ratio, 5in/120mm dump pipe, turbo to intercooler is four inches, turbine, manifold, exhaust is coated by competition coatings in Brisbane ceramic chrome, PWR water to air intercooler, runs 18 litre water and ice tank inside the car which is pumped through with -16 lines, PWR radiator, Haltech Sport 2000 ECU, PRO 16 M&W CDi box, Racepack data iQ3 dash including GPS! measures G-force, Haltech exhaust gas temp sensors, factory coil packs, factory timing belt and factory turbo multi-layered head gasket, Eboost 2 race control
Transmission
Ford C4 automatic box, Als Raceglide (NSW), custom-built 1350 series shaft, Ford nine-inch, Strange 33 spline shafts and spool, Mark Williams nine-inch alloy carrier
Suspension
Torsion bar front, Koni adjustable shocks, rear four link, panhard rod, Strange coilovers, adjustable rebound and compression, single wheelie bar with single shock
Brakes
Wilwood four-pot callipers, 260mm vented disc, AP two pot rear callipers, 1999 BTCC Mondeo (Paul Radisich) discs and bells, Wilwood twin circuit master cylinder, bias to rear wheels
Wheels & Tyres
E45 polished Simmons,  10x15in, 4x15in, 22inx15, 28×11.5×15 Mickey Thompson ET.
Bodywork
1965 Honda S600, stainless flutes in front guards, five-inch fuel cap on passenger side wing, rear wing, parachute, aero on rear window, stretched rear arch aperture, bumpers and grille original, voodoo metallic blue
Interior
Kirkey aluminium seats, ERG five-point harness, OMP steering wheel
Standard door trims, factory dash, carbon fibre fascia housing Racepack dash, firewall and tunnel 3mm steel, 1in 5/8 Chromoly cage, strengthened standard box chassis
Thanks
Dave Stevens for the most awesomest engine, Turbosmart for their support with their excellent products, Phil Laird (he's the tuner, an excellent guy),  Christian my son… All the guys that help.