Let me stop you right there. I know, we have been seeing far too many 86/FR-S/BRZs over the last few months – not to mention from SEMA – but the runaway success this little car from Toyota and Subaru has been enjoying, is very much deserved. But the car you see here is not another styling exercise, but rather a very important step in the right direction. The other week I got a call from Ross Wilson at AVO Turboworld Japan telling me that he had, after many months of work, completed the R&D on what is one of the first all-included, bolt-on turbo kit for the FA20 motor. AVO is quite an interesting company as on top of being an actual tuner it is also a maker, creating, developing and building engine tuning solutions from scratch, dealing primarily with Subarus. With shops in Australia, Japan, the US and the main factory in Thailand AVO has always strived to create no-nonsense upgrades that work, and this latest kit very much follows this simple but effective recipe.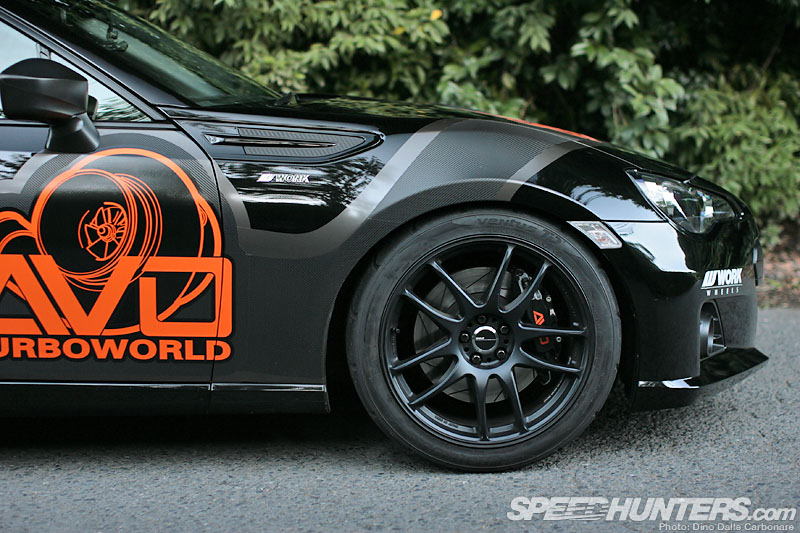 Since picking up a BRZ Type-RA back in April, Ross has given this new demo car nothing but abuse. All of its 4,000+ miles have been clocked up at Tsukuba circuit, and on the highway between the circuit and the shop in the outskirts of Tokyo. The BRZ's exterior has remained stock aside from a wheel upgrade…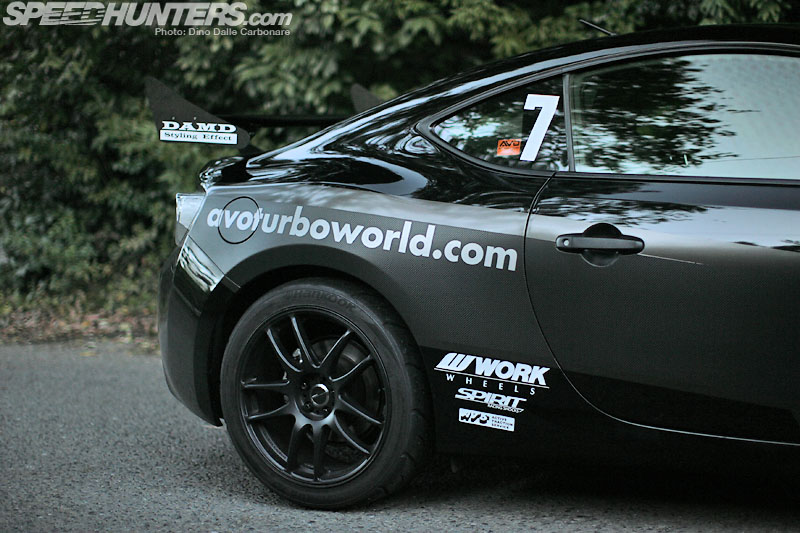 …custom carbon-look graphics…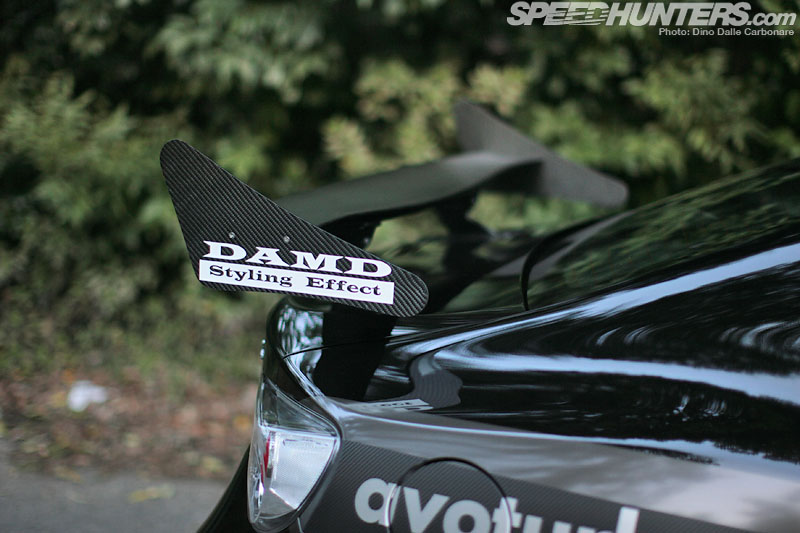 …and a dry-carbon DAMD rear wing. The simple and functional aesthetics may not have the same impact as a cool wide body TRA Kyoto Rocket Bunny conversion…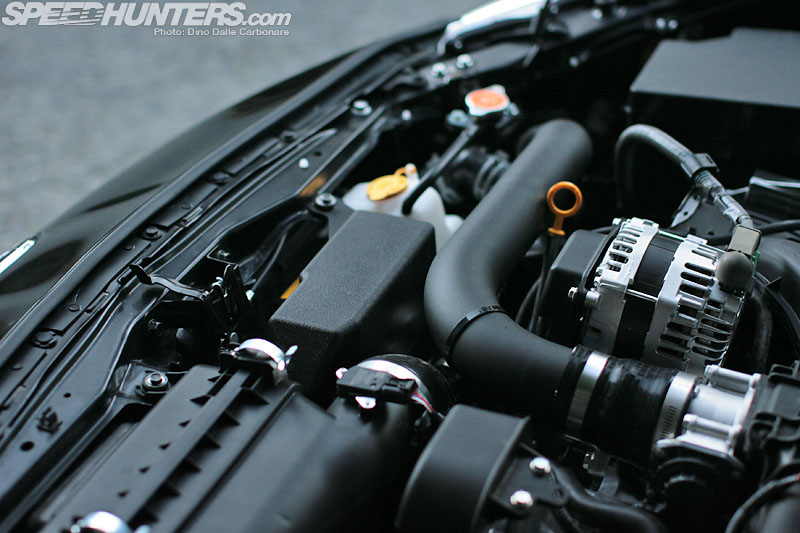 …but it's the oily bits that give this car its true character. As Ross explains, the turbo kit was developed with a few very important goals in mind. First up it had to be universal, meaning it had to be compatible with the 86/FR-S/BRZ/GT86 no matter the market, left or right hand drive. Second, and I think one of the most important things, it had to be as stealth as possible which I feel they have achieved beautifully. In fact if you swing open the hood you would be hard pressed to spot the upgrade, apart from a few silicon hoses and a aluminum intake pipe which has been powder coated in satin black to blend into the expanses of black plastic that make up the car's engine bay.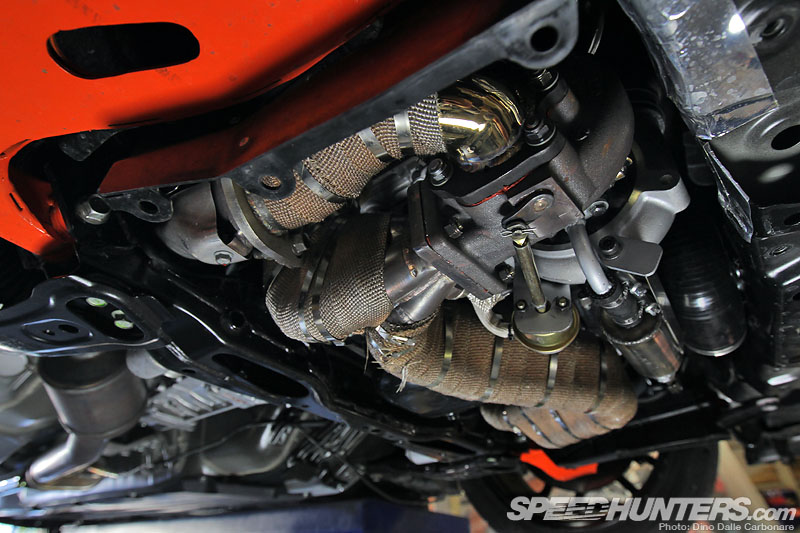 All of the interesting bits are underneath, completely hidden away by the stock undercover, which was removed for the pictures. What you see here makes up the bulk of the AVO bolt-on turbo kit, which comprises of a stainless steel exhaust manifold, the AVO 18/49 turbocharger, a 5~7 PSI actuator, a polished stainless steel turbo outlet, an intercooler and all the necessary water and oil lines as well as fittings.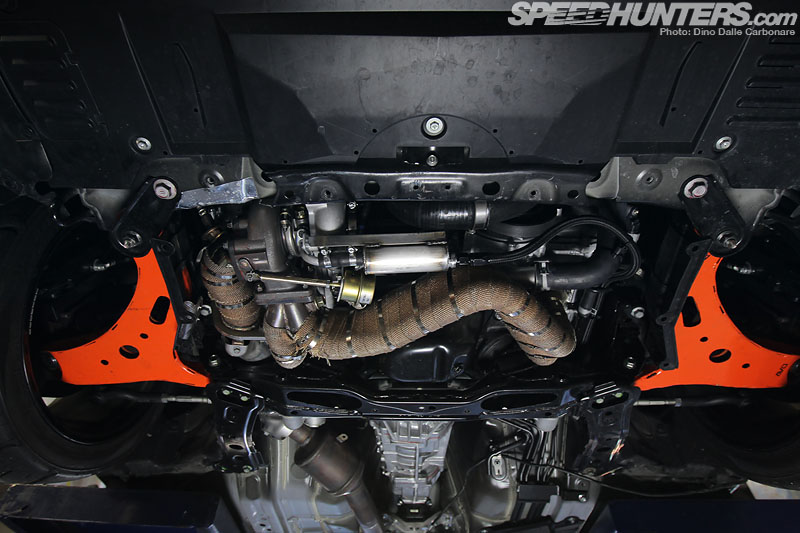 All you keen-eyed otakus have probably noticed that the manifold/headers are unequal length, one of my favorite aspects of the kit as it returns that unmistakable offset burble to Subaru's boxer engine, a sound that over the years has been killed off due to the adoption of equal length manifold design. If this doesn't give the BRZ a big boost in character I don't know what does! To guarantee reliability and the most efficient lubrication Ross came up with a very interesting system for the oil circulation.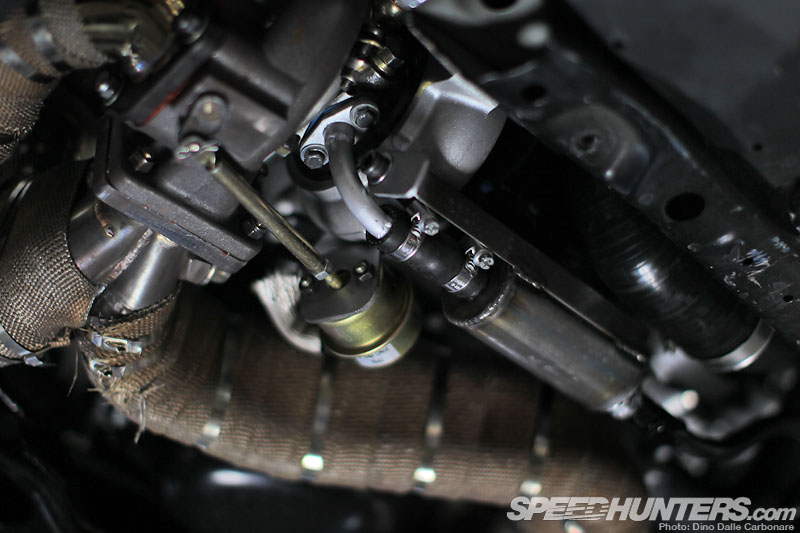 Rather than bolting on an external pump directly to the turbo, the kit comes with a reservoir tank which allows the oil to collect before it is circulated by a scavenging pump.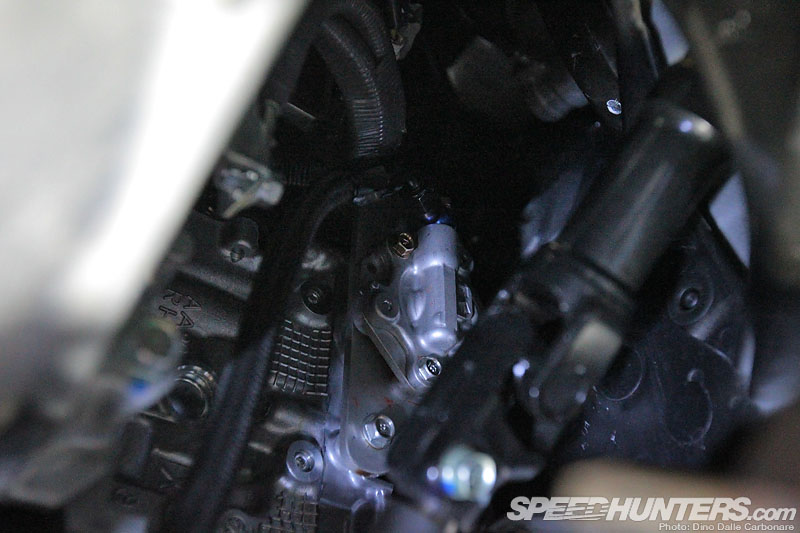 The pump itself is a small and compact mechanical item, running of the back of one of the right hand side camshafts. This is by far the best way to pull oil from the turbo and circulate it back into the engine as the pump's flow-rate is tied to the engine's rpm meaning that the turbo isn't starved at low engine speeds or idle and there is enough flow at mid and high rpm under full load. Ross has spent a great deal of time testing and fine tuning the kit, which runs along with the stock fuel system. All types of fuels were tested and a lot of development was done in the US  on the AVO FR-S, using 91 and 92 octane pump gas, tuning the ECU over a variety of conditions, loads, temperatures and altitudes. The idea here was to make sure that the kit would be perfect for a daily driver, driven year round in all sorts of conditions. When bolted onto a stock car the kit will yield anywhere from 220 to 250 HP at the wheels. These variations are purely based on fuel quality as the FA20 engine is a very well engineered, running a high 12.5:1 compression ratio, regular as well as direct fuel injection and featuring very well designed combustion chambers. Ross spent a lot of time fine-tuning the engine management via an EcuTek system, and the kit will come with a Stage 1 ECU base tune. In Japan, with good quality hi-octane gas the AVO demo car…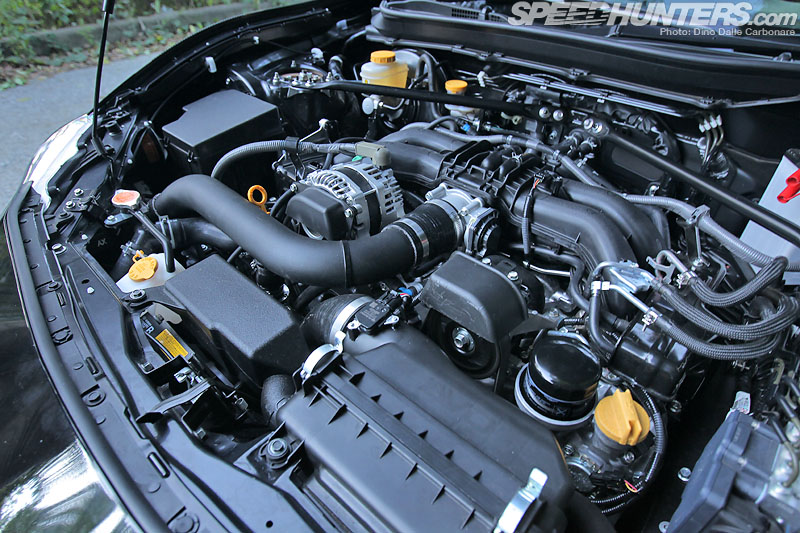 …can develop around 300 HP, running an AVO exhaust system and an AVO panel filter. The turbocharger used in the kit is rated at 380 HP so there is quite a lot of potential for future upgrades. The complete kit, including the EcuTek base tune is available for $3,800, which certainly makes a very strong argument for itself.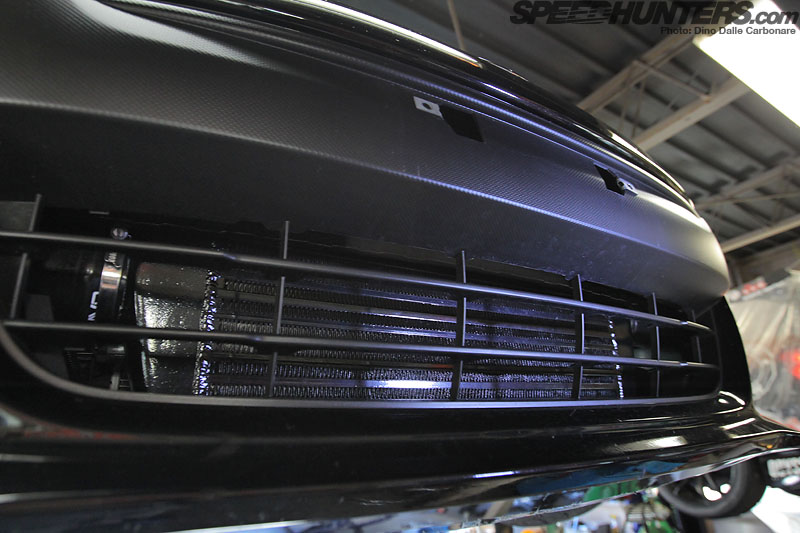 The kit also includes a very stealthy front mounted intercooler, which has been developed to fit in the stock bumper without any sort of cutting or modifications. In fact if you don't go looking for it, it's very hard to spot.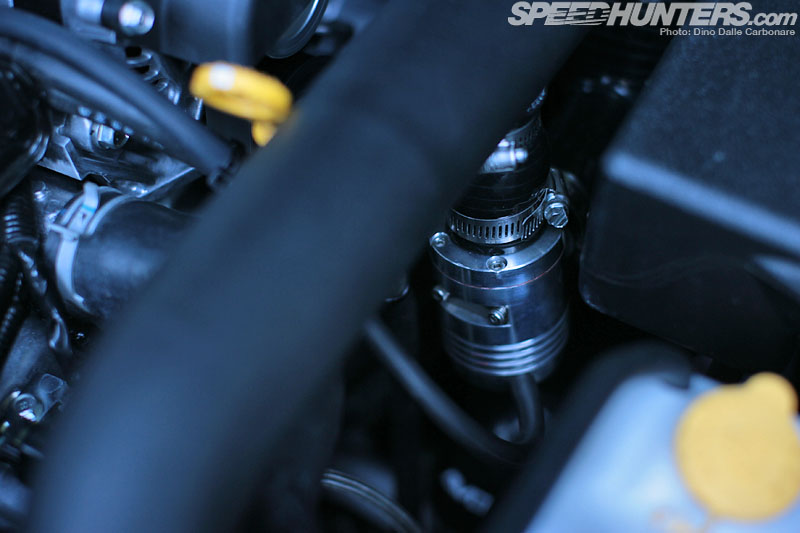 There are some options available like the AVO blow-off valve…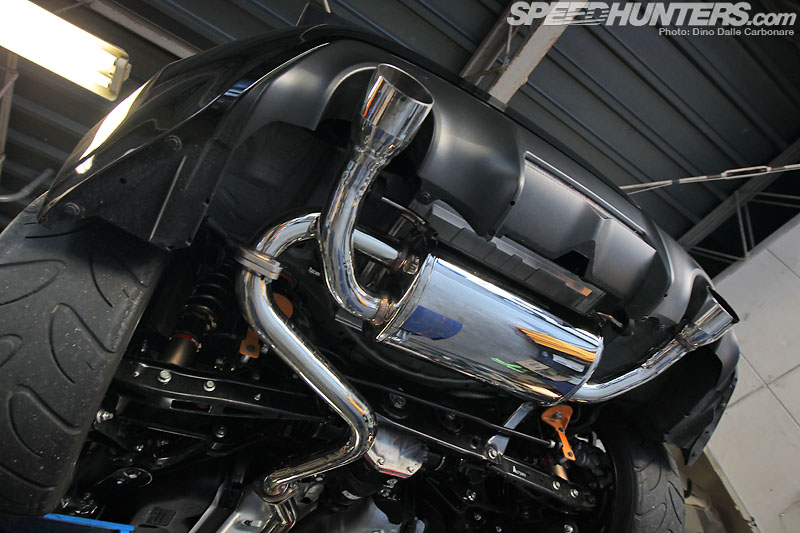 …and the $990 stainless steel exhaust system. A front pipe will be available soon.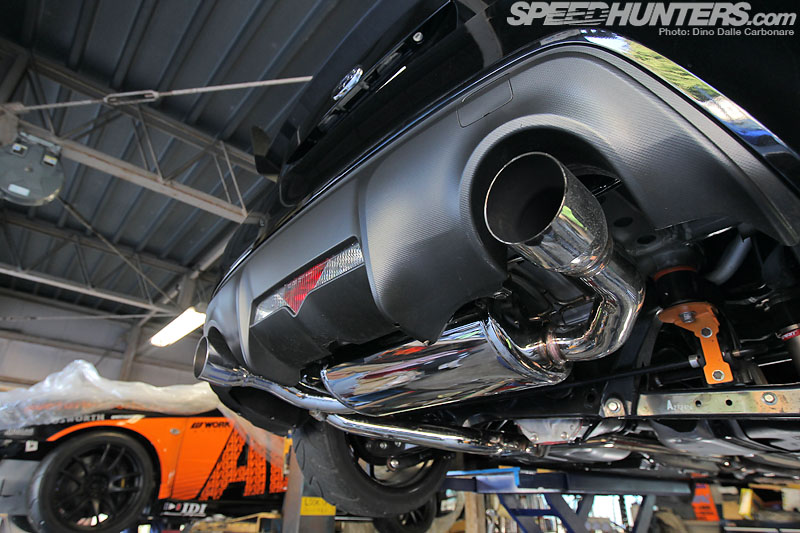 When you turn on the engine from cold and the rpm is kept high for a minute or so the AVO BRZ sounds impressive, a very oldschool Subaru sound coming out of those shiny tail pipes. When the idle settles the burble subdues and is actually surprisingly quiet.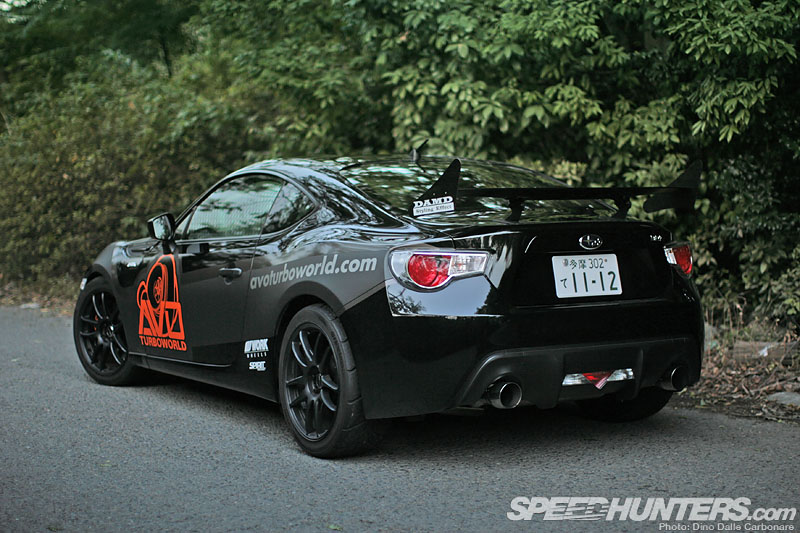 Ross will be entering the BRZ at this years Super Battle in Tsukuba in December and can't wait to see what time improvements the turbo upgrade will give over the 1'10" it has so far managed. To allow the rear wheels to handle the 100 or so extra horses an ATS 2-way LSD has been fitted.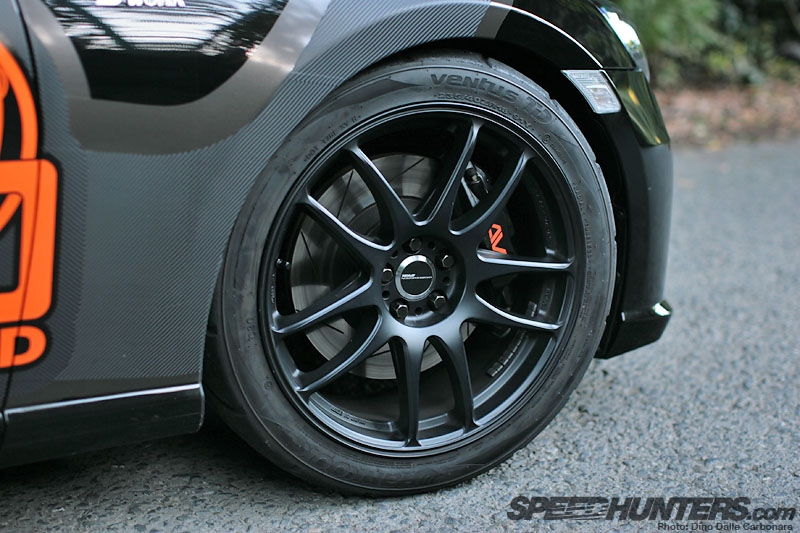 Work Emotion CR Kiwamis are the wheel of choice, pained in satin black and measuring 8.5Jx18″ +47 all round. Seeing the car is used pretty much only on track…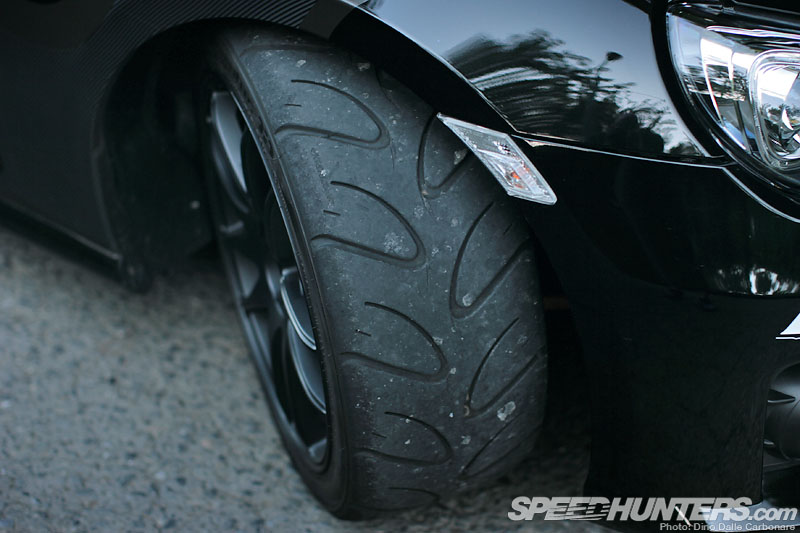 …Ross runs the same super-sticky Hankook Ventus TDs that he has been using for years on his widebody time attack GDB, 235/45 all round.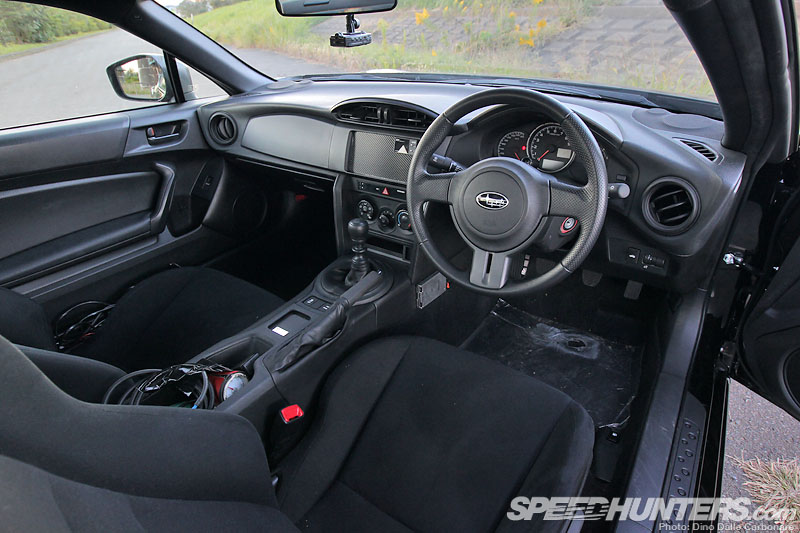 Simplicity rules in the interior too, with everything having been kept stock. With the extra performance a seat upgrade might be on the cards in the future.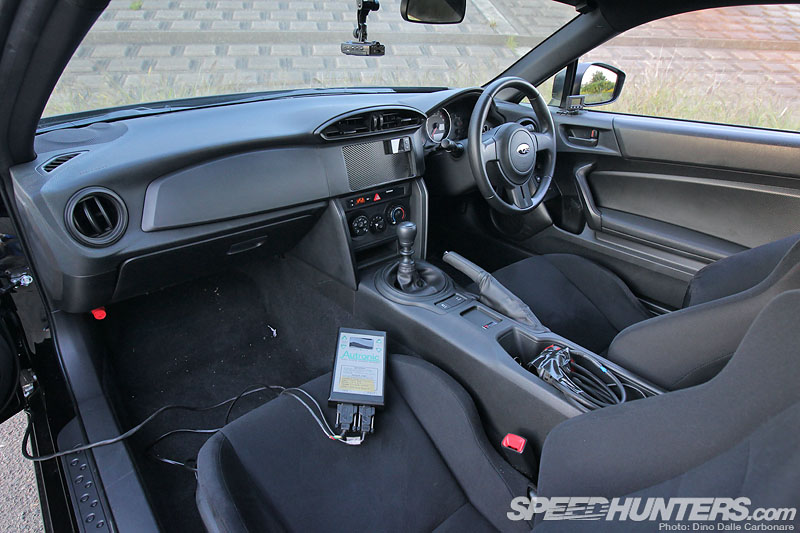 During my testdrive of the car Ross was busy checking the A/F and knock under normal road driving, continuing to improve the ECU's settings. The BRZ is also fitted with an AVO electric throttle controller which boosts response, giving the impression the engine is throttled by a good old-fashioned mechanical-actuated butterfly valve!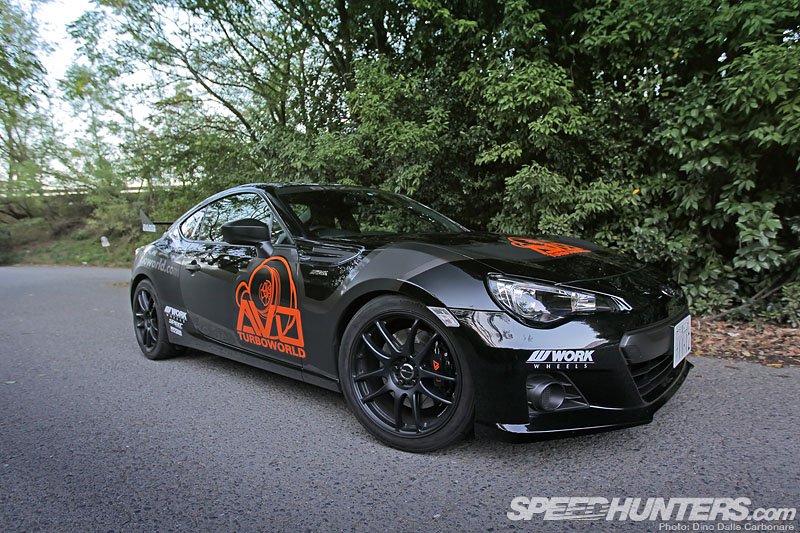 Like all of AVO's cars, suspension improvements are always number one on the cards, and some of the first upgrades the BRZ received were aimed at sharpening up the handling.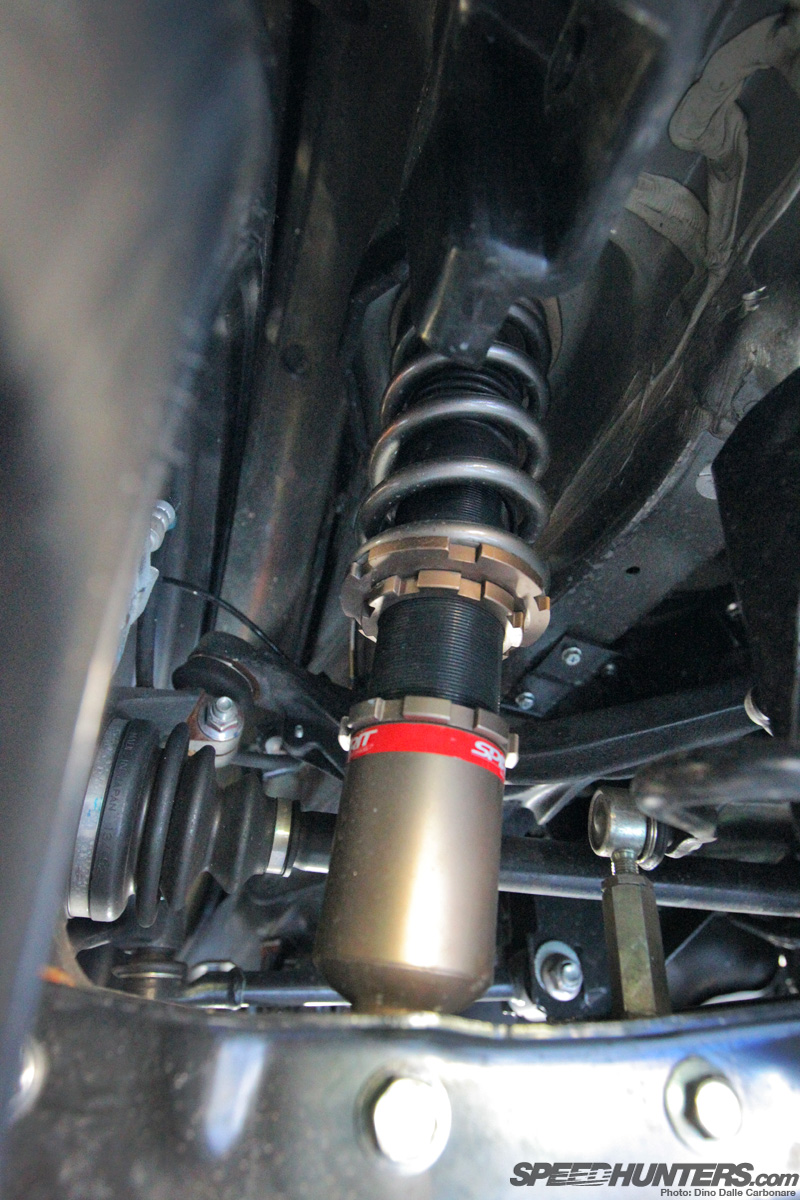 So along with an adjustable Spirit coilover set up…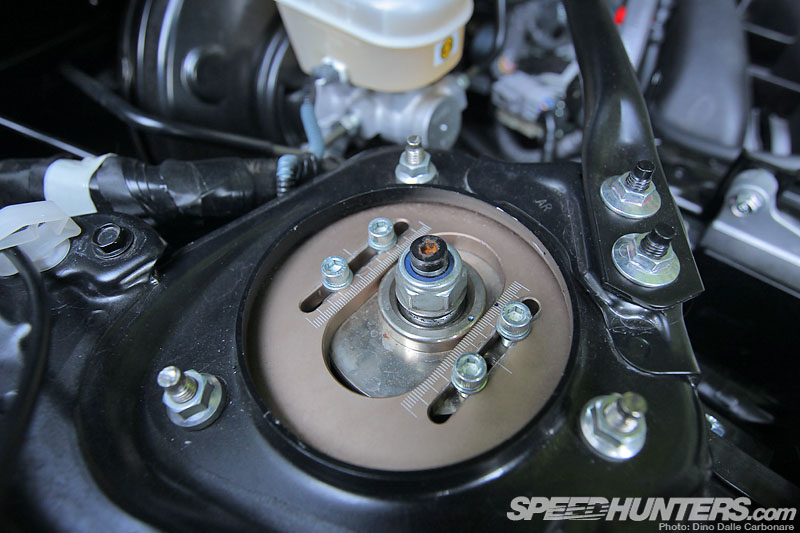 …mounted on adjustable camber plates…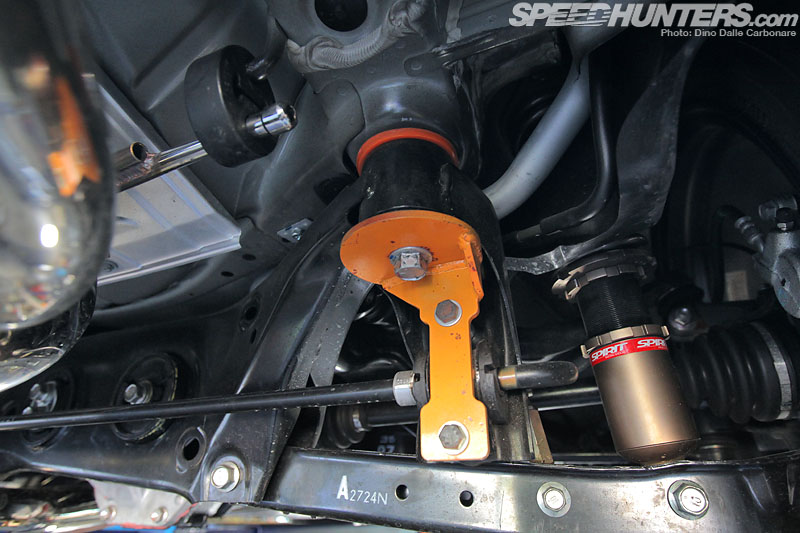 …Ross has upgraded bushes with harder polyurethane items. Above is the AVO rear sway bar braces to reinforce the stock brackets which are apparently so flimsy they flex or even bend. The car is also fitted with special AVO front lower A-arms as can be seen from the  under car engine shots further up in the post.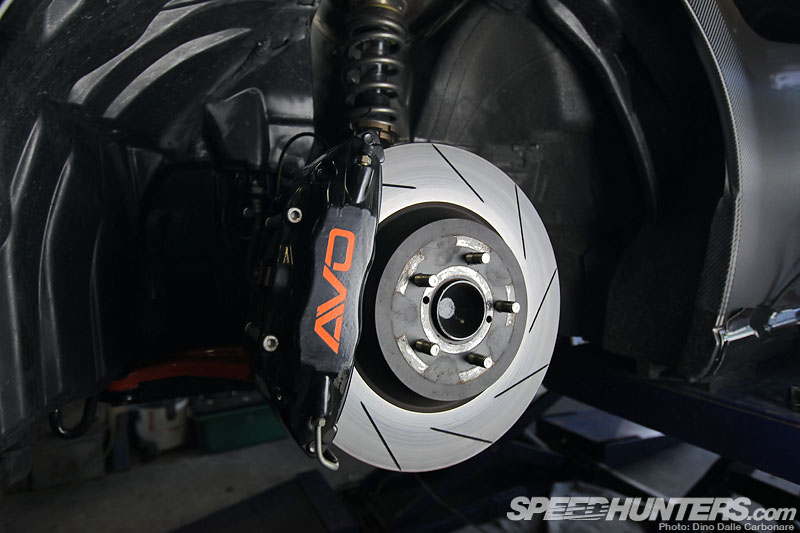 With lots of track use, and the additional power, bigger brakes were something that was definitely needed despite the BRZ being quite light. So big 4-pot AVO calipers and slotted rotors were fitted up front, giving a much stronger and immediate bite with no signs or fade, even when driven hard on track.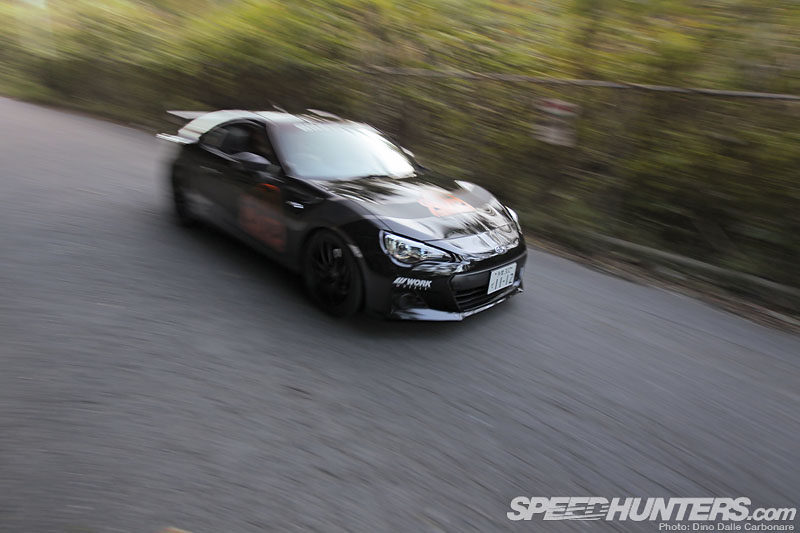 You are probably wondering how the 100 or so HP bump feels like out on the road. Well, admittedly I always did state that in my opinion the 86/FR-S/BRZ felt excellent with its stock 200 naturally aspirated horses, but oh boy was I wrong. While the stock engine is very well balanced to the suspension and handling of the stock car, once you begin throwing on harder and more performance oriented dampers and grippier tires it's obvious more "oomph" is needed. As soon as I floored the BRZ coming out of the AVO shop I smoked through all of first gear, the sticky Ventus TDs struggling for grip. While 300 HP is great at high rpm it was especially great to see that Ross has concentrated on giving the FA20 a nice responsive mid-range, with great boost pick up and explosive torque right when you need it, even only with 7 PSI showing on the boost gauge. It all felt very well set up, a similar linear delivery to the stock engine but with more power and torque available at every rpm.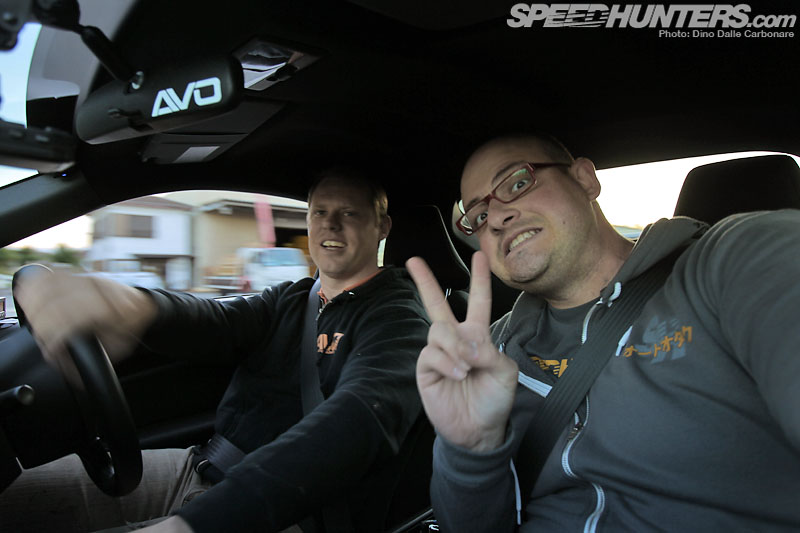 And at partial throttle it is very obvious the ECU has been very well set up, usually one of the hardest things to do when turbocharging an NA motor. No on/off throttles here! The simplicity, stealth and decent price of the kit makes it almost a no brainer for those wanting more from their 86/FR-S/BRZ. Having driven all sorts of tuned versions of this car, including the one-make-series race car, I can safely say this is by far the best I've come across. The smile on my and Ross' face is testament to how much fun the AVO BRZ is!
Specs:
Engine: AVO 18/49 turbocharger, 5-7 psi actuator, AVO mechanical oil scavenger pump, oil-reservoir tank, unequal-length stainless steel exhaust manifold, exhaust heat wrapping, AVO polished stainless steel turbo outlet, AVO stainless steel exhaust system, aluminum front-mounted intercooler, silicone/aluminium intercooler piping, blow off valve, AVO black silicone intake pipe, AVO high-flow panel filter, various oil & water hoses and fittings, EcuTek tuned reflashed stock ECU "Stage 1″ map.
Transmission: ATS metal 2-way LSD
Suspension & Brakes: Spirit adjustable coilover suspension kit, 8kg/mm springs front, 10 kg/mm springs rear, AVO bushes all round, AVO rear sway bar braces, AVO front lower arms, AVO front brake kit comprising of 4-pot calipers and slotted rotors
Wheels & Tires: Work Emotion CR Kiwami 8.5Jx18″ +47 (100 PCD), Hankook Ventus TD 235/40ZR18 91Y (front & rear)
Exterior: DAMD dry carbon rear wing
Interior: AVO electronic throttle controller module
-Dino Dalle Carbonare