The JDM approach
When I was last out at Liberty Walk a couple months ago shooting its Ferrari F50 and BMW M3, I asked Kato-san about his upcoming Ferrari 458 project. He seemed extremely excited about it, taking me out to his garage and showing me a pair of brand new Italias that would eventually – after the first prototype built for the SEMA Show – be getting the same treatment. When it comes to making a statement, this is a man that doesn't hesitate an ounce; he sets his mind to something and within a very short period of time the finished result is in the public eye for all to see.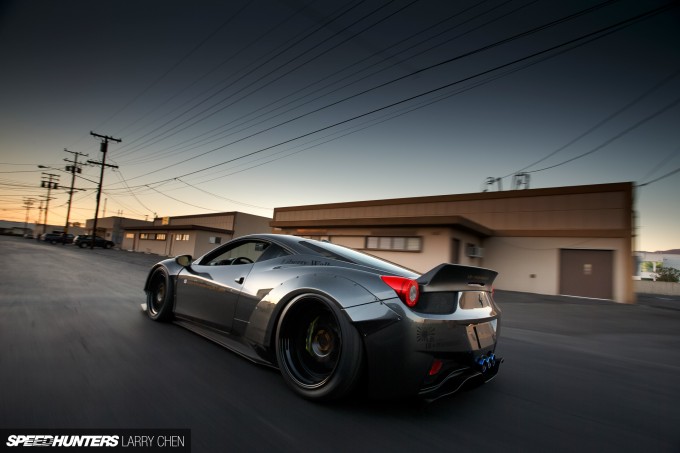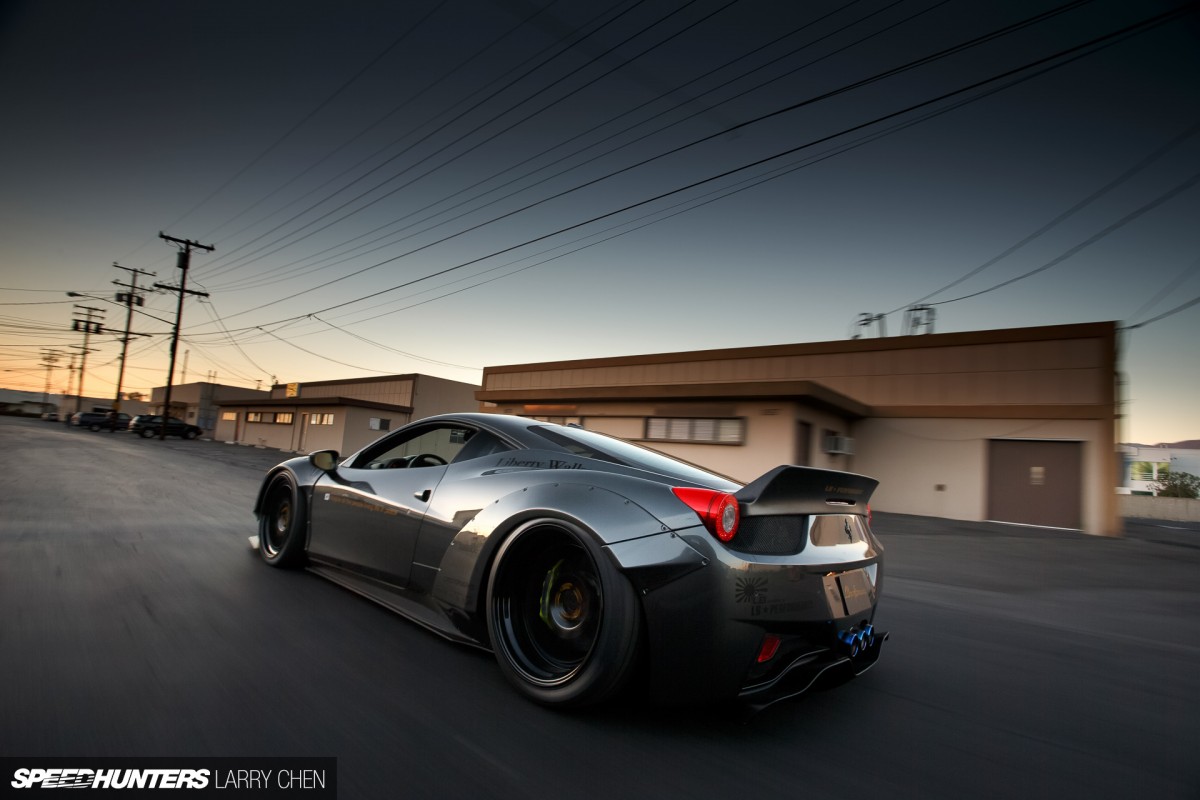 And that's exactly how the 458 project came to light. After Miura-san at TRA Kyoto had completed the very first LB☆WORKS wide body kit, it was shipped off to LT Motorwerks in El Monte, California, where the build was carried out.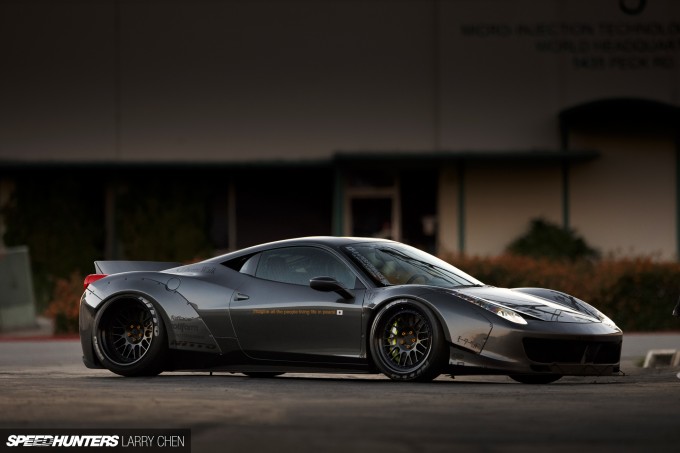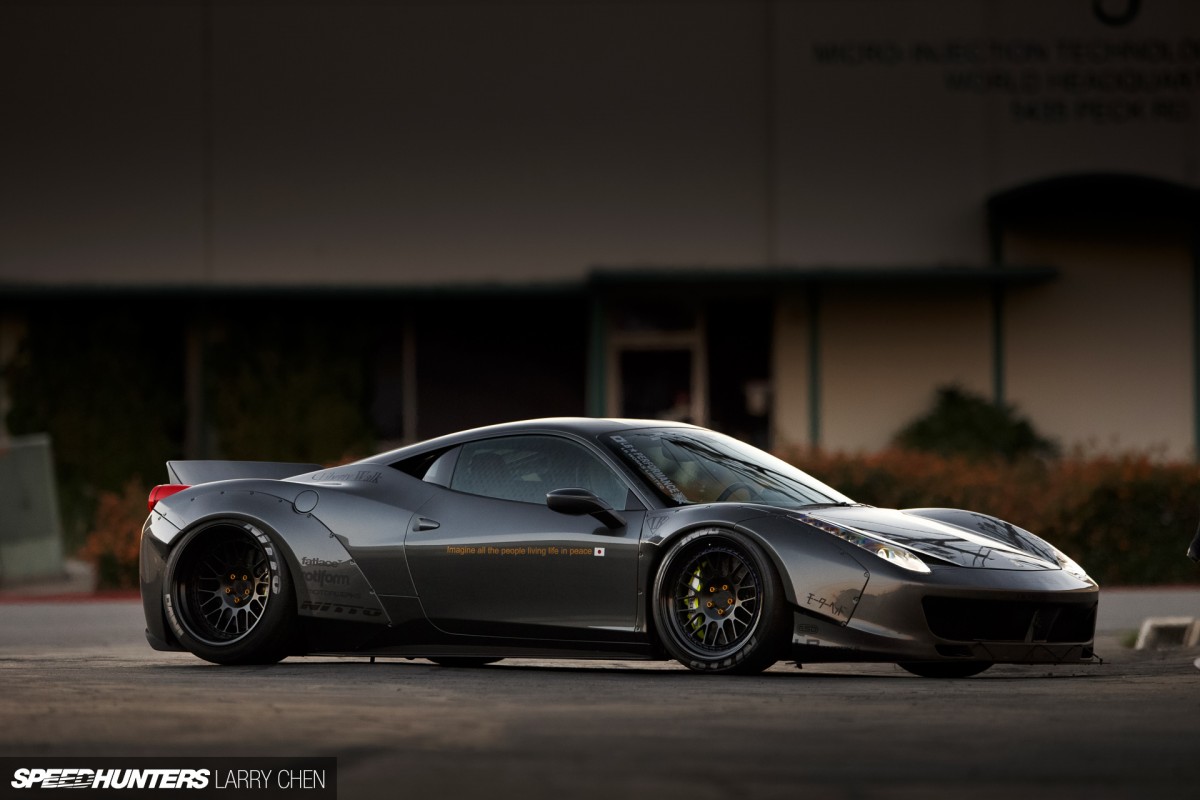 Kato-san and his crew followed, and along with the LTMW guys, have dedicated many sleepless nights converting the stock 458 into something no one has ever attempted with the platform.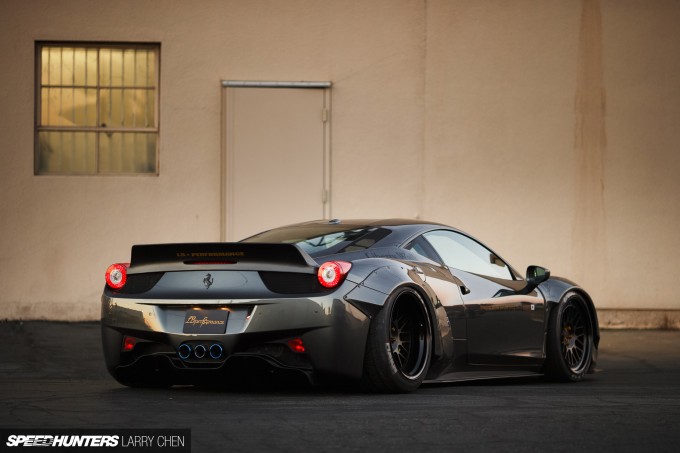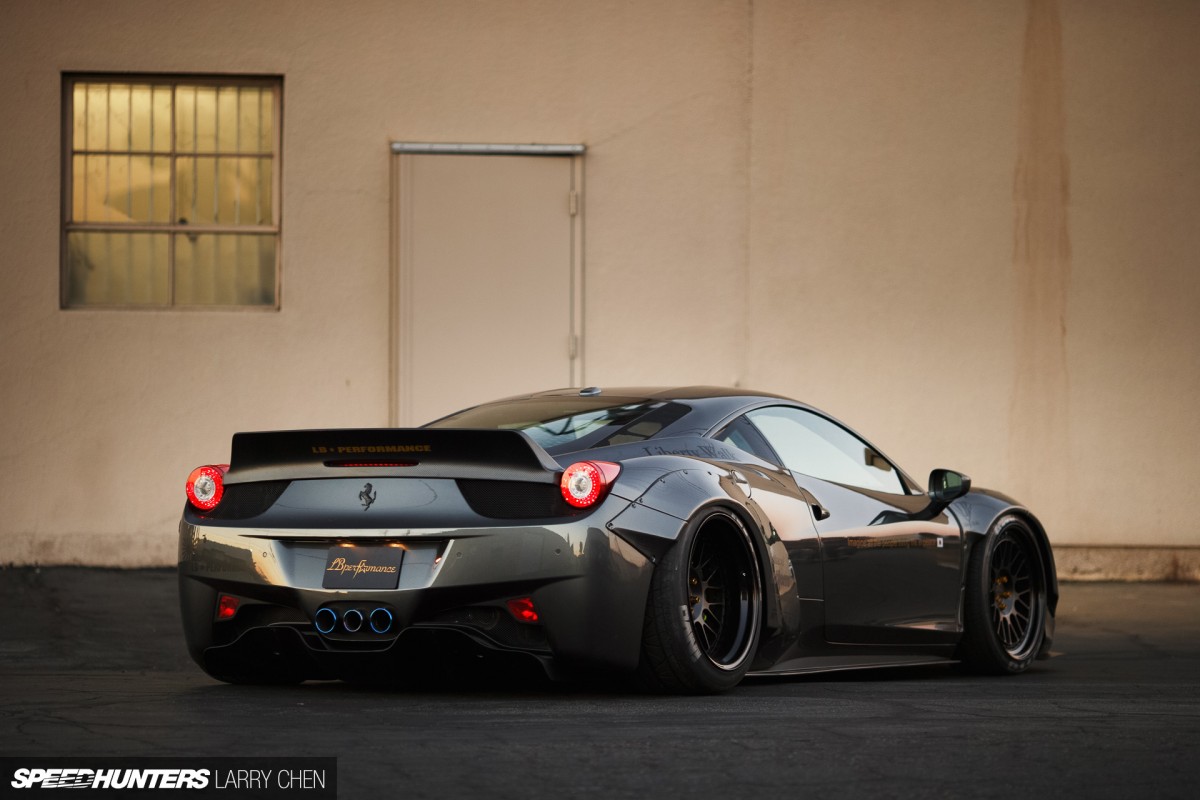 Call it a JDM approach to Italian exotica. It's the equivalent of double middle finger salute to all the purists out there who cringe at the mere thought of a Ferrari being fettled in any way, shape or form.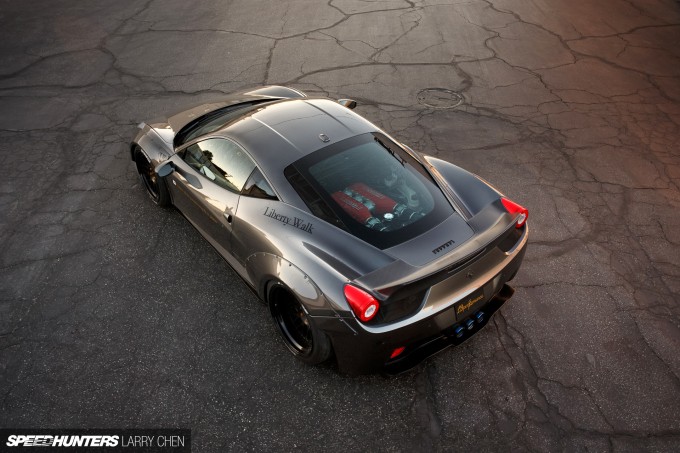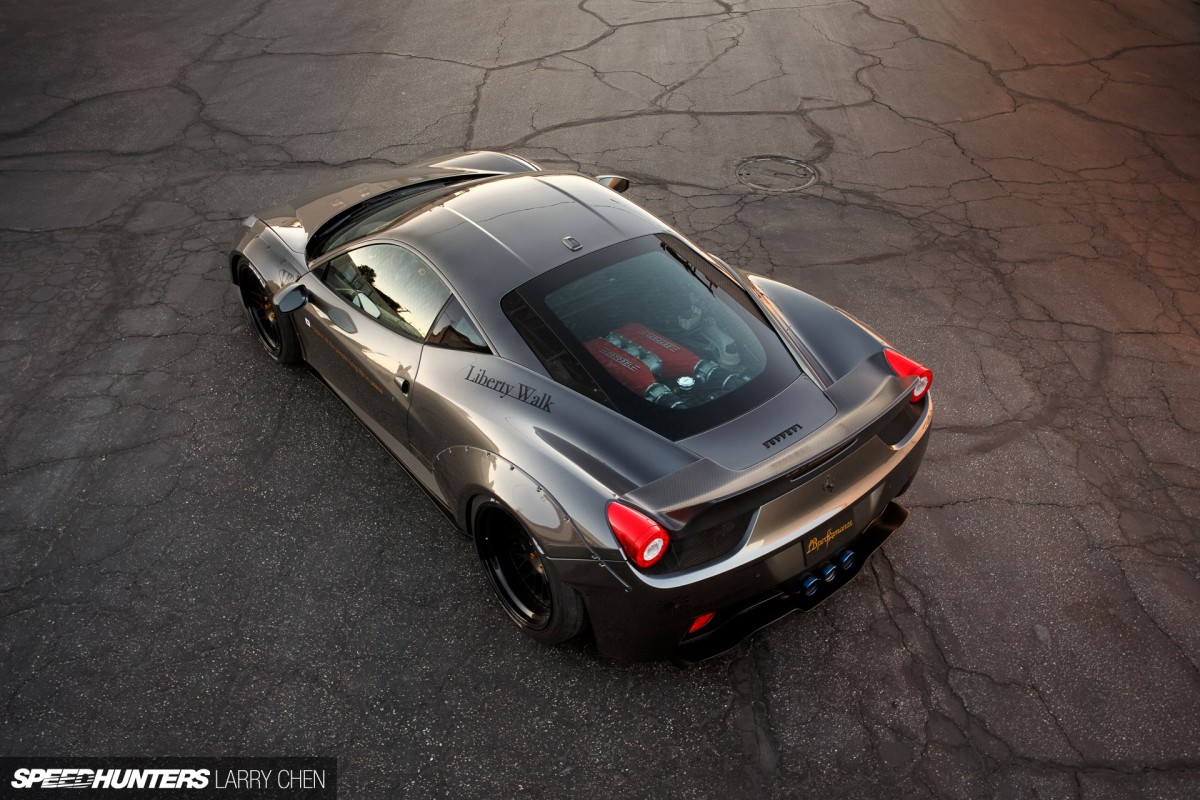 But it's the way in which LB☆WORKS cars shock that has made them so well known.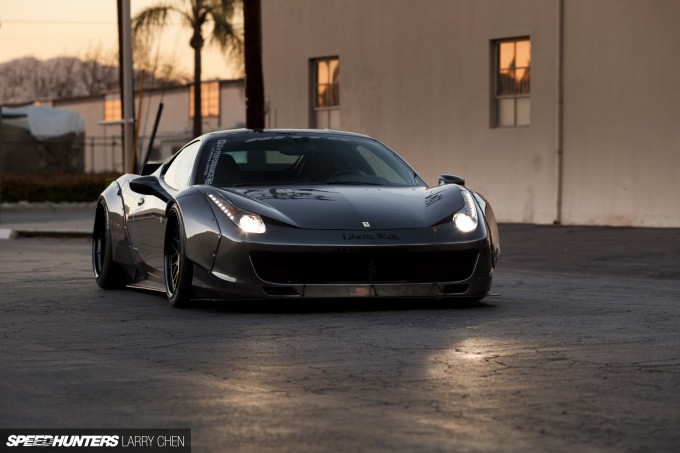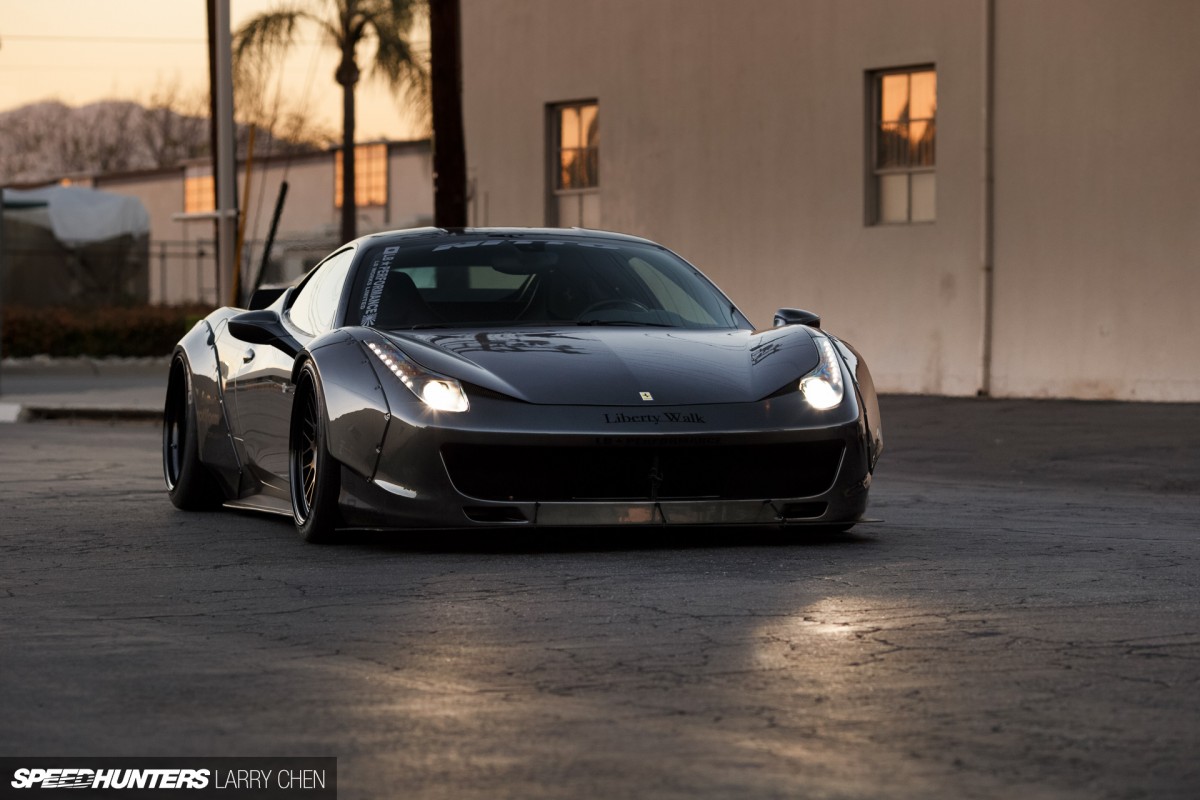 With Larry having immortalized the car just a few hours ago, we had to share his images with you as quickly as humanly possible. Ladies and gentleman, I present you the car that's about to melt the interwebs.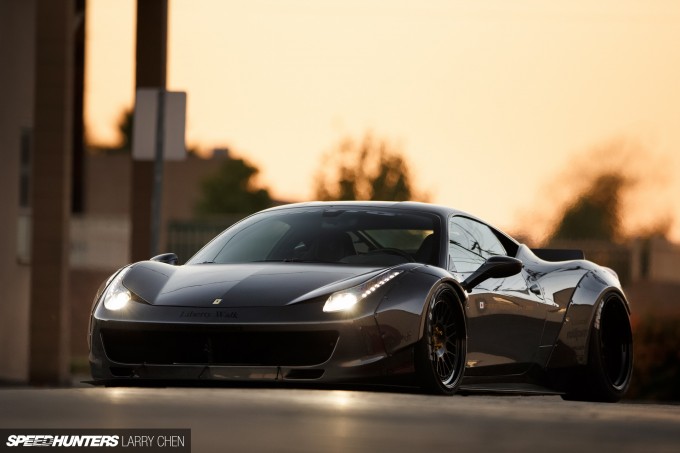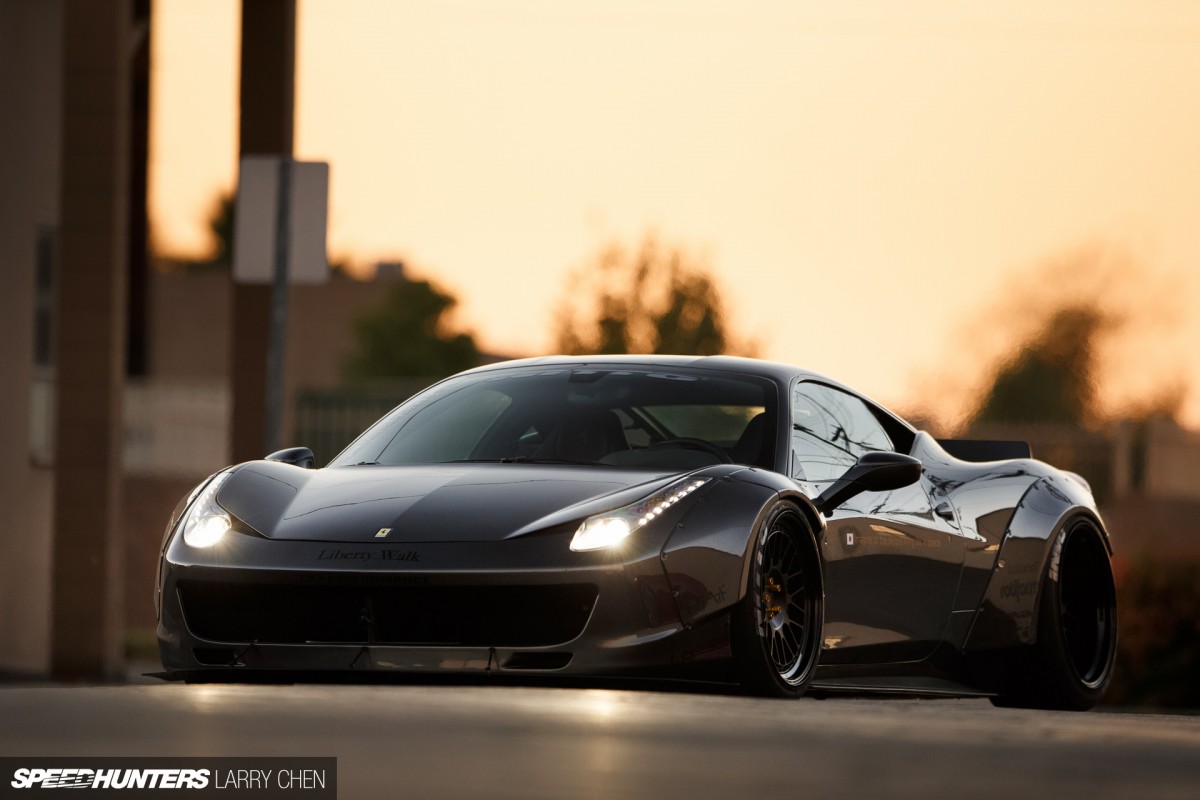 So what to make of it all? The 458 as a base was definitely a difficult car to work with. Ferrari pushed the boundaries of styling when it came to penning its new best-selling, mid-engined car, and even attempting to mess with those almost-organic lines seems like pure madness.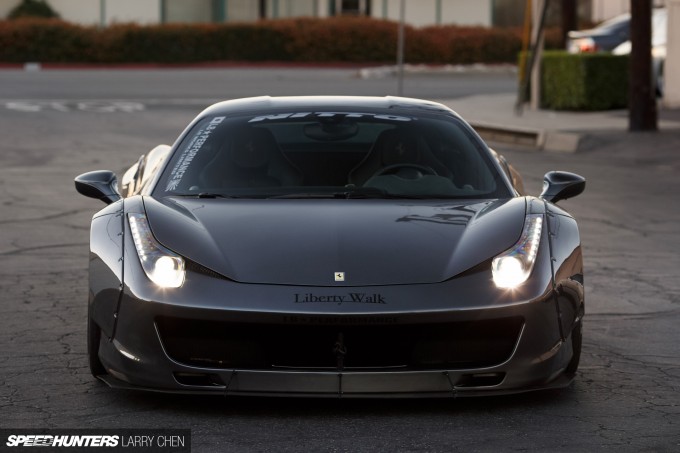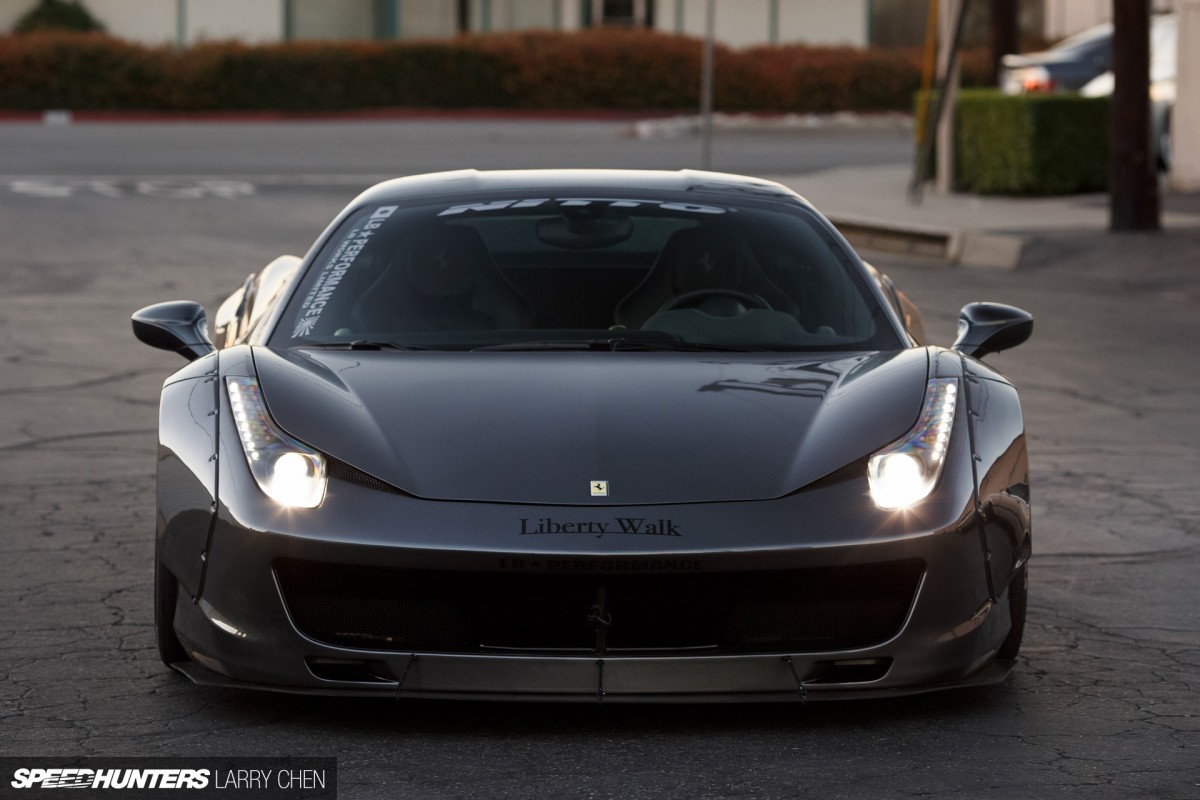 But if there's one person out there that knows how to integrate an additional wallop of badass-ism into a car, it's Miura-san. His work with the Rocket Bunny FR-S last year was almost unprecedented. It literally made the hachiroku more popular than it already was, and well and truly put TRA Kyoto on the map.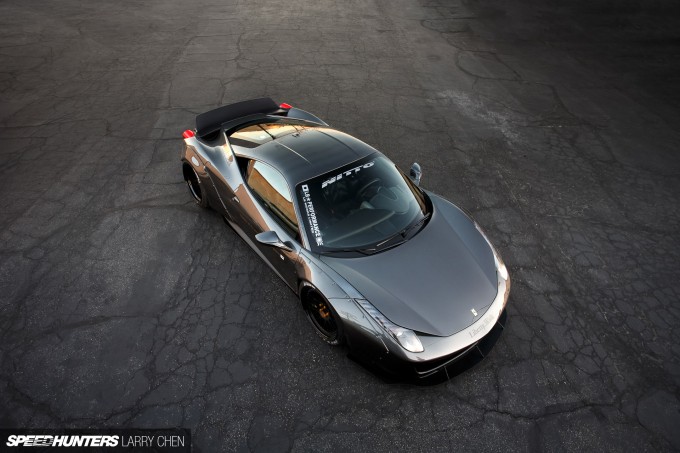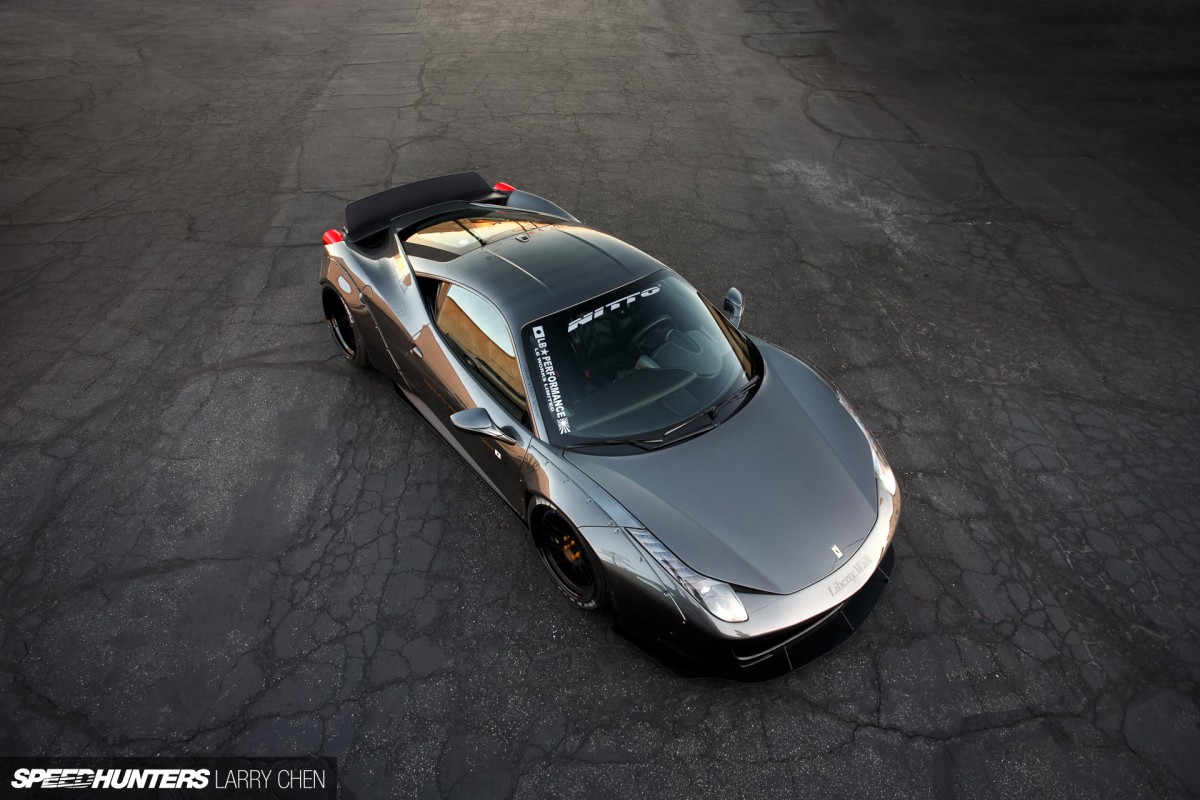 Kato-san observed, and in his head a series of ideas followed. Ideas that shortly after materialized into the LB☆WORKS Murcielago, the LB☆WORKS Aventador and eventually the LB☆WORKS M3.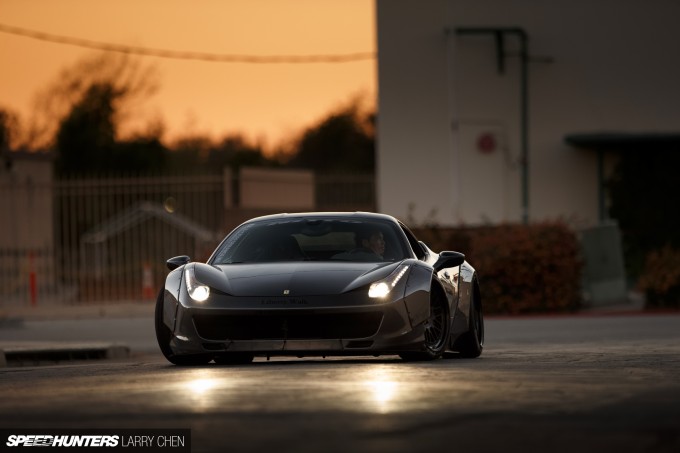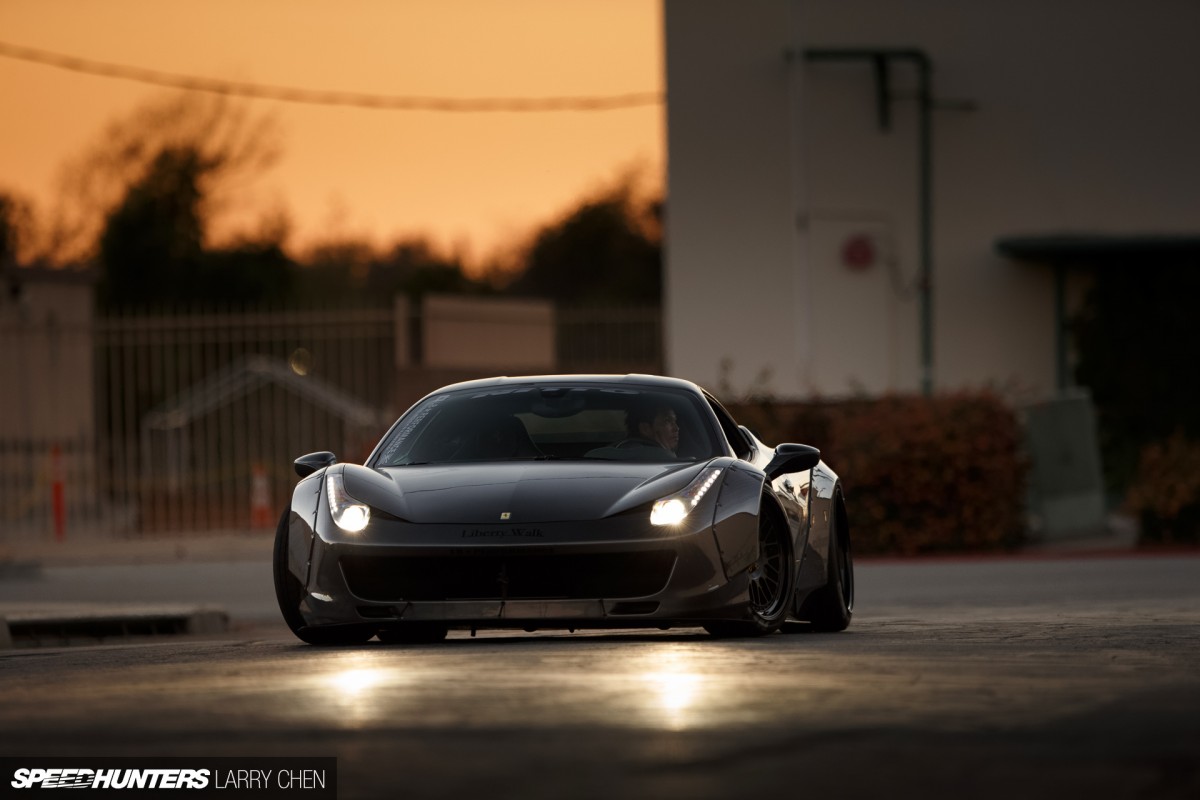 Following a somewhat simple recipe of 'wider is better' and 'lower is cooler', the aero package that transforms the 458 is based around the rawness…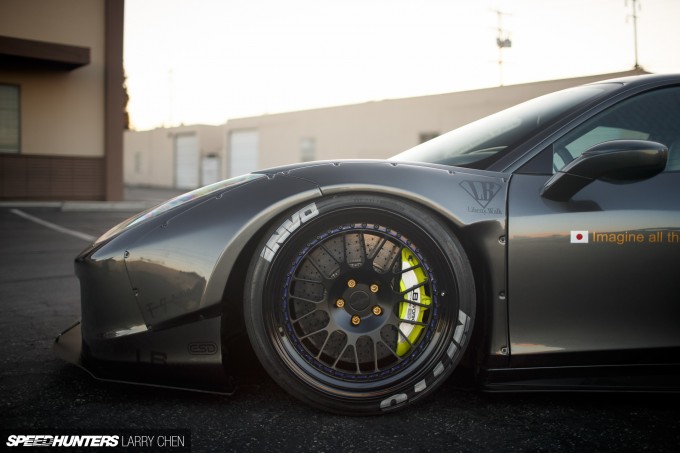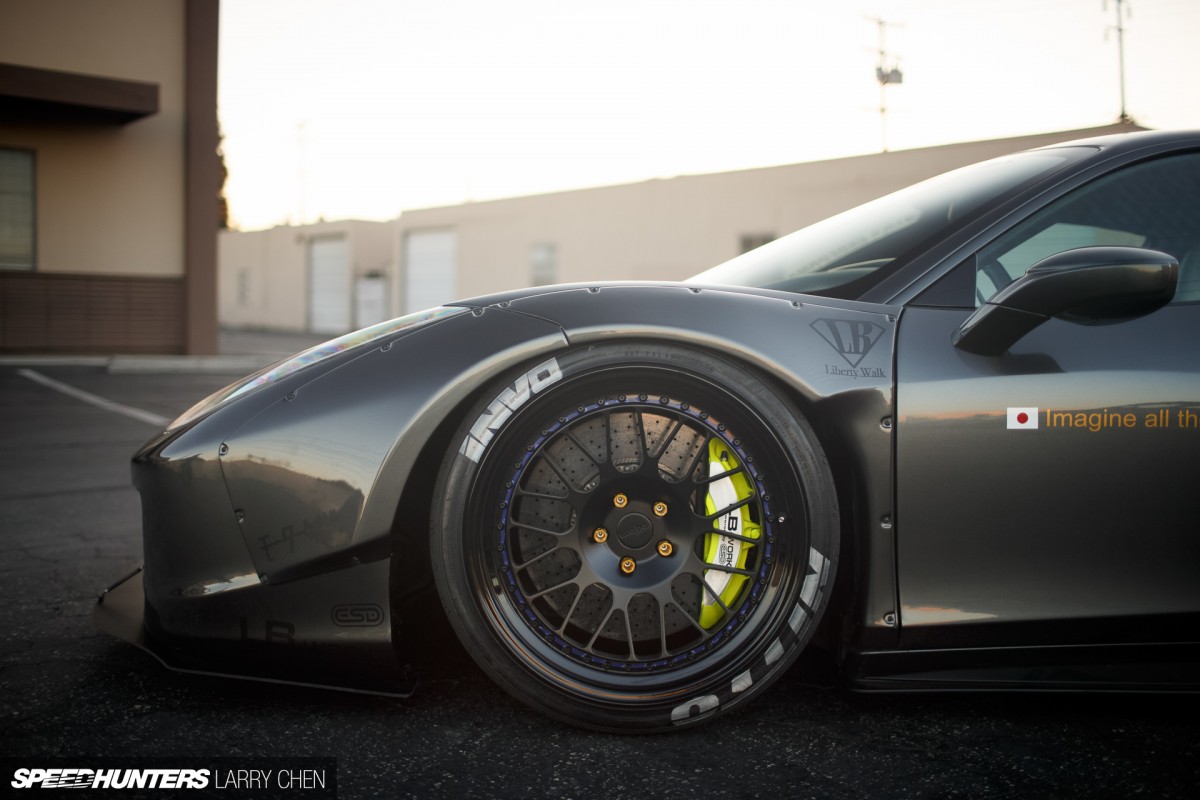 … of screwed-on overfenders that have been styled to blend in with the Ferrari's wheel arch lines, but purposely stick out like a sore thumb. In a good way of course. You can see Miura-san integrating the tucked-in fender portion behind the wheel – a detail that he developed with the BenSopra 380RS at the beginning of the year.
Cut those fenders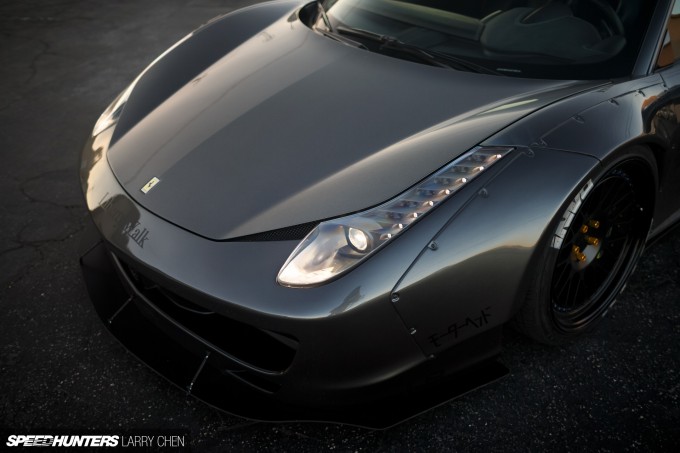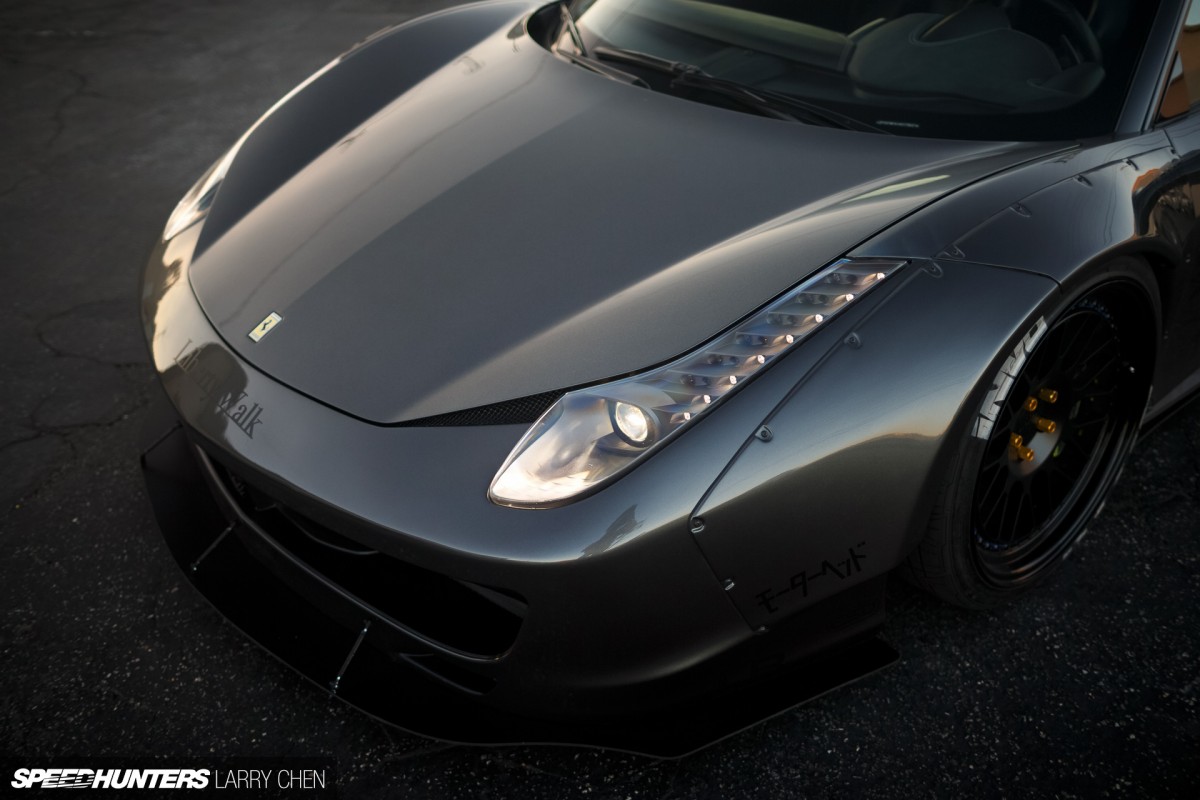 The restyled front bumper enhances the mustache-like grille, introducing a much bigger central opening and a pair of brake cooling ducts, all mated to a protruding lip spoiler that's held in place…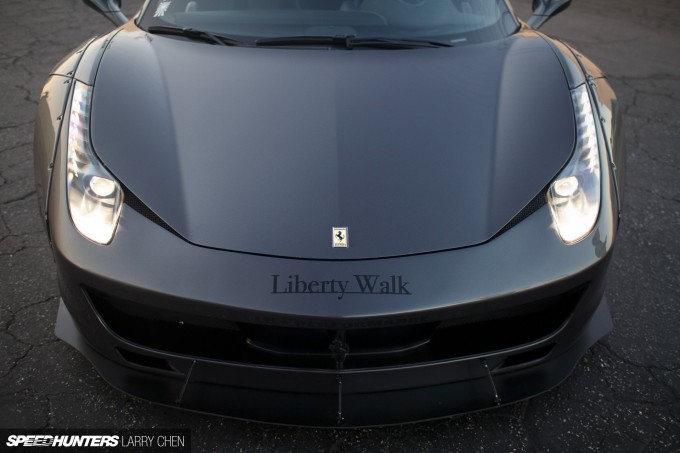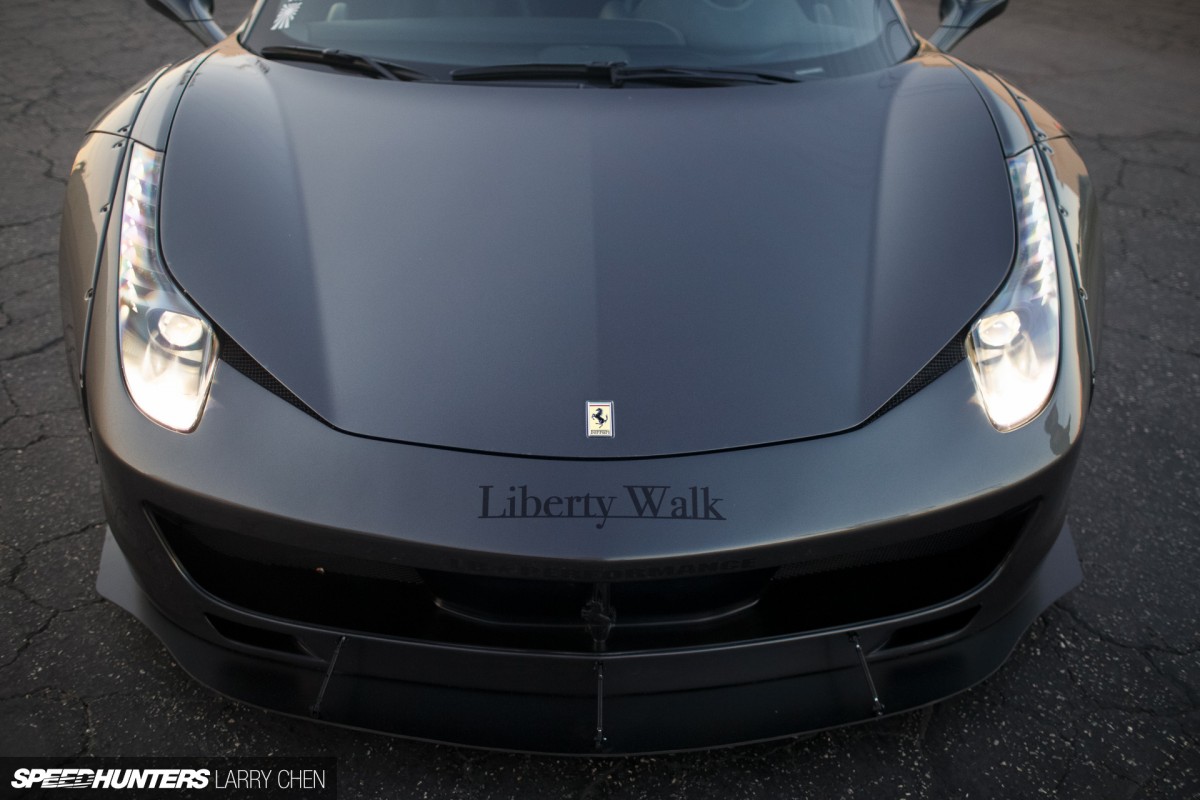 … with three adjusters. Very DTM.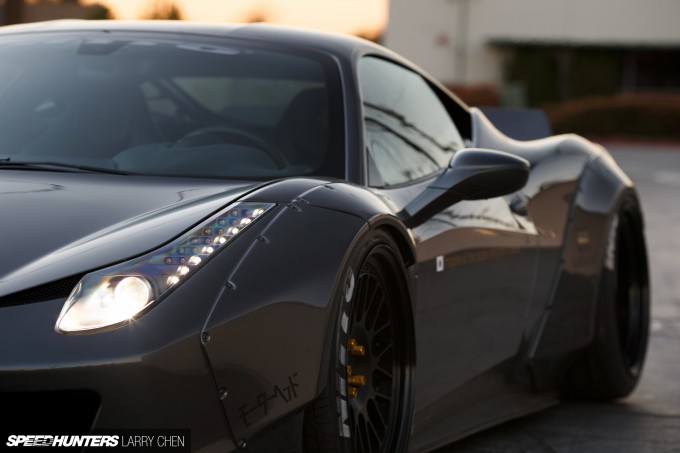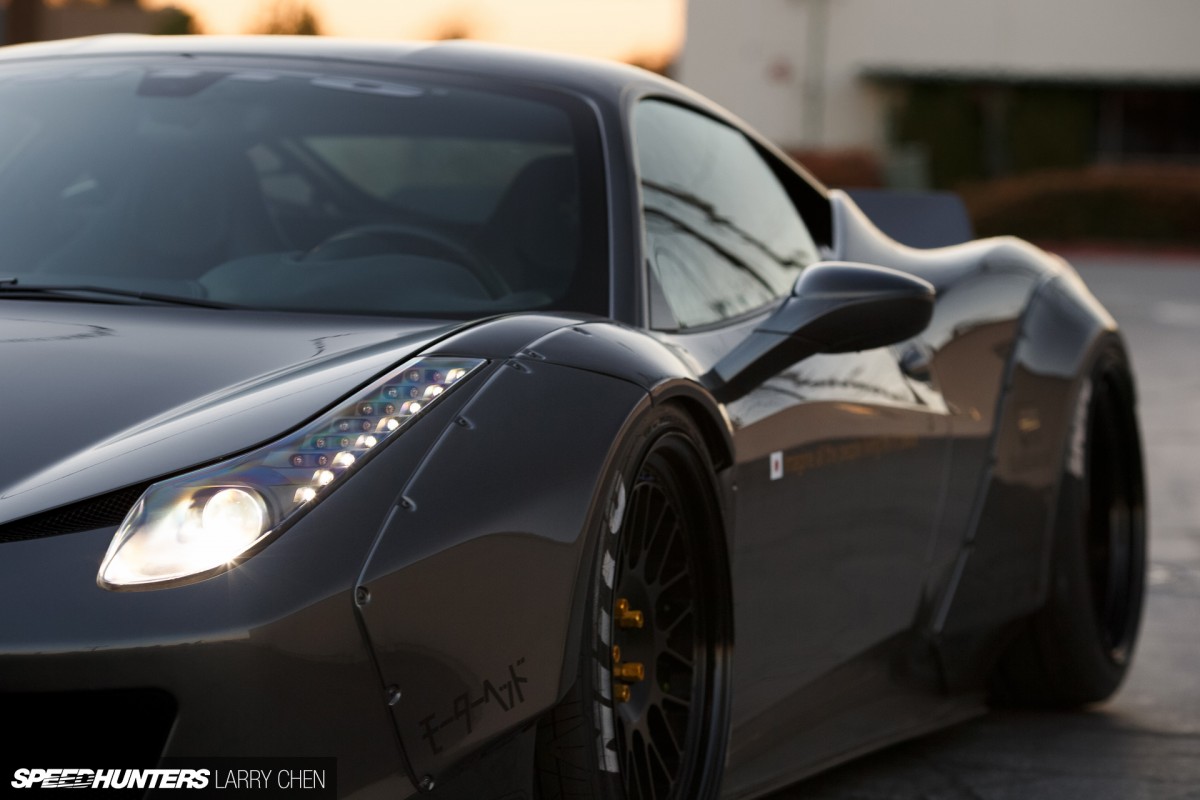 Here's a better angle that shows off the widening effect…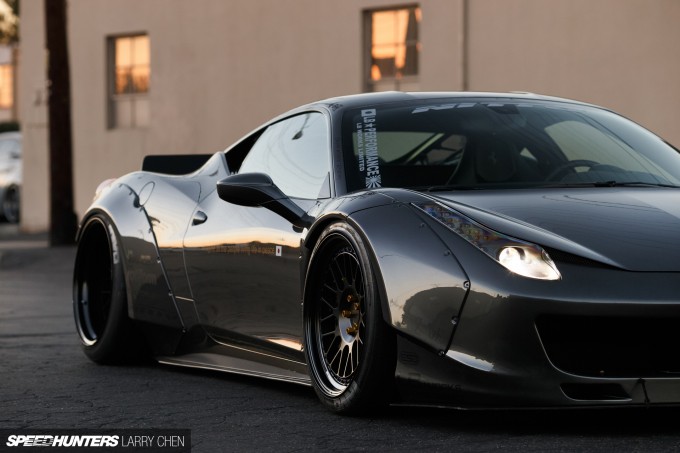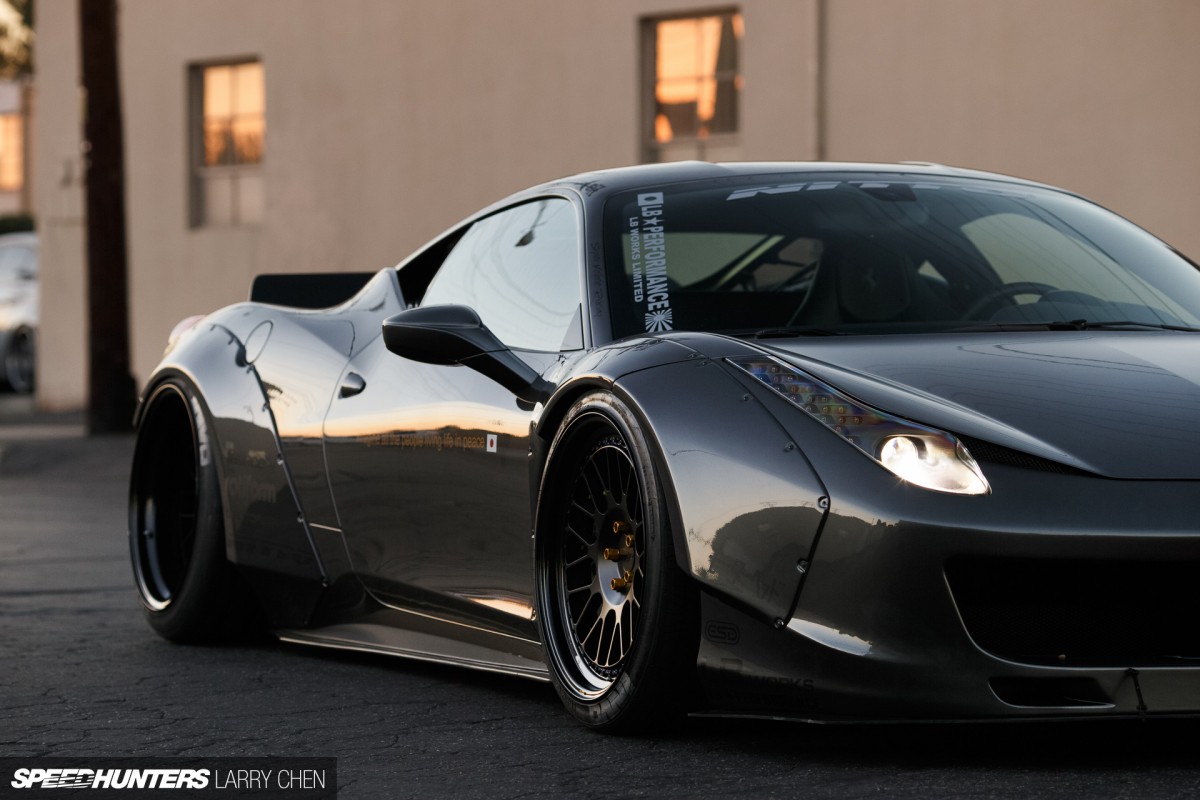 … which, of course, called for some slightly painful cutting and grinding of the stock fenders.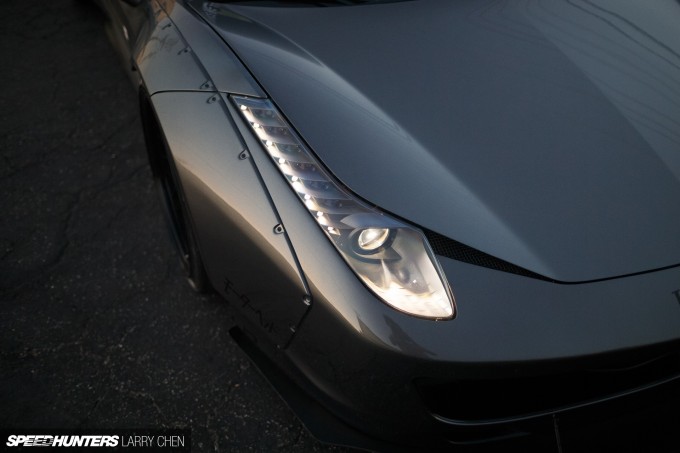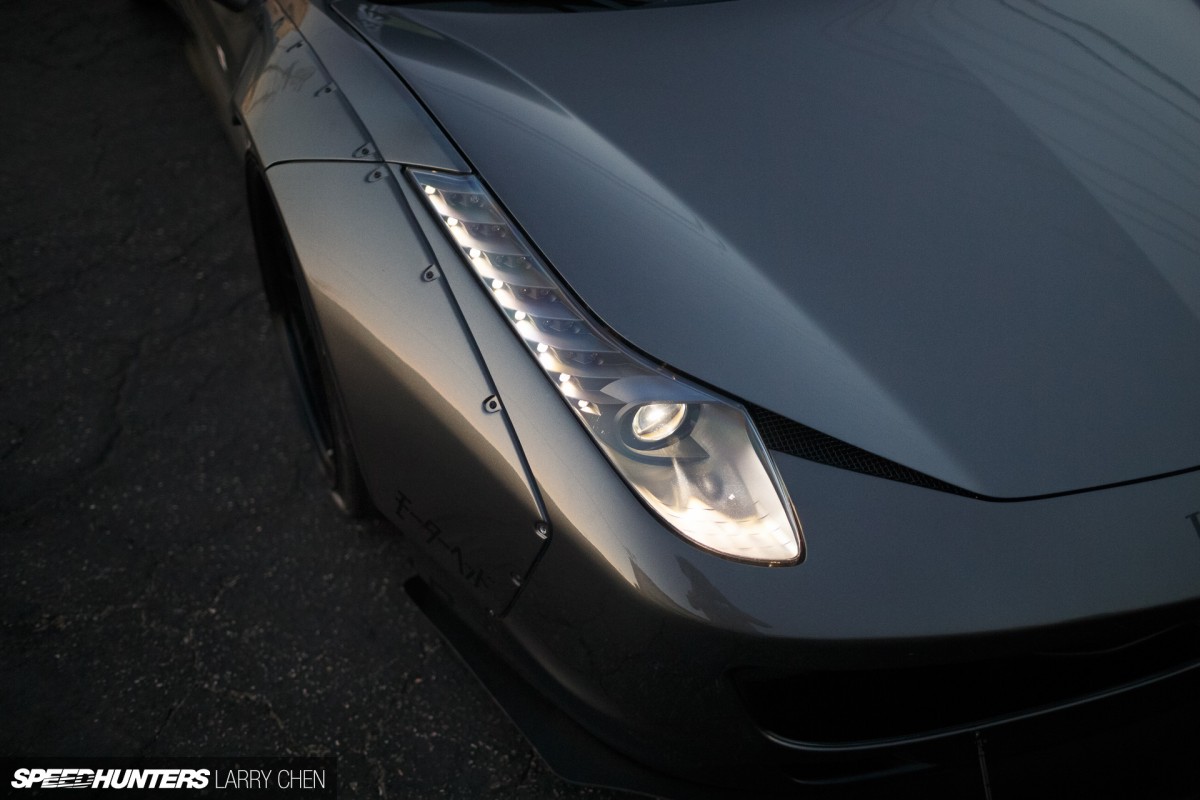 No, no, don't cringe – Kato-san couldn't care less. In fact, he's going to do the exact same thing to his very own personal 458 in Japan when the time comes. Except that car is a road-legal 458 Challenge with carbon fiber fenders.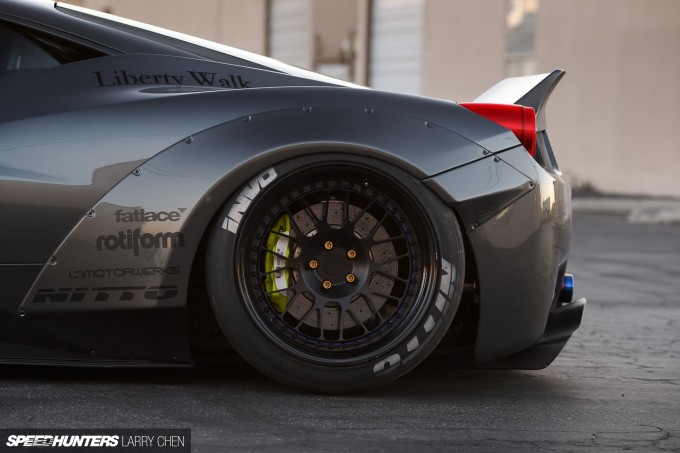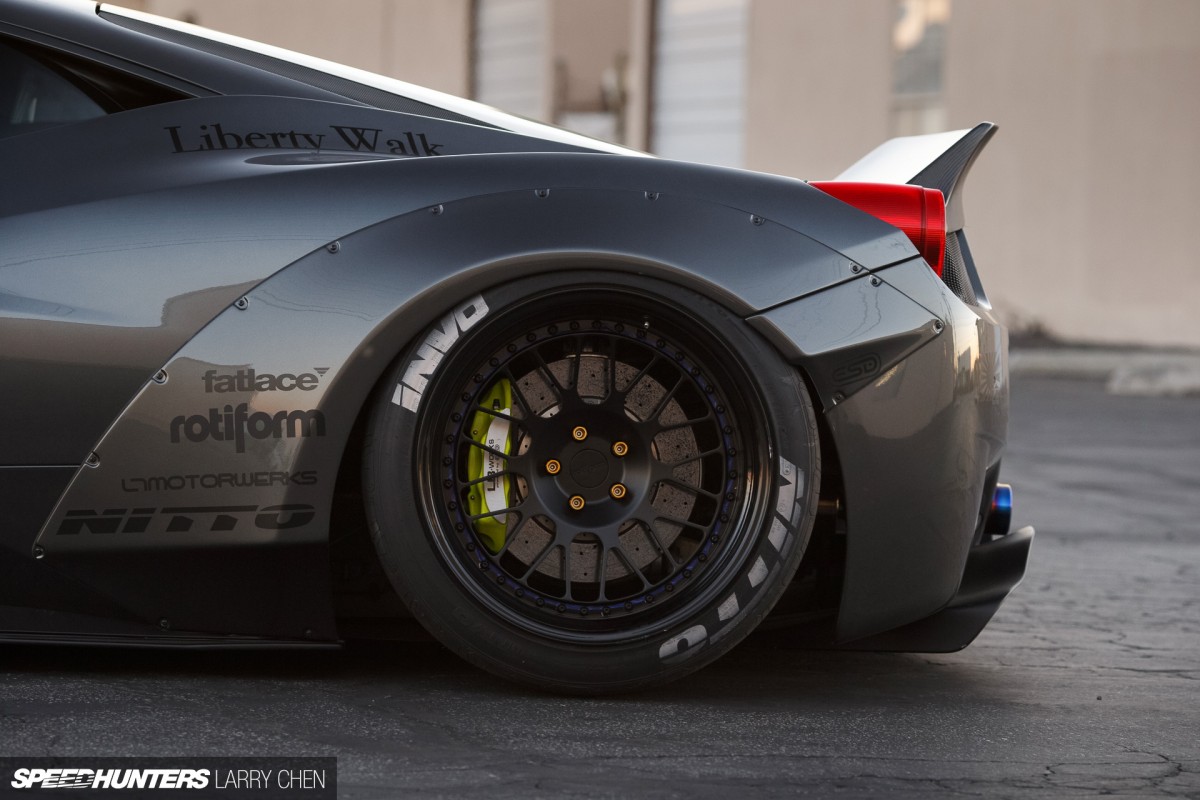 The rear gets the same big-radius overfenders slapped on top and mated to a little bumper finisher that extends those widened lines onto the bumper.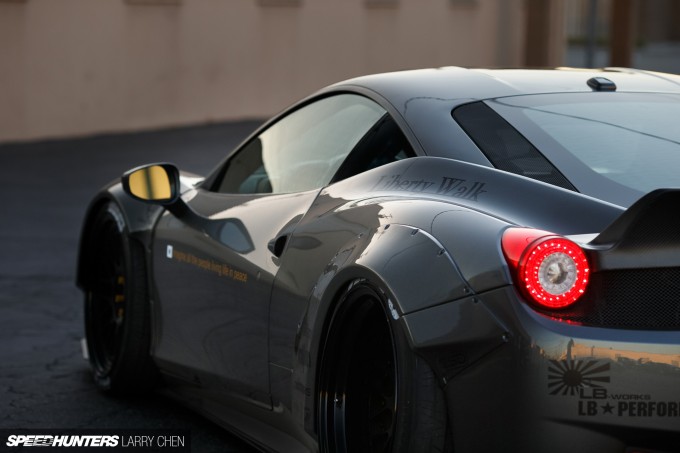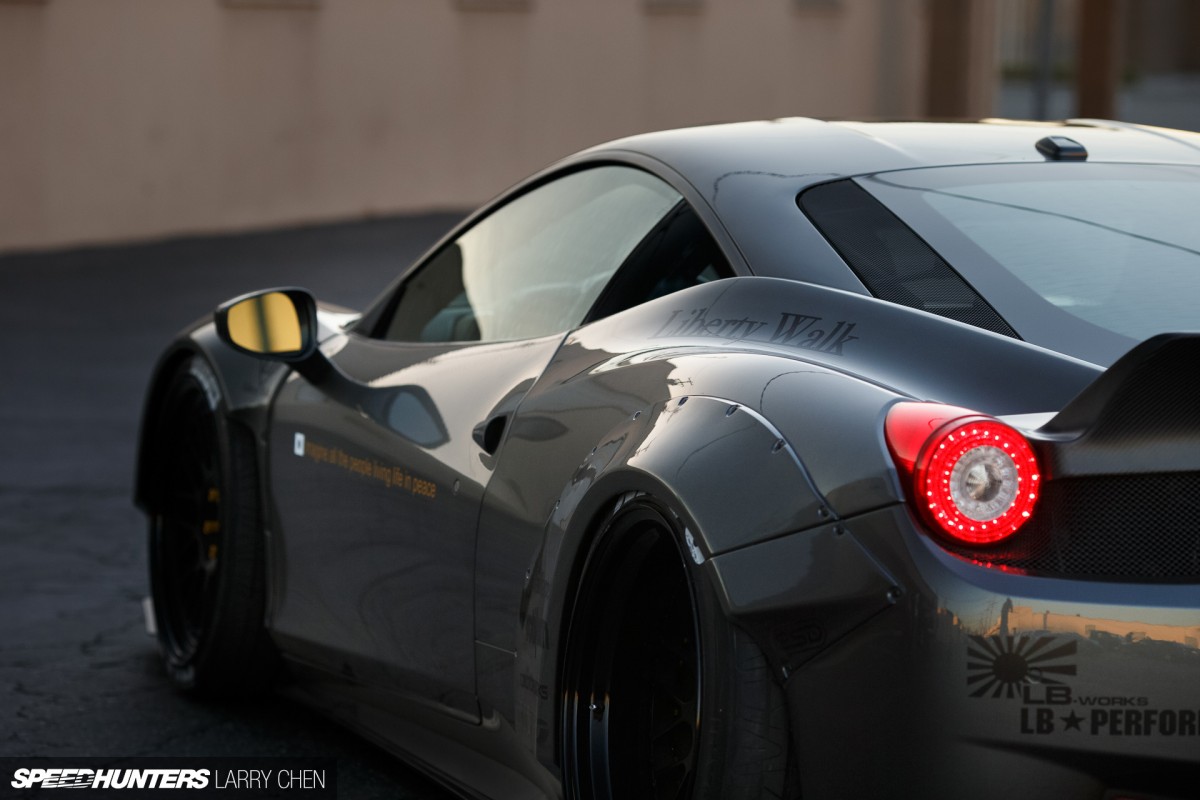 It somehow all flows – those organic lines of the 458 I mentioned earlier, joined by another level of aggression. From this angle it almost looks like there are three layers stacked on top of each other…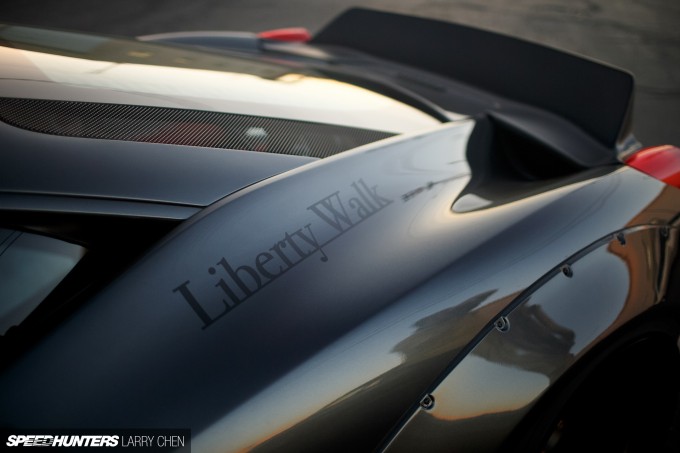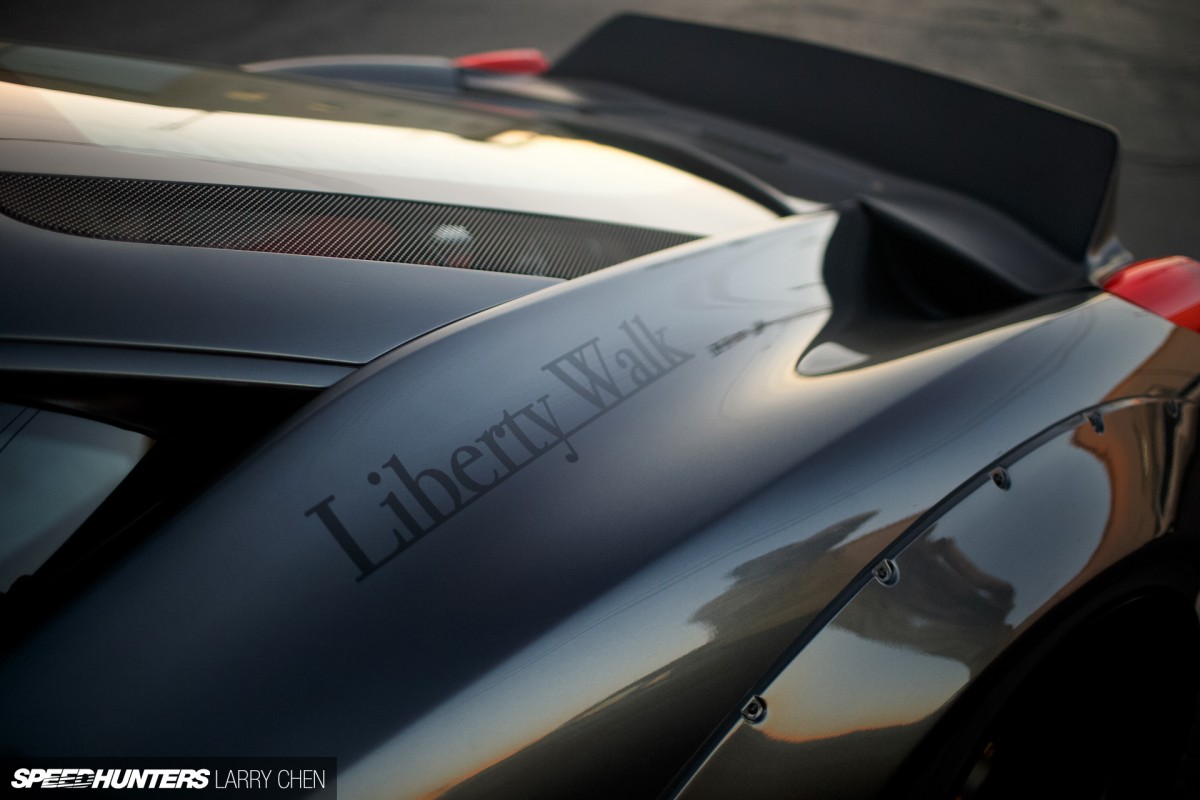 … creating the car's massive hipline.
Master-touch: the ducktail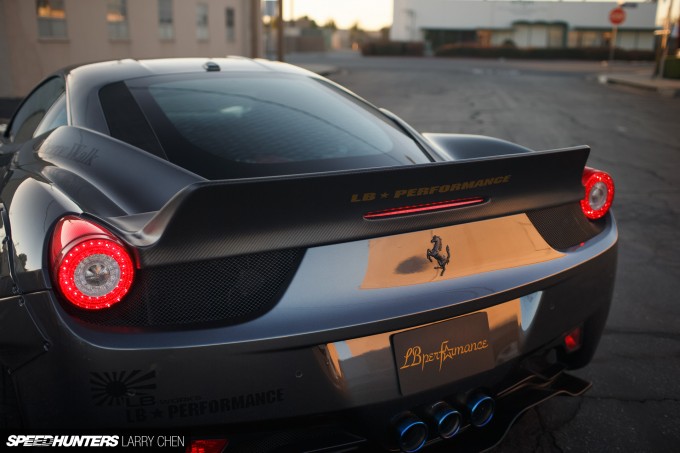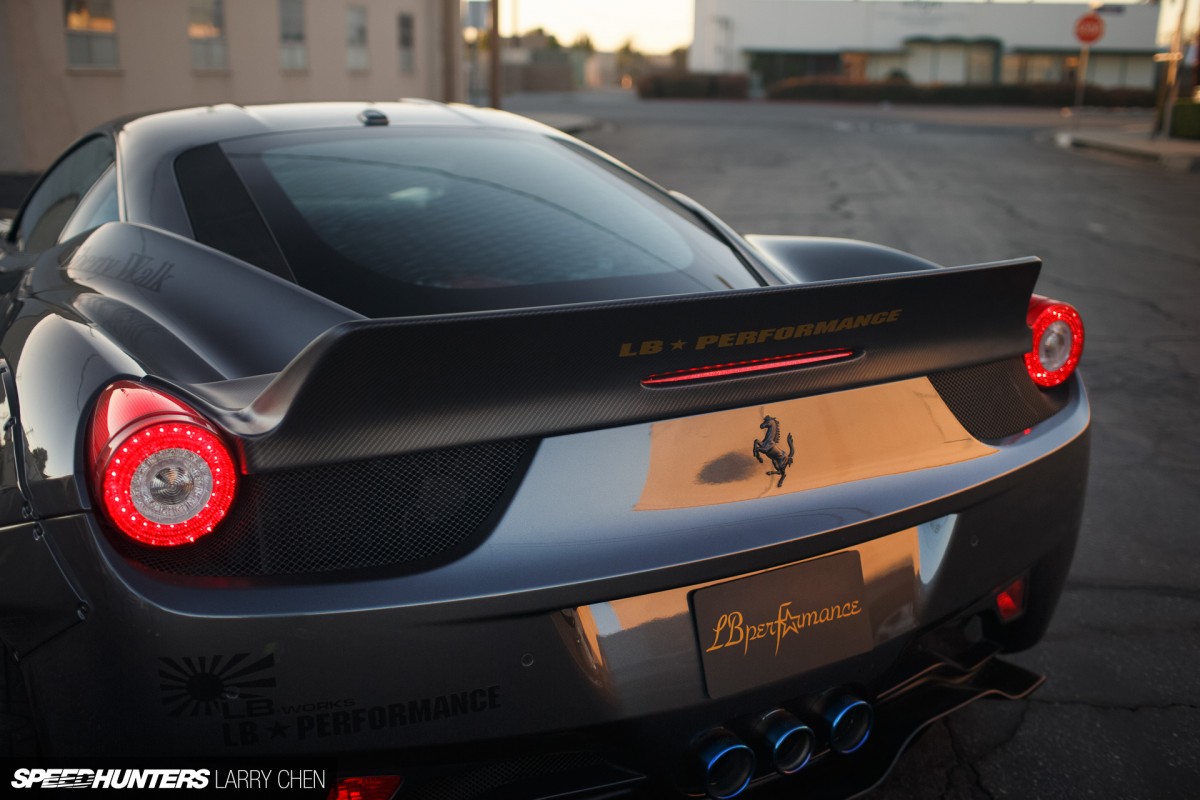 And then we get to the biggest JDM touch of all: the ducktail spoiler. On a Ferrari. Good Lord – yes!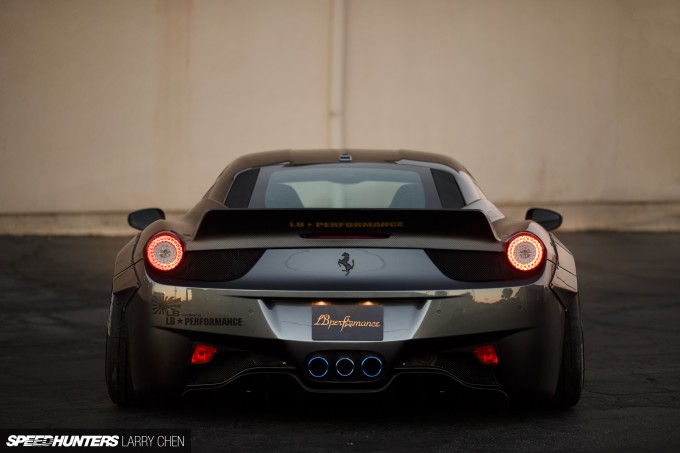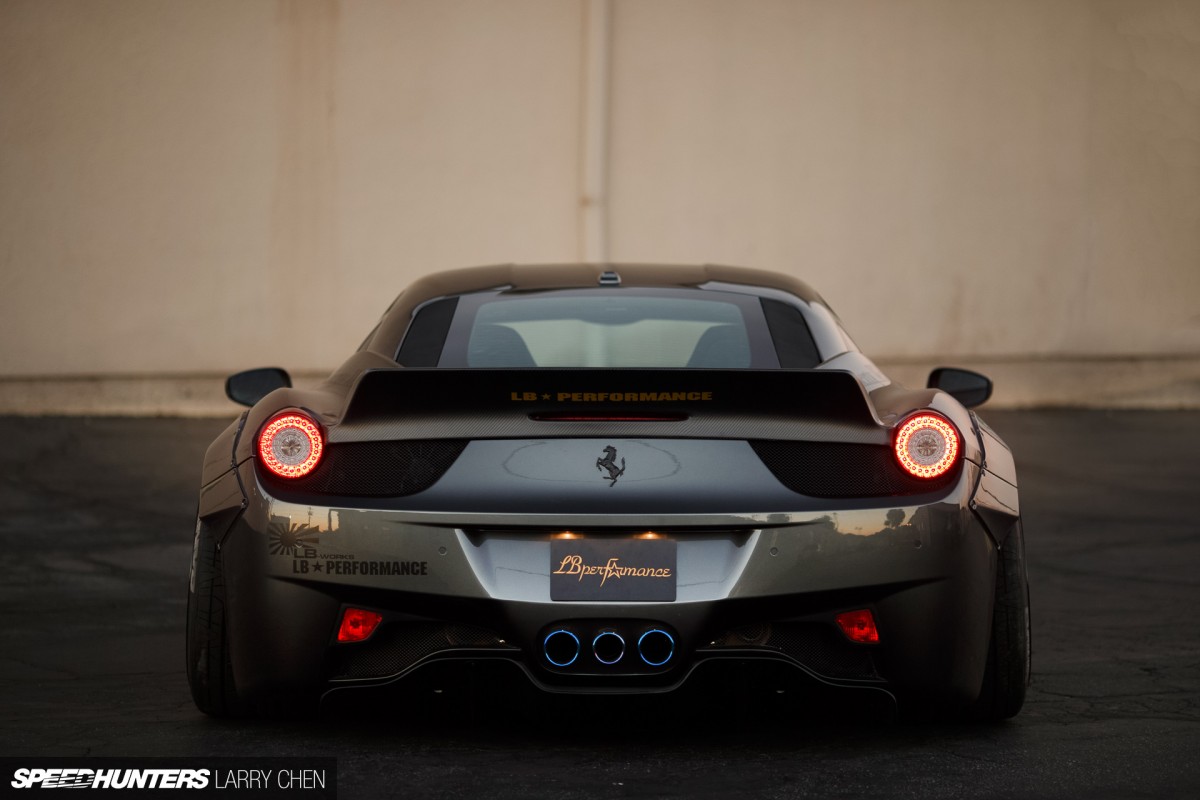 The almost-vertical carbon spoiler is smoothly integrated into the Italia's rump with a center cut-out allowing the LED brake light to show through.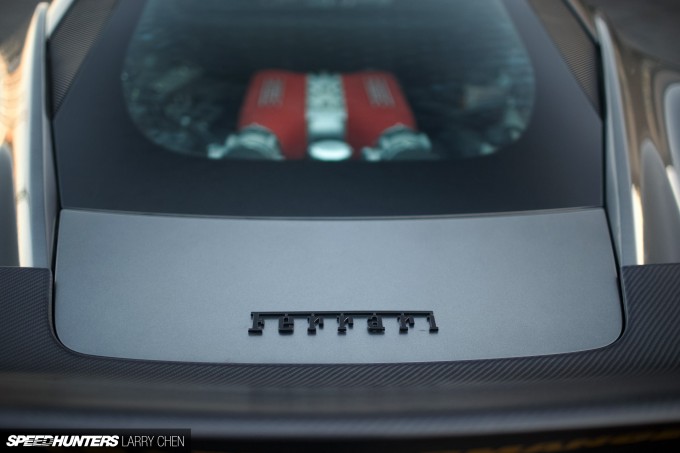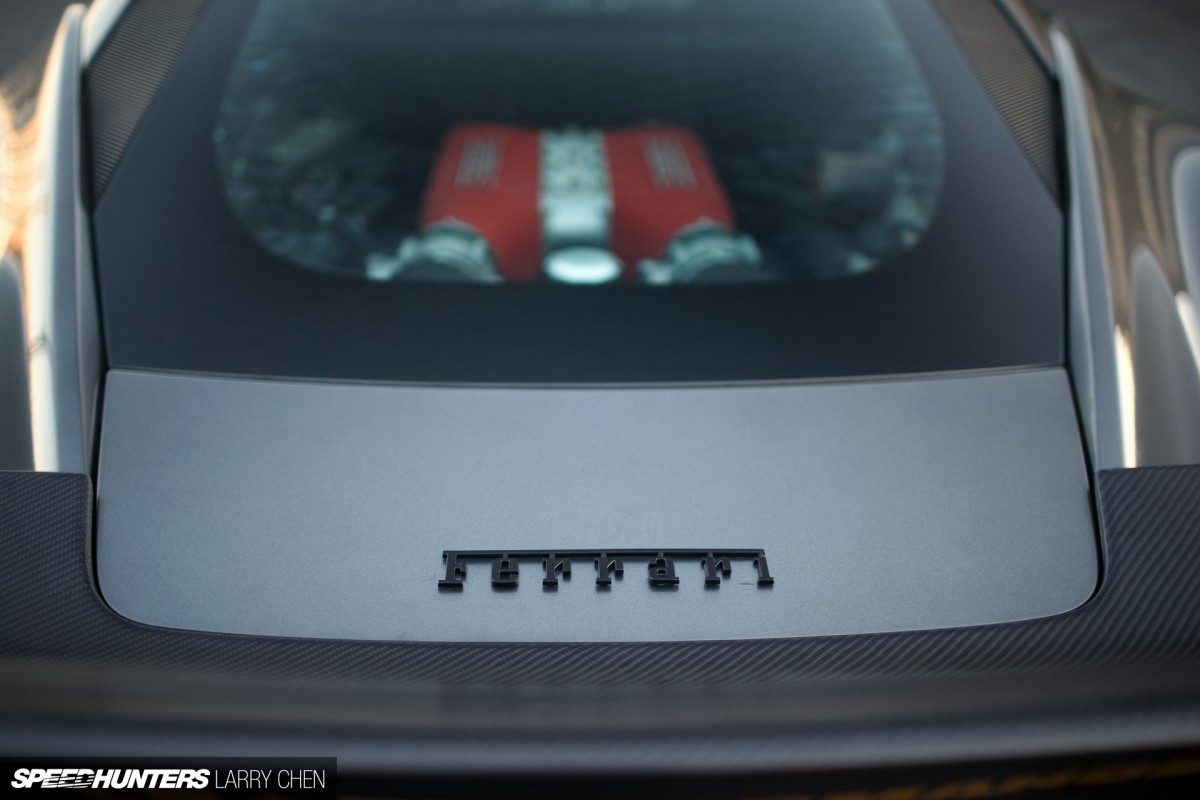 As you can see, it's beautifully contoured around the bottom section of the engine cover too.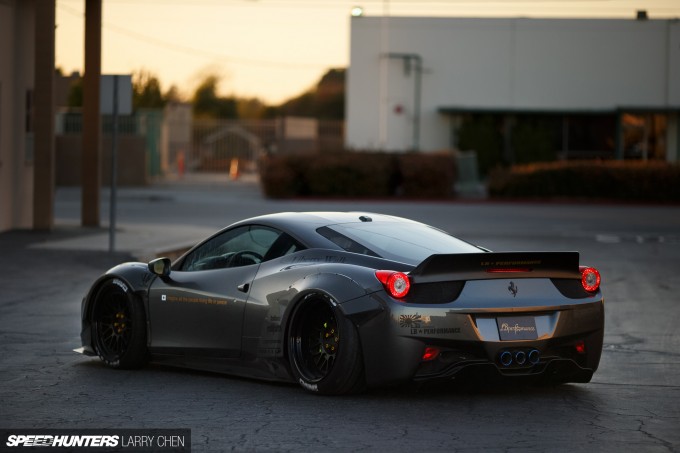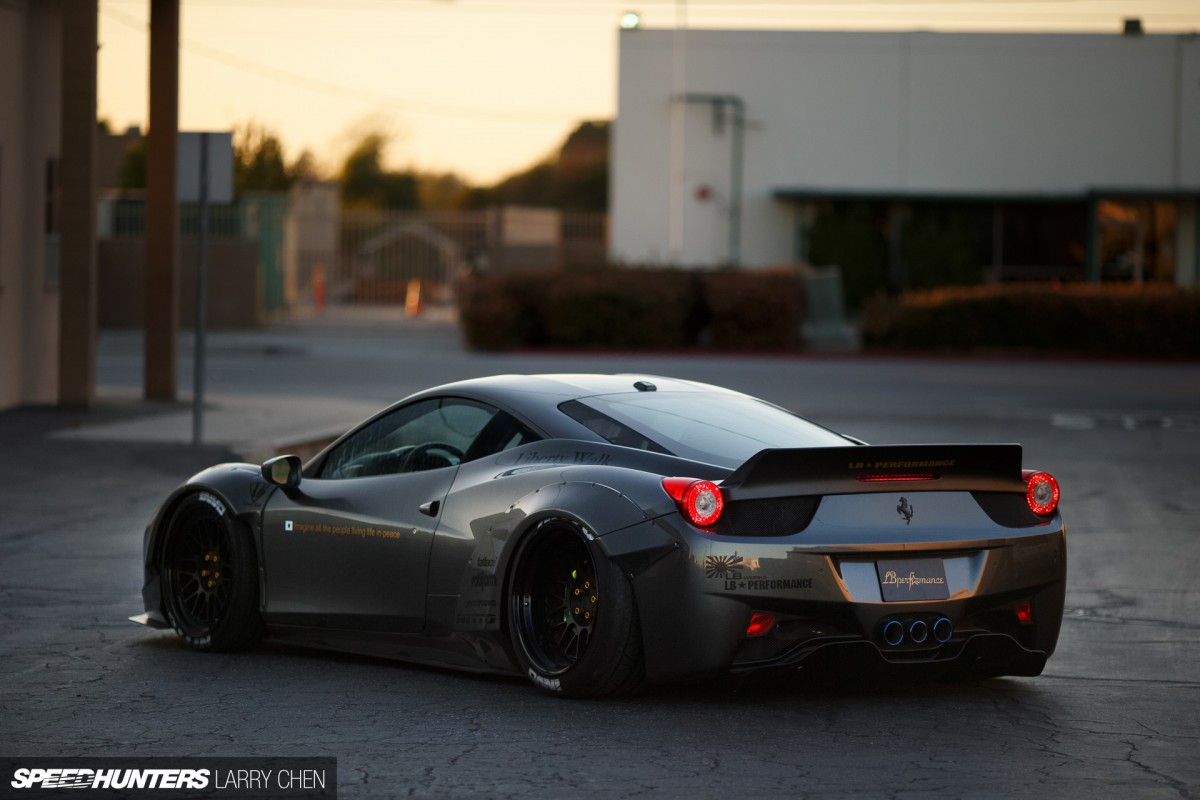 The LB☆WORKS treatment is completed with a rear diffuser and a set of SVT side skirts that tie each and every piece in together. But bold looks aren't worth anything if they aren't accompanied by an appropriate dose of stance, right? The stock Ferrari dampers have been fitted with special Liberty Walk springs that allow the 458 to sit lower than any 458 has sat before.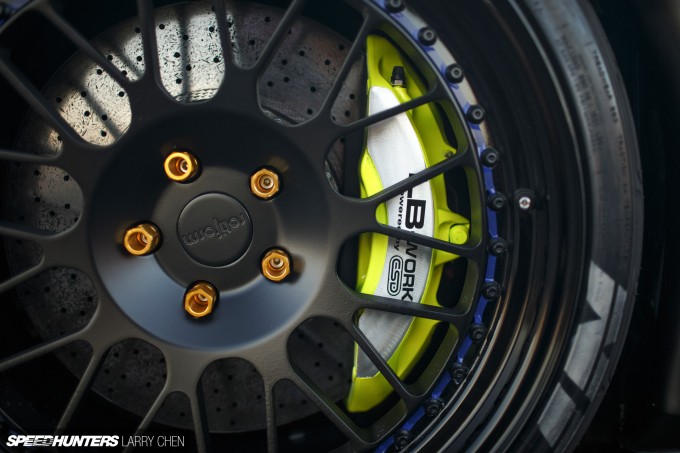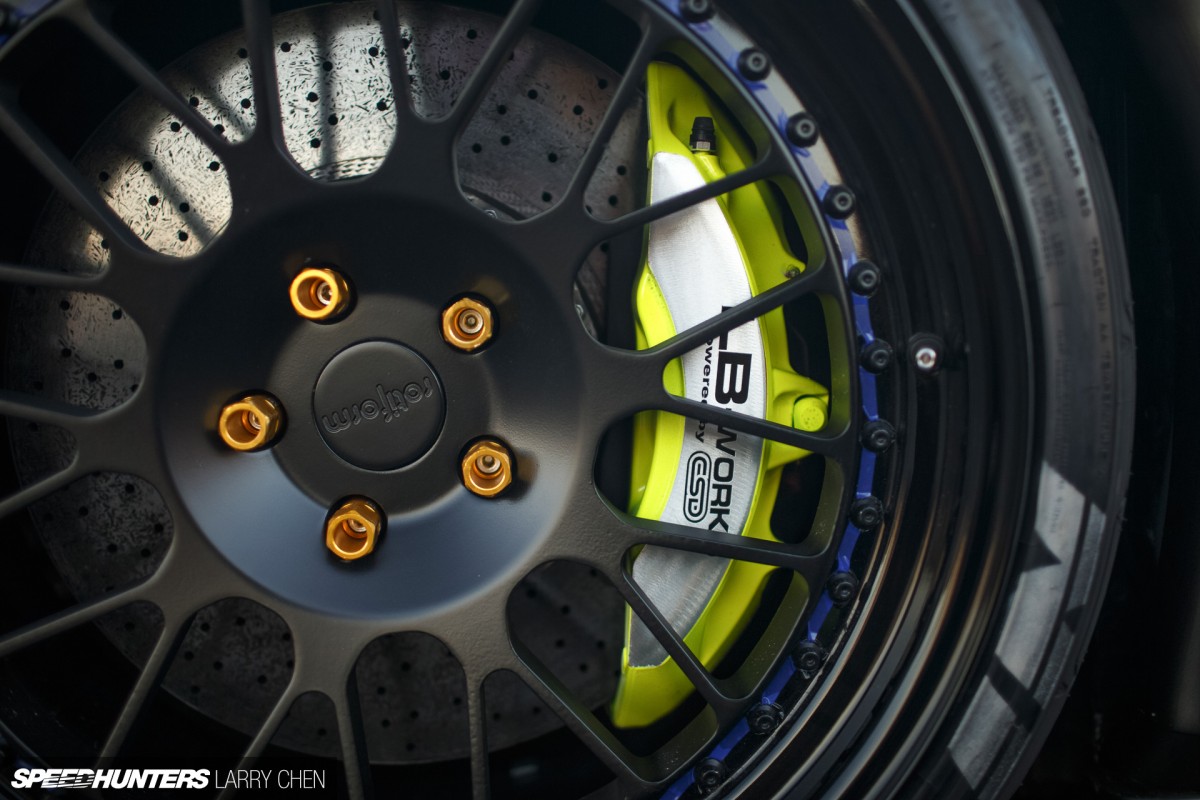 Filling up the pumped wheel arches are a set of satin black Rotiform LVS wheels. The three-piece rims were made especially for the LB☆WORKS project, with careful thought to offset allowing a tight tuck under the fender lips. Measuring up at 20×9-inch +/-0 in the front and 20×12-inch -33 at the back, there's a huge footprint on the road. In the shot above you can also see the custom painted and machined CSD calipers that replace the factory Brembo equivalents, but use the same carbon ceramic rotors.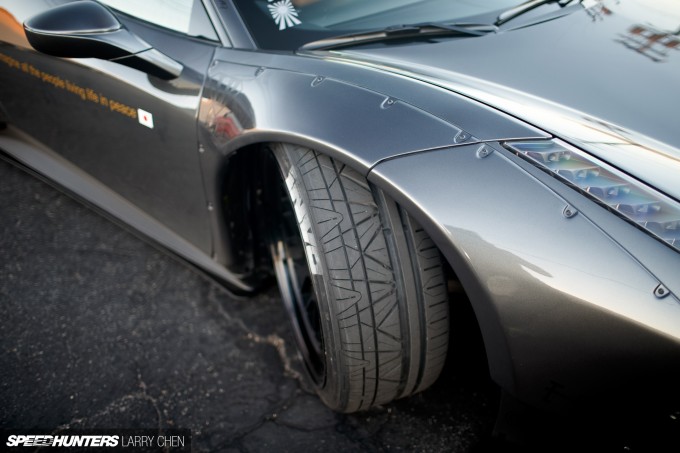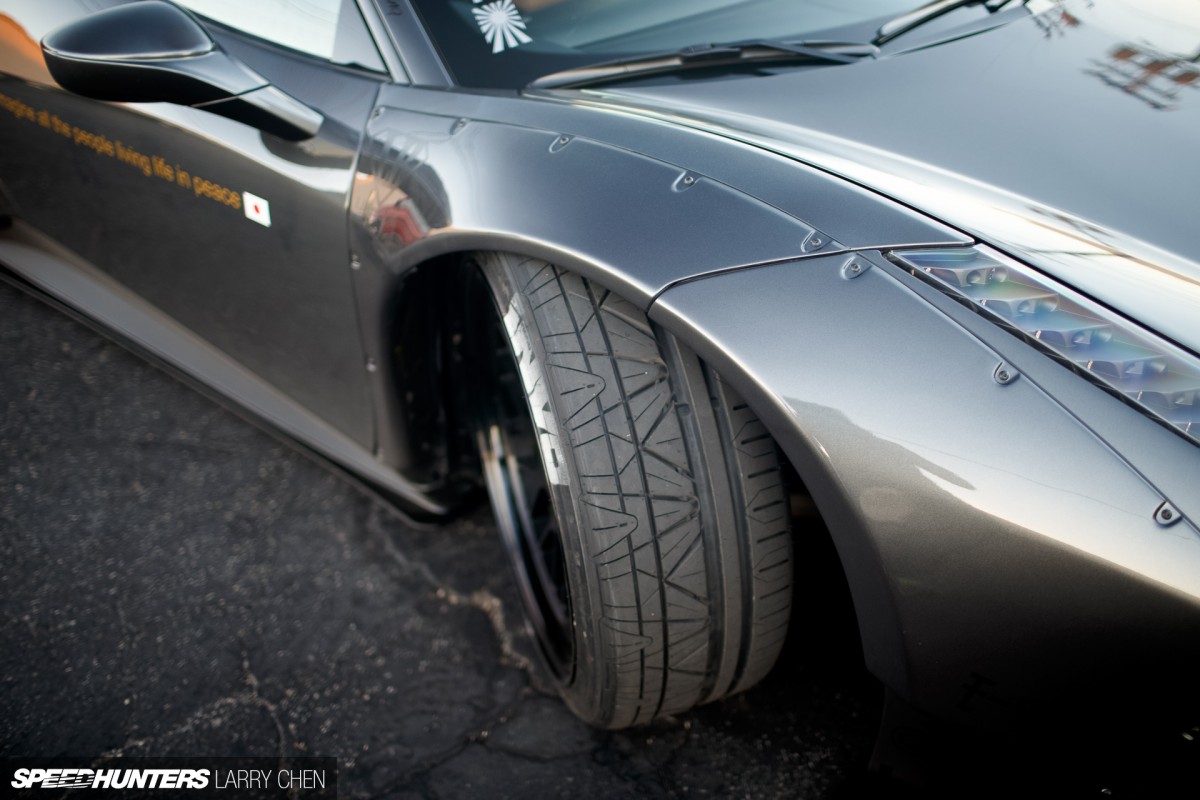 The LB☆WORKS 458 will be on display at the Nitto stand over the course of next week's SEMA Show in Las Vegas. There it will showcase the manufacturer's Invo tire, which it runs in 245/35ZR20 and 295/30ZR20 sizing front and rear respectively.
A V8 concerto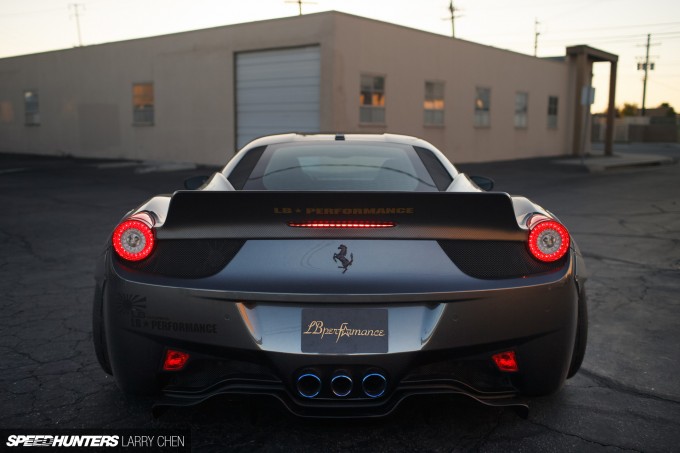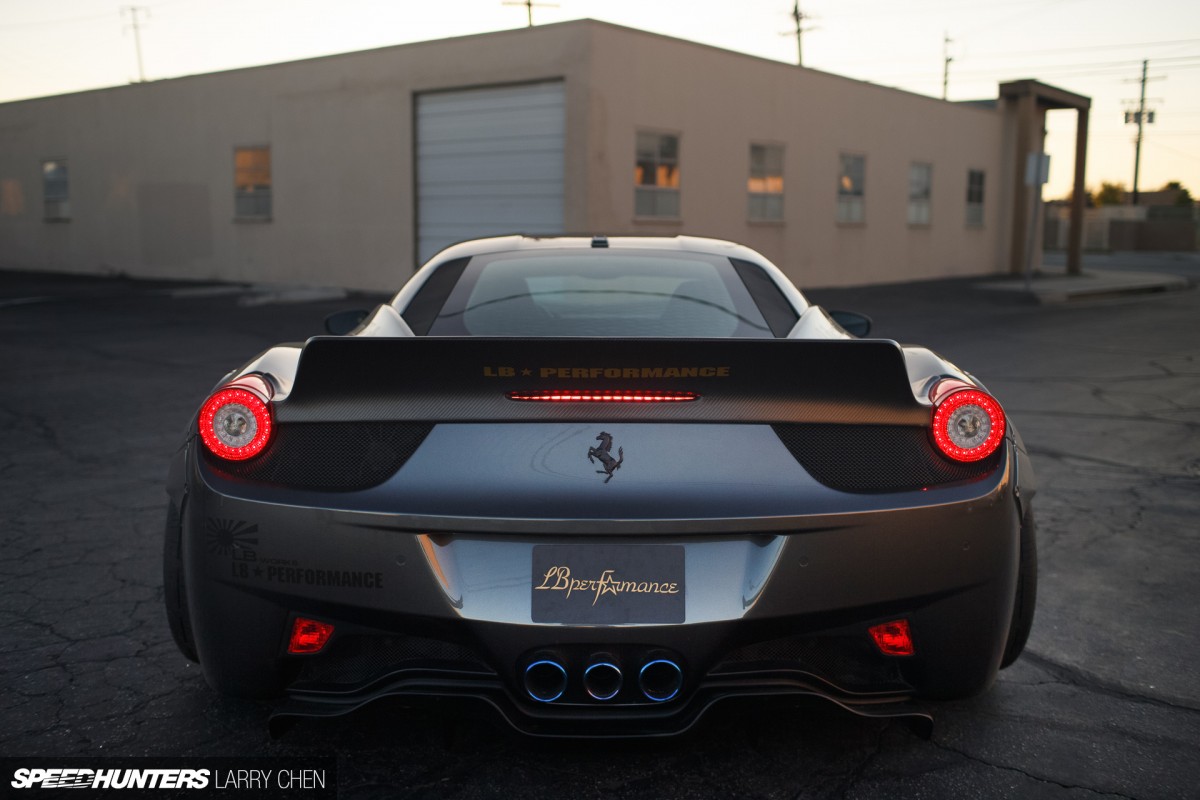 Performance-wise, the high-revving, flat-plane crankshaft-equipped V8 still develops its stock 570hp, but it's been made to really howl thanks to upgraded ARMYTRIX center pipes…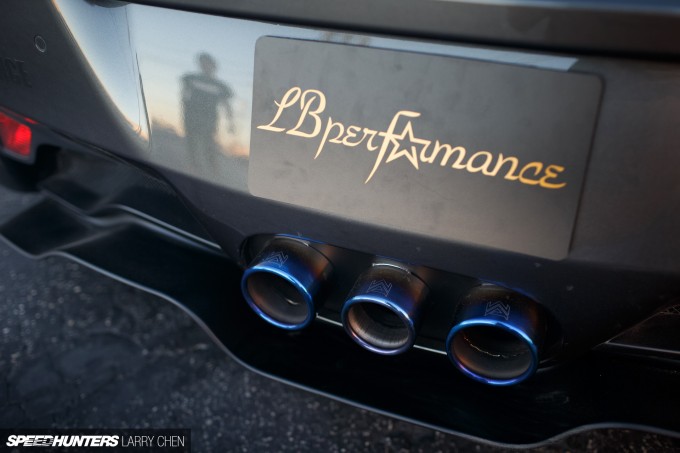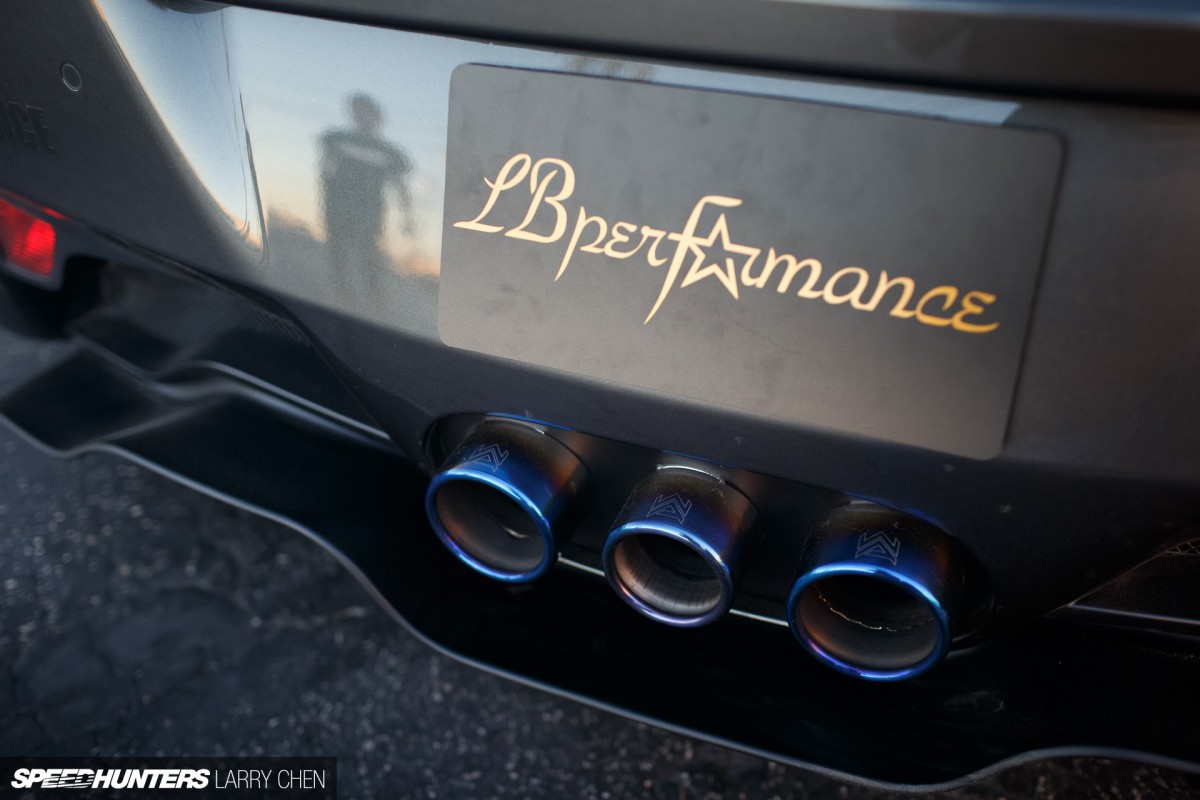 … and an Innotech Performance Exhaust (iPE) rear section.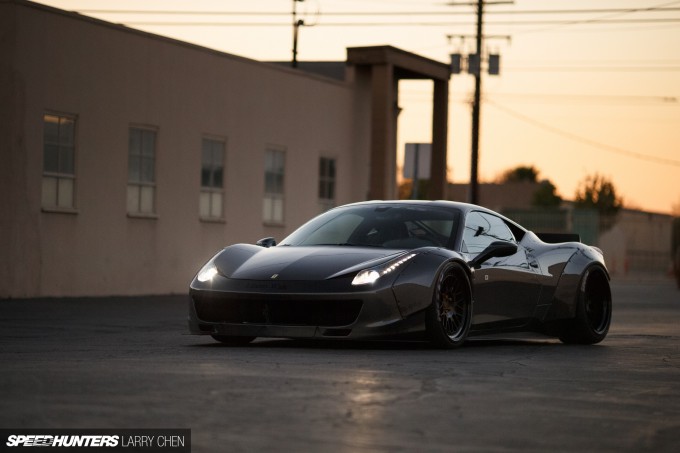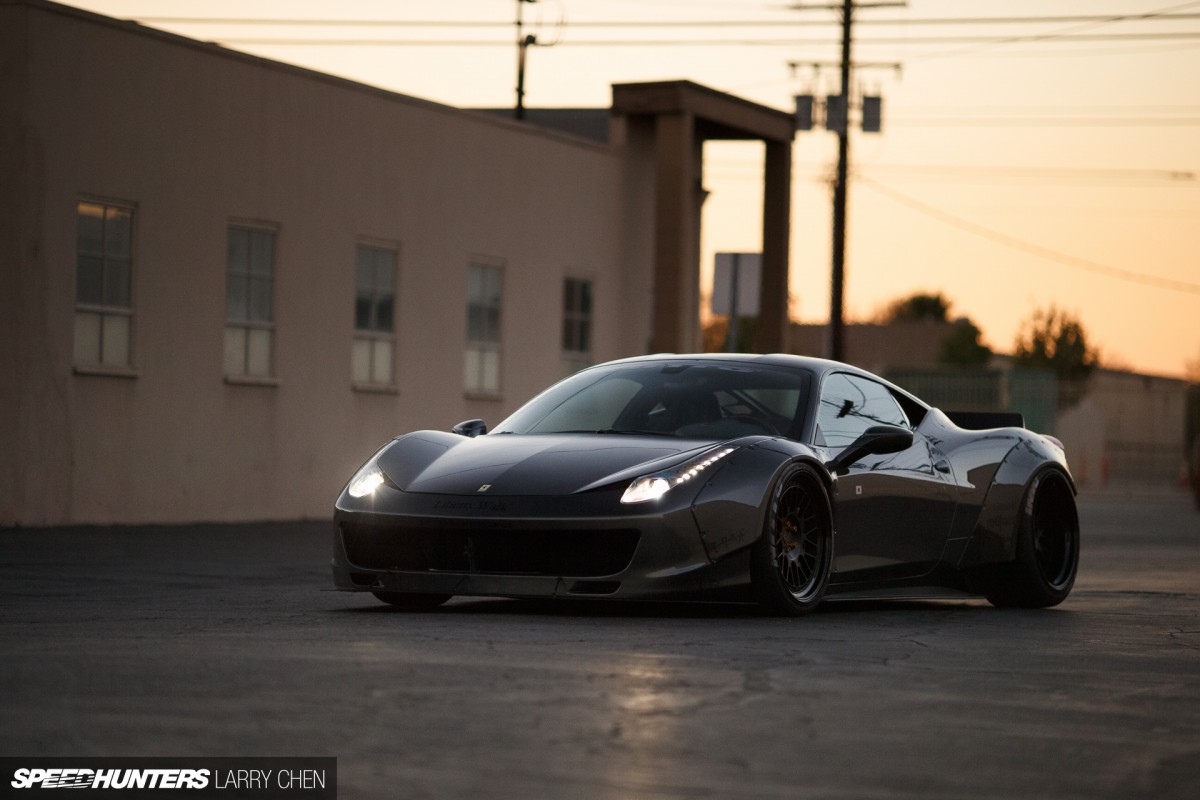 There is no doubt in anyone's mind that this car will be a showstopper at this year's SEMA show.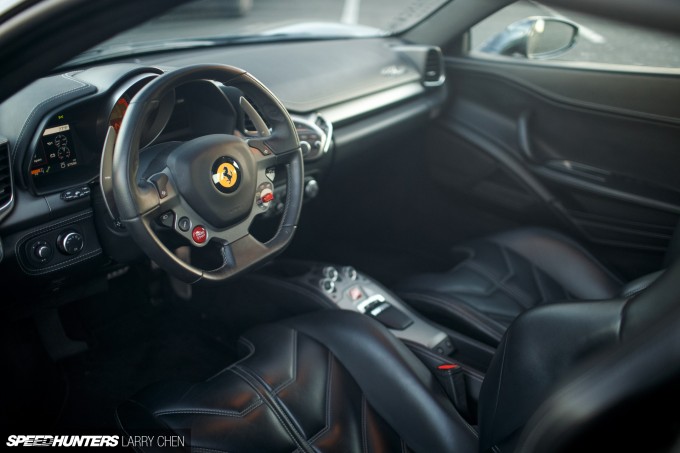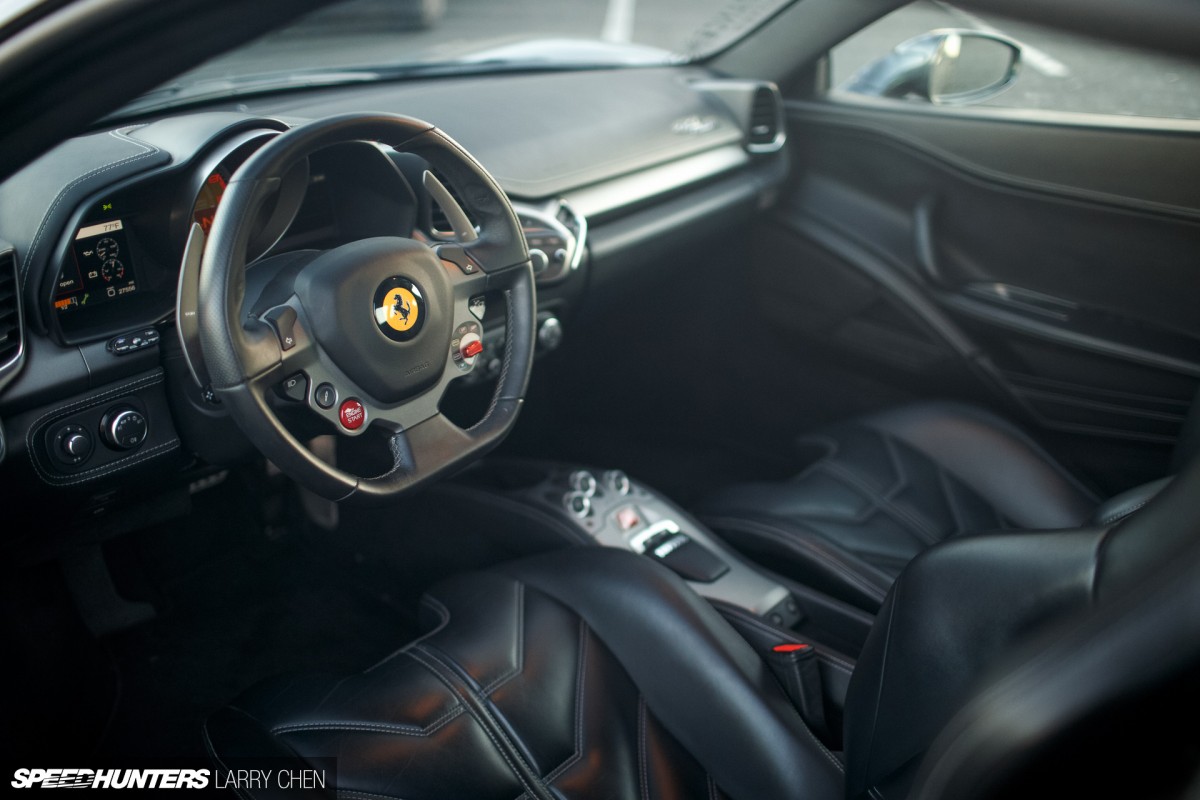 A quick peek into the interior reveals a stock cabin with comfortable, yet supportive, leather-clad buckets…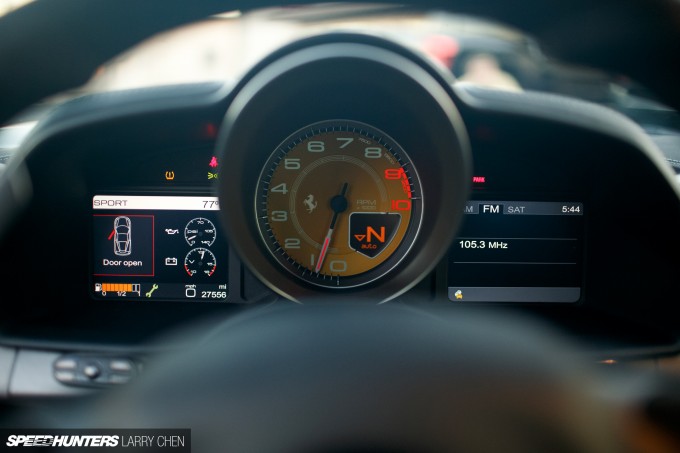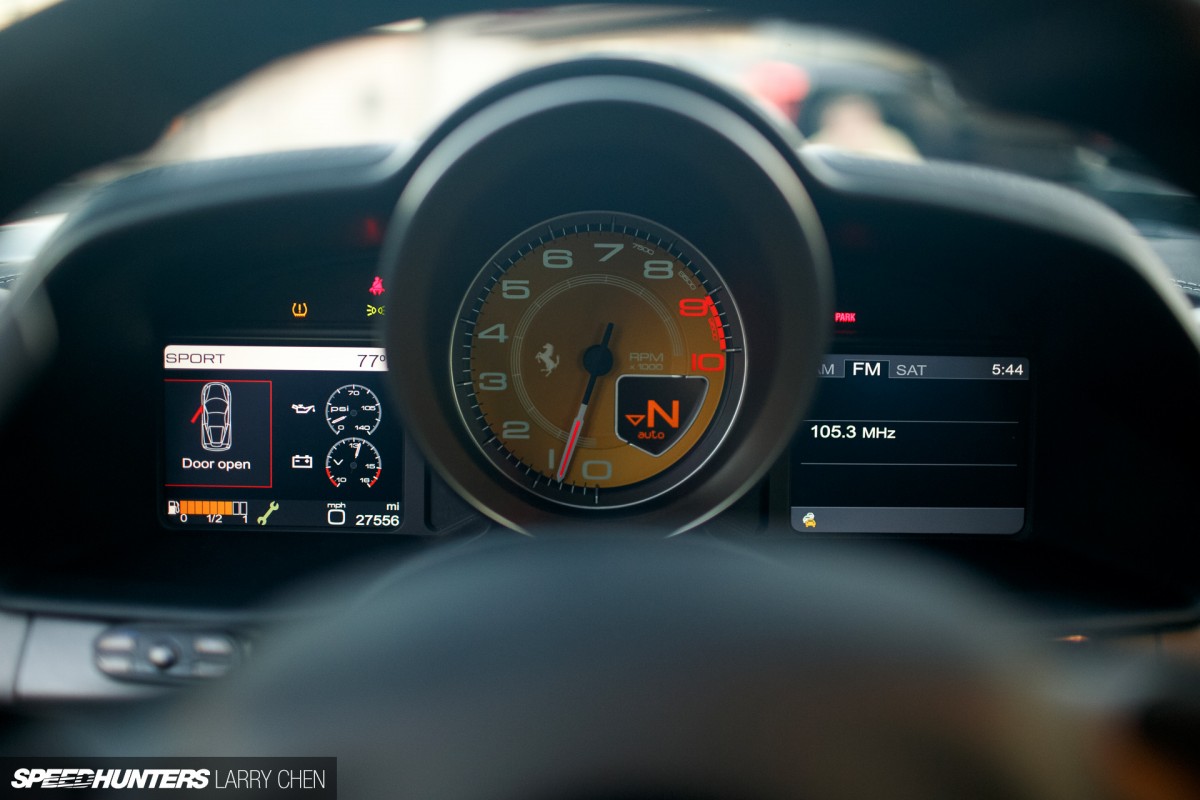 … and a driver-machine interface…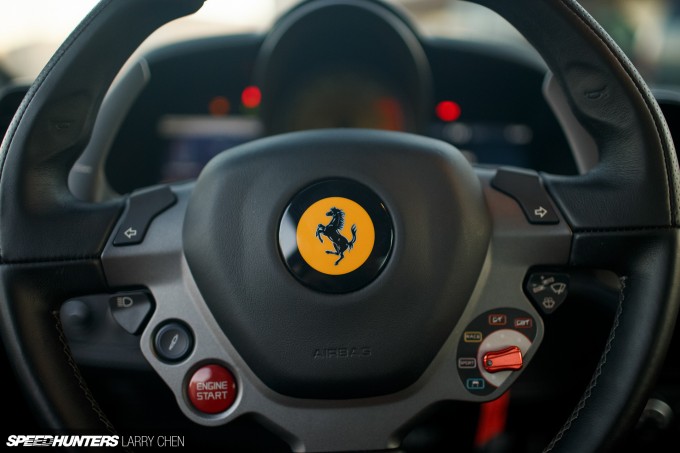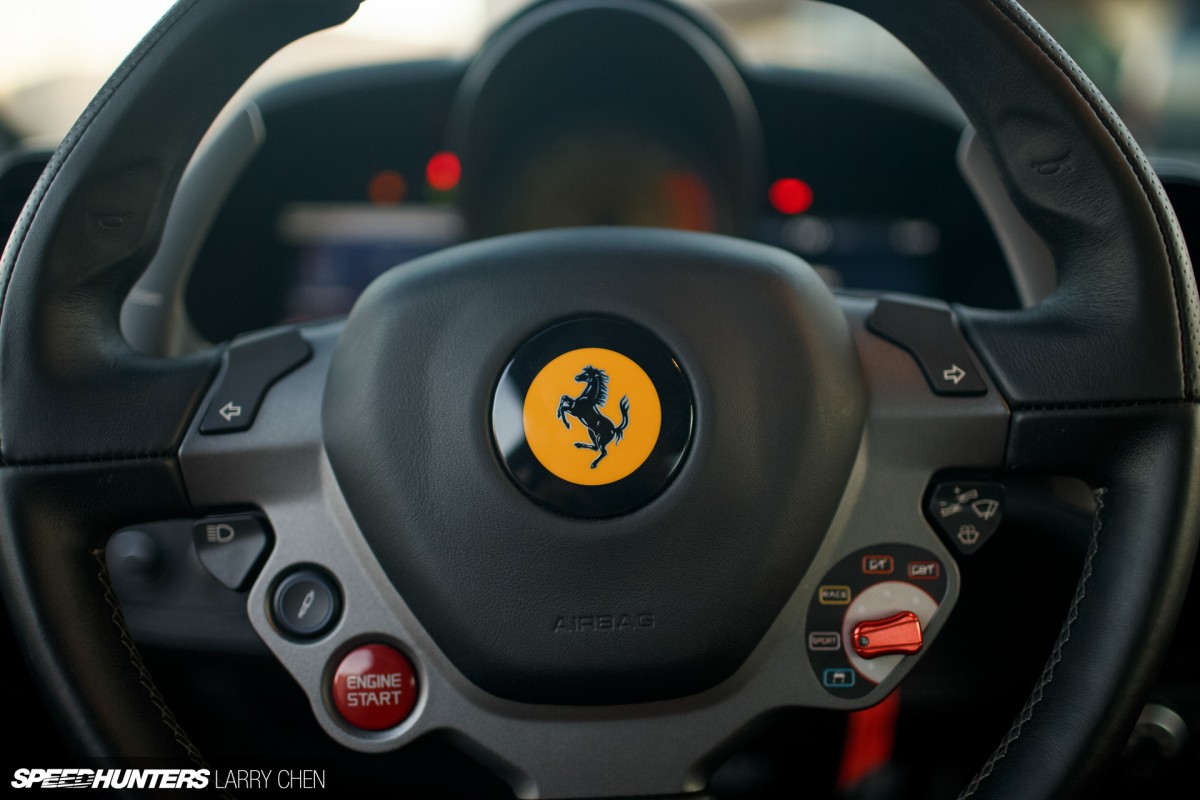 … with each of the controls at your fingertips.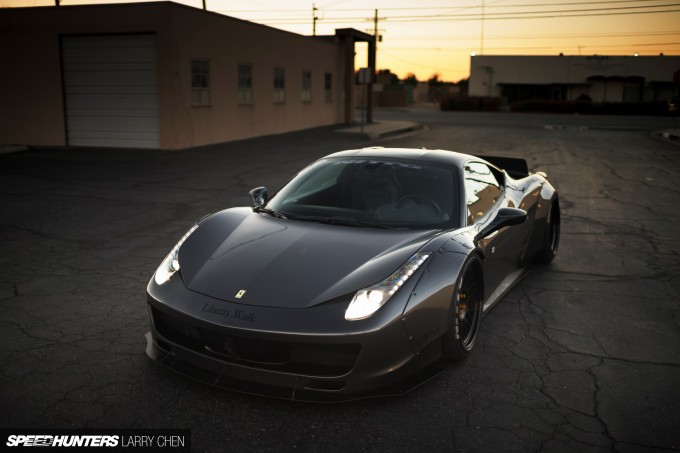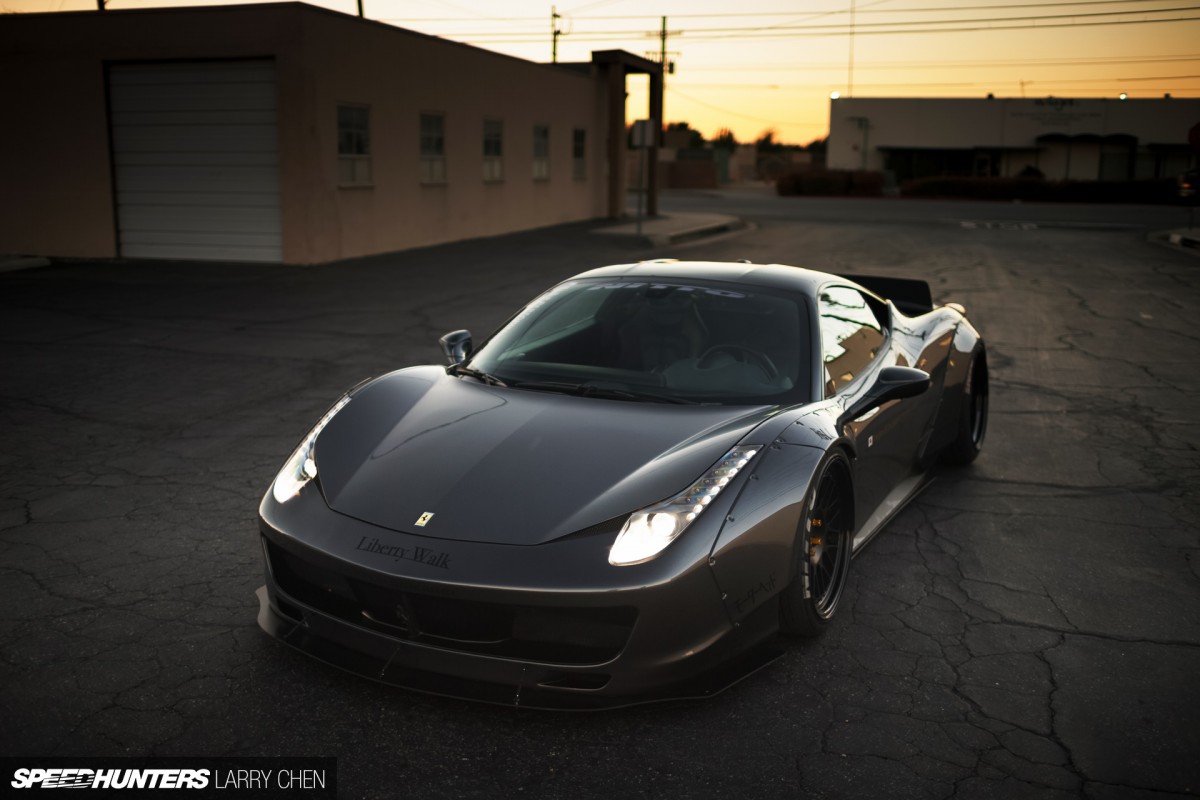 The Liberty Walk 458 is yet another testament to the way that Kato likes to do things. He isn't in it to try and sell a million bodykits, and he knows full well that there won't be many 458 owners out there prepared to have their fenders cut up so that FRP flares can be screwed on. But just like his past projects, he follows his heart with a style that has quickly defined him and his company.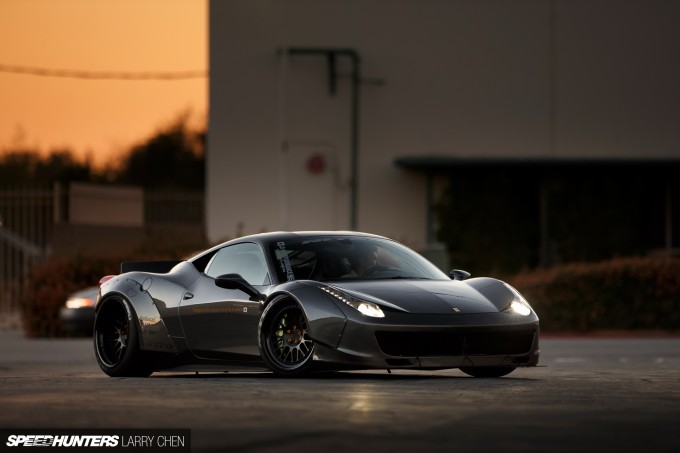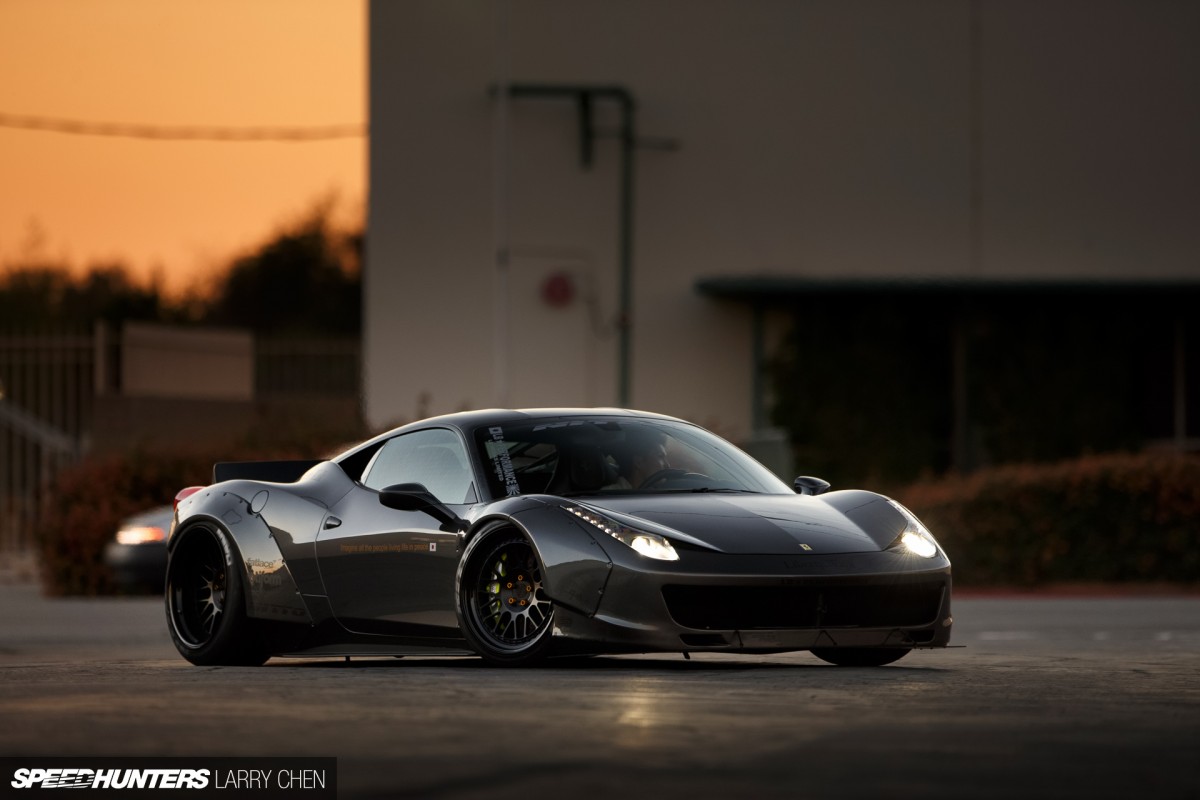 Call it a pure expression of his vision, brilliantly executed through Miura's eye for design and cutting-edge manufacturing process.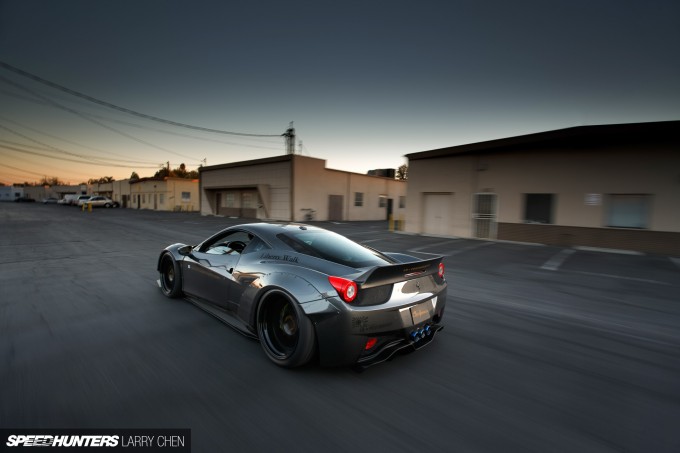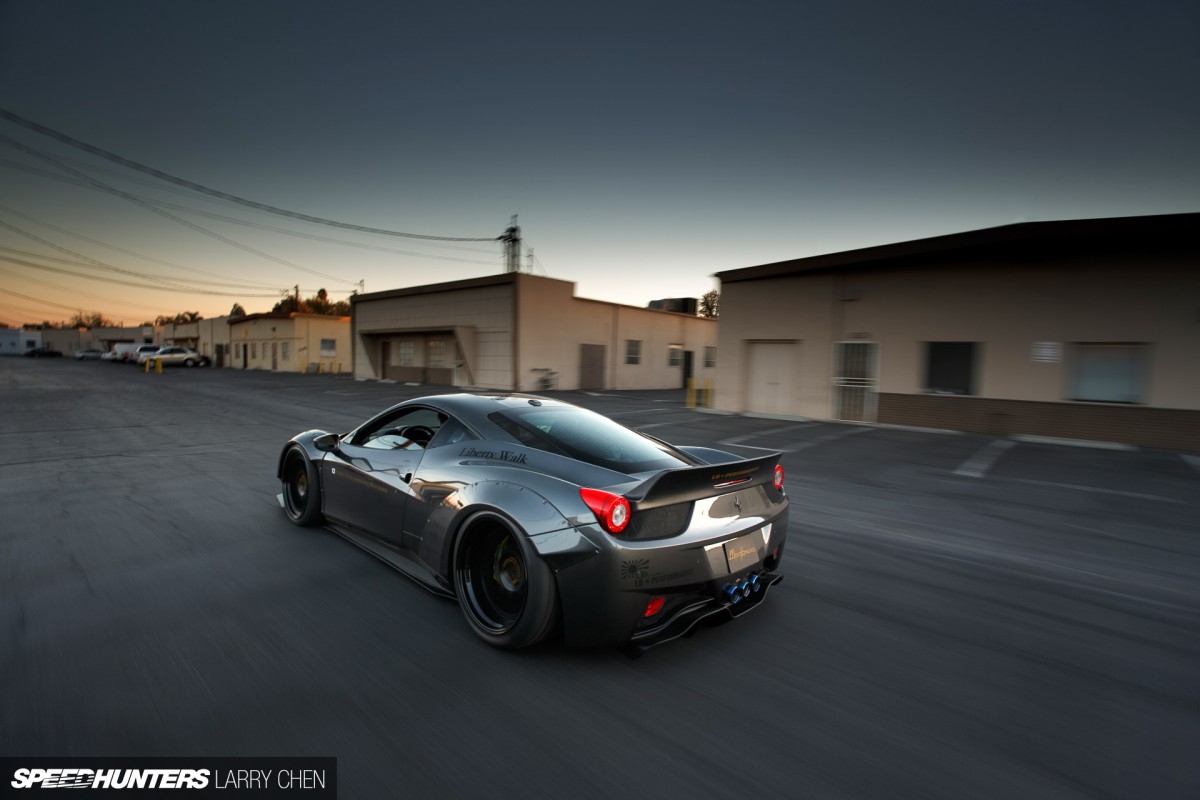 This car represents everything that is right about the JDM tuning scene right now. And while there are bound to be a lot of haters, it's hard not to take a bow and thank Kato-san for coming out with these crazy projects year-in and year-out. Now scroll back up and have another look at all those images!