Lamborghini is unquestionably one of the most fascinating car manufacturers around, with a brand identity unlike any other. You'd be hard pressed to come across someone who hasn't heard of them or who couldn't do a crude drawing of their favorite Lambo, yet very few people will ever actually own one. Their reputation therefore is based almost entirely on hearsay and the strength of their design. Strangely, the same could largely be said of Japan's now-famous bull tuner, Liberty Walk.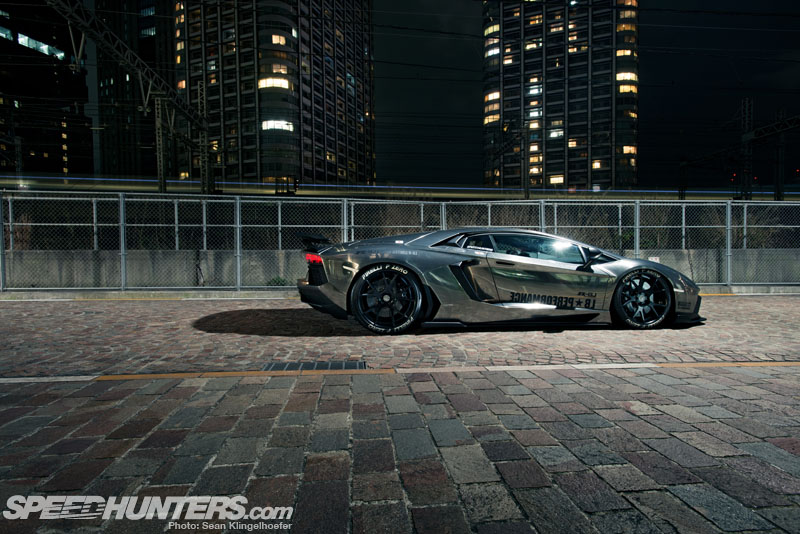 Yes, Liberty Walk is a name as synonymous with the JDM scene today as companies like Mugen, Nismo and TRD, yet almost nobody owns a single part from them. Of course some of the reason is that the starting price for one of their LB Performance kits is around $25k, but even if you could afford the kit, you've got to own a Lambo to bolt it to first.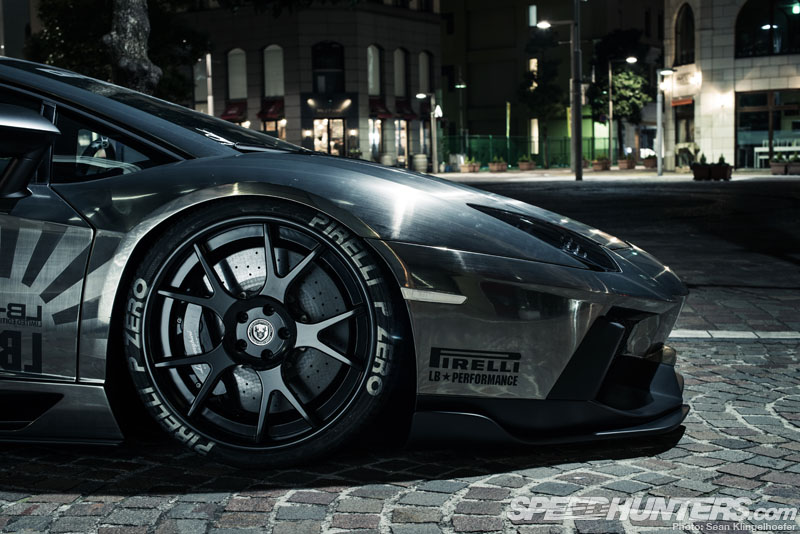 Even a few years ago, saying "Liberty Walk" out loud would just sound like some engrish jibberish, but today it will conjure images of wild exotics with even wilder body kits. So how is it then, that a such an obscure product of Japan could go from an underground tuning brand to a worldwide phenomenon in such a short amount of time?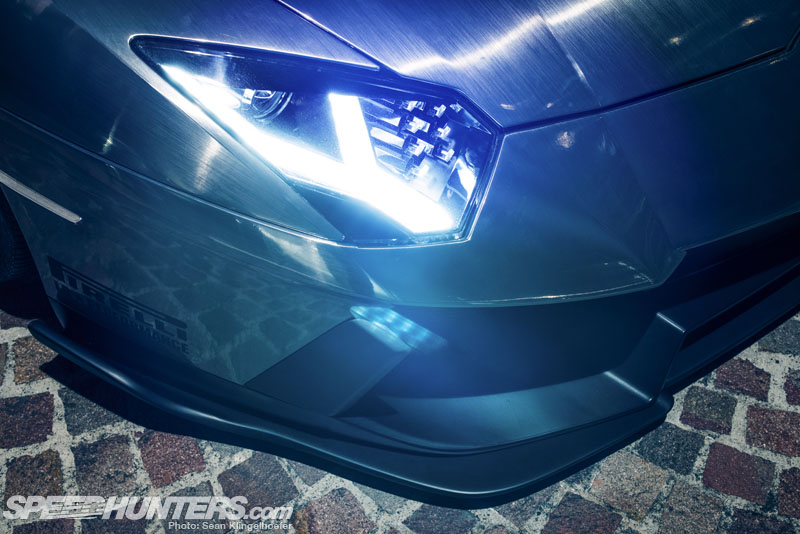 In reality there are probably a myriad of acceptable answers, but I'd like to think that, aside from a large helping hand from our very own Dino, it was the strength in their design that brought their rise to popularity. It's one thing to make a very extreme looking car appear even crazier, but it's another thing entirely to do it with style and class.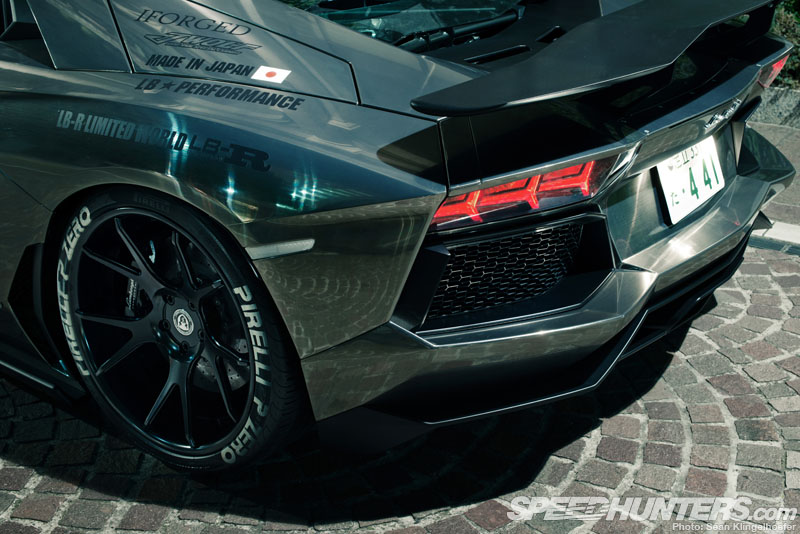 Right about now, I know some of the naysayers will be thinking "oh yea, a metallic vinyl wrap, really classy" but hear me out. Obviously the outlandish exterior finish was done to draw as much attention to their product as possible when it was debuted at Tokyo Auto Salon. They took the same formula applied to their SEMA Murcielago, which proved hugely popular, and applied it to Lamborghini's latest offering.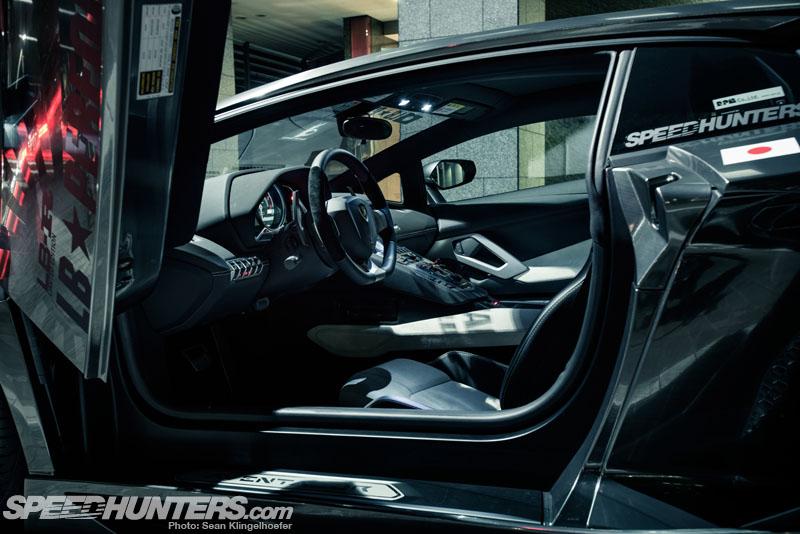 What they didn't do was go over-the-top-typical-in-your-face-tacky like you'd normally associate with a modified Lamborghini. For example there's no tri-tone pleather interior reupholstery or five entertainment screens popping up from everywhere. Likewise the out-of-round-color-matched-ultra-low-performance-24″-wheels are also missing.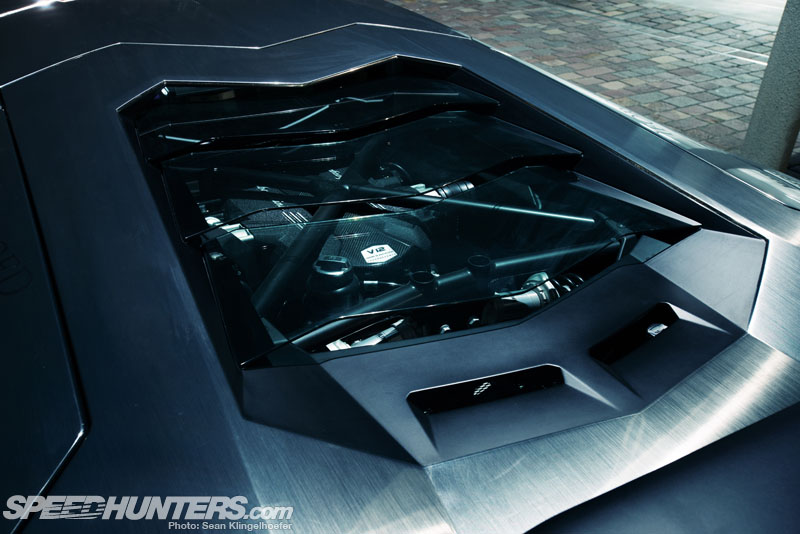 In fact, if you really get down to brass tacks, the LB Performance brand has really made a name for itself by not really modifying Lambos. I've often heard people criticize that their cars "barely have anything done to them" or that they're simply "a Lambo with a body kit and wheels," both of which are very true statements.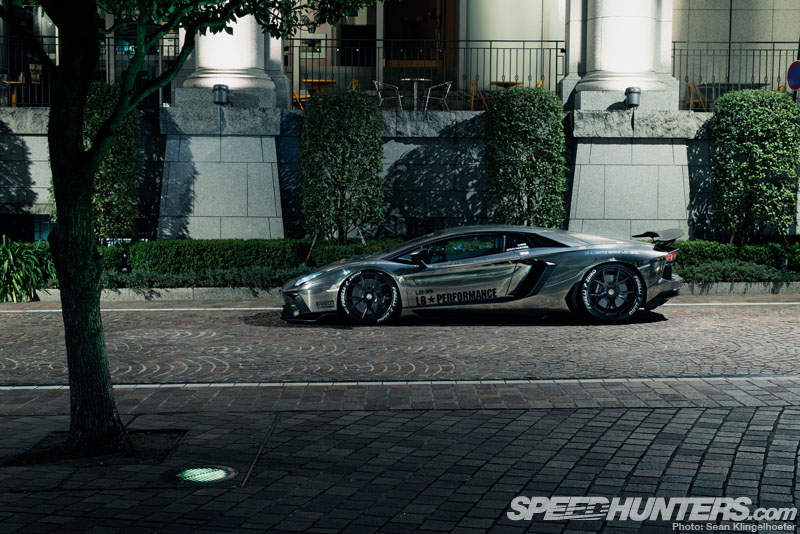 Yet to the contrary, I've also heard many folks tell me "come on man, it's a Lambo, it's already a badass car stock" or "it really doesn't need much." Again I can whole-heartedly agree with both of those statements as well. Hell if I had the cash to afford an Aventador, I don't think I'd really want to do much more than what LB Performance has to offer, if I'm honest.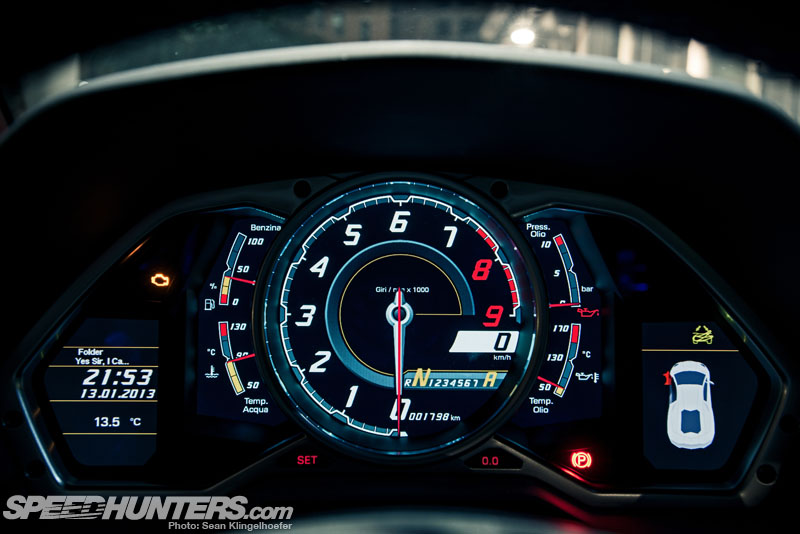 But considering I could barely afford the tune-up bill for such a vehicle, that's fortunately a problem I don't need to spend much time contemplating! That's right, sadly I too fall into the latter category of people who will likely never own a Lamborghini, but that doesn't mean we can't enjoy them.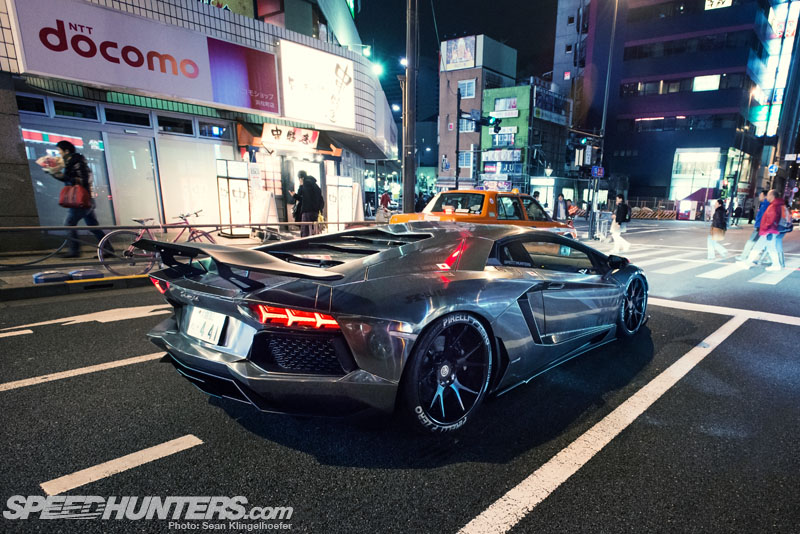 And one cold winter night last month, enjoy a Lamborghini I did. After spending an entire action-packed afternoon with Dino, which included hitting Tsukuba Circuit and doing some Touge driving, this Aventador would complete the triple-crown of the day. The plans were simple; we'd intercept the beast in downtown Tokyo as it left Auto Salon en route to its home in Owariashi.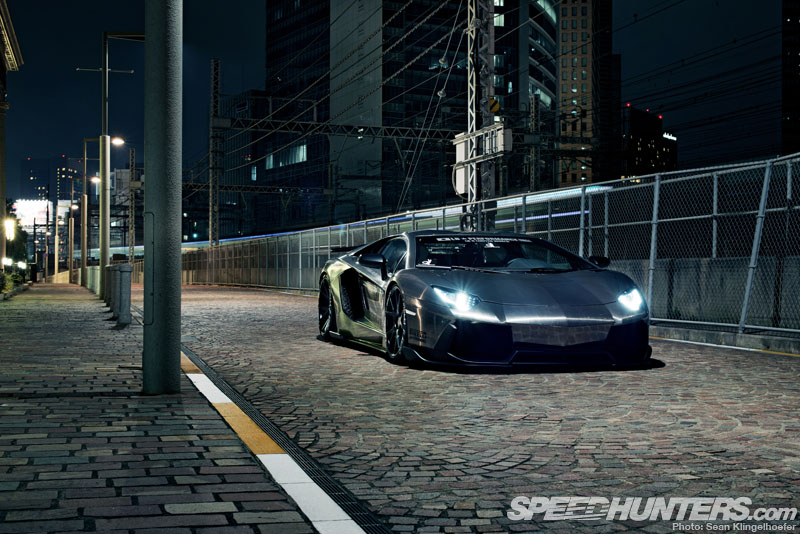 At some point before midnight, the exact time I cannot recall, the car finally appeared and was unloaded from the trailer. Dino had the perfect spot all sourced out and I have to credit him largely for the success of the set. Once we finally got the car in place all I could do was stand there staring while pinching myself.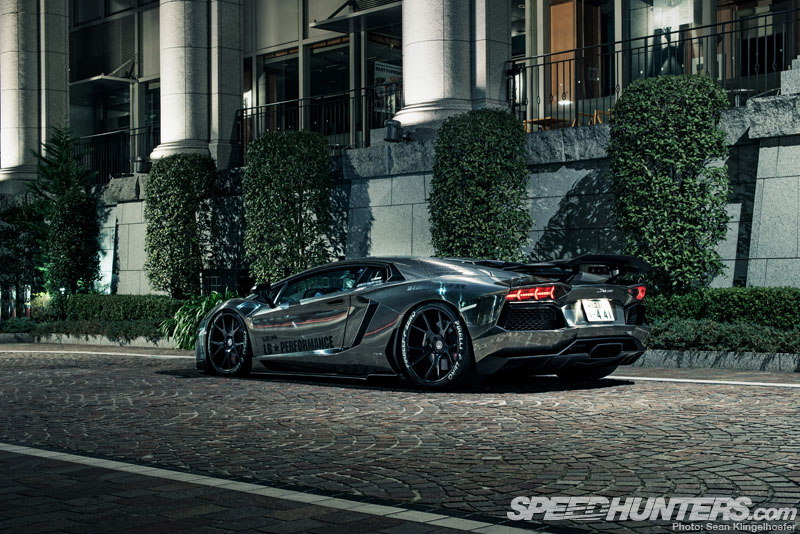 It was yet another of those moments in my Speedhunting life where everything seemed surreal. A Lamborghini in what appeared to be an abandoned Tokyo… this surely was a dream. Eventually the bitter cold would snap me out of it and once I came back down to earth I realized that we weren't really alone either. In fact, as I was taking this shot there were four other car photo shoots happening simultaneously in the square!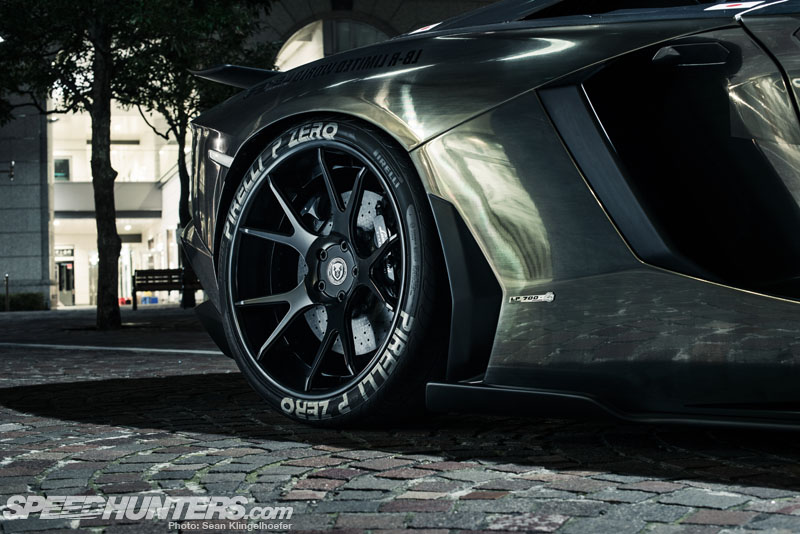 Having spent much of my career working around obstacles, sharing such a location was a very easy problem to solve as I simply picked views that would alleviate the congestion. For example, if you move the camera lower to the ground you can use the car to block out the Land Rover J-Lug Magazine photoshoot that's happening on the other side.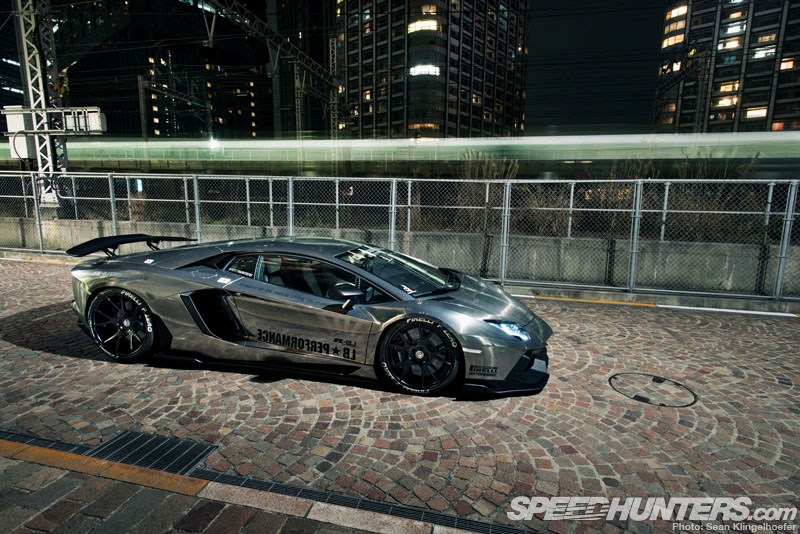 Eventually we decided to leave the square to make room for others and headed towards an equally interesting back alley, but even here we weren't safe. It was in this corridor that we met a very excited M6 enthusiast who couldn't have been happier to have made our, and the Aventador's, acquaintance!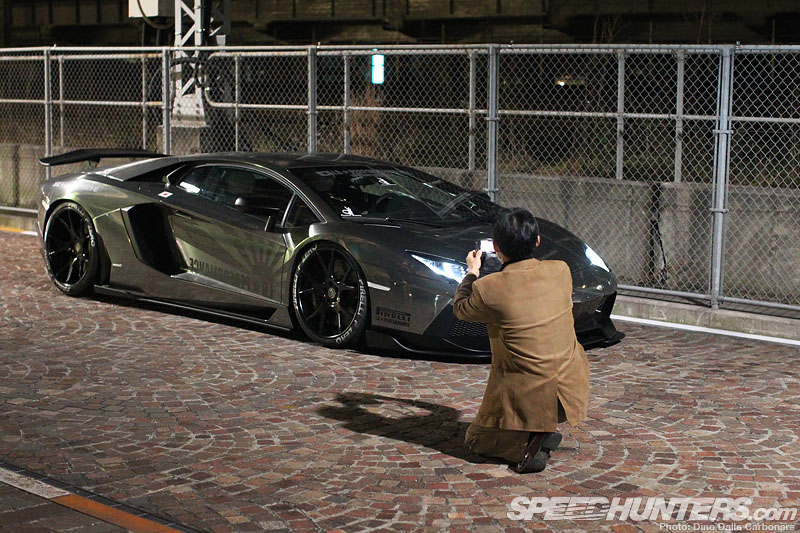 The man excitedly popped out of his car and asked if he could take a couple of photos. Just seeing the joy that the car created by simply existing was profound. This guy would spend the next ten minutes frantically circling the car taking photos from all different angles before doubling back again for another pass. He told us that he was going to put them on his Minkara page, which is basically a JDM car domain.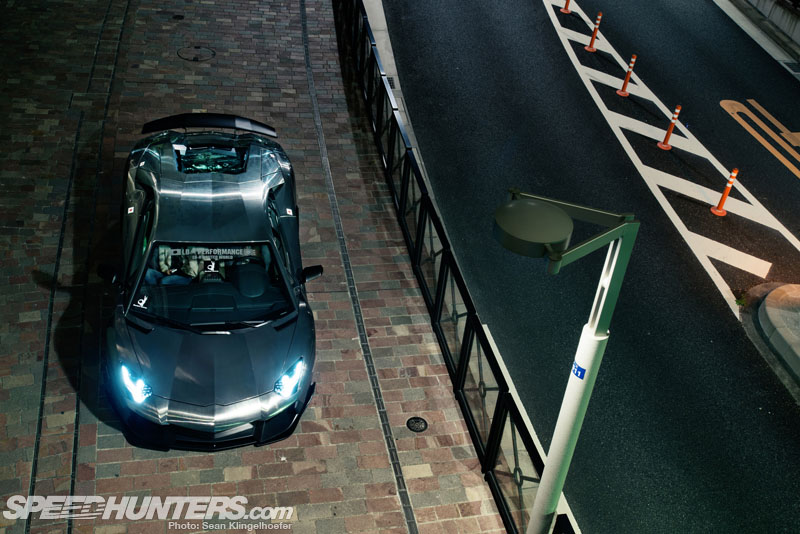 After shooting that night I had a new appreciation for both the power of a supercar and the Japanese people's enthusiasm for all things automotive. On one hand, there is no way that such a creation could have come from any country other than Japan, but on the other, it probably wouldn't be so openly appreciated anywhere else either.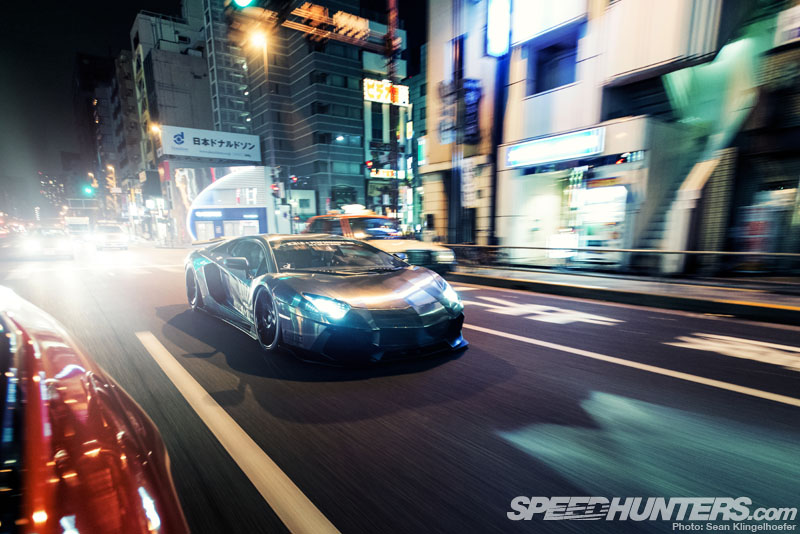 As we drove up and down the main strip in Roppongi, I couldn't help but be reminded of something I heard once on an episode of Top Gear (I think). It was a quote I surely can't recite verbatim, but in a nutshell the idea was that cars like this are like works of art and that they shouldn't be locked away in a garage, but rather placed in the street where the public can appreciate them as much as possible. After seeing and feeling the affect of just such a scenario I'd have to agree – even if you can't afford one, just being in the presence of a Lamborghini is a moment you'll never forget.
LB☆PERFORMANCE Lamborghini LP700-4 Aventador
ENGINE
Naturally aspirated 6.5L V12; J-Wolf exhaust system w/ electronic valves
SUSPENSION / CHASSIS
Liberty Walk low-down suspension
WHEELS / TIRES
20×9″ +25 (f) / 21×13″ +59 (r) iForged wheels; 255/30-20(f) / 355/25-21 (r) Pirelli P-Zero Rosso tires
BODY
LB☆PERFORMANCE Aventador body kit (includes front and rear bumper, front canards, side skirts, rear diffuser, rear wing)
More car features on Speedhunters
More stories about Liberty Walk on Speedhunters
More stories by Sean Klingelhoefer on Speedhunters
-Sean