Art is one of the most diverse words in all of the English language, and it's certainly one of my favorites. If you ask a dozen people what they consider art, you'll likely get a dozen different answers. That's the beautiful thing about art, it's completely subjective. Many have said that cars cannot be art, but when I stand confronted by the face of the Liberty Walk LB-R "Limited Works 20″ Murcielago, I beg to differ.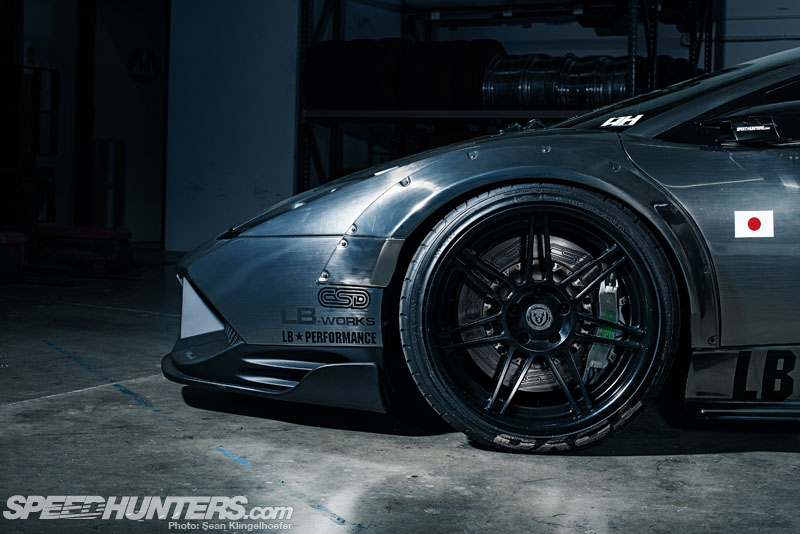 I'll go ahead and presume many of you have already seen this car, if not from Mike Garrett's spotlight on this very site, likely in some form of social media. It was easily one of the hottest and most talked about cars at SEMA and I lost count of how many times someone came up to me asking if I had seen "the crazy wide body brushed aluminum Lambo!?"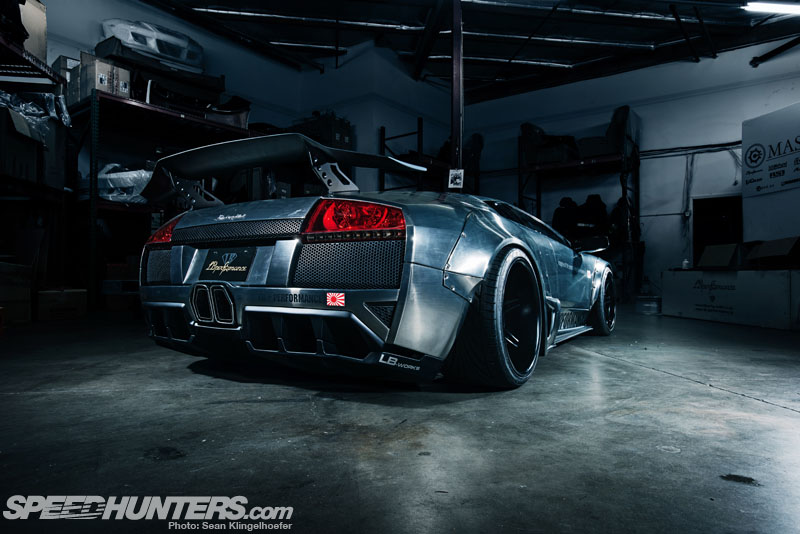 I knew the instant that I first laid eyes on it that I was looking at a work of art. The commentary I received from others after the fact merely cemented my initial opinion. It seemed that everyone spoke very passionately about the car, whether it was in awe or disgust. Thoughts ranged from "OMG it's the sickest car here!" to "I don't see what the big deal is, it's just a Lambo with a kit." As an artist, these types of reactions signify a job well done.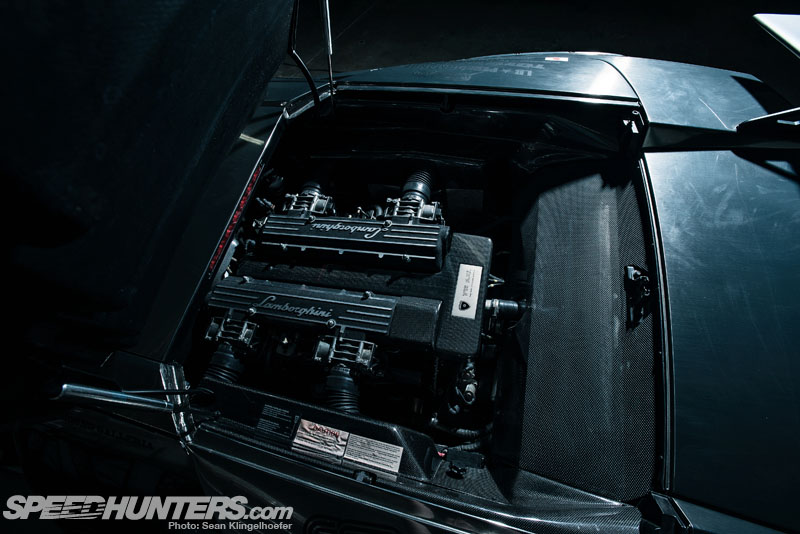 Whether you loved it or hated it, this was one car nobody at SEMA missed; yet the halls were filled with hundreds upon hundreds of high quality builds that somehow slipped back into mediocrity. Founded were the complaints about the car having very little done in terms of performance adders, yet this simple build managed to become the show's protagonist, despite the naysayers.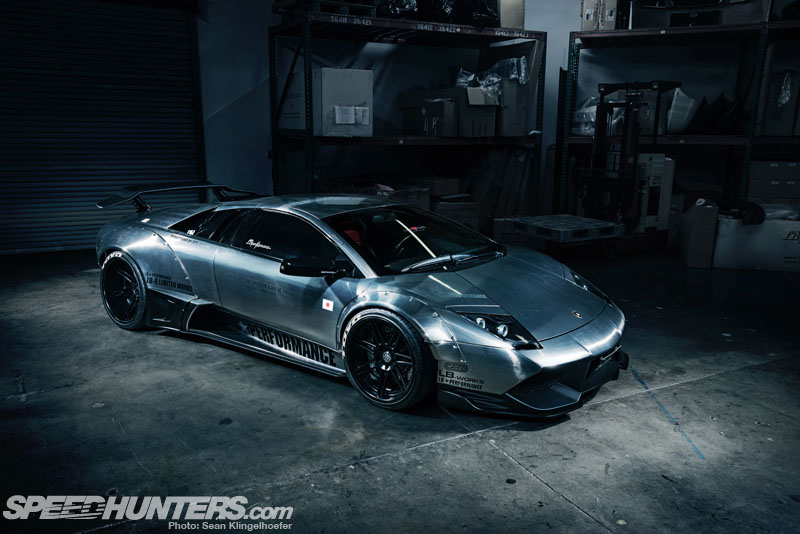 In fact, I think this car might be the least-modified vehicle I've ever shot for a car feature, for this or any other special-interest publication. But the magic of this car isn't how many bells and whistles and computers it's had fitted or swapped out, but how it makes you feel when you look at it. The vision behind the concept is what makes it special.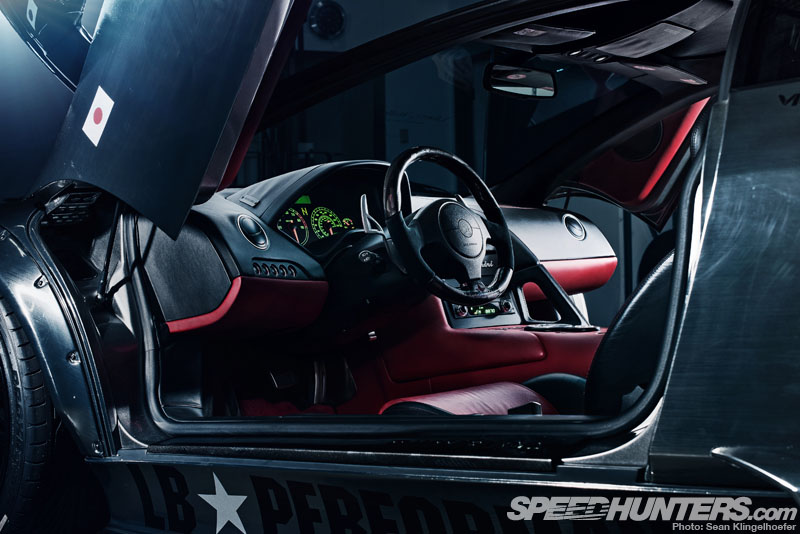 An untrained onlooker could quite easily be fooled into thinking this is a custom interior, but those familiar with Lamborghini will quickly spot that the cockpit remains in a state that is very nearly stock. Of course the cabin was an afterthought for this particular build, after all you wouldn't expect Picasso to put much thought into the backside of his canvas would you?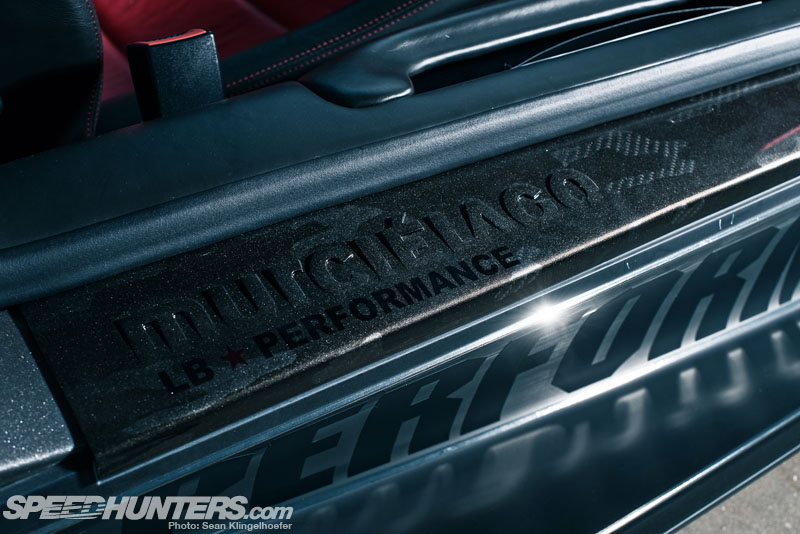 Clearly Kato-San, owner of Liberty Walk / LB Performance (and this particular Murcielago), couldn't leave the interior completely standard. A set of custom painted three-dimensional door sill plates have been added, which perfectly match the sparkly camouflage wrapped steering wheel.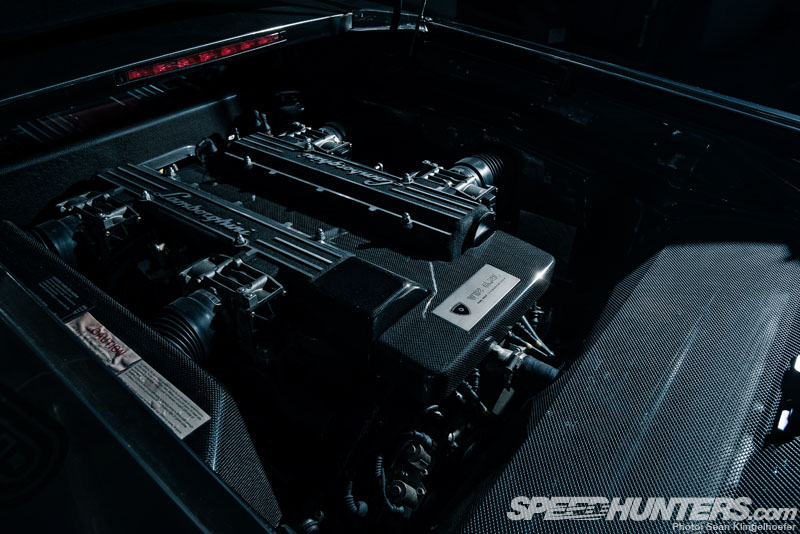 Just as the interior, the engine remains largely similar to how it was when it rolled off the assembly line in Bologna. To my astonishment, this car has actually logged a staggering amount of miles and the fact that it keeps on running is a tribute, to both Audi's involvement with Lamborghini, and the famous multiple-sword-gash-surviving bull for which the car is named.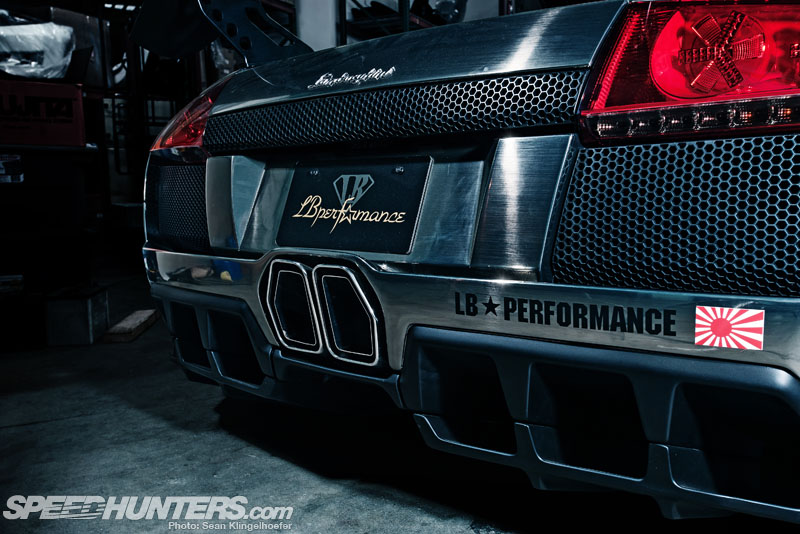 Amusingly enough, in another stroke of form-over-function, the single engine modification is purely cosmetic – a set of custom exhaust tips. You do however have to admit they look rather nice peeking through that completely mental LB Performance rear bumper!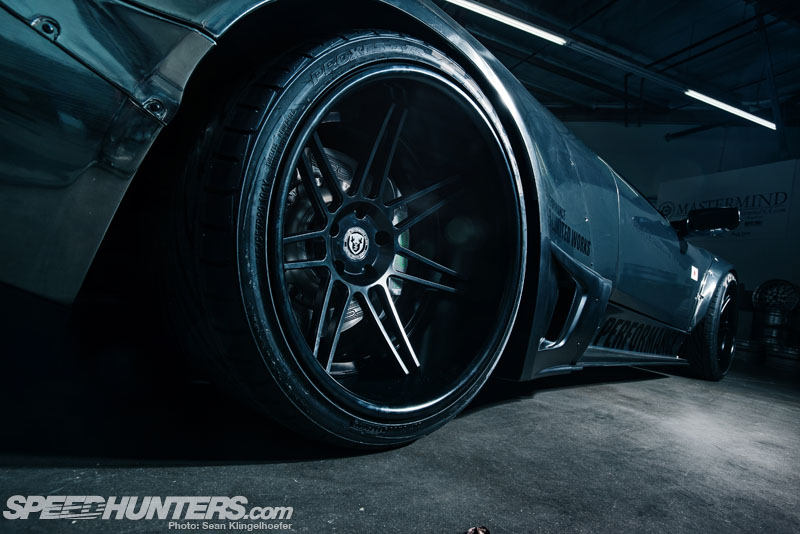 Even the suspension has been left stock, but given the freakishly low ride height that super cars like the Murcielago are equipped with from scratch, I can't say I blame him. Needless to say, the wheels have been replaced with an insane set of iForged Equip V3s in sizes that are sure to blow your mind: 19×8.5 -2 out front and stonkingly massive 20×13 -50 in the back! Buried deep within the barrels lay the only other performance modification on the car, a big brake kit from CSD.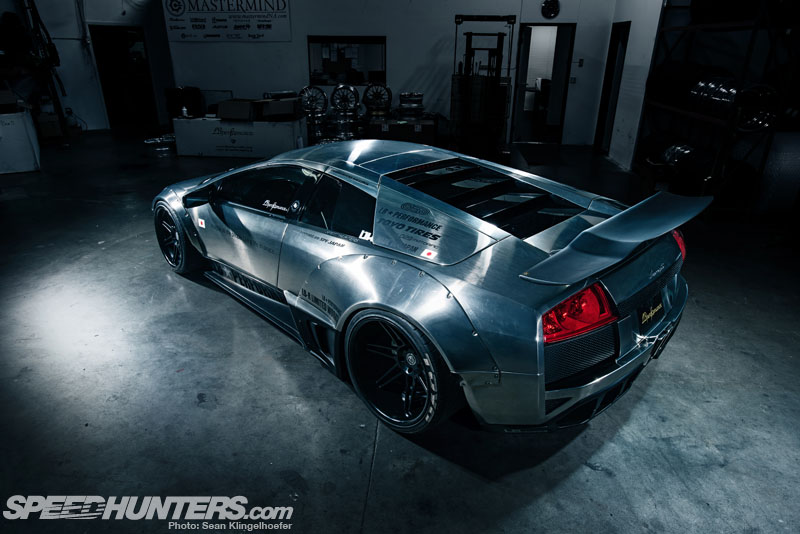 But again, if you're simply looking at this car in hopes of witnessing a crazy list of bolt-ons you've missed the point. As the premier Lamborghini body kit brand in Japan, LB Performance has become synonymous with radically sinister Murcielagos. So how do you make a splash at the world's largest aftermarket trade show with a car that's beginning to show its age? You take a page from Madonna and reinvent it.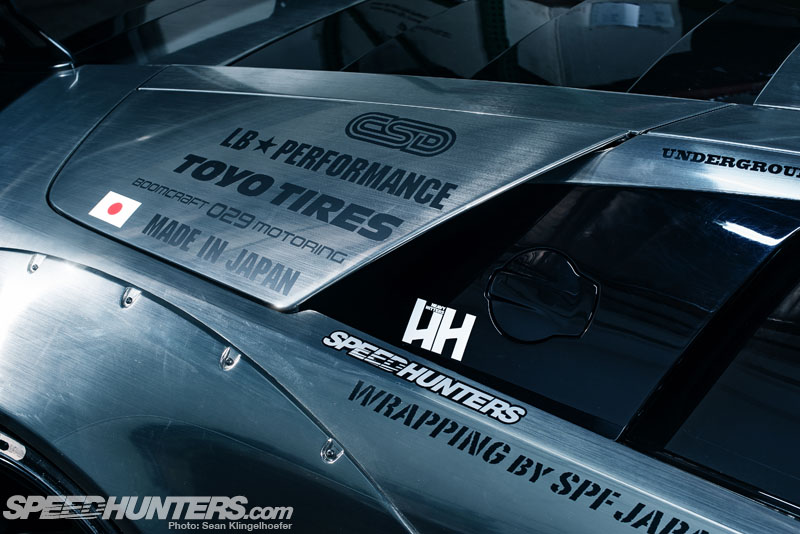 Needless to say, trying to outdo Lamborghini is an extremely tall order. Known the world over for their forward-thinking-avant-garde design, Lambo's are some of the most extreme cars on earth, but they also date themselves quite badly. With each new generation, the most recent predecessor must suffer an awkward phase where it is neither new enough to be cutting edge nor old enough to be a classic. When compared to the Aventador, a standard Murcielago is chopped liver.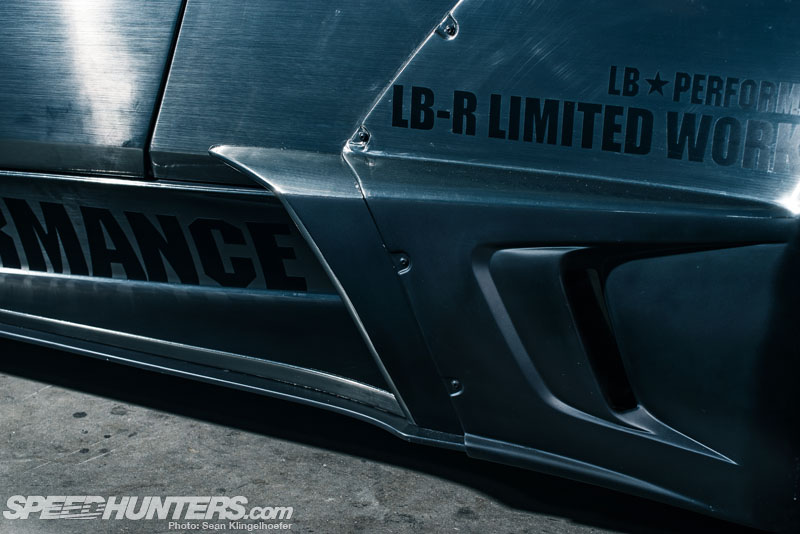 Yet somehow, almost impossibly, this new LB-R Limited Works kit manifests a totally new look for the car. Ironically, the majority of the kit, including the bumpers and rocker panels, are items that Liberty Walk has been selling for years. But once these pieces are combined with a new set of over fenders the entire look and feel of the car is transformed into something even wider and more aggressive, yet simultaneously sleeker and contemporary.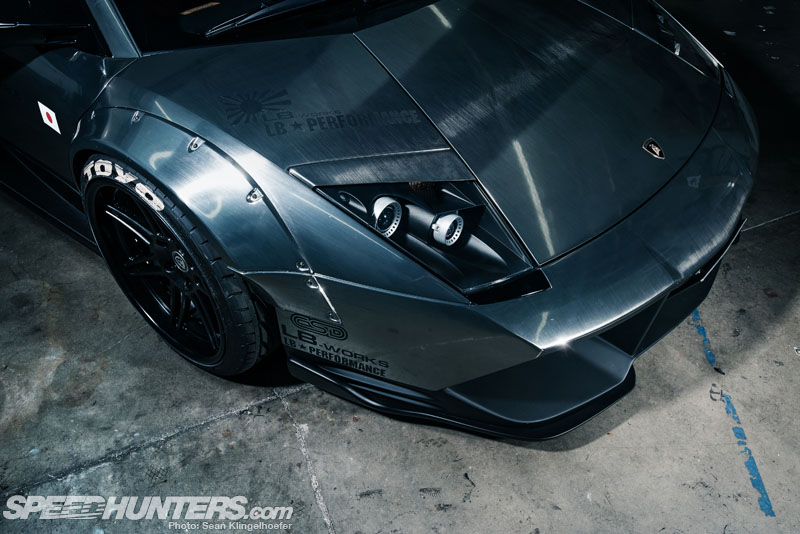 This refresh comes courtesy of the man I'd call the most influential designer in the aftermarket in 2012; of course I'm talking about Miura-san of TRA Kyoto. I know that Speedhunters readers aren't dummies so I would imagine that most of you had already pegged his involvement from the first glimpse of one of his unmistakably shaped fender flares. Maybe I'm just sipping the Rocket Bunny Kool-aid, but it seems like right now this man can do no wrong.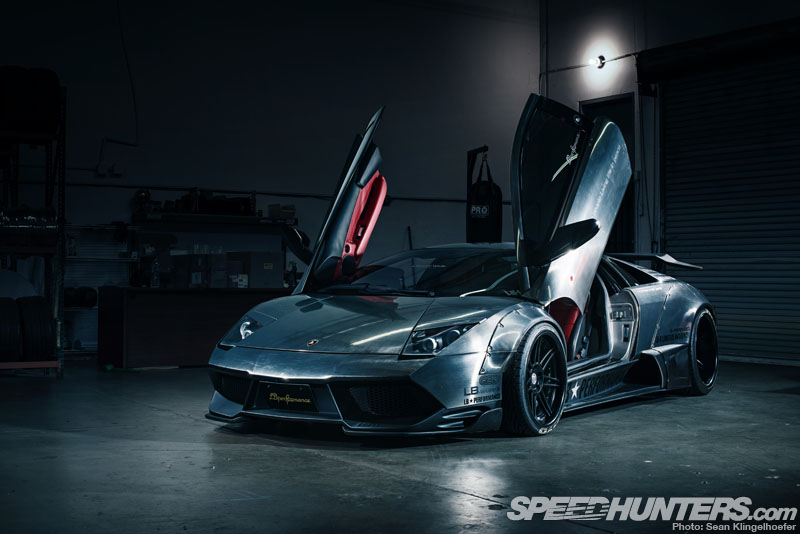 When you take all of that – the raw potential of Lamborghini with the flavor of LB – and cover it in an incredibly shiny faux-brushed-aluminum wrap this is what you end up with; a car that takes your notion of an outdated V12 monster and tears it to shreds. What you have is the wildest looking Murcielago on the planet; the one car from SEMA that everyone keeps talking about.  What you have, is art.
LB Performance "LB-R Limited Works 20″ 2004 Lamborghini Murcielago
ENGINE
LB Performance exhaust tips
BRAKES
CSD calipers and floating rotors (f/r)
WHEELS / TIRES
19×8.5 -2 (f) / 20×13 – 50 (r) iForged Equip V3 wheels; 235/35R19 (f) / 345/25R20 Toyo Proxes T1R tires
CABIN
LB Performance steering wheel wrap, door sill plate
BODY
LB Performance body kit including LB-R limited works 20 front bumper, version 2 front lip, side skirts, rear bumper, rear diffuser, version 3 rear wing, LB-R limited works 20 over fenders (f/r); Brushed aluminum vinyl wrap by Boom Craft Japan / SPF
THANKS
CSD, Boom Craft / SPF, Fatlace
More car features on Speedhunters
More stories by Sean Klingelhoefer on Speedhunters
-Sean
---
---
---