Meeting face to face
I've always felt sorry for the Ferrari F50. It had such a hard job to do, living up to the F40 and all that the barely-disguised racer stood for and accomplished. The F50 was another sort of animal. Rather than being built to go racing, it was Ferrari's way of showing off F1-derived technology to the world. It wasn't so much of an evolution, but a different way of approaching the extraordinarily expensive supercar genre.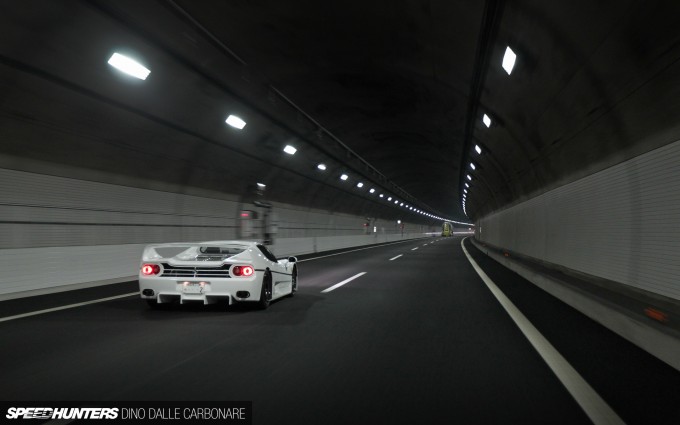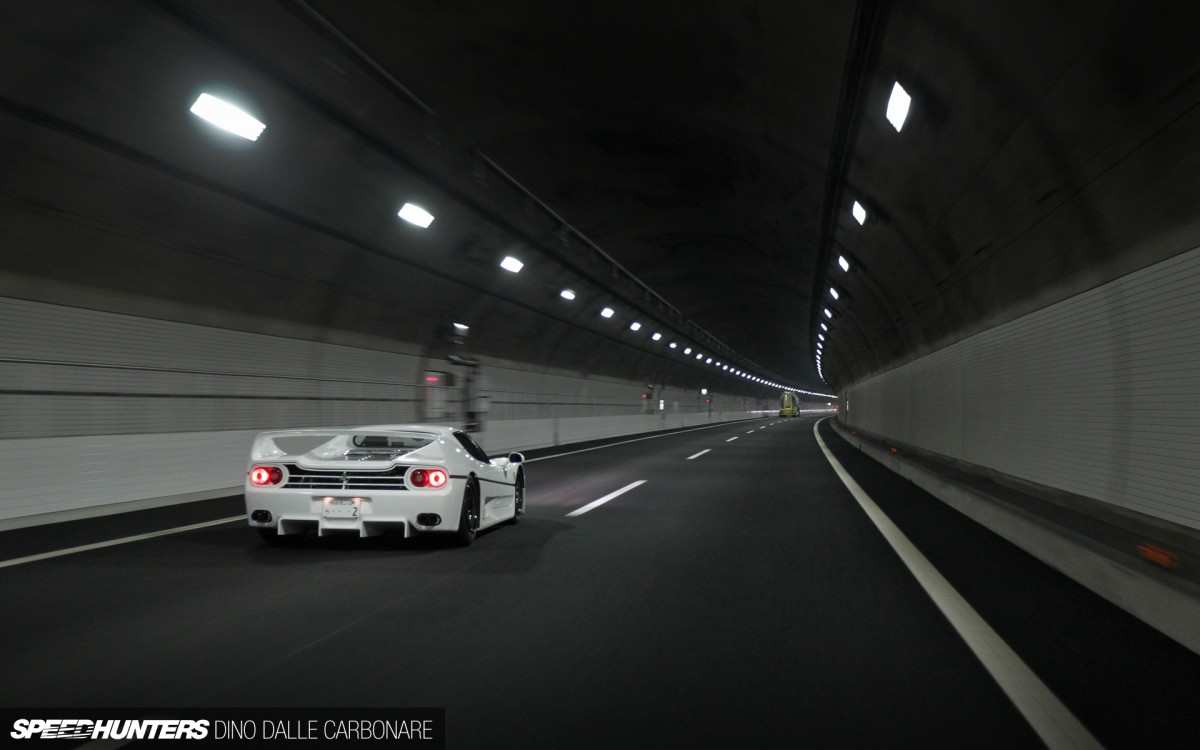 A lot of people never really understood it, me included, but now – 17 years on – I've had the chance to spend some time with what may probably be the world's most recognized one of them all…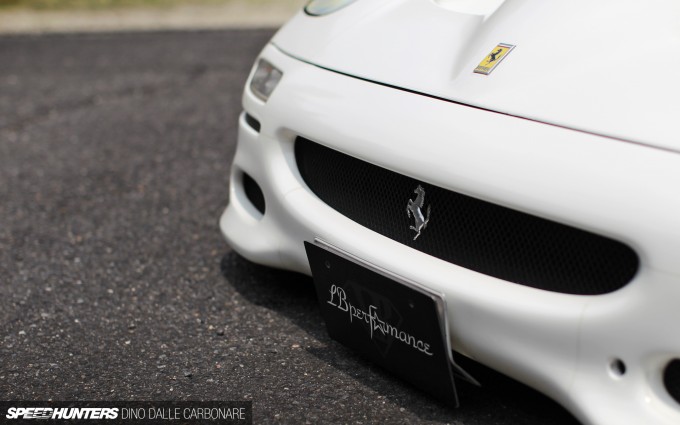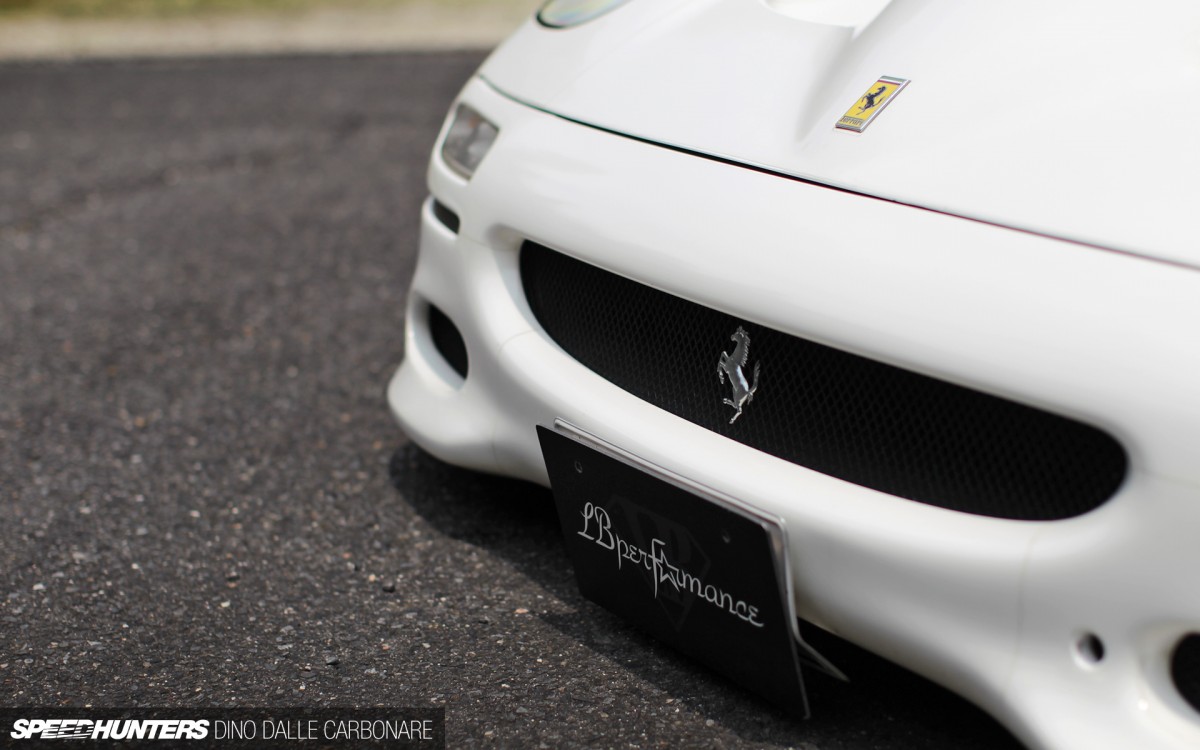 …the Liberty Walk F50. I've been waiting years to feature this car, patiently waiting for Kato-san to rebuild its engine after a mis-shift during a test drive sent the bottom end to stratospheric RPM, self-destructing in the process. But now, with a freshly rebuilt V12, the white F50 was all ready to go.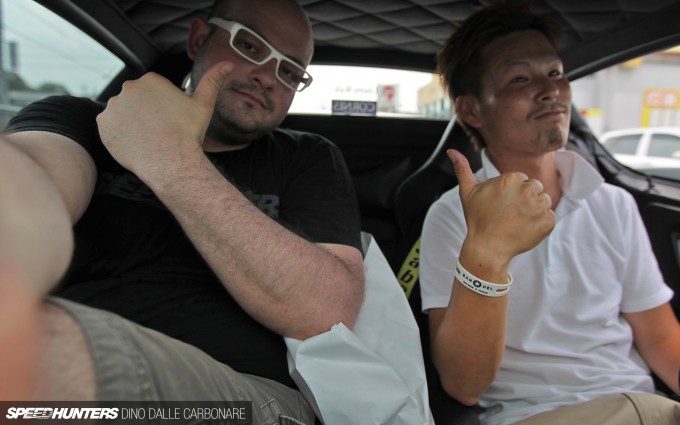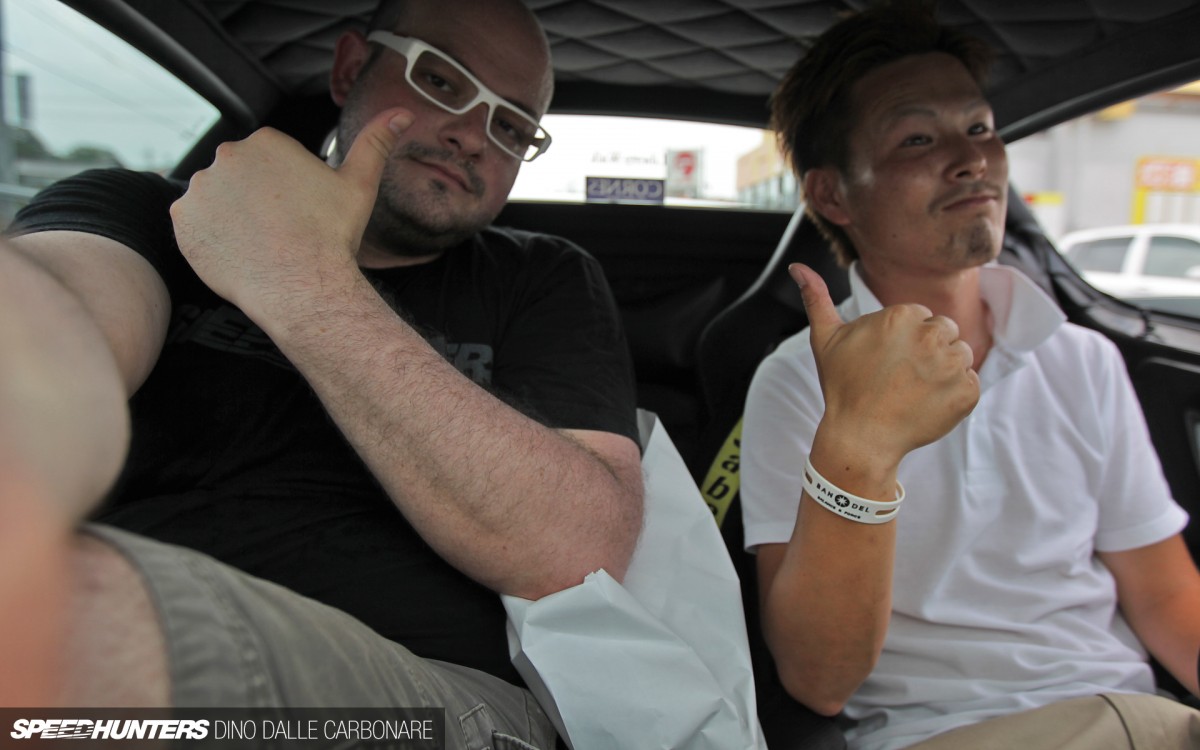 My day started with a very cramped and extremely sweaty ride in the car. Ryo-san from Liberty was my chauffeur, and after Kato had called ahead and sorted out a location for the shoot we headed off on what may well be one of the most theatrical rides I've ever experienced. I might have had my head right up on the headliner, my knees pressed against the dashboard, no air-con and windows that refused to lower in the midst of one of the hottest Japanese summers, but I loved every minute of the half hour drive, grinning the whole way! How about that for an introduction to a motoring legend?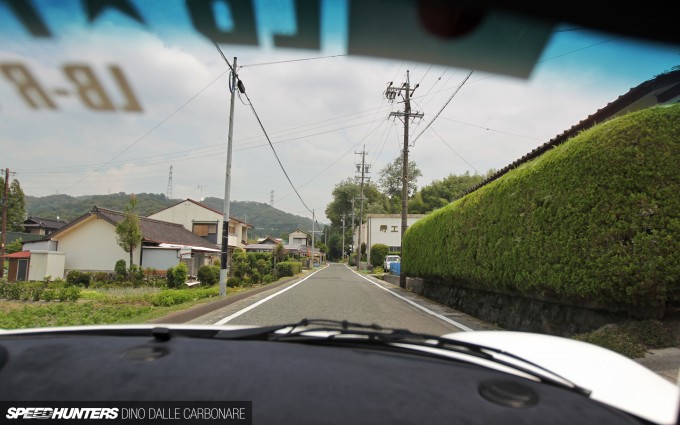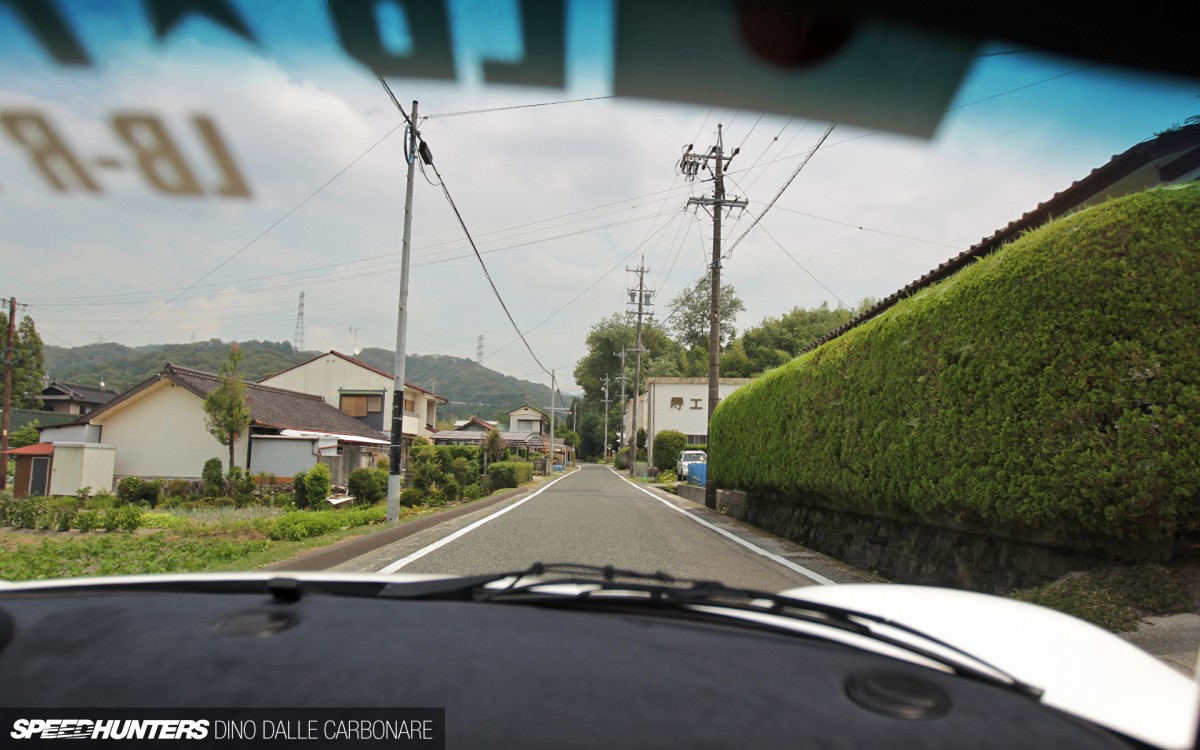 After tackling some pretty tight countryside roads…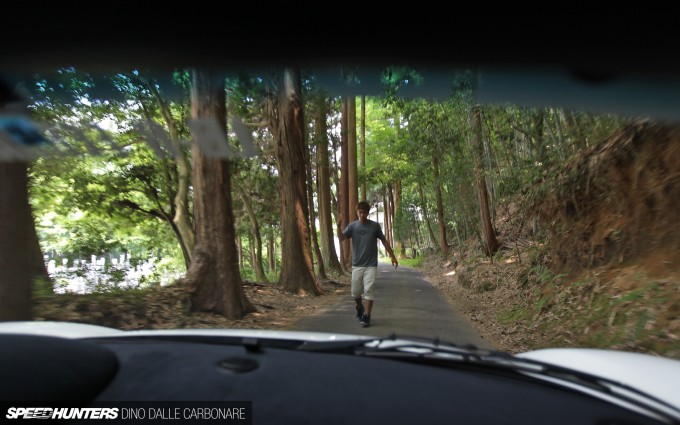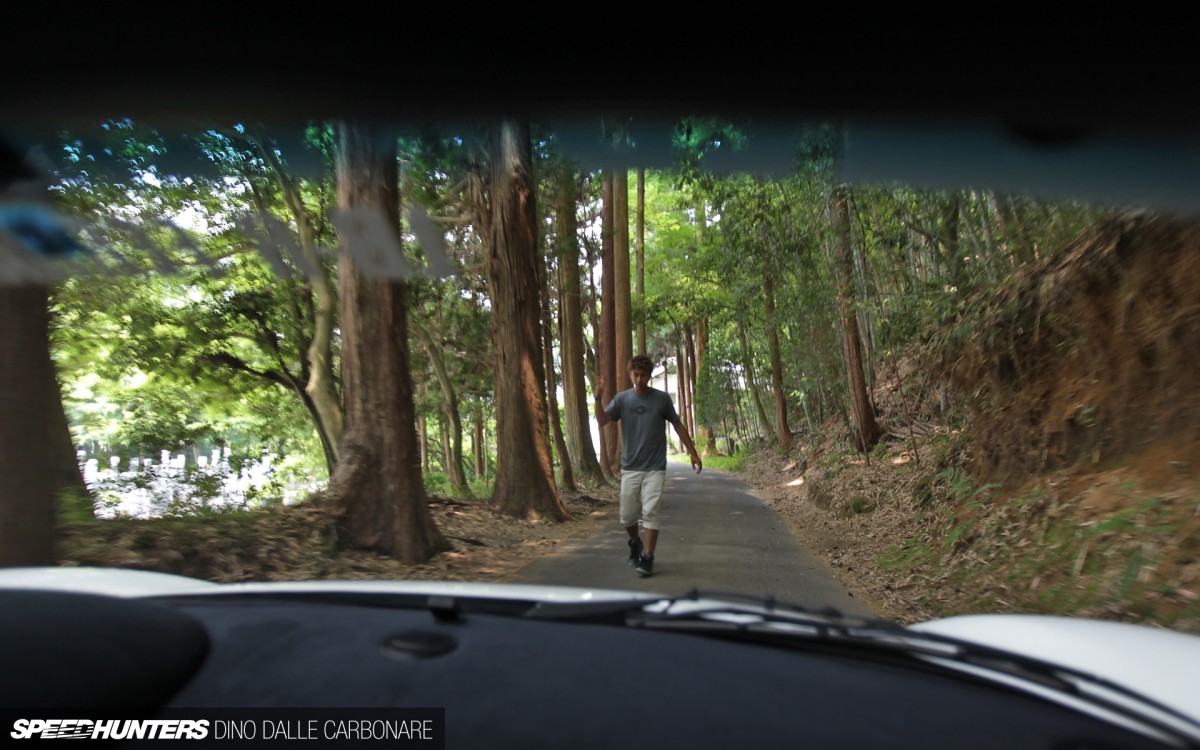 …we arrived at our destination, where Kato-san's son was waiting for us, kindly assisting our ascent…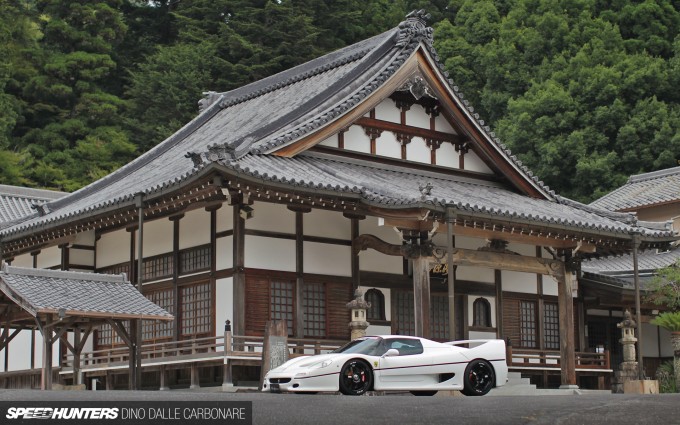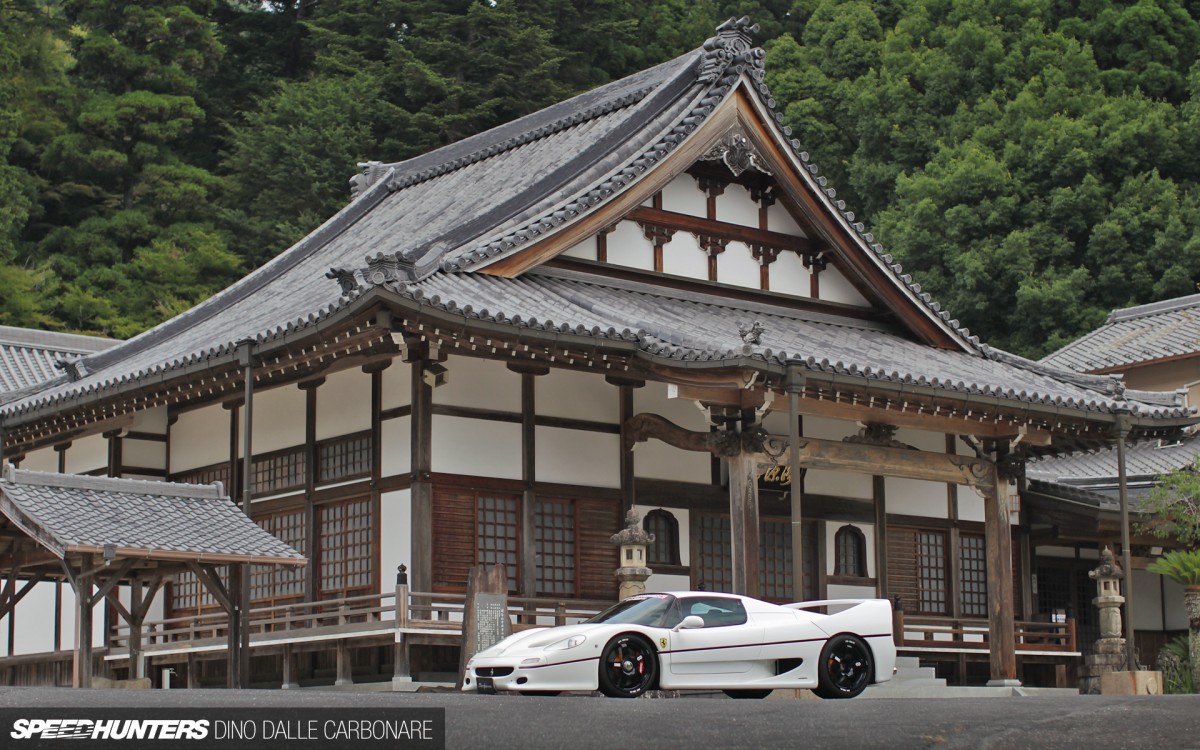 …to a location that was as equally epic as the car I was there to immortalize.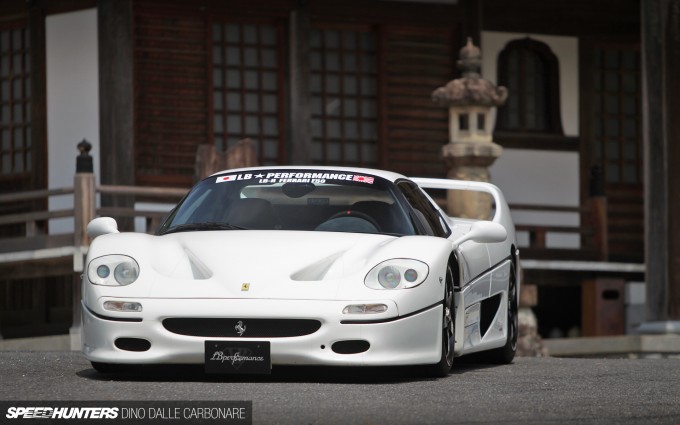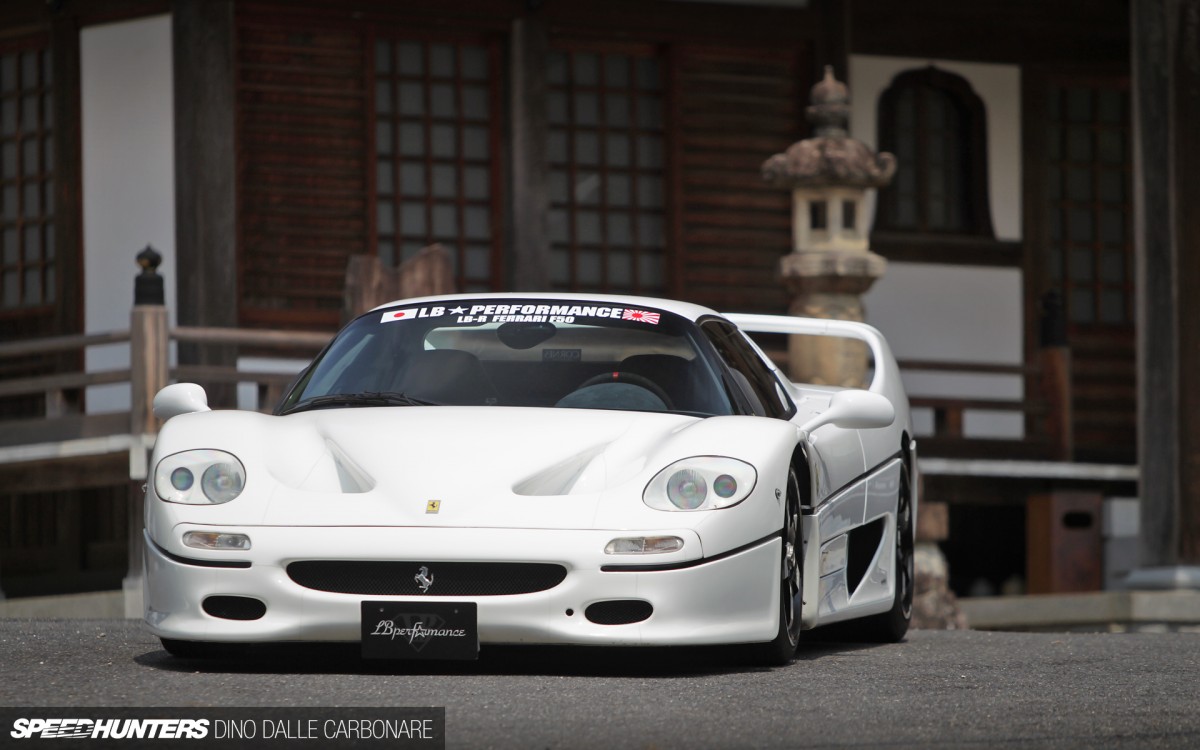 There's no doubting that Kato knows how to make his cars look good. Seeing the caliber of car he didn't want to mess around with it too much, aside from painting the exterior white to emphasize its presence.
In detail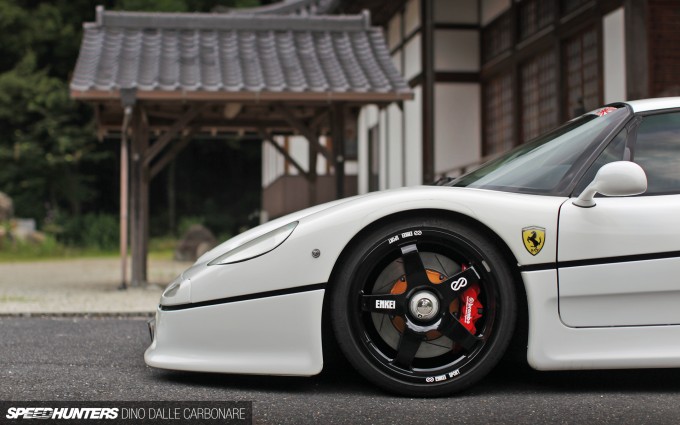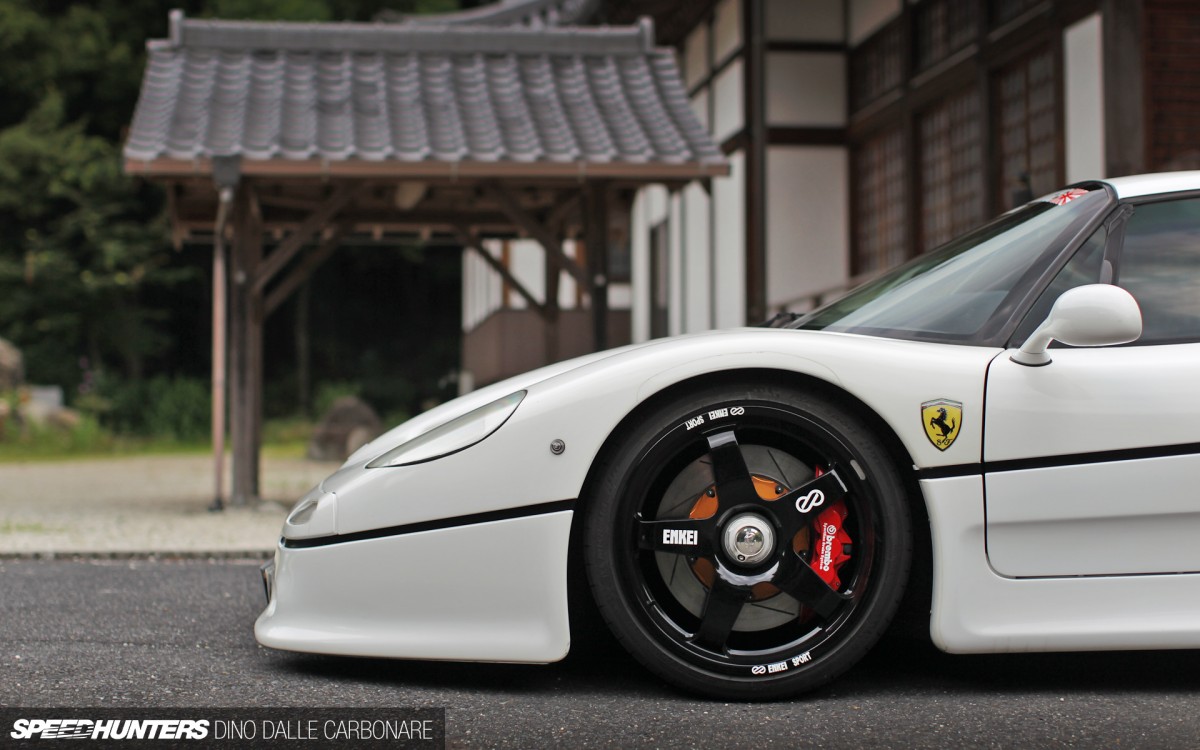 As a contrasting addition, the stock wheels have been removed and stored away, replaced by a set of black, 19-inch Enkei Sports – the exact same look as the LB F40.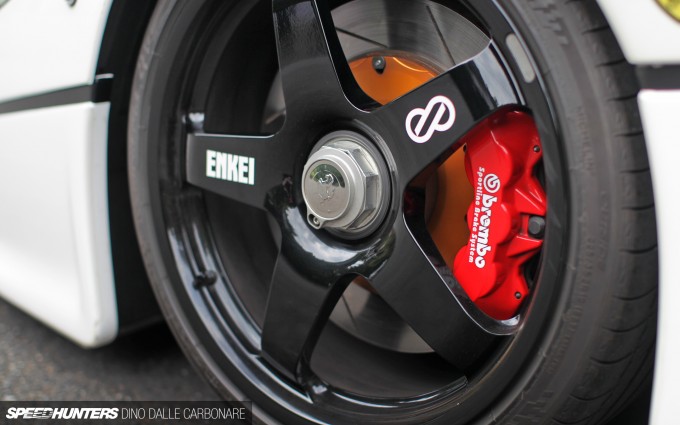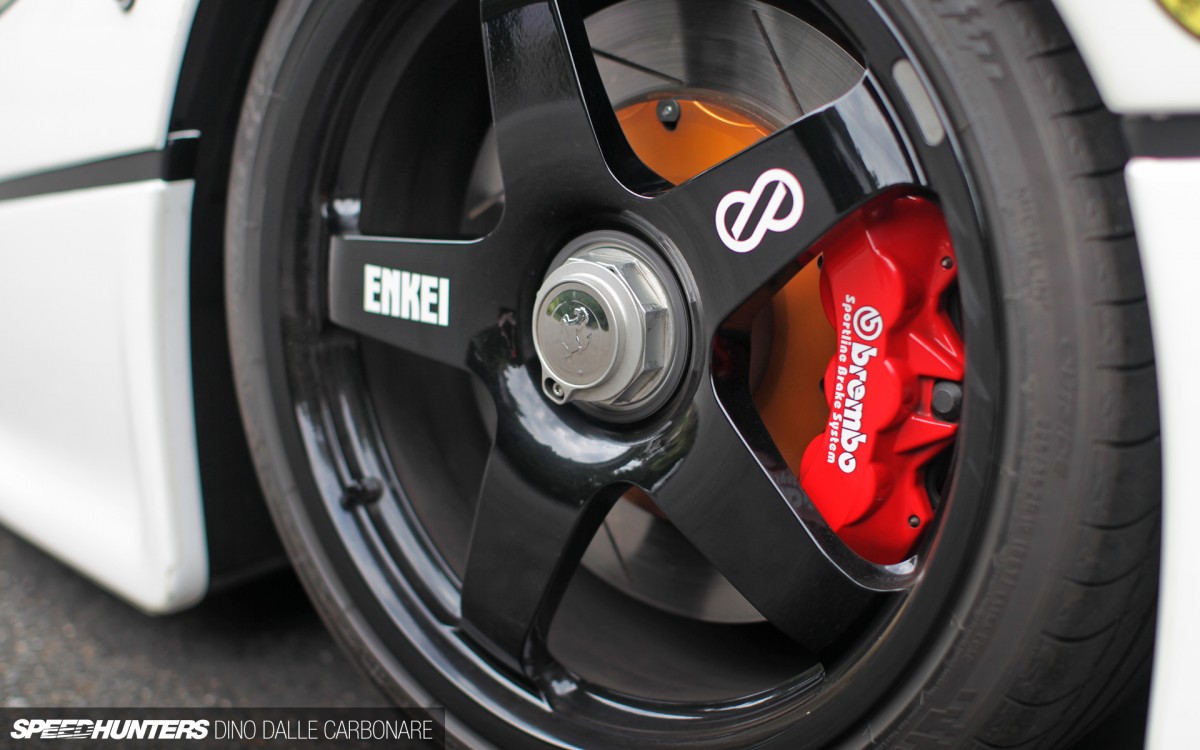 The wheels run Michelin Pilot Sport rubber, 225/35R19 front and 325/30R19 rear: a good compromise between everyday on-road usability and outright grip for when the car is taken out on tracks like Suzuka. Seeing brake technology has come a long way since 1995, the stock system has been upgraded with a more up do date and better performing caliper and rotor combination: six-pots at the front and four-pots at the rear, with large two-piece slotted discs.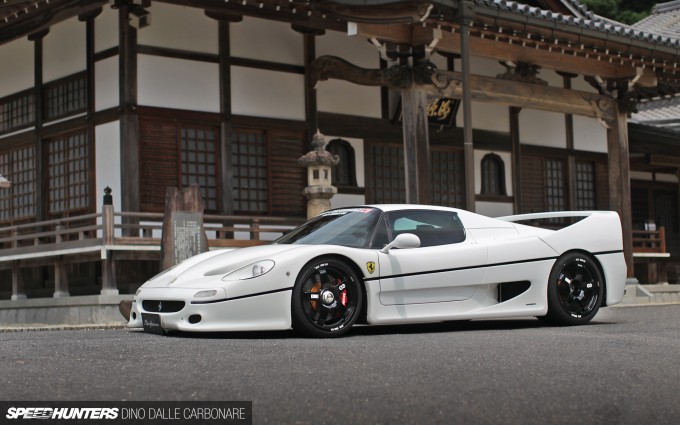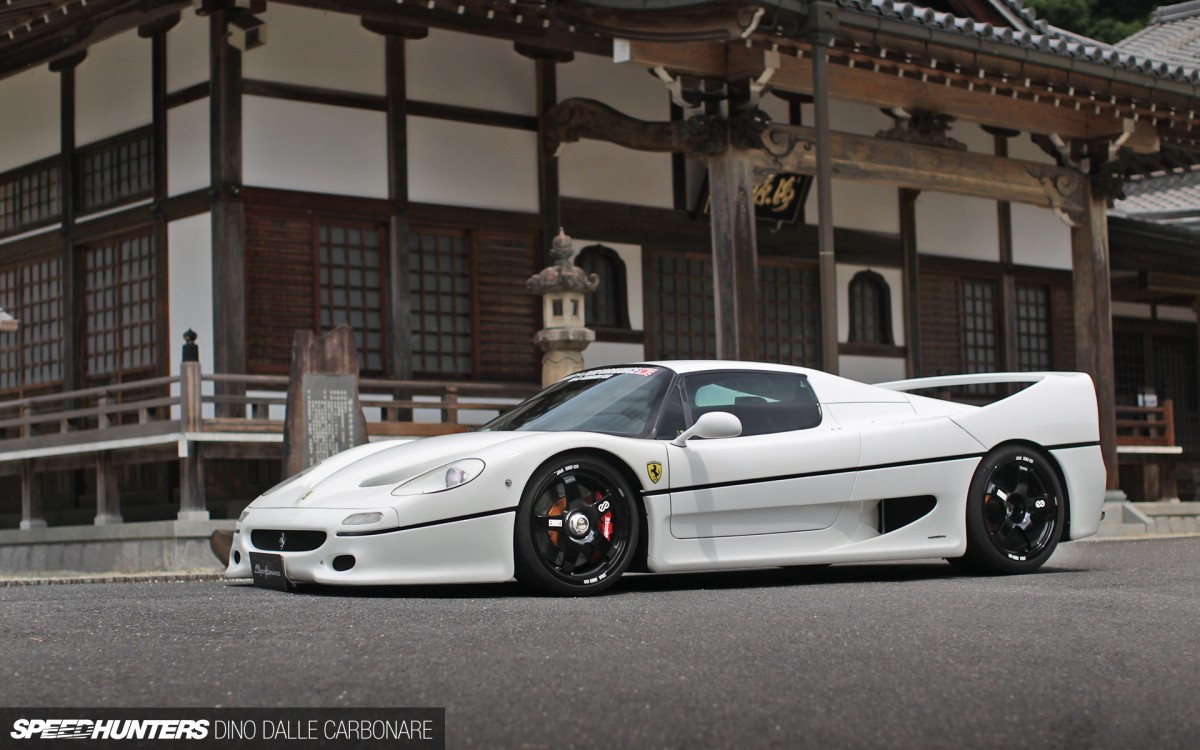 Liberty Walk knows a thing or two about making a car sit just right and the F50 is no different, slammed as close to the ground as mechanically possible and implementing the stock front-end lift system to boost ride height by a few centimeters when things get bumpy.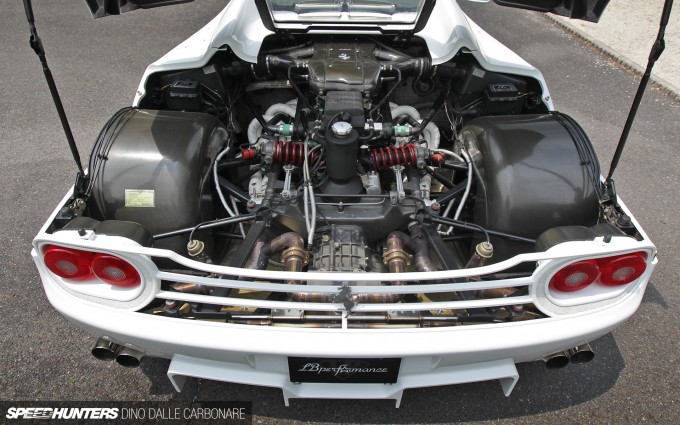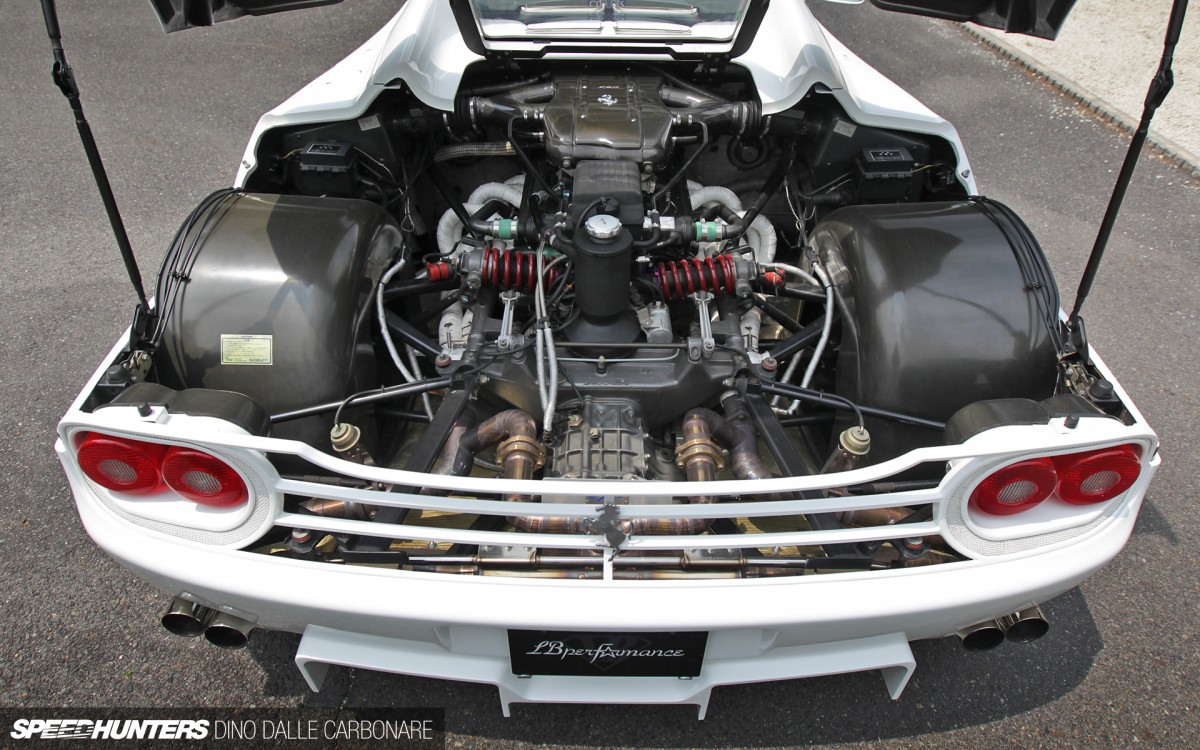 With a need to get into the real nitty-gritty stuff, it wasn't long before I was nosing around under that massive carbon fiber rear cowl…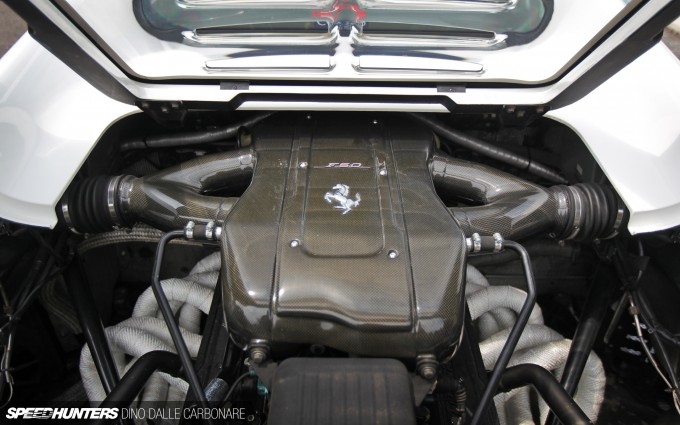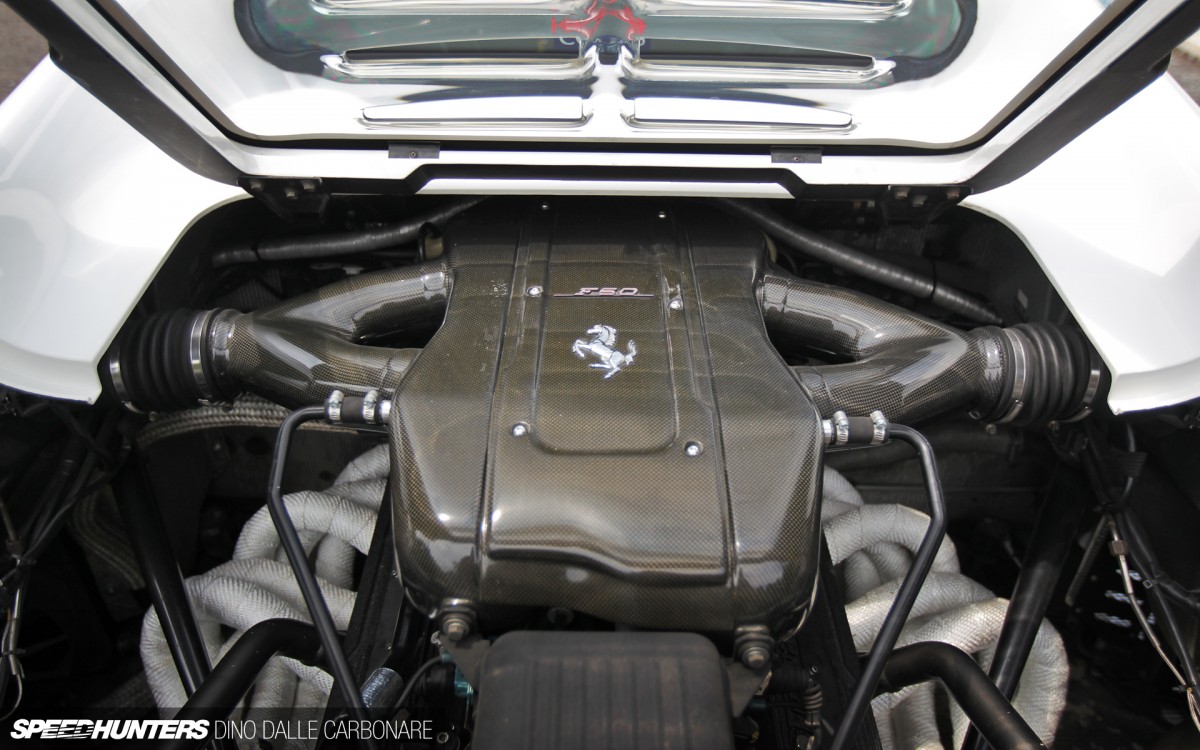 …taking in every detail of the 4.7-litre, F1-derived V12 engine that makes up the F50's heart. The 12 velocity stacks are fed by a massive carbon-Kevlar intake plenum, which in turn breathes through a pair of airboxes that make full use of the side intakes.
60 valves, 8,500 rpm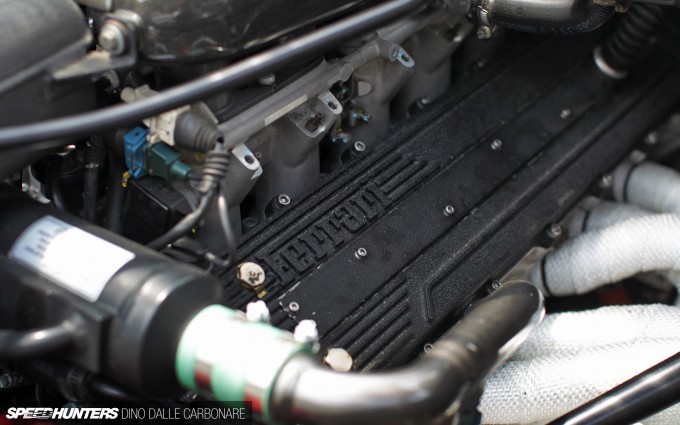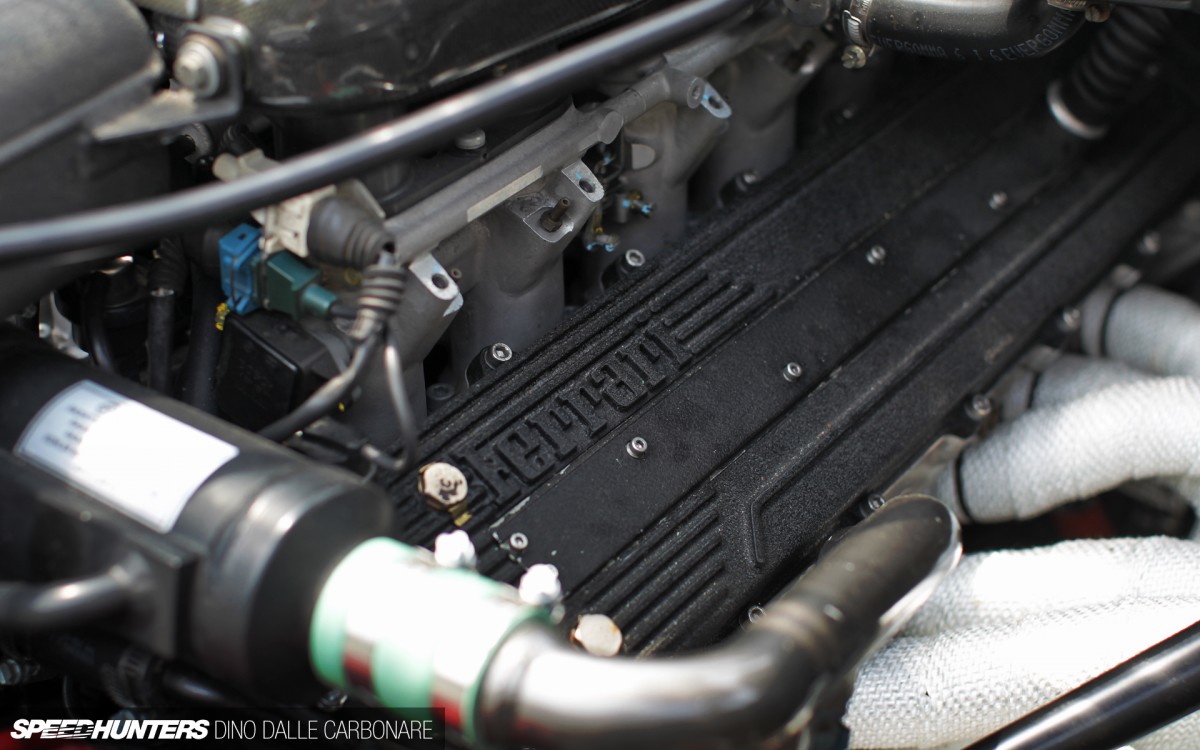 It's so nice to indulge in a bit of engine porn once in a while, and the F50's engine is beautiful to look at – still raw in form and construction, very different from the modern engines we are used to seeing these days. Underneath those black head covers are 60 valves: five per cylinder, three for the intake and two for the exhaust. Imagine the concoction of sounds these are able to create as the V12 nears its 8,500 rpm redline!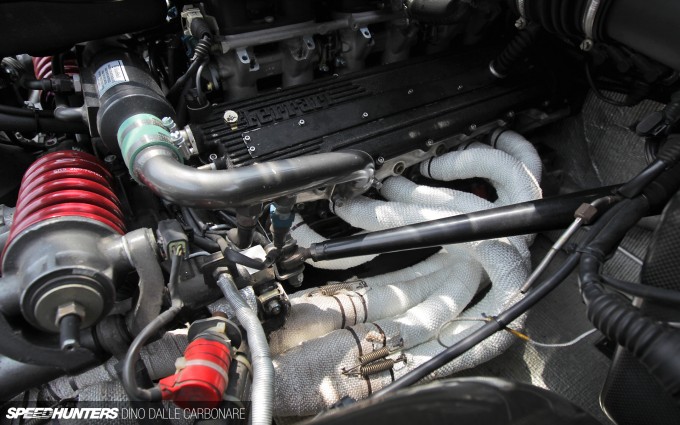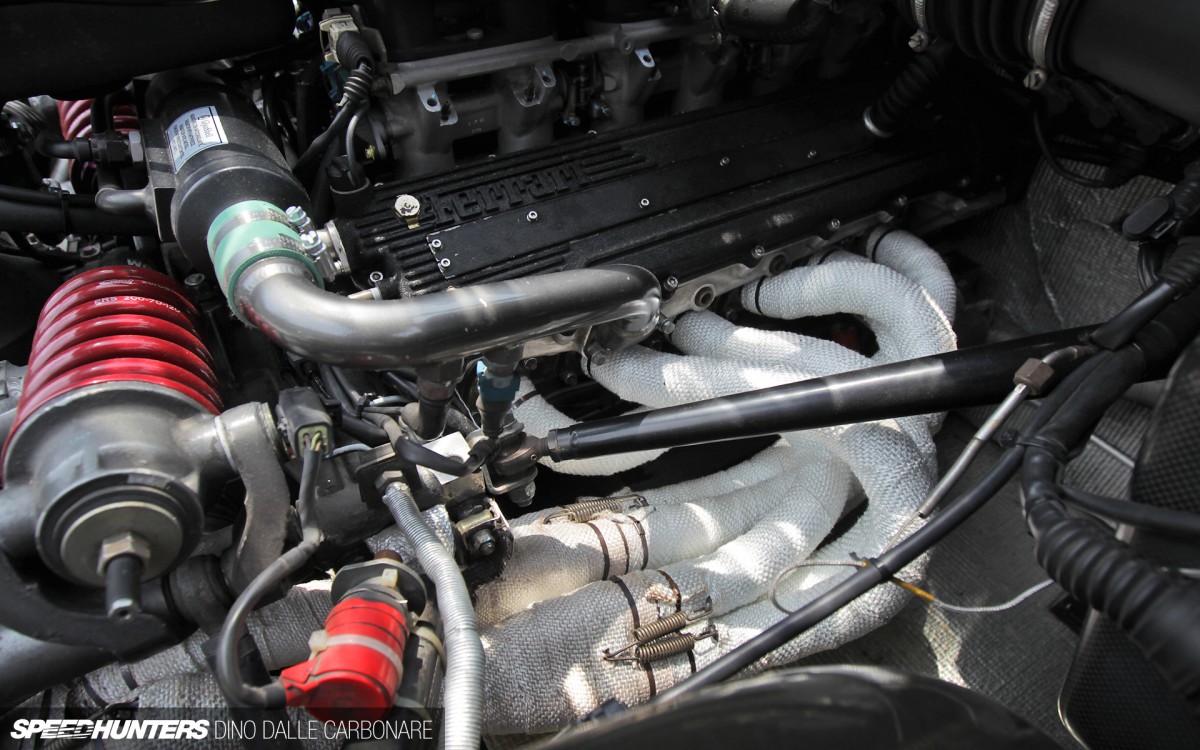 Kato-san couldn't resist amplifying the stock exhaust sound just a tad, and fitted a pair of handmade, equal length headers…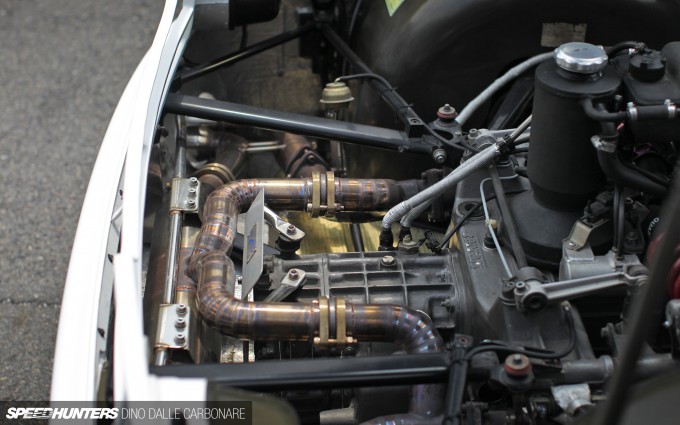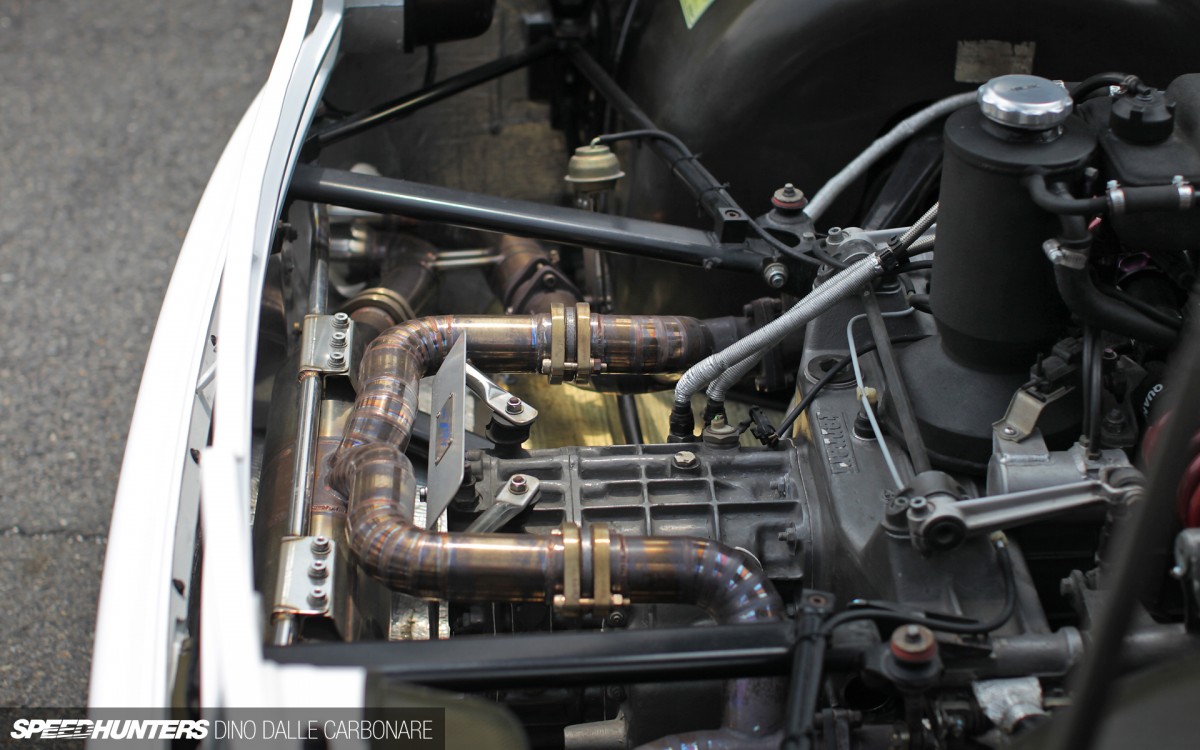 …which connect up to the J-Wolf exhaust system. This features a pair of valves which when closed make use of the horizontally mounted silencer, but if left open turn the exhaust into a fully open system. Of course, no use of the silencer was made that day!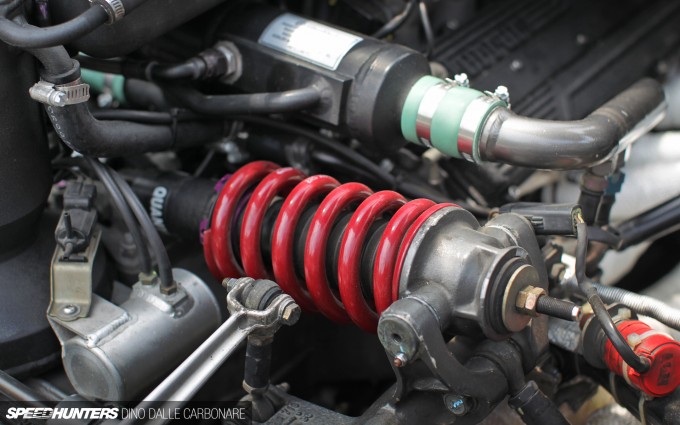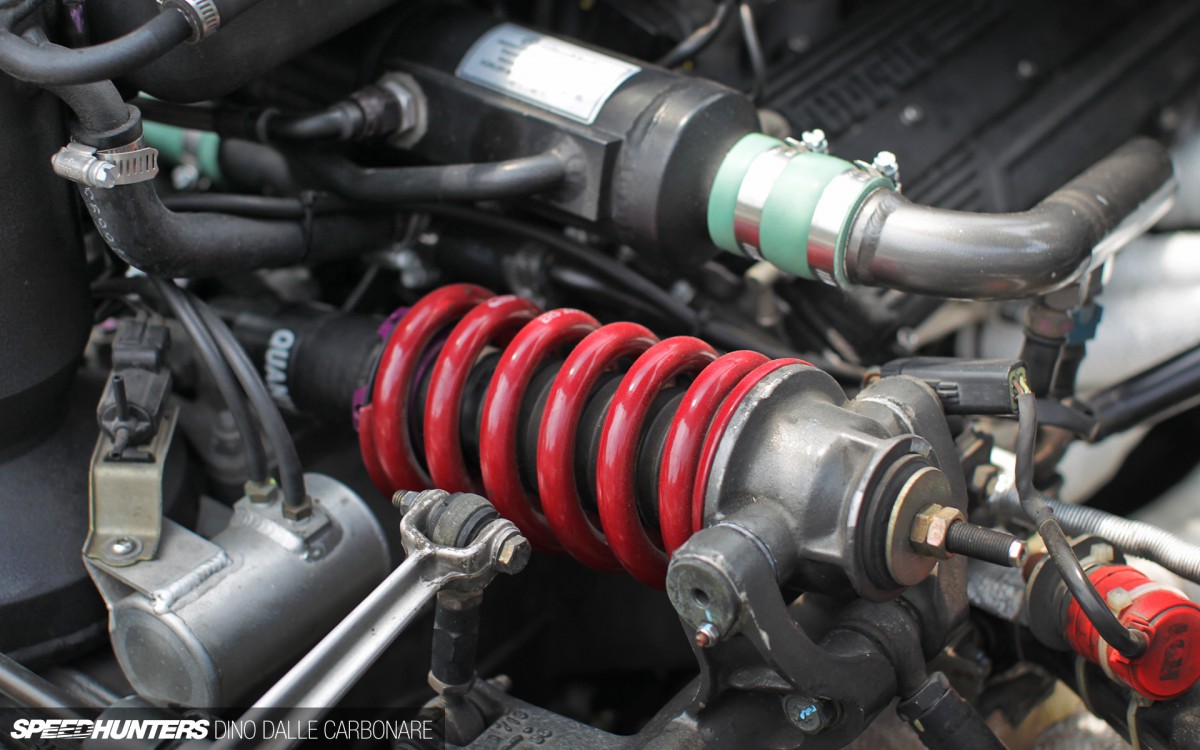 Much like brakes, suspension technology has come a long way in the last two decades and Kato made absolutely no compromises here. He got rid of the stock Bilstein adaptive dampers and had Quantum build a modern setup featuring harder springs…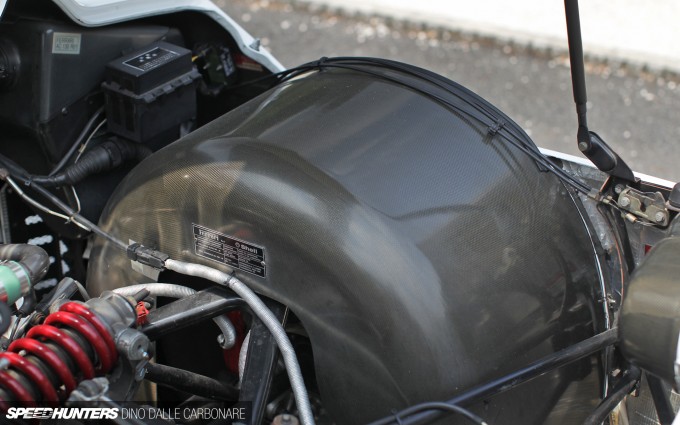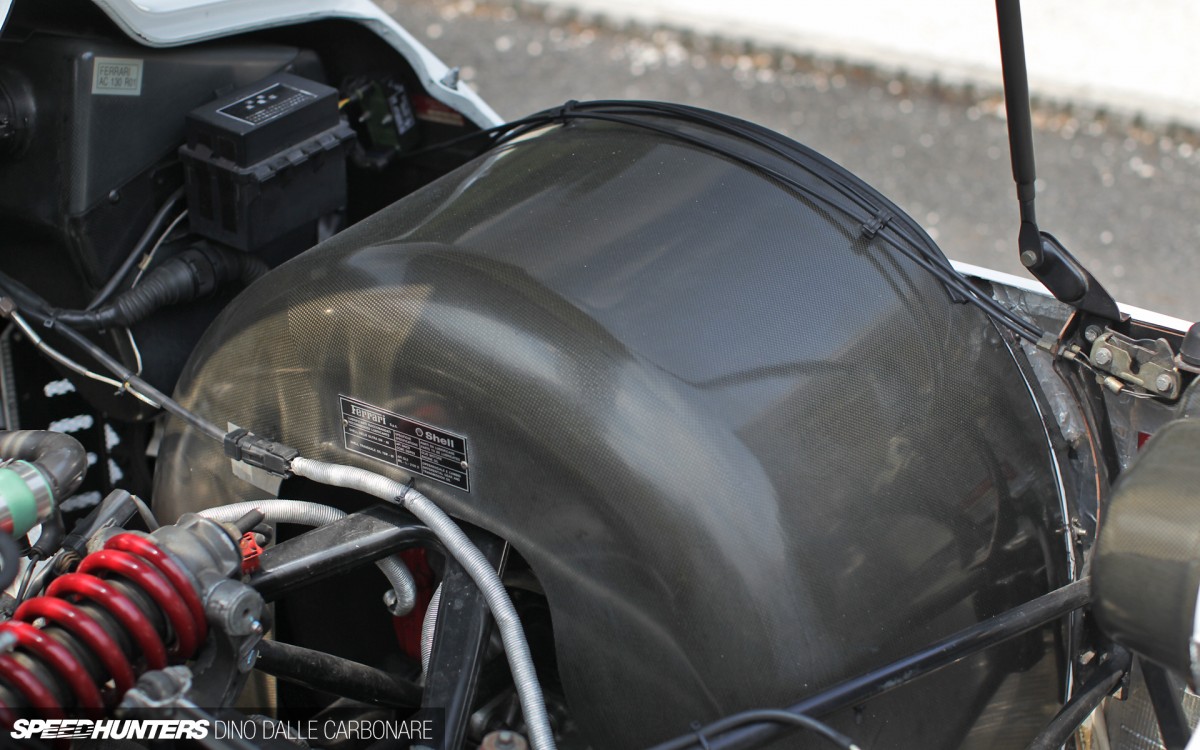 …and taking into account the lower ride height of the car. The electronic adaptive damping may have been lost, but that is a small price to pay for top of the line, race-inspired items.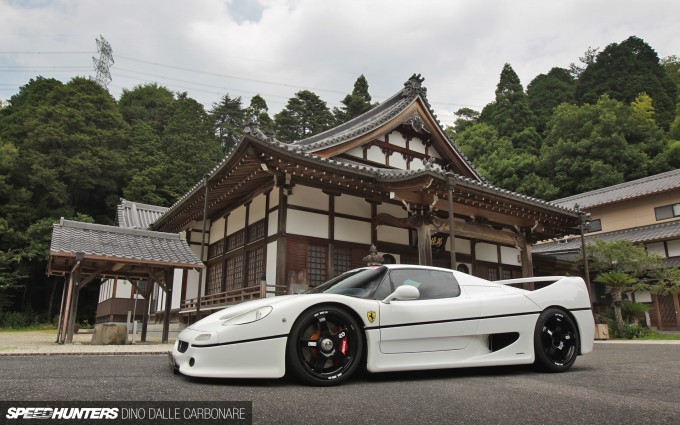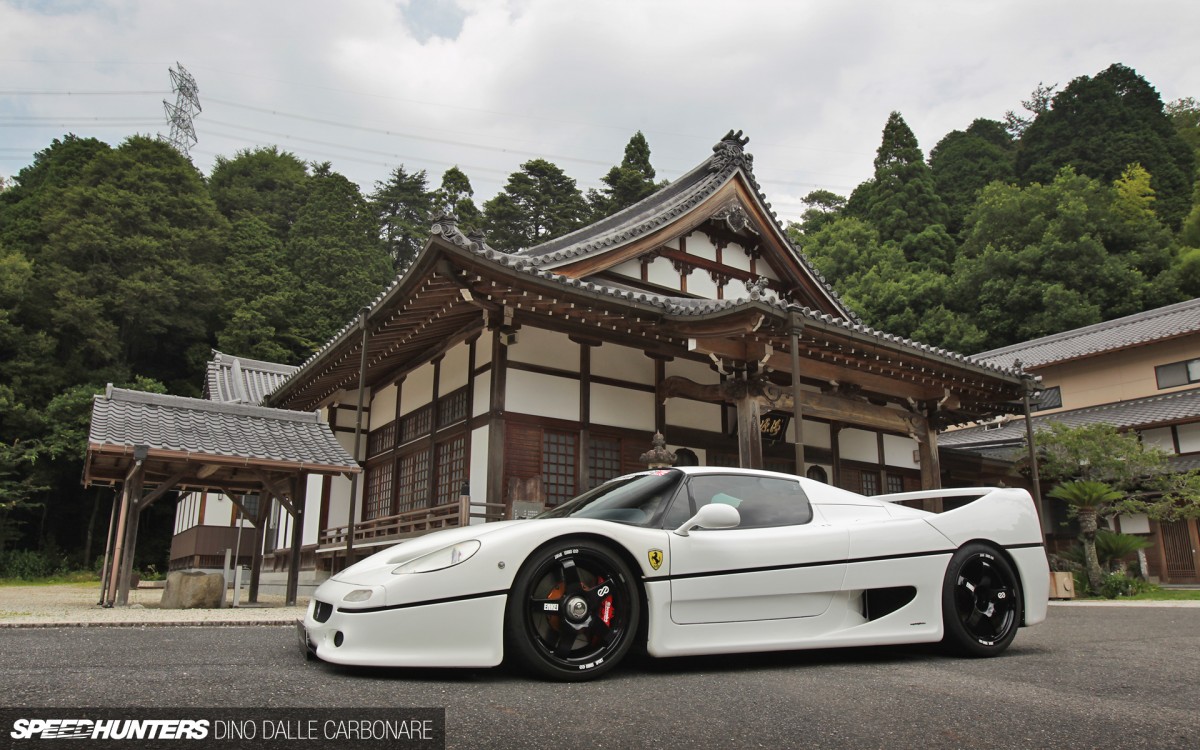 The result is nothing short of a masterpiece. A legendary supercar has been given a few, well-chosen modern day touches to keep it up to date with both the times and the expectations of demanding owners like Kato.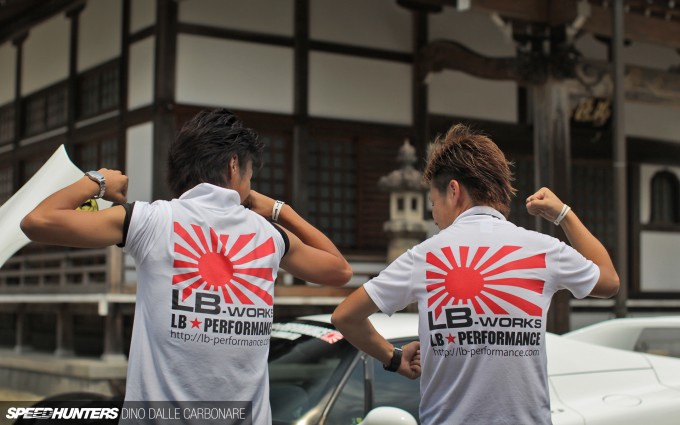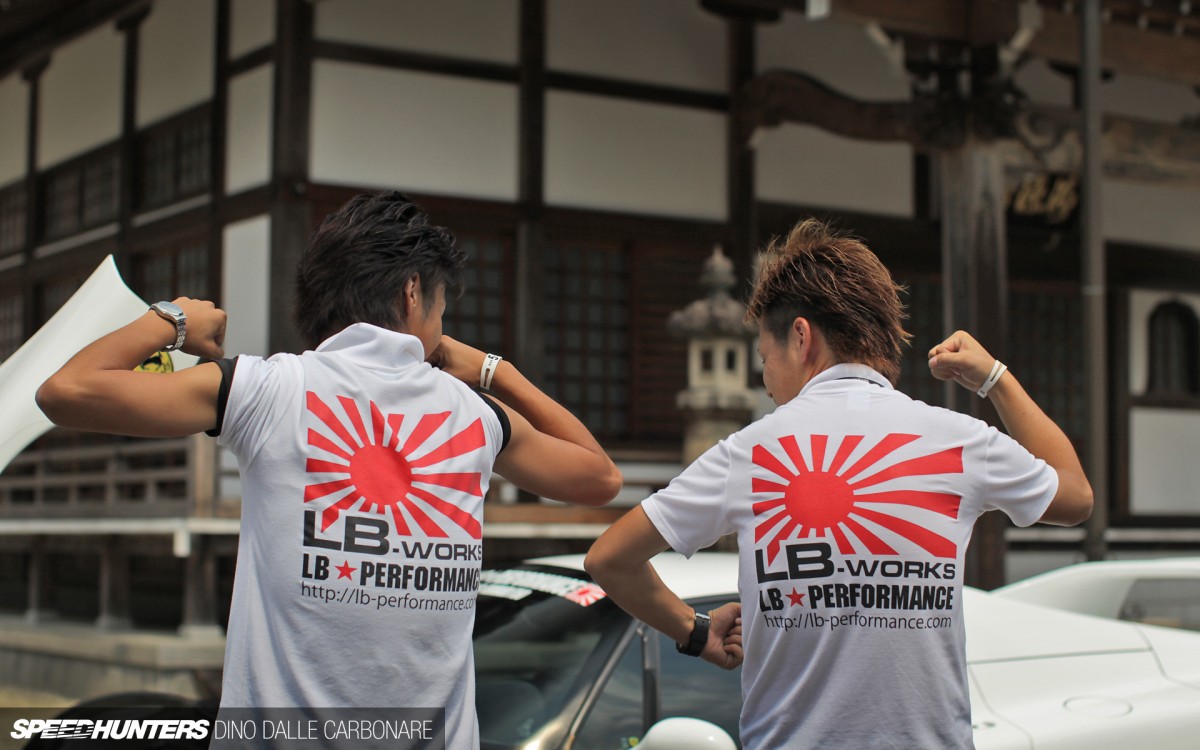 The Liberty Walk guys love the F50!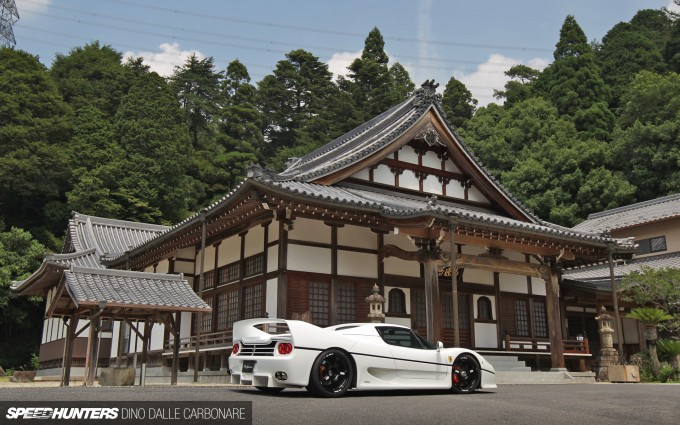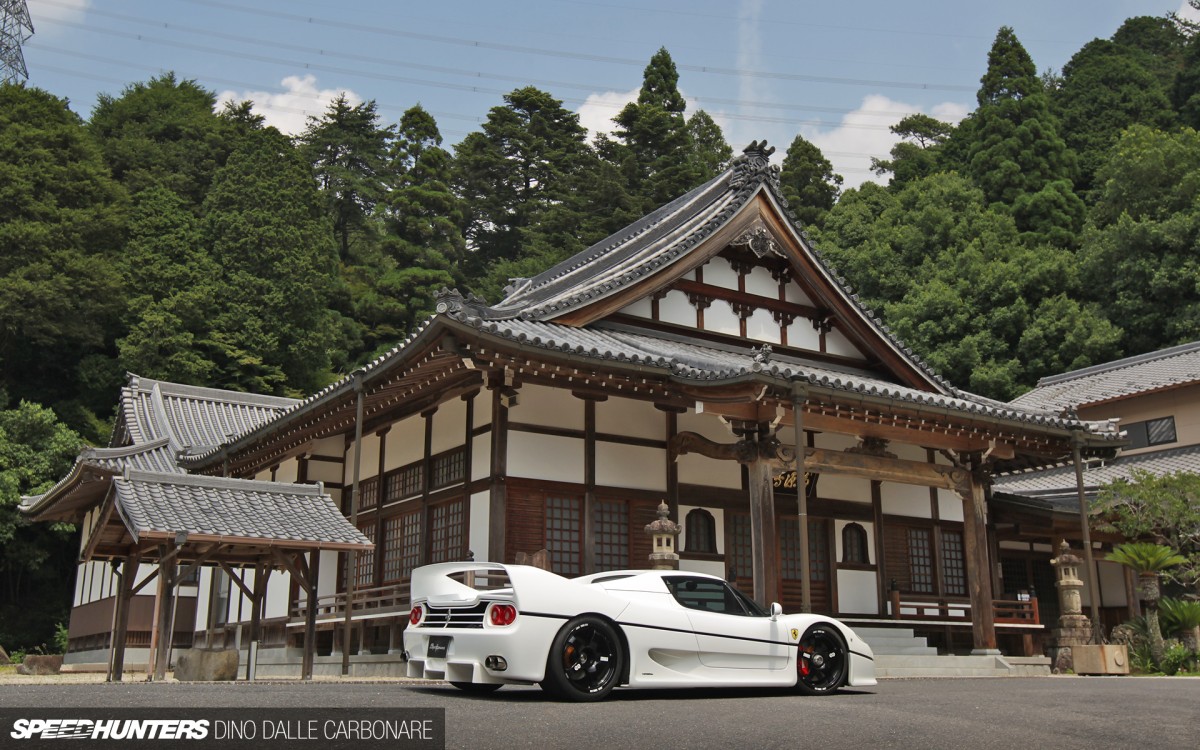 You may notice some differences at the rear compared to a stock car, and that's because a body-colored diffuser has been added to address rear-end airflow and give yet another modern touch to the car. Furthermore, the rear mesh grille has been eliminated, replaced with a custom open item for a touch of uniqueness. It makes for a car as instantly recognizable as any other LB creation.
Epic afternoon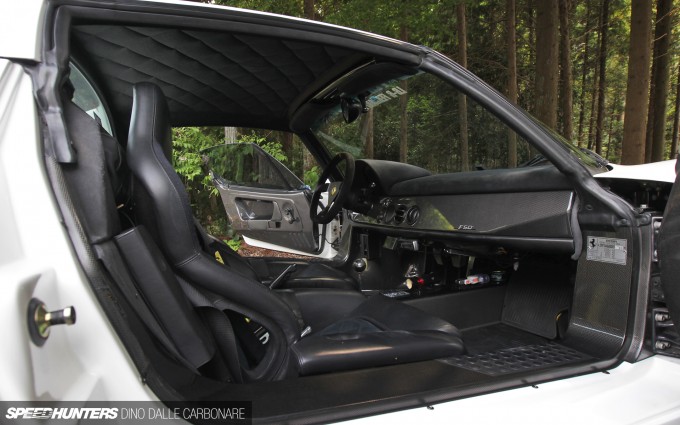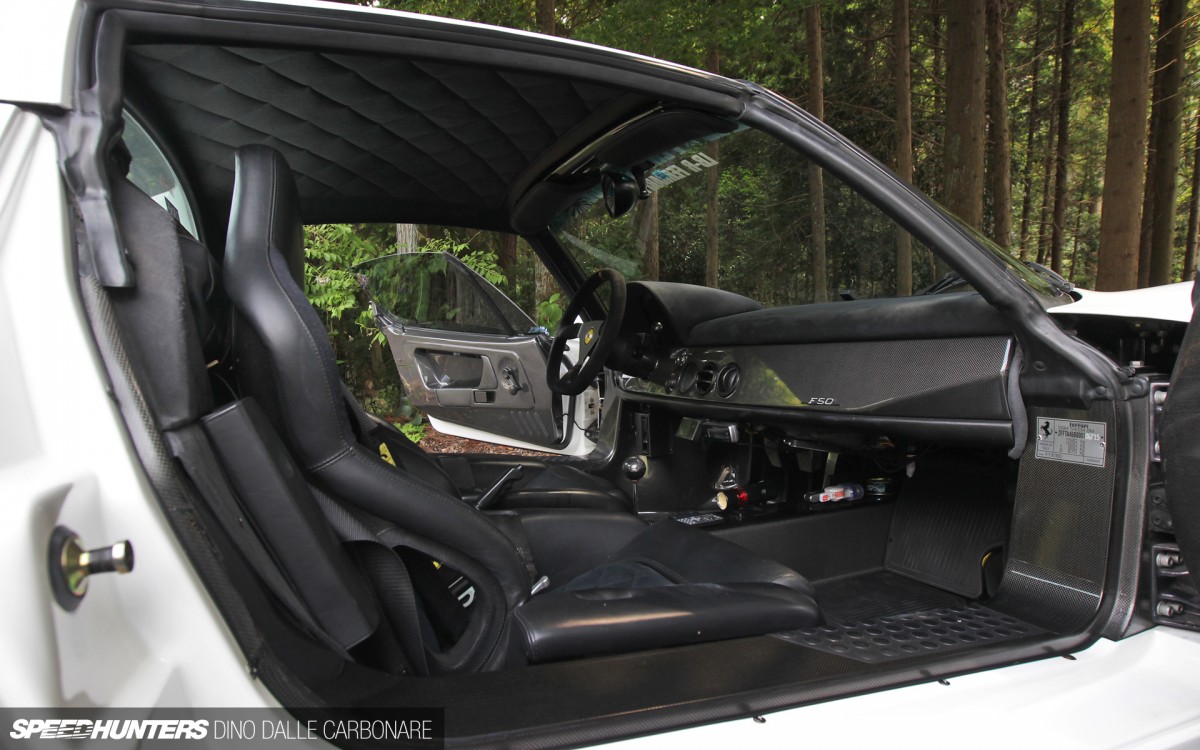 The interior is a stark reminder of just how focused cabins used to be back in the day. The simplicity of it all makes it a rather inviting place to be in, provided you fit (which sadly I don't).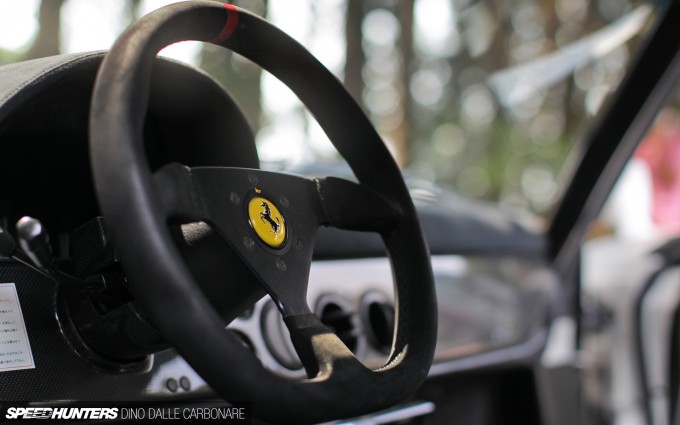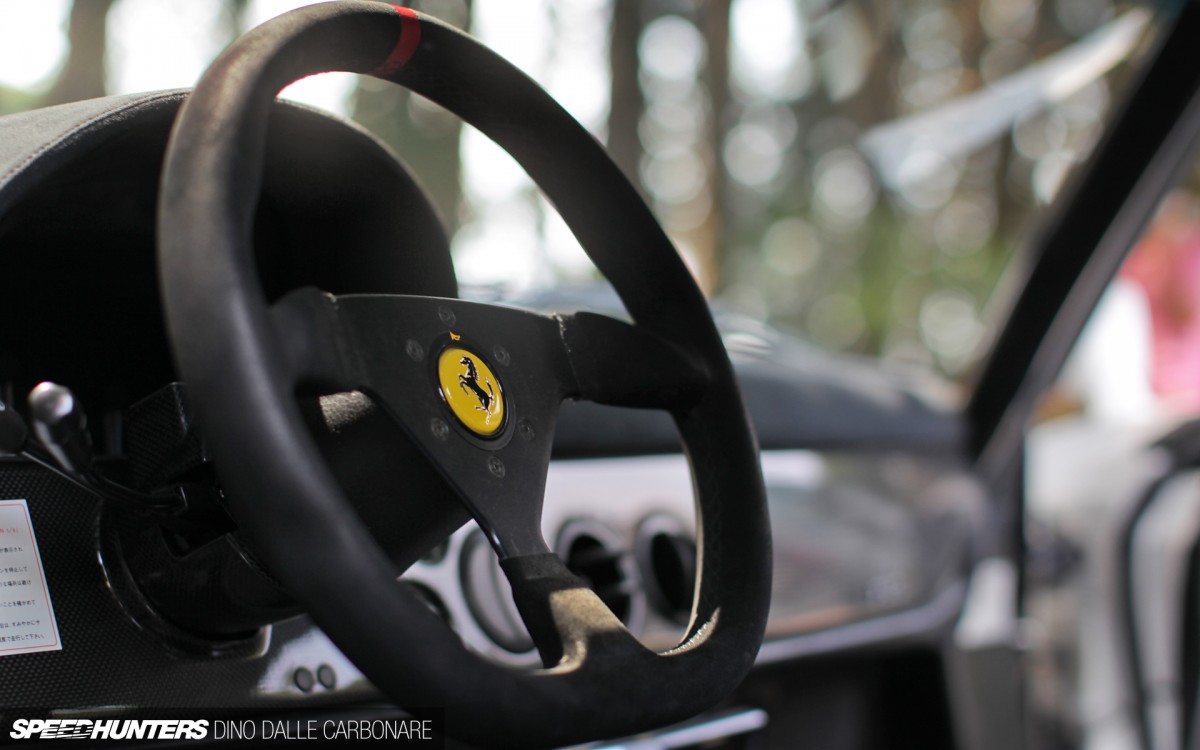 You sit tightly embraced by the Ferrari leather-clad buckets, grasping the suede racing steering wheel that Kato has fitted.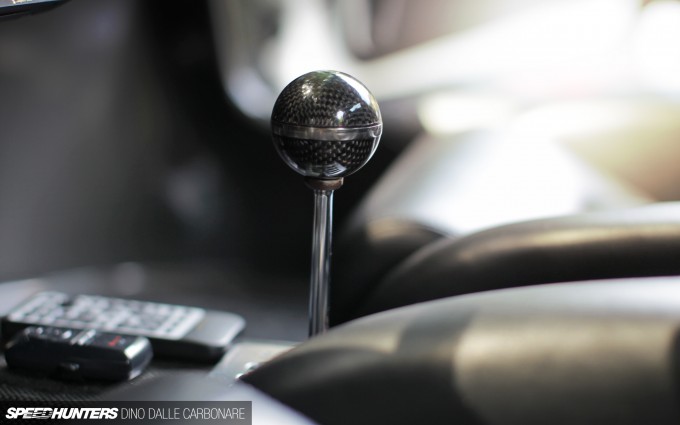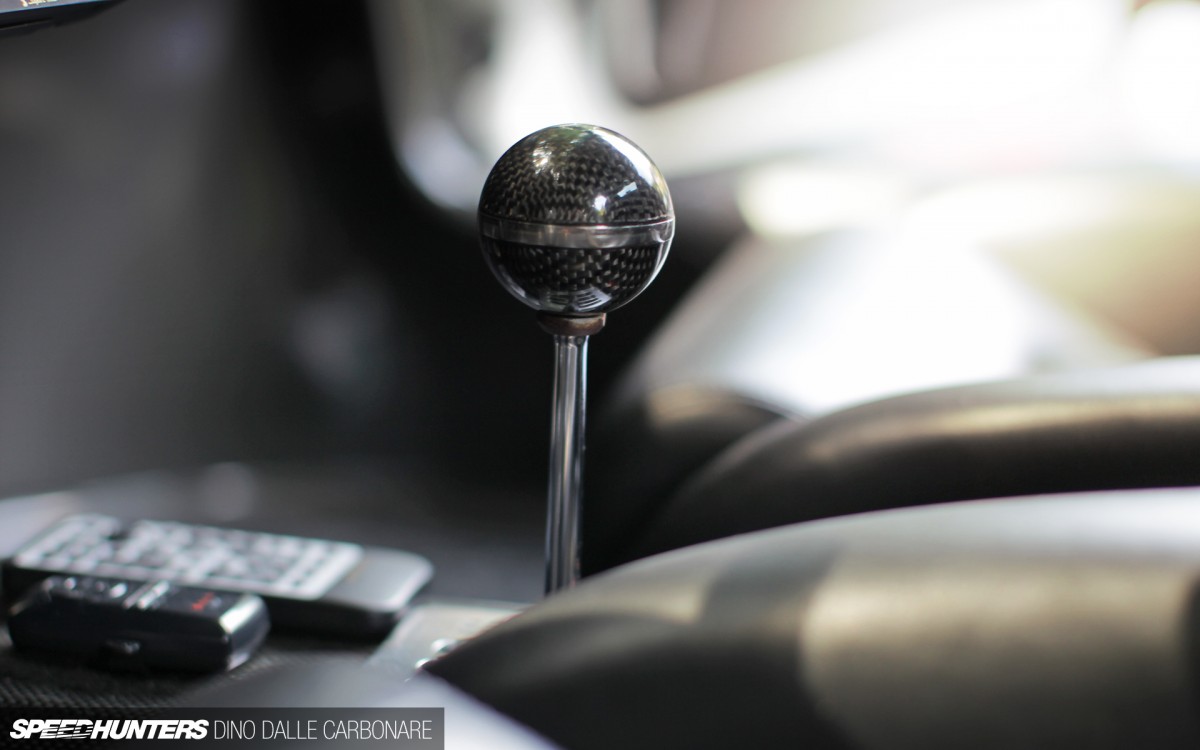 It's just you and machine, with only the most simple and most direct of controls to interface with.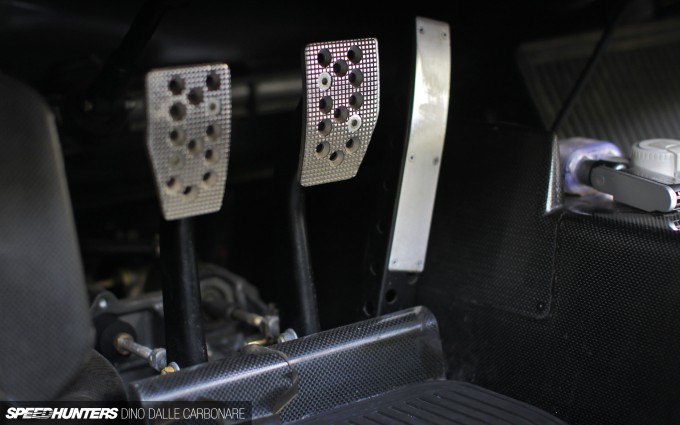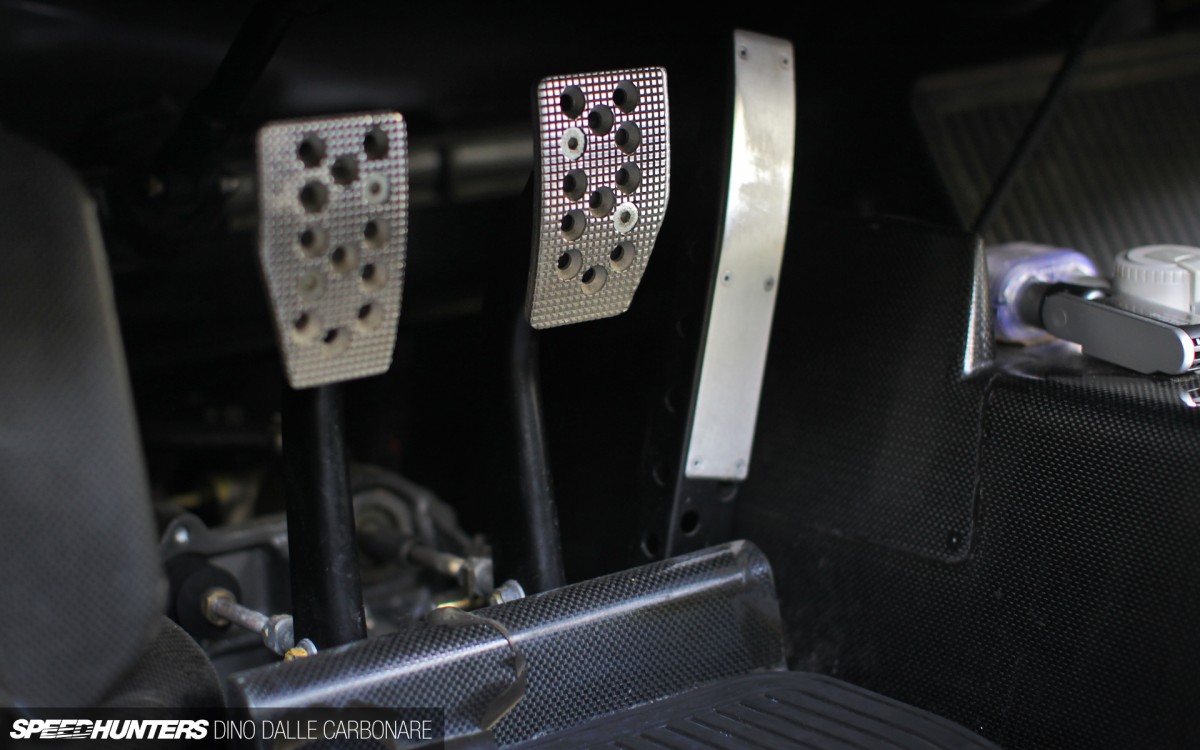 This is what a driver's car is all about, and every second you spend with the F50…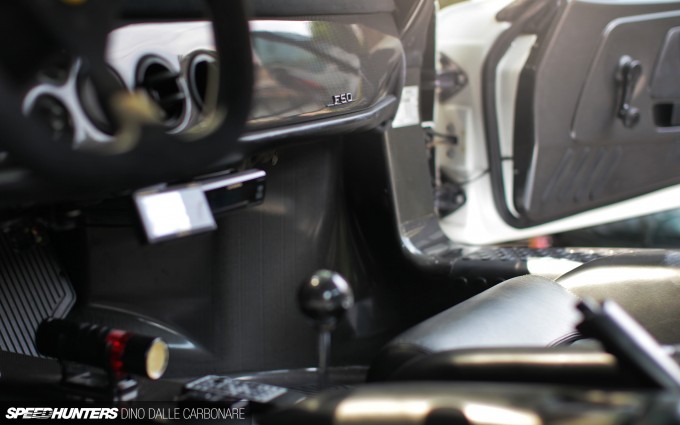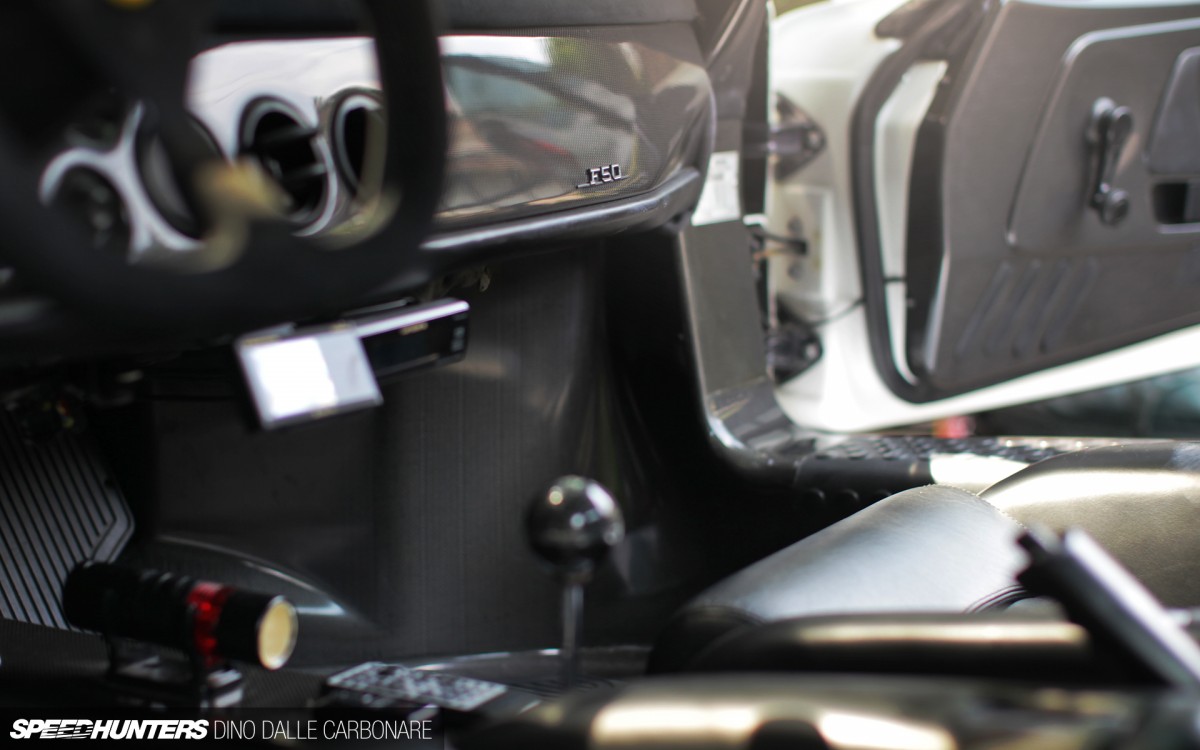 …you are reminded of it.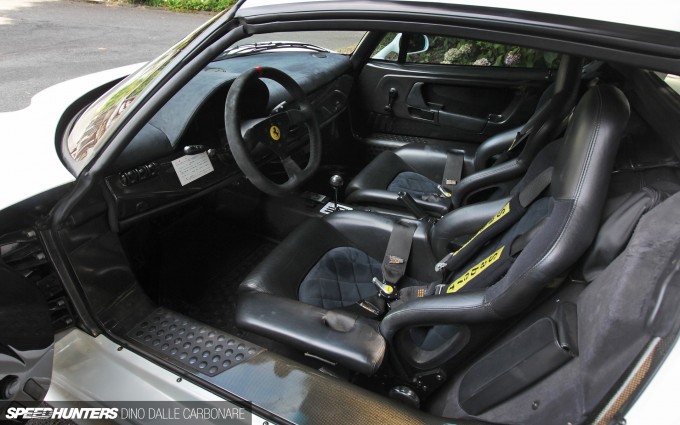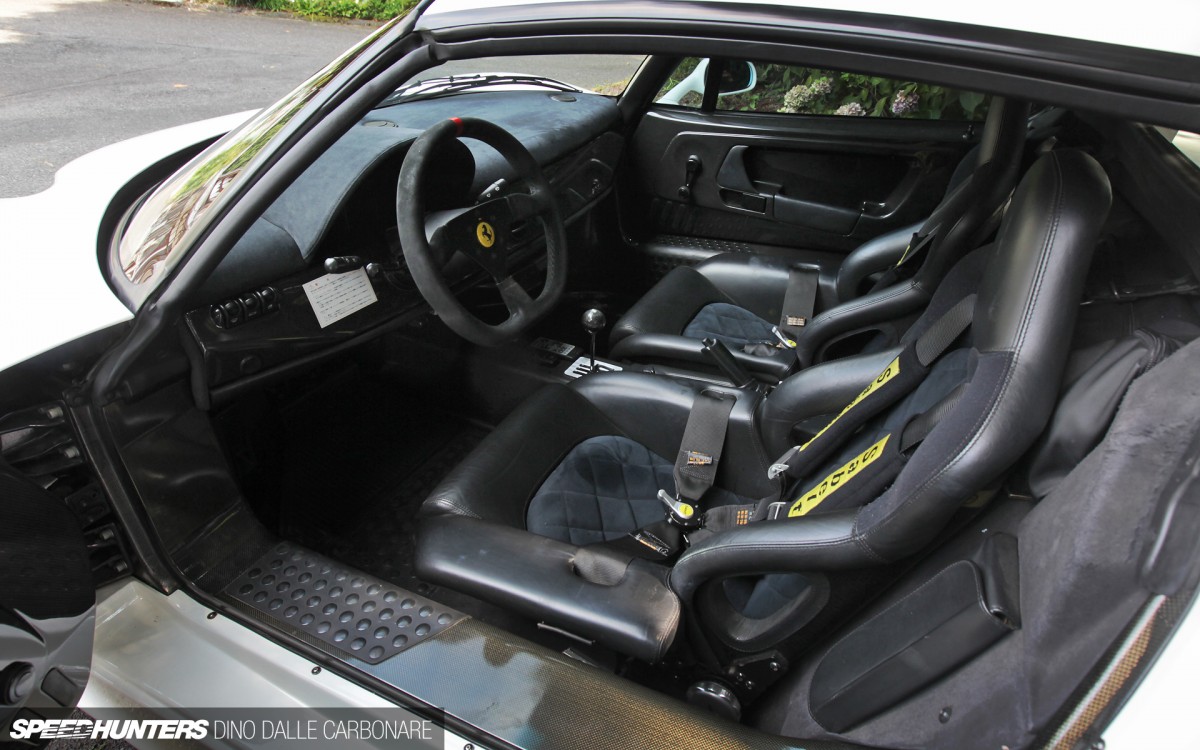 It was also interesting to see how Ferrari build quality had improved in the 10 years since the F40. The quality of the carbon tub, the carbon trim and the overall fit and finish – albeit still being unquestionably Maranello-like – was quite an evident leap forward, but if I had to make a choice I would still, hands down, chose the raw lure of the F40.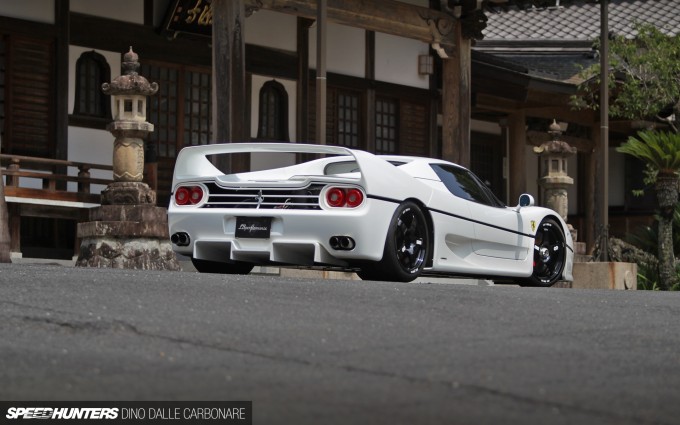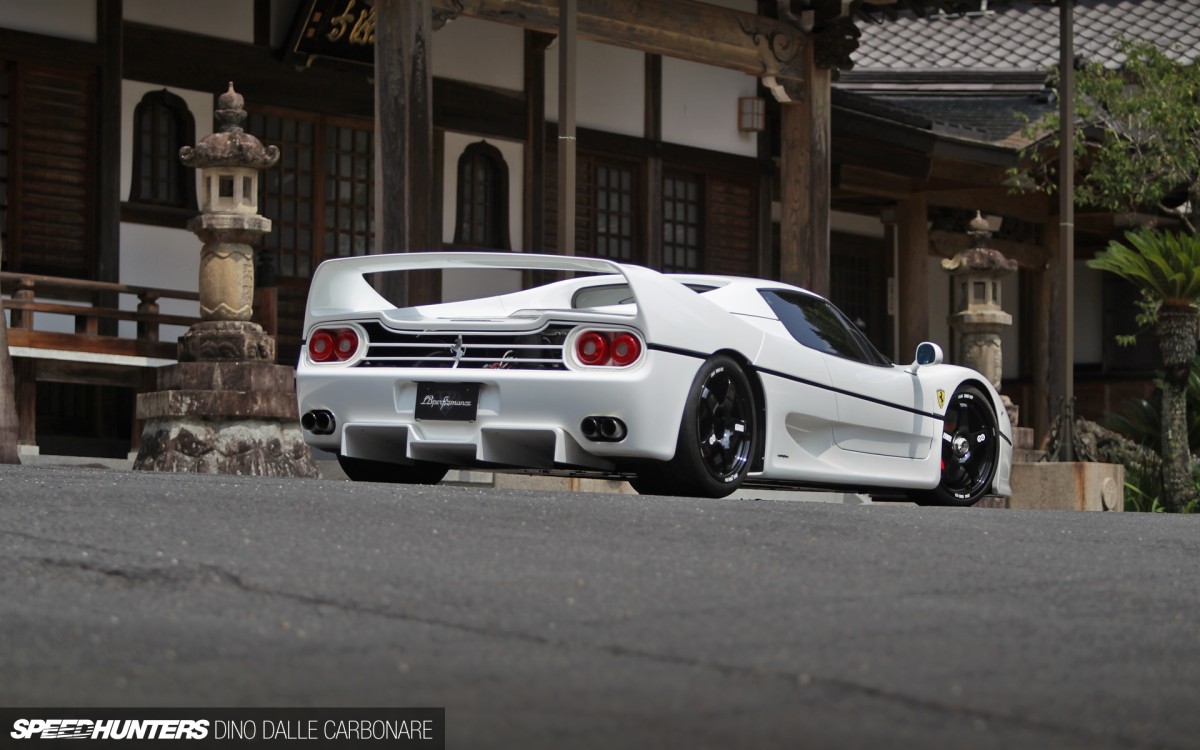 But the time for lingering had run out.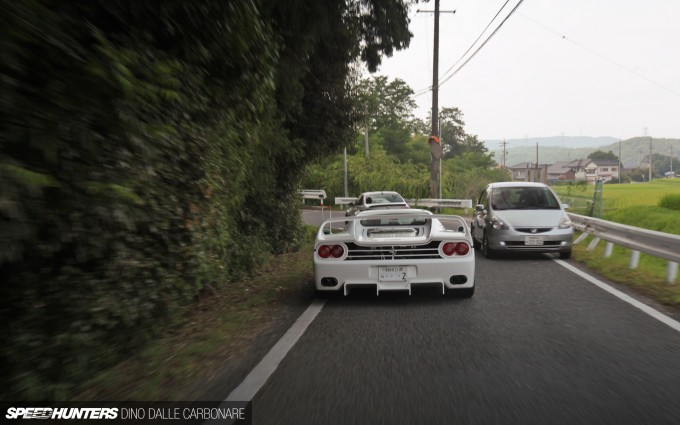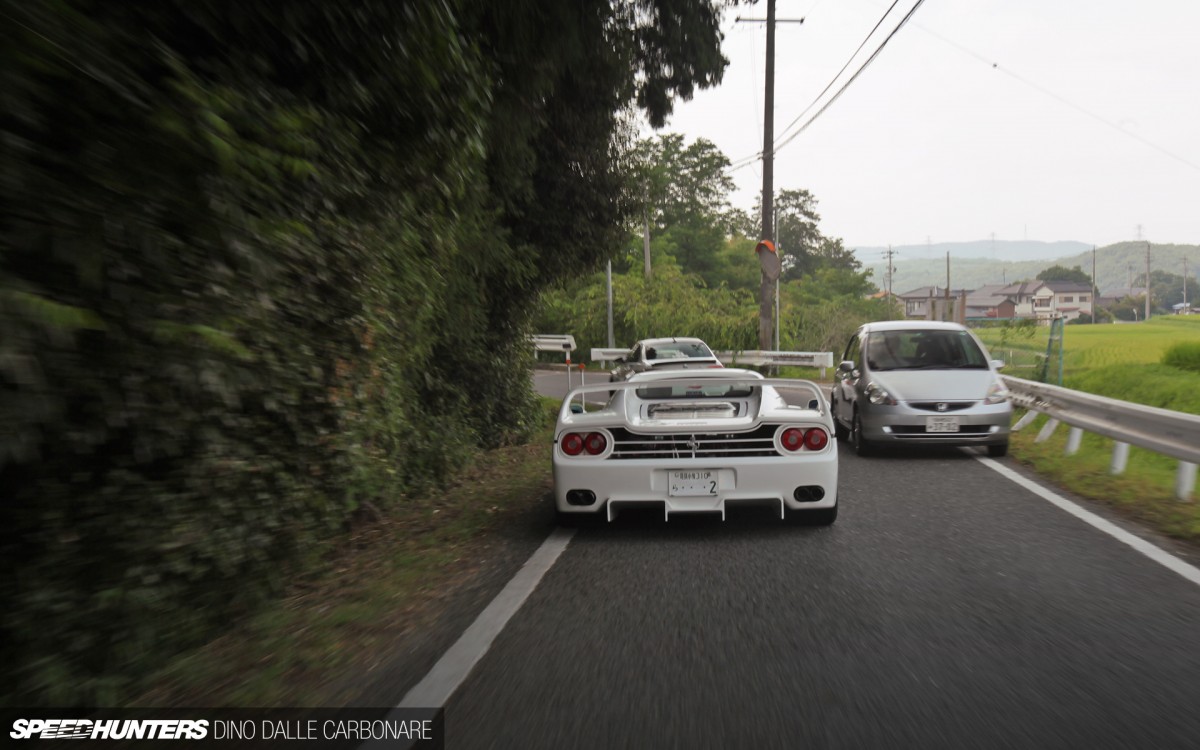 It was time for a bit of on-road fun next, and believe me trying to keep up with Kato driving his pride and joy was not an easy task!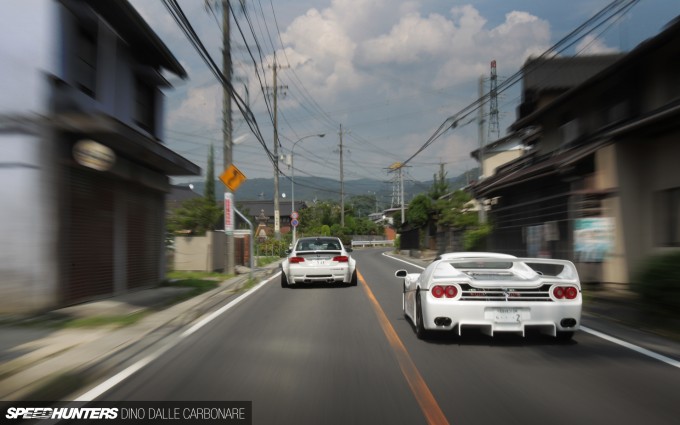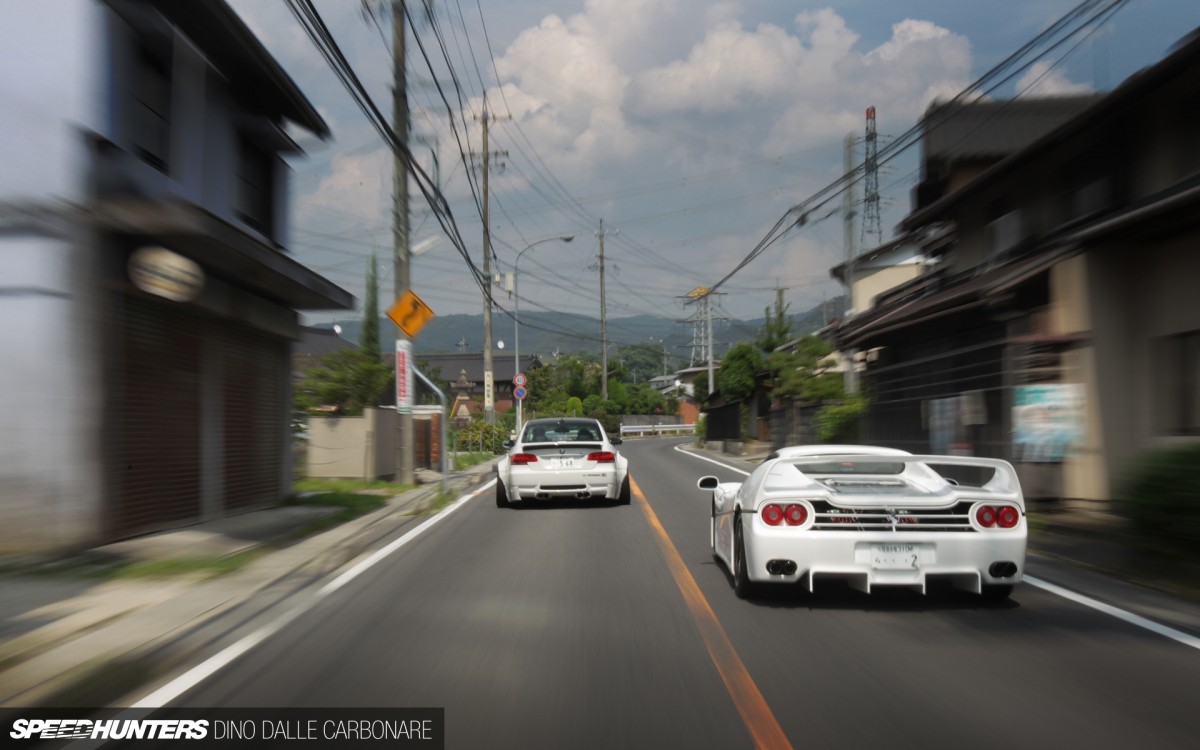 Accompanied by the LB Performance M3, we made our way through what looked like abandoned little towns in Aichi Prefecture…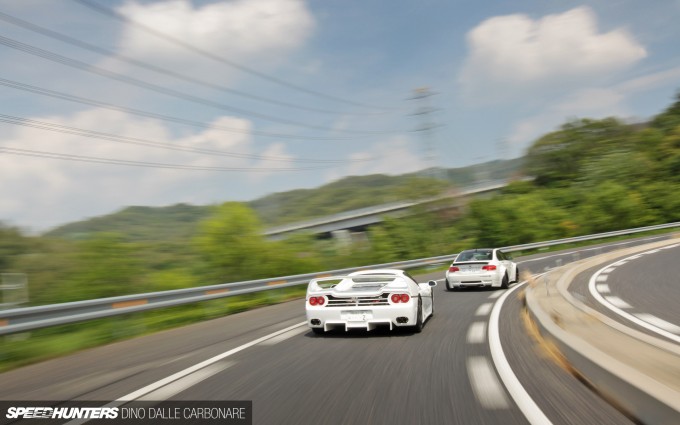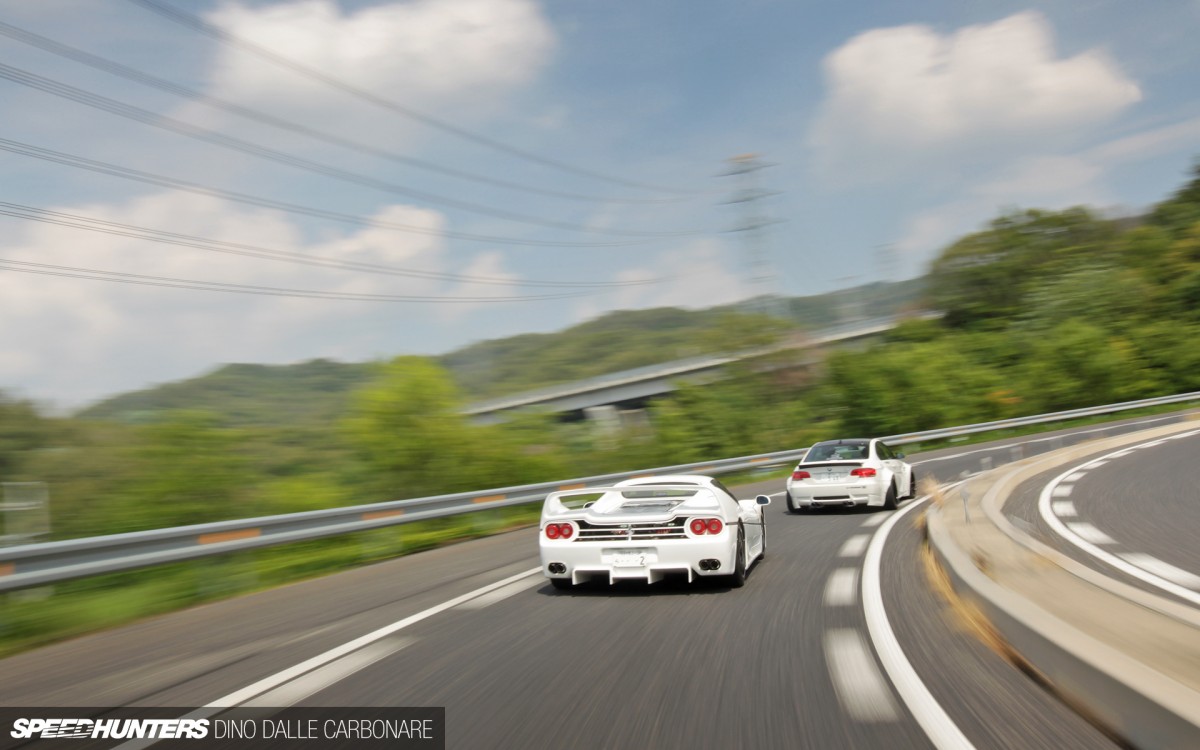 …before finding the on-ramp to a highway…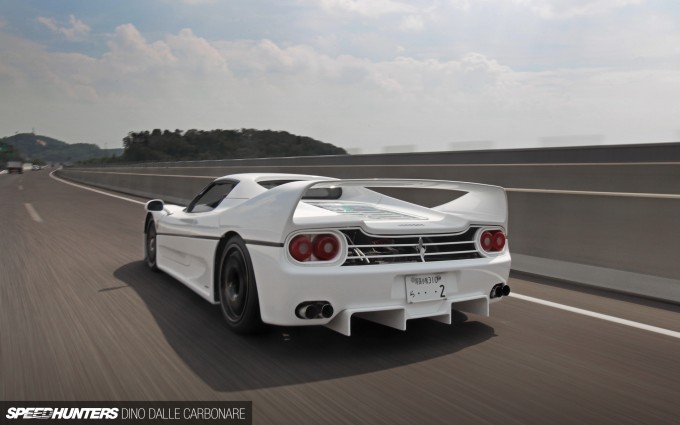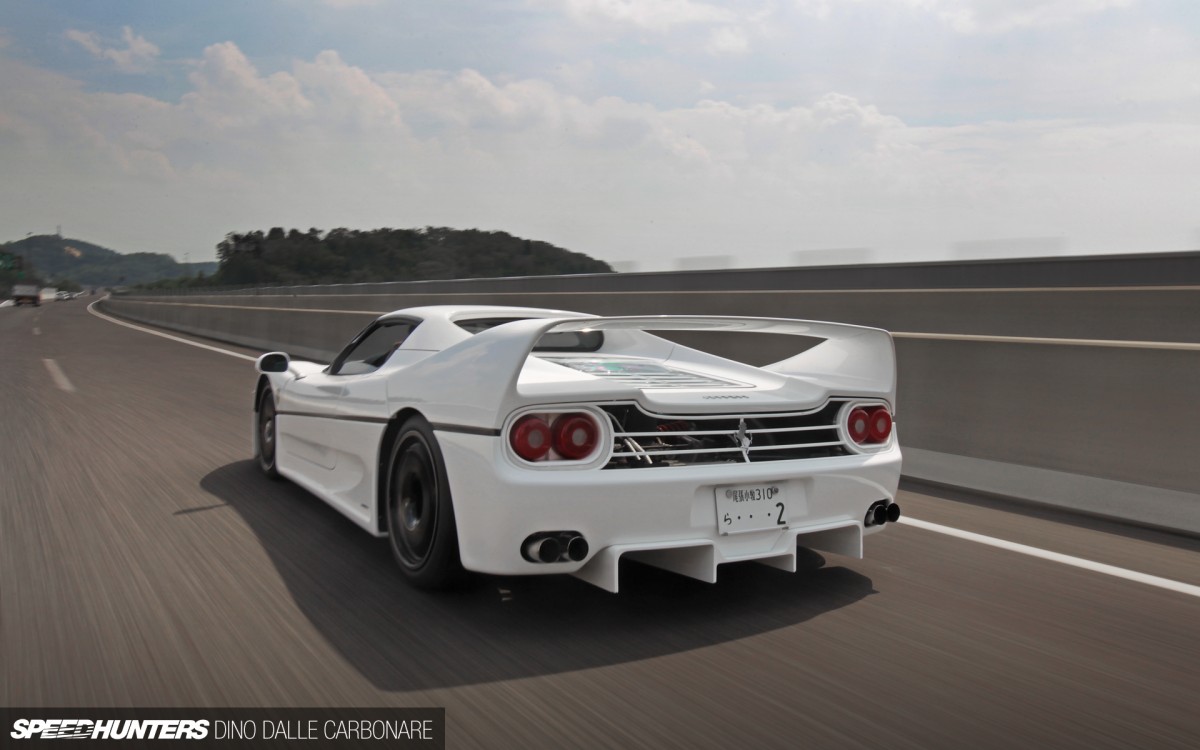 …where all hell broke loose. Nothing gives me more pleasure than seeing an owner enjoy and use his car as it was meant to be.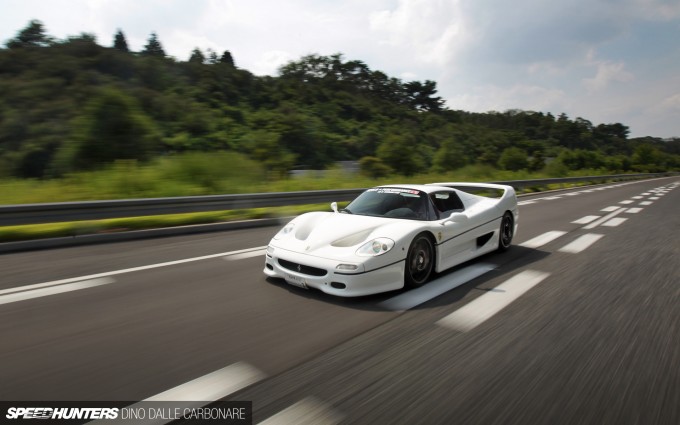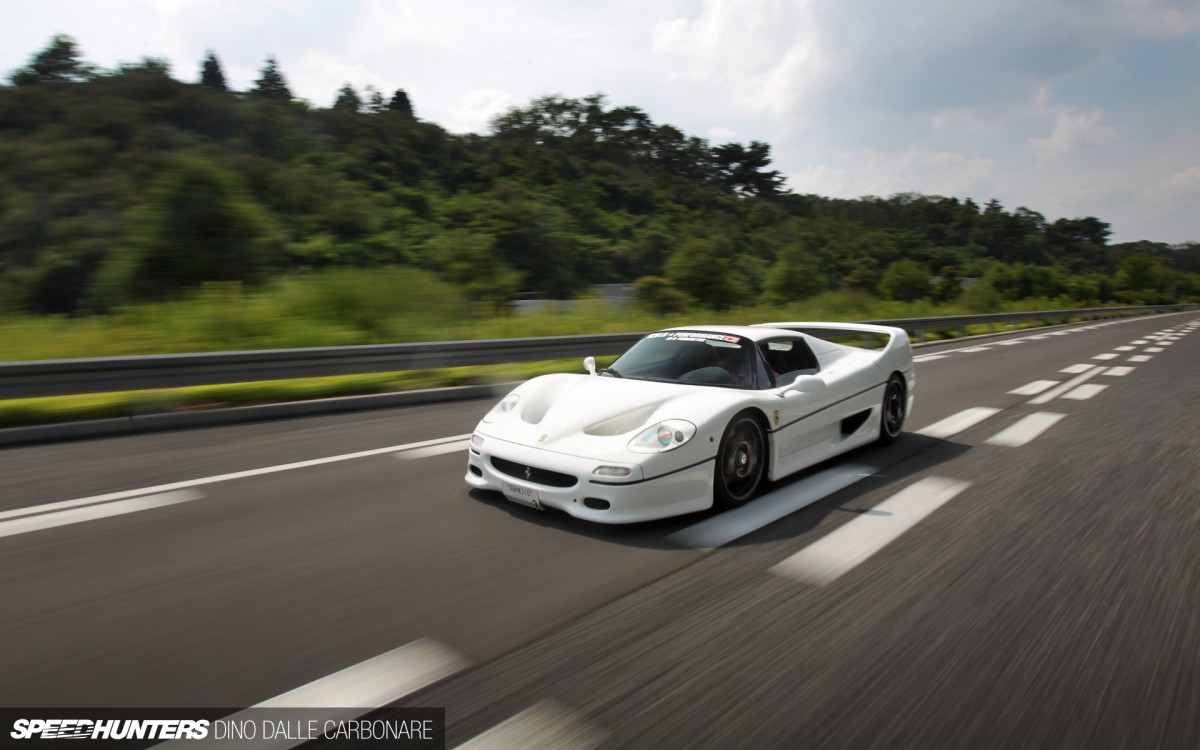 Hearing that unsilenced, freshly rebuilt 520hp V12 scream through the gears and then backfire continuously on the overrun…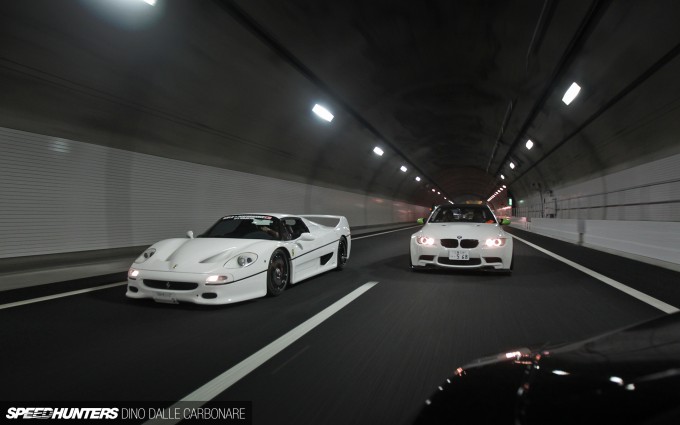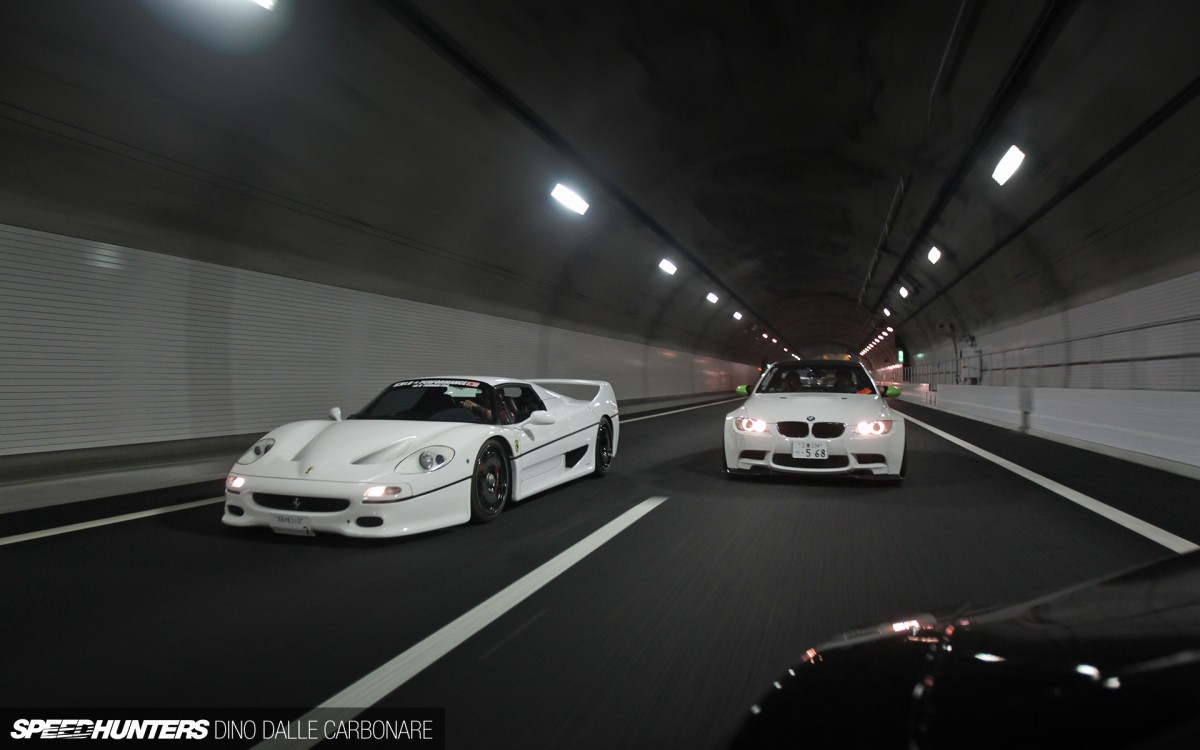 …is a sound and memory I will never forget. I take my hat off to Kato-san and all the Liberty Walk guys for showing and reminding me what true passion is all about.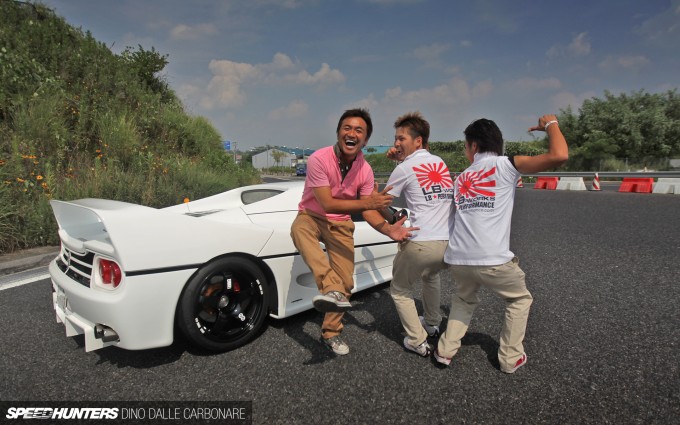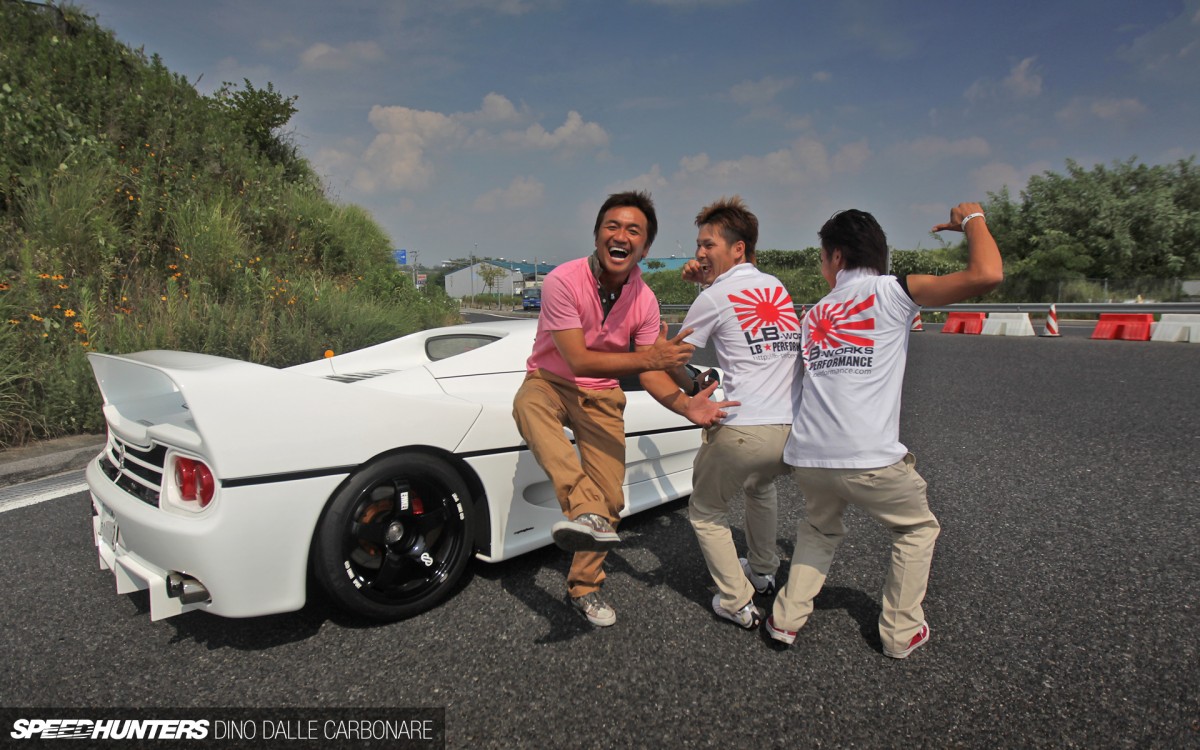 The great thing is they never stop coming up with new ideas, and aside from these rarities in Kato's personal collection we always have plenty of fresh new projects to look forward to.