I consider myself a very realistic person; I keep my feet on the ground at all times and get on with the job at hand. I also consider myself a very lucky individual in that I am actually able to have a job that allows me to indulge in my unrelenting passion for cars. Since I got started in all of this I have broaden my horizons in a way I had could have never imagined, stepping out of that so called "comfort zone" and beginning to deal with a variety of previously unexplored car scenes. But, I have remained very faithful to what is close to my heart, and most of all my dreams. In this case, dream cars.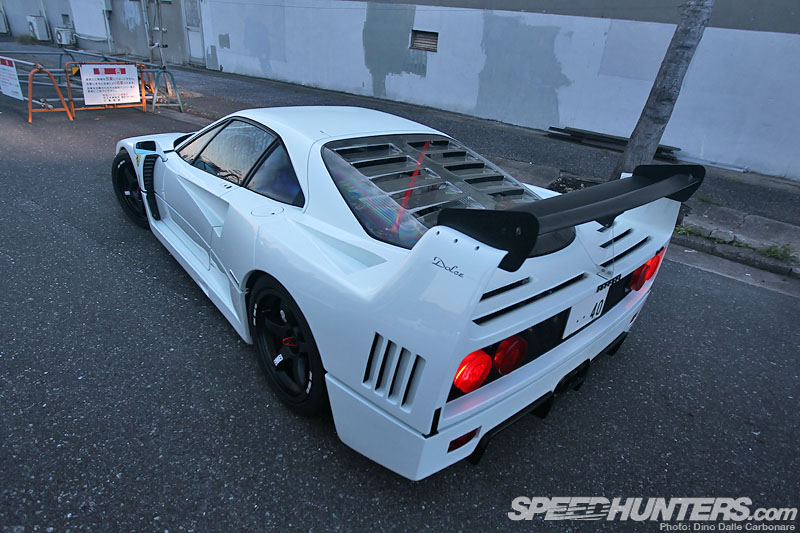 Ever since that day back in the eighties, at the tender age of 11 when I first saw a picture of the then new Ferrari F40, the outrageous racecar-like body shape has been permanently burned into my brain. Cars come and go, tastes change, technology advances at an unrelenting pace but nothing in the last 25 years has come remotely close from knocking the F40 off the top spot of my favorite dream car list.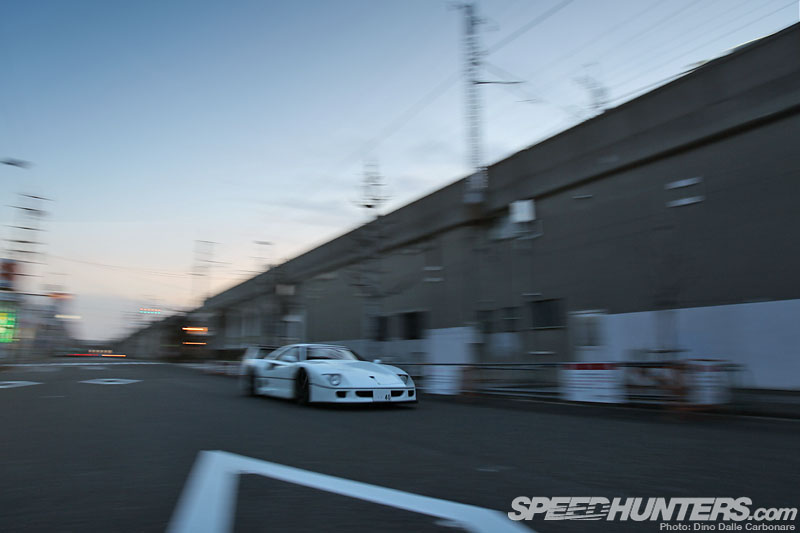 I have had the chance to shoot and drive many exotic cars but I have never had the opportunity to shoot, drive and even sit in an F40. Last month all of this changed when I headed down to Nagoya to meet Kato-san of Liberty Walk, which specializes in anything from custom creations to manufacturing some of the most popular Japanese aero kits for Lamborghinis. Kato-san is a very unique sort of car enthusiast; he owns countless supercars but at the same time has never let go of his love for the Japanese classics. You can expect to see more on this next month, because for now I would like to concentrate on his white F40 which he kindly let me shoot on that very special day last month.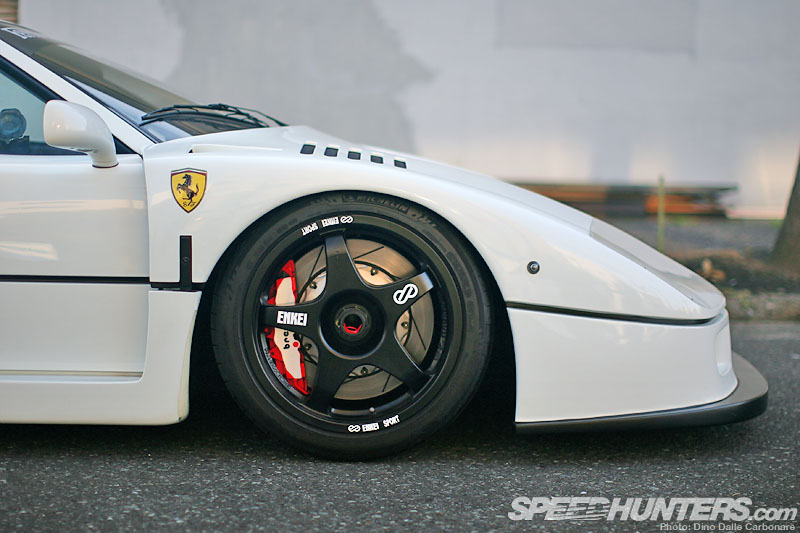 The quiet and deserted backstreet in downtown Nagoya that we stumbled upon proved to be the perfect place in which to immortalize this very special car. Kato-san is literally unable to keep any of his cars in their stock form for long, so that's why even this very special prized possession of his has been personalized in various ways. First up the exterior. That elongated front lip spoiler and the fixed headlights…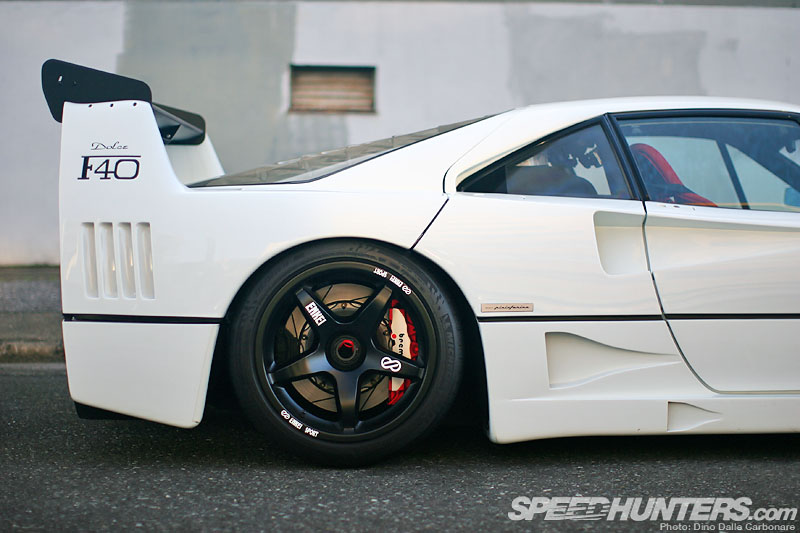 …not to mention the rear spoiler conversion might make the car look like the extremely rare, ready-to-race LM version of the car. But it isn't. Kato-san modified the carbon and Kevlar body to emulate the look of the LMs and in the process injected a few Liberty Walk touches. This car was originally red but was painted in white to emphasize the aero additions that Liberty Walk carried out.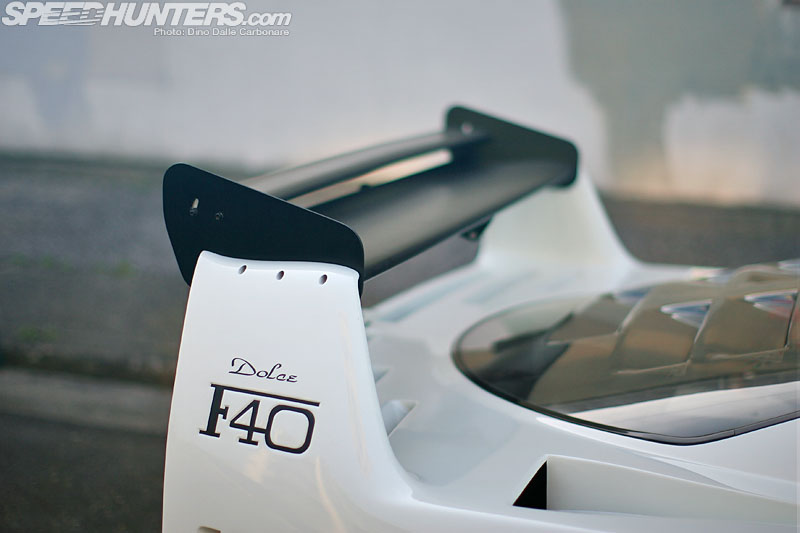 The rear spoiler on this "Dolce," which translates into "sweet," version of the F40 includes an adjustable rear wing section, a functional modification that allows for a lot more downforce to be generated at speed.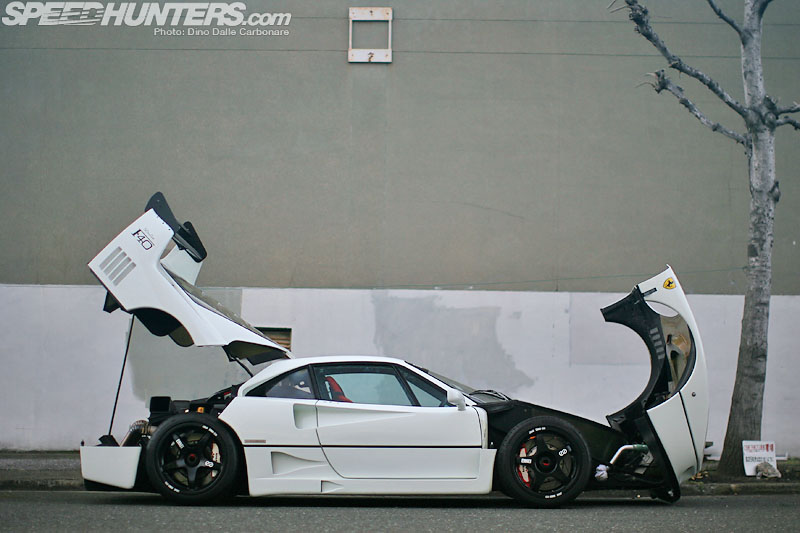 While the F40's timeless shape might be something one may be able to look at all day, it's underneath those massive one-piece front and rear Kevlar cowls that the real car hides under.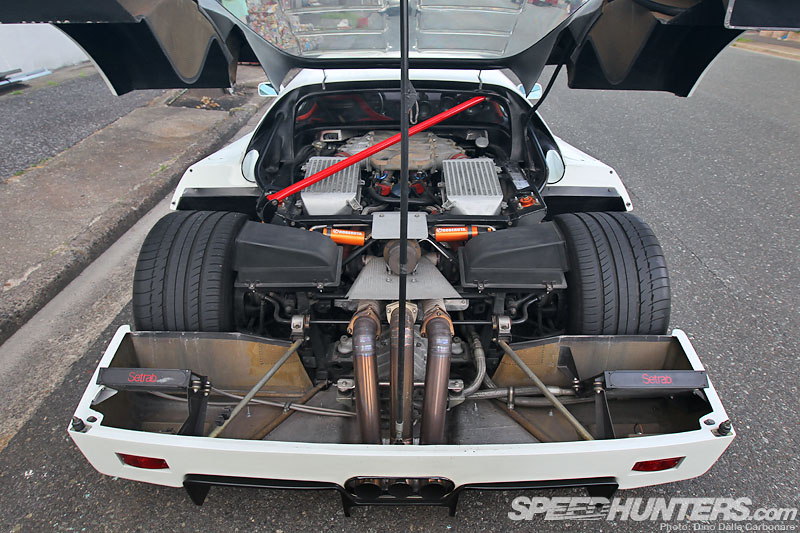 This is nothing short of a race car for the road and one look at the engine, drivetrain and rear suspension layout makes this rather obvious. The F40 was the last car that the great Enzo Ferrari commissioned before his death. He wanted to show the world what Ferrari could engineer, using its vast racing experience to create the world's greatest road car.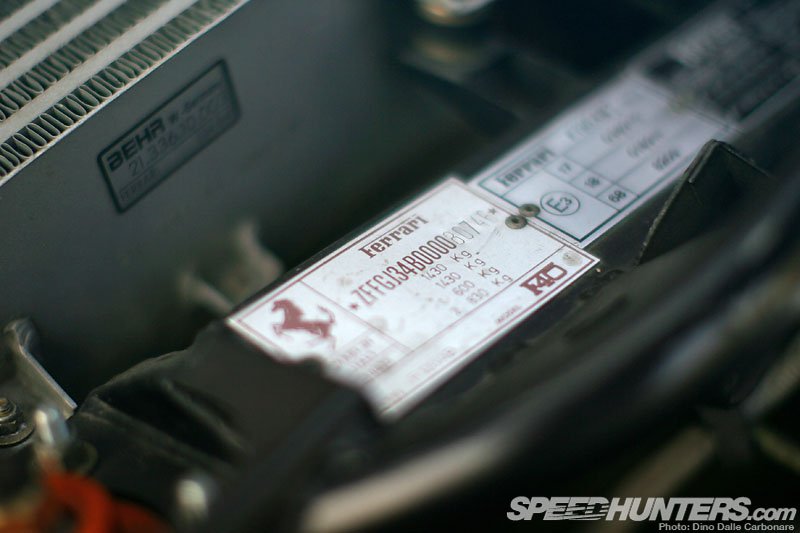 The F40 hits the scales at 1,100 kg (homologated to 1,430kg with 2 passengers and a full tank of gas/fluids) thanks to the heavy use of carbon fiber composites along much of the central part of the chassis. This together with the rest of the tubular frame helped keep weight at a minimum…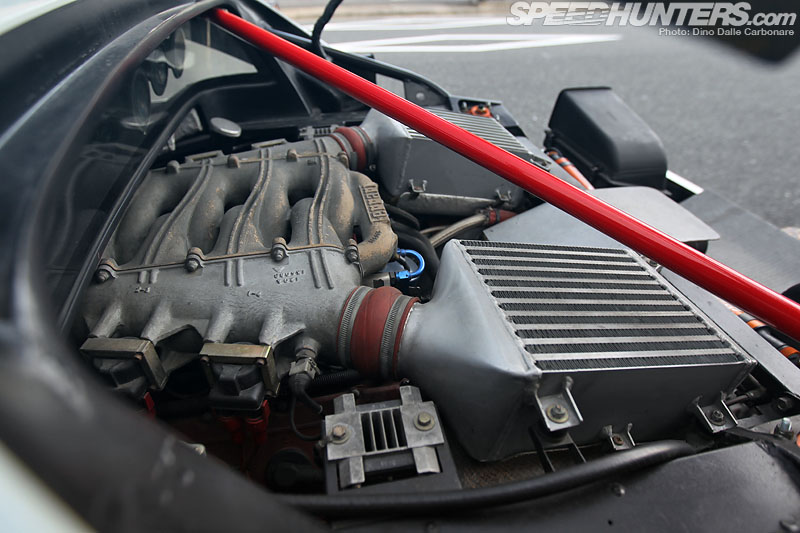 …making the most of that explosive 471 HP the mid-mounted 2,936 L twin turbo V8 generates. Kato-san has left the engine in its stock(ish) set up…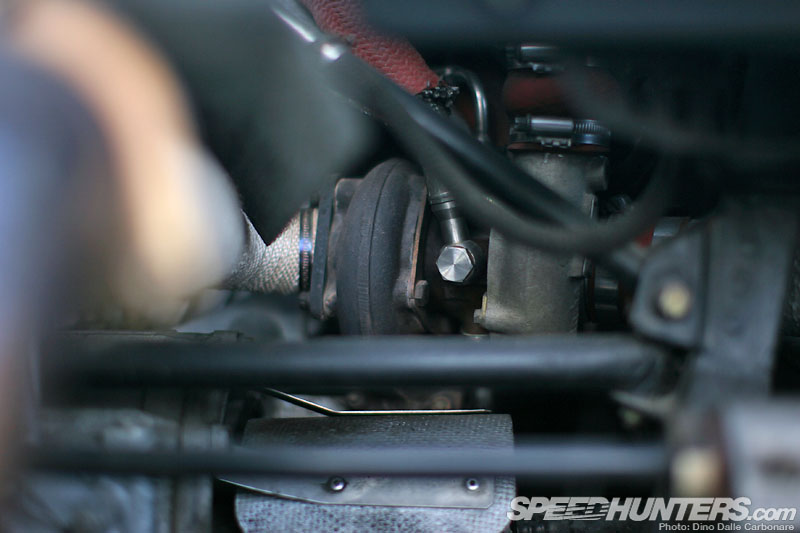 …the IHI turbos that came with it still located low next to each bank of four cylinders. The 1.1 bar of boost they provide is enough to snap your head back into the seat as the rather lethargic pick up, compared to modern day turbo engines, gives way to what can only be described as fury. Keep the engine on boil at anything above 3,800 rpm and the F40 gives you NA-like throttle response and instant acceleration no matter what gear you are in.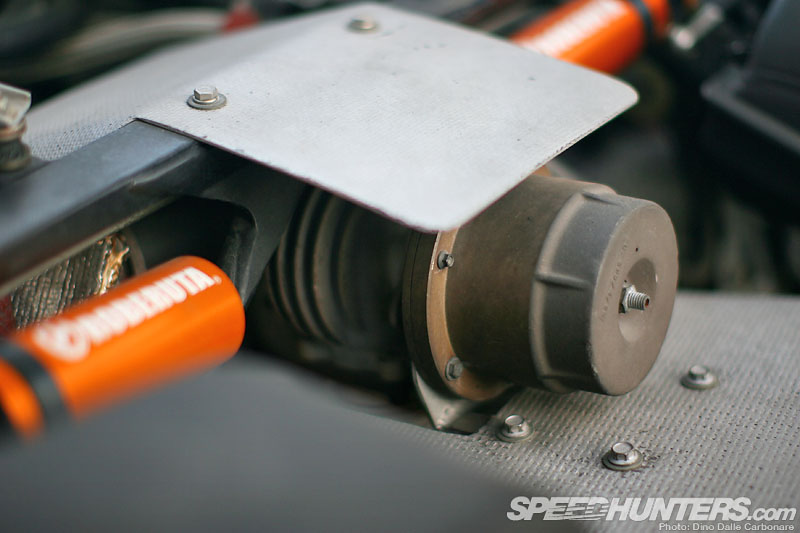 The large single wastegate keeps boost pinned at the factory preset 1.1 bar and dumps unneeded exhaust gasses…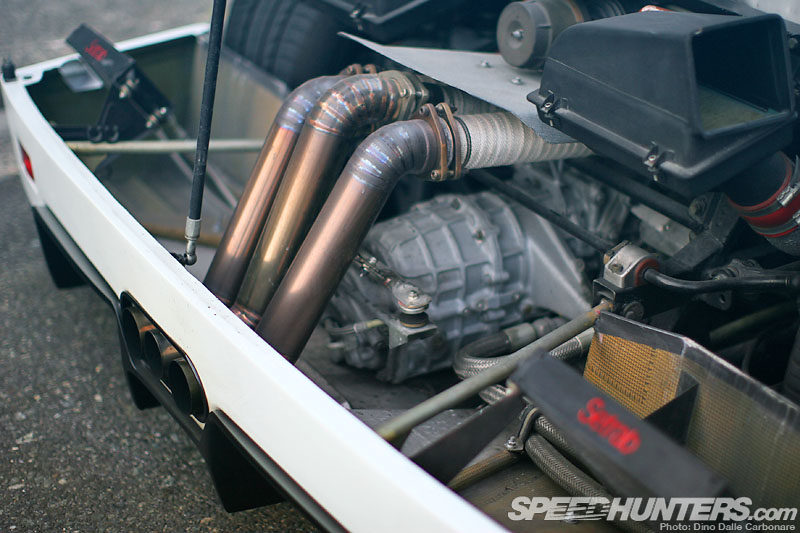 …down the center screamer pipe. The other two short exhaust pipes are for each of the turbos. Kato-san got rid of the stock exhaust as soon as he got the car, custom fabricating a straight, unsilenced and uncatalyzed titanium system.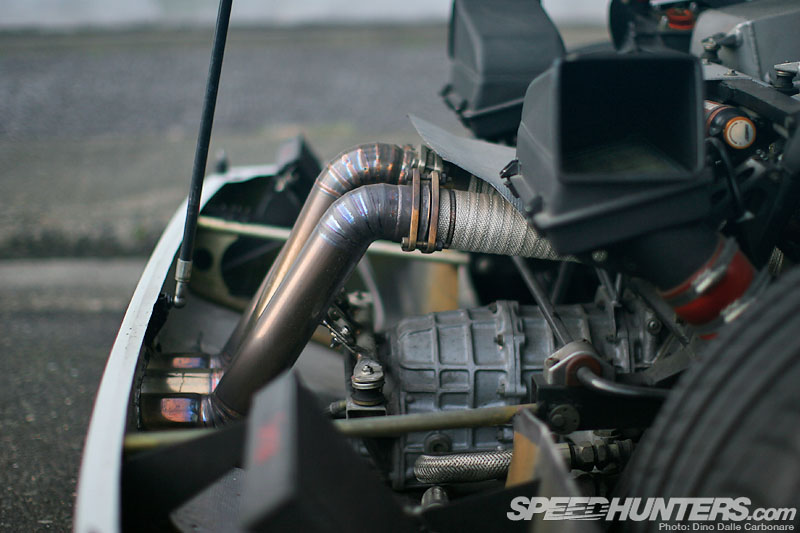 Yes, it's loud, very loud in fact and with literally no backpressure it liberates a few more HP not to mention sharpens the engine's response. This car may well take the first prize for the most epic sounding overrun ever, back off the throttle when cruising down the highway and the exhaust crackles, pops, bangs and backfires continuously. While I was driven around in the car by one of Kato-san's shop staff I couldn't help but giggle like a little girl at all the mini-explosions emanating from the rear end. So much fun!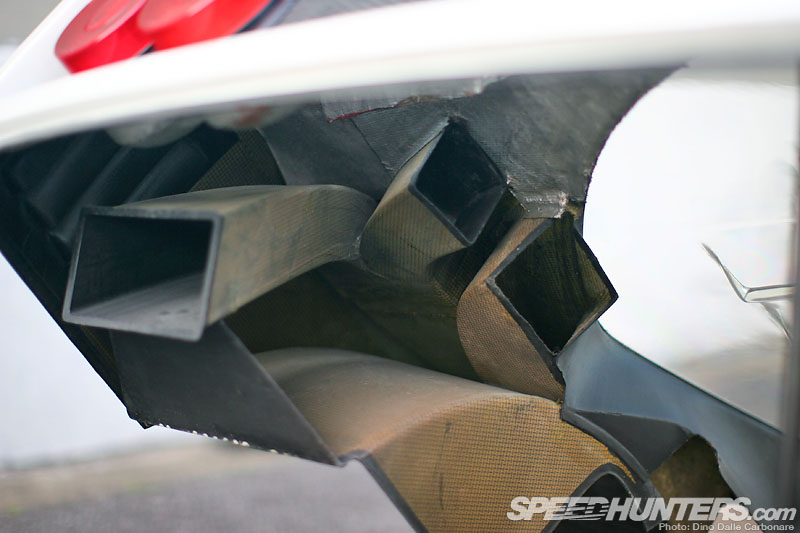 The F40 was the first ever Ferrari to seriously benefit from the aerodynamic knowledge that Ferrari had gained in F1 and other forms of racing during the 80s. This is evident on top as well as underneath the body panels, as complex air guides channel air from the copious amounts of intakes towards important parts like the two airboxes…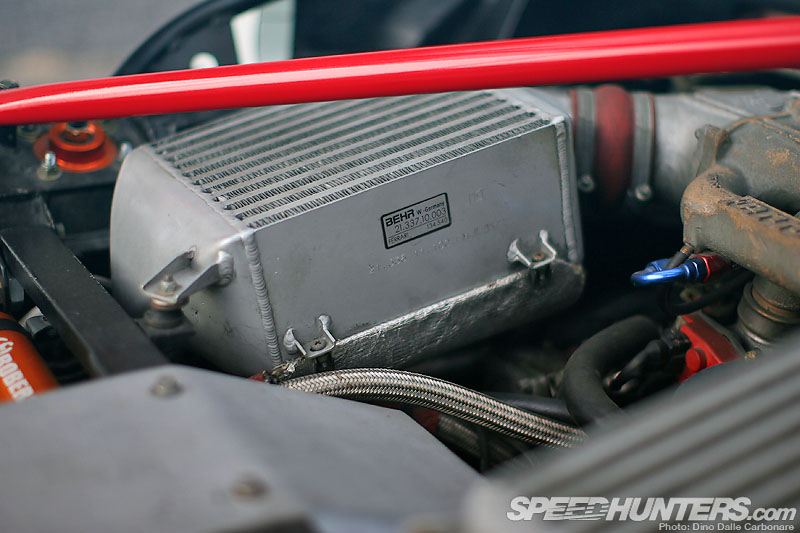 …and of course the twin air-to-air intercoolers. While they may not be located in the best of places and suffer from obvious heat-soak when driving around town, once up to speed there is a lot of air moving through the engine bay, helping cool the intake charge more efficiently.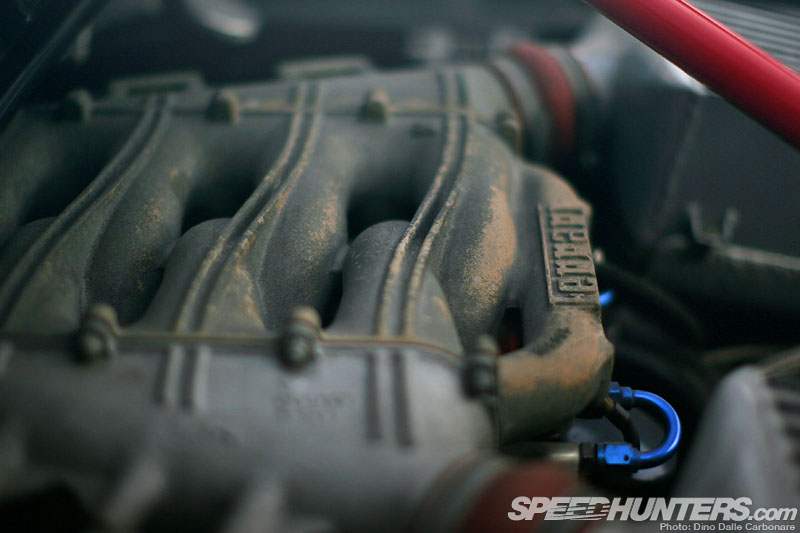 From the coolers the compressed air is directed to each of the 8-cylinders via this cast aluminum intake plenum where it then meets with fuel supplied by the electronic injection.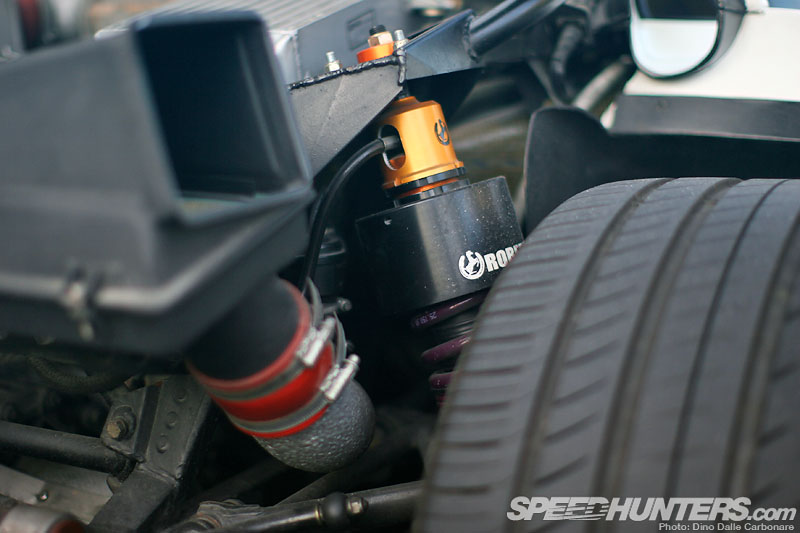 Kato-san knows that a car needs to sit nice and low to look its best so in order to get the best of both worlds he has added Roberuta suspension all round with top mounted air cups. This allows the car to be raised by about 3 cm when parking or riding on especially rough roads.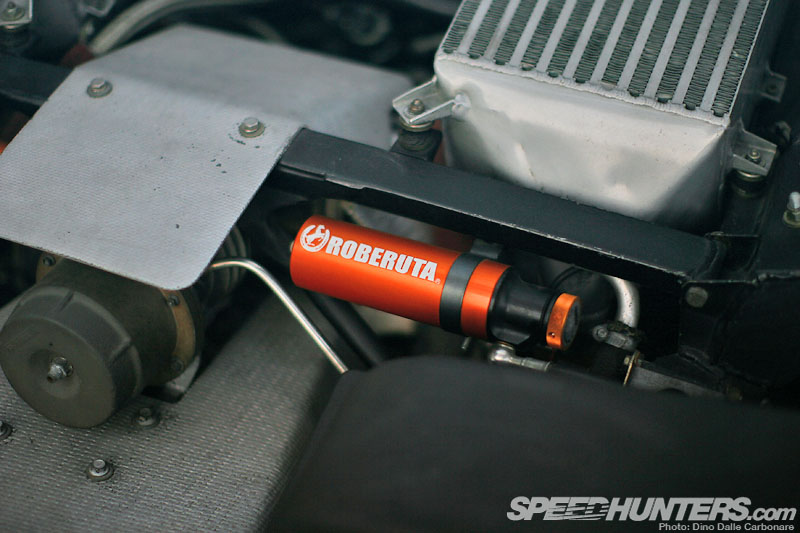 Each damper has its own remotely located piggy back tank and is 3-way adjustable.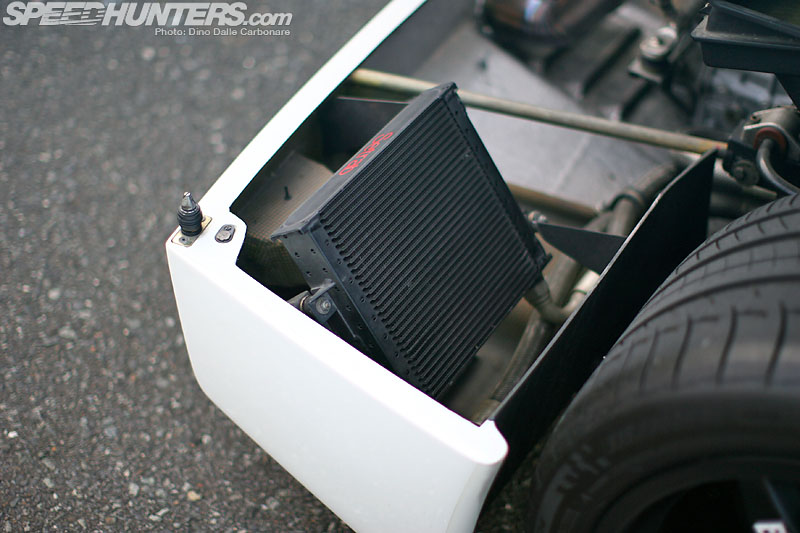 For a car developed and built in the mid eighties the F40 was quite well packaged; this is one of the two Setrab oil coolers that are mounted on each corner of the rear end, fed by their own air intakes and allowed to radiate heat away through their own outlets.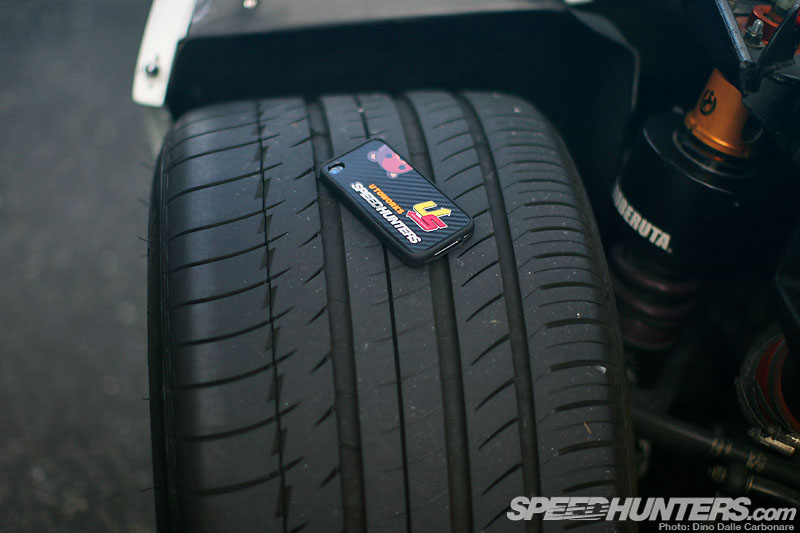 Just to give you an idea of how fat those rear 335/30ZR18 Pilot Sport are!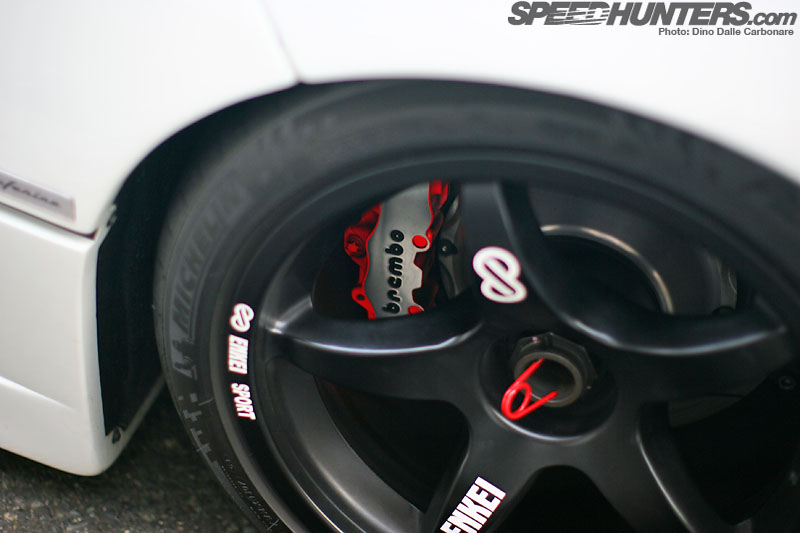 Hiding inside the 12J wide Enkei Sport  wheels are rather large Ferrari Enzo Brembo 8-pot calipers mated to 2-piece floating and slotted discs.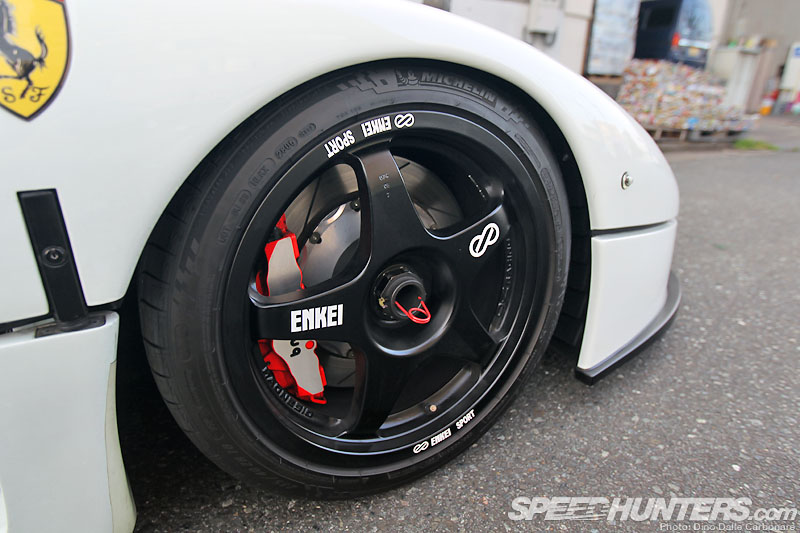 The same set-up is used up front, Kato-san obviously not wanting to take any chances when it comes to hauling this 200+ mph beast down from speed.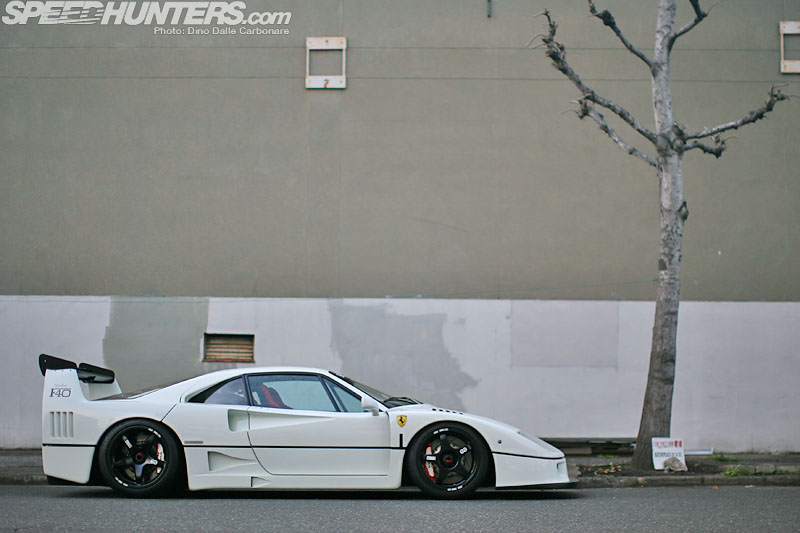 I could look at that profile for literally hours, just like I did as a kid!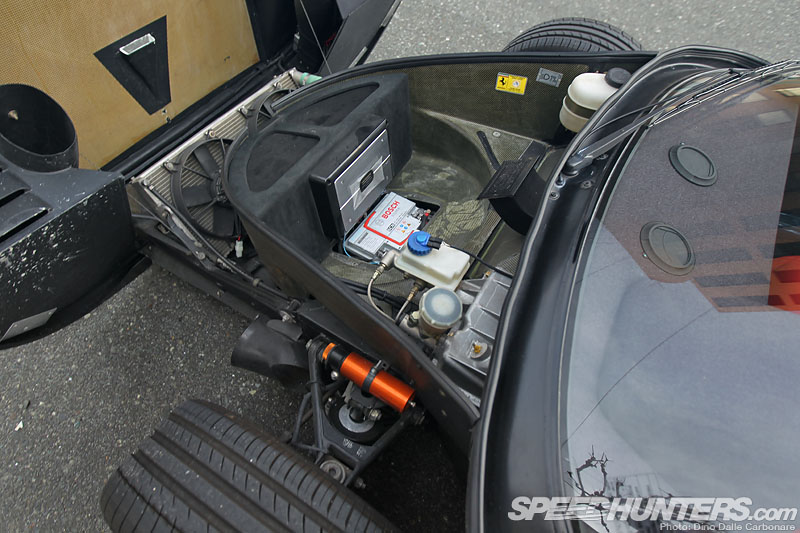 There isn't much to see under the front cowl aside from the front section of the tubular chassis, the radiator set up and something that just made me laugh…a sub-woofer box…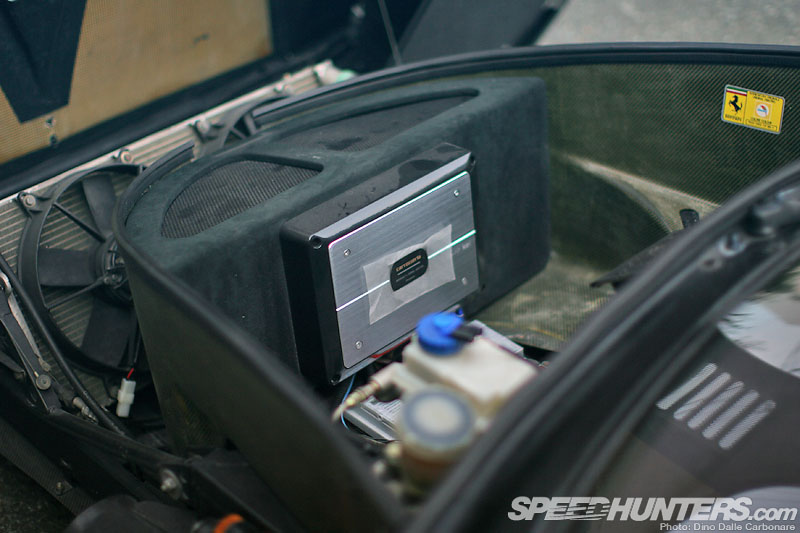 …and Alpine amp located in the space where the stock spare wheel/tire would normally sit. With the straight exhaust out the back music is definitely something you would just not be able to hear inside the cabin. Kato-san obviously has a sense of humor.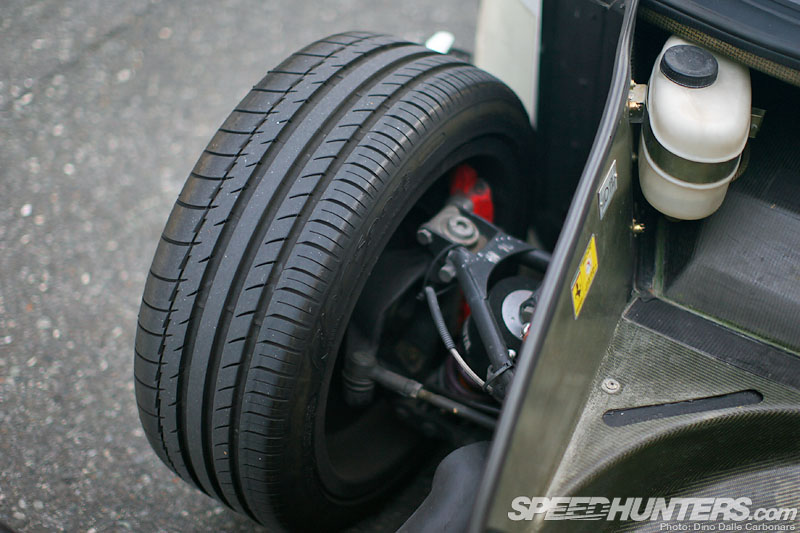 A closer look at the front 235/40ZR18 Pilot Sports and double-wishbone suspension layout.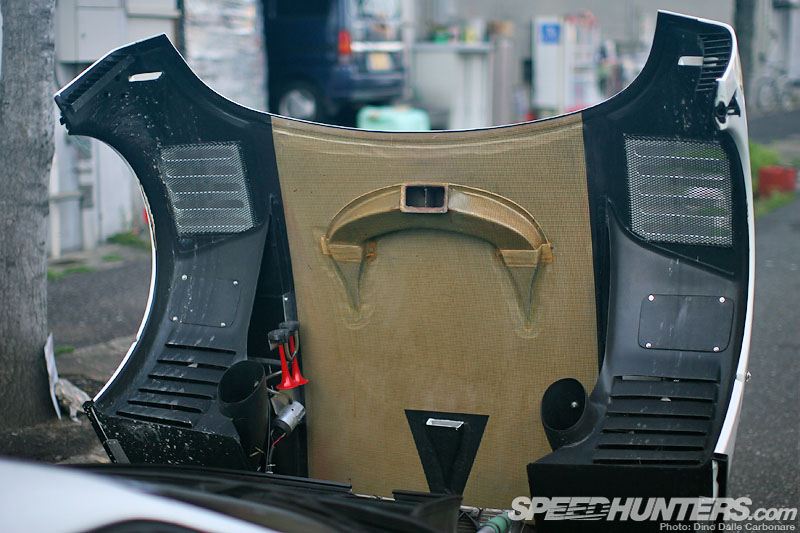 To give his F40 the LM look Kato-san had to close off the two NACA ducts on the hood…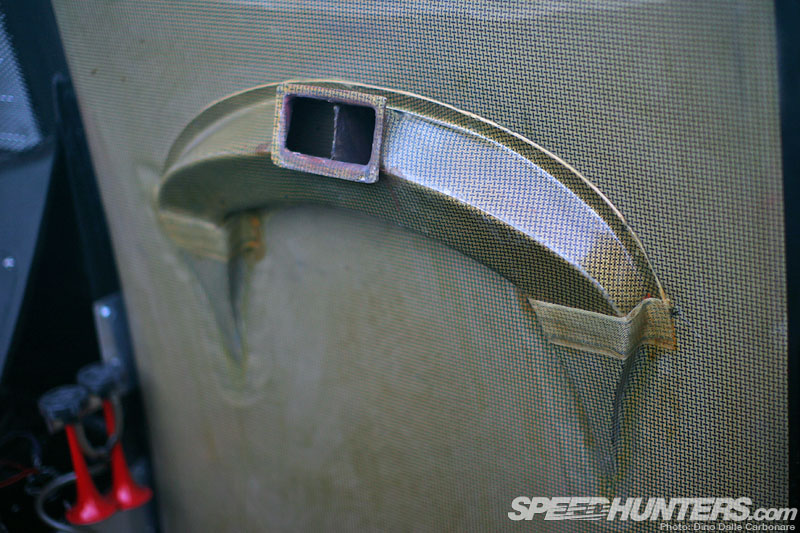 …which are there to supply air for the interior ventilation…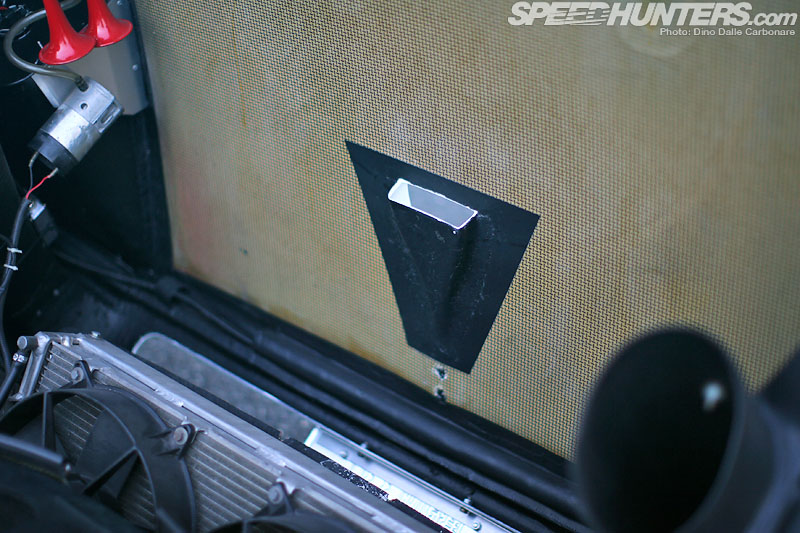 …and opened up a larger central intake on the nose. And yes those are air horns, just what you need to get cars to move out the way!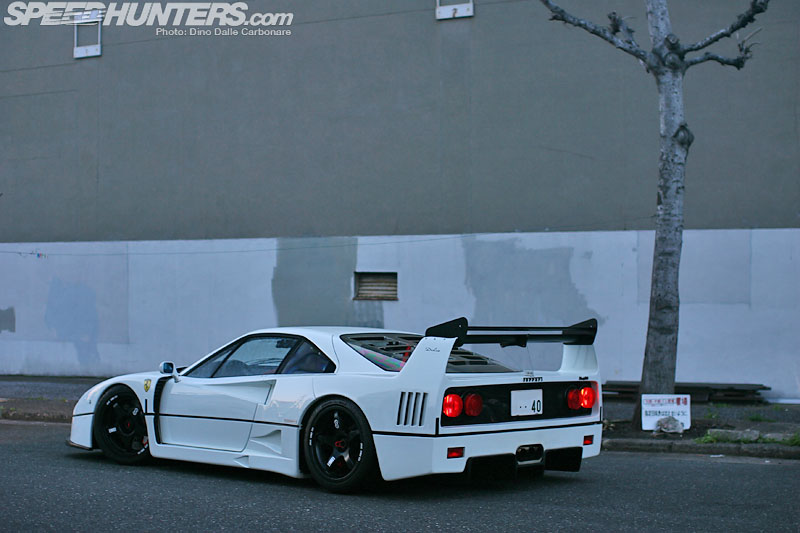 What a sensational looking creation.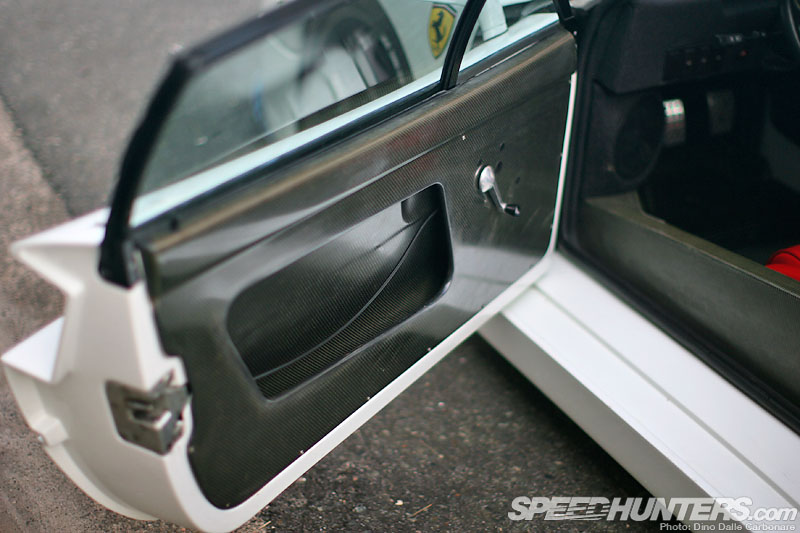 Swing open the paper-light carbon fiber doors…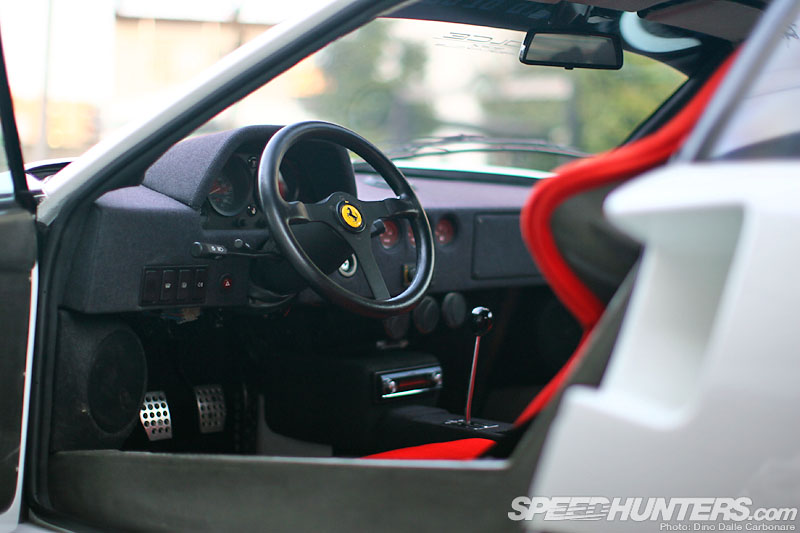 …and you are greeted with the most minimalistic interior you have ever seen.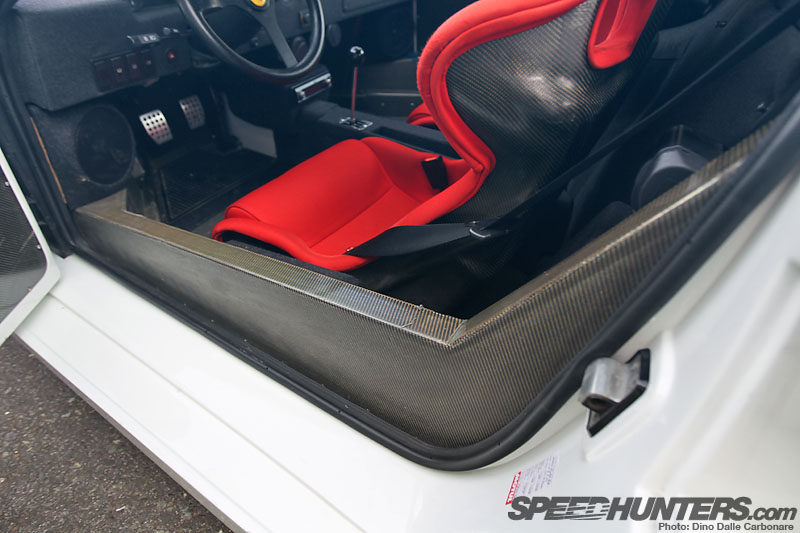 You are always reminded of the exotic composite materials that are used throughout the chassis, and you really have to be careful not to scratch the Kevlar sills as you attempt to wiggle into that cramped carbon-Kevlar bucket seat.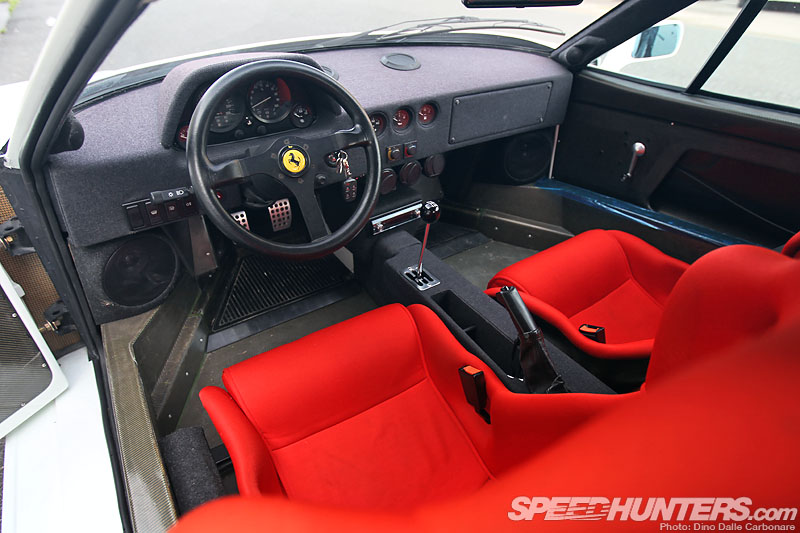 Once in position you have all the controls at your fingertips, there isn't much more than three pedals, a gear selector and the steering wheel you need to worry about. The F40 kind of emphasizes just how overly complex cars have been getting over the last two decades.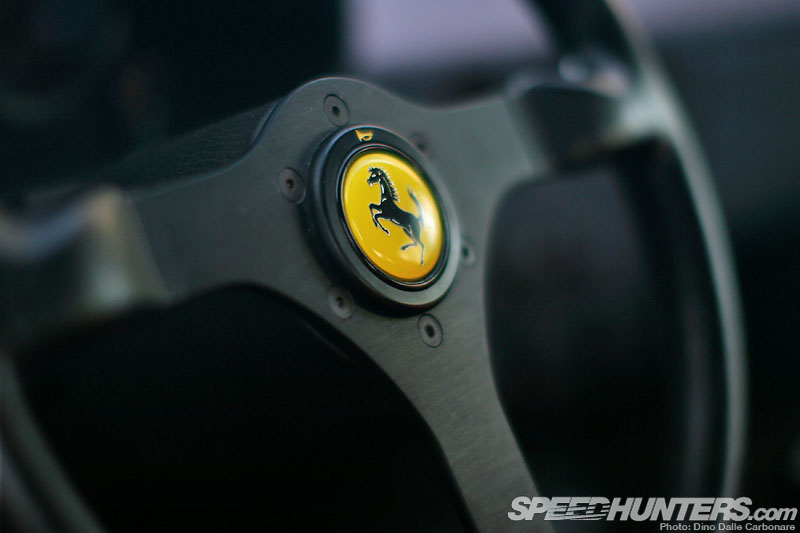 The steering is set at a very awkward upward tilt and the legroom is kind of short so most people will find it a little weird attempting to find a semi-comfortable driving position. But who cares, this is what 80s Ferraris where all about, they were meant to be uncomfortable like race cars, they meant to make you work hard and sweat for the performance. I didn't get to drive the F40; I wouldn't want to in the first place, that's way too much value to be held responsible for. But even riding shotgun it was one of the most intense experiences I've had in the cockpit of a car. I'm very happy this is what I took away from these few hours with my dream ride, because – at least in my mind – it further established itself as THE driver's car of all time.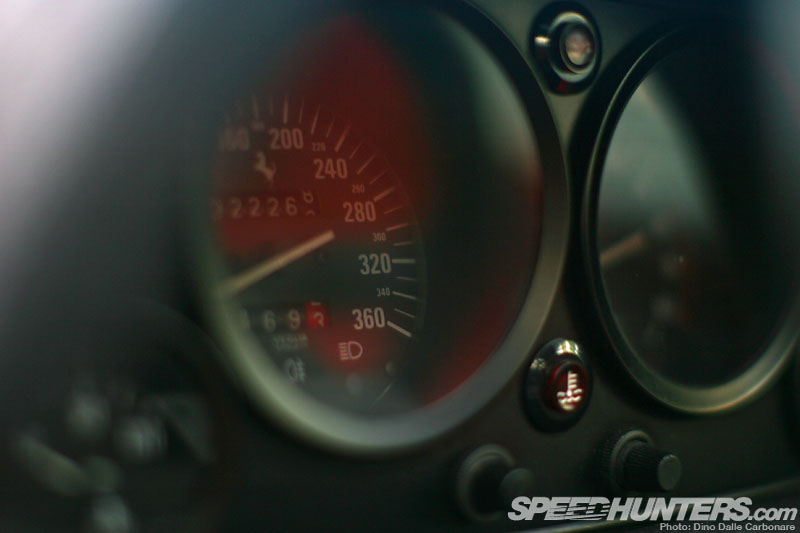 Even the instrumentation in the dashboard is simple, the analogue clocks giving you all the feedback you ever need.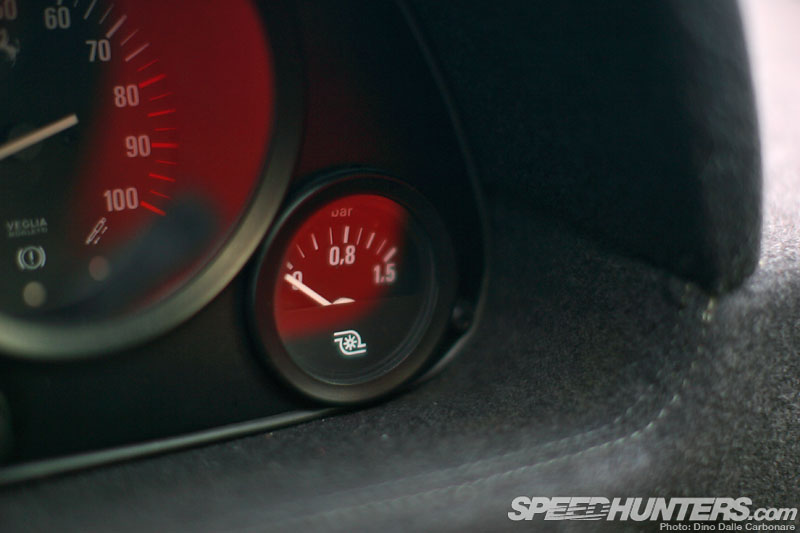 This little dial is what you should always keep the corner of your eyes on, because when that white needles whooshes past the 0.8 bar mark you better make sure the steering wheel is pointing straight and you are holding on for dear life.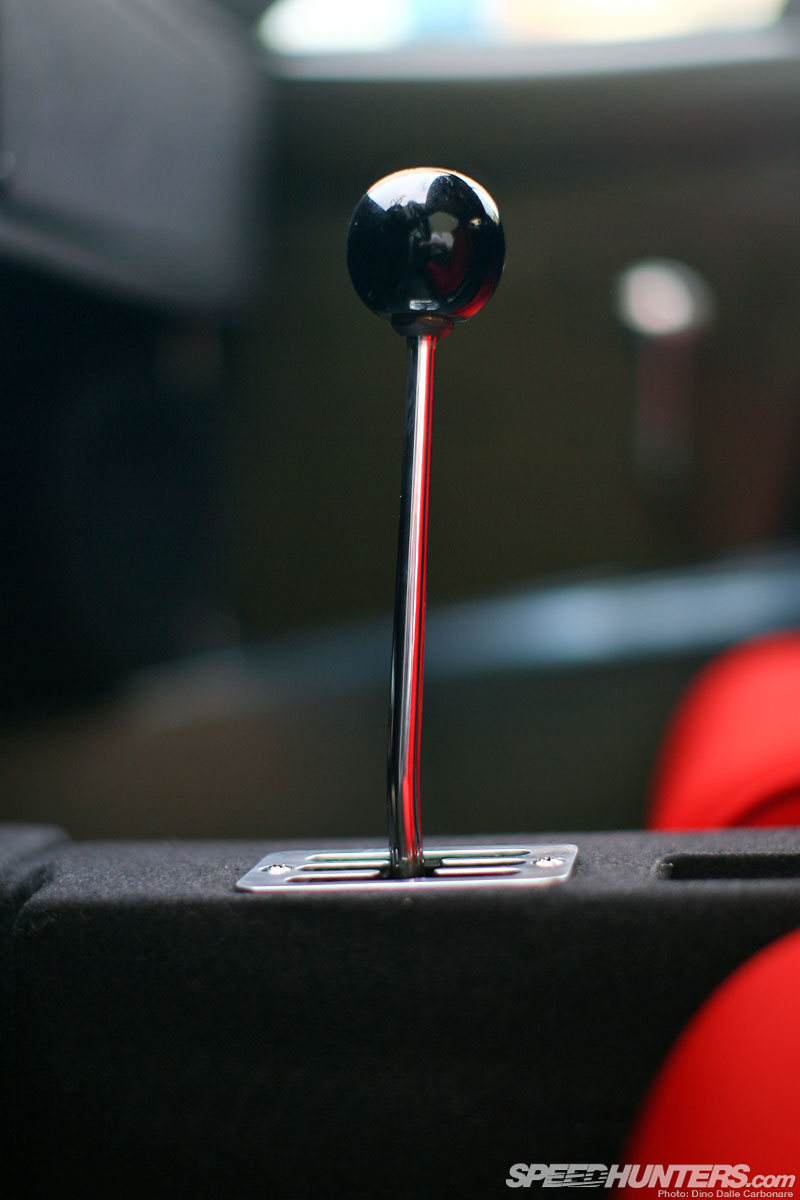 Dual clutch? Launch control? Mechanically assisted manual transmission? Oh please.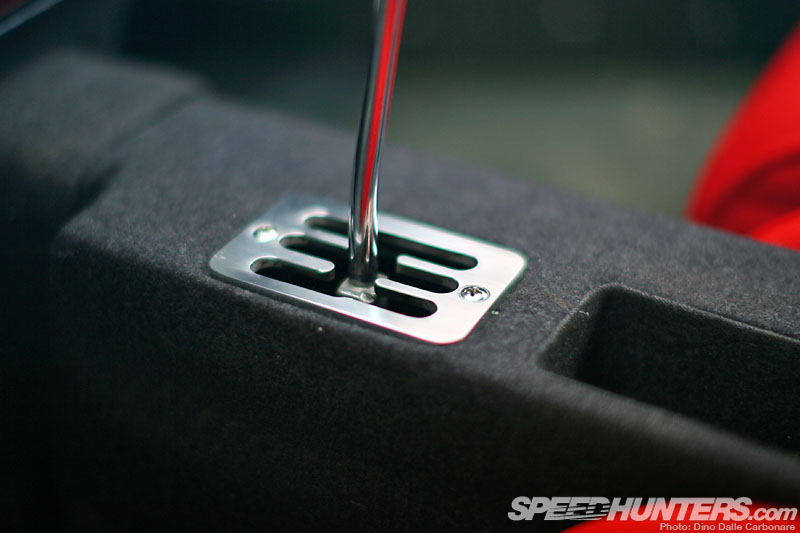 One click of that shift lever through the classic Ferrari metal gate is enough to send shivers down your back. A real driver's car should always be manual, and if you can master the dogleg gearbox in an F40 you'll be able to feel the hairs on your chest grow!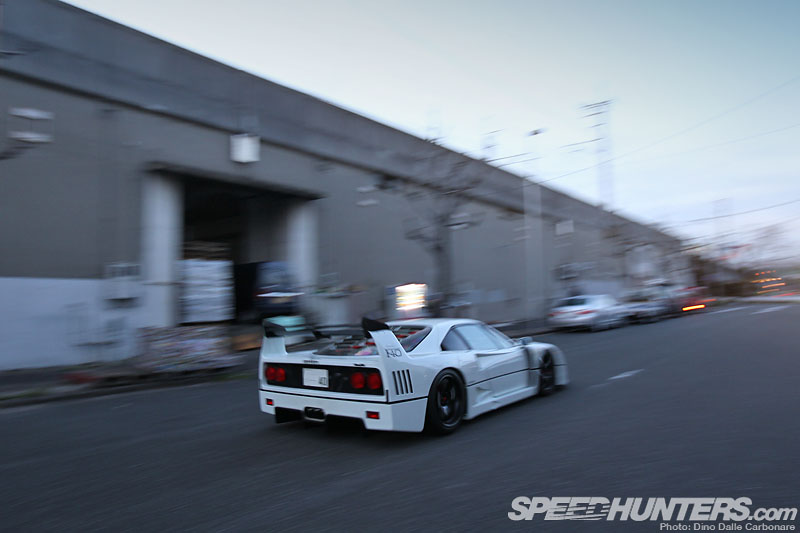 With the shoot wrapped up it was once again time to jump in the passenger seat and have one final ride back to the Liberty Walk shop where the F40 is usually kept.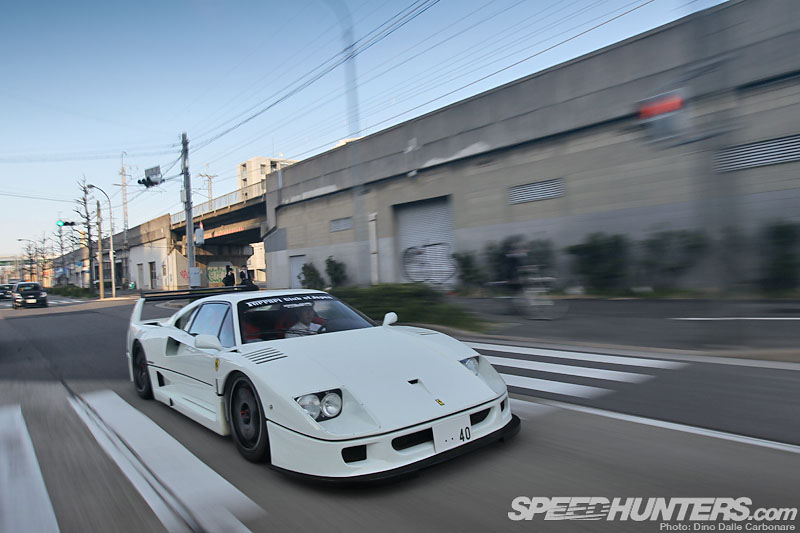 There is no other car that can attract as much attention as a white F40, we were getting looks from every pedestrian we passed.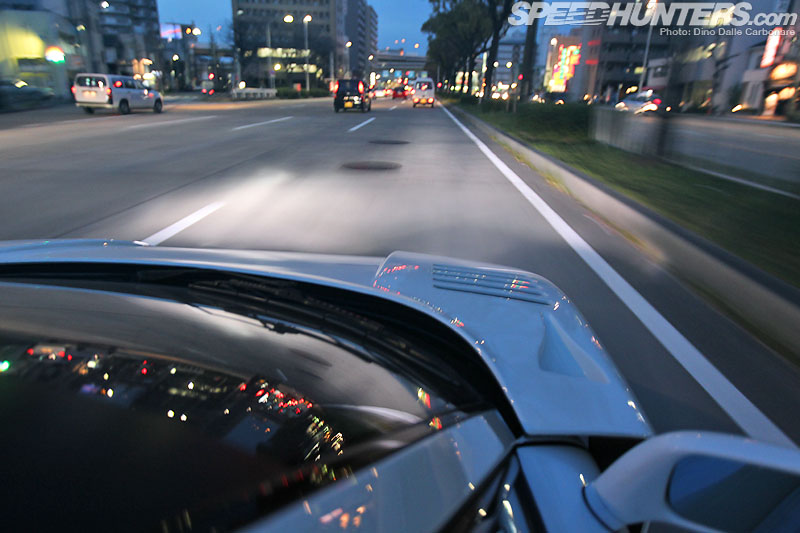 At one point I just had to put the camera down…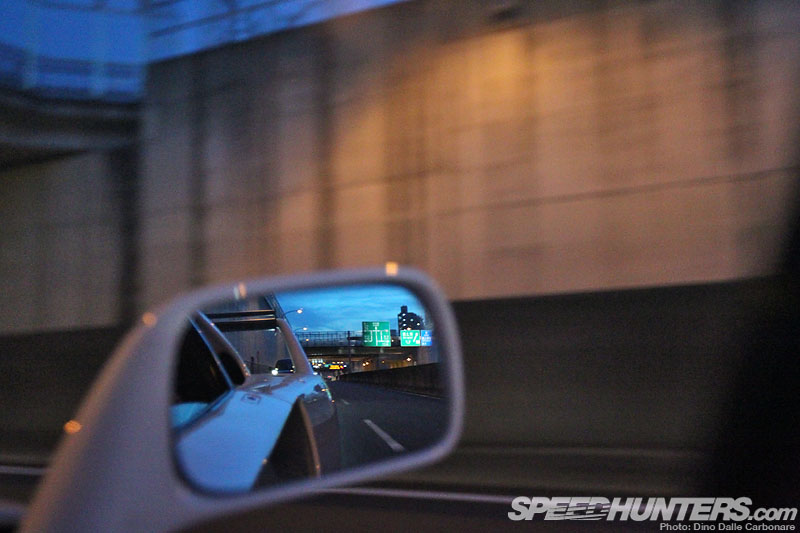 …stop taking pictures and take it all in. It's not every day you are able to ride in your dream car. I might not have driven it yet, just turned it on and revved it a few times, but that gives me something to look forward to! I consider this initial encounter as a great start. When we arrived to the shop the car was reversed into Kato's garage…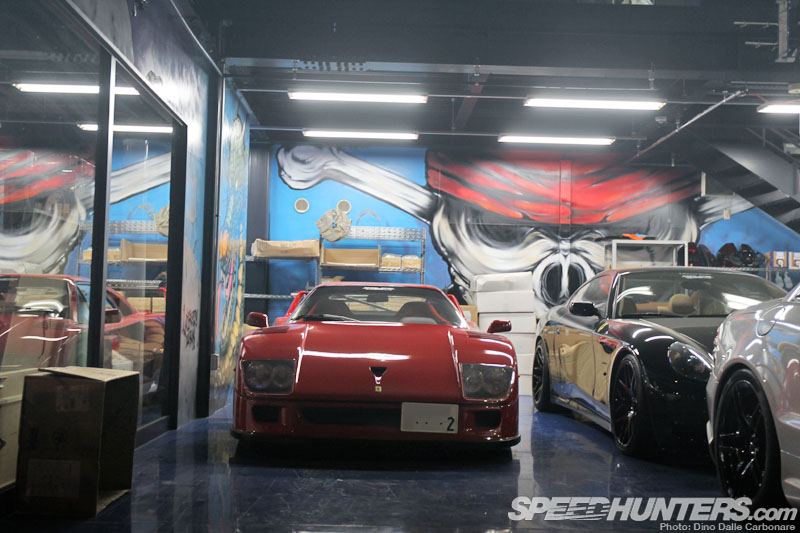 …right in front of his other Ferrari F40, appropriately named "Number 2." Kato-san has officially become my new hero!
A big thanks to Kato-san for allowing me access to one of his prized possessions and to Toshi for organizing everything and helping out on the day.
-Dino Dalle Carbonare