I'm sure you guys know of that mythical crazy cat lady who has 100 cats? Darren McNamara is actually the same way, but instead of cats he collects those oh so cool Toyota Corollas.
I guess that does not make him crazy at all.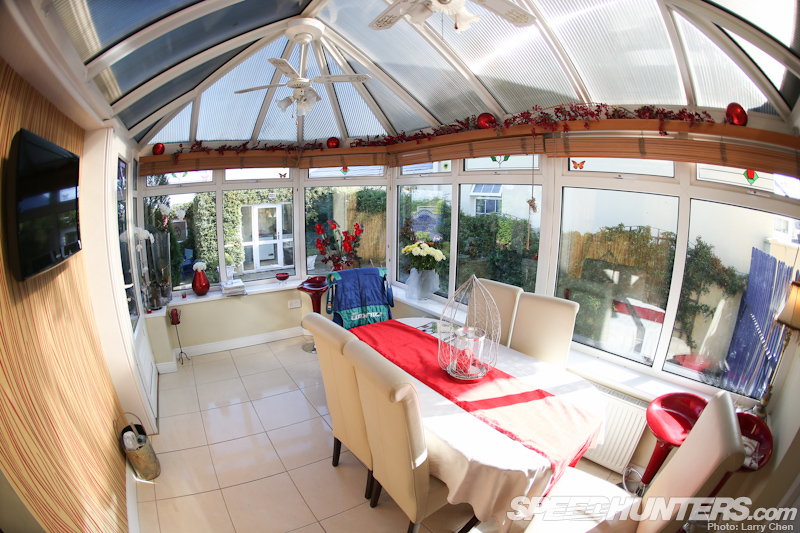 Darren's family was nice enough to let me stay at their place for the week leading up to Japfest. It gave me an opportunity to get to know them and also to explore the Irish country side for a bit. I was also really excited to check out MCNsport, which is the family business.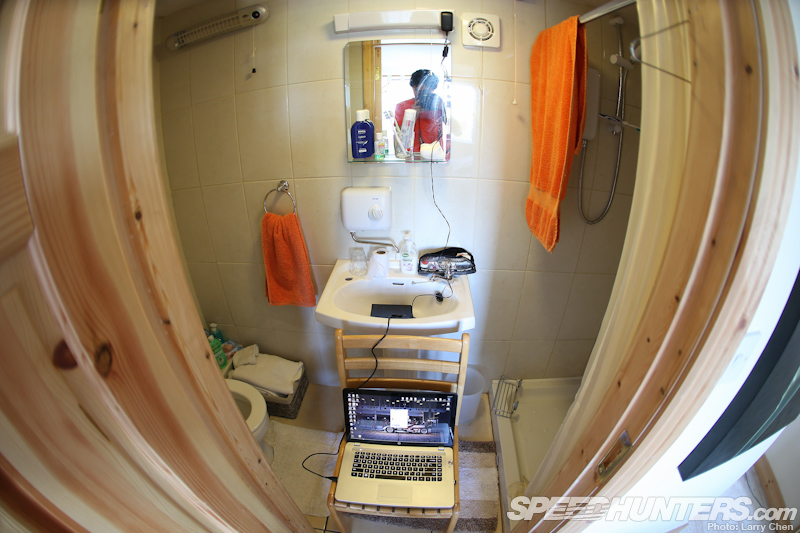 This was how you guys were getting updates. For some reason I only brought one power adapter, which meant I had to use the electric shaver plug for my external hard drives. I may or may not have updated Speedhunters on the throne.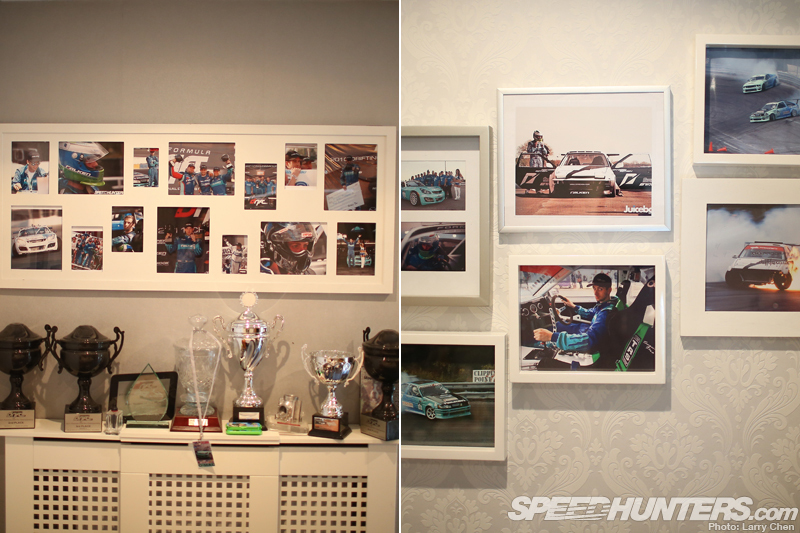 Darren's place is absolutely littered with photos and mementos from his professional drifting career.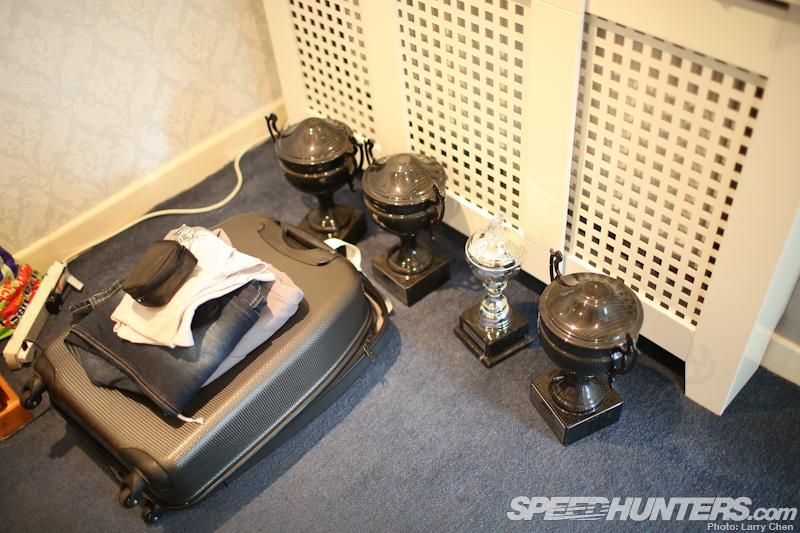 I guess running out of shelving for all your trophies is a good problem to have. That suitcase there is what Darren lives out of for most of the year. Kind of like me, although I sacrifice clothing space for camera gear and I just turn my clothes inside out to keep them fresh.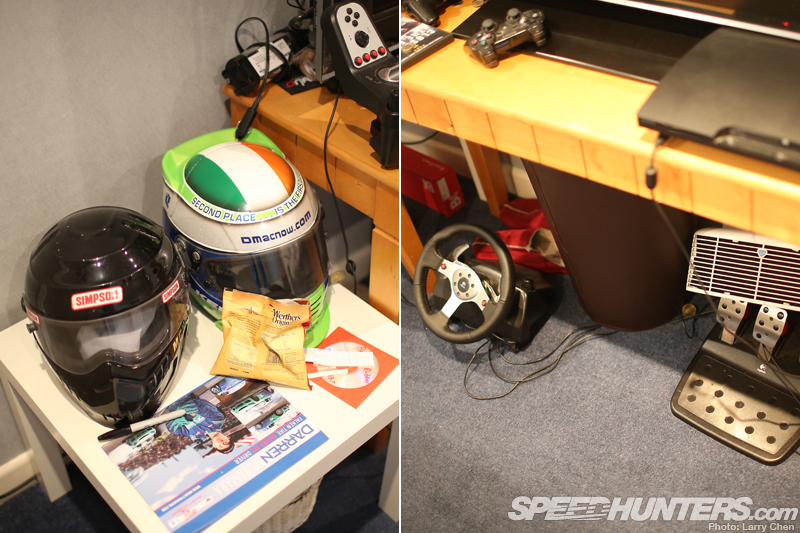 I was wondering why Dmac had his helmets in his bedroom, then I looked over and I realized why. It is not a true simulation unless you are wearing your helmet.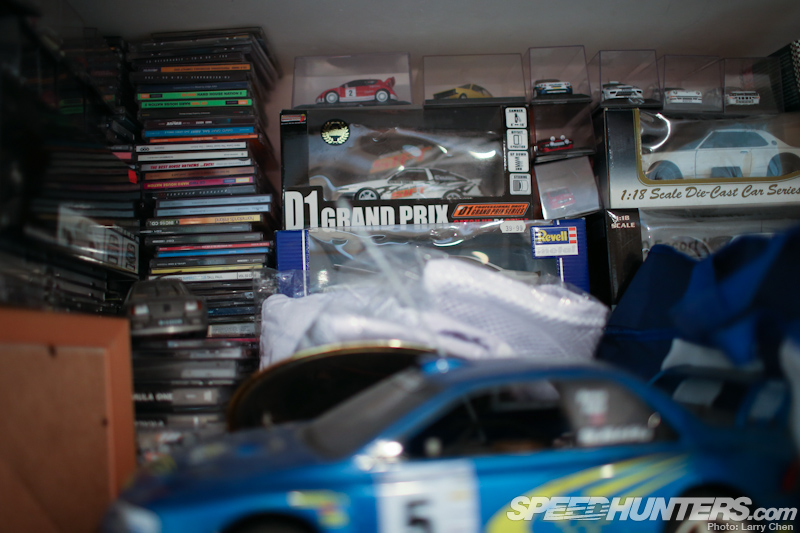 I've noticed a trend with race car drivers. They always seem to love their diecast model cars. Dmac had quite the collection.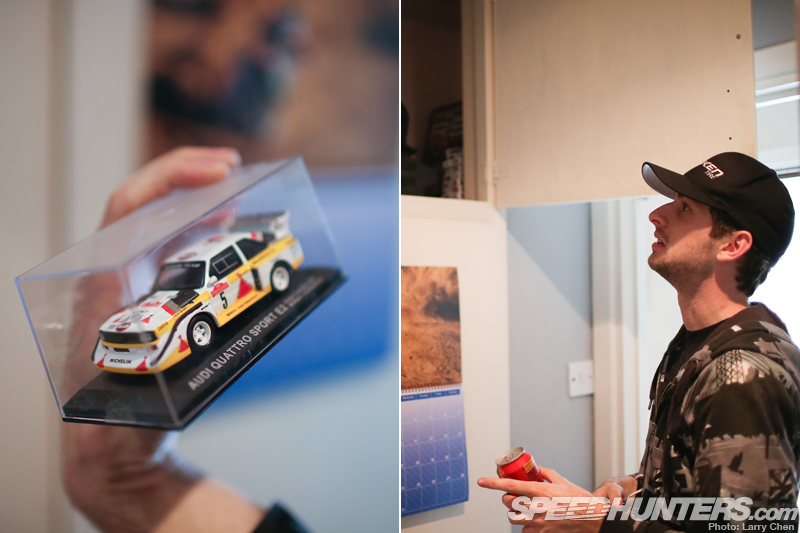 This may be where he got the inspiration to build an old school Audi drift car.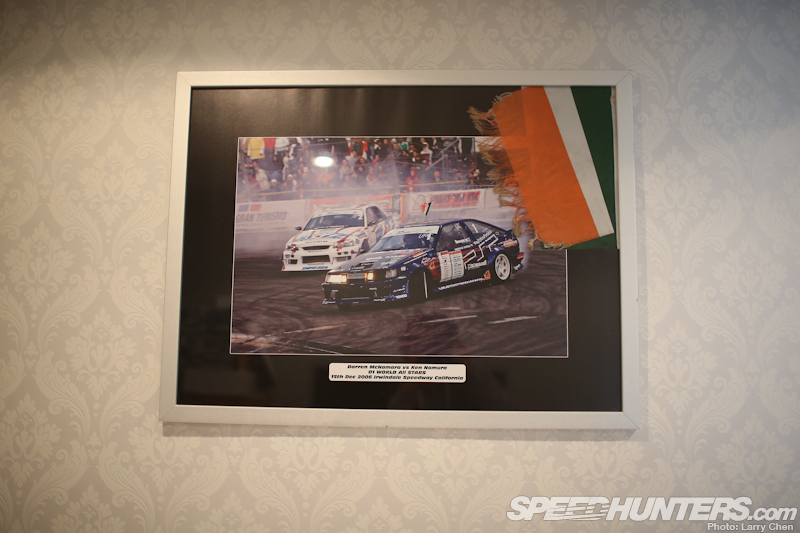 This is actually one of his most prized mementos. He flew that very flag on his SR20 powered Corolla in 2007 at D1GP in Irwindale. He got knocked out by Ken Nomura, but out of respect Ken took the flag and flew it on his car all the way to 1st place. It was certainly an epic event.
For years Dmac thought the flag was lost, but what he did not know was his brother kept it all these years and gave him this framed photo with the flag as a birthday gift just last year. What a great brother!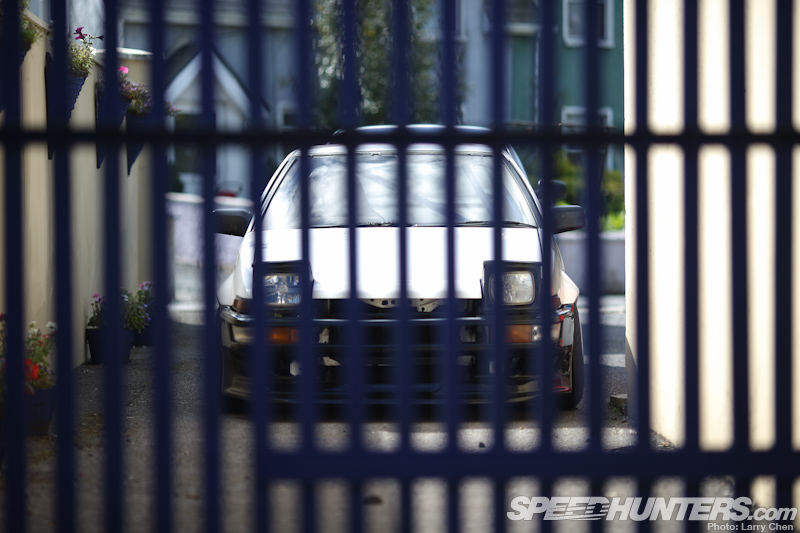 Parked outside in the driveway was Dmac's work-in-progress raffle car. Maybe Paddy can do a feature on it before it gets raffled off?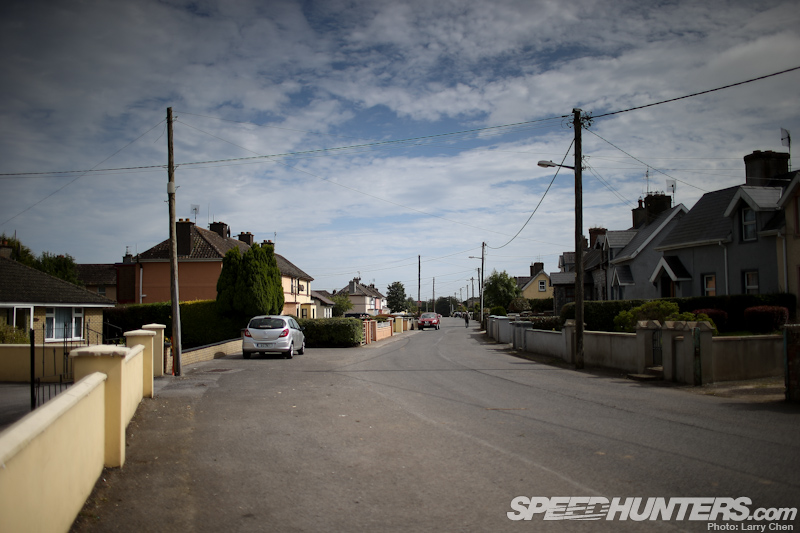 The family lives in the small town of Buttevant which is in Cork. It is such a quaint little town and I was definitely not used to waking up and seeing cows outside the window.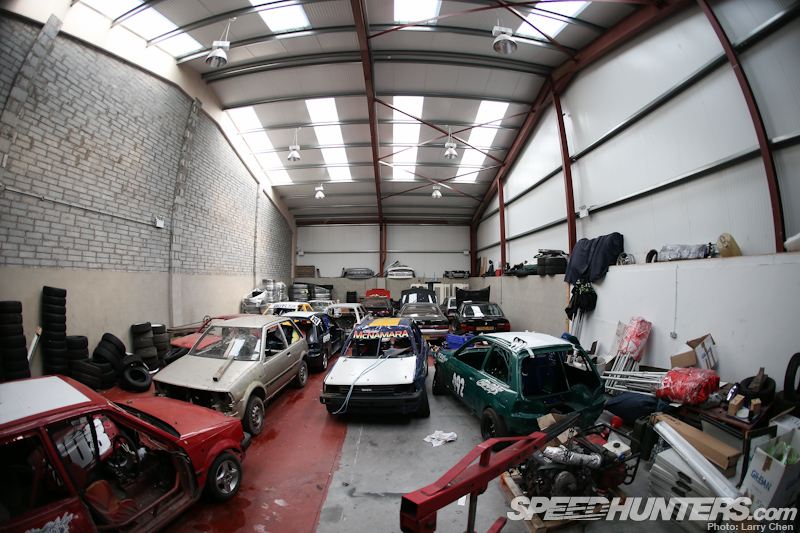 The family shop MCNsport is just a few miles away. This was what I called 'the compound.'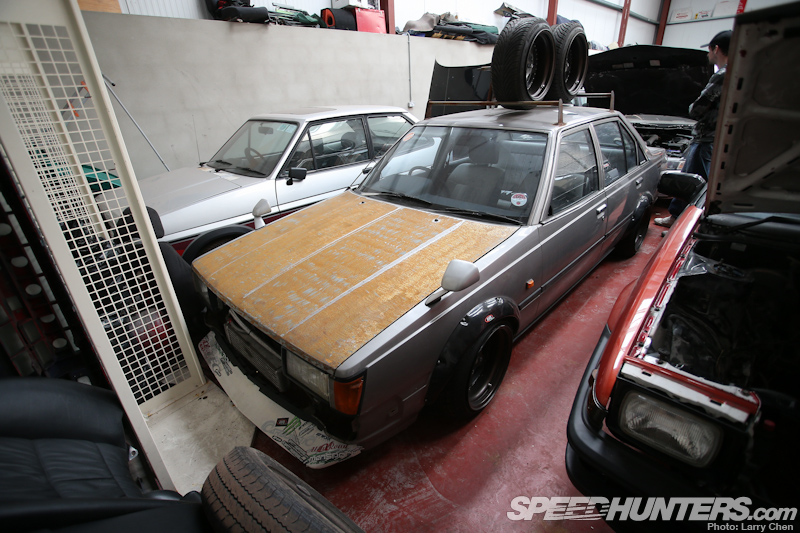 This is were Darren and his father store their project cars and other cool things, including this Toyota Carina that some of you guys may remember. It only took two days to build.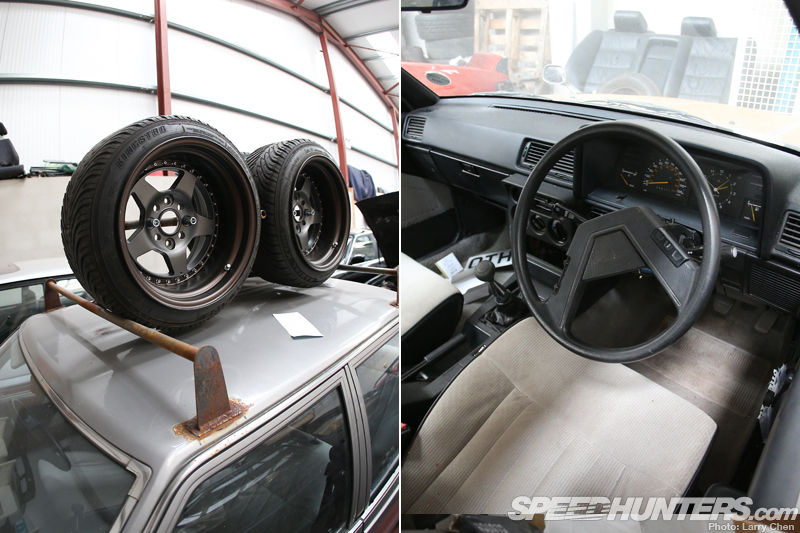 Those Work wheels will be going on Dmac's Black Limited Edition AE86.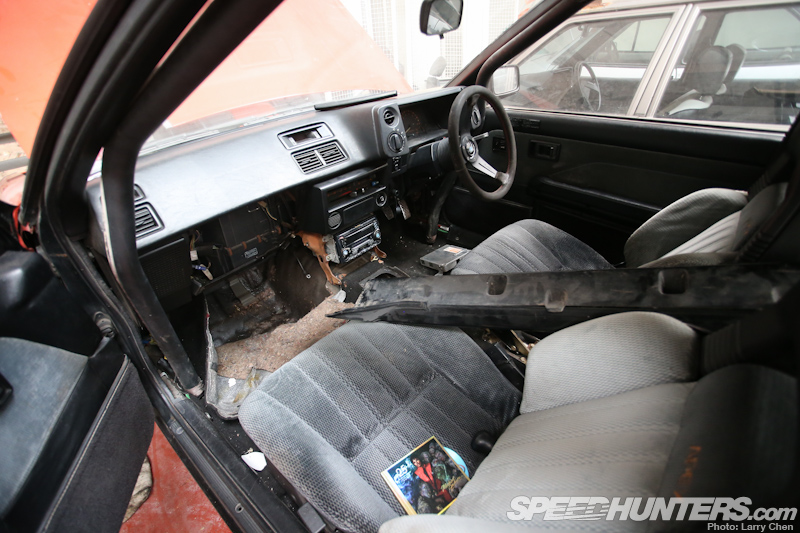 These cars were pretty scarce in Ireland and it is rare to have one in this good of shape. Most of the people who have them won't let go of them.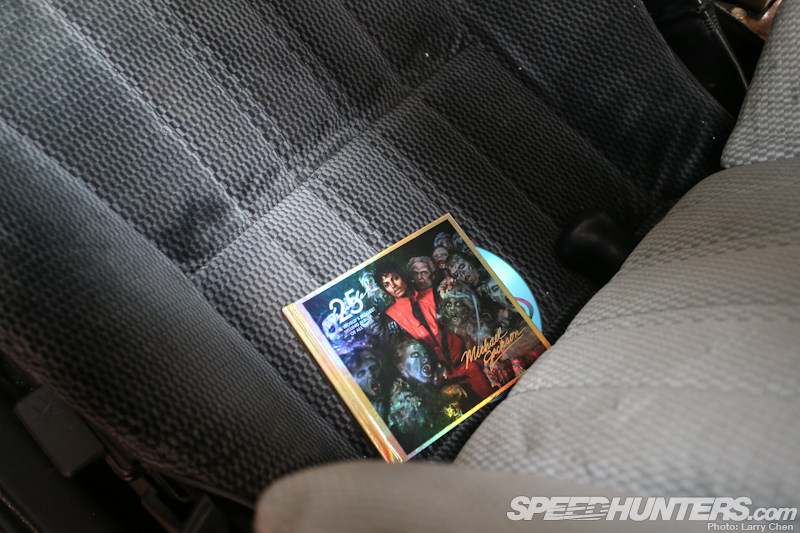 It even had period correct music. There is something funny about the Europeans liking Michael Jackson.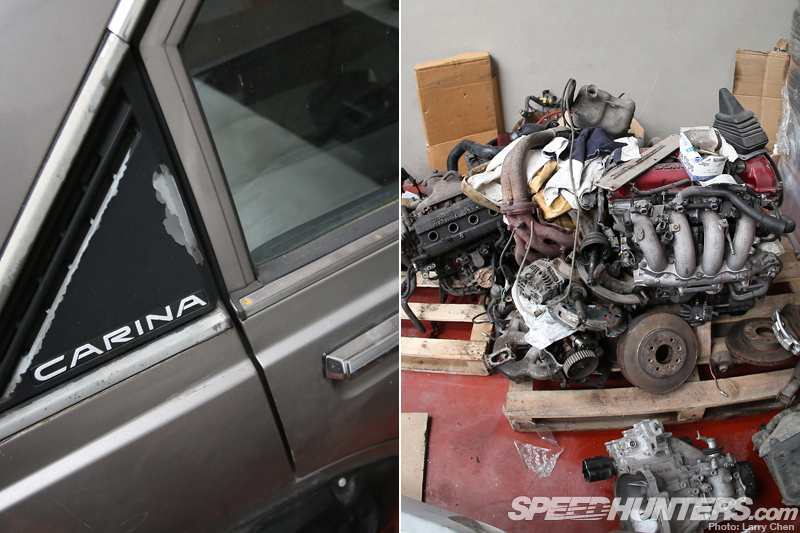 There is a fresh SR20 standing a few feet away just waiting to be dropped into this car.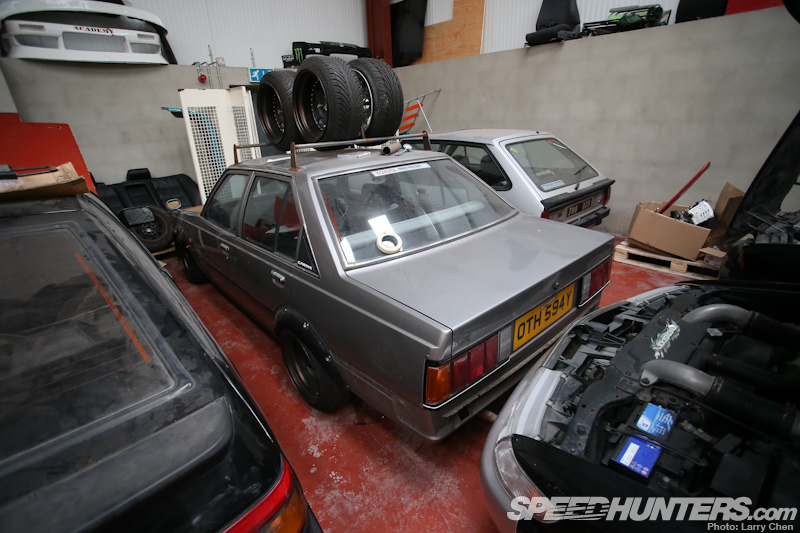 It's funny how much buzz this car generated. A single picture was posted and Darren said he has never gotten so much hate and praise at the same time.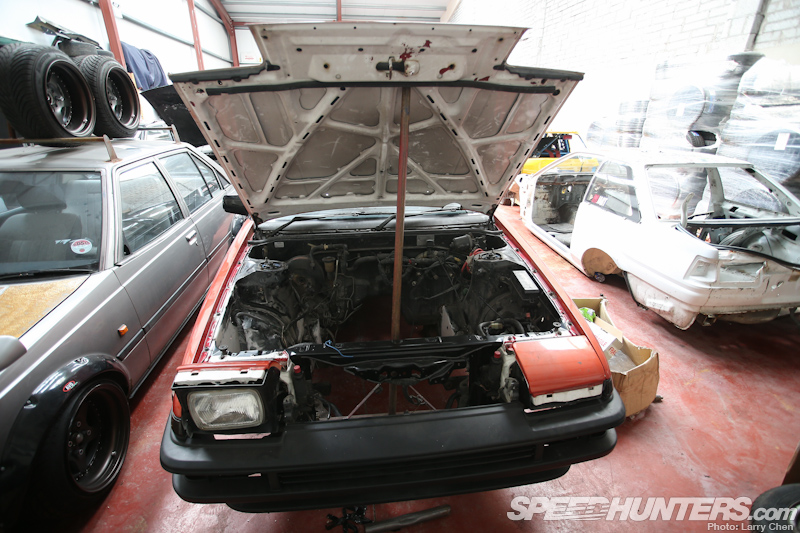 This is his Pride and joy. At one time this was 100% mint, but like all of Darren's cars he drives them super hard.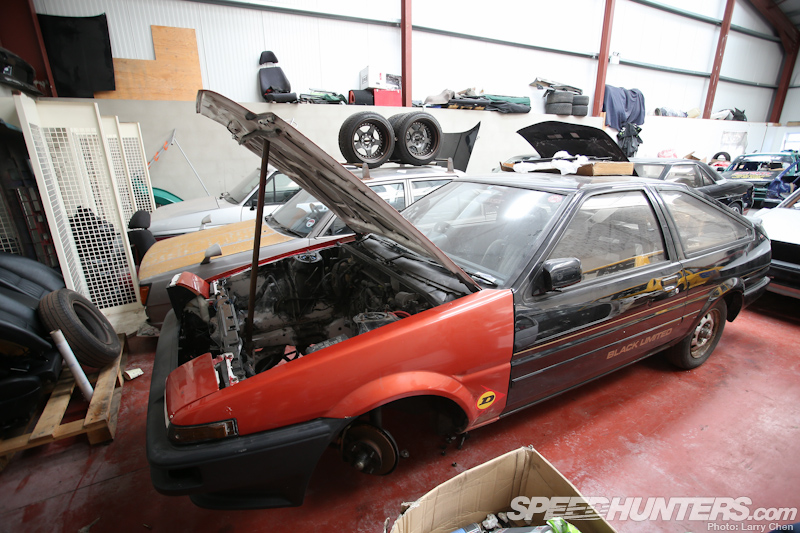 This one ended up in a dump truck on a rainy day, hence the red front end. Soon it will be restored to it's former glory. The goal for this one is an all out naturally aspirated build. There is nothing like a high revving 4AGE.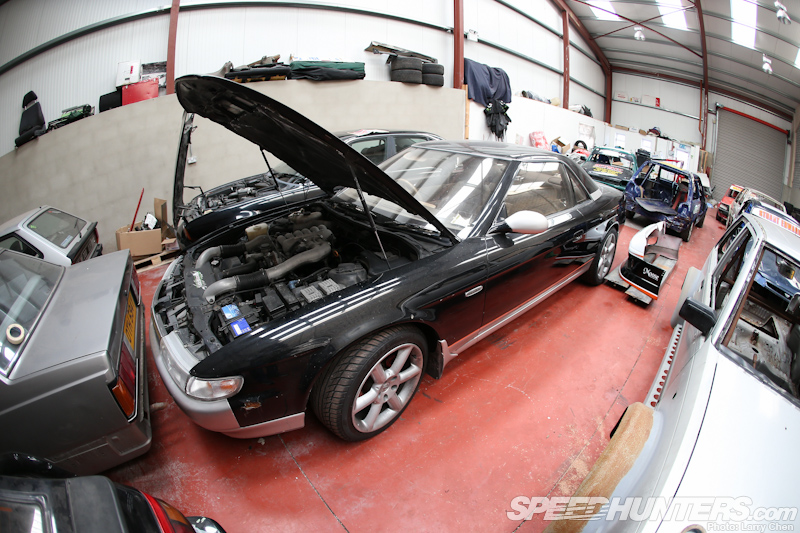 This was one of the more interesting cars out of the bunch.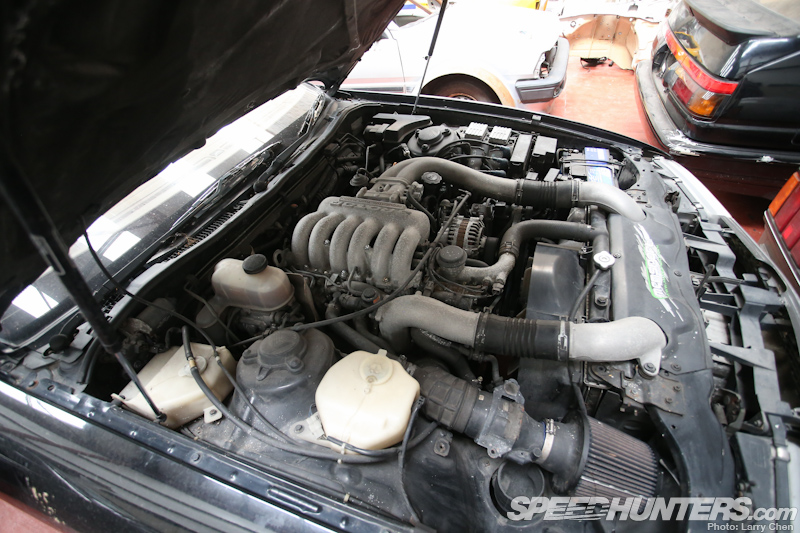 The crazy cat lady would approve. This Mazda Cosmo is very rare and only 3,550 were made. It is still the only production Mazda with a three rotor from the factory.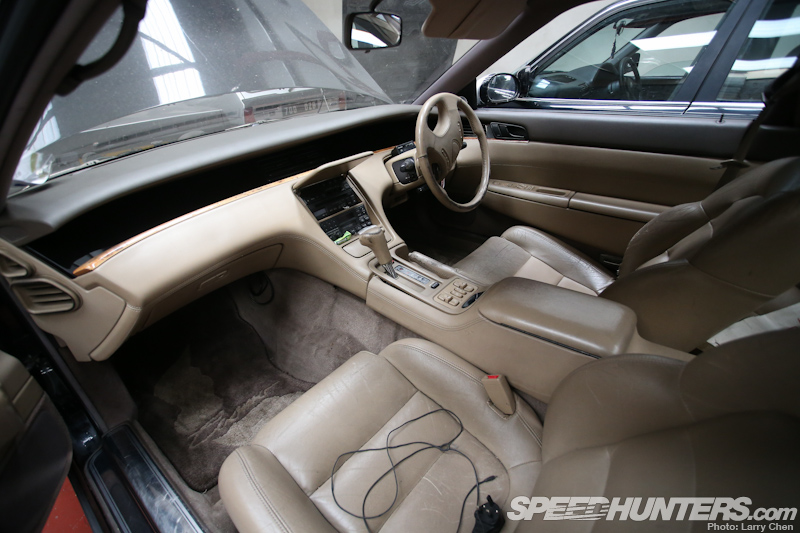 I've never seen one in person, so it was a real treat for me. It smelled like what a Japanese luxury car should smell like.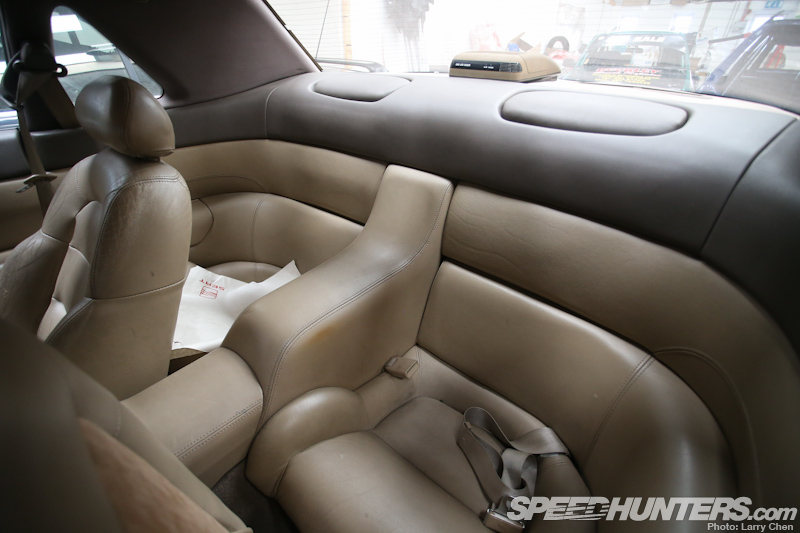 The rear seats looked like the captain's chair on the Starship Enterprise.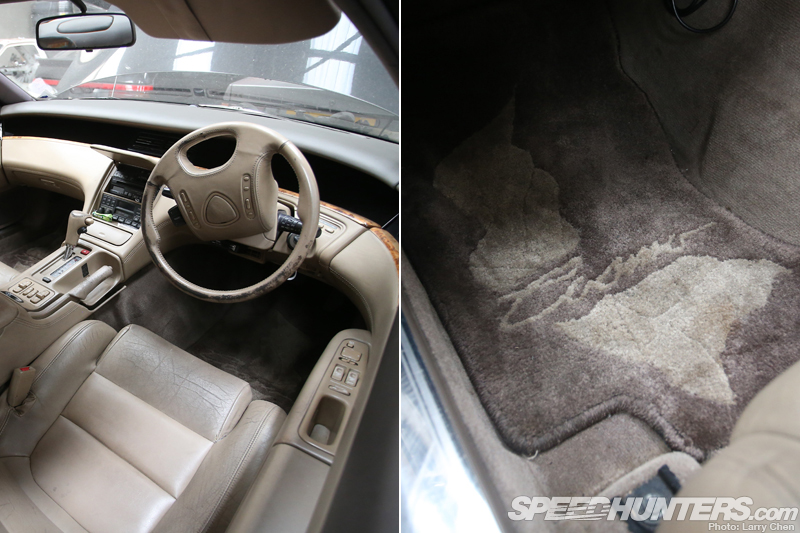 There were images of rotors everywhere, including the one on the steering wheel.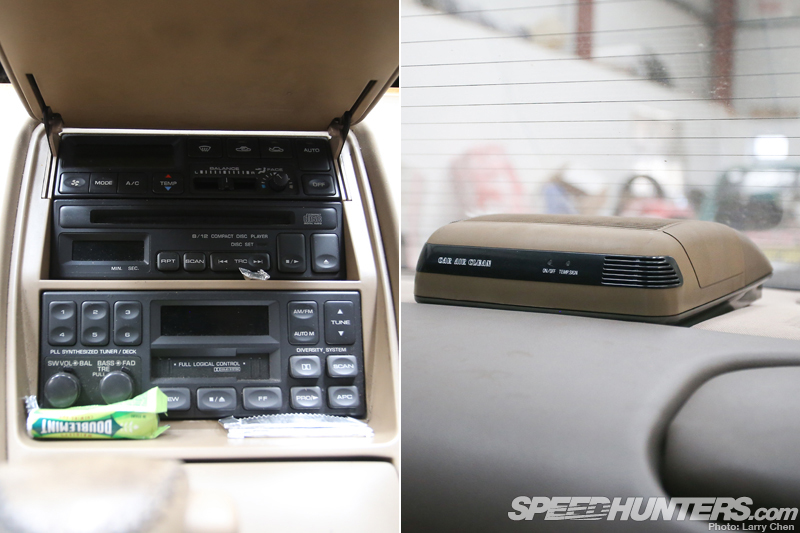 Check out the radio and amp, it just screams '90s Japanese car. Also, there was a built in air purifier in the rear of the cabin. How neat is that?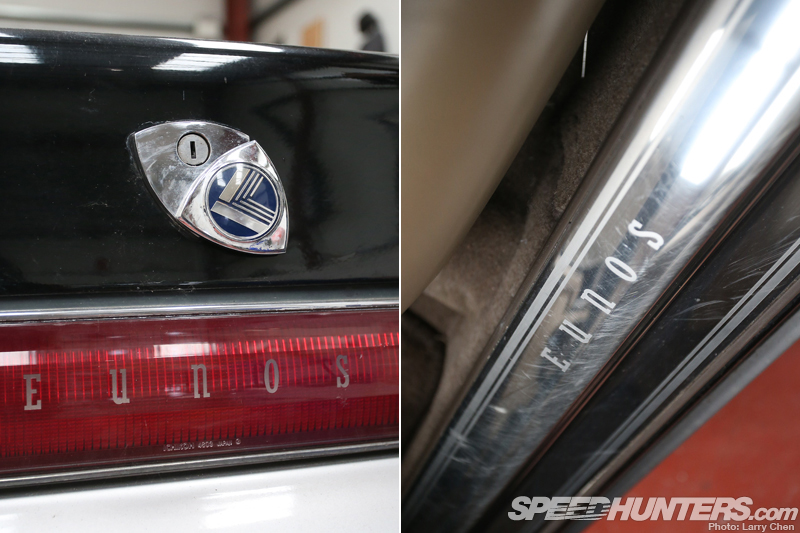 The full name was the Eunos Cosmo. It was way ahead of its time in terms of technology, but it was the most expensive Mazda ever produced! Darren reported fuel consumption numbers around a whopping nine miles per gallon. No wonder these never sold well.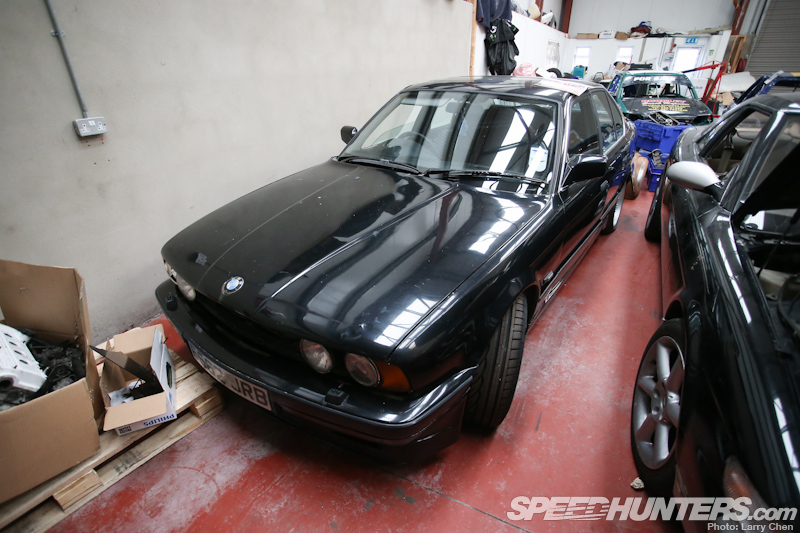 This is Darren's latest purchase and he is very excited to begin work on it.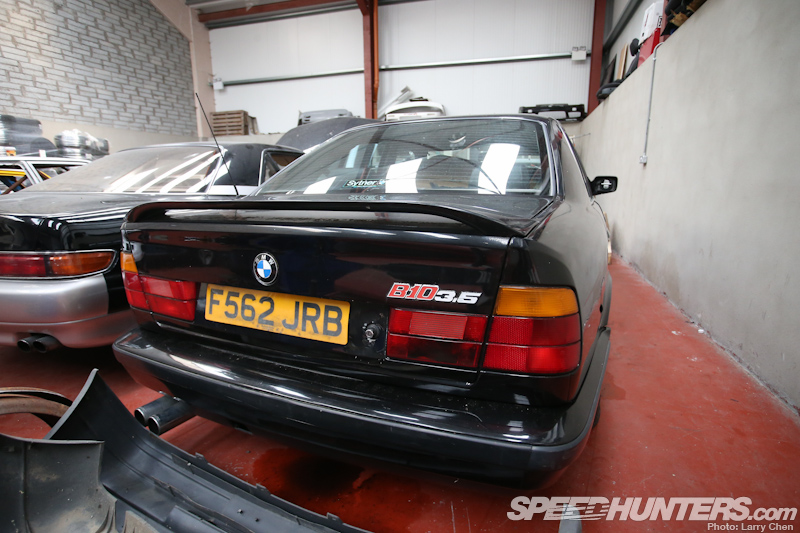 It's the BMW E34 Alpina B10 3.5. Only 572 of these cars were made. Much rarer than the Cosmo.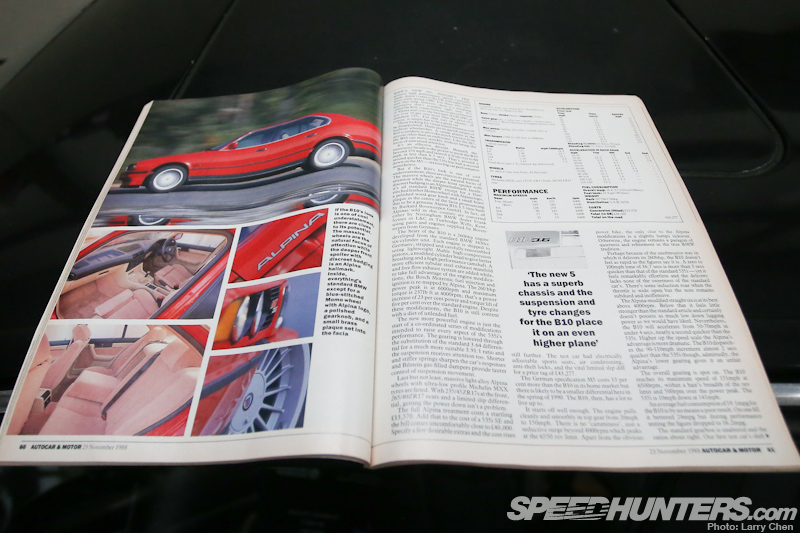 This magazine from 1988 was included in the purchase.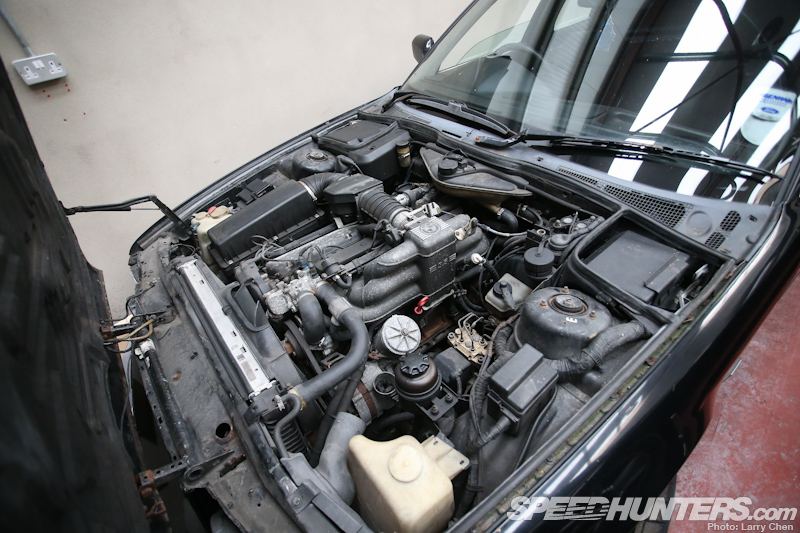 It produced an earth shattering 254hp with a top speed of 158mph. Not bad for a grocery getter.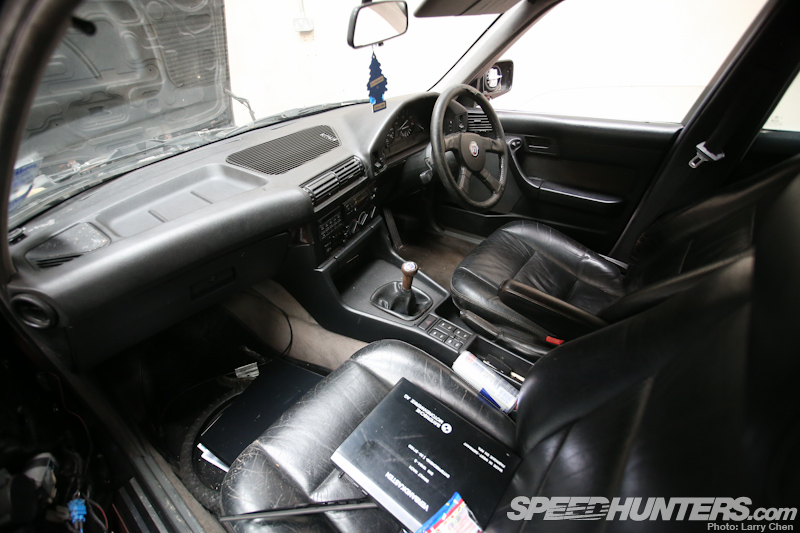 Darren's only worry is that due to its rarity, it may turn into a huge target for thieves once he restores it. It's a shame this car has been sitting around, but I think it found a great home. Soon enough it will be driven very hard.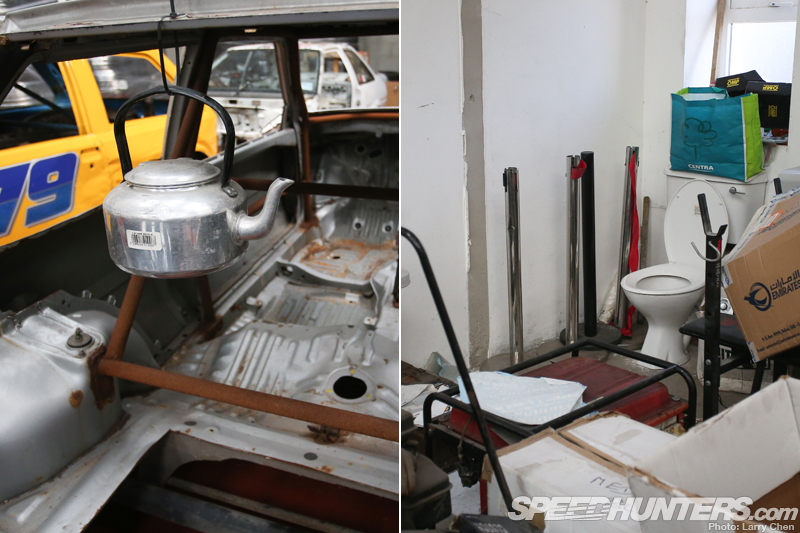 I also spotted some weird things. Maybe he is crazy after all.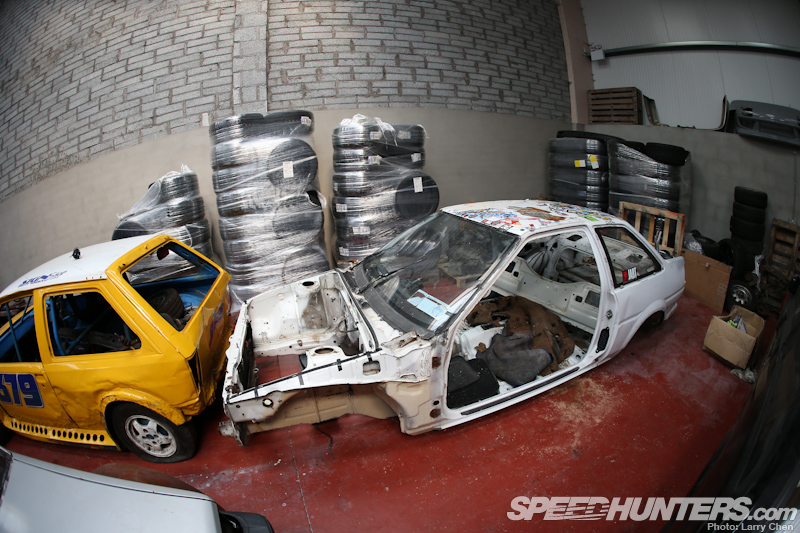 There are so many projects on old in this warehouse, but hopefully Darren will find some time to get to each and everyone one of them. I decided to go next door to the shop where all the magic happens.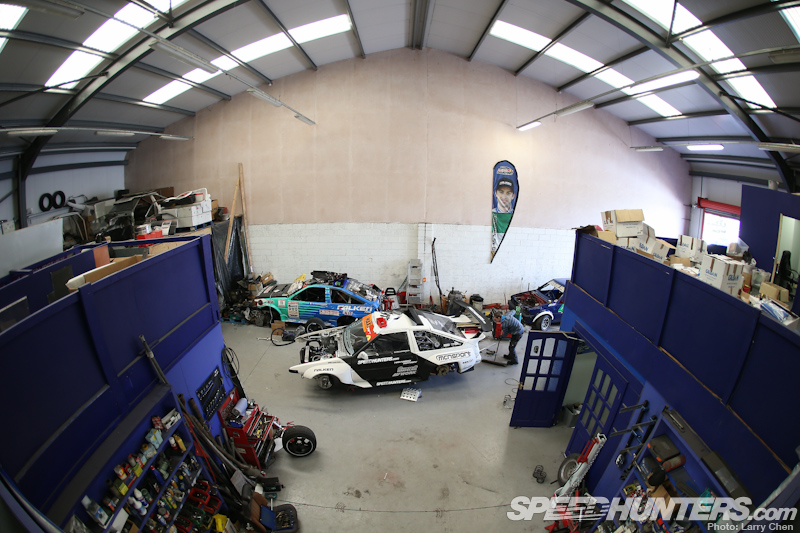 The shop is just as large as 'the compound' and there are many cool things lurking around here as well. Check out that flag from the Redbull World Drift Championship in 2008.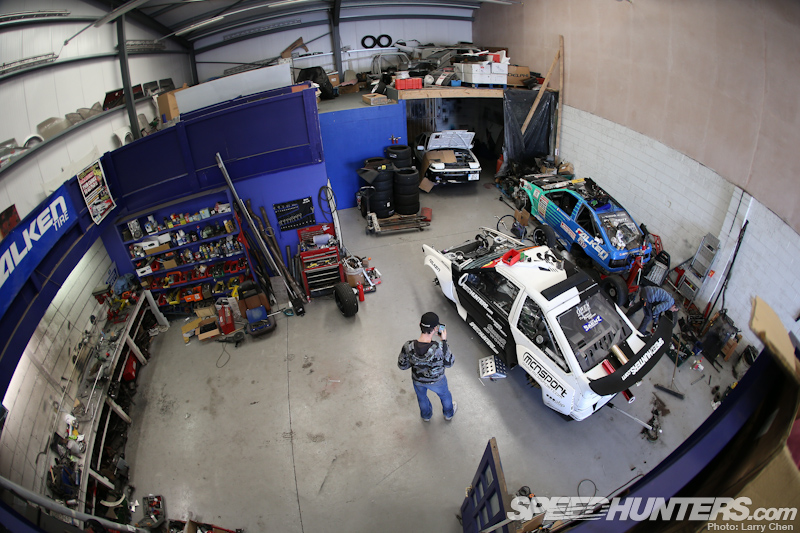 The boys were hard at work as they had just a few days to get ready for Japfest.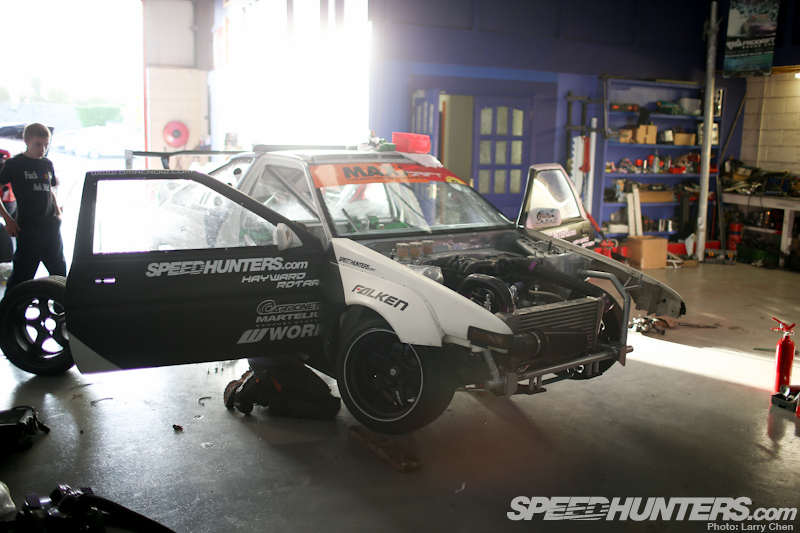 Darren has been working on this car non-stop for almost two years. He is not about to give up just yet.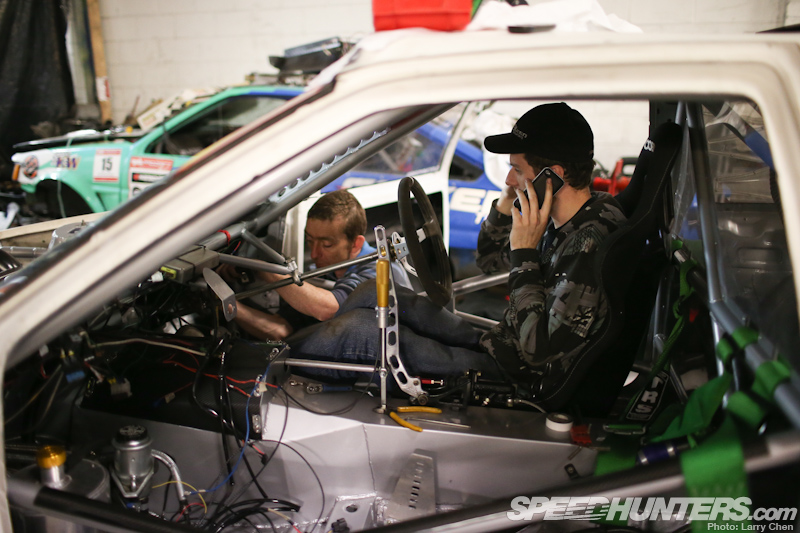 Measuring for pedal placement and talking on the phone is just fine.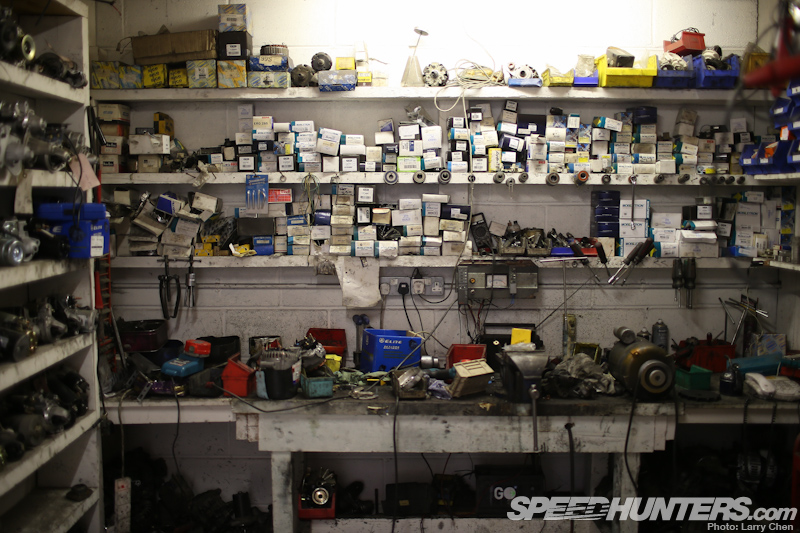 I decided to check out the rest of the shop. I've been to many tuning shops and I just love seeing the quirky differences between them.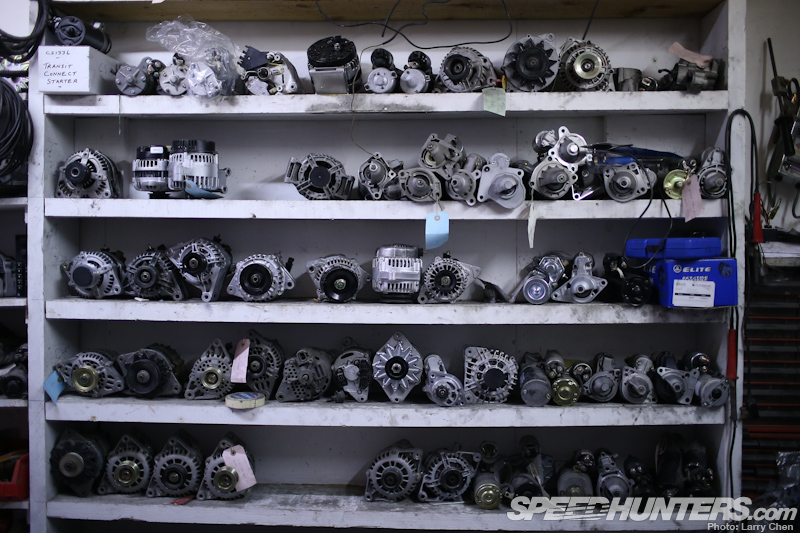 There are the super clean and pristine ones then there are shops like MCNsport which have a sheer wall of awesome. I thought this saggy shelf of alternators was a bit much…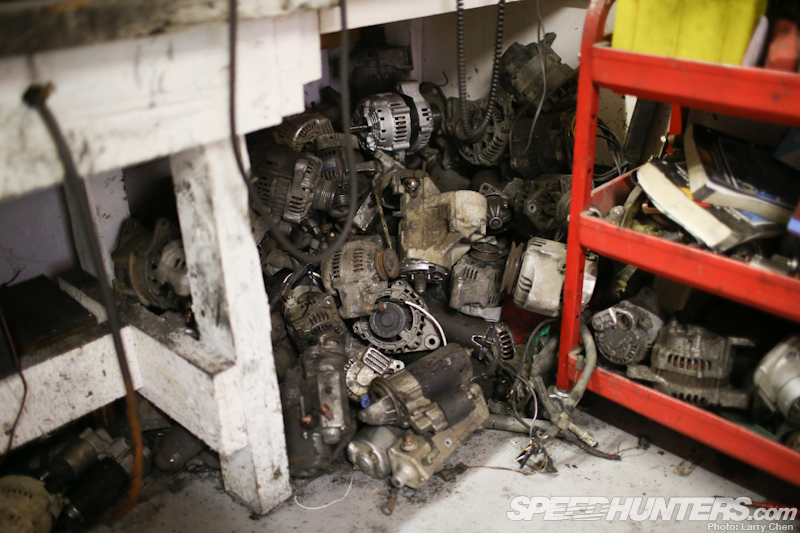 …then I looked beneath.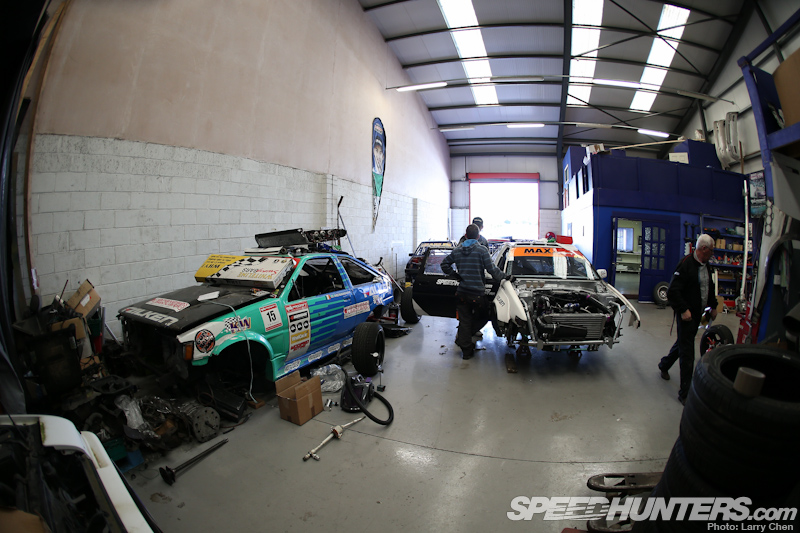 The restoration project that I am looking forward to the most is Darren's first car. He bought that little AE86 with his own piggy bank and it became the wining-est Toyota Corolla in drifting history.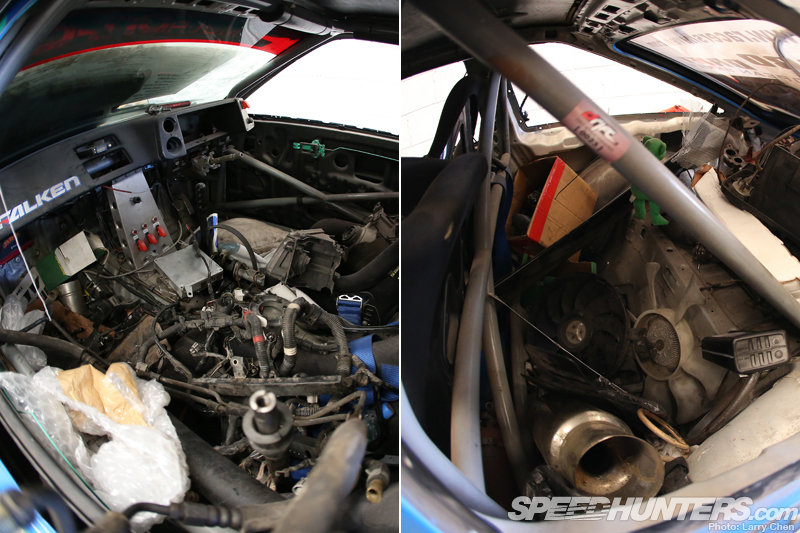 But according to him he is not done. There is still lots of life left in this little Hachi that could.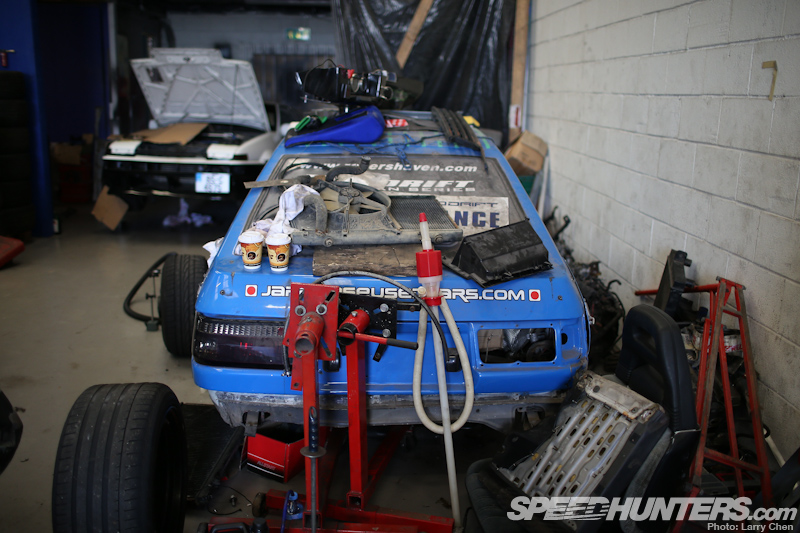 Eventually it will be painted purple. He wants to get it back to how it was when he first dropped an SR20 into it.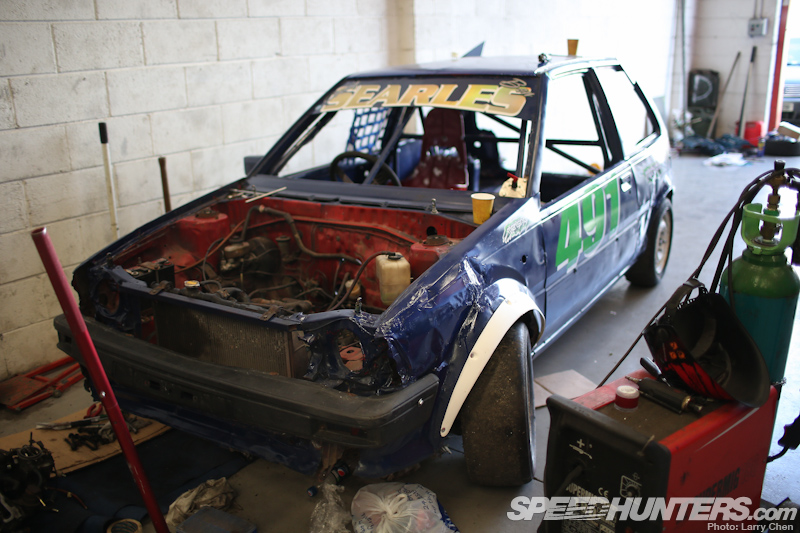 One of the things that MCNsport is famous for is building and prepping dirt oval cars.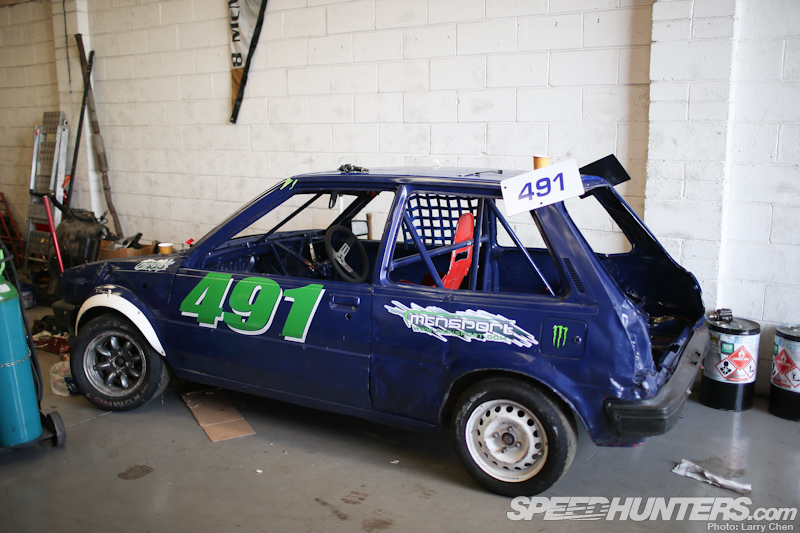 Darren's dad Charlie runs this side of the family business. The Toyota Starlet is the perfect Chassis for this kind of racing.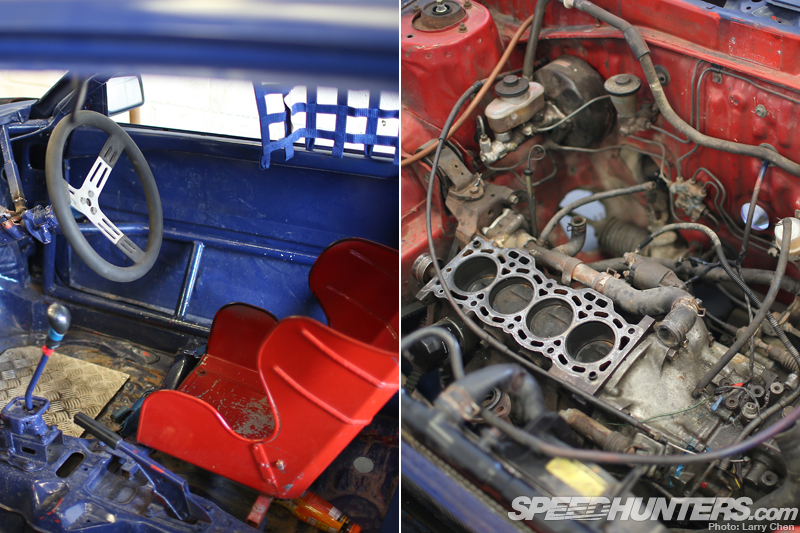 They really only use 1st and 2nd gear, but with all the weight stripped out of these little cars they really get going. Their top speed in a race can range from 50 to 65mph, depending on what class you are in.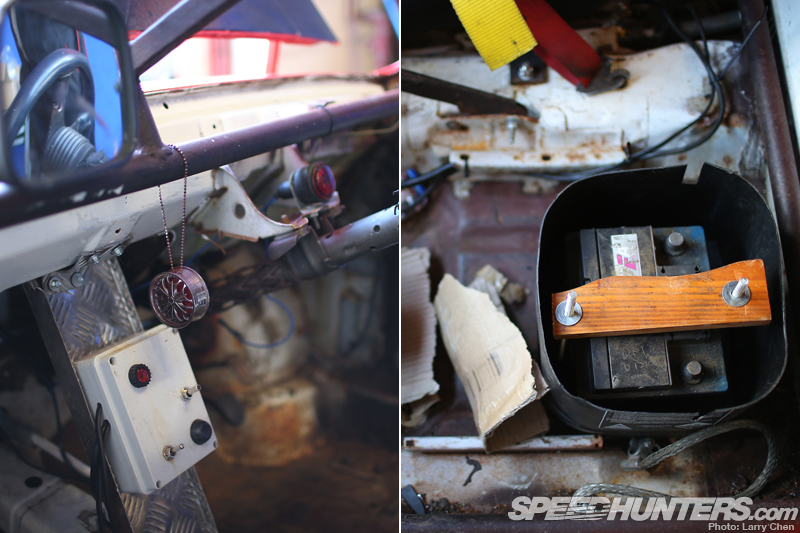 This one in particular was being built for a 13 year old. That is pretty common fare in Ireland. Darren started racing way before he had his driver's permit.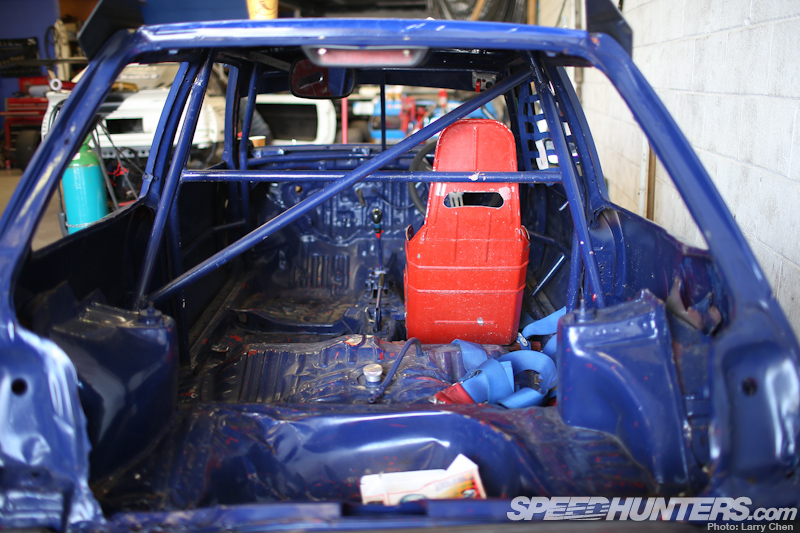 It's really easy for the cars to get beat up, so they are constantly back at MCNsport for a refresh.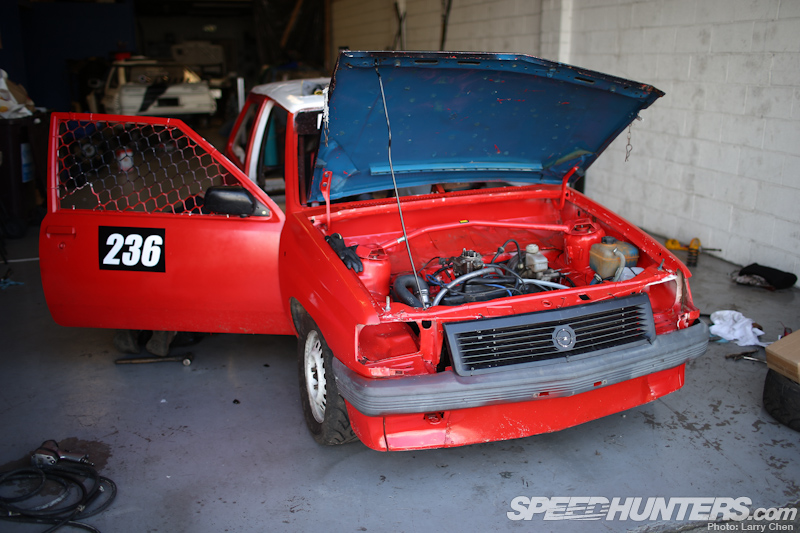 This Opel was a much more common car in Ireland. It is also much cheaper to build into a dirt oval car.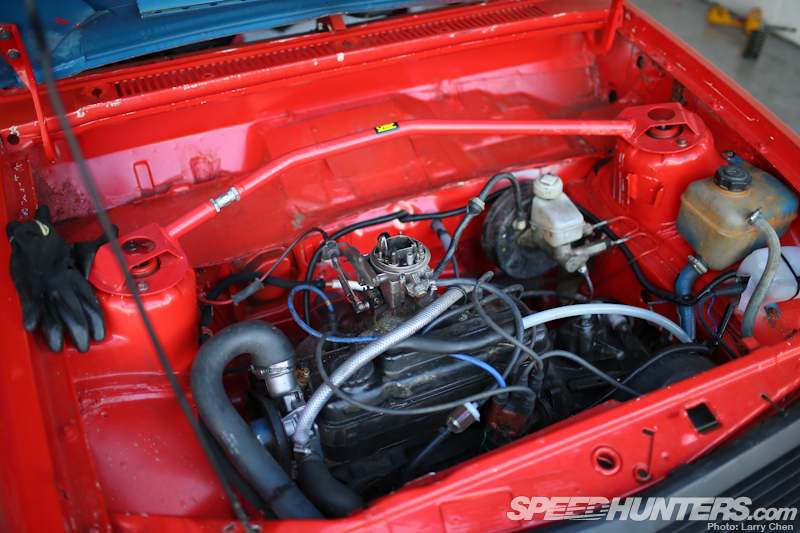 Although it is not as light as the Toyota Starlet, it still packs a mean punch after Charlie is done with it.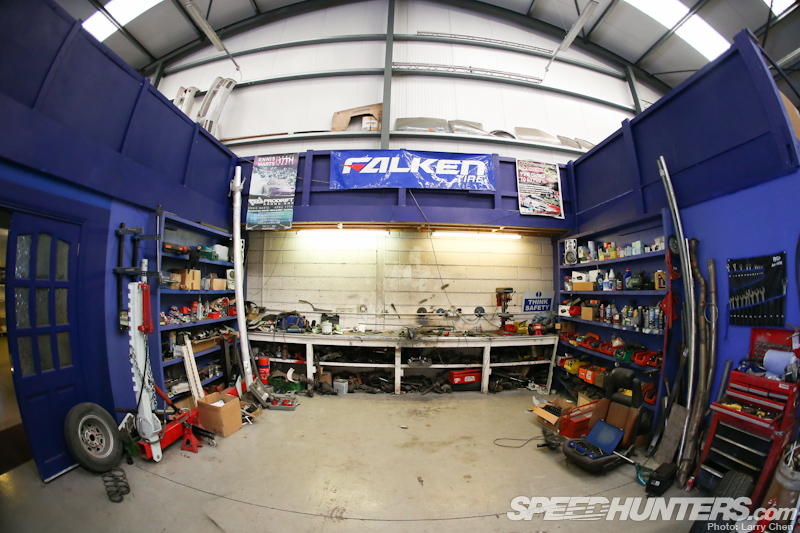 This is the assembly area, everything from motors to differentials are put together here.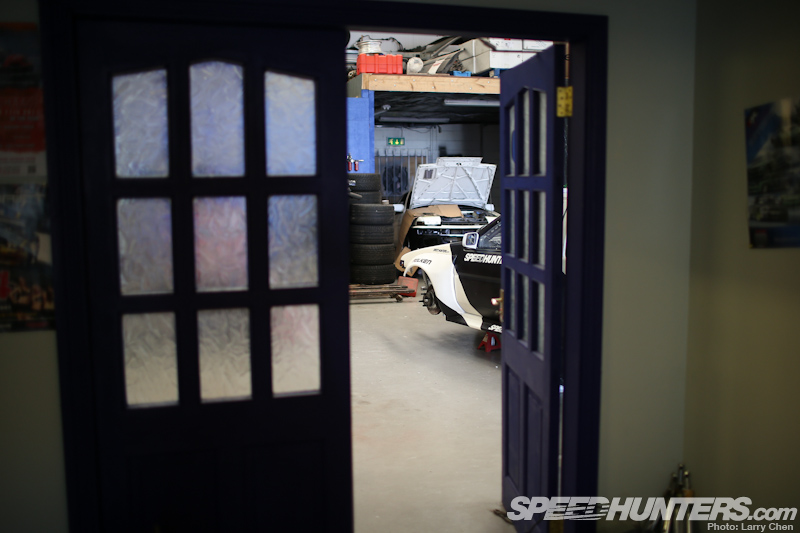 Next to the assembly area is the show room and Charlie's office.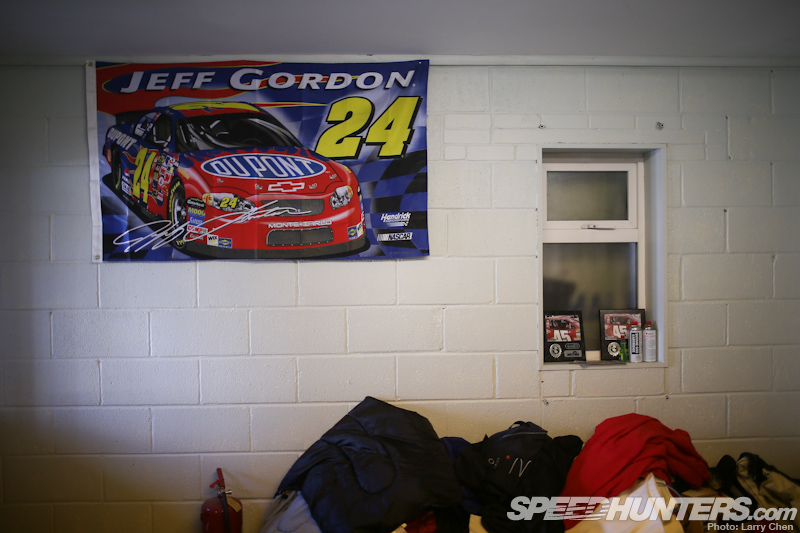 I had no idea, but Dmac is a huge NASCAR fan. It's amazing. He watches all the races except for the truck series, which they don't get in Ireland.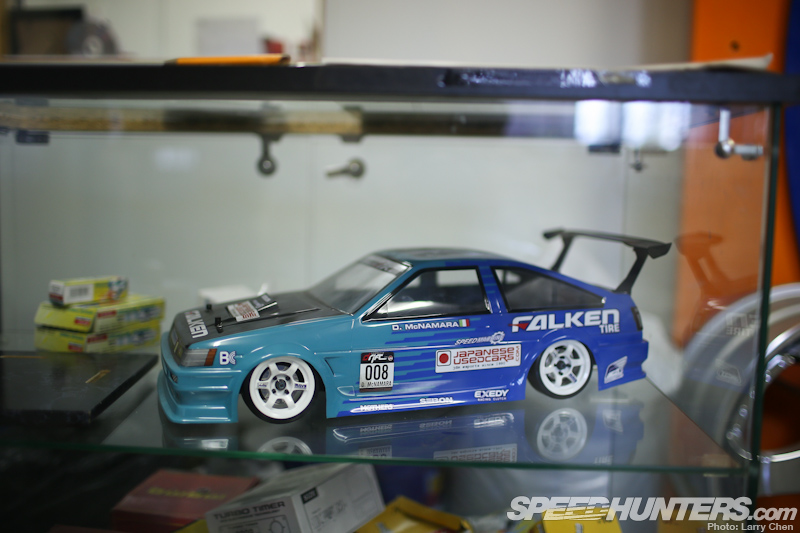 A tribute to the SR86 Corolla.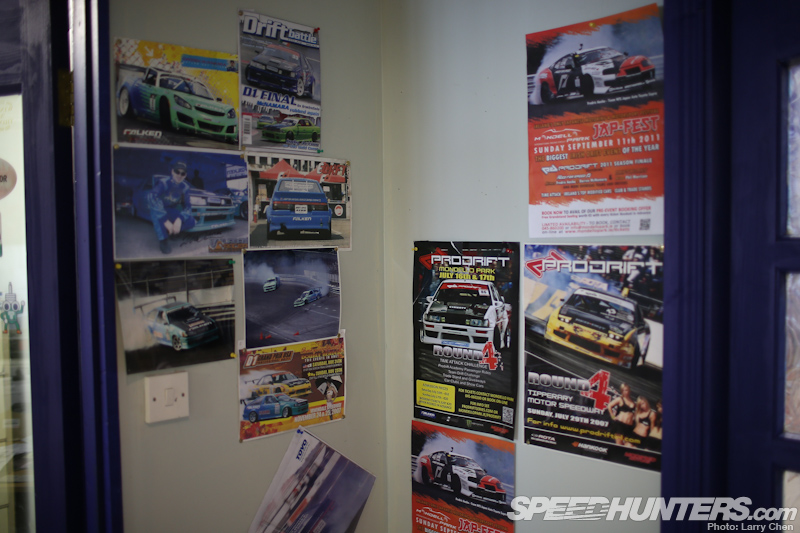 There were many posters old and new featuring events that MCNsport has been involved with.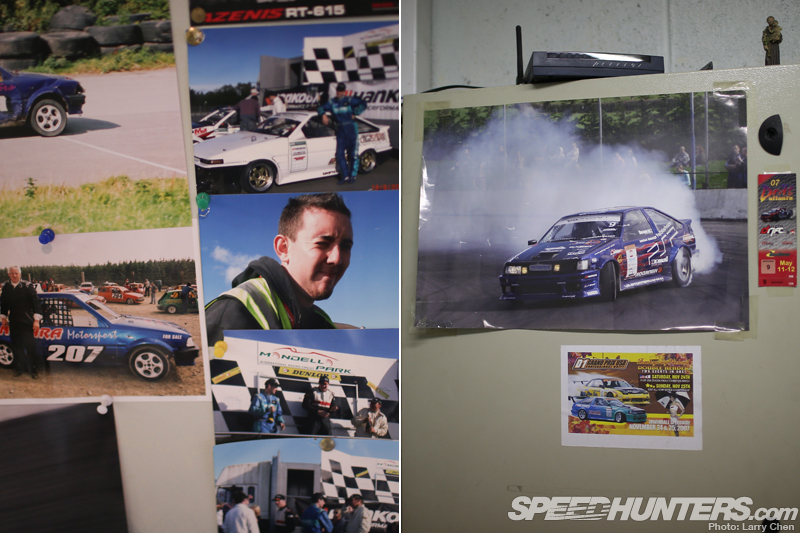 There was even a photo of a young Speedhunter.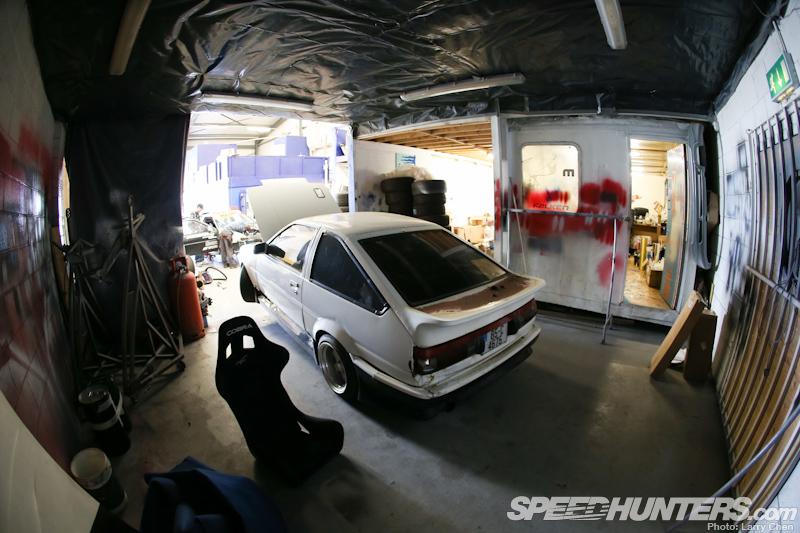 In the paint booth was a friend's car, but Darren has taken it and many of its parts hostage.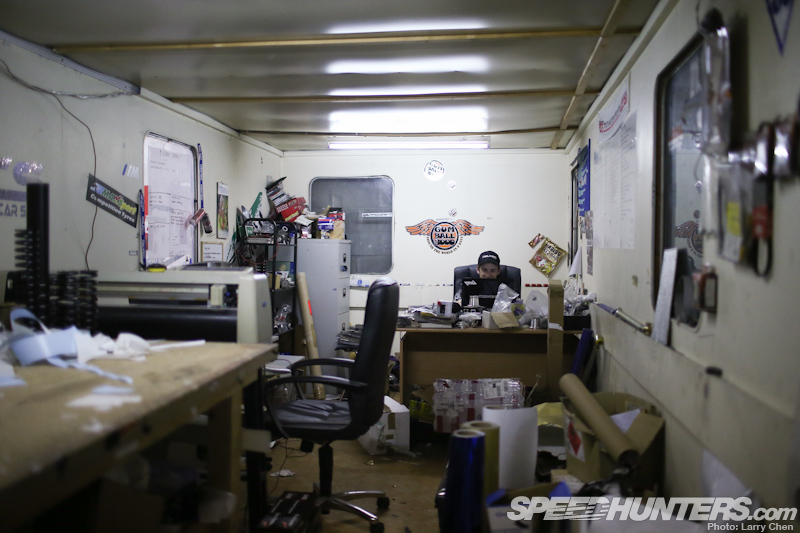 Next to it is Darren's office/sticker shop.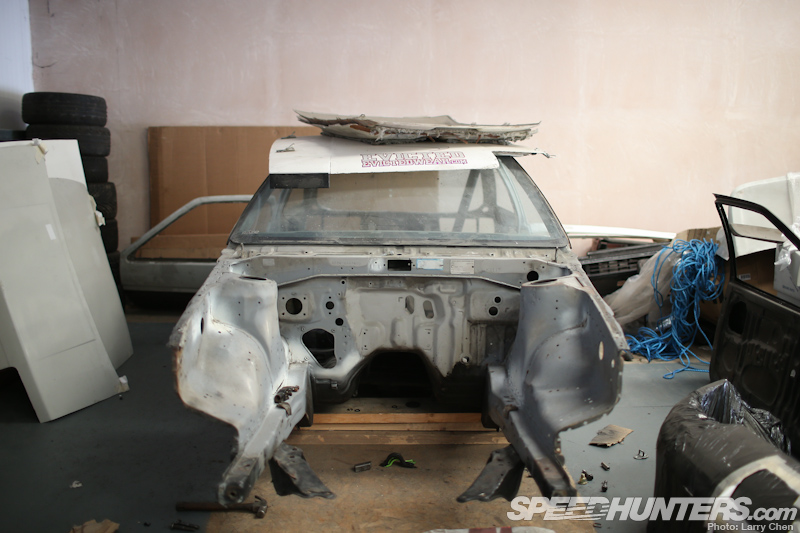 Upstairs was a bare chassis that the guys use for developing parts. They do all the R&D in house.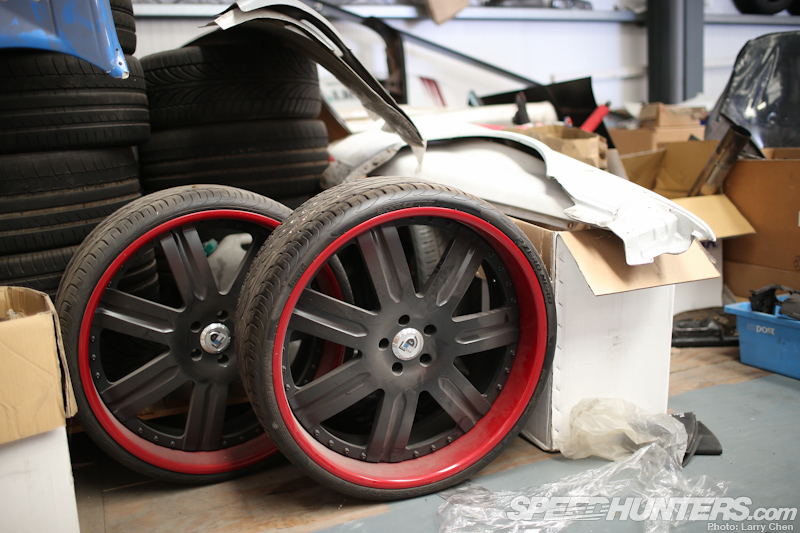 I am assuming this is for a Donk style Hachi, but the real question is, will it drift?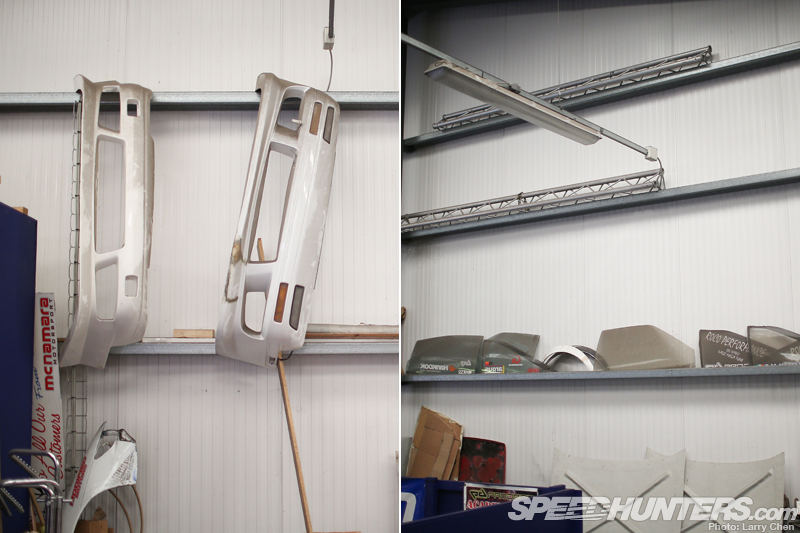 I got freaked out when I saw parts and glass just hanging on the wall like that. Then again, they don't have earthquakes in Ireland. Growing up in Southern California has forced me to earthquake-proof my entire home.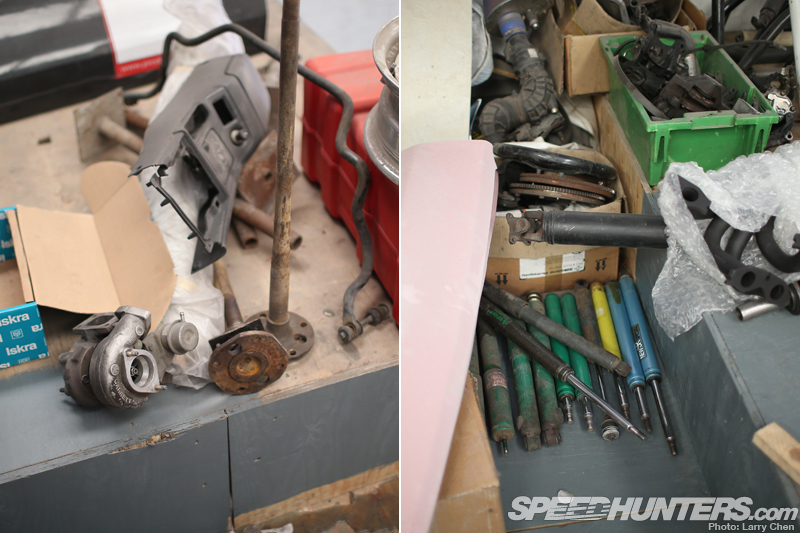 I know what you guys are thinking. What a mess right? Well, not exactly. The shop is very large and there is lots of room. This stuff is actually stored in very specific places and the boys know where EVERYTHING is at any given moment. It is an organized mess, if you will.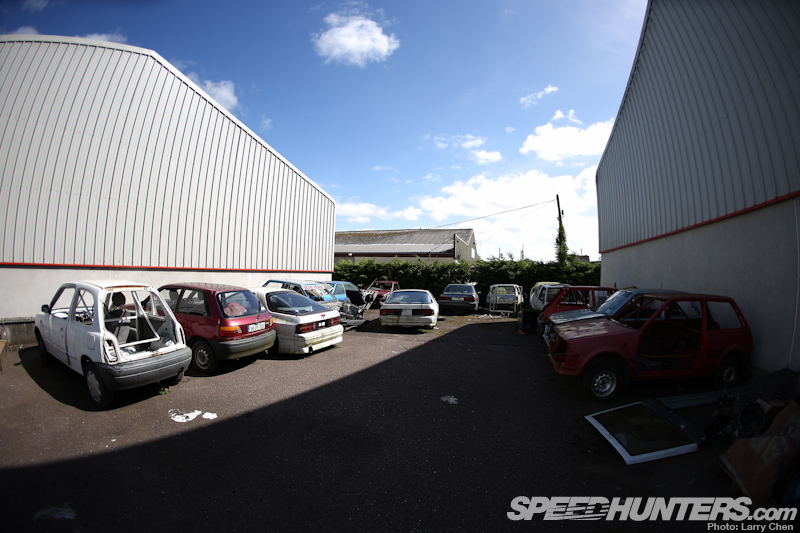 In between the two buildings was an area that was half storage facility, half graveyard.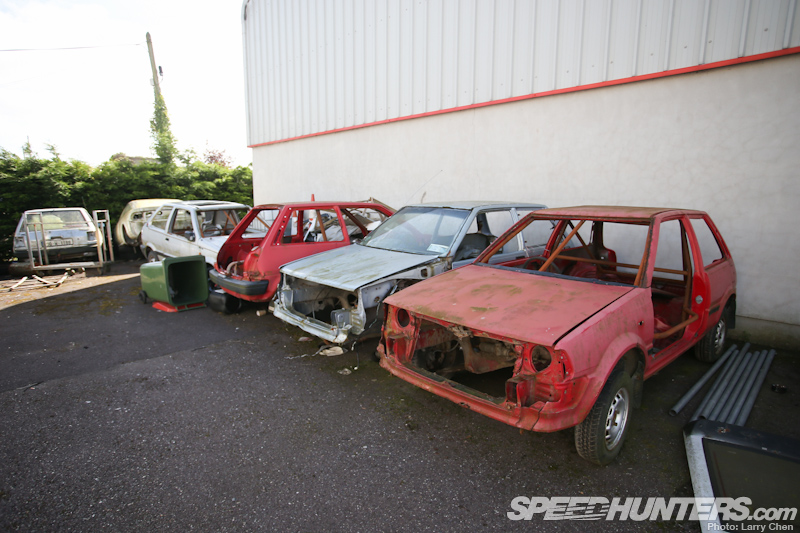 There were many dirt oval cars ready for new life in the Irish oval racing scene.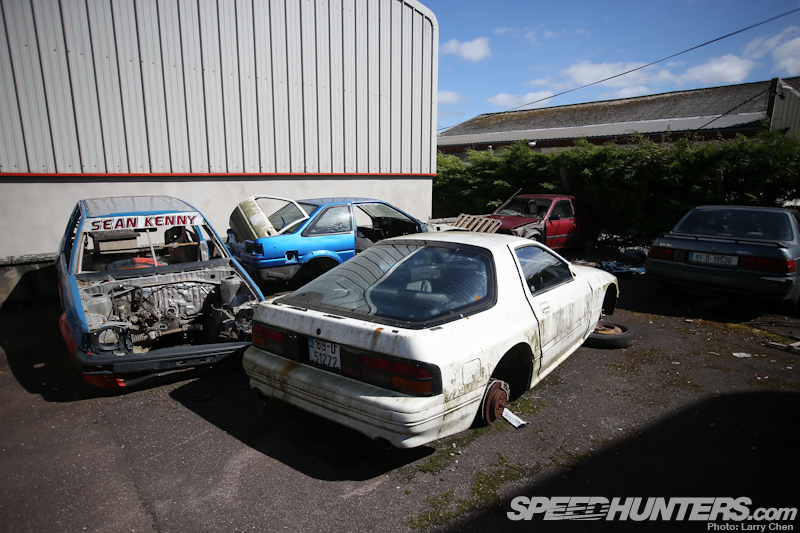 There were also some poor Japanese sports cars that are in need of some attention.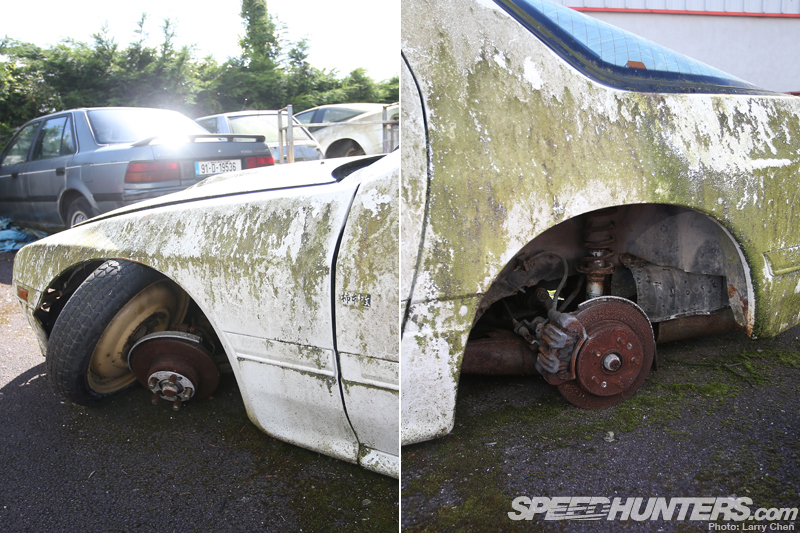 This one had almost as much steering angle as Fredric Aasbo's 86x.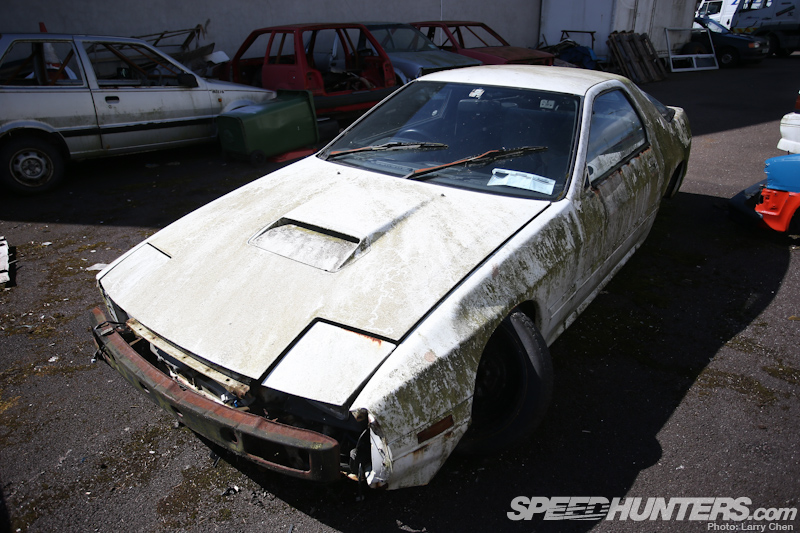 This FC Rx-7 will eventually be combined with the one sitting right next to it.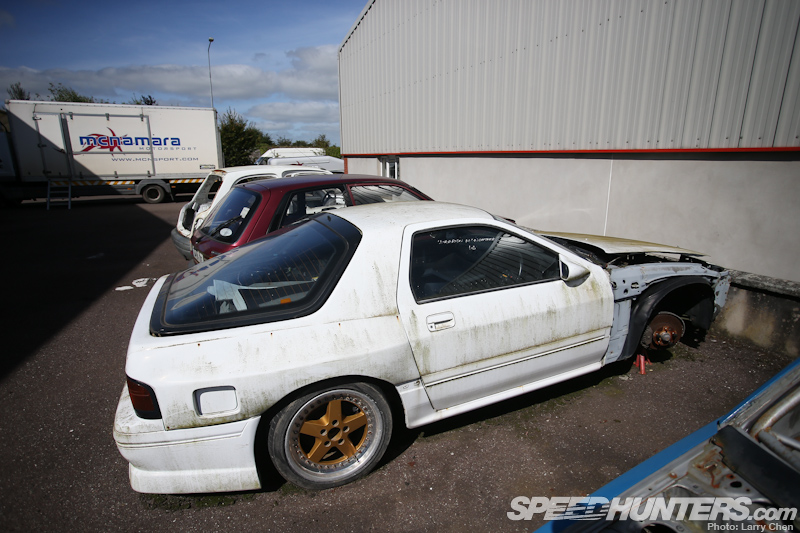 This will be Darren's ultimate Mazda RX-7 Time Attack car.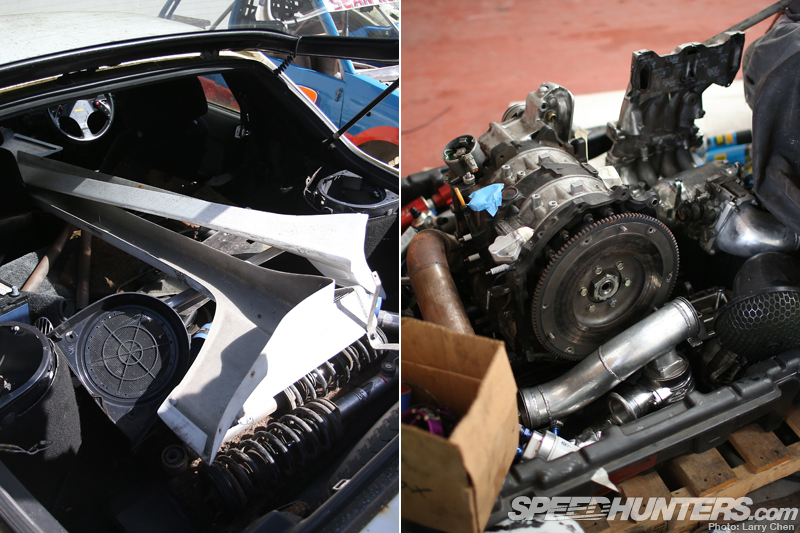 Over the years he has been gathering parts from all over. He just has not had the time to put it all together. He even has the 13b motor out of the old Falken RX-8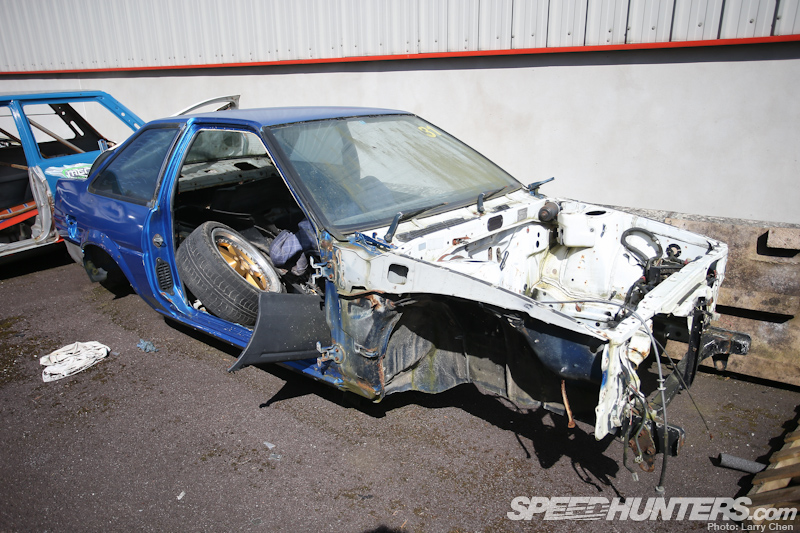 Of course there is a bare AE86 chassis outside as well. Who knows, maybe this could be the next demo car?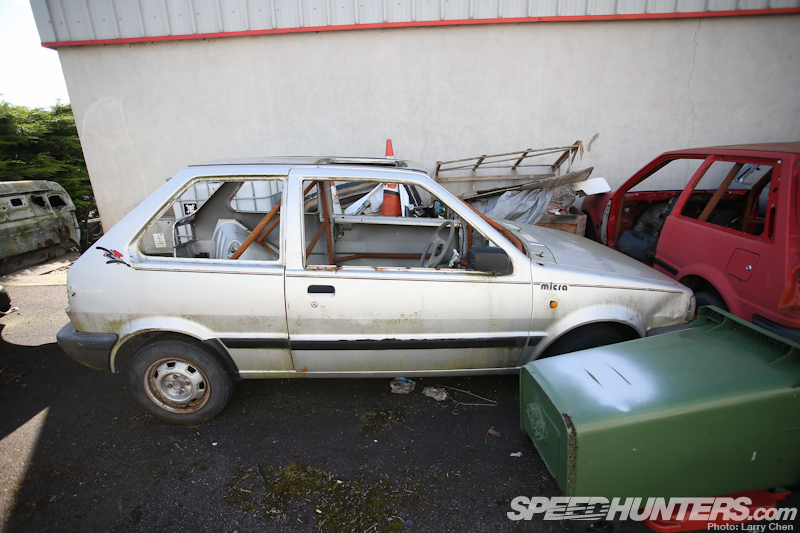 I've never actually seen these Nissan Micra's stateside.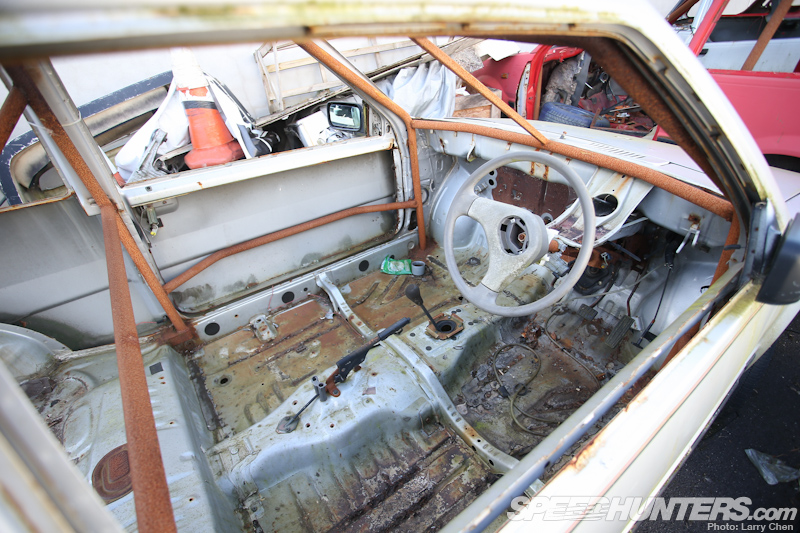 This would be a fun little autocross car if you were on a budget.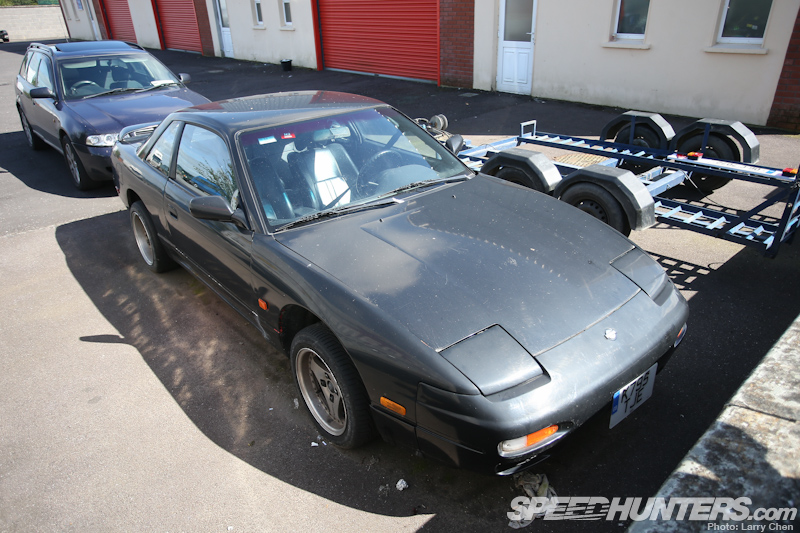 This is a left hand drive S13 that Darren bought ready himself for the Falken ASD 350z. It is not really used much anymore since he has gone back to right hand drive in the Falken S15. He is planning on building it into a missile car eventually.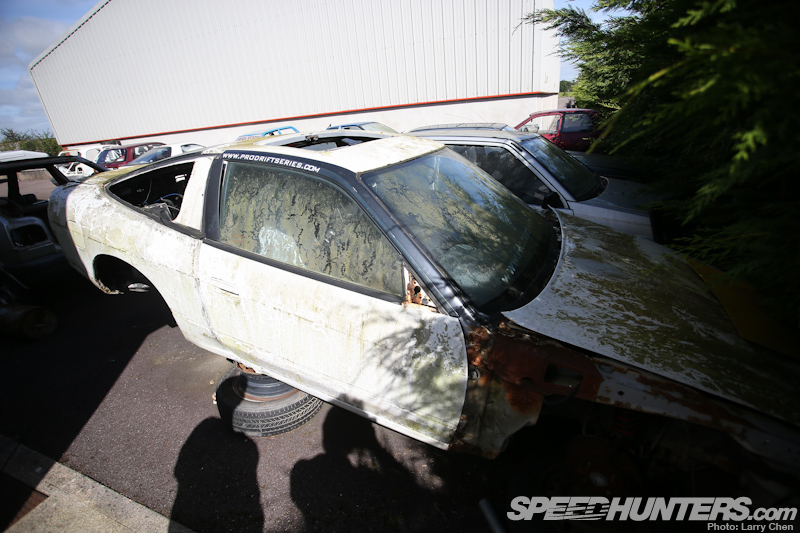 This 180sx was the very first drift car that MCNsport built. It has seen better days.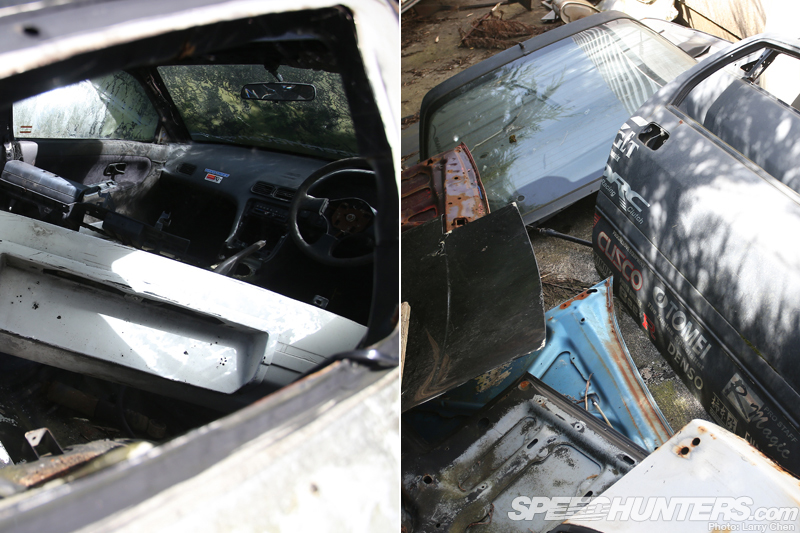 Inside was evidence of many days worth of trashing. I guess everyone has to start somewhere.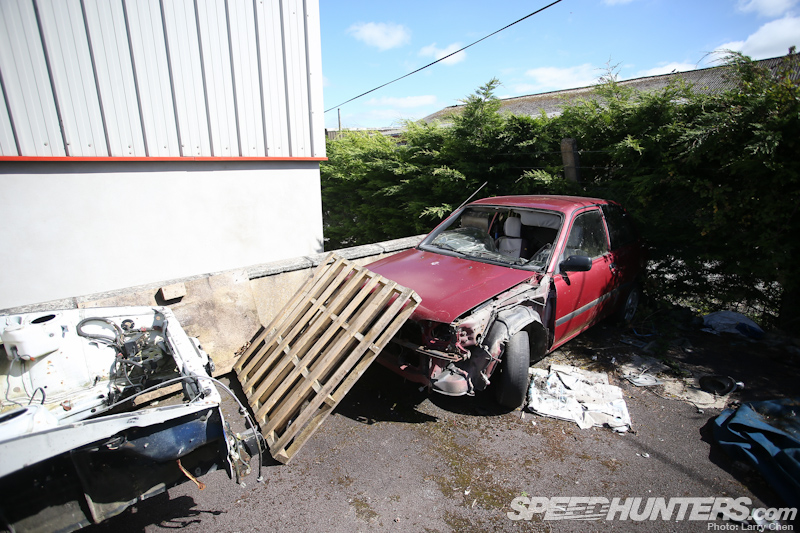 It's pretty interesting to me to see these cars in different stages of completion. In Darren's eyes the sky is the limit with any of these cars. It can be restored from the ground up, or it can just be brought back to running condition to beat on. Either way it is a hobby and a way of life for the McNamara family.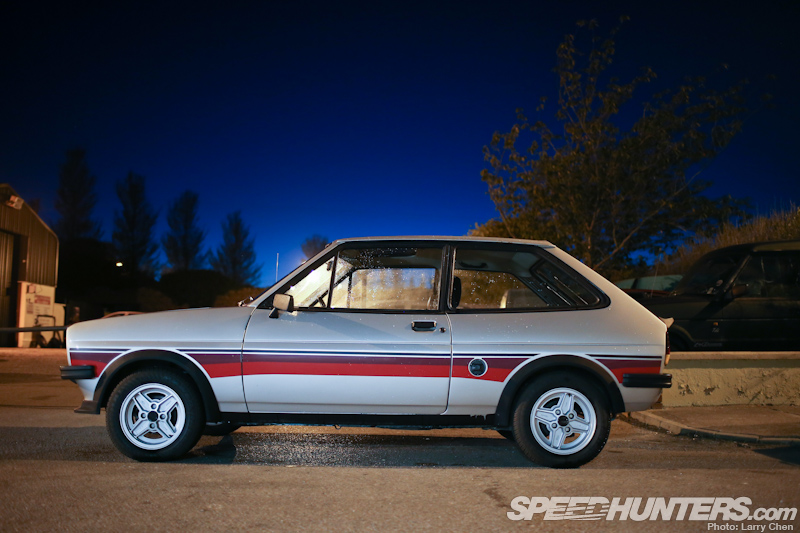 One of the rarest cars in Ireland belongs to Charlie McNamara. There were only a select few of these Ford Fiestas brought into the country.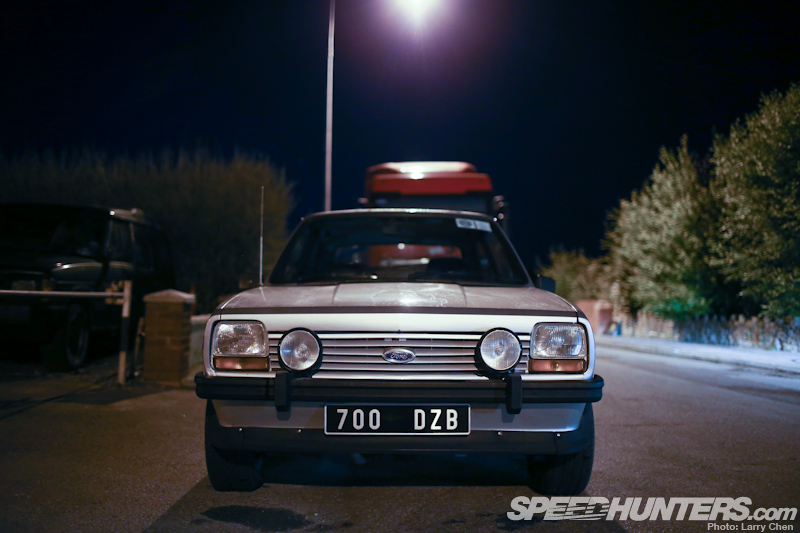 This was a pristine example in every way. What a cool car.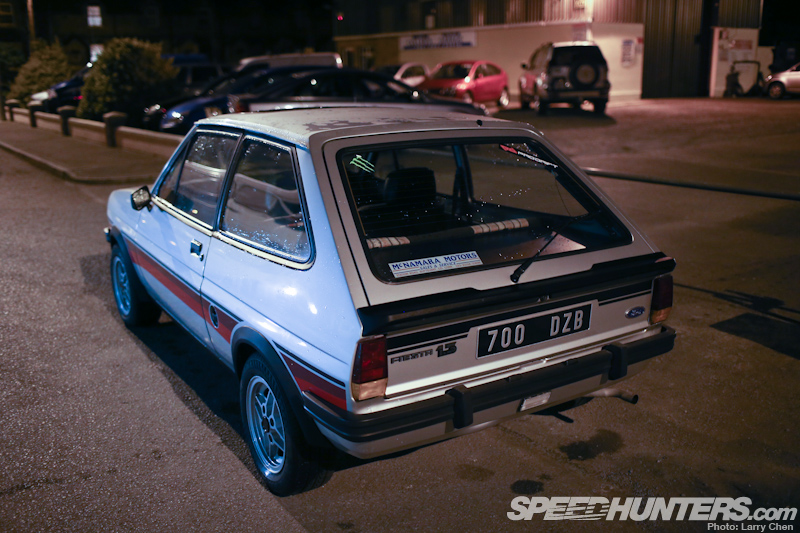 I guess the apple does not fall too far from the tree. Both of the McNamara boys are into rare cars. I think it is every car nuts dream to have a warehouse of pending projects. Unfortunately, most of us can only have one project car at a time if at all. What are you Speedhunters out there building at this moment?
If it is super cool we may feature it one day. Either way, I'd love to hear what kind of mess you guys got yourselves into.
-Larry
larry@larrychendesign.com
More stories from Japfest on Speedhunters
More behind the scenes stories on Speedhunters