I've never been to Auto Sport Dynamics' shop in North Carolina, so I decided to stop by and check on the happenings there. Formula Drift Atlanta was just a few weeks away at the time and they were busy prepping the three Falken cars. Here is a view of the main assembly room where the cars are put together for race day and taken apart afterwards.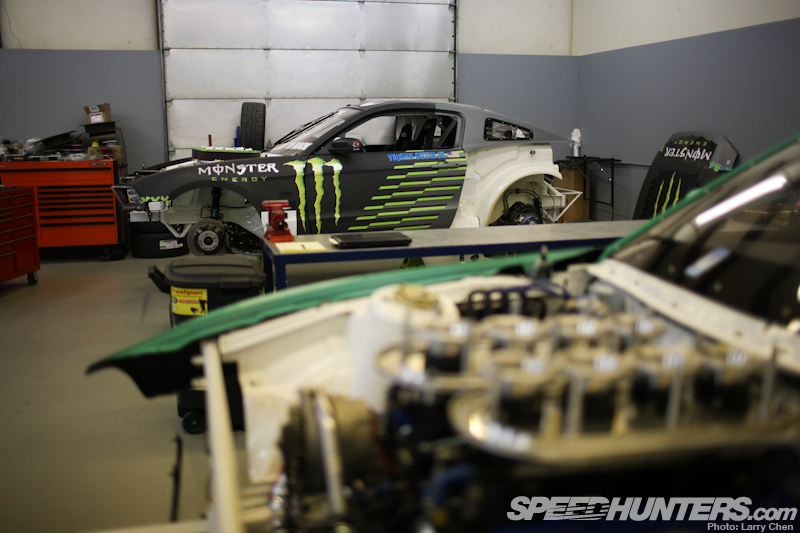 The boys at ASD were busy with Vaughn Gittin Jr's car and its twin, which is driven by Falken team-mate Justin Pawlak.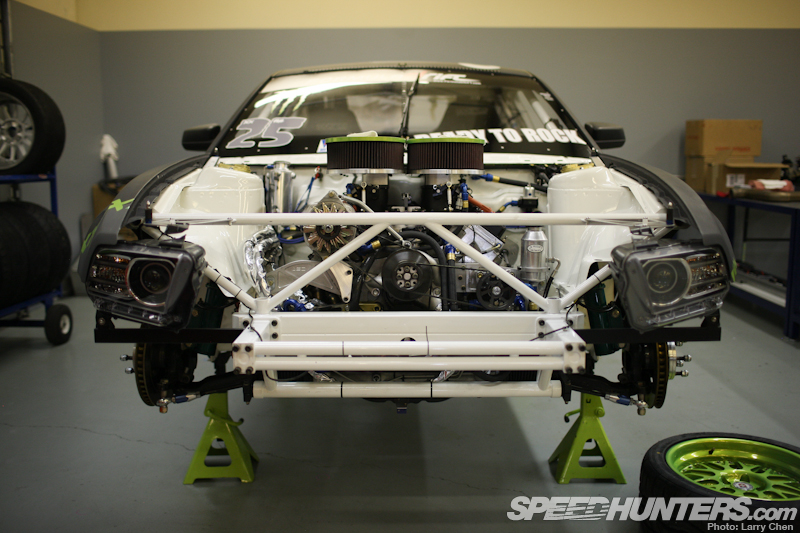 It is a very rare opportunity for me, because I never get to see these drift cars without the body panels on them. It really allowed me to appreciate the engineering that went into them.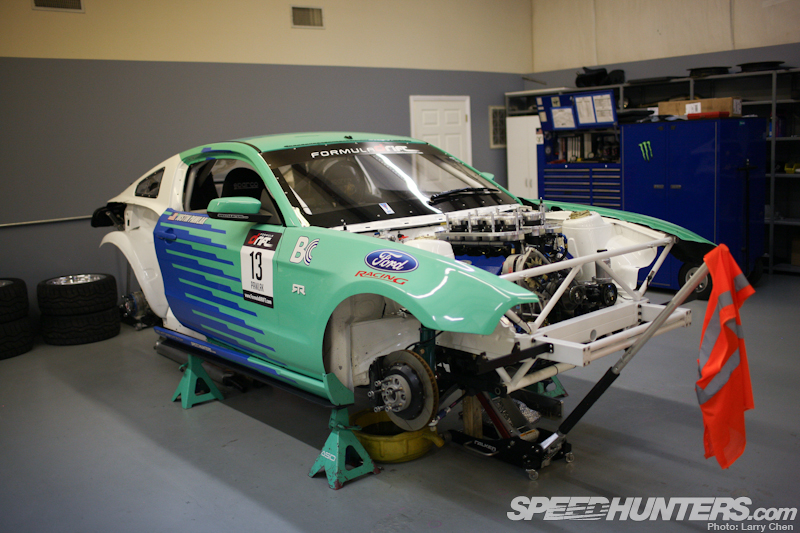 What also amazes me is the fact that there is only around a 10lbs difference between the two Mustangs. That is mostly in the weight of the different wheels they are running.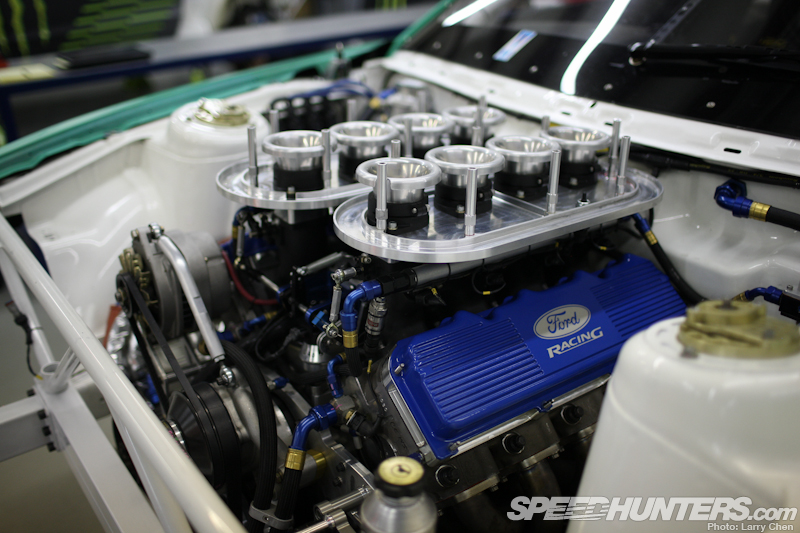 There are so many little parts that are made in-house at ASD which I have yet to explore.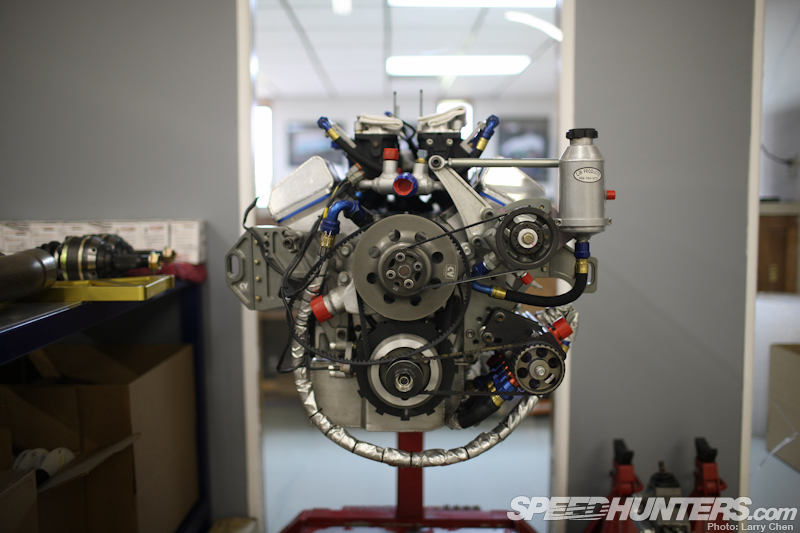 This engine was out of a certian Saturn Sky. It probably won't be seeing race duty for a while.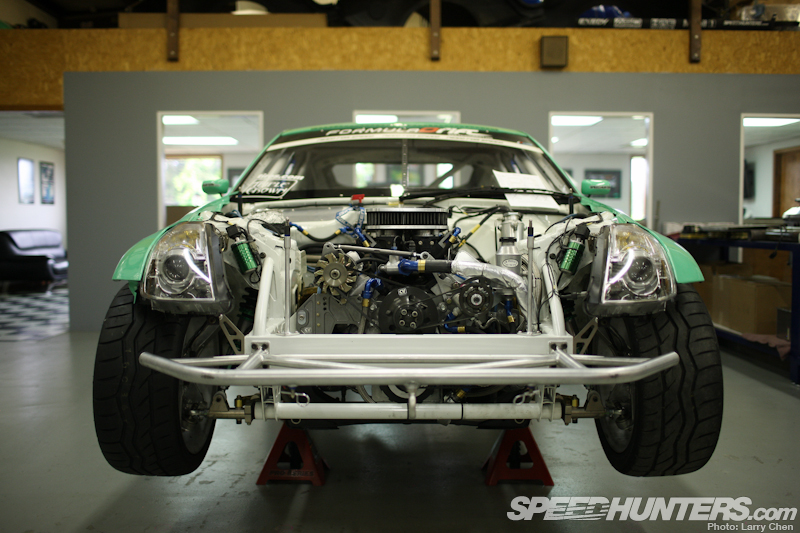 At this point it was not released to the public on what Darren McNamara would be driving, but my money was on this hard-top 350z that Tyler McQuarrie used to drive.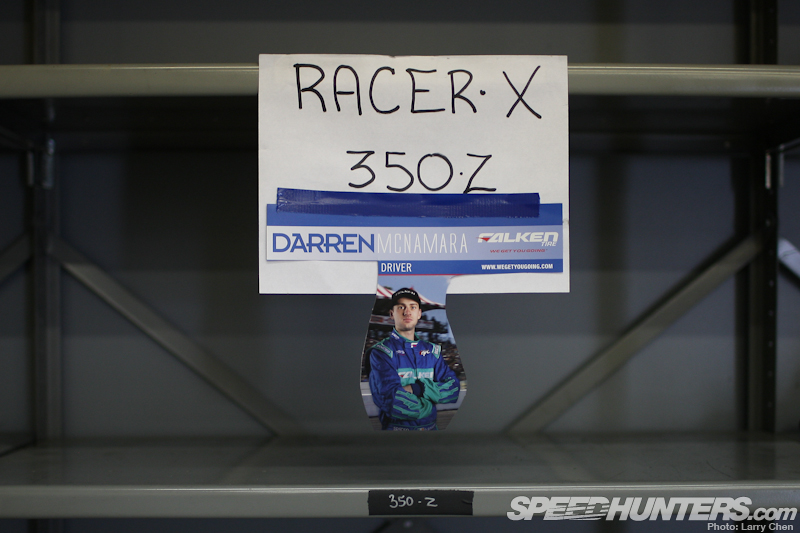 I poked around a bit and found something that confirmed my suspicions.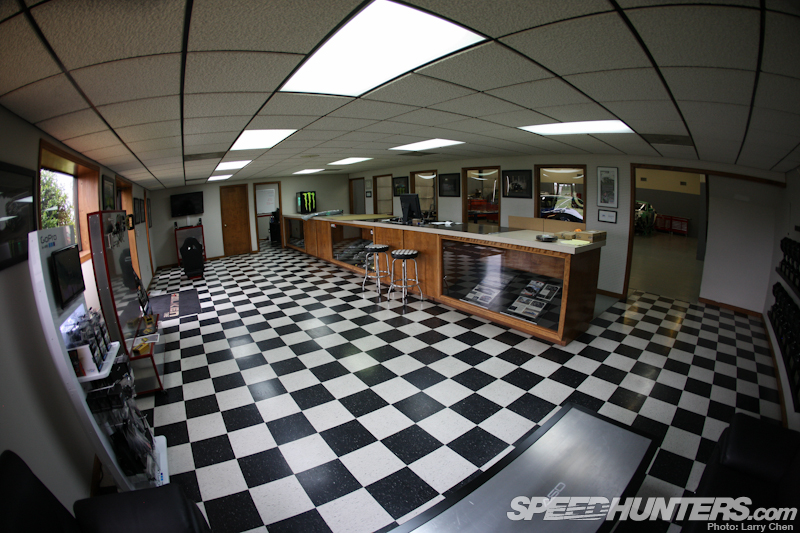 I explored a bit further to find a very nice reception area. They even have a racing simulator station for customers to play on while the guys to work on your real racecar.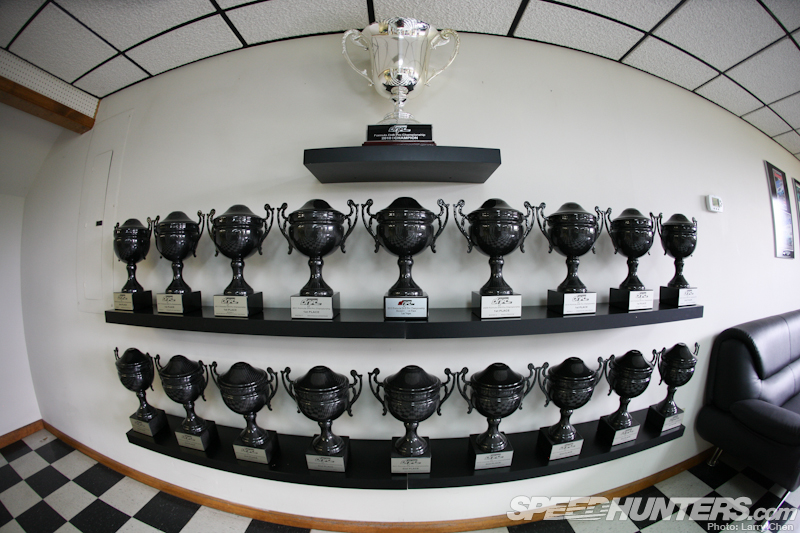 I think it's time for the guys to build some more shelves. It's a good thing most of these are made out of carbon fiber; I can't imagine how much weight those shelves have to support.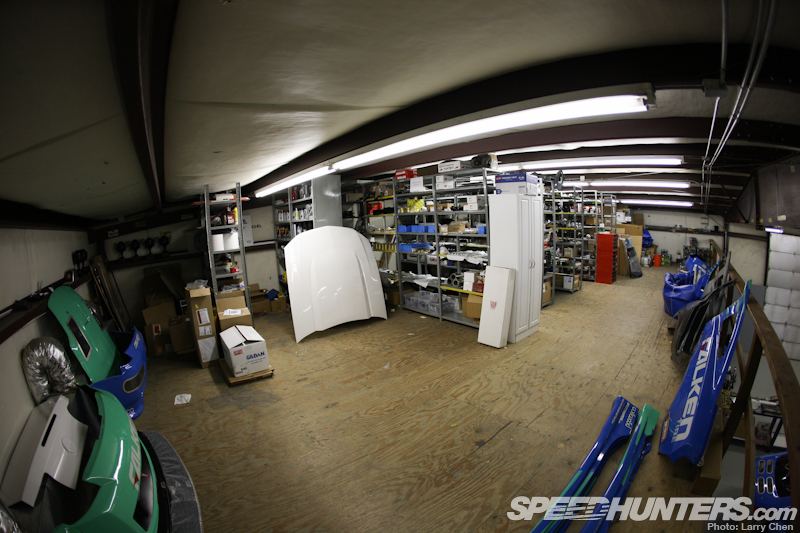 ASD runs a professional drift team and also provides race support, but they also sell parts that are designed and made entirely in-house.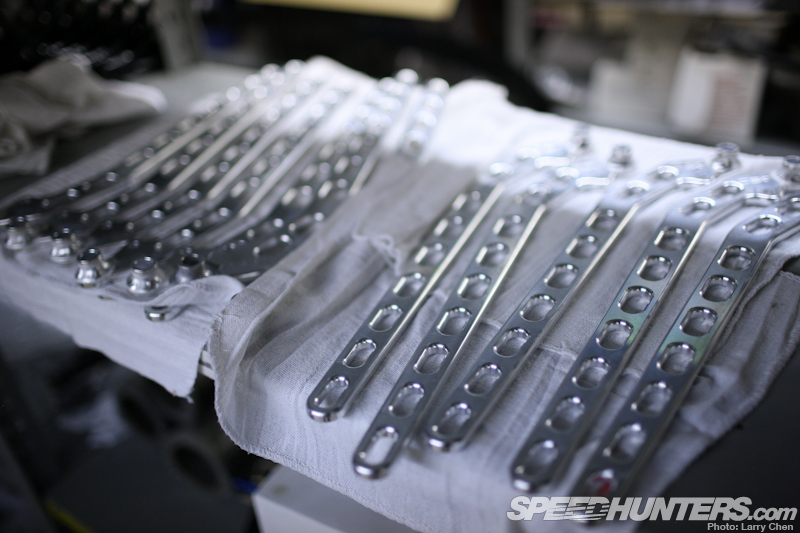 These CNC E-brake handles will soon be in drift cars all around the world – the way to lock up rear tires has never been so stylish.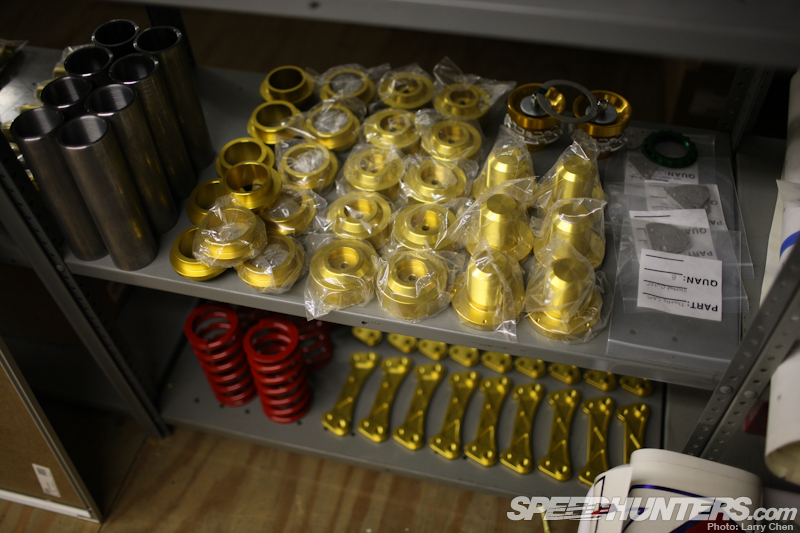 Everything needed to build the ultimate drift car is available.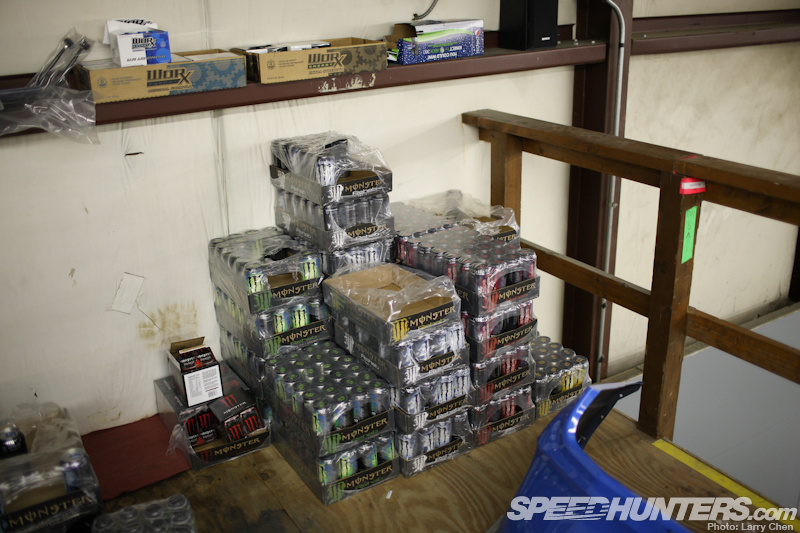 I was wondering how these guys could pull so many all-nighters working on these cars – now we know!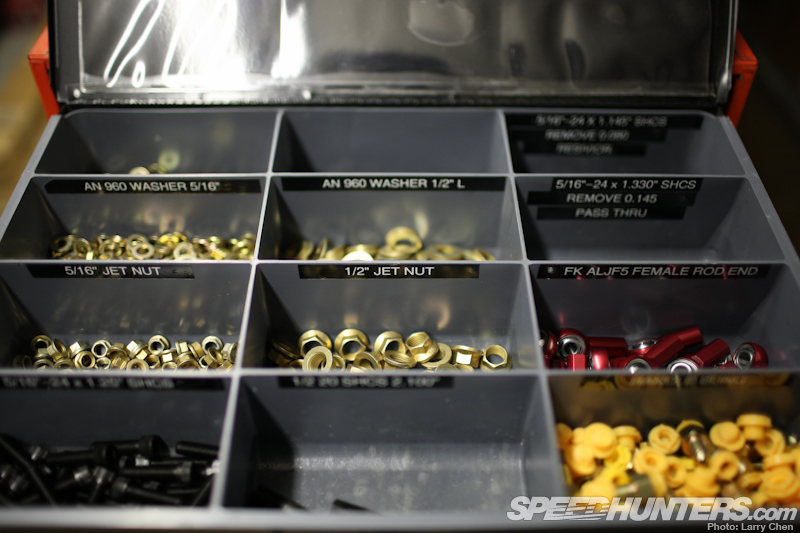 This was definitely the cleanest and most organized shop I have ever been to.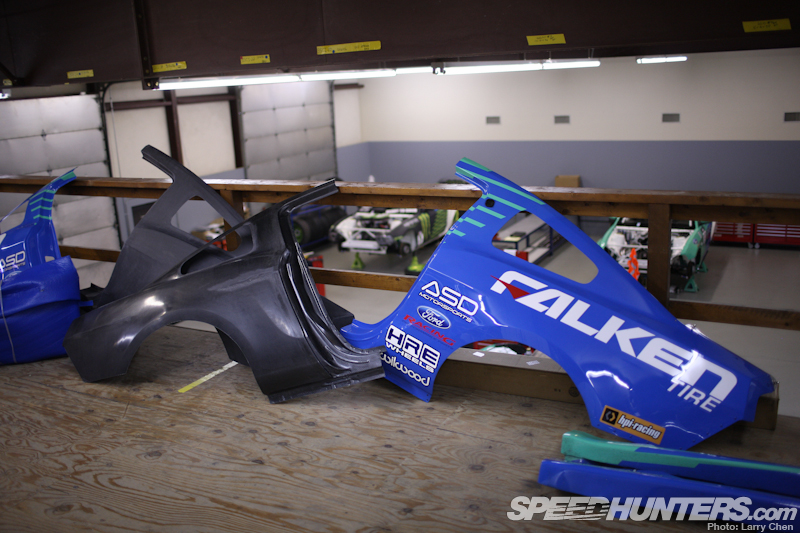 They also produce dry carbon parts in-house for their race cars. Here are a bunch of spares for JTP and Vaughn's Mustangs.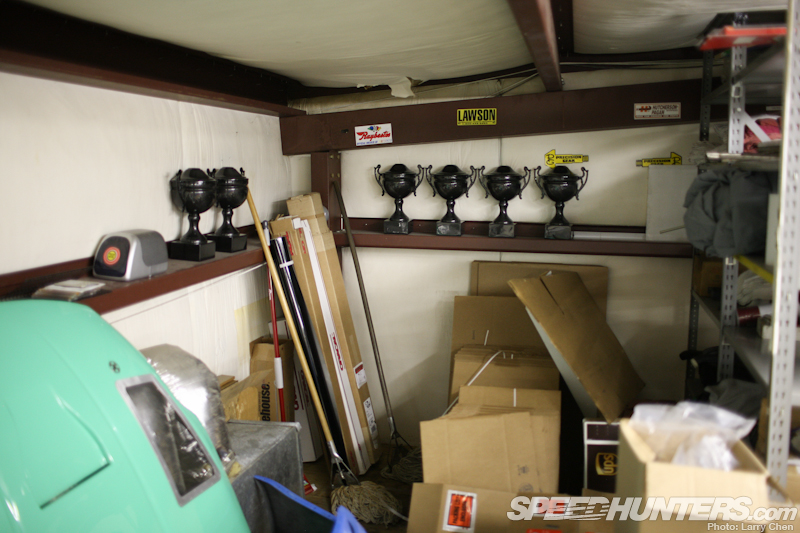 Running out of trophy space is always a good problem to have, and in ASD's case they just put the extras in the storage room.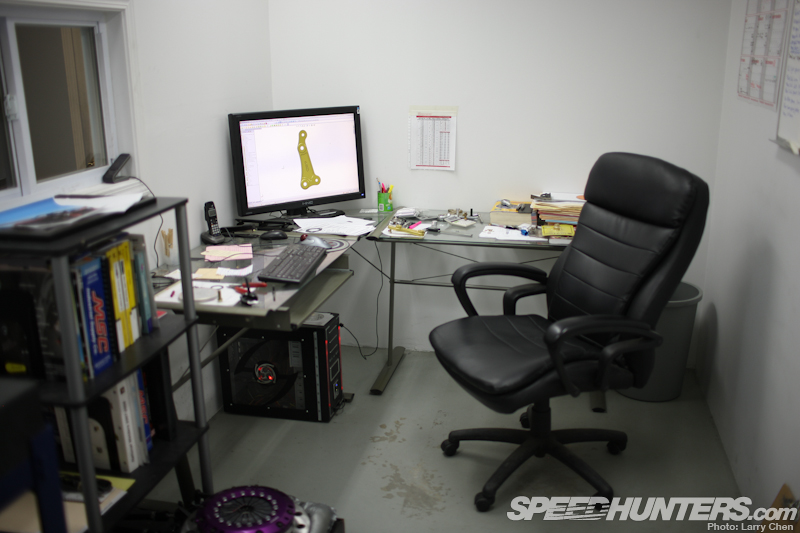 Here is where a lot of the magic happens. Parts are designed from scratch, depending on what they need for their race program or if they just want to build something super cool.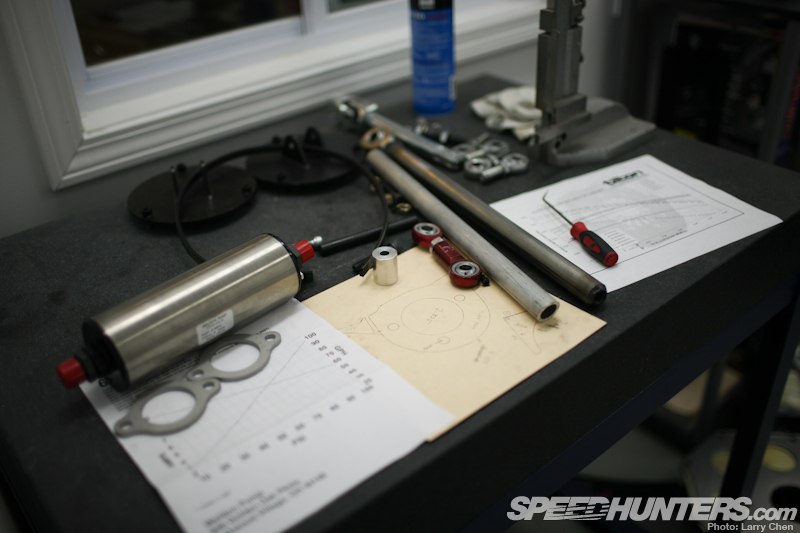 The parts are tested and fitted to make sure they work perfectly for their specific operation.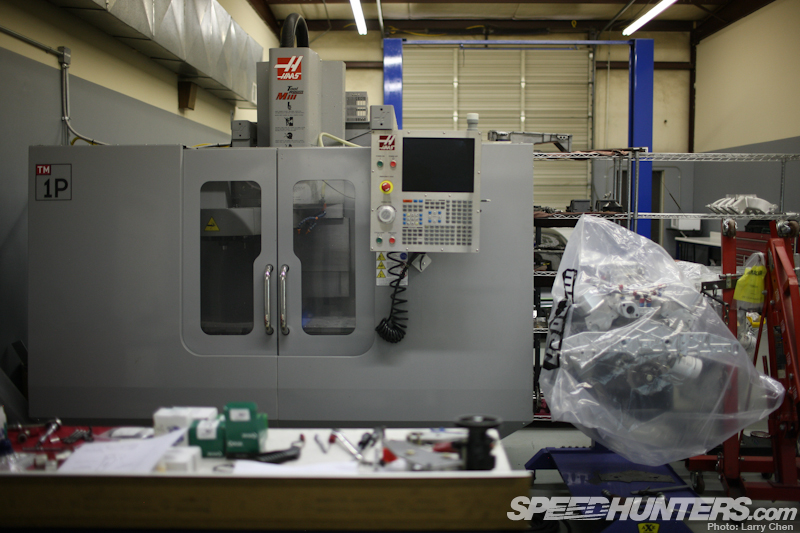 This is the mill they used to CNC all those shiny aluminum parts. I wonder what the learning curve on these things are.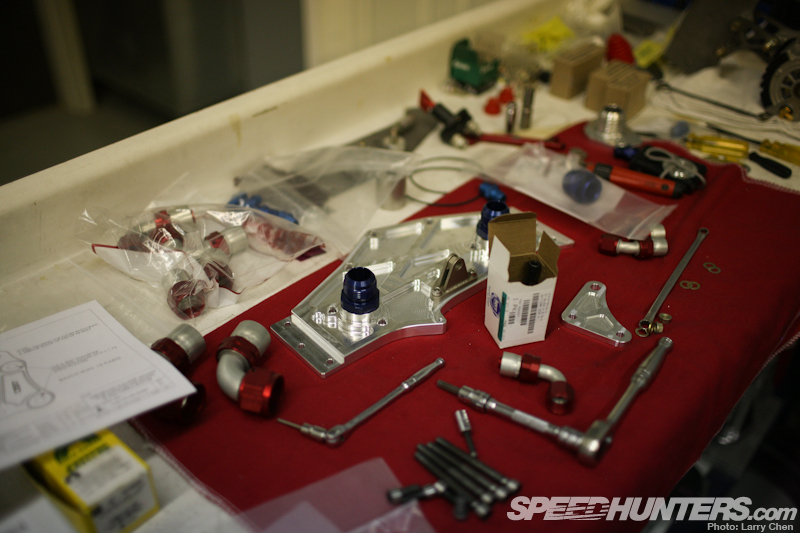 All the customers parts are assembled in-house as well. It's basically a one-person assembly line. That is how the quality is so high on these parts.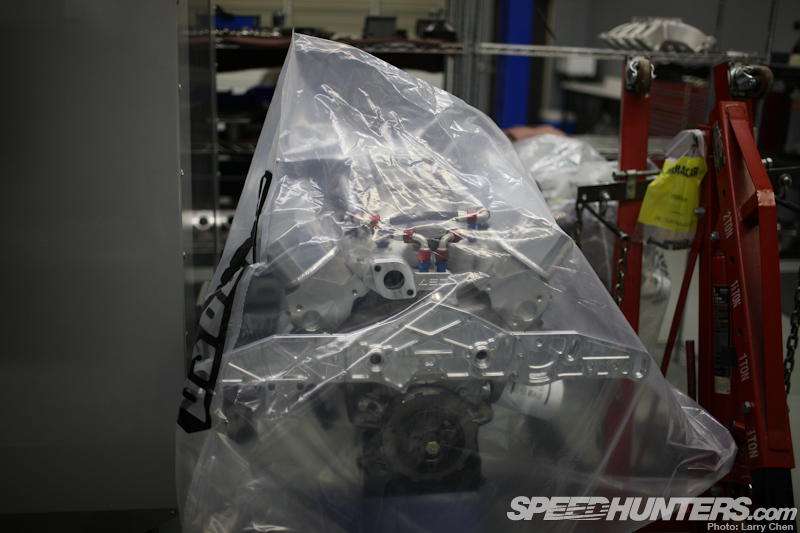 Next to the mill was a mystery motor. I bet this one will be going into one of the cars that I found in the next room…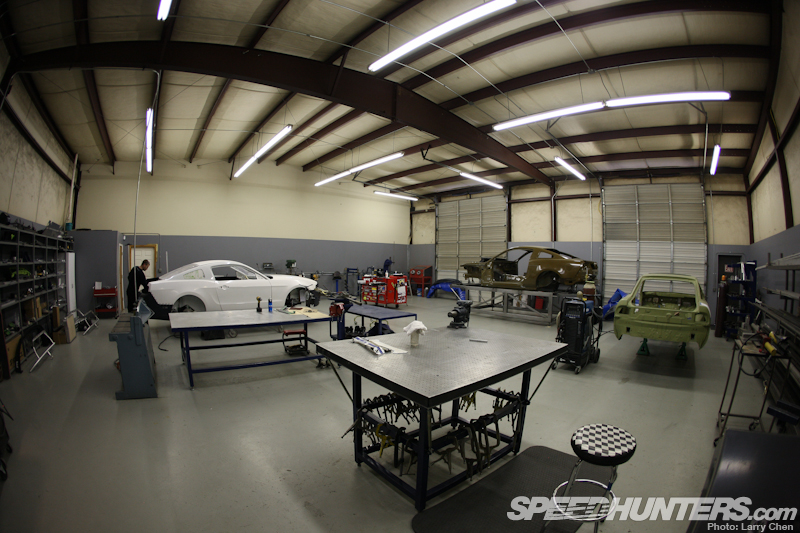 This space is used for chassis preparation and fabrication.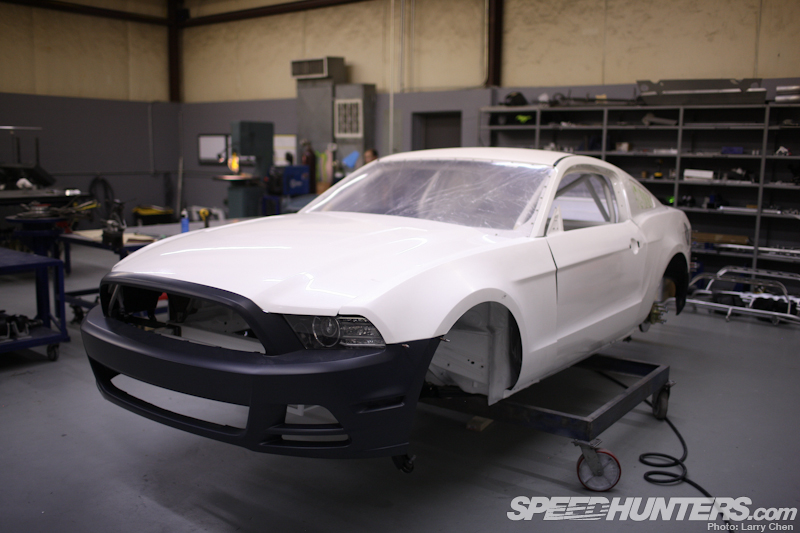 I remember Vaughn mentioned to me about a special RTR related project for the new 2013 mustang.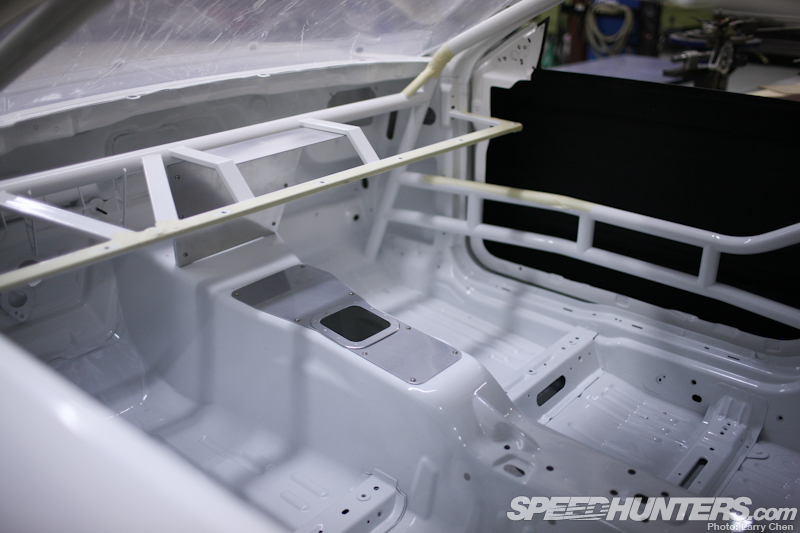 Based on the prep that has gone into this chasis I bet Vaughn has cooked up something really good.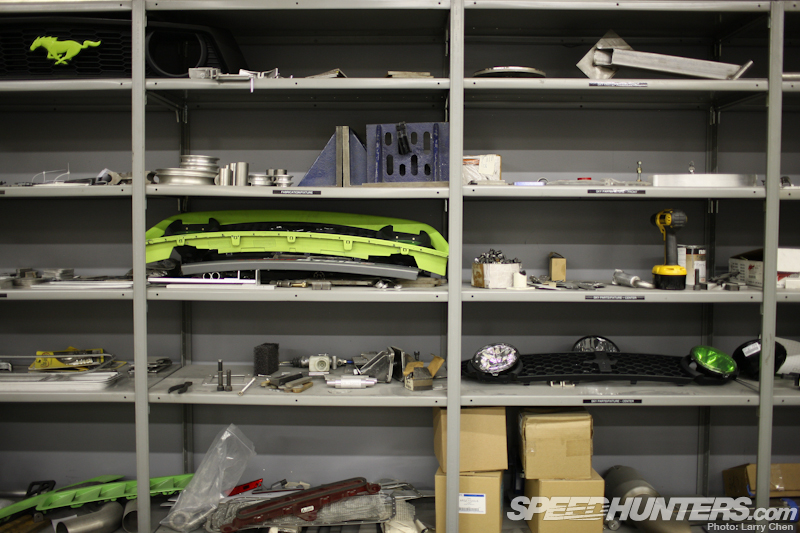 There were shelves lining the walls that contained parts for the racecars. Everything from front grills to exhaust pieces.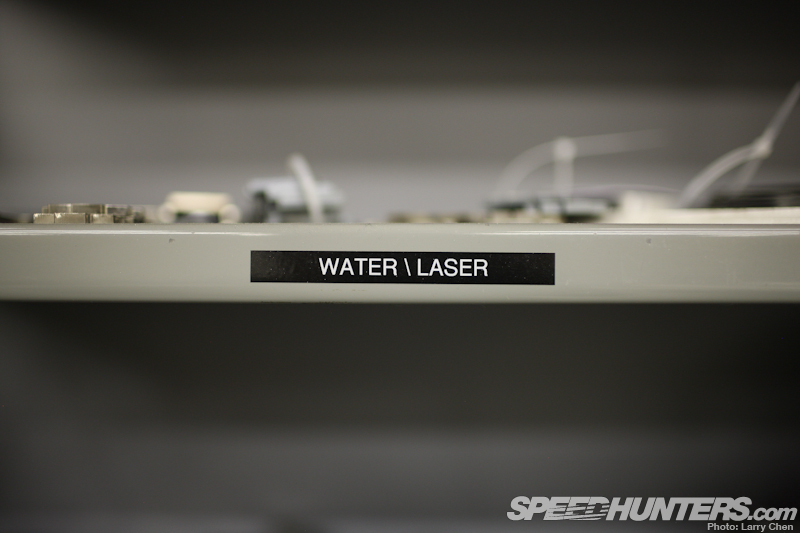 I don't know what a water laser is, but it sounded cool.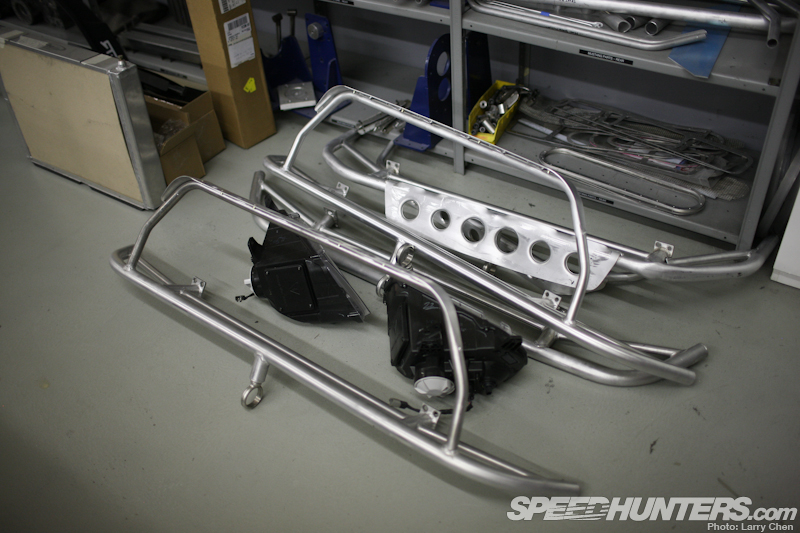 I wonder what lucky car gets to have these nice-looking bash-bars?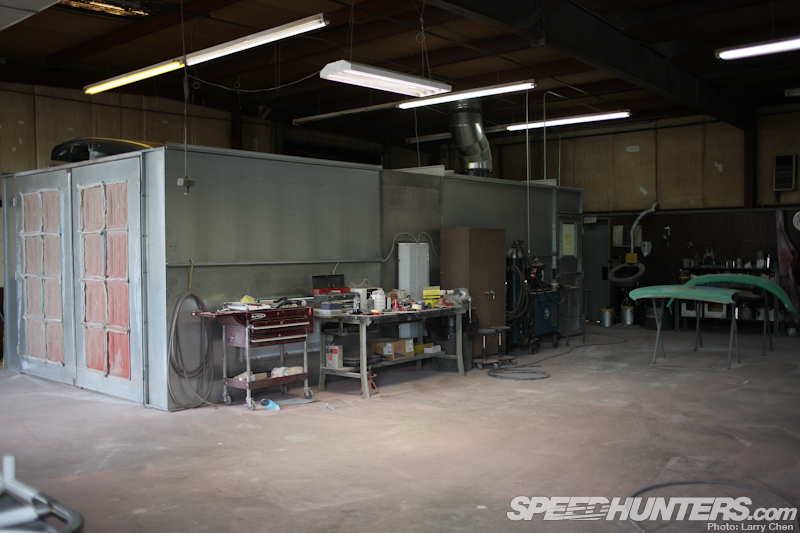 Just across the driveway is ASD's personal bodyshop and paint booth. This is where they paint all the racecars, as well as customers' vehicles.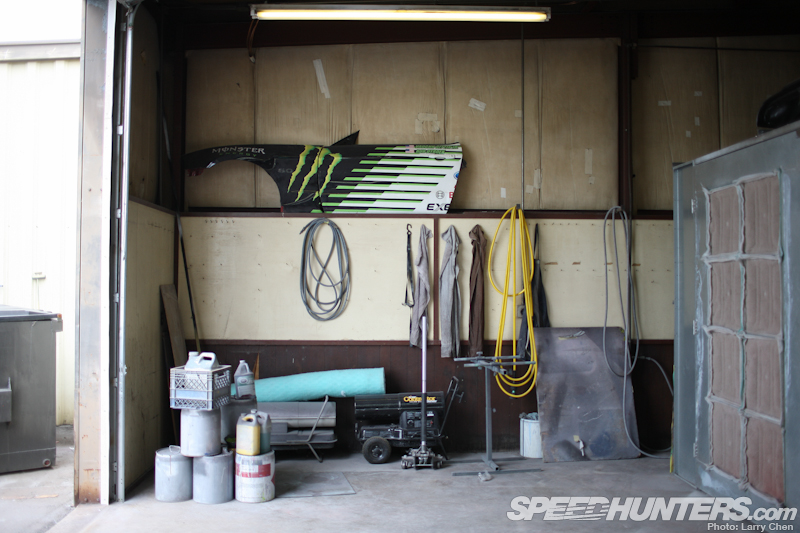 There were remnants of past Mustangs littered around the shop.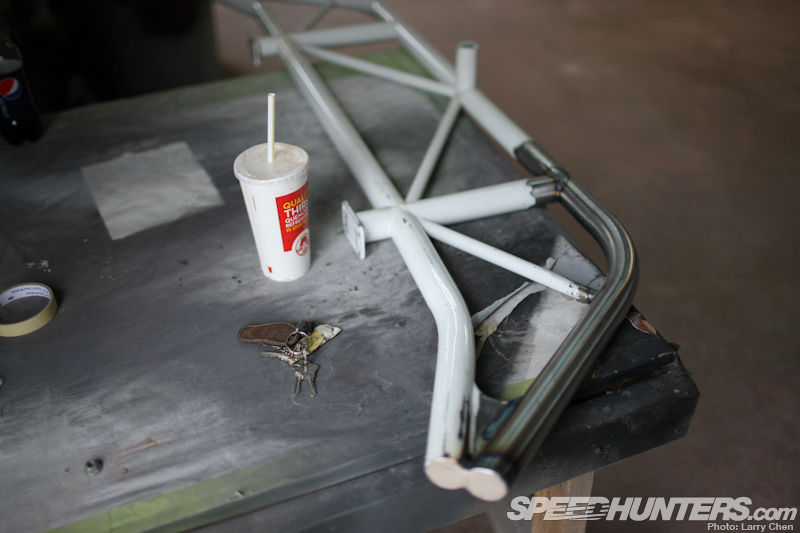 With a big shop like ASD you would think they are not concerned with being wasteful, but in fact they try hard not to be. When parts can be repaired ASD make sure they restore them to as-new condition again.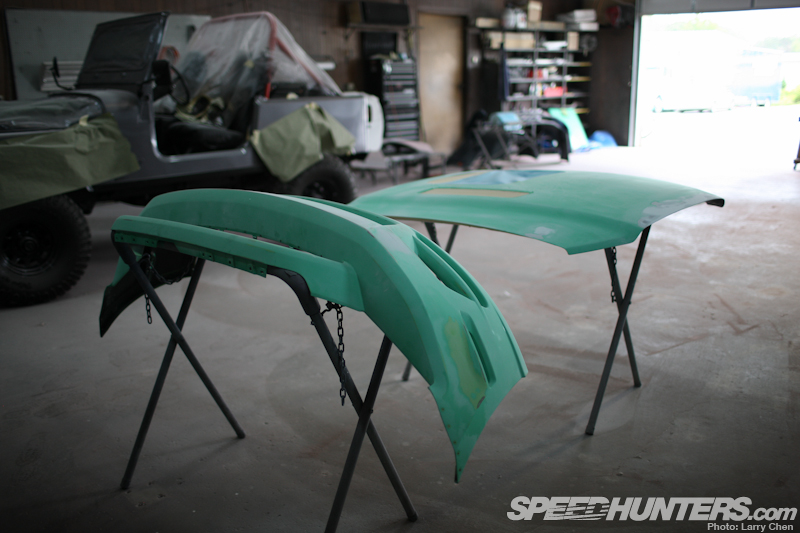 It's the same with bumpers and body parts. If they have little damage they will refinish them and put them back into use.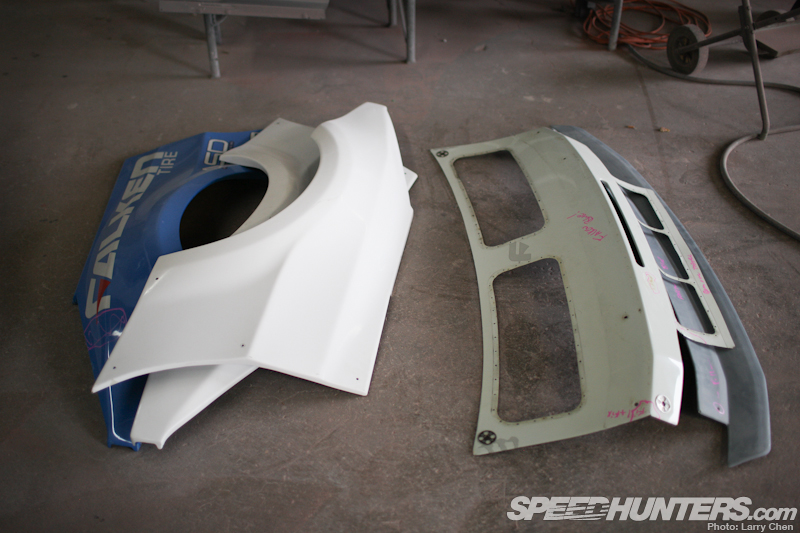 ASD brings that extra level of professionalism to the sport of drifting which should be adopted by every one of the teams. It is very rare to see any of their cars running without a front or rear bumper. In fact I only remember seeing an ASD car on the starting line without a bumper just once, when Vaughn Gittin Jr was going against Fredric Aasbo back in 2010.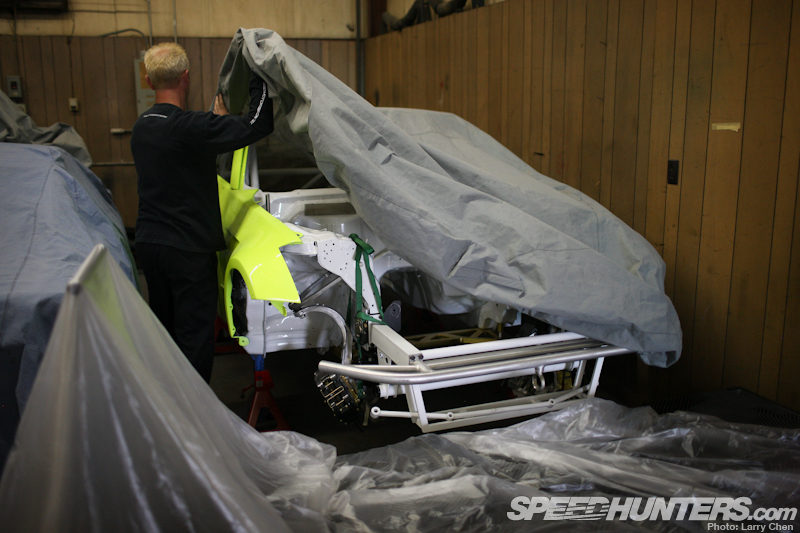 There was just one more room left that my camera was allowed to see. Ian Stewart is the crew chief for the entire team; he is also the owner of ASD.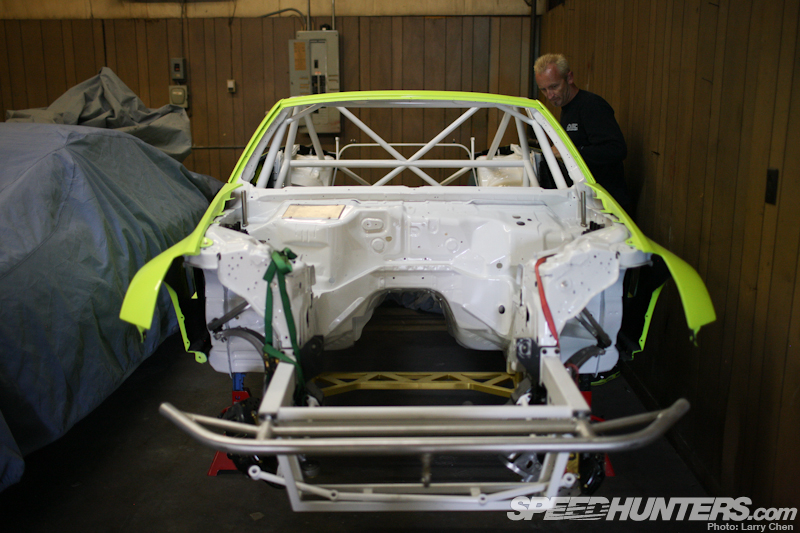 This was Tyler McQuarrie's old convertible 350z. The Nissan has been rebuilt from the ground up and it is 100% owned by ASD.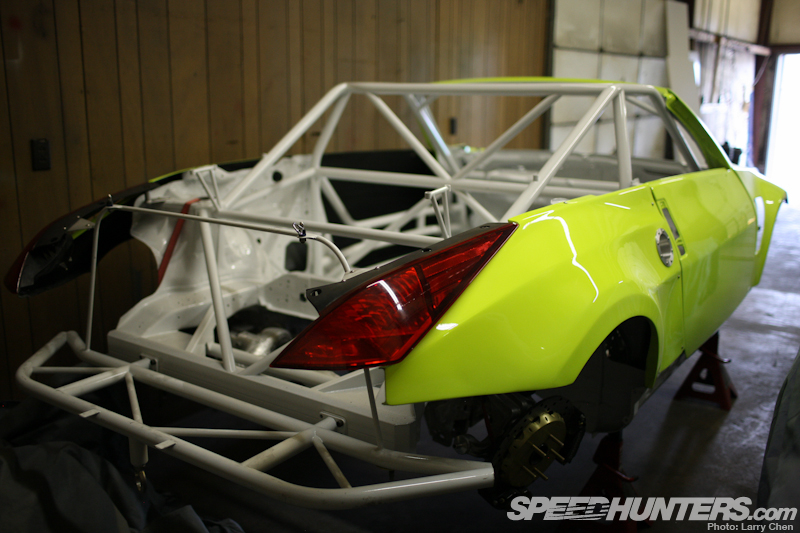 From the looks of it I think we will be seeing this back in competition form in one way or another.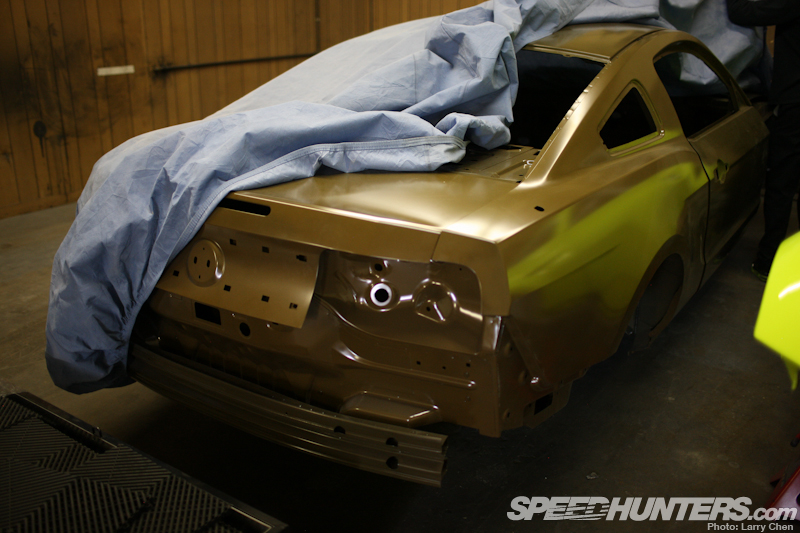 Next to the 350z was a brand-new body-in-white Ford Mustang.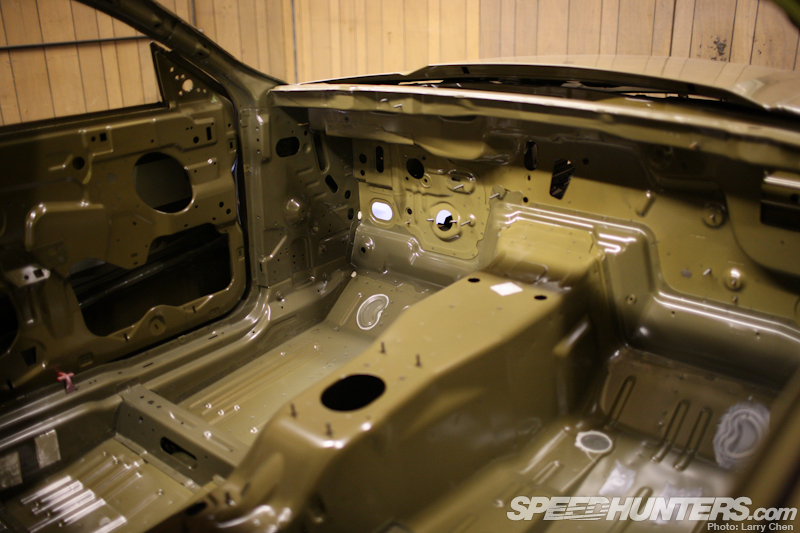 According to Ian, all Mustangs come from the factory in brown, so all of their body-in-white cars are just resprayed after all the chassis prep work is done.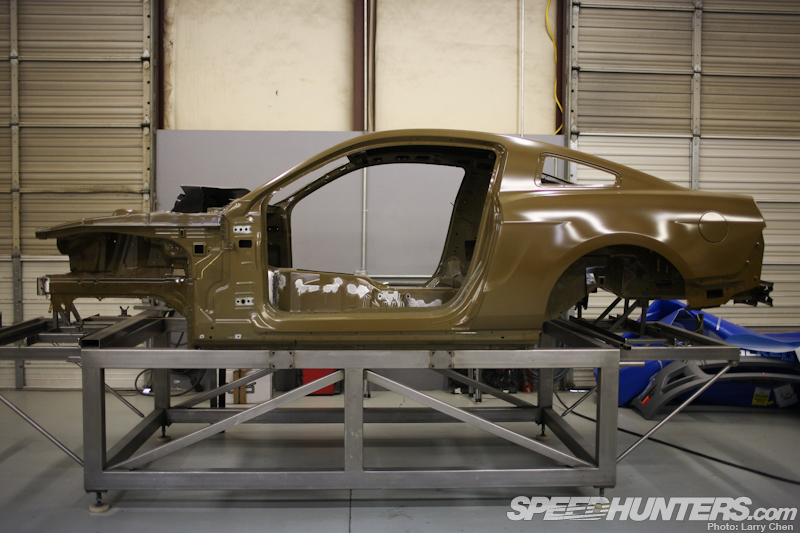 There one was in the process of becoming a race car. These chassis have over 1,000-1,200 hours of work put into them, depending on customer requirements, which includes the installation of a Formula Drift-spec roll-cage. I let the guys get back to their hard work, and left ASD with the promise that I'd return the week before Formula Drift Atlanta.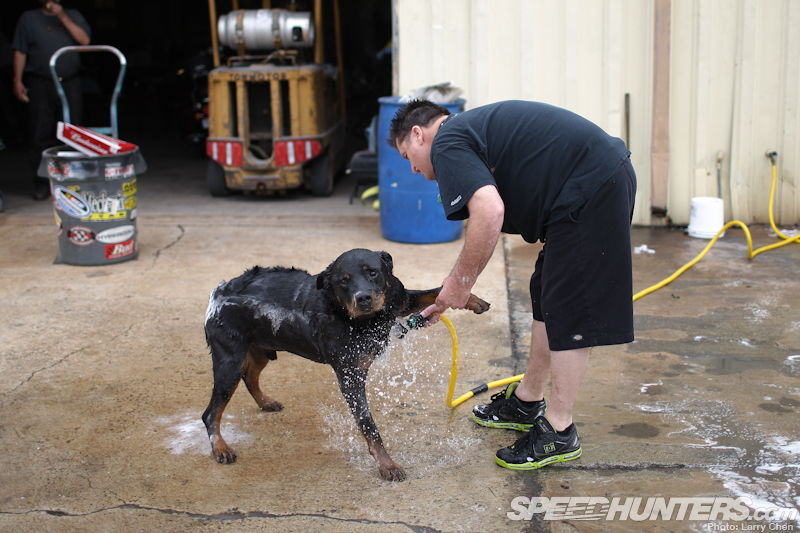 I thought it would be fun to hang out with the guys again and follow them on their relatively short trip from their shop in Charlotte, NC, to Road Atlanta in Braselton, GA. I arrived in the morning to find Dean Steele washing Chopper the friendly dog.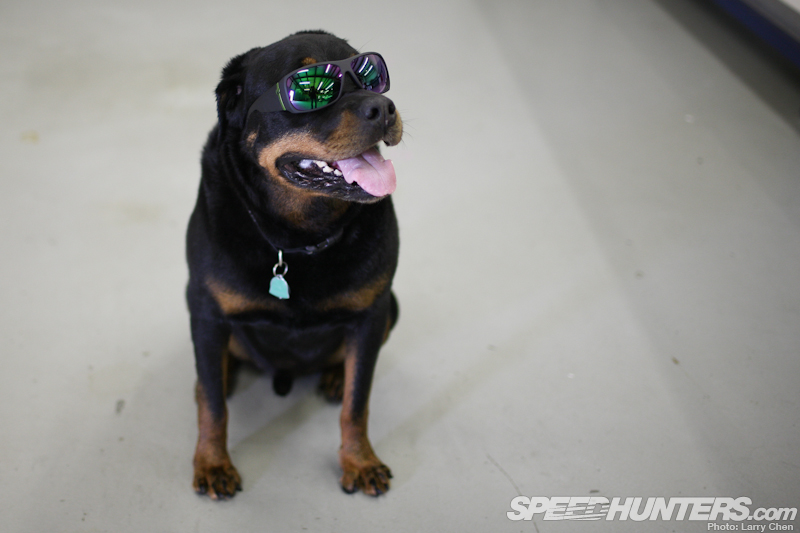 Even though Chopper struggled during his bath, he was happy in the end.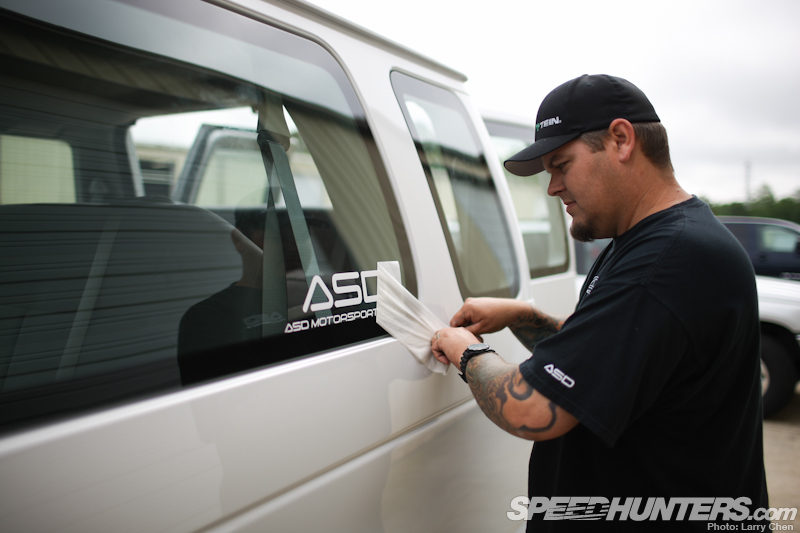 Everytime Formula Drift goes to Atlanta the boys at ASD rent a van to drive down to the venue. They also use it as a support vehicle. Dave Gibson, the general manager at the shop, is seen here branding the van properly.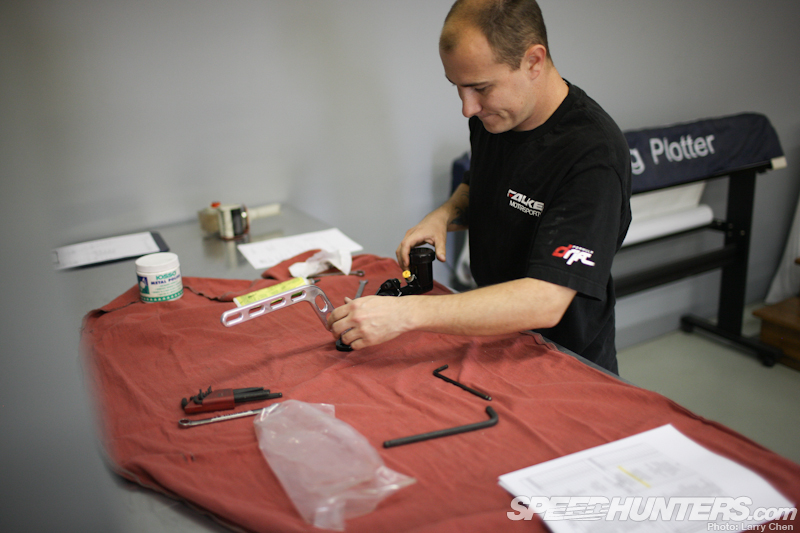 Eric Ross, also known as Ewok, was assembling hydraulic E-brake systems right up until it was time to leave. You don't want your loyal customers to go through E-brake withdrawals.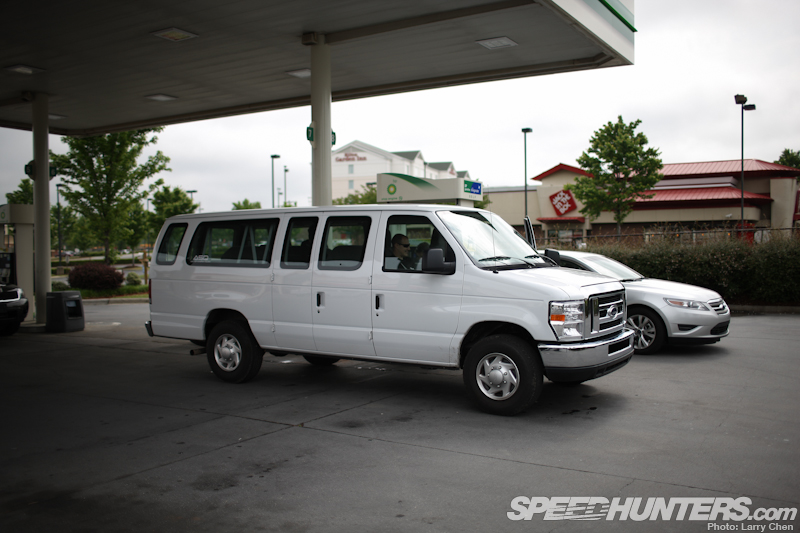 We went to fuel-up and get the necessary snacks to last us for the 205-mile trip across three states. Rick Lamber, car chief for Justin Pawlak, was at the helm.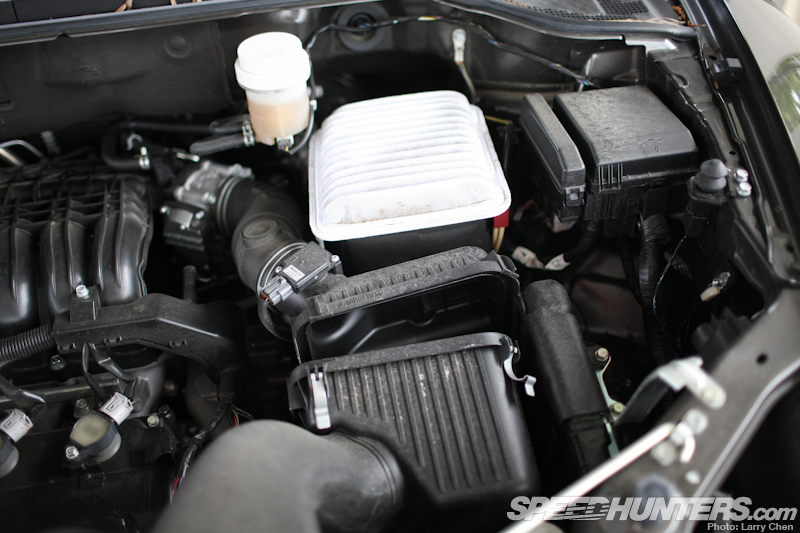 Before we left, I decided to add a few more free ponies to my rental car. I needed it to keep up with those ASD guys. They drive with the pedal to the metal.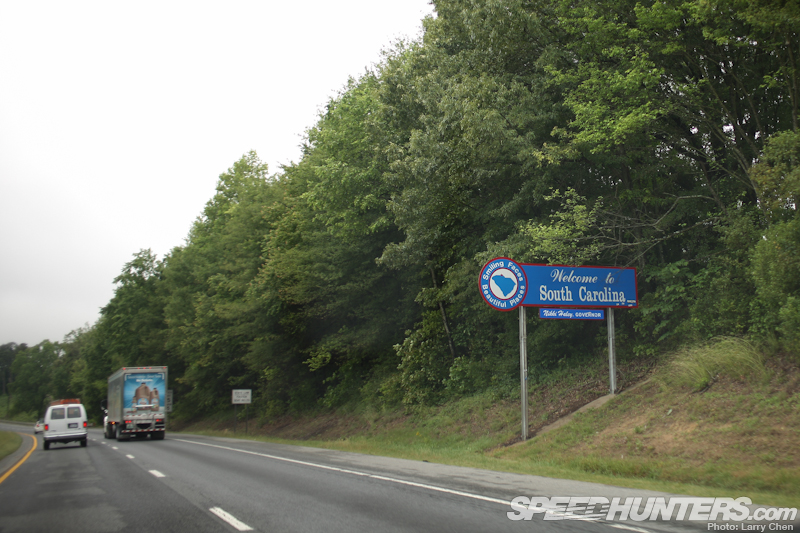 Before we knew it we were in South Carolina. I am not very used to passing through states so quickly after growing up in California. It took me 12 hours to drive to Oregon from Los Angeles.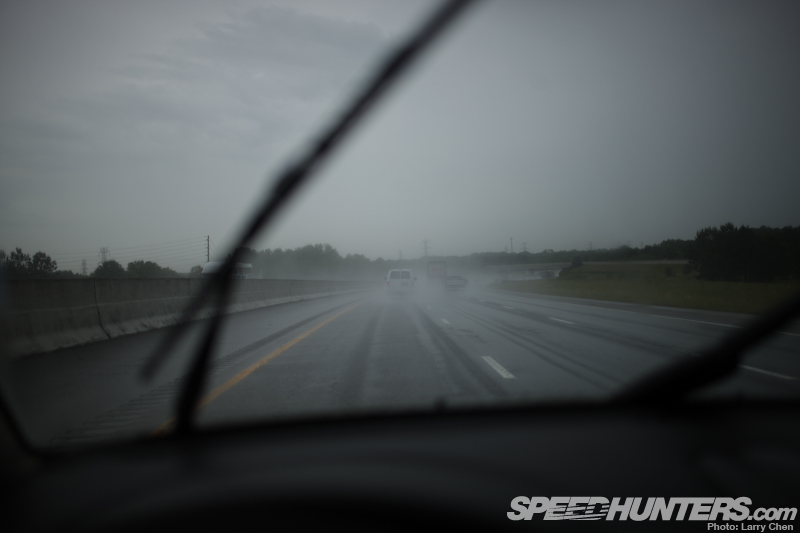 Once we entered South Carolina it started to rain cats and dogs.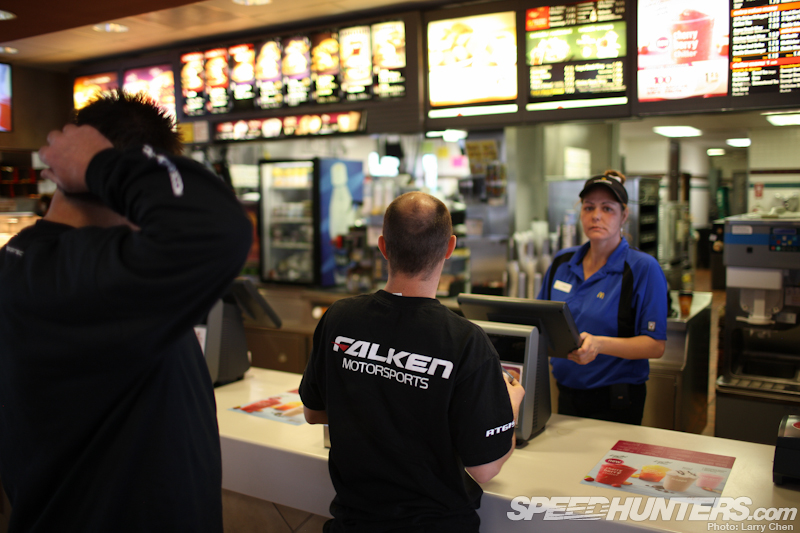 So we decided to grab some local delicacies.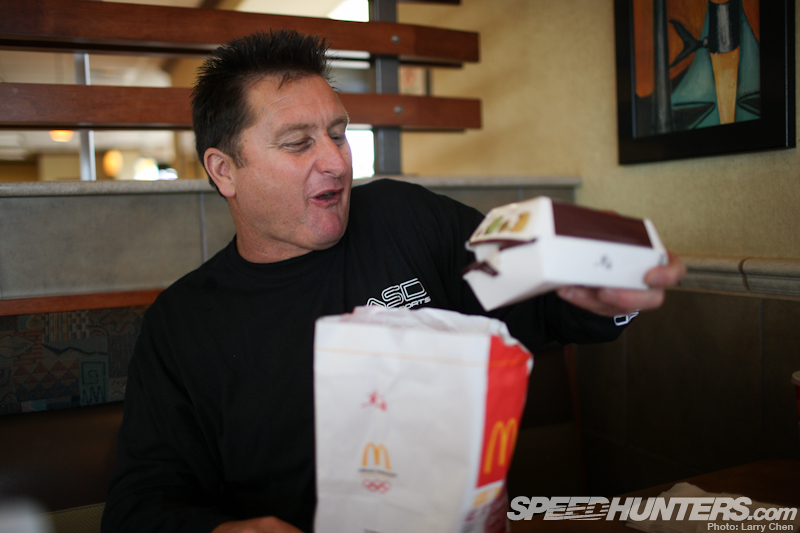 Dean, Rick and Ewok are originally from Southern California like me, so they have a tradition of stopping for tacos.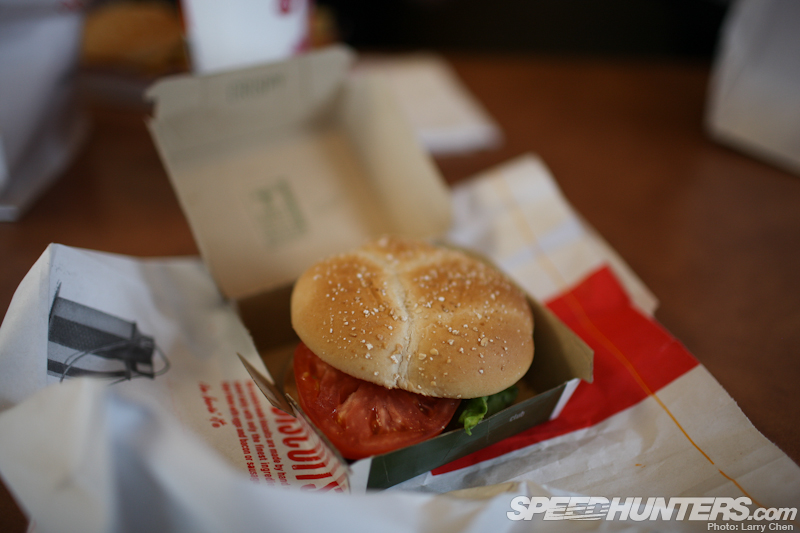 But it was just my luck that the taco joint we were going to was permanently closed, so we had to take another option.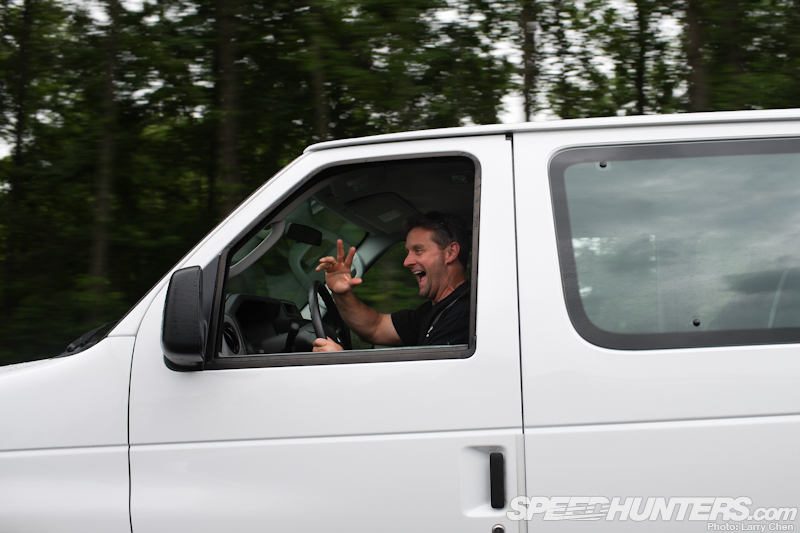 After sampling the local cuisine we decided to finish the last 100-mile stretch into Gerorgia. Here was Rick waving goodbye as he hit the nitrous button.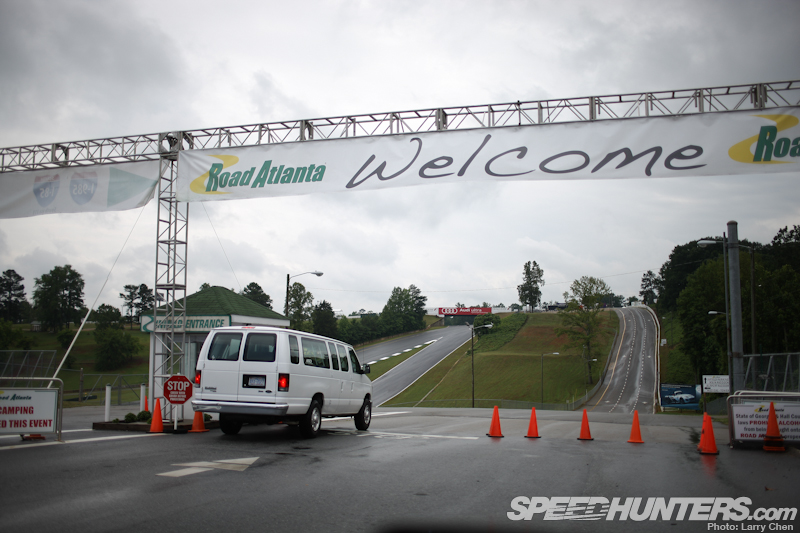 At last we made it to one of the best road courses in the world.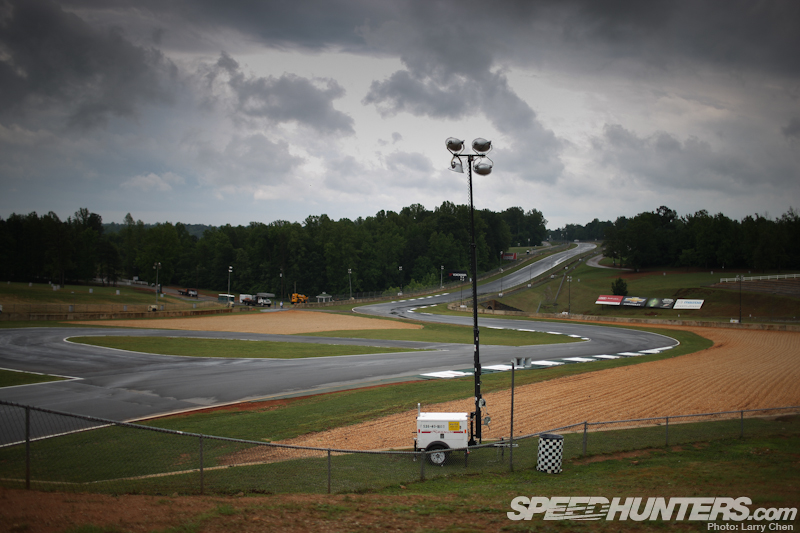 I've never seen it soaked like this, so I just paused for a moment to enjoy the beautiful sight.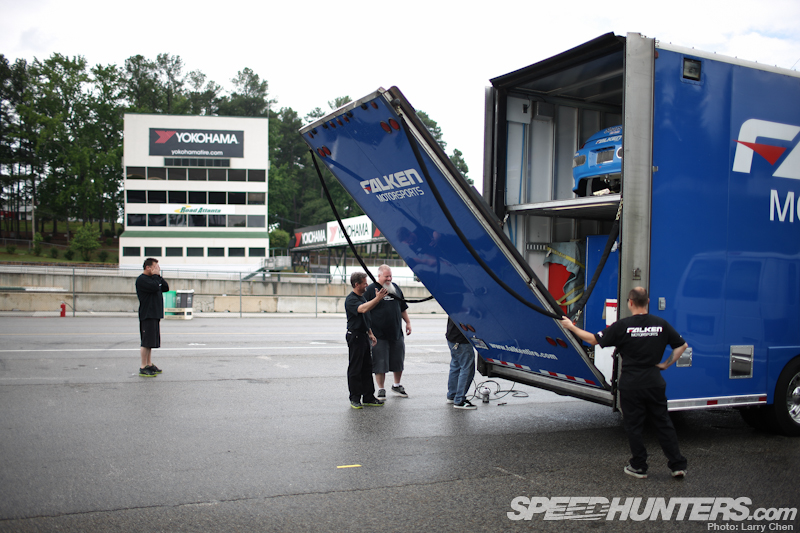 The Falken rig was already waiting at the track ready to be unloaded, as the 350z still needed its technical inspection.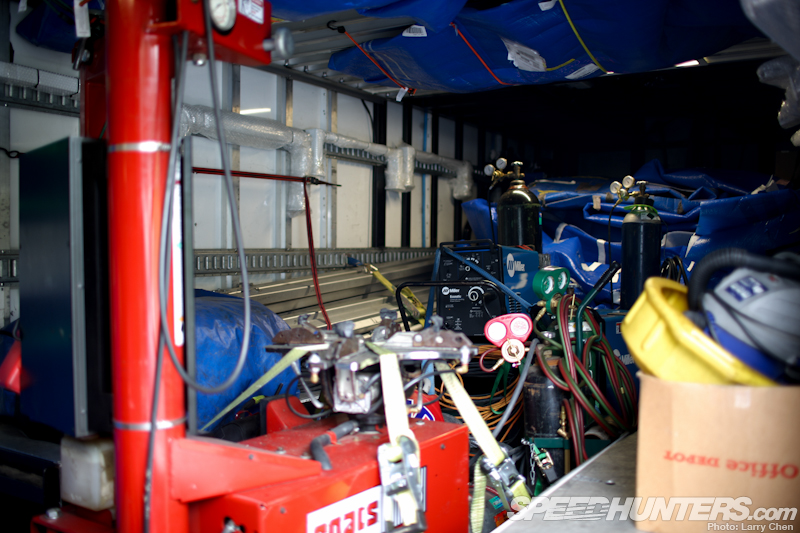 I checked inside to confirm that it was just as clean and organized as the ASD shop.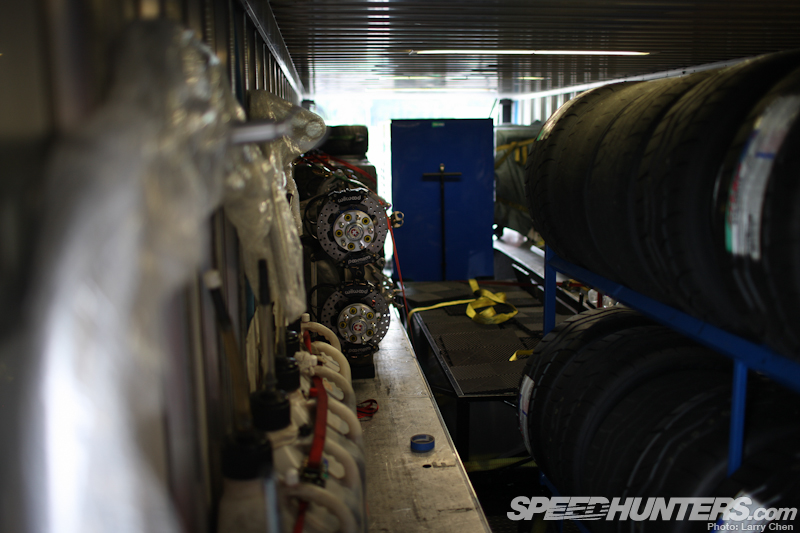 Considering the limited space I think they fared pretty well.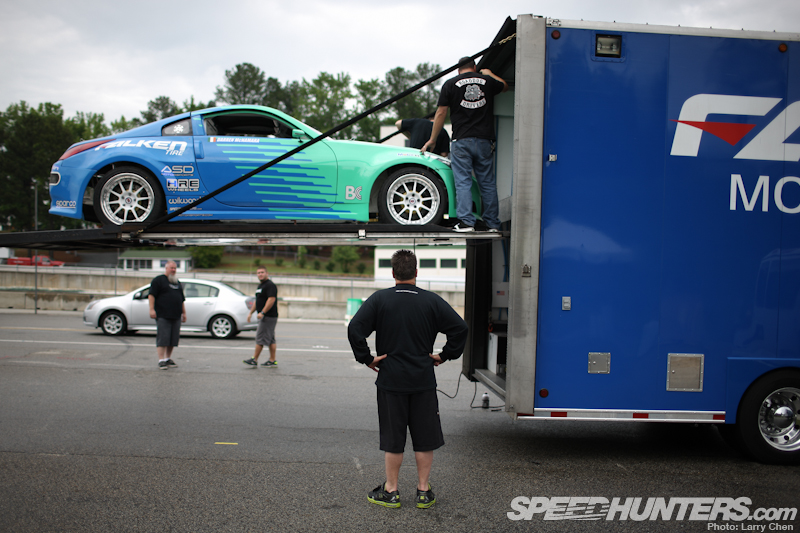 Tomorrow is practice day and the day after is the start of Round 2 of the Formula Drift Pro Championship series at Road Atlanta. Stay tuned for more updates on this long-awaited event.
Larry Chen
More stories about Formula Drift on Speedhunters