Just a few days ago I woke up, stumbled out of bed and looked out the window. It hit me. I was in the Irish countryside at Darren McNamara's house. I don't know about you guys, but my brain does not really work at all for the first five to ten minutes of the day (sometimes the rest of the day as well). I thought to myself, how did I get here?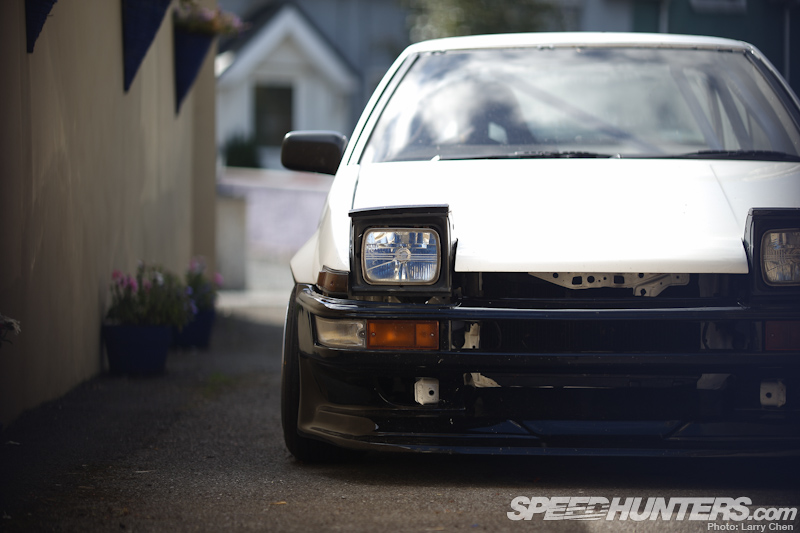 It's hard to grasp how much effort and time goes into running a successful drift program. I never fully understood it until I started following guys like Vaughn Gittin Jr., Justin Pawlak and Fredric Aasbø around.
This time I would tag along with the one and only Darren McNamara for the week as he got ready for Round 5 of ProDrift at his home track, Mondello Motorsports Park. He was plagued with problems at Trax, but still ended up with a fourth place finish. That may be good in the eyes of everyone else, but it was not good enough for Darren. He was determined to have a better result in Mondello. We lost an entire day to travelling, so the team really only had three full days to fix the binding steering problem, power loss and a braking issue. This is what I saw through my lens.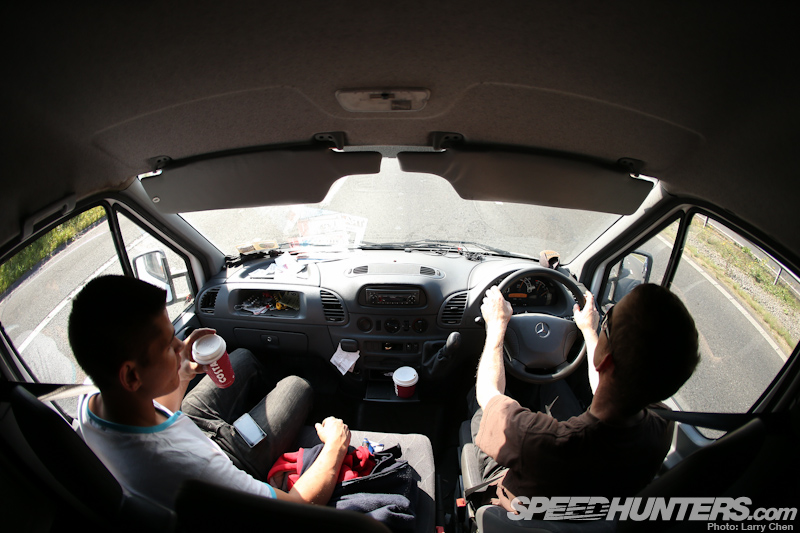 It all started the morning after Trax at Silverstone. I climbed into the McNamara Motorsports van and tow vehicle as they began their journey to Ireland.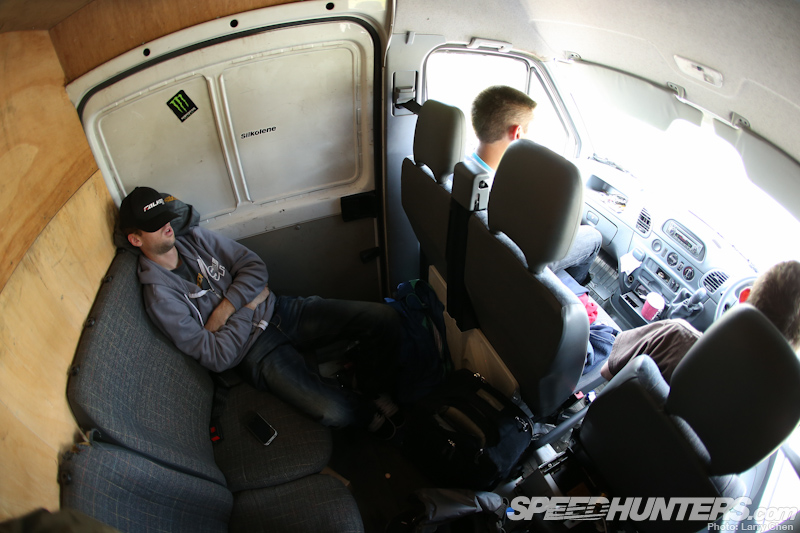 It would be a three hour drive to the ferry, then another five on the ferry. As if that was not enough we had to travel another two hours from the port to the McNamara shop.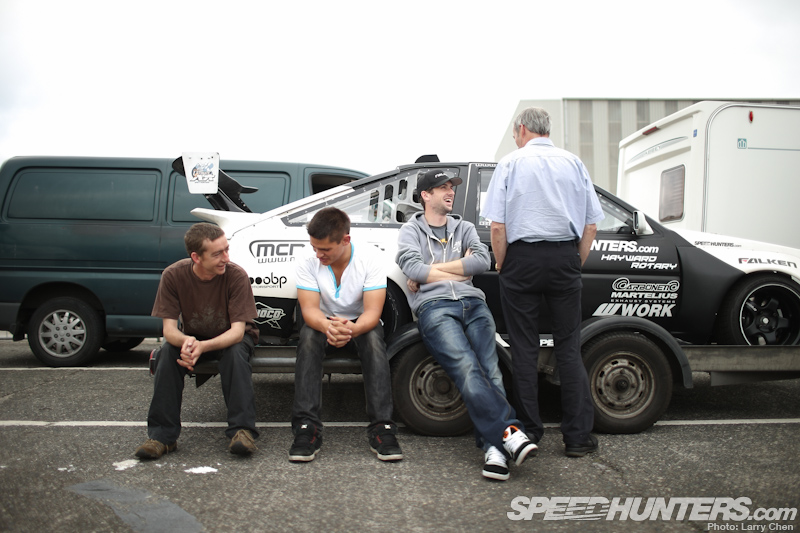 The guys at the ferry port have seen Darren go across St George's Channel so many times that they already know him by name. Or maybe it was because his name was plastered all over his car and van. Either way, they were very interested in how he did at Trax.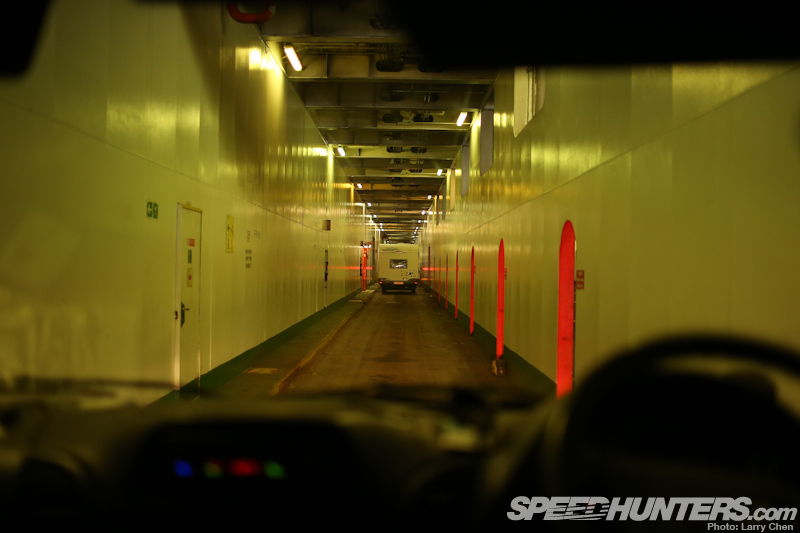 I was pretty excited as I have never been on a ferry before. I've been on luxury cruises, but that was not the same.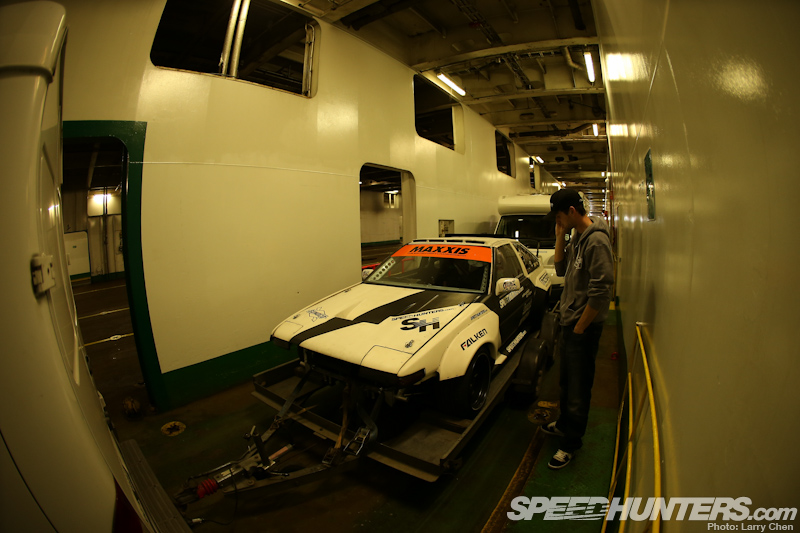 They guys raved on and on about how good the food was aboard the ferry. Soon I found out they were only joking. I shed a single tear afterwards.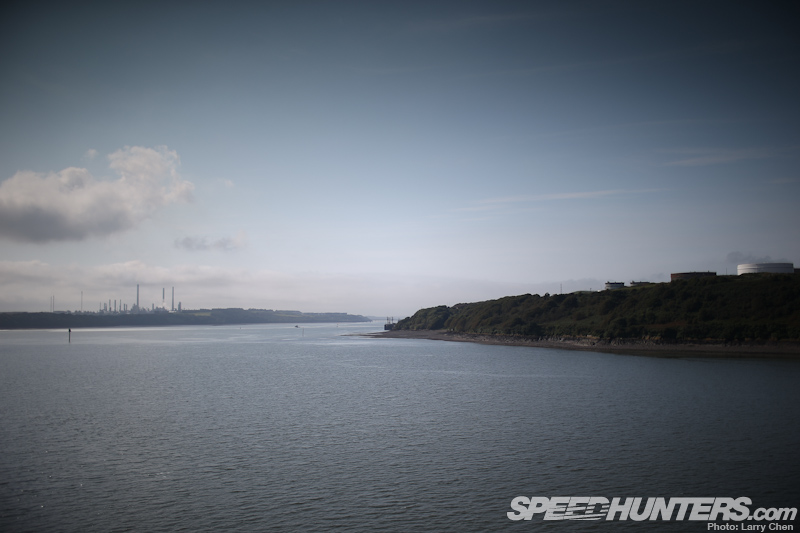 As always I went around the ship and explored a bit.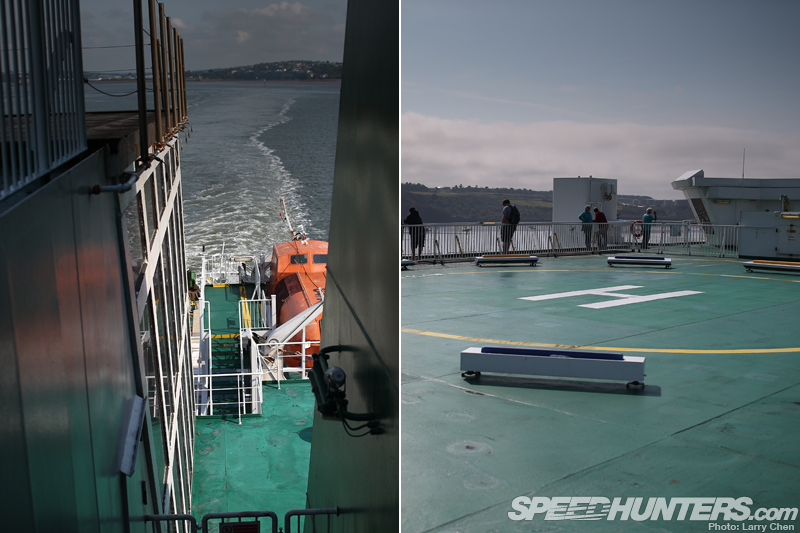 It was very empty as summer was coming to an end and there are just not as many people travelling between Ireland and England.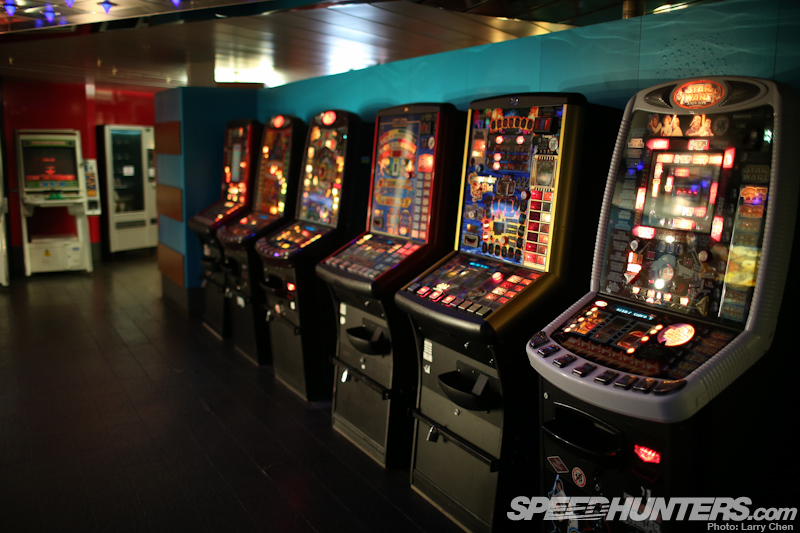 There were slot machines as well as an arcade on board…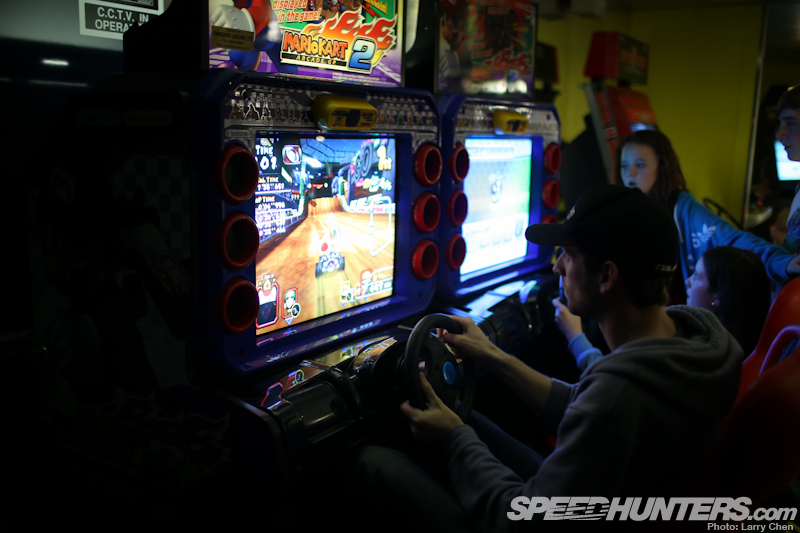 …which is where I found Darren and crew. That little girl had no idea who she was about to face.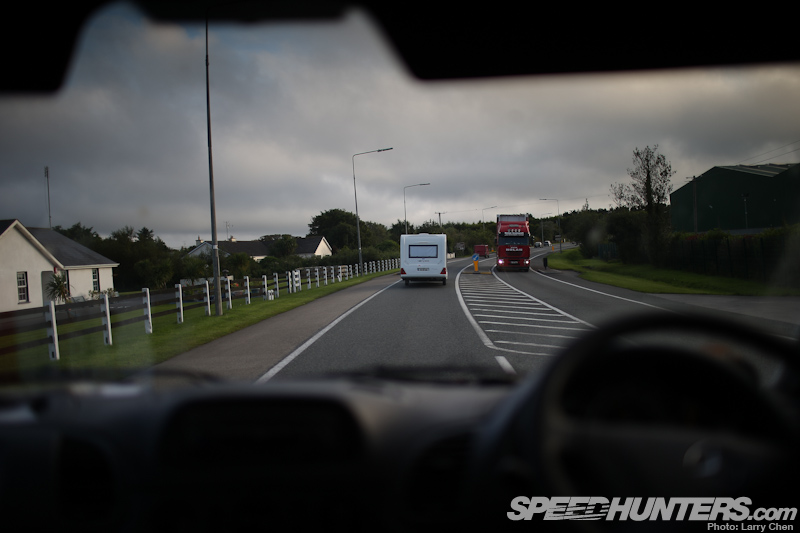 After a seemingly never-ending ferry ride we arrived on the other side.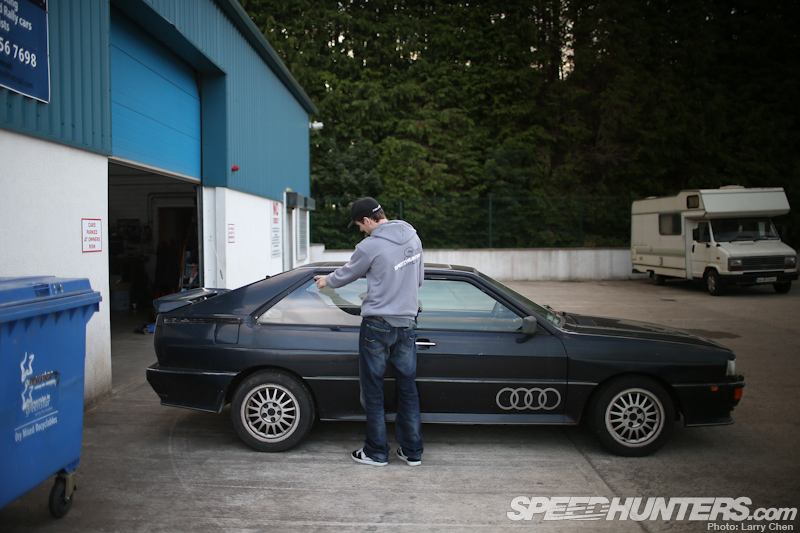 We stopped at a petrol station were we spotted this awesome Audi Quattro. Darren wanted to buy it so he could turn it into a drift car, but it was not for sale. Seeing as he already has about 15 cars I think it was a good thing that it was not for sale. I will be doing a post on all his cars later on.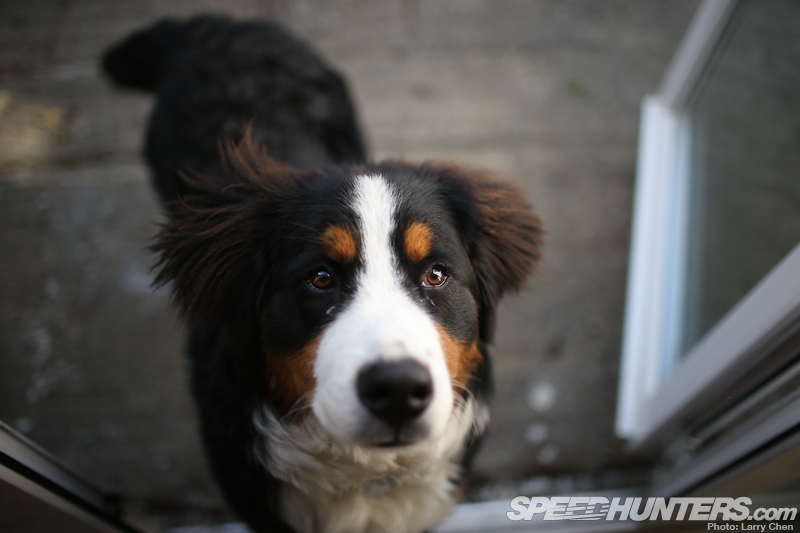 The next morning I woke up to Coco. She is just a puppy, but is still big enough to bite my arm off. She was a sweet one, so she spared my arms.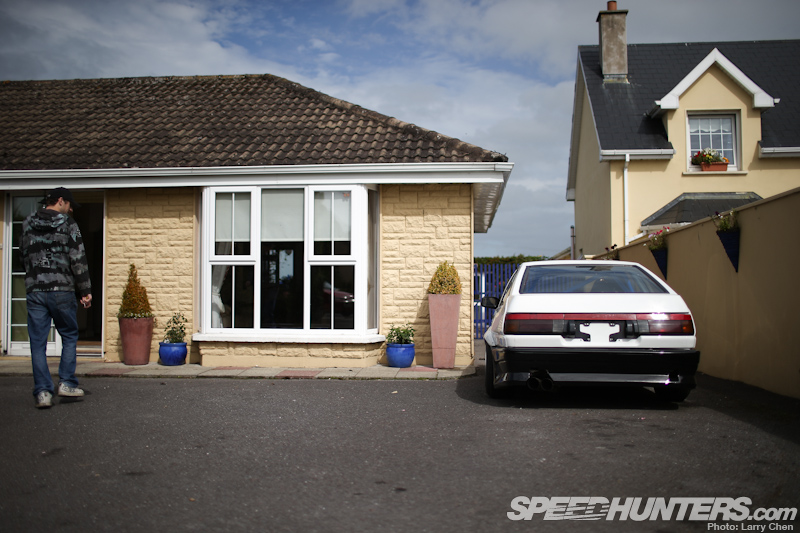 Parked in front is one of the many cars that Darren owns, but this one is special.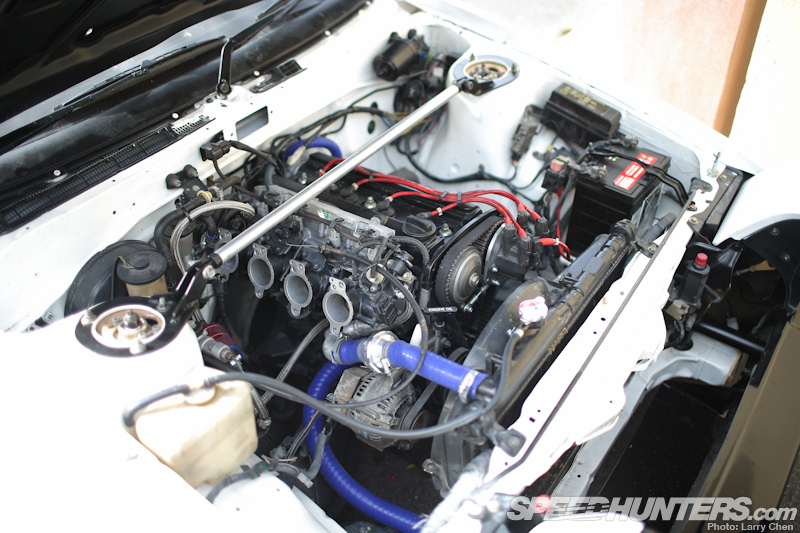 Once he is finished building it, he's planning on raffling this one off to a lucky drift fan. It would be ready to thrash out of the box.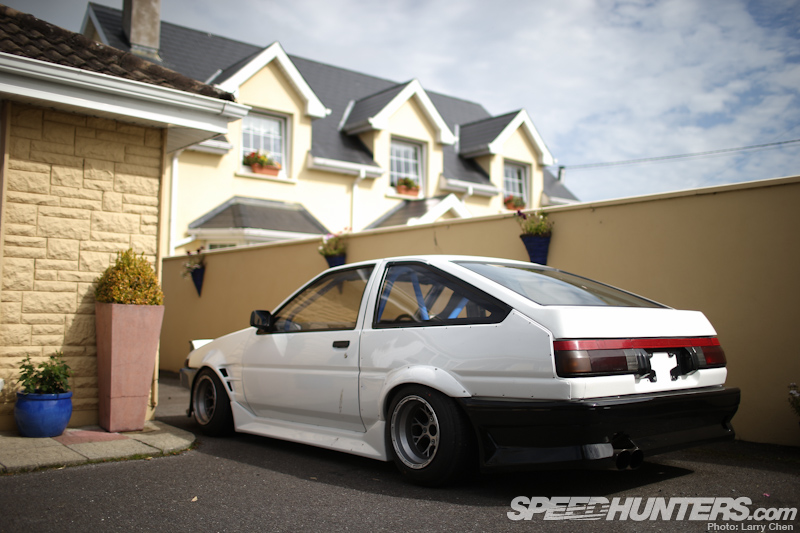 And on top of that it will all go towards a good cause, but he has not decided which one yet.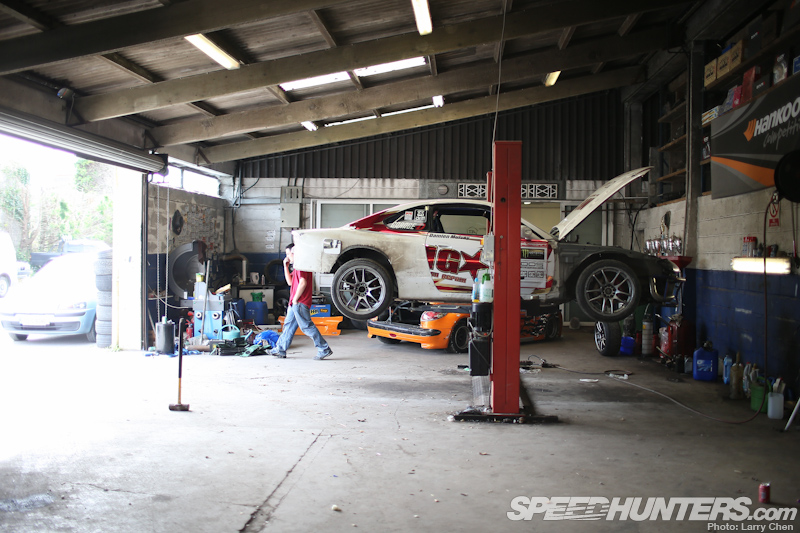 Dmac only lives a few miles away from his shop, McNamara Motorsport, but in the general vicinity there is a very high concentration of tuners. This one belonged to his good buddy Damien Mulvey.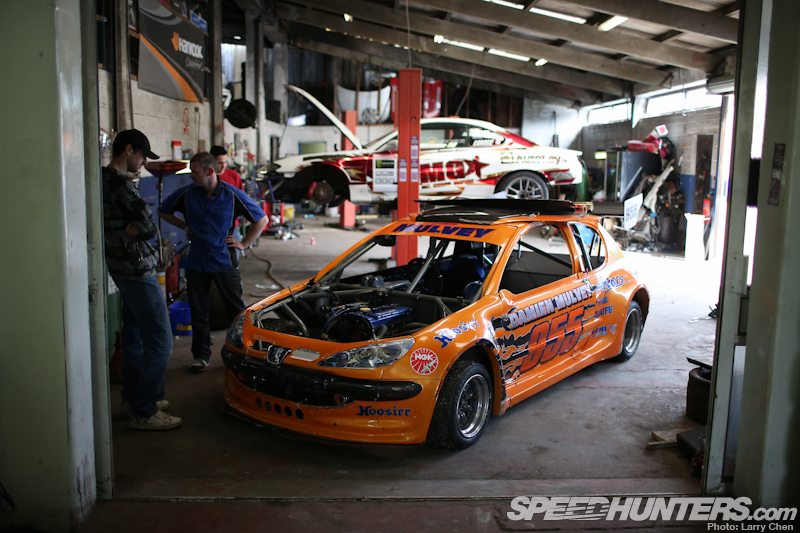 They came up through the racing ranks together and started drifting around the same time as well. This was his oval-track racecar that he built himself.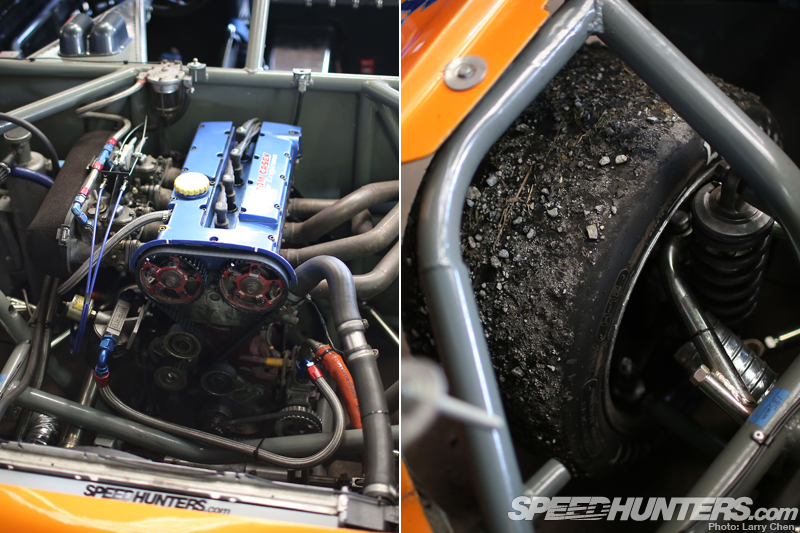 Dmac actually started by racing these when he was growing up and he mentioned that he would love to go back when he has time.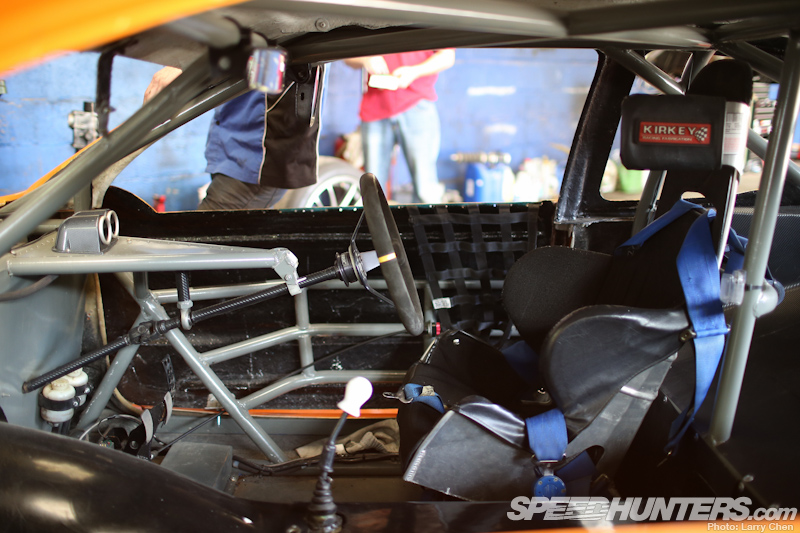 This thing is just so cool: you actually sit right next to the rear differential.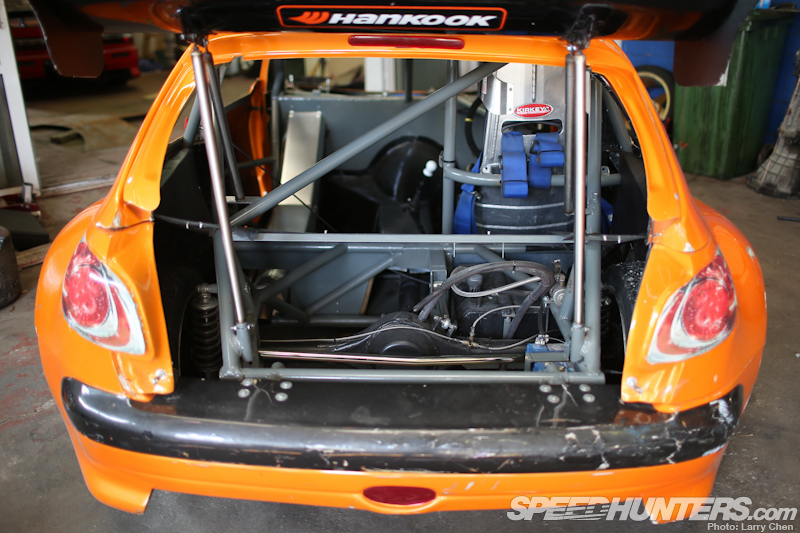 I bet you can really feel the car when it goes into oversteer.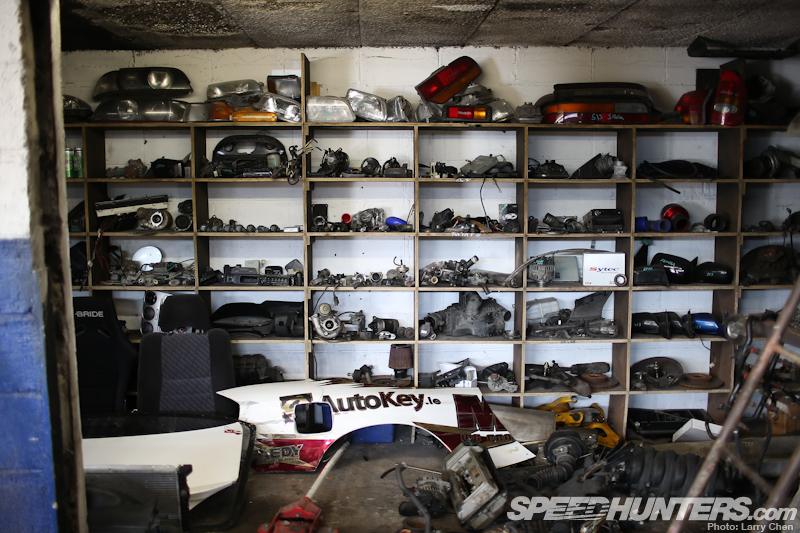 As it is with most drift/race shops, there were many spare parts laying around.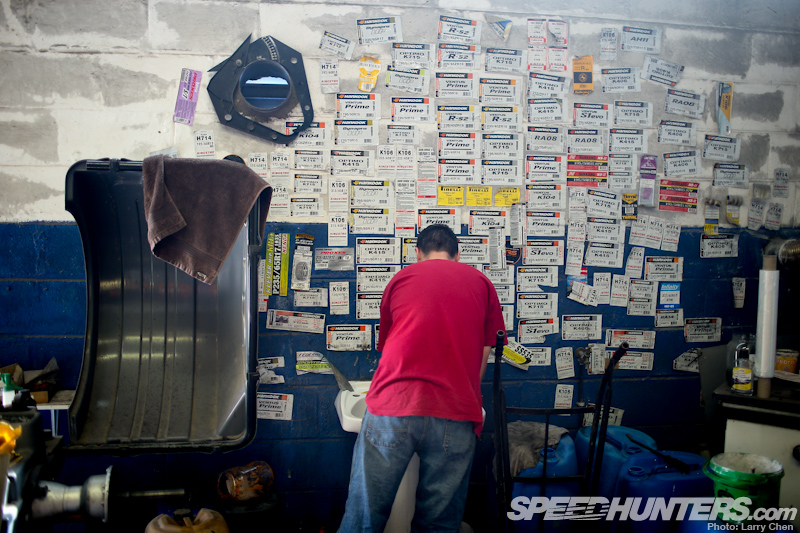 I guess that is one way to save money on buying expensive wallpaper.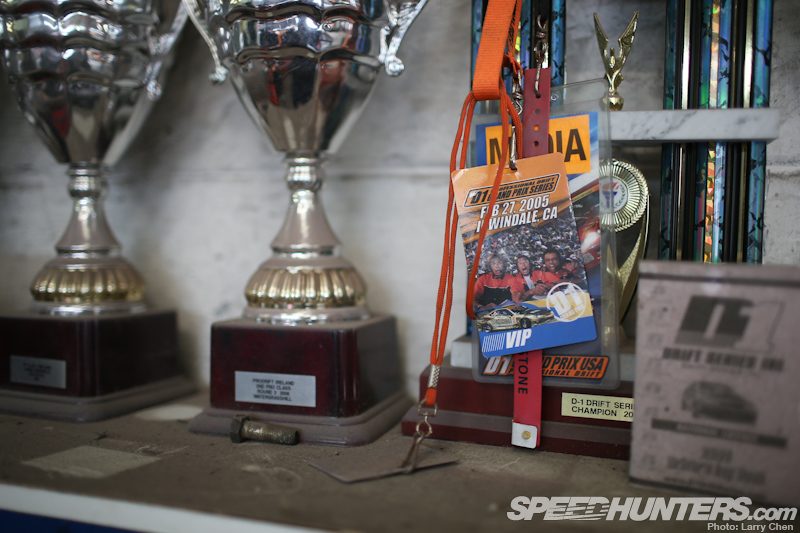 This was an interesting memento from the past. I actually have every one of my passes saved from over the years as well. One day I will make a post about all of them. We said our good byes and continued on our long one-minute journey to Dmac's shop.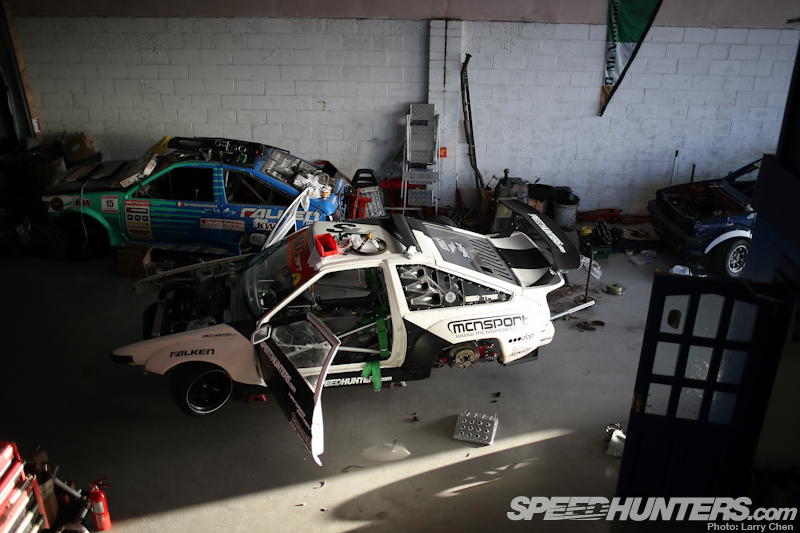 At last we were at McNamara Motorsports. Inside, the Dmac86 was already getting torn apart.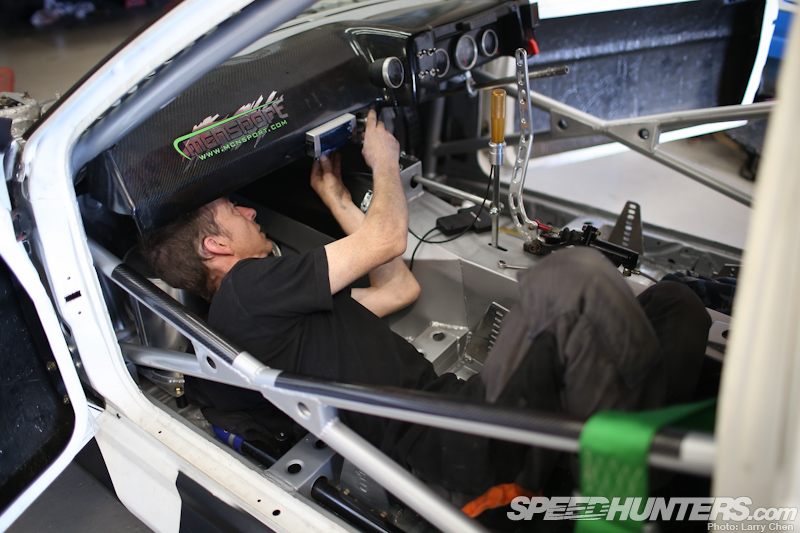 'Happy' the mechanic was taking a much-needed nap – or maybe he was working on the steering… Either way he's spent countless hours inside that little Corolla.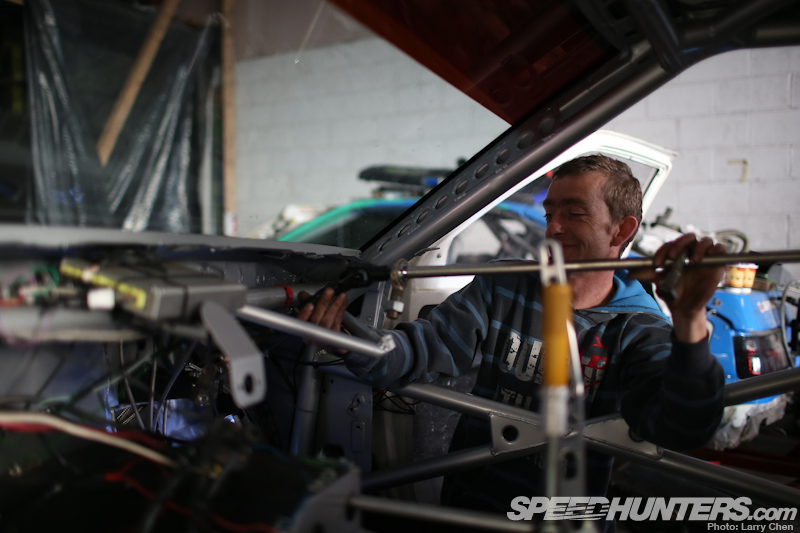 After the steering components were out it was evident that some components needed machining to rebuild the entire steering system.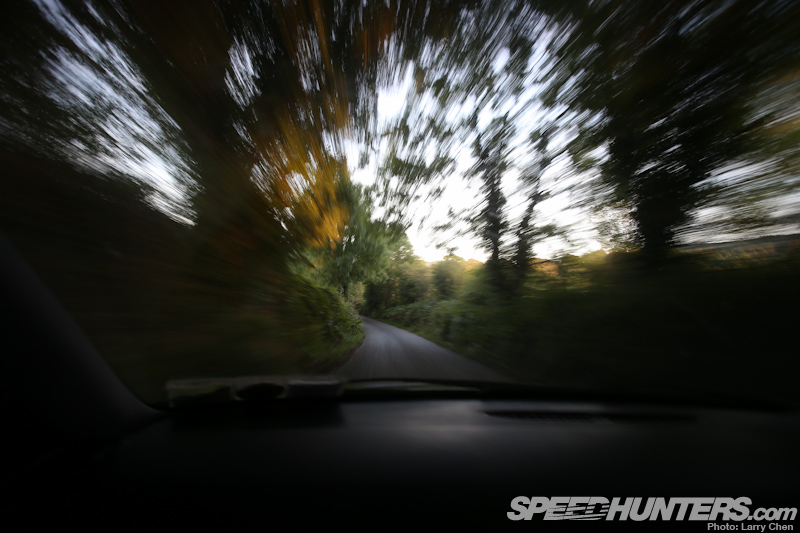 So Dmac and I went for a little cruise.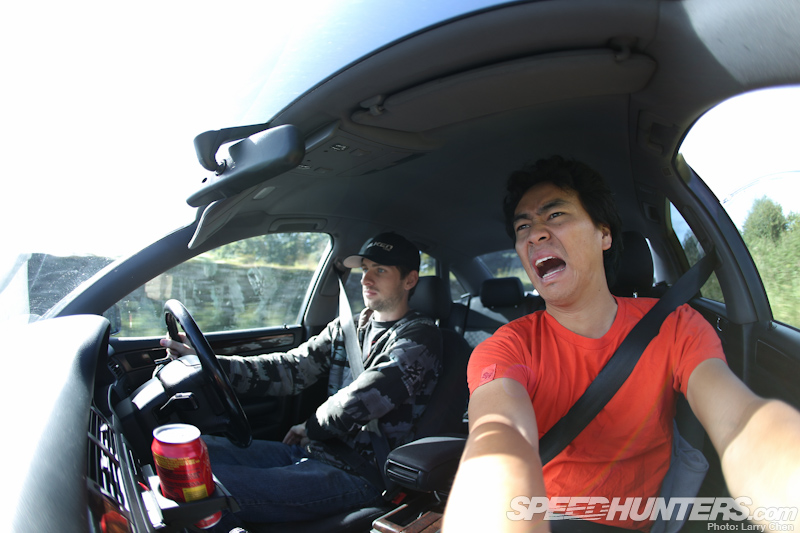 This actually reminded me of when Fredric took me for a little cruise around his neighbourhood. I was not one bit frightened.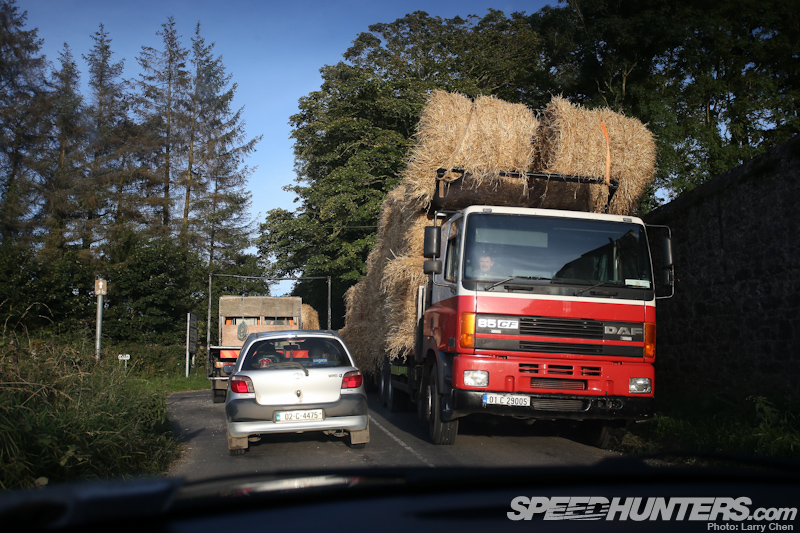 The roads were super narrow and most traffic jams consisted of farm trucks blocking the road. I grew up in Los Angeles so I was definitely not used to this sight.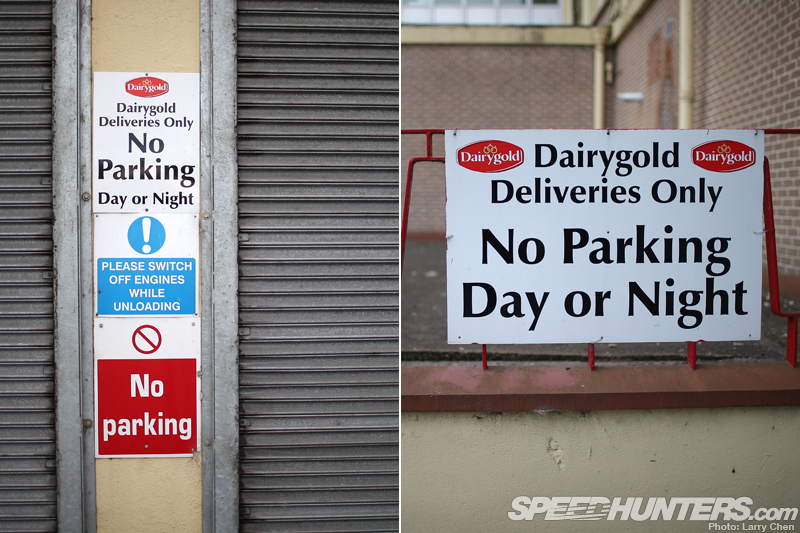 We arrived at an undisclosed location to meet a friend of his with a machine shop in his garage.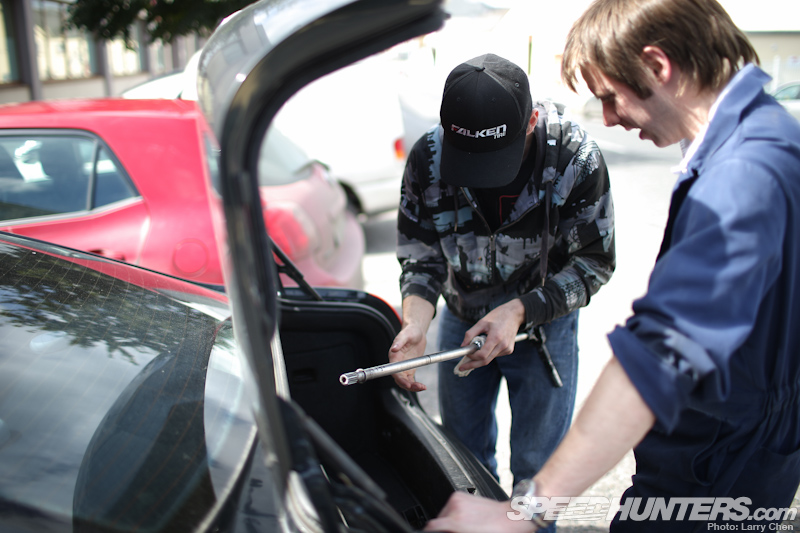 We dropped off the part and were told to meet him in a few hours after his work day.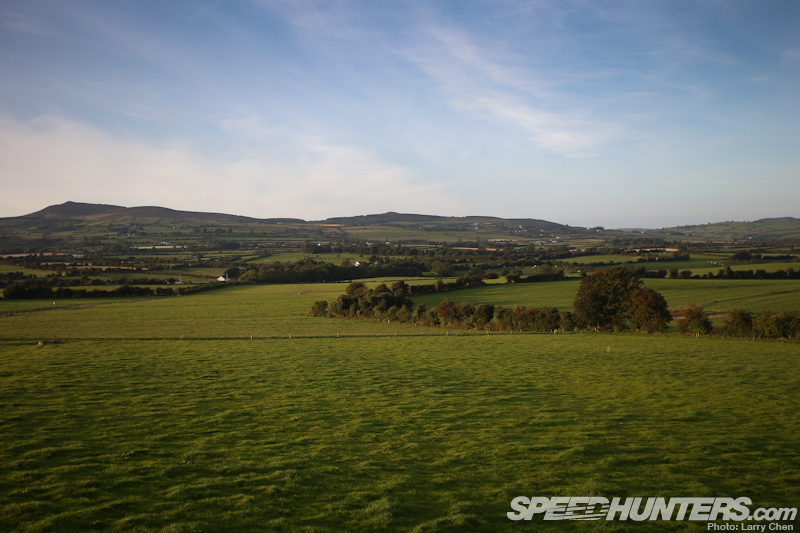 Later on we went back out and drove through the Irish countryside to his friend's house to pick up the finished product. Having lived in a desert all my life this green stuff on the ground was tripping me out.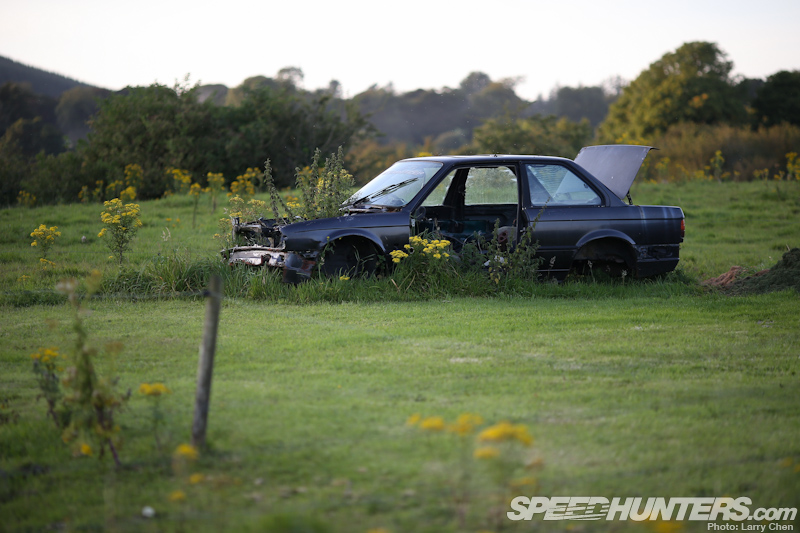 In front of the yard was a sad-looking E30 turned into a plant pot. This guy was a bit of a genius in his own way.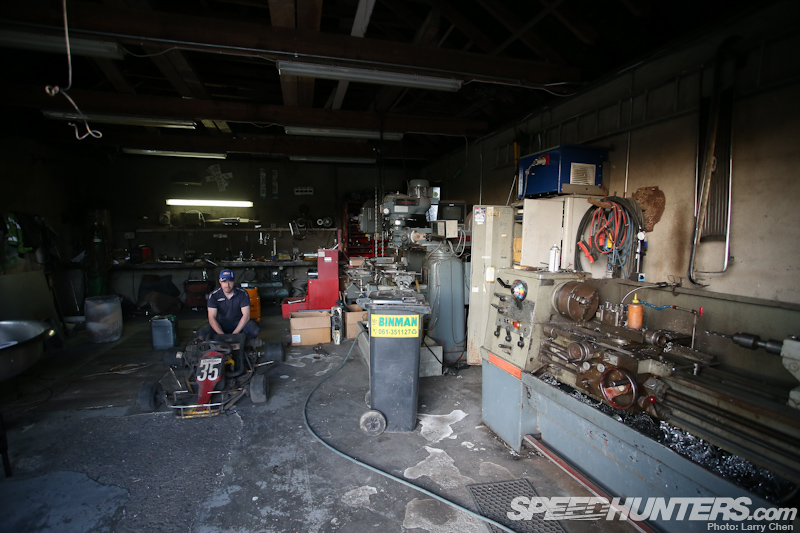 Inside his garage was a full-on machine shop. He asked if we wanted to see some rallycars so of course we replied with an enthusiastic 'Yes'! I was out there to hunt speed after all.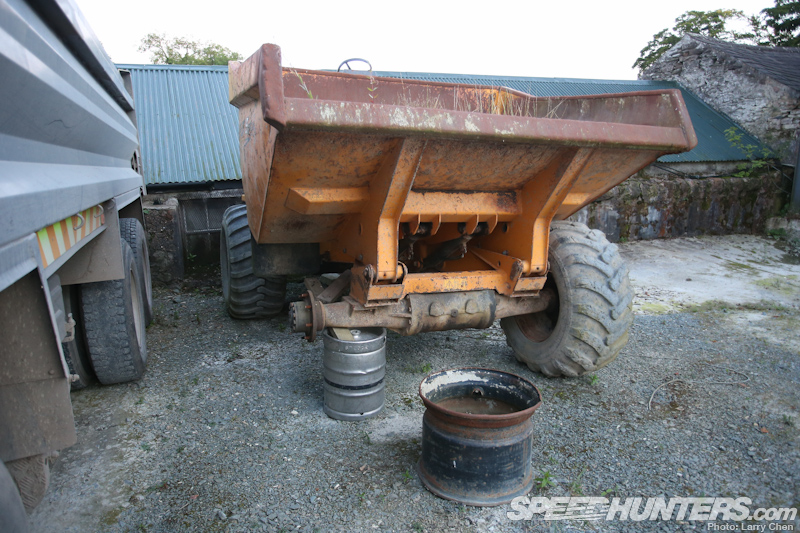 We drove a few miles to a farm shed. In front of the shed was this Tonka dump-truck propped up with an improvised jack stand. I was sceptical. I was wondering what kind of rally cars did we come here to see?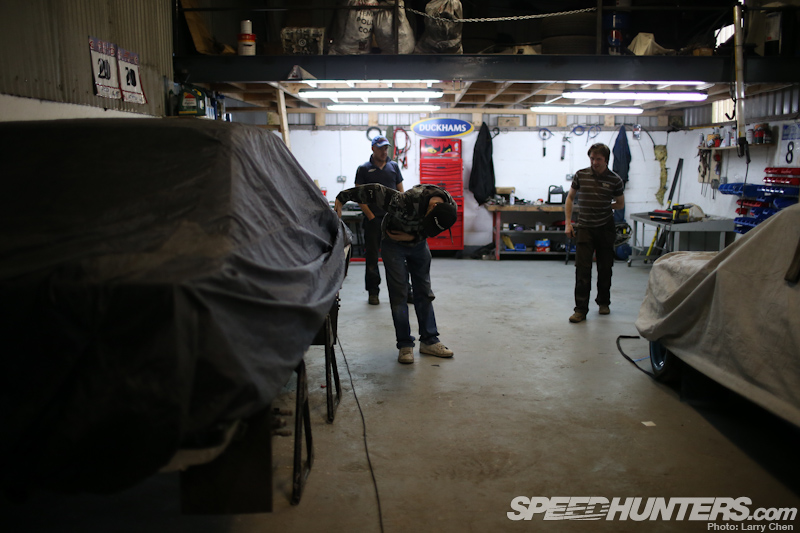 Inside the shed were two covered cars.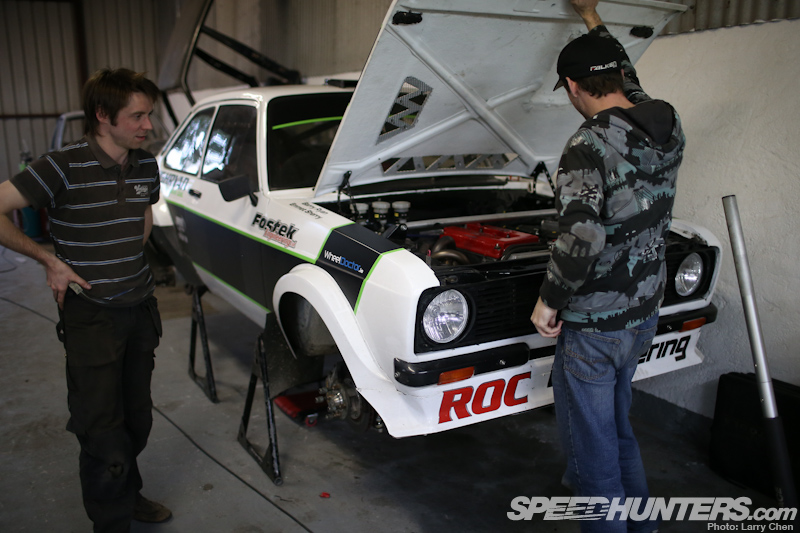 Under sheet number one was a very clean MkII Ford Escort. Ok, so far so good, but what's up with that red valve cover?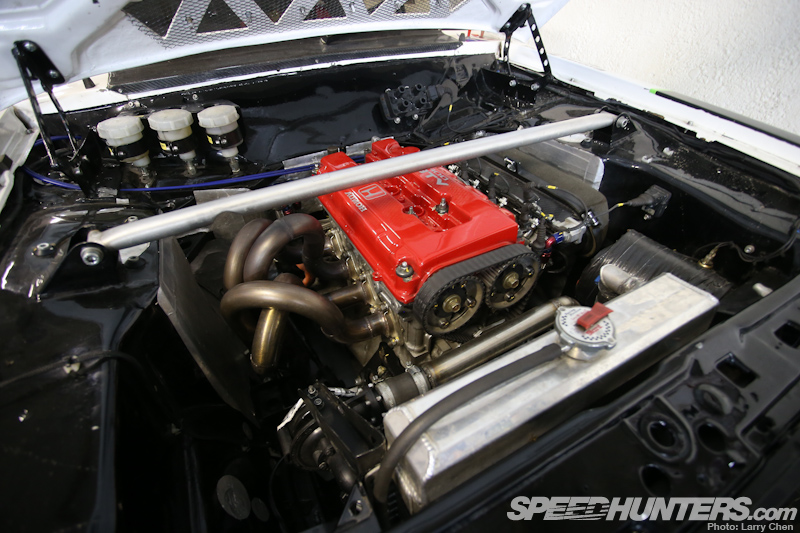 Well this one is powered by a Honda B16 pushing out around 230bhp. However, something was off. The motor runs in reverse.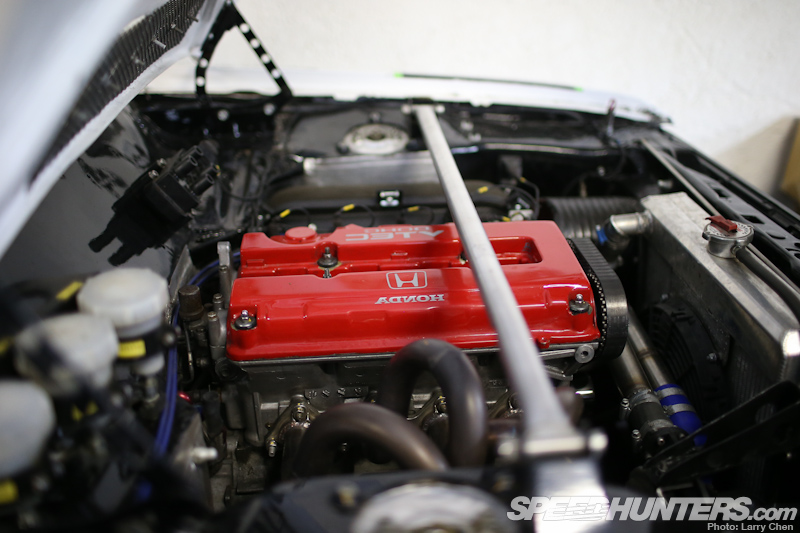 Darren's friend 'Tadhg' made custom camshafts and everything else that was needed to run the motor backwards because of the Escort's rear end. I'd heard of this before, but never actually seen one in person.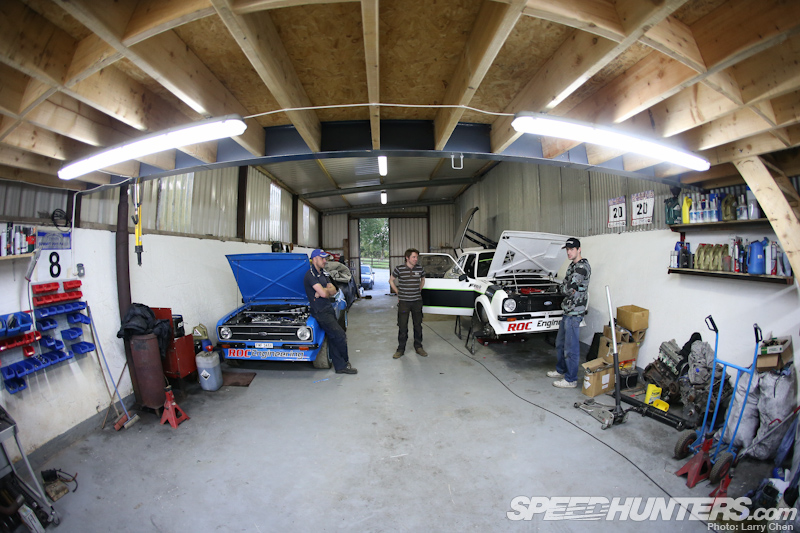 I would have never known this inconspicuous shed in the middle of the Irish countryside could have these cool rallycars inside.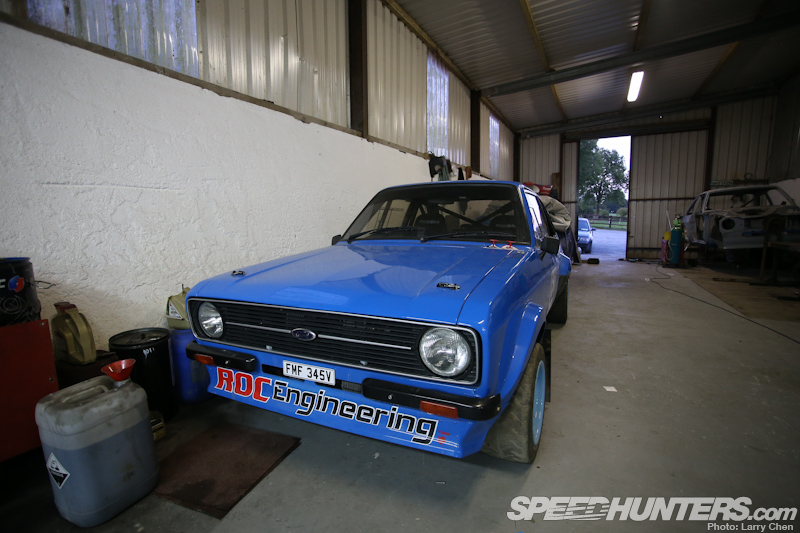 Next to the backwards Honda-powered Escort was another clean MkII.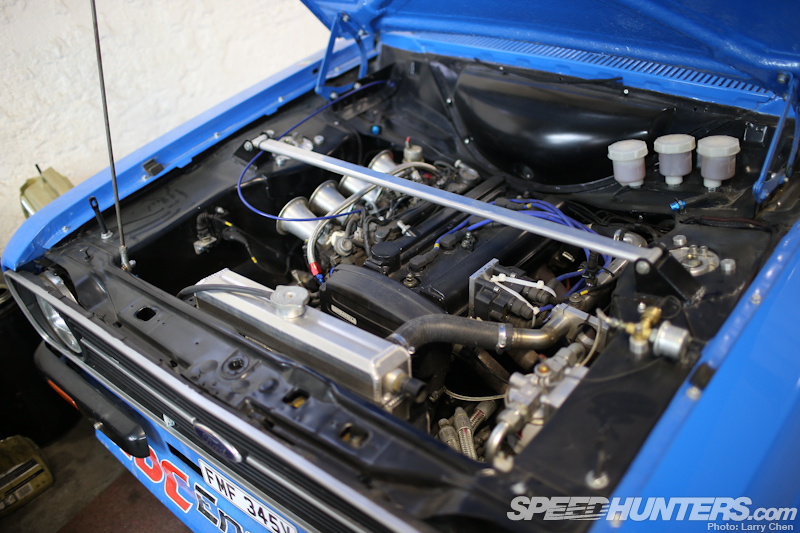 This one was powered by a 20-valve 4AGE. A Ford with a Toyota heart next to a Ford with a Honda heart. Pretty darn cool.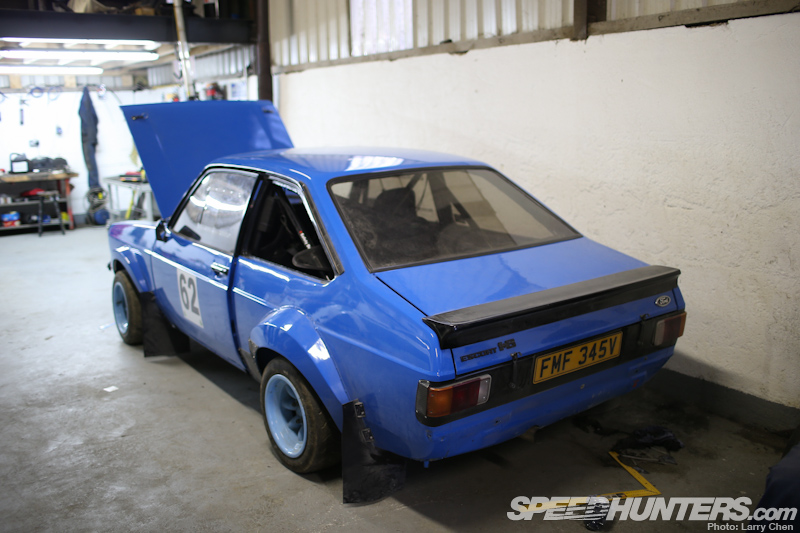 Interestingly enough, both of these cars are driven very hard.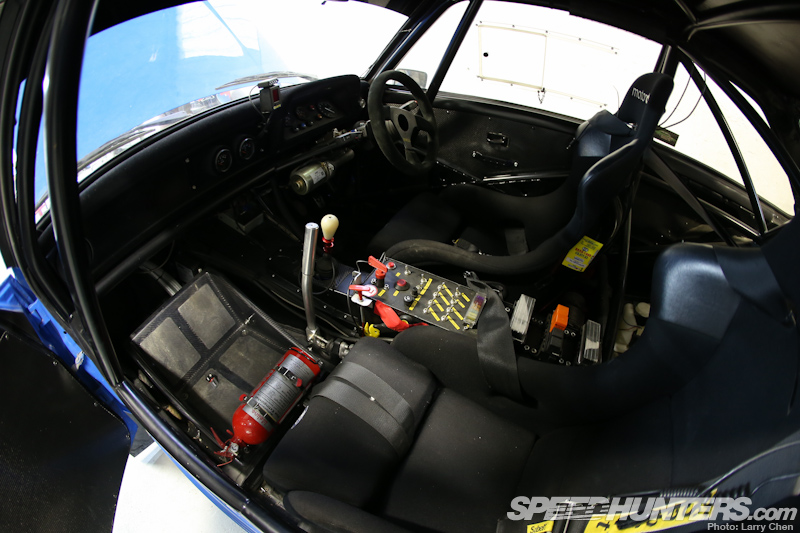 Just last week they were thrashed at a local rally event.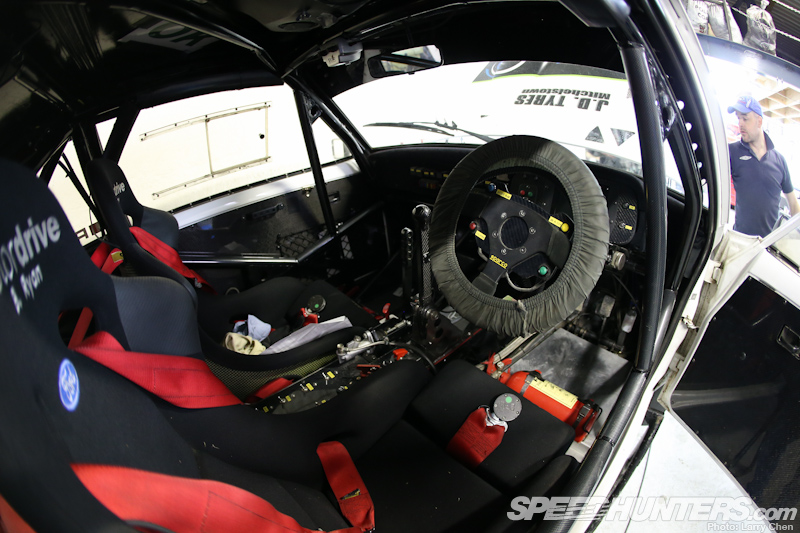 It is absolutely mind-blowing how much effort they put into these two cars, and the fact that they don't baby them makes it even cooler.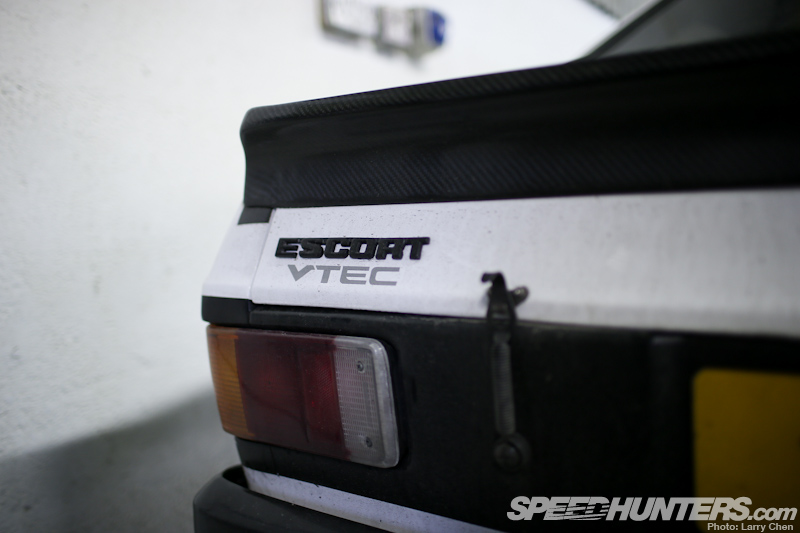 I hope to see these cars in action one day, plus I have yet to shoot a stage rally.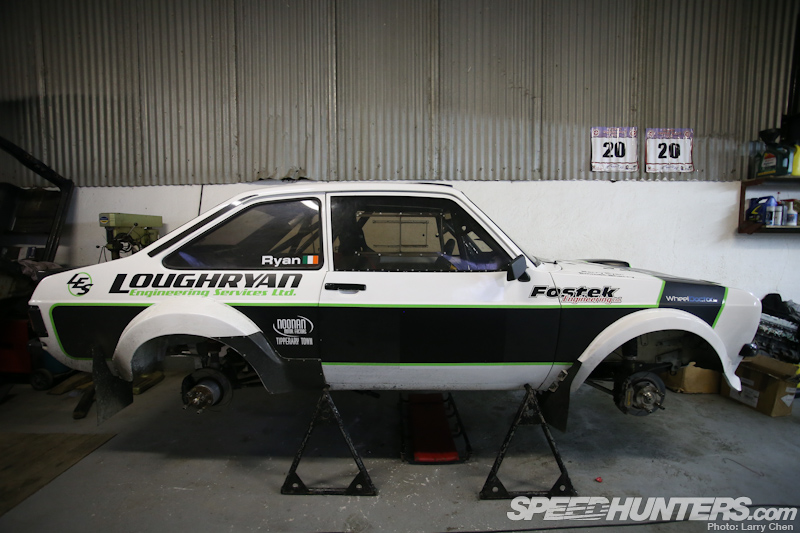 We were running out of time as Darren still had to get the steering back and we would have to wake up early to get the car on the dyno. The team was having a bad power loss issue at Trax and they still could not figure out what was causing it.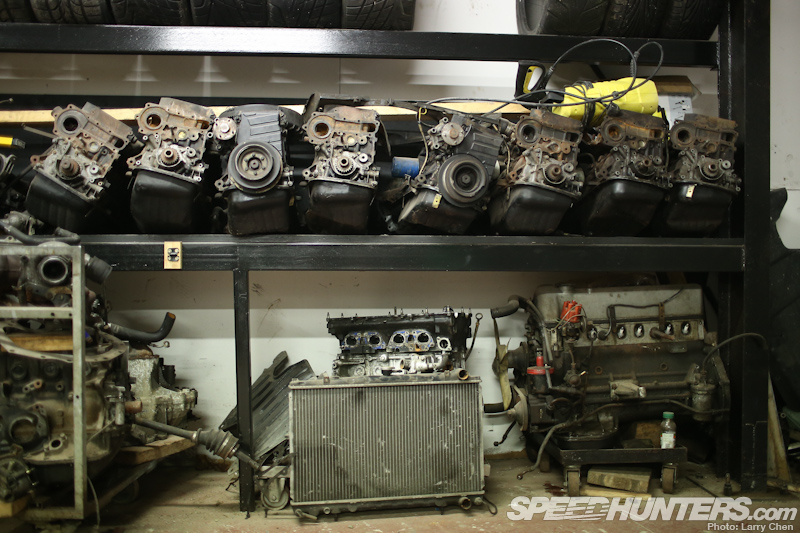 So the next morning, I found myself staring at a wall of engines. We were at West Coast Performance: they do many things at their race shop, but their speciality is Dyno tuning.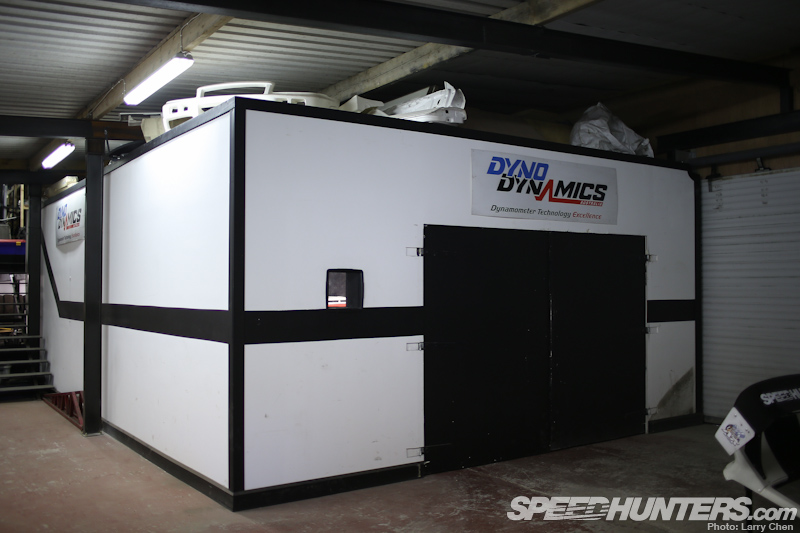 They have a very cool dyno room that can double as a recording studio. When outside of the building I could barely hear the Dmac 86 hitting 10,000 rpm.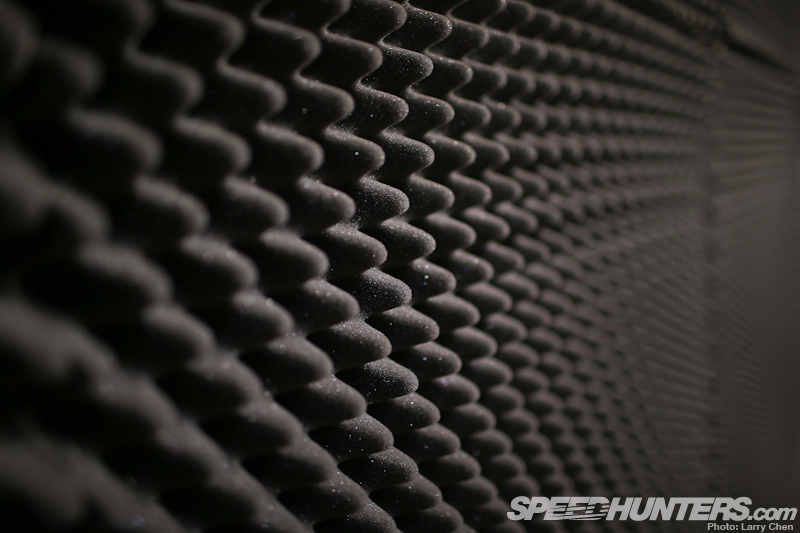 The inside was completely covered with sound-deadening material.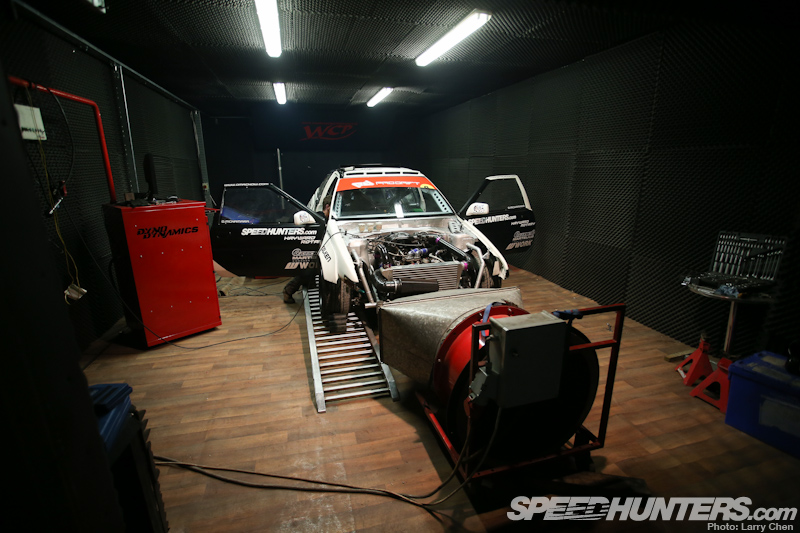 On the agenda for the day was to figure out why the car was losing power and sputtering at the higher RPMs.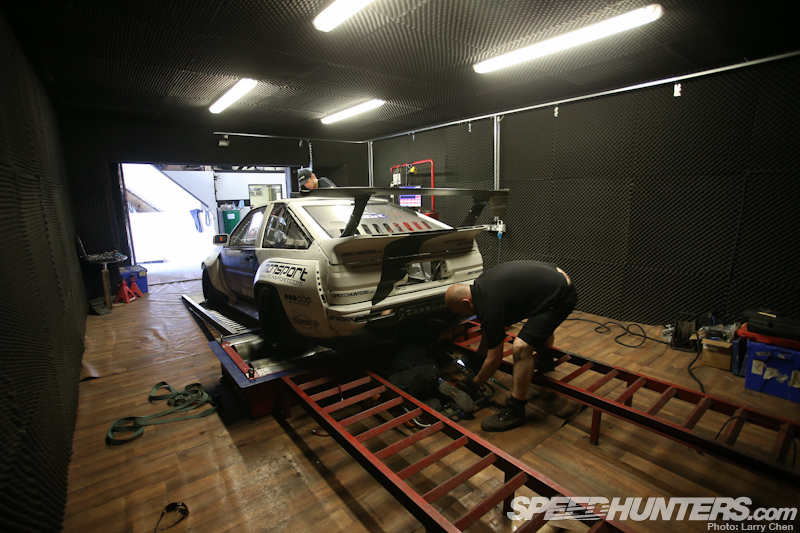 As soon as they strapped the car in, they were ready to go. I decided to look around and see what other things they had laying around the shop.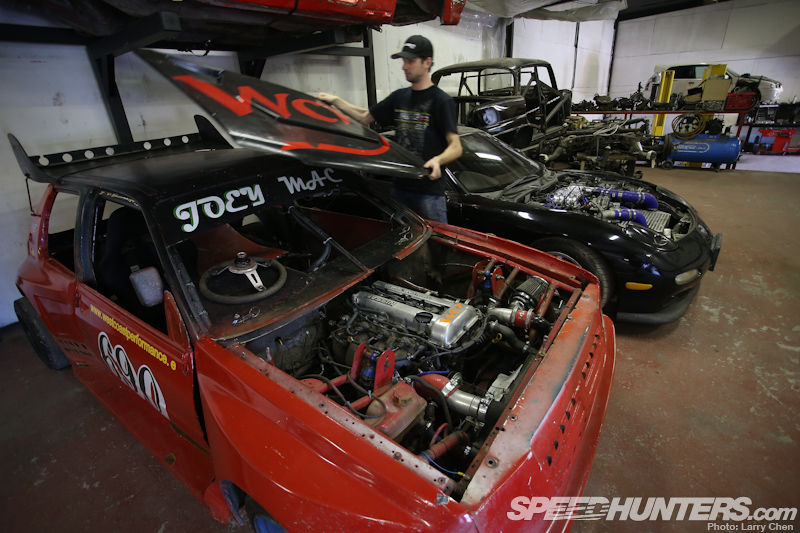 There were so many cool cars in the shop, including this Peugeot 205 racecar powered by a SR20DET. Darren may have had some influence on this one.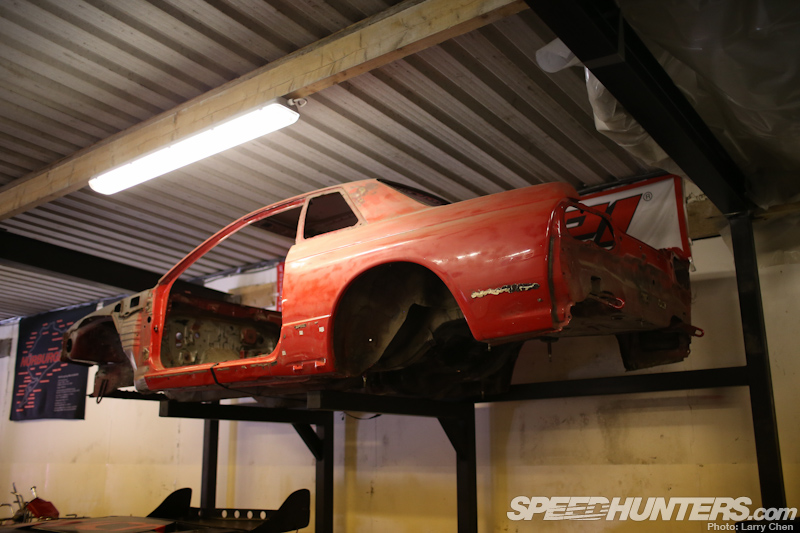 On a rack was a bare Nissan R32 GT-R chassis. It was a shop-owned car and eventually they will turn it into a time attack machine. They have gathered all the parts necessary to build it, but just don't have time.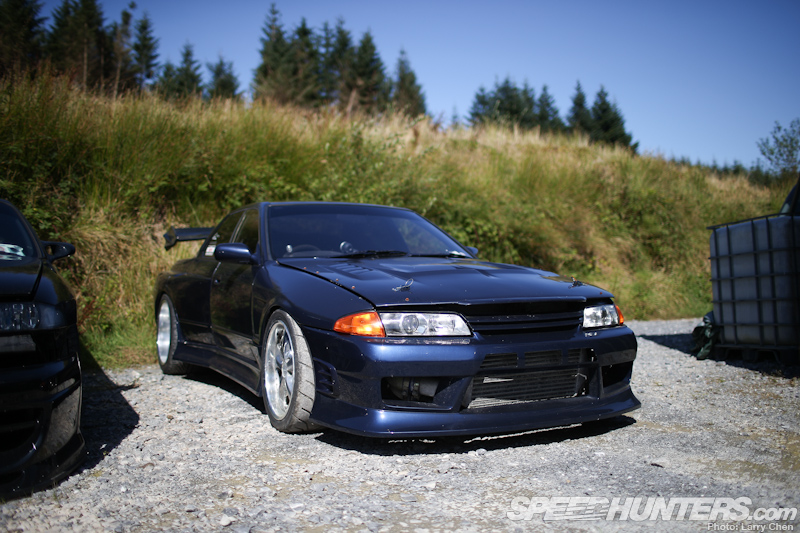 Parked right out front was this crazy Nissan R32 GTS-4. It's powered by an RB25det which outputs around 600bhp.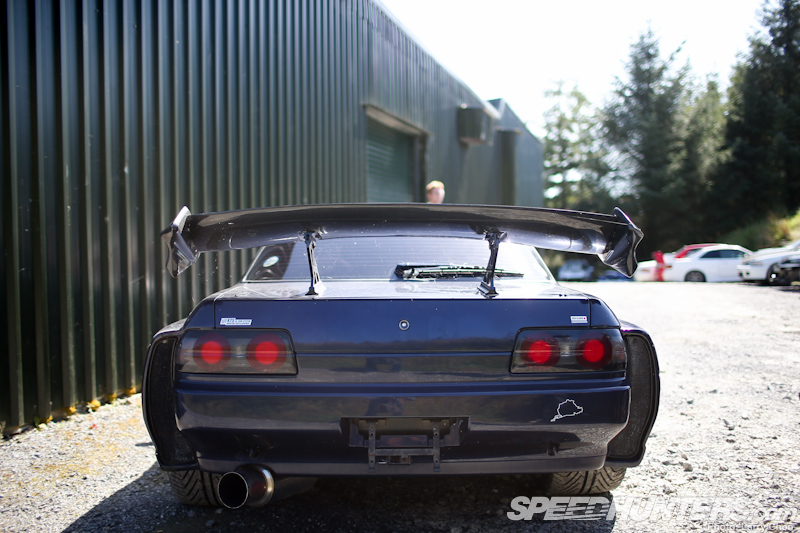 The owner is a WCP customer and he bought this car exactly the way it is straight from Japan. Check out those 315mm-width tires in the rear.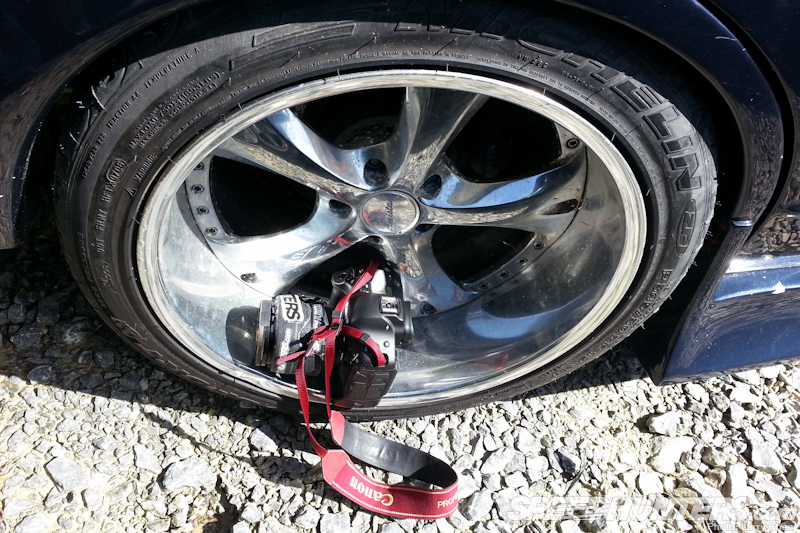 The lip was pretty serious too. My entire camera fit just perfectly.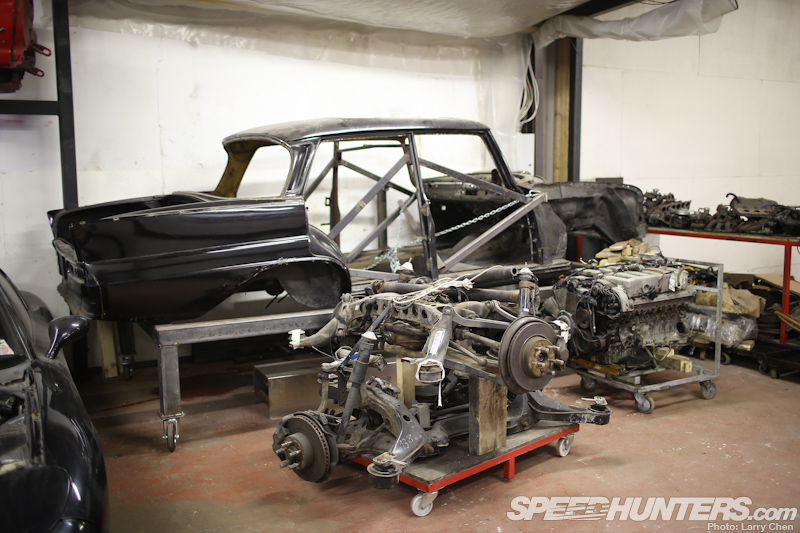 This was a very interesting project. WCP is planning on modernizing a '60s Mercedes S-class. That is the subframe from a '95 S-class.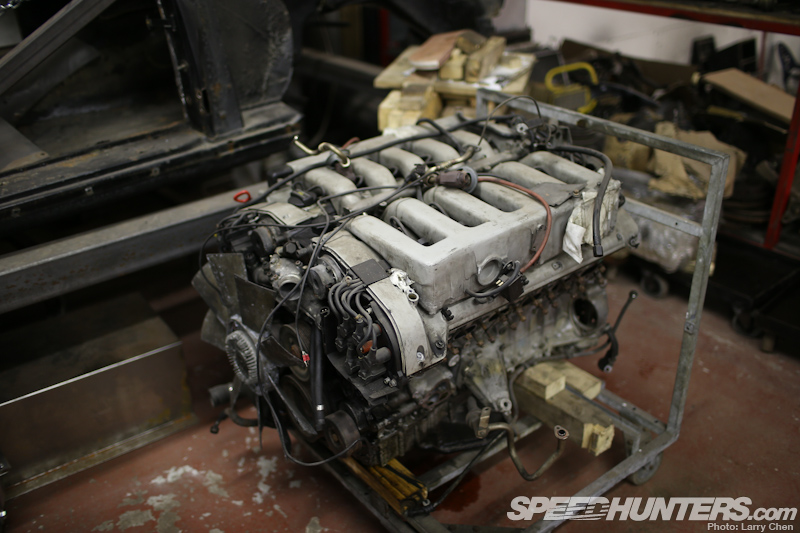 They are also planning on dropping in a twin-turbo Mercedes V12. Just awesome.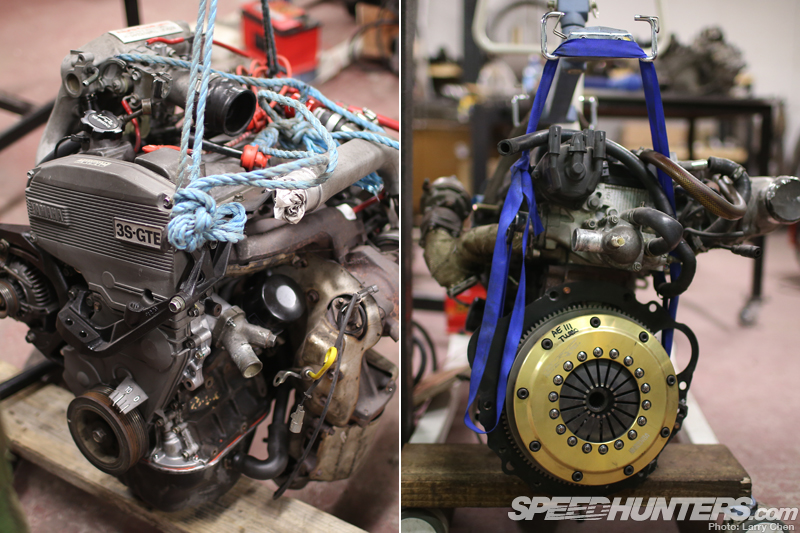 There were so many cool toys just laying around that I normally don't get to see.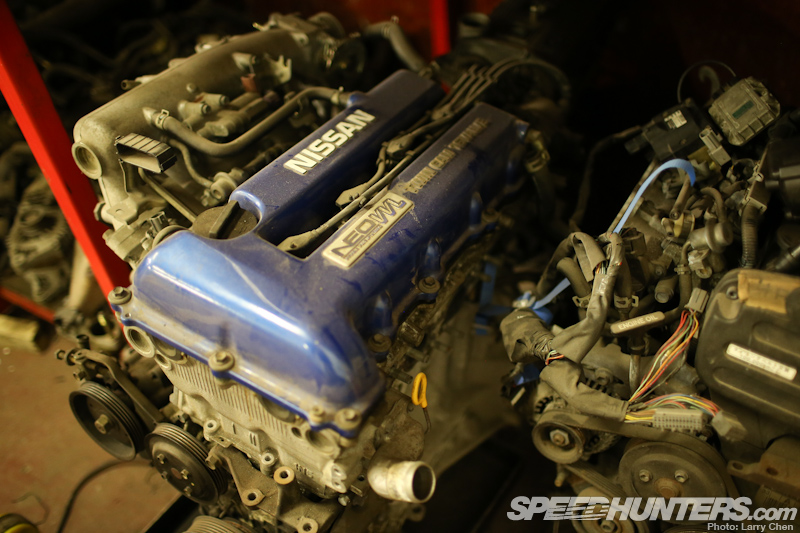 I would love to see one of these Neo VVL SR20s in my 240Z. Unfortunately, they are pretty rare in North America. I've only seen one other in the local shops in Los Angeles.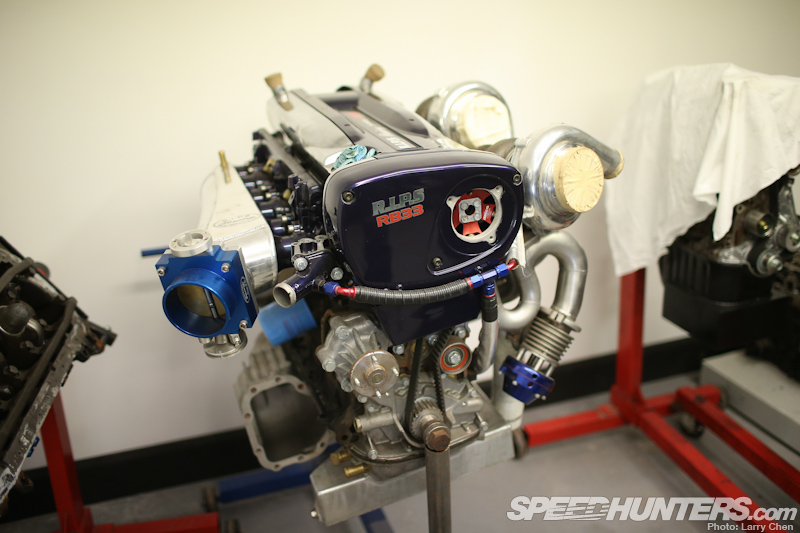 In the engine building room they had this monster of a RB33DETT. Apparently this is the only one in the world.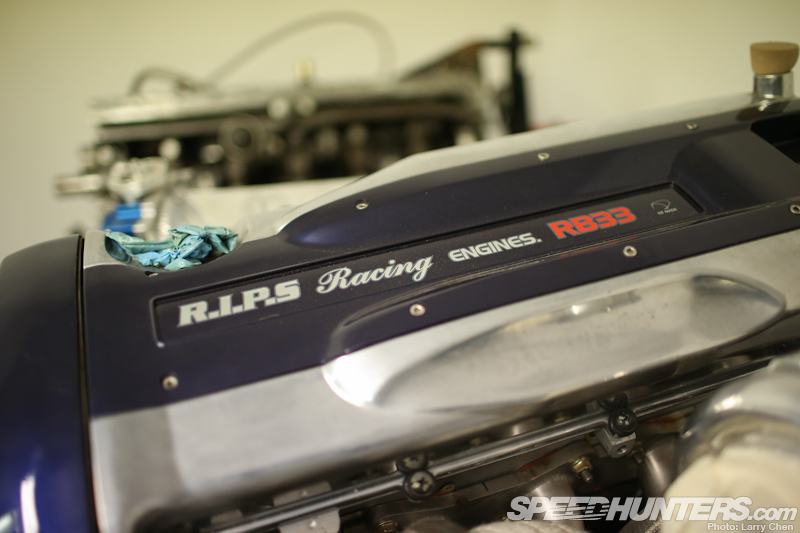 It was built by R.I.P.S racing in New Zealand. This motor is easily capable of making over 1,000bhp on race fuel.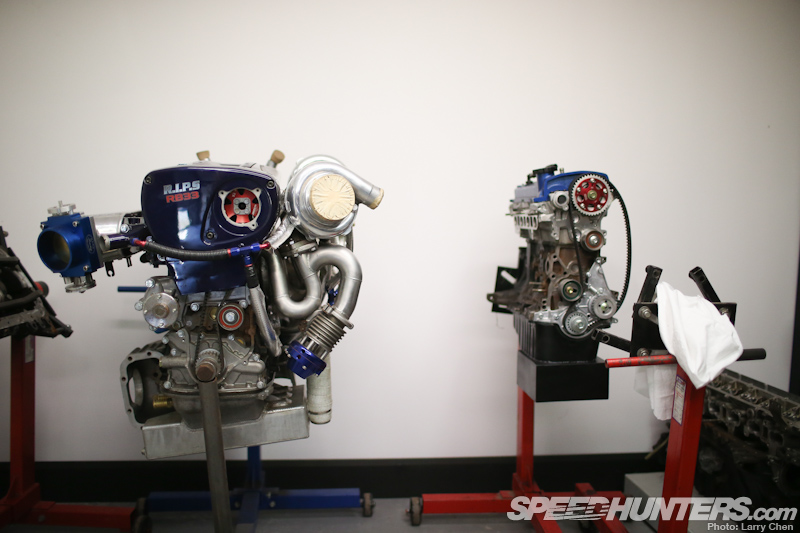 Its home will eventually be in an R33 GT-R for a WCP customer.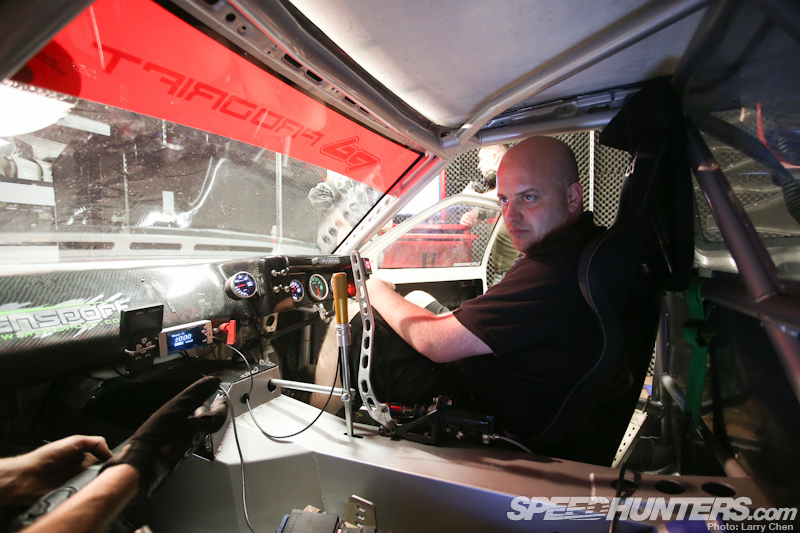 I went back to check on the guys in the dyno room. As they did more and more pulls they eliminated more possibilities as to what could have been causing the power loss problem.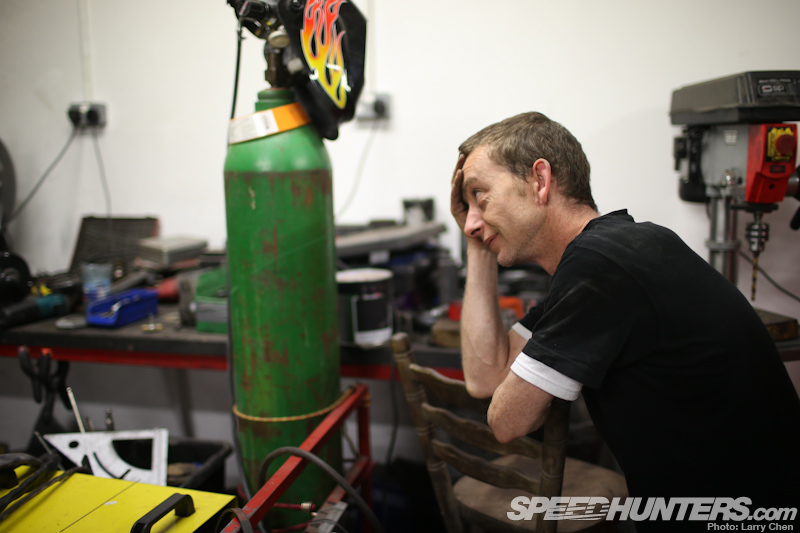 Darren must have been very hard on the gas pedal at Trax trying to squeeze out more power, because the pedal actually broke mid dyno pull. We all laughed as we were saying maybe that is why there was a loss in power.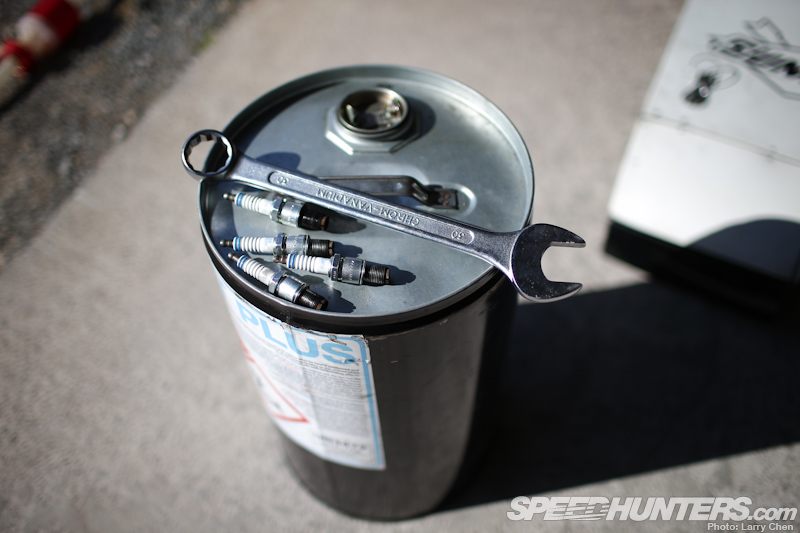 So after all that work, the team found out the spark plugs were bad. Luckily WCP had an extra set just laying around. The dyno pulls after the swap were buttery smooth all the way to 10,000rpm. The car made great power and everyone had a little sigh of relief. Dmac did not want me to disclose how much power he is putting out, but lets just say he is happy with the numbers. Now all the team had to do was fix the braking problem.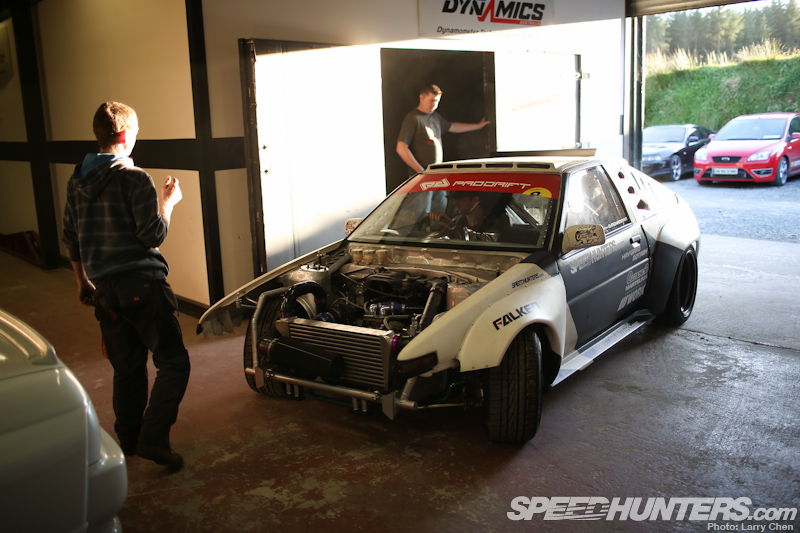 The hits just kept on coming throughout the week, but the team just dealt with it. It seemed the worst was over. The major problems were fixed and everyone was looking forward to Japfest.
The team would head out in the morning to Mondello Motorsports Park: there were high hopes for the team's luck to turn around, but unfortunately they would have to wait just a little while longer…
Larry
larry@dev.speedhunters.com
West Coast Performance Ireland
More stories from Japfest on Speedhunters