Darren McNamara and Fredric Aasbø both took the risk and made the trip across the pond to compete in Formula Drift in the US. Both drivers put everything on the line as they took the leap of faith. It has brought them to where they are today, and thanks to their undeniable talent they both have the opportunity to compete anywhere in the world. I am lucky enough to have been there when both of them started their professional careers, and I had a chance to catch up with them as our day at Silverstone came to an end. We all piled into our rental car and I pressed record on my voice recorder.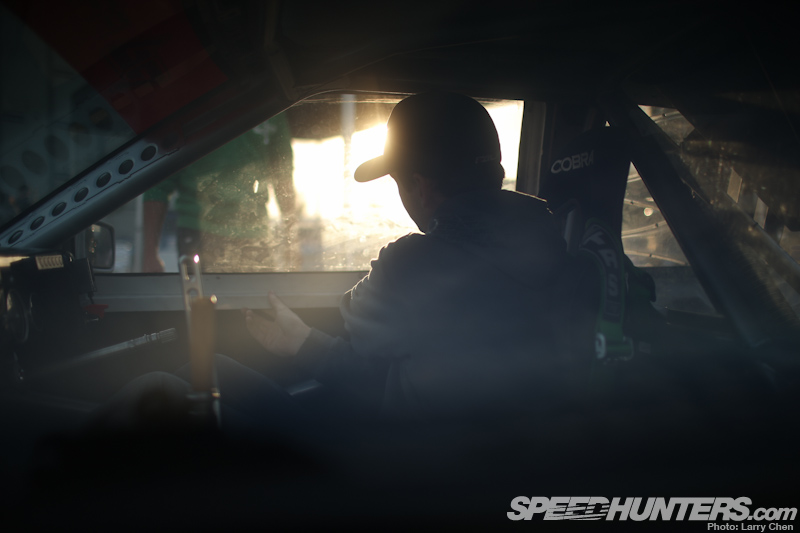 Larry: Darren, there is really no light way to put this… Formula Drift Las Vegas did not really go as planned for you. It was the first time you did not make into the Top 32 in your entire drift career. With that behind you what were your feelings going into this event and how do you think it went for you?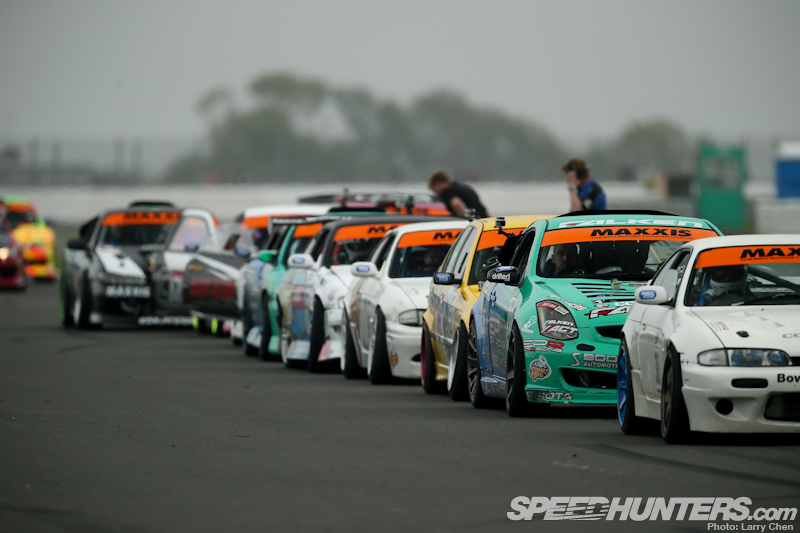 Dmac: Thanks for bringing that up, I was trying to forget that! But seriously, I always love coming back here; I have so many good memories you know? This place is where it all began for me. Unfortunately, the 86 has been acting up on us, which is frustrating. It's not acceptable to bring it all the way over here just to have it not running right, but we still came fourth. It's not the end of the world – we placed fourth last time at Trax as well. It's been a tough year for me; Freddy's having a great year though.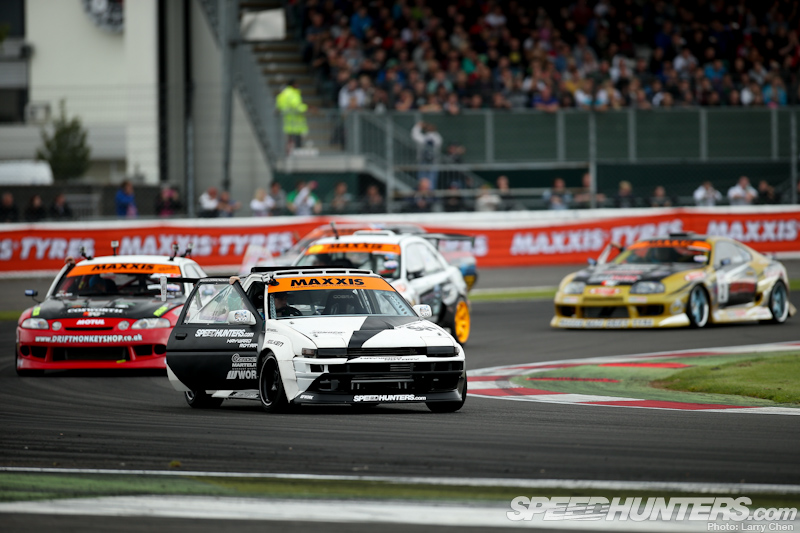 I had that crash in Long Beach and using the spare Falken S15 was not ideal. But it's the end of the year. I've got this event (Trax), ProDrift at Mondello and then the FD finale at Irwindale, and you can't help but have a great time at those three events. It's gonna be a new chapter next year with new everything, so I'm going to put what happened in Vegas behind me. Irwindale is always fun – I love hanging out on the wall in Irwindale. Of course, driving it is nice too. I am really looking forward to next year, where everything's gonna be bigger and better once it begins.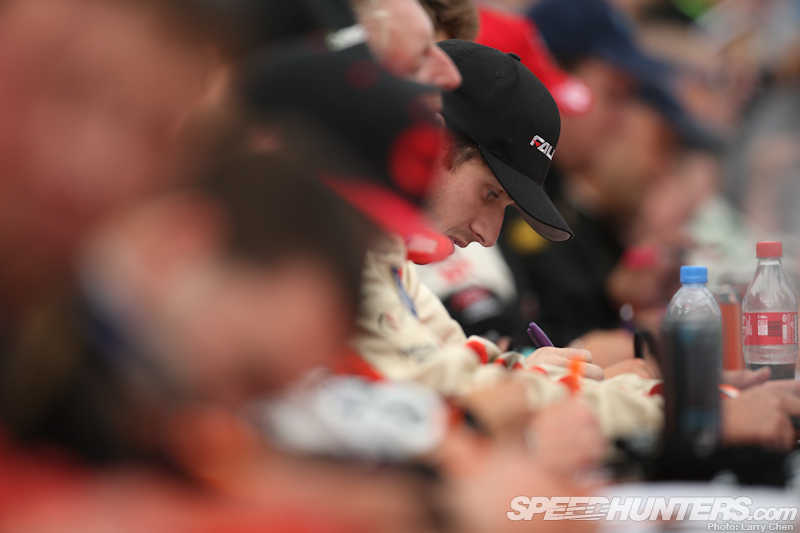 It is terrible, because I was really positive about coming here to England for Trax. It's frustrating when the car isn't going right and you know that you have so much more left in you. Of course Freddie comes out with his new car and wins, which was an amazing feat. Right Freddie?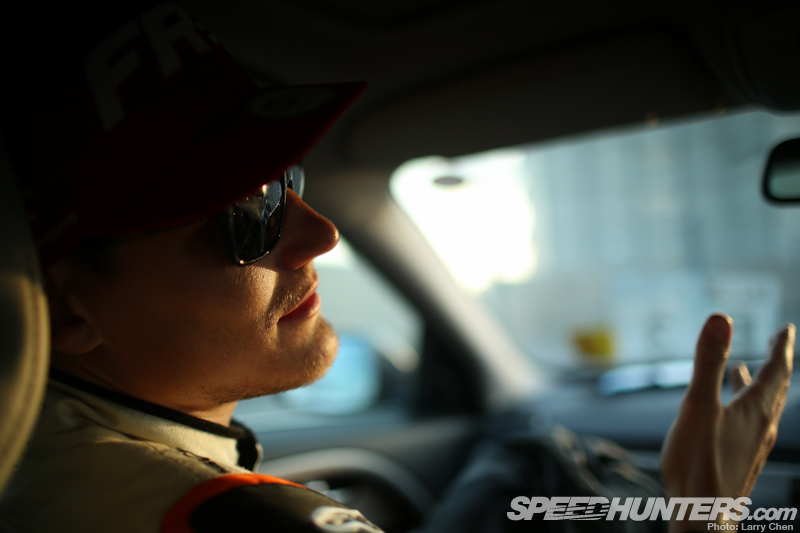 Fredric: Yeah, I mean, it goes to show it's all a wave or a roller coaster: you win some and lose some. That's what Jr always says at least!
Dmac: Right, because you got second place at Formula Drift Vegas and equally you could have been knocked out in the Top 32 at this event. You never know really.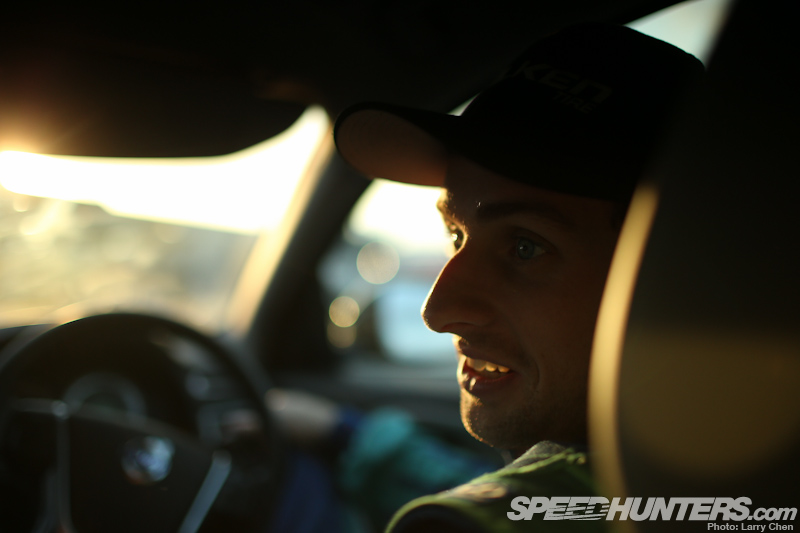 Fredric: Exactly – there you go. I think that's the beauty of the sport though: nothing is a given. You really gotta claw your way up there.
Dmac: It's beautiful when it happens isn't it?!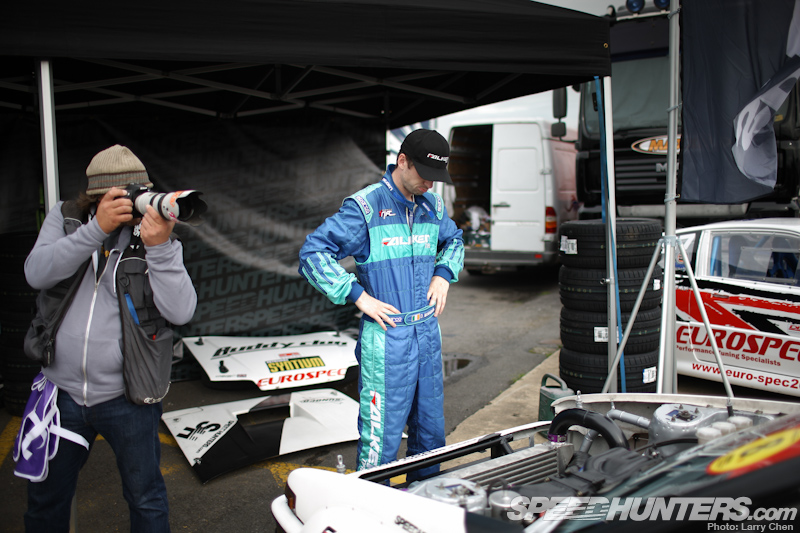 Fredric: Isn't there a saying? When the going gets tough the tough get going? And that's when you learn the most. When it's uphill, that's when you actually go up.
Dmac: Though it's not supposed to be so uphill! You know, this is a really steep hill I'm climbing: it's almost vertical! I guess things go against you, then things go with you, ya know? For example, I had an amazing year last year.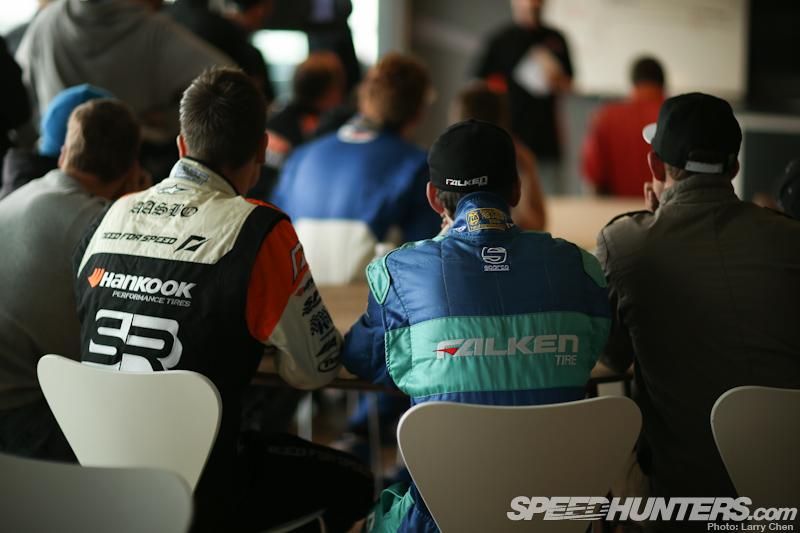 Fredric: Exactly. You were so close to the championship last year. Like you said, one off-year and maybe you need to take some punches to get to that next level.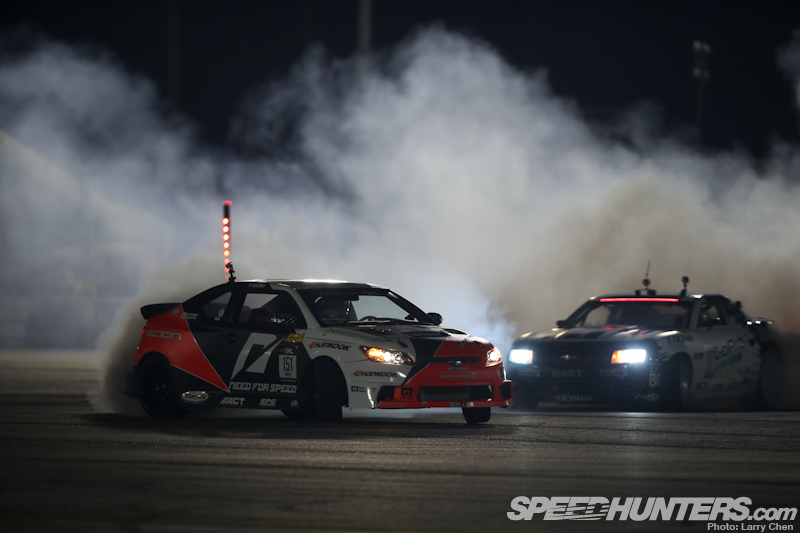 Larry: Fredric, it was a real pleasure watching you drive in Vegas – you had that fire burning inside or something. You were just driving so well and so fast. I guess you just brought the heat here, huh?
Fredric: I think you end up with a surplus of momentum, which means that you get the confidence when things are going your way, and it's almost self-perpetuating. When things are going smooth, you build upon that and then it's easy to get your next good finish. I think what we did in Vegas was basically the same thing. It was smooth sailing for us at last, because we had been struggling during the Formula D mid-season, but finally things were working out and we just went through battle to battle. It was fun, because that event was both the toughest bracket we've ever had and also probably our best finish ever. We had to go through Forsberg, Daijiro, Tyler and Jr.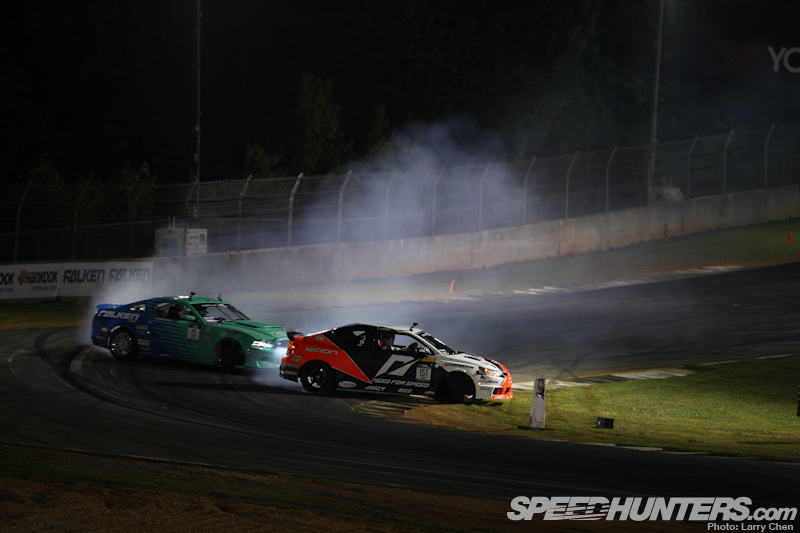 Dmac: When are you going to win?!
Fredric: When I'm going to win? It's almost like a curse. It's the second time I was in the finals this year. In Atlanta, I sort of choked. But then again it was getting slippery when I was battling JTP, and the same thing in Vegas when I was going against Rhys.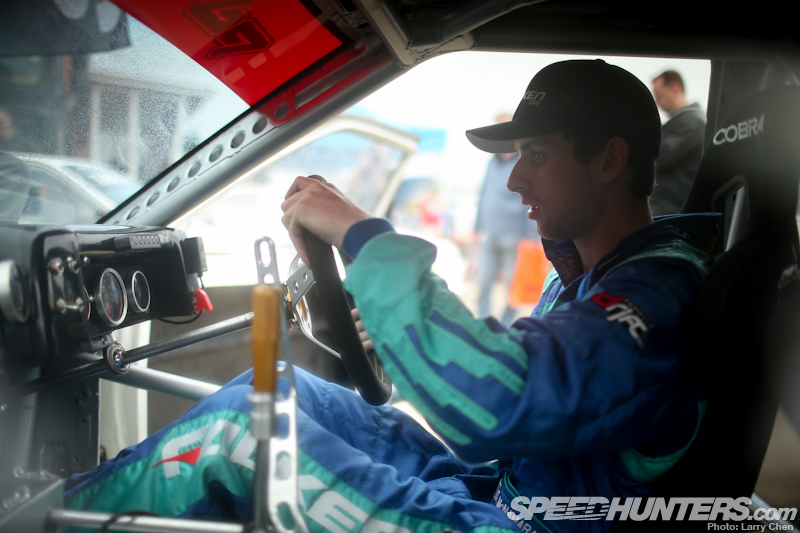 Dmac: It's a disaster isn't it? It's like a monkey on your back.
Fredric: Yeah, and it's like that monkey is gripping the steering wheel.
Dmac: It's hard to get off.
Fredric: You have a win though. Was that in New Jersey?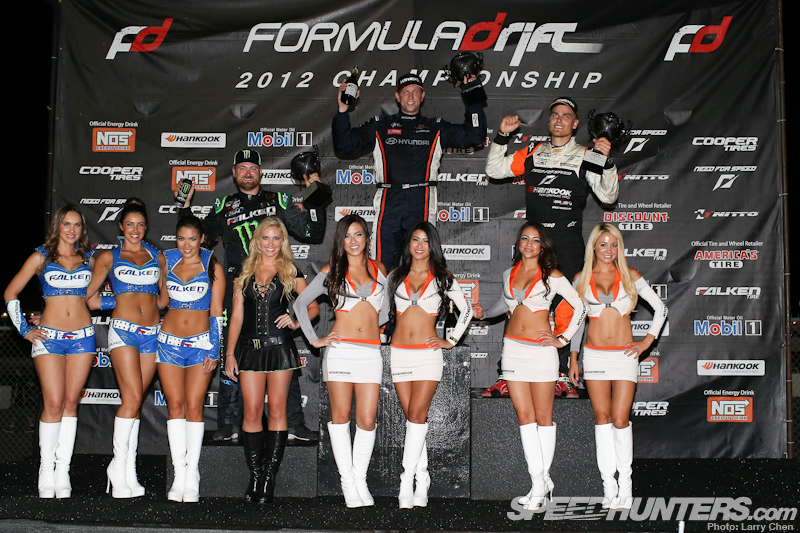 Dmac: Yeah, New Jersey. I had the win there, and it's not like many people have won. You can probably count them on your hands.
Larry: It is 18 in total I think.
Dmac: Is it? Currently still competing though?
Larry: A lot of those guys have dropped out. There are only 12 that are still competing.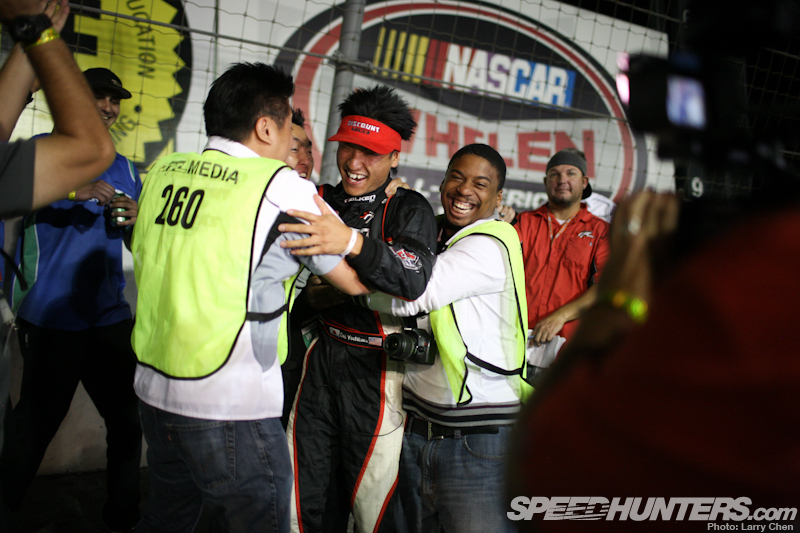 Dmac: You don't need to win to win a championship either. I'm sure you would be in the lead if you had done well in Seattle. That's how Dai won the championship last year.
Fredric: It's true, but of course you wanna win still. You want to have a perfect season, like a Ricky Carmichael season.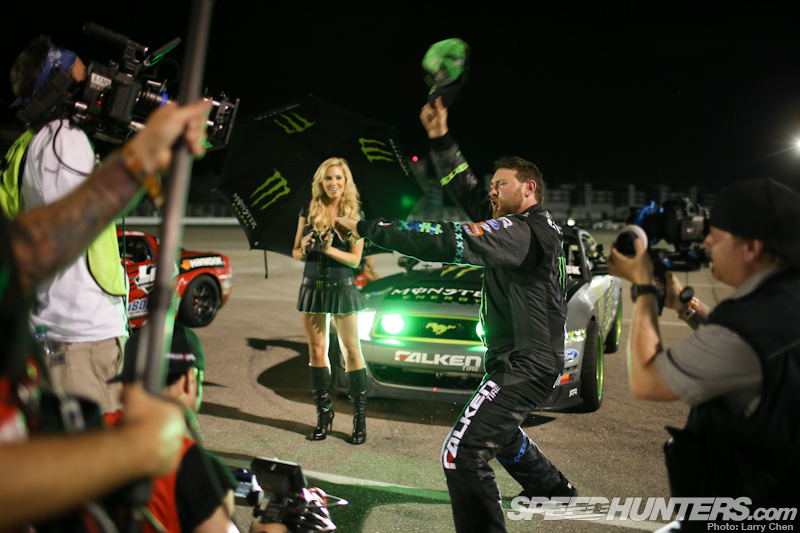 Dmac: I don't know if it's possible in drifting though. I guess Jr got extremely close to having a perfect season in 2010
Fredric: Anything is possible.
Dmac: That's true.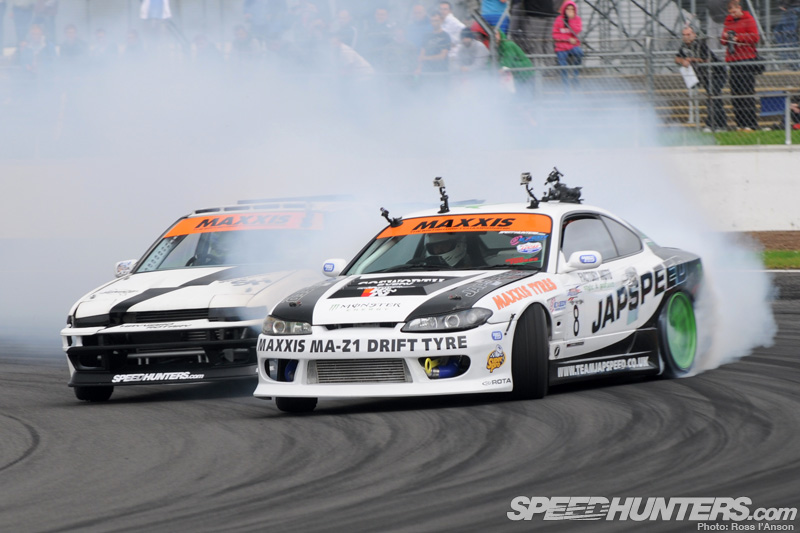 Larry: Darren, I heard you clutch-kicking like crazy just to keep your 86 in drift as you advanced more and more. You seemed to be having so many problems besides power loss. What are you planning on doing to fix all these issues?
Dmac: We've got one week. We've done a lot in one week many times before… I think I was losing more and more power as the event went on. I got to a point that I had to take this very specific line to make it around the track. The car was going into a push because it wasn't spinning the wheels hard enough, and when you're following a guy that's a worst case scenario because you need to adjust to him. I have an Idea of what's going on with it. We're debating over whether to stay in the UK to dyno it or to bring it home. I'll probably take it home. I don't think anyone can give me any insight over here that I don't already know myself.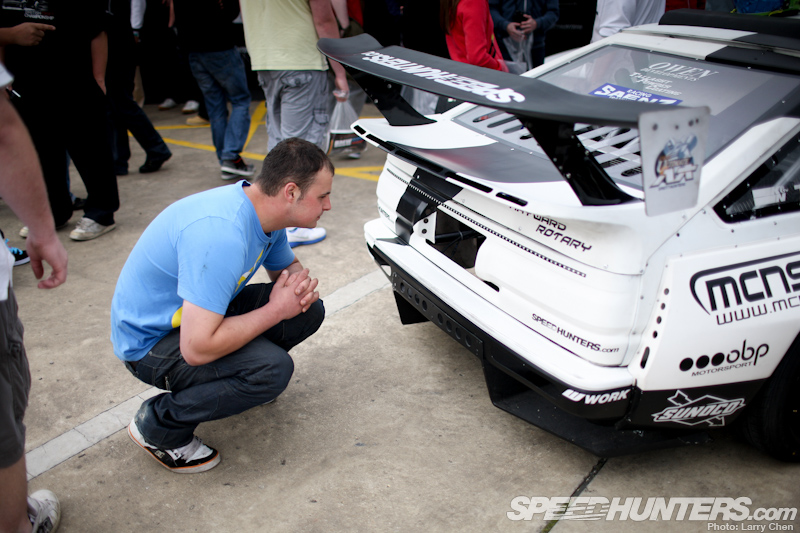 There have been a lot of changes on the car; we've adjusted things here and there over the year. But it is frustrating: you need a lot of track time to fine-tune everything. Everything's so adjustable. It's a lot of crap crammed into a small car. I guess it's an ideal car for me because I can make so many changes and there are so many fine details! It can really be looked at in depth. And it's a good car to blog on, as there is just so much going on. And you see that from the crowd that come round, pointing here and pointing there – there's so much to look at.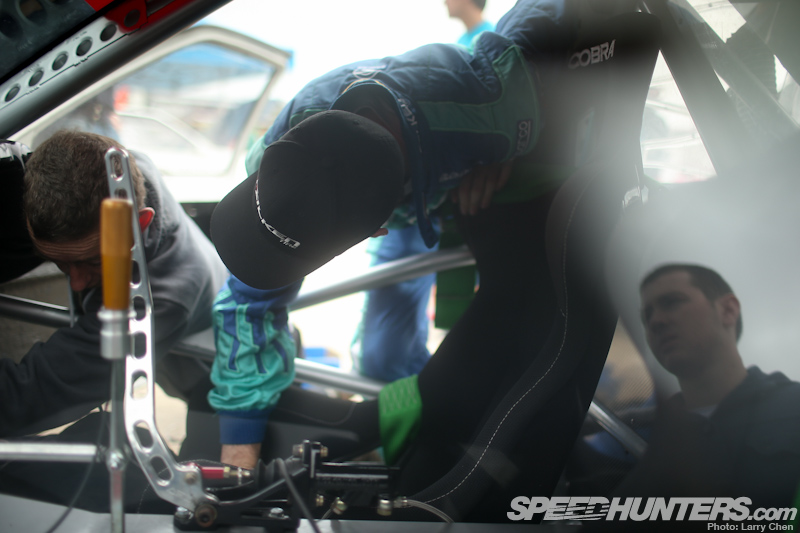 But then I was looking at it today and I was like, 'Jesus, I should just put an SR20 into it and go completely standard and just drive the crap out of it'. Because I was moving this and moving that, adjusting the bumper, adjusting everything.
Larry: But you still qualified fifth and finished fourth. Not too bad for a car that was slowly dying.
Dmac: You are right, it's not too bad. The podium was there for the taking though. I felt we should have had so much speed. The steering problems that we're having with it are just retarded. The steering has gone back to basics. Because we took it to another level last year and now we had to move the engine around because of the new ProDrift rule-book. So then I thought, let's put the steering back, dry sump the engine so it stays low and it will be back to basics, it will steer absolutely beautiful and there we go. And now we're having steering problems… It just doesn't make any sense. So, we put a rack into it and the rack was bent. It never ends! We just need to catch a couple of breaks.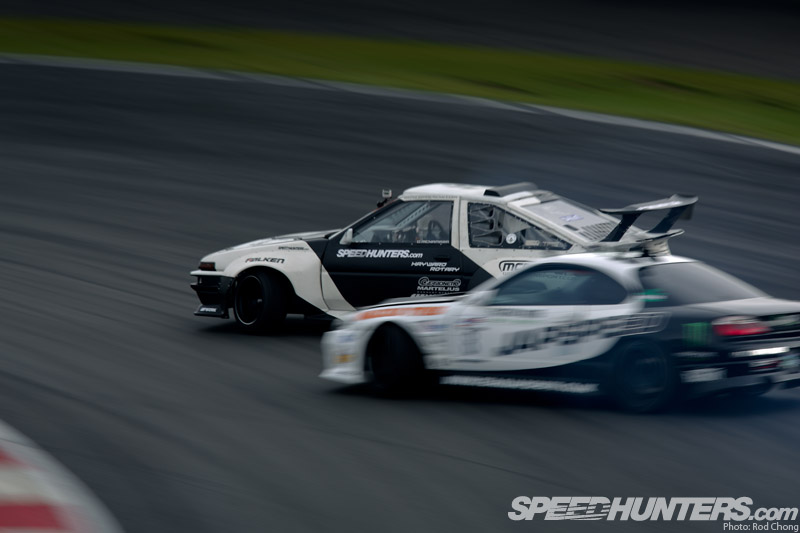 I guess I could bug the guys at Mondello Park to give me some time to test on Thursday or something. We need to do something. We improved the steering ten-fold today so I think we're heading in the right direction. We just have to figure out a plan to fix everything. I think the column is the problem. Is it ever going to be perfect with the electronic pumps pumping the fluid? Maybe we need to put an engine-driven system on it. I'm half thinking of just putting the electronic pump onto my friend's car. Like a Silvia S13.
Fredric: It is a common pump though. It's a common system that people use.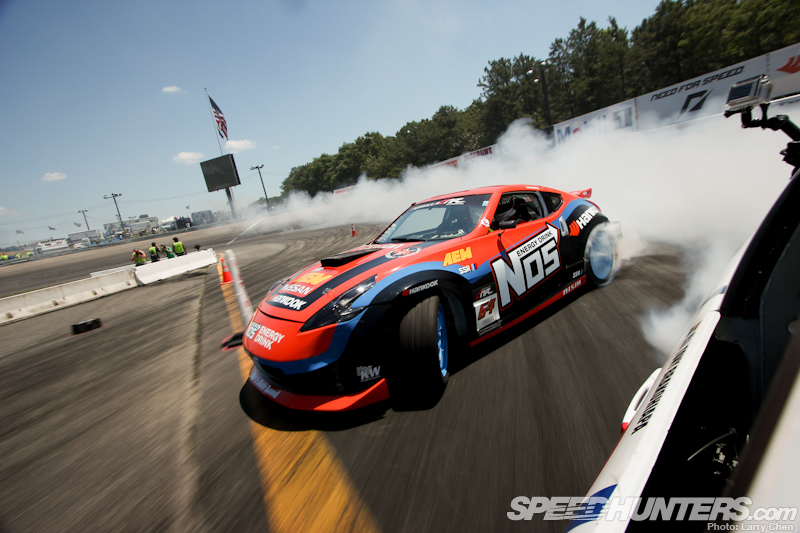 Dmac: I think Forsberg was using it, wasn't he?
Fredric: Matt is too.
Dmac: Matt Powers? Well, there you go.
Fredric: It's a different rack though.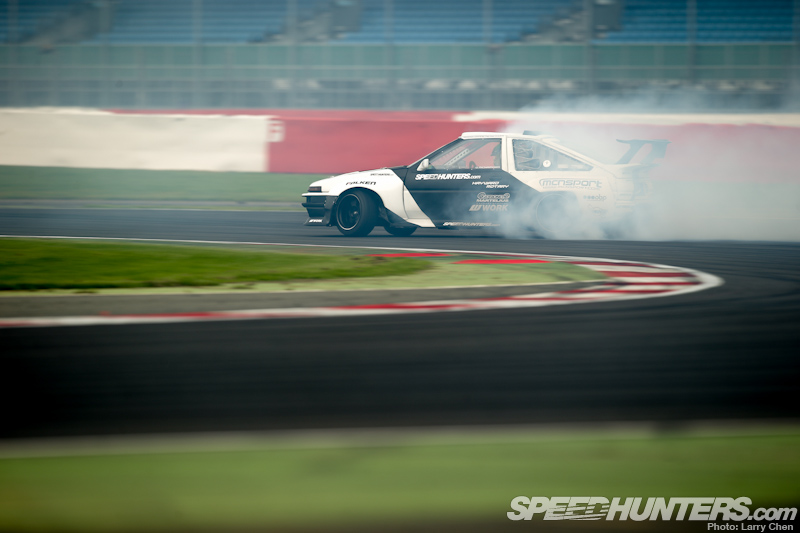 Dmac: Yeah, it's a Corolla power-steering rack. I mean, if you drive a Corolla with a power-steering rack it's absolutely glorious. Just grab the wheel and move it along. It's lovely. I just can't come through the first corner and let off the throttle and let the wheel slip between my fingers. I actually have to forcefully guide it back and forth.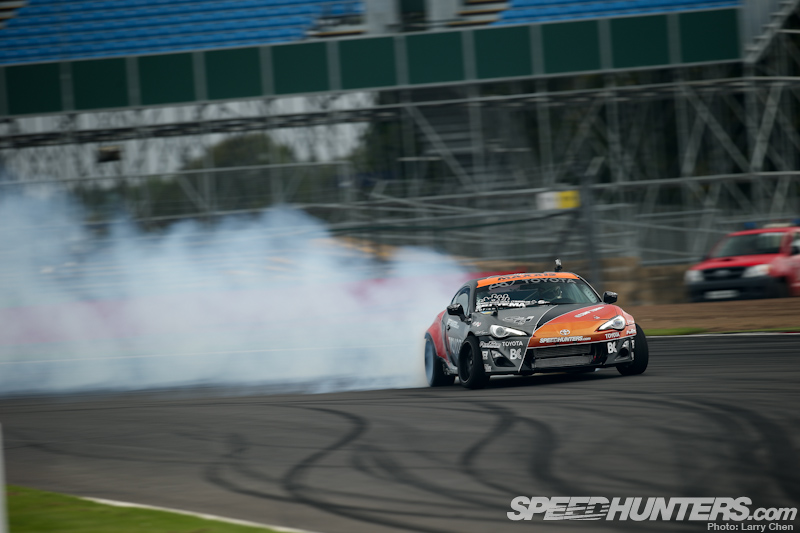 Larry: So Fredric, you qualified first: what do you think about the car? What's next? I mean, obviously you know it pretty well already, qualifying first and winning the event. Your first perfect finish ever.
Fredric: I feel like we still have a long way to go before I know the car inside and out. This was my first ever competition event with the 86X. Qualifying first and winning the event gives you a lot of confidence. What we've tried to achieve with the car actually works. It feels like sometimes we know what we're doing and that gives us a lot of confidence! And then again other times it's more luck, and I feel to some extent it's much more car than me.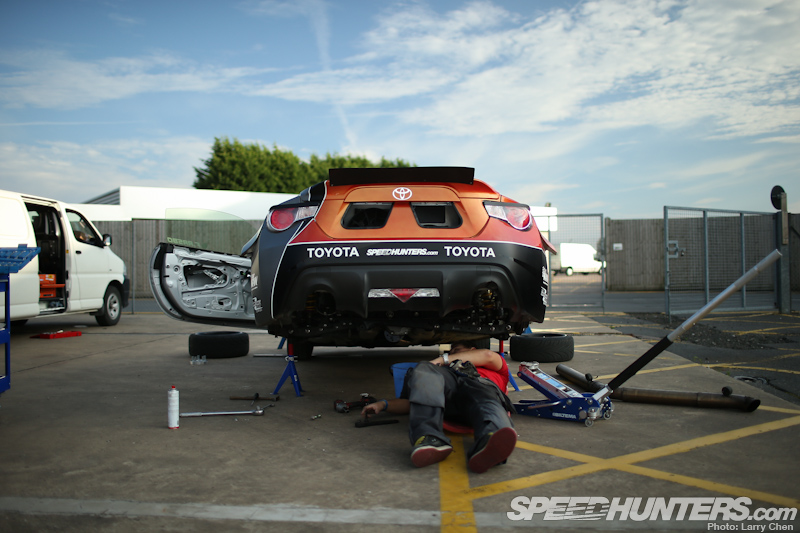 I feel we've built a truly amazing car in just 37 days and we're really pushing the physics with it. Now we've had a lot more time we've actually been doing a lot of things to the car, because it really never got finished within those 37 days. It was just a pretty-looking show car that could kind of hold a drift. I think this proves that it's come a long way. Hopefully we can build upon that and make it stronger and better and faster and maybe kill everyone!
Larry: Cool, good luck in Mondello! For both of you guys.
Fredric: Thank you – we're gonna need that.
Dmac: Yeah, Mondello is tough. A lot of competition there.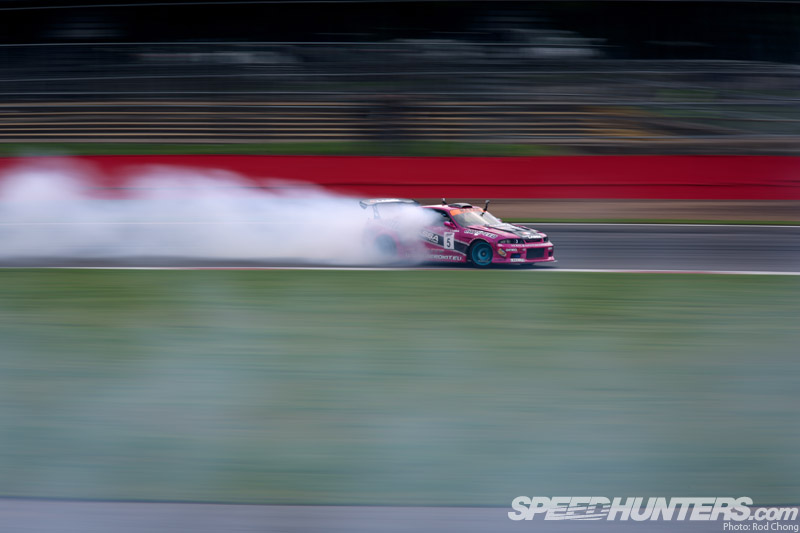 Fredric: The whole field is super competitive. That whole island… Ireland, it's amazing. The support drifting has there is crazy. From what I'm told, if you're a kid in school and you wear a ProDrift hoodie that's like a fashion statement. Drifting is really Ireland's NASCAR.
Dmac: It's extremely popular. We were just talking about it amongst a few people here this weekend. It's amazing: if you had a car-show in Ireland like Trax you would have nothing but rear-drive cars. All the kids are in Silvias, Corollas, Skylines and Chasers, whereas the UK is much a more different scene. You have front-drive cars and Ford Fiestas – things that people would never dream of driving back home.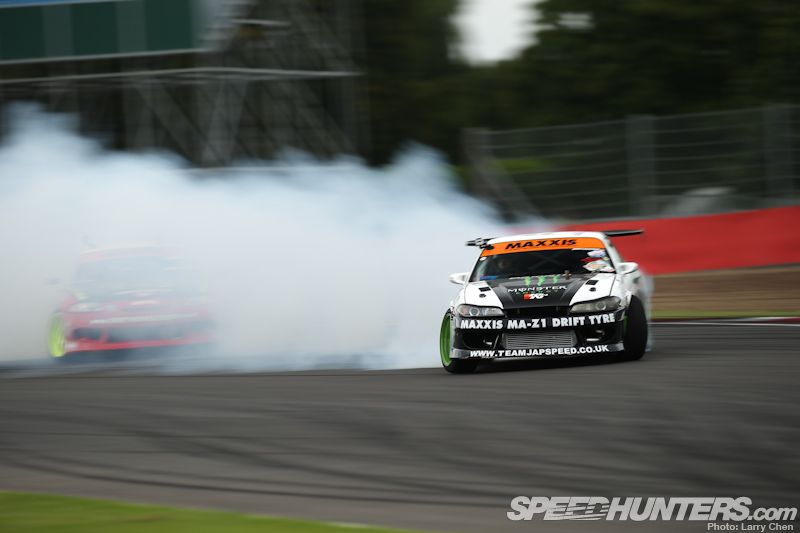 Look at the crowd that was watching today: it's probably going to be the same amount in Mondello next week and it's just for the drifting. People in Ireland don't come to look at cars any more, they want to see the drifting. The support from the crowd is amazing: they start cheering and they really get into it. They're just big-time fans. A lot of people come to watch qualifying on Saturday, when you have probably 100 competitors. It's pretty amazing for such a tiny country. I think we're all a bit nuts, but in a good way.
It would be great to see other countries catch on like that. I mean, the popularity it has at home trends to other countries. If it was the same way in the UK, with so many more people, the support would be amazing. I hope to some extent we could help with the scene in the UK a little bit by coming with our cars along with the Speedhunters crew and try to get more kids into it. Get them to want to go drifting. That would be cool.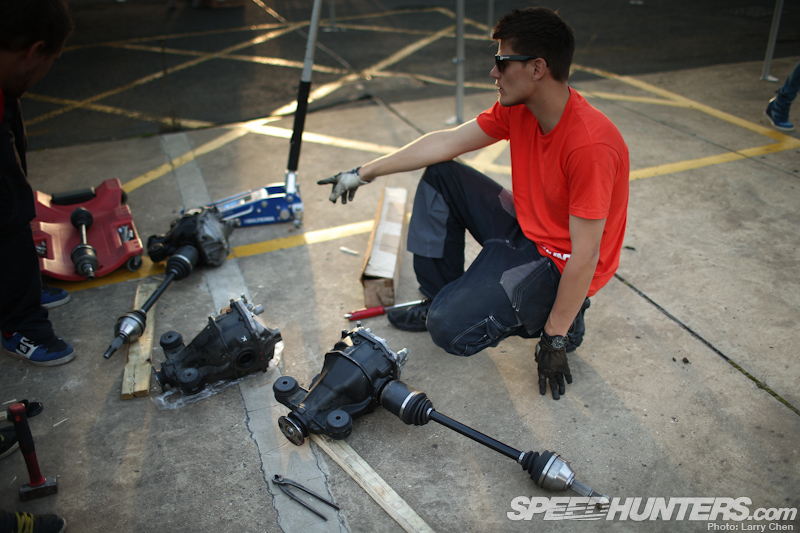 Fredric: Yeah, get kids off the streets and go drifting instead. But not in the streets.
Dmac: Agreed.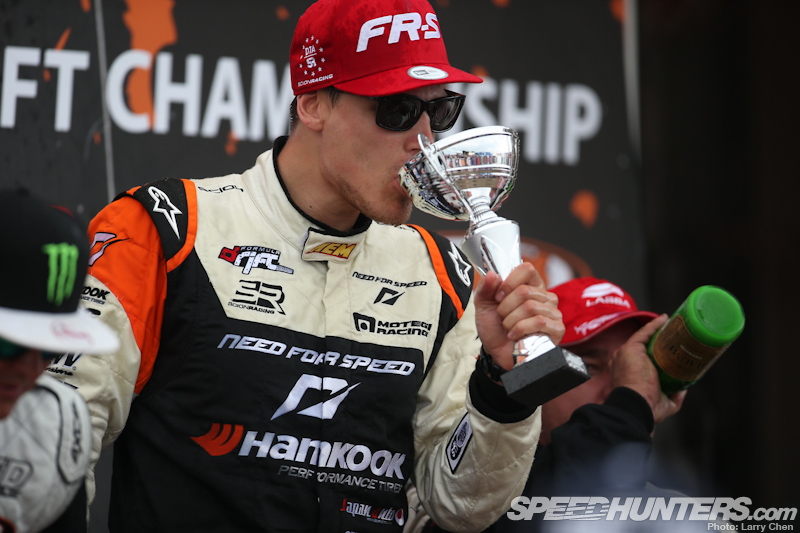 Fredric: I'm sorry I reek of champagne, Darren…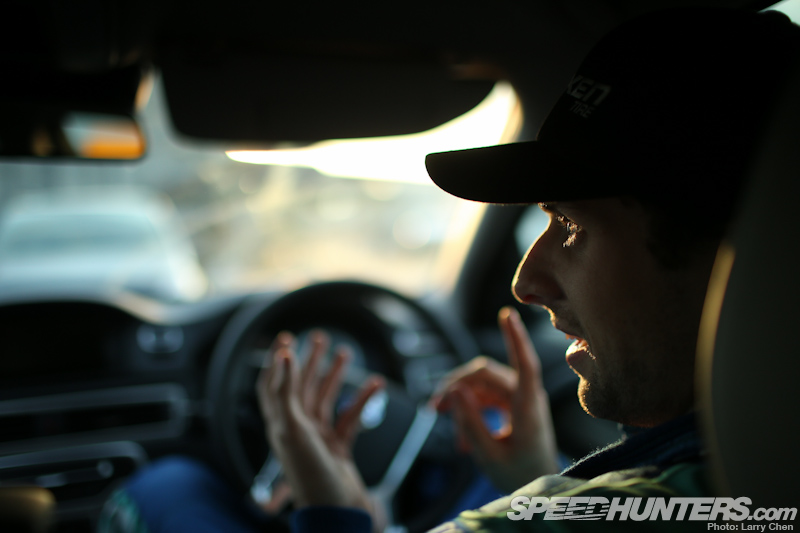 Dmac: Aww, what are you trying to do? Are you trying to rub it in?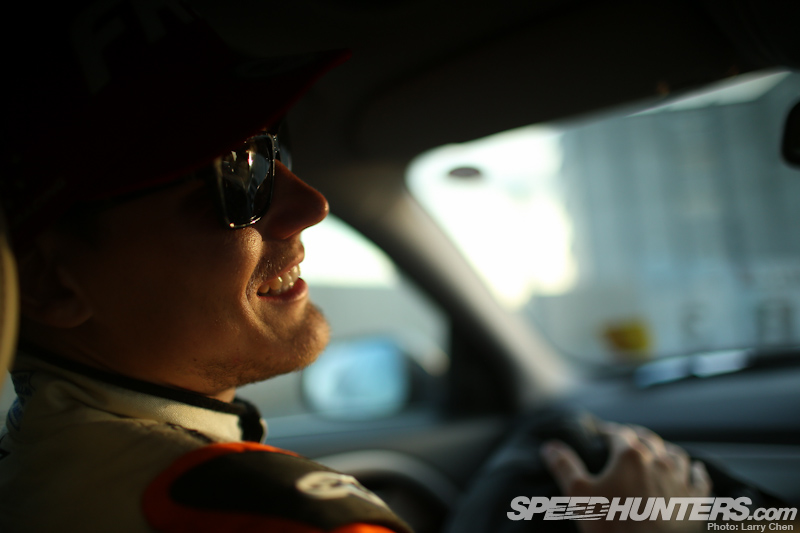 Fredric: I hope it's your turn in Mondello.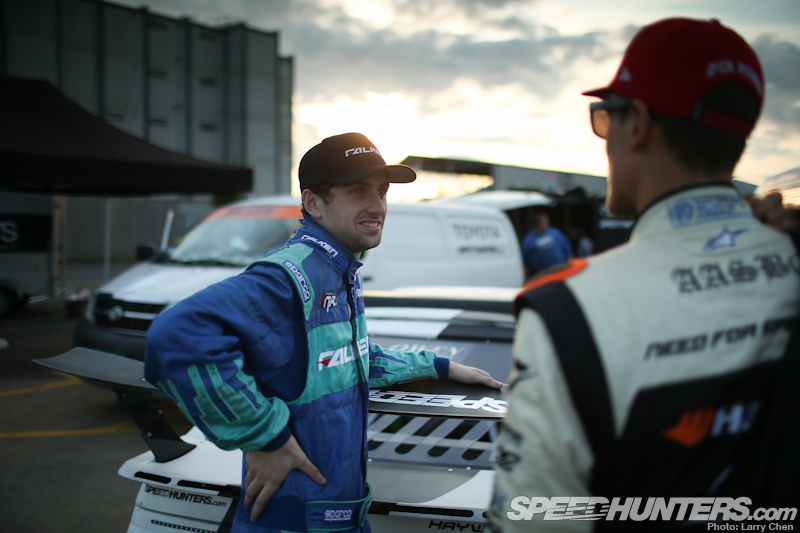 Dmac: Well, I reek of sweat! How's that?
Fredric: Yes, you do.
Dmac: I had at shot at the win this year at Trax, but I finished fourth and you won it. You won here last year too. We got second in Mondello last year and you were fourth?
Fredric: Fifth.
Dmac: Wow, that's bad. I have a lot of work to do to win next week.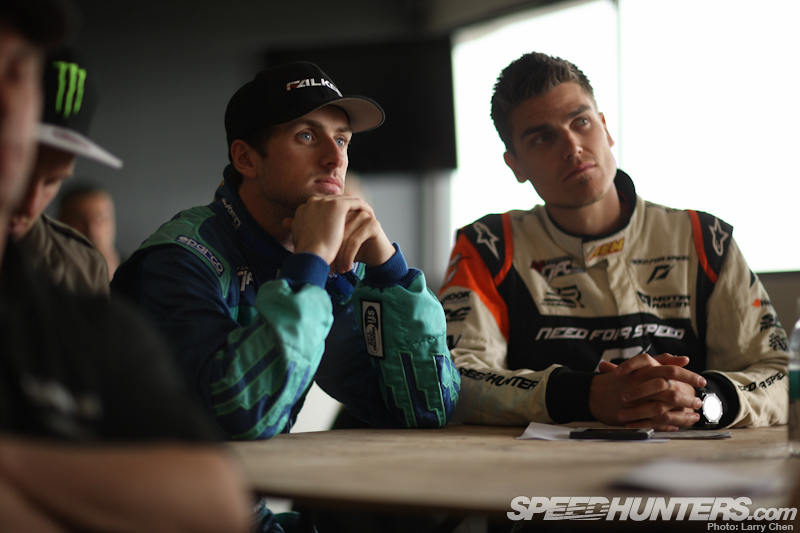 Fredric: We all have Darren, we all have…
Darren, Fredric and Larry
larry@dev.speedhunters.com
More stories from Trax on Speedhunters
More stories by Larry Chen on Speedhunters
---
---
---