As I was walking to the elevator in my Palm Beach hotel I took out my phone and made a call to Justin Pawlak. It went straight to voicemail. My stomach sank. Like that feeling you get when you just found out big life-changing news. Could it be? Could Justin Pawlak really skip out on Formula Drift Palm Beach to attend the birth of his first child? Could he be on a plane already? I looked down at my phone and made the call once again. This time he picked up.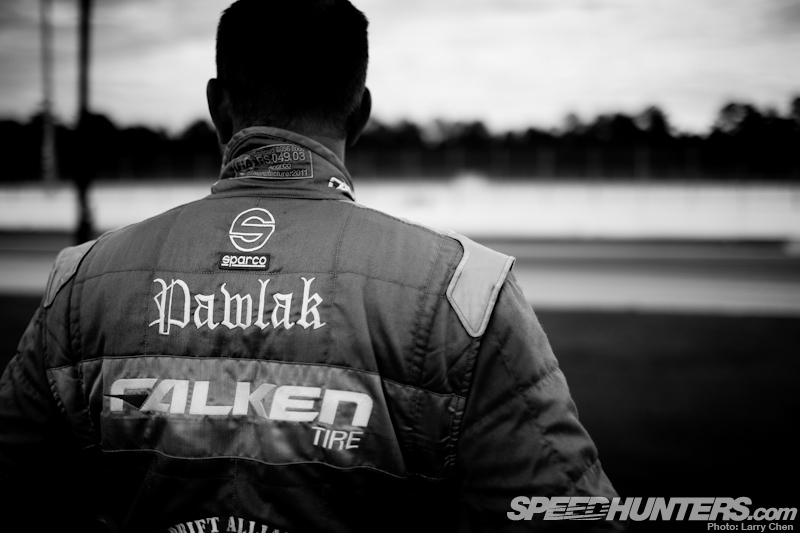 The night before he told me that if he got a phone call from his wife that she was going into labor he would head straight to the airport and be there for the birth of his son, no matter what. The doctors made a prediction that it would all be going down on Saturday, which would land on the day of Formula Drift Florida. There will always be another chance to win a championship, but there is only one chance to be there for the birth of your son.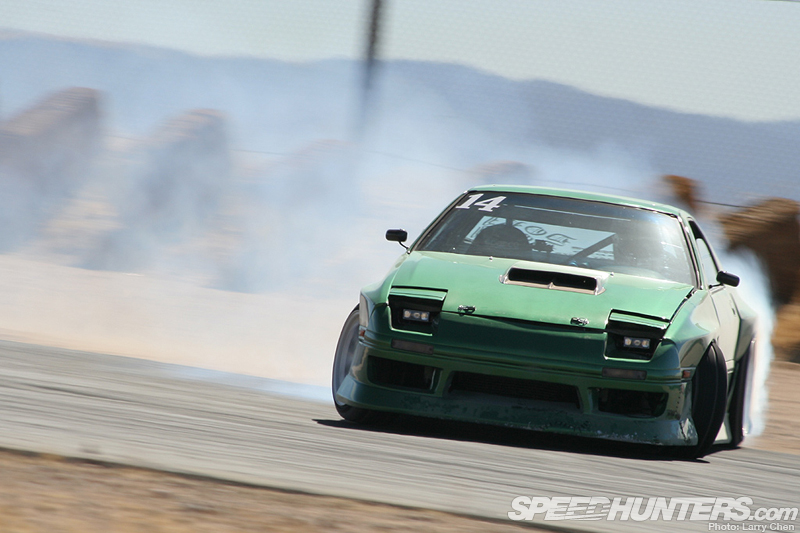 I've been following Justin ever since he started drifting in the Just Drift, Top Drift Series. I consider him my friend and I love his passion for the sport of drifting. So, I wanted to sit down with him over breakfast and take a walk down memory lane.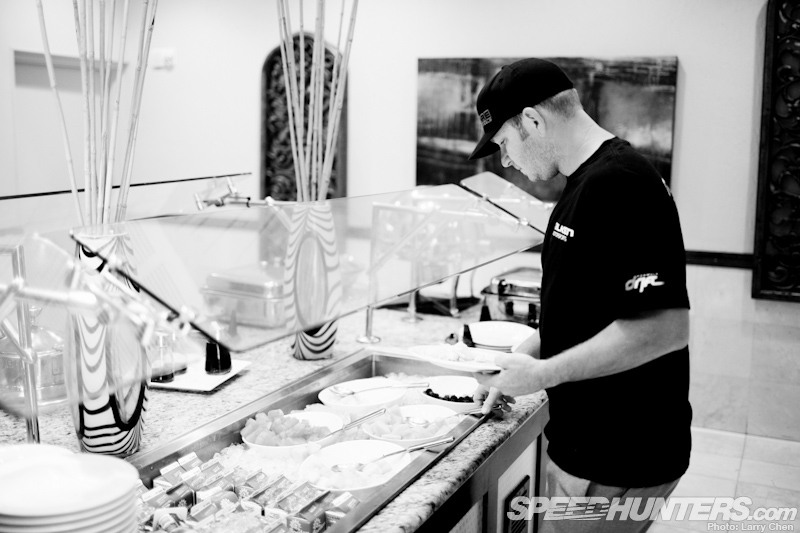 Larry: What was it like back then?
Justin: Back in Just Drift days? I just remember the thrill of putting my car together, driving my comp car – well, only car – to the events. things were completely different back then. Initially it was just going out and having fun and having a cool-looking car. That was definitely high on the priority list back then!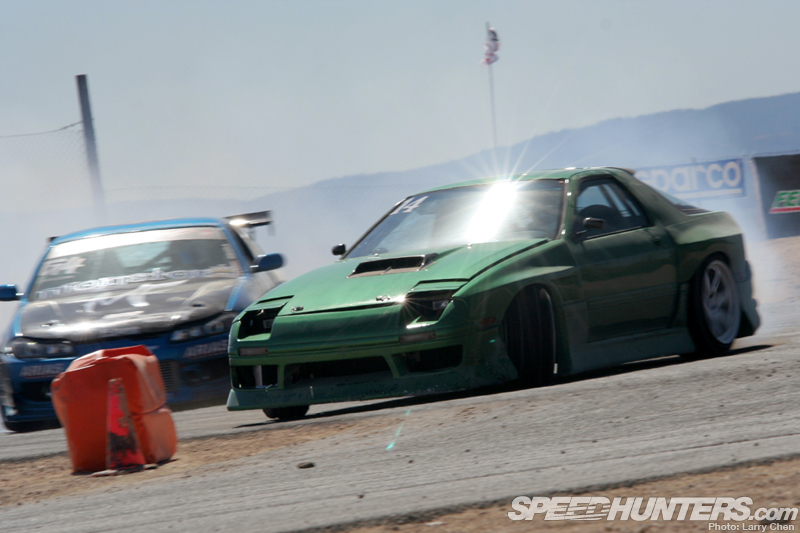 It was about the right wheels and offset and having something a little different from everyone else. I remember getting some SSR Formula reverse mesh wheels (17×9.5 +18) that were perfect fitment for stock body FC just because they were kinda rare; not many people had them.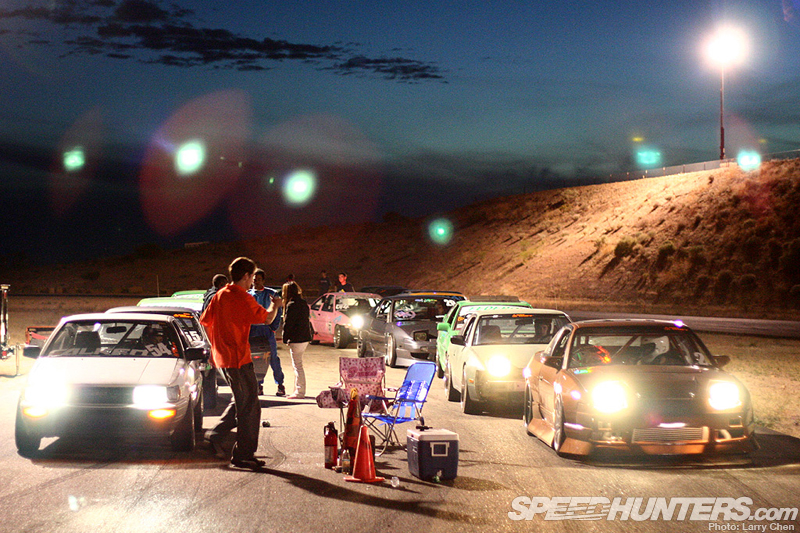 Also I remember the camaraderie. Everybody was at the same level and everyone was trying to figure it out! I remember thinking about the chances of going pro and wondering if it was going to be too late..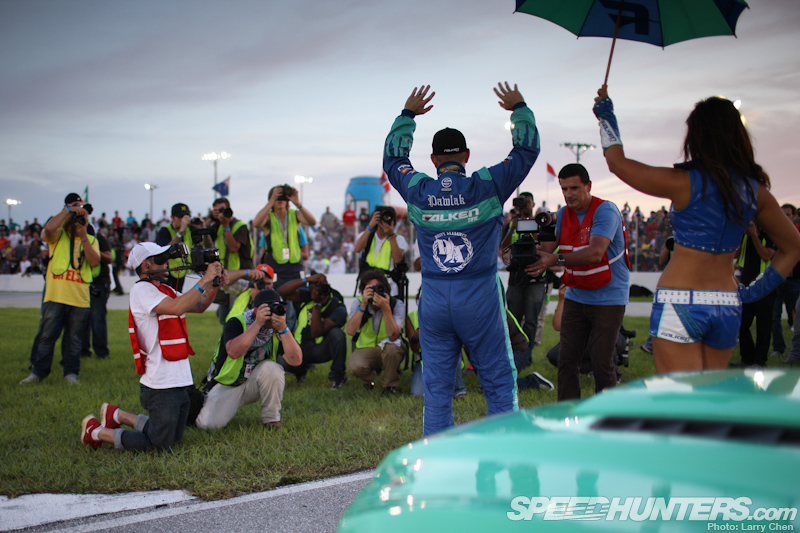 Larry: You mean because there were already so many pro drifters?
Justin: Yeah, my intentions from the beginning were to go pro. I think maybe that was a little different than other people. I mean I was doing it for fun as well but at the same time I had a dream I was chasing.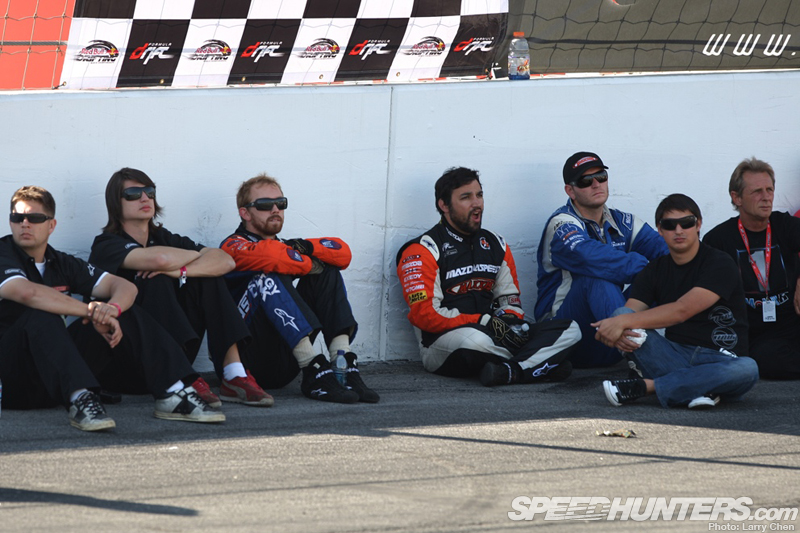 When I went to the 2003 D1 demo in the Irwindale parking lot, I remember seeing Rhys Millen in his EVO doing four-wheel burnouts, Drifter X breaking his exhaust off on the curbing and many other current and past pro drivers showing off their skills. When I saw those guys putting on the demo, I knew there was something about the sport that I wanted to be a part of. Even though I had never 'drifted' a car I had that feeling.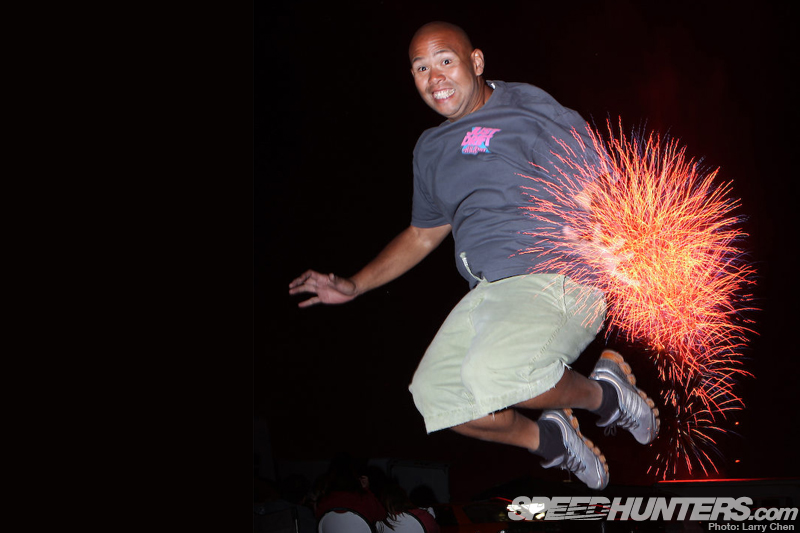 So getting into drifting was for fun, obviously, because it was new and different and it was wild driving – and I was always driving wild when I was younger. But Just Drift was a place where I could do it safely on a track. Although I wanted more than just to be a weekend warrior out there…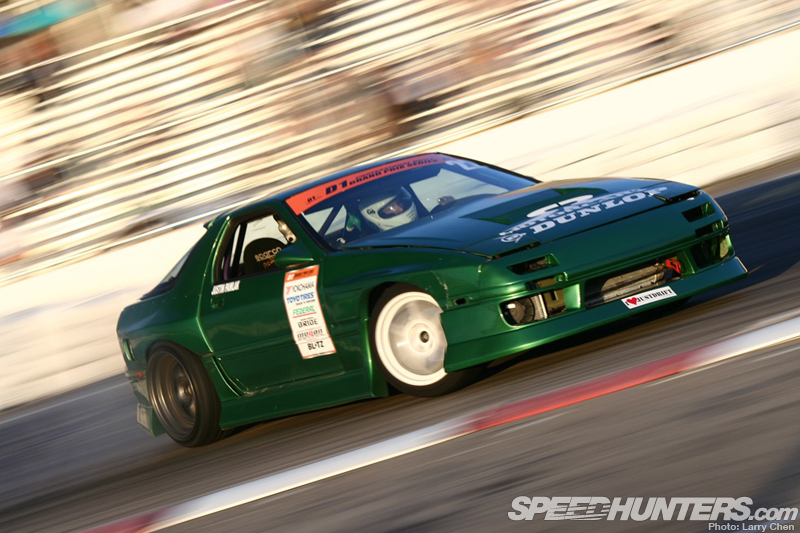 Larry: Do you think your competitive nature had something to do with coming from a baseball background?
Justin: Yeah, most definitely. I played soccer, baseball and basketball in high school. I definitely had a competitive nature back then. I even played soccer in college but got injured, then I stopped playing sports and got into cars. So I definitely think that stayed with me and this was a new outlet for that competitiveness.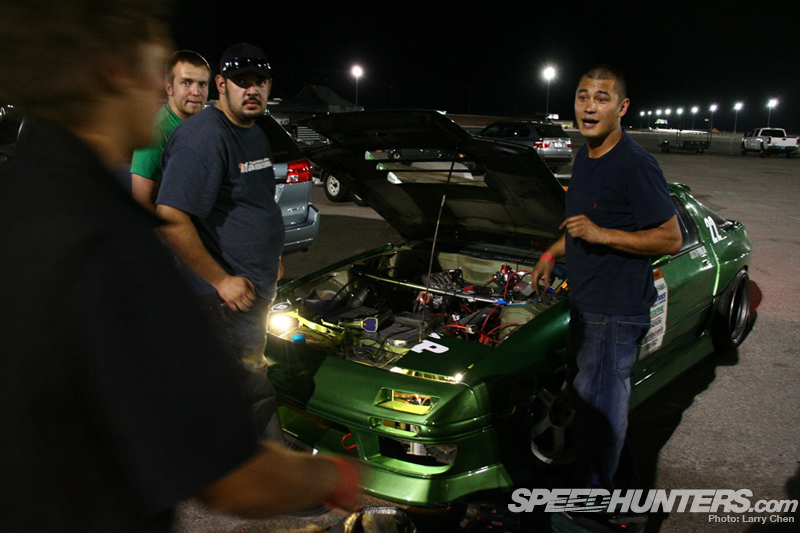 Larry: So what was your first professional event? D1?
Justin: I got my Formula D license in 2006. Then my D1 license in either late 2006 or early 2007. But this was after I failed to get my license in both series qualifiers during my first attempts. In my first D1 event I made Top 32 but failed to make Top 16.
Larry: Yeah I remember. Irwindale you had white wheels and your FC was green.
Justin: Yup, the next D1 event I went to was D1 Las Vegas and made Top 16. I went up against Ken Nomura, but made a big mistake and got beat… Welcome to the pros! Haha!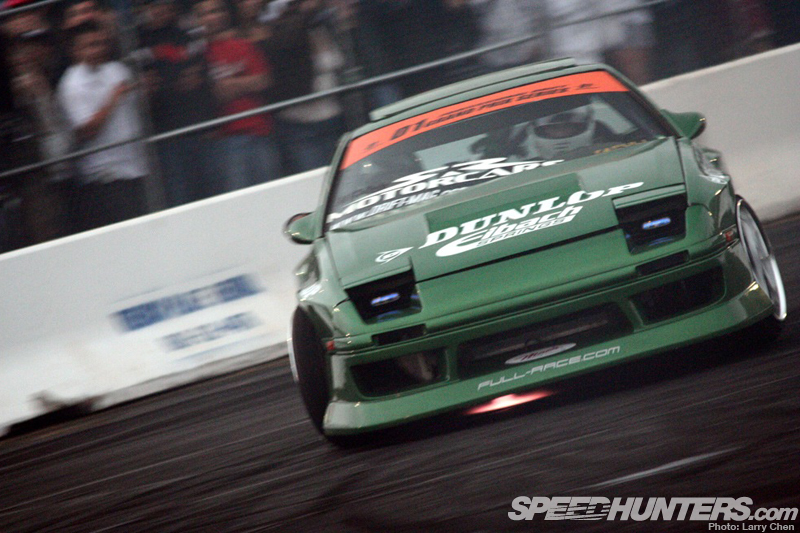 In 2007 I moved up to Oregon for work, trying to make some money so I could afford building my car. I stored the car down in LA and would fly down to do events. That's where you shot the plasma-cutter picture, my favorite picture of the green FC!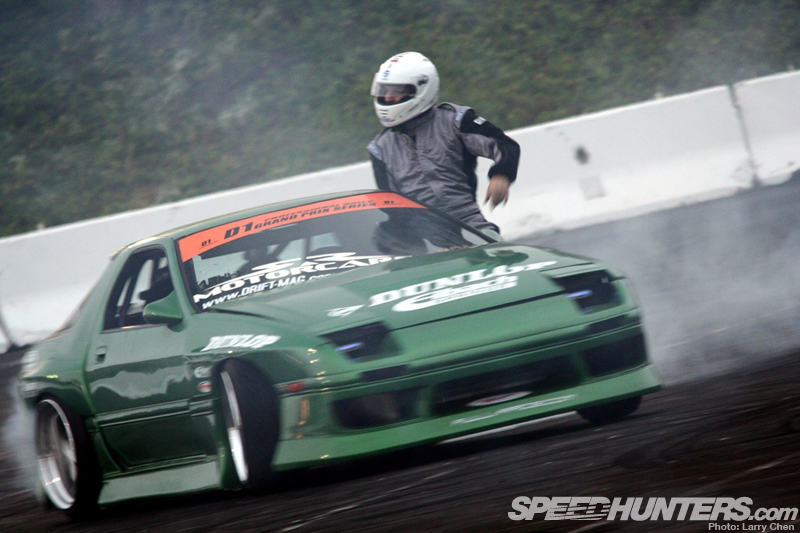 That was a real transitional period for me because I was going from Just Drift, mainly about having fun, to really trying to get serious about drifting. During the 2007 season I did the West Coast Night Shift drift demos with Dunlop Tire and HIN, trying to build my car and develop my skill-set competing at whatever events I could afford. Trying to figure out car set-up, making more power all while trying to afford to do so.
Late 2005-2006, I had 245 horsepower from a stock set-up. In 2007 I started to build up the car and get more power, around 370 I think. Part of the reason why I didn't go pro, with having a pro license, was I didn't have a solid program. I knew the car wouldn't be competitive and I didn't have the support I needed to make a mark. Dunlop didn't want to stay in Formula D – they pulled out. So my best opportunity was to run the Night Shift demos and use that time to develop the car and develop myself as a driver, which I think was a pretty smart move.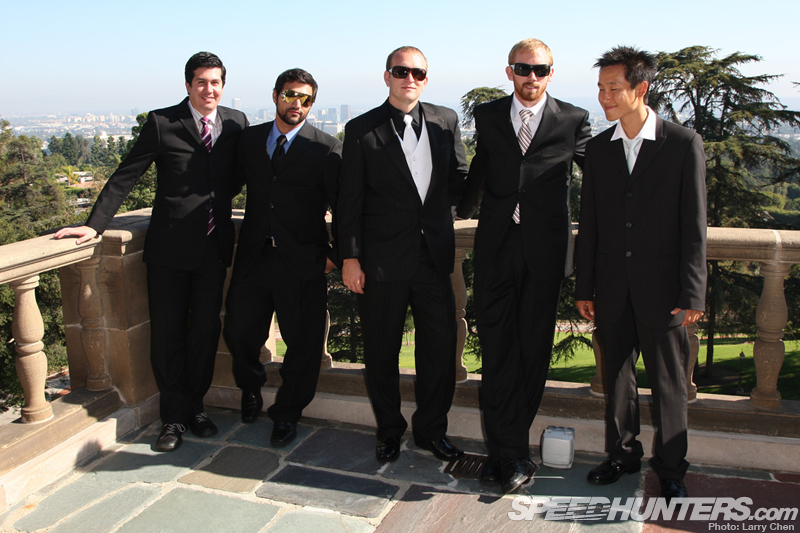 Larry: And you did NOPI in 2007 right?
Justin: Right. And that's about the time I met the Drift Alliance guys.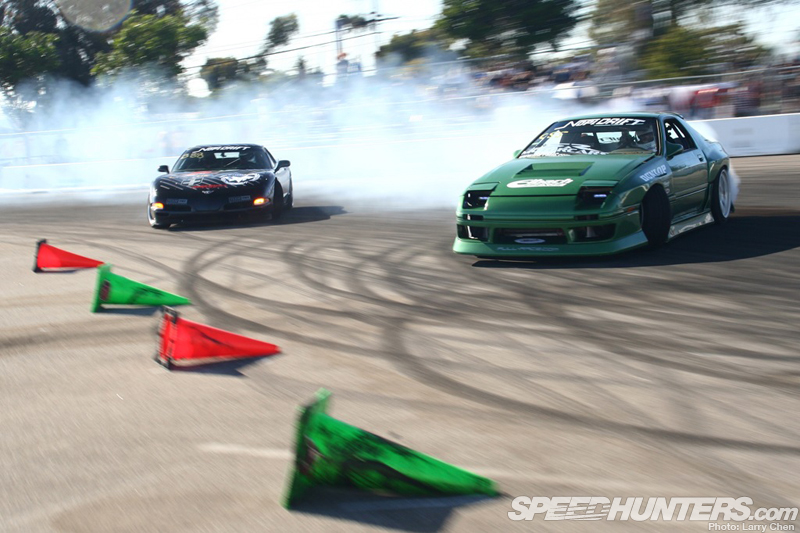 I had blown my turbo at All Star Bash and all I could find quickly, and inexpensively, was a completely different turbo than what was on there, which required me to redo my entire hot side of the V-mount and exhaust. I also tore out my engine harness, because of a previous engine fire, which then lead to redoing the whole chassis harness. That was a crazy week!
The week ended with a three-day jam session with the DA guys coming to the rescue to get the car done in time for NOPI LA that weekend. After thee solid all-nighters, three different ECUs, countless pots of coffee and energy drinks we got the car started. Chris Forsberg, Kevin Wells, Ryan Tuerck, Mike Edwards, Tony Angelo, Dave Shoemaker and Brian Benson all helped make it happen!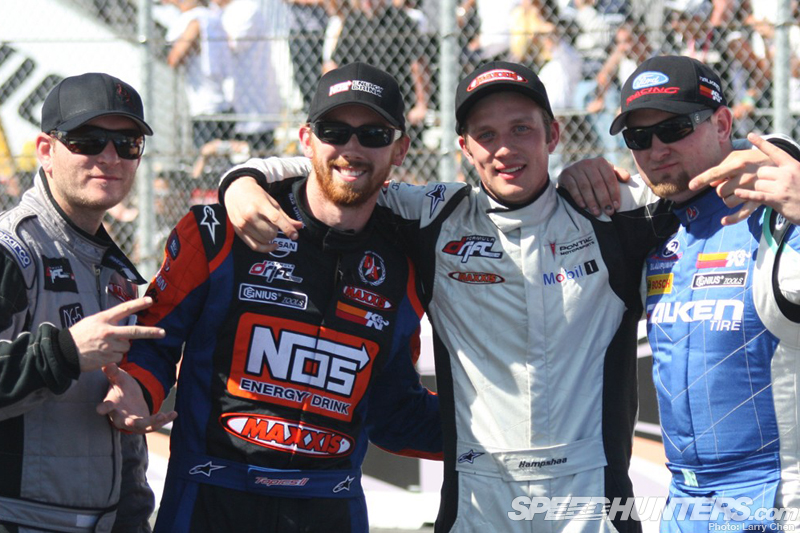 We were still working on the car, at the shop, as practice was taking place at the track. We finally got the car on the dyno: Dave and Tony dyno'd the car as I caught about an hour of sleep. I woke up to a full pull and rebel yells of success! I remember jumping up, climbing in the car and doing a mean burnout down the alley! It did a burnout, it was ready to go! Dave drove the car into the trailer, pulled up the handbrake and we chalked the tires. We didn't even have time to strap it down. The track was maybe about five miles away from the shop so we just rolled out! Dave stayed in the car, in the trailer, with the brakes on the whole time!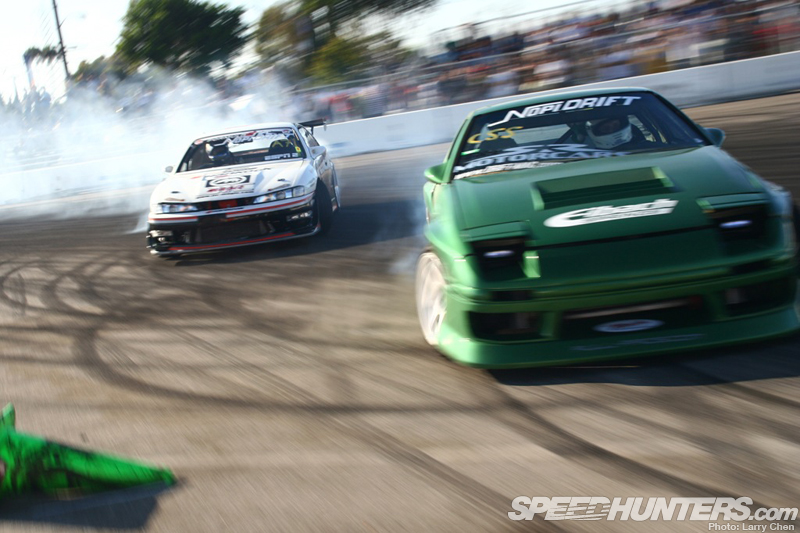 We unloaded the car with just enough time to get it tech'd and they gave me a couple of practice runs in between the second and third group qualifying. I was the last driver in group three and I ended up qualifying third!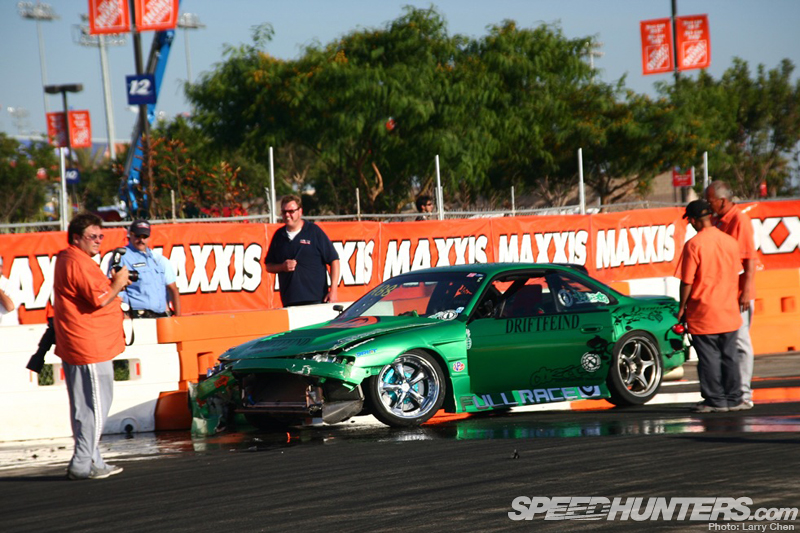 Larry: And then you eventually won that event in a battle versus Forrest.
Justin: Yeah, I battled Chelsea Denofa, Ryan Hampton, Kenji Yamanaka and Forrest in the finals. It was an amazing ending to a crazy week!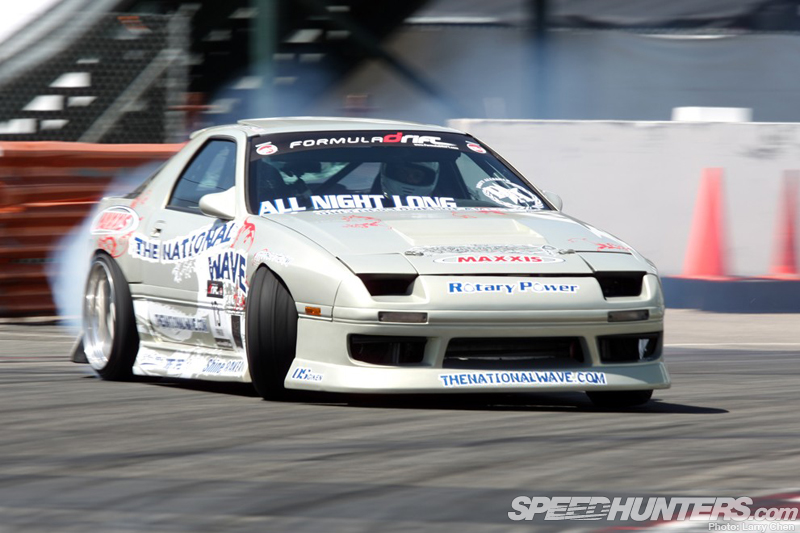 Larry: Tell me about your first Formula Drift season in 2008.
Justin: I got linked up with Maxxis Tires. Most of the DA guys were on the team, so they got me on too. I was also working with National Wave which was…. an experience.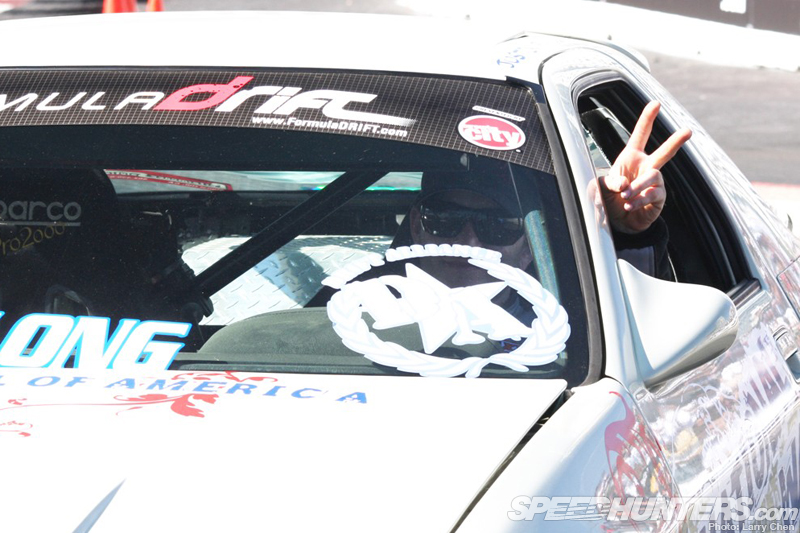 I decided to go for it since I was pushing about 390whp at that point and I felt I had some good support to make the season happen. Which came to an end prematurely – the support that is… About half way through the season National Wave pulled out due to financial problems on their end. Leaving me to fund the rest of the season with my empty bank account and soon to be maxed out credit cards.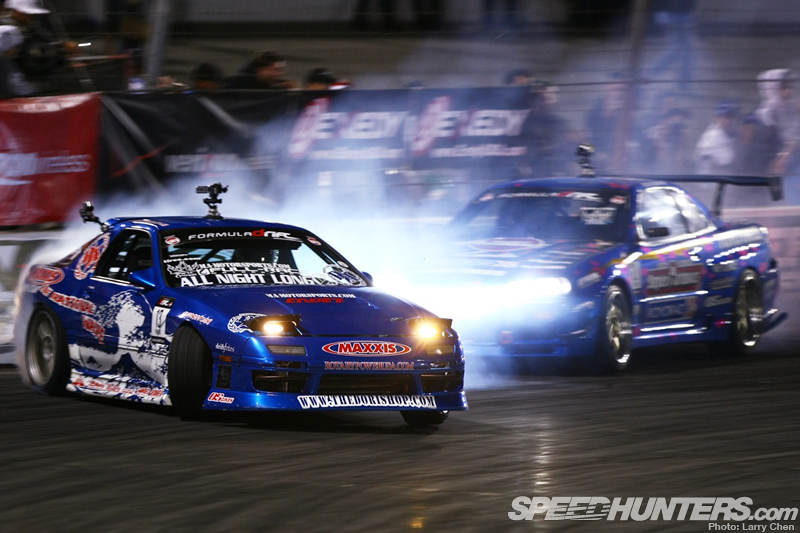 Larry: You got your first podium at Irwindale?
Justin: Actually I won the Monterrey Mexico Invitational. Which I'm pretty sure they were planning on Sam winning because the trophy actually had Sam's car on it. It was a Dodge-sponsored event and he was the big shot. It was basically a bunch of privateers and Sam, so I'm pretty sure they were planning on him beating everyone.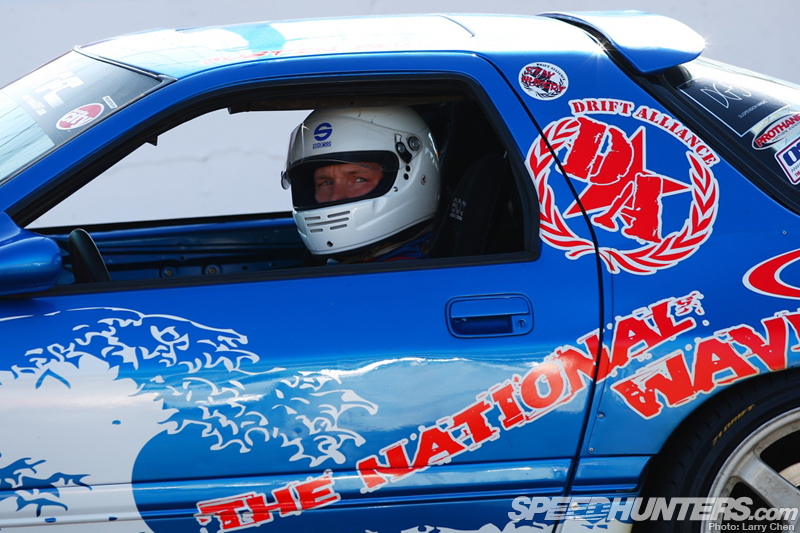 It was pretty funny when I received the trophy. I looked at it and thought to myself, 'why is there a picture of Sam on this?'. Whenever I look at it now, I laugh.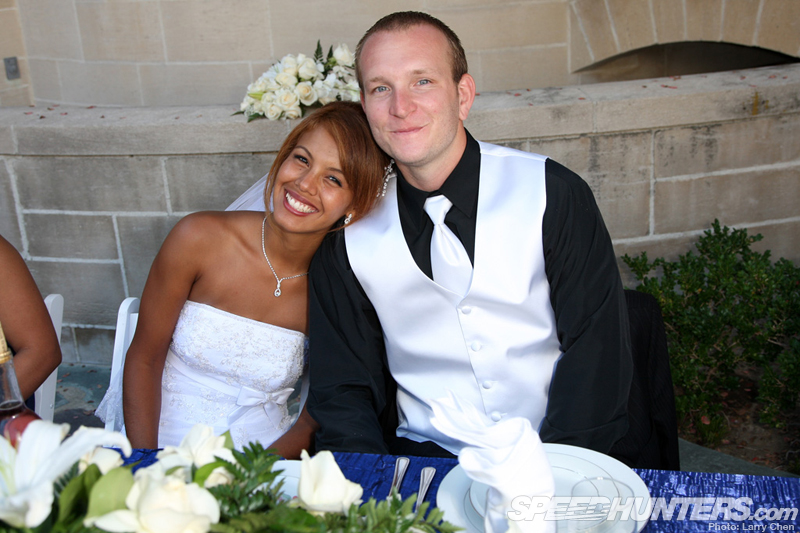 So that was my first FD podium, although it was only an invitational.. That happened during September break, and shortly after I got married!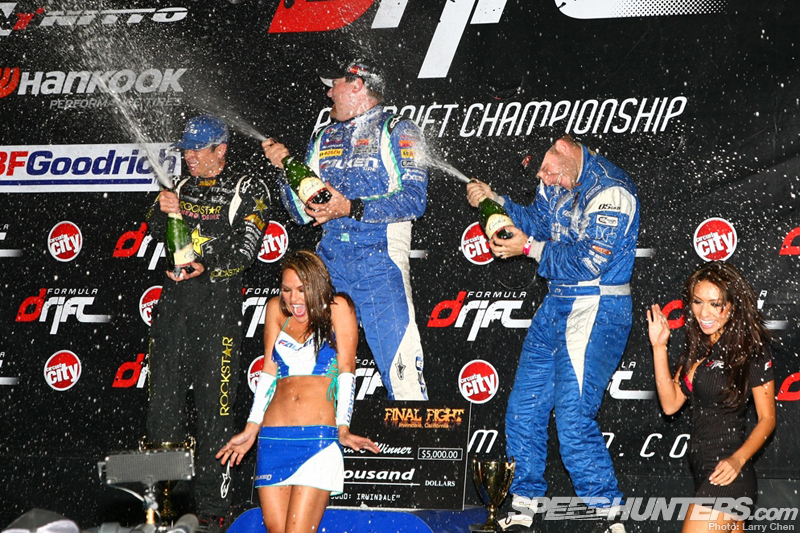 We went to Hawaii for our honeymoon, and then came back and got third at Irwindale, my first official podium, which felt unreal!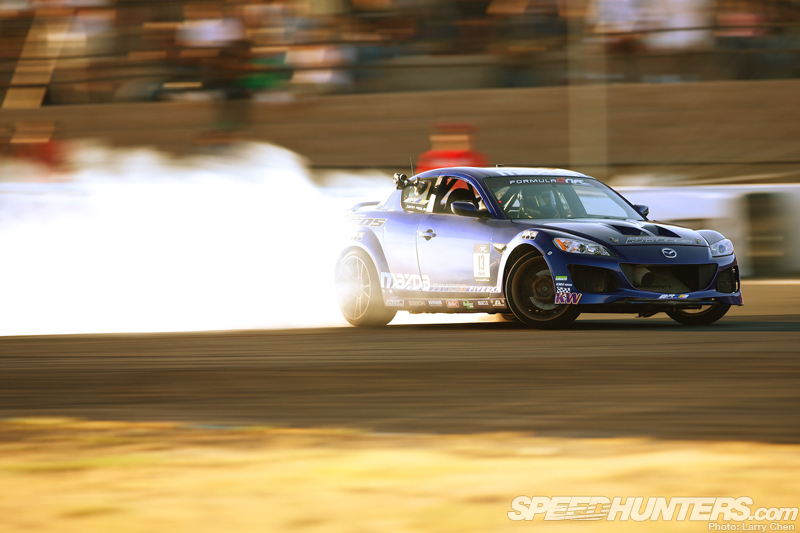 Larry: And then you got with Bergenholtz in 2009.
Justin: Yeah, I was approached at Irwindale by Ron to drive their three-rotor RX8. I don't really know what to say about that whole situation. It just didn't really work out as planned. It was a learning experience, as was 2008 with National Wave, which made me really open my eyes to dealing with people. Never do handshake deals when it comes to money.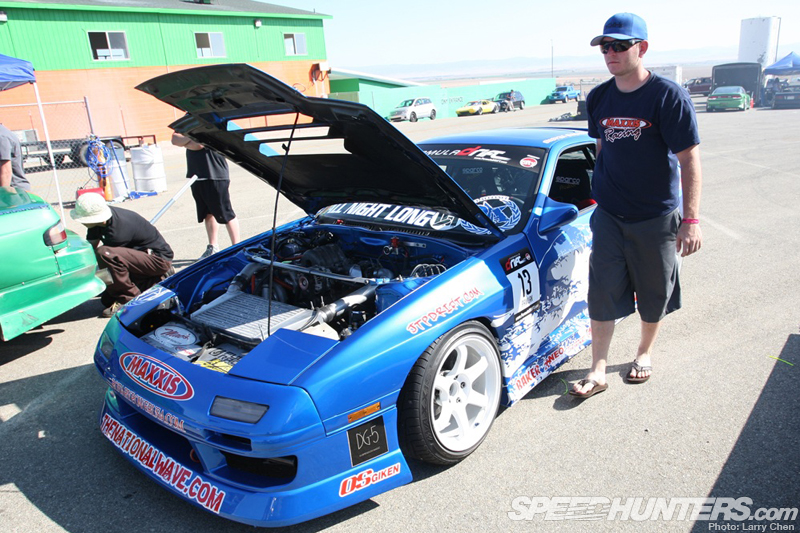 Anyways, after talking with my wife, thinking about all the trials and tribulations that we had throughout the year, we decided it was in our best interest to go back as a privateer. It was really good having her fully supportive of the decision, even though it felt like a step backwards initially. We weren't doing that great financially at the time, but we had made the decision that we wanted to stay committed to this dream and give it another shot. Her and I both still felt like I could make the dream a reality.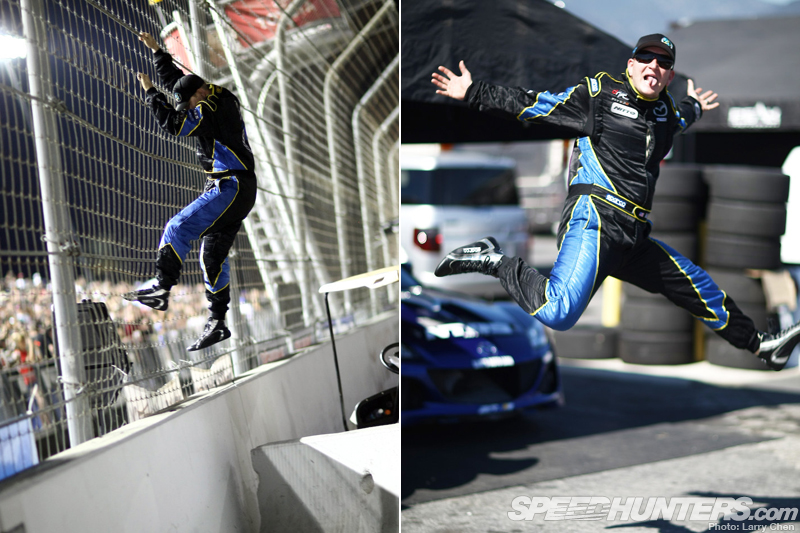 We decided that we were going to take whatever measures needed to go after it for another year. Initially I had said that if in five years of drifting I'm not making it, if I'm not doing this as a career, then maybe its not what I really should be doing. I've always felt like one can only invest so much of their life towards their dreams before they need to re-think if those dreams are getting in the way of their success.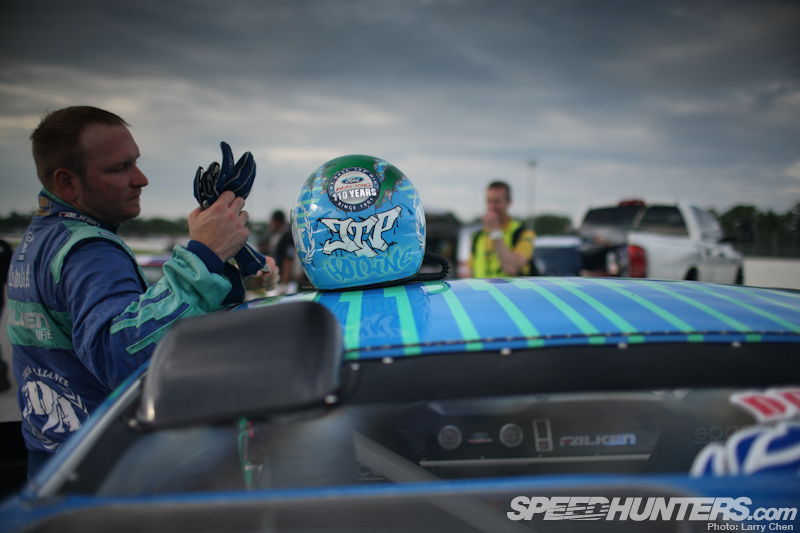 Larry: So how did the whole Falken thing go down?
Justin: Well basically in February 2010 I was making calls. I remember calling J Brad at Falken Tire asking for tire support, Paul at Hankook , shoot, I was trying to put together anything I could at that point. I finally got an offer from Mike at Nexen Tire and he offered me a good deal. After that I lined up several of my old sponsors and some other money sponsors as well. In just a couple weeks it looked as though there was going to be enough to get by… Barely, but something was better than nothing at that point!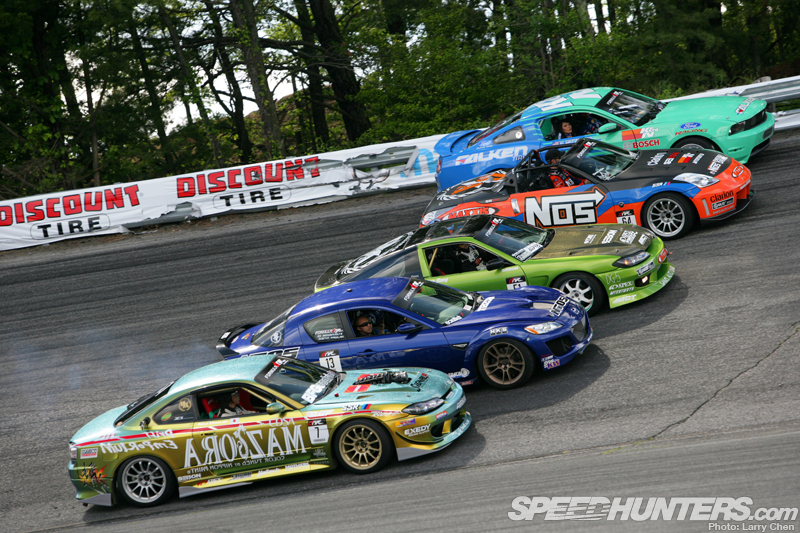 The game-changer happened when we were over at Forsberg's house hanging out. Vaughn Gittin Jr approached me and said, "Hey, there might be an opportunity for you to drive the teal and blue Mustang. Would you be into it?". And I was like "Yeah! Certainly! Without a doubt!". He was like, "Alright, well, you'll probably be getting a call from J Brad or Nick tomorrow"…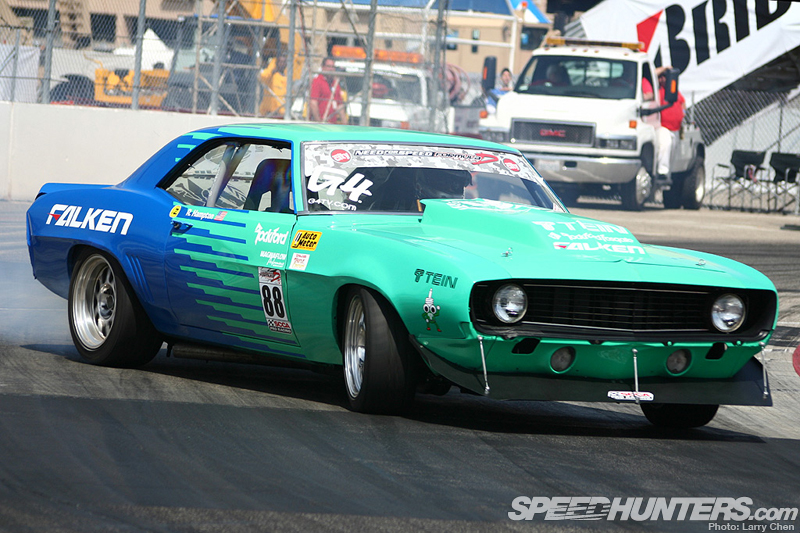 Sure enough I got a phone call from J Brad asking me to come to Falken Headquarters, to interview for the position to drive the Falken Mustang. I was completely beside myself. Falken has definitely been a prominent organization in drifting – it's hard to not notice their presence at the track. From the beginning they've always had a solid presence.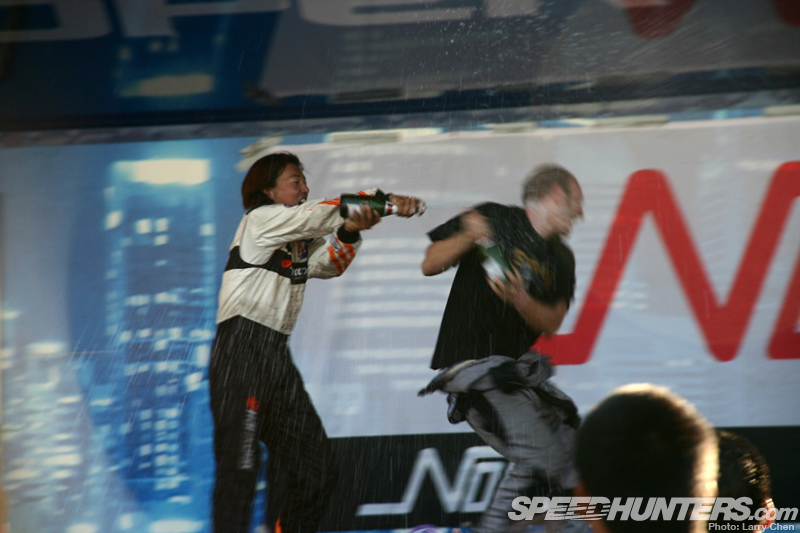 From a privateer's standpoint, that's the team that I hoped, shoot, dreamed of being a part of. You can tell they support their guys, and do their very best to take care of their drivers. I always thought that Falken was the team that I would love to have an opportunity to drive for.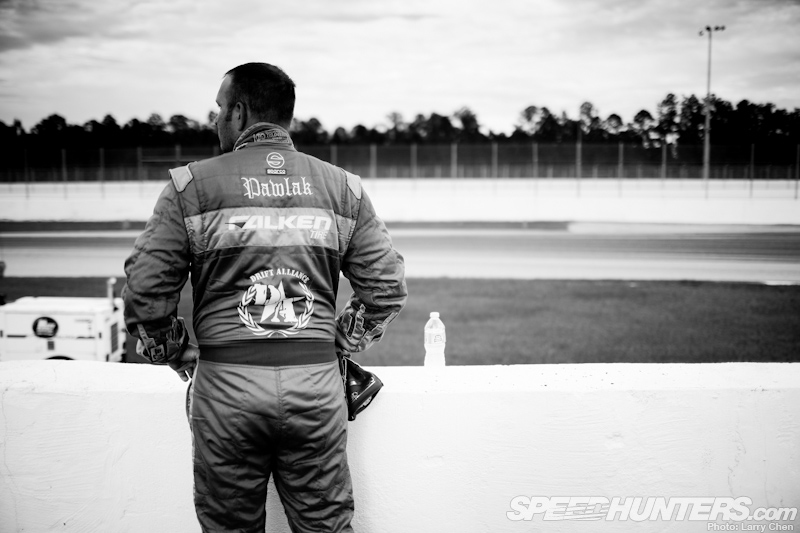 I was pretty nervous going into the interview. I didn't know what to expect, but I was into it and I was completely stoked. I knew that my driving had improved over the years and I hoped that I would be able to adapt to the Mustang fairly well if given the opportunity.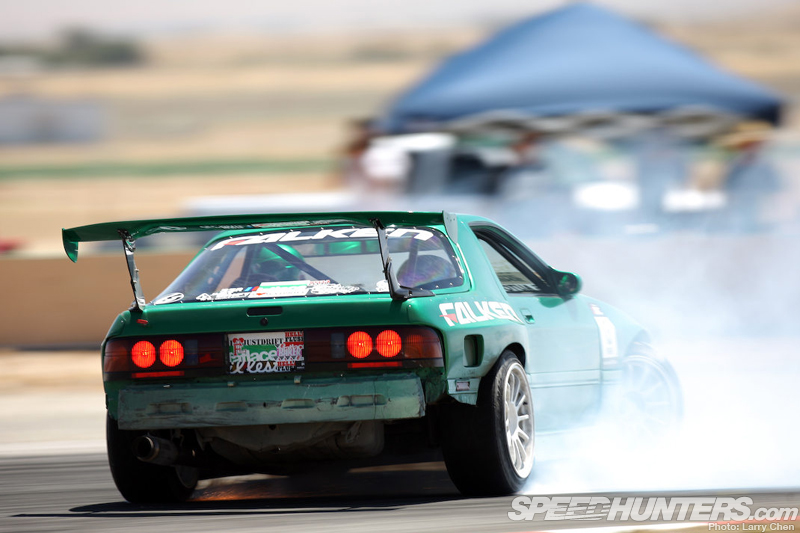 Doing the whole V8 change would be different, but I've never been one to shy away from a challenge. I knew that if I could show them I wanted to be a part of the team and they gave me a shot, I would do my best to make it worth their investment.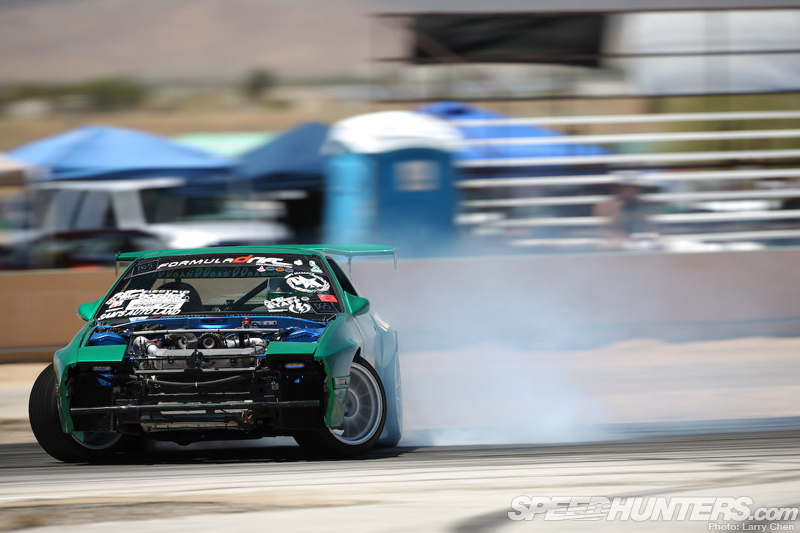 In the interview they had a couple of concerns, which we discussed, and I also explained to them my history with team sports and how much being part of a team is important to me.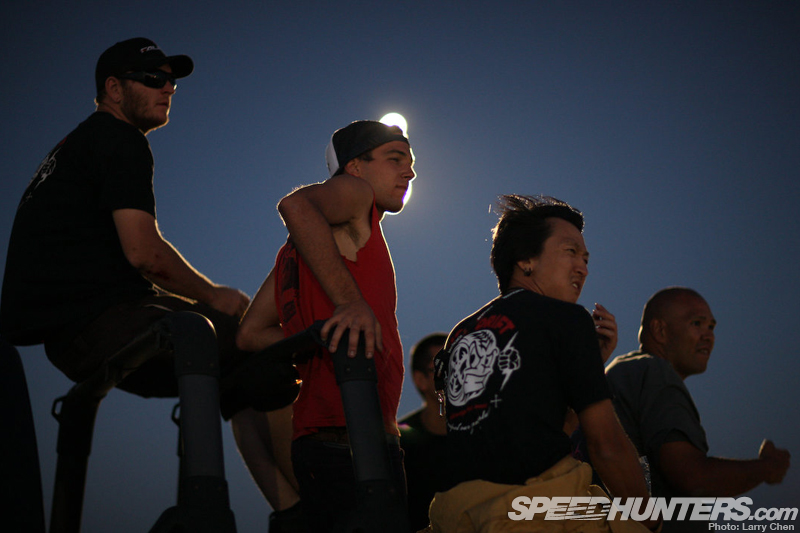 Basically after an hour or so of discussion, I felt that I had explained myself, my goals and addressed their questions with positive suggestions and understandings. They said that they would give me a call and let me know what their decision was.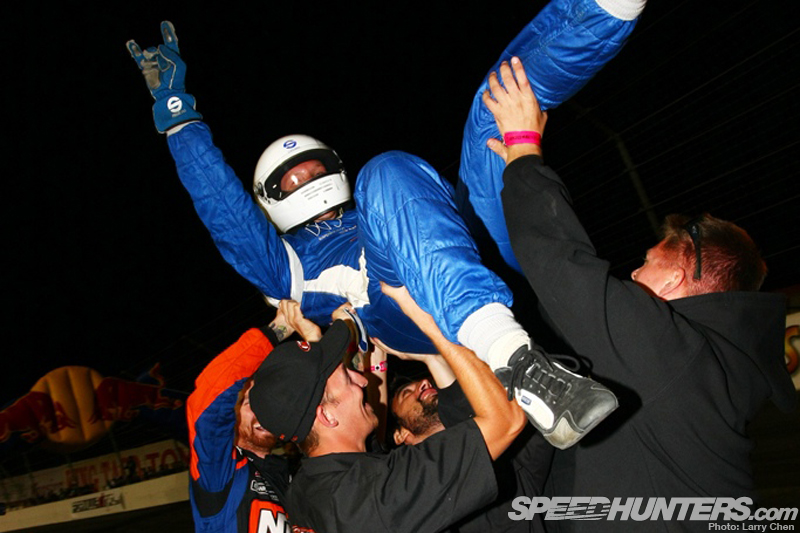 Shortly after I left I got a call from J Brad: he offered me the position! I was pumped, because I knew that this was going to be an amazing opportunity! My wife Sandra was also completely elated. We knew that it was going to be a turning point in my career. It was what we had been working towards from the beginning.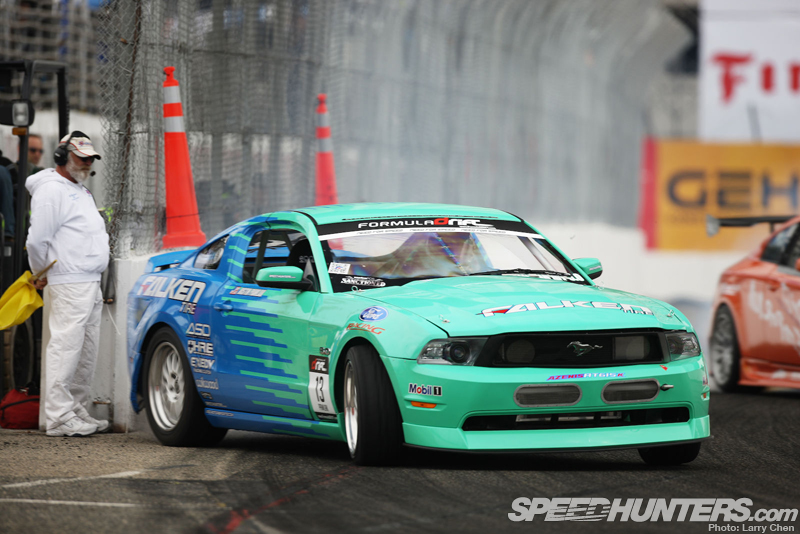 It was an amazing feeling.
Justin's son Jaxsen was born seven days after this interview. He told me that he believed that his son would wait and luckily he was right!
Larry and Justin
More retrospective stories on Speedhunters