Believe it or not, it wasn't that long ago that Vaughn Gittin Jr was towing his drift car in a borrowed truck – open trailer set-up – between Formula Drift events. Everyone has to start somewhere, and Vaughn started as a privateer just like all of today's professional drifters. To find out more of his story, I sat down him down at home on his favorite couch, because as he said, "I don't get to sit on my couch enough".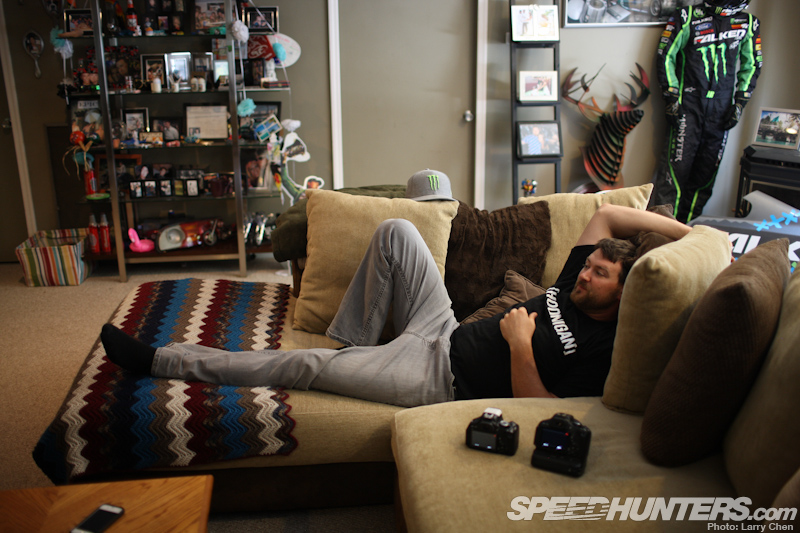 Larry: Thanks for letting me into your home and feeding me crabs. Let's start from the beginning. How did you get into this whole drifting thing?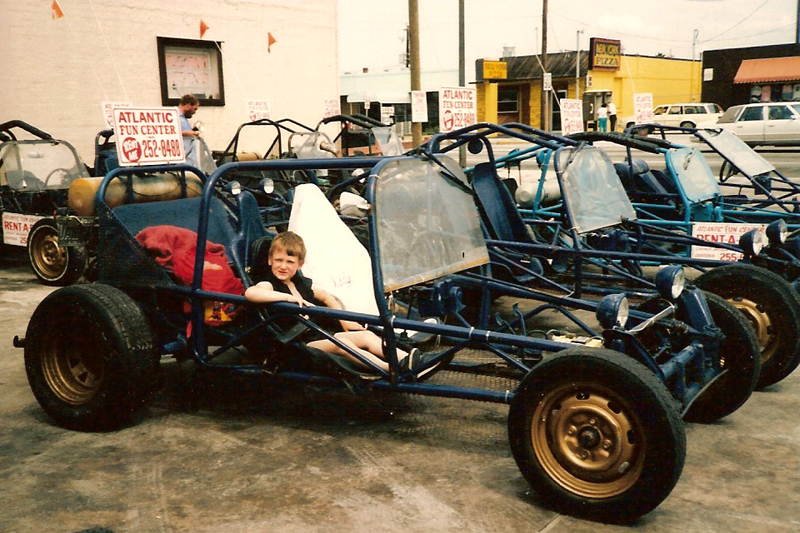 Vaughn: I just remember loving cars when I was growing up. My dad always had hot rods. Seeing the smoke and hearing the engine, I'd ask him to do burn-outs after seeing it for the first time. I thought that was the coolest thing ever.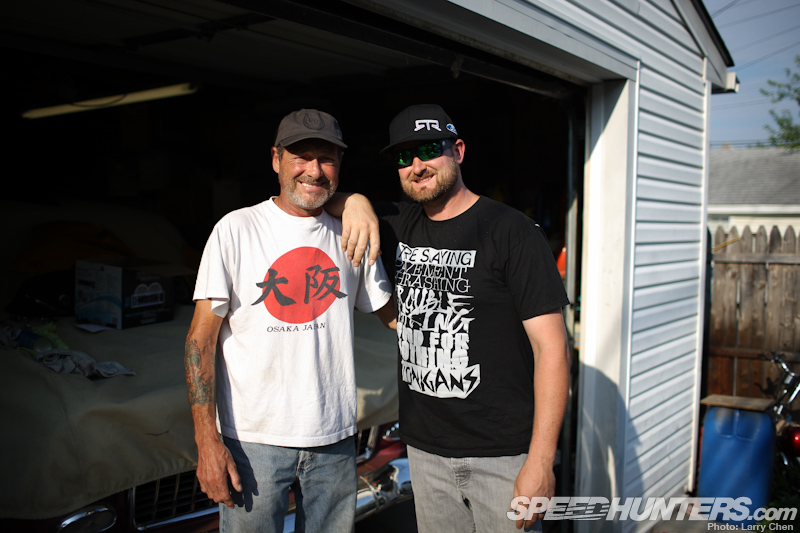 When I was really young, a baby, my dad had a '55 Chevy. I think that's kind of where it all started, it was in my blood. I was a colicky baby evidently, and when I would cry and wouldn't sleep, my dad would take me for a ride in his '55 Chevy and it would put me to sleep.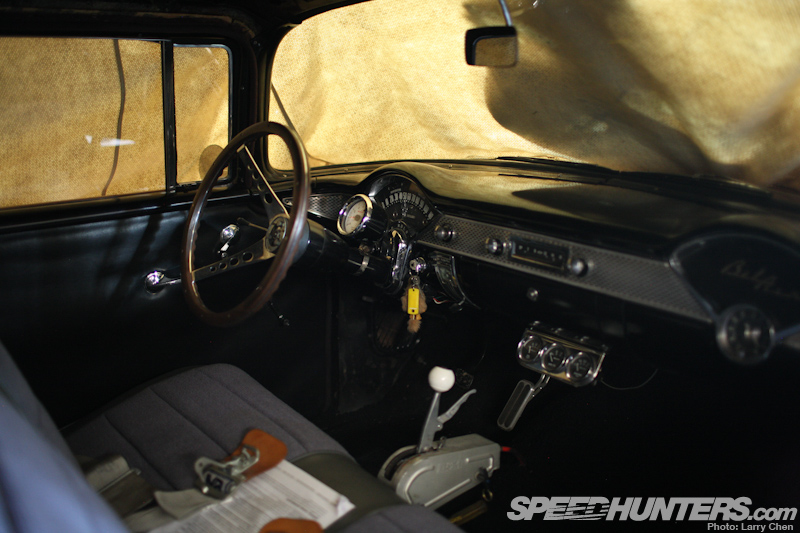 Larry: So he eventually sold that car?
Vaughn: Yeah, he had multiples of them as I was growing up, like through his entire life, you know?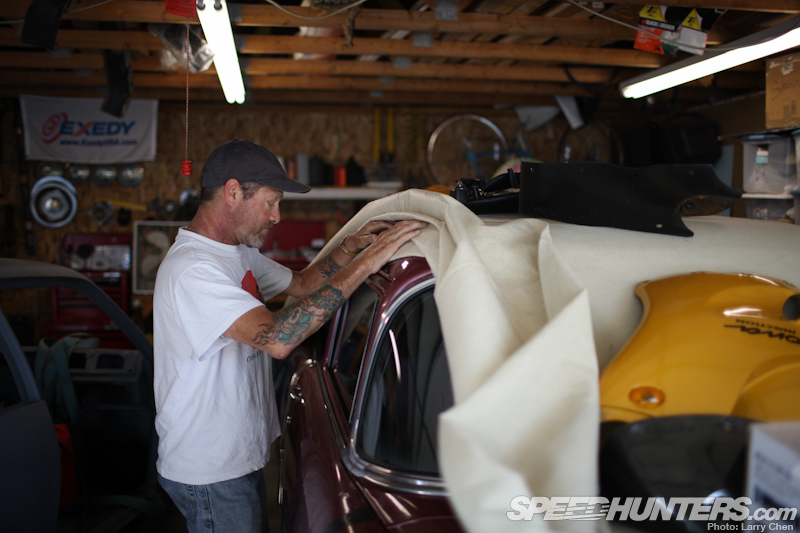 He was born that year so it always was his favorite car. He found that purple car that I showed you yesterday and we bought it together.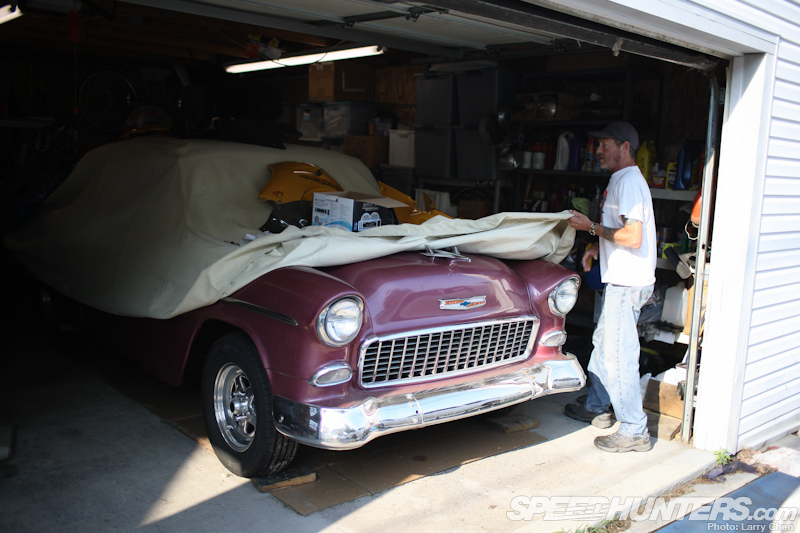 My dad always had muscle cars. I remember one time he had this Mustang Mach 1 and a tow truck. He let me ride in the Mach 1 while he was towing it somewhere and I would pretend to drive it. This was back in the early '80s, if it was now he would probably be arrested for child endangerment, you know what I mean! But I was having the time of my life.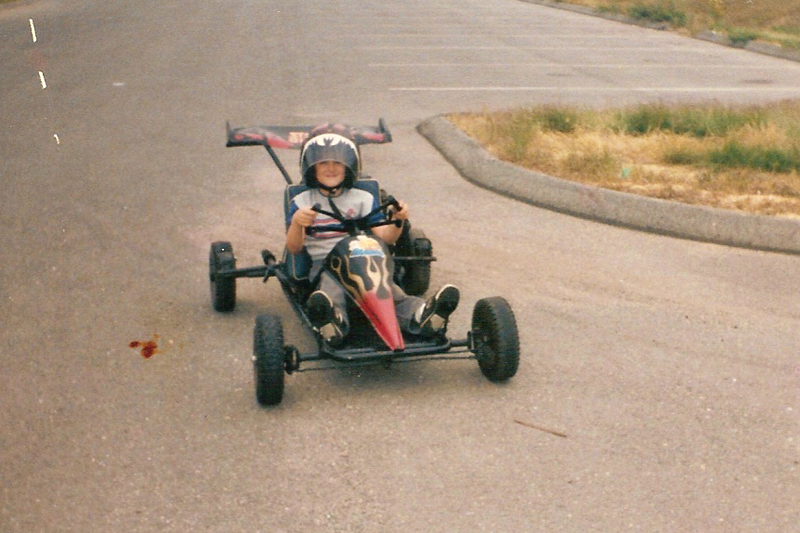 So I always loved cars. When I was four I got a go-kart – my mom and grand mom freaked out. But when I'd go to visit my dad – cause my parents were separated – we would go to this industrial park and would thrash that go-kart hard. It was like the coolest thing. You needed to pull the paddle brake to slide it, so when it was time to leave I'd skid out next to the truck and act all cool.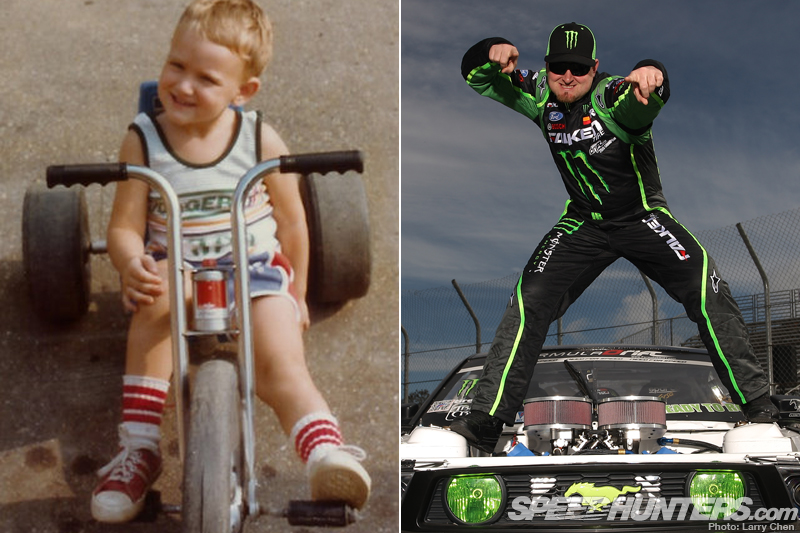 I had slot-cars, RC cars… when I was five years old I had little Matchbox cars in both my hands at my mom's wedding! They had to pry them out of my hands because I didn't want to let go of them. I was always about cars!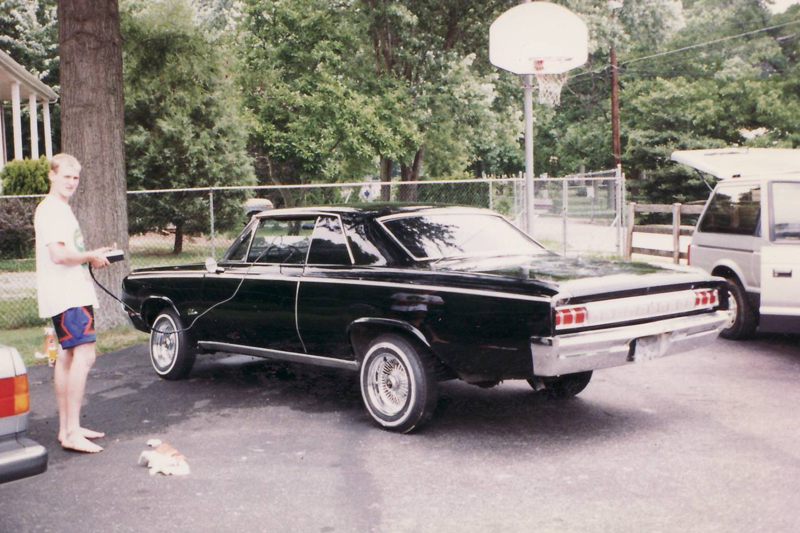 Vaughn: At the age of 16, I got my first car on the day of my birthday. It was a '64 Cutlass with hydraulics. It had 10 switches. I was a skater so it was really funny. I had a 100-spoke Daytons, all black; it had a mural on the trunk of DC on fire… it was so crazy. We bought it from this Jamaican family who were moving back to Jamaica. My dad rewarded me when I got good grades: he was really focused on me being successful – he bought the Cutlass for me as a reward for making honor roll.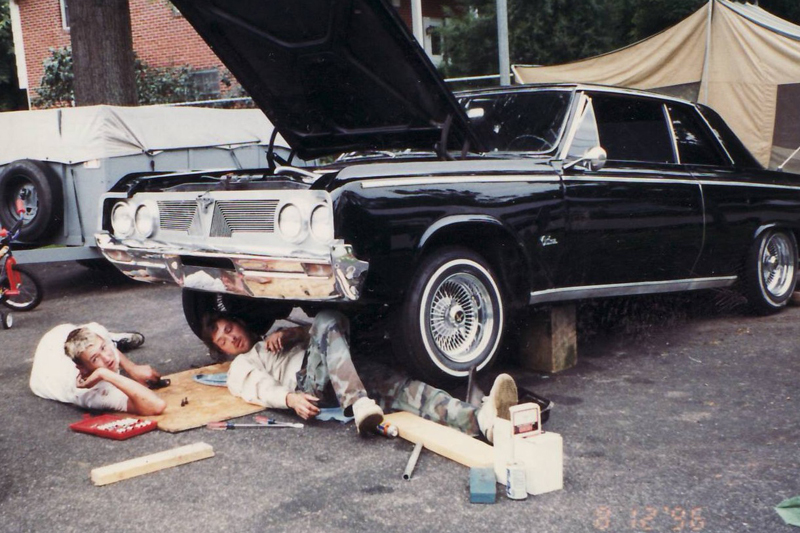 He paid like 2,500-3000 bucks for it; it was not a $40,000 ridiculous car. My buddy was looking for a car as well and my dad found this 240sx that he liked on a dealership wholesale lot in Virginia. One of our friend's girlfriends actually had a 240sx, which I always thought was a sweet car. Whenever me and my friend got in we dogged the shit out of it, and I was like, 'man these things are fast'! I didn't know any better.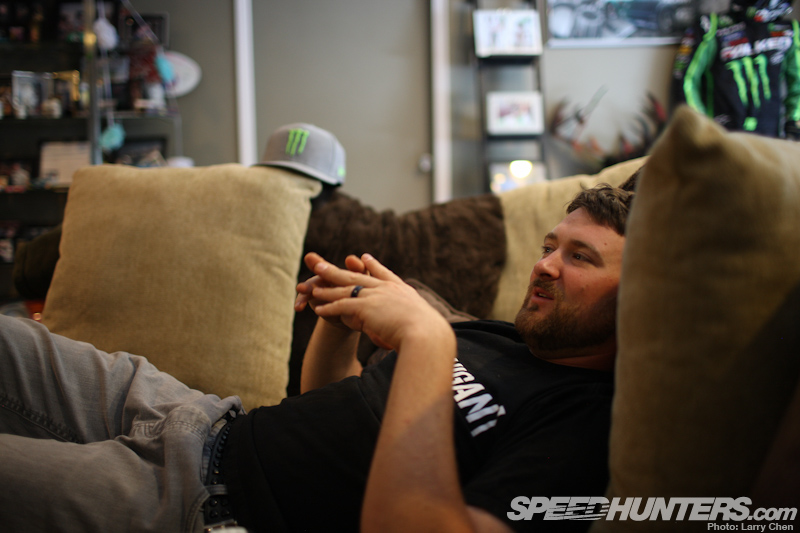 It was a '93 coupé, really sweet and clean, and he bought it for like 5,500 bucks. This was in 1997. So when we left the dealer lot I had to drive it home cause it was on my dad's insurance. I was power sliding out of the lot and I was like 'hell yeah, dude, rear-wheel drive! This is sweet!'. Literally three days later, coming out of our college, he tried the same thing and spun it round and parked it into a tree.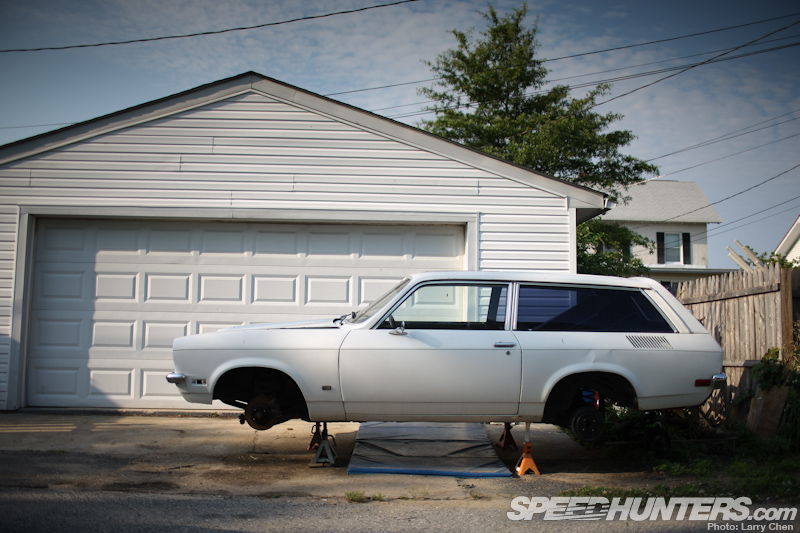 It was totalled according to the insurance company, so I bought it from him for 1,000 bucks and fixed it in front of my parents' house by myself. That was my first 240sx. (Larry: when I visited in that same spot was his father's drift car project)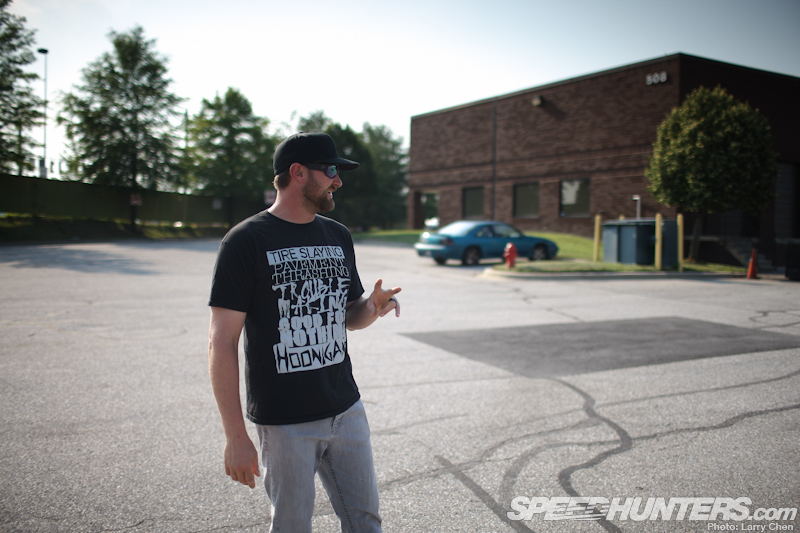 So I hooked it up a little bit, put wheels on it and an exhaust and I bought a K&N intake for it and you know, it was hot shit. So at 18 I had this 240, and I'd go do burn-outs and power slides and just have fun with this car in industrial parks.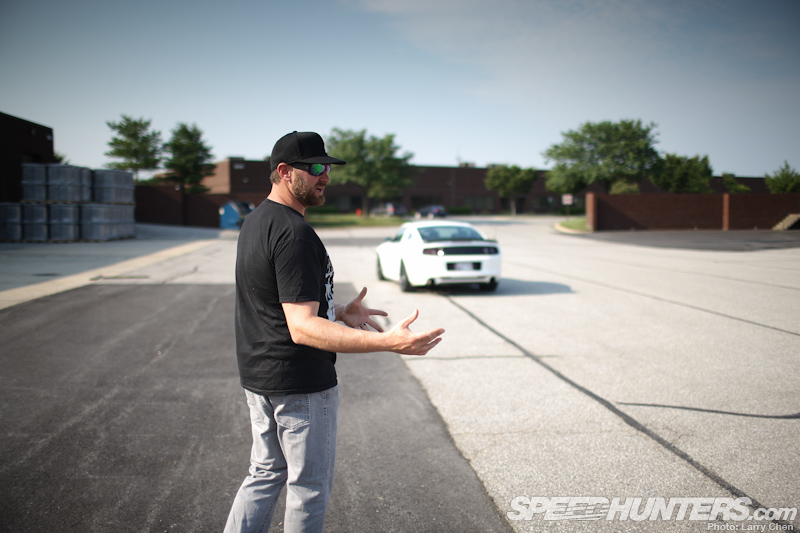 As I started hooking it up, probably at 19-20ish, I was working and I had some money. All I kept finding surrounding this car on the internet was drifting – this was probably like 1999. I started watching videos, and I was like, 'Holy shit! This is awesome!'. I thought to myself, 'I wanna do this'.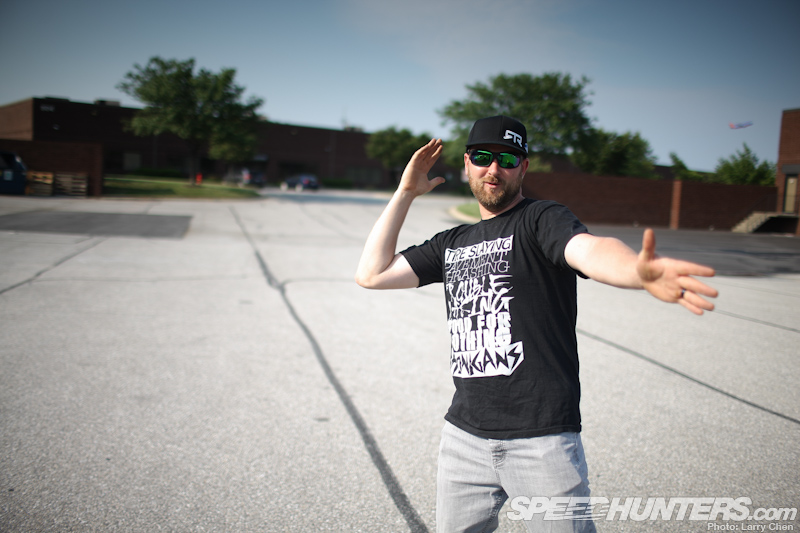 So now instead of doing donuts and power slides, it was time to link turns together. I started doing transitions and I made courses for myself.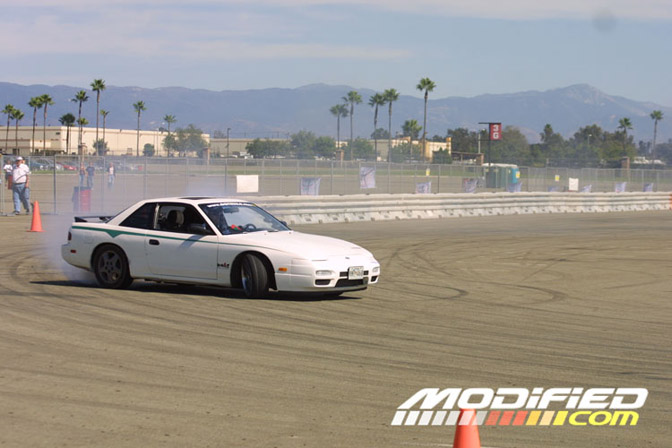 Larry: So that is when you actually started to drift for real?
Vaughn: Yup. I would play with my first 240sx, but that's also when I bought another bare chassis, which I got because it had a cool pearl paint job with a green stripe. It had already had an SR20 in it previously, and I had an SR20 that was sitting at my friend's shop that I had bought a year or so before.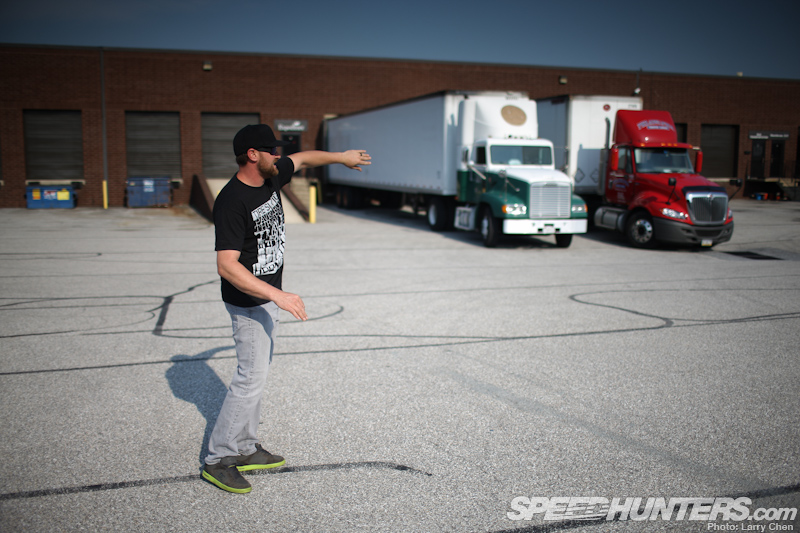 Once I put that new car together, that industrial lot that I showed you yesterday became a skills-honing facility for me. Once I figured out how to do well at that lot, that's when I took it to the next level in the industrial park up the street, and used to hit it late at night when there was no cars on a weekend. That's when I started throwing big drifts and going for it.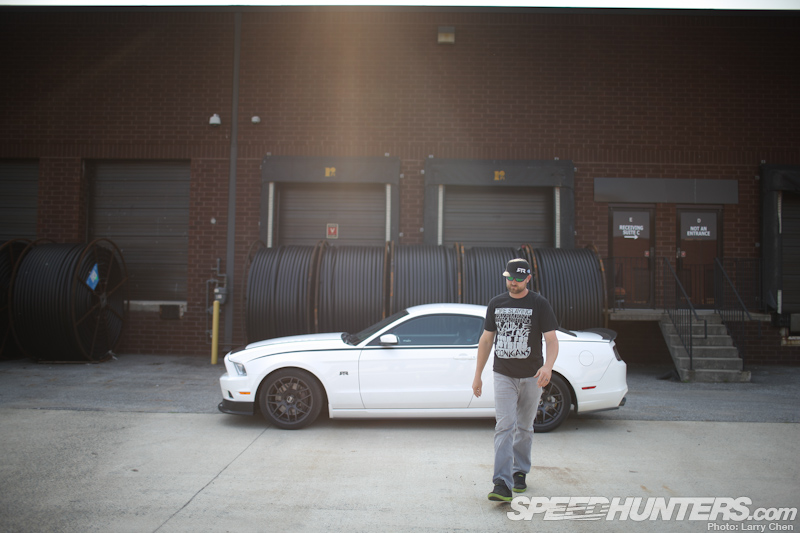 So as I was getting better it was 2002-2003, right before drifting got big in America. It was already getting big on the West Coast, but this was when it started coming to the East Coast. That's when I started going to the Club Loose events – back then they were called DG Trials. That's where I met Tony Angelo, Chris Forberg and Matt Petty. I never looked back: I just completely fell in love with the sport: the camaraderie, the style and the attitude. It just fit me and who I was, coming from action sports. You go out there with your car and you hang out with a group of kids, and you're all stoked on watching each other, and stoked on each other's runs, you party after… It was just this really cool, neat thing for me.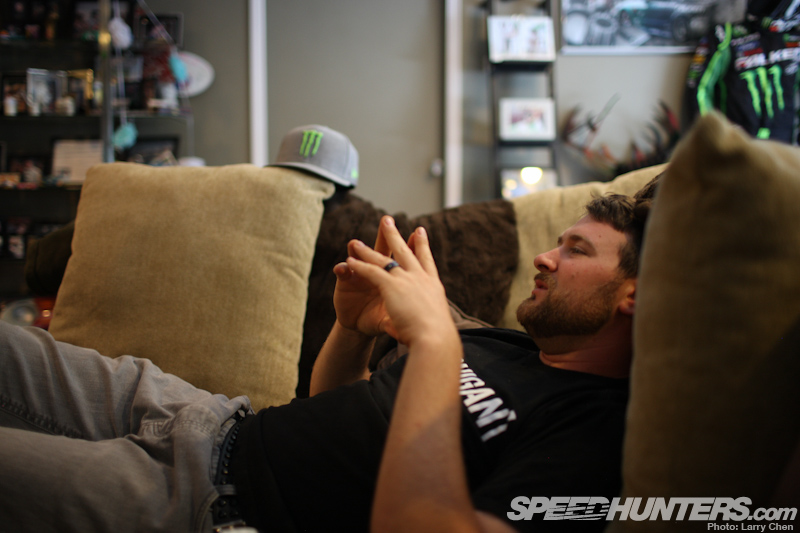 Larry: So, I heard you have an interesting Lamborghini story?
Vaughn:  I had my SR20 and the 240sx and we used to have this spot where people would cruise up and down by my house in Glen Burney. There would be all of these parking lots where people would hang out. You might catch a light and launch with a guy to do a quick little race.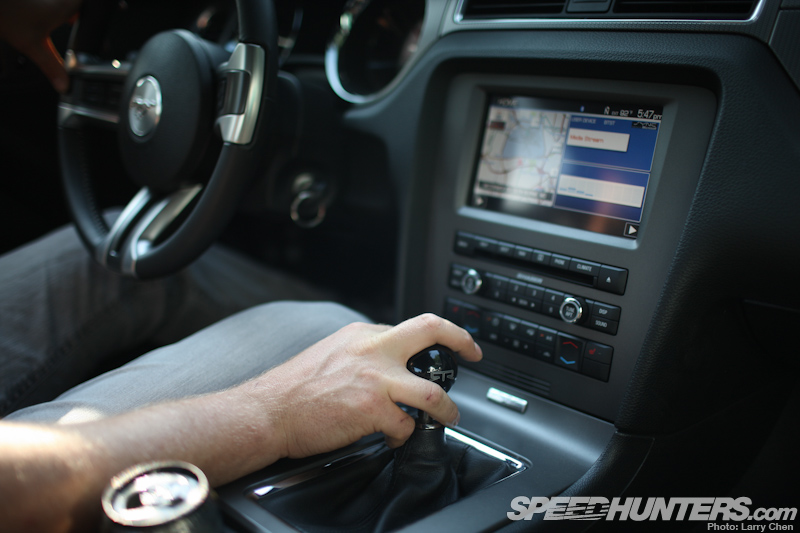 One night I was cruising down and there was this Lamborghini Countach, which has always been my dream car. I had Lamborghini curtains and airbrushed Lamborghini shirts, and I even had a Lamborghini bed as a kid. I just always loved the '85 Countach. So I flipped and went and kind of chased him down this road. We caught a light, and I was like, 'holy expletive'! I remember my legs shaking; I was thinking, 'I'm about to race a Lamborghini!'. I was in the right lane, he was in the left lane. And I was in this cheapy $8,000 240sx that I had built with blood, sweat, and tears in my podunk little teeny garage, and next is this dude in my dream car. I was like, 'I just wanna do this, and if I get arrested I don't even care at this point'. I just wanted to see what this 240 that I built could do, you know?
So we launched off the light and I slam it into second gear. I'm pulling on him and as soon as I hit third I just blow by him. I pulled in front of him, hit my flashers, like, 'Yeah bitch!'. We pull up next to a light and he pops his door open and says, 'What the expletive is in that car?'. I was like, 'it's a Silvia motor from Japan, man, a two- litter turbo' – then I look in my rear-view and there's a cop right behind him that just pulls up at this light.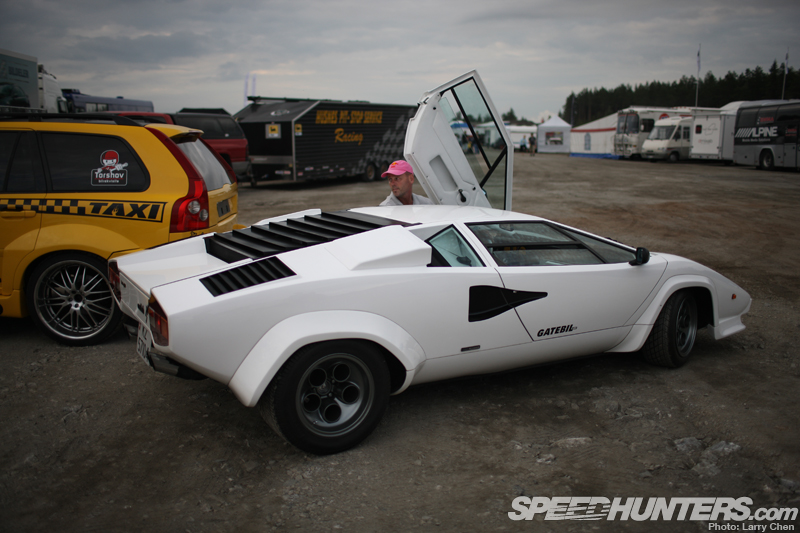 I tell him 'dude, there's a cop behind you,' so his jaw drops, he shut his door and as soon as the light turn green the cop lit him up and pulled him over. I was like, 'phew', and just kept going. To this day I think about it, because we both had a white car, both were going over the speed limit, but the cop pulled his car over. So I feel like the cop probably thought that he was me when we passed by. It's alright because he could afford the ticket better than me at that point anyway!
Larry: Did you ever find out what happened to that guy?
Vaughn: No, but I turned around and came back and he was out of his car, so he probably got in a little trouble. I'd like to have that car now though, I really want a Countach bad.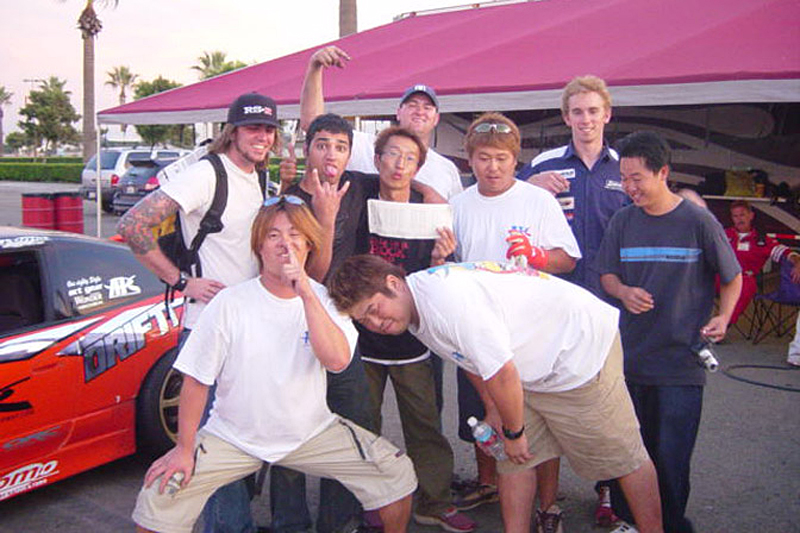 Larry: All in a 350-wheel horse power 240sx. Amazing.
Vaughn: Haha. So back to the subject of drifting. After doing all this practice I kind of made a name for myself on the East Coast. I won that first hyper fest event and I was always competing where I could. At the time, Chris Cabedo was running NASA for the Mid-Atlantic region – he started US-drift back in 2003. That's when we started having competitions. He was the one that got me an invite to the NOPI World Finals at California Speedway in October 2003. That's when I maxed my credit cards out, I shipped my car, took off work for a week. It was my first time in California and it was the first time I ever bought brand new tires to drift on. I put an LSD in my car, before I was just using a viscous diff, and I went out there and drove with Team Orange at this exhibition at the NOPI World Finals. I figured this was my chance to pick up some sponsors. I went out there armed with proposals and that's where I met Falken and I dropped some proposals off to other vendors that were in the paddock.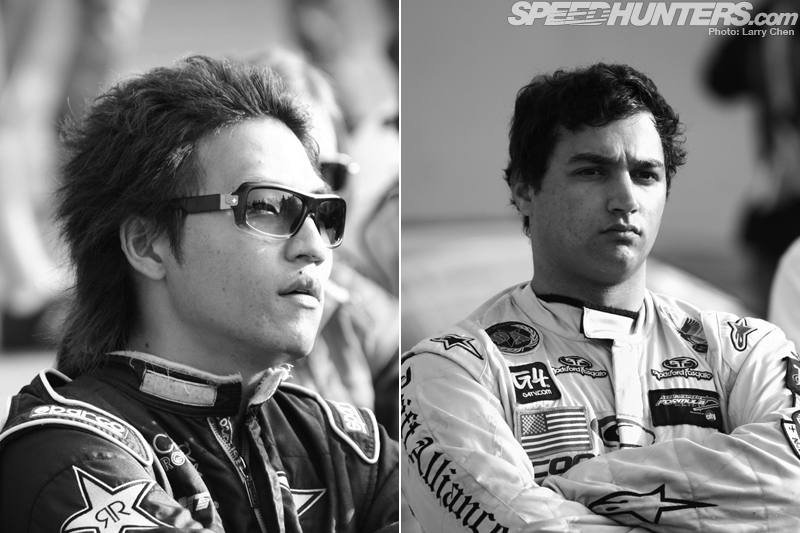 That event went really well: I was driving really well. That's where I met Dai Yoshihara, when he couldn't even speak English. Chris Forsberg had already moved out there and he was in the Signal 350z. We were all just having fun. It was the first time I ever drove tandem, with the Team Orange guys. My first time ever! It was crazy!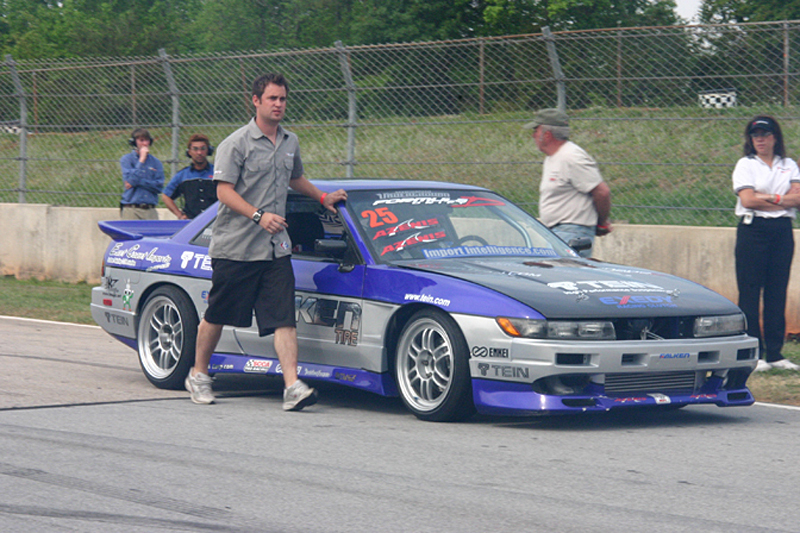 A couple of weeks later Formula D was announced. Falken contacted me: it was Mickey and Nick and at that time they were the marketing team that was doing drifting. They said we'd like you on our team.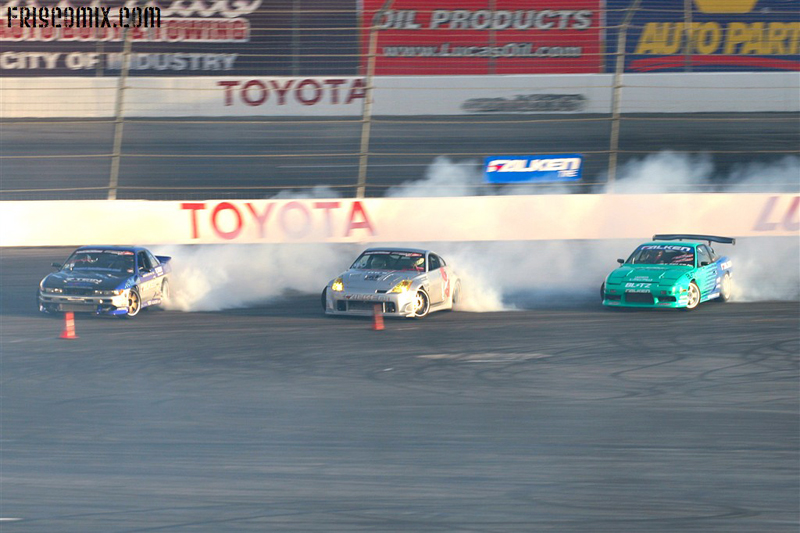 I was so pumped about being on the Falken team. Here I am, from the East Coast, I've been looking in all these magazines seeing Koguchi and Sagio Yamamoto that Falken brought over, and here I am being asked to be on the team. I was like… yes, yes, YES!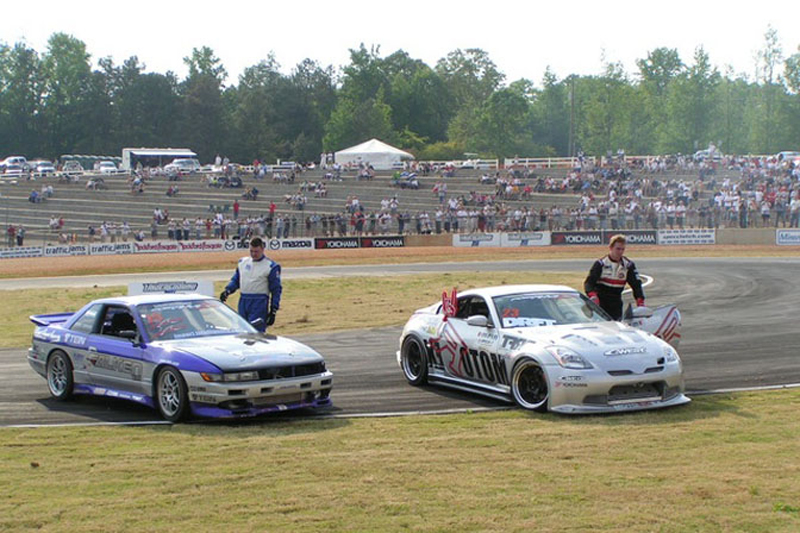 The deal was basically that they were giving me 10 tires per event and I had to paint my car in Falken colors. I was like, awesome! They got me some paint and I was transporting my car all over the country. In 2004 I hit all the Formula D stops with a truck and an open trailer.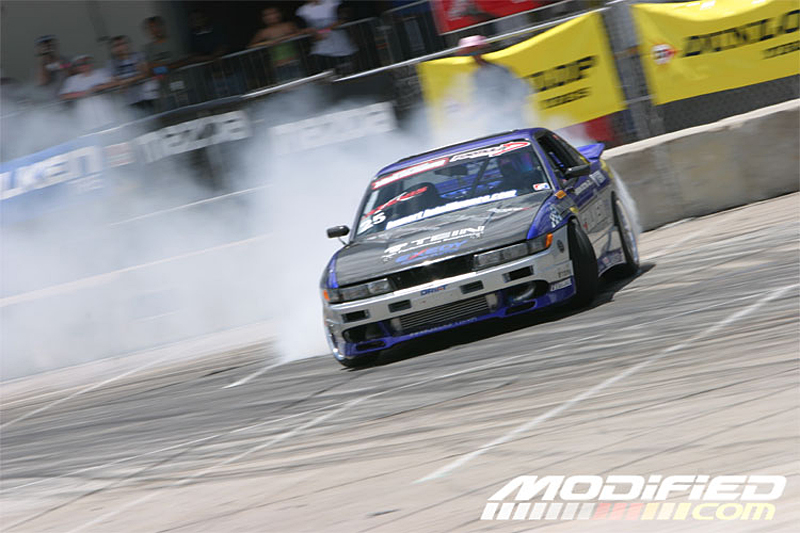 Sometimes it was me doing it, other times my dad helped out. But only If I couldn't get off work – for the Texas round my dad and cousin Joe drove it there and I flew in. It was a full-blown family effort.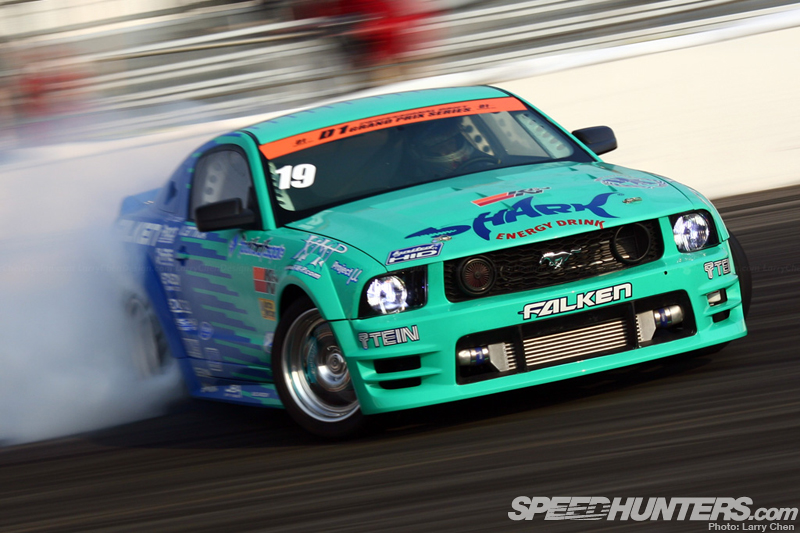 That season went well. I think I finished fourth overall in the series. Late 2004 I was at the Falken office and Ford had released a rendering of the new '05 Mustang. It had a big wing and it looked sick. Falken had someone Photoshop the rendering with Falken colors on it. I thought it would be awesome to bring American muscle into this Japanese sport. I had never really been a Mustang guy though: my dad always had American muscle and I always wanted something different.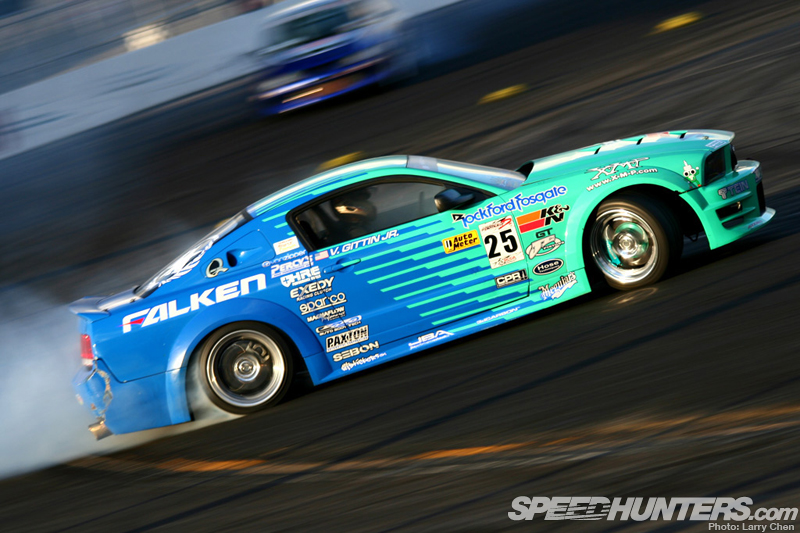 So a couple of weeks later they called me and asked what colour I would like my Mustang to be. I was shocked, but I said blue and teal. That year they went out and bought a Mustang from a Ford dealer and paid way over cost. We paid $5,000 over sticker to get one and had it at SEMA that year in 2005 painted with the Falken colors. Then we had the car built for drift and I remember I told the guy that was building it to make it drive like a 240sx! At Formula Drift Atlanta 2005 we got the car working.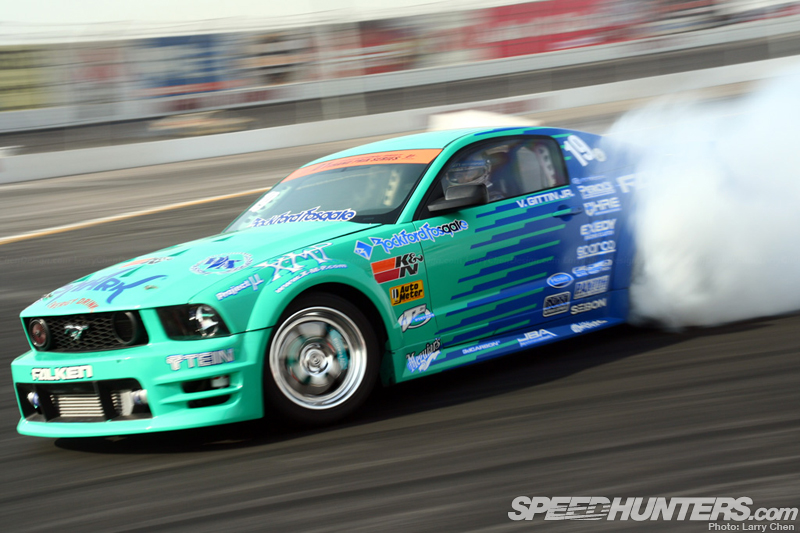 I even did the same alignment in it that I knew from drifting a 240sx. At Formula Drift Atlanta I just drove it like I drove my 240sx and it was epic. I fell in love with it when I drove it; In fact I did some donuts in the parking lot at Falken when they first got it and I fell in love with it right then and there. I was thinking, 'What have I been missing all this time? Why haven't I given Mustang a chance?'. It was probably the same reason why a lot of the younger generation a few years ago didn't give Mustang a chance, because I feel like the import scene was kind of like a rebellion against everything in the American muscle-car scene.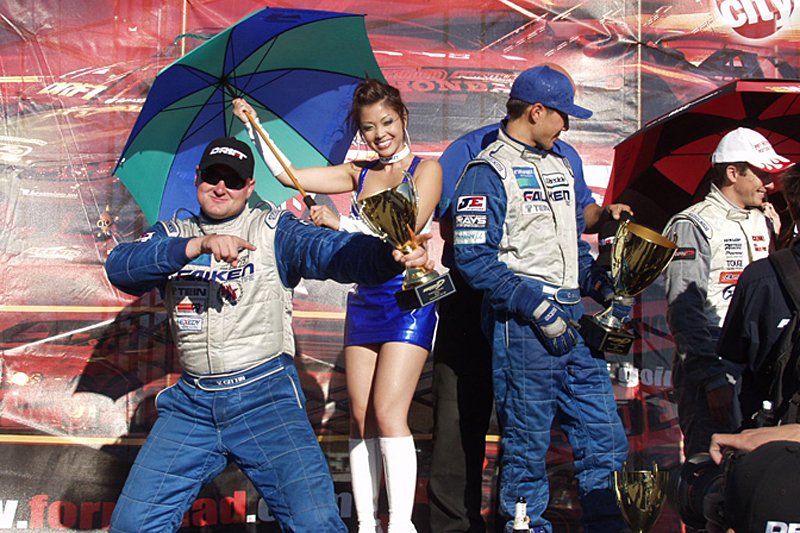 As I became more and more involved in the Mustang community it was unbelievable, because it was like an extended family with the camaraderie and the help. You're driving a Mustang down the street and someone else in a Mustang's there and you're like, 'what's up?'. There's some kind of special thing about this car and obviously it's iconic and a part of American history. I just love it.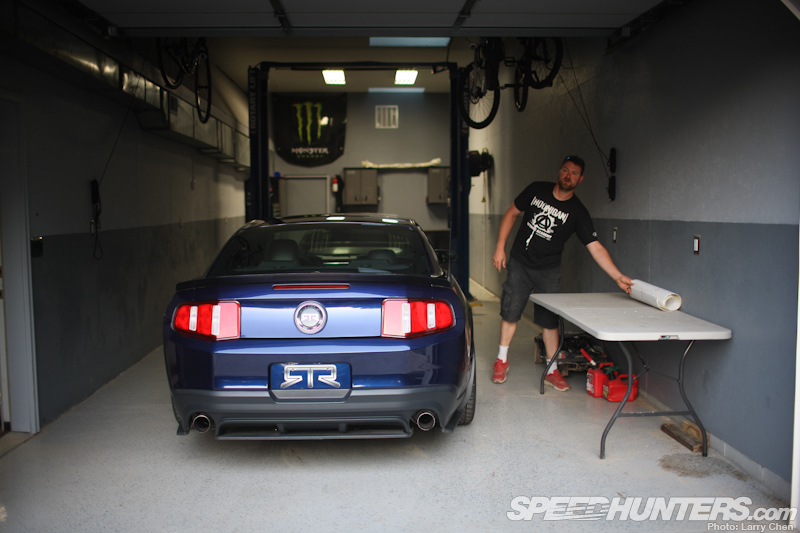 Hence the reason I started my own brand, which is my vision of a Mustang, which is the RTR. It's not a project to get me rich or anything like that, it's for me to have some fun and show my passion.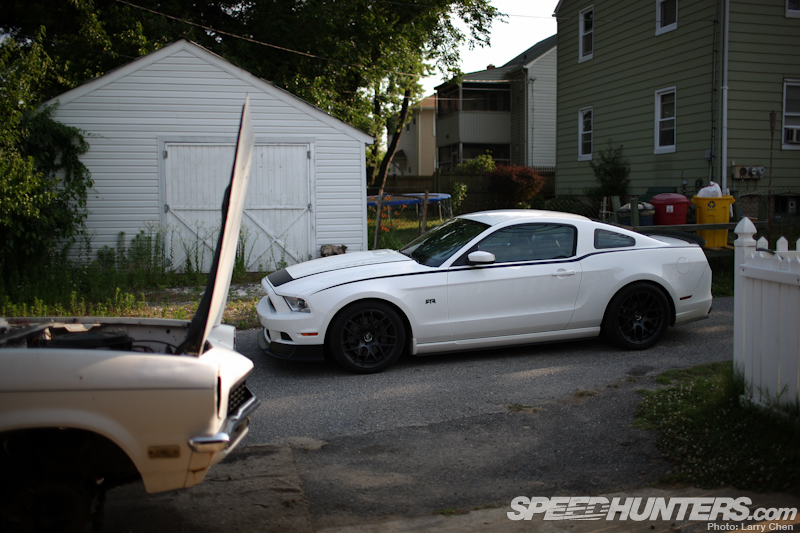 When I built that car I didn't give a shit if anyone bought it or not: I made an investment with my partner to do it. Something I felt good about. I didn't have a business plan. I was thinking that this is what I want a Mustang to look like. And I thought, if we do this, people will buy them – and the rest is history with that car. Anyways, I'm getting off track.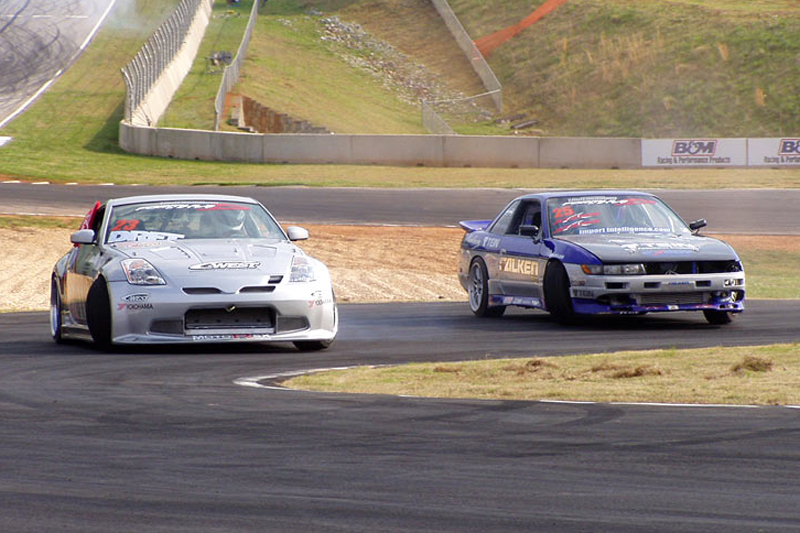 Larry: Going back for a second, I bet it's really hard for everyone to picture you as a privateer.
Vaughn: Guaranteed.
Larry: Like there is no way they could fathom that!
Vaughn: No way!
Larry: Open trailer, just towing your car to all events. Your dad and uncle as your pit crew..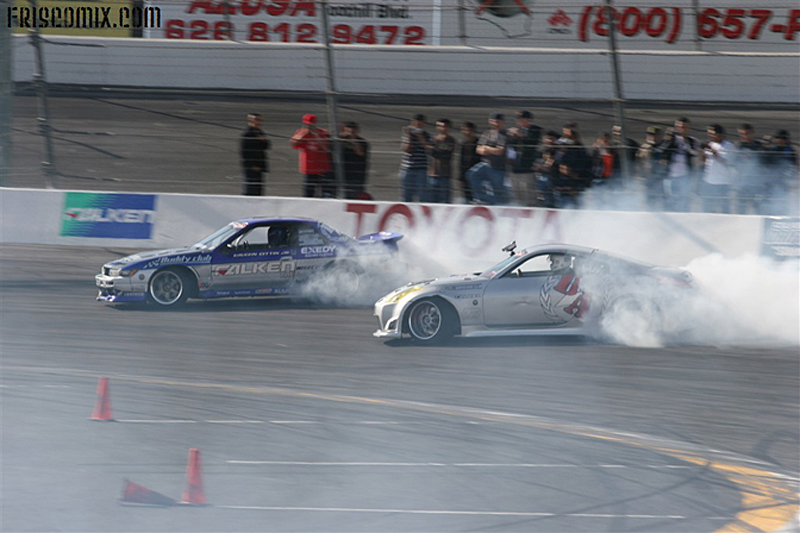 Vaughn: Dude, I spent every dollar I had! I did everything that these privateers drifting today are doing. I used to work an hour and a half from my house, in Virginia. I lived in Glen Burney.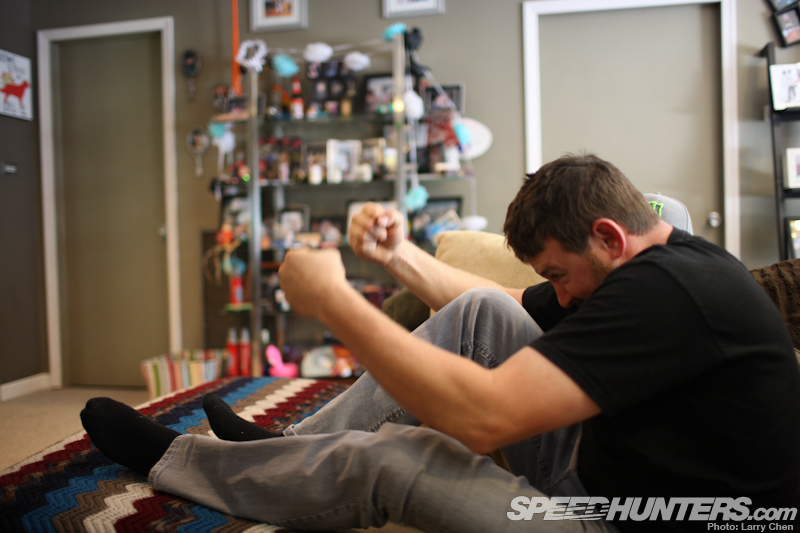 When we had 'Drift out Wednesdays' I used to drive to Jersey in my 240, crunched up because I had so many tires in the back. 240s don't take that many tires. This was before I had a truck and trailer. I'd be crunched up with all my wheels and tires in the back. So I'd drive three hours to Jersey, drift all day, drive three hours back and go to sleep at 2:30am then wake up to go to work in the morning.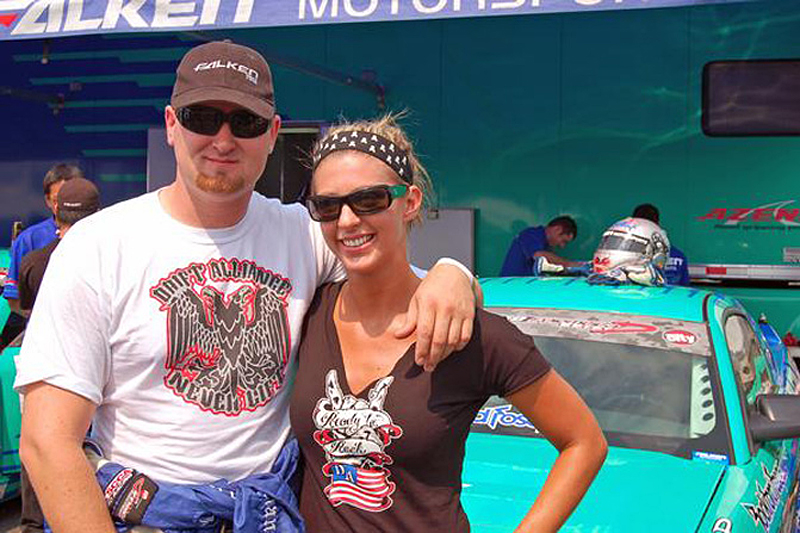 Then from 2005 to 2006 we had Formula D events and I had things I had to do. I would leave work early on a Thursday, catch a flight, go do Formula D, leave Sunday night, come home on a red-eye, land in Baltimore – I would not sleep by the way – and then go to work that Monday morning. And I did that for a couple of years.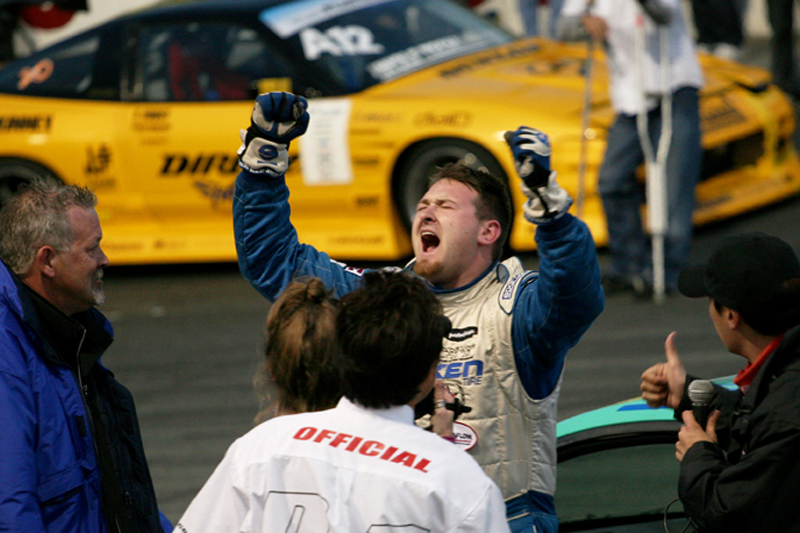 I paid my dues. A lot of the people that are in it now don't see it. A lot of people that are in the sport now just see me as the big dude that has a huge budget and money falls out of the sky for him.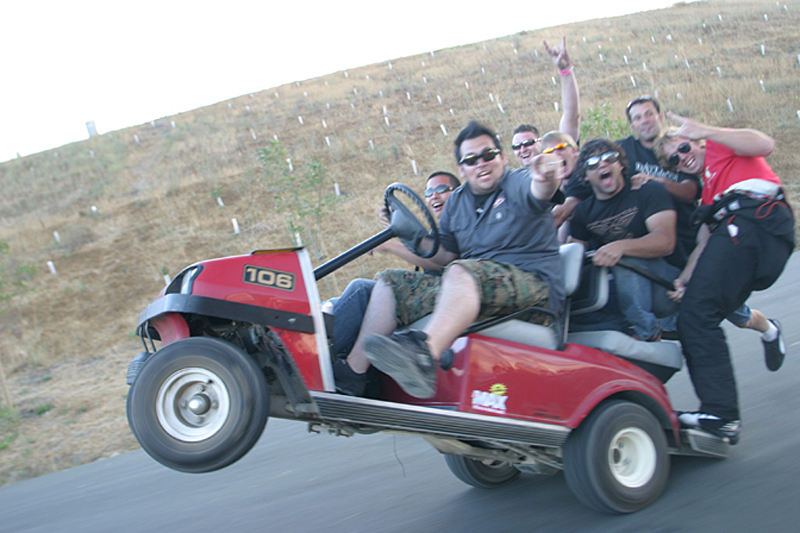 Fact of the matter is I paid my dues and every second of my life at this point is working to maintain what I have and what I've built.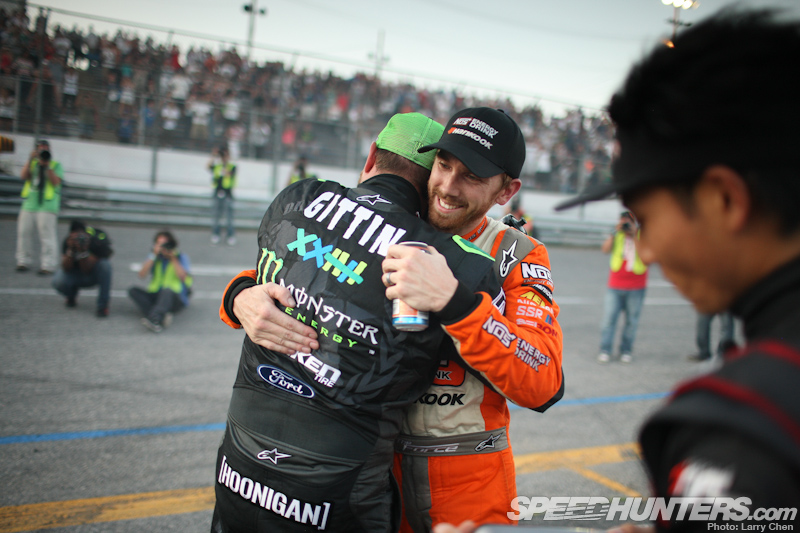 I don't expect everybody to understand that and see it, but any of the guys that were there – Chris Forsberg, Tony Angelo, Tyler McQuarrie, Rhys Millen, Samuel Hubinette – I guarantee you all those guys have a lot of respect for what I've been able to accomplish. They've done similar things in their world. They've taken these similar steps.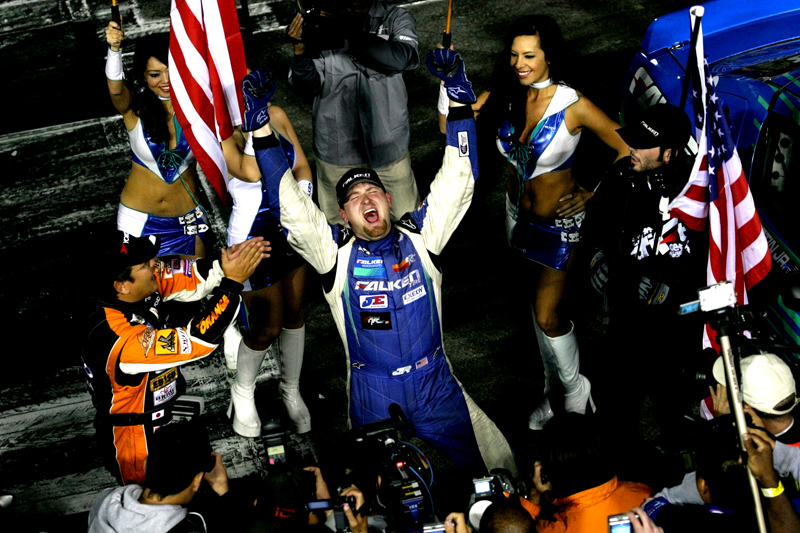 A lot of today's privateers have the driving skill, but only some of them have or understand the business skills that it takes to make it to the top. When they get there, and many of them will, they'll be like, 'Vaughn made this shit look easy', but it's really really hard. People may or may not understand it, but drifting is my life dude, and my involvement in drifting is very selfless.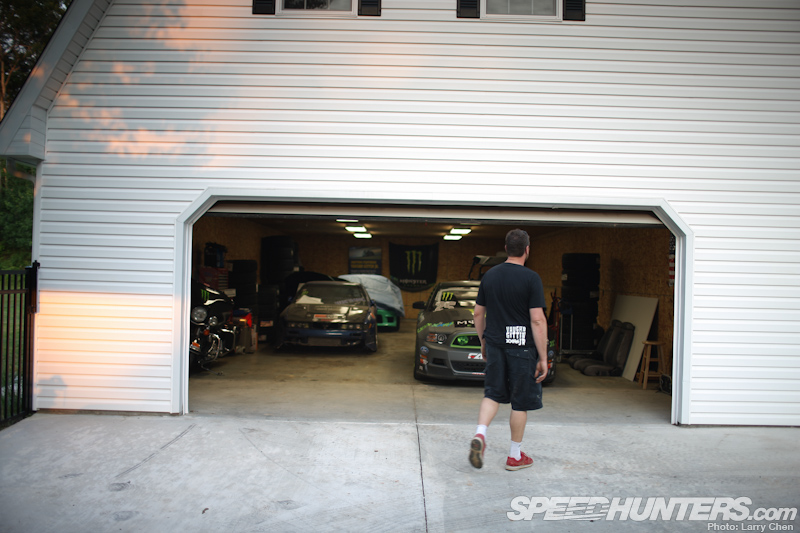 Yes I've made a career out of it, yes I've made decent money, and I have a house and can live the lifestyle that I wanna live. But this is about passion for a sport that I really love and I realize that right now.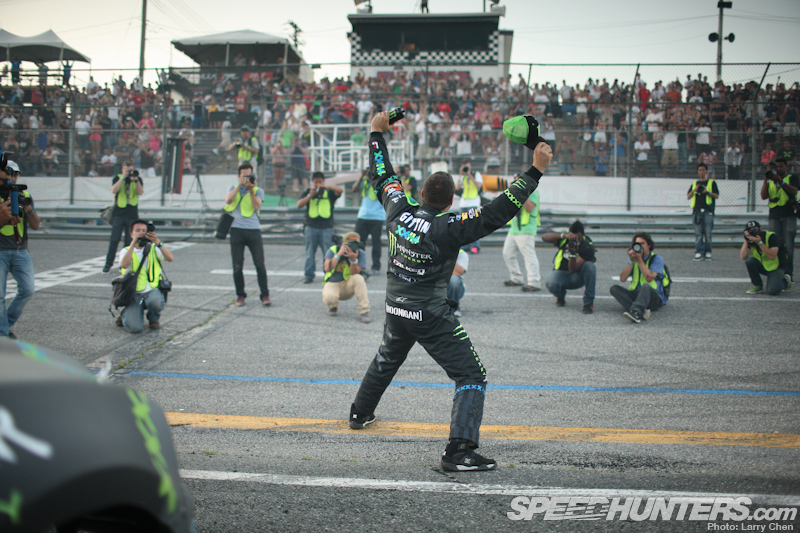 This sport has so far to go and has so much more opportunity. I compare it to the early days of NASCAR: those dudes were out there, doing what they wanted to do, making a living, having fun doing it and now this generation that's out doing NASCAR is making 10, 20, 30, 40, 50 million a year driving NASCAR.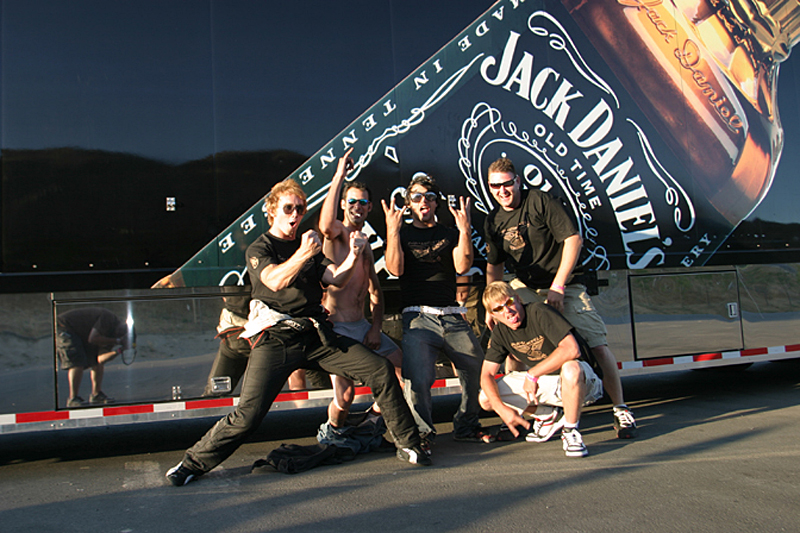 I really hope that me and all the other guys that were on the first wave of drifting can lay down an easy path for the next generation of drifters, to take it to the next level and not be struggling, and to not have to have open trailers and go all over the country and eating ramen noodles and doing it like that forever.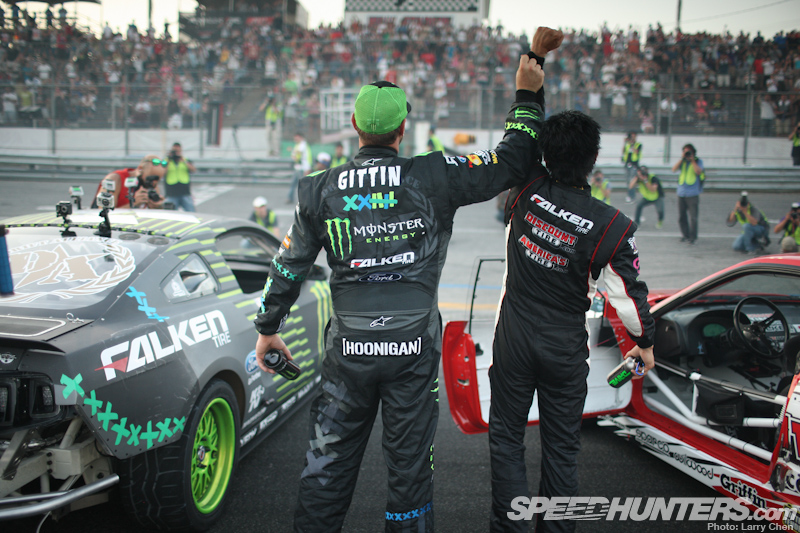 I hope the privateers of today get opportunities and they will. There are always guys with talent that are coming up the ranks, and who knows, they might drive for me in five or 10 years when I retire from professional drifting.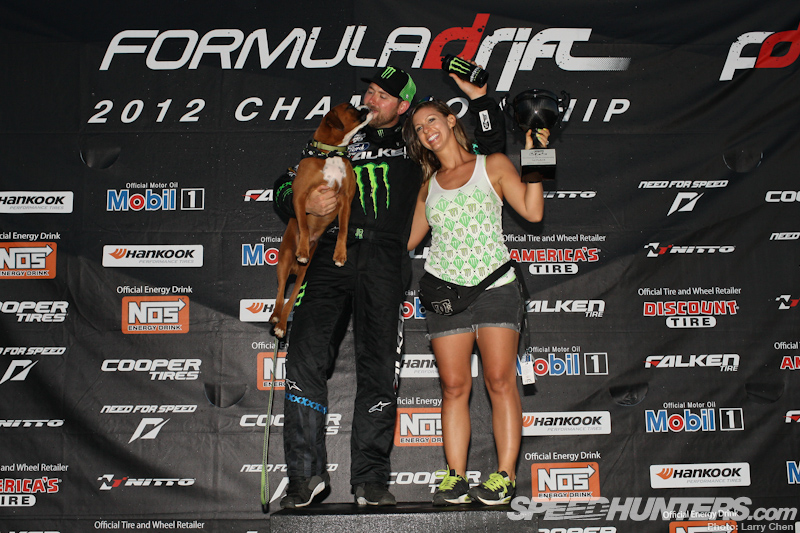 But the bottom line is that I just love this sport and I want to continue, and that is just as much drive for me as putting food on the table for me and my wife and my dog Brody.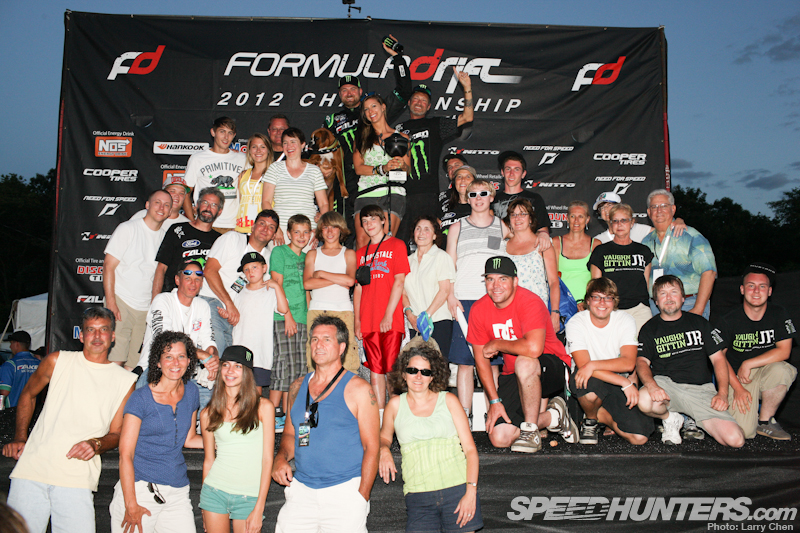 Larry: Has your entire family been supportive of you chasing this dream?
Vaughn: Absolutely. Some have been a little bit worried of my safety, especially my grandmother, but overall my friends and family have been my biggest fans and have continued to support me through the thick and the thin. And that support system without a doubt is one very important key to being successful.
Vaughn and Larry
Larry@Speedhunters.com
More retrospective stories on Speedhunters