In the days before Formula D New Jersey Vaughn Gittin JR was nice enough to let me into his Maryland home for a night, and being the nosy Speedhunter that I am, I decided to do a little piece on his house.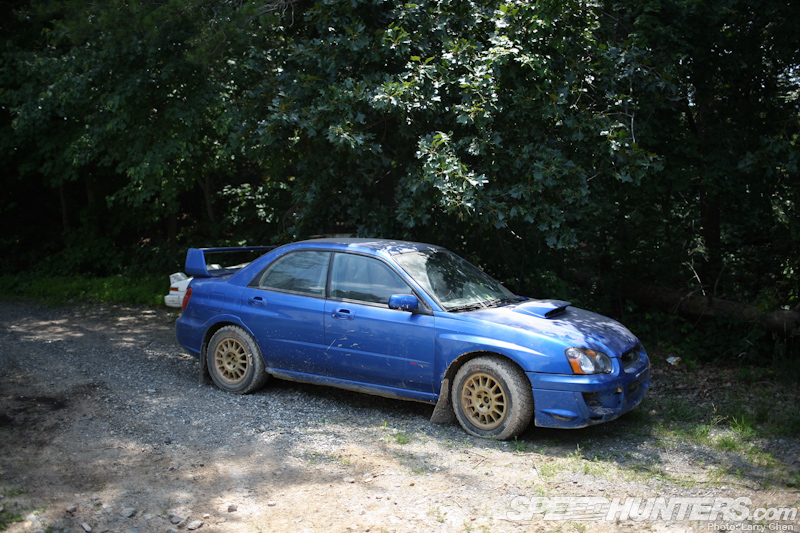 As soon as I arrived at JR's, I found this beat up Suby.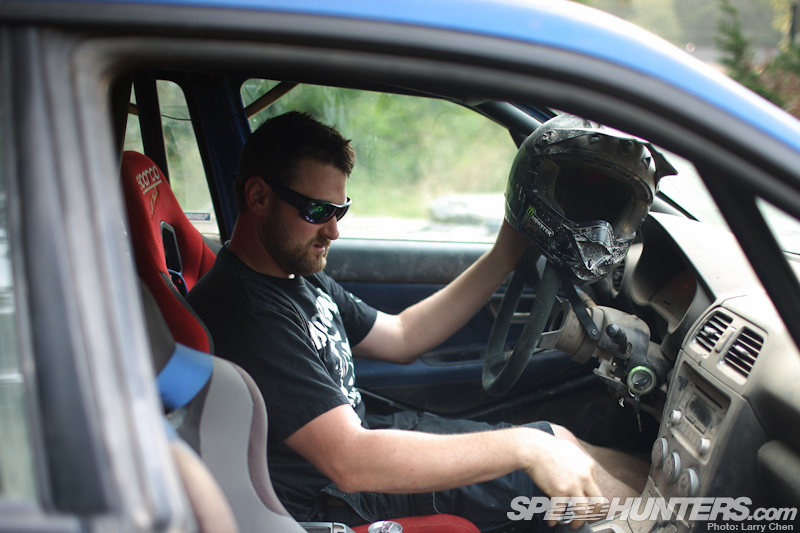 Inside was the Monster drifter himself. I hopped in and I didn't really know what to expect. I asked "where are we going?", but Vaughn just smiled and said "out back".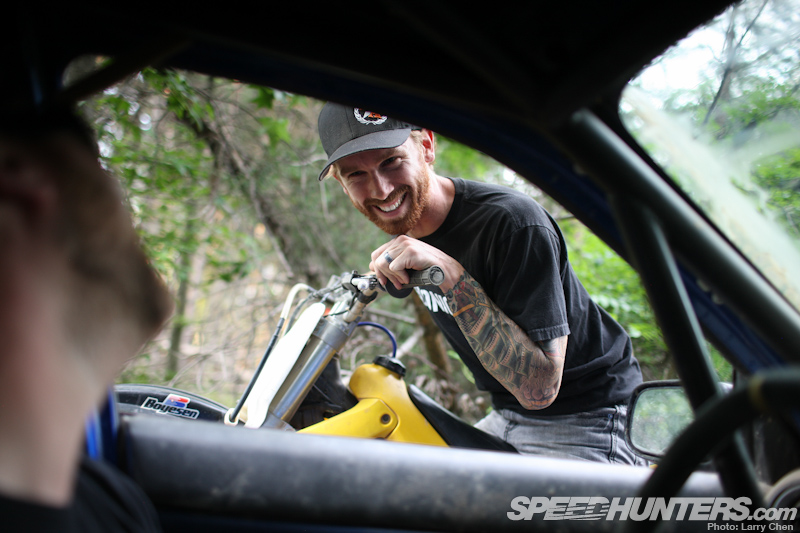 As we were about to take off, Chris Forsberg pulls up to say hello. I thought to myself, what kind of backwards world of drift is this?. Were these top drifters just hanging around all the time or something?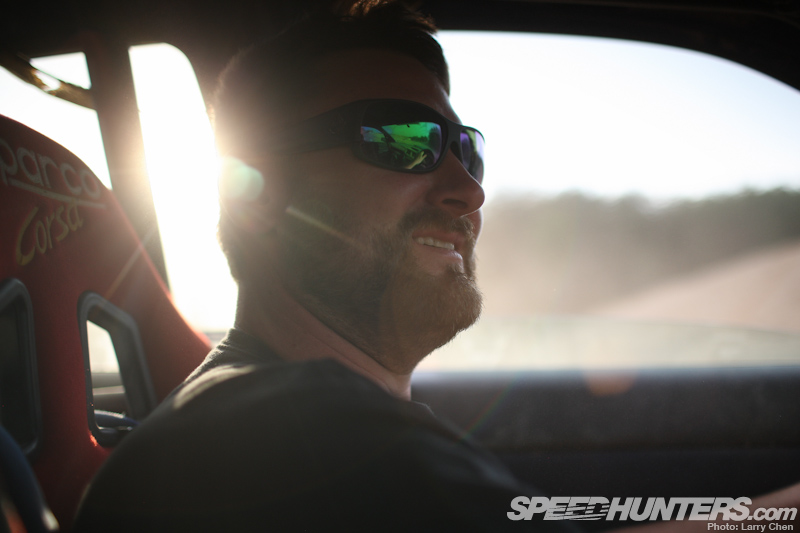 With a smile on his face, Vaughn knew my mind would soon be blown away.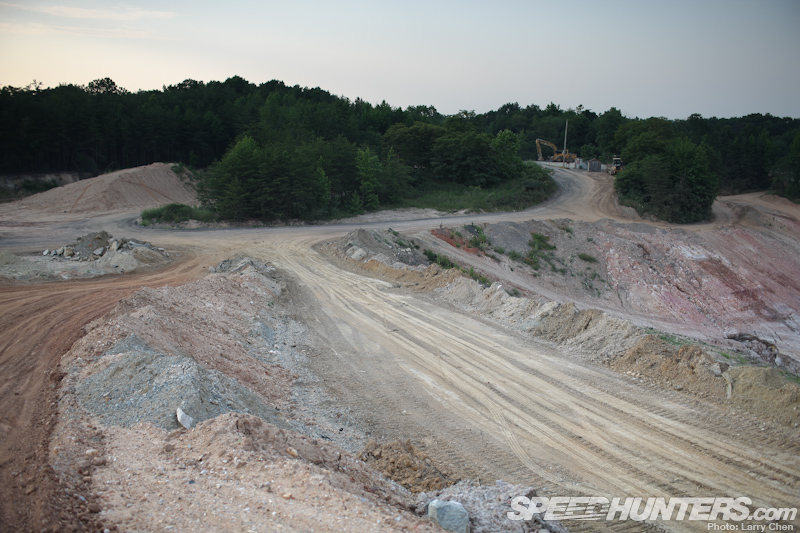 So this is what JR meant when he said "out back".' It was a rock/clay quarry. Mind blown.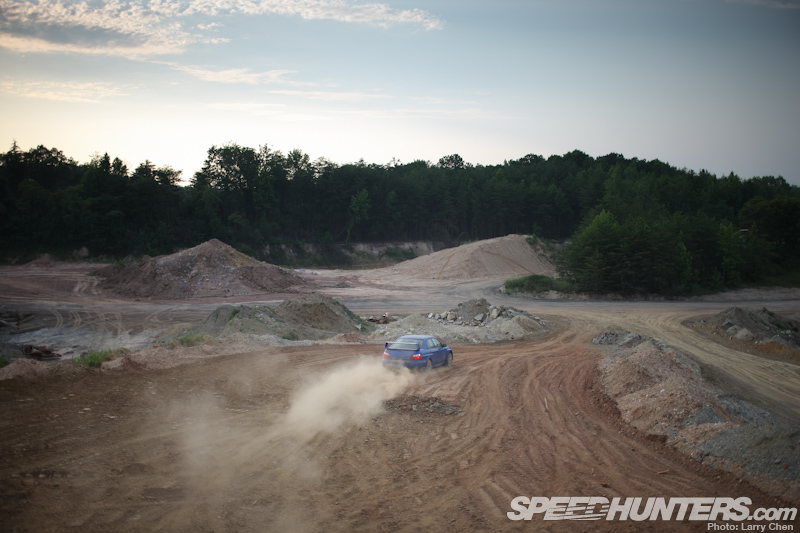 This is where Vaughn gets his "hand-eye coordination practice".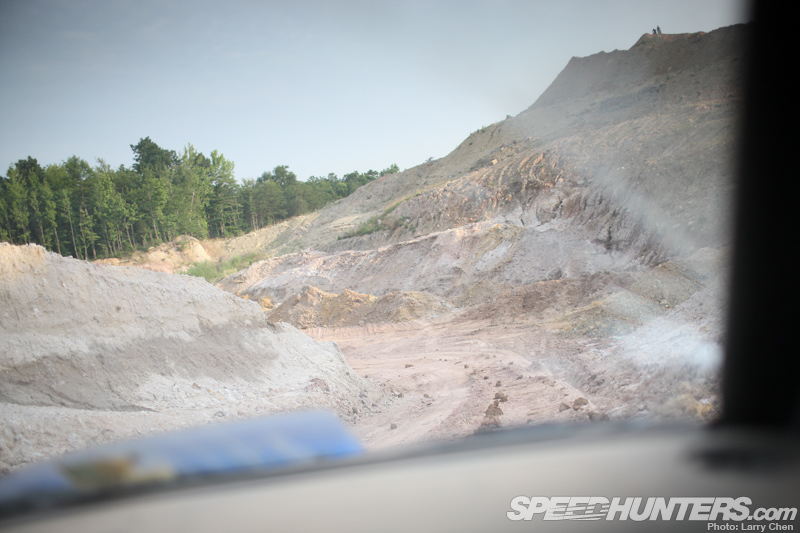 I held on for my life as I got hit in the face with my own camera quite a few times. I do have to admit though it was quite smooth going around this improvised rally course.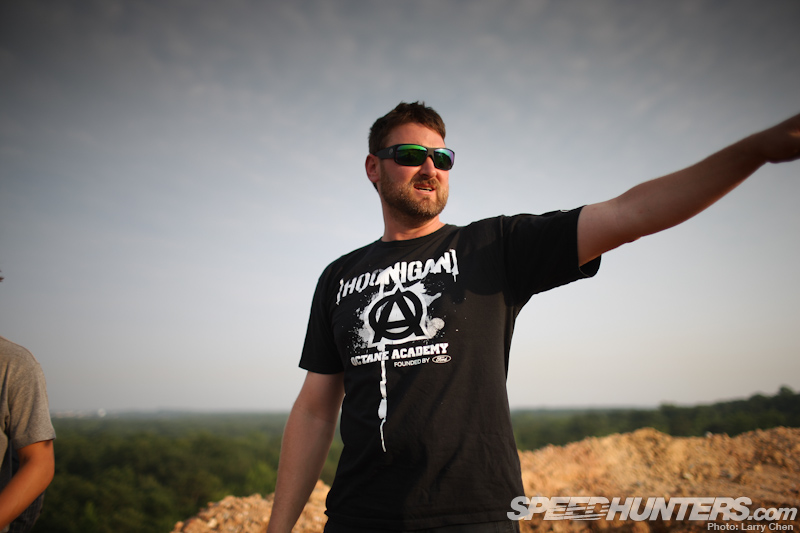 He explained that during the United States Independence day, which is coming up very soon, there are many fireworks shows that go on all around. From the area on top of the mountain you can see all of them for free. Wonderful.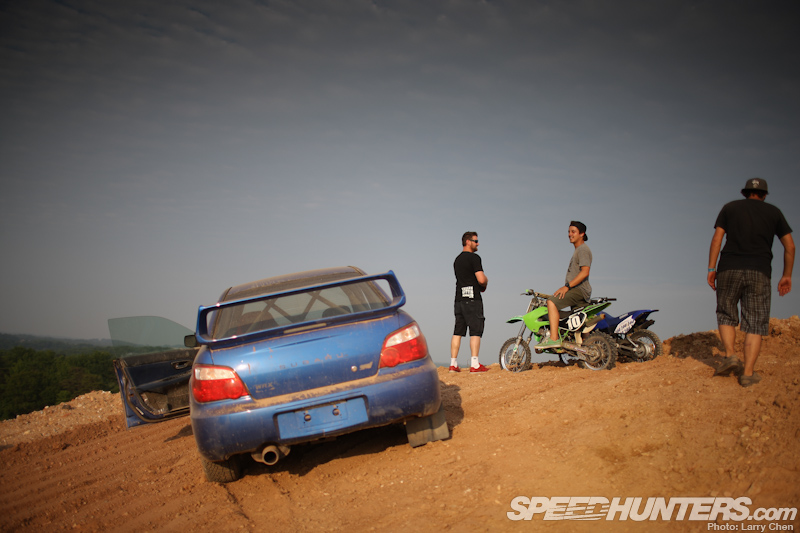 Also joining us for some off road fun was up and coming drifter Nate Hamilton.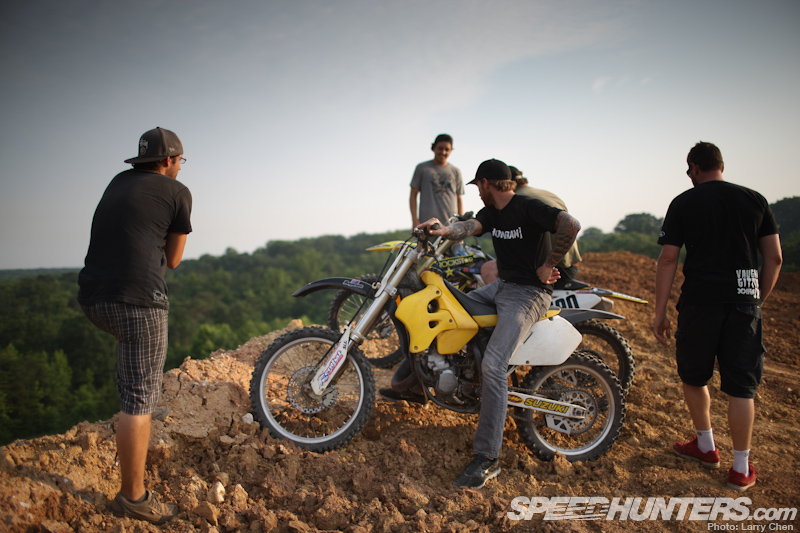 I asked Vaughn before if he would ever live anywhere else and he said no. He loves Maryland and I can see why.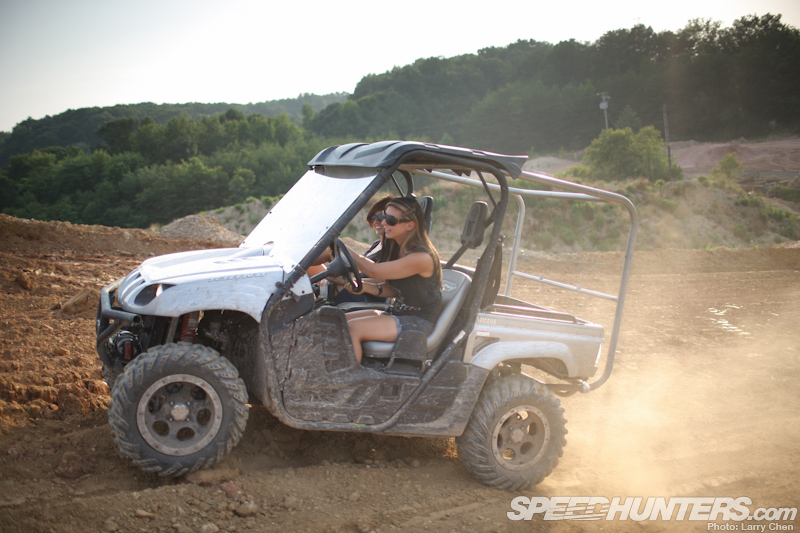 Even Vaughn's and Chris' wives came out to join in on the off road fun.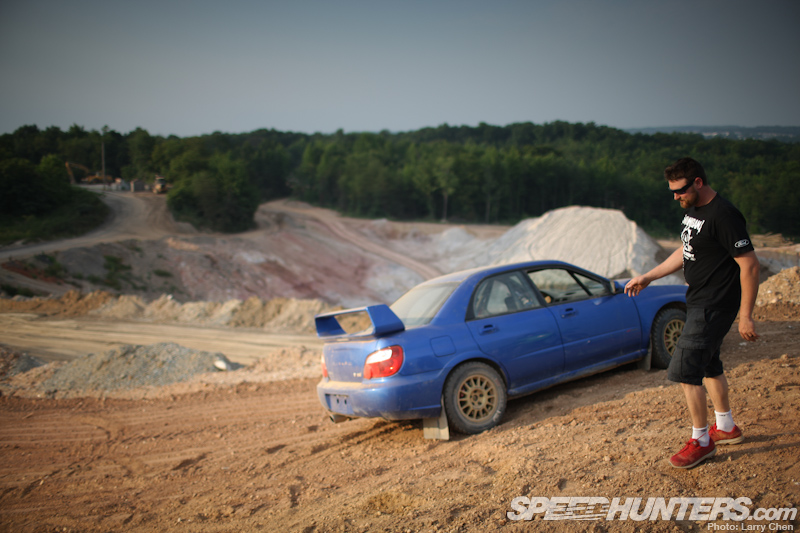 Next was a tour of Vaughn's garage, which was still a work in progress.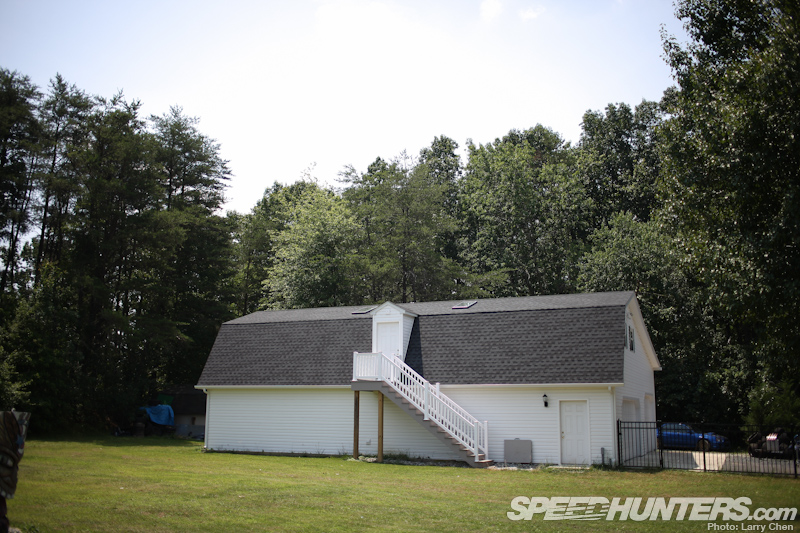 This was it, in all its air conditioned glory. On the bottom is the garage, and on top is a man cave/office which was not finished yet.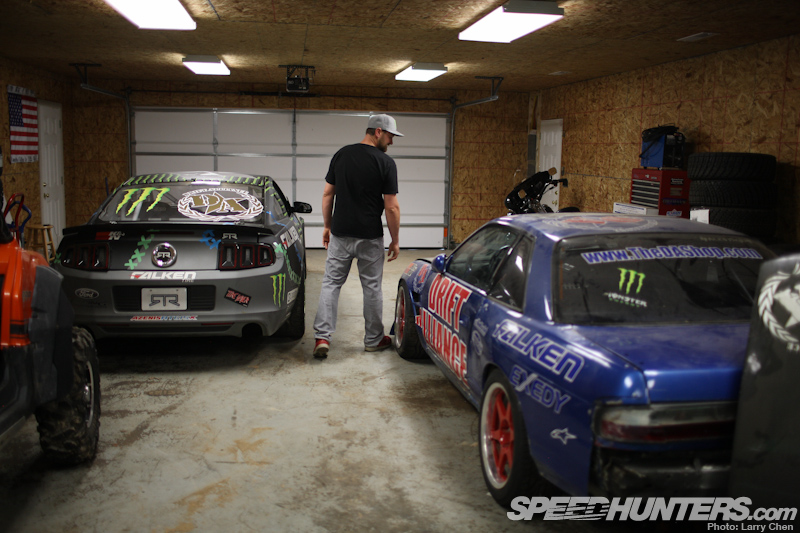 Inside was his personal drift museum. It also brought back lots of memories for me too, as I have been shooting drifting since 2004.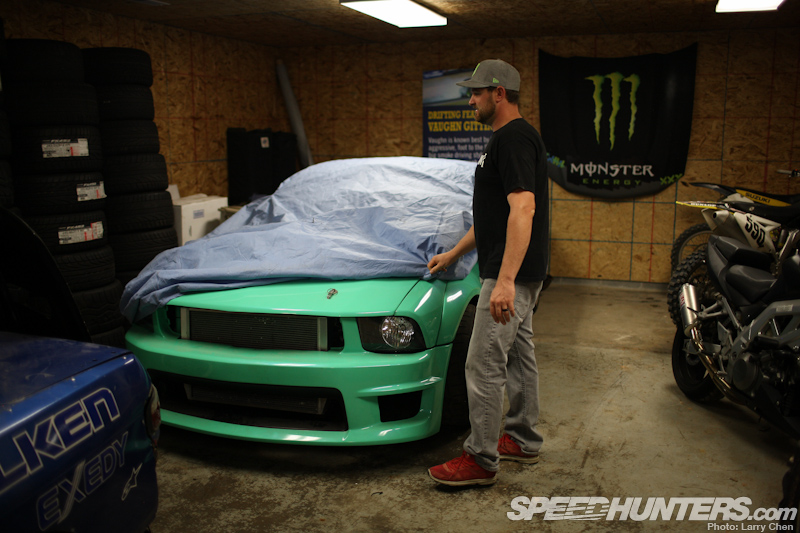 Under that cover was one of the most famous pieces of American drift history. Vaughn got his first win in D1 with this car, as well as winning D1 USA vs. Japan.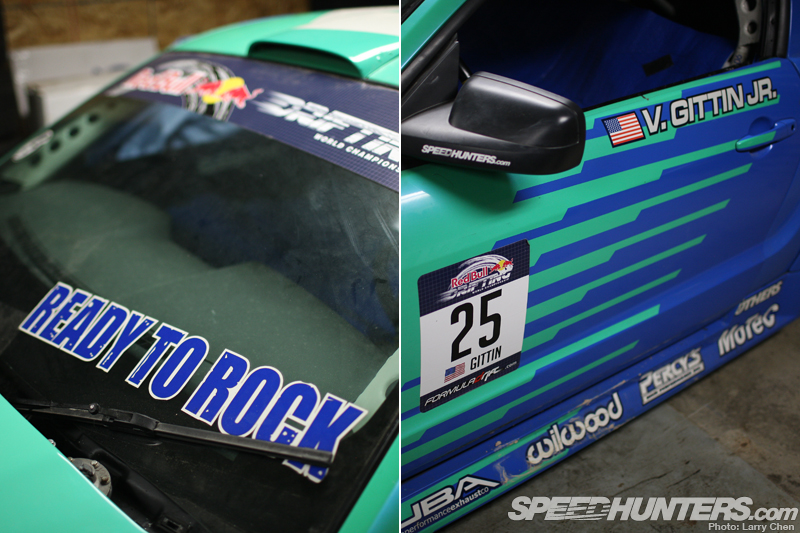 The last time he drove this car was in 2008 for the Redbull World Drift Championship. He's since fixed the body damage from that event and it's been parked ever since.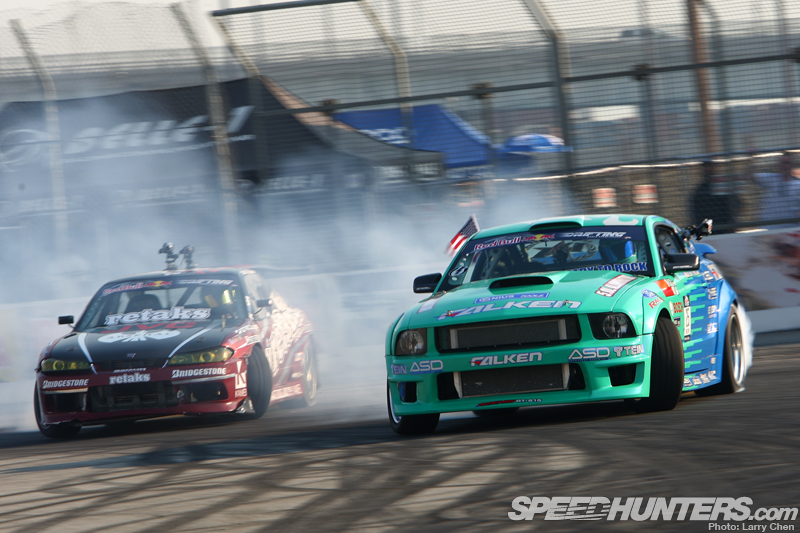 I remember the Red Bull event like it was yesterday. He actually owns this car and he plans to restore it to its former glory to drive in drift demonstrations.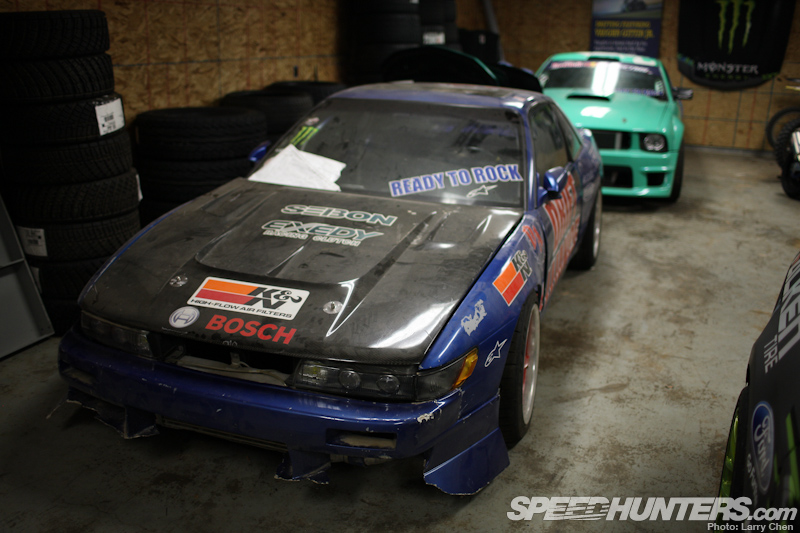 Even older was his S13 that he drove in for the very first season of Formula Drift back in 2004.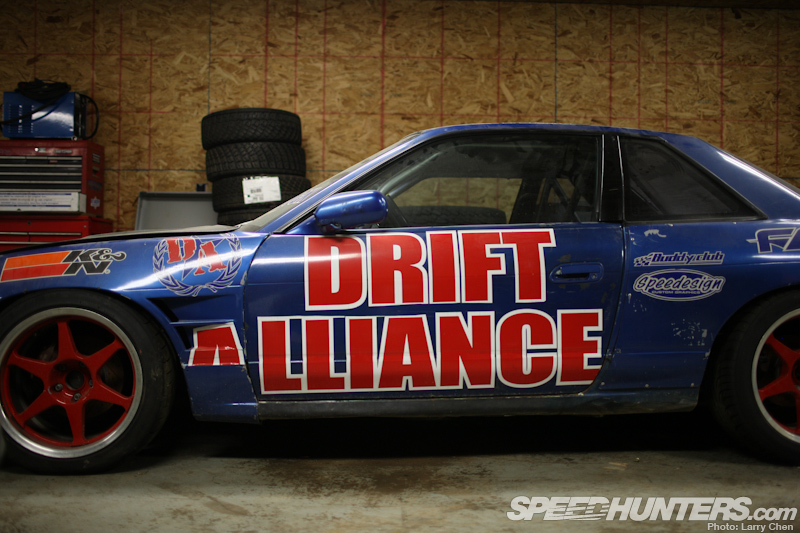 It's definitely seen better days but, just like the Mustang he plans on restoring this car to exactly how it was back in 2004. To think that he trailered this car on his open trailer in his pickup truck to all the stops back in 2004 just blows my mind.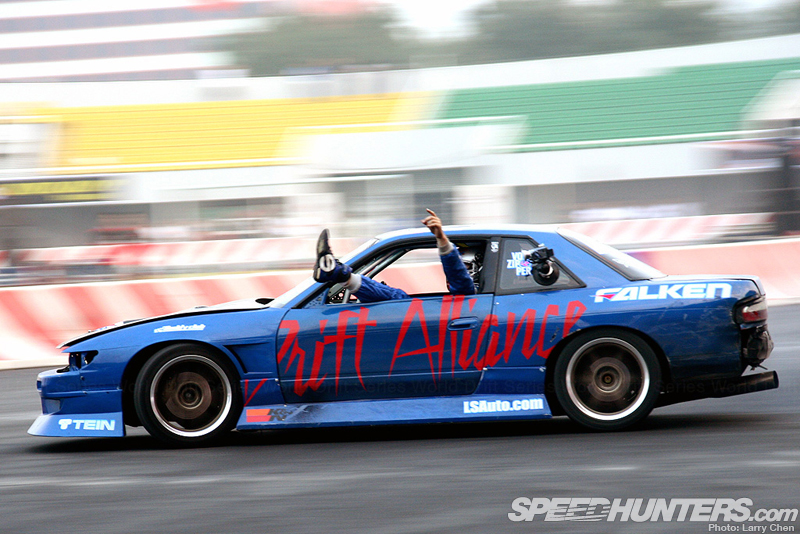 I remember the last time I saw this car run was in China for the 2006 Beijing drift demo.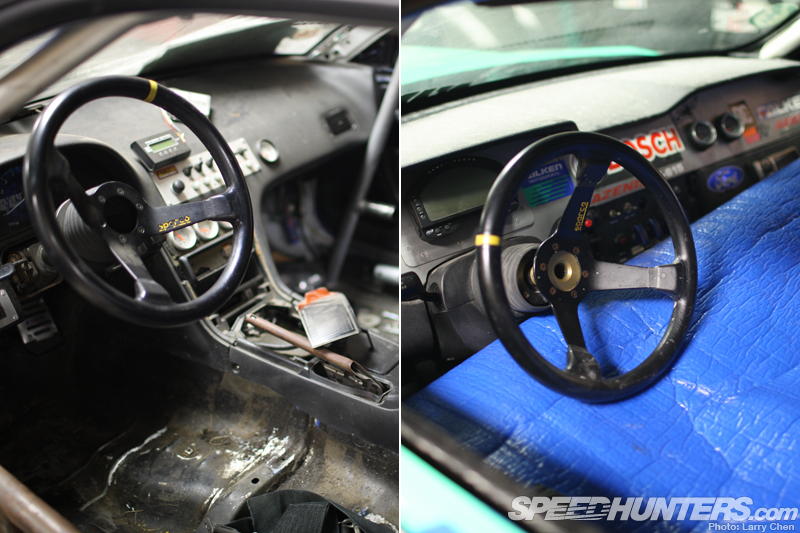 Both of the cars had quite a thick layer of dust on them.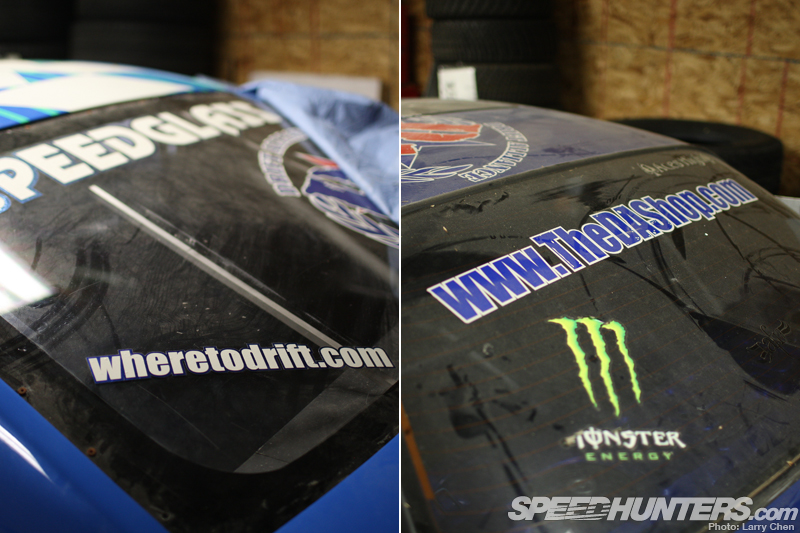 They  also still had ancient URL decals on them too. WhereToDrift.com was Vaughn's website that he made to promote legal drifting to keep it off public roads.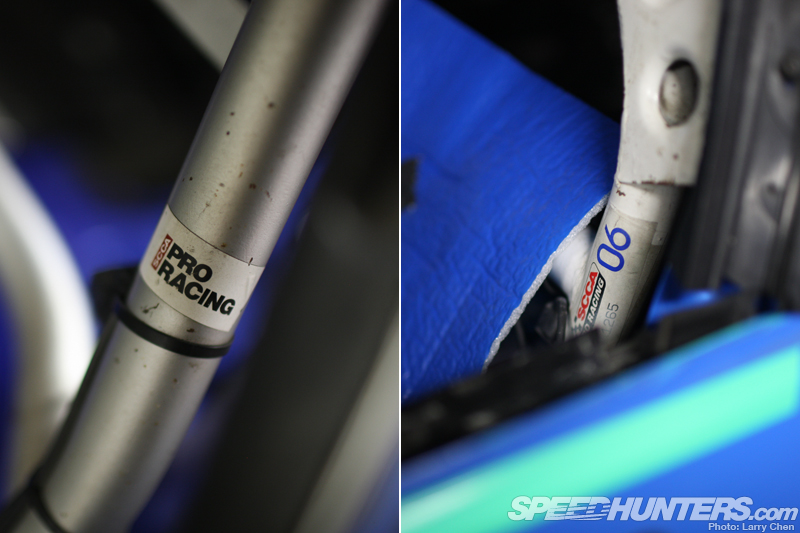 On the left ,was the very first tech sticker used for Formula Drift back in 2004 and on the right was a tech sticker from 2006 on his Mustang.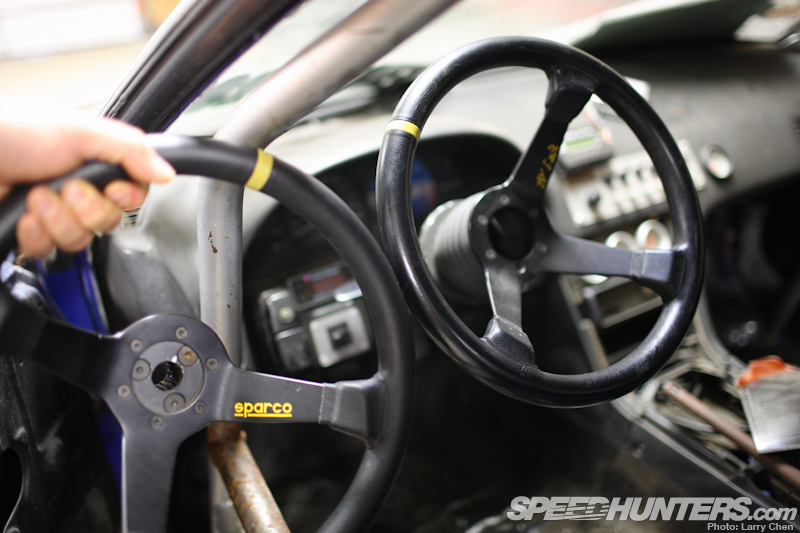 The wheel on his S13 was so incredibly smooth from all that seat time.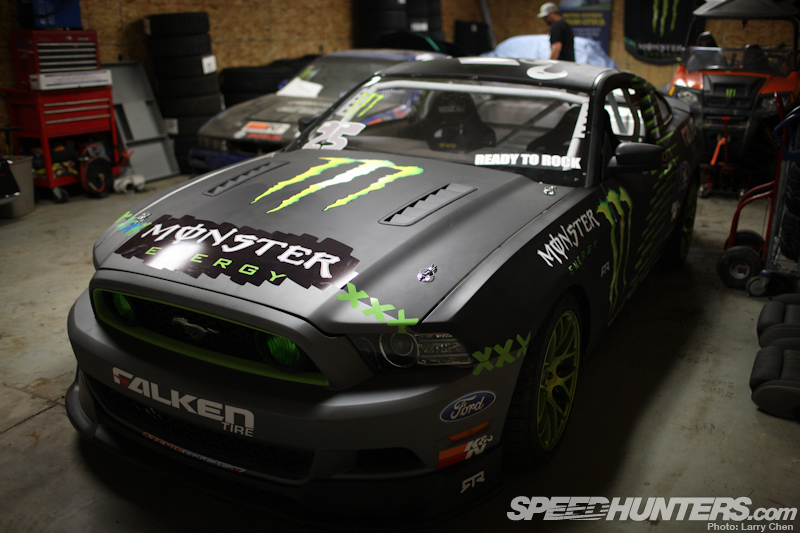 Also in the garage was a copy of his current competition car that he uses for demonstrations.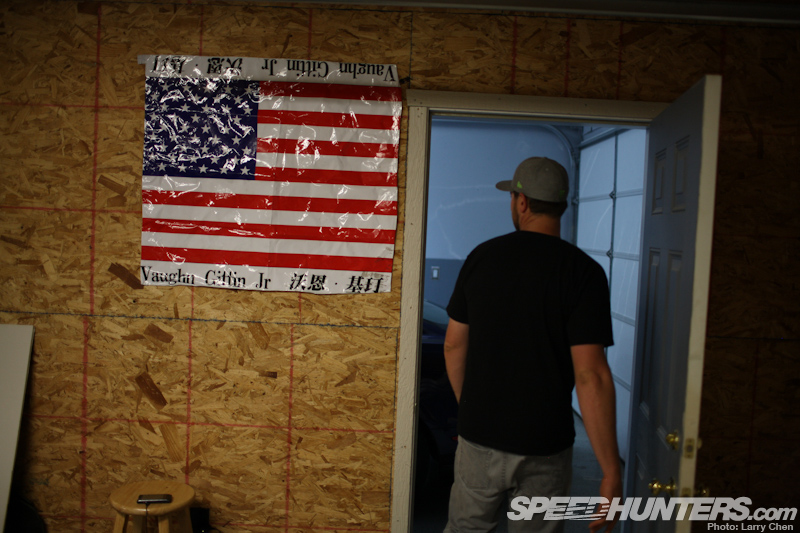 He then brought me to the next room, where most of the wrenching will be done.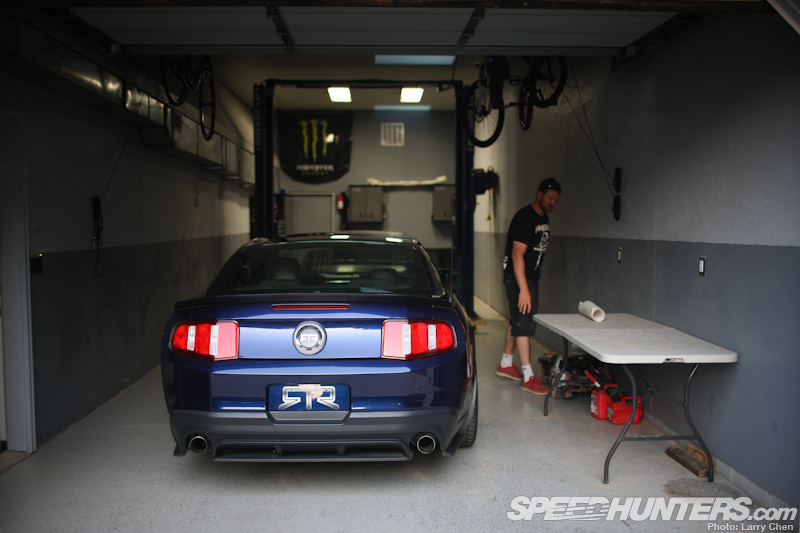 That RTR was the very first prototype ever built, and JR is very proud of it.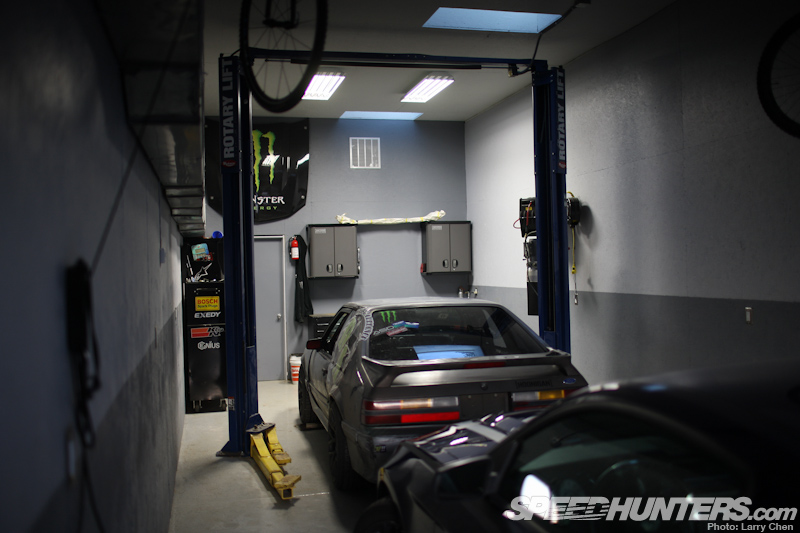 In front, was a lift in case he needs to tackle a more serious project.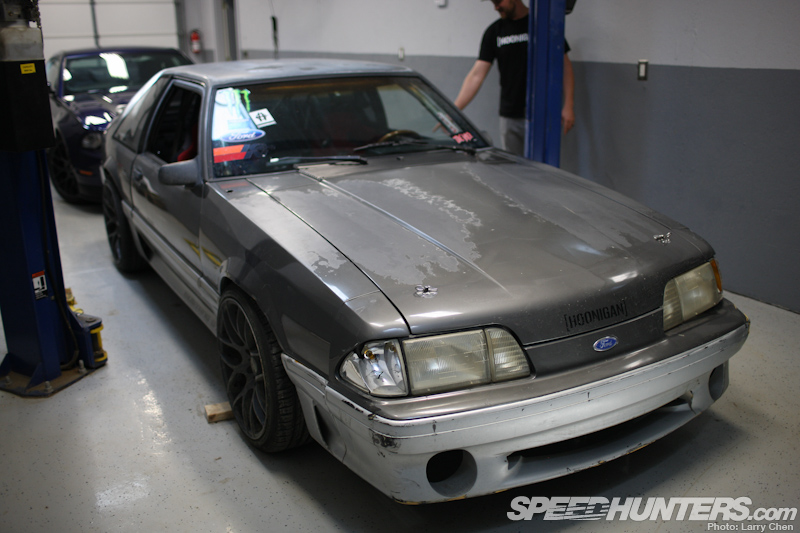 This is his new missile car, but it 's not just any Fox Mustang.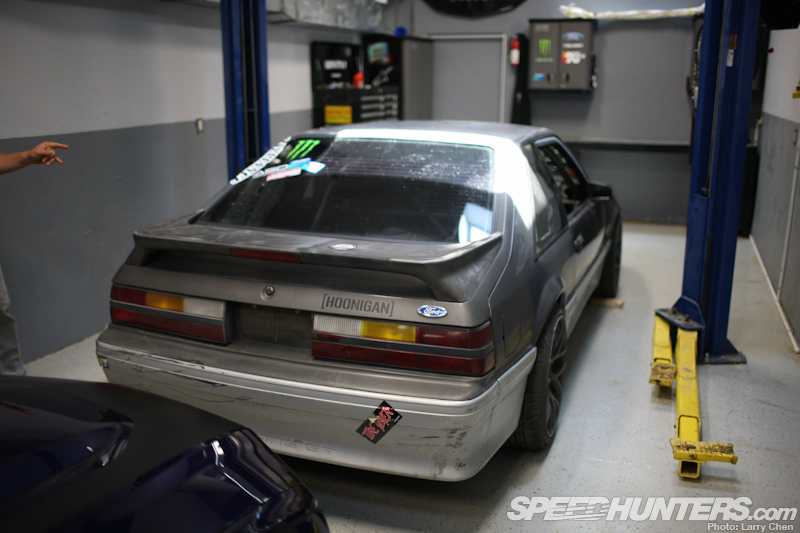 It's was actually the very first Fox Mustang turned into a drift car, even before Dan Pina's drift patrol car.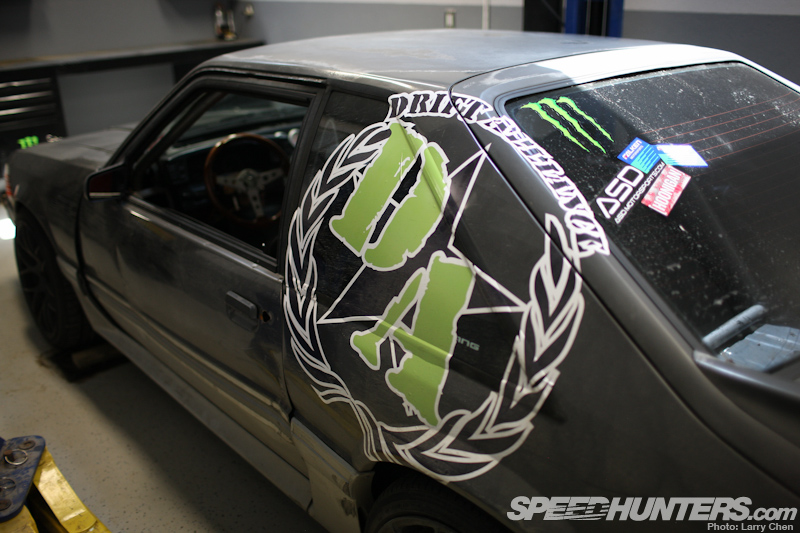 It was originally owned by the creator of Driftlive.com and now it's Vaughn's personal hooning machine.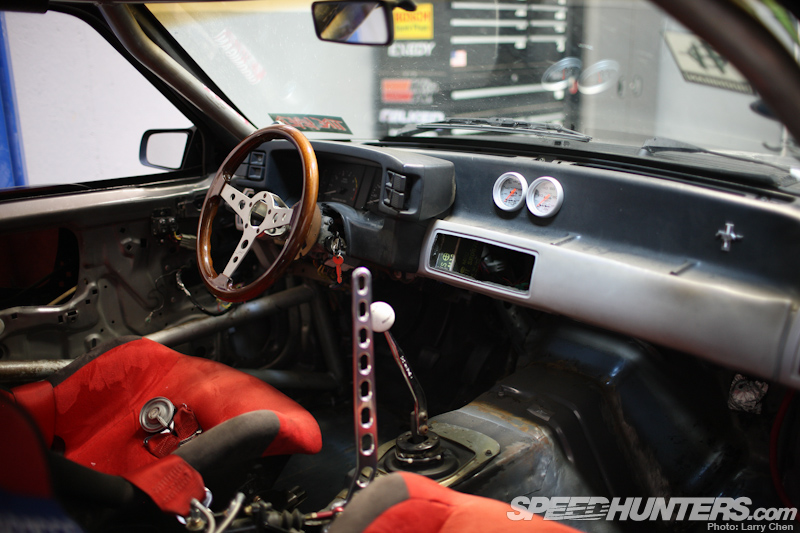 With a couple quick additions from ASD this thing was ready to rip.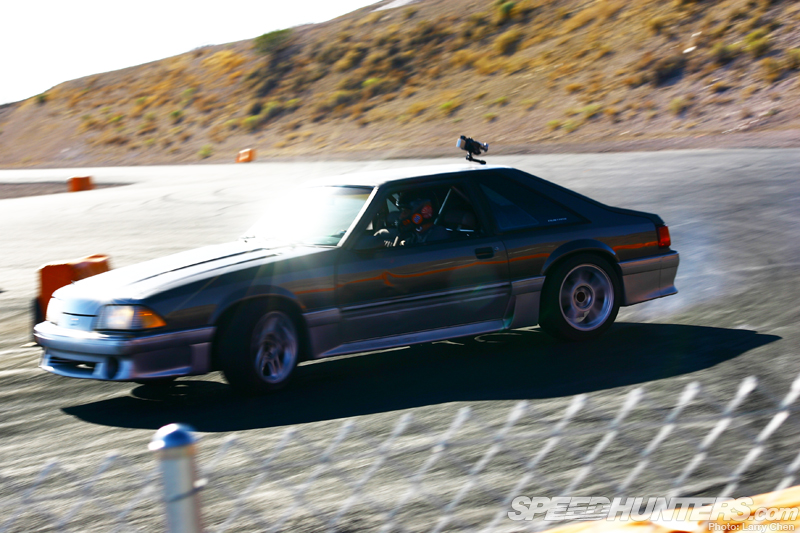 Again, I remember seeing this car get flogged around the west coast maybe 5 to 6 years ago. Vaughn's actually been in the market for a Fox bodied Mustang for a while now and when he heard this one was for sale, he jumped on it. The next time he was in California he swung by and picked it up and the rest is history.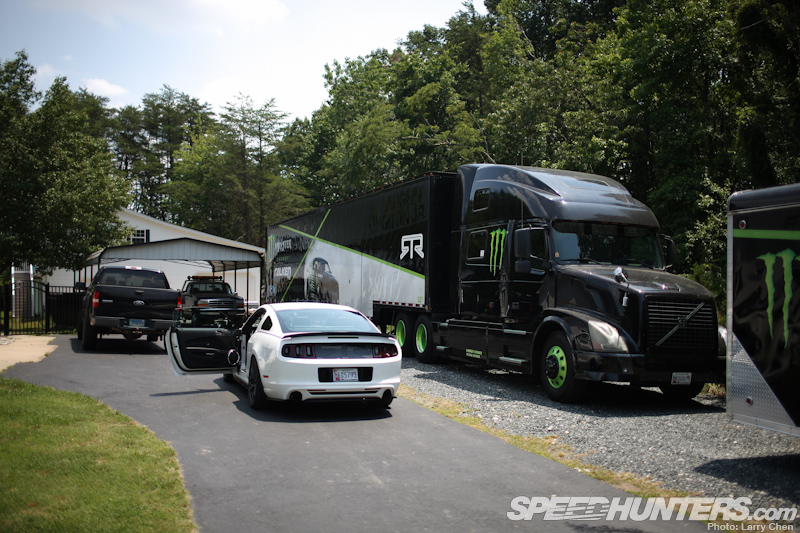 Out front, was his giant six-car transport and parked next to that was the prototype 2013 Mustang RTR which I had the pleasure of driving for the weekend. Keep an eye out for that article in the near future.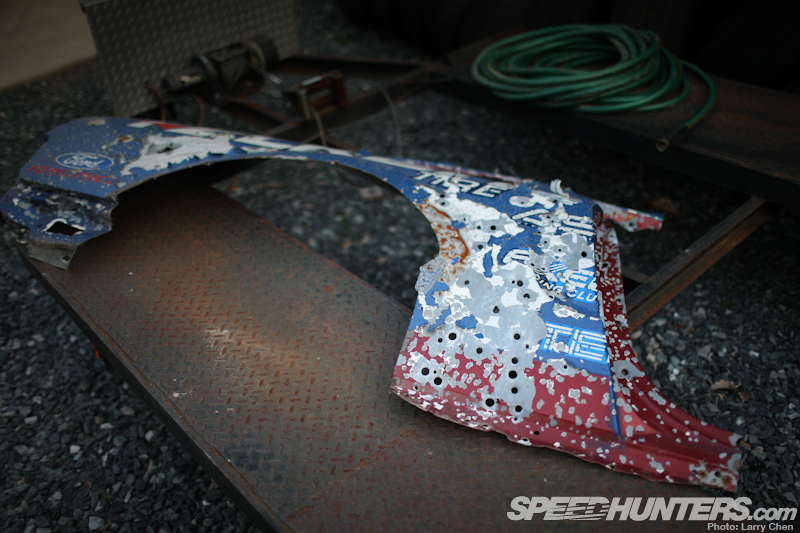 Various other things laying around the house were remnants of target practice sessions, this was America after all…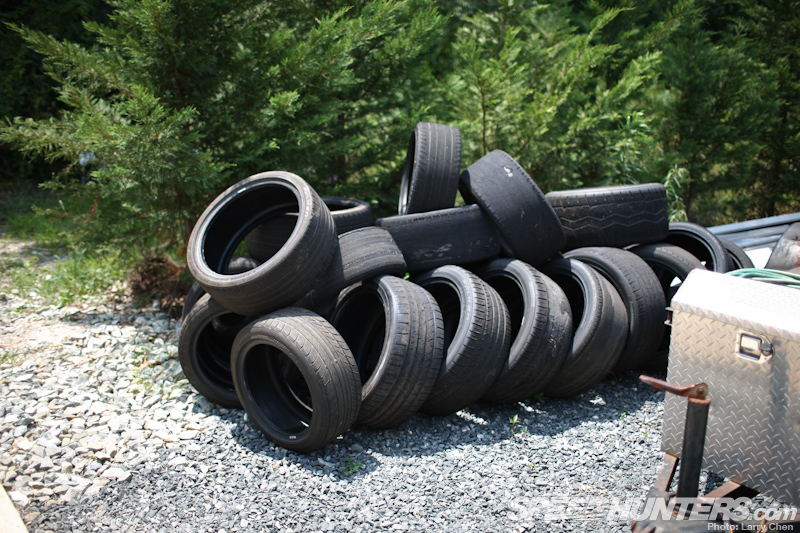 …as well as piles and piles of used tires.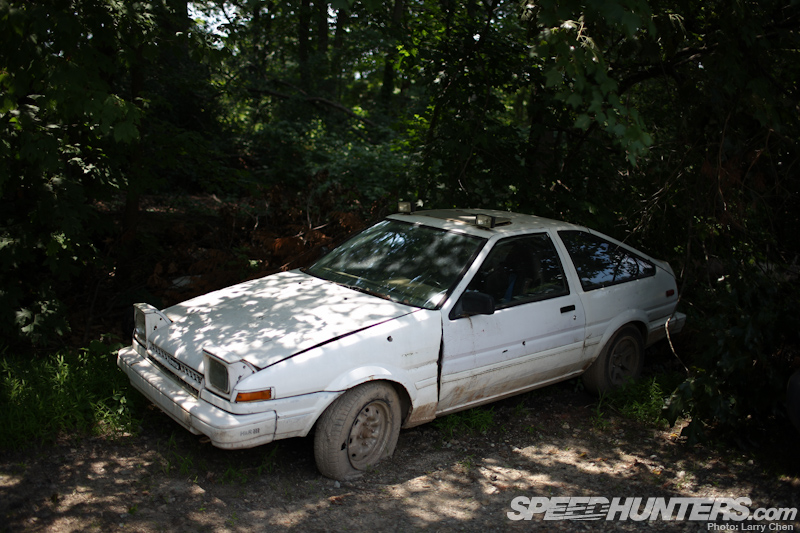 Some of his other rally vehicles include this AE86. Notice the custom flood lights on top. This rally car looked like it needed some work.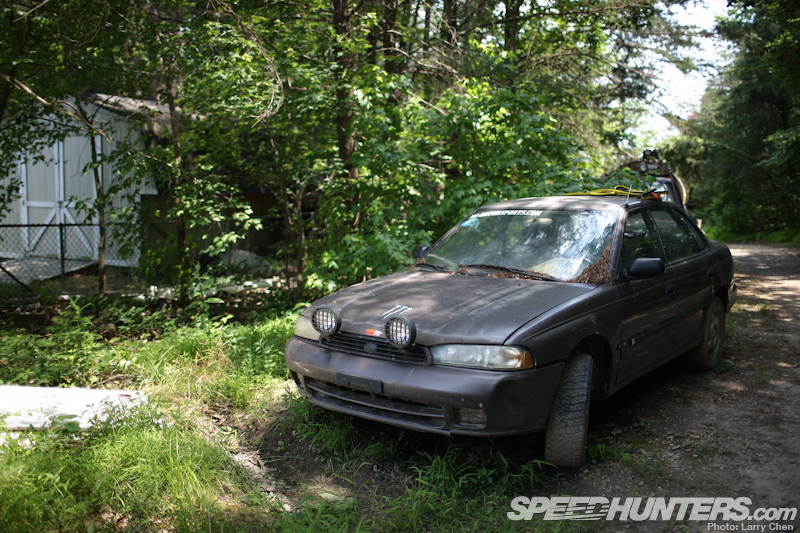 Next up was his Subaru Legacy. I was offered to drive it, but it must have known I was coming because it did not start for some reason.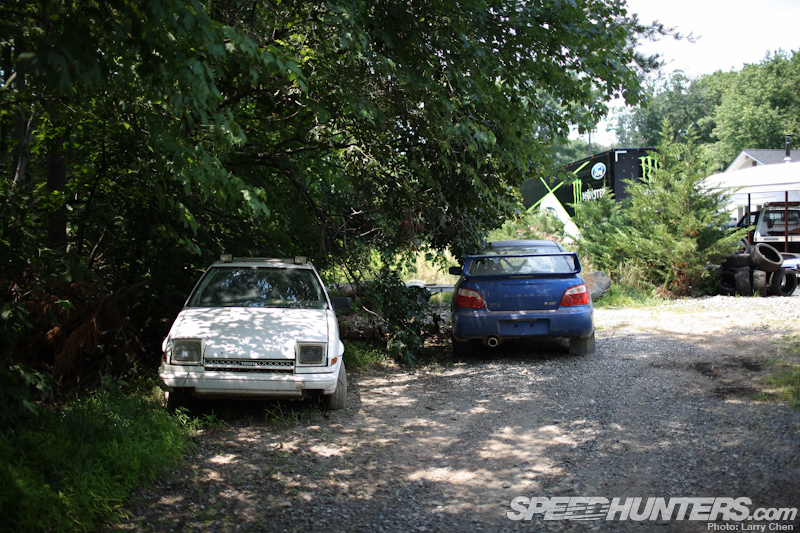 It was time to go inside a relax for a bit, because following was big work day for everyone including me.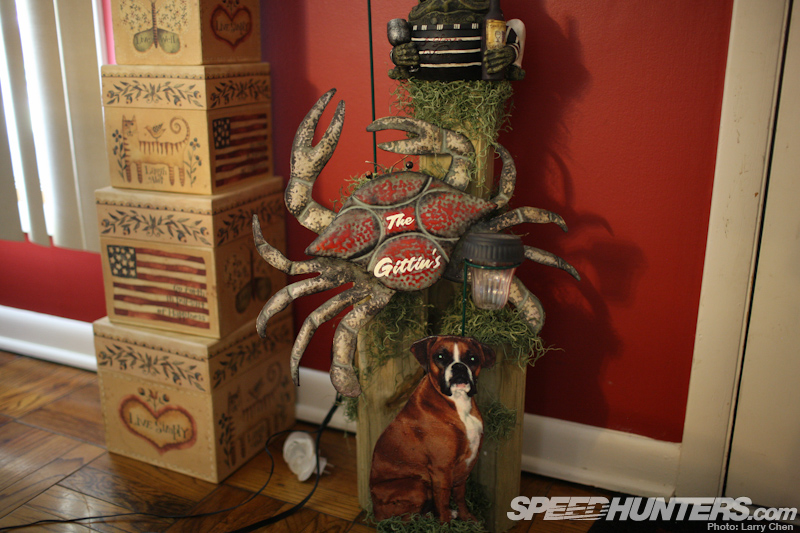 I got an interesting vibe as soon as I went inside. Vaughn and his wife Abby are pretty crazy about crabs, as I was about to find out first hand.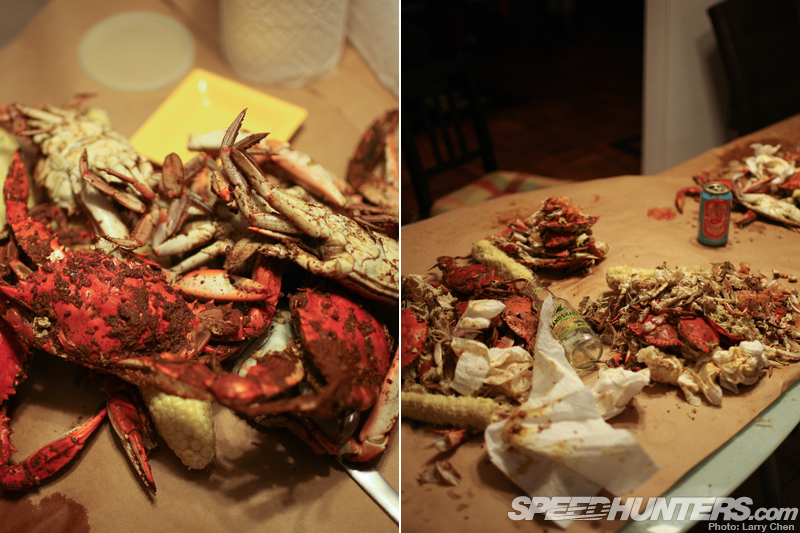 That night I ate 12 crabs. It must have been the Chinese side of me kicking it because I made sure there was no meat left in every nook and cranny of those tasty crustaceans.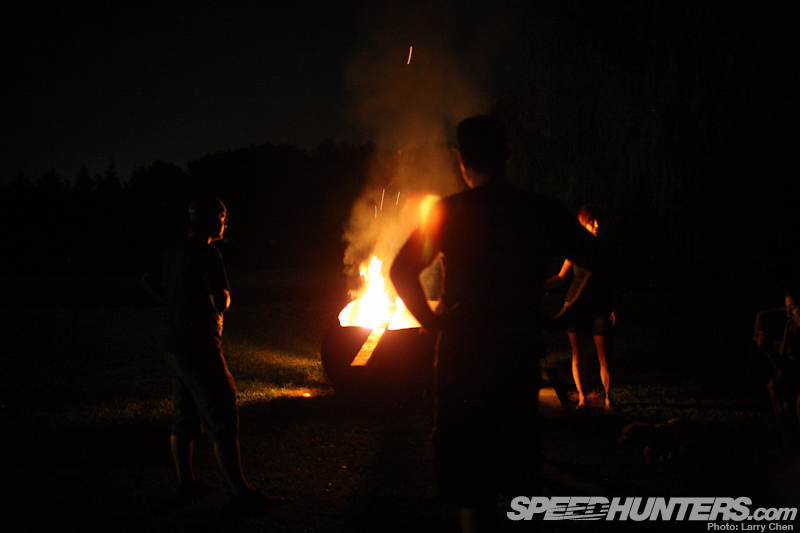 After a quick bonfire it was time to hit the sack. The next morning I would interview Vaughn and head to New York to get some nice photographs of the RTR.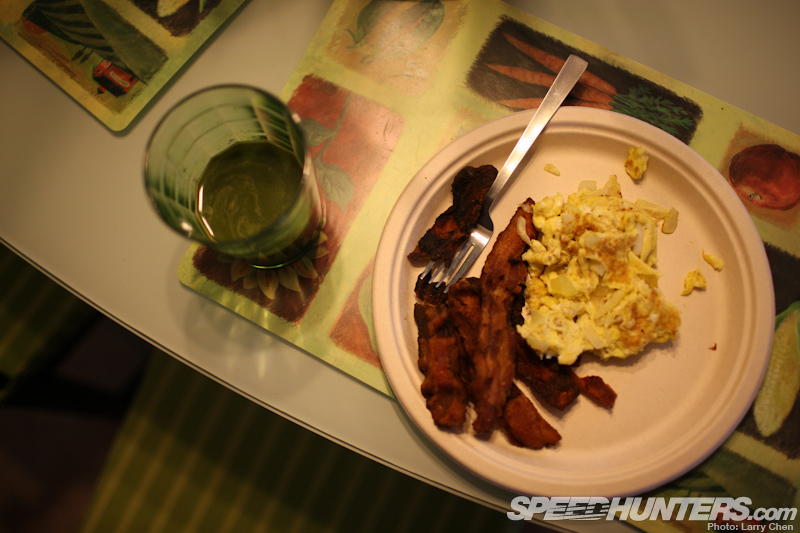 The next morning I woke up to the smell of crispy bacon and this weird green-colored juice. Apparently Vaughn and Abby are really into juicing. In fact he bought a juicer when we were in China last year. That is when I tried pure ginger juice, and that night I cried myself to sleep.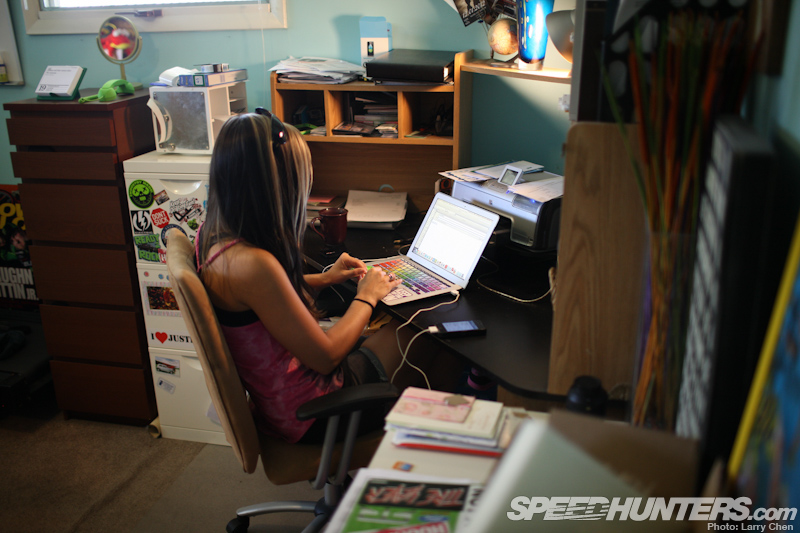 I decided to poke around a bit before I had to hit the road. This is Abby's office. When Vaughn needs to get in contact with Abby he emails her, even though they are next door to each other. Cute.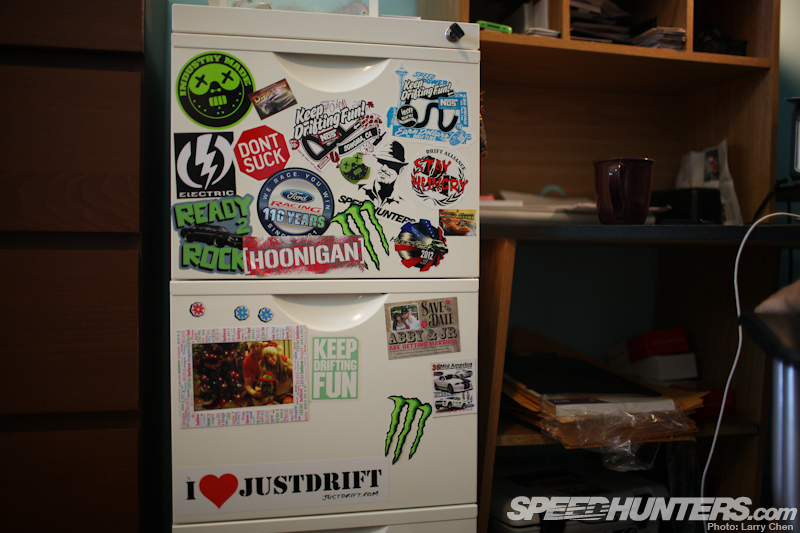 I spy a Rodfather decal on there, as well as some other Speedhunter related decals.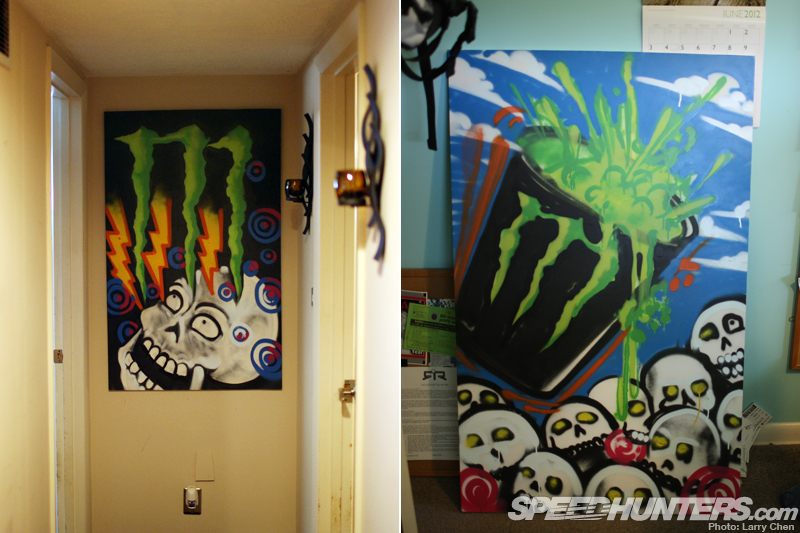 Around the house were some very interesting pieces of art…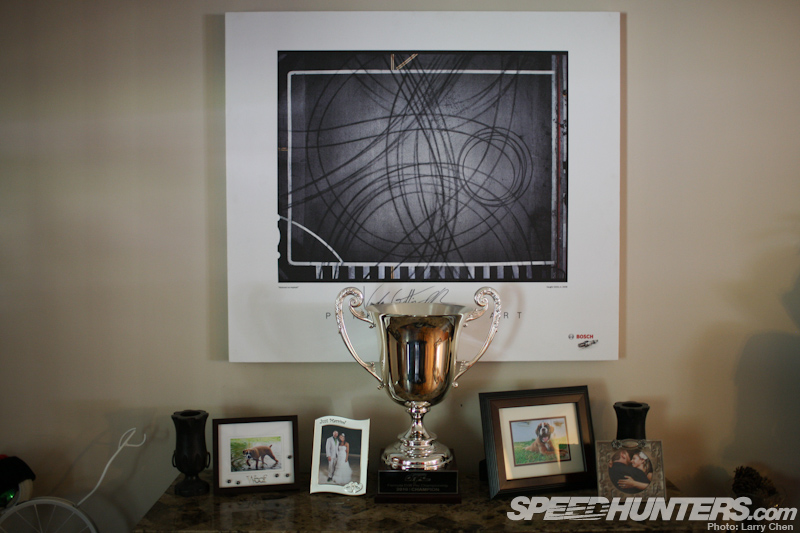 …as well as this "performance art" that Vaughn did with his Mustang. Below is his most prized trophy, the 2010 Formula Drift Championship cup.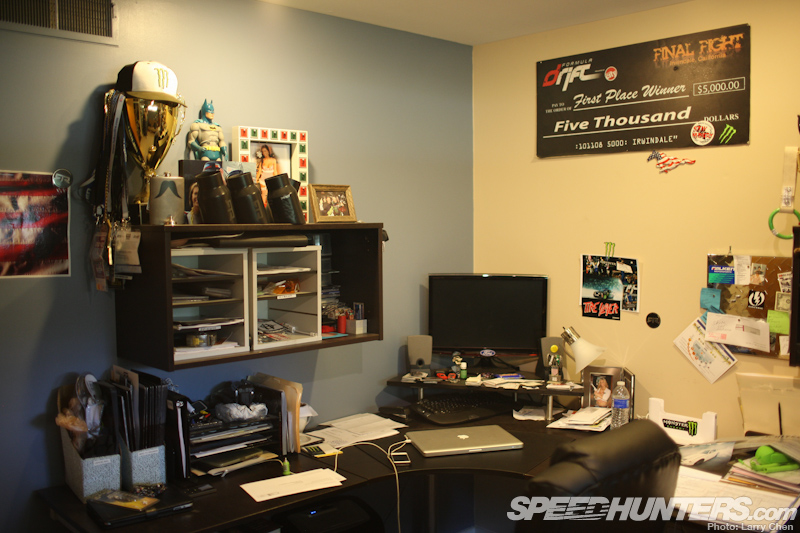 This must be were the magic happens. Vaughn's office was very simple but it had lots of mementos that he has collected over the years.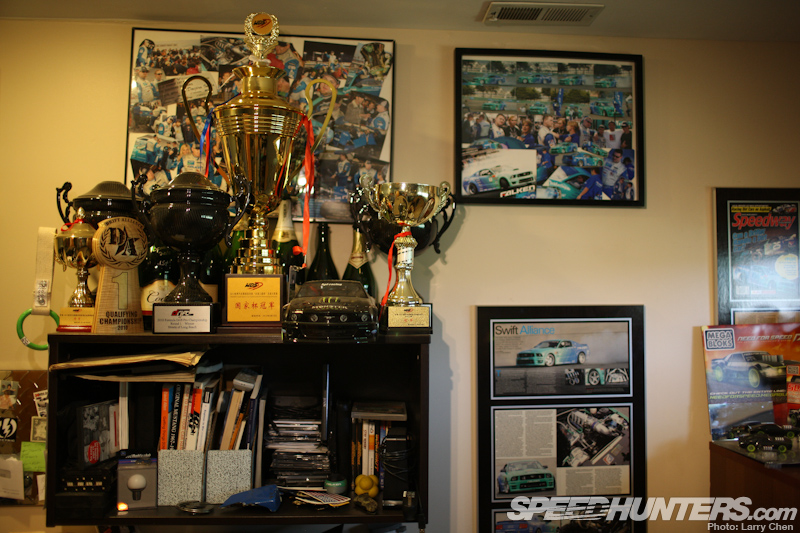 Soon all of this stuff will be transported into the man cave, but for now it was out in the open so let's dive right in.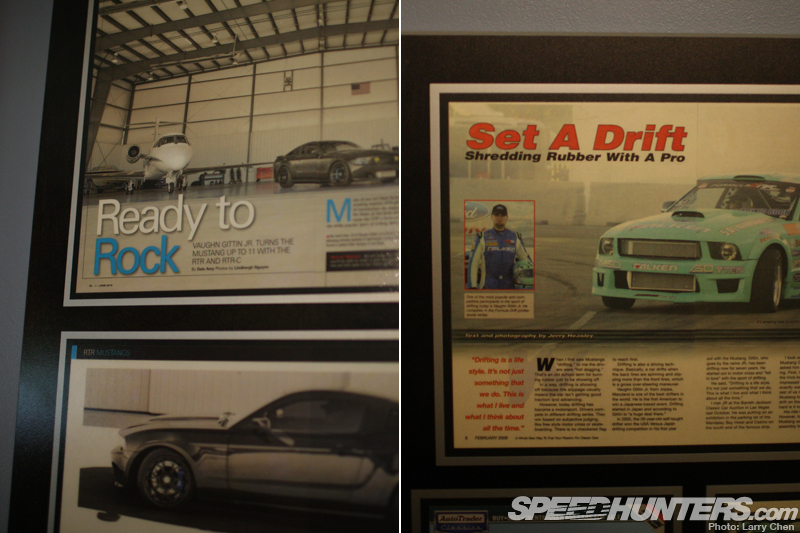 I just love these cheesy magazine titles, although I don't know if they have gotten any better over the years.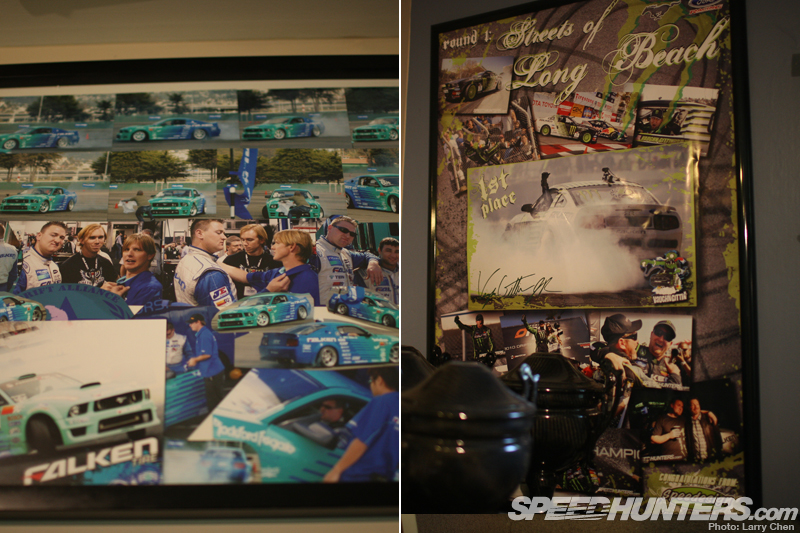 You can even see the evolution of collages over the years.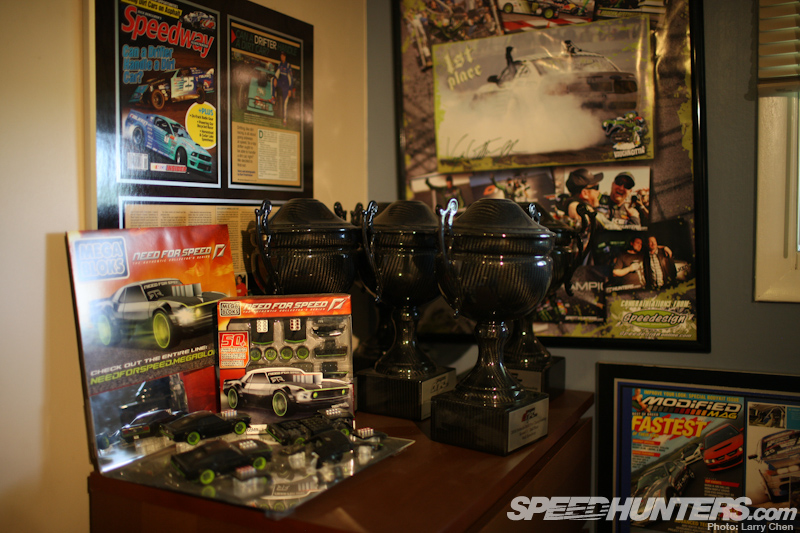 Among his many carbon fiber trophies was the SEMA display for his MegaBlock RTR-X model.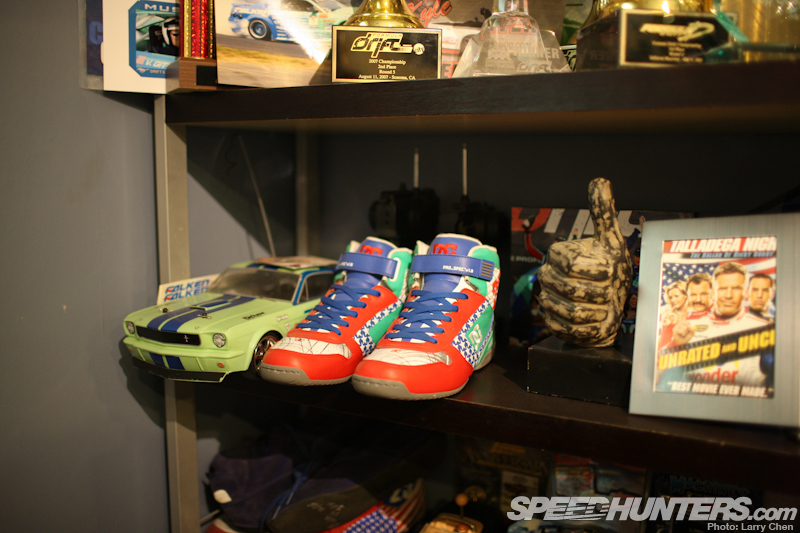 On the left looks like an old lexan 1/10 scale RC body painted in Falken colors. Those shoes were custom made for Vaughn by DC and he has a few of those laying around the house gathering dust.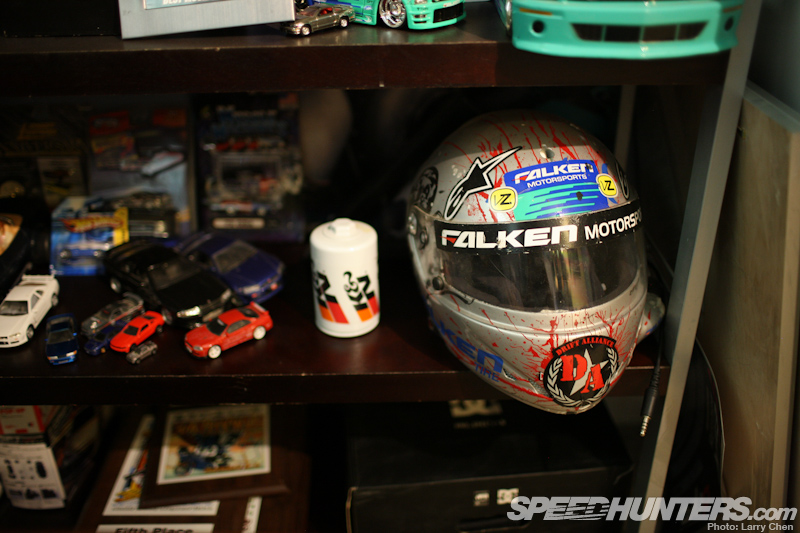 That was his very first helmet and the last time he wore it was driving his Mustang in D1.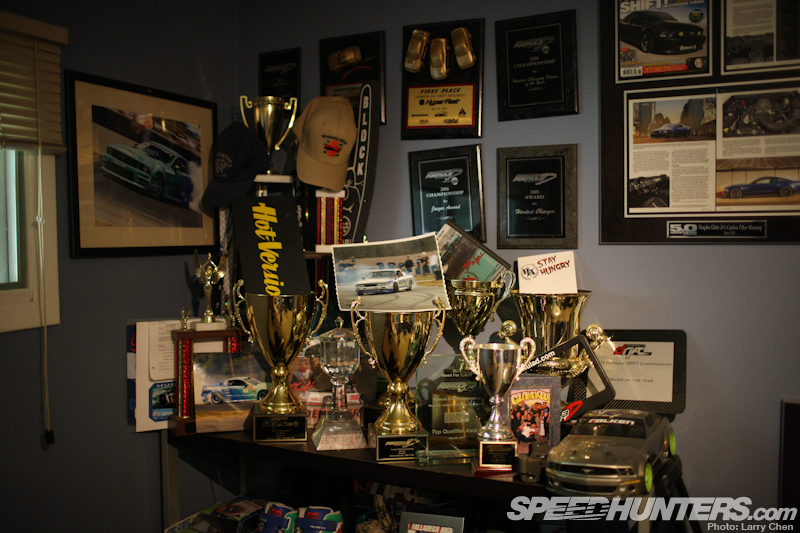 On top of the shelf were many many more trophies…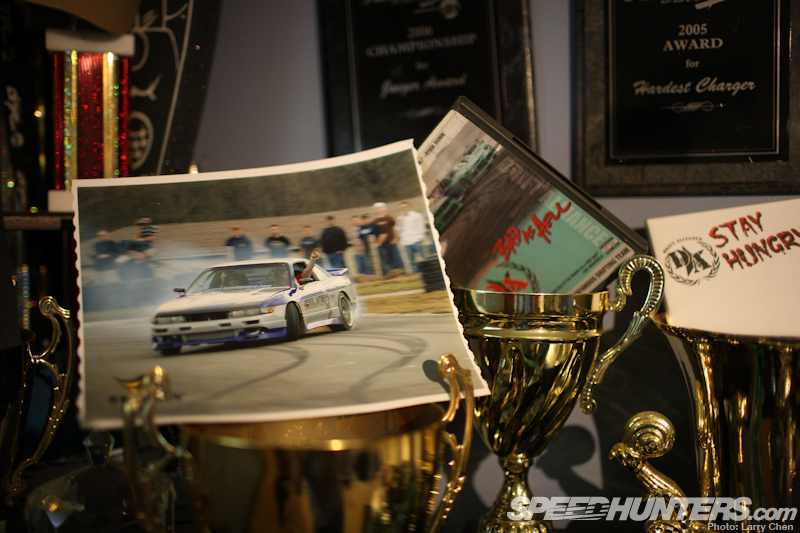 …as well as photos of his first competition car and his very first DVD. I wish Speedhunting was always easy as taking a photo of another photo.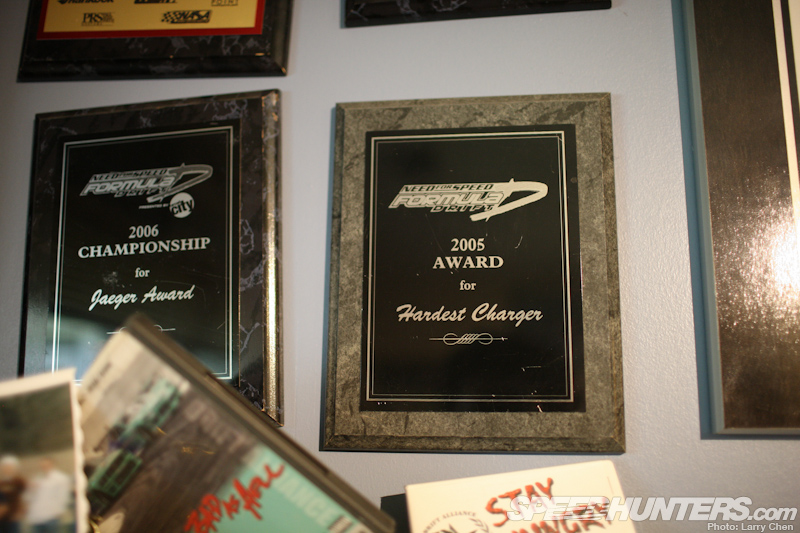 Vaughn won the Hardest Charger award two years in a row. Our very own Matt Powers won the same award last year. Apparently back then there was a "Jaeger Award" for the biggest party animal. I think Formula Drift needs to bring that back. Vaughn has won that award back to back as well.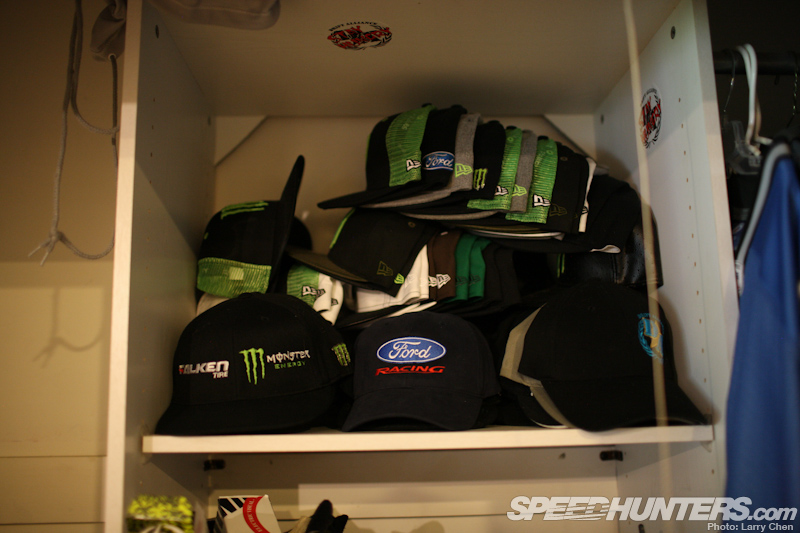 There was quite the collection of hats as well. This probably has to do with the "hat dance".' If you Speedhunters out there have ever been to an event you probably know what I am talking about. Whenever these guys get on the podium they have to change to different hats for different sponsors. It's the funniest thing and it somehow reminds me of this.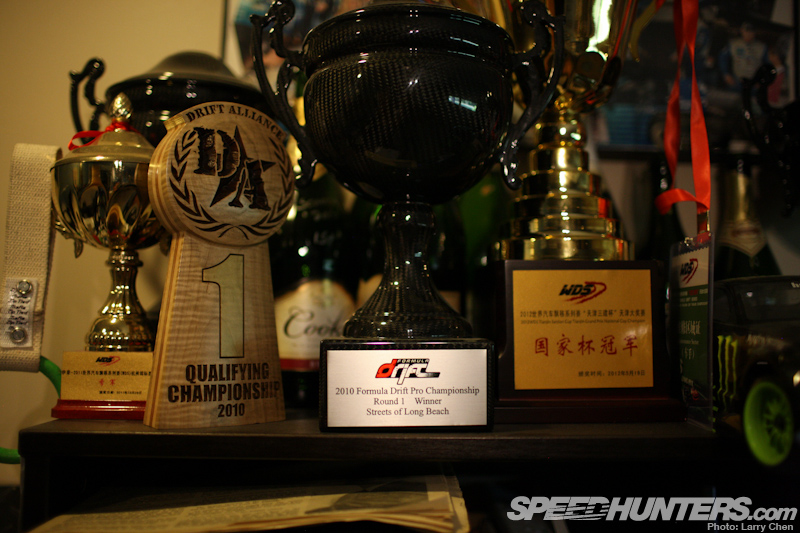 One of the most important trophies for Vaughn was the one that started his championship run back in 2010.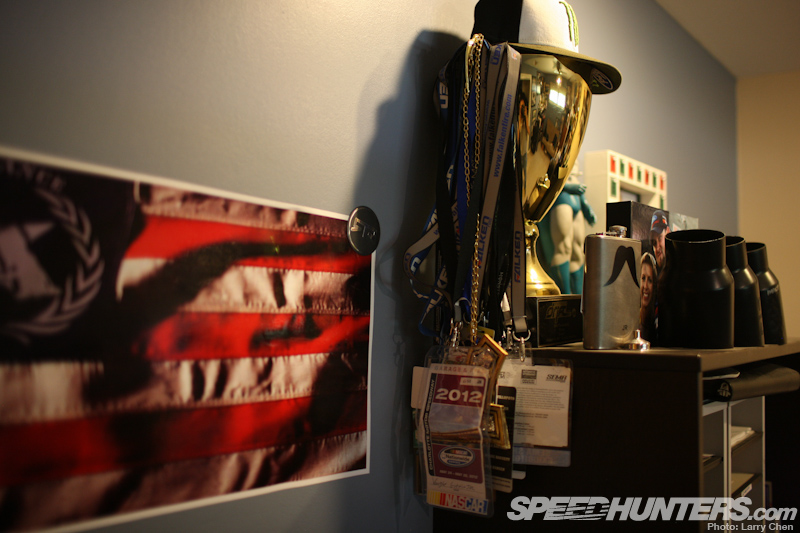 This is quite the impressive lanyard collection, but wait until you guys see mine.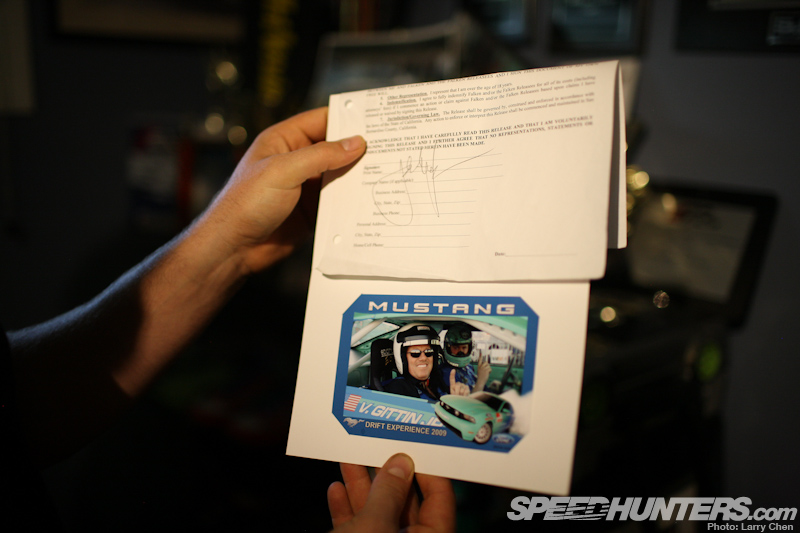 I thought this was interesting. Vaughn gave John Force a ride back in 2009 and thought it was so cool that he kept the waiver that John signed as well as a photo of course.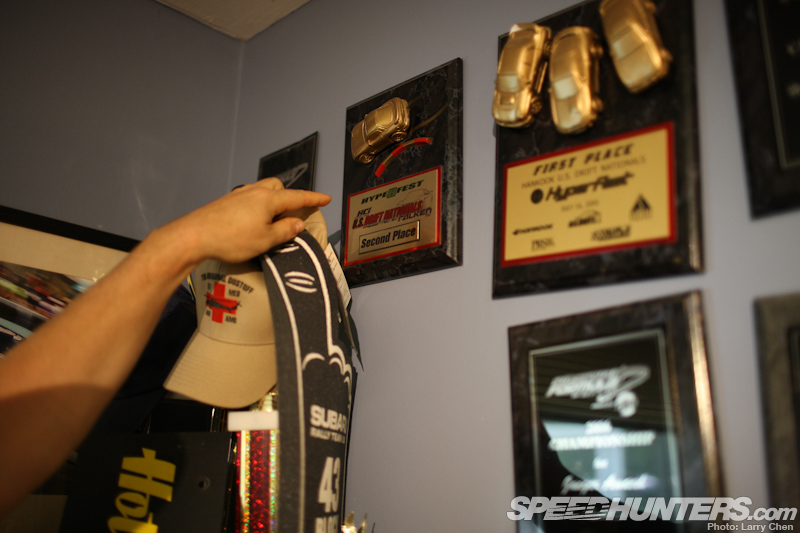 All the way in the corner was his very first trophy from a drift competition at Hyperfest back in 2003. It was just a single run competition. No tandem!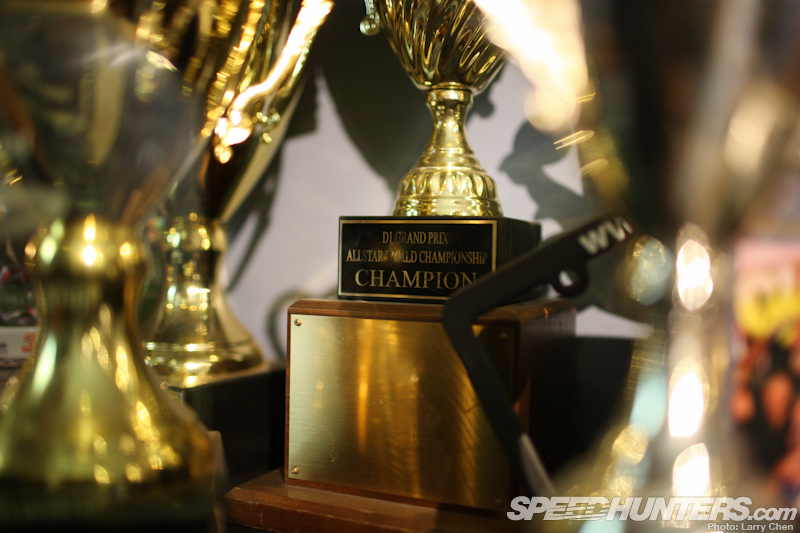 Another trophy that meant a lot to him was his D1 All Star World Championship trophy.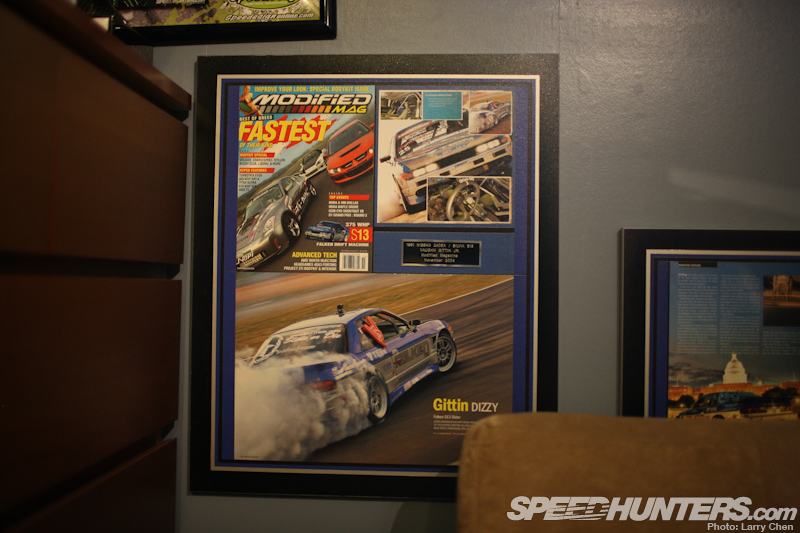 This was his very first magazine spread. Holy wow an S13 with 375 wheel horsepower? Now I've seen everything!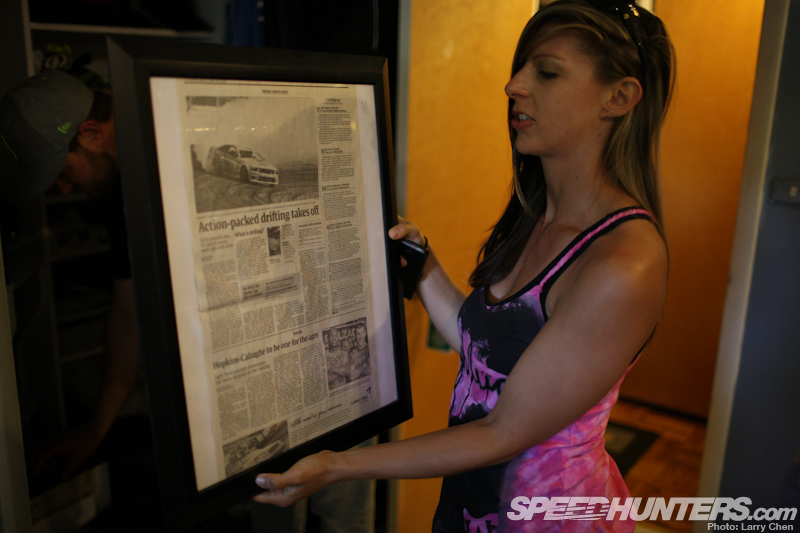 On top of the Magazine articles there were these newspaper articles that have lots of meaning to the Gittins as well, including this piece from USA today. That was the first time drifting was mentioned in a national newspaper.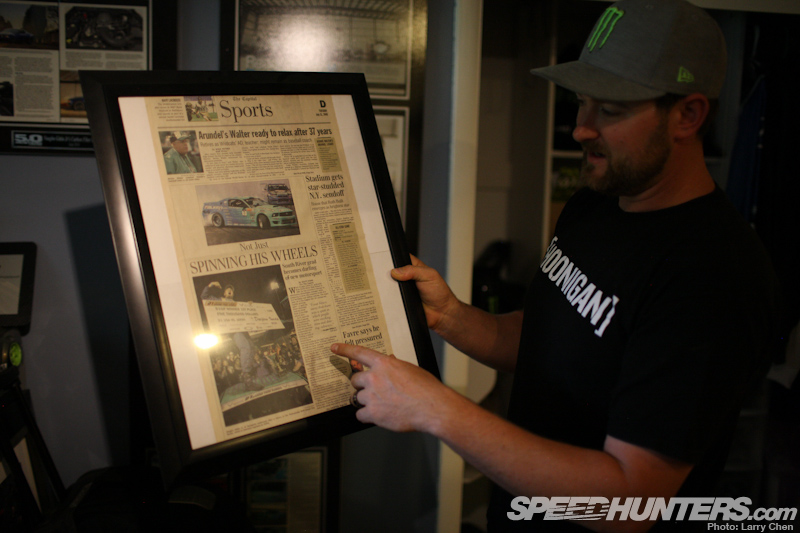 This local newspaper did a feature on Vaughn and it means a lot to him since he used to deliver this exact paper when he was a boy.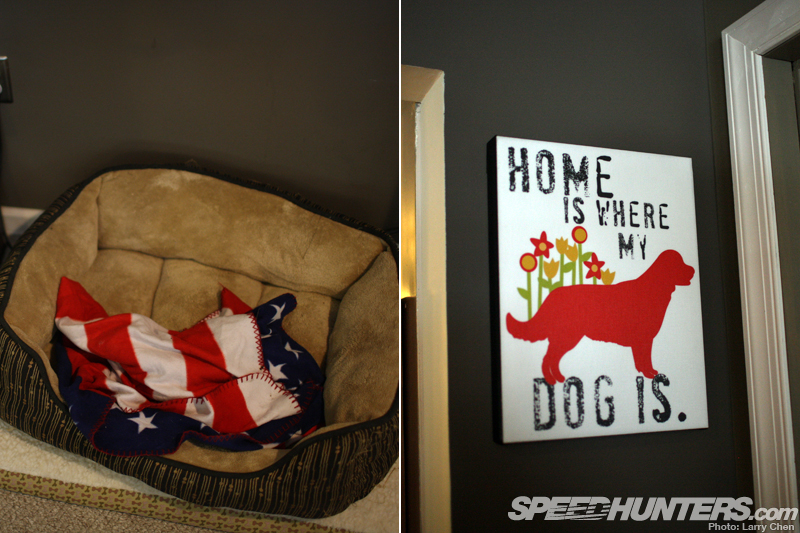 What was also apparent about the house was the love for dogs.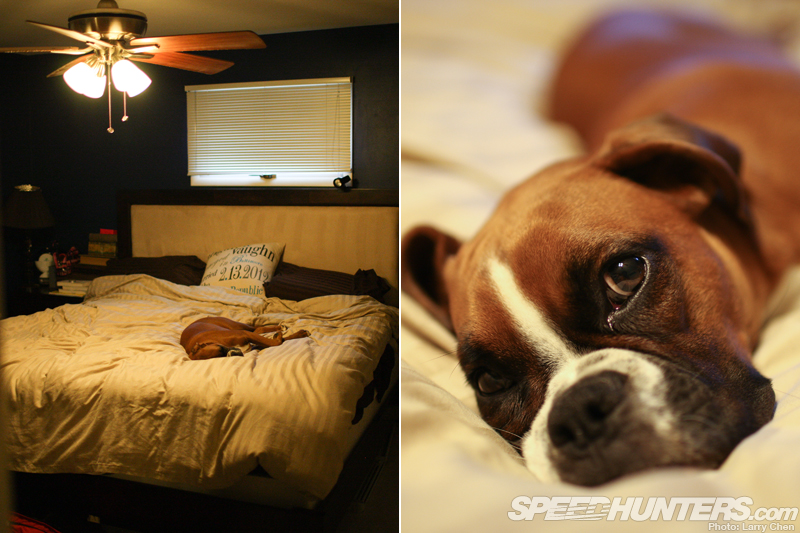 I have to admit I have a soft spot for animals too and I could just die after seeing how sweet Brody Gittin was.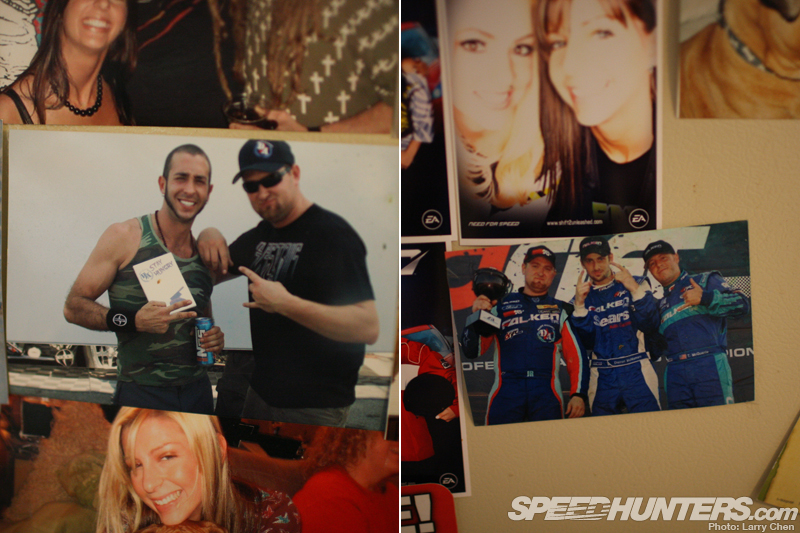 What also peaked my interest was the love of photographs. I've never seen so many photographs plastered around a house. I'm a photographer and I don't have nearly as many photos around my place.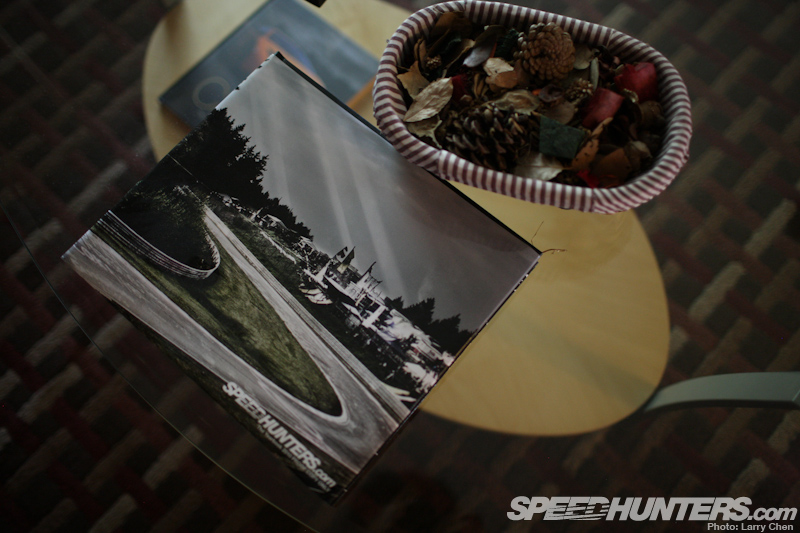 I also stumbled upon a book that I was very proud of. Hopefully one day you guys will get to own a copy of your own.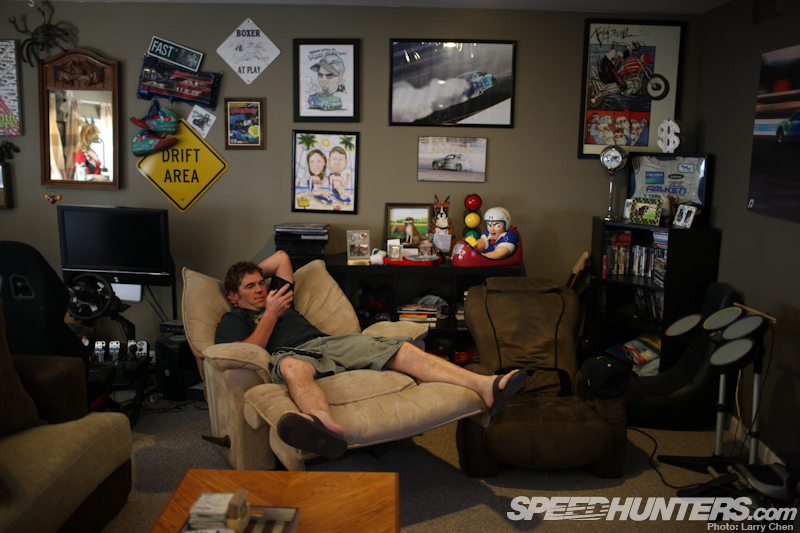 Now it was on to his living room, where many more treasures lived.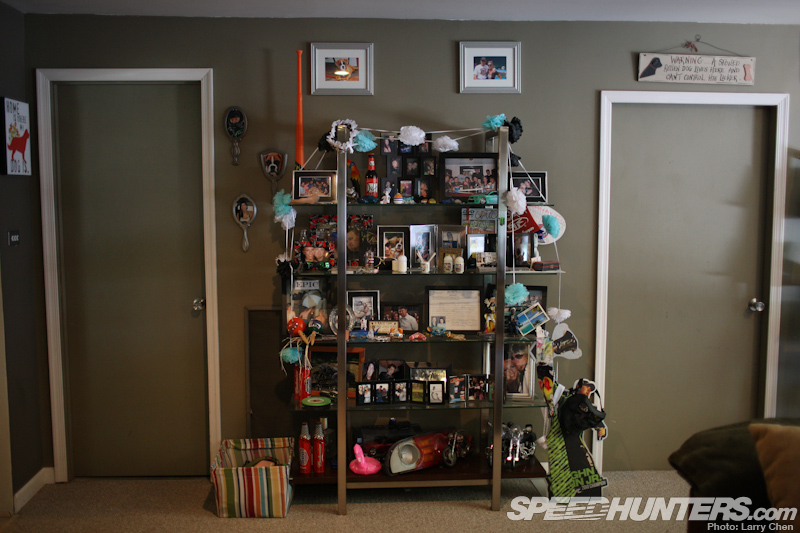 It's a good thing Maryland is not known for having earthquakes.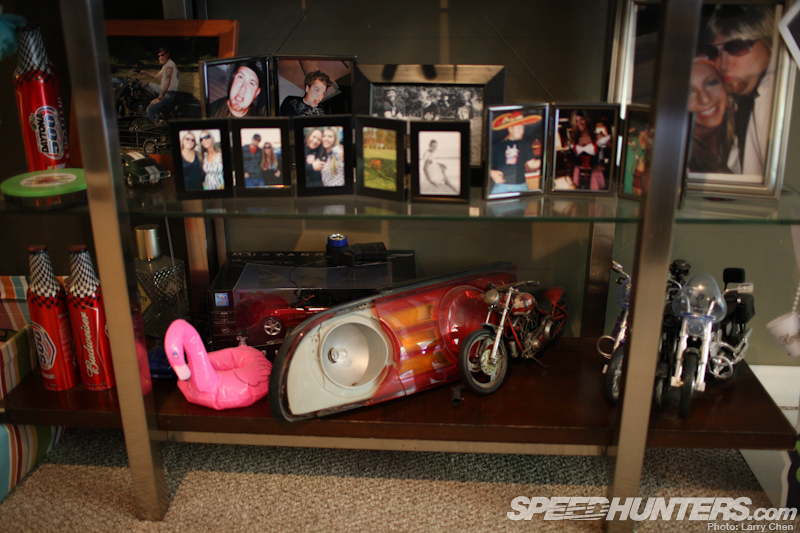 This tail light belonged to his wife (then girlfriend) Abby's S13. He drifted it in the rain which resulted in a busted rear half of the car. I'm not sure what happened to the rest of the car.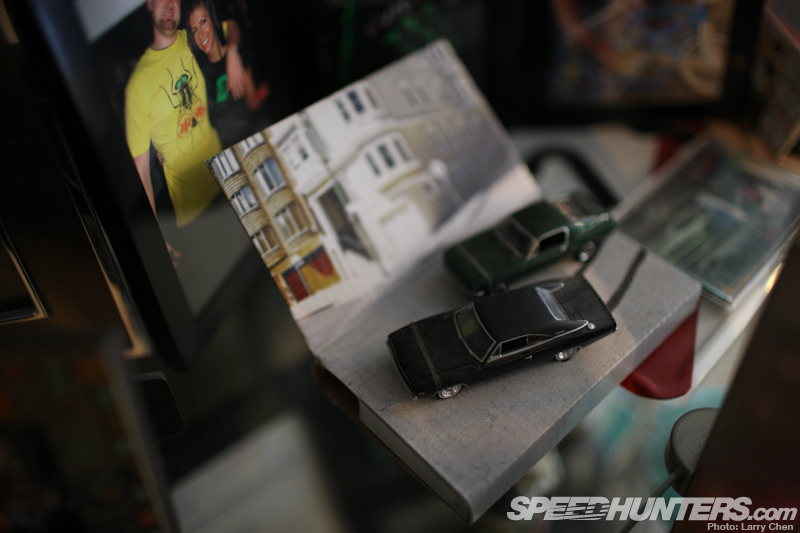 This was a cool little diorama of the chase scene from Bullitt.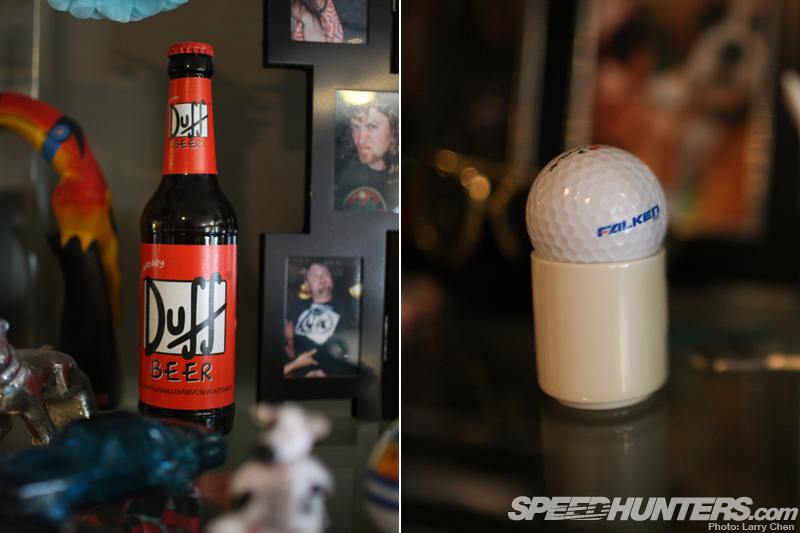 It looked like somebody in the house was a Simpsons fan. I can relate to that, although I wouldn't be able to hit a golf ball with a hockey stick if my life depended on it.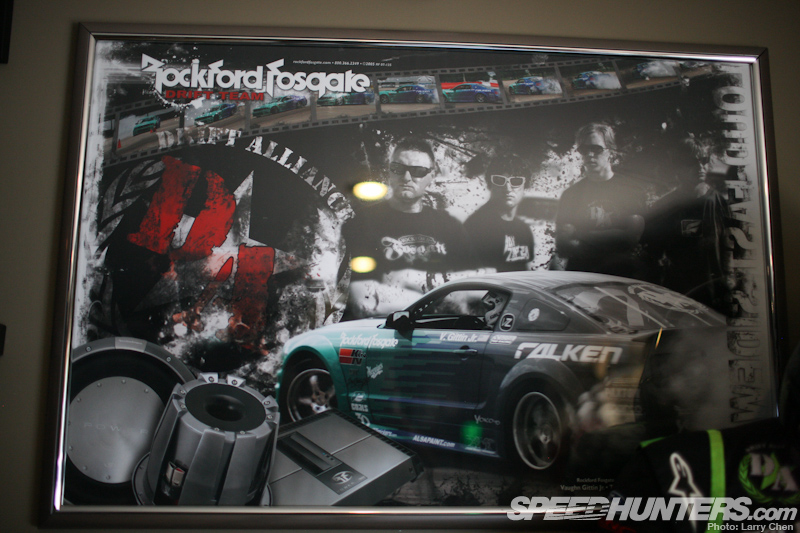 This is an interesting poster of the four original Drift Alliance members. I wonder what ever happened to Ryan Hampton?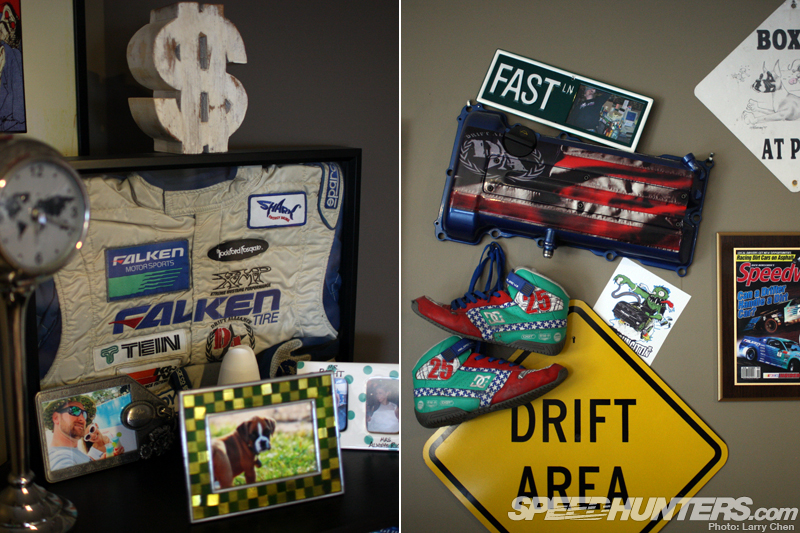 On the left is his original racing suit that he wore when he first started driving with Falken Tire. On the right is more stuff he has collected over the years, including another pair of those custom DC shoes.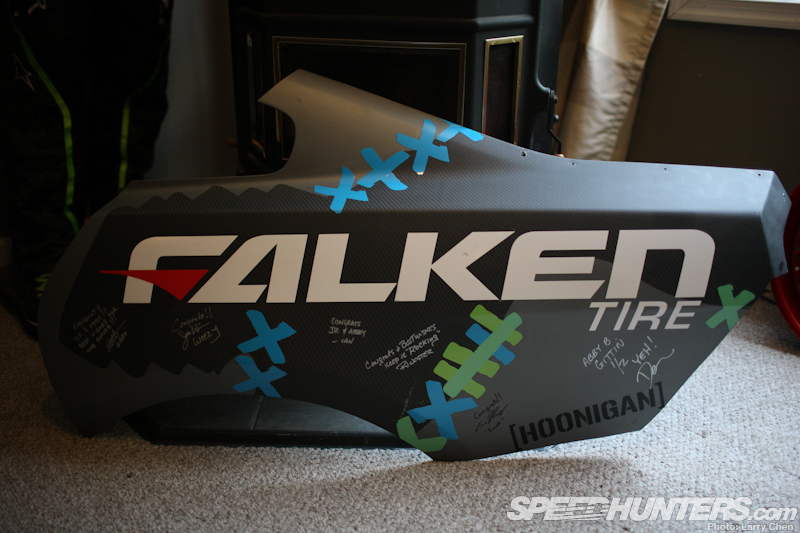 This was a wedding gift from the ASD guys, signed by the entire crew.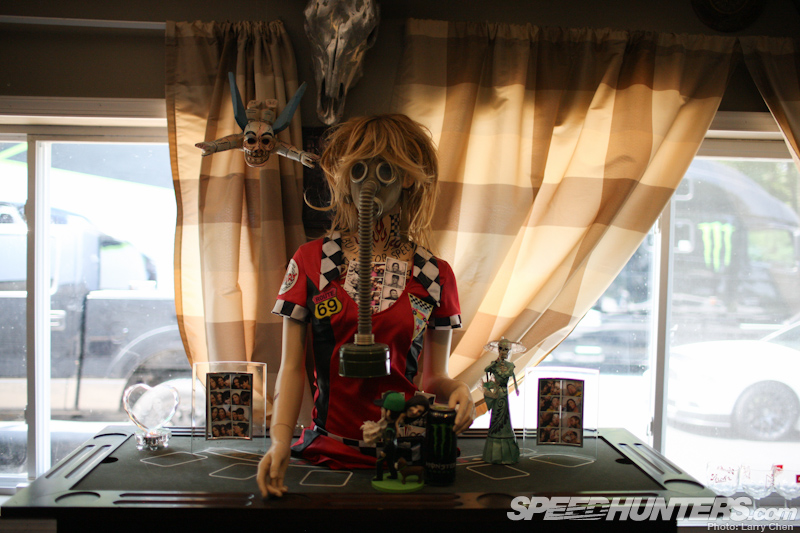 I don't even know what to say about this one. Right in the middle ia his wedding cake topper.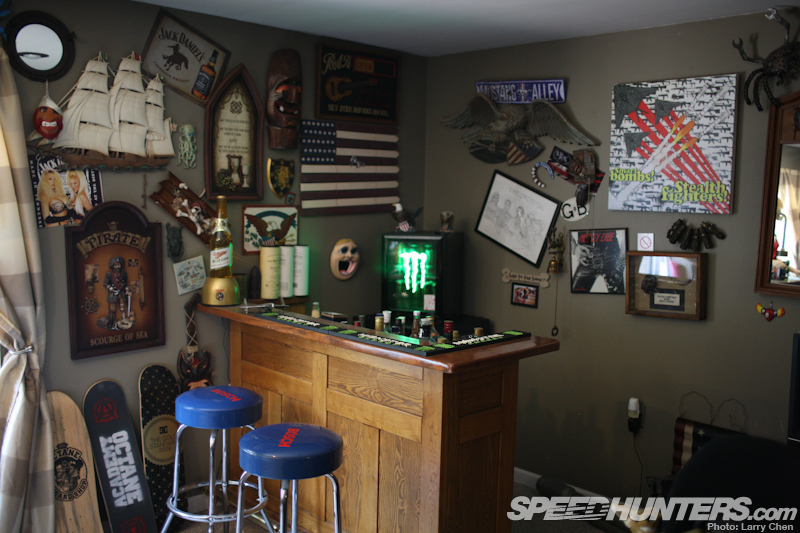 Who wouldn't want their own bar? Vaughn's home bar has memorabilia from all over the world that he's collected over the years…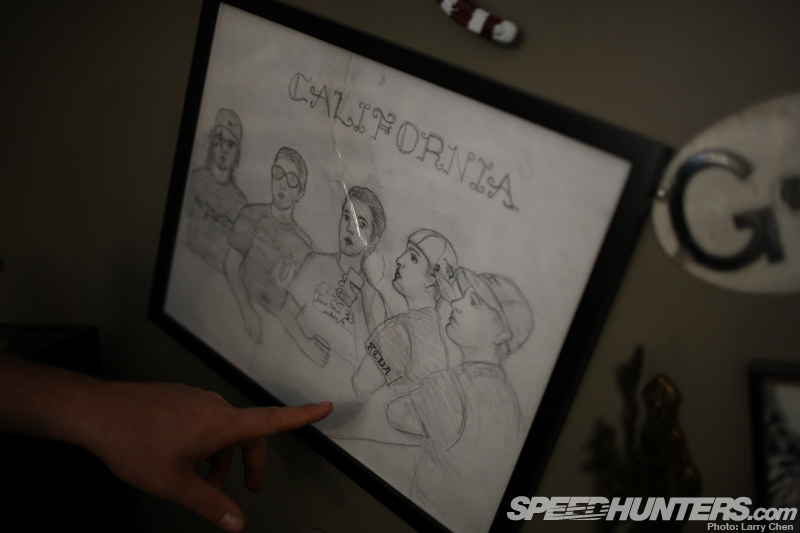 …but out of all of the memorabilia, this drawing had the most interesting story. Back in 2003 Vaughn maxed out all his credit cards to make it to California for the first time ever, just to drive at a drift event on the west coast. At the time Drift Alliance was already formed, but it was only in it's infancy. Chris Forsberg and Tony Angelo were also there, so they go out to a bar one night in my hometown of Santa Monica and outside of said bar was a homeless man who happened to be drawing tourists for a small fee. Vaughn paid that guy to draw him and his friends at the bar. I'd say they got their money's worth.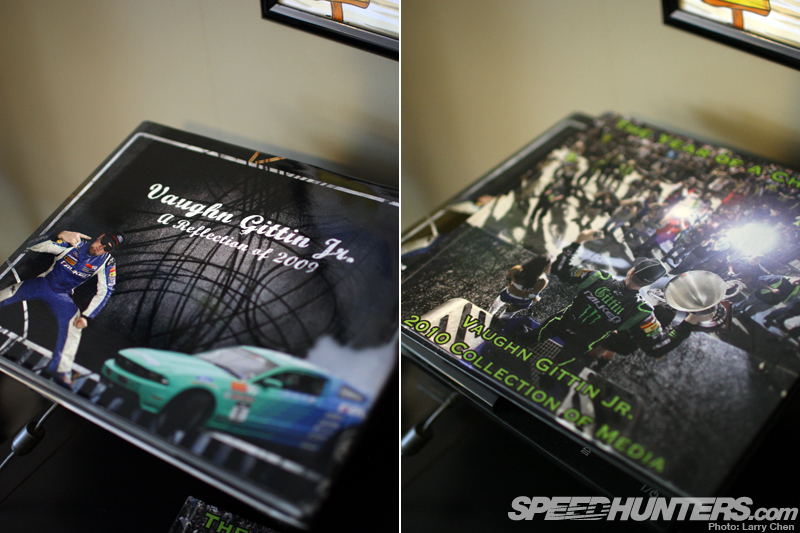 More picture books were laying around for my prying eyes. These were a chronicle of the drifter's life for a year.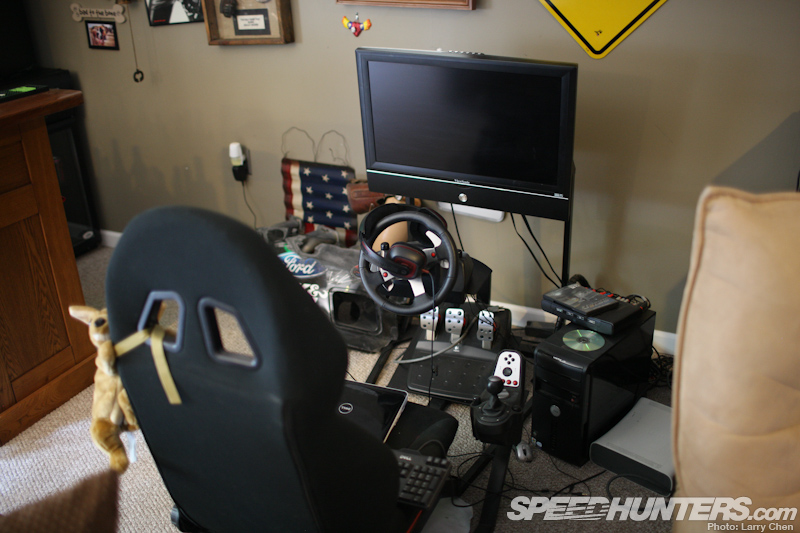 No living room would be complete without a simulation station.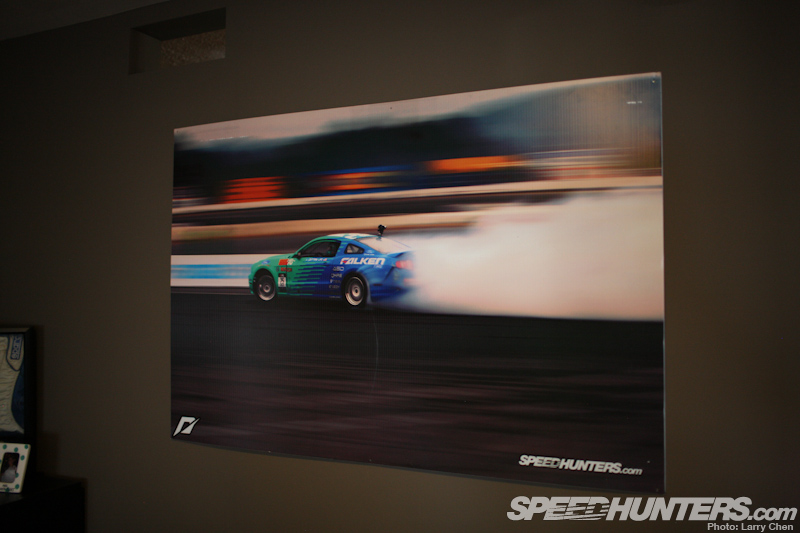 There was even some Speedhunters supplied wall art. This one was probably shot by Linhbergh.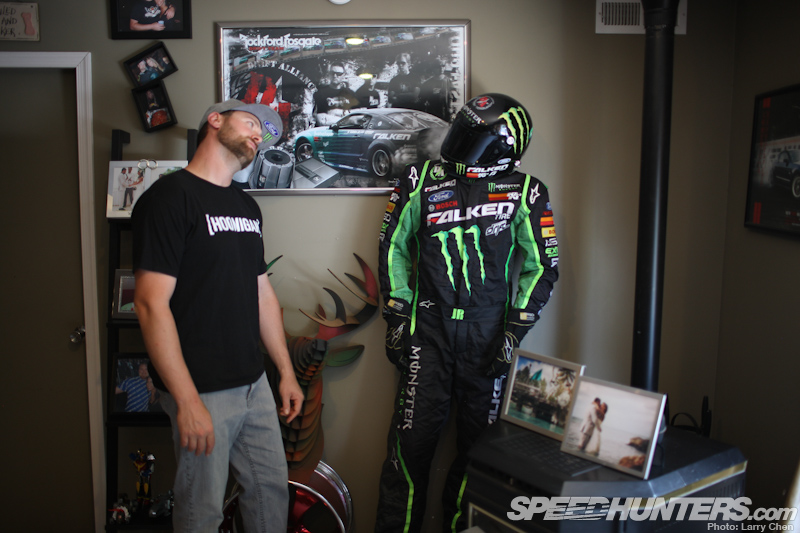 I bothered the happy couple for long enough, so after my interview with Vaughn I left for my long journey in the new RTR. Stay tuned for both of these articles.
Here is a question to you Speedhunters out there, who's house should I invade next?
-Larry Chen
Larry@Speedhunters.com
More stories from Larry Chen on Speedhunters