It's been a while since his last victory, but Vaughn Gittin Jr. has just taken victory at Formula Drift New Jersey. Here are some quick highlights, as well as a desktop drop for your enjoyment.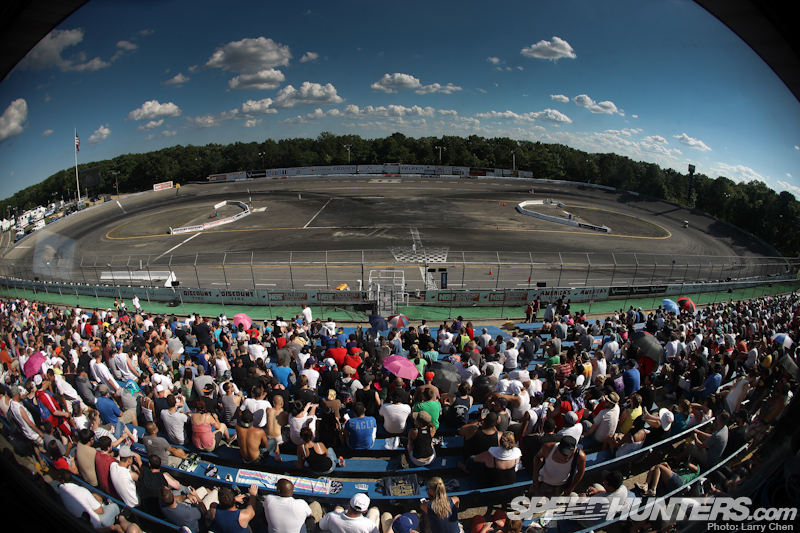 The event was bristling with crazy, intense energy. There wasn't a spare seat to be had!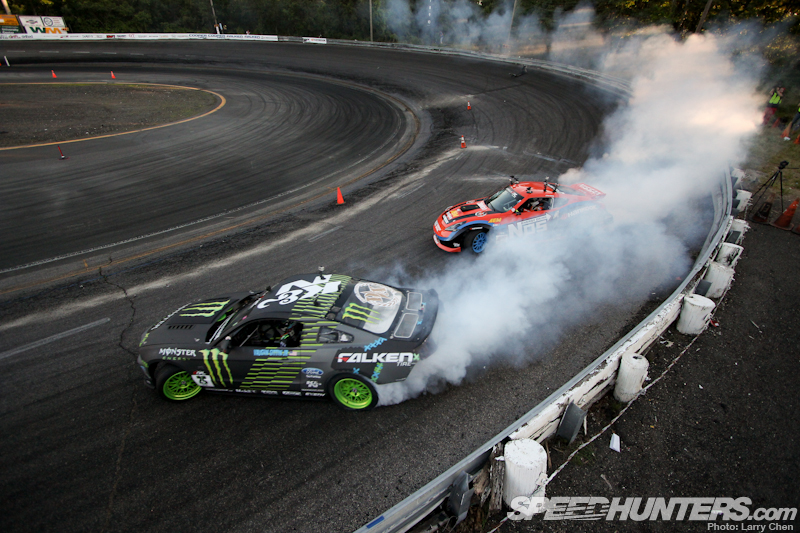 Vaughn met his Drift Alliance brother, Chris Forsberg in the final four bracket. Both drivers put on an amazing show, but Vaughn edged Chris out for the win.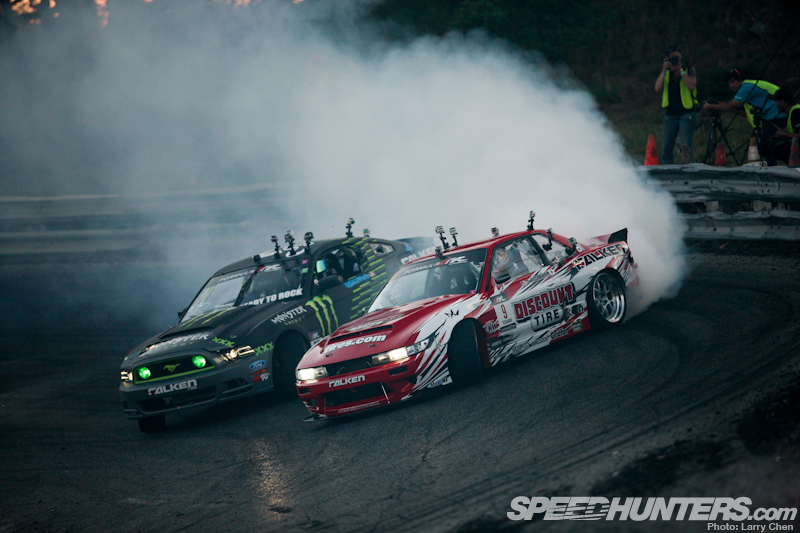 In the finals, Vaughn met his Falken tire teammate and nemesis, Daijiro Yoshihara. It was a hard fought battle, but Dai straightened out during his follow run which gave the Ford Mustang driver the win.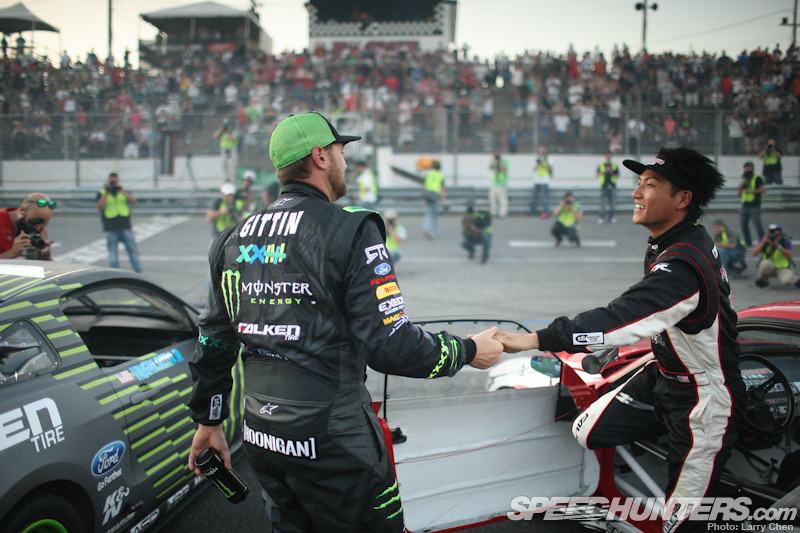 There were no hard feelings as both drivers are veterans of the series all the way from the beginning. They know each other well.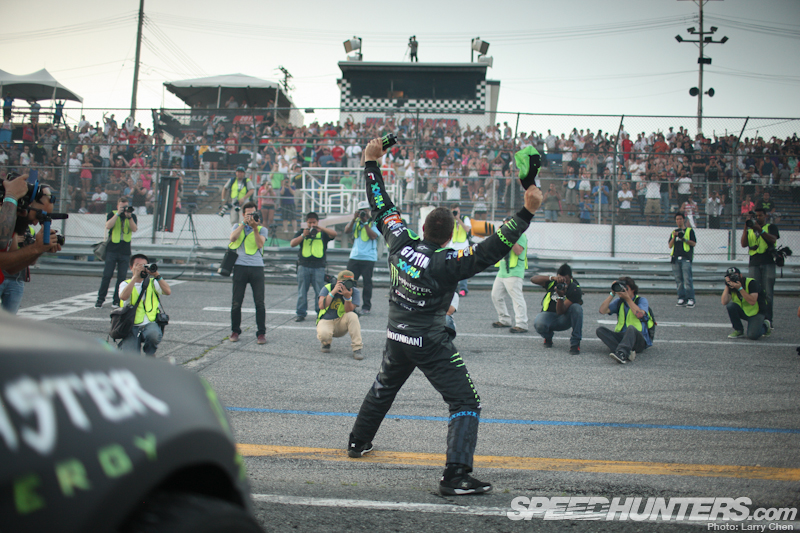 Vaughn made so many windmills with his right arm that I was sure that hat was going to fly out of his hand.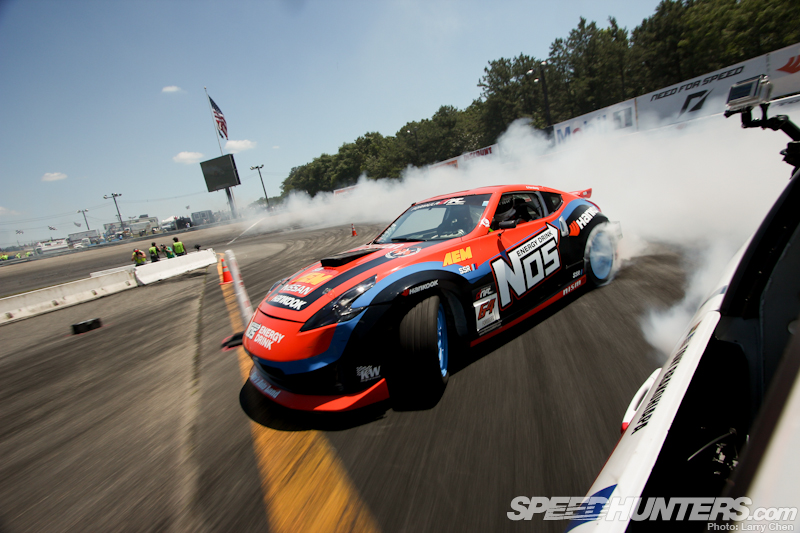 This was Chris Forsberg's second podium of the year and his first ever at Wall Speedway. He's always seemed to have some sort of curse at his hometown course, so must be pleased with the result.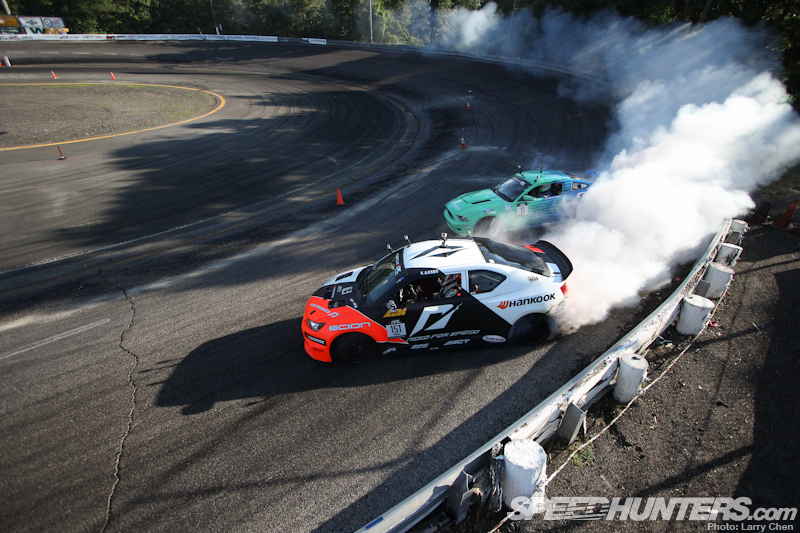 Our very own Fredric 'the Norwegian Hammer' Aasbo drove tremendously well.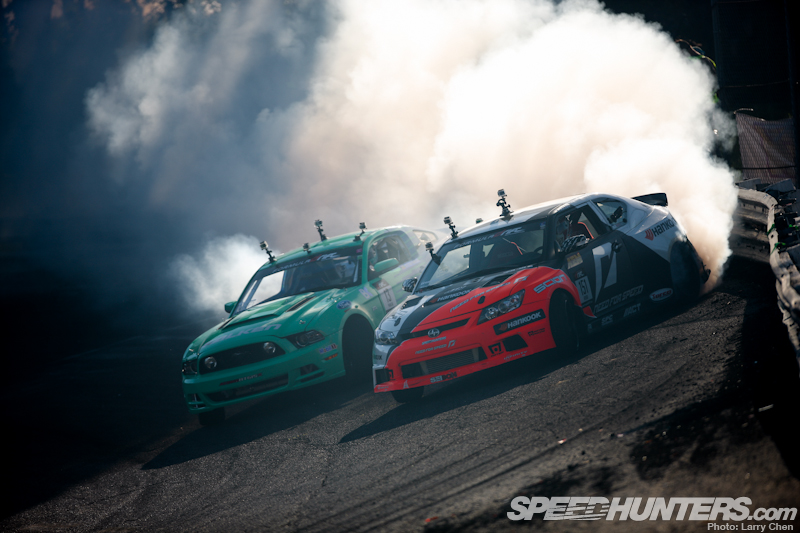 He put up a great fight with Falken Tire driver Justin Pawlak, but unfortunately his transmission gave out on the last corner. It's too bad, as he really held his own against JTP on this run.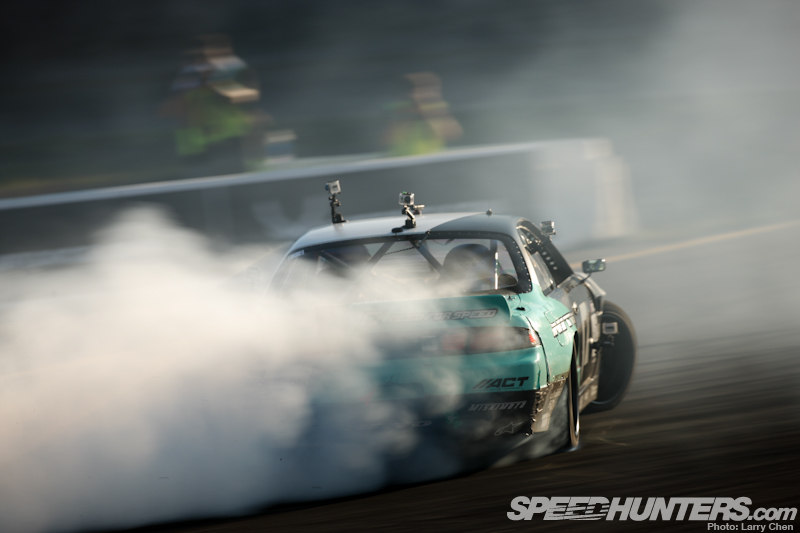 Fredric's teammate, Matt Powers was also putting down some amazing runs.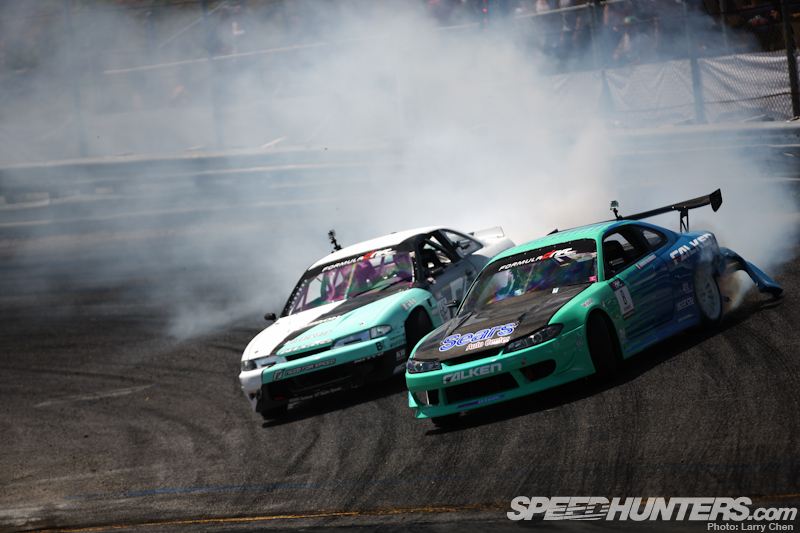 He went up against a S15 transplanted Darren McNamara in the top 32. The past two times Matt met Darren in battle has ended in a loss for Powers, but this time was different.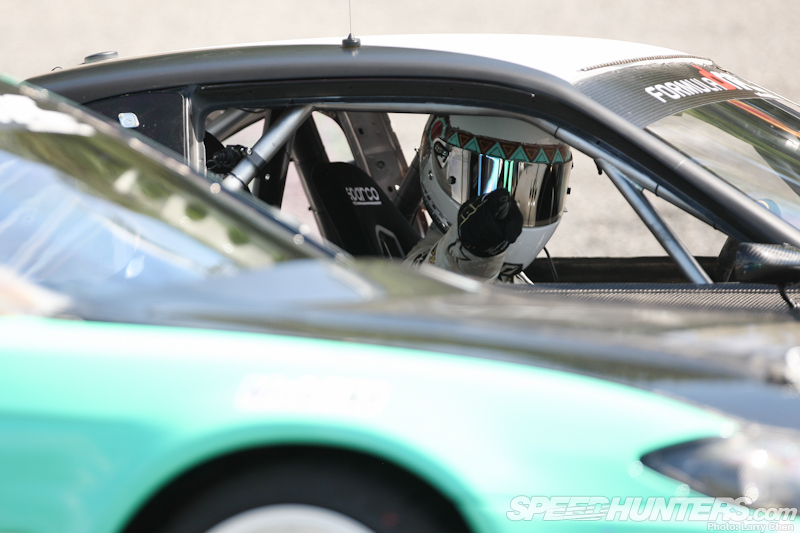 This would be the first time Matt has ever beat a Falken driver. He seemed to be quite happy about it.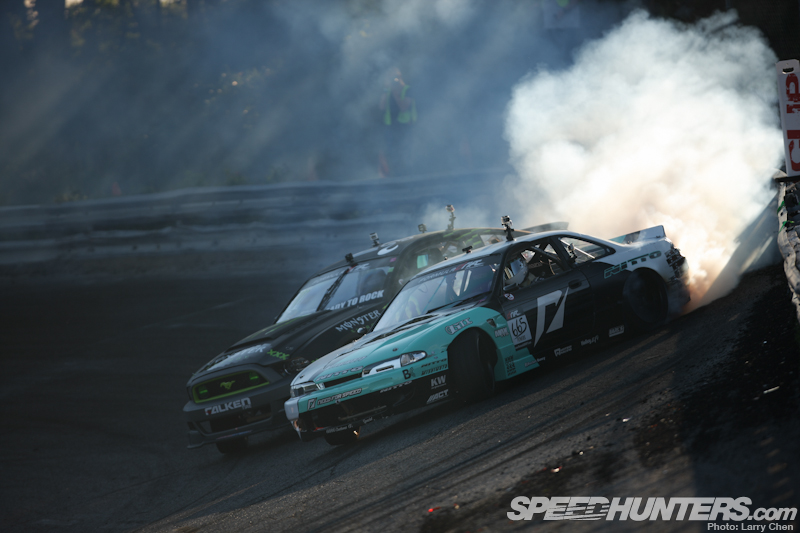 He then battled it out in the top 8 bracket with another Falken driver, Vaughn Gittin Jr. It was very close, but the judges gave the win to Vaughn and of course he went on to win the event.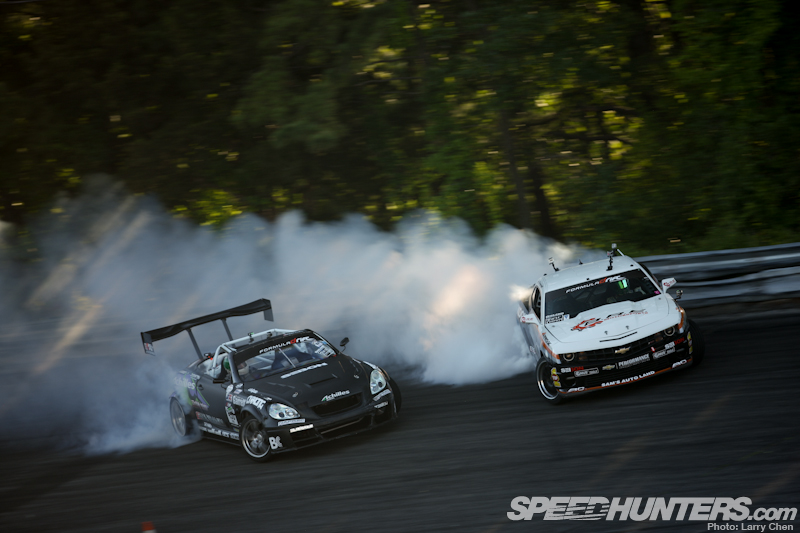 No Formula Drift event would be complete without its controversy. Again Daigo Saito met Conrad Grunewald, but this time it would be in the top 8. After a single OMT, Daigo eventually moved on.  Social media as well as forums are buzzing about the calls given from the judges for this particular battle.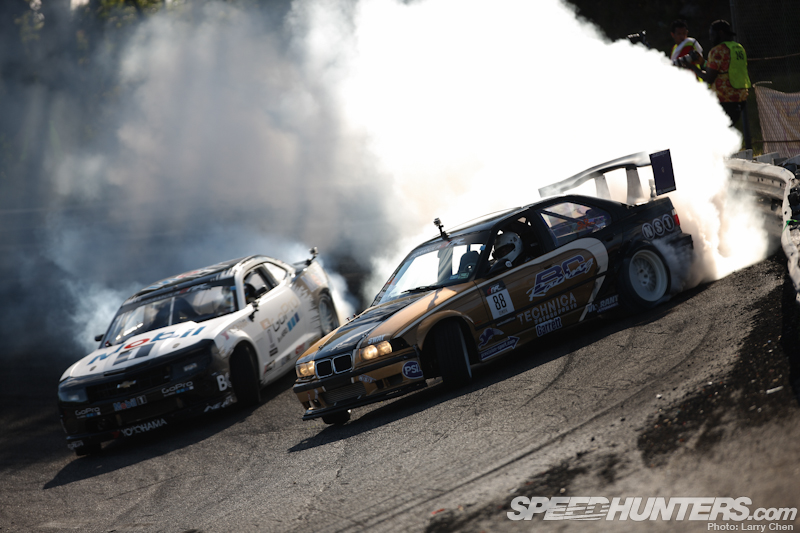 Next up was another hard call for the judges. Tyler McQuarrie and Chelsea DeNofa had an insane first run. On their second run both drivers put their cars into the guardrails. The judges decided Tyler won as they attributed that both drivers were at fault for crashing out. Tyler had a slight advantage from his lead run, so the nod was given to him.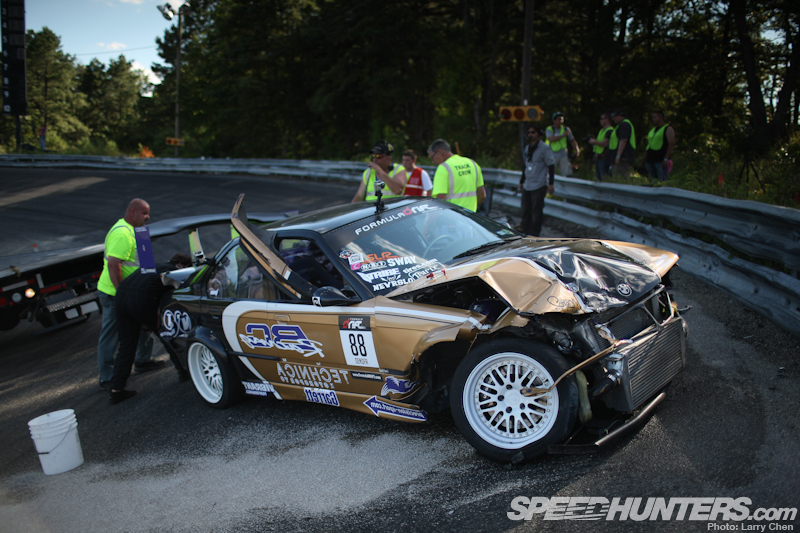 This is another call that has fans all across the world buzzing. Thanks to live stream it seems there is much more controversy than ever before about Formula Drift Judging. Check out the video here. Also here is the on-board footage from Chelsea's view here. What do you guys think?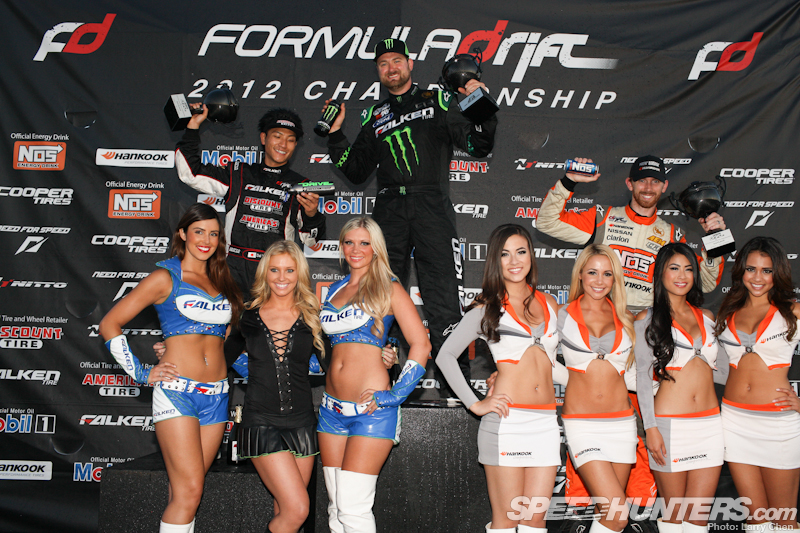 If Vaughn keeps driving the way he did at Wall Speedway I have a feeling we will have a very interesting championship race…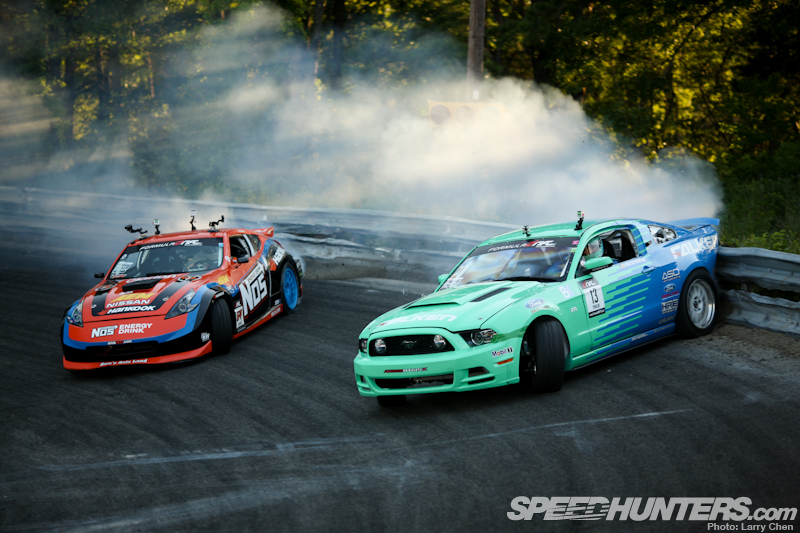 … although, Justin Pawlak still has the lead for his first championship at 342 points.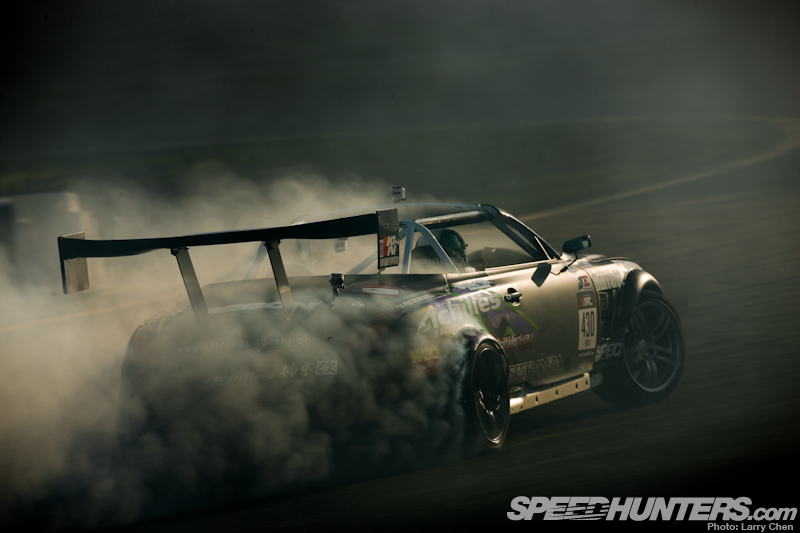 Daigo Saito is slowly chipping away at Justin's lead with just 13 points behind. New Jersey was the first event this year that he did not podium, although fourth place is still a great result for the Japanese drifter.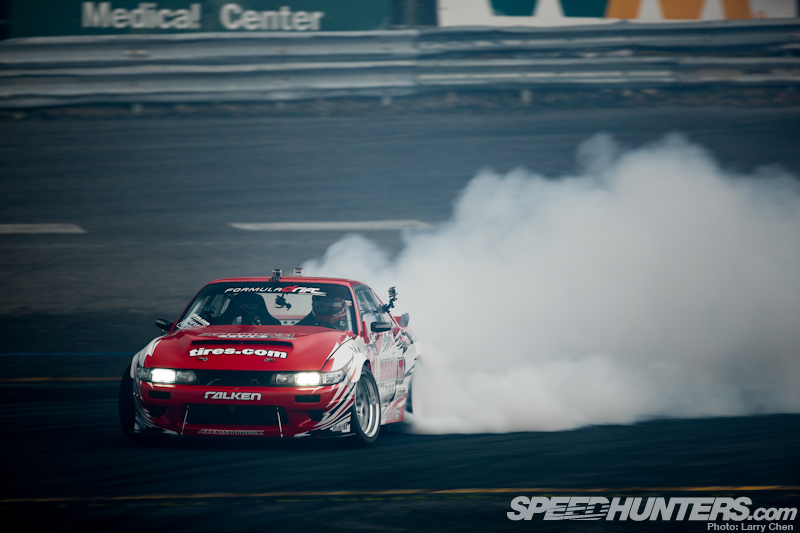 Rounding out the top three is Daijiro Yoshihara with 291 points. There is still a big chance he can make a comeback to defend his title.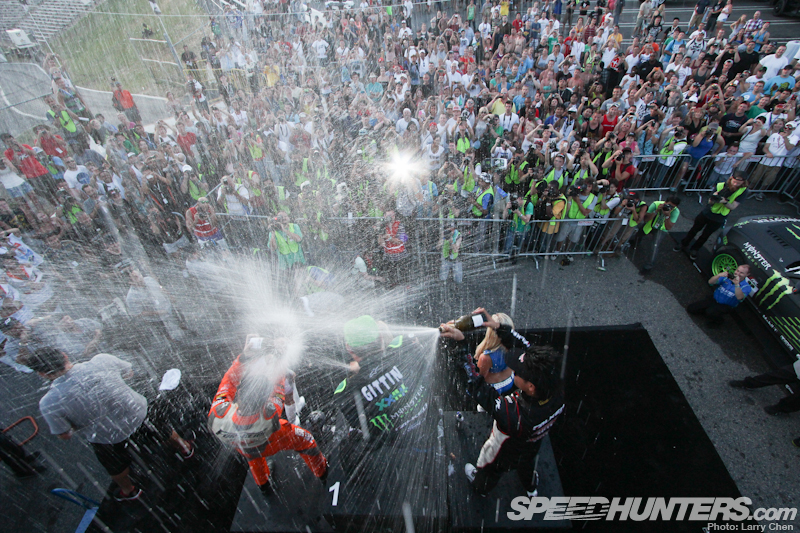 With three rounds left anything can happen. Click on the thumbnails below to download some desktops!
-Larry Chen
More stories from Formula Drift on Speedhunters
More stories from Larry Chen on Speedhunters
---
---
---
 Formula Drift New Jersey results:
1. Vaughn Gittin Jr.
2. Dai Yoshihara
3. Chris Forsberg
4. Daigo Saito
Formula Drift Pro Championship Standings:
| | | |
| --- | --- | --- |
| 1. Pawlak, Justin | Falken Tire Ford Mustang | 342 Points |
| 2. Saito, Daigo | Achilles Tire / Bridges Racing Lexus SC430 | 329 Points |
| 3. Yoshihara, Daijiro | Discount Tire / Falken Tire Nissan S13 | 291Points |
| 4. Gittin Jr., Vaughn | Monster Energy / Falken Ford Mustang | 279 Points |
| 5. Forsberg, Chris | NOS Energy Drink / Hankook Nissan 370Z | 265 Points |
| 6. Bakchis, Aurimas "Odi" | Bakchis Motorsports Nissan 240SX S14 | 243.25 Points |
| 7. Millen, Rhys | Hankook / Rhys Millen Racing Hyundai Genesis Coupe | 240 Points |
| 8. Tuerck, Ryan | Team Retaks Nissan 240SX | 239.50 Points |
| 9. Aasbo, Fredric | Need for Speed / Papadakis Racing Scion TC | 238.50 Points |
| 10. Powers, Matt | Need for Speed / Nitto Nissan S14 | 212.50 Points |
| 11. Moen, Kenneth | Lutz Performance Nissan 350Z | 206.50 Points |
| 12. Gushi, Ken | Greddy / Hankook Scion FR-S | 196.50 Points |
| 13. McQuarrie, Tyler | Mobil 1 Chevrolet Camaro | 183.50 Points |
| 14. Essa, Michael | GSR Autosport / Nitto BMW ZR4 | 177 Points |
| 15. Grunewald, Conrad | Hankook Chevroley Camaro | 173.50 Points |
| 16. DeNofa, Chelsea | BC Racing BMW M3 | 138.50 Points |