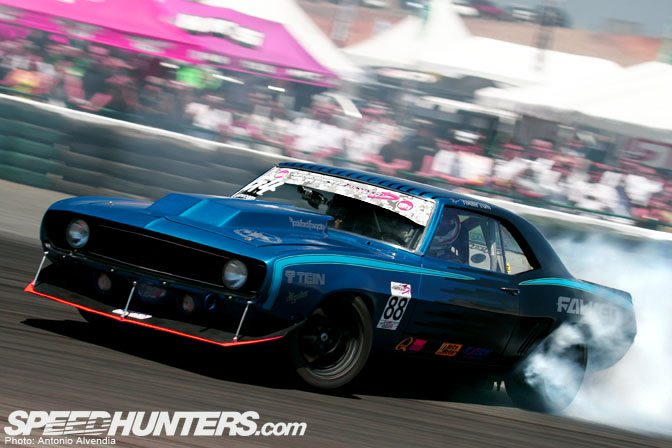 Before Drift Alliance had Ryan "Hampshaa," they had Ryan Hampton. As an original member of the Drift Alliance crew, Hampy always stood apart from the other DA guys (to me at least), because even though he may have had the same type of rock n roll style as the others, he didn't quite have the same type of "bad boy image" that the others projected… well, not that he didn't try!!! **cough…cough…Formula D Houston** (anyone who stayed at our hotel knows what I'm talking about) It's just that Hampy always had a big silly grin on his face, and was always cheerful, peppy and in a good mood! Super friendly guy – maybe too friendly to project a "bad boy look." Sorry Hampy, but it's true.
Another thing that's true… I love the classic and stylish "final evolution" of the Blacktop Rodeo Enterprises 1969 Camaro that Hampy used in Formula D competition in 2006. The above photo was from my massive archive of Formula Drift photos – it was taken at the 2006 Formula D Round 4 at Infineon Raceway in Sonoma CA.
I'll be completely honest – I couldn't stand the way the car looked in its first graphic scheme when it debuted, which is the signature teal and blue scallop design that you see on all the Falken cars currently (IMHO, I think it ruined the muscular body lines of the Camaro, because of the import car style paint job). However, I absolutely love the way it looks in the photo above!
It still retains the same signature Falken scallops, but it's more "American muscle" style, with the muted color combo, and the pinstriped sides. Whoever designed that last paint scheme, great job! (I was complaining to Brendan Shannon from Blacktop Rodeo about having their "new car paint scheme on an old car" back when this Camaro was still teal and blue, but I guess he needed to paint it those colors to fulfill sponsorship obligations, since they had full tire support from Falken.
What do you guys think? Do you agree with me? I think this black and blue paint scheme is the best one the car has ever had! It combines old and new in a tasteful manner!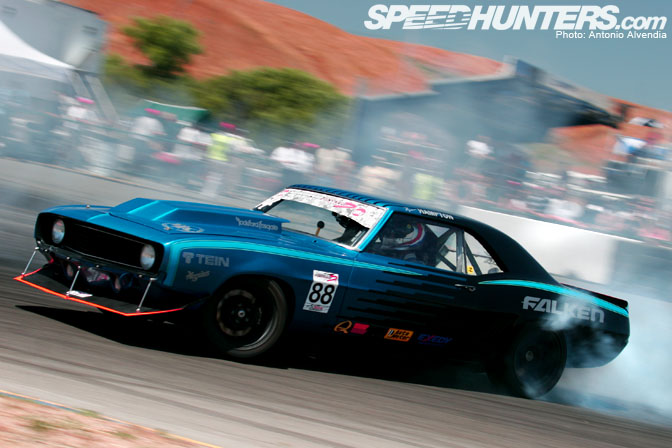 Some of the Speedhunters readers may not be into classic American muscle cars. But what if they're drifting? What do you guys think? I think it looks cool as hell! It has the vintage "Trans Am" look, but in the drifting scene! Cool!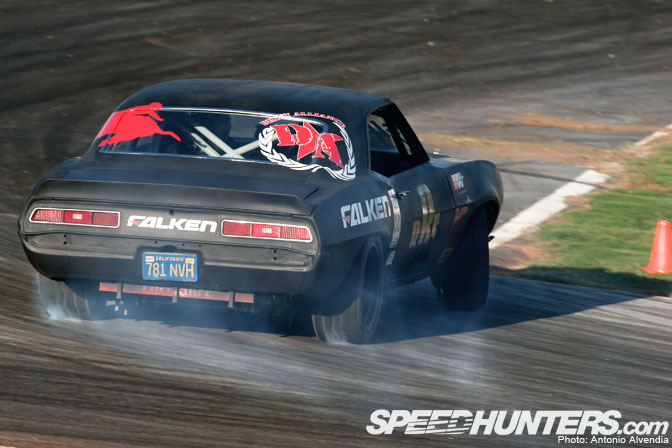 Here's the same Camaro, just 2 months prior, at the 2006 Formula D in Atlanta. In this photo, Hampton is entering the horseshoe area of the track. This car was always hard for him to drive, because even though it had a ton of horsepower, the car was so heavy, and therefore difficult to transition. The suspension wasn't quite set up perfectly from the beginning. I wonder if this car could have been more competitive if it were made lighter somehow, and used a lighter engine? (Just to clarify, I'm not talking about putting an S2000 engine in there… I was thinking possibly something along the lines of a modern aluminum V8 engine?)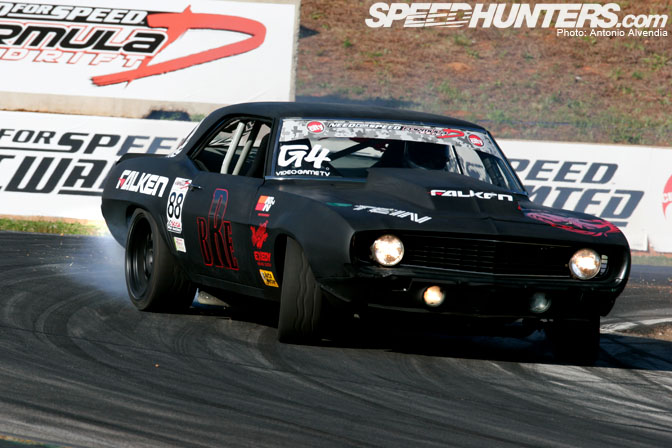 Either way, I thought it was super cool to see a classic bodied American muscle car like this 69 Camaro out there drifting! I'd love to see more American musclecars like this at drift events, and would also love to see Hampy out at the track with us again!
So what do you guys think about having more muscle cars enter the drifting scene? And what about the looks of the cars?
-Antonio Alvendia