Every trip I take down to the Kansai area of Japan is usually choreographed down to each hour, in an attempt to maximize my time down there and visit as many shops, shoot as many cars, and take in as much as I can of the car scene down there. Except time there runs at a different pace to the Japan I'm used to. In Tokyo people are so tightly wound that they usually have no time to waste; everyone seems to stay on a precise schedule and as a result end up getting pretty stressed. I always say Osaka reminds me a little of Italy, where people are more easygoing, where time isn't really of importance and where rules and regulations are nothing but suggestions. This is why my 'let's stop by and say a quick hi' recent visit to Global Auto…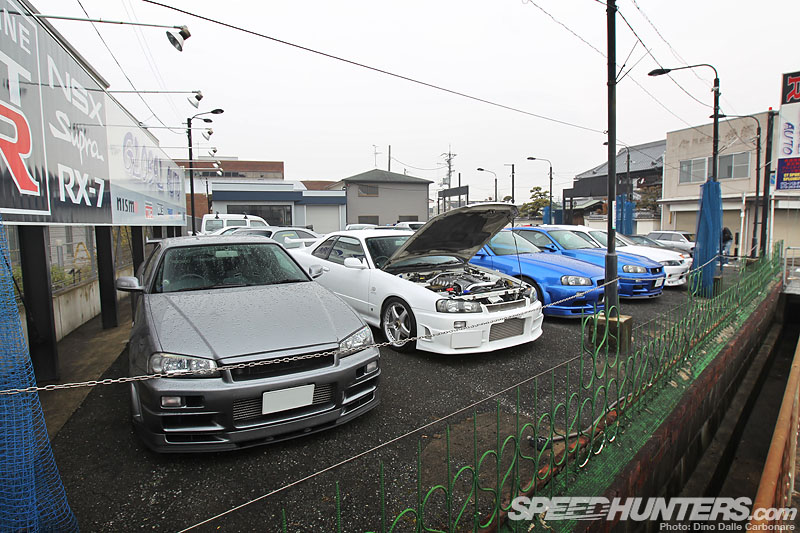 … ended up taking a little longer than I expected. If you've ever been in the market for a JDM import…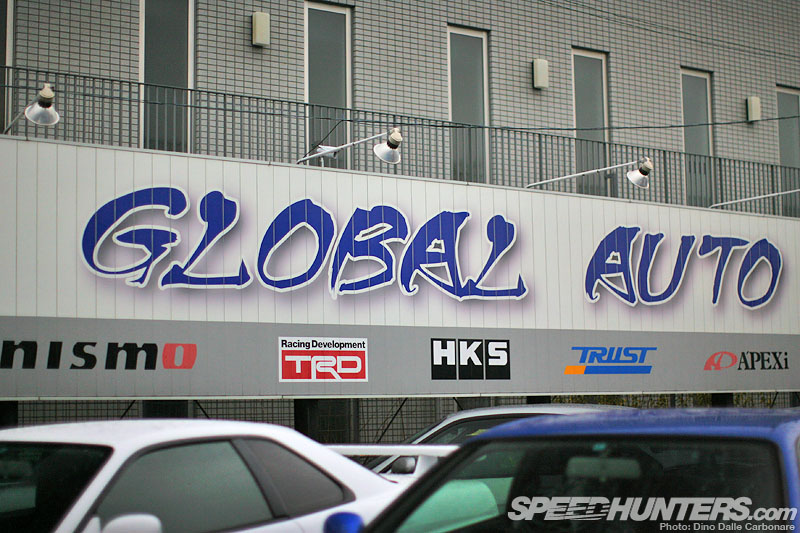 … then Global Auto is without a doubt a place you probably know. They have a reputation for sourcing and reselling the best quality tuned cars in Japan, specializing primarily in GT-Rs of every generation. If I happen to be in the area, the lure is more than I can ever resist and since Casey's visit years ago, there were obviously different cars to check out. In fact, this place seems to have fresh new stock a couple of times a week!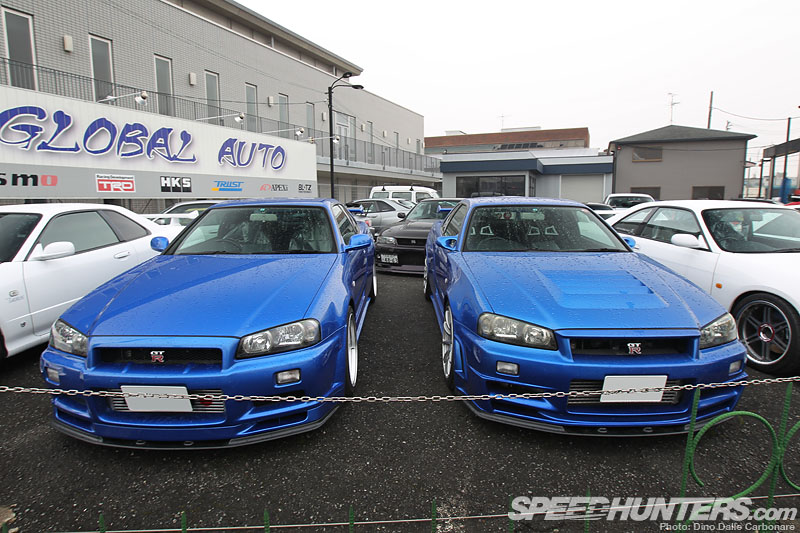 Needless to say I had to get the camera out and grab a few snaps of some of the ready-tuned GT-Rs that were present. Check out these pair of Bayside Blue BNR34s, the one on the right wearing a Nismo Z-tune front bumper and wider fenders as well as a prohibitively expensive Nismo R-tune carbon hood ($5,000+!)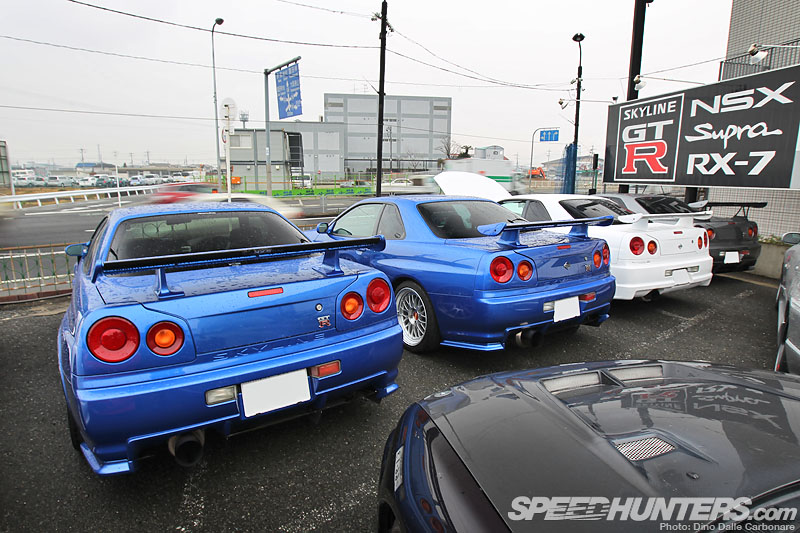 Both are the standard non-V-spec models so don't feature the active rear LSD. BBS LMs on R34s just work so well don't they?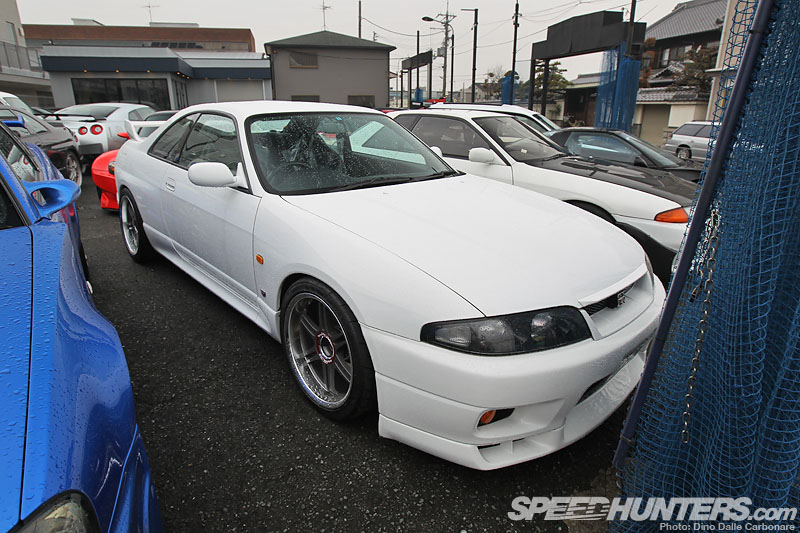 Next up was this very clean BCNR33, boasting a few simple engine modifications and adjustable suspension.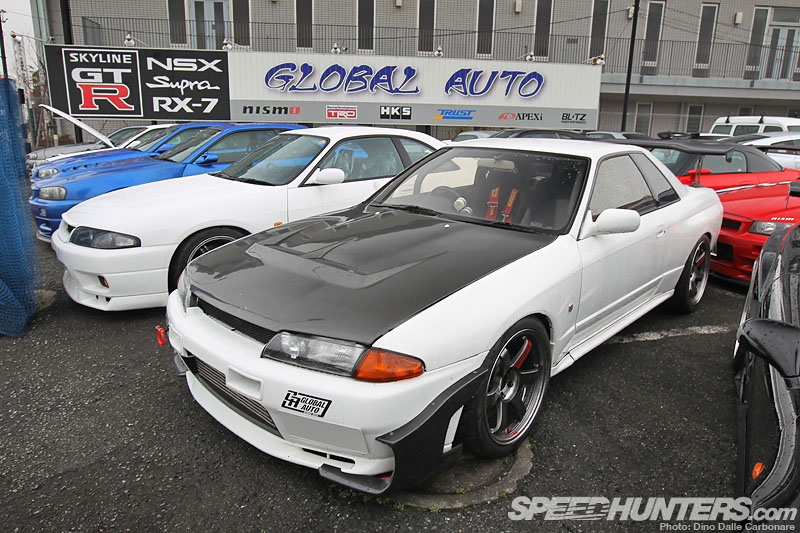 For anyone looking to purchase a good base for a fun time attack machine, this BNR32 ticked all the right boxes, from the carbon hood, Auto Select aero canards and the high-mounted GT-wing to the set of RAYS TE37SLs.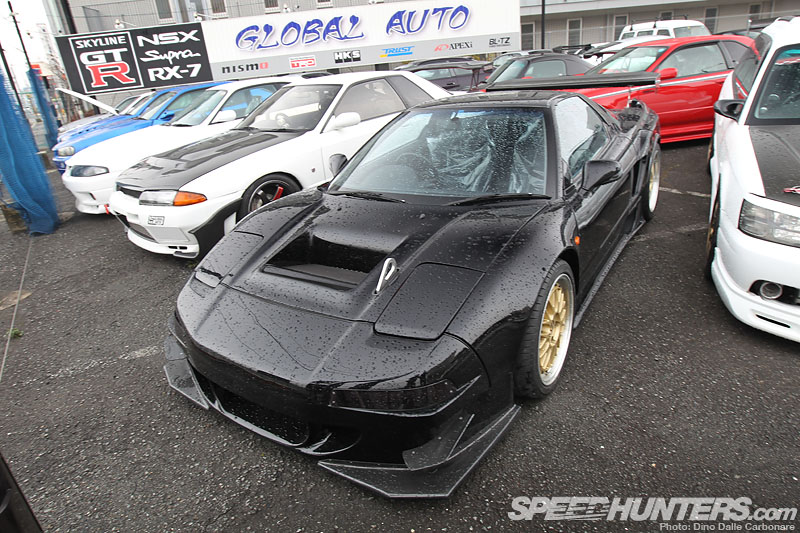 Yasui-san, the man behind Global Auto, knows a great car when he sees one and when jewels like this black NSX pop up at the auctions…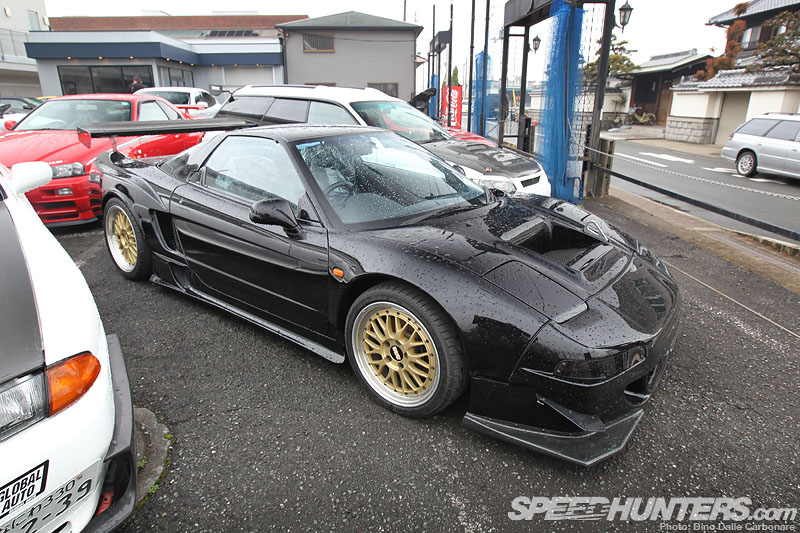 … he's not going to pass on it.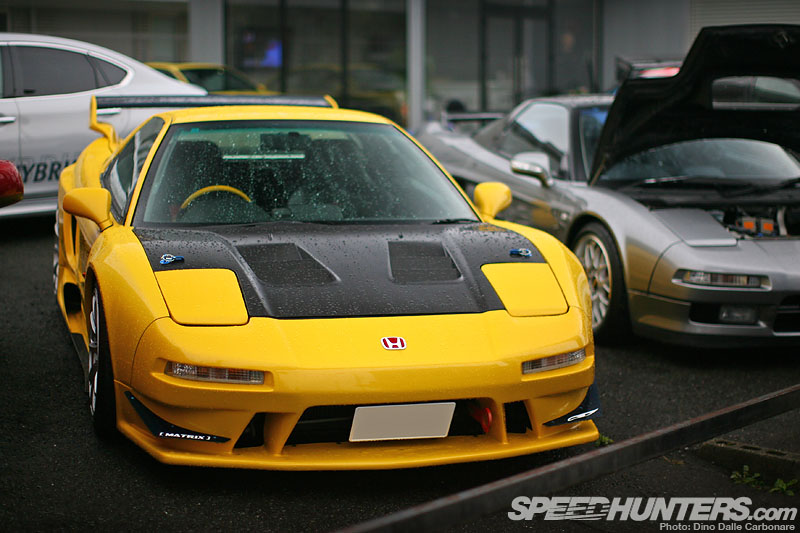 And that wasn't the only one he had on display at his yard; there were a few more, this yellow example probably the more extreme of the lot.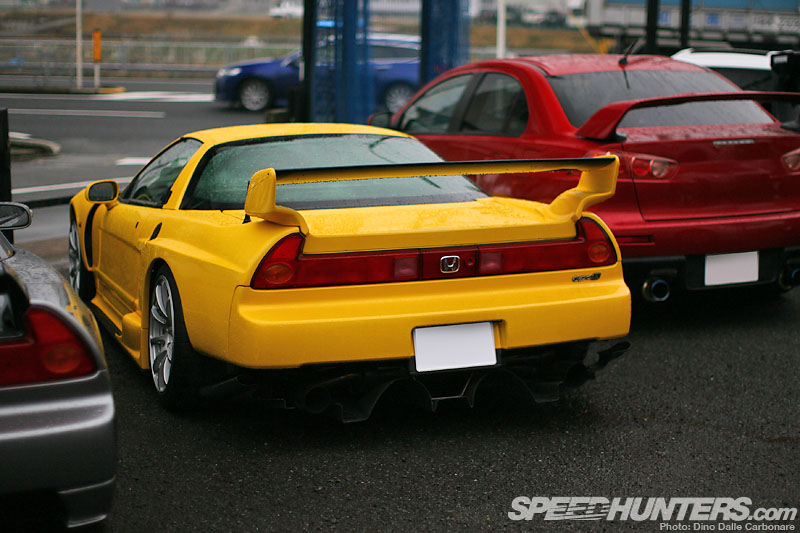 That rear wing reminds me of a Mitsubishi GTO's spoiler!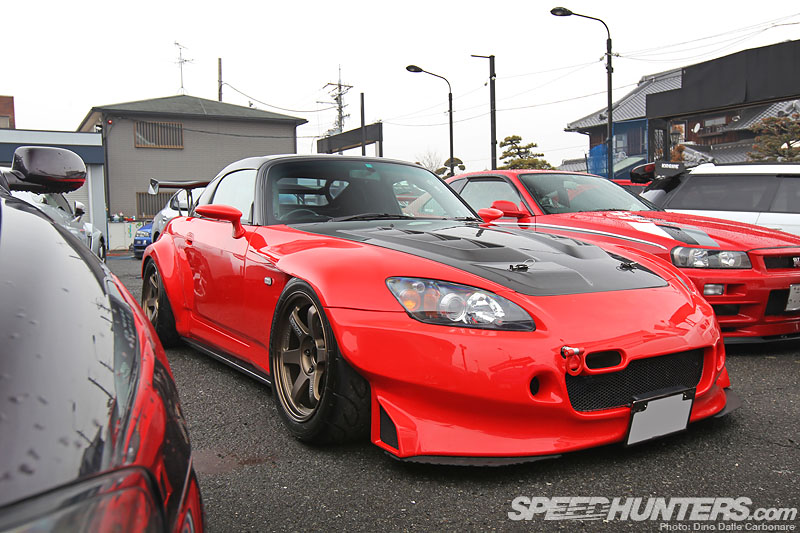 Yasui-san had just picked up this insane S2000 from Tokyo USS auction and transported it all the way down to Osaka. It's not often you find complete Spoon cars on the second-hand market and this had the spec to back up those Super-Taikyu racer looks thanks to a Spoon 2.2L rebuilt and balanced engine and a spec sheet that spanned a few pages including AP Racing brakes, Defi dash unit and Mugen suspension.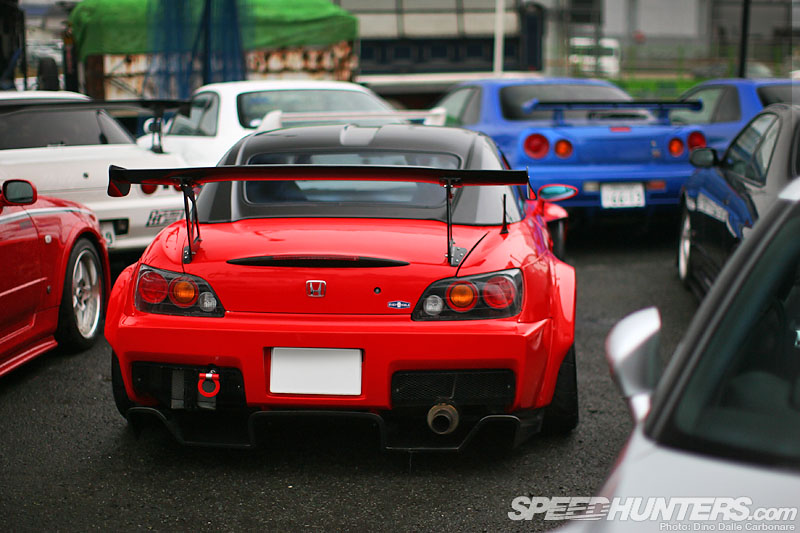 Not surprisingly, this car sold in no time and whoever snapped it up is one lucky person!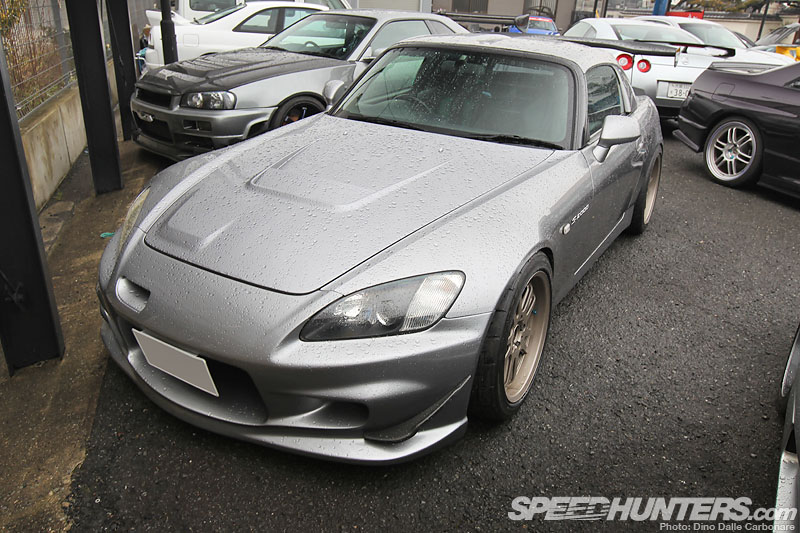 I spotted another S2000 in the far corner of the yard; not as high spec but a clean, lightly modified example.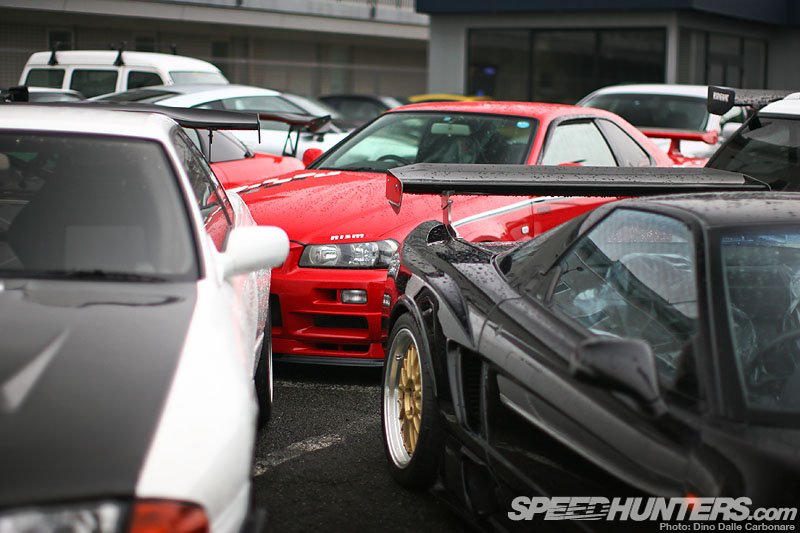 Red R34s are pretty rare and ones running a Nismo R-Tune motor even more so. This car even had the period-correct Nismo graphics and the series 1 Nismo aftermarket bumper.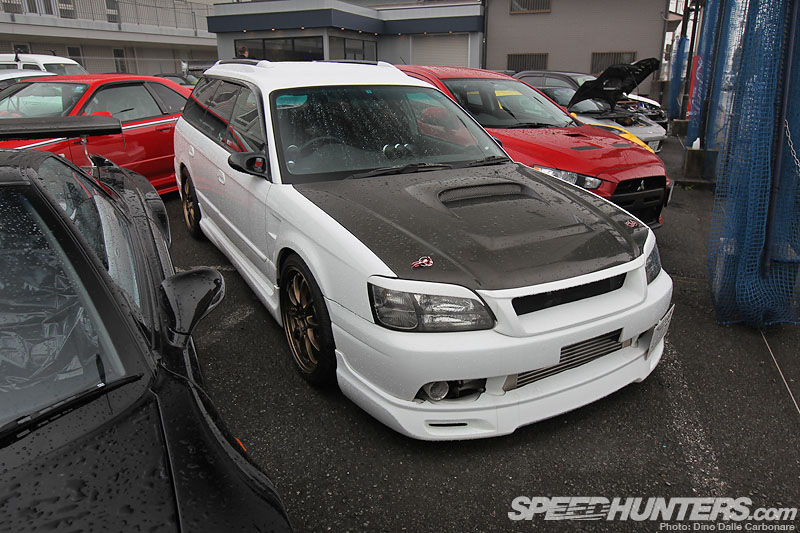 If you prefer your cars with permanent AWD then Global Auto doesn't disappoint; well tuned BG5 Legacies are always fun cars to drive as you can scare owners of far more exotic machinery.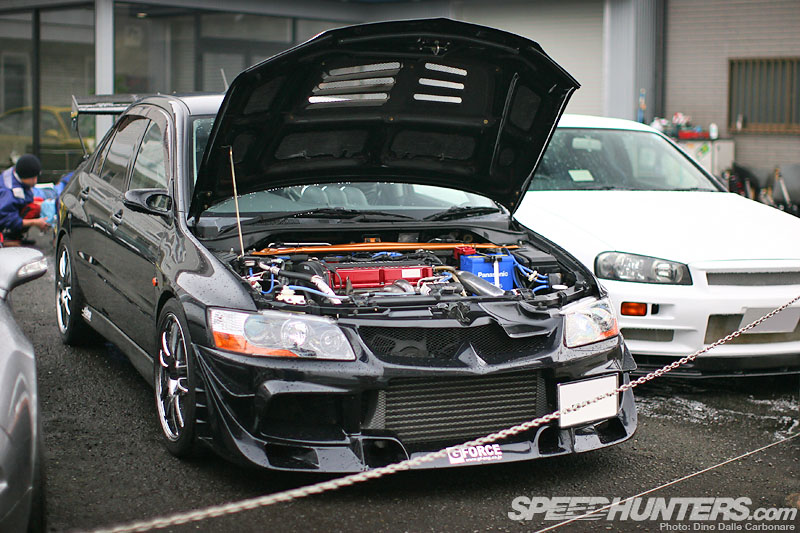 They even had an Evo on sale, another car that had just come in from the latest round-up at the USS auctions. Looks aside, which are subjective of course…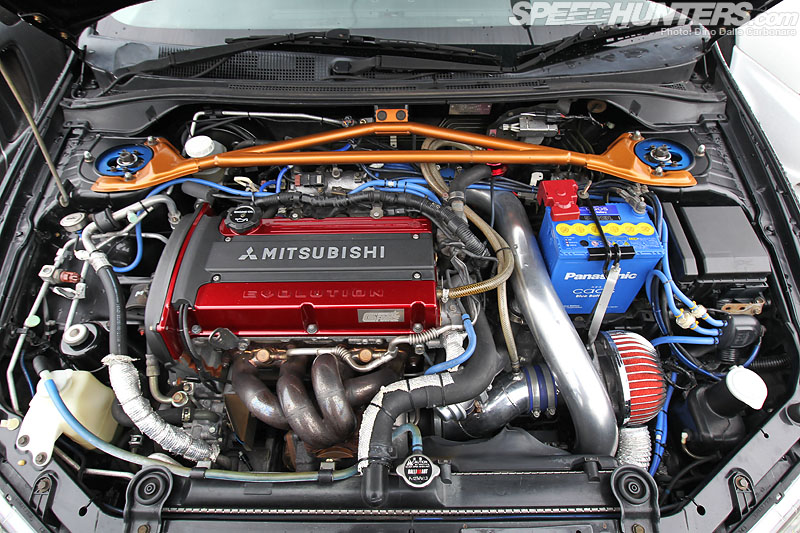 … it did have a pretty impressive spec list.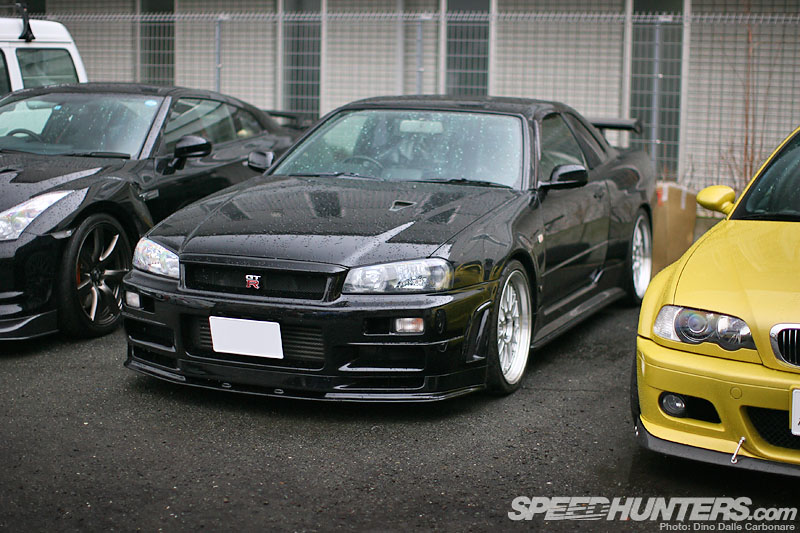 R34s looks so menacing in black, even when left pretty simple. This particular V-spec II is running a Nismo series 1 bumper as well as Do-Luck side skirts and with the addition of BBS LMs and an appropriate ride height…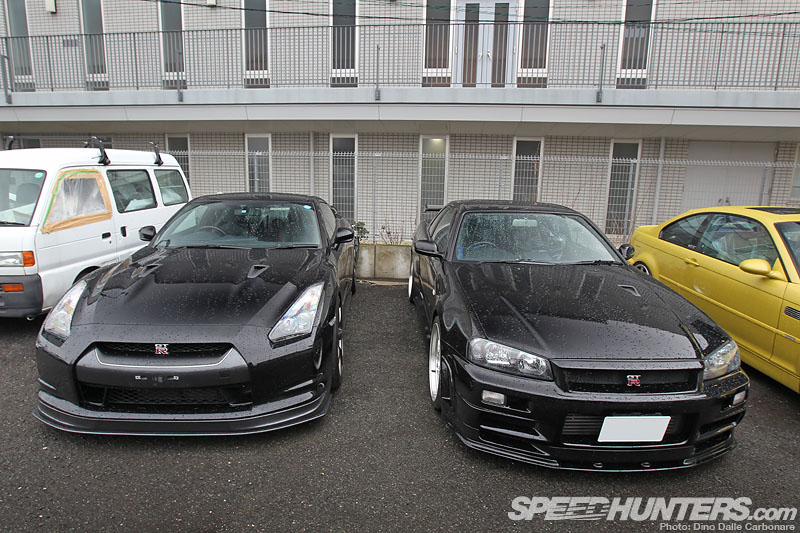 … I found it so much more tempting than this newer R35 next to it. But then again that's just me! Which one would you pick?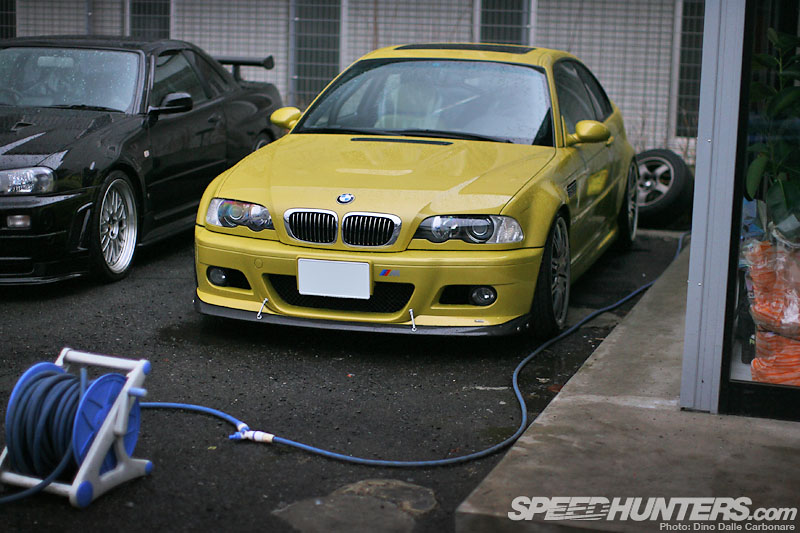 How about something German?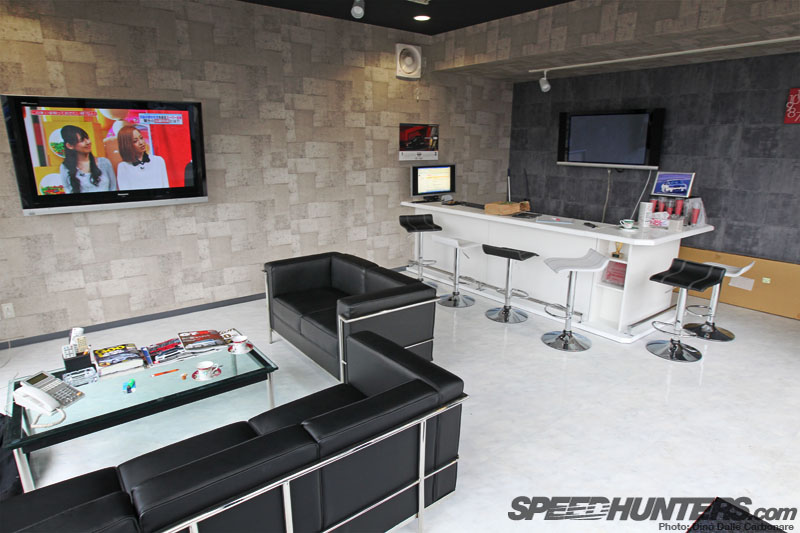 If you happen to see a car you're interested in, you'll be taken into the shop to fill in the paperwork and strike a deal. This reception area has just been remodelled and is a nice place to grab a complimentary cup of coffee and take a break from looking at the mouthwatering selection of rides outside.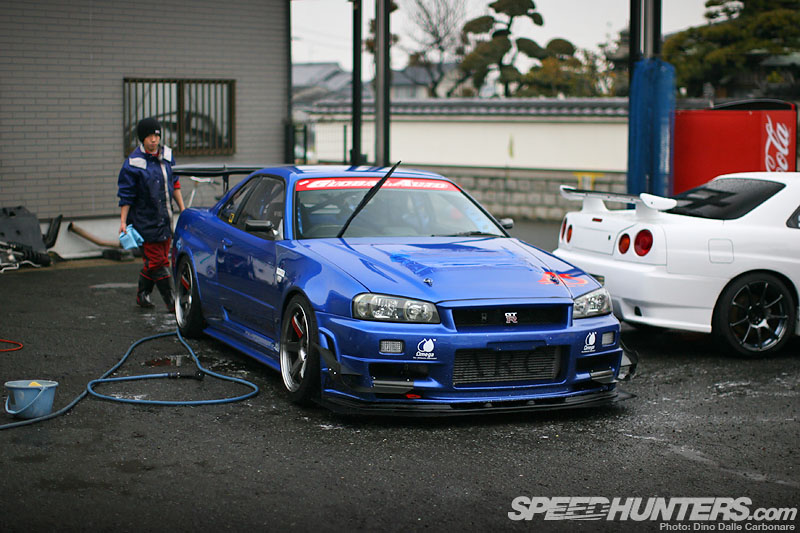 Mind you, once Yasui-san had his time attack car brought around the front of the shop for a quick wash…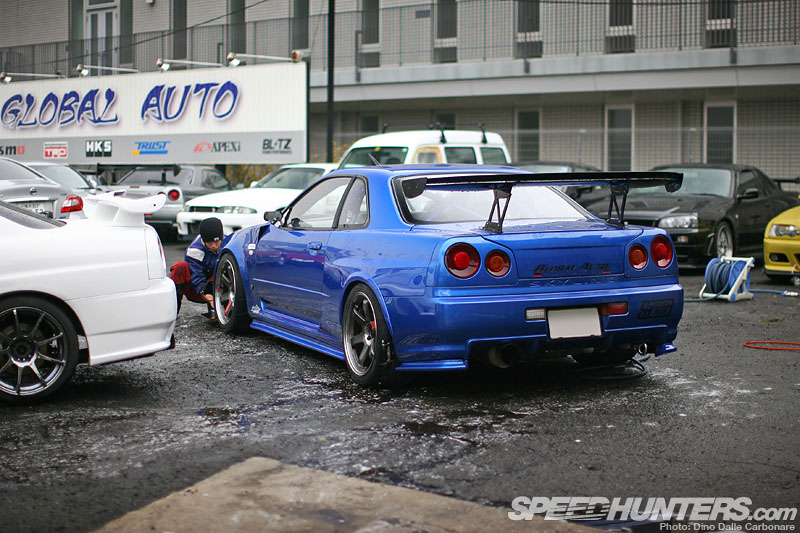 … I just had to go and take a closer look! This thing is a beast, no other word can describe it. It's as close to perfection as you would want a high-powered, track-focused GT-R to get.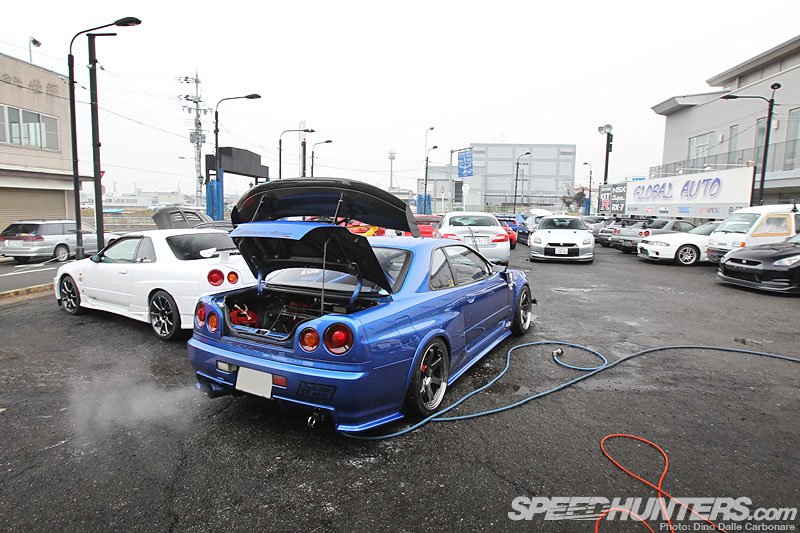 If you recall I did a little spotlight on this car back in 2010, but since I was there and as I mentioned in the opening, people from Osaka are as chilled as they get, I ended up doing a proper feature on it. Question is, would you mind seeing it featured on Speedhunters again?  I will never forget seeing this thing spin all four wheels as it accelerated past me on a wet highway!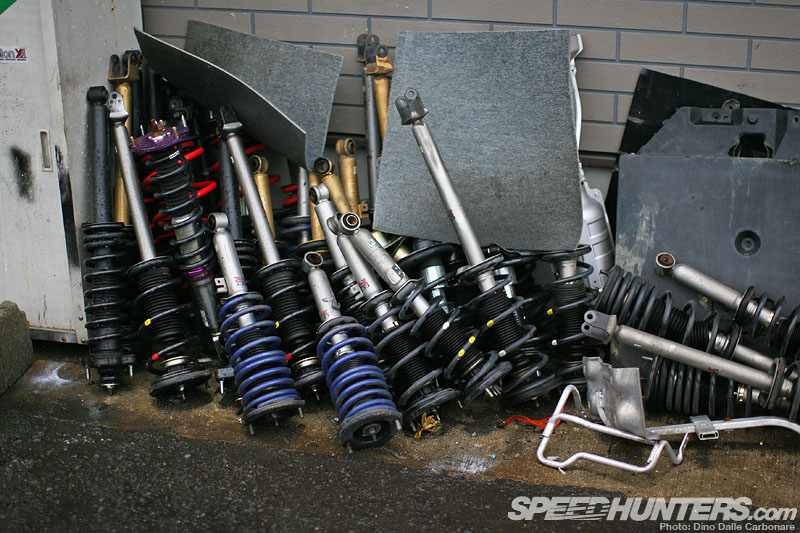 On the side of the shop I found this pile of stock dampers that had been swapped out of cars from the Global Auto stock and replaced with something more akin to what their usual customer would prefer. It reminded me I still have my stock BNR34 suspension out in the shed…why the hell I've kept them for so long is beyond me!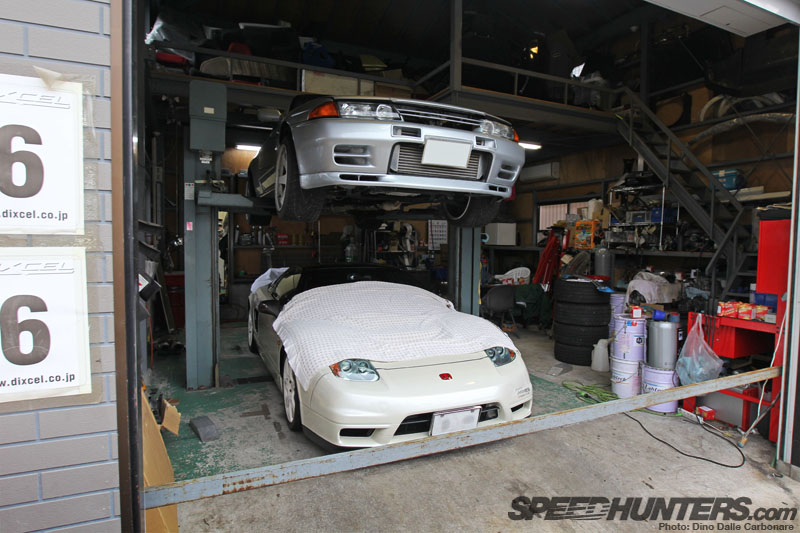 My tour of Global Auto ended with a final surprise. Tucked away inside the garage part of the shop was a car that will get Honda guys rather excited. Not sure if Yasui-san is hanging on to this rare JDM masterpiece, I sure would! Mind you, aside from selling cars, he has some pretty cool projects on the back burner: one includes the 'Cyber GT-R' time attack car he is building in collaboration with Cyber, C-West and Sanai. When finished, this R35 is due to be entered at the WTAC event in Australia, probably next year. I'm sure we will be seeing more of Yasui-san in the near future!
Dino Dalle Carbonare
Instagram: speedhunters_dino
Other car builder stories on Speedhunters
More Skyline GT-R stories on Speedhunters