Diving Deeper
It's always been about the hunt. You hear of a car or know about one that's being built, and you do whatever it takes to get access and shoot the thing. Sharing it is the best feeling ever, and it's something that Speedhunters has done since the very beginning.
We love digging deep into car culture and presenting those builds we find innovative, cool or in some way unique. A lot of the time we run across cars at events, and that's where short spotlights usually suffice; a few more images than usual and as much info as we are able to gather out in the field. That's exactly how I discovered this Mitsubishi Lancer Evolution VI Tommi Mäkinen Edition (TME) at the StanceNation show in Odaiba.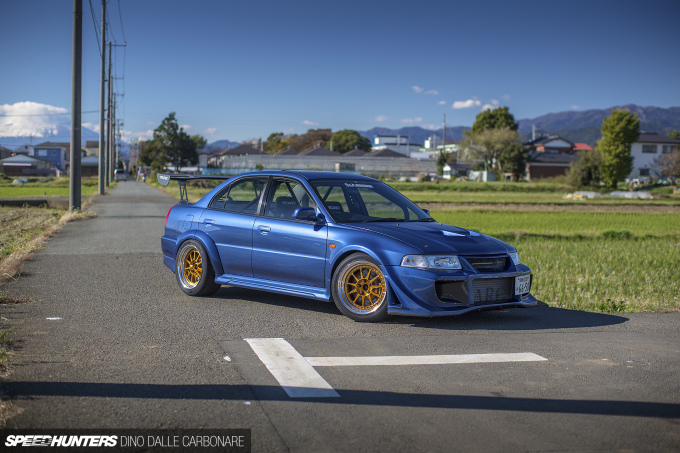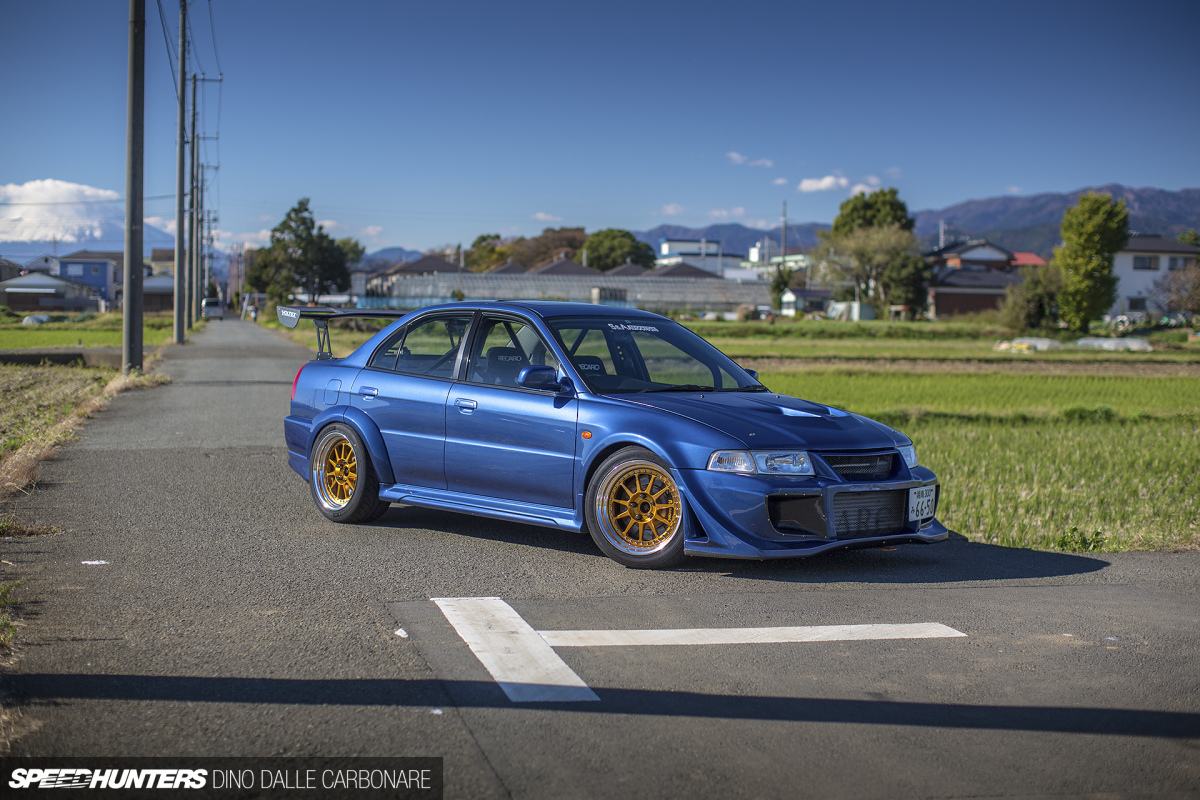 Impressive spec aside, the main reason I spotlighted it was more to do with the overall execution. You see, for how supportive and enthusiastic I have always been about the Japanese tuning scene, it's become hard not to criticise it for lack of innovation over the last decade or so. It's as if many tuners and parts makers have tried to rest on their laurels after the amazing period they all had in the '90s. Sure, you can't hope to recreate such a special time period, but you can certainly try to adapt and evolve with the changes that have occurred in the general automotive landscape.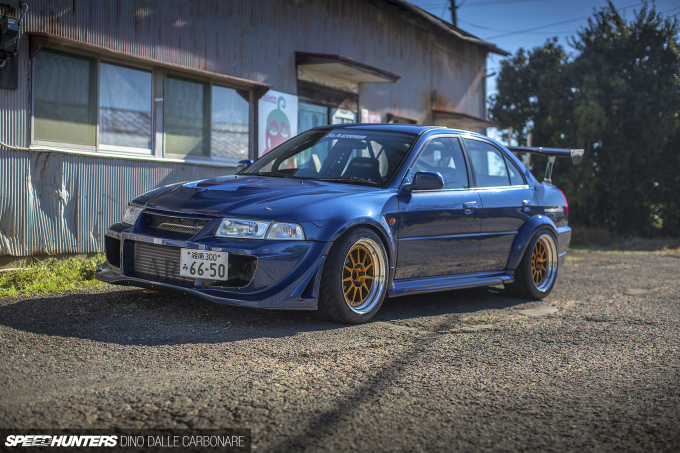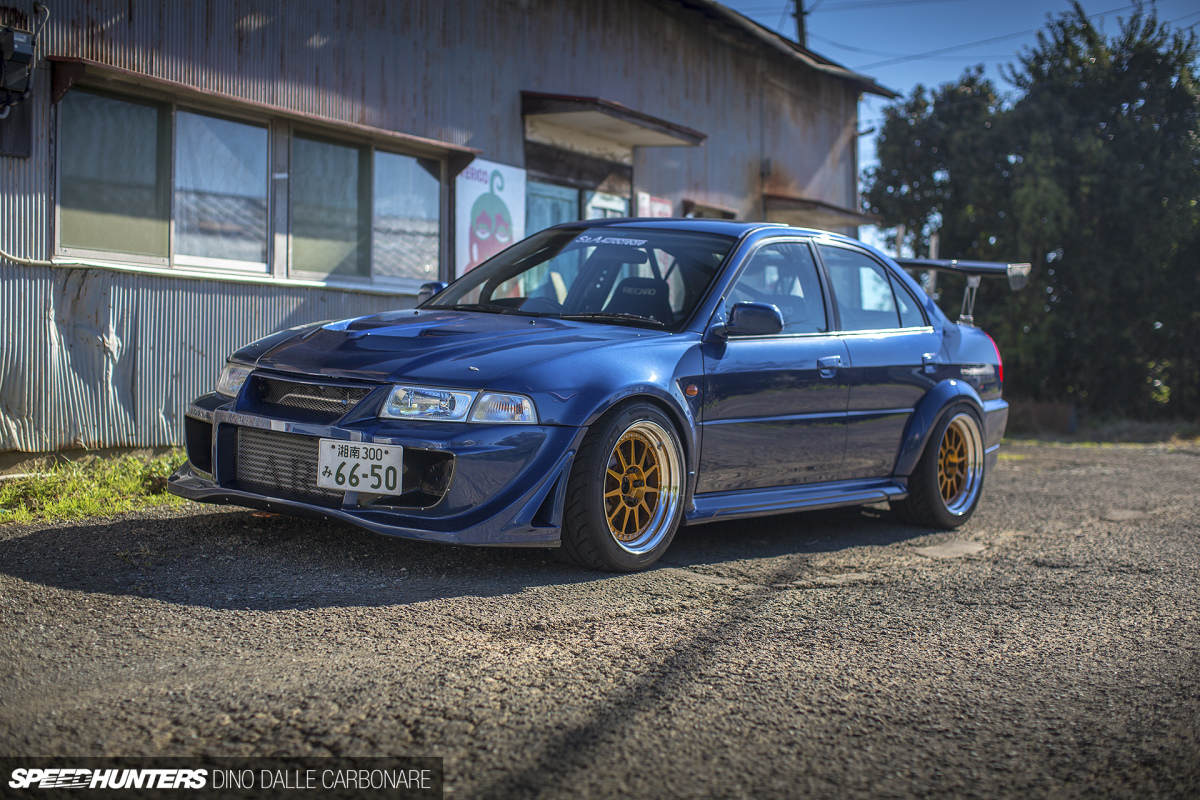 This is improving however, and at the helm of it all are a few little shops that aren't scared to experiment a little; look towards the West for inspiration and then adapt what they see to align with their own market. In fact, that's how Japan has always done evolution – a hell of a lot of observation and then refining the ideas they come across to perfect them for their own use. S&A Auto-Create works in a similar way, and I'm glad I finally got to visit the shop and meet Satoshi Nakatogawa after seeing some pretty amazing cars they have built over the years, including that S2000-powered Celica XX from a few weeks back. Visually, this Evo VI (or 6.5 as the TME is often called) has been subtly upgraded to fit the owner's request; retaining those unmistakable Evo lines, but pumping them up with a few select upgrades.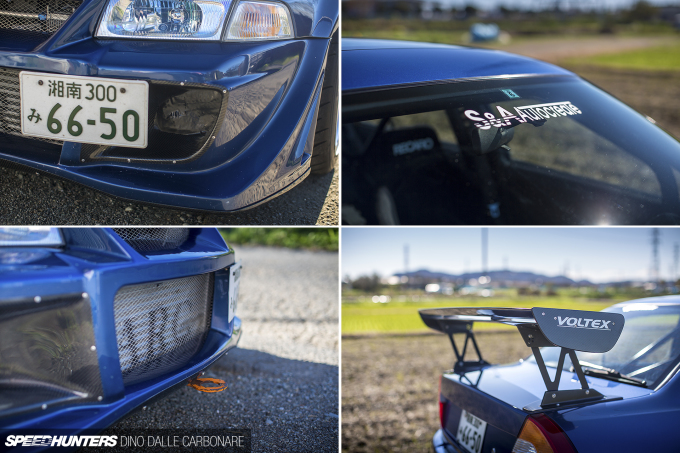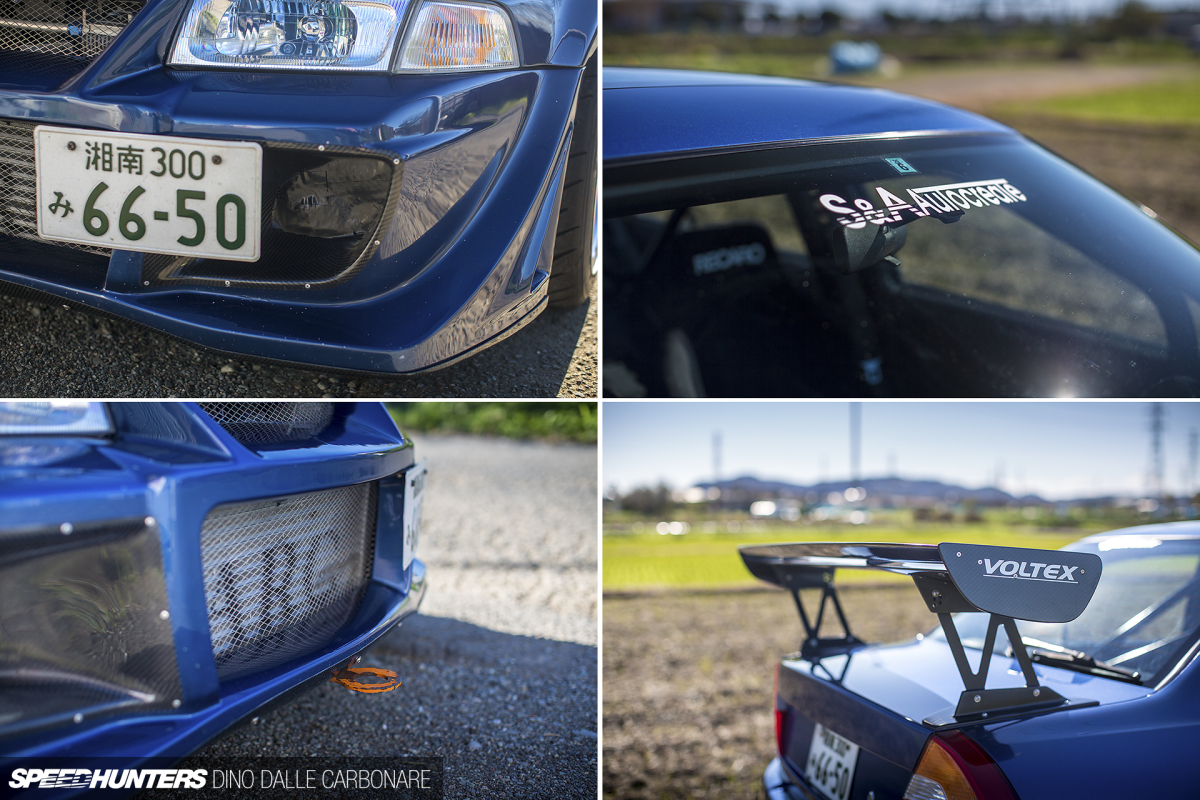 So it received a full Varis front end, consisting of a Tommi Mäkinen Edition inspired front bumper, wider front fenders and a carbon vented bonnet.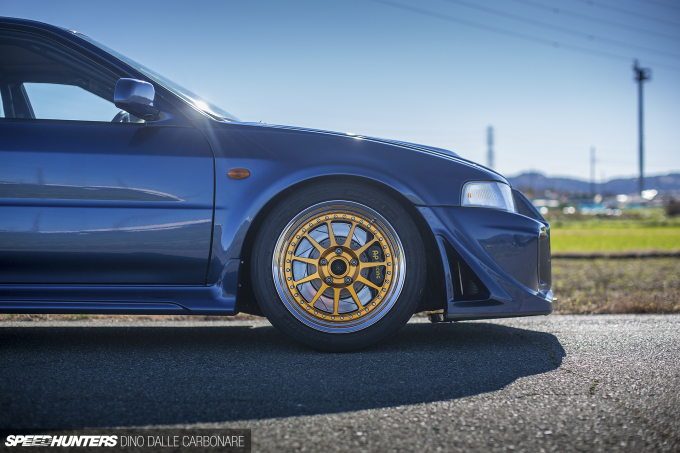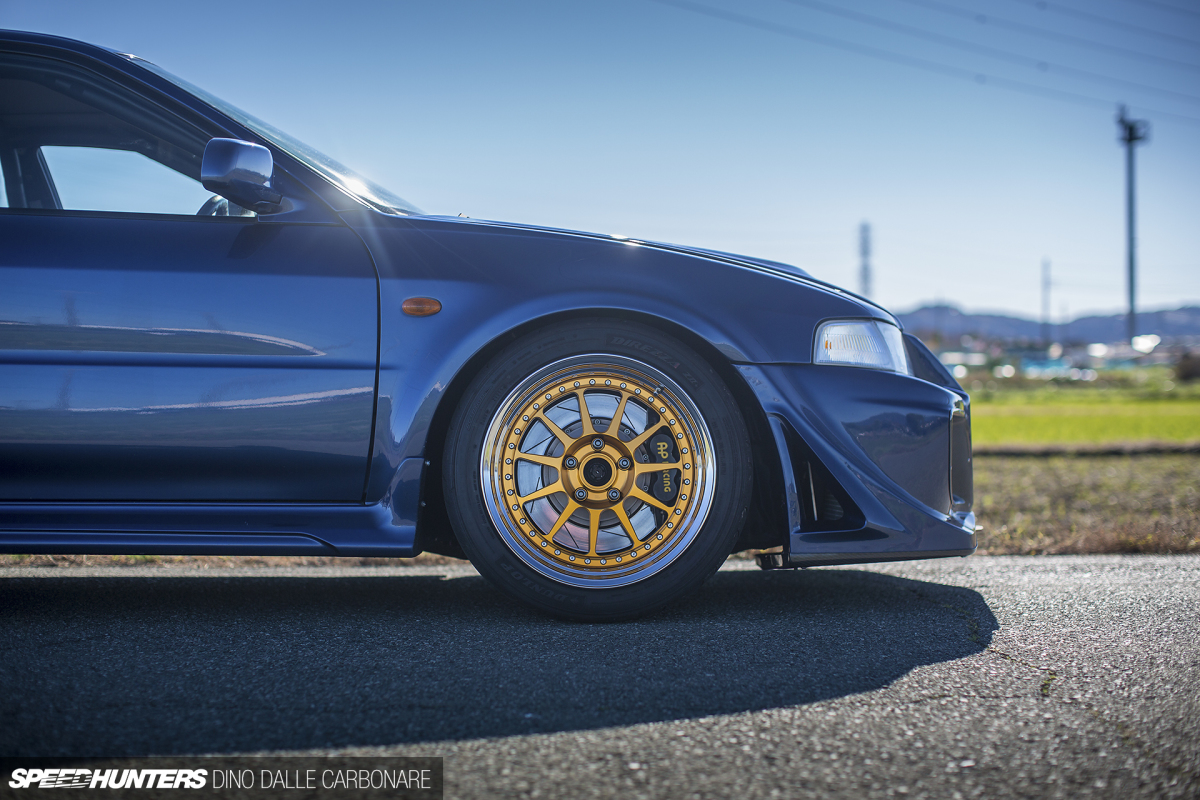 Something that immediately stood out to me at StanceNation were the wheels – a set of Barramundi Elevens with anodized gold centers. Designed and manufactured by the guy behind Common Snapper, these wheels are pretty popular with the kyusha guys and I've also seen them fitted on Porsche 911s of various generations, but never on an Evo.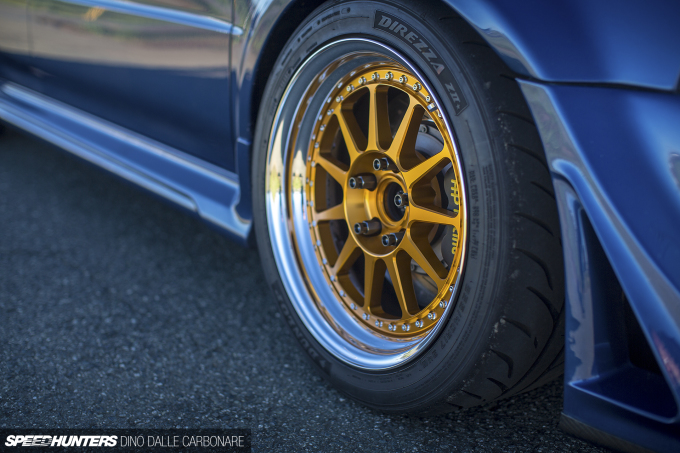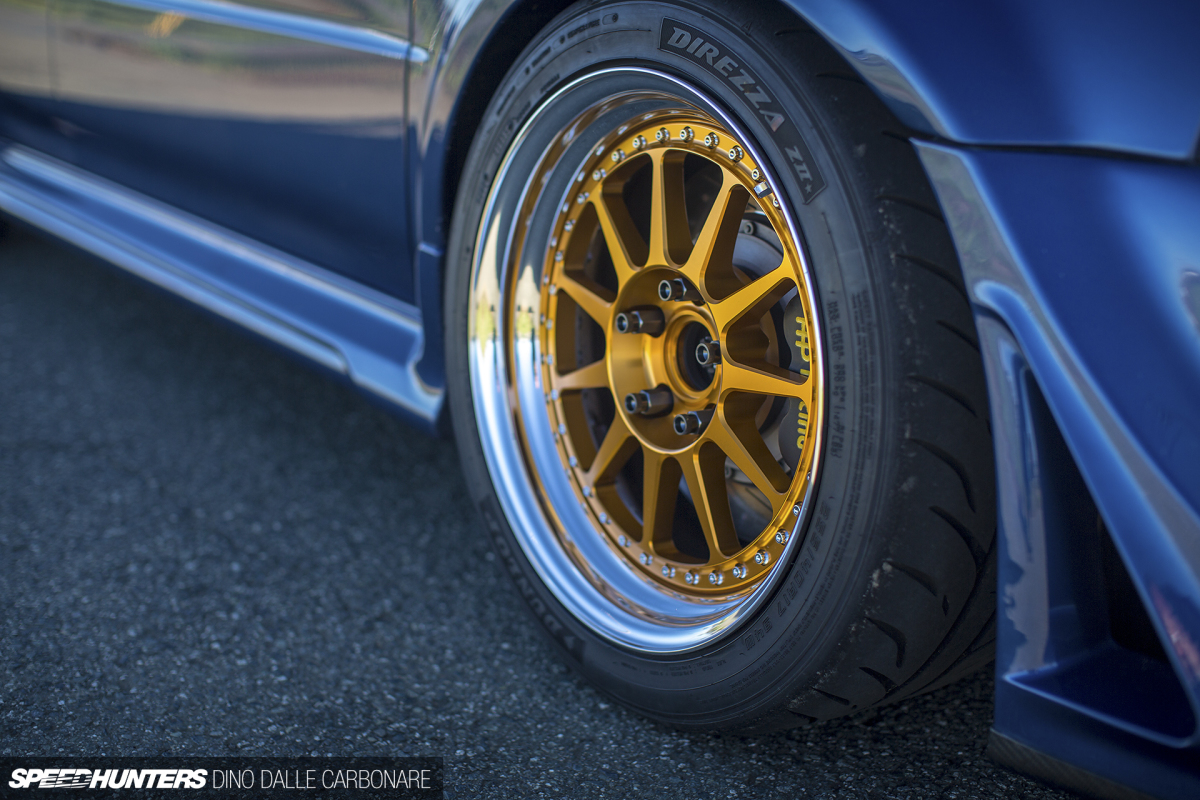 Being of a 2-piece construction, the owner was able to custom order a different offset for the front and rear to ensure the wheels perfectly filled out the wider guards. They measure 17×9.5-inch all around and are shod with sticky Dunlop Direzza ZIIs road-legal cut slicks in 255/40 sizes. They definitely give a unique twist to the Evo's function-focused exterior and prove that it sometimes doesn't hurt to step away from those wheels that everyone seems to go for.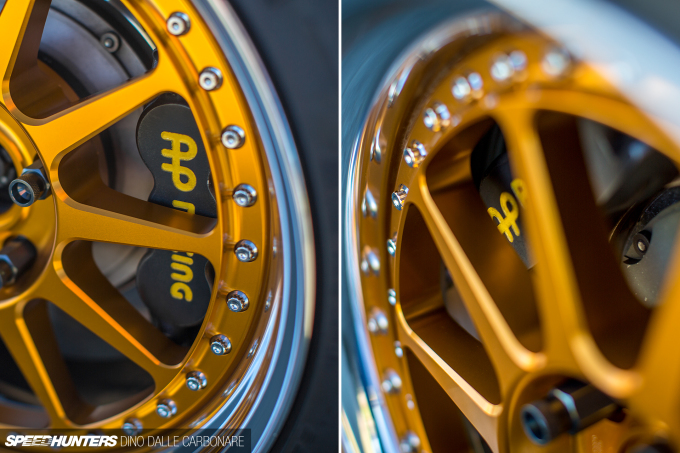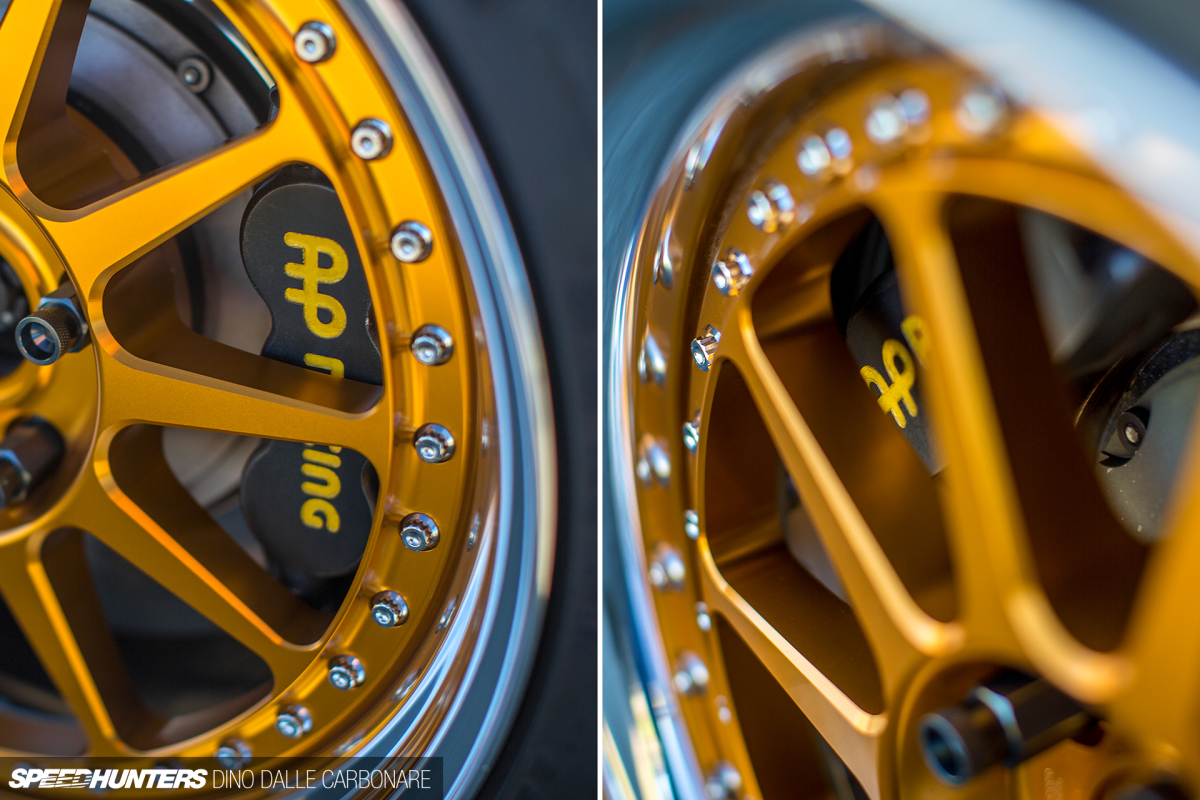 Of course, nothing looks quite as purposeful as a nice wheel filled out to its very inner extremities by a massive brake system. While the Evo's stock Brembo setup is actually pretty good, even on a decently tuned example, when you are more than doubling the power it's always smart to do a similar thing with the anchors. So out with the old and in with the new; in this case in the form of AP Racing calipers at all corners, 6-pots up front and 4-pots in the rear matched up to slotted discs.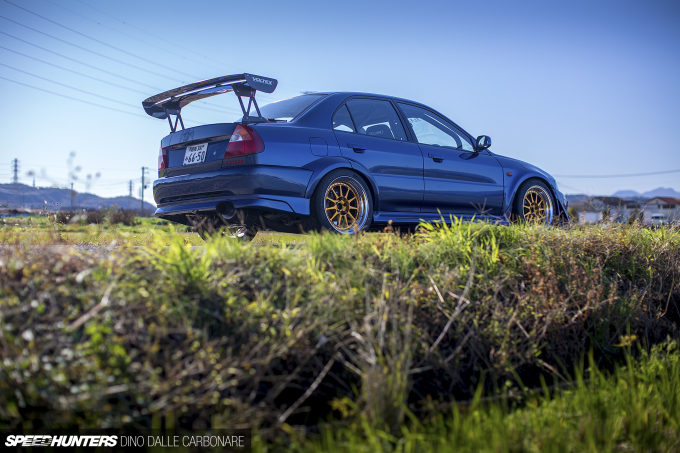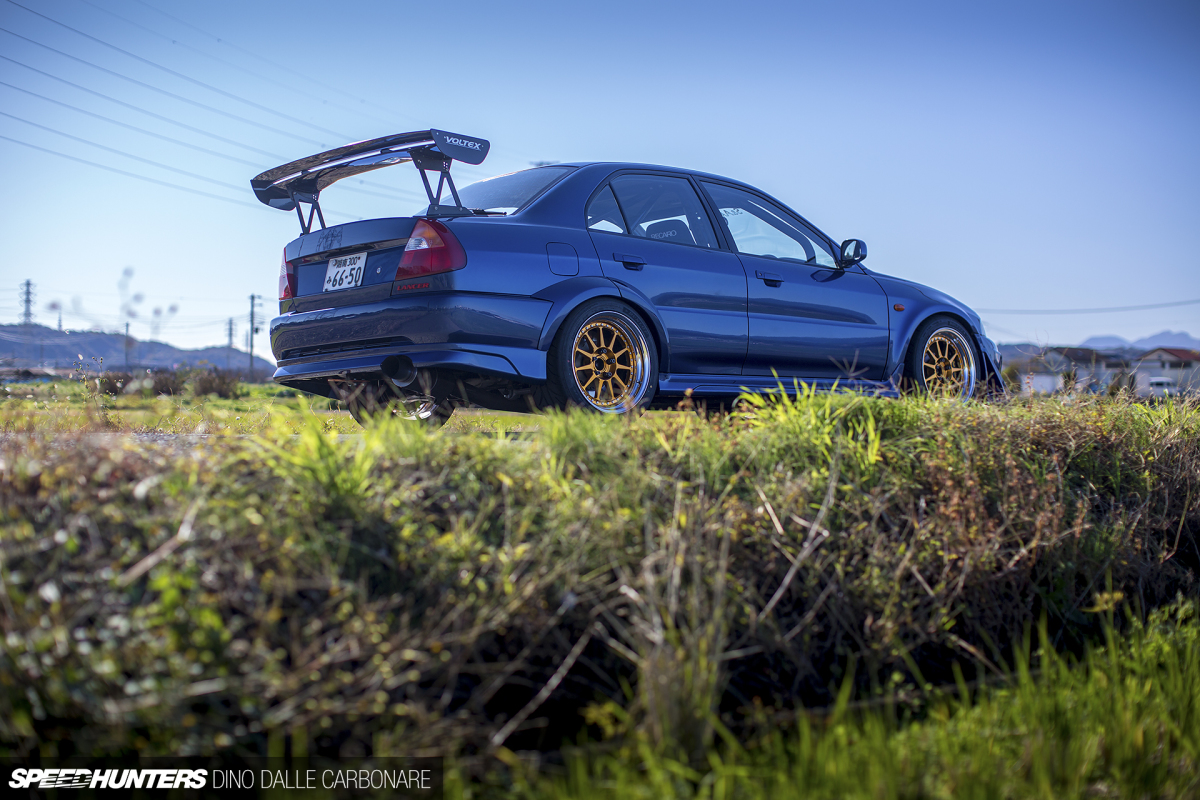 Satoshi told me that the Evo's owner was toying with the idea of keeping the stock wing in place, but since the car is built primarily for fast-paced driving – with Fuji being the track of choice – some functional aero was required. The Voltex wing may be mounted directly onto the trunk lid, but despite this it still manages to supply a very perceivable amount of rear stability when packing on the speed.
Nailing The Looks But Focusing On Power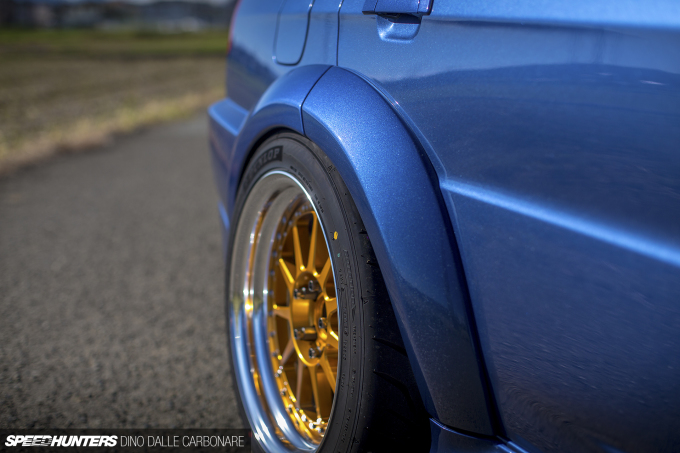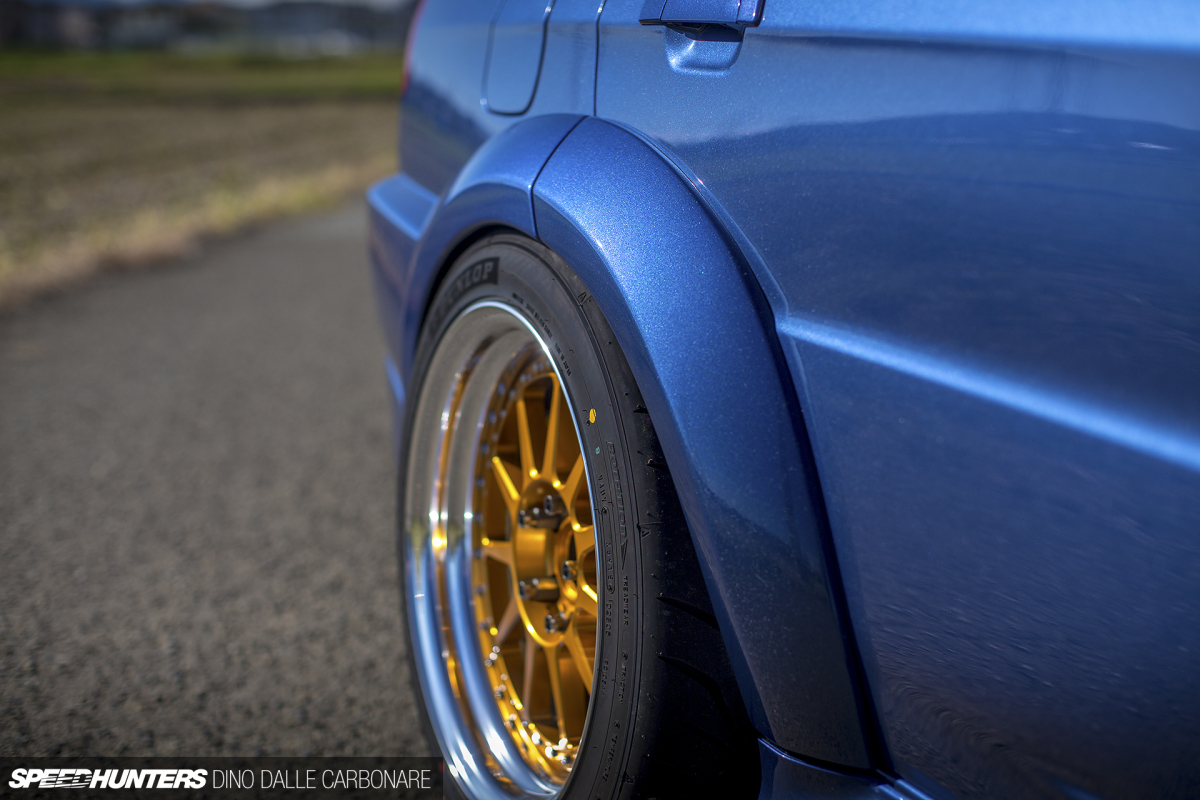 When I first came across the car I couldn't figure out where these rear fender flares had come from. It turns out they're custom, shaped especially for this car and nicely integrated into both the doors and the fender/bumper sections.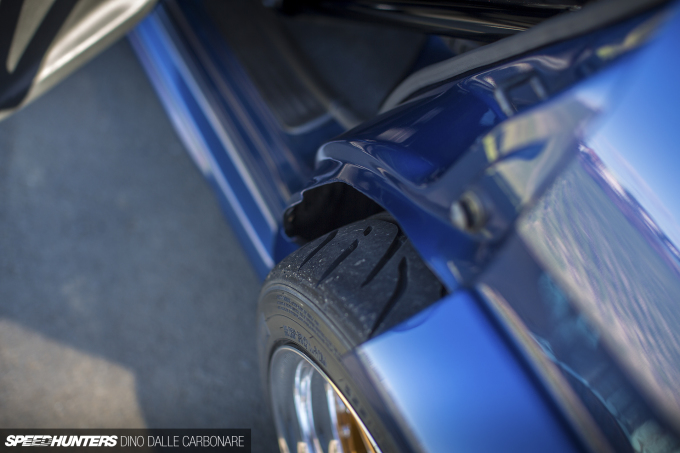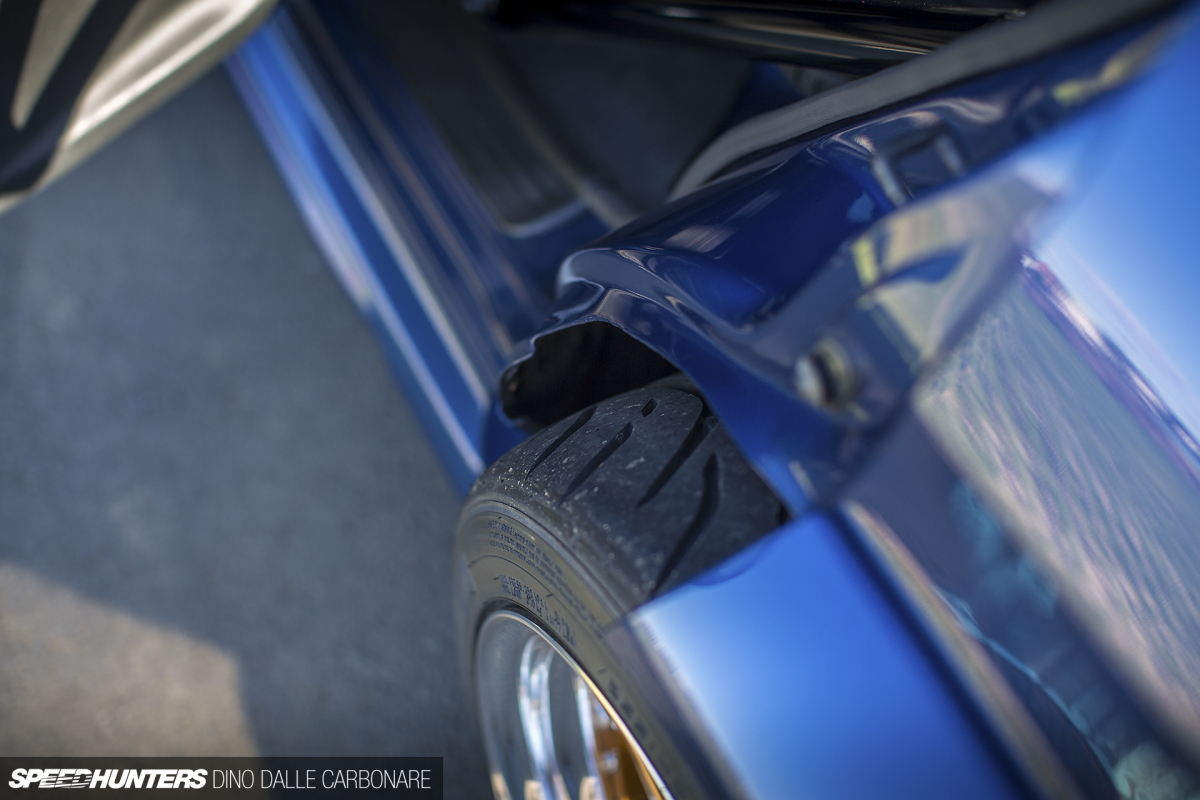 You don't actually realise how much of a bump in rear track the car runs until you open one of the rear doors and see how much metal had to be removed.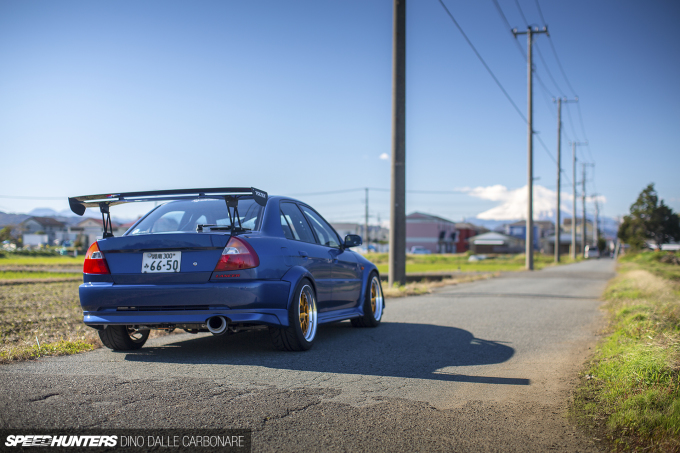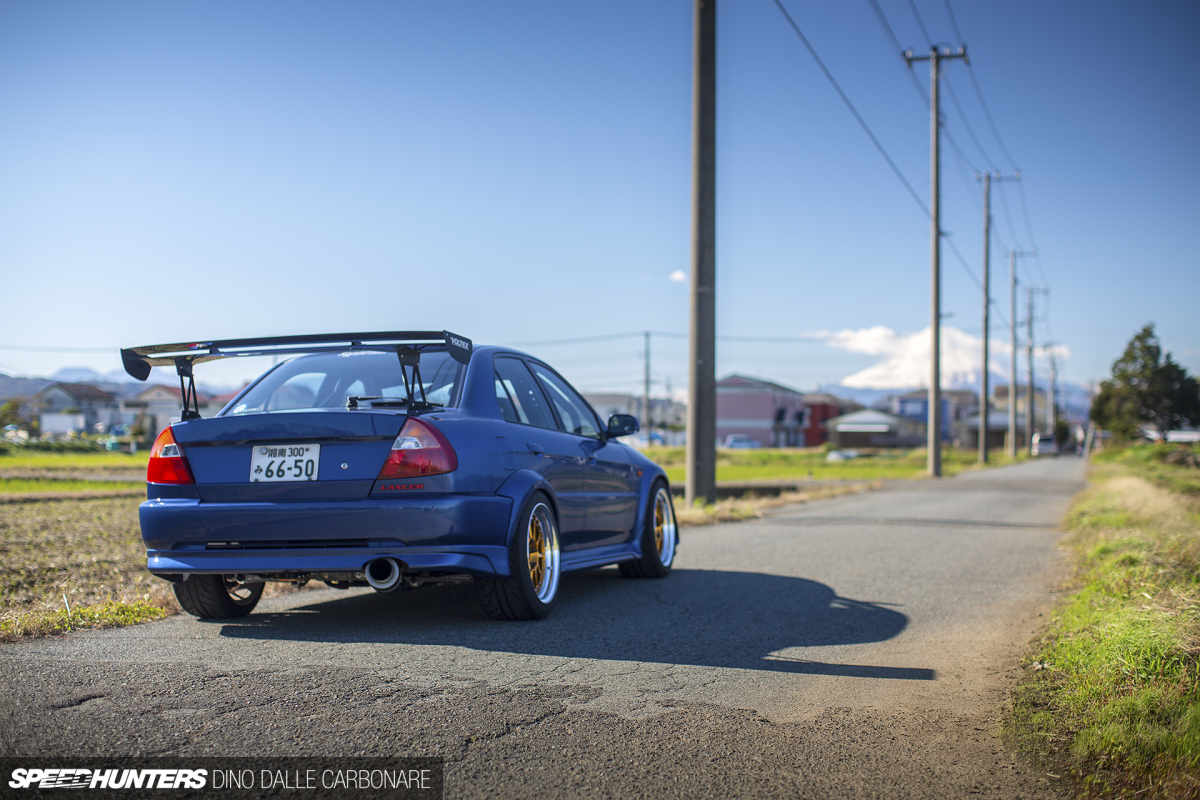 It all combines to give this Evo a hell of a lot more presence.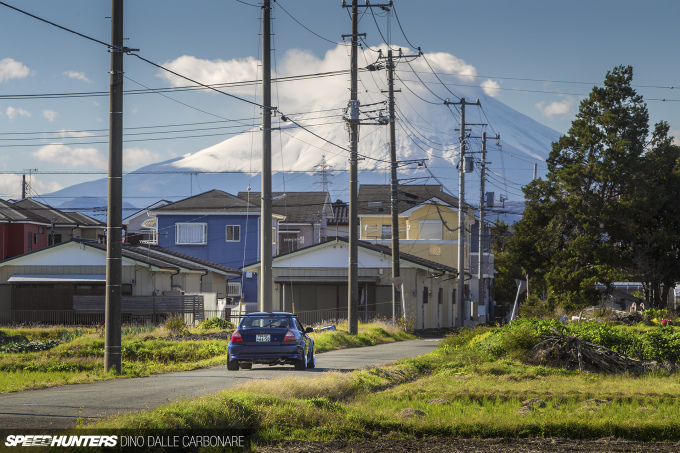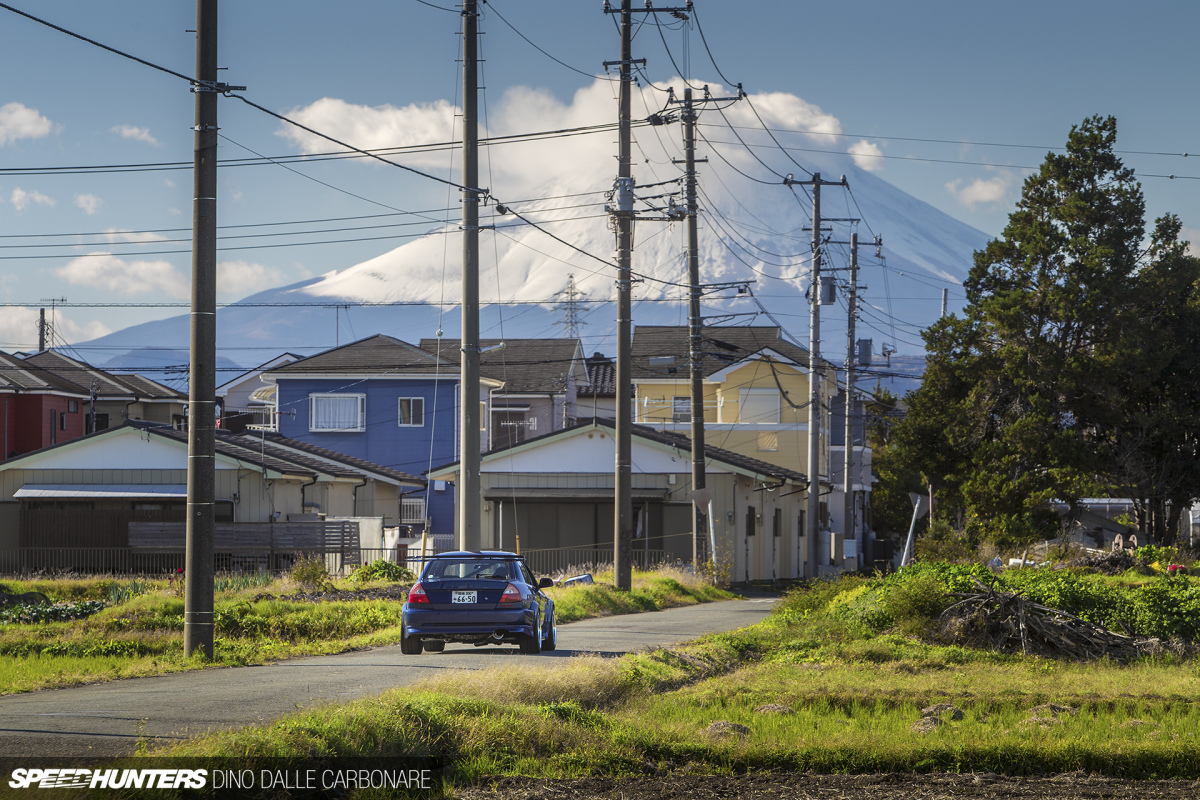 Especially when you see the car travelling down the road from behind.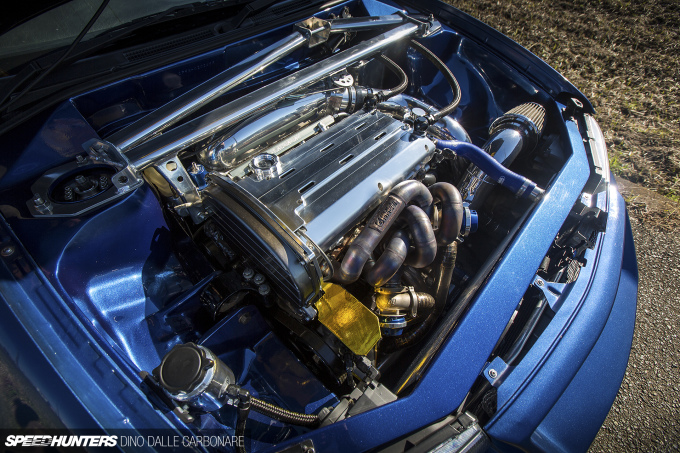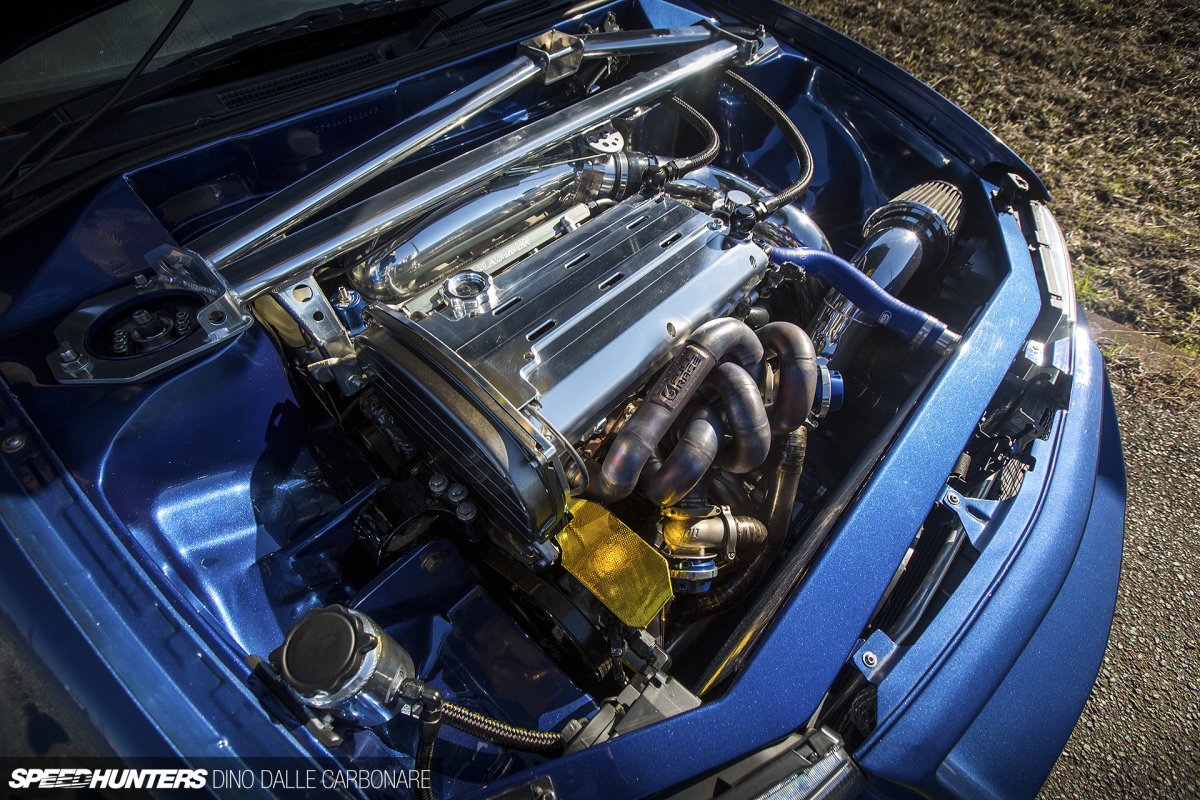 Which brings us to the engine, and the bay it sits in. As you may recall from that initial spotlight, it was the amazing execution that impressed me the most about this car. Six month's worth of metal and fabrication work went into smoothing things out and tucking away as much of the wiring and ancillaries as possible. The upper radiator support that runs across the front of the engine bay is possibly one of my favourite details; it's color-matched and so smooth it adds a modern touch to the whole package.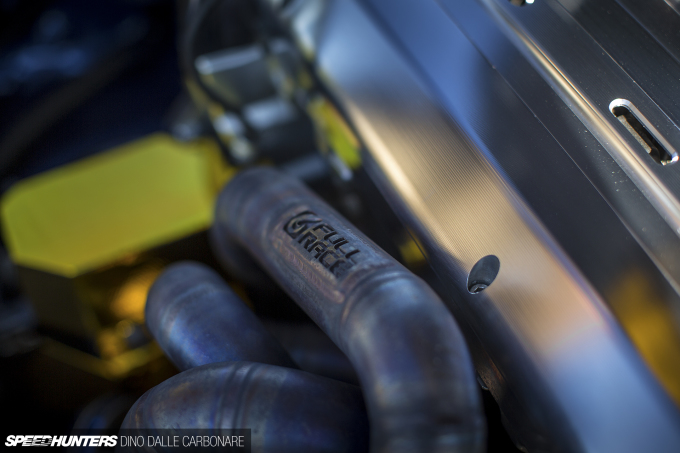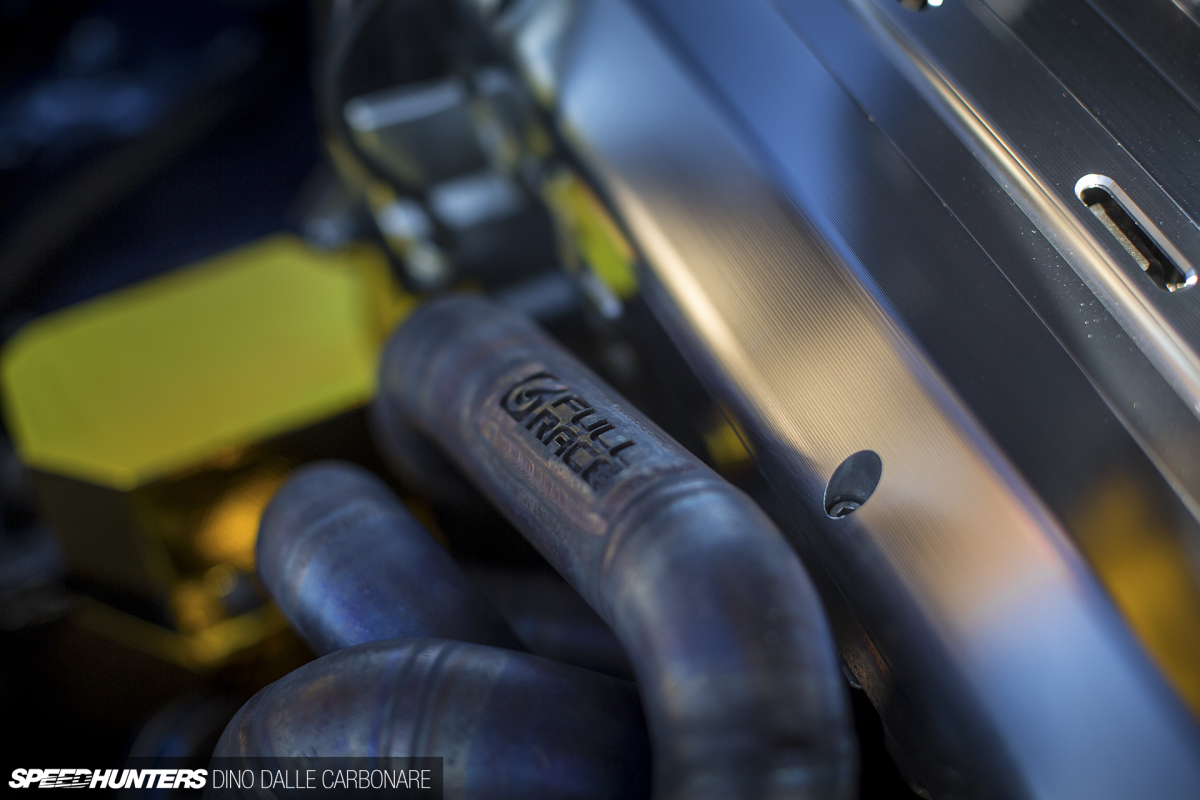 And then of course there's the engine. Here, the best on the market from both Japan and a variety of other countries combine to create what may possibly be the freshest 4G63 build that is currently running on the streets of Japan.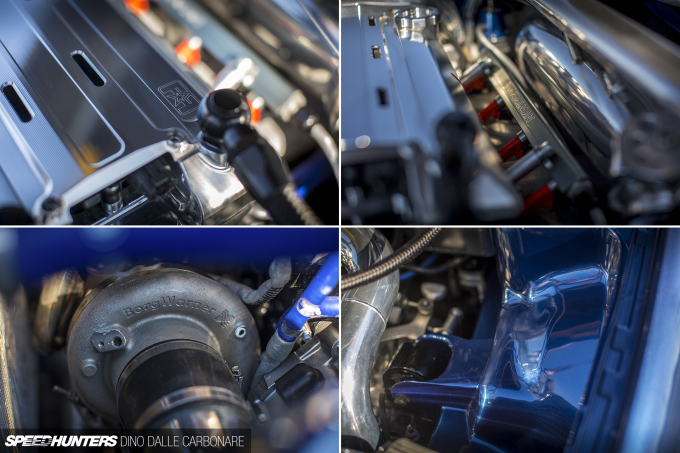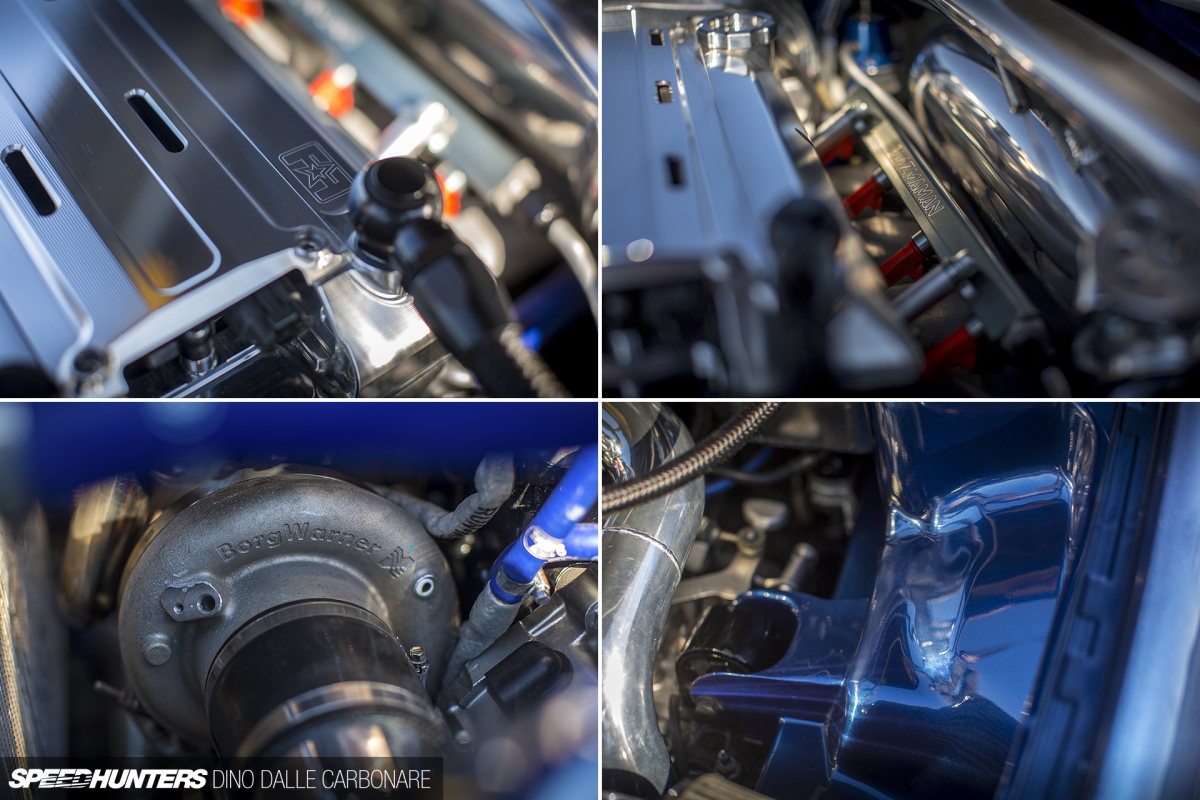 Let's start with the bottom end. After honing the stock block, the guys at S&A Auto-Create started building up the engine with a complete Nitto 2.2L stroker kit; a curious step away from the usual Tomei or JUN parts. That craving to experiment and try out new solutions is what pushed this selection of parts and the twin-scroll BorgWarner EFR8374 turbo kit that Full Race supplies along with its unmistakable exhaust manifold.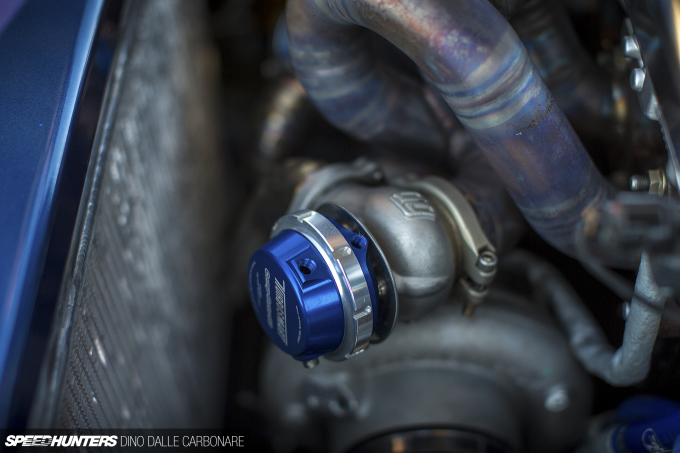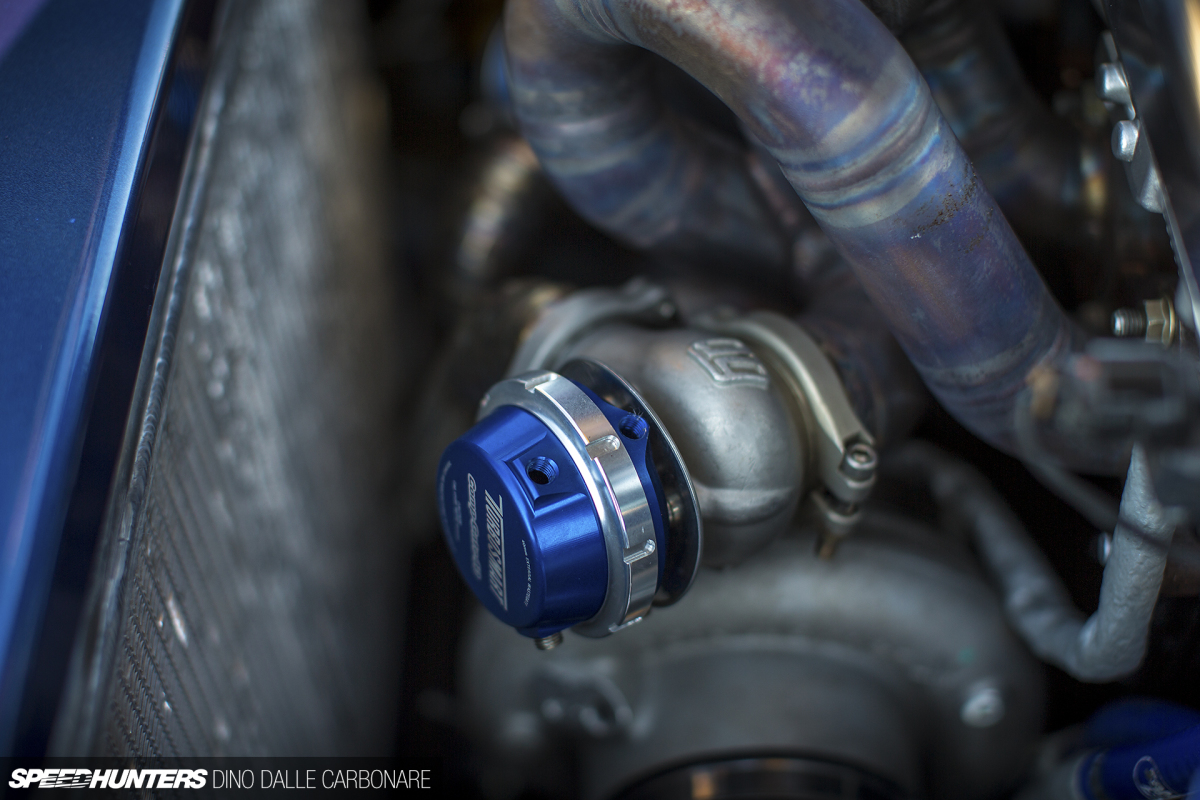 The turbo kit was fitted with a pair of Turbosmart Comp-Gate external wastegates for what is a setup capable of punching out serious amounts of power without sacrificing low-to-midrange boost pick-up and response.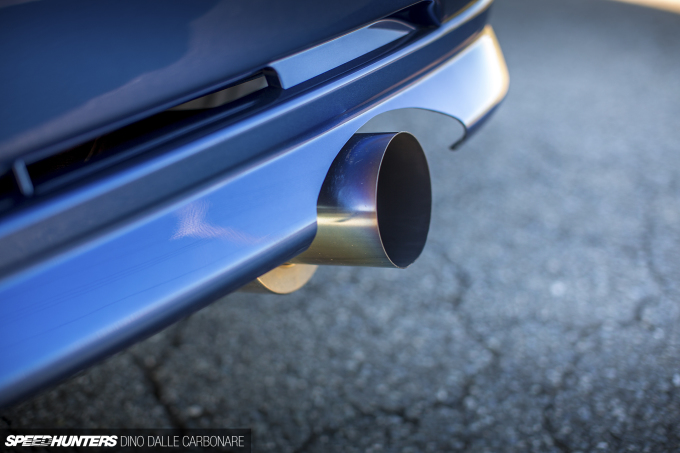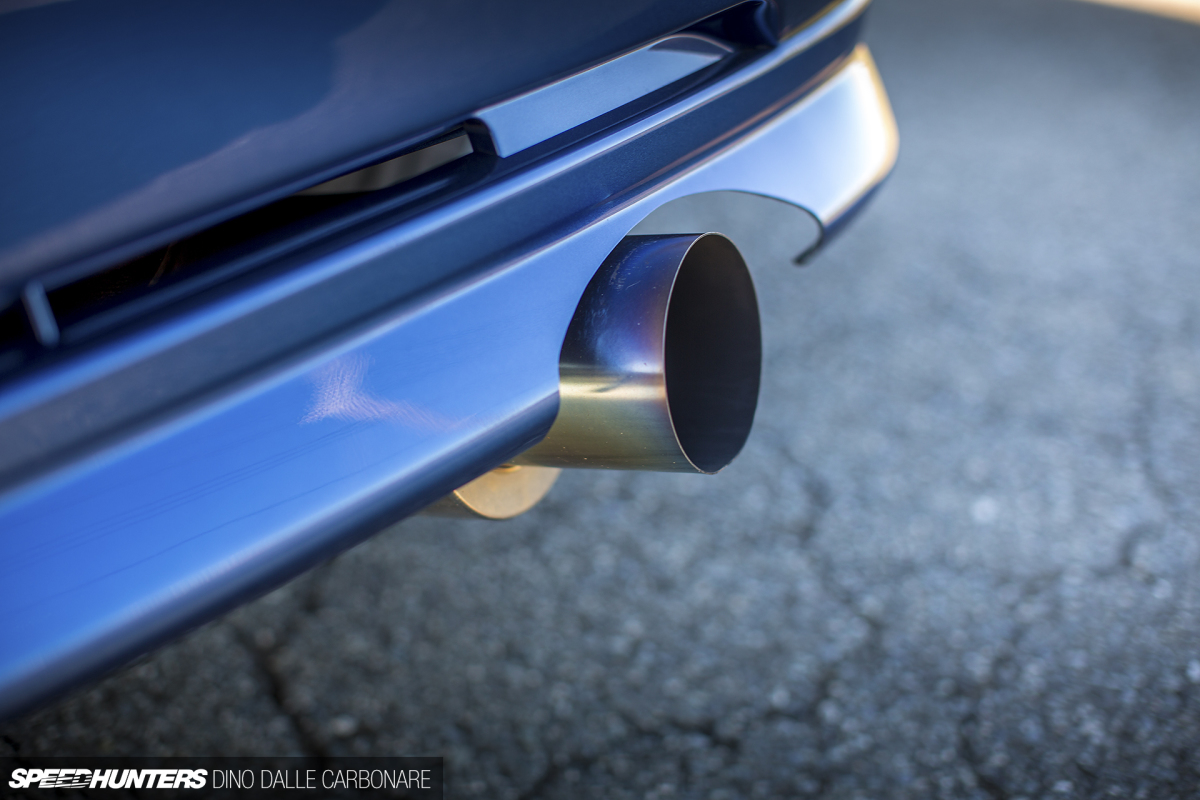 The big turbo dumps its gasses into a custom-made titanium exhaust system fabricated by Satoshi himself.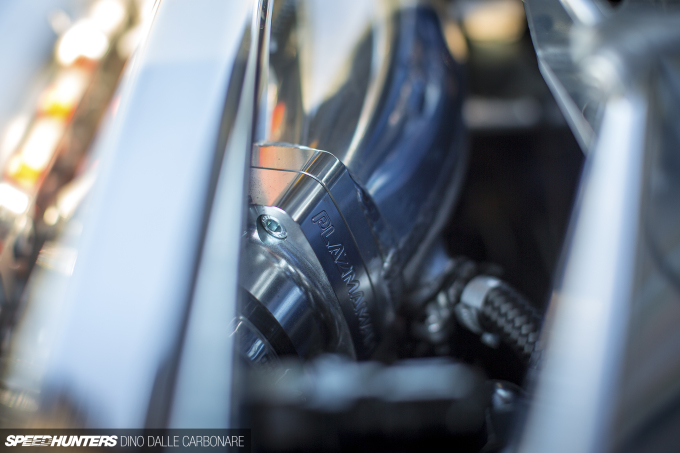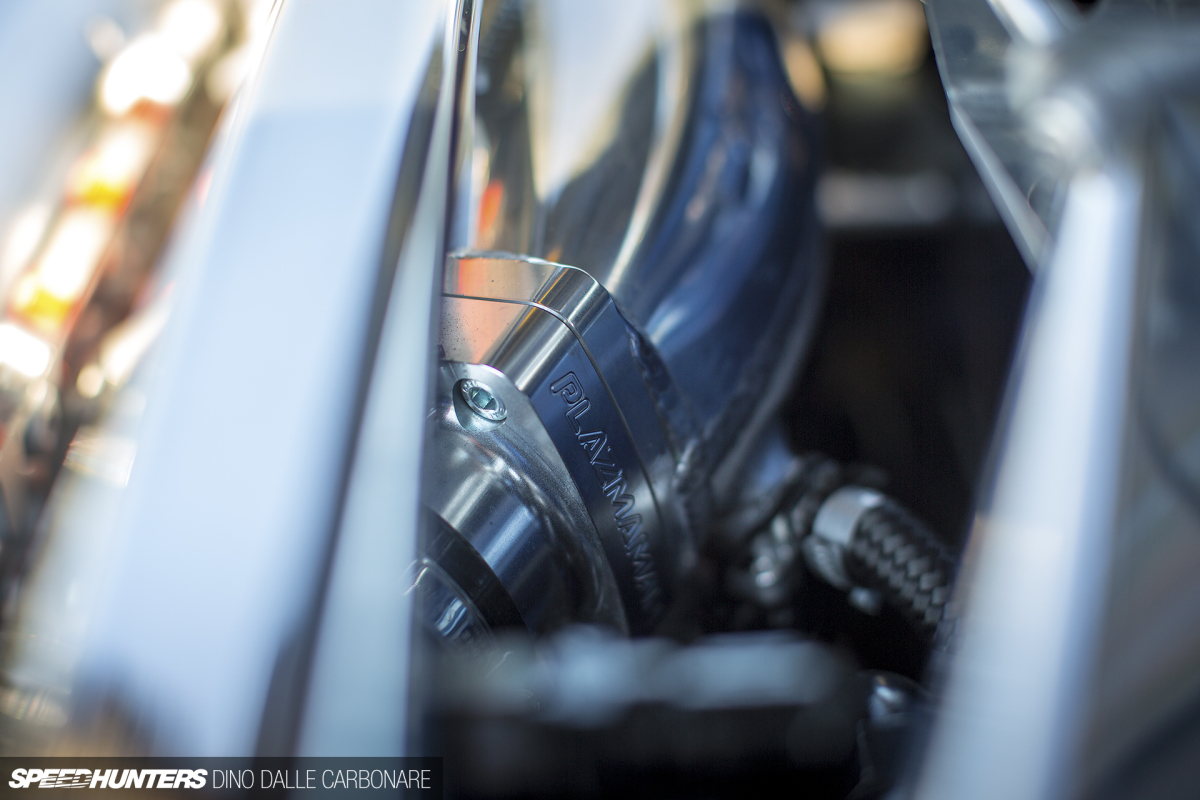 The head was sent off to flow-specialists Naprec, which ported and polished the intake and exhaust ports and refined the combustion chambers before dropping in a set of bigger valves and upgraded guides. Incidentally, Naprec is a shop I've also been meaning to visit as it's one of the few places in Japan that uses a CNC machine to port heads – almost everyone else still does it by hand! The head was then dropped in place with a 1.8mm Nitto metal head gasket sandwiched in between and sealed down with APR head bolts, and S&A Auto-Create ordered up a Plazmaman intake plenum, big 76mm throttle and billet fuel rail from Australia.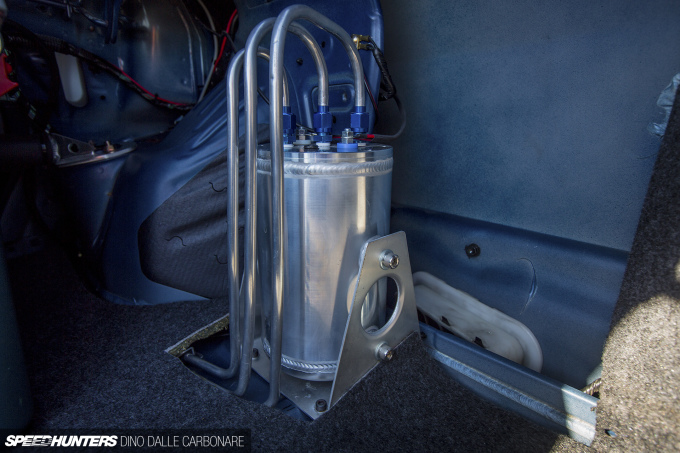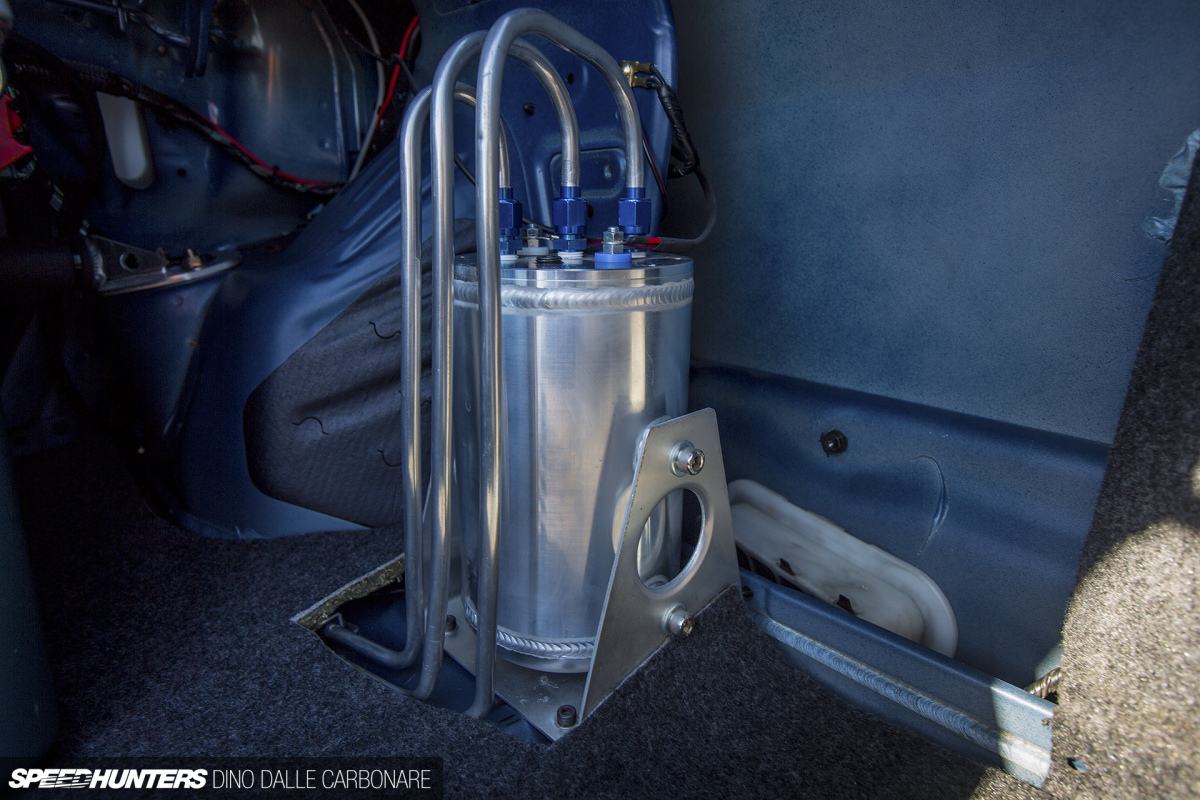 Sard 850cc/min injectors are used, and the fuel system extends into the trunk where this collector tank ensures the engine is never starved of high octane juice, even during the strongest lateral accelerations.
Tuned-Car Perfection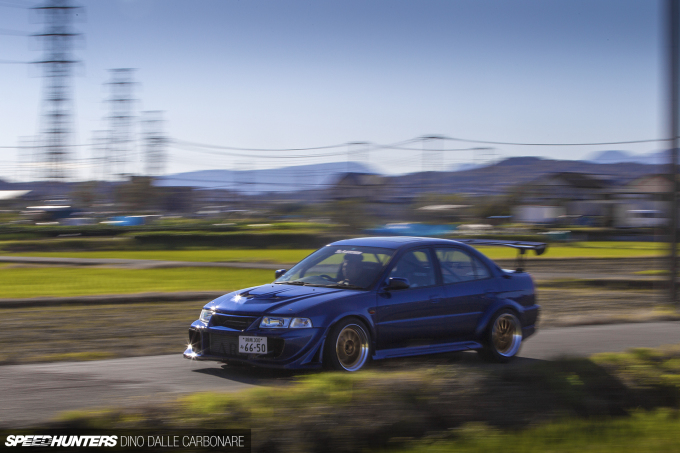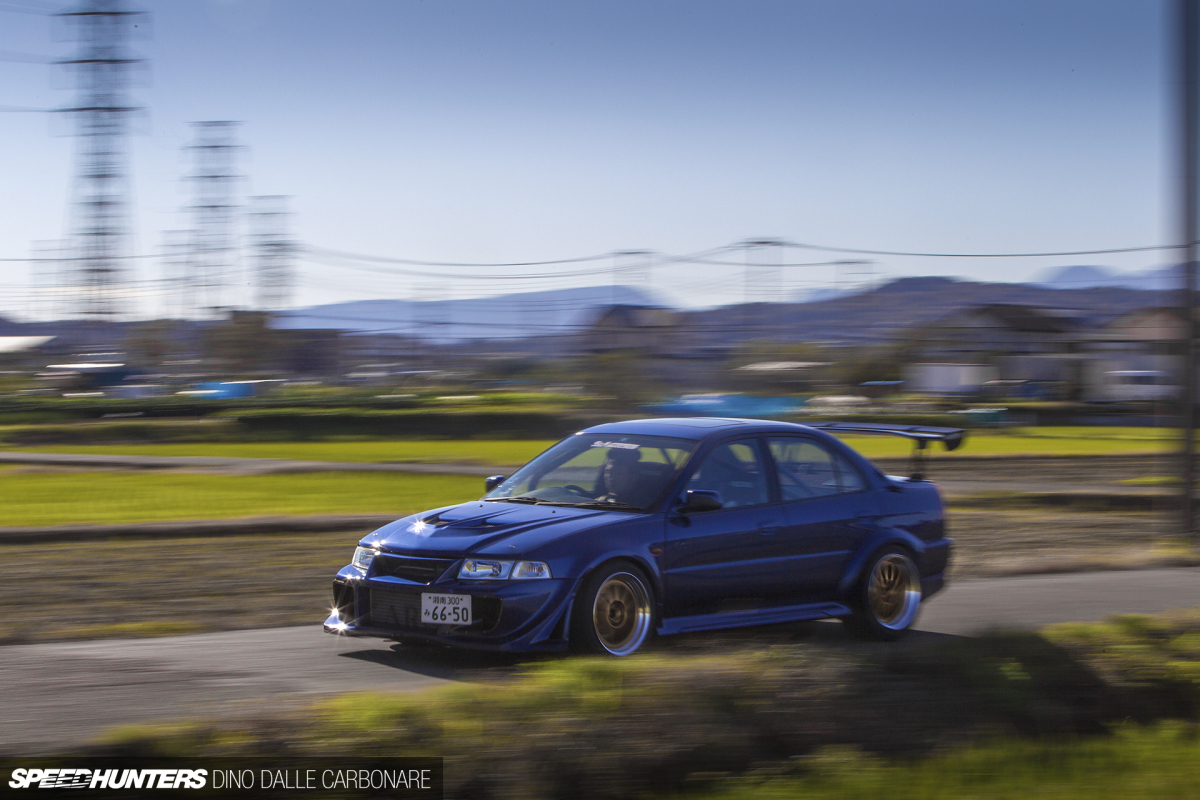 All told, it took around 12 months for the 4G63 to be built up and all the custom fab work in the bay to be completed, and it's that fresh that the engine is still being run in.
Satoshi tells me that for the time being the engine is running on a A'PEXi Power FC ECU, but that it will soon being converted over to a Haltech Elite, which is another bit of advanced kit that Japanese ECUs just can't match. The boost will then be upped to 1.5bar (22psi) and the BorgWarner will be able to supply the 800PS they are shooting for.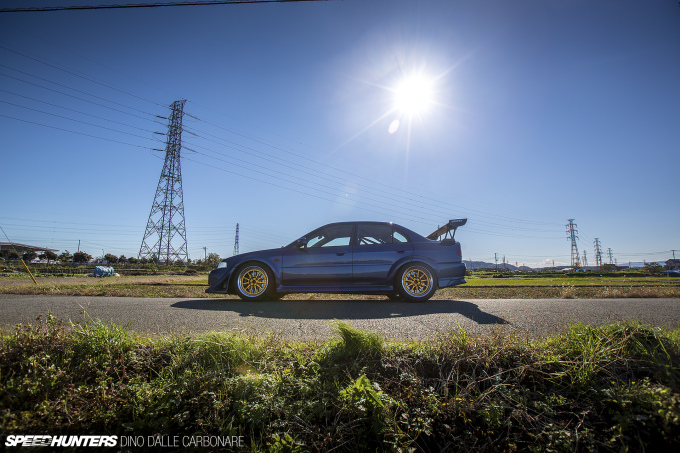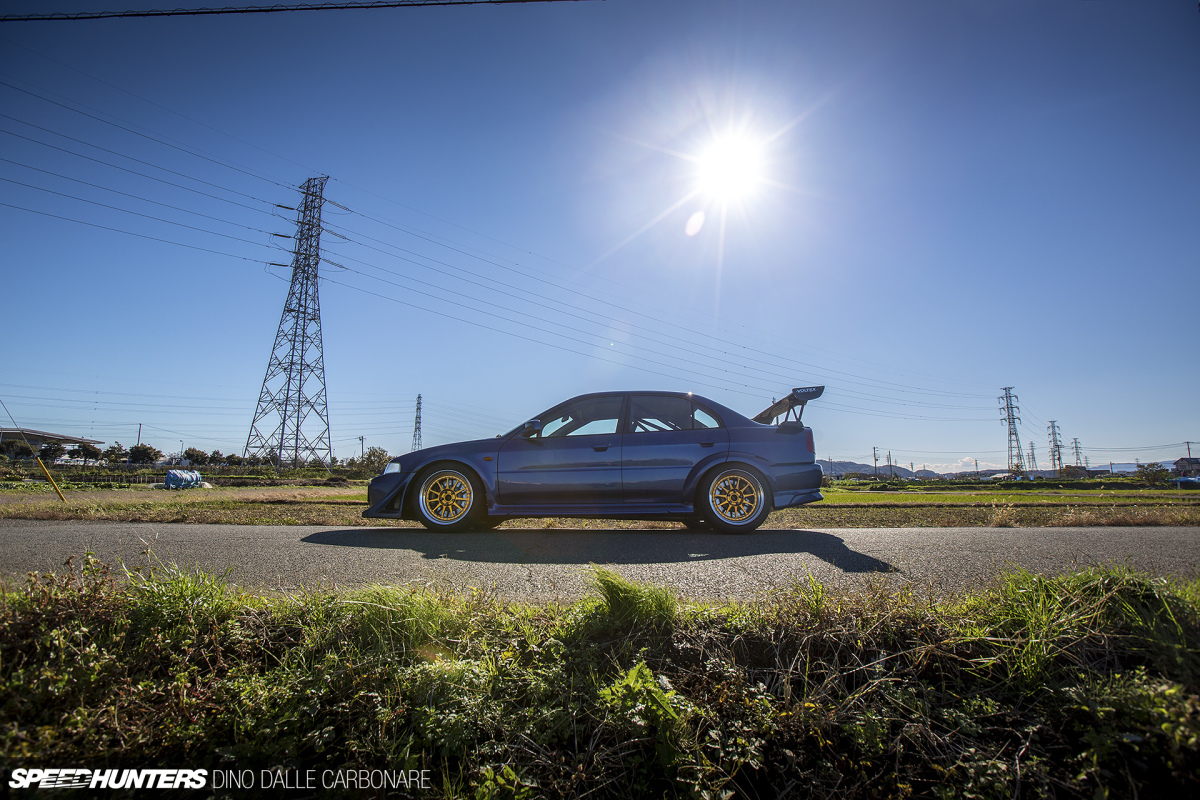 With those sort of numbers you better hope that your driveline is able to cope with the added stress, and to do so in this instance, S&A Auto-Create has binned the stock transmission and fitted a 6-speed unit from an Evo VIII. That's been joined by an ATS triple-plate carbon clutch and a pair of 1.5-way LSDs from the same maker. With reliability being a big goal on this build, an HPI rear diff oil cooler was also added to ensure that temps are kept in the best operating range when the Evo's being used hard on track.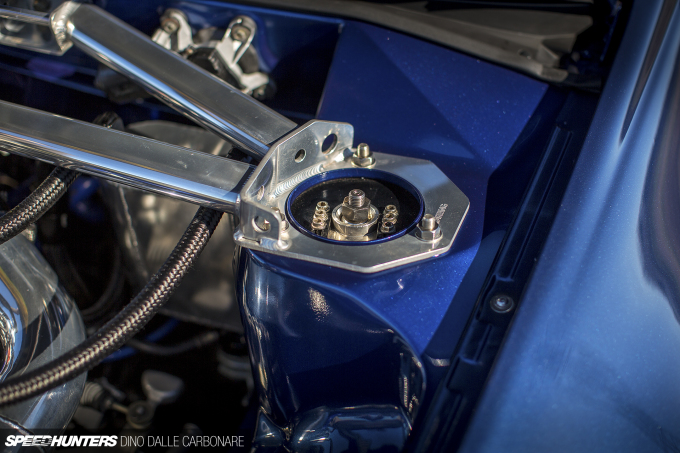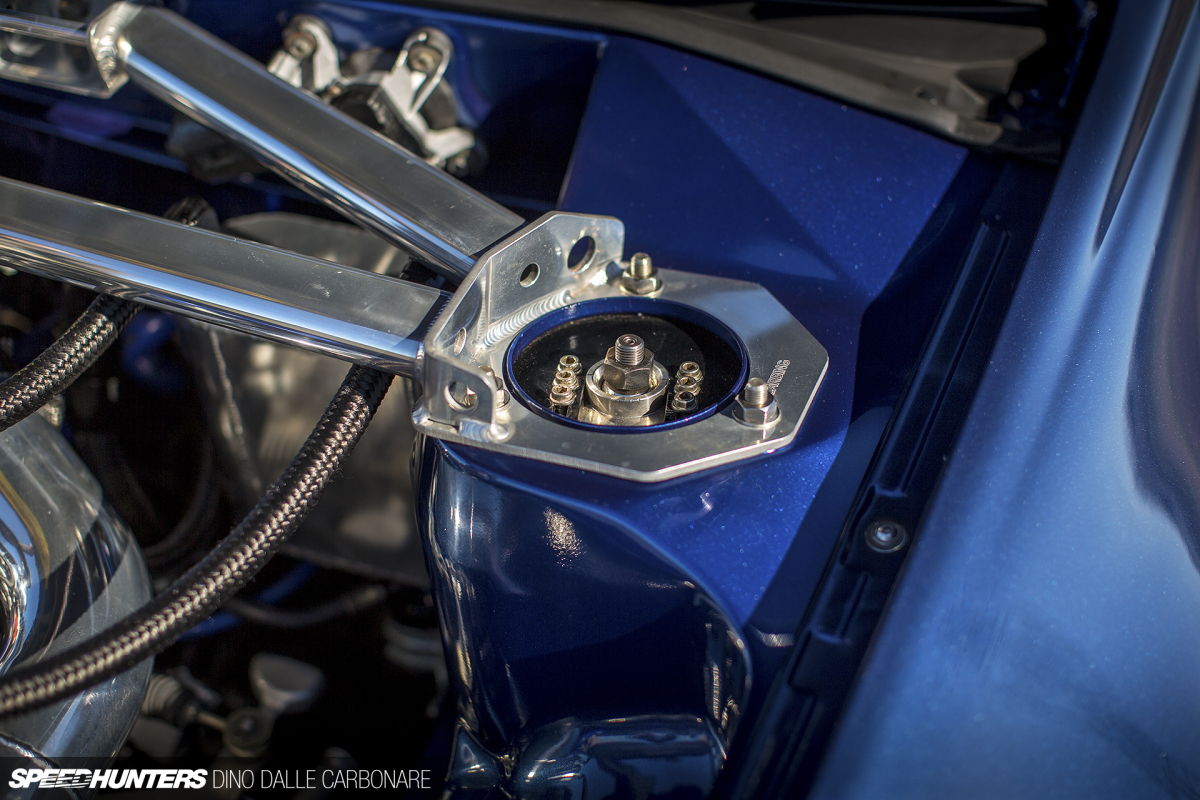 PCR 3-way adjustable coilovers were custom built for the Lancer and are mated to pillow-ball suspension links to completely eliminate any slack from the handling. Curiously enough, S&A Auto-Crete also fitted and adapted Evo VIII knuckles which are stronger than the ones found on the older Evo VI.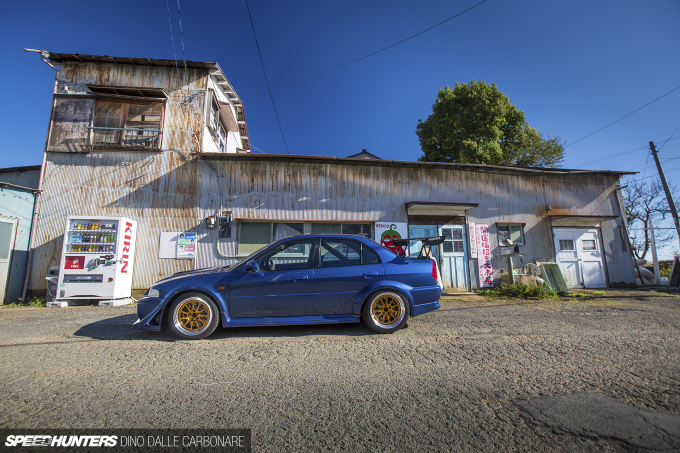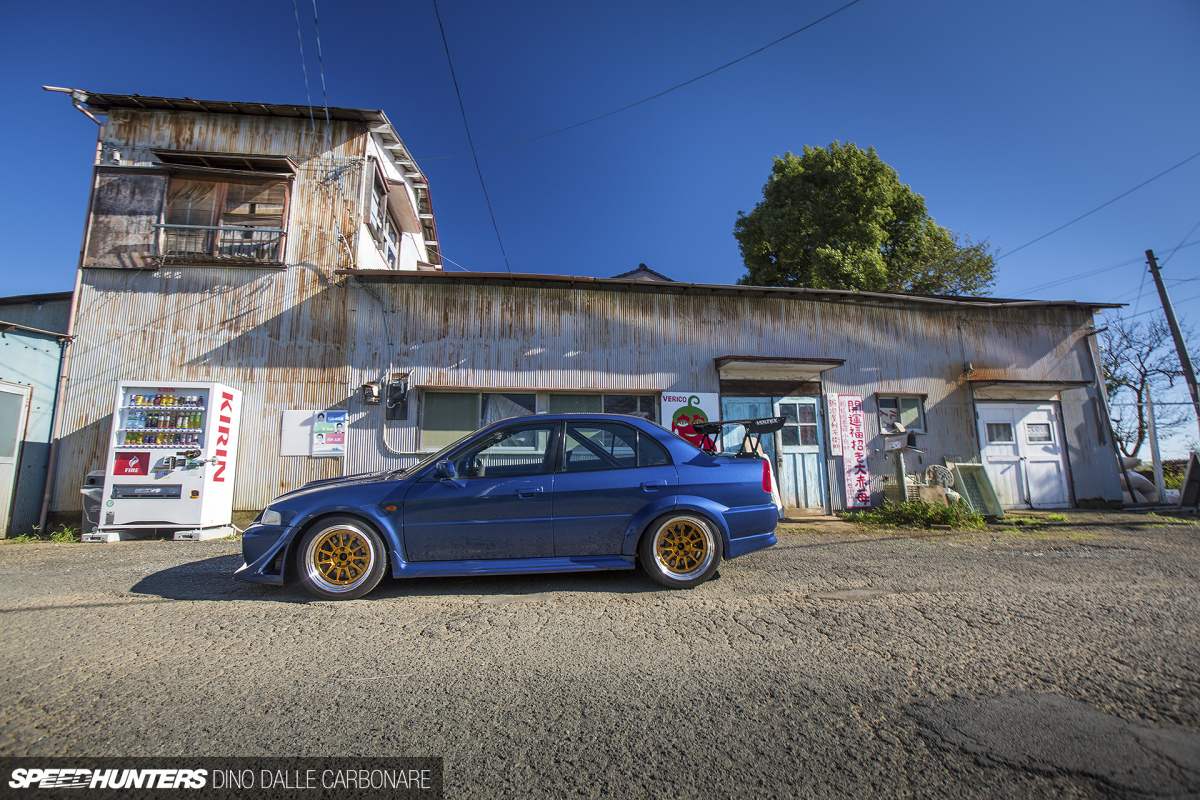 The car was present at StanceNation because all the work that went into making it purposeful, also made look and sit aggressively. It's a perfect example of how form and function can coexist together in one build.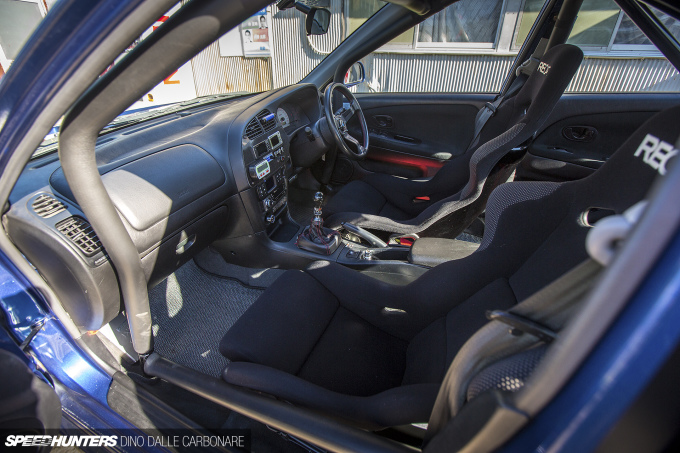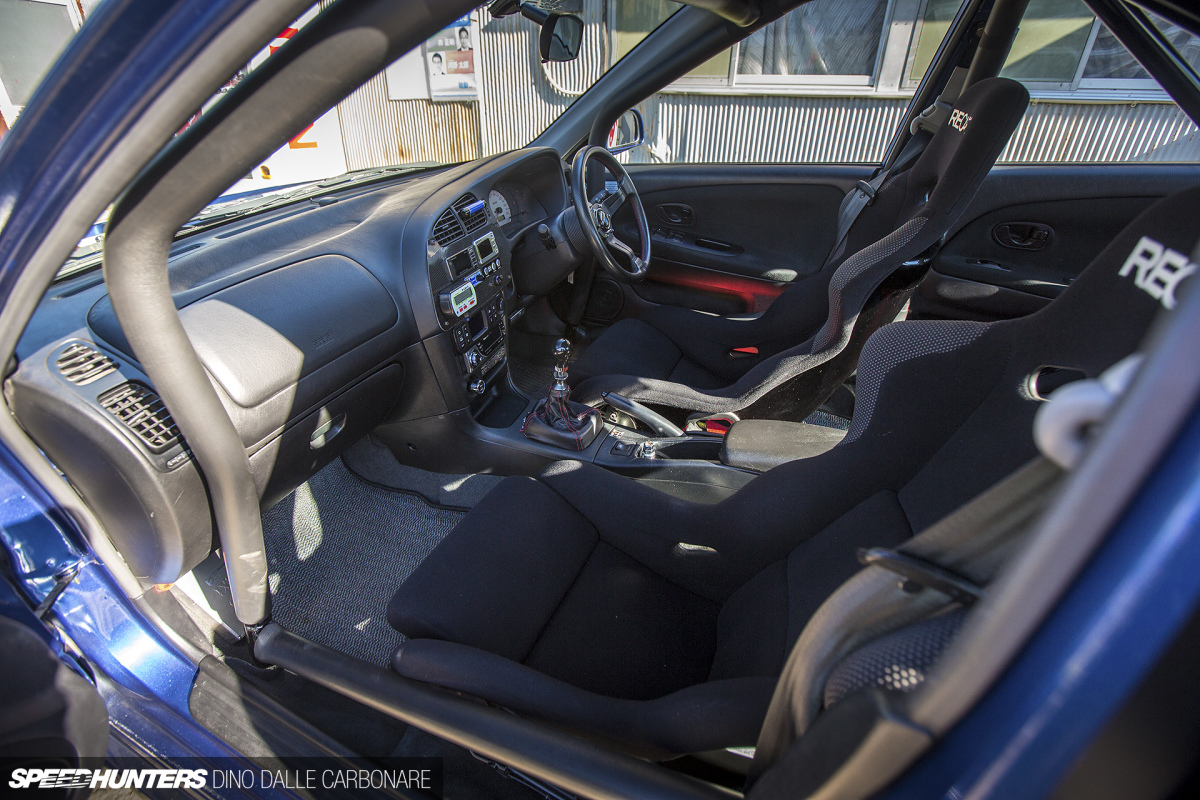 In the cabin however, it's all about function. In its transformation from fast road car to very fast supercar-slayer, the rear seat has been removed to accommodate the rollcage.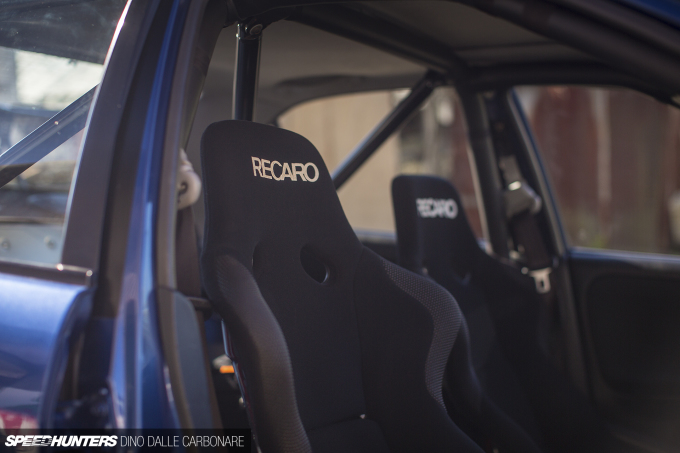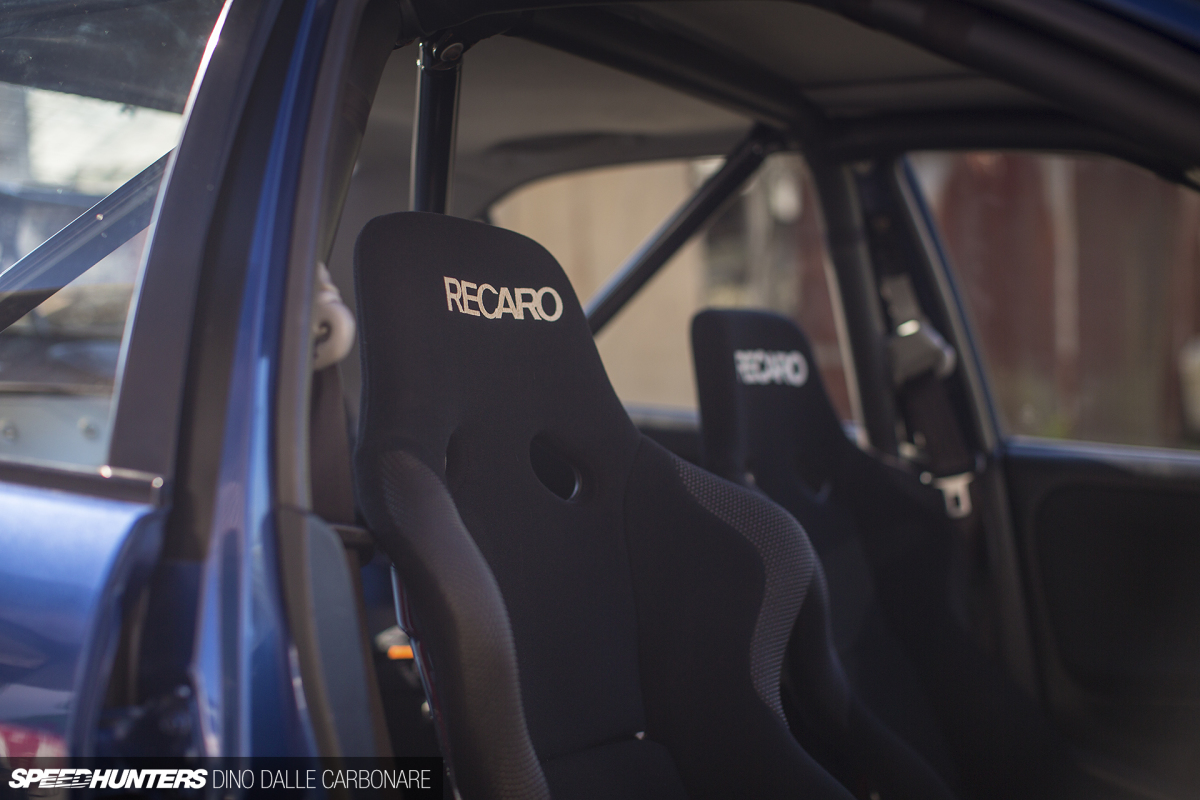 The Recaros up front are a very tight seating experience if you happen to be a more generously-sized gentleman like yours truly, but one thing I did appreciate was the fact that both seats were the same SPG model. One of my pet peeves with many JDM cars is mismatched seats; I like symmetry, it keeps my mind content!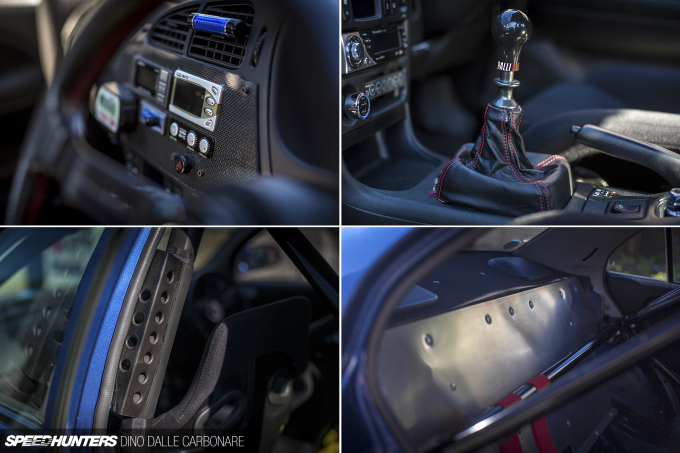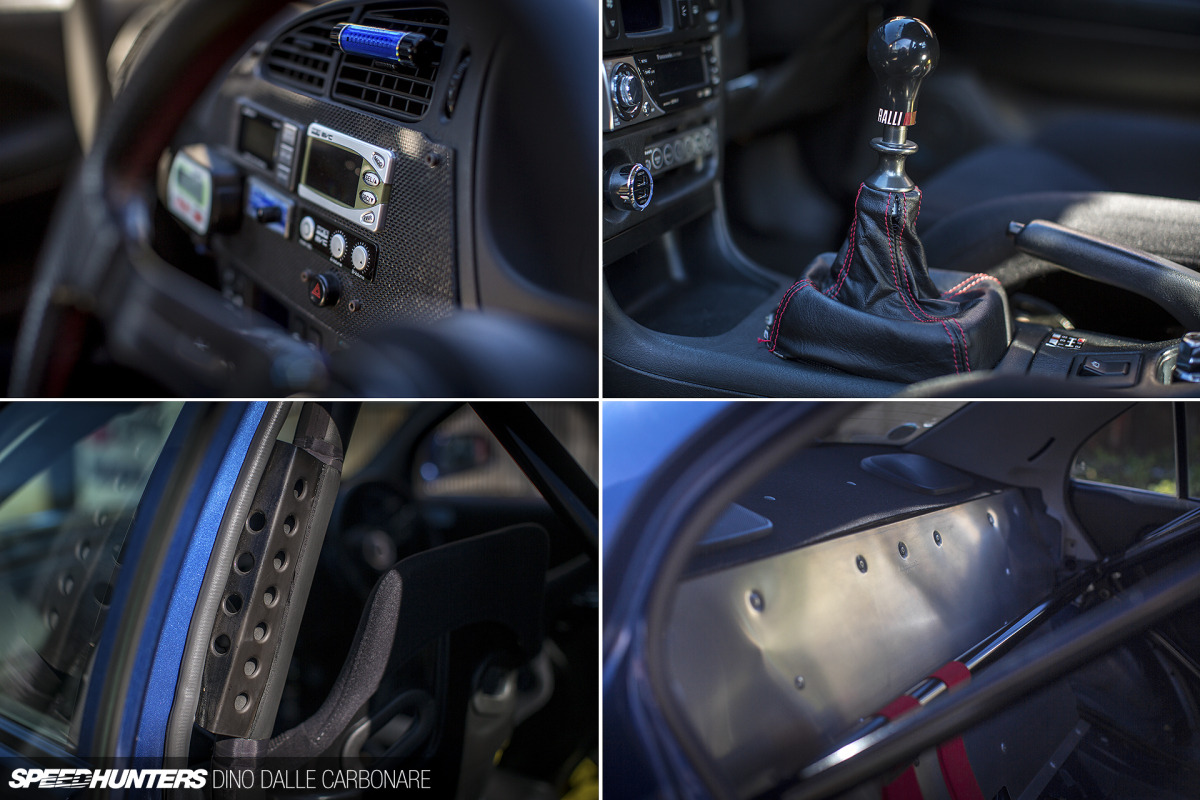 The A/C controls have been relocated to just above the headunit (yes, the car has retained its audio system as it still gets driven a lot on the road) allowing the space freed up at the top of the center console as somewhere to mount the HKS boost controller, Defi i-Link display and a lap timer.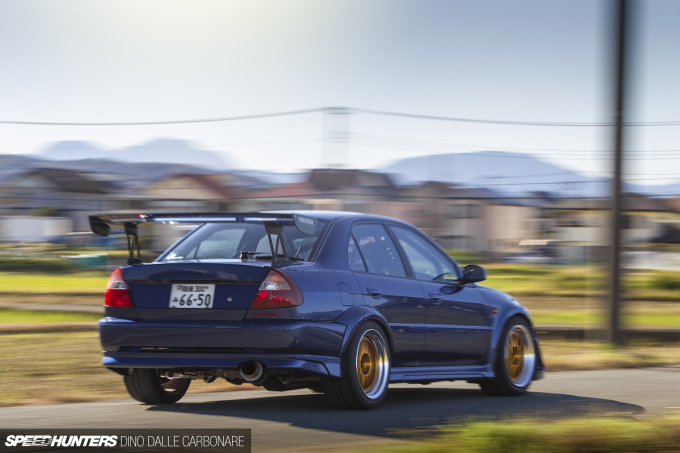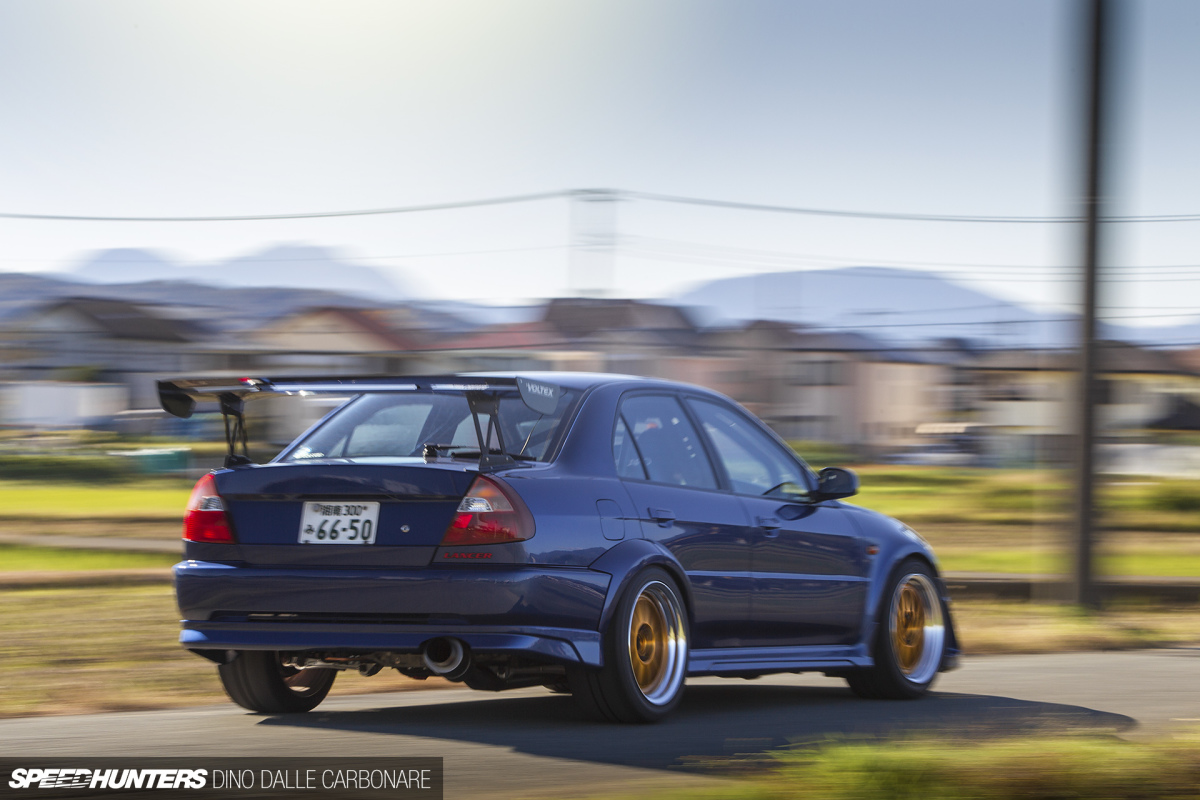 This Evo VI Tommi Mäkinen Edition is the perfect example of where I would personally love to see Japanese tuning move towards; a beautiful mix of well-executed and hand-crafted details, topped up with the best engine parts out there right now.
Dino Dalle Carbonare
Instagram: speedhunters_dino
dino@speedhunters.com