Circle Burners
Whenever I attend an event I've been to before, I always try to cover it from a different angle. For Gatebil Mantorp in Sweden last weekend, I took that thinking quite literally and did something I've never previously attempted – shooting an entire story from the sky.
This was my first time at Gatebil's annual Swedish event, and also my first time back in Scandinavia since I froze my behind off (true story) shooting Gatebil on Ice in January. This summer event, held about two hours south of Sweden's capital city, Stockholm, is much larger than the winter event, but roughly half the size of Gatebil's big Norwegian event taking place at Rudskogen in July.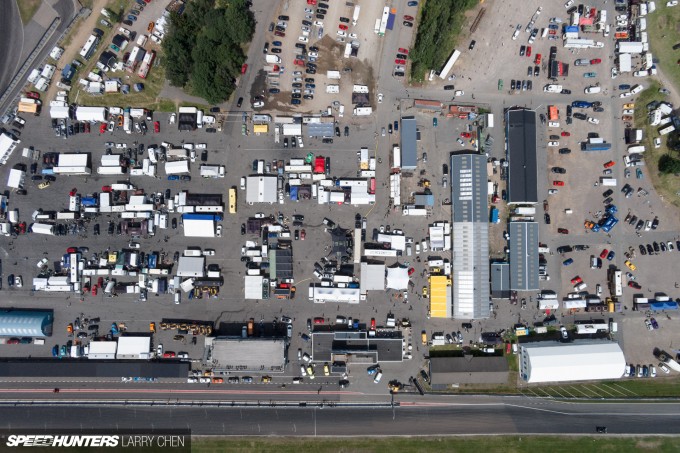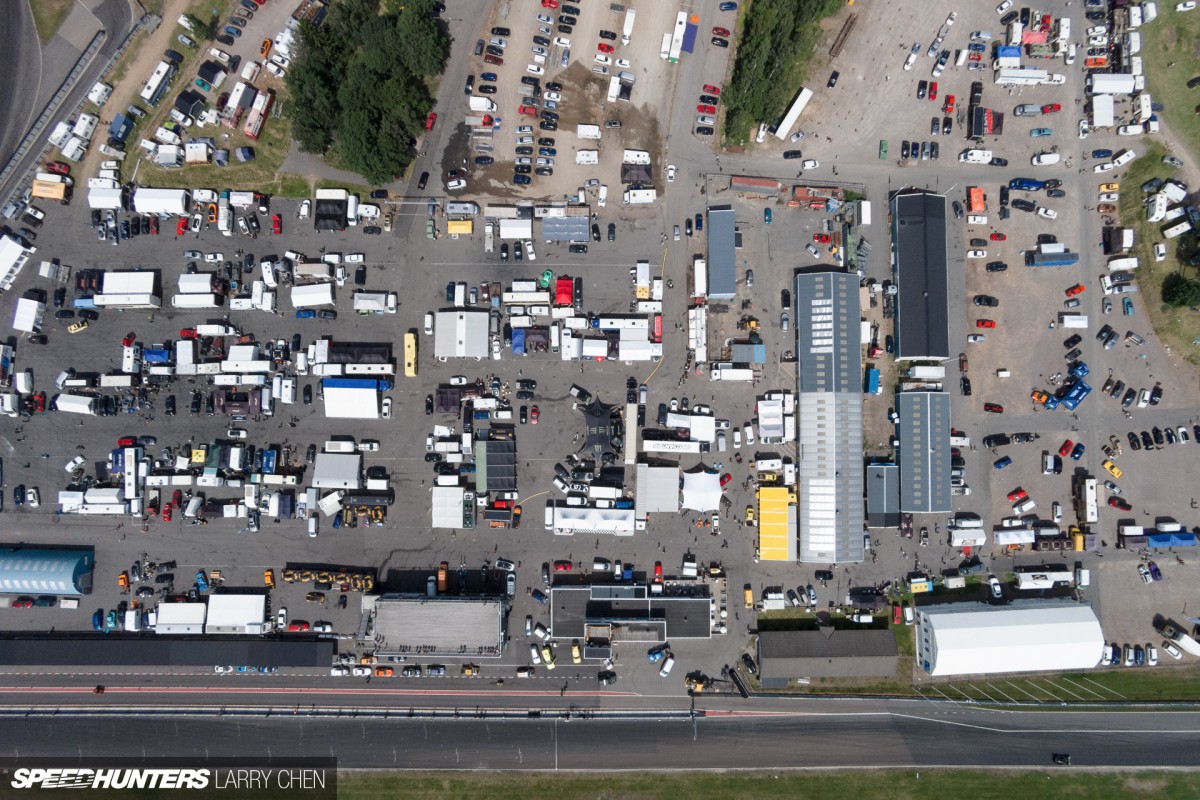 Still, this was Gatebil, which means the region's hottest cars gathering in one place for the world's greatest track event. I highly suggest you guys take full advantage of the Presentation Mode (hit the screen icon near the title) for this article as there are many details you just won't see viewing the story in the normal way.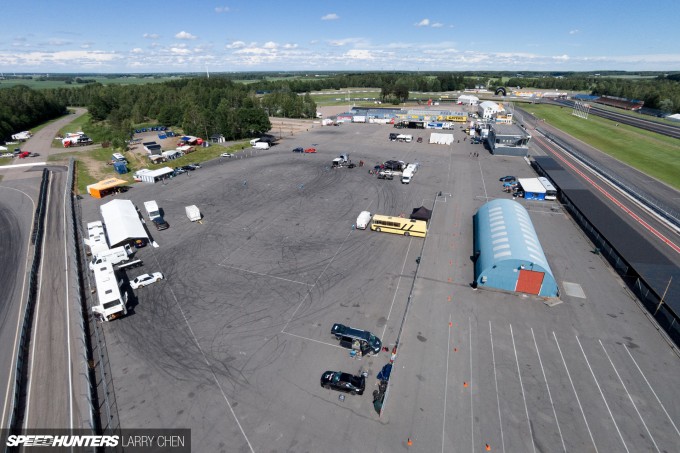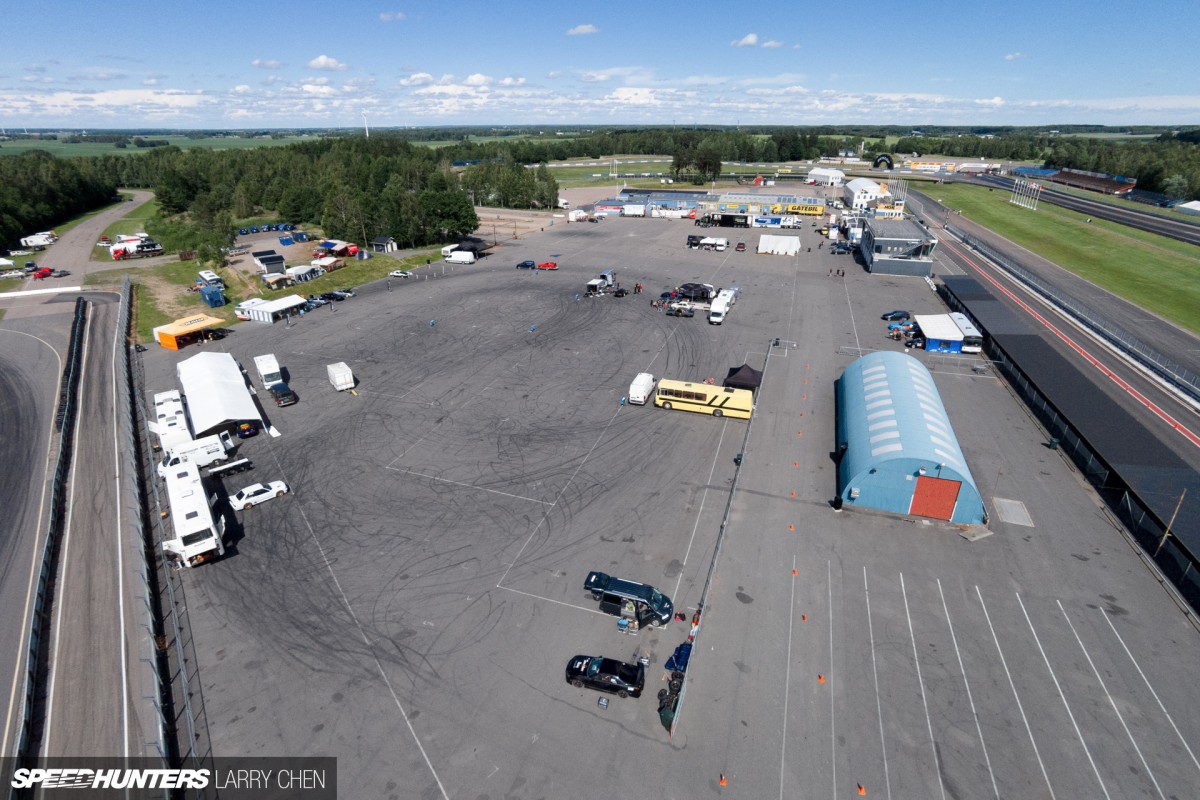 We arrived early Thursday to a mostly-empty Mantorp Motorpark, but it wouldn't stay that way for long.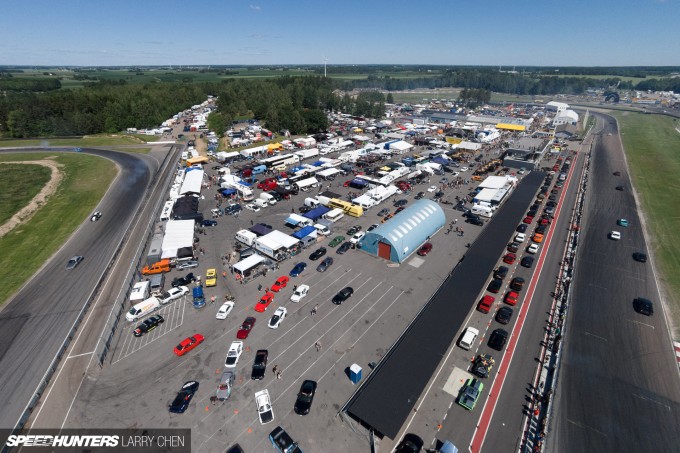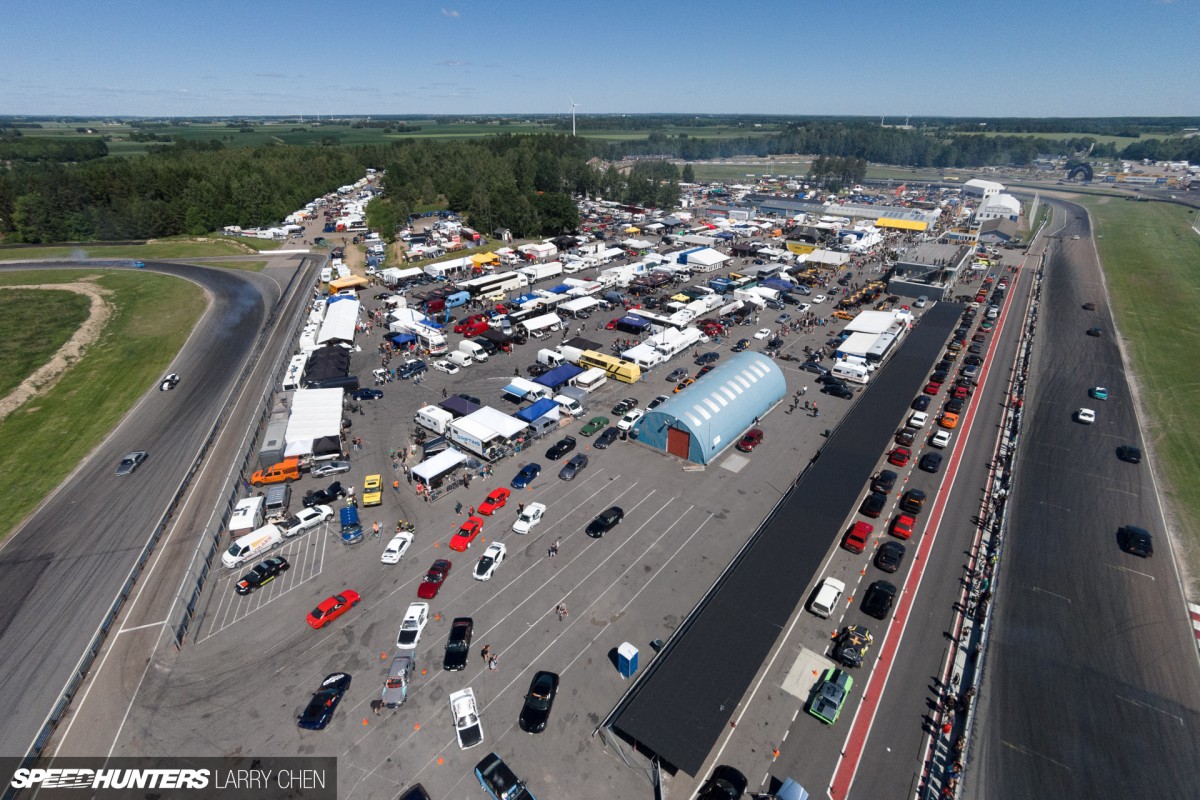 By midday Friday the paddock was absolutely bursting at the seams. Just check out that line of cars waiting to get on track!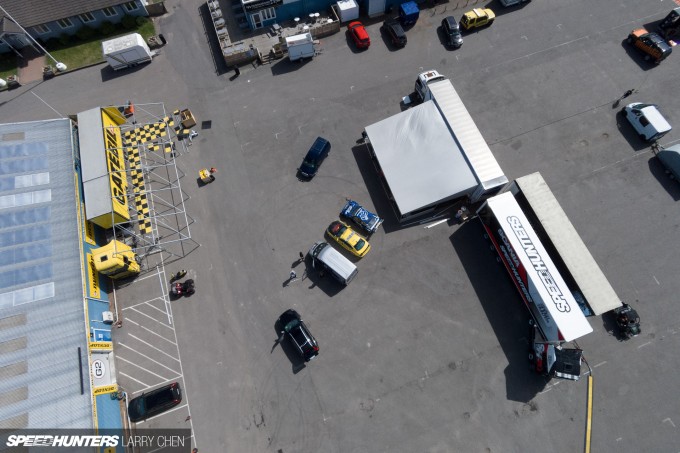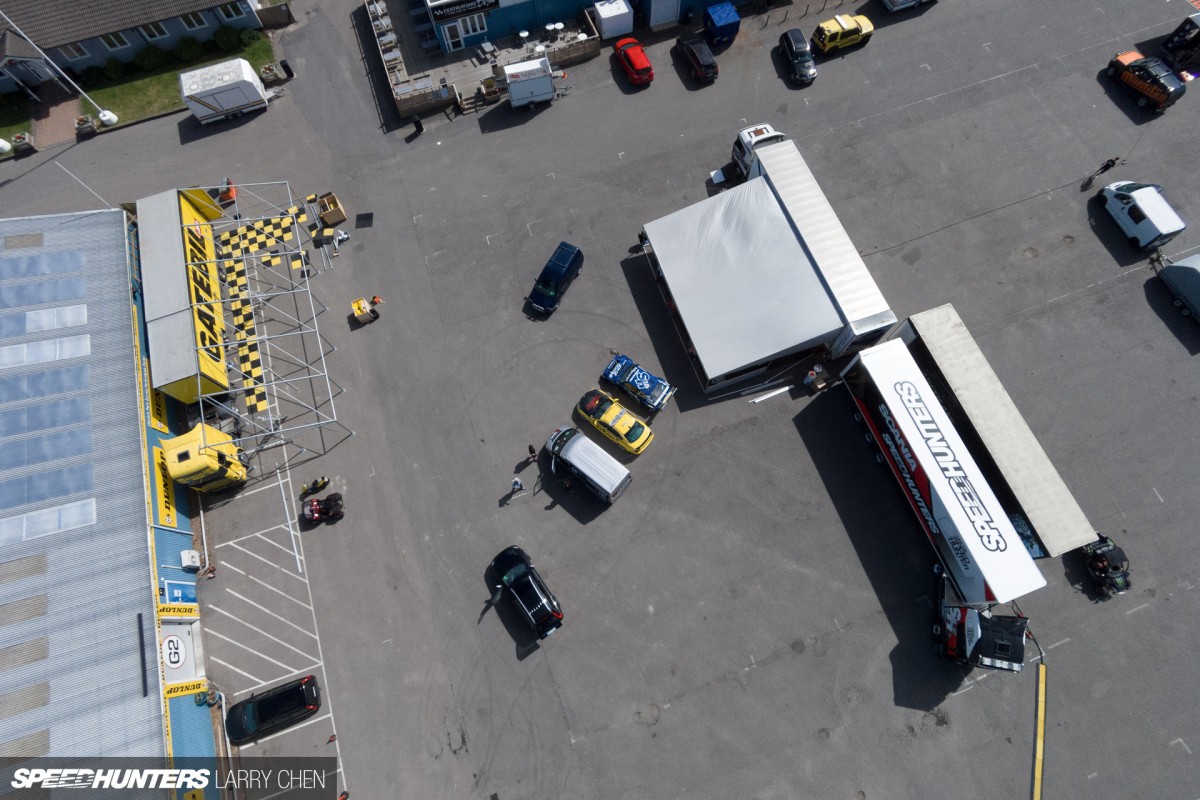 This is what the Speedhunters booth looked like when I first arrived.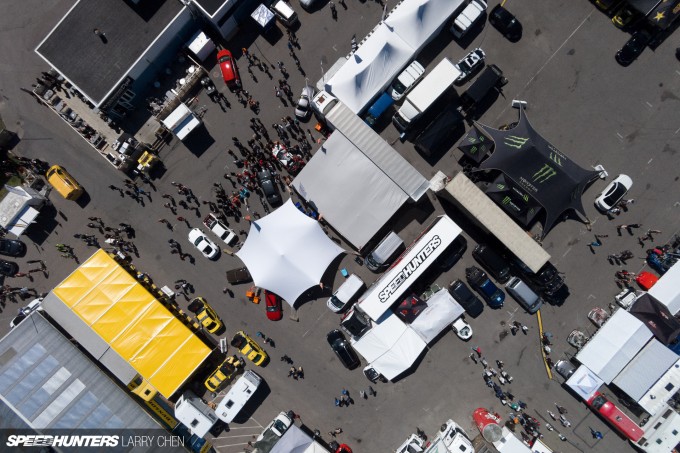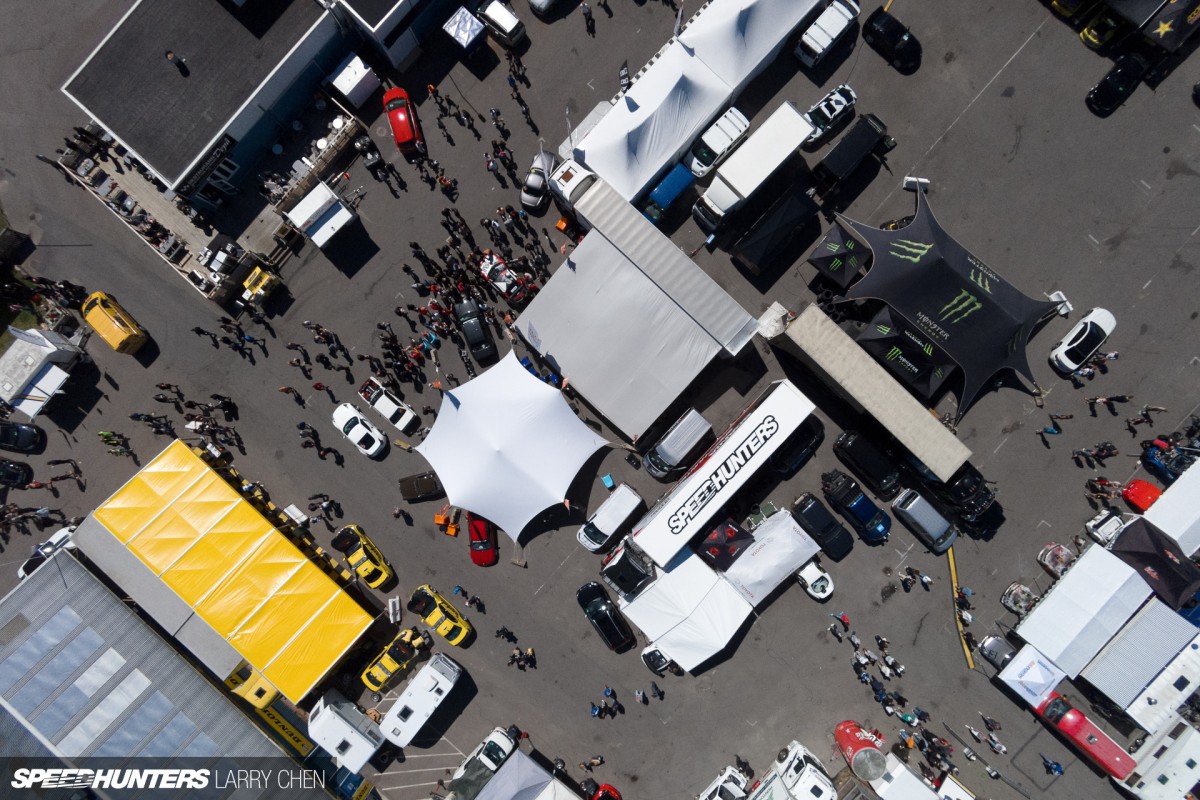 Within 24 hours, however, the paddock had changed drastically. Car culture fans from far and wide gathered at the tiny race circuit.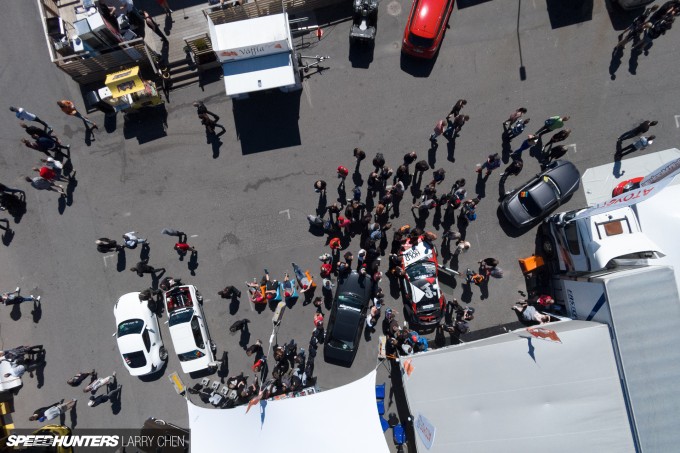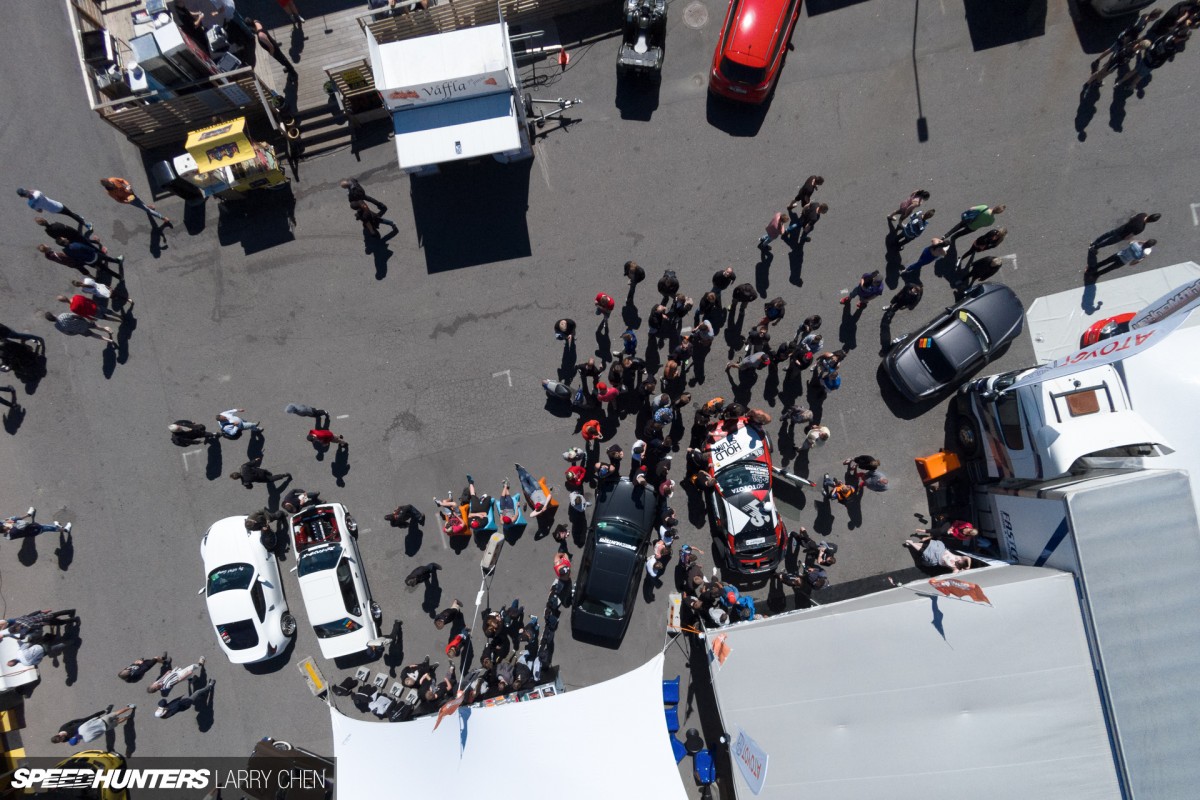 After Speedhunters driver Fredric Aasbø came back from each session a crowd swarmed around the 86-X wanting to take a closer look. It was fun to shoot this sort of thing from a different perspective than I normally would.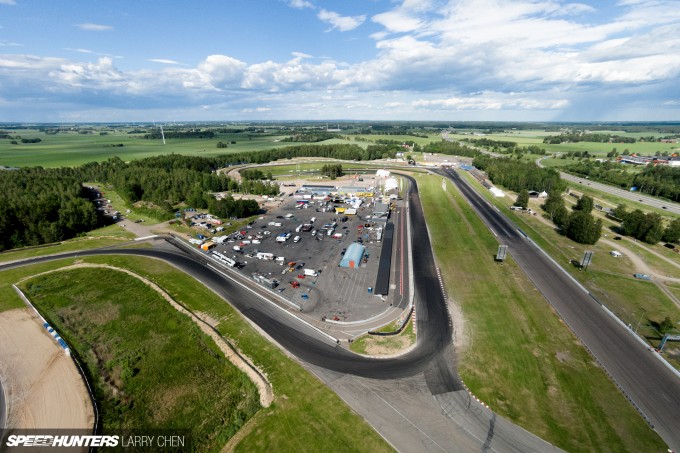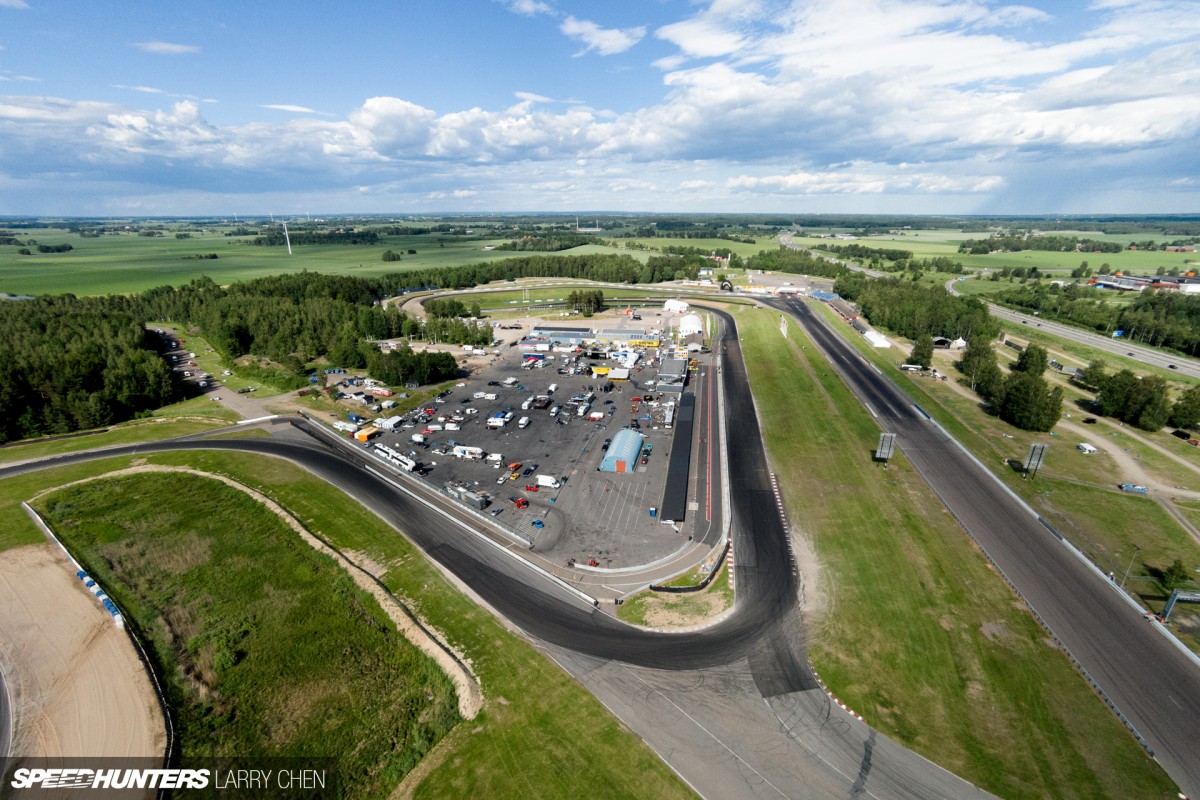 By Sunday afternoon the paddock had already started to thin out, leaving shredded tires and trash bags for as far as the eye could see.
Mantorp Park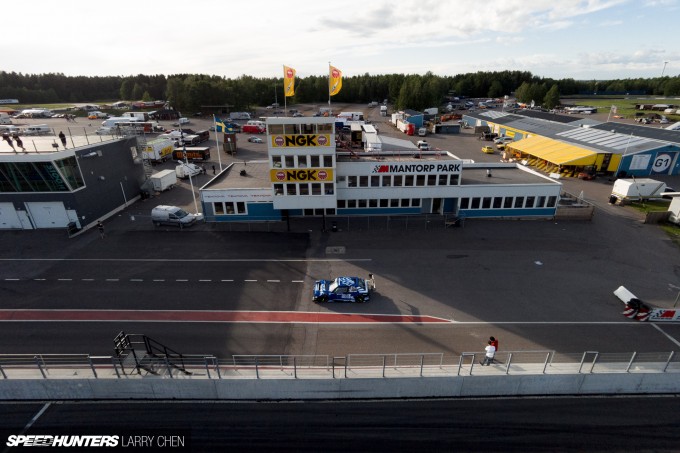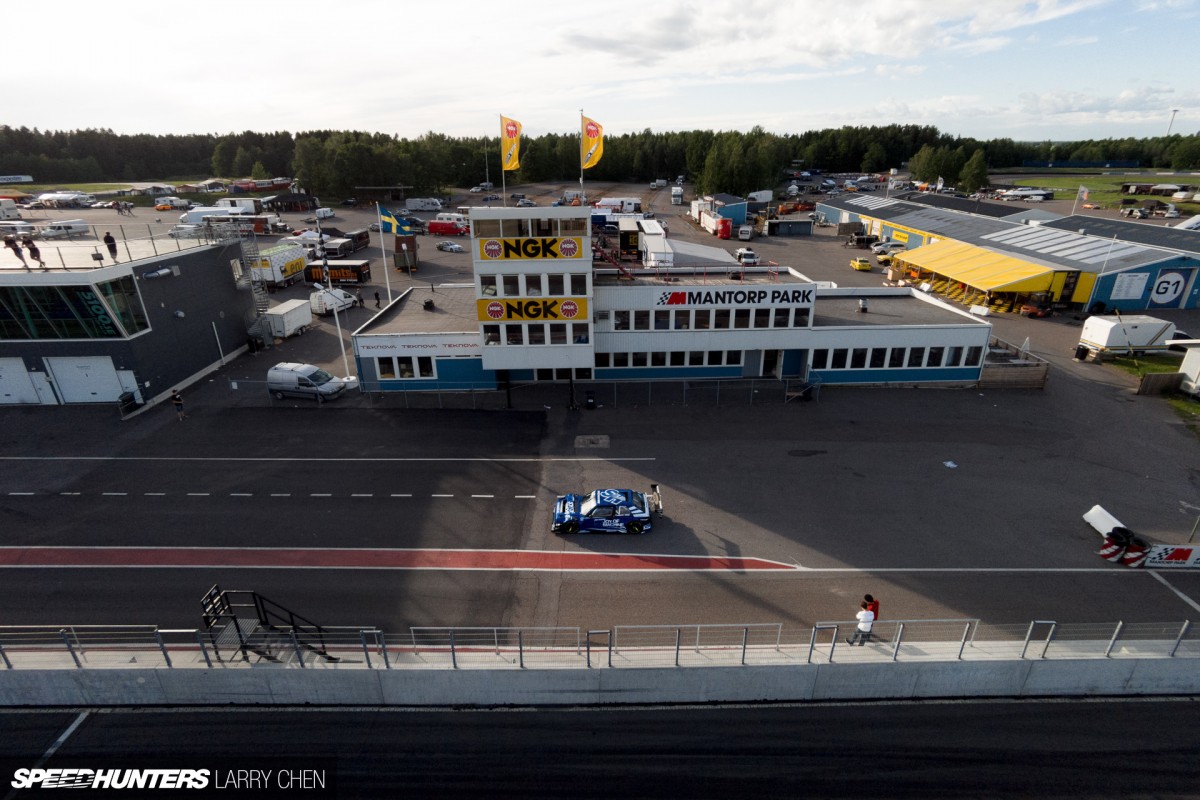 Mantorp Park was built in 1969 with both a road course and a drag strip. The facilities are top-notch and very photographer-friendly.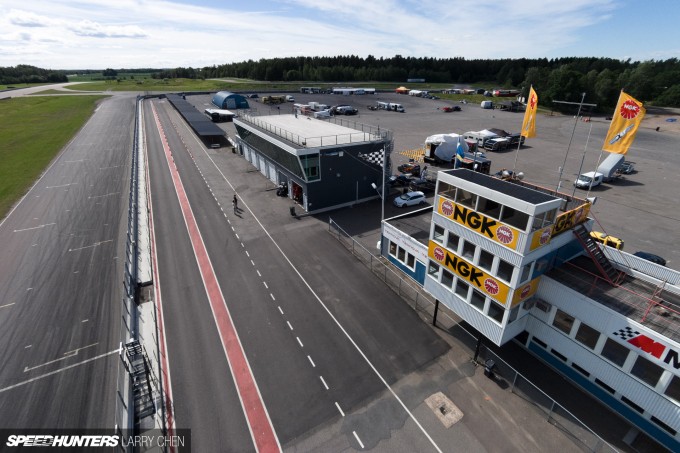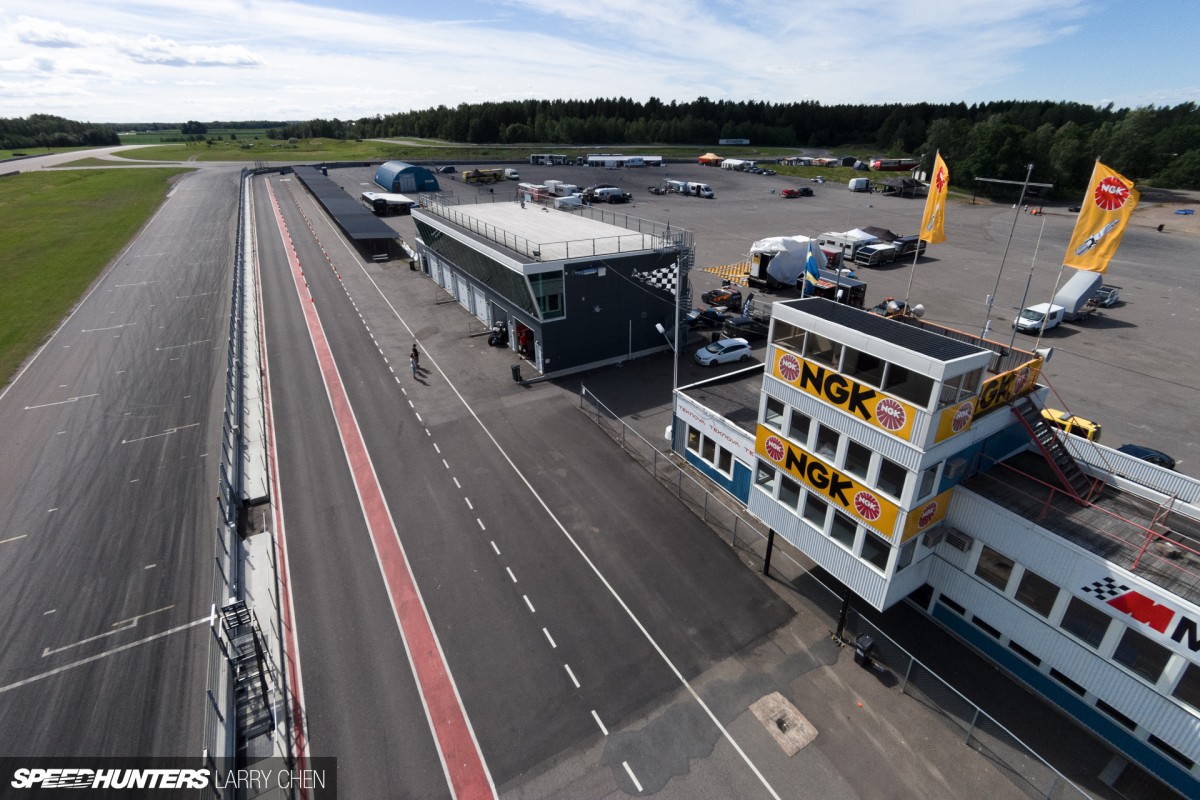 It's also great for spectators as there are plenty of places around the facility where the track can be viewed from.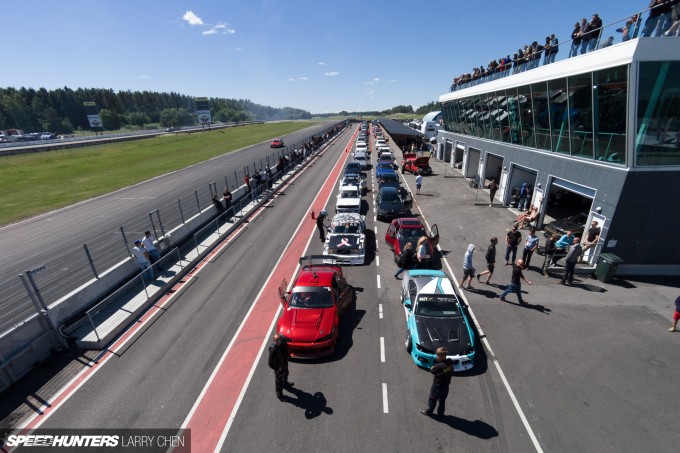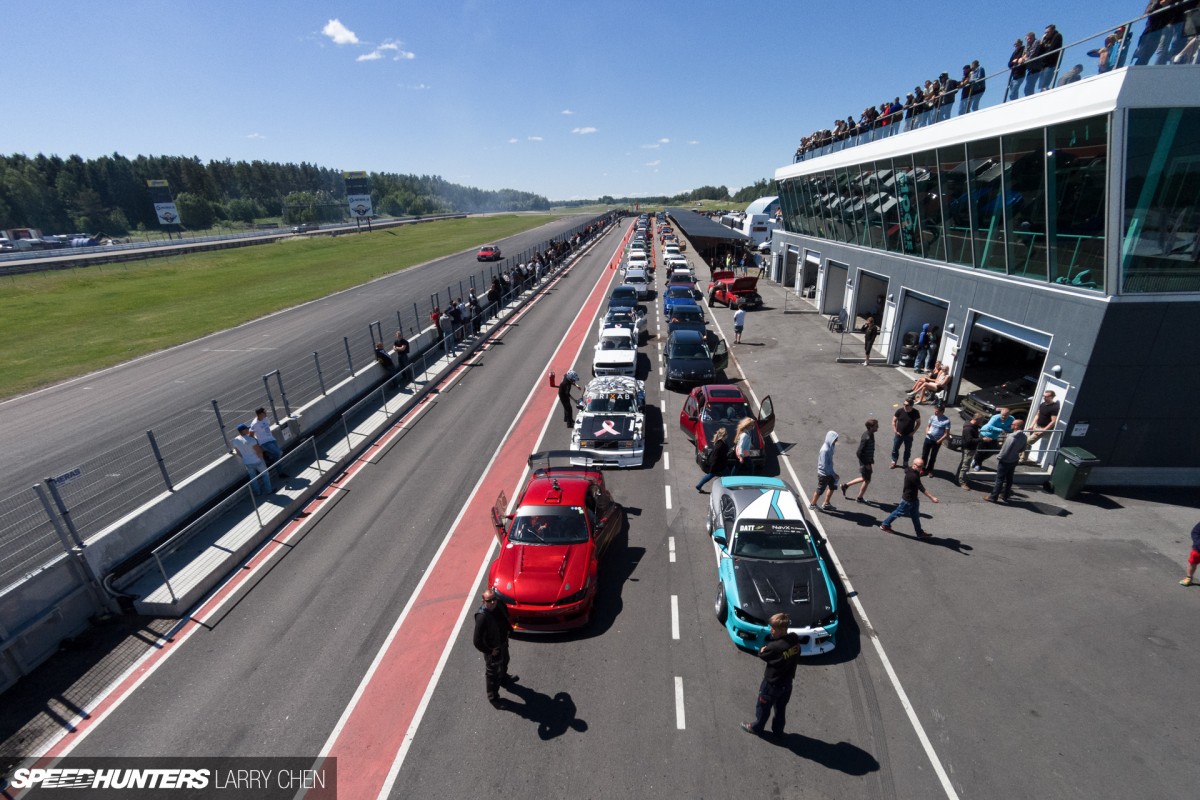 Pit lane is where all the action was, though. The whole Gatebil setup is really relaxed and an open-pit policy meant spectators were able to hang out on the pit wall.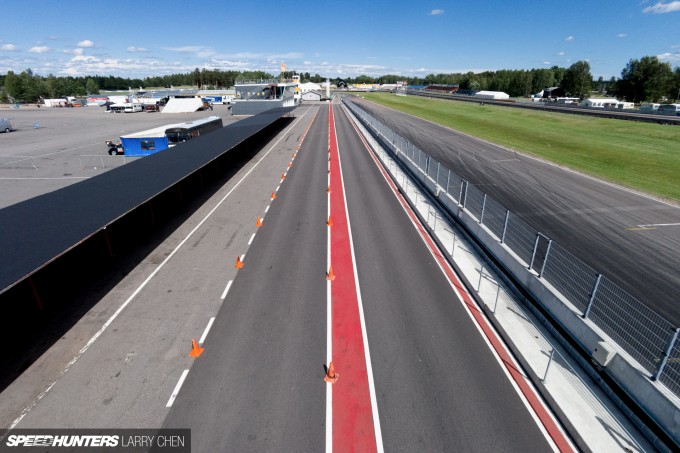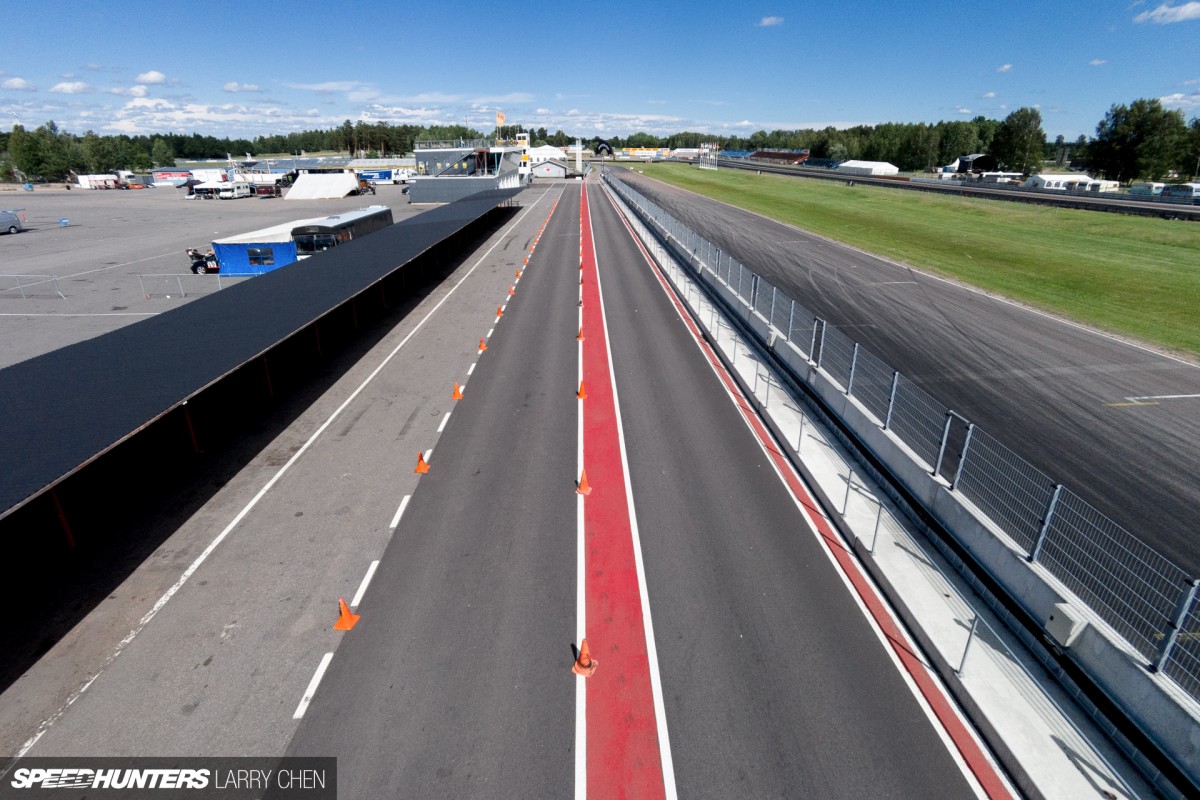 Here's a view of the far end of the pits on Thursday without a single car in sight.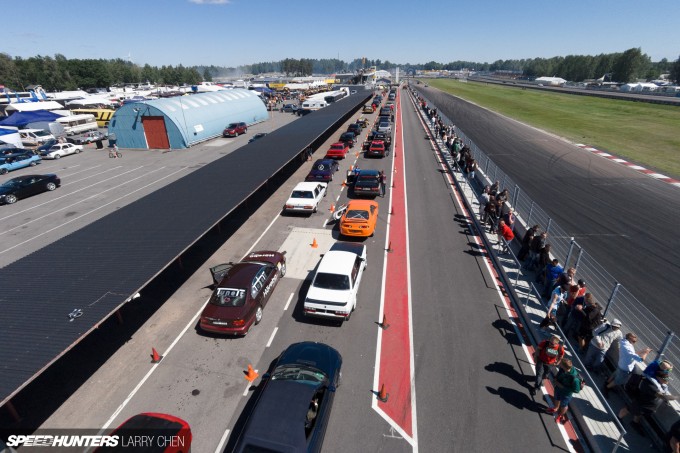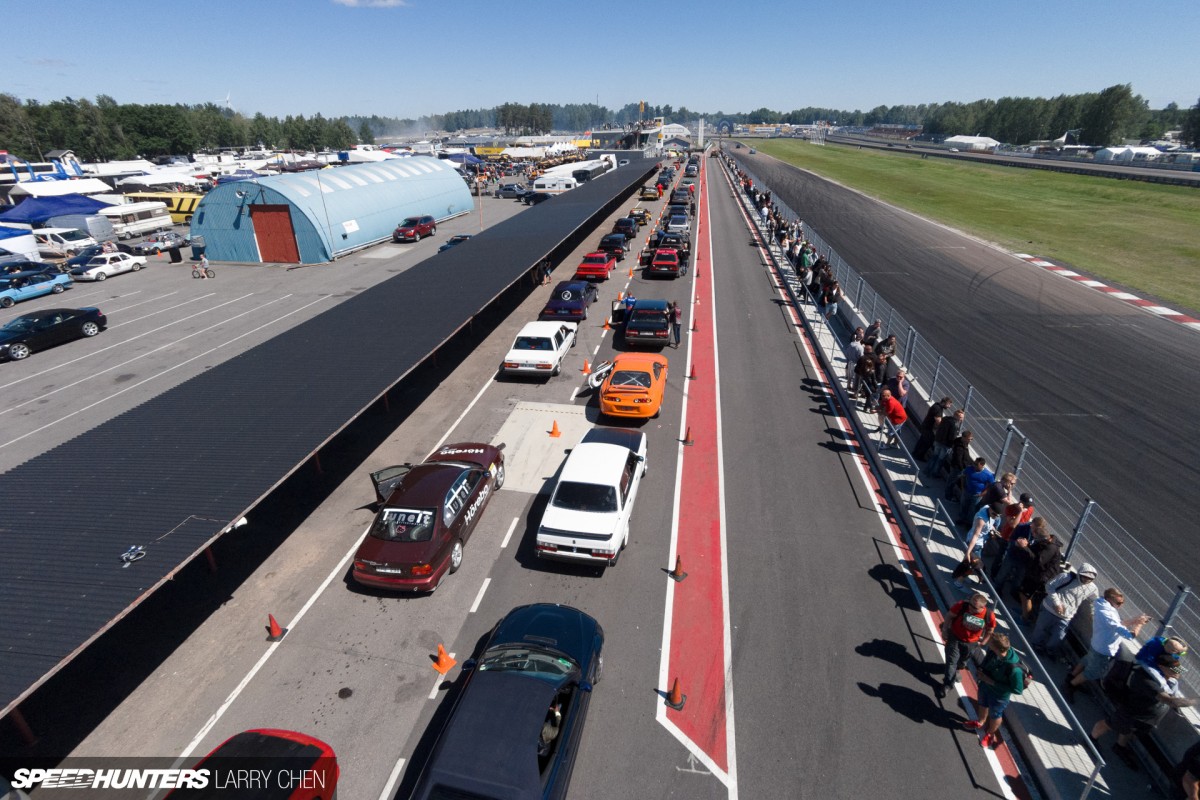 But this was the same scene on Saturday afternoon at its busiest. I don't understand how anyone got any track time with the sheer number of cars taking part.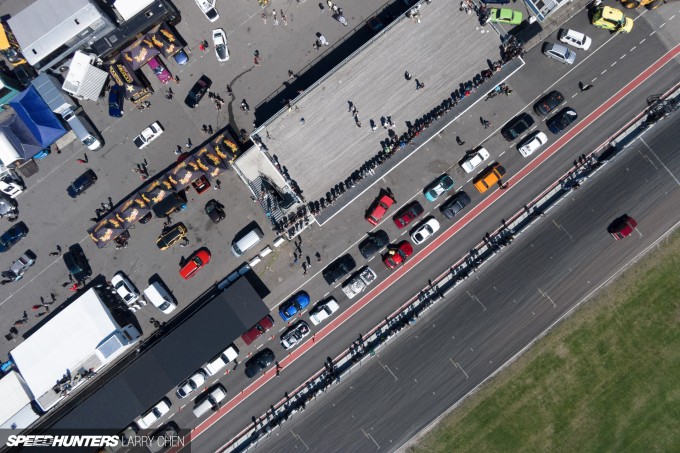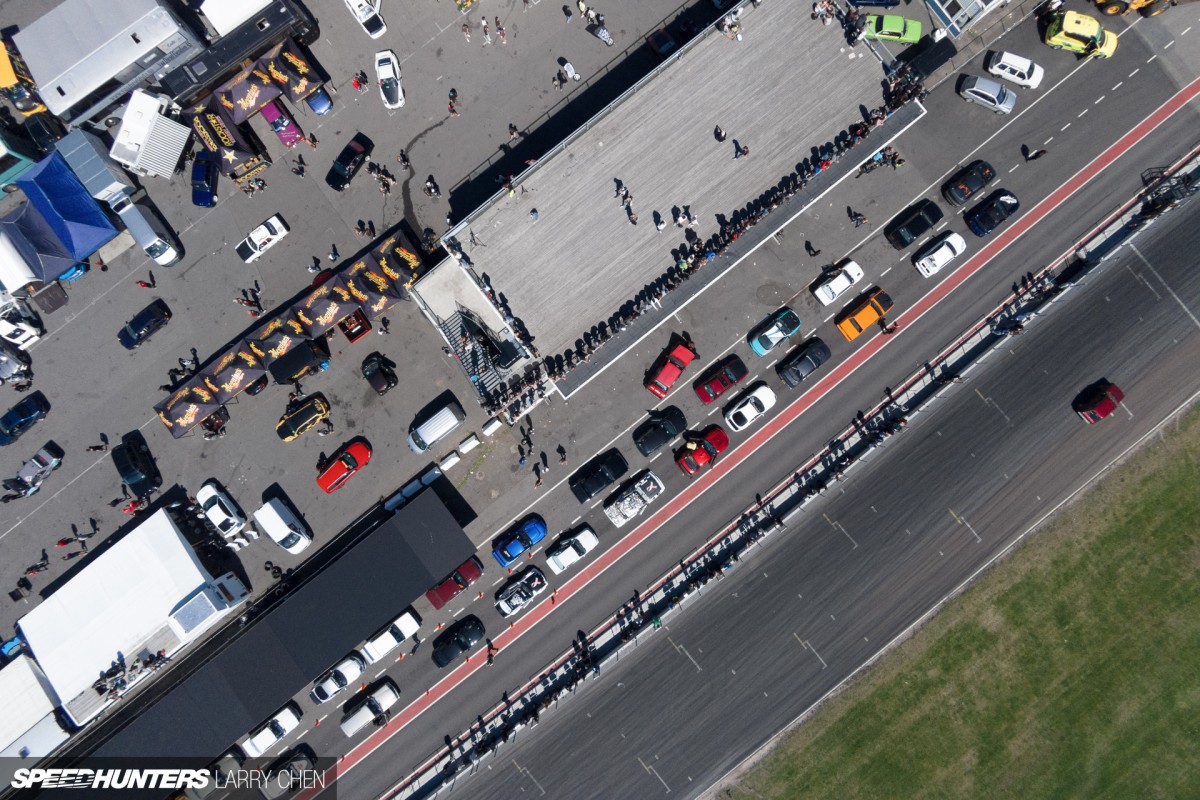 I guess that is the fun part – dodging in and out of traffic and drifting around other cars as if they were clipping points. The officials opened up the roof of the main building for spectators, which gave everyone who ventured up there a great view across the entire track.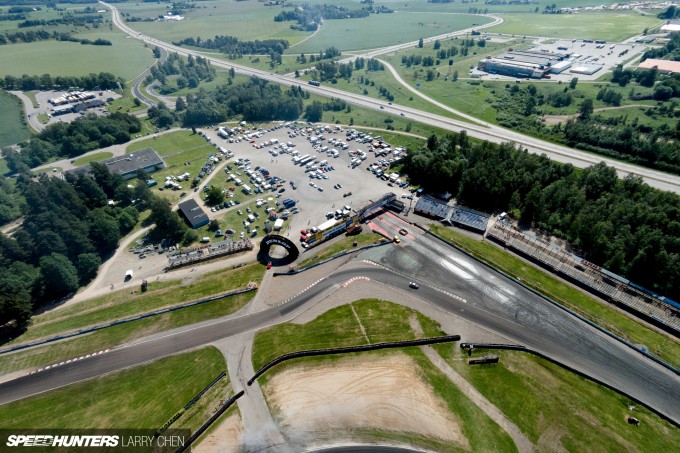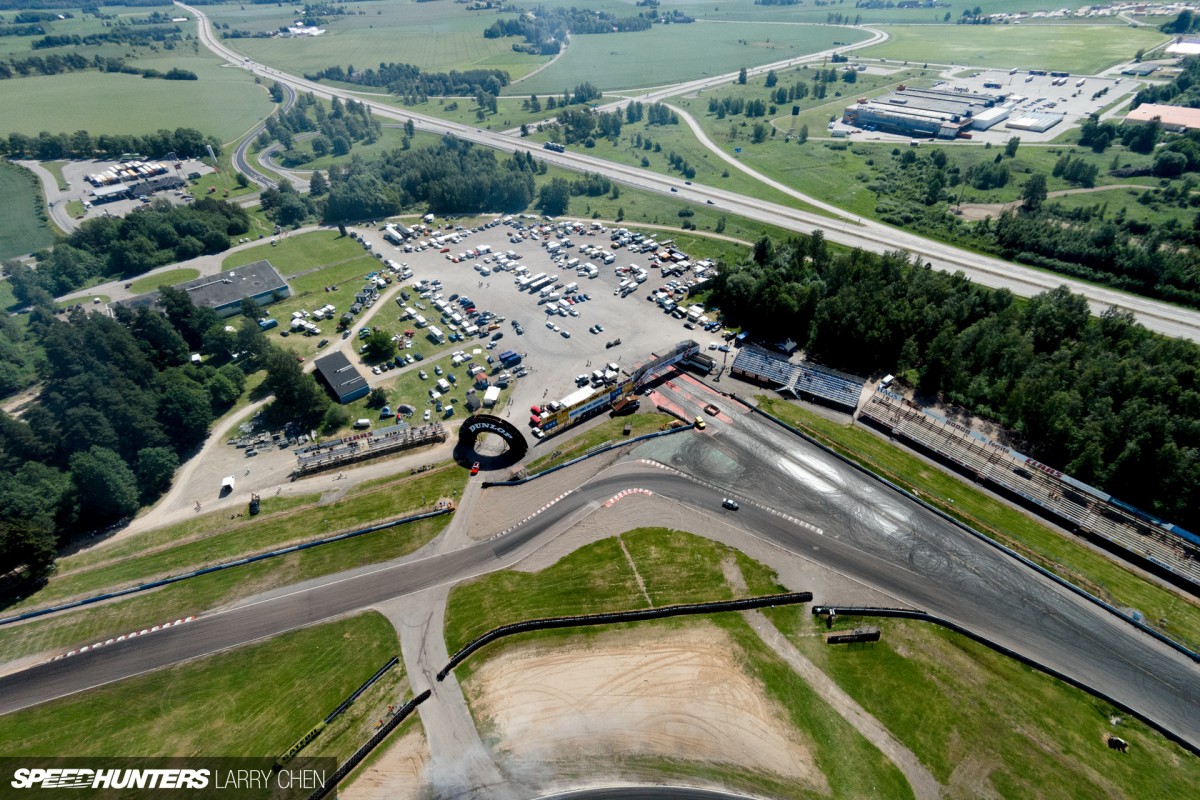 On the opposite side of the paddock is the drag strip, and attached to that is another pit area. This was one of many areas around the track that were turned into camping sites for spectators.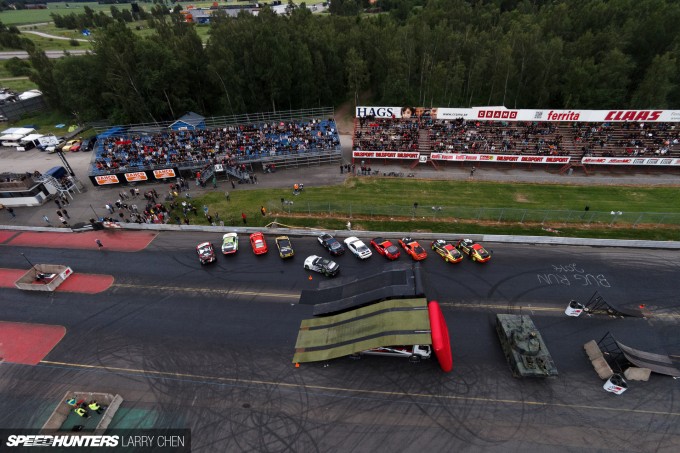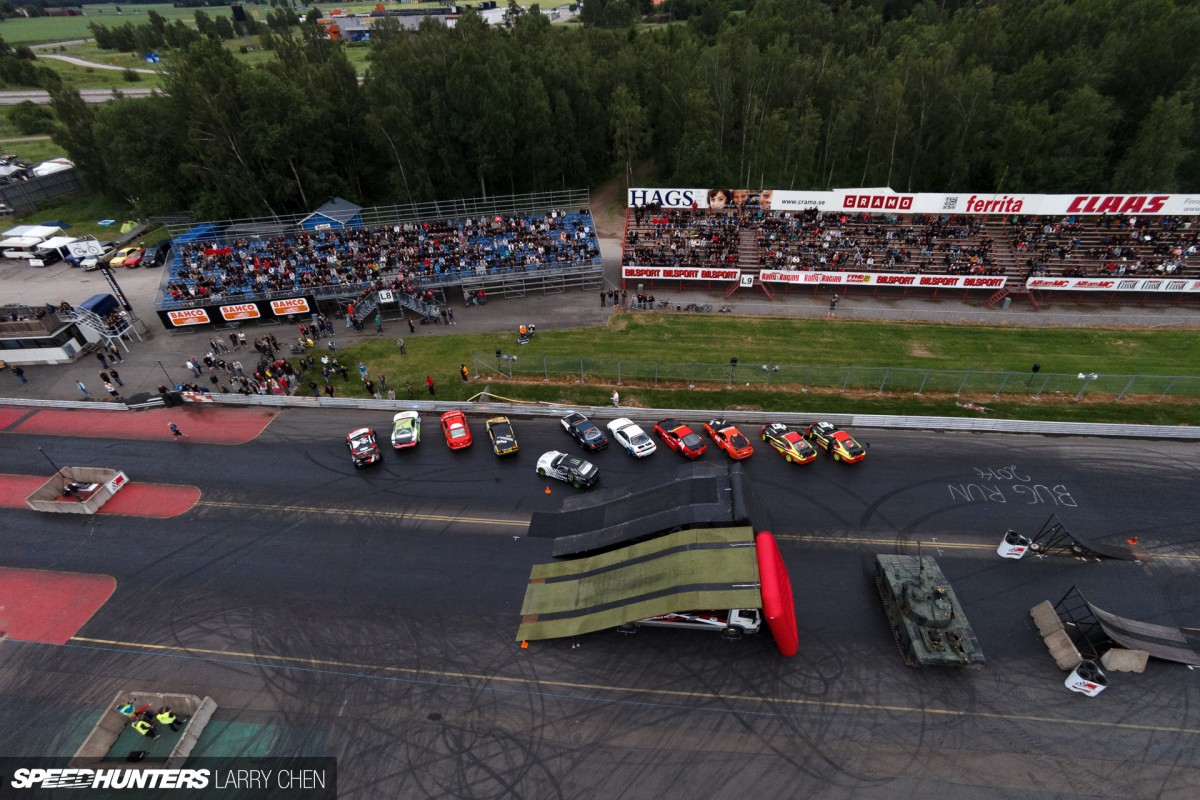 So why would spectators show up to what is essentially a track day? Well, Gatebil is not like your normal track day – the rules are a little more loose and along with the track sessions there's a great show put on. On Friday night there was a freestyle event with some of the top drift teams. It also included stunt riders on motorcycles and snowmobiles jumping tanks. Yes, you read that last bit right – the Scandinavians are crazy!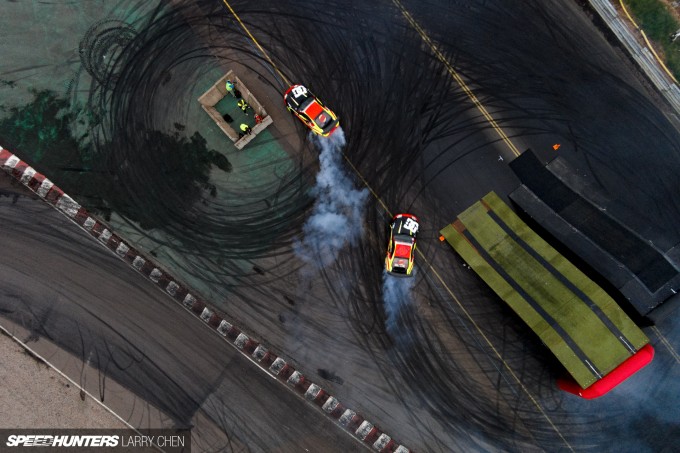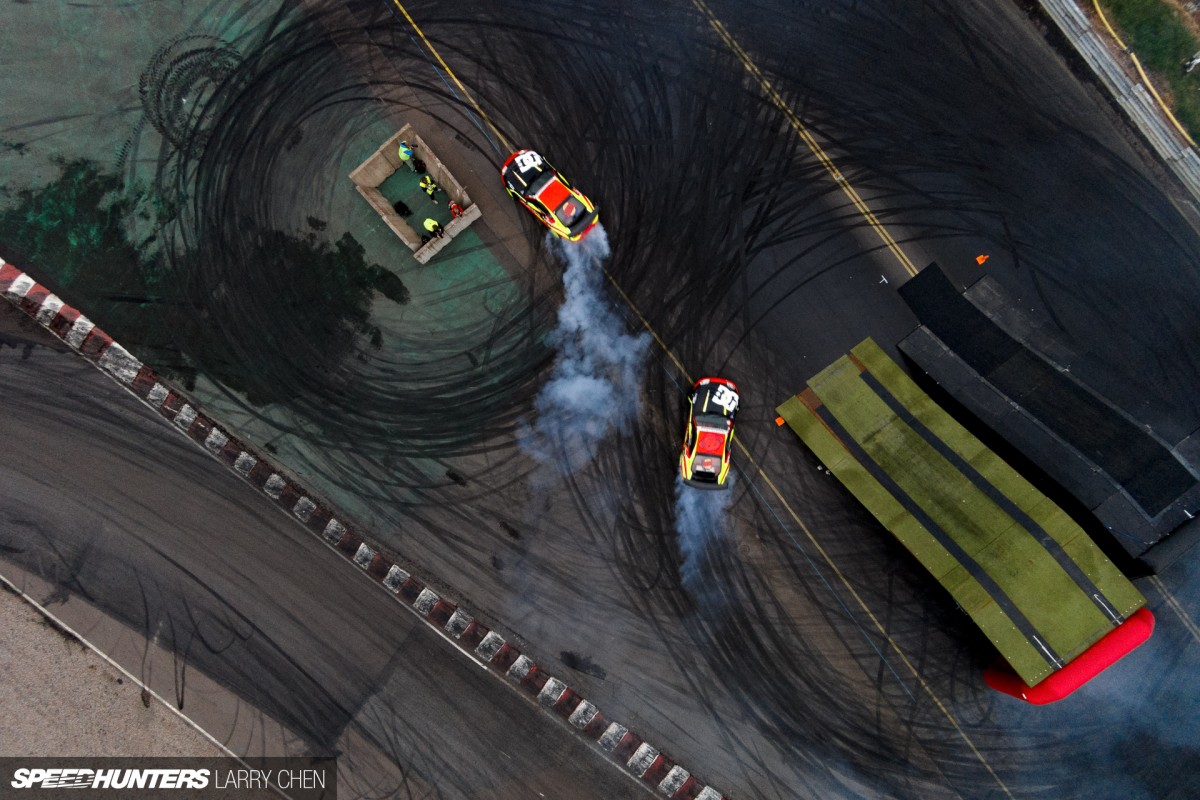 The freestyle event was not so much of a competition, but more of a free-for-all. Drivers did whatever they thought the crowd would like, including donuts and burnouts.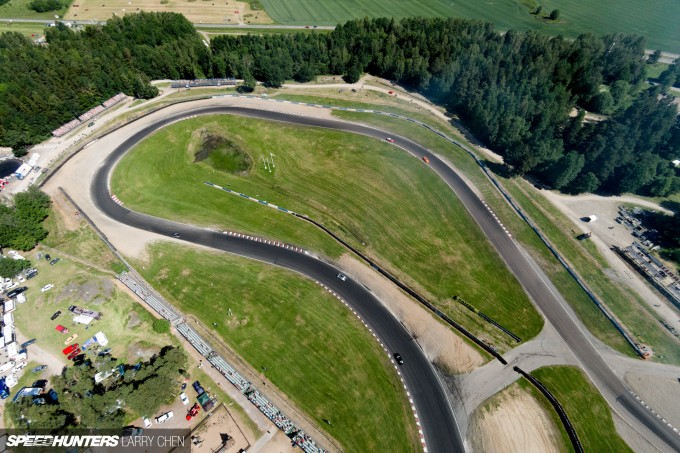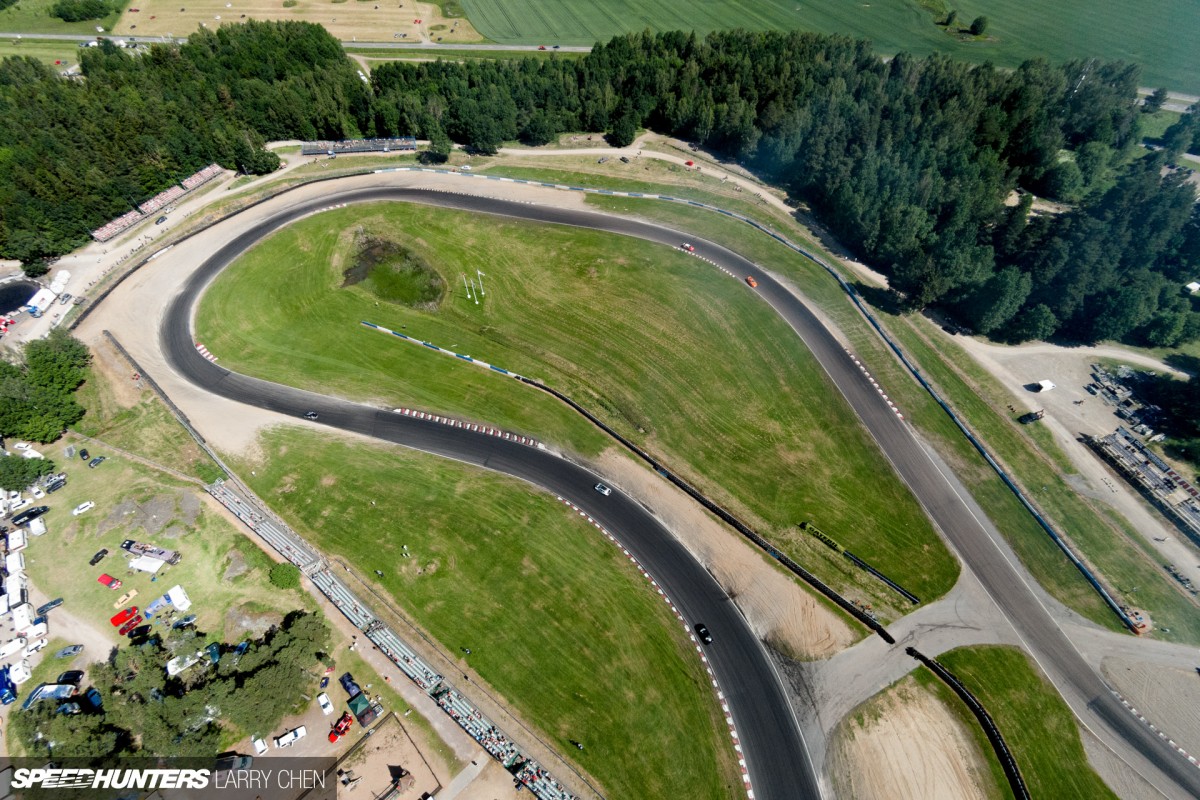 The main attraction, however, was the powerslide competition, also known as the 'Breisladd'.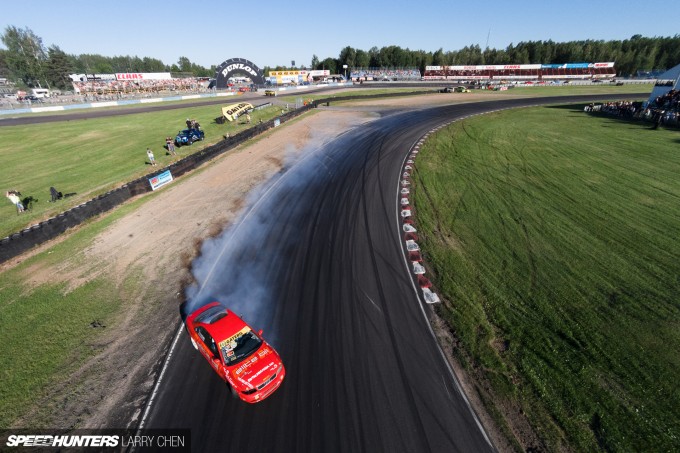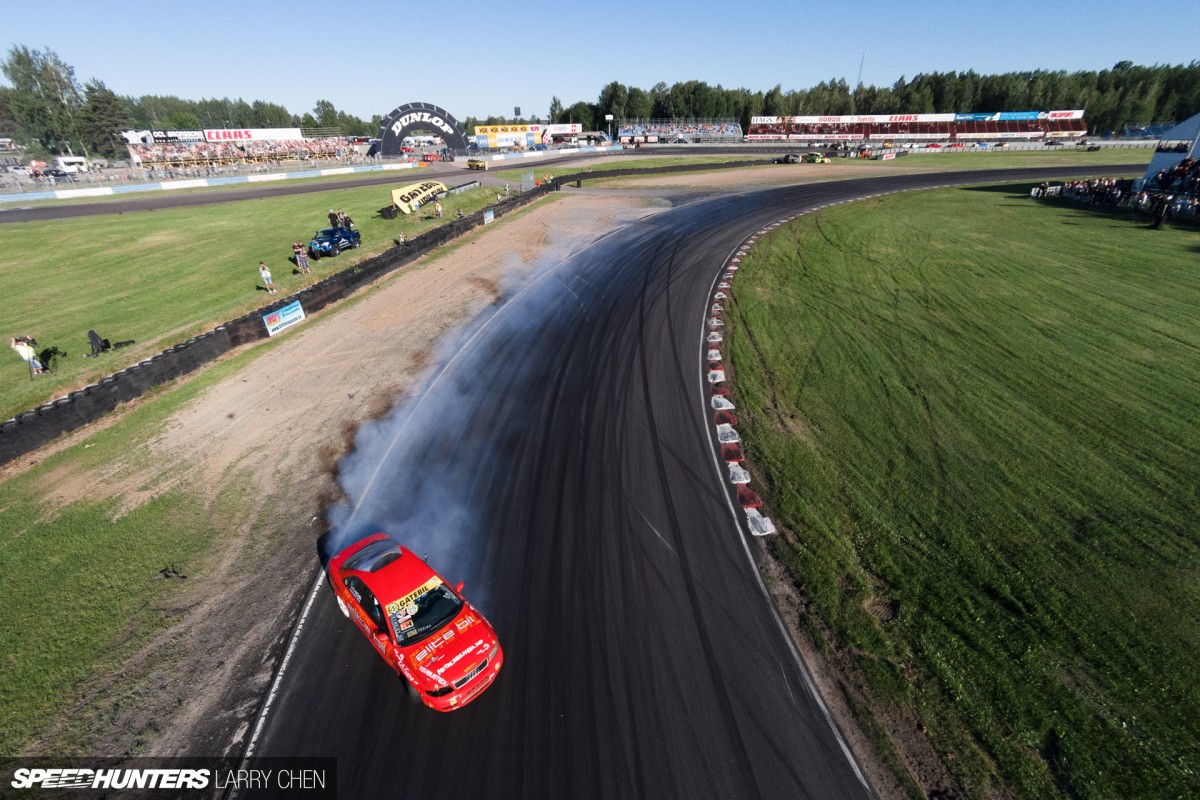 It basically consists of a long sweeping left turn after a massive entry coming down the front straight.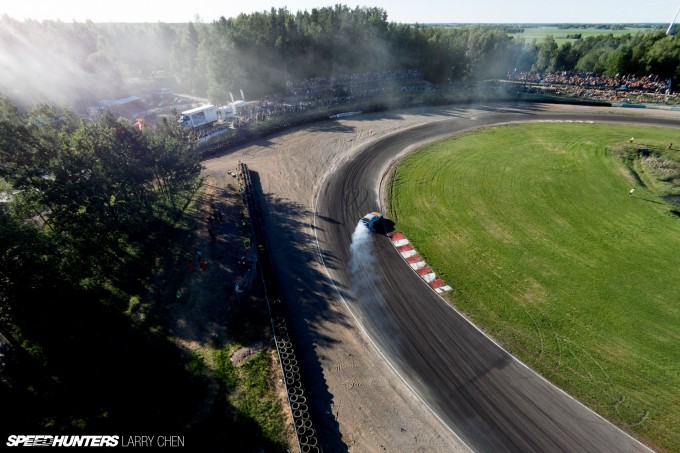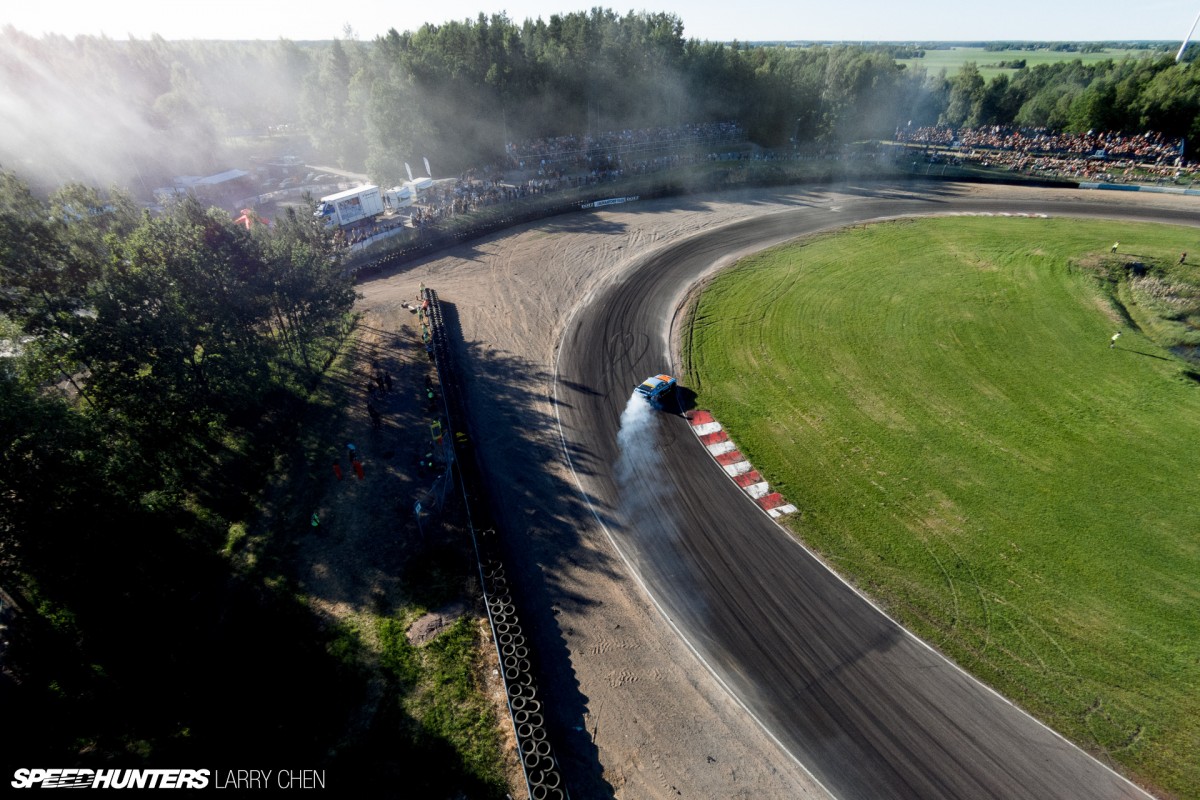 It then goes into a right-hander – a place where a lot of people went off the track and into the sand trap.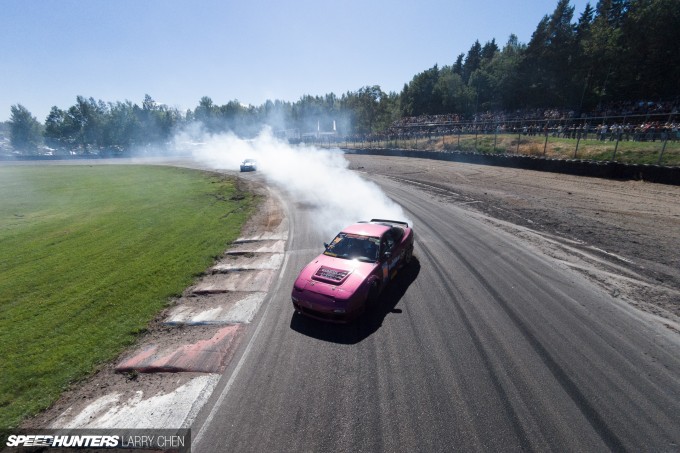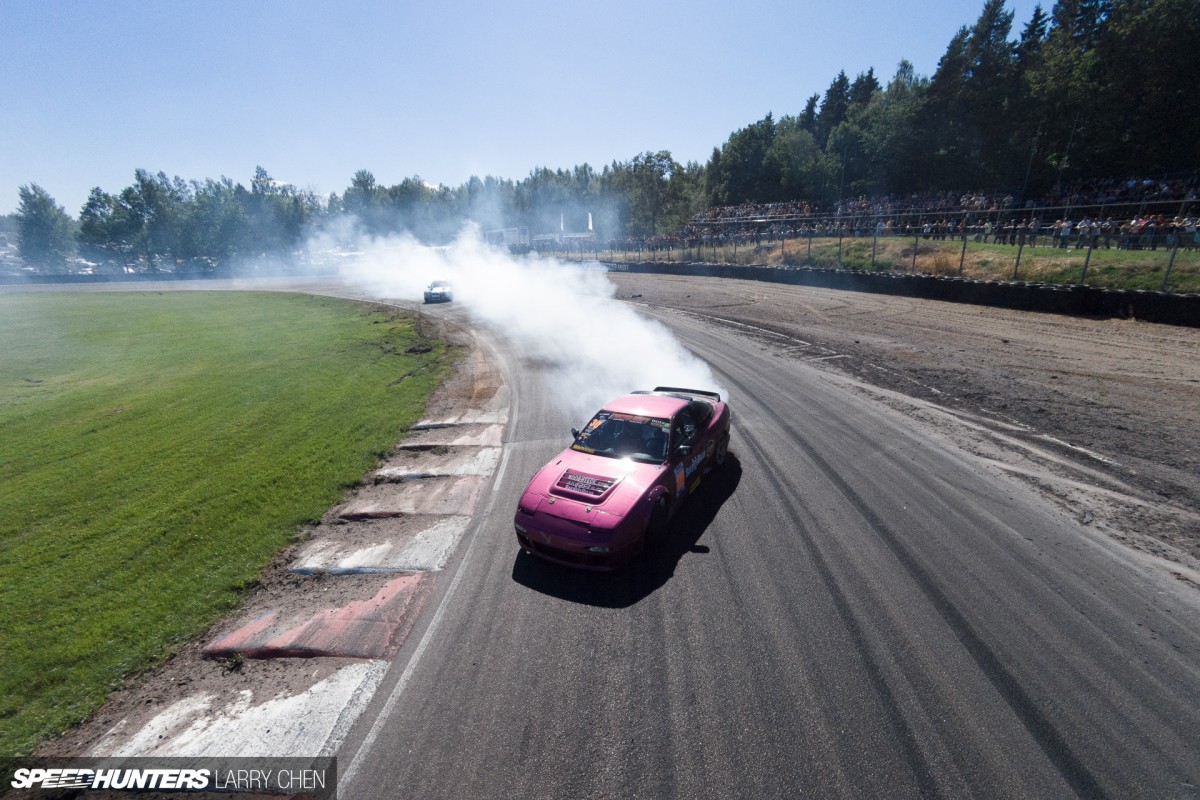 This is also the part of the course where the most smoke is generated.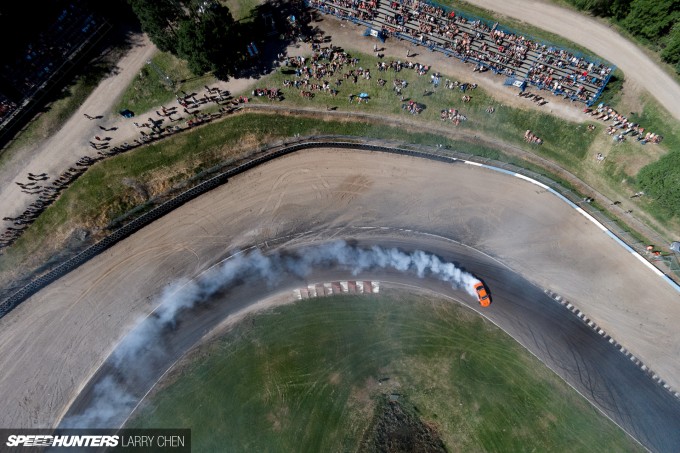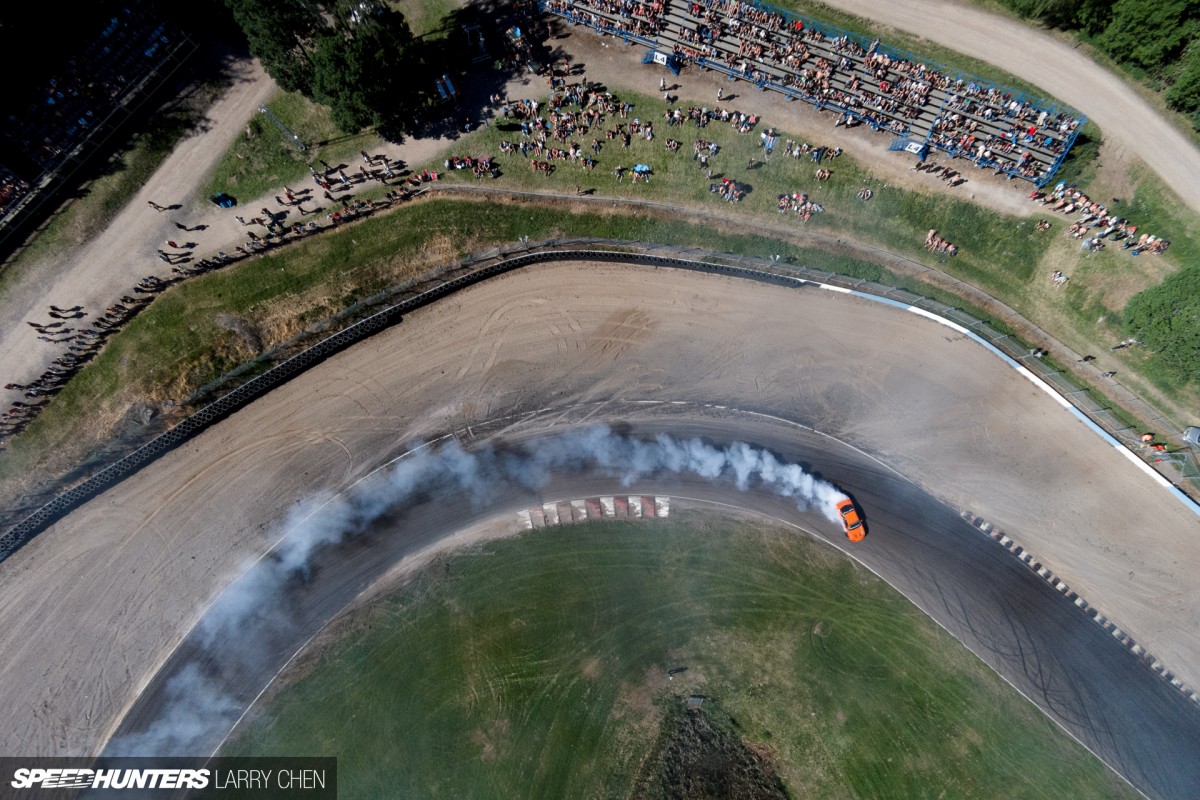 After the right-hander it was a short straight which you could manji, or – if you had enough power – link up the second right-hander.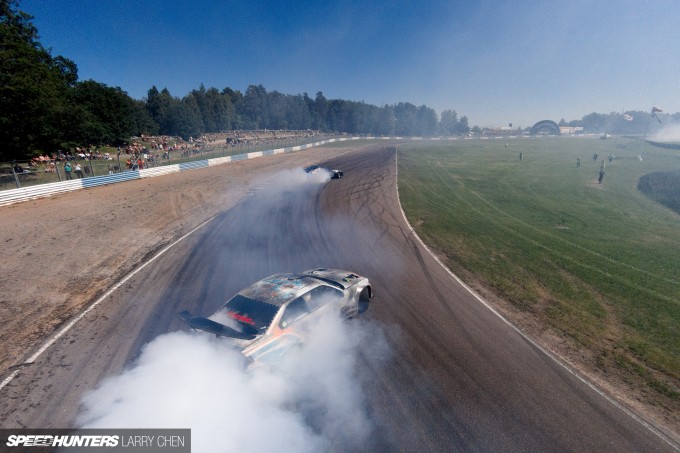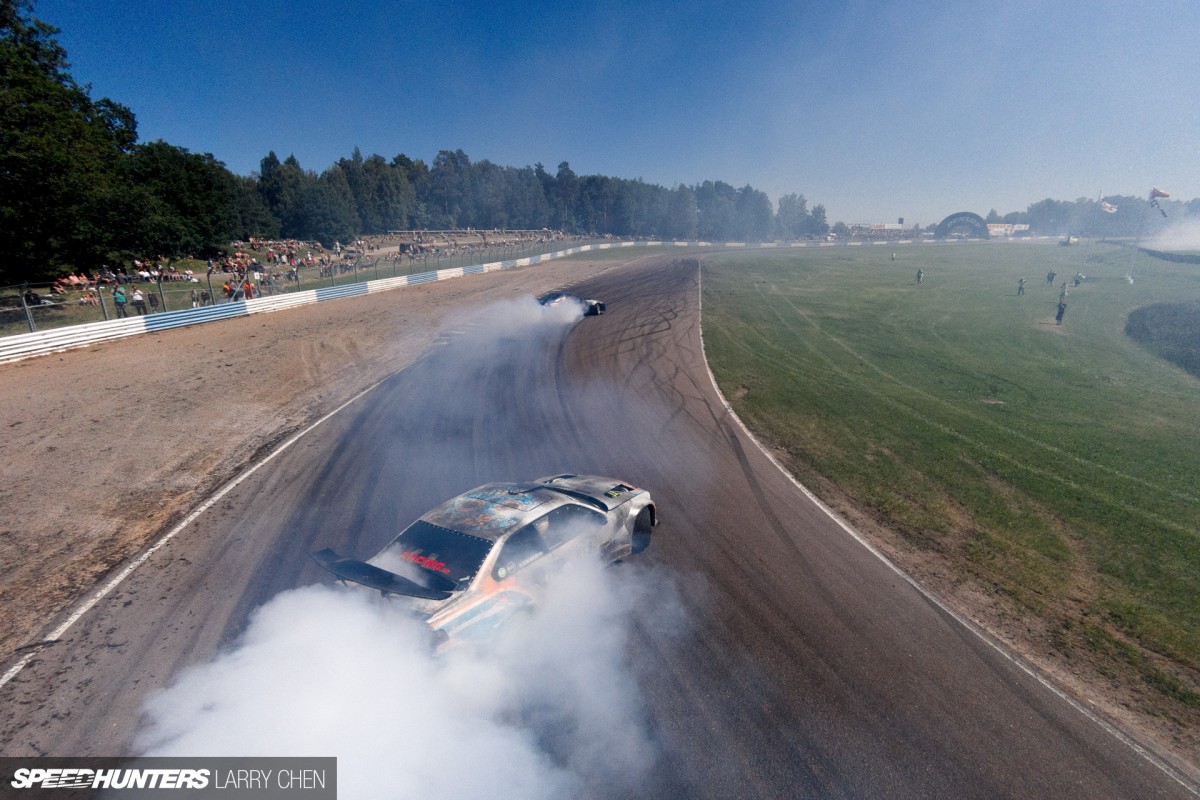 Since most Gatebil drift cars are in the high three figure, low four figure power range, the latter did not pose much of a problem.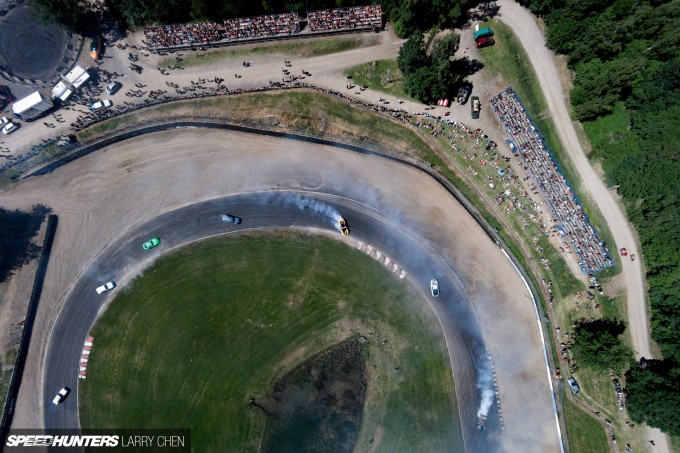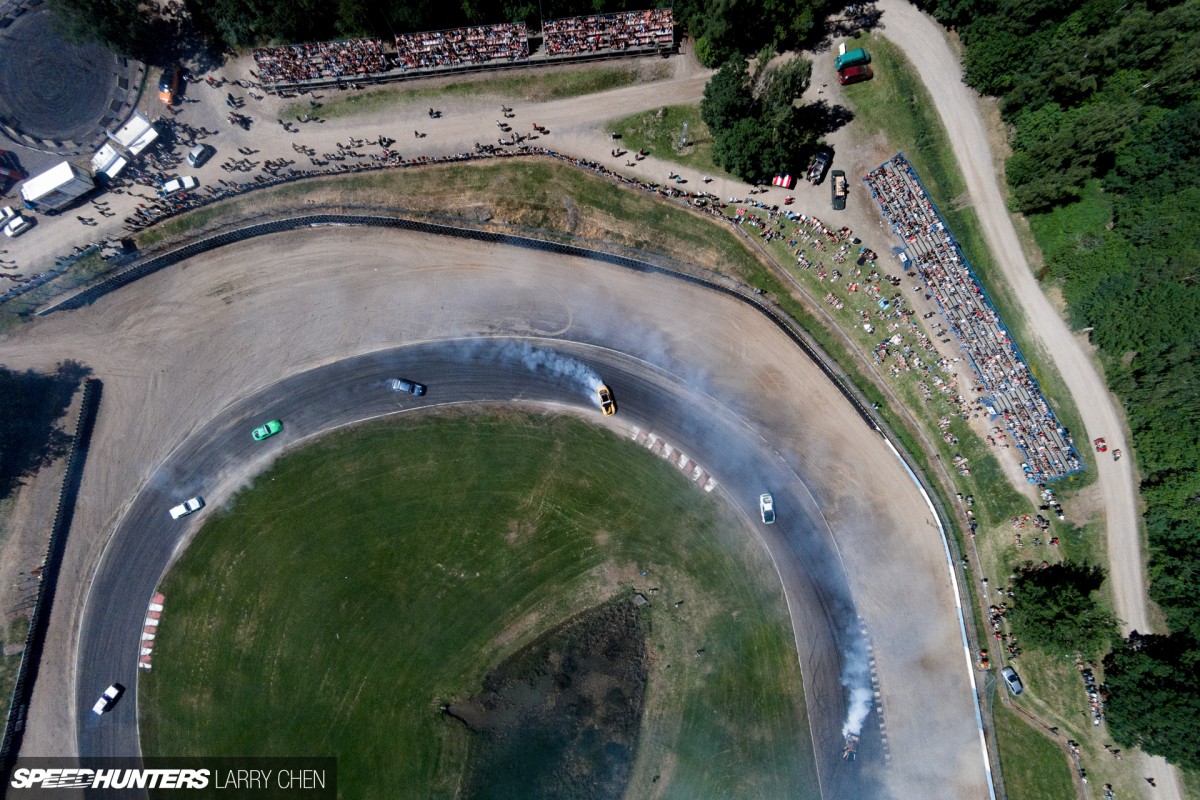 Even during regular track sessions there was a constant stream of sideways cars and a sizable crowd cheering them on.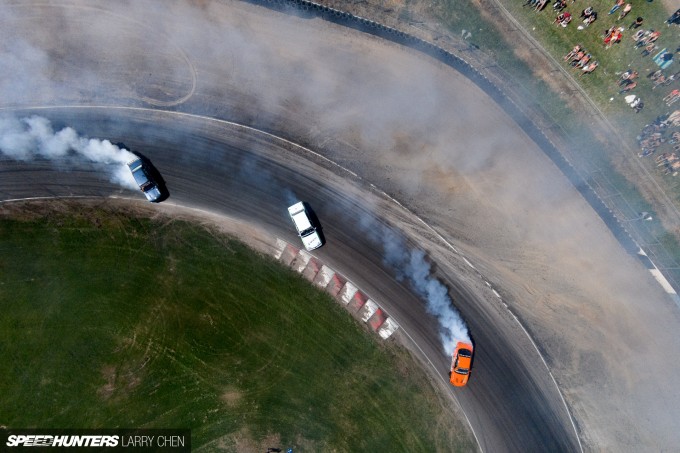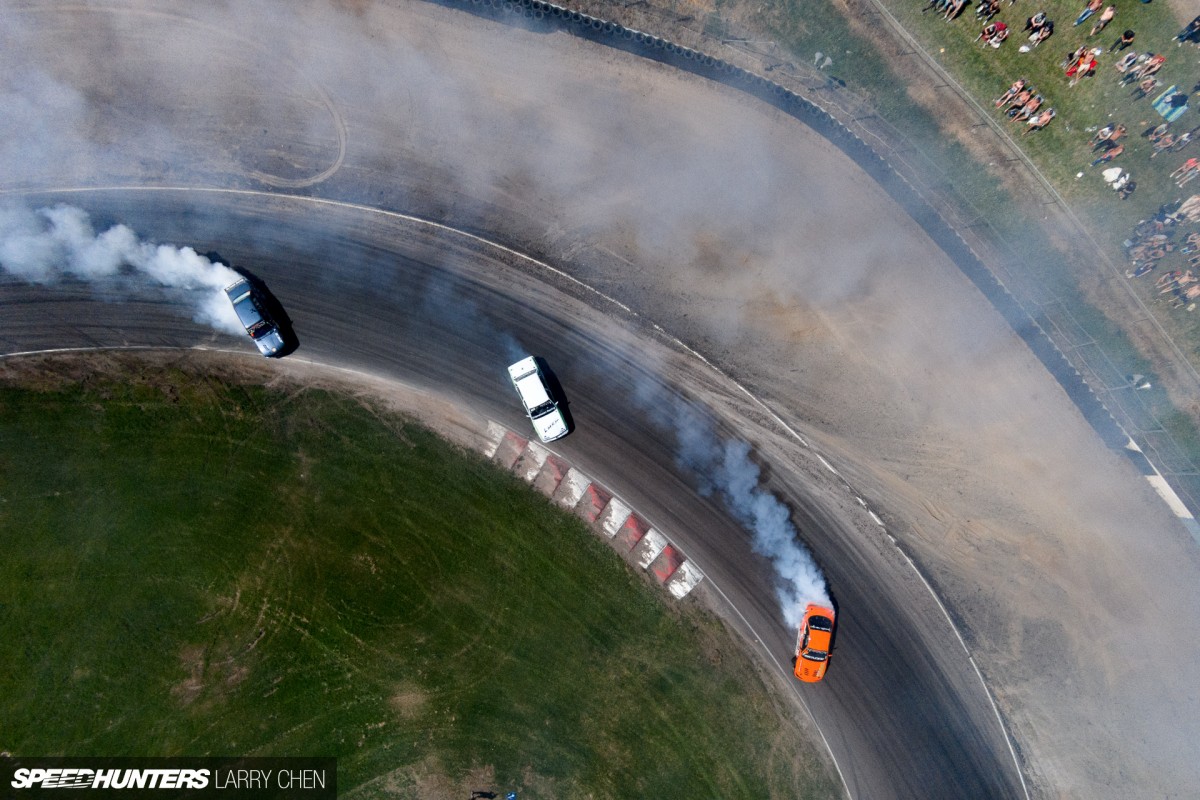 The greatest part of it all is the variety of cars you get to see. It's a common thing in Scandinavia, but being from the US, watching a Volvo wagon drift with smoke billowing out from the rear tires still gives me a funny feeling inside.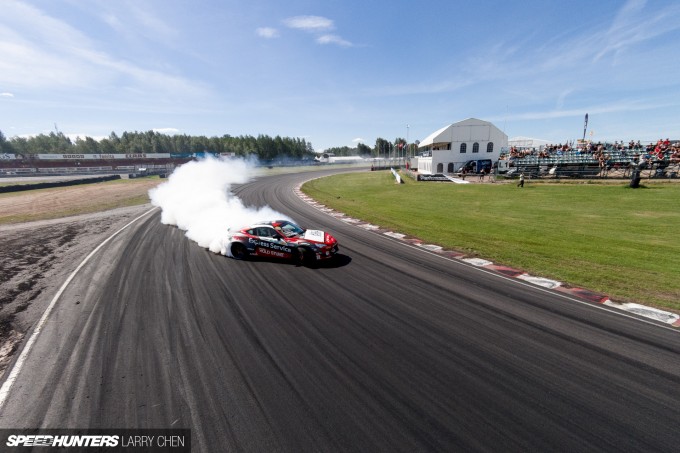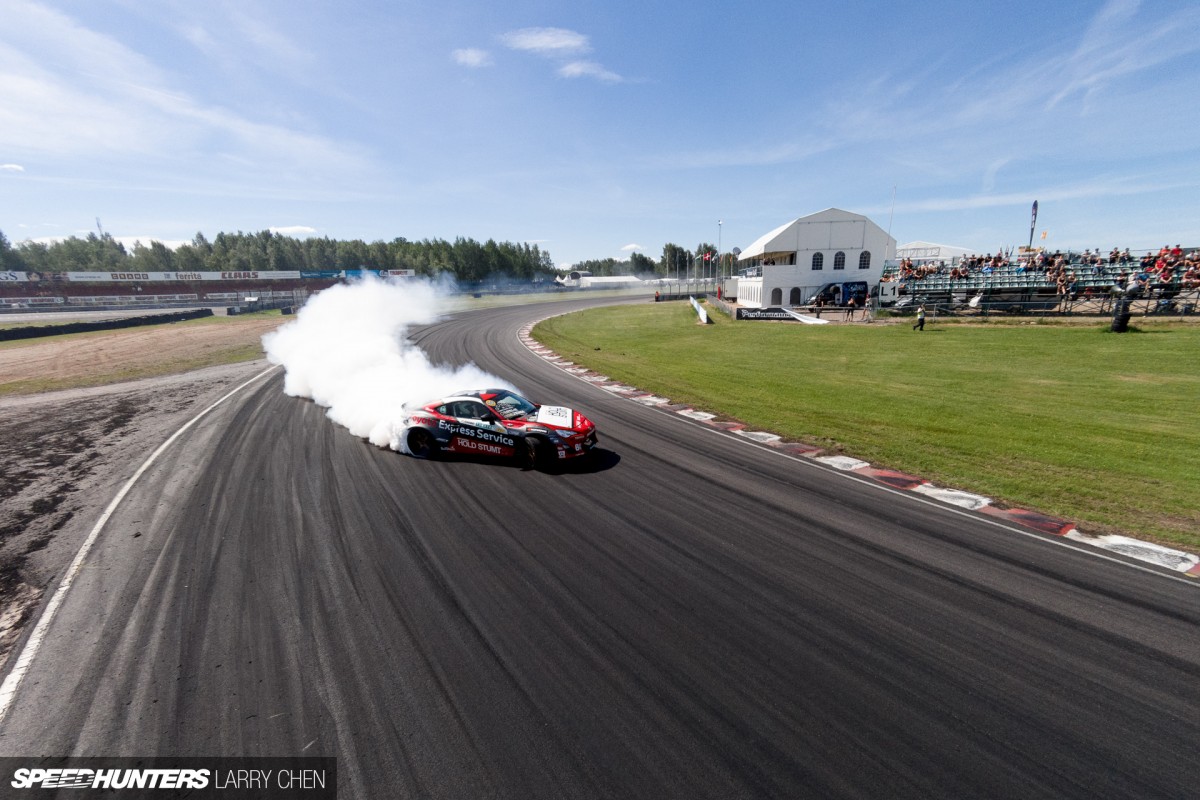 Fredric took the top honors in the Breisladd – but not without a bit of drama along the way. I'll let him give you the full run-down in an upcoming driver blog.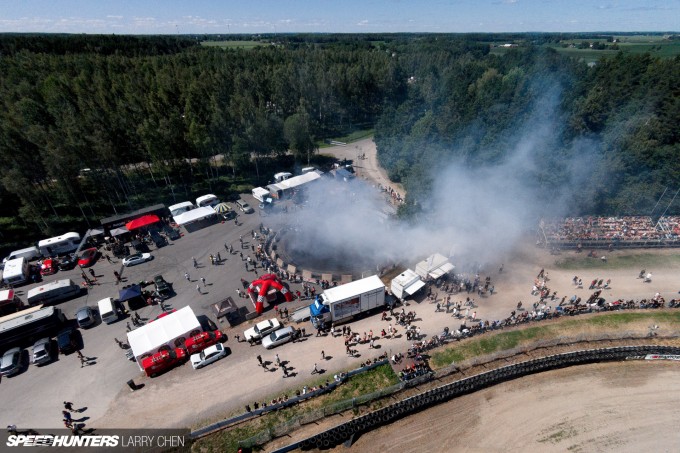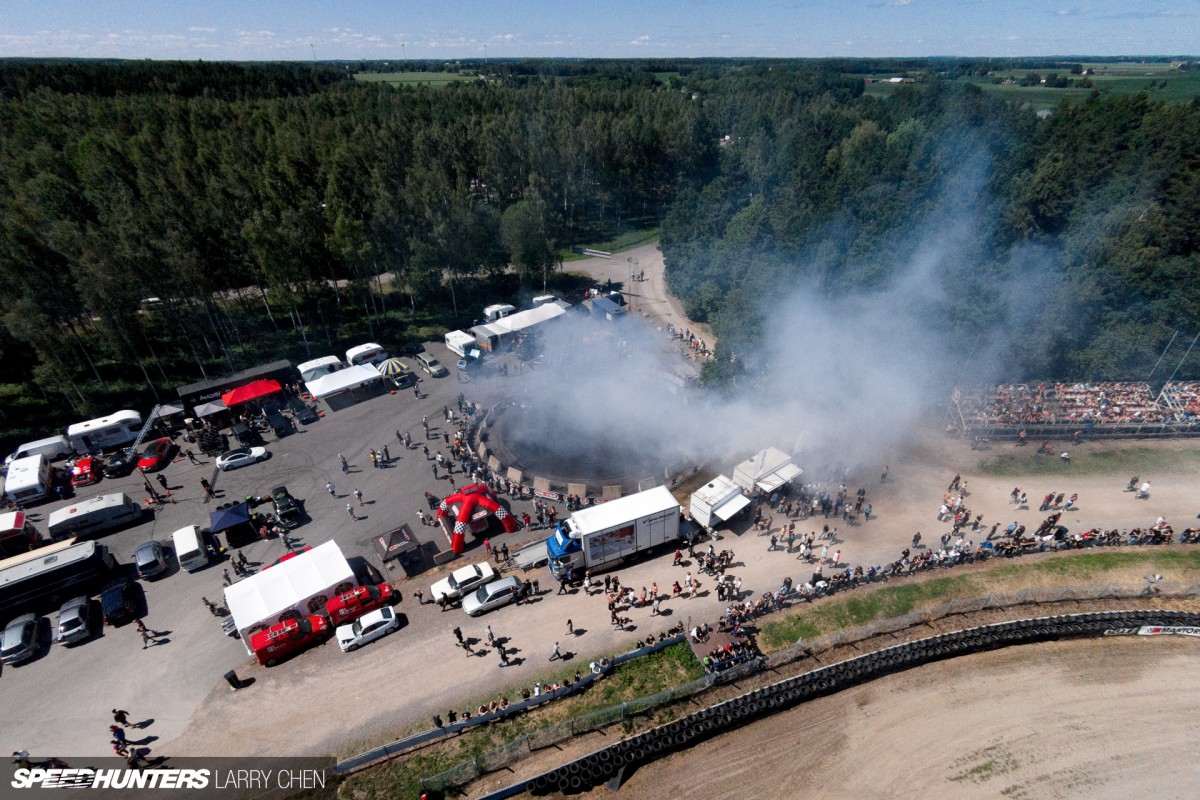 I noticed there was a cloud of smoke drifting onto the track, which from an airplane probably would have looked like a house on fire.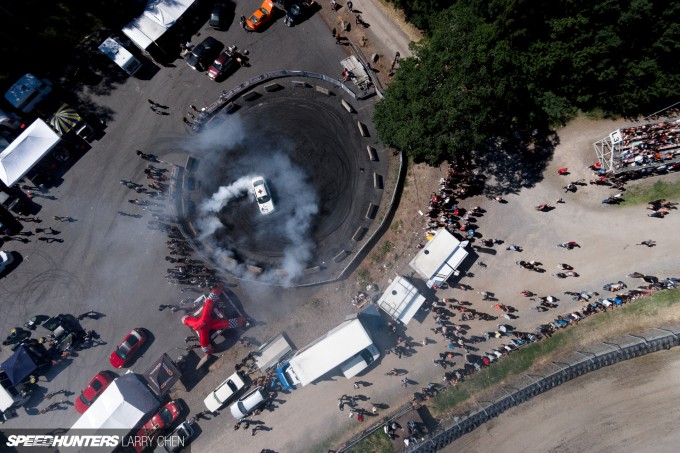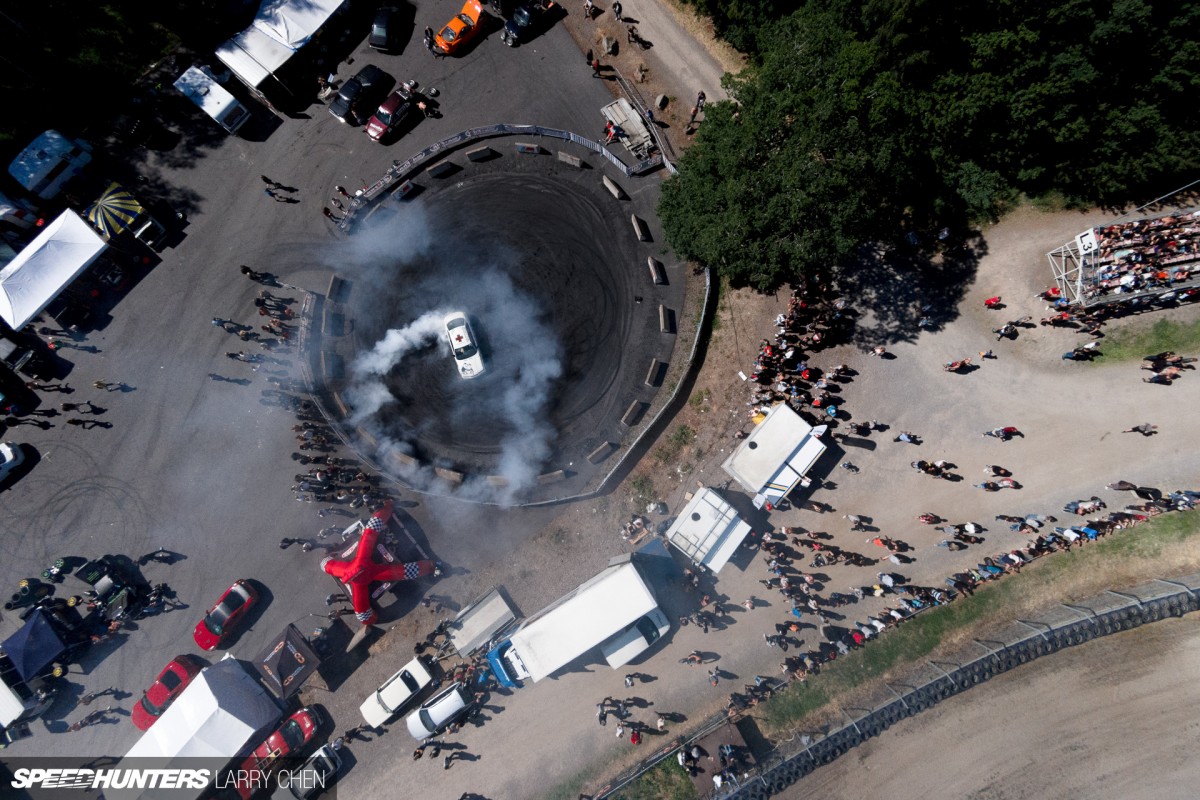 It turned out to be the Burnout Box, though. I remember seeing the same thing at the Rudskogen event before, so I guess it's a Gatebil tradition.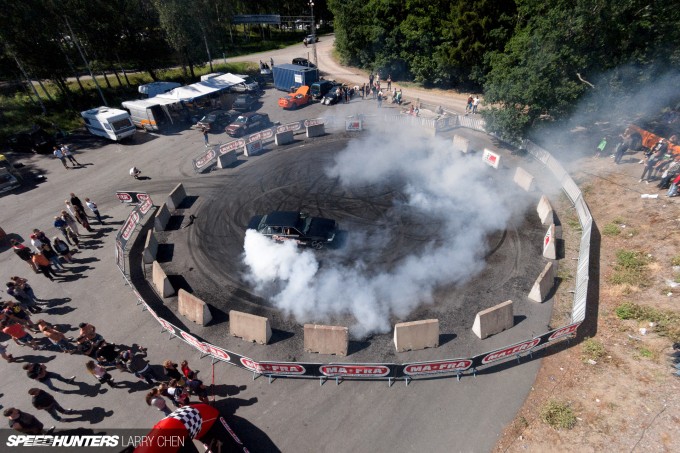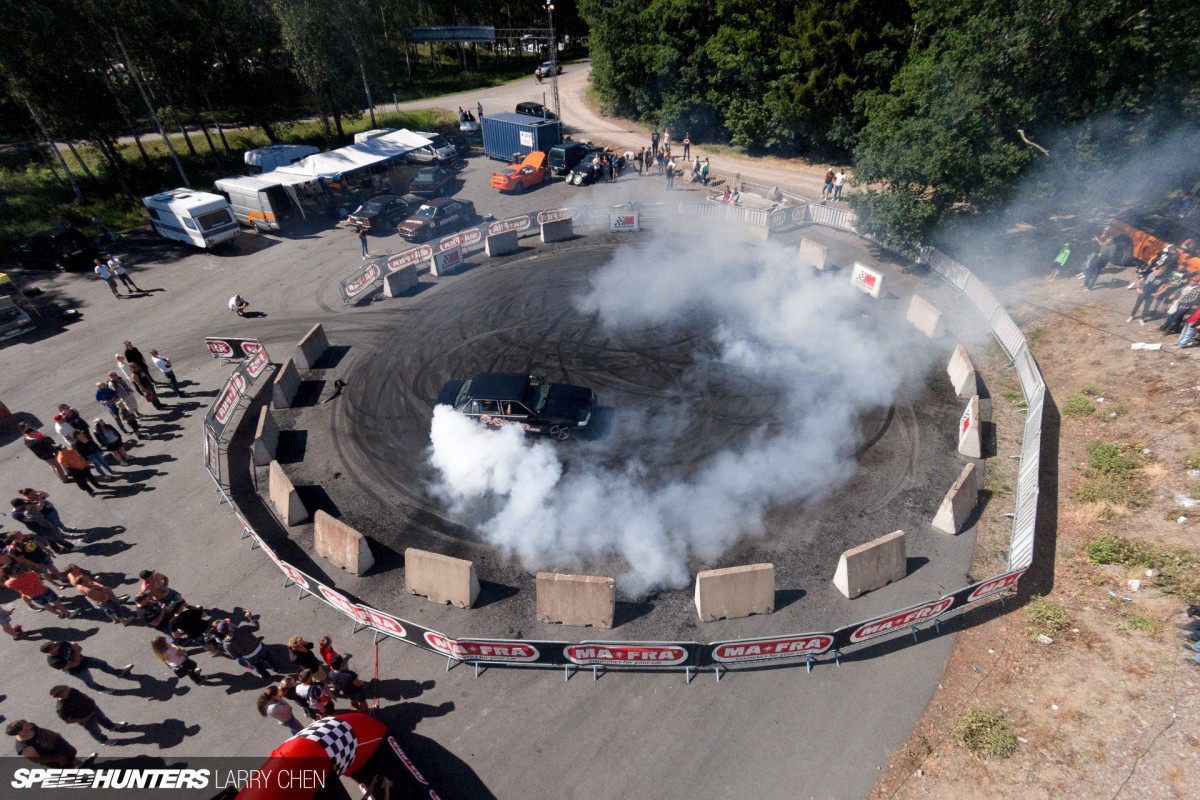 Any driver who was unfortunate enough to finish a track session with tread still on their tires could head over to the Box to finish them off with a bang. Most drivers sat there until both rear tires were popped to pieces.
Not Just For Going Sideways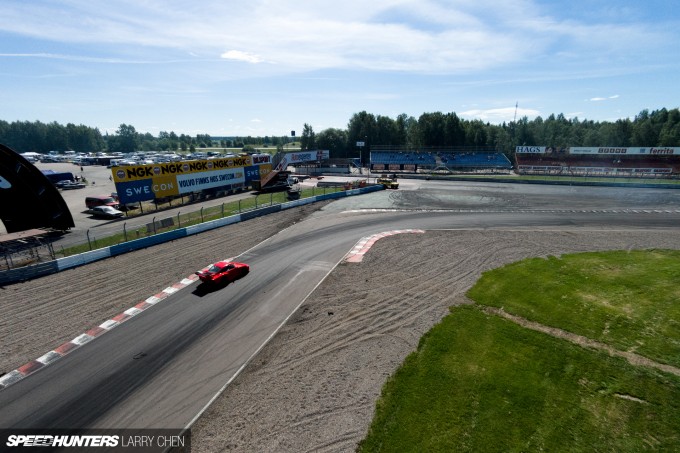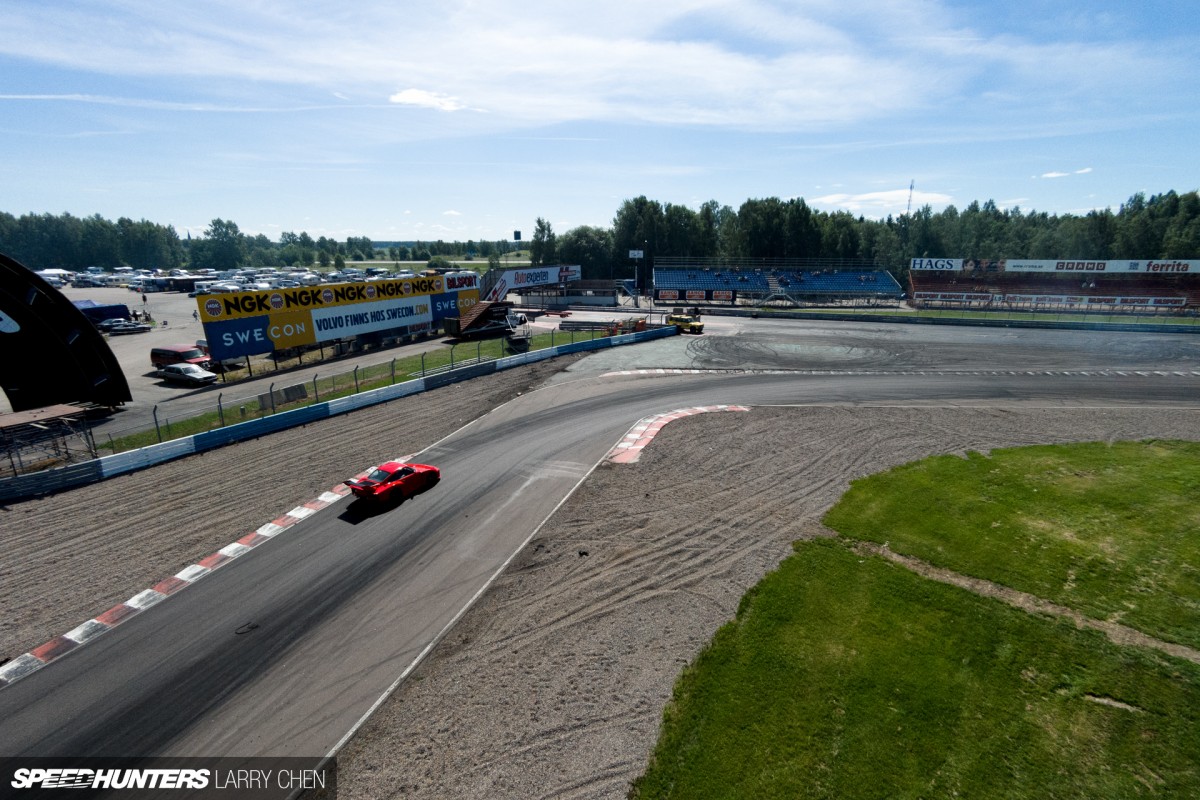 Of course, Gatebil is not just drifting and burnouts. In fact, the 'Gatebil' name is actually Norwegian for 'street car', which should give you some idea of what it's all about. This is one of just a handful of road-going Porsche 935s in the world, and our very own RodBot Chong strapped in the passenger seat for the ride of his life around Mantorp.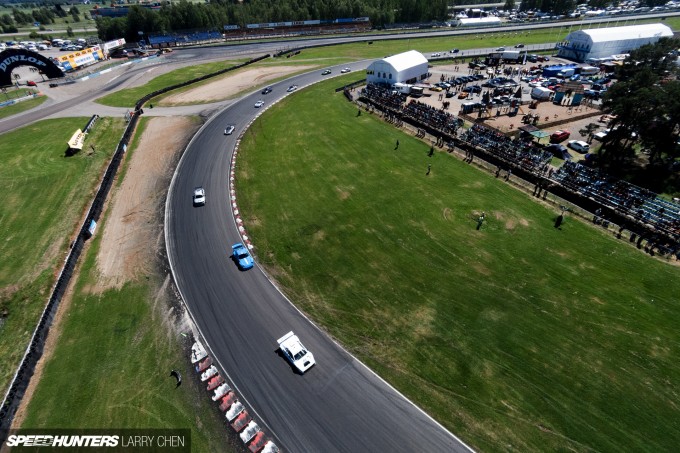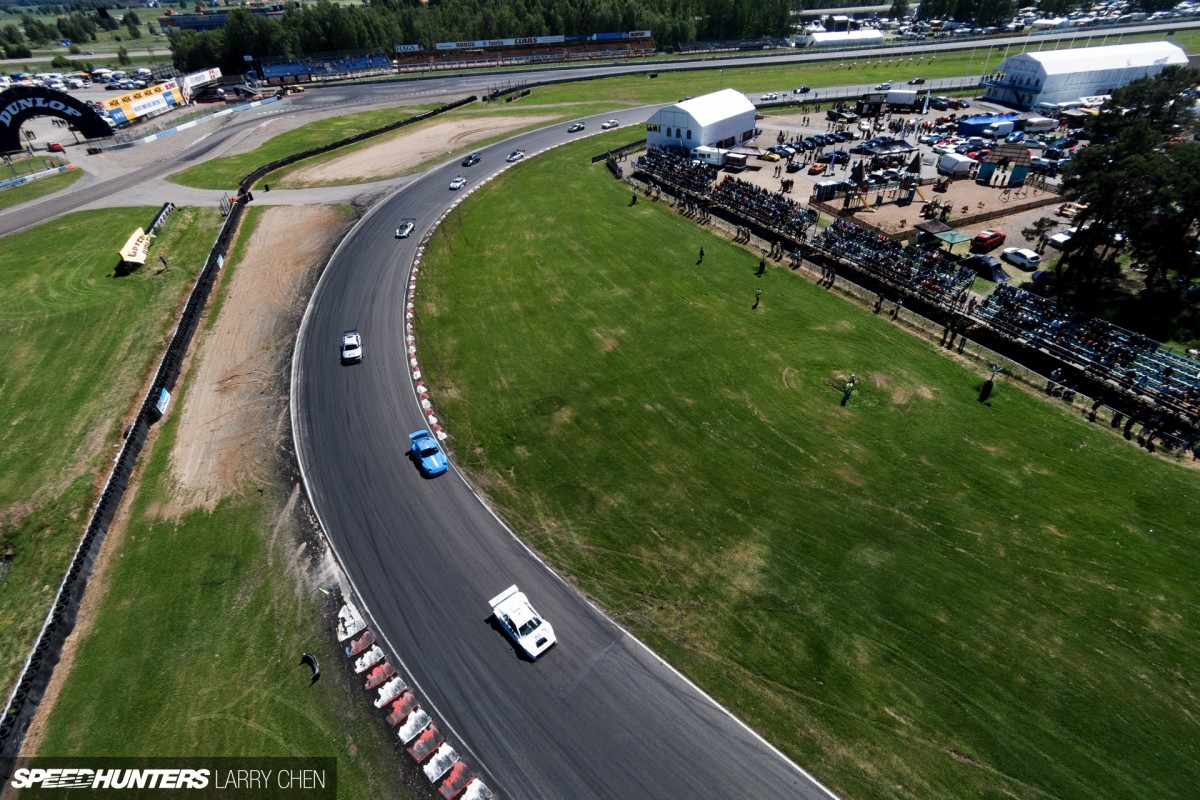 Over the weekend the time attack cars gathered together twice for some wheel-to-wheel racing.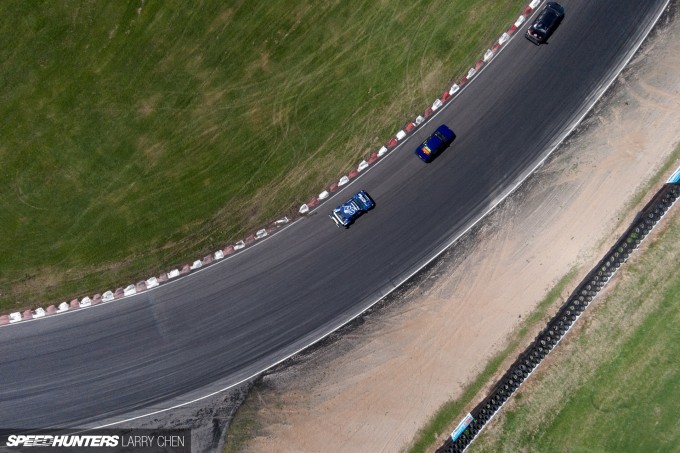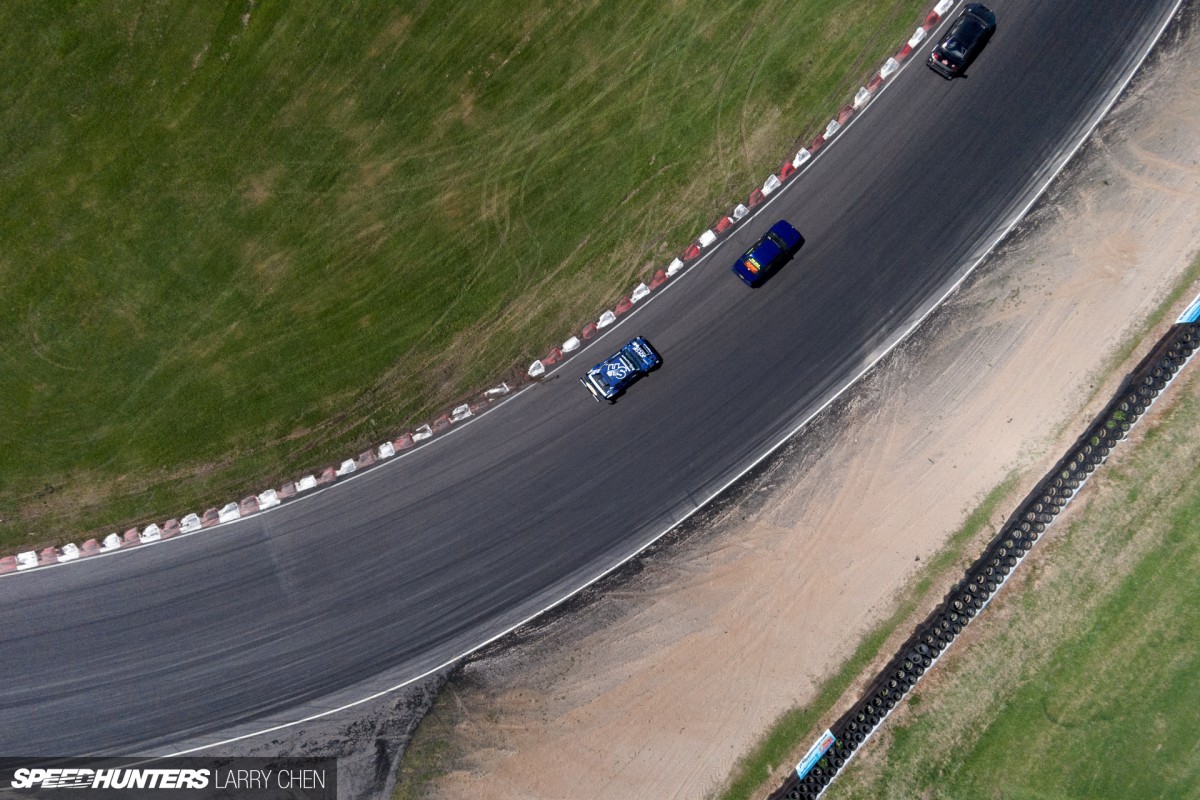 Speedhunters driver and builder Peter Pentell also joined in on the fun in LaSupra, aka 'Epic Lancia'. Like Fredric, Peter will also go into detail about his shenanigans at Mantorp in an upcoming driver blog.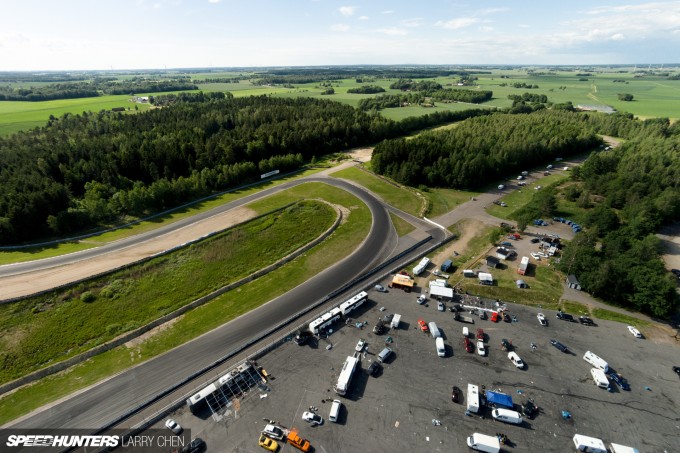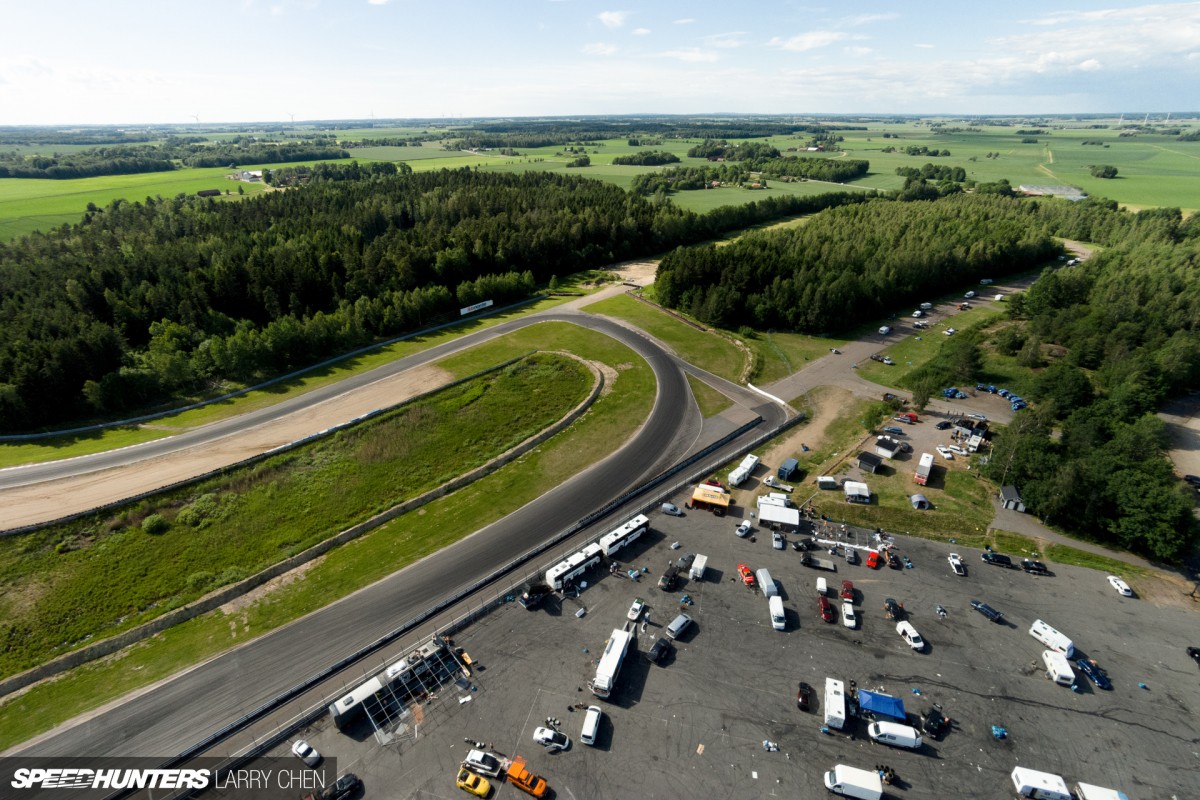 The road course has four configurations, although the longest one at 3.1km (1.9 mile) long is permanently blocked off. In the past a few drivers lost their lives at the end of that long straightaway going into the woods, so now only the 1.9km (1.2 mile) long course is used for racing while the decommissioned section is setup for camping.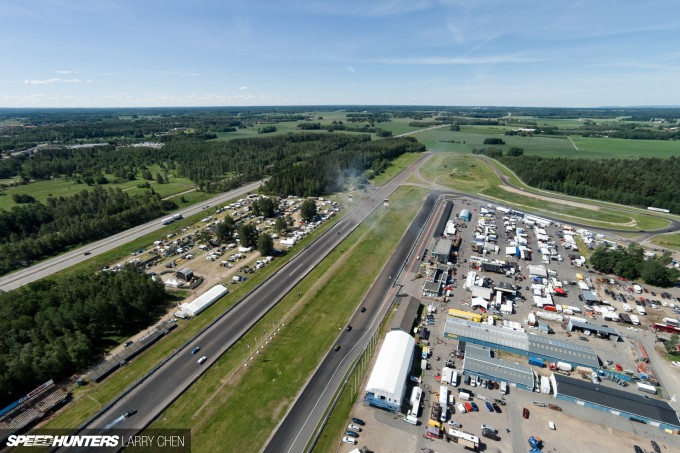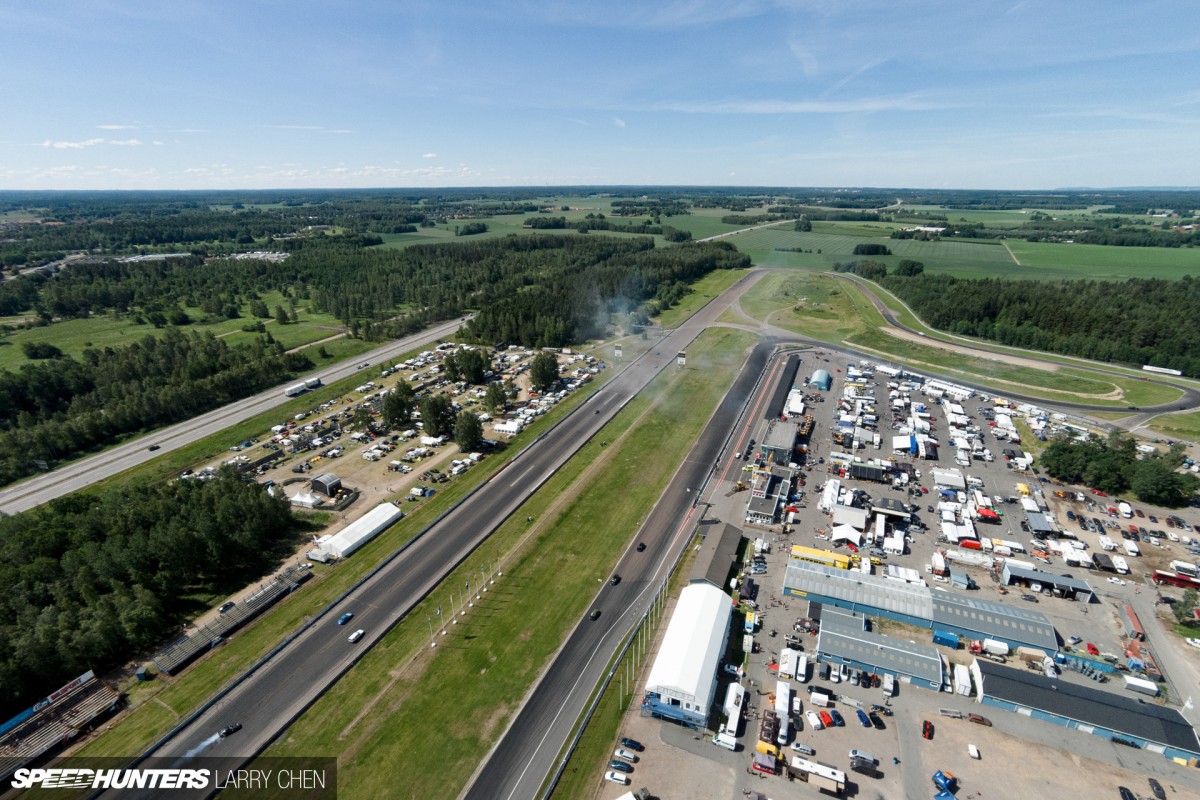 With that said, the back straight is still very long, which means some serious speeds are reached. You can see that across from the main paddock is another camping zone with a concert stage. When fans come to Gatebil they make a proper long weekend out of it.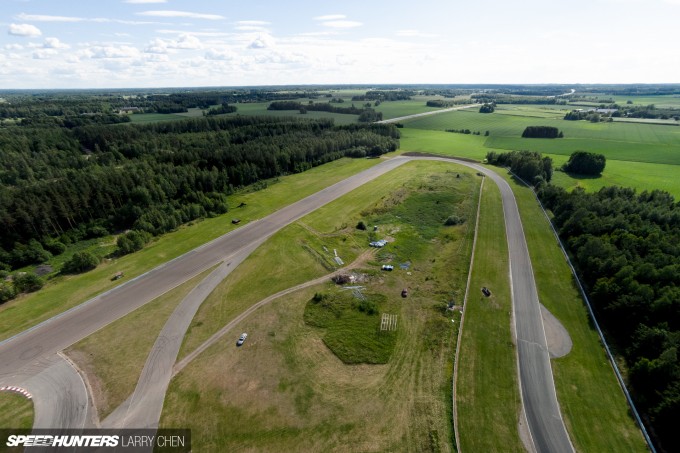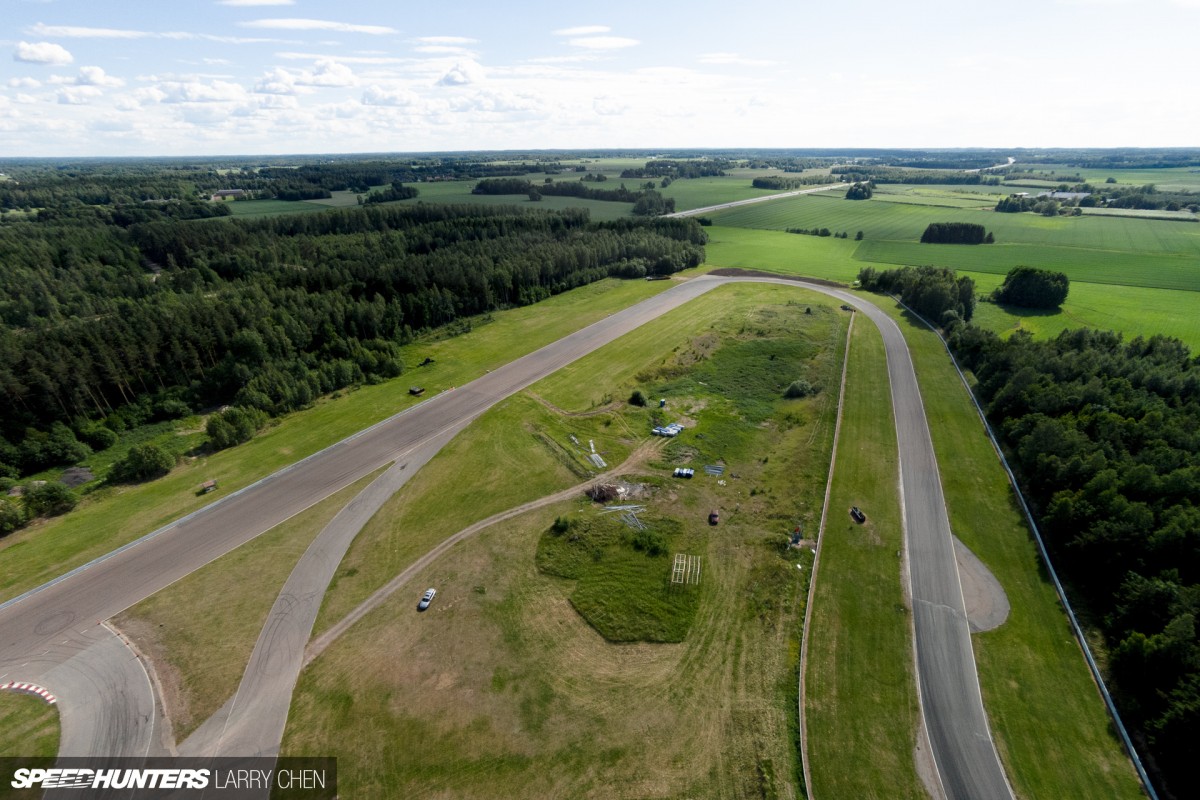 This was definitely not a sight I am used to as all the race tracks around Southern California are essentially giant sandboxes.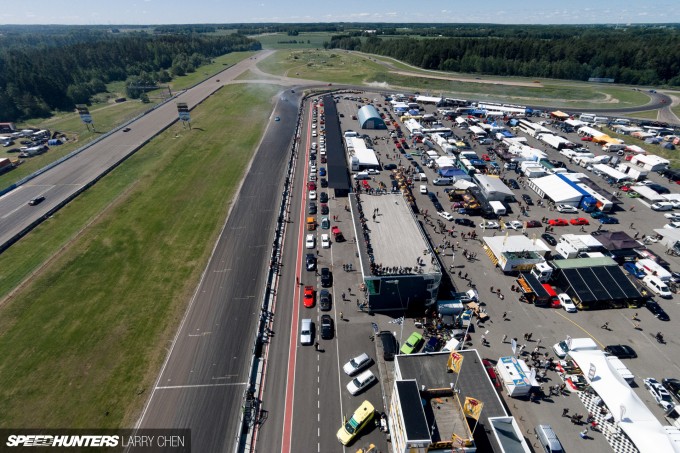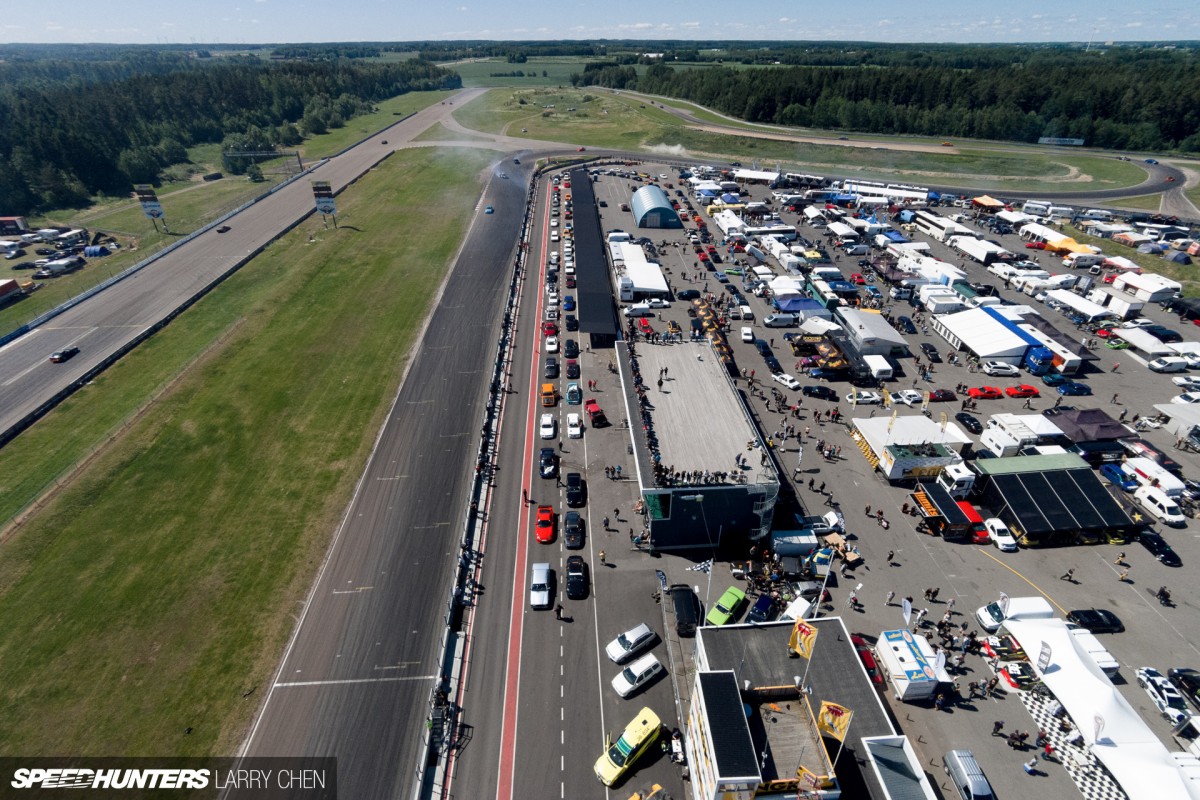 Just to give you an idea of how many cars go out on track, look at how long the line is to enter pit lane. It snakes all the way down and it even makes a turn.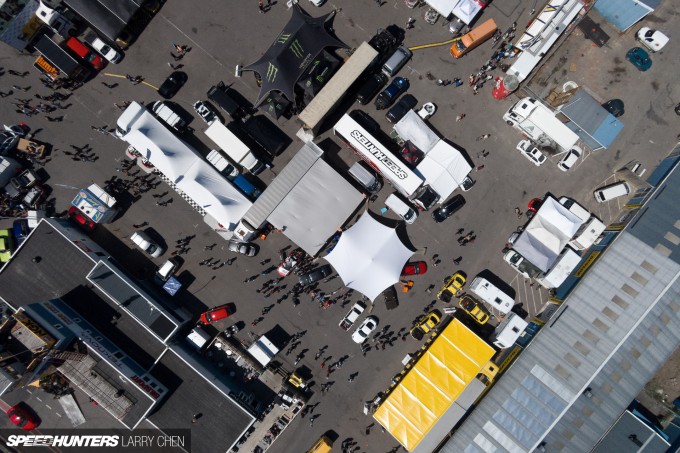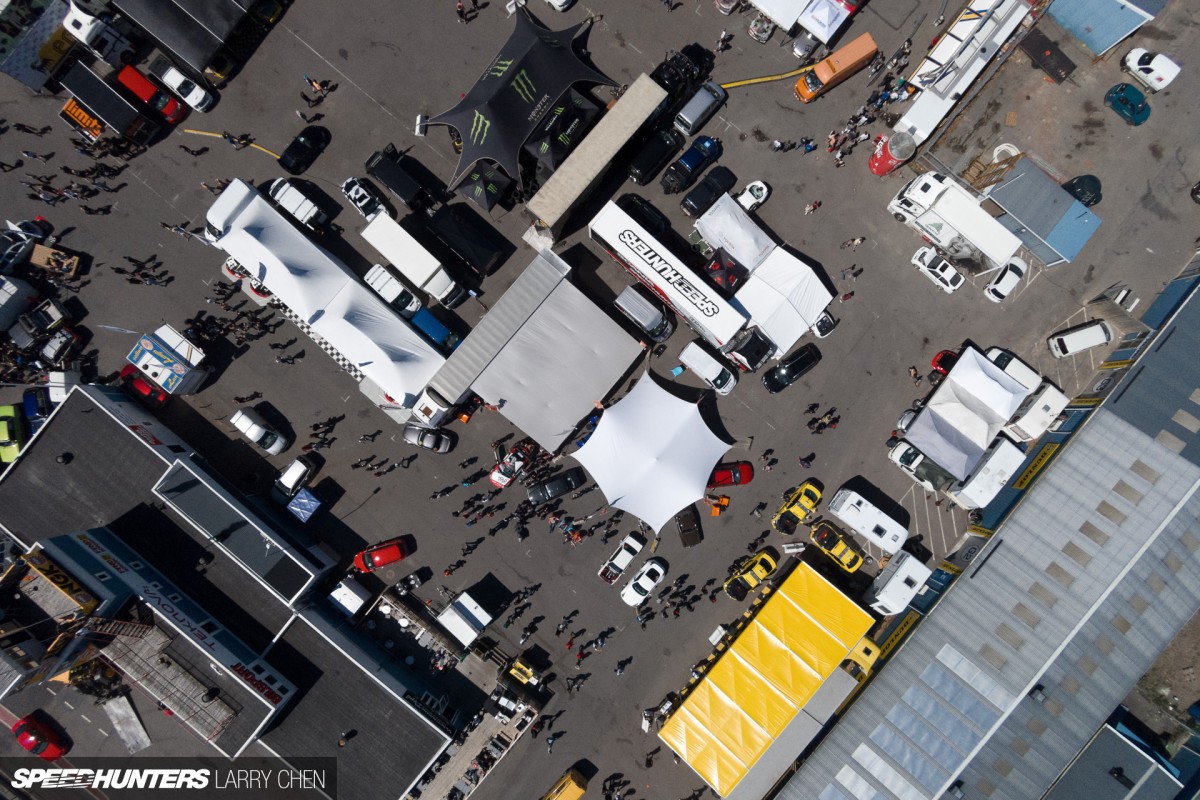 I think part of the reason why this event is so popular is because there are no real sound restrictions. People brought crazy builds from all over, and they were mostly uncorked for everyone's pleasure.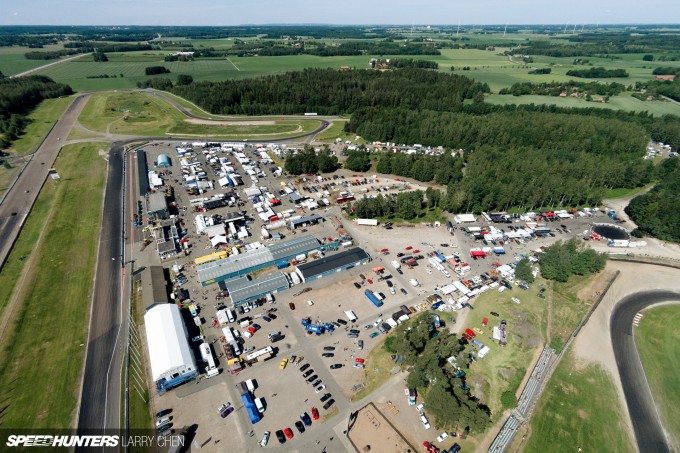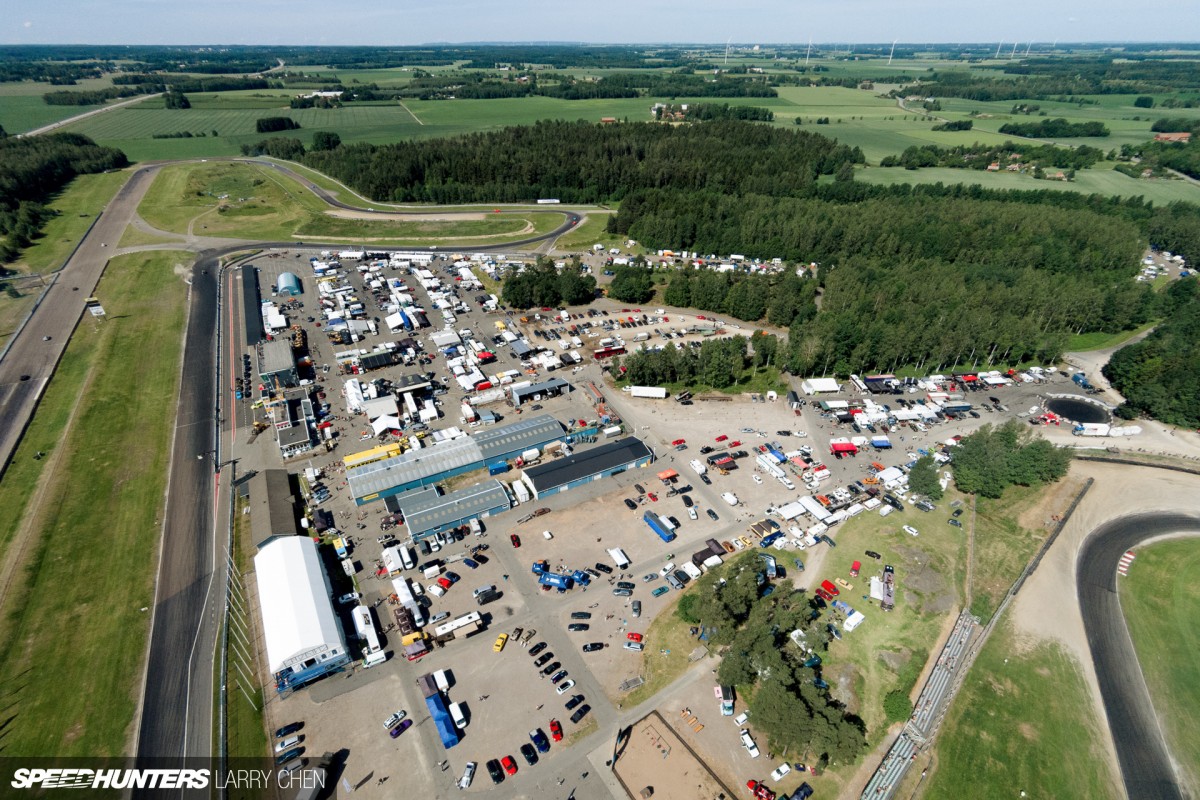 This is one of the last shots I took on Sunday. The main paddock was still packed, but some of the camping areas were already clearing out.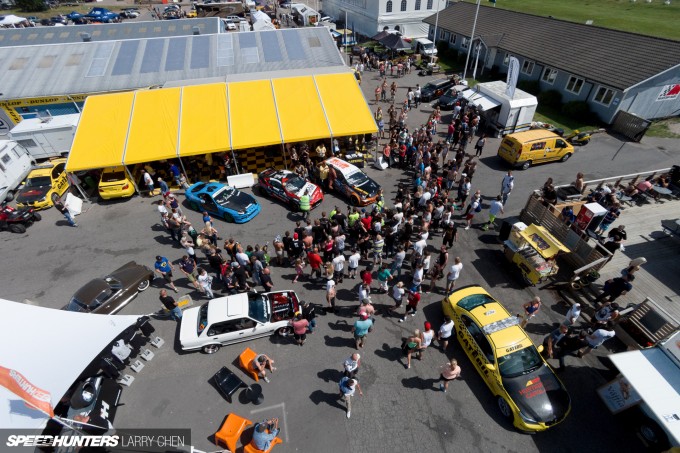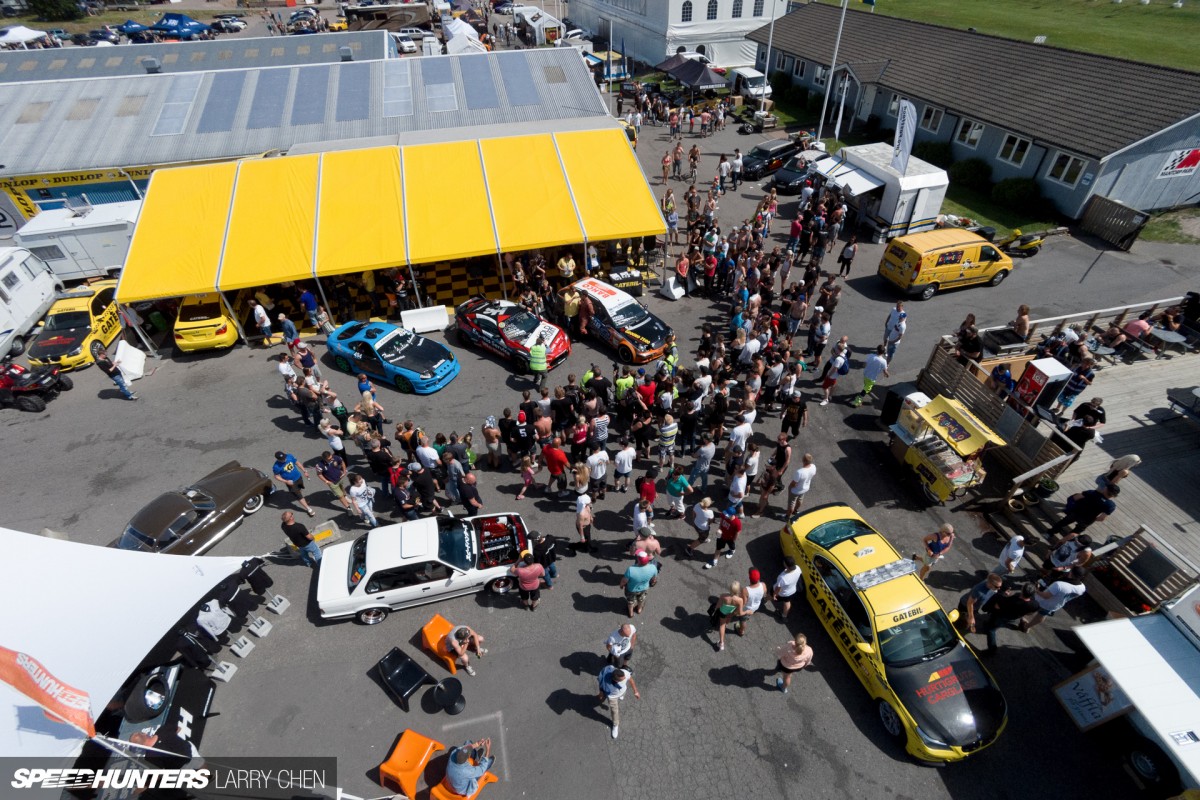 The trophy ceremony for the Breisladd took place right out the front of the official Gatebil booth.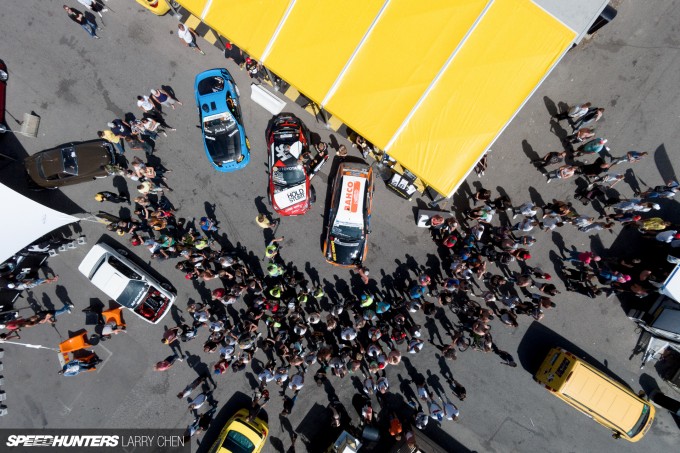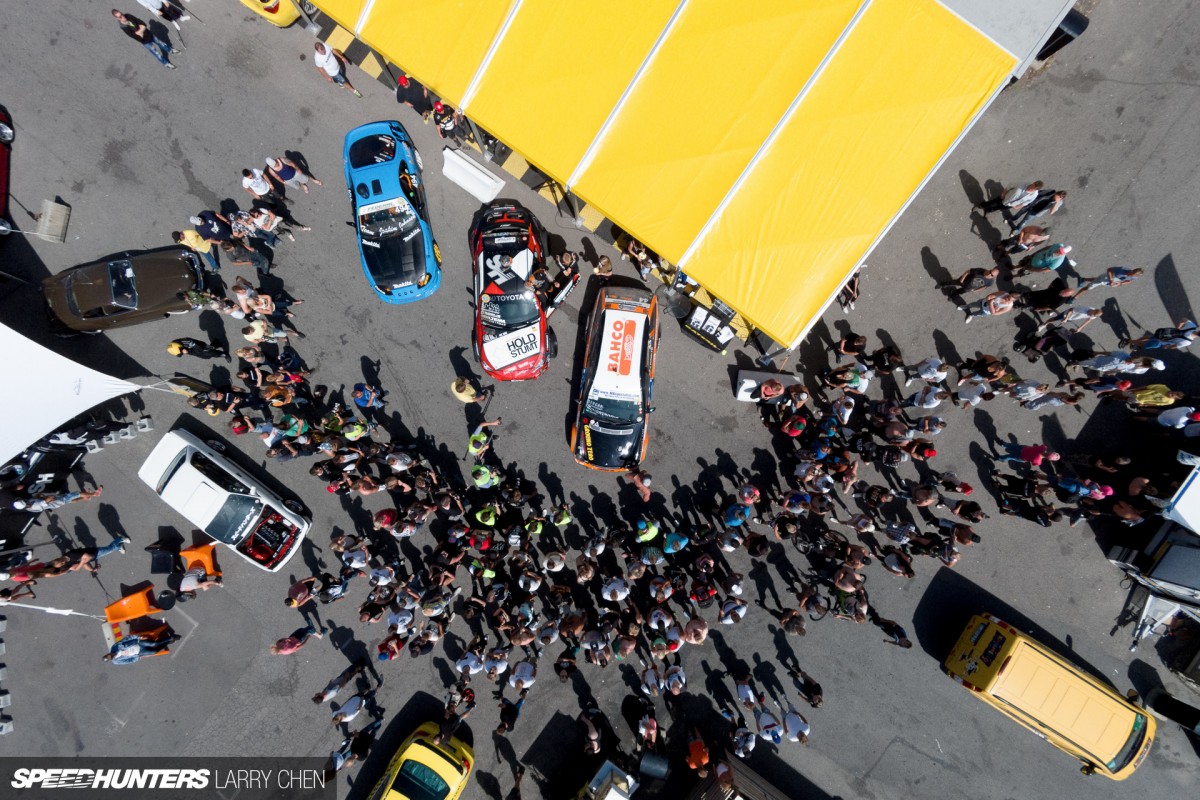 Checking out events like this makes me wonder – what other track day events around the world draw this kind of crowd? Keep in mind that anyone with a car can come to Gatebil and pay to drive – that's the beauty of it.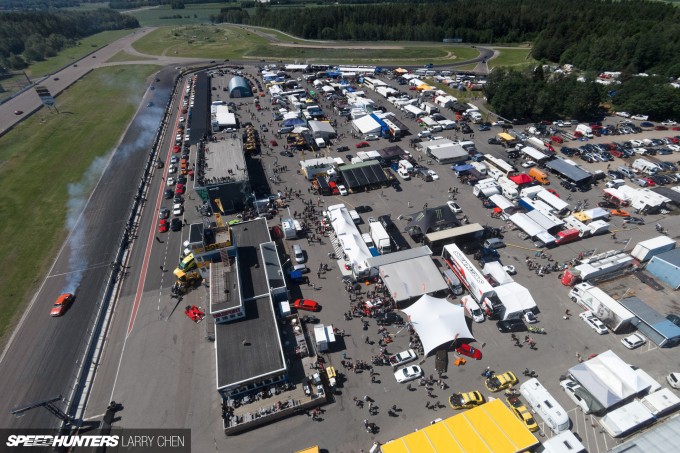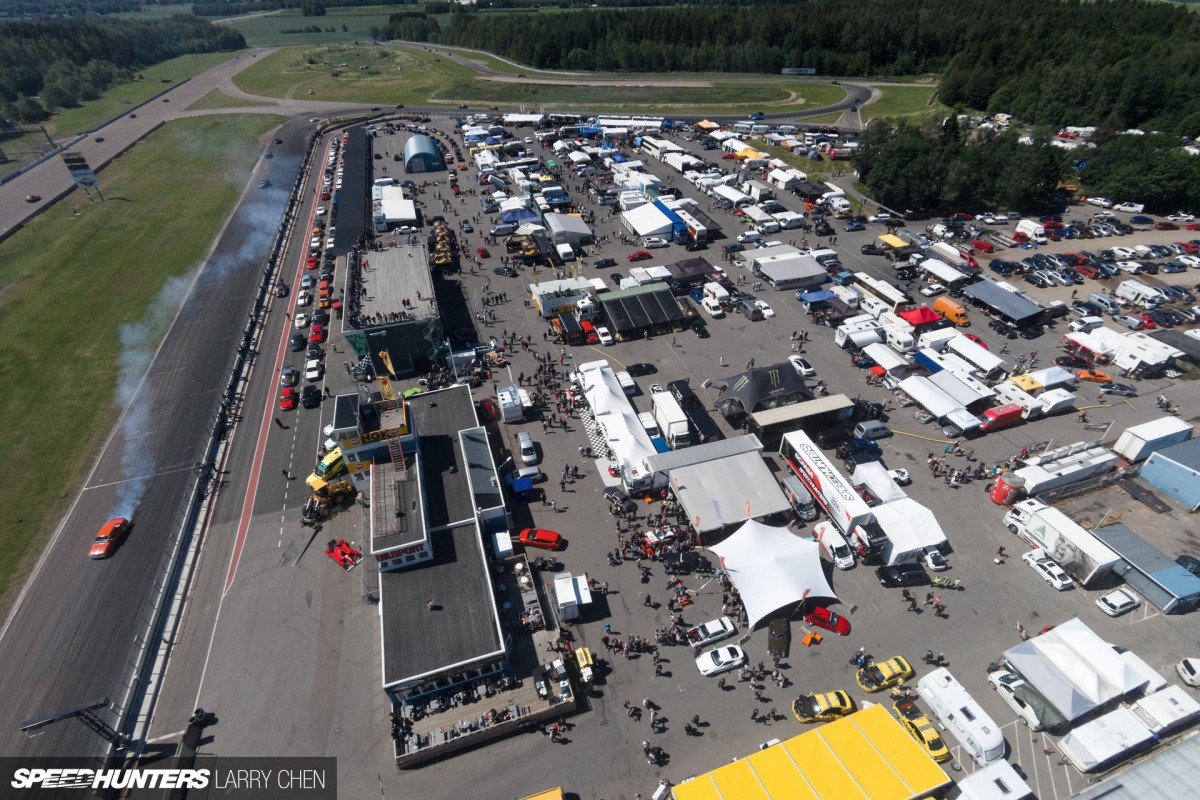 You pay a fee and you get to drift alongside some of the best in the world, like our own Fredric Aasbø, Vaughn Gittin Jr. and Mad Mike Whiddett. How crazy would it be if you could just pay a fee and drive on the same track as legends in your favorite motorsport? Drive a rally stage with Sébastien Loeb? How about driving an open track day with Lewis Hamilton? Doesn't that sound like fun?
Larry Chen
Instagram: larry_chen_foto
larry@speedhunters.com