All Star Bash
Over the years many amateur drift bashes have been popping up. These days there's the East Coast Bash, the No Coast Bash, Bash to the Future, Big Foot Bash and the Lone Star bash. The original, however, was started way back when in 2007 by a few friends who were part of the Just Drift and Ziptied crews. Together they combined forces to create the greatest amateur drift bash the world has ever seen, and since then the Just Drift All Star Bash has become an annual tradition with drifters traveling thousands of miles from all over the world to converge at one dusty location: Willow Springs International Raceway.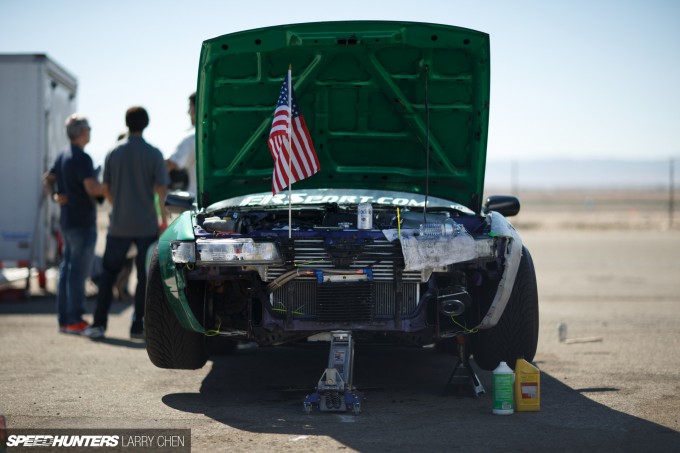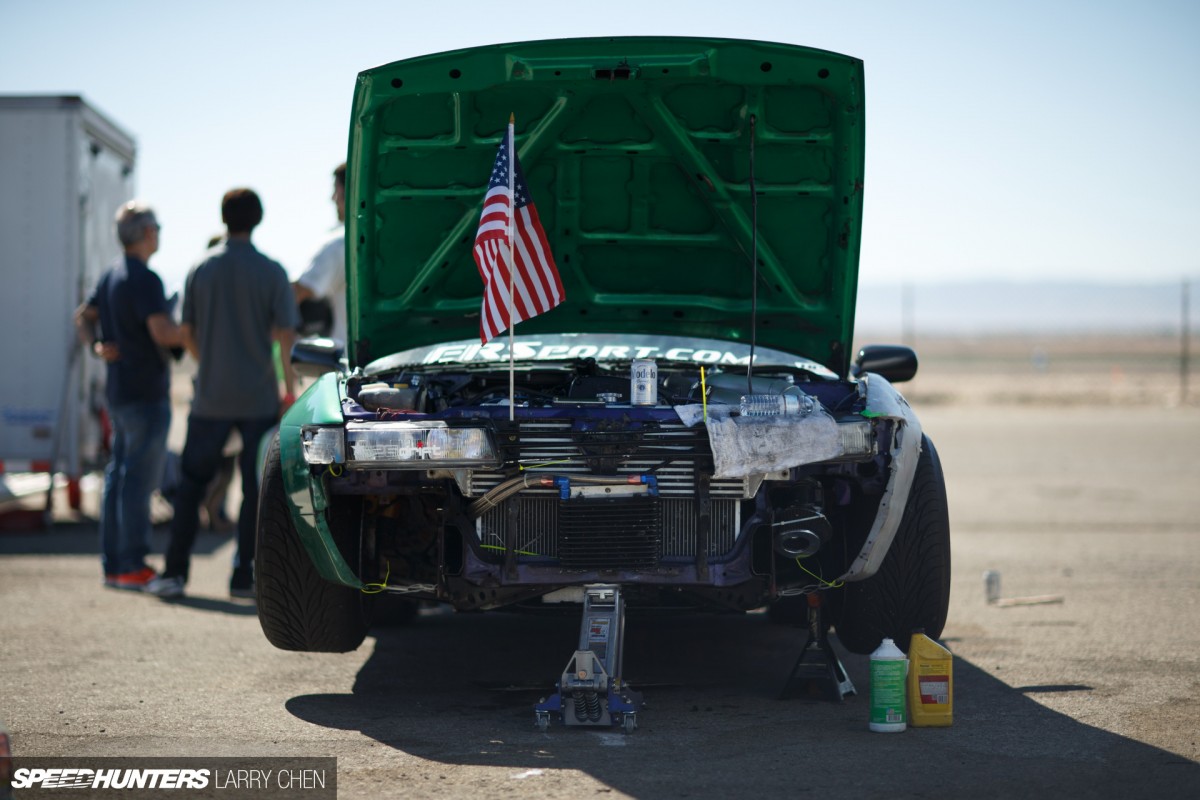 The All Star Bash had always been a highlight of my year as it allows me to relax and shoot photos for fun. For many years the the event was held during USA's Independence Day weekend celebrations, which meant lots of fireworks but also intense 110-degree heat.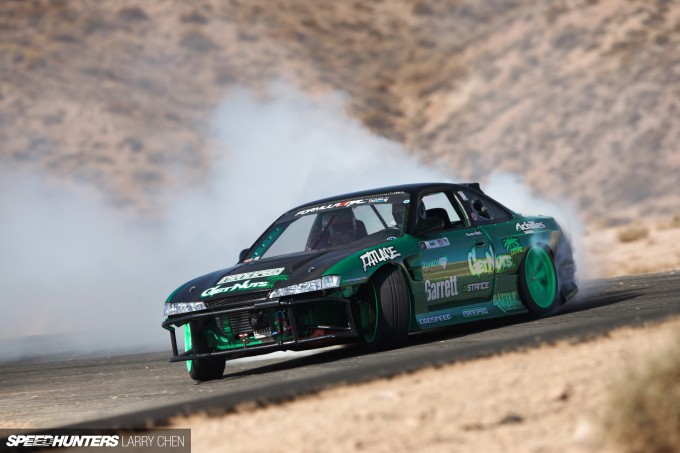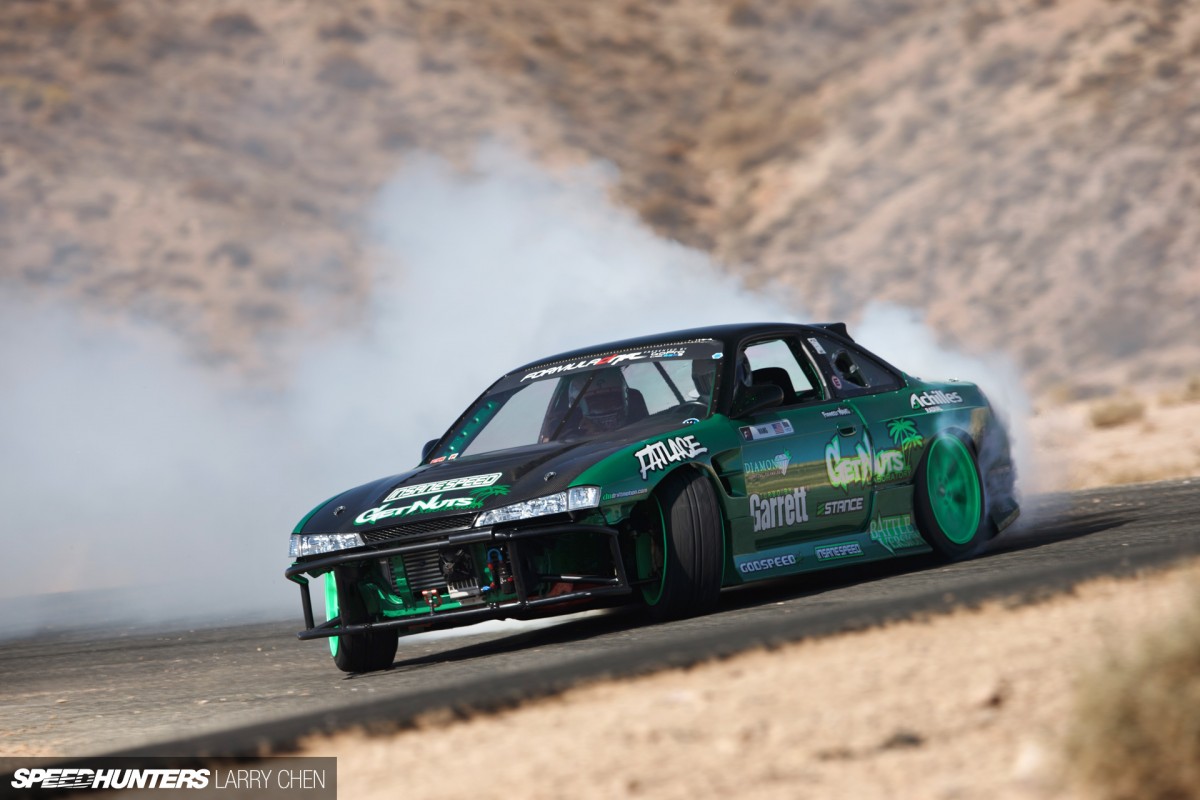 Now the event has been moved back in the year, which is great because the heat is much more bearable. And since the Formula Drift Season is over, more professional drivers are able to mix it up with the amateurs than ever before. This year there was a total of 125 cars, the most that the event has ever seen.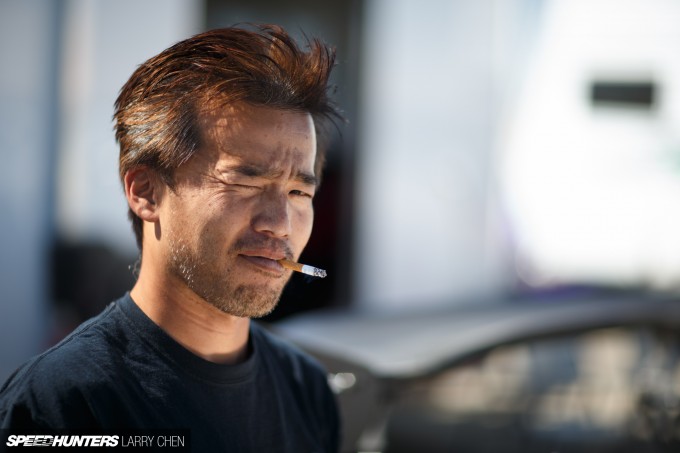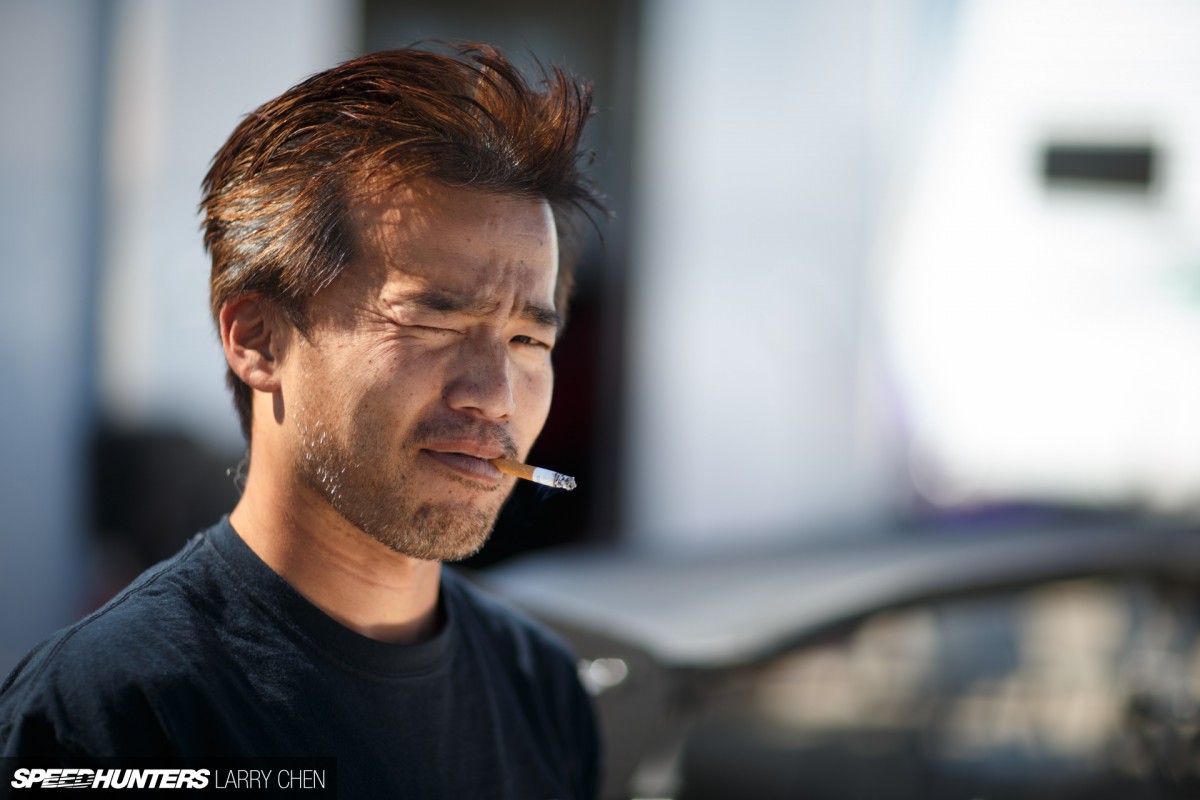 Guys like Taka Aono have been attending the All Star Bash since the very beginning. In fact, to this day he still judges for the Just Drift Top Drift series. People from all over the country come far and wide for a chance to tandem with legends like Taka.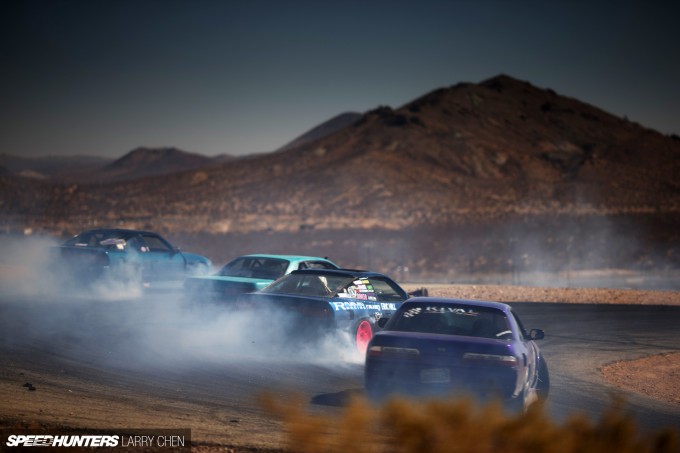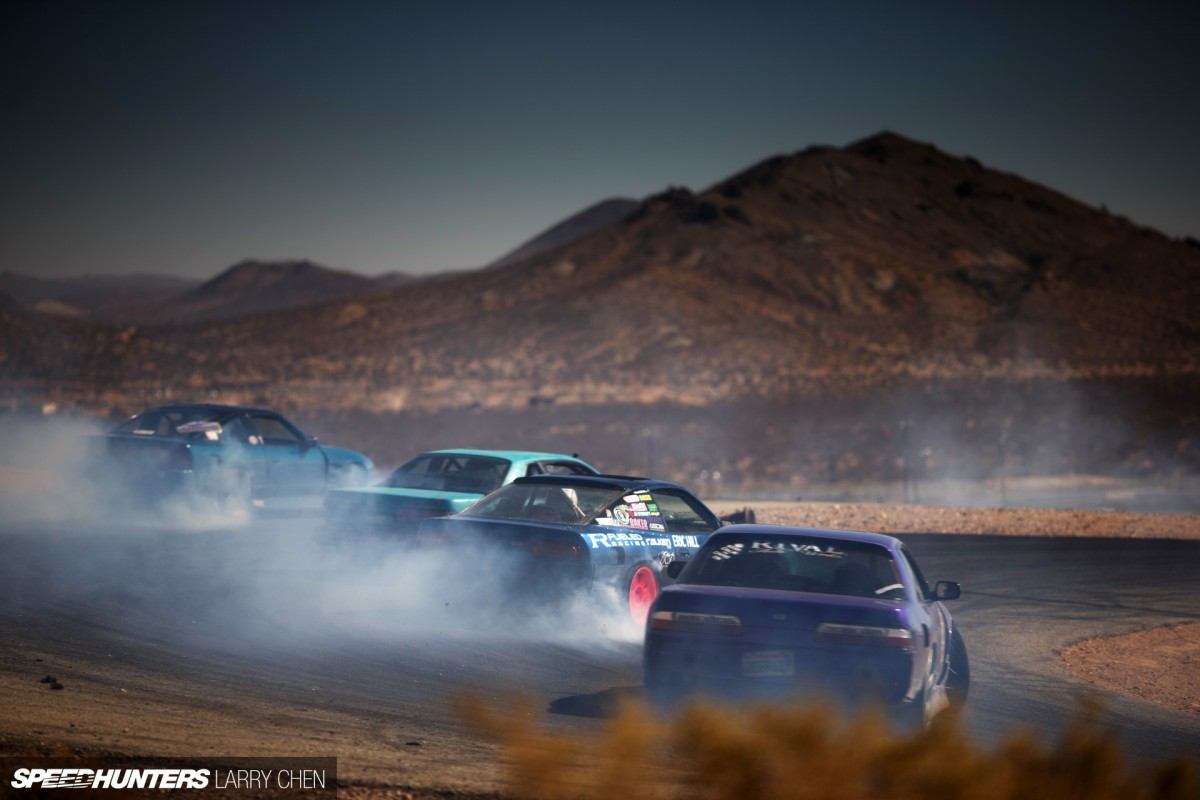 Then there are the epic drift trains that All Star Bash is known for. This year they broke the world record for most cars drifting on the same track at the same time: a 58-car train of drift cars going crazy. I will touch on this more later in my post.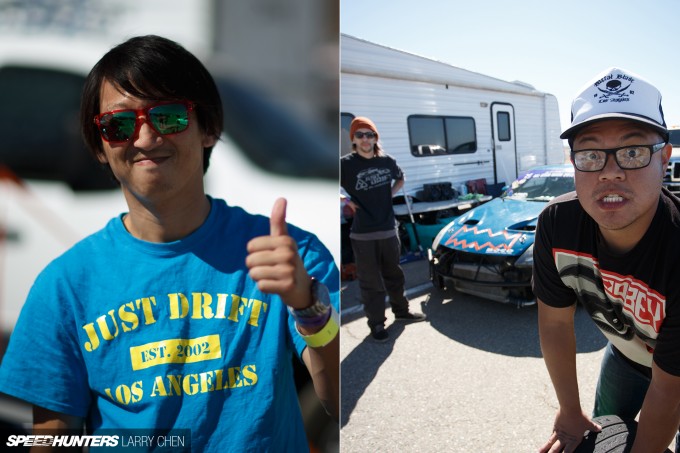 In addition to current Formula Drift drivers who show up, there are many retired FD drivers who come out to play, along with guys who have earned their FD licenses but have never had the intention of competing professionally.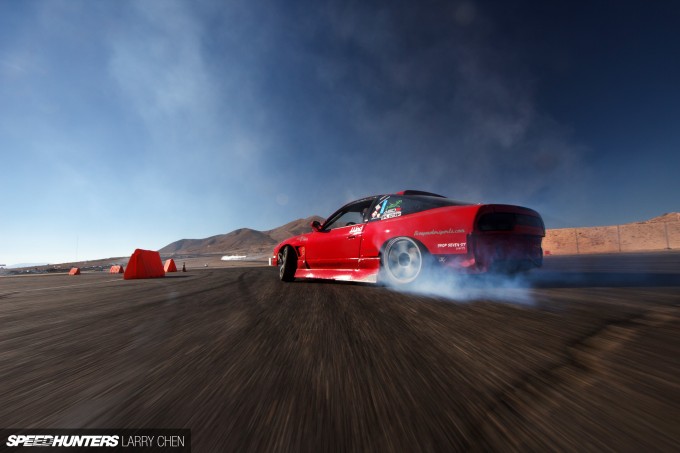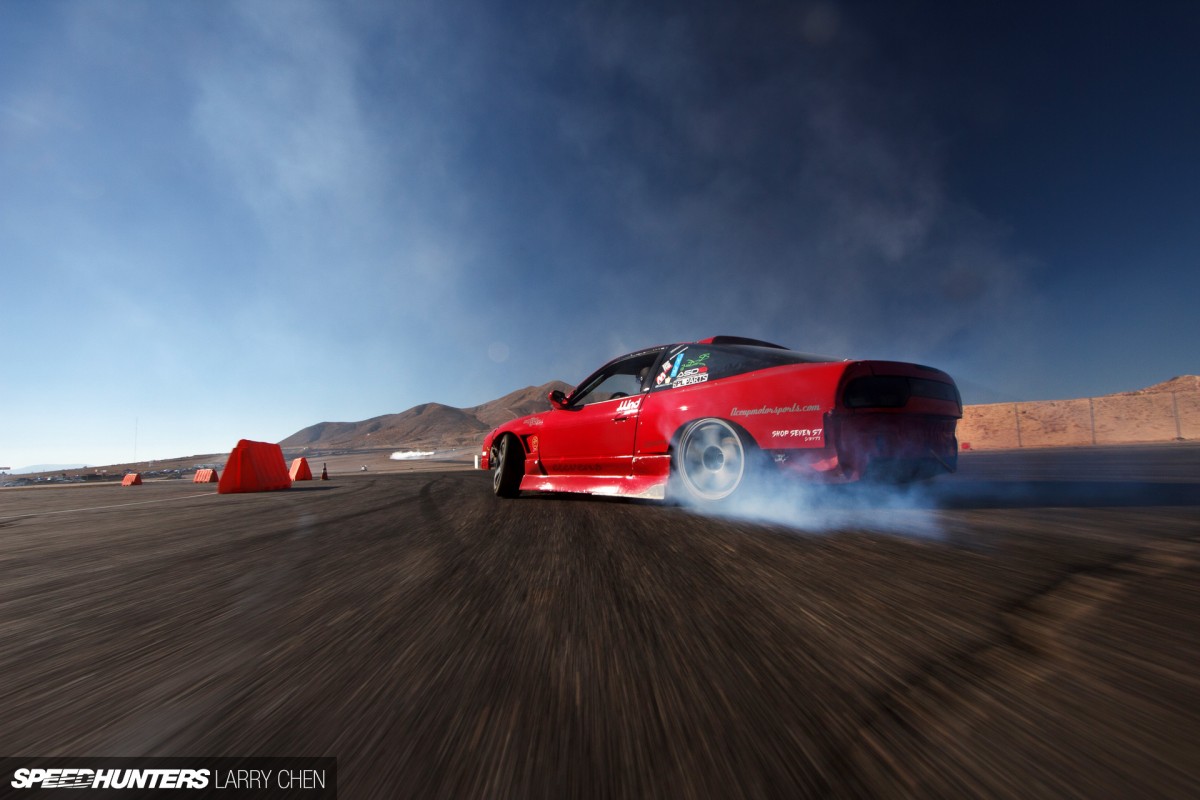 There have been many capable drivers who competed in Top Drift earning podiums and licenses who just want to drift for fun. For most of them, as soon as it turns into a competition, things get way too serious.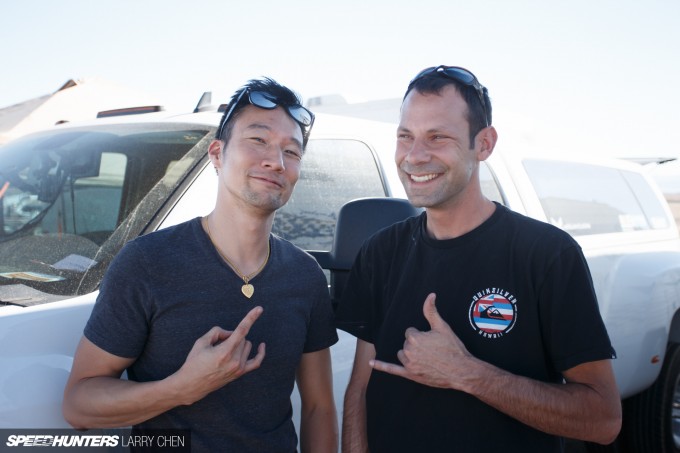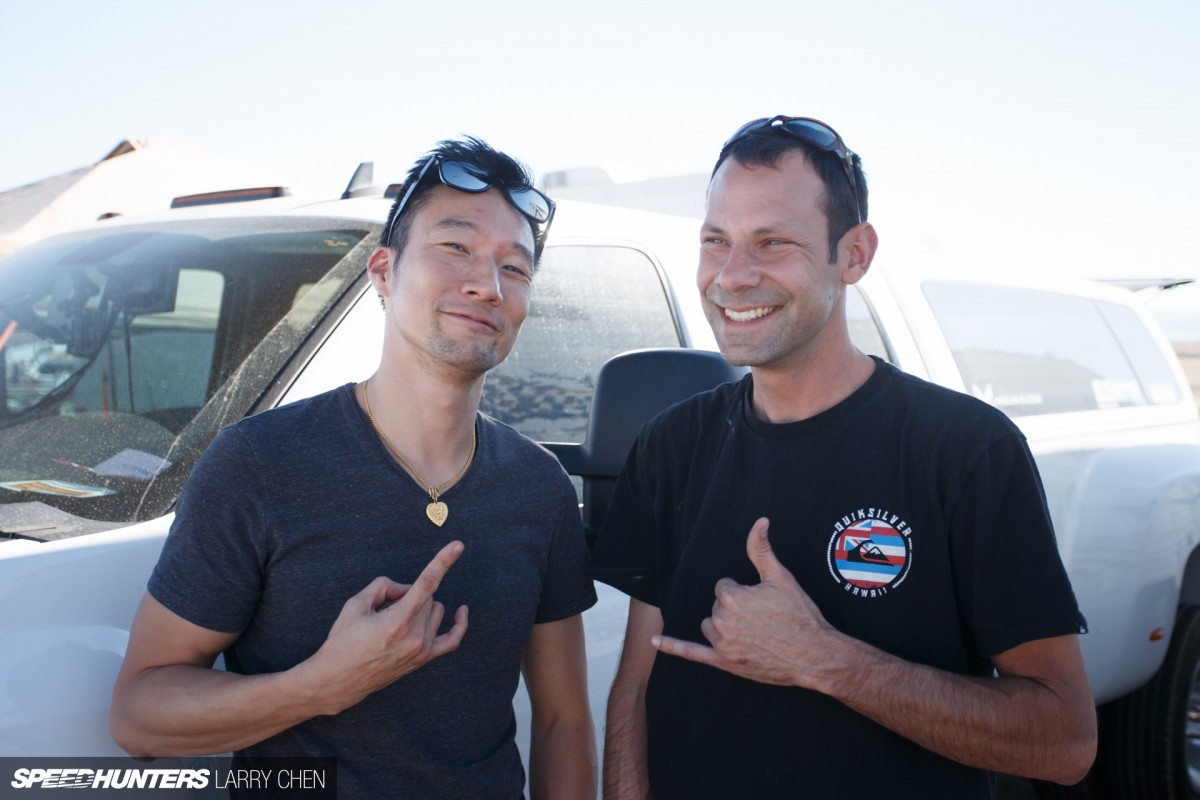 Former pro drivers Hubert Young and Alex Pfeiffer always come out to catch up with life-long friends and lend a helping hand where they can.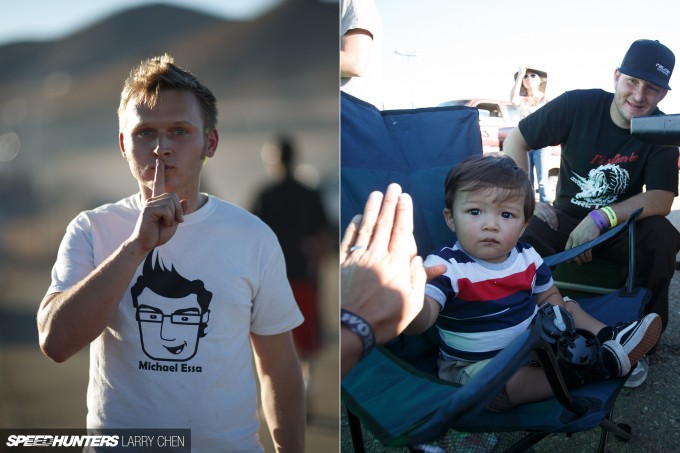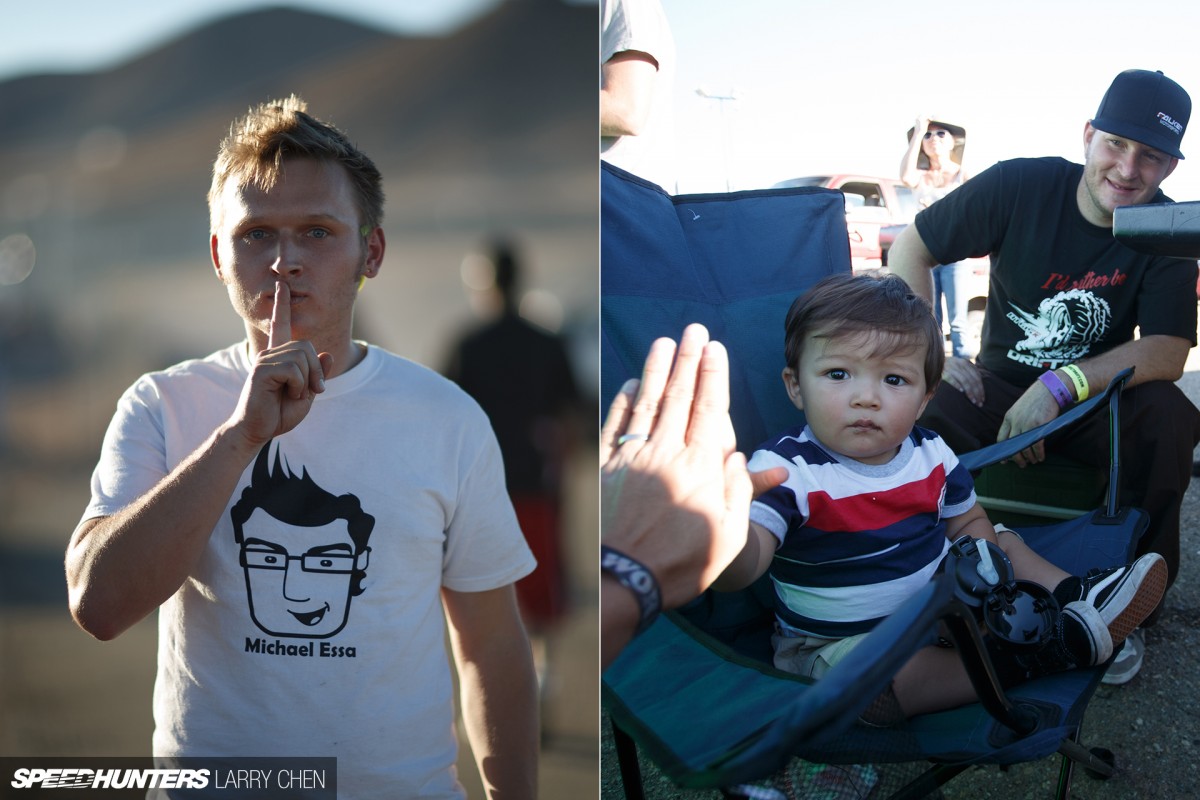 Current pro drivers come out to relax after a long hard season competing on the Formula Drift circuit. Justin Pawlak brought out his entire family, including his newest addition.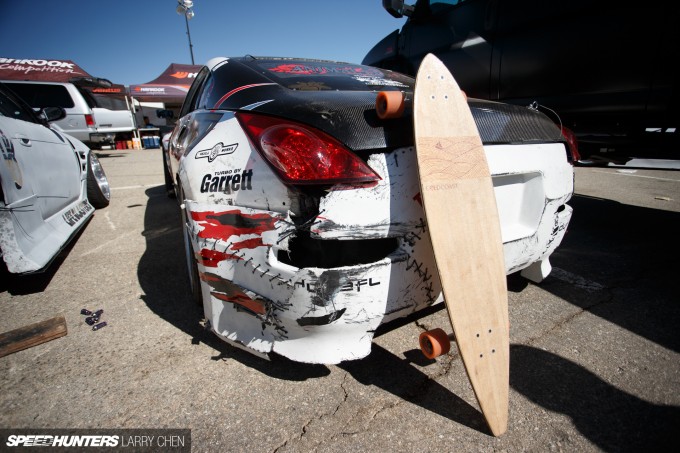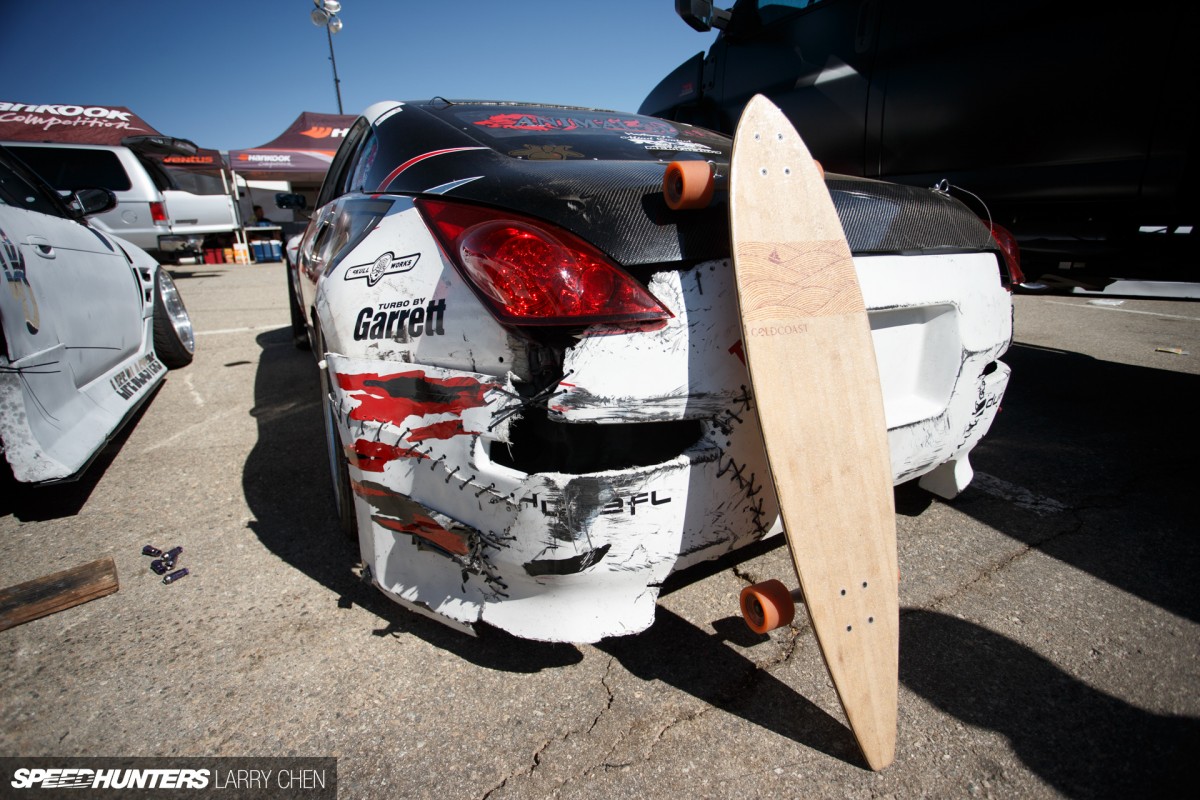 Many of the pro teams have plans to build new cars for the next season, so they tend to bring out their beaten and battered cars out for one final epic drift weekend before they're parted out.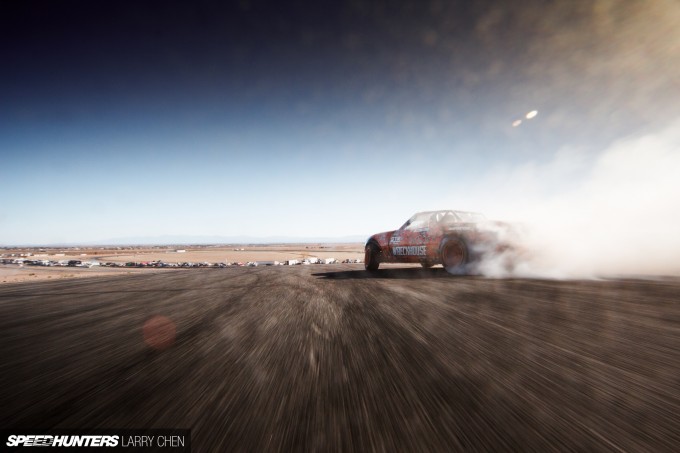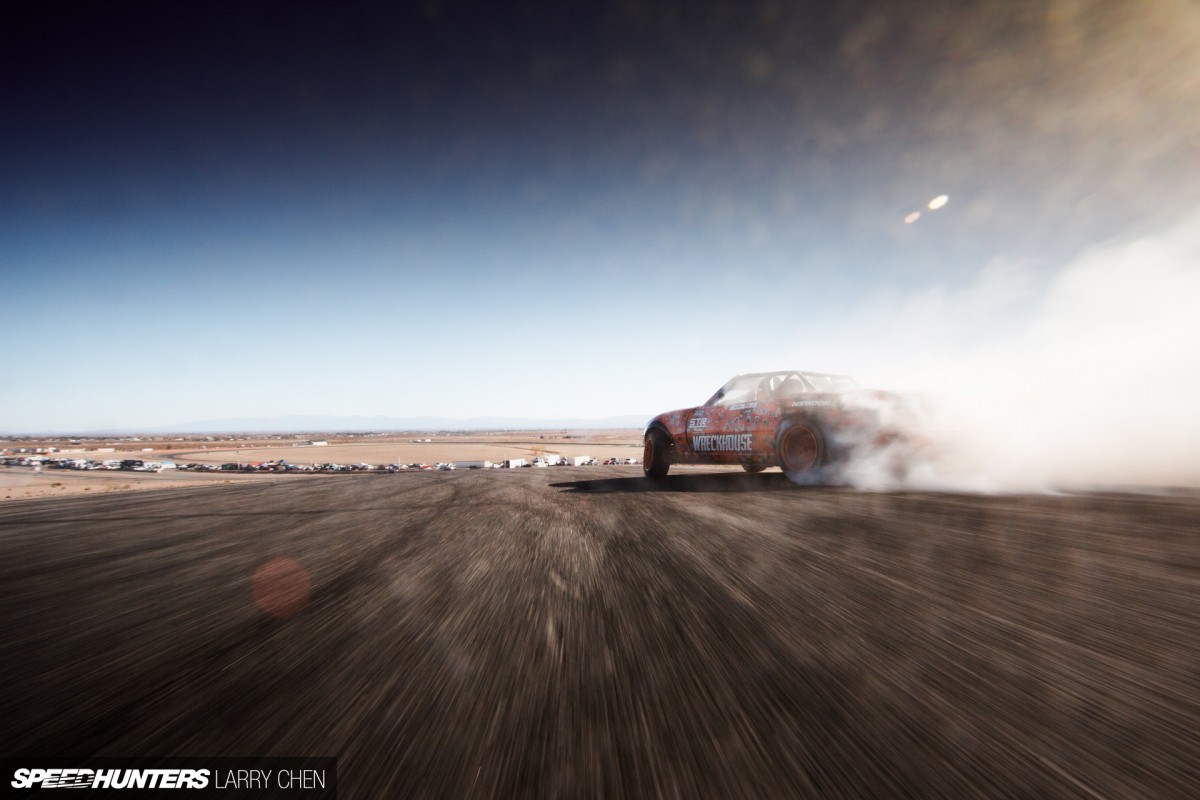 Danny George, the 'People's Champ', has been drifting at All Star Bash ever since he started living life sideways. This was the perfect event for him to retire his trusty LS-powered Mazda Miata.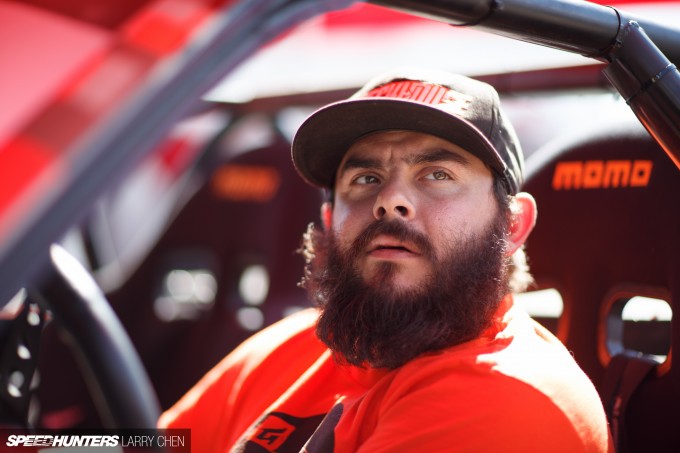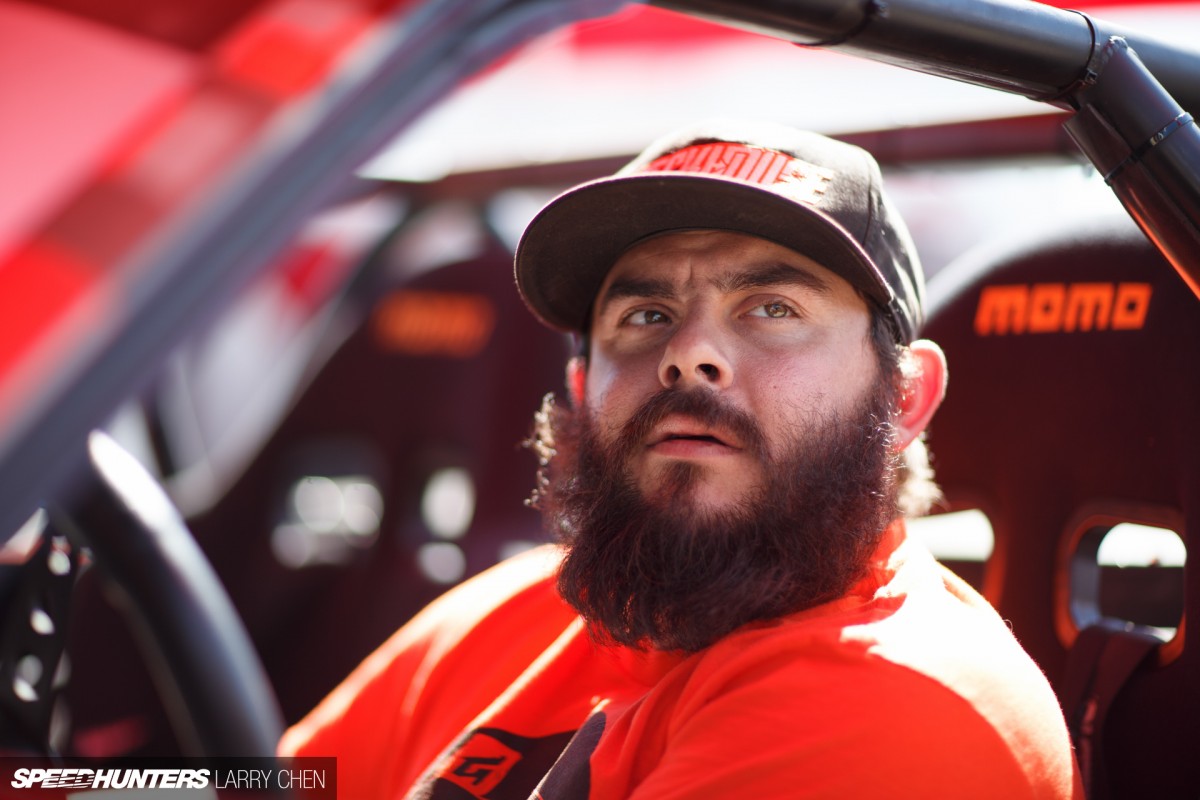 For the 2014 season he will be campaigning a far more competitive Miata. That will be interesting to see considering he had some of the highest entry speeds at Irwindale this year.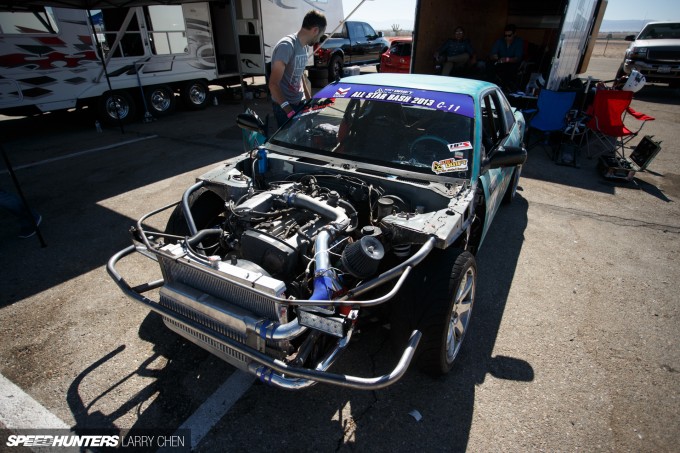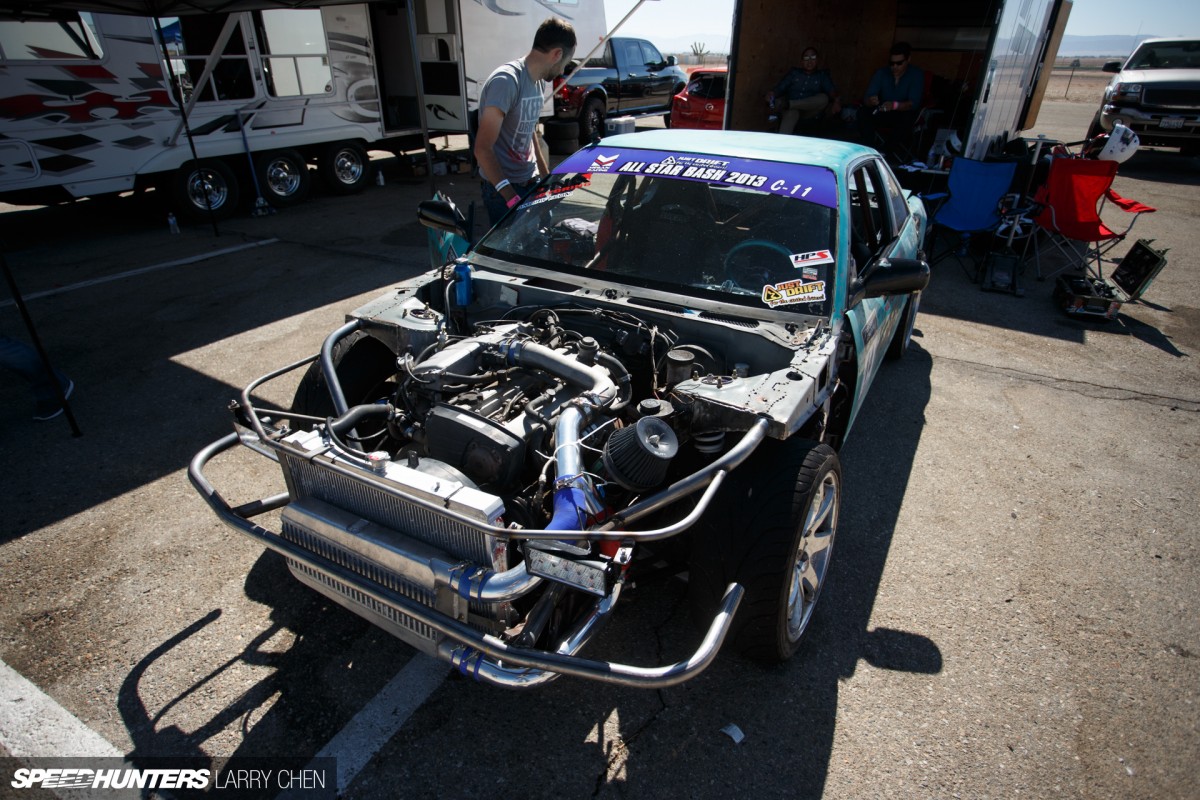 It's also common to see drivers bring out fully-built missile cars with the intention of tandeming door-to-door with other similarly-prepared machines.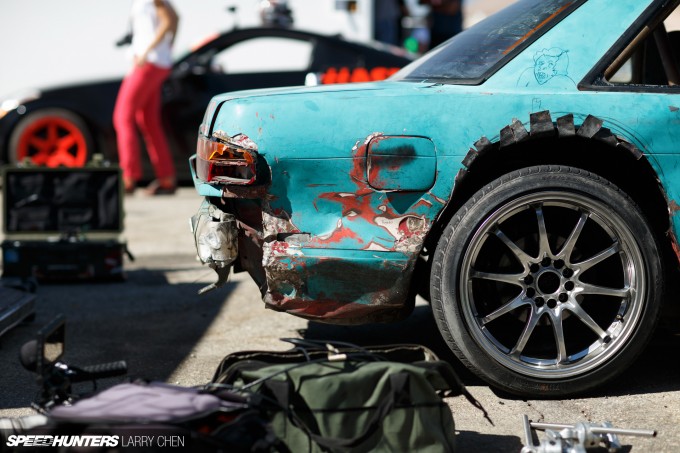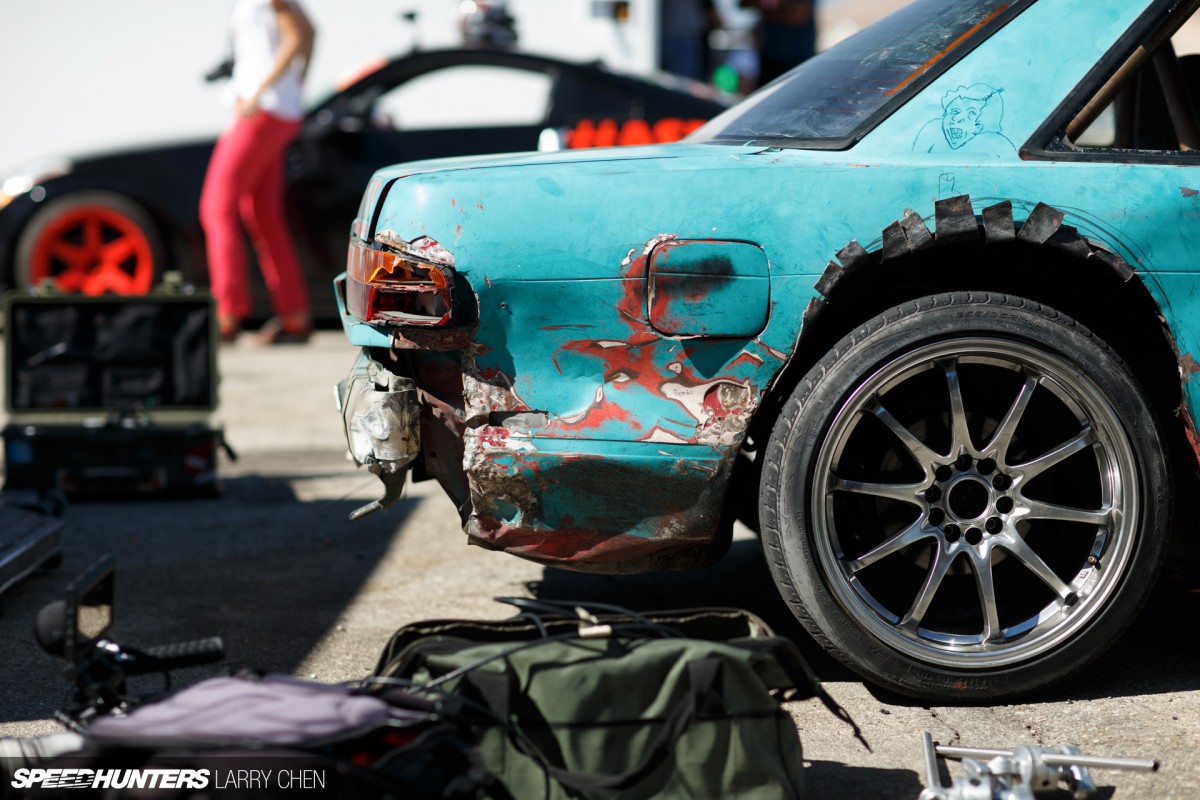 However, you can only call a drift car a missile if you have a properly built drift car. If a missile is all you have, then it's really just a beat up drift car.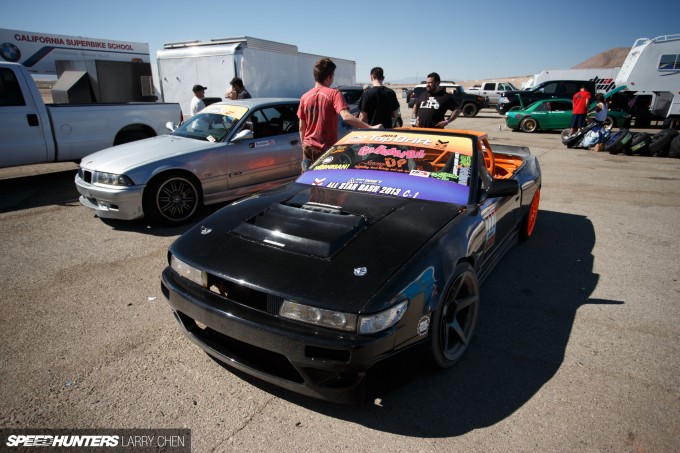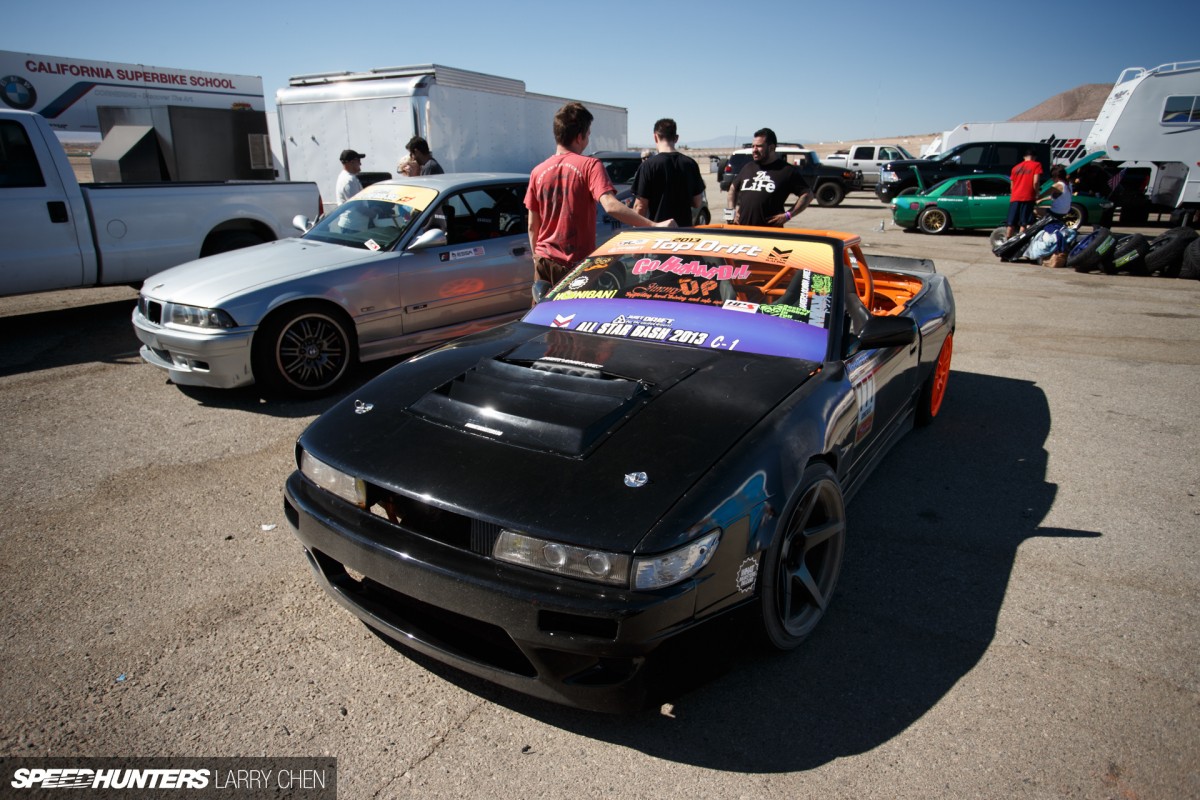 Some guys spend all year just building a car for All Star Bash with the goal of going through as many tires as possible in one weekend.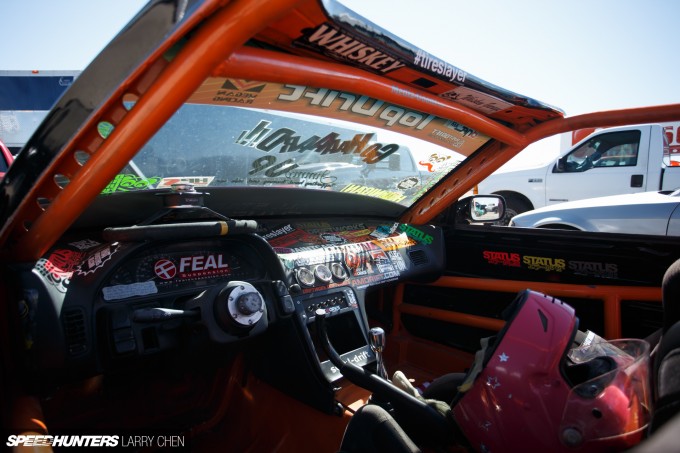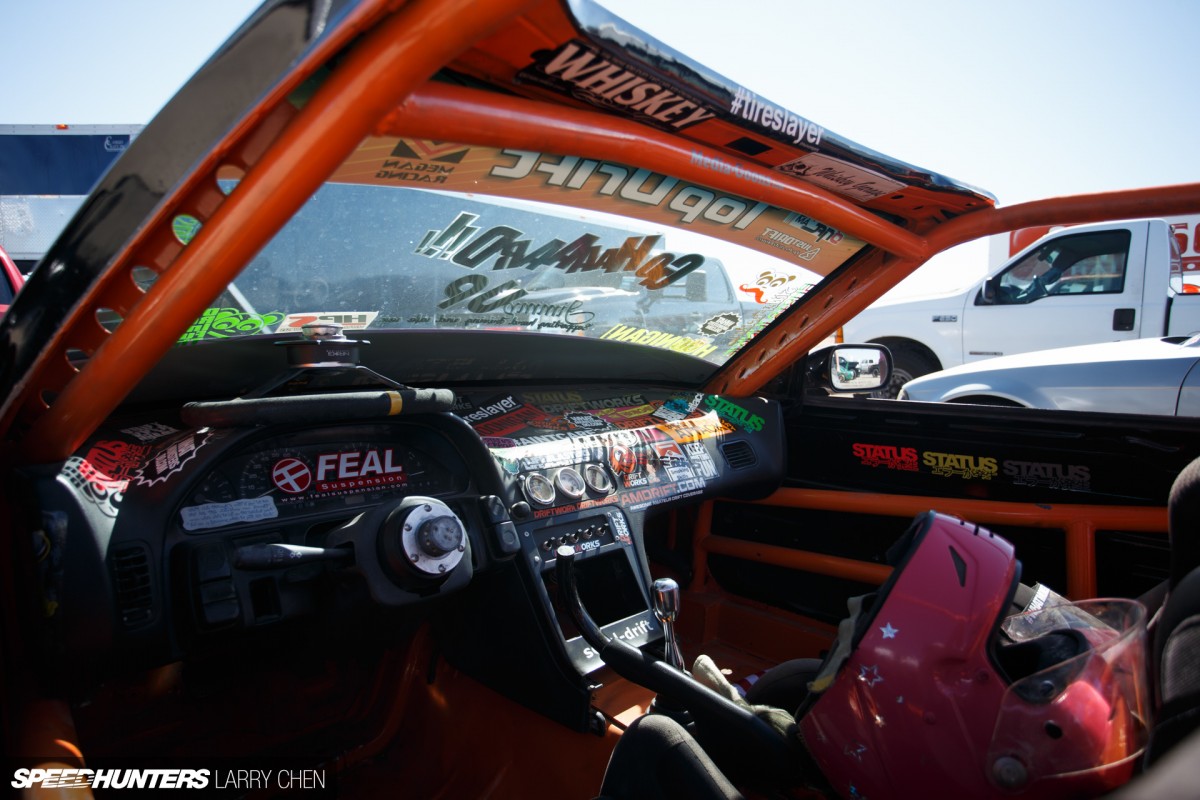 I think there's still enough space left on this windshield for a Fig Newton sticker.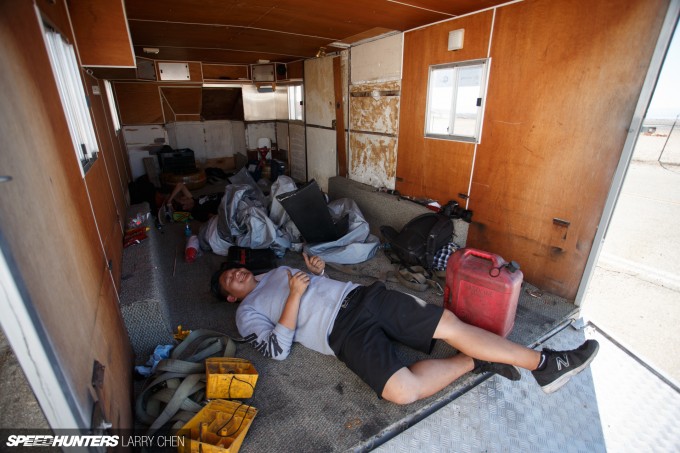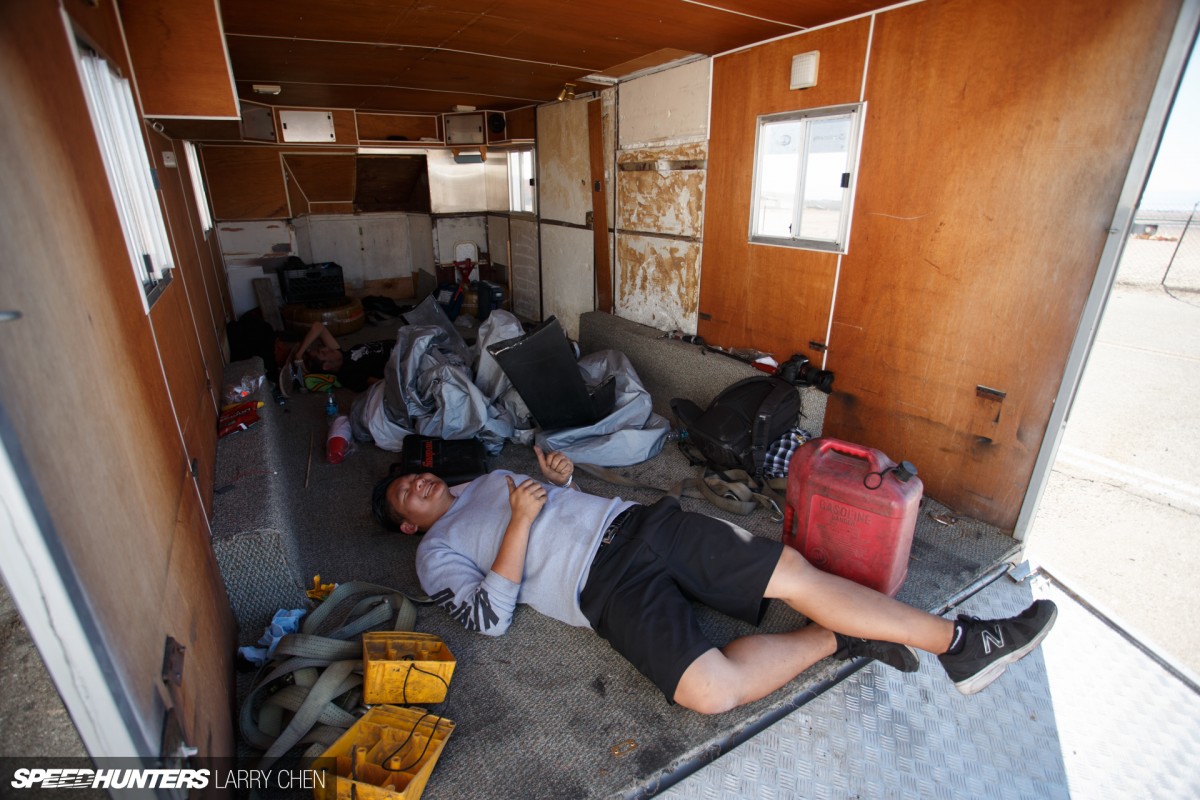 I arrived early morning Saturday to find many guys already passed out from partying the night before. As much as I wanted to stick around to shoot those that partied a little too hard, I had a date with an airplane.
Planes, trains and drifting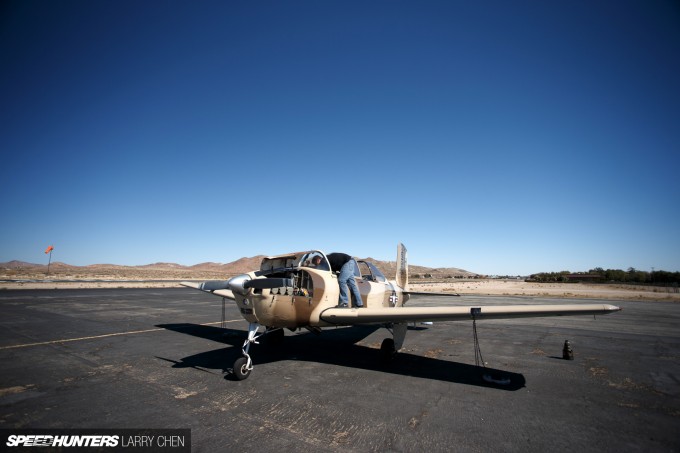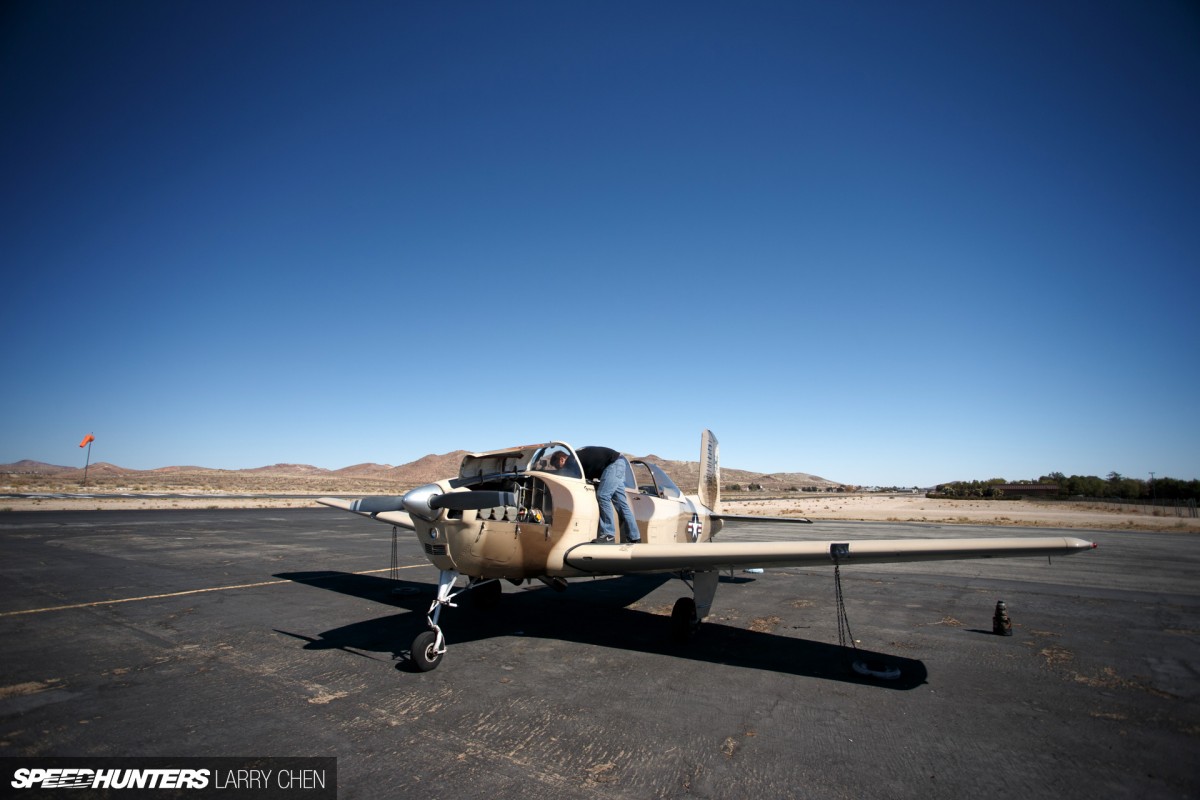 All Star Bash 2013 was going to go down in the history books as the event that broke the record for most people drifting at the same time on the same track. To properly capture the spectacle, Charlie Ongsingco, the owner of Just Drift, thought it would be a good idea to record it all from the air.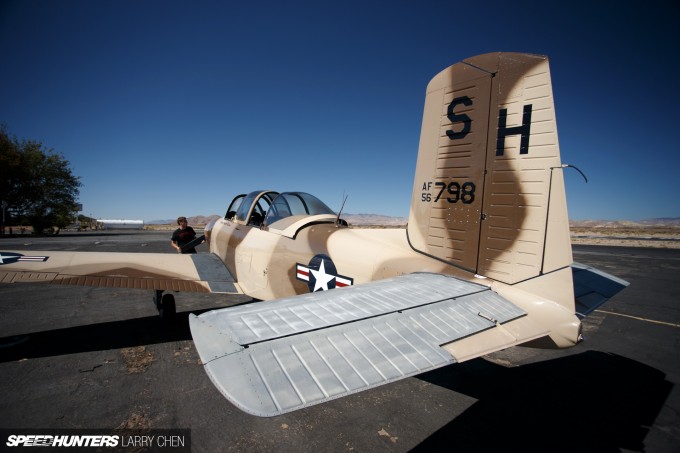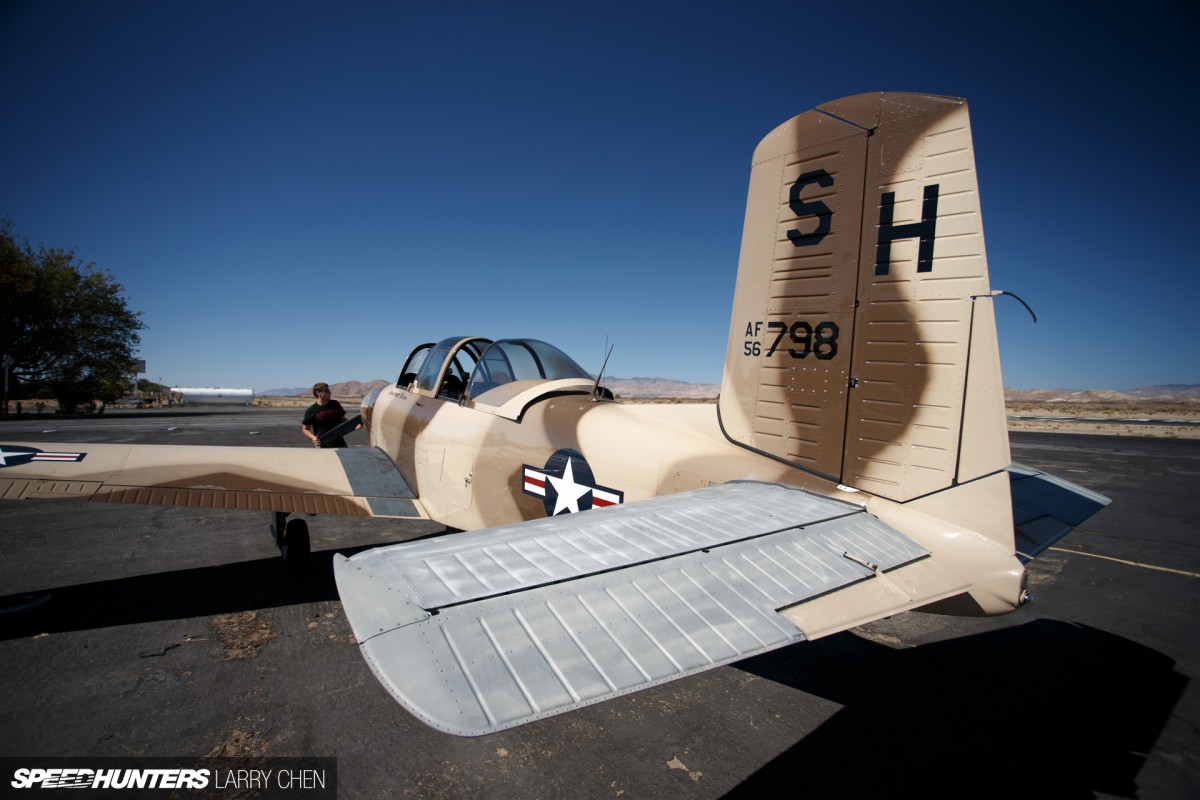 However, this was no ordinary prop plane. I nearly flipped a lid when I saw SH painted on the tail fin – but that was not planned.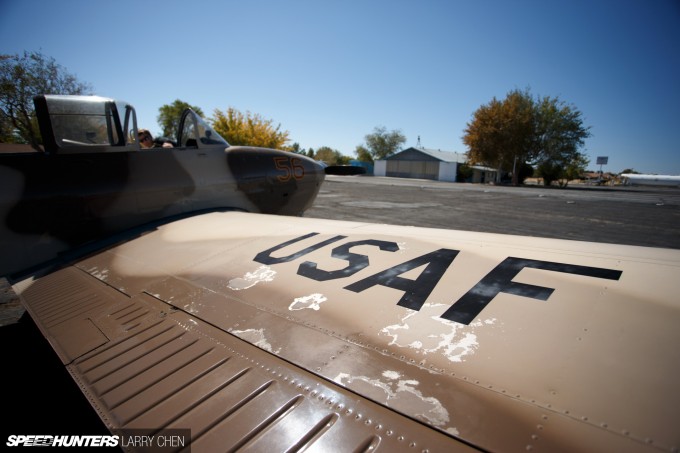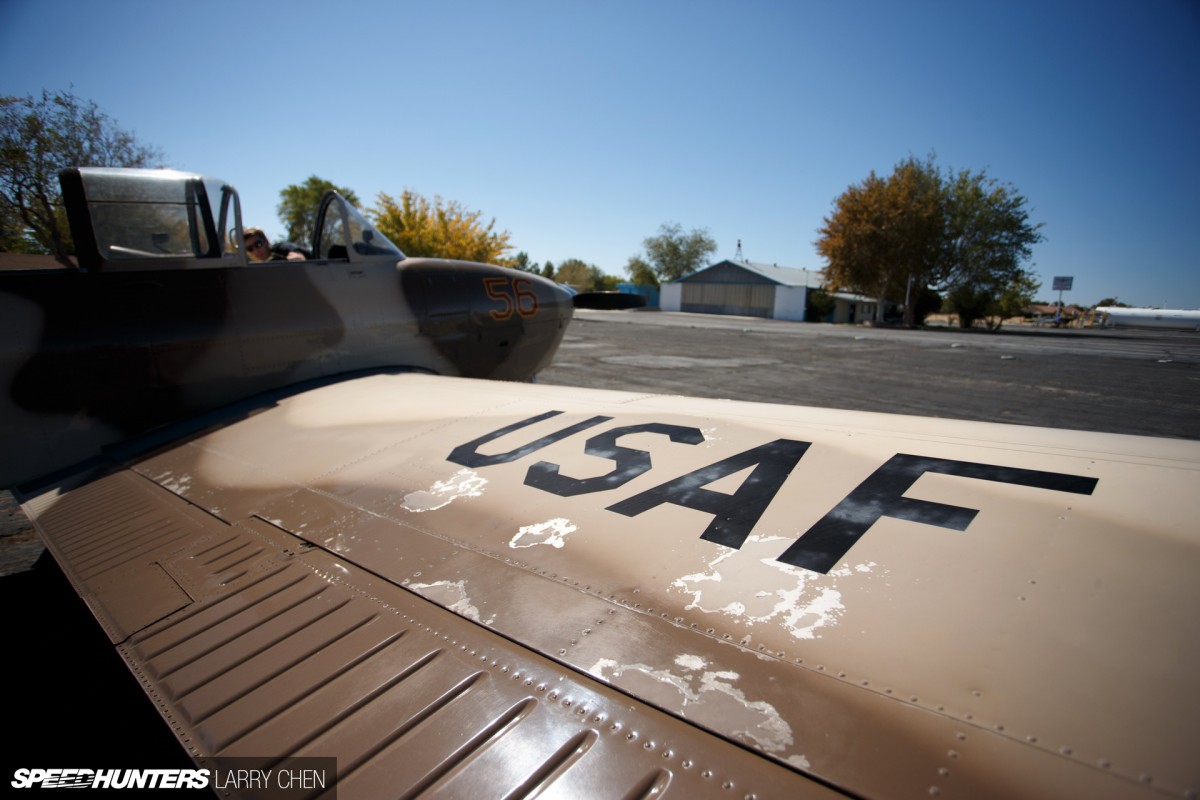 This was a real United States Air Force trainer, and according to Mike Garrett, it's a T-34 built in the 1950s.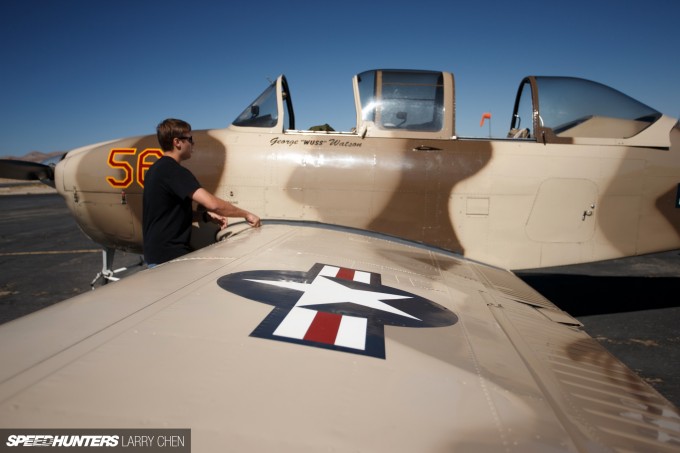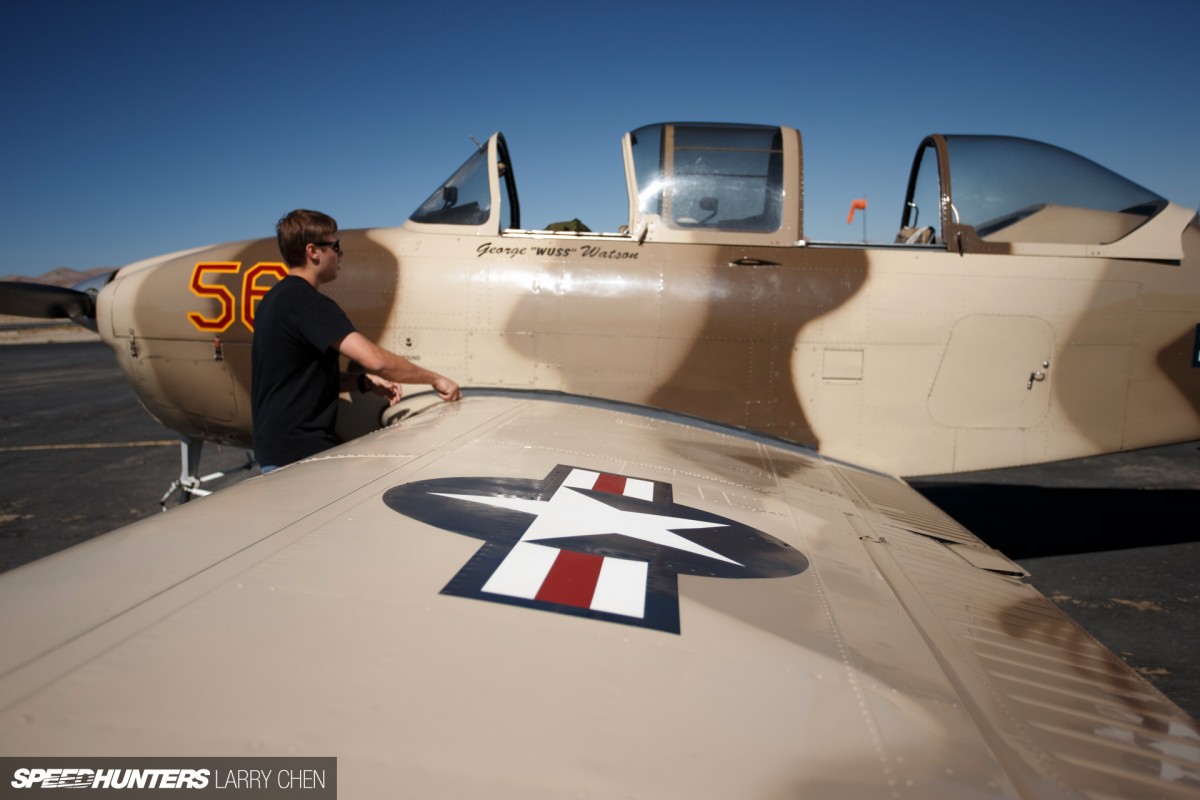 Today it's still being used to train up-and-coming pilots, but during the All Star Bash weekend we had it on loan as a camera plane.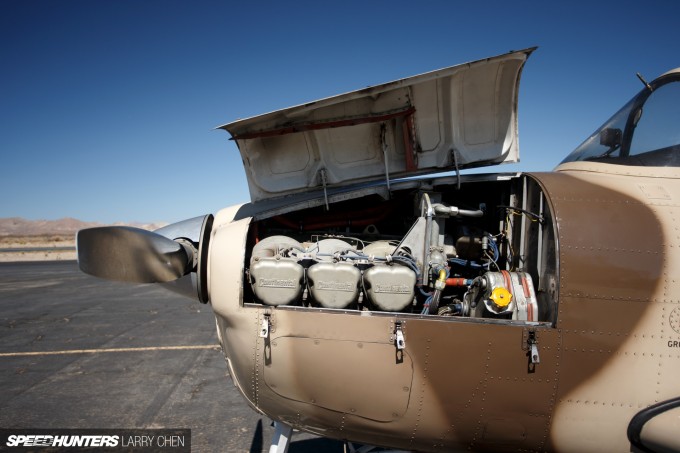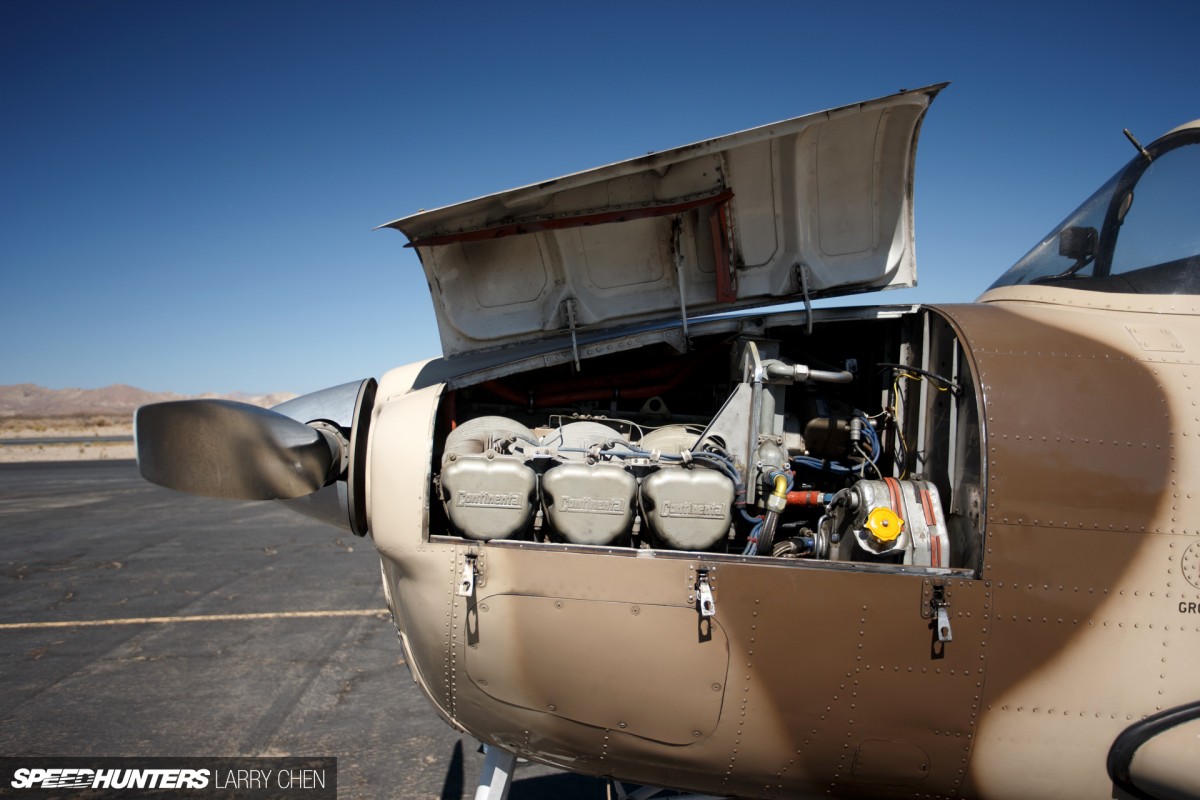 If it ain't broke, don't fix it. I guess that also applies to aircraft technology from the '50s.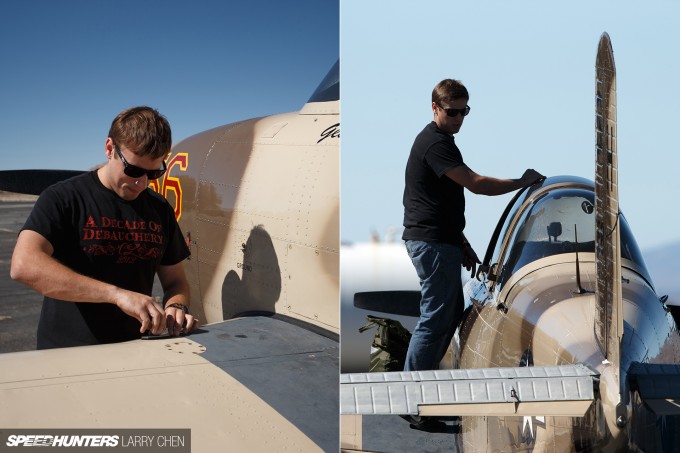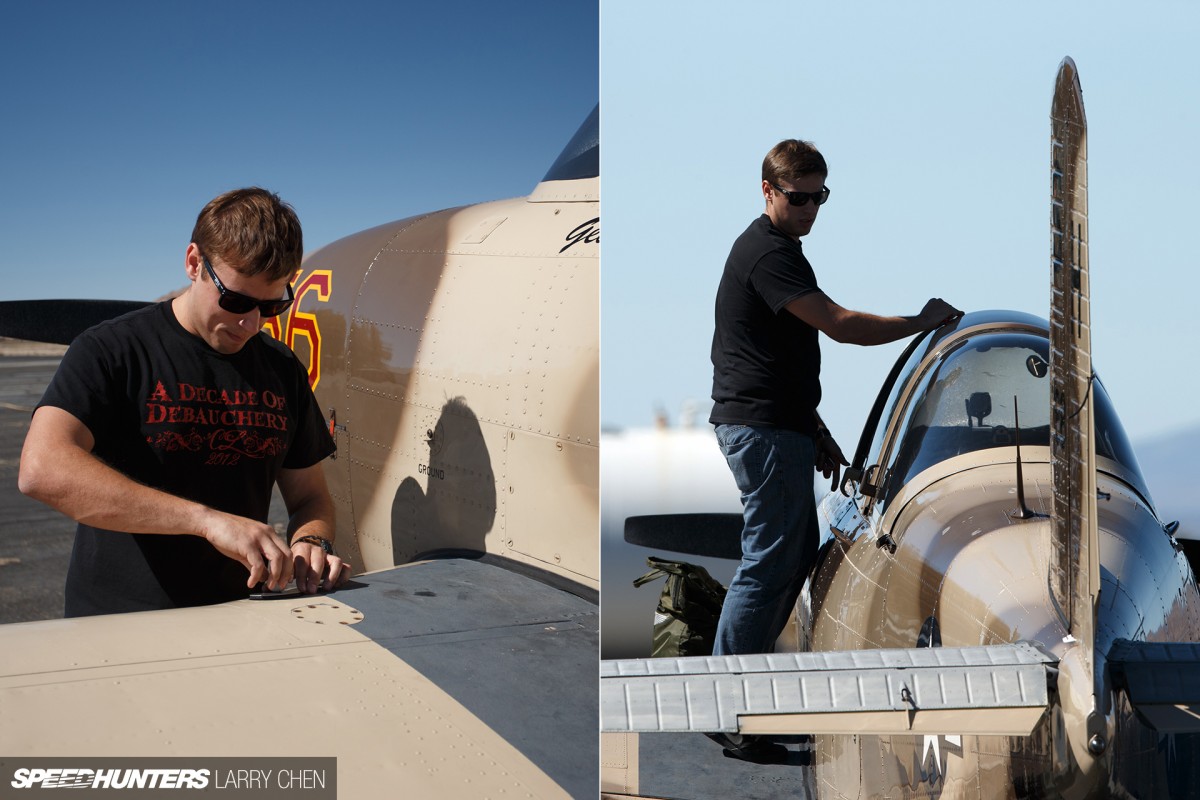 The pilot was my friend Jeff Guillotte who flies in the United States Air Force's 729th Airlift Squadron. His most recent adventures have taken him to Afghanistan and other hostile countries where he piloted a C-17 flying hospital.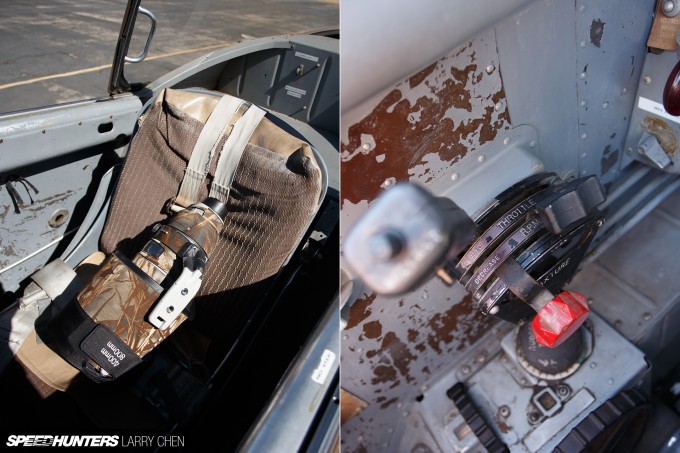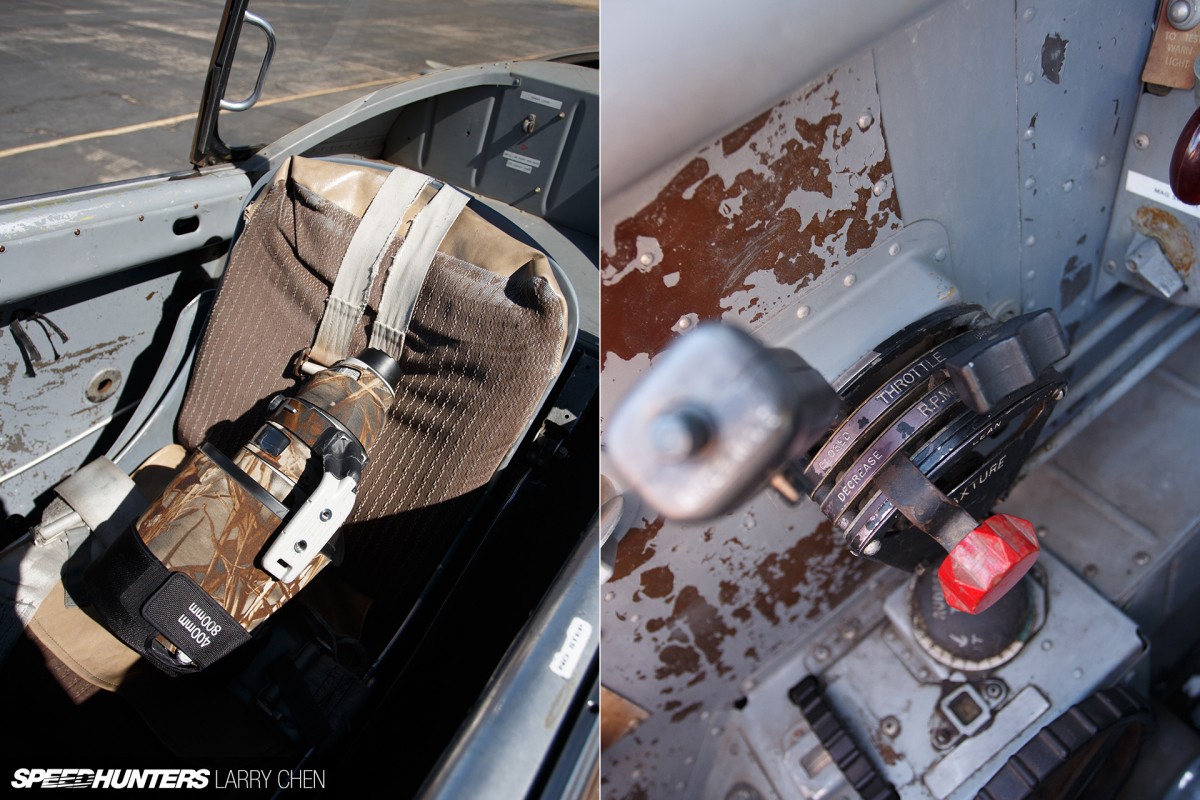 With those sorts of credentials, flying me around Willow Springs was going to be a piece of cake.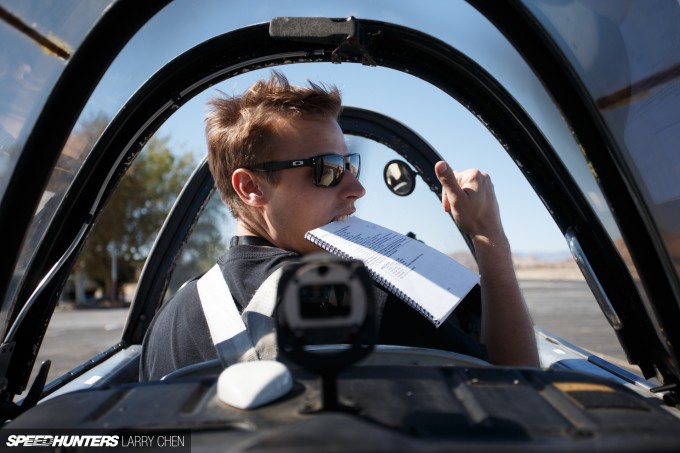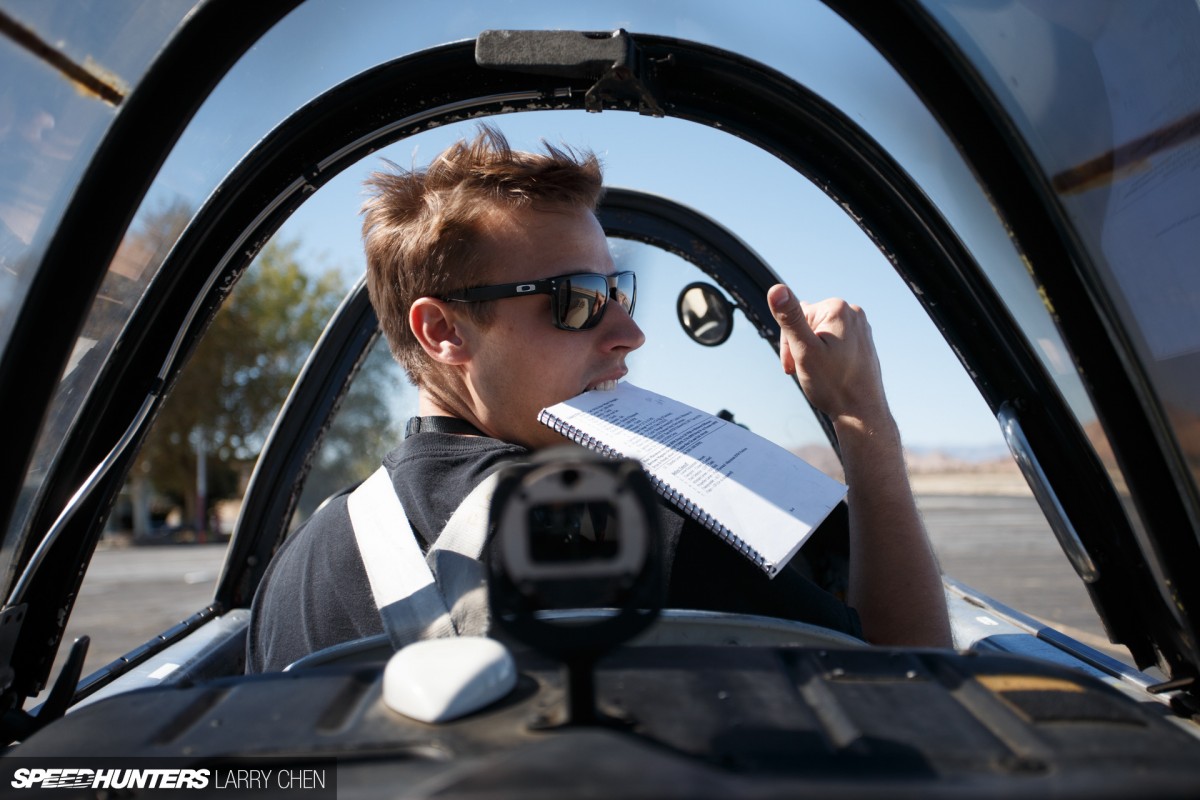 After the standard pre-flight check we were ready to go. Jeff would normally be on the ground with the rest of the guys drifting his car as he has been going to All Star Bash for years, but his car could not be finished in time. I think this was the next best thing for him though.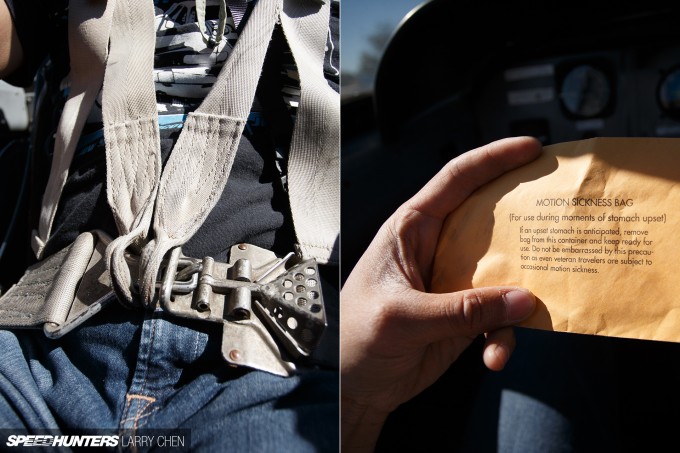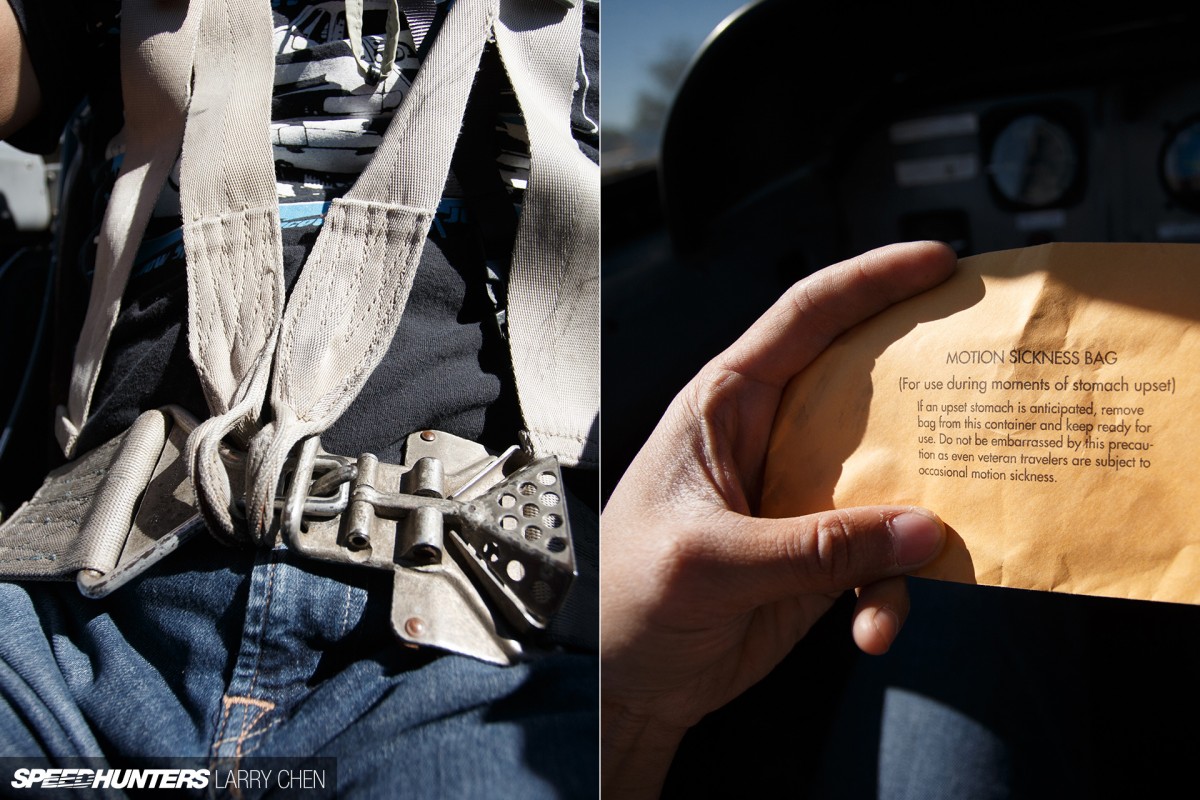 I fly more than anyone else I know, but this was only my second time in a small airplane. The first time was when Formula Drift driver Tommy Suell took me out for a spin around Las Vegas in a four-seater. I got sick then, but I managed not to yack. I had a feeling that this time I wouldn't be so lucky, so I had skipped breakfast in preparation.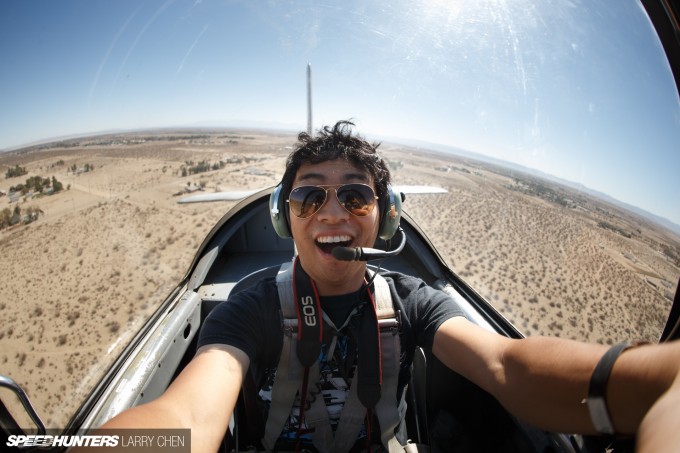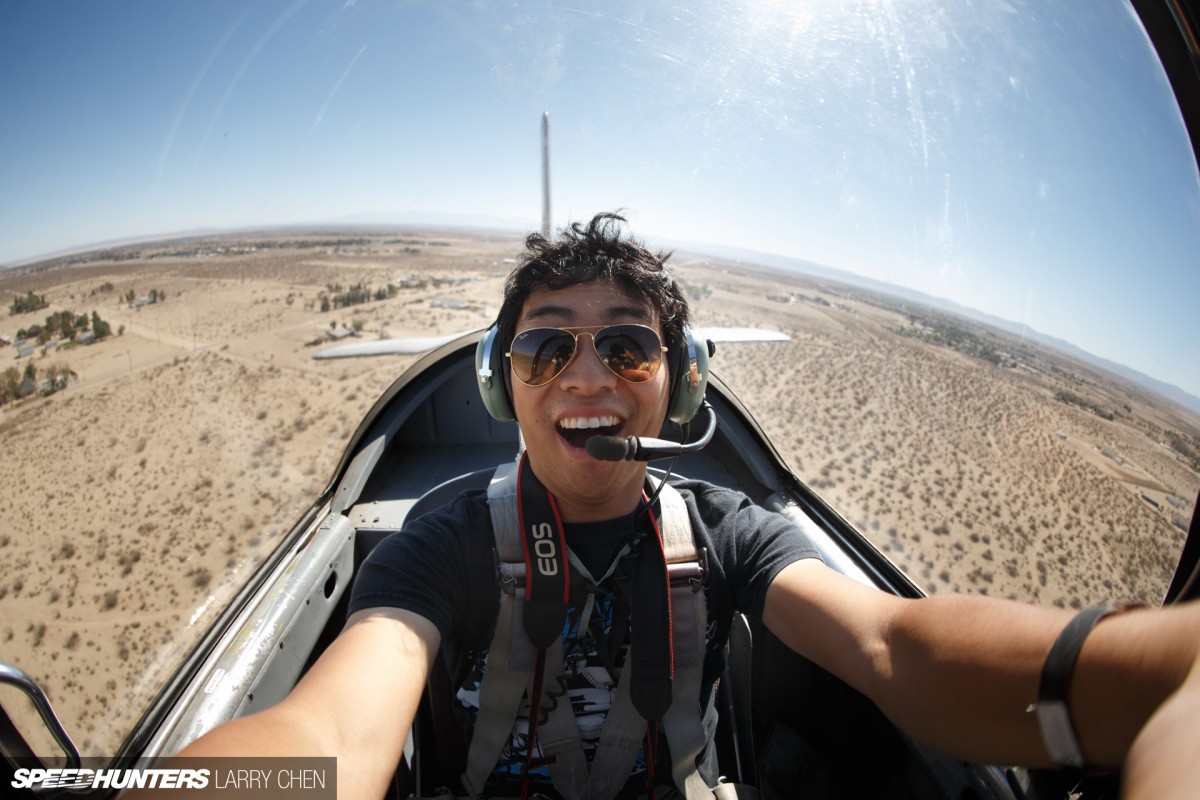 The sensation of flying in a tiny plane is unlike anything else. At first I thought to myself, "This is not so bad." I was actually having lots of fun.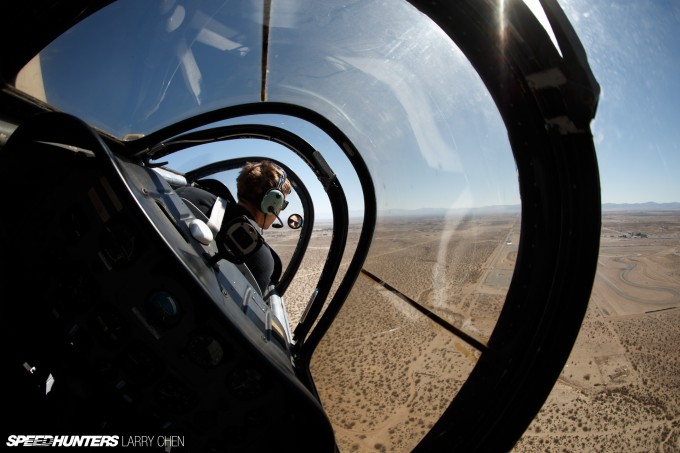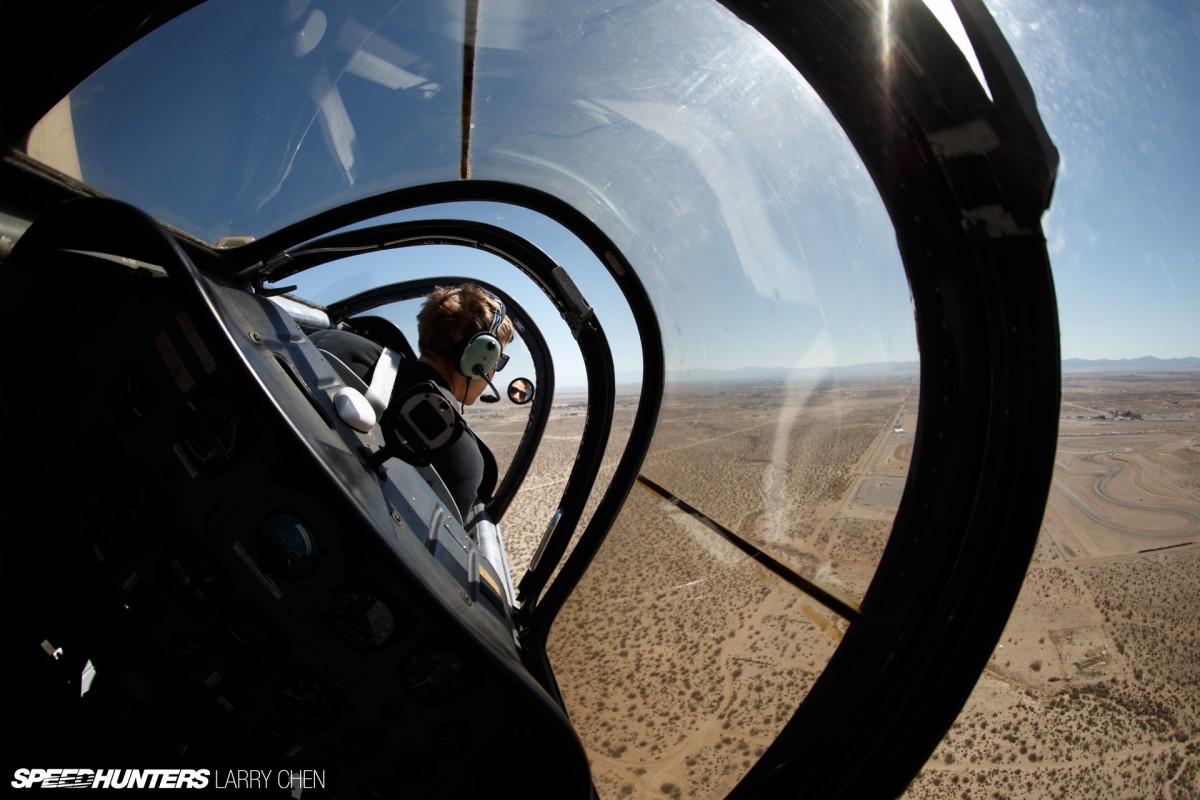 Then Jeff thought it would be a good idea to throw in some maneuvers to shake me up a bit.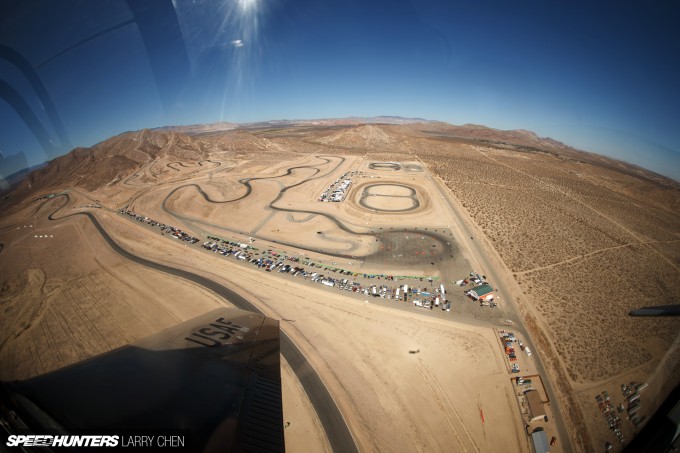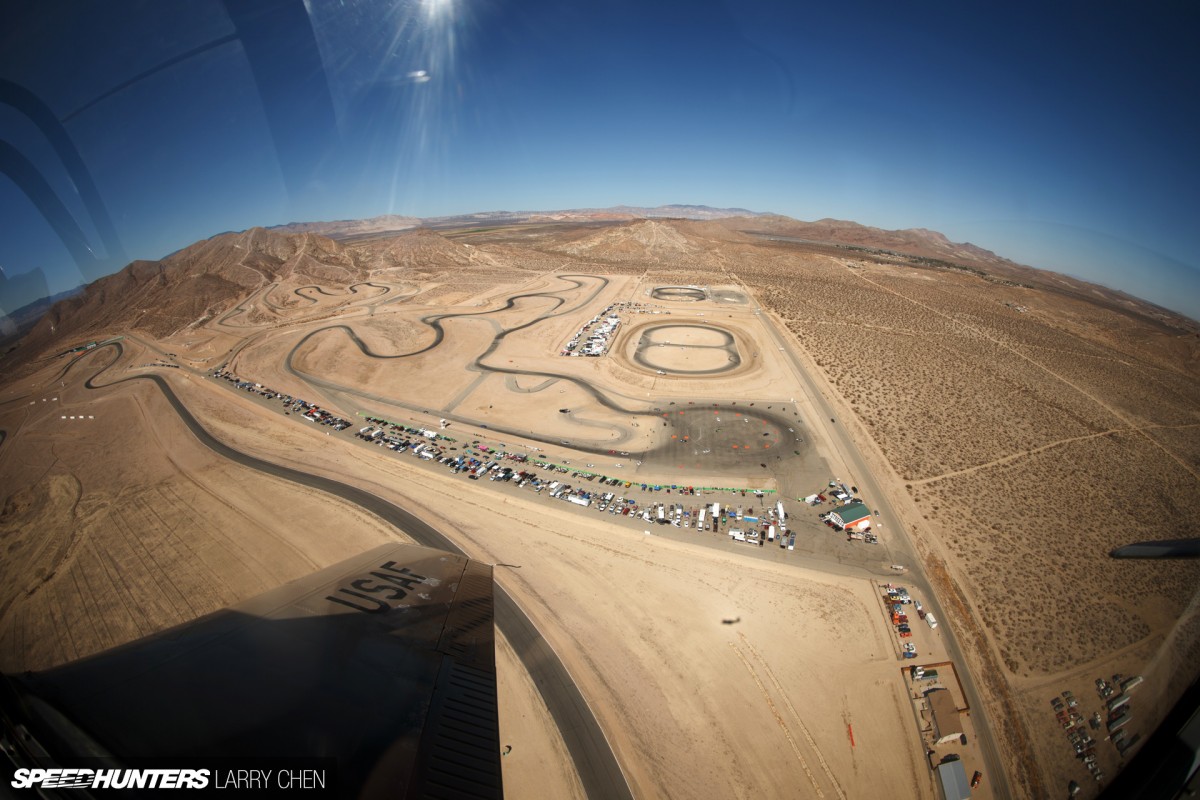 The air sickness kicked in right away, but there was no time to think about that because I was in the air over Willow Springs International Raceway. The desert never looked so amazing.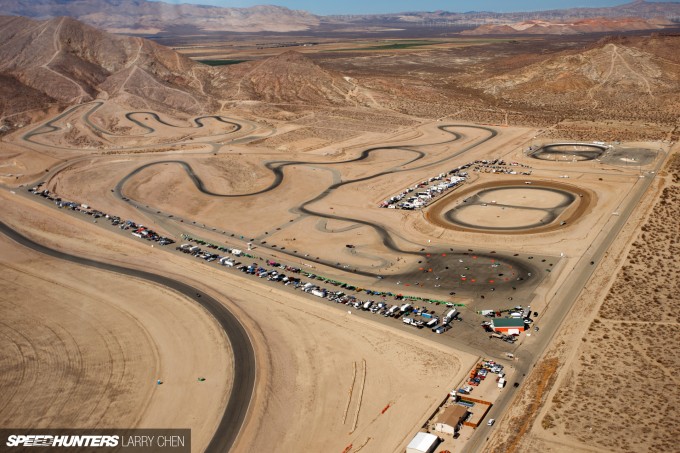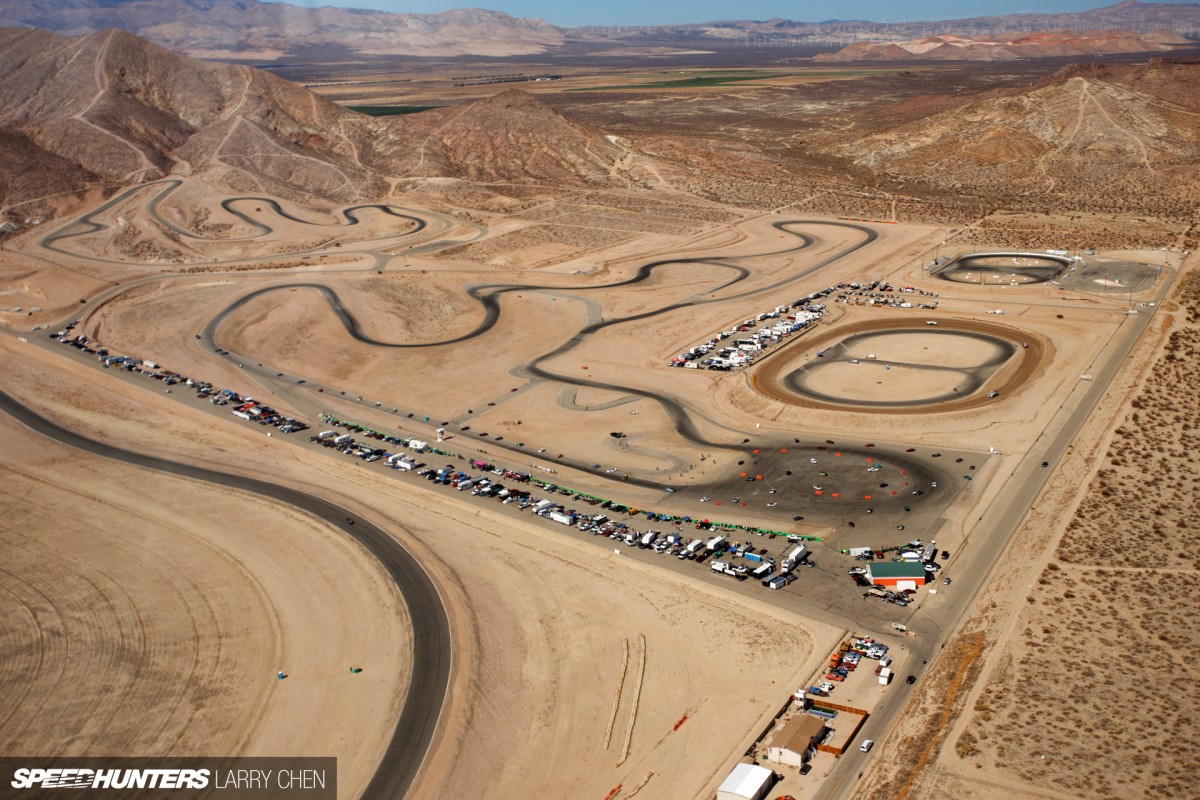 While we waited for all the cars to get on the grid, Jeff hovered between 500 to 1000 feet from the ground – the perfect altitude to capture some action shots.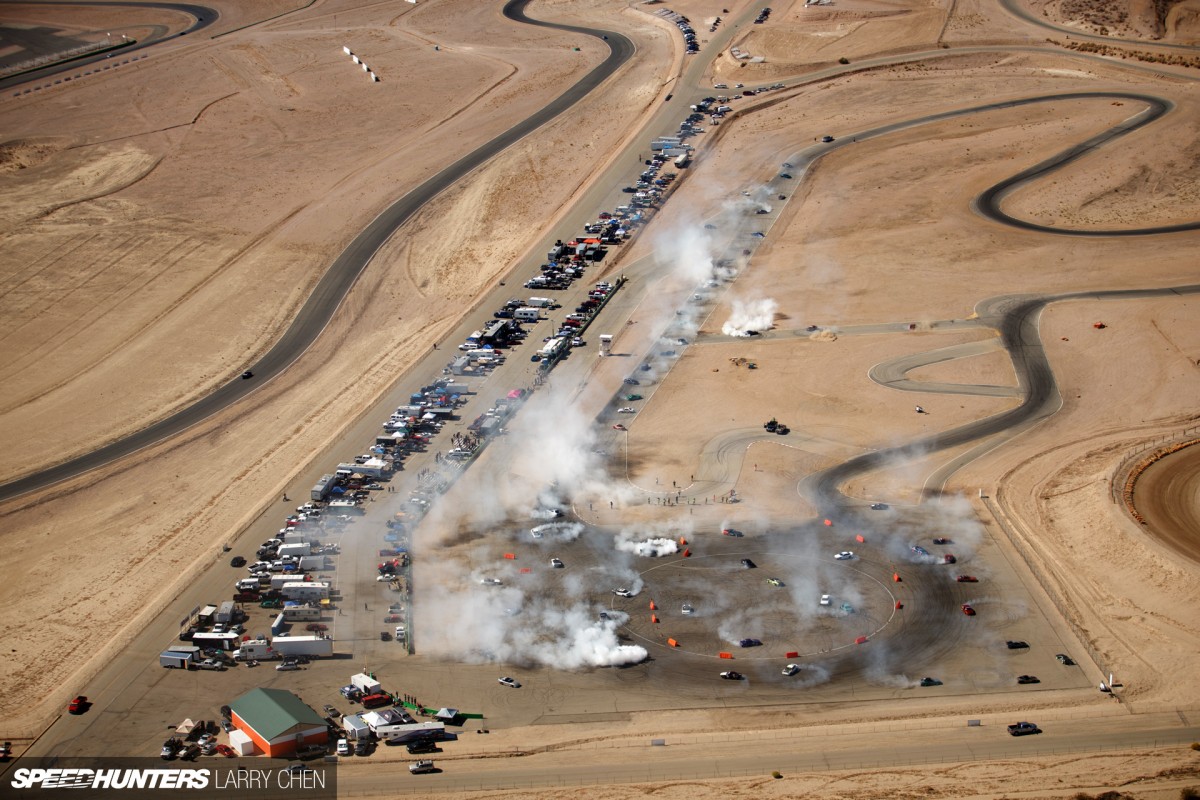 The organizers wanted to kill two birds with one stone and break two records, the first of which was the most people doing donuts at the same time.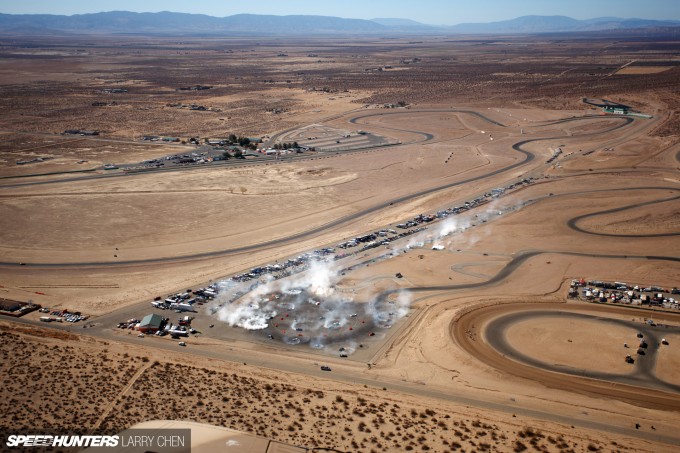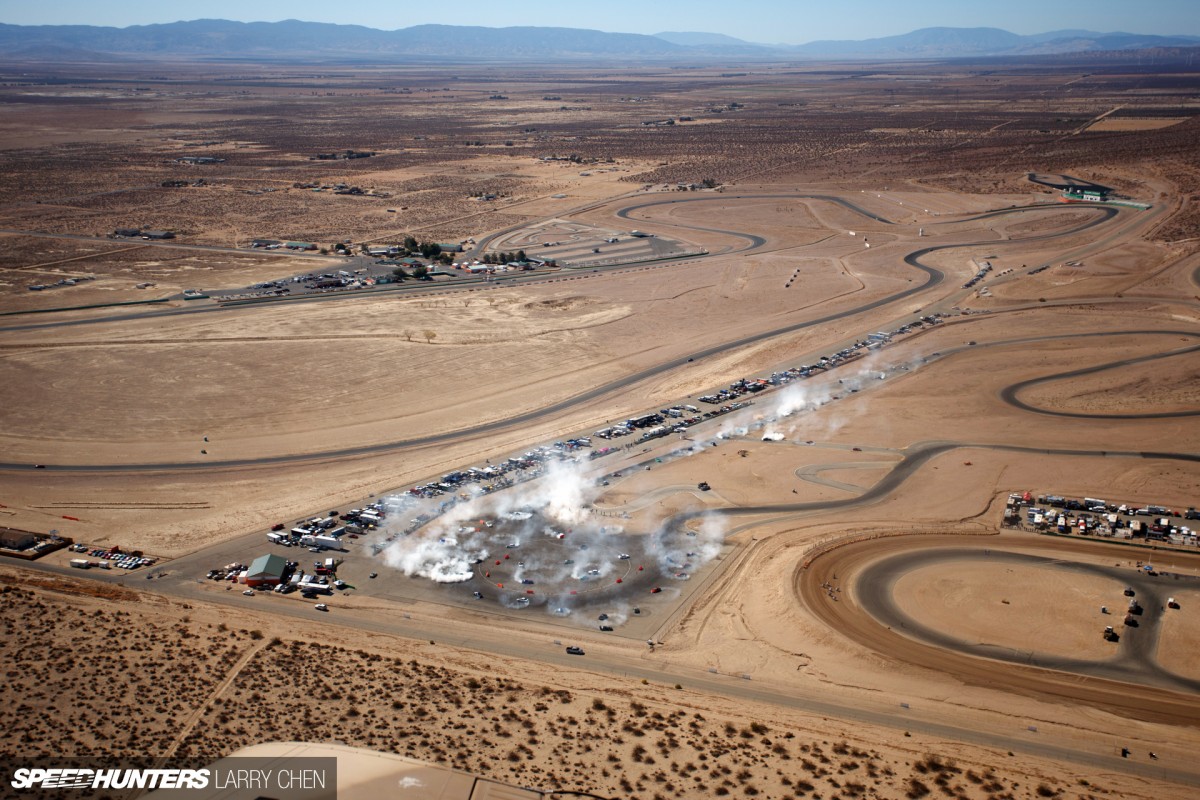 It was such an amazing sight and almost looked like the desert was on fire.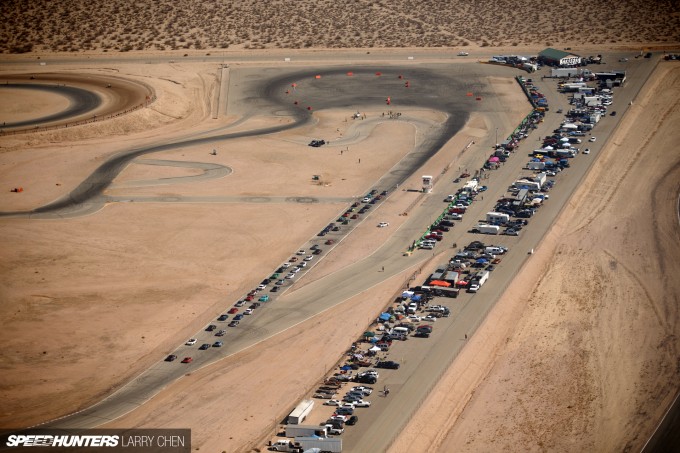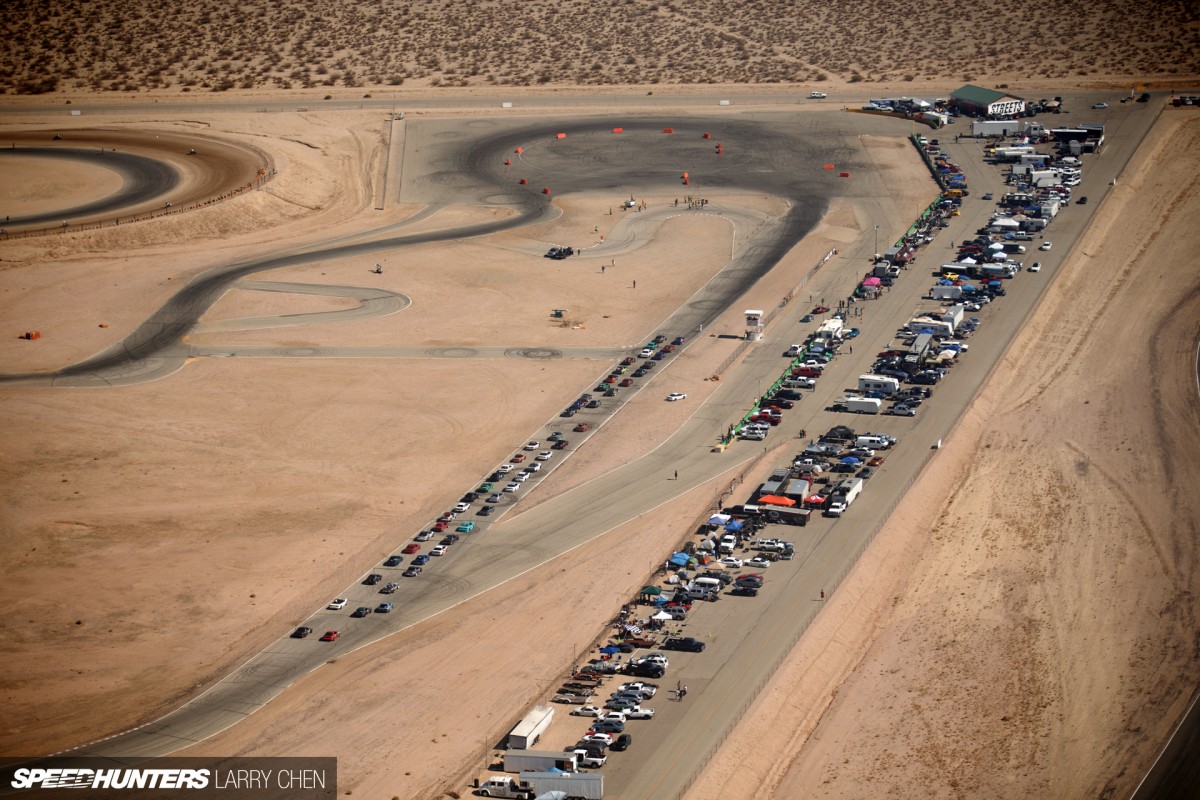 Once the burnouts were finished the cars lined up one-by-one to create the world's longest drift train. Once again we circled around until everyone was on the front straightway of the track.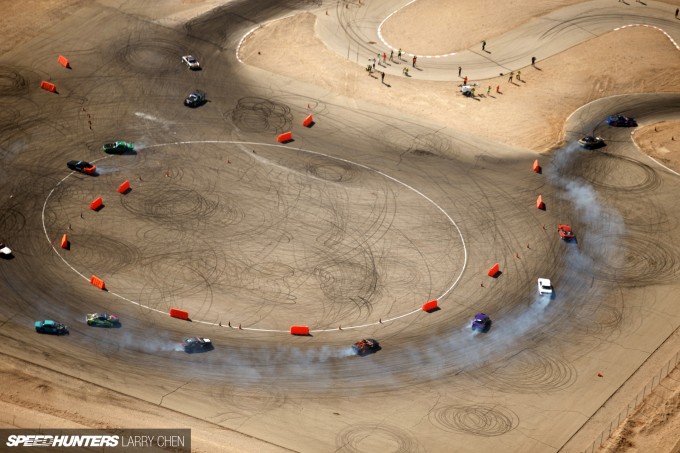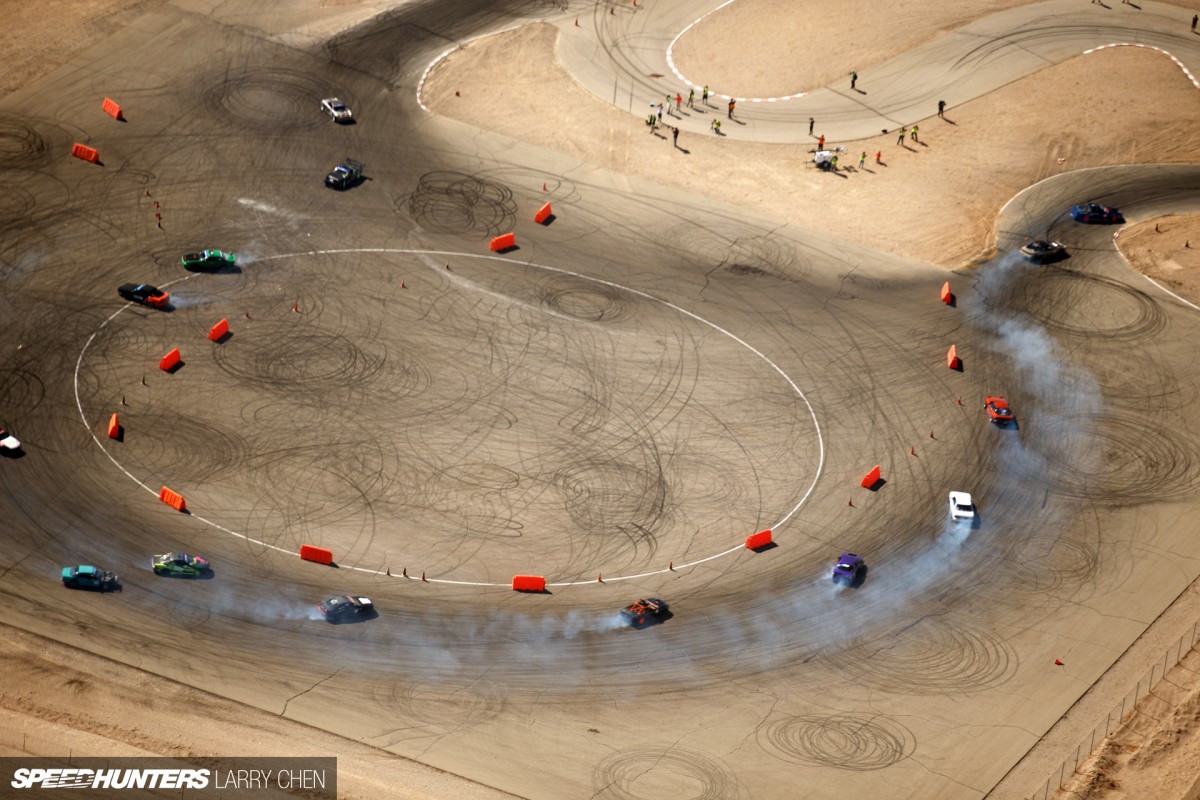 And just like that the record was broken. Fifty eight cars drifted on the 1.8-mile circuit for an entire lap.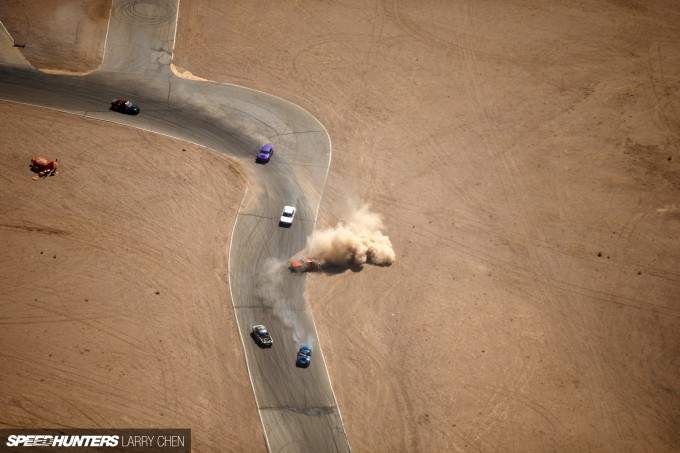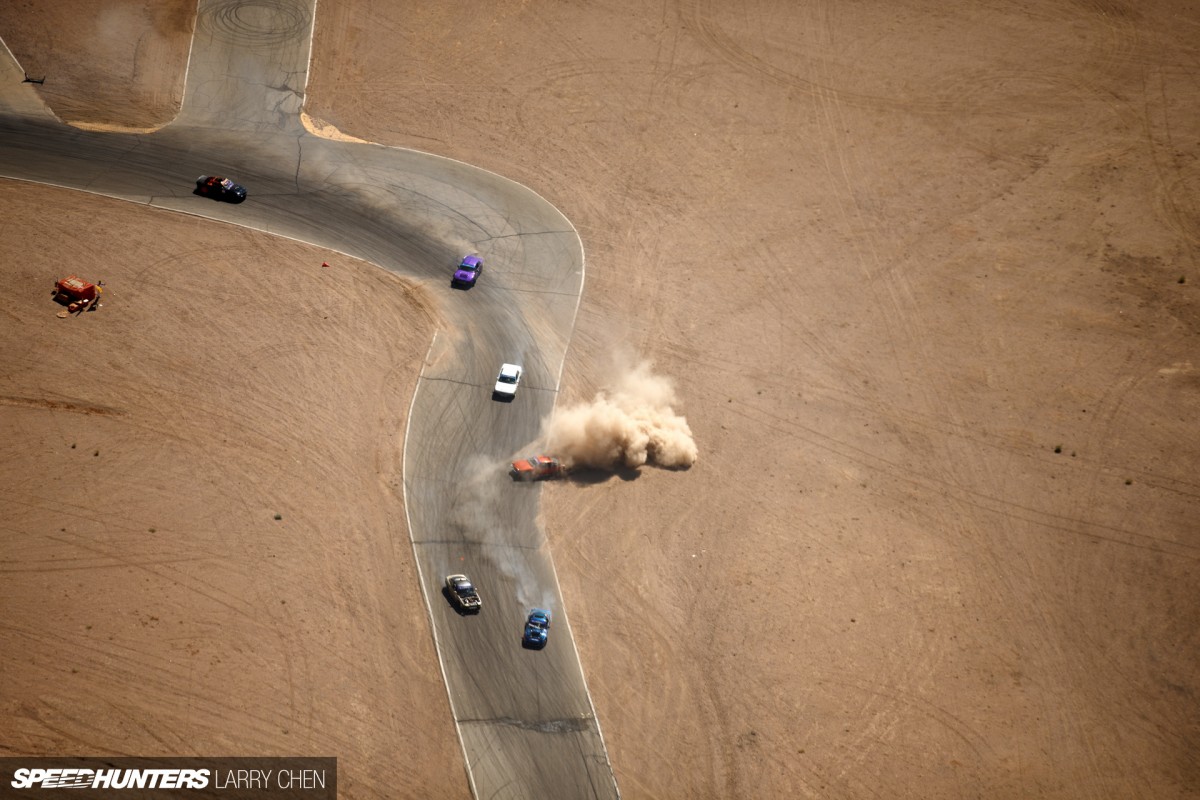 There were some spills and thrills, but if someone spun out the other drivers would just drift around them. Dirt drops never looked so cool.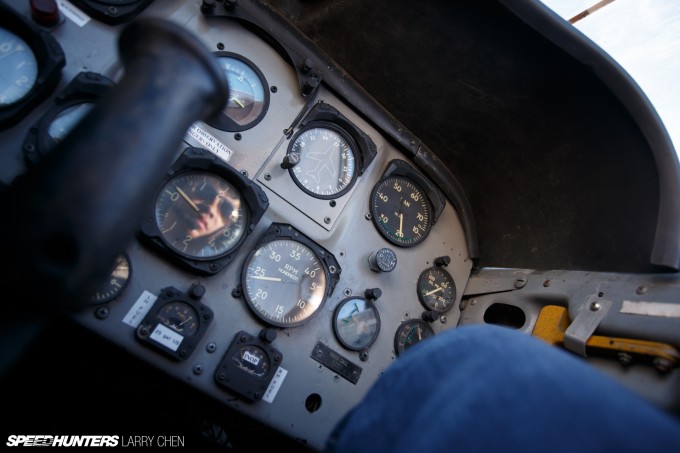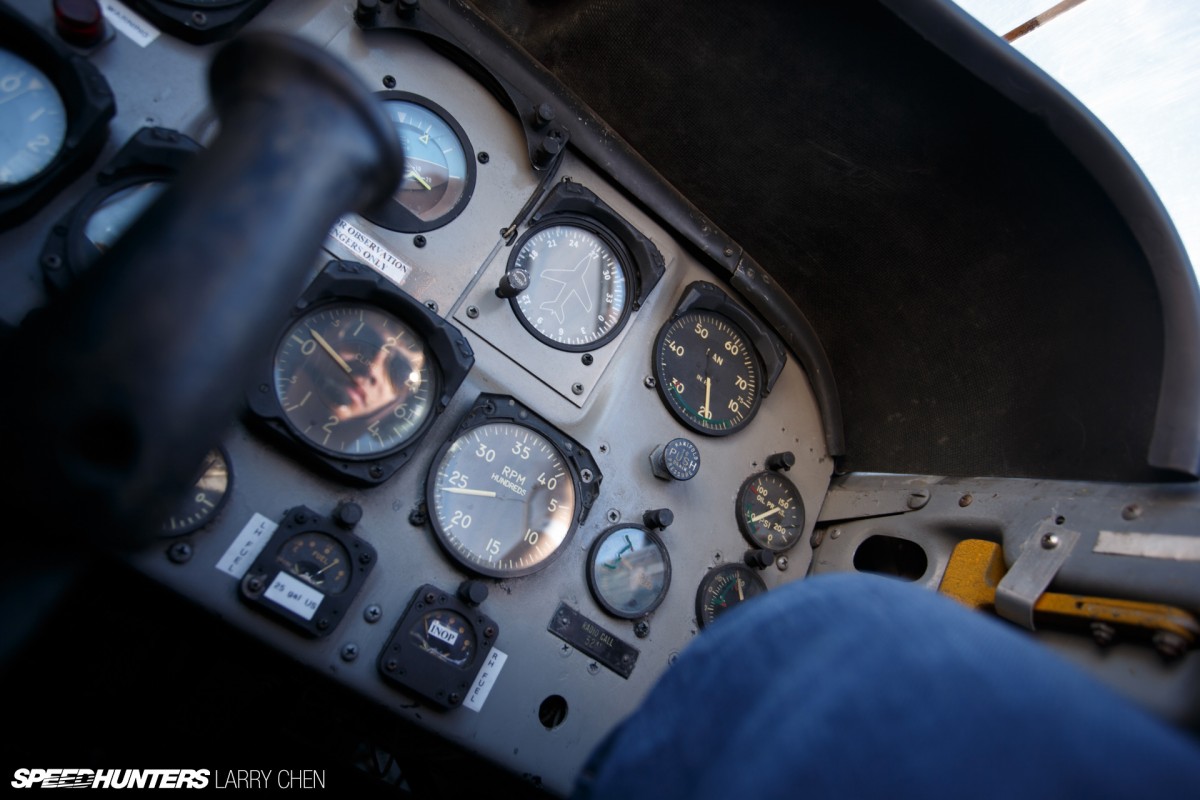 I will spare you guys the actual photos, but at this point I became more air sick than I ever have before. Not only were we tossing and turning up there, but it was very hard to have to look through the viewfinder of my cameras. I don't know how some guys make it look easy.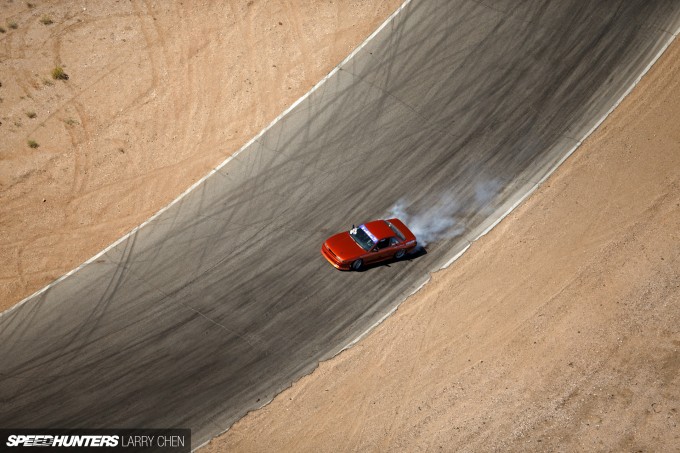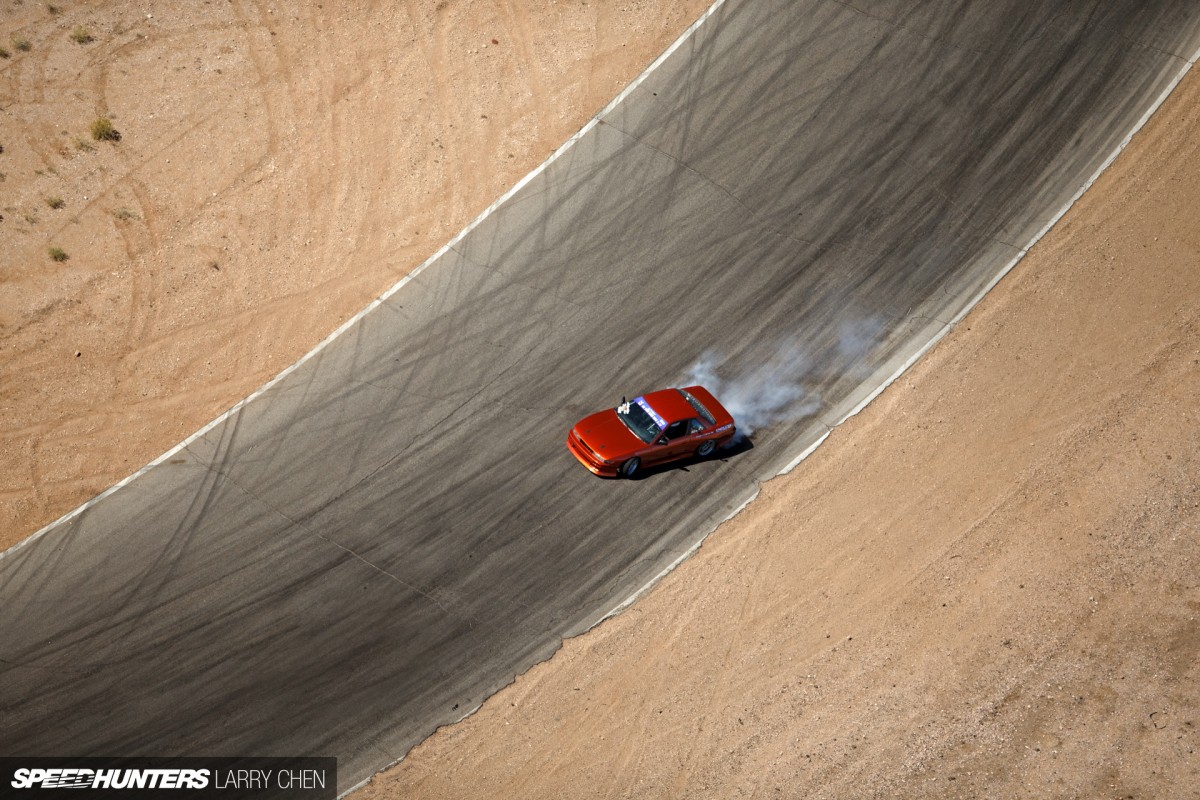 After just a few more snaps it was time to go back. I was pretty happy about that, because by now my barf barg was full to the brim with the water I had consumed during the morning.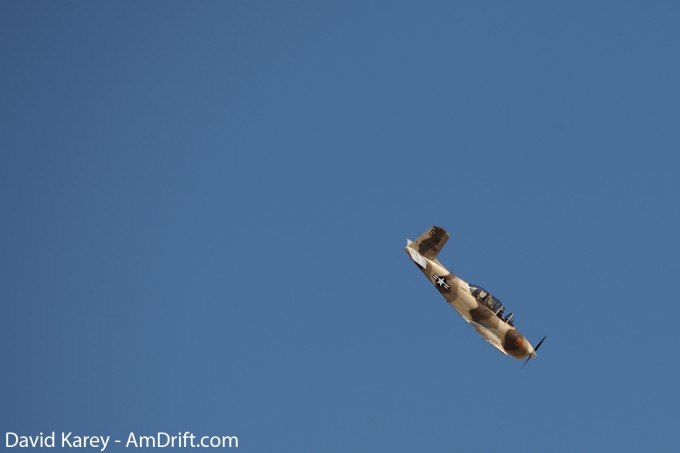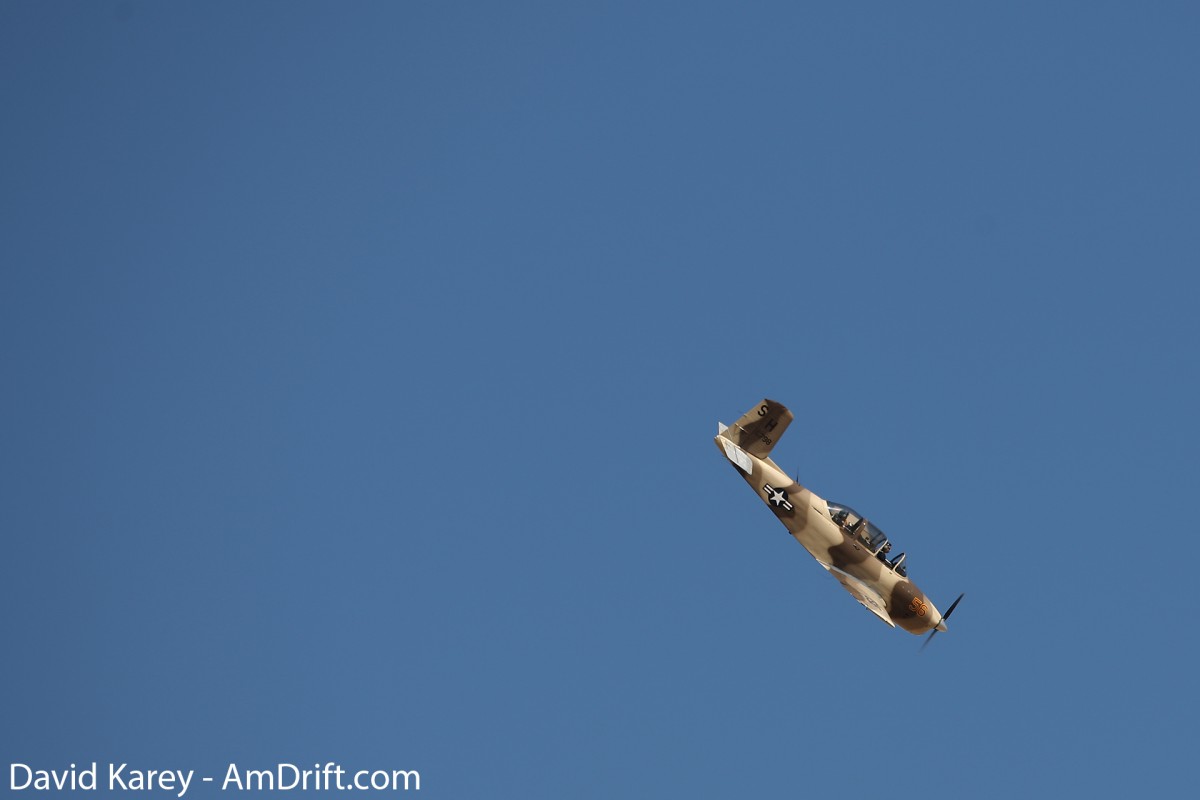 That's when Jeff thought it was a good idea to do a 3G dive, which, although fun, made me explode. Some of my internal liquids ended up on his side of the cockpit.
Team drift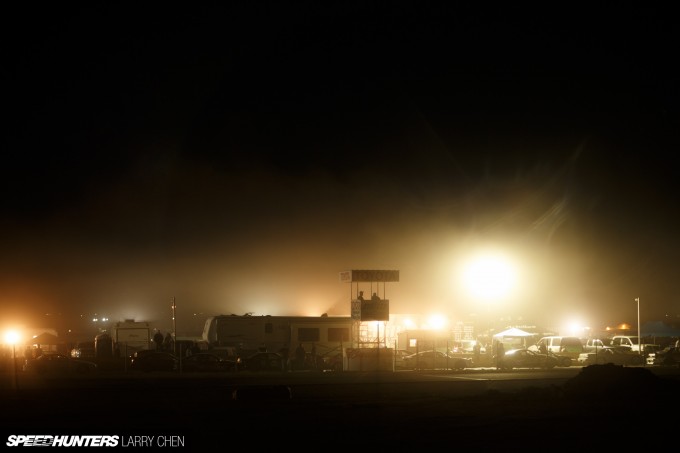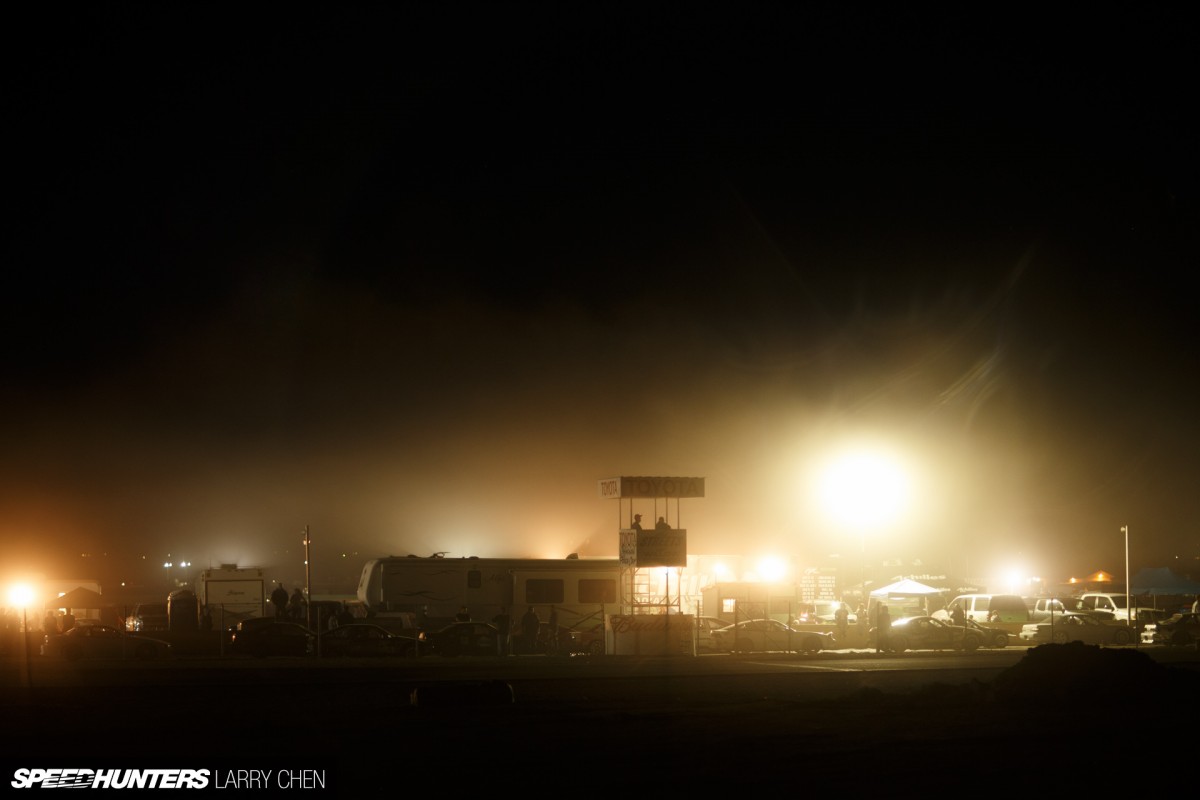 After spending the rest of the day recovering, it was time for the highlight of the weekend. Every year since its inception, All Star Bash has held a team drift competition.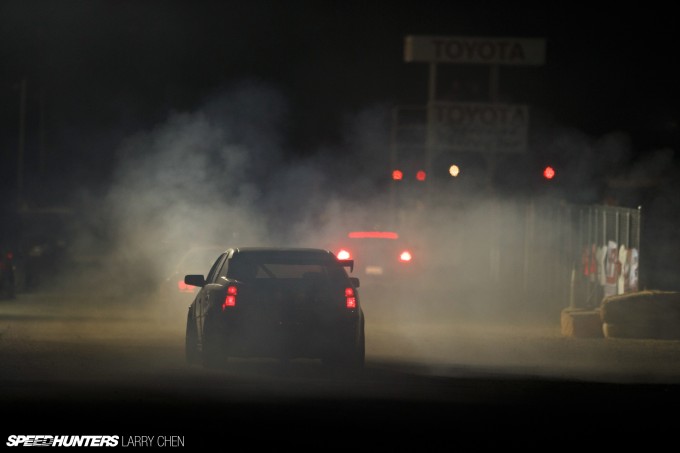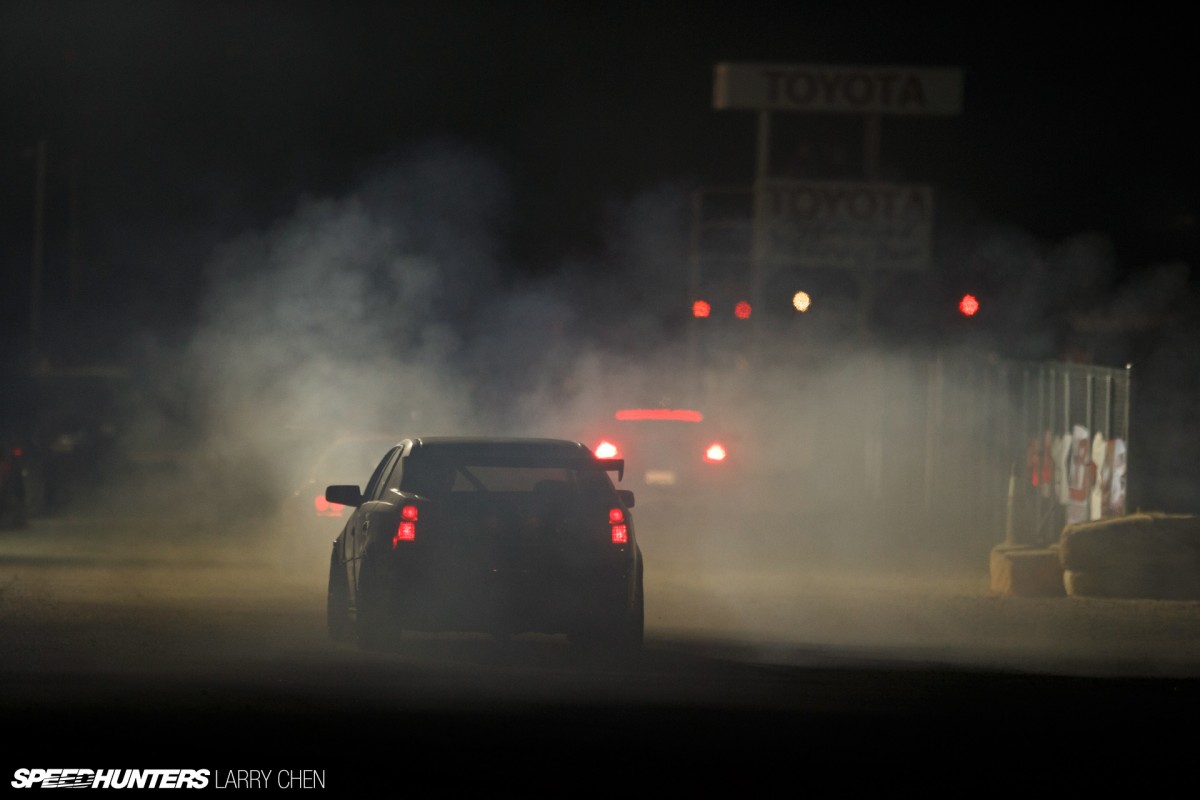 There really are no rules, but you have to have a minimum of four cars competing in a team. It's open to both pros and amateurs, or a mix of the two.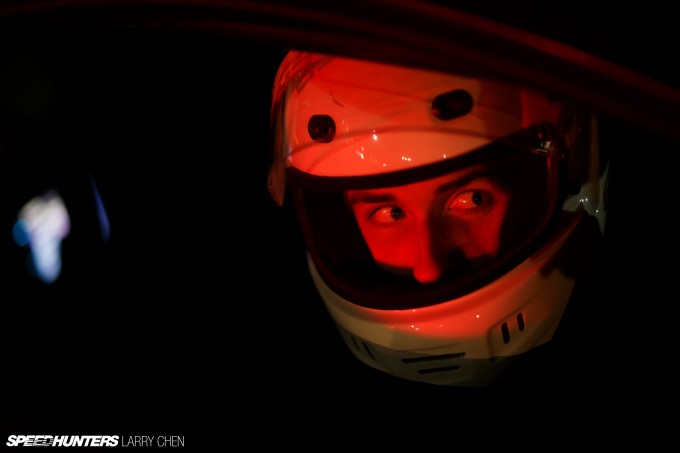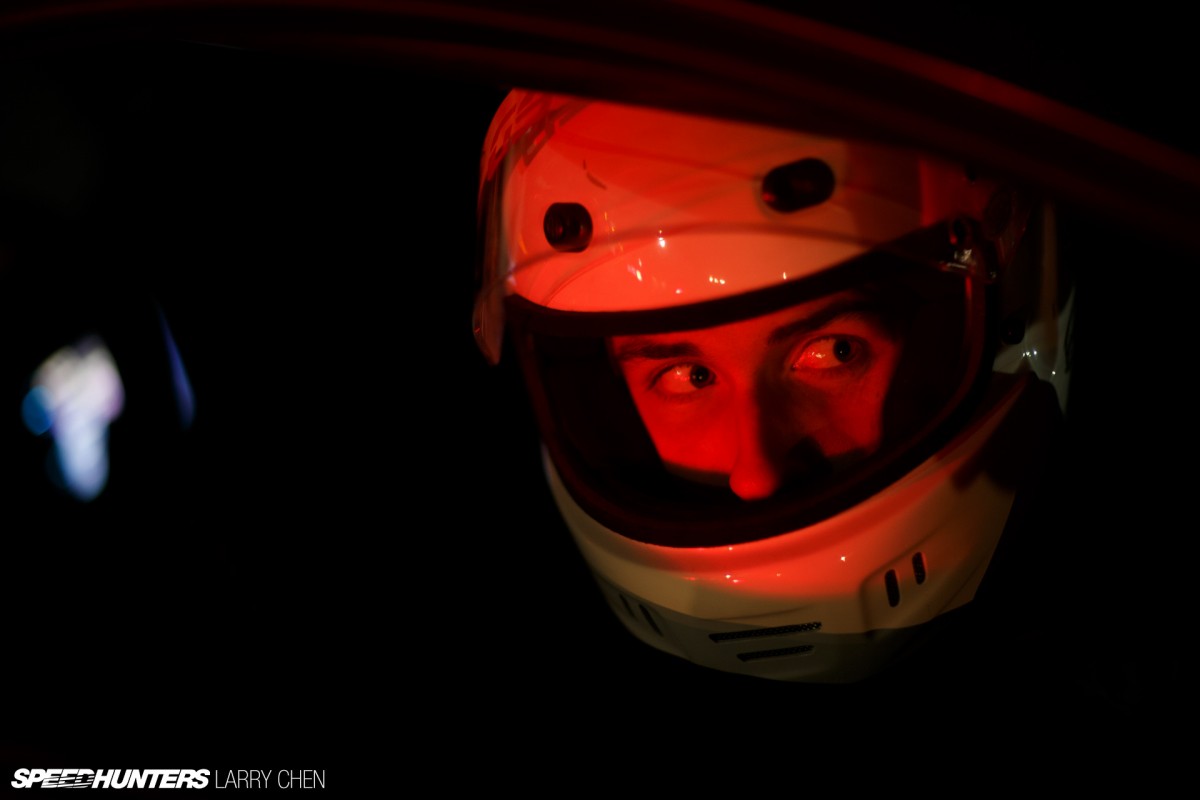 This was more for fun than anything else, and besides, it's not often you get to drift at night.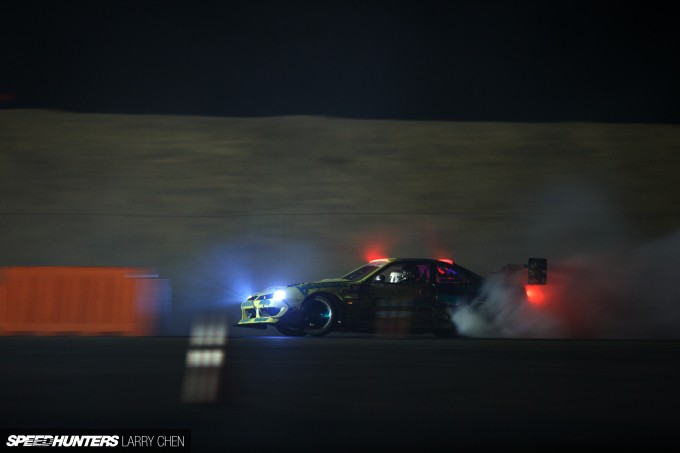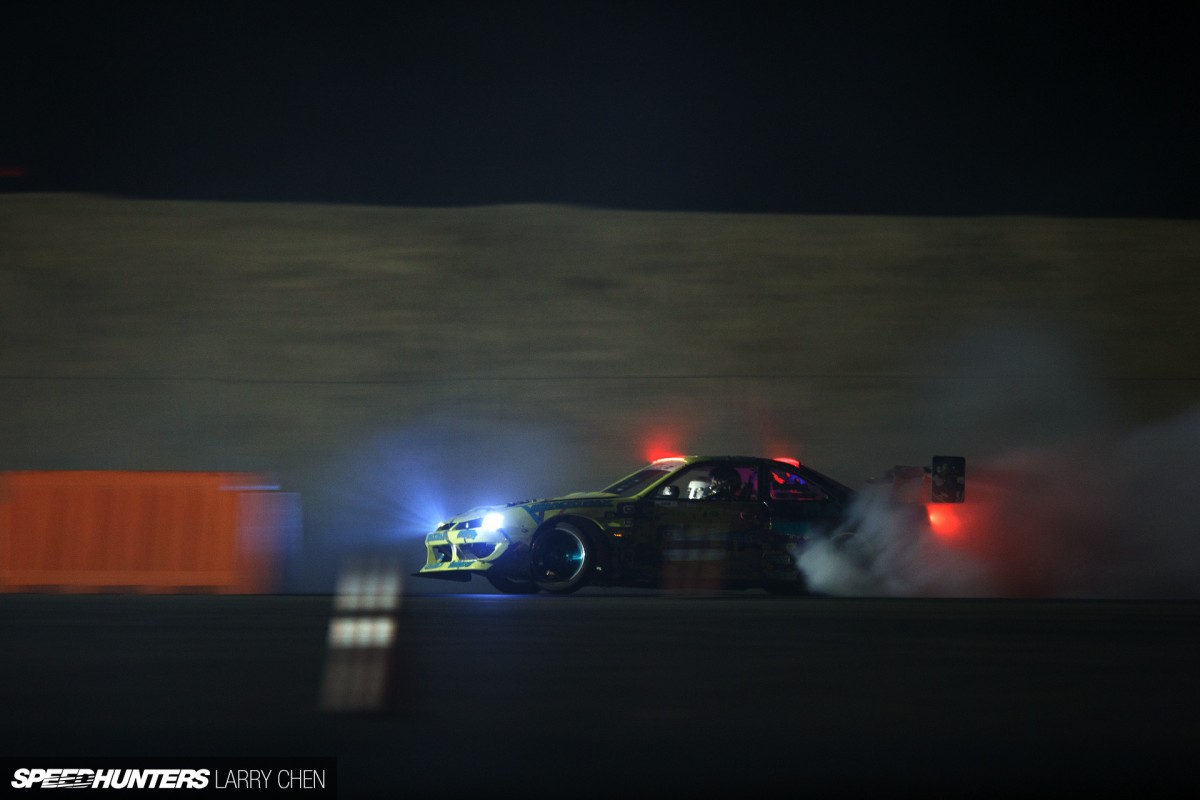 Some of the pros, like Matt Field, competed in teams with their friends.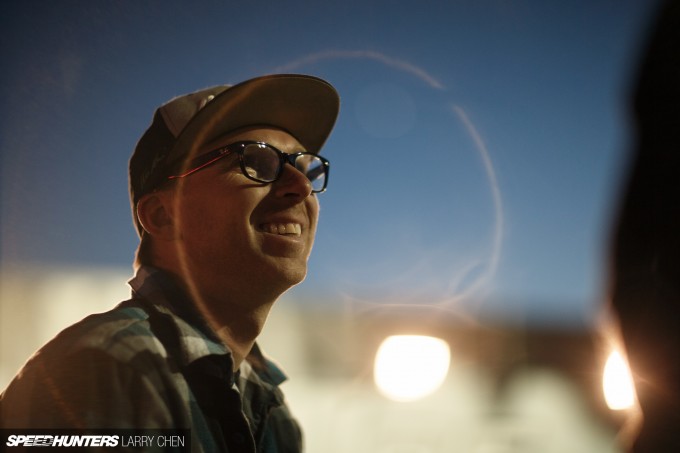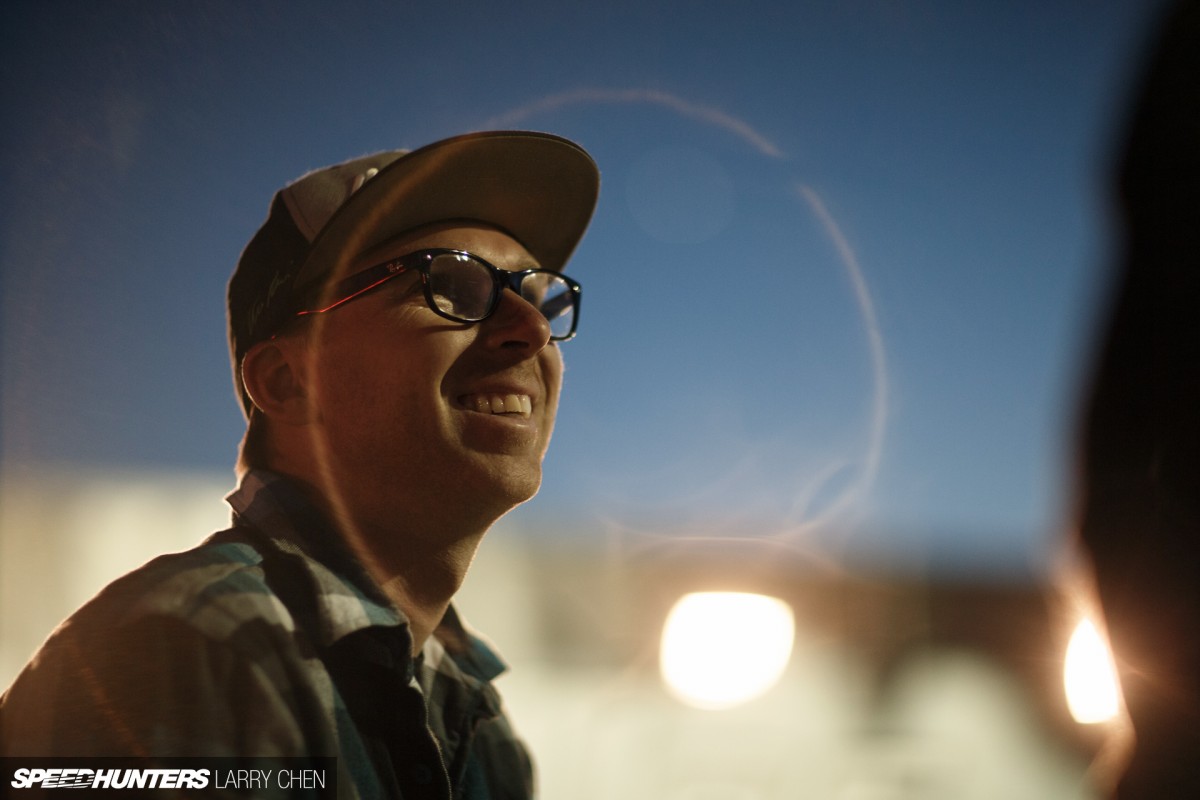 A few of them, like Odi Bakchis, stayed behind to judge the competition.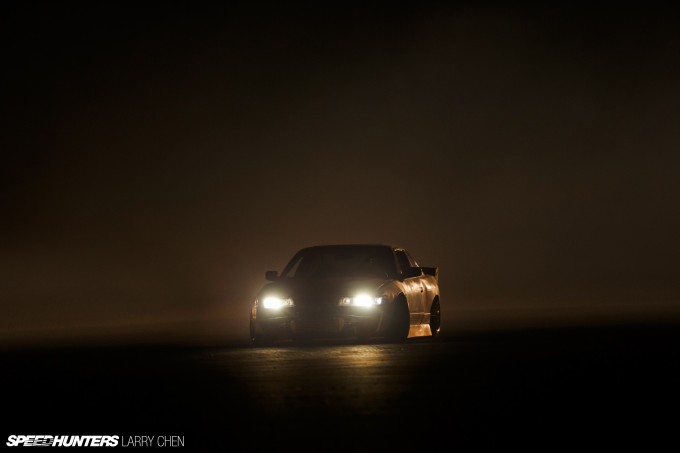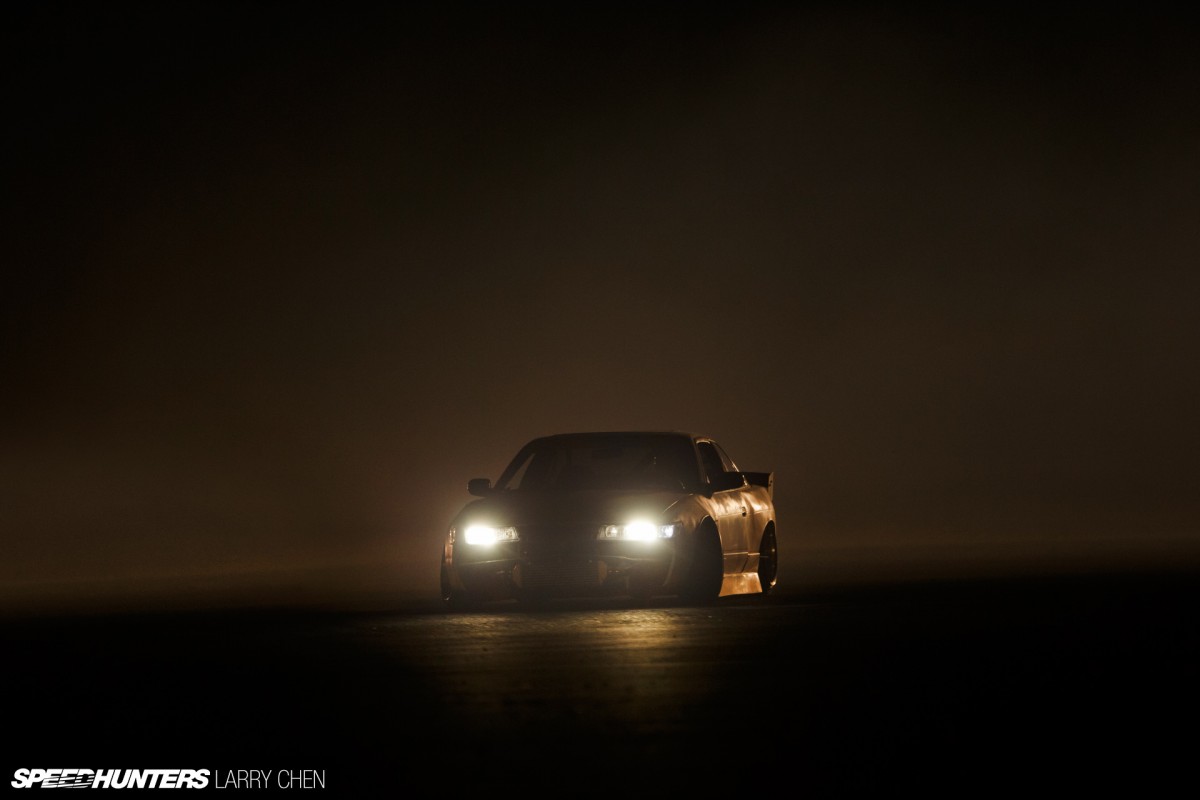 The prize purse was $1500 in cash donated by a few sponsors. Eleven teams competed in total and they all had fun names like Team Poser, Burn The Most, and Biscuit Gravy.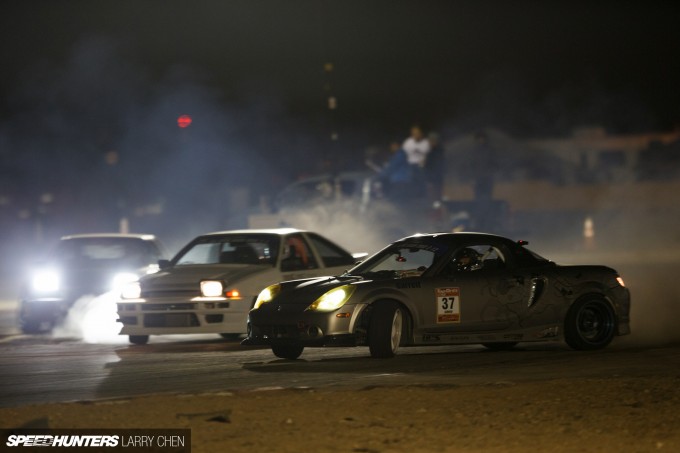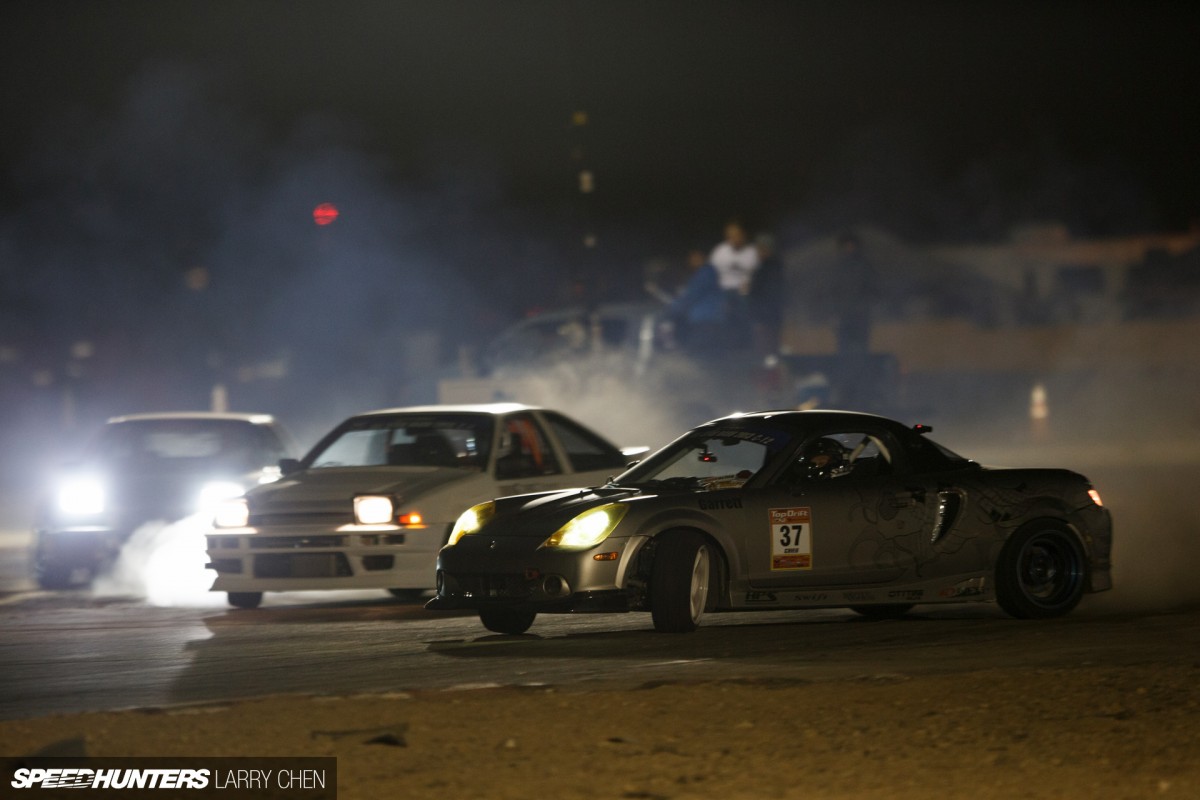 Each team had two practice laps to feel out the order of the cars, and also to figure out how close they could stack up.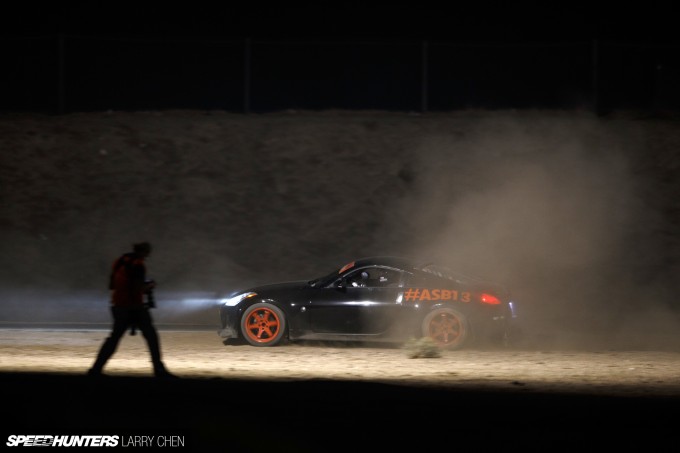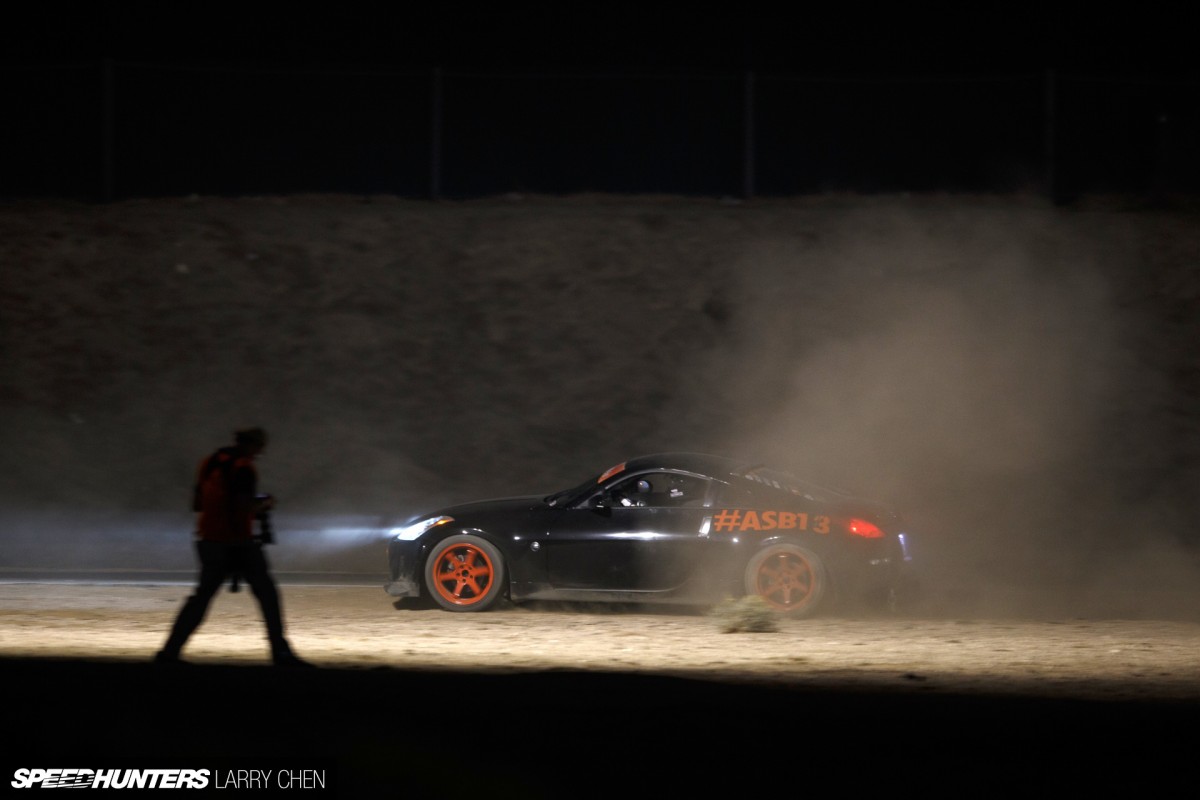 Because of the nature of the competition and the fact that visibility was not great being at night, if one person went off course, the rest of the train would follow.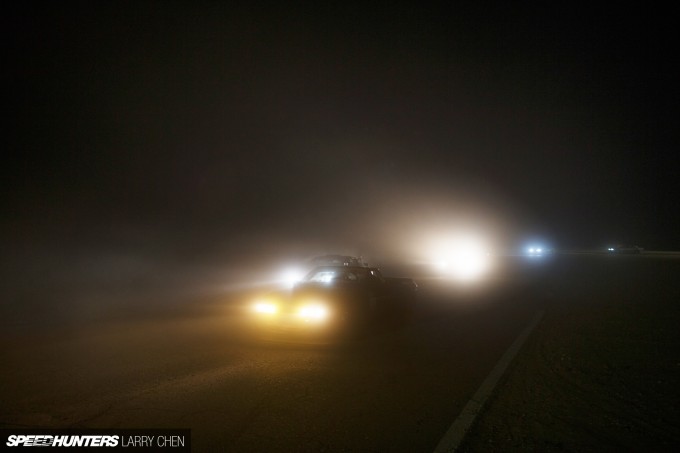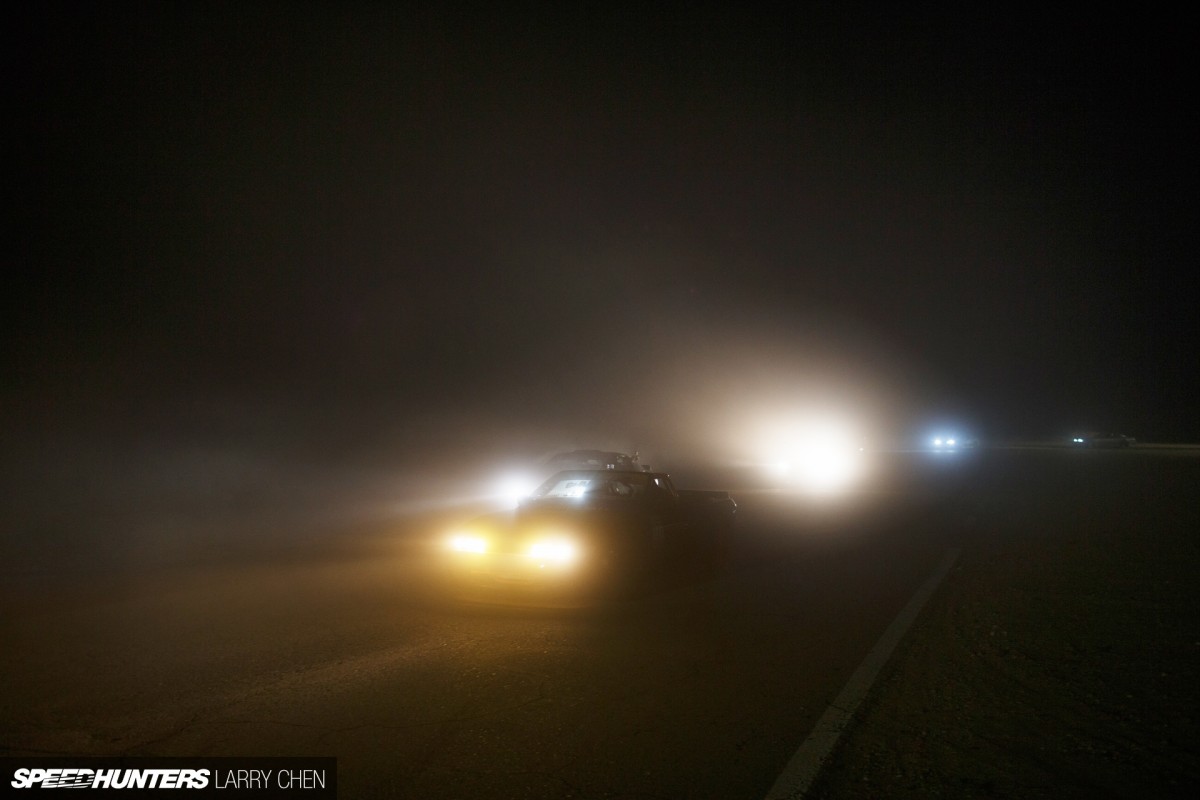 There was a point where you could not see at all due to the amount of dust and tire smoke that was being kicked up into the air.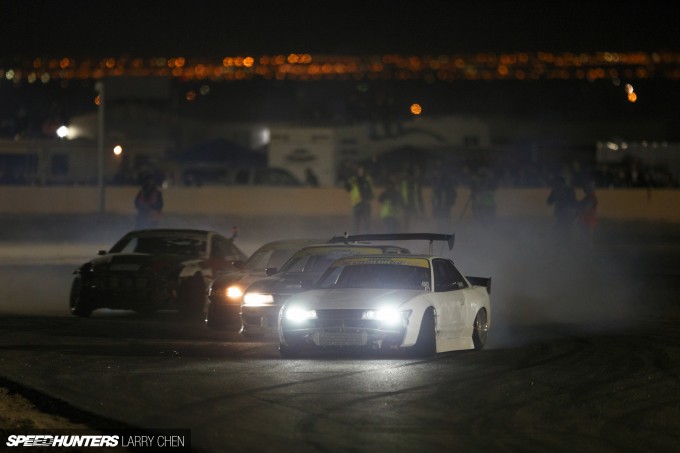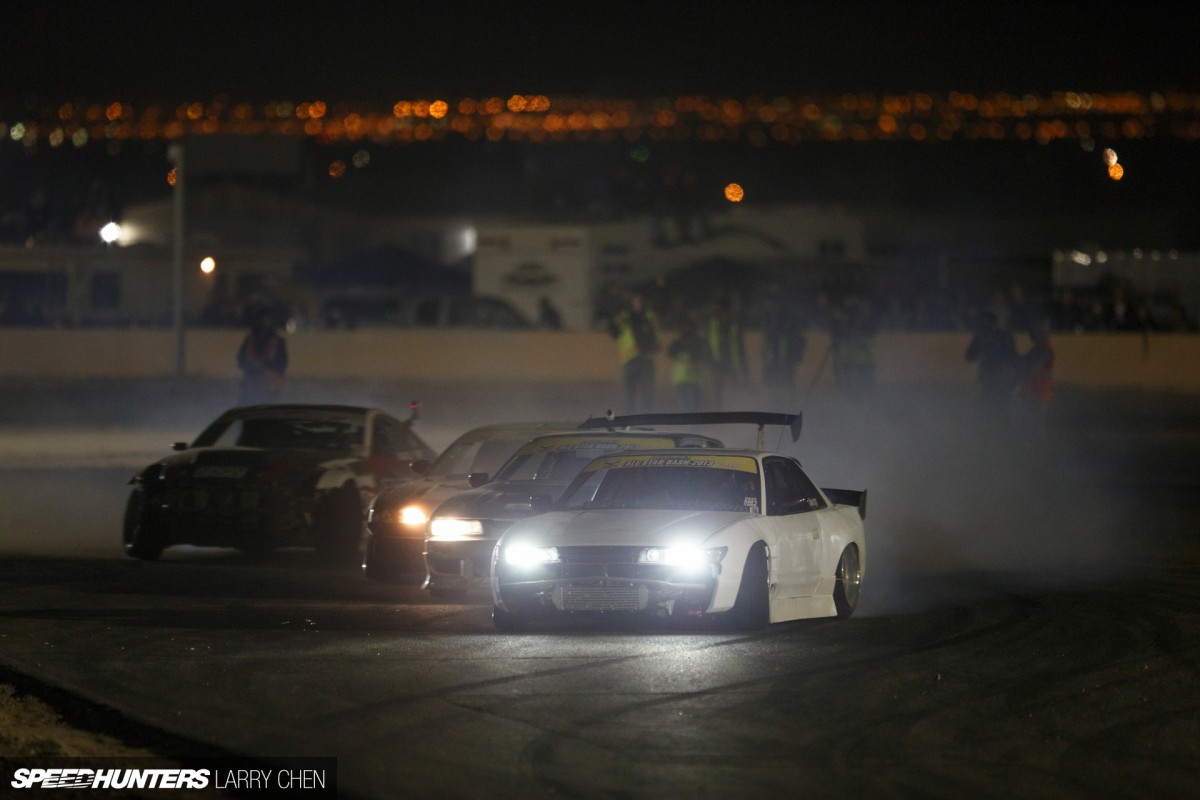 The team that had the cleanest train were all fully committed to driving door-to-door throughout the entire course.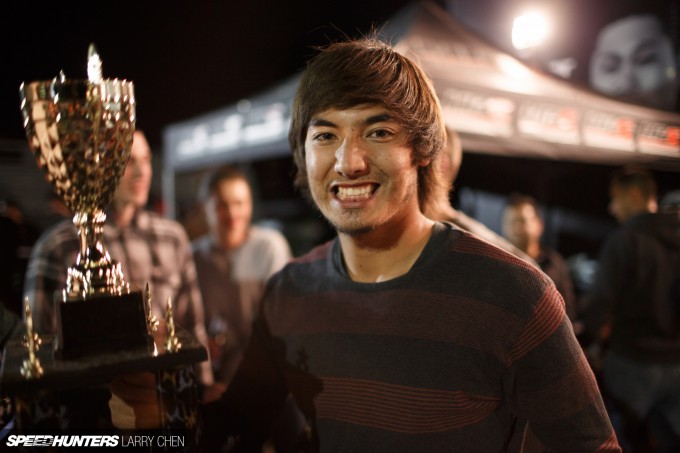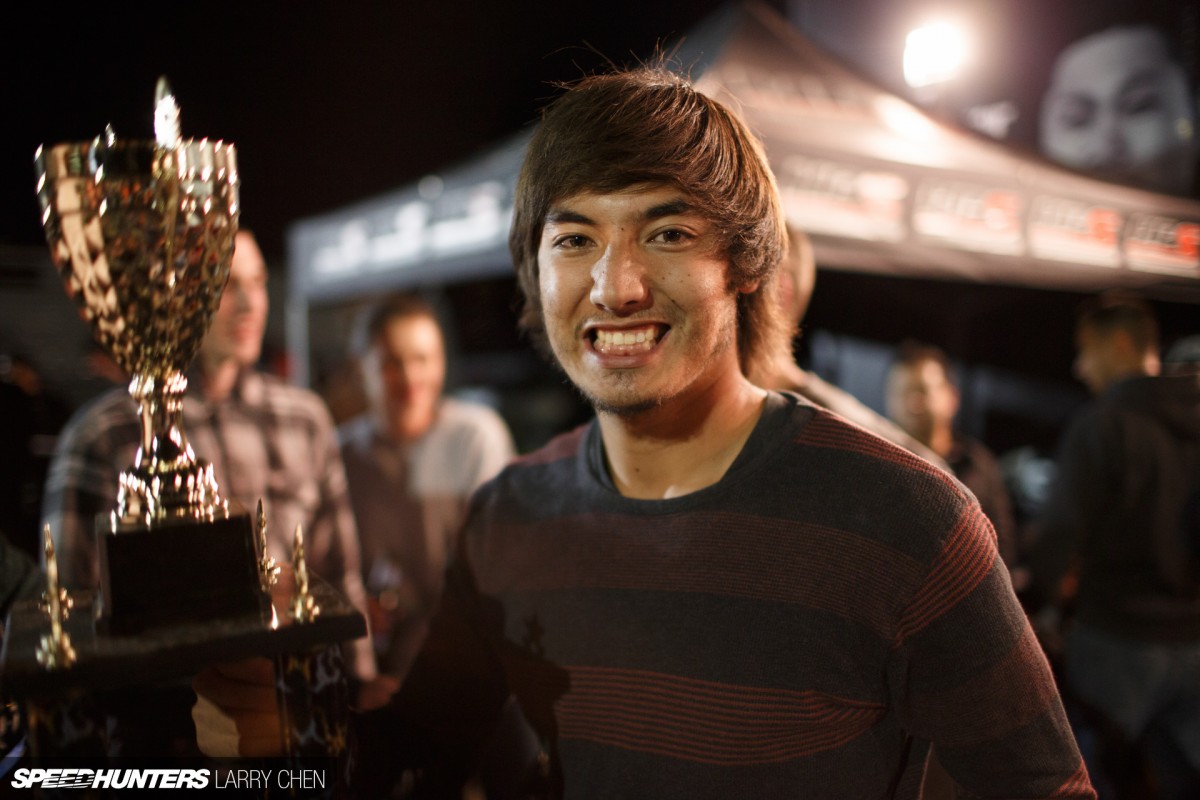 Congratulations to Ryan Kado and the rest of Team Animal Style for winning the 2013 All Star Bash Team Drift competition.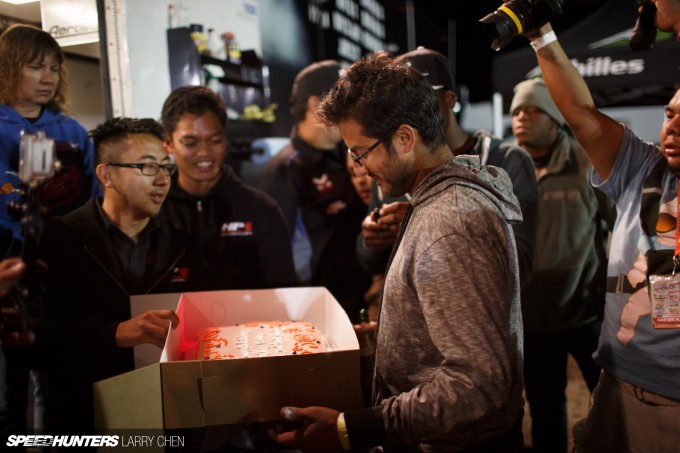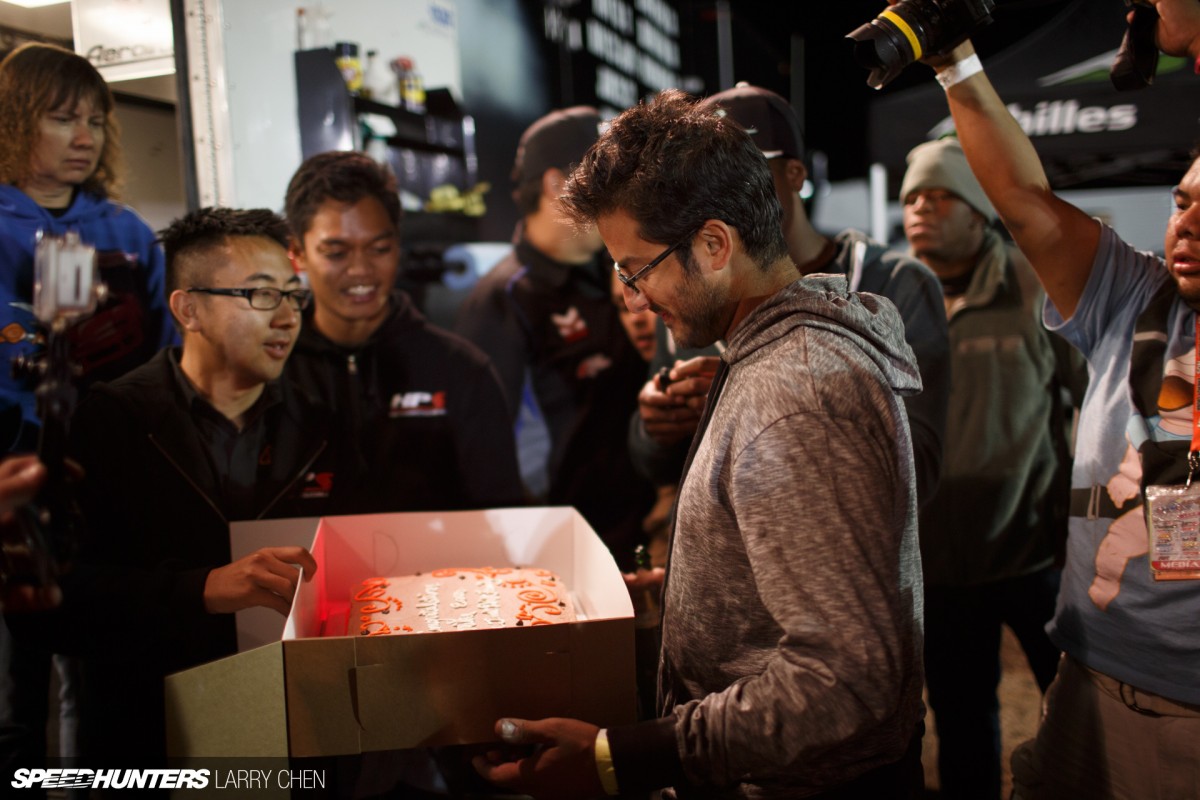 Quite a few drivers who learned how to drift in Just Drift compete in Formula Drift today, including Justin Pawlak and Matt Powers. Mike Essa also got his start in the grassroots amateur series, so to congratulate him on his Formula Drift Championship win, the Just Drift crew bought him a celebratory cake.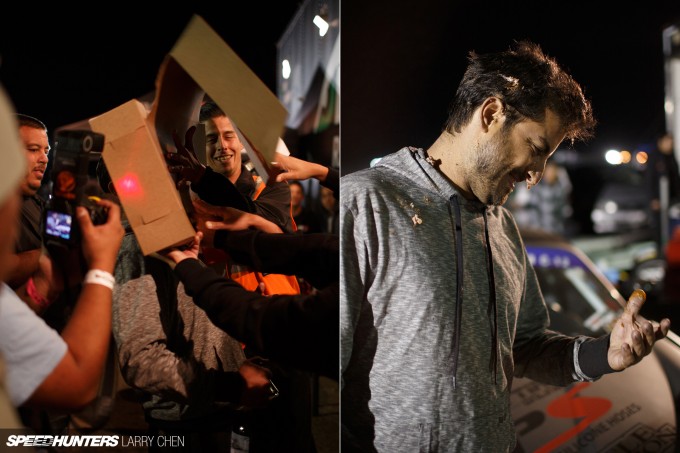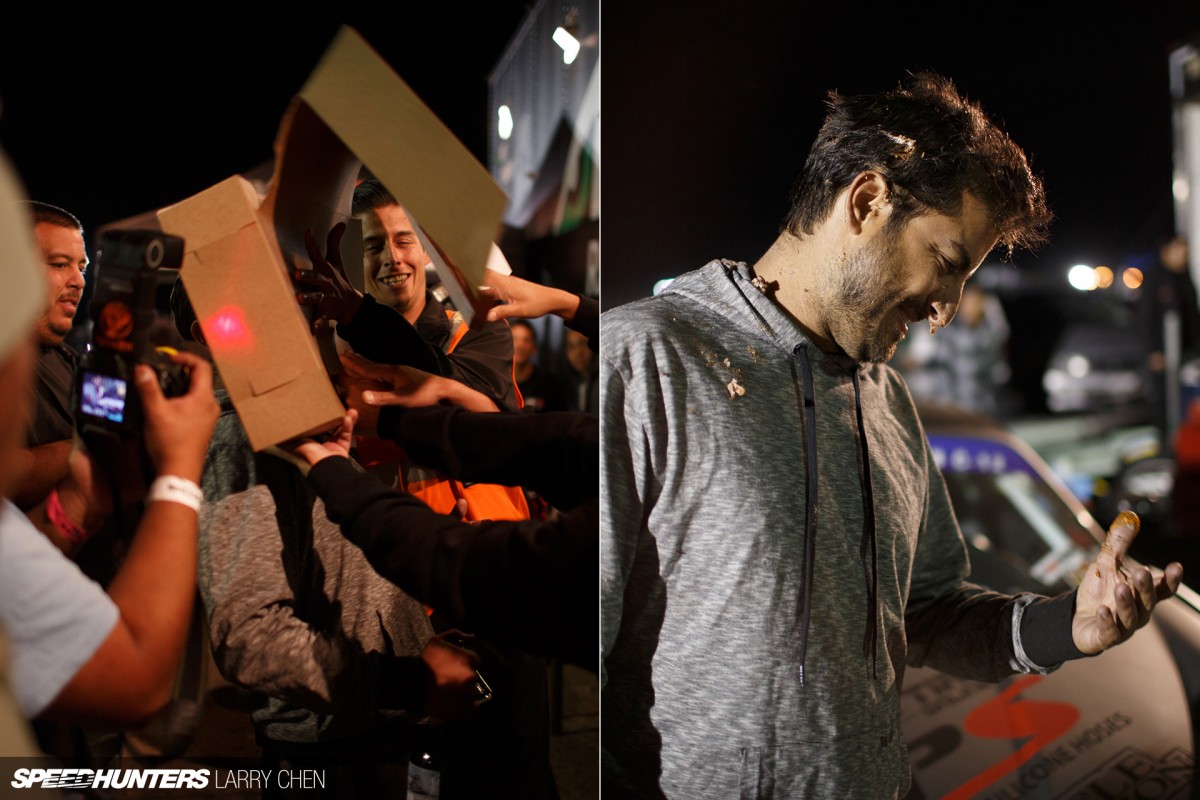 Immediately afterwards they proceeded to shove it into his face. What a great way to end an epic night of drifting.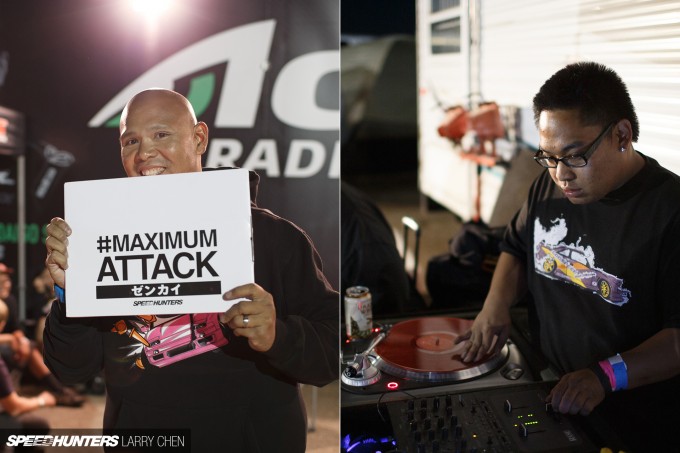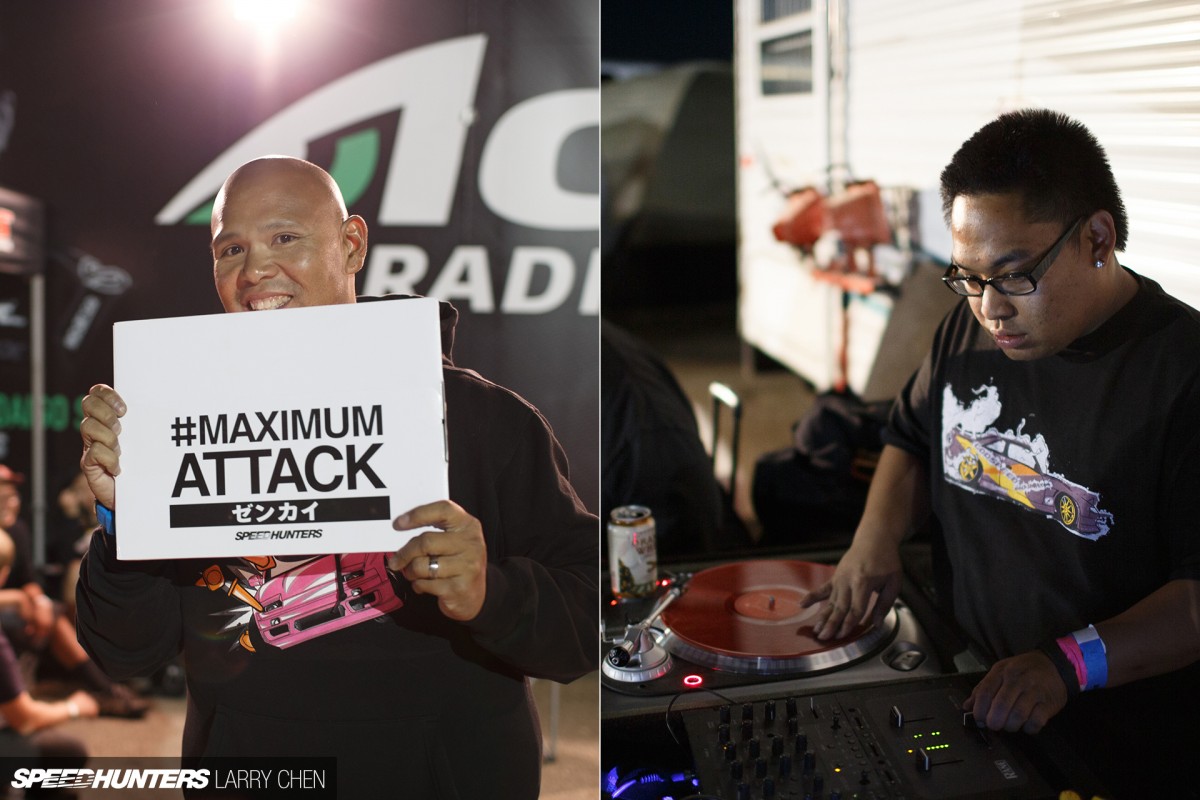 The drivers and the staff could finally relax for the night as most of the people who attend All Star Bash camp out right at the track.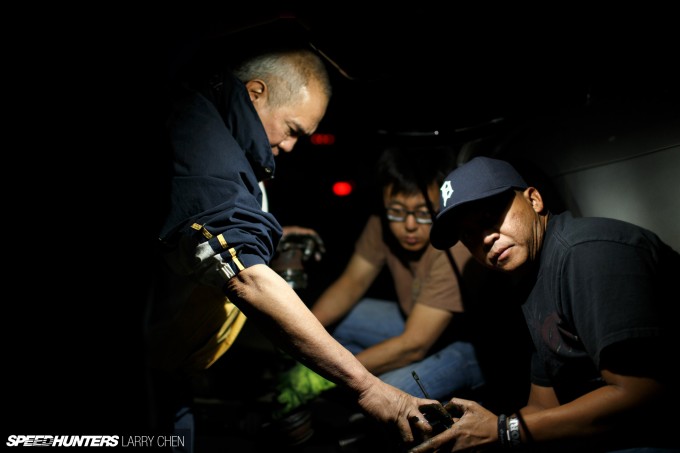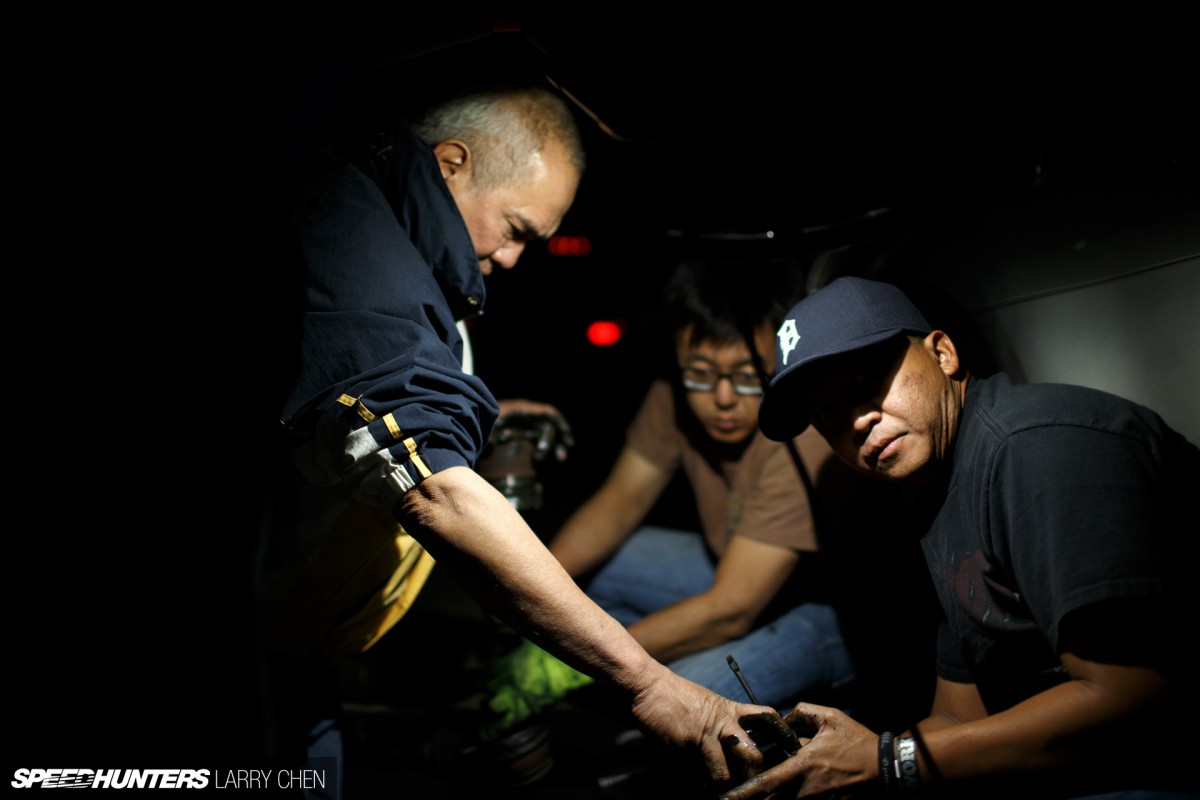 As always, you will find people slaving away throughout the night trying to fix their broken cars for another full day of drifting.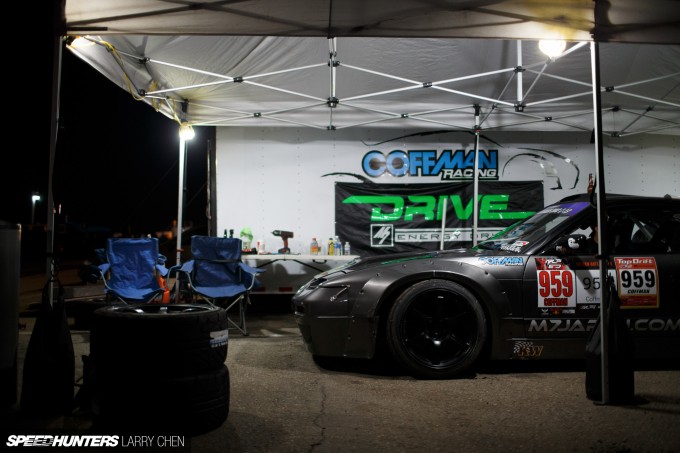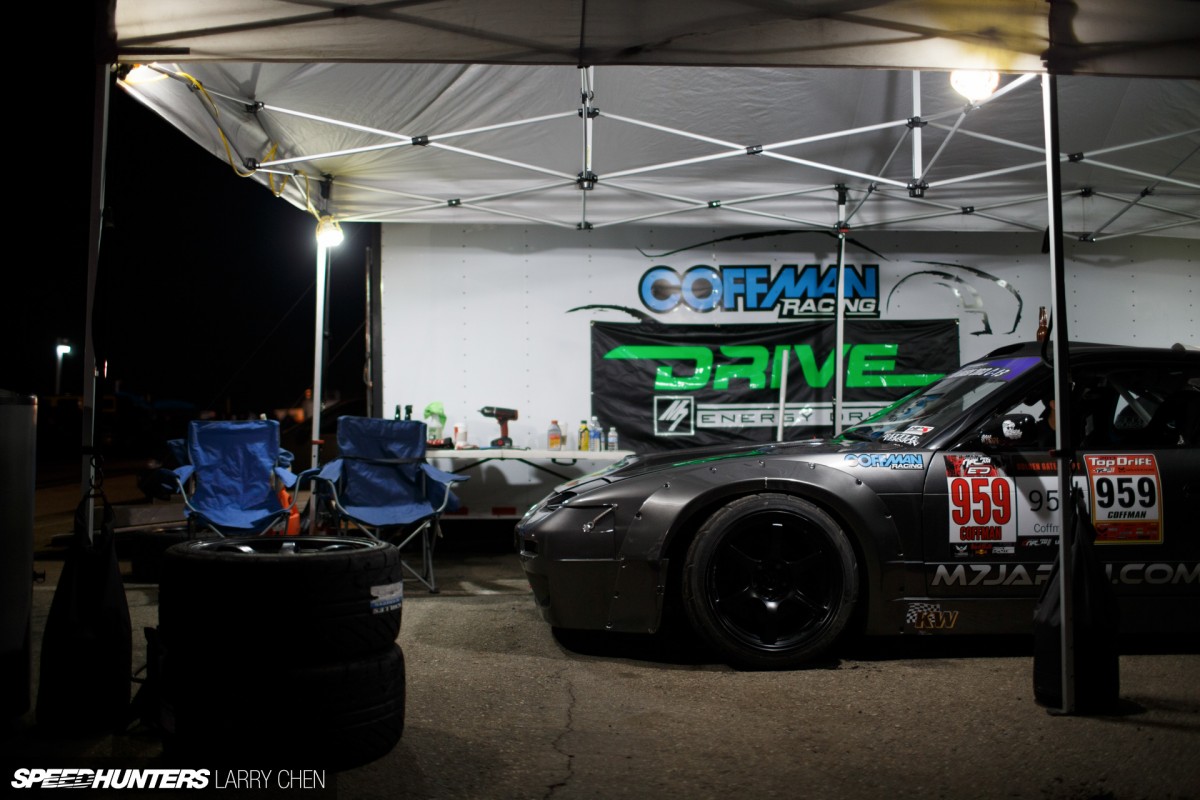 I didn't have a chance to follow the Top Drift series this year due to my travel schedule, so I've not had a chance to really follow the up-and-coming Pro-am drivers.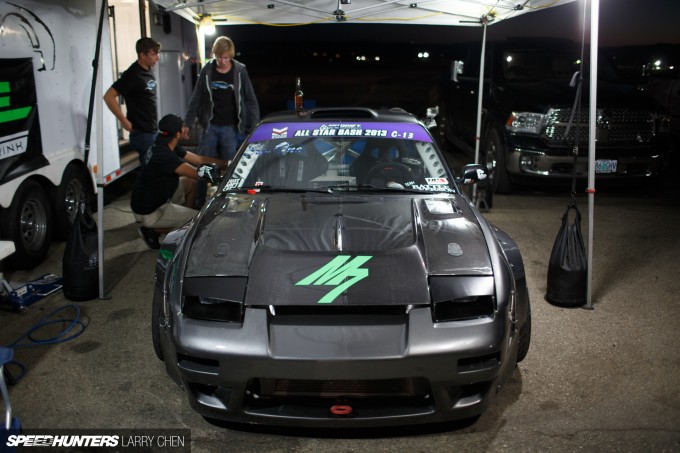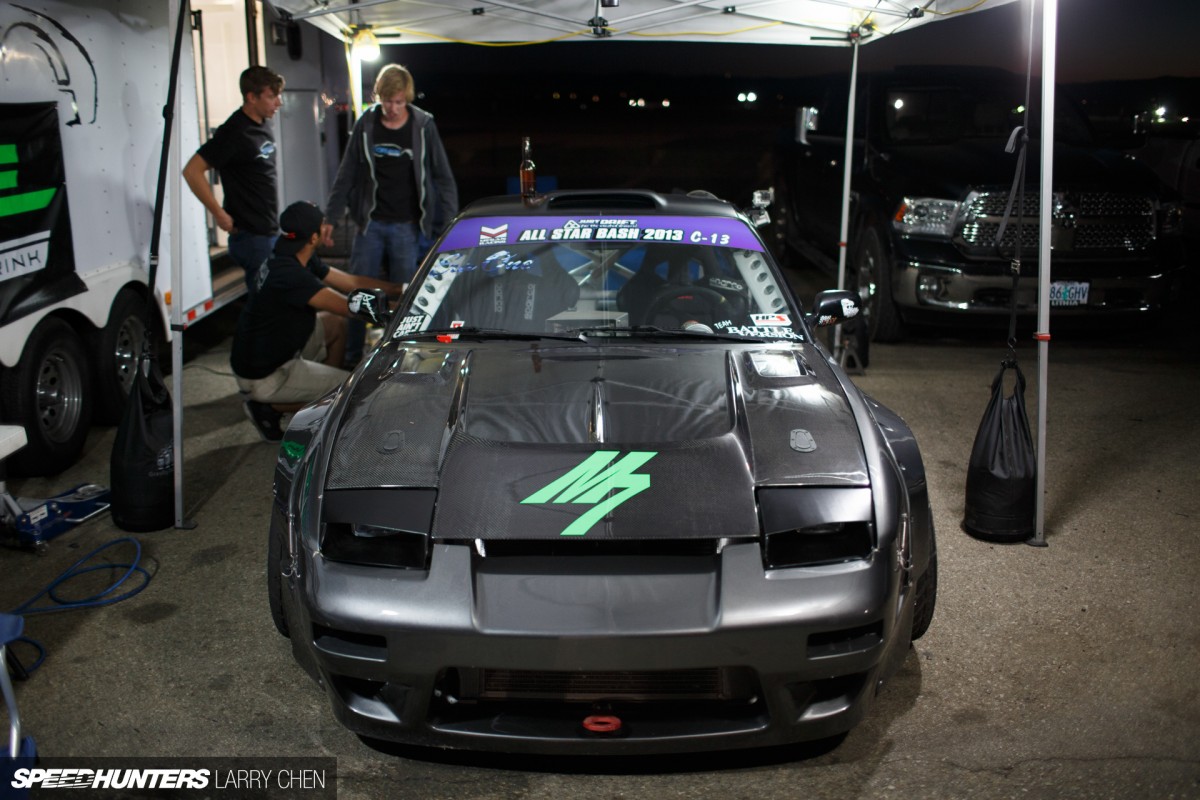 But I have managed to check out some of the new cars that we will potentially see competing in Formula Drift next year, including this Rocket Bunny S13 driven by Matt Coffman.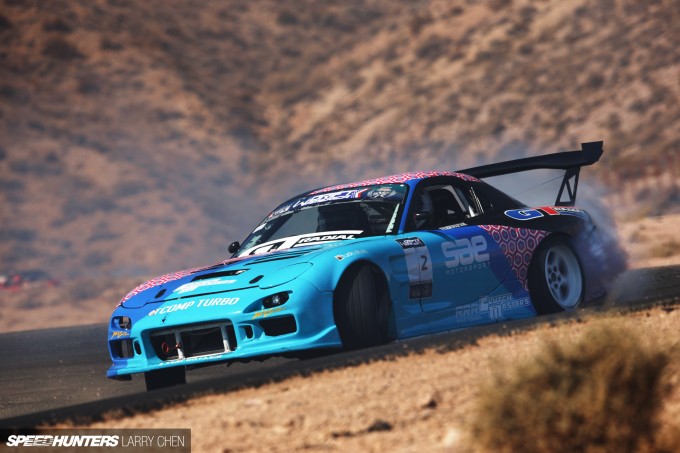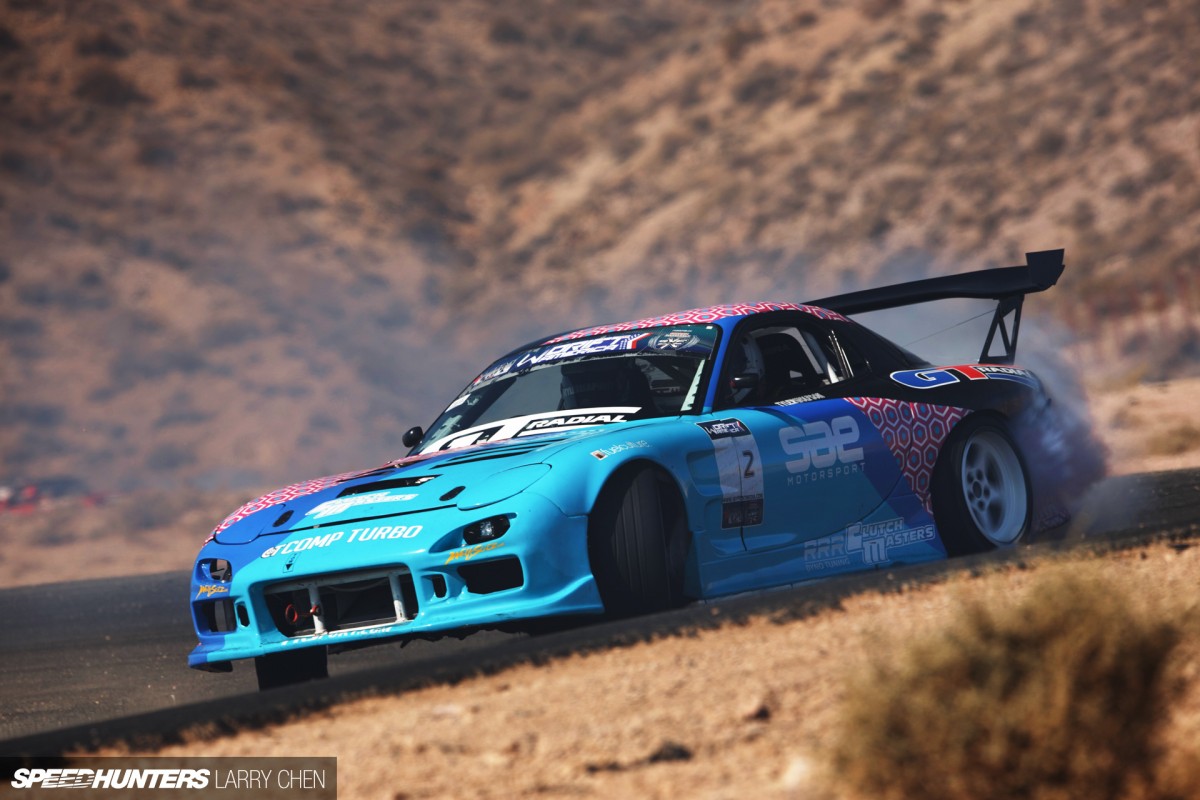 Another up-and-coming driver is Tyler Wolfson from San Diego, California. He brought out his very cool FD RX-7.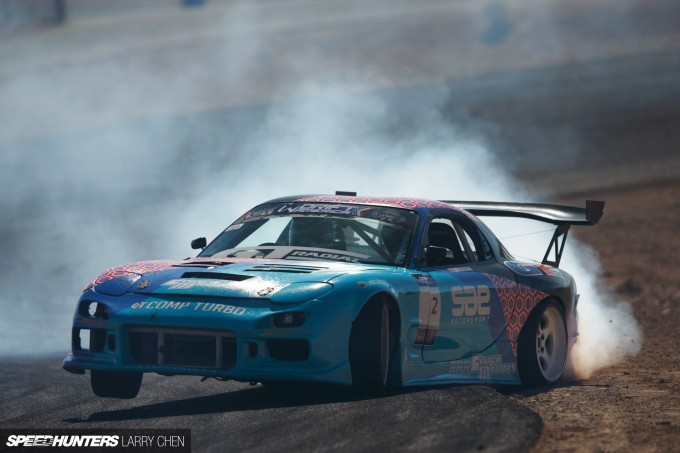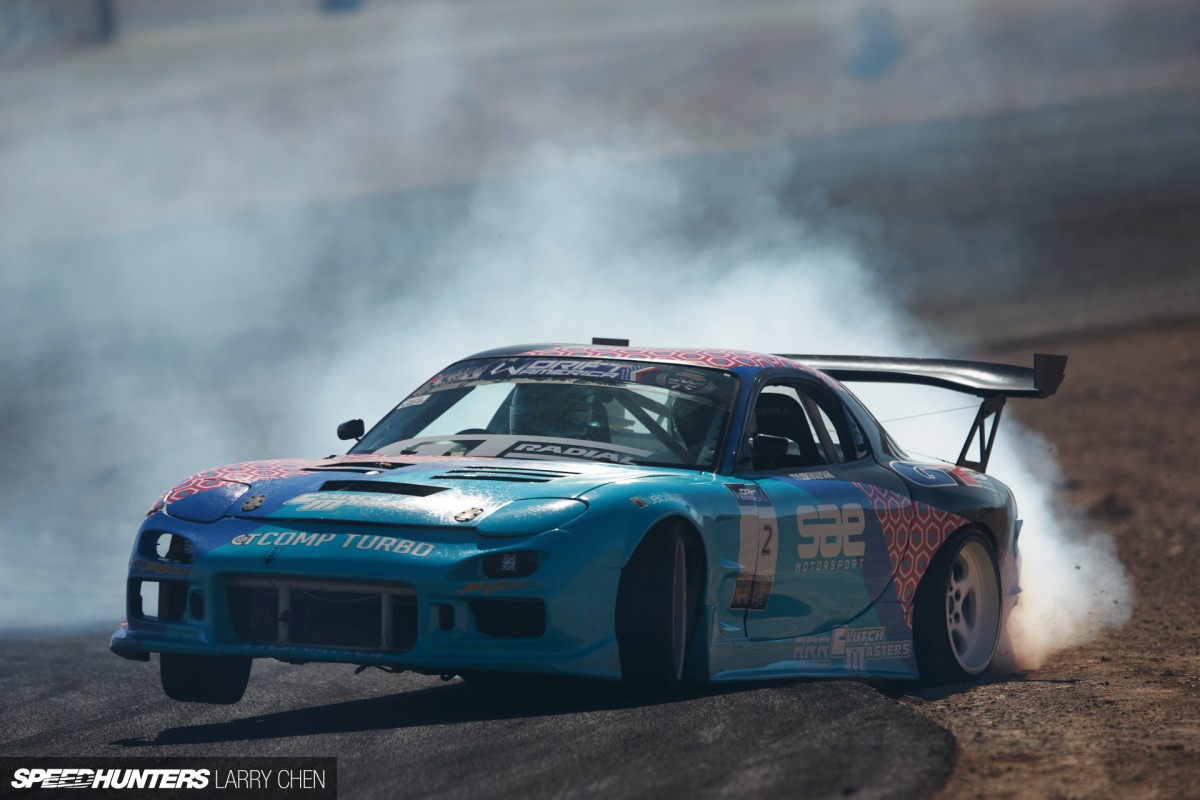 The young driver has came from a road racing background and has previously competed in events like the Rolex 24 Hours at Daytona. Keep an eye out for him as he'll be looking to nab that coveted Rookie of the Year title at the end of the 2014 Formula Drift season.
Chasing drifters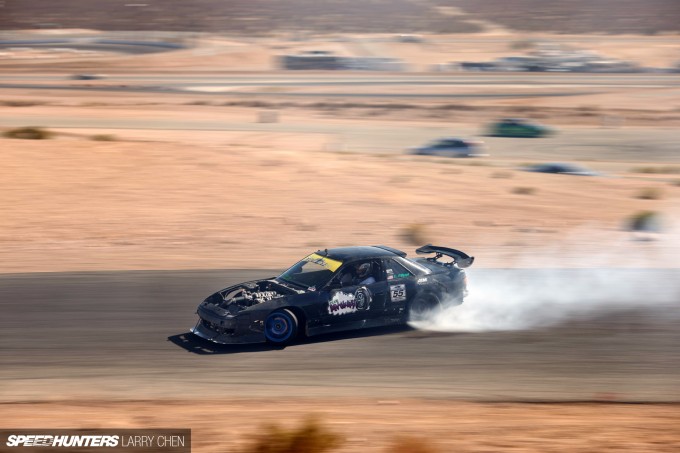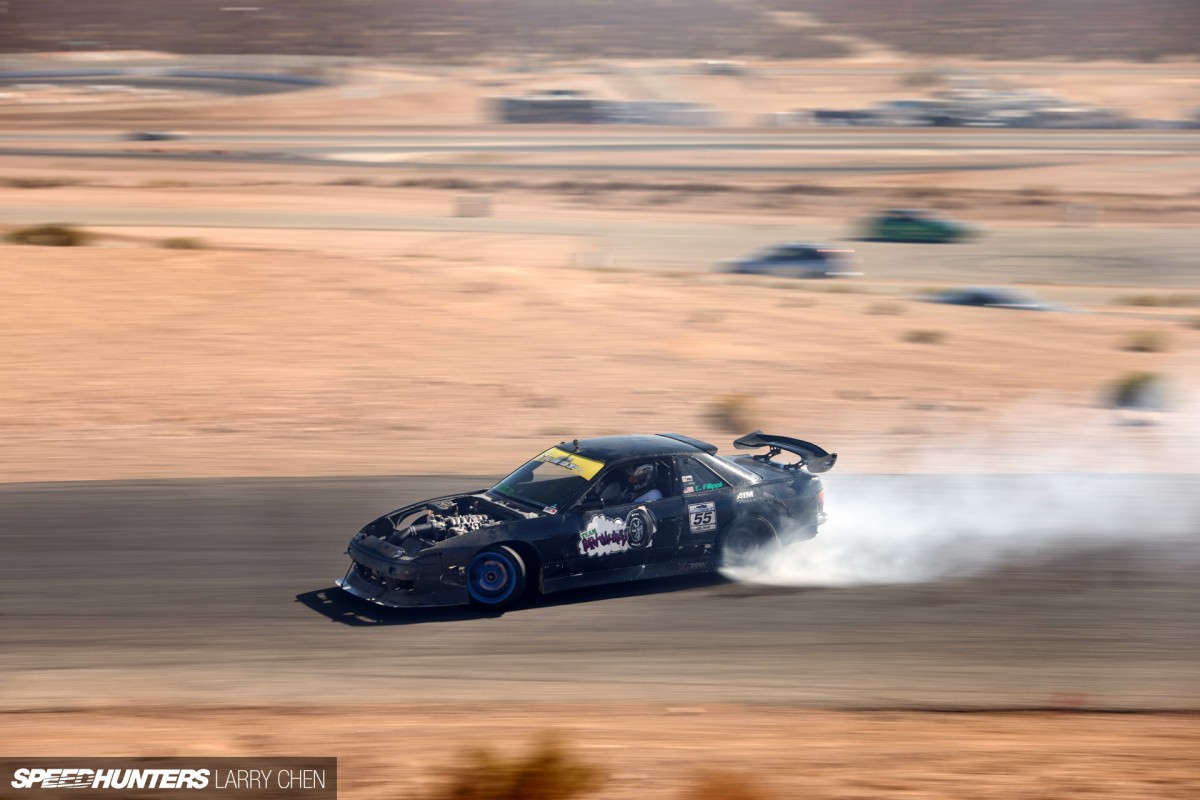 Day two at All Star Bash is a lot more relaxed. Most people have hangovers so they tend to drive a lot less.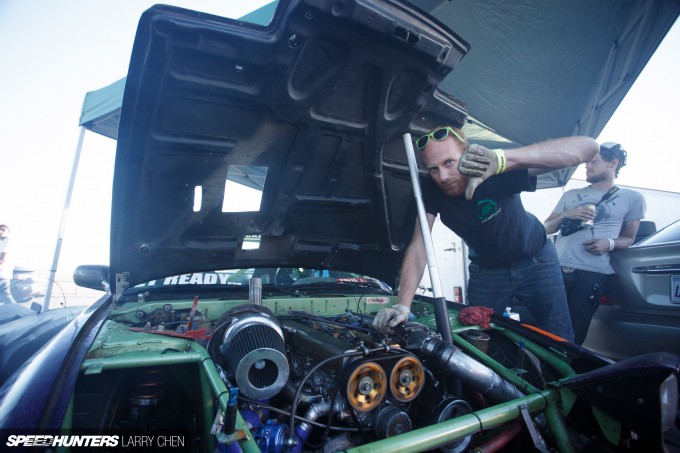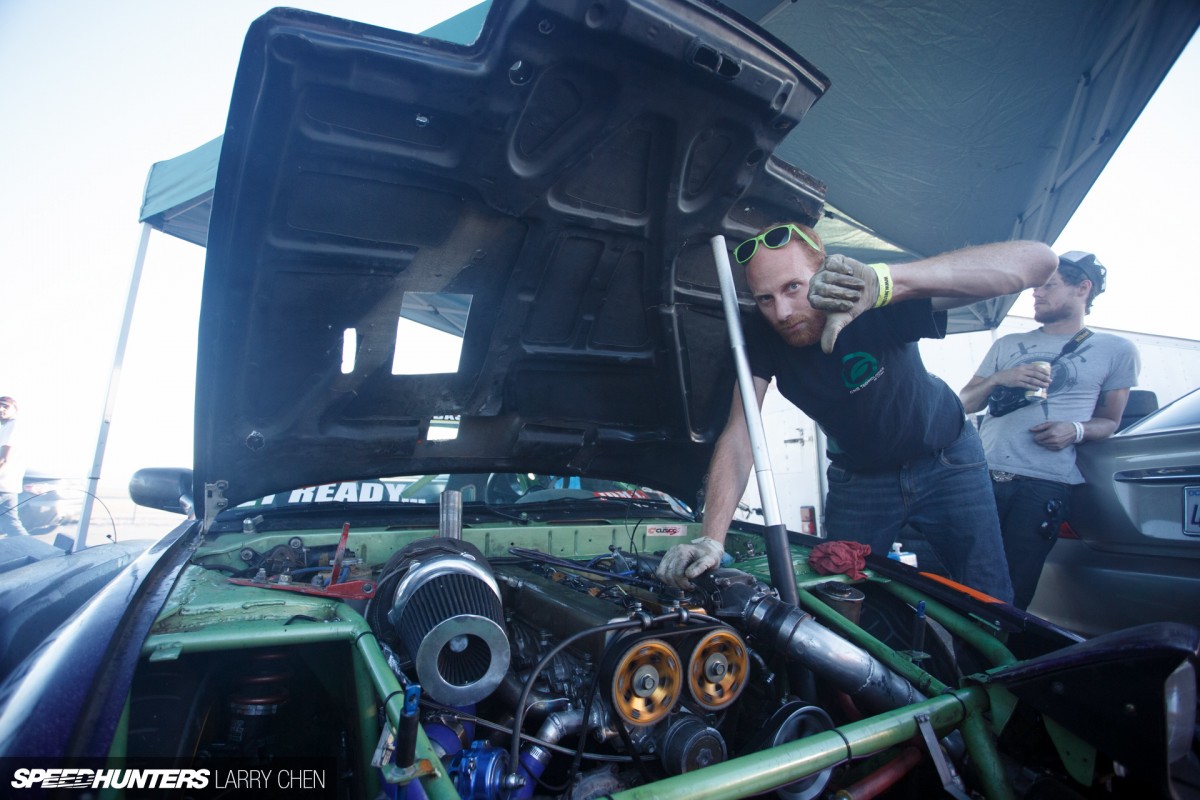 It still amazes me that any car can last an entire weekend of non-stop drifting. Brandon Wicknick was not having such a good time as his motor was not running right. He drove it anyway and blew it up. Then he borrowed his friend's car and blew that one up too.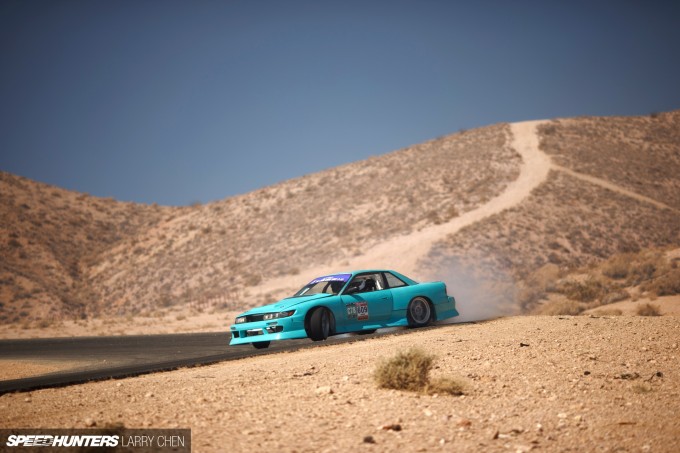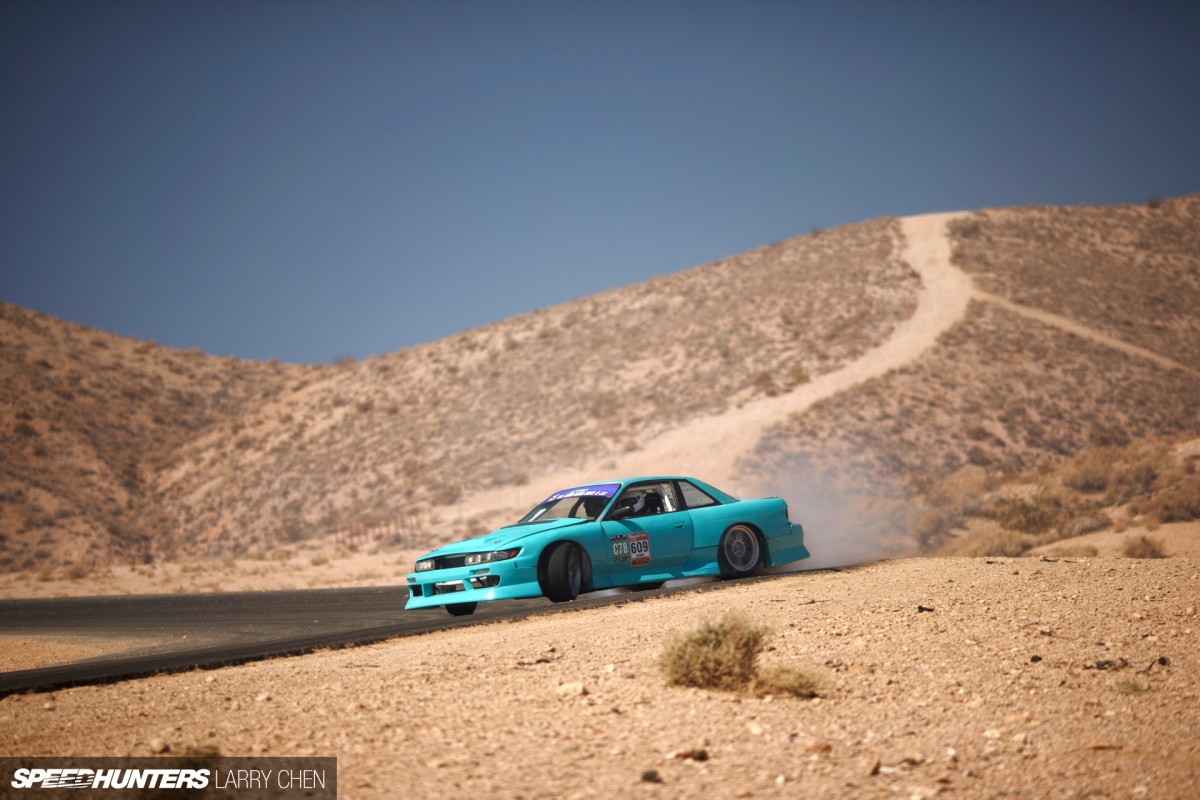 The event is all in good fun though, which is why I think it's been so successful over the years.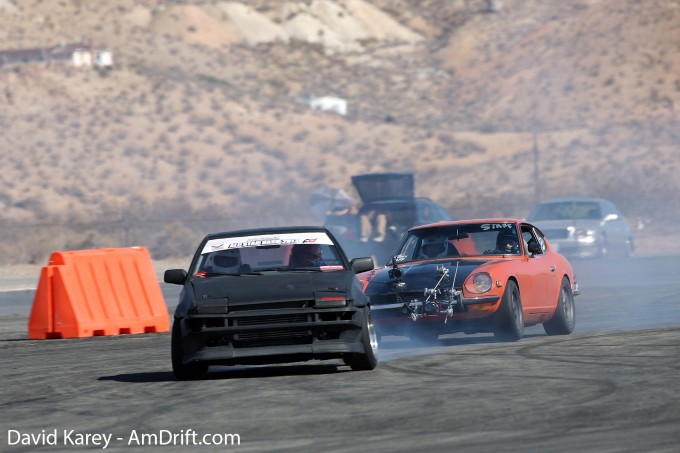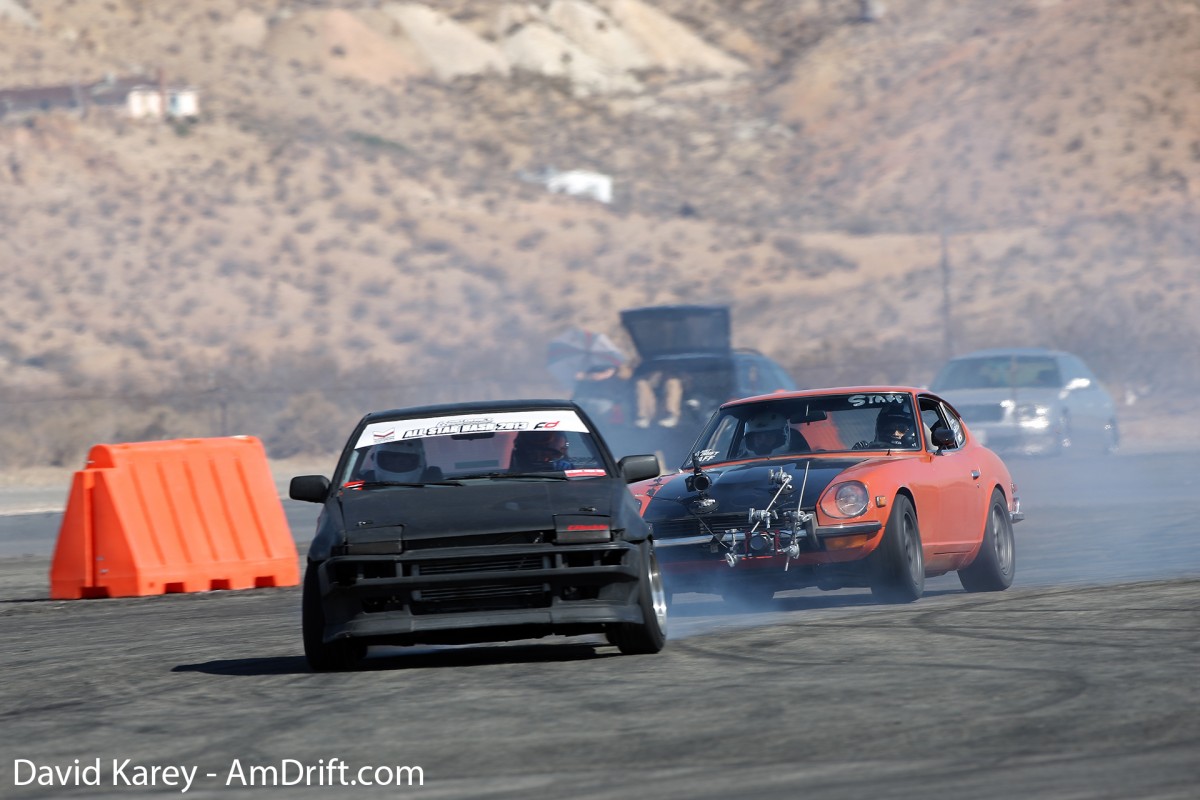 Since day two has less cars on track it was the perfect time for me to mount up my chase car and put in some camera car duty.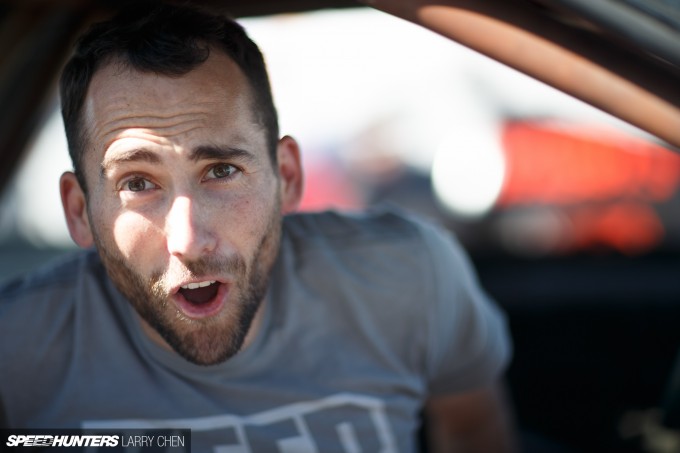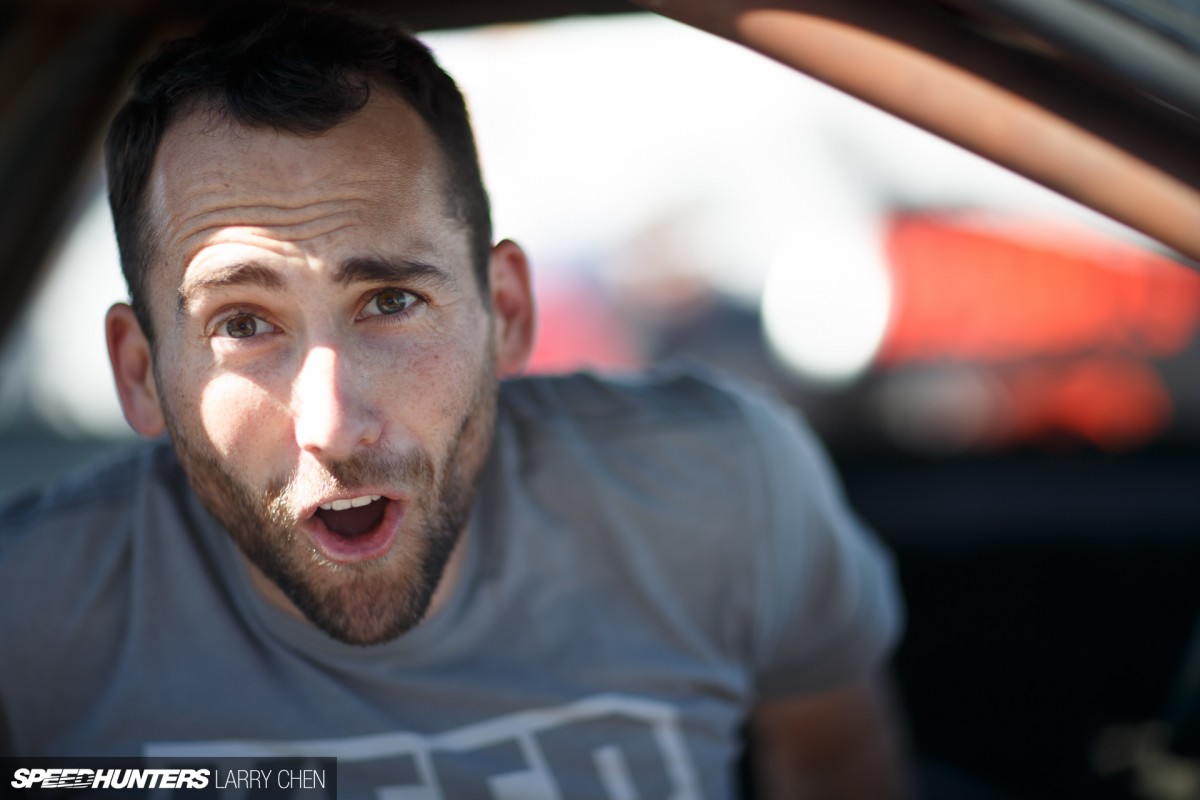 I teamed up with Will Roegge from Keep Drifting Fun and we rigged up the front of my car. We also mounted a monitor on the inside so Will could direct me as we followed.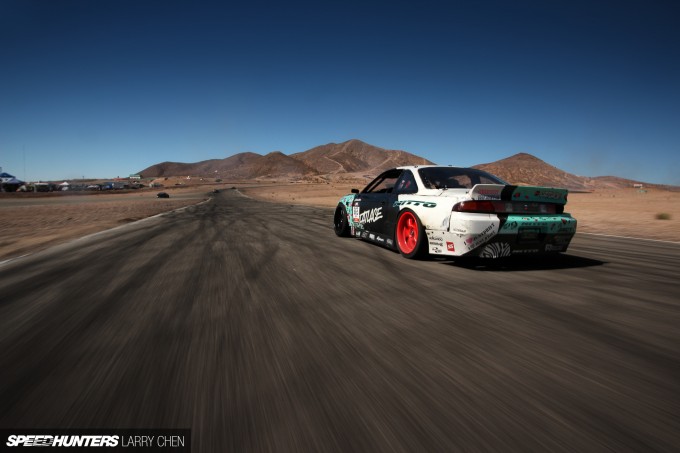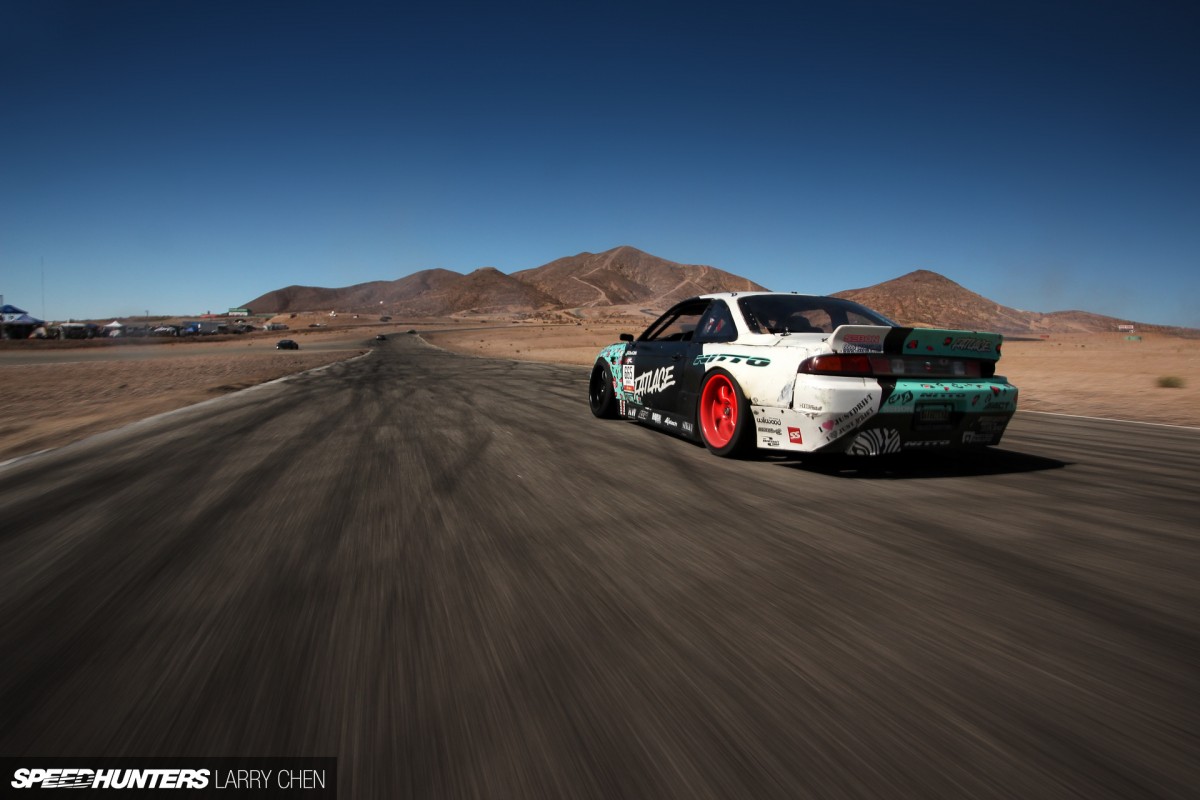 Our first victim was none other than our dear friend Matt Powers in his sinking pirate ship of an S14.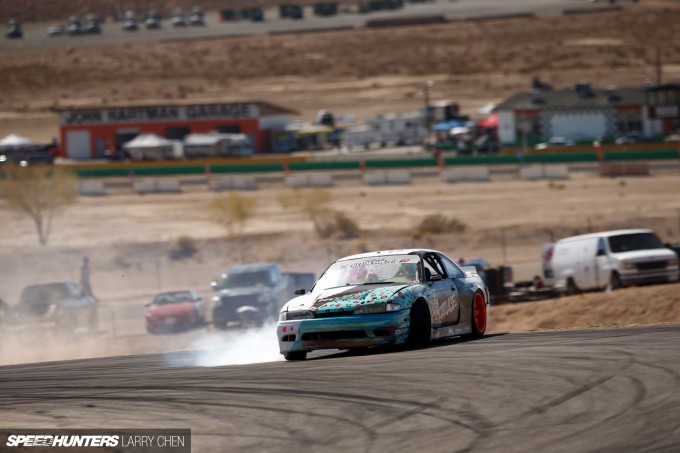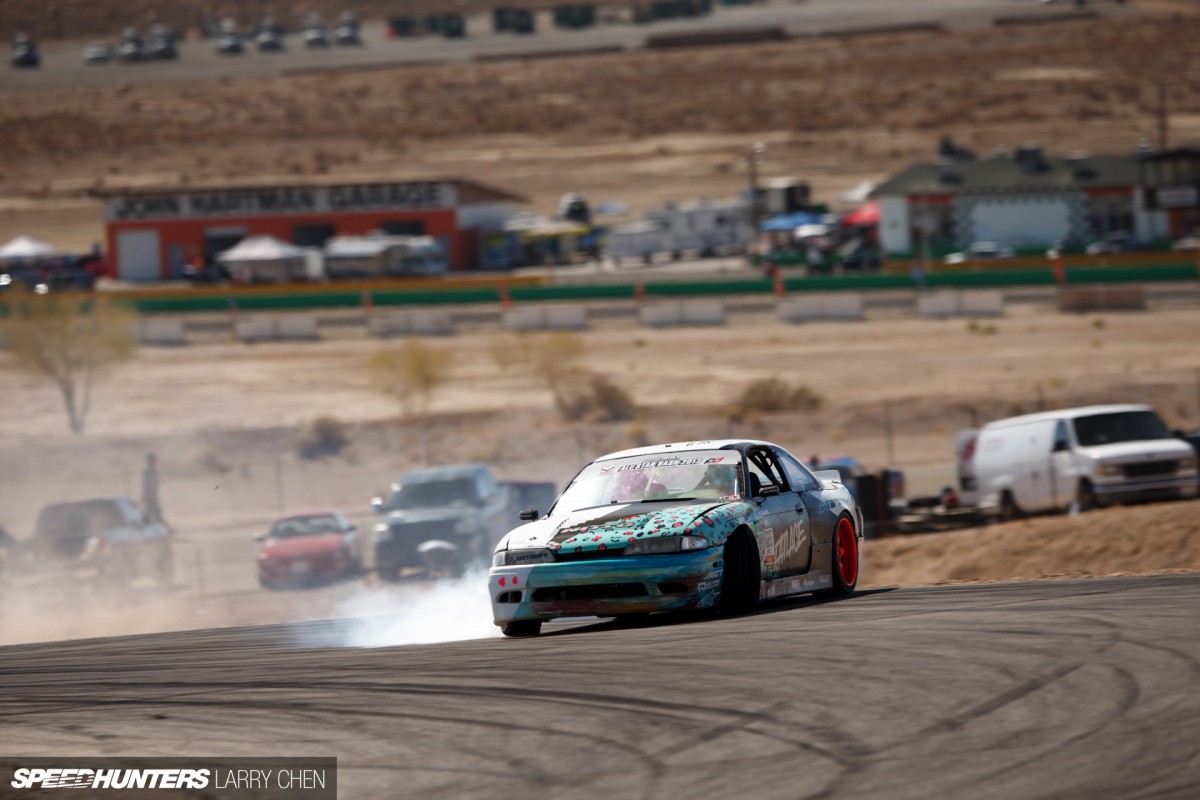 He's running an LS3 in that bad boy, which is good for around 450hp. He was entering the first corner at the top of fourth gear at about 100mph.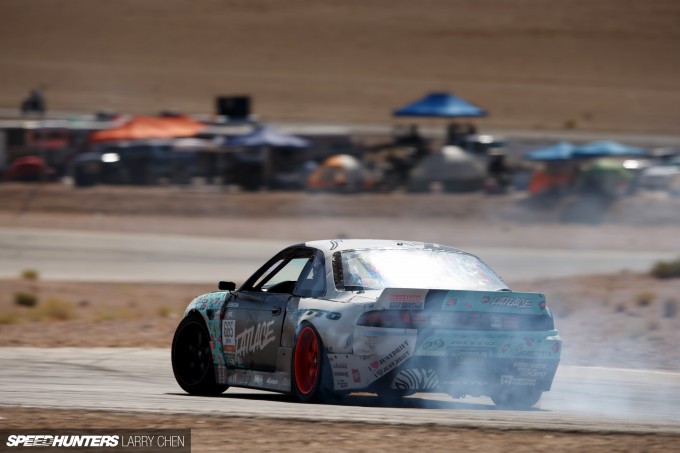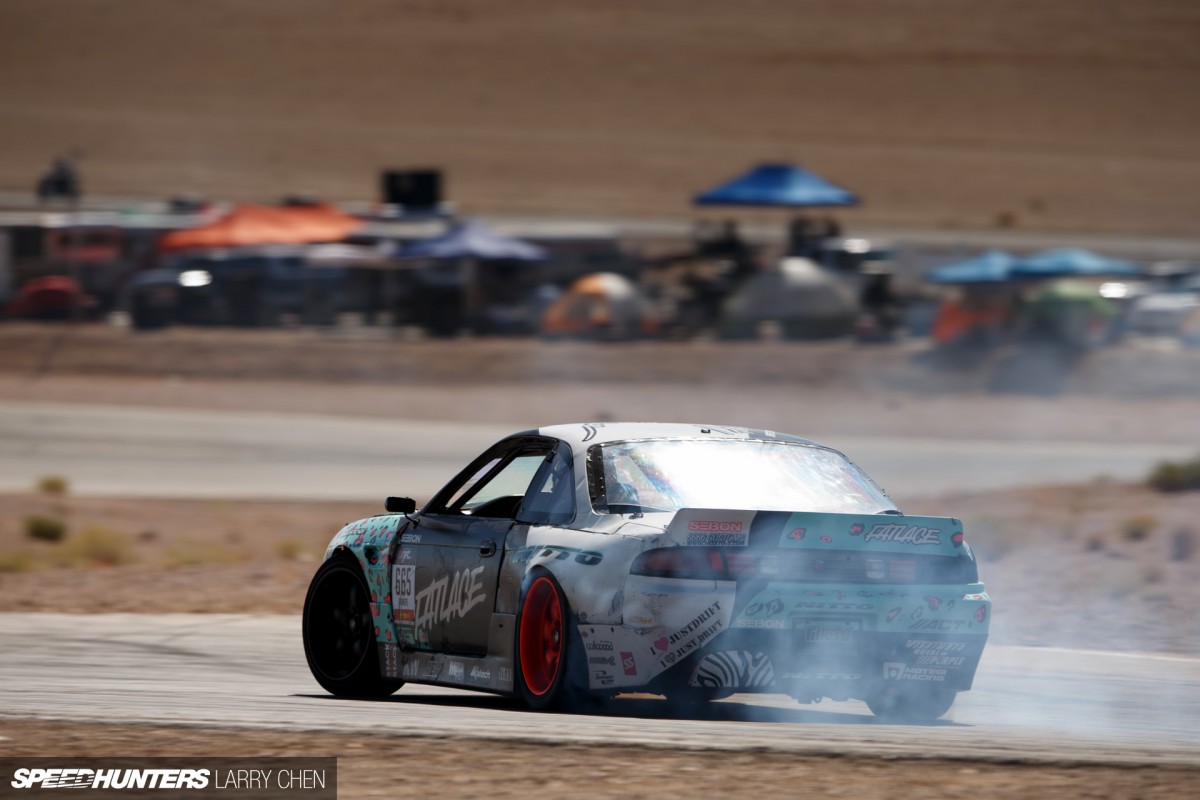 As I mentioned in my article about Ole Orange Bang, I was very surprised that I could keep up with him.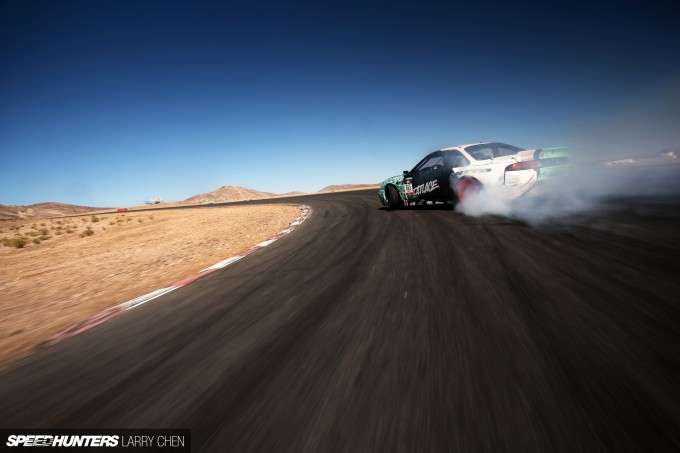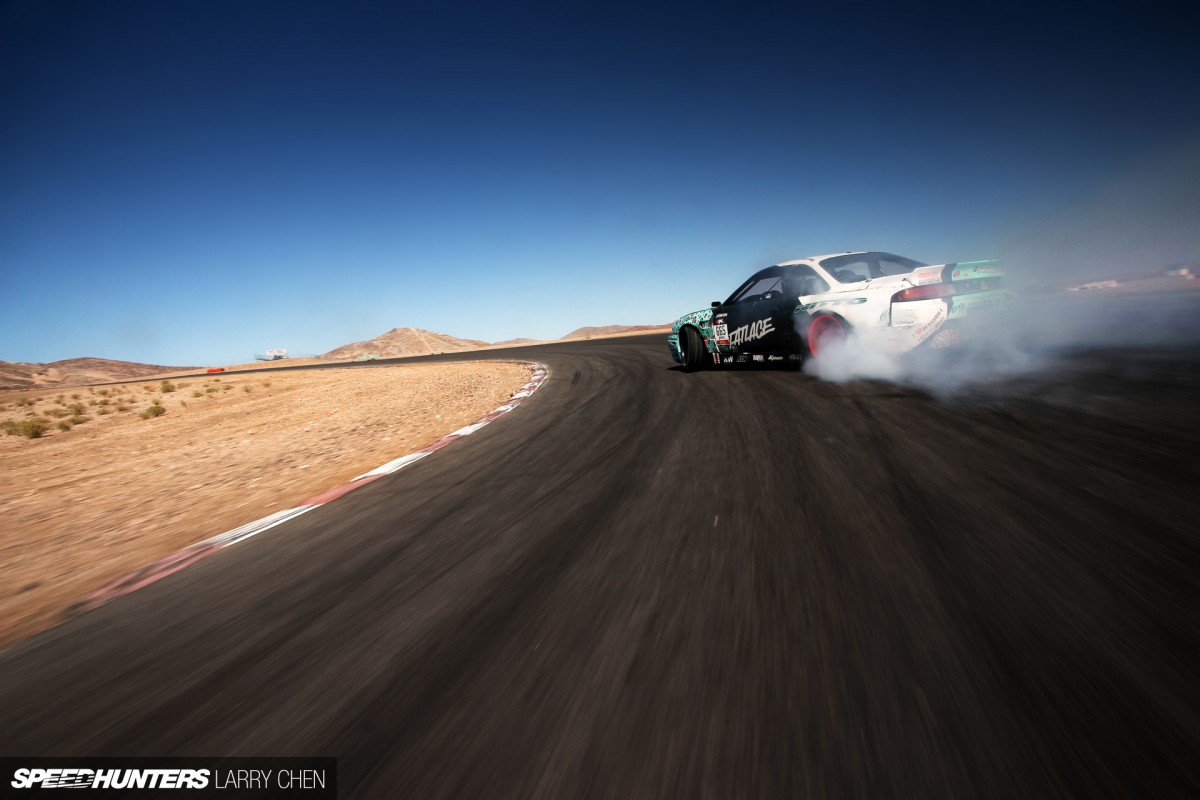 I chased him for a few laps on the Streets of Willow, but the real action was on the touge course better known as Horse Thief Mile.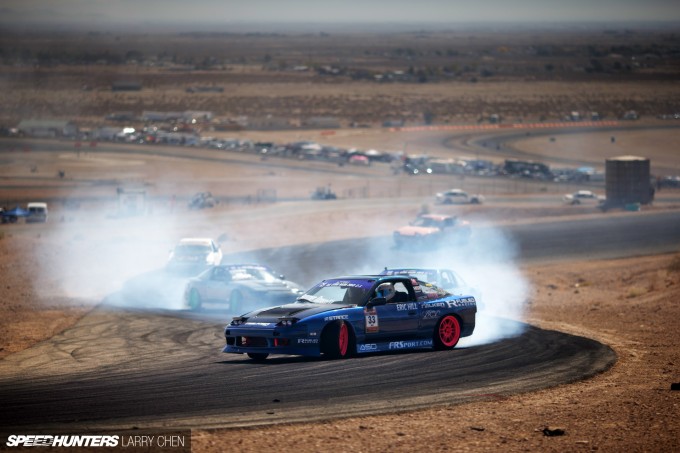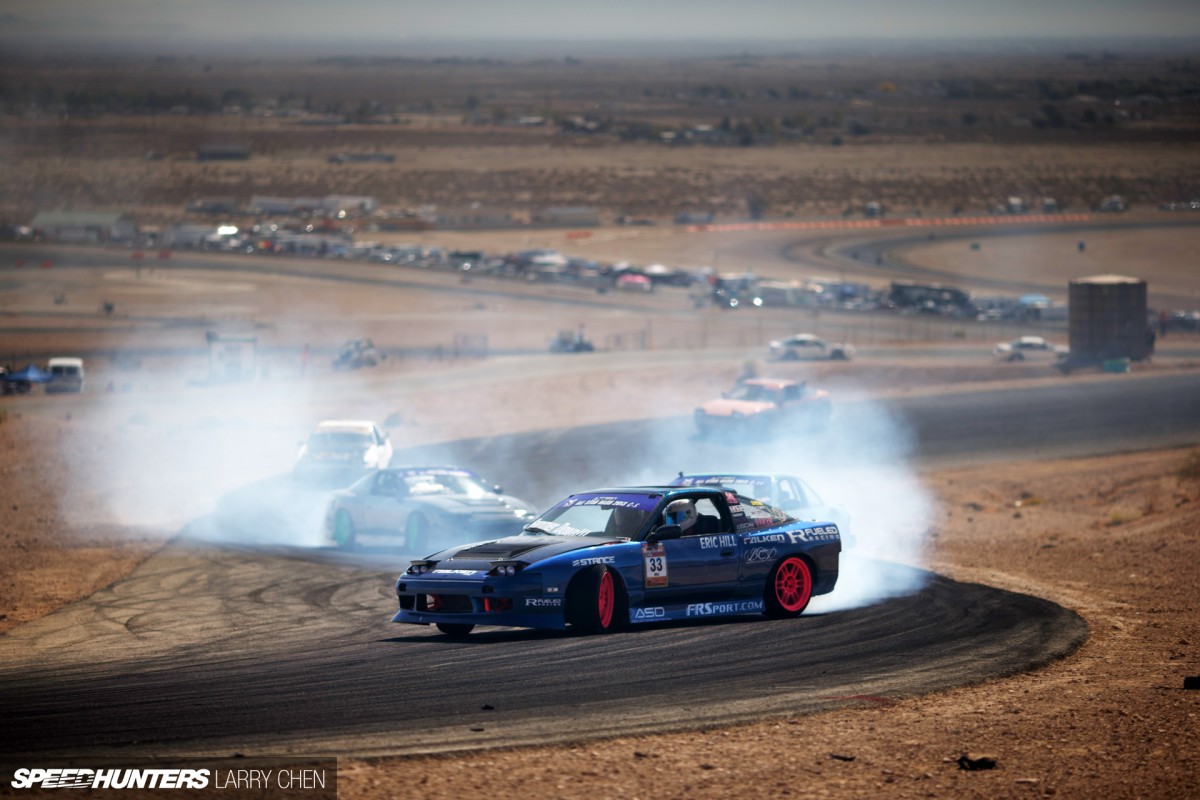 With its huge elevation changes, much like a mountain pass, it's like this track was built for drifting. Any time there was a nice drift train going, I would just insert myself in the middle and fire away.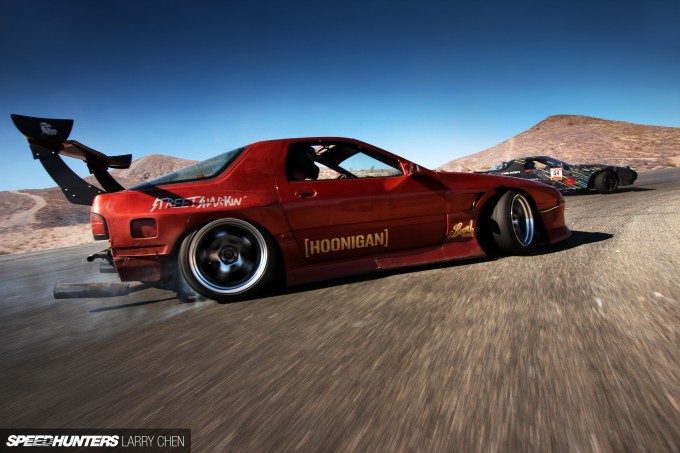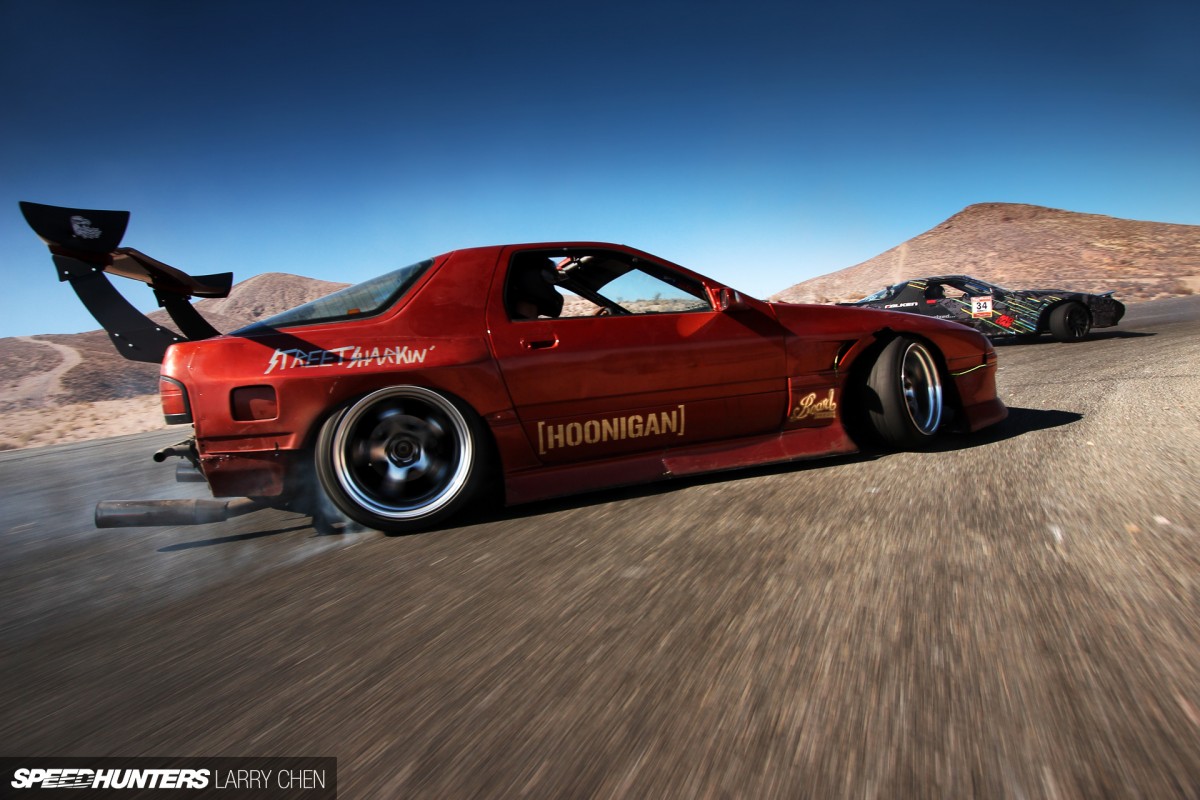 This is how it looked following Hert Eugene Jr. of Beard Life in his LS-powered FC RX-7.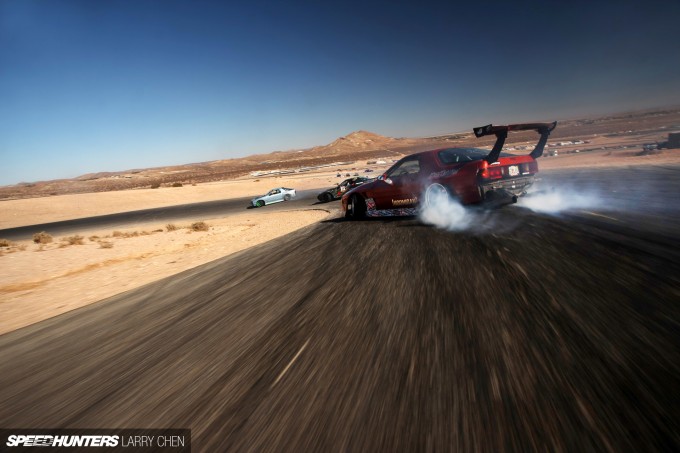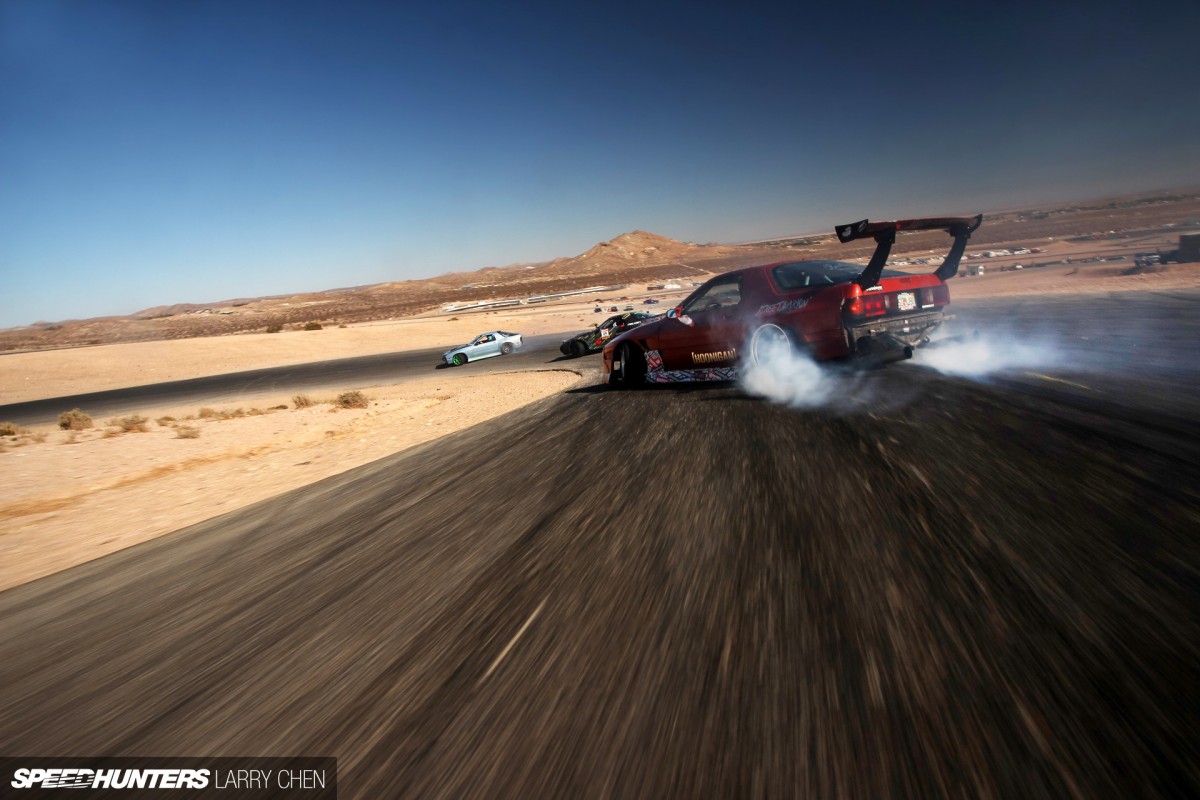 As Mike mentioned in his post, we've got a full feature on this Street Sharkin' drift car coming soon.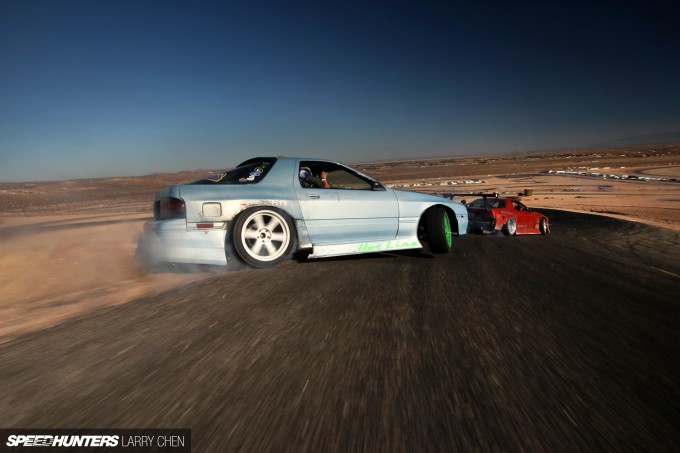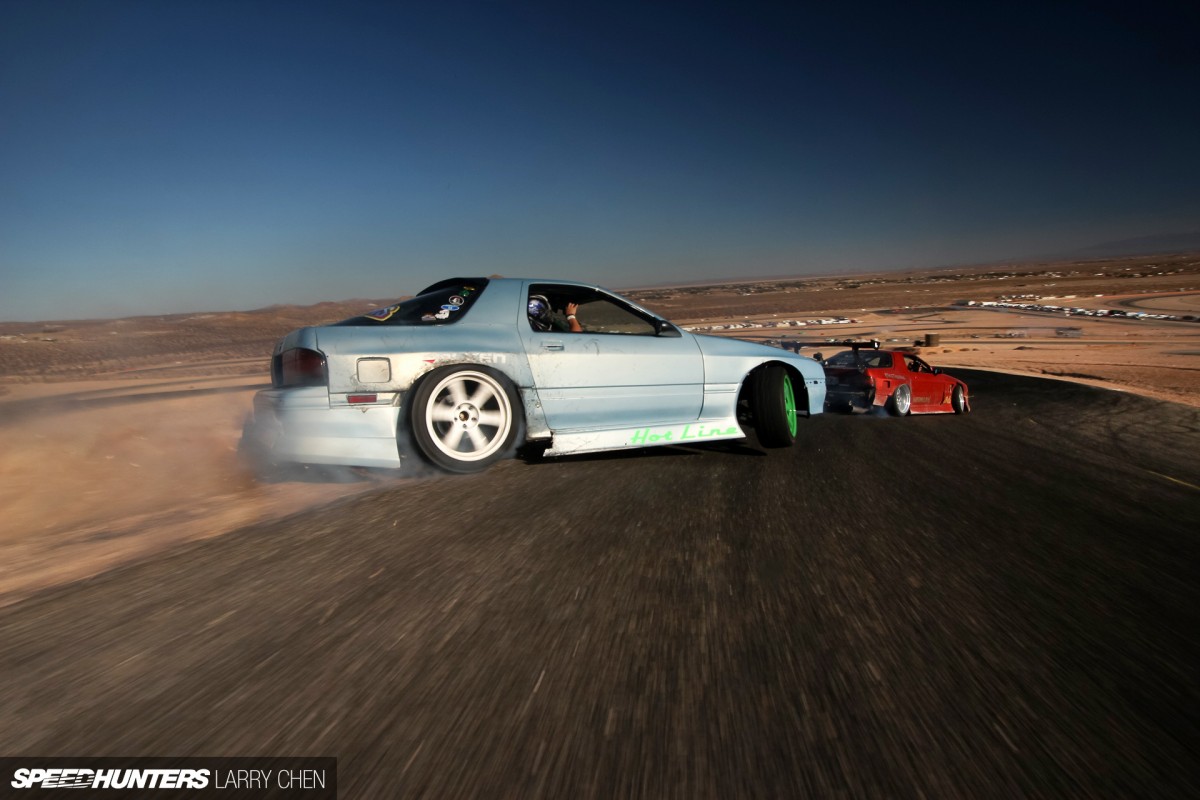 Even Formula Drift Veteran Justin Pawlak joined in on the dirt-dropping drift train fun. It's crazy to think that the first time I met Justin was back in 2006 at the first round of Just Drift Top Drift.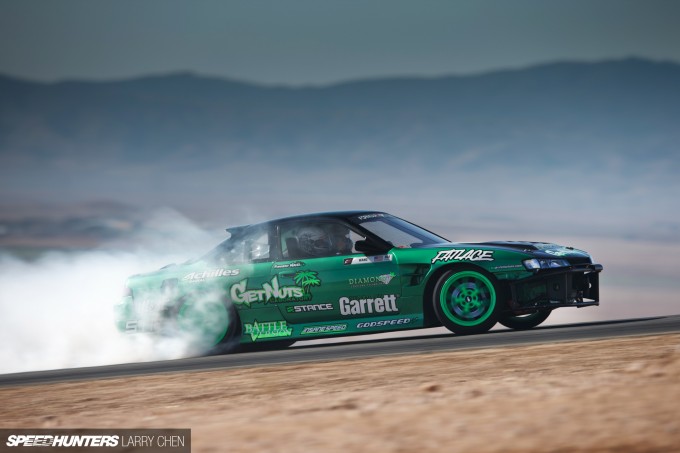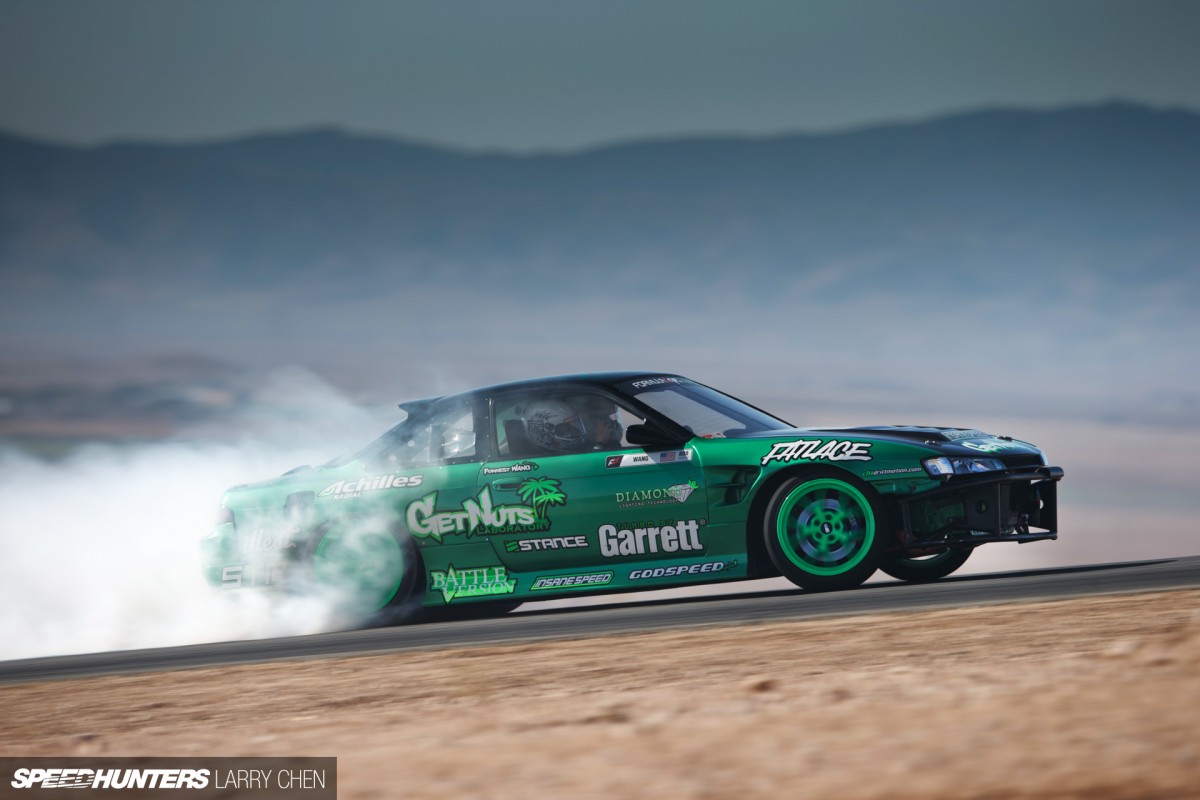 That's the same time I first met Forrest Wang too.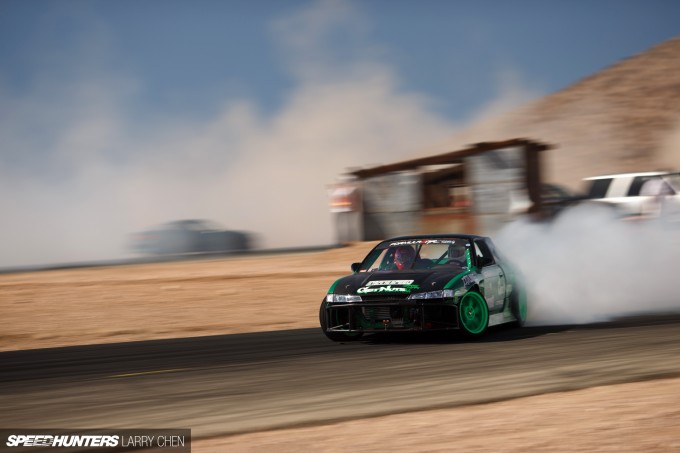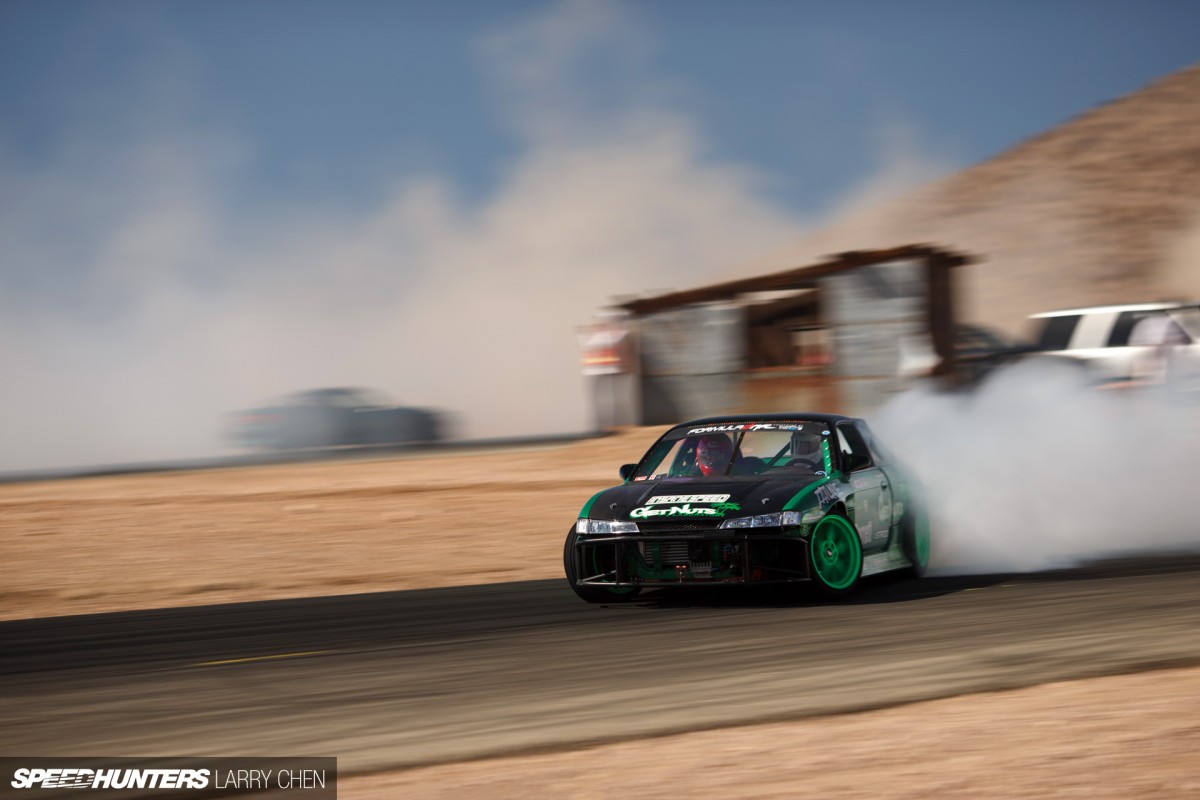 He was fresh from Hawaii and had brought over his drift car to compete with the local Southern California drivers.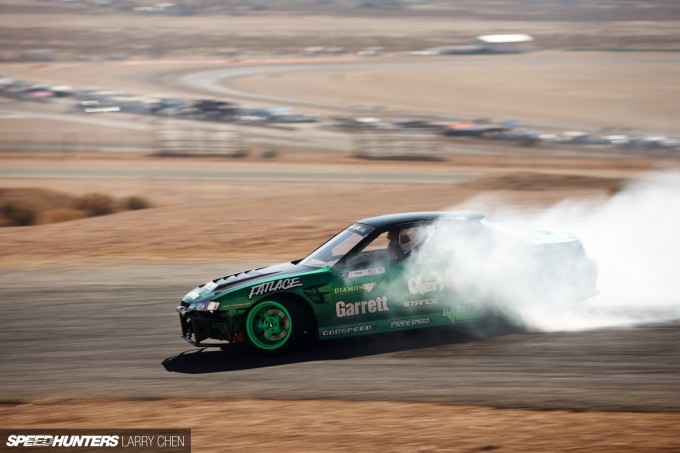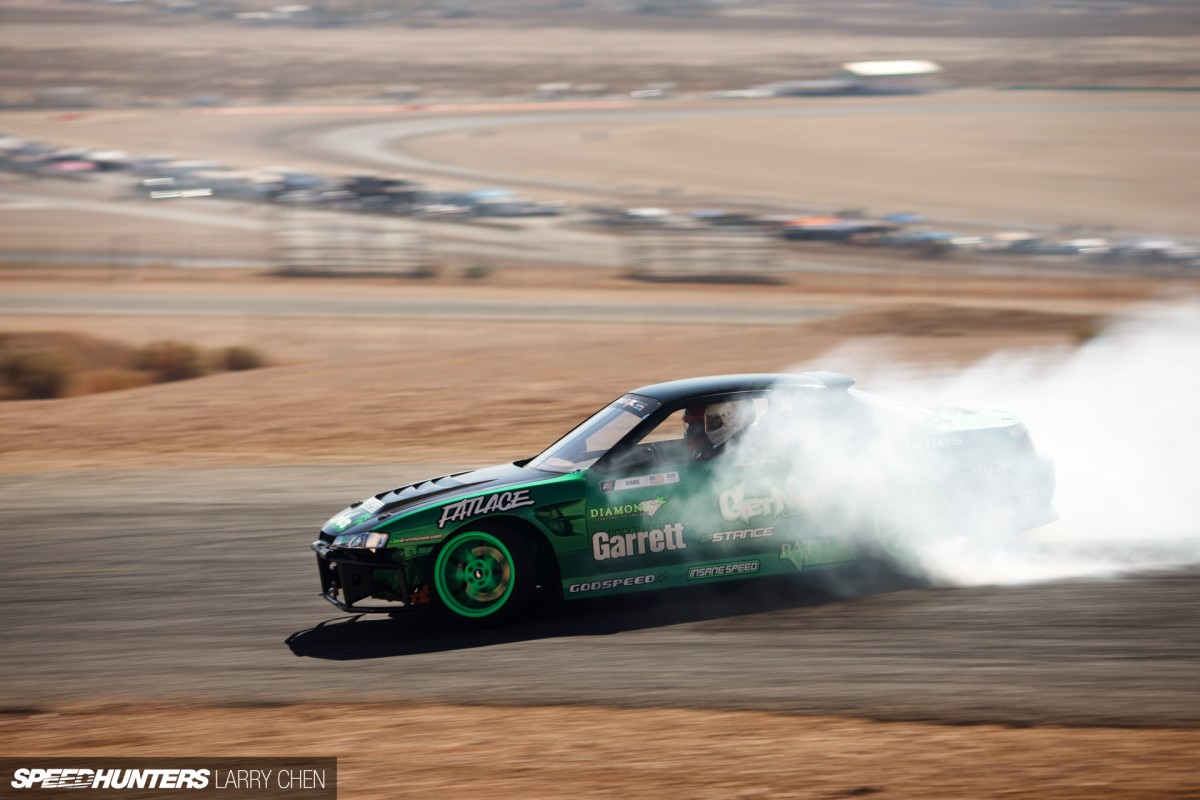 It's really amazing how both drivers have come such a long way in their respective careers.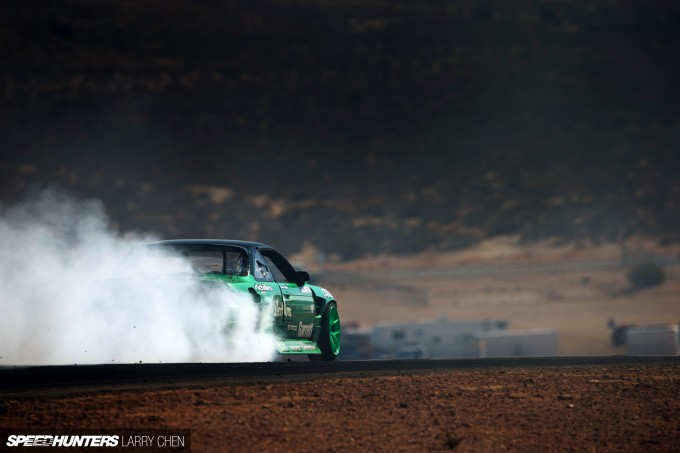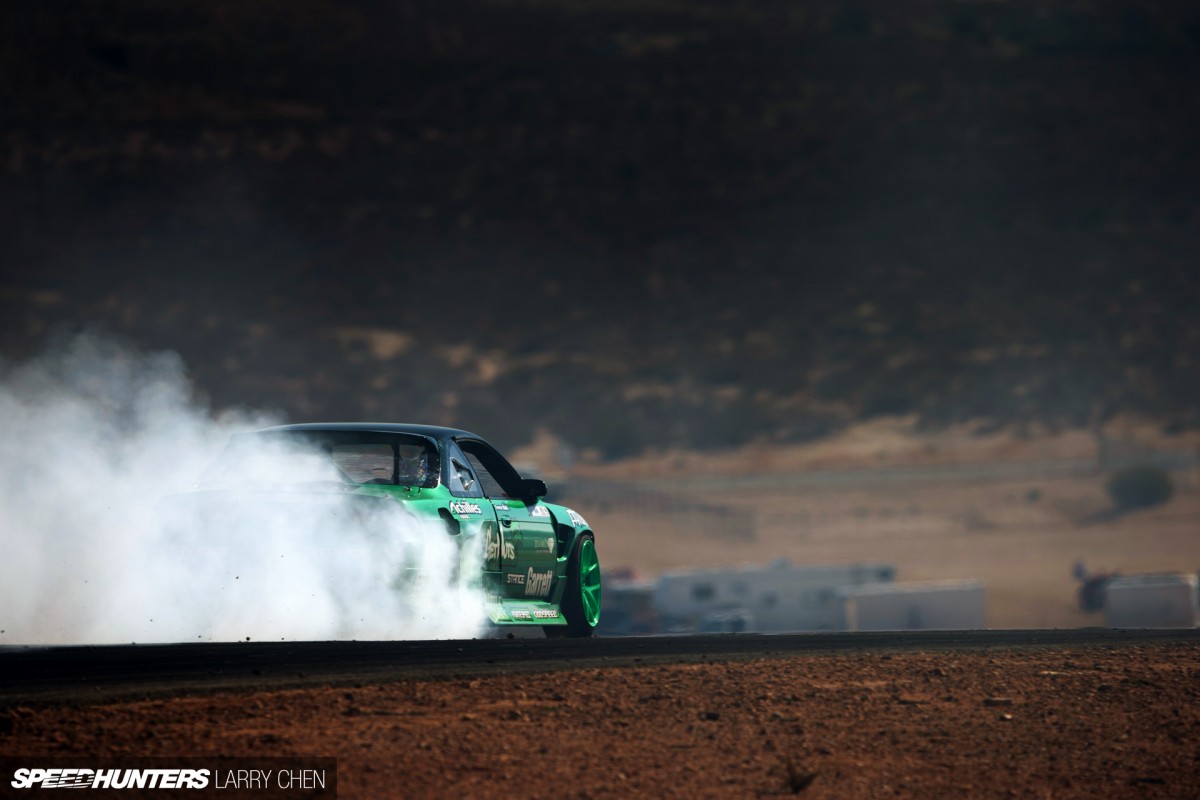 Given that he earned his very first podium at the Formula Drift finals a few weekends ago, Forrest is someone that we'll have to keep a close eye on next year.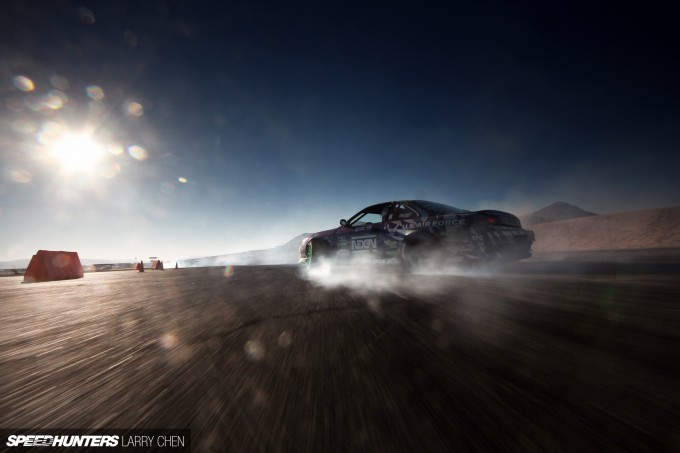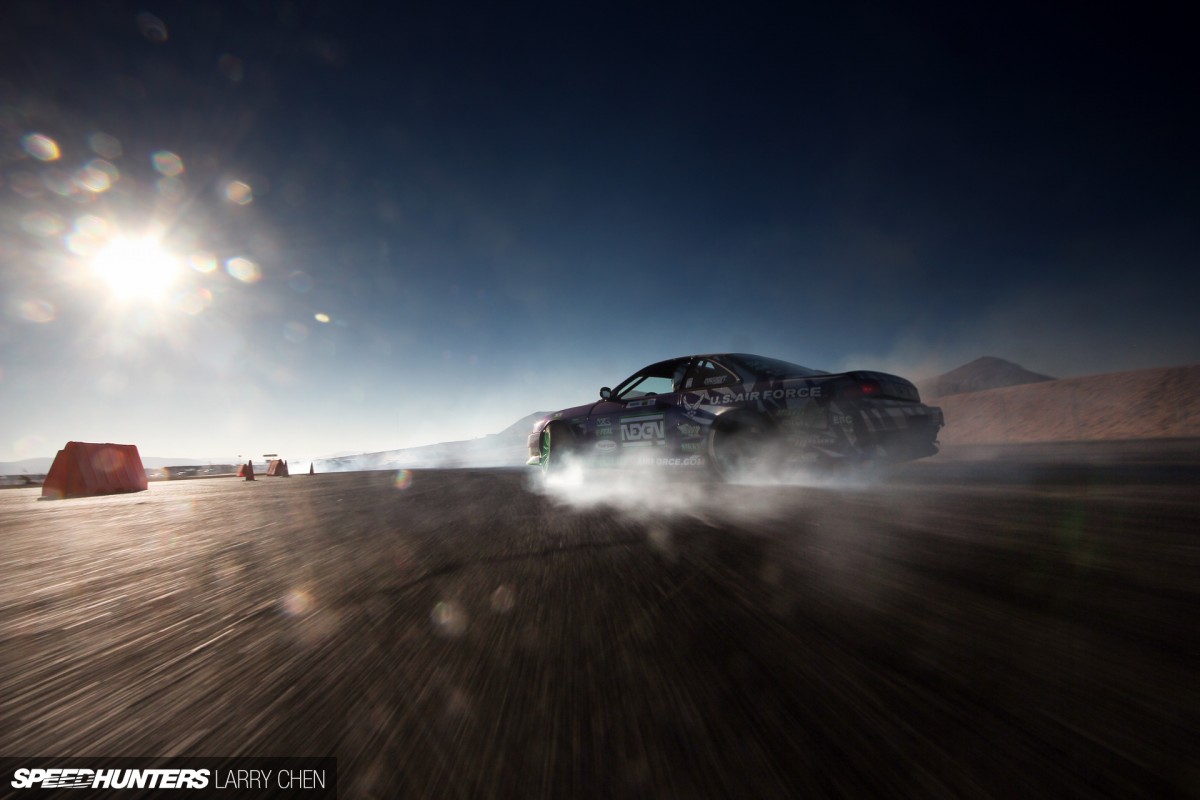 I played 'professional precision driver, Larry Chen' for about eight hours that day. You can see the lens filter getting more and more pitted as the day went on. Pretty soon we just have to throw them away because they either got too pitted or cracked from the rocks that were picked up. Between Will and I, we destroyed four lens filters following these drivers, but it was totally worth it.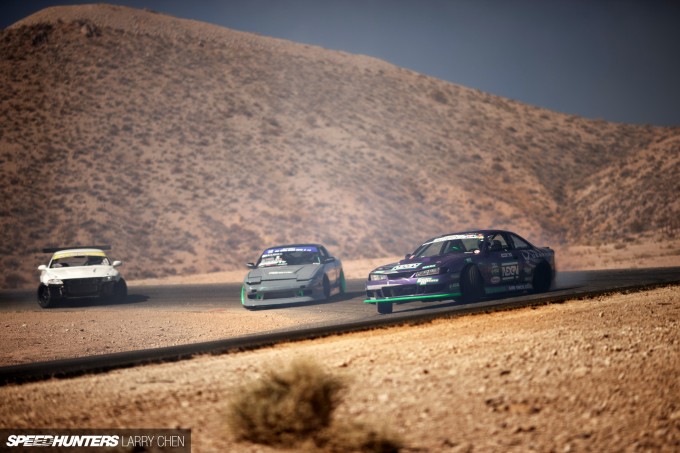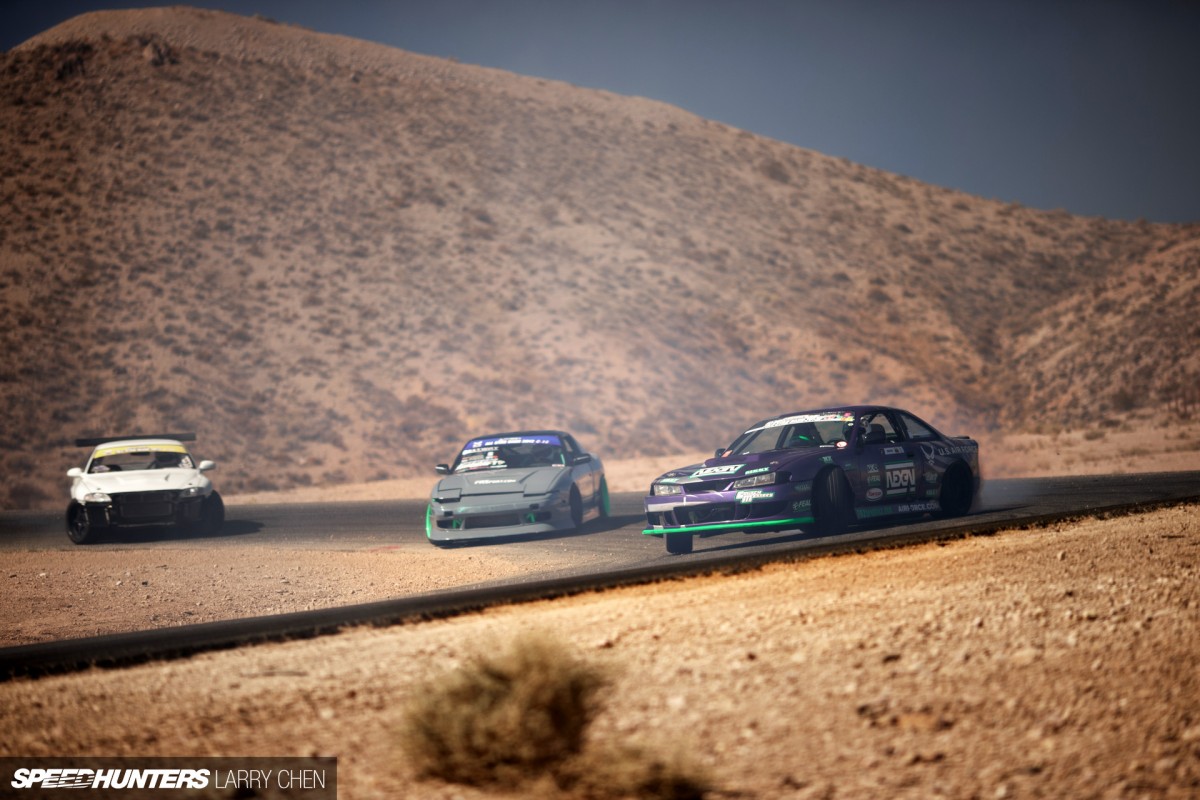 I had so much fun following these guys that I did not want the weekend to end. Keep an eye out for Will's video too – it should be dropping very soon.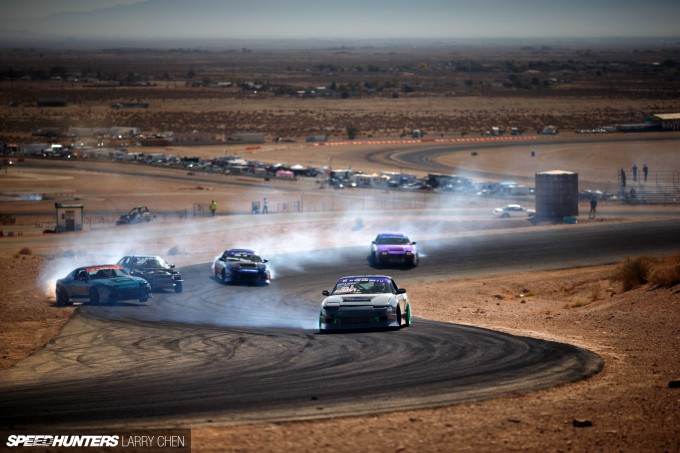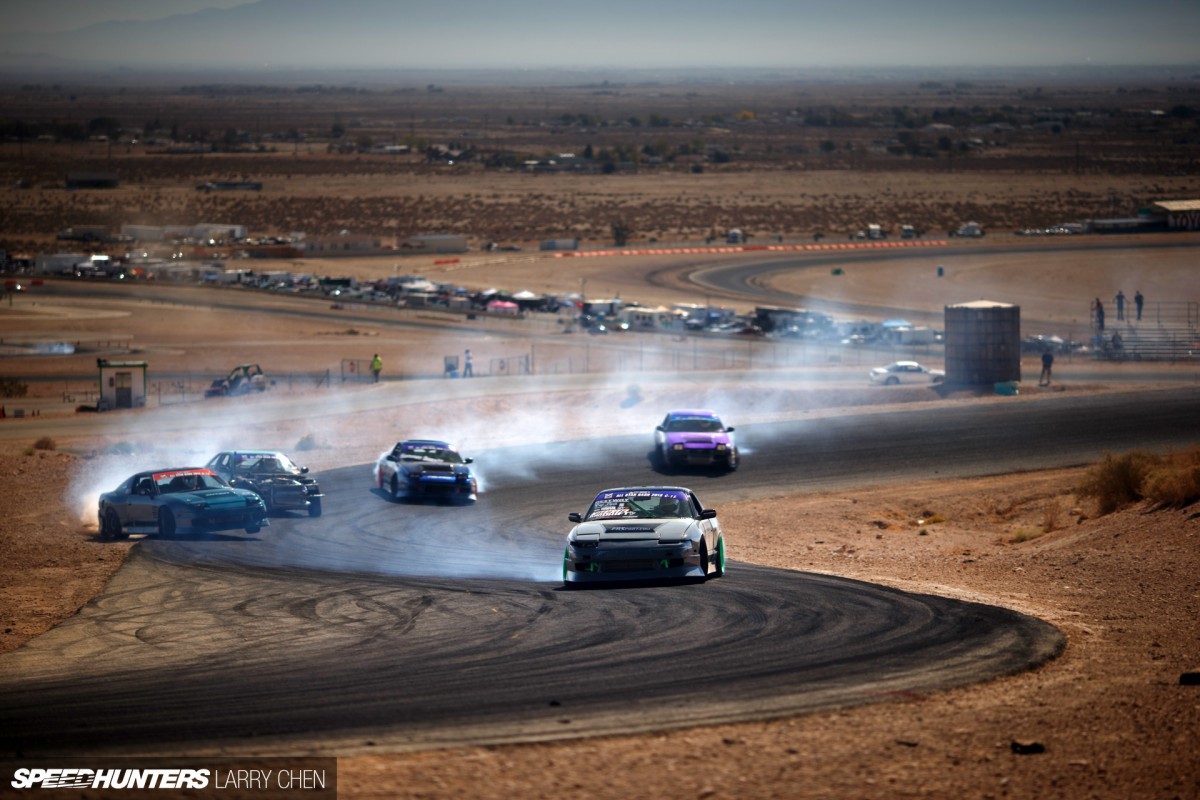 I don't know how Charlie Ongsingco and the rest of the Just Drift crew will top this one for next year, but I'm really looking forward to it.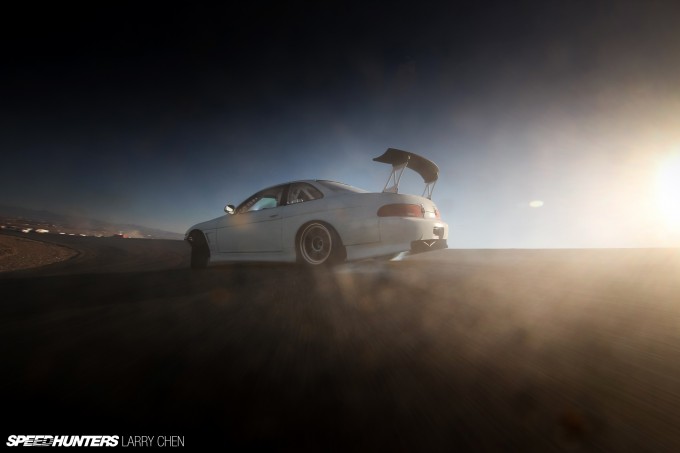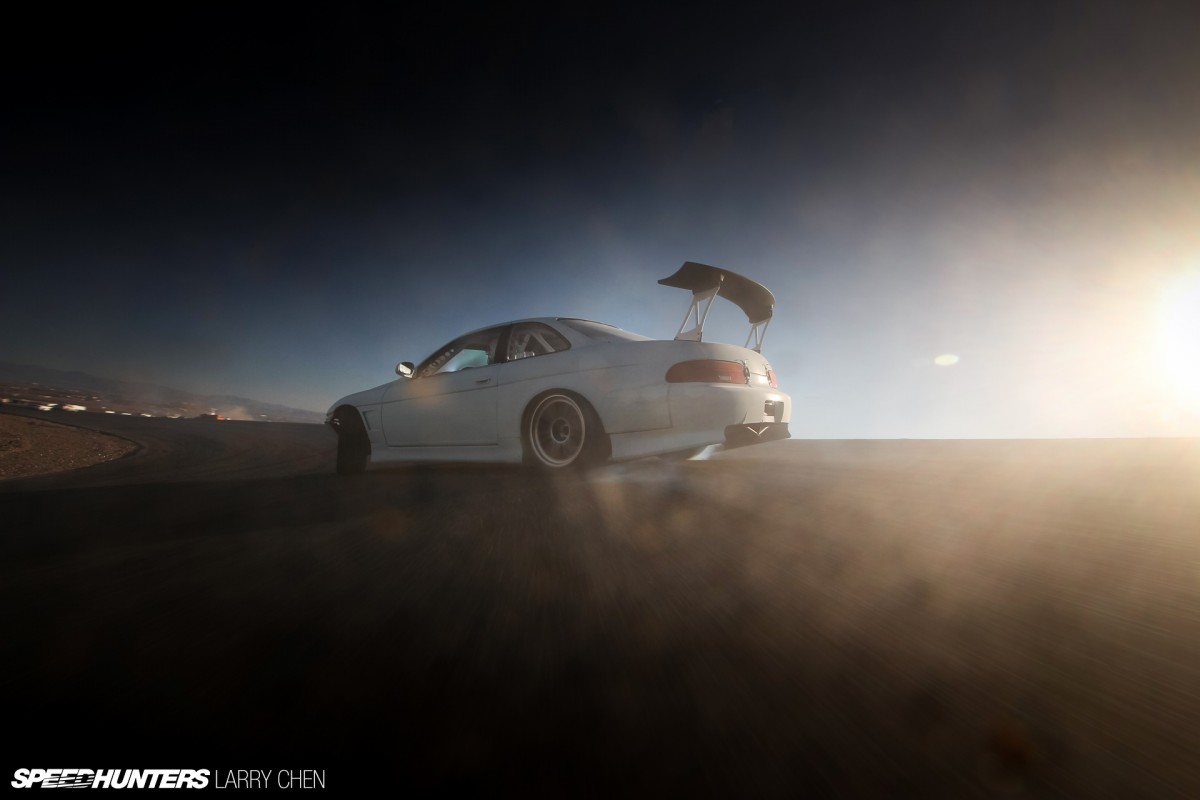 People ask me what sort of events they should save up their pennies to check out, and I always tell them to go to All Star Bash. It's relatively cheap because you camp out at the track, party the night away, and get rides with the best drifters in the world. Who wouldn't want a piece of that?