The good old days
Roots. If there's one word I had to use describe All Star Bash, that would be it. For a number of reasons, this event is one that calls back to a simpler time – not just in terms of drifting but in terms of my own personal career. The coming of ASB is each year is always a chance for me to return to those roots.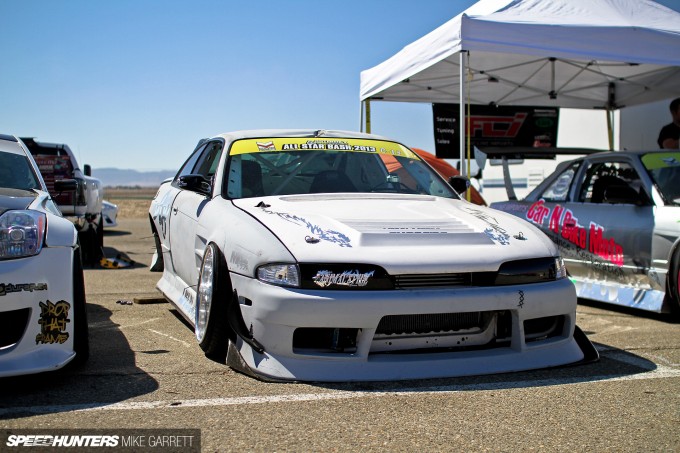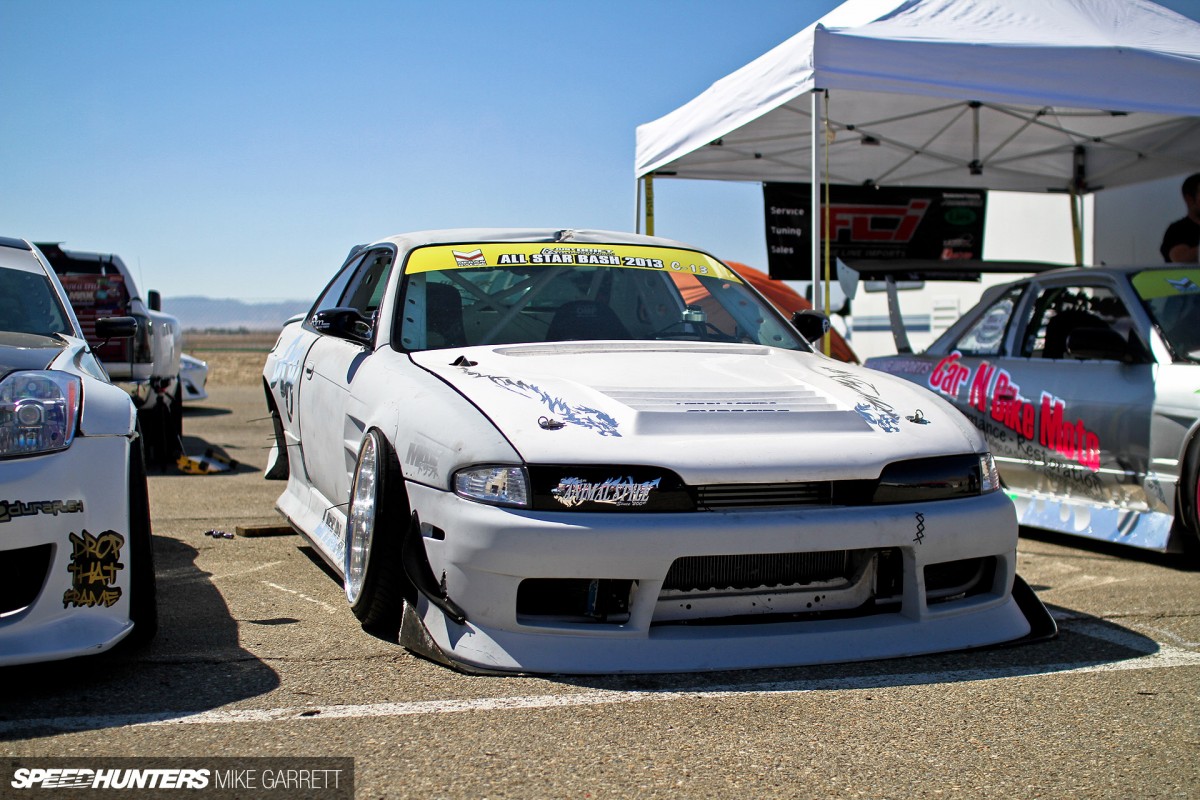 Back in the summer of 2007, a group of guys from the Ziptied forum got together with the crew at JustDrift to put on an event in the spirit of the great casual drift meets and festivals held in Japan. In contrast to the high stakes world of professional drifting, All Star Bash would be for people who just wanted to have fun in cool cars.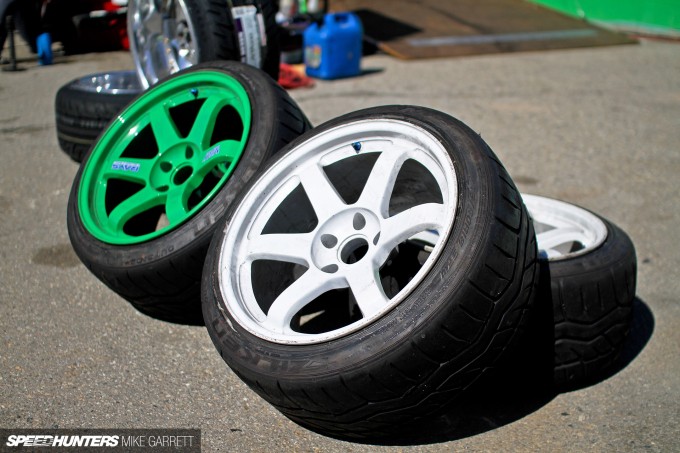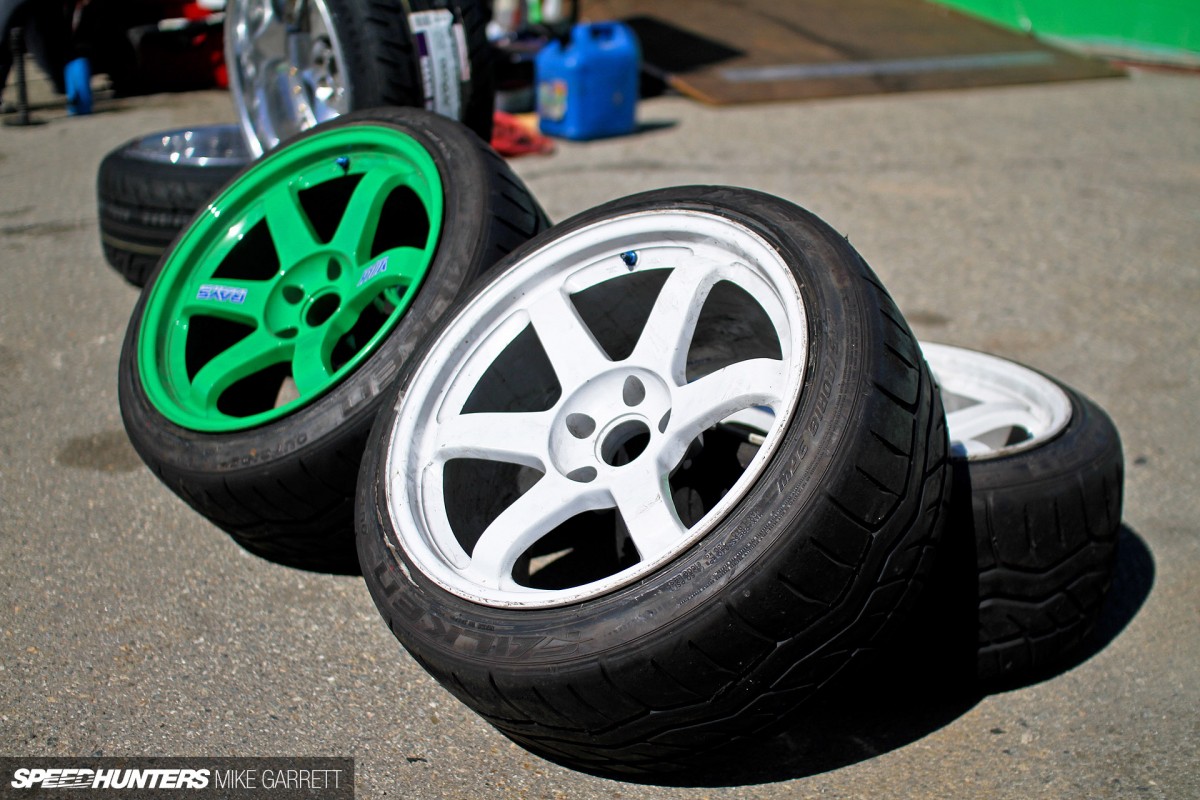 At the time I was a university student trying to practice my shooting on weekends and the original All Star Bash was one of the first events I ever tried photographing on a somewhat serious level. Looking back now, my photos from that first event were not so great – but the memories were fantastic.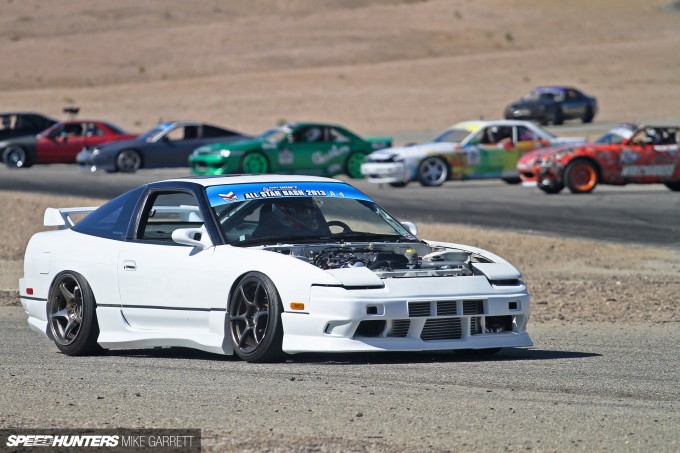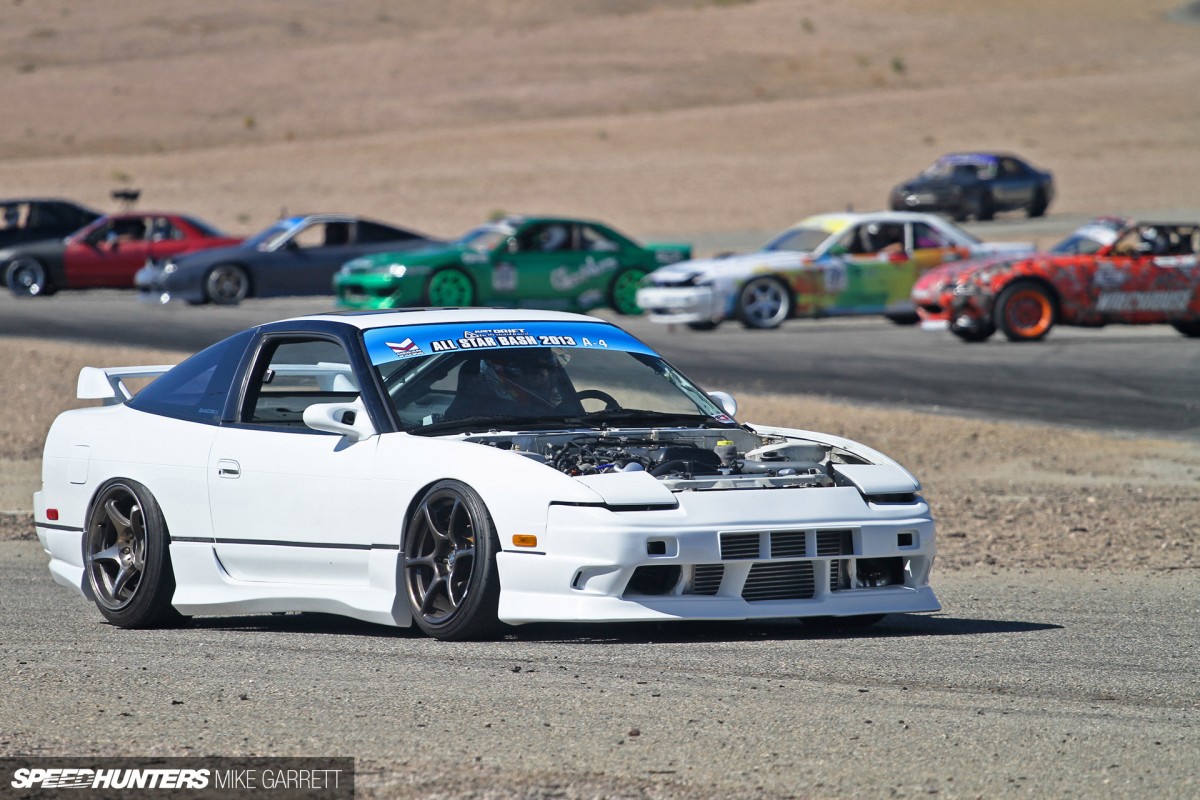 At the time I'd never even been to a Formula Drift event and that didn't matter, because what I saw at All Star Bash was exactly what I imagined drifting should be. Here were a bunch of guys goofing off, having fun, and driving hard – just as I'd been watching in Option and Drift Tengoku videos for years.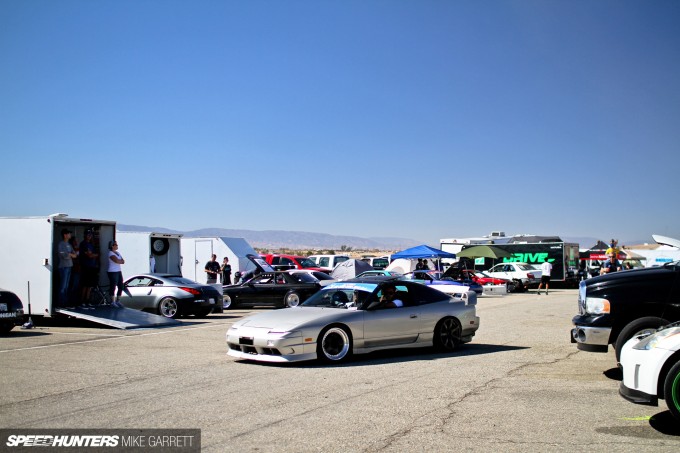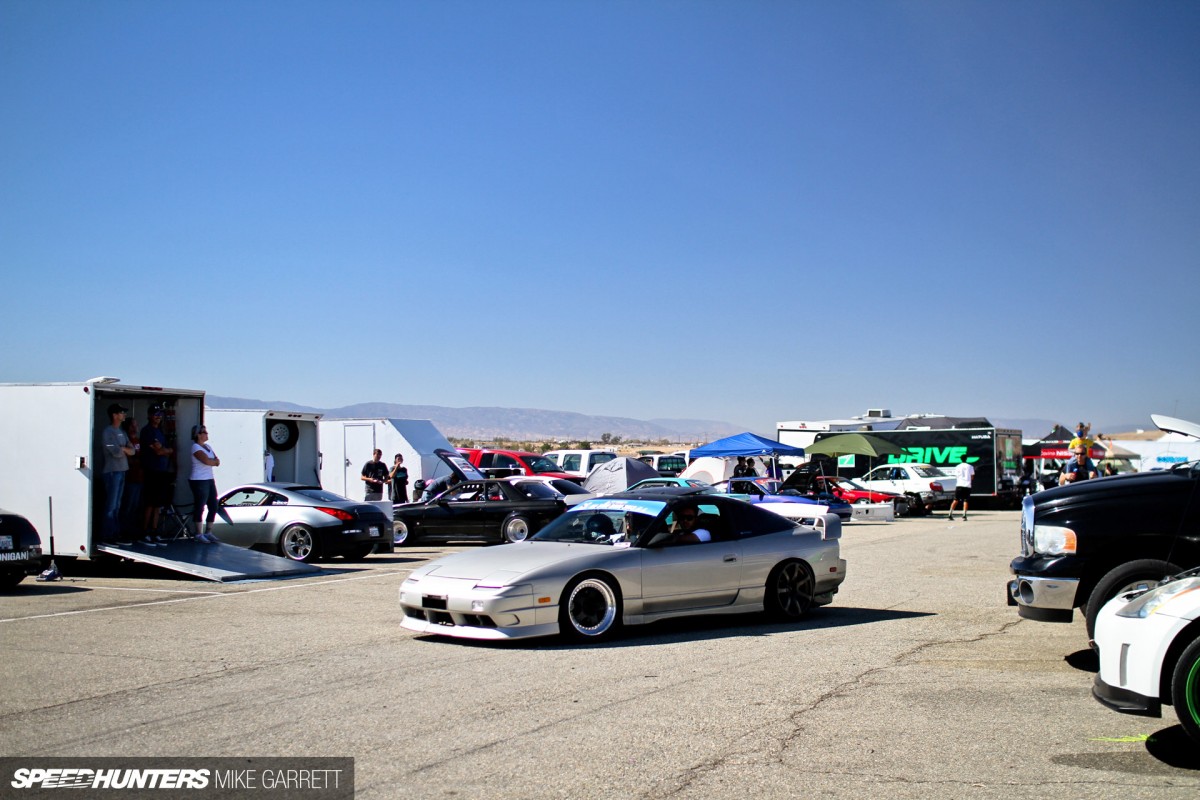 All Star Bash will always hold a special spot in my heart, not just because it's one of the places where I learned to shoot, but because it gave me the enthusiasm to keep pursuing a career in photographing and writing about cars.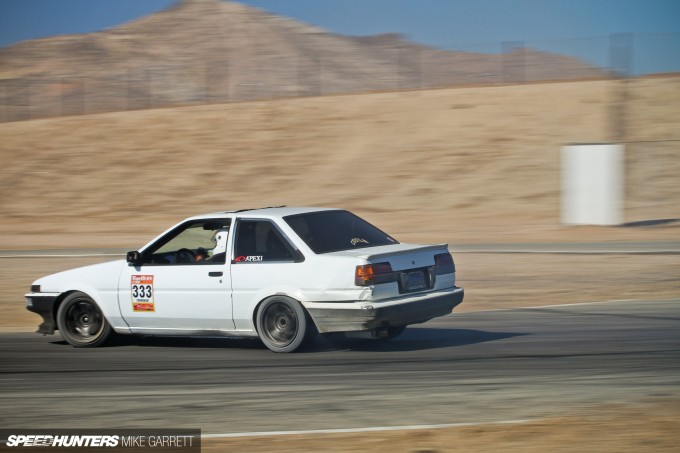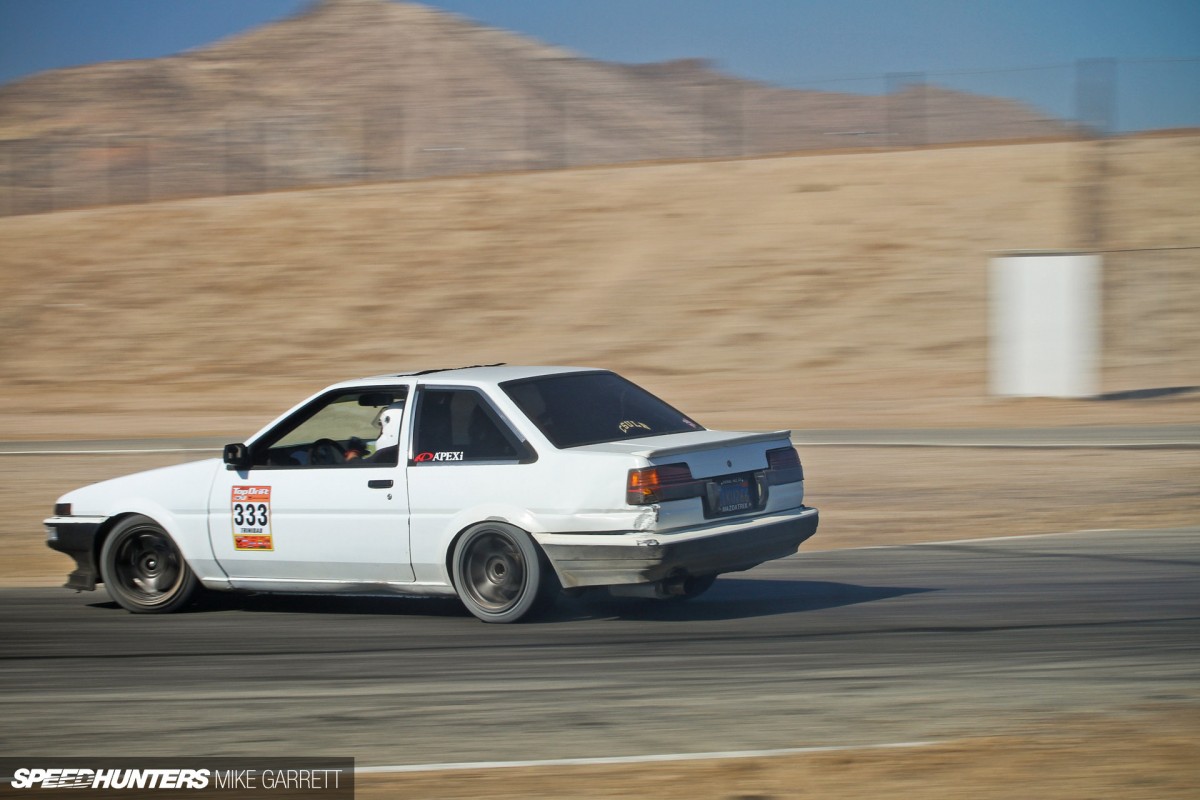 Now, more than seven years later, All Star Bash is still going strong. The event has changed and grown in the years since its inception, but it still remains one of America's best grassroots drift gatherings.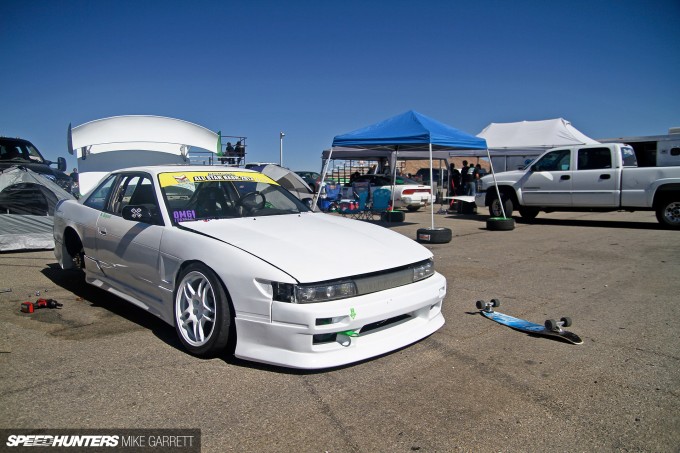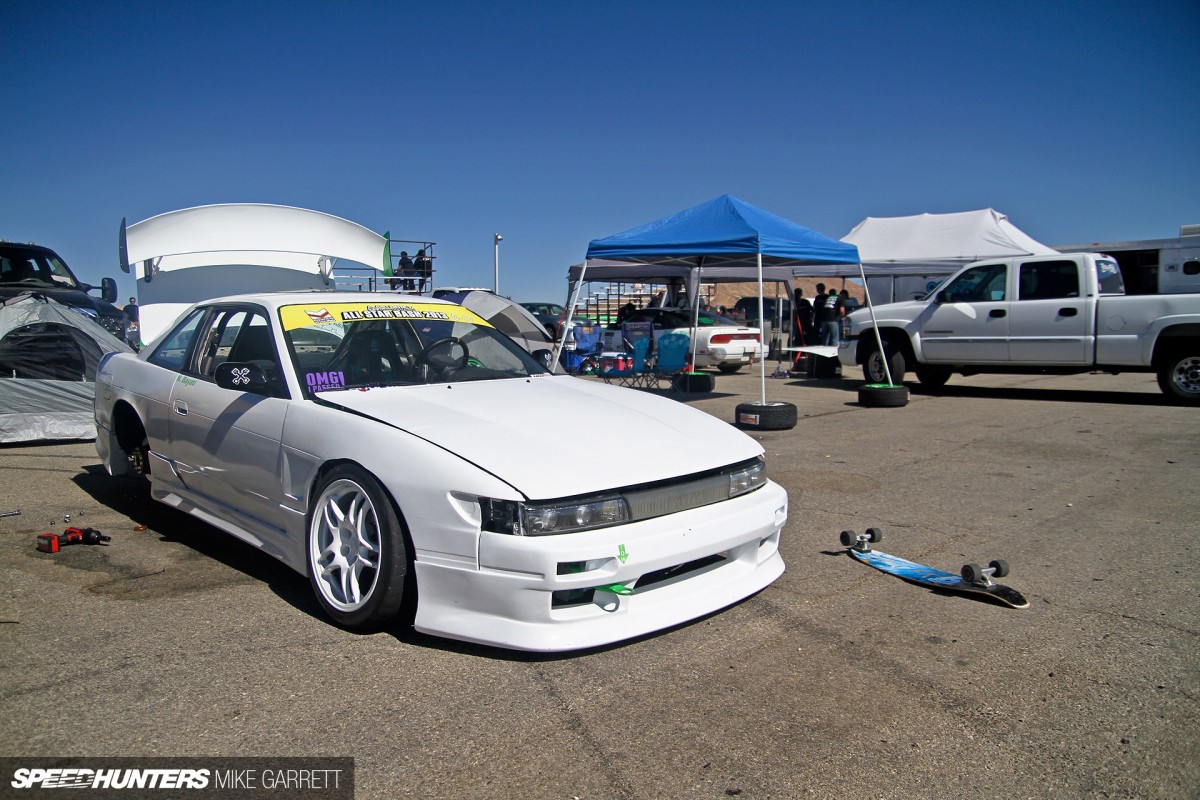 While I admit that the first few All Star Bash events had a greater concentration of stylish drift cars, the driving itself has never been more exciting – even if some of the cars look like they came straight out of a post-apocalyptic nuclear wasteland.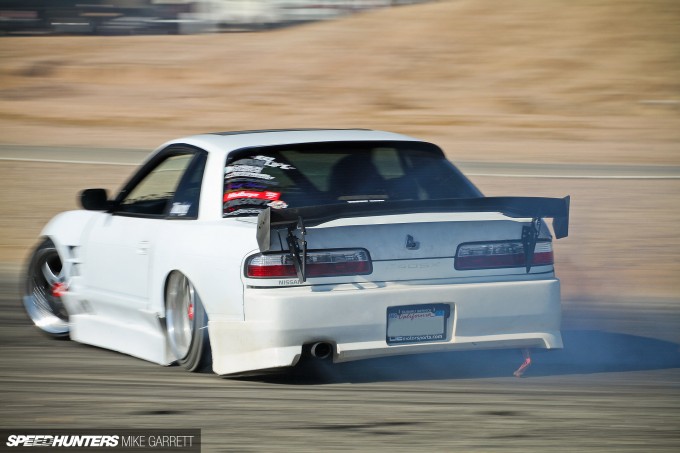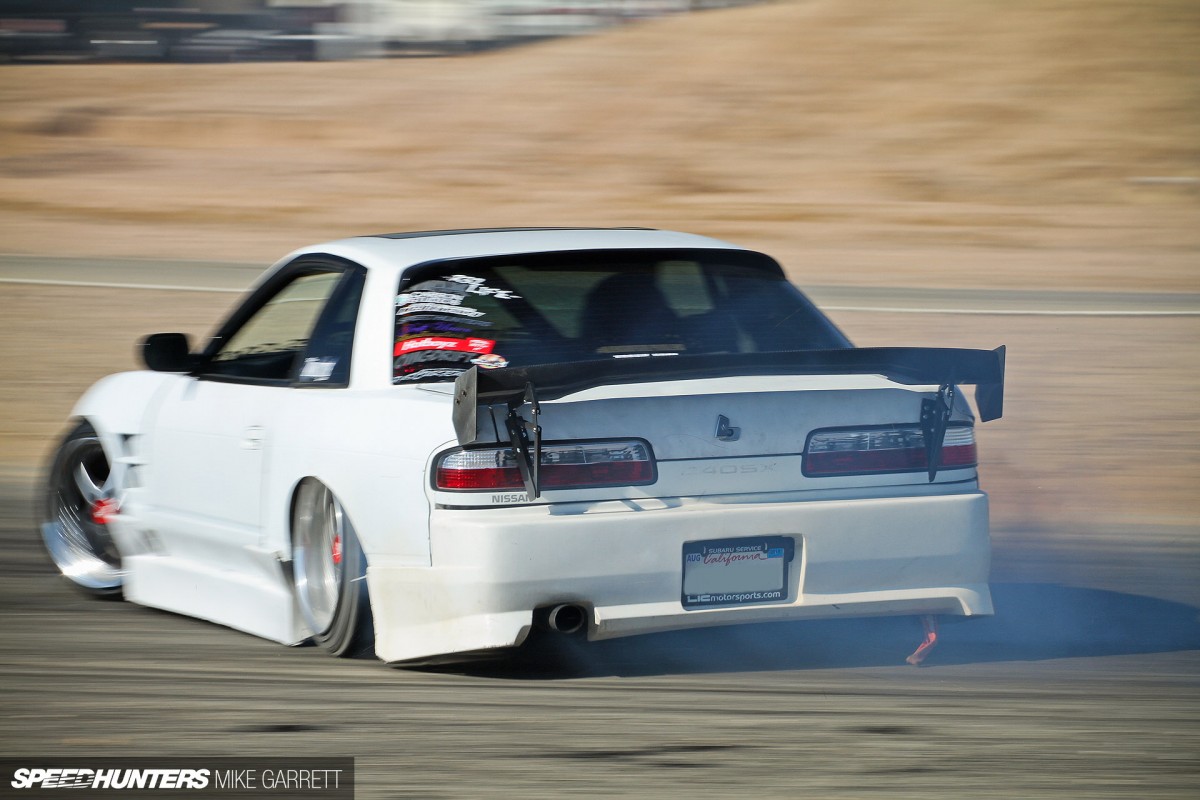 That's not to say that there weren't cars sporting slammed ride heights, badass wheels and the other things that make grassroots drifting so fun to watch though.
Go crazy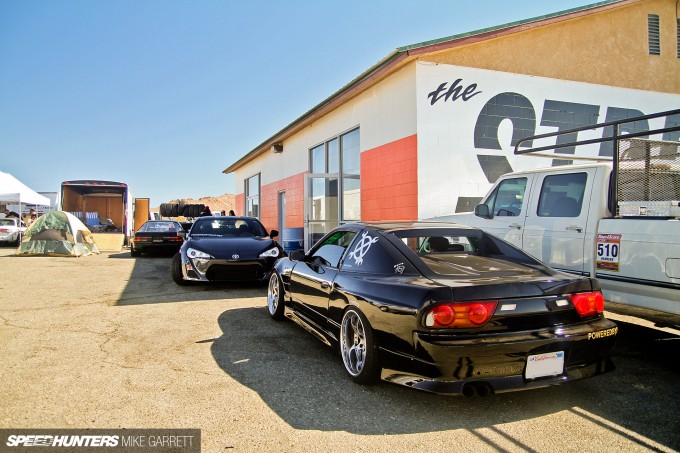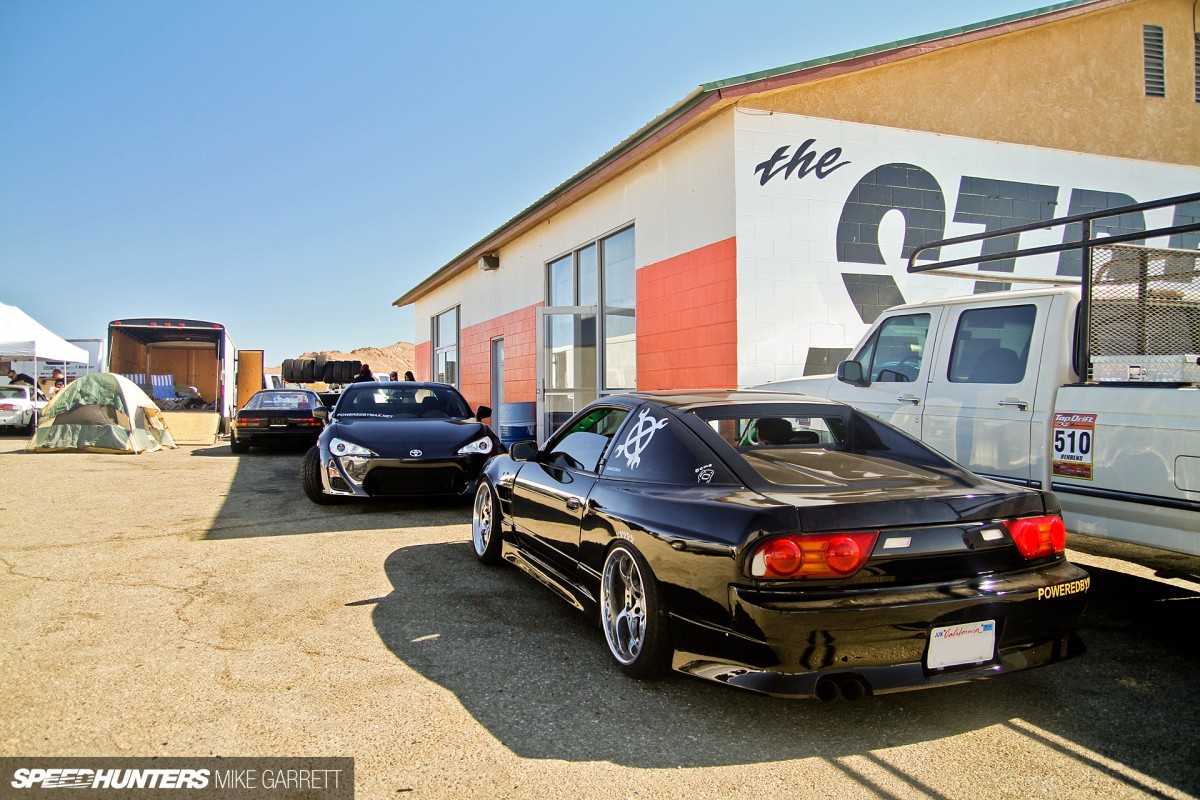 For this year's All Star Bash I'd be teaming up with Larry, who came out to Willow Springs to capture the action as only he can.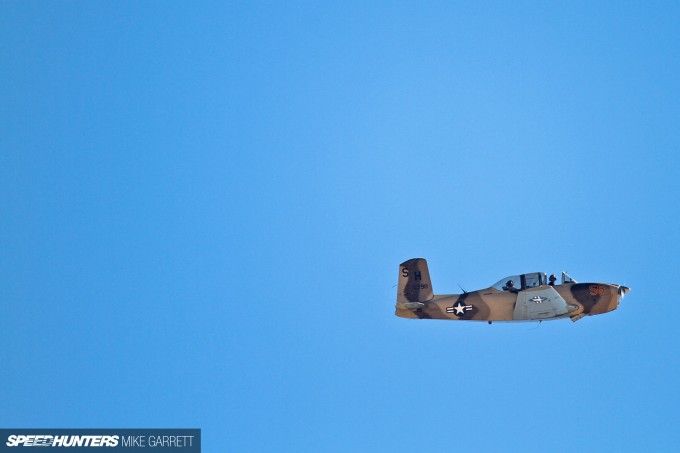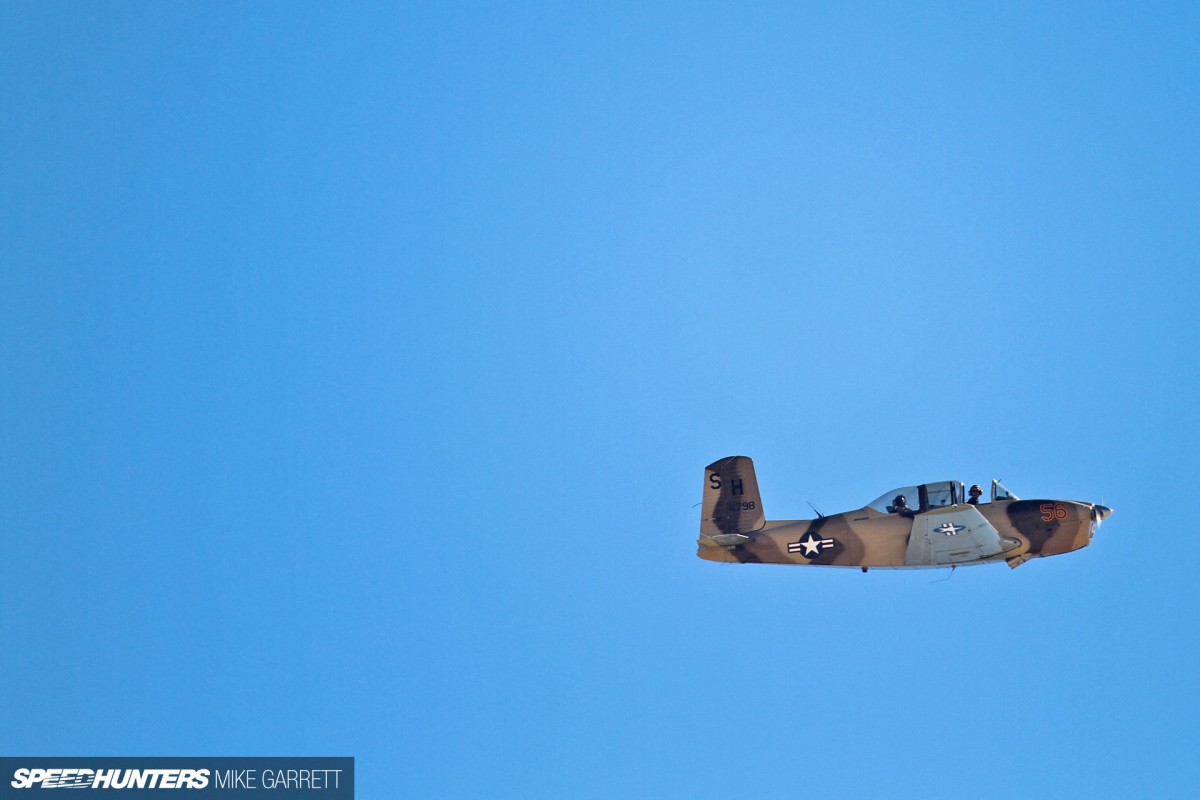 The guy is always trying to outdo himself when it comes to photography, and this year he could be found soaring above the event shooting photos from the backseat of a military T34 trainer.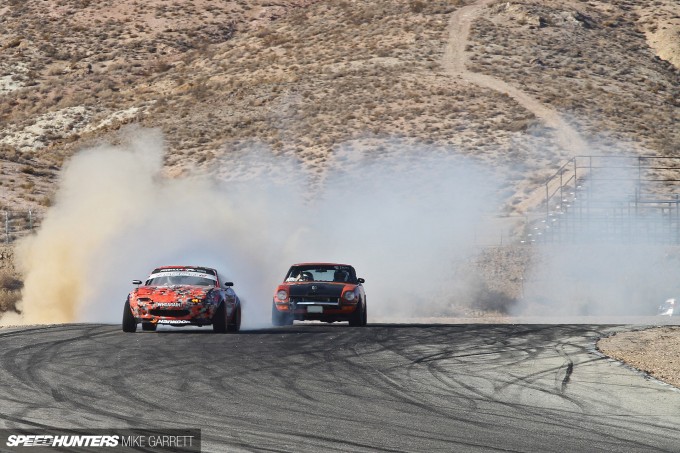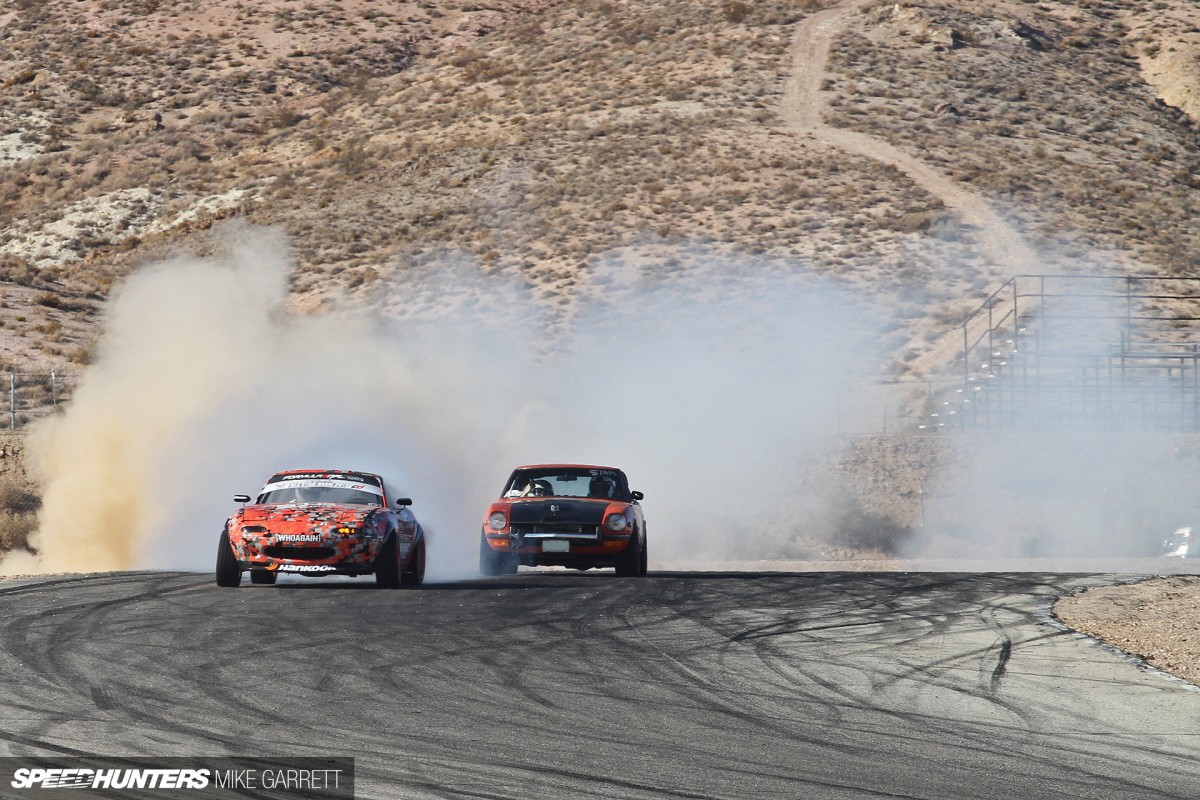 Back on the ground, he strapped some cameras to the nose of his Datsun 240Z and set out to do some chase car driving. He'll be along shortly to tell his own All Star Bash tale, and I can't wait to see what kind of shots he came back with.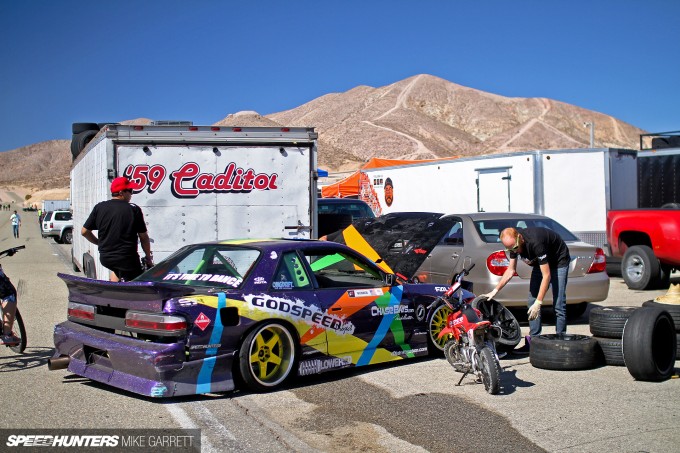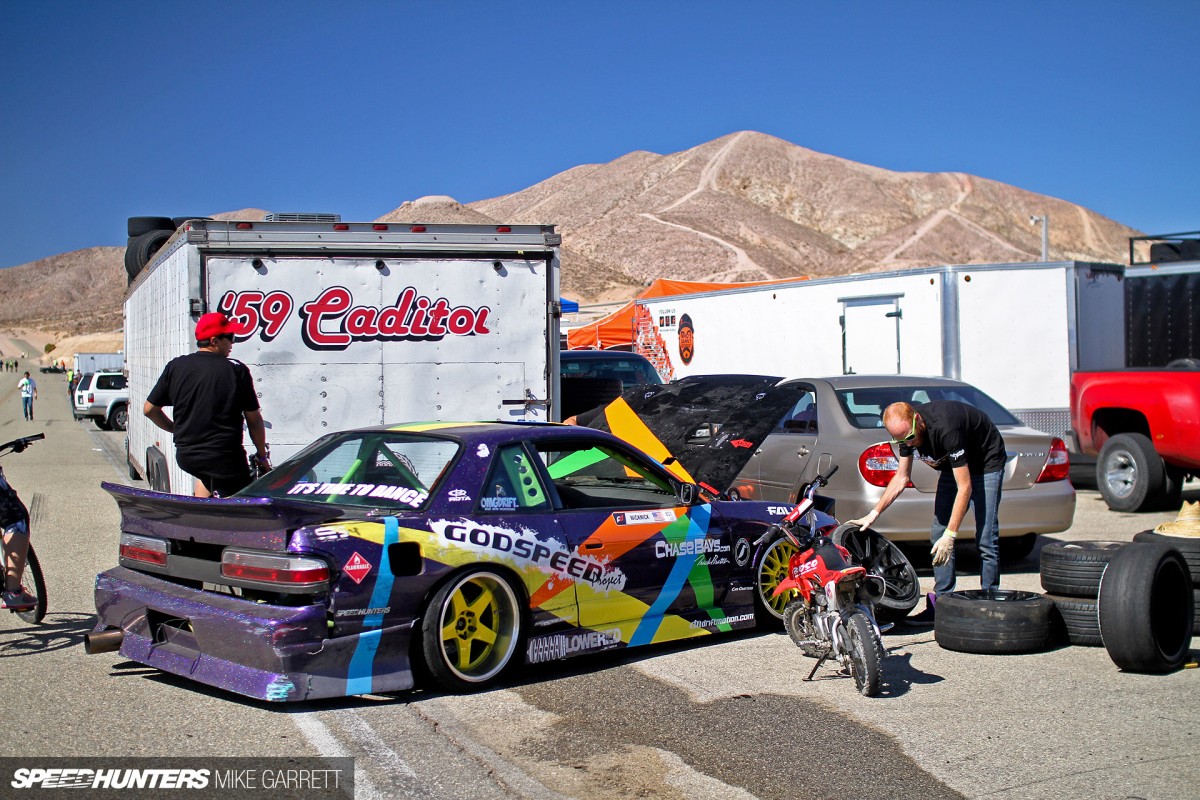 Meanwhile, I decided I'd put my own spin on All Star Bash sharing some observations from the event and checking out some of the cool machinery in the paddock.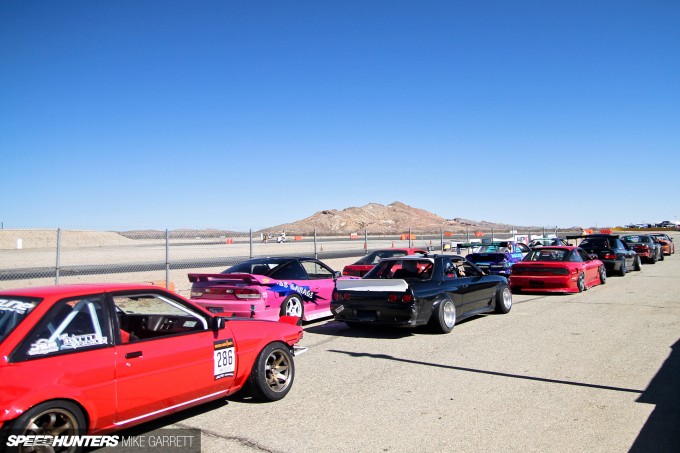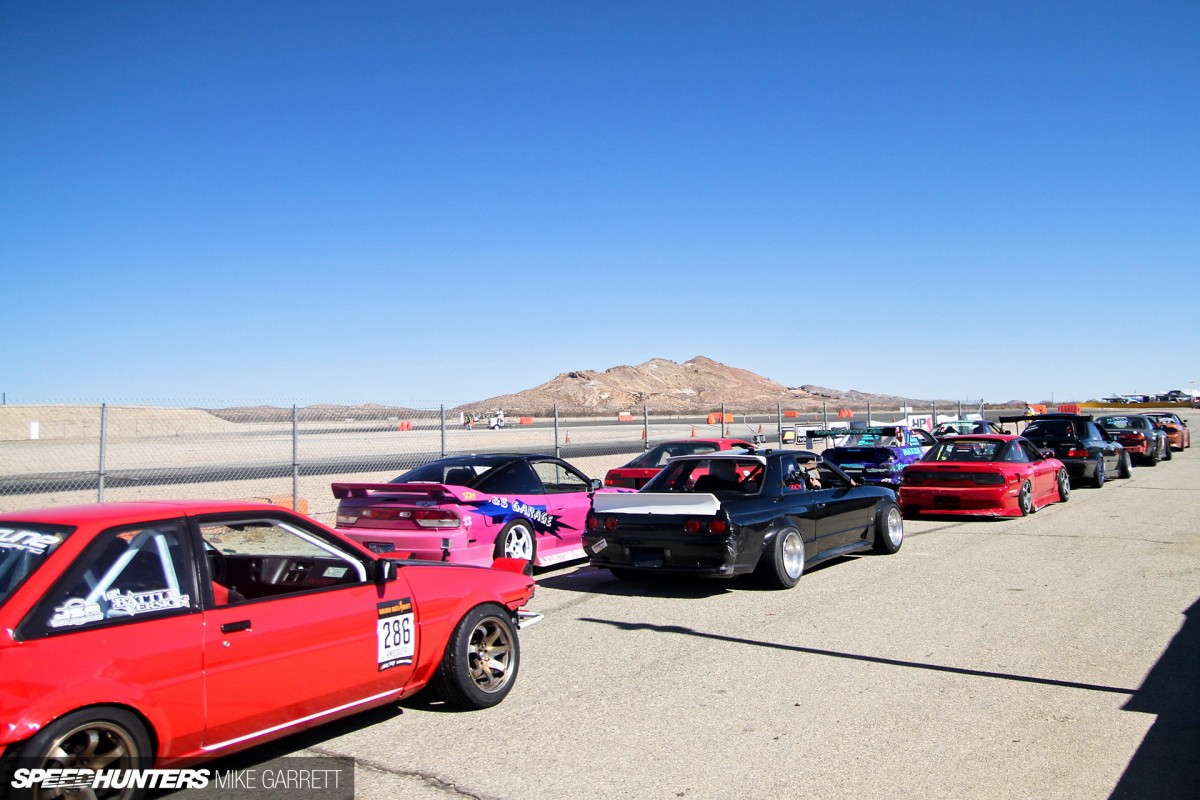 While All Star Bash is a grassroots event, you wouldn't be able to tell based on the level of driving. JustDrift has other events for beginners – All Star Bash is for driving hard with friends.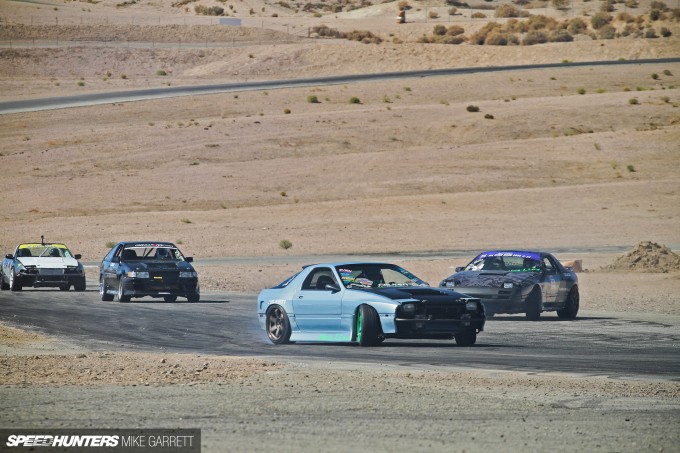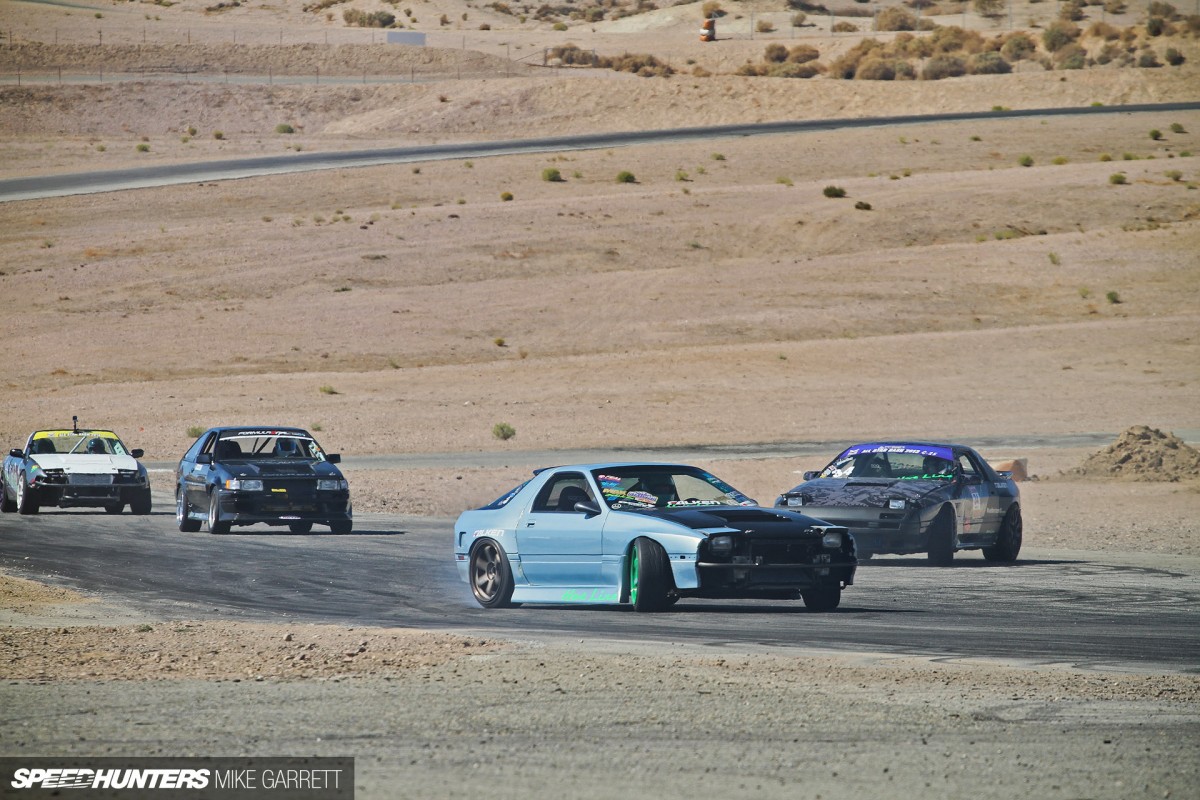 One of the factors that makes All Star Bash especially exciting is the participation of professional drivers. Less than a week after the Formula Drift season closer, a number of familiar FD faces were out there ripping it up.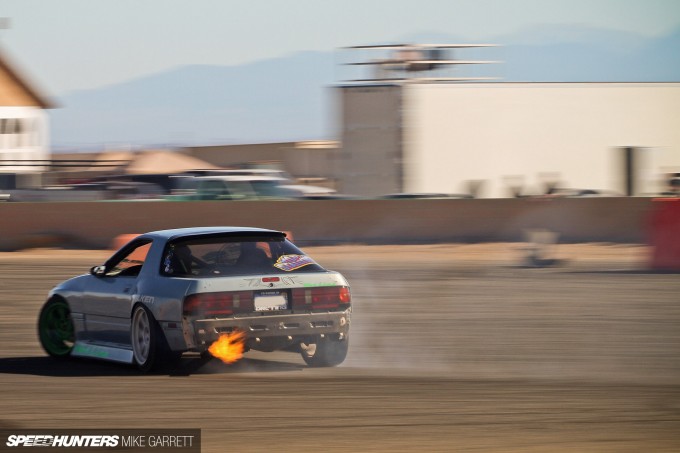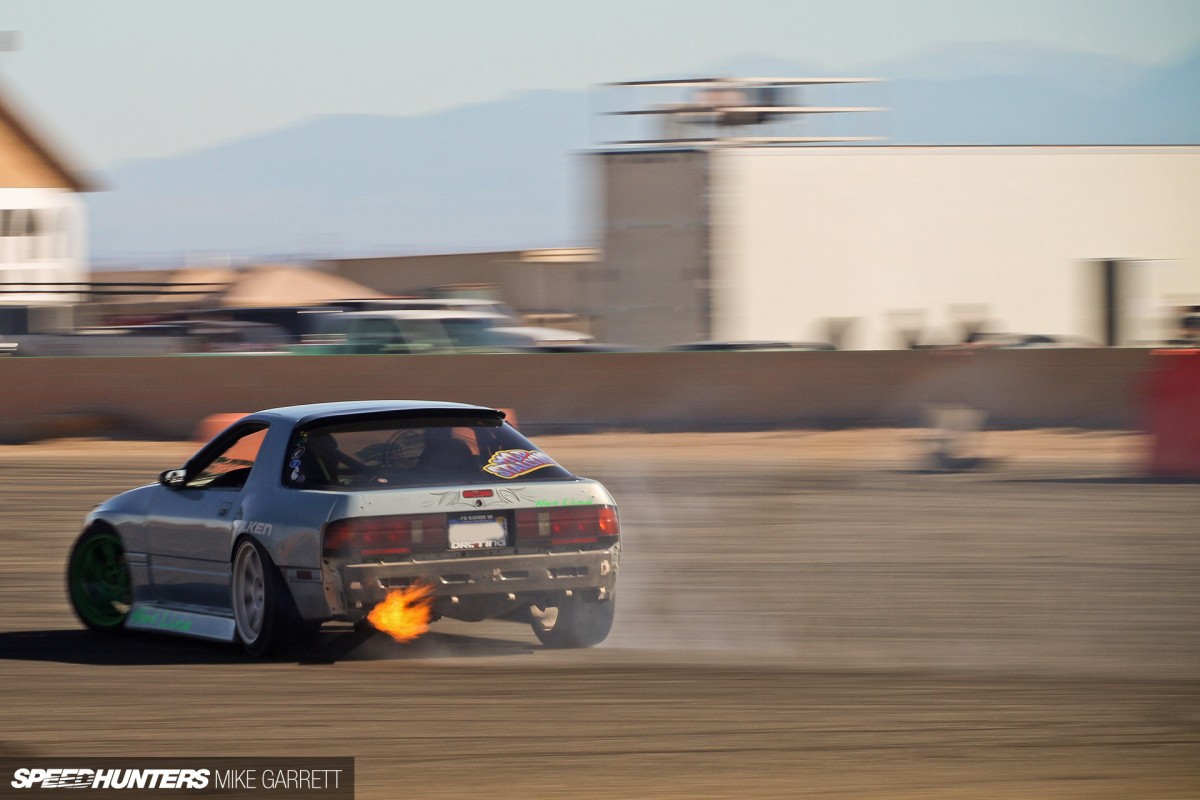 Among the Formula Drift veterans that came out over the course of the weekend were Justin Pawlak, Matt Powers, Matt Field, Odi Bachkis, Ken Gushi and more. Some, like JTP, came out to drive their own personal cars…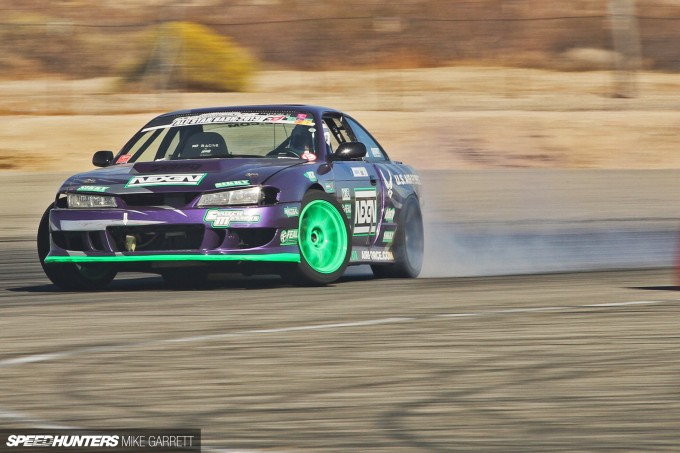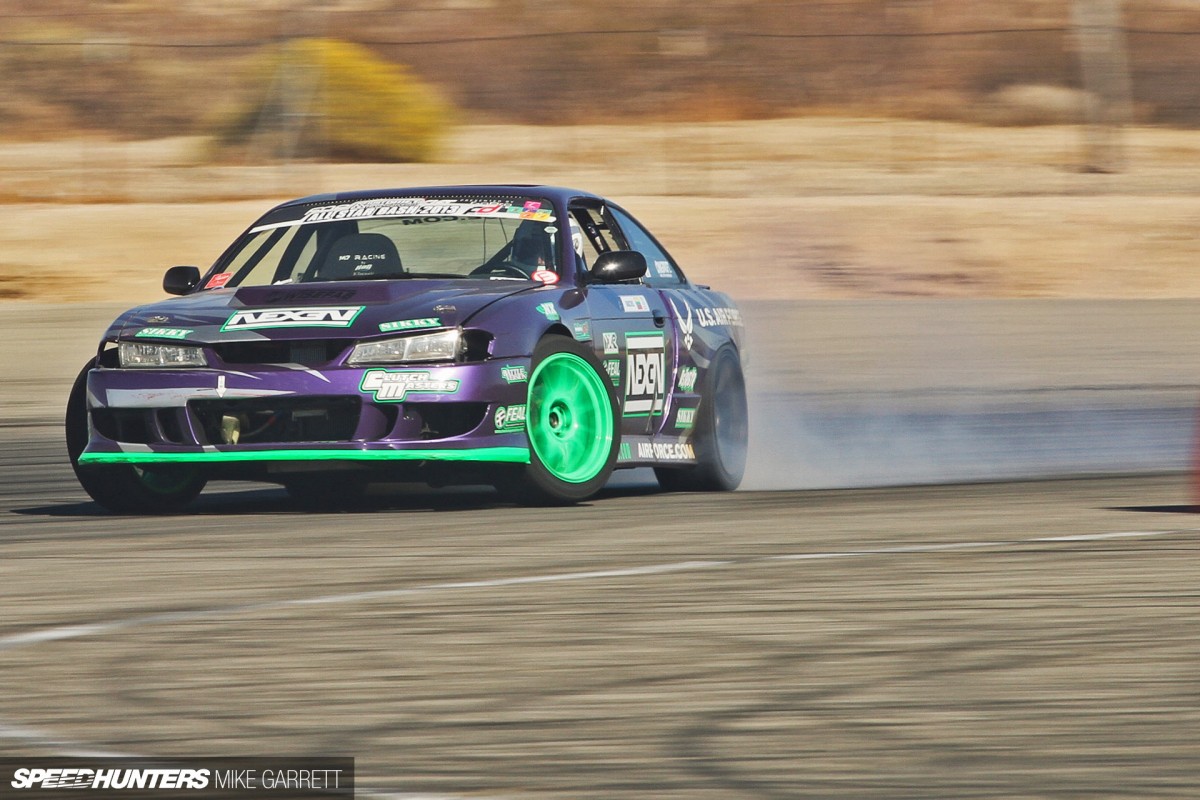 … while others, like Mr Bachkis were out there in their pro cars, driving just as hard as they were at Irwindale the previous weekend.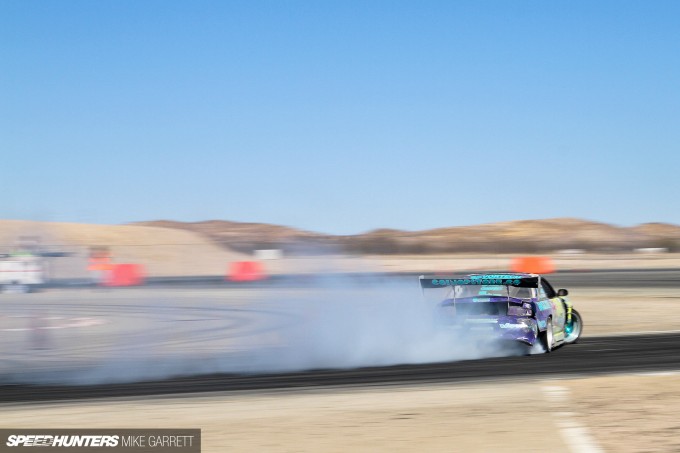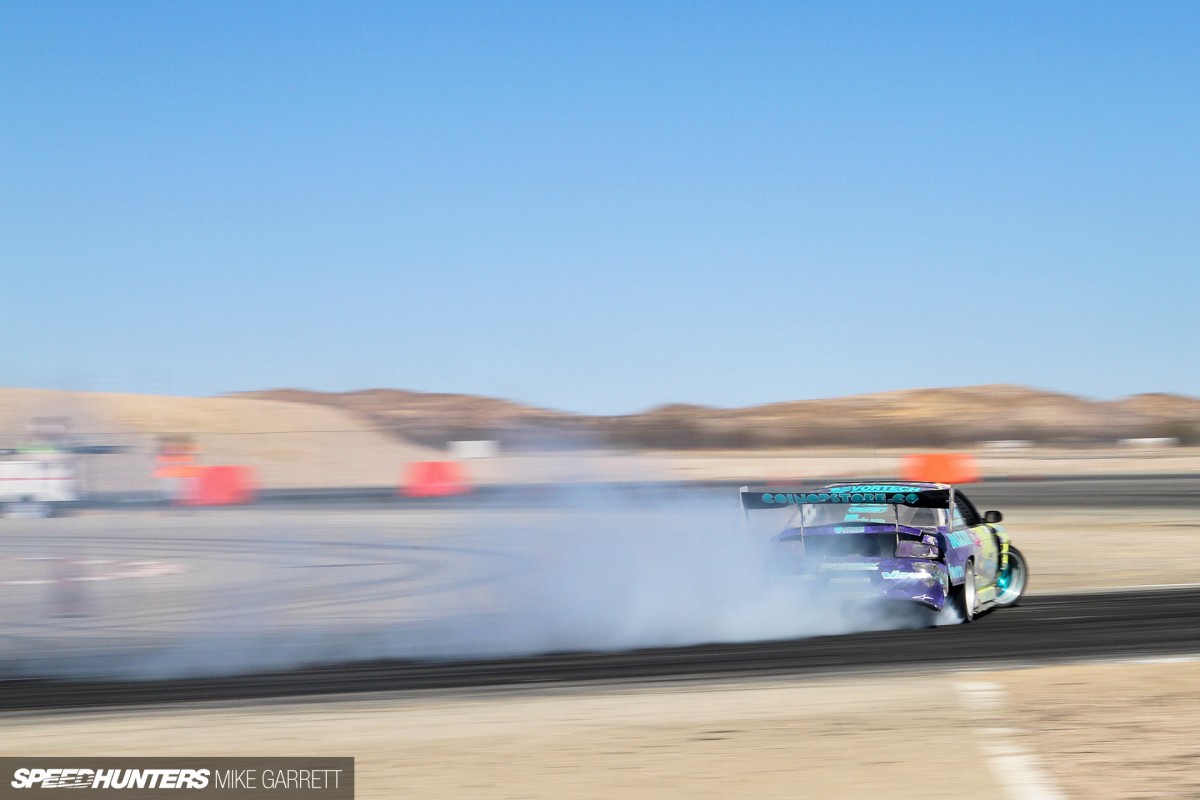 It's a bit of a bragging rights contest, as pro and amateur alike were trying to pull the fastest and most aggressive entries on the front straight of the Streets of Willow course.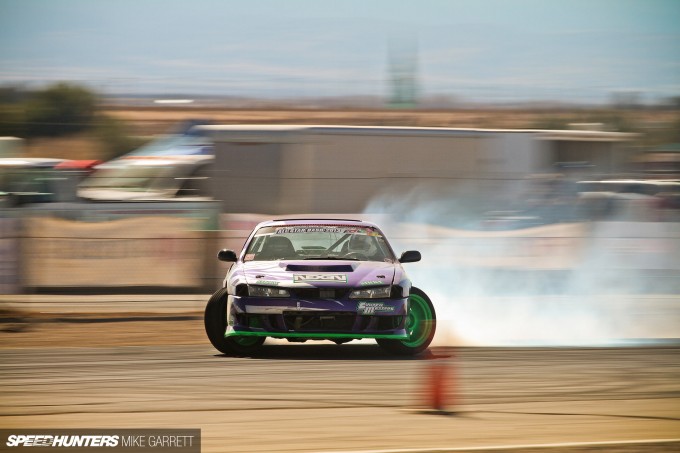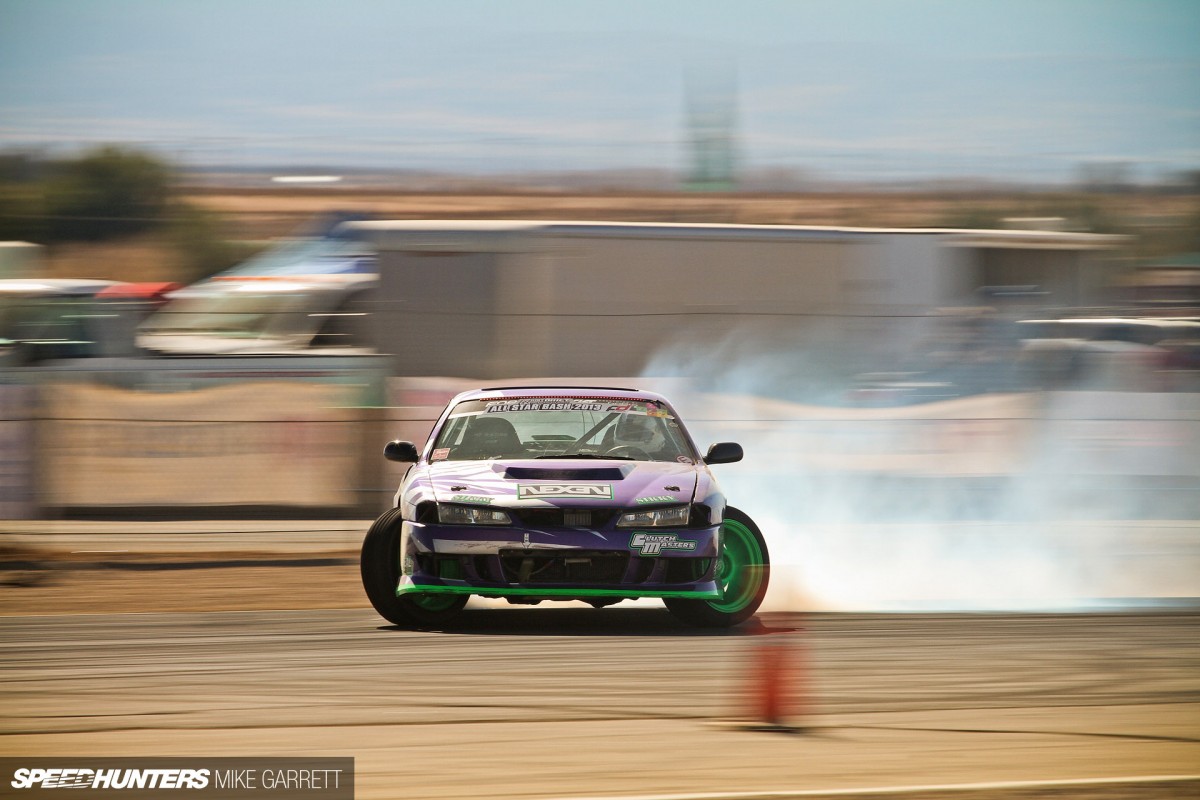 This informal entry competition has become one of the most popular parts of All Star Bash, with many entries that seemed to defy physics. There were a few times when I thought the sheer amount of perpendicular force on these locked rear tires would rip the entire rear differential out from under the car…
Drift car mania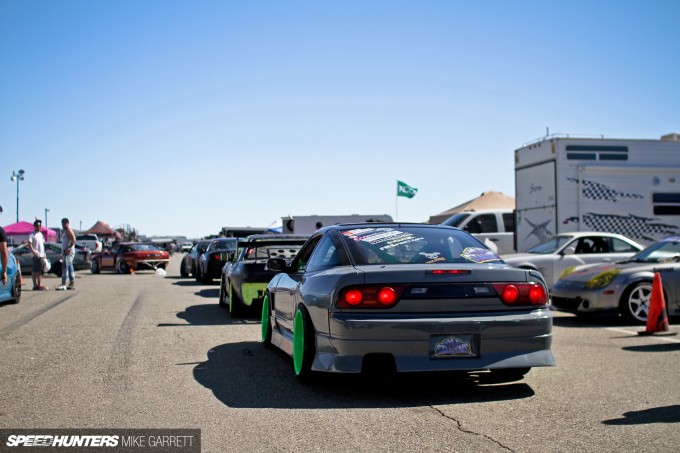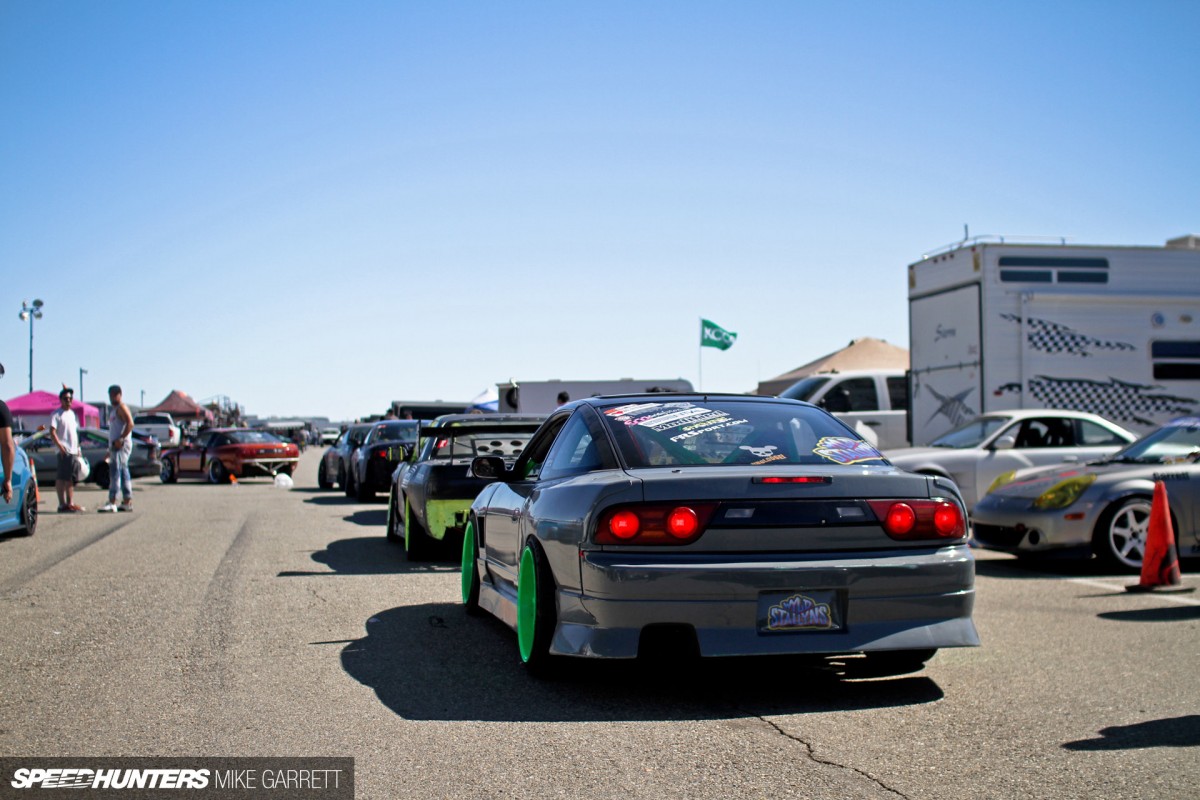 When I wasn't checking out the on-track antics, I spent some time wandering the jam-packed pits at Streets of Willow, checking out the machinery that came out to play.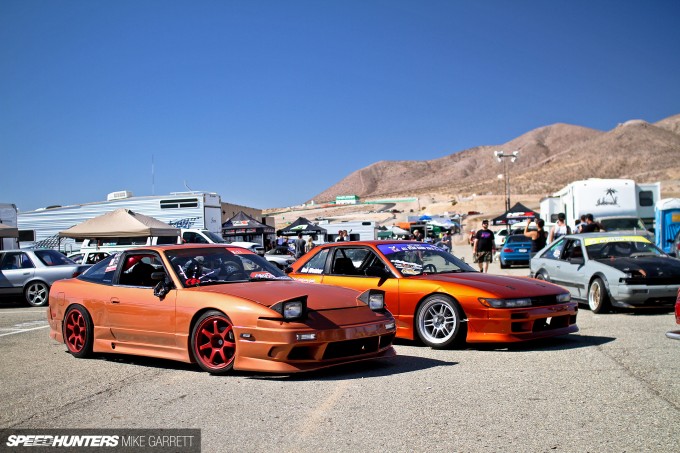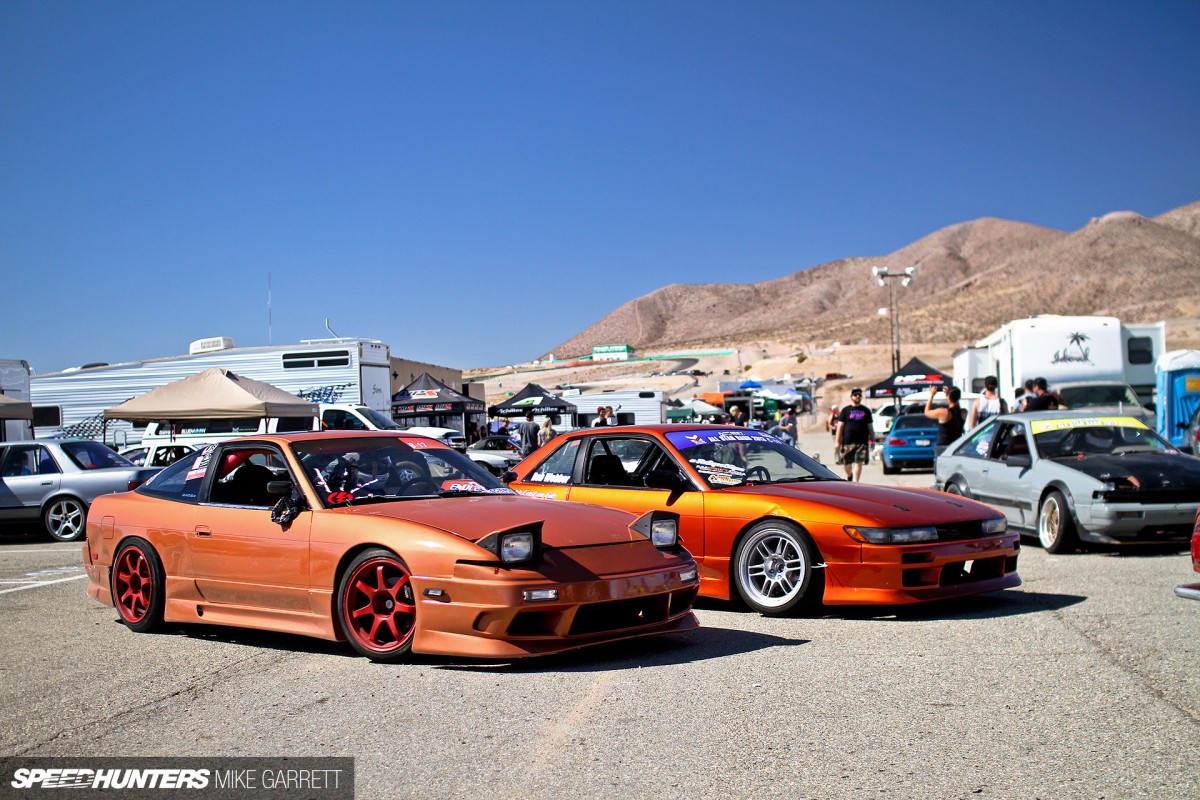 To say there were a lot of S-chassis cars out there would be a huge understatement. I'd say about 80% of the cars participating were S13s or S14s of some sort.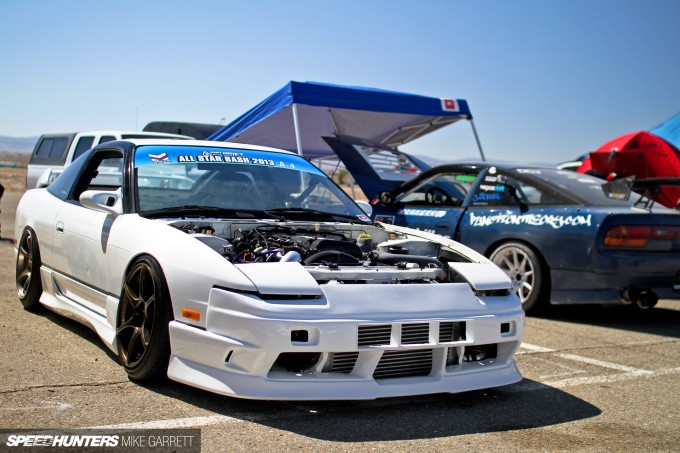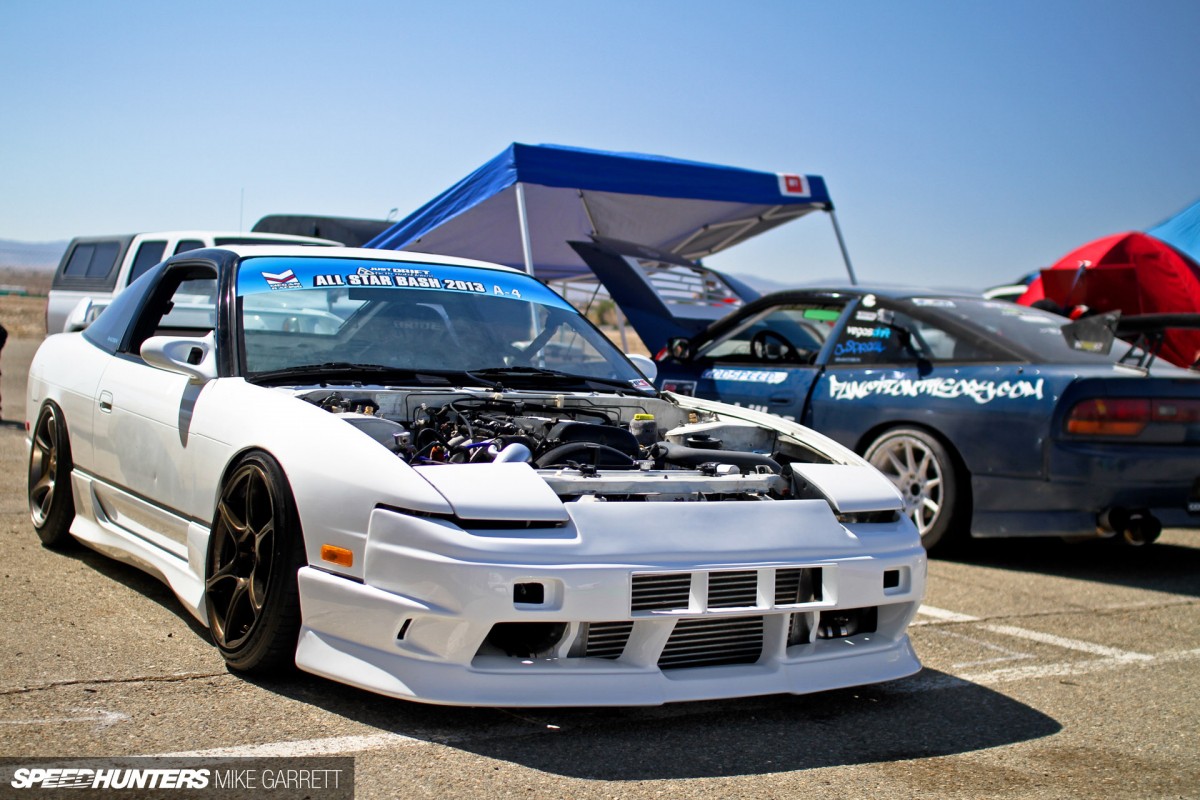 Among this group of 240SXs every degree of build was present, from registered street cars to full-on competition machines.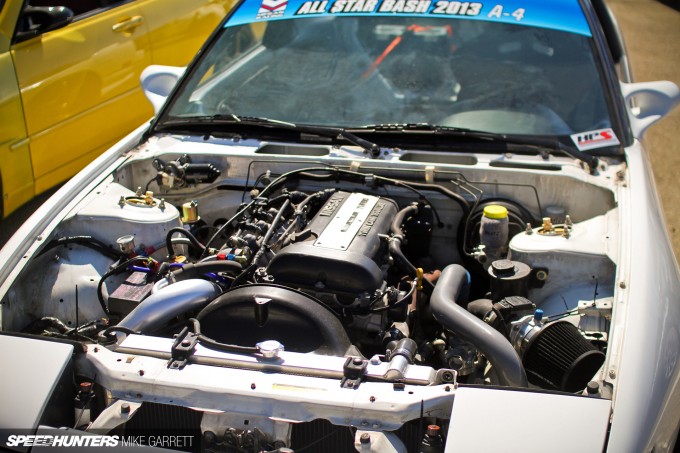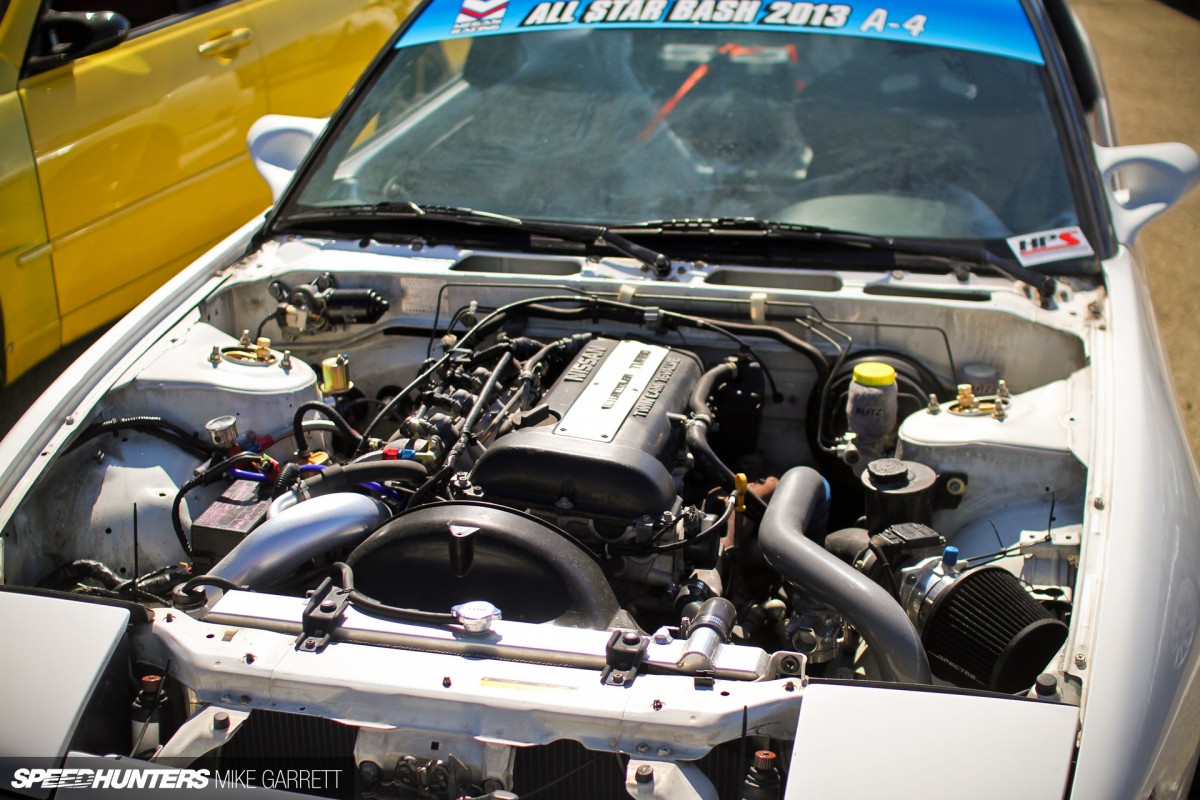 The engines beneath the hoods of these 240s included lots of basic SR swaps and quite a few turbocharged KAs as well. With the kind of stress that a long event like ASB puts on a car, reliability is just as important as horsepower.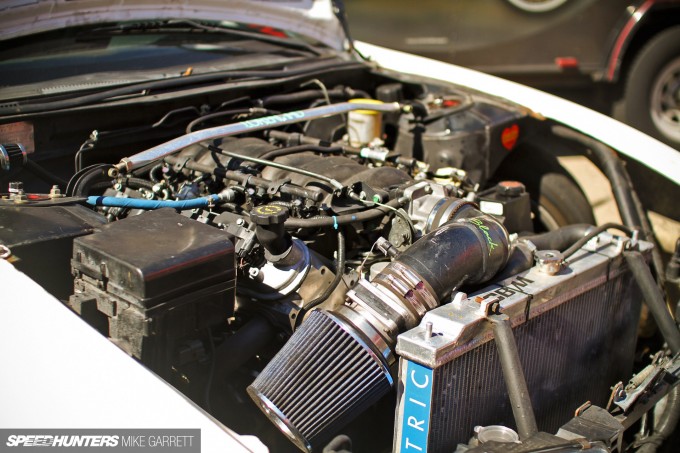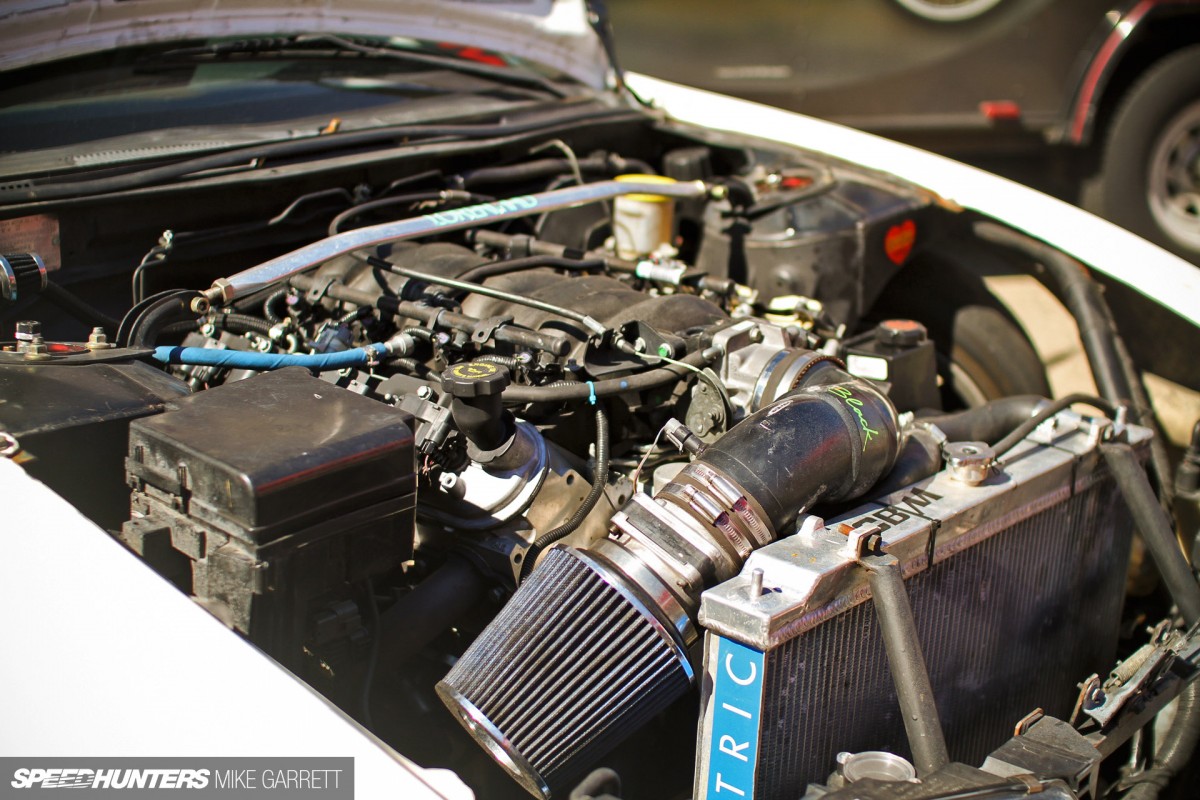 Let's not forget the V8 swaps either. There were plenty of LS-powered 240s out there, but perhaps not quite as many as you'd expect.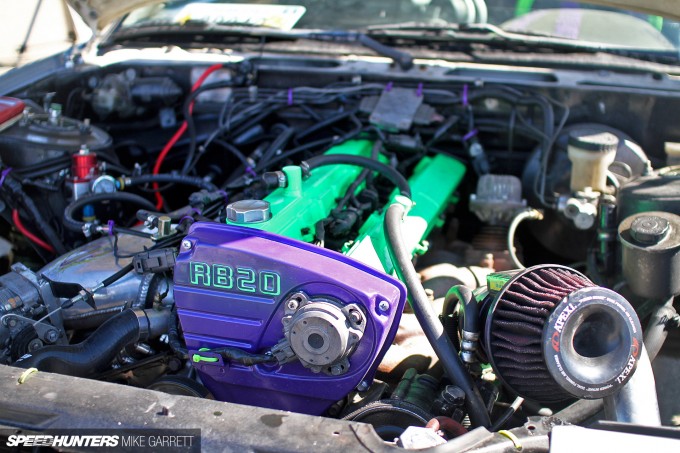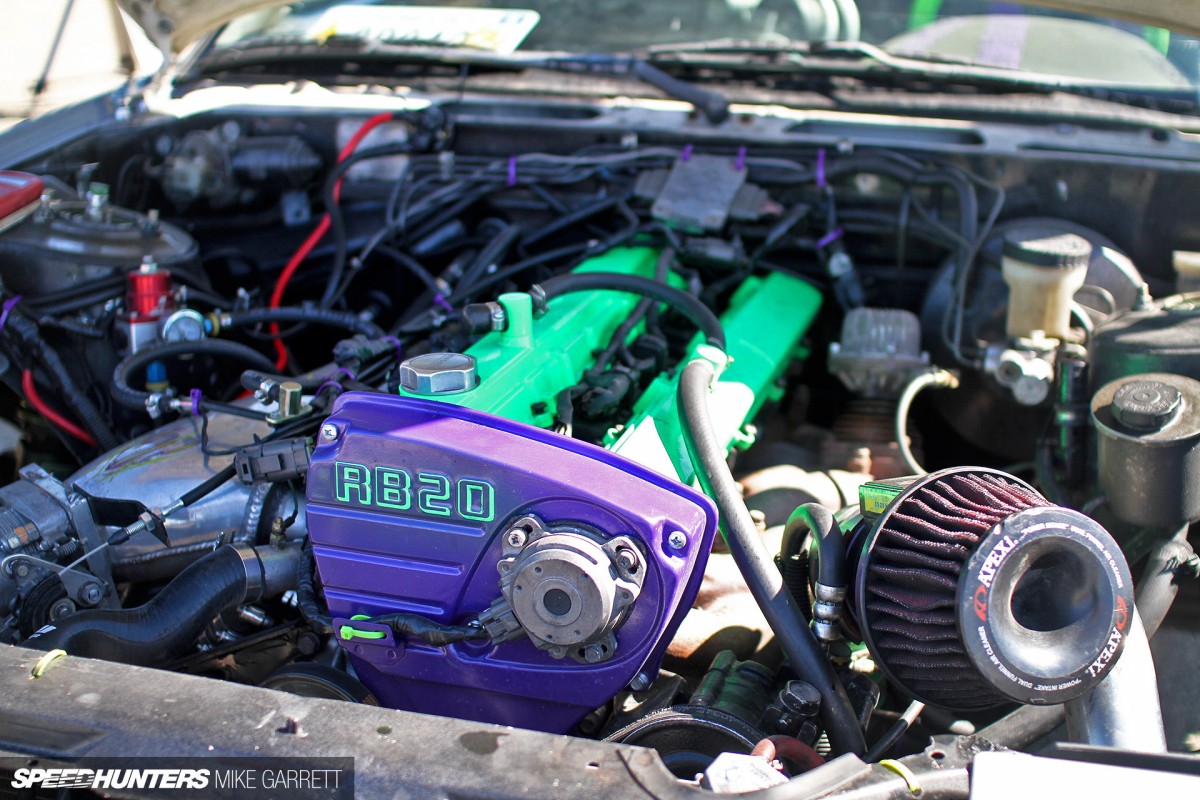 If anything, I noticed a surprising amount of S13s and S14s powered by turbo sixes – both Nissan RBs and Toyota 1JZ and 2JZ motors.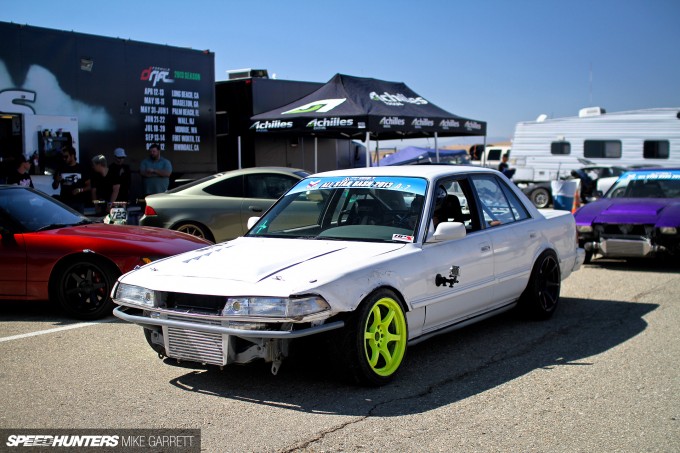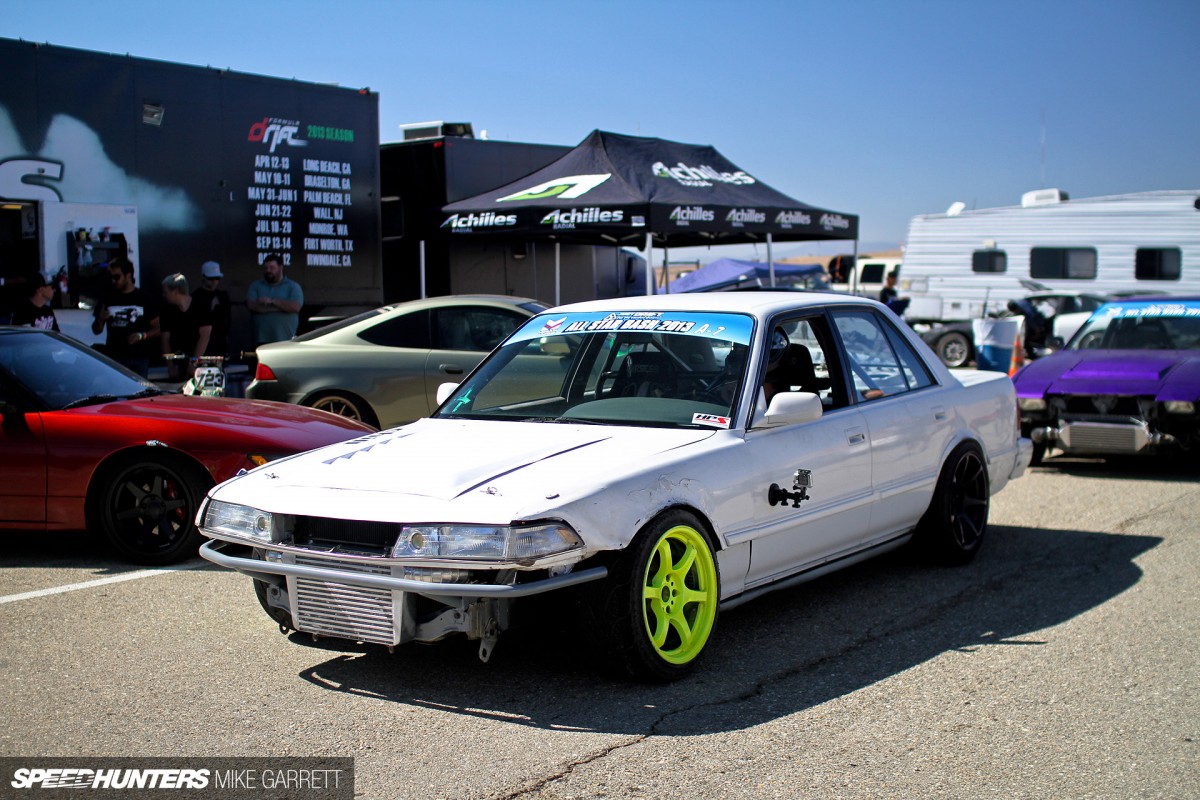 Not big on S13s and S14s? There were also plenty of other cars that joined the waves of 240SXs on the track. You can always count on a few MX83 Cressidas doing their best impression of the badass Mark IIs and Chasers that never made their way to US shores.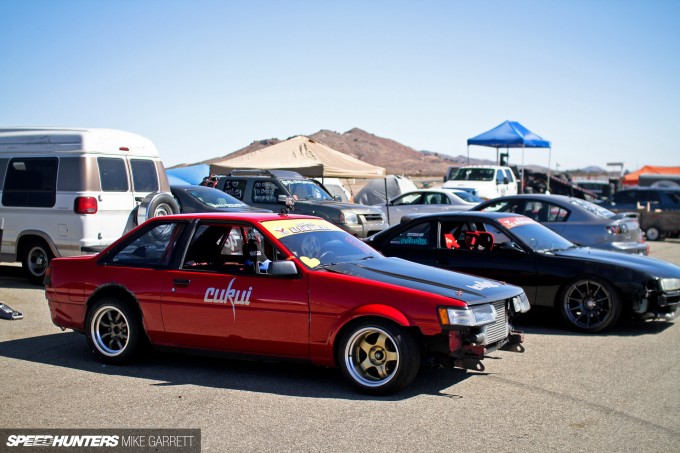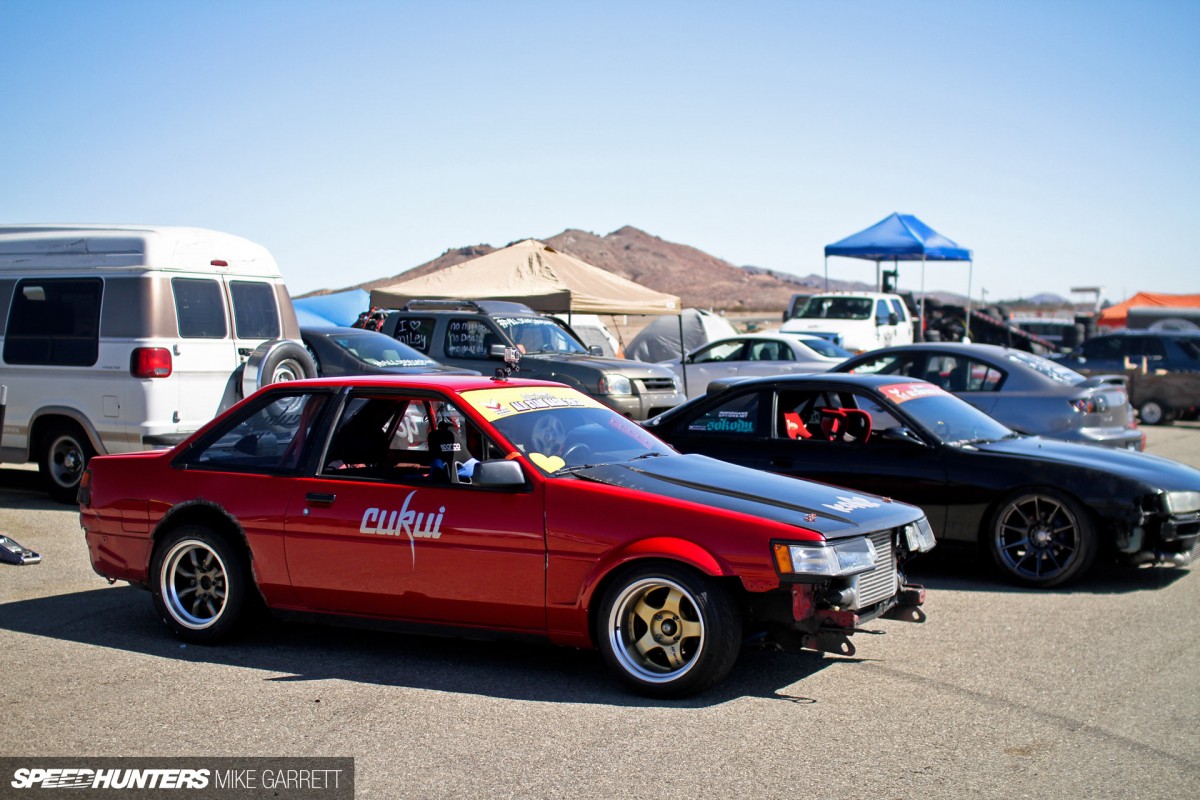 Don't forget the AE86 either. All Star Bash wouldn't be the same without a few screaming 86s looping around the track.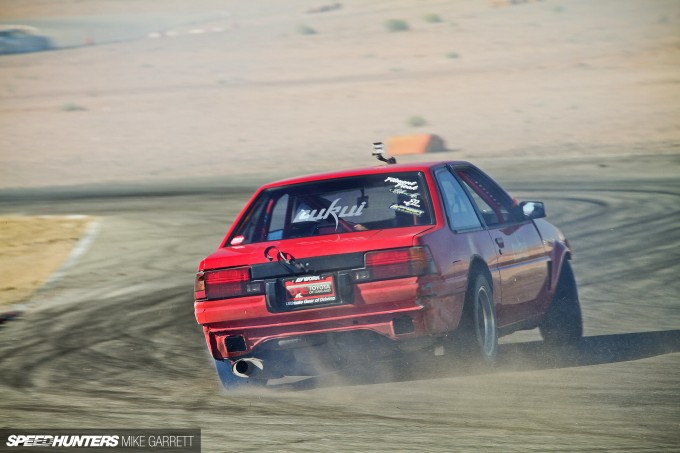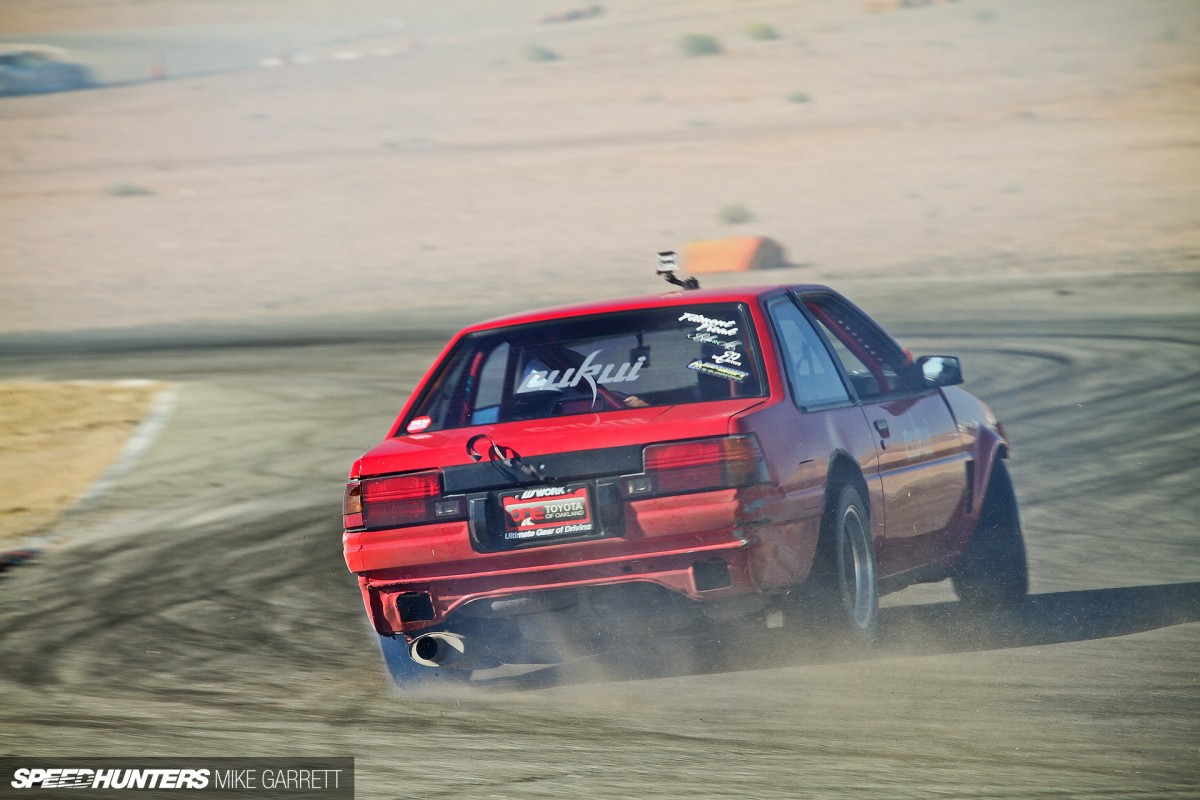 These days the Honda F20C swap has become a go-to choice for AE86 owners looking for more horsepower than a basic 4AGE can deliver. A few of the 86s running this year were sporting S2000 powerplants.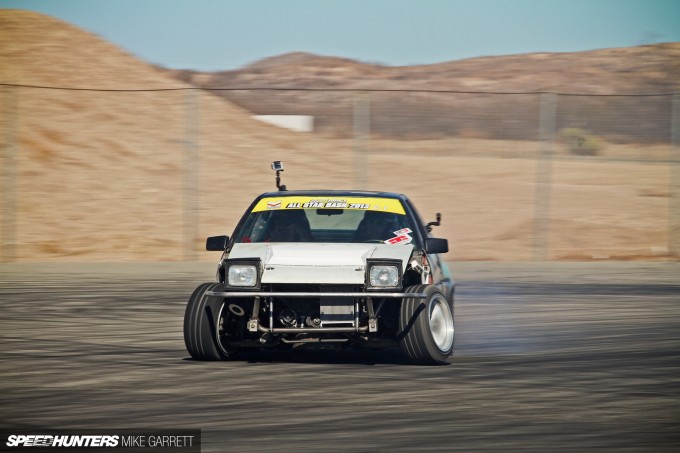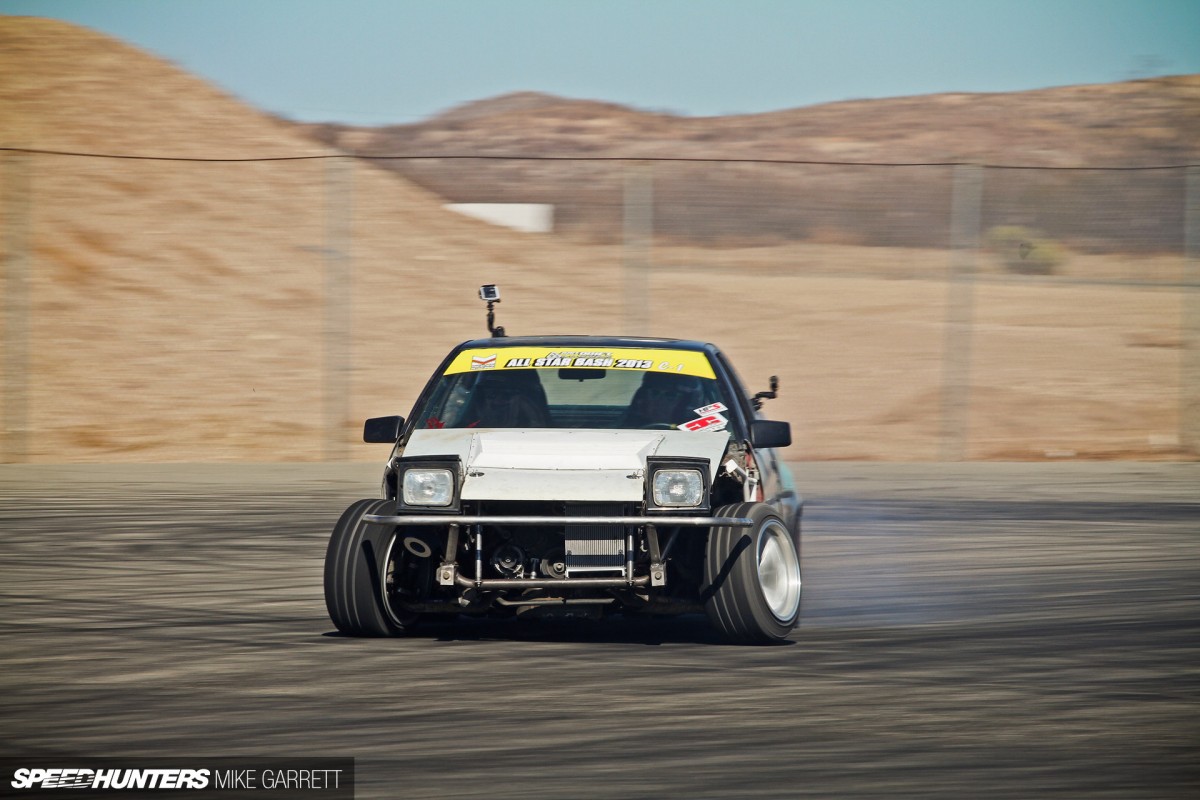 Other drivers have gone in a different direction, finding the AE86's engine bay to be a welcoming home for a smooth and powerful 1UZFE V8.
The joy of grassroots drifting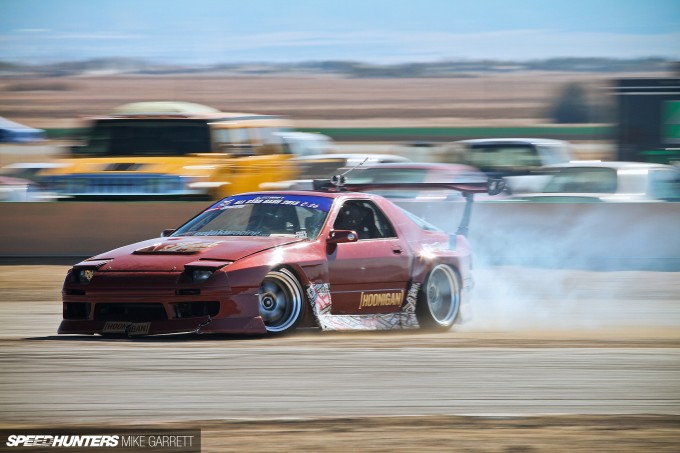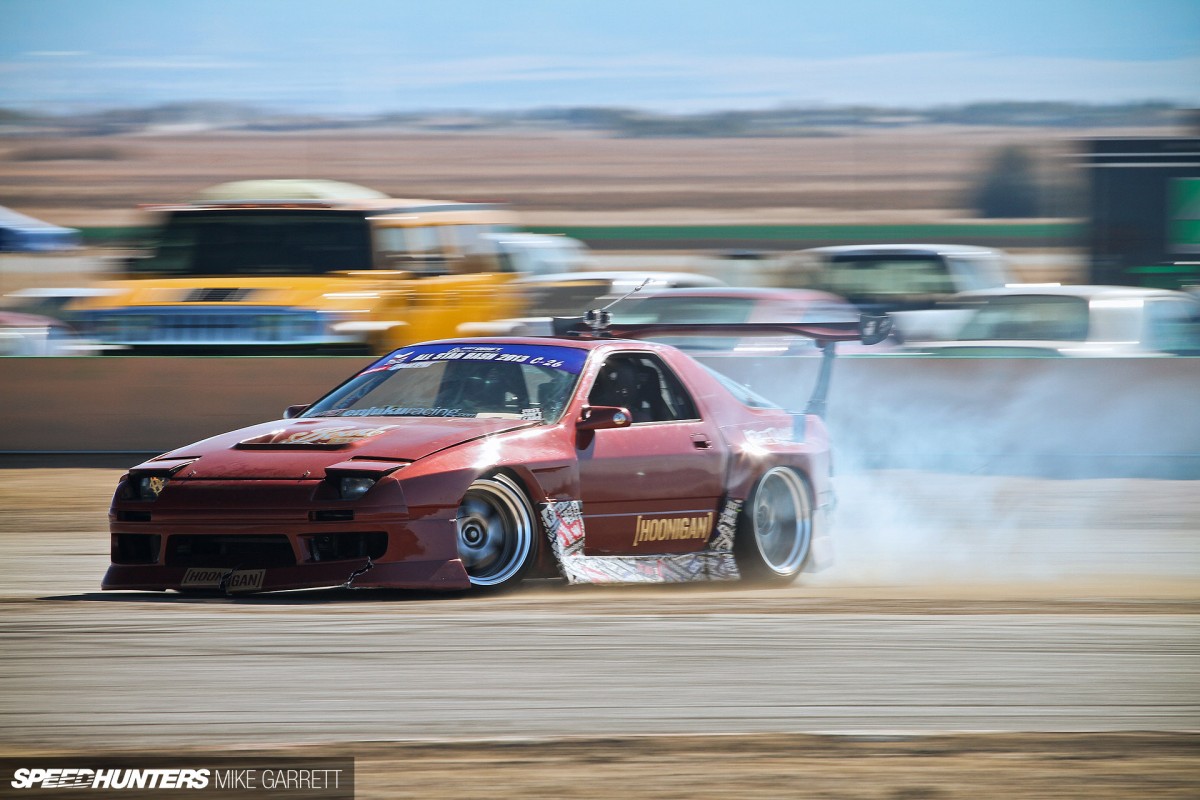 And speaking of V8s, no matter what you think about LS swaps, there's no getting around the mad style of the Streetshark FC3s. We've got a full a feature on this badass machine coming up shortly.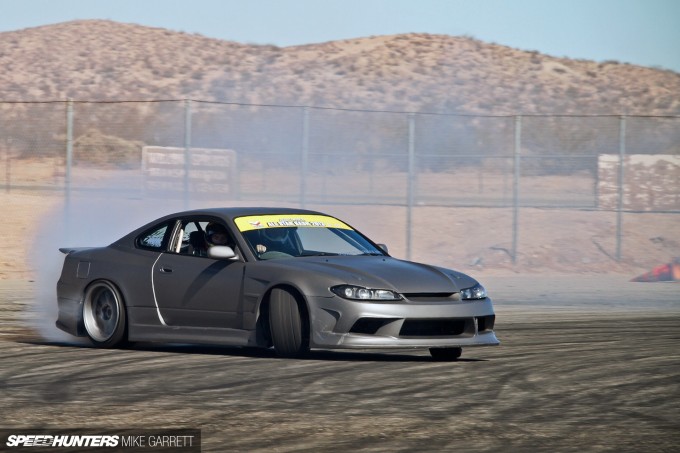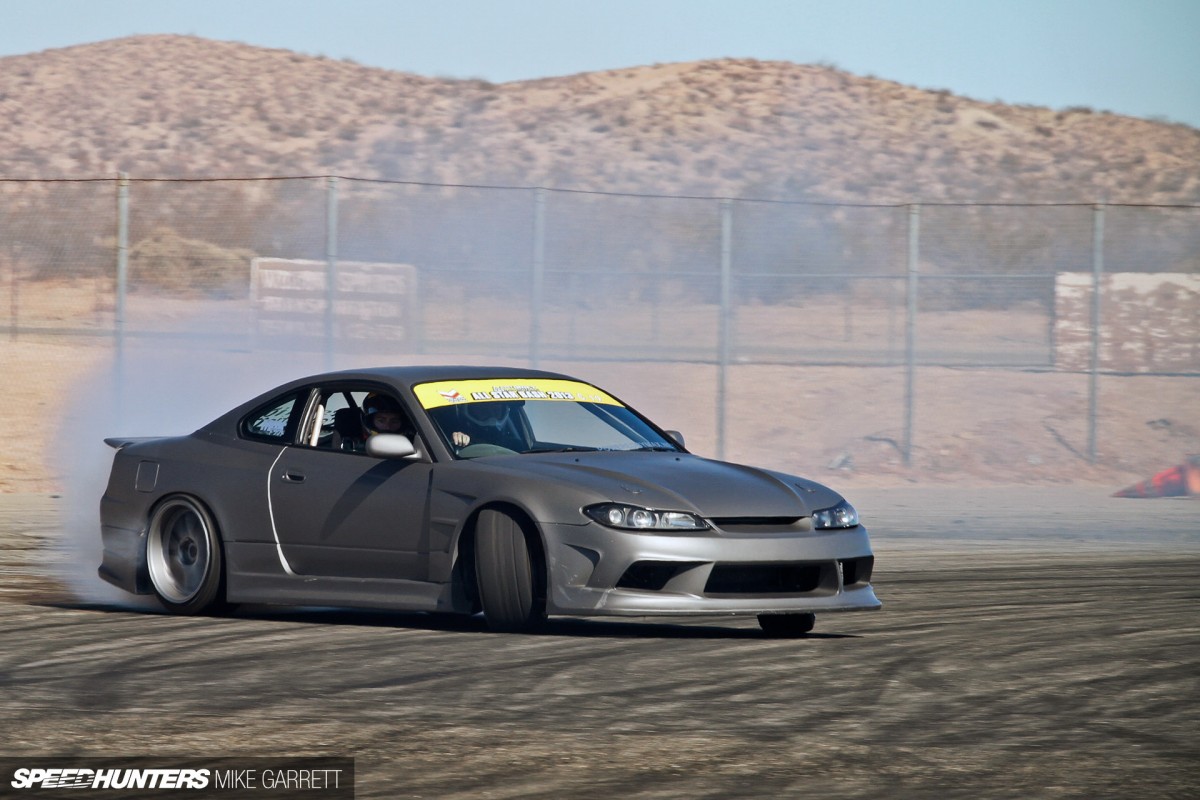 The crew from Parts Shop Max in San Diego can always be counted on to bring some cool cars out to ASB. This is their S15, which has been a part of All Star Bash since the beginning.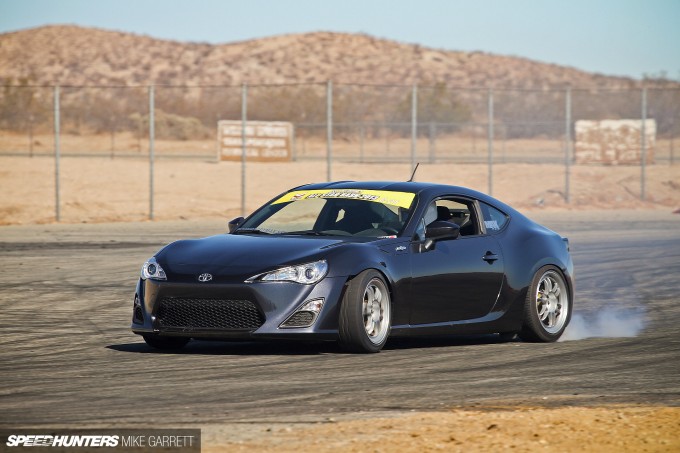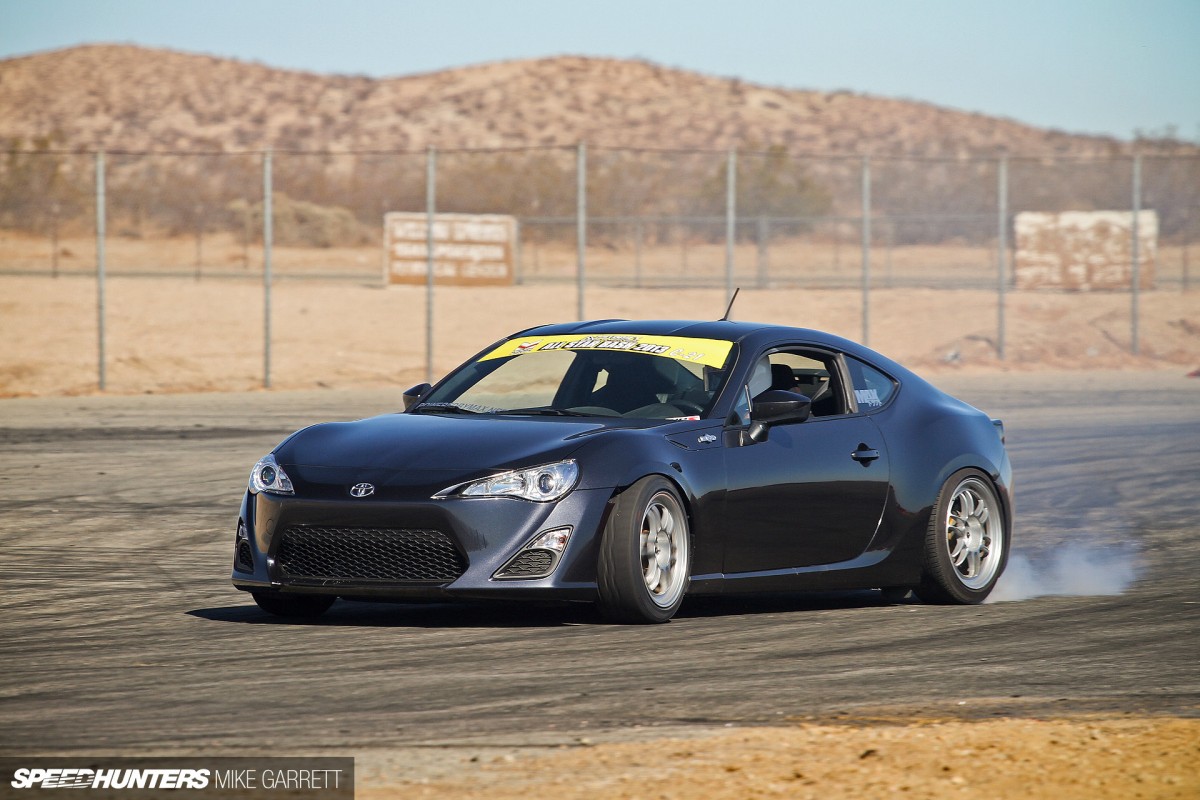 This year they also brought out their Scion FR-S project, which despite being pretty close to stock was moving around very well. Always cool to see brand new cars being put to good use.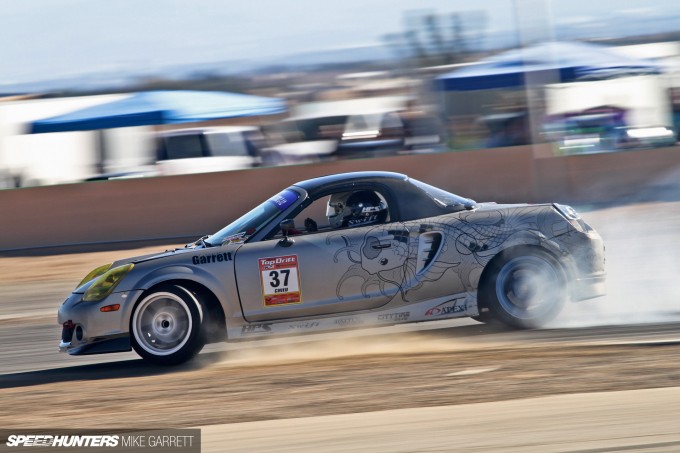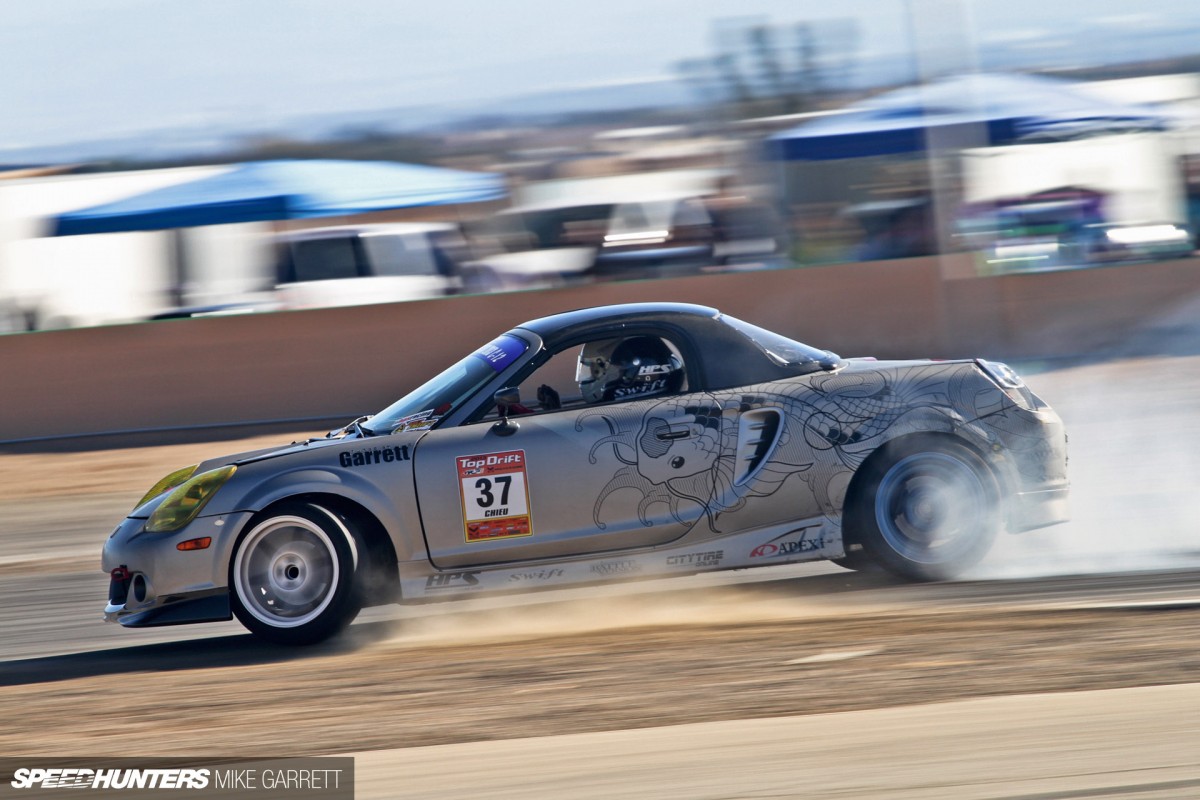 Want a really unusual drift car? Look no further than Kenny Chieu's Toyota MR-S. This guy has been ripping it up in this car for years.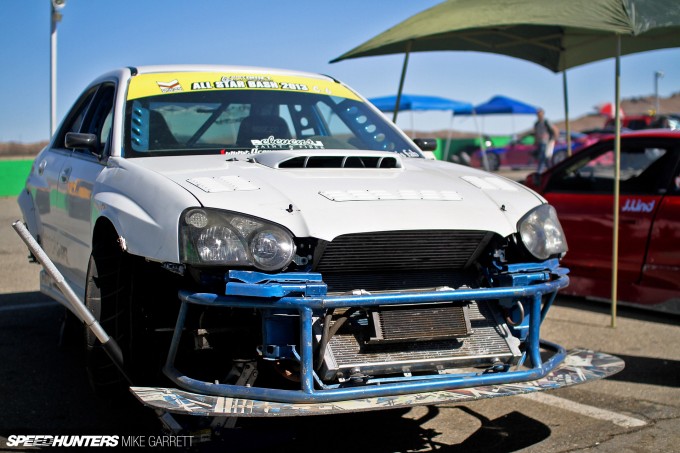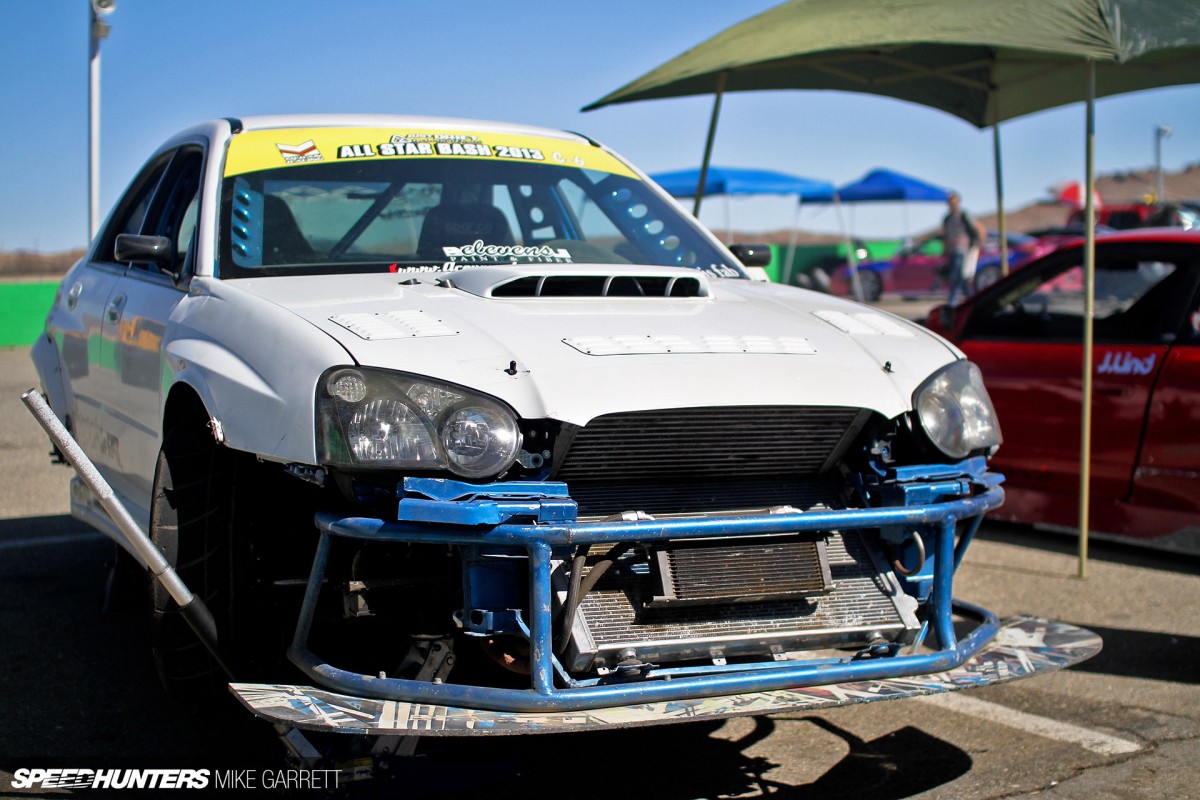 Could the Subaru WRX become the next big grassroots drift car? There were a couple of RWD-converted Imprezas that came out this year.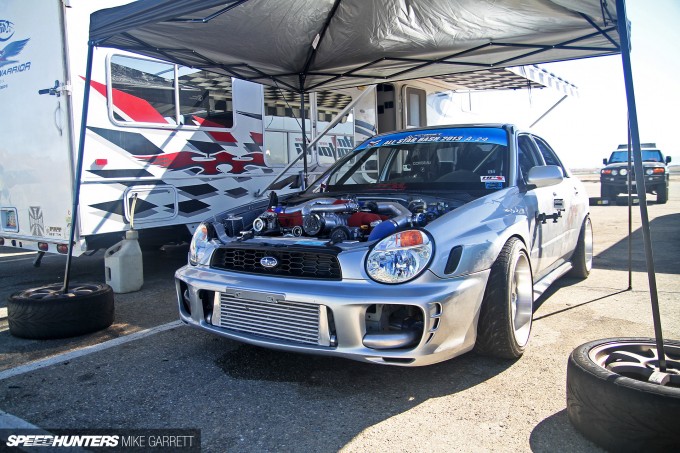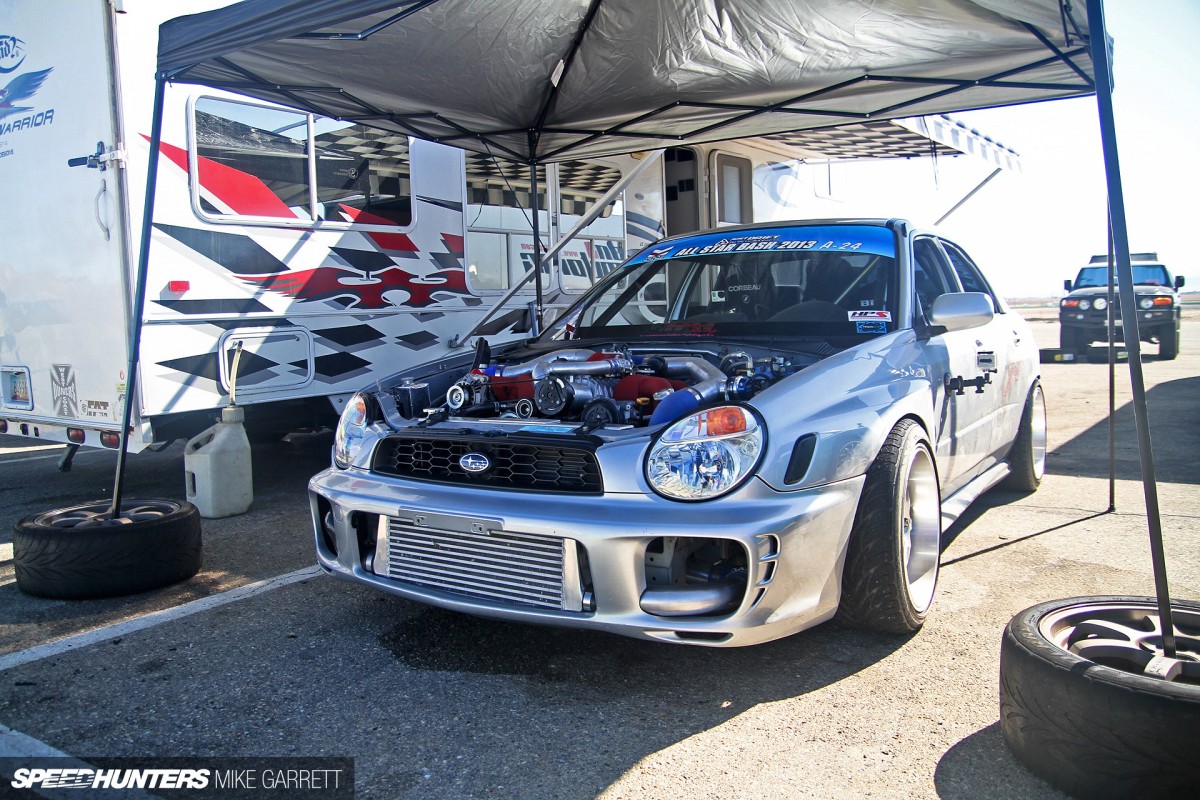 The early model WRXs are now getting into the price range where you can buy one and go kind of crazy without breaking your budget. Why not skip the front diff and have some fun?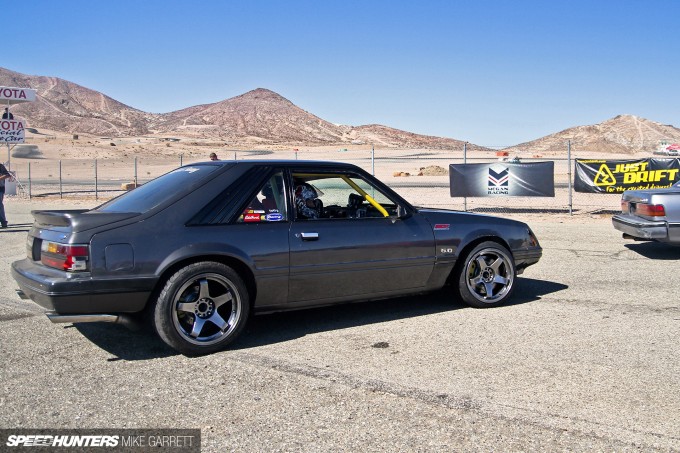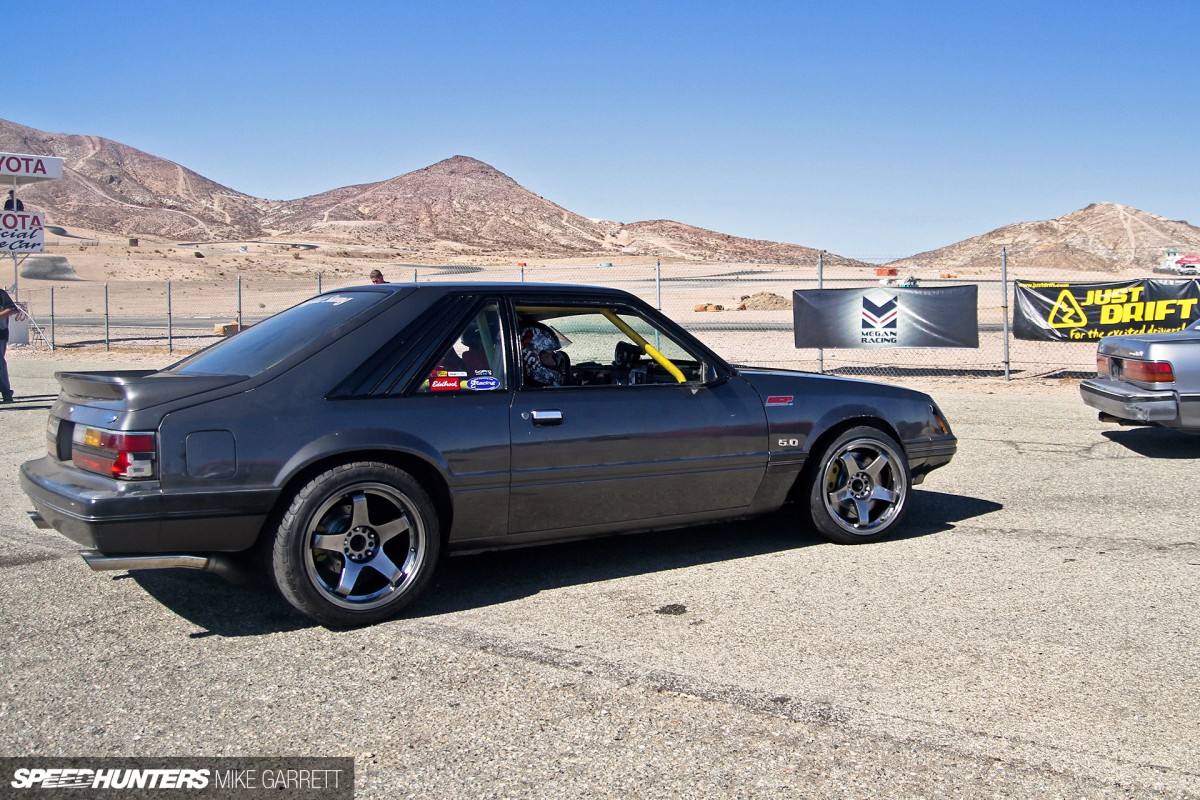 Speaking of budget drift cars, it was also nice to see someone out there with a Fox Body Mustang.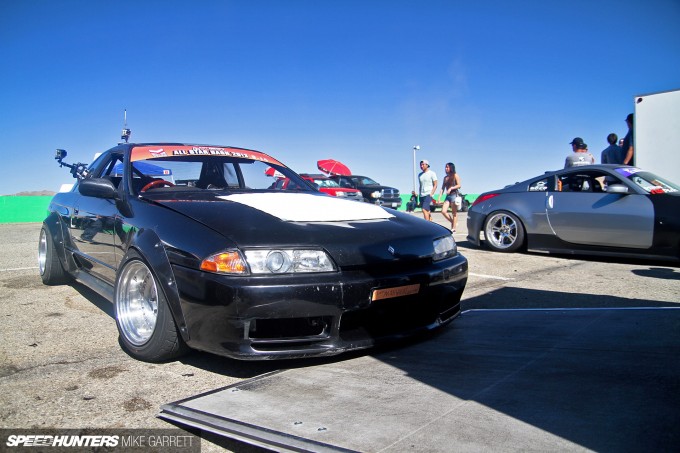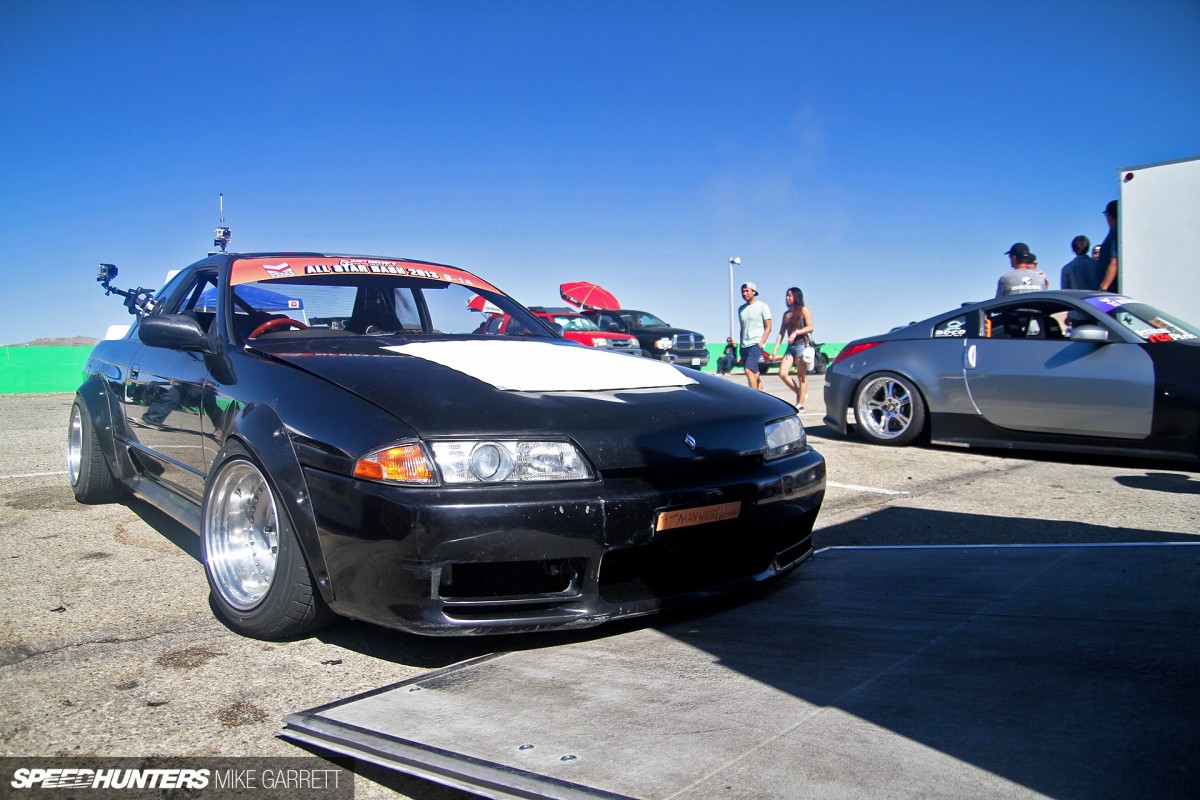 Given the scarcity of the Nissan Skyline in the US, most of the examples you find are kept preciously in a garage somewhere. It's pretty refreshing to see a car like this R32 that's built to be driven, and driven hard.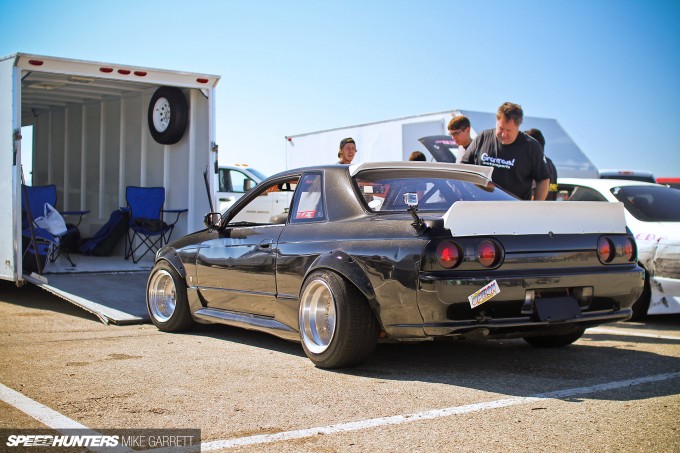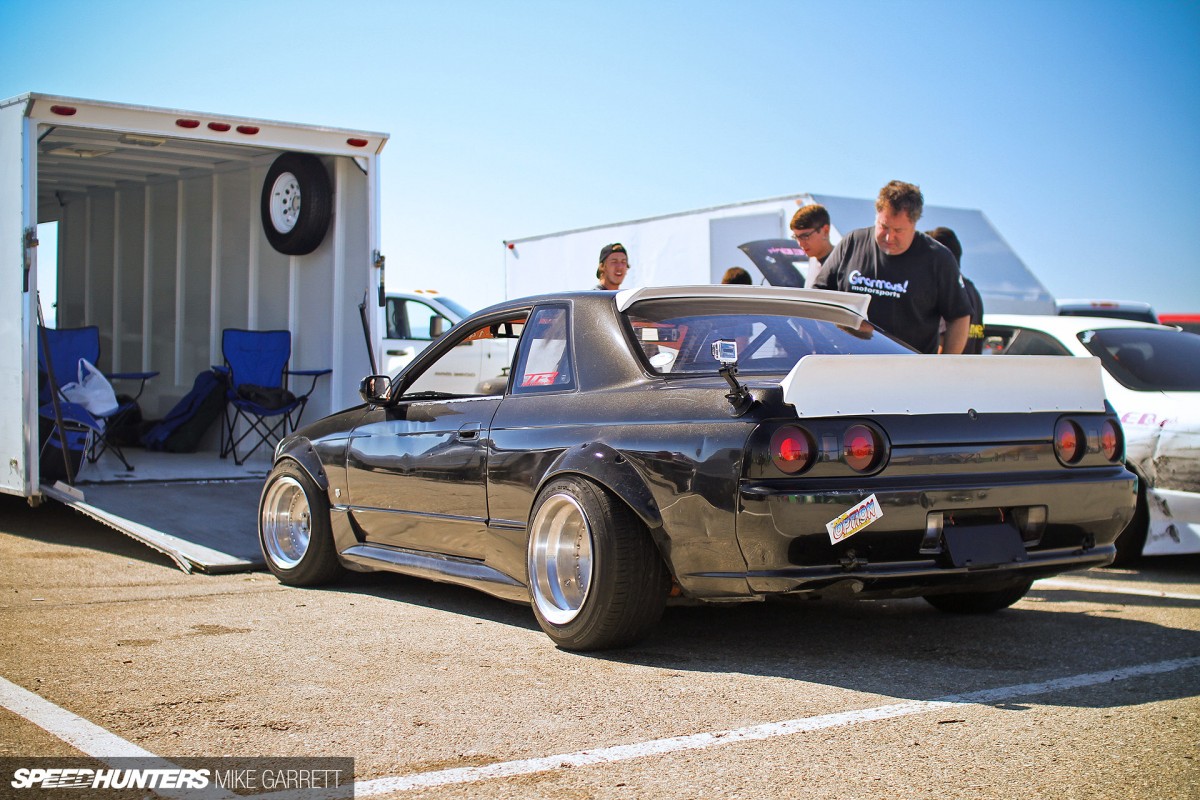 I especially liked the old school vibe that this one had with a duckbill spoiler and bolt-on flares with Centerline wheels.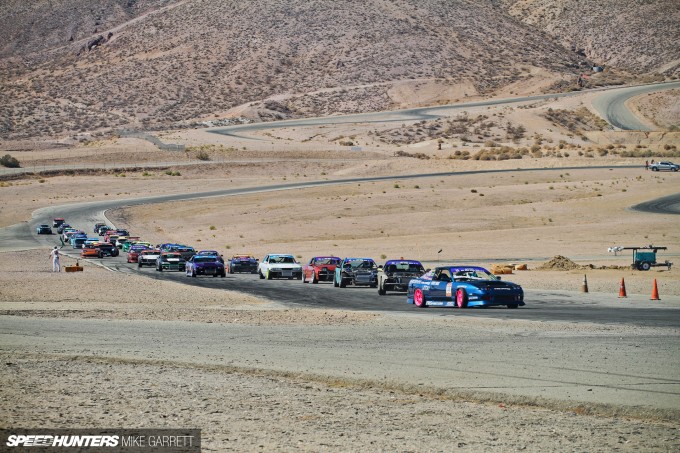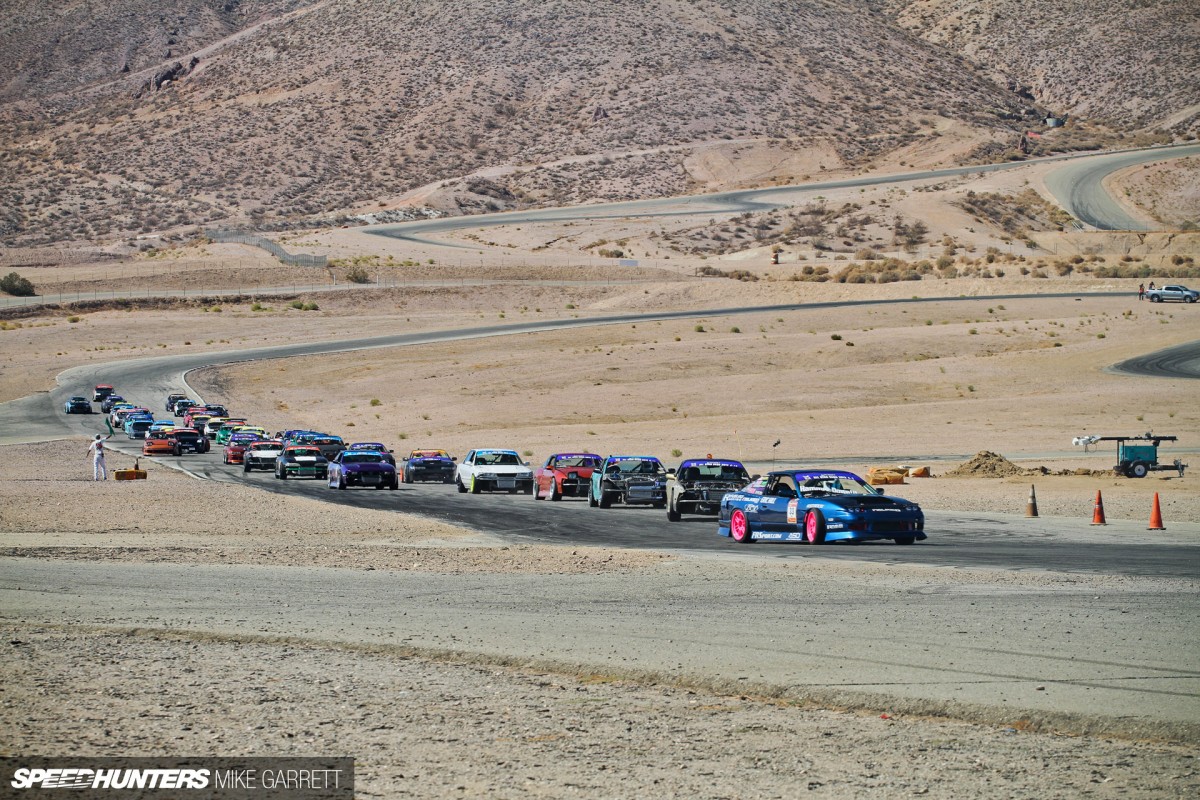 A lot has changed in the seven years since All Star Bash began, both in my own life and in the world of drifting itself.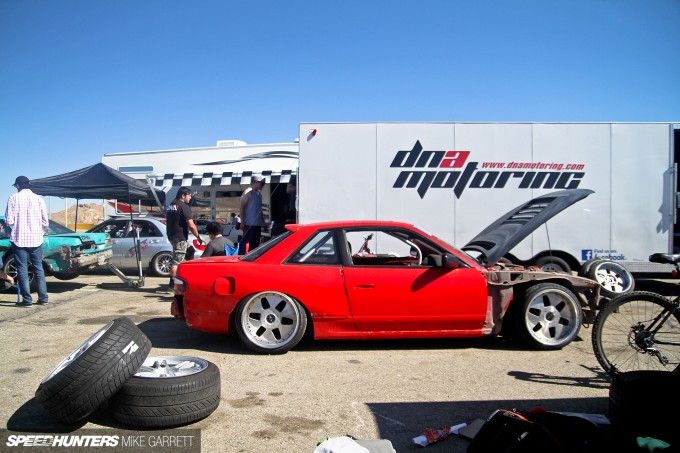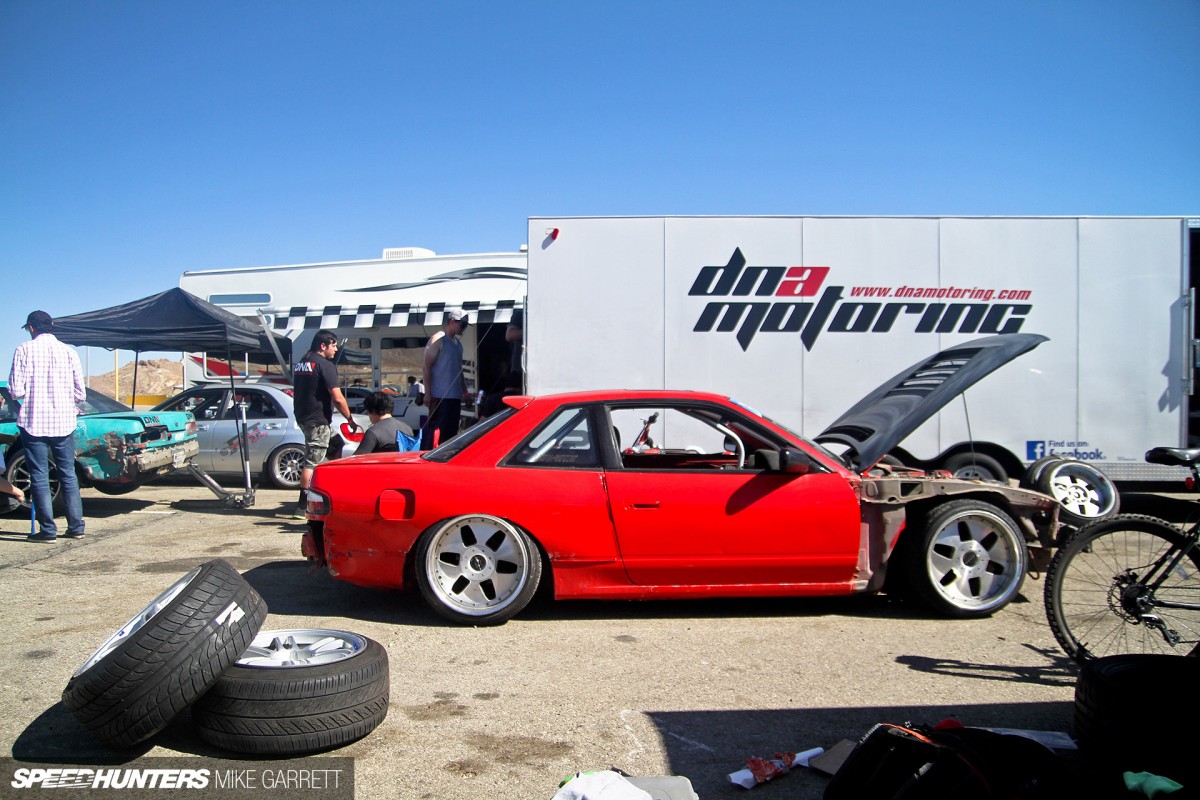 But for as long as JustDrift continues to thrown an ASB event every year, I will always savor the opportunity to return to my roots and see some of the best grassroots drifting in the world.