Chasing dreams
Two years ago I was at All Star Bash and I was using Ole Orange Bang as a camera car chasing around drifters and pushing the stock motor to its limits. The motor eventually let go and I had to limp all the way home. That very weekend I decided that I wanted build my 240z into a more modern Z-car. Something that I could drive every day, but also take to the track if I wanted. After a long journey I finally had the chance to stretch those 43 year old legs on Ole Orange Bang at All Star Bash 13 this past weekend. Once again I used the little orange bugger as my camera car, to shoot stills as well as video. I could not be happier with how it performed.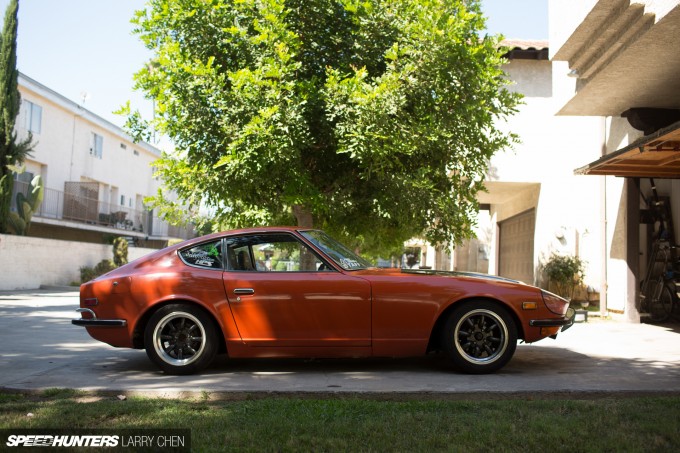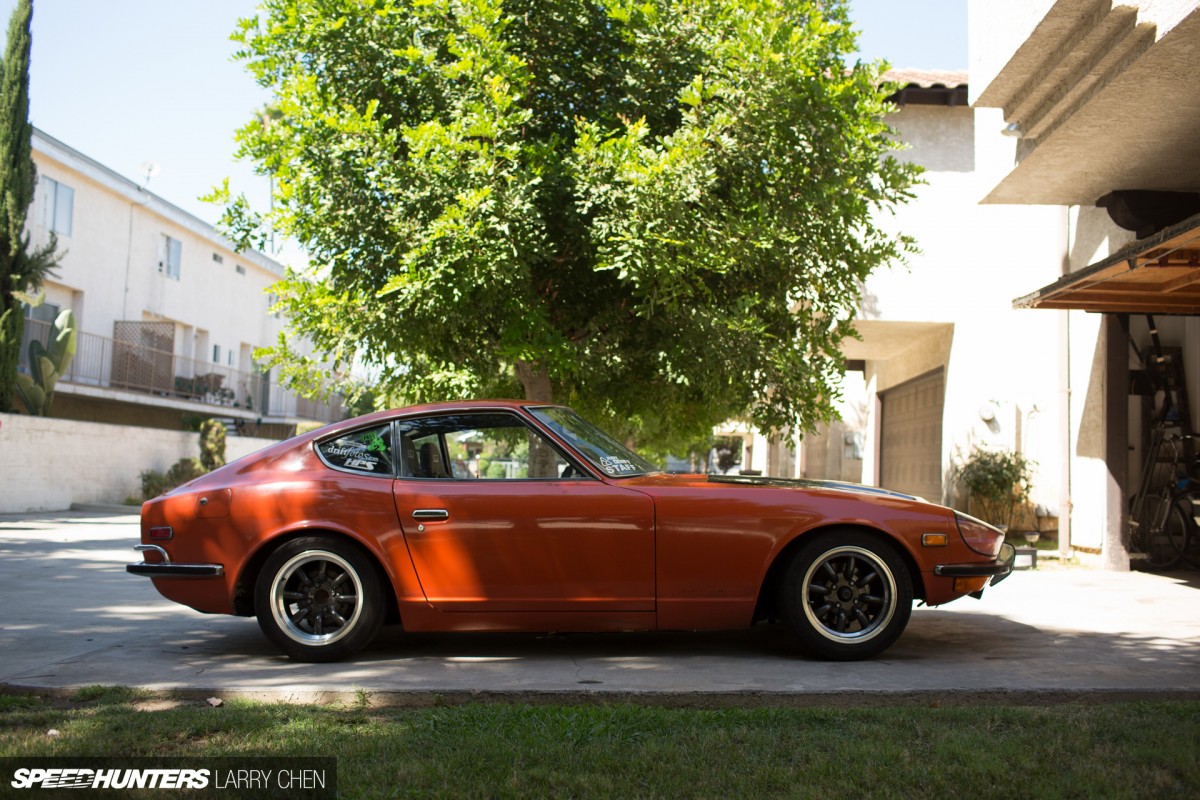 In the last three articles I have written, I went over the history of my Z-car, as well as the motor swap and my initial driving impressions. There was just two months to go till All Star Bash 13, so I wanted to changed a few more things and most of all I wanted the car to be reliable.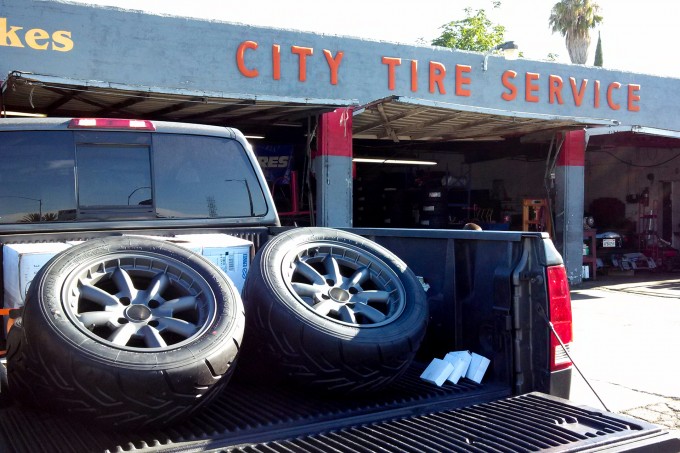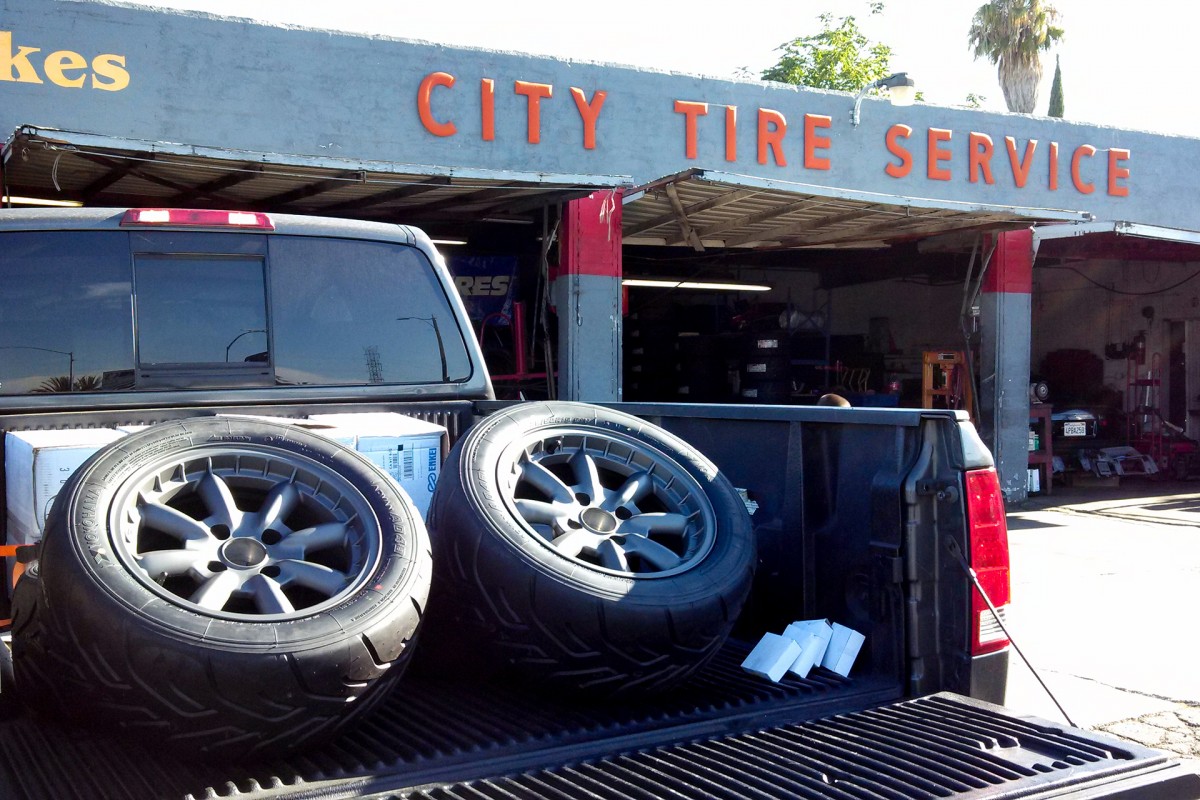 Chasing drift cars at speed is no easy task. You effectively have to have more grip than they do or else you run the risk of running into them when they spin out. In order to increase grip, I upsized from 205 width tires to 225/50/15  Yokohama Advan A048 all around. However, I needed new wider wheels to fit the tires on, and I noticed that Enkei just came out with their Compe series.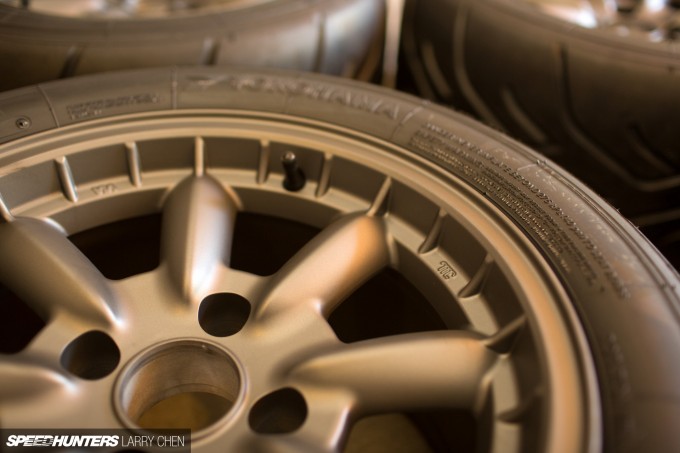 They had the perfect size for me as well in the 4×114.3 PCD I needed. I got them in 15×8 with zero offset. The finish on these wheels were amazing, and I love the gunmetal color.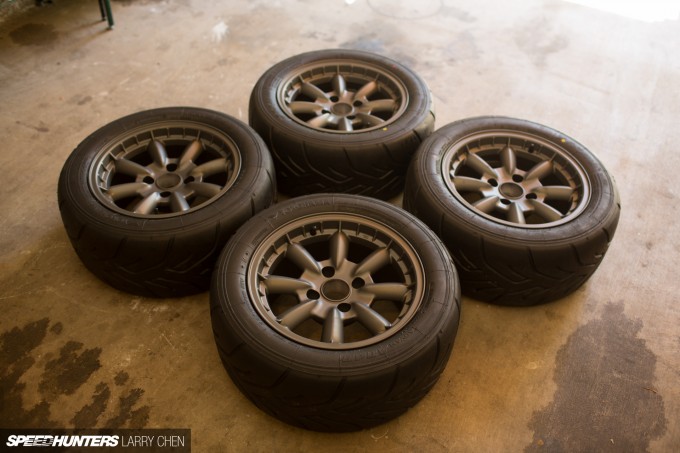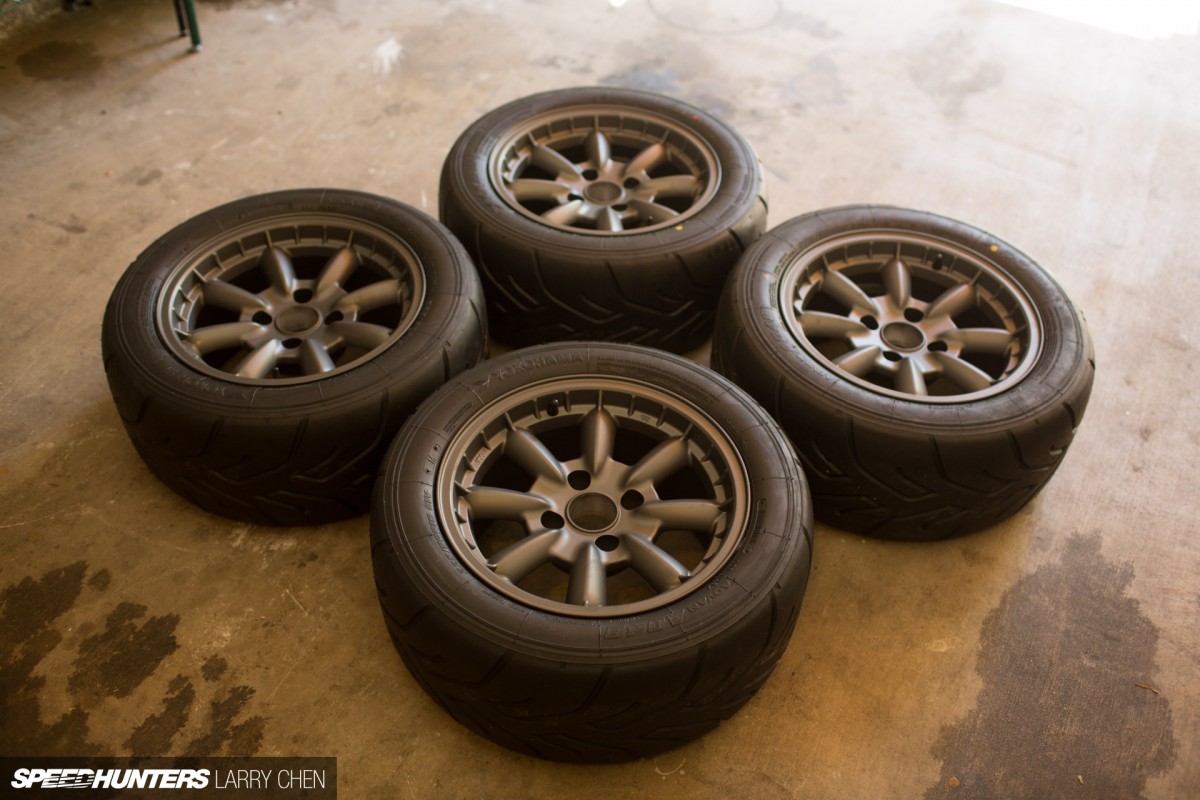 The design is classic and I feel as if they were purposely made for my car. This was the perfect wheel and tire combo for what I'm using my car for. I could still drive on the street, and if I wanted to I could drive to and from a track day as well.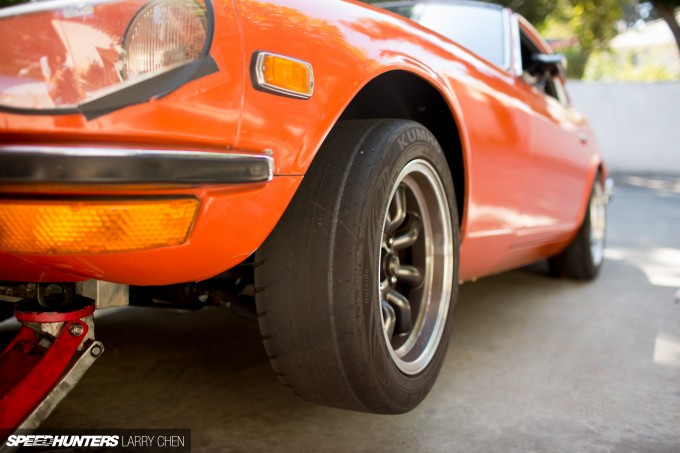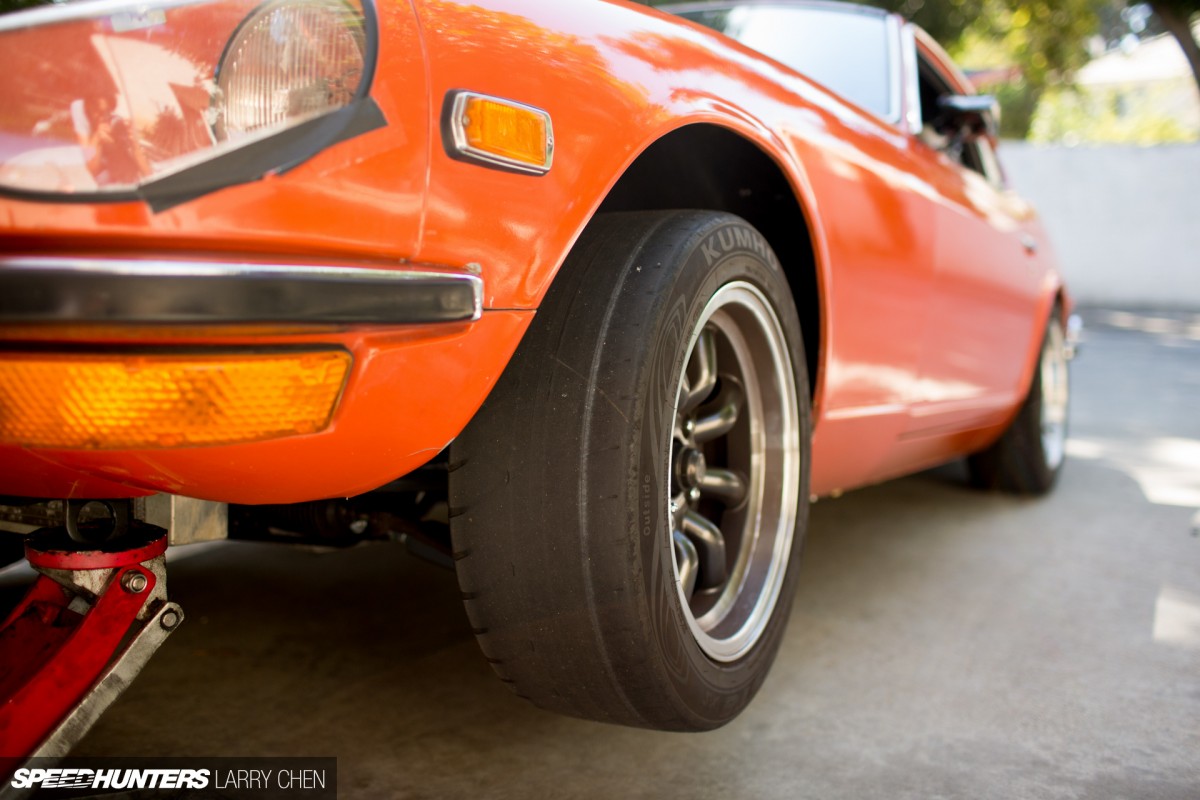 Can you tell I got my money's worth on my old tires? I guess it was time to change anyway. After the motor swap I had all the suspension pieces off but I'd not had the chance to get the car weighed and corner balanced yet.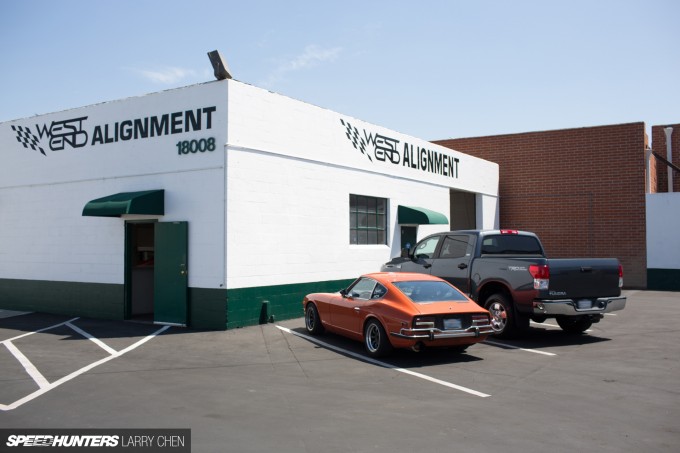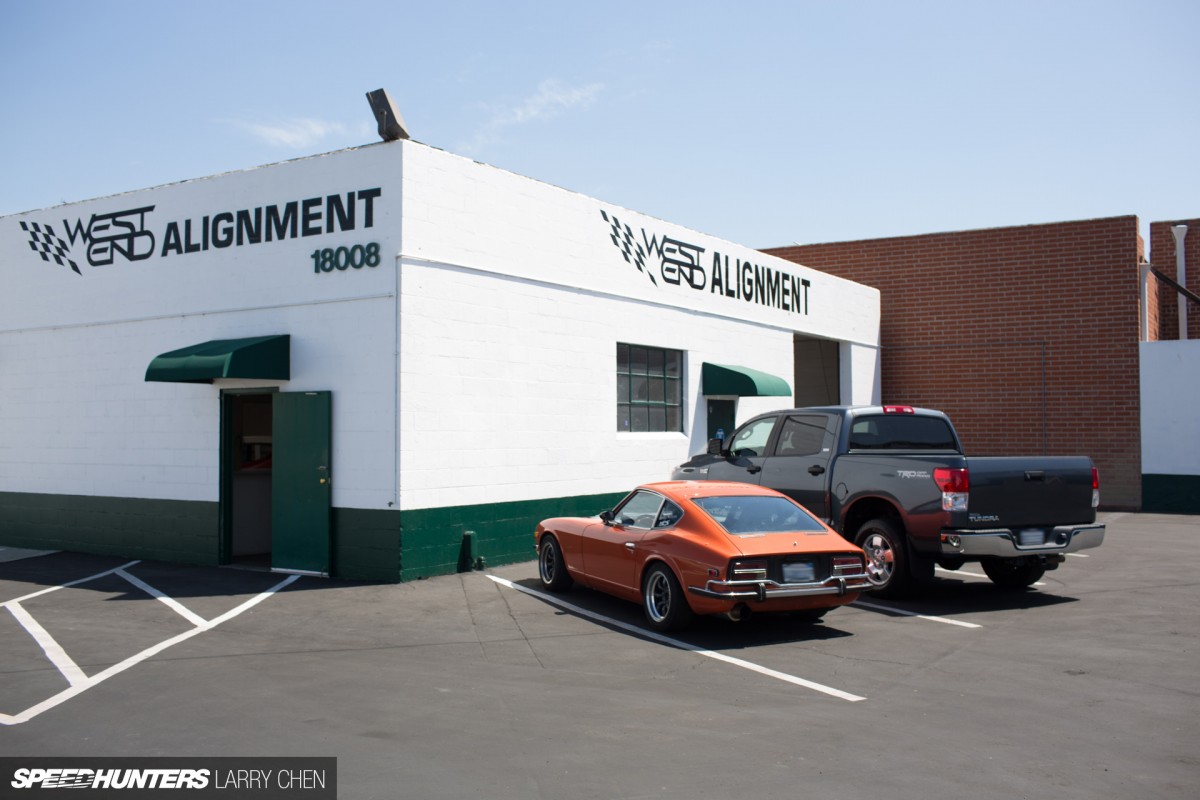 On one of the rare occasions that I was at home in Los Angeles, I brought the car to West End Alignment in Gardena, California. I've been going there for years and most of the guys I grew up racing with go there for their race alignment needs.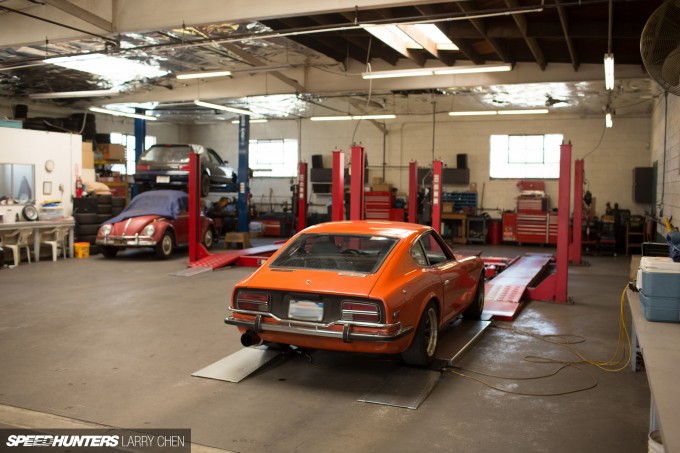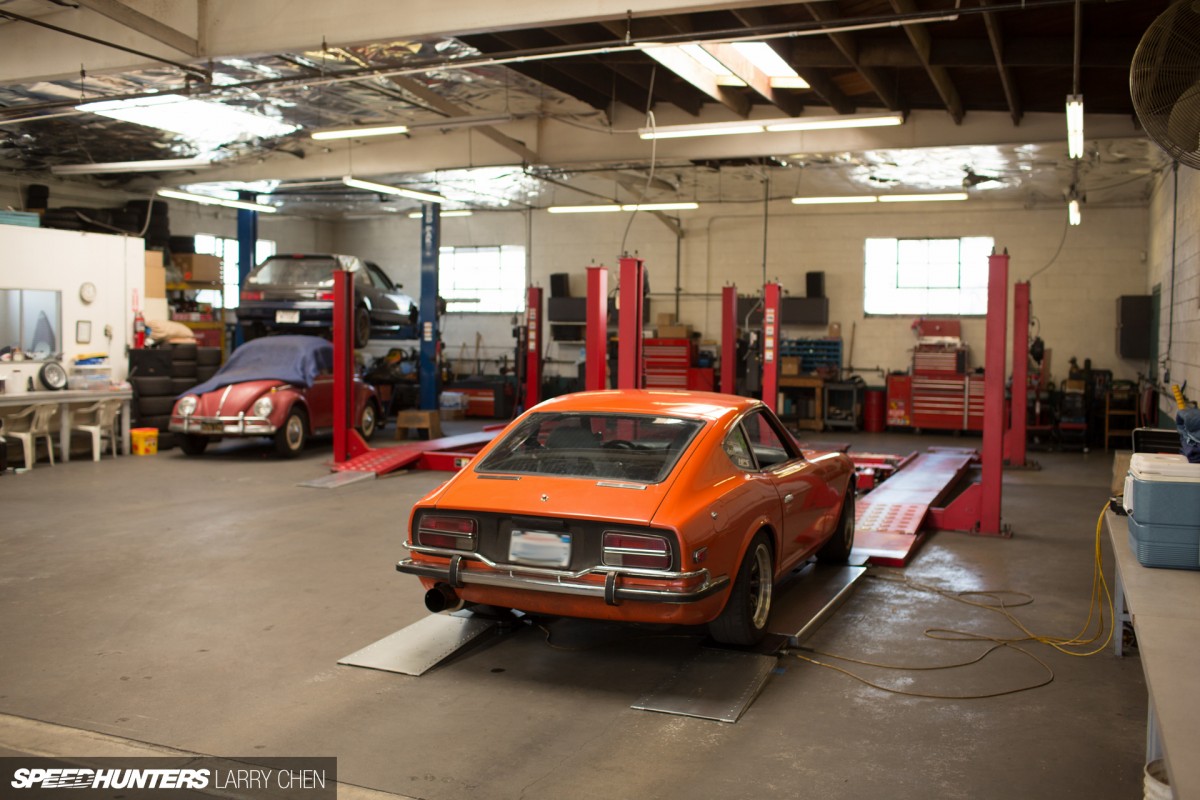 The last time I weighed my car it came out to 2225 lbs (1009kg) with my stock motor and half a tank of fuel.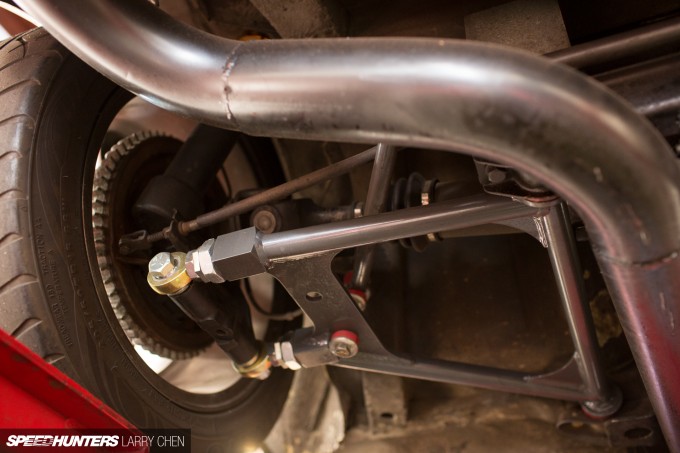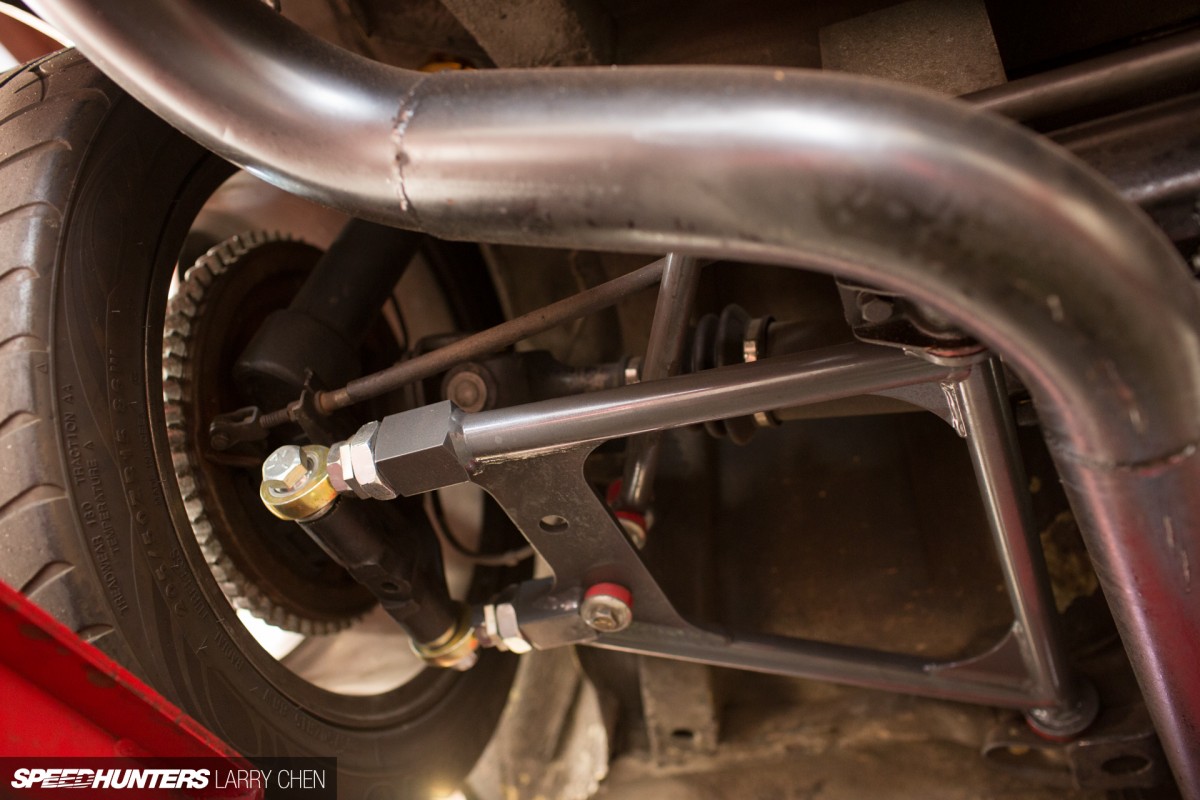 Since then I've added quite a few suspension bits and pieces, and for the first time I could get a real race alignment, because the stock control arms do not allow for any adjustment. There are quite a few companies out there who make control arms for the S30, but I decided to support a local California company, Techno Toy Tuning. They mostly started with AE86 parts, but recently they have been really pushing their line of S30 parts.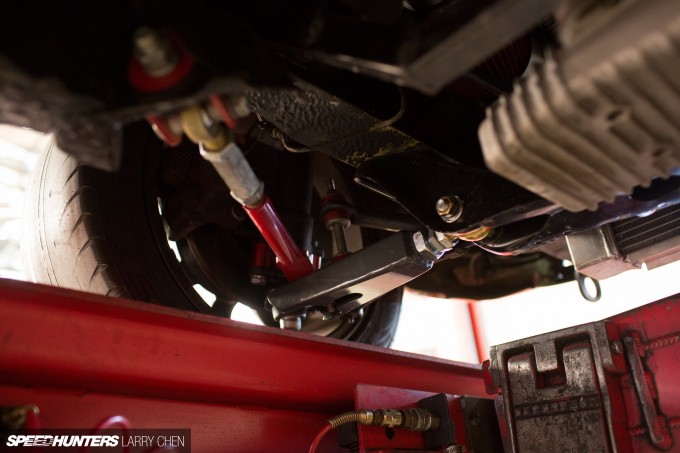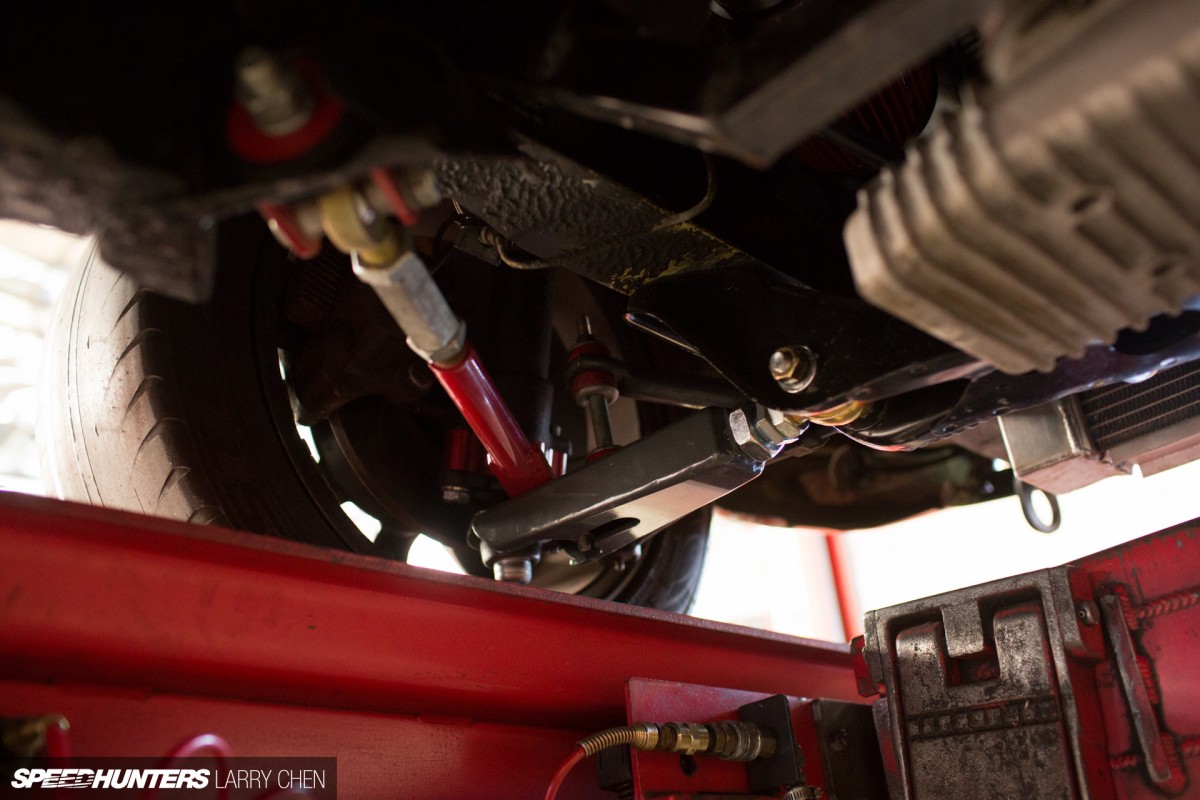 It's all very high quality with amazing powder coating and top notch hardware. So I replaced the front and rear control arms, as well as the tension control rods. Also, because my car's shocks are sectioned from when I installed my custom coilovers, the car sits fairly low compared to stock, and in order to fix the front geometry I also added a set of their roll center adjusters. This is super important to get rid of bump steer on lowered cars.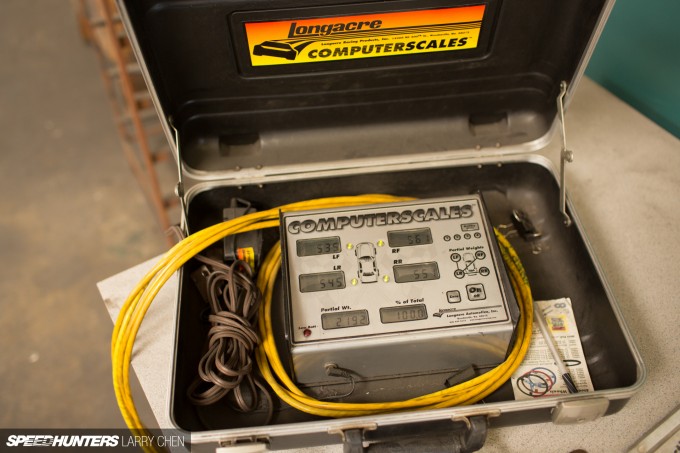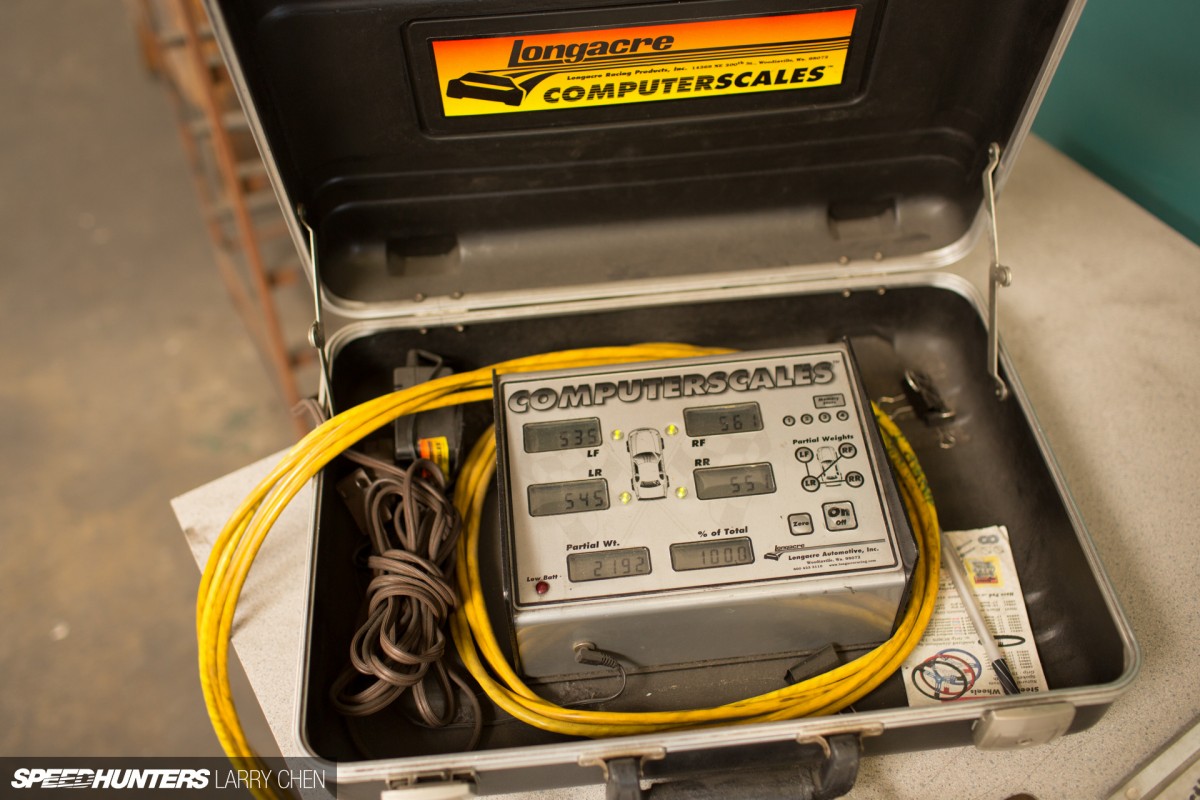 I figured I would lose a little bit of weight from going from a stock motor to an SR20DET, but then again I did add some weight including a heavy Optima red top battery. The motor itself weighs much less than an L24, but then again, with the addition of the intercooler, pipes and other miscellaneous things it brings the weight right back up. So it ended up weighing 2192 with half a tank of fuel (994kg). Then again, with more than double the horsepower, Ole Orange Bang is no longer a slouch.
The little things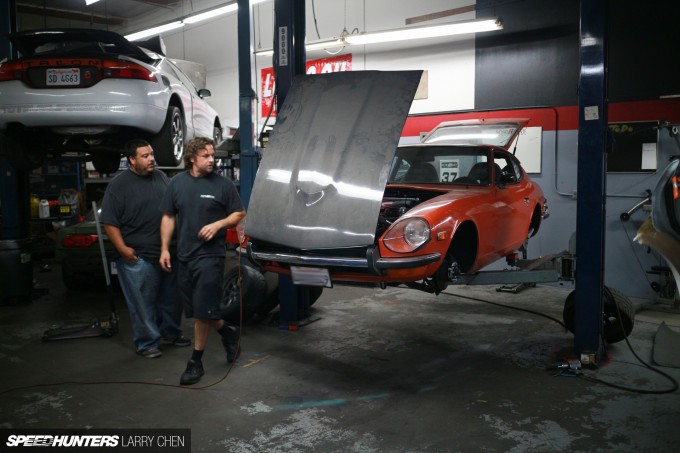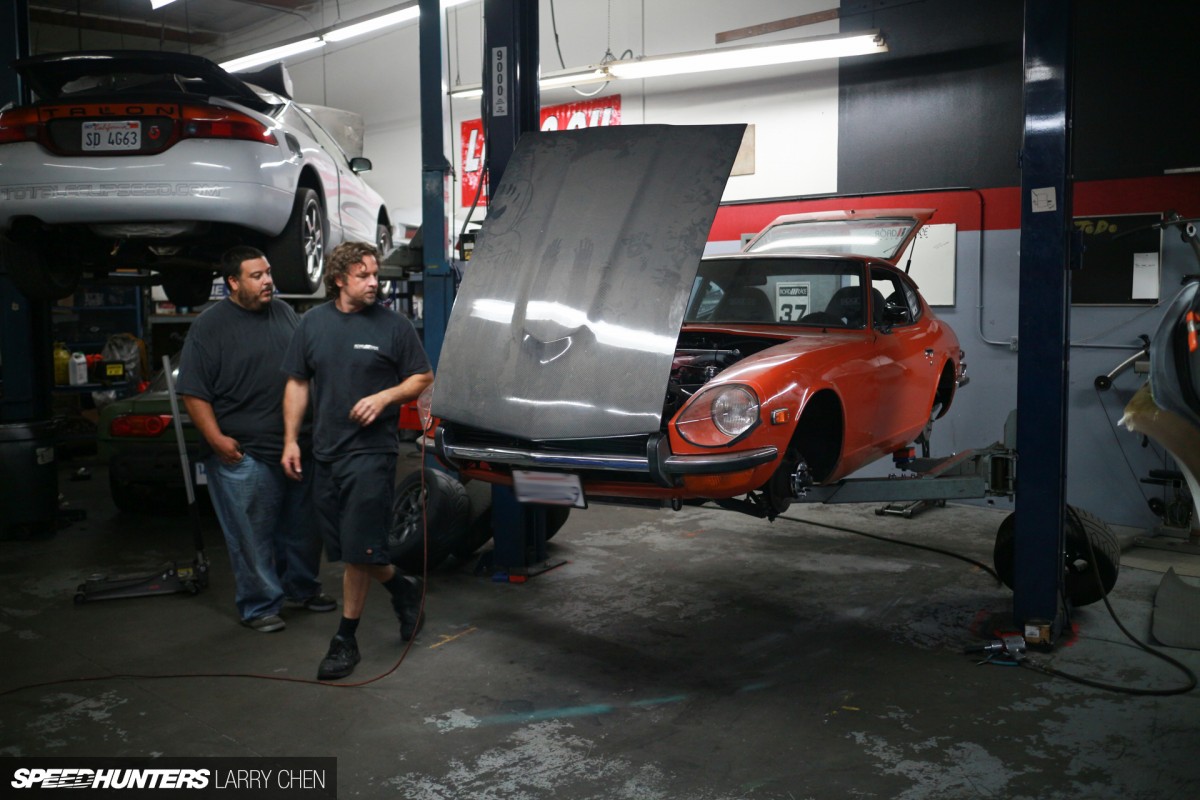 Since I'm rarely home, it's very hard to find time to work on my own car. Luckily I have lots of close friends that are willing to help me out a bit. There were still many little things that need to be fixed in order for the car to be track ready. First thing we had to do was to fit on my new wheels and tires.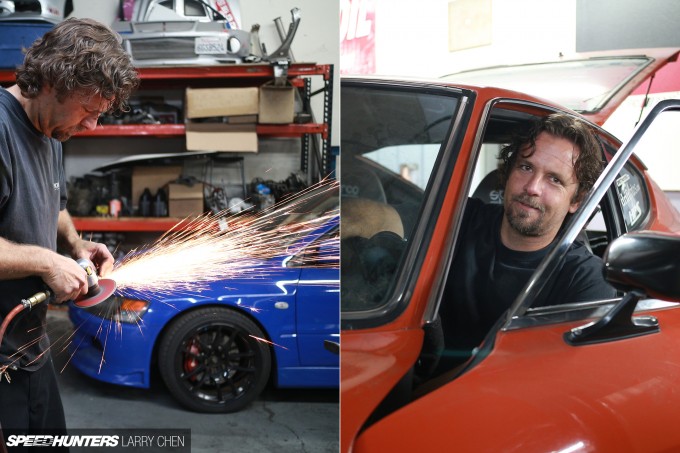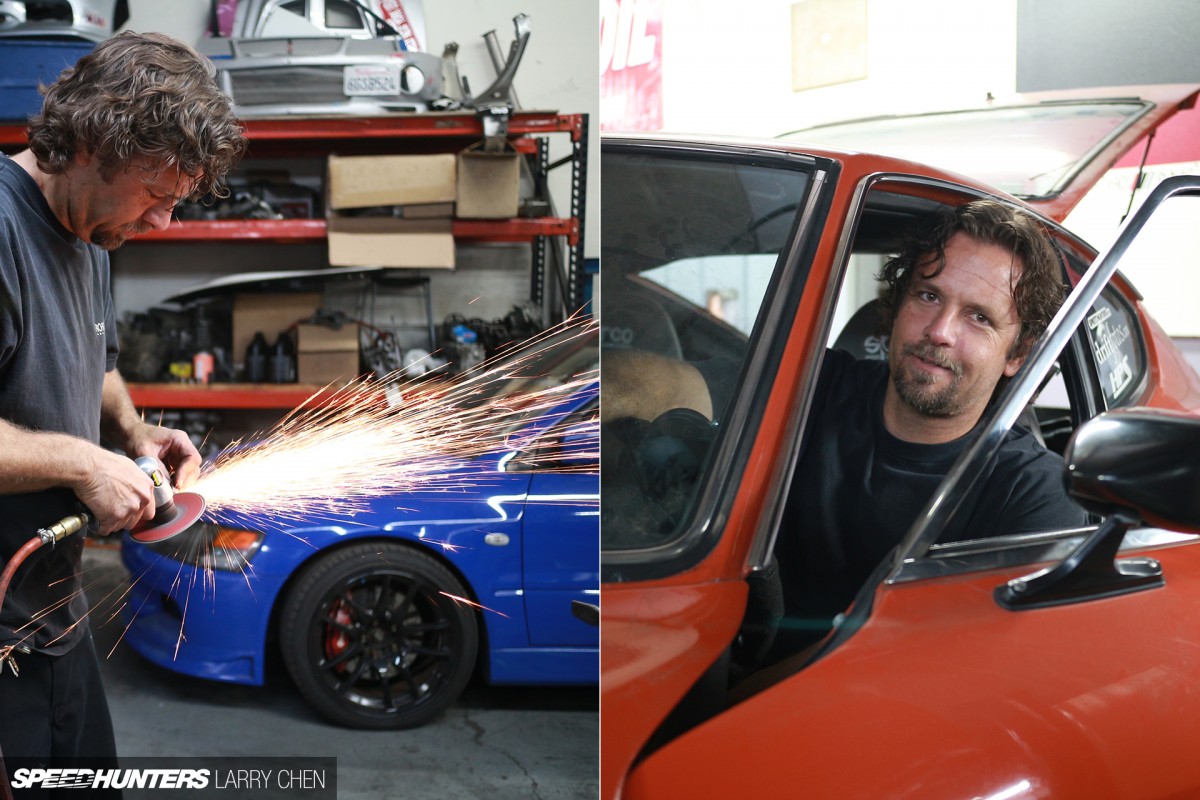 I took the car to Road Race Engineering in Santa Fe Springs, CA. My friend, Matt Kohlwey, is always happy to help me out and with just one month left before All Star Bash 13 there was much left to do.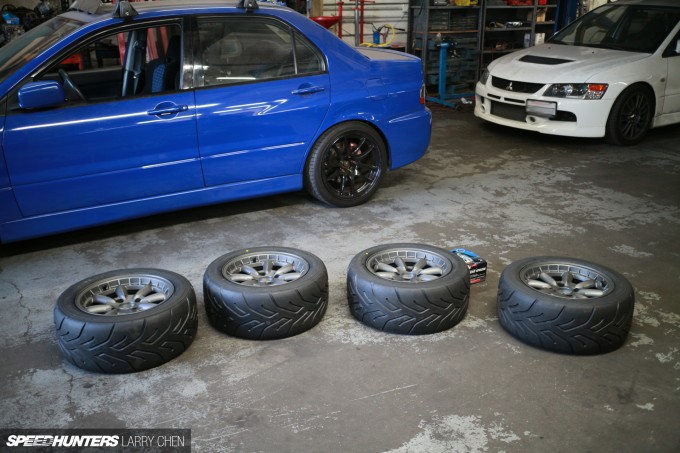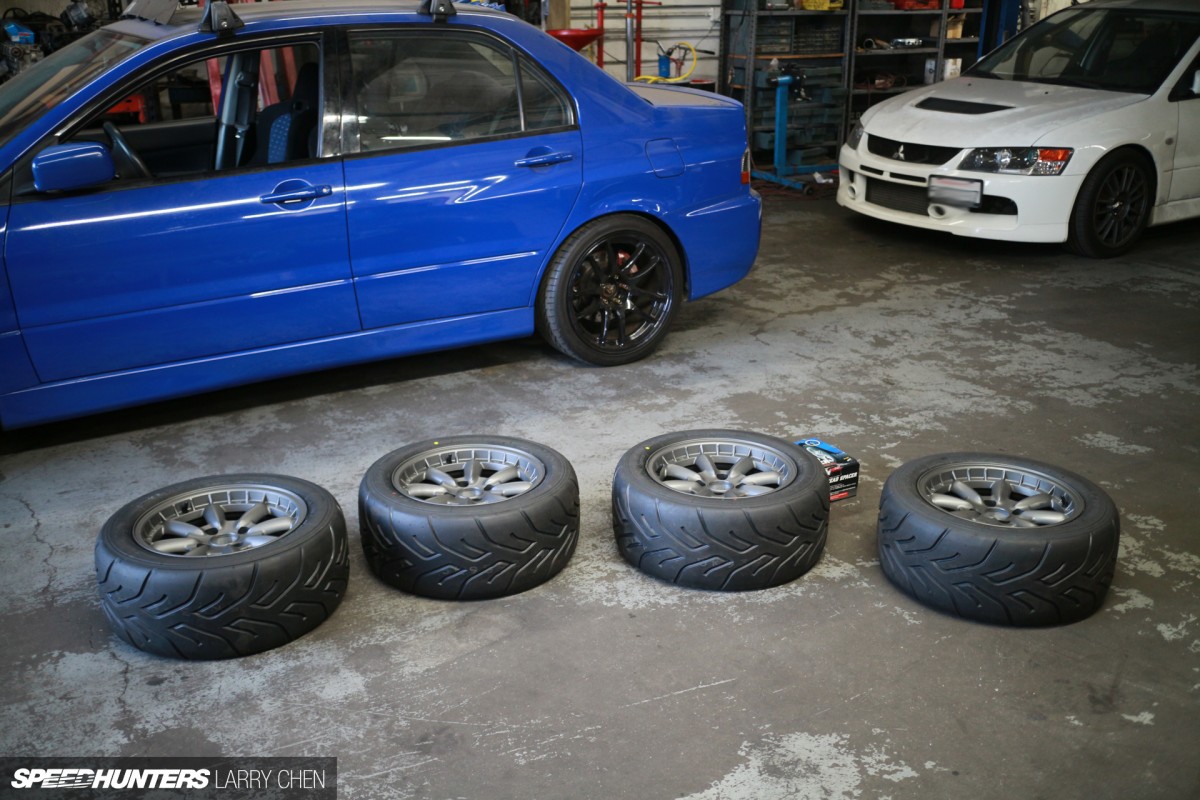 I figured it was going to be a piece of cake to fit the Enkei Compes on my car, but since it's a old car, it has old car problems.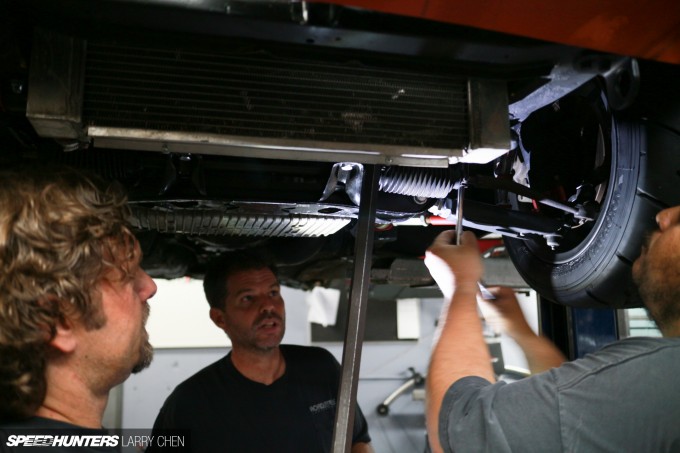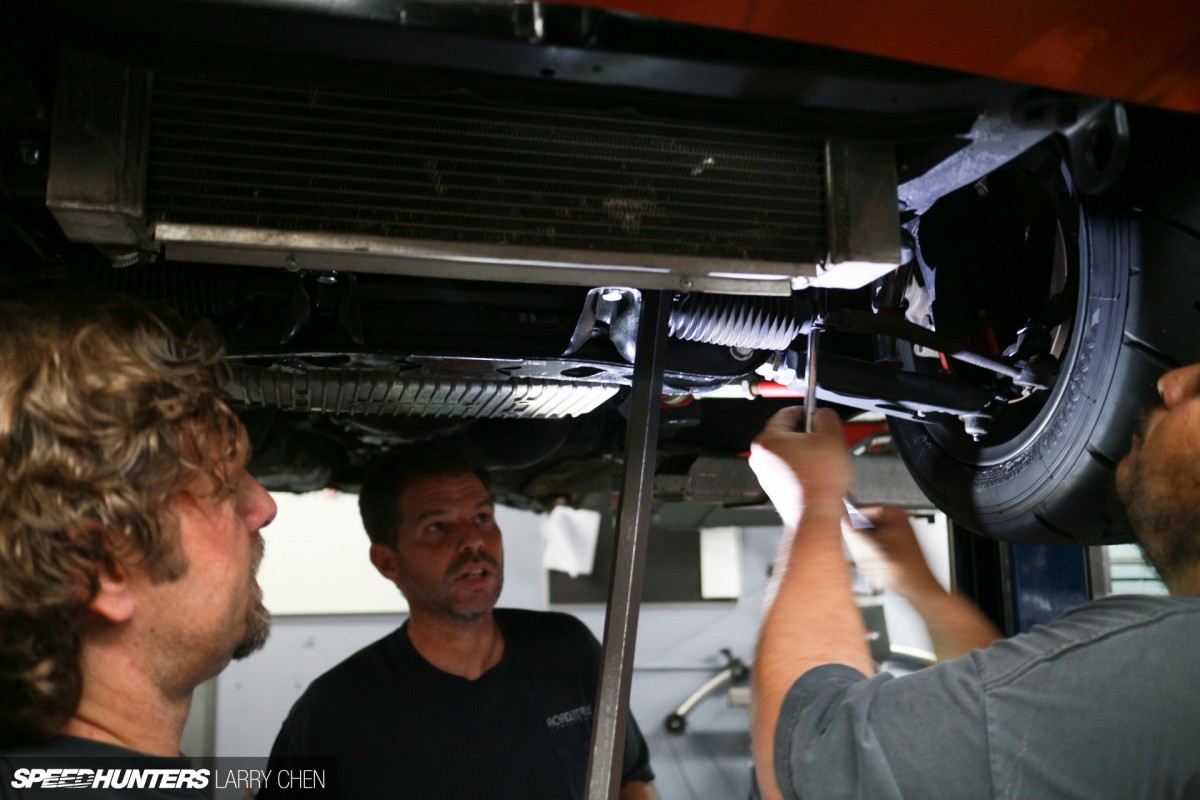 The front cross member was a little off, which made one wheel stick out more than the other – nothing a giant pry bar couldn't fix. The owner of Road Race Engineering, Mike Welch, even stepped in to help. The boys are usually accustomed to working on Mitsubishi Evos, but they pretty much work on anything that goes vroom.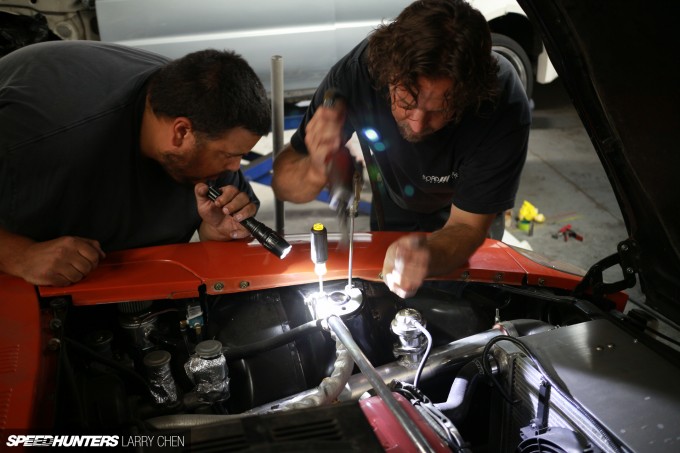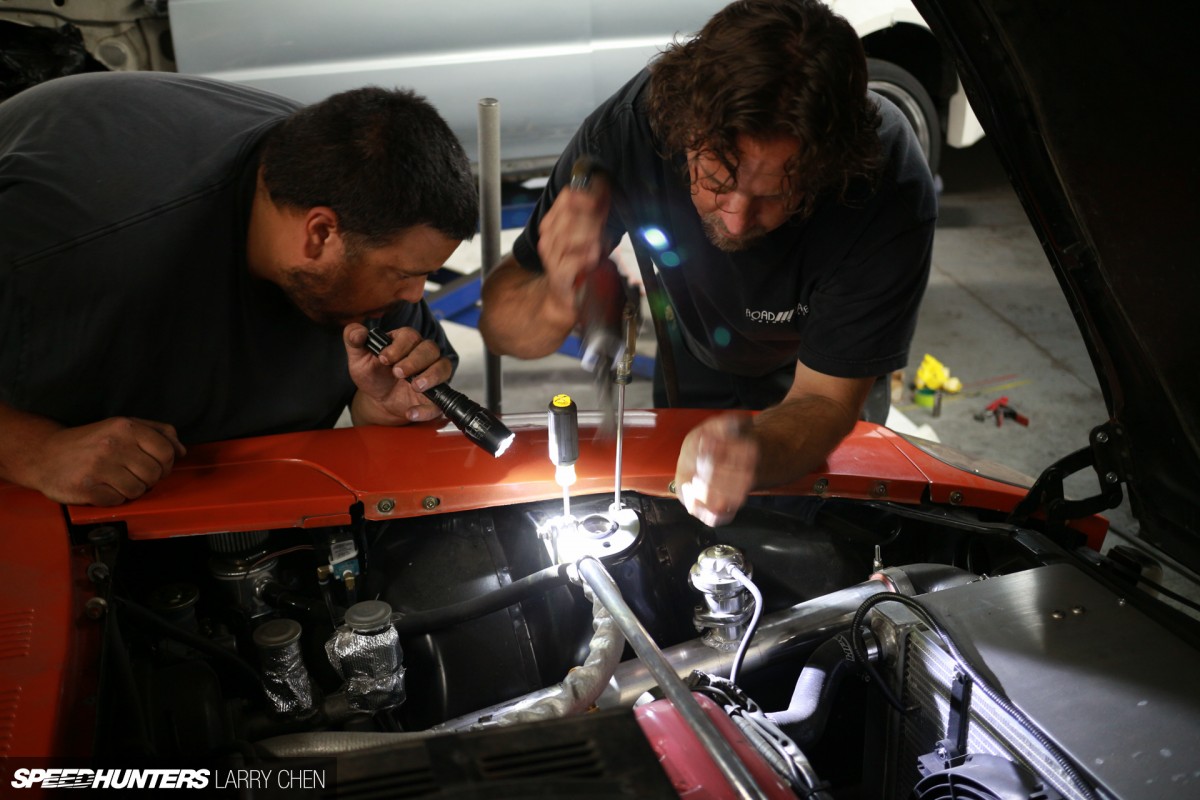 Another issue was that after the alignment was set, my new shocks would bind because the shaft would rub on the inside of the shock tower. It's the little things that stopped us in our tracks. Although it was nothing a little grinding could not fix.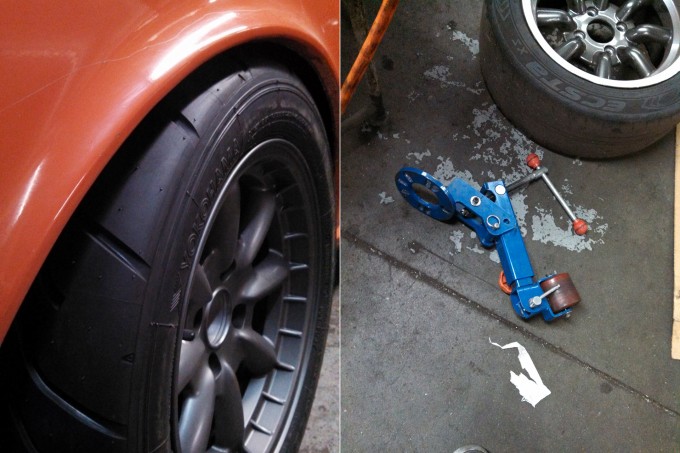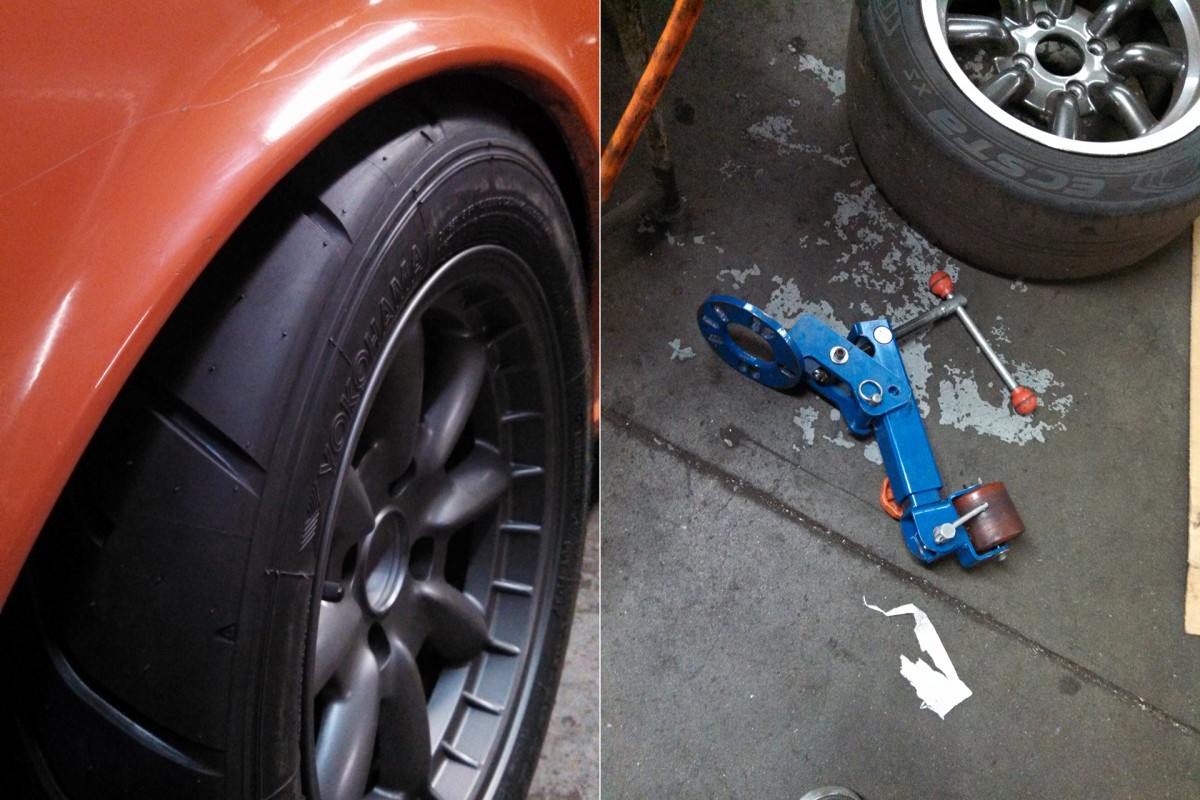 Once everything else was fixed it was time to roll the fenders. The new wheel and tire combo fit just perfectly, but it would rub if the suspension compressed all the way.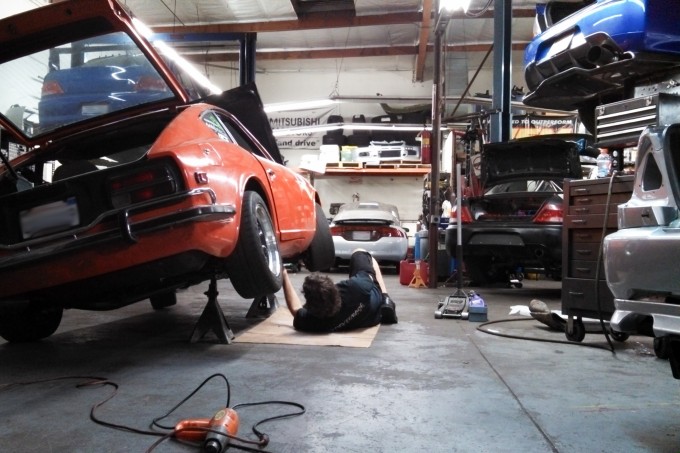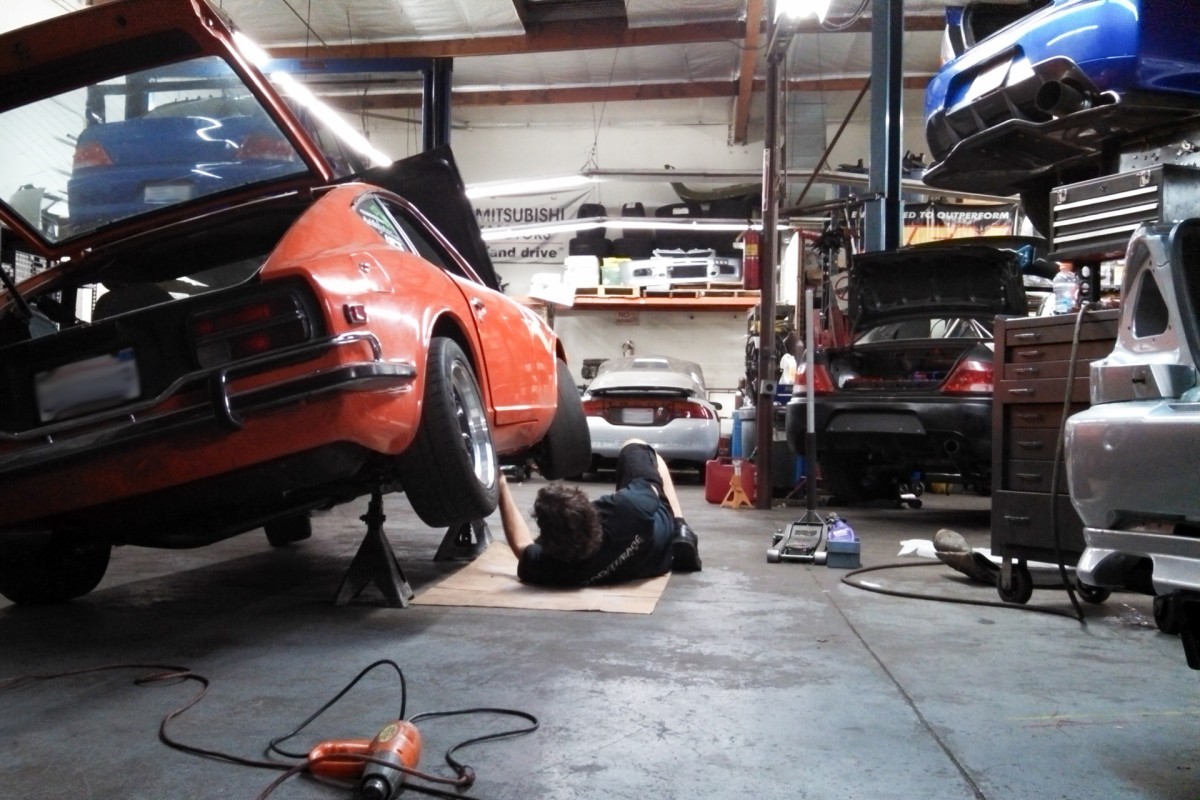 While the car was at Road Race Engineering, I asked them for a little help with my passenger side floor pan. You see, one night I was racing some guy in a red RX-7 and I had my laptop on my seat. It flashed a warning sign: "Danger to manifold" but I told it to shut up and closed the lid. Well I shouldn't have done that because my floor pan just fell off.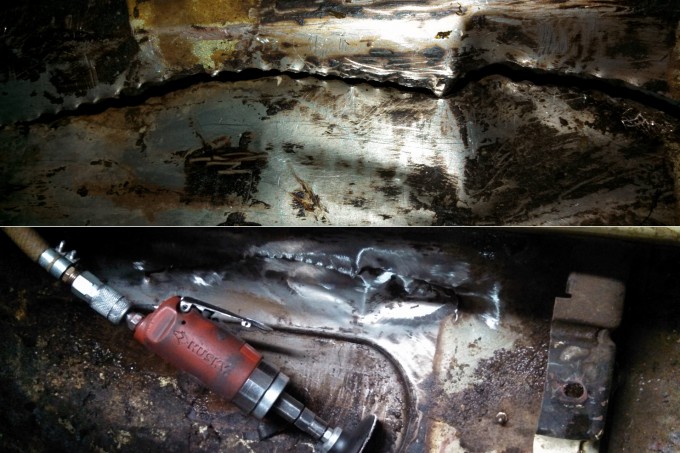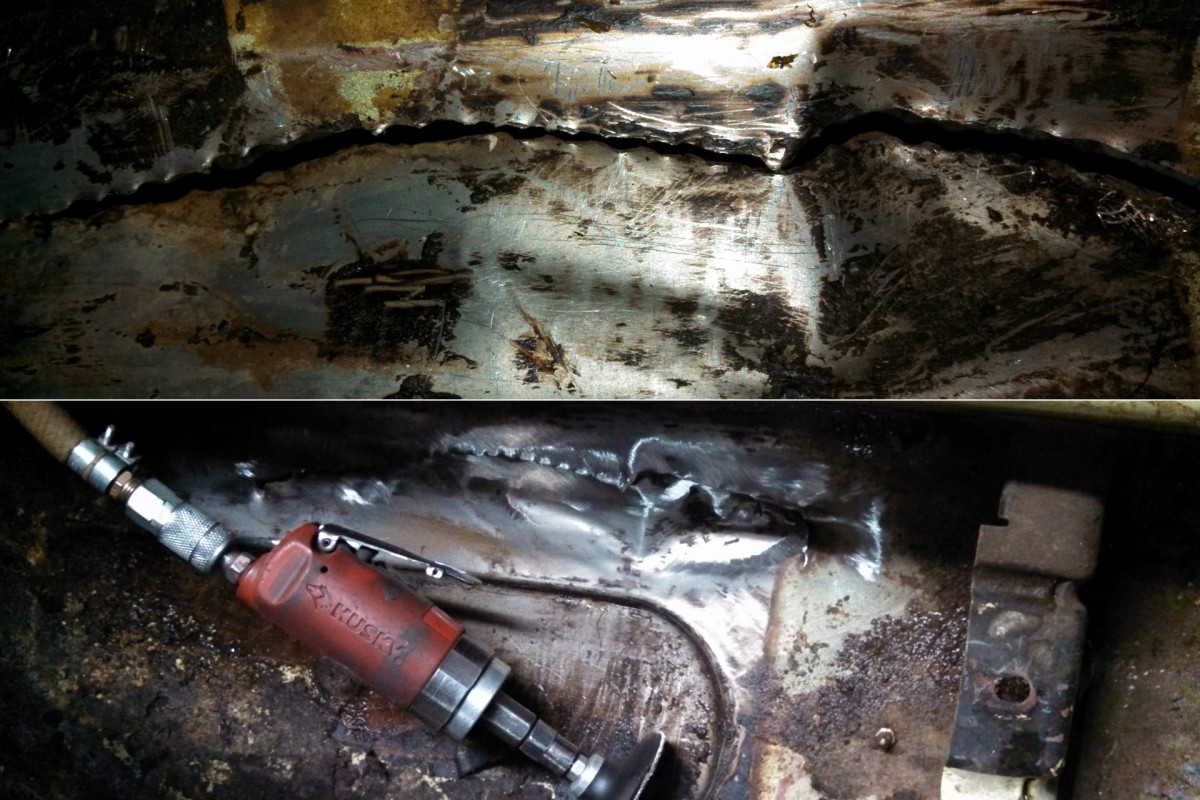 Forgive the poor quality photos, as most of these were shot on a cell phone, but you can see the damage was pretty bad.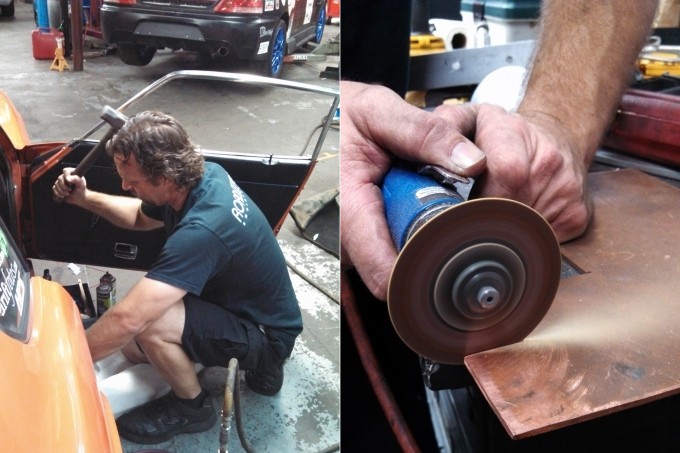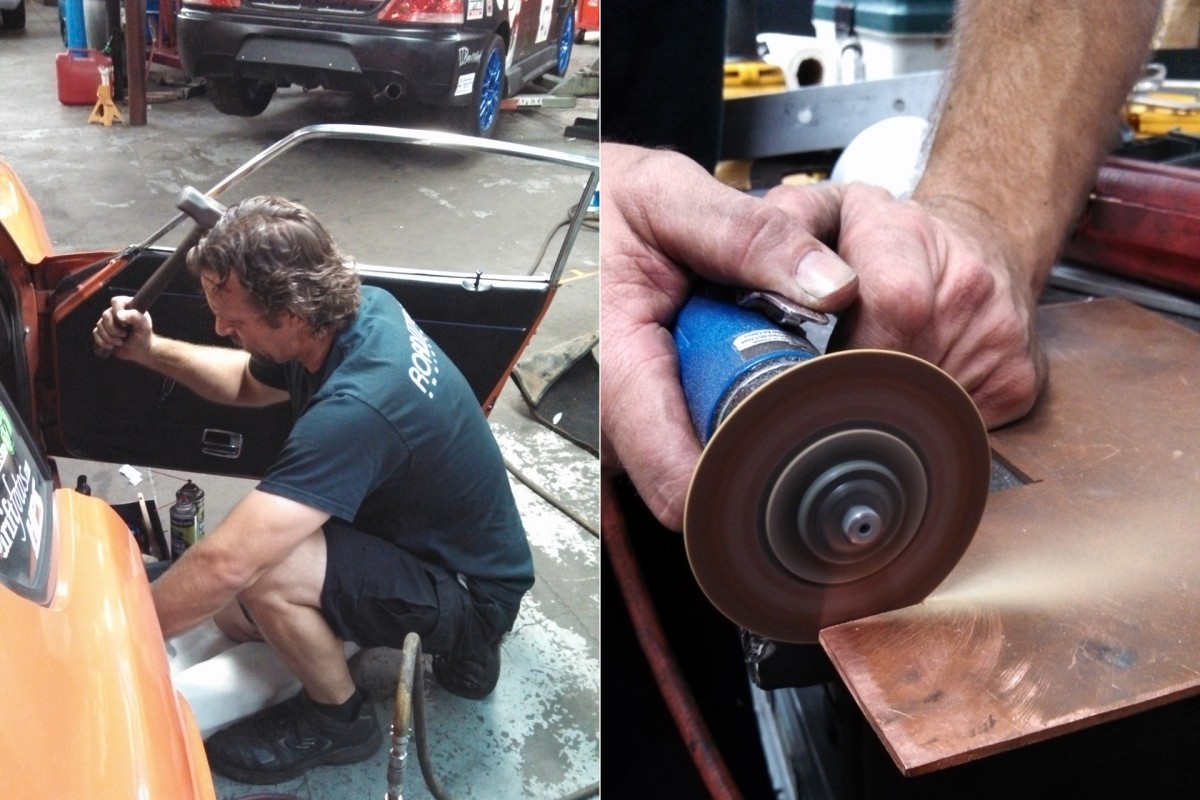 You know it's going to be a long night when it involves a large hammer. Matt's fabrication and metal working skills are second to none.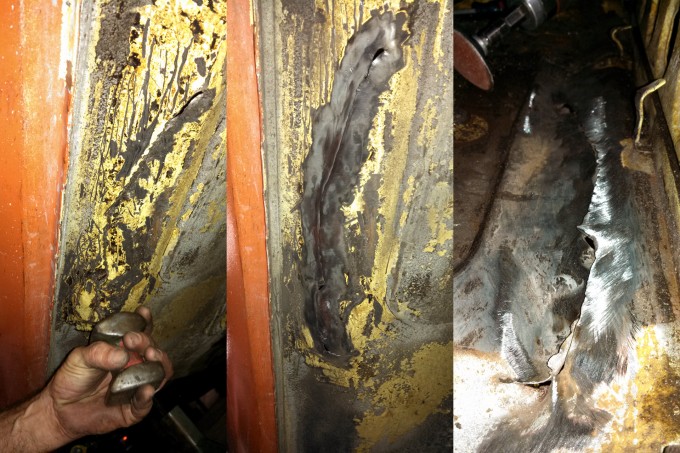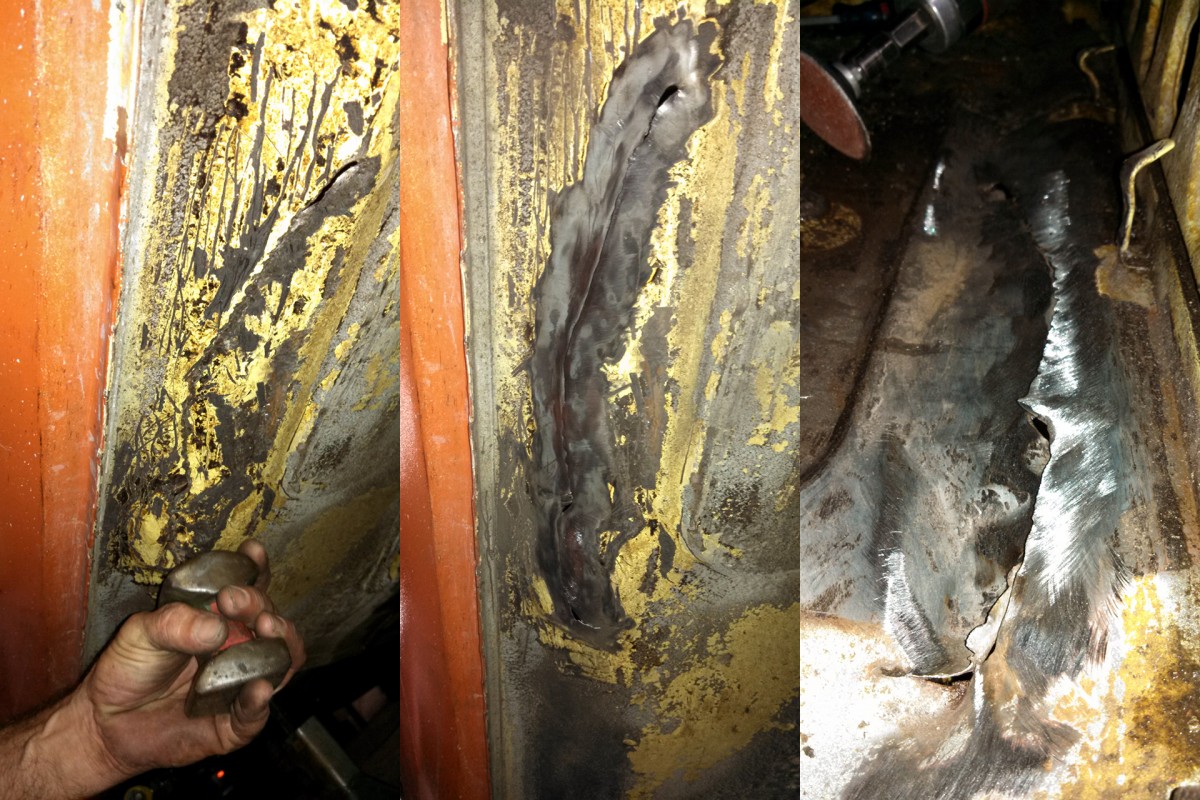 Within a few hours the floor pan was banged straight again and ready to be stitched together.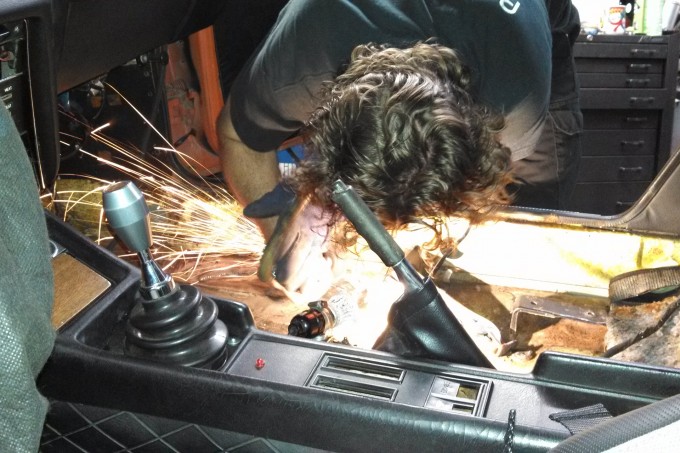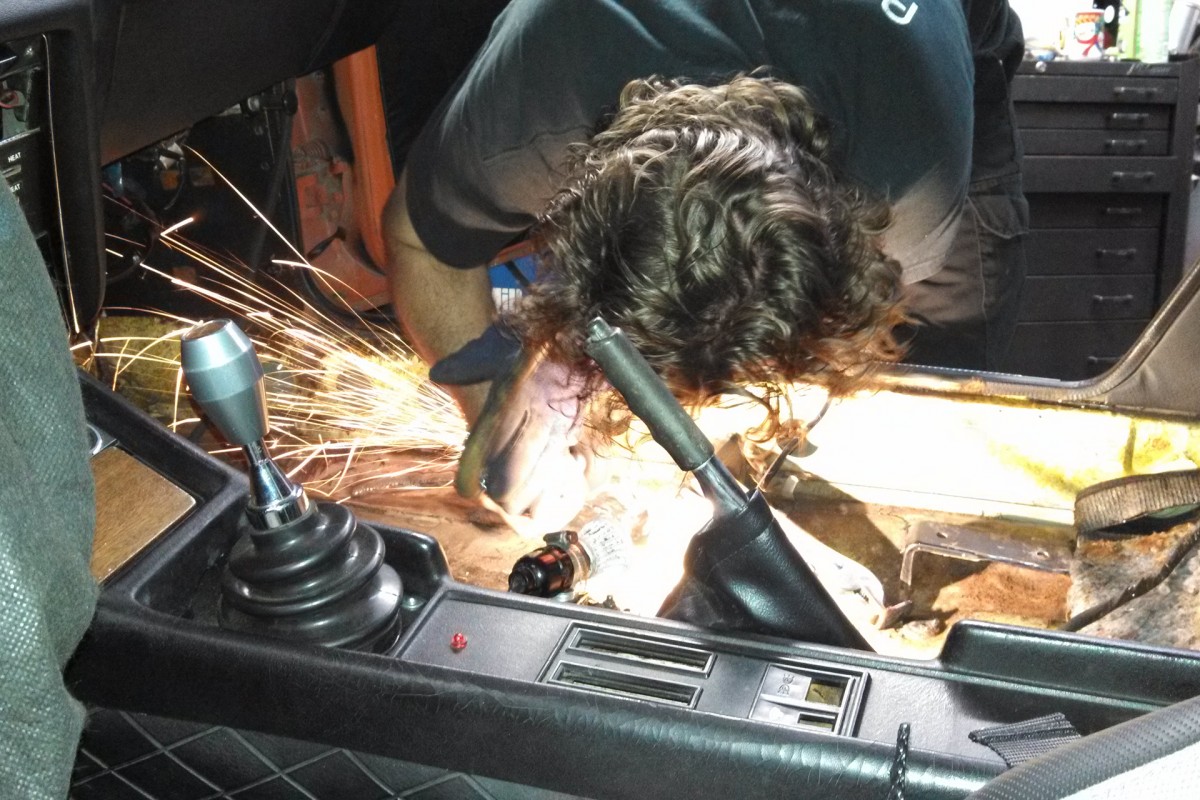 Little by little he carefully welded the gash together.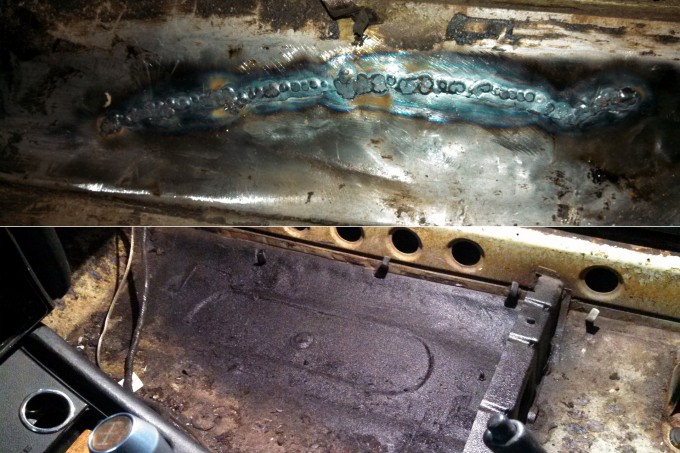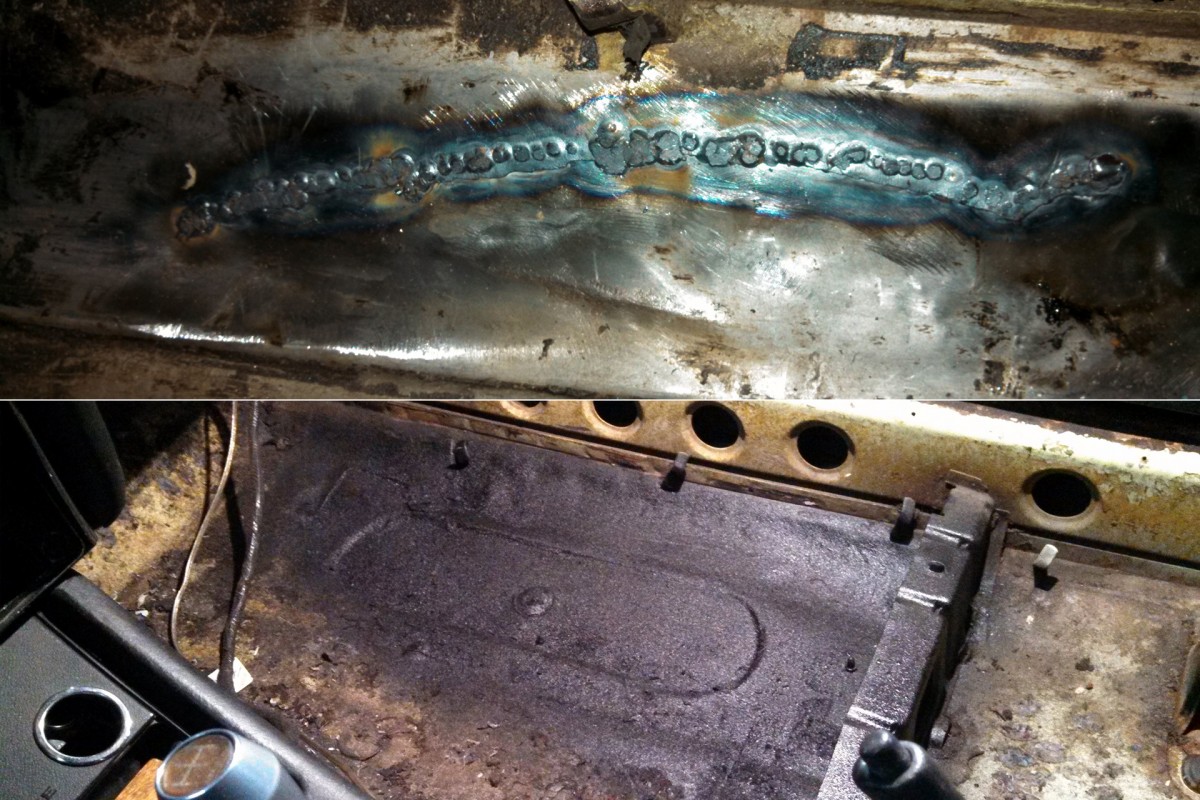 Now it looks as good as new. It's amazing, because it looks like nothing ever happened.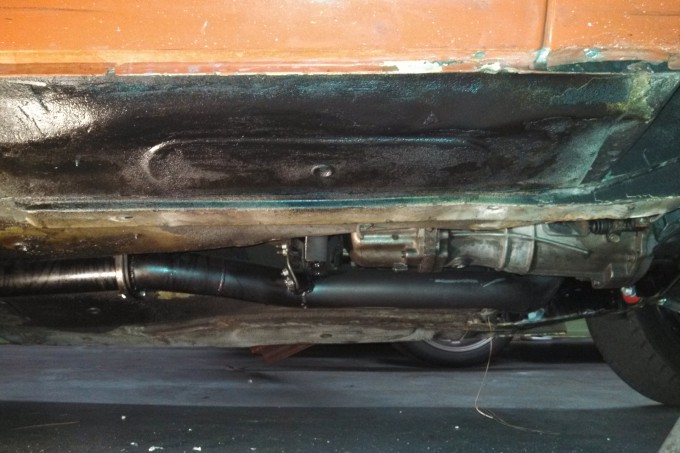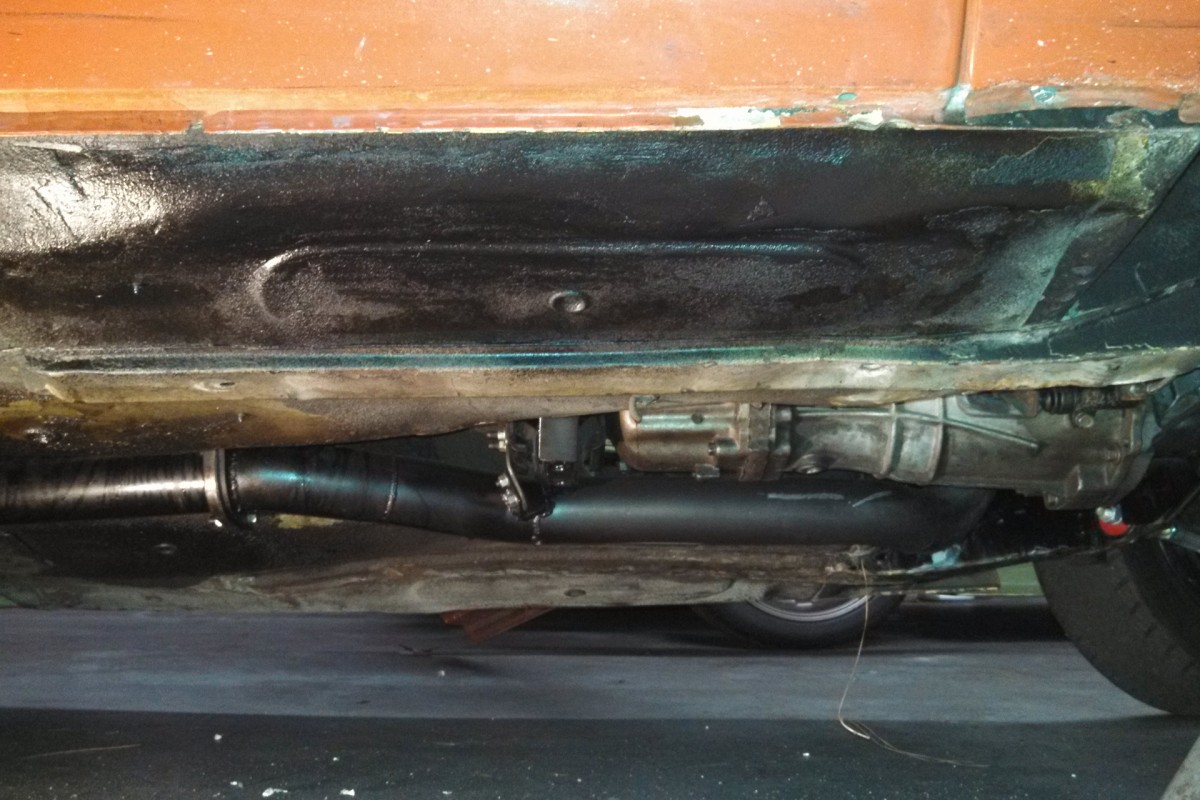 I learned a hard lesson that night: you can win by an inch or a mile – winning is winning. Then it was finally time to do the corner weight measurements – the front of the car has 49.2% of the weight and the rear has 50.8% which is pretty close to 50/50 for such a modified car. These measurements were taken with me inside of the car. In fact, the side to side ratio, also with me in it was also 49.2% passenger side and 50.8% driver side.
All Star Bash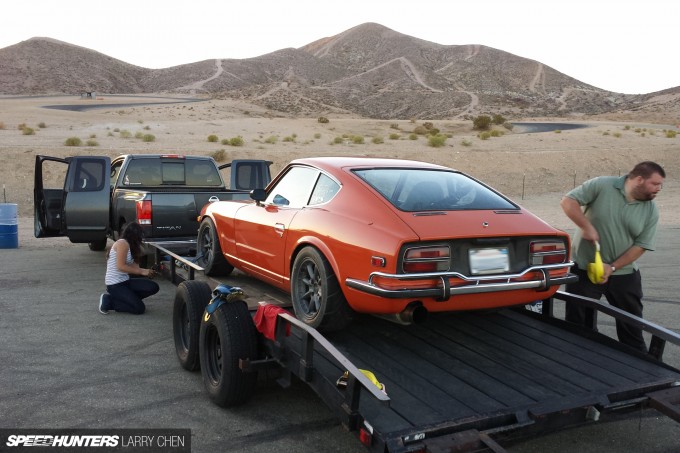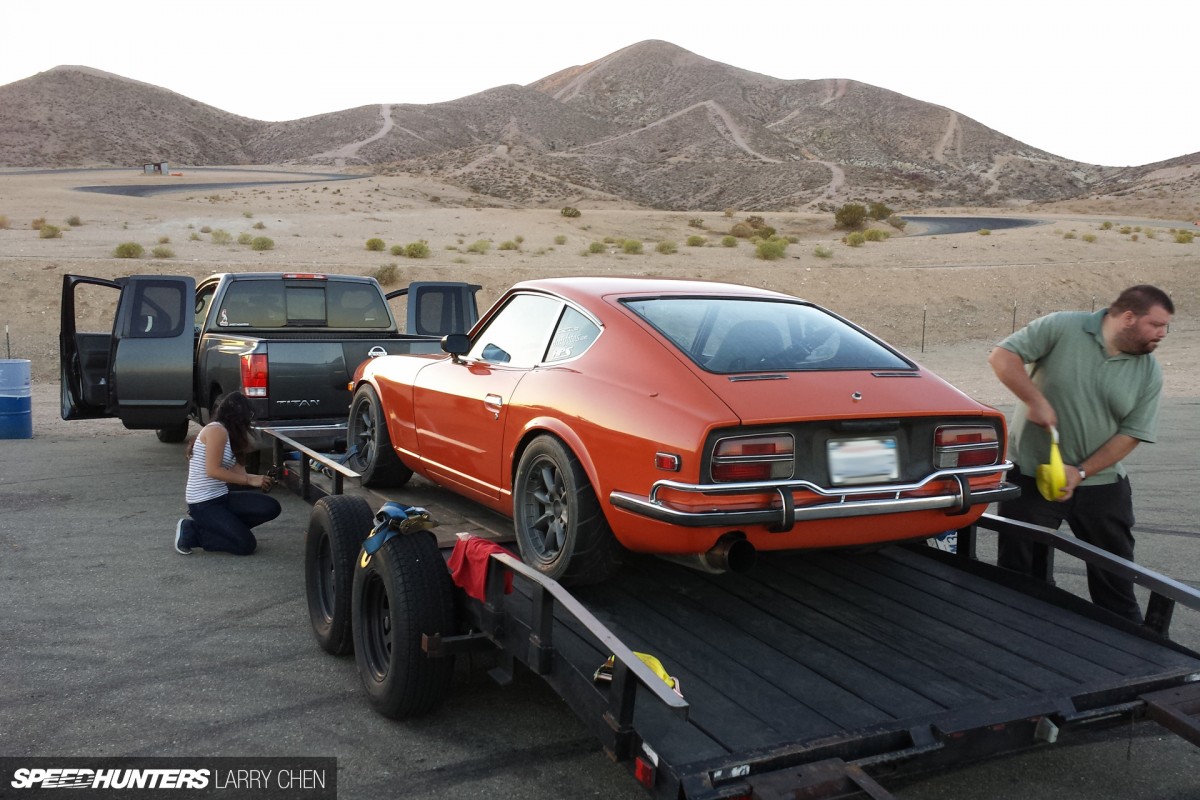 On the morning of All Star Bash 13 we headed out to Willow Springs International Raceway. I knew the car would make it there, but since it was such a new build, I had a feeling that I would break something, so I played it safe and trailered it there.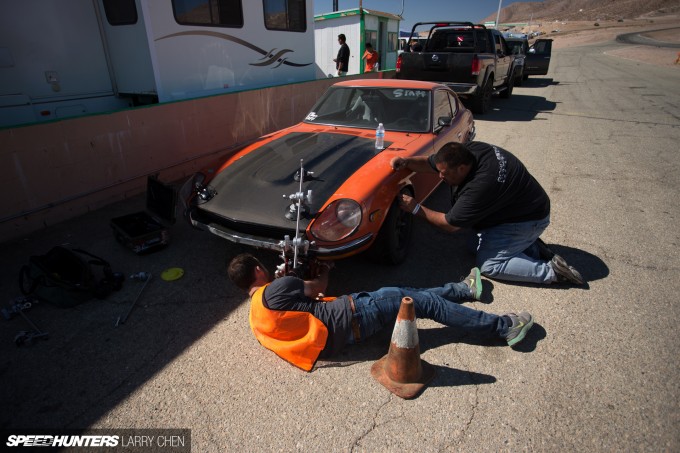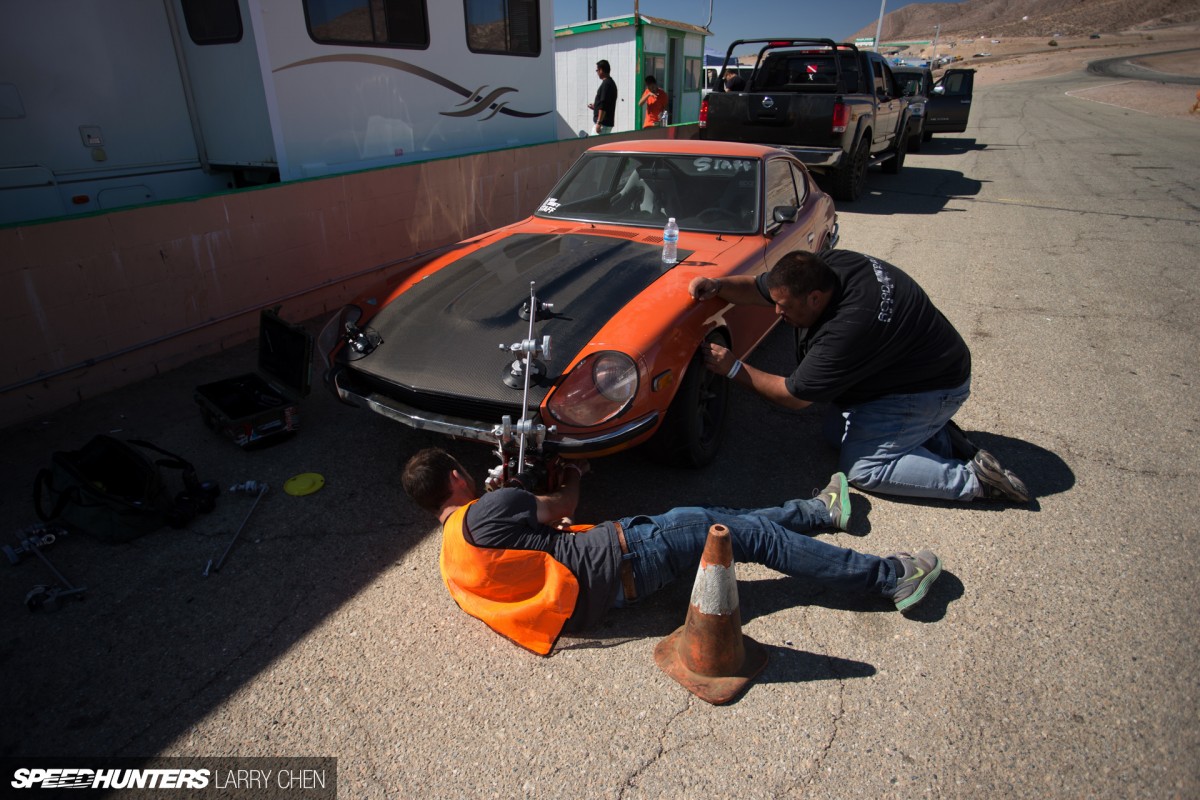 I did not waste any time and I immediately teamed up with Will Roegge, from Keep Drifting Fun. He mounted a camera to shoot video and I mounted my camera to shoot stills. He also connected up a monitor on the inside of the car so he could see what kind of shots we were getting on the fly.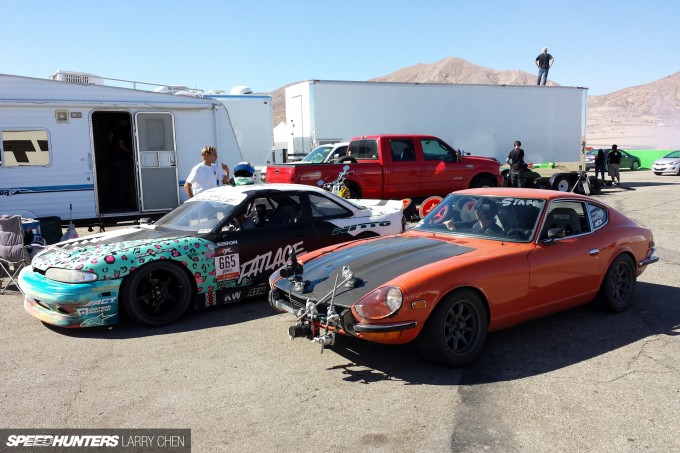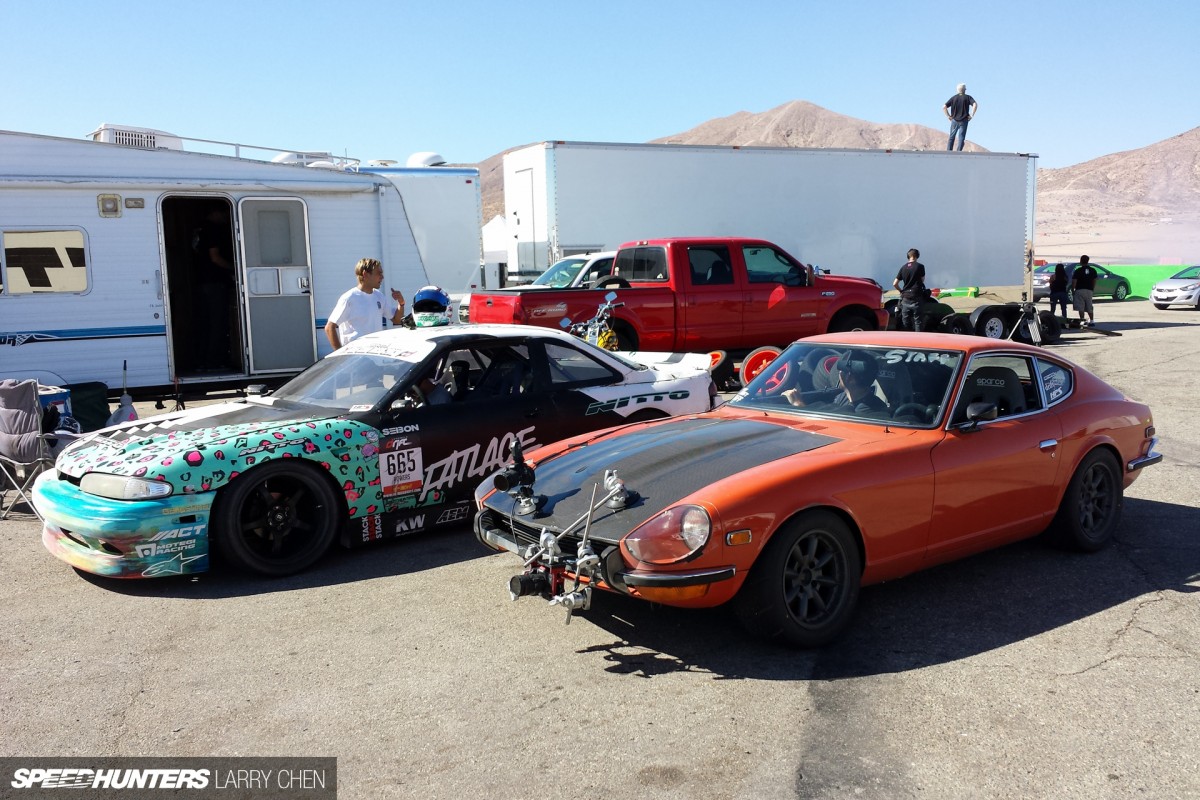 Our first victim was Matt Powers in his LS3 powered Pirate Ship. This was the very car he used to earn two podiums back in 2011. I figured his car would be much faster than mine with around 450hp and I figured there was no chance in hell I could keep up with him. I was wrong, we were neck and neck on the front straight going into the first corner at around 100mph. You can check out the teaser here.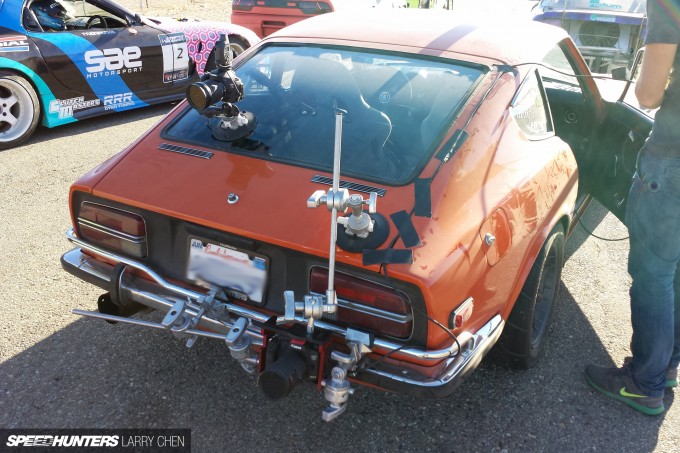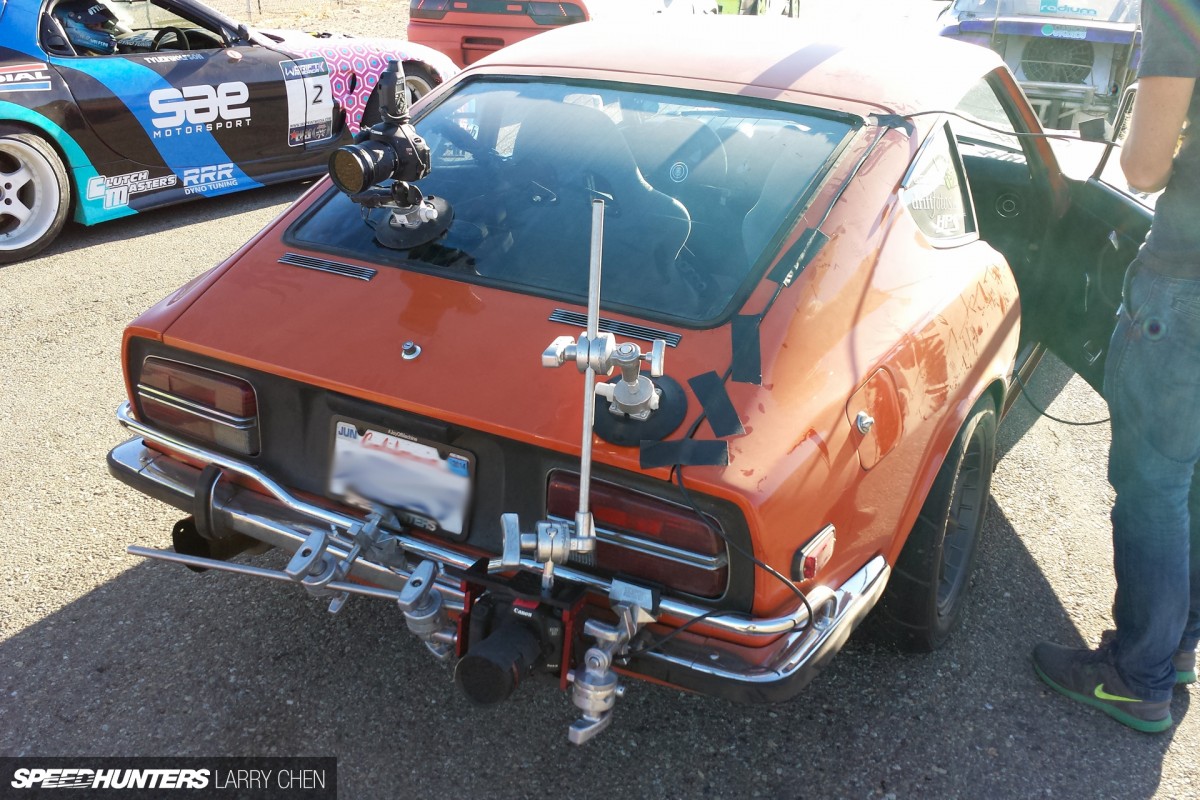 I was amazed at how steady the shots were coming out, I figured Ole Orange Bang would be a great camera car, but this stuff was magical. I will be posting more video and stills in my full All Star Bash coverage.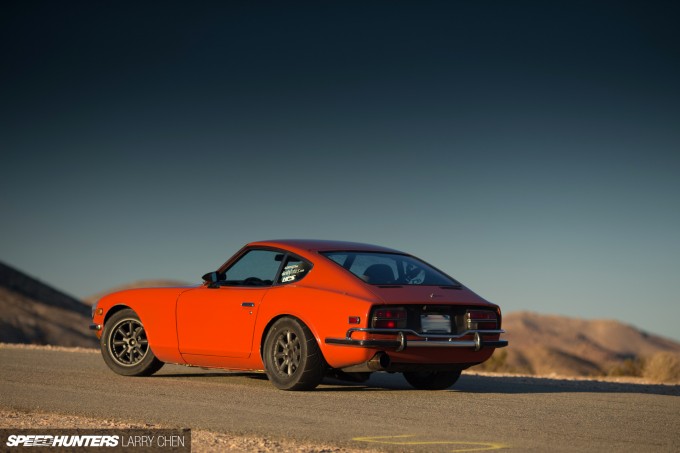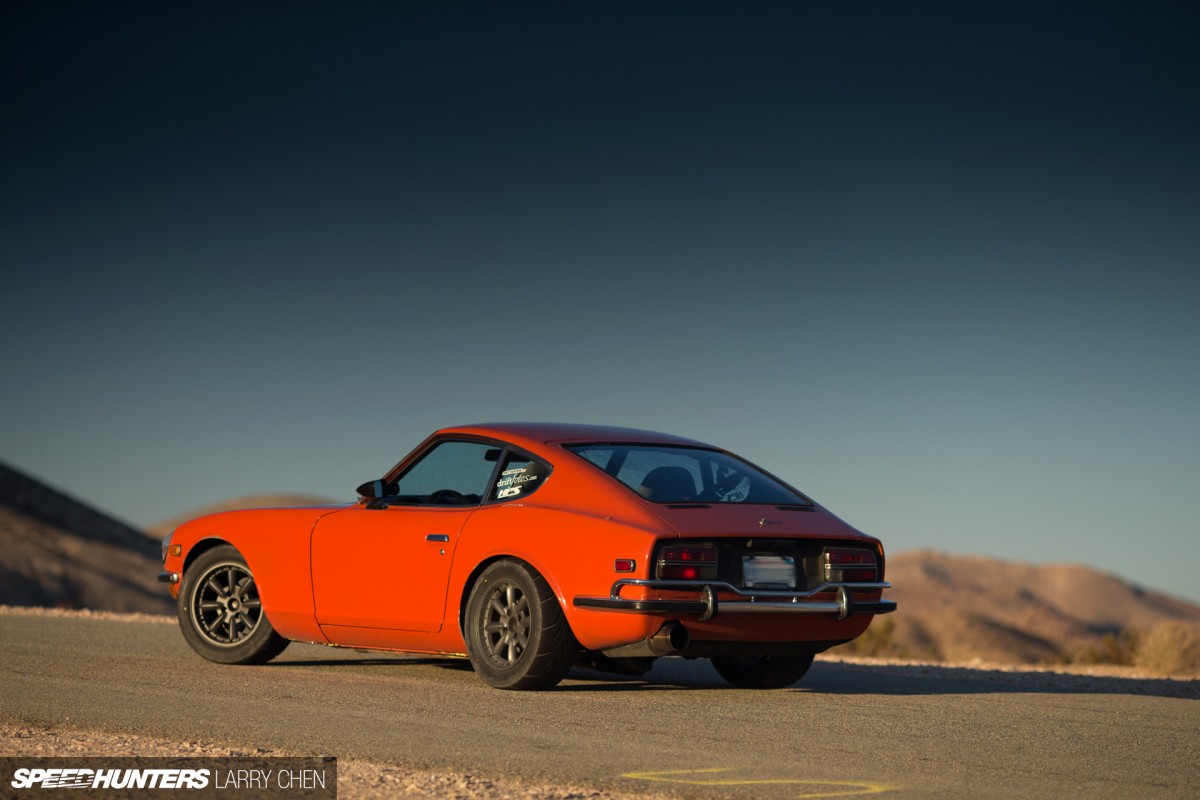 I think with the help of my friends, we have finally created a modern sports car with classic looks. The best part is that it was super reliable. I chased professional and amatuer drifters for over eight hours and nothing broke. This is the perfect sports car for me: it's lightweight, it has decent power (300hp), and it handles like nothing that I have ever driven.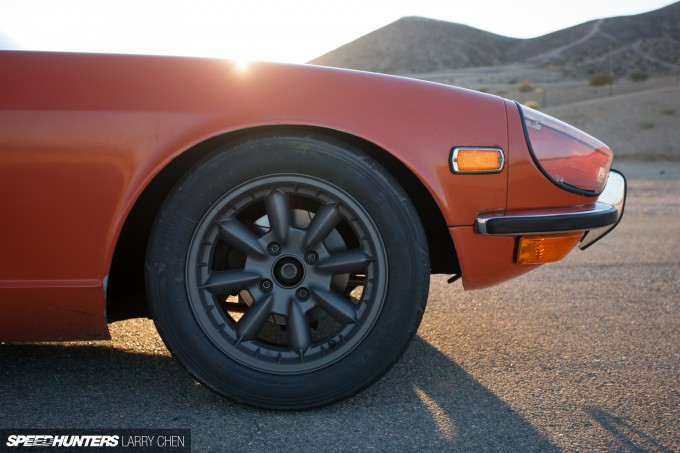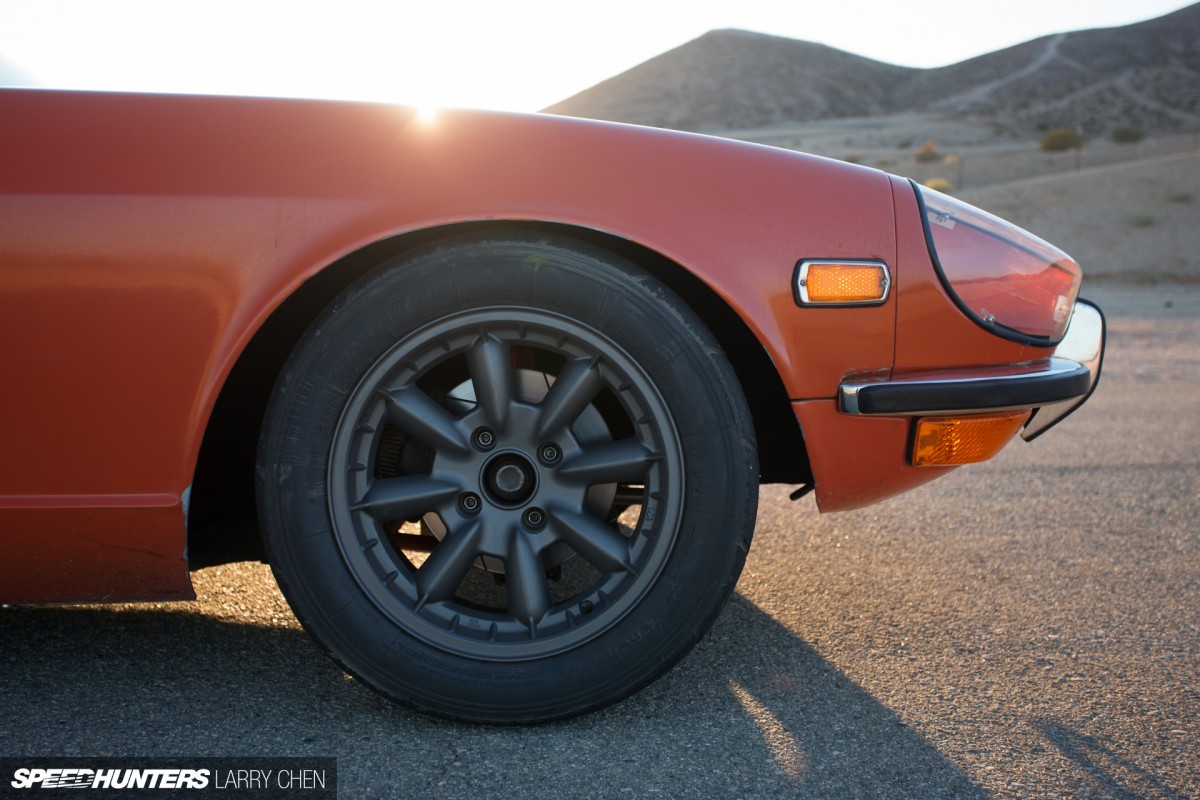 The Enkei Compe wheels drew lots of attention in the paddock. They assumed that I imported them from Japan, but when I told them they were made by Enkei, it blew their minds.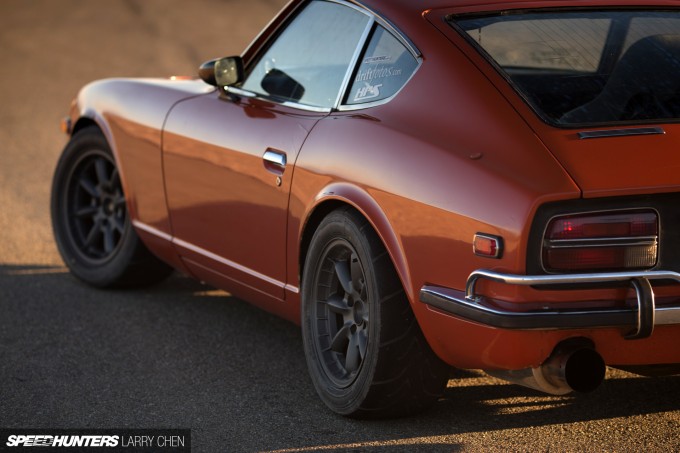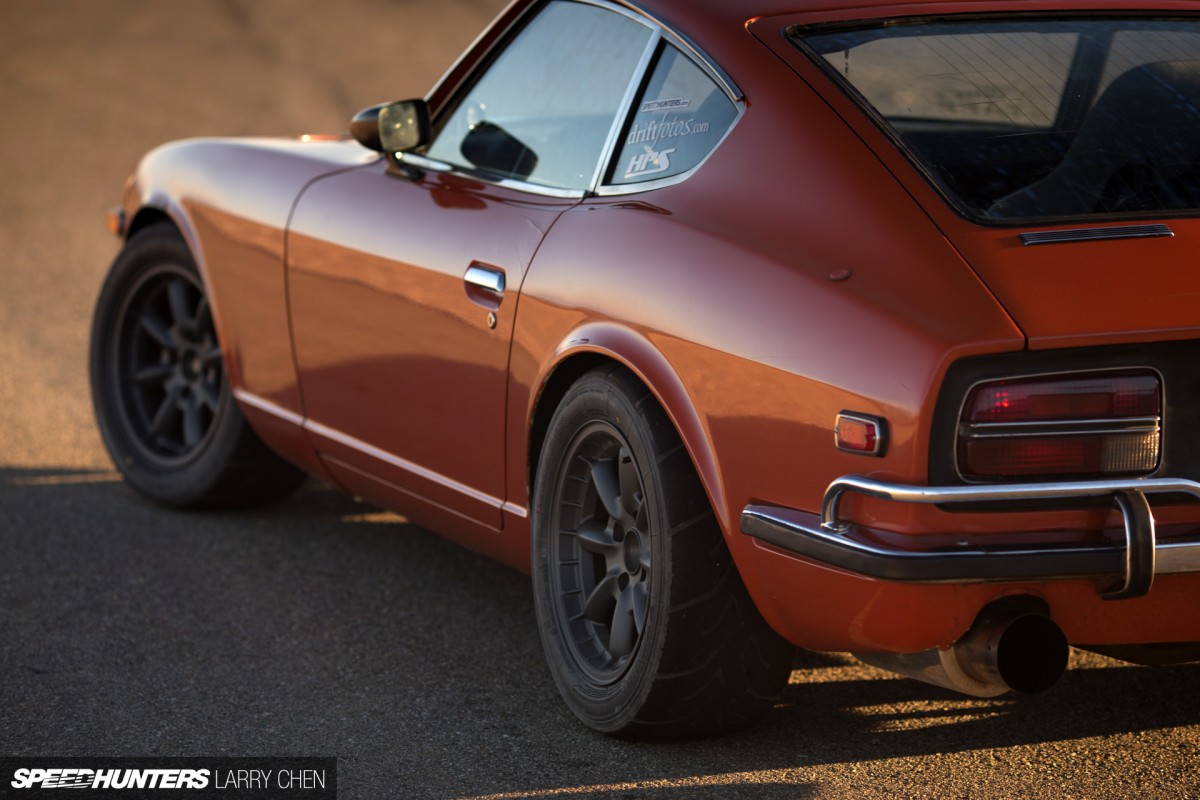 The fitment was perfect, because those 225/50/15 Advan A048 tires are pretty much the widest tires I can go without running over fenders. Although I was merely looking for maximum grip, I'm glad that it looks great as well.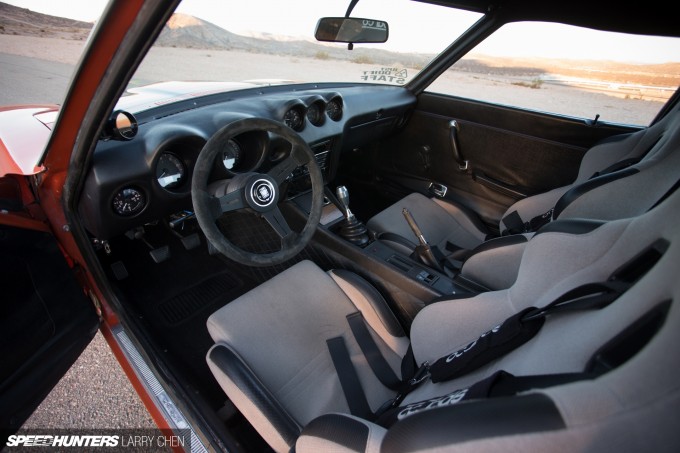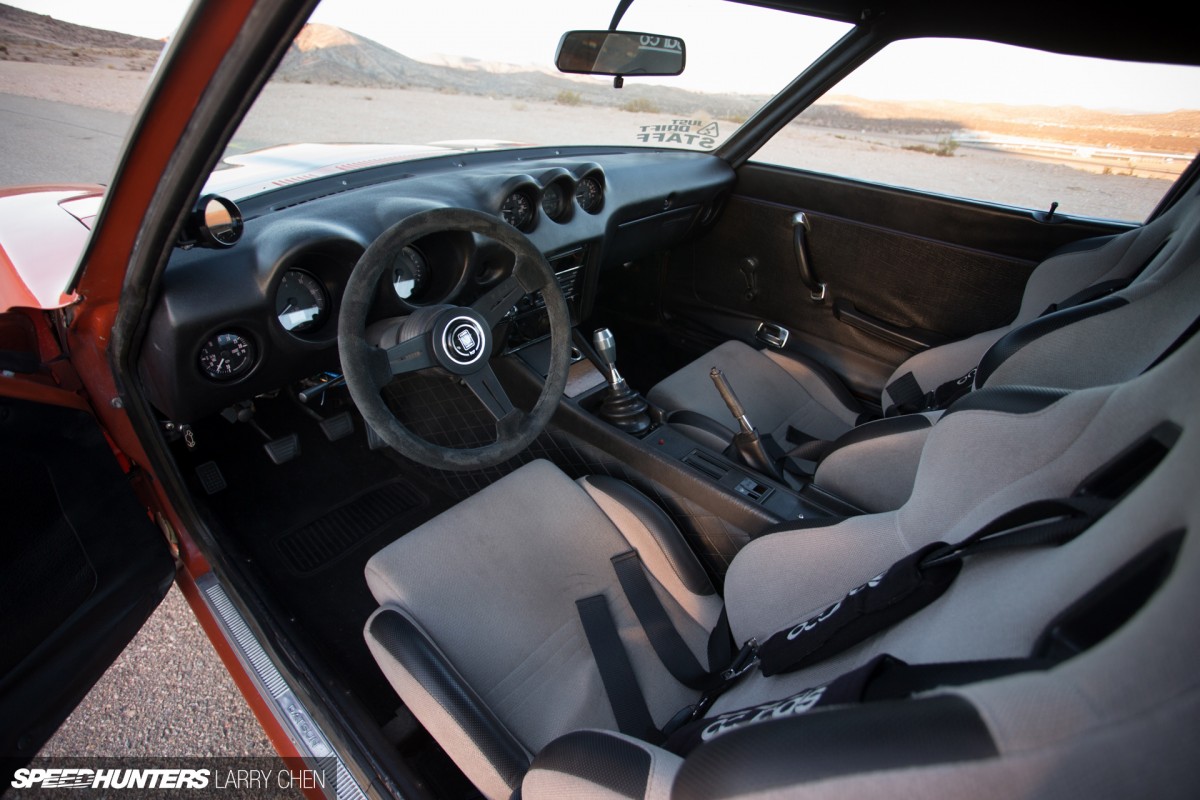 The interior was largely the same as before. It's crazy to think that this car is so lightweight and it still has full interior.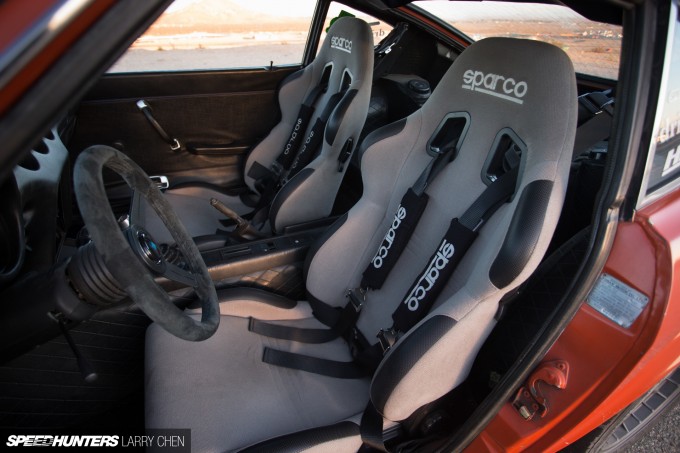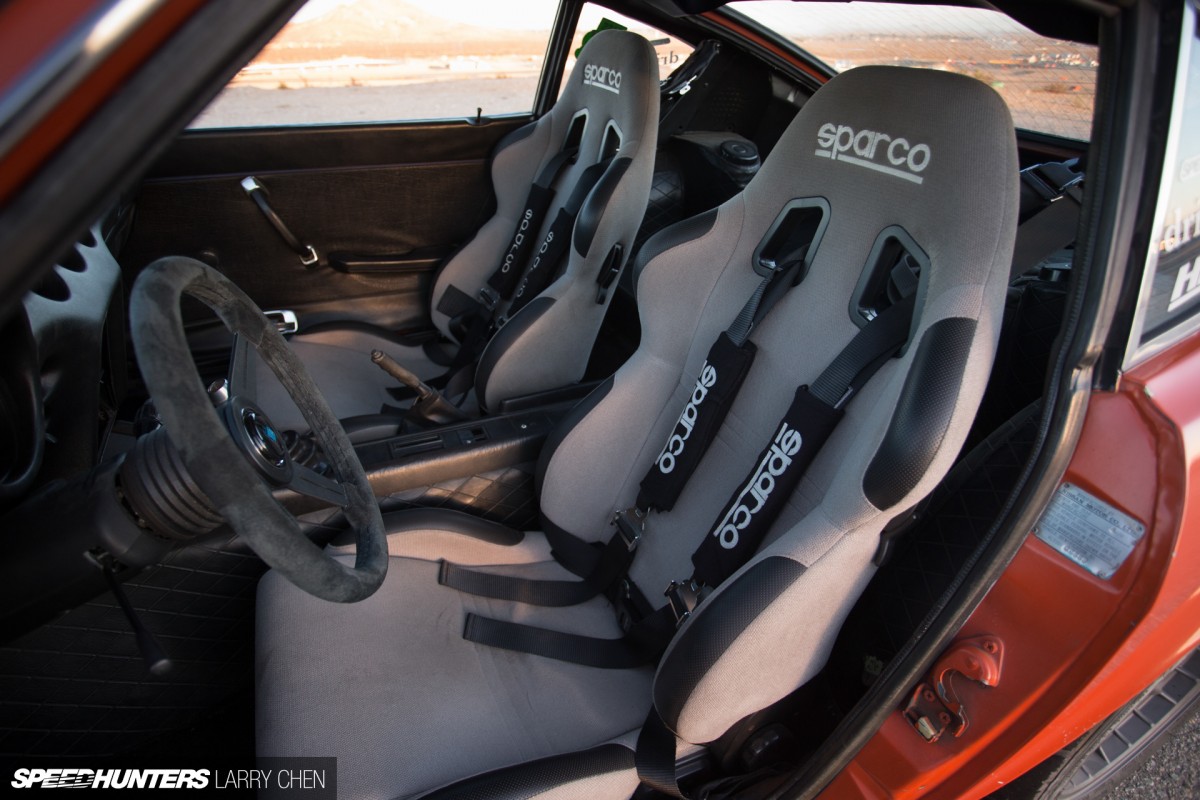 There are still quite a few pounds that I could shed if I replaced the reclinable seats with some nice carbon fiber one piece units. Maybe that will be my next project.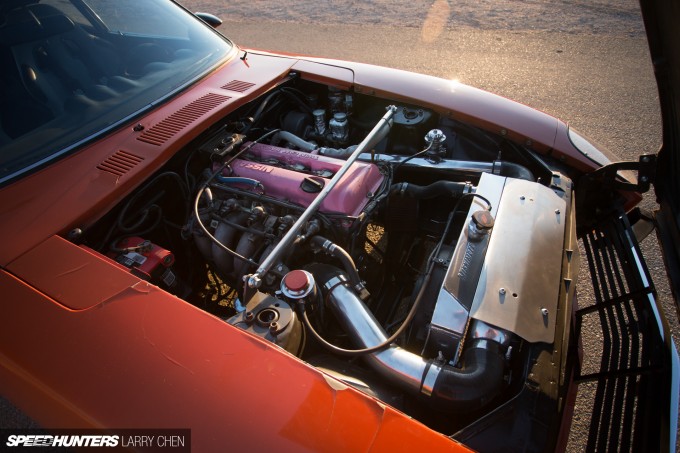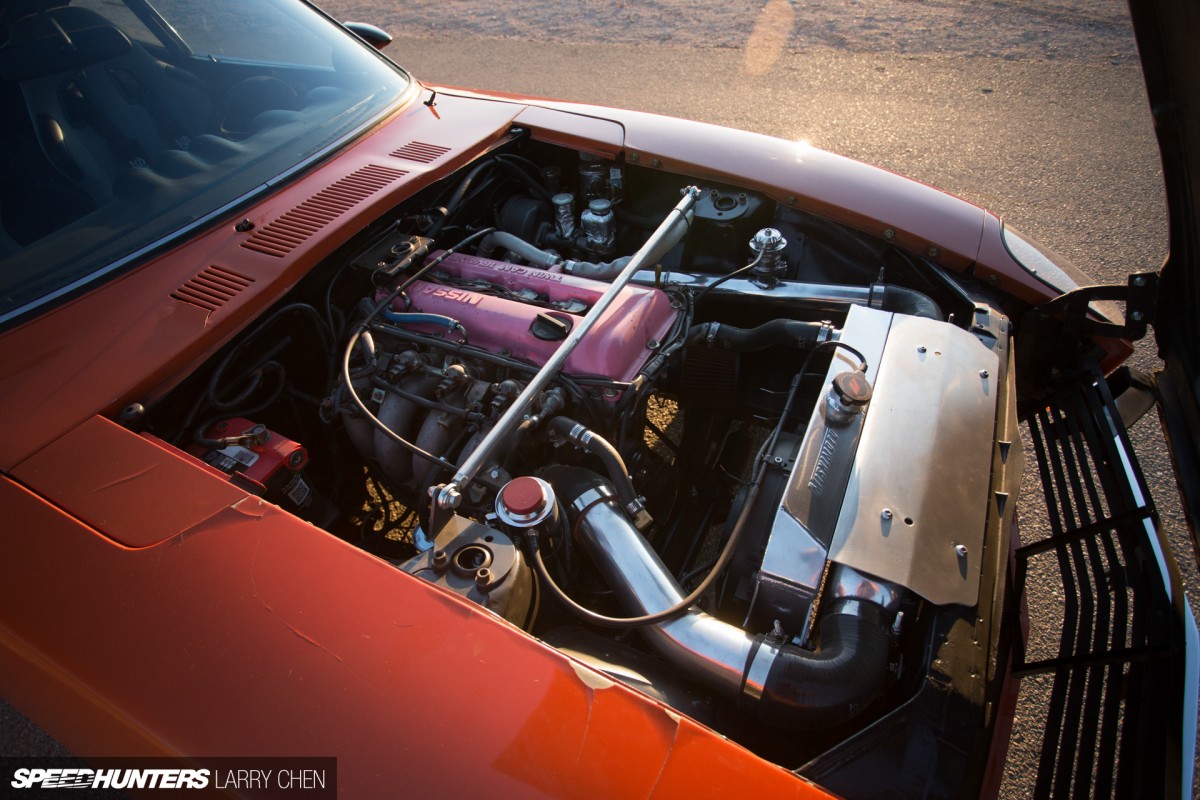 The black top SR20DET ran very strong all weekend and it made more than enough power with a T28 turbo to keep up with the big bad V8s. My new cooling system also worked wonders, with my temps hovering around 190 degrees fahrenheit (87.7 celsius) while on track.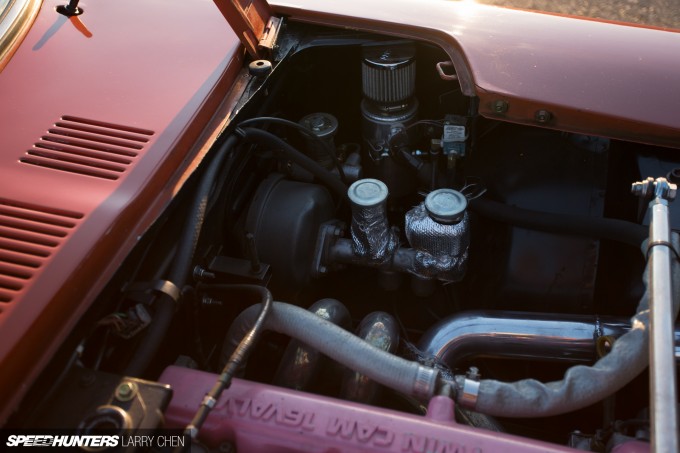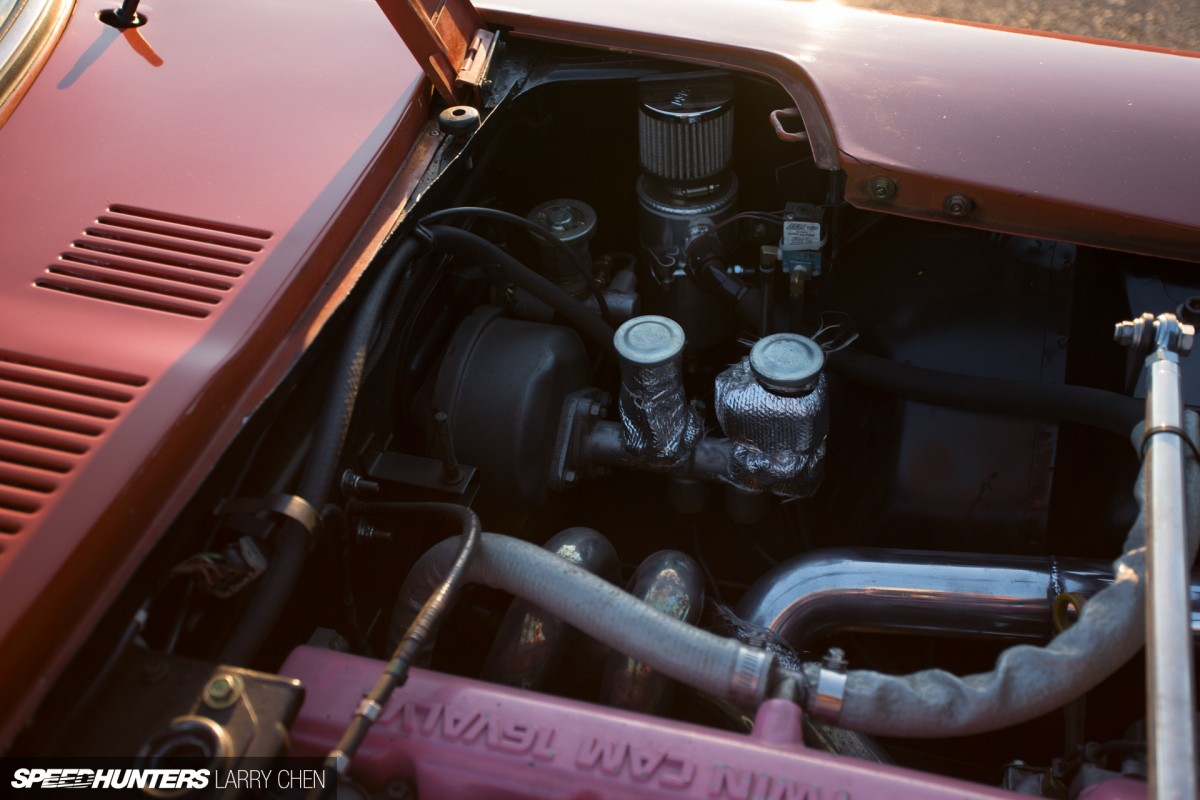 I also need to install a few heat shields in the engine bay just in case. All of these little things will come in due time. I guess that's the beauty of having a project car.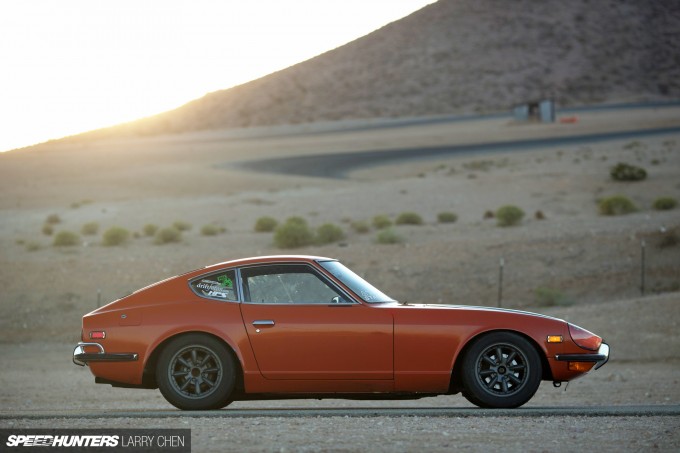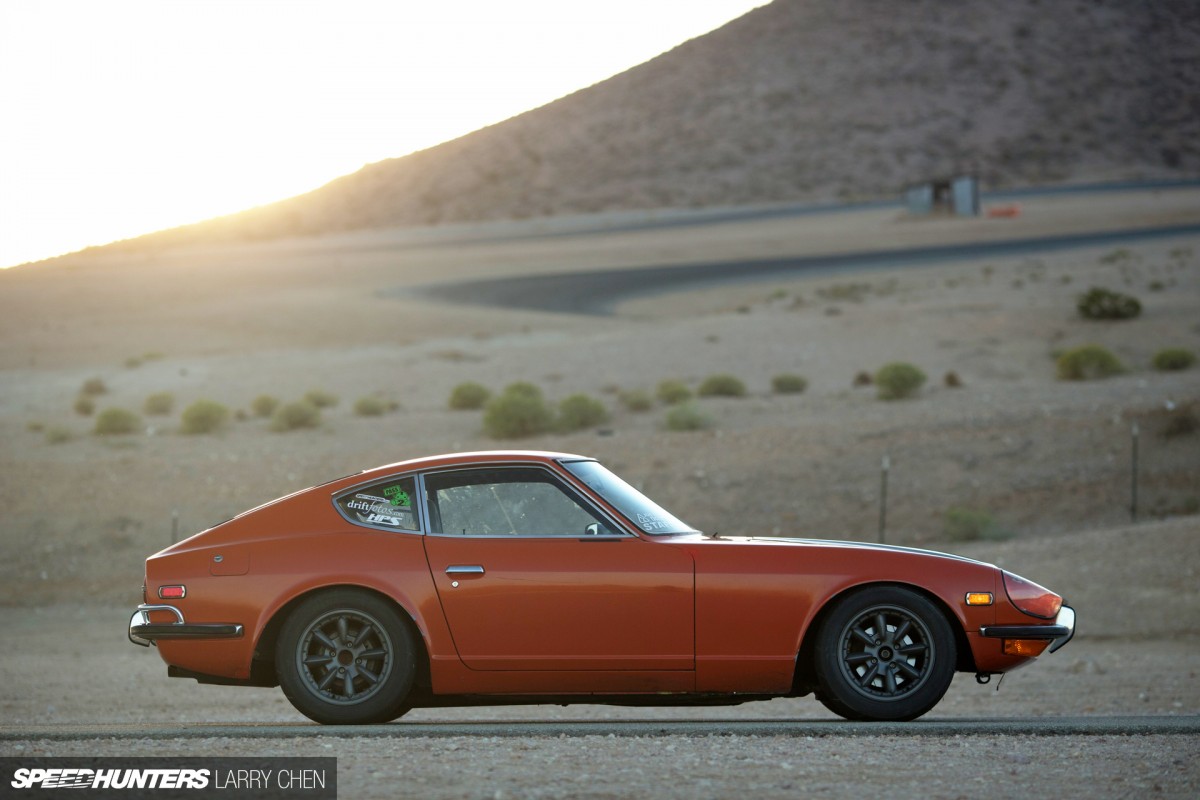 The 240z was groundbreaking when it first came out 43 years ago. I think this modernized version is very close to being the perfect sports car. Some people may say that I hacked the car and that I've ruined it forever. I my opinion, I just wanted to keep Ole Orange Bang on the road for as long as possible, and the fact that I can chase drift cars all day or drive at a open track day and still go pick up groceries afterwards makes it just that much cooler.