I Want To See More Of This
What is it that grabs your attention? In my continuous hunt of cool and innovative cars to feature here in Japan, this is something that has always changed. Like styles, fads and general fashion, there is a lot that can make you notice a car. But one thing that I've always craved to see more of in this country, is attention to detail. This is something I see plenty of in Japan's hot rod and custom scenes, but when it comes to JDM sports cars built for any discipline, it's always lacking.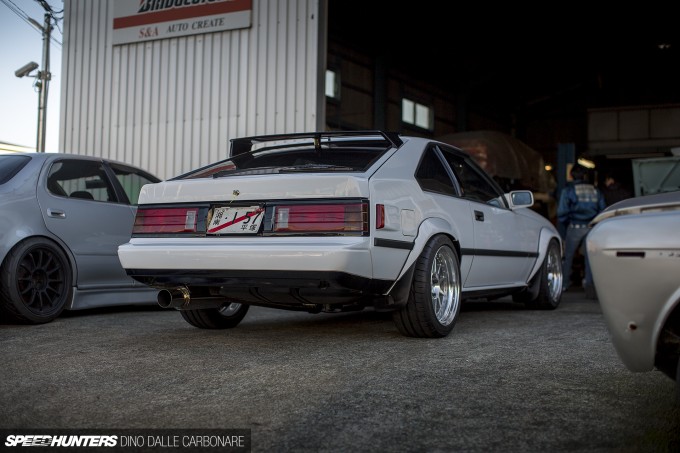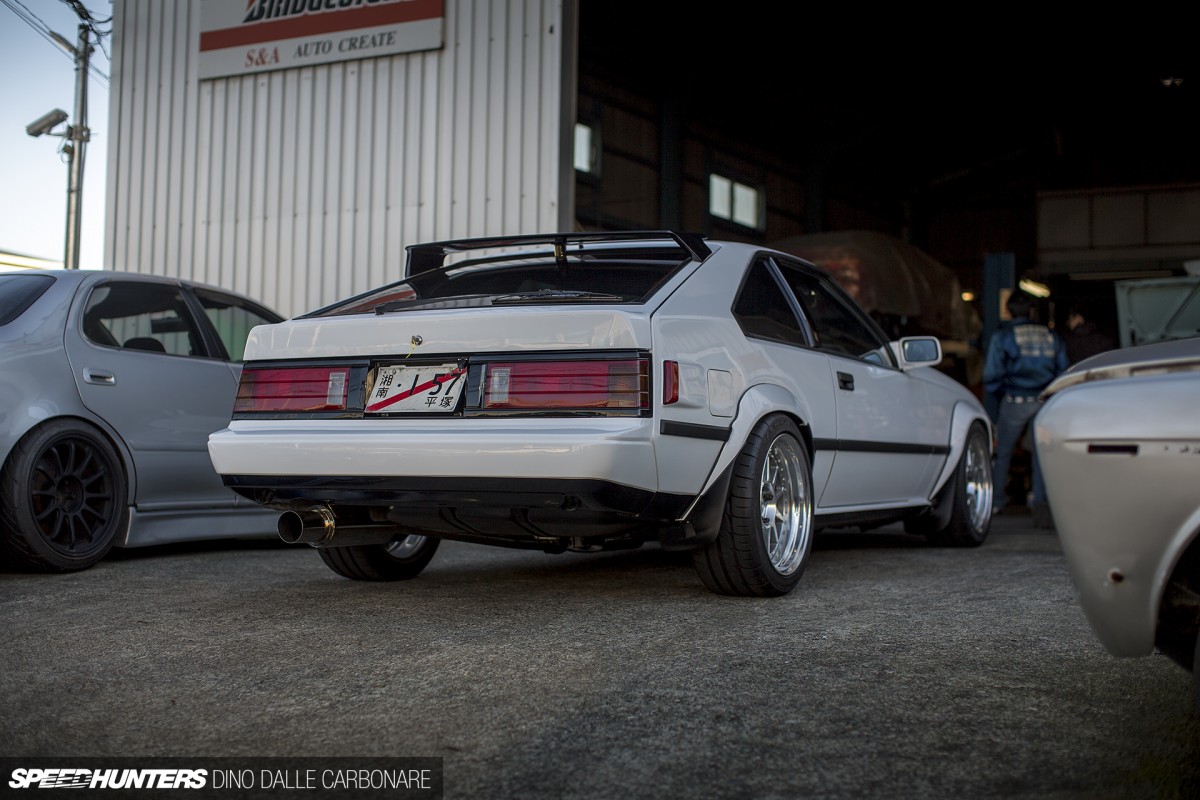 But thanks to guys like Satoshi Nakatogawa, that may have started to change. Satoshi runs S&A Auto-Create, and he and his team are the guys responsible for some of the coolest engine bays I've seen at shows like Offset Kings and StanceNation this year. Shaving bays and tucking wires is nothing new in most developed car cultures around the world, but it is here in Japan where aesthetics have never really had as much importance placed on them. I'm totally for function over pretty much anything else form related, but as time goes by I'm personally beginning to appreciate the fusion of these two schools of thought. As long as function is held as the most important factor, what's the problem with making other areas of a car more pleasing to the eye?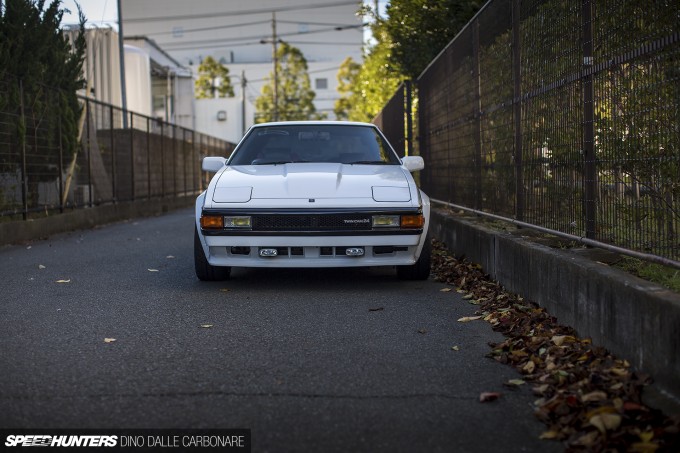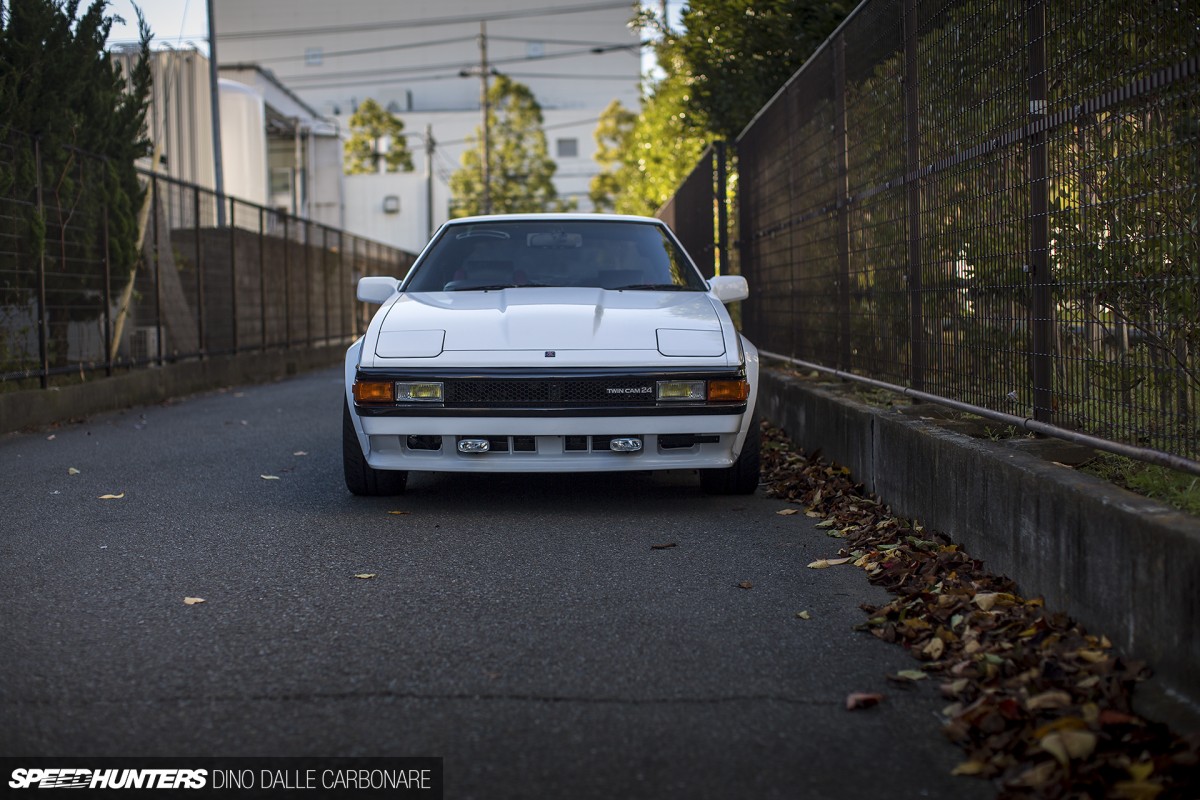 So I took it upon myself to stop by Satoshi's garage in Kanazawa and have a chat to him about his style and how he's come to take this path over the usual bolt-on JDM approach to tuning. I'll dive into more detail about this when I give you a tour of S&A Auto-Create, because right now I want to concentrate on a build the shop has just completed.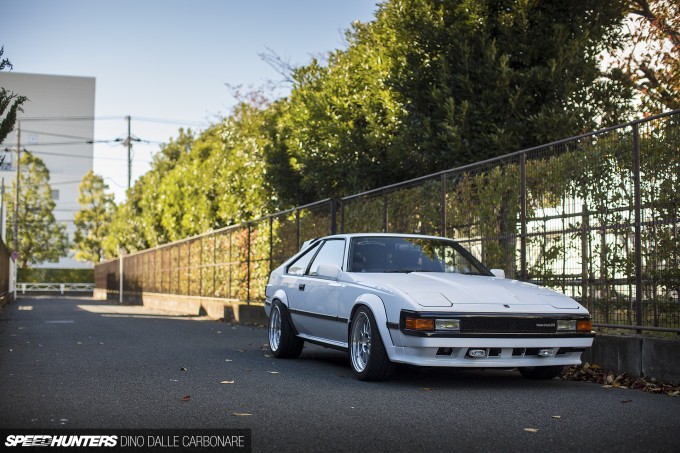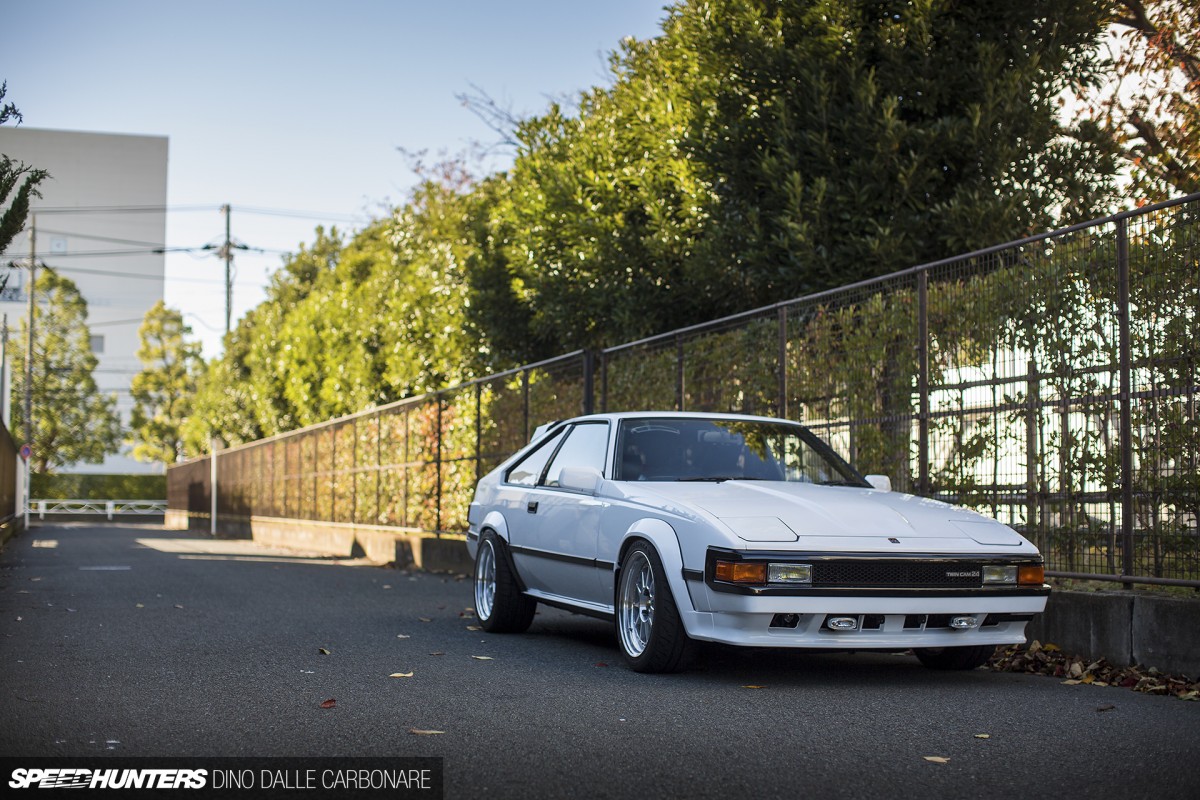 Call it the perfect example of the point I'm trying to make. It's an older Japanese car which its owner has possessed for a long time, and because he's not planning on getting rid of it any time soon, numerous modifications have been made to improve the way it drives and looks, all the while retaining its '80s visual appeal.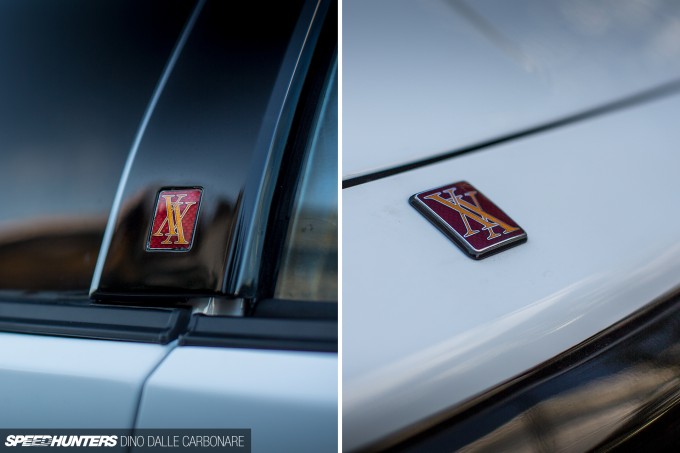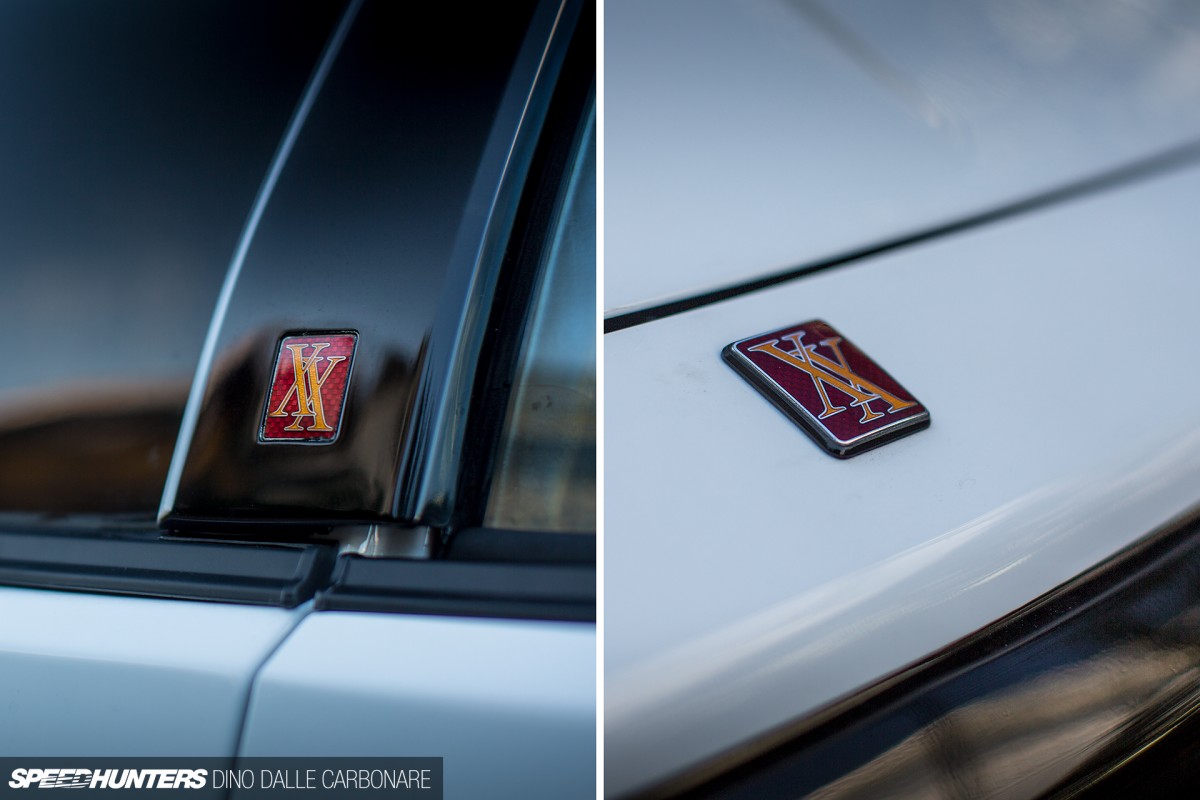 The car in question is a 1984 GA61 Toyota Celica XX, or to the rest of the world, a MkII Supra. It's just been through a complete refresh, which on top of a pure white paint job extended to the fitting of USDM fender flares.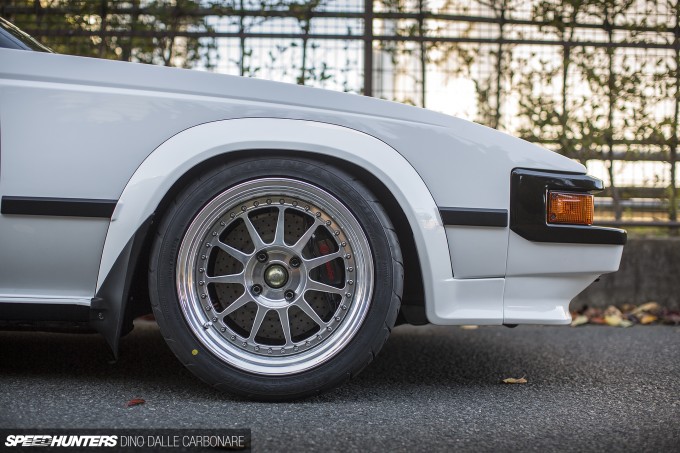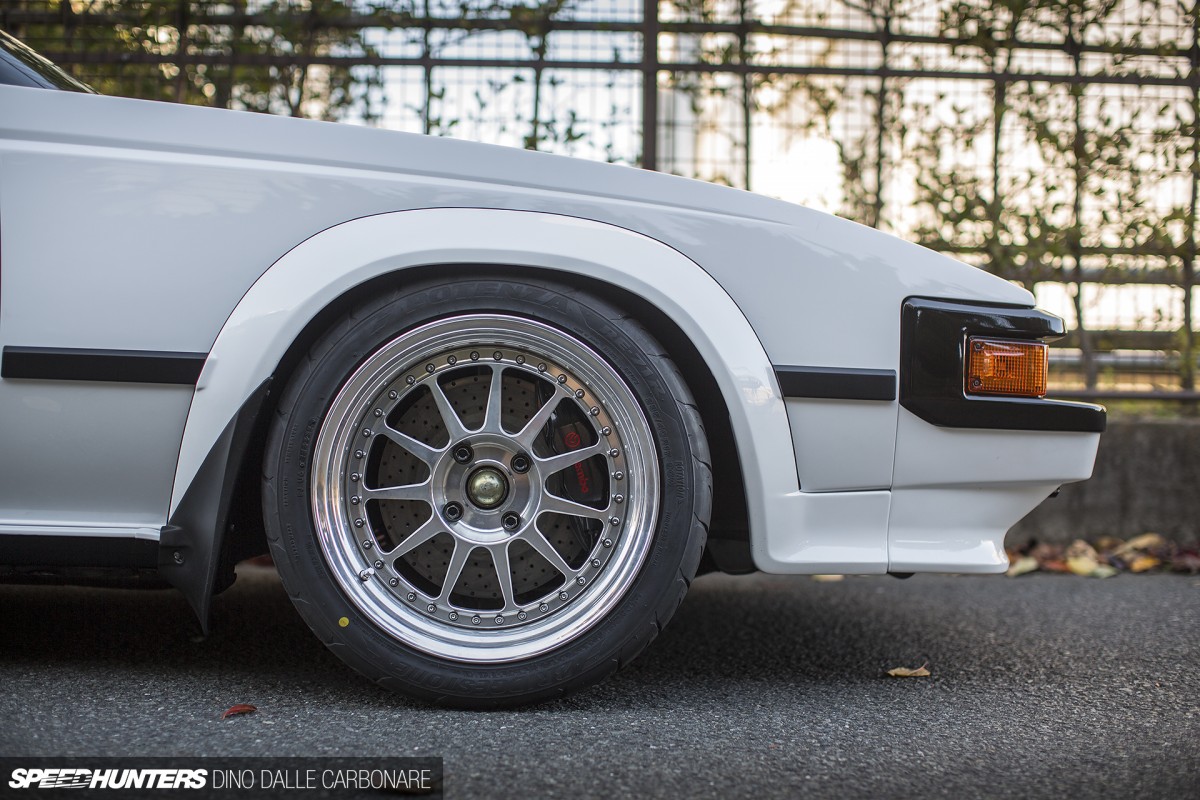 It's looks as new as the day it rolled out of the Toyota factory more than 30 years ago, and that's all thanks to an uncompromising attention to detail – and a bunch of modern day performance upgrades. Starting with the suspension, Satoshi built up a set of custom adjustable coilovers for the Celica, not only to give it a functional ride height for a daily driven car, but for the dynamic feel that modern dampers can deliver.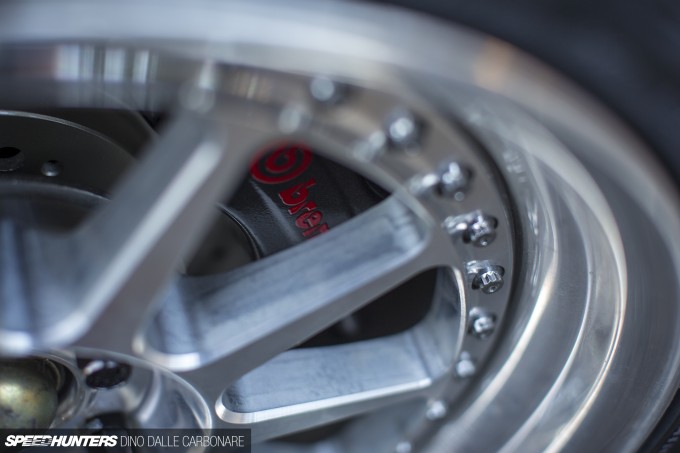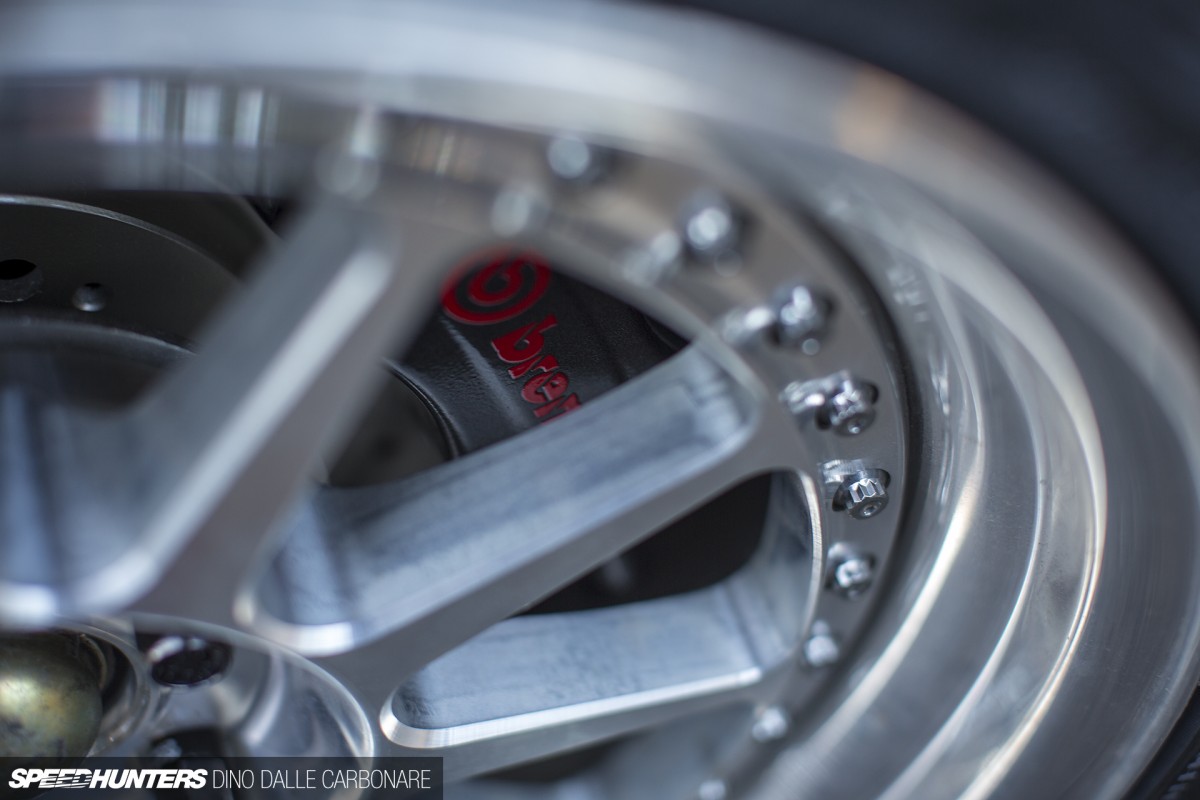 The braking system has been upgraded too and now centers on Mitsubishi Lancer Evolution VII 4-pot callipers and cross-drilled rotors at the front.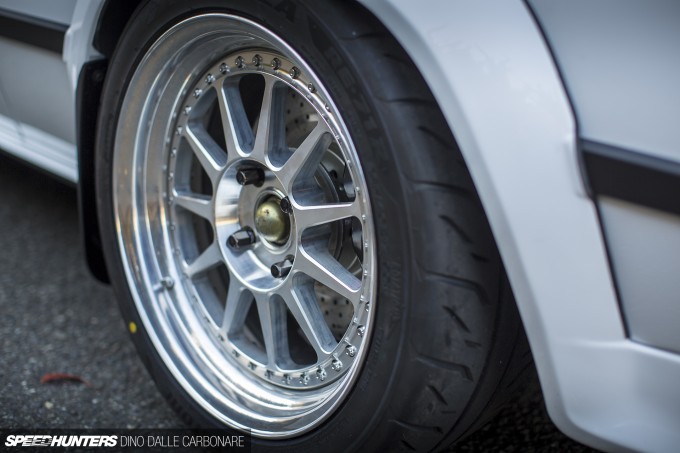 The big stoppers hide behind 17×8-inch Barramundi Design Eleven 2-piece wheels shod in Bridgestone's newest Potenza RE-71R high performance rubber.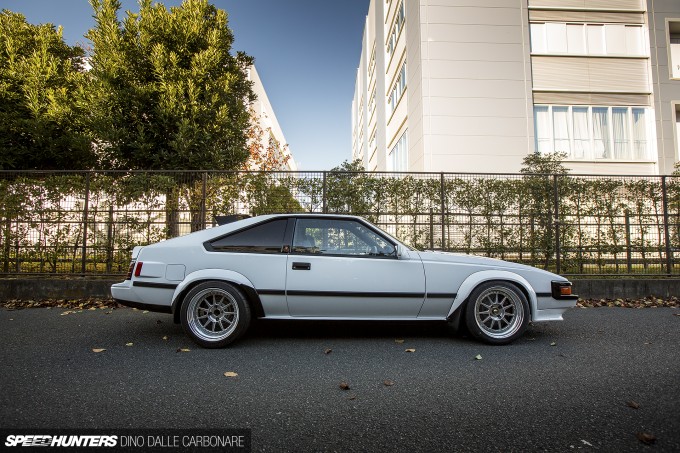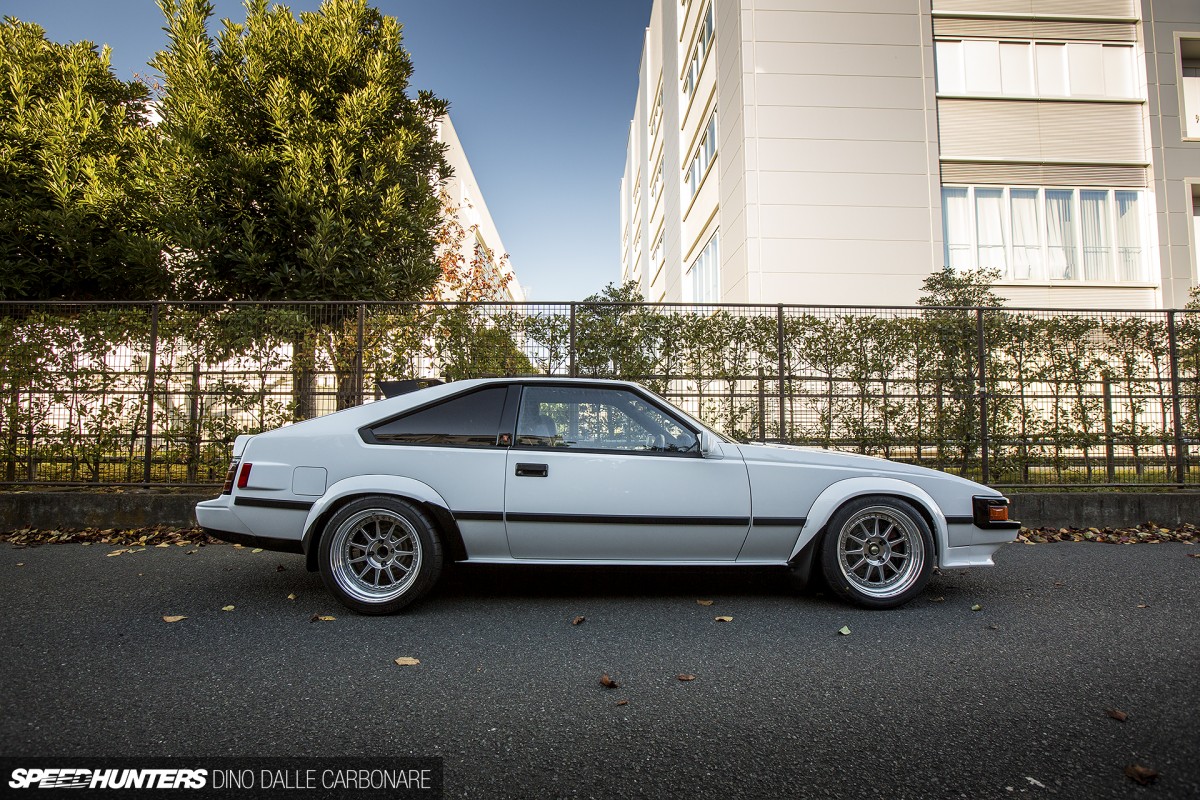 I love how the ride height has been raised sightly at the rear to emphasise the GA61's wedge-like design.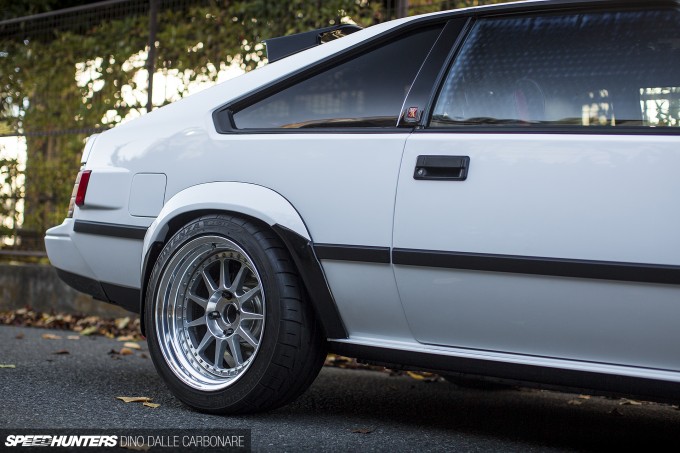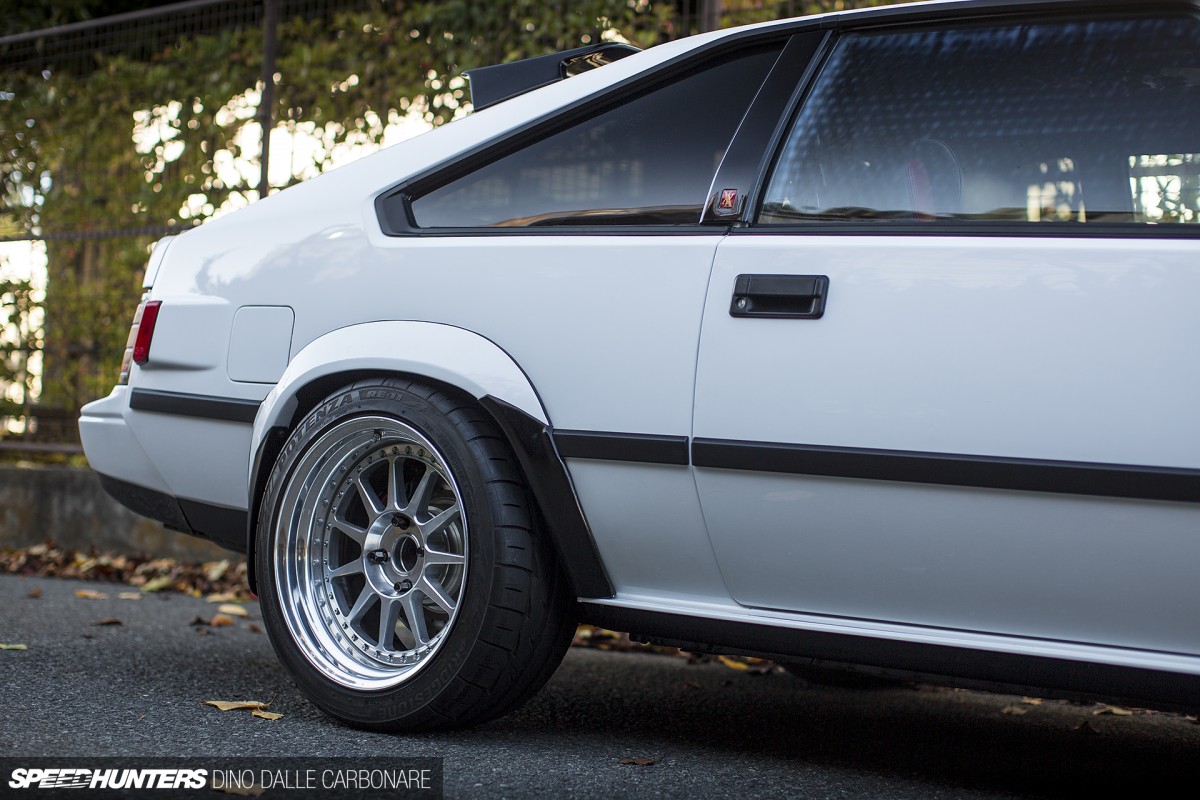 The USDM Supra overfenders are a great a addition too, as the car looks far too narrow in its JDM iteration. The rear wheels are slightly wider and run the older Potenza RE-11 tyres, which I know from first-hand experience are impressively grippy, having served me well over the years as my 19-inch setup for Project GT-R. Here, 17×9-inch rims run a +2 offset, but to really fill the rear flares out properly 25mm spacers were needed.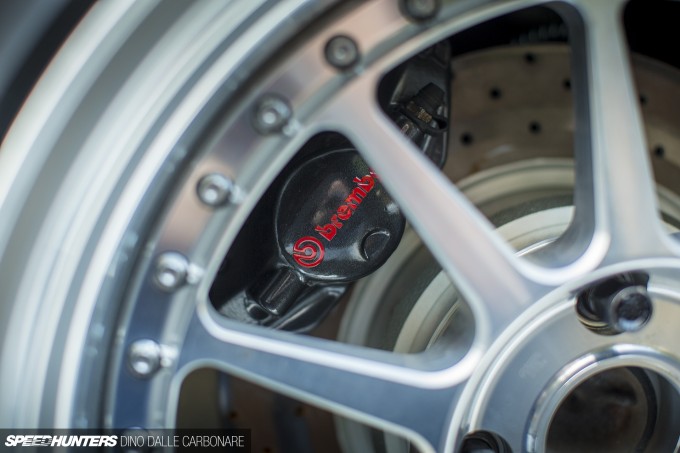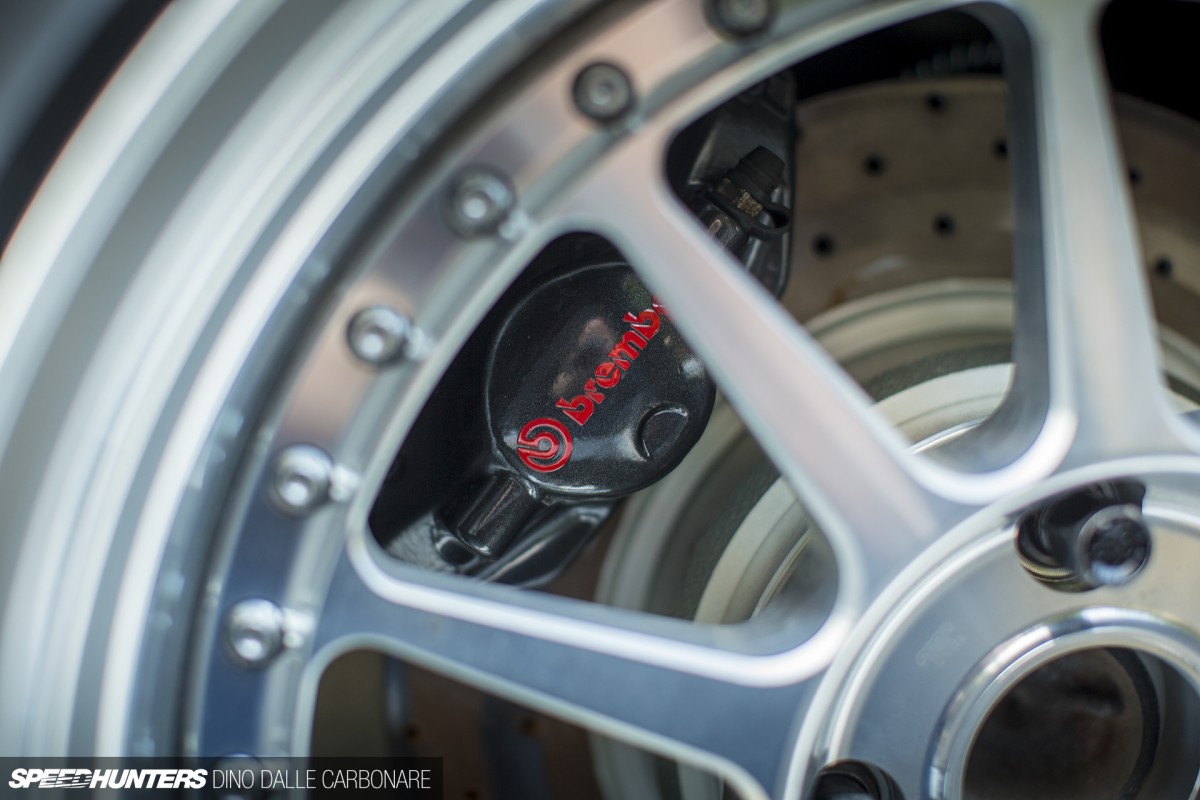 There's an Evo VII Brembo conversion at the rear too; 2-pot callipers custom-painted in gunmetal grey, and again fitted over drilled rotors.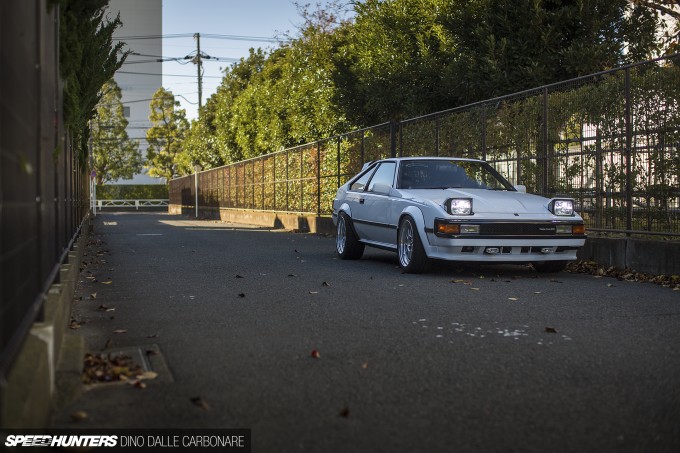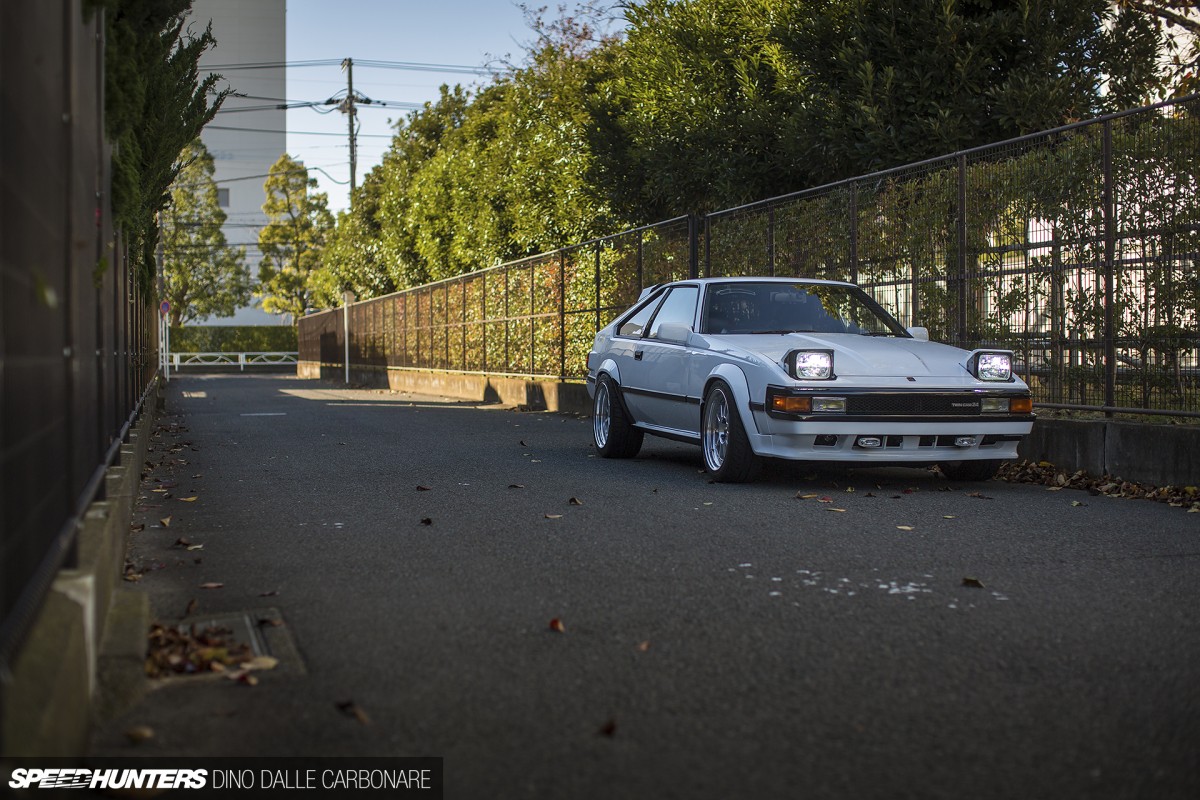 I couldn't help but turn the lights on for a few shots; I'm a true lover of pop-up headlights and rate them as one of the coolest automotive styles to come out of the '70s and '80s. As you can see, the main beams have been well and truly upgraded too. A modern HID conversion ensures the old school look doesn't necessarily imply an old school lack of light.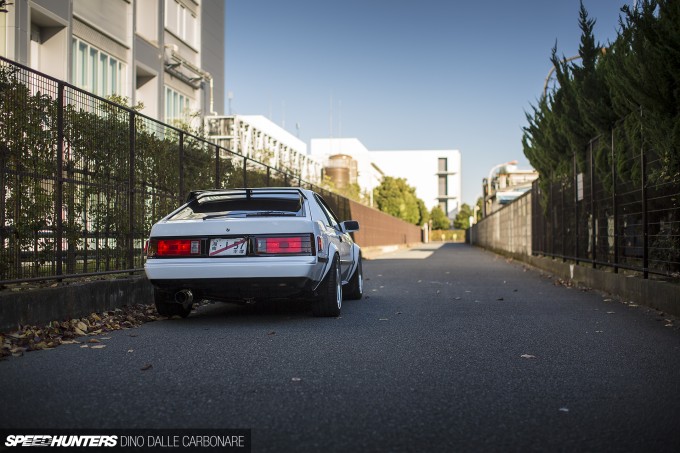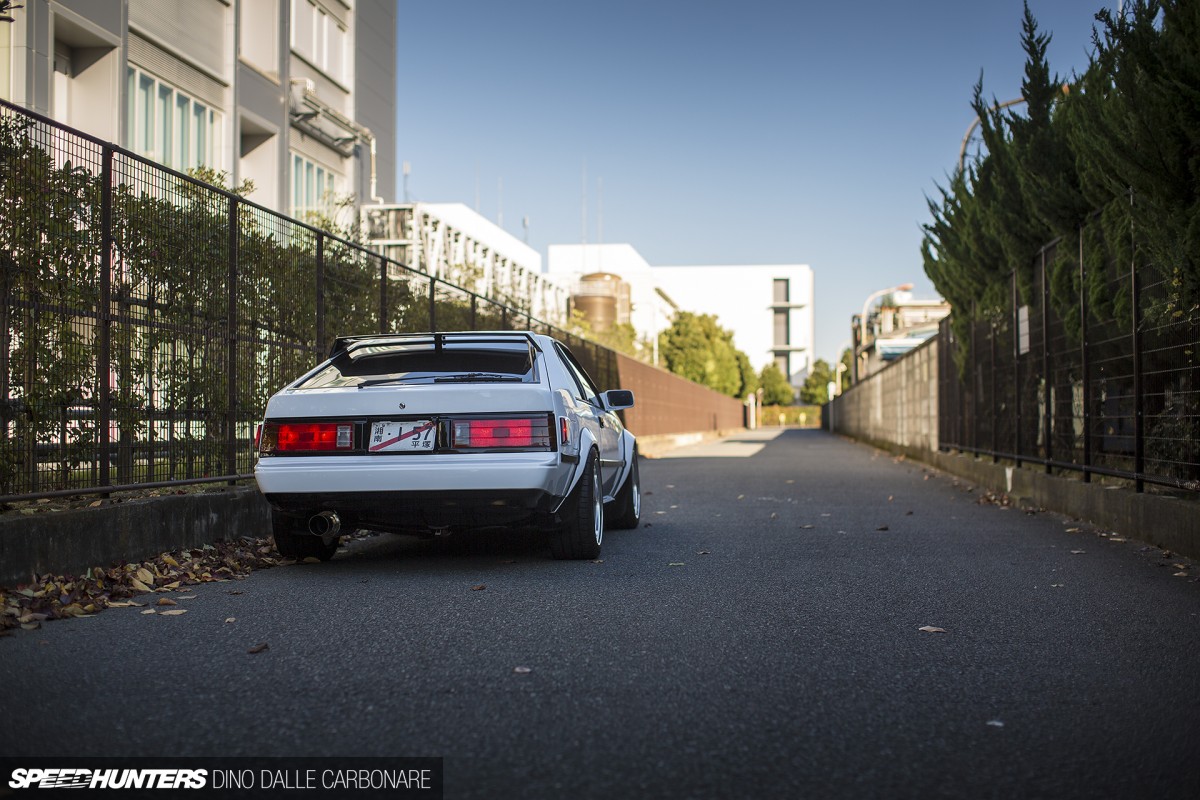 The Celica was practically finished the same morning of my visit and was just awaiting a trip to the local shaken center to be re-registered and fitted with a fresh pair of licence plates. Luckily, S&A Auto-Create had prepared some temporary 'slash' plates, which meant we could legally take the car out on the road. Those who know these cars have probably spotted the USDM roof spoiler already – another one of those small additions that help make this car even more unique on the roads of Japan.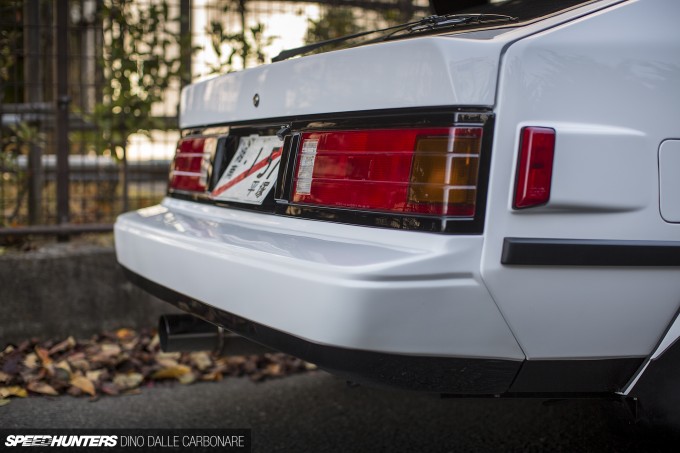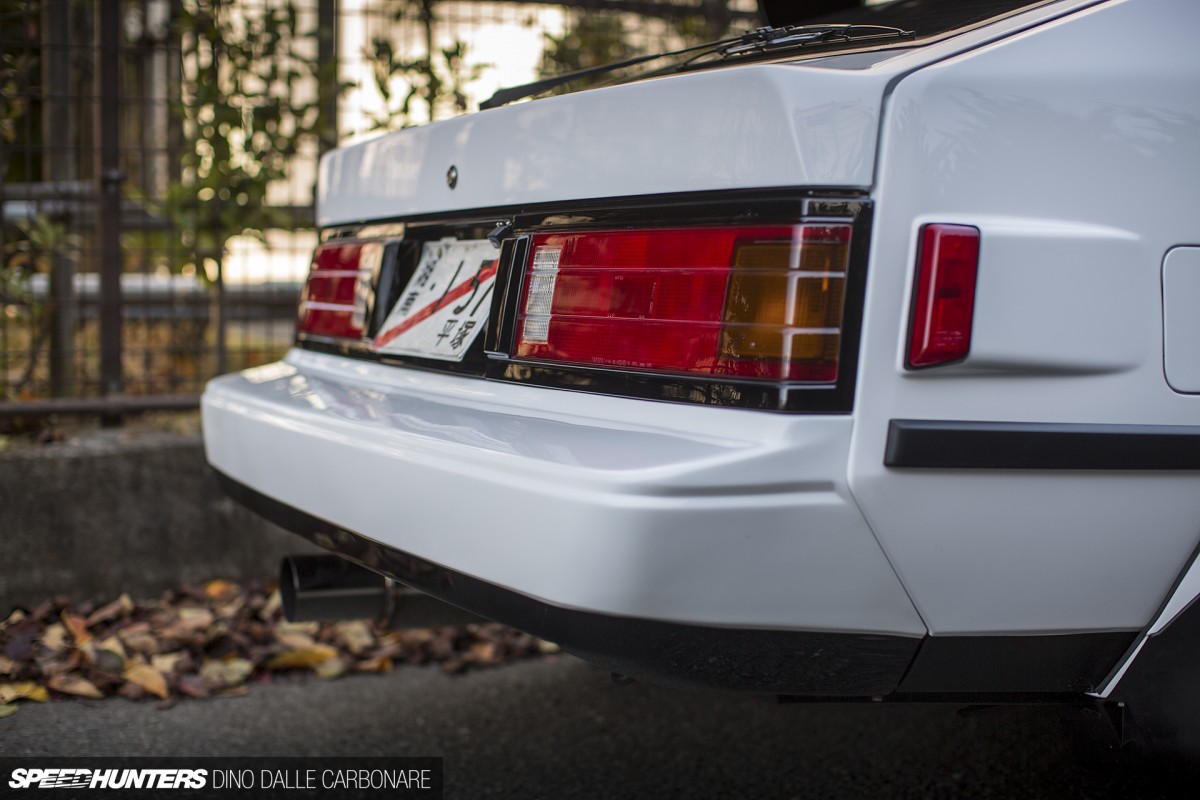 One final USDM addition are red side markers replacing the black plastic trim pieces found on JDM models.
A New Heart For More Performance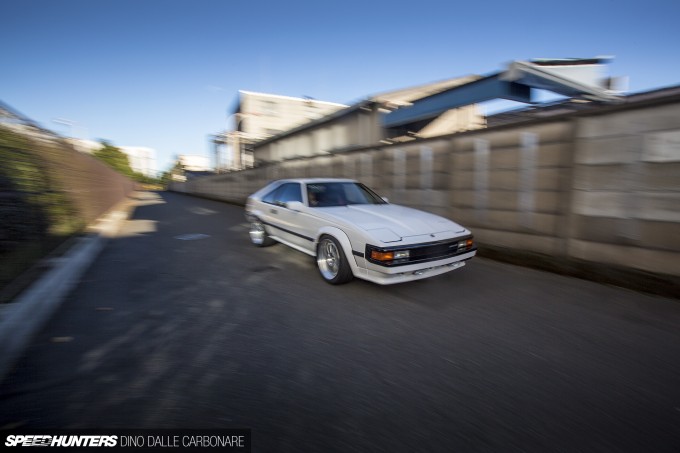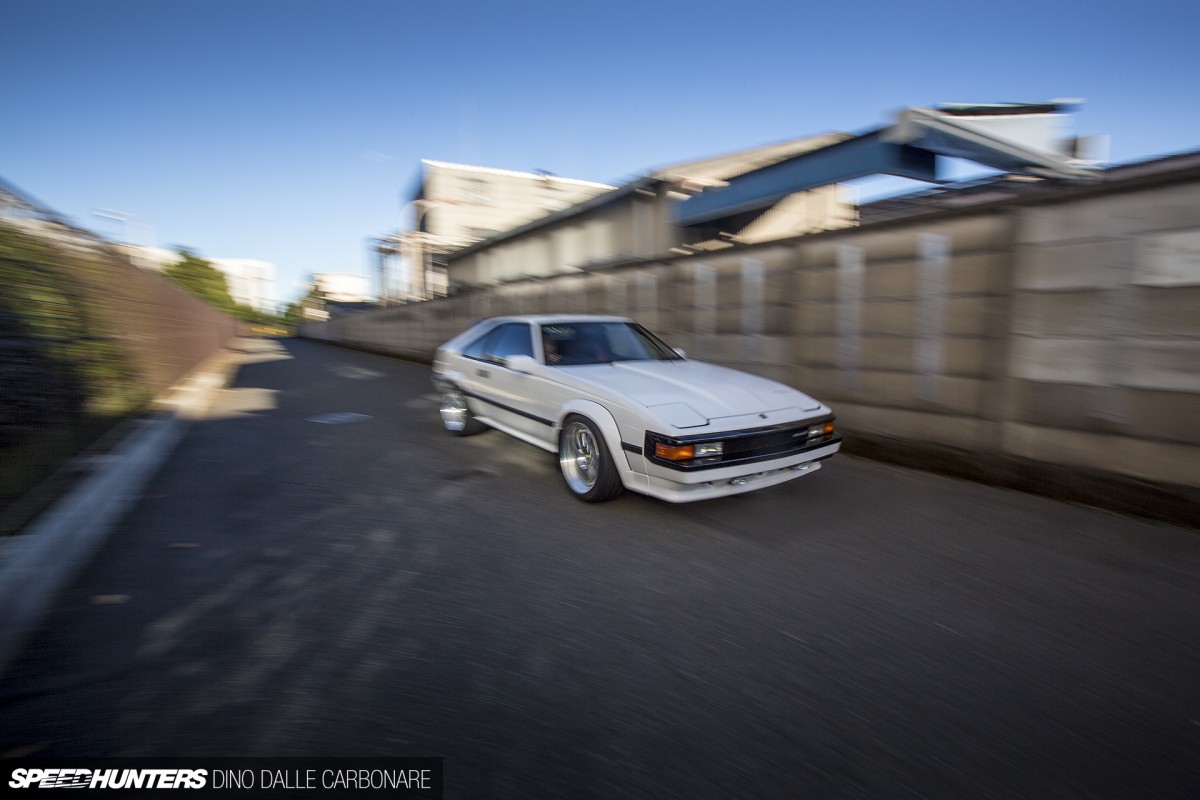 There's no way anyone could fault the execution of the exterior; it's all been done tastefully to highlight the car's aggressive stock look. With the right sort of stance and a well chosen set of wheels, there is not much else this car really needs.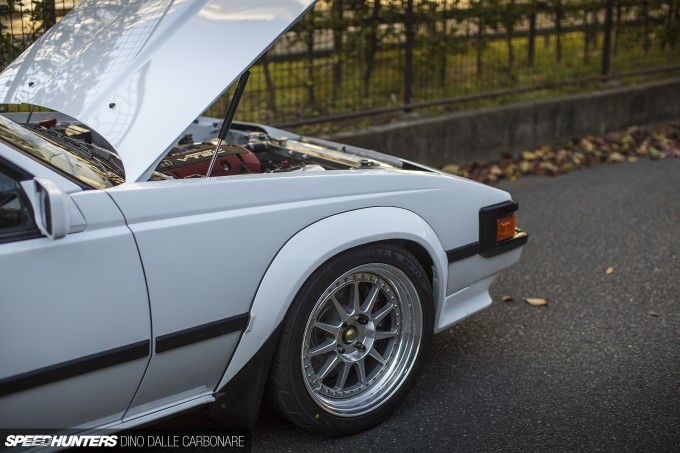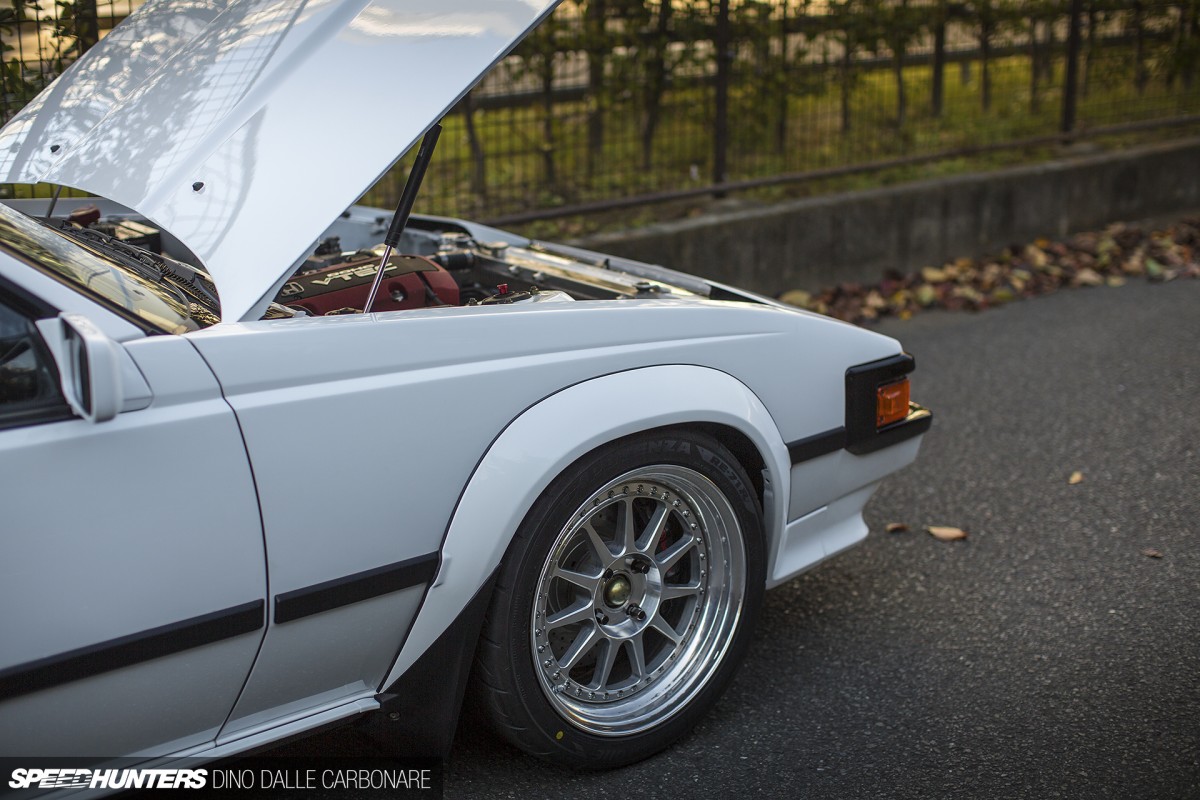 But that thinking only applies until you lift the bonnet up on its gas struts…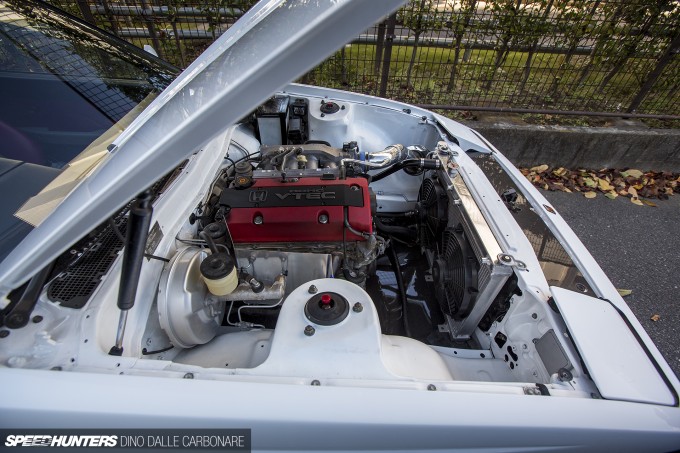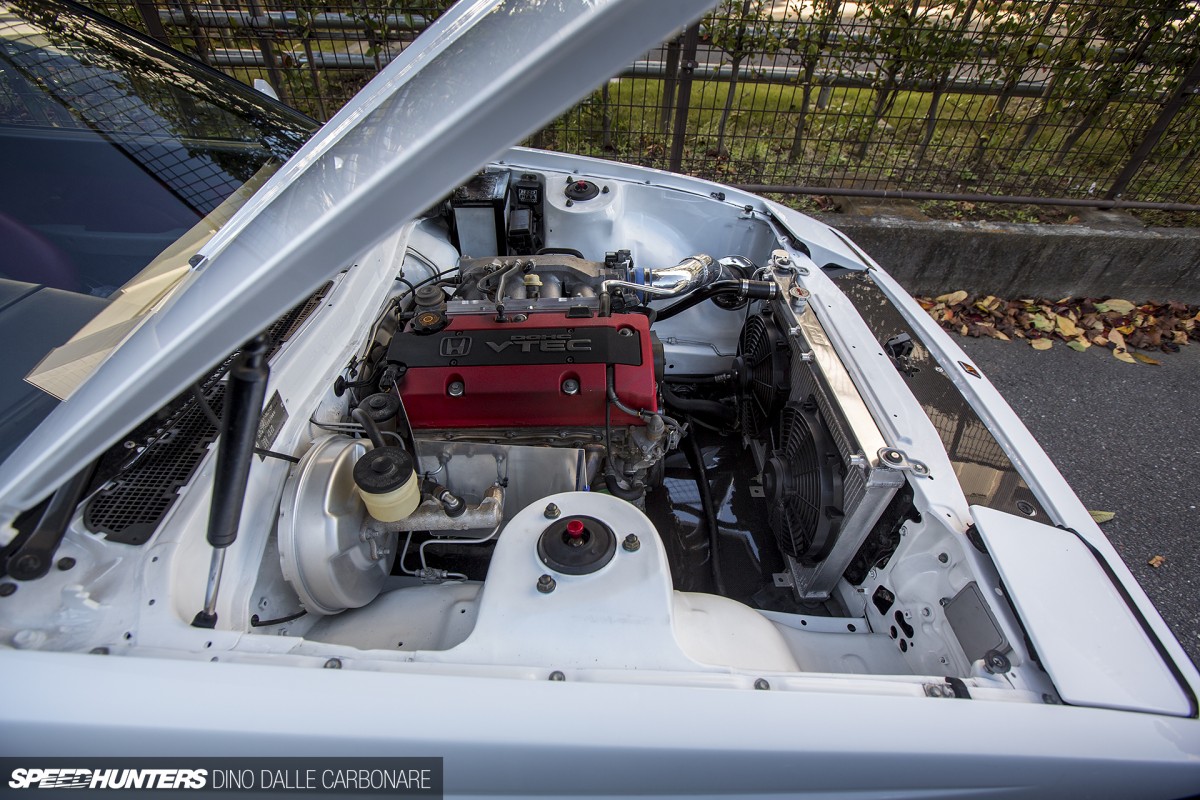 Blasphemy? Insulting? Who the hell cares! If you get your panties in a twist when seeing cross-brand engine swaps, you aren't living life to its fullest if you ask me. I find it all rather comical and totally warranted, as there is no arguing the benefits any well-chosen performance engine brings to a properly resto-modded car. Would it have been better to find a 2JZ dropped in the place of this Honda F20C? Of course not, that would be bordering on boring given the large numbers of those conversions. The choice of VTEC power-plant here was more down to bumping performance through a proven modern setup and keeping it all very reliable. So by ditching the Celica's original six-cylinder 1G motor, there's now an extra 70hp or so to play with.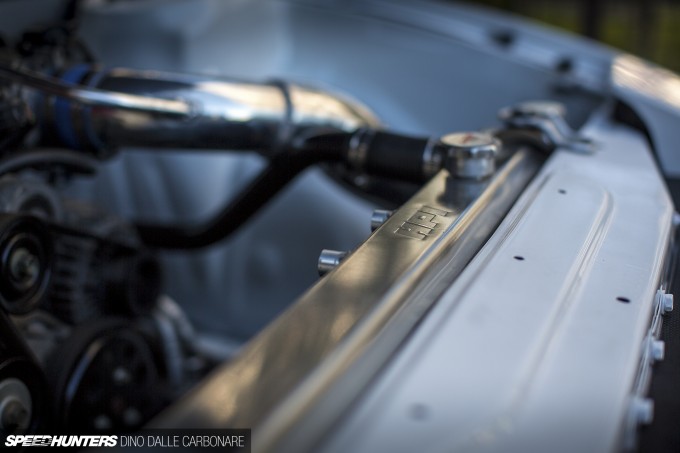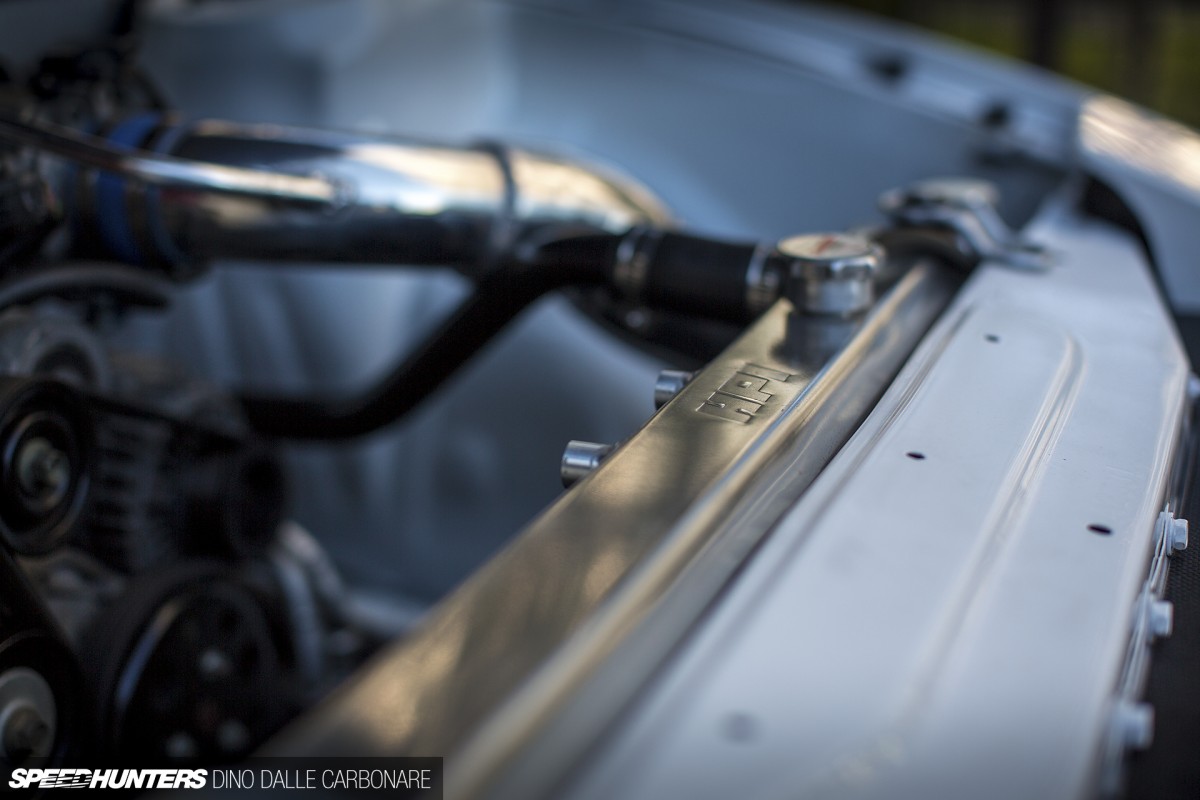 Satoshi explained that despite the S2000 engine and its corresponding 6-speed transmission being slightly smaller in size, it all ended up weighing about the same as the original 1G and its gearbox once everything needed for the swap was fitted. With the Honda motor and 'box a little more compact however, fitting the combo slightly further back in the chassis has had a positive effect on how the car handles and feels through the steering wheel. Along with the engine, a large HPI radiator was also fitted.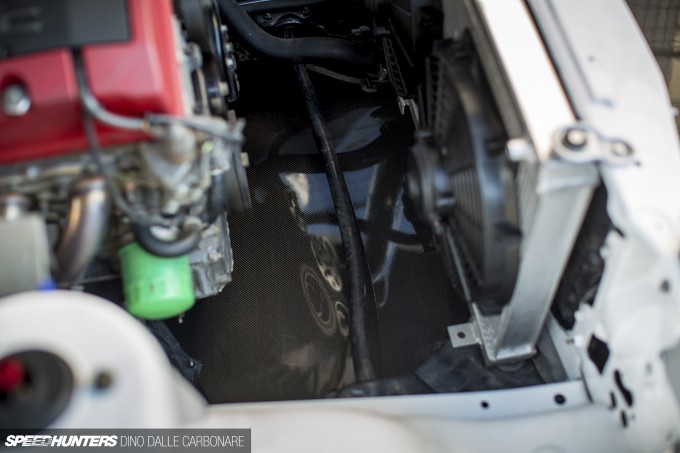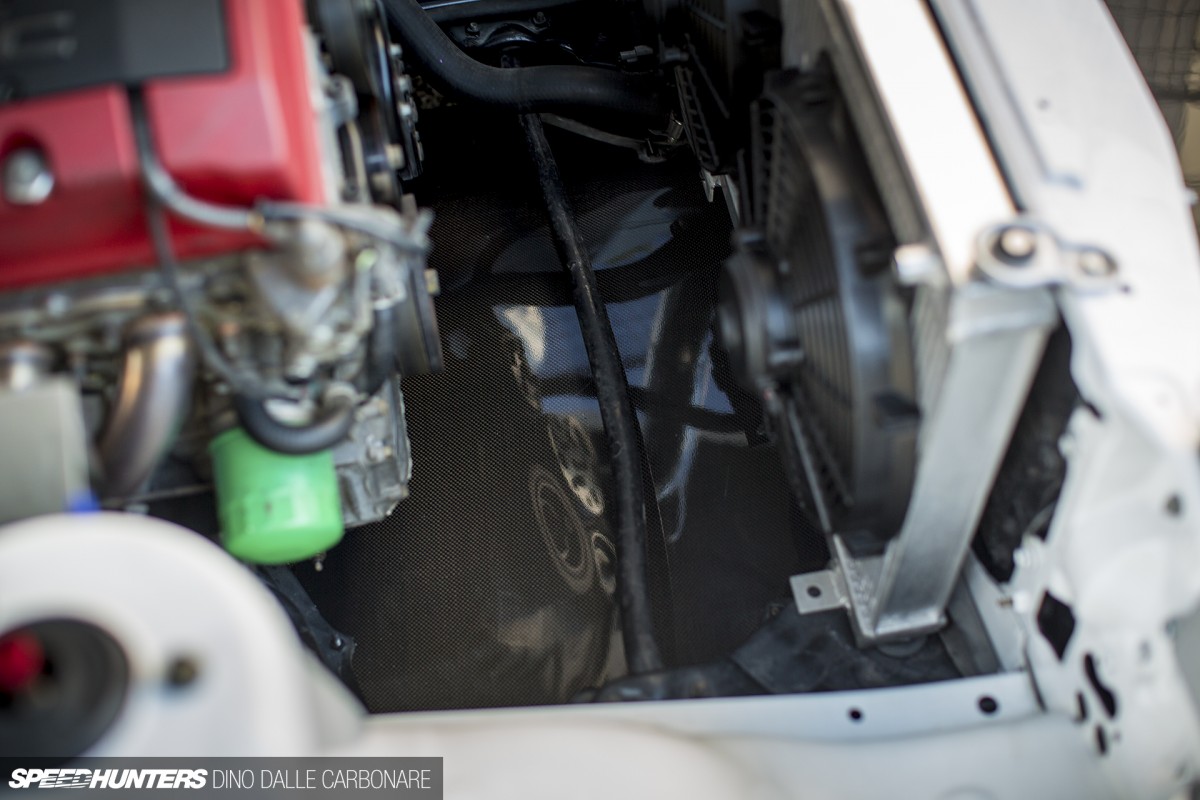 The massive gap that the smaller four-cylinder engine has opened up makes the entire bay look far more minimalistic than it ever was when stock. Satoshi even closed up the underside with a carbon cover to help smooth the air flow under the car and make things a lot more presentable.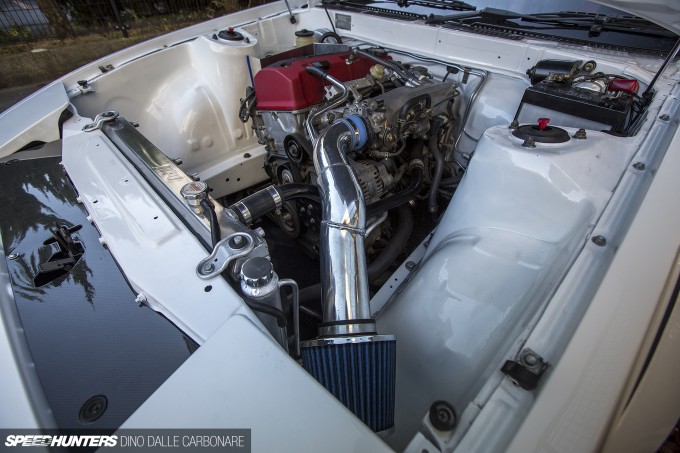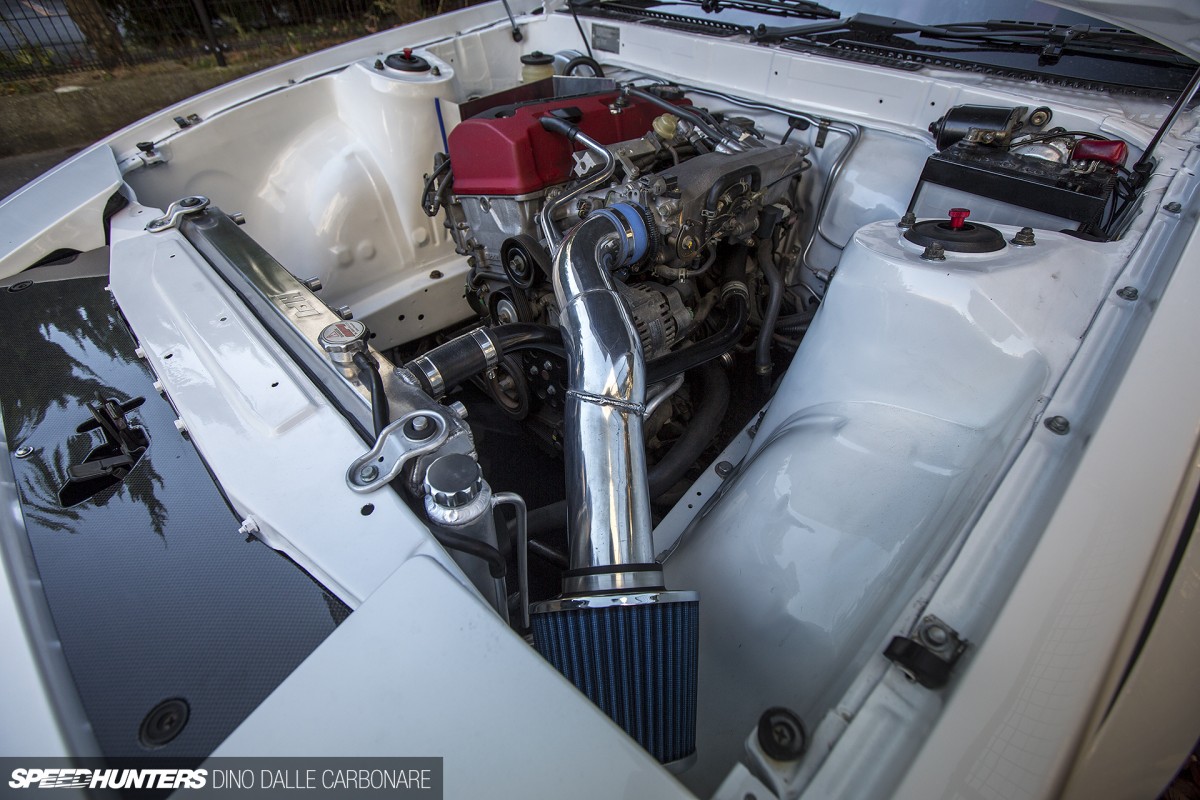 As the S&A Auto-Create guys do with many of their projects, the Celica's bay was also treated to shaving and wire tucking to really clean it up. Satoshi told me that a massive number of man hours go into creating a look like this, especially when you're after a paint finish as good as the exterior.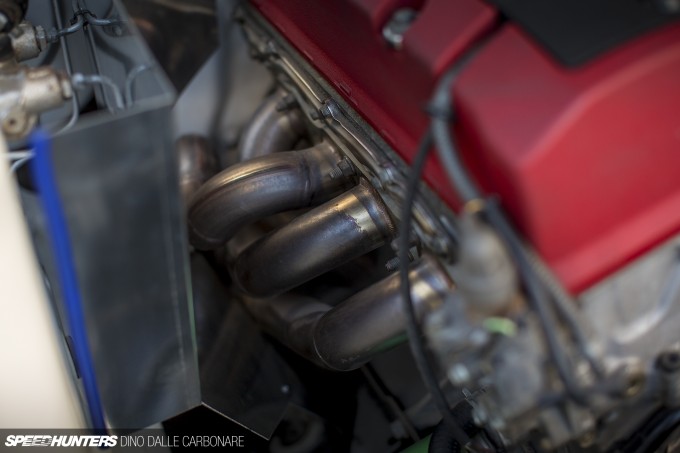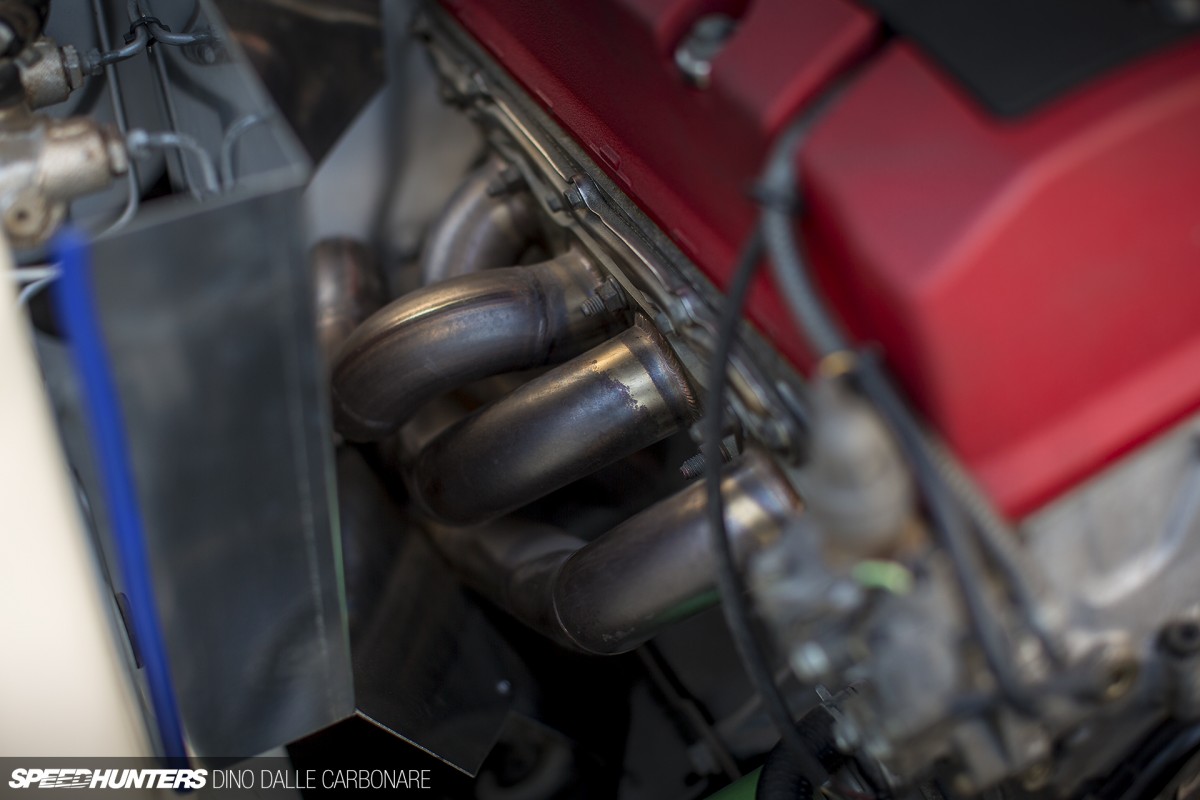 One of Satoshi's specialities when it comes to fabricating is exhaust manifolds, so it came as no surprise to hear that he built the custom header for this project.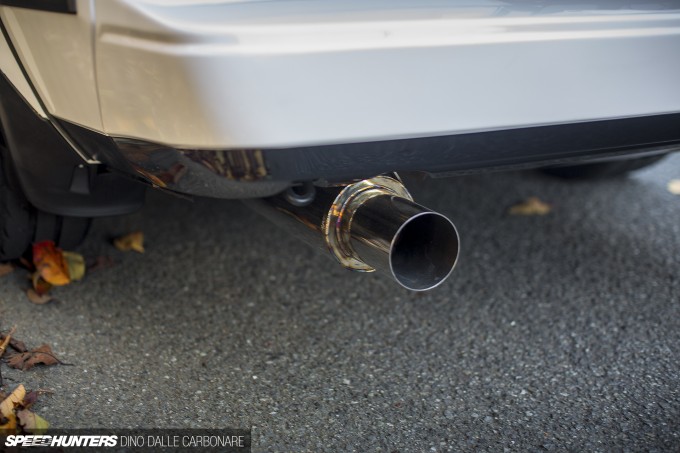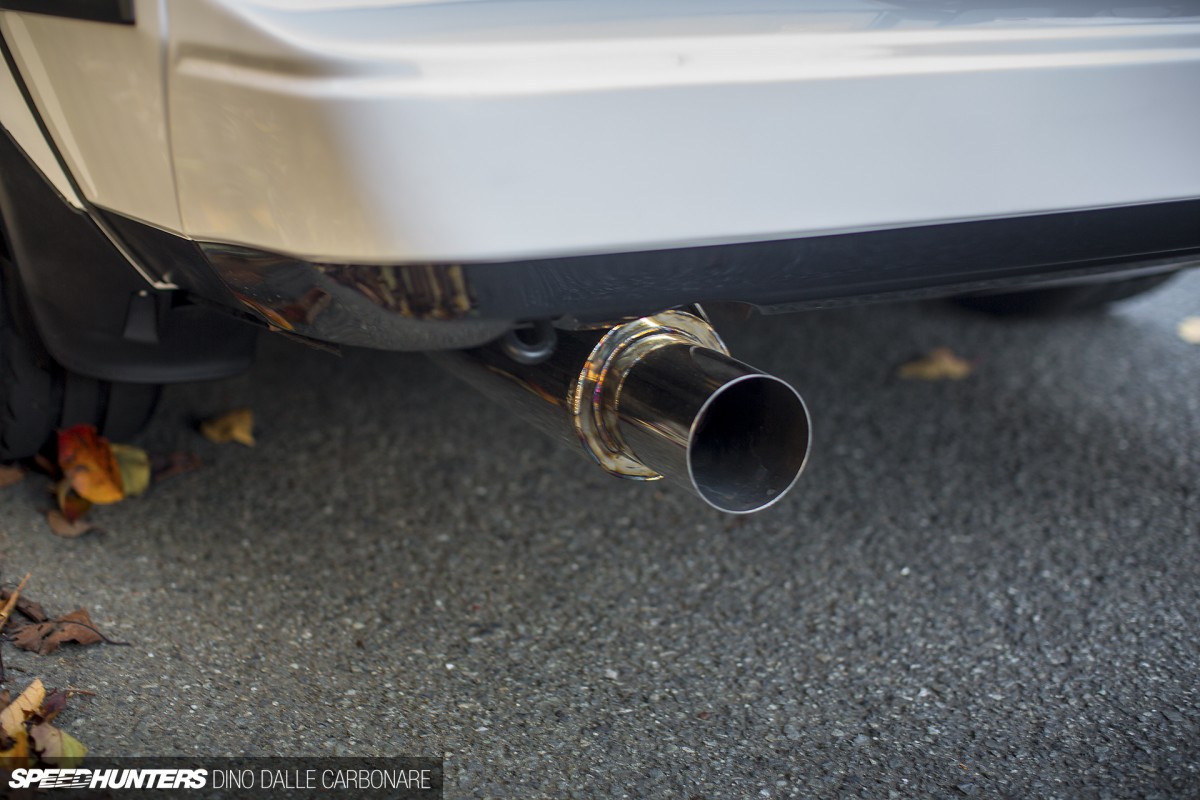 The header runs into a valved stainless steel system, which when closed to its quietest position does a really good job of silencing the barking Honda engine.
This short video should hopefully give you a little more feel for what the car sounds like, and how it appears inside and out.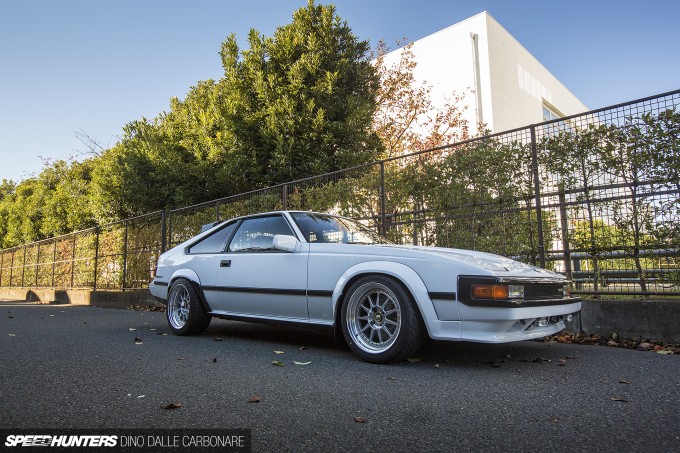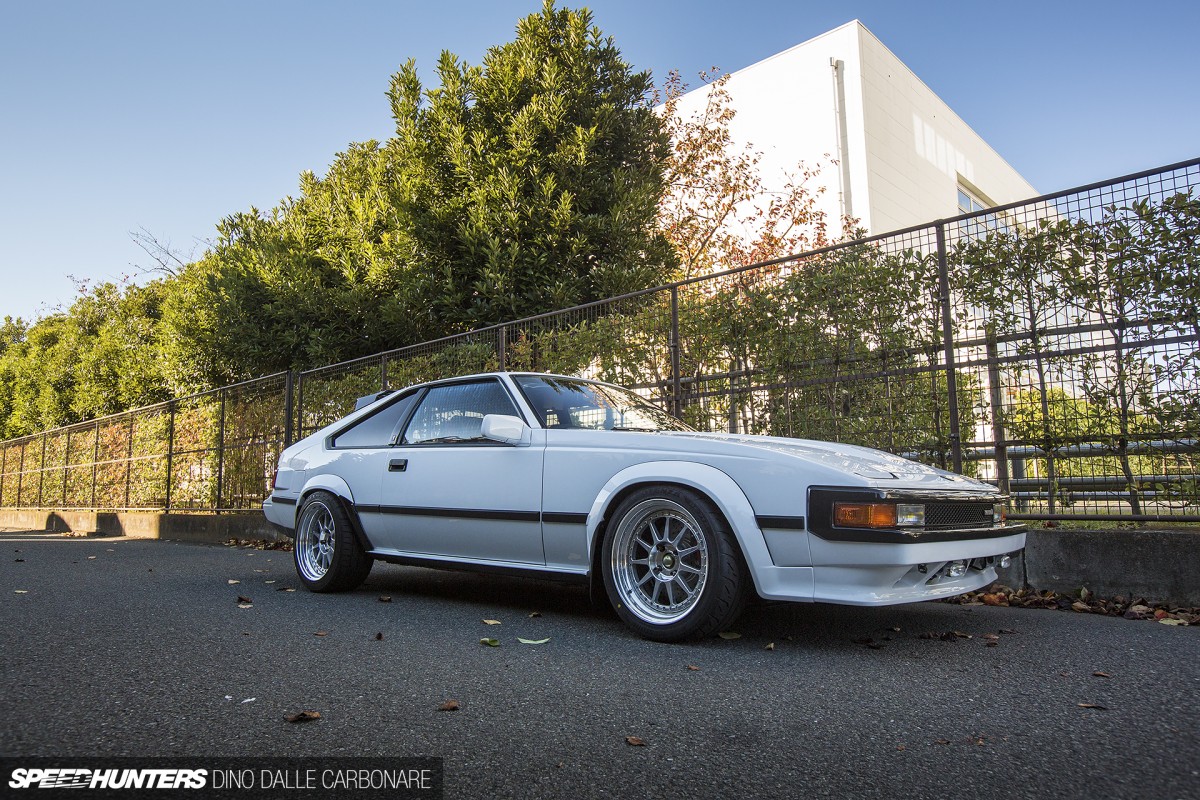 So there you have it – simple and to the point. But that's what you may think before you take a look at the Celica's interior…
The Personal Touch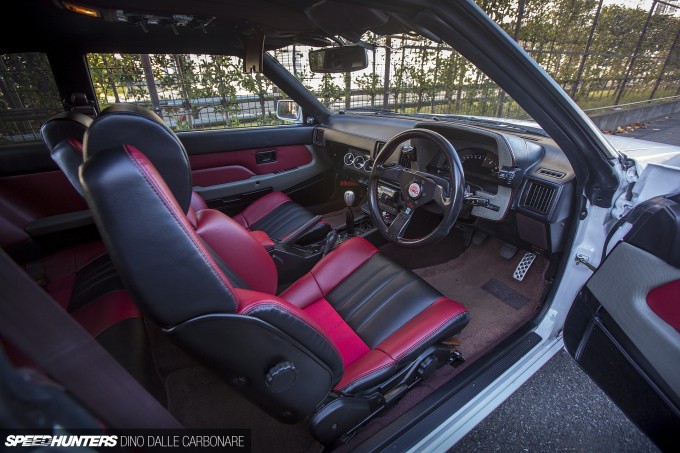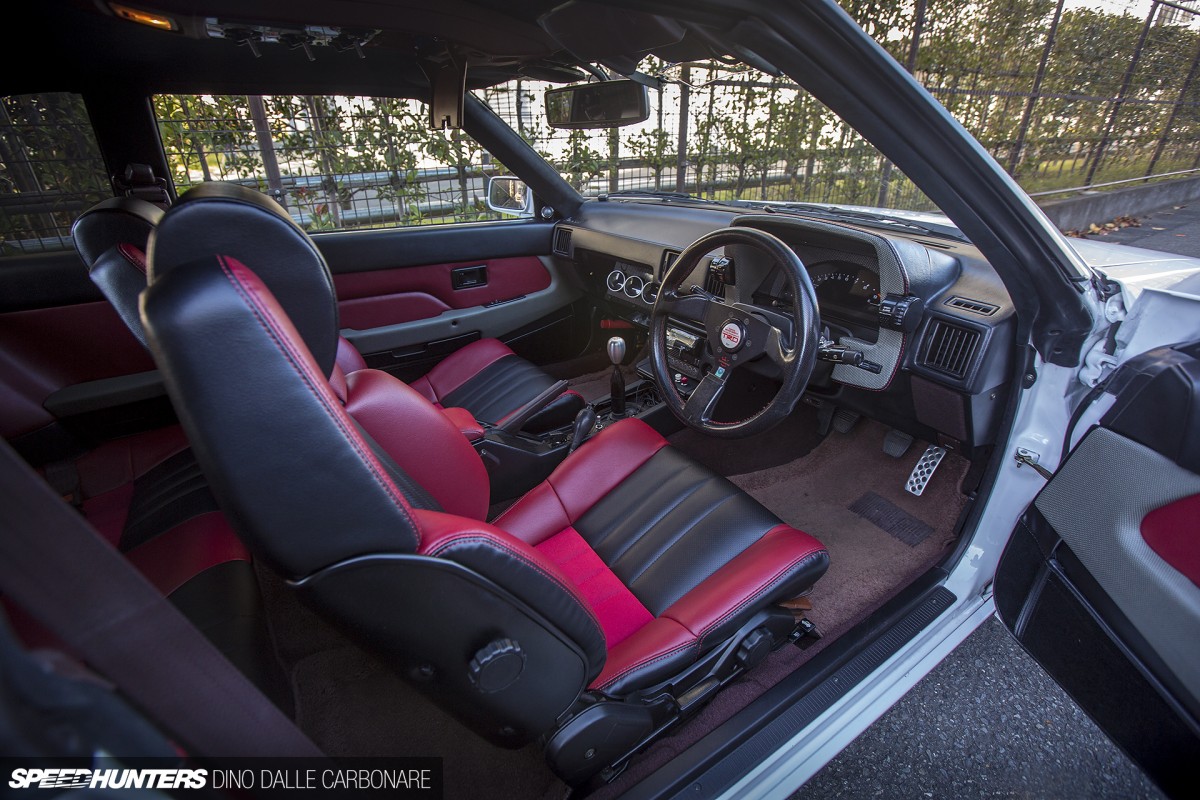 The resto-modding continues into the cabin with the stock seats having been retained, but stripped of their cheap '80s vinyl and custom re-trimmed in soft leather. That goes for the door panels too, as well as the surrounding area of the instrument binnacle.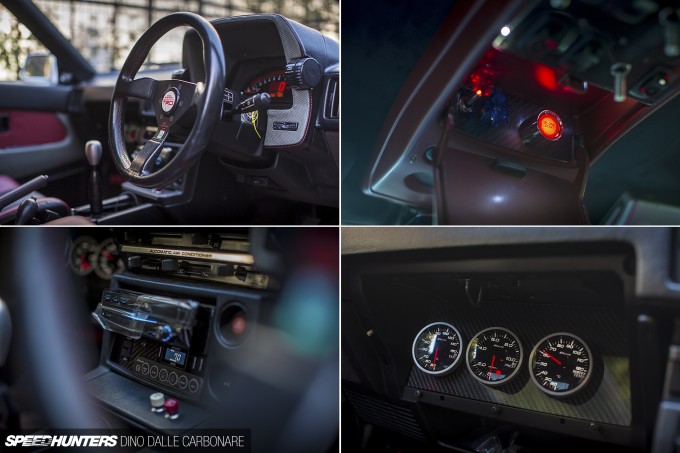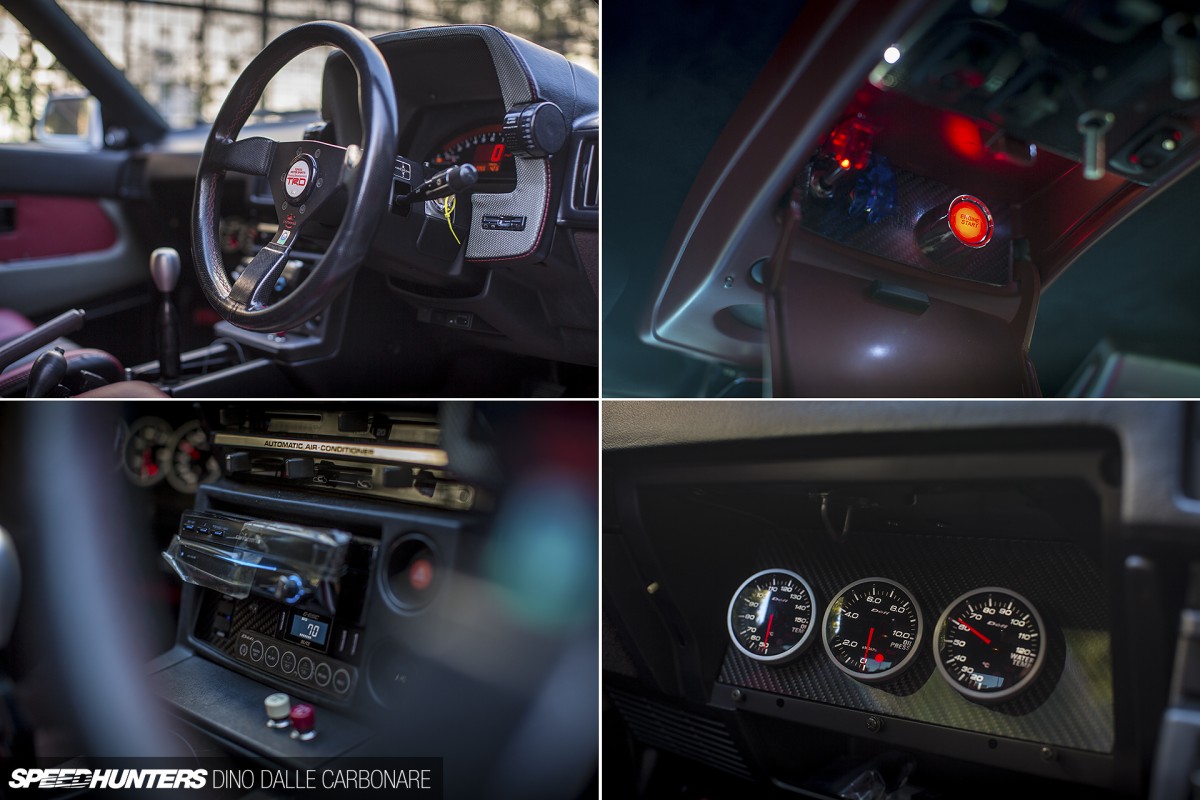 Simplicity has, however, been sacrificed a little to satisfy the owner's love of gadgetry. There's quite a lot of stuff happening in and around the dashboard and center console with auxiliary Defi gauges positioned inside the glove box, and a roof-mounted switch panel where the engine's start/stop button is located. In fact, there are so many buttons and toggle switches that even Satoshi doesn't even know what they all do! He did, however, show me the red and white push buttons on the center stack – the red giving two very short honks of the horn and the white one blinking the hazards three times. They're the 'polite' buttons if you will, as in Japan you give two honks to let people through in a junction or merging situation, while the hazards are a secondary thanking procedure when someone lets you through.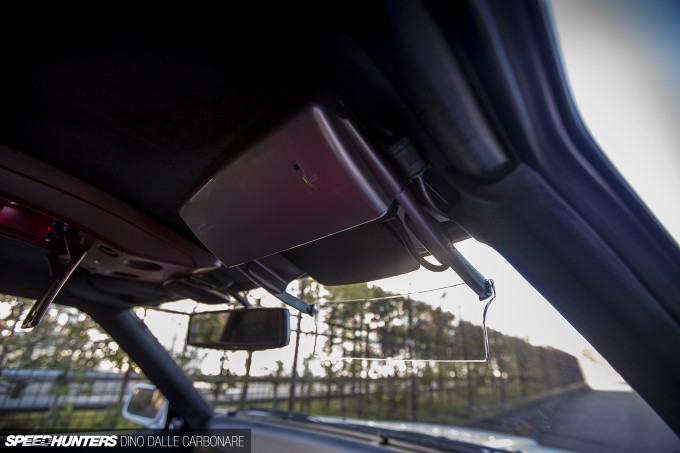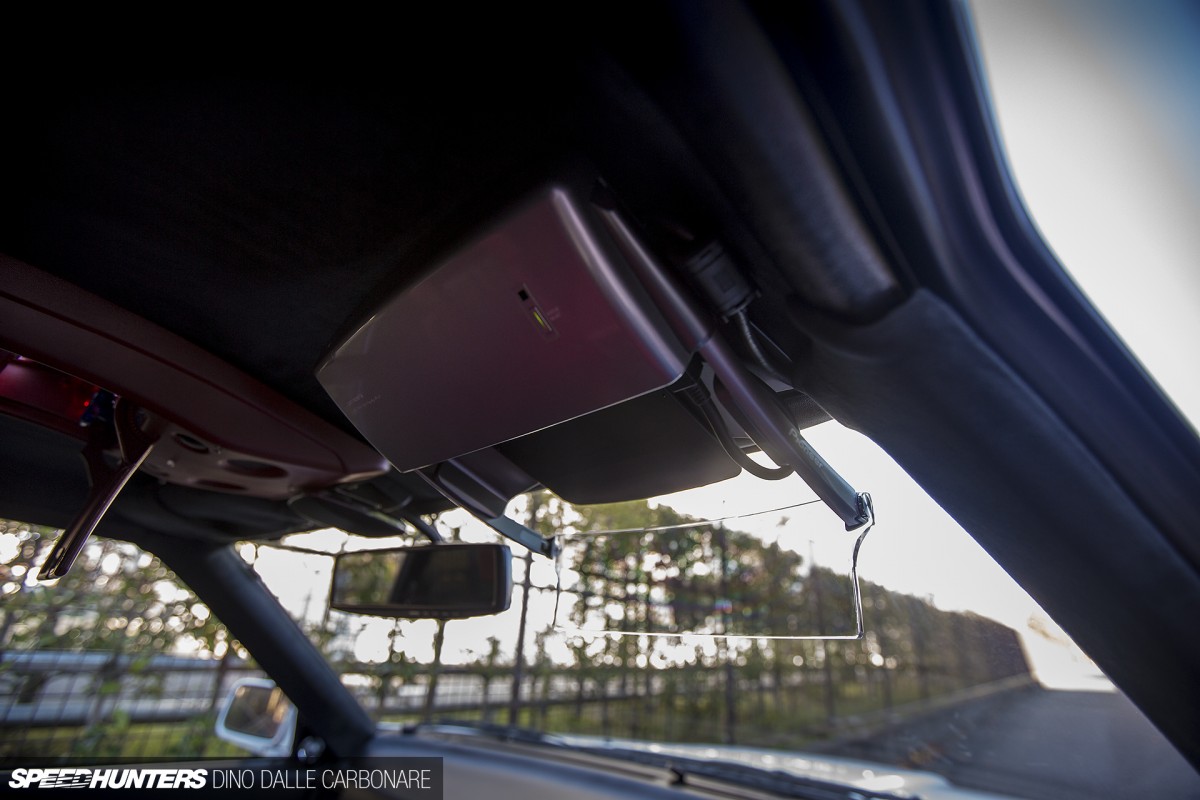 The Celica is also fitted with the latest Pioneer Carrozzeria navigation system which has a roof-mounted, flip-down screen onto which directions are projected. So very Japanese!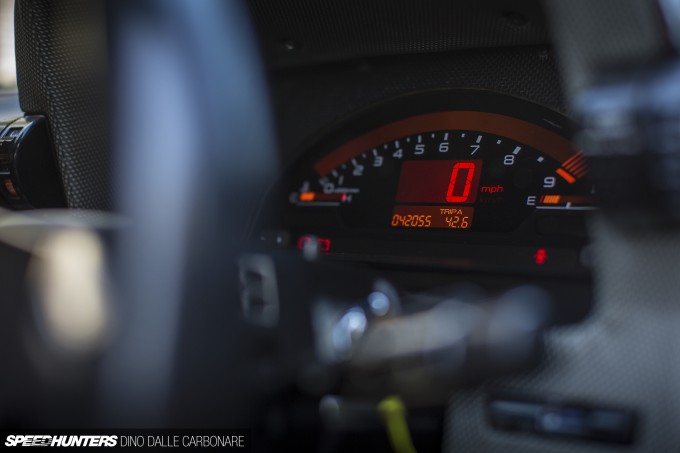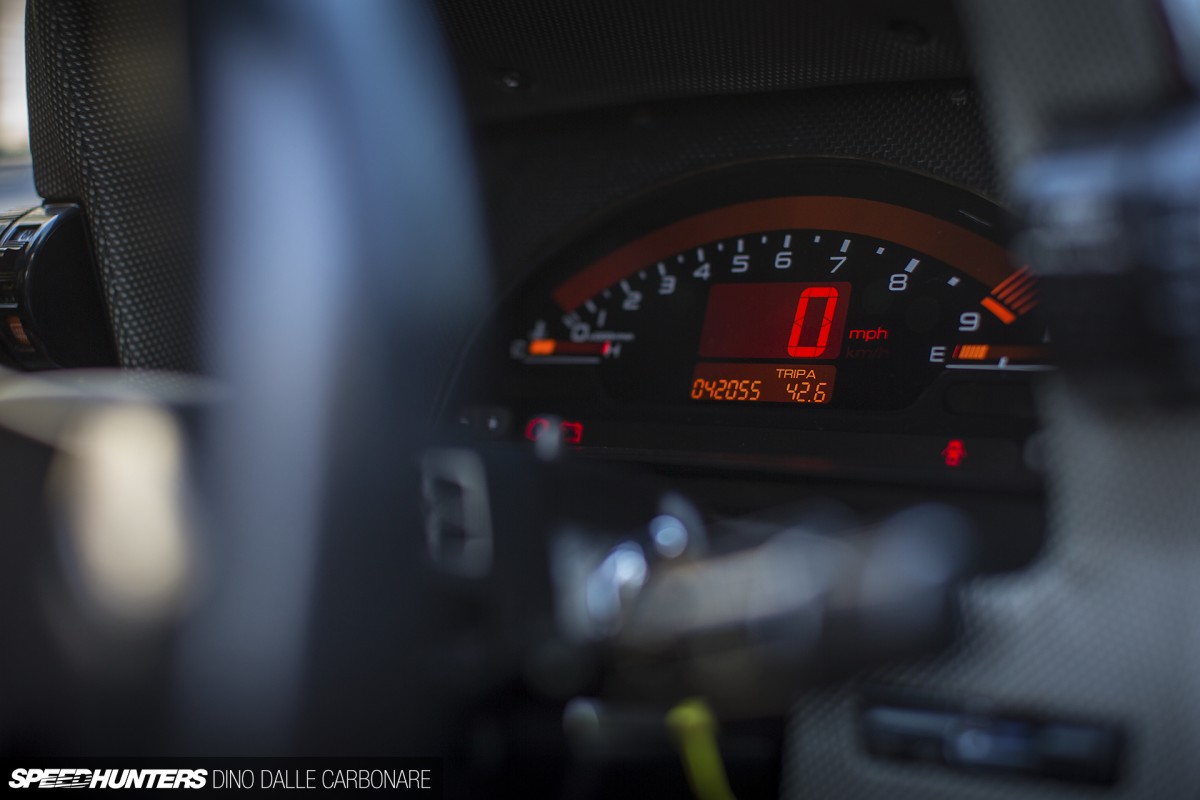 To get the engine swap working perfectly, the S2000's instrumentation, entire wiring loom and ECU were carried over from the donor car. The dash cluster is beautifully integrated inside the Celica's instrument binnacle and even displays the engine's original mileage.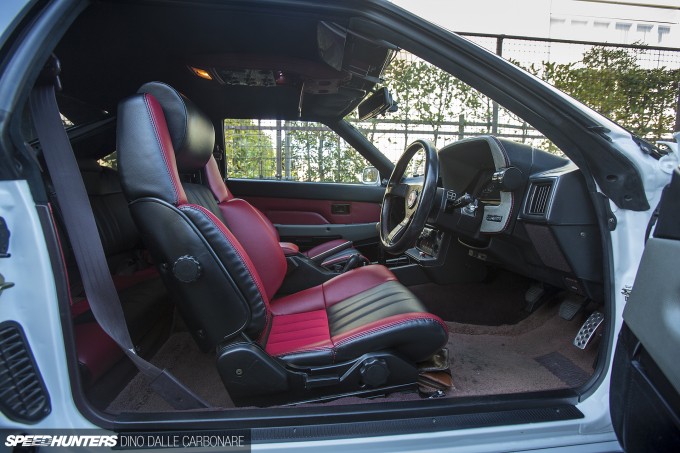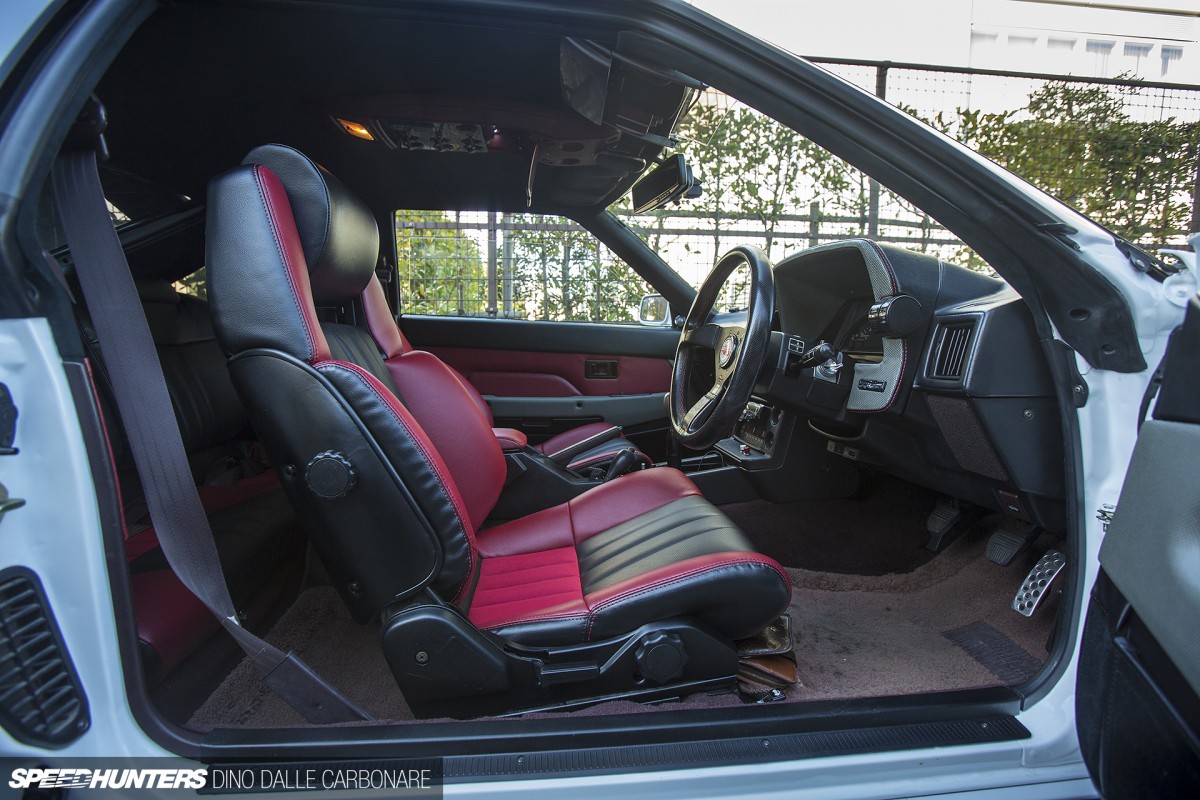 Having ridden in the car for a while, I have to say I was very impressed by the suppleness and outright comfort of these soft leather seats. They certainly got some things right in the '80s as modern day seats tend to be on the overly firm side.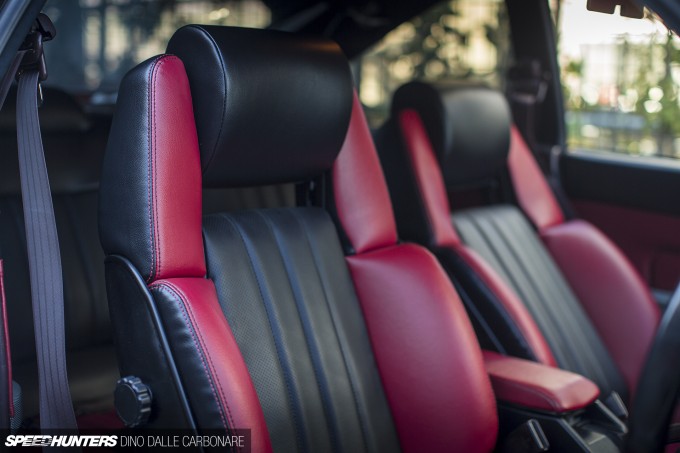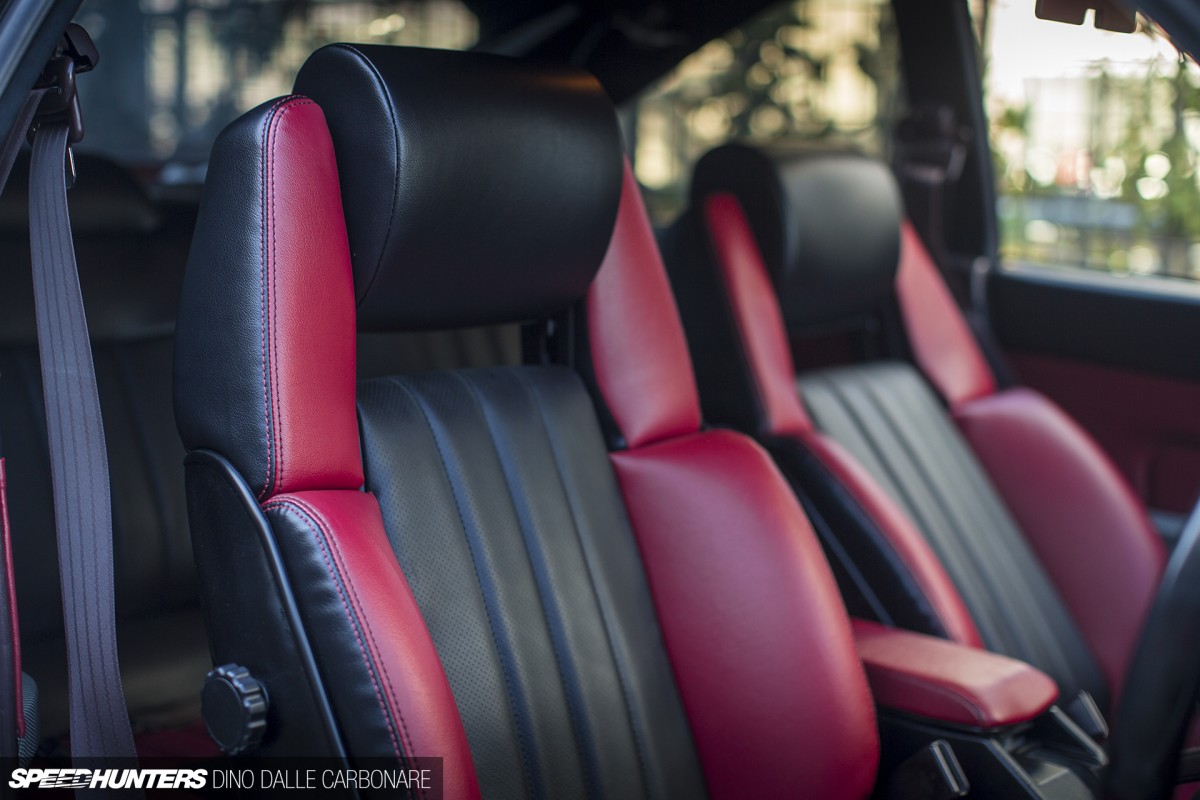 There's plenty of lateral support too, and just a few mechanical adjustments are required to find the perfect seating position.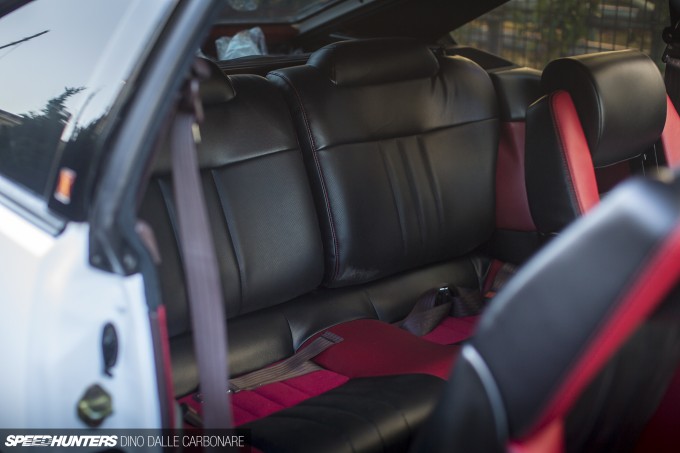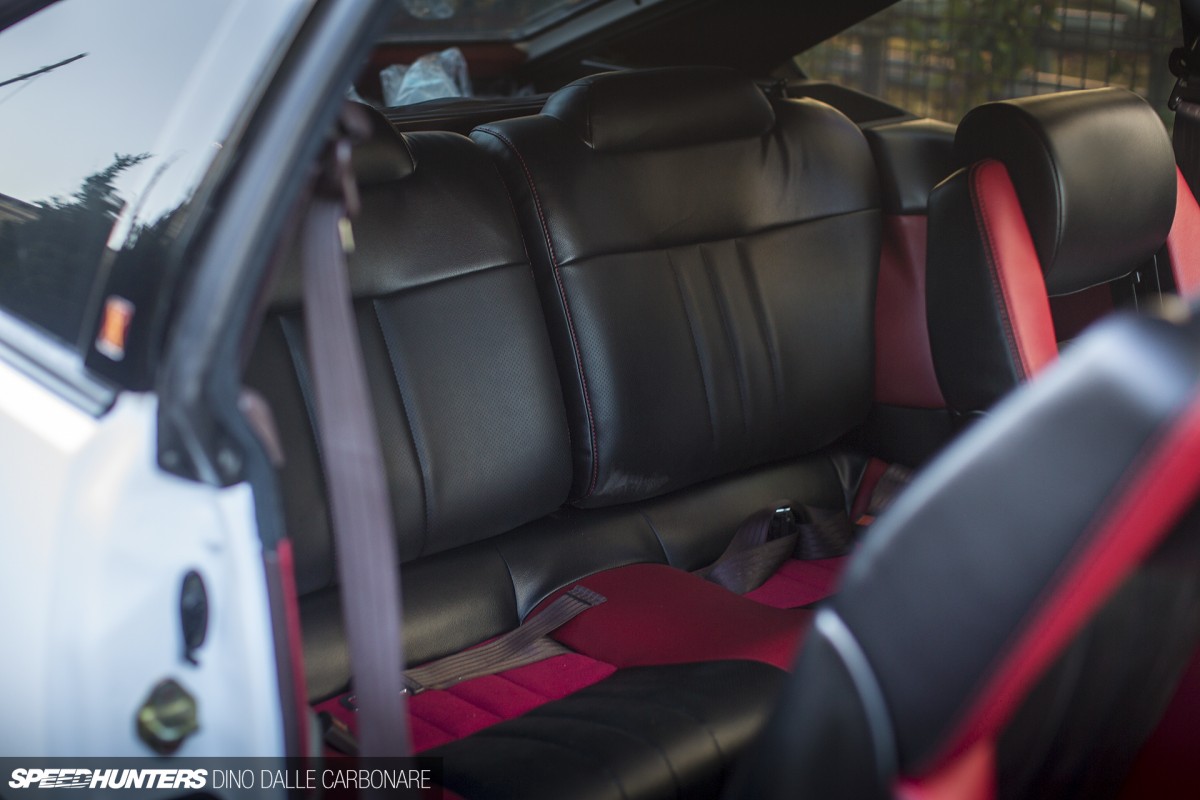 In the back the rear bench has been re-trimmed with the same leather design.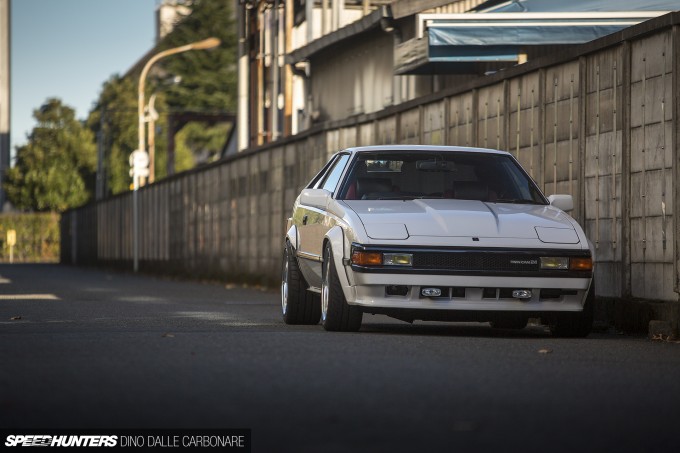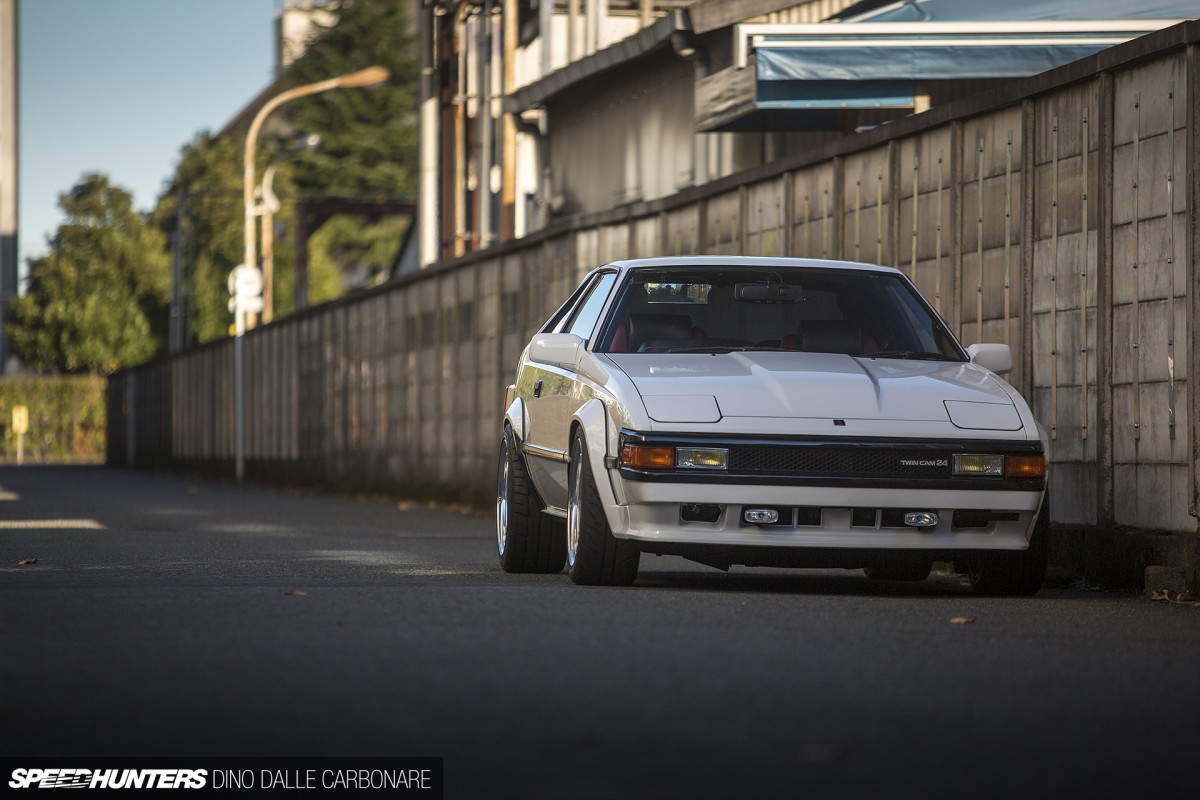 It doesn't really matter where you look, the attention to detail and quality of execution is evident right throughout this build.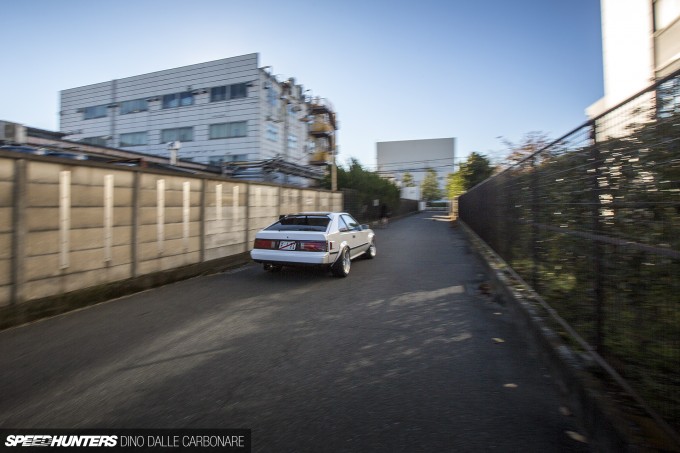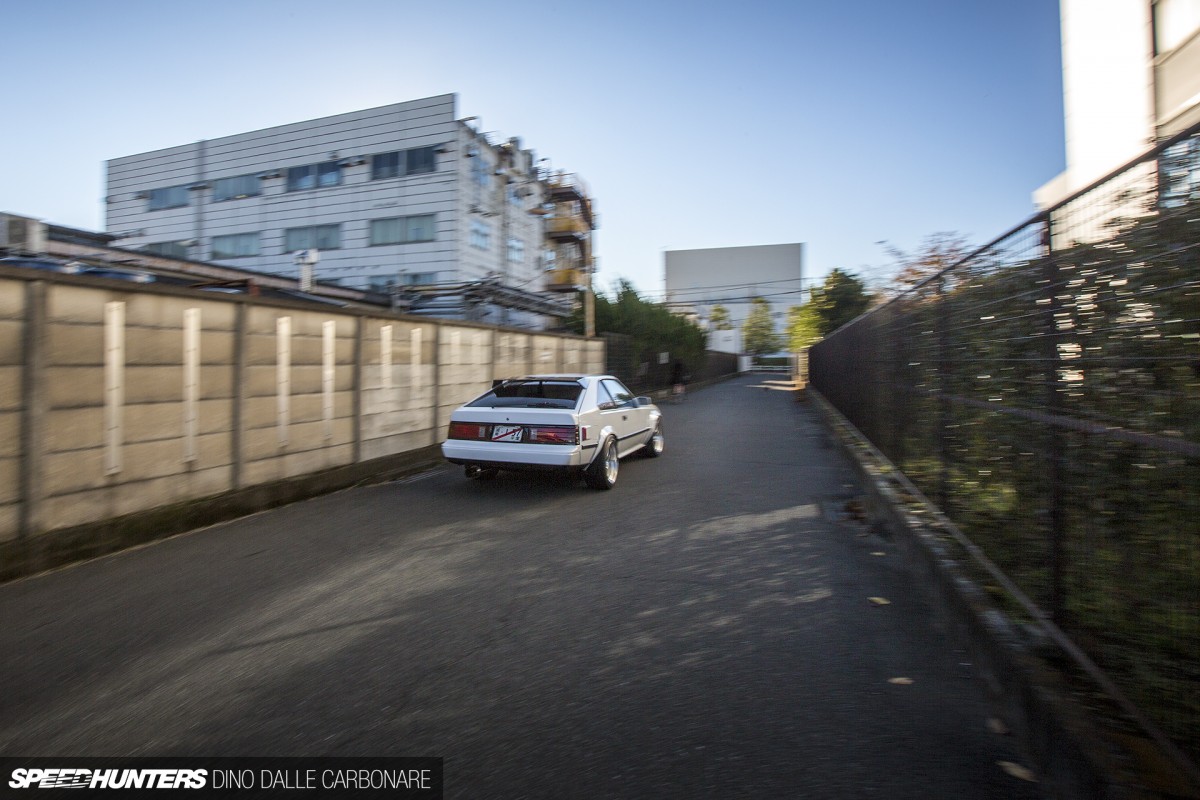 It's an inspiring thing to see too. In a market where domestic manufacturers have cut down on providing fun and exciting cars for the masses, this is what enthusiasts are starting to do.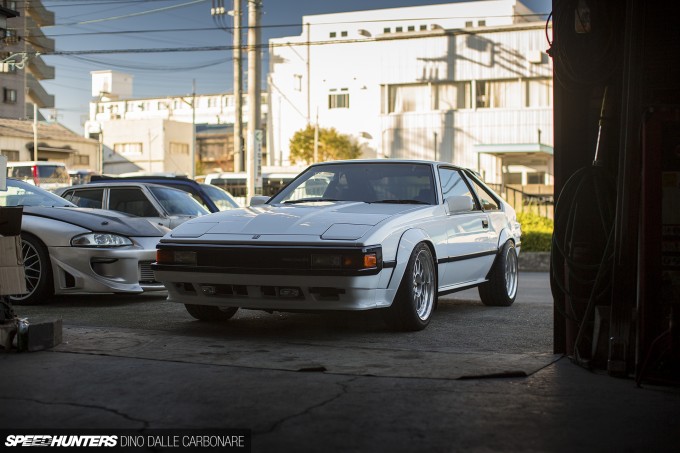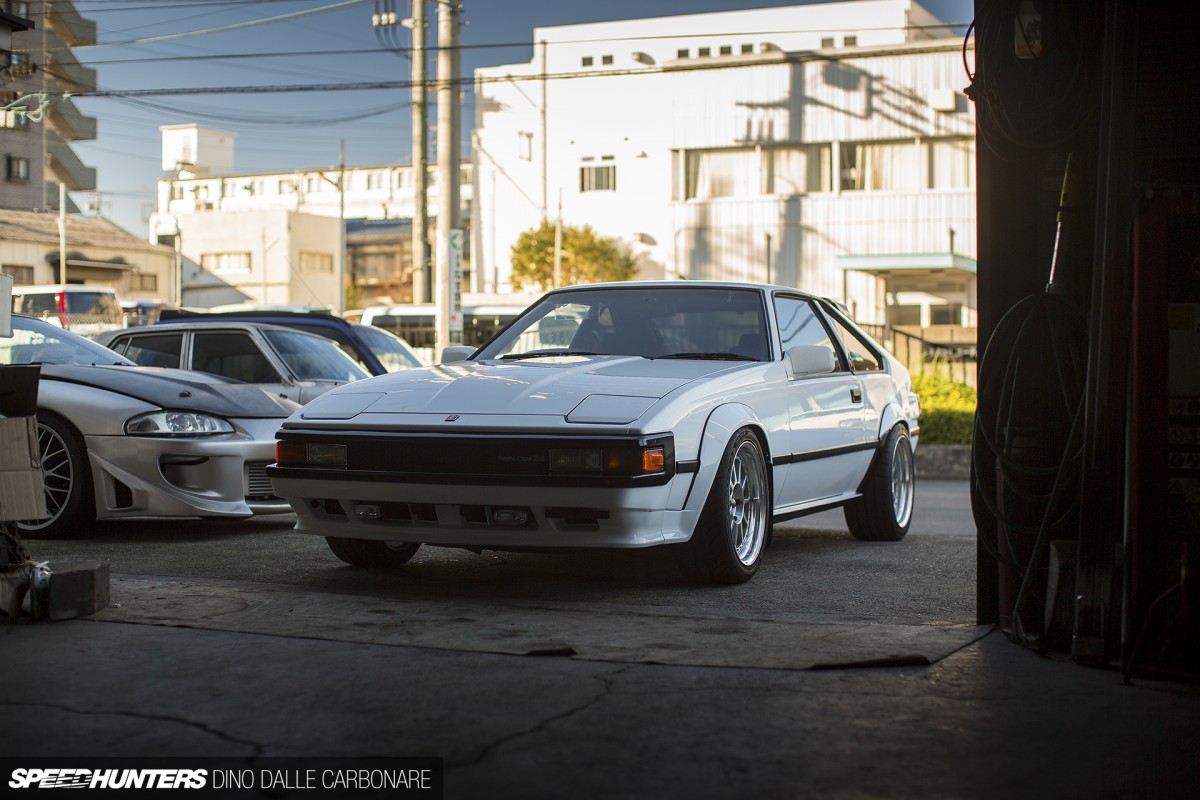 I seriously hope that what we've seen with this Celica is going to become a trend in Japan, as in my opinion it's where people should be going with their long-term project cars. But what about you – if you had the chance, what kind of car would you choose to resto-mod in a similar way? Would you engine swap it? And what other touches would you add to it, to make it your own?
Next up from S&A Auto-Create is a full feature on the Lancer Evo VI Tommi Mäkinen Edition I spotlighted last month. That's a car that takes what we have seen here and does it in an even more performance oriented way. Stay tuned for that!
Dino Dalle Carbonare
Instagram: speedhunters_dino
dino@speedhunters.com
S&A Auto-Create 1984 Toyota Celica XX
Engine:
Honda F20C 2.0L DOHC VTEC inline-four (S2000), HPI radiator, S&A Auto-Create custom headers, S&A Auto-Create stainless steel exhaust system, S2000 ECU, S&A Auto-Create custom carbon under cover
Driveline:
Honda S2000 clutch/flywheel/6-speed transmission, S&A Auto-Create custom propeller shaft, TRD 2-way LSD
Suspension/Brakes:
S&A Auto-Create custom 1-way adjustable coilovers, Mitsubishi Lancer Evo VII Brembo 4-pot (front) & 2-pot (rear) callipers, cross-drilled rotors (front/rear)
Wheels/Tyres:
Barramundi Design Eleven 17×8-inch +15 (front), 17×9-inch +2 (rear), 25mm rear spacers, Bridgestone Potenza RE-71R 235/40R17 (front), Bridgestone Potenza RE-11 245/40R17 (rear)
Exterior:
USDM overfenders, USDM roof spoiler, USDM side marker, custom white paint
Interior: 
Custom leather re-trim, Personal steering wheel, TRD horn button, S2000 dash meter custom fitted in stock binnacle, custom roof-mounted engine start/stop switch plus switch panel, S2000 shift knob, Pioneer Carrozzeria navigation system with projection screen, Defi gauges (oil temp, oil press, water temp), Defi Control Unit II, custom switches for double horn and triple hazard, OEM Toyota Celica XX carpets, custom integrated ETC card reader