The Japan Dream
If you love cars and you've never visited Japan before, I'm sure it'll be at the top of your travel bucket list. Let's face it, whether you're a car freak or not, it's still an incredible place to discover. The culture is simply fascinating, and don't even get me started on the food! But if you do happen to be a gear head, in my opinion, Japan is even more enjoyable.
Those of you who've had the pleasure of spending time in the motherland before will understand. But if you've never been, Japan can seem like a magical, make-believe dream world, filled with all the automotive gems and treasures that your wildest dreams might conjure up for you if you're lucky. Dreams filled with outrageous neon lights, rainbow ferris wheels and scenes out of the Tokyo Drift and Wangan Midnight movies. Well, I'm here to tell you that's exactly what Japan's car culture is like. If you know where in Japan to find it, that is…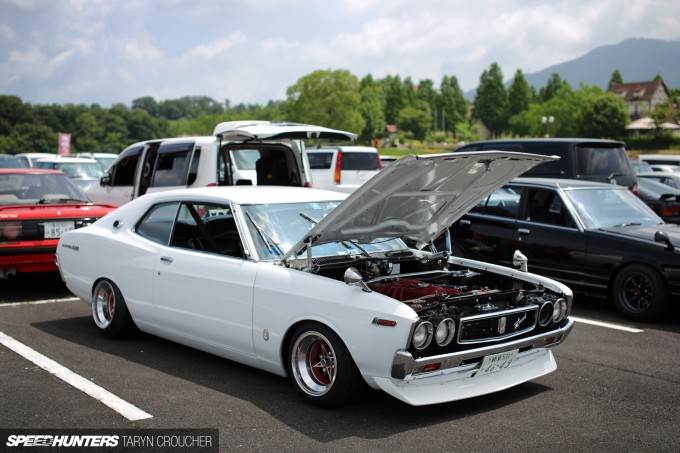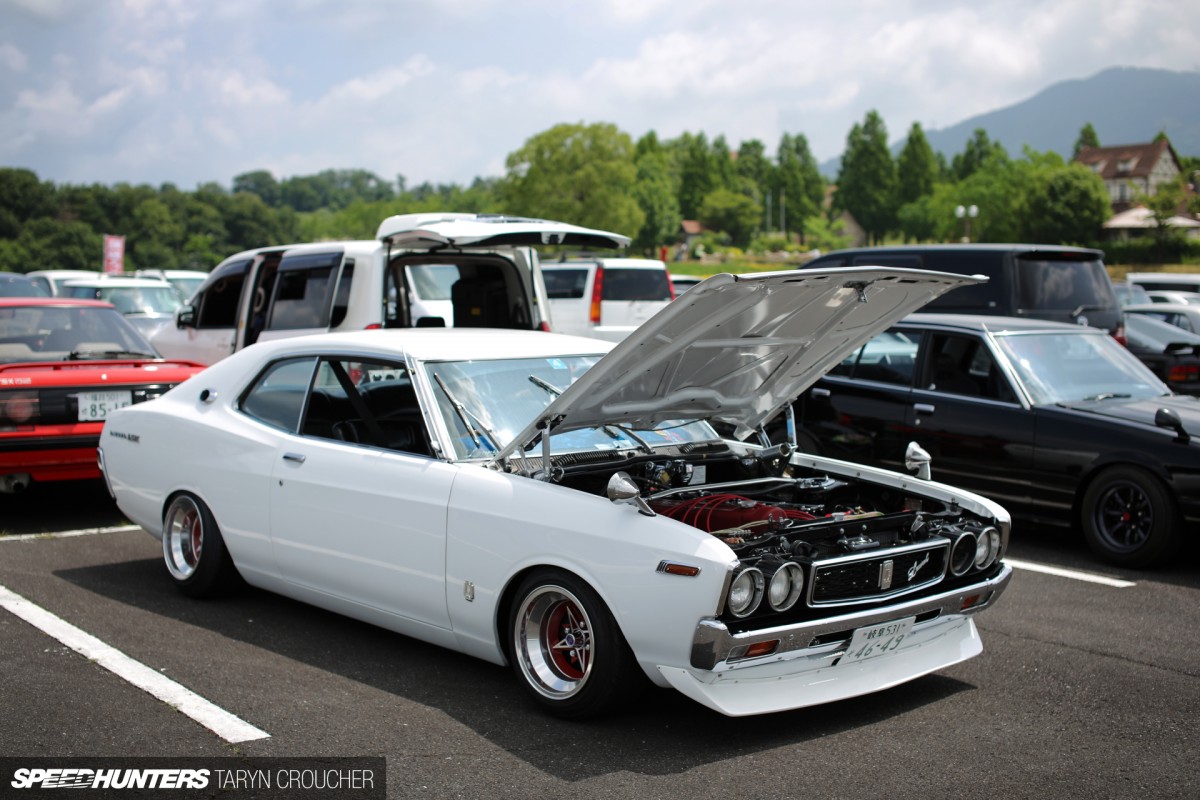 Prior to this trip, I'd visited Japan twice before. But I'd never managed to stay longer than a fortnight, which just didn't seem like anywhere near enough time to see all the cool car stuff I'd always dreamt of discovering there. So I decided to do something crazy. I put my beloved 240ZG-inspired Datsun S30 project car into storage (along with 95 per cent of my other belongings), handed back the keys to my rental property in Auckland, packed a suitcase and hopped on a flight to Tokyo.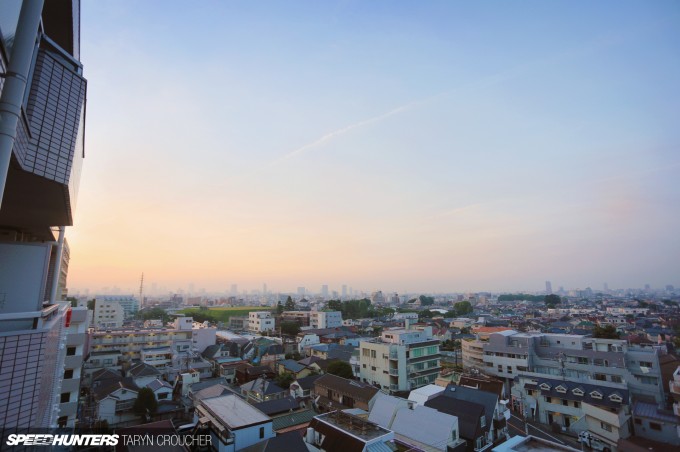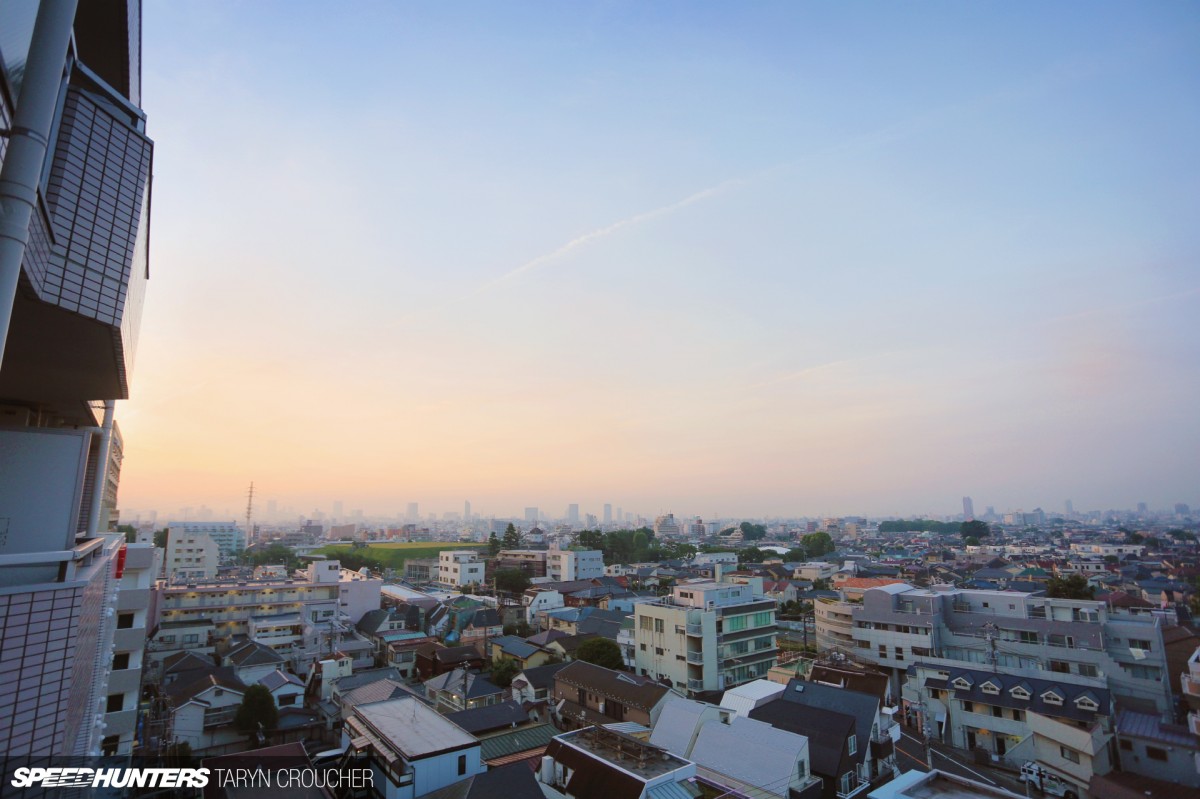 Living out of hotels wasn't going to be an option this time, so after a bit of research I ended up booking a rental apartment through a website called Airbnb. I had six weeks to explore the land of the rising sun, and this beautiful view to wake up to every morning! I was finally living my Japan dream, and it was such a good feeling.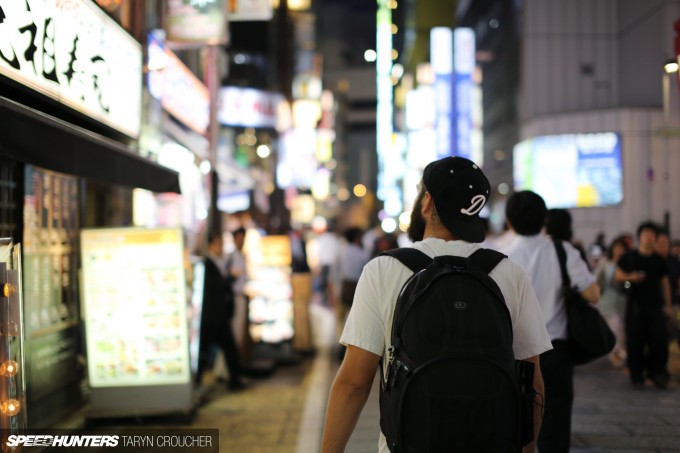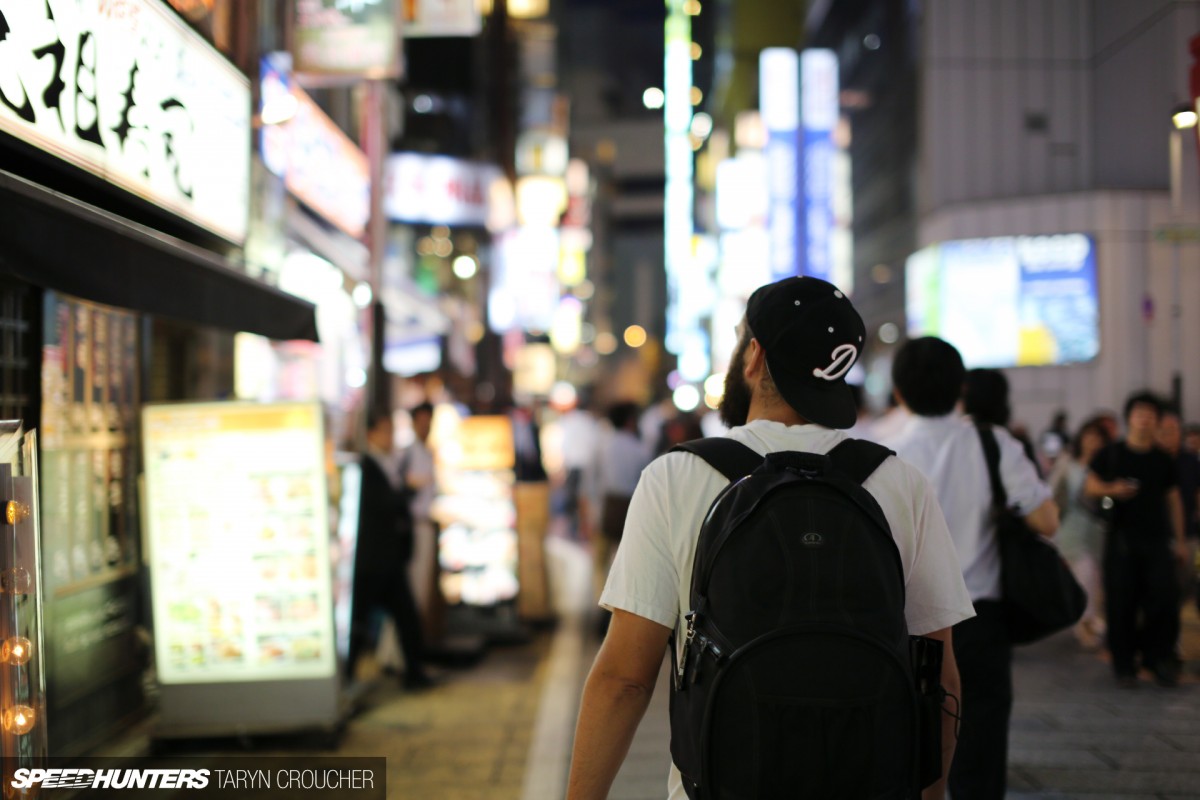 I was also lucky enough to share that dream with Peter (aka Pedey), my most trusted associate/manservant/husband, who has also recently joined the team here at Speedhunters.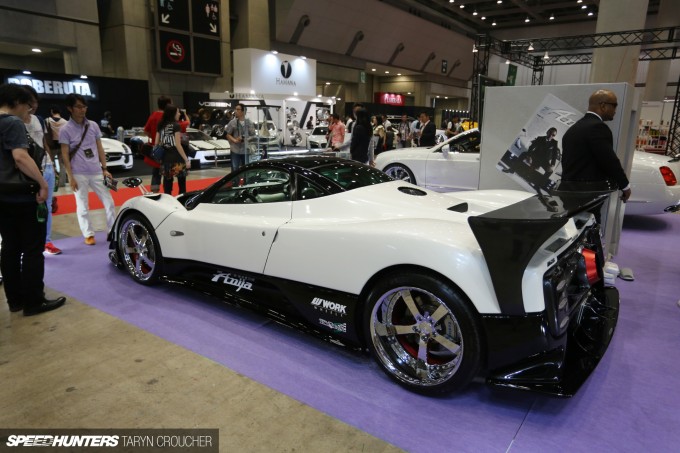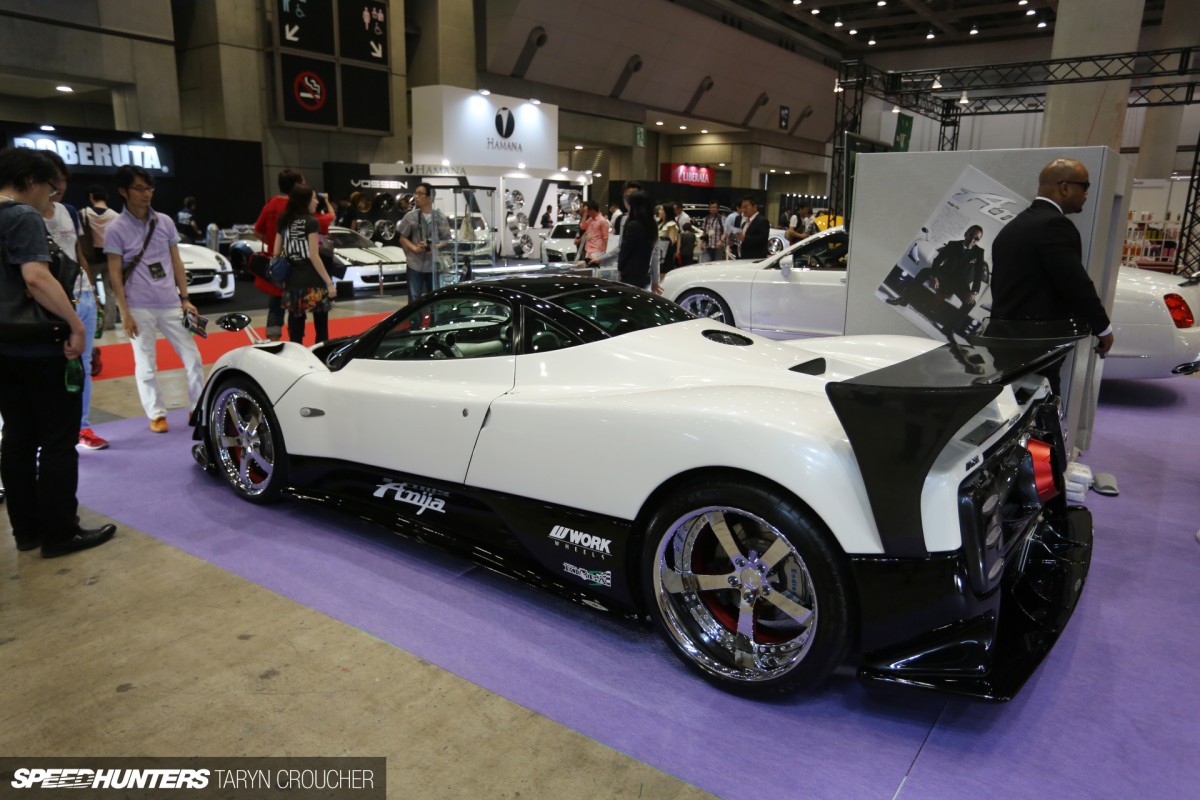 Anyway, going back to what I said earlier about knowing where to find car culture in Japan. It's true that if you just randomly book flights and show up in the city with no clue about where to go or what to do, you might not see any cool cars at all. The secret to enjoying the Japanese car scene is planning, research and having friends or contacts that can help you with your adventures. The language barrier can make some things quite difficult, and it really surprised me the first time I went there that hardly anyone could speak English. So sometimes it can be hard to find certain information to aid you in your travels, which is where Japanese-based friends can definitely come in handy.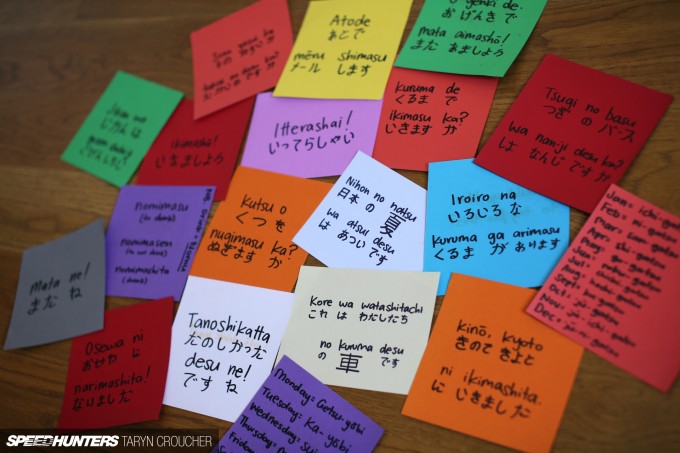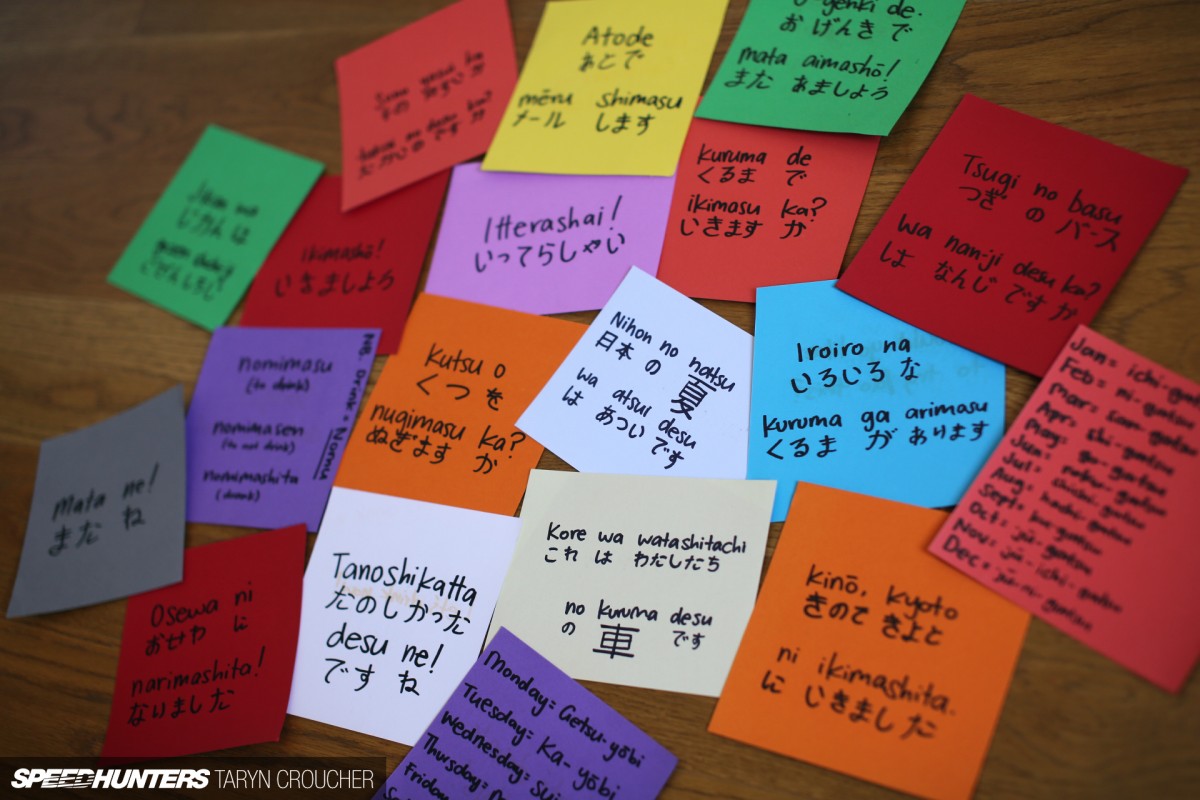 Of course, not everyone has friends in Japan; I certainly didn't know anyone there up until a few years ago. But you shouldn't let that discourage you, and I hope this story can give you a few helpful pointers. Firstly, why not try and learn some Japanese? It's actually incredibly simple, and I've learnt heaps of basic phrases mainly just from listening to podcasts from this website. I haven't managed to find the brain capacity to absorb any of the complicated Kanji characters yet, but the two basic alphabets, Hirigana and Katakana are really easy. Last year I memorised them by writing them out by hand on these flashcards while I ate my breakfast every morning.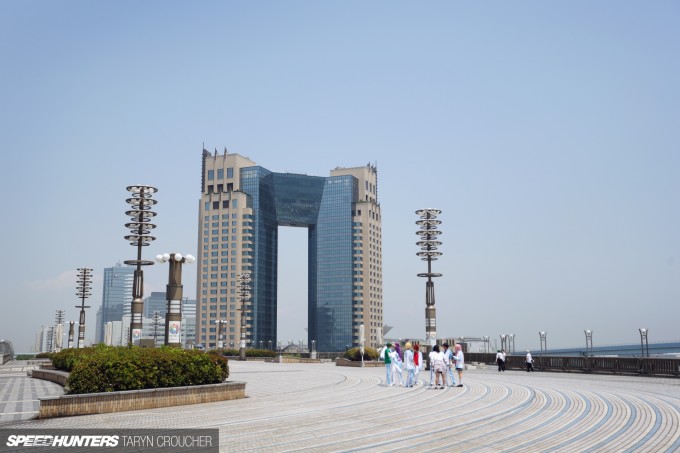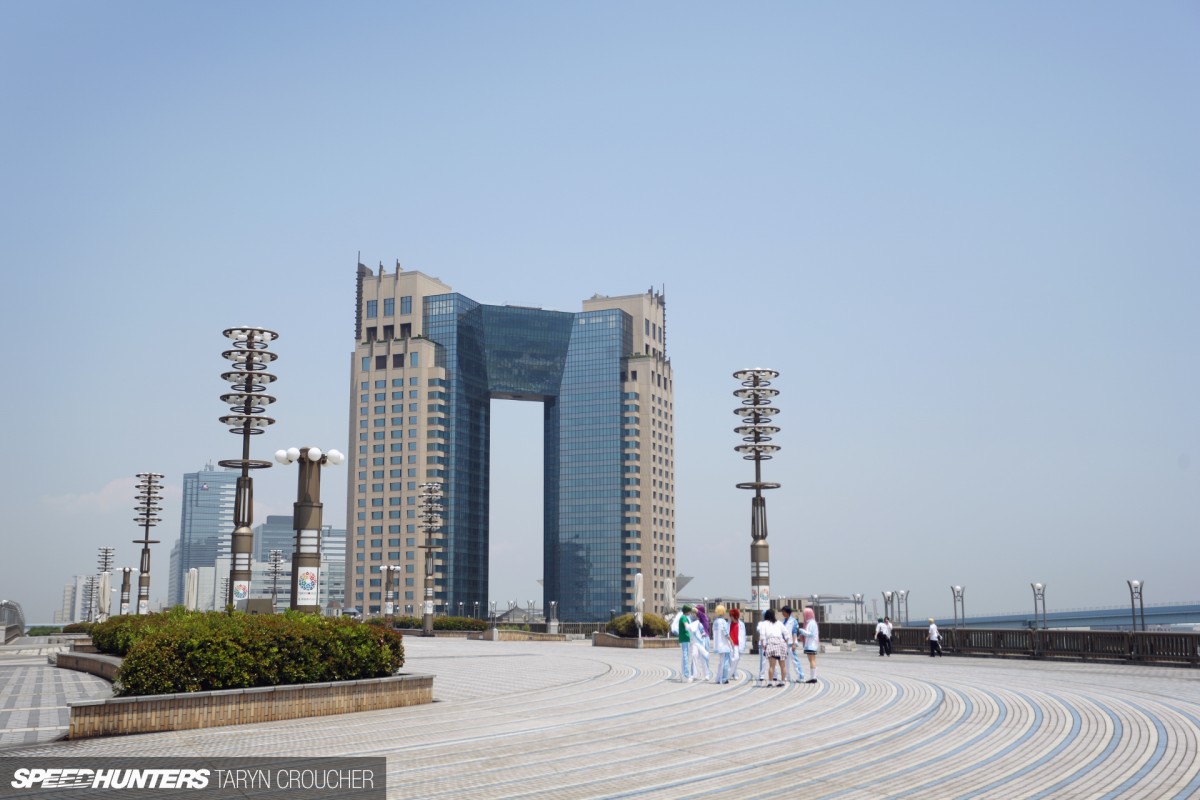 After we settled into our tiny apartment we ventured over to Odaiba, an artificial island in Tokyo Bay, as we had heard about the Tokyo Special Import Car Show taking place at the convention centre there. When we got off the train, we were greeted with this strange sight. The weird cityscapes in Japan can often make you feel like you're in a completely different dimension. Are we even on planet Earth still!?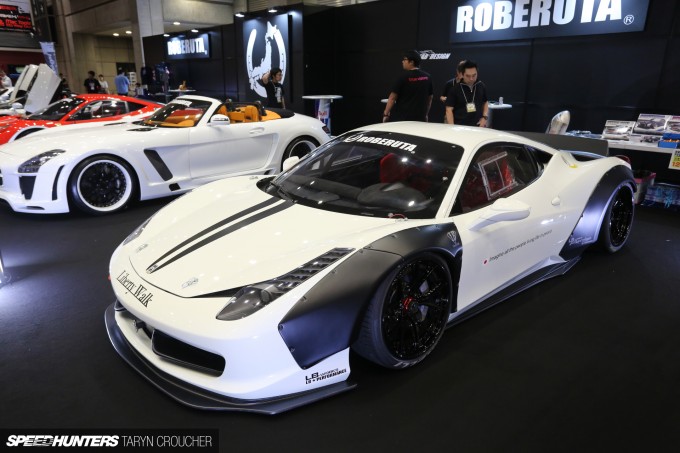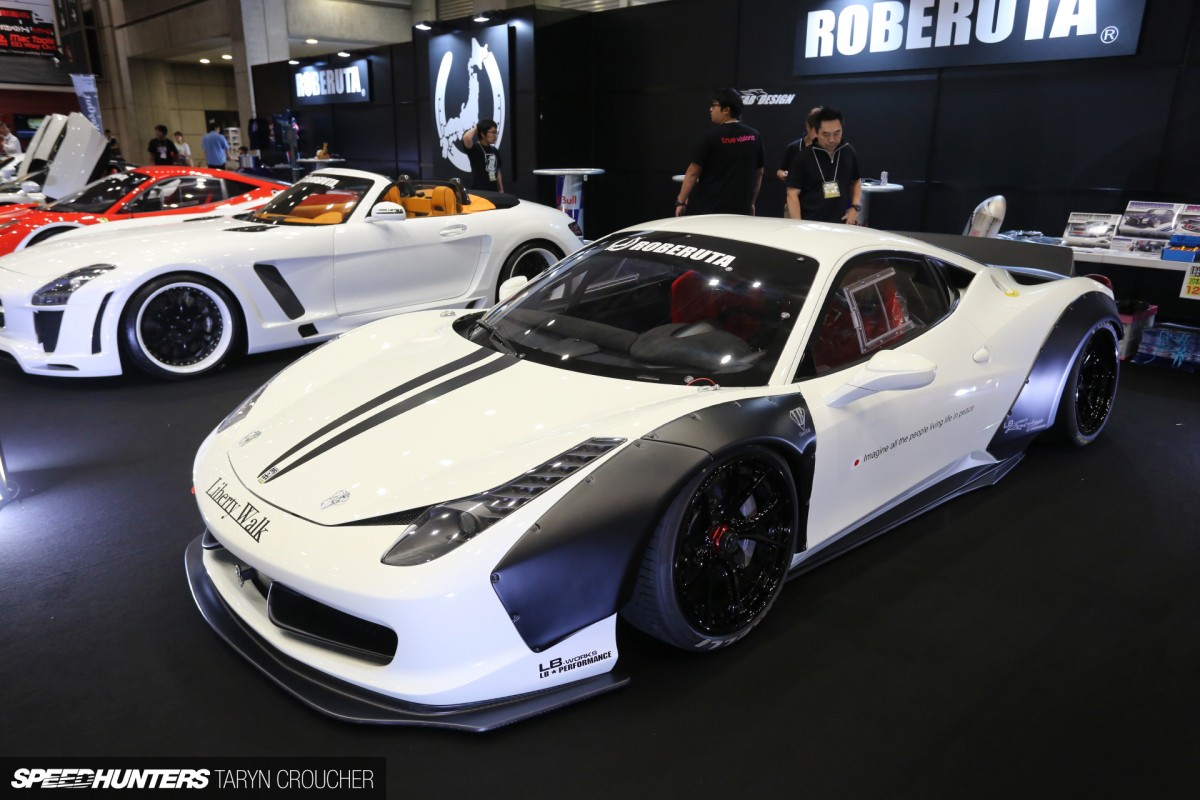 The show had a small yet impressive selection of modified luxury vehicles on display, including Kato-san from Liberty Walk's freshly modified 458 Challenge, which was overwhelmingly gorgeous in person. You'll be able to get a much better look at this outrageous Ferarri soon, as Dino has already spent some quality alone time with it with his camera.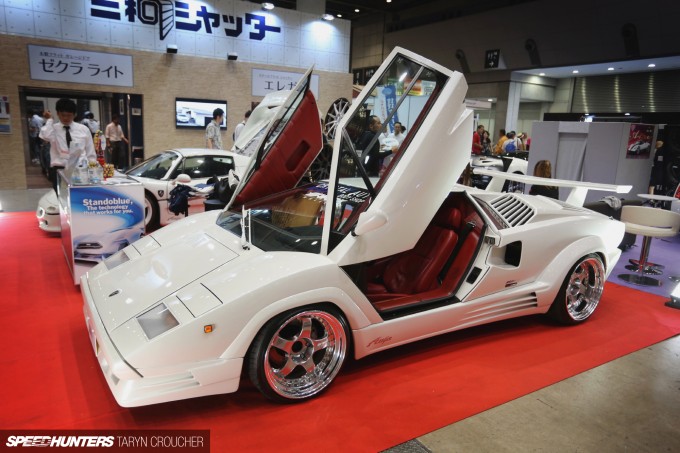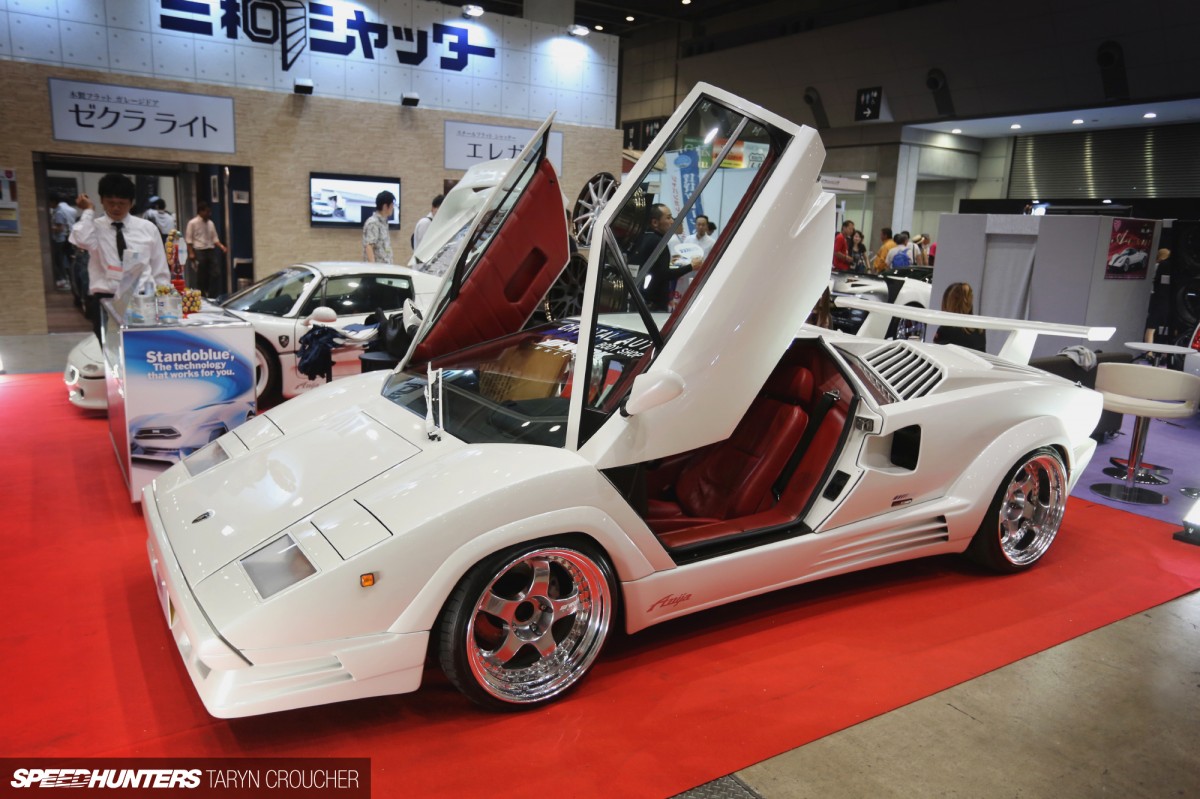 A Lamborghini Countach on Work Meister S1 wheels? Some might call this sacrilege, but you've got no choice but to have an open mind at Japanese car shows. In the land of the weird and wonderful, anything goes! Speaking of car shows, I'd strongly recommend basing your trip to Japan around an automotive event or car meet. The Tokyo Special Import Car Show was only a small event, but if you go back and look through our Japanese show and festivals archives, this might give you some ideas. This way, you're not only guaranteed to see some amazing cars, but you'll get the opportunity to meet some new people too. I planned my trip around the Offset Kings event at Fuji Speedway, where I met some awesome new friends – both from Japan and from around the world!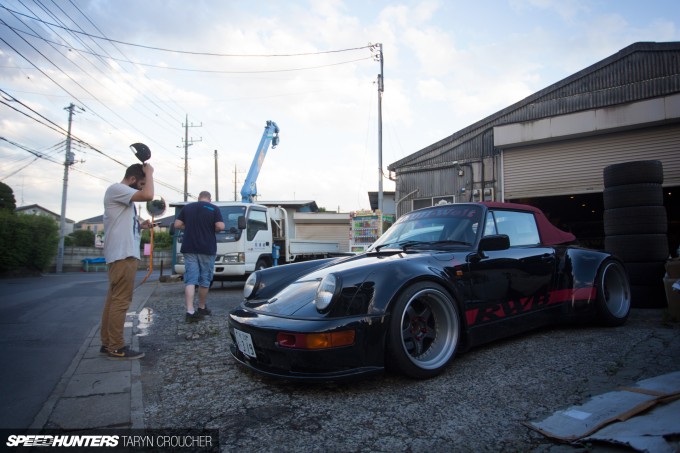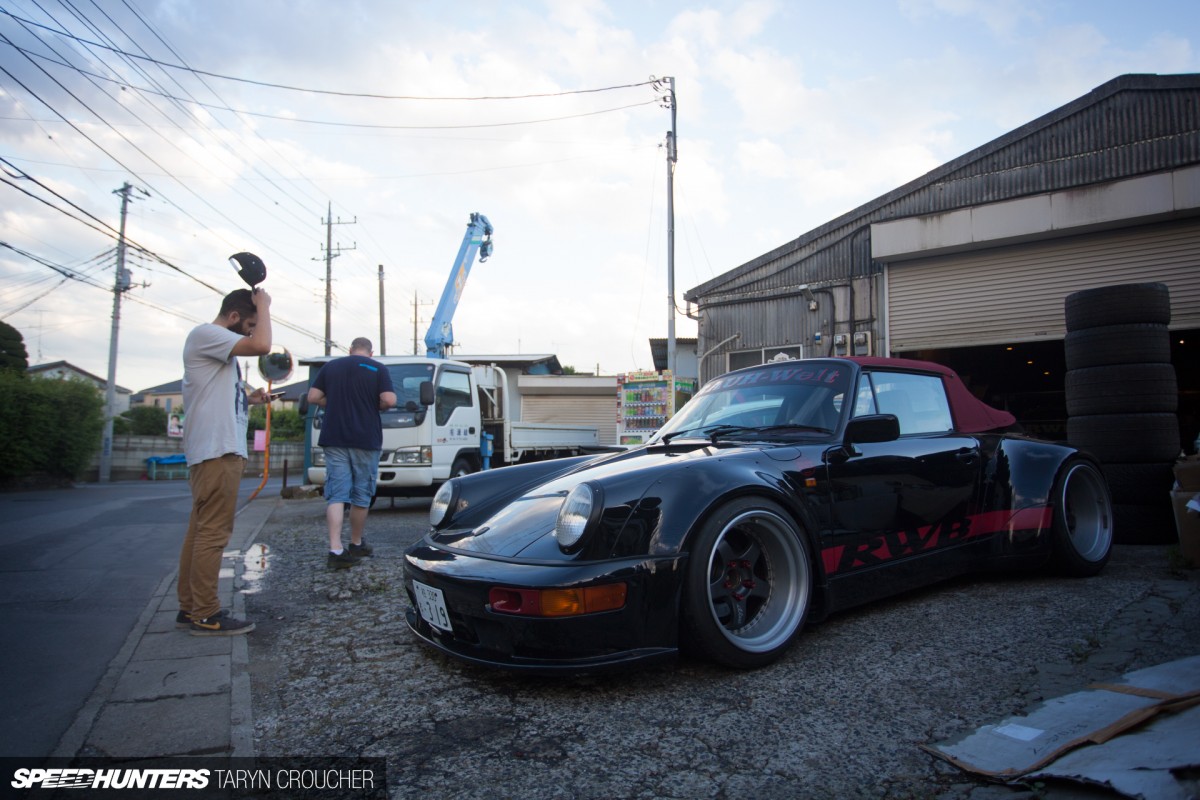 To be honest, I haven't really spent much time visiting tuner workshops in Japan, but for some reason I always seem to end up at the RWB headquarters in Chiba. Nakai-san's current daily driver, this ridiculously wide 964 cabriolet, did absolutely nothing to help with my growing obsession for black Porsches from this era. Nothing.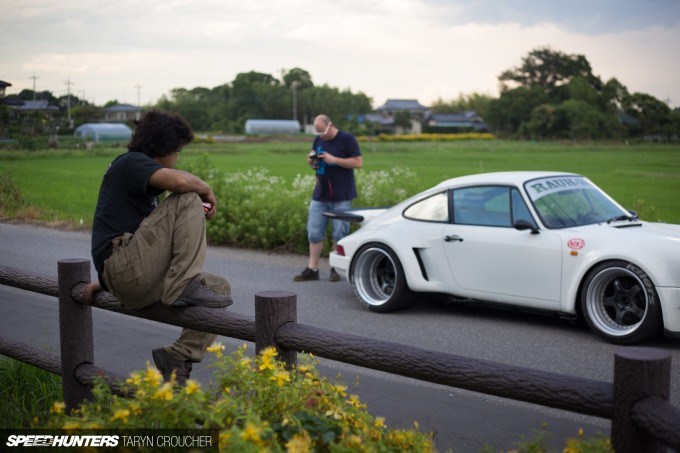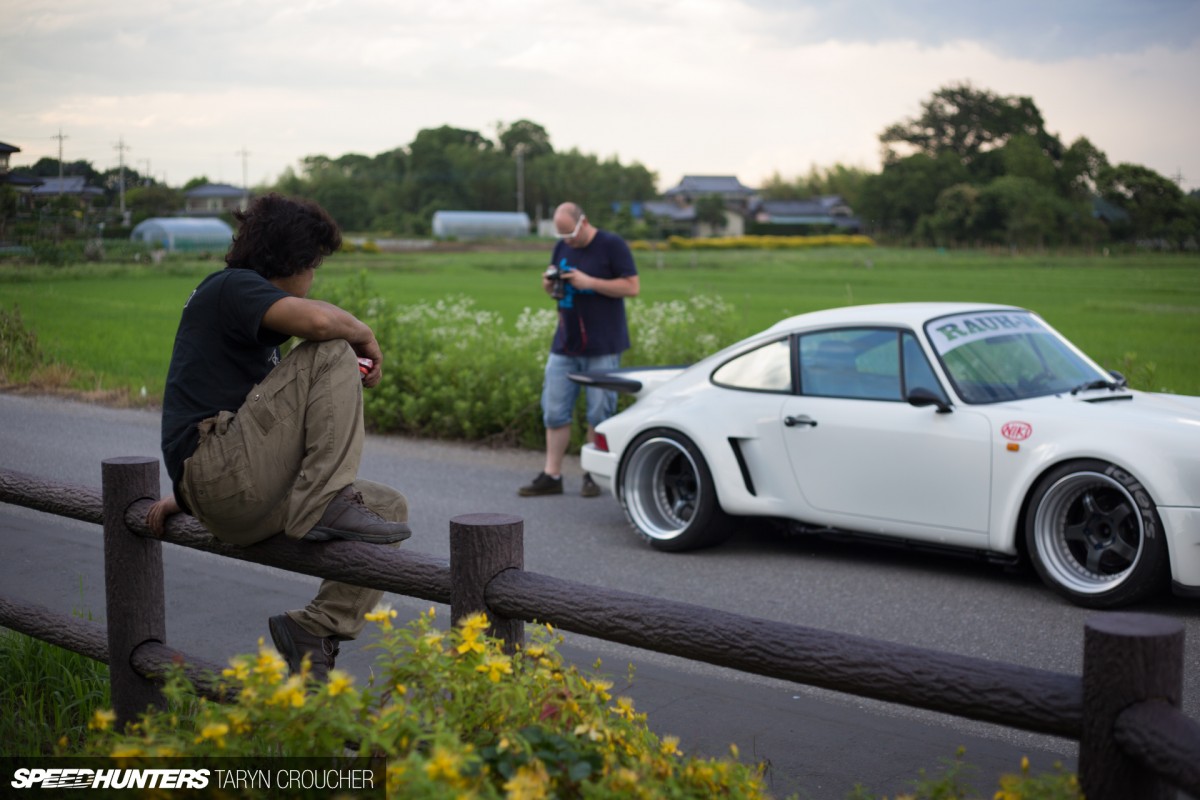 I wasn't really at RWB to do anything in particular, apart from to say hello to Mr. Nakai and to help Dino shoot this beautiful IROC-inspired 964 build, which you can check out more of here.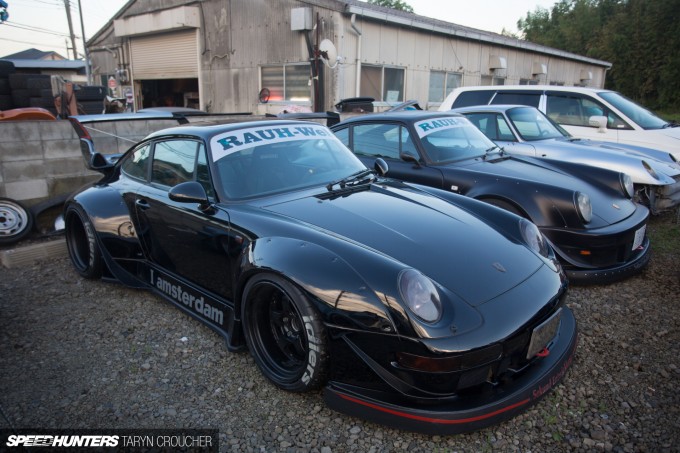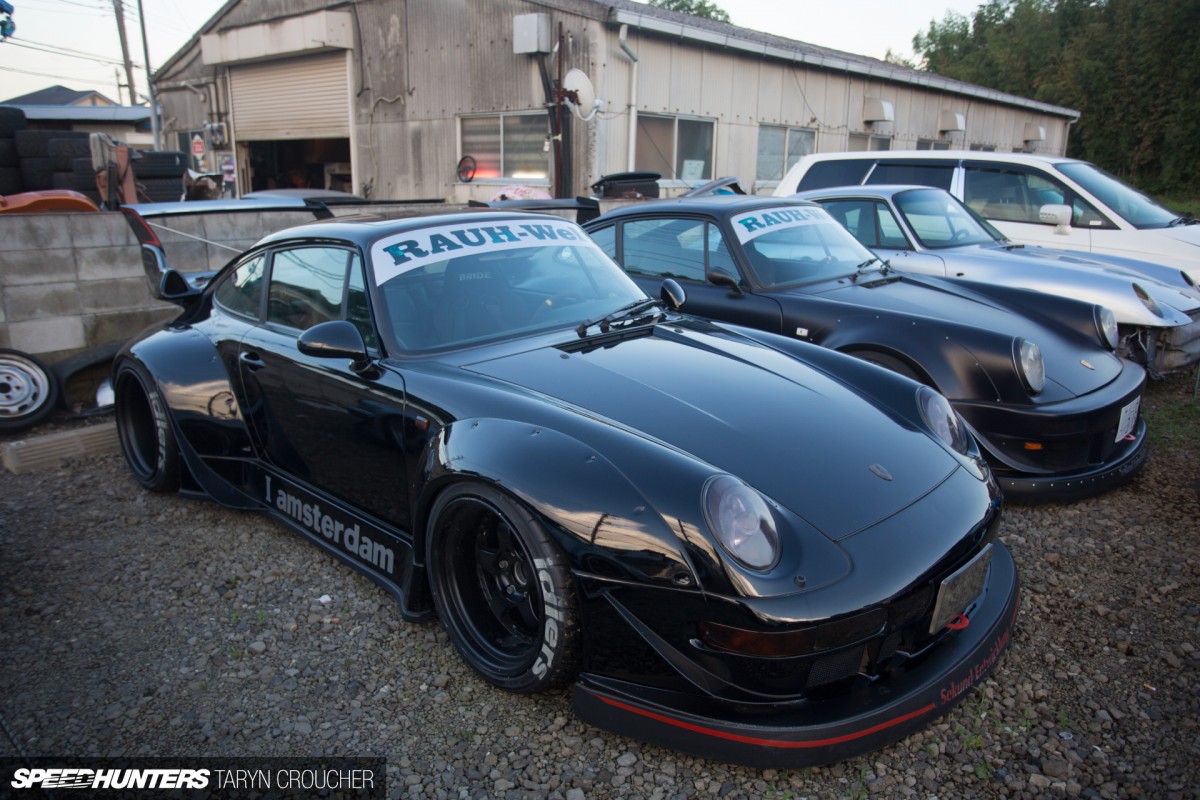 Oh, and to drool over the various RWB-treated Porsches in Nakai-san's backyard, of course! This gorgeous 993 has to be one of my all-time favourites, although I think I still prefer the older protrusive 964 headlights better. With workshop visits like this, the etiquette can vary, but if the staff don't know you then it's always best if you can try and get in contact first. Most tuning shops are open to visitors, but some smaller companies are more private, and might get a surprise if you show up with cameras flashing.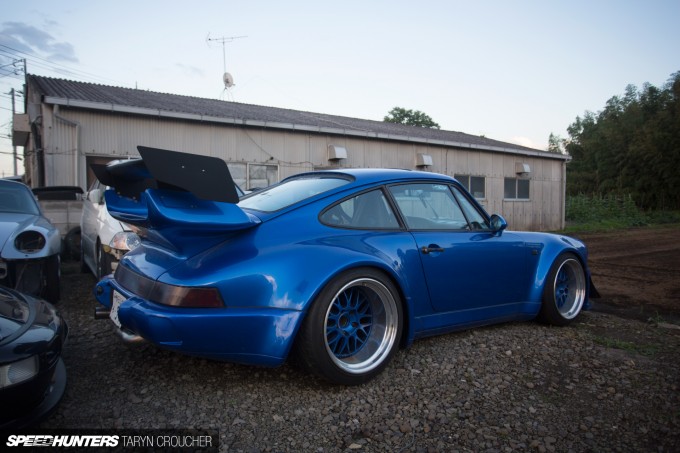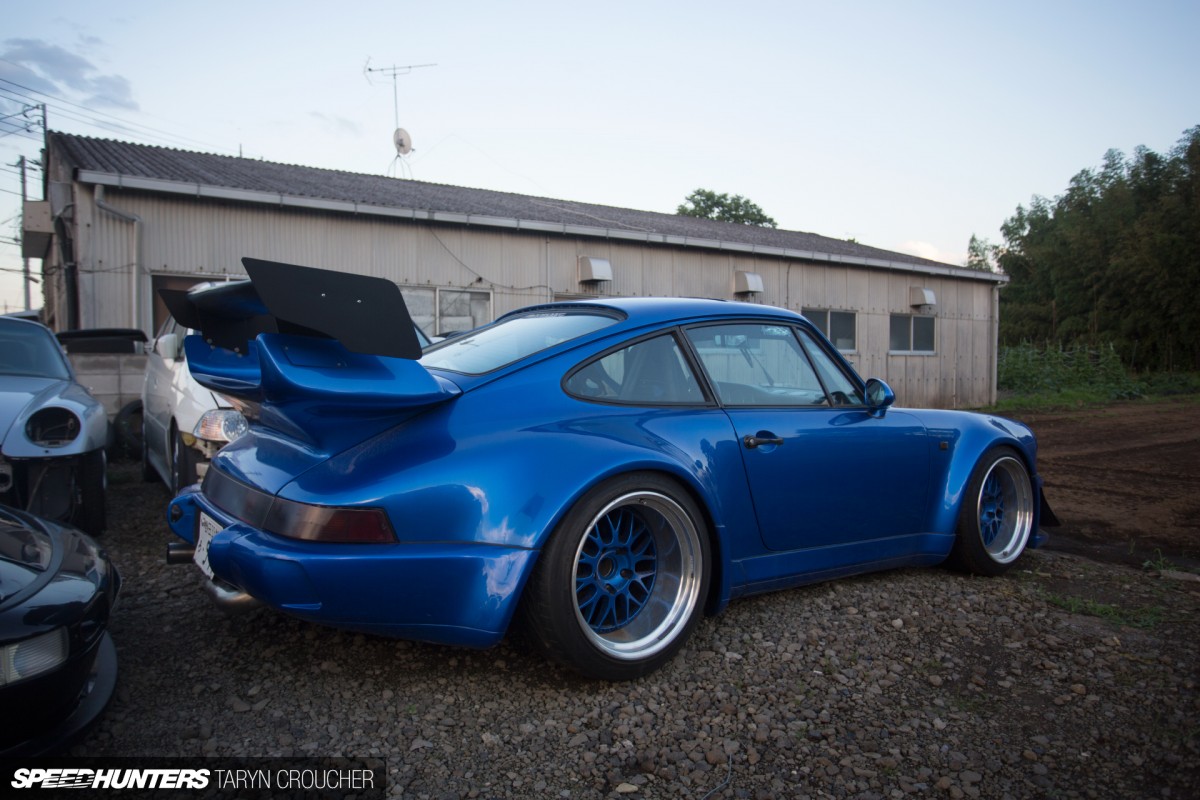 You could even print out a message or have text translated and ready on your phone, explaining who you are and the reason for your visit. Don't let this put you off, but it is good to remember that their workshop is their place of business, and politeness is an important part of Japanese society.
As much as I love wide-bodied Porsches, my twisted hunger to see the weirder, darker side of Japan's car culture still remained unsatisfied. It was time to venture into the night…
Hot Tokyo Nights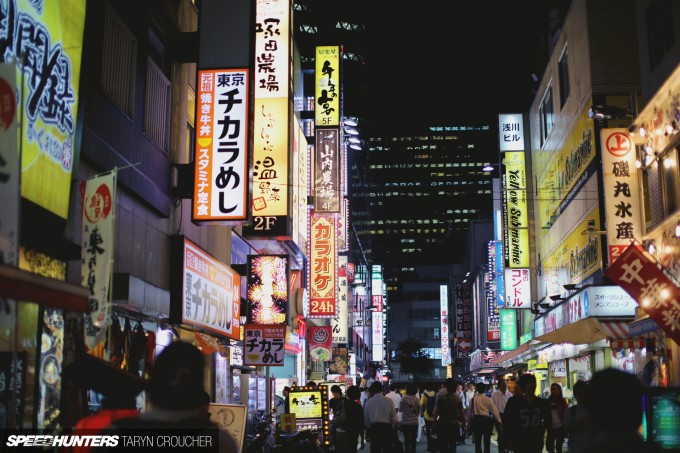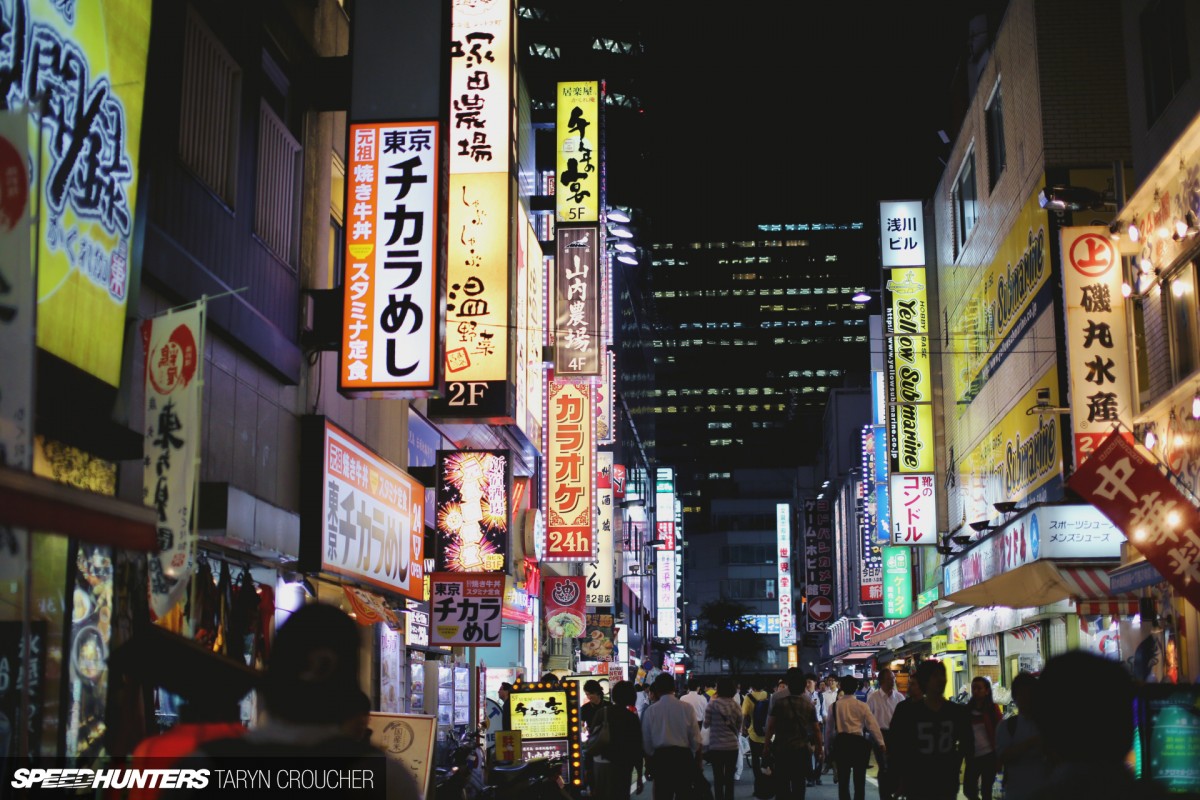 Tokyo might not be the car capital of Japan, but plenty of car enthusiasts live here. But with the city being so densely populated and parking prices so exorbitant, many of them choose to live a quieter existence either on the very outskirts of the city or in one of the neighbouring prefectures, where parking isn't such a problem.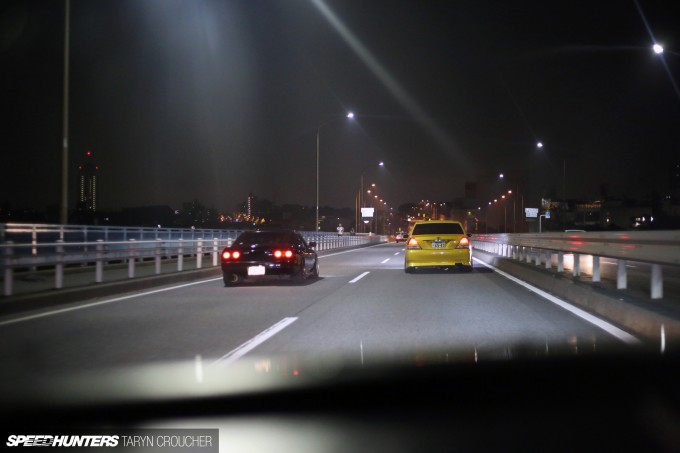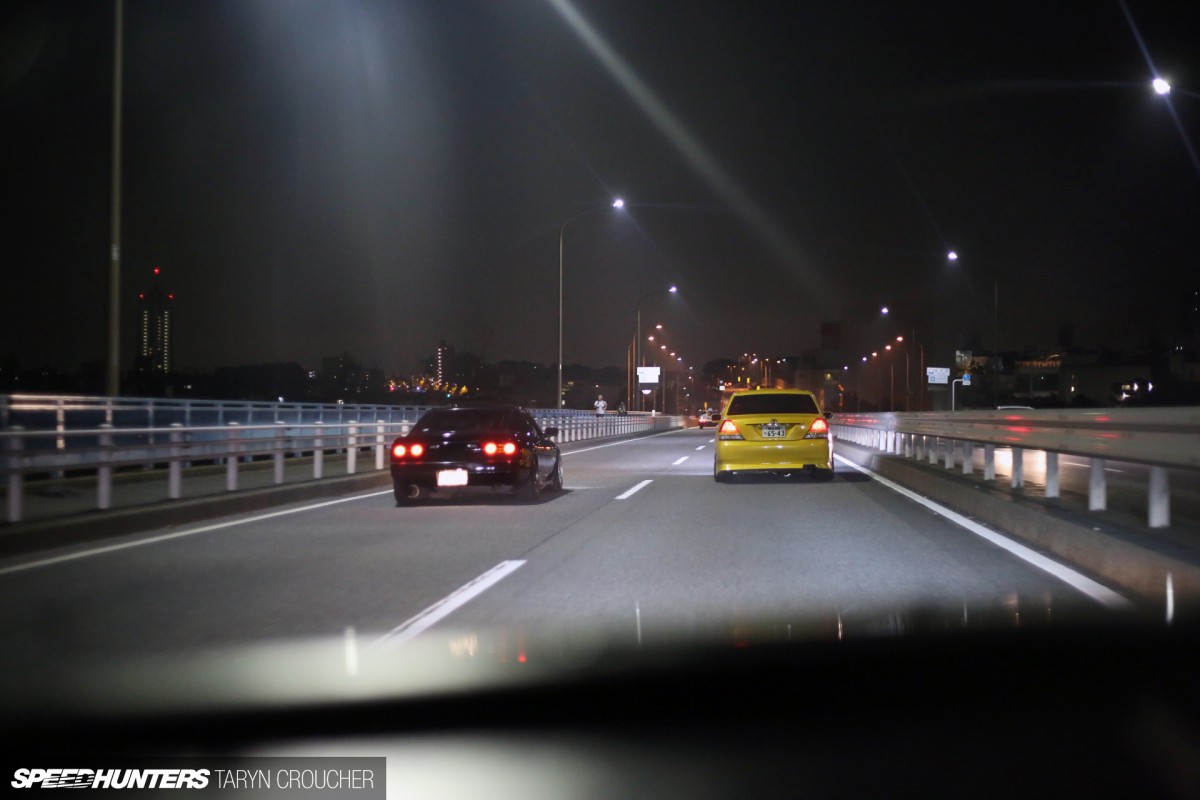 Although perhaps not as big as it once was, the night-time social scene here is vibrant and thriving if you know where to look for it. When people here aren't taking their cars to the local tracks or mountain passes, they're taking them somewhere else to have fun with – as that car usually always doubles as their daily driver! Late night parking area meet-ups to hang out with friends are a ritual, and Daikoku-futo PA in Yokohama is the sacred ground most famously known for this.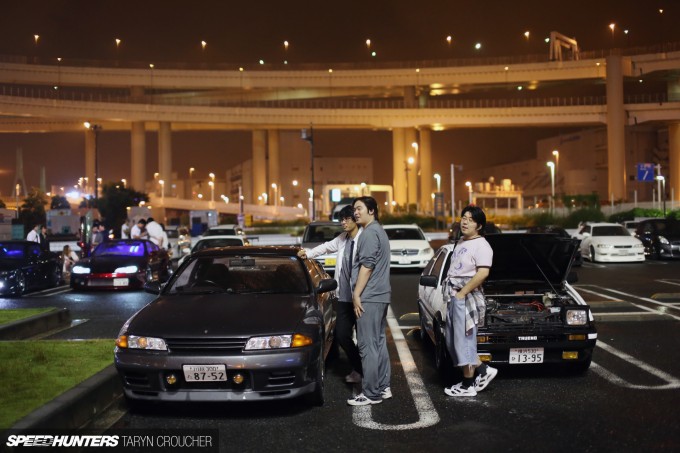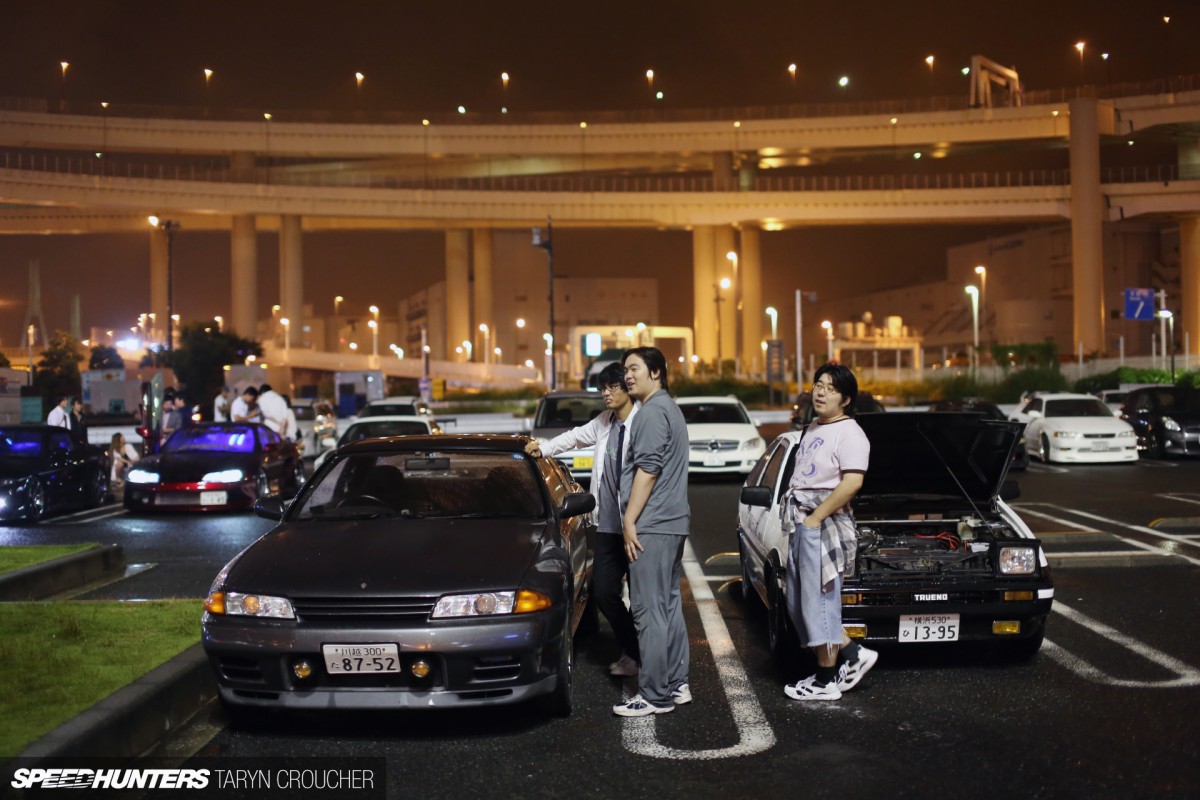 At any night of the week, turn up at Daikoku and you'll see at least a few cool modified street cars around the parking lot.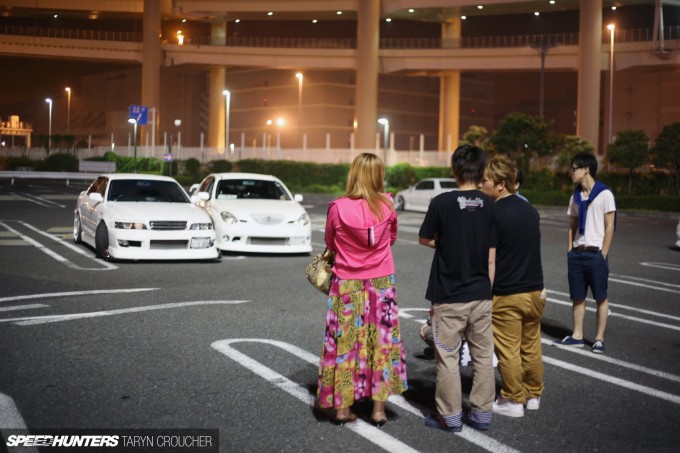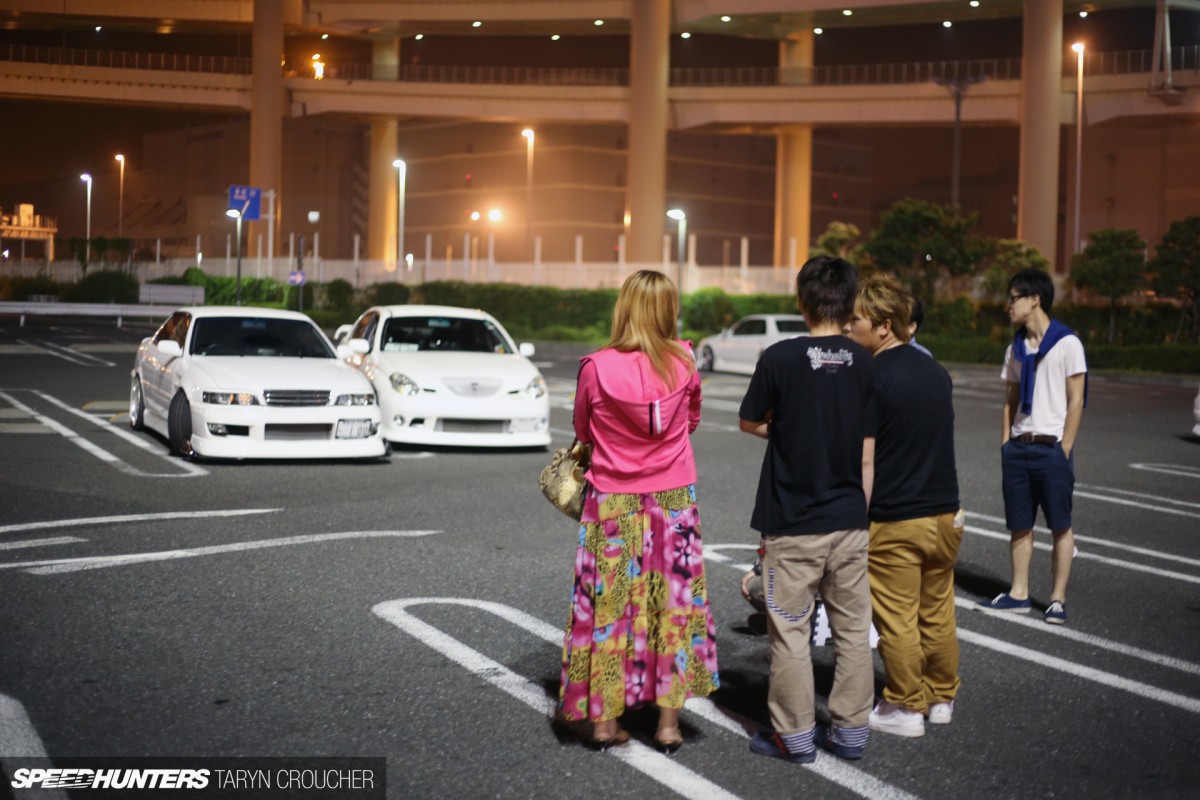 More than often, there'll just be a few different groups of friends chilling out there, comparing their latest modifications to their cars or doing conducting mini photoshoots. Sometimes you might stumble across a larger scale meet taking place, which happened to us one Friday night when we decided to stop by and see if anything was going on…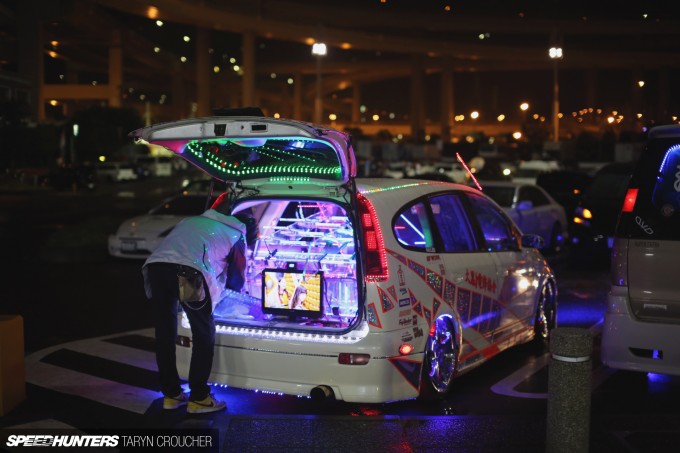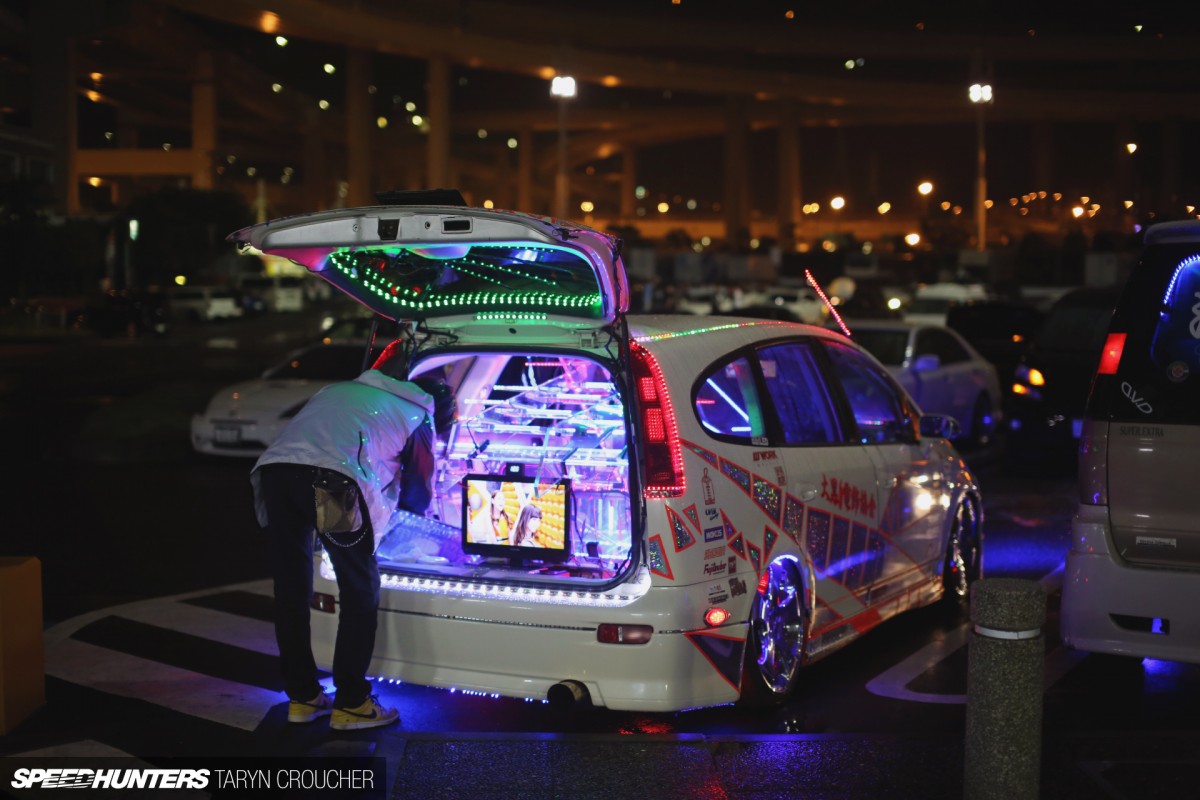 As we drove down the ramp to the parking area, we could hear the faint beat of the 'Crazy Frog' song (I'm not kidding), and as we got closer it got louder… and louder… until it was really loud. A group of about 10 minivans were having a sound-off battle, each taking turns to blast their sound systems on full. The interior of this neon-ridden Honda Stream was absolutely mental!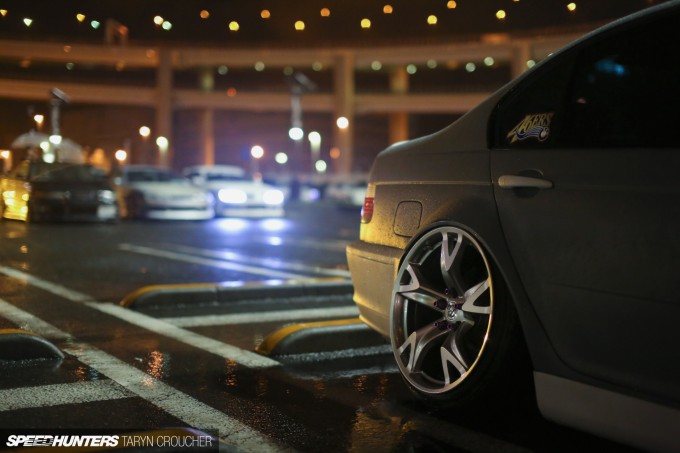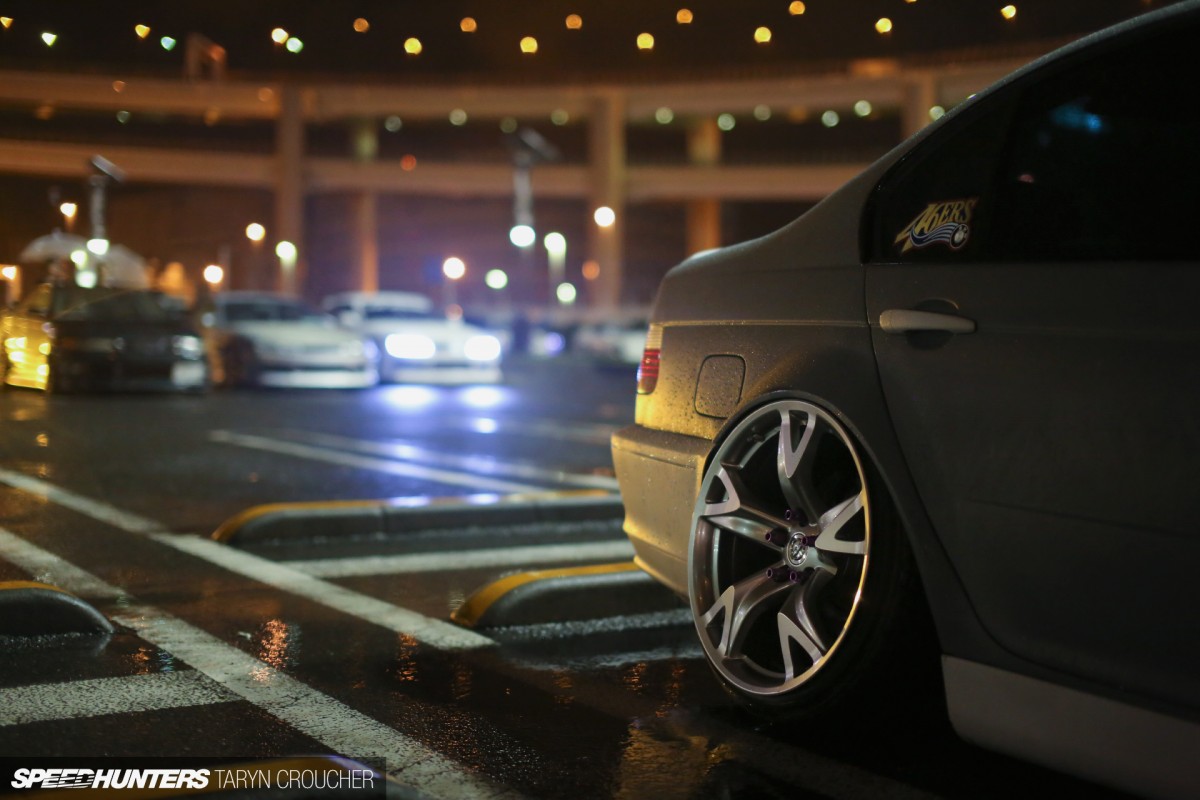 It's not a social crime in Japan to do something with your car that really stands out. Breaking the norm here is expected, and welcomed. Sure, there are still purists out there, but the majority of car guys love injecting creativity and personal style into their cars, whether that means following unusual styling movements, breaking trends, or starting their own. Feel like mounting a set of Nissan 370Z wheels on your E46 BMW? Why not!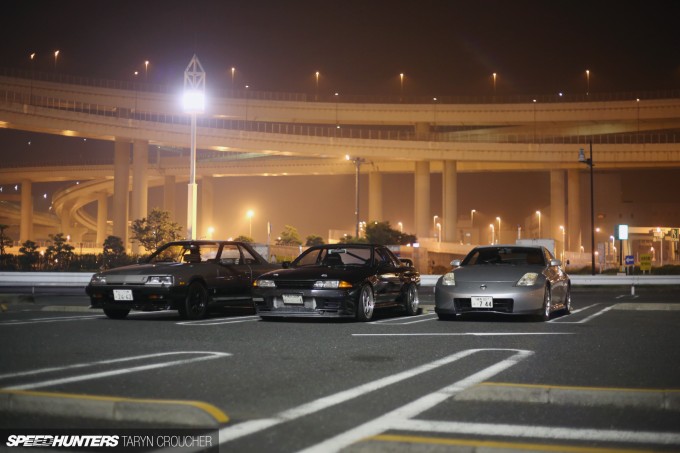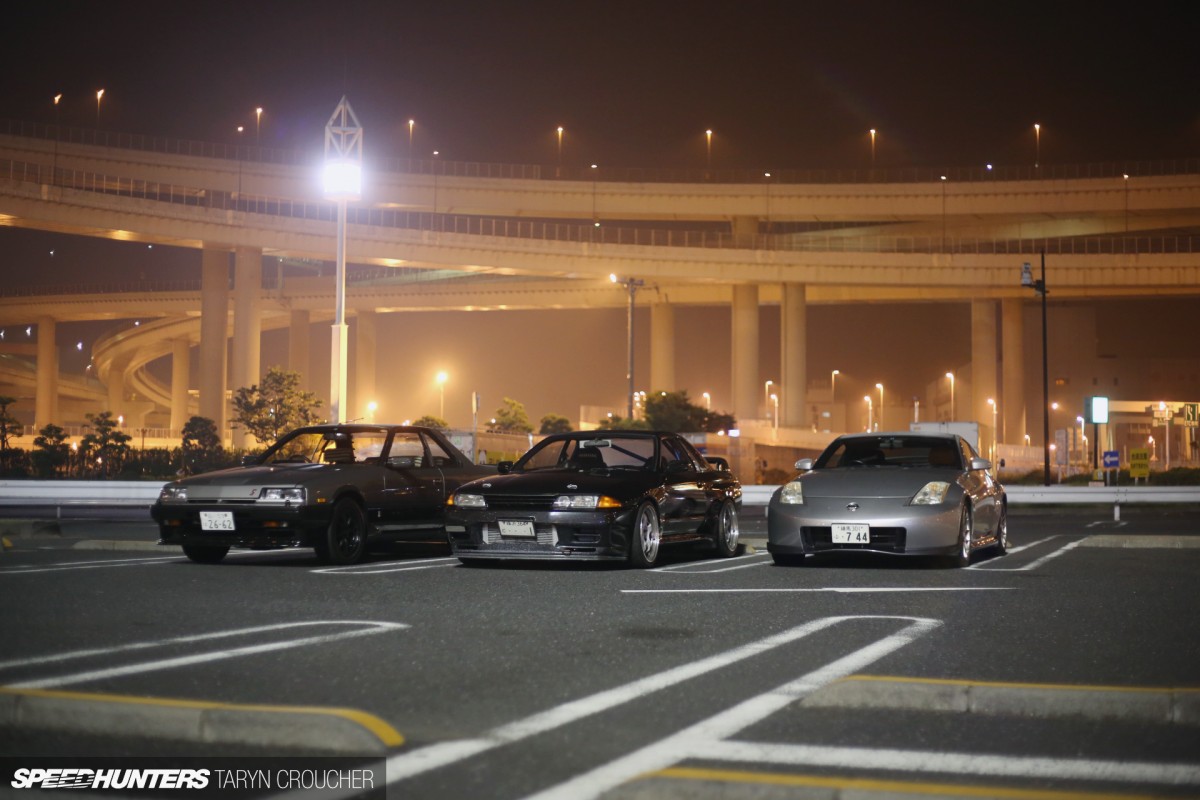 This group of Nissan-loving friends had parked up their rides to take some photos, so I sneakily crashed their shoot. The parking area is such an incredible location at night, with the expressway looping and twisting above and the street lights, creating a strange celestial glow in the hazy sky. What a beautiful sight.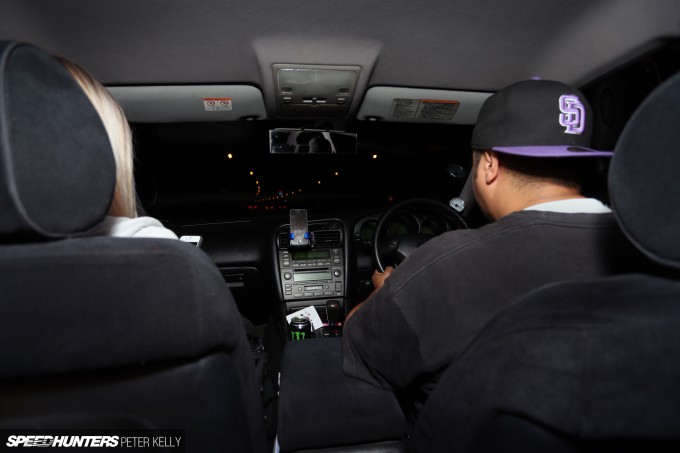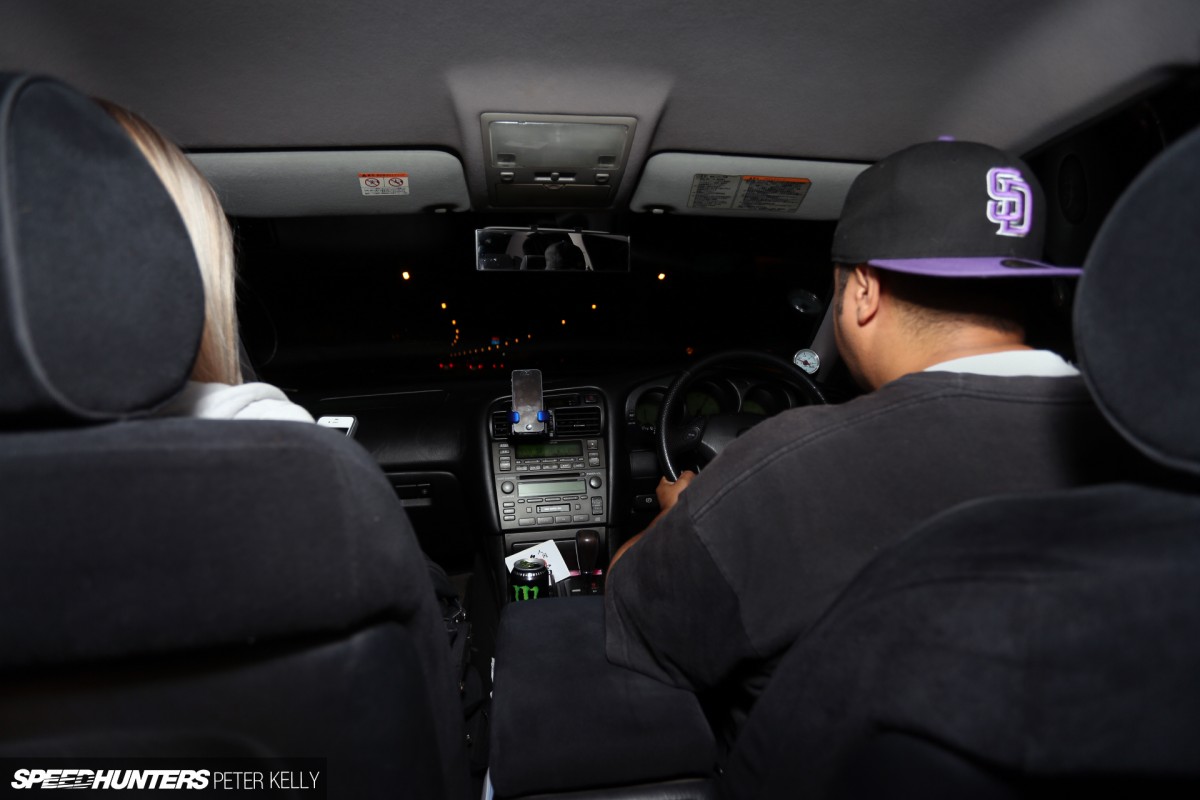 In recent years the police have become more strict with cracking down on people having organised meets at Daikoku PA, and as a result, other parking areas have started to gain popularity as the meeting spots of choice. One such parking area is Atsugi PA, which is further over in the Kanagawa Prefecture, west of Yokohama. On one very hot and humid Saturday night, our new friend Charles Zayas kindly drove us there, where he'd arranged to meet up with some other local car guys. We weren't too sure how many people were actually going to show up…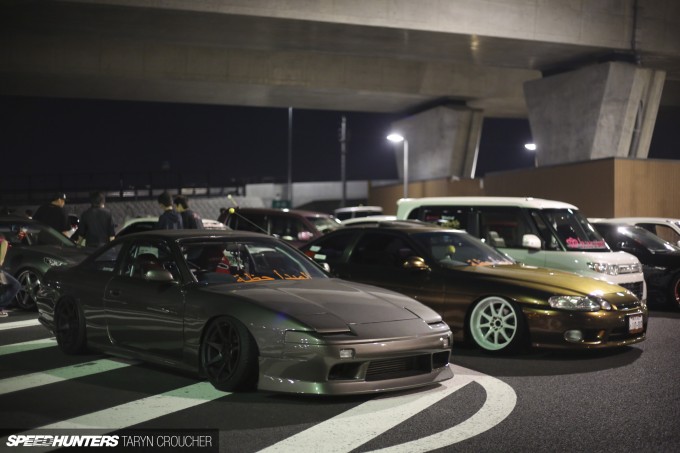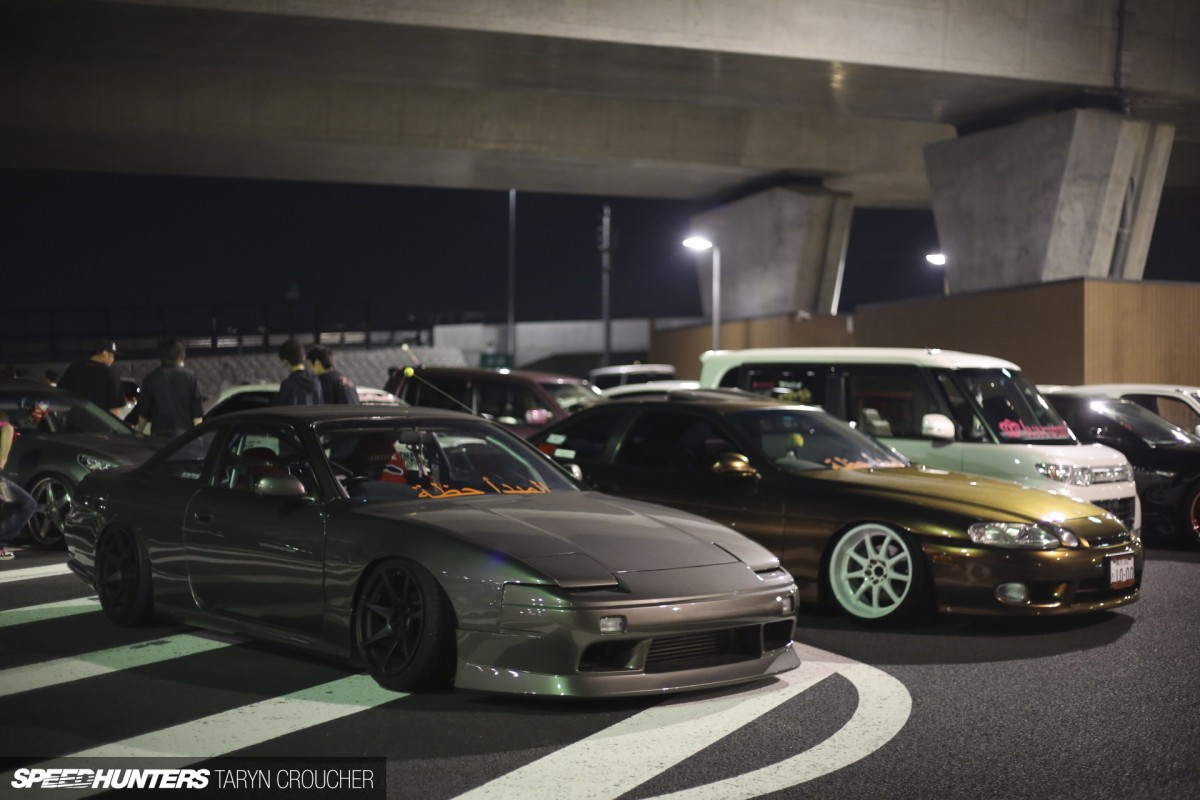 But when we arrived, the whole parking area was full! These were the first cars that caught my eye: a super-clean Nissan Silvia S14.3 – aka an S14 with a 180SX front-end – and an equally clean Z30 Soarer. They made for a great pair with their matching glossy gunmetal and bronze paint schemes.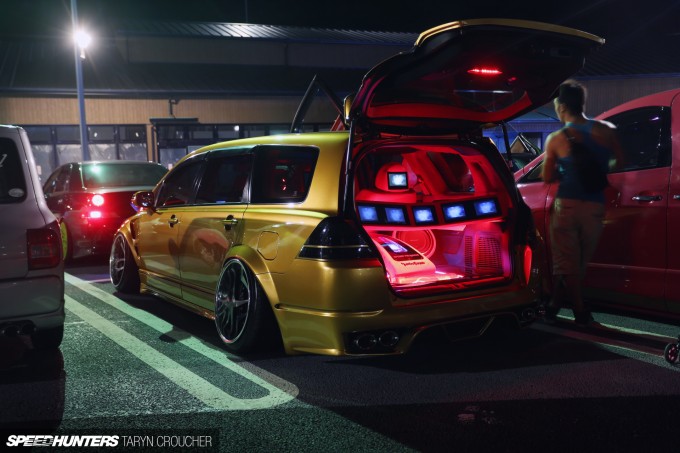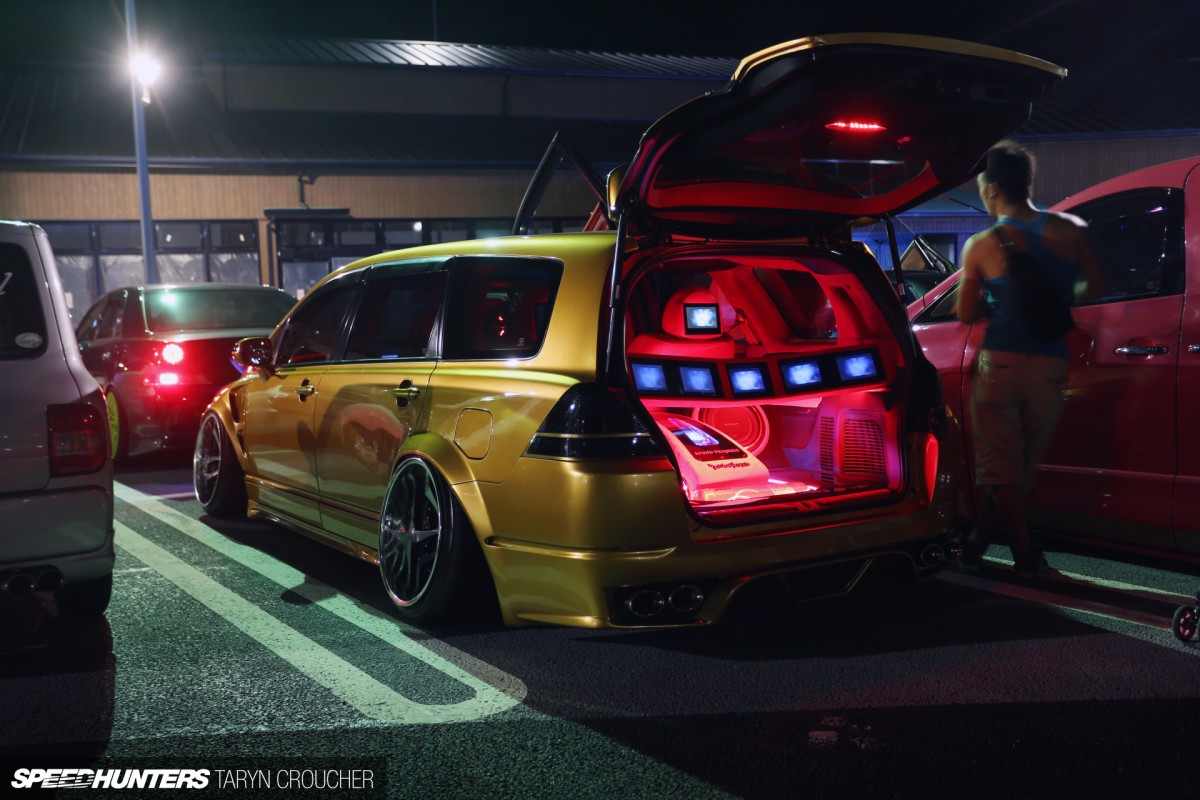 The music was being provided by a Honda Odyssey – one that possessed a much more aggressive stance than the vans I'd seen at Daikoku. The sound install was seriously impressive, but before I had the chance to closer admire it, I was distracted by something large and bright pink.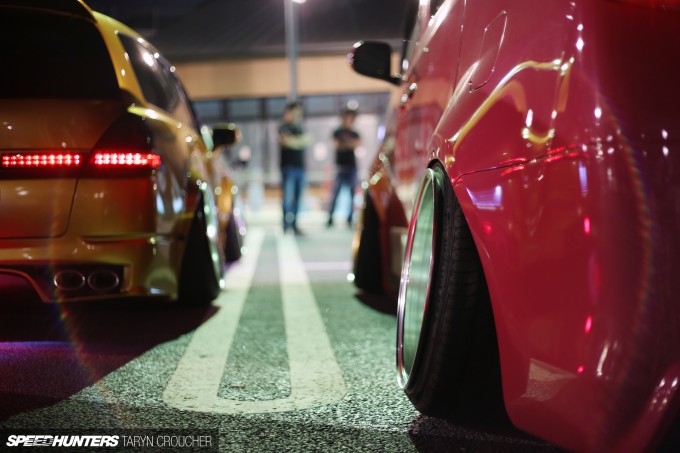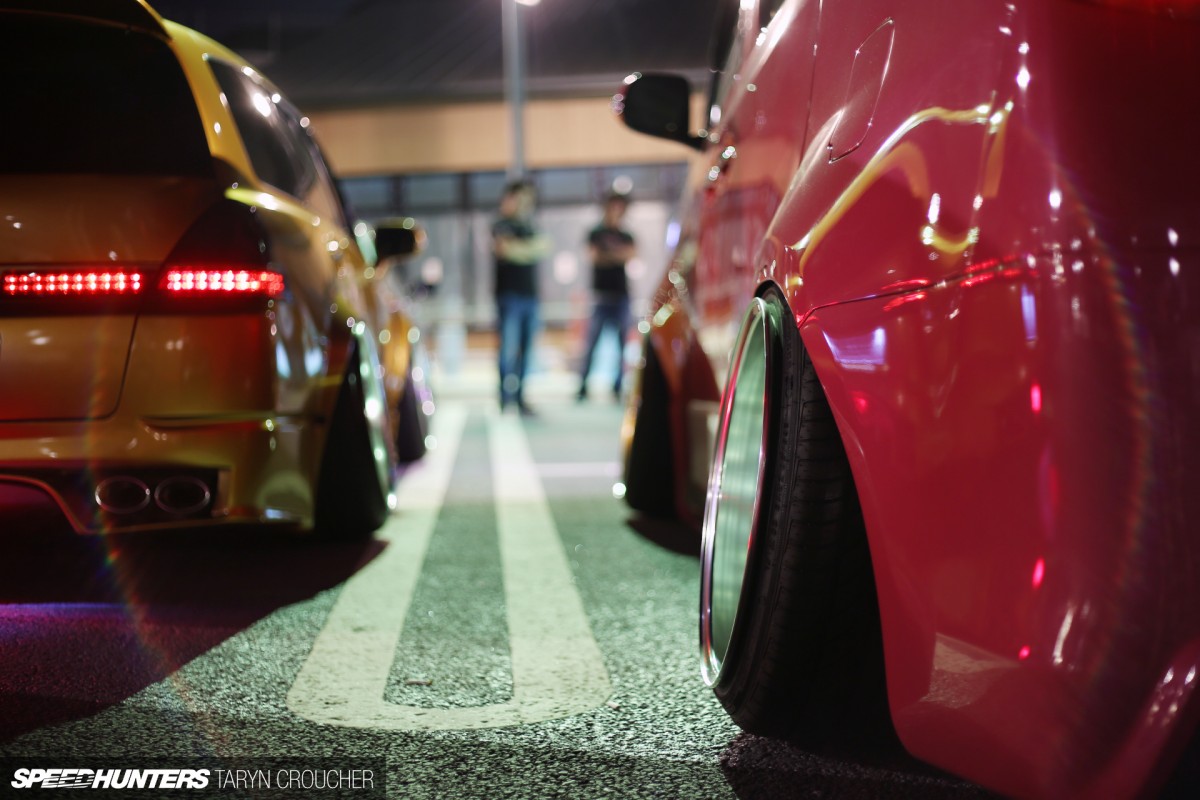 The level of customisation on this Toyota Vellfire was insane, with the van having undergone custom bodywork on all four corners to fit a massively-wide set of Work wheels. Why do this to a perfectly good family van, you ask? I'm sure the owner and his family could tell you – his wife and kids were all there!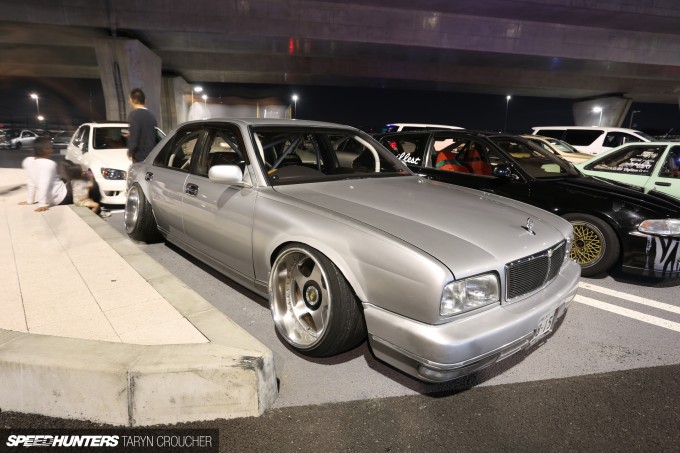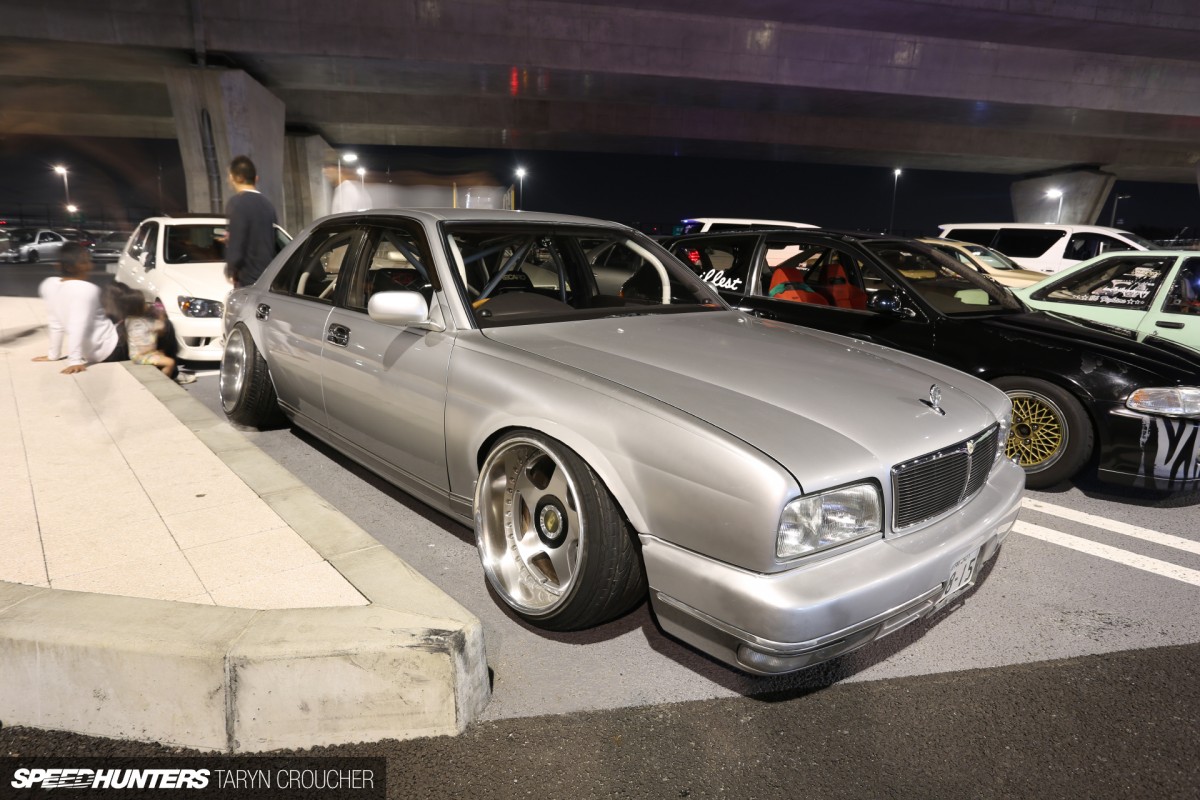 This raw Nissan Cima had an interesting mix of both drift and VIP elements going on. On one hand, the wheels were super-wide with a whole lot of negative camber, but the factory fenders had been pulled out and left rough and uneven. The interior was stripped out and fully caged, with a kanjo mask slung over the front seat.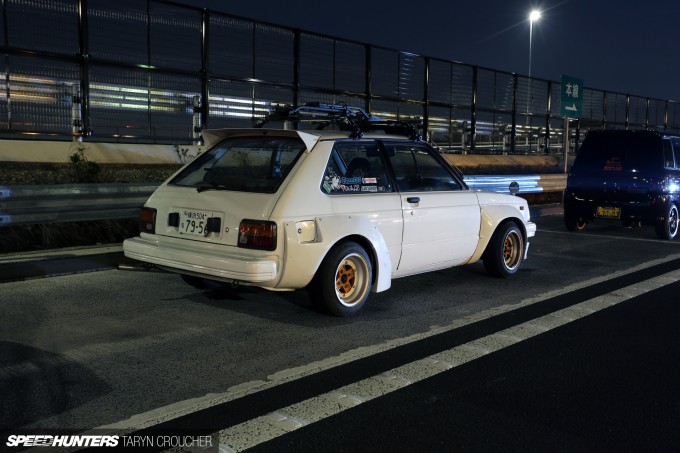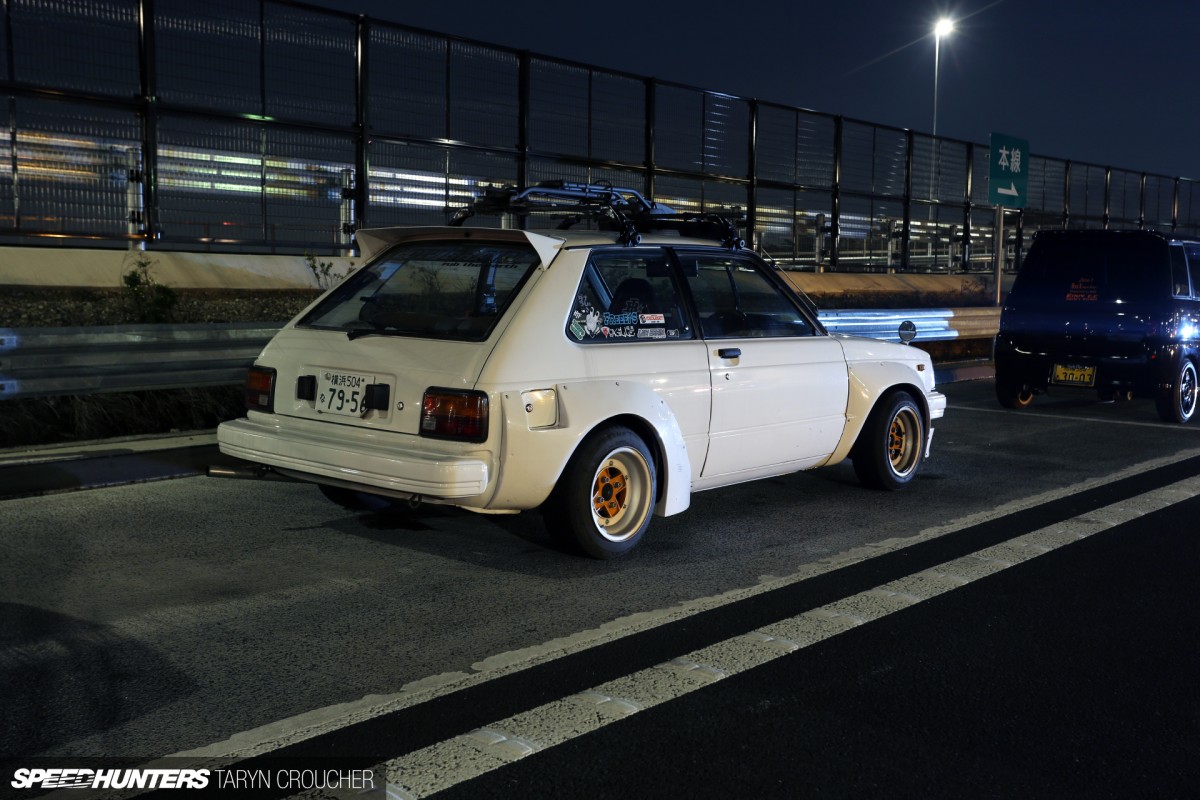 Hiding in a dark corner over on the far side of the car park, I came across this very cool race-inspired KP Starlet rocking N2 guards and a classic set of vintage SSR MkII wheels. These cars look so damn good with boxy retro overfenders.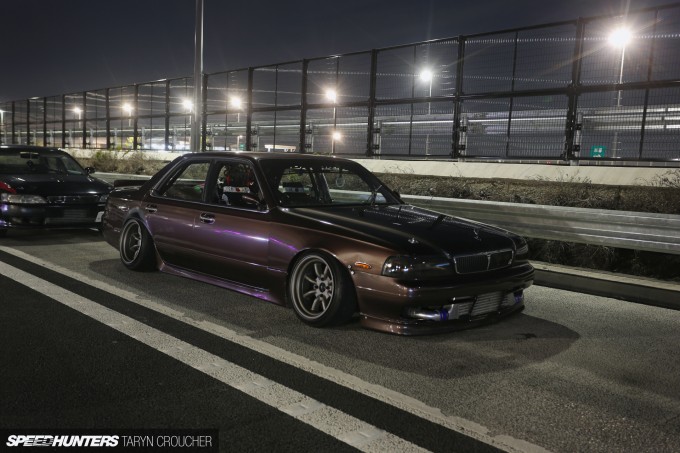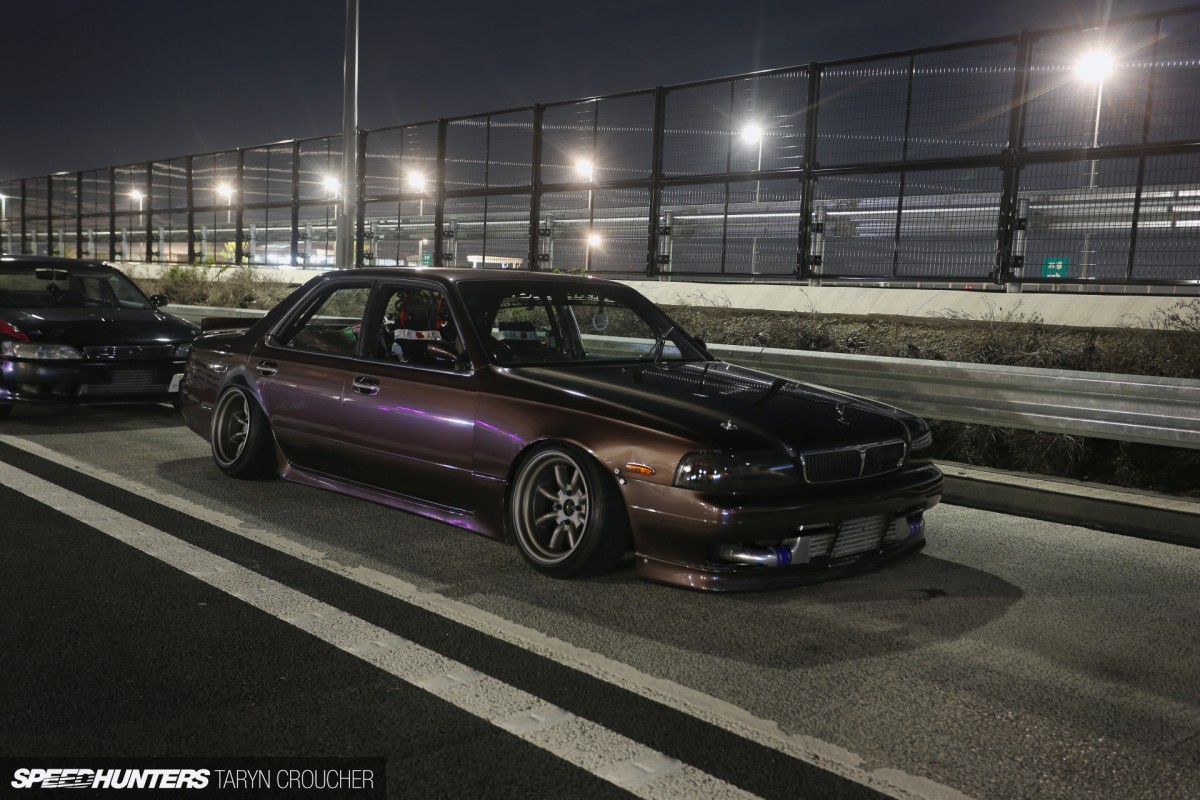 This C34 Laurel belongs to one of the Lowbrain crew members, and if its appearance tempts you to comment on how 'too low' it is and how 'undriveable' it must be, don't even bother. It's a purpose-built drift car, and yes, it gets driven like this.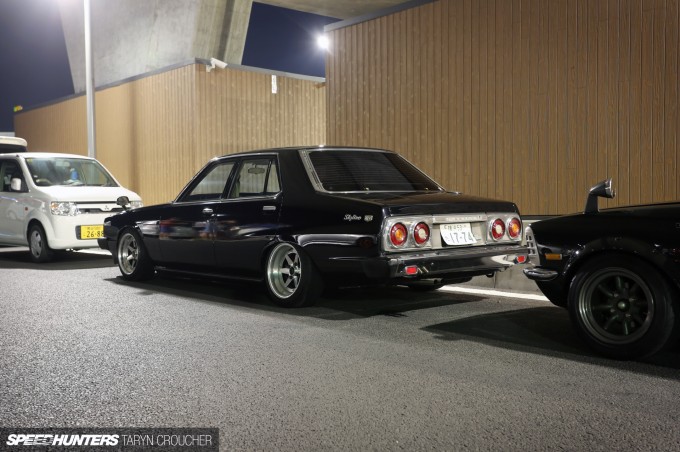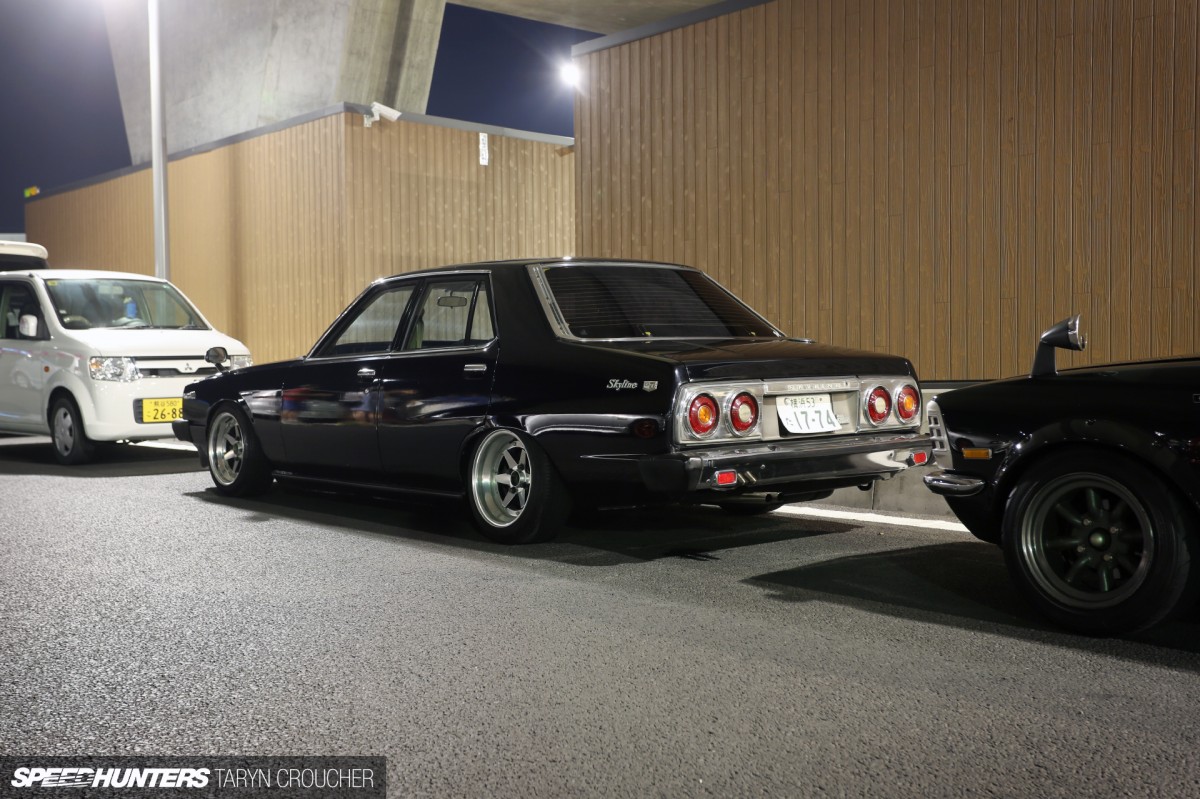 The owner of this C210 Skyline has taken a more classic approach, opting for a less drastic drop in ride height and a set of SSR Longchamp XR4 wheels. It was an interesting crowd that showed up that night; slammed kei cars, minivans, clean street cars and beat-up drifters, but I wasn't expecting this…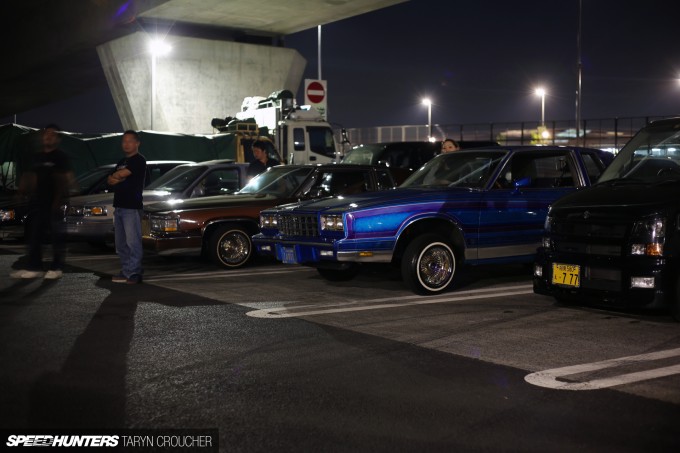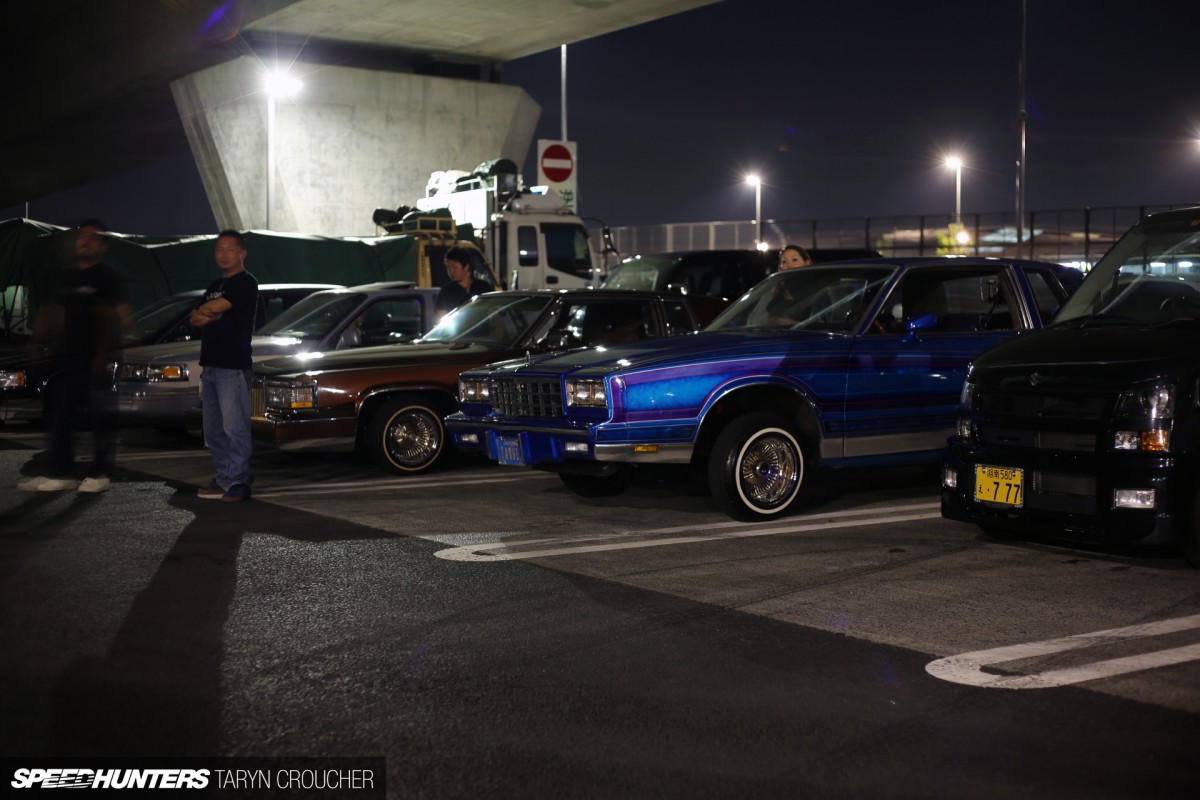 From the other side of the parking area I could hear a strange noise… was that… the sound of cars bouncing? A crew of lowriders had pulled up, and the noise I'd heard earlier was the sound of them raising their hydros and slamming their cars against the asphalt. Talk about a grand entrance! Luckily, while I was dorking around on the other side of the parking lot, Pedey managed to capture it on video.
And then, I saw it: the hint of a shark-nose bonnet conversion and a front-mounted oil cooler peering out from the shadows, and a flash of metallic pink…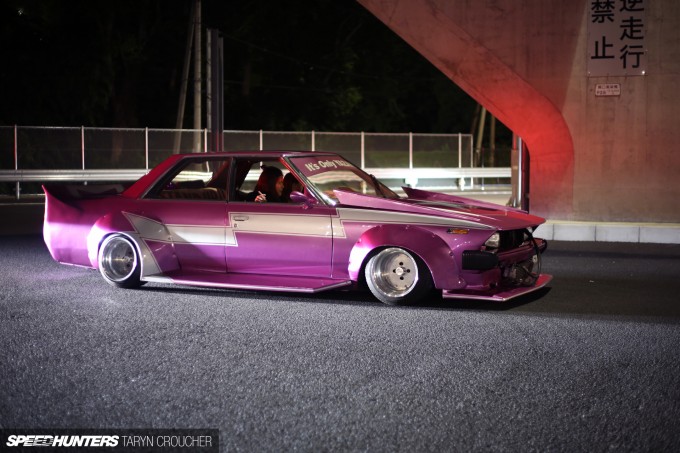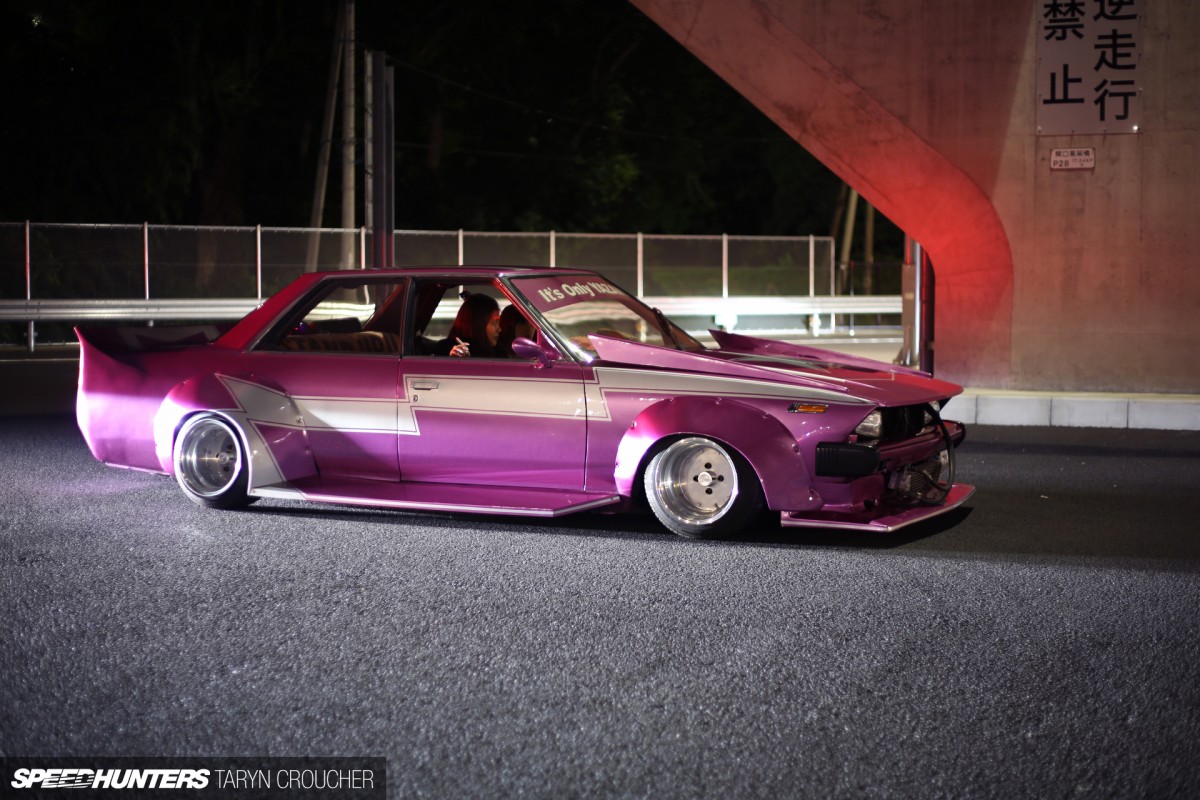 It was under the cover of darkness at first, in the shadow of the expressway above us. 'What is that?', I thought to myself. As another car pulled into the parking area off the expressway and shone its headlights, the mystery machine was lit up for me to photograph in all its Kaido Racer-style glory. The original body lines of the car were almost unidentifiable, but I could roughly recognise a GX71 Chaser somewhere underneath the alien panels. To me, this style of tuning represents the strange and mysterious side of the Japanese car scene that I originally fell in love with many years ago, and this was the first time I'd ever seen a car styled like this in person. It didn't quite make sense, it looked outrageous – stupid even. And I was obsessed with it. I had to find more…
Trackside Action
I was going to have to wait a few more weeks before I got another retro shakotan fix though, but I'll get to that soon. By the time we got home from Atsugi that night, we had less than two hours to catch some shut-eye before jumping on a train to meet up with Dino once again; this time we'd be heading out to Tsukuba Circuit for the idlers Games event.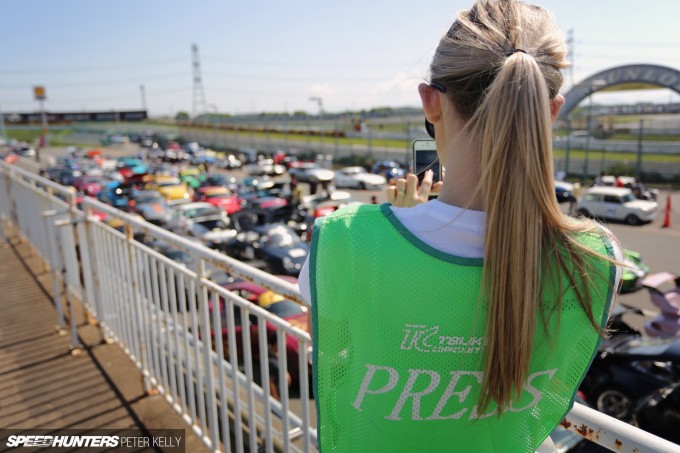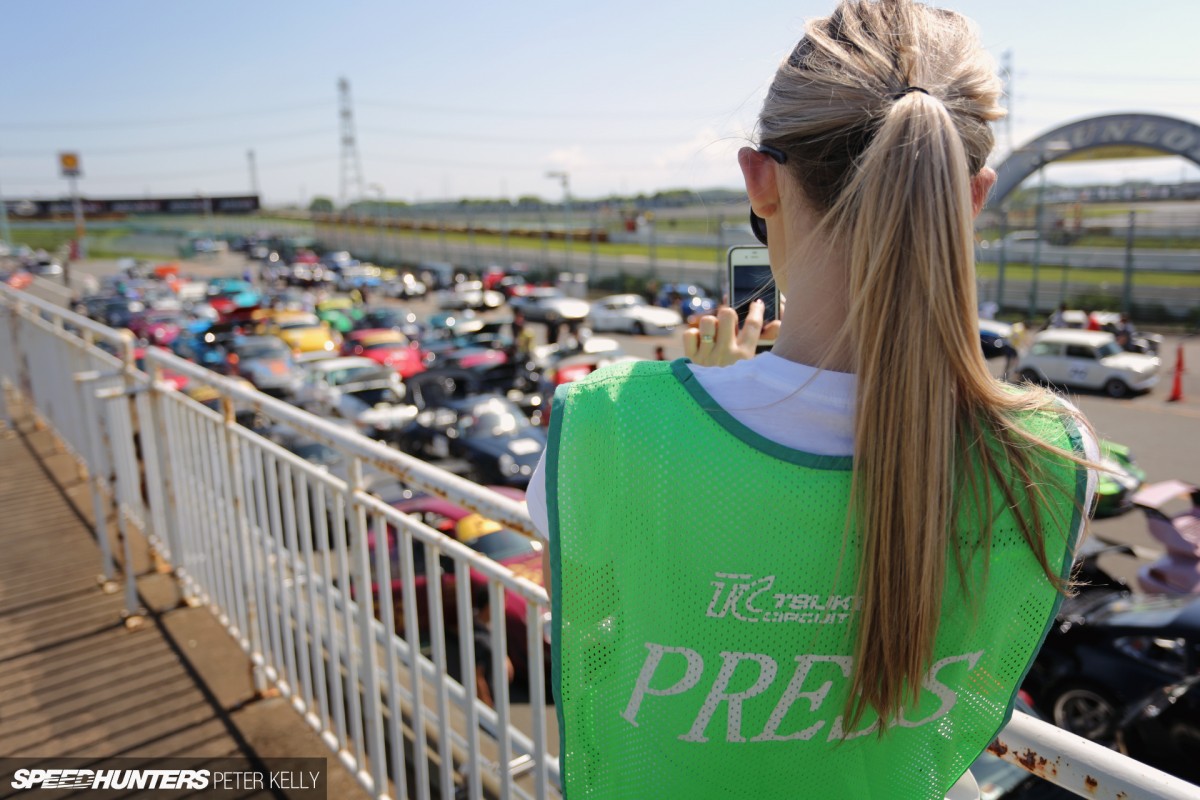 One thing I should mention – and it's something that I see getting asked about a lot – is that you do definitely need a car to reach all these places. Parking areas are connected to expressways, so they're usually not reachable by any other means of transportation, and race tracks in Japan are all generally based in very rural areas.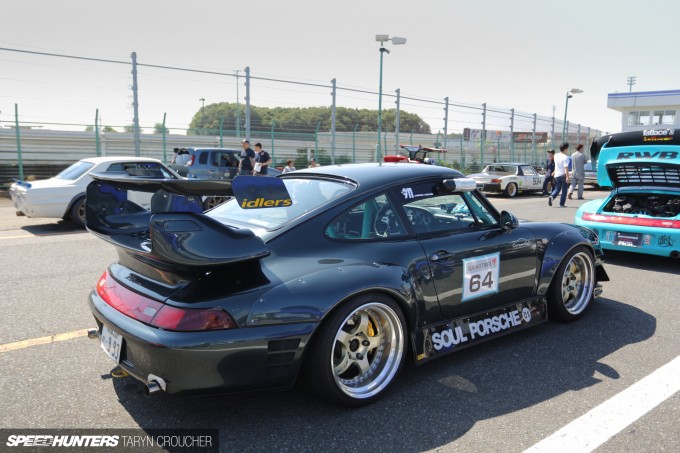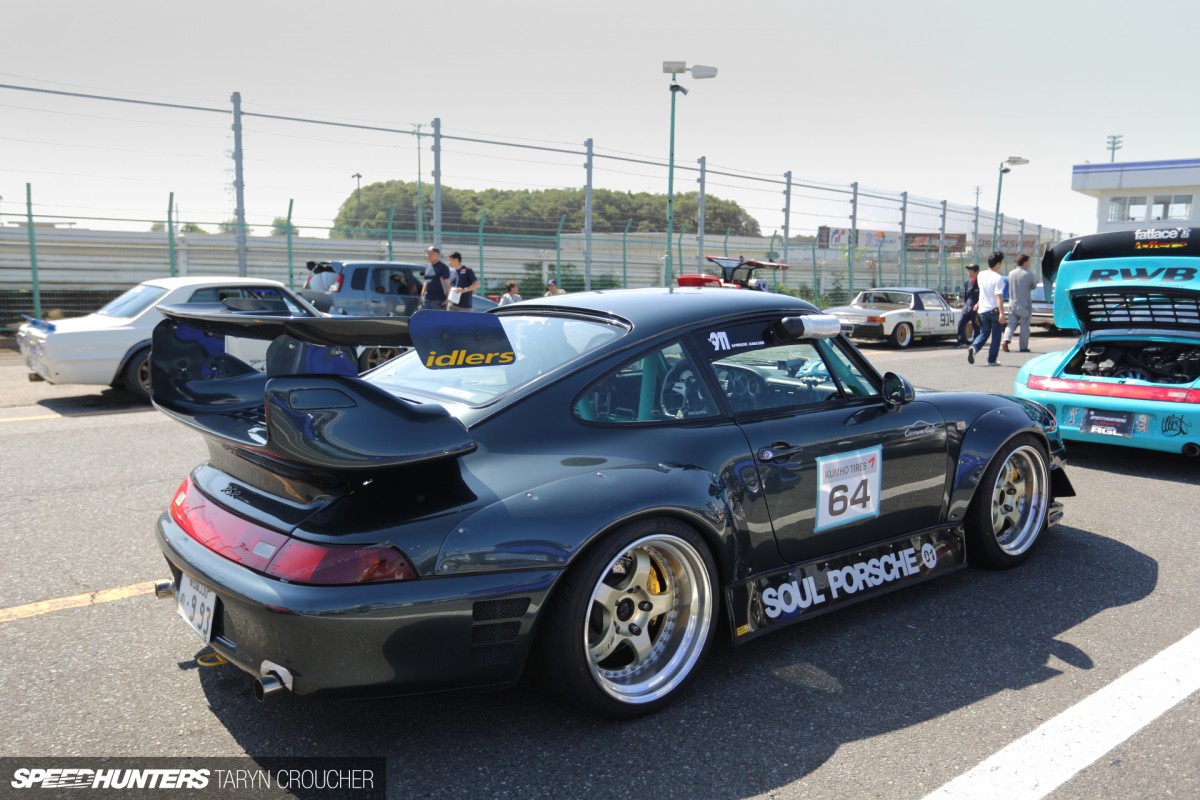 I've heard of people catching trains out to Tsukuba, but after a long day in the sun hauling around bags and camera gear, this just isn't something I'd recommend. Rental cars in Japan are cheap, but the road tolls aren't, so always allow a bit extra in your budget for this. Trust me, events like this are worth it!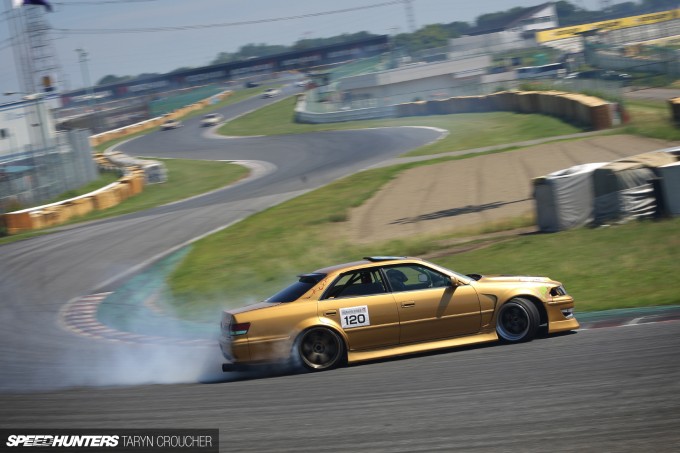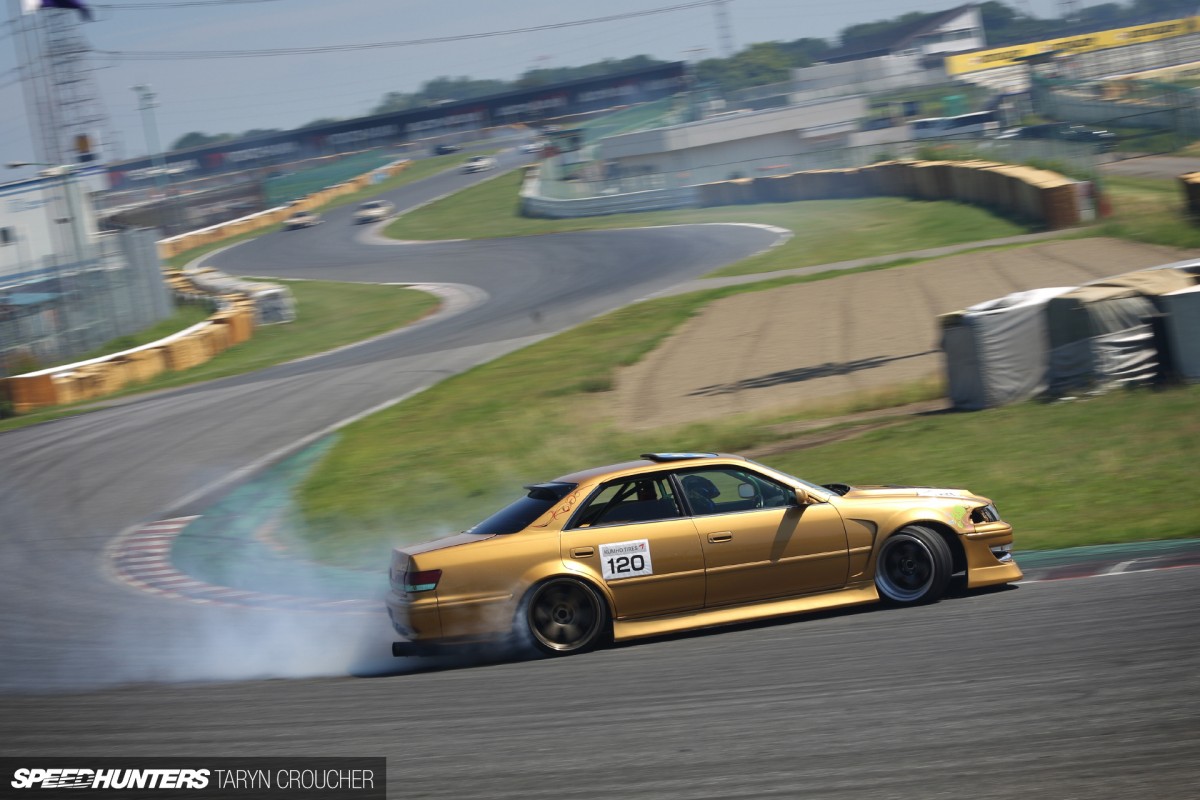 All track days in Japan seem to have such a happy and relaxed vibe about them, and the idlers Games day is no different. This year there was a certain air of excitement floating about, as for the first time they were running a drift class amongst the grip sessions. Watching 10 cars manji down this middle section then drift in tandem around the corner all together put a huge smile on my face!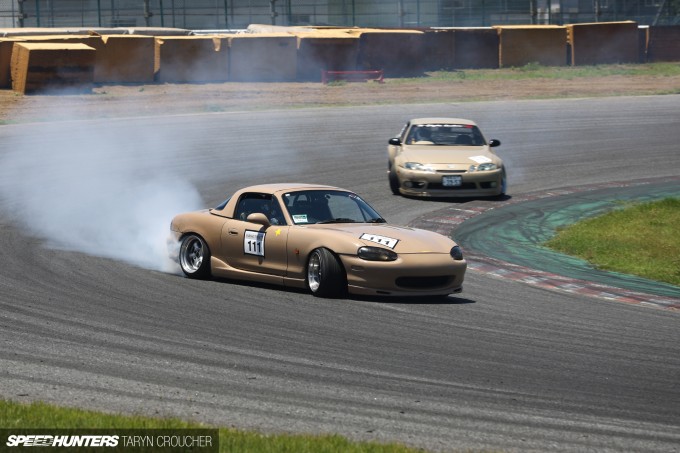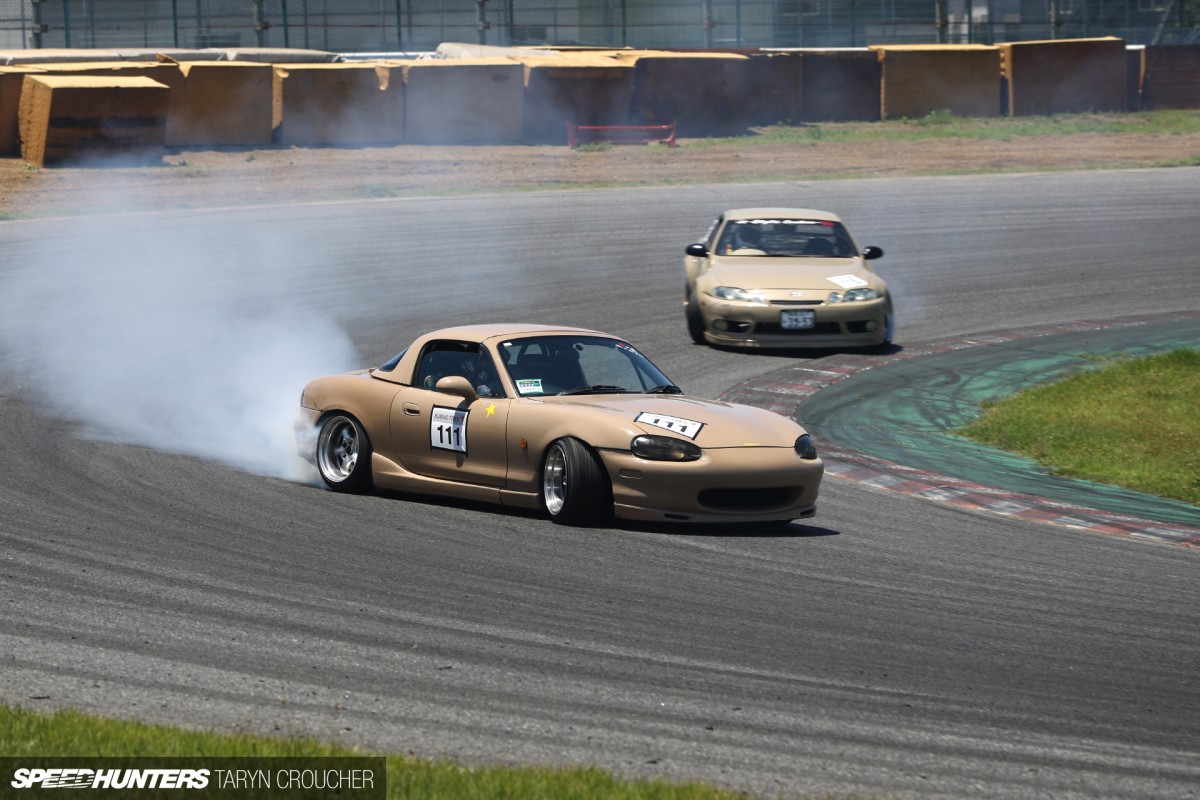 One of the cars laying down the most rubber was this little NB MX-5, which put an even bigger smile on my face. As I watched the cars drifting past in my sleep-deprived state, I started to daze off into a daydream where I stayed in Japan forever, bought a JZX100 and became a badass girl drifter. Sigh… I wish!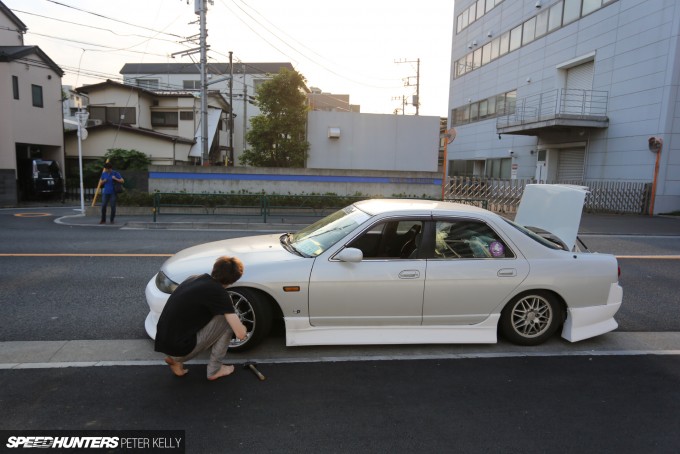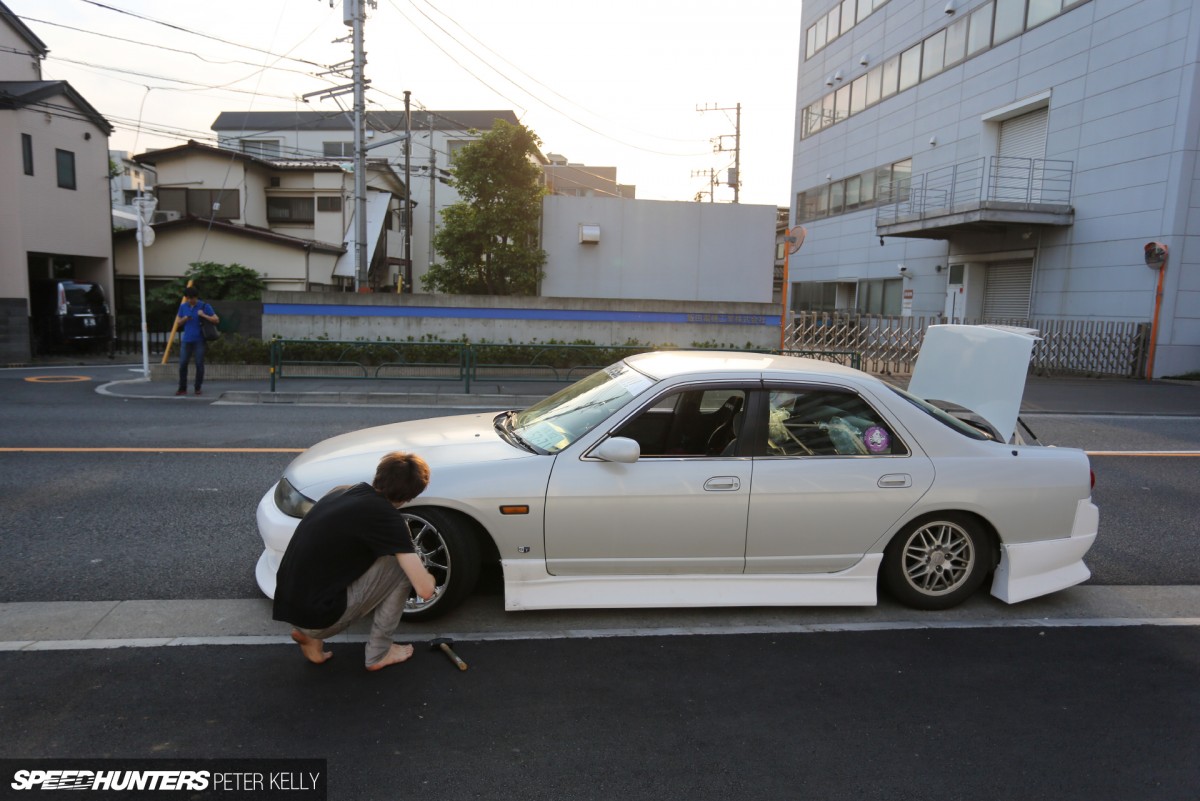 For some people though, this is actually is their life. My friend Toby from New Zealand moved to Japan two years ago, with that exact dream in mind – minus the 'being a girl' part. I must say, I don't think I've ever met anyone so dedicated to fulfilling their dream than Toby. He lives in a cramped apartment (out of choice, because it's so full of car parts!) and pays a ridiculous amount of money each month for parking. He's been working on this R33 Skyline drift project for a while now, and in case you're wondering why he's working on it on the side of the road, well, he doesn't have anywhere else to do it. He actually spends hours underneath a railway bridge in his designated public parking space, working on his car into the wee hours of the morning. I seriously have so much admiration for his dedication to his passion.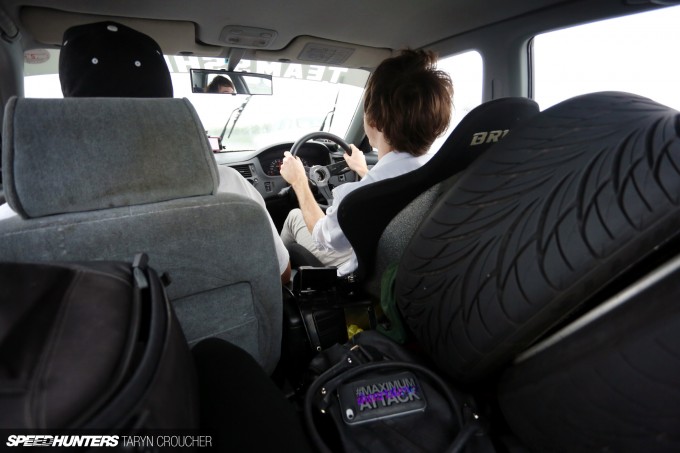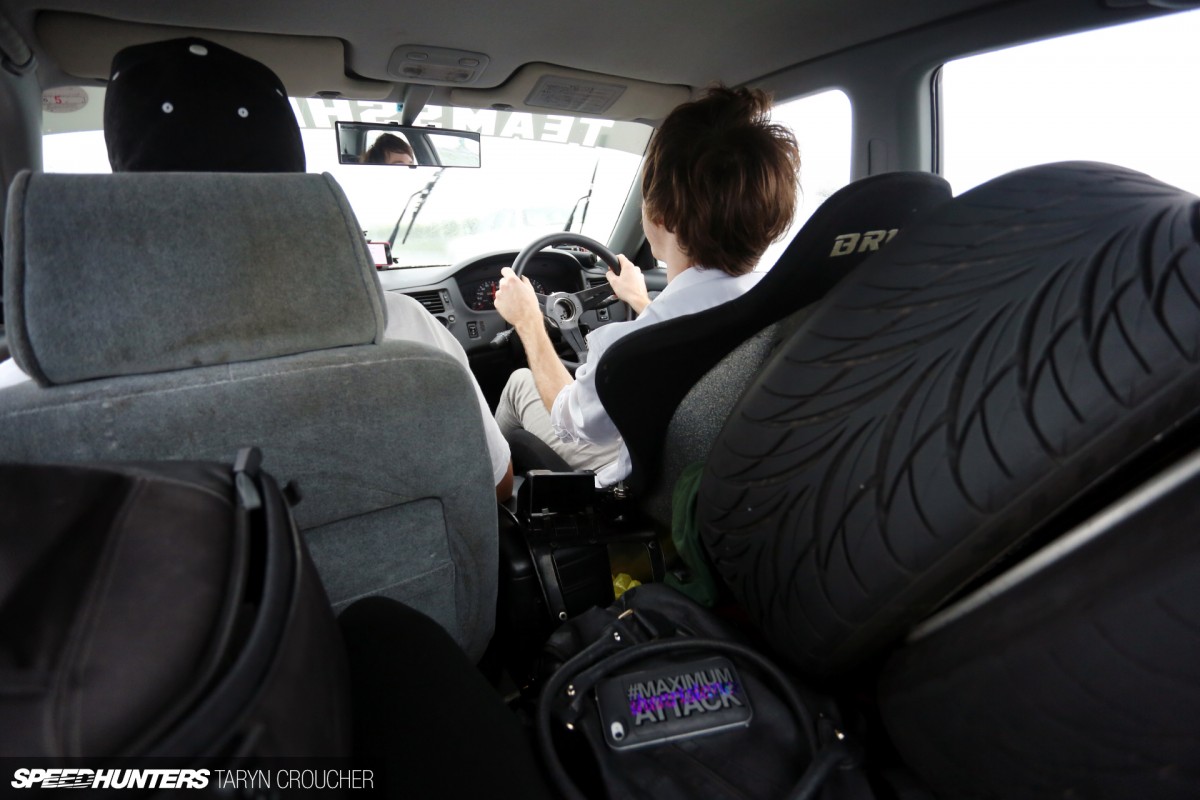 We hung out with Toby quite a bit during our trip, and that following weekend he drove us to Honjo Circuit so that we could check out The Drift Muscle event taking place there.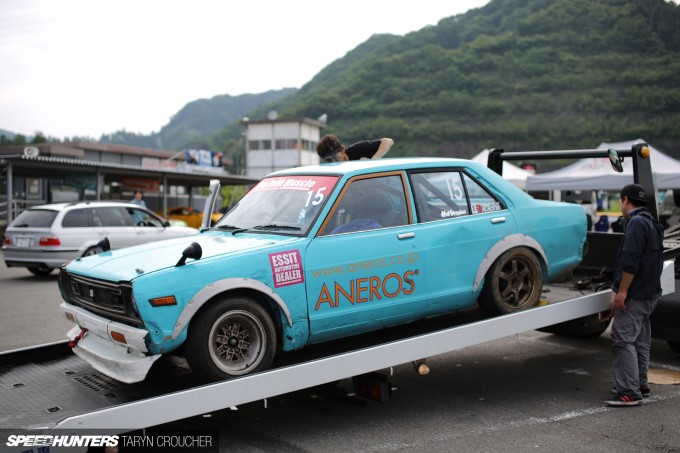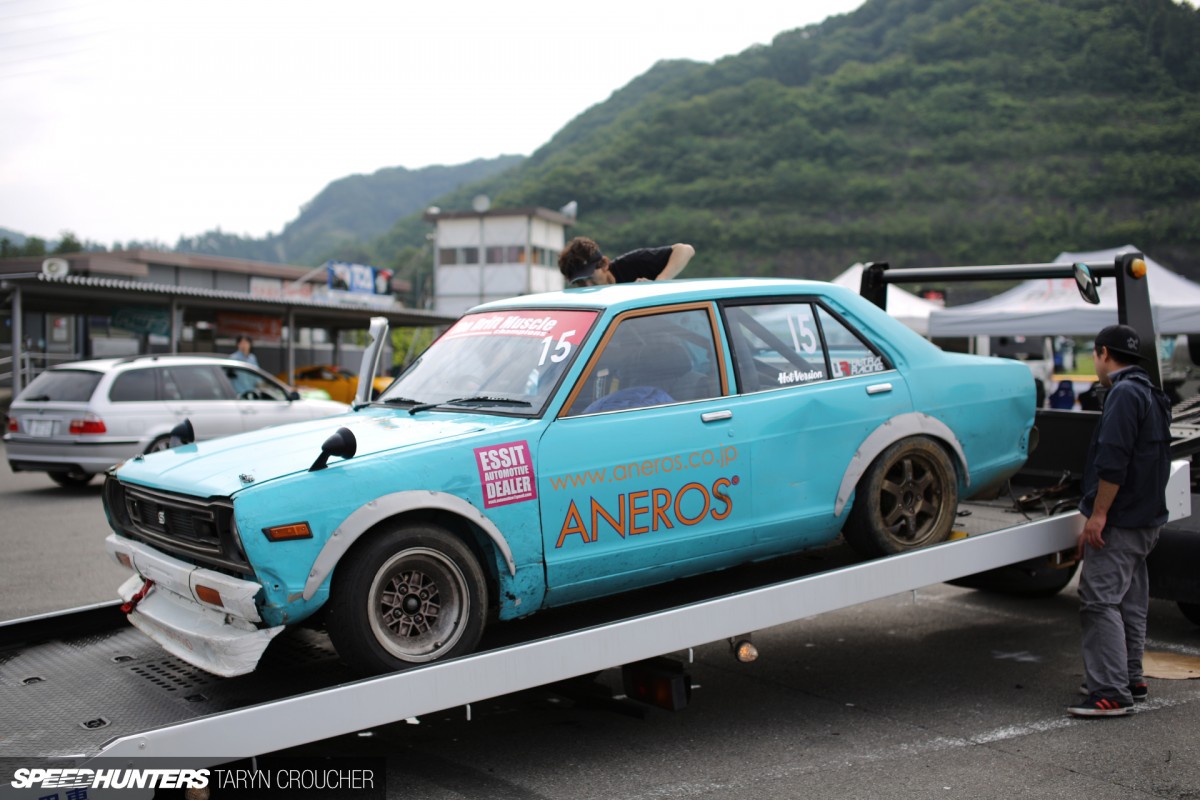 This was my first time visiting Honjo Circuit. It's situated in a beautiful small valley surrounded by chirping birds and luscious greenery, and as I walked around the pits I felt my heart rate rise slightly at the sight of some of the cool machinery in attendance.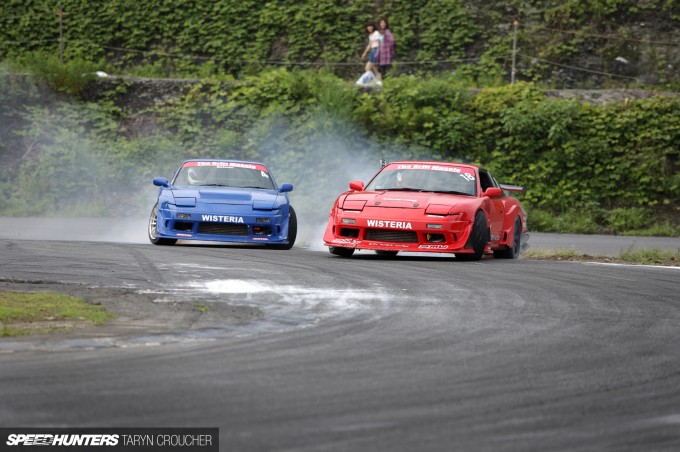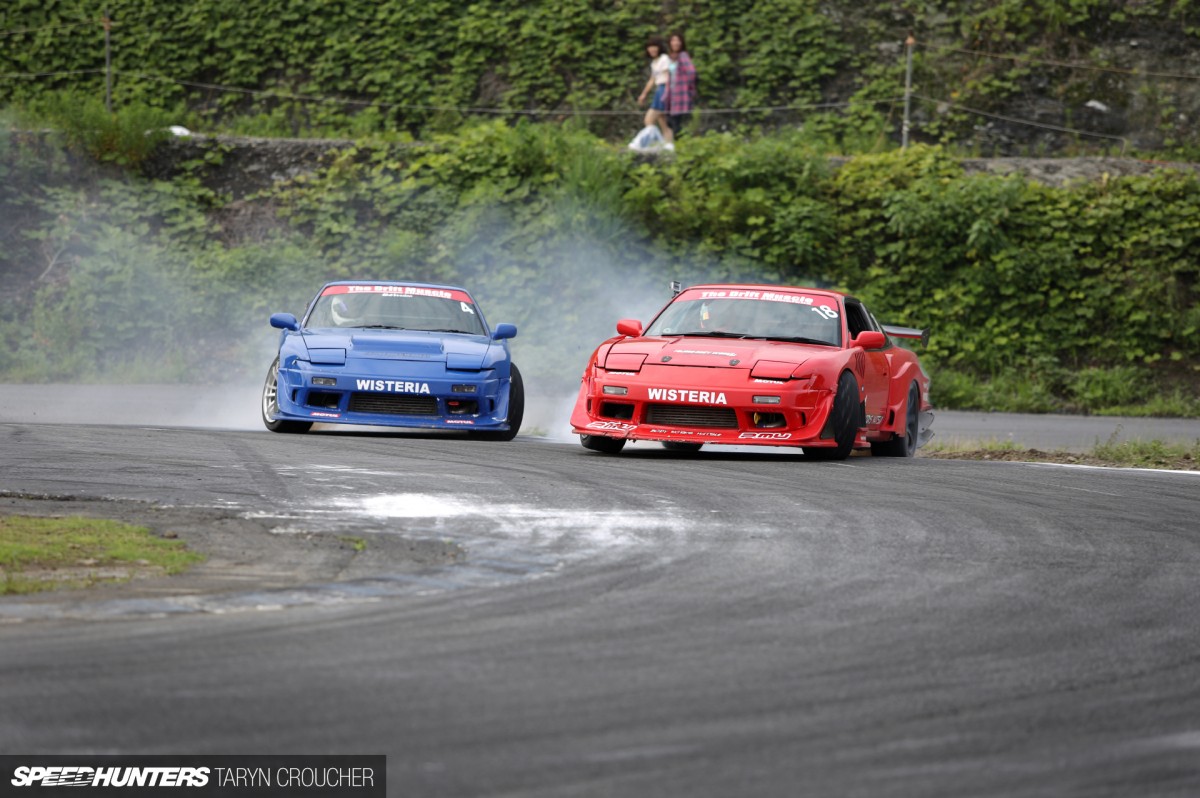 Honjo is a small, tight track, and it has some serious lumps and bumps which made for some fantastic spectating.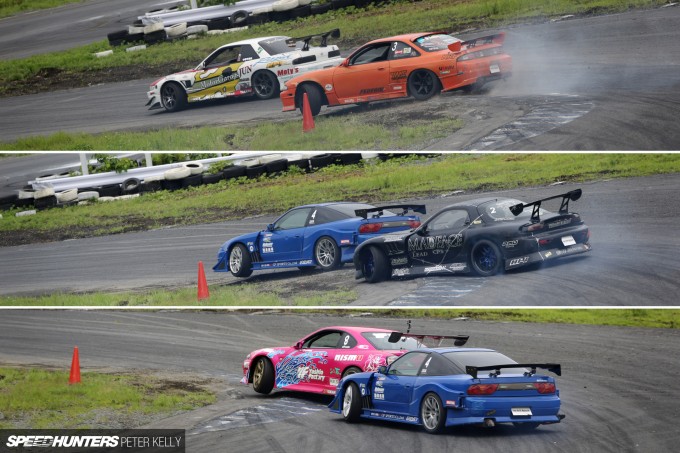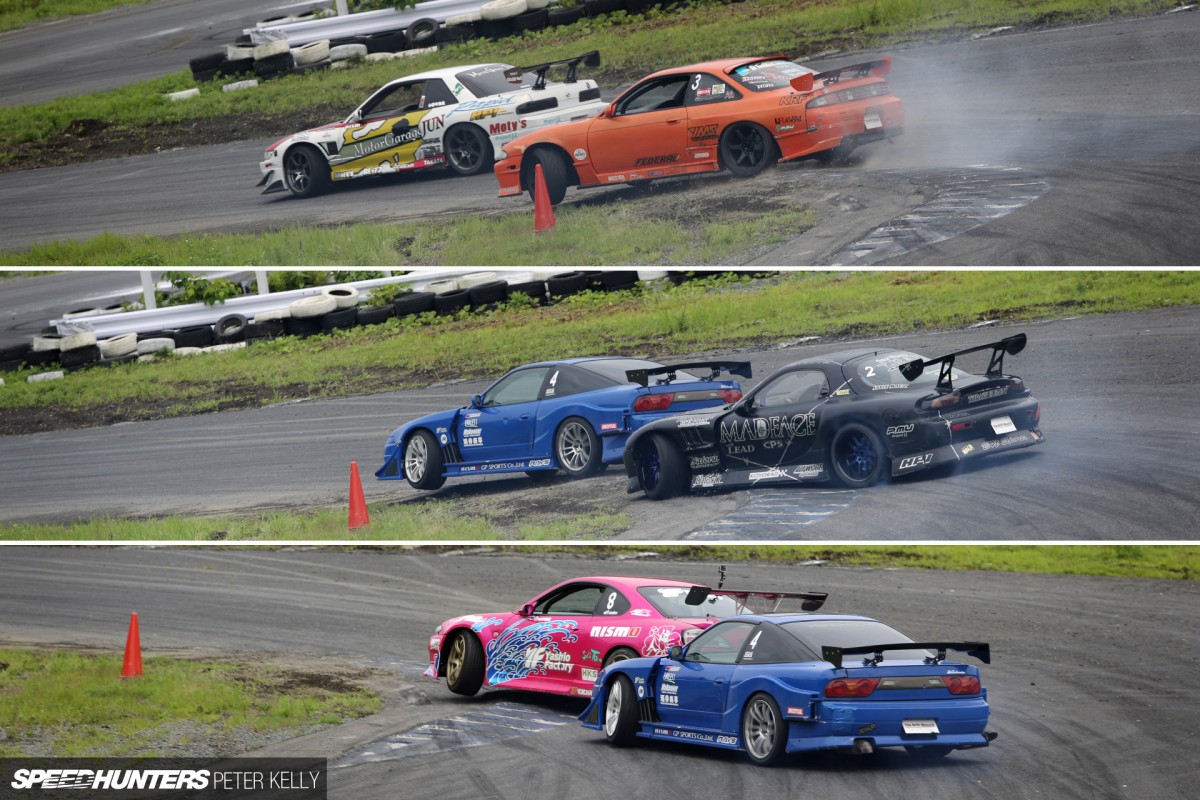 See what I mean?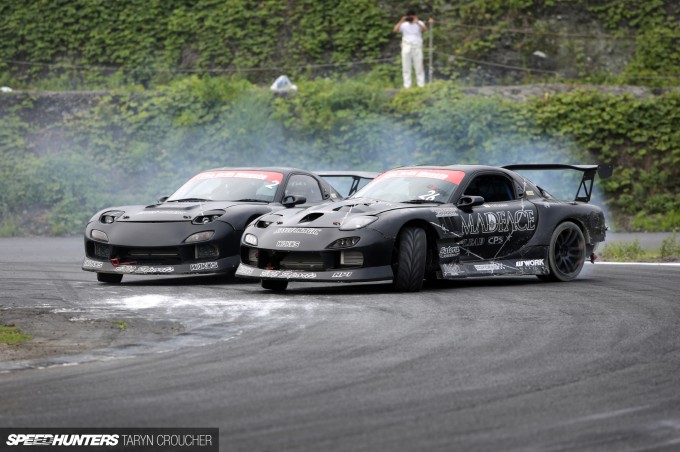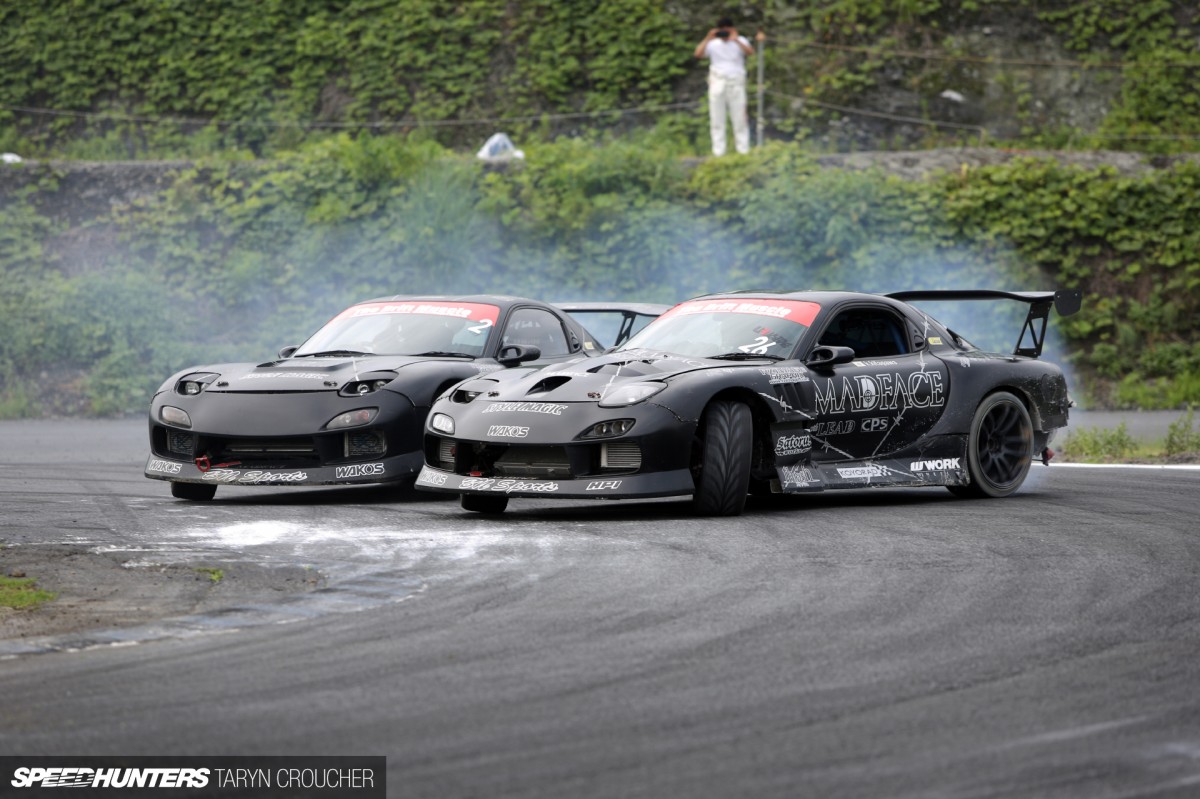 After the main battles ended, each team went out and took turns doing tandem runs. You could see that these drivers get a lot of practice together and that they were very familiar with their teammates' driving style. The way they drifted so closely in unison was almost mesmerising.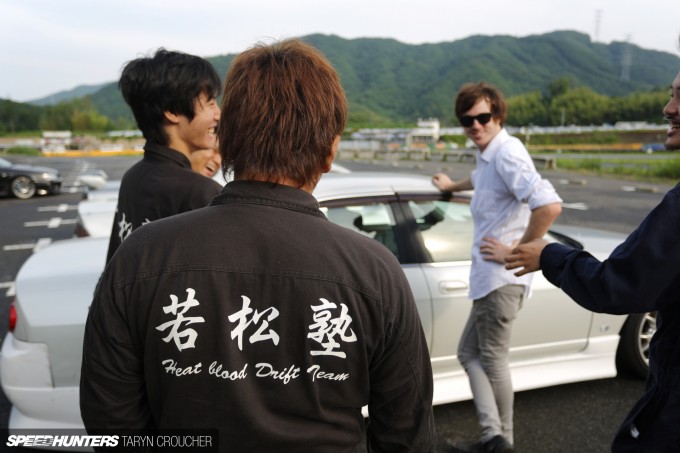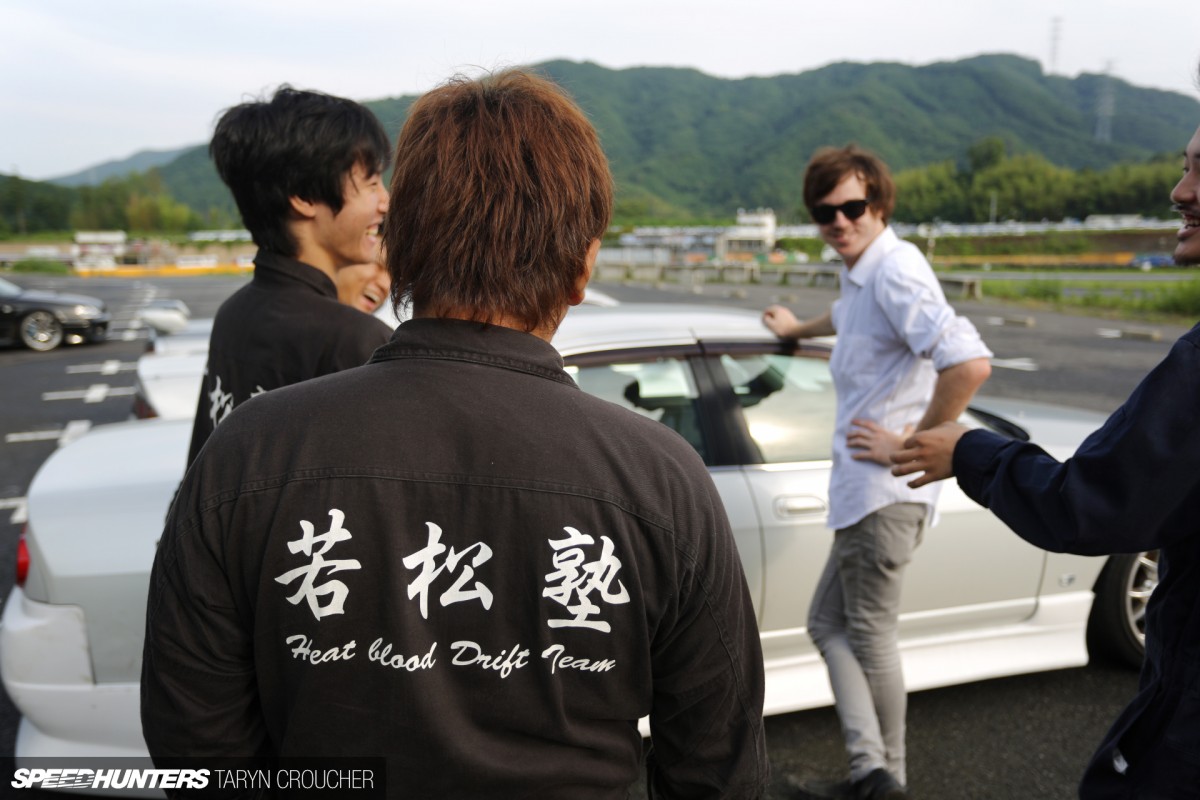 After the event had finished, we headed back up to the parking lot and spotted another four-door R33 Skyline parked opposite Toby's car, and the owner and his friends showed up as we were busy inspecting it. Before we knew it, at least an hour of conversation had past as we shared photos and started comparing engine bays.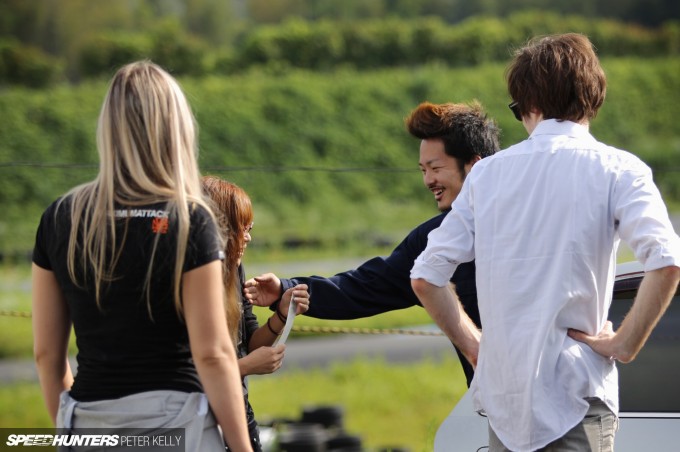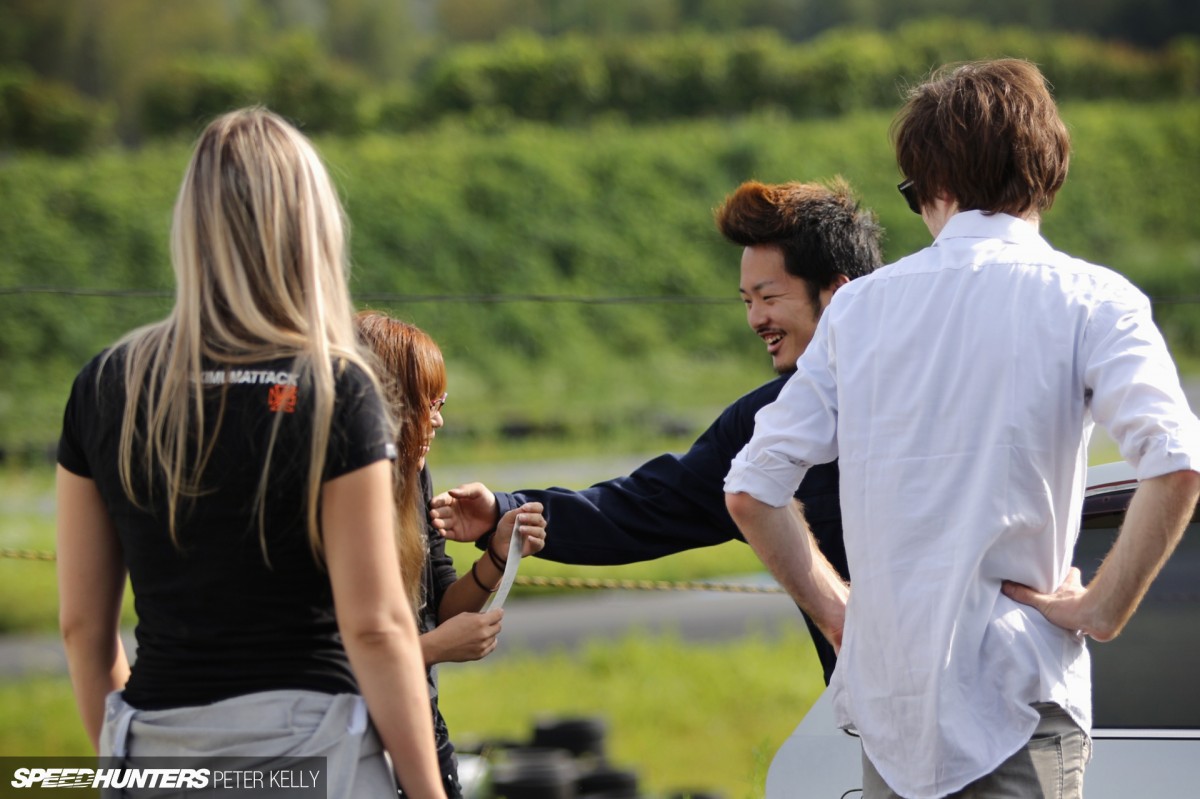 We all exchanged stickers and the owner and his girlfriend invited Toby out their next touge trip. I didn't catch the girl's name, but she showed me photos of her drift car and I showed her some photos of my 280Z. It was funny as we couldn't really understand each other, but the overall message was still clear! Remember what I was saying about not having friends in Japan? If you make the effort and have the right intentions, it's so easy to meet new people when you share the same common interest.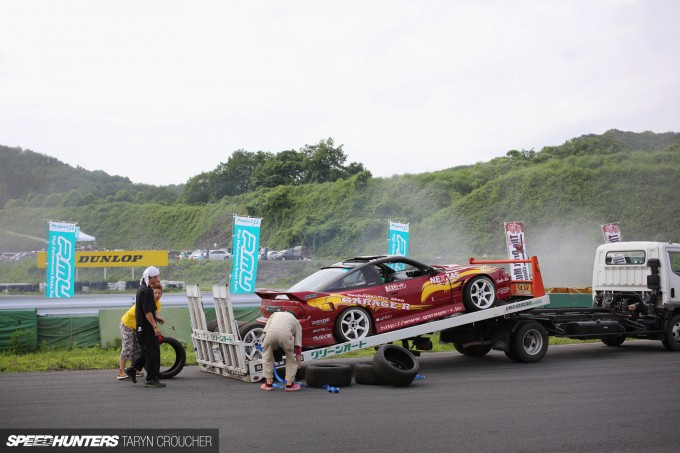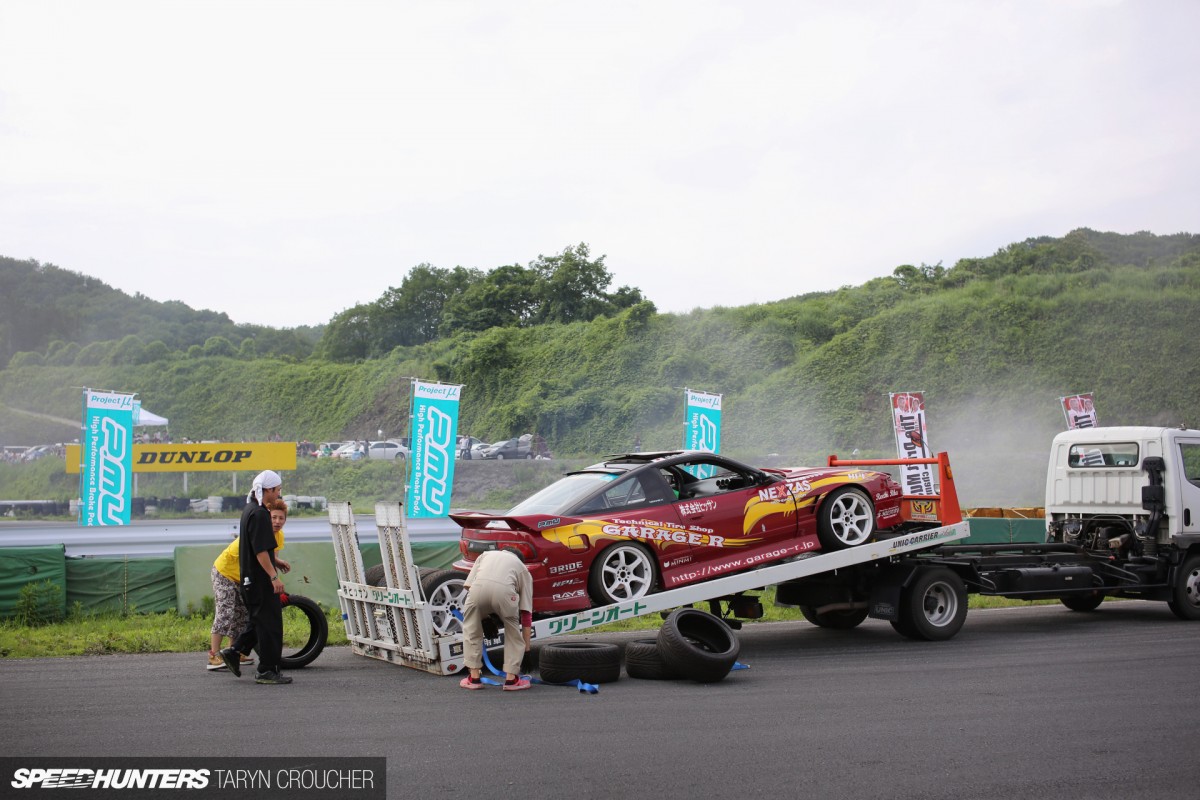 It seemed that we'd visited Japan at a good time of year, as there were plenty of events on every weekend throughout June. But there was one particular area of the Japanese scene that my adventure still seemed lacking in: nostalgic – or kyusha cars.
Secret Kyusha Meeting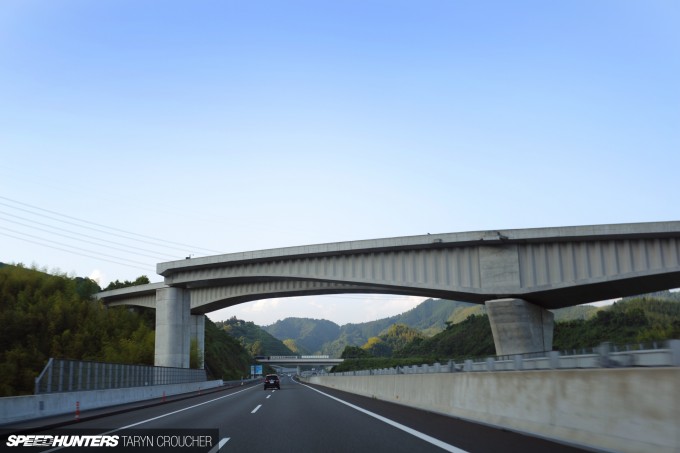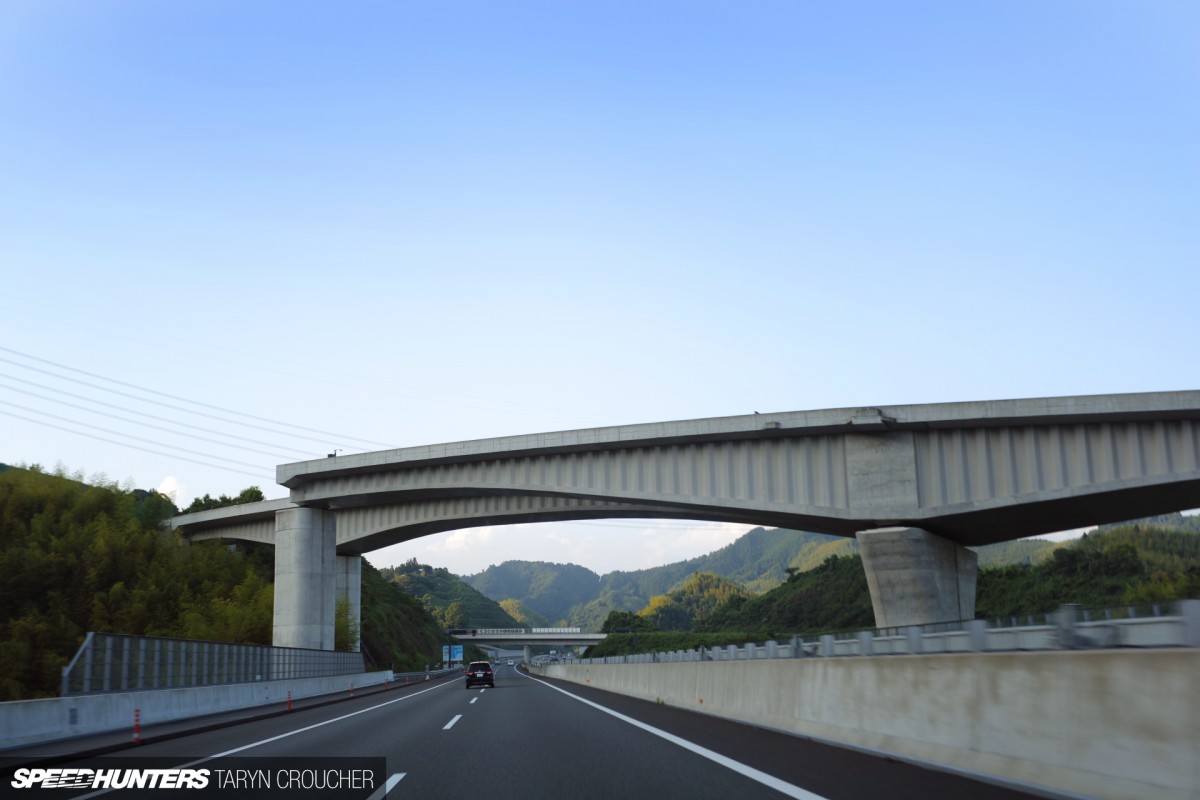 We'd heard word of a nostalgic car festival taking place near Nagoya, and we'd heard it was going to be big. Budget be damned, we decided to book a rental car and get up at 4:00am to make the five-hour drive to the address we'd been given. I have to force myself not to think about how much we ended up paying in road tolls that day, but put it this way – it was more than twice the cost of the rental car itself!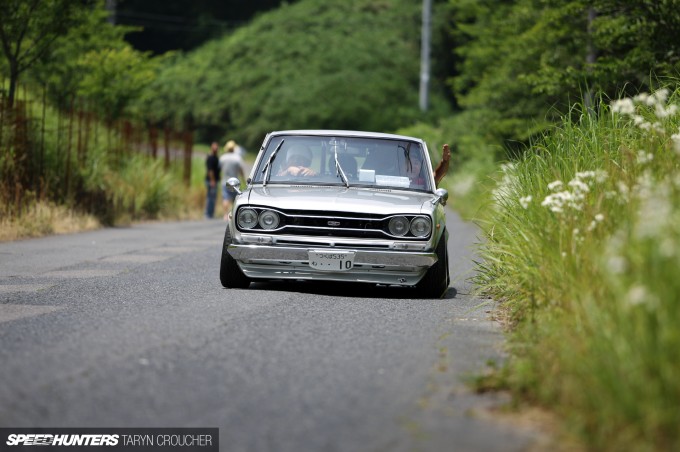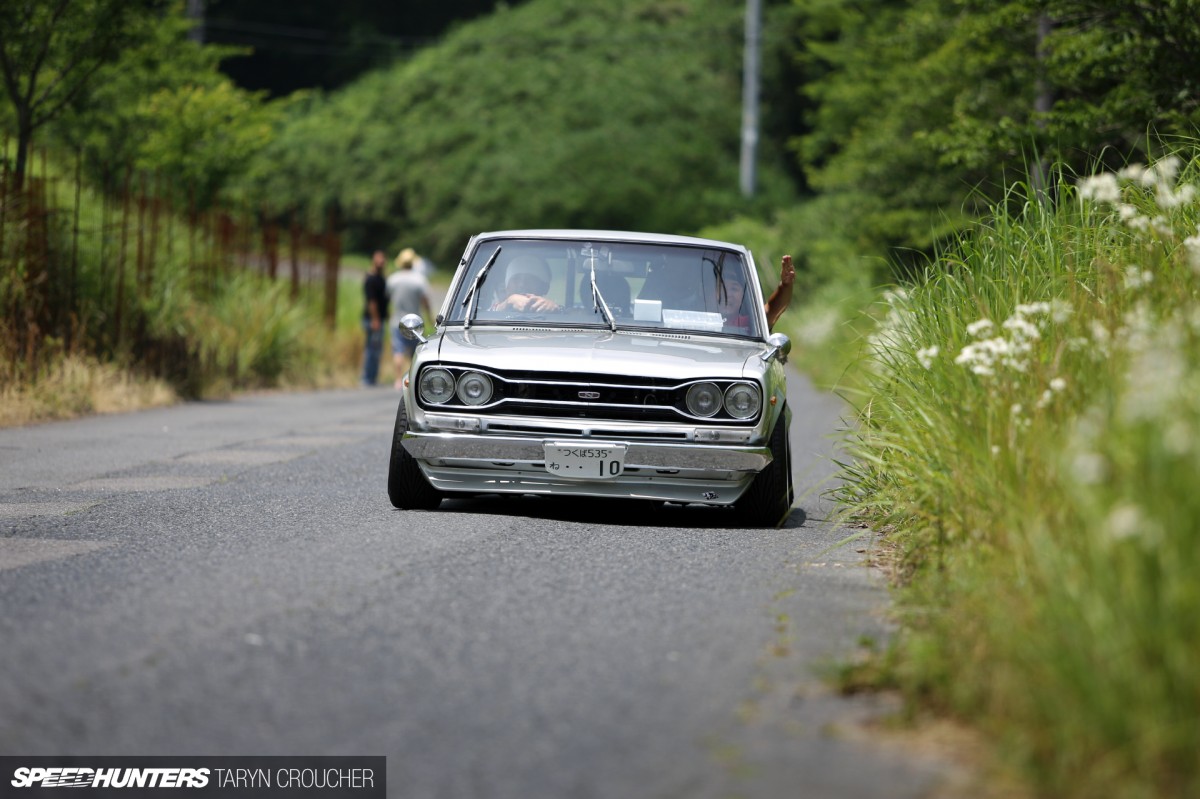 We drove past endless rice paddy fields, picturesque rolling hills and gorgeous mountains before we reached a tiny township deep within the Shiga Prefecture. Eventually we started seeing other cars like this Hakosuka sedan, and we knew that we were in the right place. But nothing could have prepared us for the mouthwatering nostalgic goodness we were about to witness…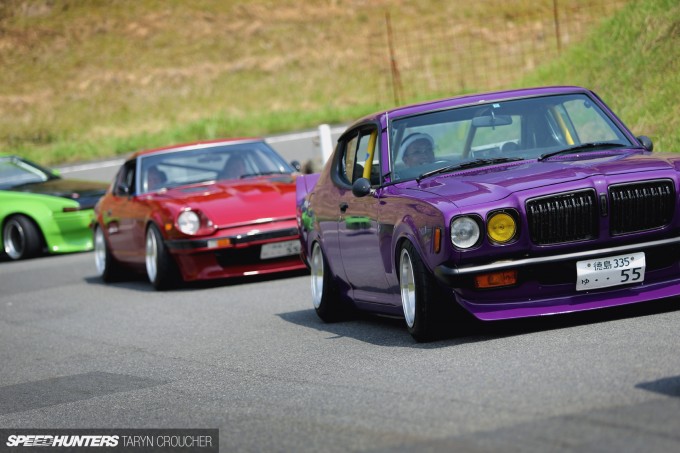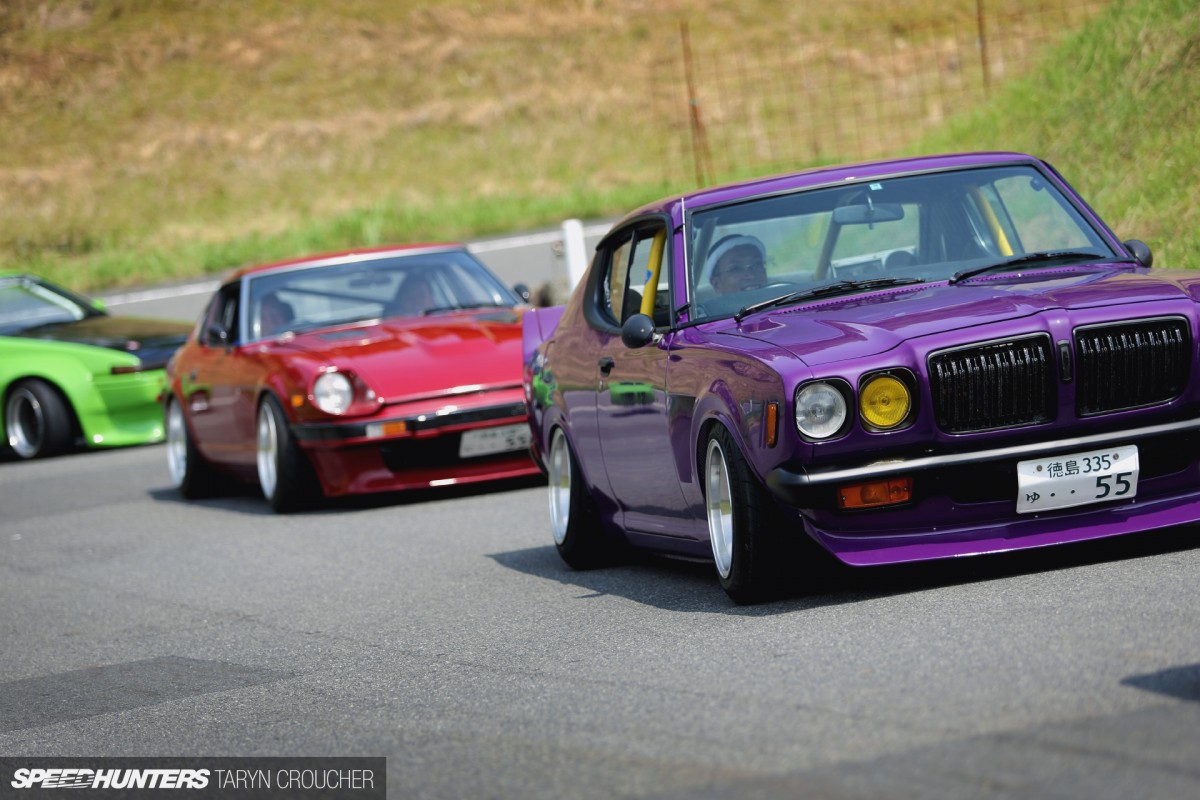 If you love vintage Japanese cars with the shakotan treatment, you'll understand how this was total automotive heaven for me. Car after car rolled in; Skylines, Laurels, Fairladys and Celicas, as well as every vintage wheel you could ever dream of. It was too much for me!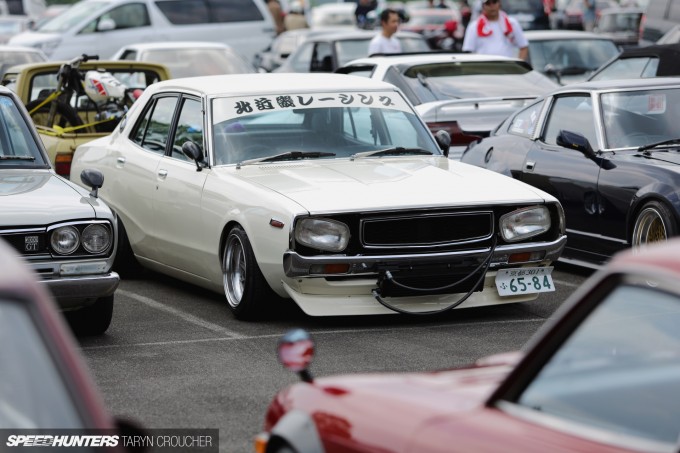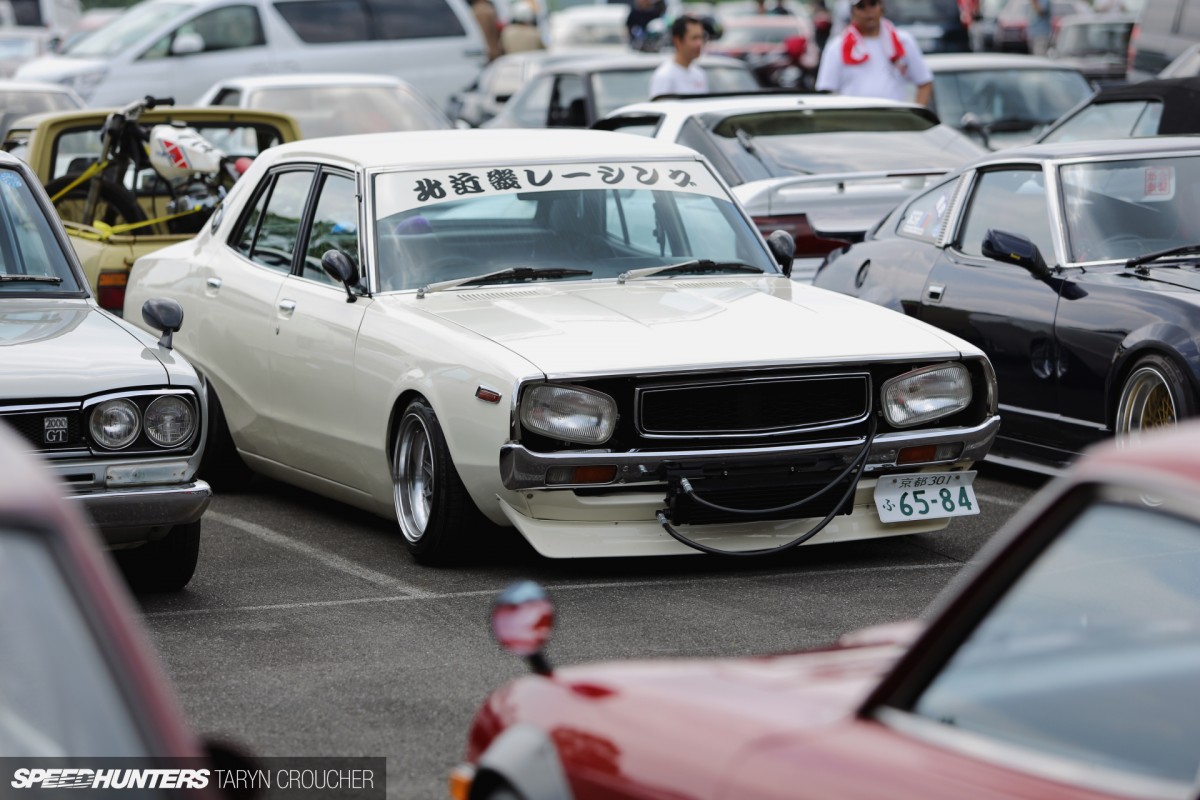 By midday temperatures had reached 34 degrees celsius and 100 per cent humidity, and I think it was actually the hottest I've ever been in my entire life. It was at that point that I realised there was another car park that I hadn't visited yet with even more cars, and it was a 10-minute walk uphill. I seriously thought I might pass out, but luckily there were plenty of vending machines (yes, in the middle of the countryside) to keep me hydrated.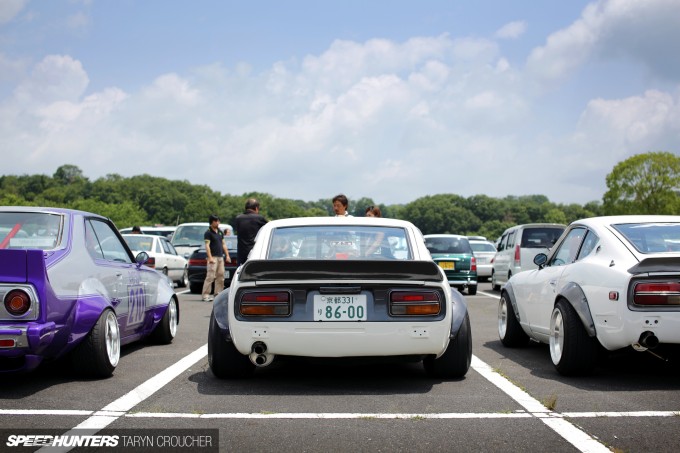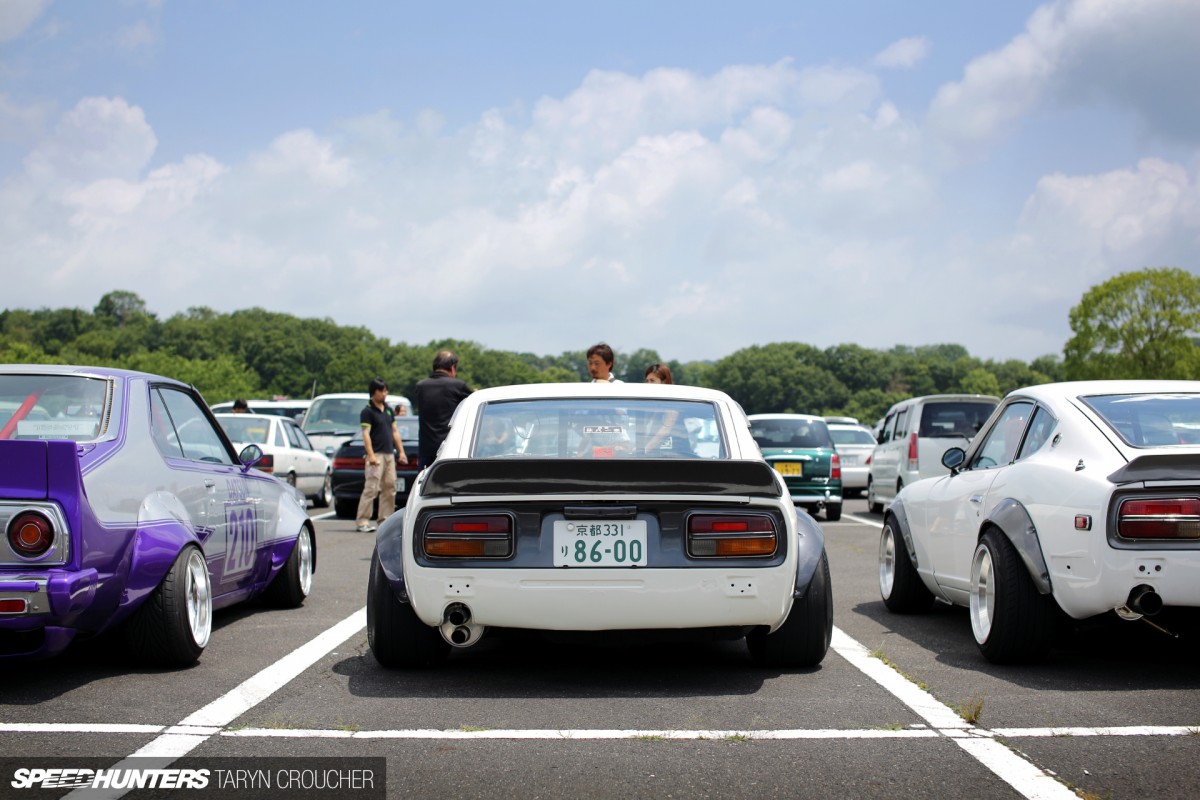 Perhaps you'd be interested to know that a lot of the car owners at this event were of an older generation than me; perhaps in their 40s or even 50s. These guys were modifying cars with big fenders and wide wheels way before the term 'stance' became a popular thing; perhaps before you were even born. Talking to some of these people and seeing these incredible machines in real life gave me a whole new sense of respect for this nostalgic tuning culture, and it strangely made me appreciate my Datsun even more.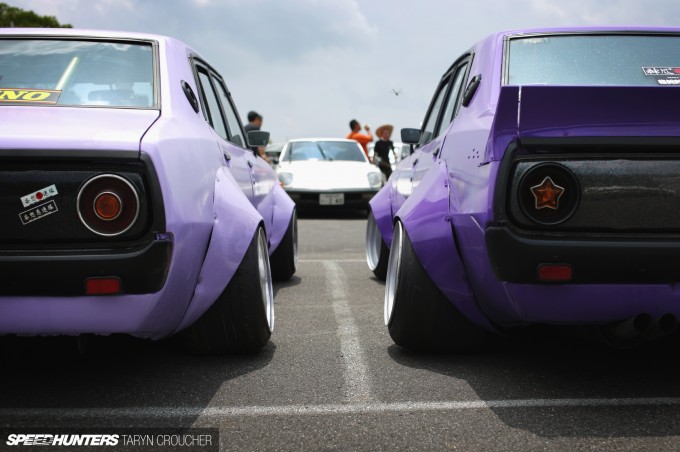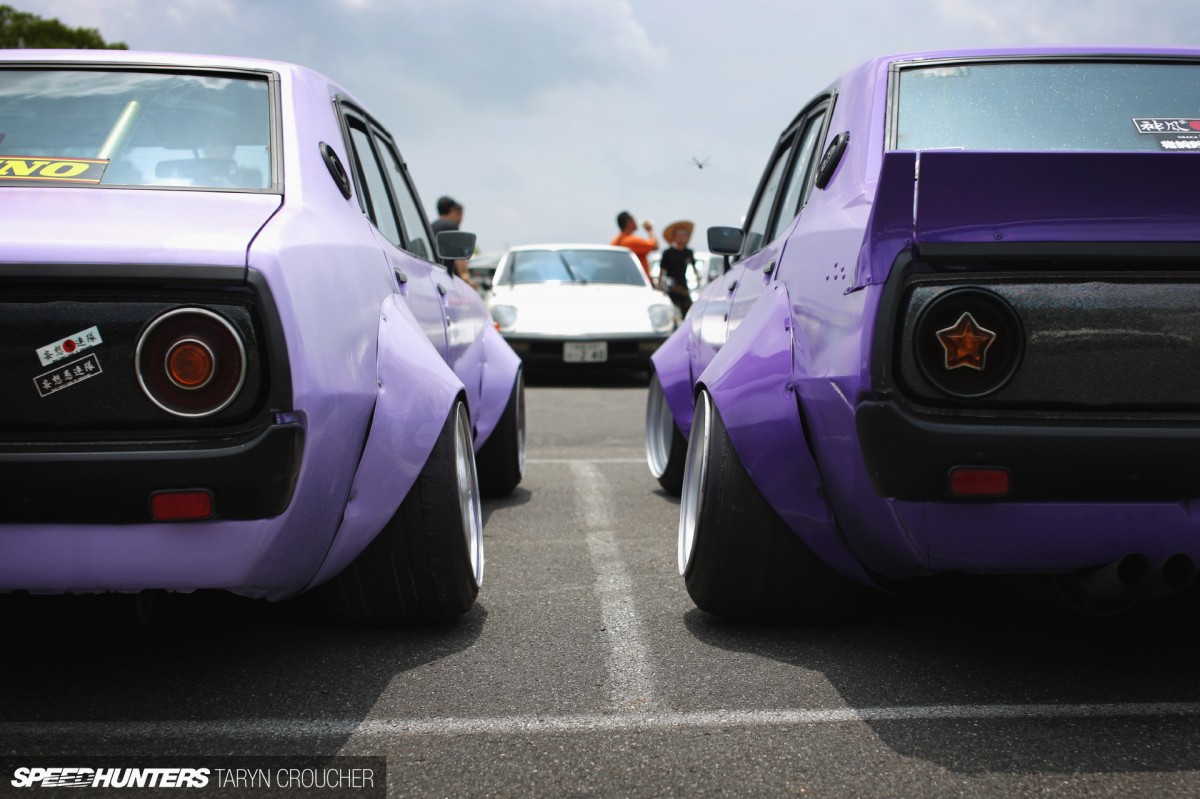 It's been four years now since I first stepped foot on Japanese soil, and I can now officially say that I've explored all the parts of Japanese car culture that I so desperately wanted to experience. Well, for now at least!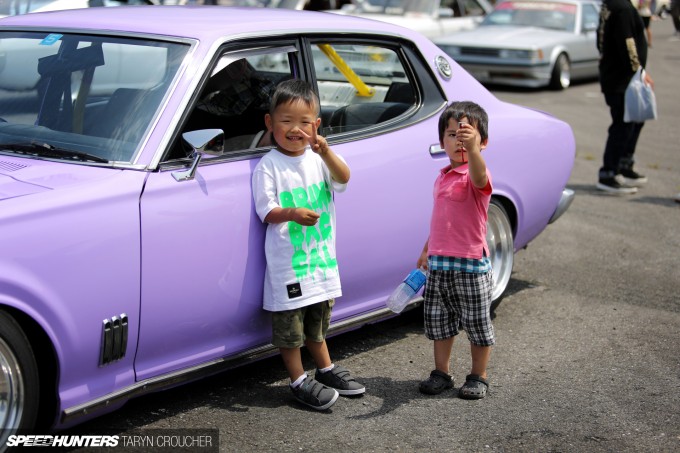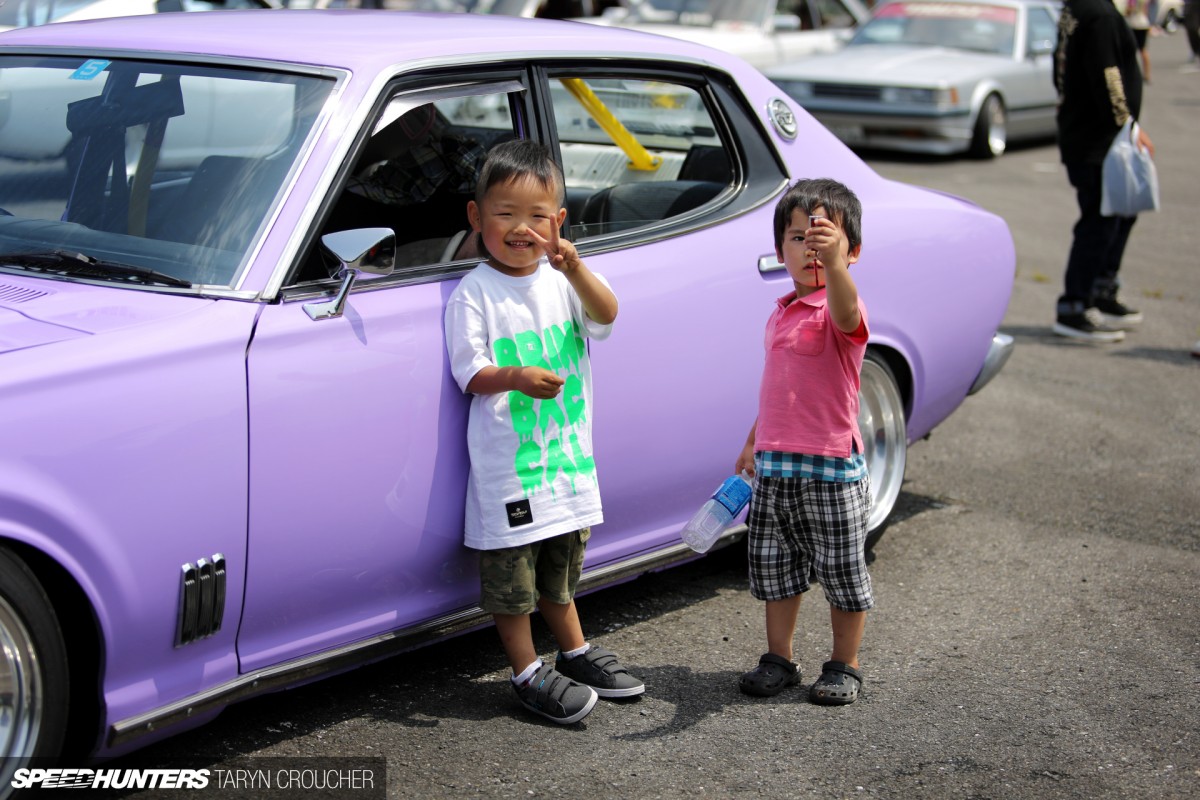 You can experience Japanese car culture like this for yourself too; all it takes is planning, research and slowly building relationships with the right people. If there's one thing I've learnt, it's that the true secret to discovering Japan's car scene is getting lost in it. You should definitely try it sometime. 
Taryn Croucher
Instagram: taryncroucher
Twitter: @taryncroucher
taryn@japancarculture.com
Additional Photos by Peter Kelly
Instagram: pedeykelly