Game Changing
Change is never easy. Perhaps it's easier for some more than others, but most of the time it's inevitable, and it's often for the best. Sure, it can be scary, but it's necessary if we want to improve ourselves and become better human beings. Change is an important part of everyday life, and that includes global automotive culture too. Trends come and go, and people's opinions and tastes change constantly. If things didn't change and evolve, the car scene as we know it wouldn't be the way it is today. In fact, it wouldn't even exist at all.
The reason that I'm preaching to you about change is because I'm noticing a slight problem within our car scene right now. I'm talking about the negative attitude and 'hate' within the online automotive community, in particular towards Japanese and Japanese-influenced car styling and culture. After experiencing firsthand the kindness, enthusiasm and sincerity of the participants of the Offset Kings showcase at Fuji Speedway recently, I knew that I had to tackle this problem head-on and address it in this story.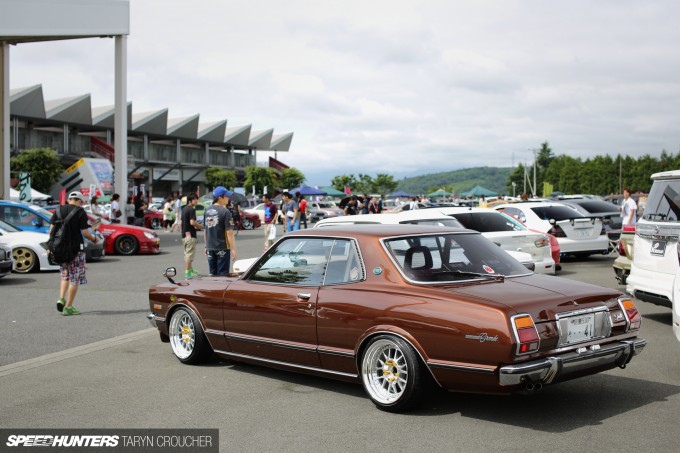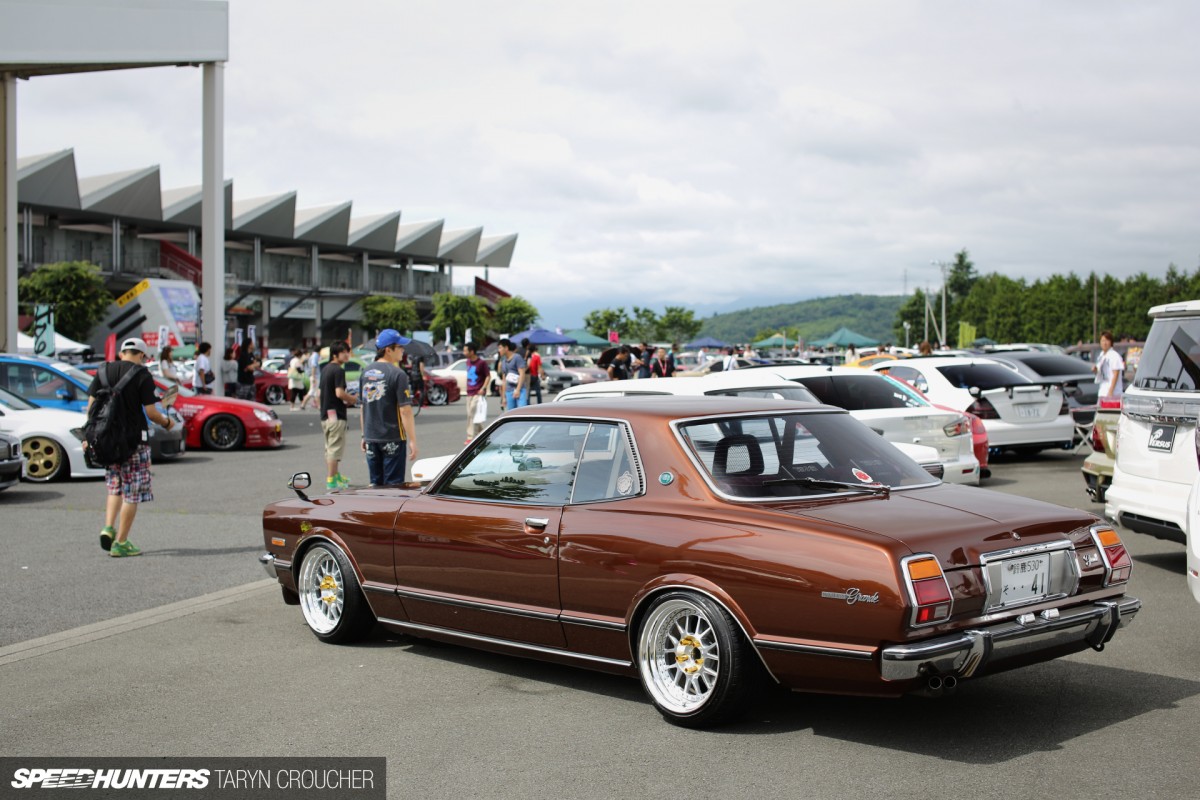 When I mentioned to a friend recently about my quest for world peace among the online automotive world, they laughed and retorted, 'That's just how the internet is, you can't change it'. But I don't think that's how it should be. Surely we can at least try to make things better.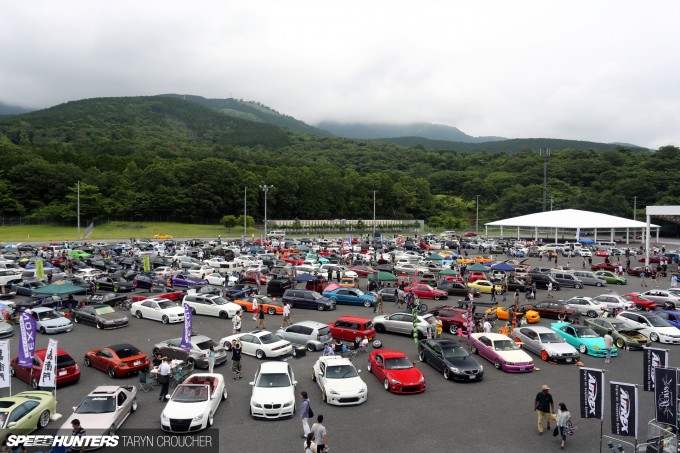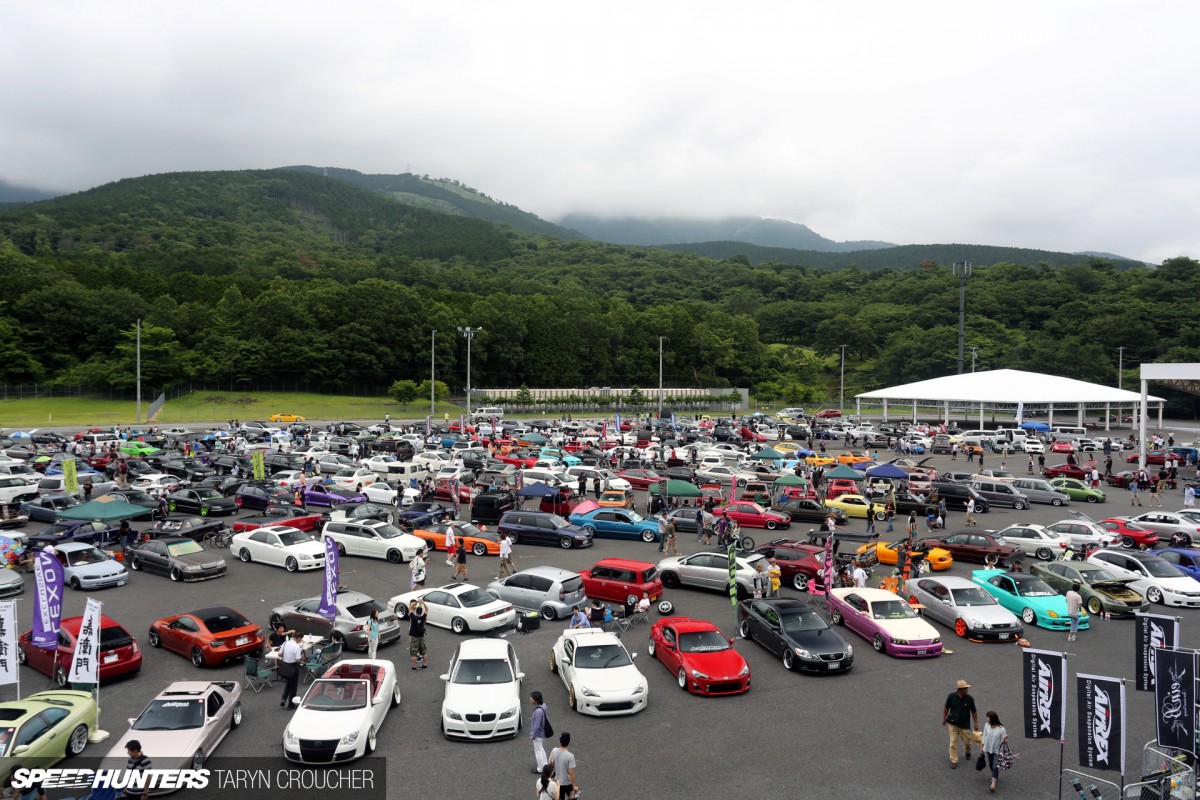 If there's one current trend within car culture that seems to spark the most outrage, it's the so-called 'stance' movement. By that, I'm referring to car enthusiasts who take wheel offset and size, ride height and suspension, and any body modifications that affect either of those two factors into consideration when building, modifying or even just admiring a vehicle. The participants of this year's Offset Kings Japan show had all of the above in common – plus much, much more.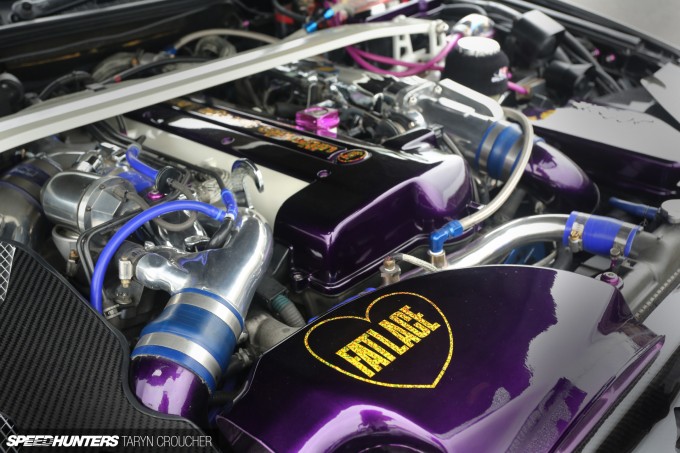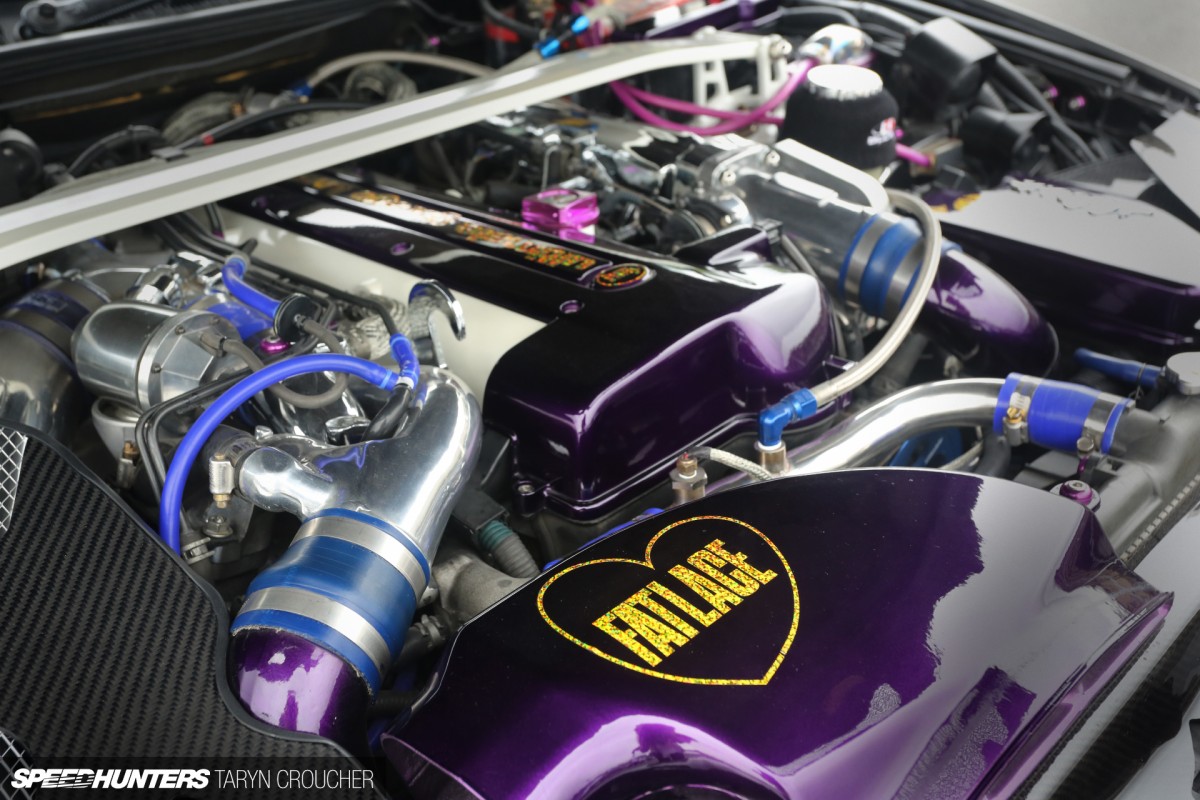 But before we take a closer look, I urge you to try and keep an open mind when viewing the images that follow. Remember, the owners of these cars are real people, and they've put a lot of thought into the way they've chosen to modify their own cars. They have different tastes, different lifestyles and different opinions, just like you. I'm not forcing you to like something that you're not interested in, but I know that you clicked on this story for a reason – because you're curious and because you love cars, like me. So what's the worst that could happen?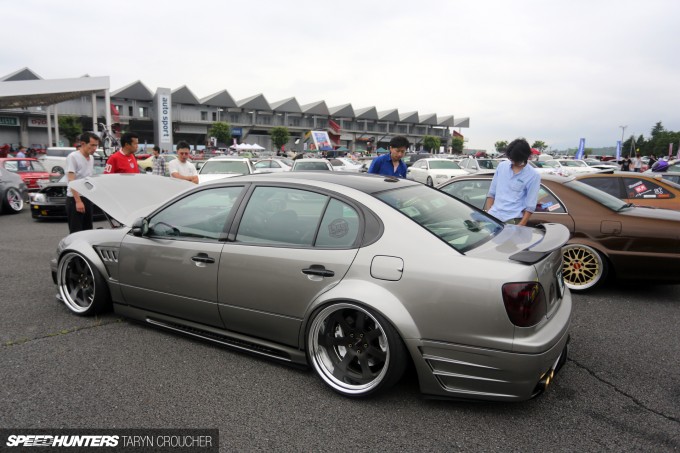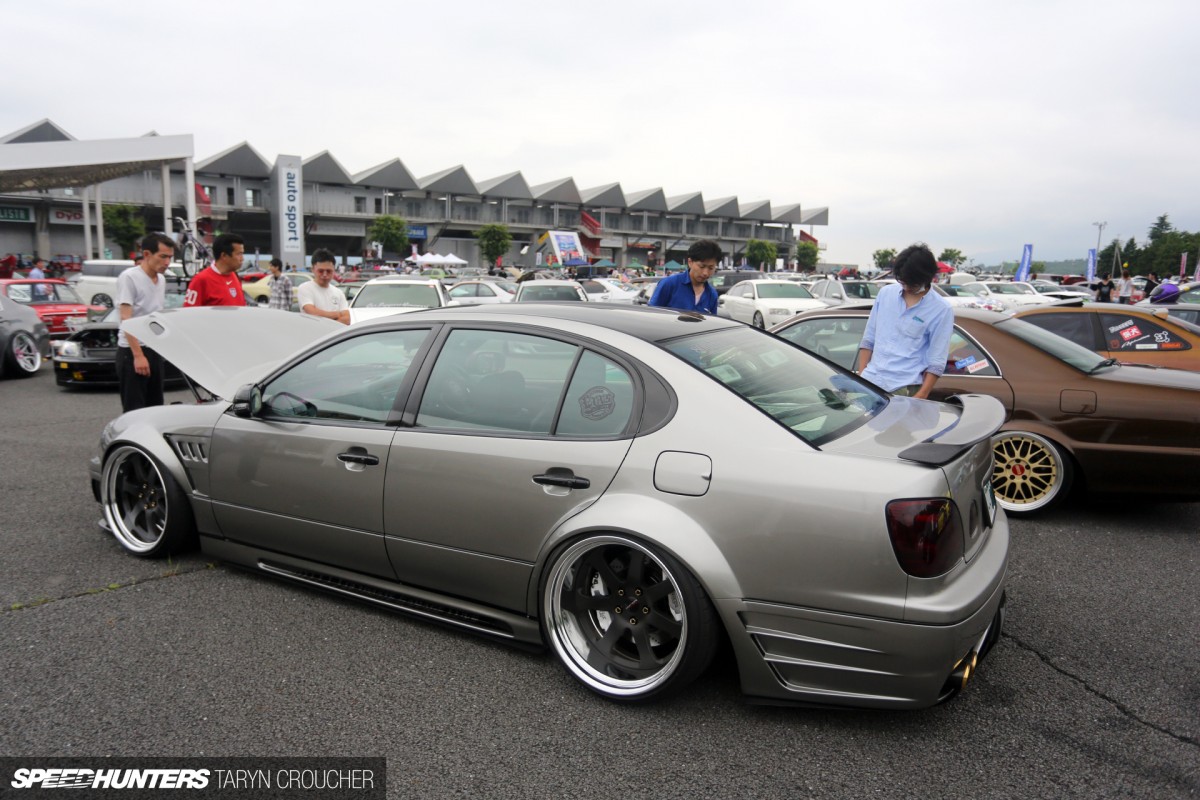 I'll start off by sharing one of the first cars that stood out to me from the show. Because the more I kept looking at this Toyota Aristo on Hyper Forged HF27-S wheels, the more incredible details I kept noticing. If you look closely you can spot the dual Rotora brake calipers, and can you see how the bottom of the rear doors have been effortlessly moulded into the huge fenders? It's all for show, right? Wrong. The bonnet was popped for a reason of course, to show off the beautifully presented piece of 2JZ-GTE weaponry you saw in the previous photo.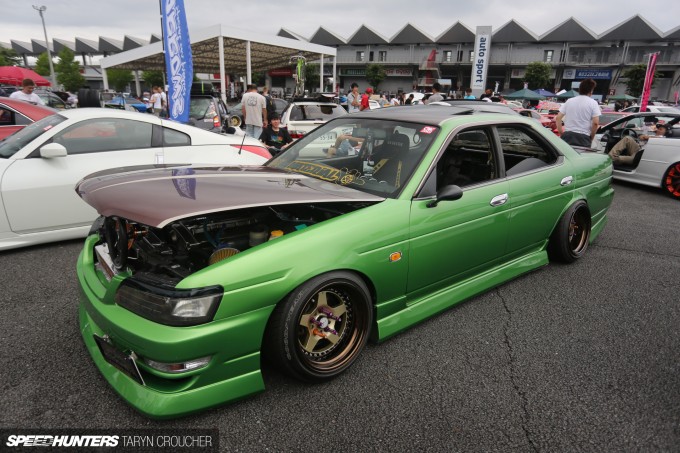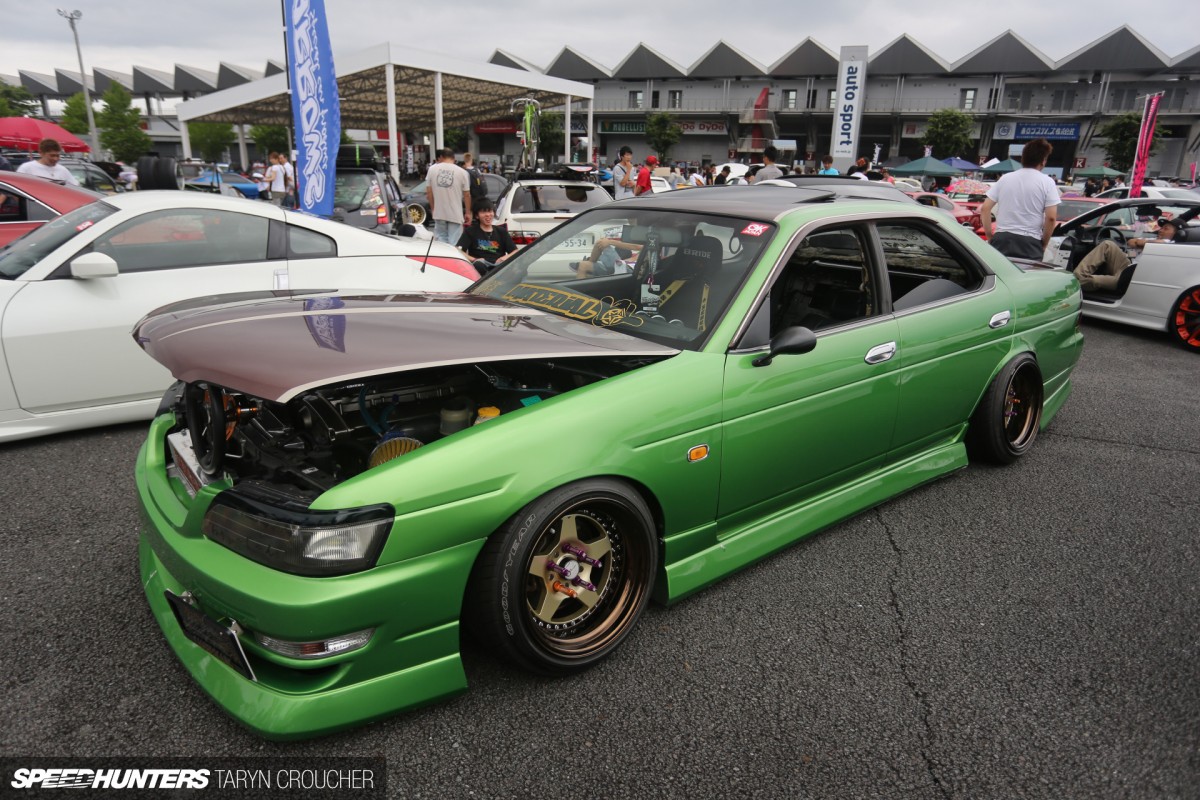 This Nissan C35 Laurel left a lasting impression on me too. There was just something about the unusual bronze, kermit green and gold colour combo, along with my all-time personal favourite wheels – Work Meister CR-01s – in 16×10 inches all round. As I was taking this photo, the owner, Yamazaki-san, came over to say hello and show me around his car. The great thing about the Offset Kings event is that the owners hang around all day, so you can talk to them – or use hand gestures and Google Translate to communicate – about their rides!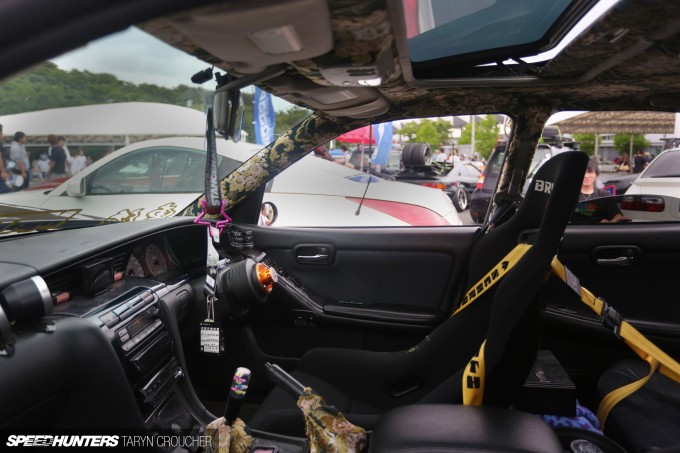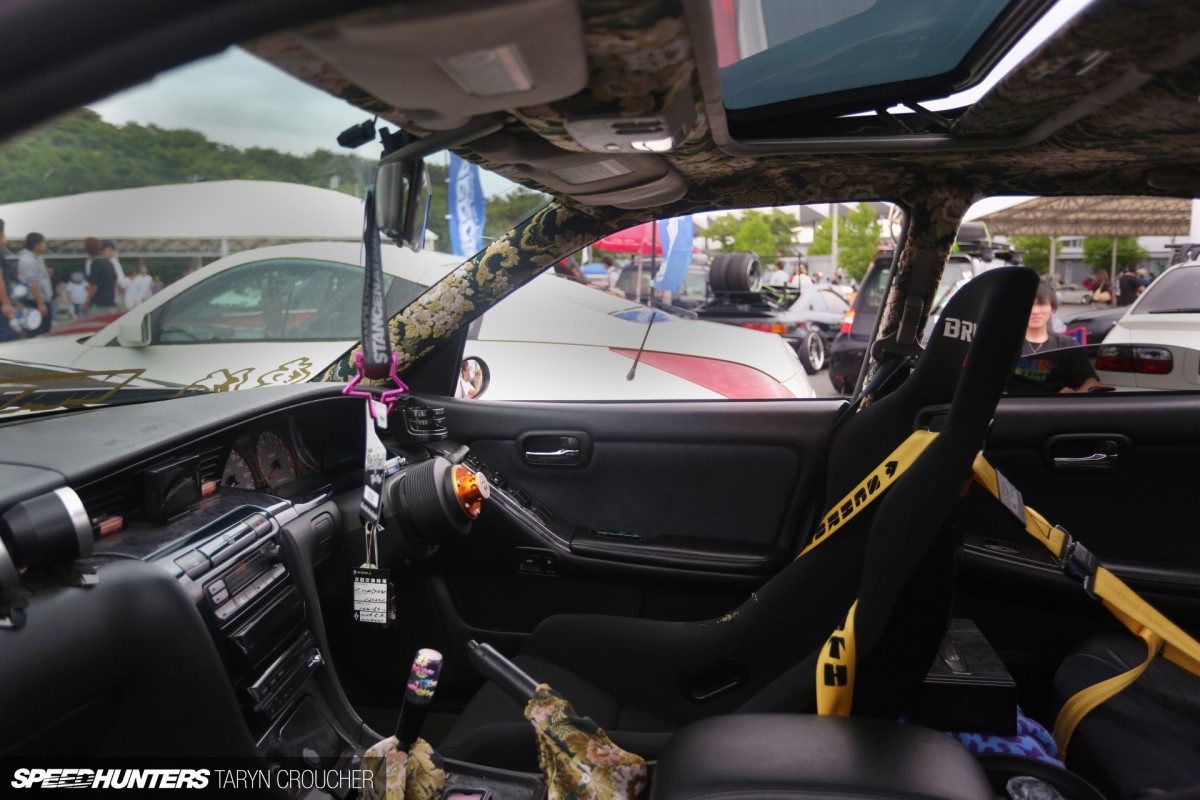 I really liked how Yamazaki-san had applied the same colour scheme to the interior of his car too. It's funny, I don't think I've ever peered inside a modified car in Japan and been met with a plain, stock interior. The inside of your car is where you spend the most time, so why wouldn't you want personalise it with your own custom touches, right? It only makes sense when you think about it. I loved how the roof lining, A-pillars, and handbrake and shifter boots had all been decorated in a floral velvet fabric – what a bold choice! The traditional suichuka gearknob is a must-have as well.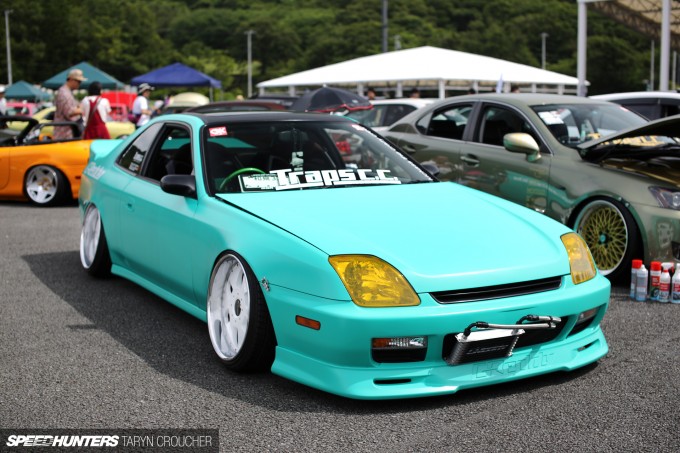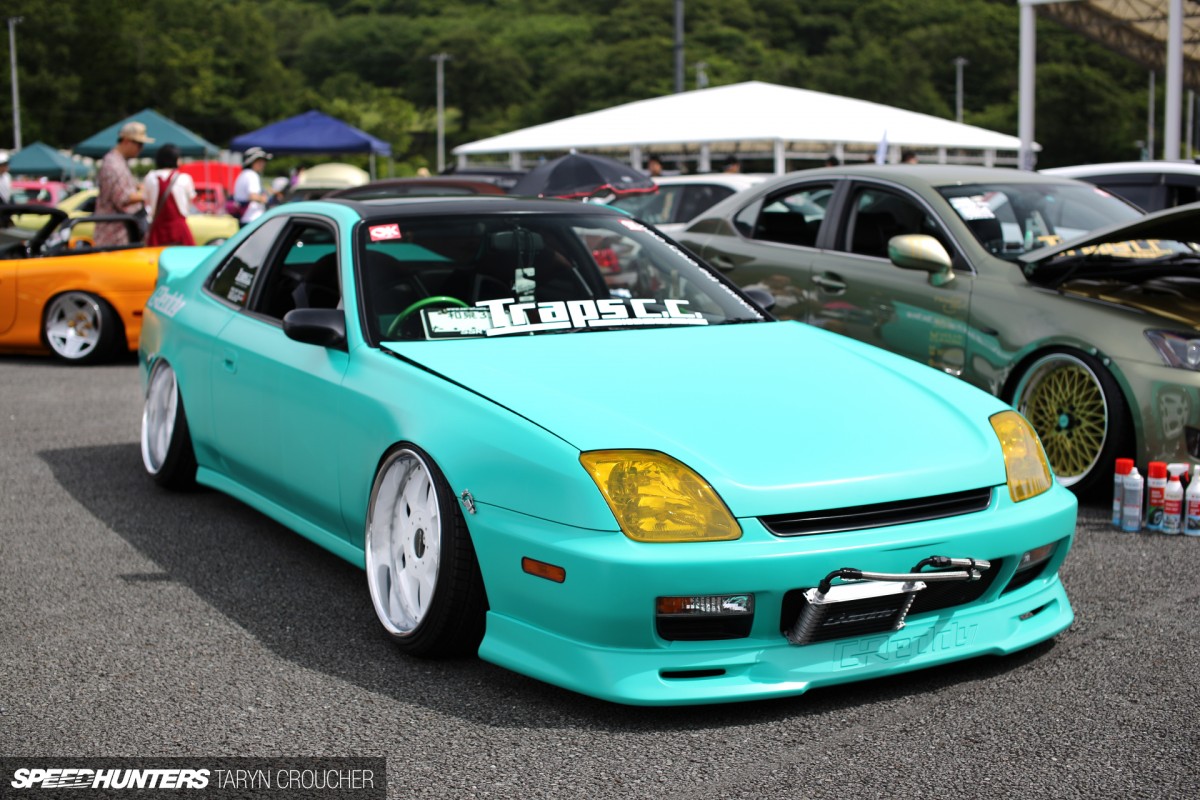 I'll admit, it took me longer than it should have to recognise this as a fifth generation Honda Prelude, simply because I've never seen one with this kind of styling treatment before. How seriously cool does this thing look? I blame the tightly fitting SSR Vienna Kreis wheels, oversized boot spoiler and front lip, radical yellow headlights and the in-your-face external mounted oil cooler. I wonder if the vented bonnet hints at something aggressive hiding under the hood too? I'll have to leave that one to my imagination…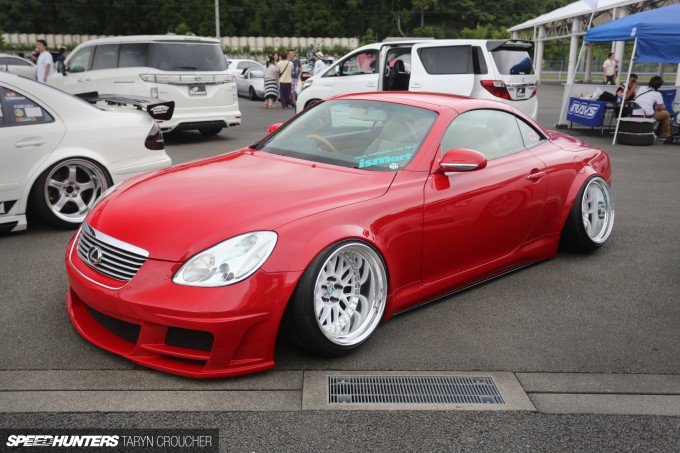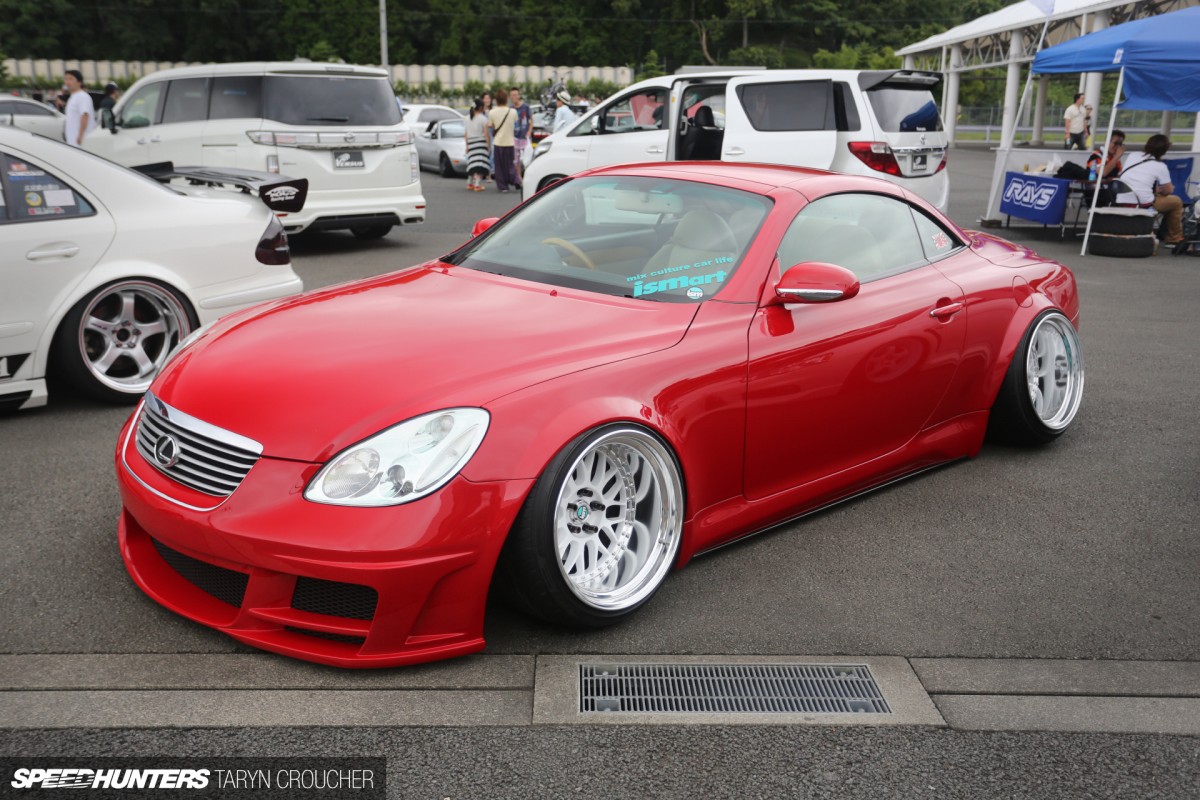 One of the rides rolling with the Ismart crew was this crazy hovercraft Z40 Soarer on enormous Work Meister M1R wheels. With its chassis literally sitting millimetres off the ground and its subtle overfenders, the proportions of this thing looked completely mad!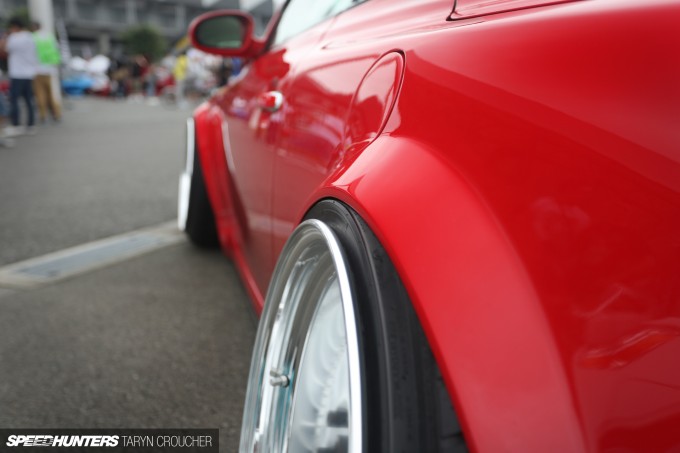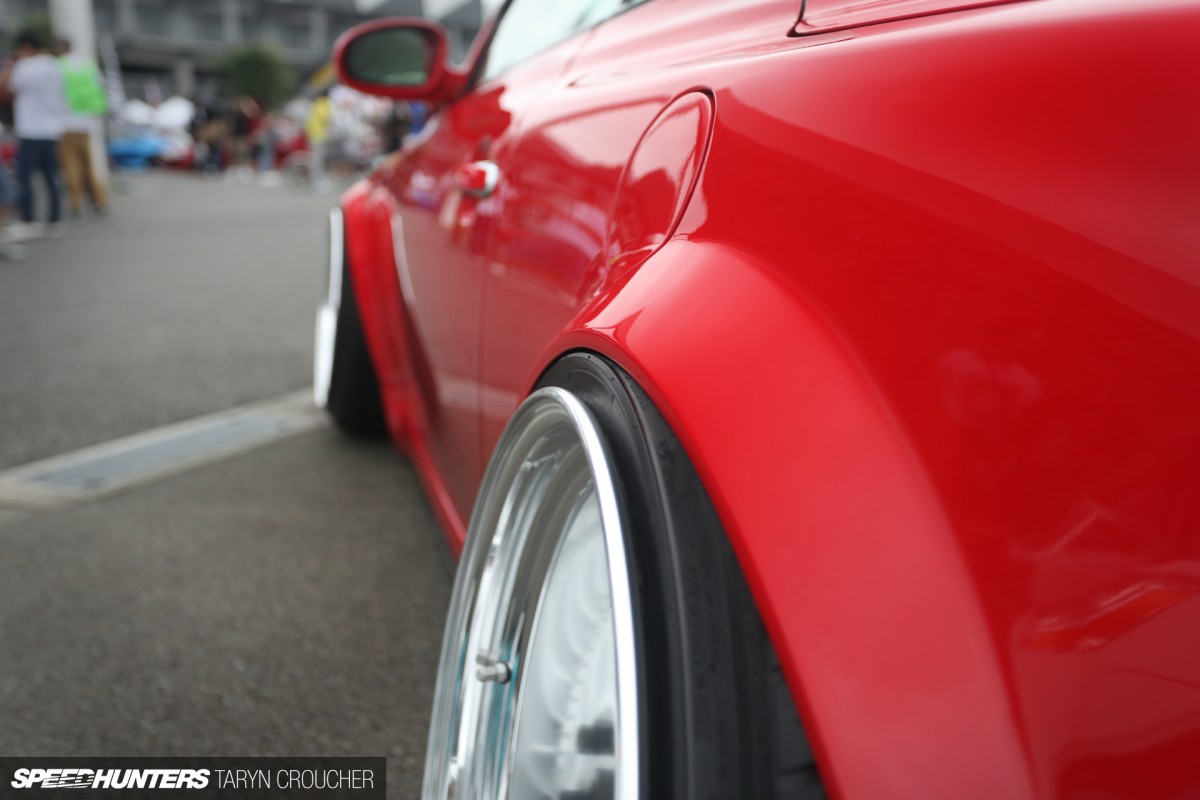 The massive Work wheels measure 18×12 inches up front and 18×12.5 inches in the rear. I had to talk to the owner just to confirm that it definitely wasn't on static suspension; unlike 90 per cent of the cars present at the show, it was actually on air. Phewww… I think my brain would've exploded otherwise.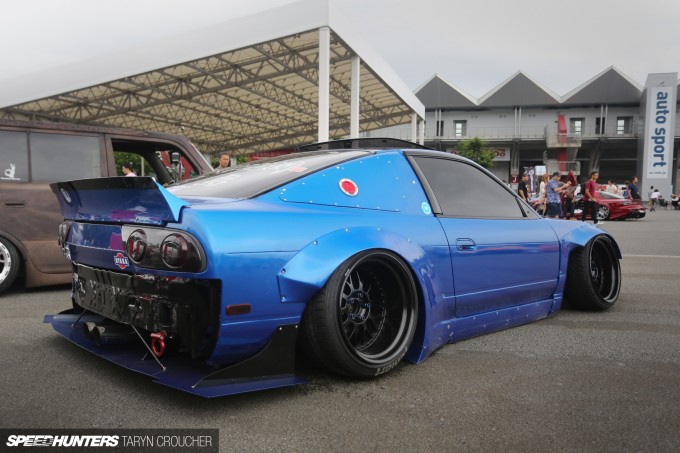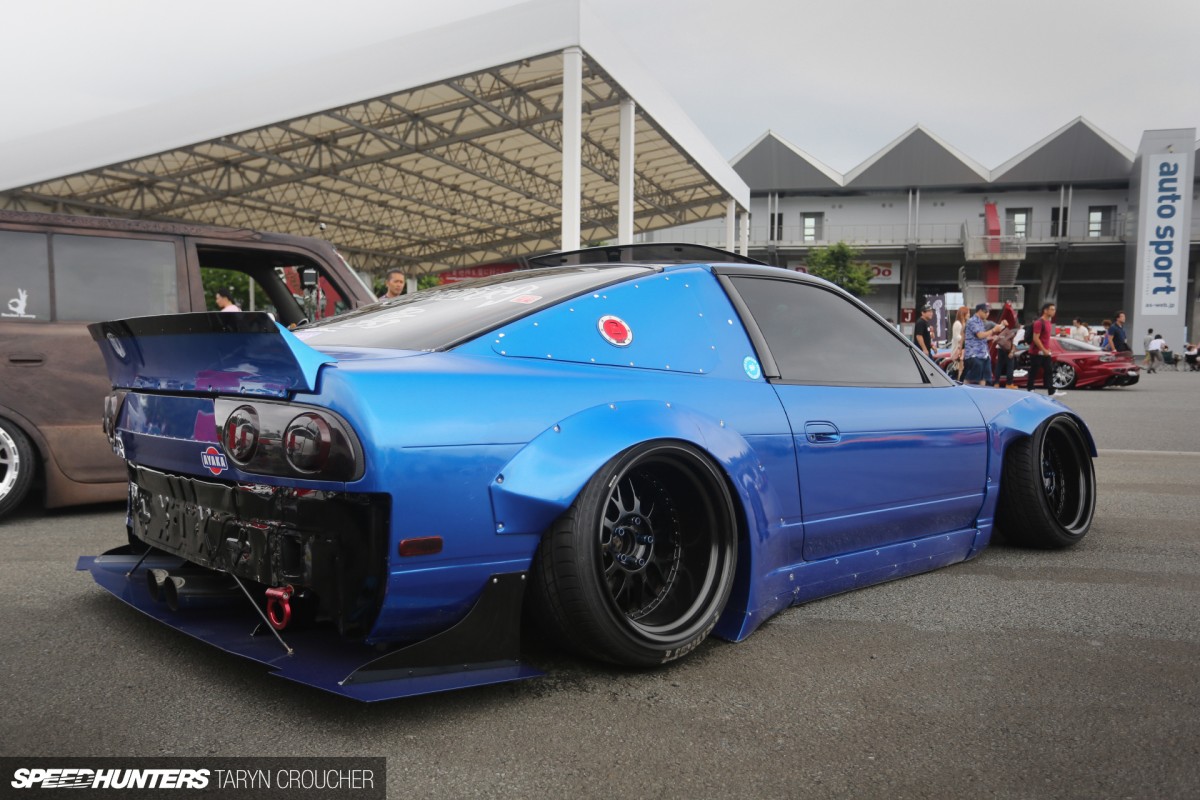 Nakagawa-san from team Bad Quality seems to constantly change up the look of his Rocket Bunny 180SX. Only months ago it was wearing a Sunoco-themed livery with yellow accents, but that has disappeared in favour of a clean look with his Work Meister M1s now painted completely black. Unsurprisingly, he ended up taking away the overall award for 'Most Slammed'.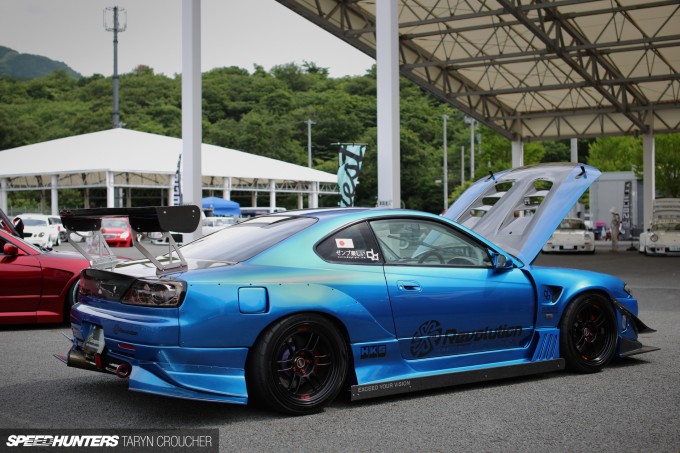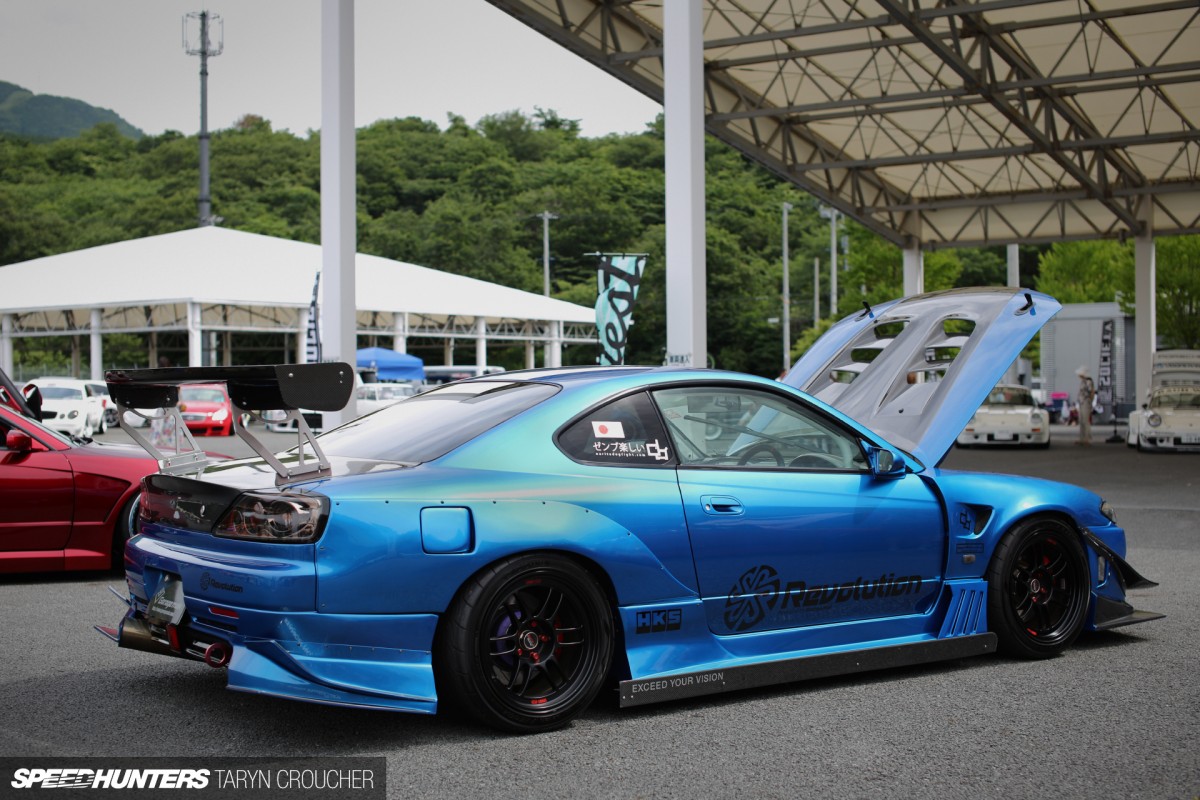 The Offset Kings show isn't just about mentalist fitment-orientated cars. This S15 time attack build was super-clean and had been built completely with function and style in mind. It featured a full Saito roll cage, Garage Mak body kit and aero, Enkei RPF1s and an SR20DET producing a healthy 480hp.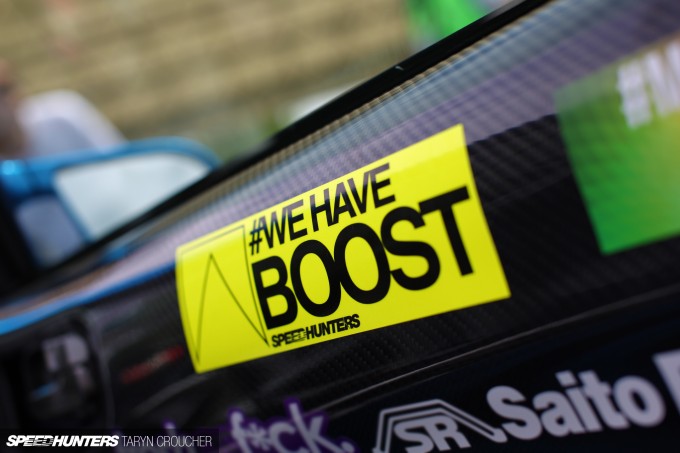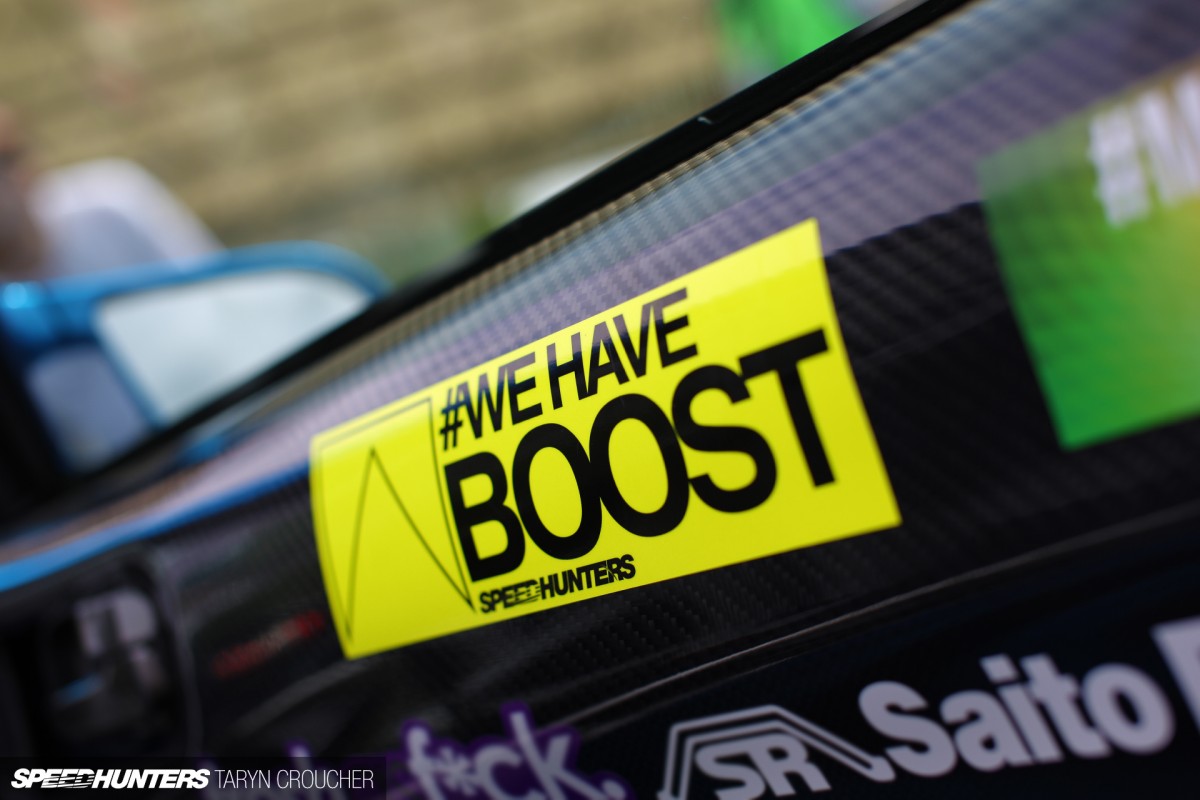 It also had some great interior accessories. Thank-you for supporting Speedhunters Tsubaki-san!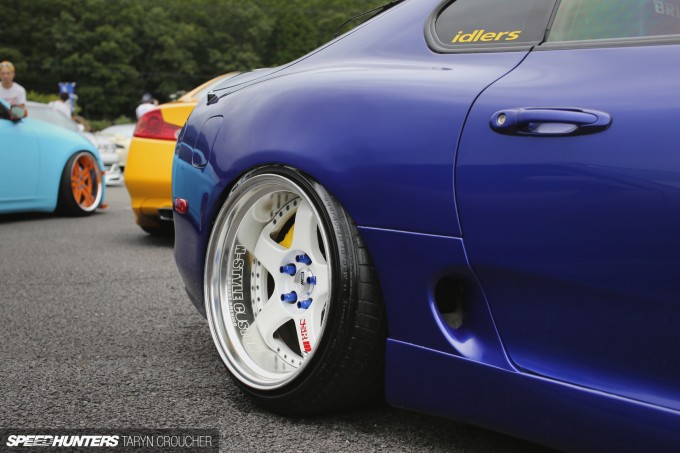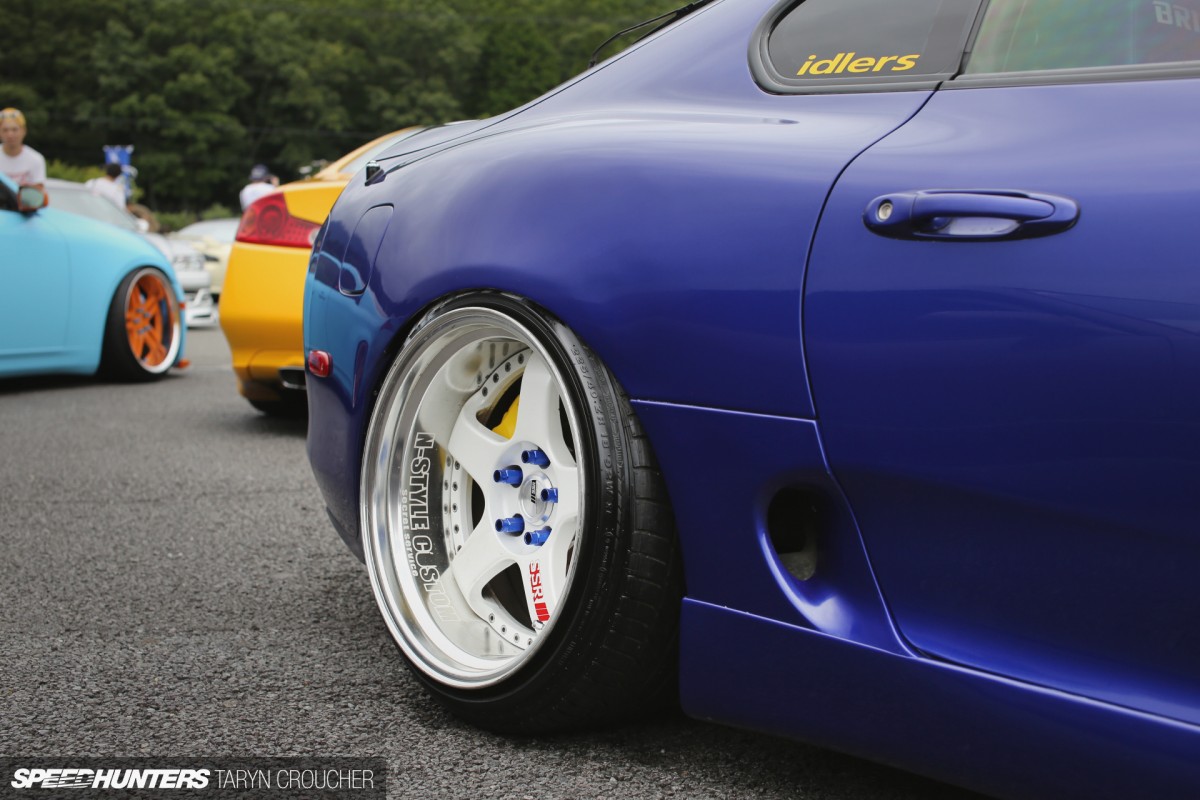 Next up, this Toyota Supra had some extreme fitment going on underneath its subtly plumped-up guards. Forget function, right?
Purpose & Poise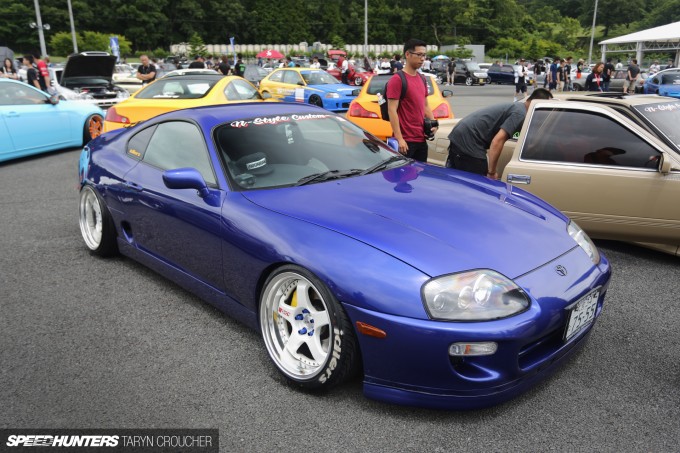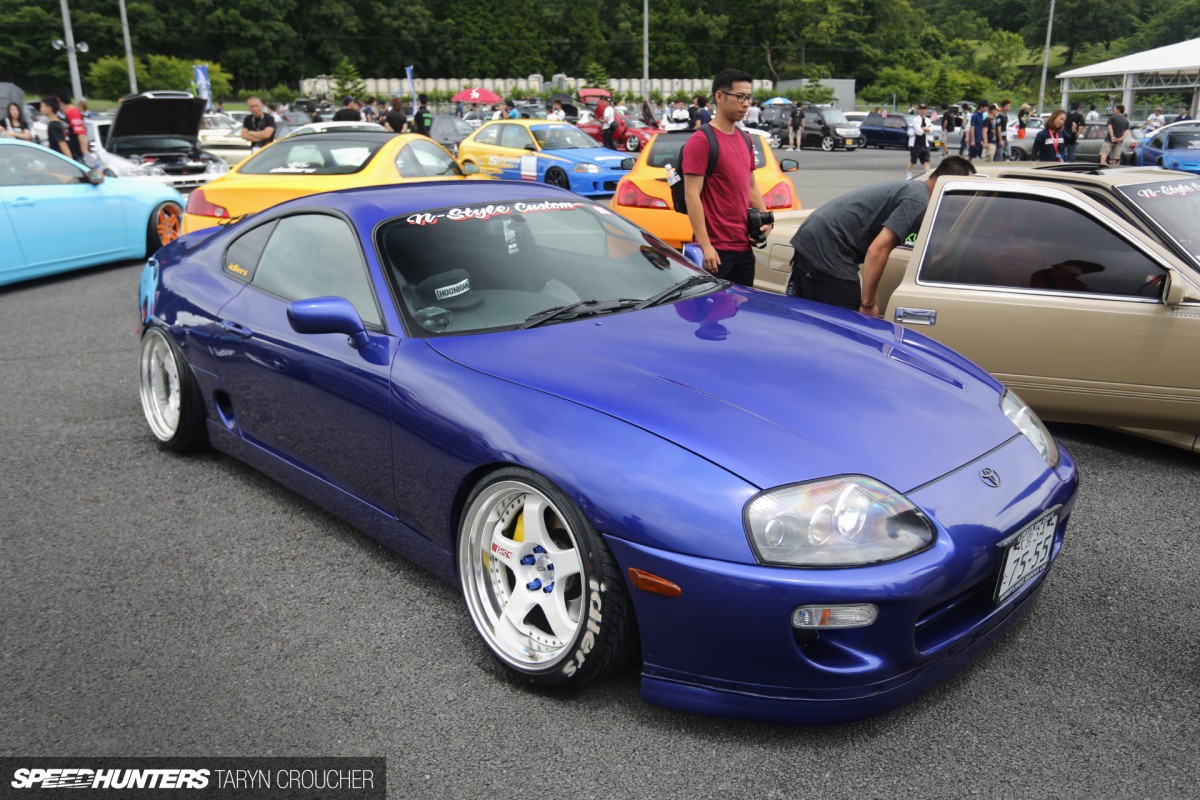 Just kidding! Perhaps the 'N-Style' stickers gave it away, but this JZA80 Supra definitely isn't just about looks. If you've been reading any of our recent features on N-Style Customs creations, you'll know that these guys don't drive any of their cars lightly – something which I saw for myself at the Idlers Games day at Tsukuba Circuit last month.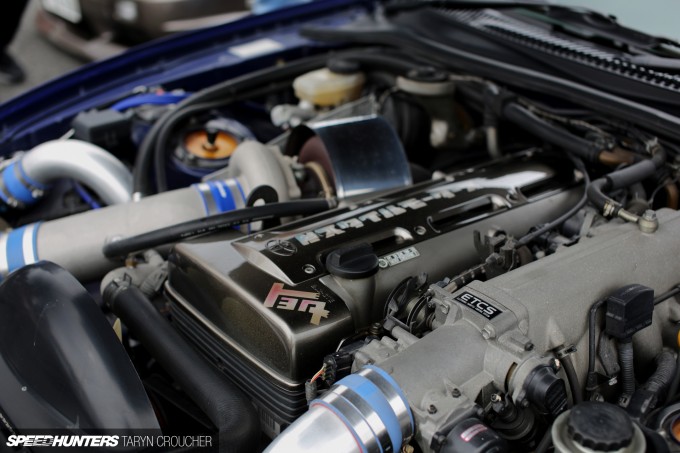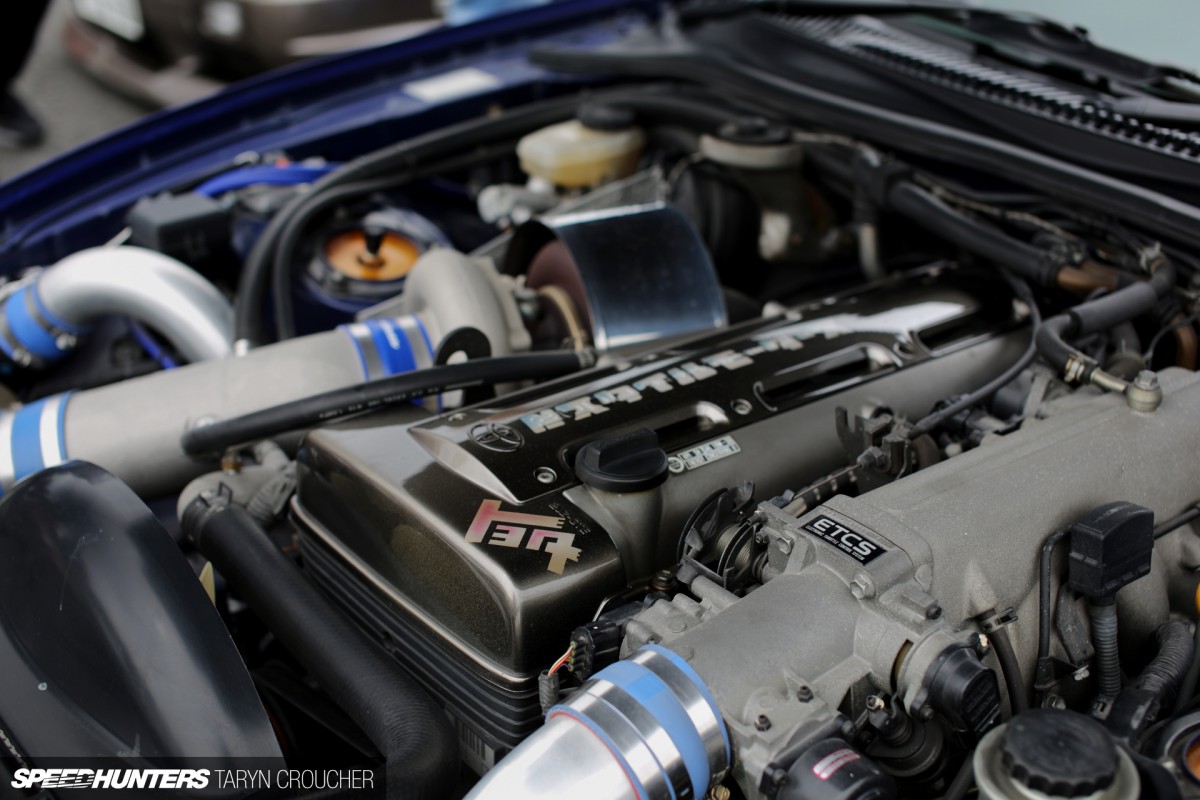 This car is actually owned by Nagahama-san, the owner of N-Style Customs, who also drives this Z30 Soarer. The Supra's 2JZ powerplant with its large Trust/GReddy T88 turbo makes a cool 800hp.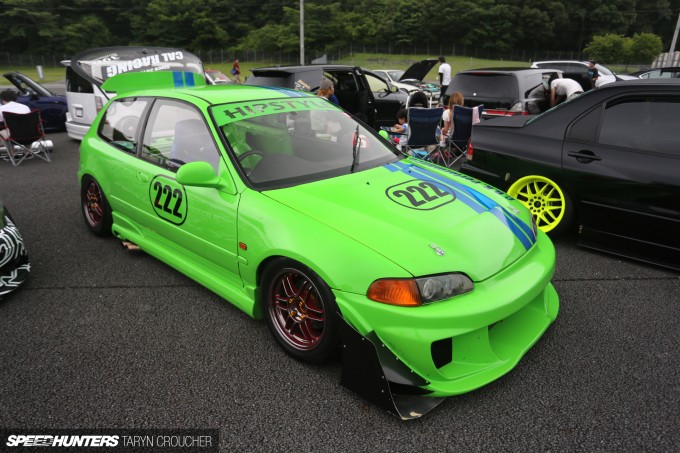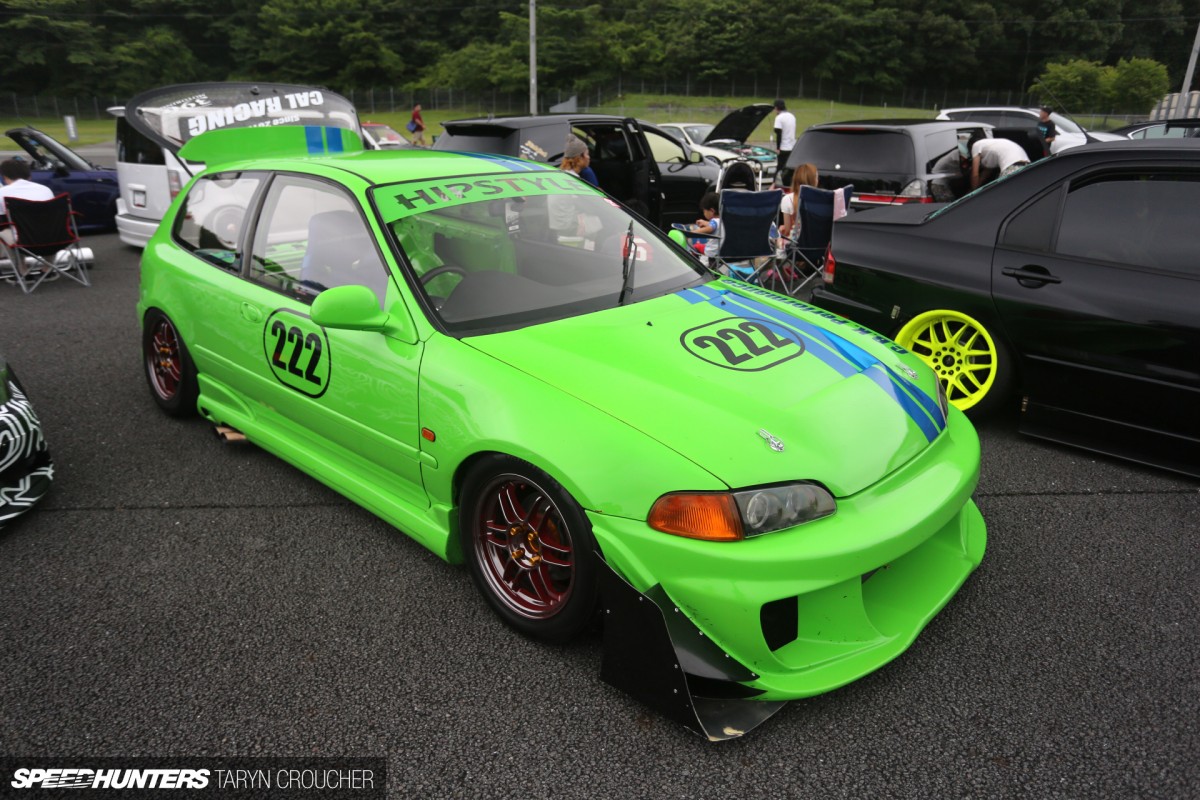 I know that my Honda-loving New Zealand friends from the CJC car club will love this track-orientated EG Civic hatchback build.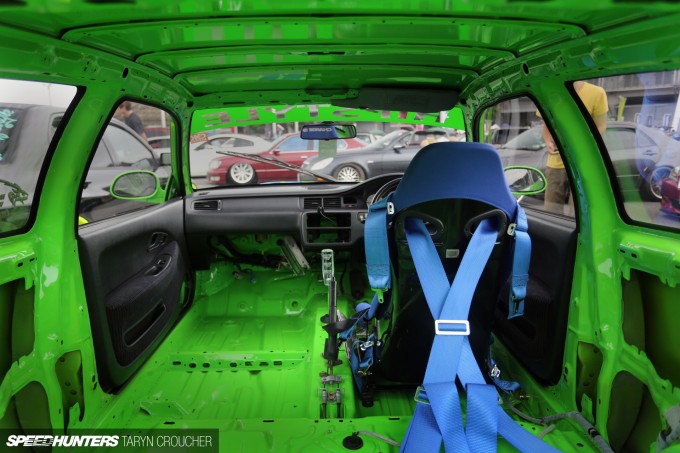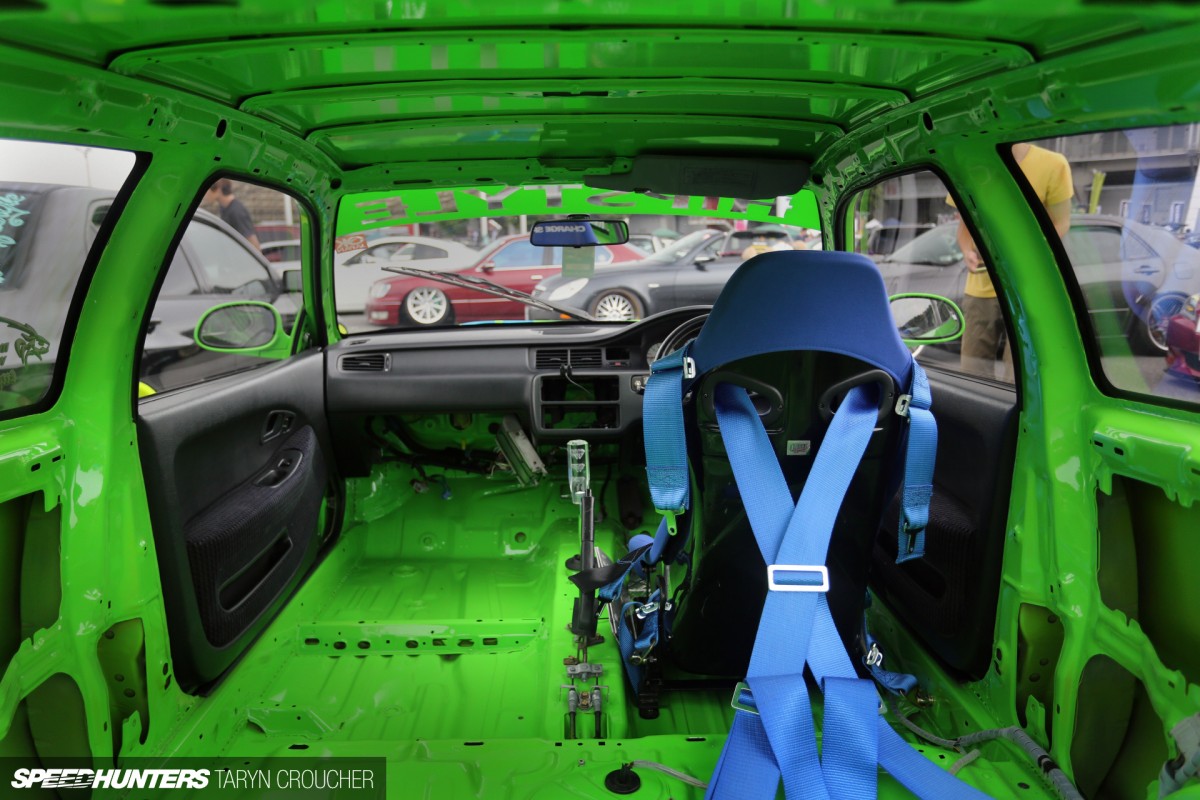 The whole car had been completely stripped out and transformed into to a dedicated track toy. The only strange thing was that it didn't have a roll cage, but I'm guessing that's next on the owner's to-do list.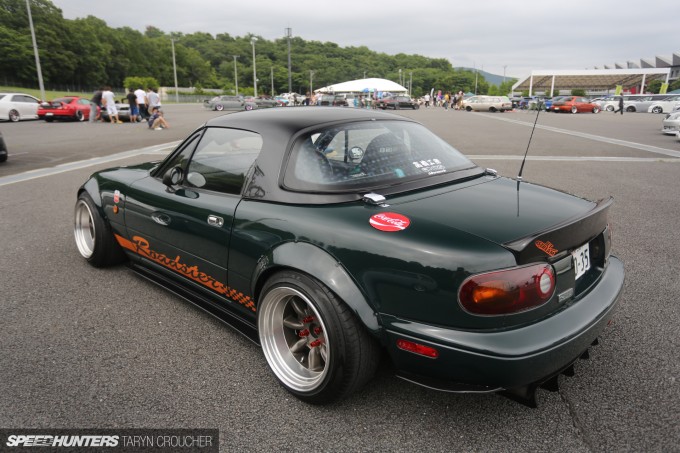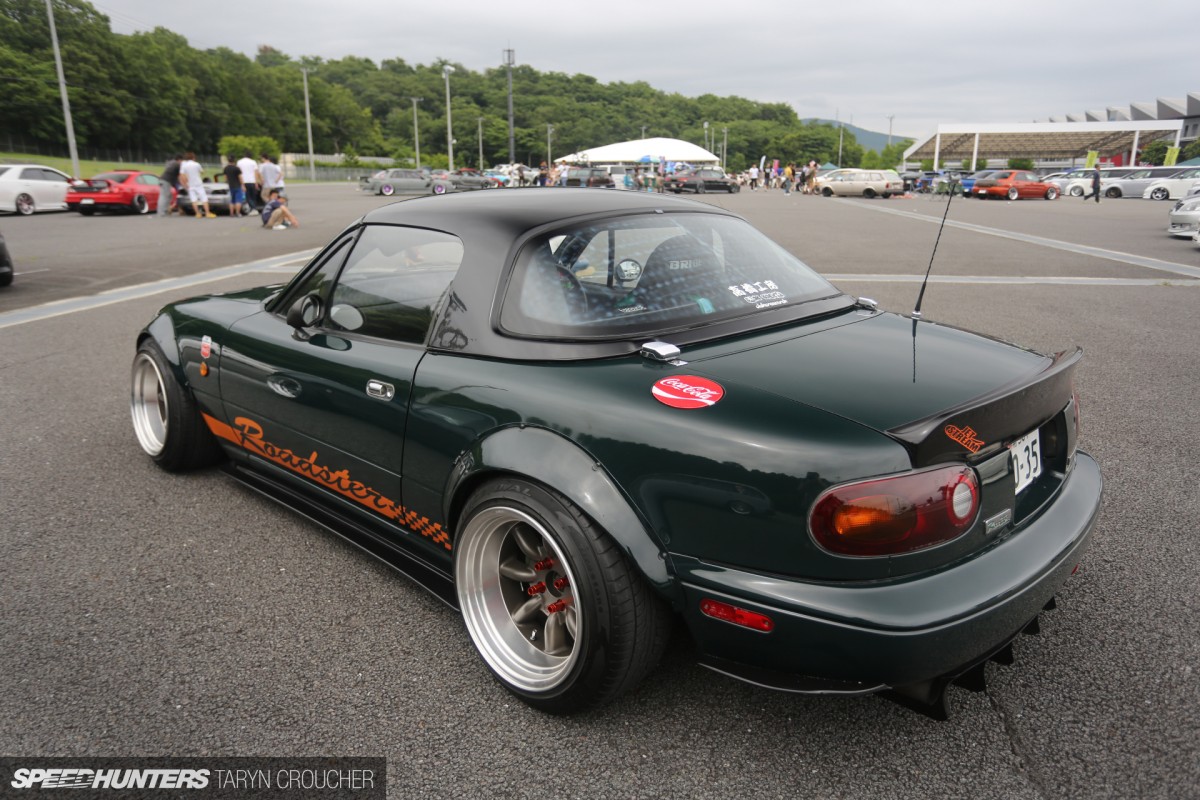 Speaking of track toys, this British Racing Green MX-5 on deep RS Watanabe wheels was just one of many Eunos Roadsters in attendance – but by far the most functional and aggressive-looking though. It was cool to see the tiny convertible wearing some American Project-G G-Fuser side-skirts too. Whoever said that these cars should only be driven by hairdressers got that so, so wrong.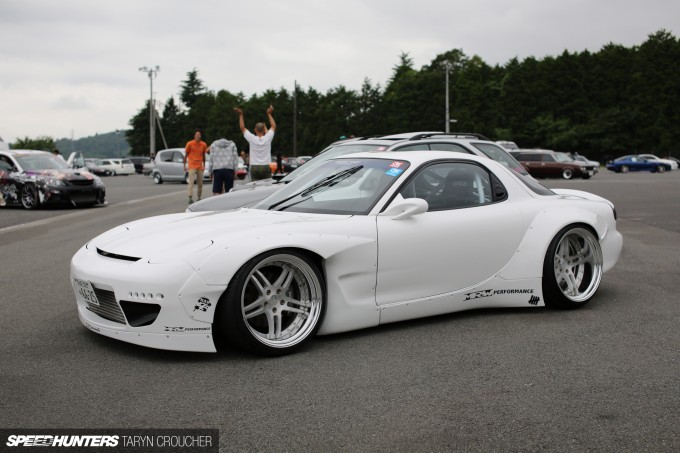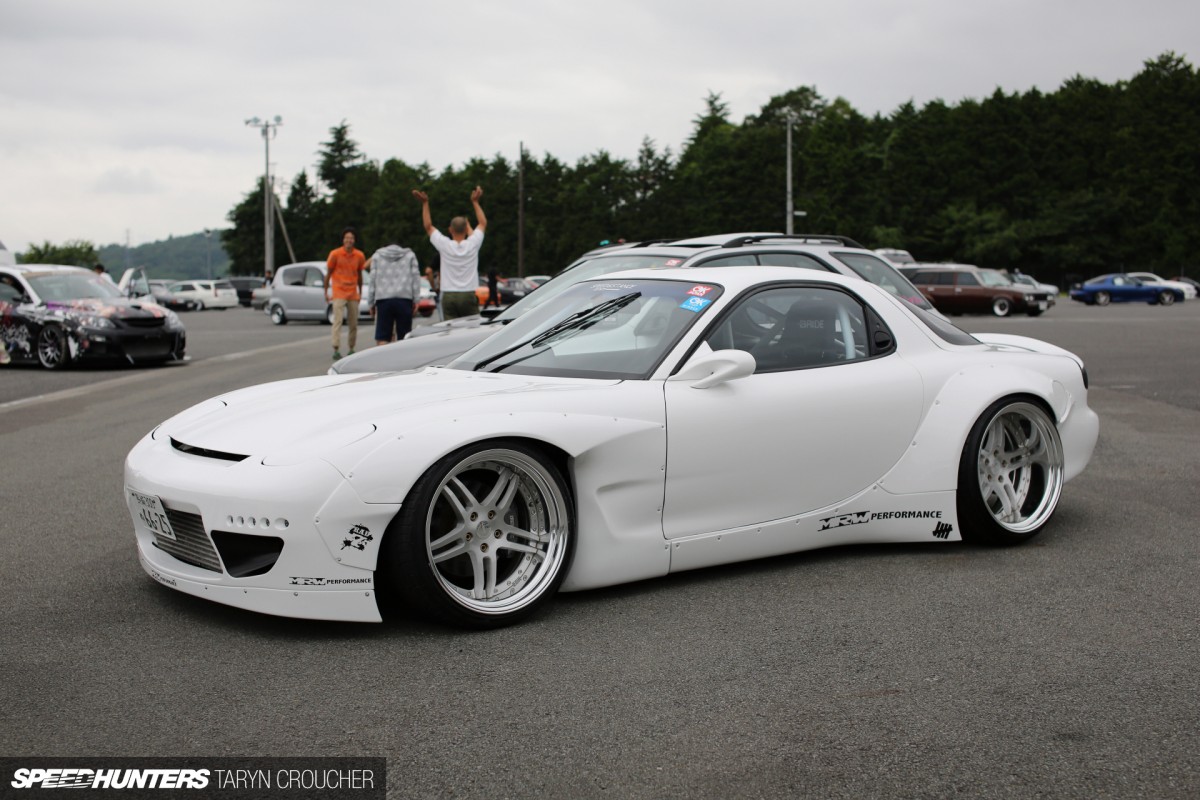 We've shown you the new Rocket Bunny FD3S kit on Mad Mike Whiddett's four-rotor-powered MADBUL and Kei Miura's black and gold demo car, and now here's another example – this time in fresh white. Although I'm a sucker for black cars, the lighter-coloured body definitely seems to shows off the lines of the kit beautifully. Without any graphics you can more carefully study Miura's work, and what an incredible job he has done.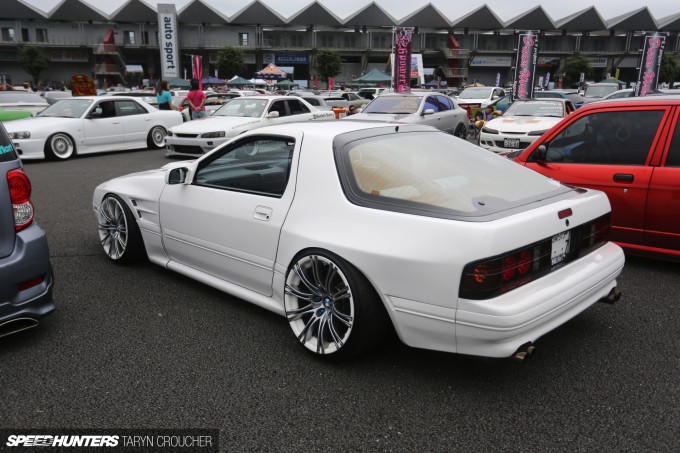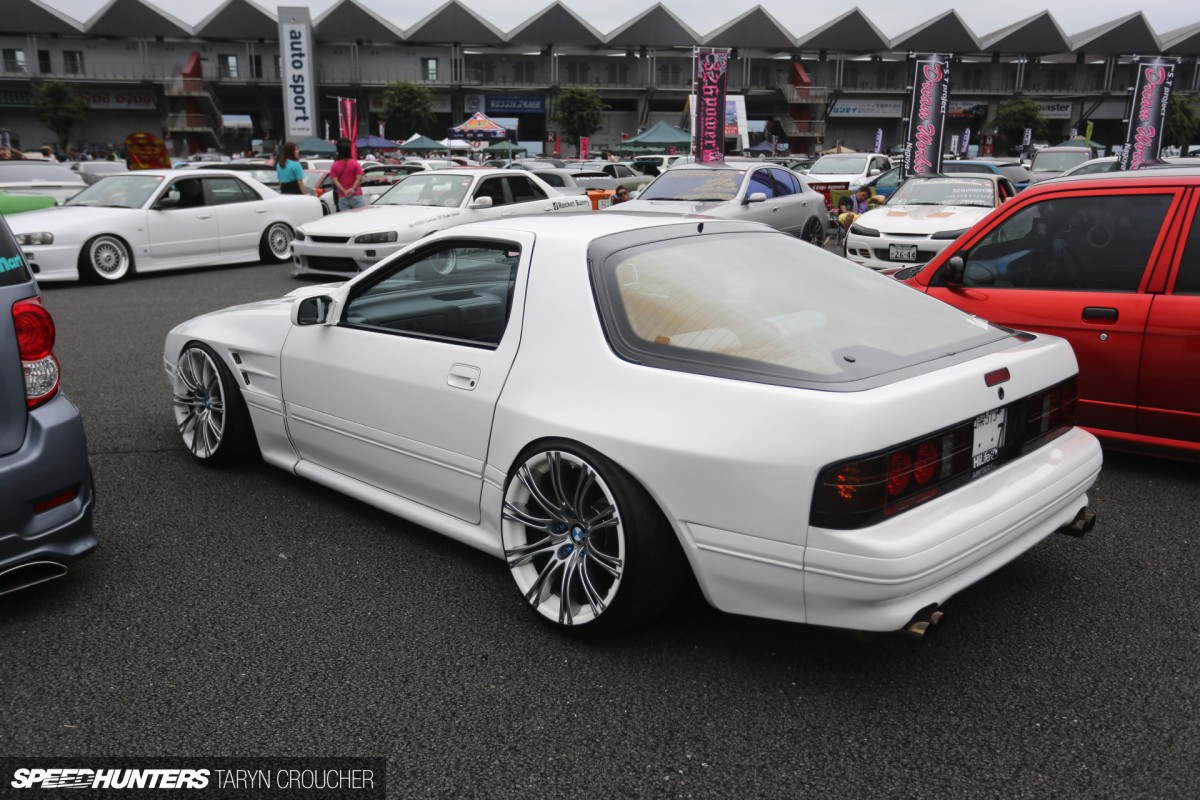 Not far away from the white FD, I found its older brother, a white FC with a very interesting wheel choice. Strangely, they work really well!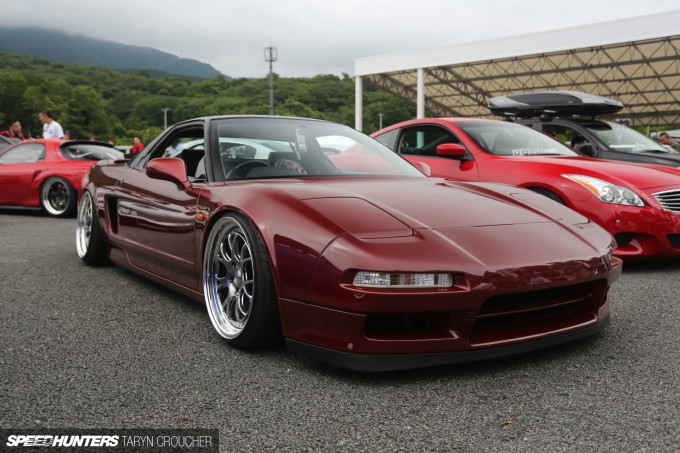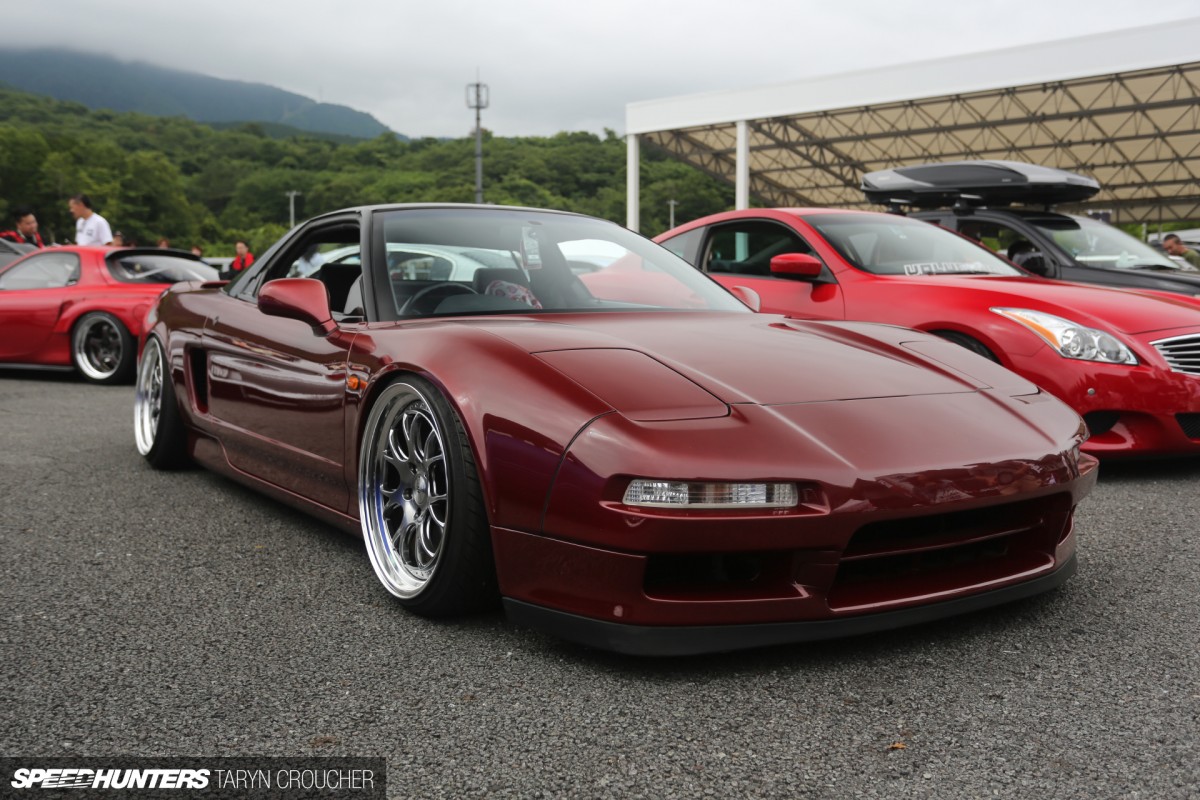 The Honda NSX to me is a car that's already special enough in its stock form, let alone lowered on SSR Professor MS3 wheels. I envy the owner for getting to drive this car through the nearby mountain roads to get to the event.
Vintage & Euro Goodness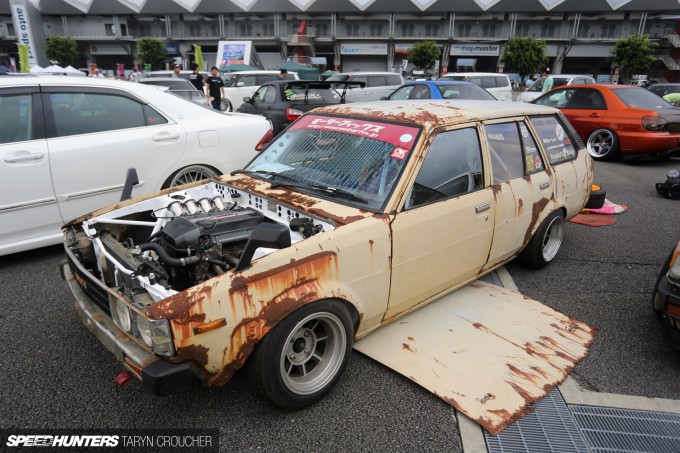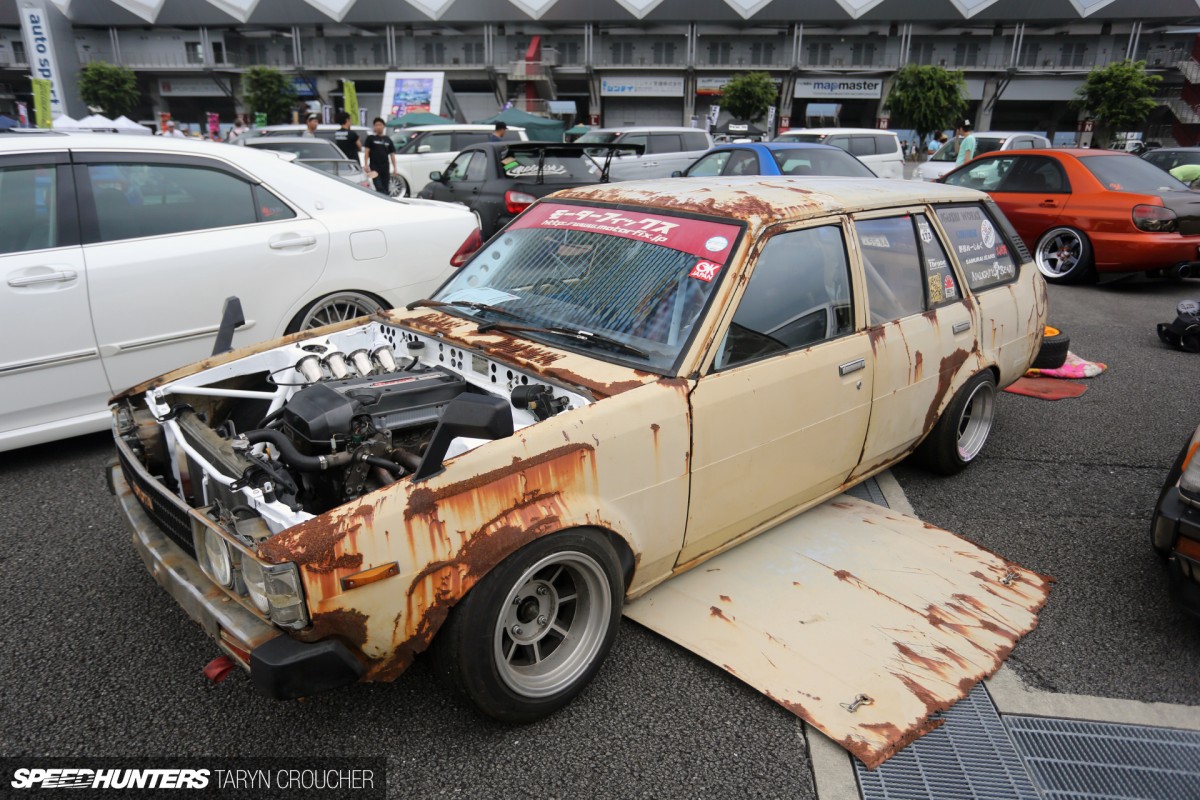 If older cars are more your deal, the show had plenty of old school Japanese and European rides to pore over. When I first walked past this rusted-out Toyota Corolla wagon on old worn Hayashi Street wheels, I'll admit, I didn't take all that much notice of it. Sure, it looked cool, but I thought that was it – because the hood was closed.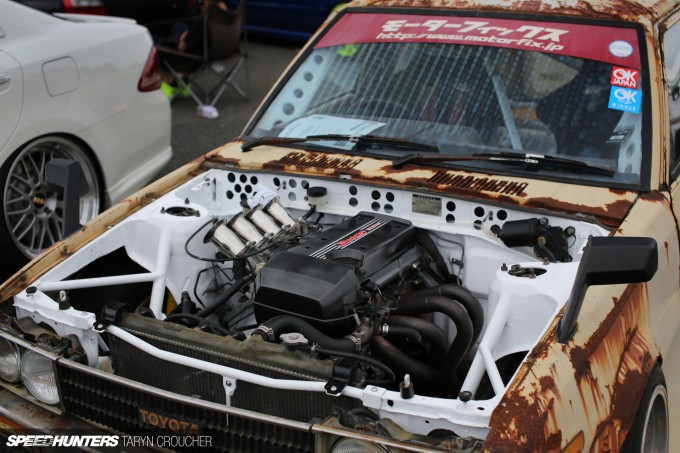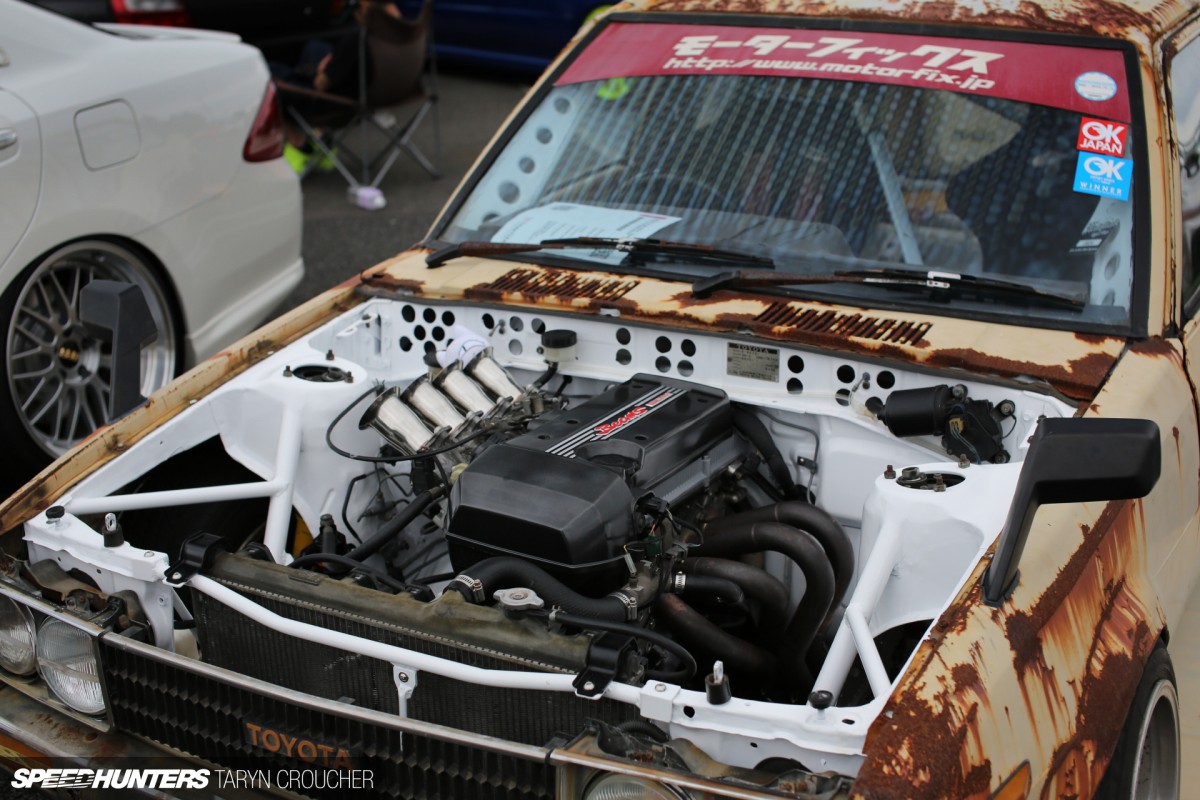 This reminded me of a valuable lesson – never judge a book by its cover. The gleaming white engine bay was such a surprising contrast from the rusty and dirty-looking body, and check out that gorgeous Beams 3S-GE with individual throttle bodies. I wasn't expecting that!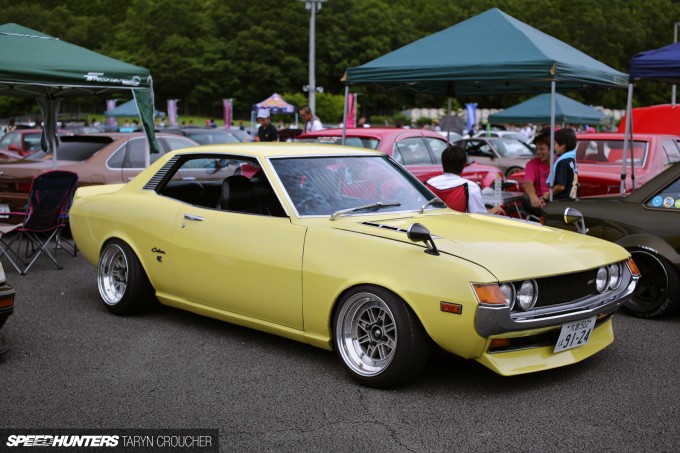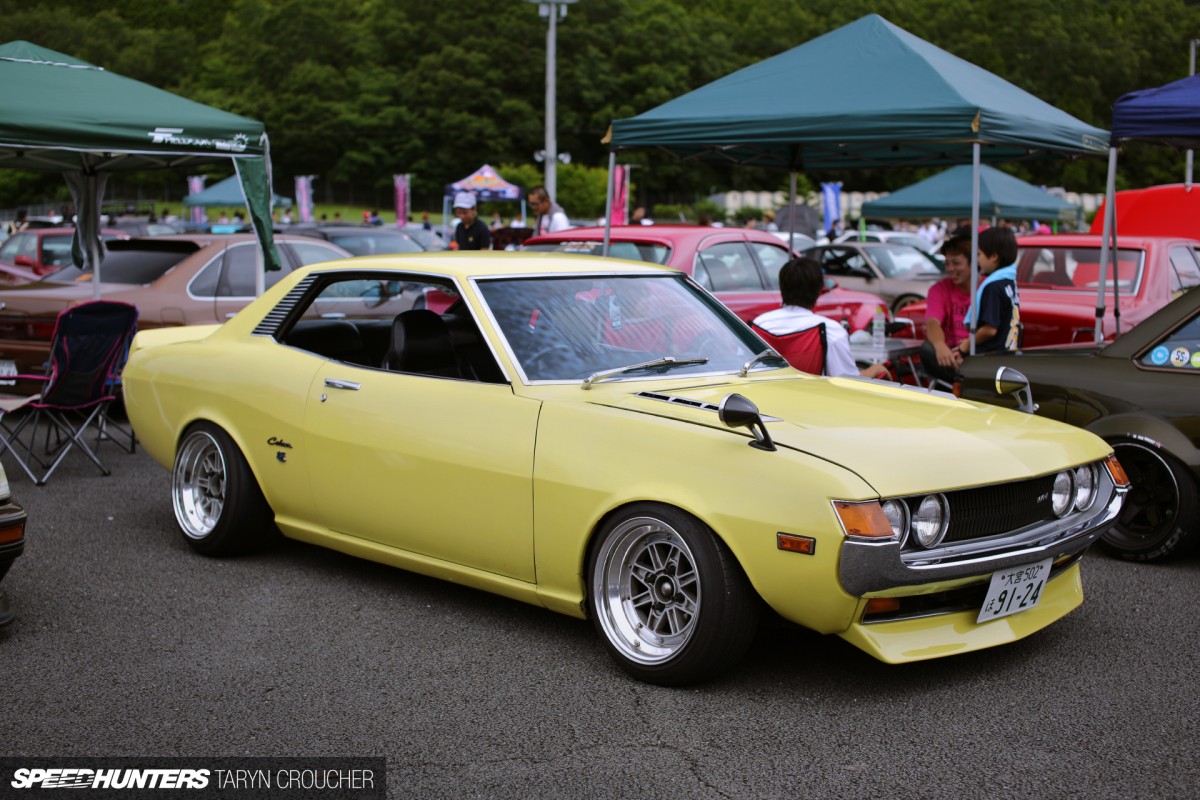 Did all that rust make you sad? If so, I have the perfect remedy: this beautiful banana yellow first generation Celica in all of its sunny '70s glory. We recently featured another very cool looking RA21 from Hawaii, but this example had a few more shakotan touches, such as a front air dam, subtle rear boot spoiler and a lower ride height on on classic SSR MkIIIs. The pillarless window design on these cars is always so pleasing on the eyes.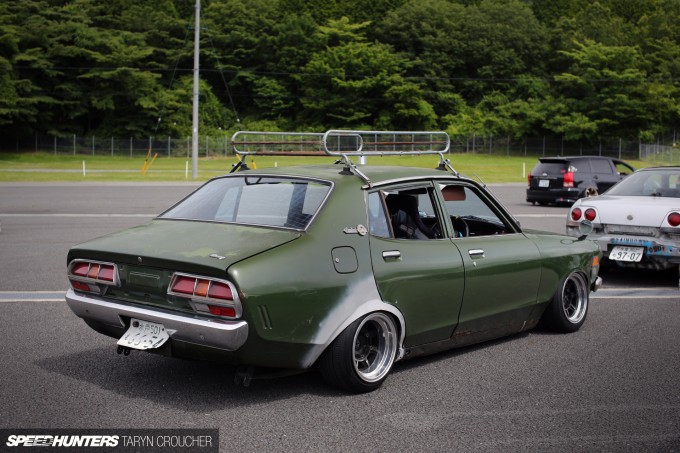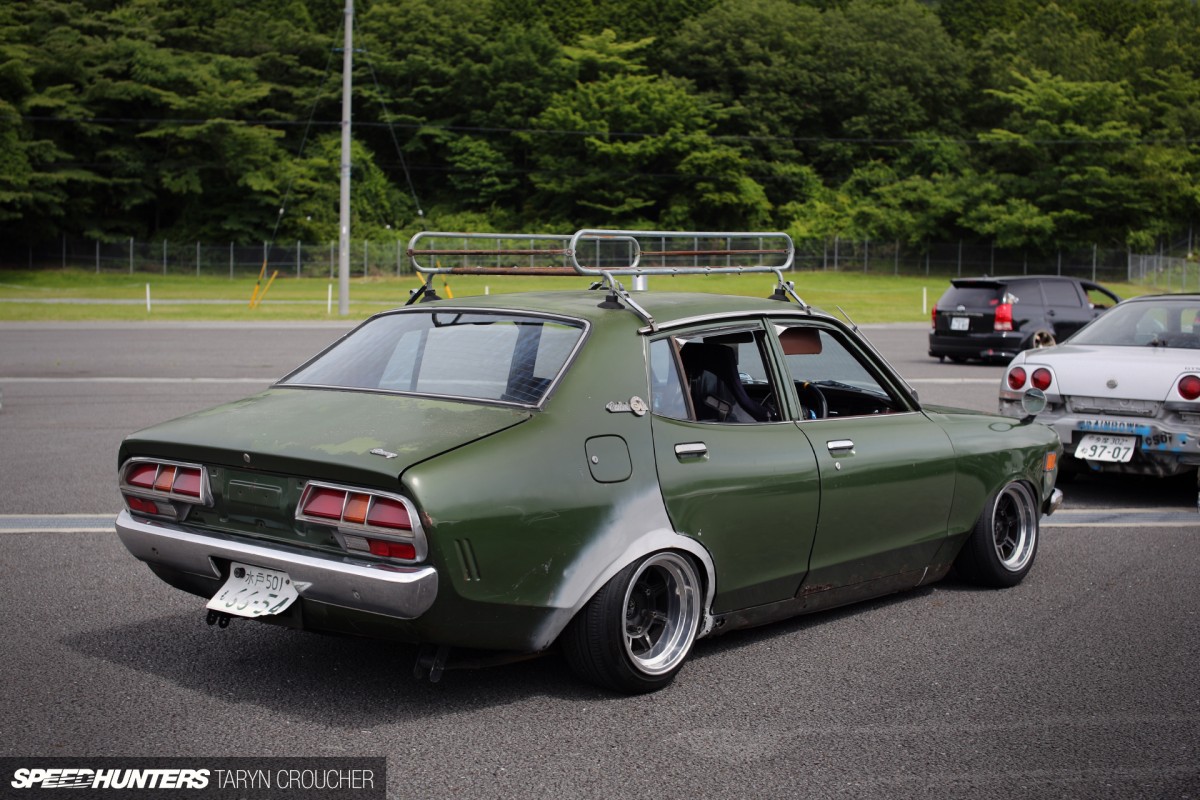 This B211 Nissan Sunny sedan was looking a little worse for wear – although the rear fender treatment suggested it was perhaps a work in progress build. Neverless, it looked undeniably cool slammed on period-correct wheels with an old fashioned roof rack.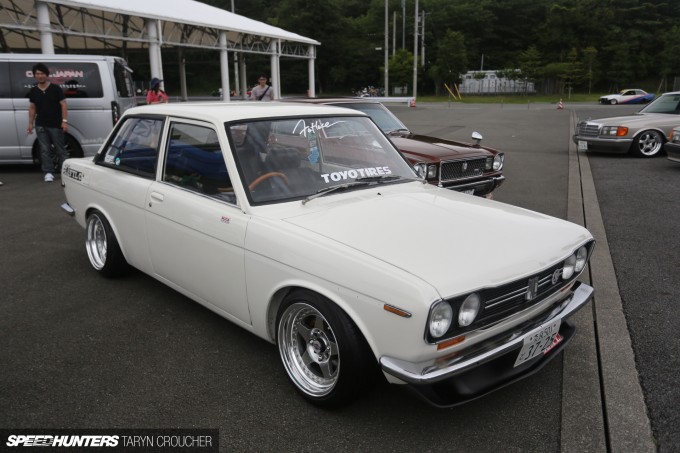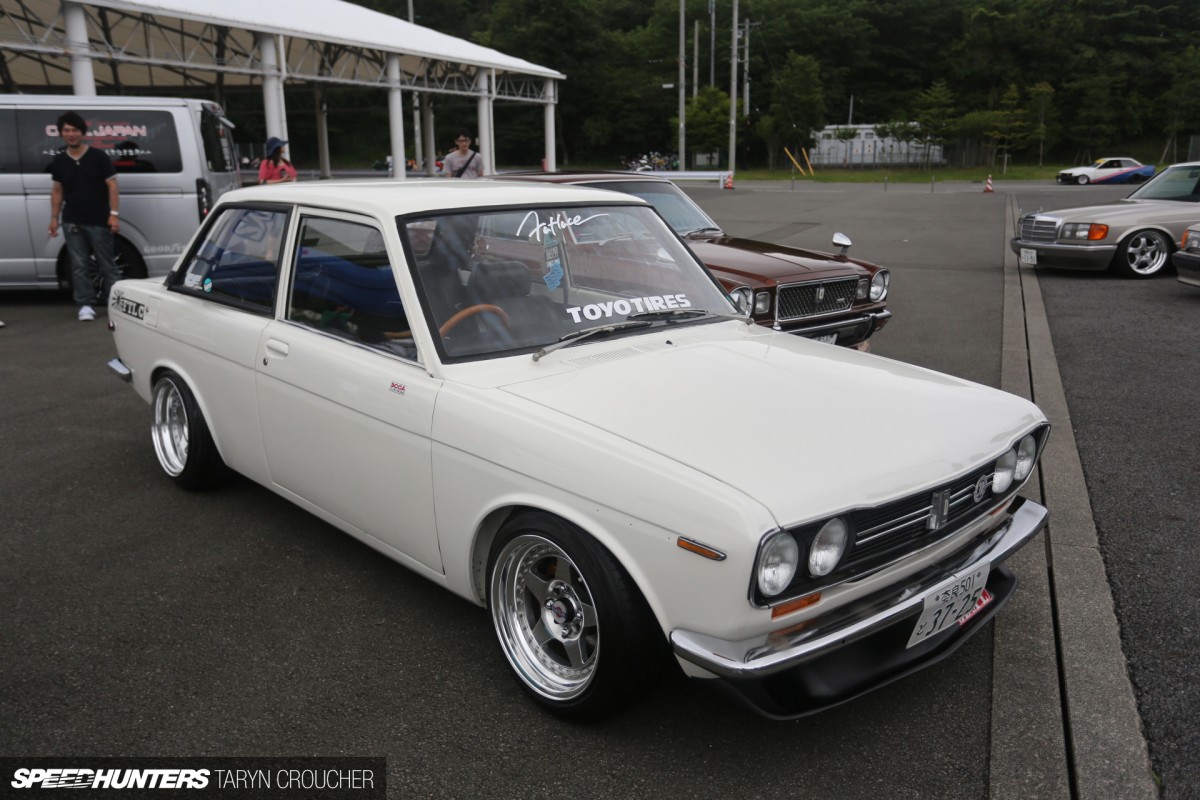 There's only one Datsun 510 two-door sedan that I can think of in New Zealand, so getting to see this beautiful example was another real treat. I prefer the roofline of the 510 sedan, but I also love the body style of the coupe, so having them rolled into one like this is the ideal 510 in my eyes.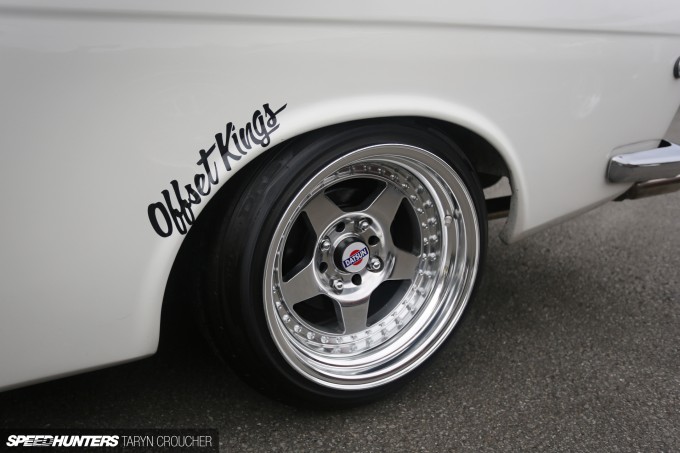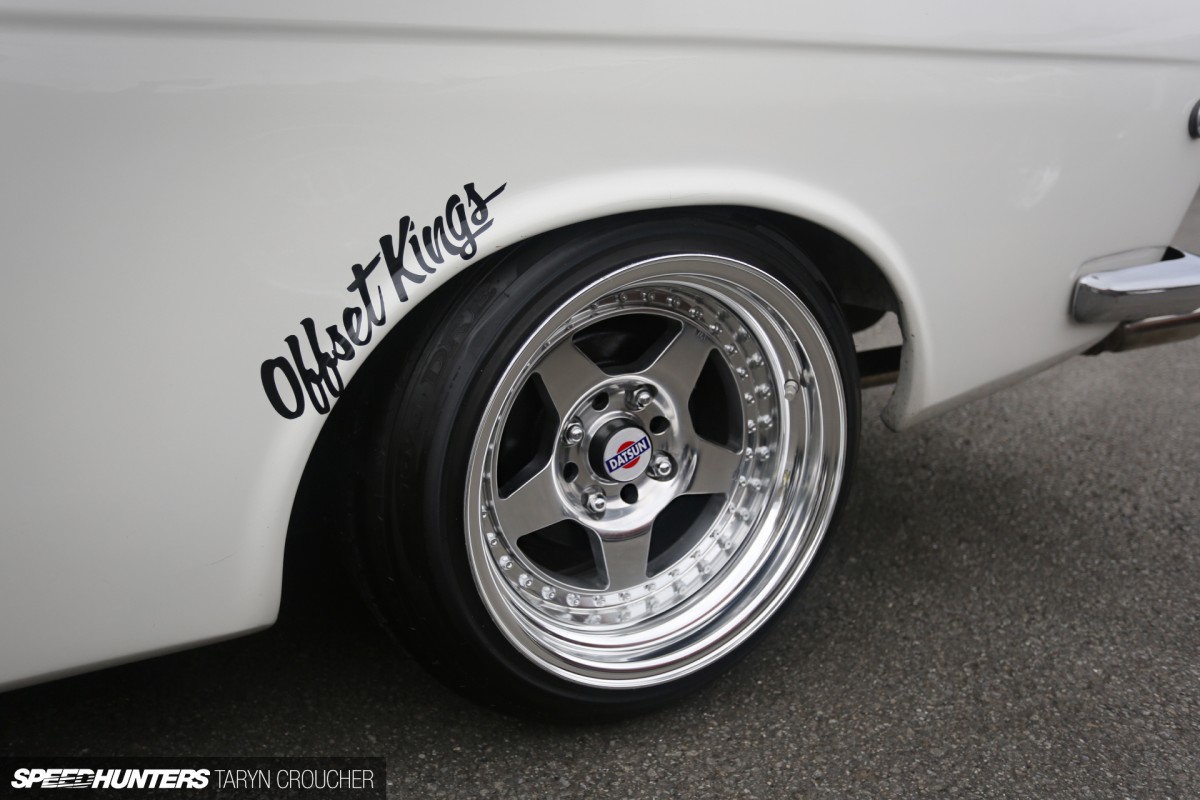 I love how they've replaced the Work CR-01 centre caps with the traditional blue/white/red Datsun emblems.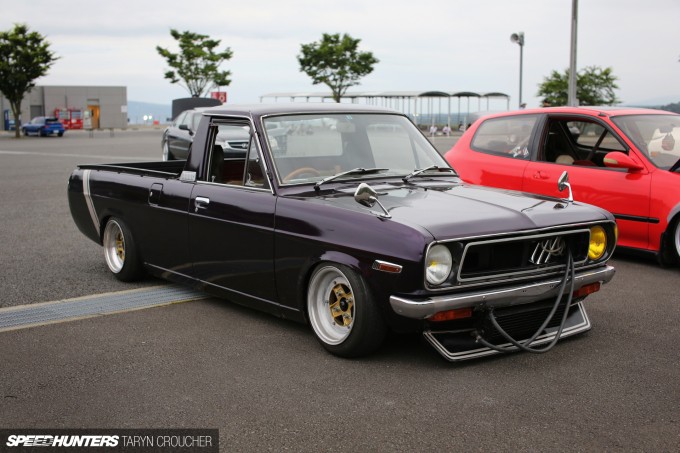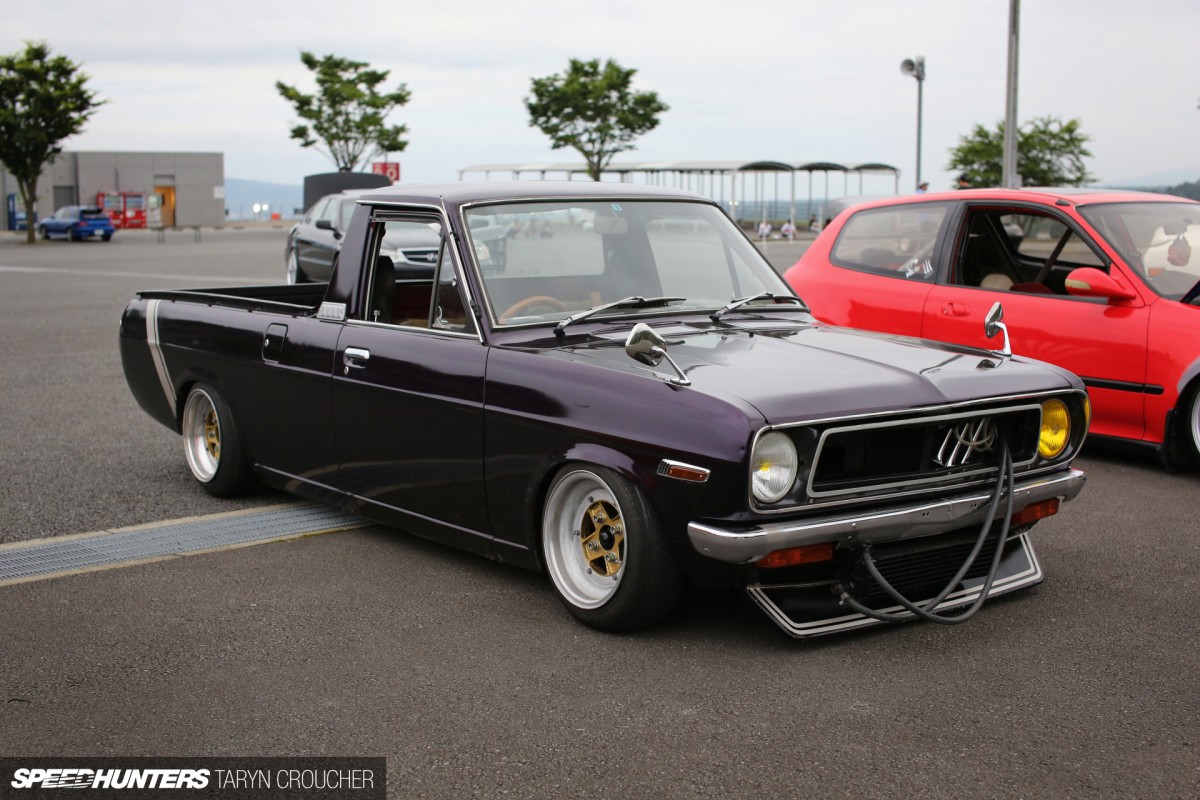 Speaking of Datsuns, I don't think this B120 was even officially entered in the show, as it turned up later in the day, but I absolutely had to strike up a conversation with the owner when I saw it pull up. I love the subtle personalised styling choices the owner has chosen, plus check out those air horns. The retro stripes on the front air dam and the rear of the car are cool touches too.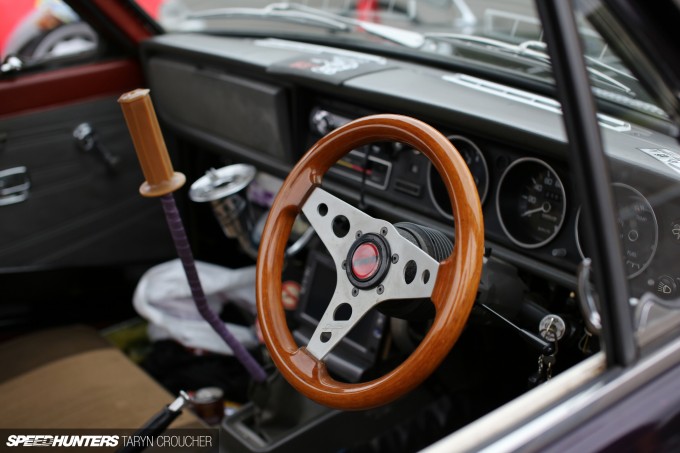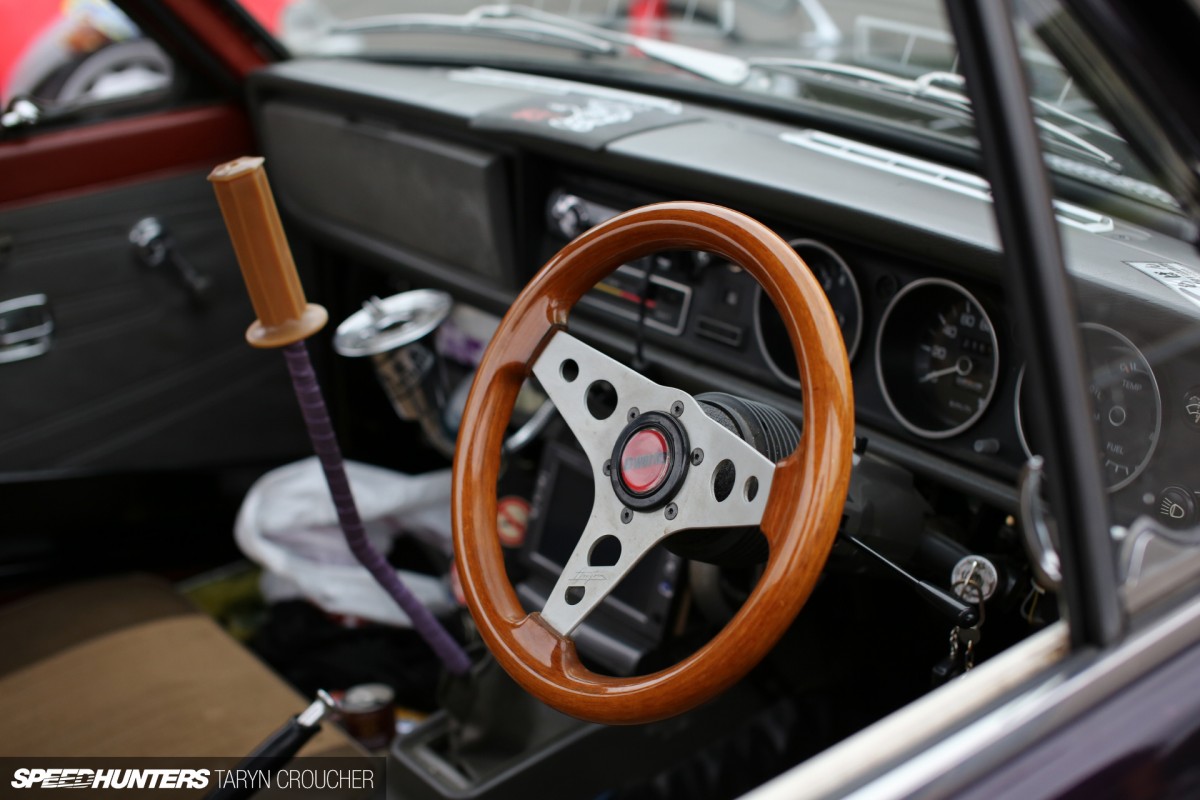 The personalisation continues throughout the cabin too, of course!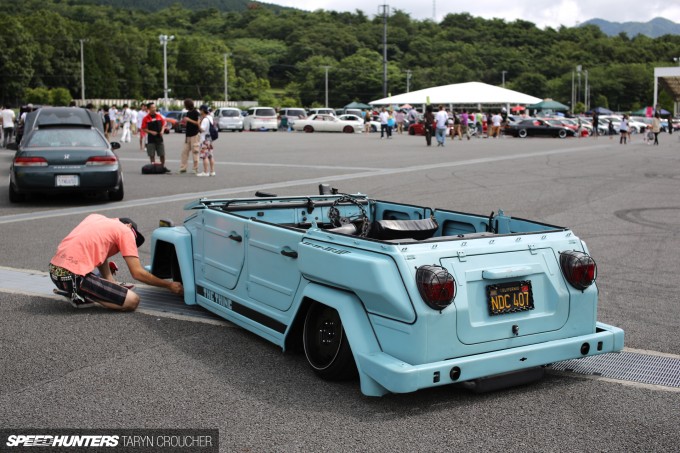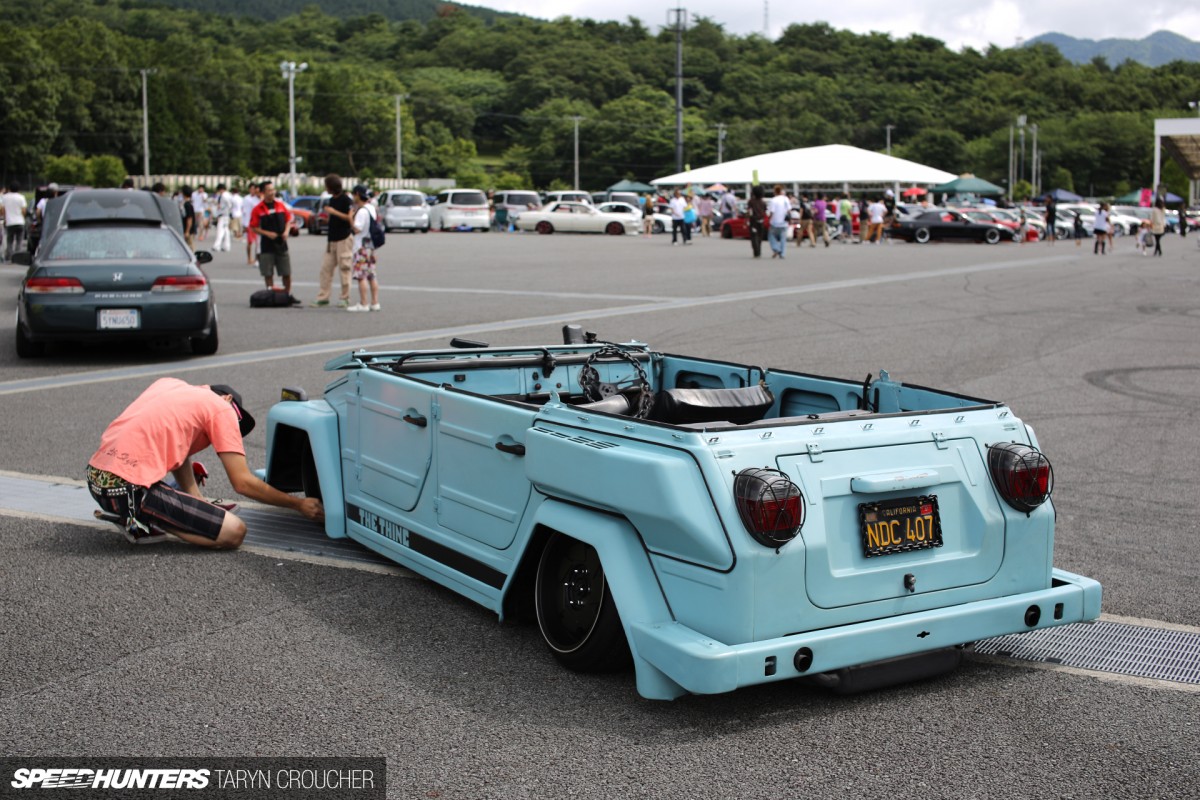 Moving onto Euros now, the car that turned the most heads at the event had to be this 'Thing'. Seriously though, these rear-engined Volkswagen cabriolets were actually badged as the VW Thing in the United States, but the car might be more commonly known outside of the US as the VW 181 or 182. This modified version looked insane as it drove around the parking area.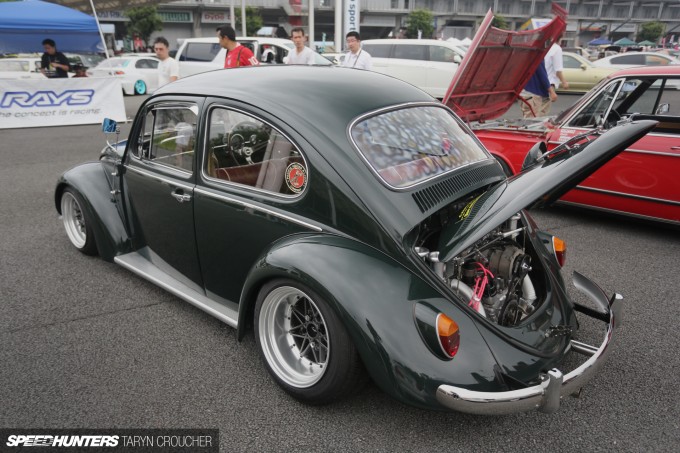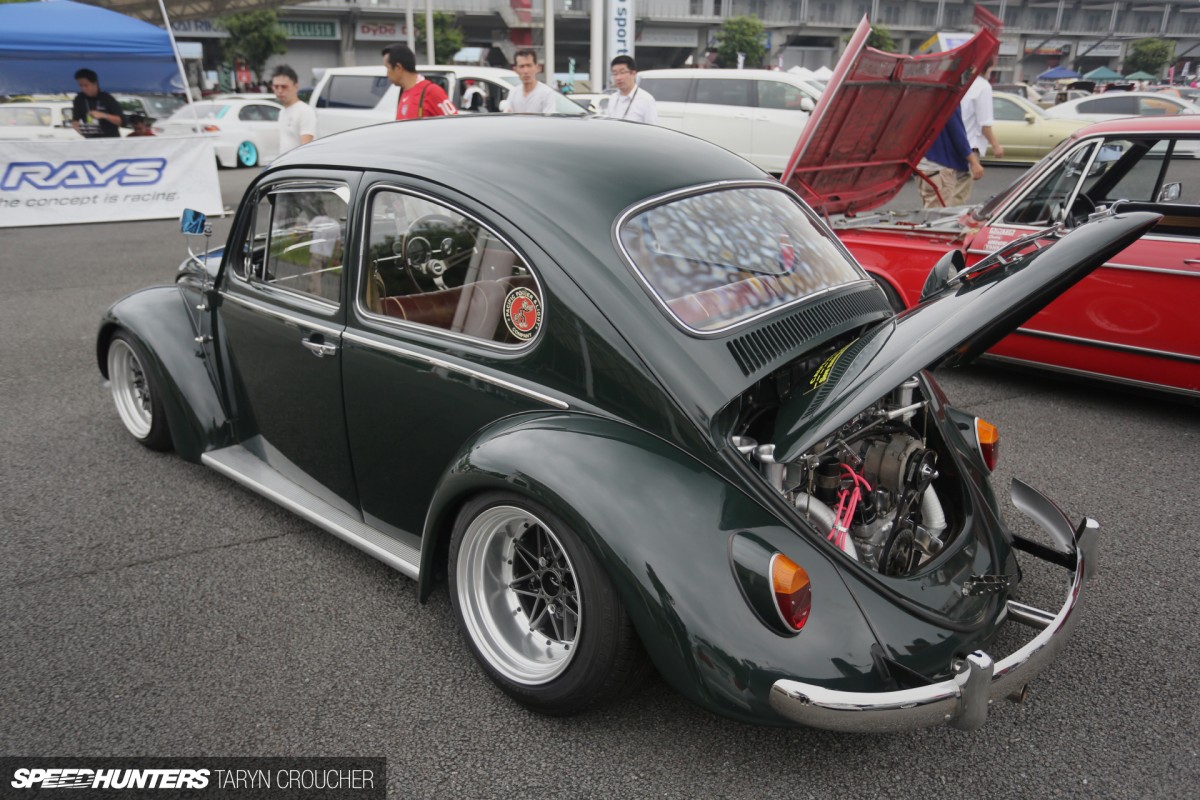 An immaculate VW Beetle slammed on deep Work Equip 03 wheels? Hell yes! A touch of negative camber on the rear of an old-school Bug always looks so damn right.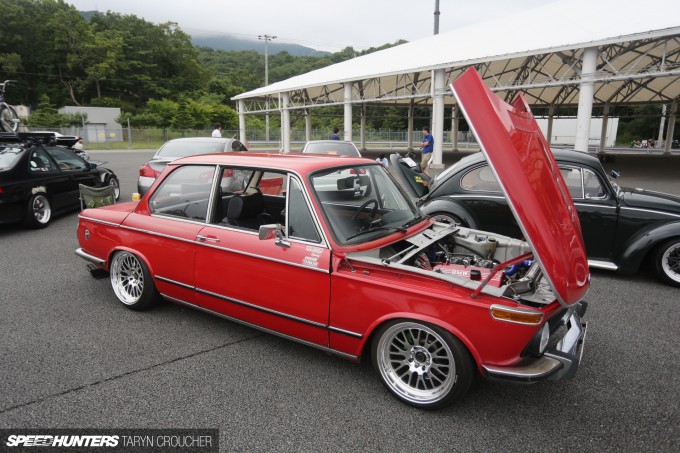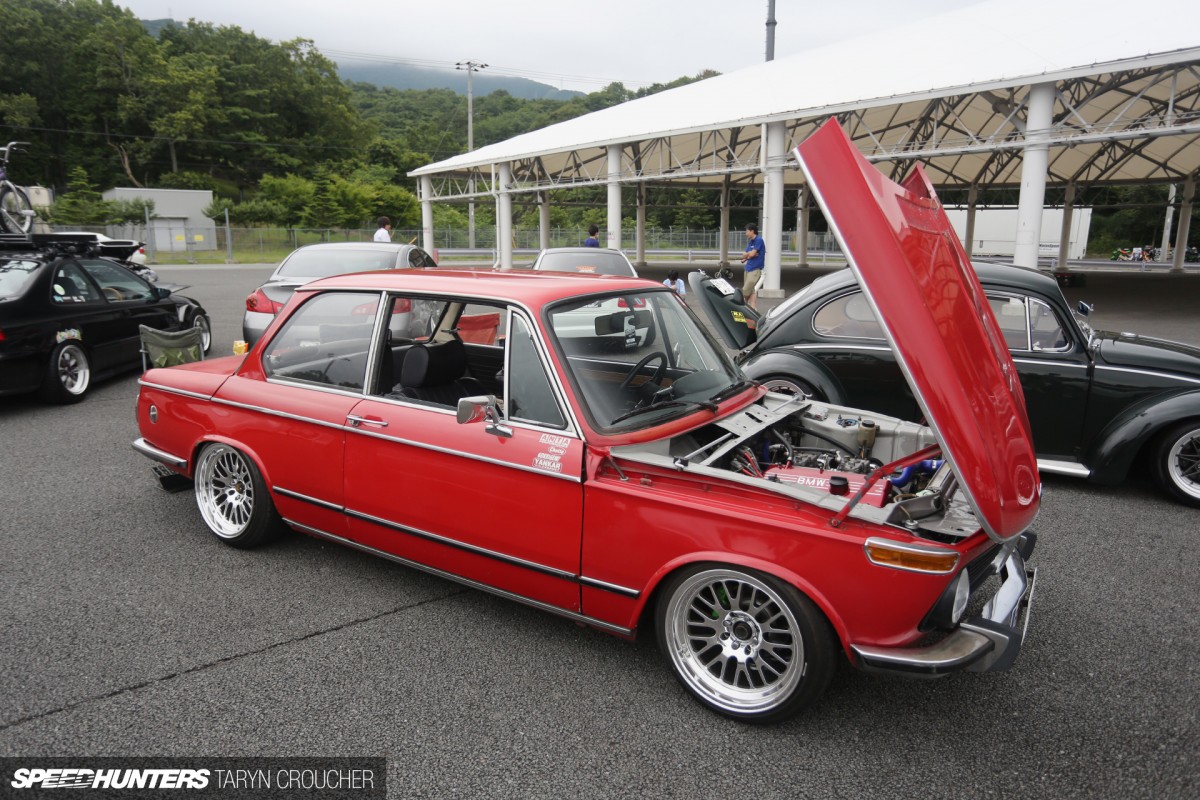 Even the most dedicated JDM enthusiasts surely can't deny the boxy good looks of a low BMW 2002 on CCW SP20 wheels – a interesting choice to go with, as CCW is an American brand. It had its bonnet up too, which is always a good sign…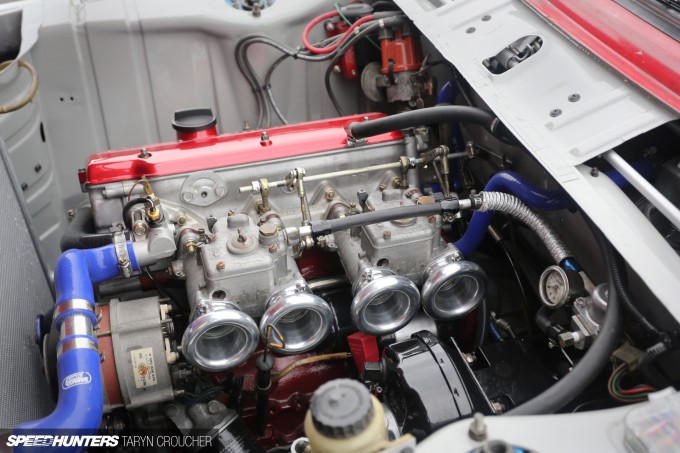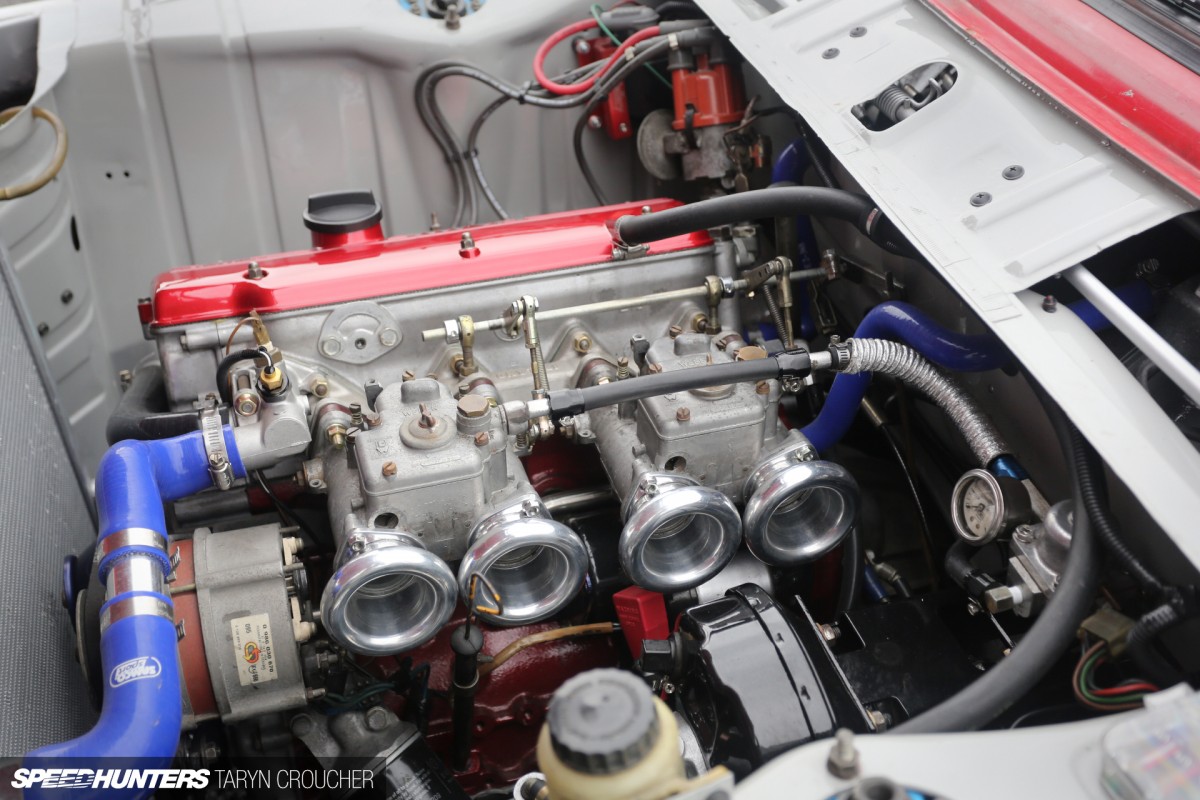 It was nice to see that the engine bay and the old M10 motor had been given a bit of TLC.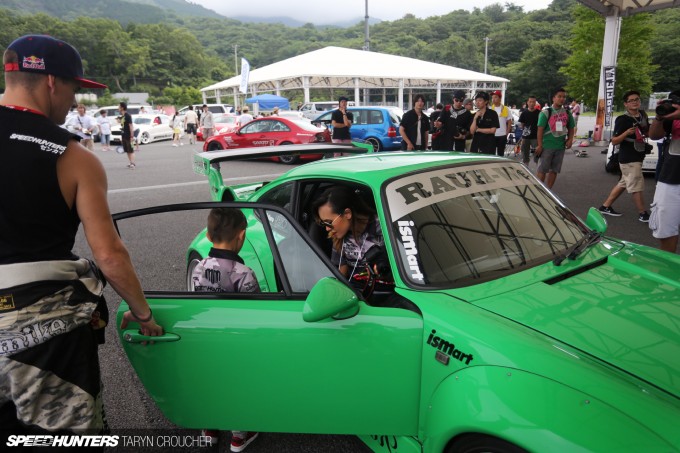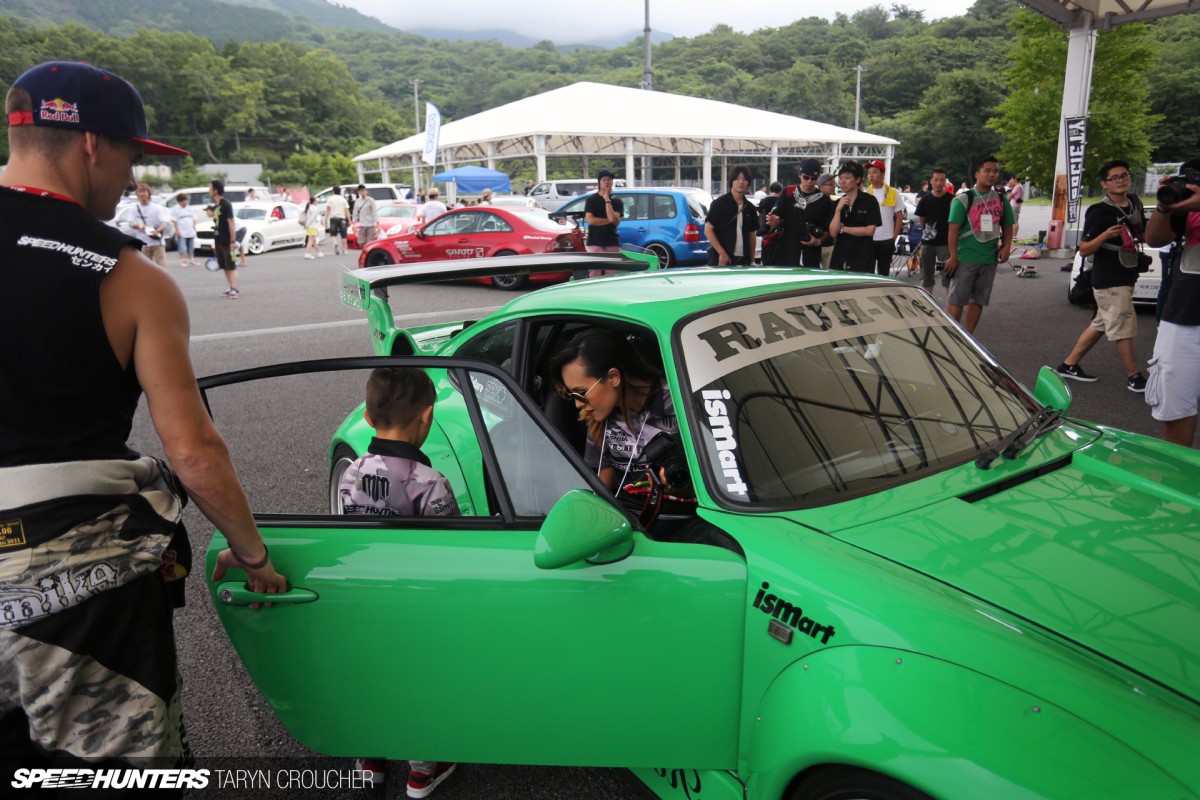 I was excited to see one of my all time favourite RWB Porsches, Rough Rhythm, arrive at the show, but when the doors opened, it was instead some familiar faces that got out of the bright green 993. Speedhunters driver Mad Mike Whiddett and his family had come up from the pits at the Formula D Japan comp to check out the Offset Kings in action.
A Peaceful Message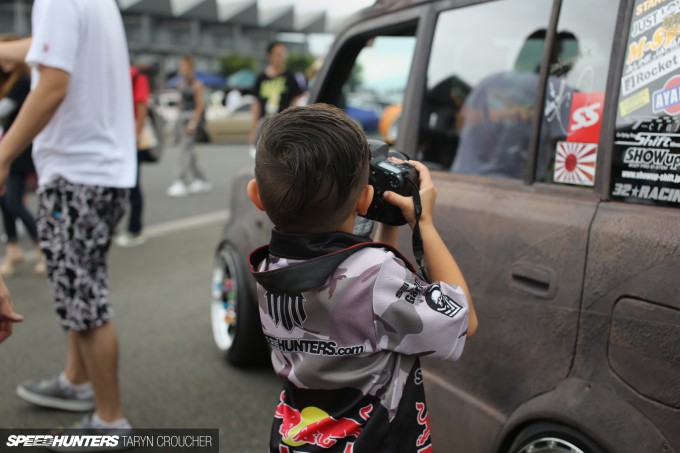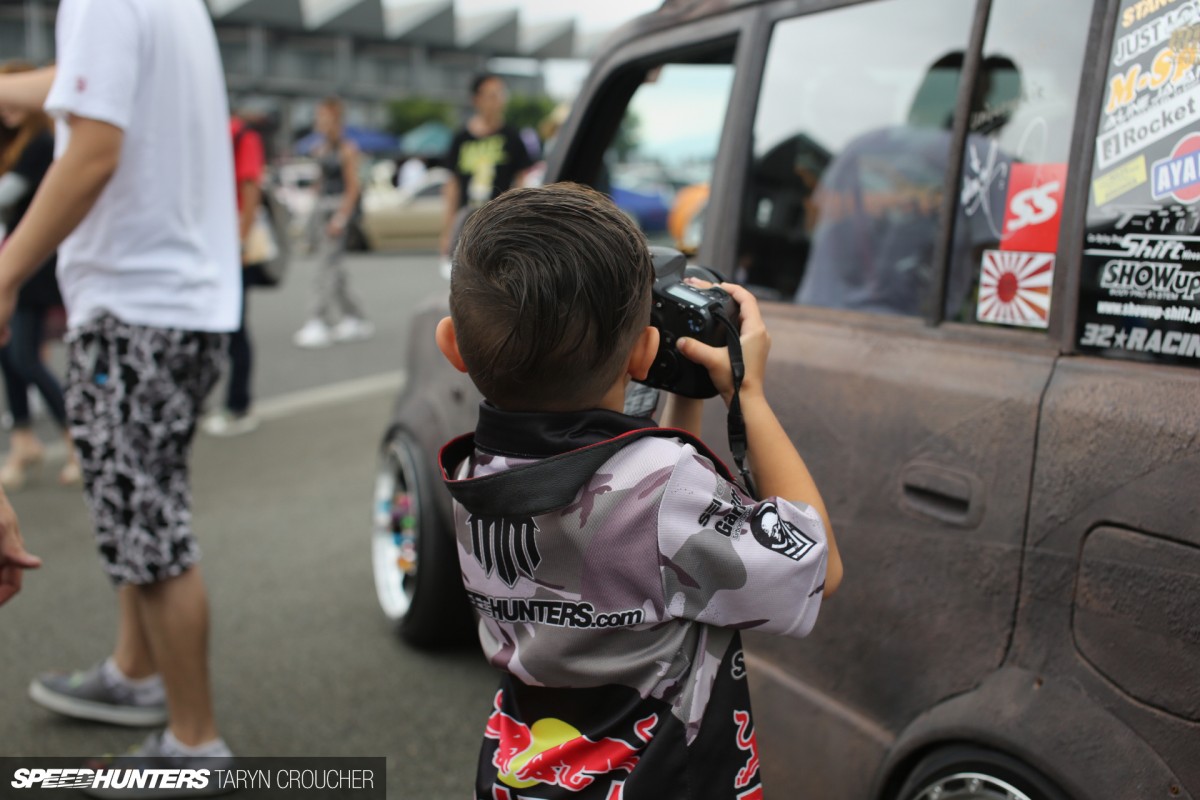 Just as I was eyeing up this car for a photo, this little guy beat me to it. I swear, he's going to put me out of a job some day!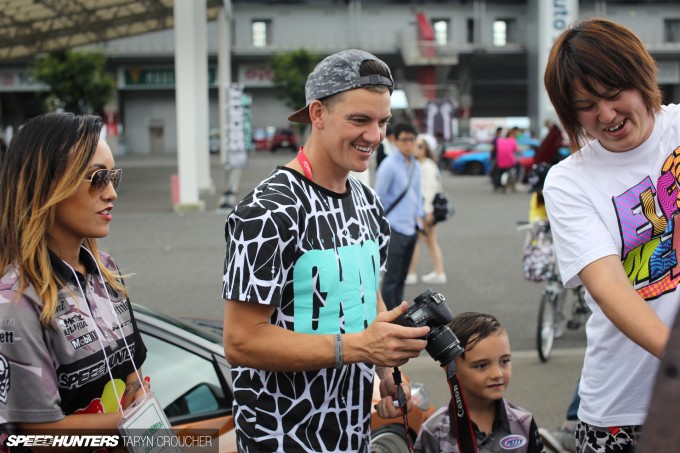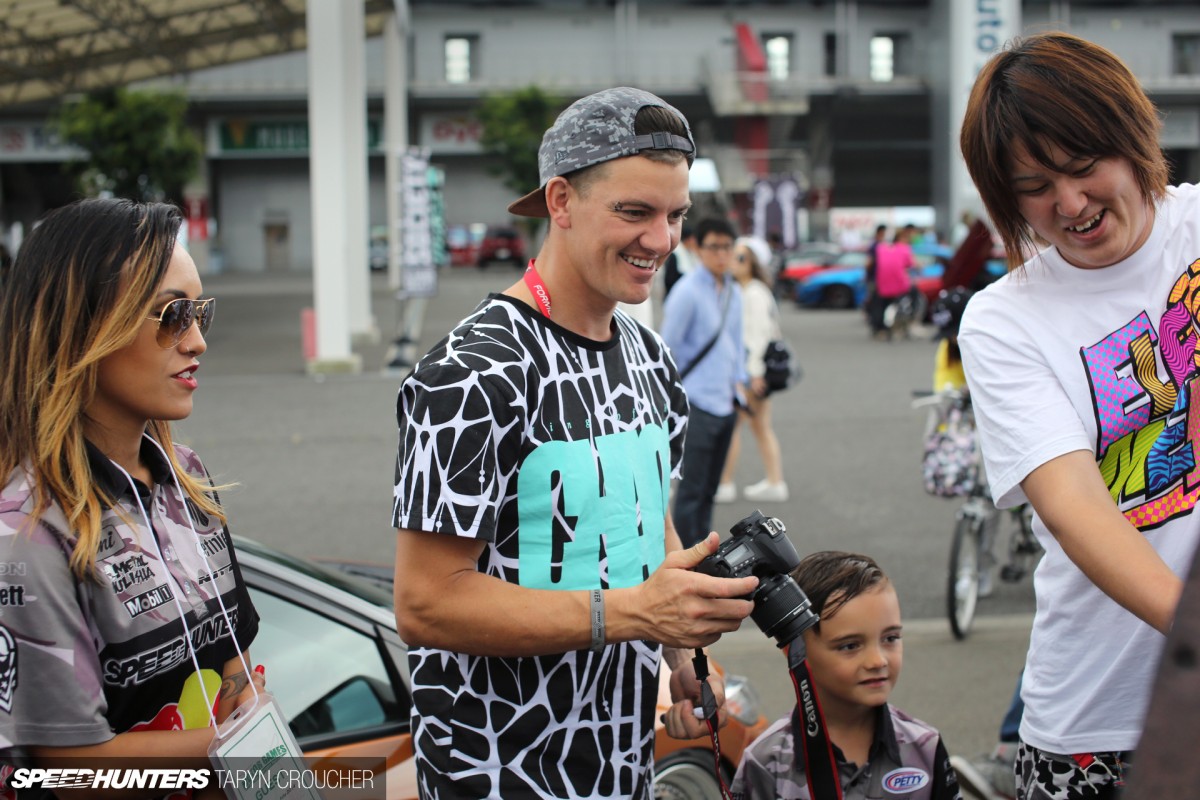 That cool little dude is actually Mad Mike's son, Lincoln. After blowing a gear in his Japanese FD3S RX-7, JAPBUL, Mike and family went for a walk around the show and got talking to some of the locals about their cars. Here Takuto-san, the owner of an insane concrete-coated Toyota bB – yes you read that right – is showing them some of the finer details of his automotive sculpture.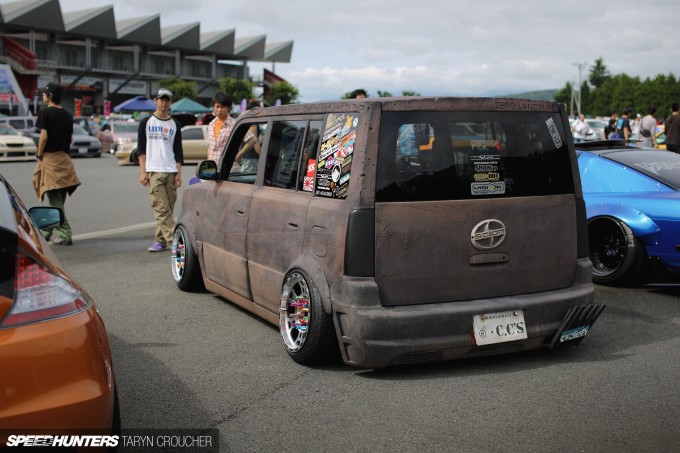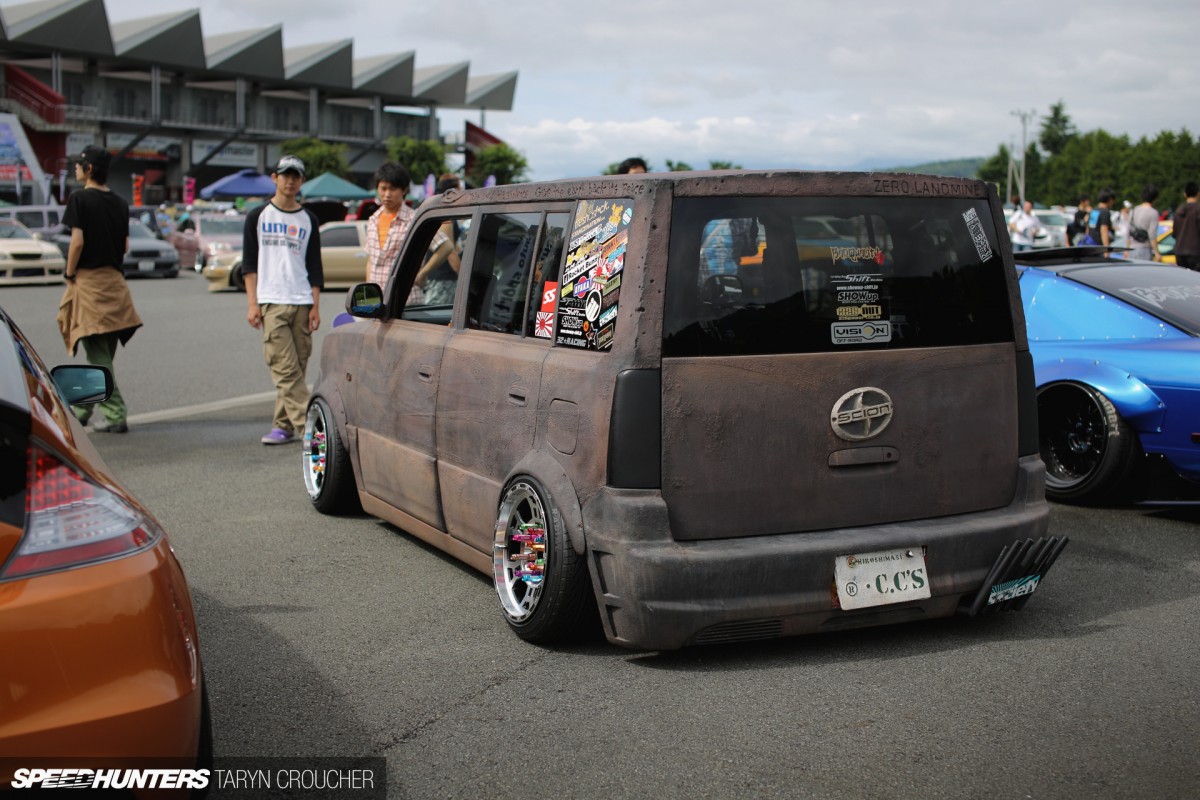 This might actually be one of the most crazy and bizarre cars I've ever come across – the whole body has been covered in concrete! It might sound impractical and a bit silly, but Takuto-san doesn't care. Style is a hugely important part of Japanese car culture, and if you can't inject your own personal style into your car, what's the point? This car is an extension of the owner; an expression of his creativity, and yes, it makes a hugely bold statement. And that's exactly what Takuto-san wants.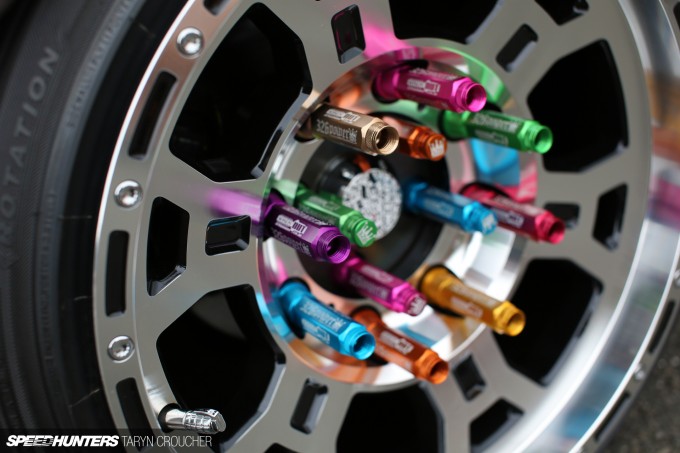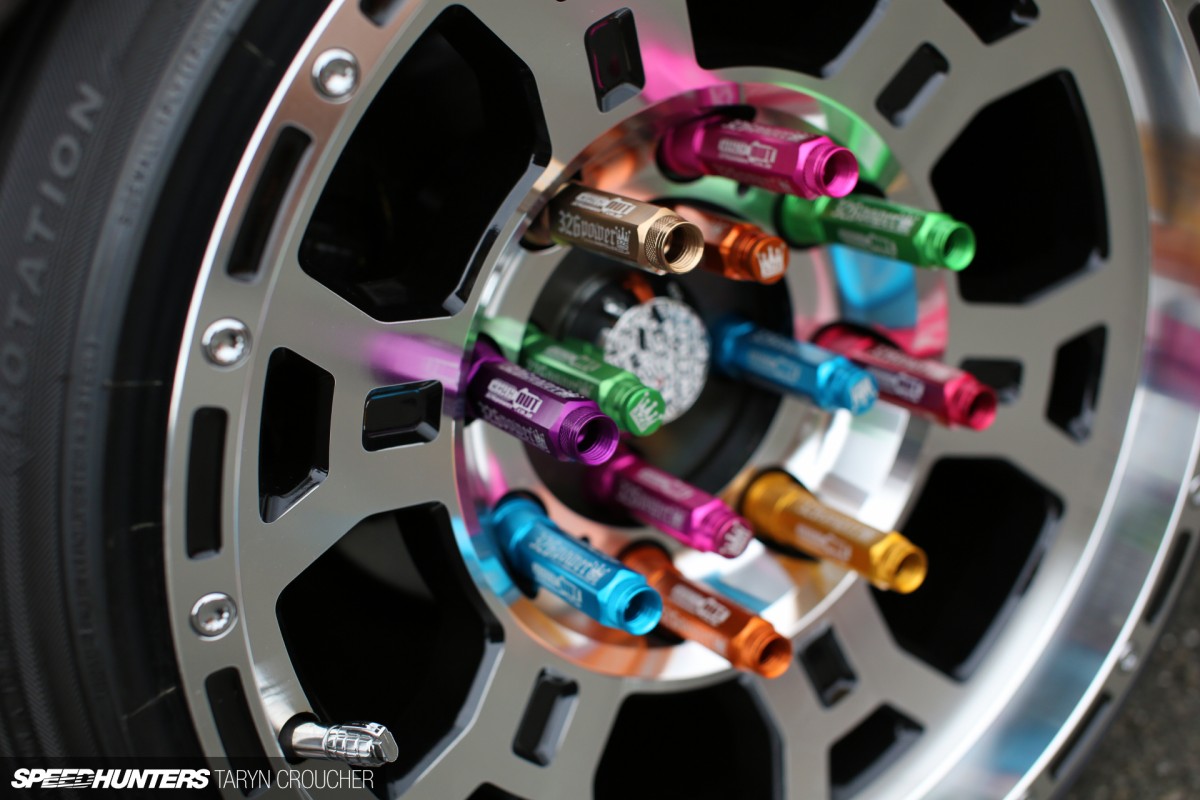 You might've noticed something odd about the wheels too. They are 8-stud Vision Raptor off-road wheels, which are actually specifically made for an H2 Hummer. Takuto-san proudly explained to us, "I wanted to do something with my car that no-one else has ever done. To me, being different is cool."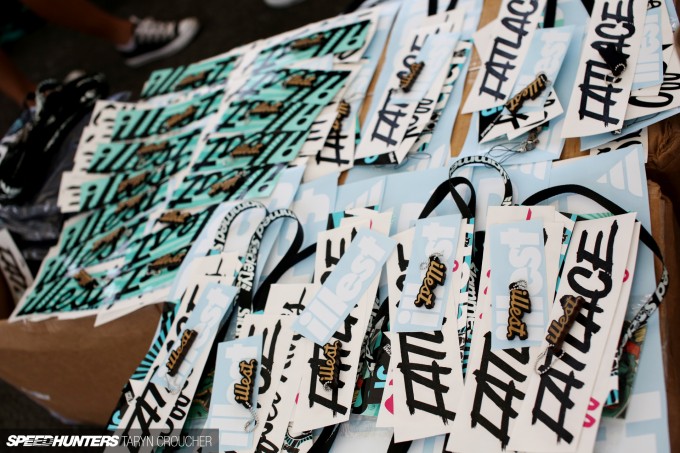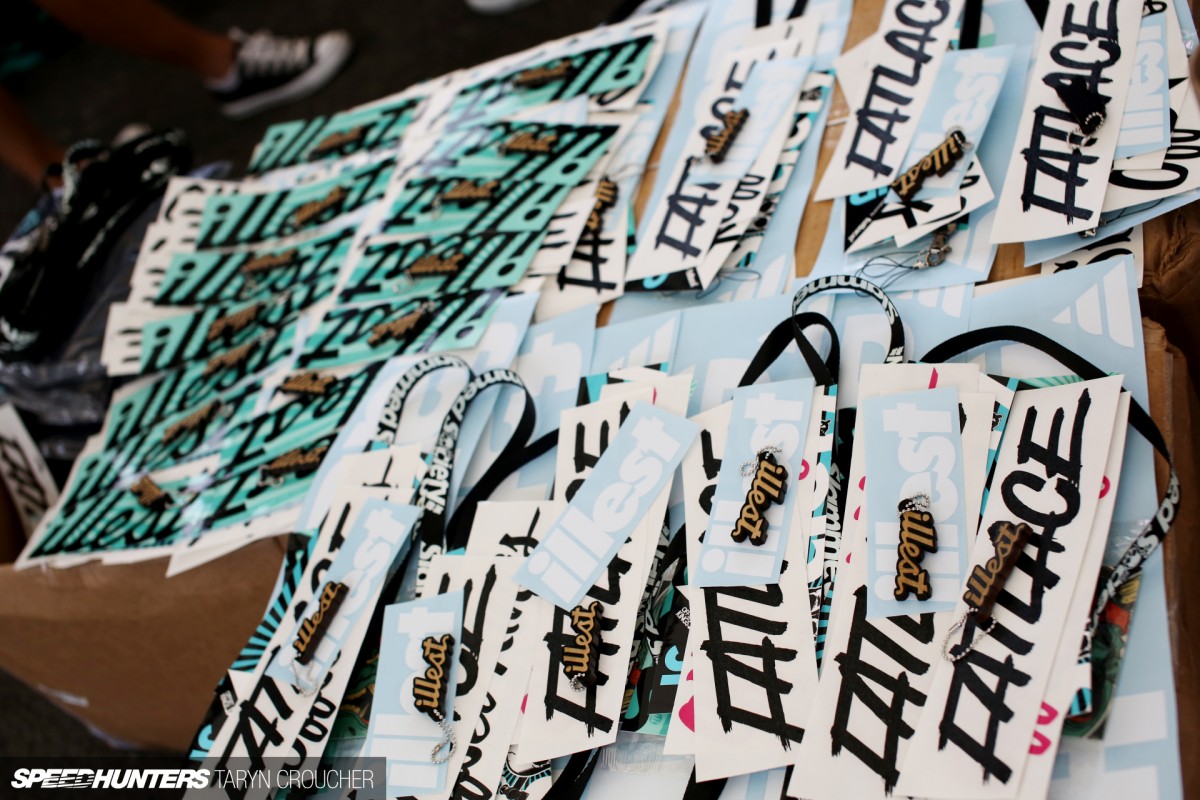 Eventually it became time to hand out some official awards, and the Fatlace team had plenty of cool goodies to give away.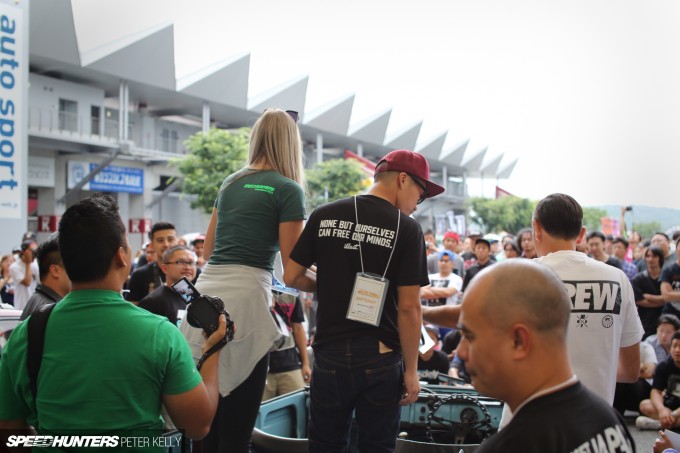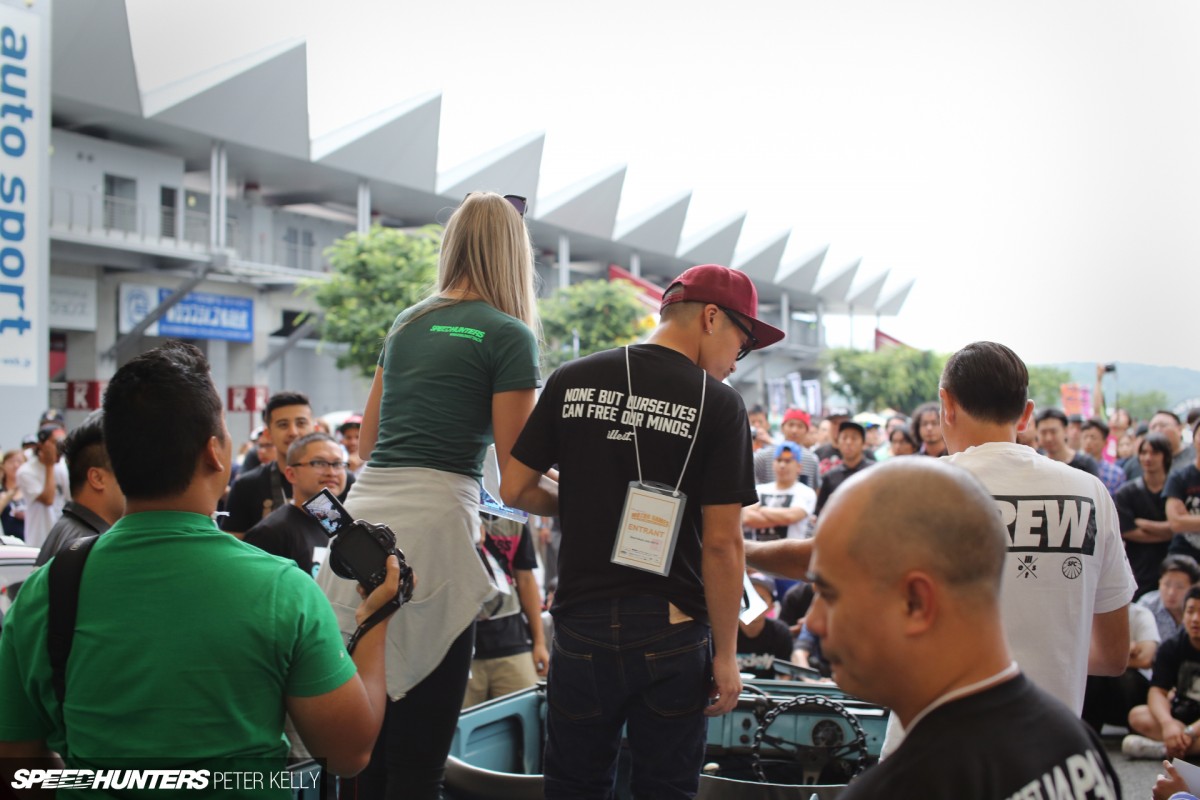 I was humbled to be given the opportunity to get up on the makeshift stage – which as you can see, was actually the Volkswagen Thing – to present the Speedhunters #FeatureThis award to our favourite car of the show. You can expect a full feature of the winning car here on Speedhunters soon!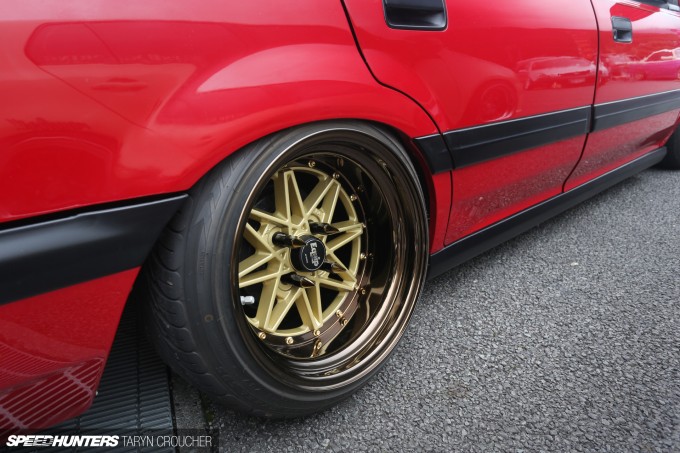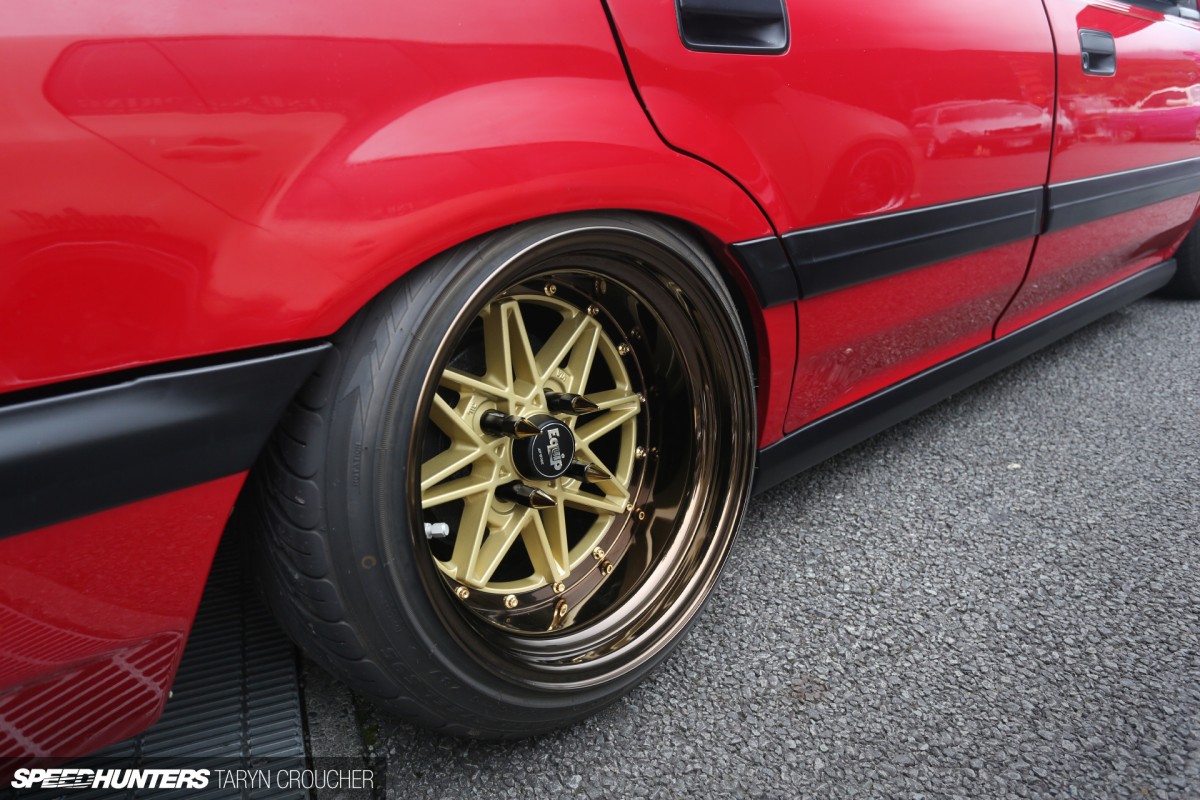 Here's a sneak preview for now, but I can tell you that as well a gorgeous set of wheels, our winning car had a cool, relaxed, fun-loving vibe that really stood out to us.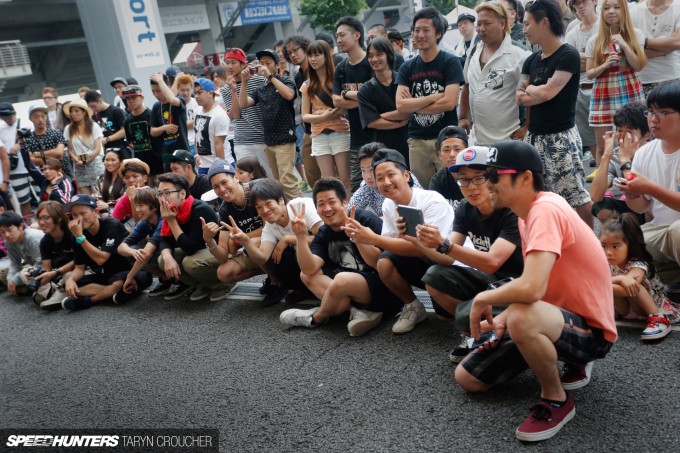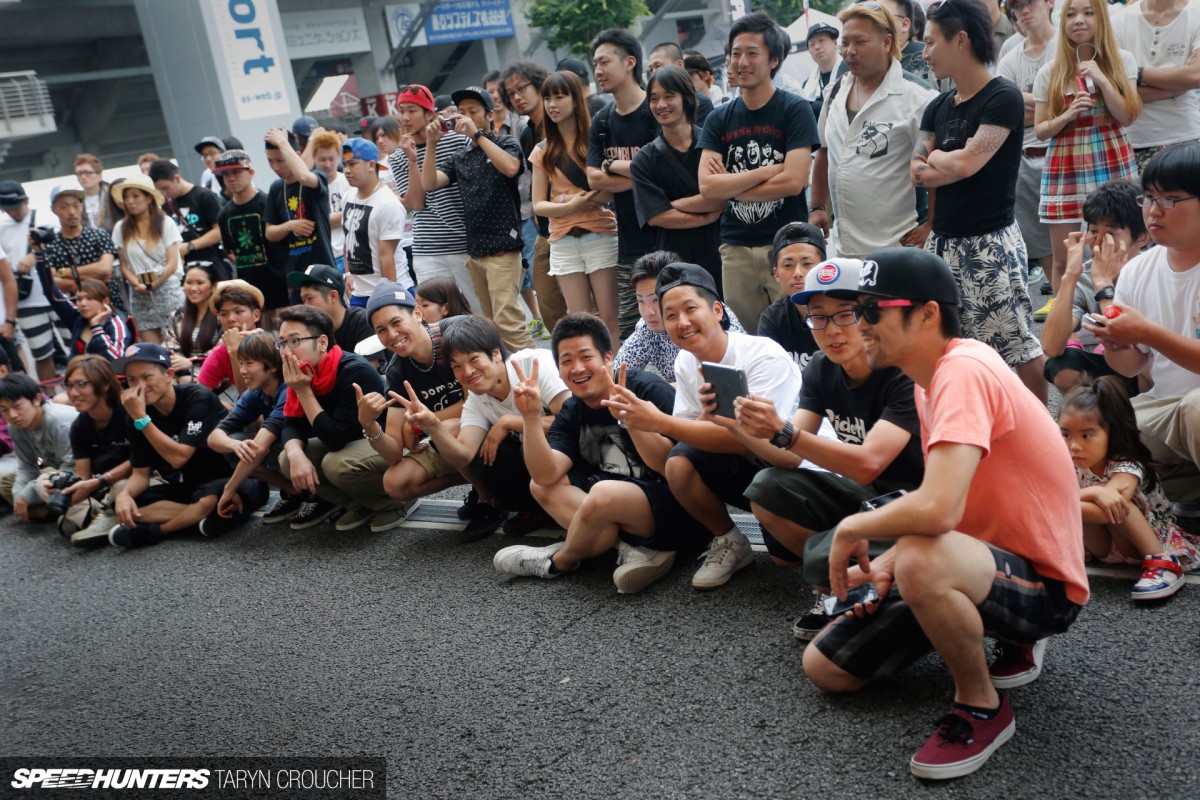 Now that I think about it, that totally describes the vibe of the crowd at Offset Kings too. They were just a friendly and happy bunch of people, pushing the boundaries with their cars, having a good time and enjoying themselves. There was no judgement and no negativity at all – just a whole lot of laughs, photo-taking opportunities and peace signs.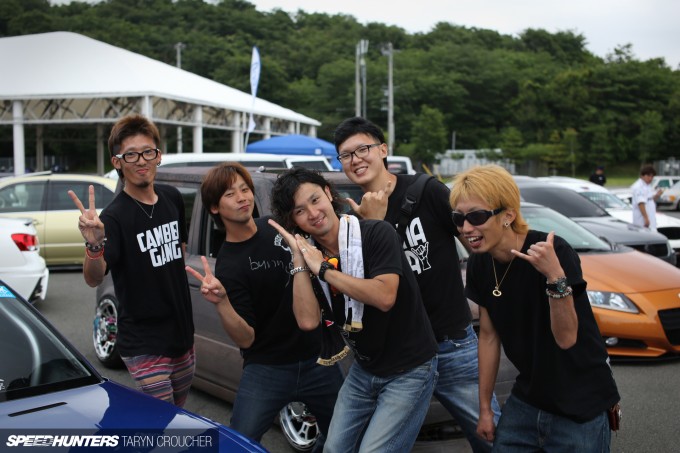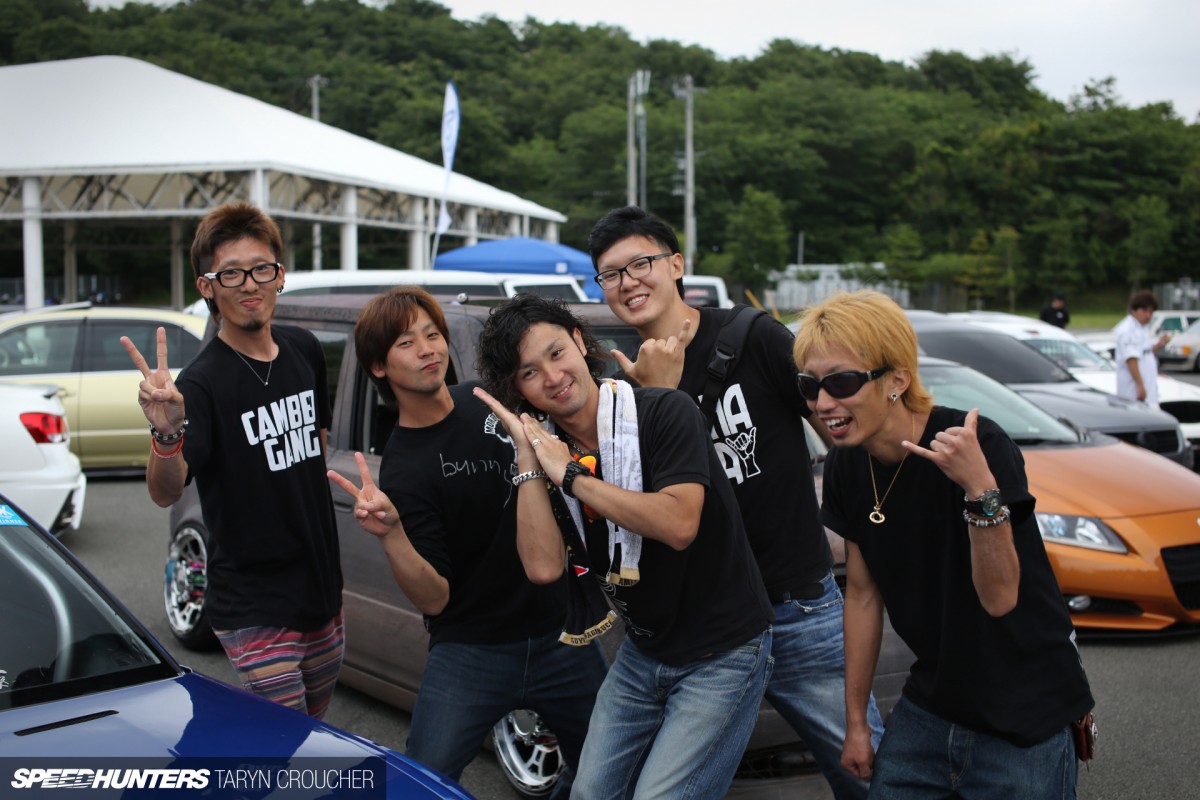 I know I'm just one person out of seven billion, and maybe this is asking too much. But I think if we all work together, we can achieve a sense of courtesy and consideration for all automotive sub-genres without placing judgement and negative remarks. Old and new, low and slow, fast and ridiculously fast, Japanese, American, rotary-powered; why can't we can love and appreciate our car scene as one whole?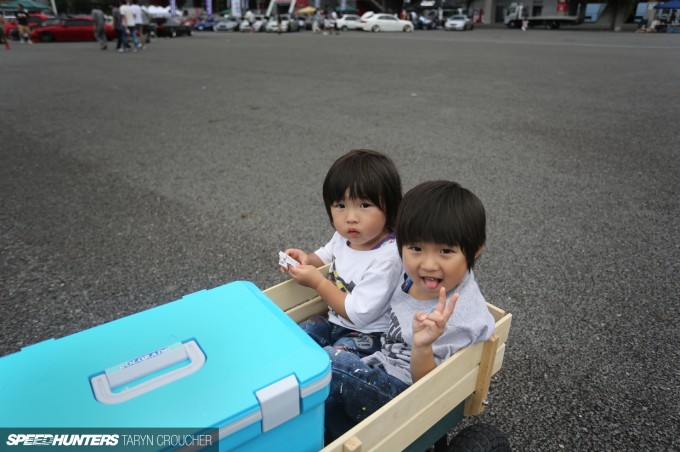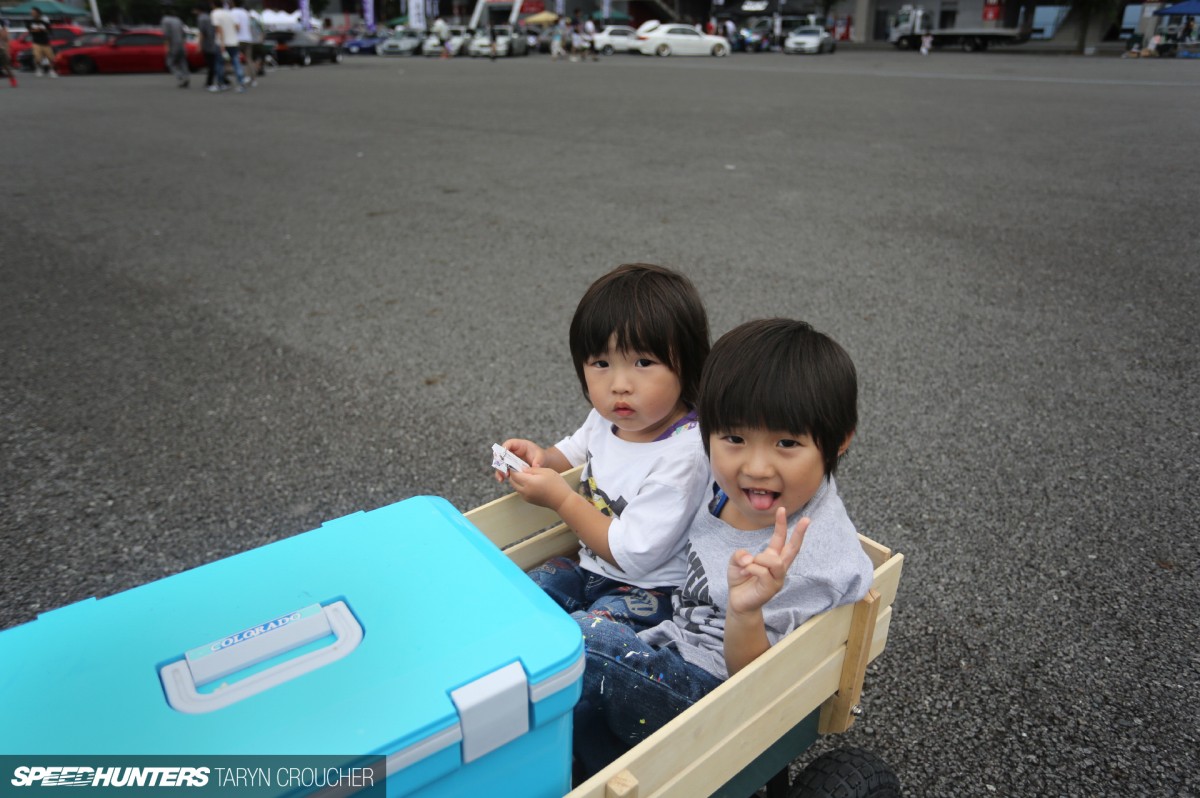 See, even these cute Japanese babies want peace! If we joined forces and worked together, just imagine what we could potentially achieve. It's an exciting concept, don't you think?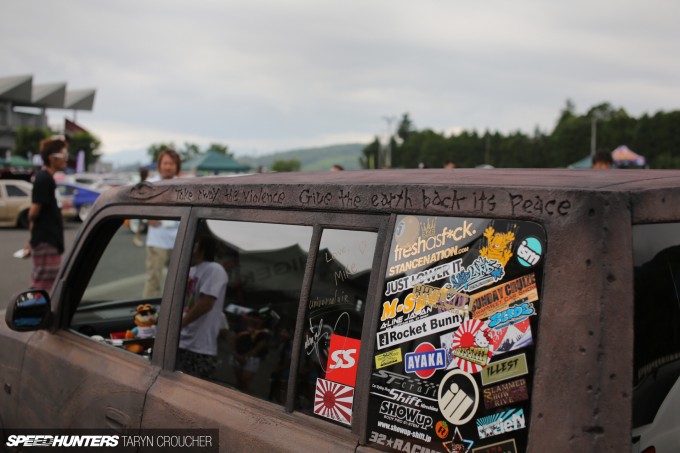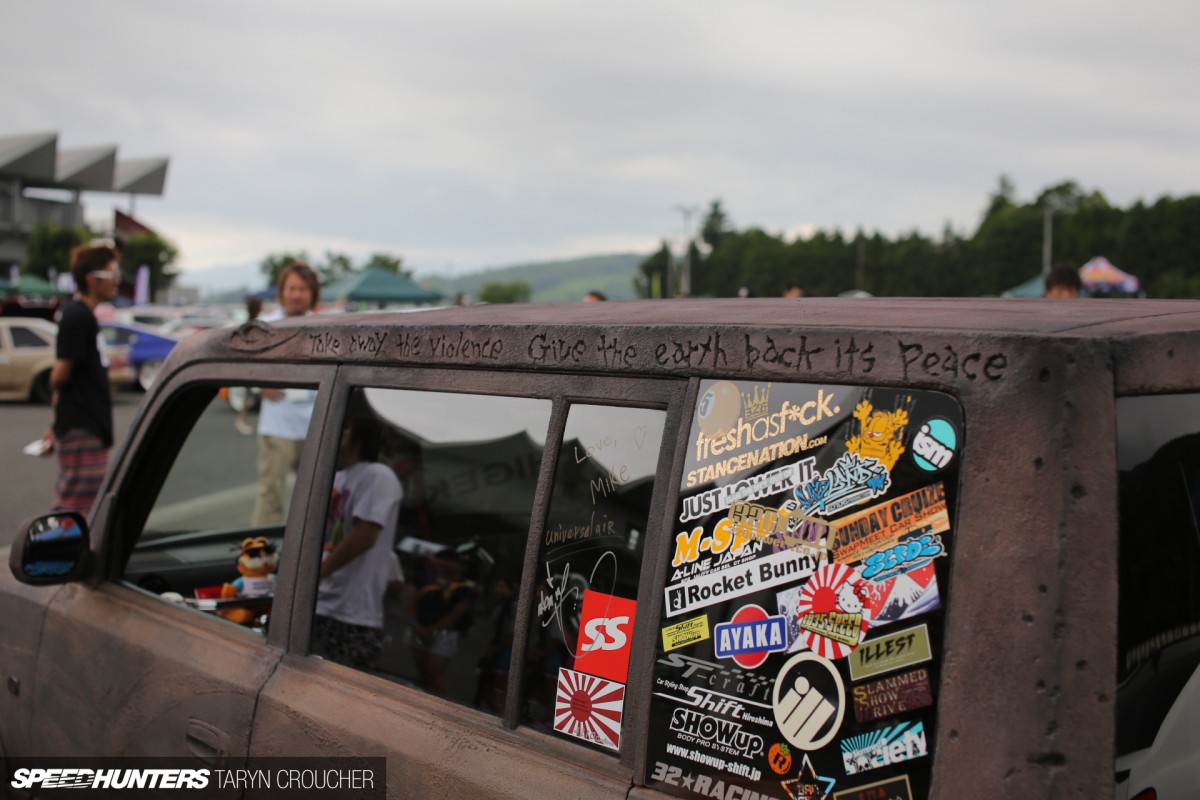 To sum up our Offset Kings coverage, I'm just going to leave this here. A simple message of peace. We're all people who love cars, so can't we all just get along? I'll leave you to ponder that thought.
Taryn Croucher
Instagram: taryncroucher
Twitter: @taryncroucher
taryn@speedhunters.com
Cutting Room Floor  
I could've easily kept going and created a 10-chapter story with the amount of images I took at the show, but I had to draw the line somewhere. So here are a few extra photos that I thought would be a shame to not share anyway. Enjoy!