Generation Next
As far drift cars go, Mad Mike Whiddett's FD3S RX-7 is right up there with the other icons of the Japanese-born motorsport. It's been that way since 2008 when the Kiwi driver reinvented the Mazda as MADBUL, complete with Red Bull livery and a custom-built 26B four-rotor engine.
Since then, the car has gone through numerous visual upgrades, but all the while staying mostly-true to that original specification – wide body BN Sports Blister kit included. But big things have been brewing in the Mad Mike Motorsports camp of late, and now they've all come to fruition in the RX-7's sixth generation rebuild.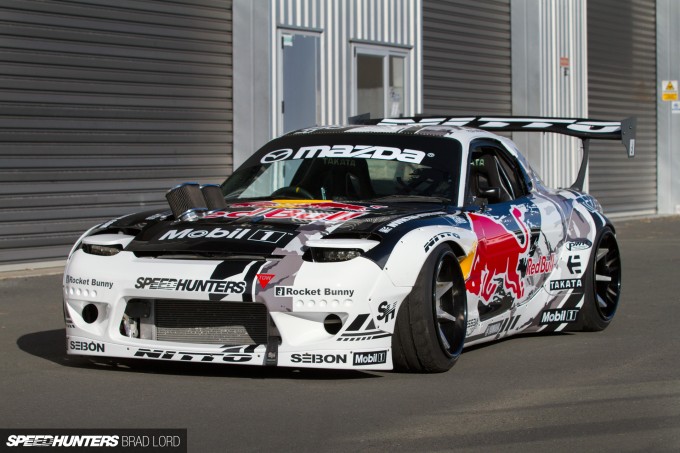 If you're a regular Speedhunters reader there's a good chance you already know what our own Kiwi driver and a certain Japanese body kit designer have been up to. The result of the MADBUL/Mad Mike x Rocket Bunny/Kei Miura collaboration? Pure awesomeness. It's something also helped by that big MAZDA banner across the front windscreen and rear flanks. Yes, if you haven't heard already, manufacturer support – something Mike has long dreamed of – has finally arrived, and the timing couldn't be any better.
To best understand what this rebuild-of-sorts was all about, the moment it was finished and rolled outside the workshop into the sunlight for the very first time, I sat down with Mike to get his take on the reimagination of a car that helped put him on the drifting map.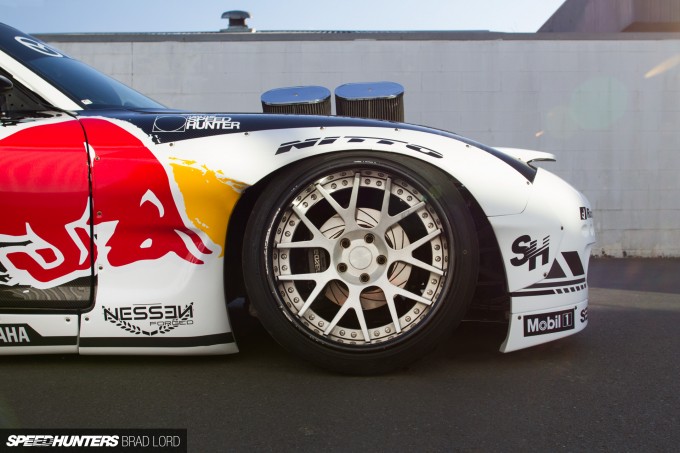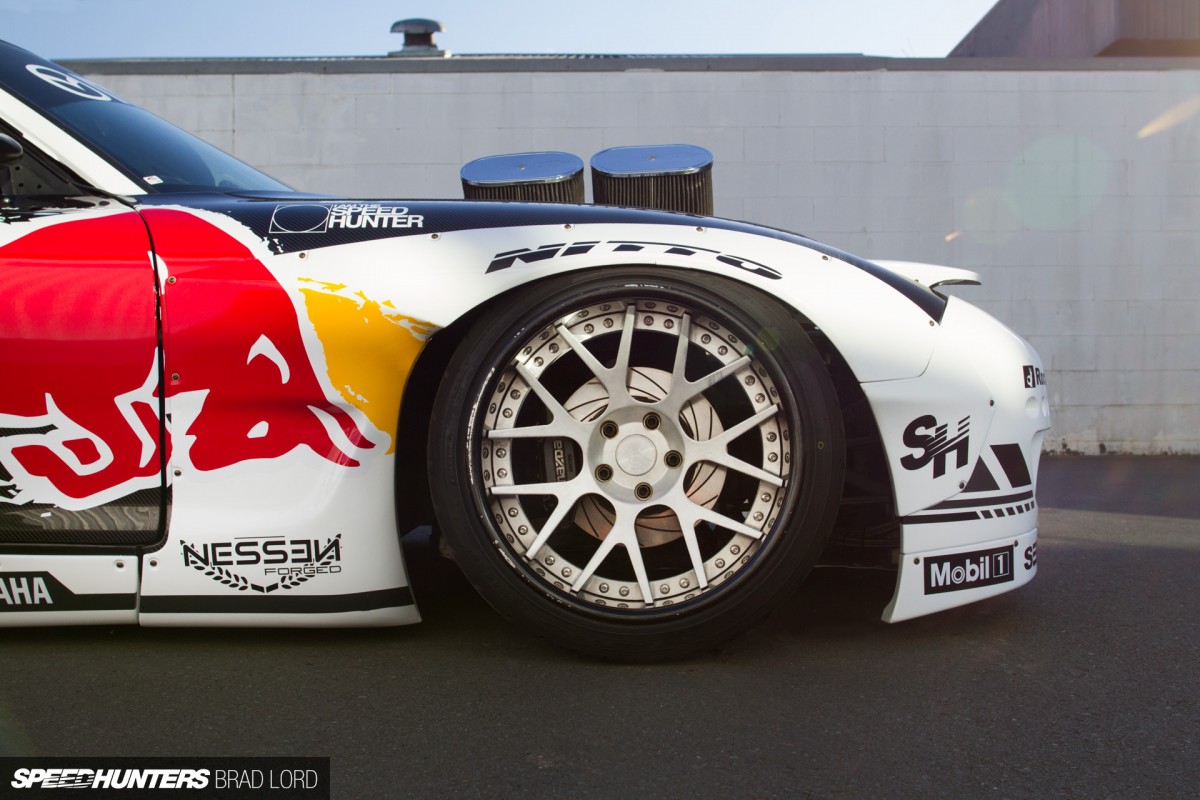 MM: Firstly, I have to say that I feel totally privileged to have worked with Miura-san, who in my mind is the leader when it comes to Japanese aero. Japanese style is something I've always aspired to have in all of my drift car builds, so to be given the opportunity to sit side-by-side with him and create something like this was truly amazing.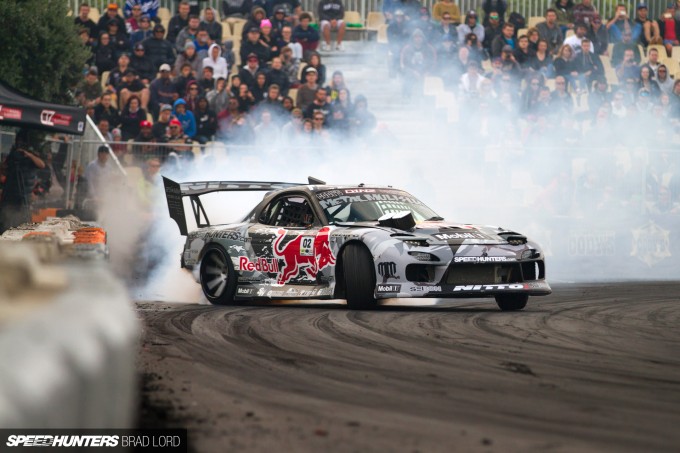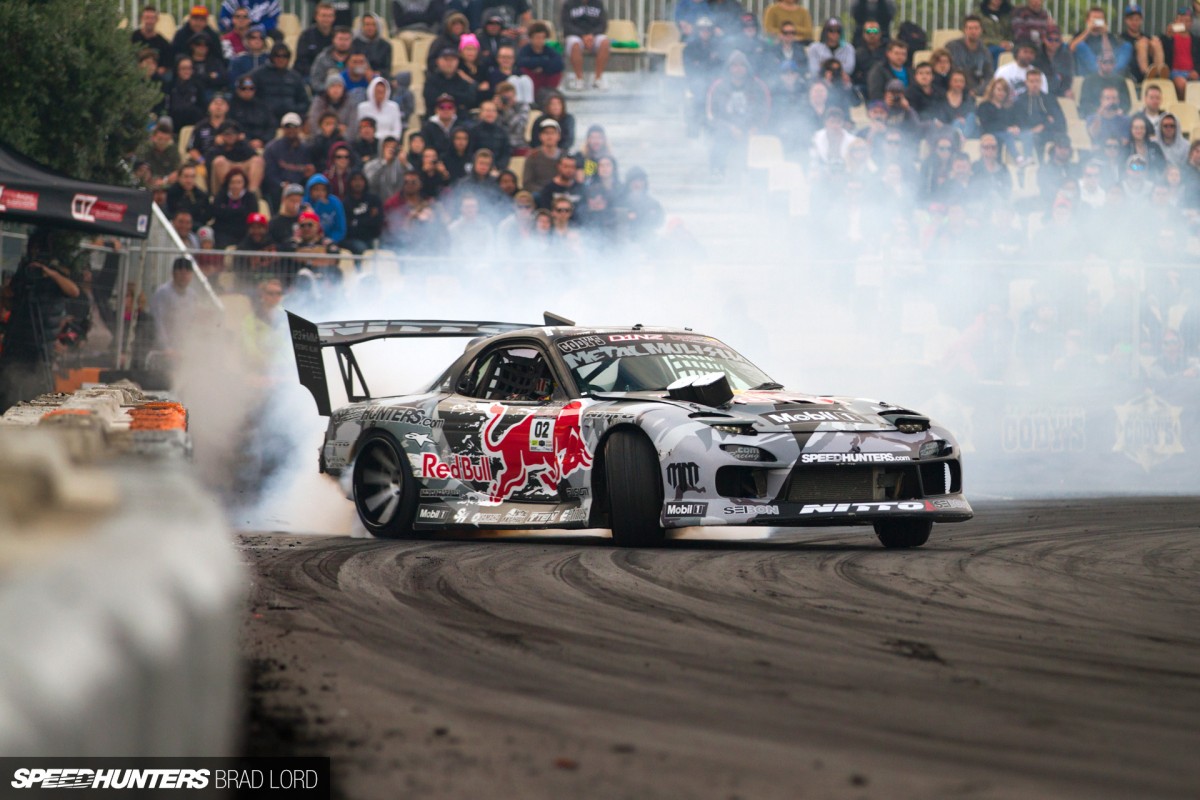 Brad: It probably came at the right time too, didn't it?
MM: The BN Sports Blister kit that we've been running since around '07 or '08 has always been, in my eyes, one of the best kits available for the FD3S RX-7. With time and natural progression, and myself always wanting to change things up, I was ready for something new and fresh. So yeah, the timing couldn't have be any better to begin this project with Miura-san.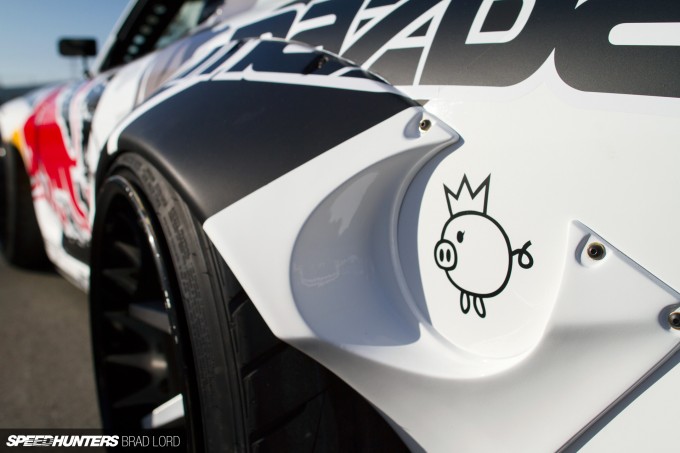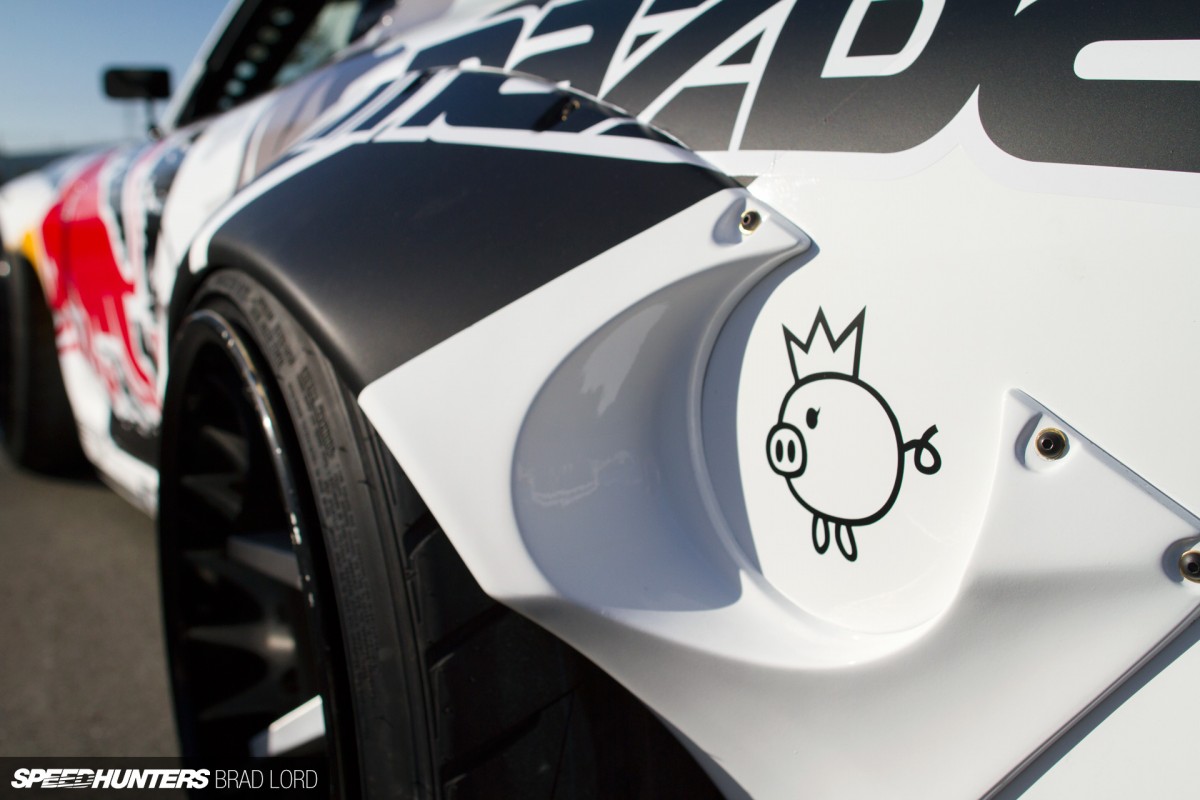 Brad: So how did you get the ball rolling?
MM: I actually started hanging out with Miura-san and Ueta-san from Ben Sopra at D1 Grand Prix events, and at night they'd always picked me up to go rolling in their badass street whips. Over at Gatebil last year I got to take Miura-san for a couple of rides in the RX-8 and then hang out with him afterwards. Being into the same sort of stuff, we get on really well. He's a super-rad dude.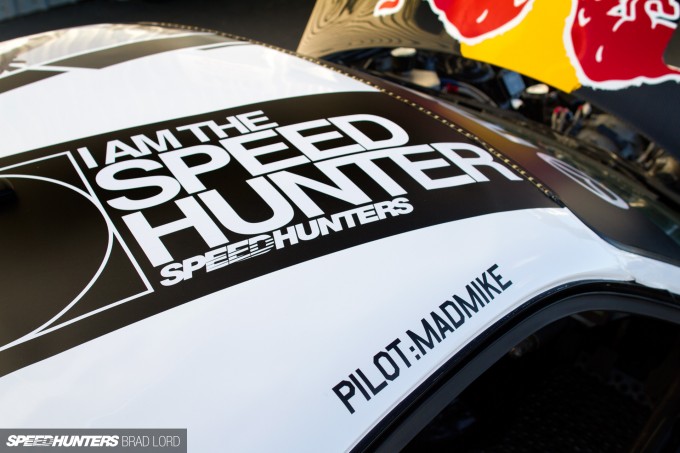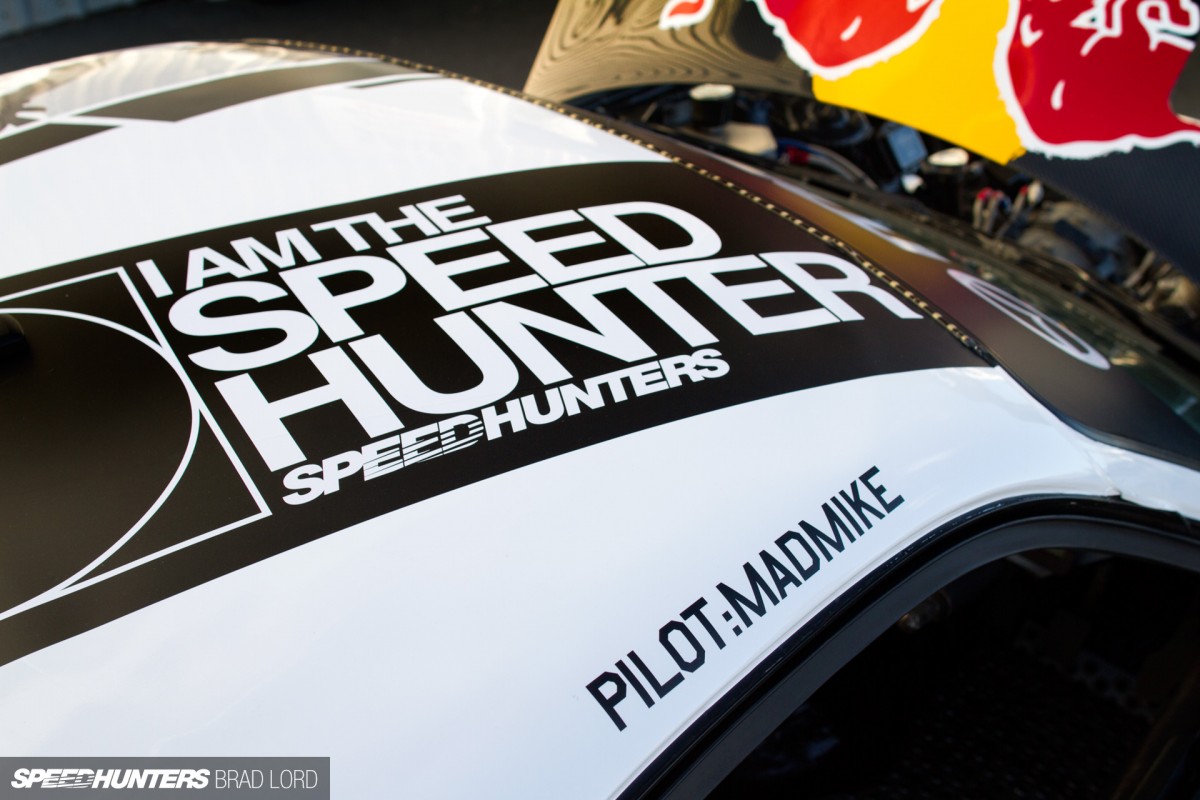 MM: It was at Gatebil where Rod suggested that Miura-san and I worked with each other we could create something really rad together. We talked about it and it sort of just went from there. A month or so later, after another D1GP event, I found myself at TRA-Kyoto with my translator and Japanese event spotter, Shane from Stacked, Inc., discussing the next steps for an official collab.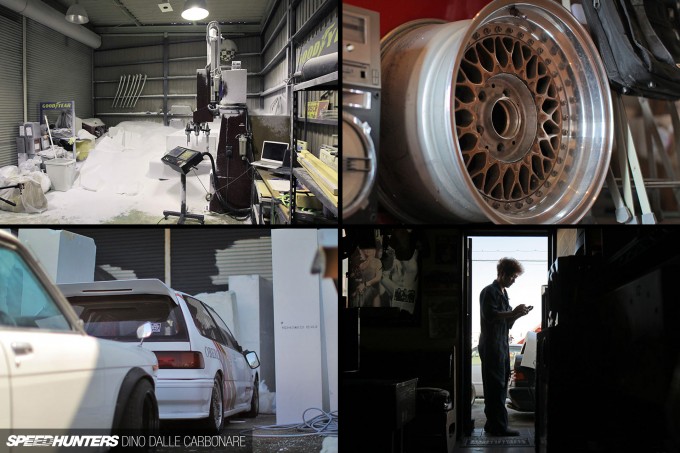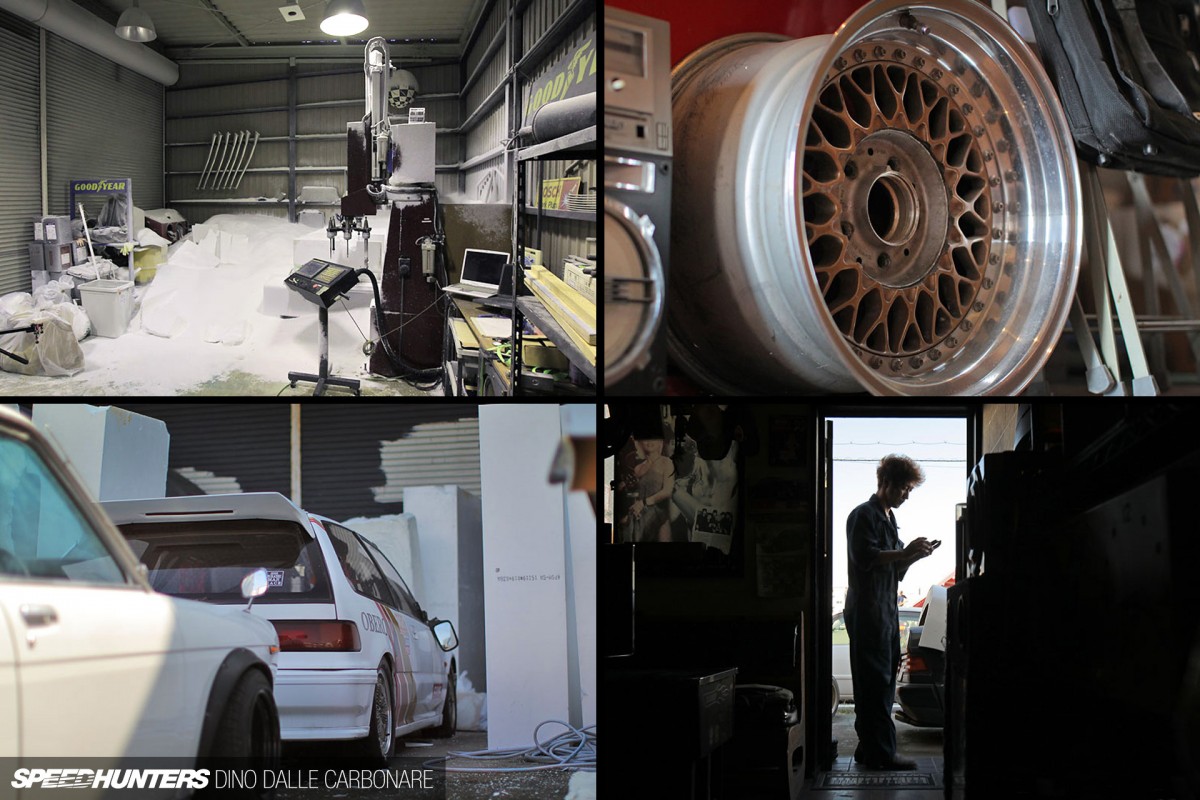 MM: The moment I walked into Miura-san's shop I knew I was collaborating with the right guy. His passion for old stuff could be seen everywhere; through the stuff lying around the shop and the old magazines, and photos from his kanjo racing days. Right away we were on the same page when it came to designing some fresh, old school-inspired Rocket Bunny aero for MADBUL. Our inspiration came from the original racing Mazda RXs from the '70s.

MM: The process was really cool. Miura-san had already 3D laser-scanned a stock FD3S Mazda RX-7, and using his own CAD software we were able to add my custom Nessen Forged wheels specs and another measurements, and then start playing with a few concepts. To get the style to work the with lines of the FD3S was a real challenge – way more challenging than I ever though it would be. I left him to it and a month or so later, while I was in Sydney for the World Time Attack Challenge, the finished digital renderings came through. Of course, they were sick!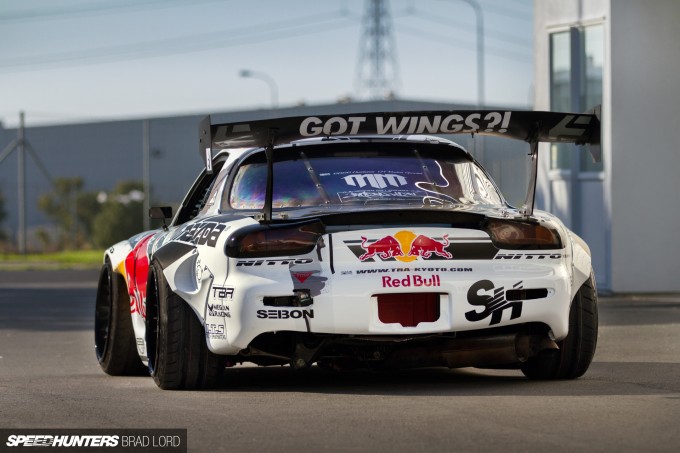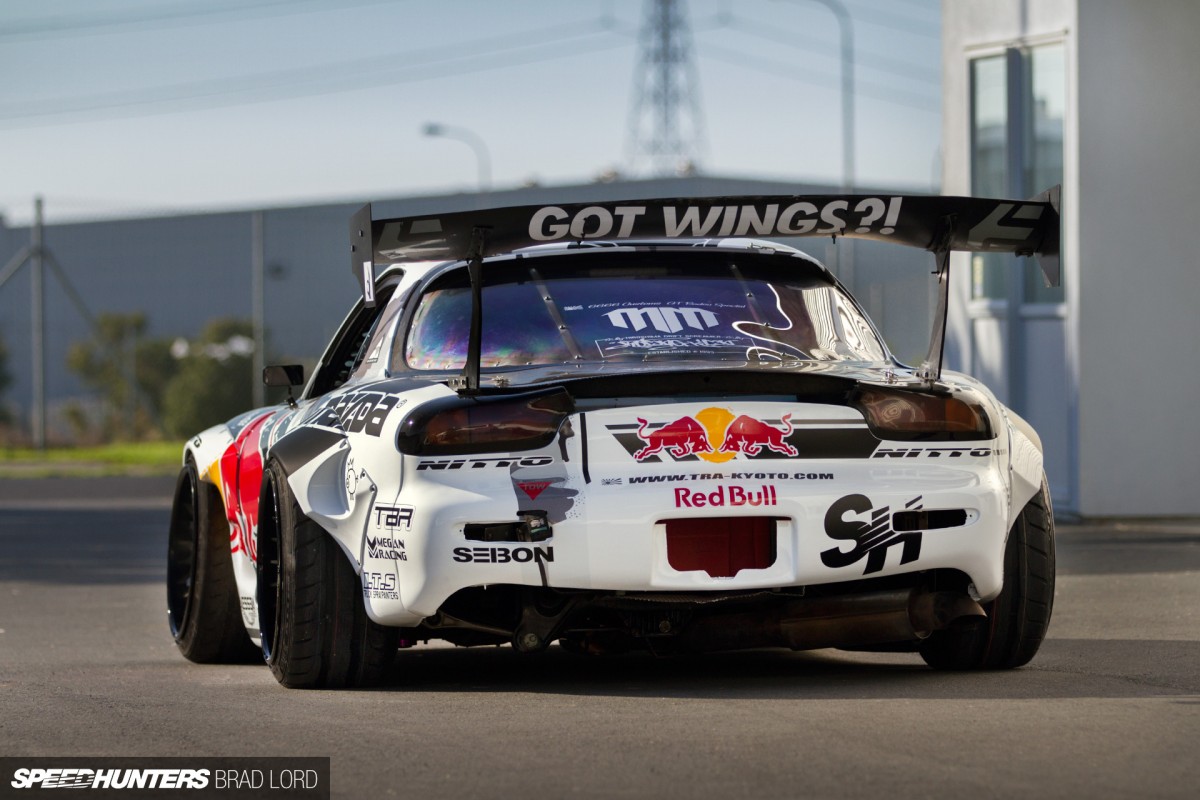 Brad: So why '70s style?
MM: I love everything about Japanese car styling and modifying from the '70s and in some ways I wish I had actually grown up in that era. The other thing is, here in New Zealand where there's a big rotary scene, the FD3S is seen as a late-model car. If you look at the cars of Formula Drift today though, you realise that the Mazda is actually quite an old platform now. So to me, old school styling fit perfectly with what I wanted to do.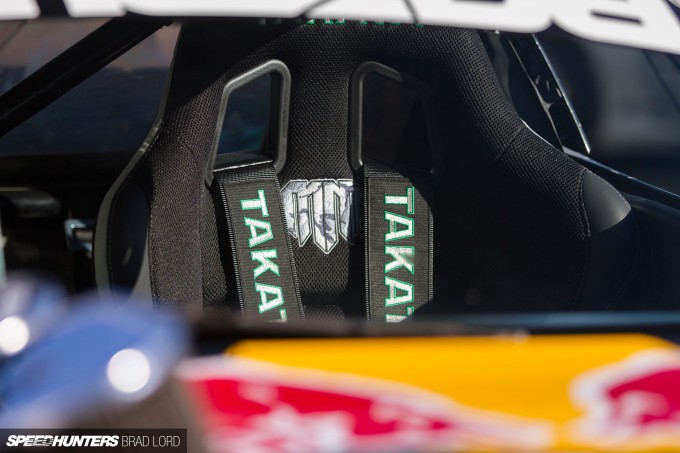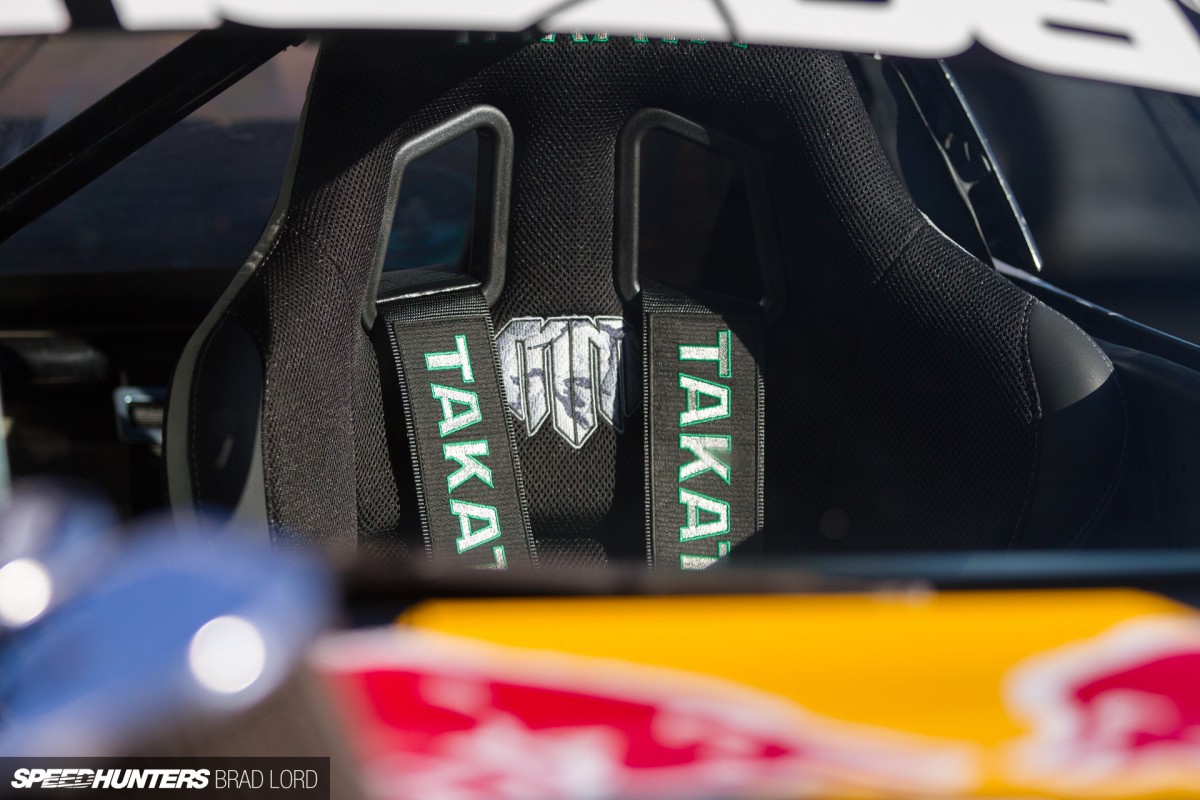 MM: Also, the chance to change MADBUL up to Gen 6 spec gave me an opportunity to look at some of the other areas of the car and give them a freshen-up too.
Transformation Initiated

Brad: Let's talk about bringing the virtual to reality then.
MM: As you know, as soon as the kit turned up at my workshop I got straight into cutting panels and dummy-fitting it. Ever since I left Miura-san's shop I had been thinking about what it would look like in real life, so I wasn't going to waste a second finding out!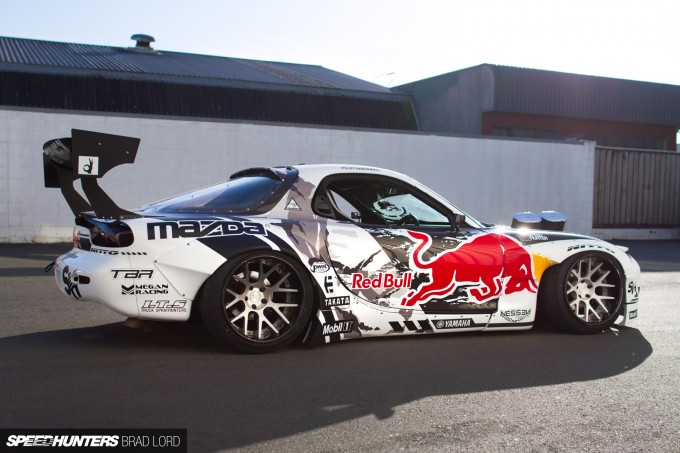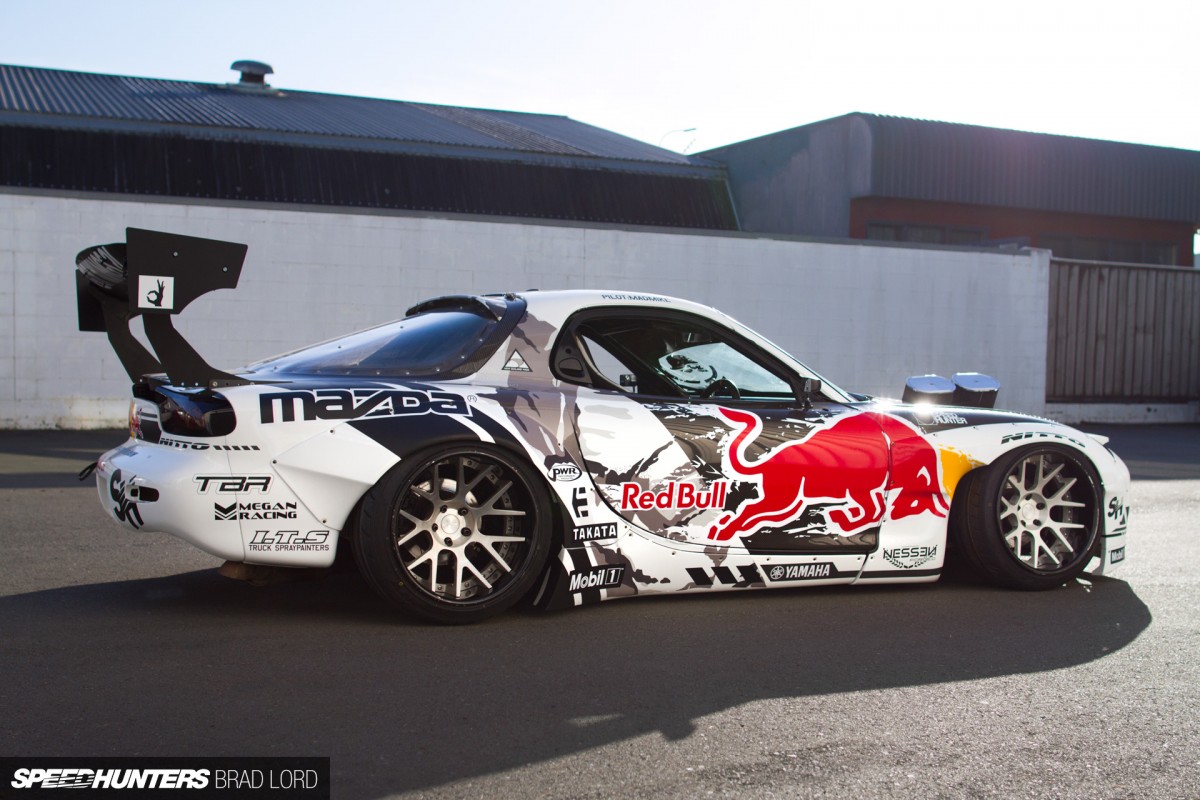 Brad: I just can't believe how fast it's all come together!
MM: Yeah, between then and when the final logo was applied was only around two weeks, so there were a few late nights getting it all together. I'm lucky to have an awesome team though, and everyone was focussed on getting it done.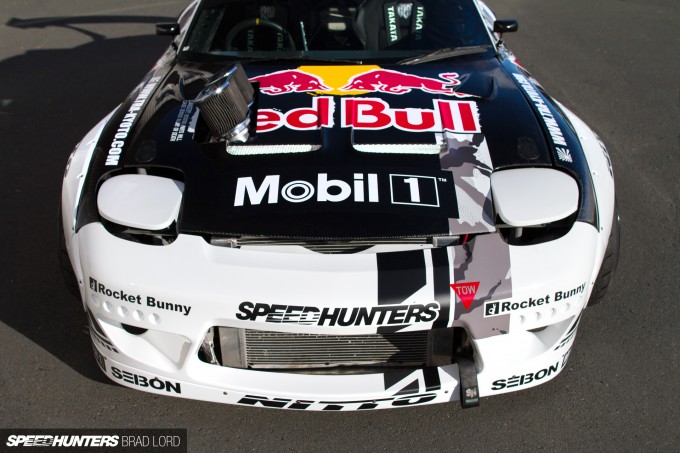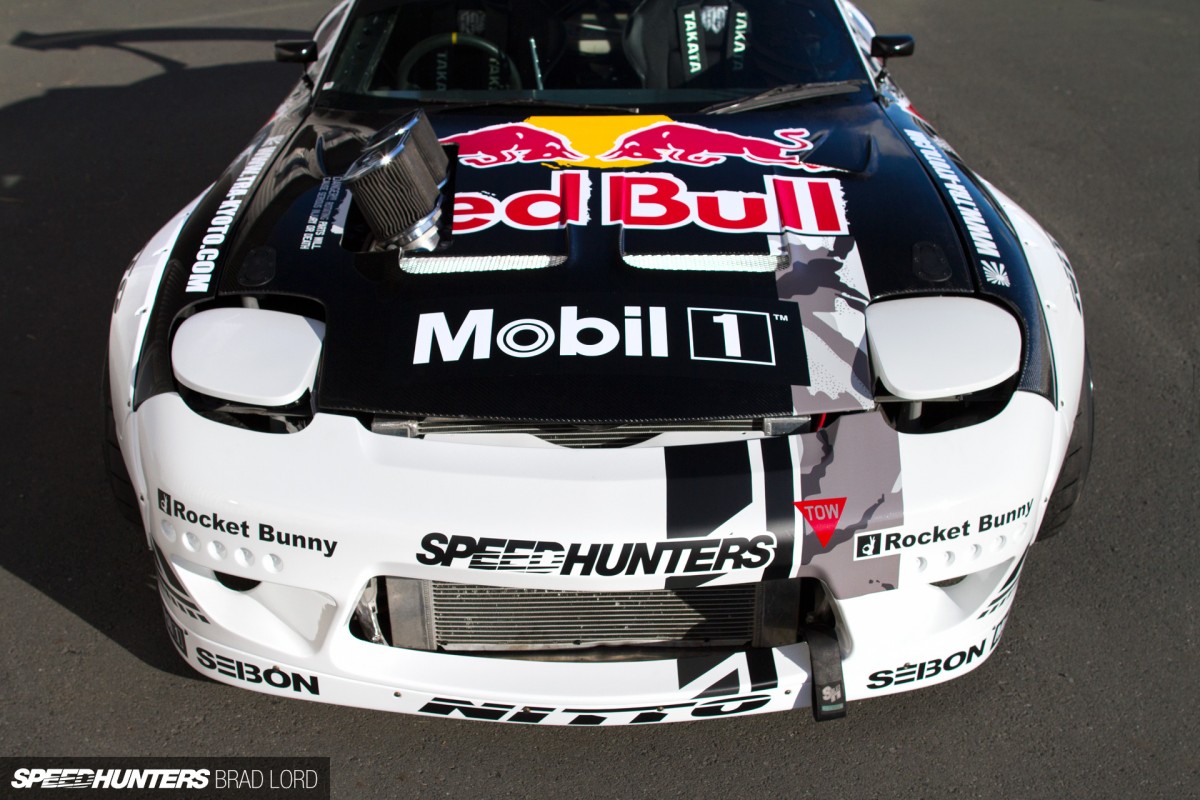 Brad: Okay, starting at the front end, let's talk about the kit and some of the details.
MM: One of the main things I wanted to do at the front was move away from the long nose and FD3S Series 8-style park lights of the BN kit and flatten it back off. The Rocket Bunny bumper has a punched-up snout that is shorter and more aggressive, and that gives the car a sort of blunt old school look, rather than something too sharp and pointy, or modern. There are other small things too, like the cut-out where the top of the bumper joins the bonnet, which allows for more airflow into the engine bay.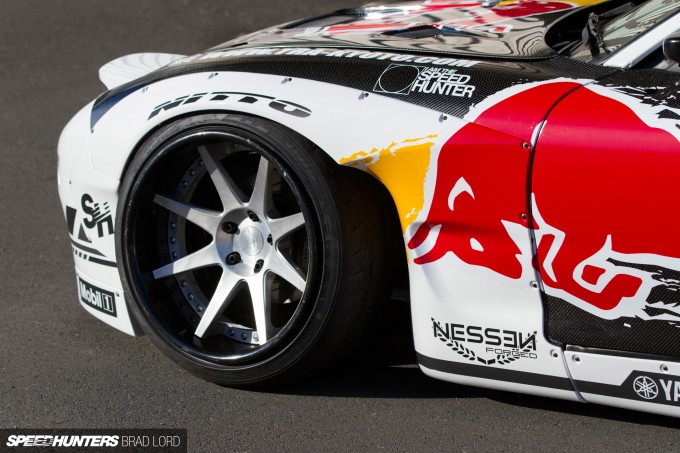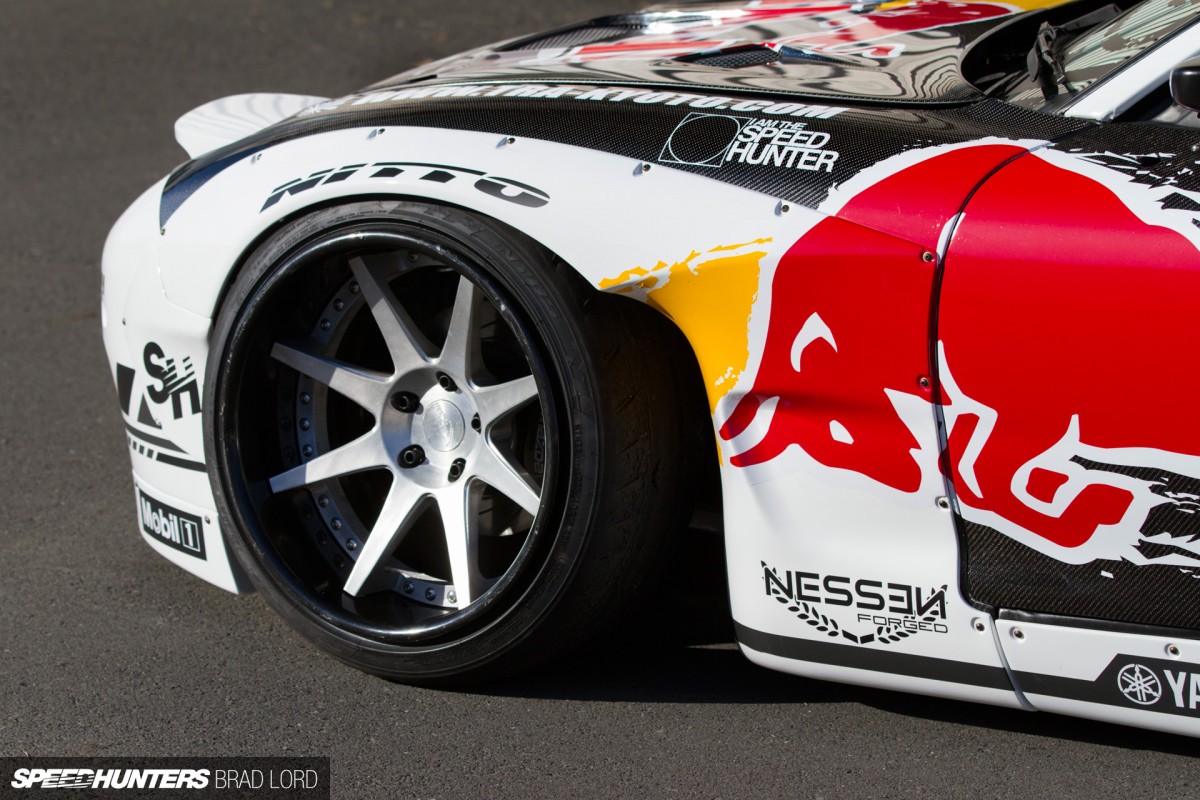 MM: Of course, over-fenders were always a part of the overall plan – not only because that's what Miura-san has become world famous for, but also because I had to have them for the old school theme. Because this kit is eventually going to be made available for anyone who wants to purchase one, the big thing was making sure that the over-fenders fit on stock FD3S fenders once they've been cut for wheel clearance. This fact also allowed me to use some fresh carbon from Seibon, which I've left in a raw state as a nice contrast. At the sides you can see that we've totally gone away from the big stepped skirt look and designed something that follows the door-line down and under the sill, rather than sticking out. Again, this was a throwback to old Mazda race cars of the '70s, but it also allowed us to set the finished height of the kit exactly where we wanted it.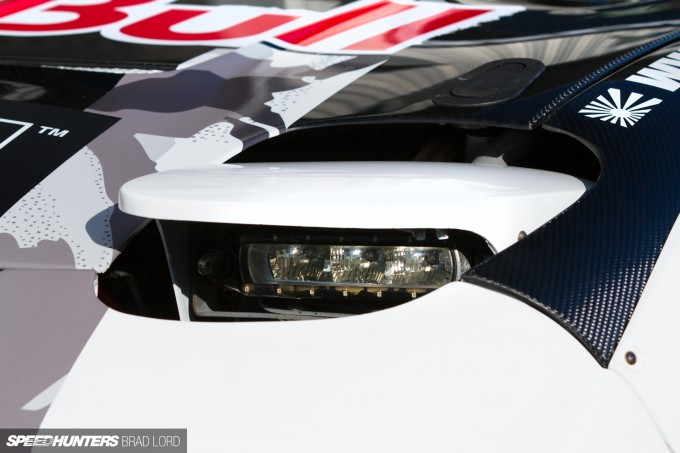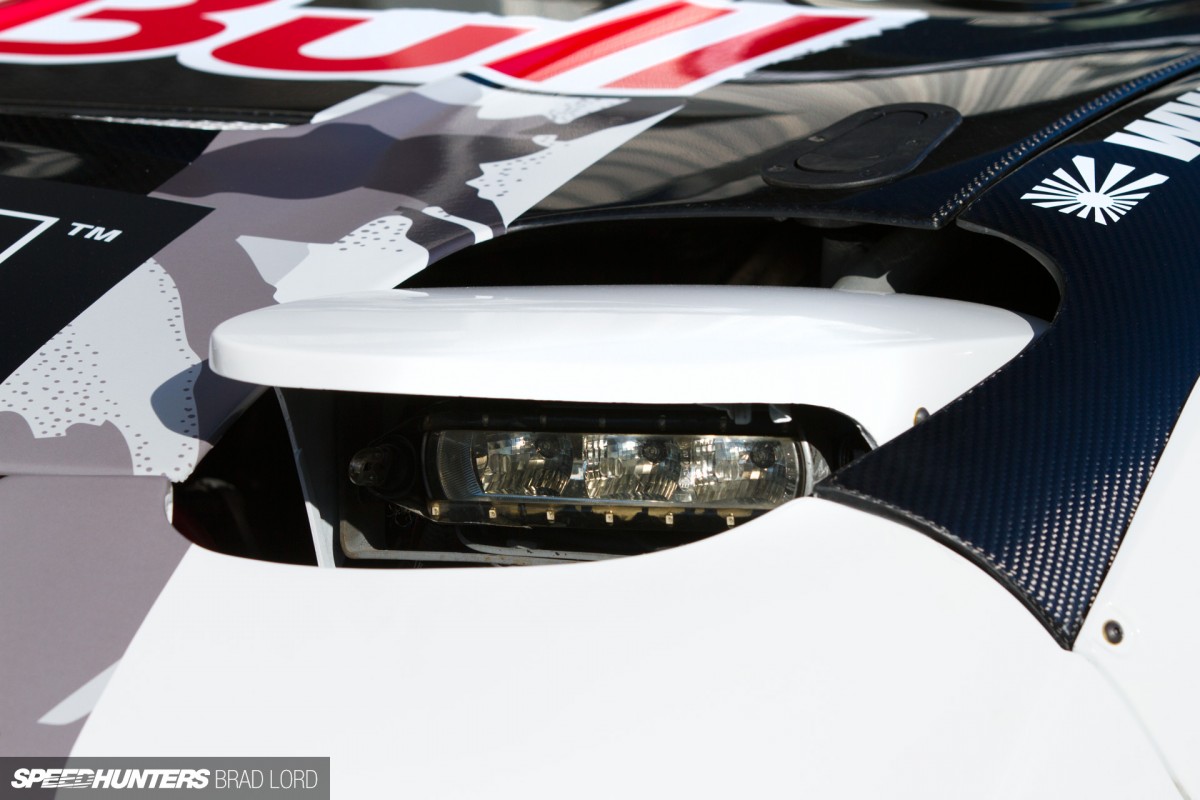 MM: Seibon make four different carbon fibre bonnets for the FD3S, so we've added a new vented-style one in the mix too. I also got rid of the old blue and red police patrol style lights as I thought they were a bit played out now, and fitted some Japanese strobes under the pop-up covers.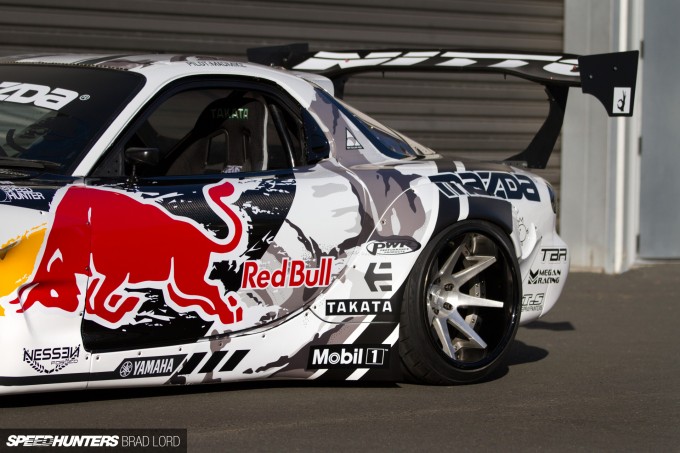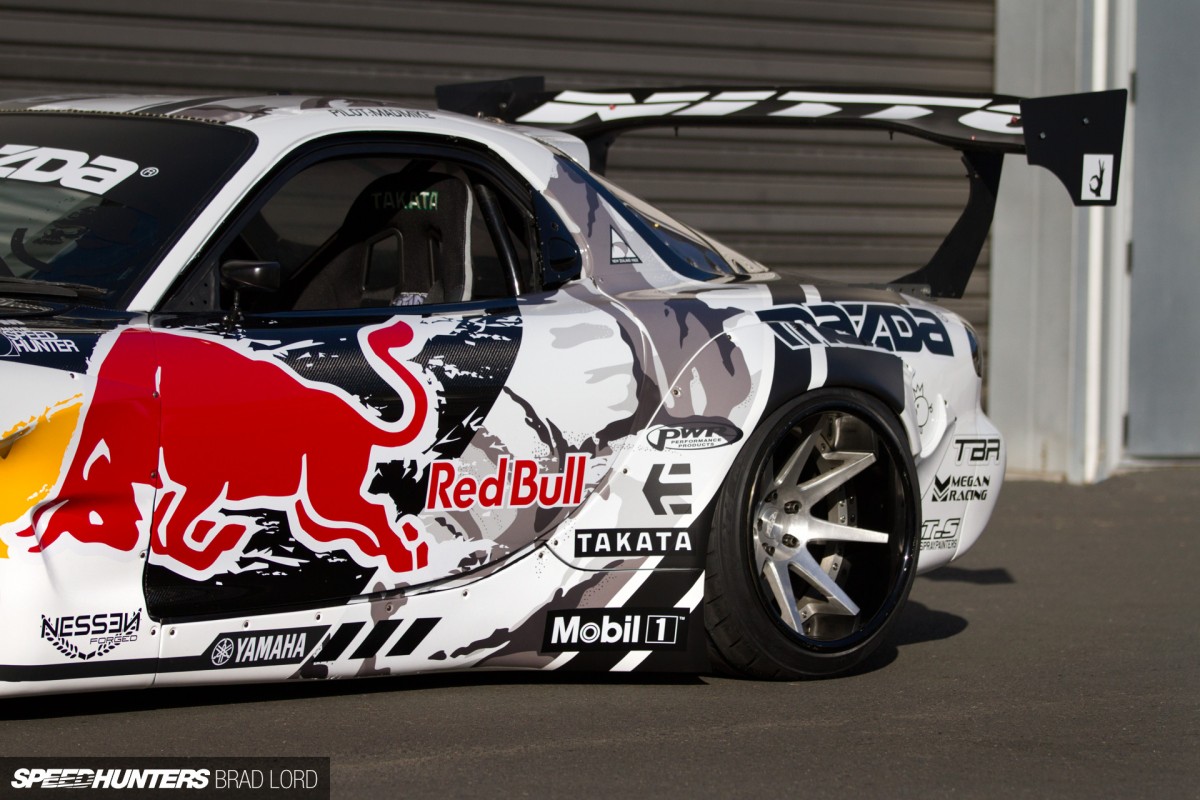 MM: Looking down the side of the car towards the rear you get a better idea of how the skirt follows the line of car and then kicks out to meet the fender old school style. This is completely different to the Toyota 86 Rocket Bunny kit which uses a little lip under the stock side skirts and has rear over-fenders that cut off halfway up on the front-facing side. Ben at Hybrid Lab in Auckland made me some stock-style rear fenders in FRP plugged from a standard RX-7, so again, if someone buys this kit for their FD3S in the future, the over-fenders will bolt straight on once the factory fenders are trimmed back.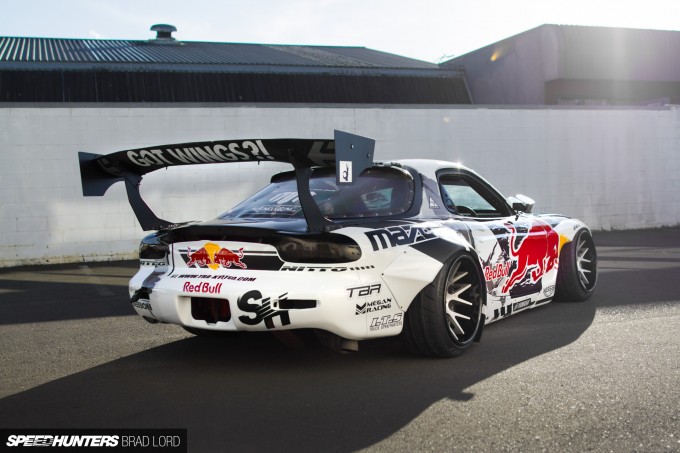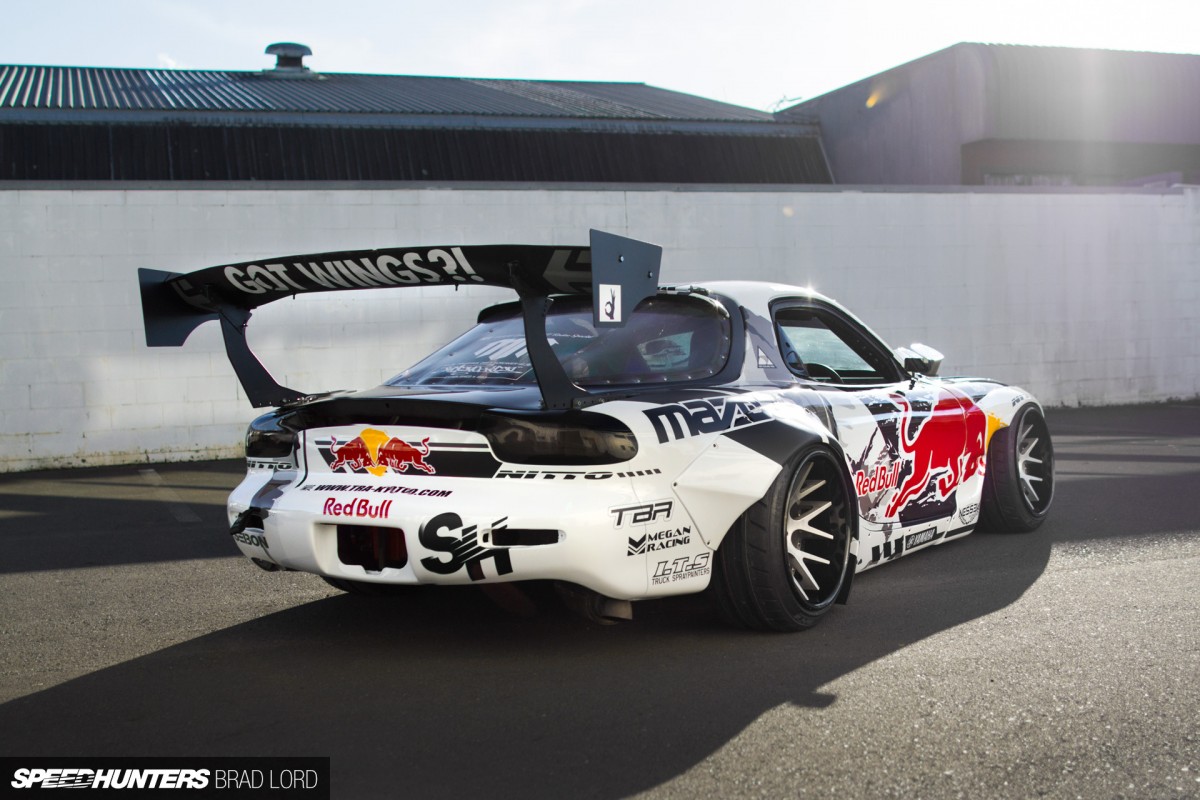 MM: Down the back, you can see that we're running the full taillight set and also a genuine Mazda plastic bumper. These are super-robust and flexible, so they're perfect for drifting. Being the same width as the standard body, the bumper really accentuates the width of the over-fenders too. The wing that's on the car now is not actually the one that it will end up with. Miura-san is still working on a few prototype parts for the car which include a Ben Sopra 380X-style wing, rear diffuser, front under-tray and front bumper canards. For now though, I think the wing works. It took me about 20 or 30 goes at the side plates to get the look I was after!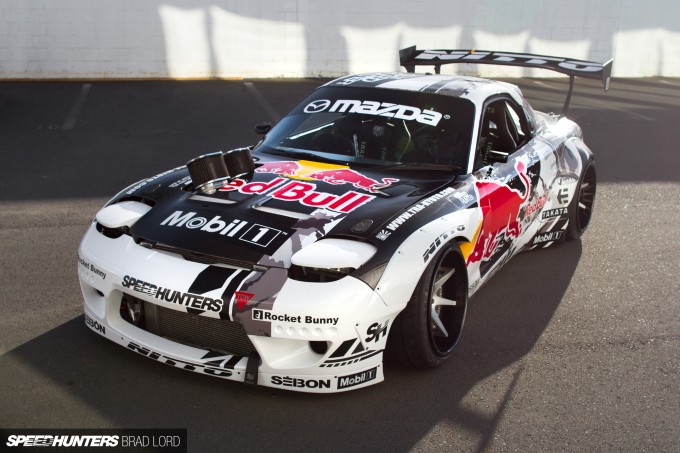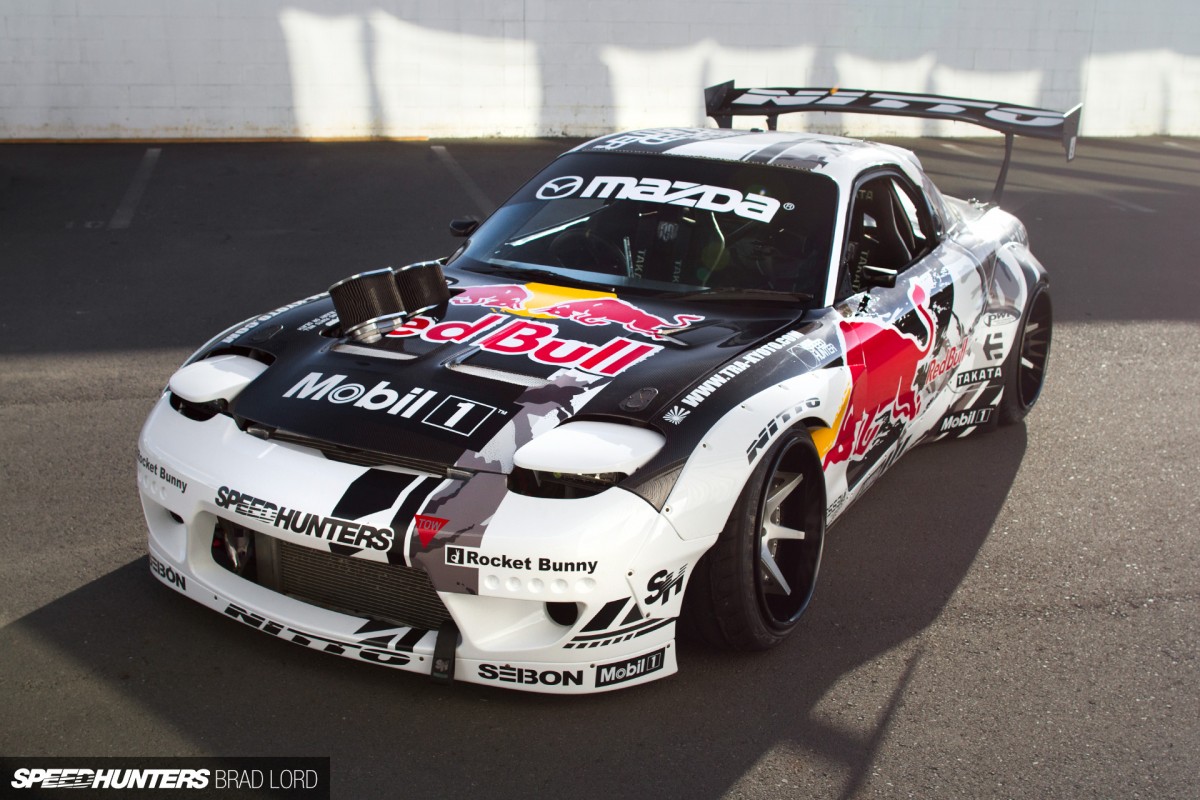 MM: And finally, the livery. I had been thinking about this for a long time before I got to work with Miura-san and the new Mazda sponsorship came along, but I always knew that I wanted to go for a clean and sharp look for Gen 6. Of all the liveries I've had on my cars, my all-time favourite is the black and white Need For Speed theme we ran in USA at Formula Drift back in 2010, so some of the inspiration definitely came from that. I wanted to keep the old school theme going and also retain a bit of camo, which my cars have always had, so I came up with the idea of a racing stripe which you can see running up the front bumper and over the bonnet and roof. The camo got a gloss laminate too, which sets it apart from the solid sponsor logos which are all in matte black or white, depending on whether they're over the gloss white painted panels or the gloss cleared-coated Seibon carbon fibre. With the camo I tried a few different looks with desert storm and also aqua, but as you can see I ended up going back to the snow camo look which the car had when I first began drifting in '06. It's a nice reminder of where we started and how far we've now come with the rad brands like Red Bull, Mazda, Nitto, Mobil 1 and Speedhunters supporting us.
All Atmo Quad Power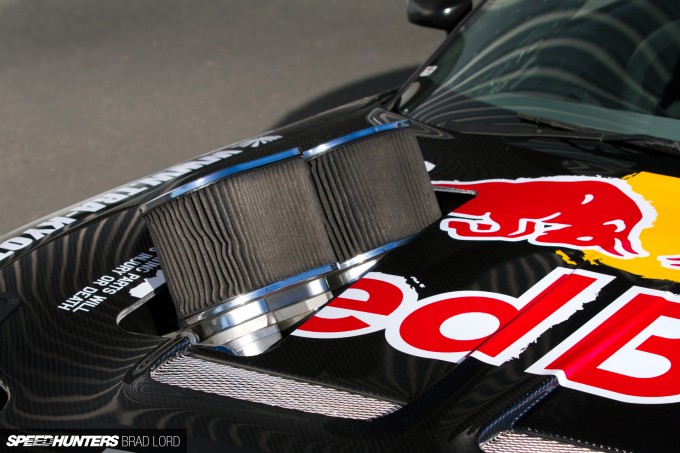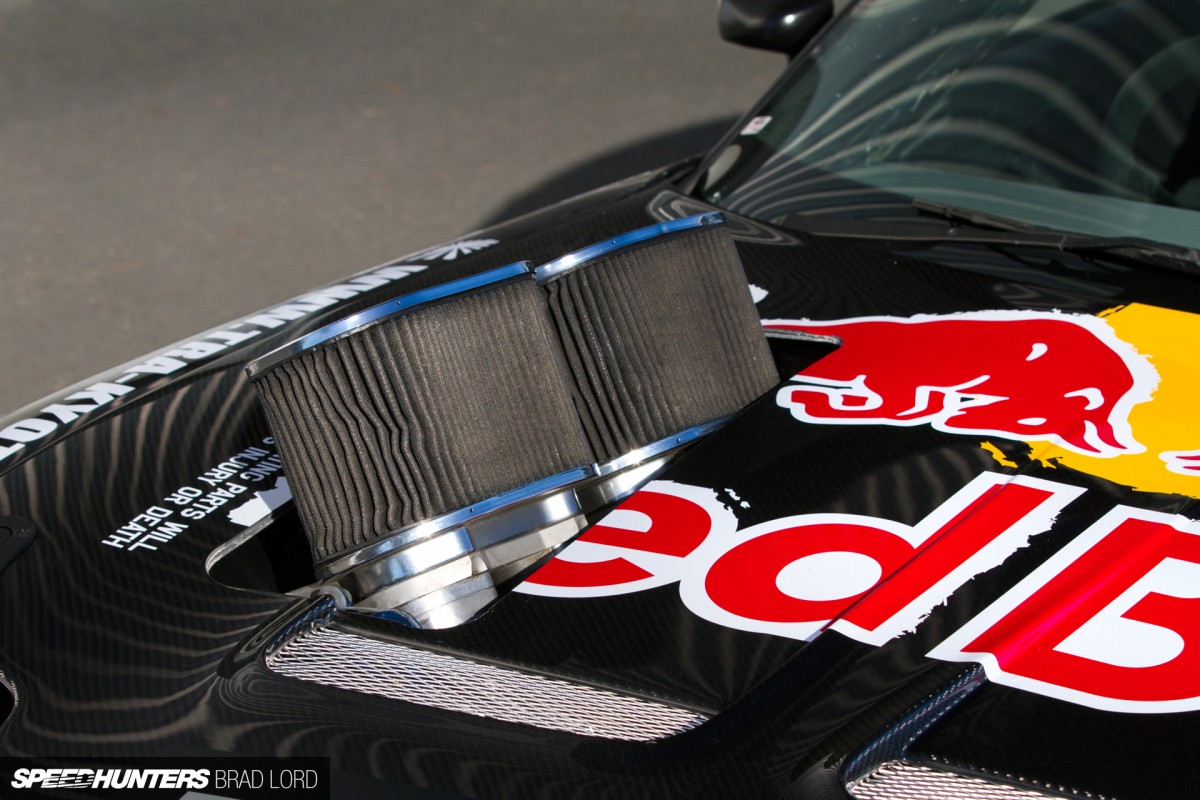 Brad: I know the Gen 6 build has been more about the way the car looks, but we should probably talk about the mechanicals too since there's been some changes along the way. The engine's staying in the same spec for now, yeah?
MM: Yeah, Warren at PPRE [Pulse Performance Race Engineering ] built us a new 26B PP four-rotor last year, and that's been in the car since the second round of D1NZ.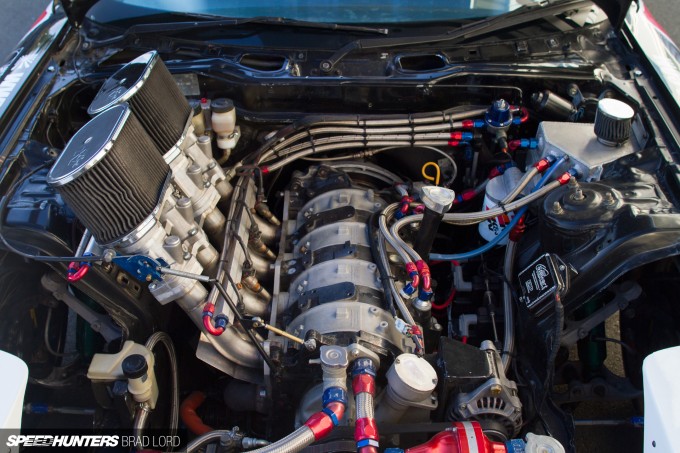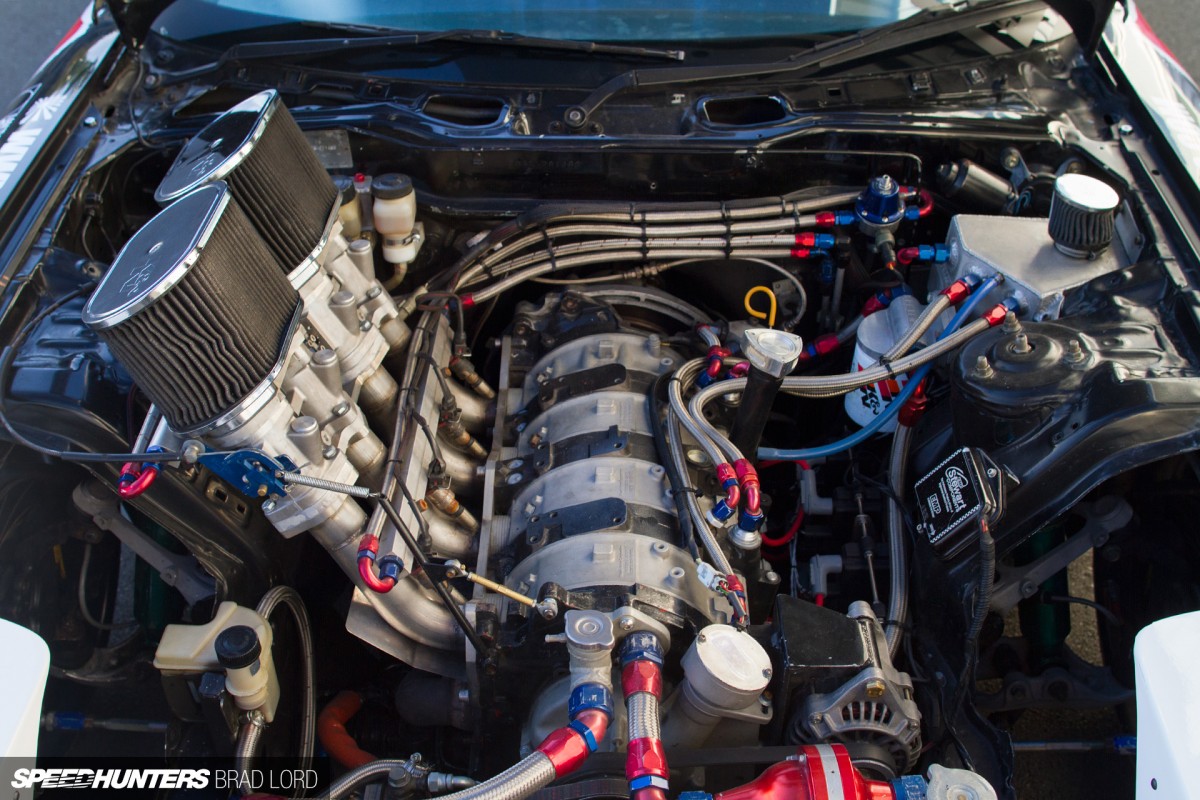 MM: The spec is mostly the same as it was previously, with custom PPRE centre and end plates and a hand-built chrome-moly crank. It's still running lightened and balanced high-comp RX-8 13B-MSP Renesis rotors too, but after going through countless different brands of aftermarket carbon and ceramic apex seals and having heaps of trouble, we've switched to genuine Mazda 3mm seals and haven't had any problems since.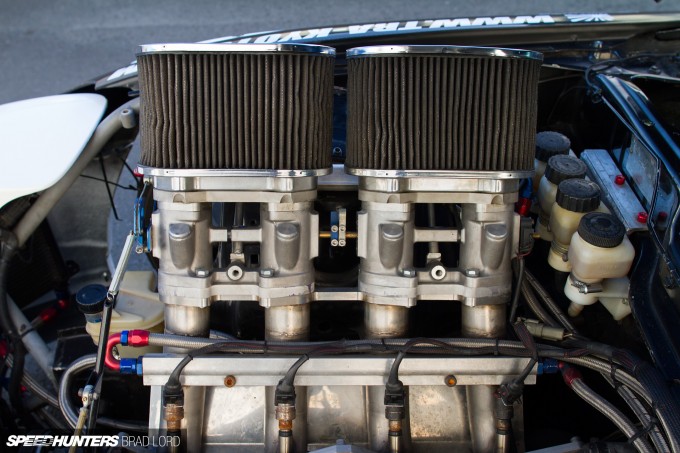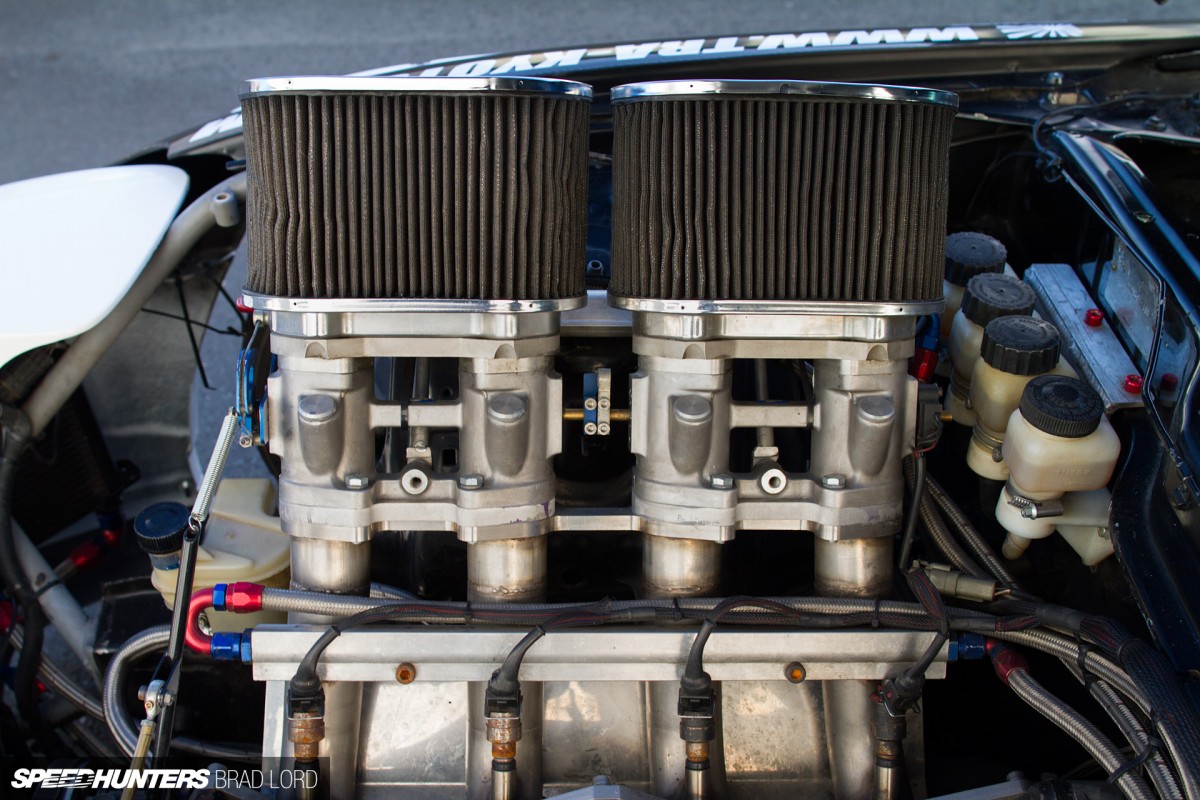 Brad: So you're able to rev it harder then?
MM: More than ever now! The limiter is set to 10,750rpm, but we're seeing 11,000rpm spikes. It's sick, and the more it revs, the harder I just want to drive it!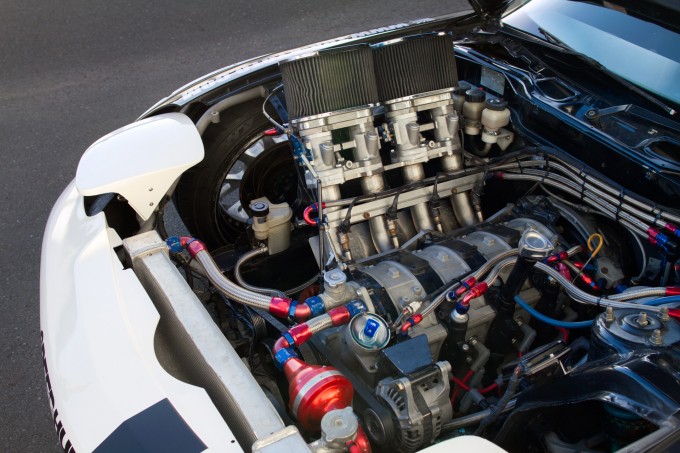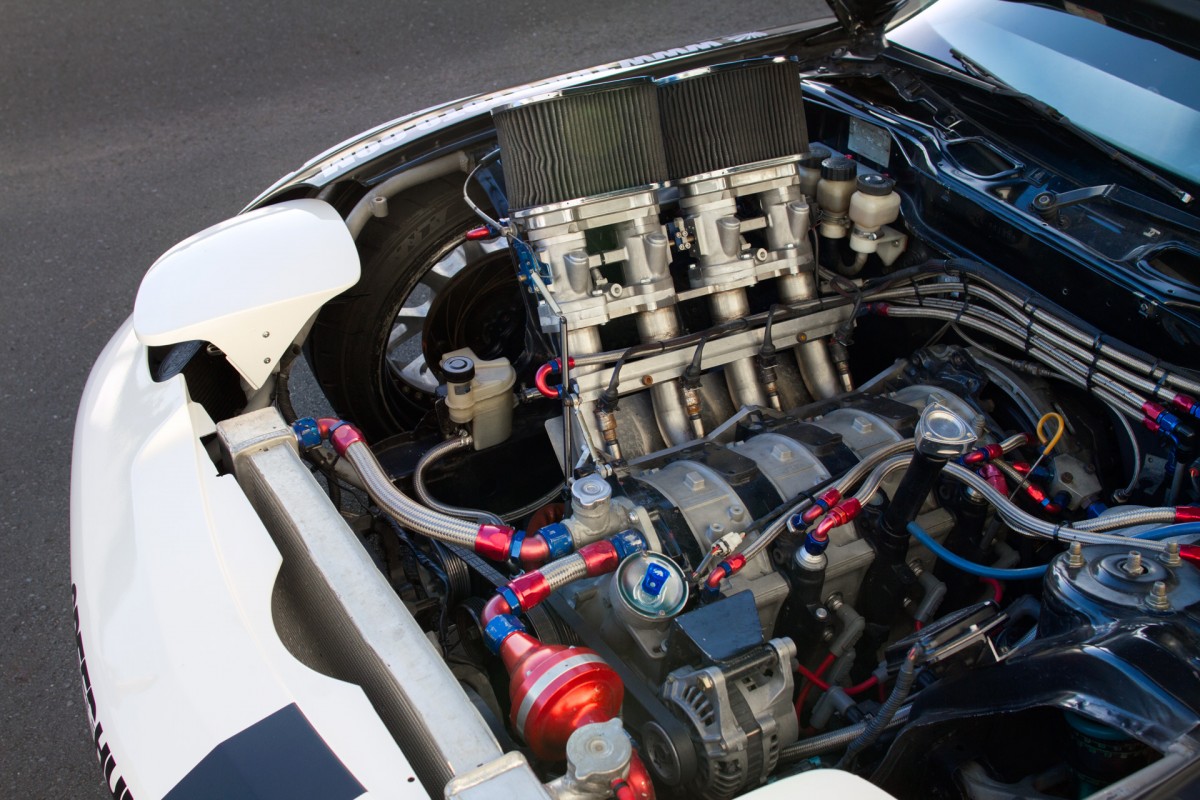 Brad: I remember you telling me that the peak power is actually slightly down on what it used to be though?
MM: Yeah, we used to see around 575hp at the wheels on the old motor, but since then it's been run up on a different dyno and had the rebuild. When Warren tuned the Haltech he concentrated on lifting power everywhere through the rev range, so although it's making a little bit less peak power at 538whp, it's actually so much faster now than it's ever been before. Now that we have factory backing from Mazda we're looking forward to building a brand new motor that will give us some major gains. That is going to be rad!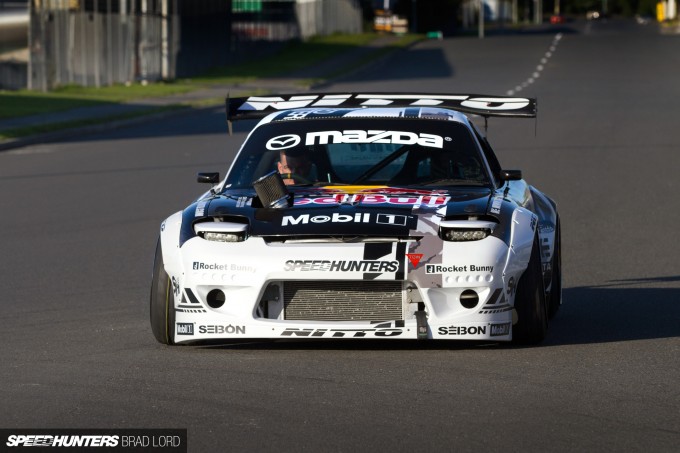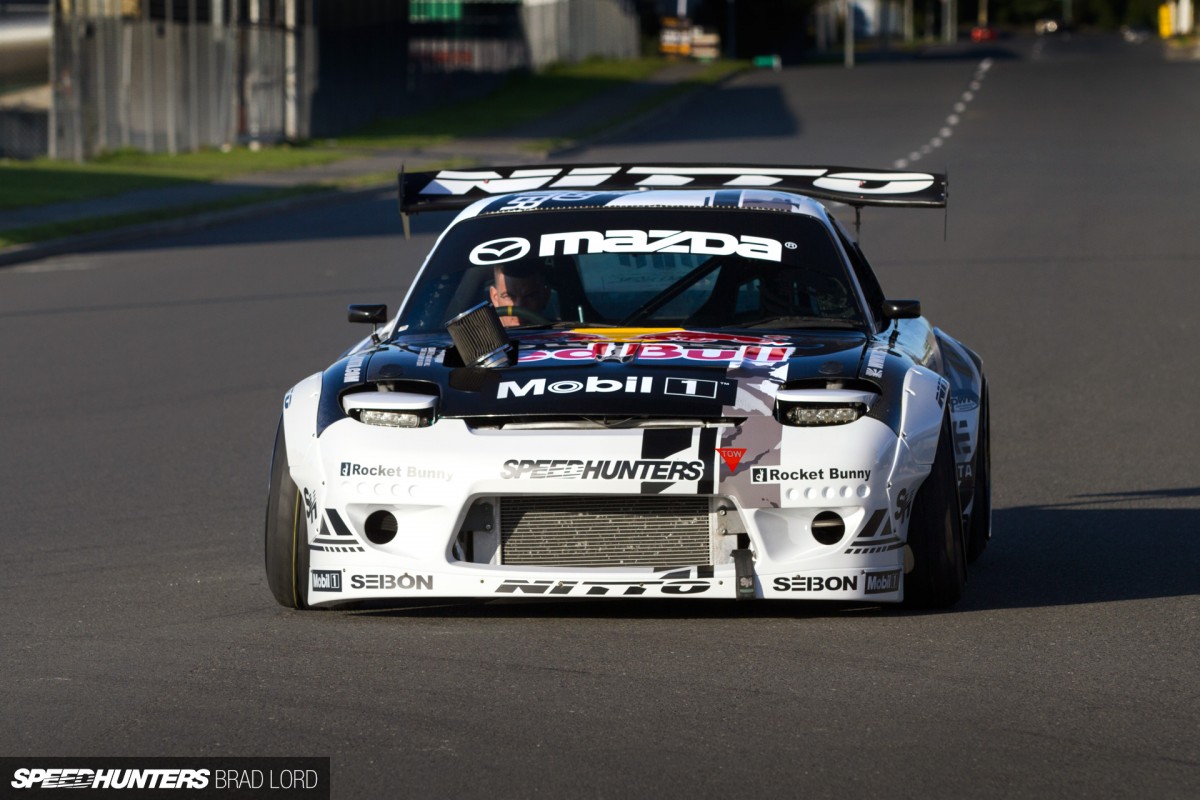 MM: In the driveline the only thing we've upgraded since the Gen 5 build is the diff; going from a full spool to a 1.5-way OS Giken LSD. Everything else remains the same though – the HKS six-speed sequential 'box, and factory Mazda FD3S drive shafts.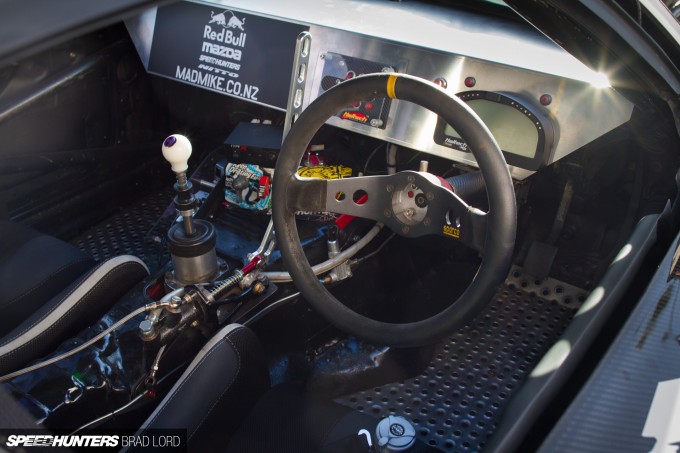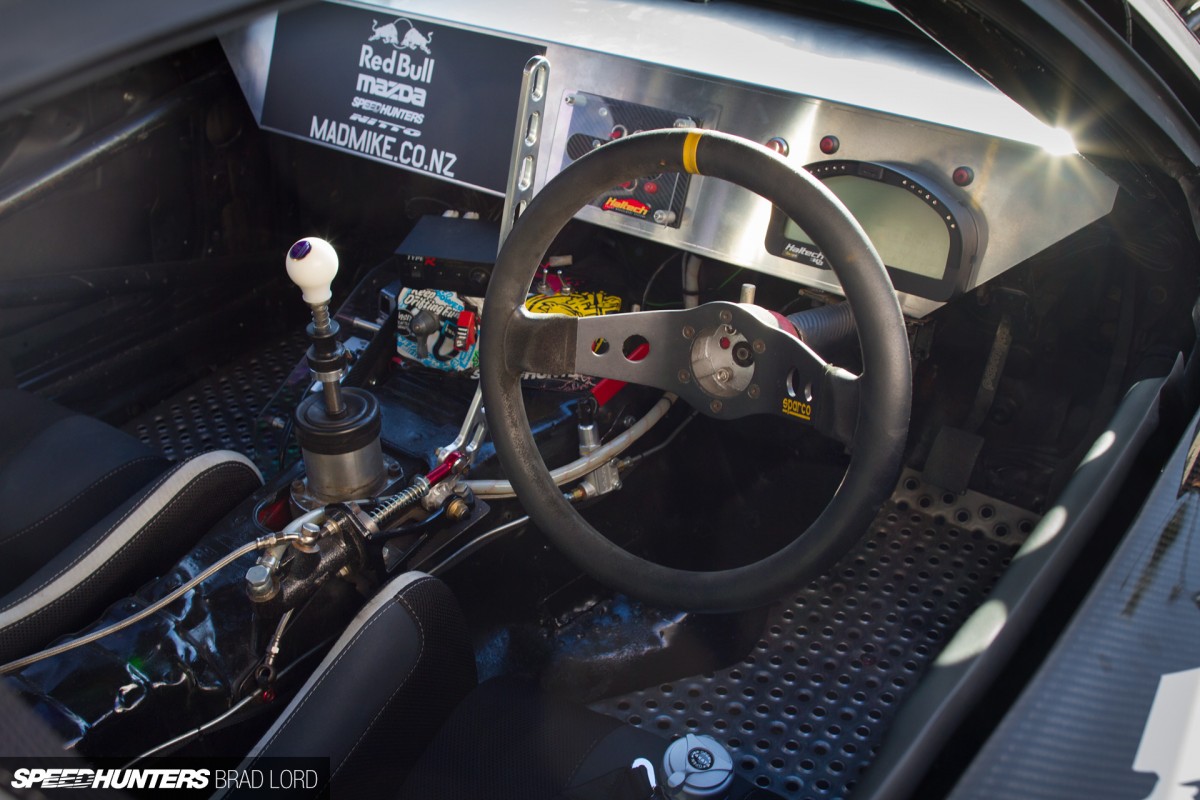 Brad: It looks like you've spent a bit of time sorting out the interior. In fact, I don't think I've ever seen it that clean!
MM: Yeah bro! I always wanted to give the cockpit a tidy up, and with the all-new look and new partners coming on board it seemed like the perfect time. There were a lot of old wires hanging around from previous setups, so I pretty much tore everything out and got rid of what wasn't needed, and then gave it a paint.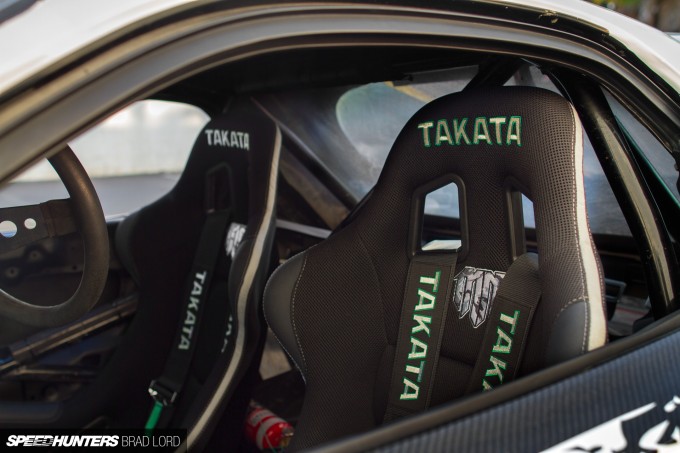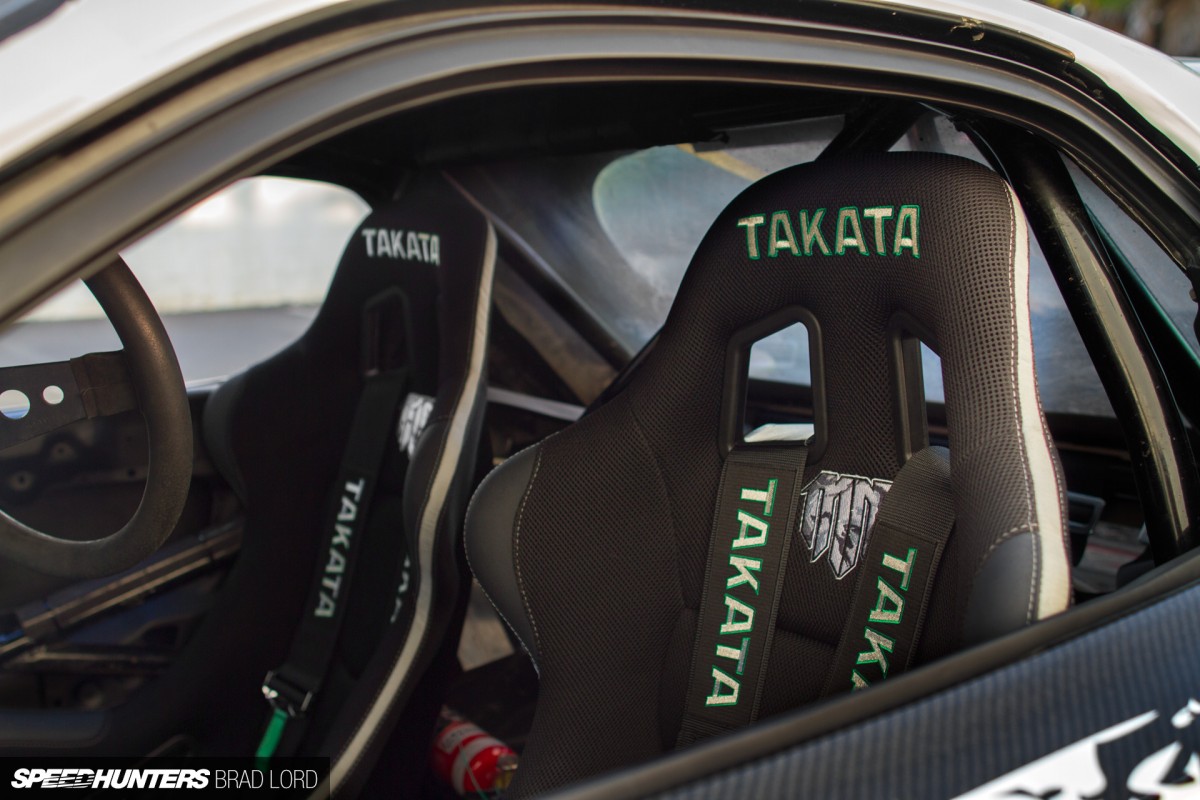 MM: Obviously, we're now running with TAKATA seats and harnesses too. I'm really stoked to have another big Japanese brand like this involved in our programme, and we'll be using the same set up in the RX-8 and also the new MX-5. The Race LE seats came out really sick with the custom 'MM' logos and colour-coded trim down the sides.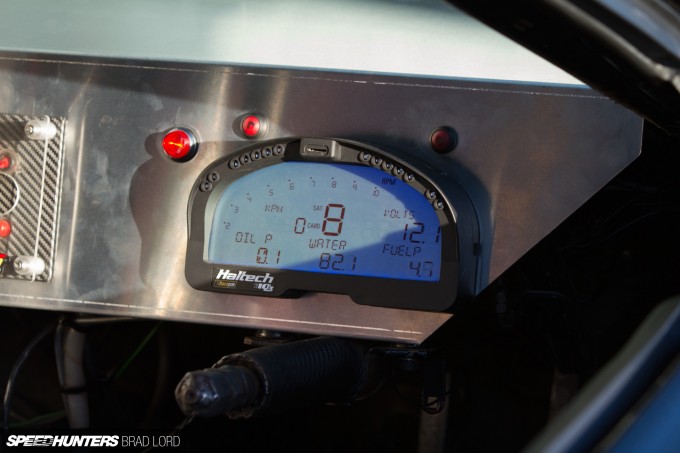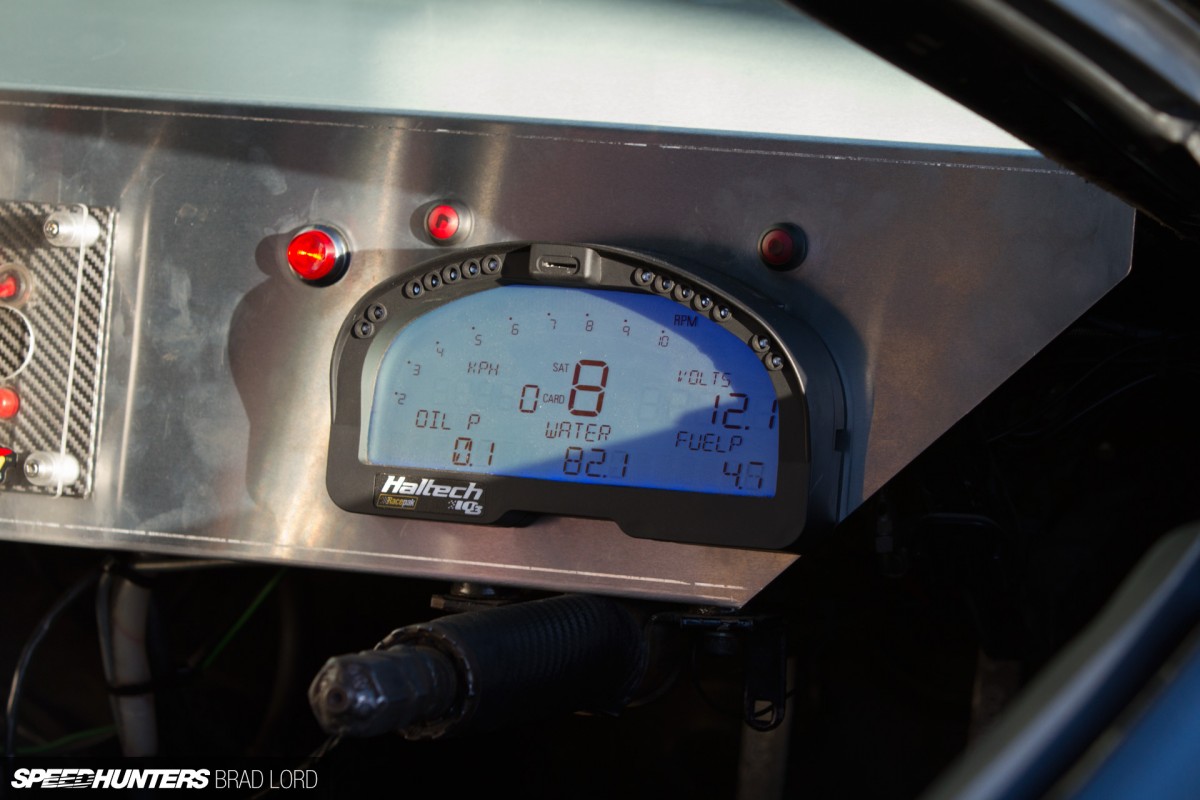 MM: The other change is the dash. Kaz at TBR bent up this new alloy one for us which is exactly the same as the one that was in the car before, but minus all the stickers. That original dash means a lot to me, and every sticker that was added over the years reminds me of all the rad people I've met and all the places we've been able to take the car, so I'm planning on hanging it up in the workshop somewhere. I just remembered when I pulled it out that Youichi Imamura's autograph is actually underneath all the stickers, as I got him to sign it when he did some demos in the A'PEXi FD3S RX-7 at the D1 Grand Prix NZ driver search back in '06. Imamura-san was a real icon for me when I started drifting, but him and all the other Japanese dudes from D1GP and Option were buzzing out at the 20B PP that was in the car then!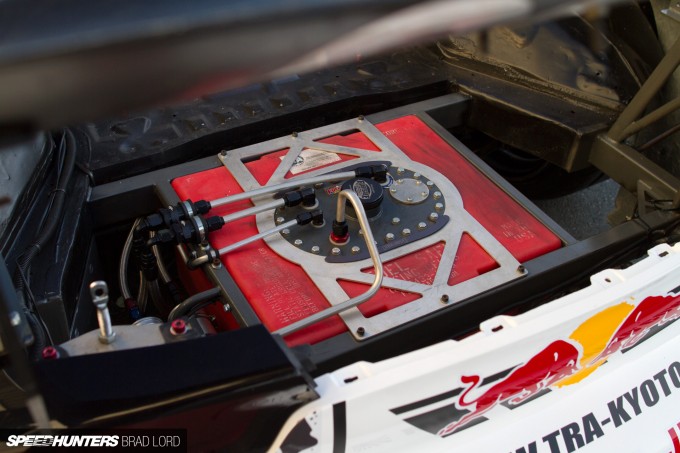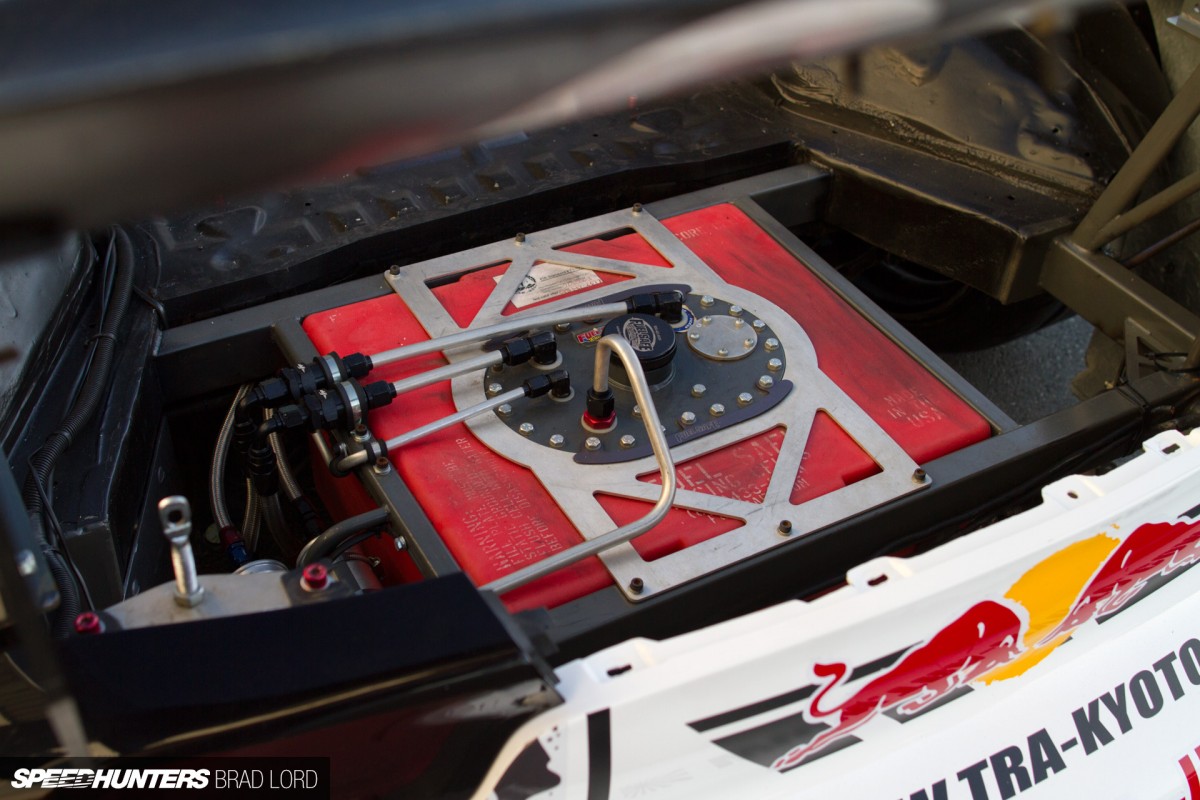 Brad: I remember that! You've made some changes in the back of the car too, right?
MM: Yeah, we kind of had to after I hit the wall in Melbourne at Formula Drift last year. We cut off all the tube work I had added and then Kaz designed a new set up which also houses a new Fuel Safe fuel cell and some upgraded fuel pumps. It's pretty tidy in there now!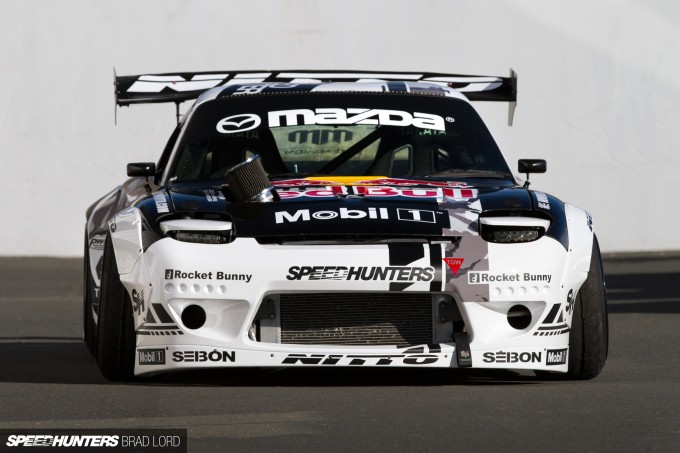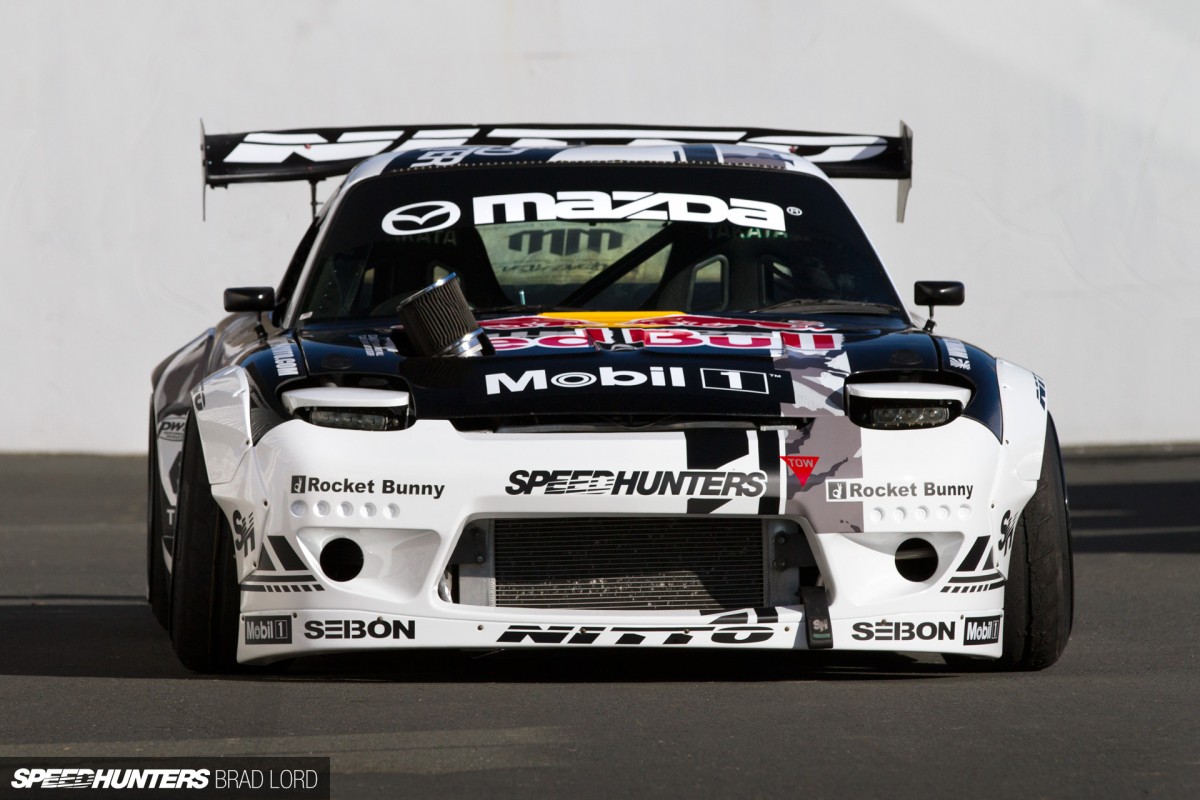 Brad: I probably don't need to ask how stoked you are with the way that MADBUL Gen 6 has turned out, but I'm going to…
MM: I sure am stoked! It's nice to keep things fresh and it's always a pleasure to welcome inspiring brands with rad people to our team.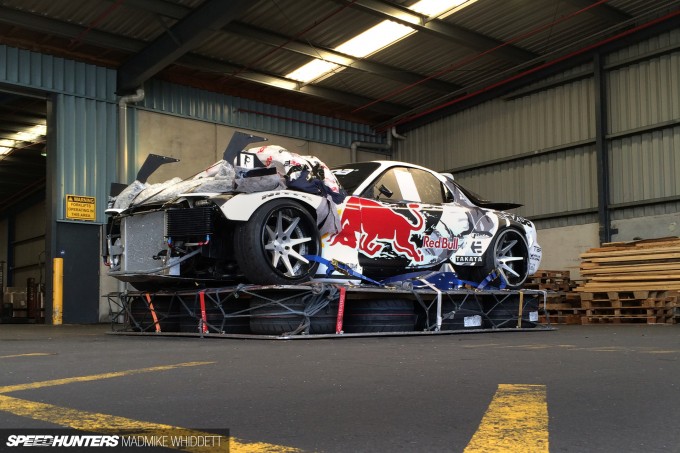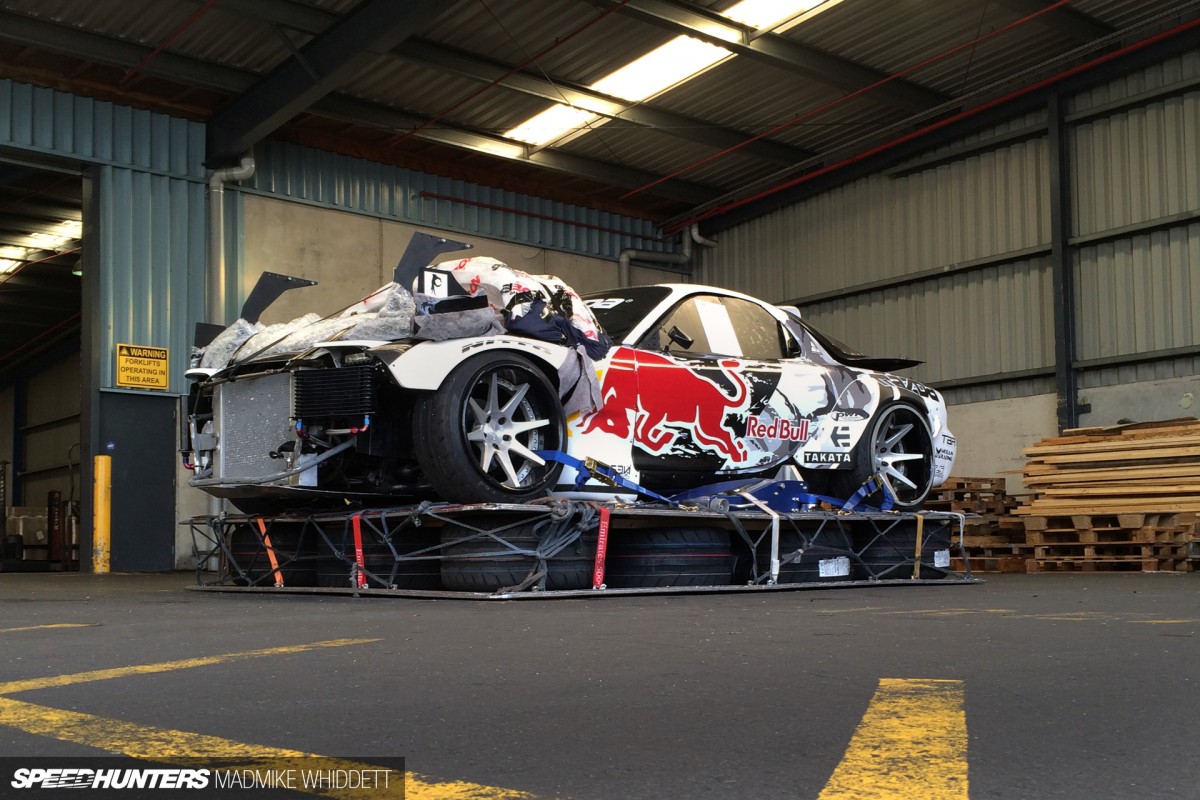 Brad: And not a moment after the car's back together it's off on a special overseas mission – and via airfreight no less. The 2014 Goodwood Festival of Speed in the UK; that's a pretty big deal!
MM: I'm really honoured to be invited to Goodwood and I can't wait to scream the MADBUL up the hill in full fury and showcase the precision driving of professional drifting to a very different demographic of people than what we're used to. It only really just kicked in how epic this opportunity is after I read through the list and saw the names that are driving and the insane vehicles on this list. To say the least, reading '96 Mazda RX-7′ looks way out of place!
MM: I really hope to see some Speedhunters readers there, but in the meantime check out the clip we put together on the Gen 6 build. Stick it to the wall! MM
Mad Mike Whiddett
Instagram: madmike_drift 
Facebook: madmike.drift 
Photos by Brad Lord
brad@speedhunters.com
Mad Mike's MADBUL FD3S Mazda RX-7
Numbers
538hp @ wheels, 10,750rpm rev limit
Engine
Pulse Performance Race Engineering (PPRE) 26B quad rotor, peripheral porting, lightened/balanced high compression RX-8 rotors, hi-rev mod, PPRE custom end & centre plates, hand built chrome-moly eccentric shaft, 3-window bearings, hand-fabricated intake runners, Injection Perfection 55mm throttle bodies, primary & secondary staged injectors, MoTeC fuel rails, Walbro lift pump, Fuel Safe racing fuel cell, Bosch Motorsport 044 fuel pump, Turbosmart adjustable fuel pressure regulator, Bosch HEC715 coils, M&W high-energy CDI running 2x 2-channel boxes & 1x 4-channel box, custom MSD leads, custom alloy sump, custom tuned-length headers, 3.5-inch stainless exhaust, Borla muffler, alloy radiator, 2x Redline oil coolers, oil breather, stainless heat shroud, Stewart electric water pump, Haltech Platinum Sport 2000 engine management system, Gilmor drives
Driveline
HKS 6-speed sequential gearbox, HKS Pro-2 twin-plate clutch, HKS flywheel, OS Giken 1.5-way LSD
Chassis
TBR tube-frame rear end, modified firewall & chassis for steering clearance, cut rear quarters for wheel clearance, D2 air jacks
Suspension/Brakes
Tein Super Drift coilovers, custom steering arms, custom tierods, Megan Racing toe arms rear, Znoelli rotors, EBC pads, ABS removed, B&M launch control kit, Autosport Dynamics hydaulic handbrake
Wheels/Tyres
Nessen Forged 3-piece wheels, 18×10.5-inch (front), 18×11.5-inch (rear), Nitto NT05  225/40R18 (front), 265/35R18 (rear)
Exterior
Prototype TRA-Kyoto 6666 Customs Rocket Bunny kit, custom CRE8GRAFX livery, Sard Racing 3D GT wing, custom wing brackets
Interior
6-point roll cage, Takata Race LE seat with custom Mad Mike embroidery/trim, Takata Race 6 harness seat belts, Sparco suede steering wheel, HKS shift knob, Haltech Racepak digital dash, point roll cage, custom TBR alloy dash, custom door panels