The simple take
What does it take? What is it that creates style? The best way one can probably describe it is as a collection of details, or at times the lack of details. You see, style doesn't necessarily imply complexity; it often comes from pure simplicity – the way a few touches flow and seem to coexist in the same space in a natural way. It's this latter approach that, for me, has always made the cars that Nagahama-san at N-Style builds stand out among so many similar rides in Japan. And today I'd like to share with you his very own car: this beige JZZ30 Soarer.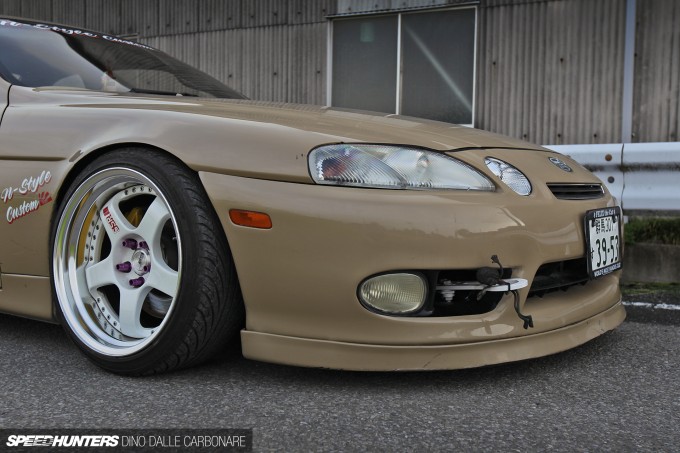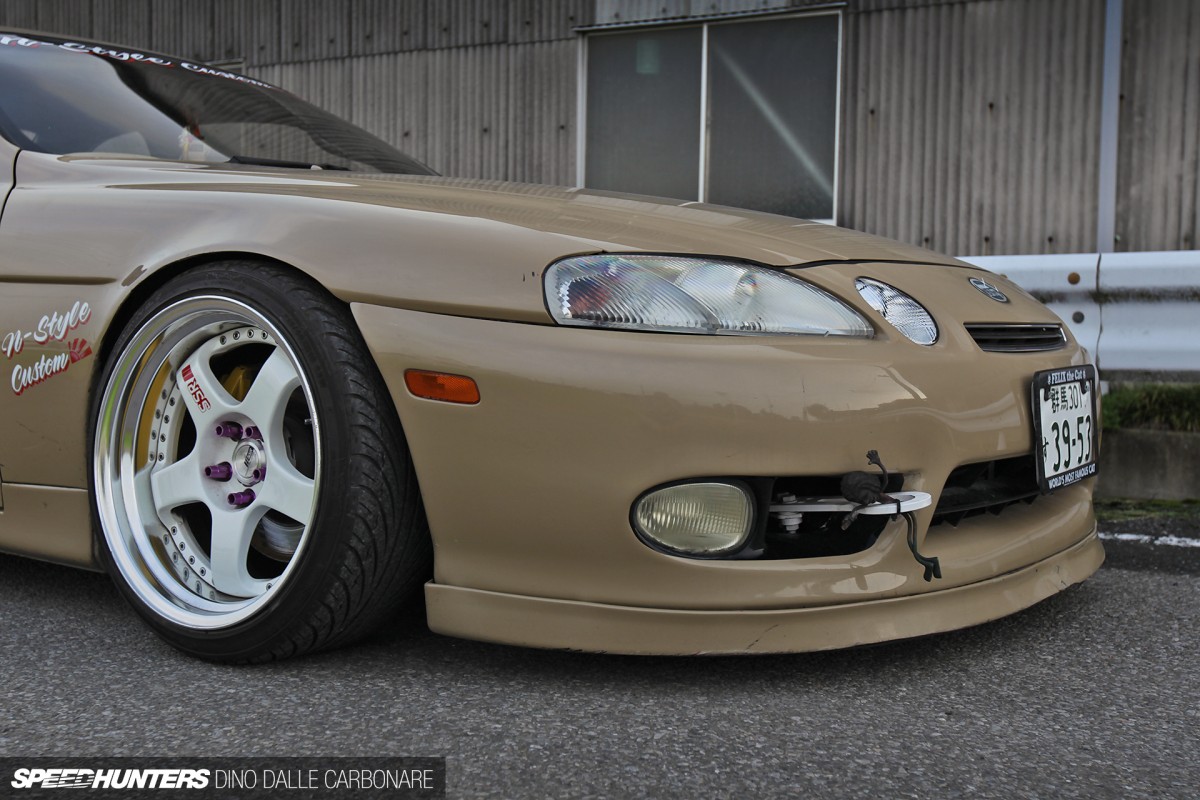 Nagahama couldn't possibly live a more car-oriented life if he tried. His shop, N-Style, is located in the middle of the Gunma countryside, where there isn't much to do. Aside from running his bodyshop, he spends the rest of his time hanging around with his friends, who also happen to be his customers, and when they're not getting together to grill the ridiculously tasty tofu and aburage that his father makes in his own little tofu shop down the road, they're out drifting the mountain passes of their prefecture. It all sounds remarkably similar to a well-known anime you might have heard of, but I kid you not, Nagahama may as well be the real-life version of Takumi! He lives and breathes cars and in the process has developed an instantly recognisable style. His well-used Z30 Soarer is the perfect example of what 'N-Style Custom' is all about.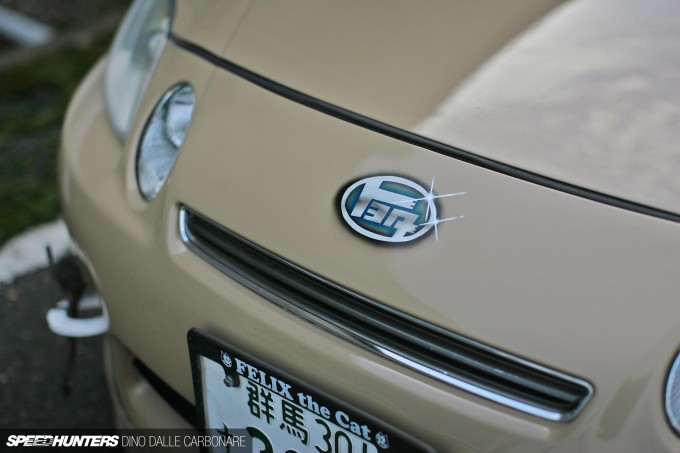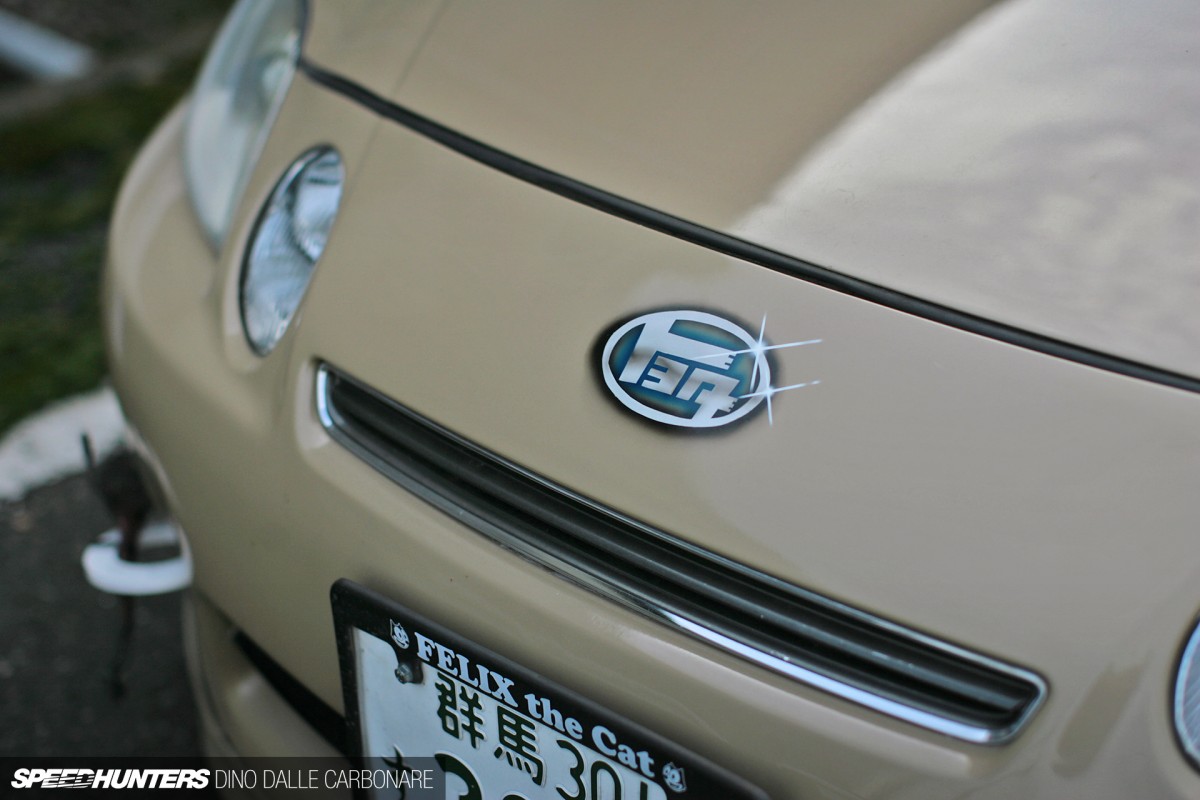 Simplicity spiced up with subtle touches works well at creating a car that, even sitting there next to his shop, oozes presence.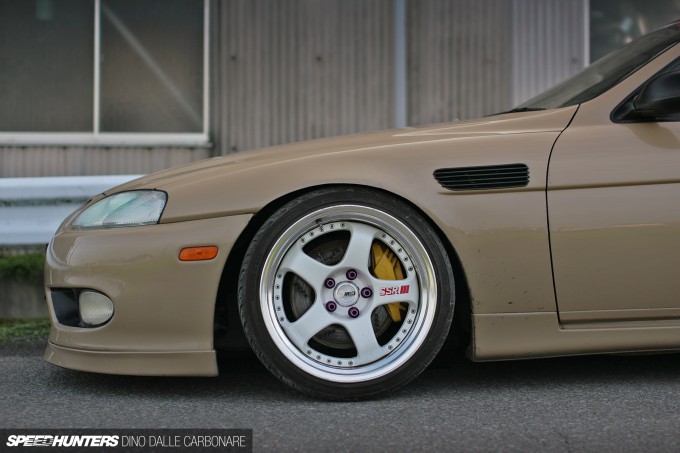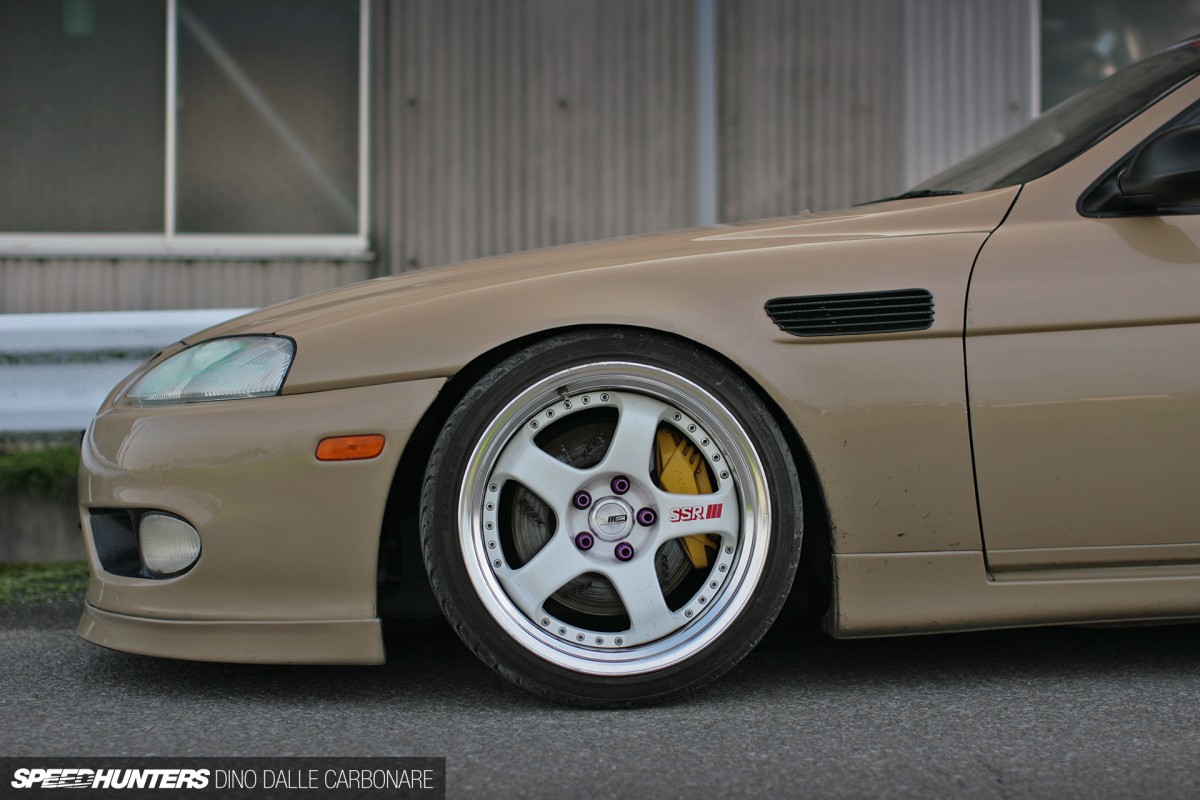 The car wears a custom beige that Nagahama has mixed up, often used on some of his customer's cars that he's built. A simple lower lip spoiler has been added to the front end, helping get the chin in line with the rest of the profile. BMW-like fender vents have been added; again a simple and well-matched touch that fits in well with the overall design of the big Toyota coupe. Adjustable Aragosta dampers at each corner have been set pretty low to give that much need stance any self-respecting dorisha must exhibit. 18-inch SSR Professors are a damn good choice, the centers painted in a custom pearl white, contrasting against the polished rim.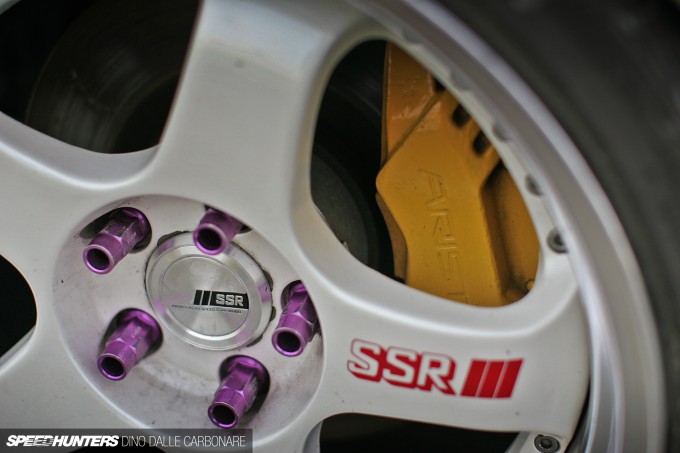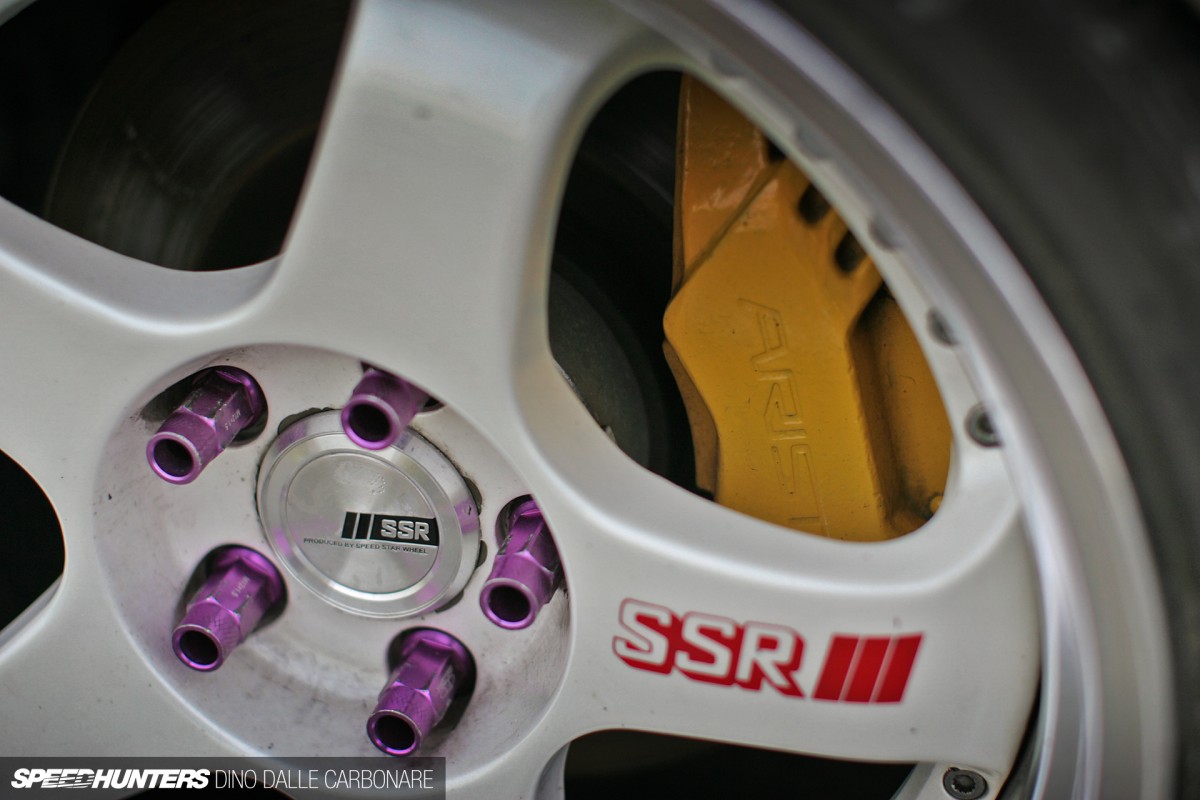 Providing the stopping power are the Toyota Aristo four-pot brake calipers which have been added along with corresponding discs for an affordable upgrade. High friction TRD pads are added at all four corners to assure that the middle pedal doesn't suffer from fade even when Nagahama takes his cars to his local track, Nikko.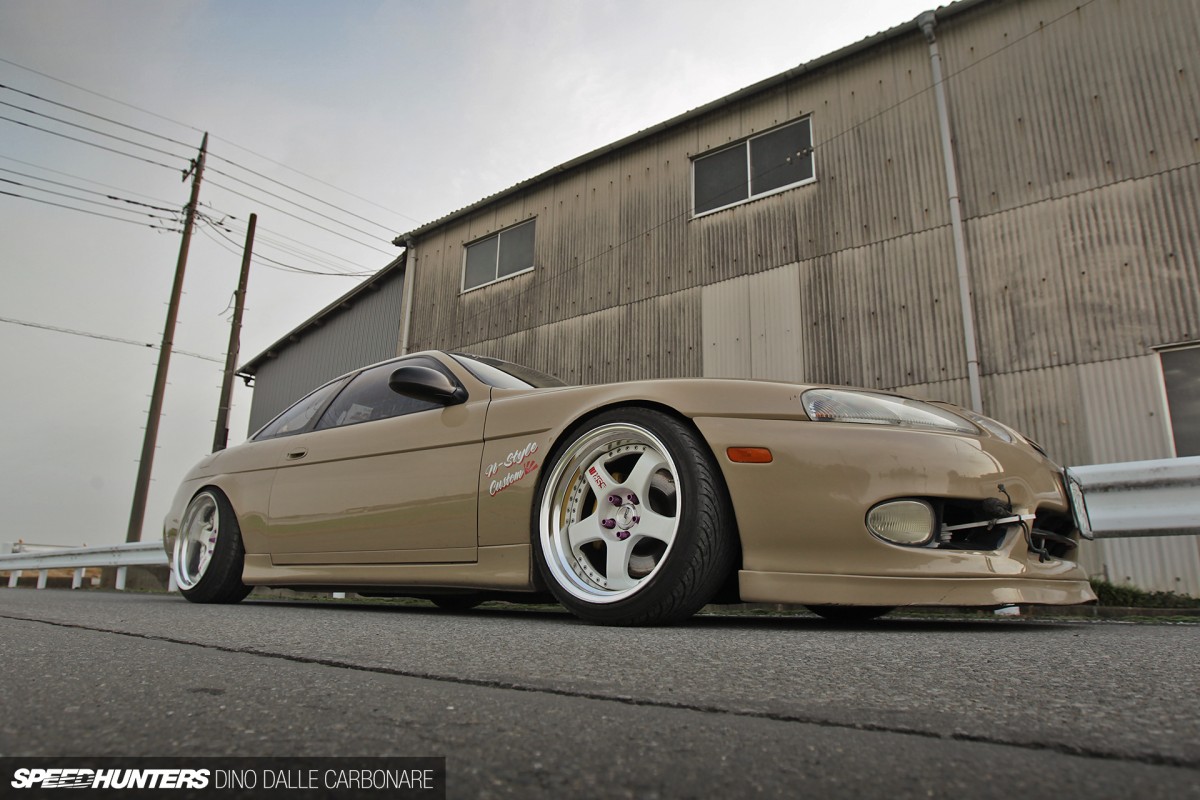 It's not until you start moving around that you begin to notice other little details – things like the widened fenders, an area that N-Style really has sussed if you recall their AE85 I recently featured.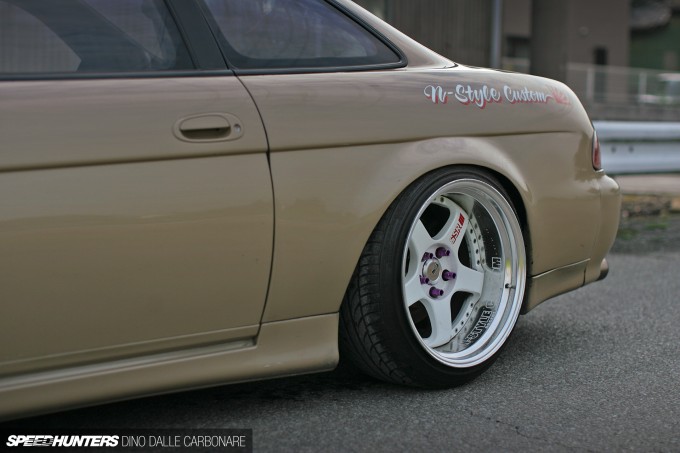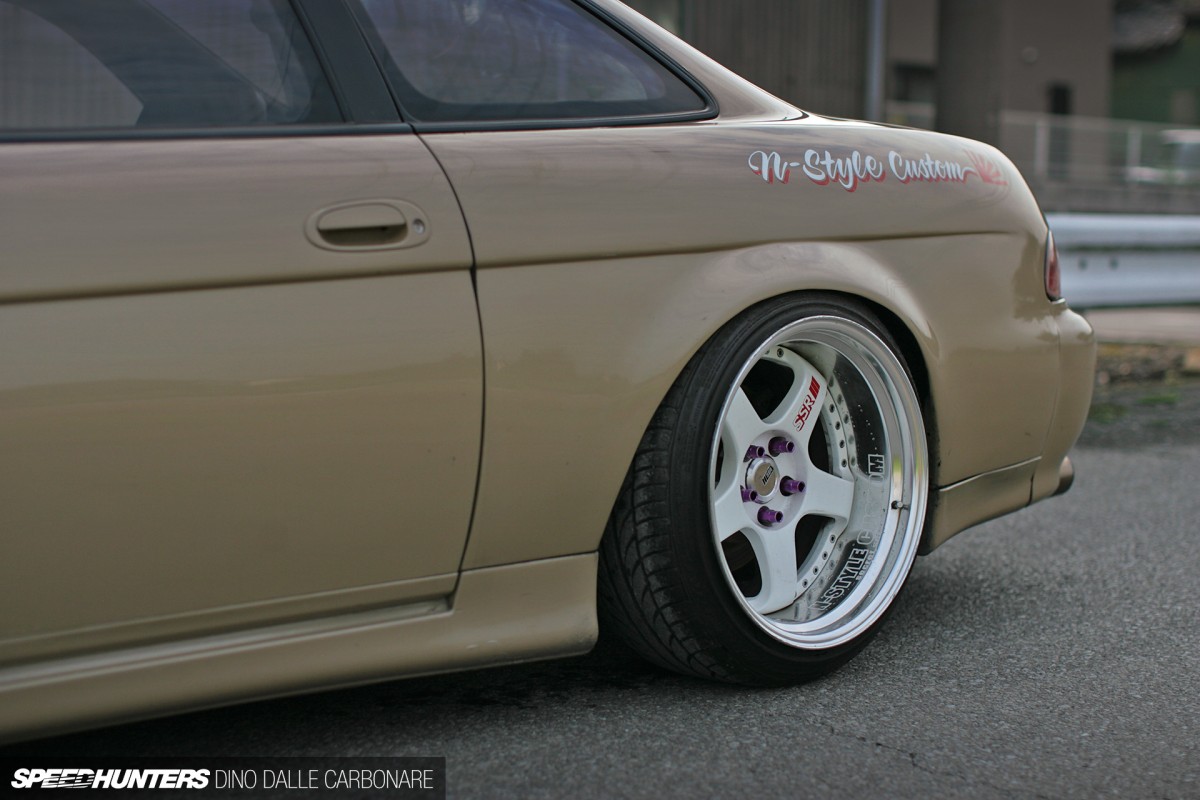 Both the front and rear guards have been pumped by about 5cm, rolled and then extended in metal in a natural sort of progression, as if Toyota had designed them that way from factory.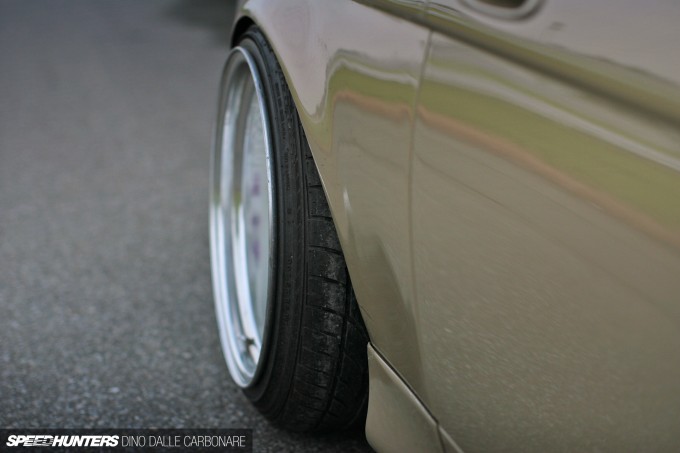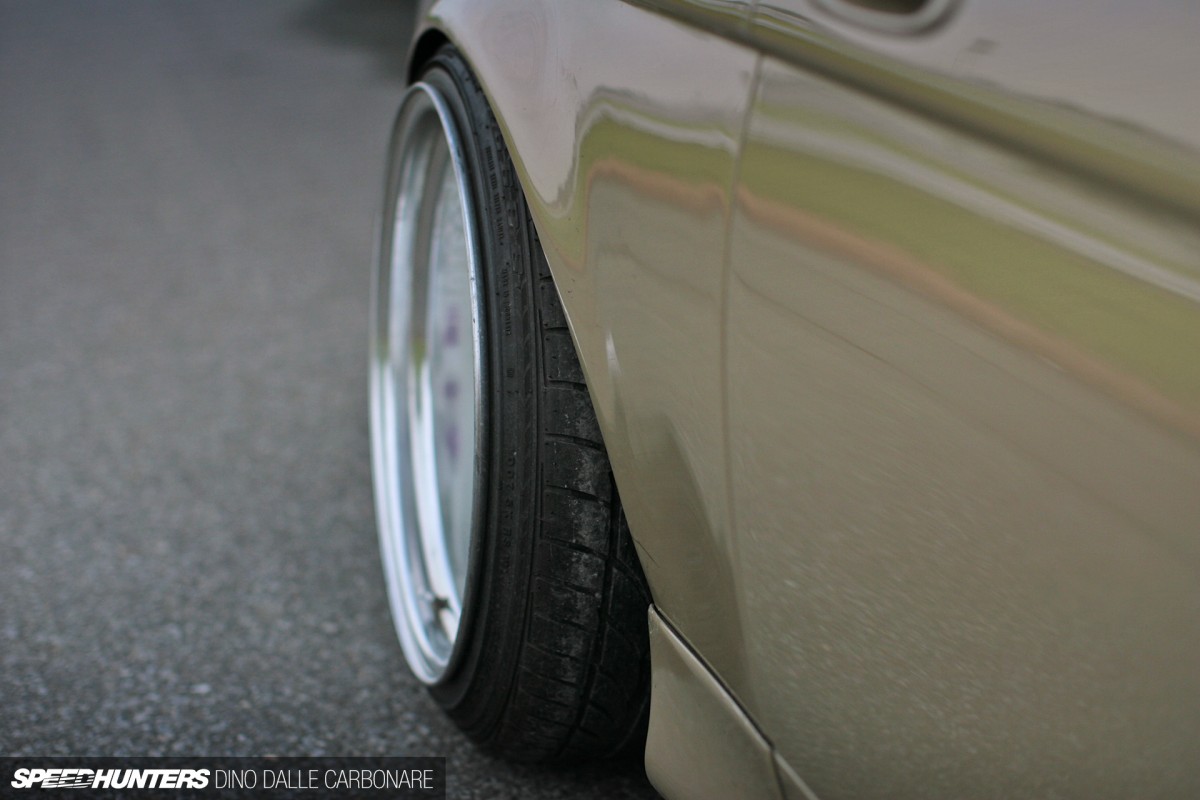 However it seems Nagahama has recently decided that this just wasn't enough and has since bolted on rather large over fenders, the first step in the car's next makeover.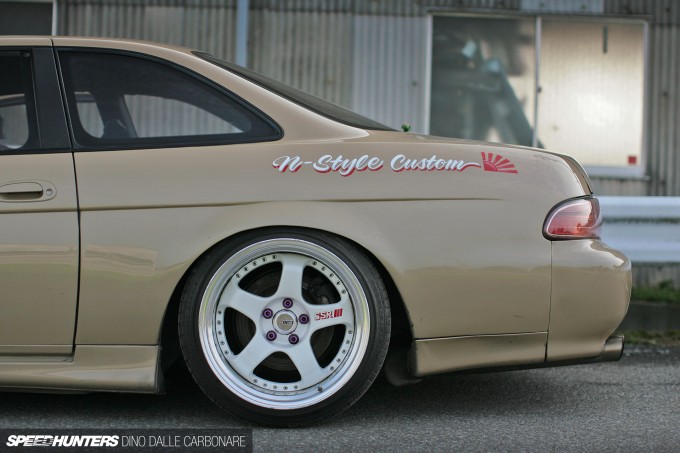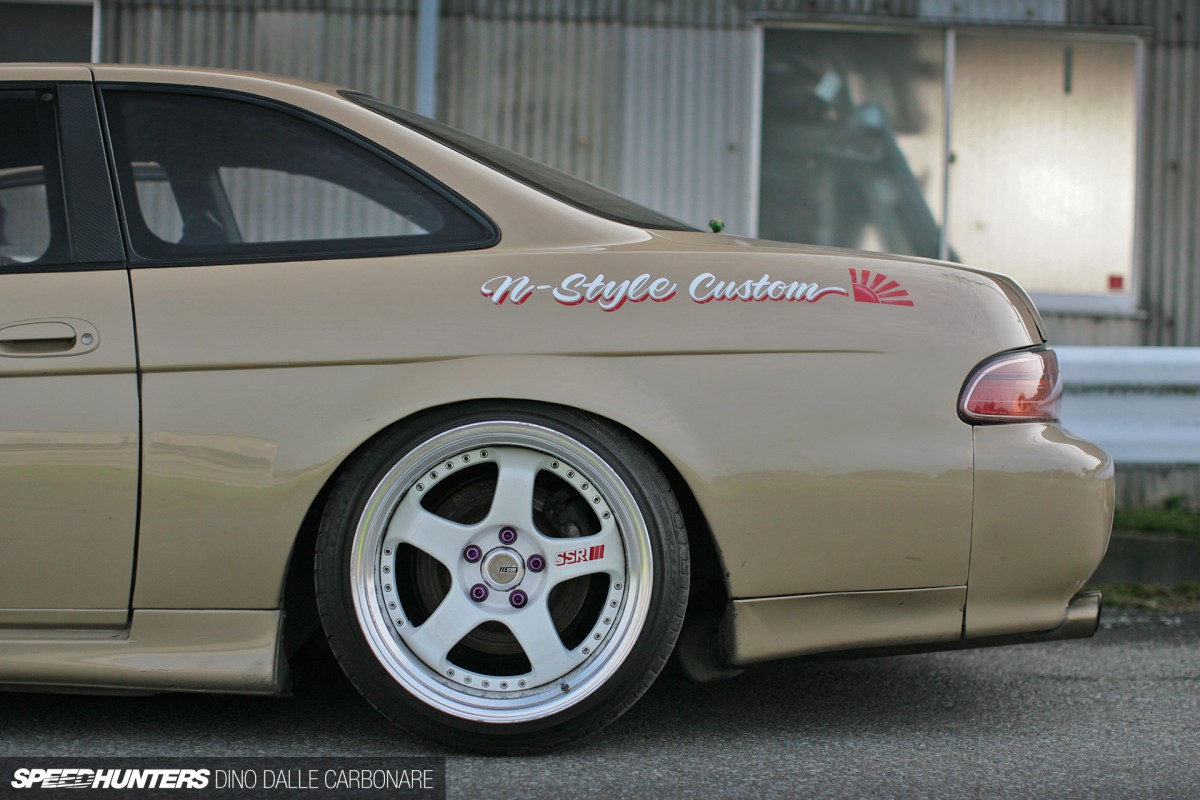 Still, I'm glad I got to shoot it as it was before; the way the big arches swallow up the top part of the rear 225/35R18 tyres just looked so right.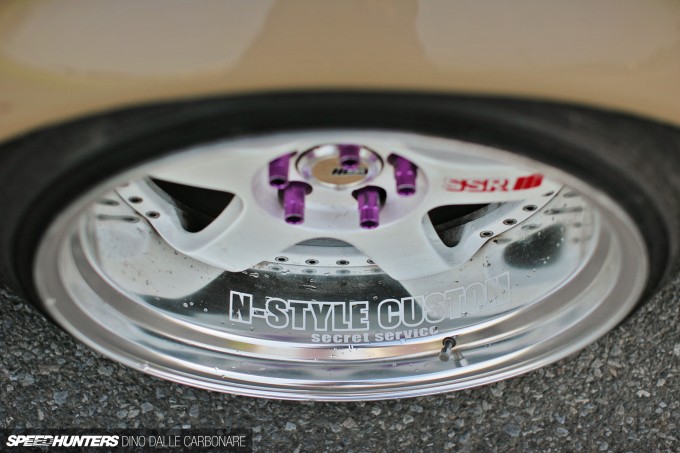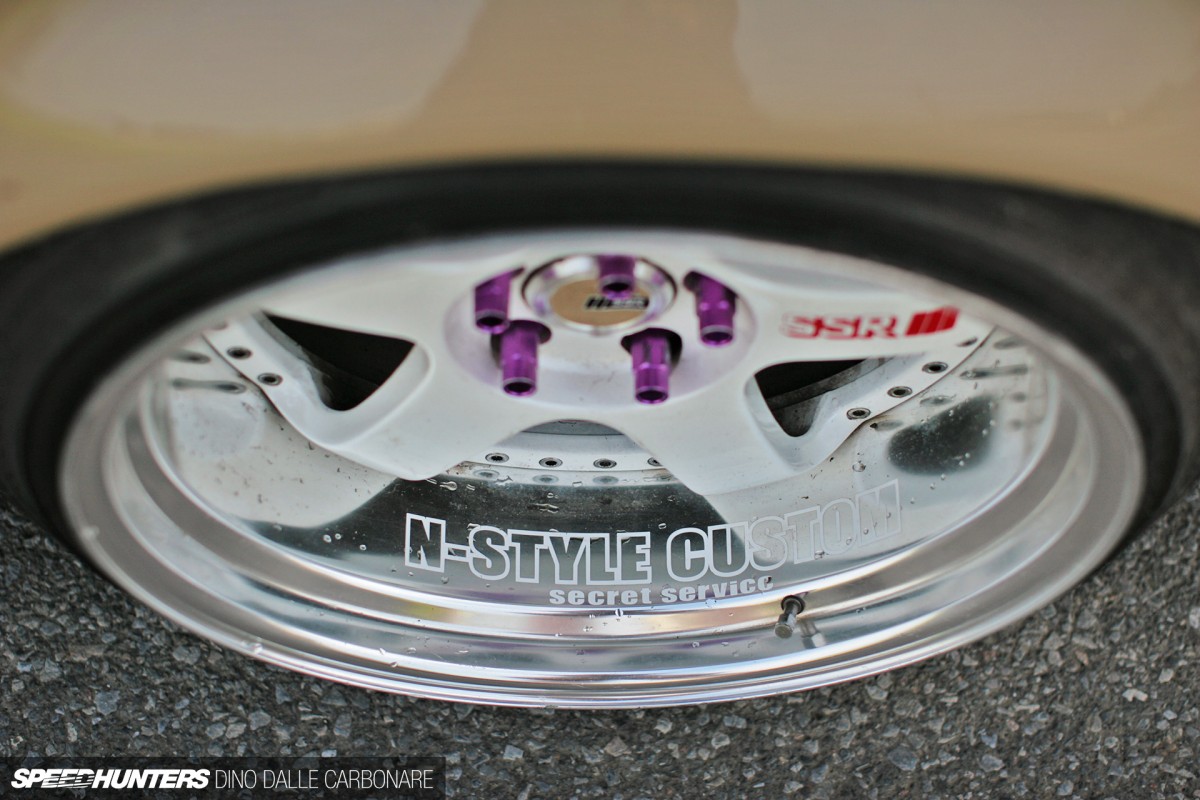 The rear Professors measure 10″ across with a +0 offset and are mounted on the Soarer's hub along with a 15mm spacer (the front use a 40mm hub extension to get the right sort of look)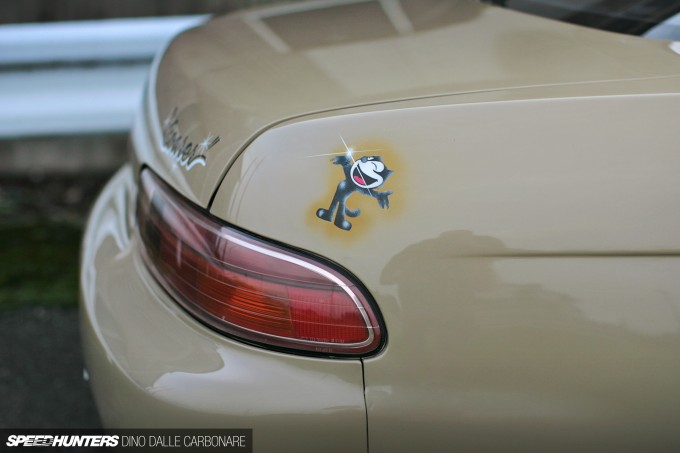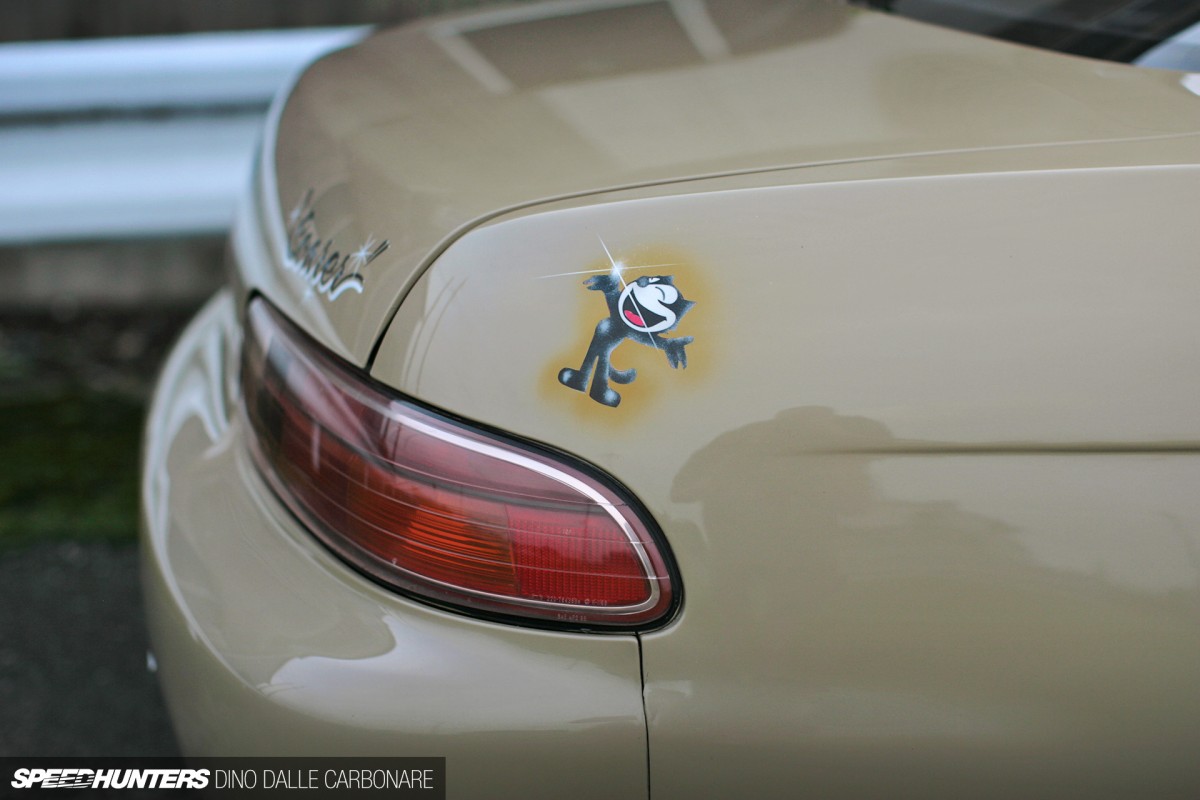 Nagahama is a fan of Felix the Cat – that's why he's airbrushed it on the driver side rear fender. It joins all the airbrushed N-Style Custom logos, as well as the old school katakana Toyota emblem and the Soarer name.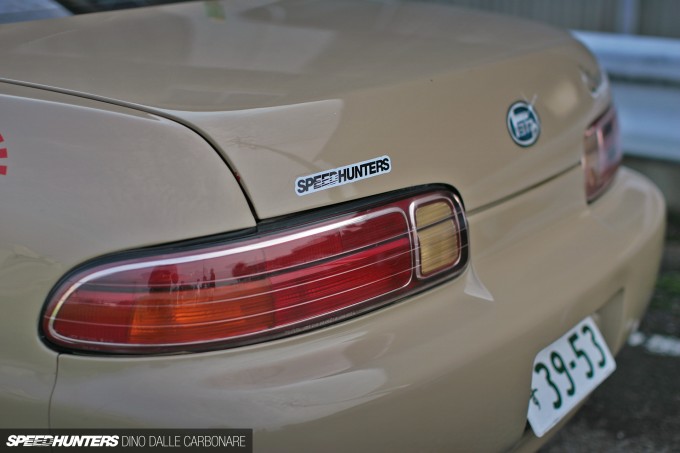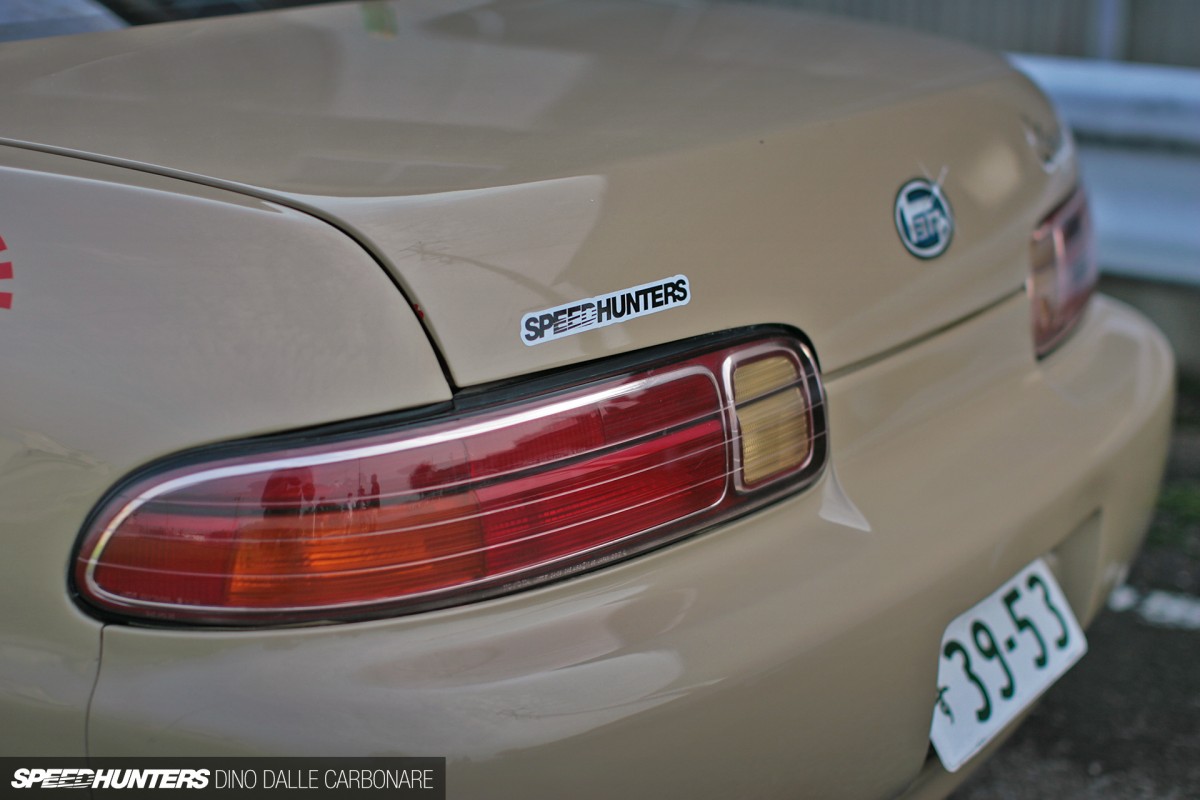 In fact, the only sticker on the car is an old Speedhunters one I gave him ages ago!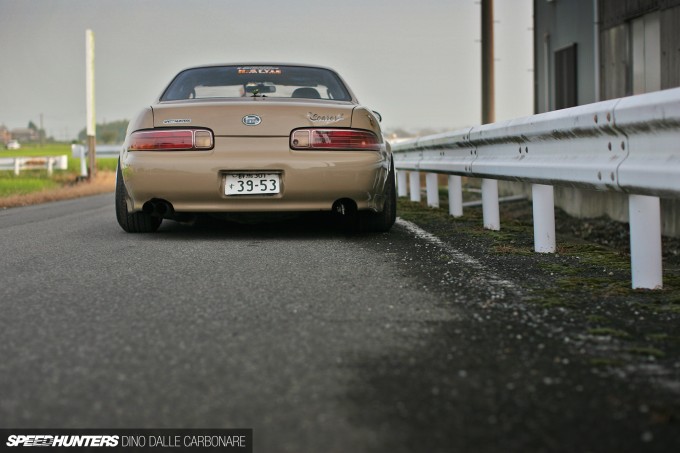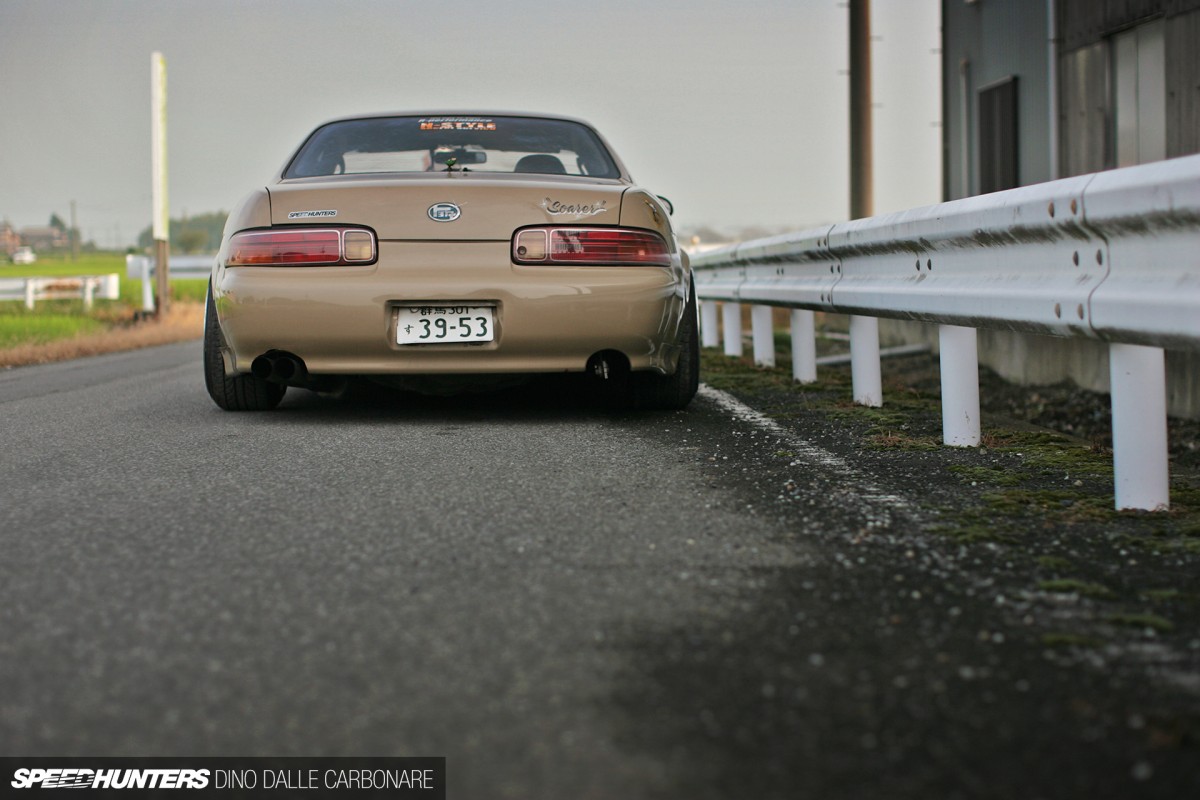 Can a rear end possibly evoke more emotion than the Z30's rump? Doubtful – it's a big old butt, simple and effective and Nagahama shows us it needs little to no additions to look its best. Rather than run the stock twin tailpipe look, the full dual system is routed to one side, freeing up the other bumper cut out for the tow hook.
1JZ love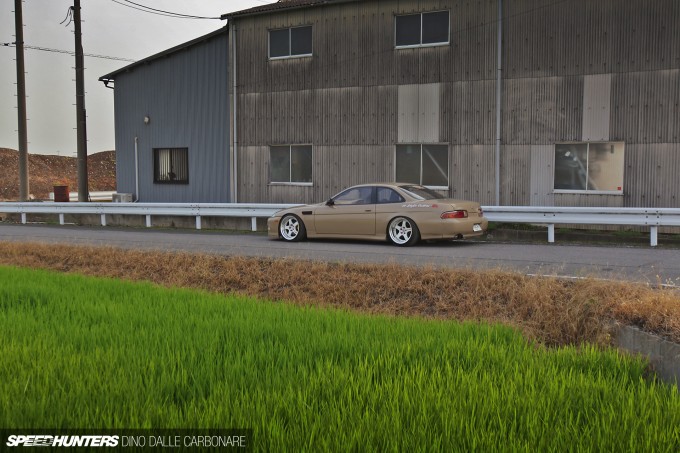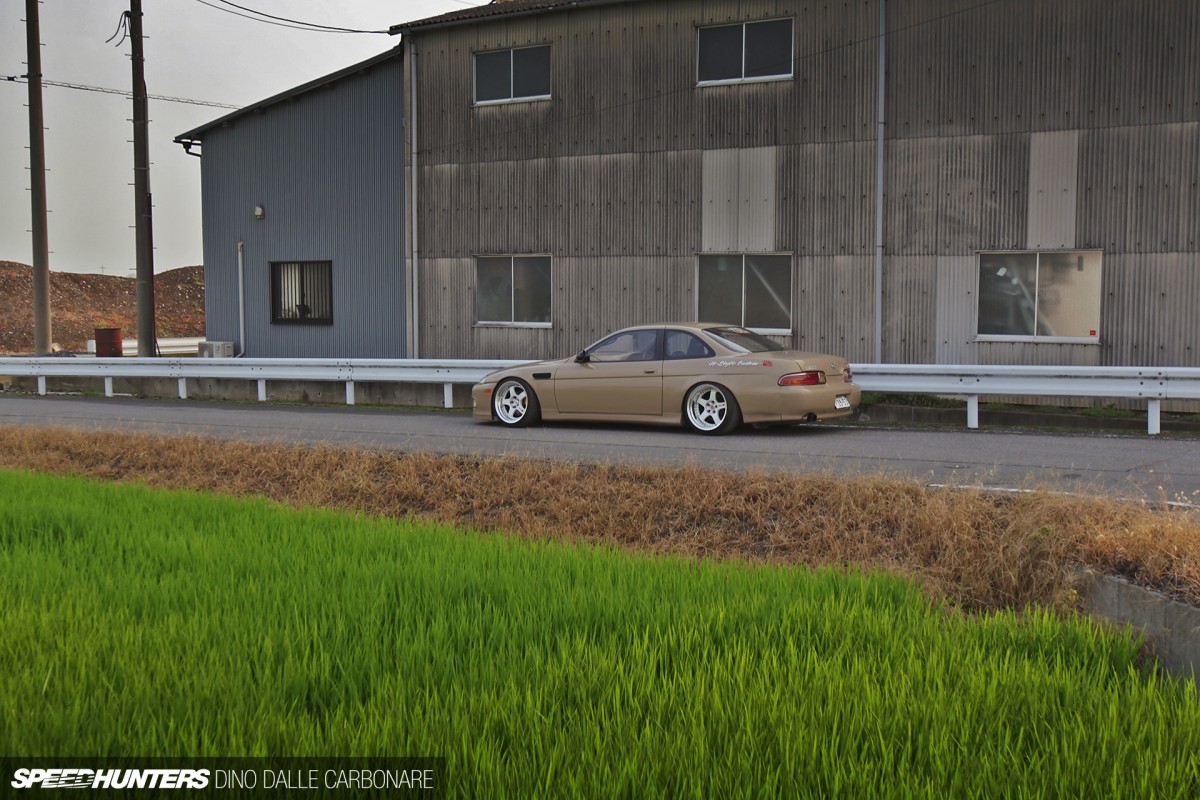 Call it a well-executed mix of function and form; a series of touches that has given the instantly recognisable street drifter look, but that at the same time have boosted its performance as a dedicated drift car.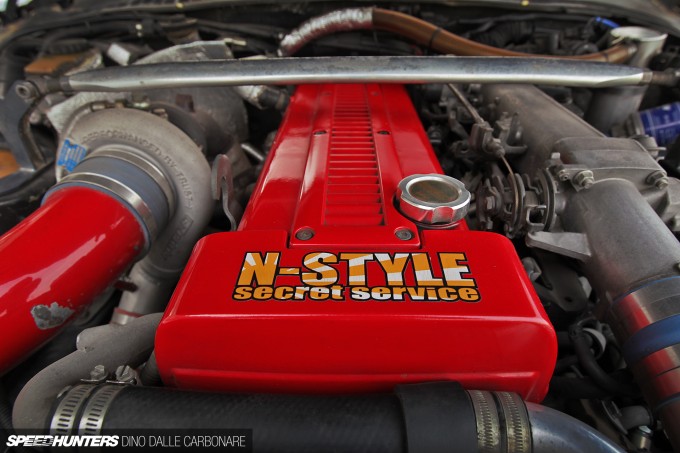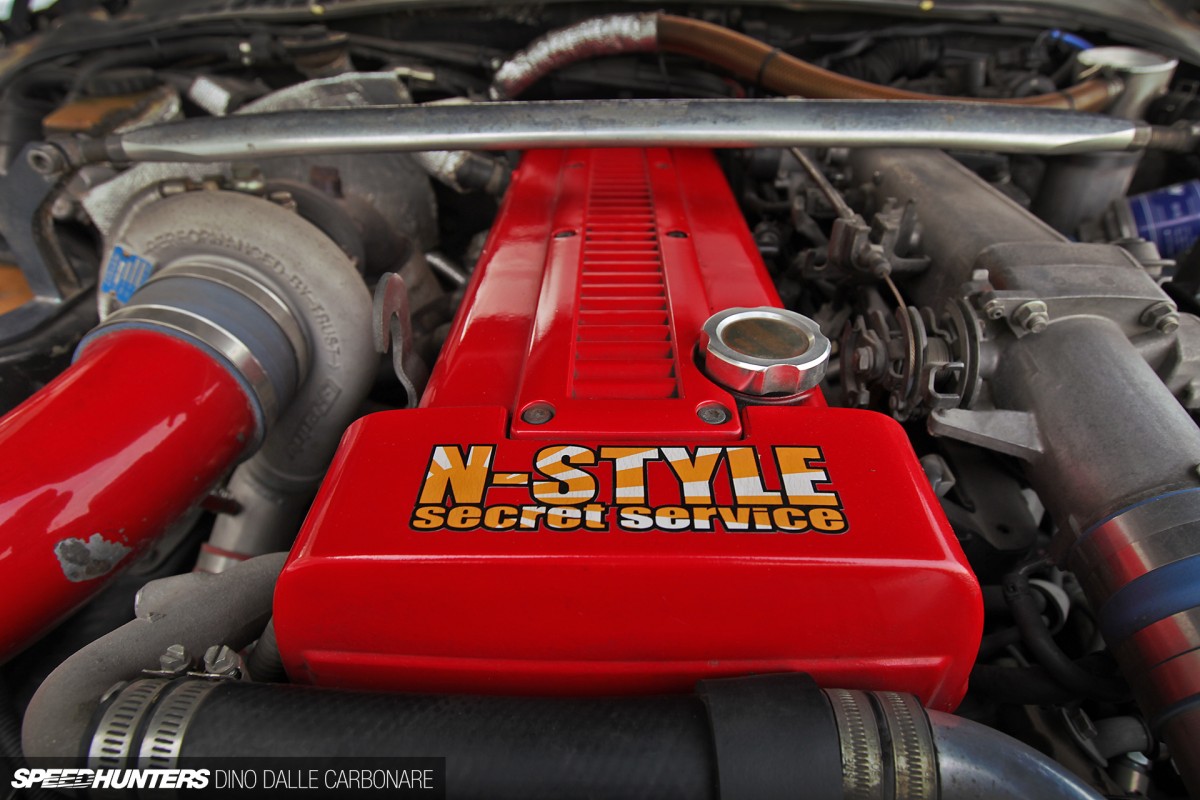 And talking of performance, Nagahama certainly didn't forget to address some attention to the 1JZ in the engine bay.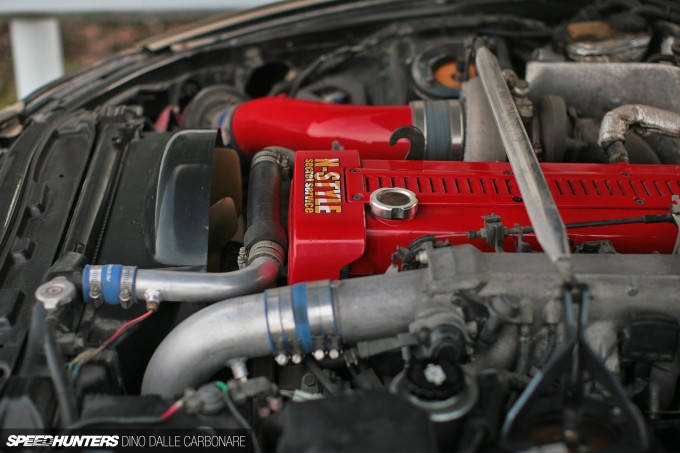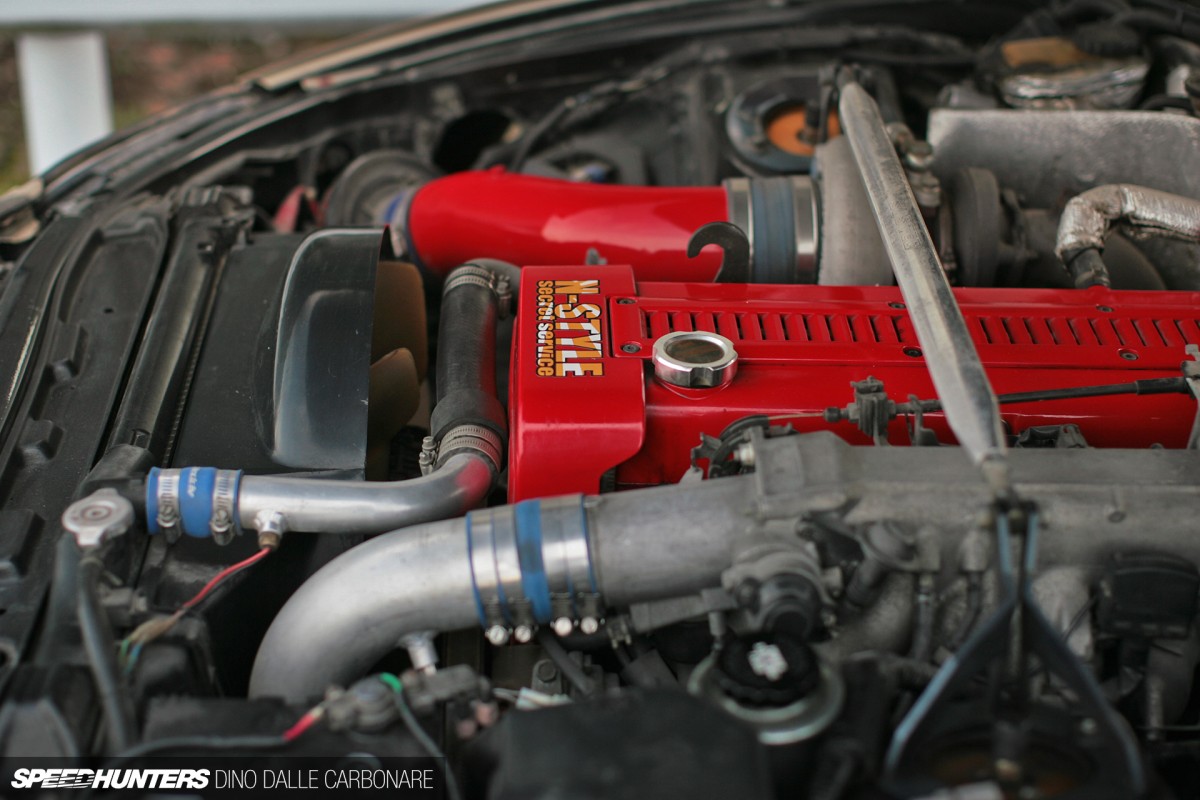 What makes these cars so great is that they were built in a period when Toyota wasn't taking any chances with build quality and reliability. Things were over-engineered: everything from the engine all the way to the Z30's door hinges, if you've ever had a chance to see those up close. If you haven't, make sure you do!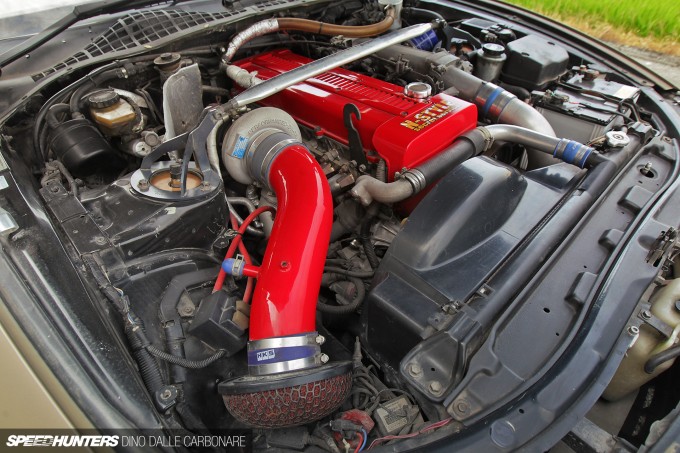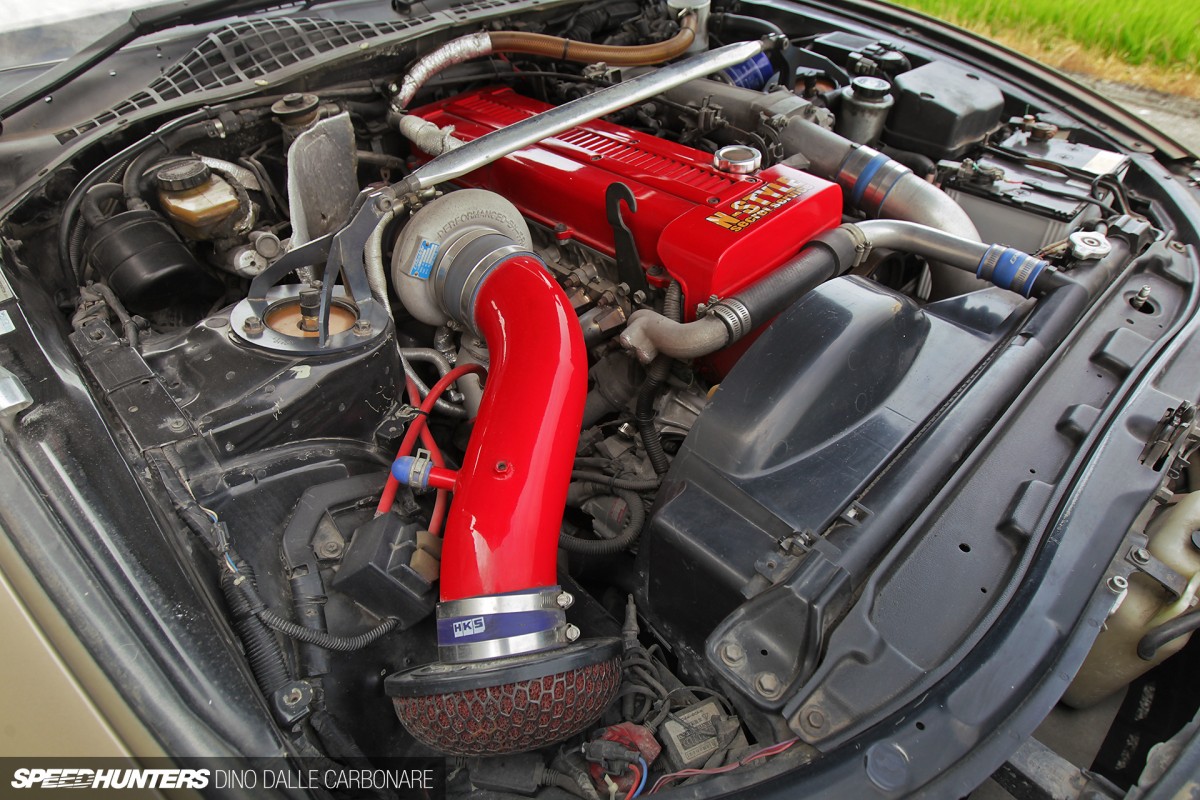 The silky smooth 1JZ has been left stock, but the much needed boost in power called for the addition of a top-mounted Trust T67 turbocharger, sitting on a Trust stainless steel manifold and controlled by an external wastegate of the same brand.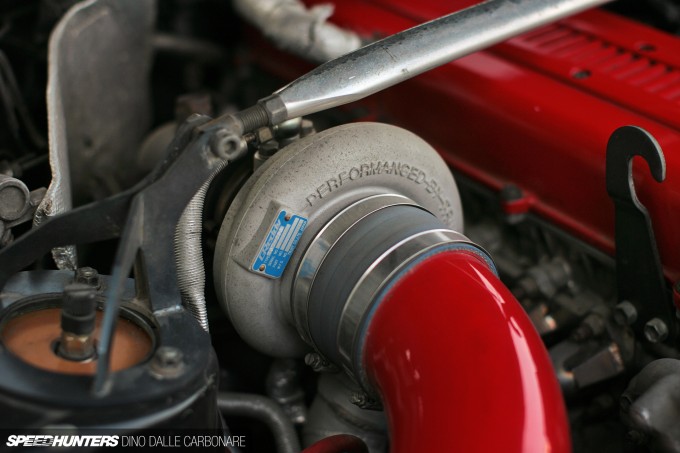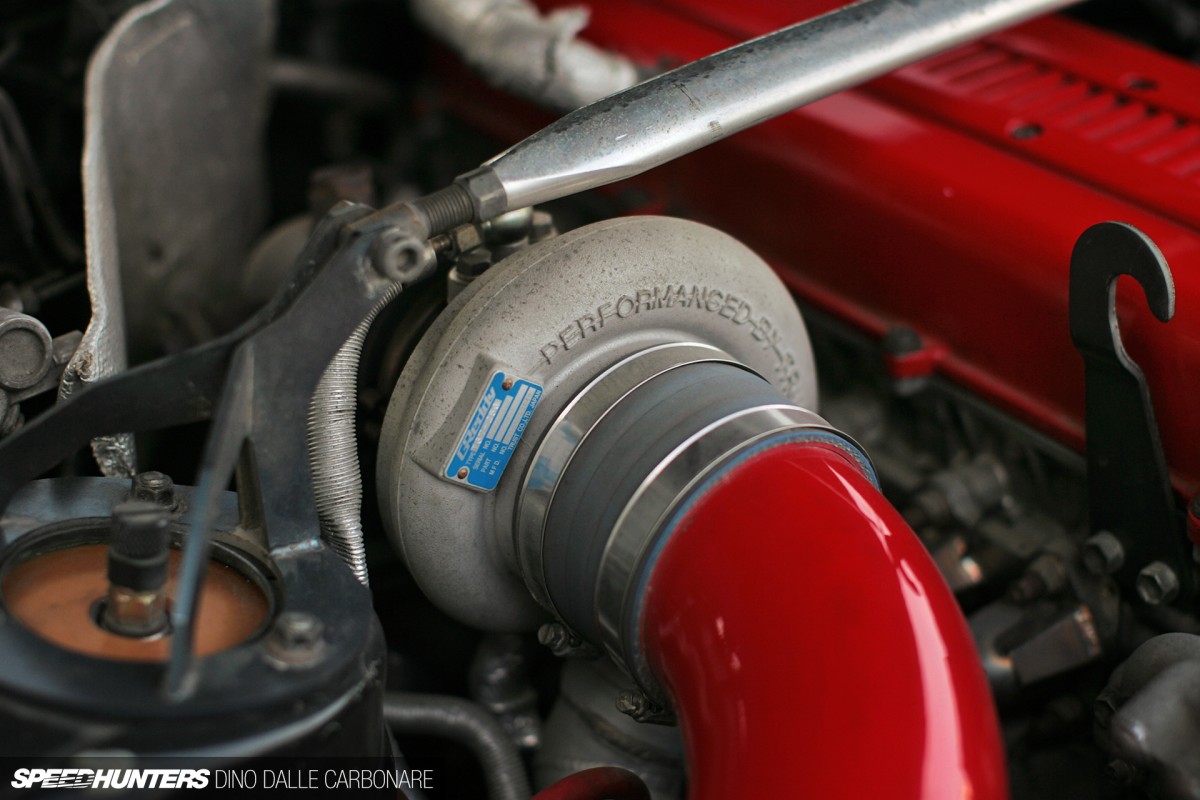 The mid-size single dumps spent gasses into the custom exhaust system and supplies the right sort of noises at all rpm. To get the 500 or so horses that the motor now develops, Nagahama has had to add simple upgrades to the fuelling like the in-tank GT-R fuel pump and bigger capacity injectors, along with an HKS F-Con to manage it all. This Soarer came exclusively with a lazy four-speed slush-box so for obvious reasons this was dropped and in its place a six-speed Getrag manual transmission from a JZA80 Supra fitted.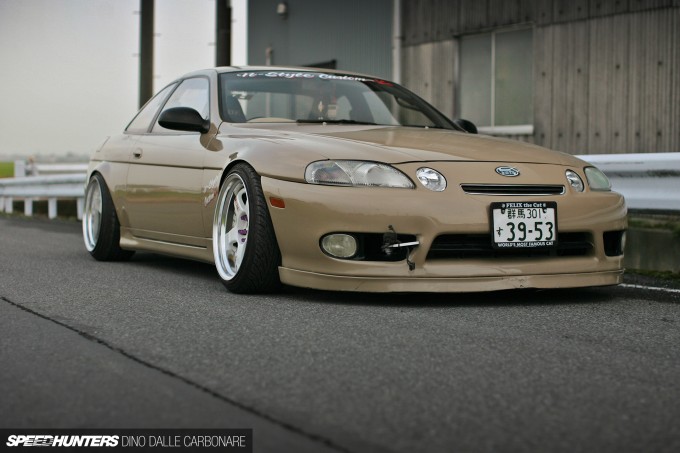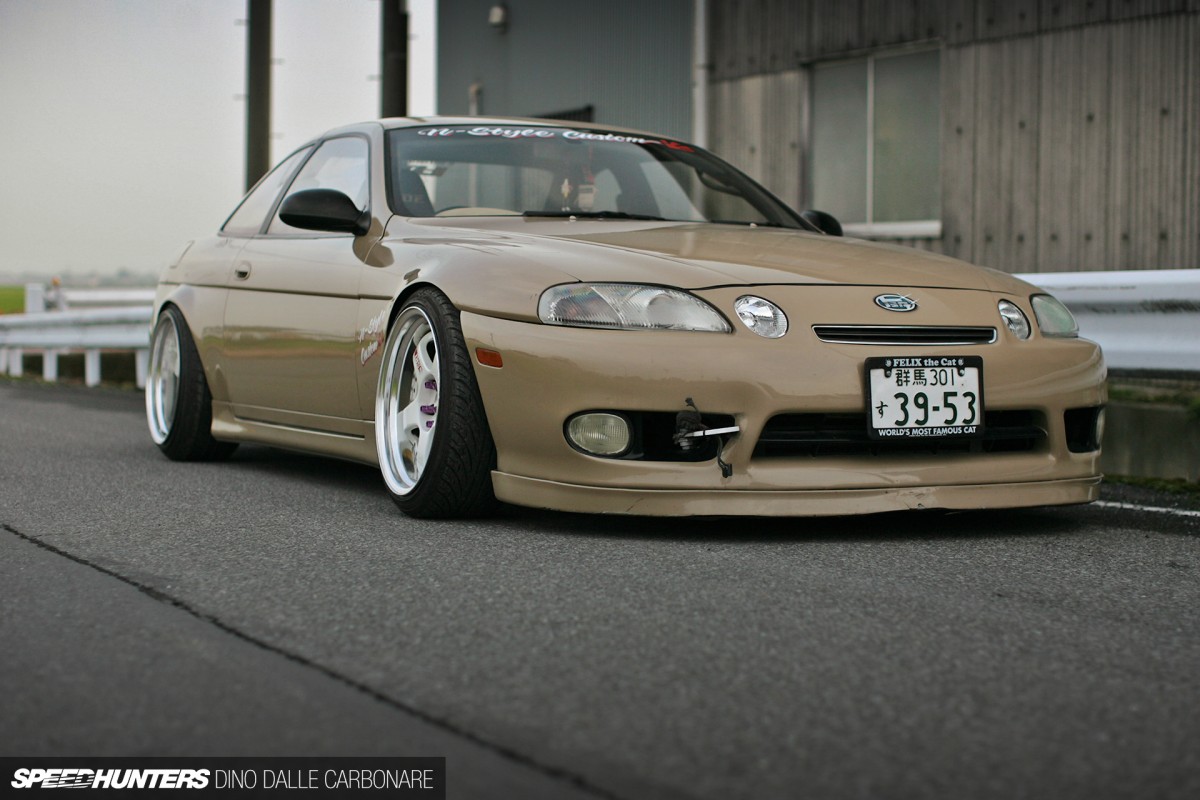 With the way the 1JZ was built back in the nineties, it doesn't even shed one drop of sweat putting up with the additional boost and volume of air that the new turbo set-up supplies, and has happily put a grin on Nagahama's face for years – both on the road and out on track. Along with the power hike, some suspension modifications followed, like the custom knuckles to boost steering angle and adjustable links to get the wheels to sit just right. Even the stock subframe has been swapped out for a JZA80 item which adds more rear-end control.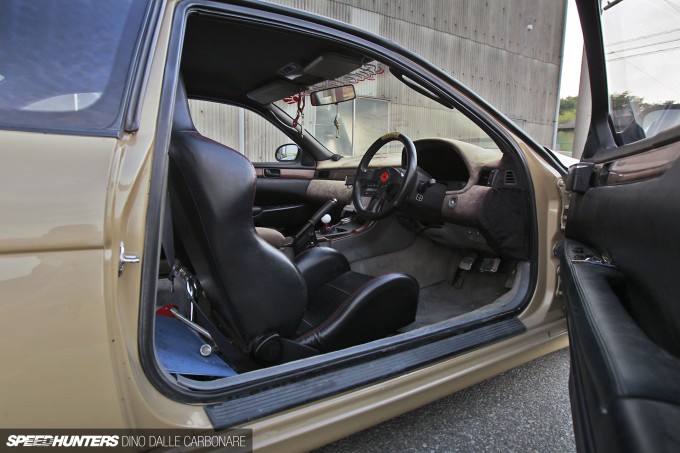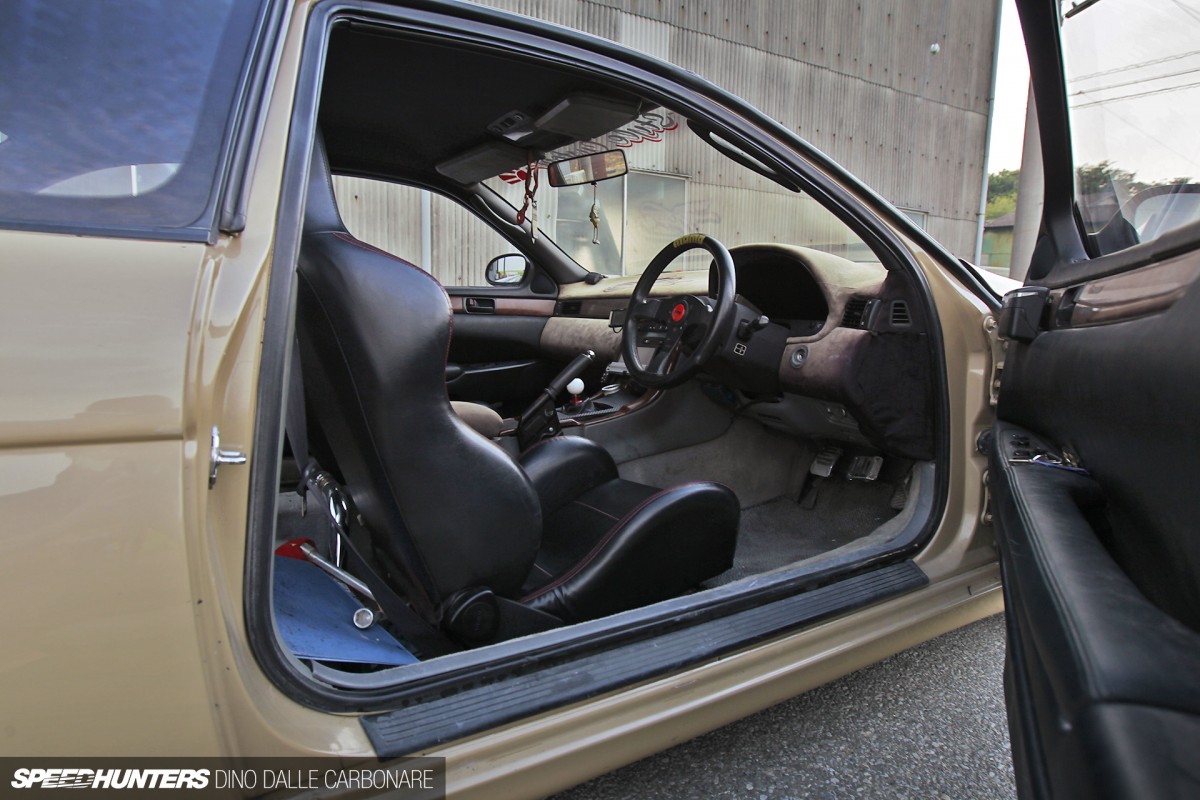 While the whole build has been put together with a cost-conscious sort of approach – and there's nothing wrong with that – the interior was definitely not left stock. Toyota marketed the Soarer as a luxurious and comfortable cruiser and this means the interior is a very nice place to be with all the right sort of toys, great build quality and high quality plastics and materials that have stood up to the test of time rather well. However, in a 500hp drift car, comfort isn't really a priority, so the first thing that was done was to replace the stock chairs with a set of bolstered items – reclinable so that the rear seats can still be used.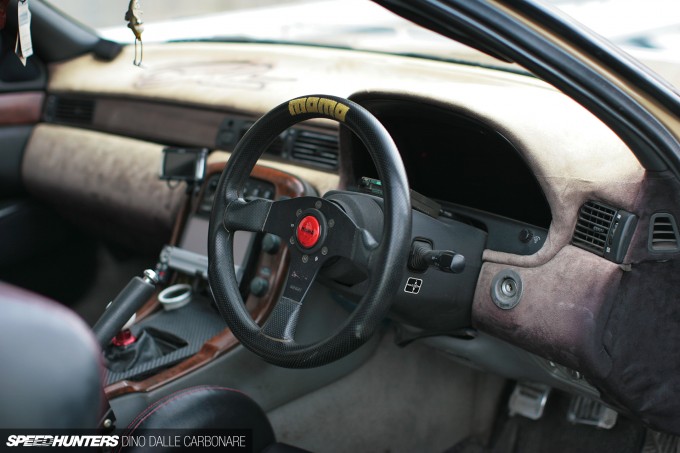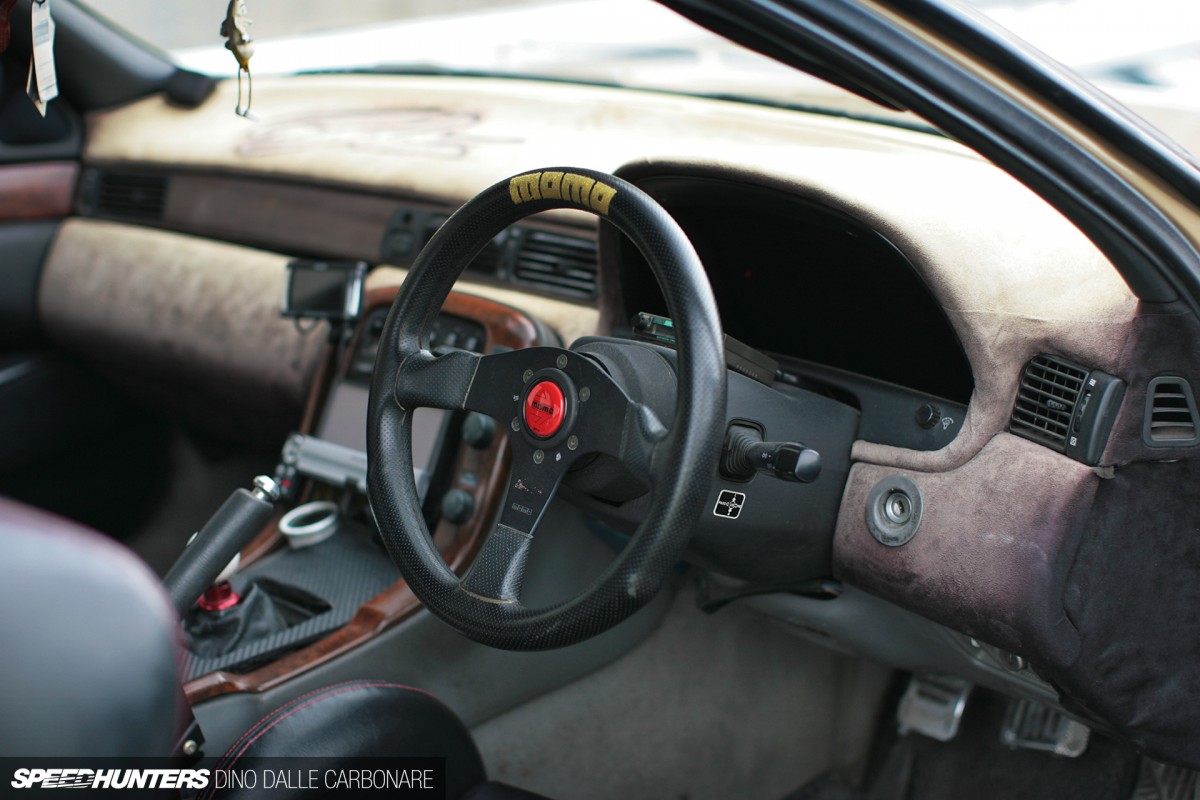 A leather Momo steering wheel continues the additions which are all aimed at making the car easier to drift. That of course means a fly-off button for the handbrake, a must have on any dorisha.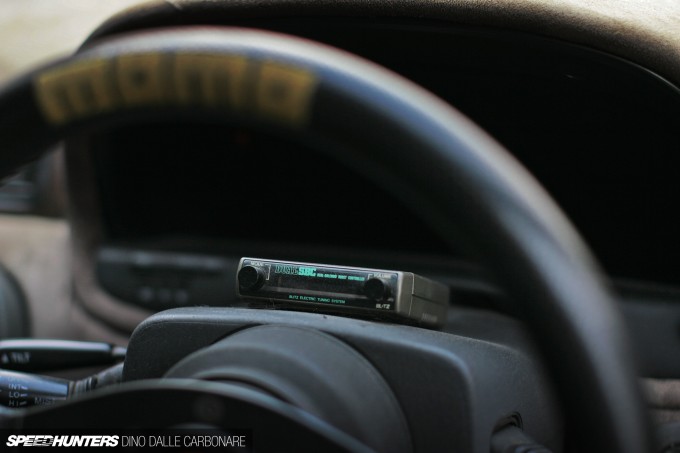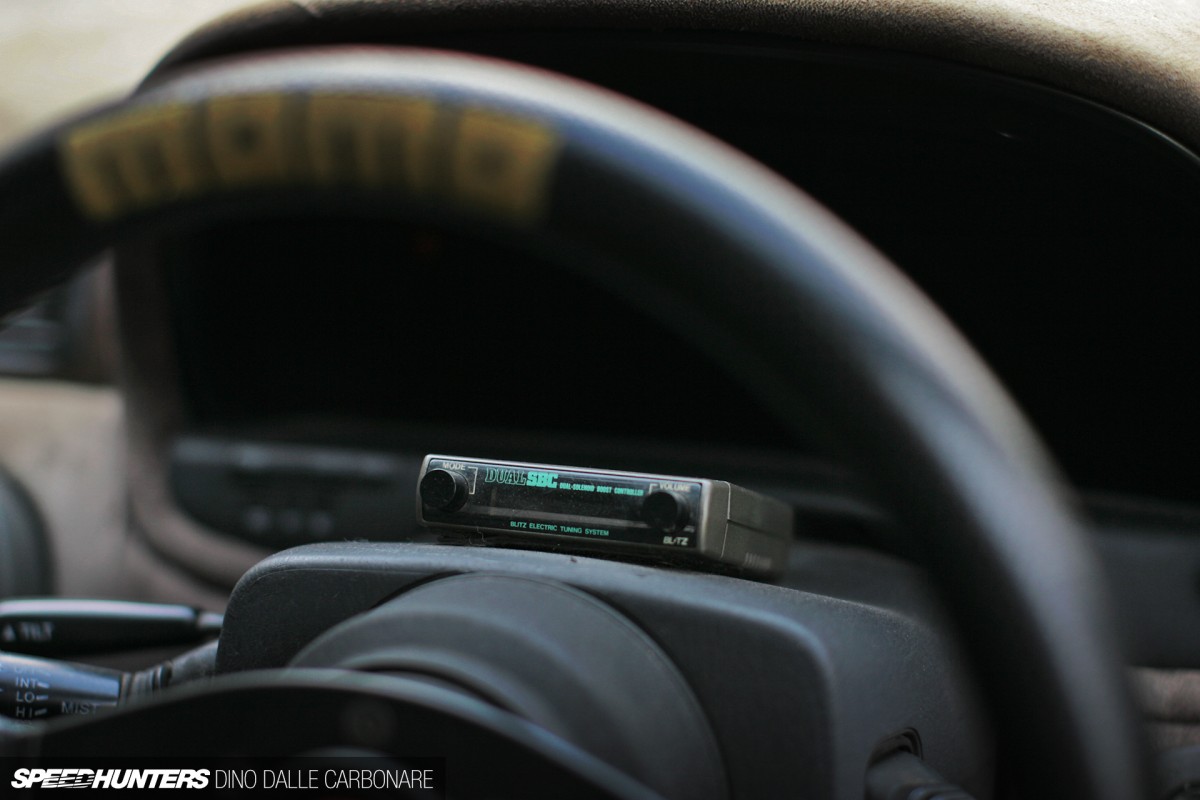 Mounted on the plastic steering column cover is an old Blitz boost controller, there to help give a nice and stable boost curve and offer a series of pre-set boost levels.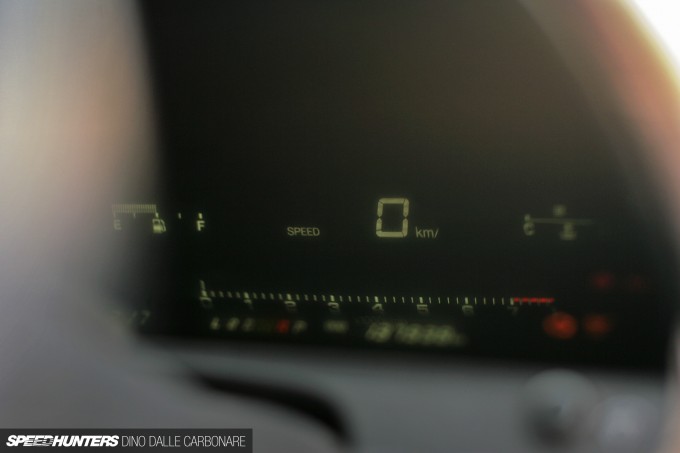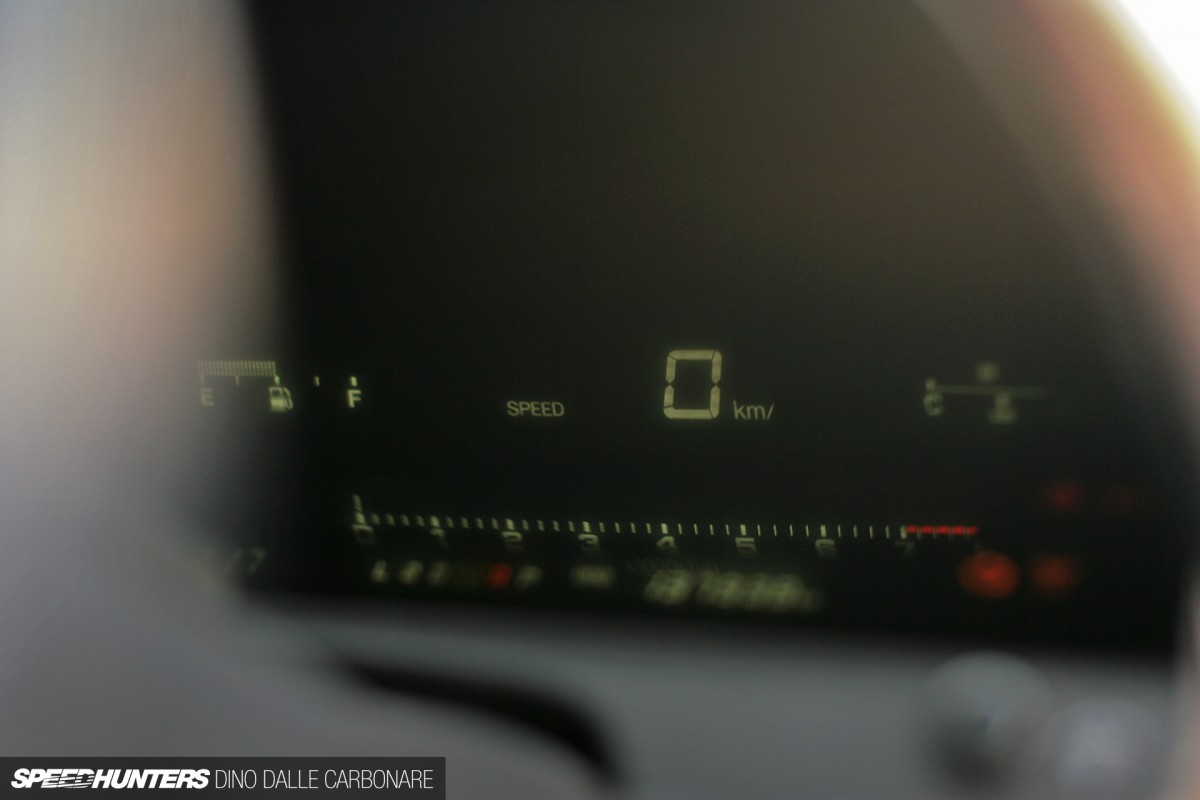 Coolest feature of the Z30? Well it has to be the old Toyota digital dash!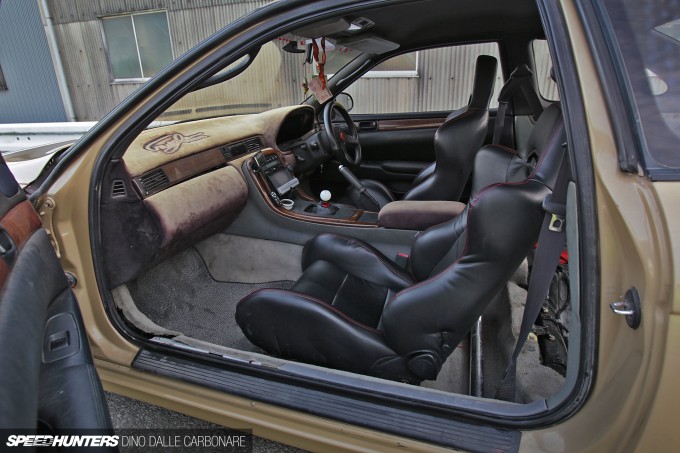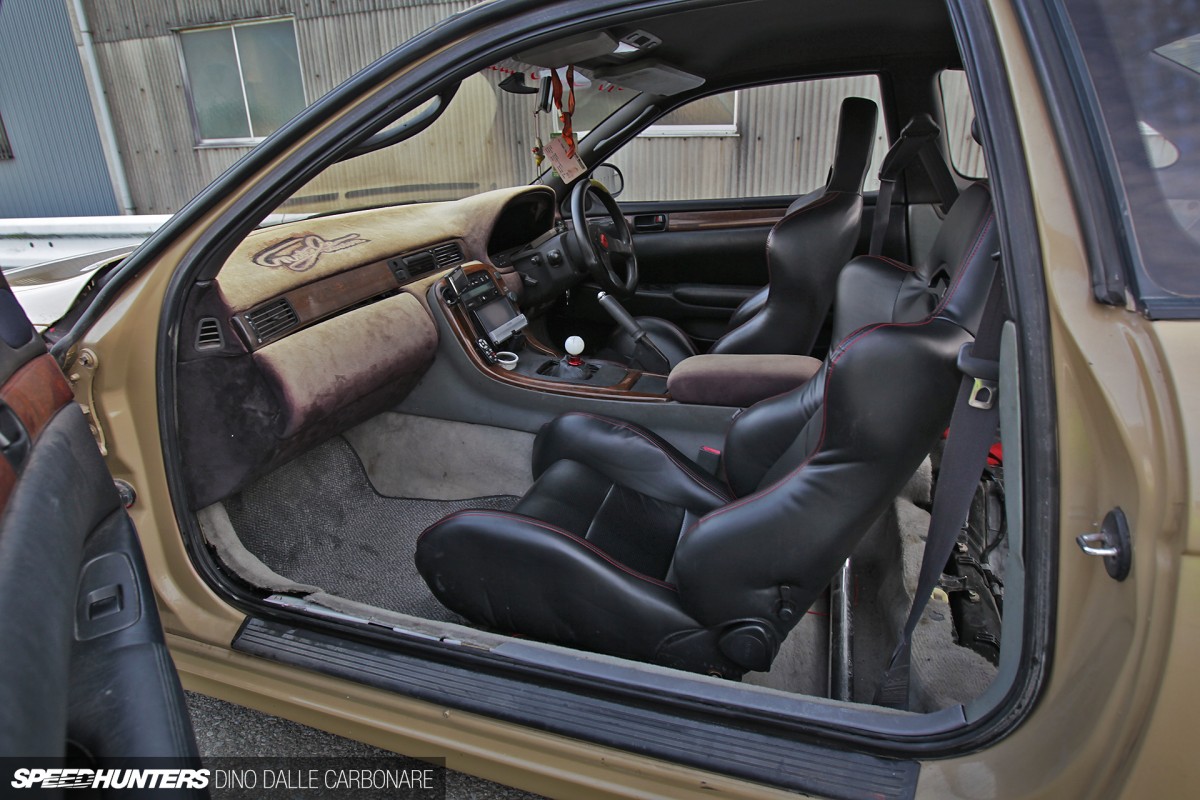 One of the first things that Nagahama did to his car's interior was upholster the whole dashboard in black suede, which over time has faded to a sun-washed shade of light brown. It sorts of matches the exterior of the car, so he isn't too fussed about it.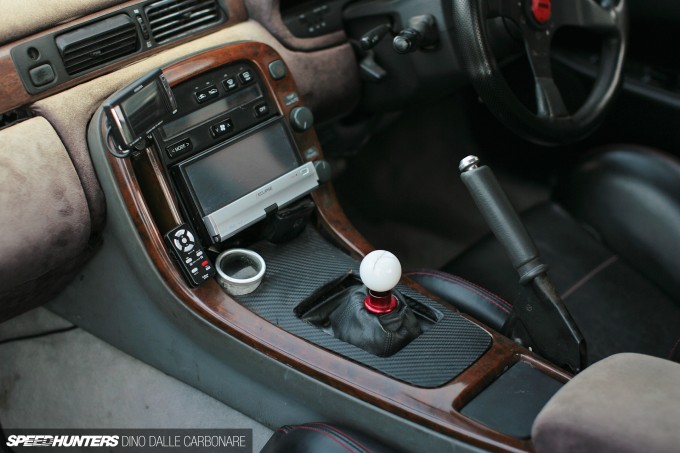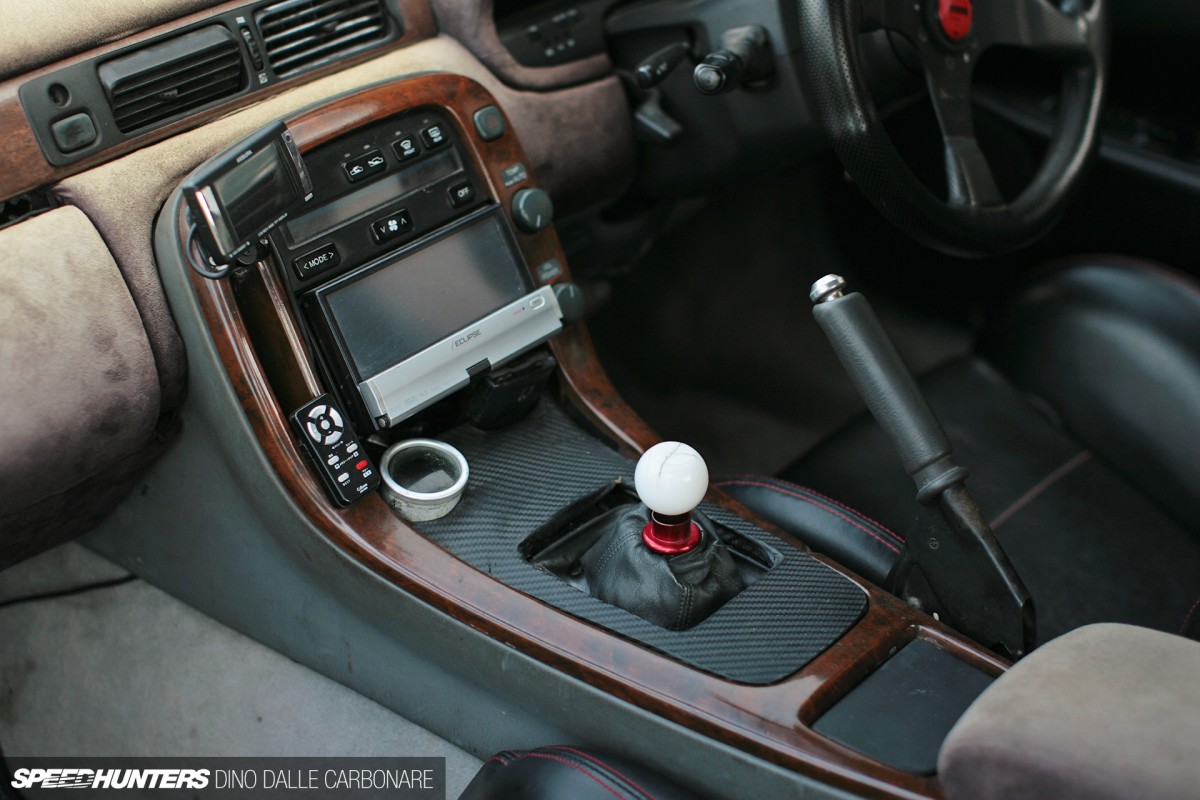 The six-speed conversion has required a bit of a hack job in the center console where the automatic's shifter used to once be. Nothing a hack saw and a little bit of 3M carbon-look vinyl can't tidy up. It's yet another detail, and the sort of execution which complements the overall functionality of the car perfectly.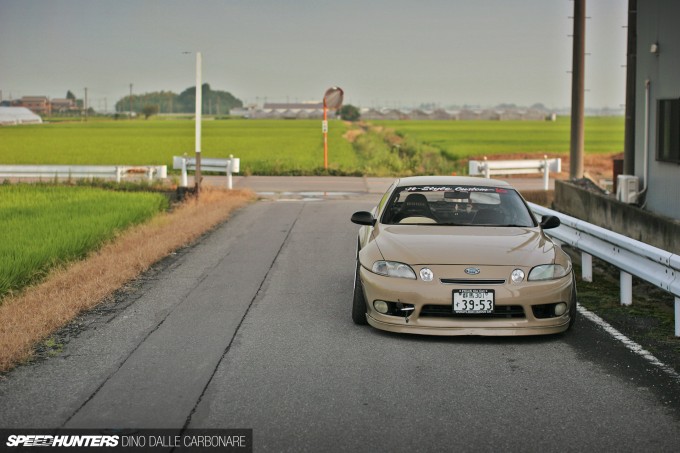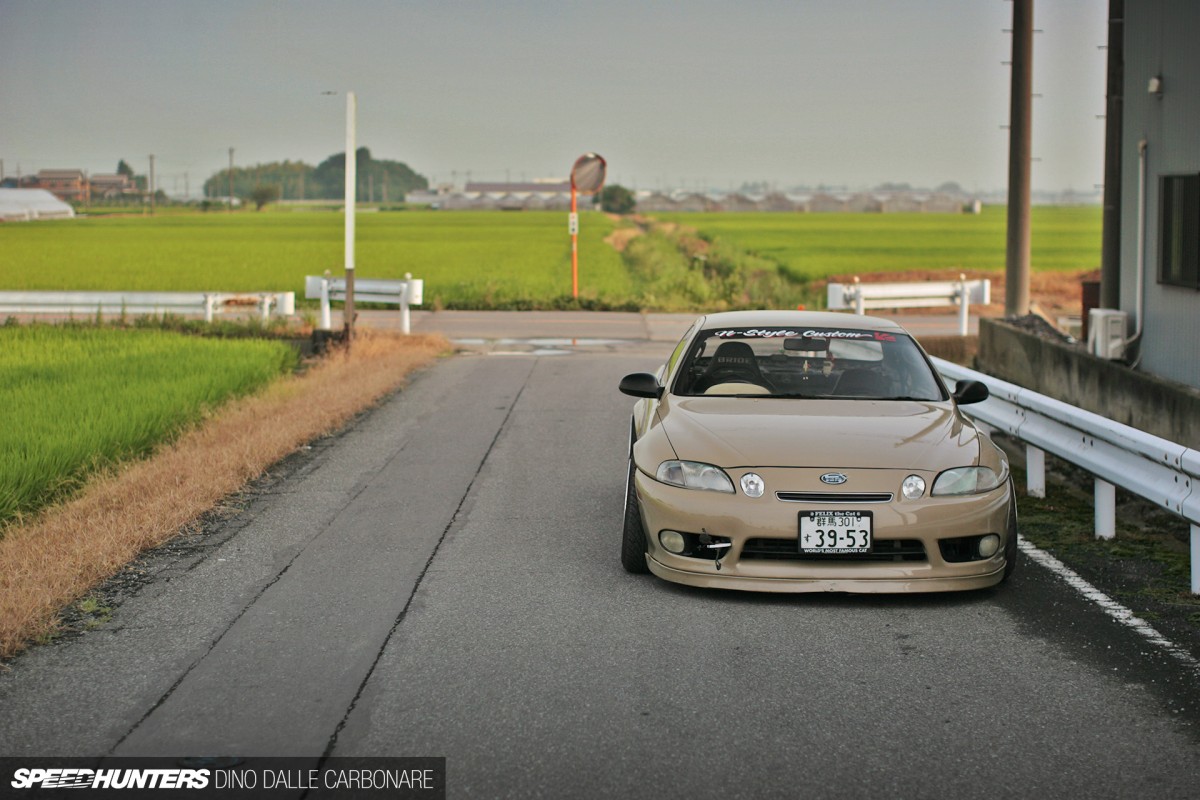 While Nagahama and his N-Style crew never miss participating at stance events, one thing's for sure. This is not a car that's built to look pretty; it's an execution of a man's personal style in the purest sense of the word. The need to create a functional street drifter has dictated the looks, because for an N-Style car, looks and performance must always go hand in hand.
Dino Dalle Carbonare
Instagram: speedhunters_dino
dino@speedhunters.com