Tantalise The Senses
If someone were to ask me what I think the main difference between old cars and new cars is, I'd have to probably put it down to charm. There's a certain quality about older designs and older engines that the synthesised plethora of modern automobiles could never in a million years match. Character, nostalgia, you name it – older cars ooze it by the bucketful.
Which is probably why the kyusha scene is stronger than ever. In Japan there's a whole industry to support the classic automobile movement, which makes restoring people's favourite cars from their childhood not as daunting as you may think. And that's before you delve into the upgrading and modifying side of things…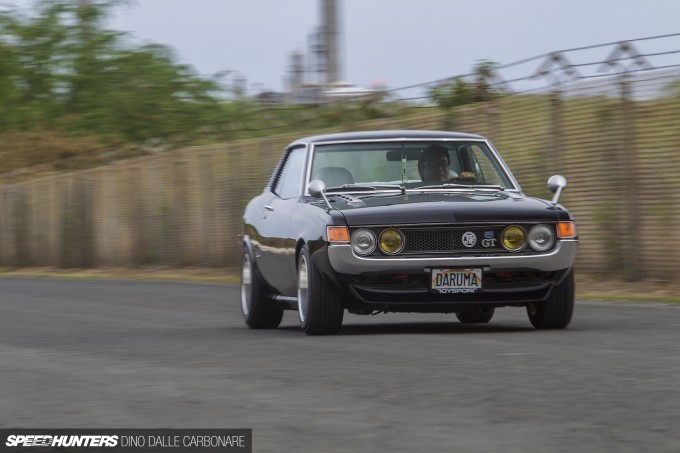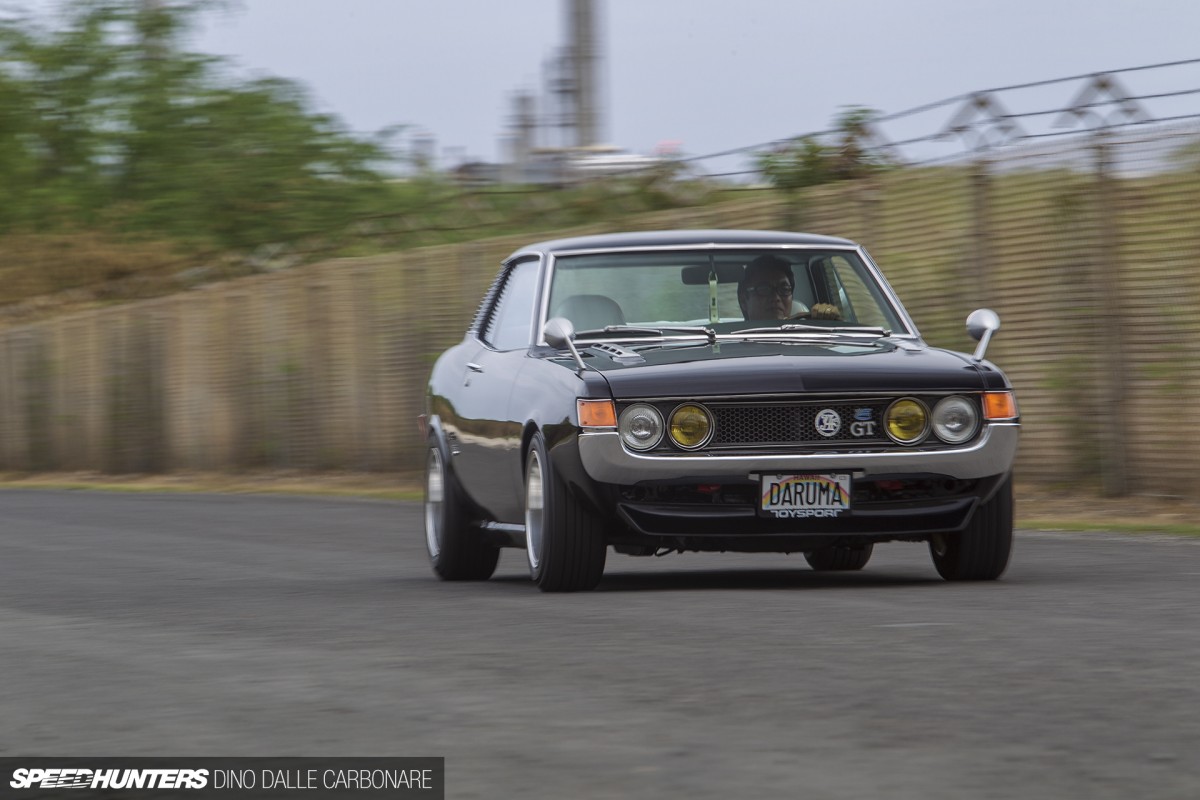 If you ever needed an example of why older cars continue to captivate our minds, Brian Mikimi's RA21 Toyota Celica is it. This is one of those no-compromises restorations that pop-up from time to time on our Speedhunting travels. It was at the Offset Kings Hawaii event back in May that I came across this absolute gem.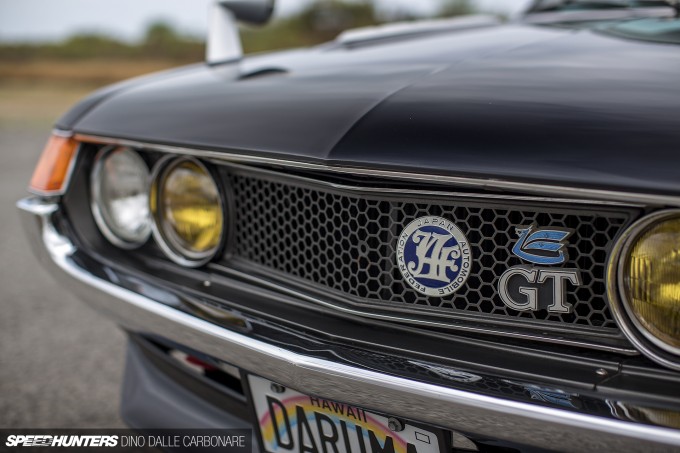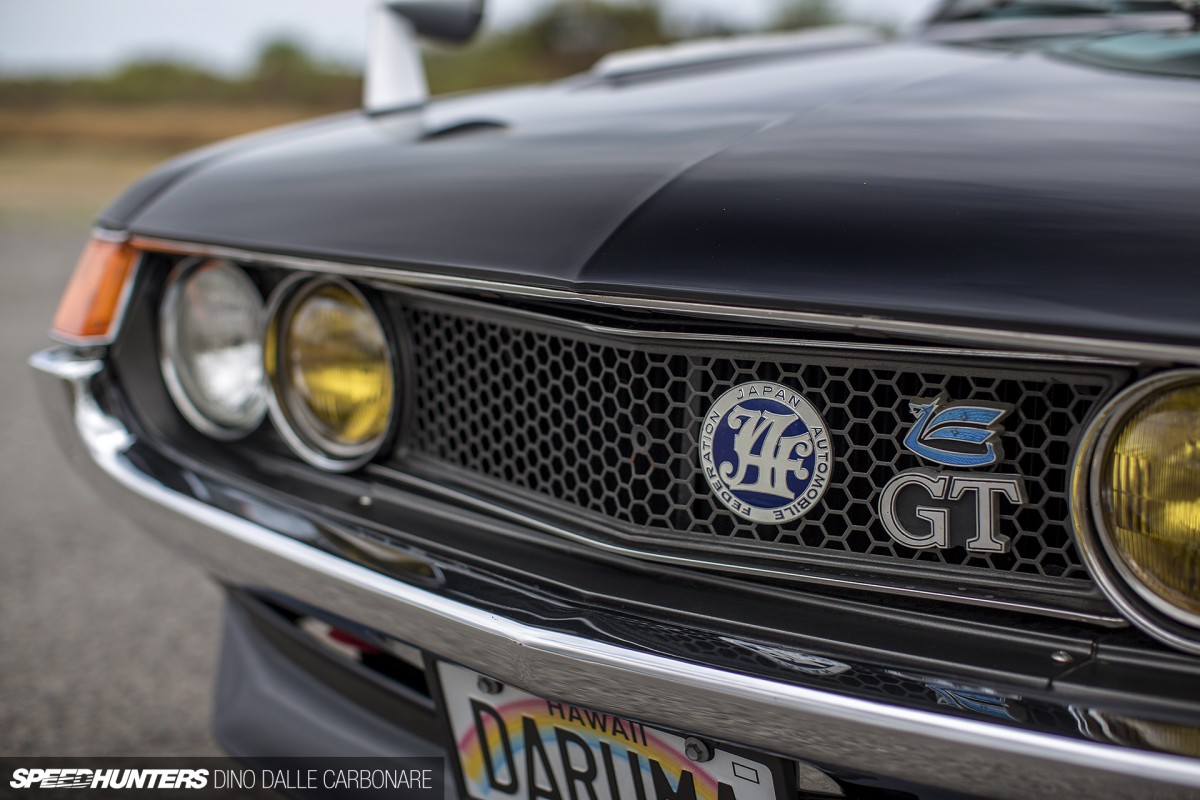 I managed to run a small Spotlight on the RA21 during my Offset Kings coverage, but Brian left the event early due to a prior engagement so I didn't actually get the chance to have a talk to him about the car. That said, I thought my chances of tracking him down and doing a feature on his Toyota were slim. But thanks to one of the Fatlace Hawaii crew members who was able to put me directly in contact with Brian, I was able to arrange a time and place to get it done. And I'm so glad I did, because this is perhaps the cleanest first-gen Celica I've ever seen.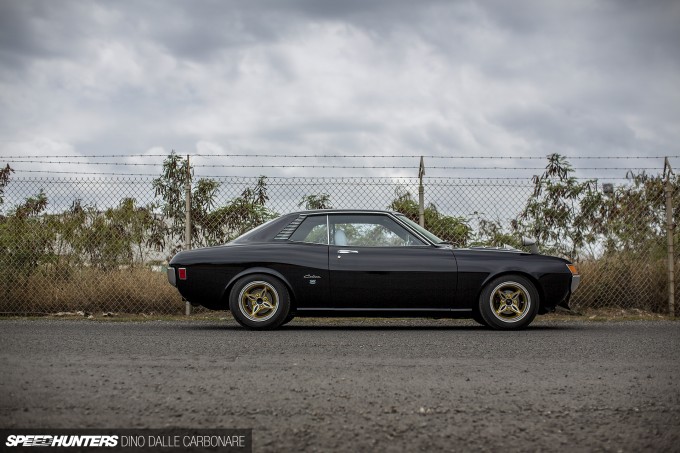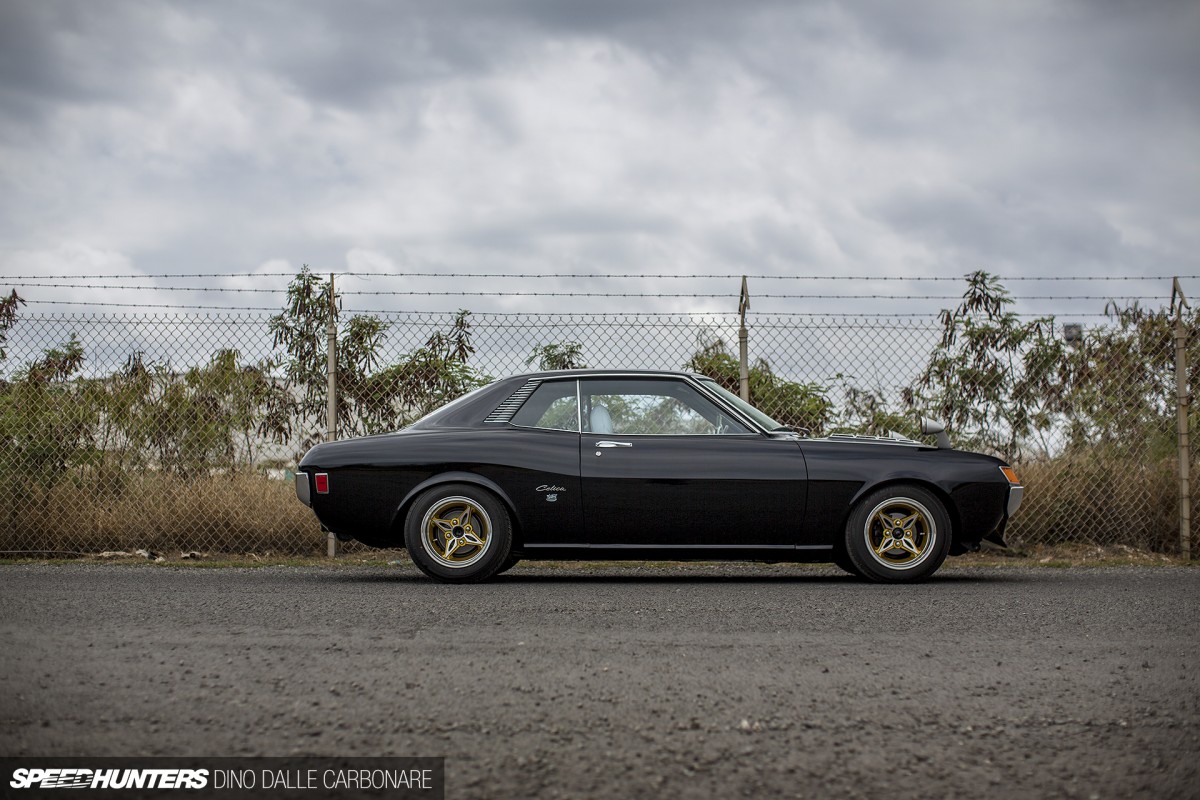 It's not just the way the restoration has been carried out here, but the parts chosen to make it a one of a kind. To see the majority of the build through, Brian entrusted the help of Toysport in California, where the RA21 was shipped to undergo its transformation. Over the course of a few years the car was rebuilt with Otaku-like attention to detail, but Brian had to wait a little bit longer to finally be able to slip in the driver's seat and put his hands on the steering wheel. Toysport ended up holding onto it for a little while; doing the rounds at shows and earning the car the top award in the first-gen Celica category at the 2012 Toyota Owner's & Restorer's Club (TORC) Toyotafest event.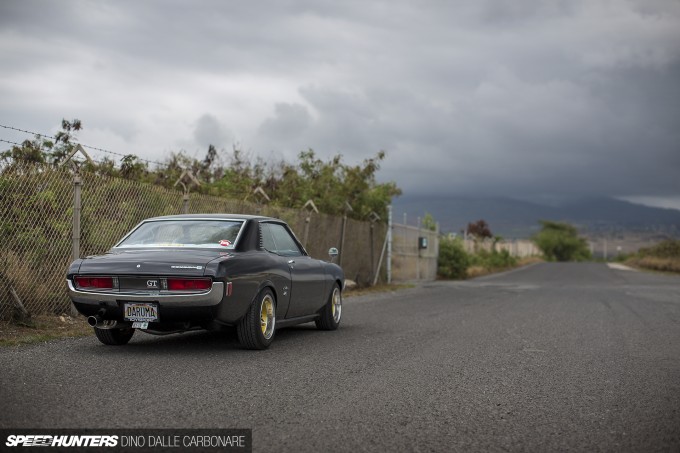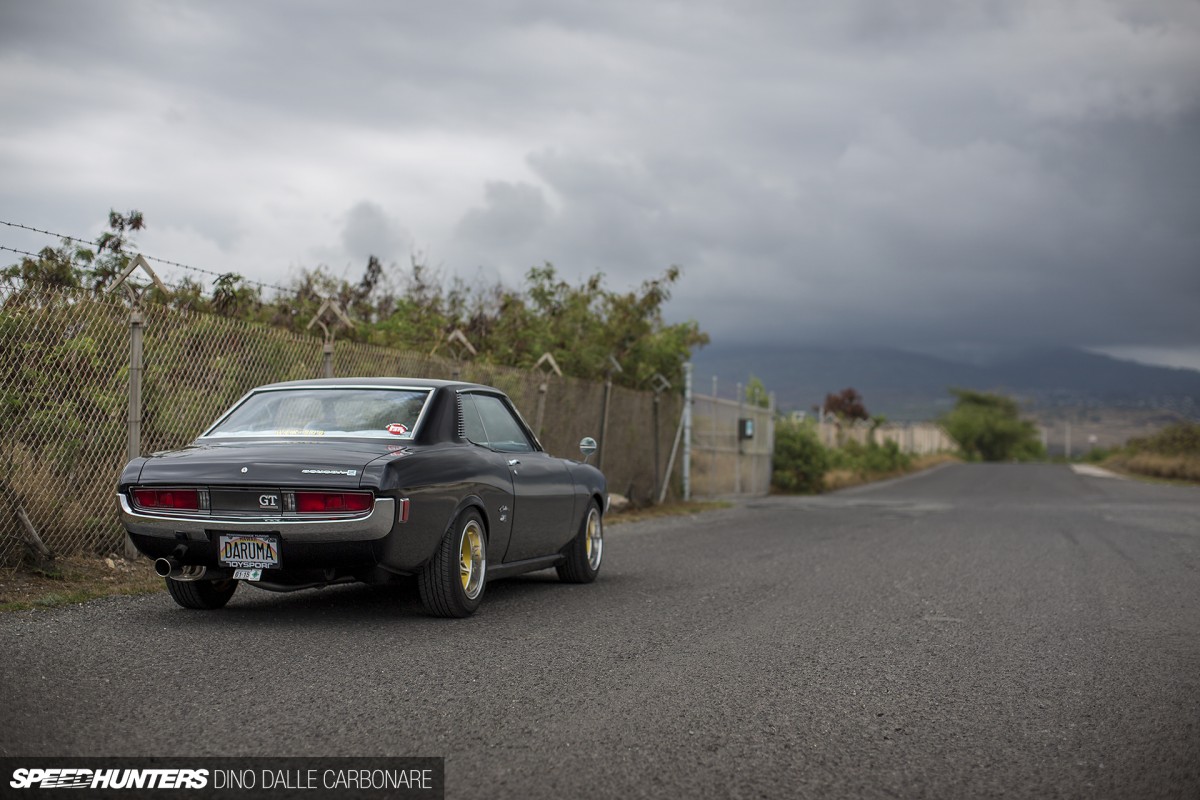 It was only after then that the car finally made the voyage back across the Pacific Ocean to its Hawaiian home and excited owner.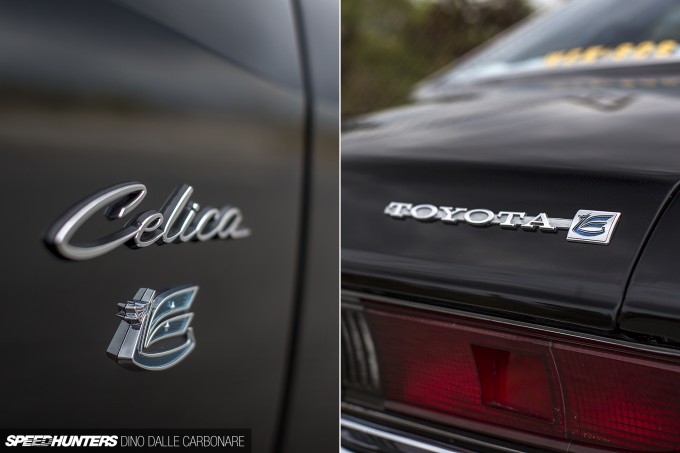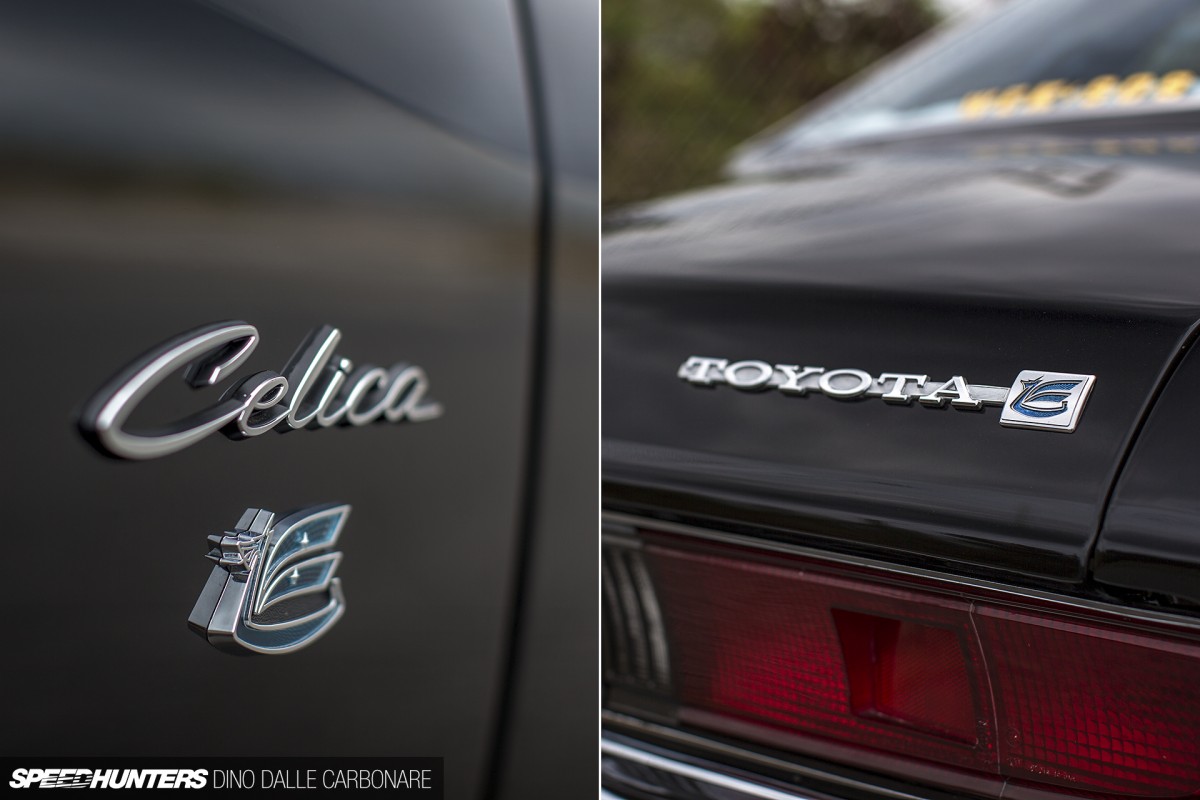 What Brian received from Toysport was exactly what he had envisaged: a meticulously-executed restoration of which 95 per cent is made up of authentic Toyota OEM parts. The other five per cent is made up by various upgrades to get the best out of the car.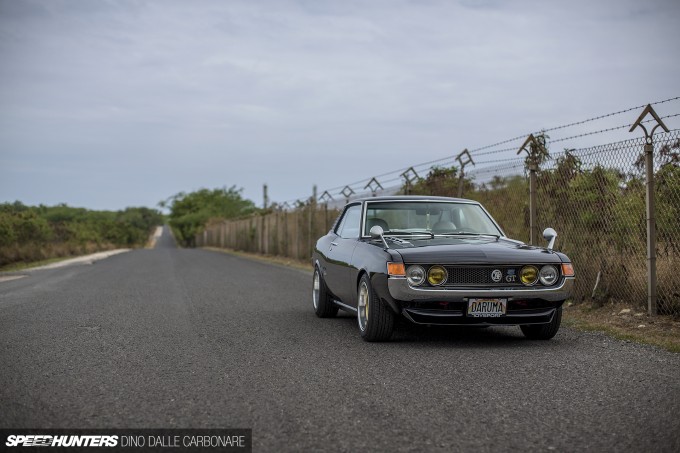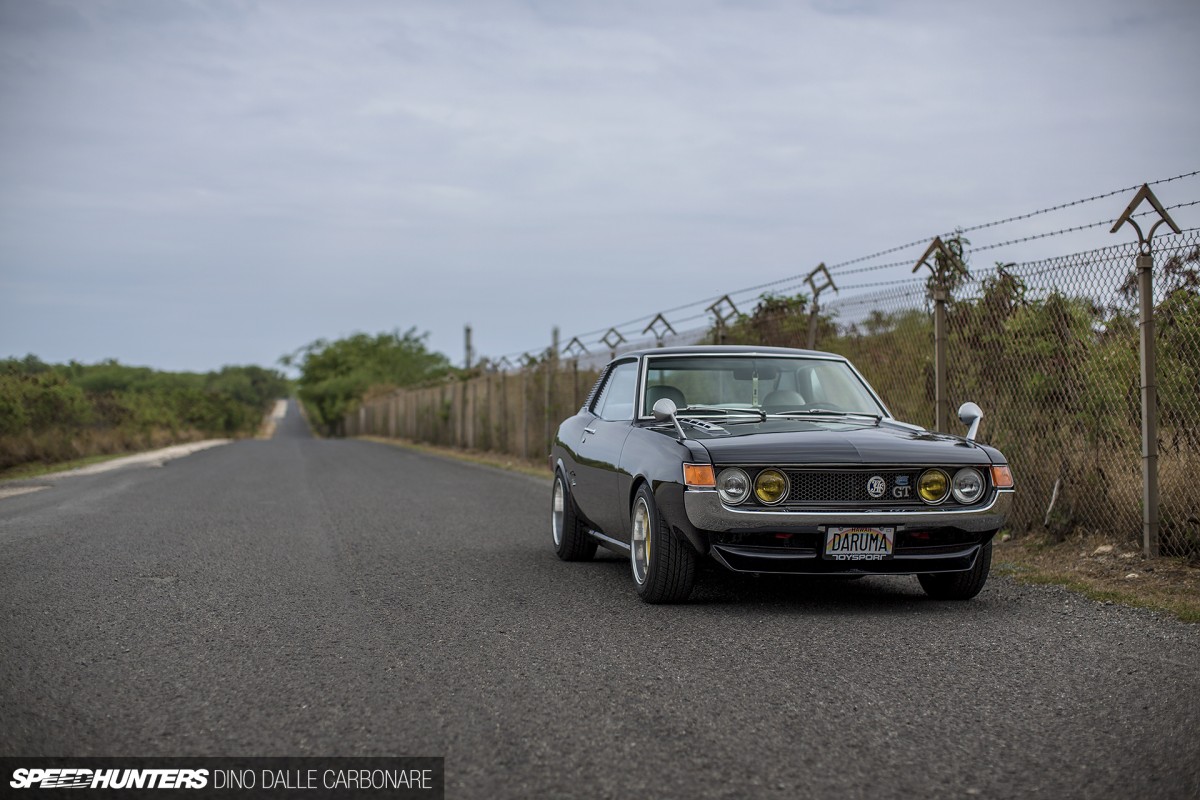 It was all about combining authenticity with a touch of personal style. The latter comes with details like the PPG Honda black hue coating the exterior, which in Brian's eyes had nicer blue/green tones compared to the more sparkly metallic Toyota black. This contrasts against the freshly chromed bumpers and JDM corner lenses and GT grille. The original TRD front bucktooth spoiler is what really ties the whole front end together however, adding a more purposeful look and making the car seem lower than it actually is.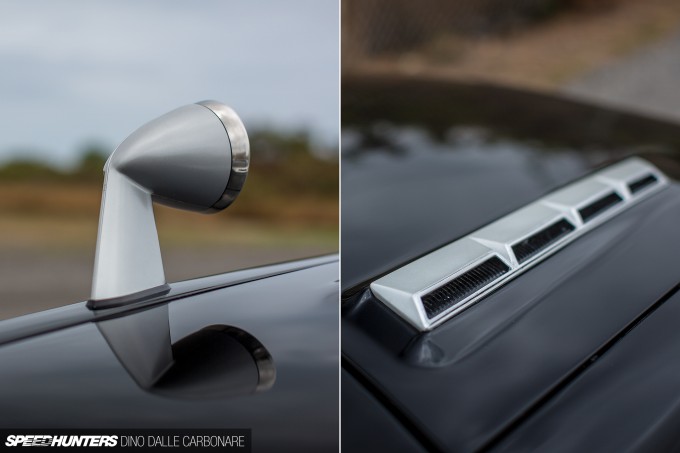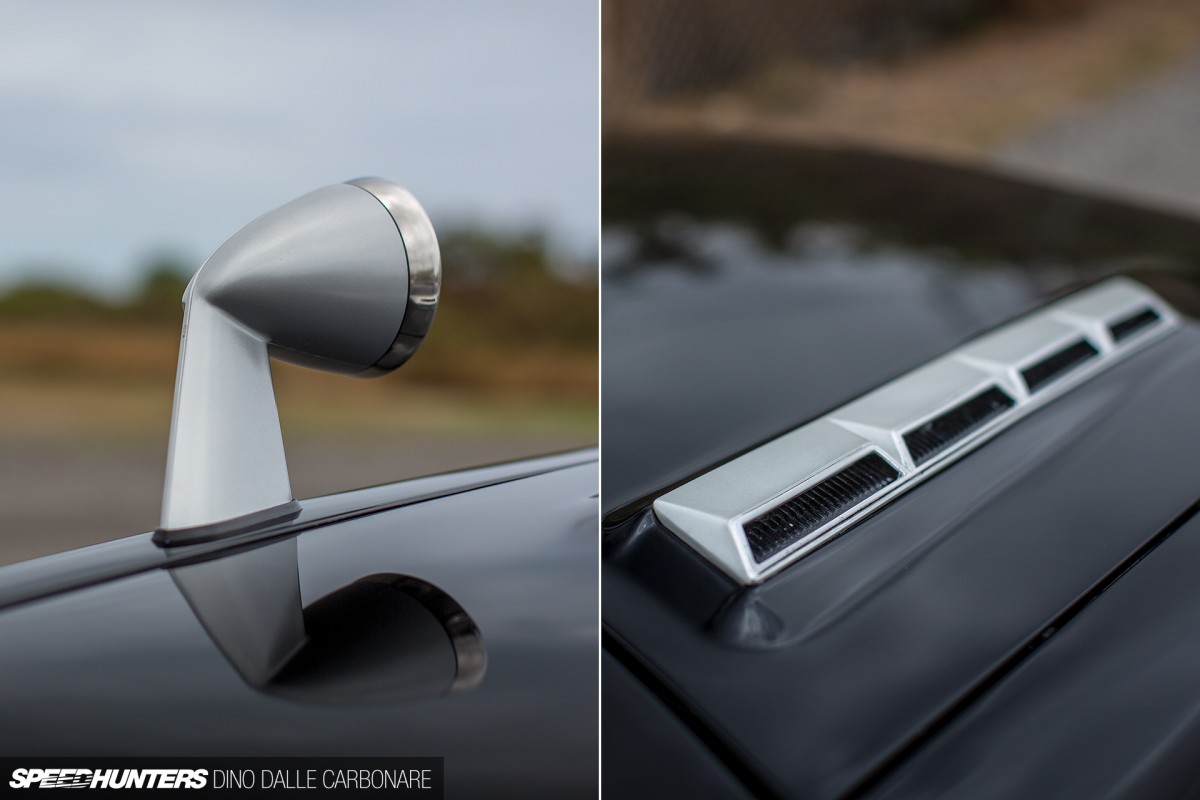 The fender mirrors and bonnet vents are an instantly recognisable feature of the RA21, and indeed many other kyusha machine from the bygone era.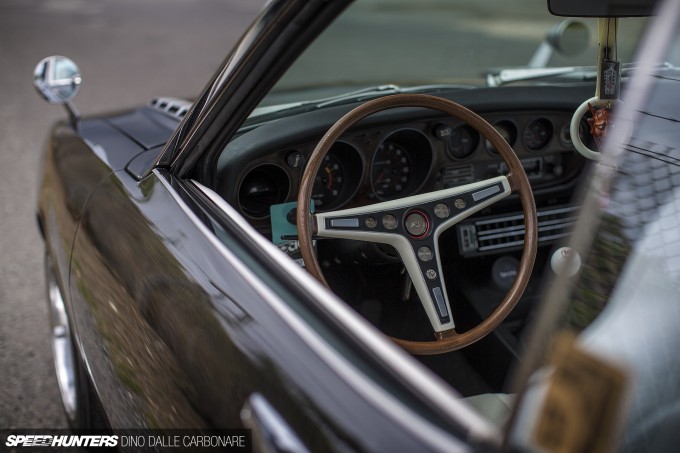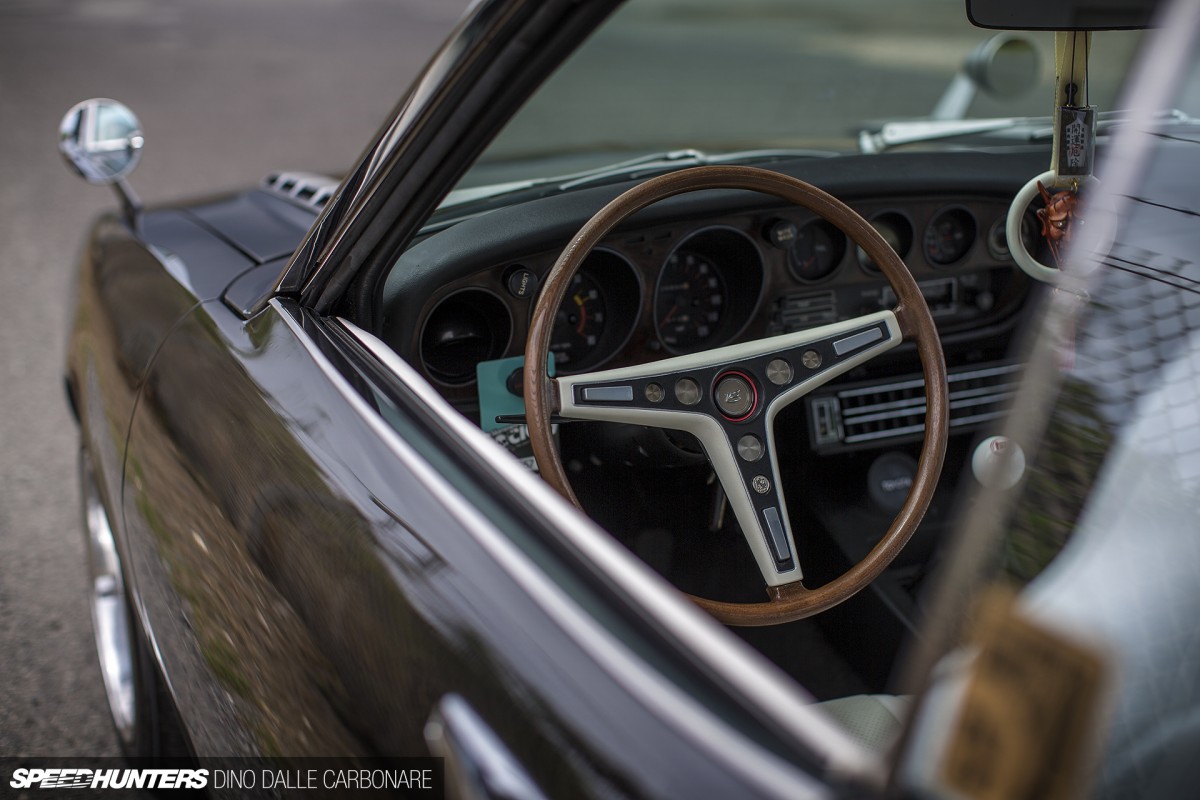 Taking a peek through the driver's side window it was obvious that the custom touches didn't end with the exterior treatment, but before I took a proper look in the cabin there was something else I needed to learn more about first…
Stepping Up To 2000GT Spec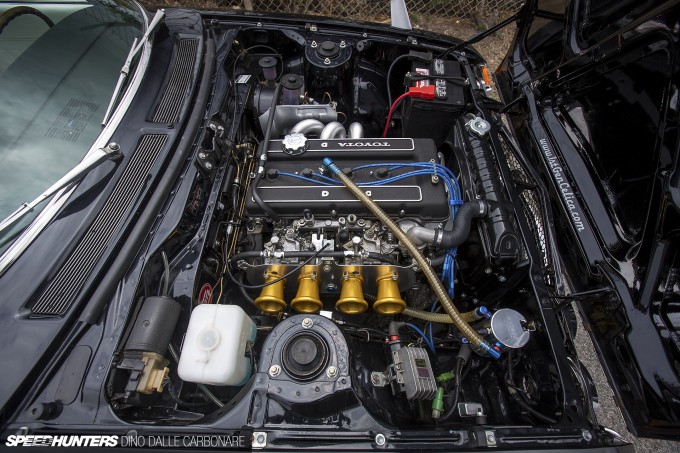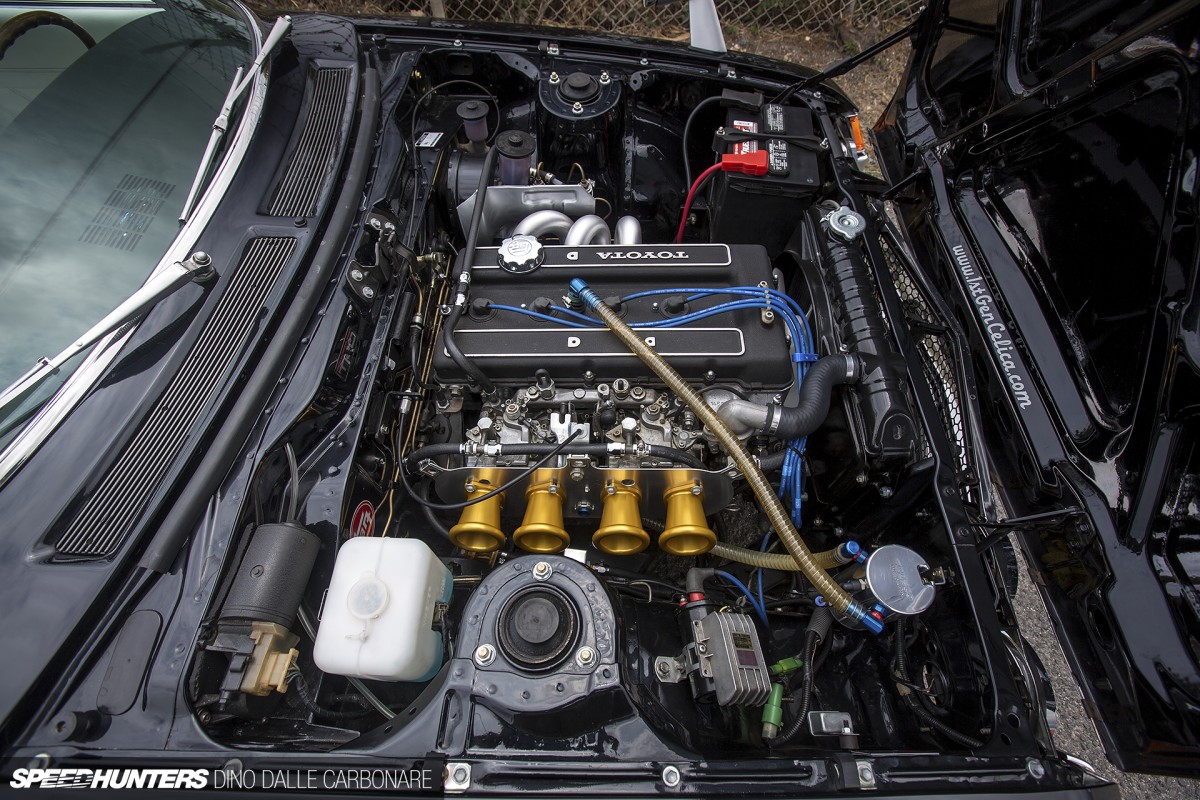 Remembering the work of art in the engine bay that I had looked at a few days prior, I was really itching to check it out in detail and chat to Brian about its specification. Toysport really went to town on the entire driveline, rebuilding it up from scratch and using brand new NOS parts where possible.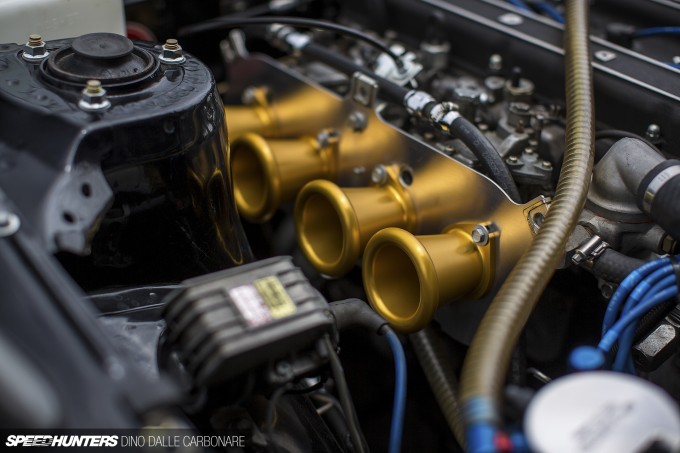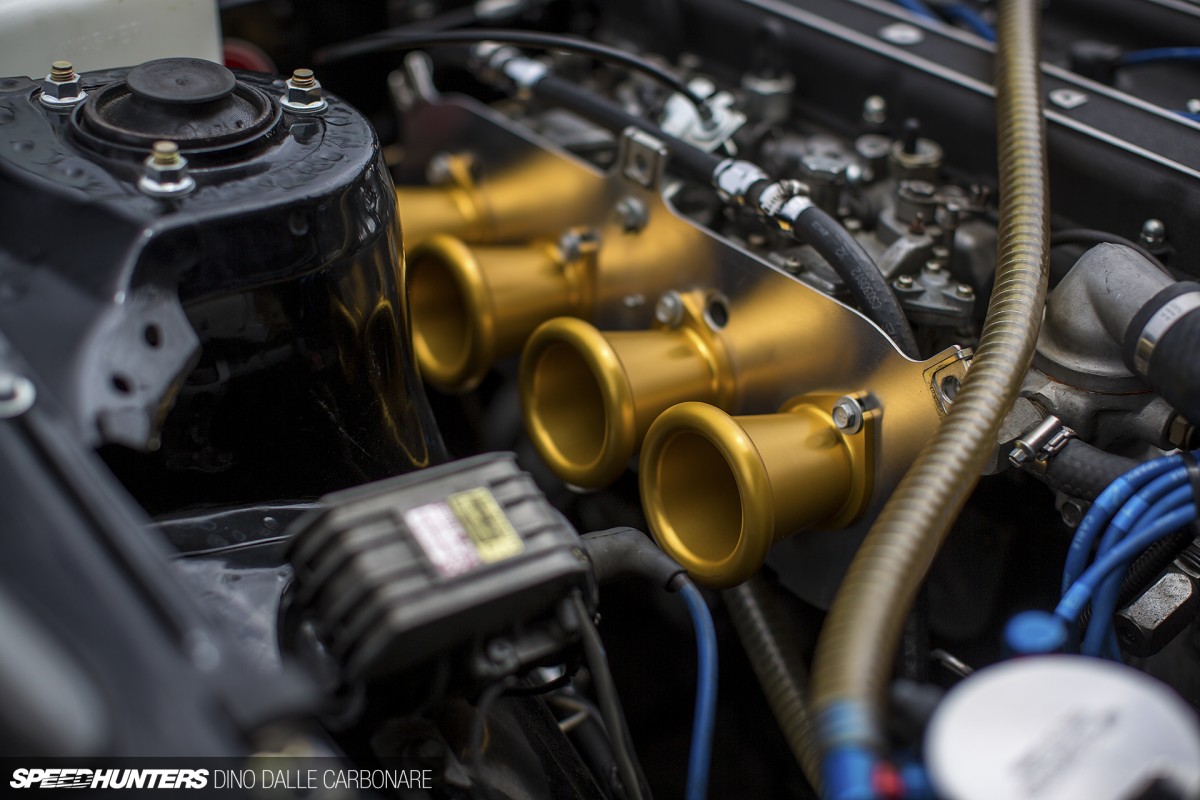 The work began with a conversion to 2000GT Celica-spec, which included an 18R-G motor and W50 transmission. This is an engine that could be considered the four-cylinder version of the straight-six 3M motor that powered the legendary 2000GT, and because of that fact Brian really wanted to maximise its potential. This called for the use of a Toyota Racing Development (TRD) Group 2 cylinder head to boost flow and response. The engine breathes through 40mm factory-spec Solex carburettors fitted with Techno Toy Tuning velocity stacks. Anodised gold, they're pretty much the fist thing you notice when opening up the front-hinged bonnet.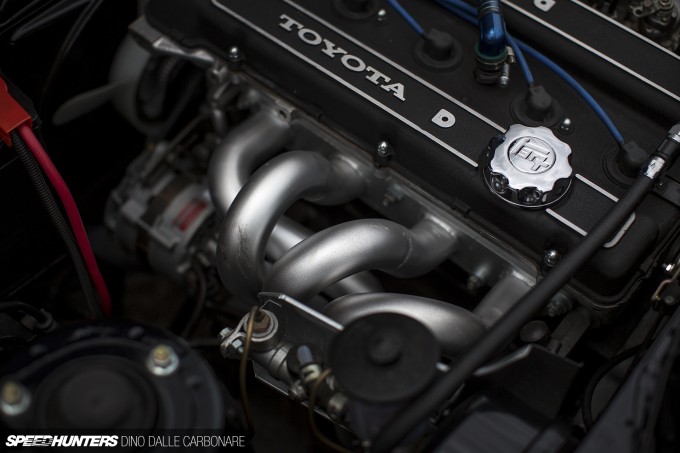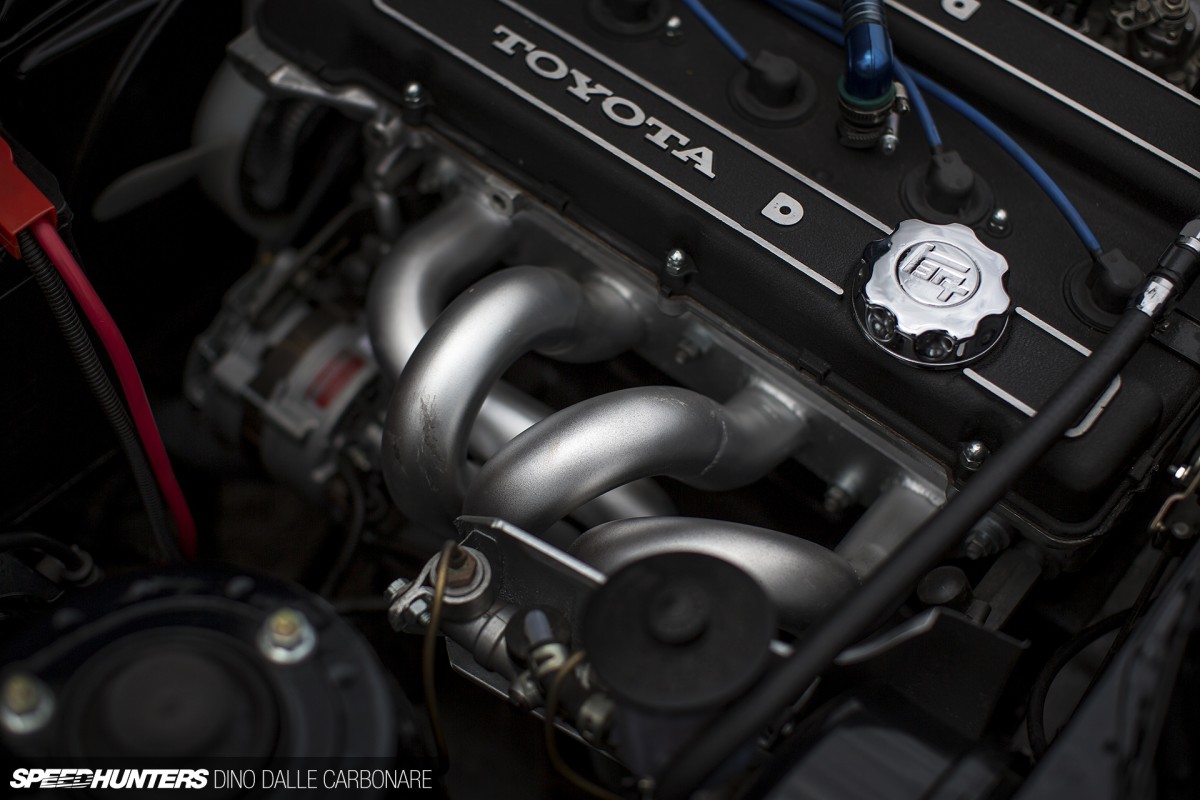 Toysport headers and a Magnaflow stainless muffler help channel away exhaust gasses efficiently, getting the most of the mild upgrades that have spiced up the 2.0-liter unit.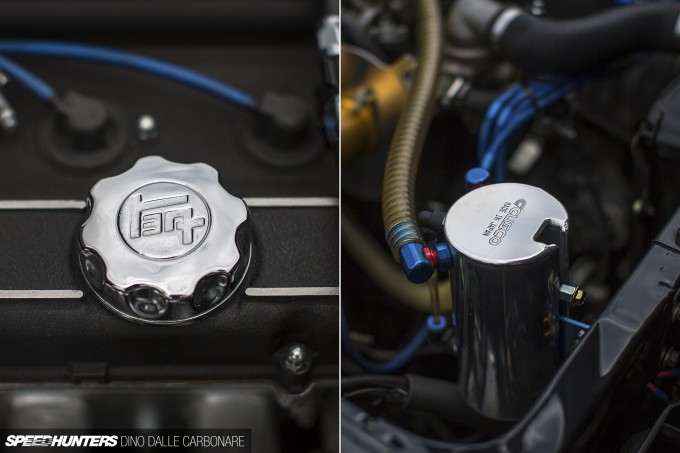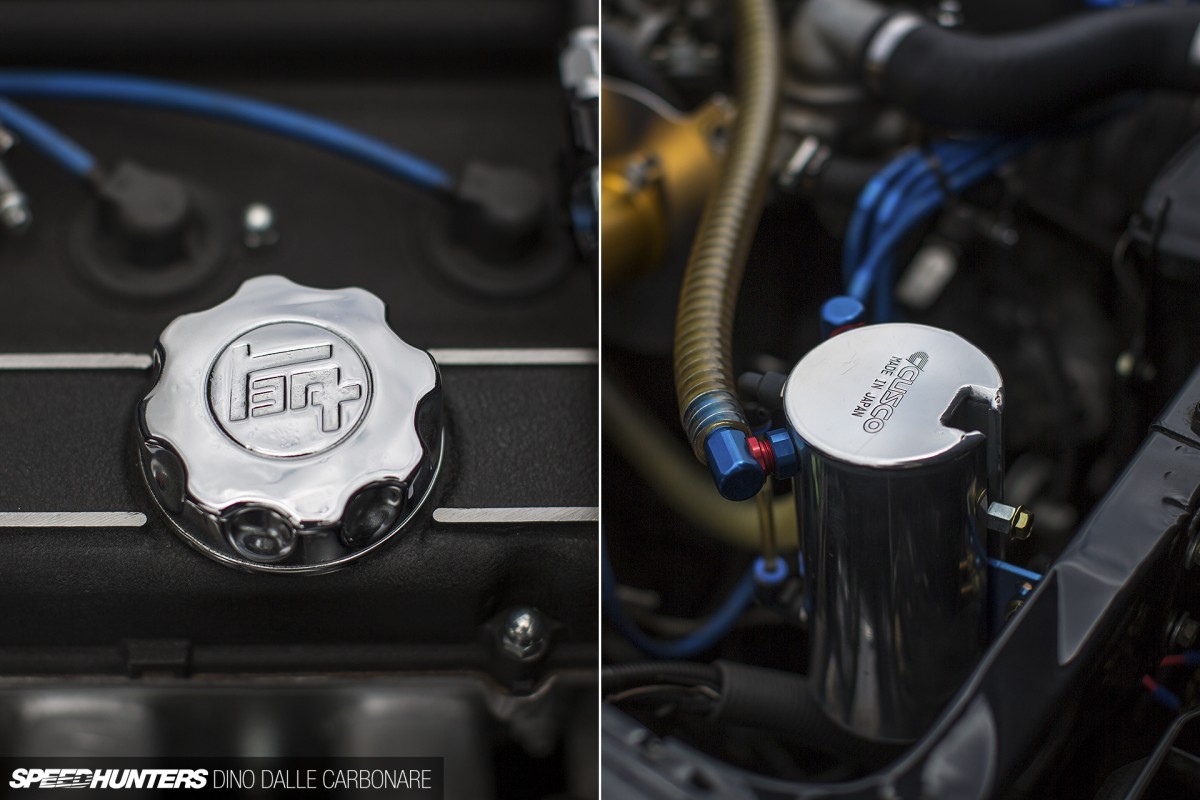 I loved the overall stock feel, but as there are in other areas of the car, there's always subtle upgrades to watch out for – like the chrome oil cap embossed with the old katakana Toyota logo, and the Cusco breather tank to catch those nasty blow-by gases from the crankcase.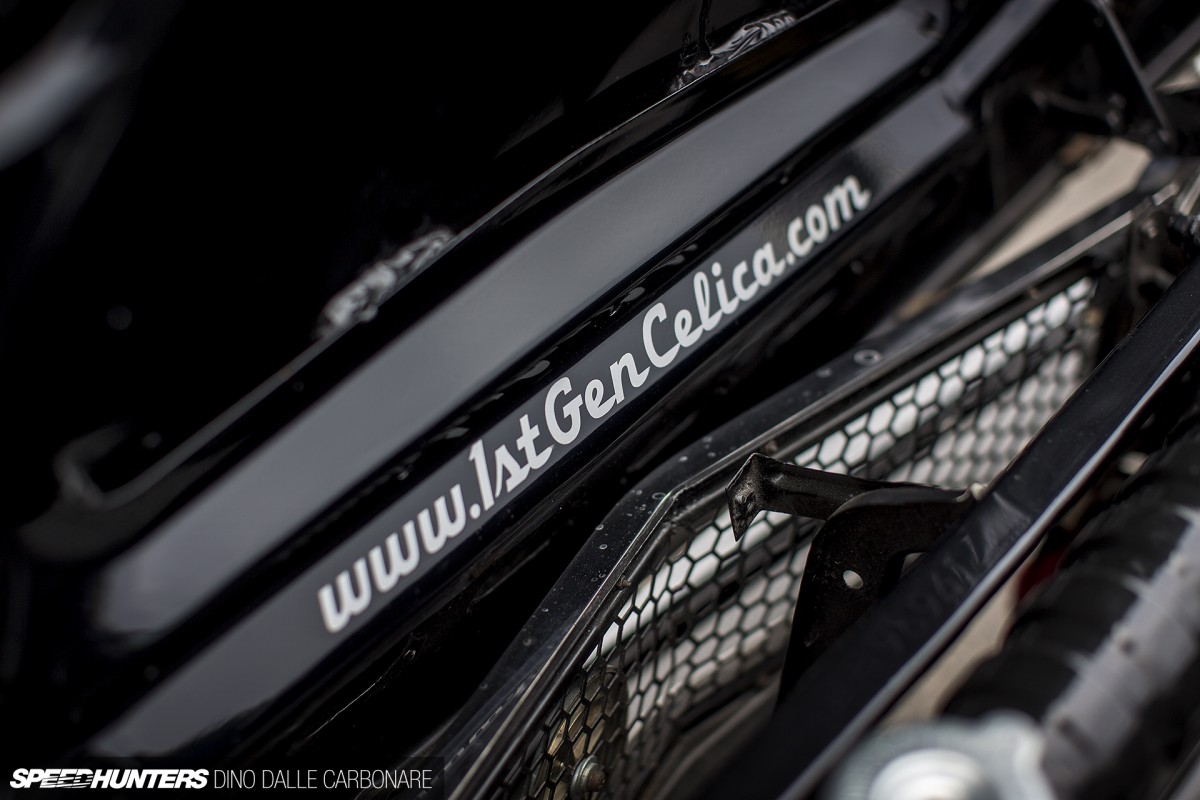 Brian lives and breathes first-gen Celicas so it's no surprise he has chosen premium placement for the URL to his favorite message board inside the engine bay.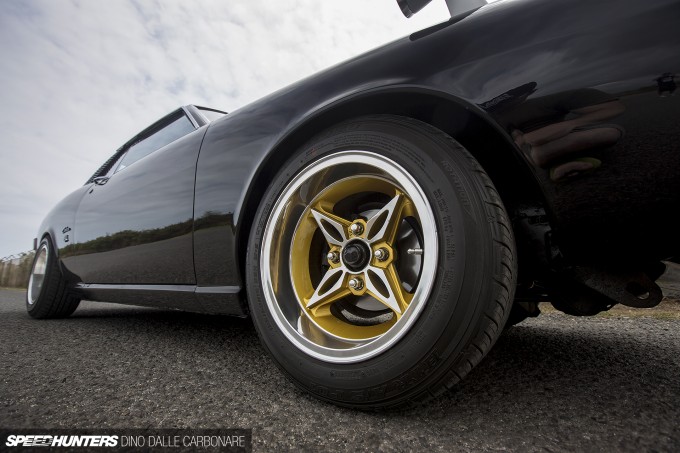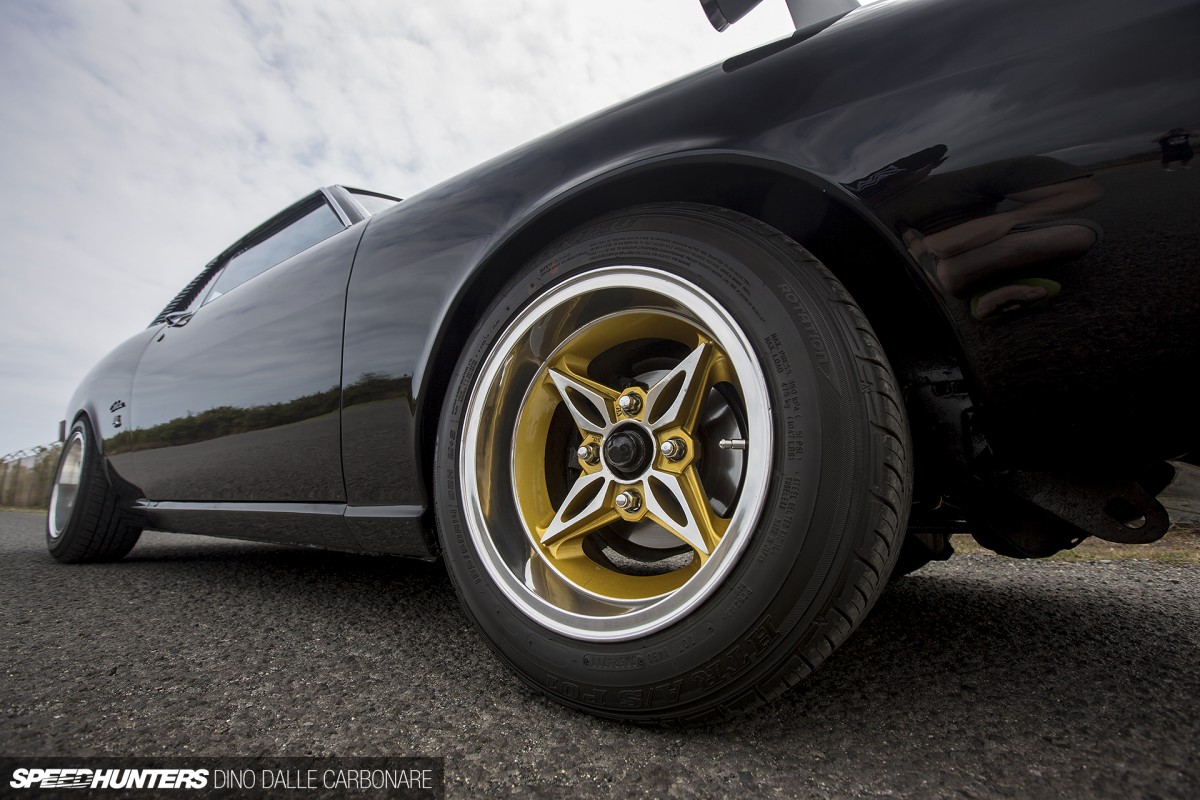 On the footwork side of things, the Celica has been fitted with Toysport coilovers at the front end and KYB gas shocks at the back, which together work to provide a nice, tight set up for street use. More than a couple of inches were chopped out of the '70s-like ride height, which now is set not too low and not too high – just right for a classic like this. Riverside Riverge wheels in a 14×7.5-inch fitment take care of the rest. As far as old school Japanese wheels go, they're a pretty epic choice in my book.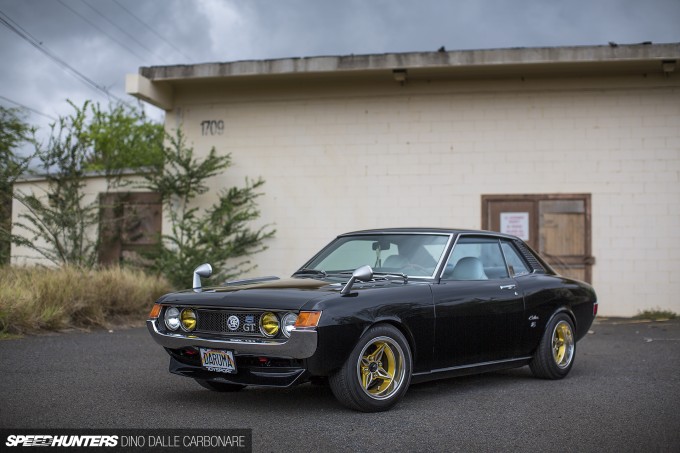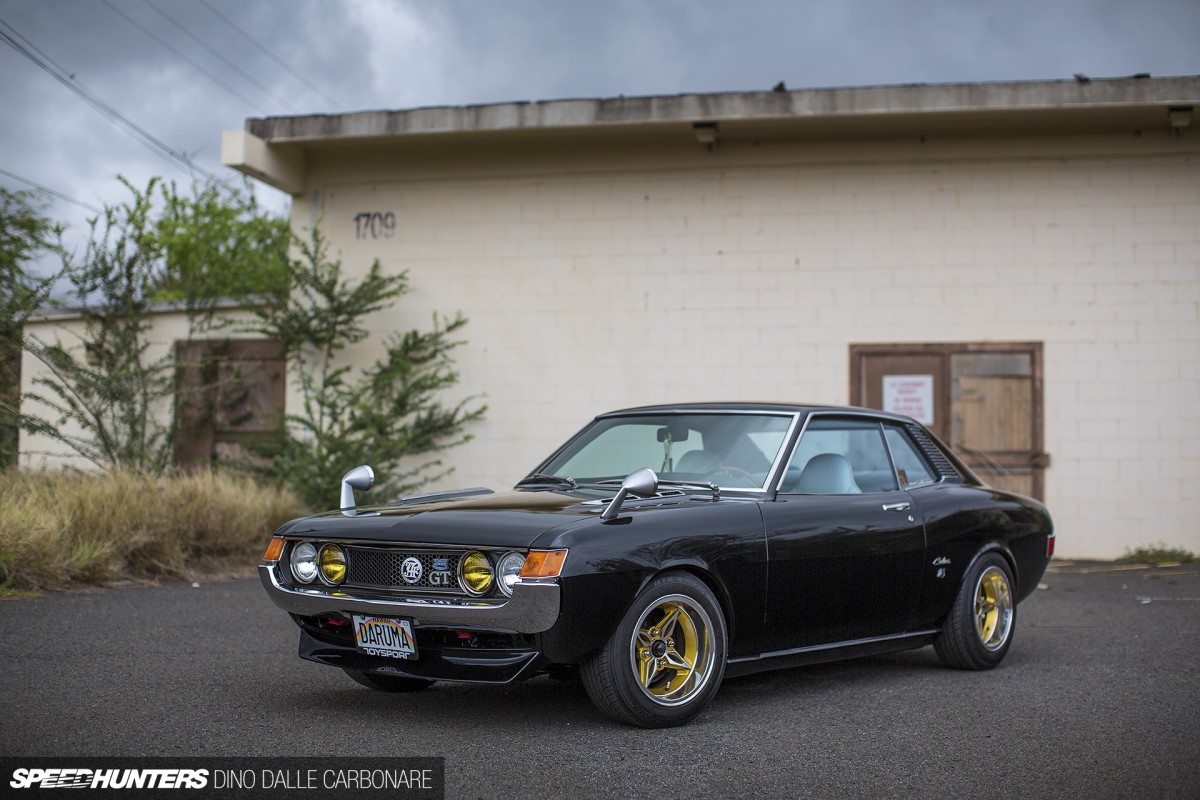 In fact, next to Team Yayoi Sakuras, the Riverge is probably my second favorite vintage JDM wheel. I mean, on paper four-spokes should be pretty horrible looking, but trust the Japanese to have come up with an impossibly-cool design.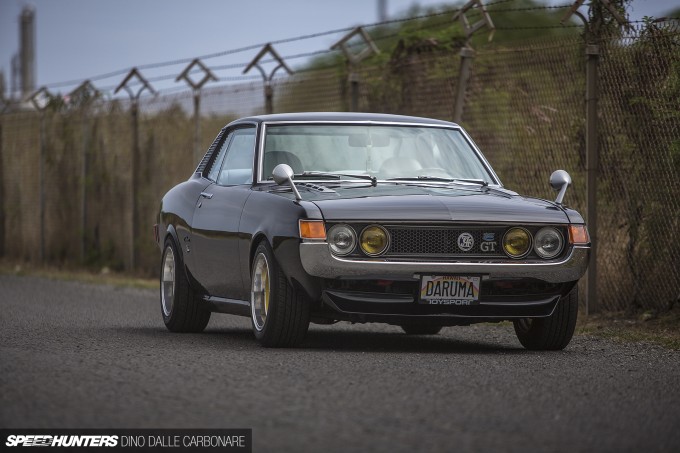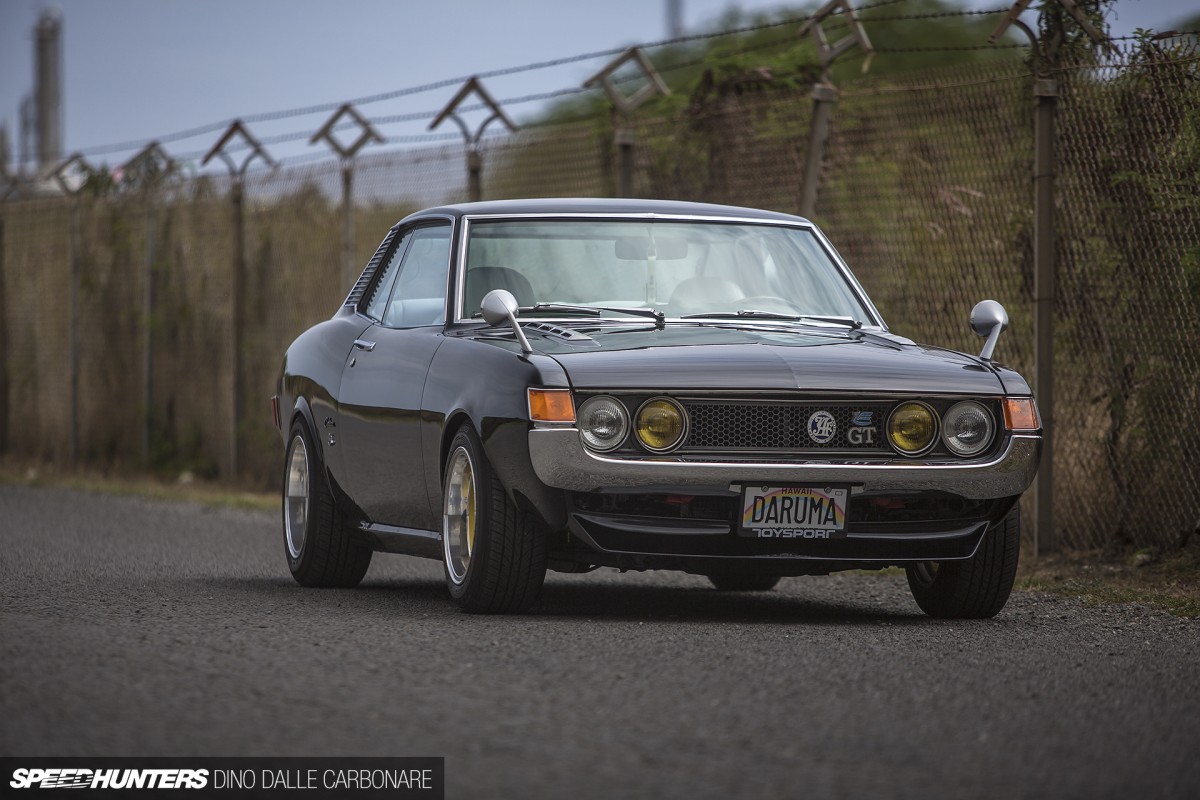 It may have taken years of work to get the car looking just right, but with the subtle changes and otaku touches like the JAF grill-emblem, it's exactly the way Brian wanted it to look.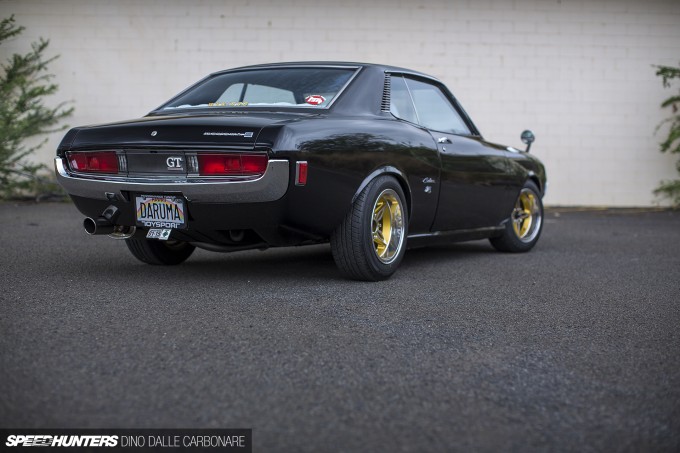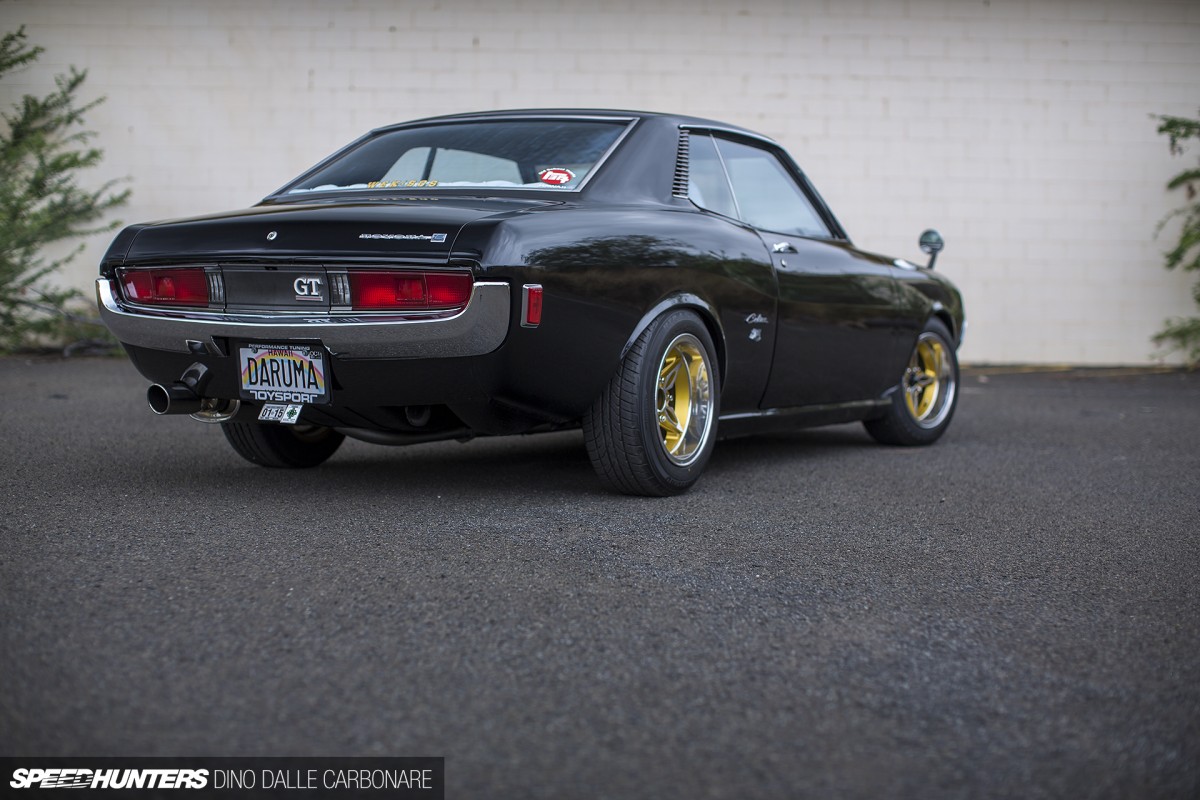 There's no questioning that the RA21's front end is its most famous feature, but you can't tell me that this model doesn't look just as good from the rear! Brian finished off the Celica by fitting the 'Daruma' license plate as a nod to the traditional Japanese round doll which is regarded as a symbol of perseverance and good luck. It certainly took perseverance to get the car to the point it is at today!
All The Trimmings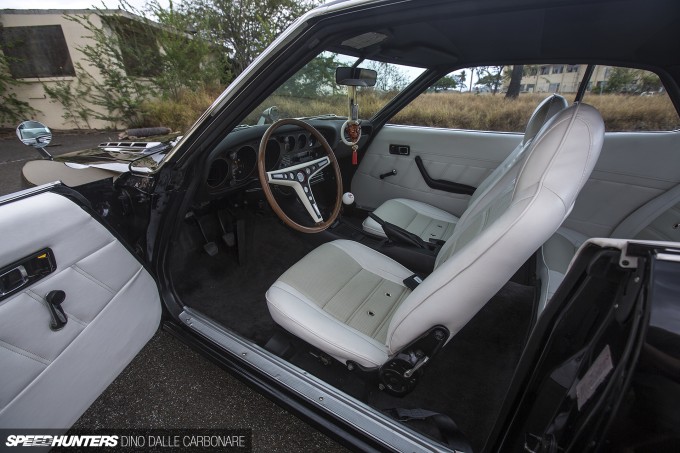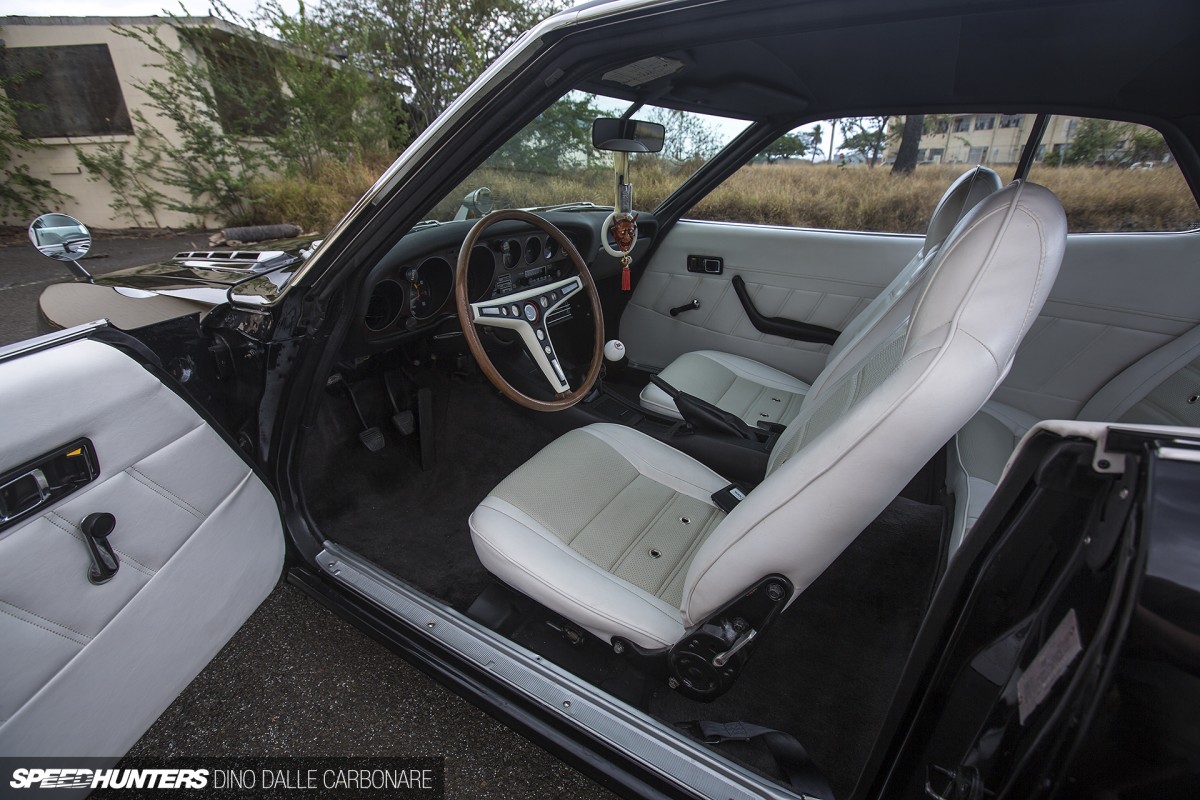 An upholsterer by trade, when it came to the interior Brian took care of the work himself. He wanted to keep things mostly original looking here and settled on white leather for the seats and various trimmings.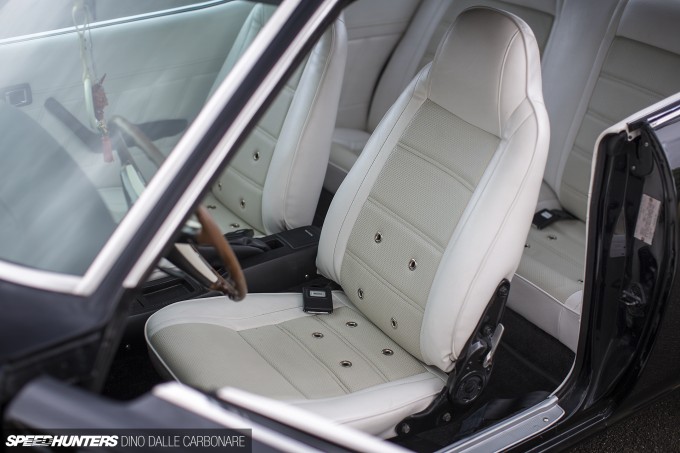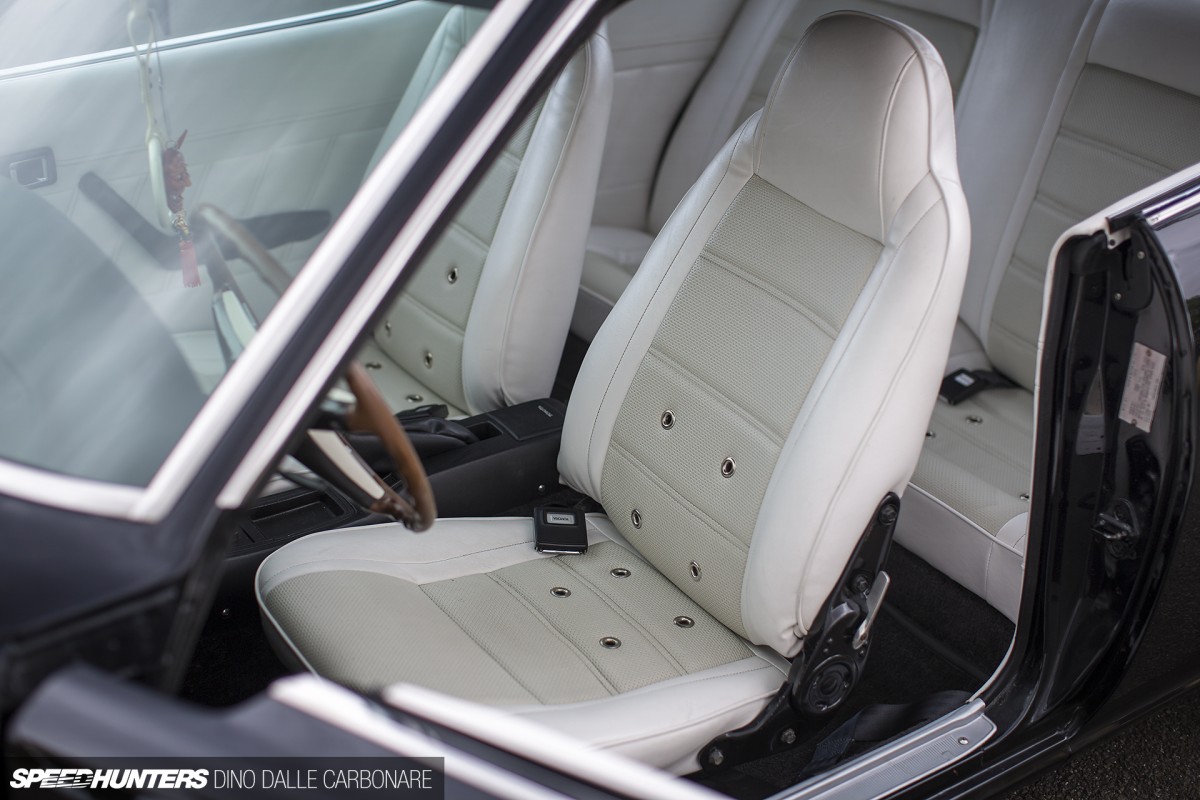 The center section of the seats are trimmed in a breathable material with some very '70s-like metal rings as details. The car has air conditioning, but let's not forget this is Hawaii, which means a year-round tropical climate.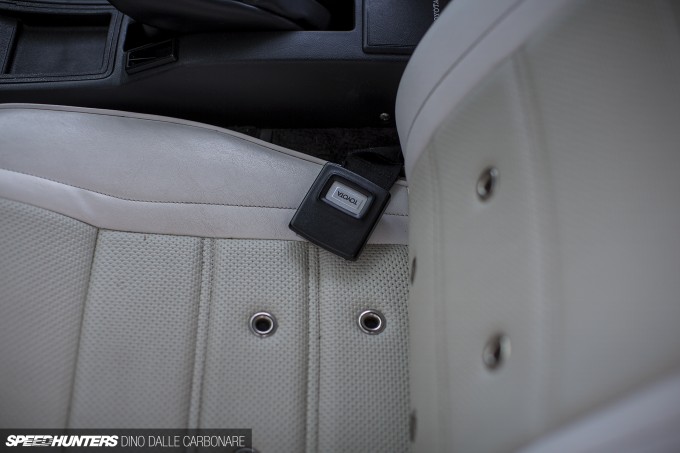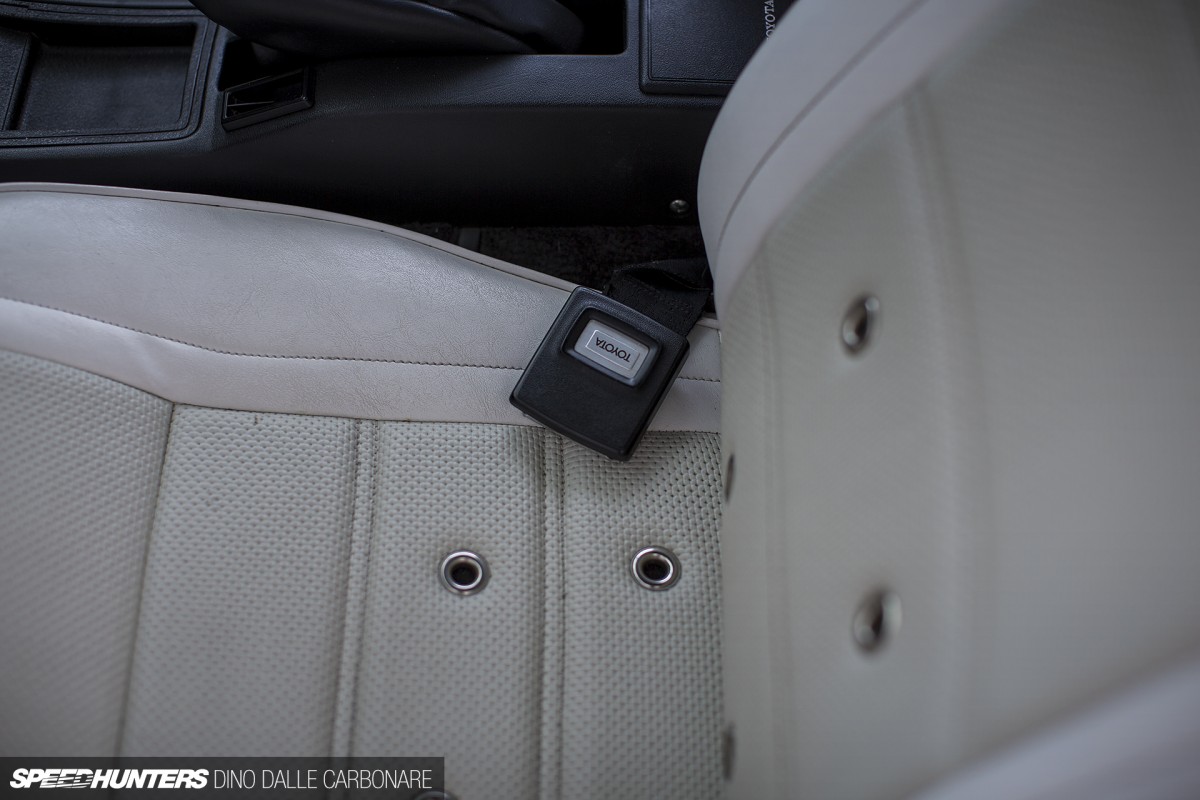 It's all about authenticity!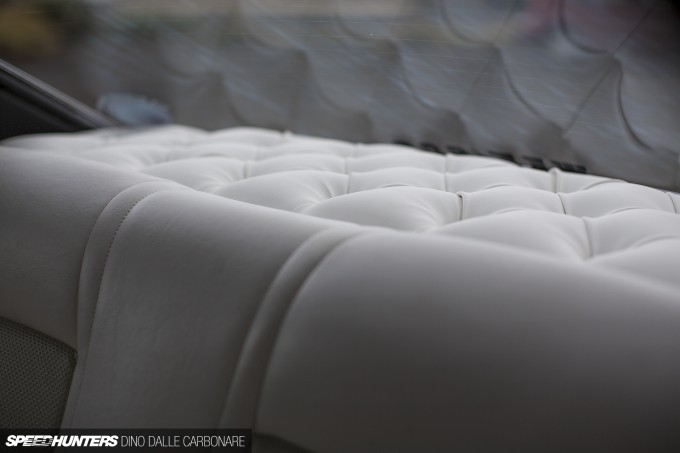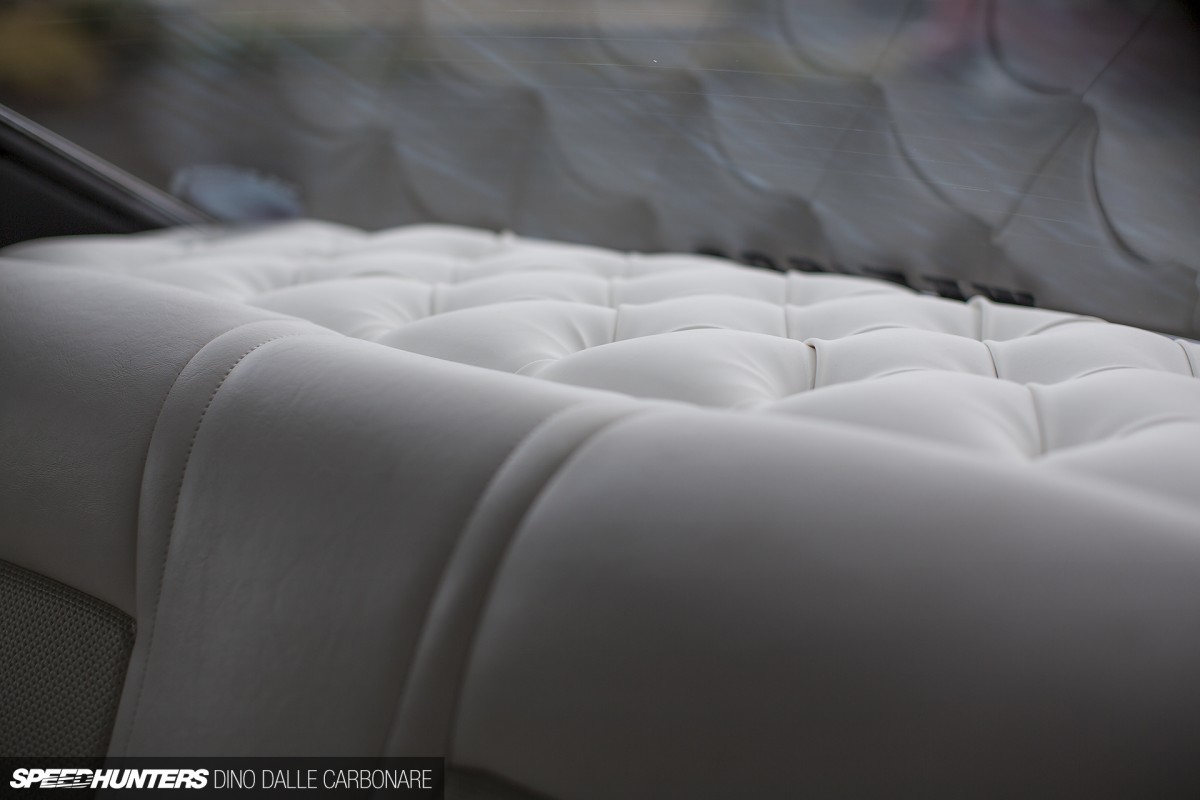 In a bit of a twist, Brian tufted the rear parcel shelf utilising the same white leather. This is the technique he applies to most of the hotel and bar sofas and seats that he works on, so it's like his own personal calling card.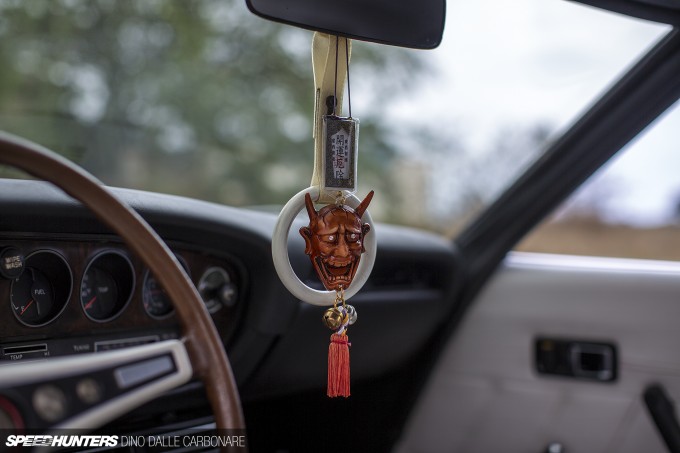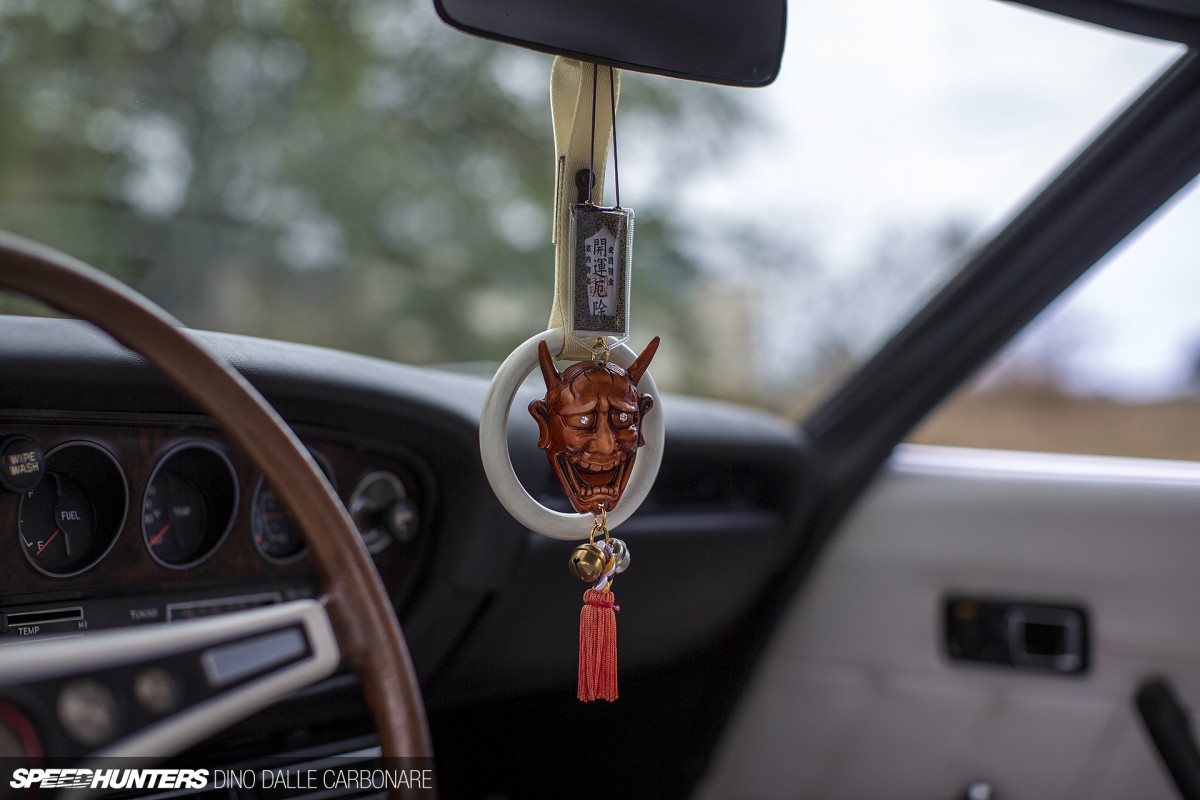 Brian is of Japanese descent so it cool to see he has spiced up the interior with some neat JDM car culture touches like the tsurikawa (train handle), and the more traditional hanya mask.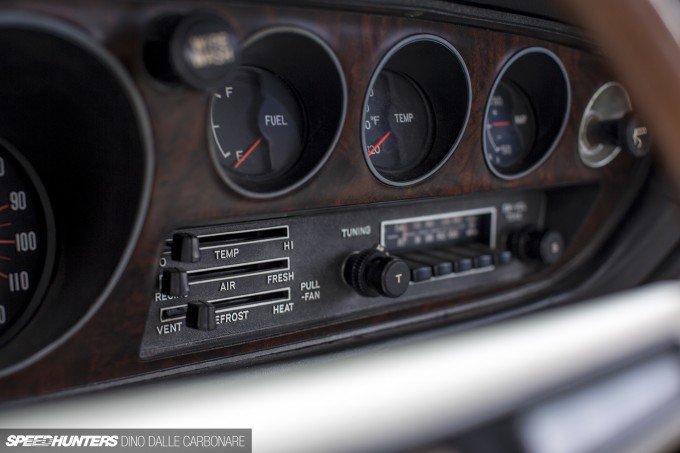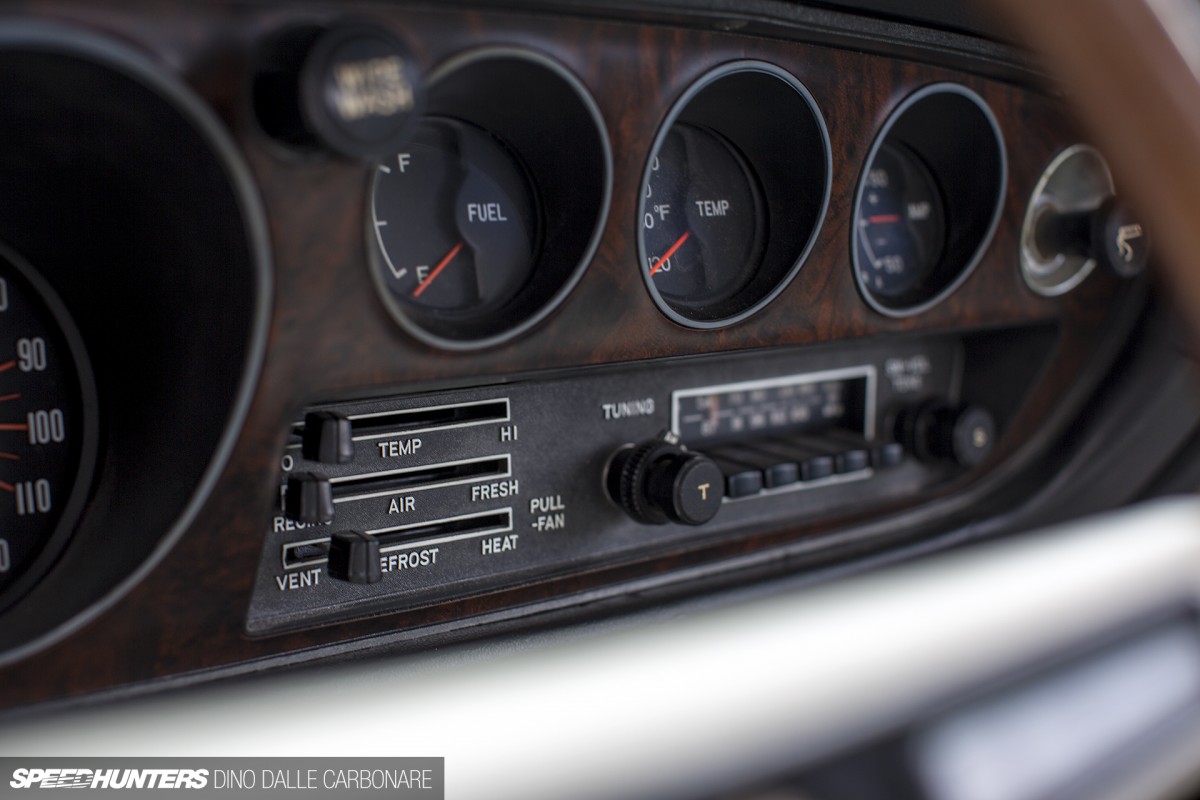 I couldn't get over the condition of the dashboard. Just look at the instrumentation, ventilation and radio controls. Amazing! It's as if the car has just stepped out of a Toyota dealership in 1971.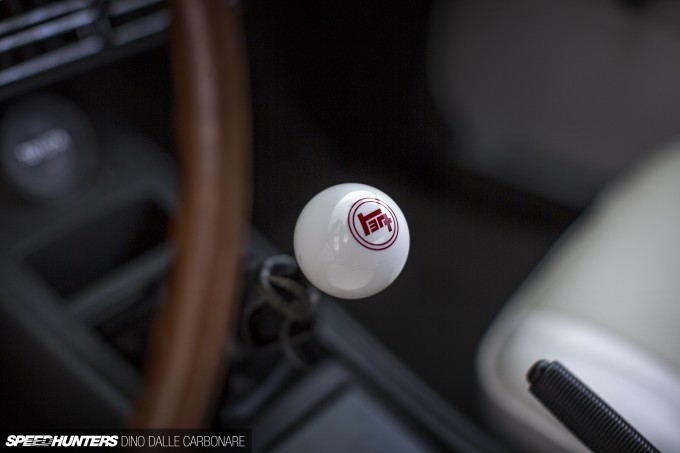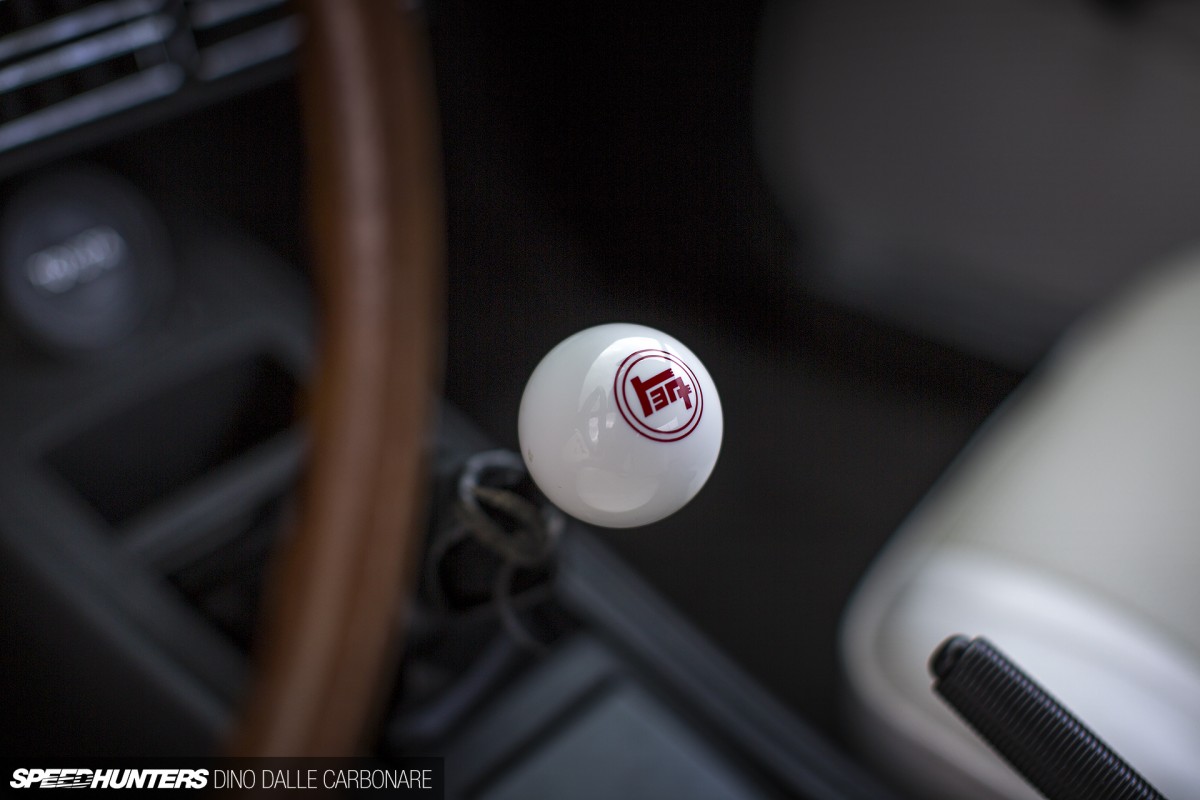 There's that old school Toyota logo again.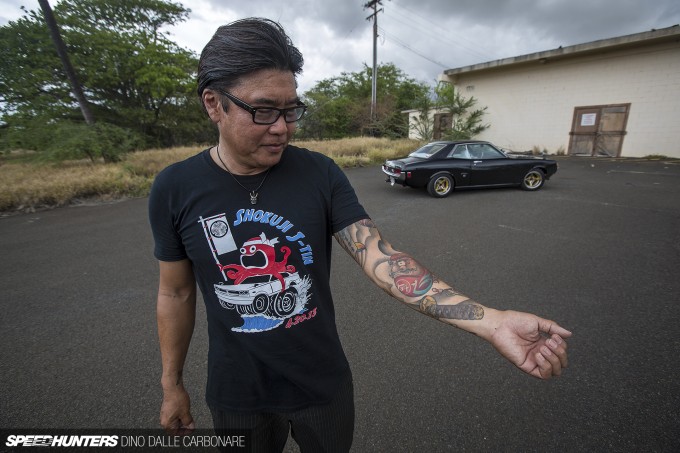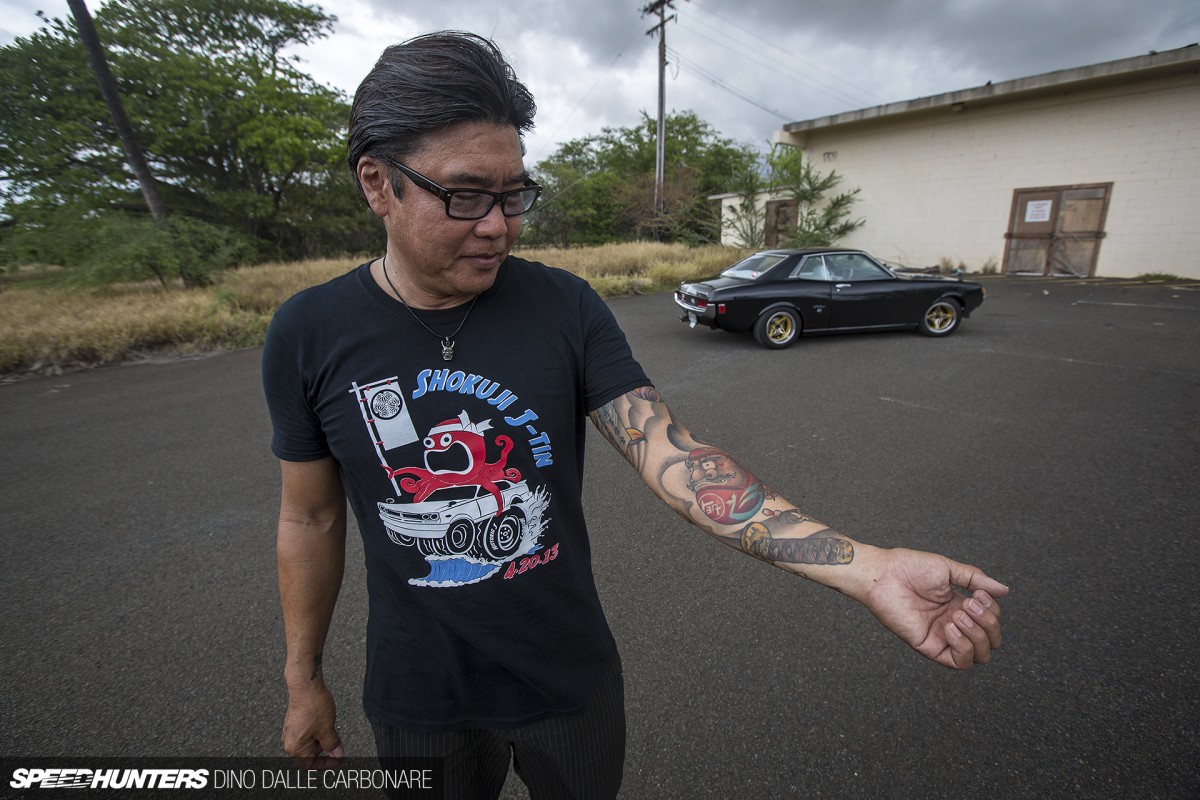 As his tattoo of a red Daruma doll shows, Brian's love for his Celica and Toyotas in general must run pretty deep.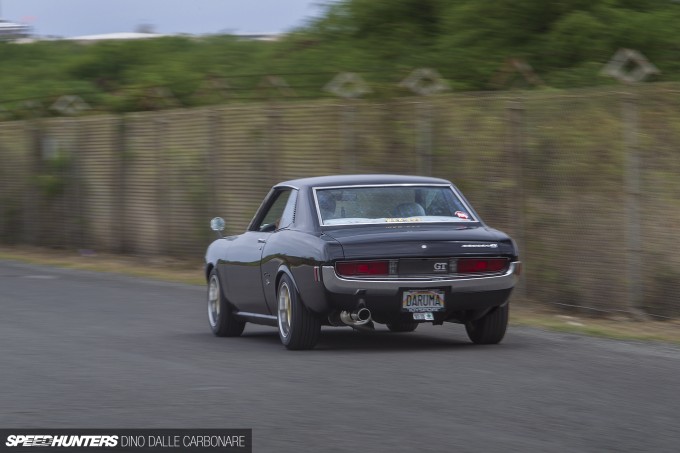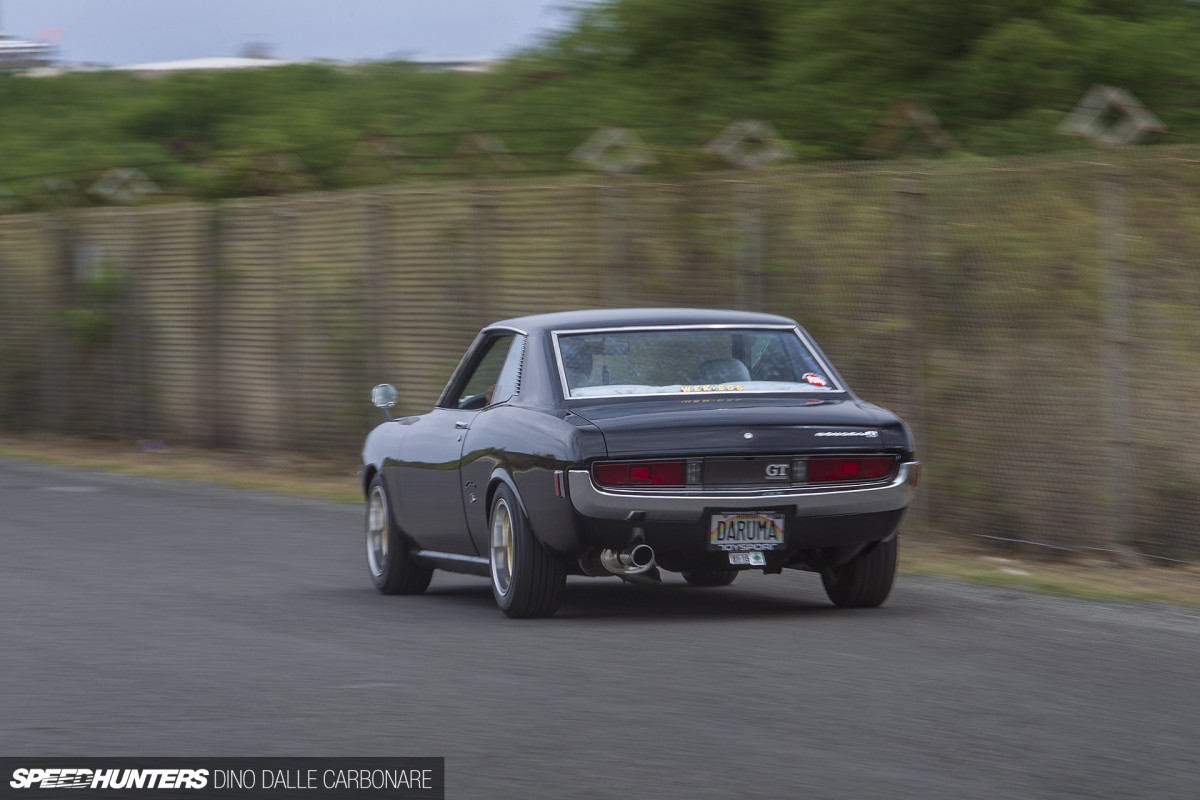 For such a small island, Oahu certainly hides away some true automotive treasures. There are some real enthusiasts here, who despite not having that many roads or even one race track to play on, continue to strive to pursue their inner passion. And for that reason, Brian's Celica – much like all the other cars I featured during my Hawaii visit- are ones that I will never forget.
Dino Dalle Carbonare
Instagram: speedhunters_dino
dino@speedhunters.com