A Breath Of Fresh Air
Could this be the beginning of something new? I certainly hope so – because I can't tell you how many years I've been waiting for this to actually happen!
Formula Drift's first official Japanese event held this past weekend at Fuji Speedway could potentially be the biggest thing to happen to drifting since D1 Grand Prix took the sport to a professional level those years ago. Because surely the whole point of having a sanctioned motorsports series is to allow international competition, right?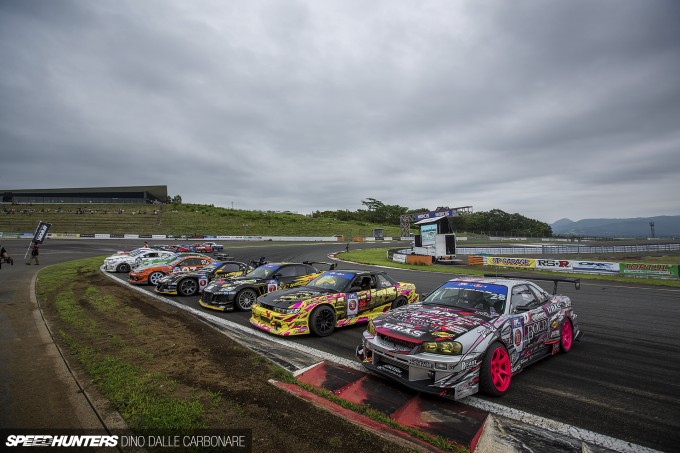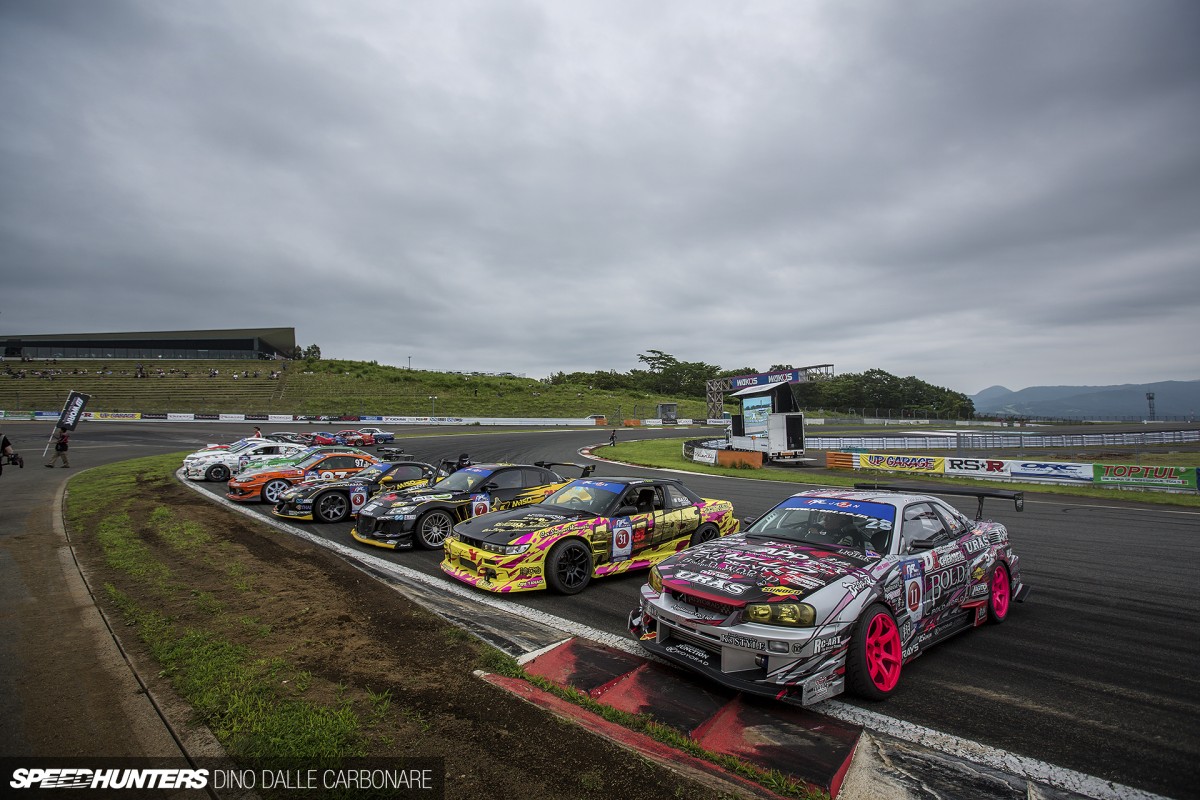 In my eyes, D1's attempts at bringing foreign talent to their rounds in the past has been nothing more than a side attraction to the actual competition among Japanese seeded drivers who we've been seeing battling against each other for over a decade now. This is why I'm all for change in Japan. While the weekend's round at Fuji is just the first move, it's one that was accompanied with an underlying tangible energy and an evident feel of potential to the proceedings.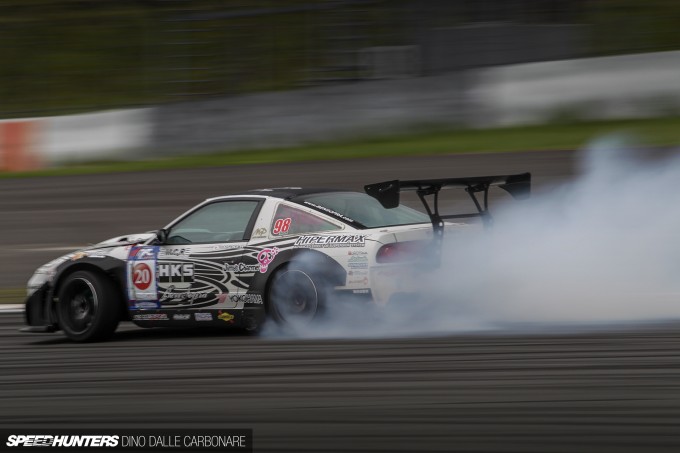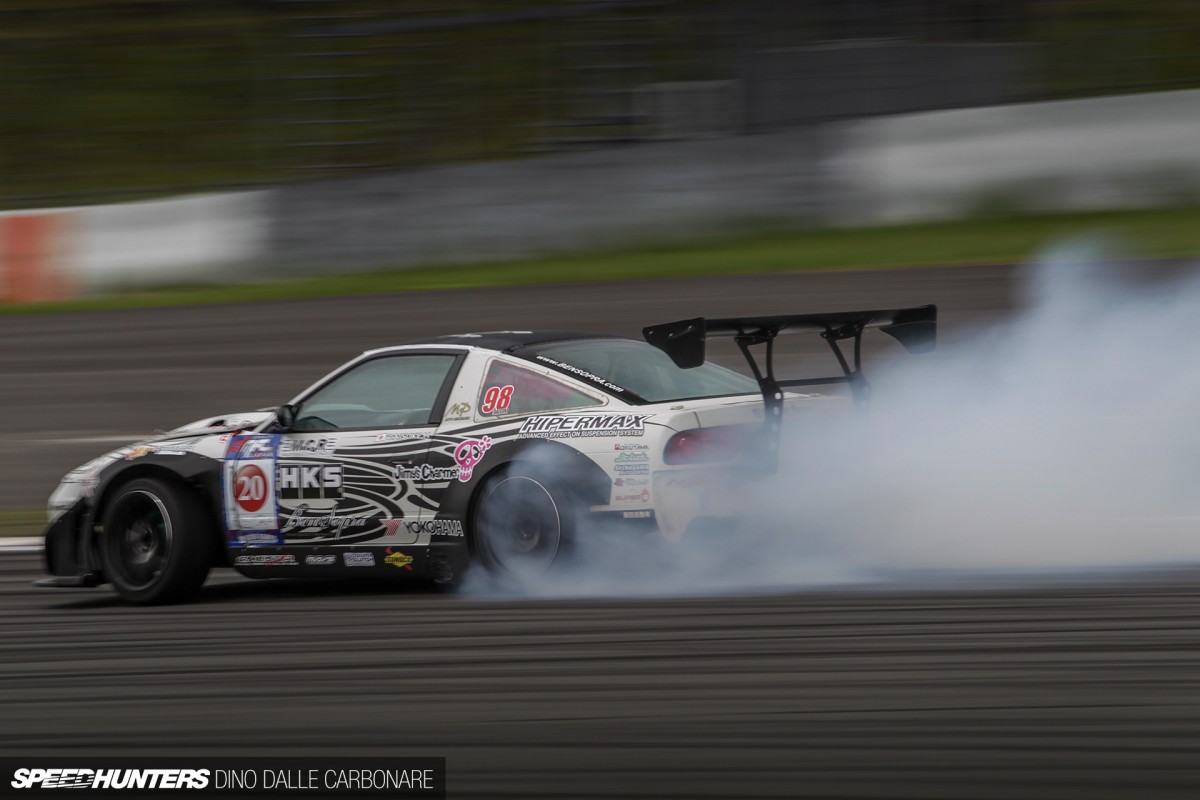 Here is a series that is truly attempting to combine world talent together; break the barriers down and put on a true show. Everyone is judged equally, there are no head-scratching calls, no 'WTF just happened?' moments and no blatant protectionism of drivers, teams and sponsors. You drift good, you go through. Simple enough, right?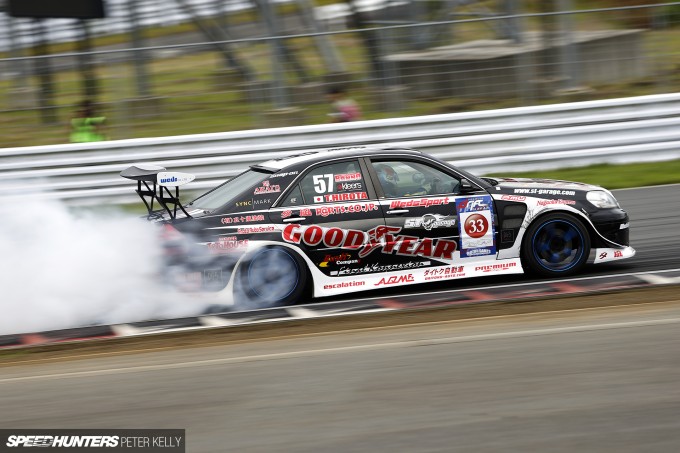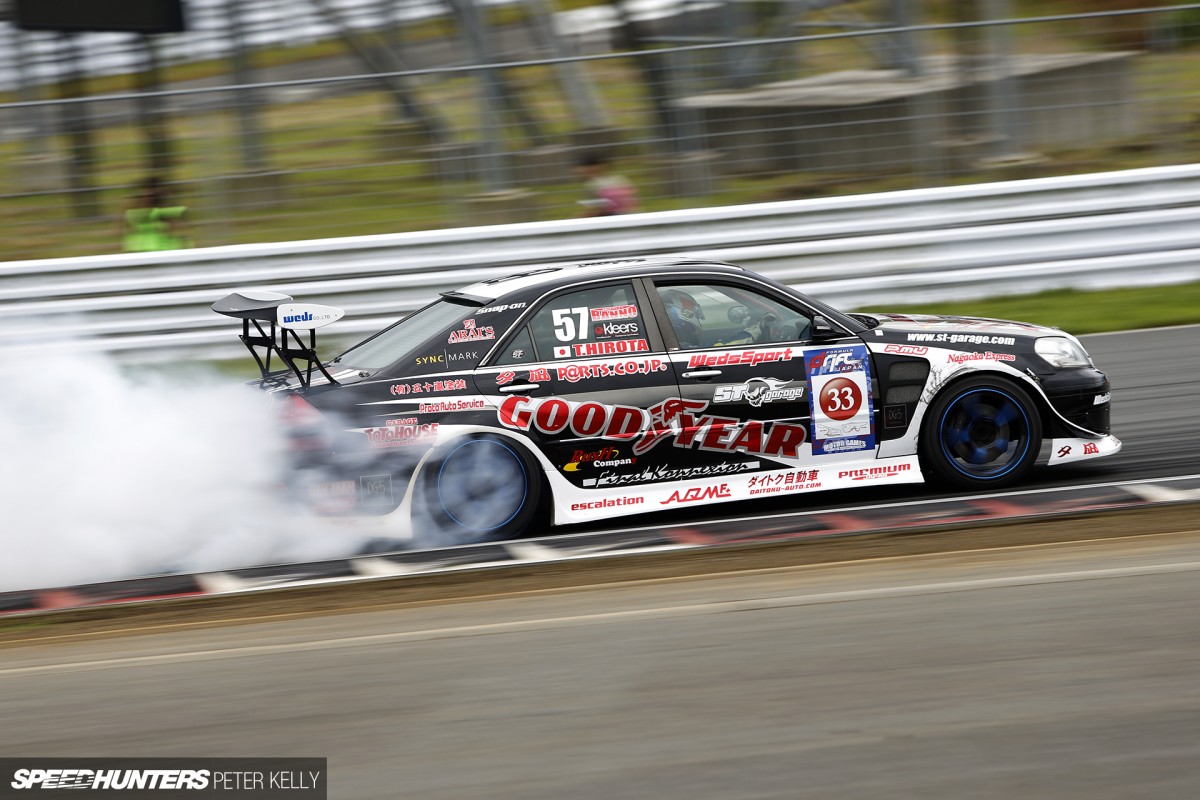 This event, and the second round that will be held later on in the year in Okayama ahead of a full FD Japan series that kicks off in 2015, is a collaborative effort between Formula D and MSC, which for years now has been putting on its grassroots-oriented drift events across the country. Given D1's lack of momentum, the opportunity was there for Formula Drift, and given how well the FD Asia series has been received in the wider region, a Japanese championship seems like the obvious progression.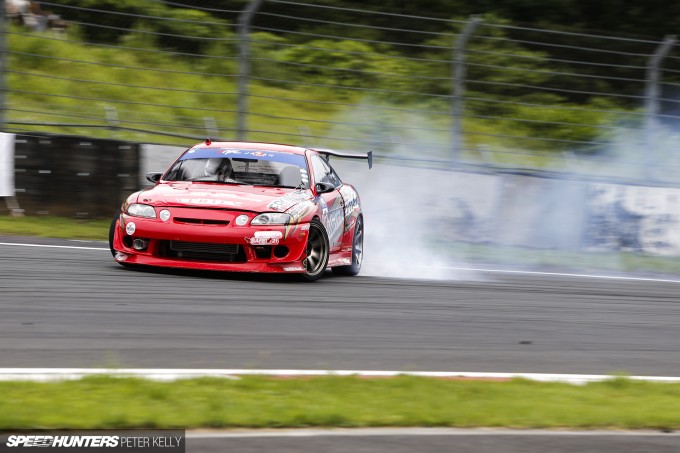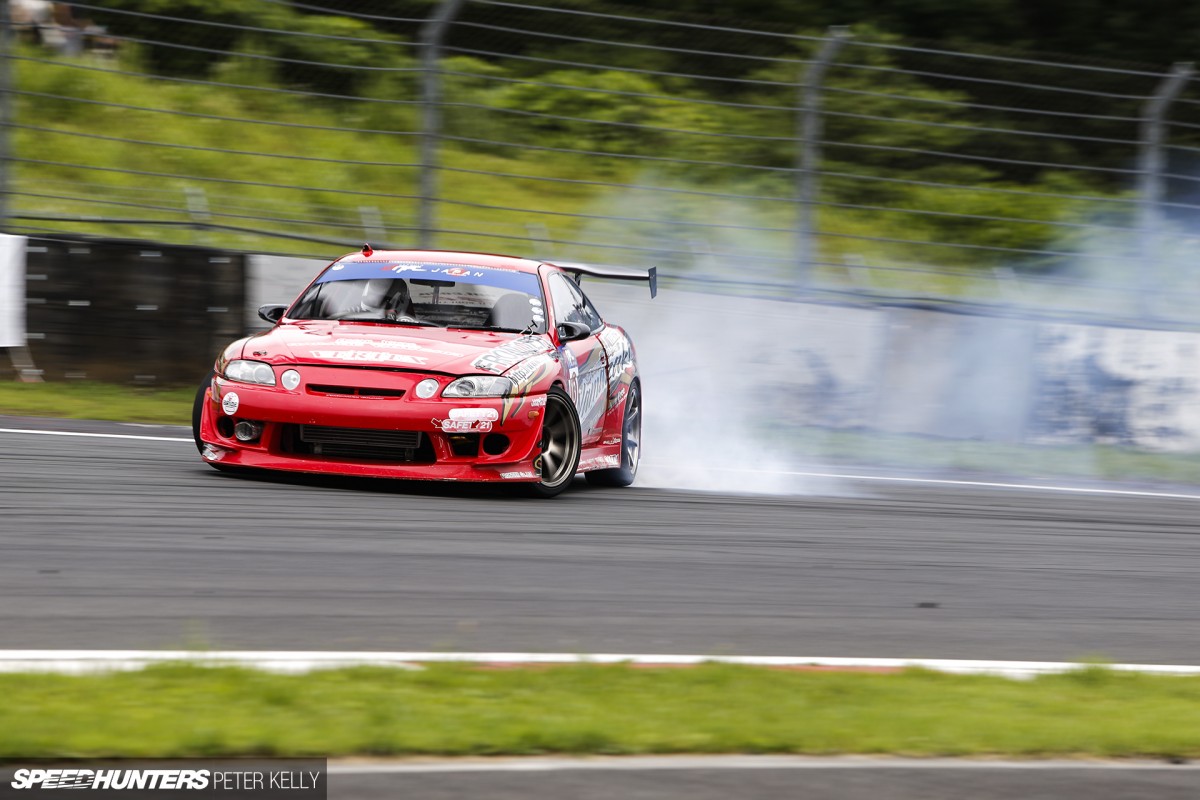 This first round, however, was part of a bigger event called Motor Games, which on top of the drifting, took over the whole of Fuji Speedway by throwing a WTAC time attack session into the mix along with some bike stunts, the Mazda Tuning Festa, a Silvia and 180SX meeting, and the Offset Kings Japan show which Taryn is bringing coverage of soon.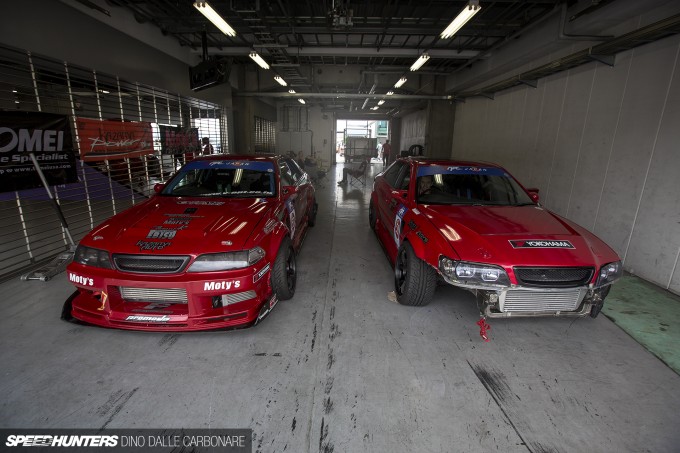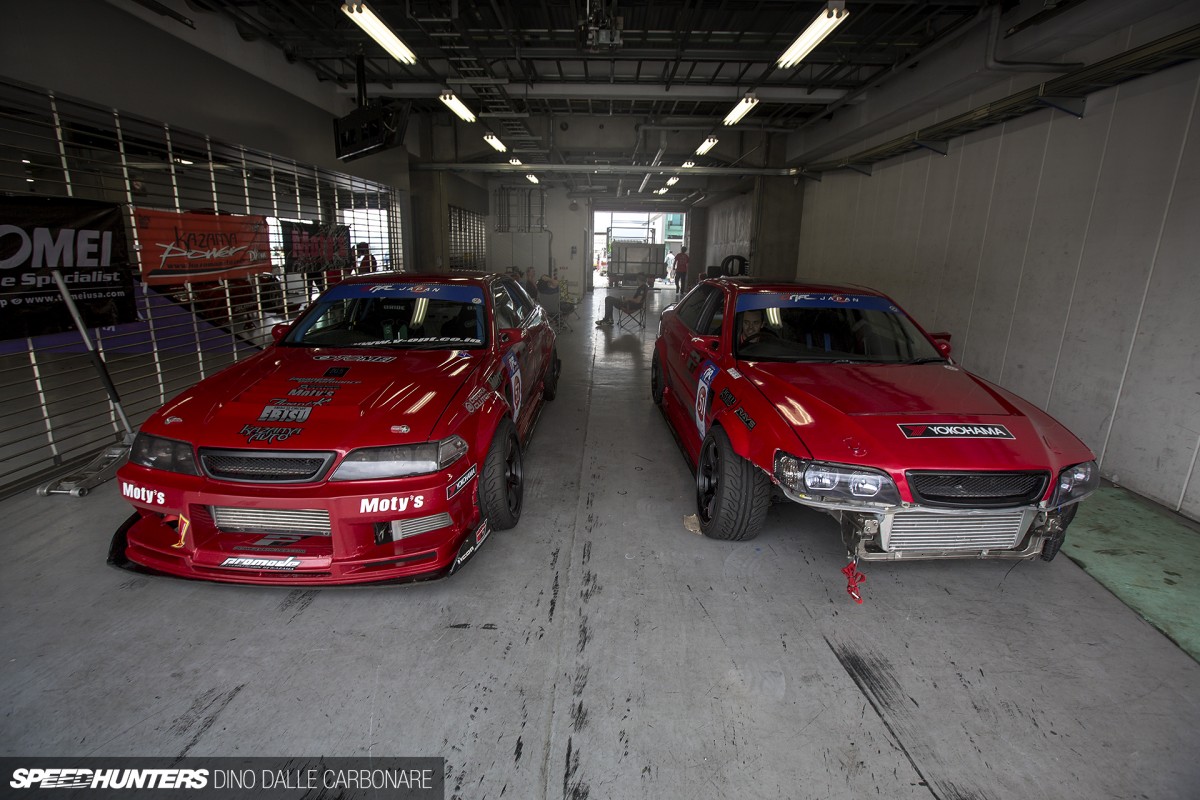 It was the FD drifting aspect I was there for though, and after hearing of the bad weather during Saturday's qualifying, the first thing I did Sunday morning was check out what cars were left in the pits. The first one I came across was Andrew Gray's JXZ100 – a fully-fledged competition car that he put together himself in the Powervehicles HQ at Ebisu Circuit over the last few months. Andy and his wife Emily have been true drift ambassadors over the years, helping get more and more foreigners drifting in Japan at the Drift Matsuri events they organise throughout the year together with Kumakubo and the Team Orange crew.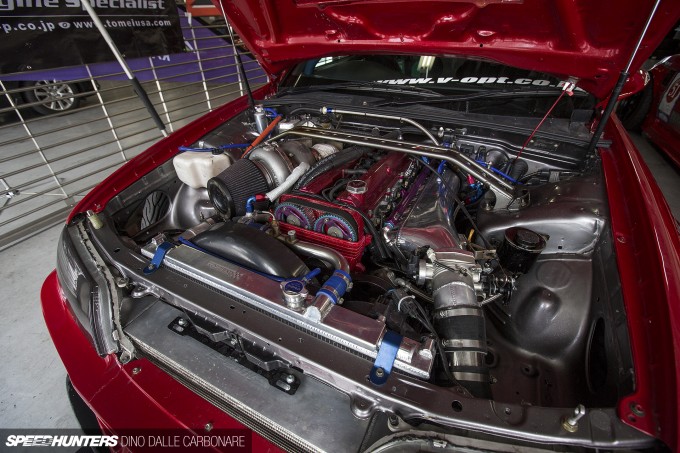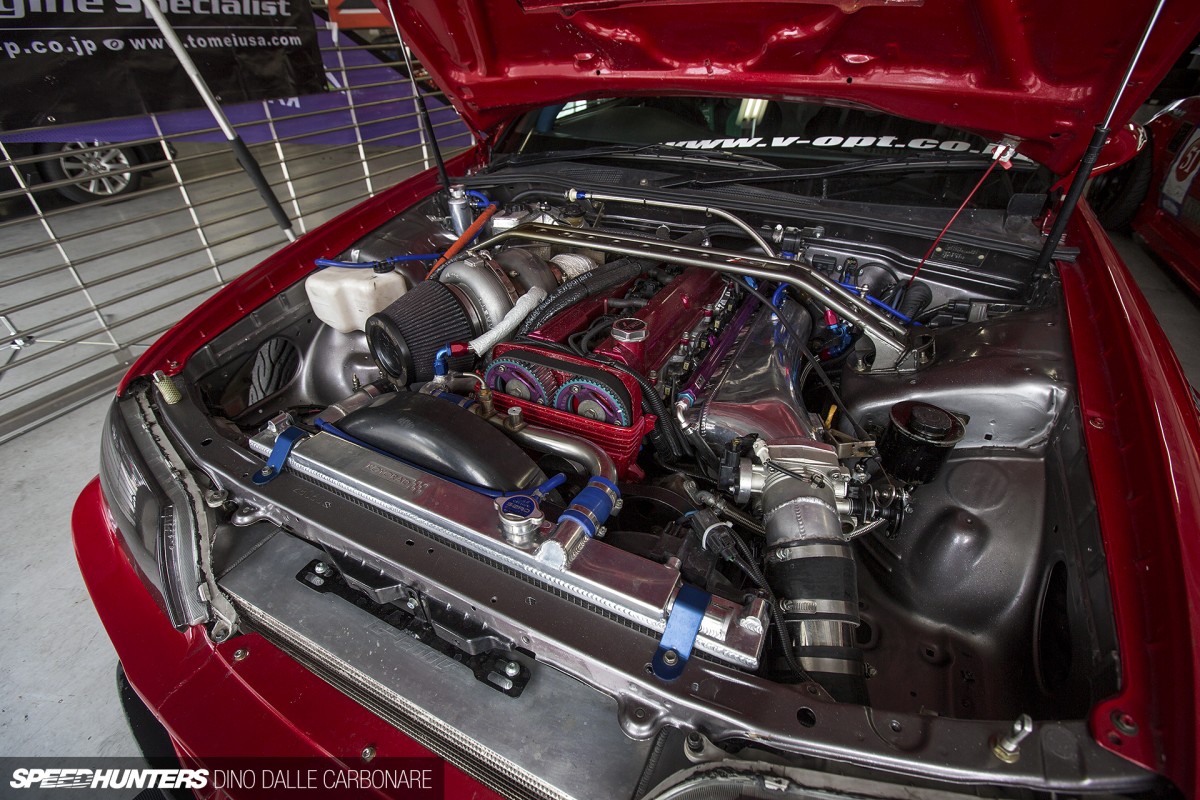 His new car is a true beast, packing a fully-tuned 3.4L stroked 2JZ mated to a massive GCG turbocharger. Running it at 1.9-bar of boost the straight-six is able to churn out close to 900hp and you can see the sort of tyre smoke that translates into in the opening picture!  Andy, who also participates in D1-SL, wasn't able to progress past the Best 32, but no doubt he will be back at Round 2 ready to put on another smoke-filled show.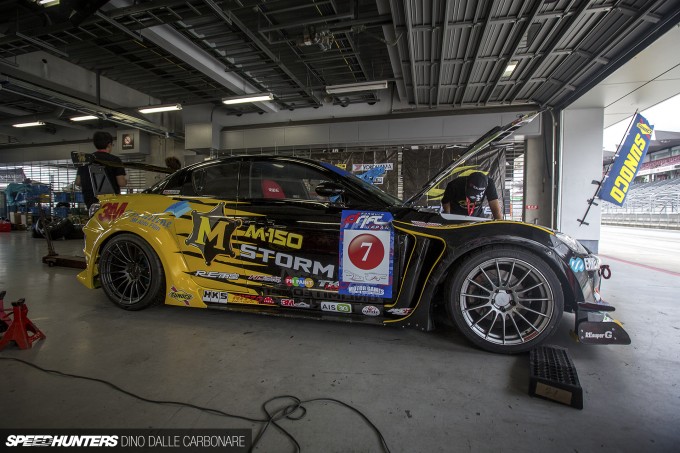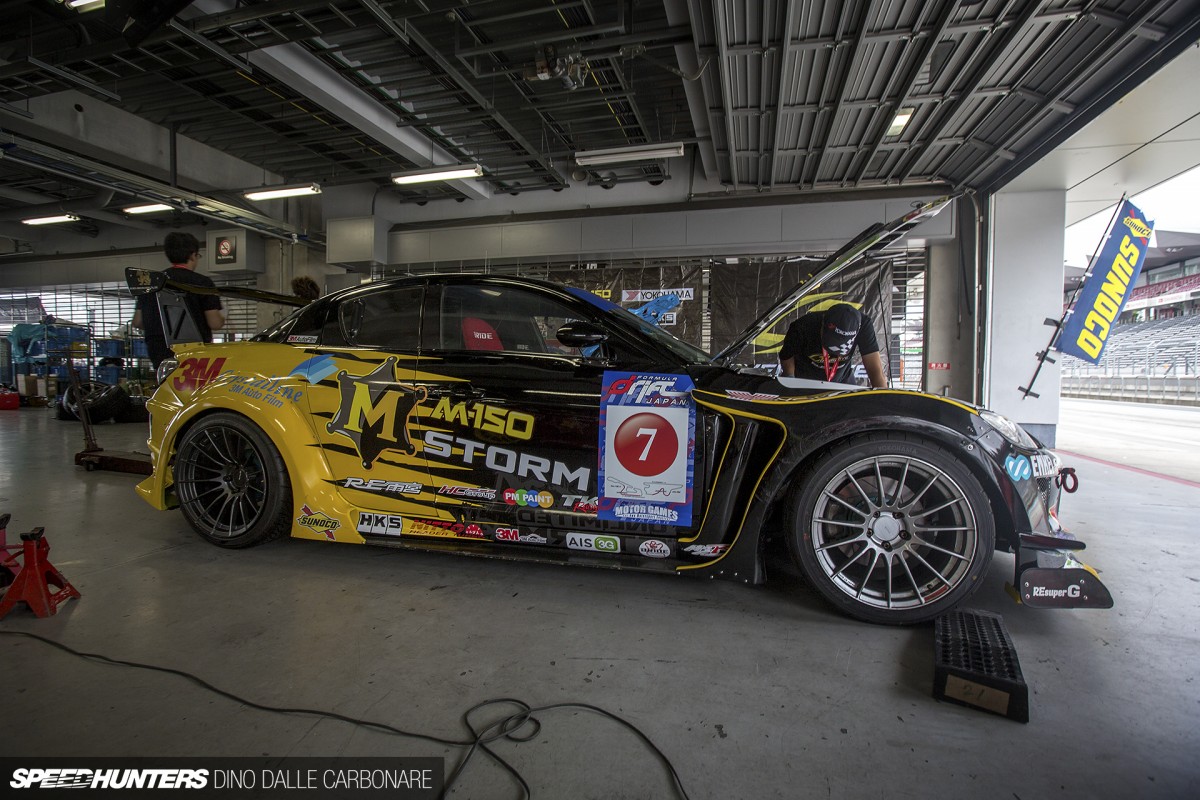 Team Overdrive was running a couple of RE Amemiya-prepped machines – this 13B-powered RX-8 driven by Oat Nattawoot Krerpradab of Thailand, which looked like Suenaga's old D1 car now sporting a few changes for this new series including those sexy new Enkei wheels.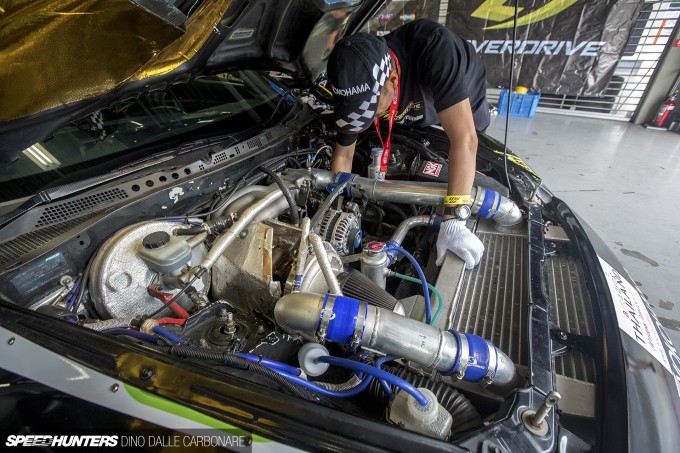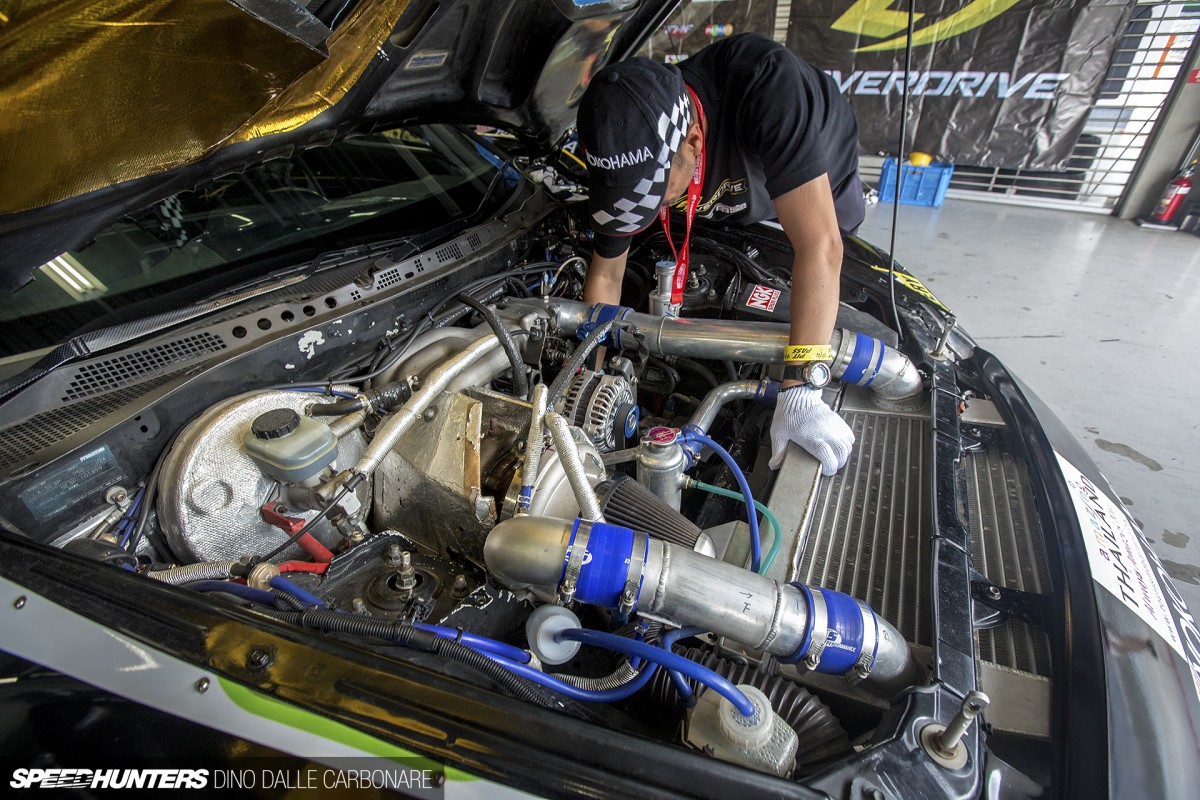 The side-ported rotary sounds awesome at full RPM!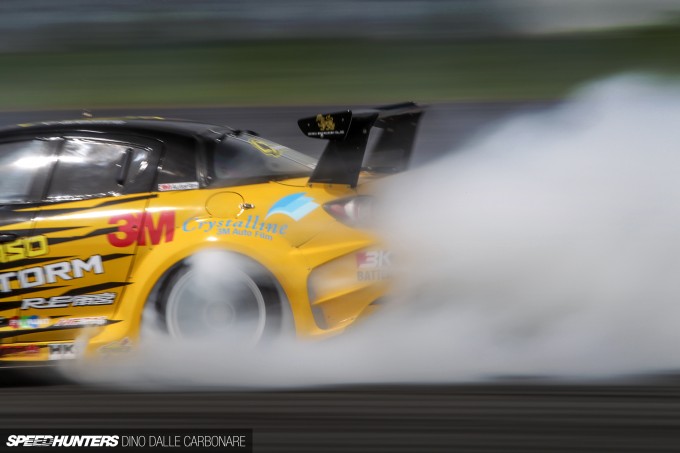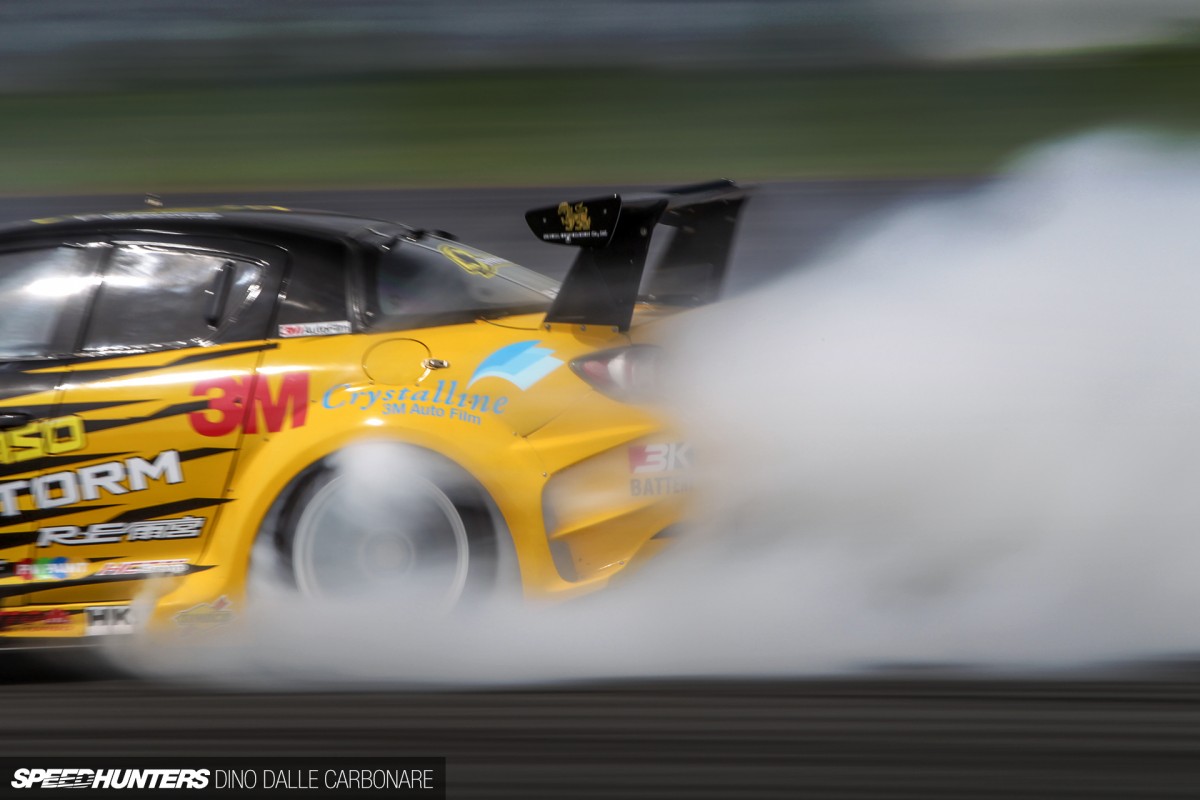 And as you can see it has no problem doing all sorts of bad things to the SE3P's rear tyres too.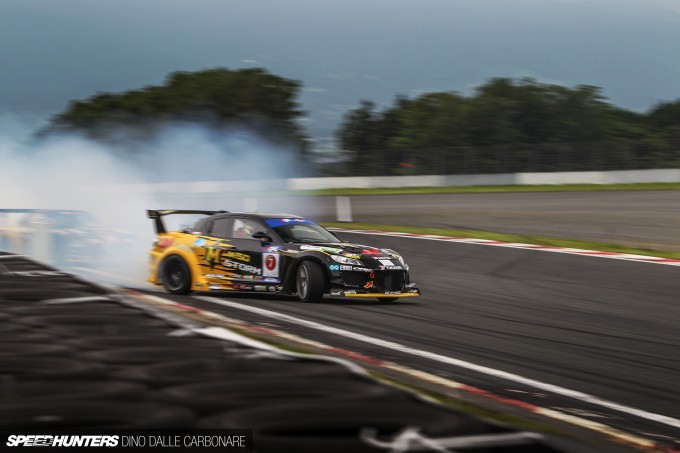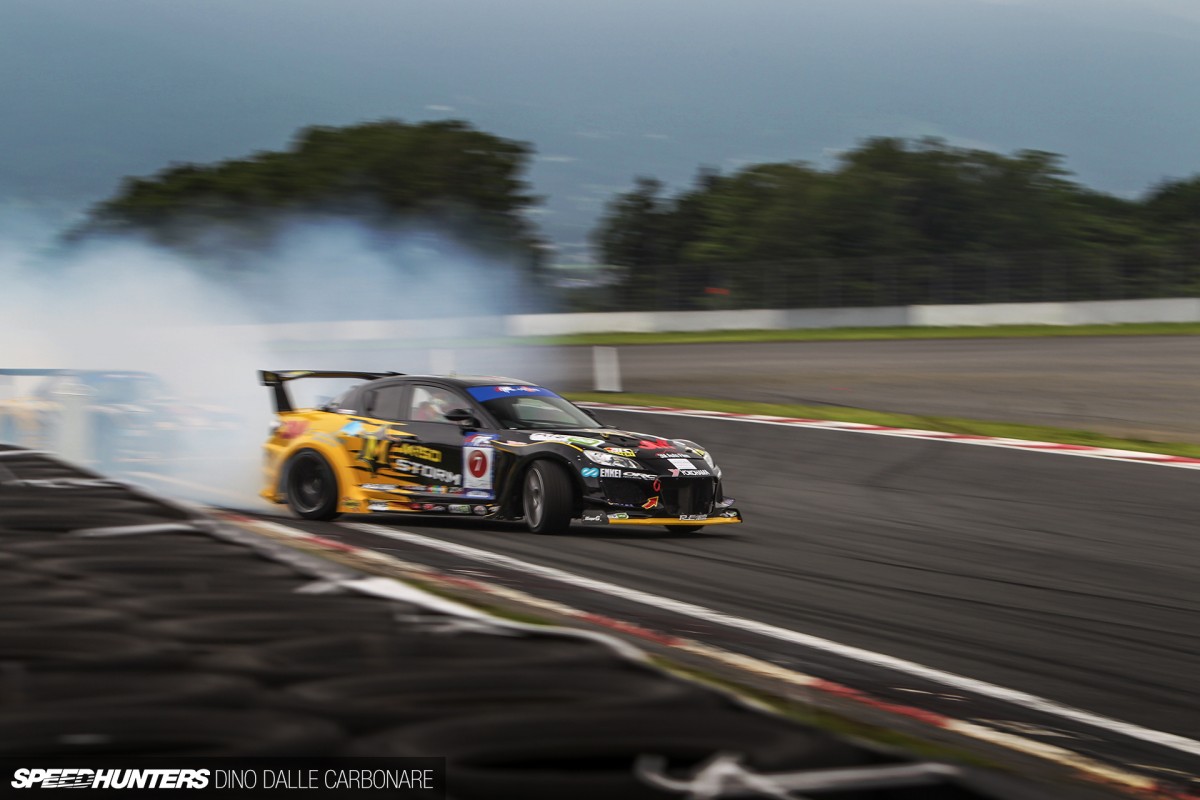 Later on in the day Oat ended up against his teammate, Suenaga, in the Top 16 – a true battle of the rotaries. Suenaga took the win and progressed onwards.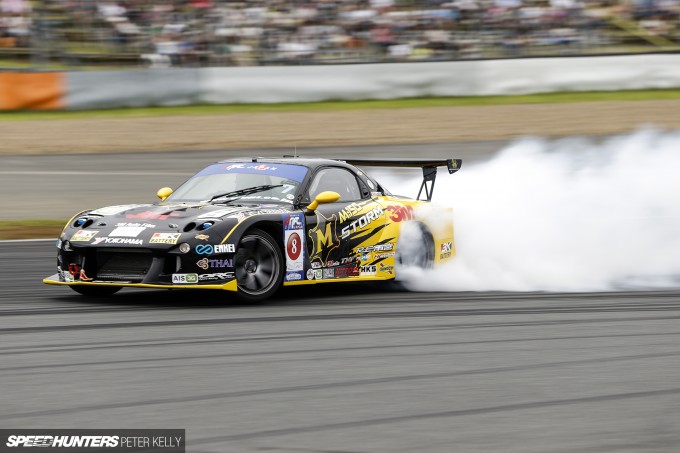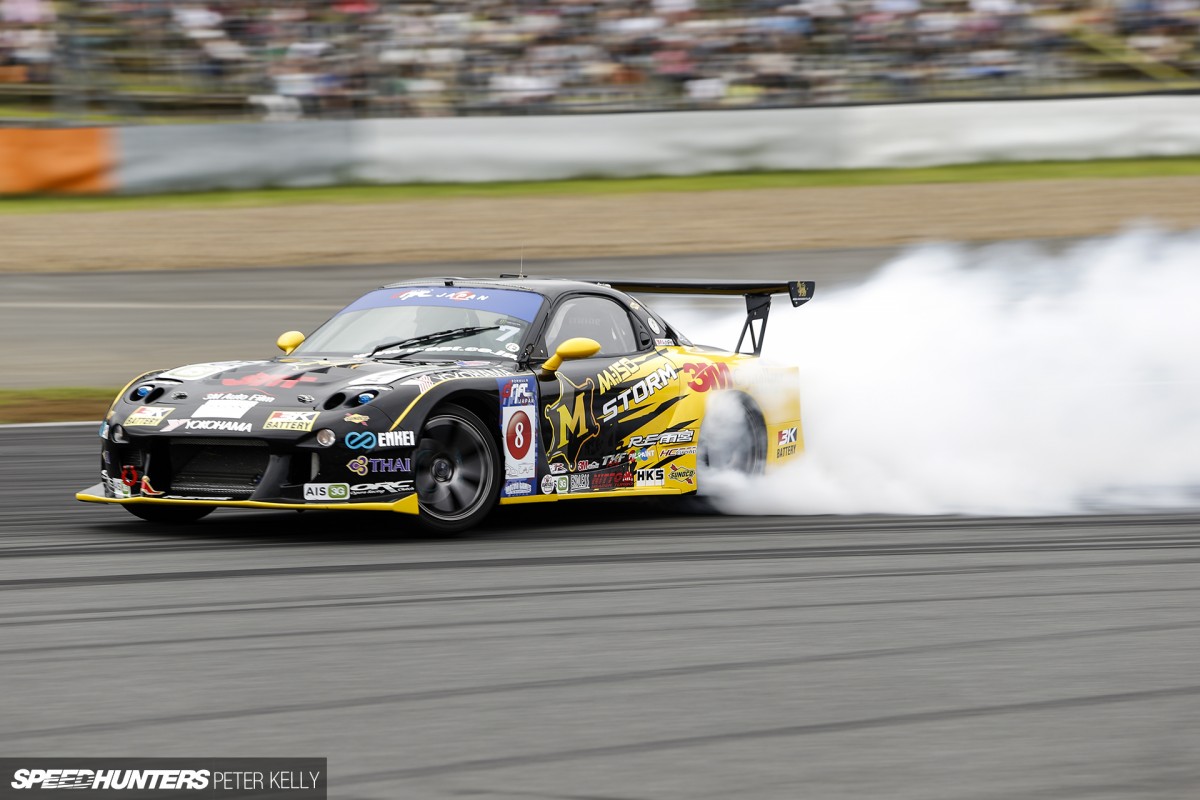 Suenaga's widebody FD3S goes about destroying its rear tyres in a slightly different way to Oat's RX-8. Power is developed through a three-rotor 20B engine boosted by a large GReddy T88 turbocharger that has no problems spooling up instantaneously when he steps on the loud pedal.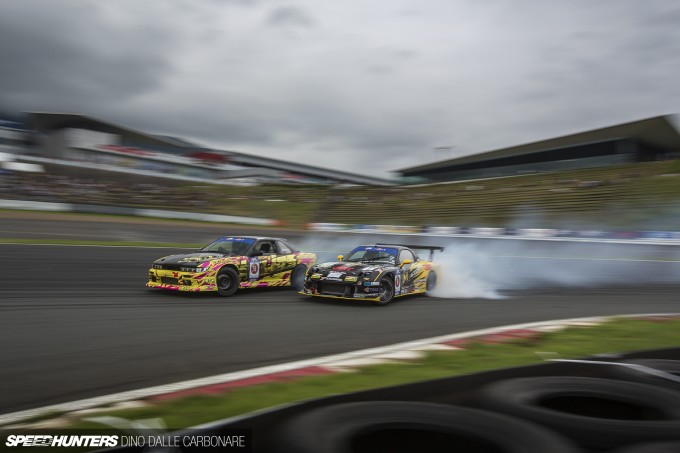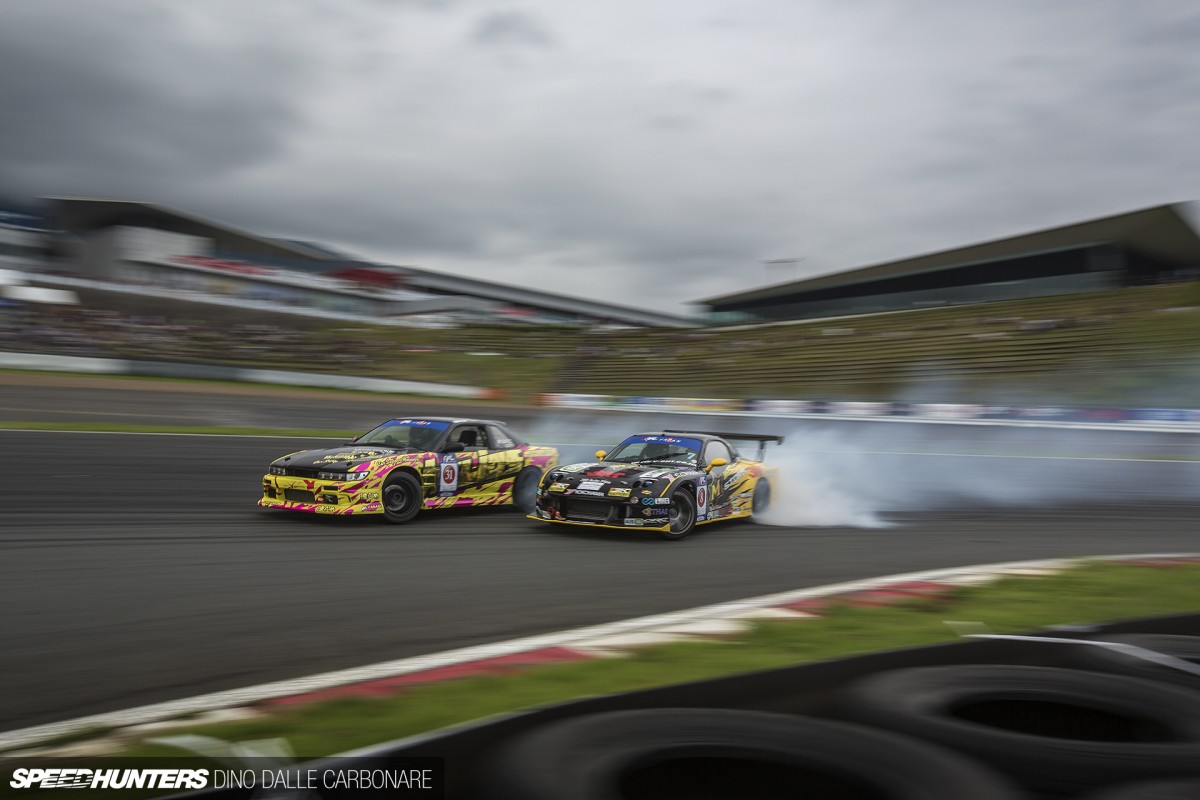 Suenaga put on a very good show, and is obviously one of those drivers that isn't afraid to use 100 per cent of the available power 100 per cent of the time!
Familiar Cars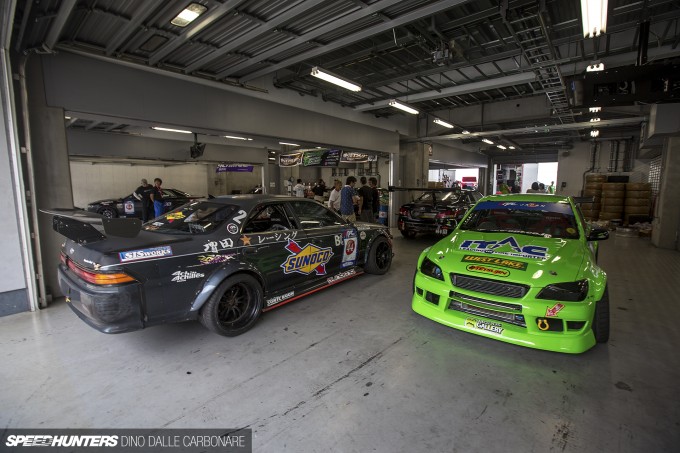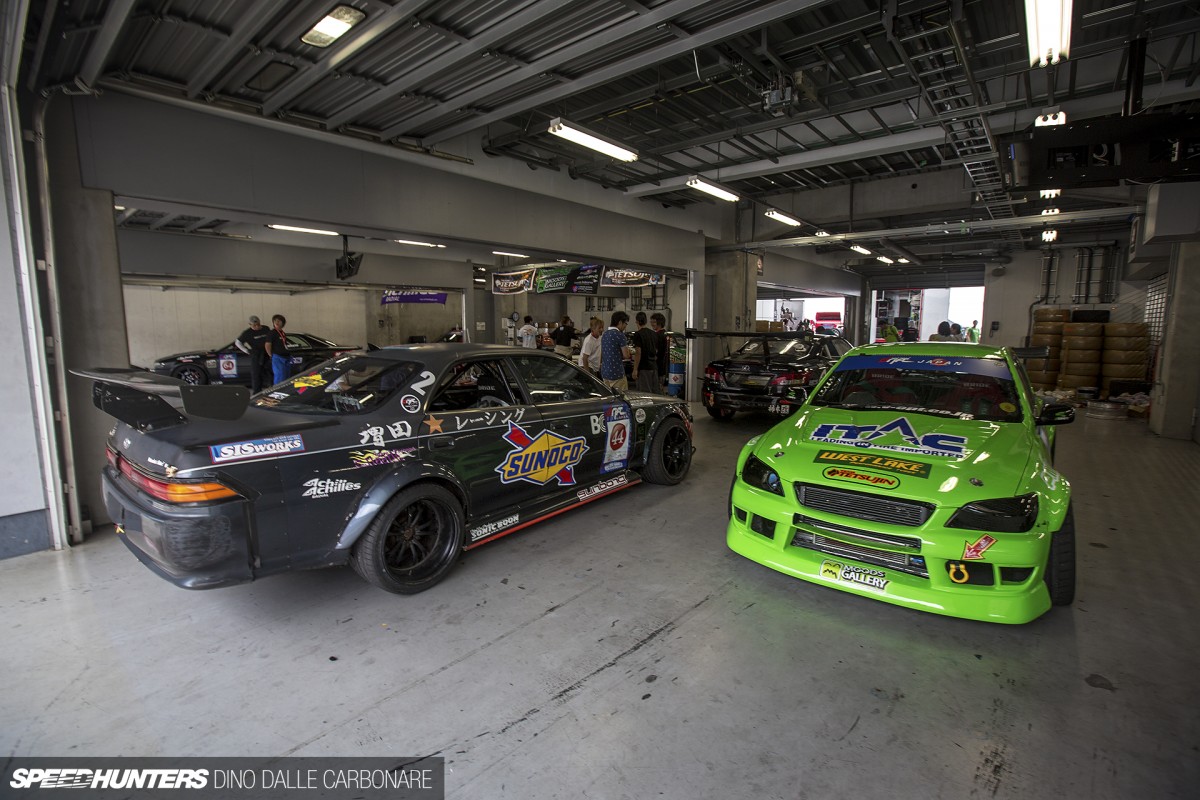 In Daigo Saito's pit there were quite a few interesting cars present – everything from his angry-mouthed JZX90 Mark II he previously used in D1, to this fluro green Altezza. Both cars are fitted with fender flares and run seriously tuned engine packages.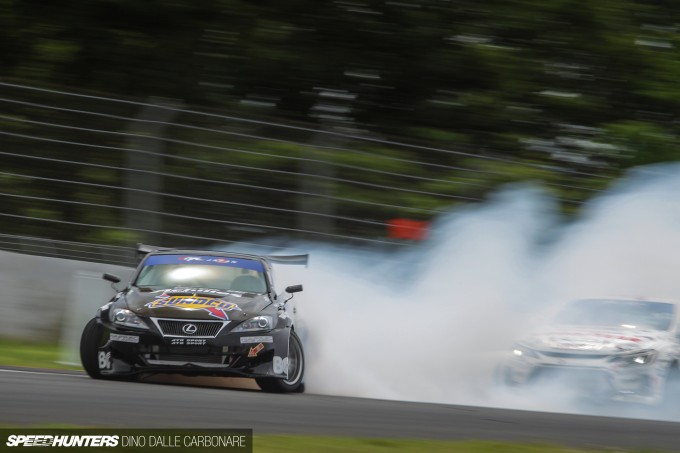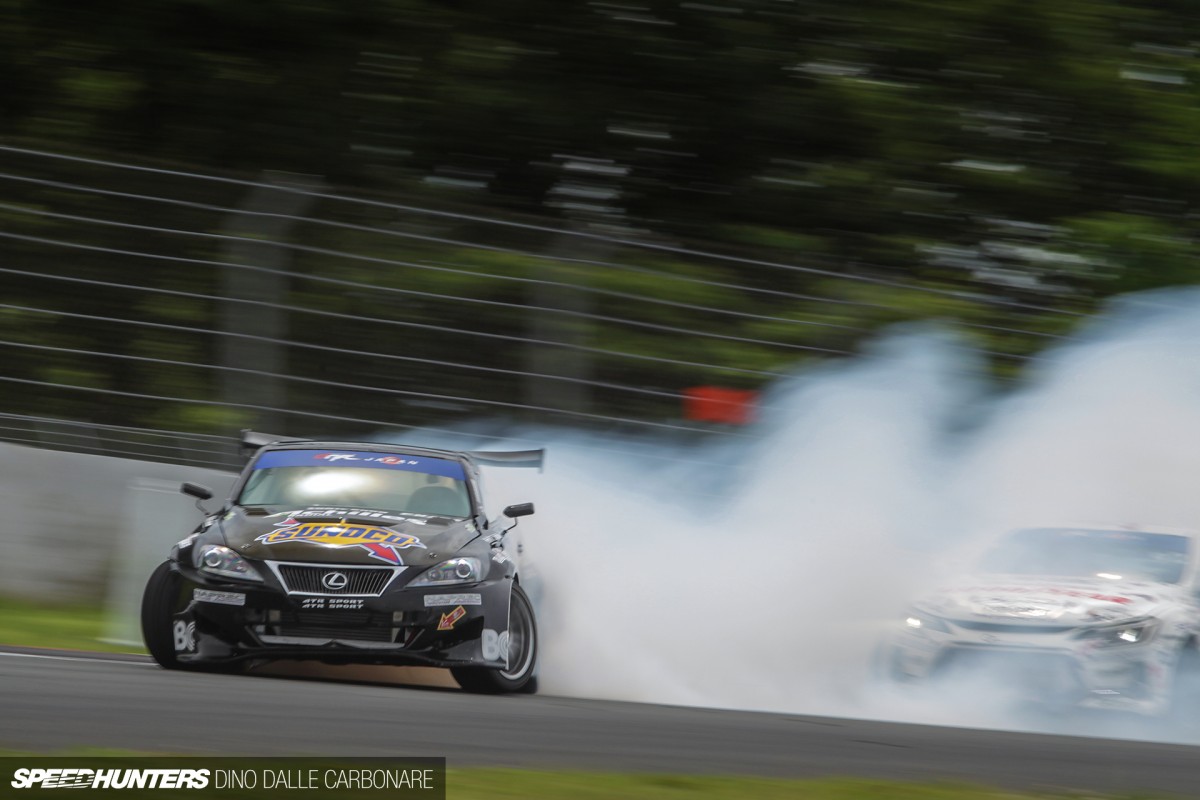 It was, however, his Formula Drift Asia Lexus IS Convertible that he entered in the competition, leaving his other cars to be driven by his international friends that made up some of the 70+ entries.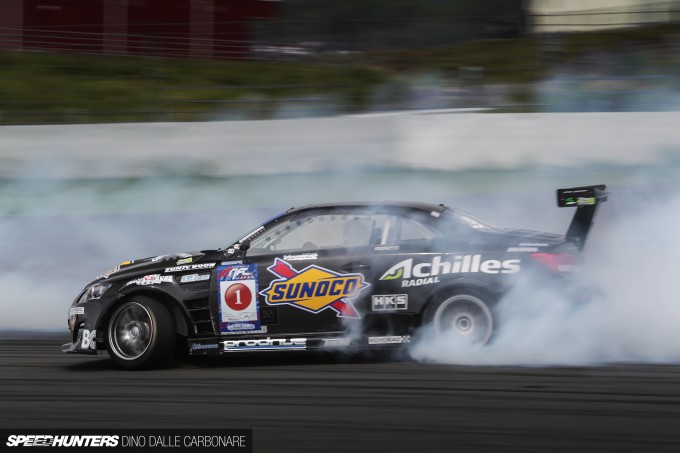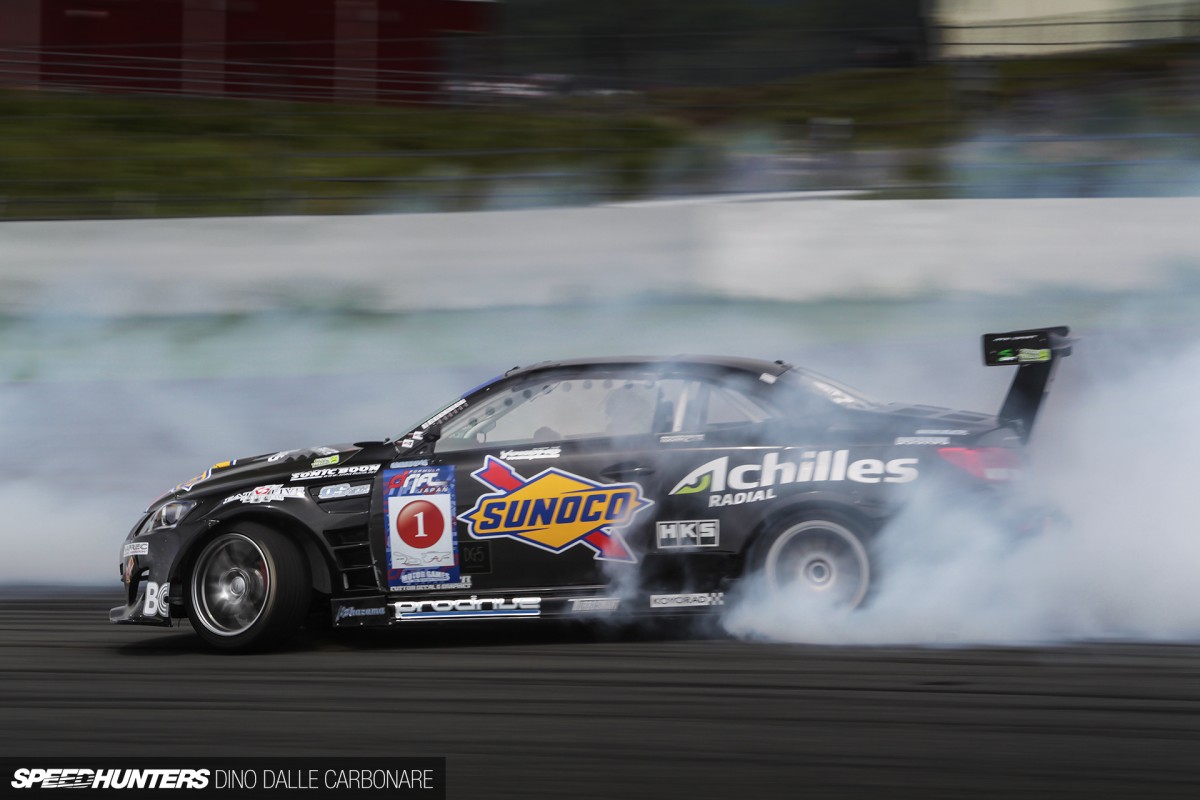 As usual he put on a great show with plenty of tyre smoke both before and during the judged section – the same hairpin that is used in D1 but run clockwise. To everyone's surprise though, Saito was unable to beat Kunnyz in his Mark X and therefore failed to make it into the Top 16.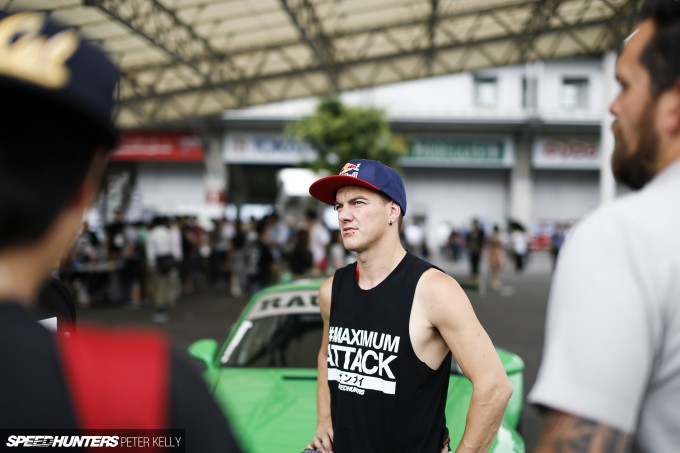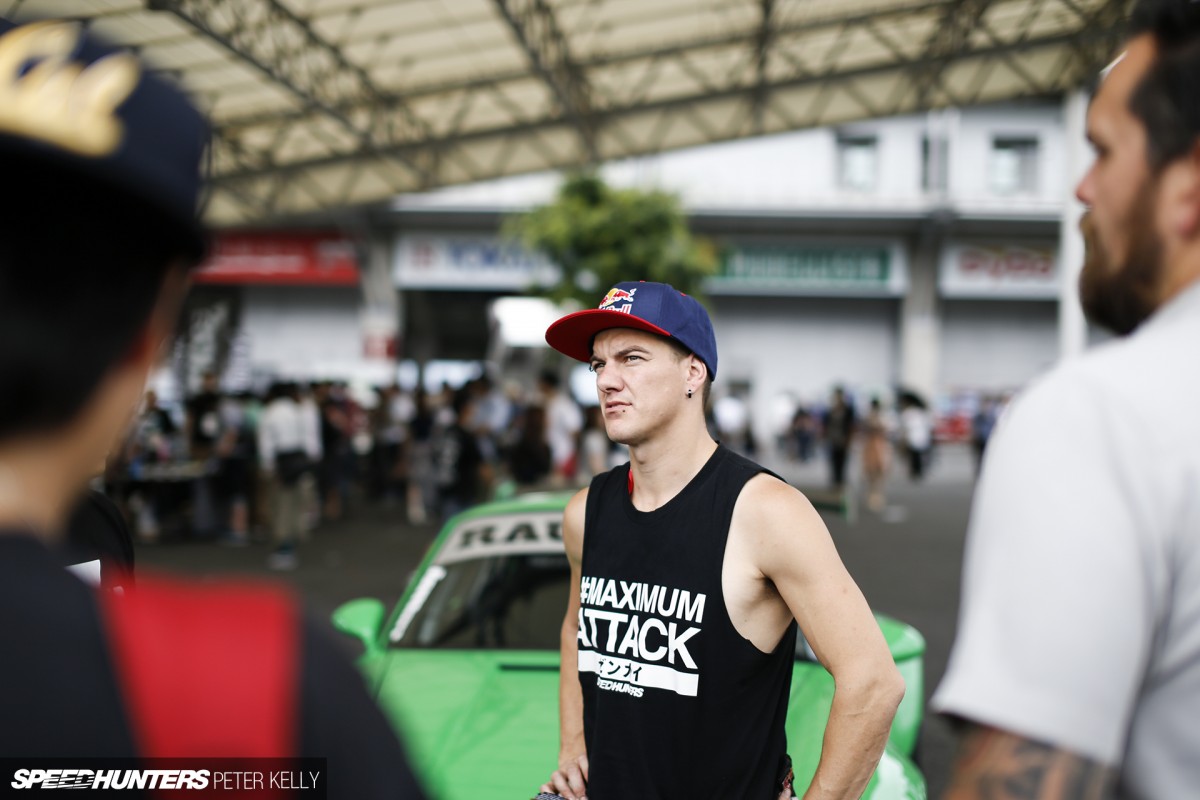 Another familiar face at Fuji Speedway was our own Mad Mike Whiddett, who, after a pretty crazy previous weekend spent drifting up the Goodwill hill over in the UK, flew halfway back around the world to take part in this rather important event.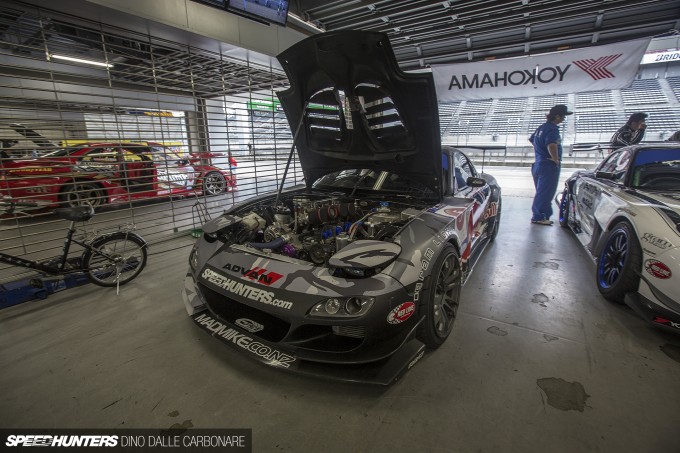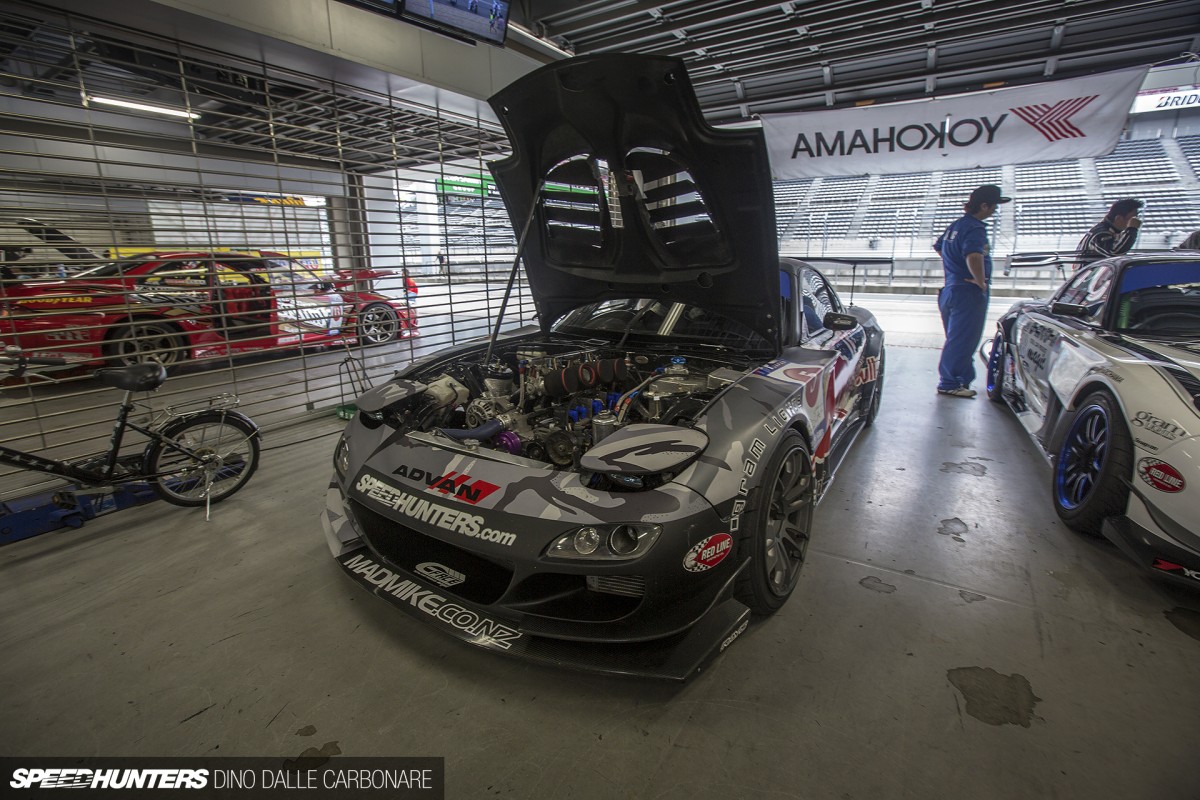 He was piloting JAPBUL – the Total Car Produce Magic FD3S which we have seen before at both D1 and the Tokyo Auto Salon.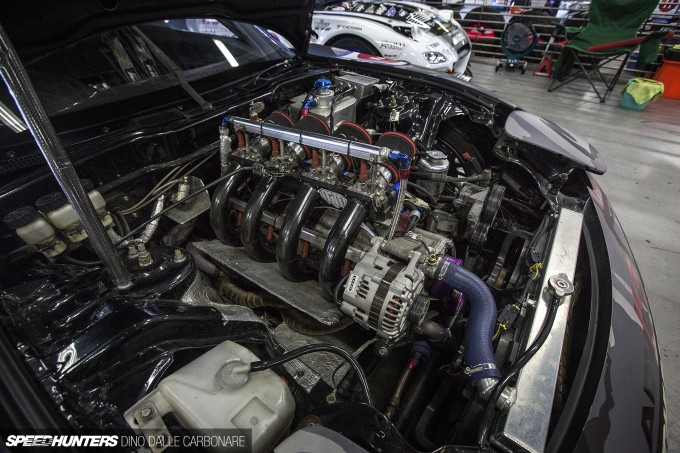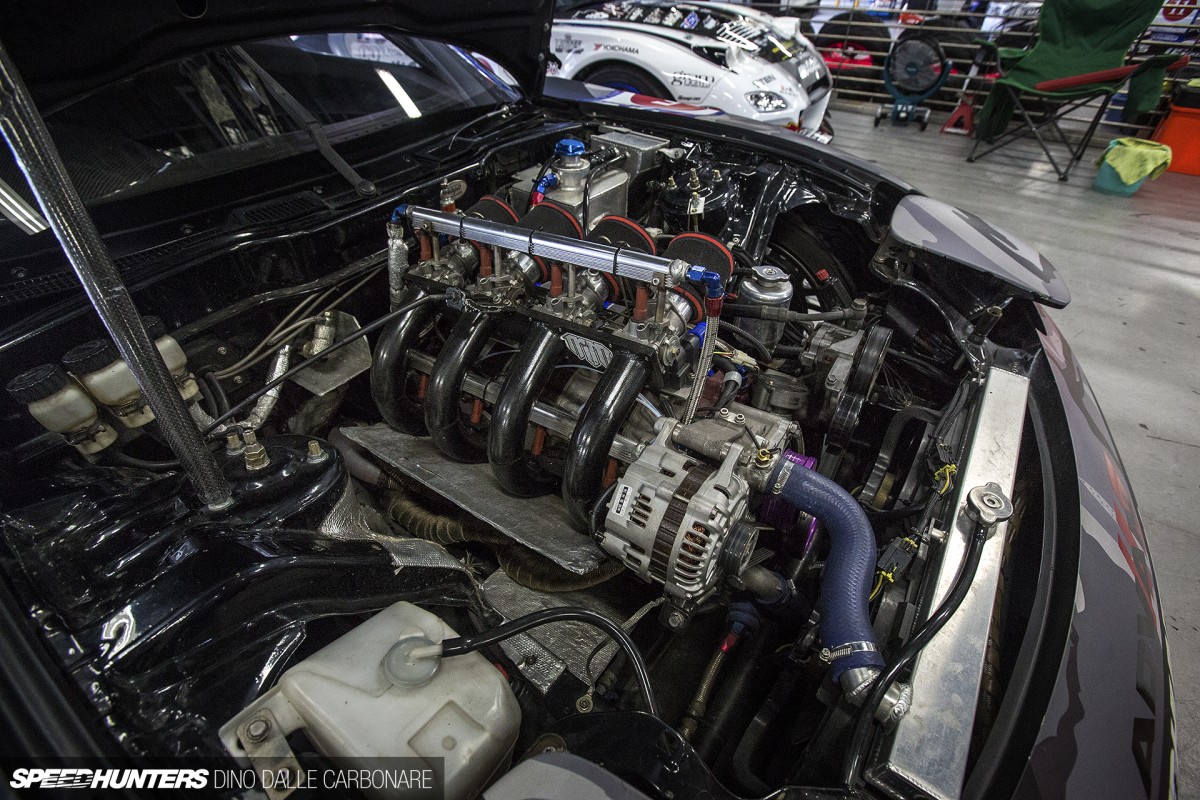 The naturally-aspirated four-rotor engine that powers it is over 100hp down on Mike's own MADBUL FD3S RX-7, which meant that even with a decent shot of nitrous oxide blowing through it, he was really struggling to achieve the speeds the other more powerful and torquier cars were achieving.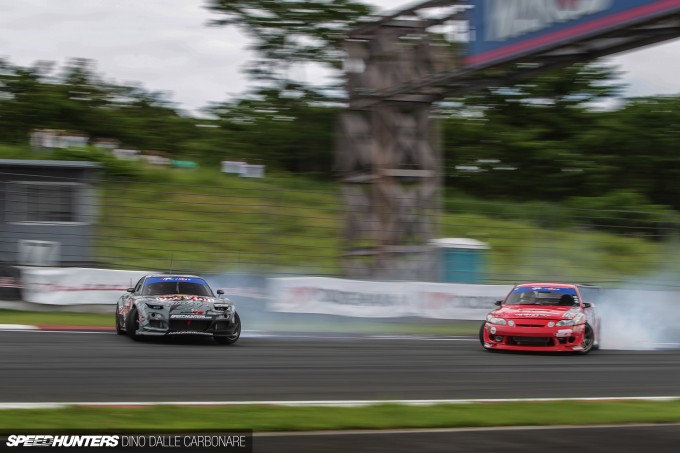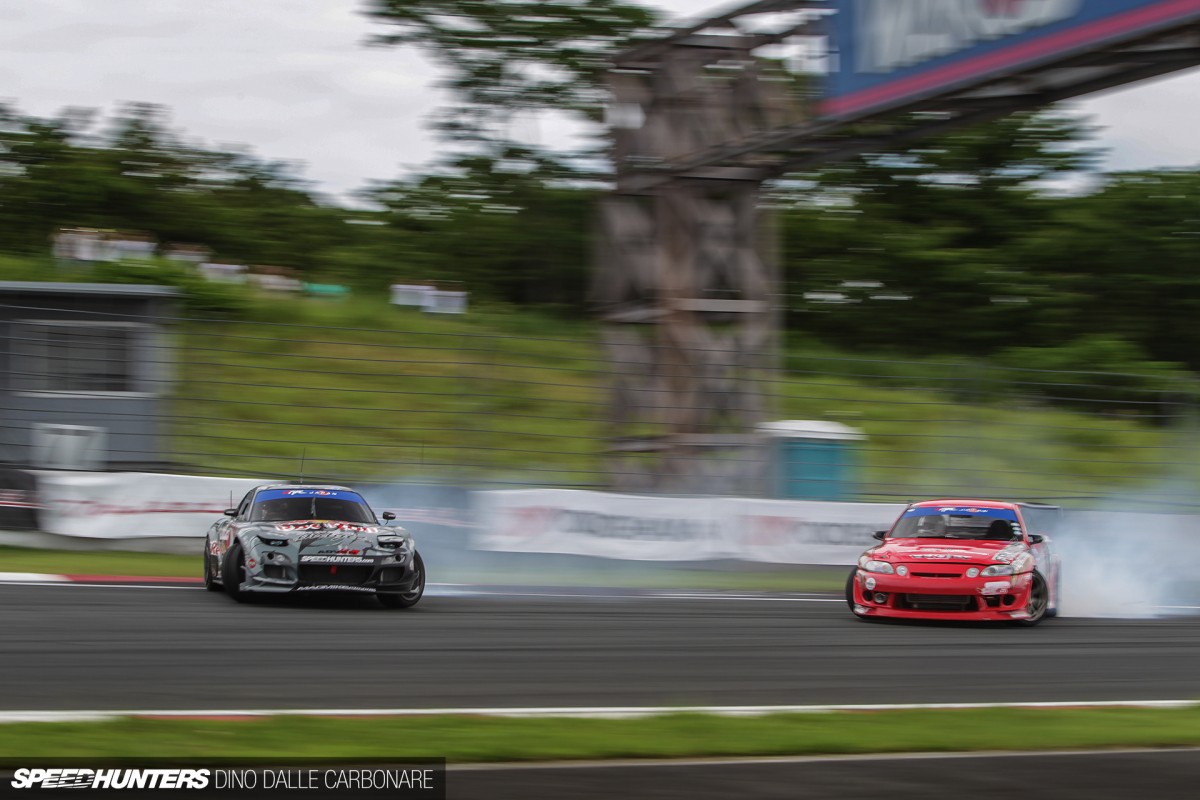 He also had way too much rear grip, which is why he's seen here battling Kiyotaka Yamazaki without the rear wing attached to the RX-7. He even attempted to mount it upside-down to create lift, but that didn't work either! After qualifying in sixth spot on Saturday, ultimately it was a blown third gear in the FD3S's HKS sequential gearbox that ended his outing though.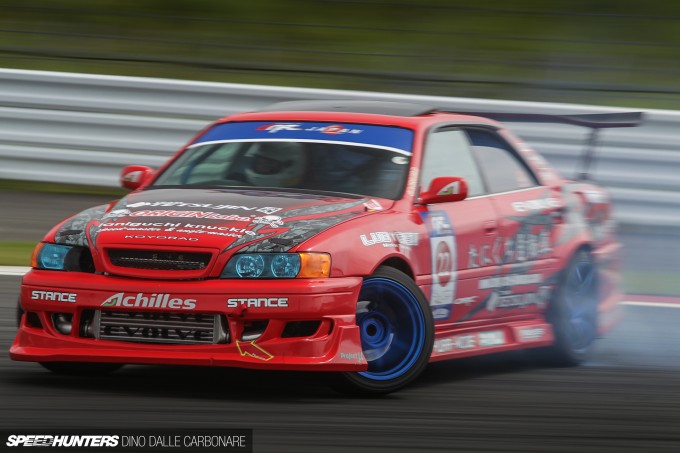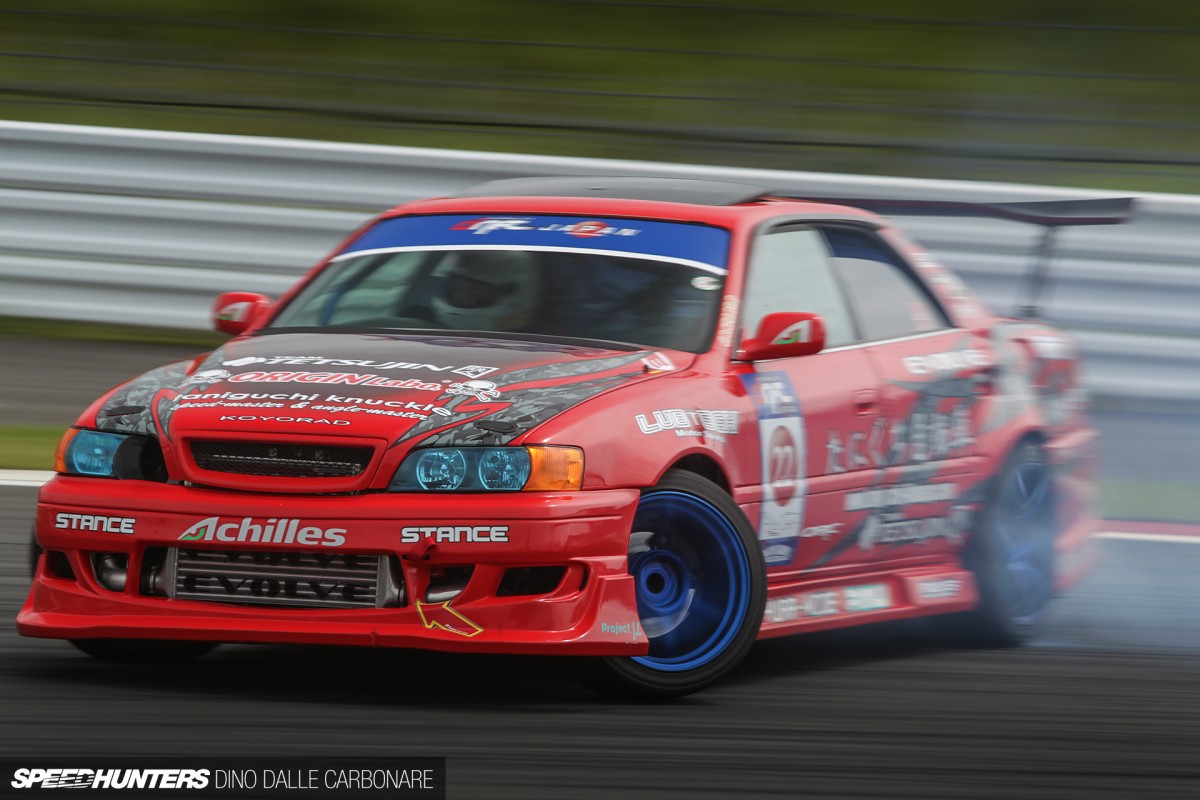 Got angle?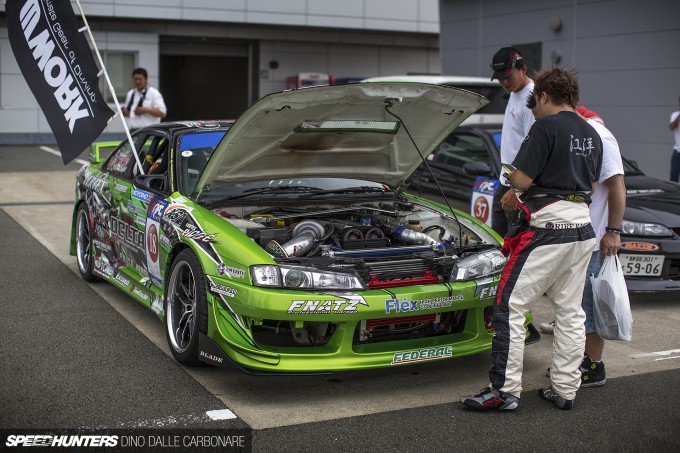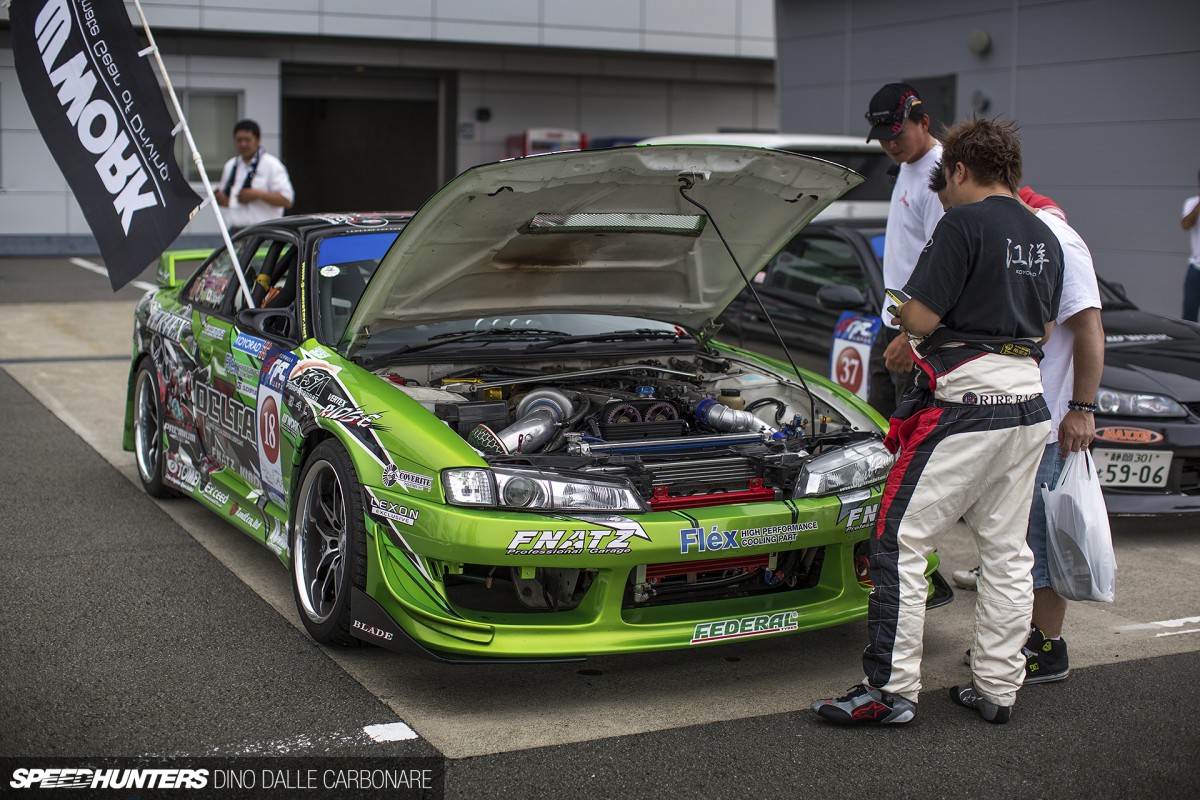 With the Top 16 placings decided, it was over to the paddock once again to check out some of the cars that had been pushed out of the garages for everyone to see.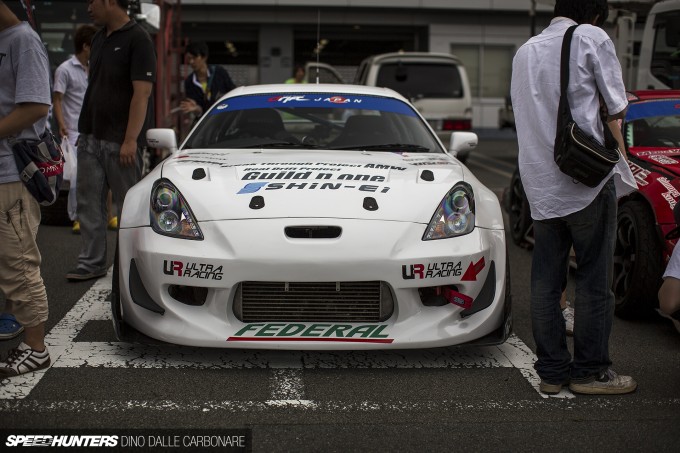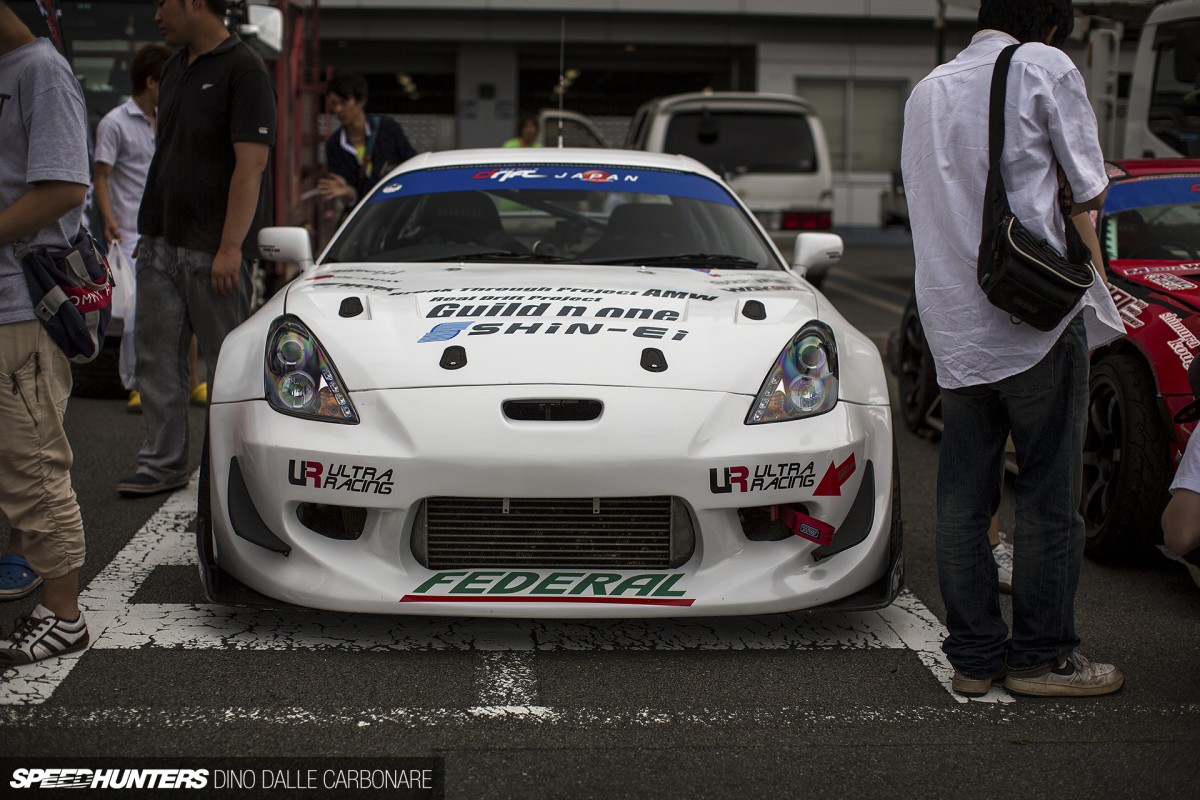 That's where I spotted Yuji Tanaka's pair of 'Guild n One' Celica-faced JZX80s. He crashed the red car in competition running him out of a chance at the title, but it was the white car – a more street-oriented build – that attracted the most attention.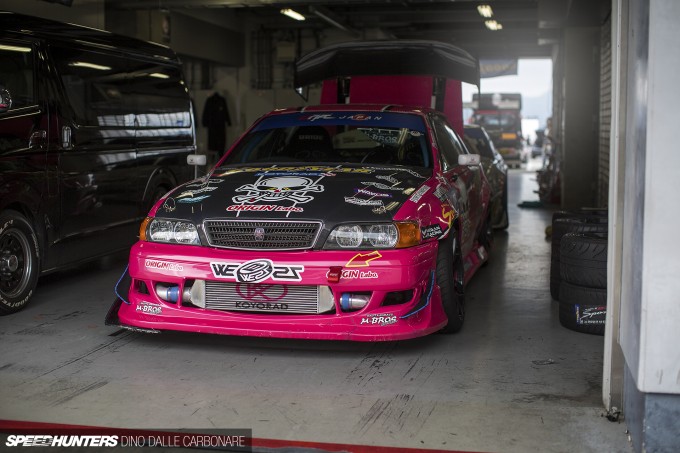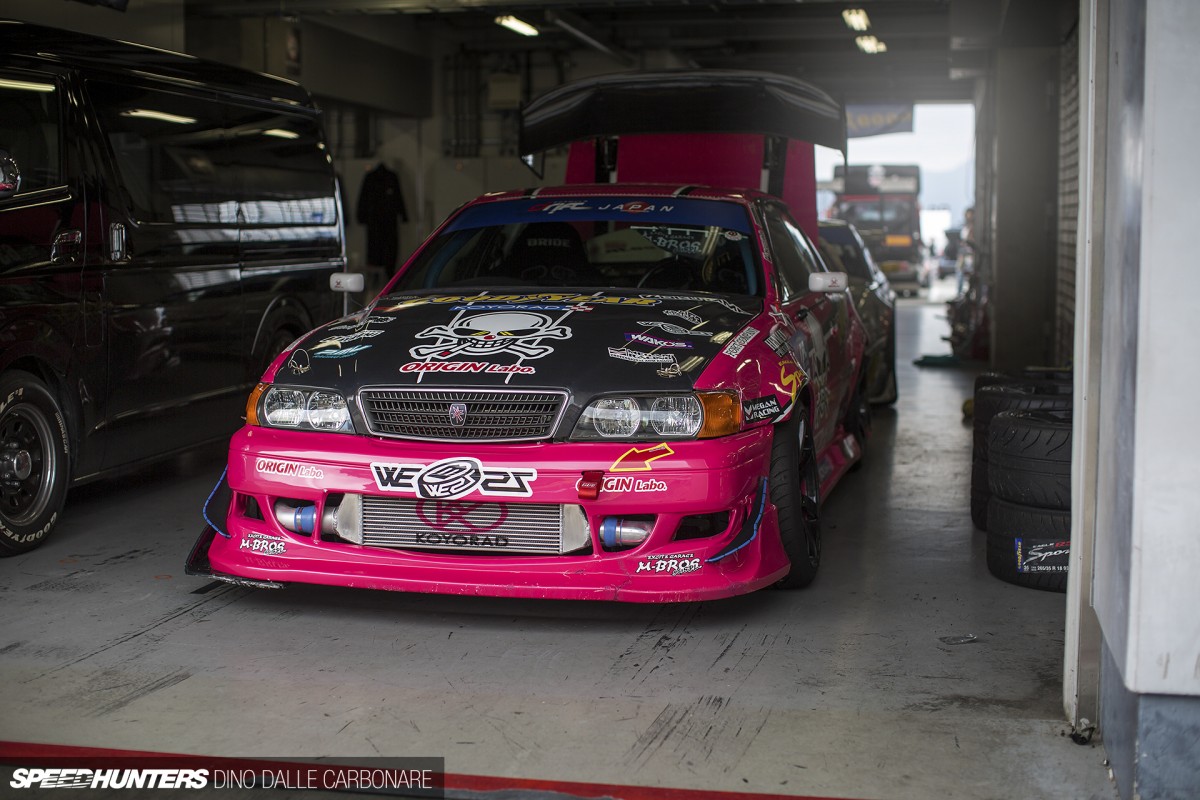 Given her newfound JZX attraction, I bet Taryn would have loved this Origin-kitted JZX100!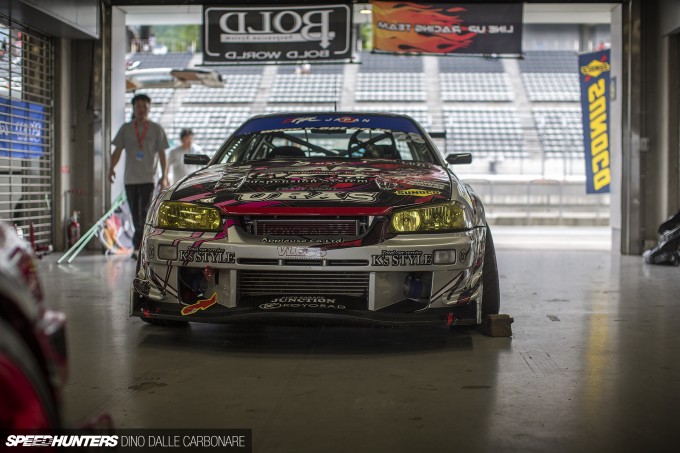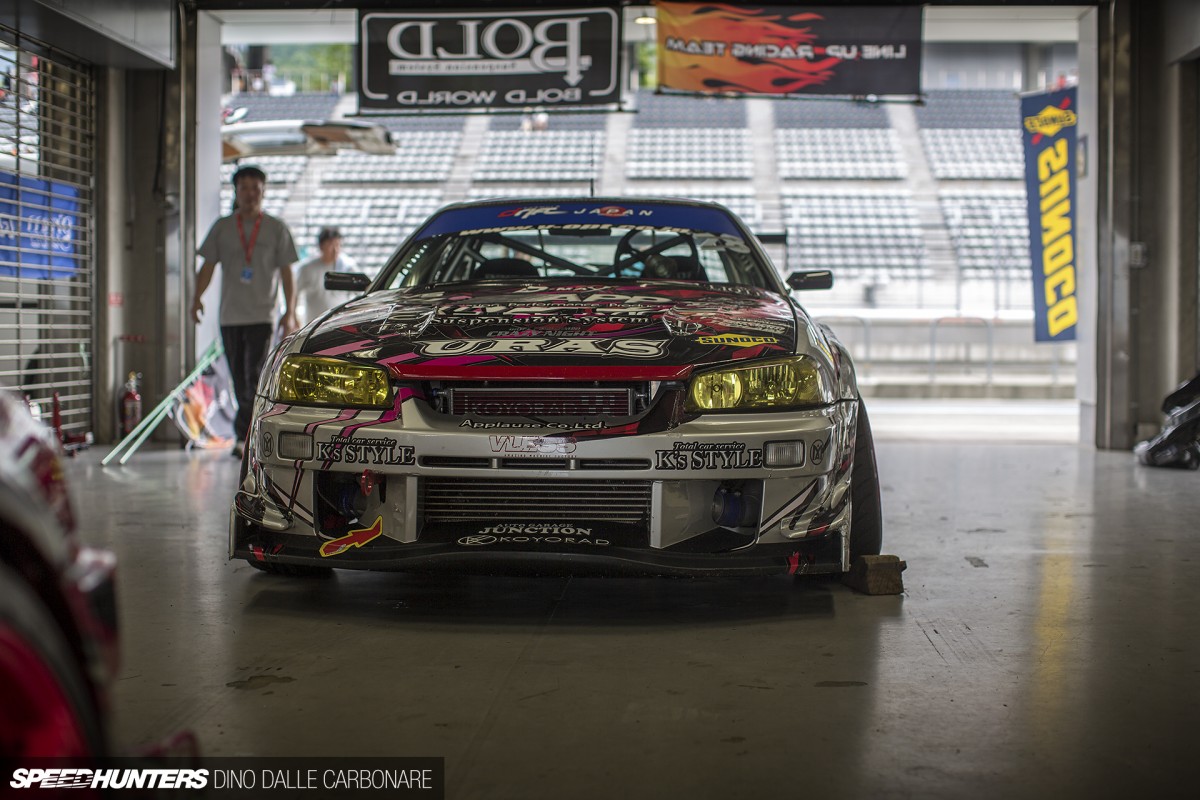 Tsutomu Fujio's ER34 Skyline looked pretty menacing sitting with its aggressively cambered front wheels and love-it-or-hate-it URAS aero kit.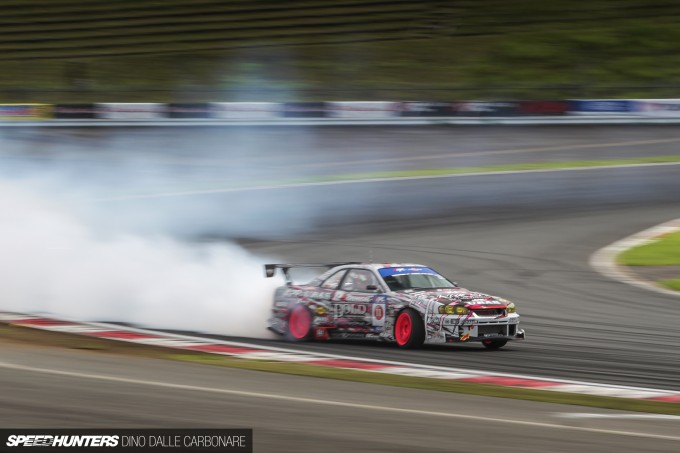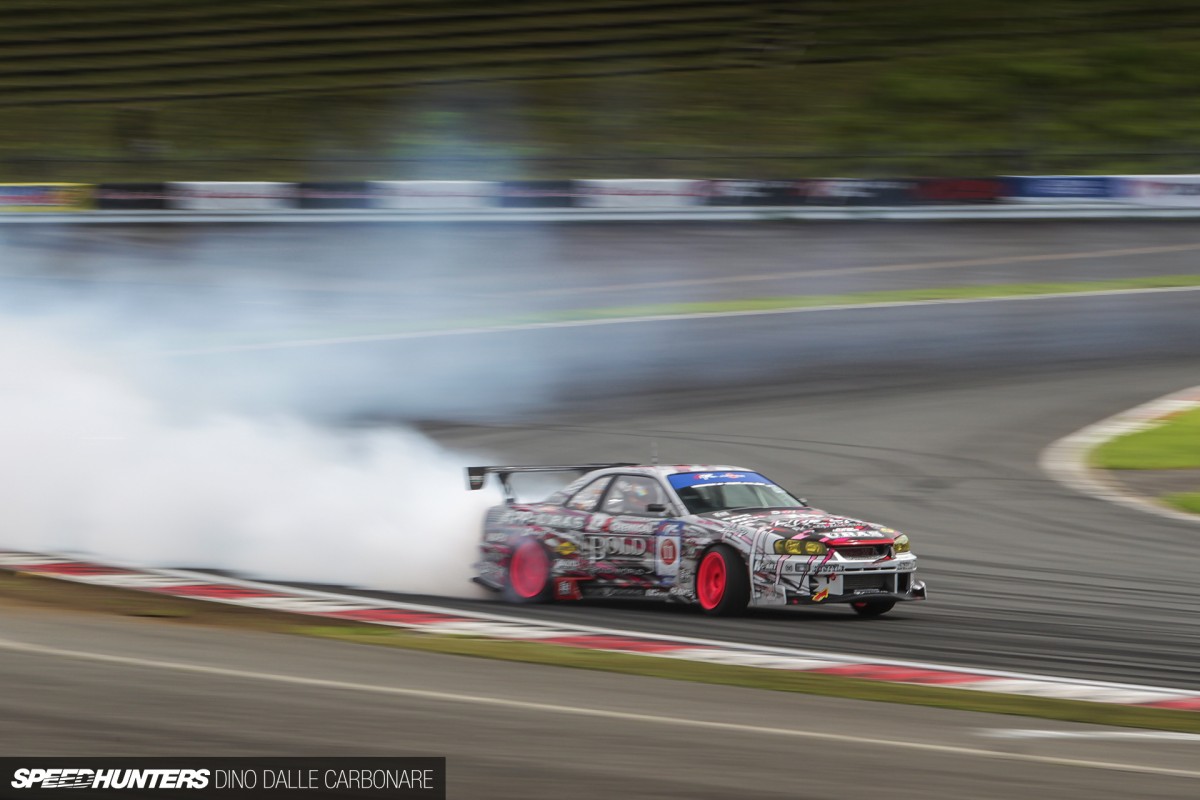 But it looked even better out in action – its RB engine singing away here as he powers out of Fuji's tricky, widening in-field hairpin.
More of the action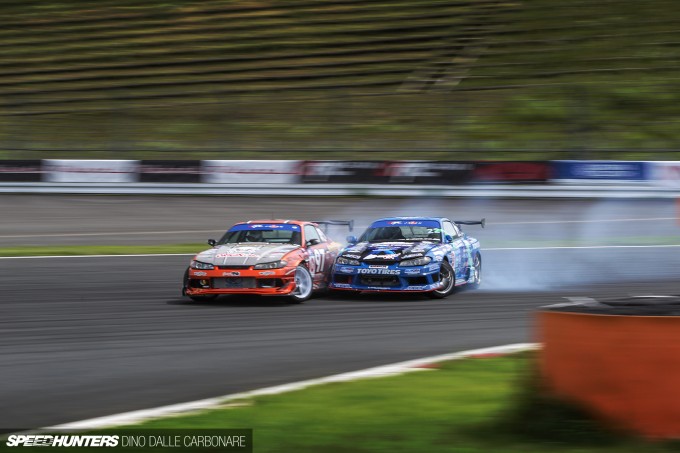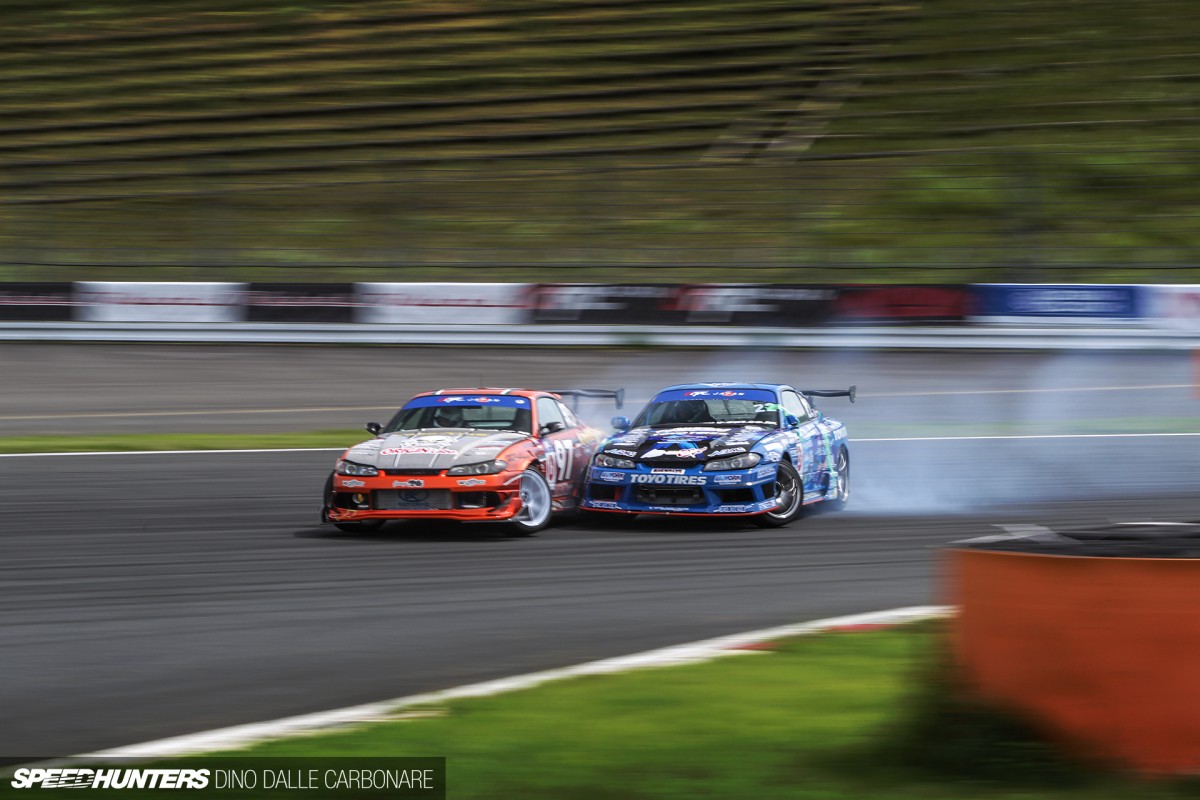 The actual judged section was marked by a white cone close to the apex of the corner, which probably explained why many chasing drivers were keeping way too much distance from the car ahead as they set up for the corner. Playing it safe maybe, which is sort of understandable, but as an onlooker it didn't look that impressive. And from a photographic standpoint it was really frustrating at times as it was almost impossible to catch both cars in frame. Seimi Tanaka – on board his D-Max S15 – showed everyone how to do it on this particular pass. Although he did hit Kunihiko Teramachi's Silvia in the process…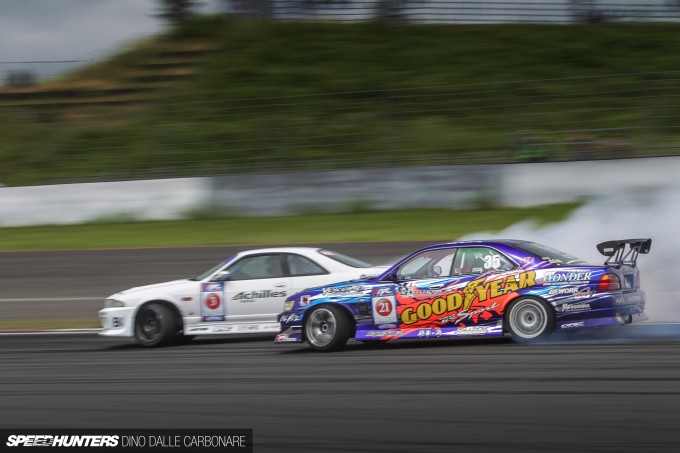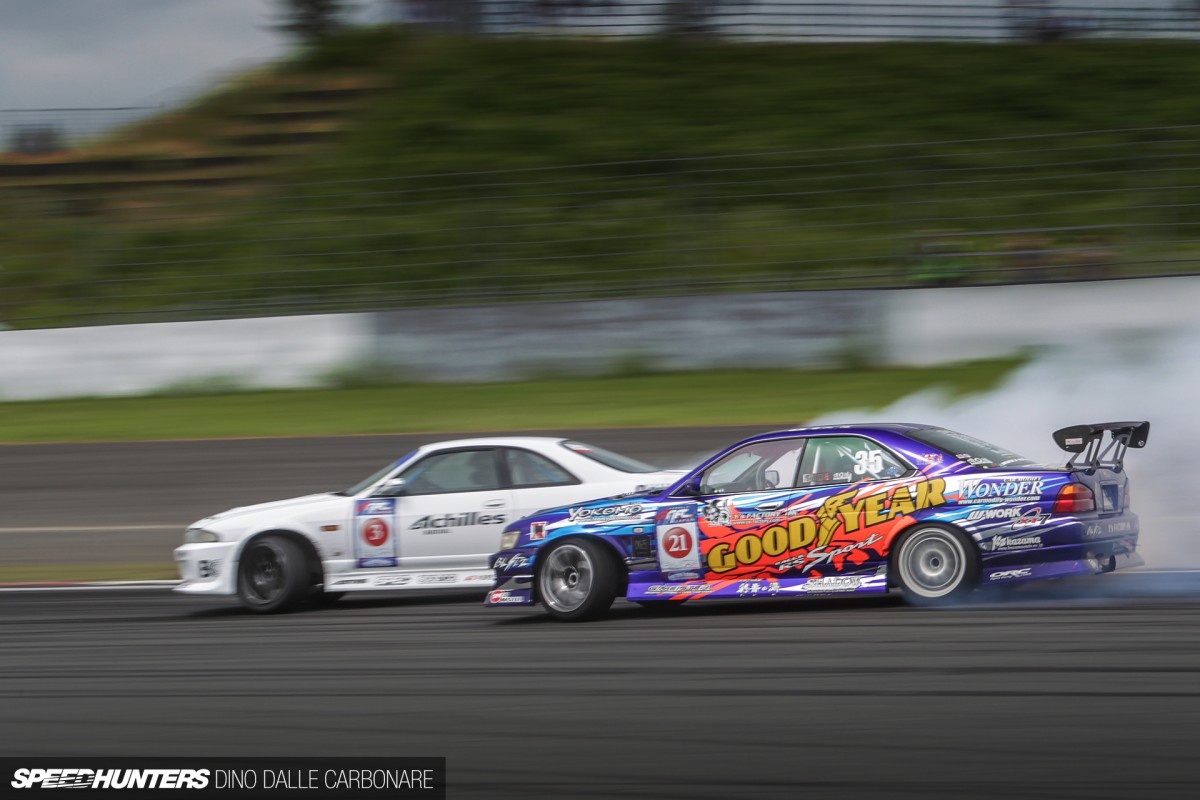 Here's Robbie Nishida in his rather plain-looking R33 Skyline schooling Noritsugu Totani and his C35 Laurel. Robbie went through to eventually meet Kunnyz in the Great 8.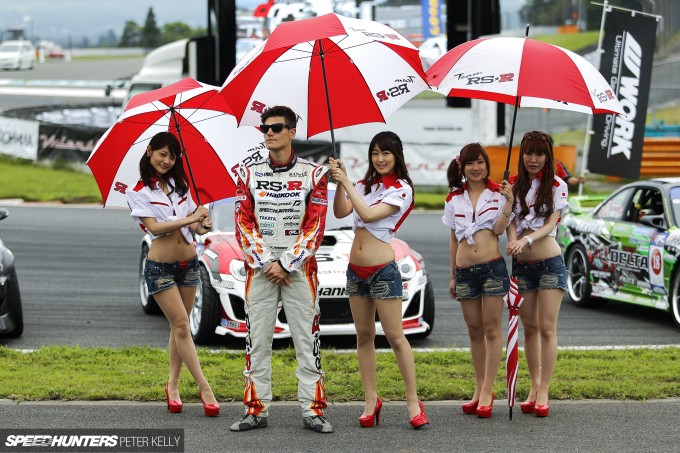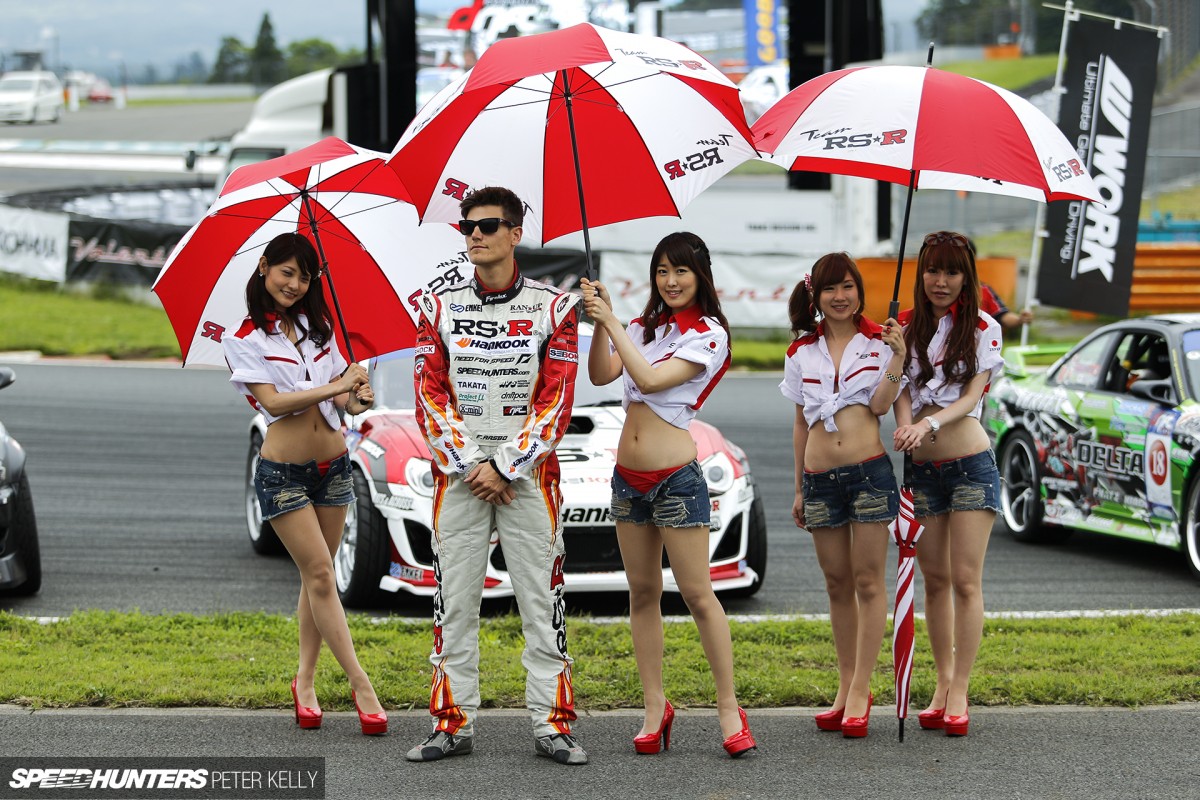 It was cool to see Fredric Aasbø in Japan again and back behind the wheel of RS-R's offensively-loud NASCAR Toyota V8-powered 86.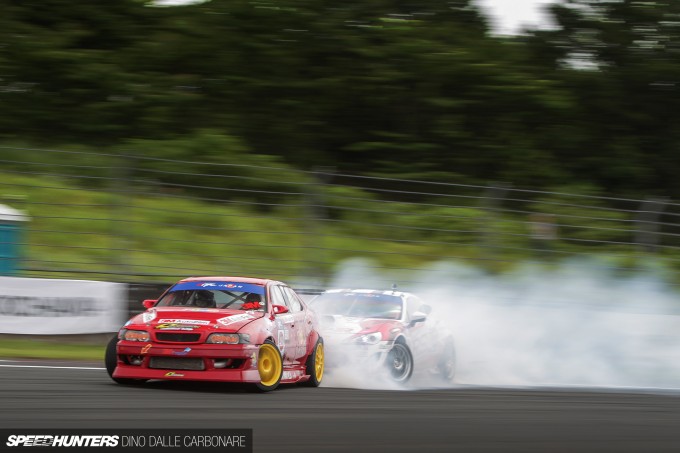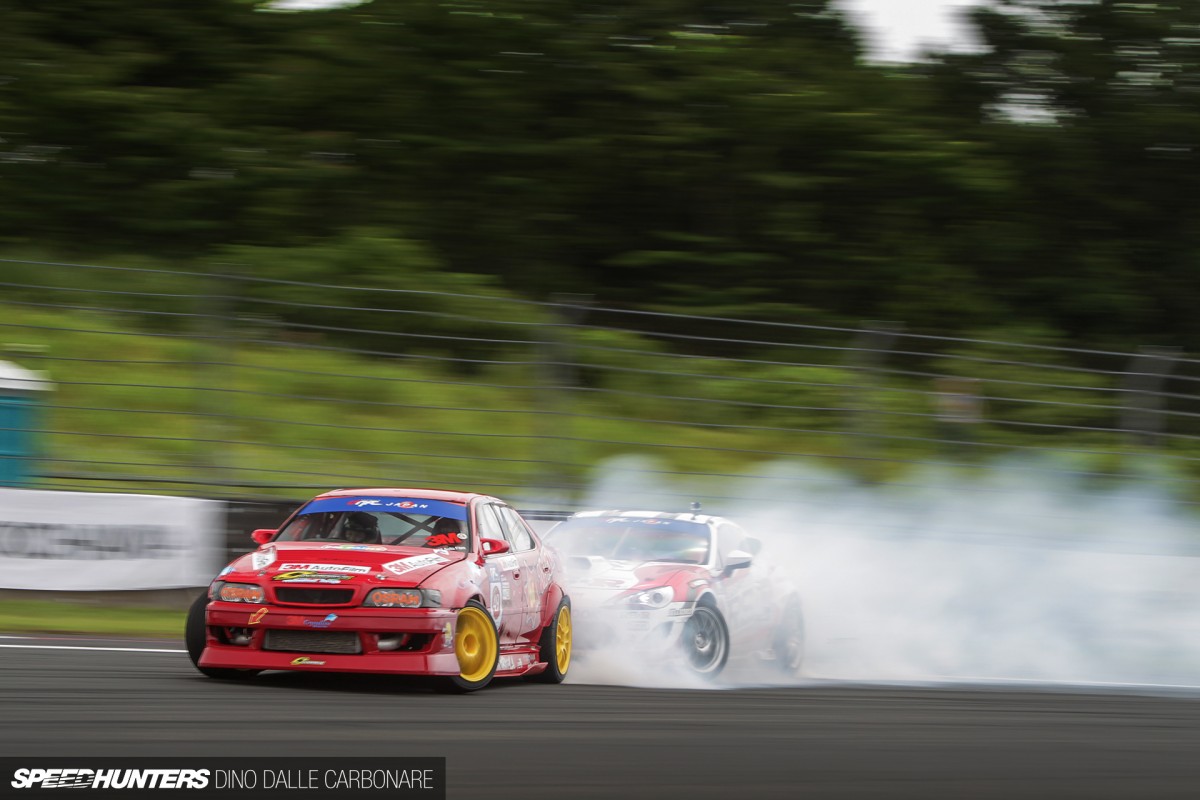 Obviously Freddy isn't shy about keeping glued to his opponent's rear bumper while chasing! You could hardly make out the silhouette of his ZN6 as he chased Saranon Pronpatanarak of Team Overdrive on his first battle of the day.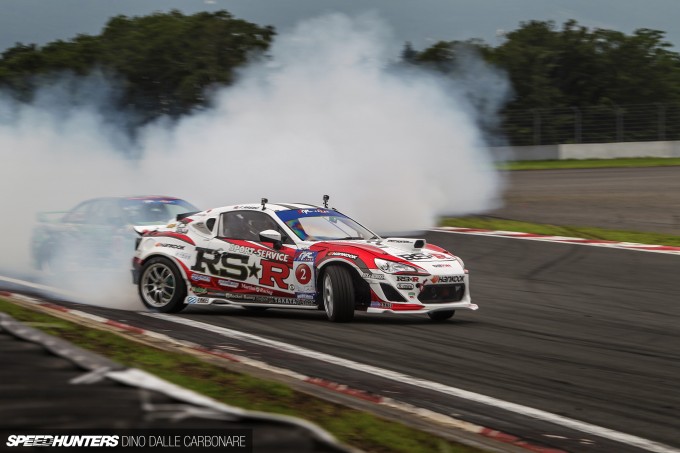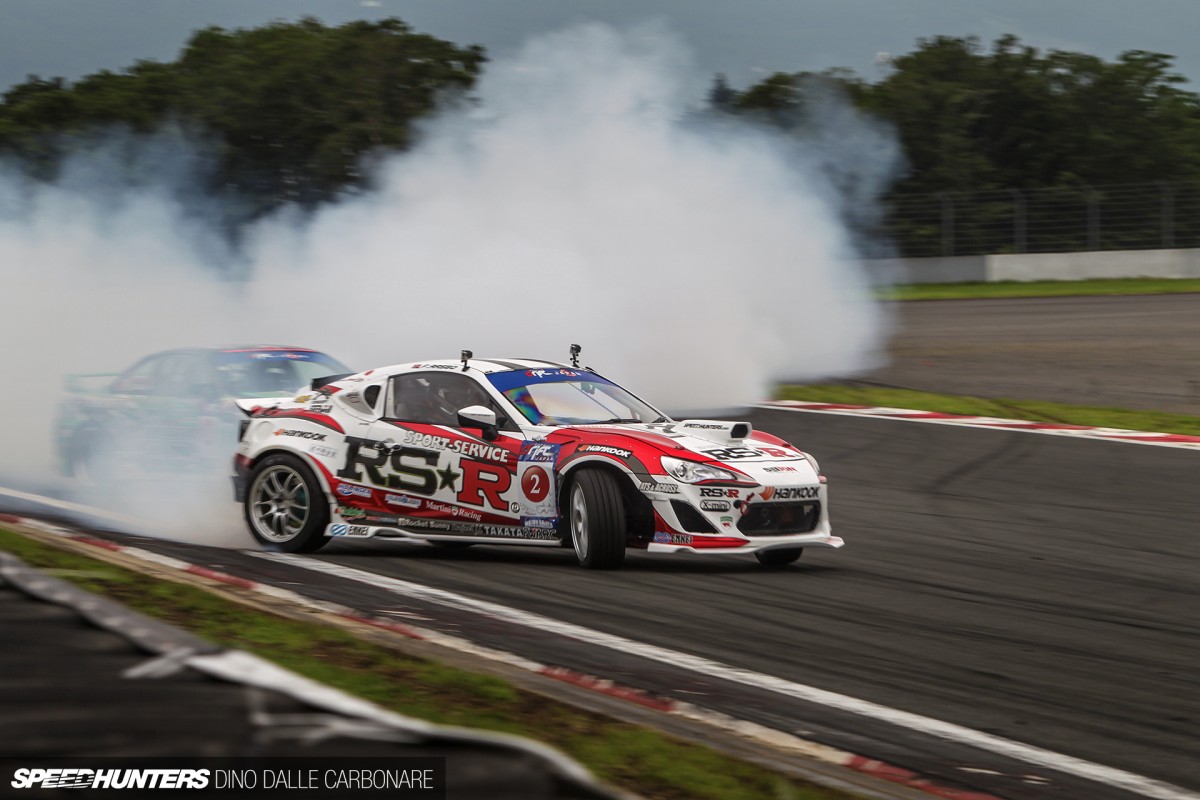 Despite struggling with a few issues the previous day the RS-R team had the car dialled in just right, and Fredric really took advantage, continuing to advance through the battles with his usual aggressive precision.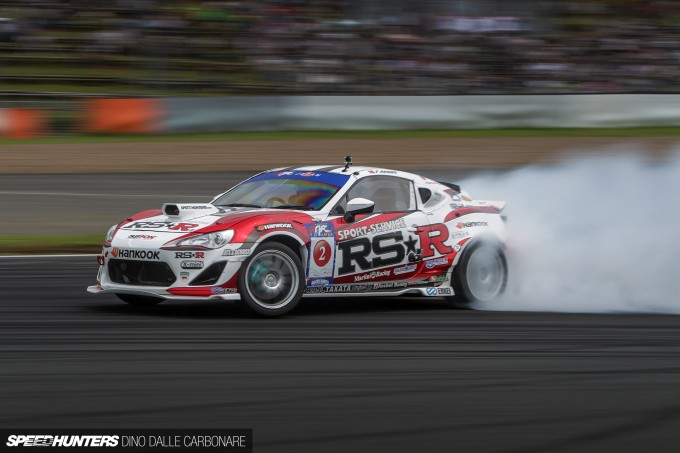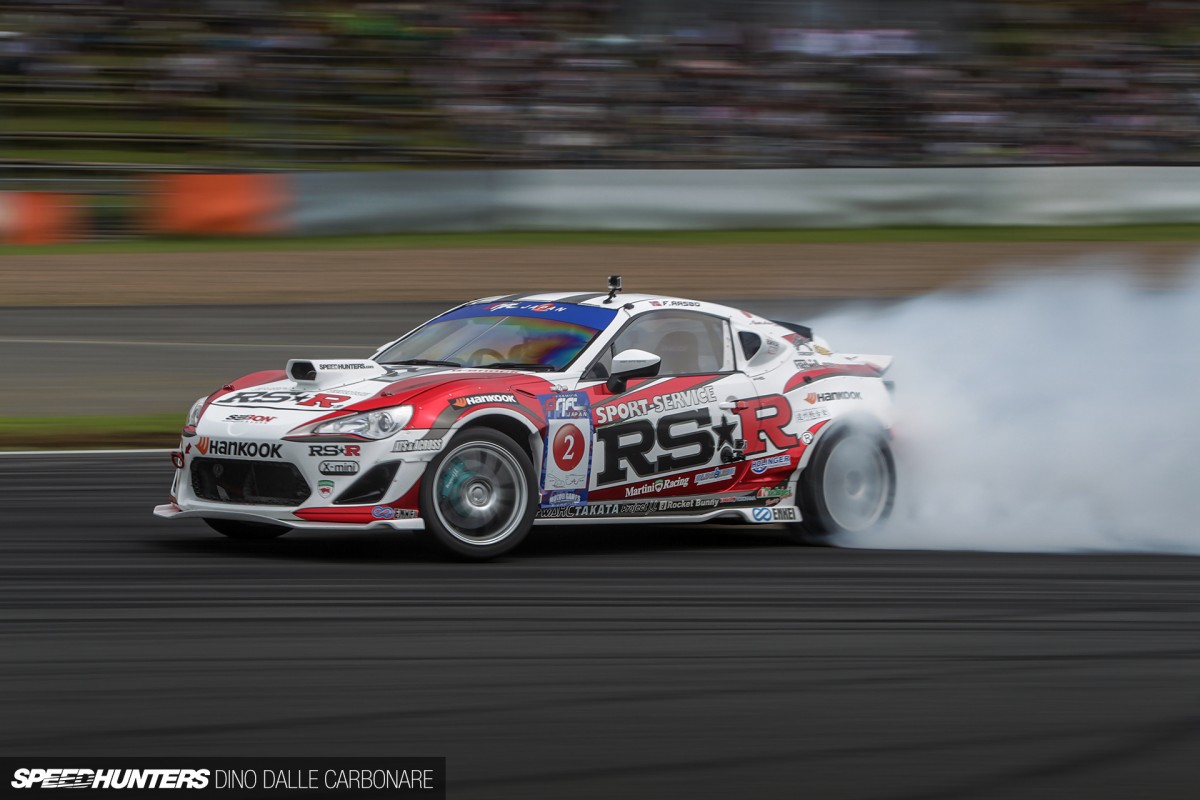 Since we last saw this car in action it has had a bit of weight shaved from its trunk area; the complex quad-radiator setup replaced by a large single unit and the rear wing removed and replaced with a ducktail.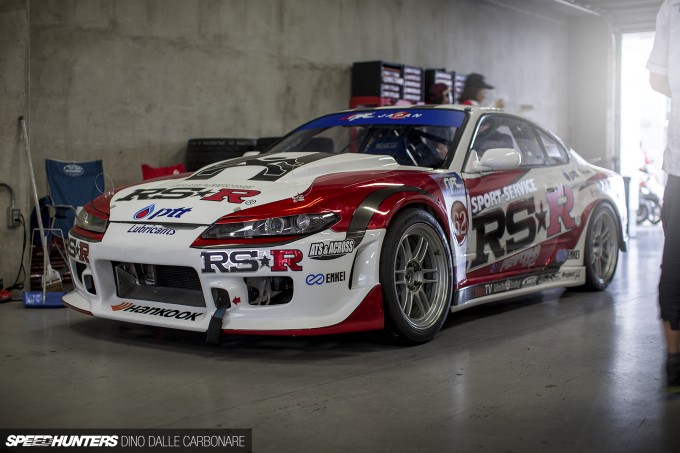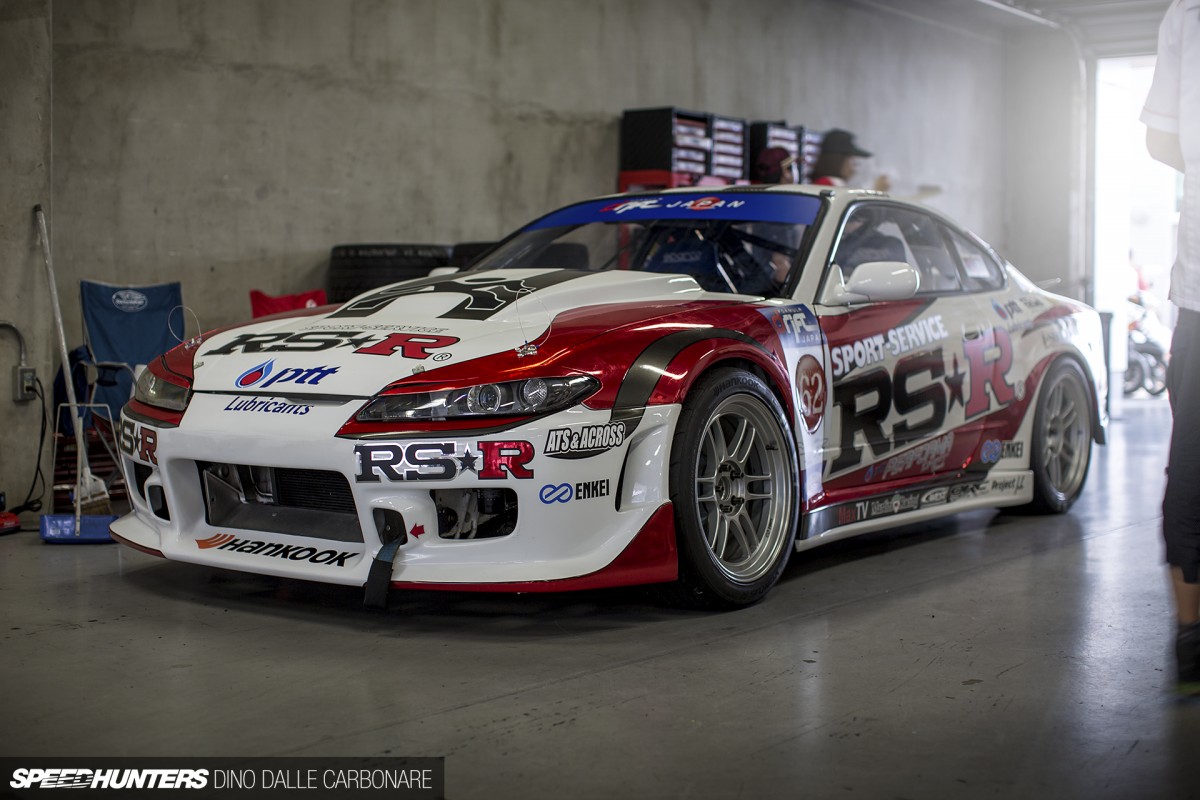 In the RS-R pit Fredric's car was accompanied by M Auttapon Prakopkong's S15 Silvia, which RS-R built for this event. A twin-turbo VQ-series motor takes care of power, but unfortunately the car never managed to qualify. It's a real pity as it had a presence all its own with that massive cowled hood!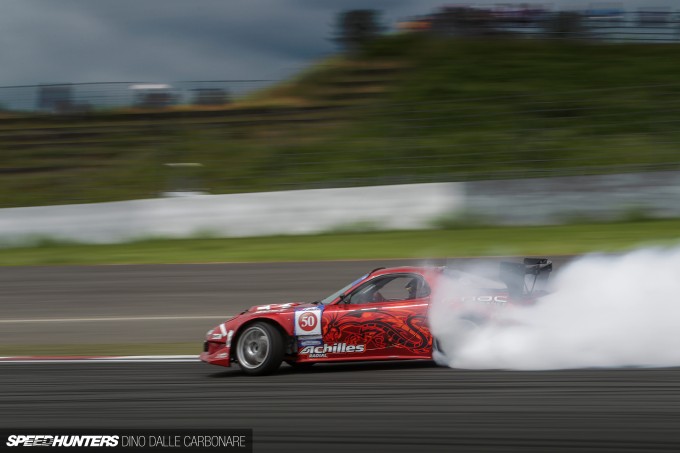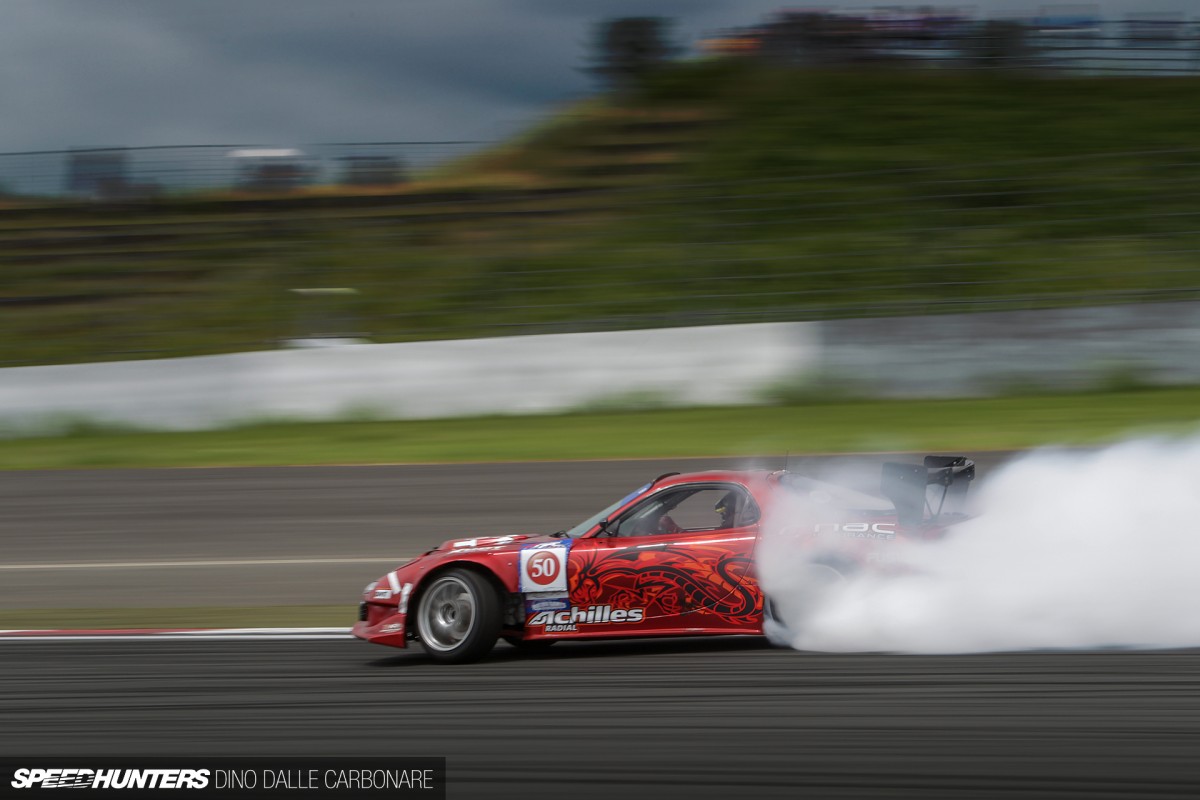 New Zealand drifter Daynom Templeman had come over with his 2JZ-powered and nitrous-assisted FD3S – a true smoke machine. Despite him not making it through to the Top 16 I was at least glad that I got to see and hear this 1000hp+ beast in action.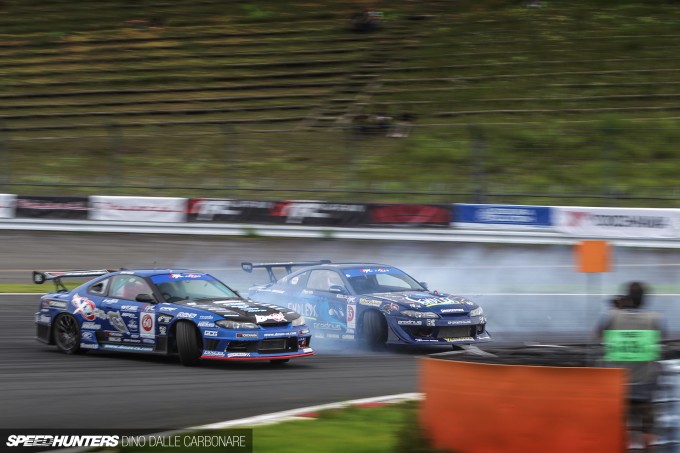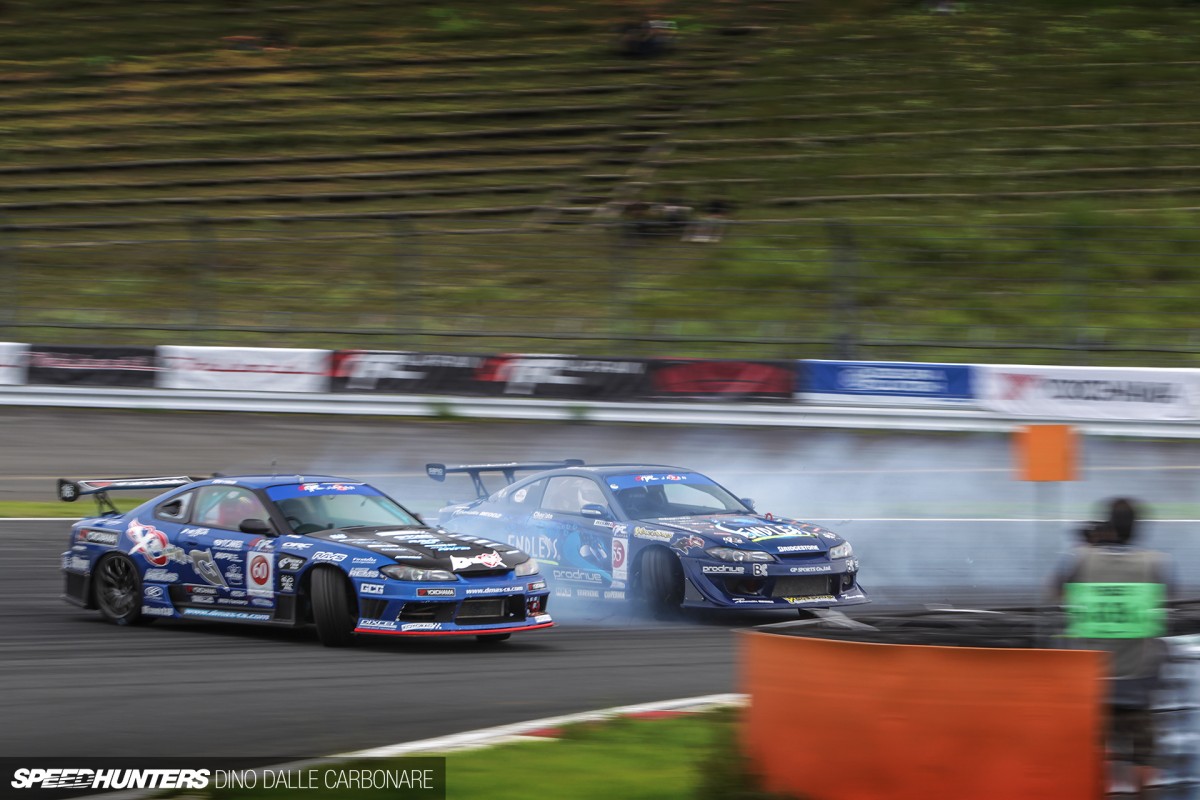 It was the battle of the Silvias when Masashi Yokoi and Shinji Minowa went head to head. This is a perfect example of what a close and well-fought battle should look like.
The Return Of Katsuhiro Ueo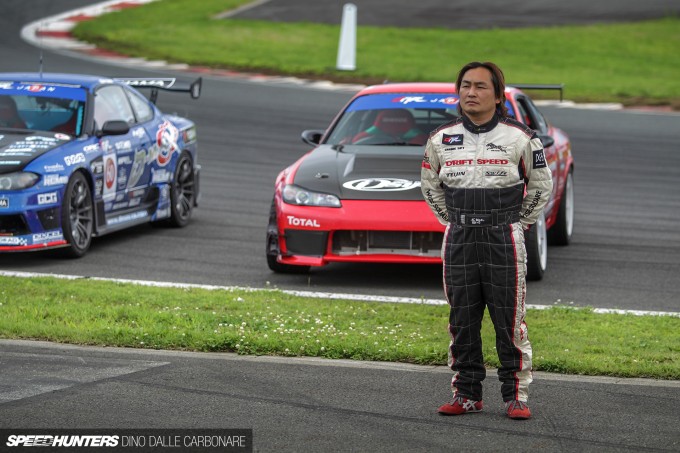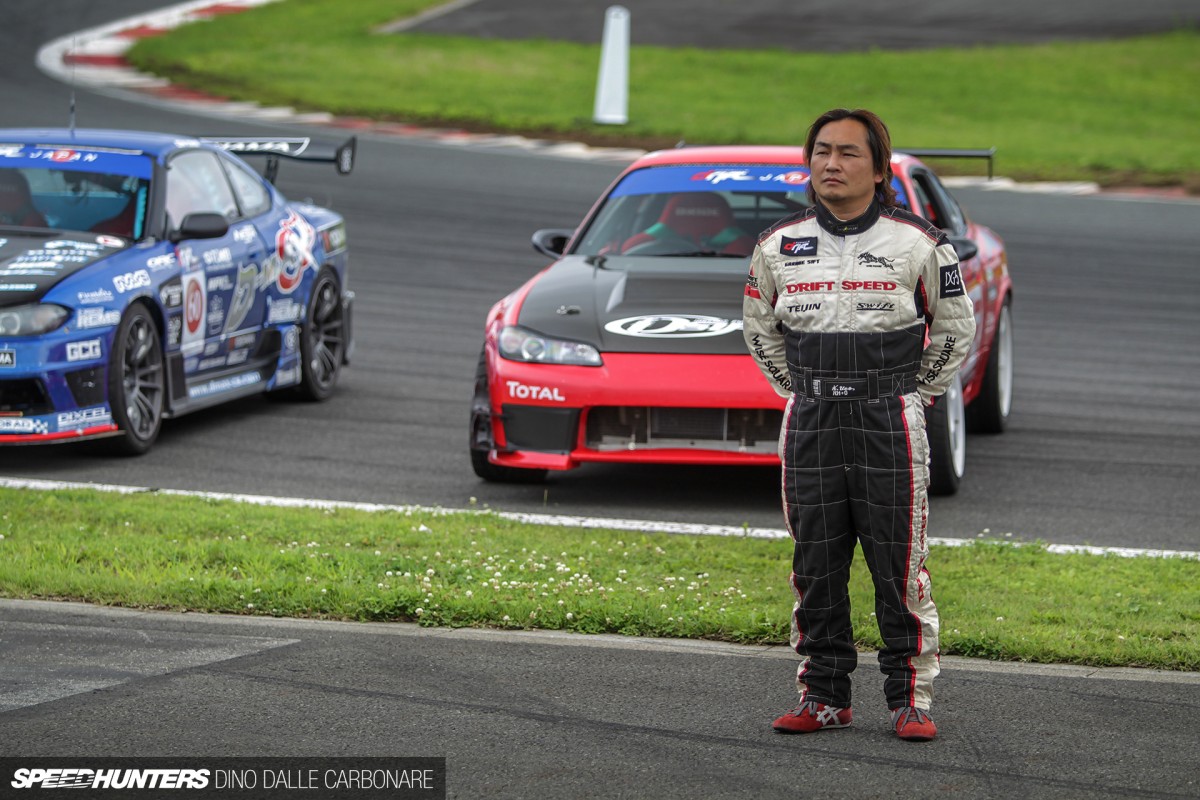 The biggest surprise of all for me was seeing Katsuhiro Ueo back out in a pro event. I will never forget that moment, many years back, when he took me out for a sideways lap of Sugo in his D1 AE86.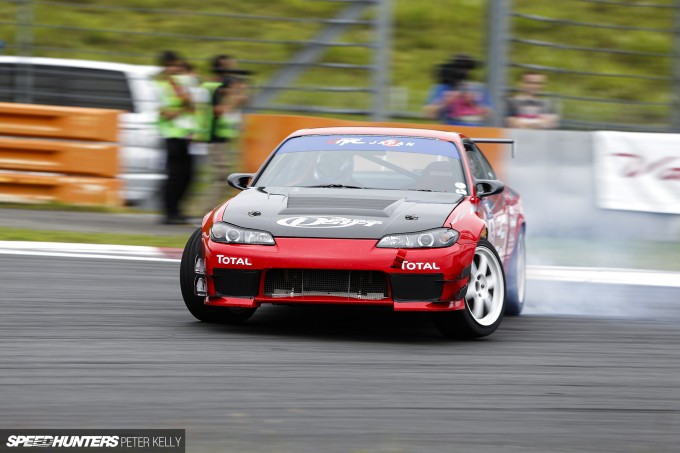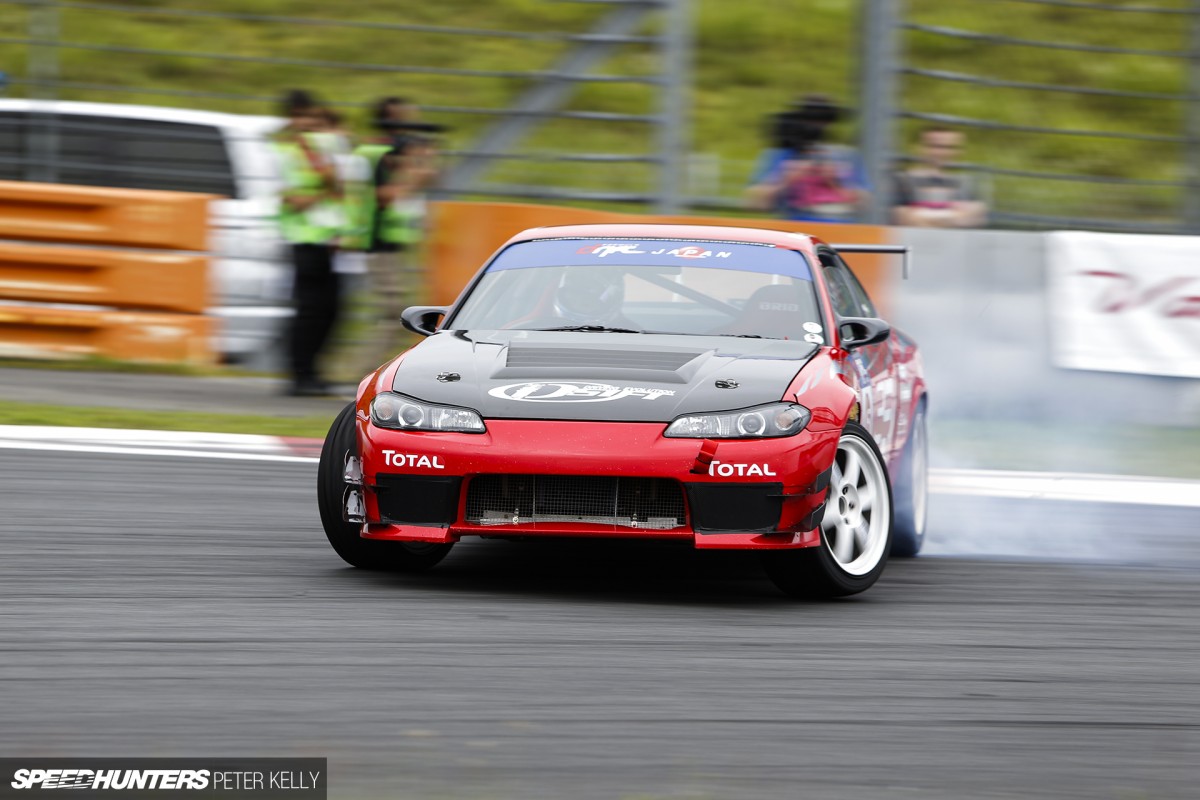 He is still regarded as one of the best Hachiroku drivers ever, but this time he was behind the wheel of a Nissan S15 Silvia. Non-turbo! Yep, the man surely knows how to make a statement. The way he threw this car around was pretty special, and in doing so he managed to hang right beside cars with more than twice the power.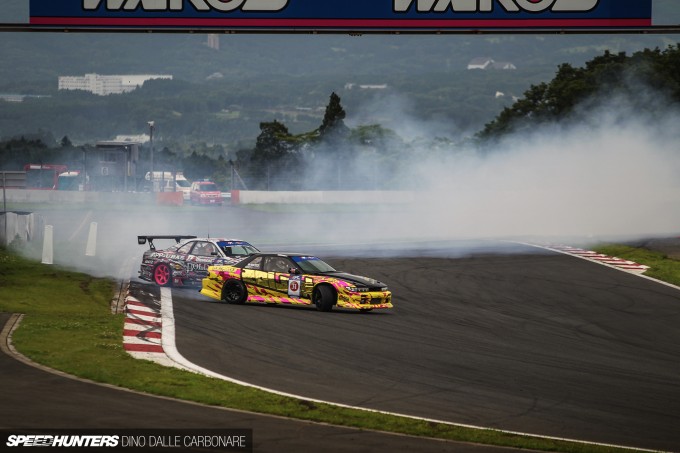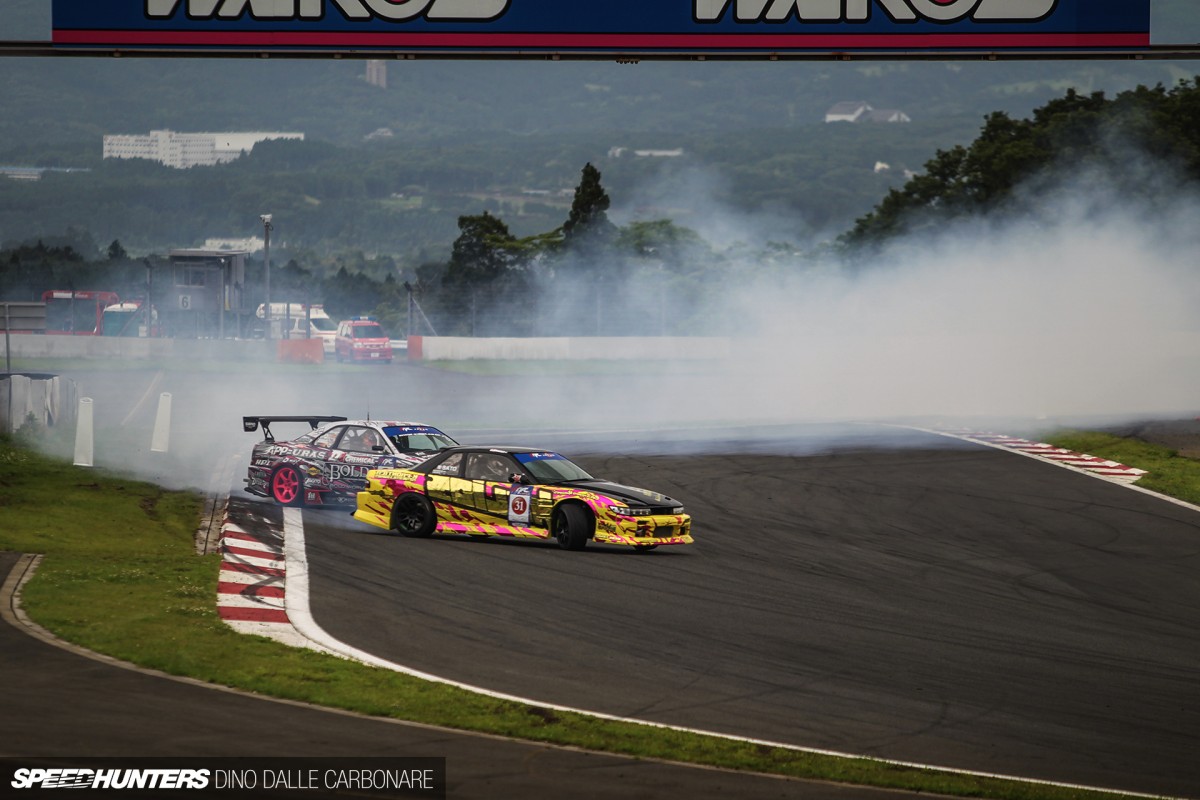 I viewed the first Top 16 battle – Kazuya Iizuka in his Himawari S13 against Fujio in his ER34 – from the same perspective as the judges, who were joined on the day by both Nobuteru Taniguchi and Max Orido – true drift legends in their own rights.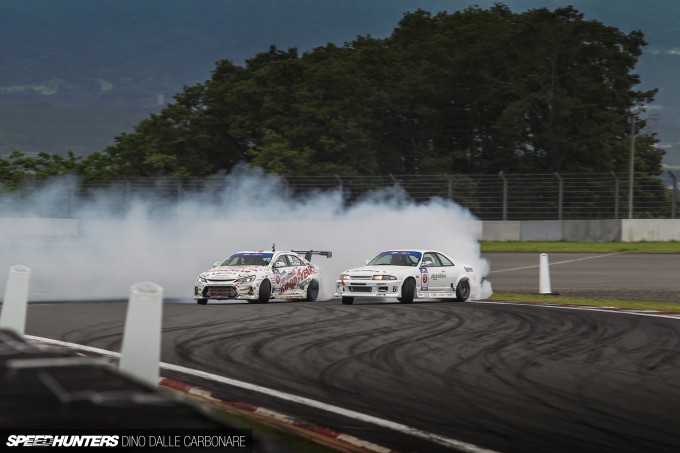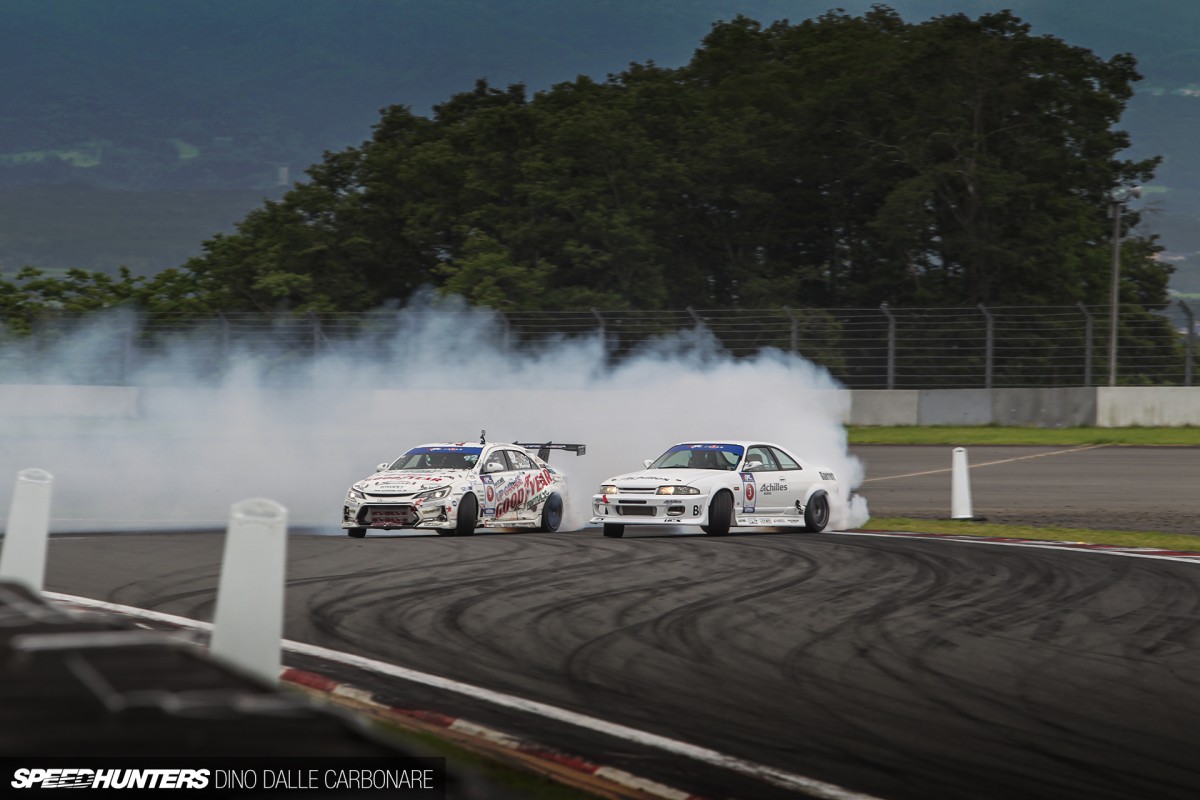 I don't know if it was to do with the position I was standing in right next to the Wakos control, but the runs between Nishida and Kunnyz were the most memorable from the event.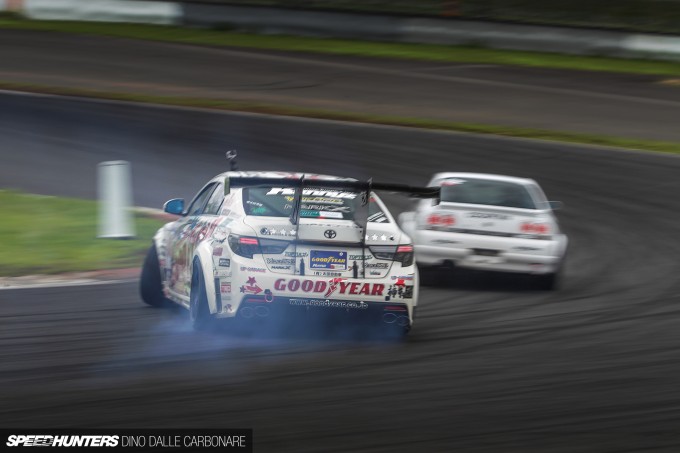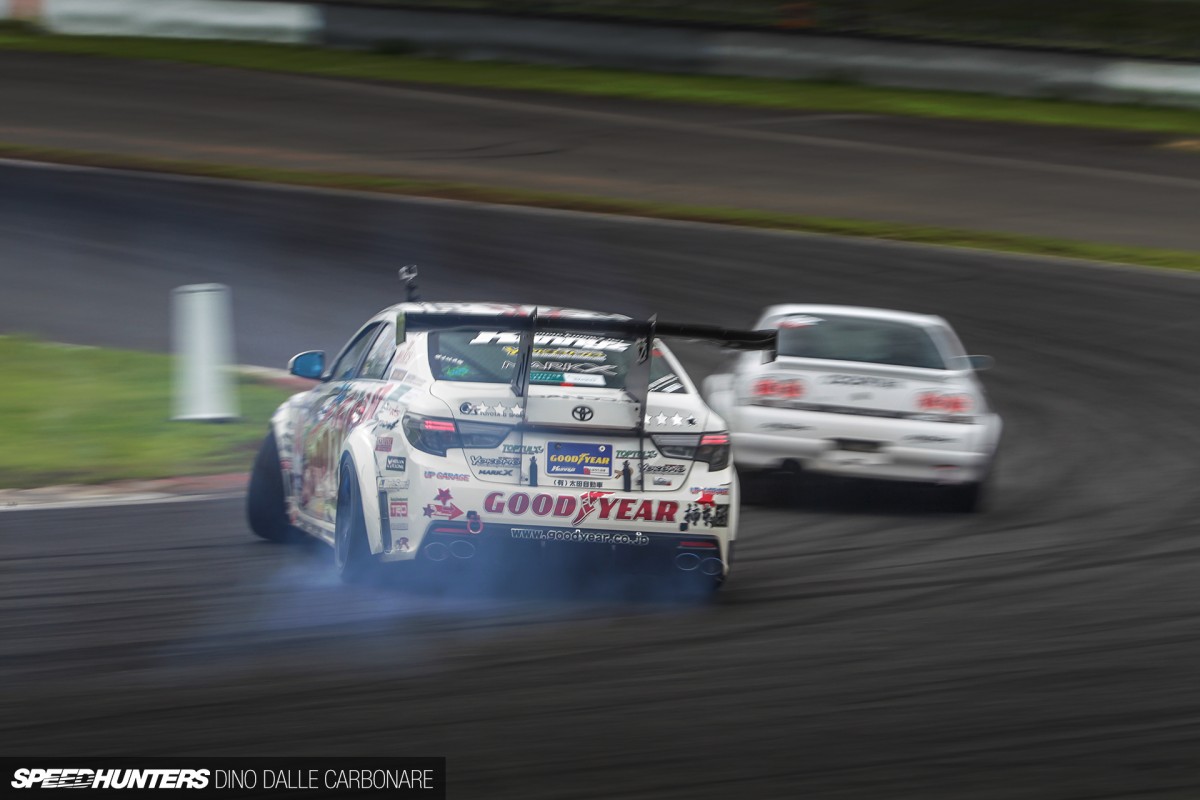 Robbie put up a hell of a fight keeping a very high entry speed in his leading run as Kuniaki followed in his big 2JZ-powered Mark X.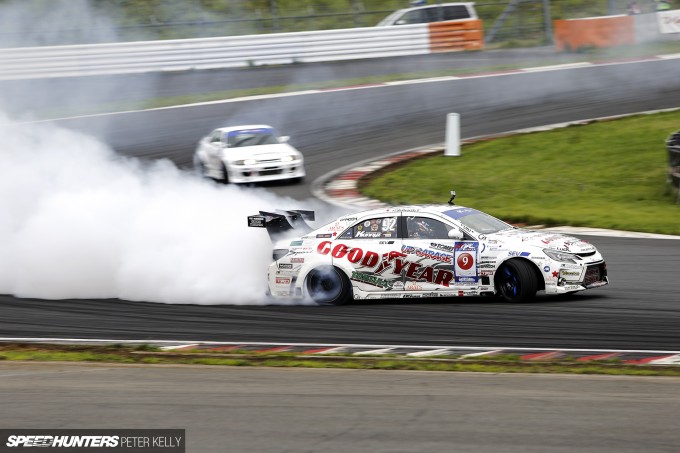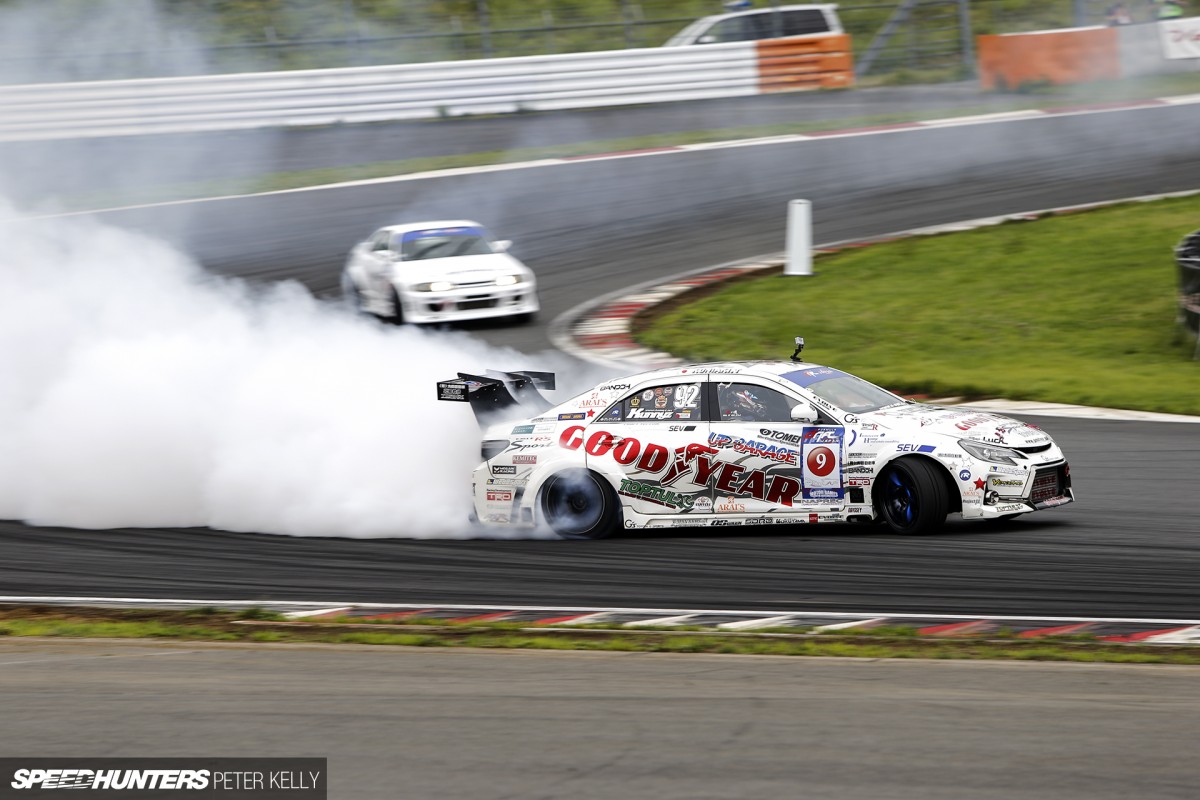 With 900hp+ at his disposal though he was a tough man to stay close to!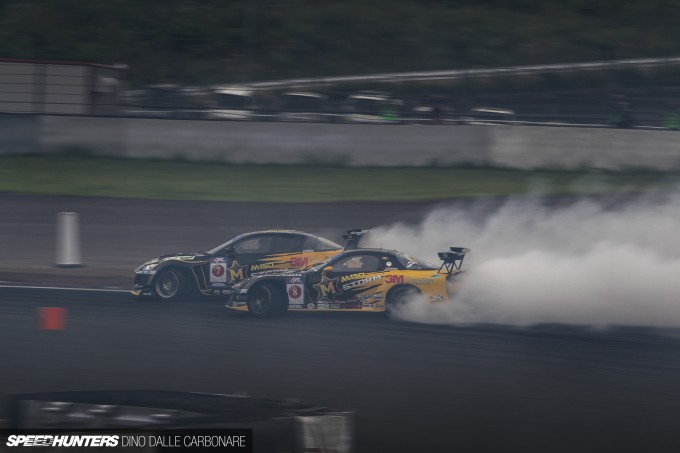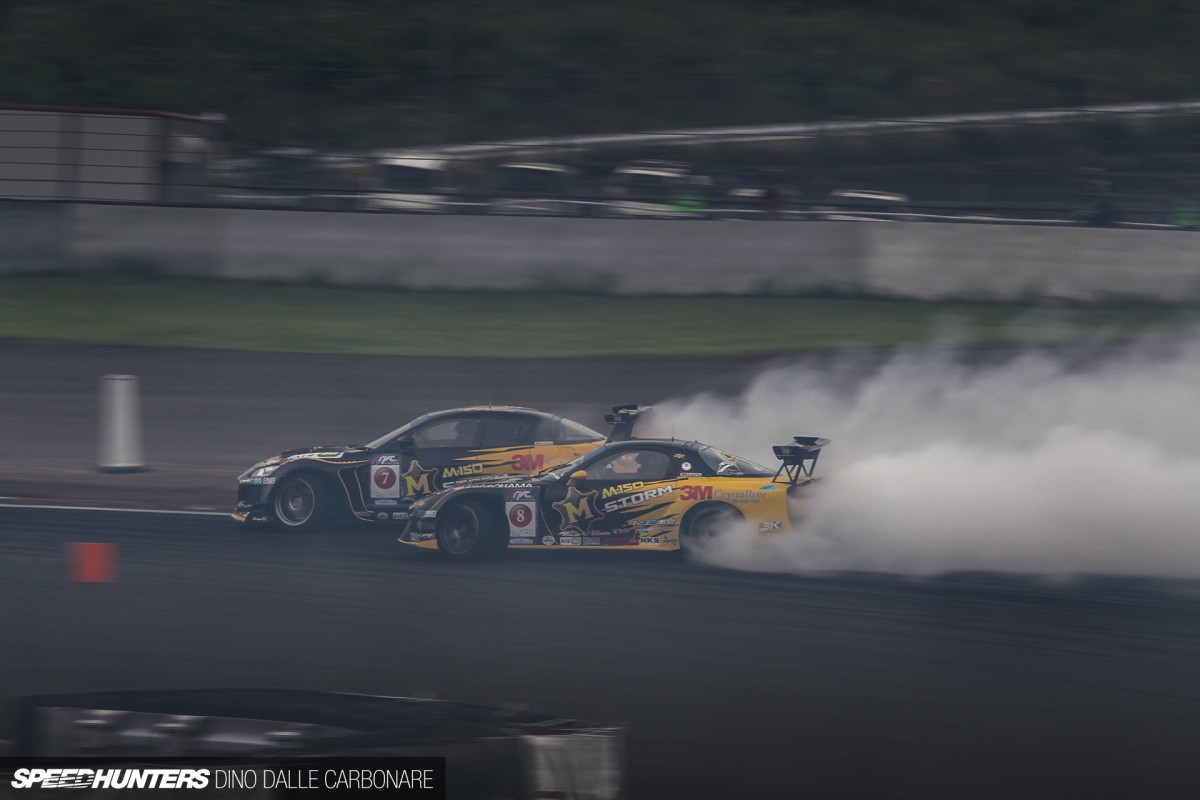 As mentioned earlier, before ending up in the final Suenaga had to go against his Overdrive teammate. The more powerful RX-7 proved to be the better car despite the more nimble RX8, allowing Suenaga to move onwards.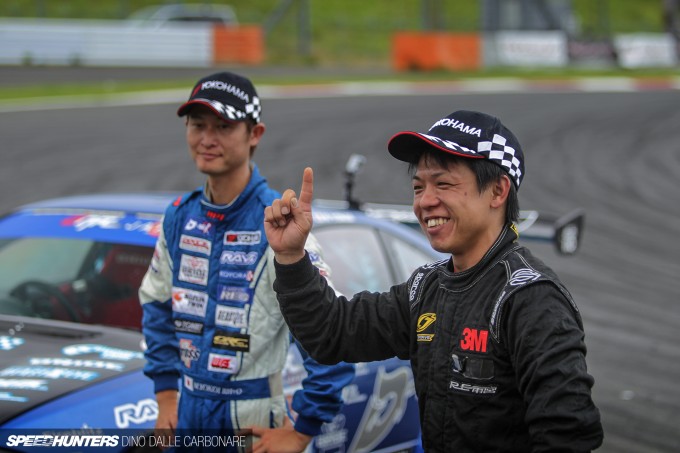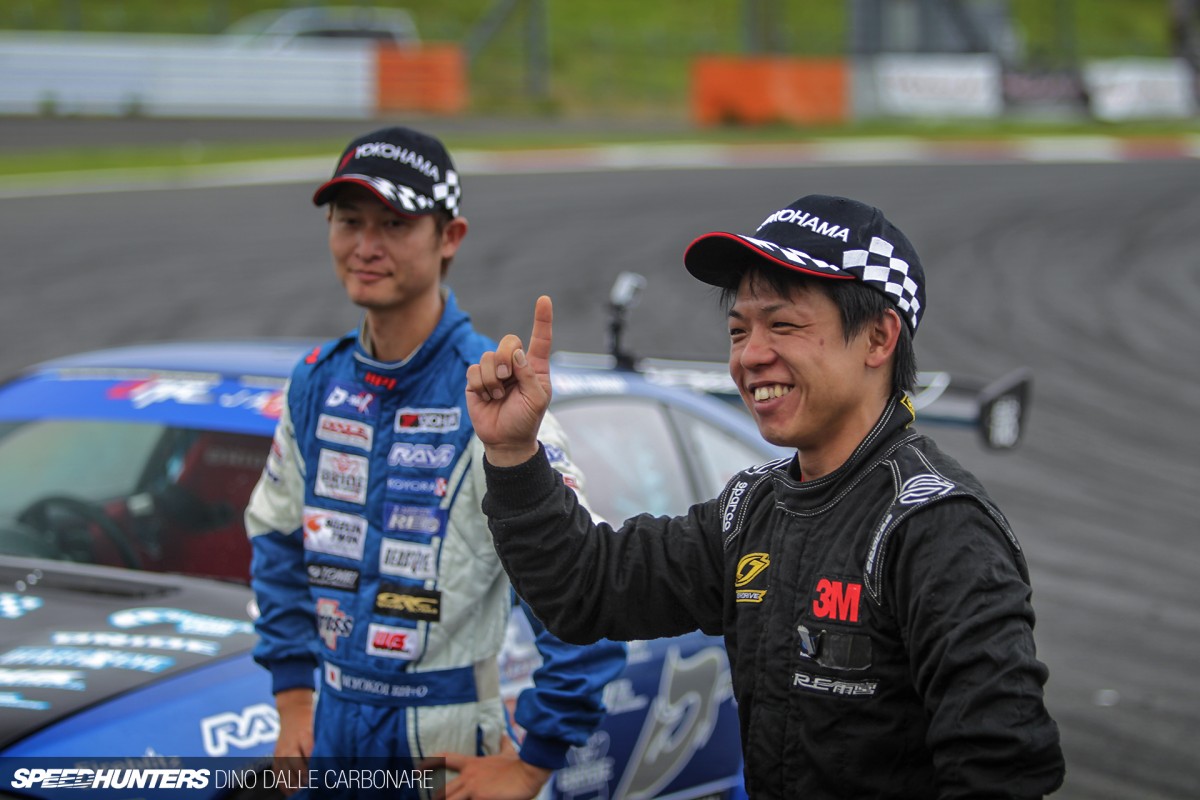 His runs against D1-SL champion Yokoi were clean and precise and he was judged as the better driver.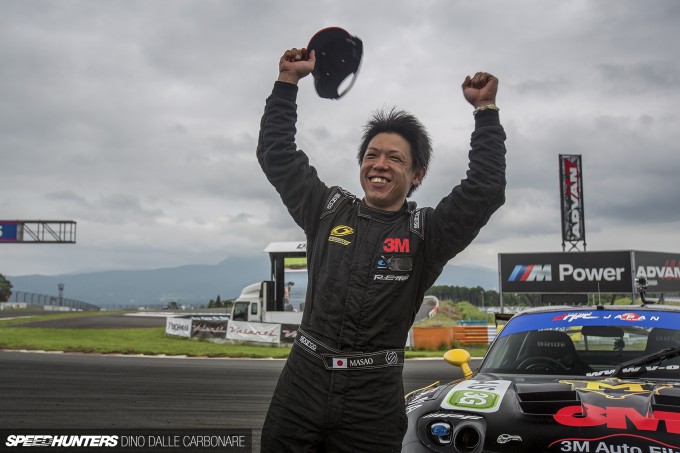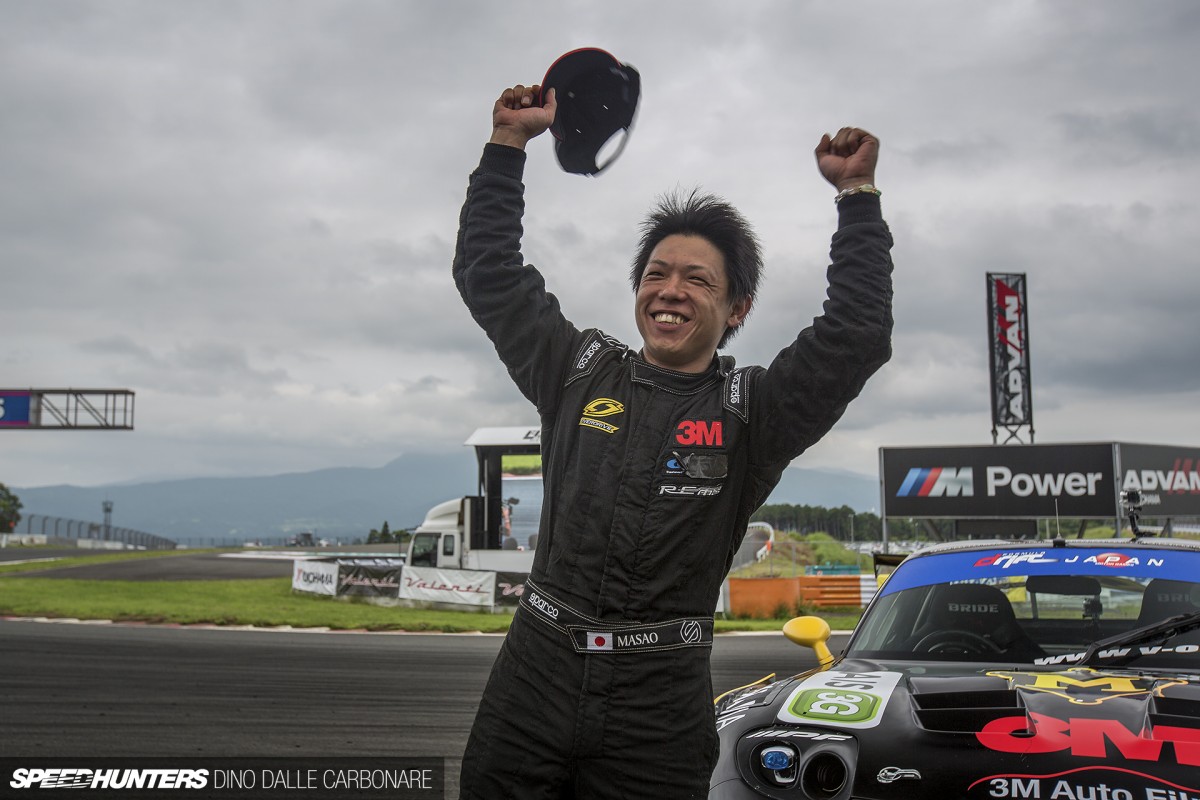 Due to the English announcement, he momentarily didn't realise he had grabbed the win, but soon put his fists in the air as the photographers around him shouted, 'You won it!'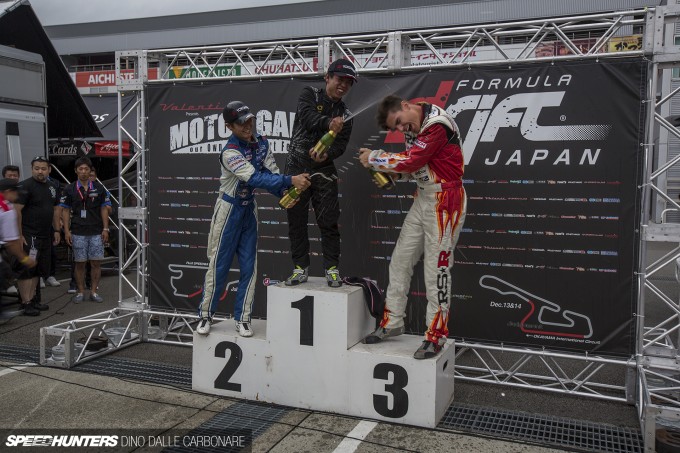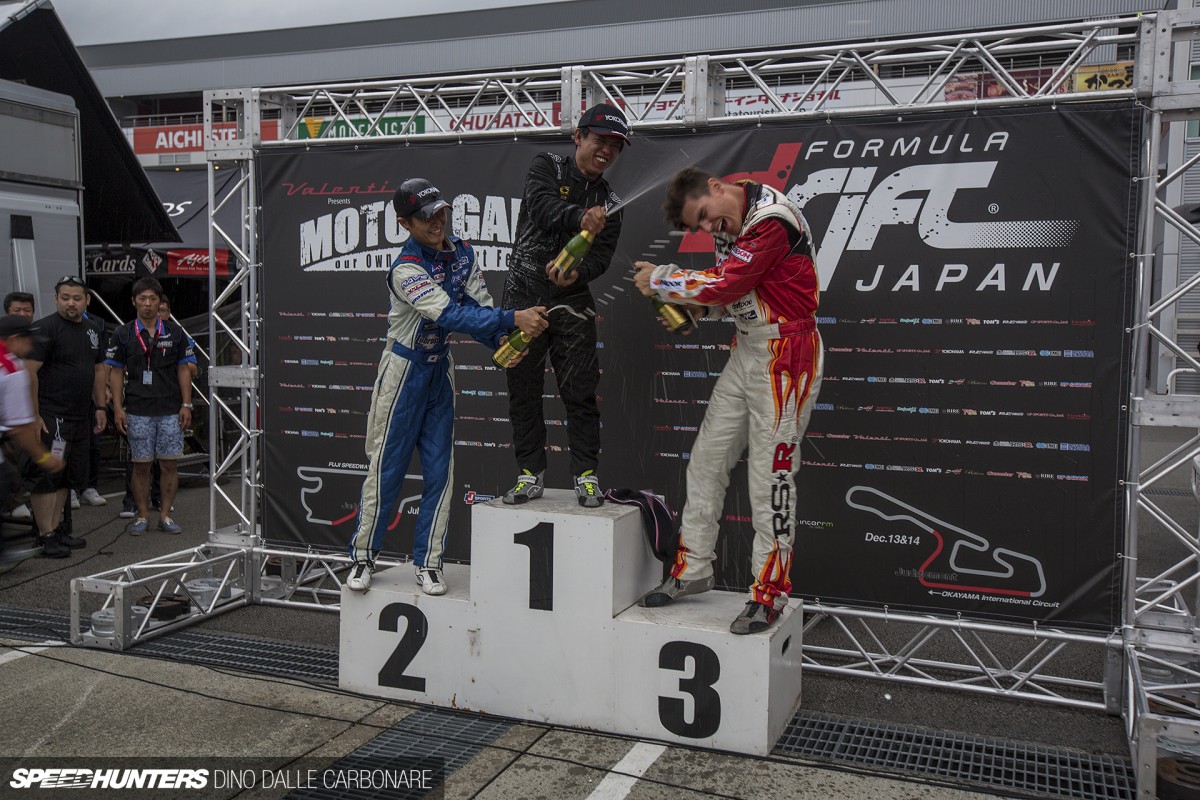 It will no doubt take some time to sculpt this all-new series into something along the lines of what Formula Drift stands for in the US, but there's no doubt the main ingredients are all very much there. This will be an interesting one to watch unfold in the years to come, and like I said at the beginning – it's exactly what Japan drifting needed.
Dino Dalle Carbonare
Instagram: speedhunters_dino
dino@speedhunters.com
Additional Images: Peter Kelly
Instagram: pedey_kenmeri_creative