A Speedhunters x Fatlace Collab
When I received an email not so long ago titled Fatlace Daikoku Meet from Mark Arcenal, the creative mastermind behind the Fatlace and Illest lifestyle brands, I knew that something awesome was in the works. Mark and his team were soon to arrive in Tokyo for the upcoming Offset Kings showcase at Fuji Speedway, and they were keen to meet up with us and arrange to see more of a casual side to the area's social car scene.
Emails were exchanged, and last week we put out an announcement on our social channels that we would be hosting a casual 'Fatlace x Speedhunters Offset Kings Pre-Meet' at the iconic Daikoku parking area.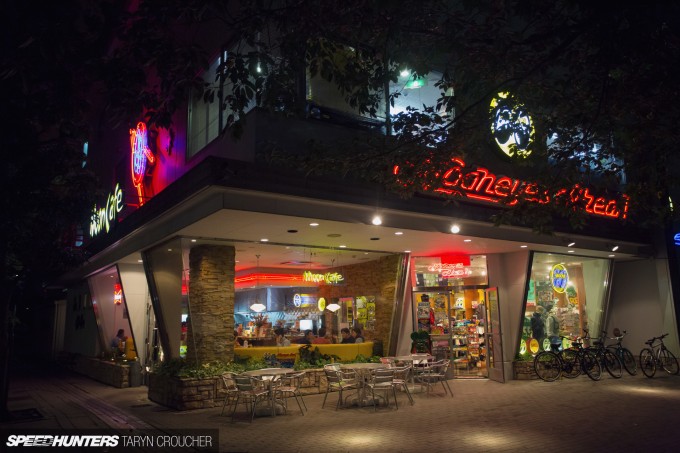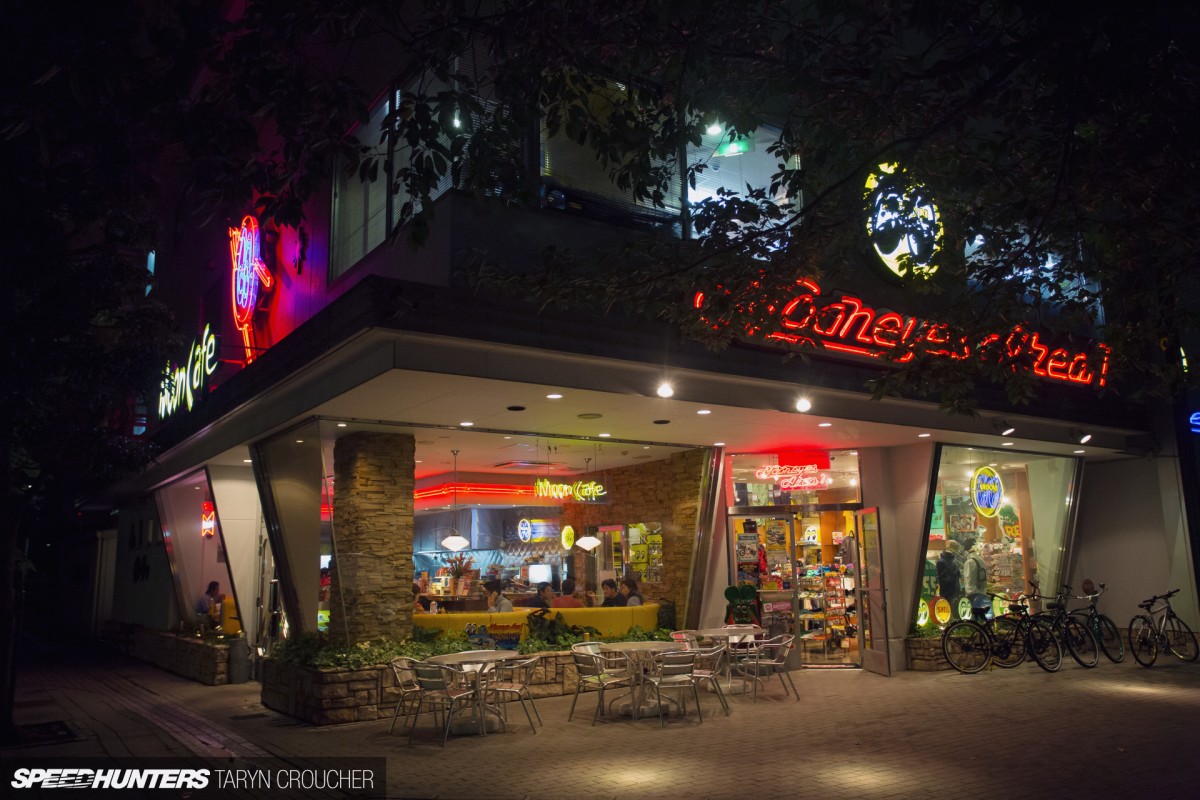 Our Friday night began when I met up with the Fatlace crew down at the Mooneyes HQ in Yokohama – somewhere I'd always wanted to visit. After catching a bite to eat at the Moon Cafe, we also met Shige-san, the owner of Mooneyes, who gave us a tour of the shop too.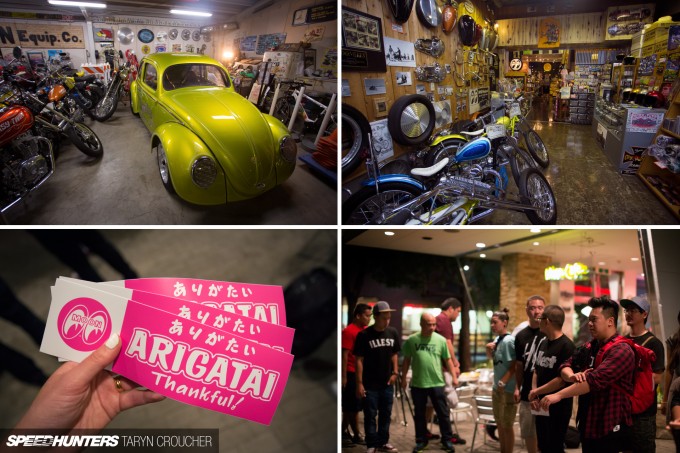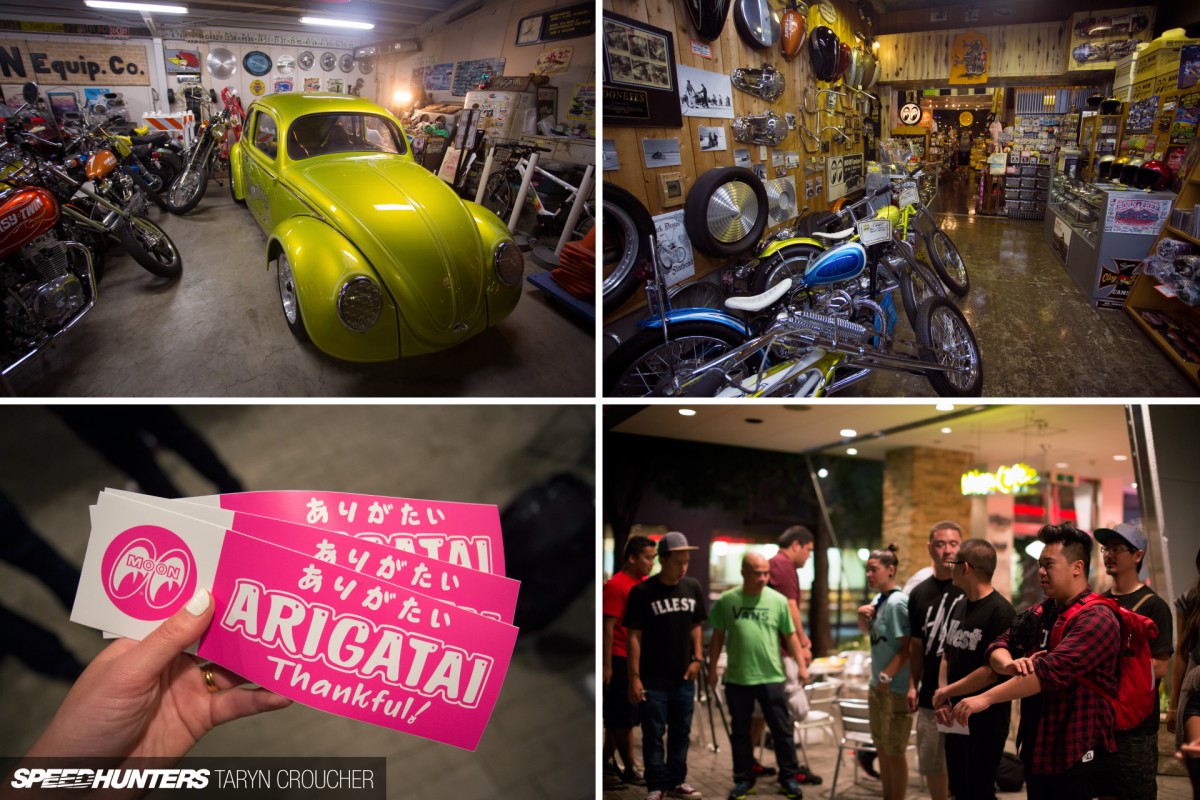 I couldn't get my head around the sheer amount of cool merch they had for sale, and it was probably a good thing that we arrived just before they closed as I could've spent a good few hours there completely emptying out my wallet. After grabbing some photos and plenty of stickers, it was time to drive across to Daikokufuto, the industrial man-made island where the famous Daikoku PA can be found.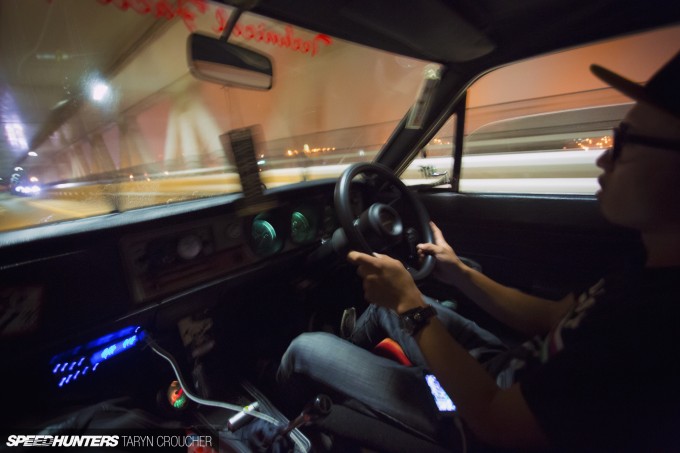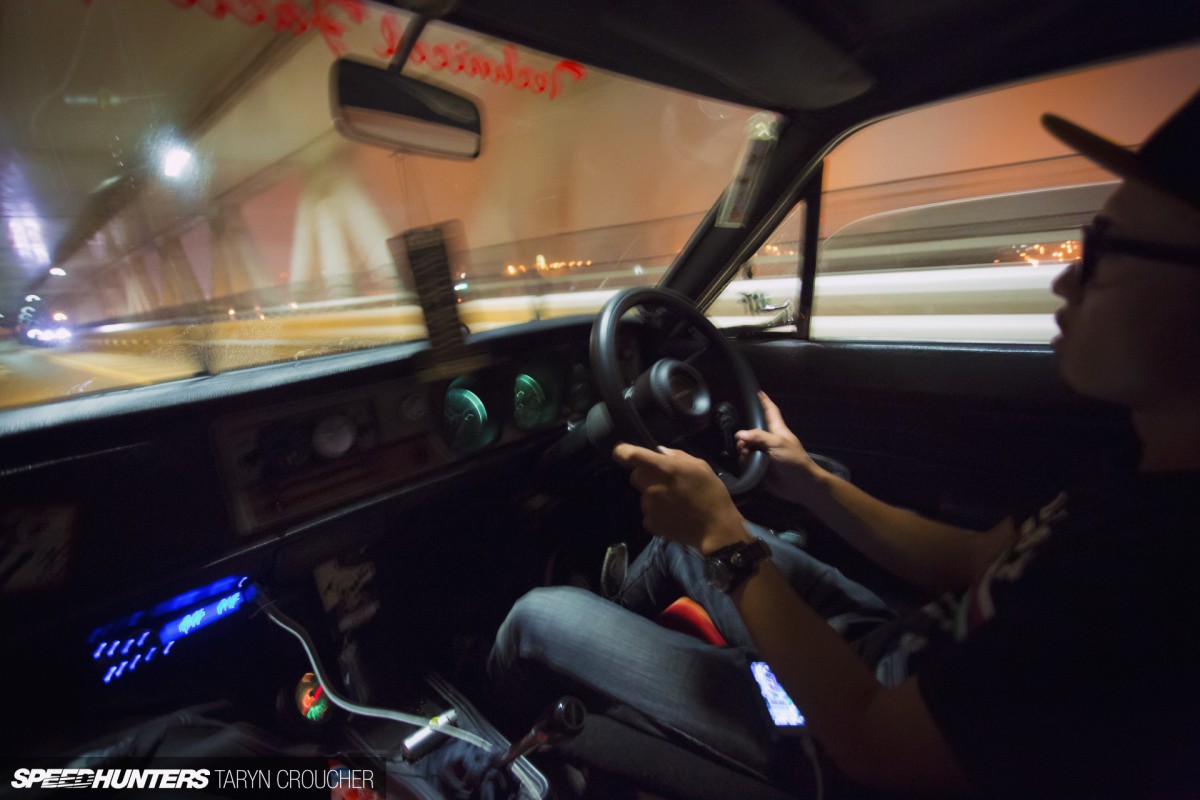 From Mooneyes it was only a quick 10-minute commute across Tokyo Bay to the island, but that still meant we had to take the infamous Bayshore Route – the Wangan – to get there. Seeing as my friend Teru-san was convoying with us in his extremely low B110 Nissan Sunny (which you might recognise from Mike's spotlight story last year), I made sure to call shotgun so that I could finally experience my ultimate dream driving road from the inside of a Datsun.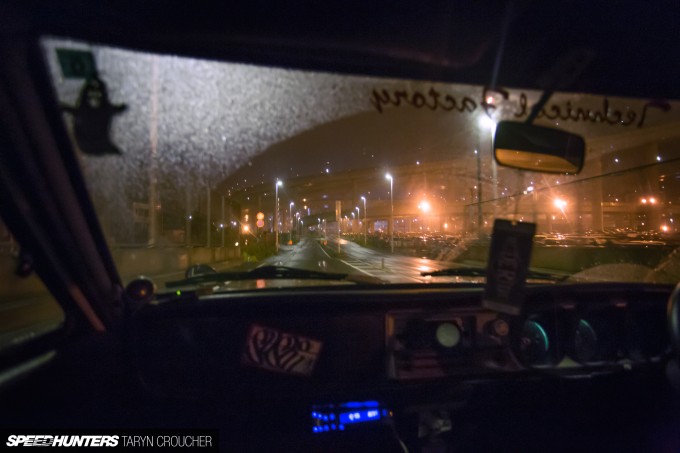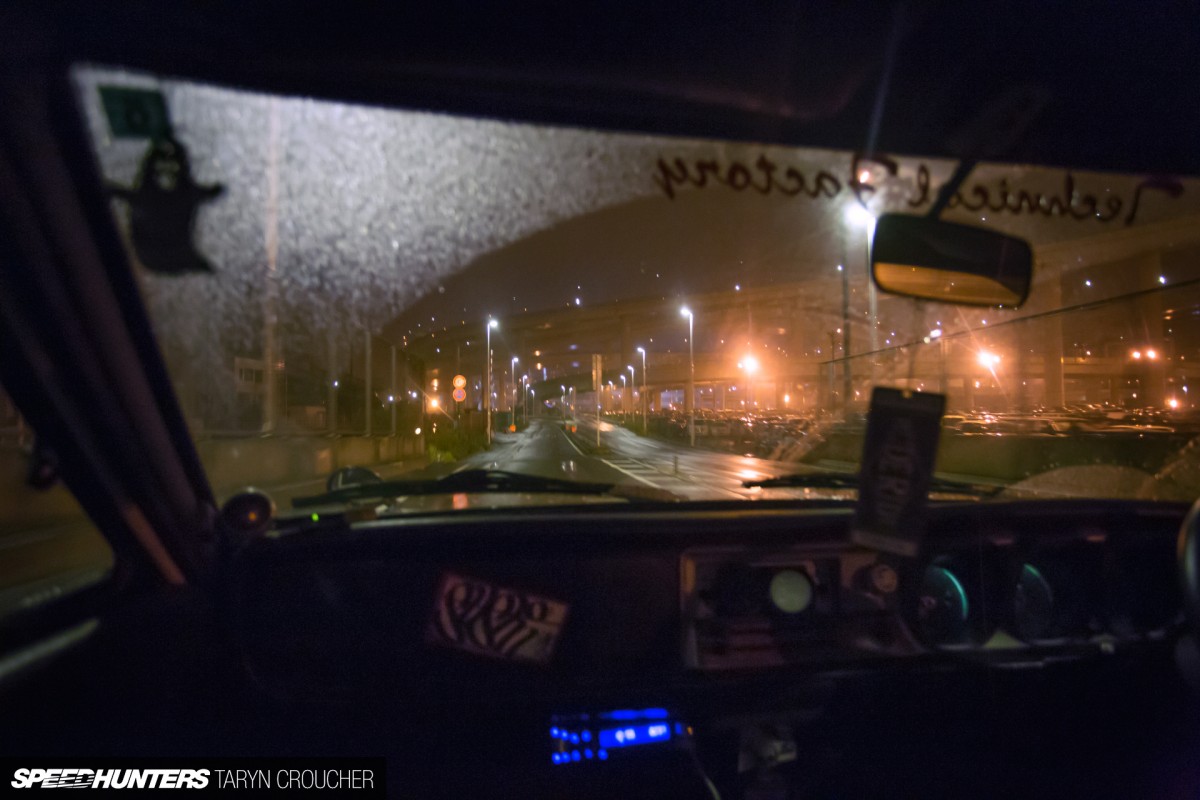 I'll admit that it made me feel a bit homesick for my 280Z back in New Zealand, but as the old school Sunny rattled and banged (in a good way, of course) and the strong stench of fuel filled the cabin, I couldn't help but smile. 'One day, I will drive my Datsun here', I thought to myself. Considering the low ride height, I was surprised that was we didn't scrape on the expressway at all. But needless to say, the custom suspension setup was so stiff that it made it pretty much impossible for me to get a steady driving shot!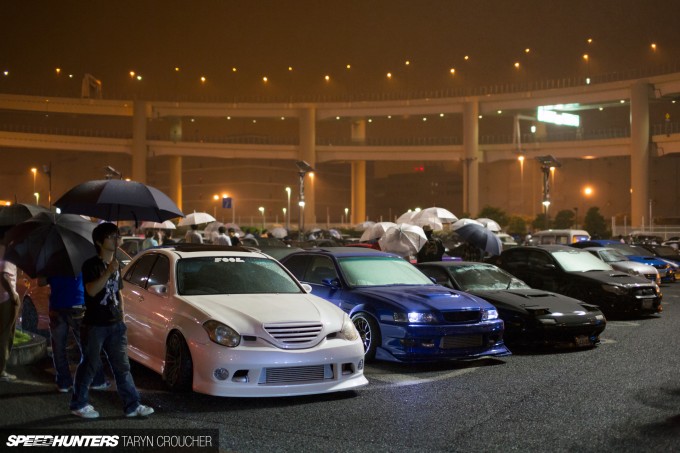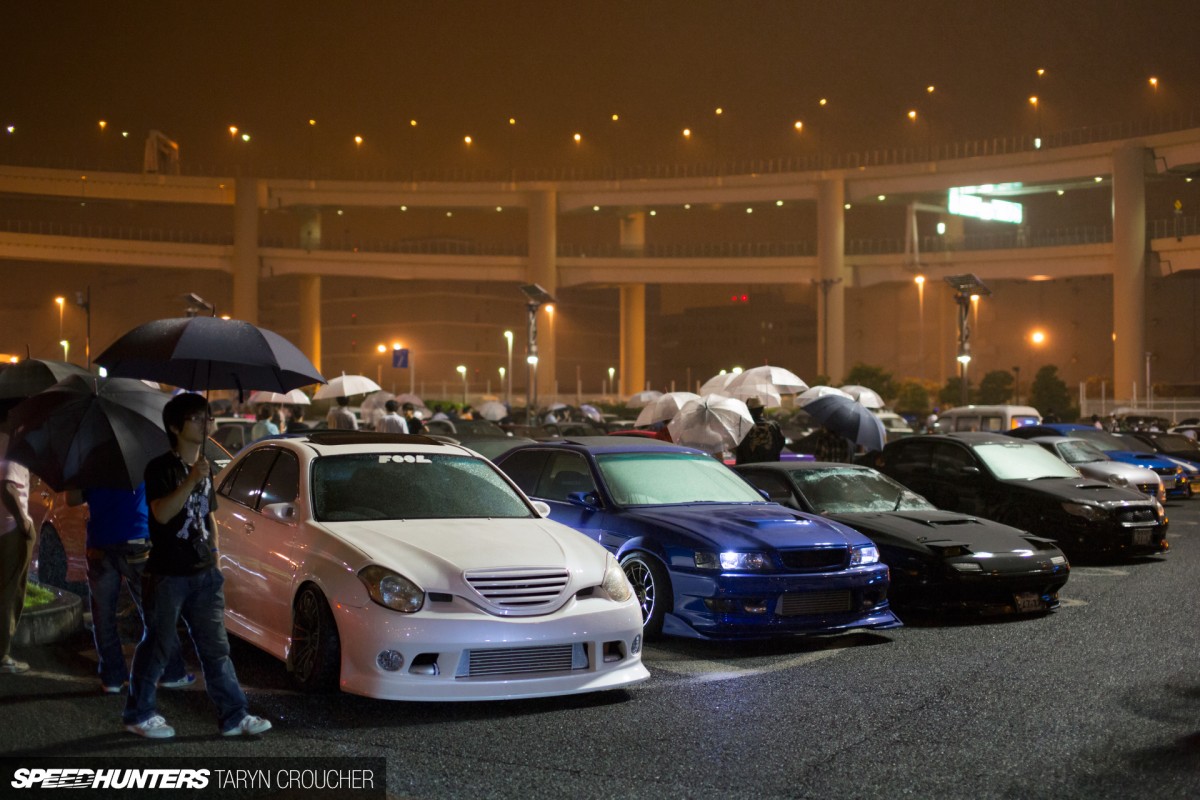 We arrived just before 10:00pm, and the main parking area was already starting to fill up. Despite the light yet persistent rain shower, more and more cars just kept on rolling in! I managed to gather my camera, bag, tripod and umbrella all at once and started making my way around the parking lot.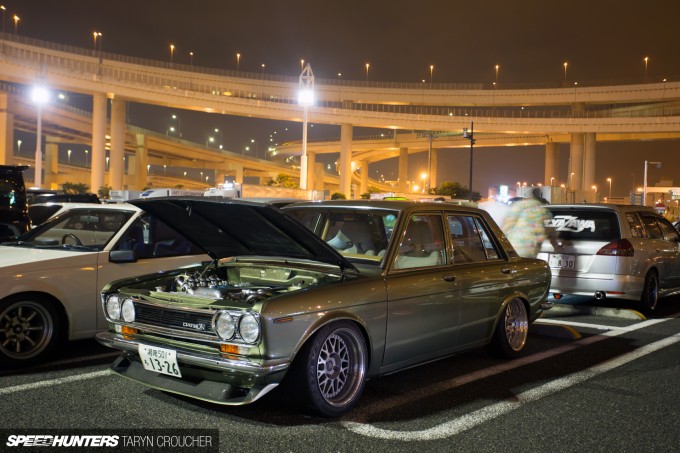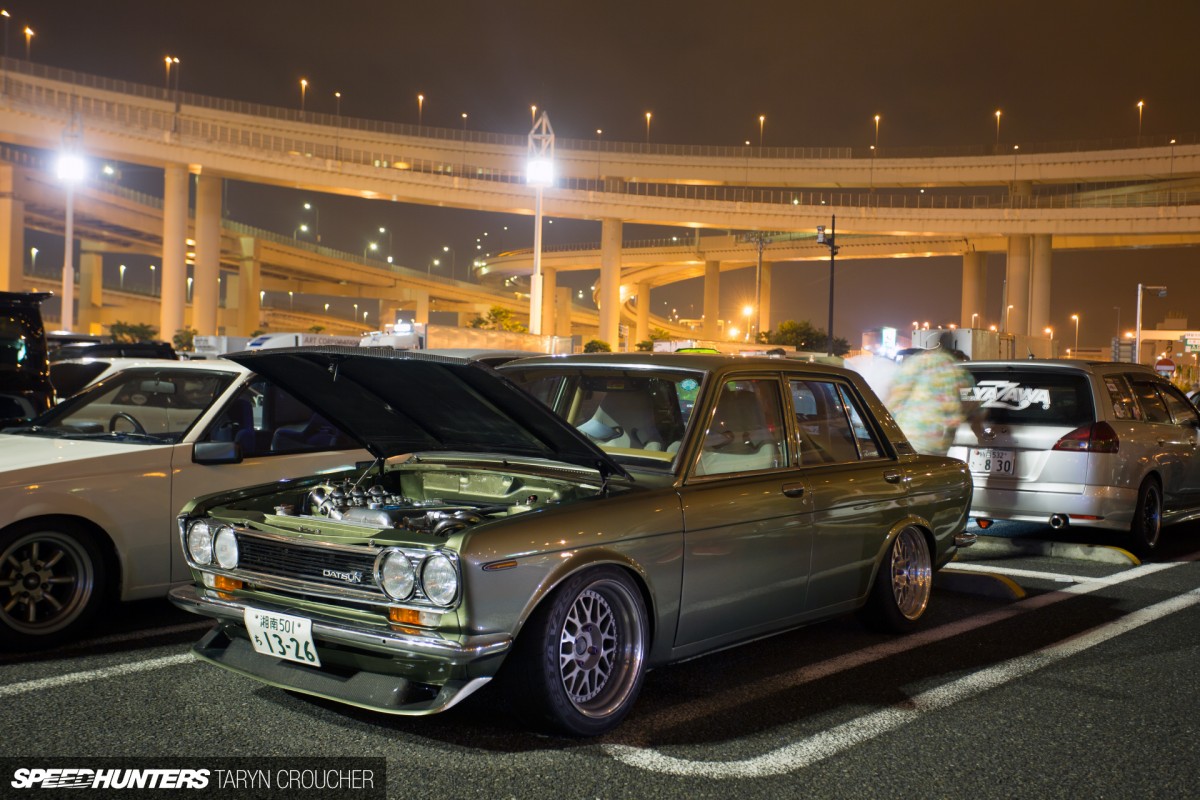 The first thing I noticed was that there weren't many nostalgic kyusha cars around, so when I spotted this caged Nissan Bluebird – or Datsun 510 as I'm used to calling them – it instantly caught my eye. As I got closer I realised that the owner had paid detail not only to the exterior of the car with its immaculate olive green paintwork, but that there was something special going on underneath the bonnet too.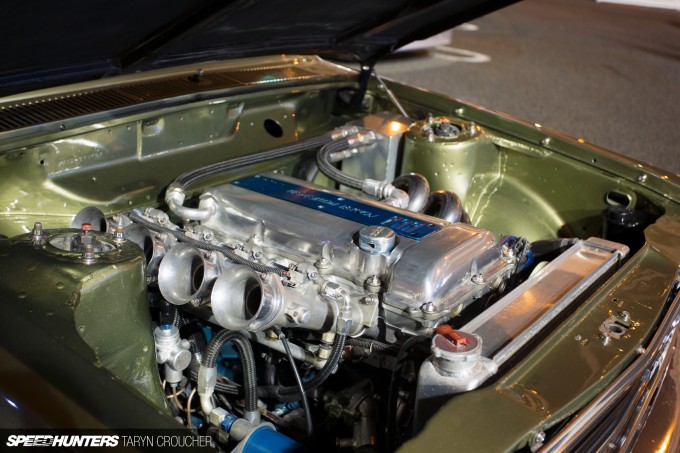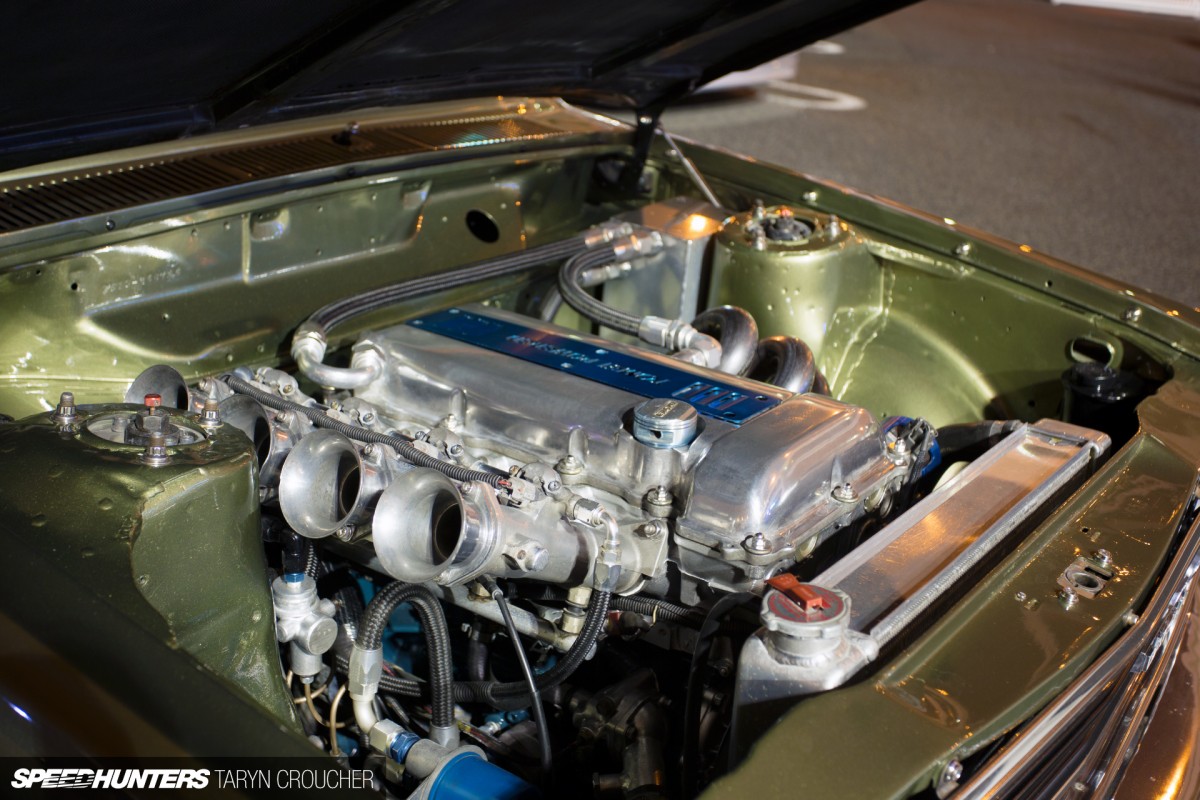 It's not all that common to come across a street car in Japan with a detailed engine bay like this, so getting to see such a clean SR20 swap with ITBs and beautiful headers was a real treat. I'm going to assume it had some pretty serious aftermarket cams in there too, as when it fired up to leave I could hear its lumpy idle from the opposite side of the parking area.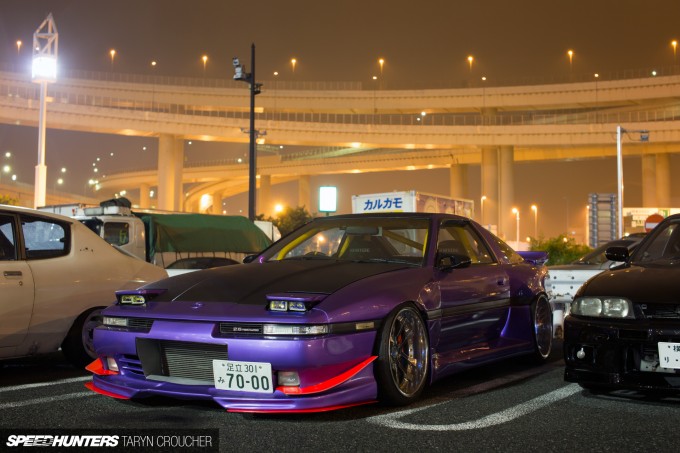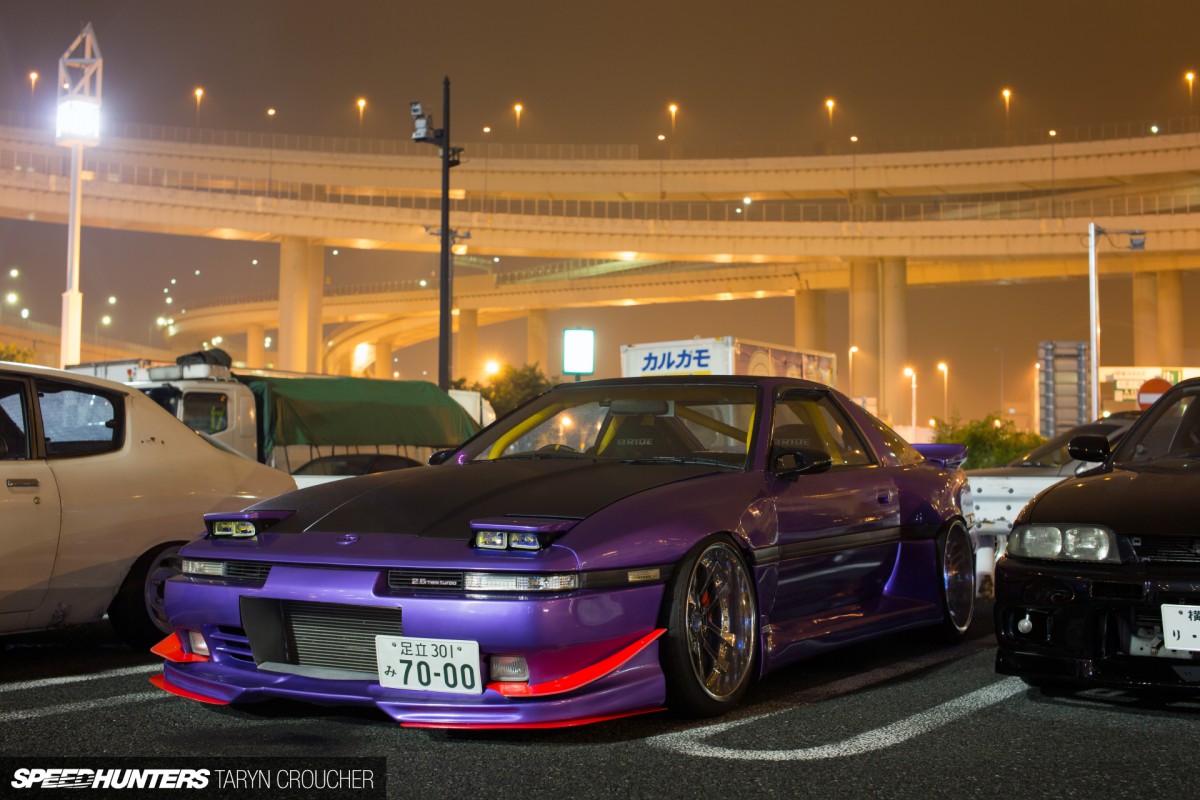 I really enjoyed the retro colourway on this intense wide-bodied Mk3 JZA70 Toyota Supra. You might have figured this out by now but Japanese car enthusiasts definitely aren't afraid to get creative with colour. You'll see a lot of pink and purple cars here, as the Japanese don't associate these colours with femininity – it's just another colour of the spectrum to them. I like how the owner has gone with a bright yellow roll cage – a new-school take on the old school yanki kyusha style half-cage. I wonder if he chose the yellow with that in mind? The lust-worthy Weds Kranze LXZ wheels are a great choice too.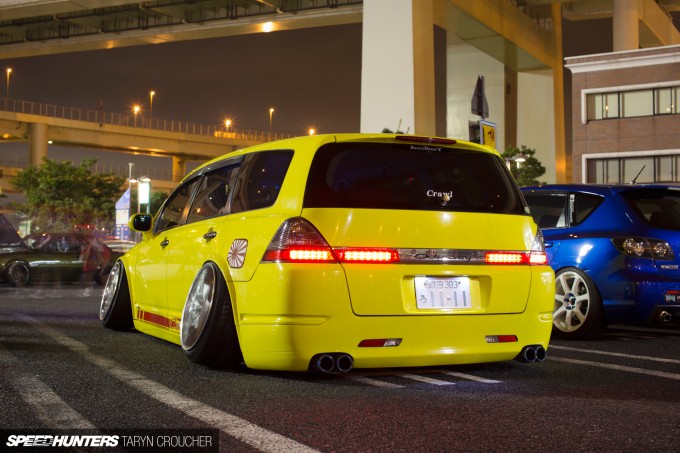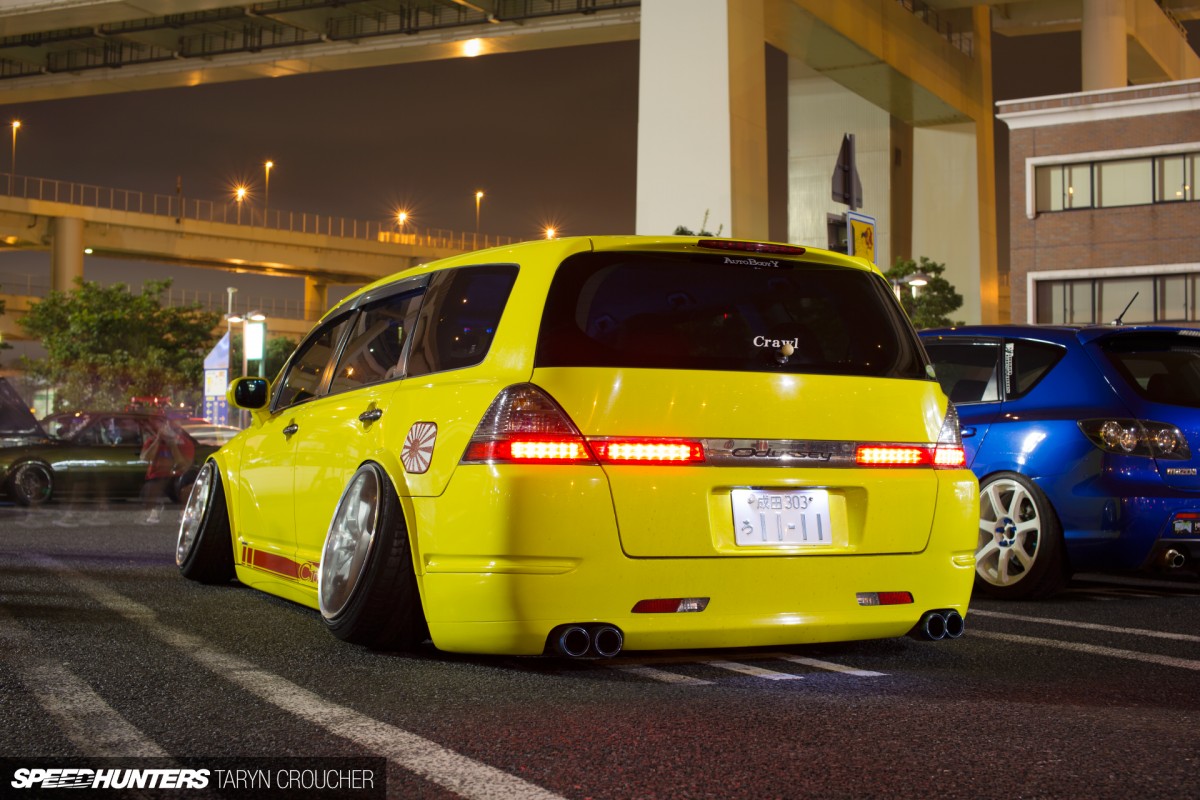 Extreme oni-kyan camber is one of Japan's weird and wonderful car trends that seems to stir a lot of negative online commentary, especially with builds like this extreme Honda Odyssey. Sure, this set-up isn't practical in the slightest and it usually involves a lot of swerving and scraping, but the owners honestly just don't care. Style is hugely important in Japanese car culture and it matters enough that they are willing to make sacrifices for it. Argue all you want, but they love it and they're having fun which is cool in my books.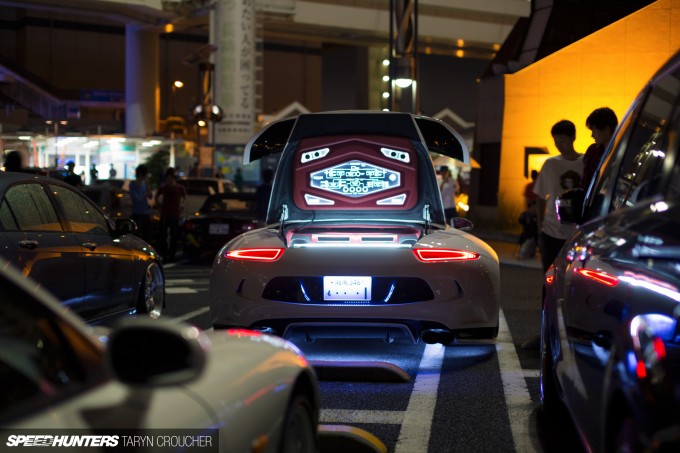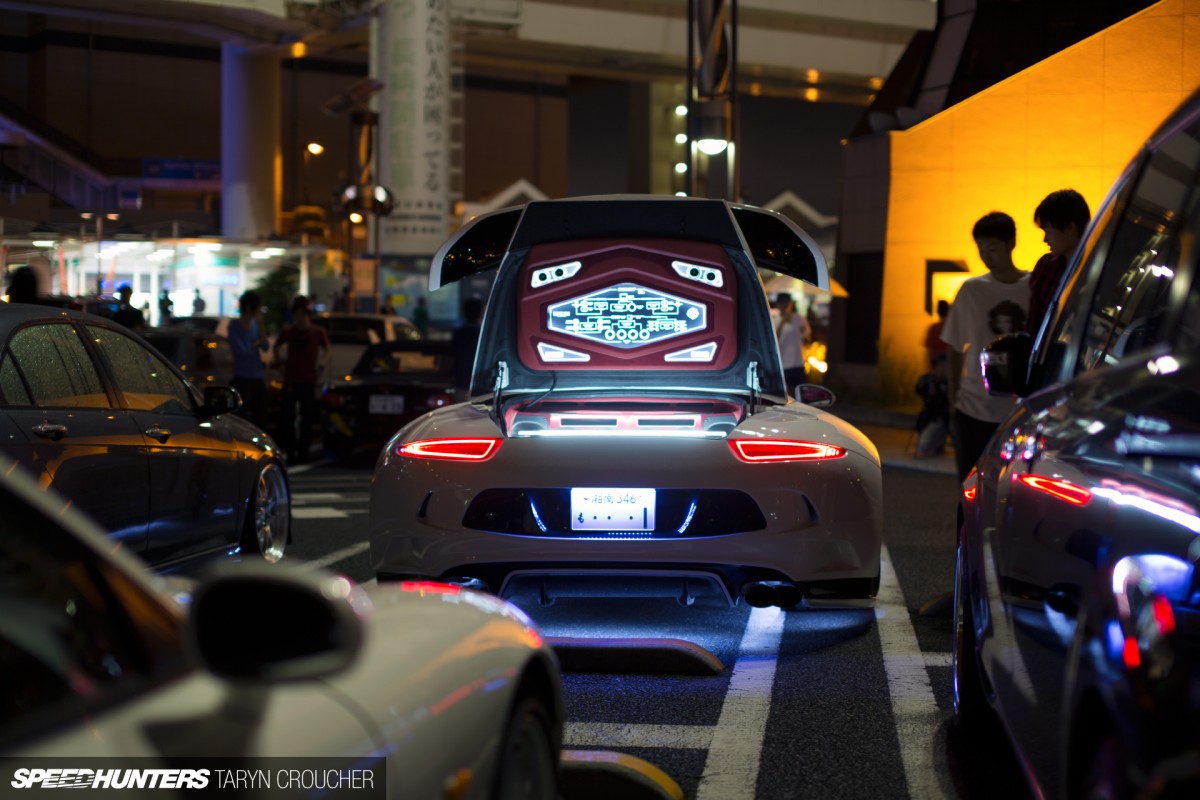 Although the 991 Porsche rear tail lights threw me off at first; I soon recognised the familiar Nissan chassis as a 350Z I'd seen before on Speedhunters. This wild Z33 build has been circling the Japanese car scene for a while now, and it even made an appearance at SEMA a few years ago. The Z-Porsche hybrid is now much, much wider – making Nakai-san's latest IROC-inspired 964 build look tame in comparison!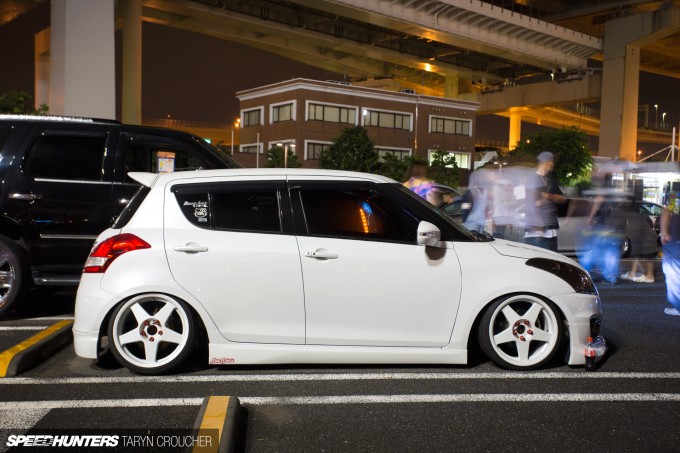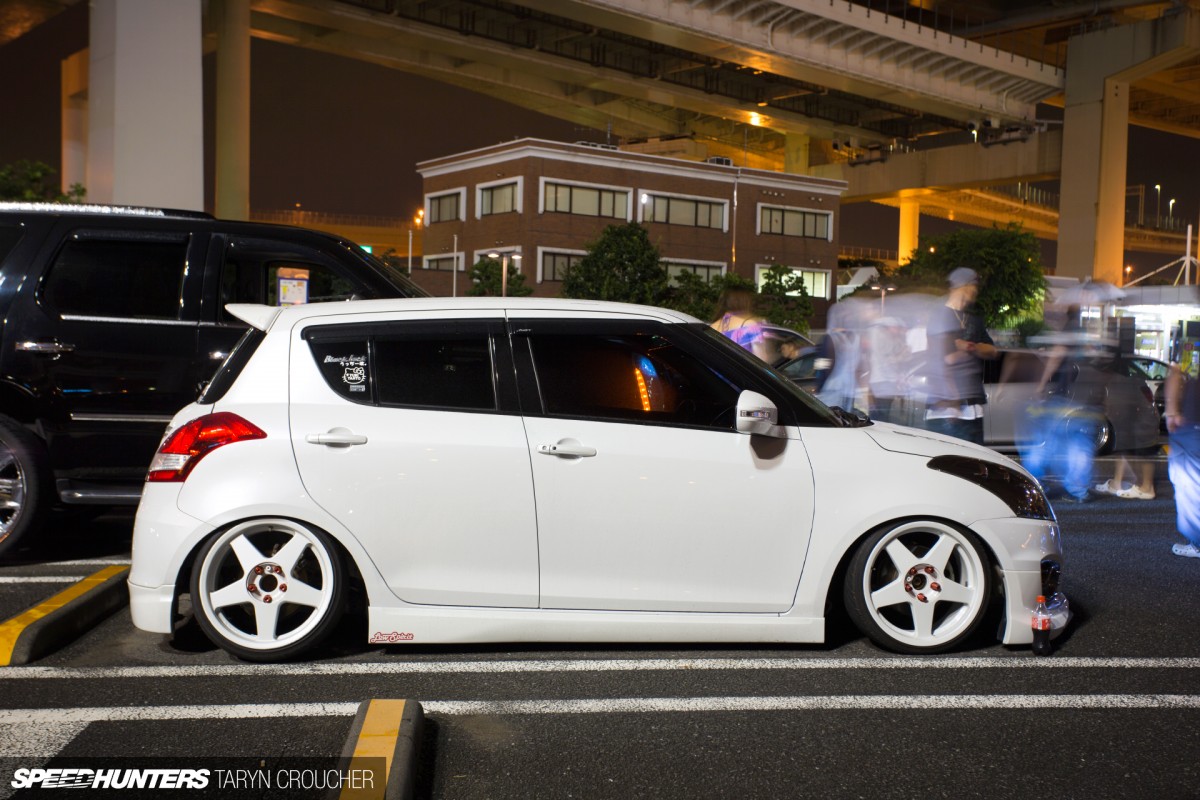 Every modified street car in Japan must be offensively loud. And trust me, sometimes it's the smallest and most unsuspecting vehicles that make the most noise. This Suzuki wins my award for the lowest and loudest Swift I've ever come across.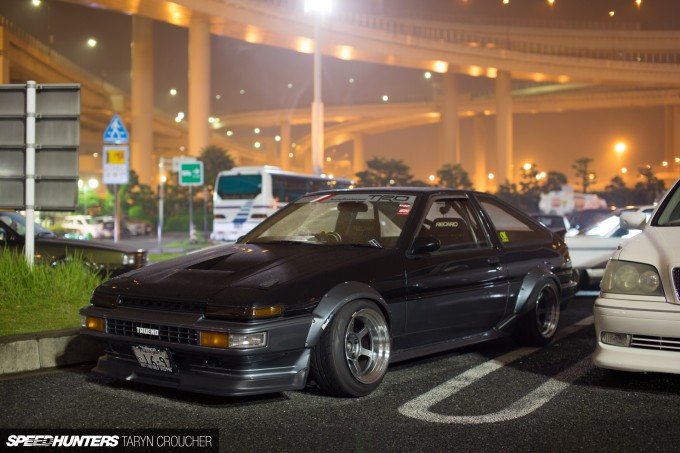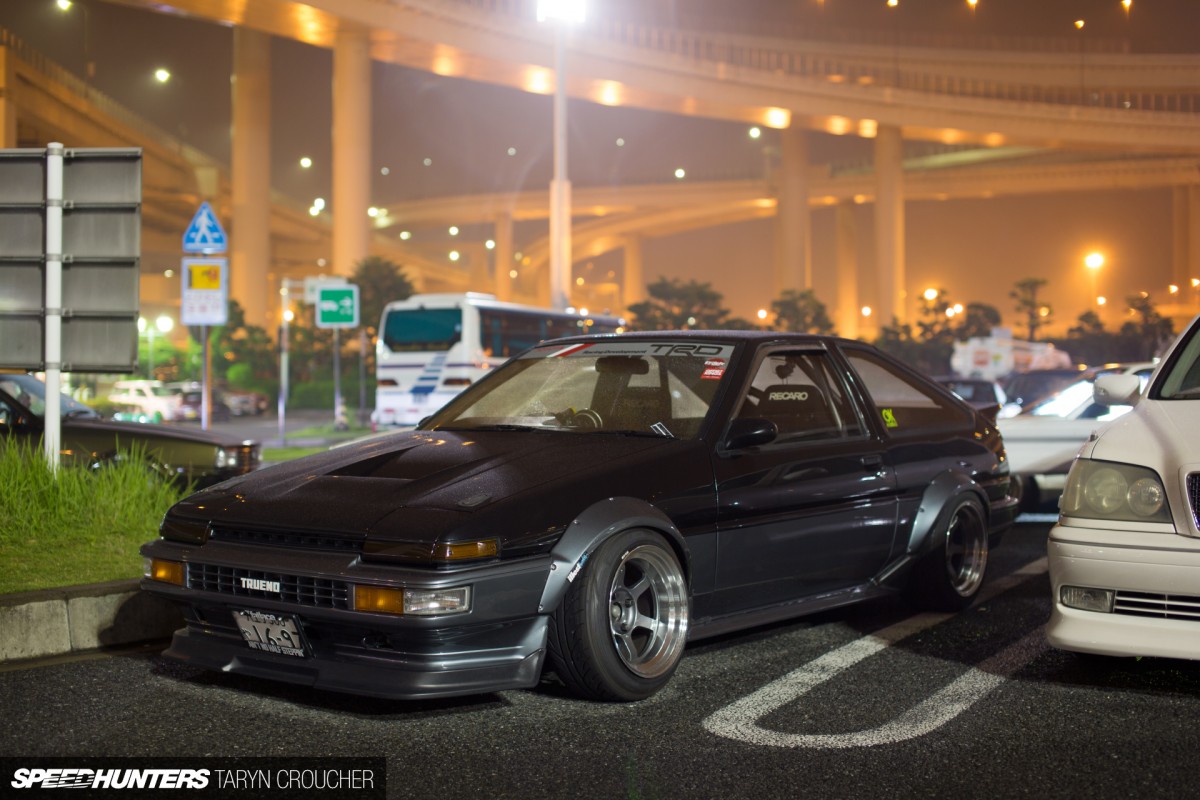 The good old Trueno hatchback is another sought-after chassis that the Japanese have such easy access to, but no matter how many times you see them here you just can't get sick of them. That was especially the case with this clean two-tone example on RAYS Volk Racing TE37Vs. I was hoping to find the owner to see if he could pop the bonnet, but sadly I couldn't locate him. With the amount of care and detail paid throughout the rest of the build, I am certain there would be something impressive lurking underneath the hood too.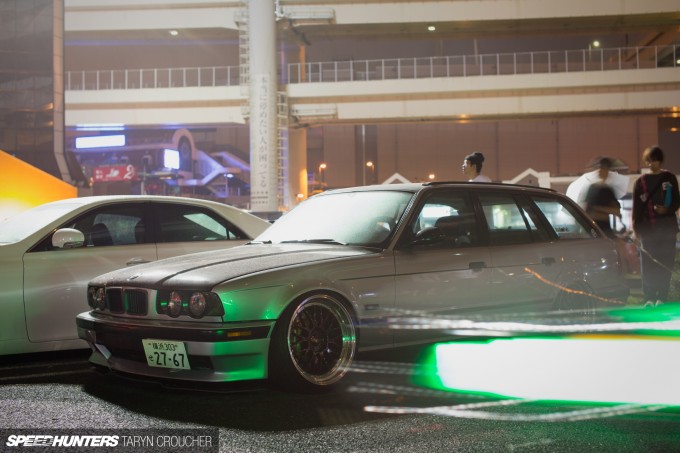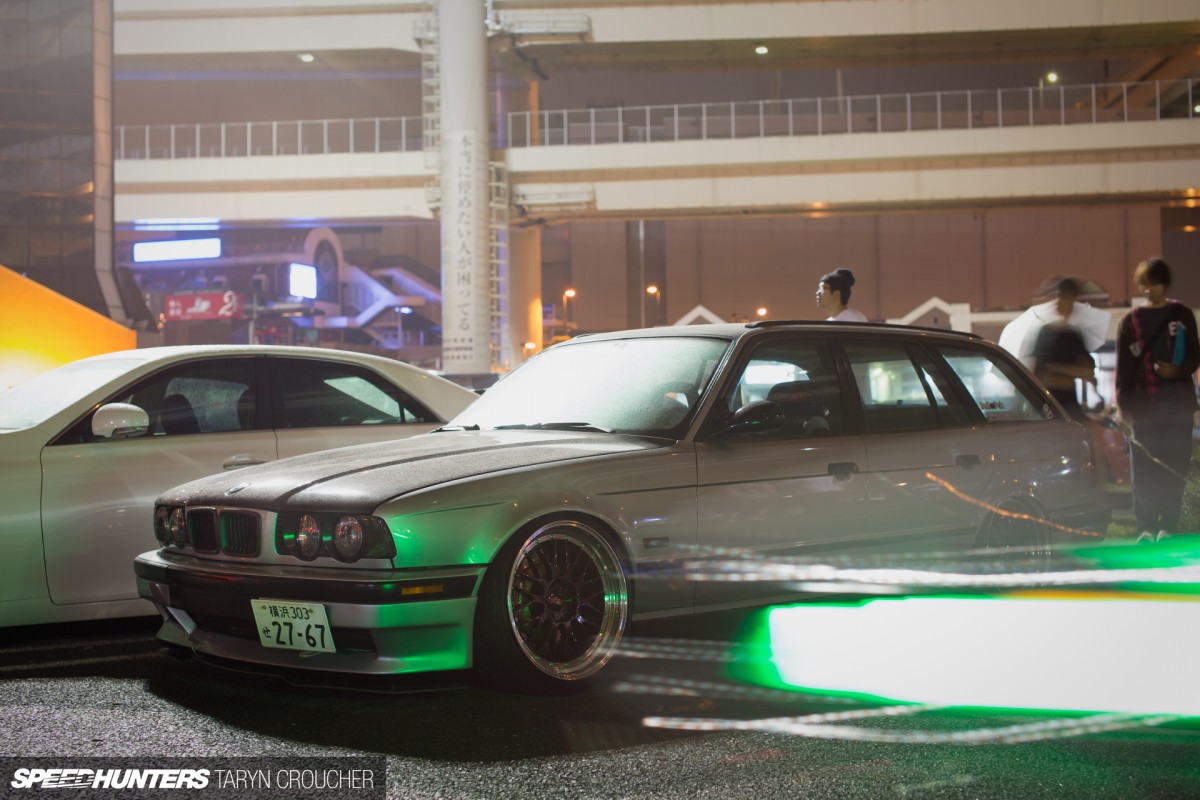 Daikoku PA is an incredible location, but the parking spaces are tight and it's hilariously difficult to shoot there at night when it gets busy. Despite there being some lighting around the parking lot, it's still pretty dark in most areas, so long exposures using a tripod are a must. To give you some idea, here's what 80 per cent of my images from the meet looked like! What once was a really nice E34 wagon on BBS LMs is now a green alien life form.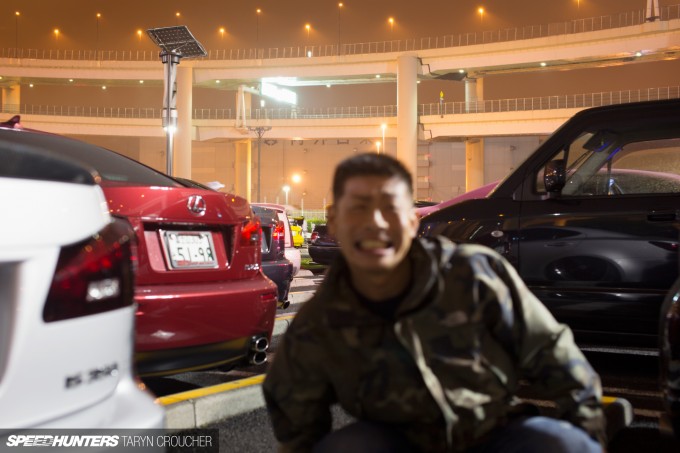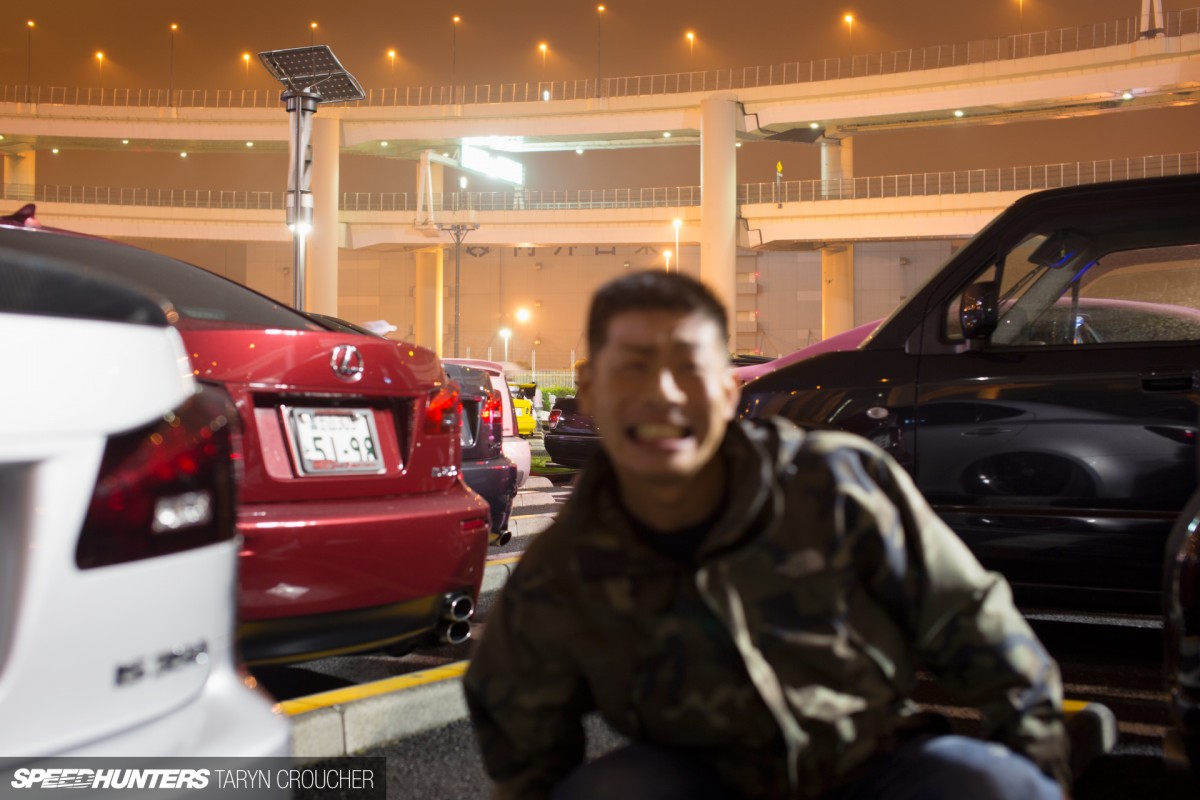 If cars don't drive into your shots, then you'll have people walking into them. Usually on accident of course – unless you're this guy! This unexpected photobomb actually turned out to be quite funny.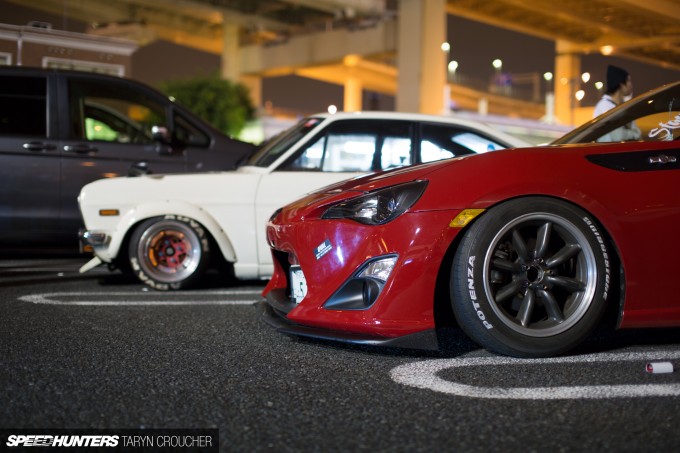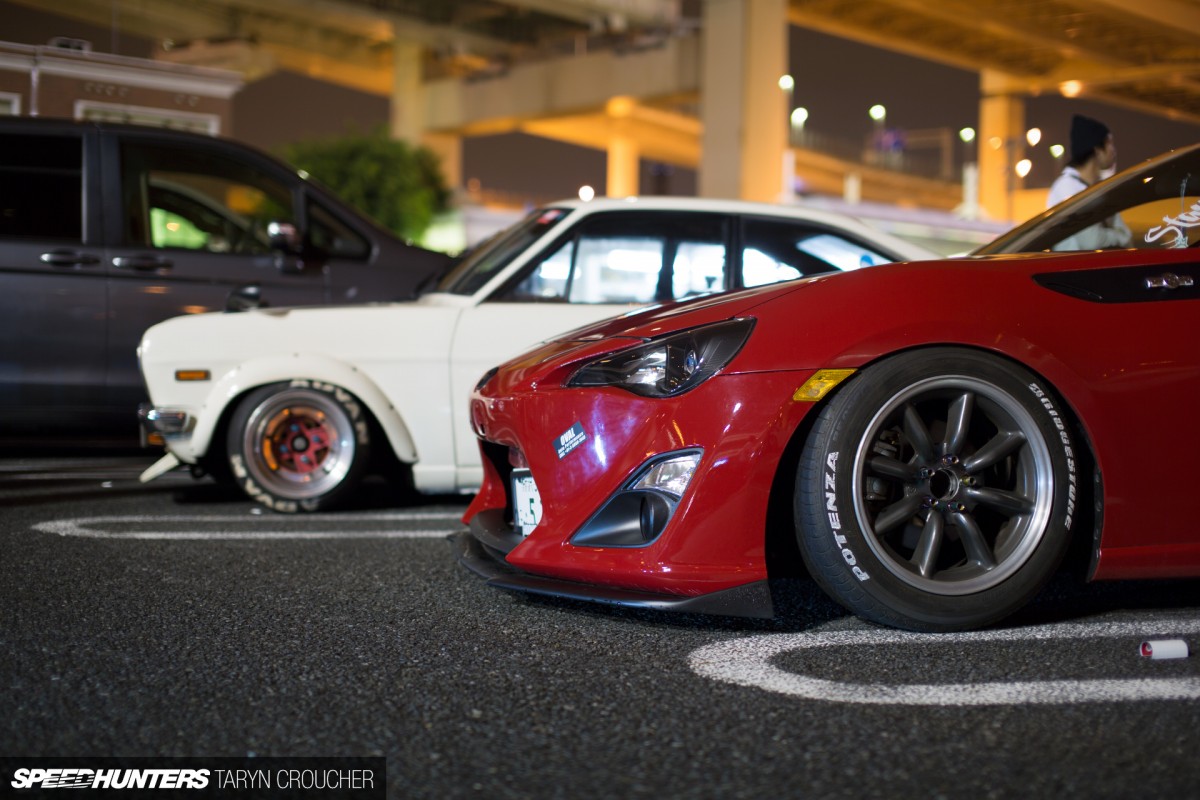 Japan obviously has easy access to a huge selection of current aftermarket performance wheels, but personally I prefer old wheels that have history and character. Watanabes are the traditional wheels of choice for the old AE86 – but a new 86? Let's take a closer look…
We Love Japan!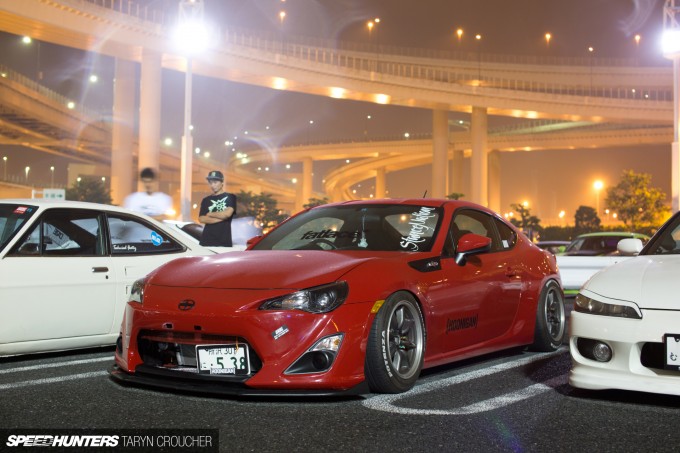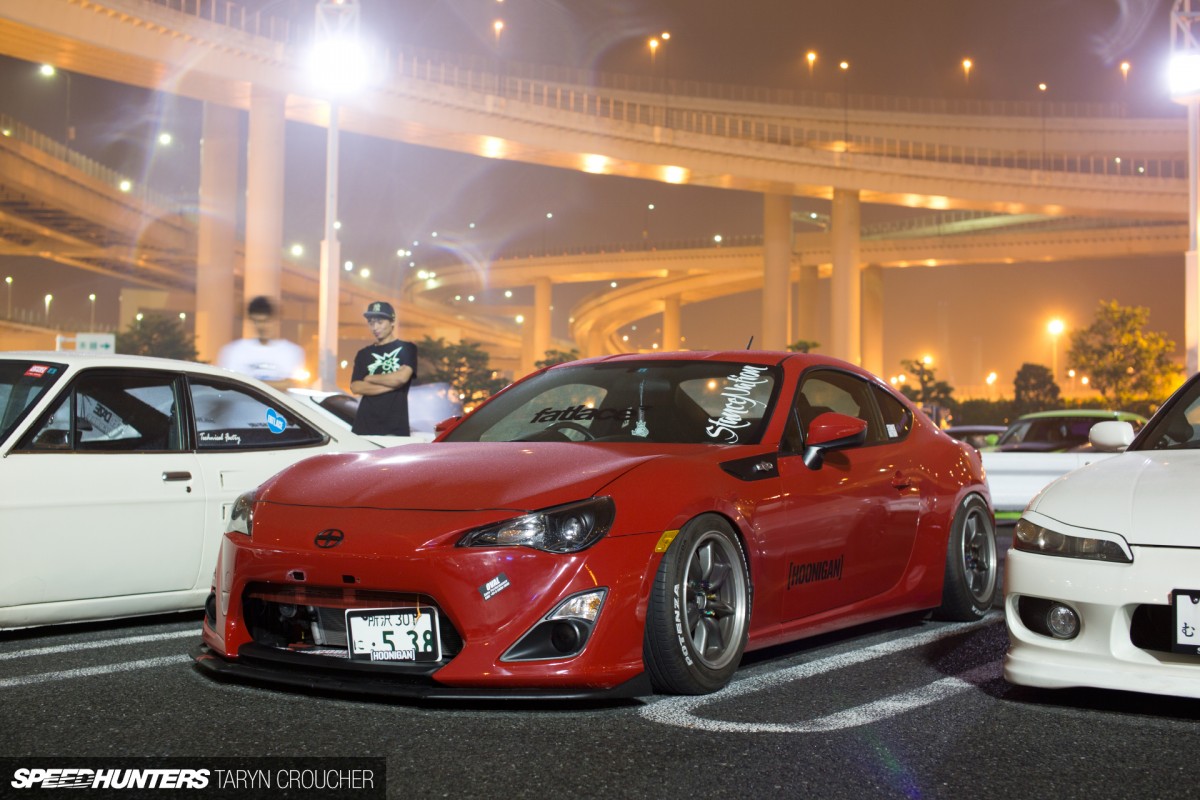 I really liked how the owner of this Toyota 86 had chosen classic wheels as opposed to something modern – it's a really cool vintage twist on a car that already pays homage to its popular predecessor. A simple and not too over-the-top combo. It's been re-branded with USDM badging too, of course!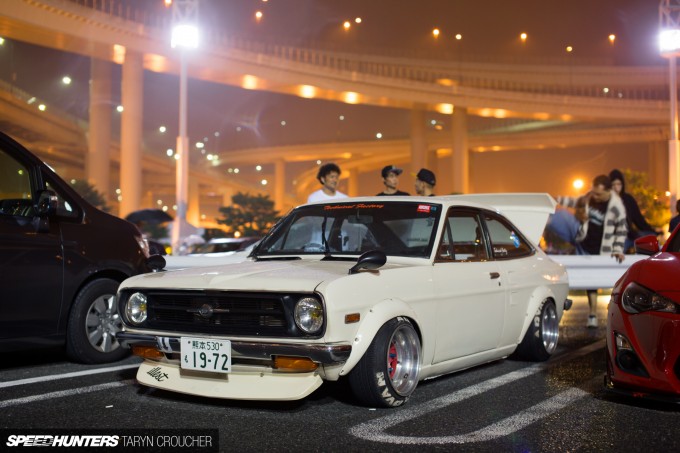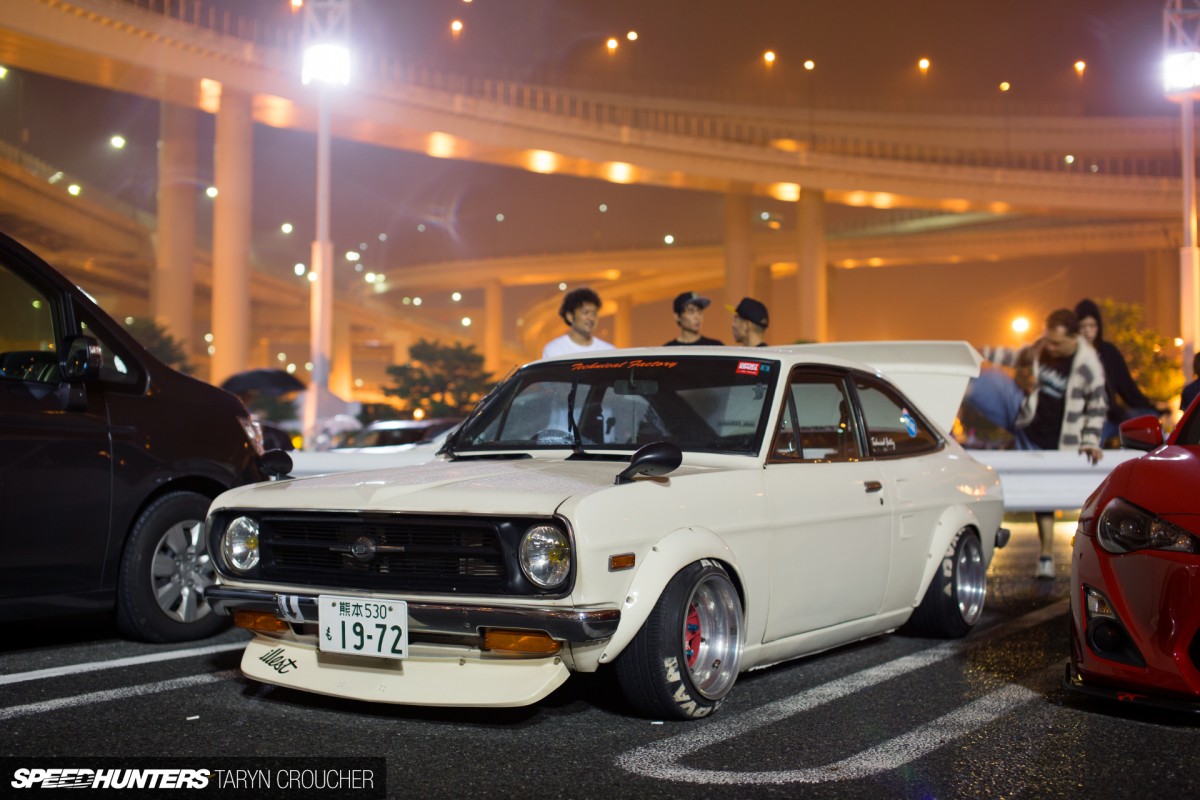 Here's a better picture of Teru-san's '72 Nissan Sunny. Teru rescued the old B110 from a scrap yard a few years ago and turned it into the character-filled shakotan machine you see today. The super-low Sunny has such cool street presence, and you can't go wrong with classic 13-inch SSR Mk-II wheels. The ADVAN tyre stencils are the cherry on the top!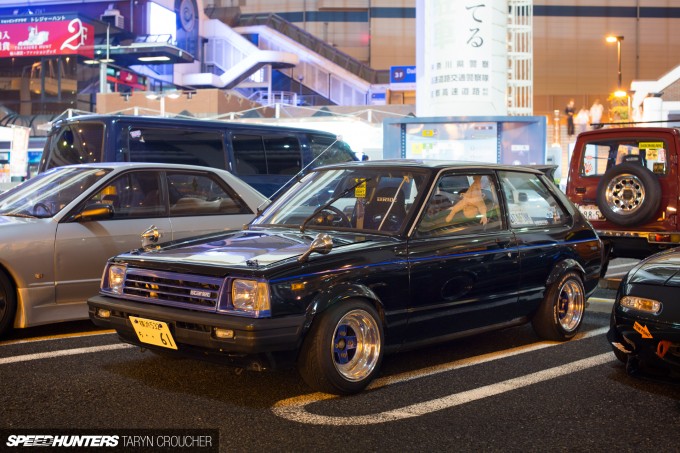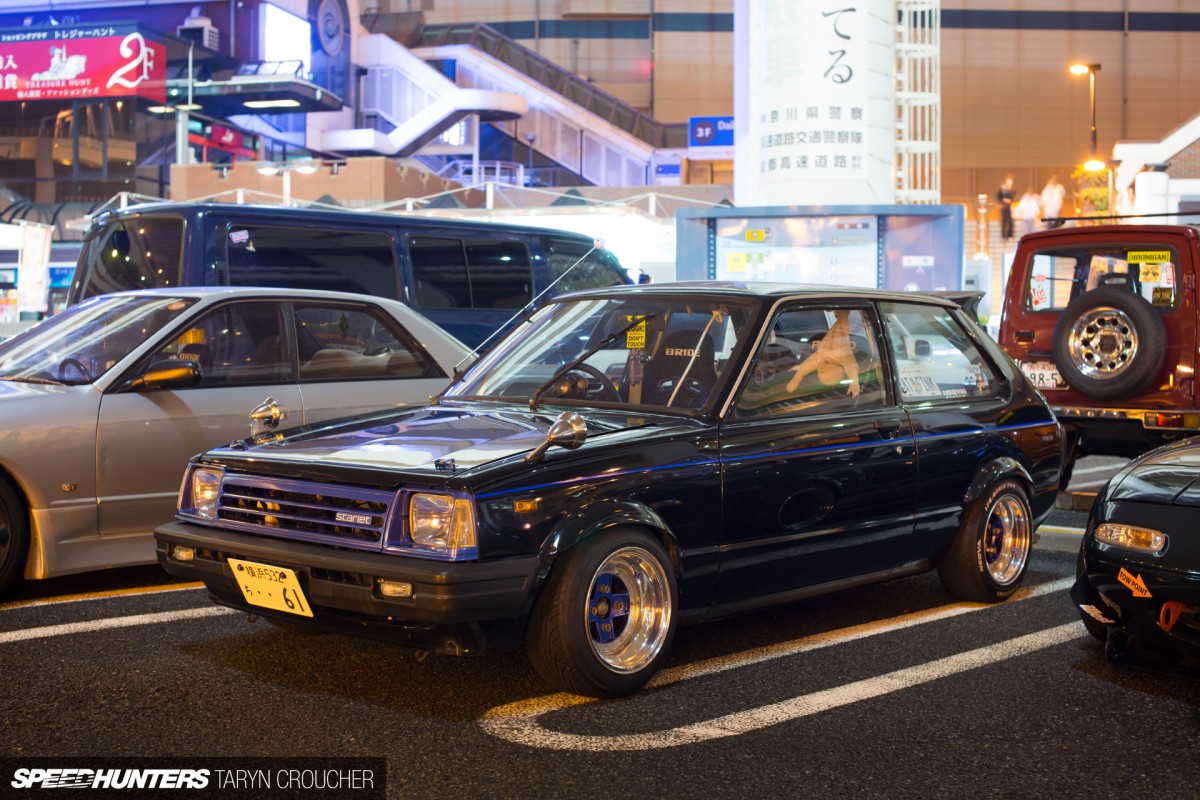 Speaking of vintage tin on classic SSR Mk-IIs, this KP61 Starlet had similar styling cues, but with a slightly more practical ride height and some curious interior decorations. Matching the body and wheels with the same paint colour seems to be quite a common trend in Japan at the moment.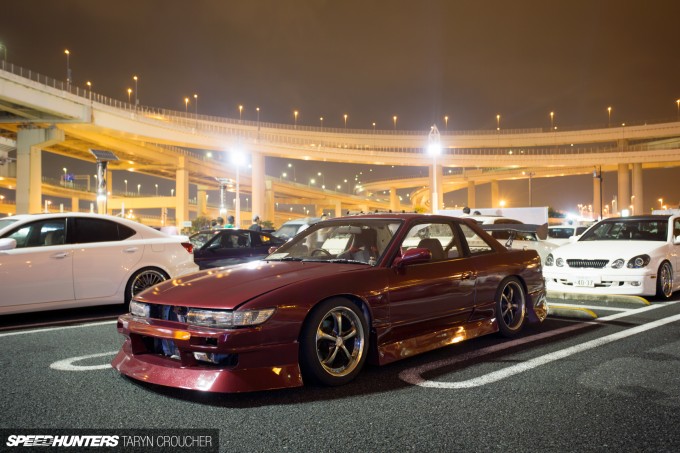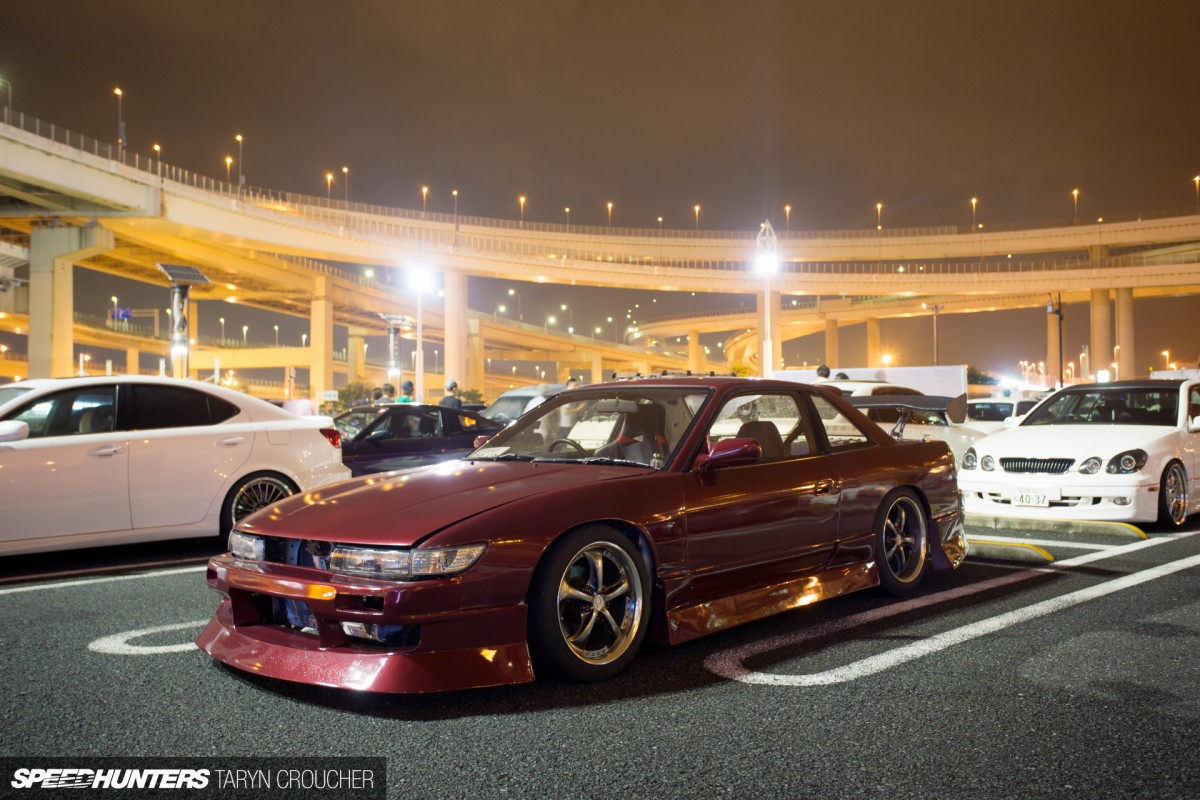 I'm used to seeing S13s on the corner of every street back at home in New Zealand, but I haven't spotted as many Silvia notchback models in Japan as I thought I would have during the six weeks I've been staying here. Despite being super-popular in NZ and the west, it seems like a lot of local drifters are favouring sedans over the smaller two-door chassis at the moment.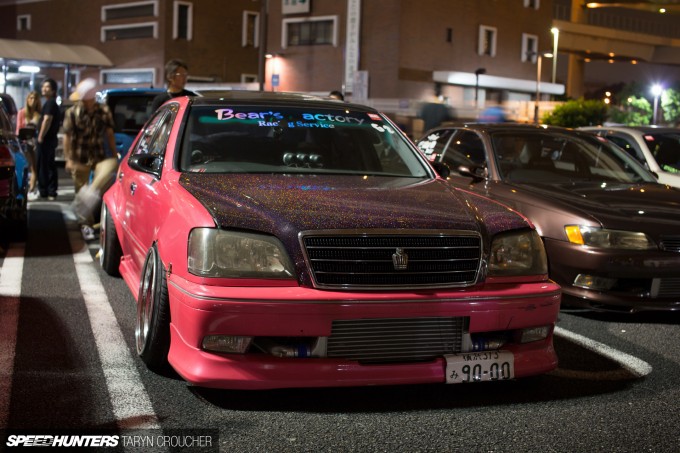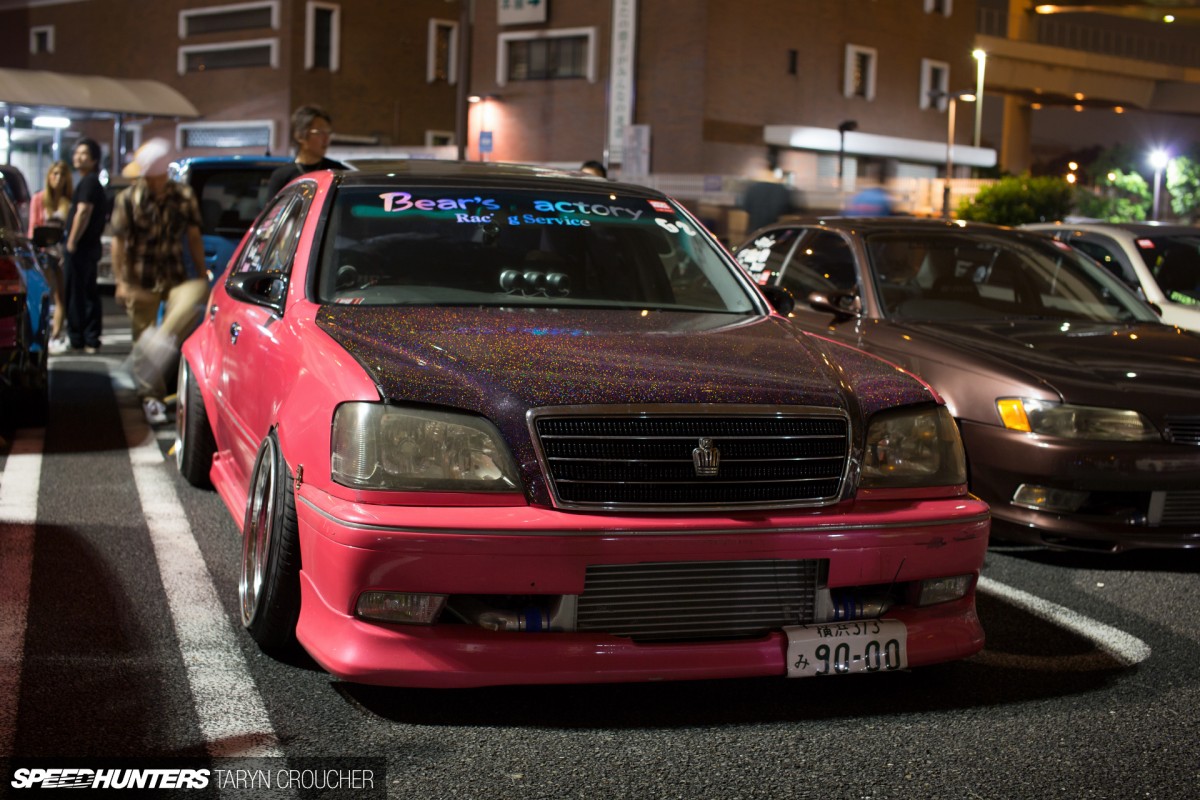 This Crown Athlete was one such example. These luxury VIP sedans are steadily gaining popularity as the prices drop, and with a factory 1JZ turbo motor and the same suspension as the Altezza (IS200) chassis, they have plenty of aftermarket support too. This pink JZS175 build was only completed a few months ago but it was already showing signs of wear and tear from shredding tyres and getting sideways. The headlamps and grill appear to have been swapped out for the Crown Royal (non-turbo model) versions, and the rear guards have gone under the knife in order to fit the large Work Meister wheels.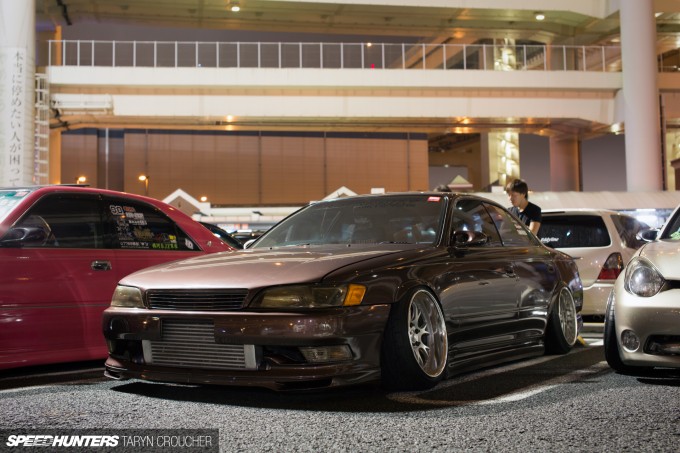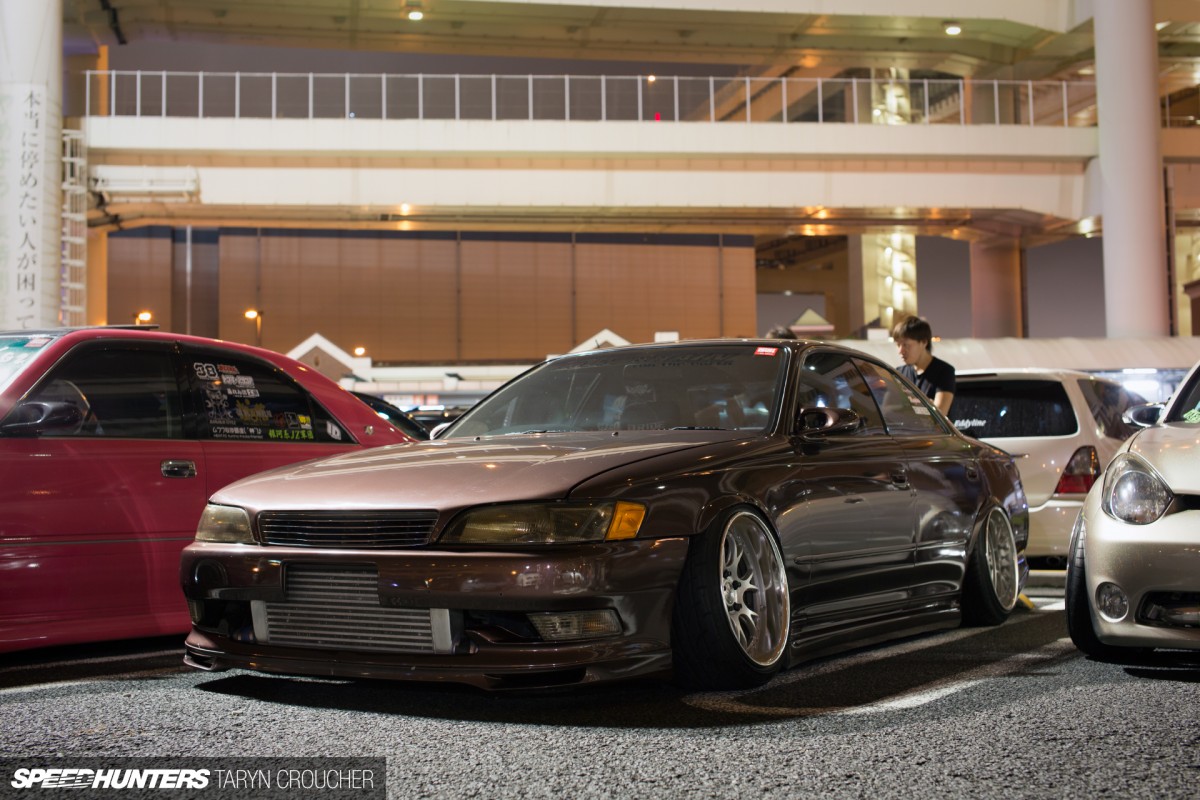 If there's one car in particular that seems to stand out as the drift platform of choice in Japan it's the Toyota Chaser JZX. And there were plenty of them at Daikoku that night. This JZX90 Mark II looked ridiculously menacing with its low ride height and extremely tight fitment. This is an Offset Kings pre-meet after all.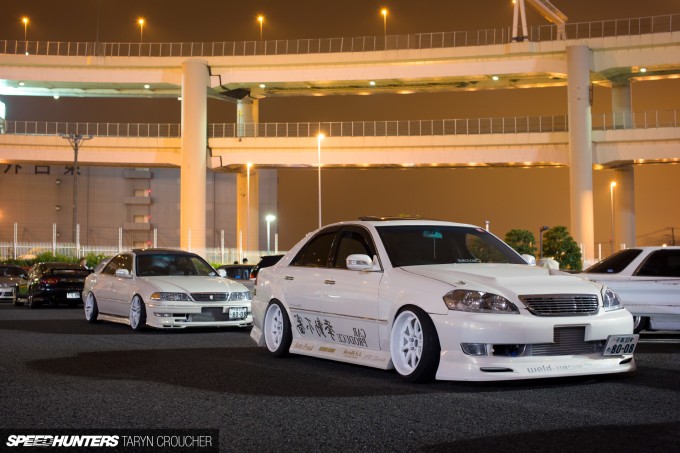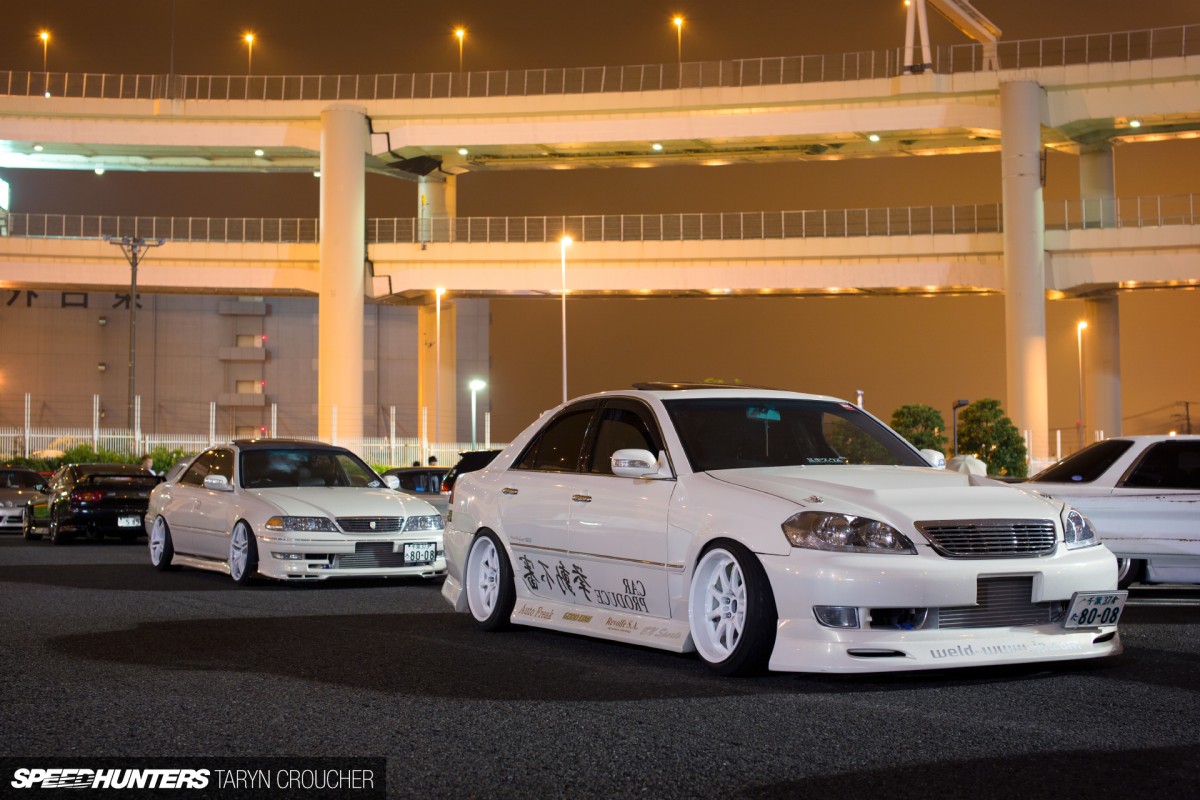 This clean JZX110 and JZX100 pair weren't sporting any scuffs or zip ties so I can only assume they weren't dedicated drift cars – but you can never quite be sure of that in Japan.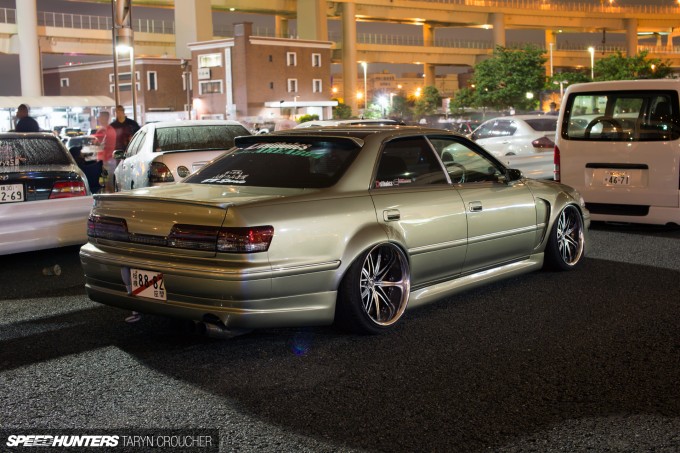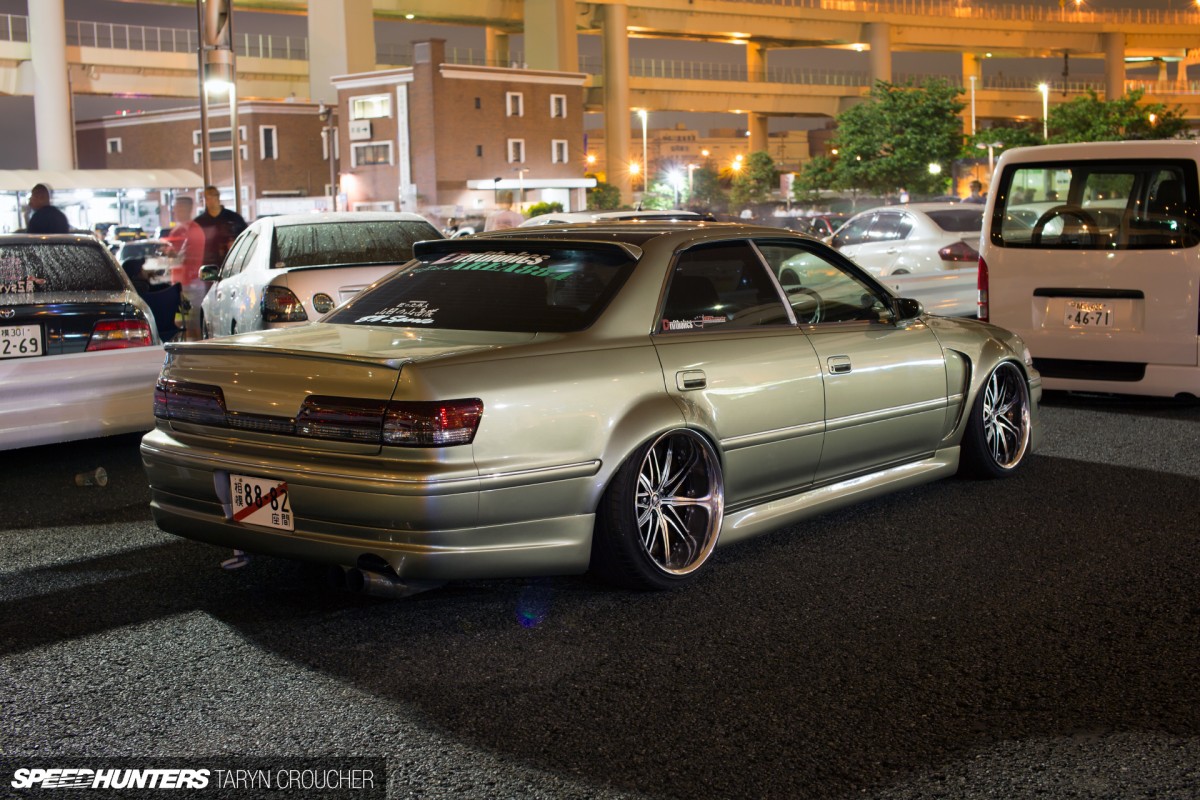 Not far away from them I spotted yet another clean JZX100; another car that had been given the widened fender treatment, this time to house a beautifully deep set of Work Schwert SC1s. The new guards blended so perfectly into the original panels, including the rear doors. I won't lie, I've been looking at a lot of JZXs for sale over the last few weeks – I think I've been brainwashed!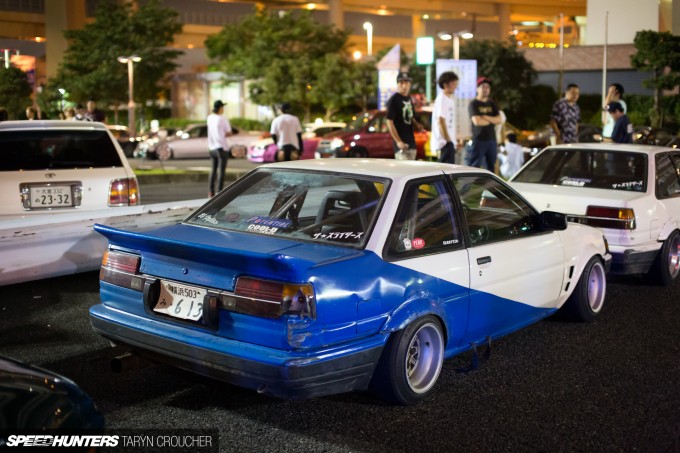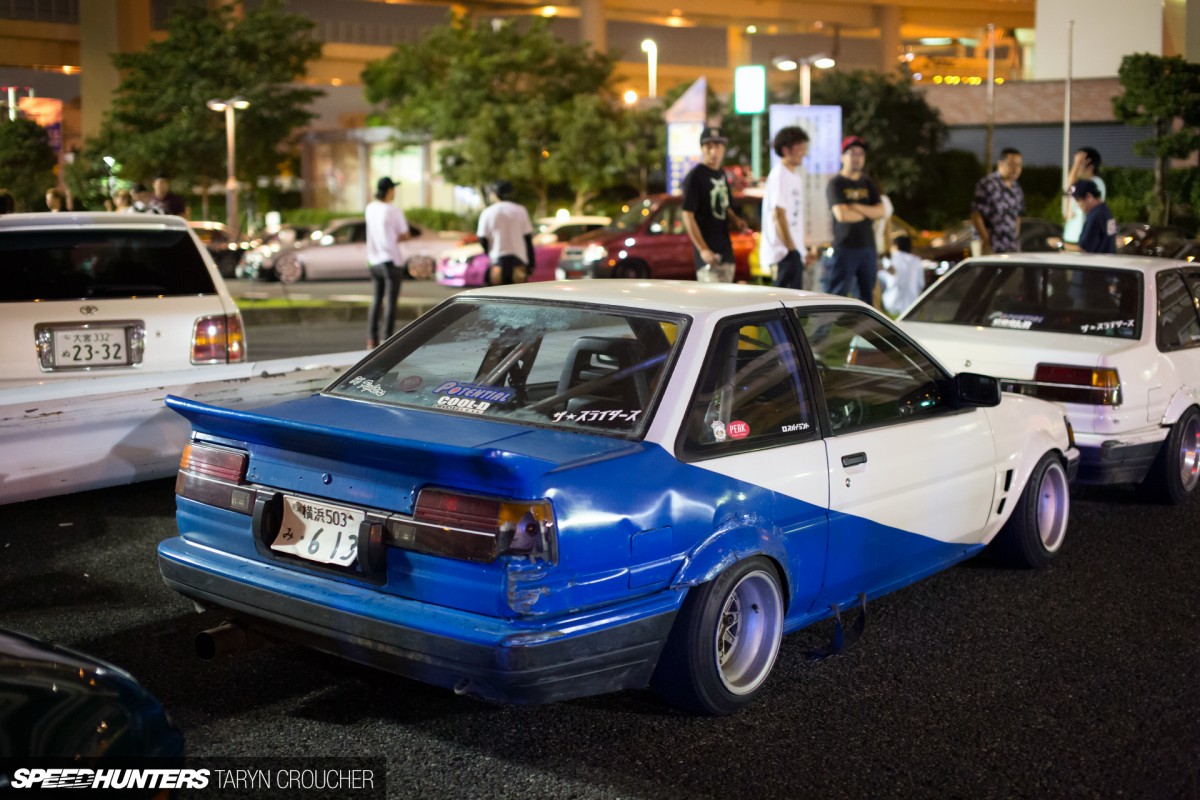 From immaculate streeters to the more authentic touge drift machines, this beat-up AE86 notchback was just one of the hard-driven rides that some of the guys from N-Style showed up with. The little retro-liveried Hachiroku was sporting vintage SSR Mk-III wheels and some cool battle scars.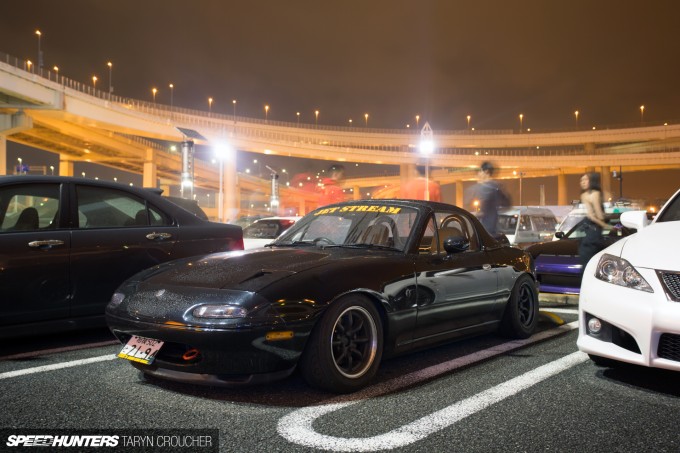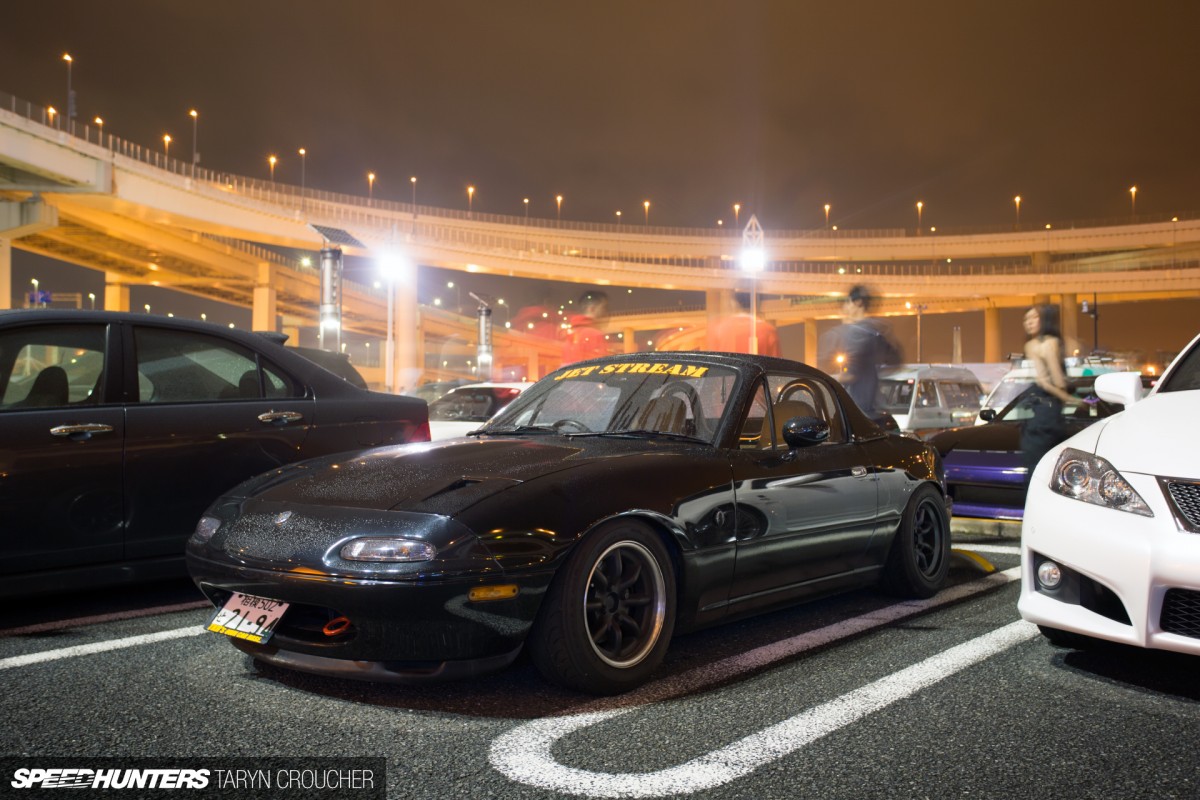 This NA MX-5 rolled in with a crew of three or four other Roadsters. Upgraded suspension, a roll bar and grippy tyres wrapped around classic Watanabe wheels are all you need for a cheap and fun weekend toy.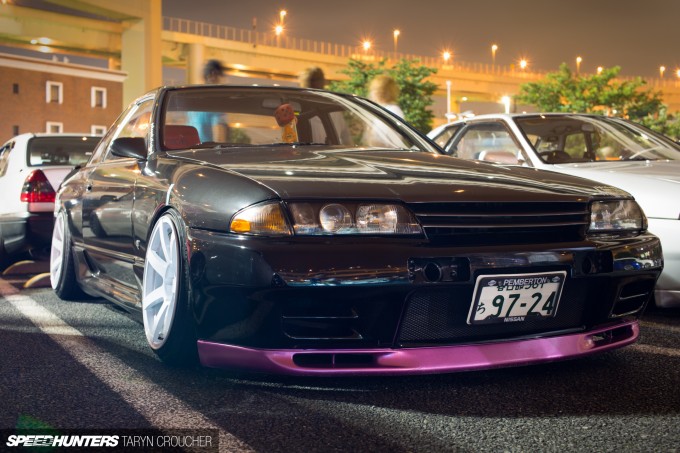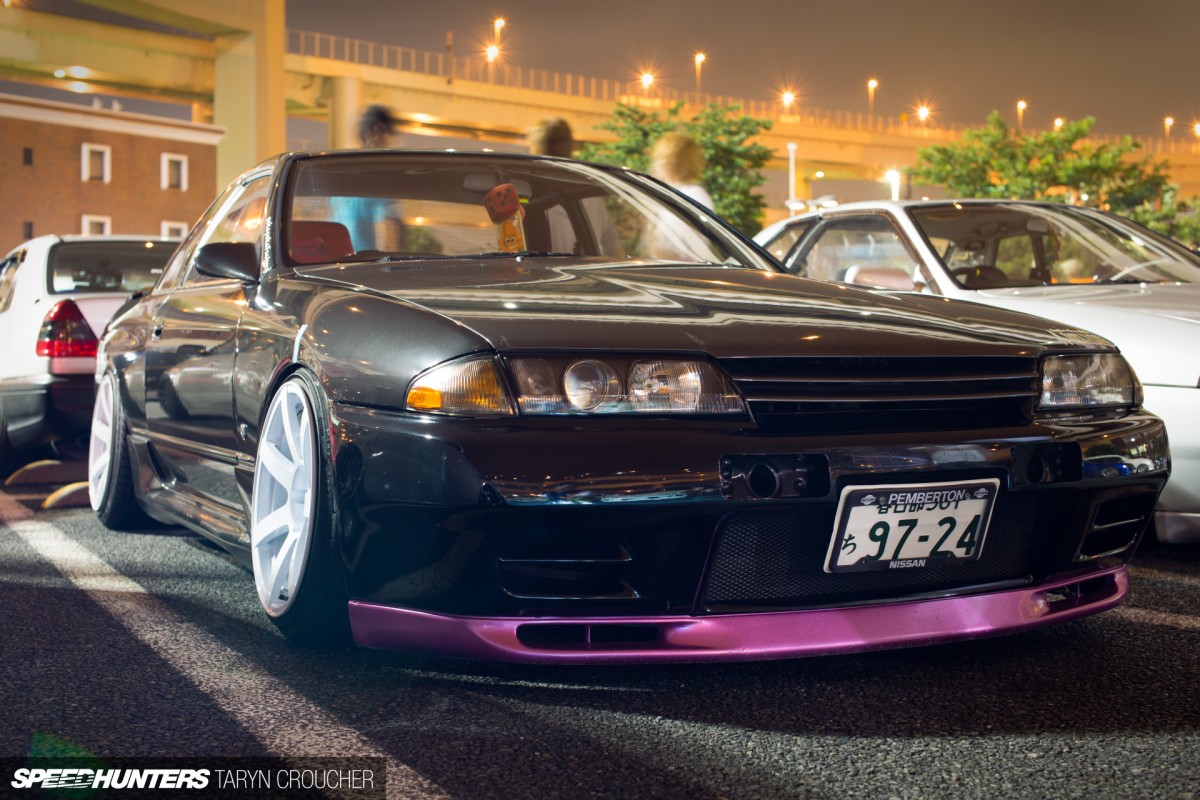 R32 GT-Rs are ridiculously common in Japan, and I think I'm starting to become immune to them now as I've just seen so many recently. This example wasn't the cleanest, but I like how the owner had added his own subtle personal touches like the pink front lip (or maybe he just cannibalised a pink GT-R?).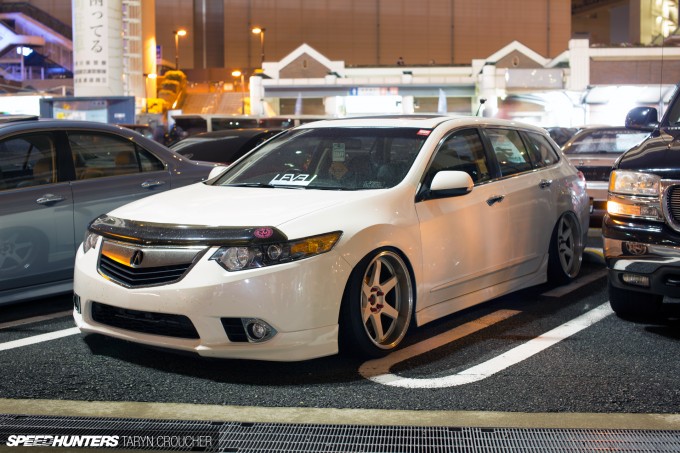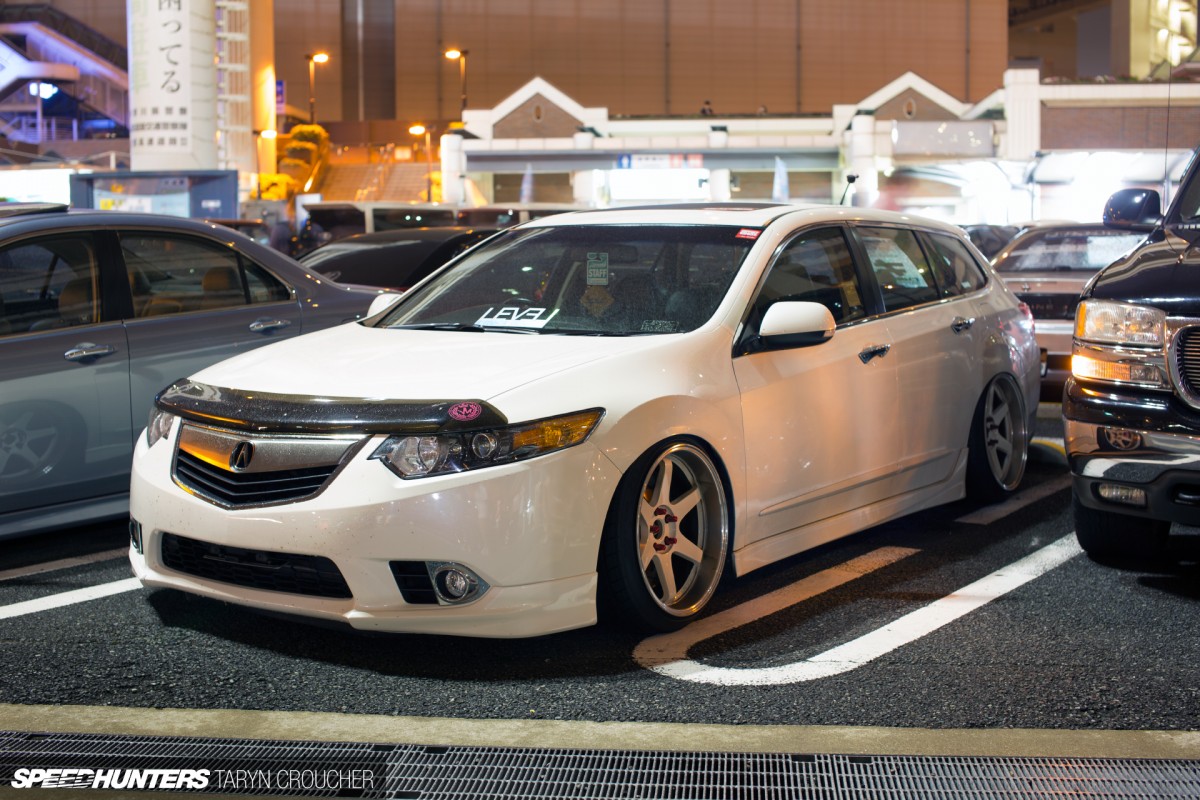 I almost walked straight past this ninth-gen Honda Accord wagon, until I realised that it had huge StopTech brakes and 19-inch RAYS Volk Racing TE37 Tokyo Time Attack wheels! UDSM Acura badges are a must for extra street points too.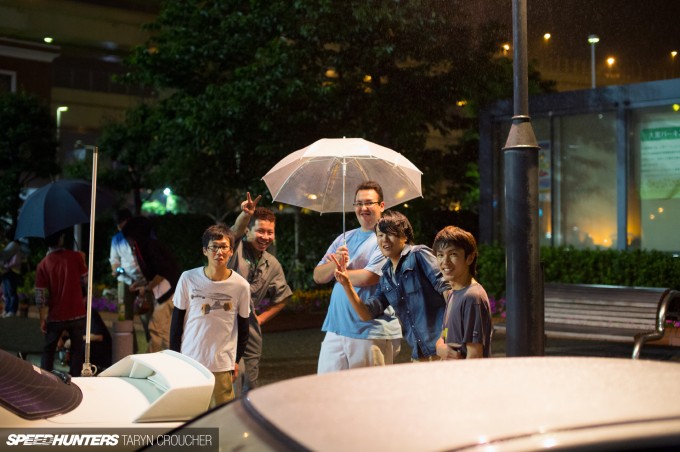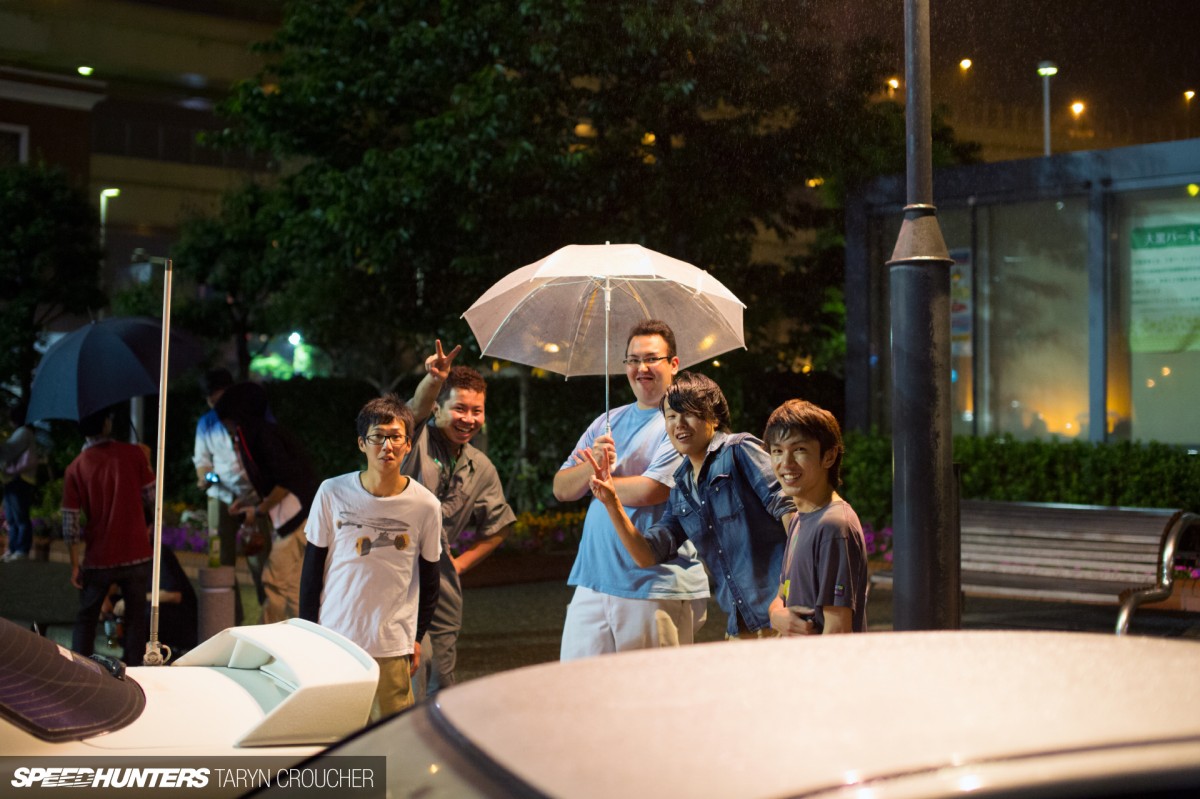 It was great that so many people braved the rain to say hello and share their cars with us; at one point there were cars just cruising around in circles because every parking spot was already taken. Although meets like this aren't illegal, the noisy wastegates and sound systems usually associated with them aren't encouraged by the local authorities, so they're usually broken up with people being asked to leave. But on this occasion the police had a fairly passive attitude and didn't seem to mind that much.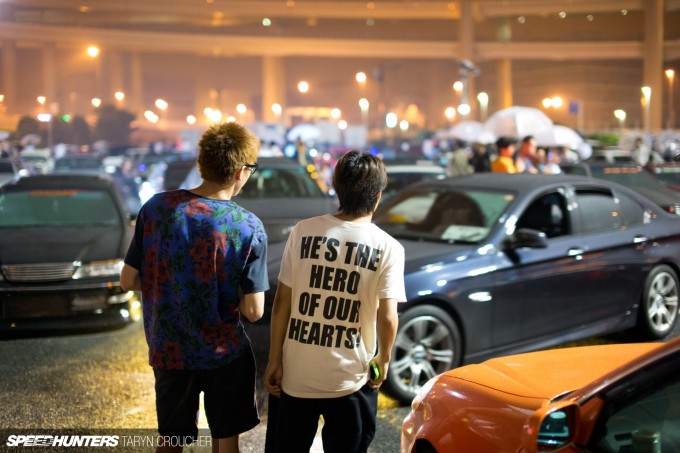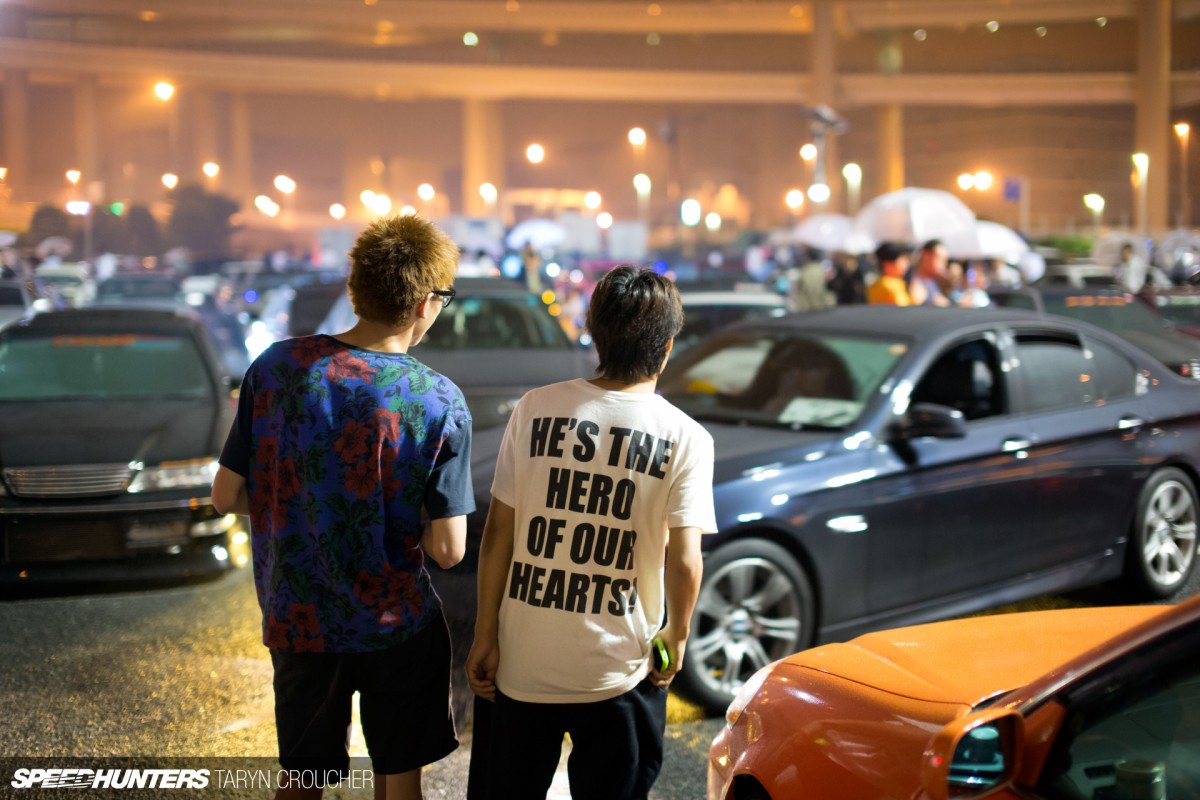 Unfortunately the weather had other ideas, and it wasn't too long before it got a bit too wet for me to feel comfortable having my camera out. Other people must have felt the same about their cars too, and as they started to vacate the parking area and head back onto the expressway. The night came to life with the echoing symphony of one hundred street cars stepping hard on the throttle around the swirling expressway above us. What a magical sound!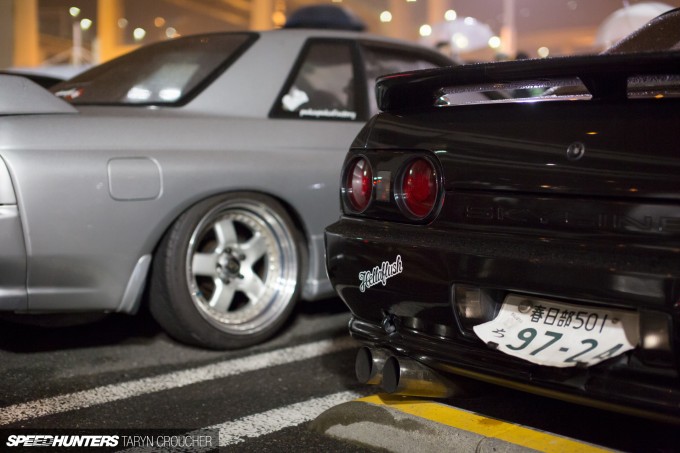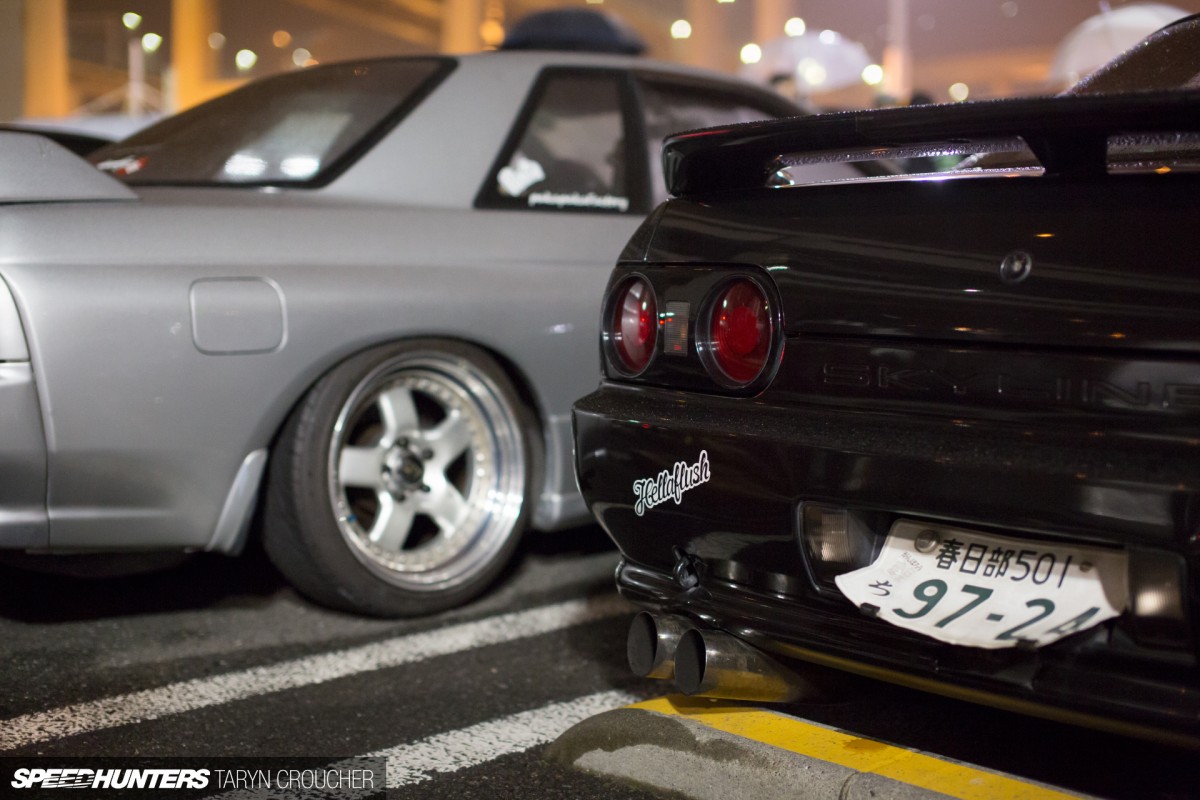 It was great to get a glimpse of the more casual side of Tokyo and Yokohama's social scene like this. These cars weren't necessarily all for show; most of them were authentic daily driven street machines, and to me they seemed like an accurate representation of what general 'car life' is like for a lot of enthusiasts here – especially from the younger generation.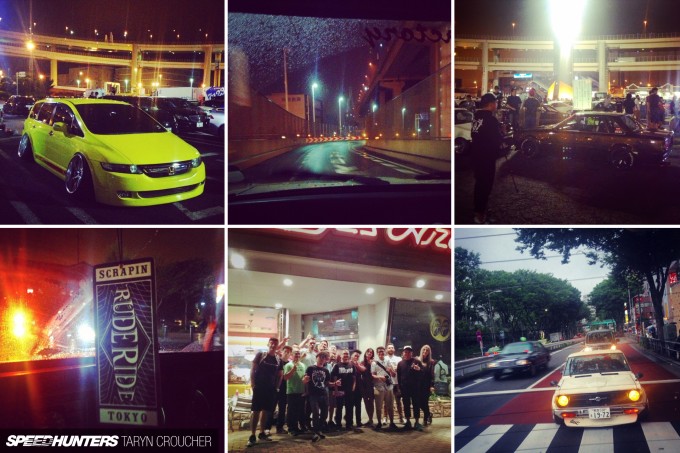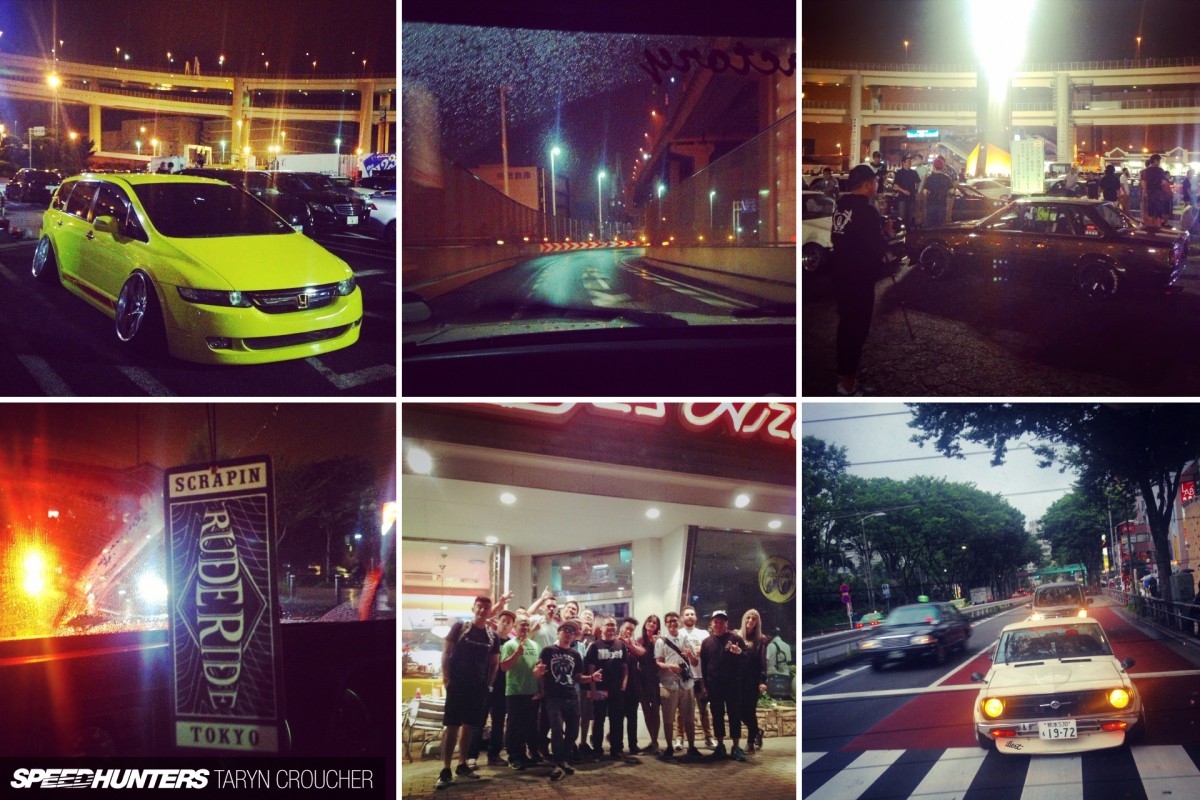 Of course, this a just a small taster for the Offset Kings show coverage we've got scheduled for later this week. Stay tuned for a full event report from Fuji Speedway coming up very soon!
Taryn Croucher
Instagram: taryncroucher
Twitter: @taryncroucher
taryn@speedhunters.com