More Power
There is no other professional motorsport series in the world that is as diverse as Formula Drift. The critics out there may think that the field of competitors are just a bunch of 20-year-old cars with Chevy LS engine swaps, but that's far from the truth.
In my last article about the 'Horsepower Wars' going on in Formula Drift, I asked the drivers for their personal opinion on the matter; some giving serious answers and others joking around. At Formula Drift Atlanta I caught up with a variety of teams out of the 50-plus car field just to showcase a bit of what the sport has to offer. Some teams disclosed more information than others – but all of them gave up the basic specs of what they're running under the hood.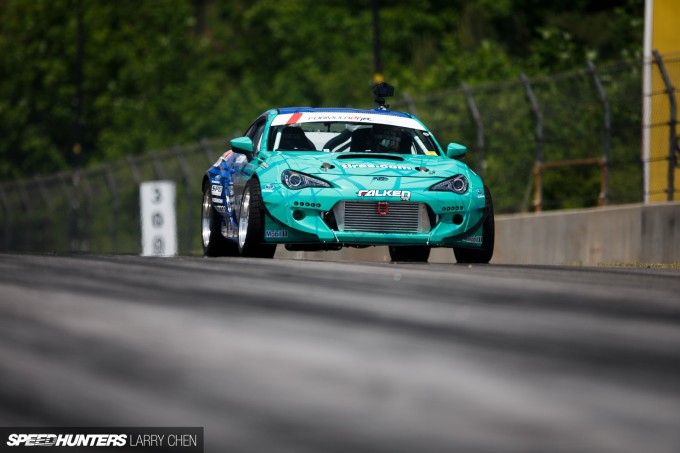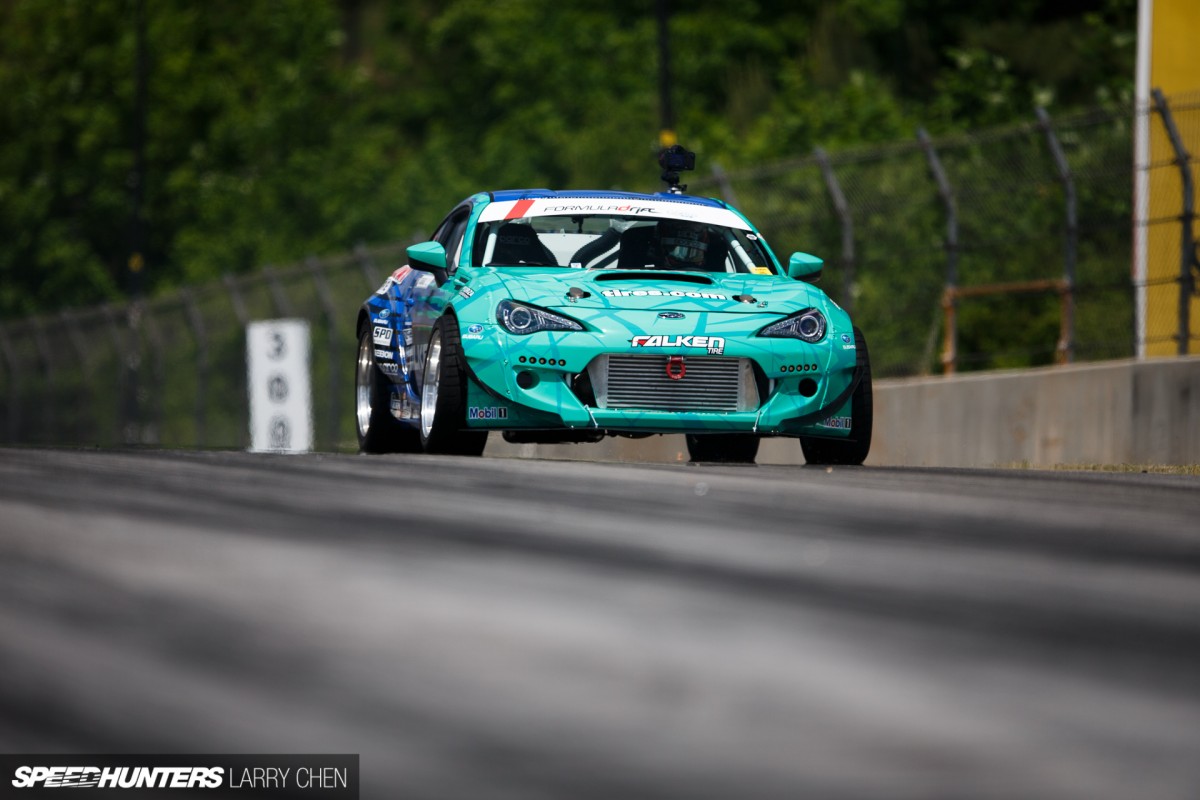 Daijiro Yoshihara took home the championship back in 2011 in an LS-powered two-decade-old Japanese car, but the sport has evolved and so has Daijiro and the rest of the Falken Tire/SPD Metal Works team. They are now running a Subaru BRZ platform with a single turbo-equipped LS motor. The overall build is still being developed since it only debuted back in Long Beach, as with any new platform, it takes time to figure out a winning formula.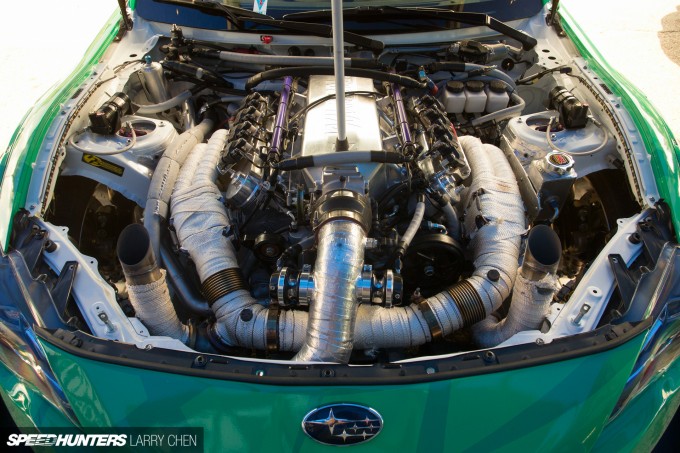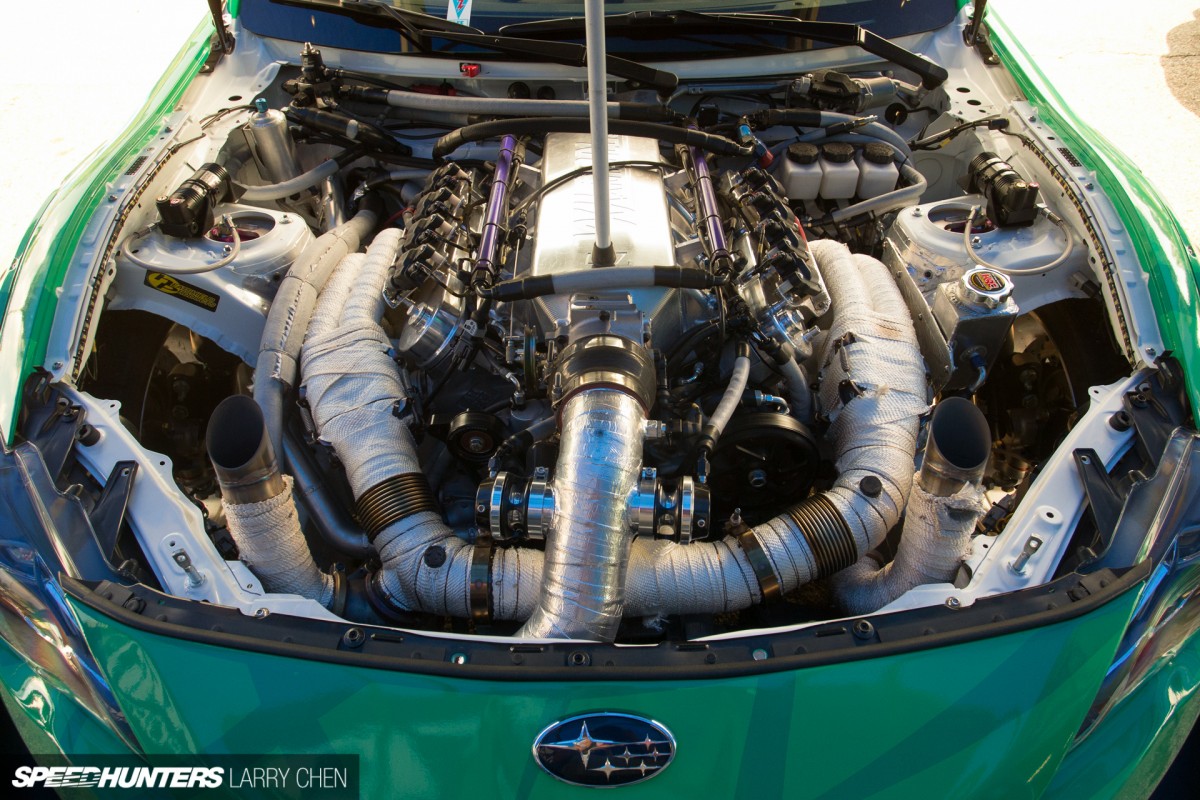 Engine: 477ci Racing Head Service block based on Chevy LS
Pistons: JE forged 10:1
Cylinder Heads: All Pro
Camshaft: Brian Crower
Induction: Garrett GTX5008R turbo
Engine Management: MoTeC M880
Horsepower: 950whp (estimated)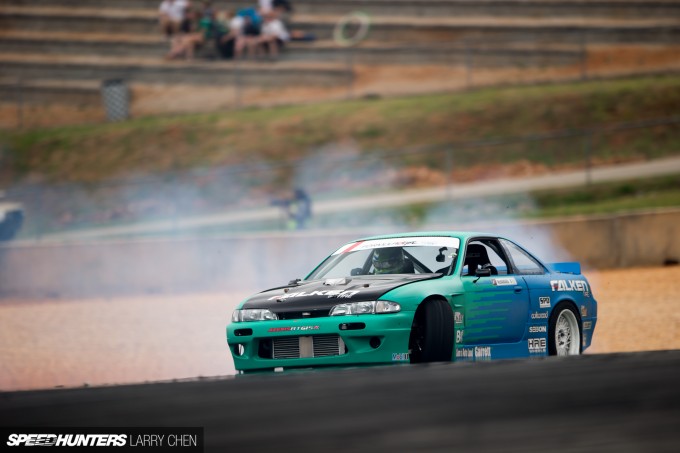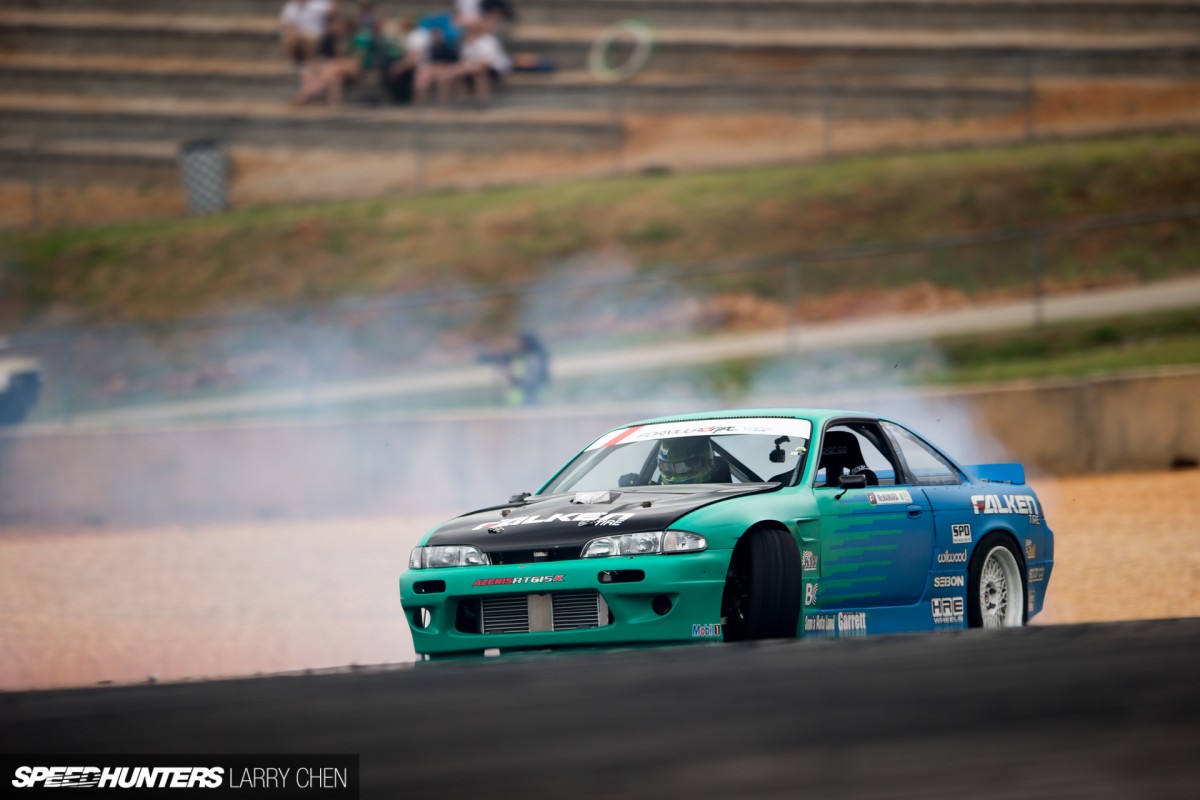 Darren McNamara claimed on social media that this S14 is the most powerful drift car in the world. Basically they maxed out the dyno, so there is no real way to know how much power they are putting down.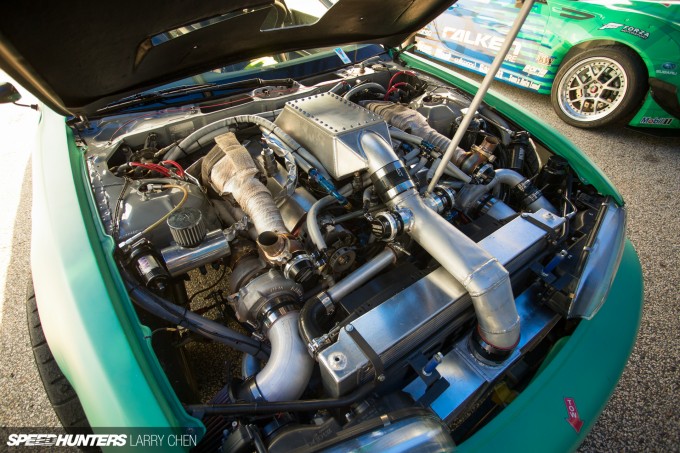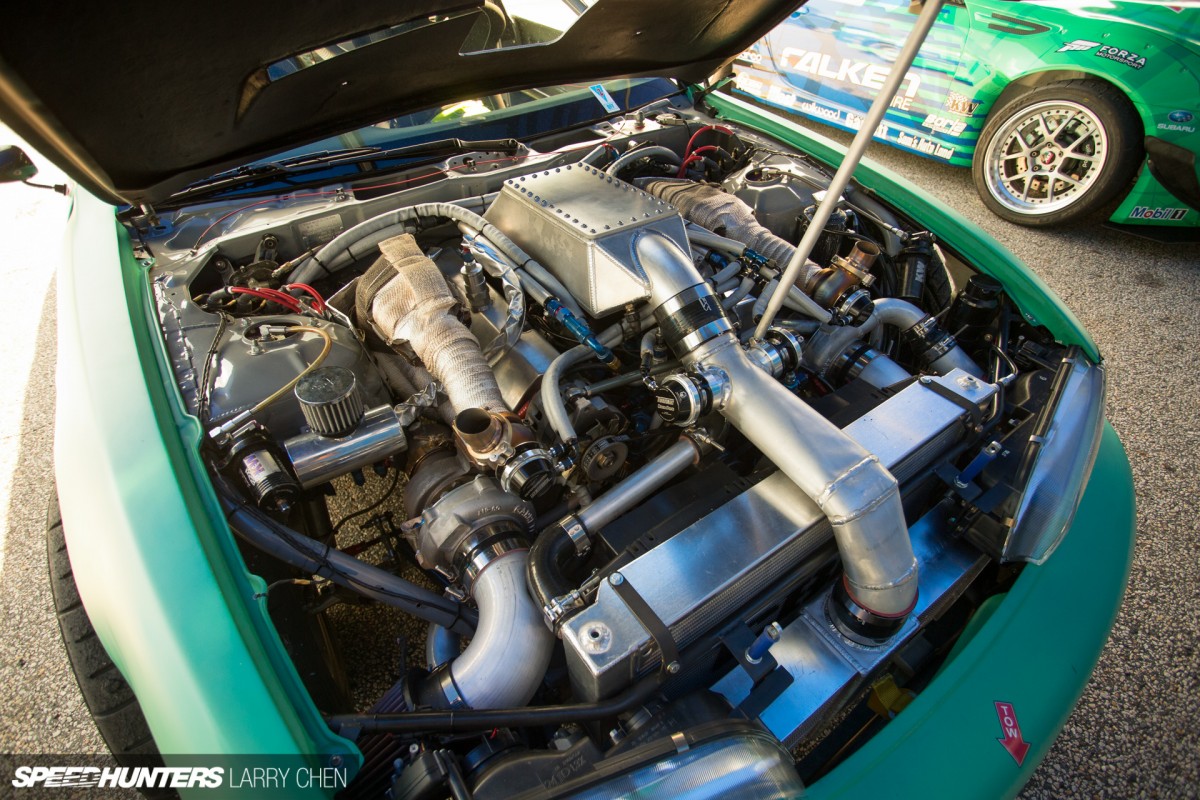 Engine: 410ci Dart Machinery alloy block based on Chevy small block
Pistons: JE forged 10:1
Cylinder Heads: All Pro
Camshaft: Brian Crower
Induction: 2x Garrett GTX3576R turbos, Kinsler ITBs
Engine Management: MoTeC M880
Horsepower: 1200whp (estimated)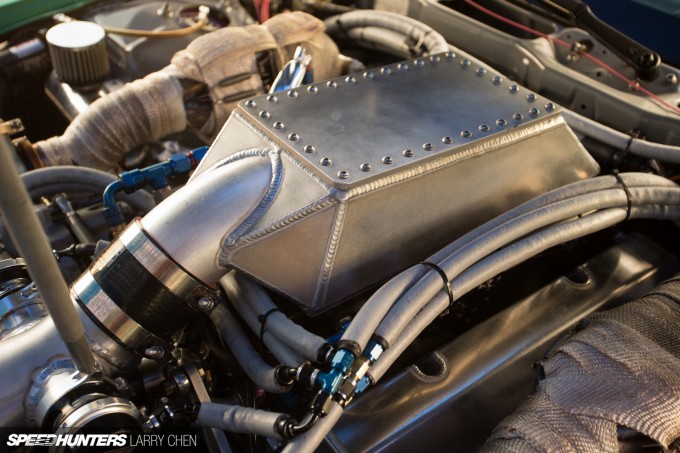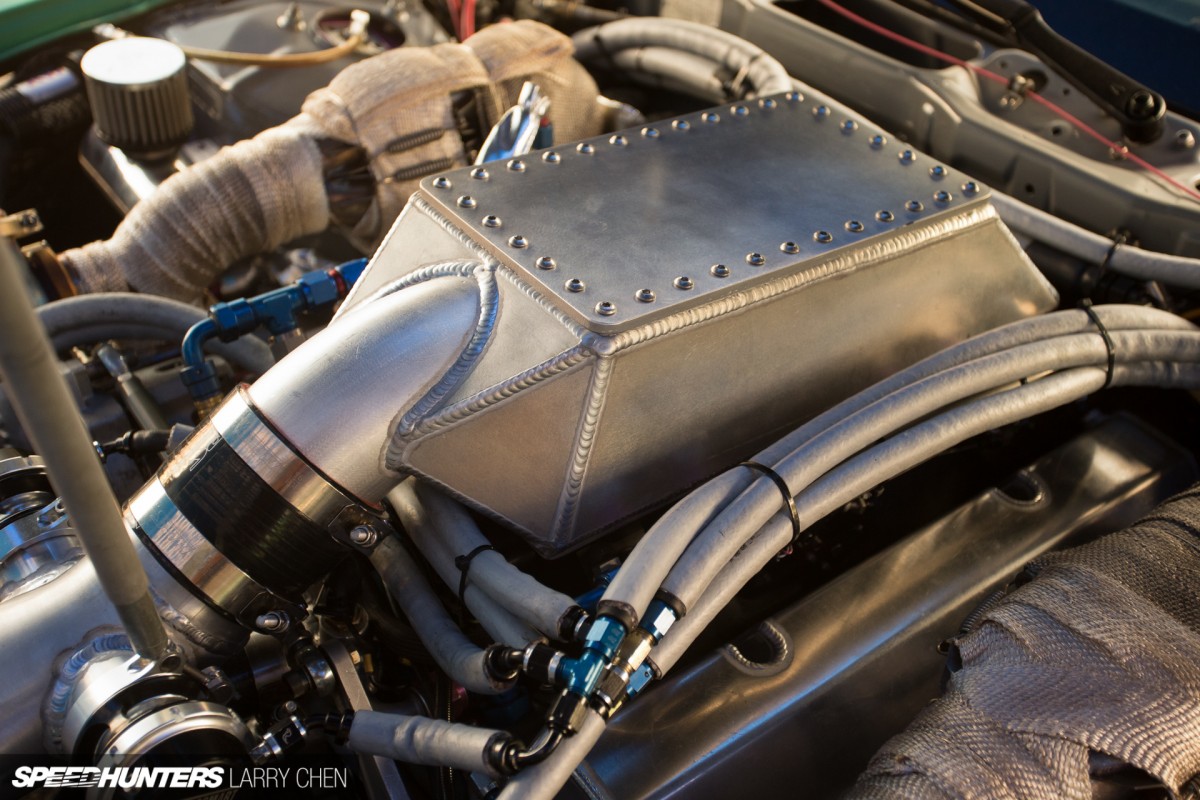 Dmac said himself that this is without a doubt the most powerful machine he has ever driven, and it's not to understand why…
Not Just Eight Cylinders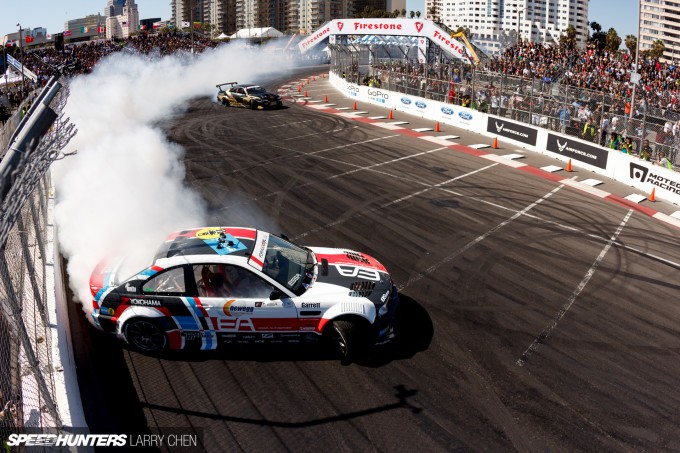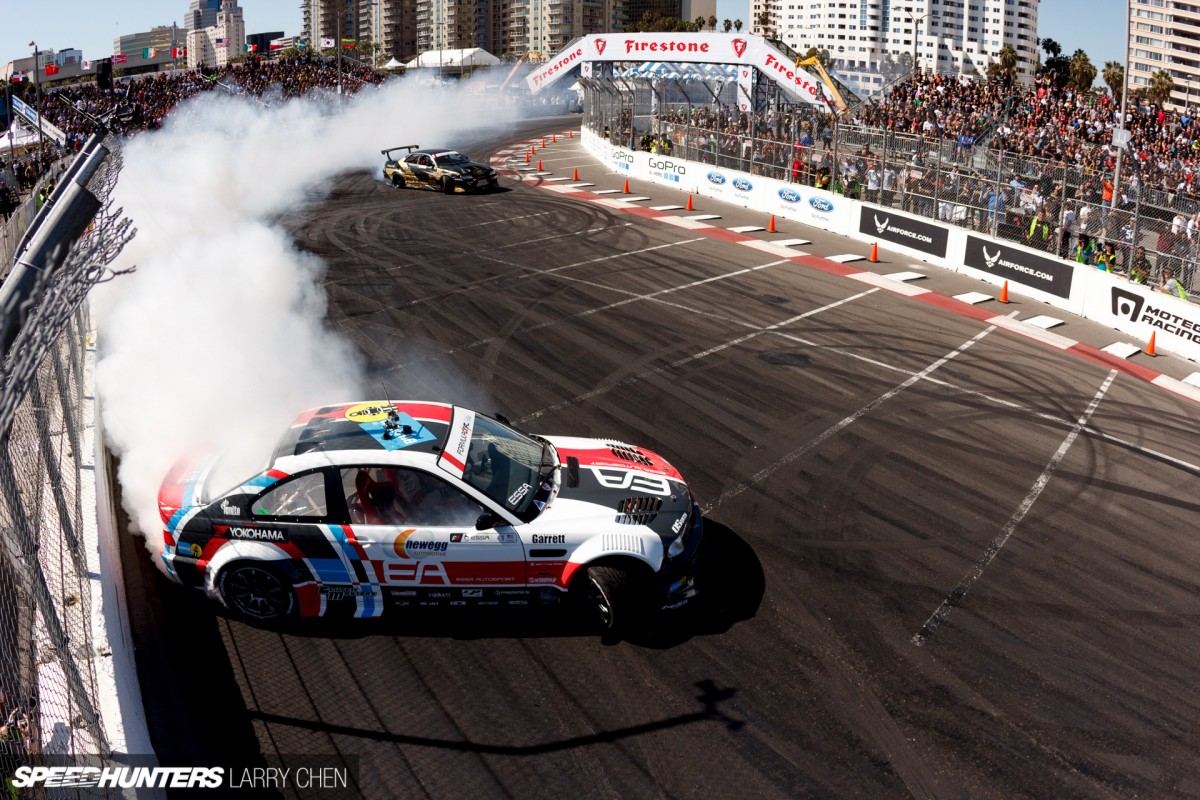 Micheal Essa figured out a winning combination very early in the season last year and it took him all the way to the championship win.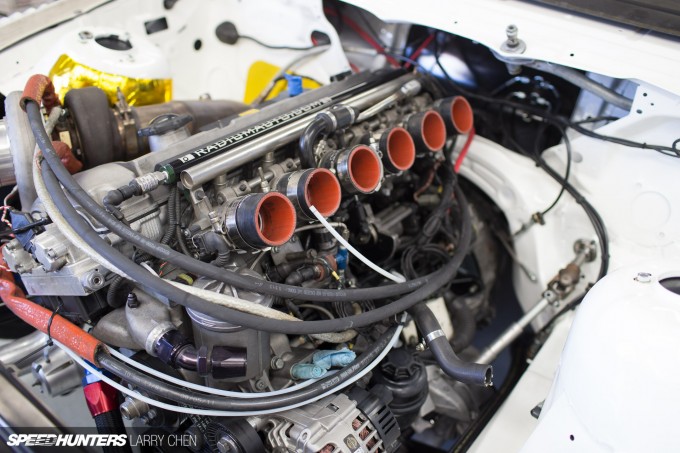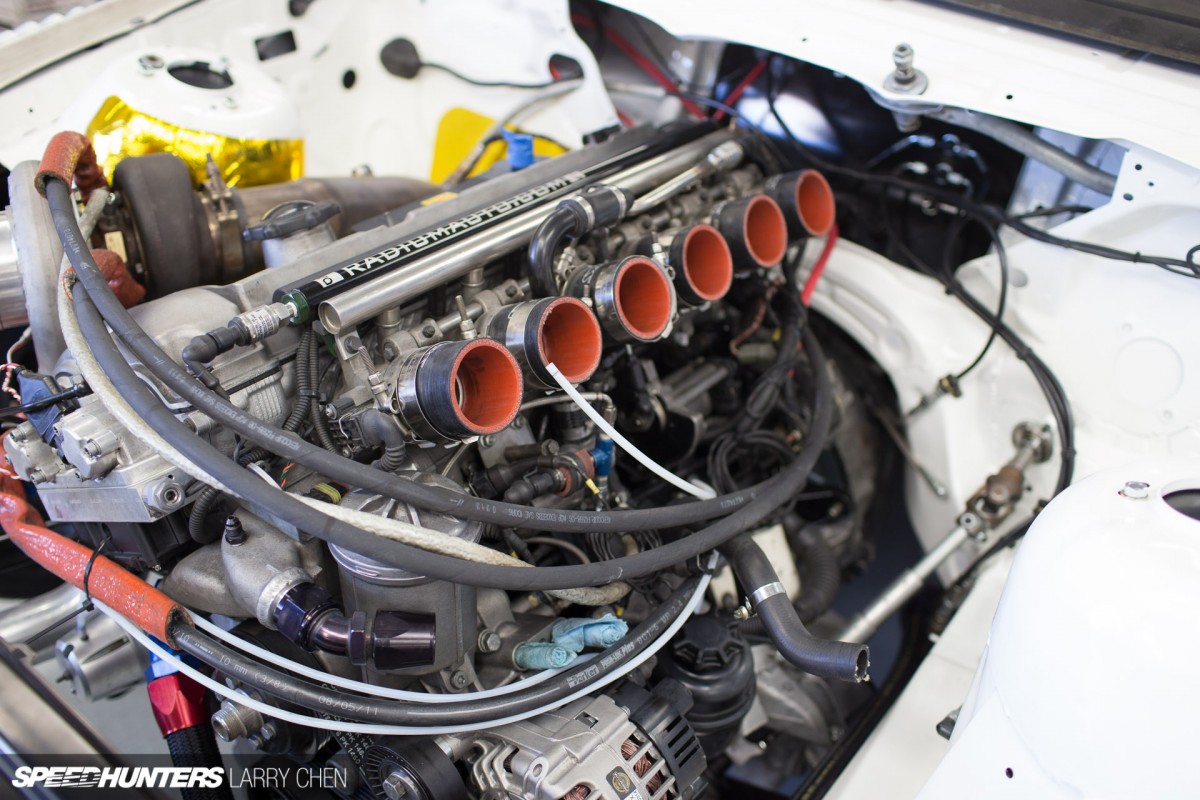 This time I had a chance to watch him build the car from the ground up in less than 30 days.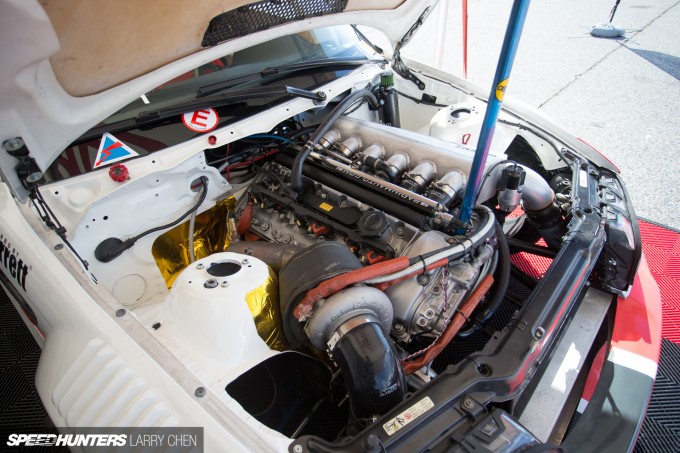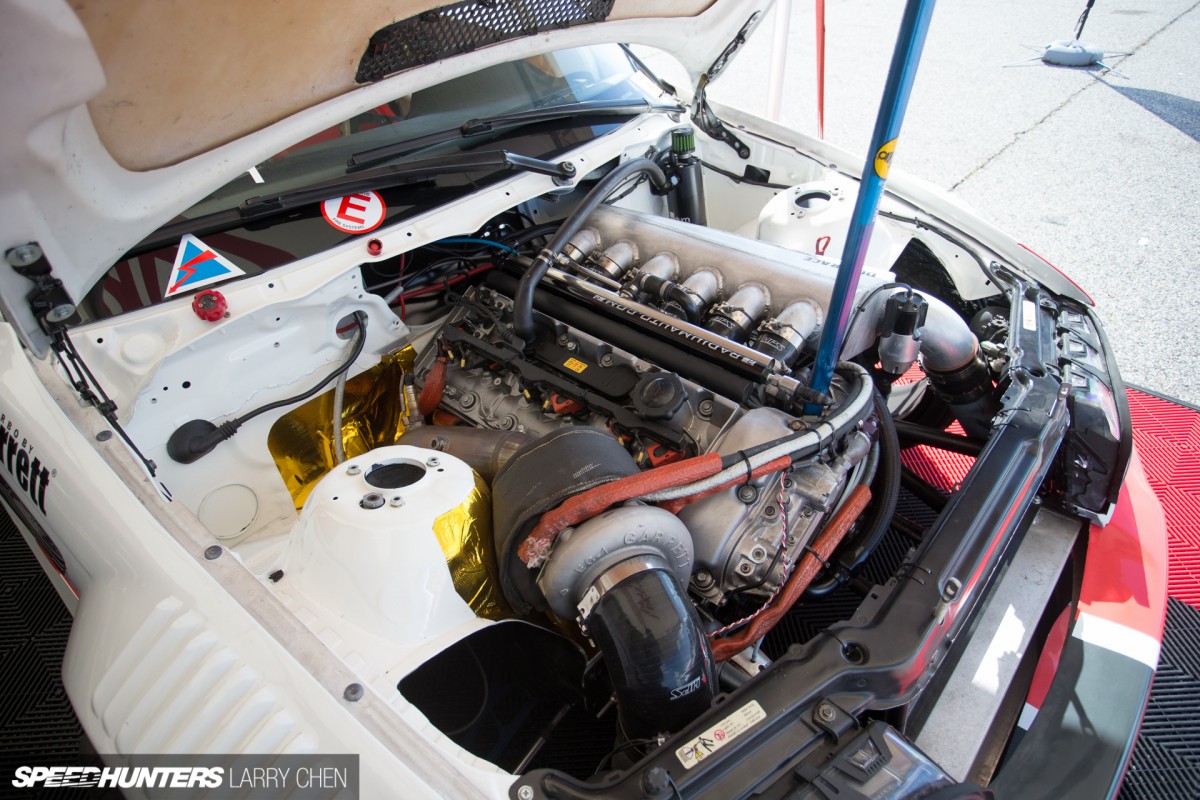 Engine: BMW S54 3.2L
Pistons: CP forged
Rods: Carrillo
Induction: Garrett GTX3582R turbo at 20psi, DOC Race intake manifold
Engine Management: Pectel SQ6
Horsepower: 750whp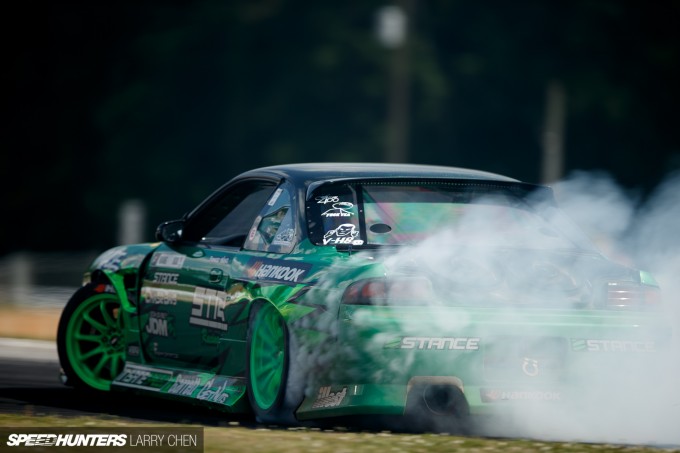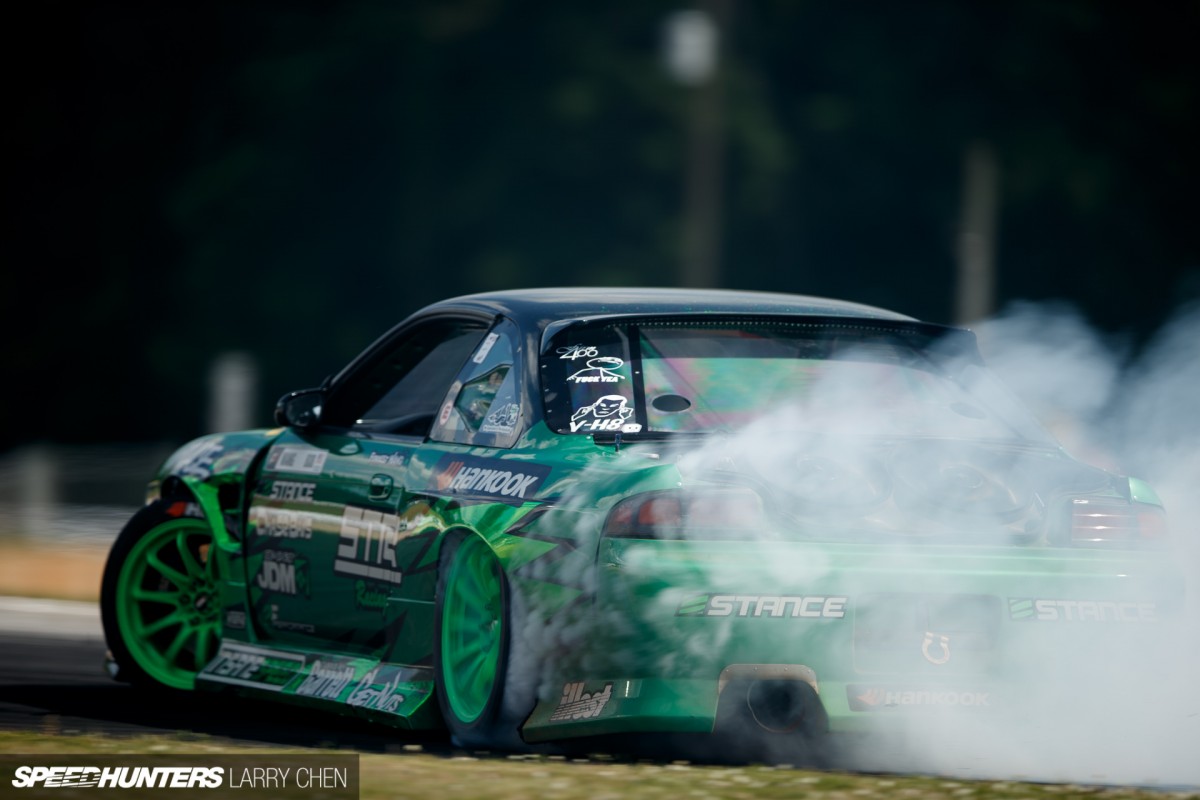 I've always said that Forest Wang has the cleanest engine bays, and he really outdid himself this time with this 2JZ-powered S14. You can check out the full feature here.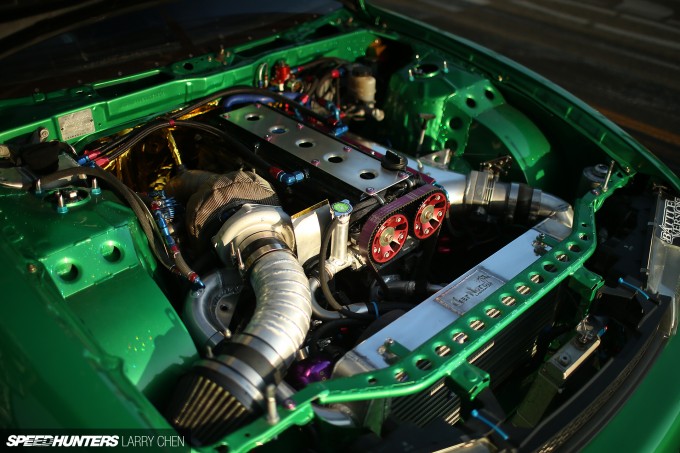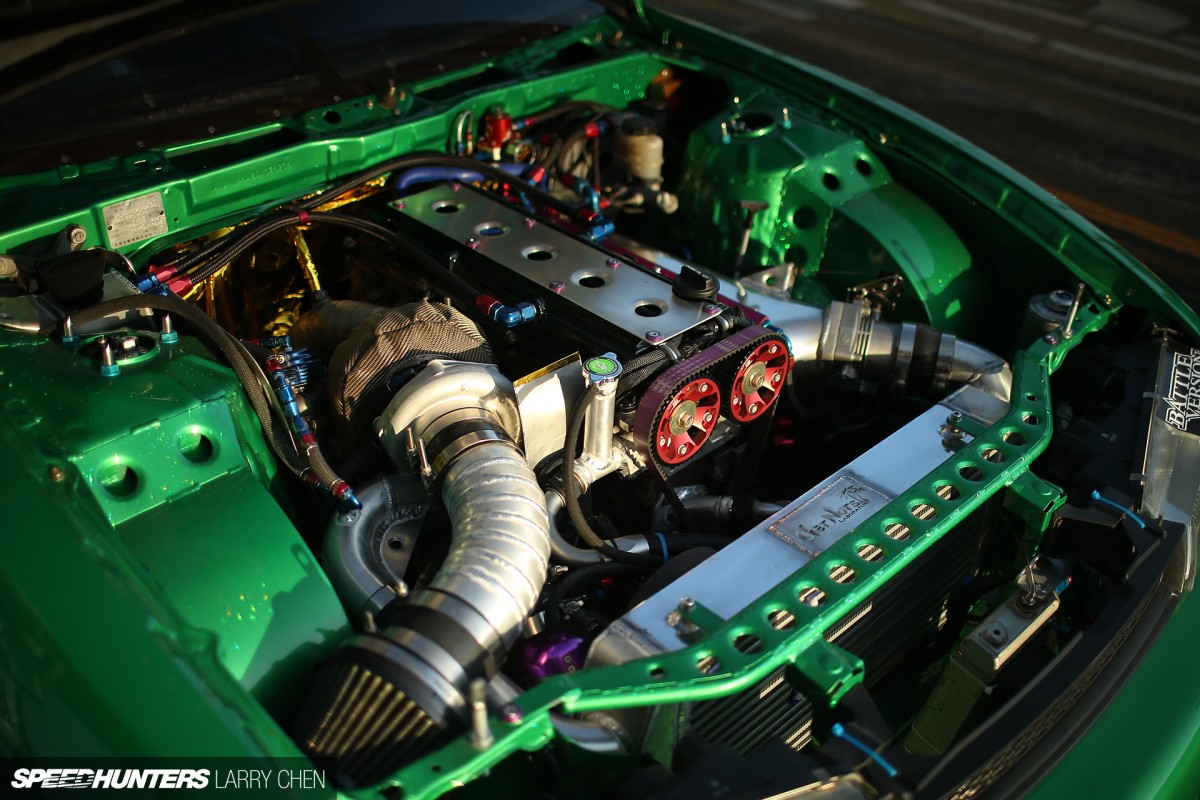 Engine: Insane Speed 3.4L Toyota 2JZ
Crankshaft: Brian Crower stroker kit
Pistons: CP forged
Rods: Brian Crower
Cylinder Head: Ported and polished OEM
Camshafts: GSC 274-degree in/ex
Induction: Garrett GTX4088R turbo
Engine Management: AEM
Horsepower: 800hp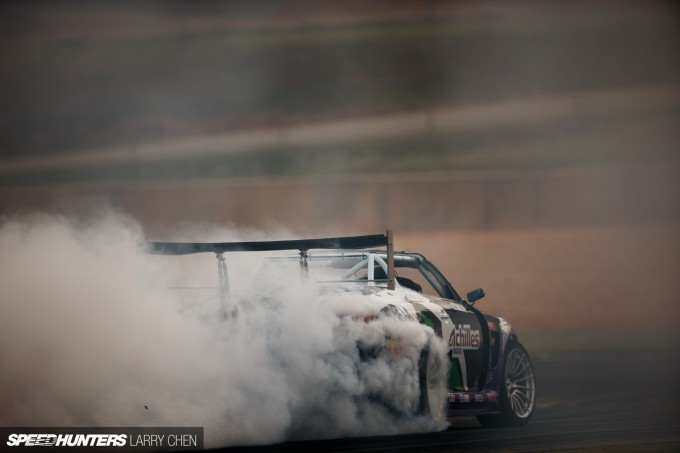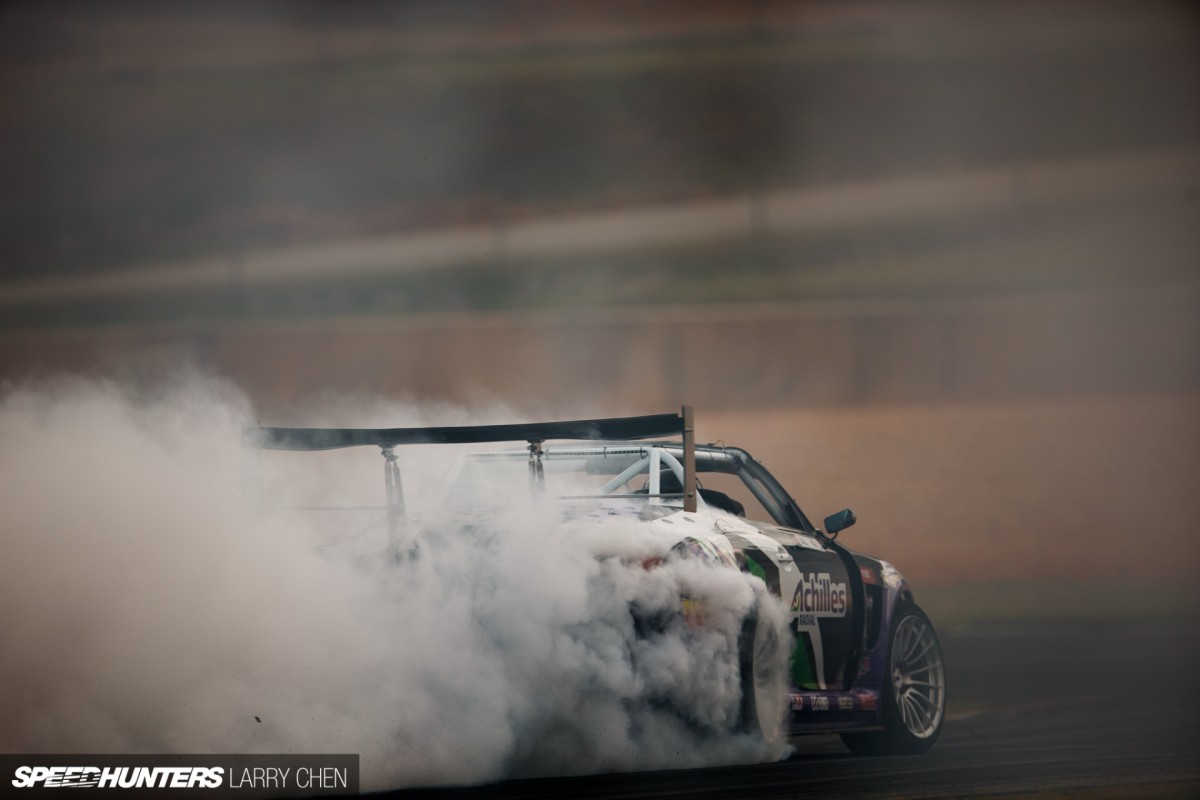 This, of course, is the car that started it all. It's amazing because if you look at the motor from the outside it does not look like it could even run. It's very minimal and simple – which is just the way Daigo Saito likes it.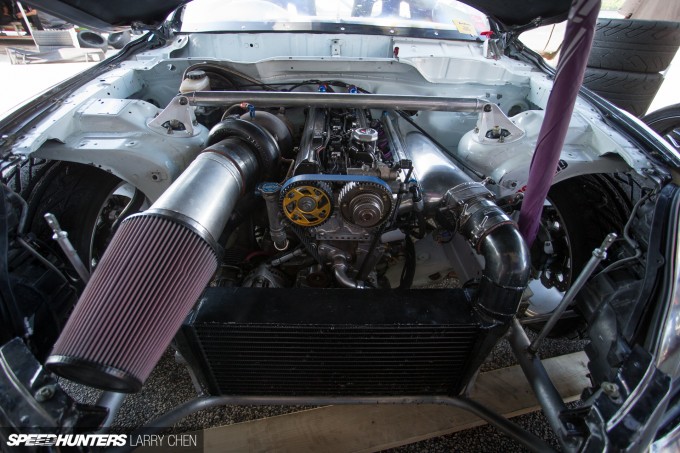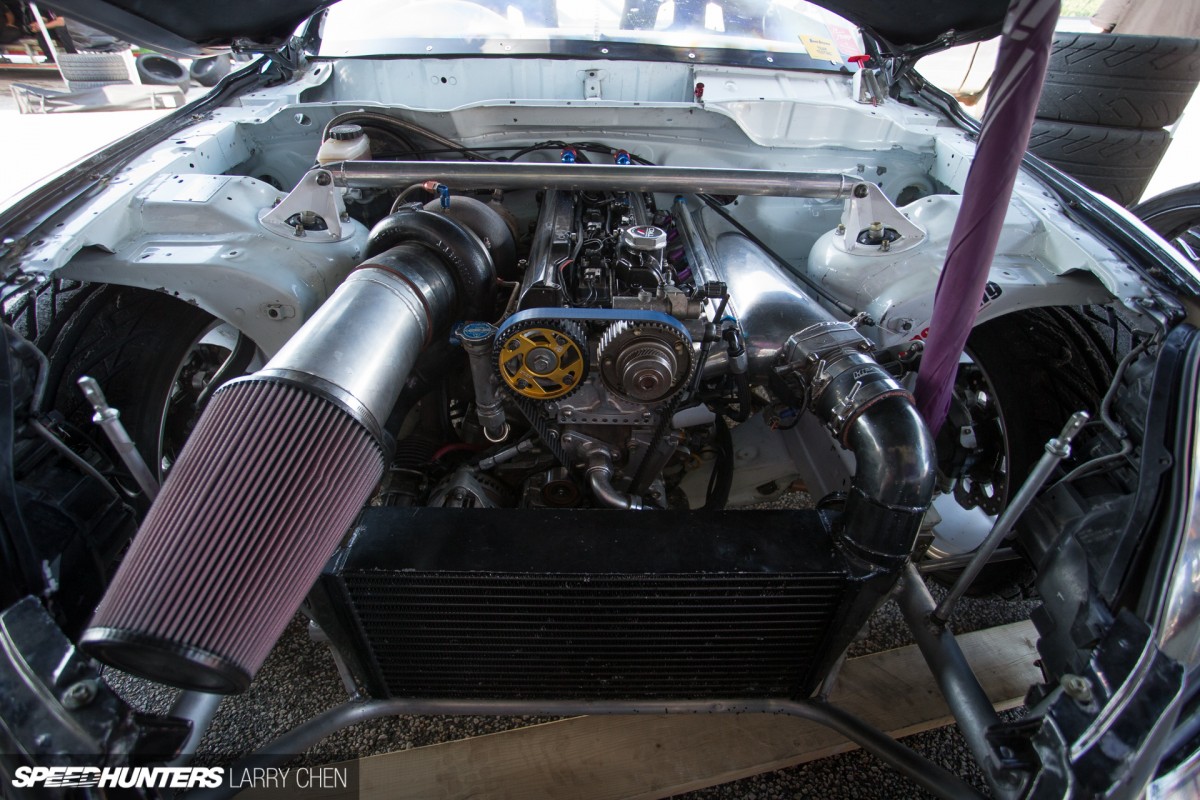 Engine: 3.4L Toyota 2JZ
Crankshaft: Brian Crower stroker
Pistons: JE forged
Cylinder Head: Mission Critical Performance CNC-ported
Camshafts: Brian Crower
Induction: Garrett GTX4294R turbo, Nitrous Express direct port kit
Engine Management: HKS F-CON V Pro
Horsepower: 1200hp (estimated)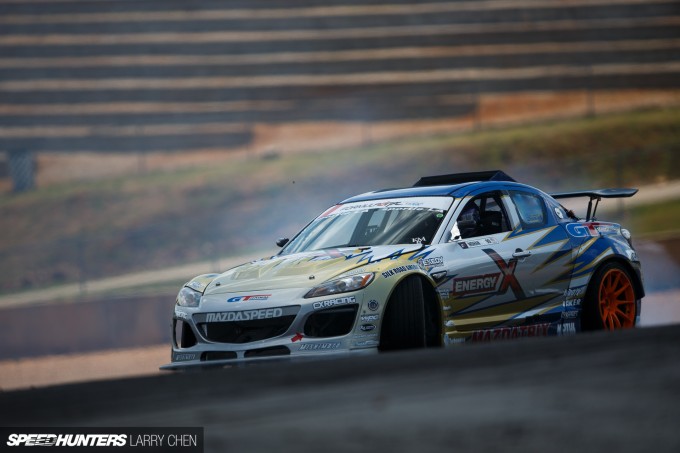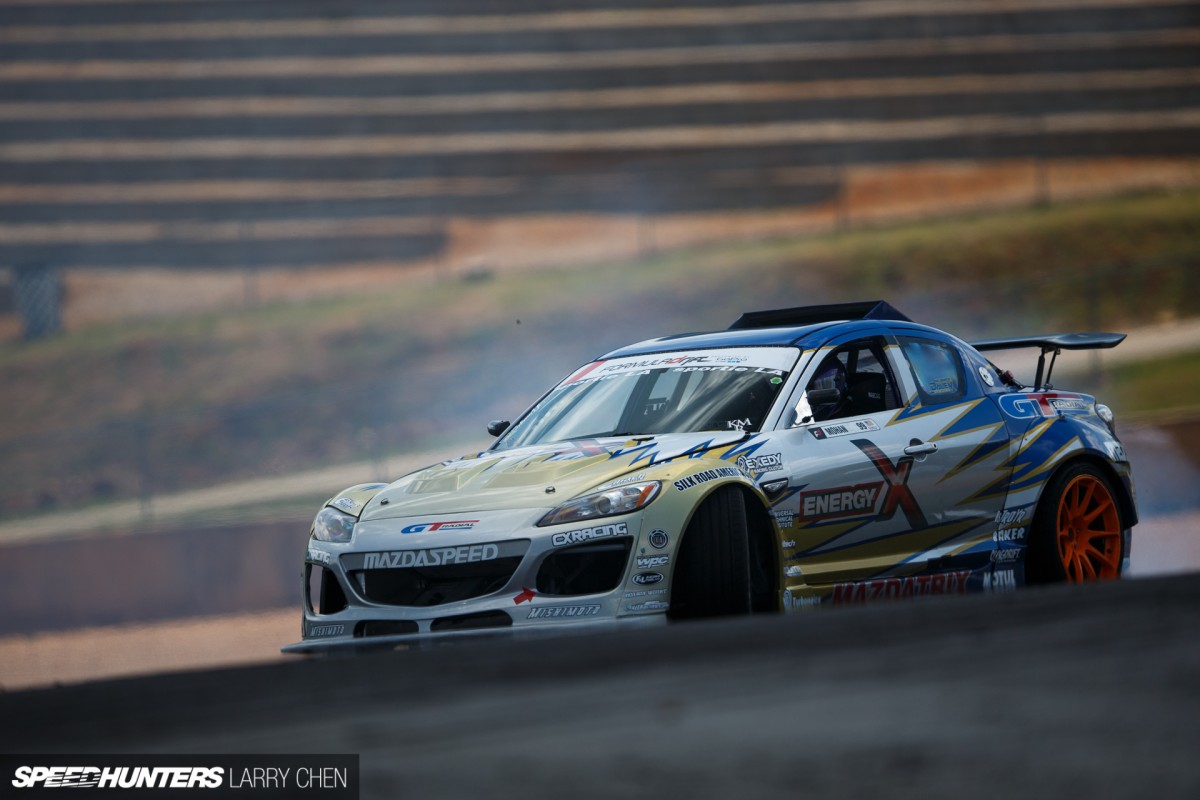 Kyle Mohan has always drifted Mazdas, and even though it's getting more and more rare in professional drifting to find these cars with rotary engines still under their hoods, he keeps it real.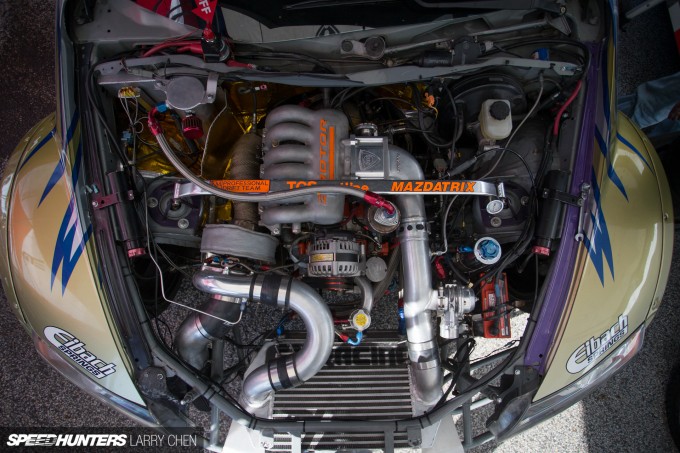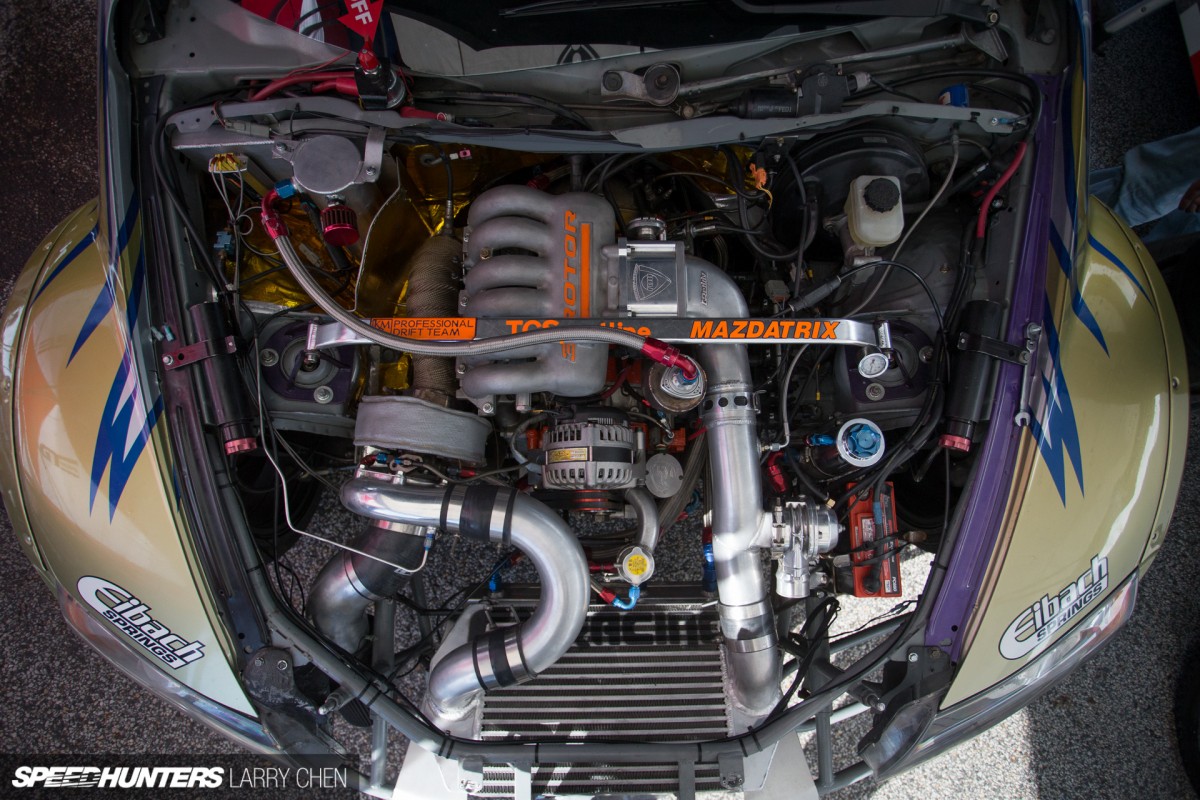 Engine: Mazdatrix/KMR Mazda 20B 3-rotor, large street port by KMR
Induction: CXRacing manifold, Turbonetics billet 72mm ball bearing turbocharger with 75mm turbine
wheel, and .96a/r turbine housing
Engine Management: Haltech
Horsepower: 800hp+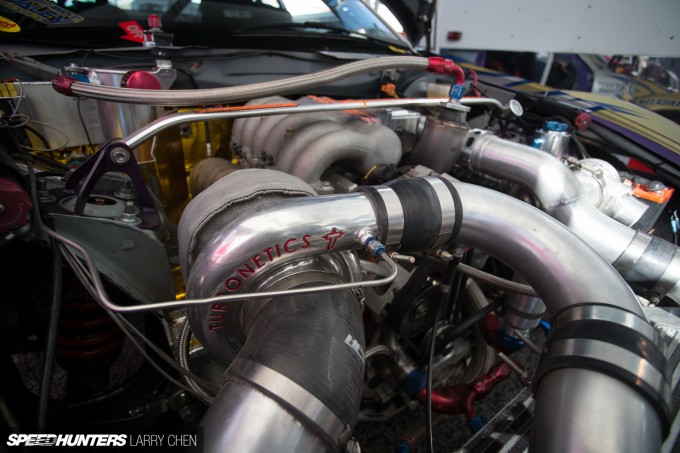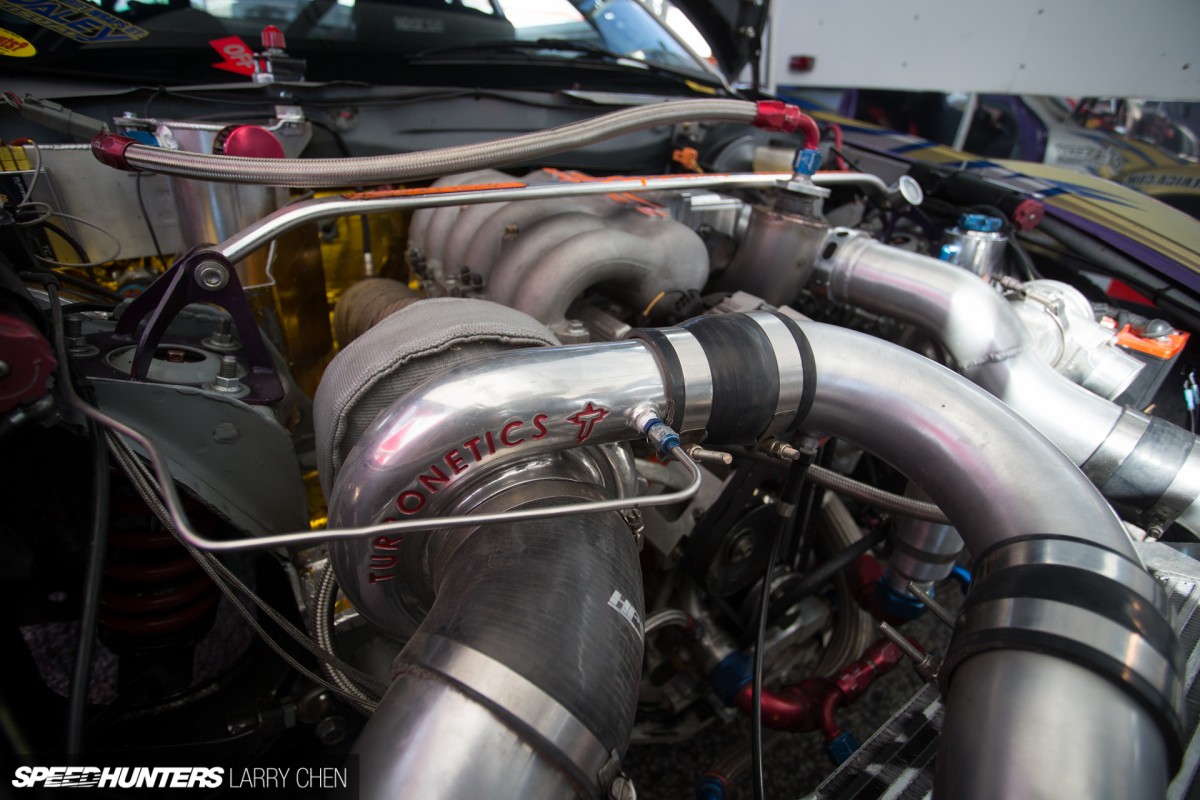 This year he finally retired the twin-rotor 13B turbo and went with a 3-rotor setup which gives him massive amounts of power without having to push the limits of the motor.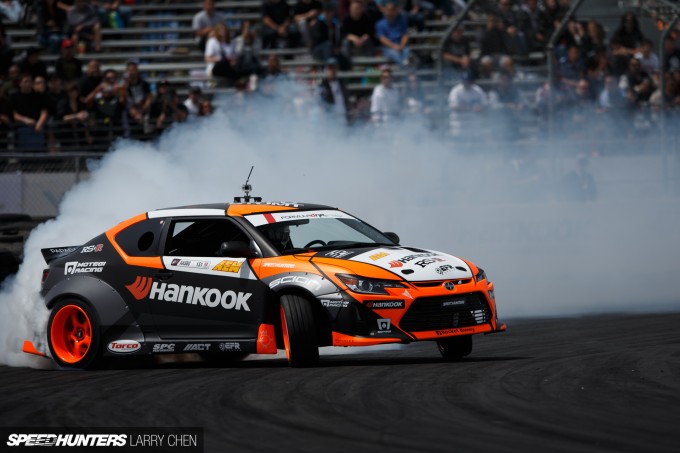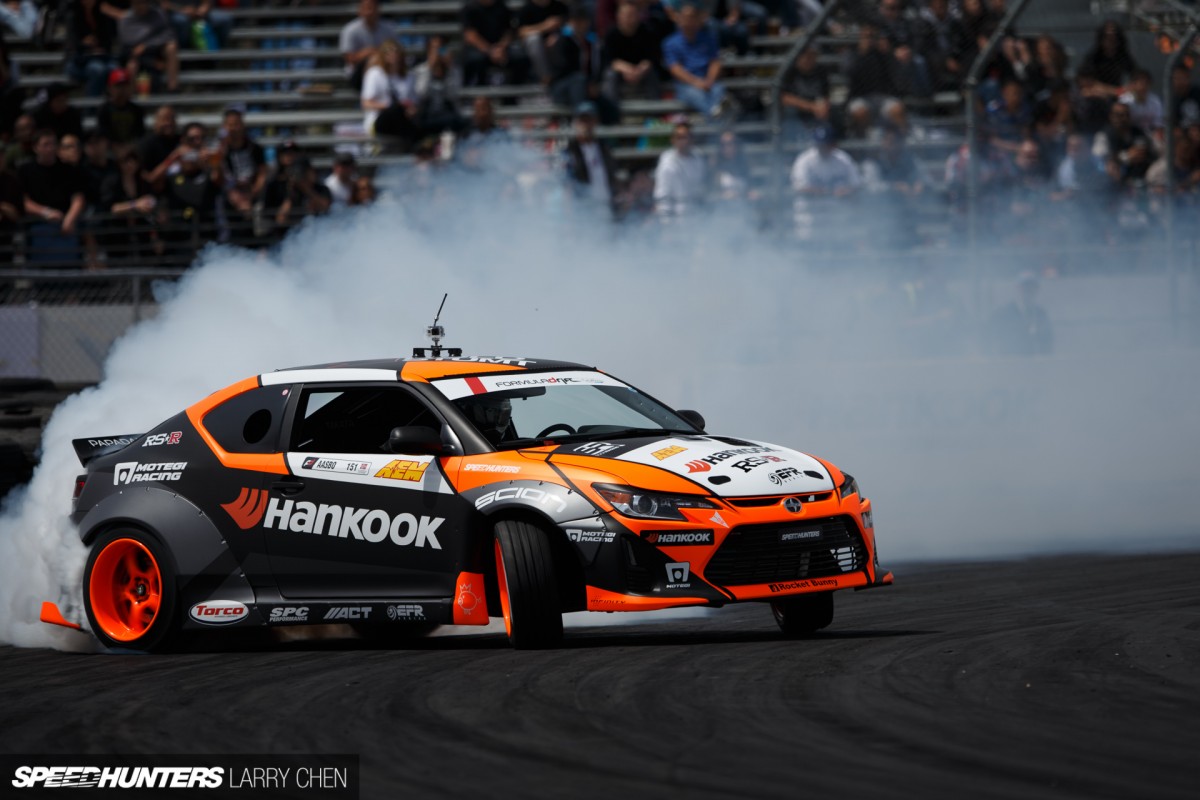 In terms of unique motors though, there is nothing more off-the-wall than Fredric Aasbø's Scion tC which is powered by a motor originally designed for minivan usage.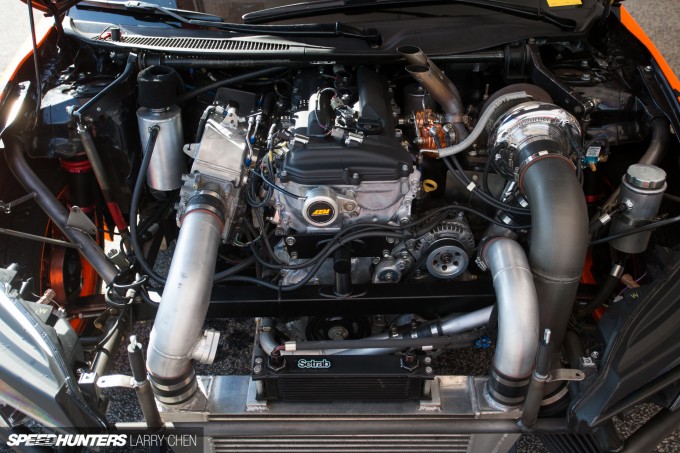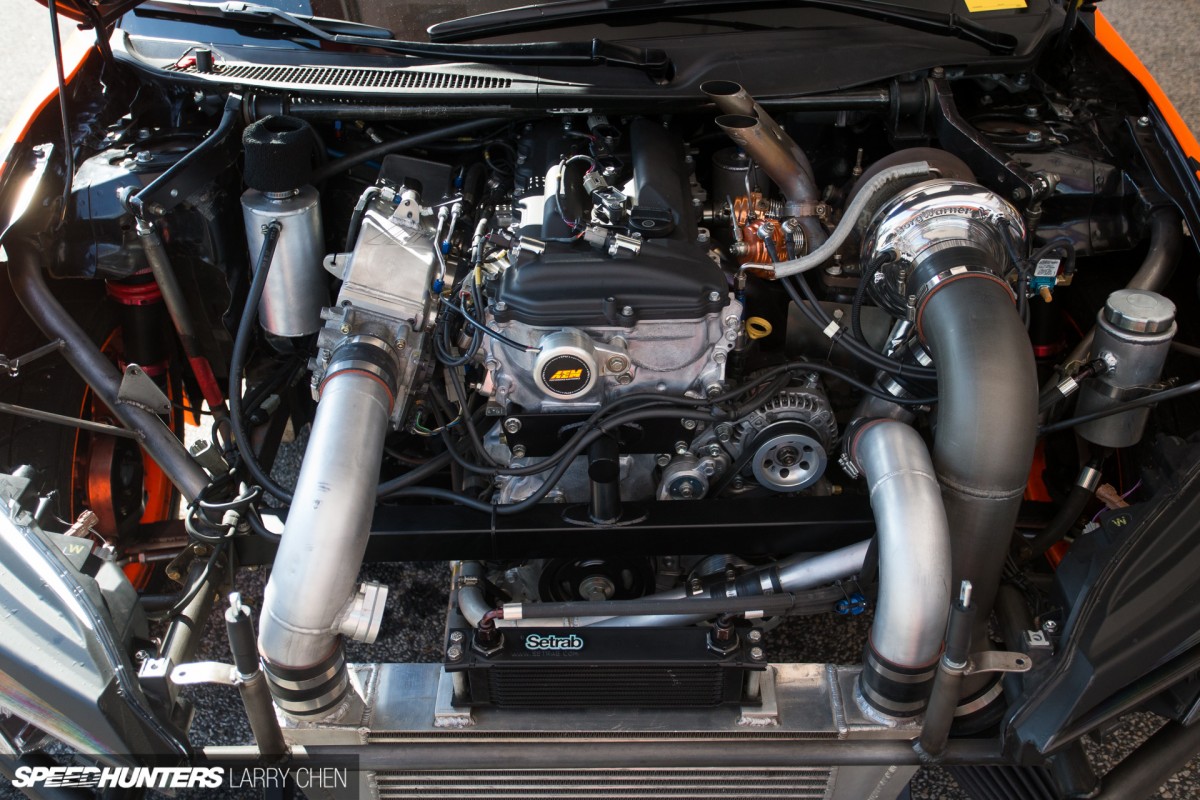 Engine: 2.7L Toyota 2AR-FE
Crankshaft: OEM
Camshafts: OEM
Induction: BorgWarner EFR turbo
Engine Management: AEM Infinity
Horsepower: 800hp+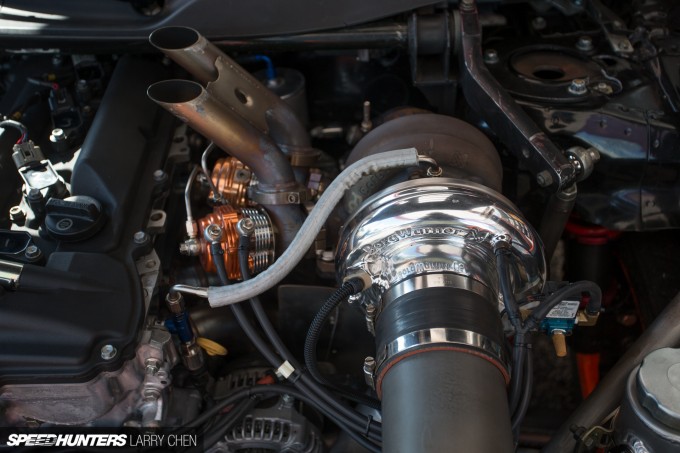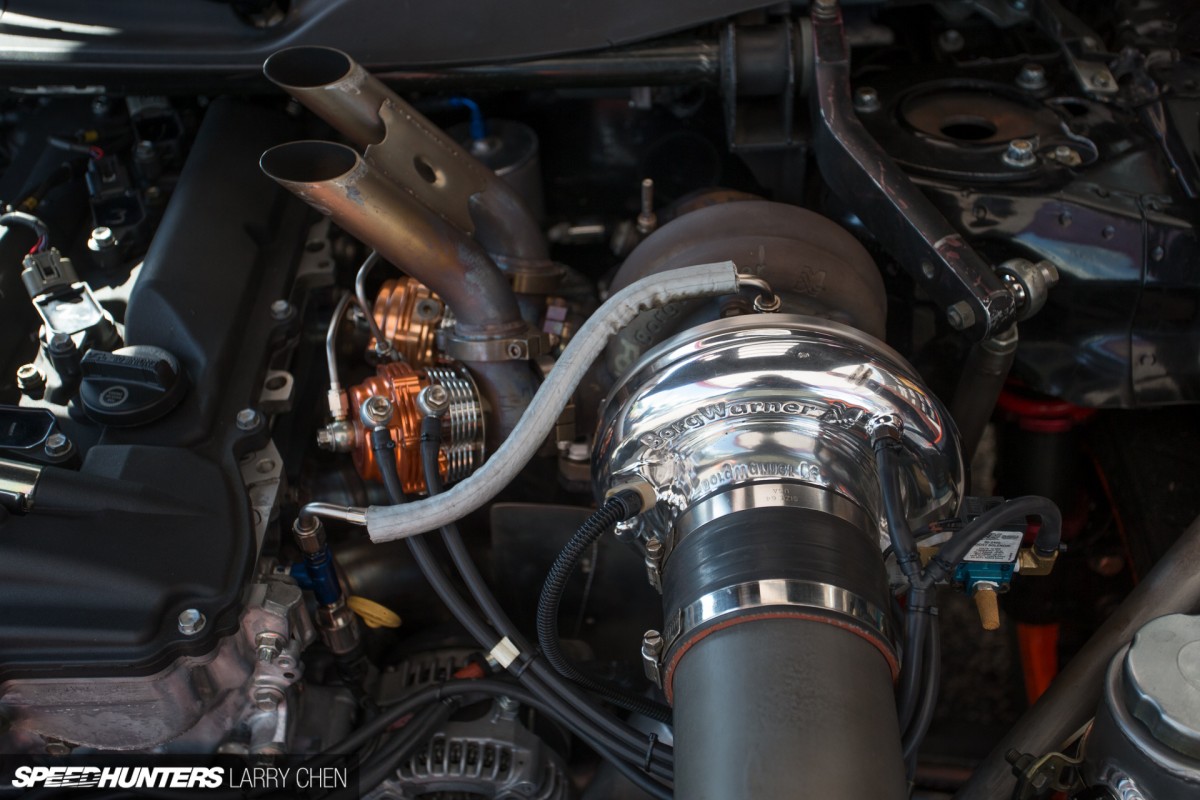 The mad scientist behind this, is of course Stephan Papadakis. Out of all the drift cars that I have been a passenger in, I have to say that Fredric's tC is the loudest. It has a very sharp mechanical sound that just pierces your eardrums.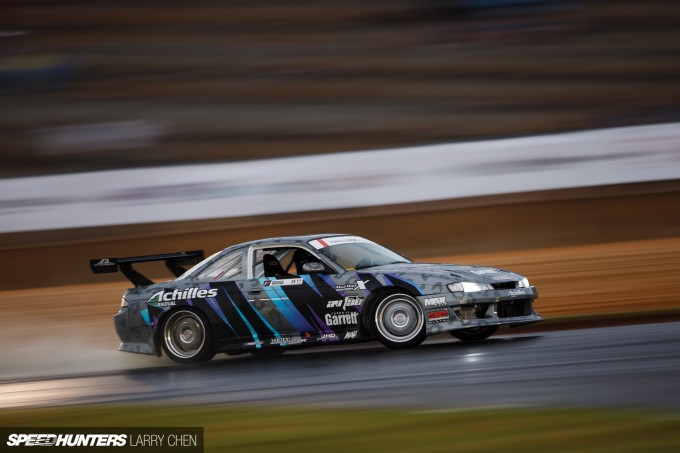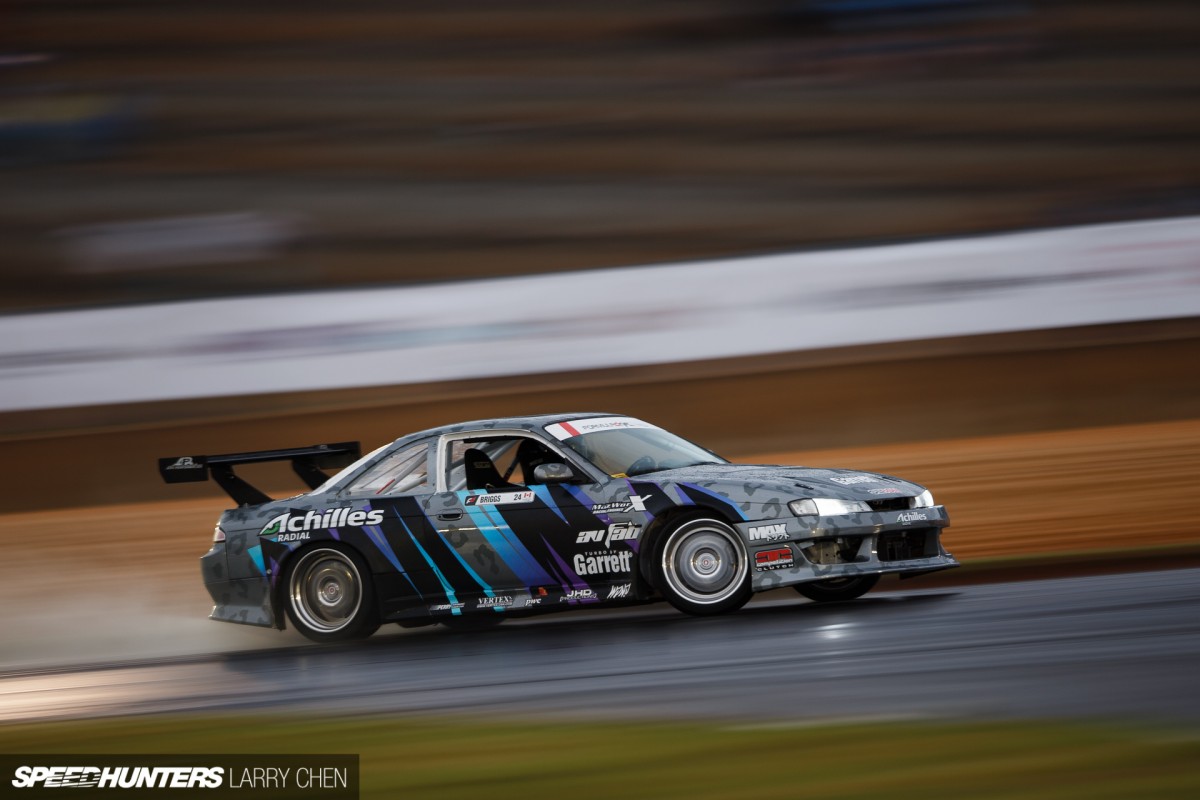 Dave Briggs actually build a Nissan 350Z powered by a V8, but the team could never get it dialed in right. In the end Dave decided to go back to his inline four turbo roots.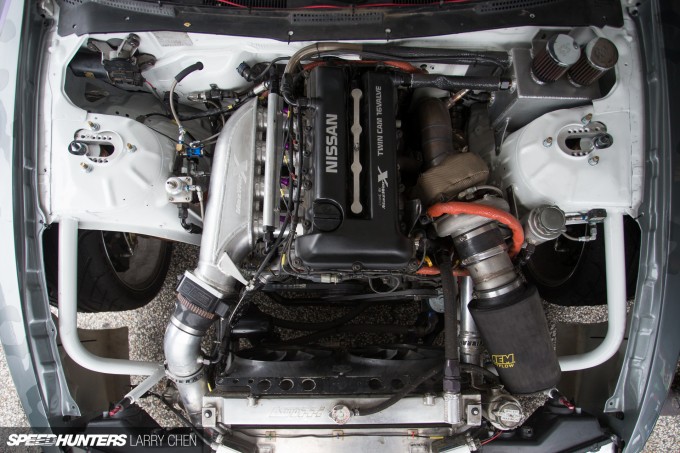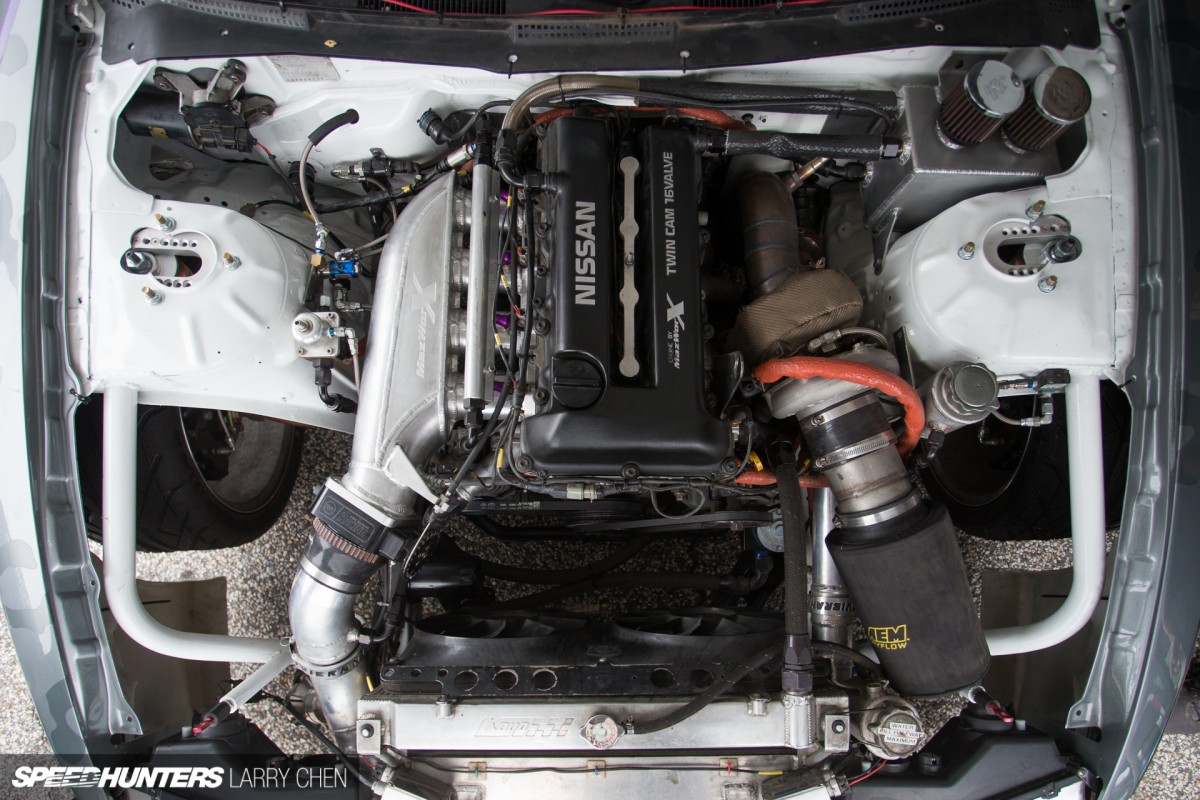 Engine: Mazworx SR24VET (SR20 bored and stroked to 2.4L with VVL head)
Induction: Garrett GTX3582R turbo, Mazworx intake manifold
Horsepower: 800hp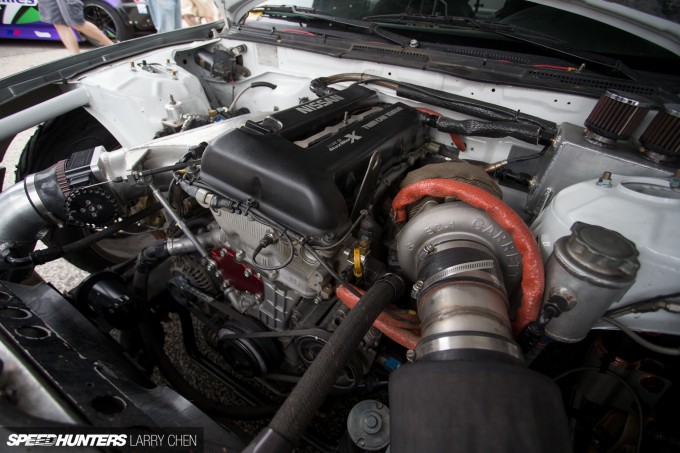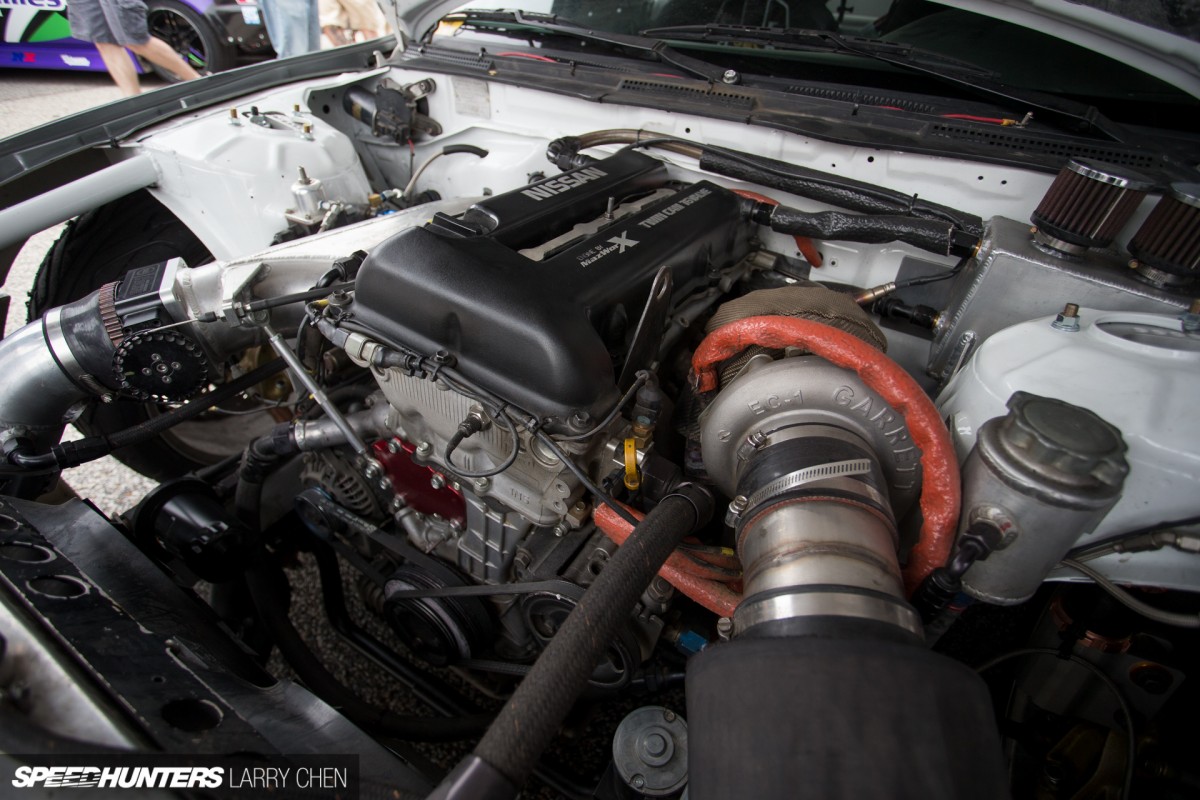 It seems to be working for him, despite having one of the smallest displacement engines in the field.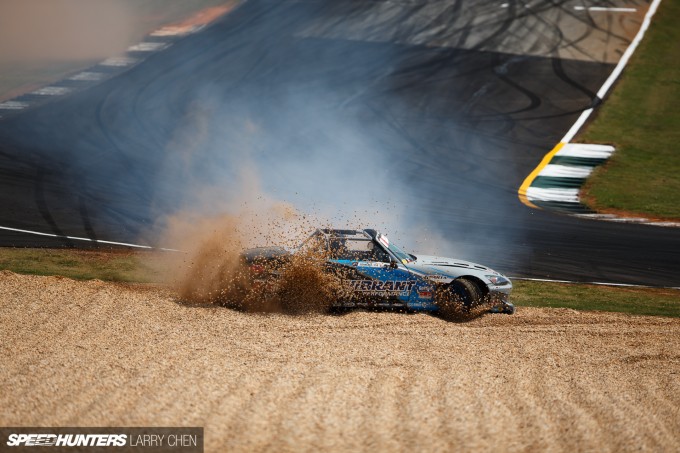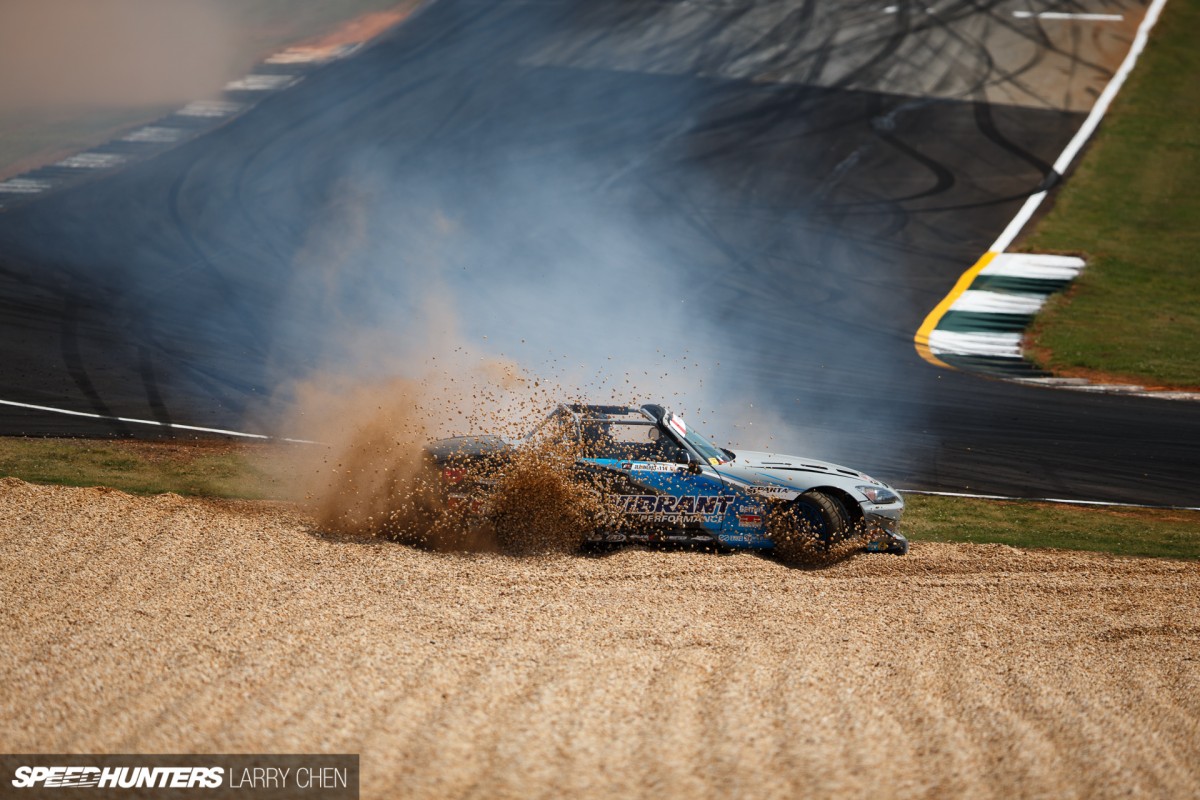 It's been almost a decade since an S2000 has graced the Formula Drift paddock; largely because it was seen as a vehicle that was not suited to the sport. Chris Jeanneret took that challenge and built the ultimate Honda drift car. Unfortunately, Chris did not make it to qualifying yesterday as the team was running into some issues.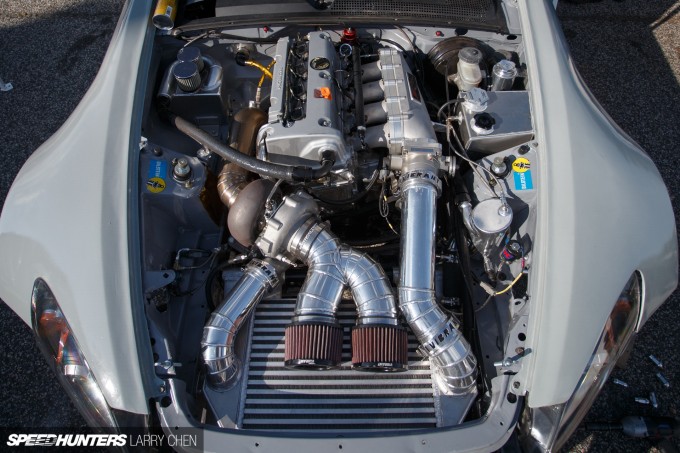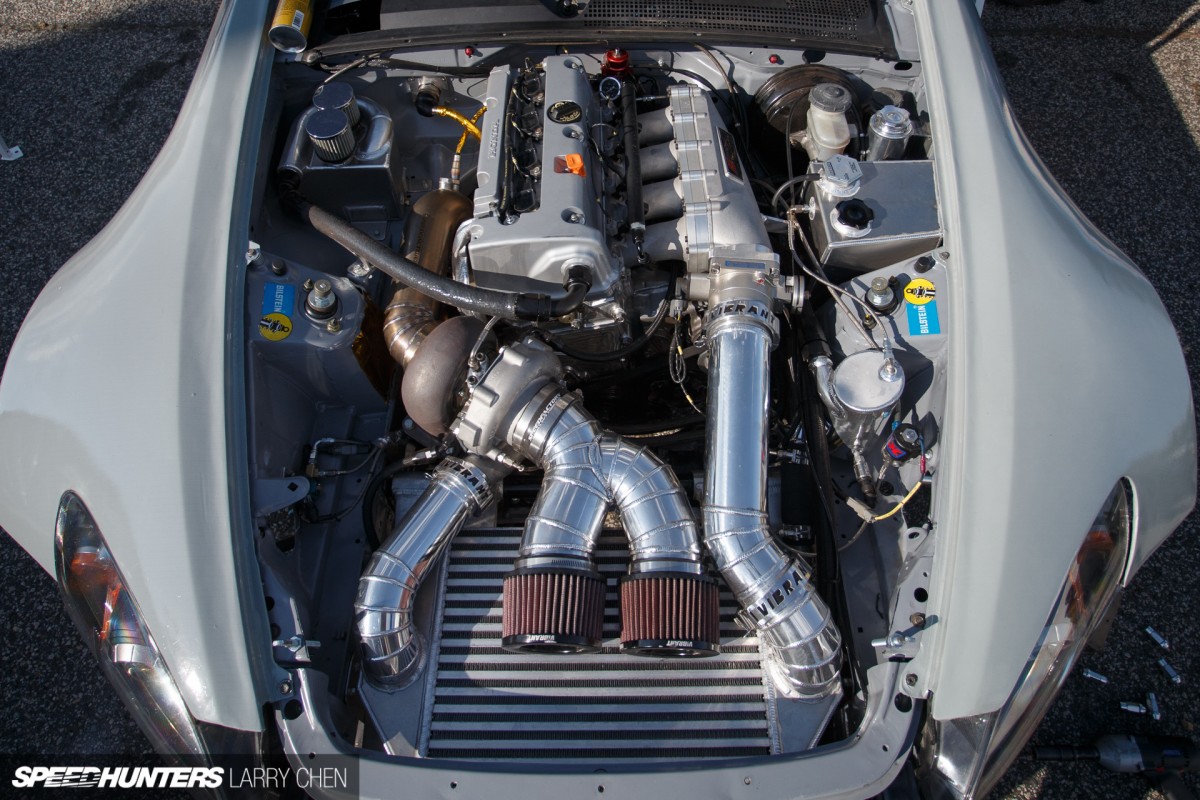 Engine: 2.5L Honda K24A1
Crankshaft: OEM
Pistons: Wiseco forged
Camshafts: Skunk2 Tuner 2
Cylinder Head: OEM CRV K24A1
Valves: Skunk2 Pro Series
Induction: Garrett GTX4088R turbocharger, Skunk2 Ultra Series intake manifold
Horsepower: 940hp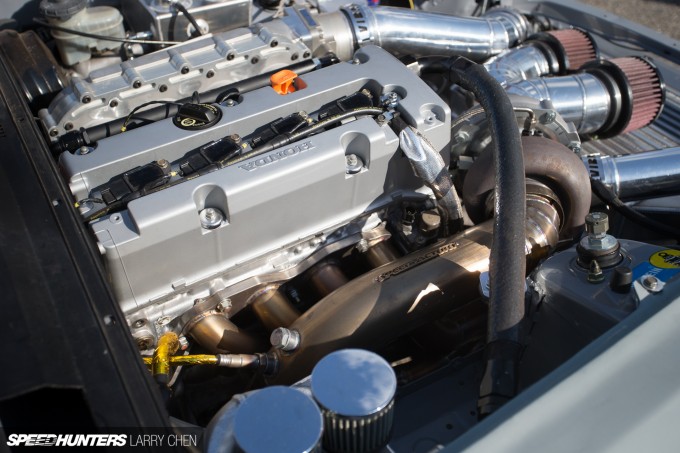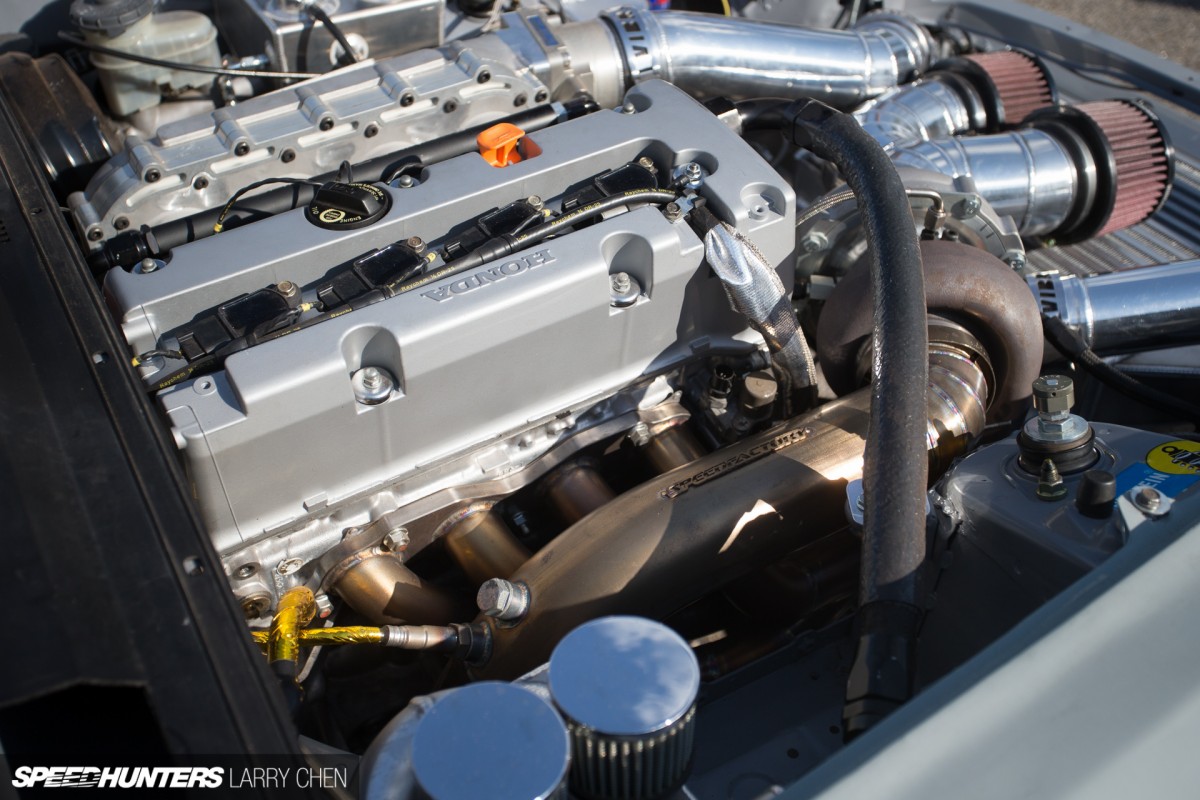 Road Atlanta was the debut of this brand new build, so growing pains are expected. It will probably take a few more events before all the bugs are ironed out.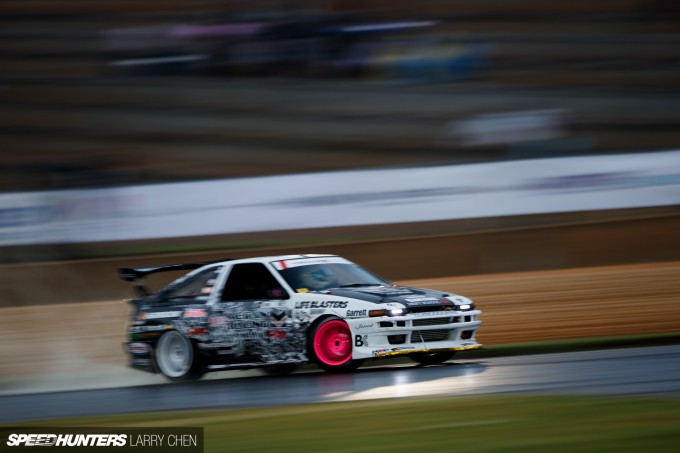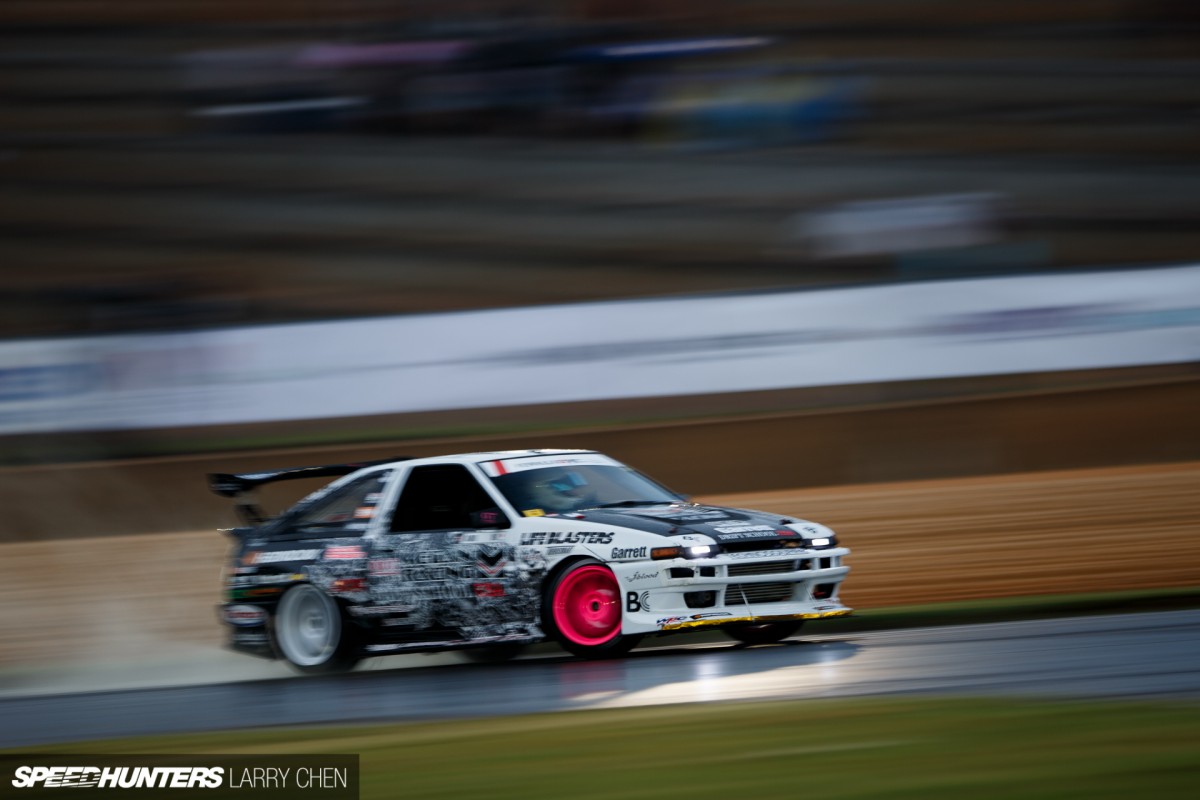 For as long as I have known Taka, he has always run a 4A-G block in his AE86 drift car. He was under quite a bit of pressure to switch to a higher displacement and more modern engine, so when he did, he choose to keep it in the family.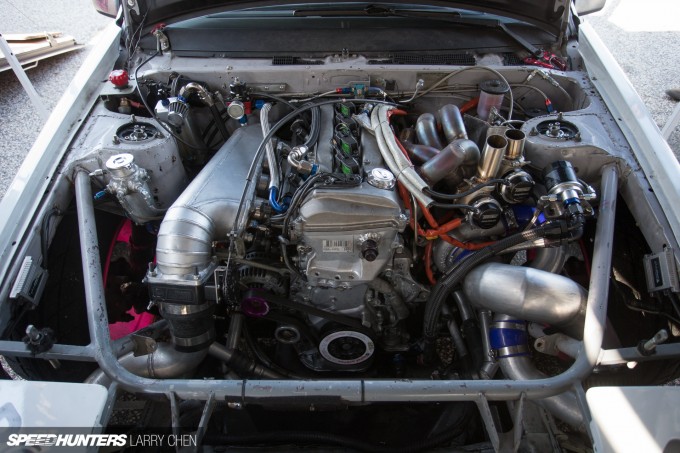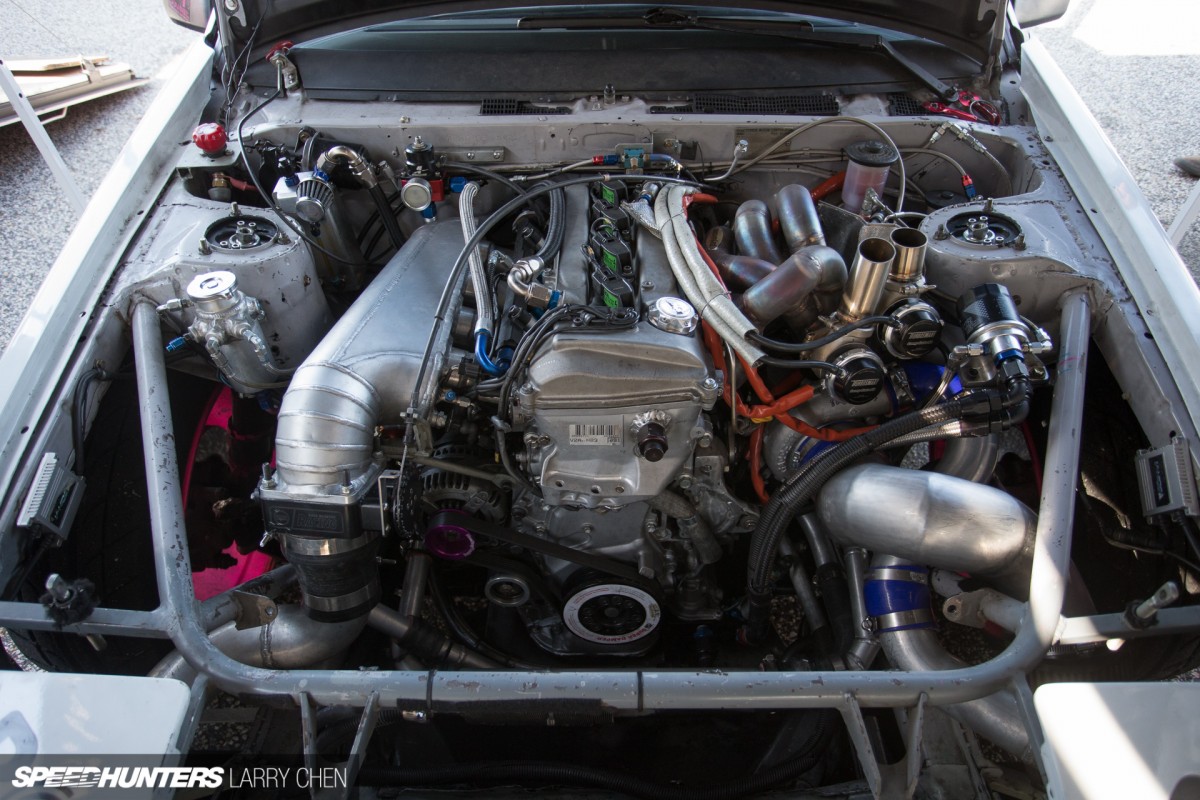 Engine: Toyota 2A-ZFE 2.6L
Crankshaft: Brian Crower stroker
Pistons: CP forged
Camshaft: Brian Crower 272-degree (ex)
Cylinder Head: Port Flow Design machine work, Brian Crower valves/springs
Induction: Garrett GTX3576R turbocharger
Engine Management: MoTeC M800
Horsepower: 700hp (estimated)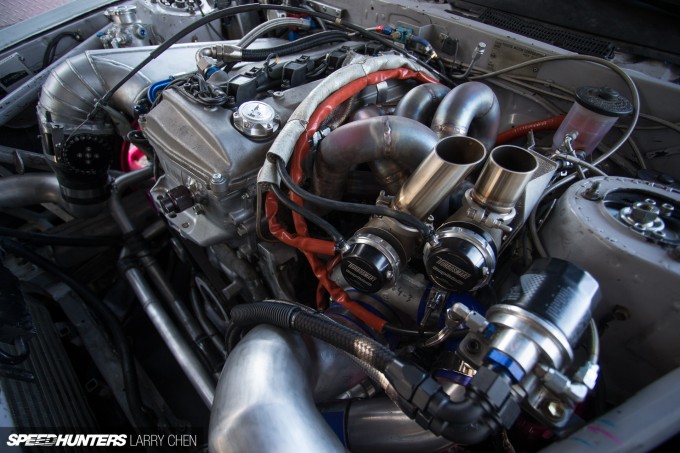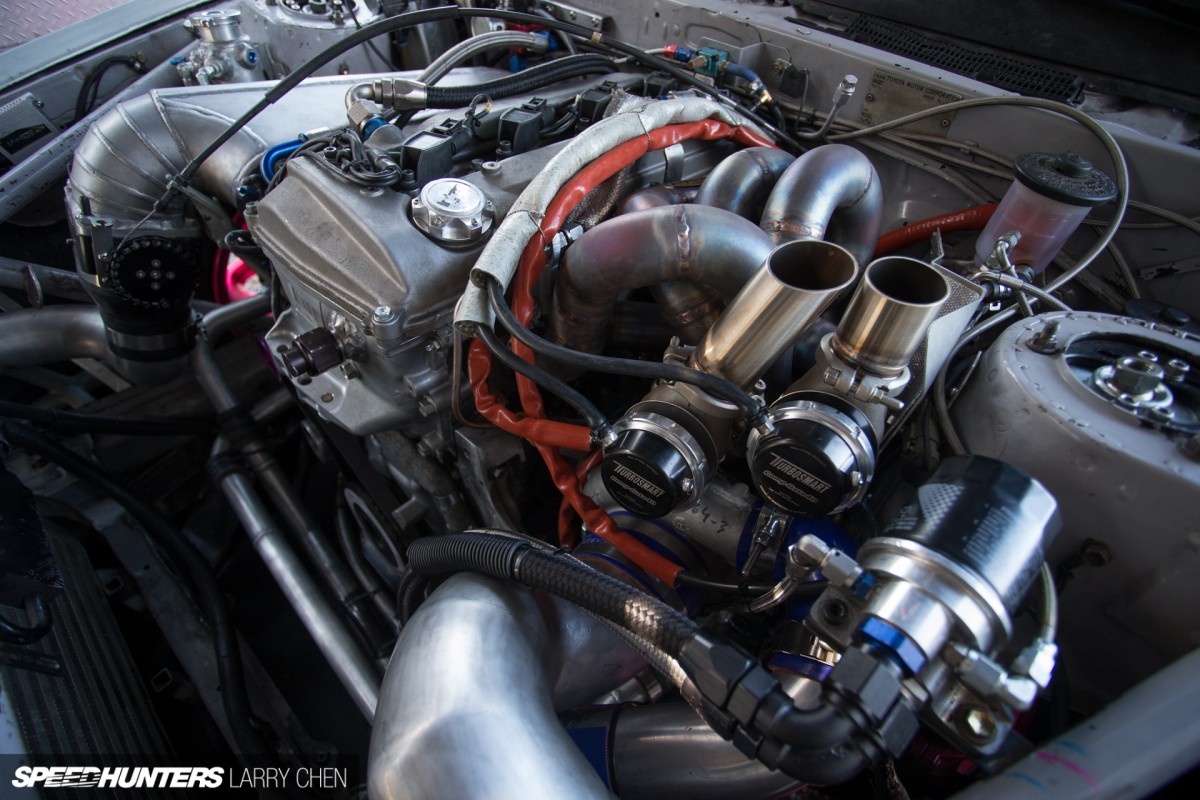 In terms of power to weight, Taka's car is now up there with the best of them.
More Displacement Please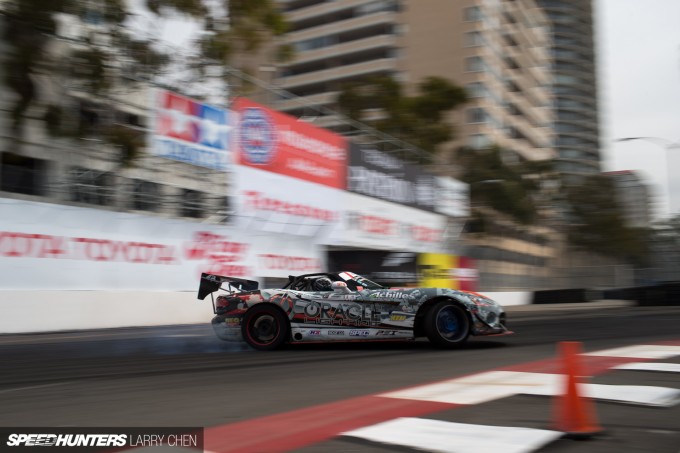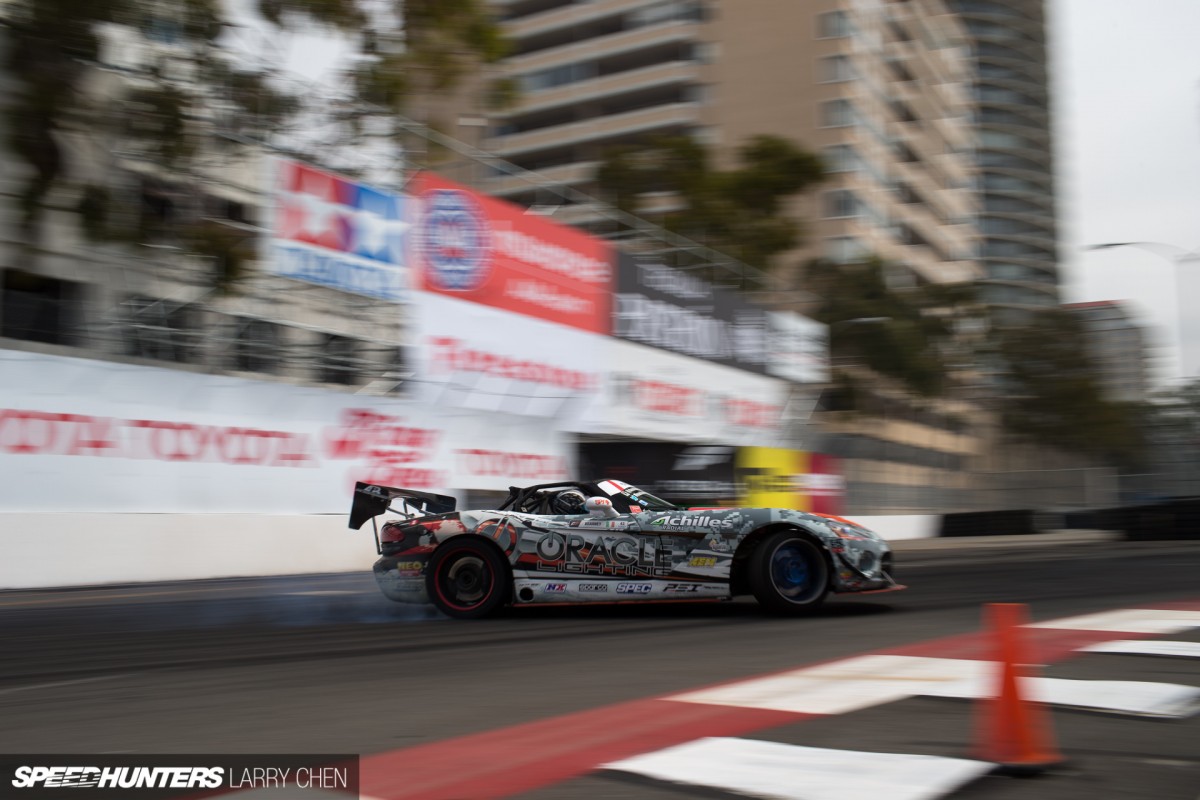 One of the most unique chassis and motor setups belongs to Dean Kearney and his supercharged V10 SRT.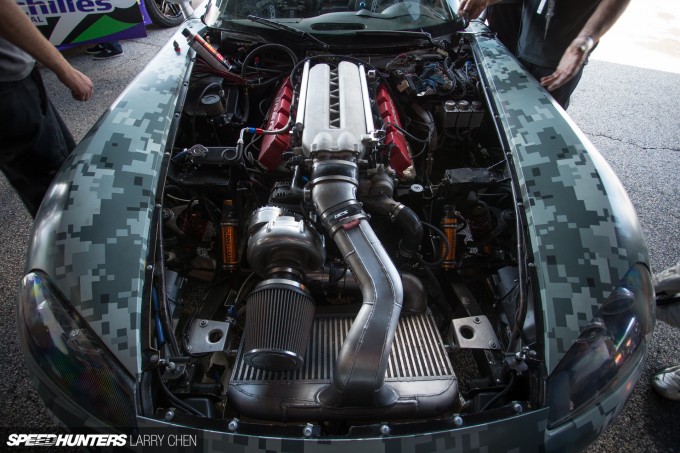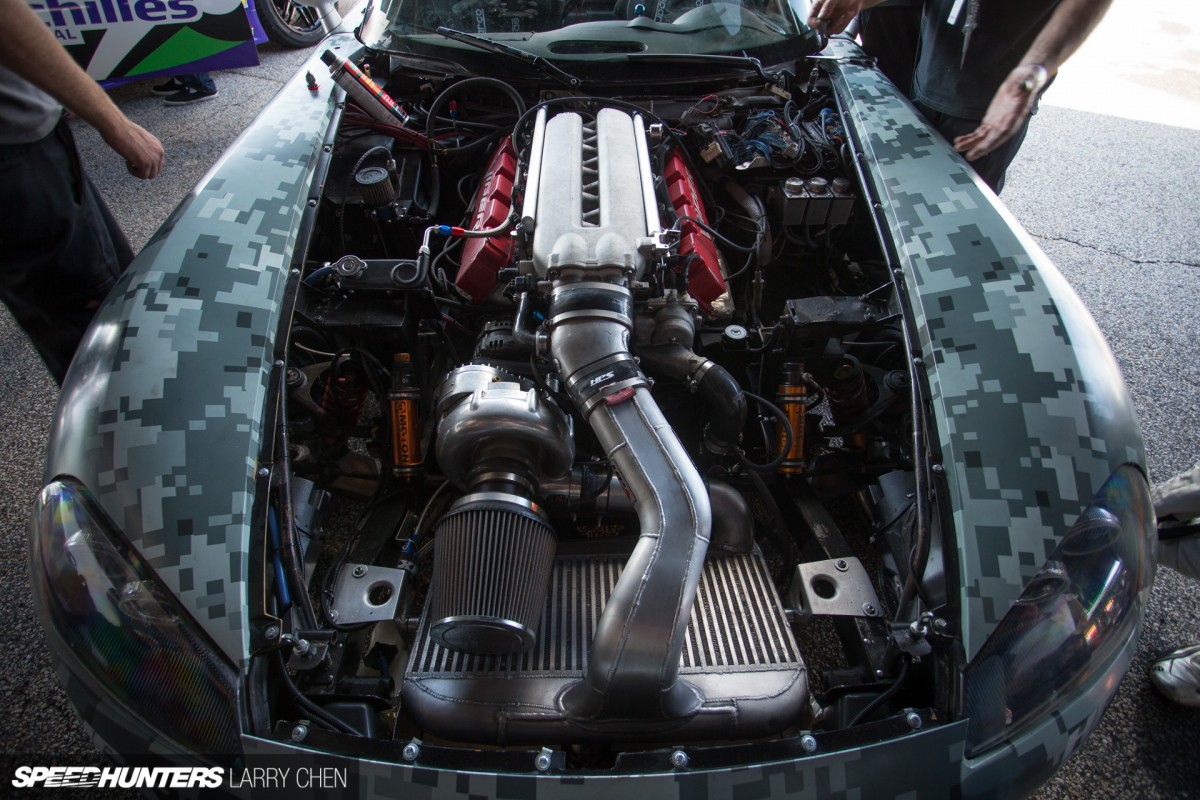 Engine: Dodge SRT V10 8.0L destroked
Pistons: JE forged
Rods: Eagle
Induction: Paxton NOVI 2500 supercharger, NX nitrous oxide system
Engine Management: AEM
Horsepower: 1000hp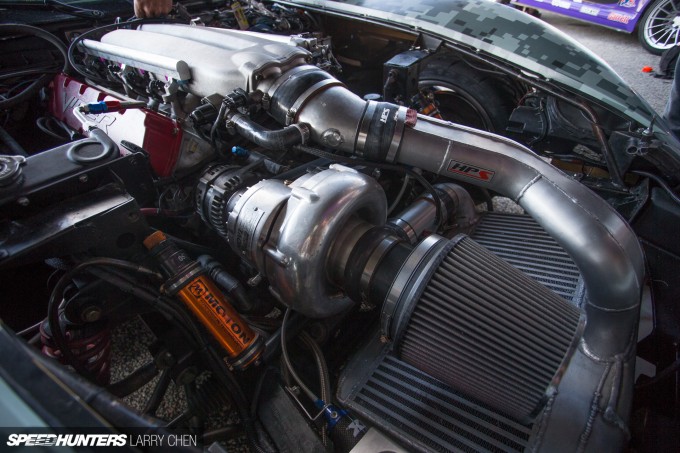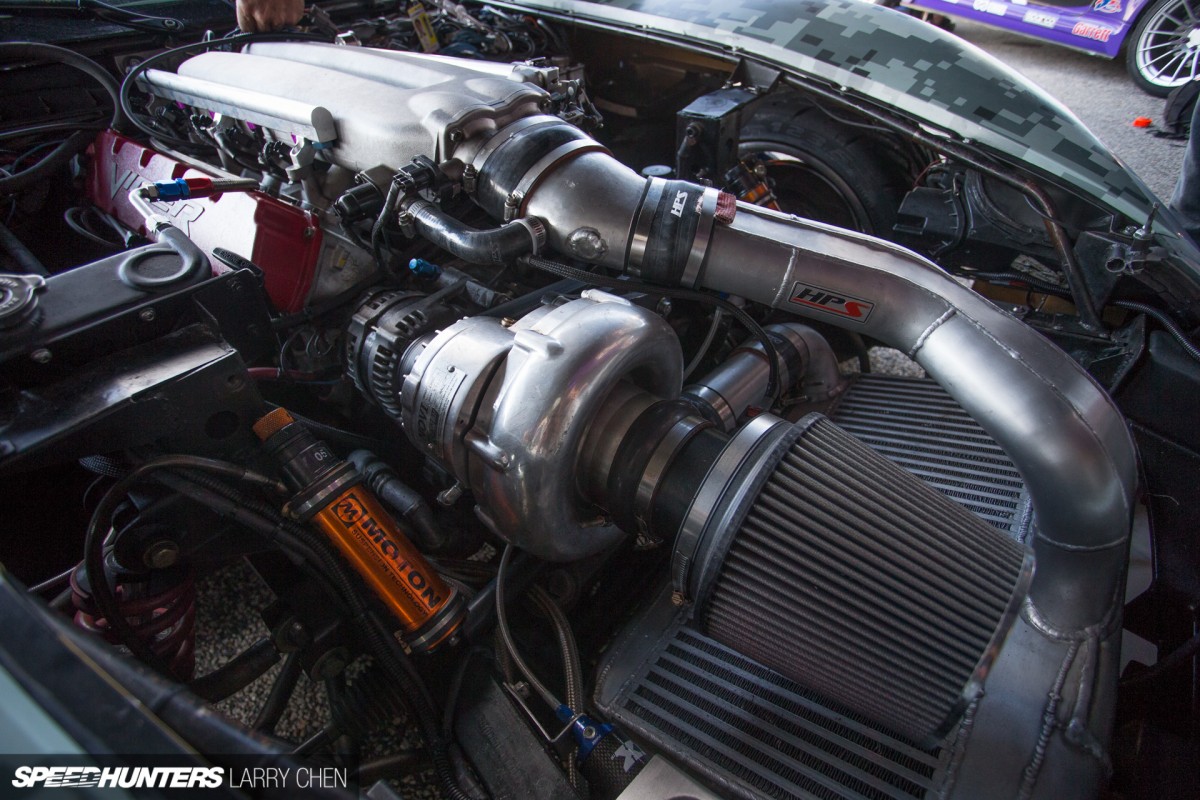 It's amazing to me still that this 8.0-liter monster competes in the same series as Dave Briggs' 2.4-liter turbo motor. That's what I love about drifting.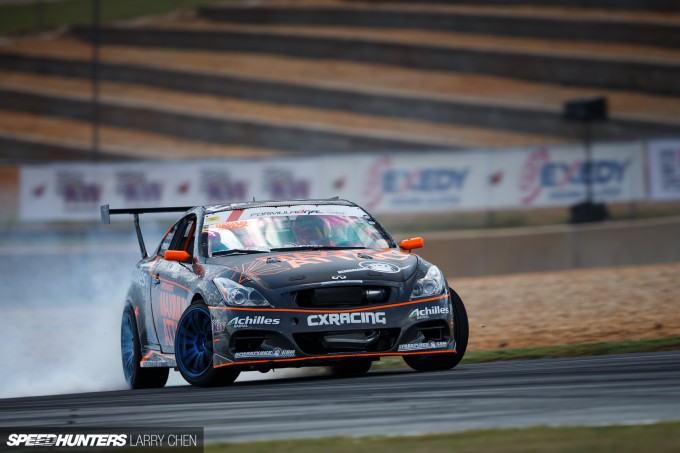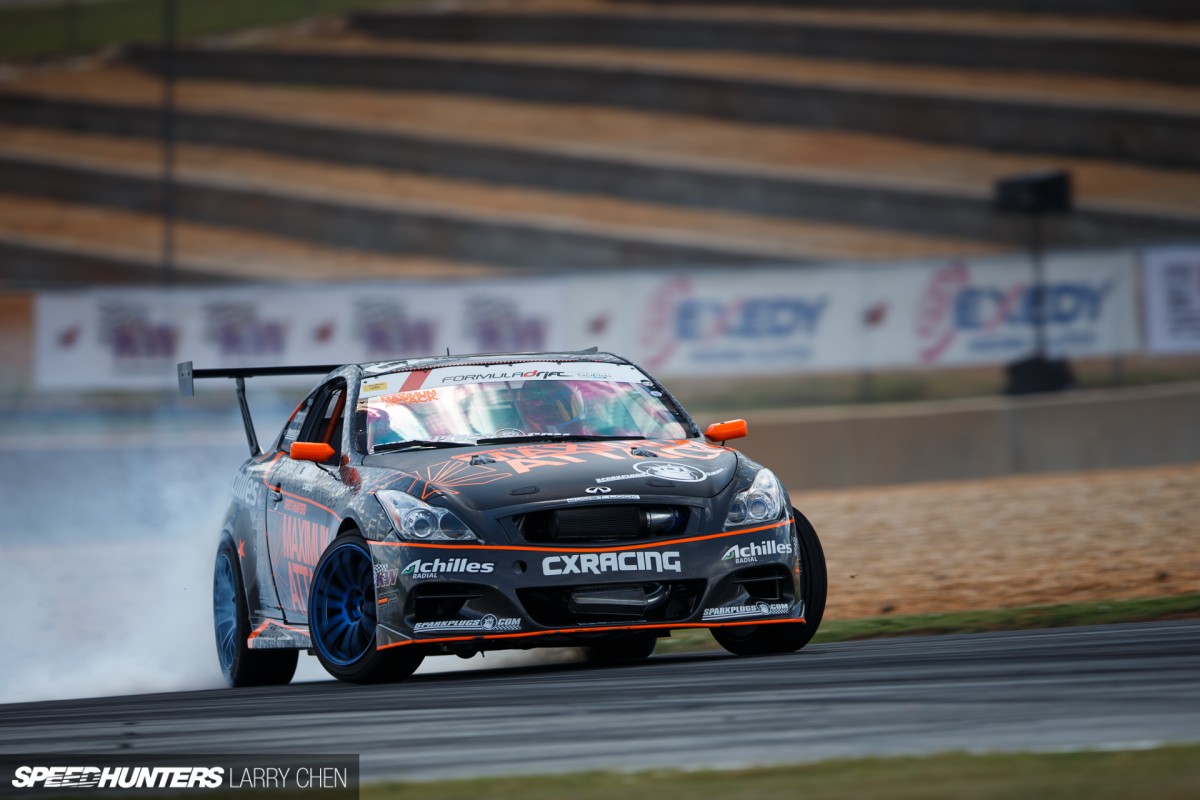 Speedhunters driver Charles Ng wanted to build a unique car that no one has ever drifted in Formula Drift competition. But he also wanted a super-reliable motor that can put down power with ease.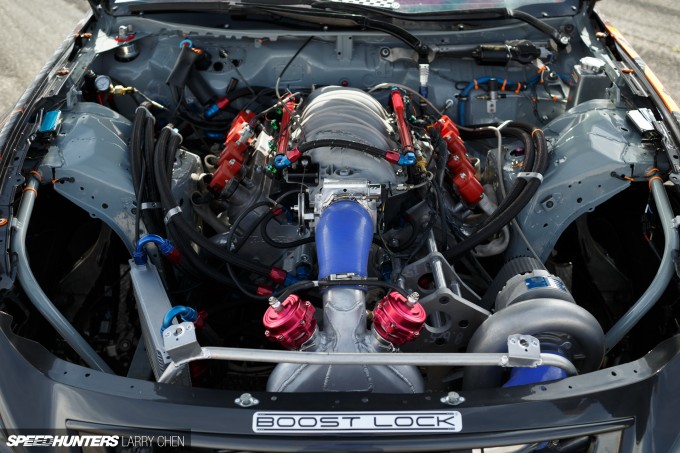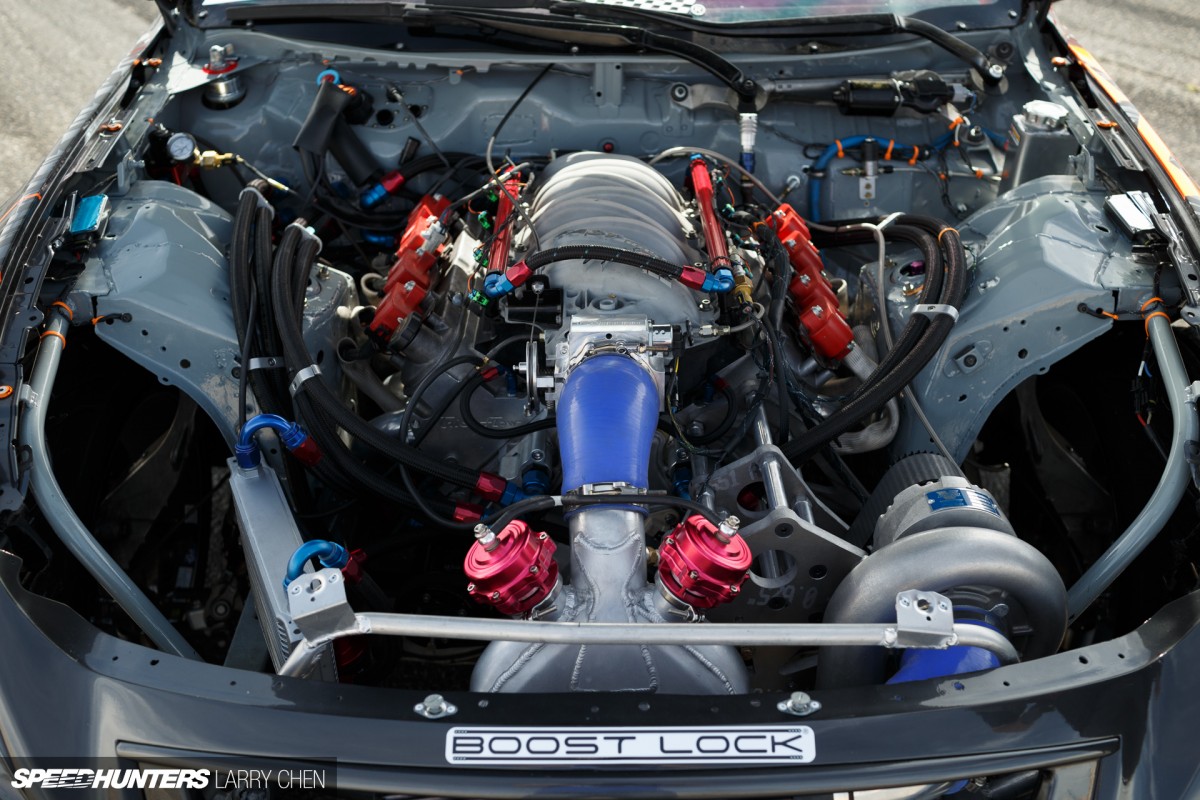 Engine: Chevrolet LS1
Pistons: CP forged
Rods: Carillo
Cylinder Heads: Trick Flow
Camshaft: Crane Cams
Induction: CX Racing Vortech YSi supercharger kit
Horsepower: 800hp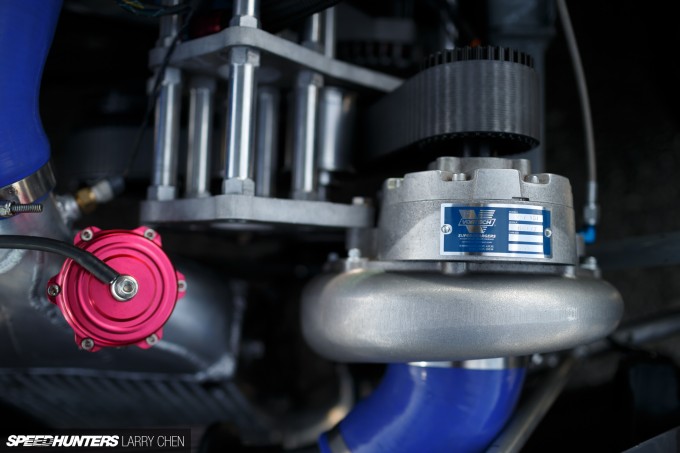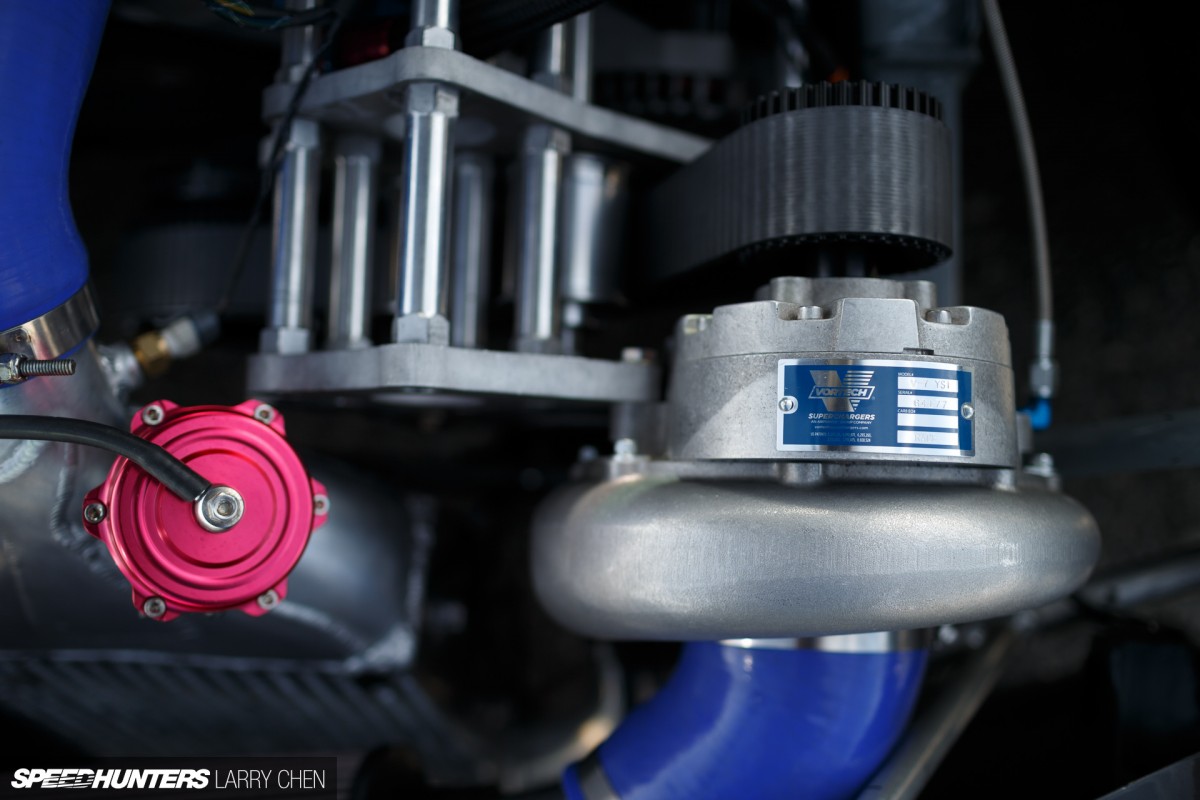 To get that extra edge it seems like most of the field is running forced induction.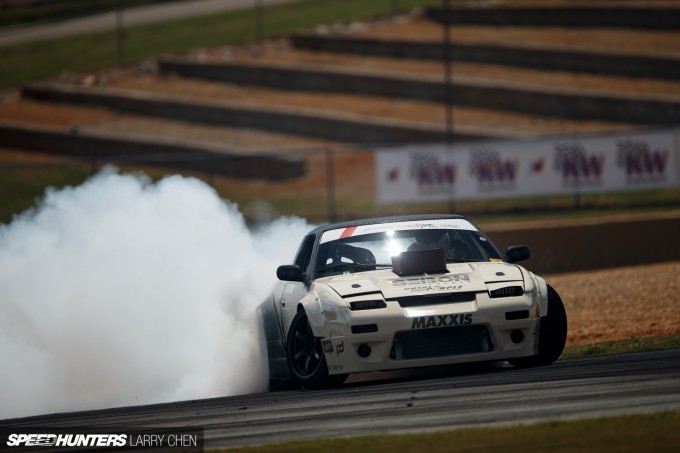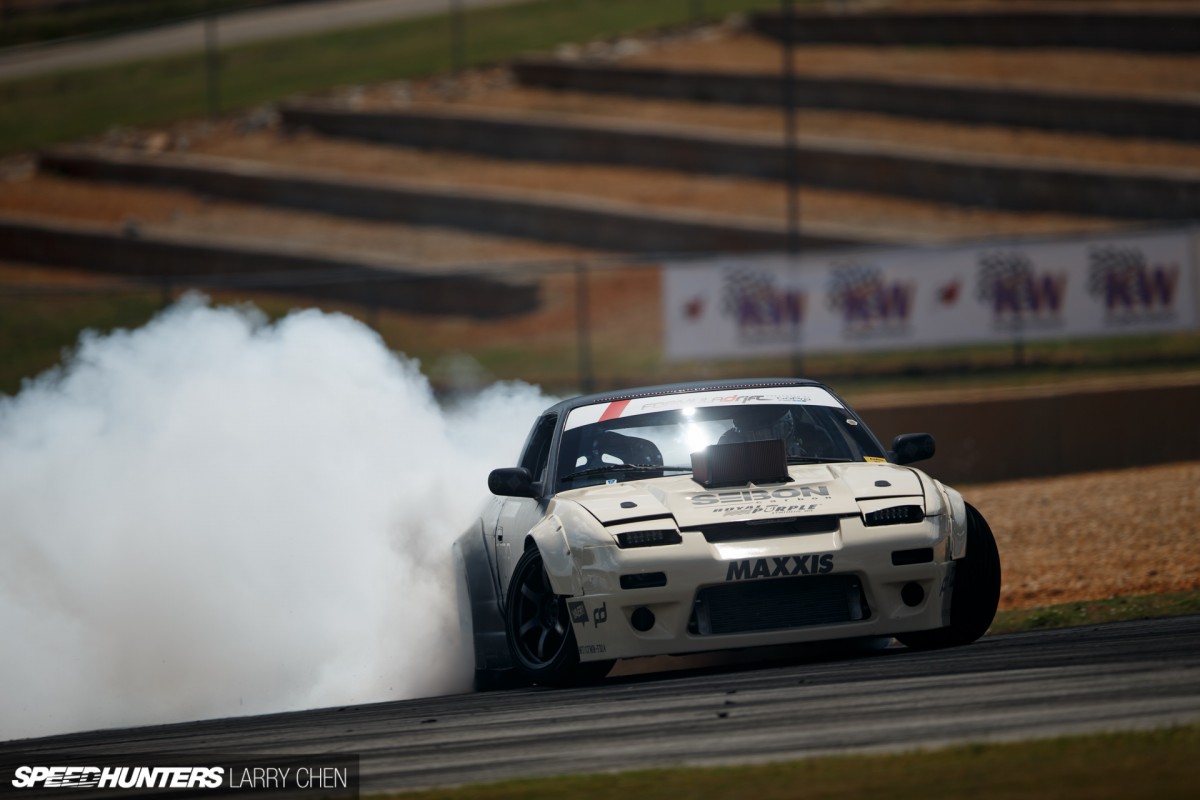 Rookie drive Matt Coffman brought out the big guns with a fully built Roush Yates motor. One look under the hood and you know that the team is out for blood in their first Pro year.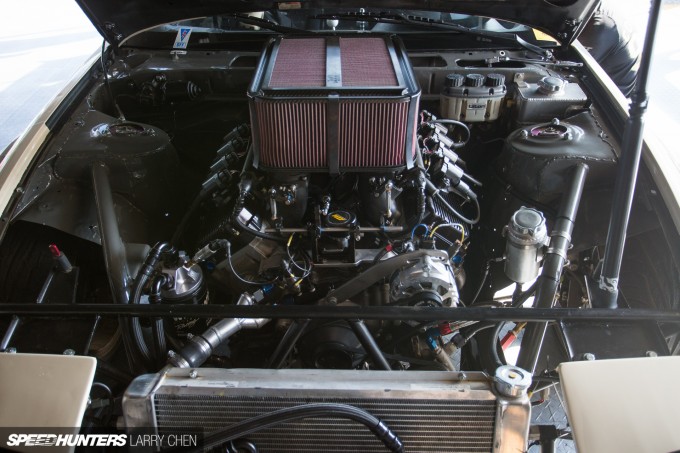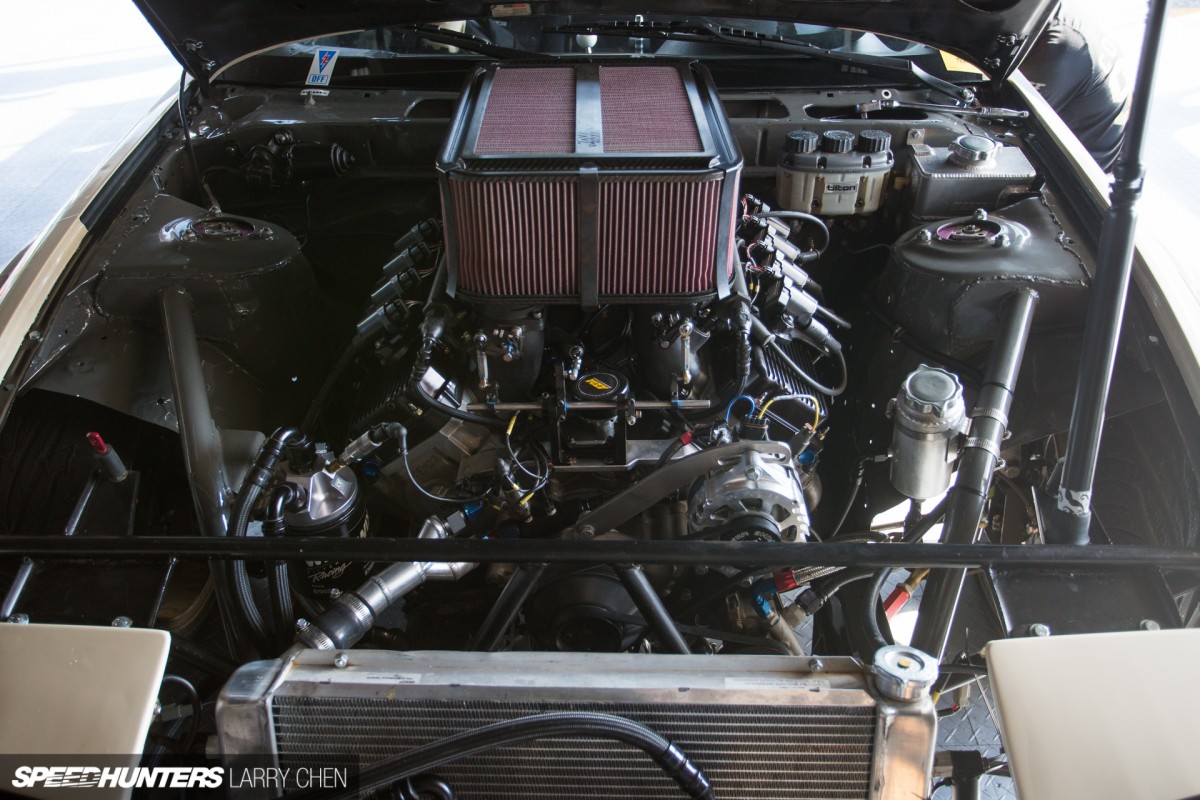 Engine: Roush Yates 410ci Ford V8
Cylinder Heads: Ford D3 heads
Induction: Kinsler ITBs with Coffman Racing/K&N air filter
Engine Management: MoTeC M1
Horsepower: 850hp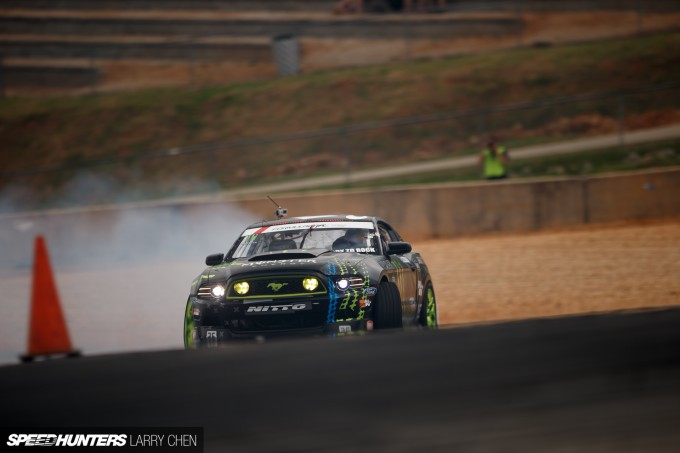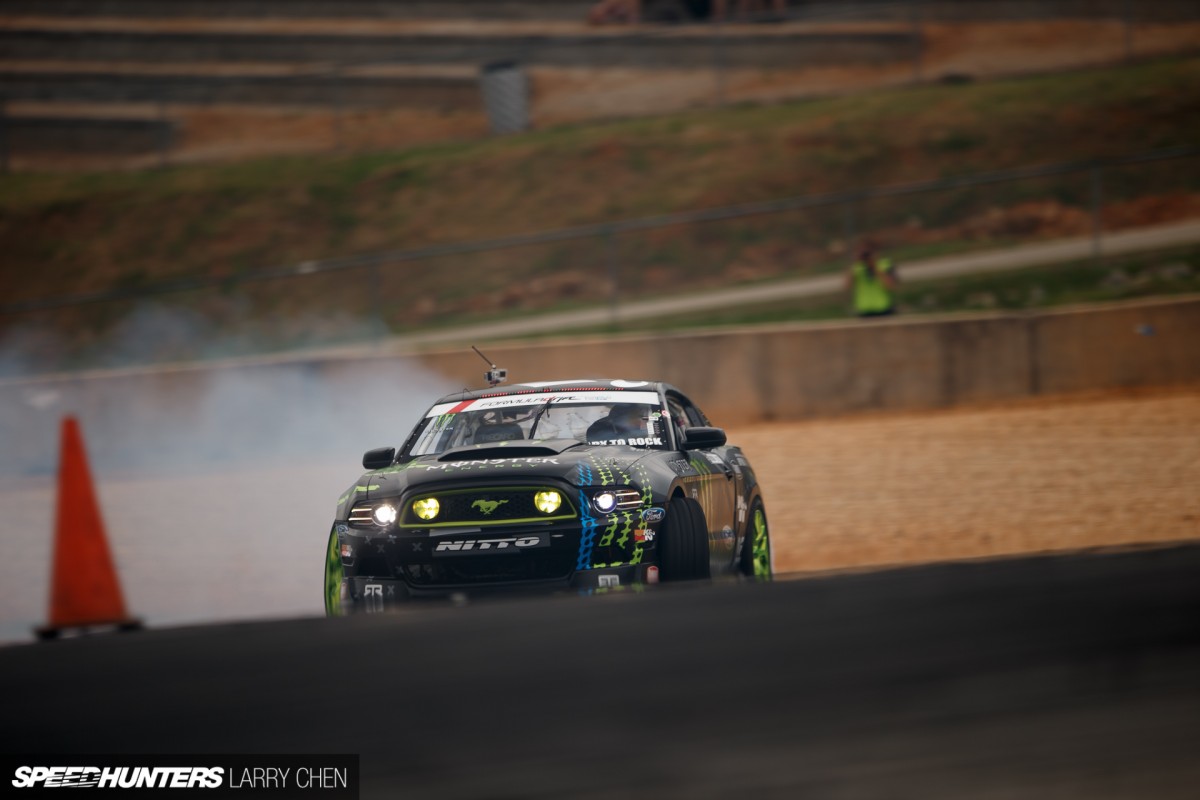 With all these turbo cars in the field I forget that there are still some guys running naturally aspirated setups – like our own Vaughn Gittin Jr.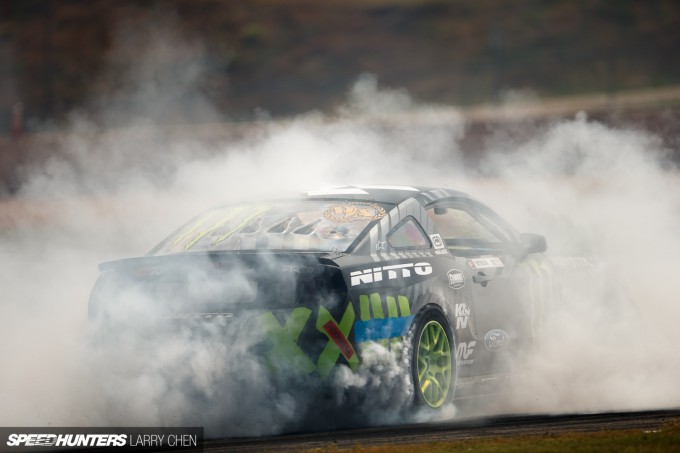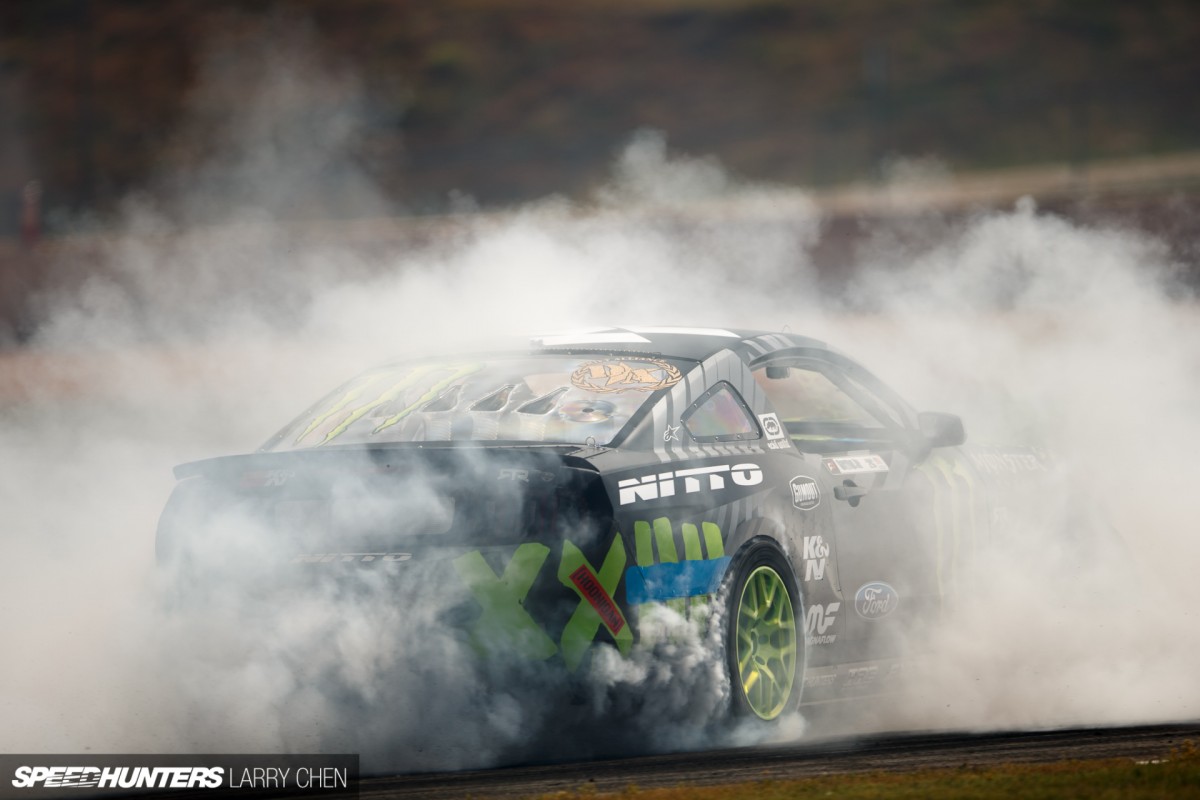 It just goes to show that no matter what sort of power you have, you need to be able to put it down to the ground for it be effective.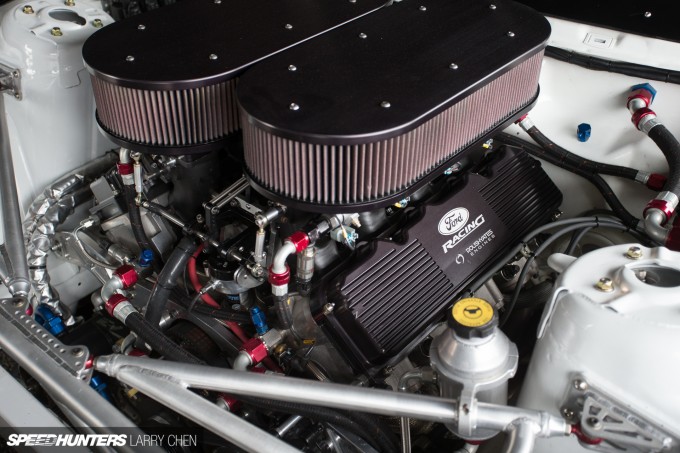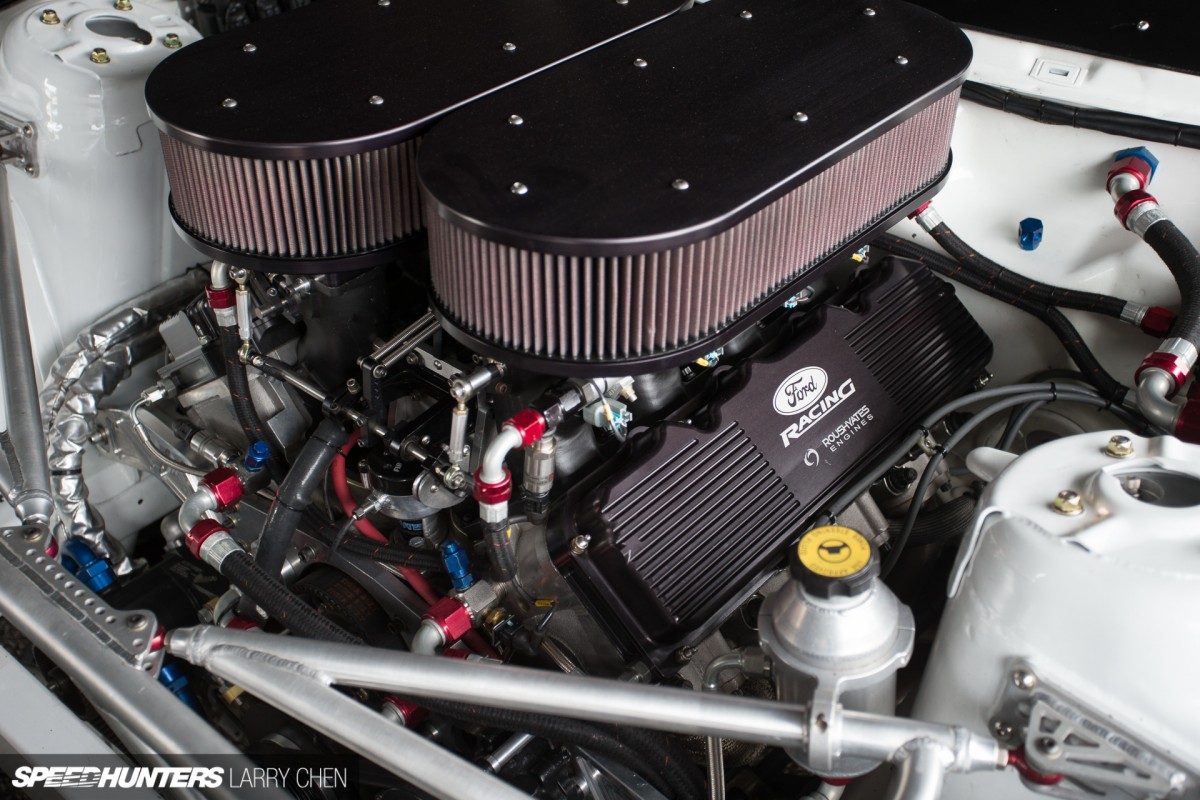 Engine: 410ci Dart Machinery small block Ford
Crankshaft: Bryant
Pistons: Roush Yates/JE forged
Camshaft: Roush Yates/Comp Cams
Cylinder Heads: Roush Yates/Ford Racing
Induction: Roush Yates intake manifold
Engine Management: MoTeC
Horsepower: 840hp+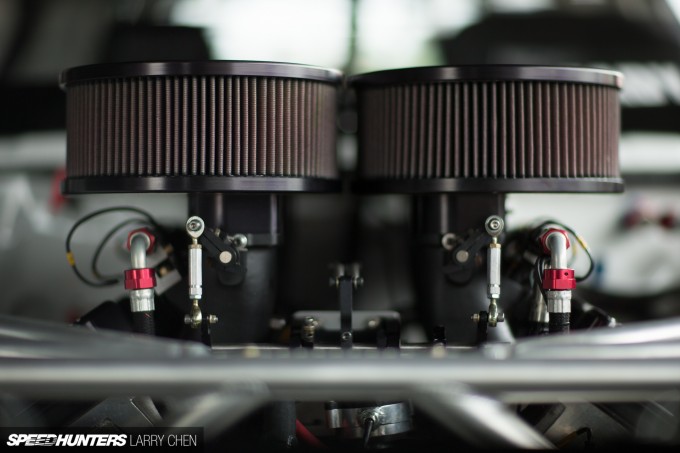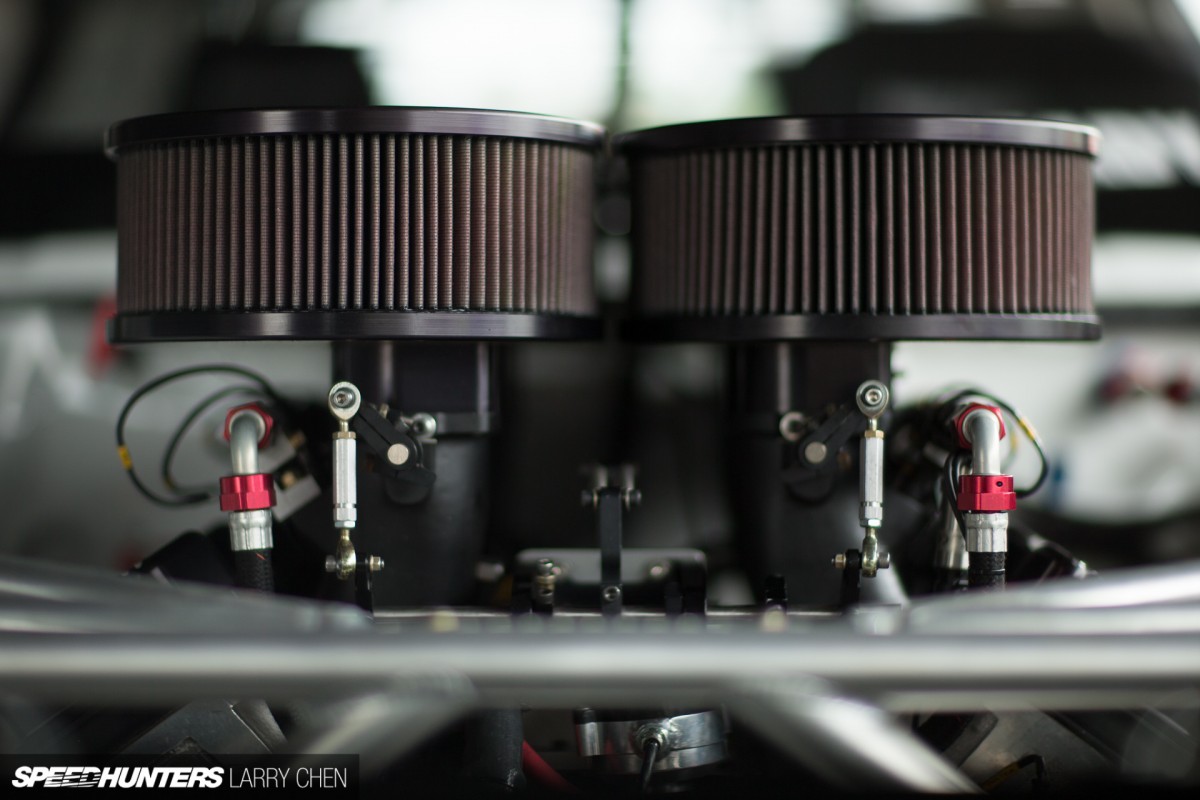 It really is a thing of beauty, and outside of Forest Wang's stroked 2JZ I think Vaughn has one of the cleanest engine bays in Formula Drift.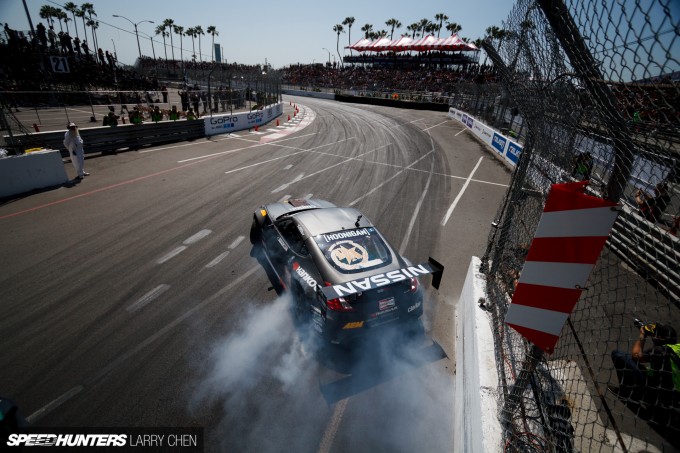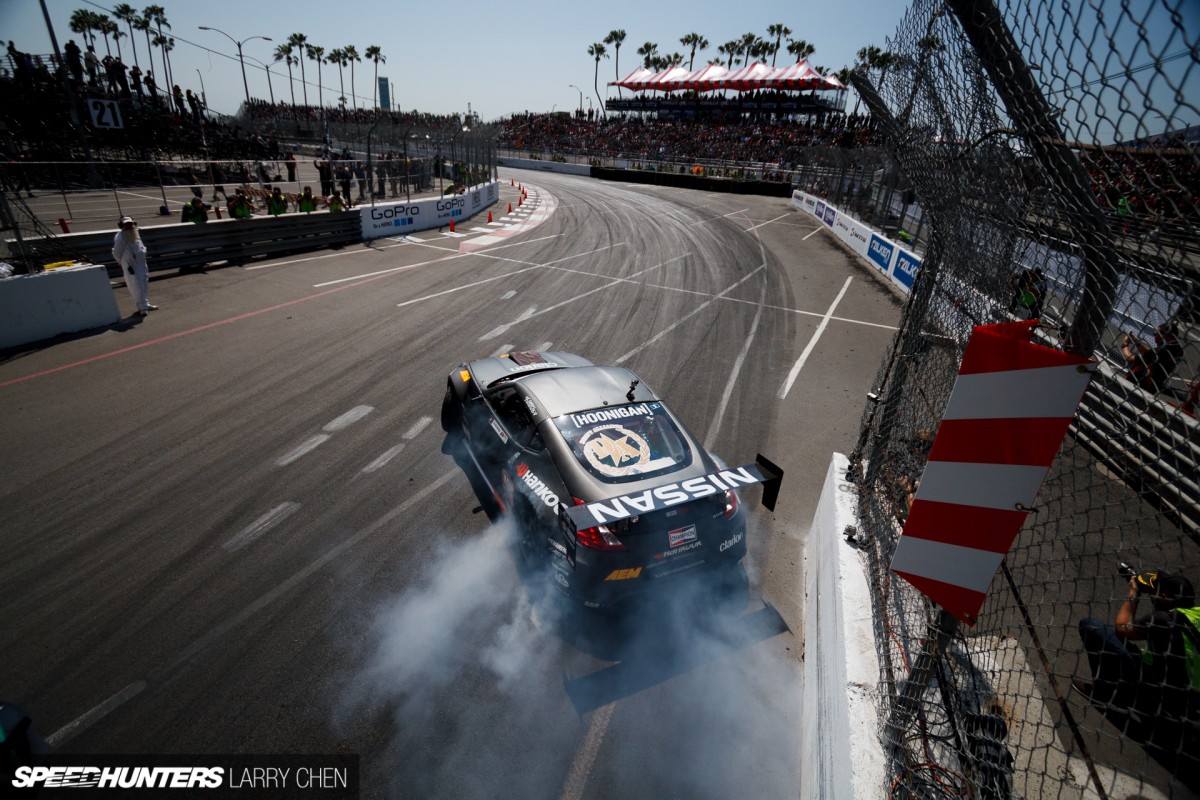 Last but certainly not least, there's Chris Forsberg with a very unique engine that originally came out of a Nissan pickup truck.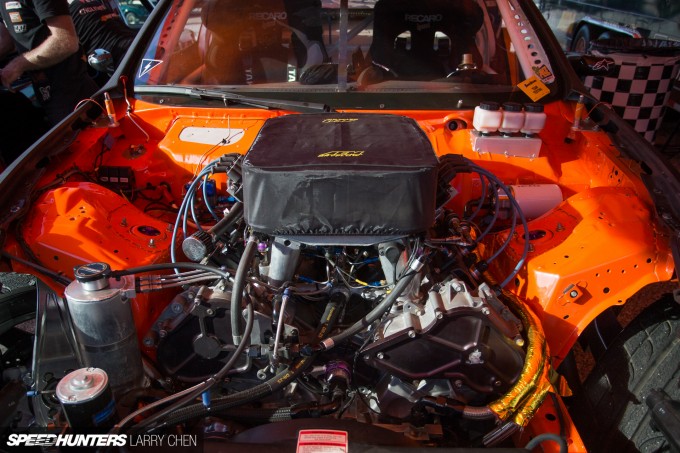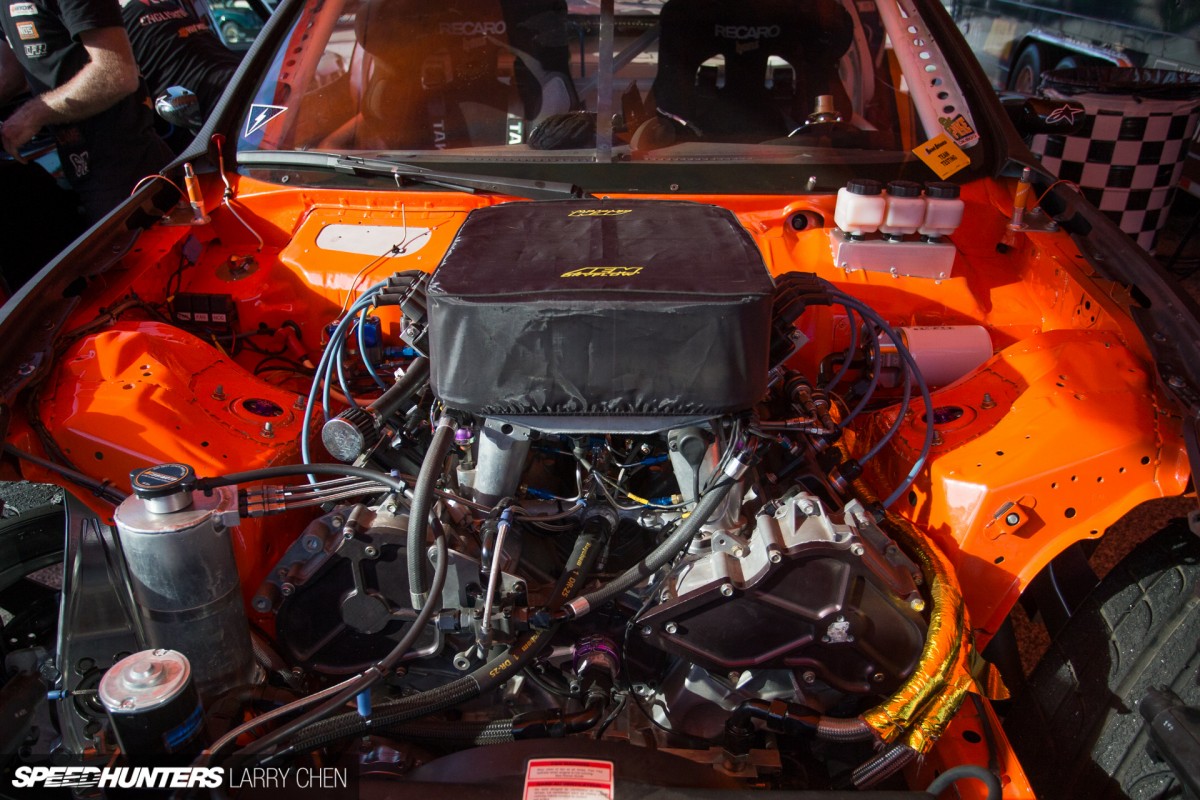 Engine: Nissan VK56
Pistons: JE forged
Crankshaft: Bryant Racing
Induction: Custom ITBs, AEM filtration, NOS nitrous system
Engine Management: MoTec
Horsepower: 1000hp (estimated)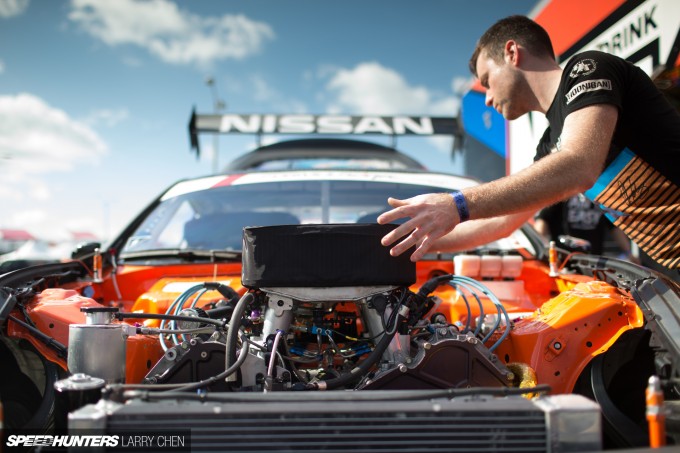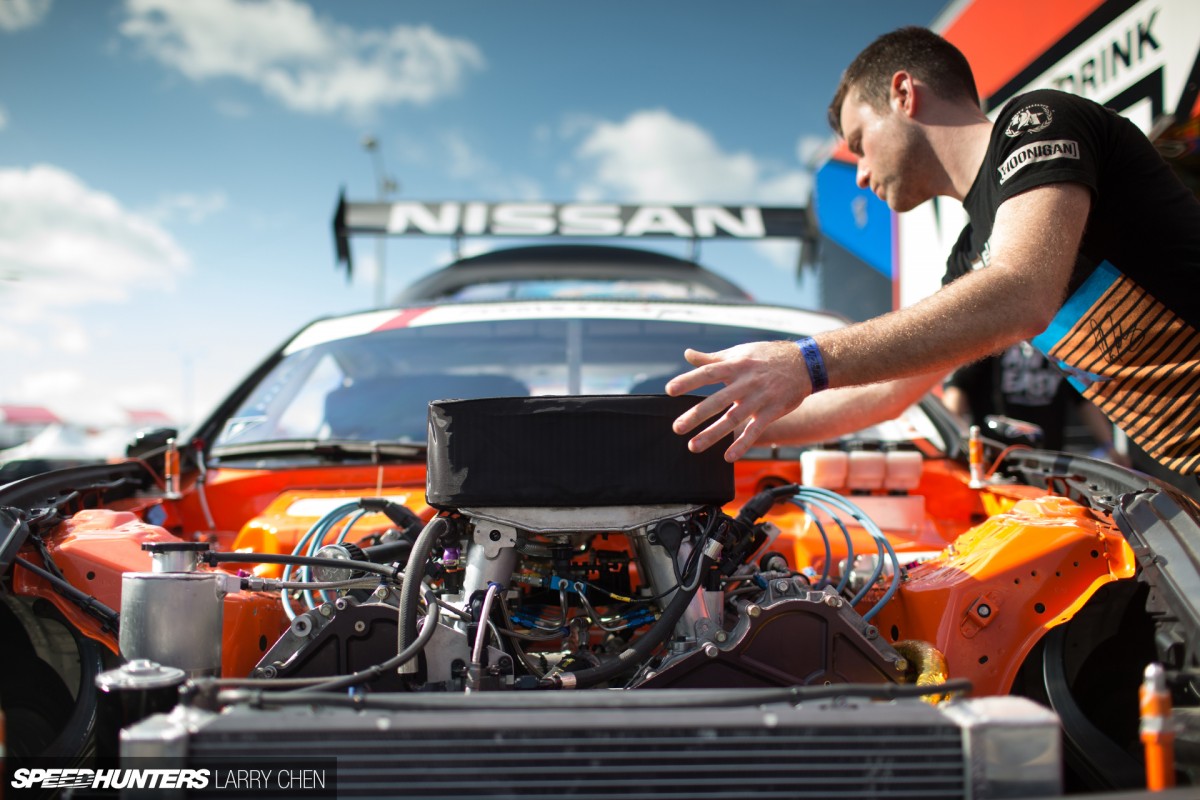 Well there you have it – that was just a sample of the massive variety of power plants that you can find in the Formula Drift paddock. It makes my job easier, because if I'm waiting around a blind corner I can actually tell which car is coming up next. What motor would you Speedhunters out there use if you were building a pro-spec drift car?
Larry Chen
Instagram: larry_chen_foto
larry@speedhunters.com