What war?
One of the things that has always attracted me to Formula Drift is the variety of cars that compete. Along with differences in shape, size and configuration, there's the engines. These days motor swaps are commonplace, as are mind-numbing horsepower figures. But when it comes to output, how much is too much? At Formula D's 2014 Long Beach media day earlier in the week, I decided to ask a few of the drivers what they thought about FD's 'horsepower wars'. Some of their responses were funny and some were serious, but all are insightful.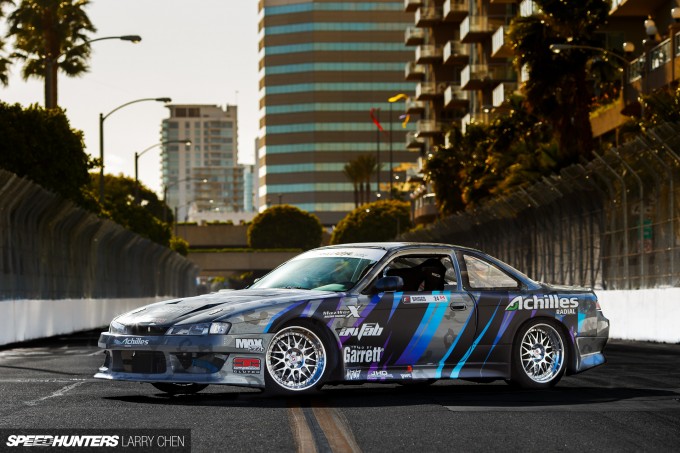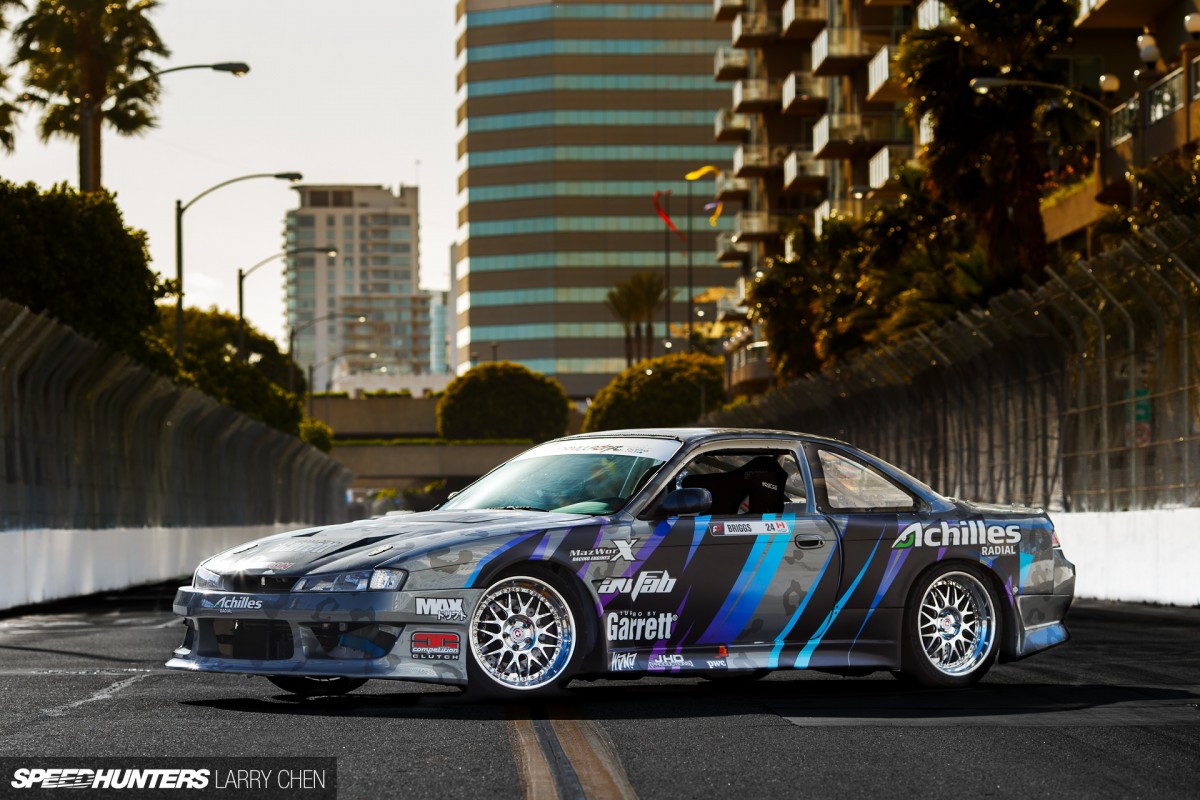 Dave Briggs: I think it's a little crazy, but you definitely need power. I think it's just a competition between everyone else who has the most and who can be the scariest on track.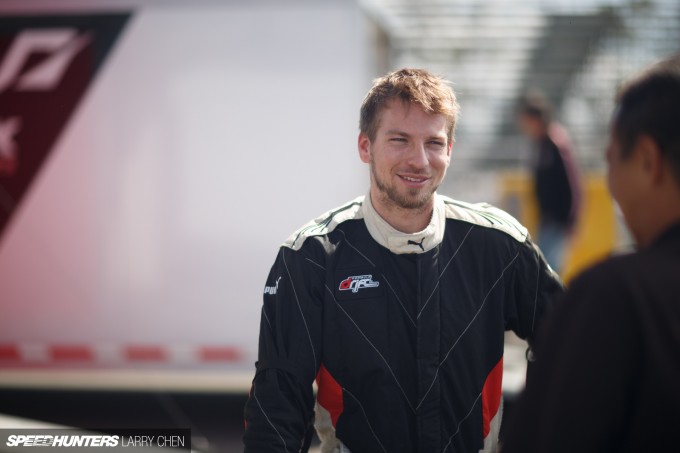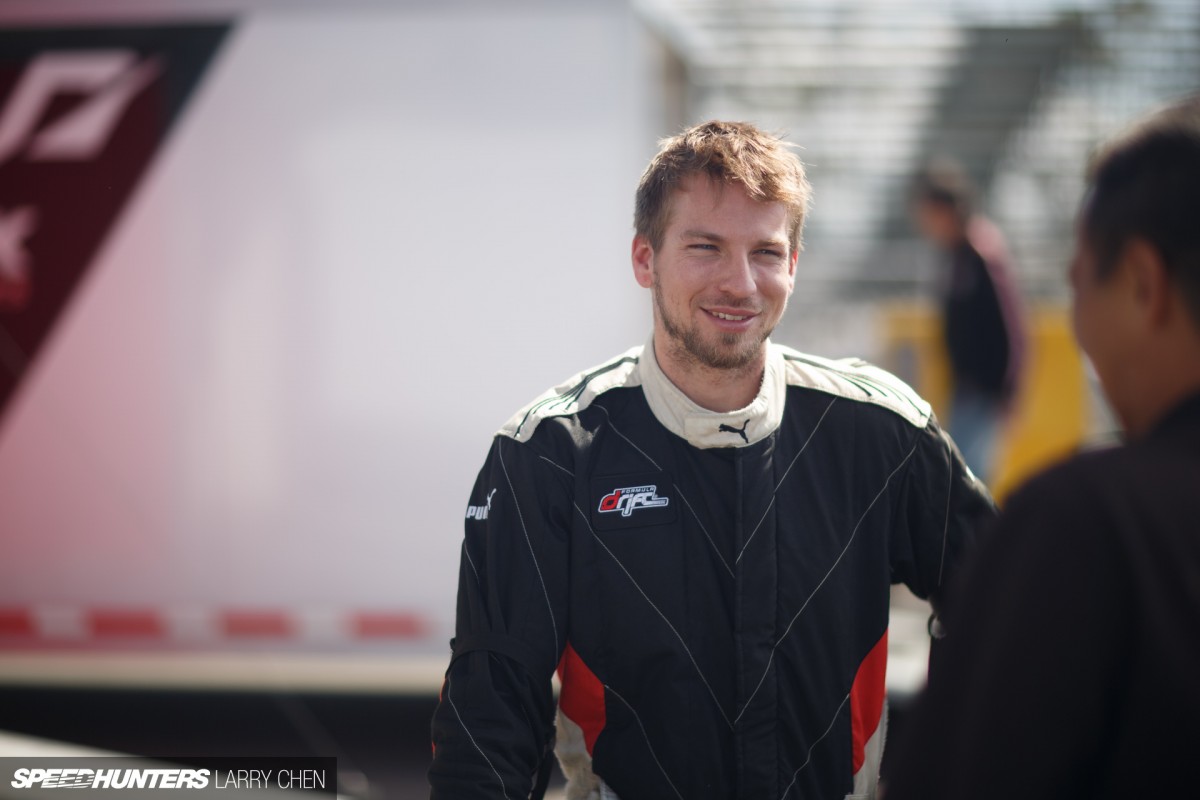 Larry: So do you like horsepower wars?
Dave: Yeah of course! But I also like the idea of not throwing the same motor in every car. I think drifting is about individuality and it should be a little more about the roots. Maybe it's a Nissan car, throw in an SR, or RB, or something like that in it. Just so each kind of car is different and you have different cars battling each other.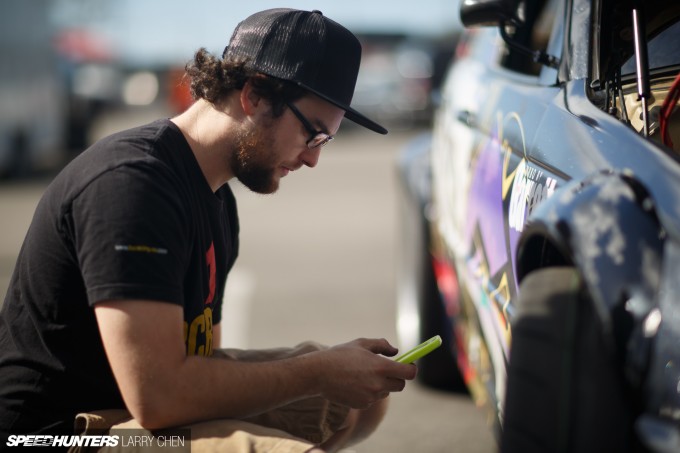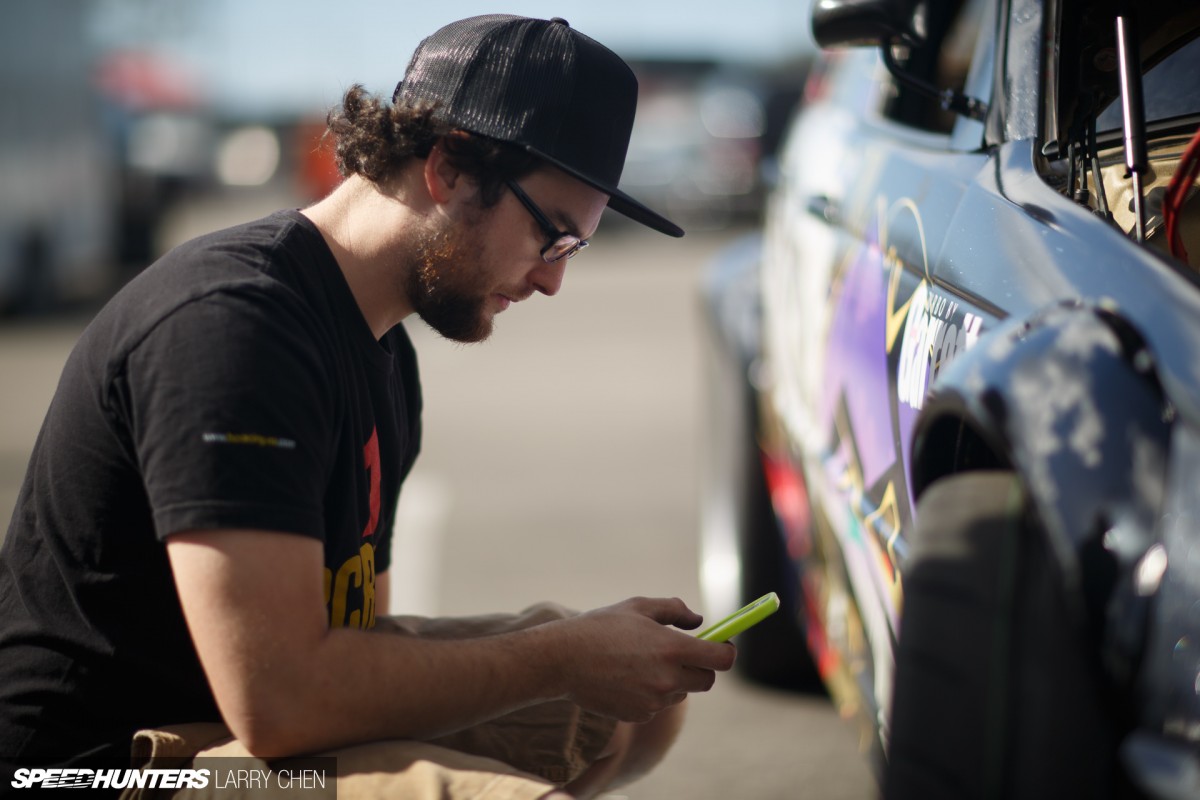 Chelsea Denofa: Oh I don't know. I'm just showing up with like five more horsepower than last year. The car feels good, I'm not too worried about it.
Larry: So that means you have 105 to the wheels now, right?
Chelsea: I think they all have tiny penises and want to make up for it with horsepower or something. Something like that.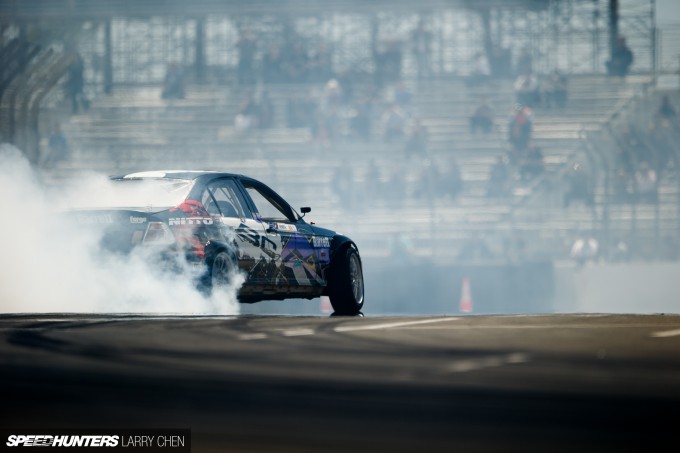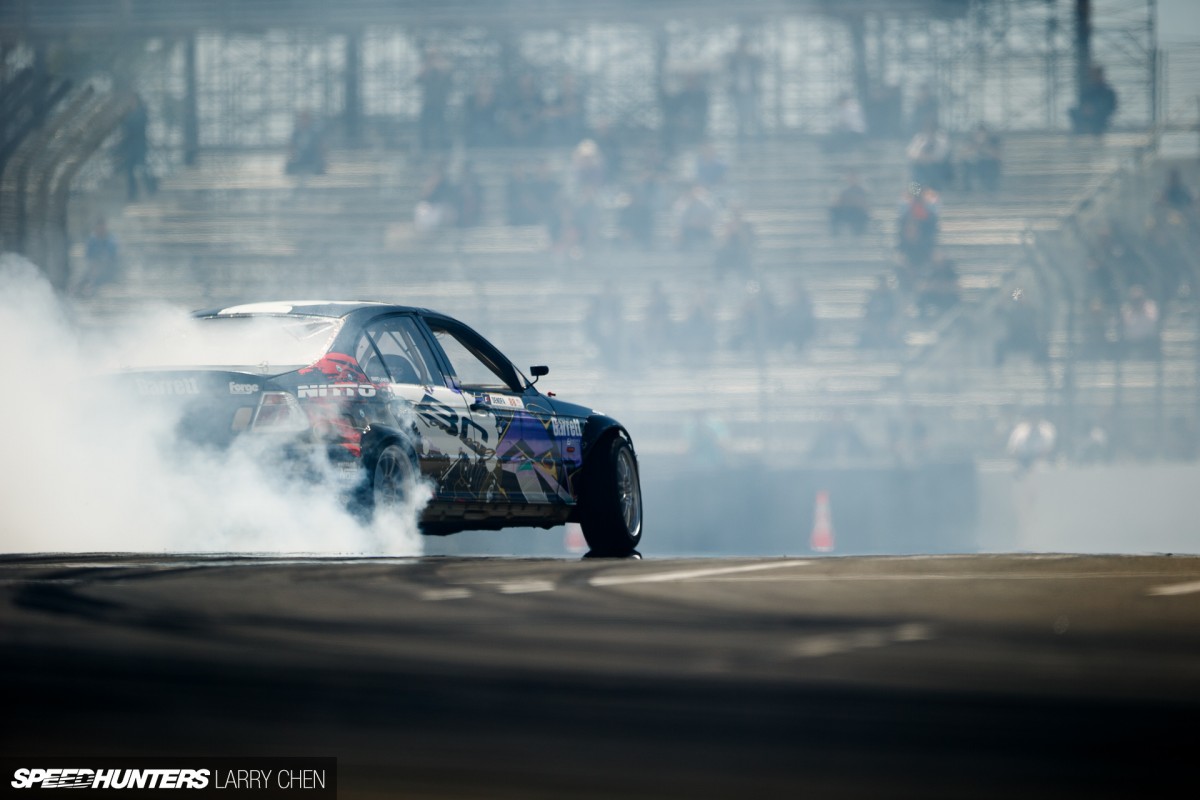 Larry: Really? So what would you rather have lower horsepower across the field?
Chelsea: I don't know. I think throttle body restrictors would be good. Turbo cars get one, NA cars get another, and you just gotta make power around them.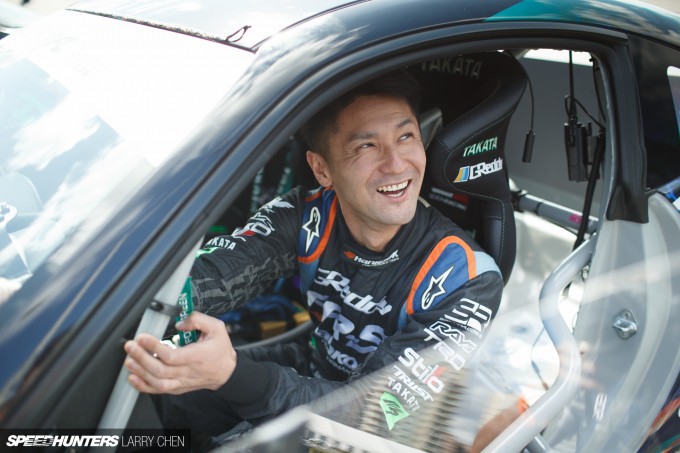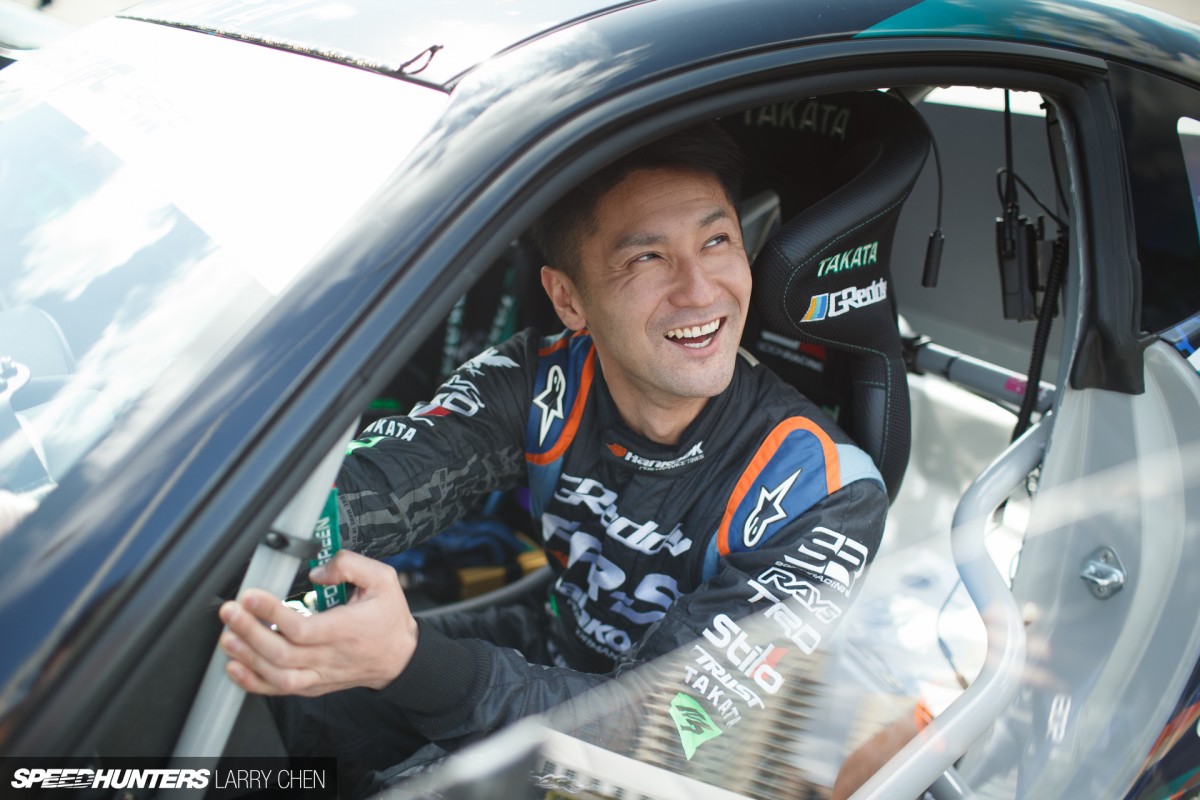 Ken Gushi: What do I think? [Pointing at Daigo Saito] I effing blame this guy for the horsepower wars. It's his fault we have to push it even harder. It's the only reason we went to the 2J this year; because we're just trying to keep up with Daigo.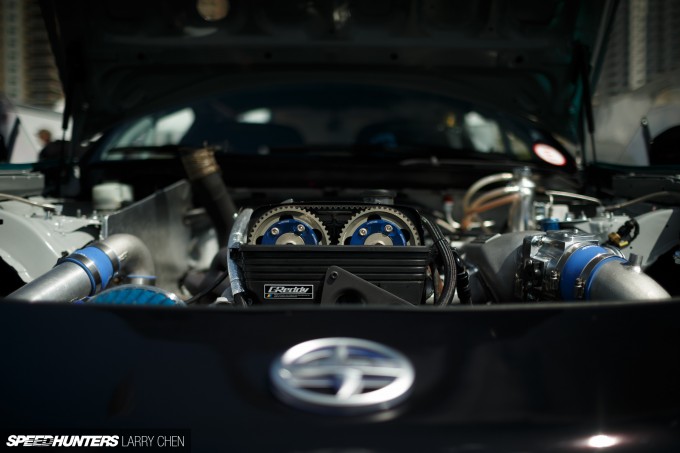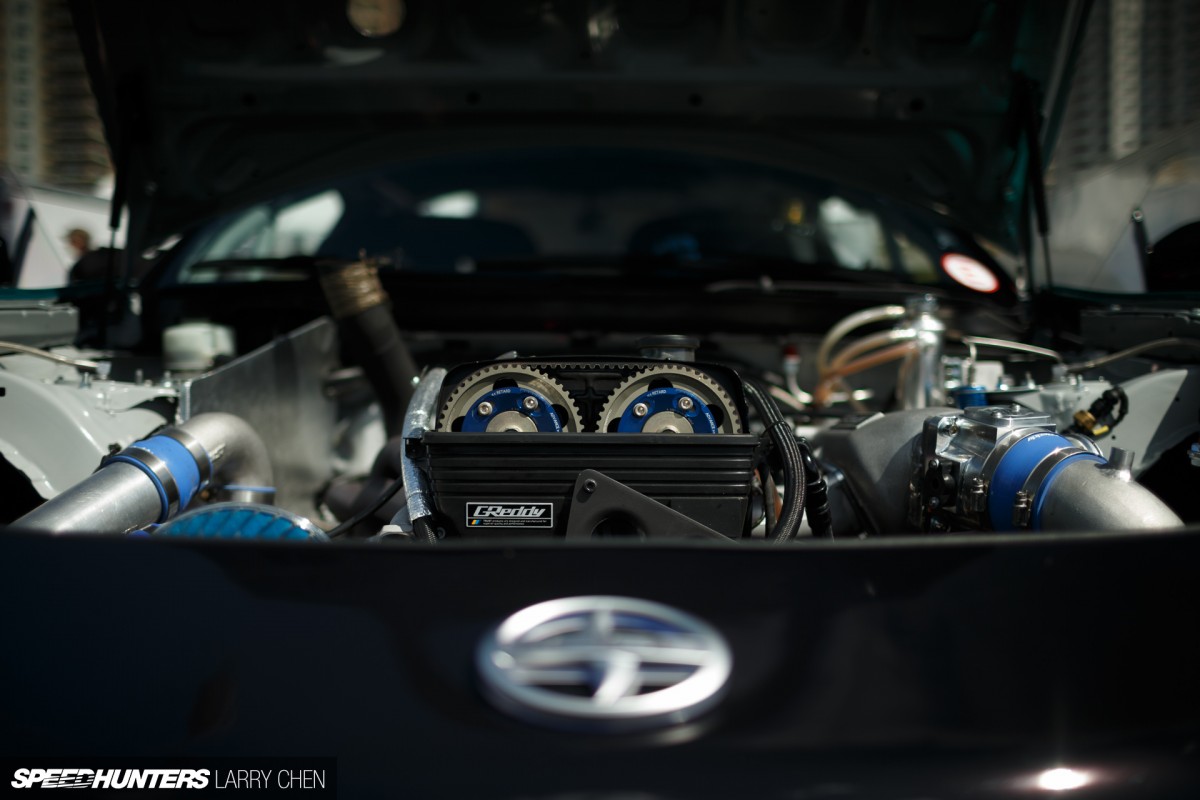 Ken: So if you look at the engine setup, it's basically identical to what he's running. 2J, 3.4L, big turbo, rear radiator.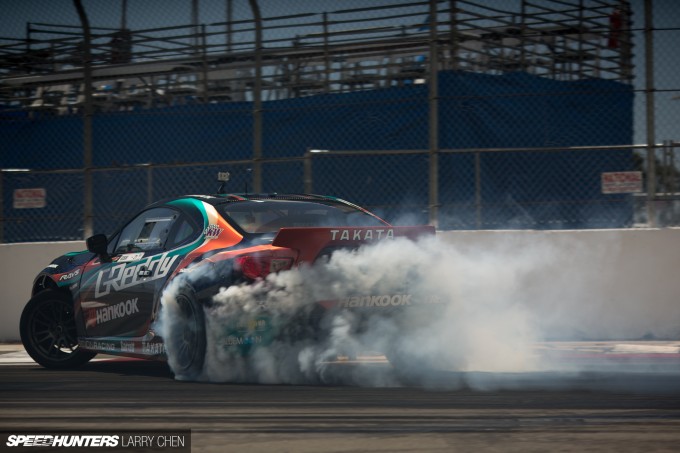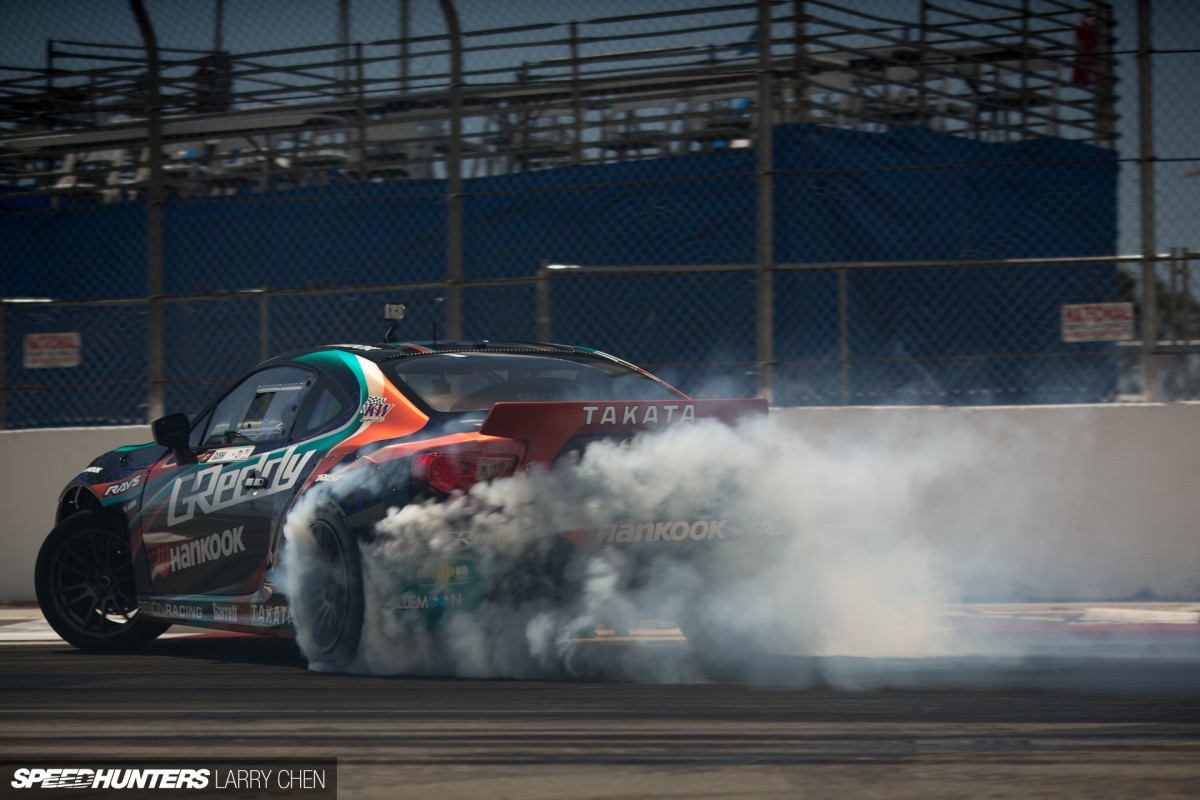 Larry: Do you have 1,000hp?
Ken: Hahaha! We're catching up!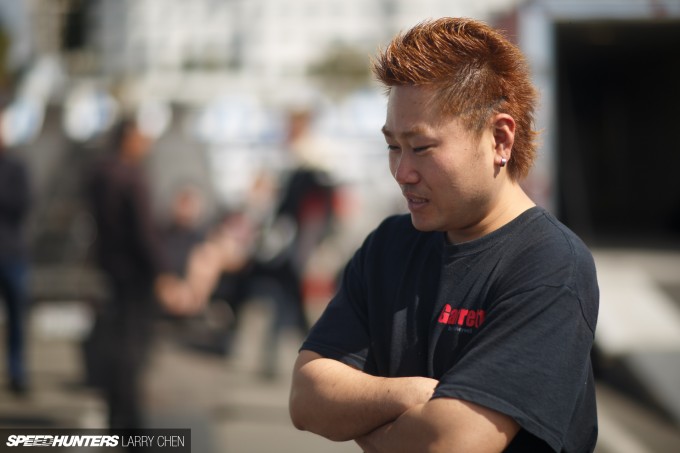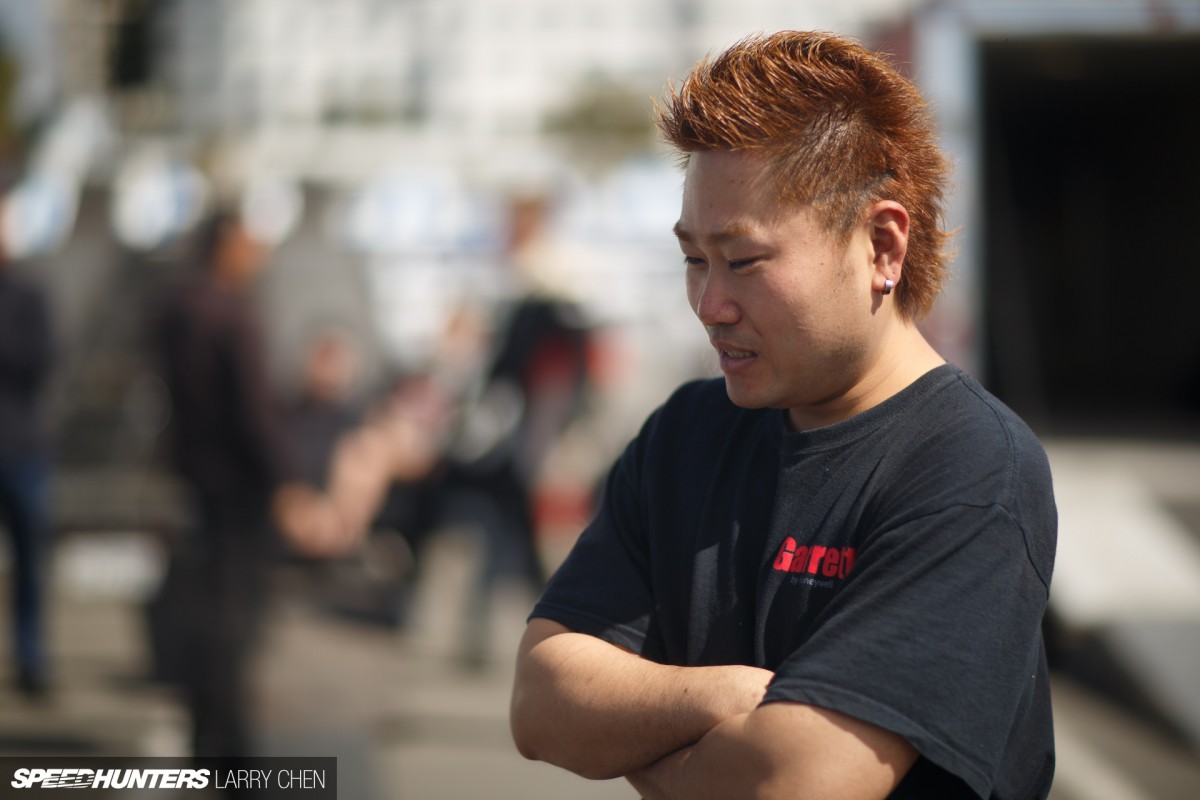 Larry: [Asking Ken to translate for Daigo] What do you think about the horsepower wars?
Ken: Why don't you just ask him – he knows English.
Larry: [Asking Ken] But does he know that he started it?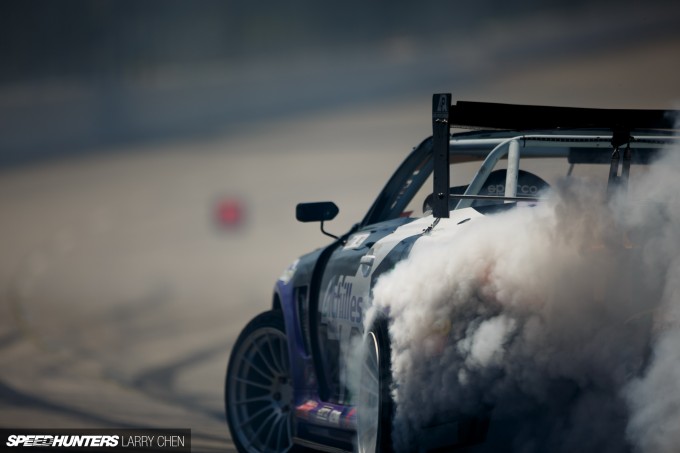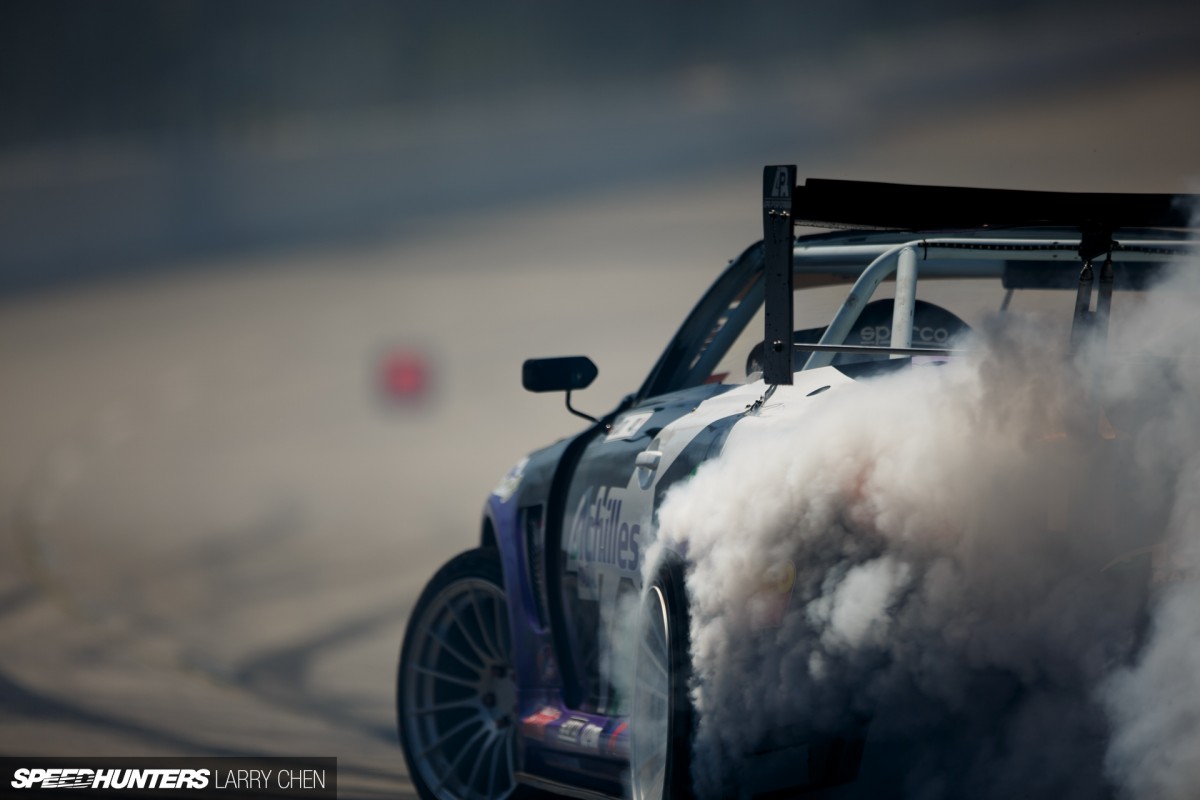 Daigo Saito: I had no idea I started it, but I think it's interesting. It's just too natural to get a lot of horsepower with a 2J. It's like a given.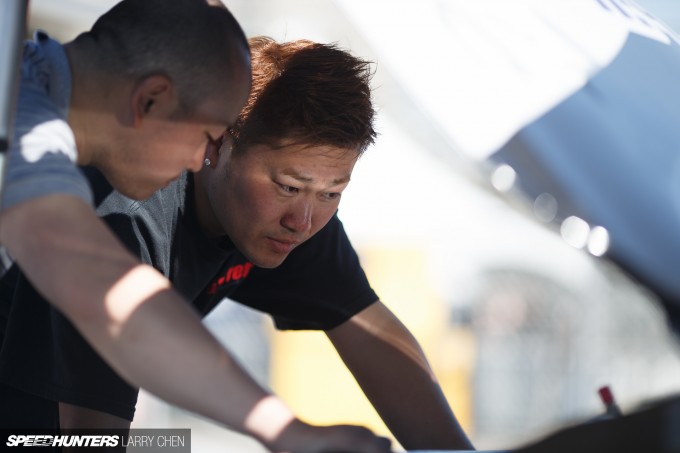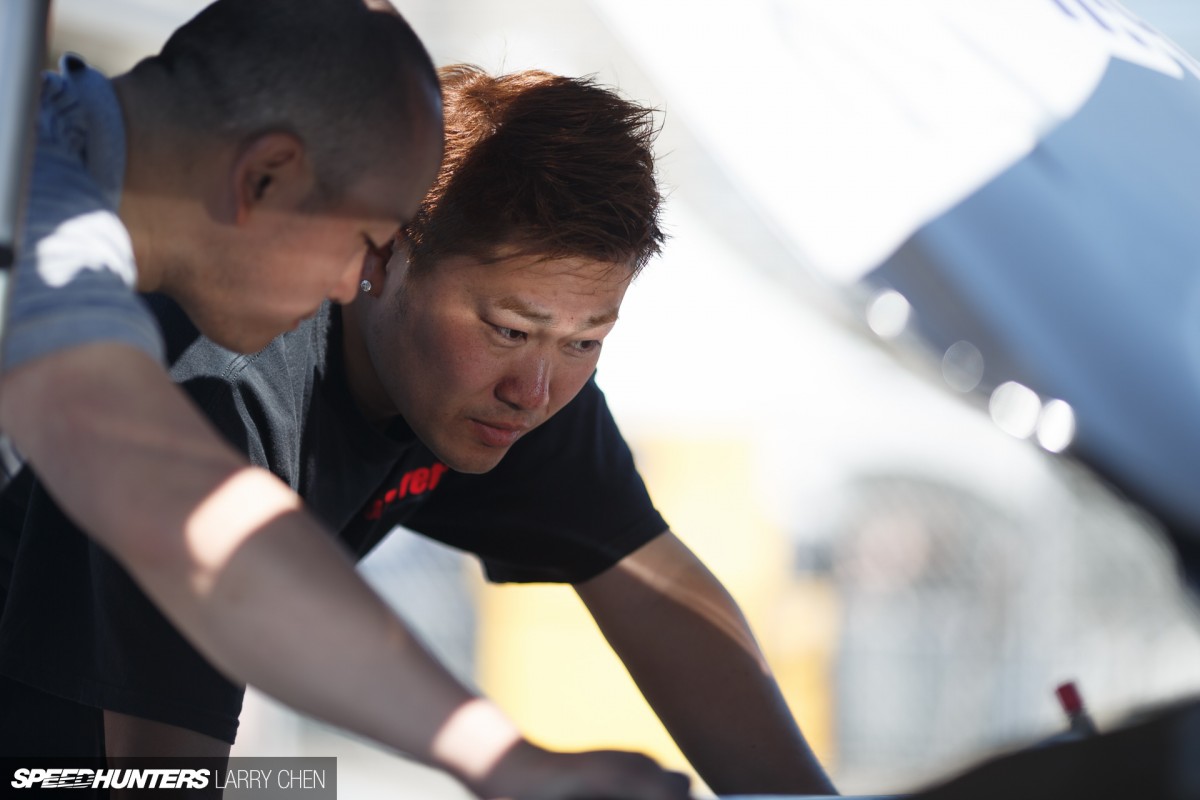 Larry: It's your style to drive with a lot of power correct? Your driving style requires it.
Daigo: I'm having fun with it.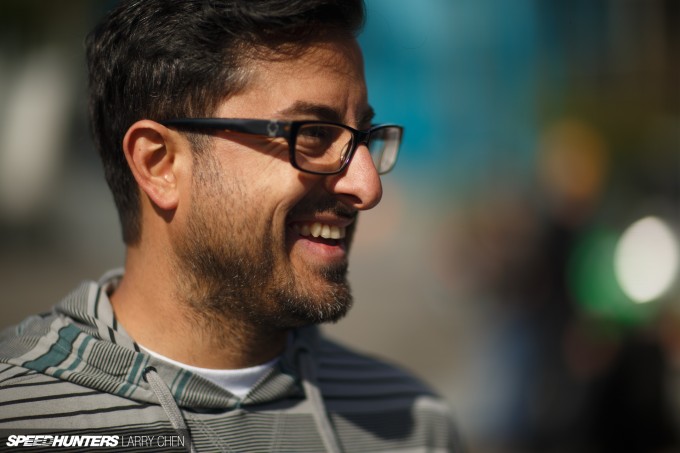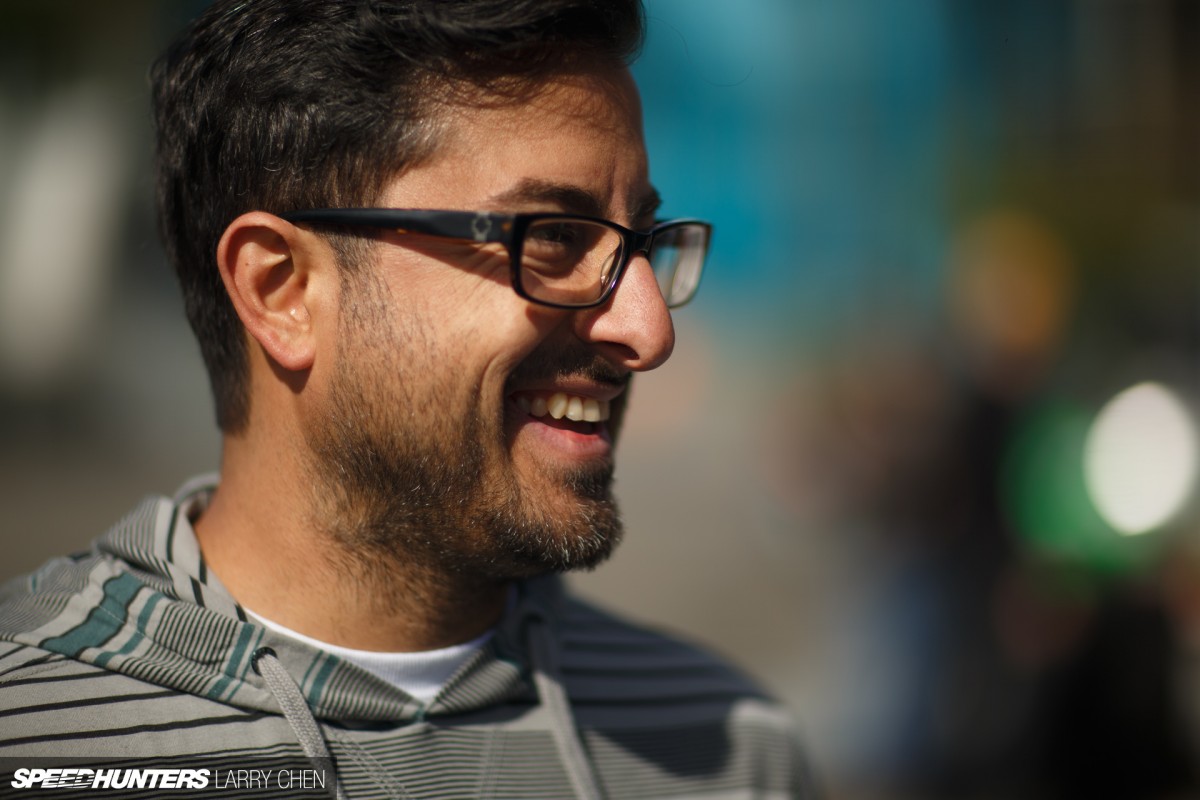 Michael Essa: If teams have the budget to change all the parts they need to – axles and trannies and all that stuff – they're probably going to run away from the rest of the field. But their cars won't be reliable.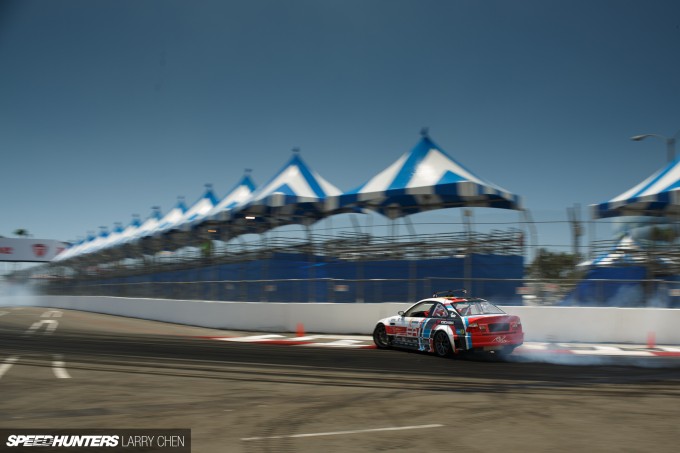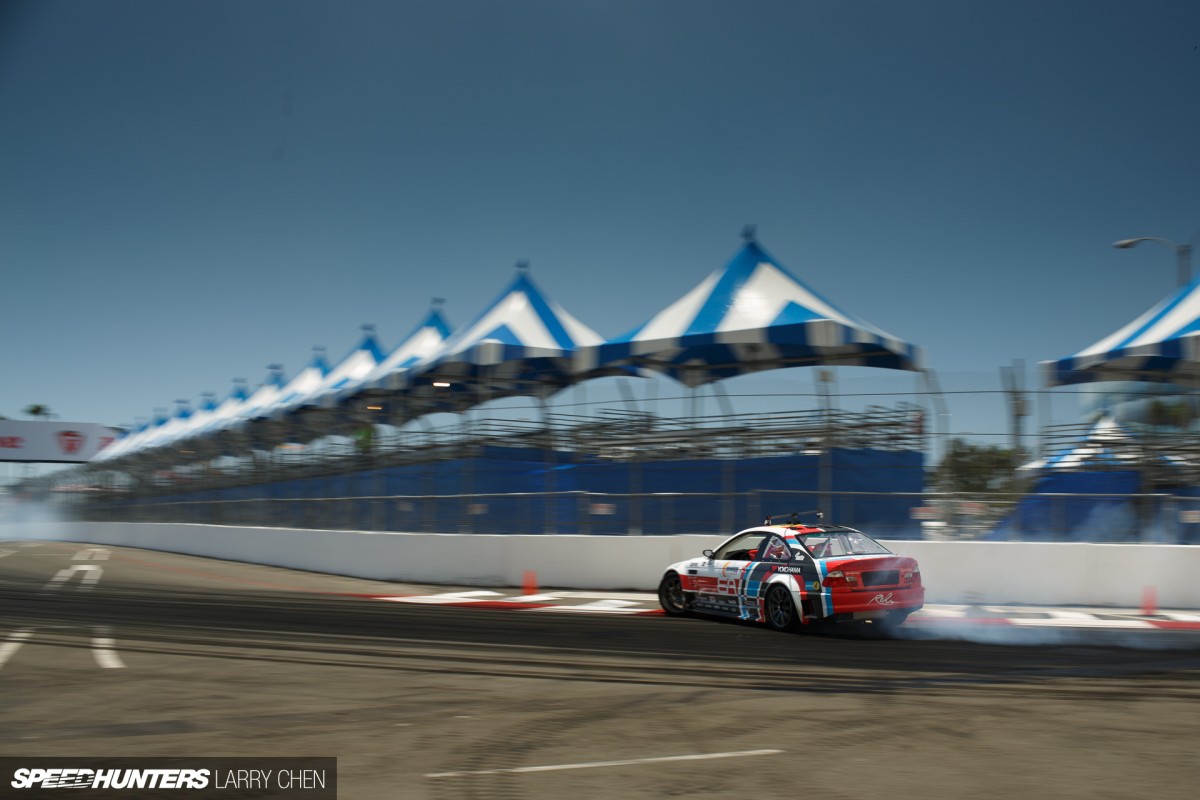 Michael: Right now I decided to keep mine at around 700hp.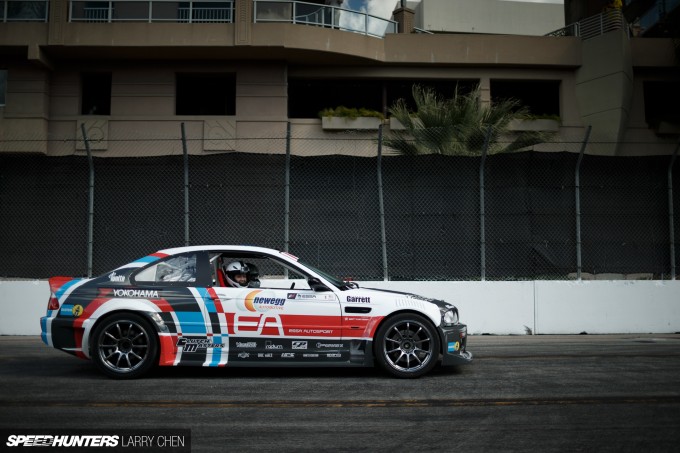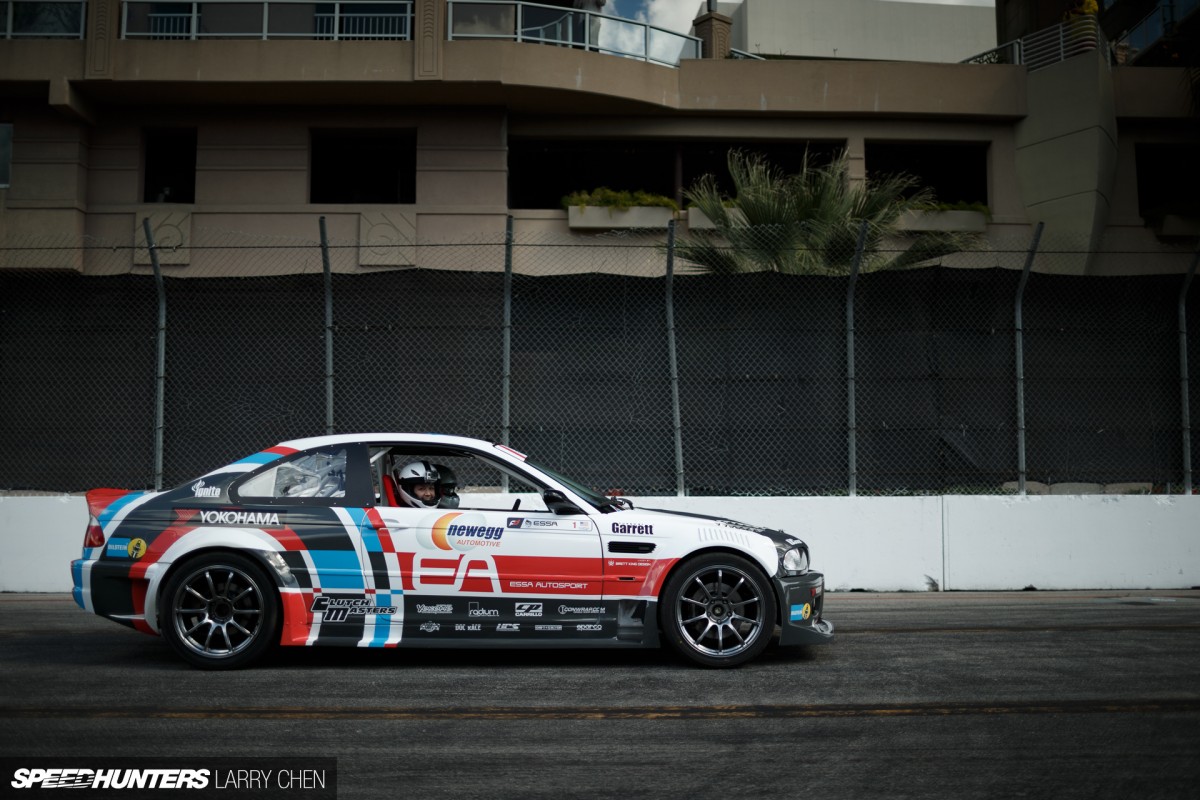 Larry: So you don't need 1,000hp to be competitive?
Michael: No, I think I proved that last year. I mean, I had 700hp and I won the championship. So yeah, the guys are getting a little carried away.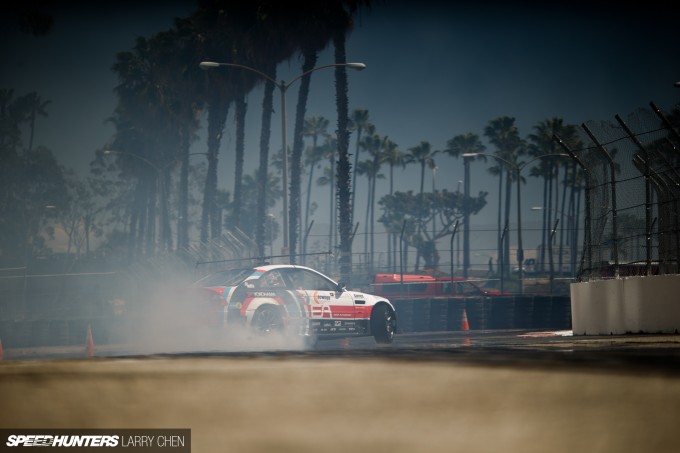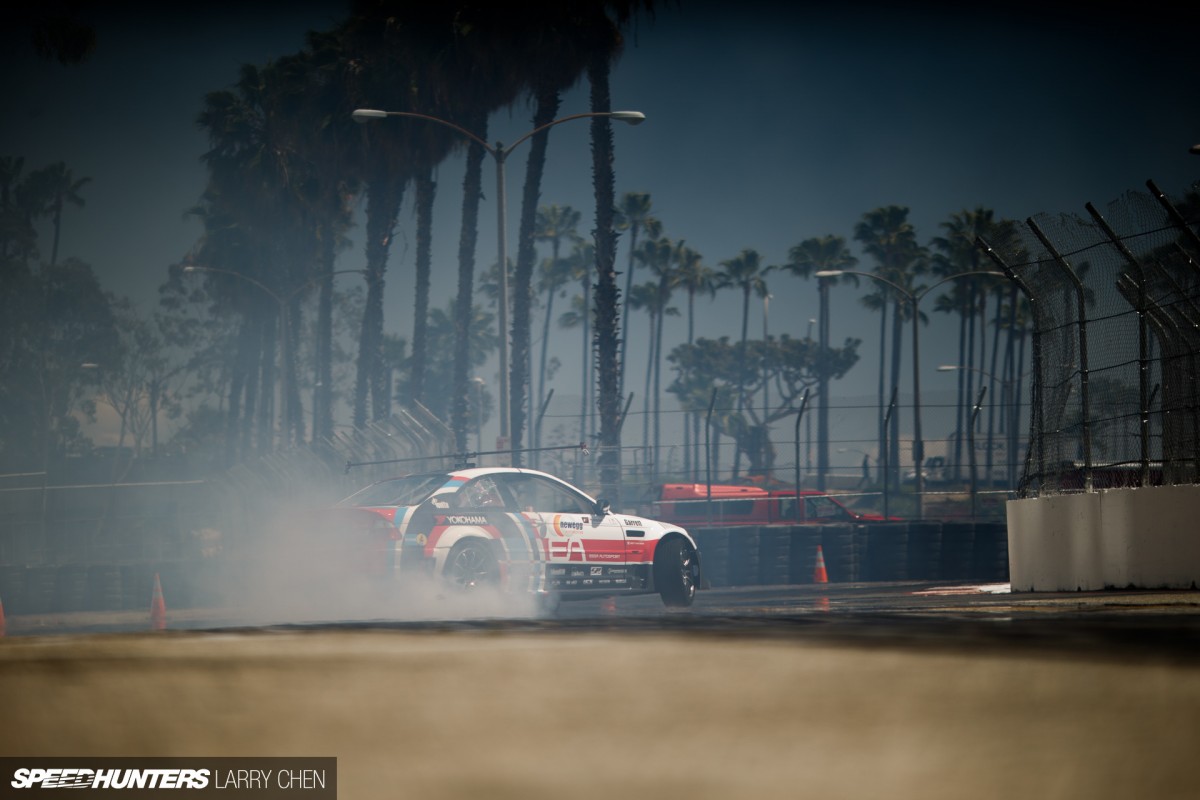 Michael: I think that suspension setup is a little more important than all-out power.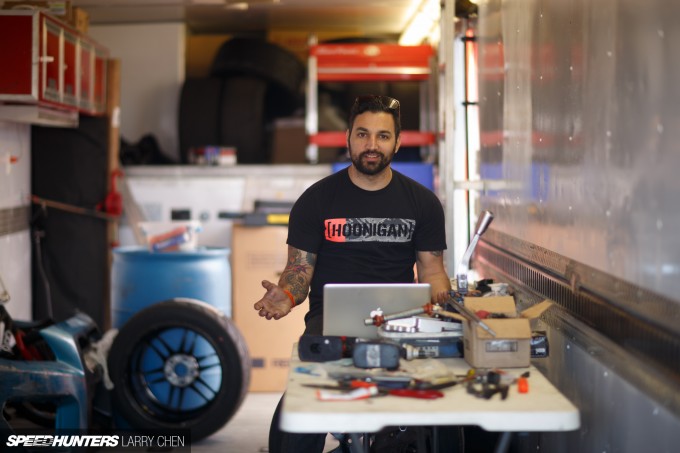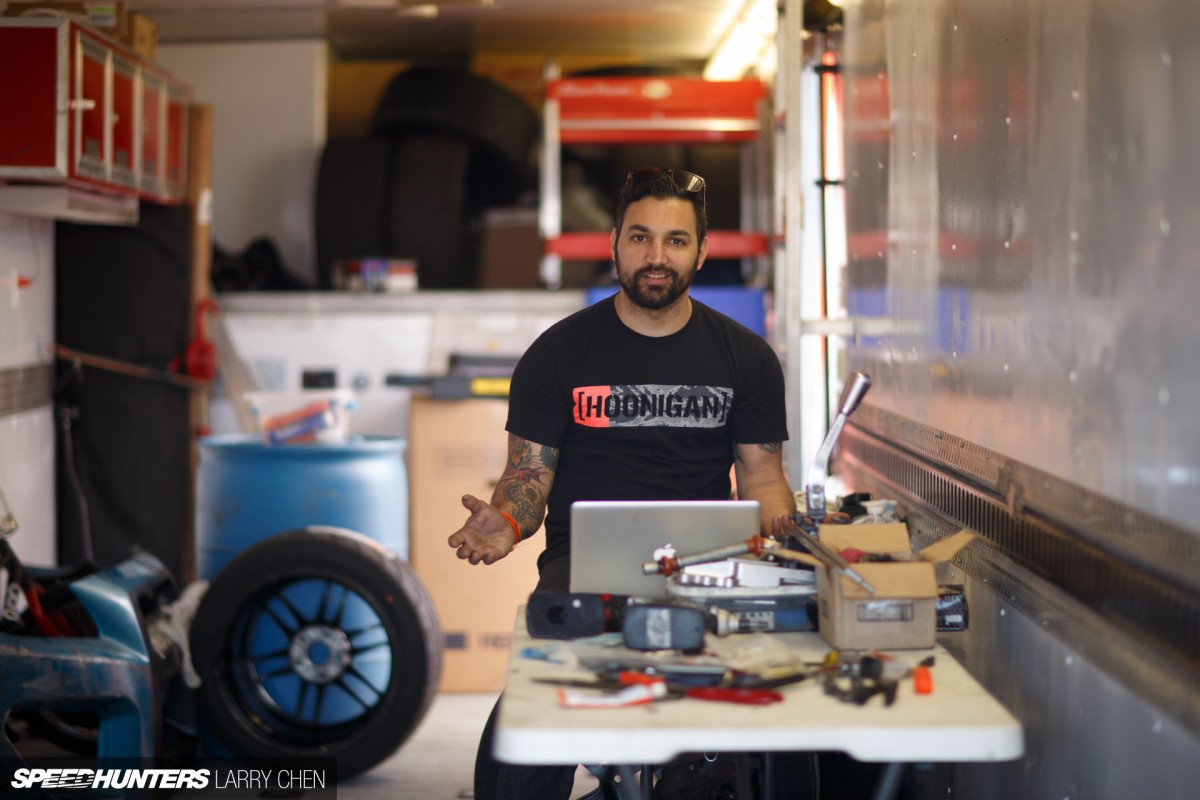 Tony Angelo: I'm like at 3,800hp on a cold day. Something like that. Around 3,000hp when it's warm out. I don't know, you just gotta do what you gotta do to keep up with everybody else. Forsberg, I think he said he's making like 7,500hp so it is what it is. I'm trying to do my best with a four cylinder.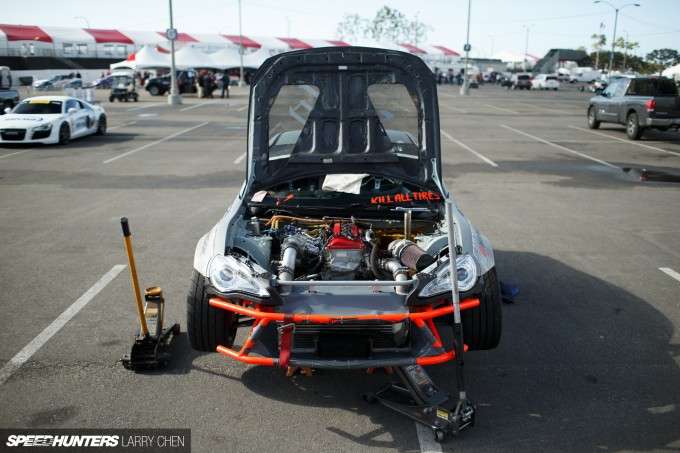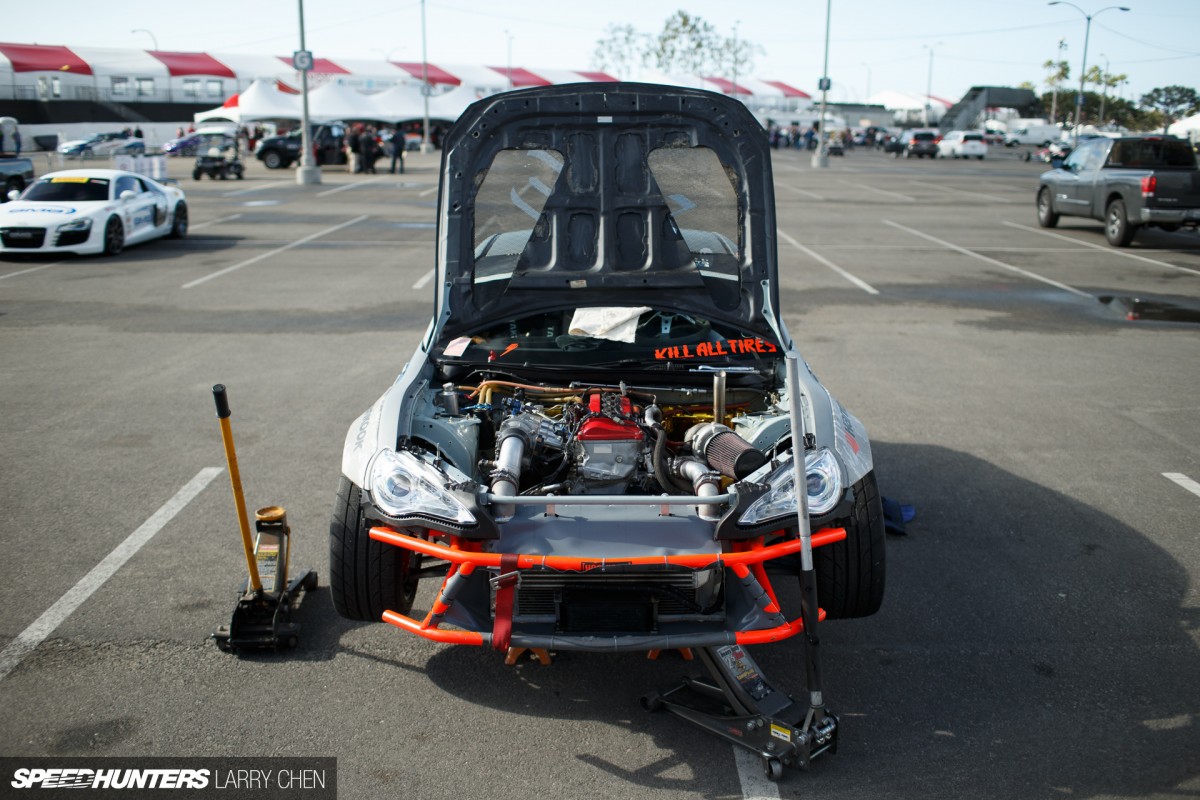 Larry: What do you think about the guys running 1,000hp then?
Tony: They're out of their minds! It's like bringing a plastic knife to a gun fight. You know what I mean?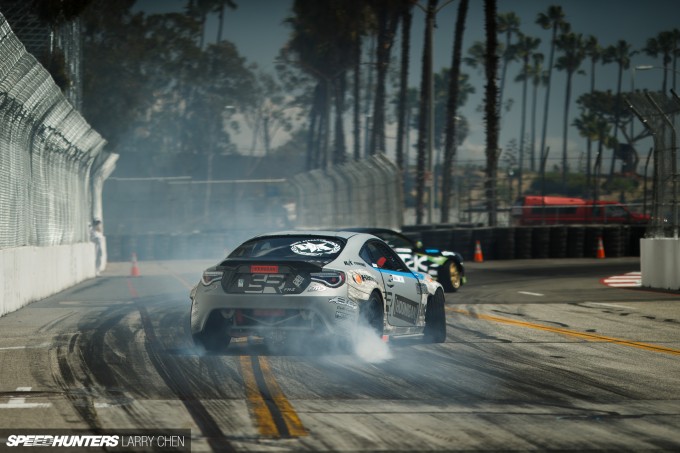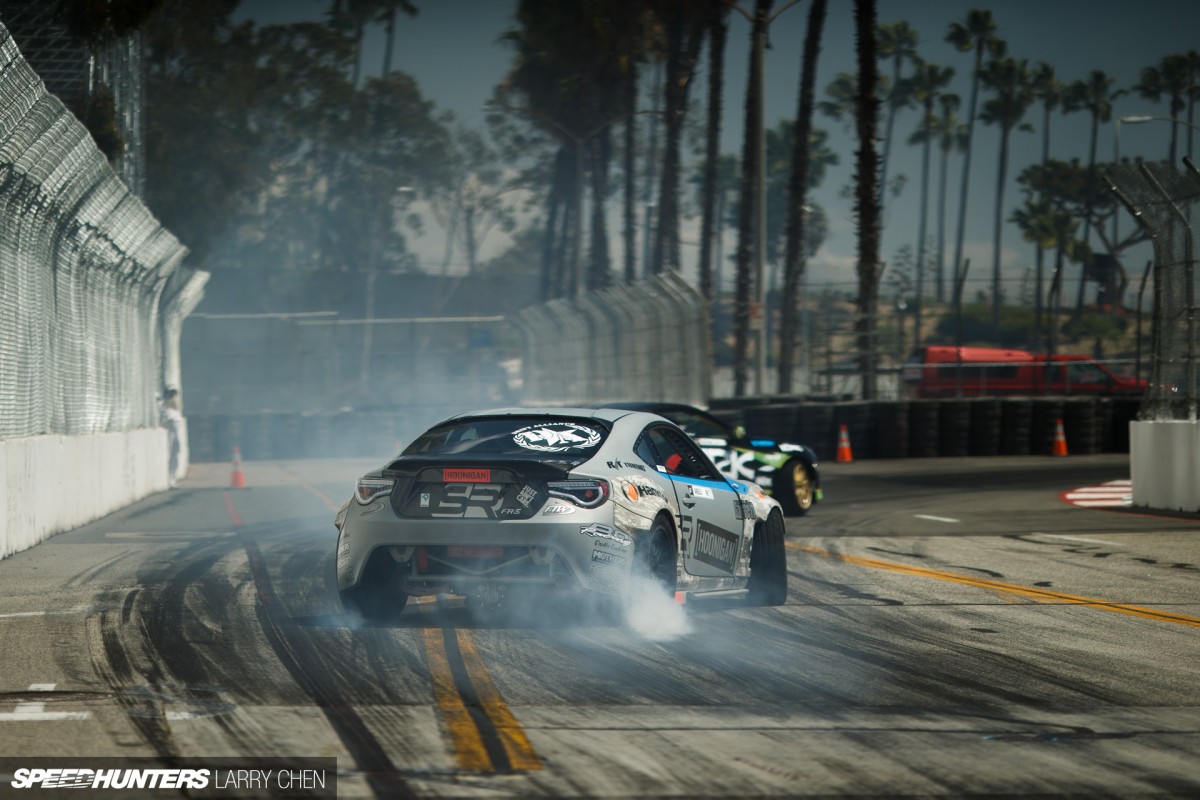 Larry: So what are you looking forward to this season?
Tony: I'm looking to get my first podium finish. Hoping to get that third place without actually having to drive. I'm sure that will be really rewarding if that works out. That won't be a huge let down or anything.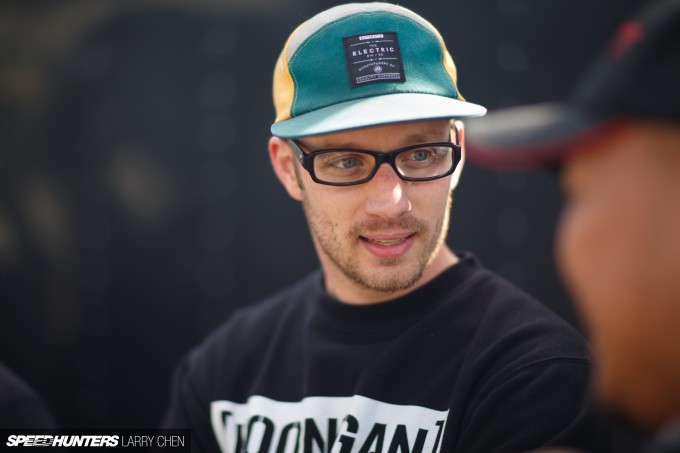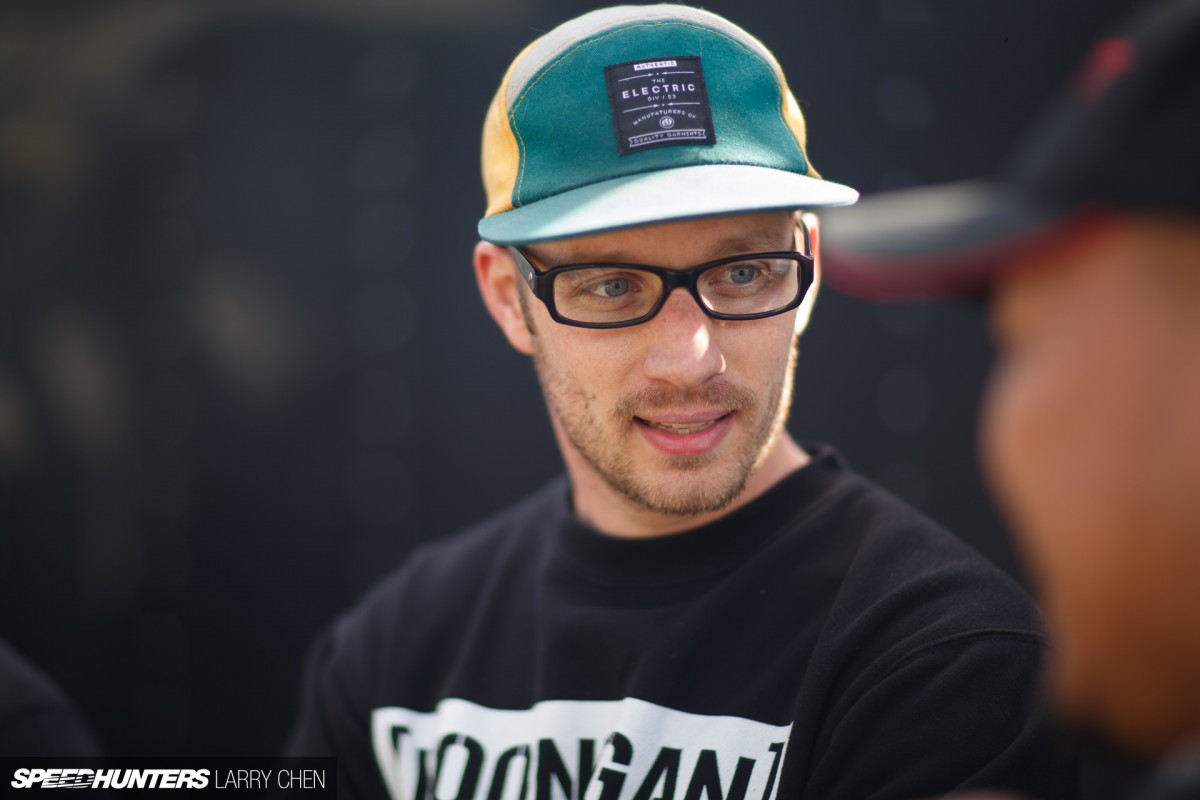 Ryan Tuerck: The horsepower war? There's a war? What kind of a horsepower war? I thought it was a war of torque?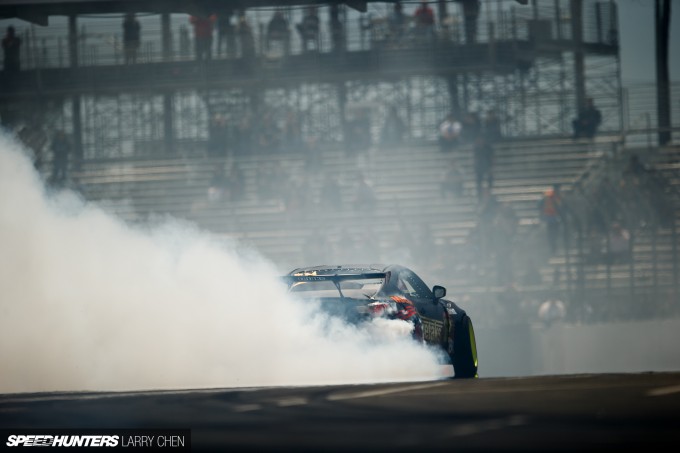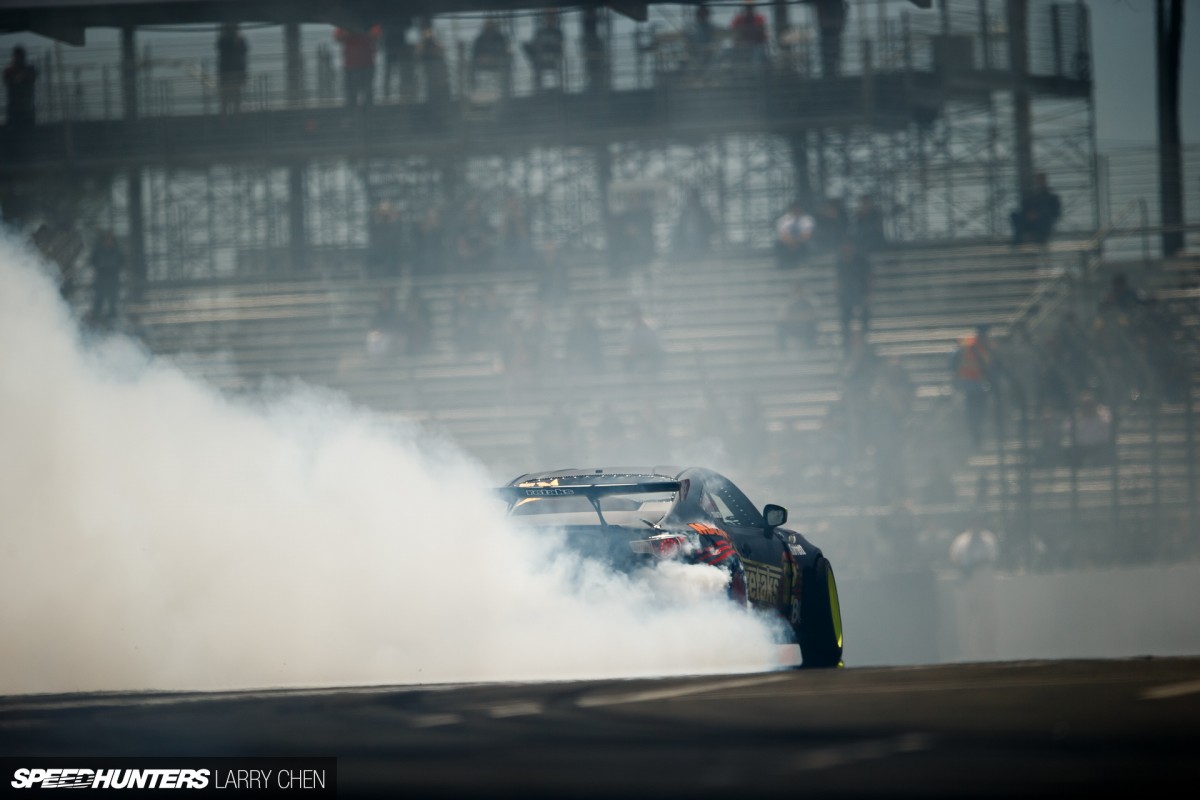 Larry: Well, Tony Angelo said he has 3,800hp on a cold day.
Ryan: That is a lie! I don't know, I think everybody is trying to go through their allotment of tires in one event these days with all this horsepower going on. But they're going to be screwed because they're going to run out of tires and they're not going to be able to run the rest of the season.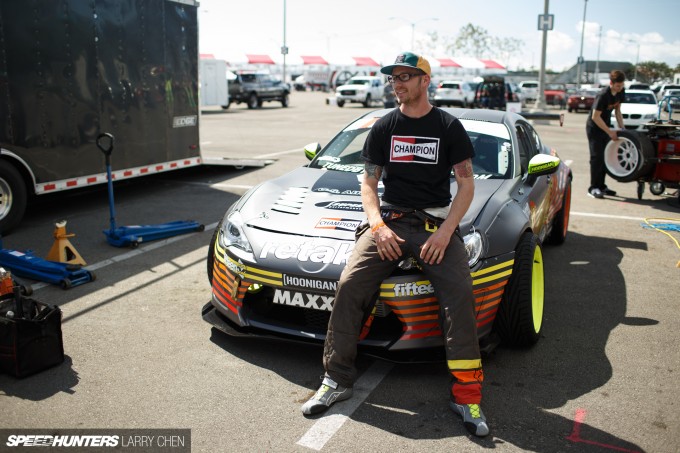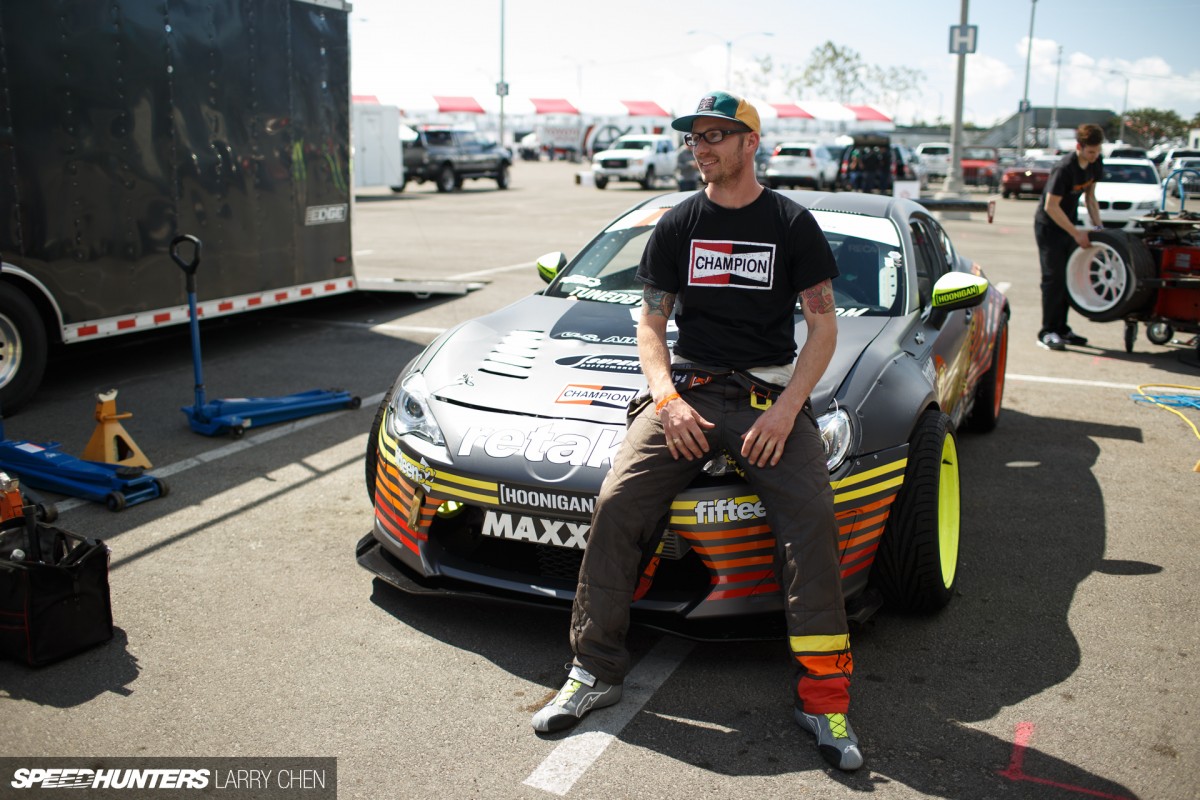 Larry: What if they have a tire sponsor?
Ryan: What if they run out of their tire sponsor allotment?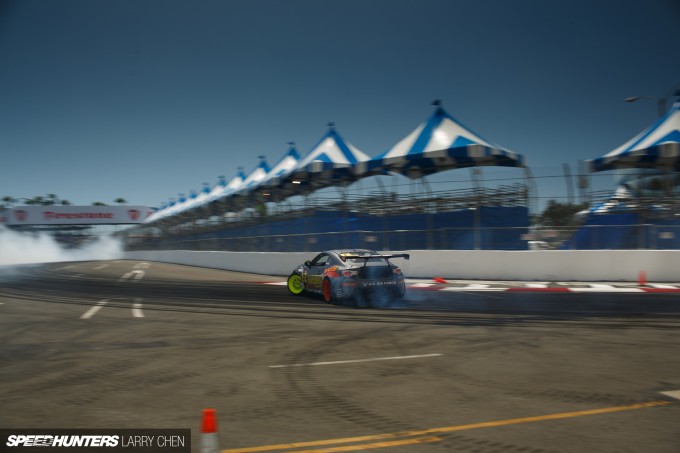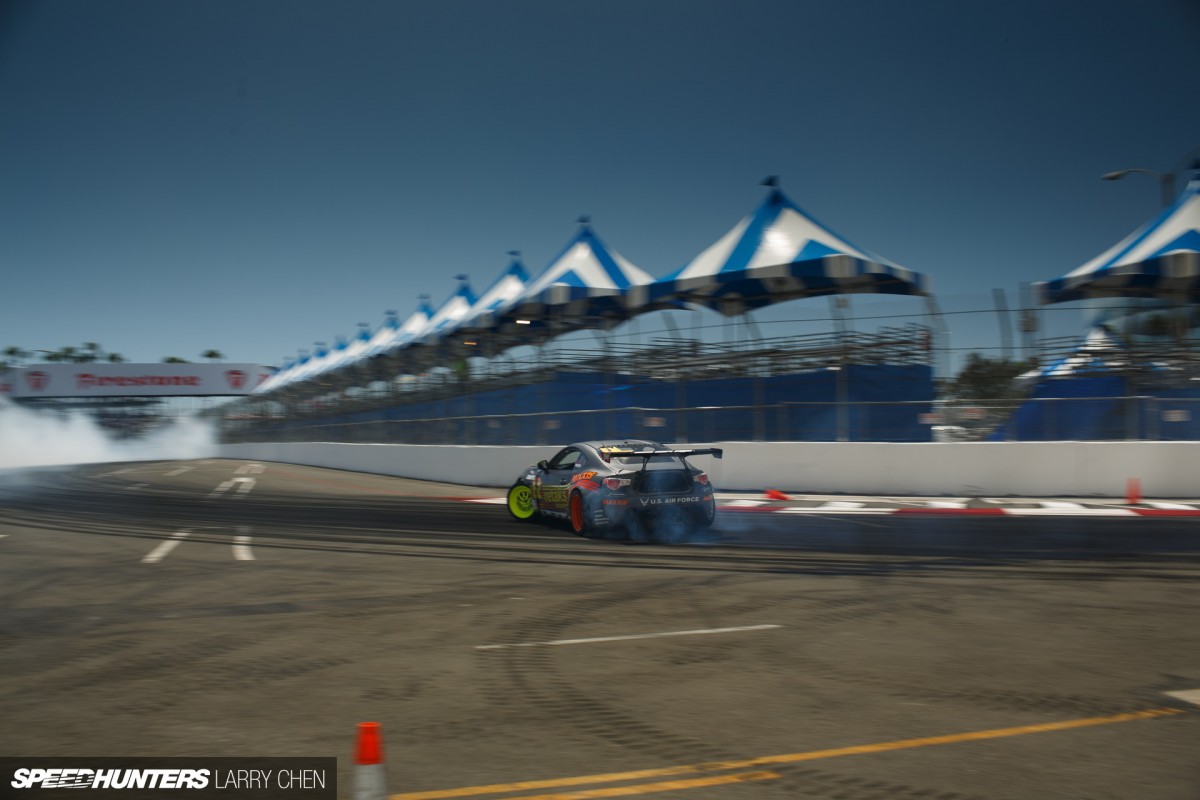 Larry: That's true. So you're just thinking that's the strategy?
Ryan: There is a strategy to the horsepower war. You want to be on that higher threshold, but then you want to be able to tone your driving style down a little bit. I think. I don't exactly know.
Oh, that war!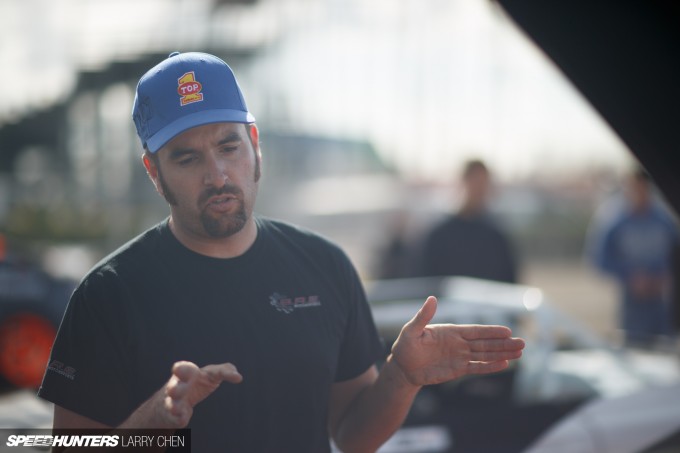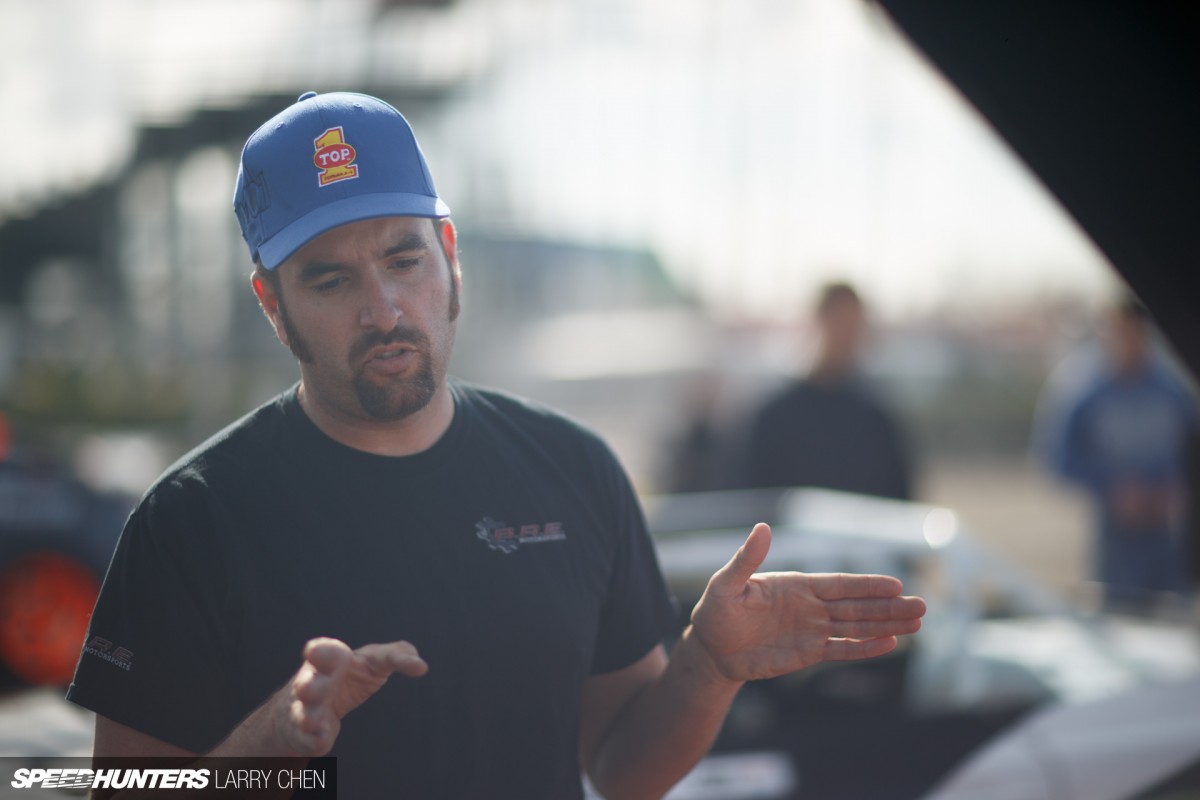 Conrad Grunewald: I think it's inevitable. I'm still lower than most people. I'm 624 at the wheels, but I know we posted the highest entry speed in Texas with the same power. I think everyone should go for as much horsepower as they can. I think it sells tickets. But like I said, it's inevitable. We haven't even scratched the surface of where the horsepower will end up in this sport. I think we're going to be double where some of the top guys are now, at the end.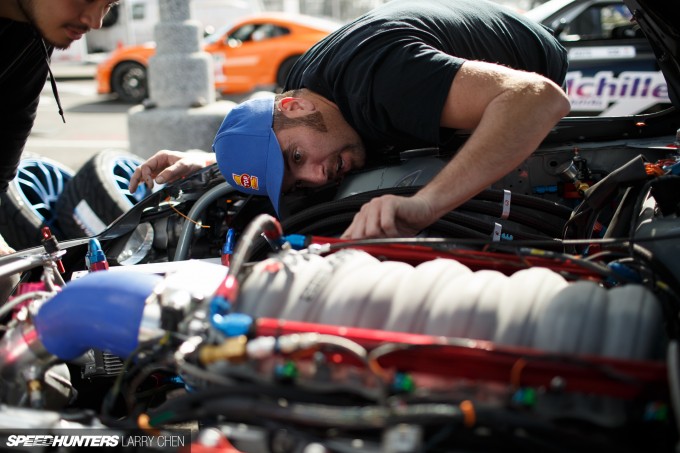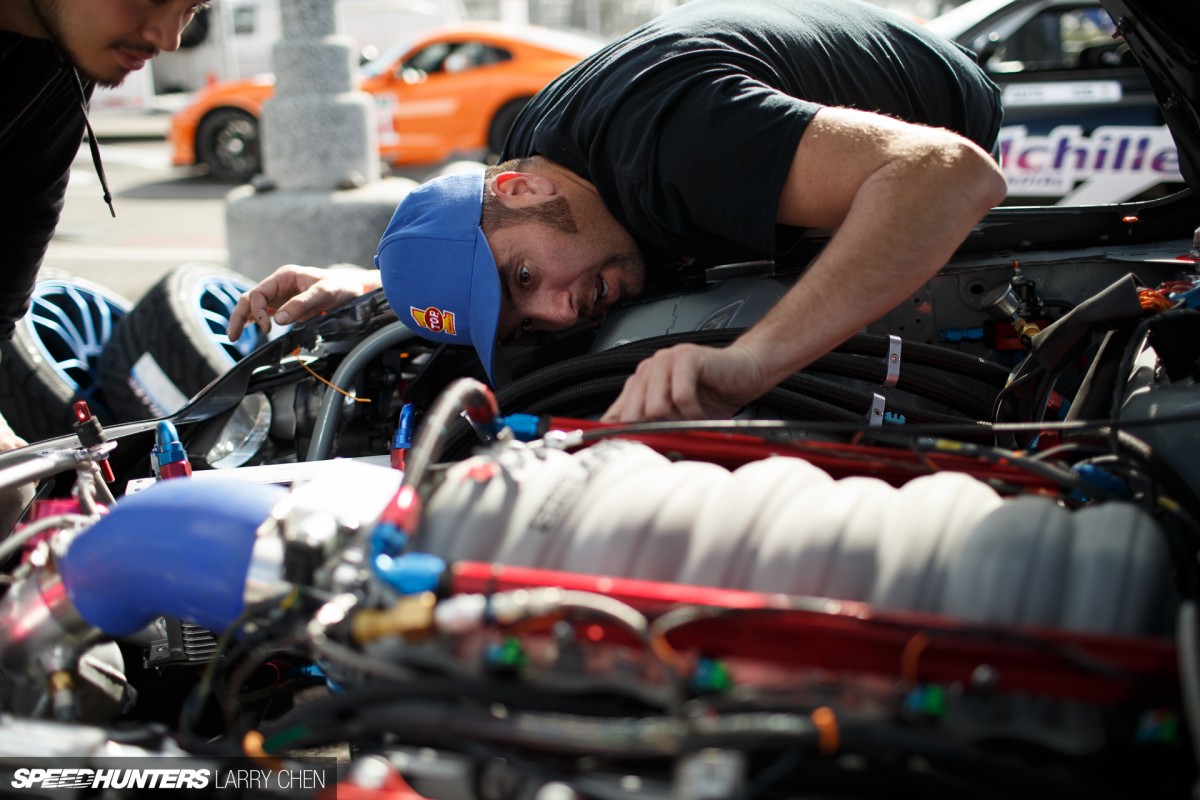 Larry: Wow! So your program this year?
Conrad: Until people are pulling away from us at all the tracks, we're probably going to stick to what we've got for now. Our trade off is, if we want more power, we have to add a lot more weight. But I'd rather have light and old car, 'cause I've driven heavy cars and I don't think they're as competitive. I'm stoked for it, I think it's awesome. I think having 1,500hp cars is cool, I think 3,000hp is even cooler.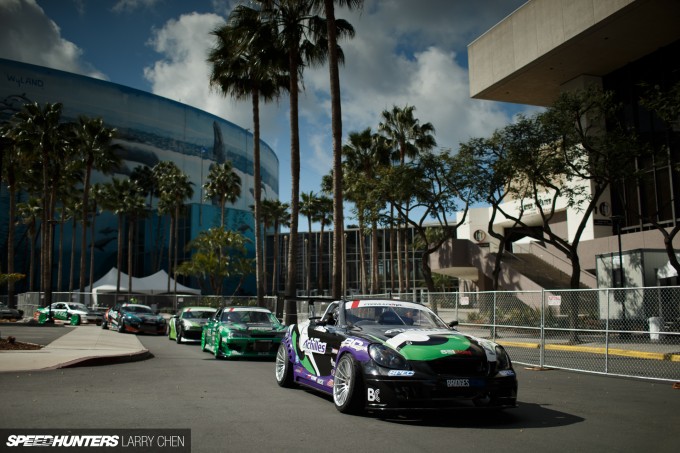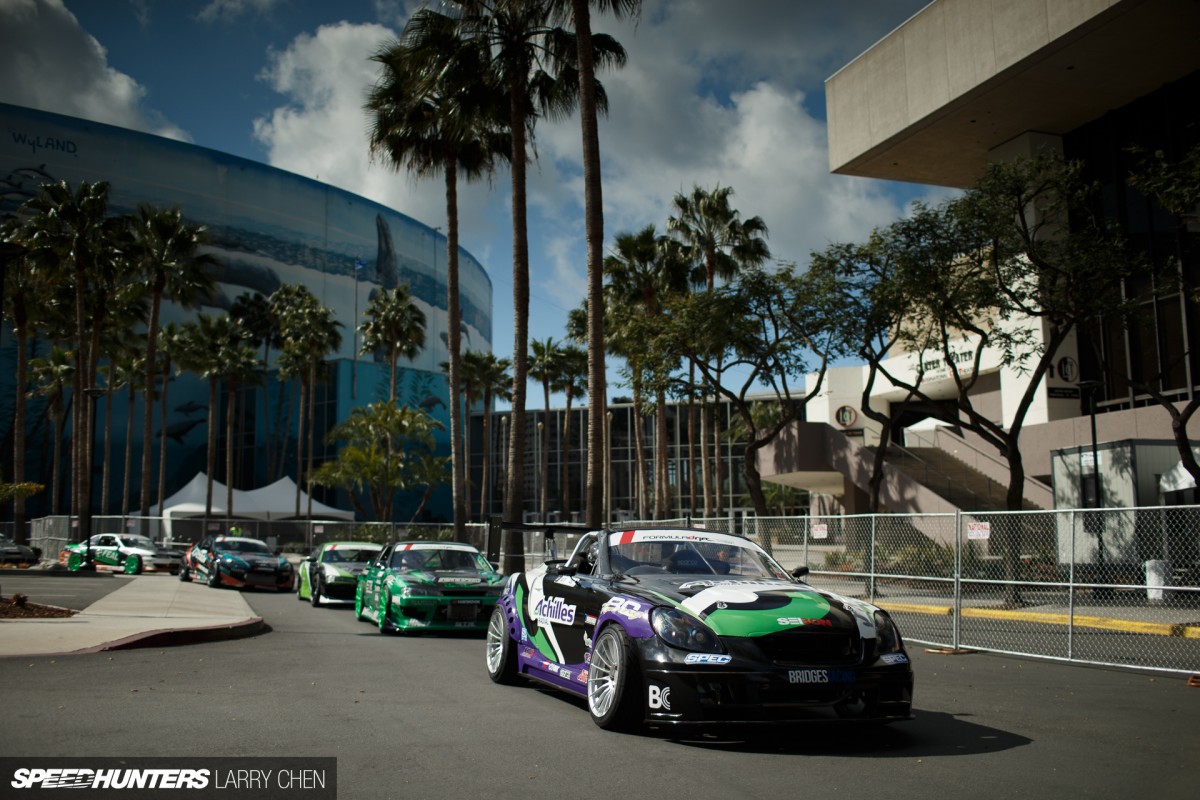 Larry: That's crazy that you think it's cool that your competitors have more horsepower than you. You're still keeping up though…
Conrad: The only tracks that we've struggled at is at the two big ovals – Irwindale and Seattle. I take grip away from the rear of the car in order to drift. At all the other tracks – especially with the new car – I think we're one of the fastest. Maybe not the fastest, but one of the fastest cars, and we by no means have the most power. I mean, we were 624hp, and like 541 torque at the wheels with a naturally aspirated 427. So yeah, it's still a game of trying to get more traction.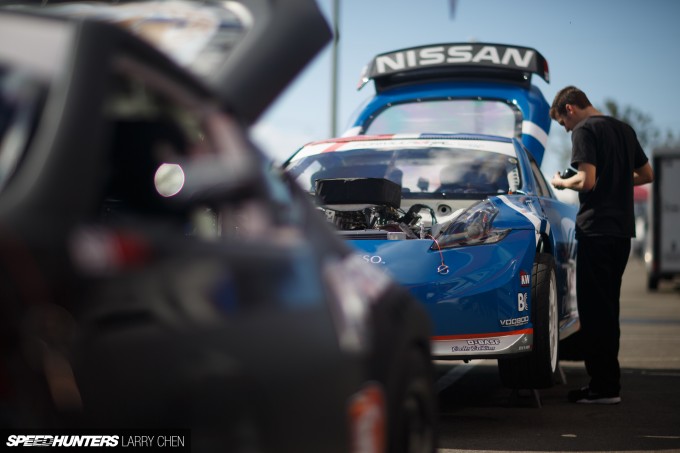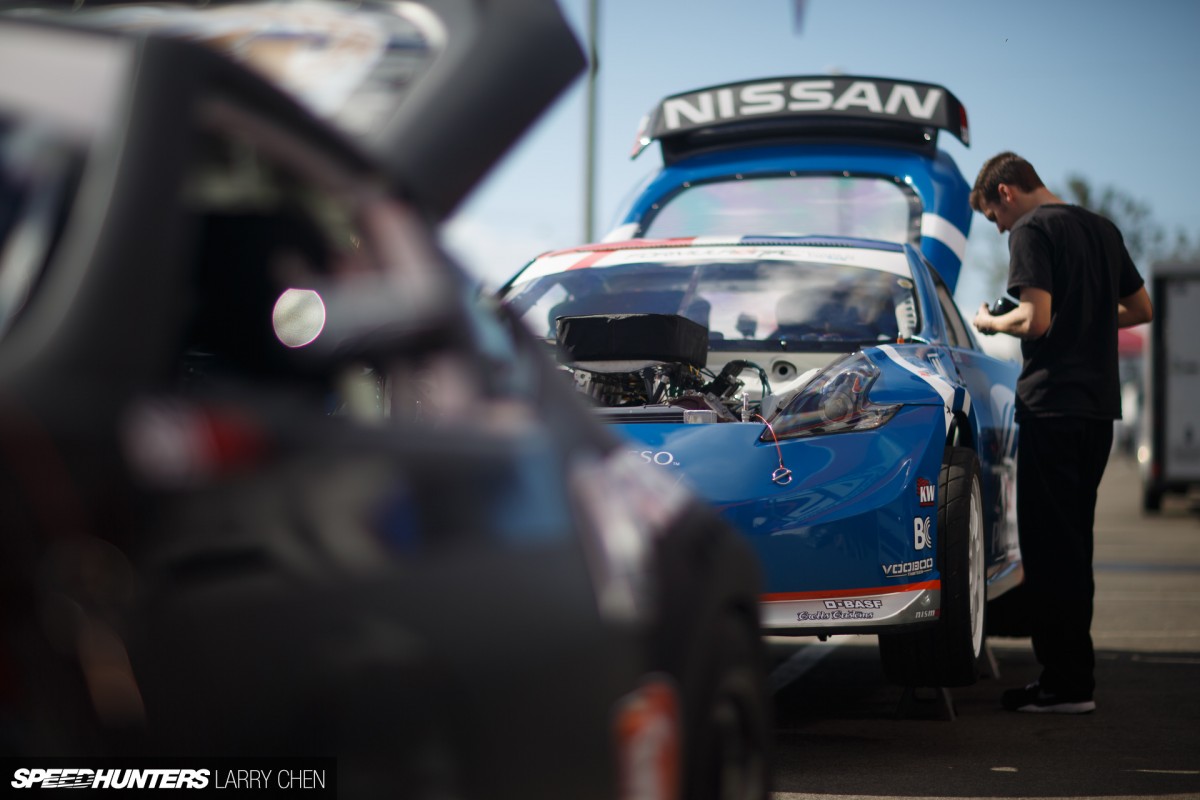 Conrad: I think throwing more horsepower at it is not necessarily the right solution. The thing I'm scared about is the reliability. If you have a mechanical, there's your weekend. Especially now with the points [system] the way it is…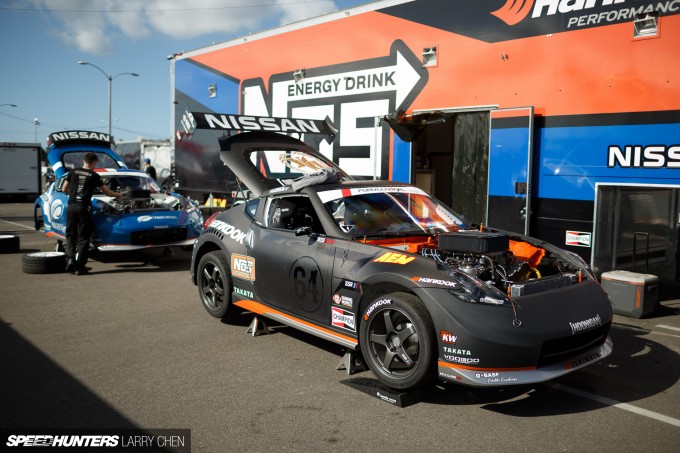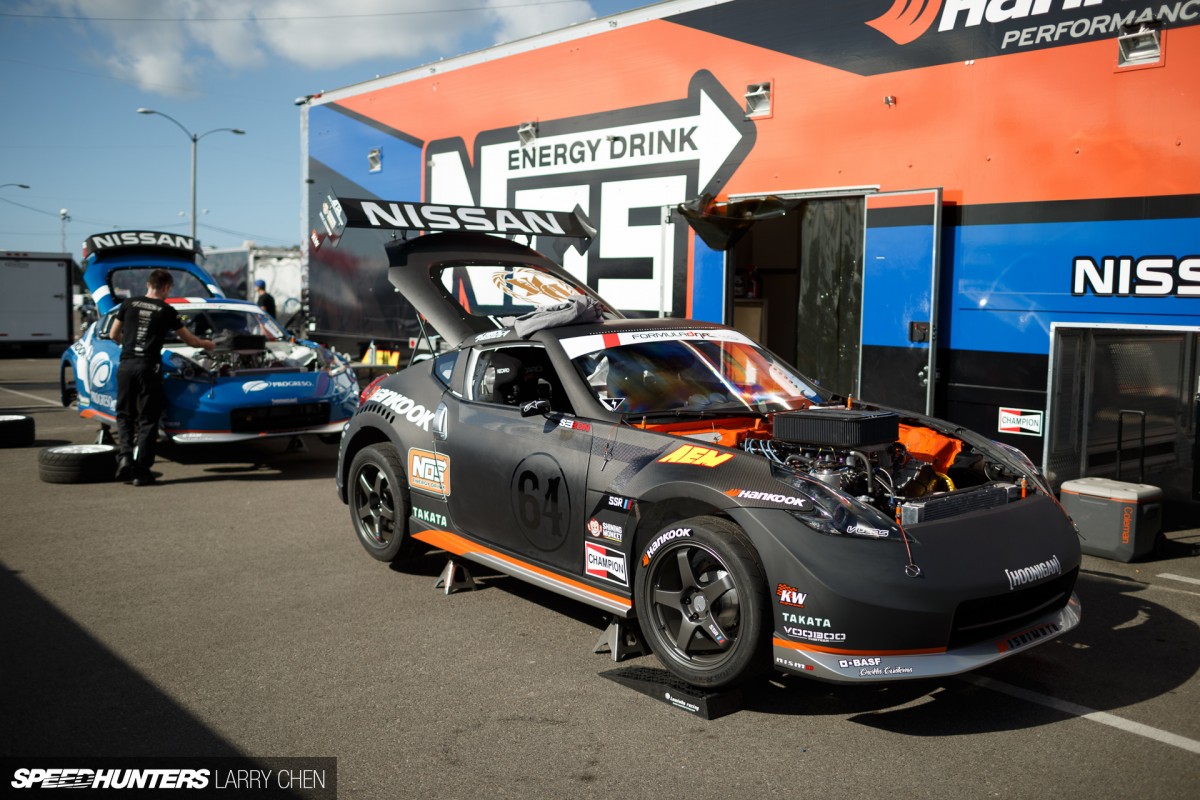 Chris Forsberg: Well, I think that it's a whole bunch of bragging rights. It doesn't matter how much power your car makes – it just matters if it's actually fast on the course.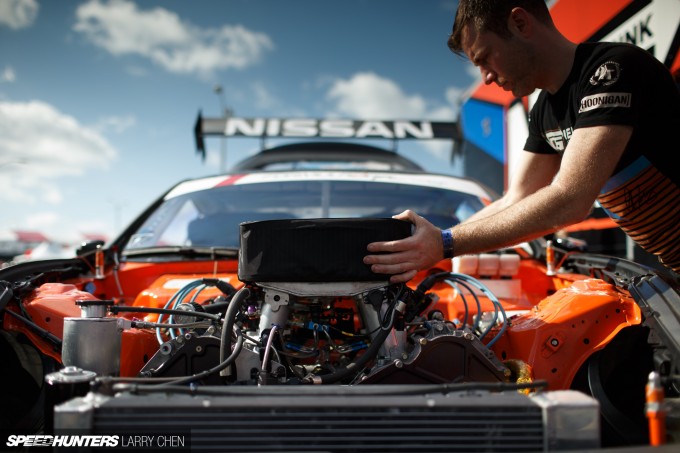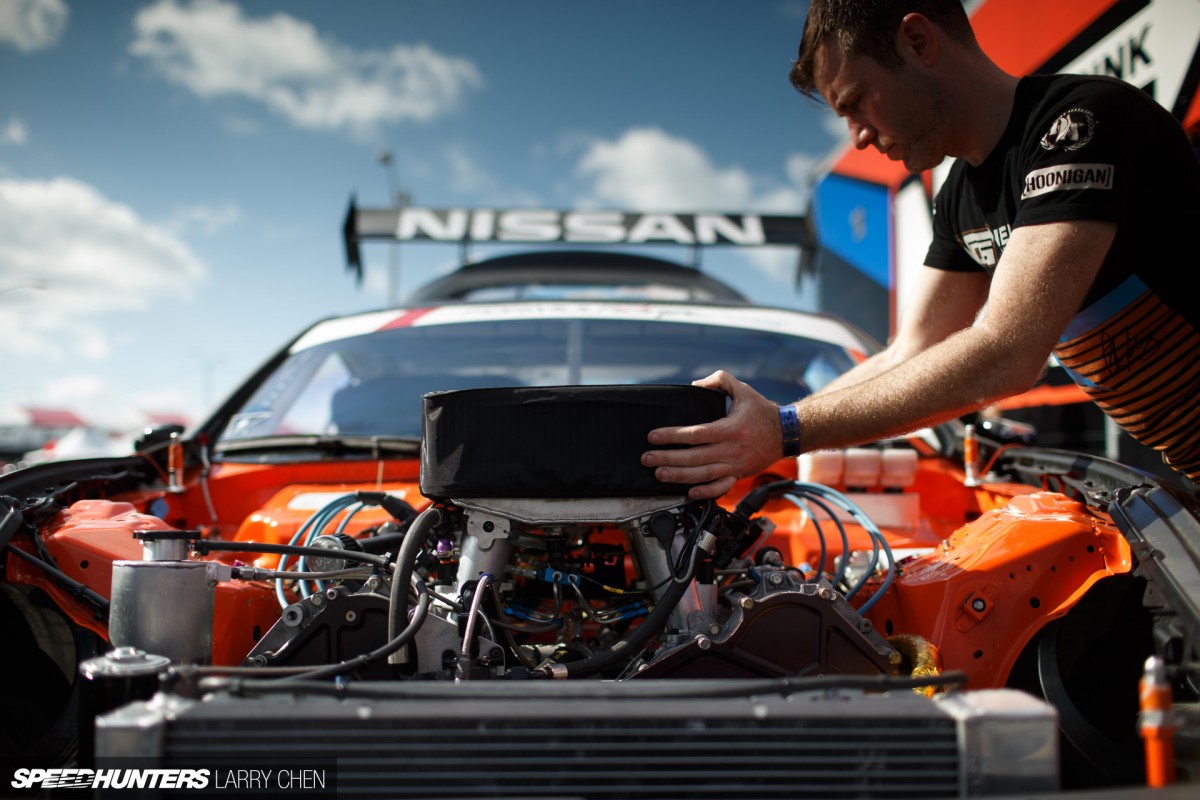 Chris: But it's fun to say that your car makes 1,000hp, just 'cause it's the next step in anything. I mean, there's no fun in saying 850hp, so everyone's claiming big numbers. I bet half of them don't even make that. But who cares? We'll see who's actually fast.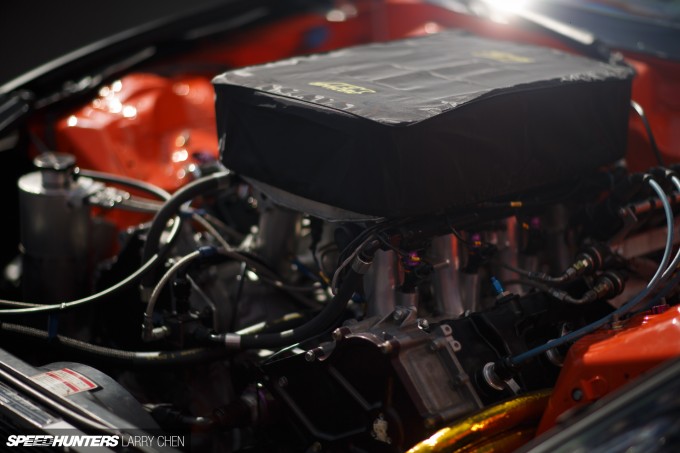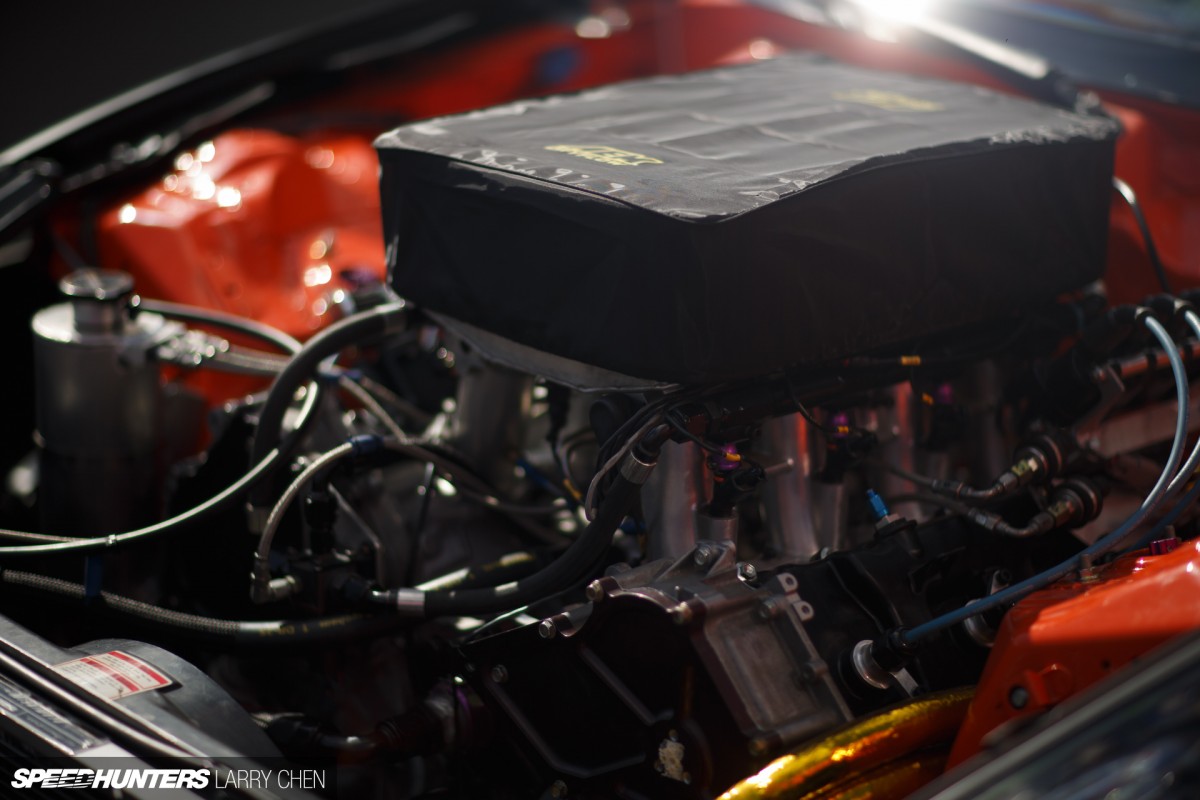 Larry: So for you, you're just going to stick with naturally aspirated? It's more reliable, or…?
Chris: Uh… no. Us idiots jumped in the horsepower game! Hahaha! We're running nitrous, but it's all in the midrange.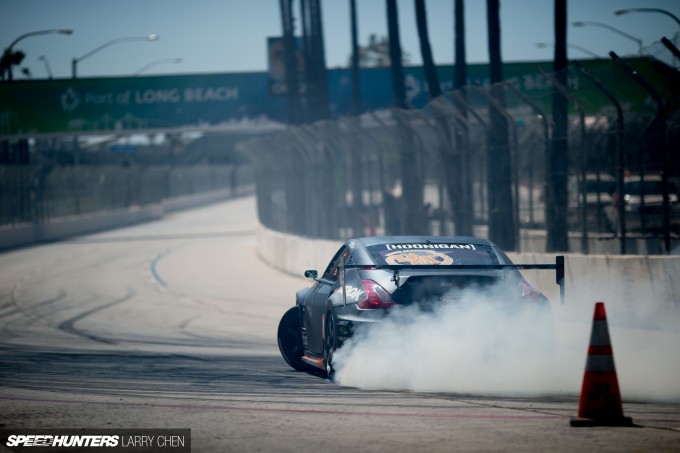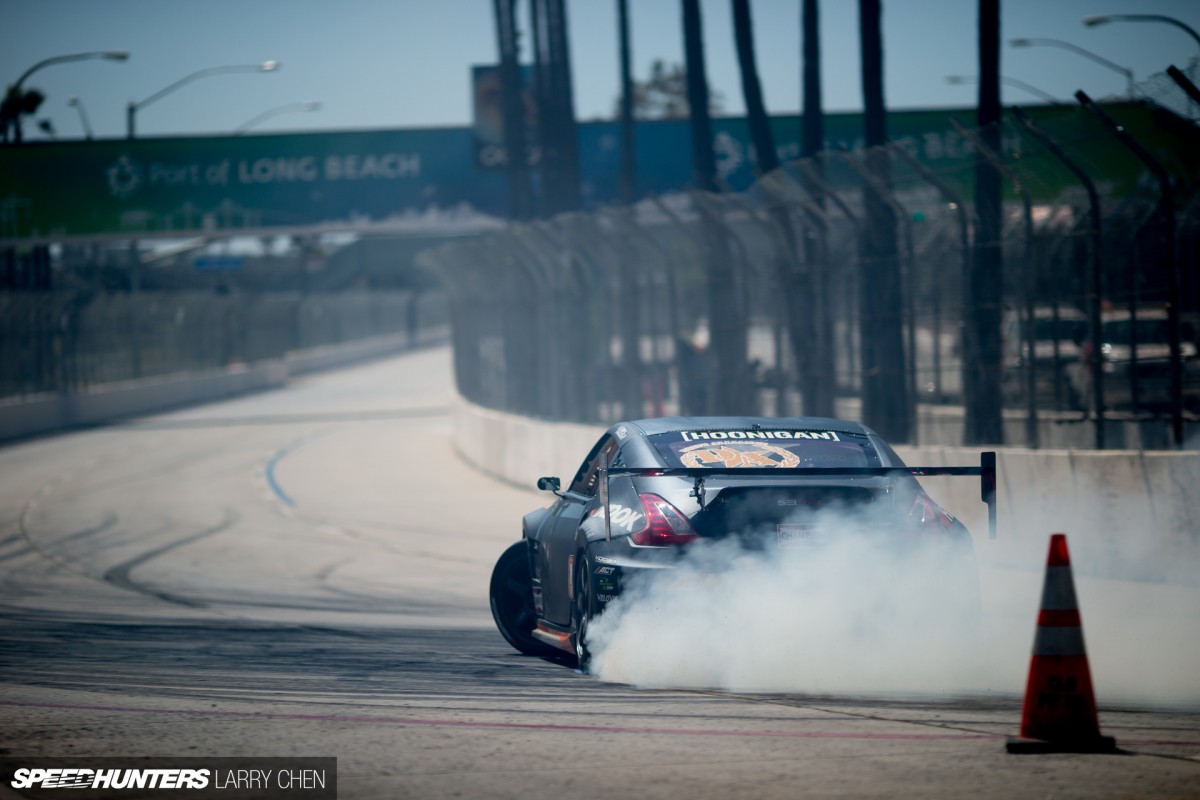 Chris: We still make about the same overall power as last year, but nitrous now helps to even further grippin' up our car in the midrange, for tandem.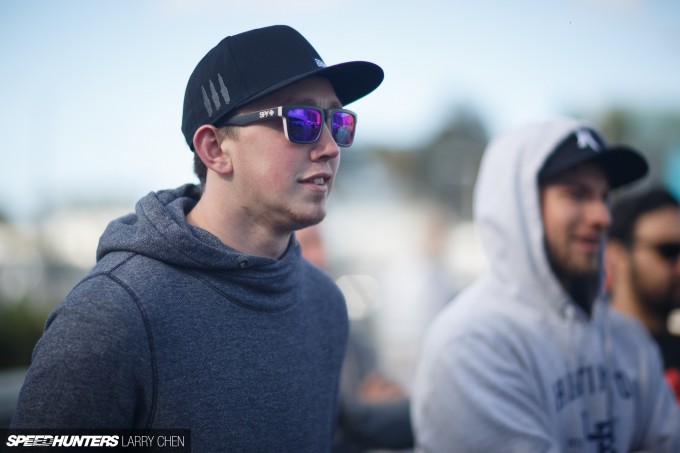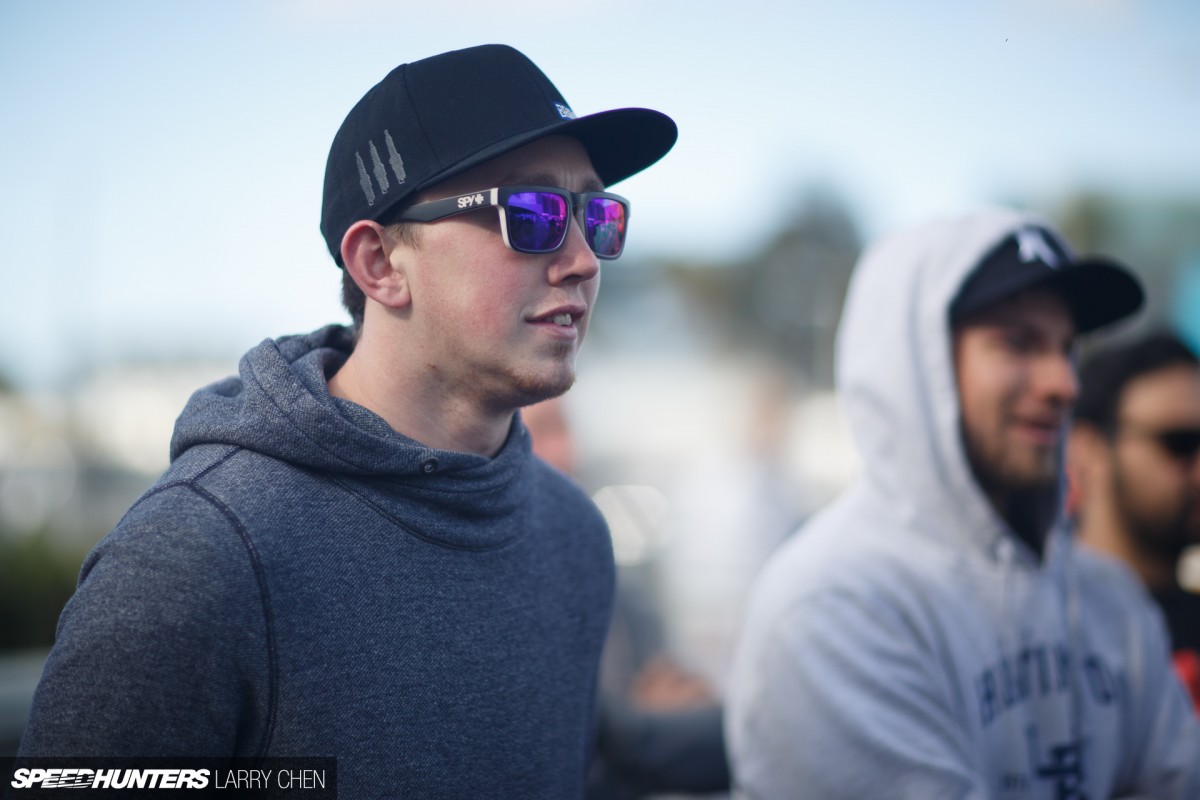 Dean Kearney: Actually, it's starting to get kind of insane, isn't it? Starting to get like drag racing now, but you're going sideways. We had to step our game up this year so we added a bigger supercharger and nitrous, and a new motor.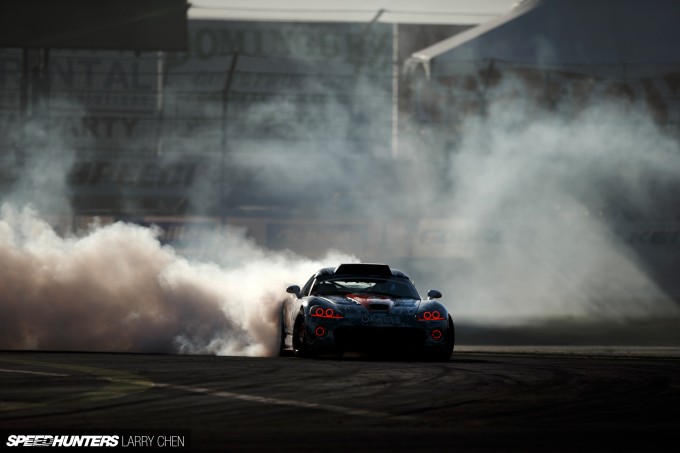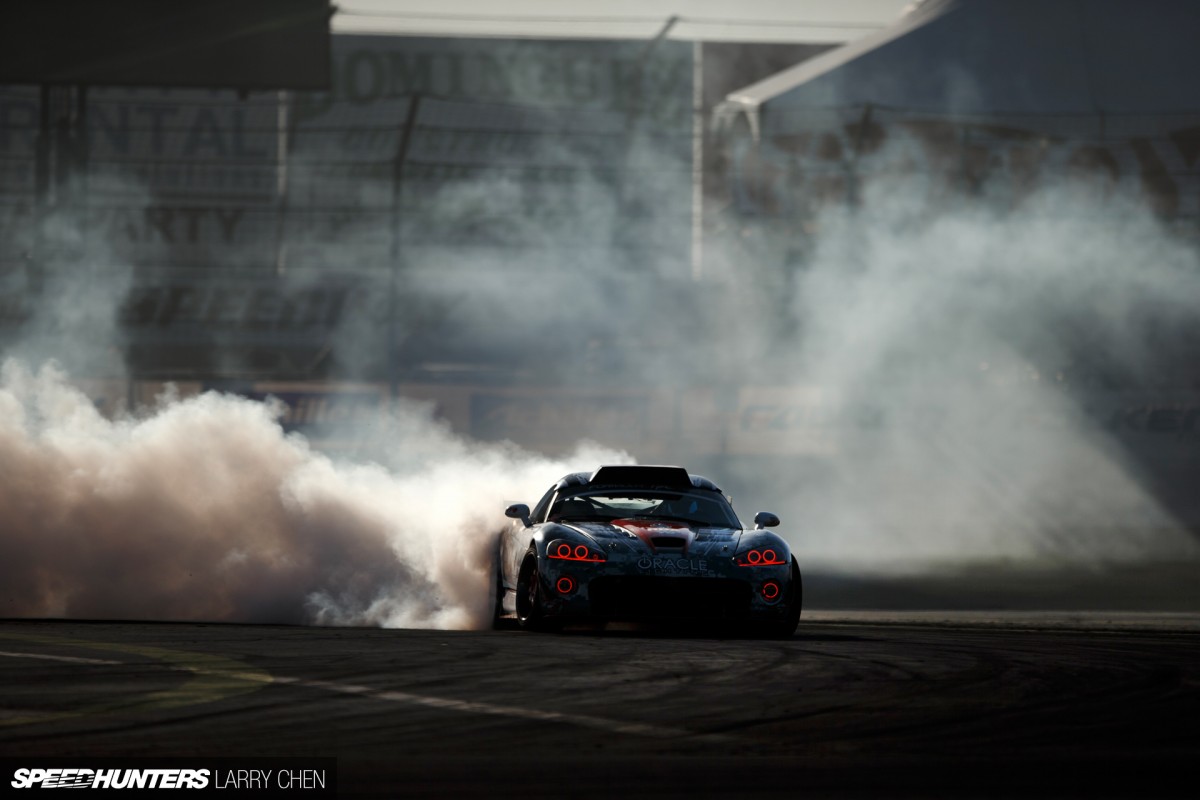 Dean: We are at around 950hp as well, almost 1,000. That's where you've got to be. Anything under 700hp, the guys at the front are just gonna leave you at the straight away.  That's pretty hard to beat.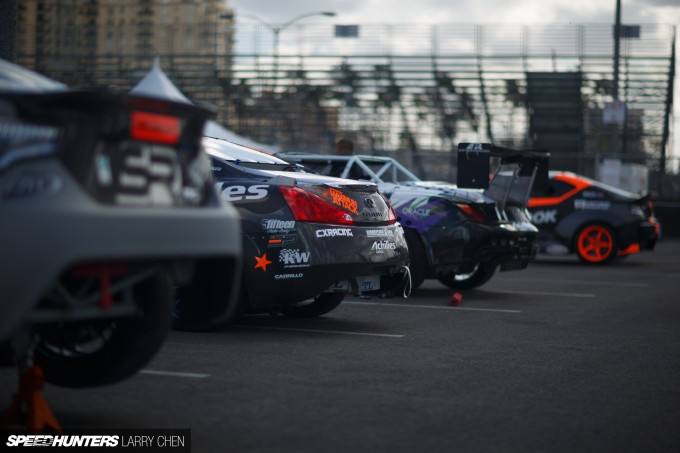 Larry: What do you think about the front runners, like Essa?
Dean: Essa doesn't have crazy horsepower numbers, but his car just works. It's so simple, it just works. The front guys like JR, I heard add more power. Chris is putting in nitrous now and Daigo is at 1,200hp.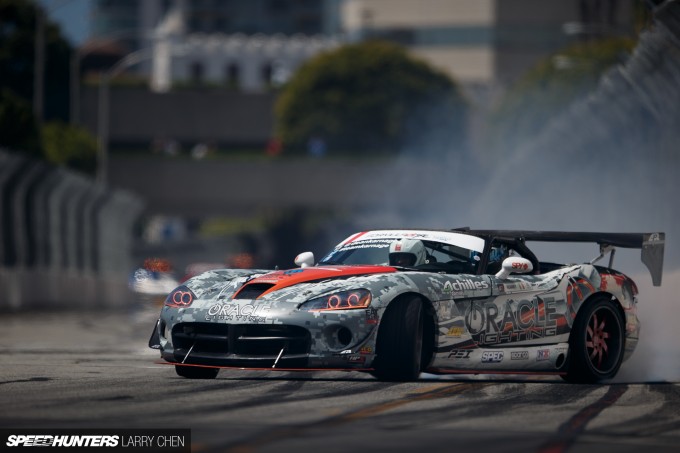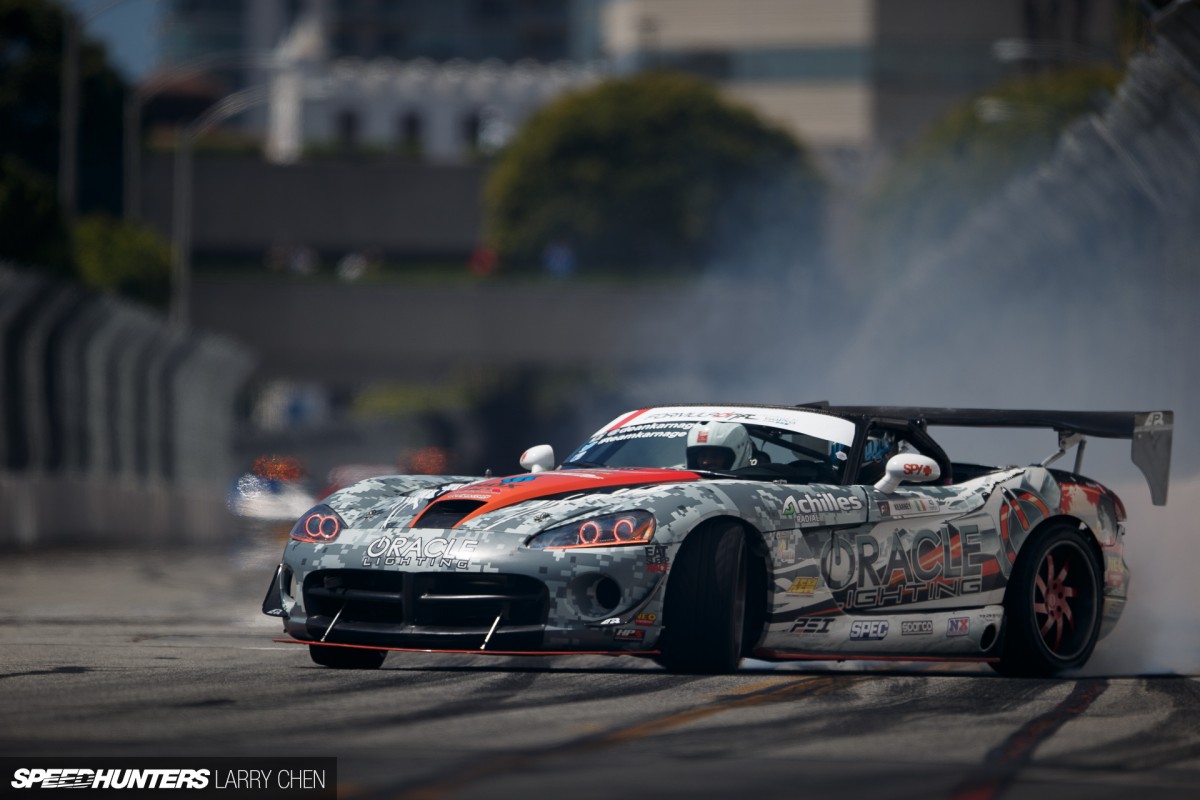 Larry: Well, he's the one who started it right?
Dean: Yeah, it's like a pissing contest, you know? You kind of have to try to stay in the game or else you're going to get left behind, 'cause this sport is just evolving so fast. But the thing is the expense.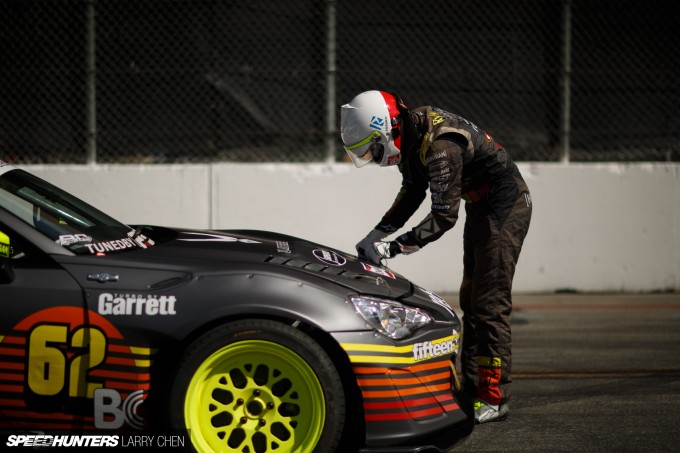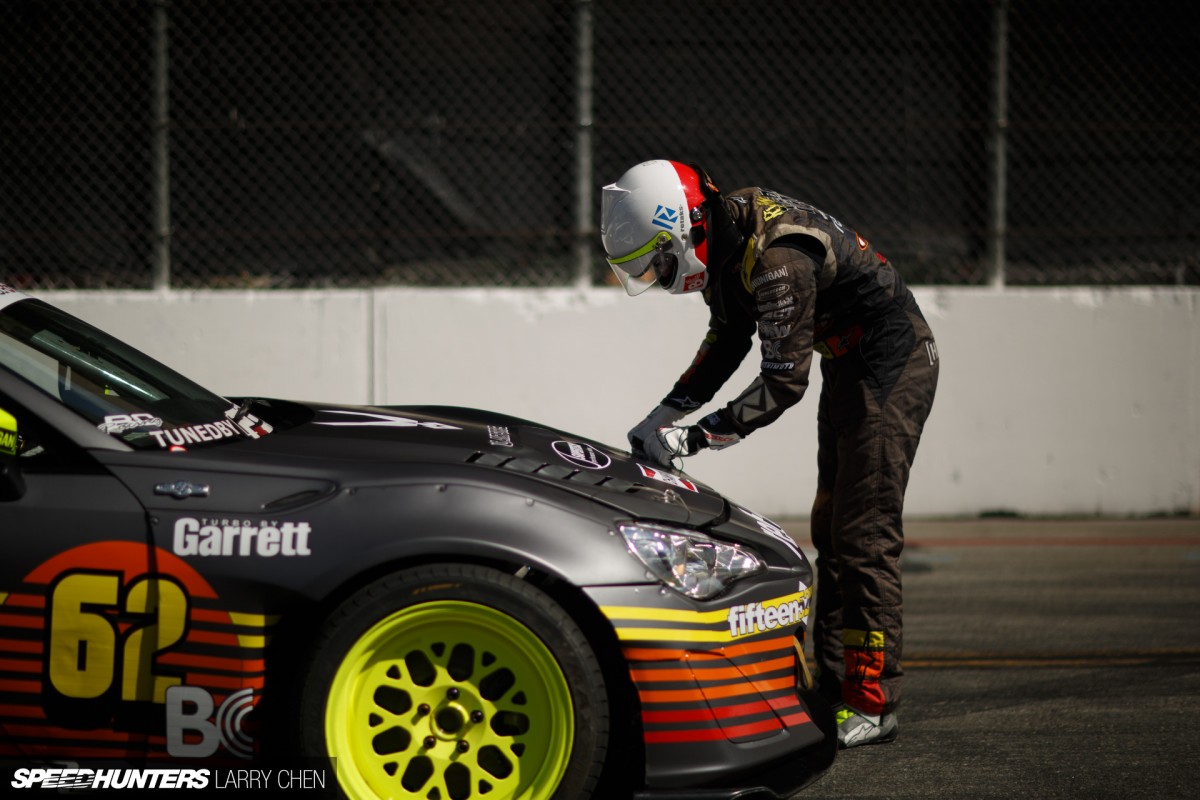 Dean: It's accessible enough to get to 700hp relatively cheap. You can do it under $10,000 if you really want it. It's the step from 700hp to 1,000hp where the cost increases three or four times. It's crazy. Fellas are here with $40,000 motors, you know. It's no joke.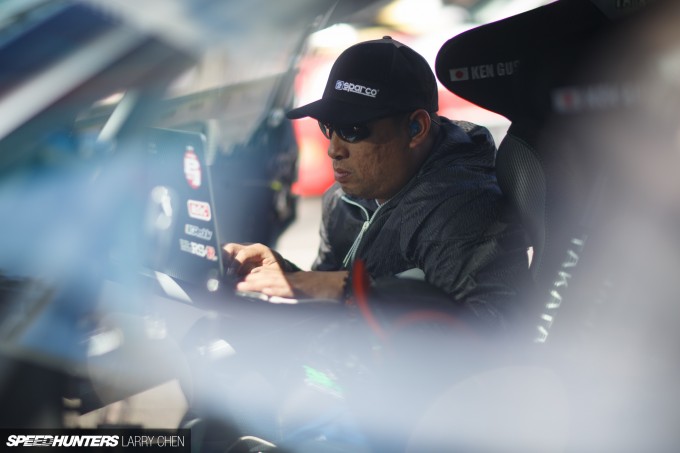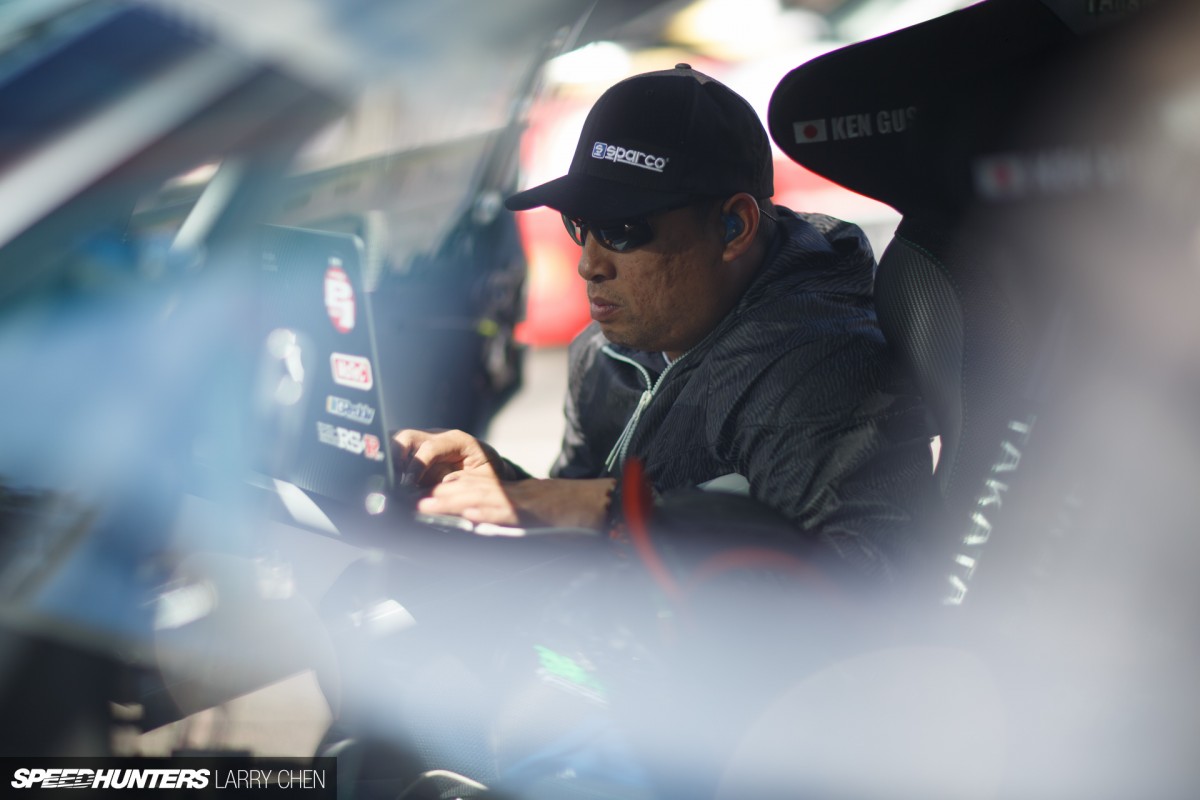 Larry: That's how much Formula Drift cars used to cost in total.
Dean: Yeah, these guys buy a chassis out of the junkyard for $200 and they but a $40,000 motor in it. It's insane, but we'll do our best to keep up.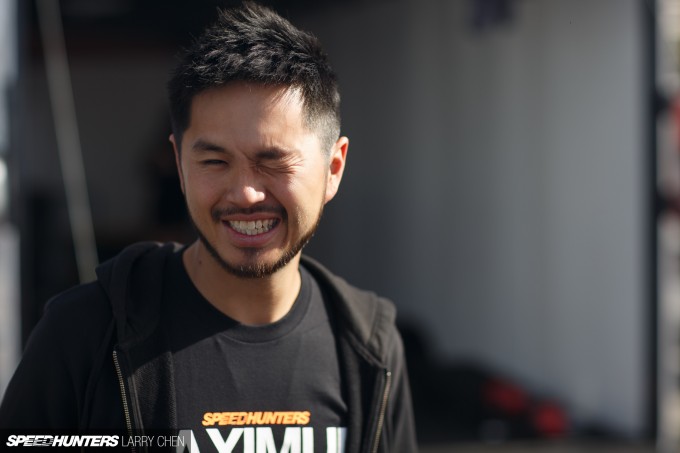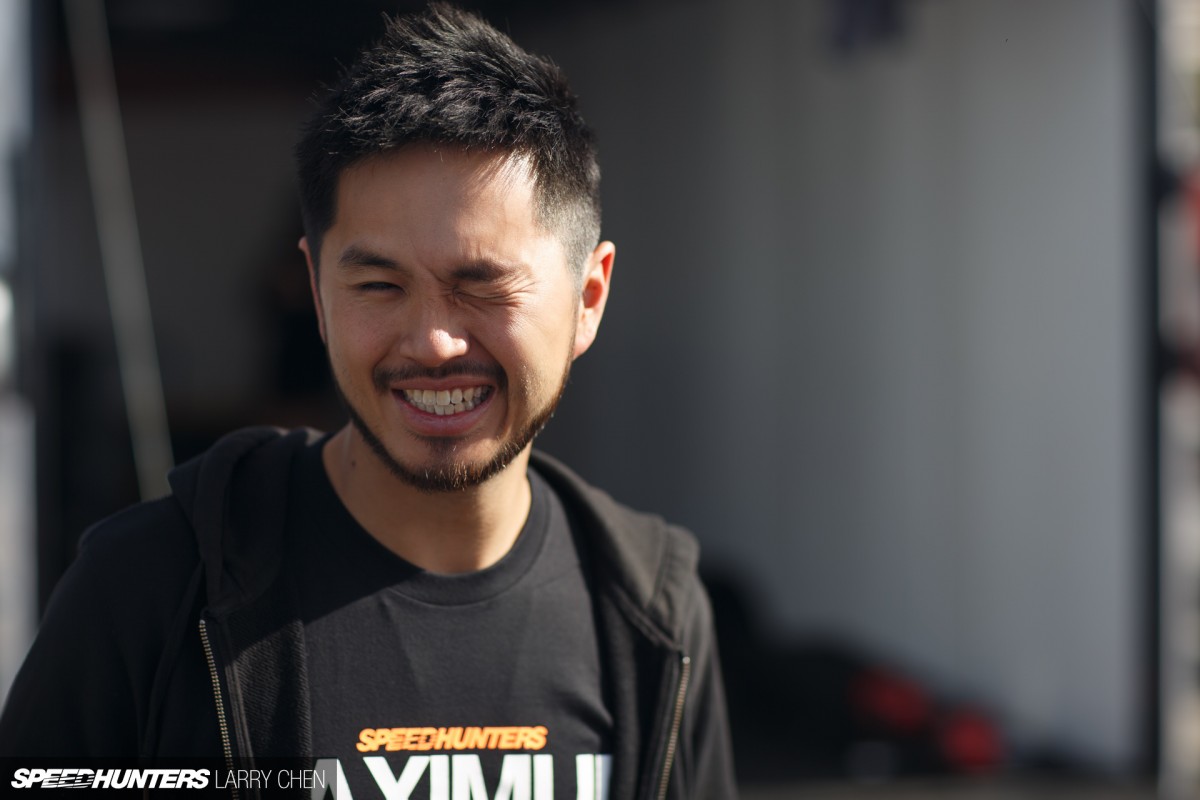 Charles Ng: I think it's crazy. I was trying to drag race Conrad, and yeah, I think his car has a lot of power too.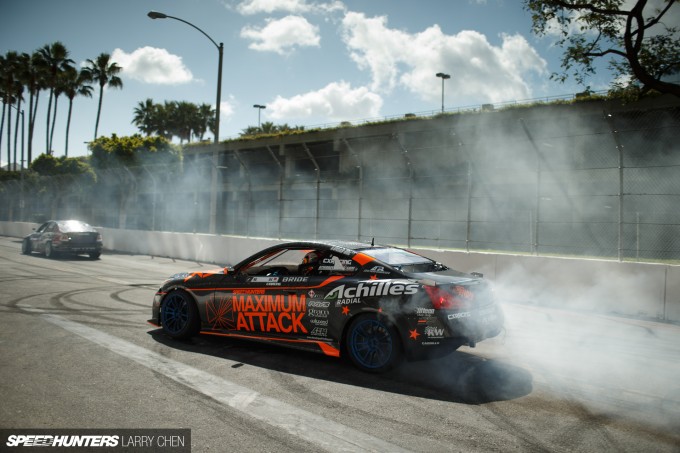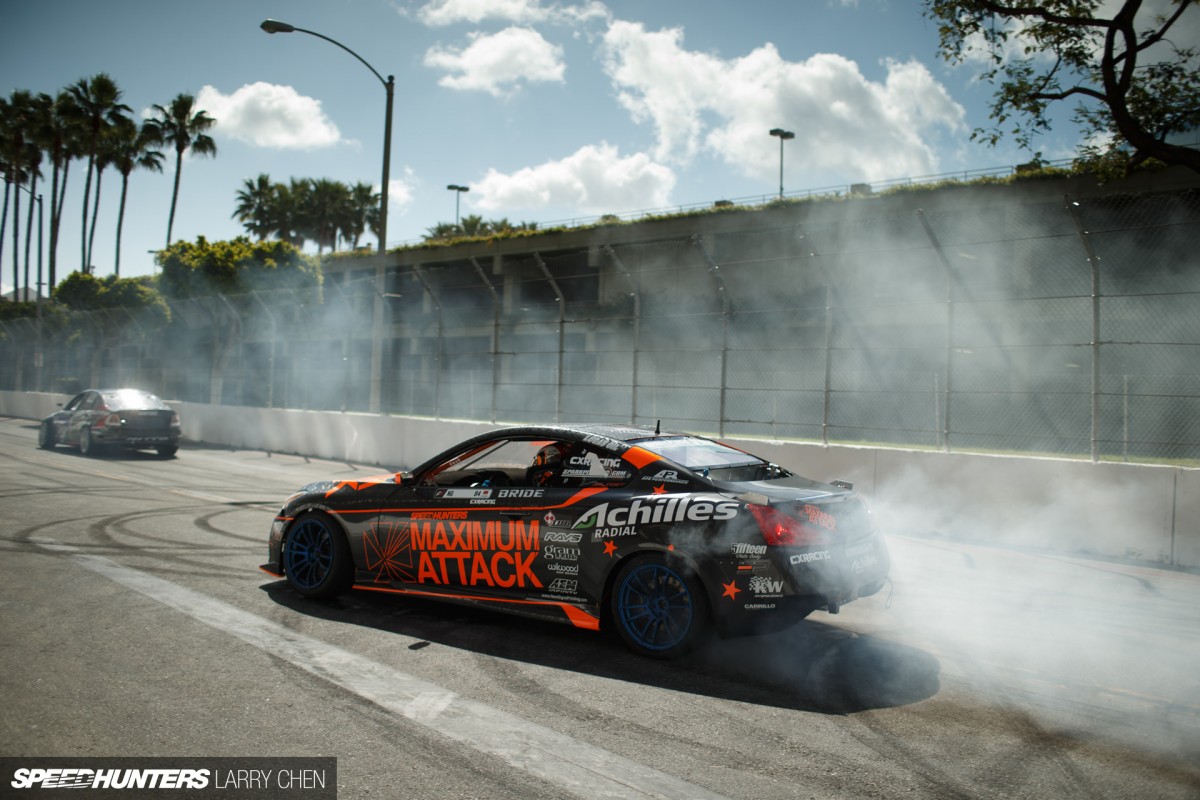 Larry: That's funny, because I just talked to him and he said he had a more 'conservative' power output.
Charles: Yeah I think, or perhaps maybe I wasn't going all out. I was just testing the car…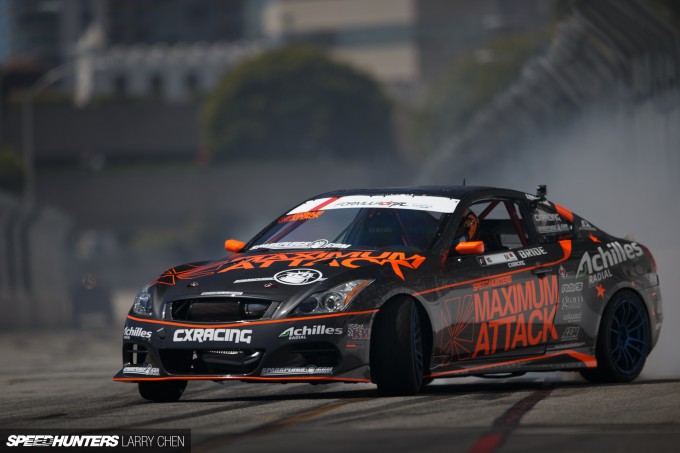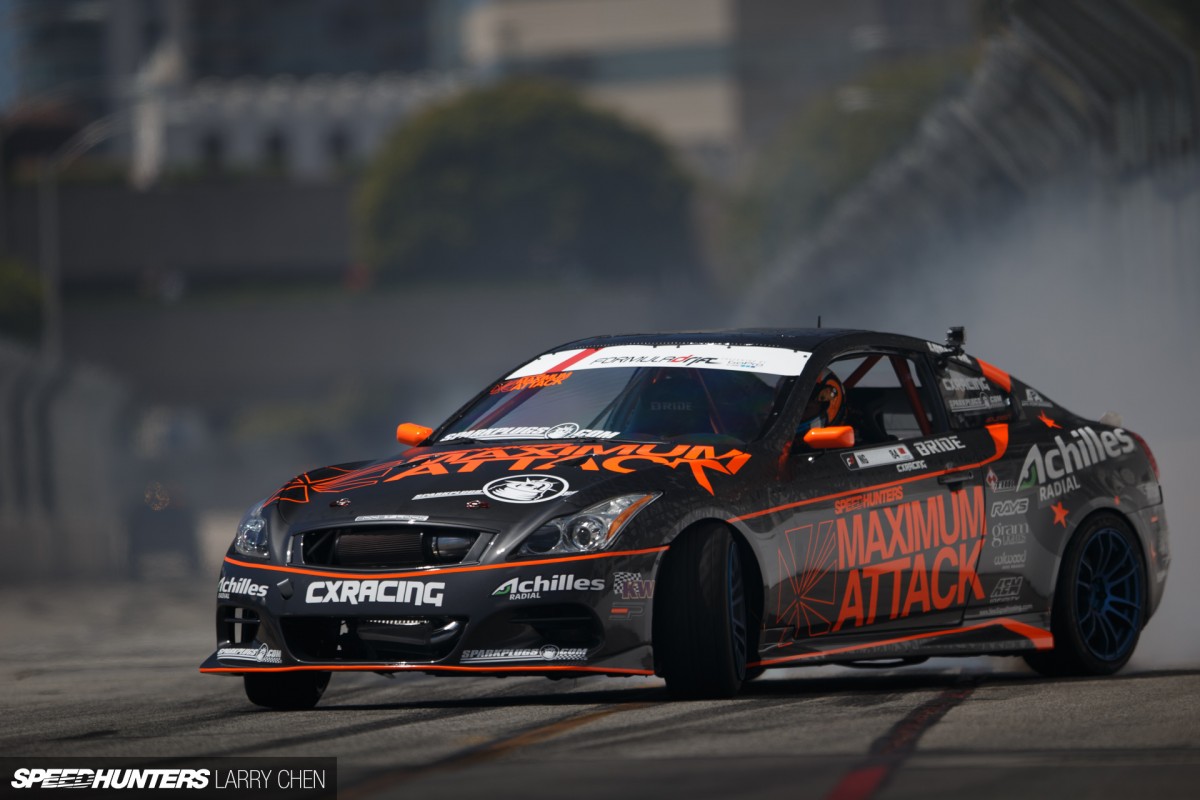 Larry: You lie!
Charles: Just kidding, no no no! Hahaha! I think I like it and dislike it at the same time. Hopefully not crazy, not too crazy.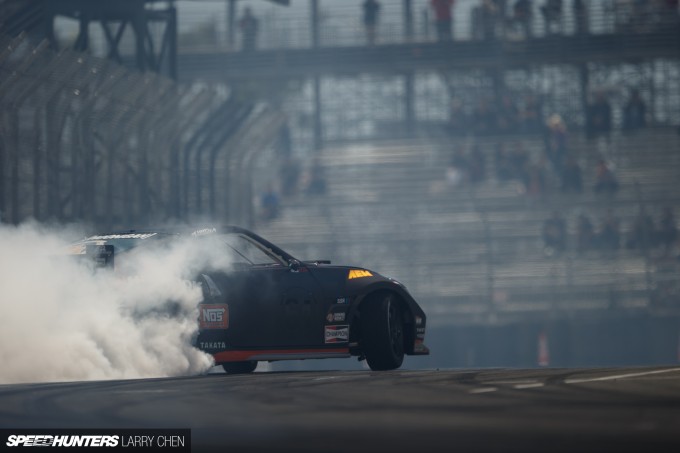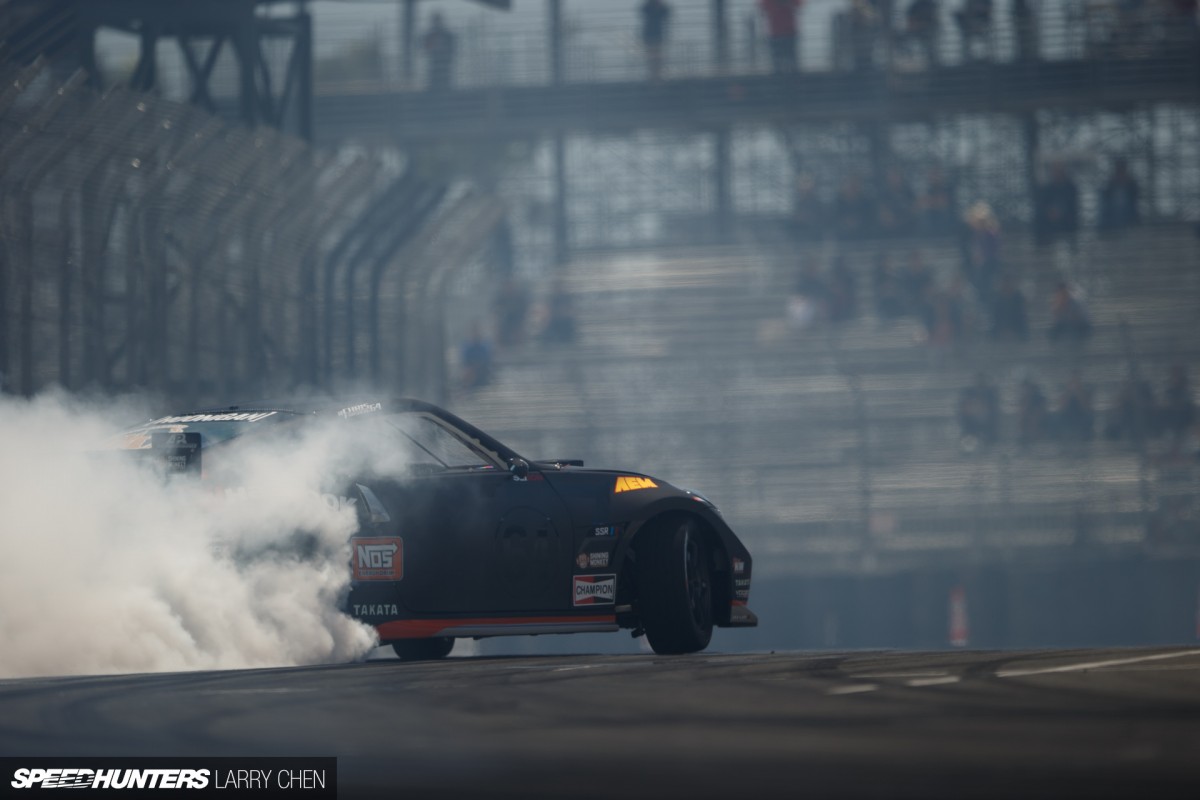 Larry: It's a lot different now than it was when you were competing previously. It's been a while.
Charles: Yeah, two or three years.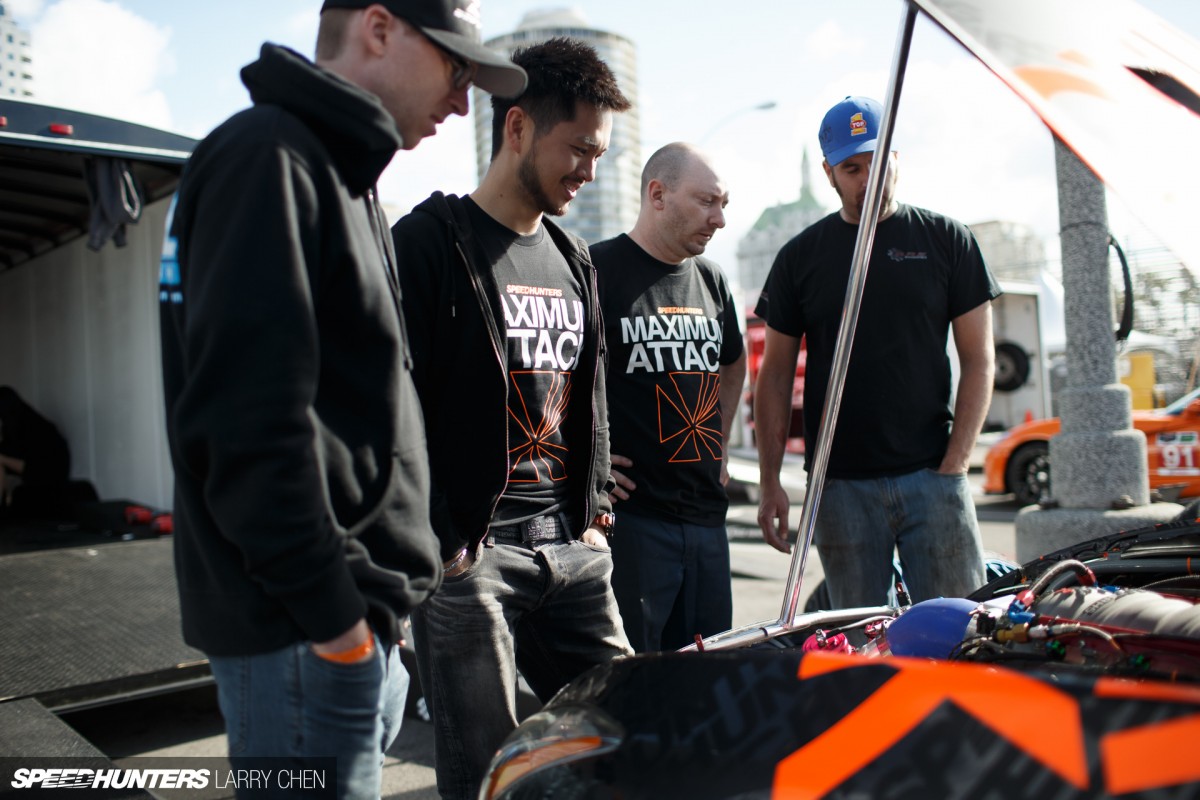 Larry: You have more than doubled your horsepower, right?
Charles: Yeah, more than double, that's for sure. I was running low 400hp, but it felt totally different. Now the car pulls more out of the corners. There's a lot more tire grip.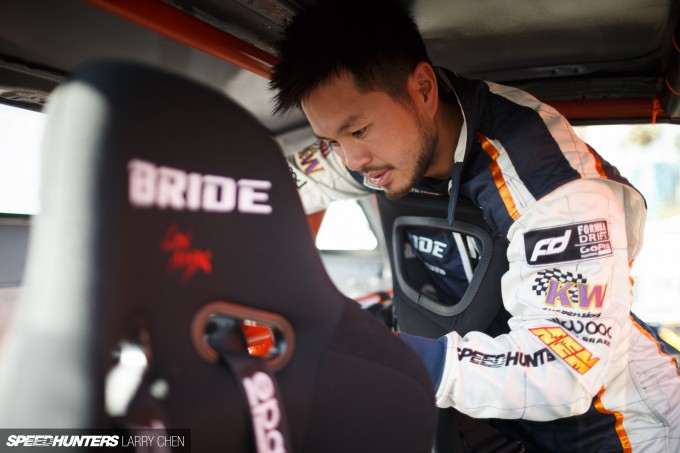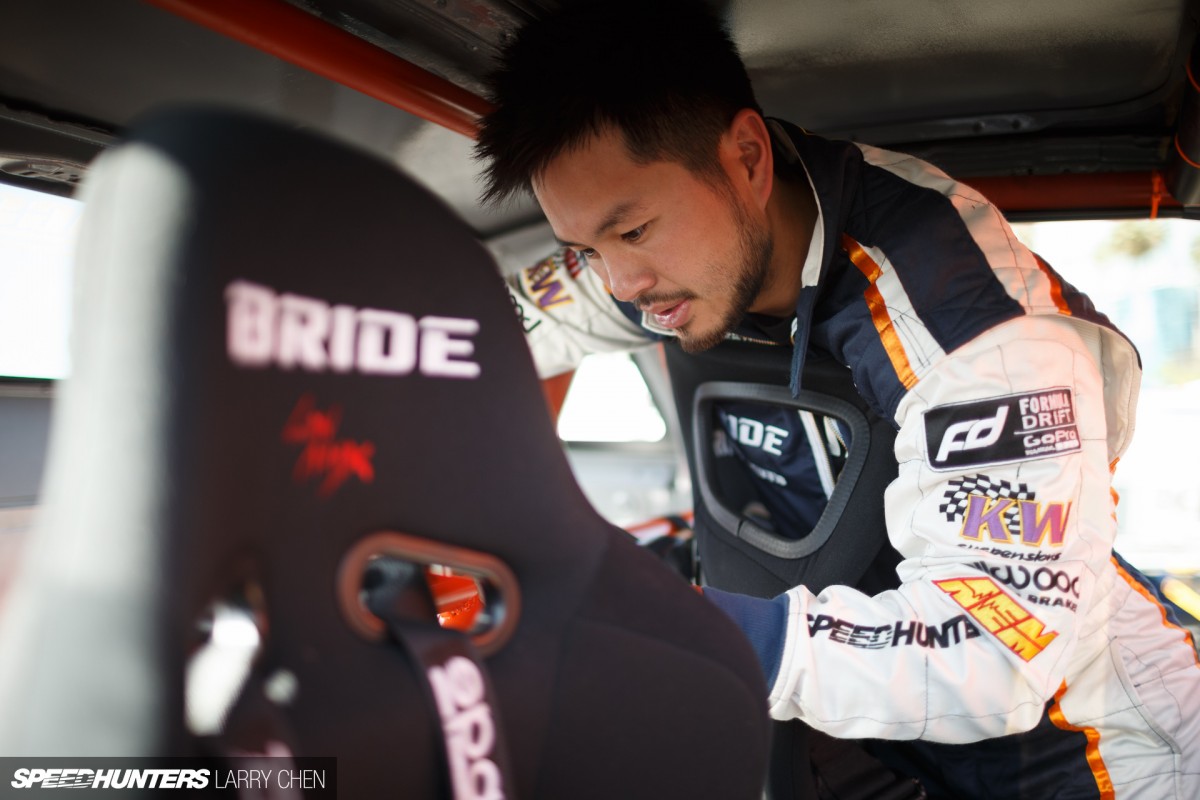 Charles: It's just totally different. Everybody else is just running a lot more aero you know, and like a bigger turbo, or a supercharger on a V8.  So I feel like it's interesting to see all these new cars, but at the same time I'm competing so I gotta make sure my car works just as well too.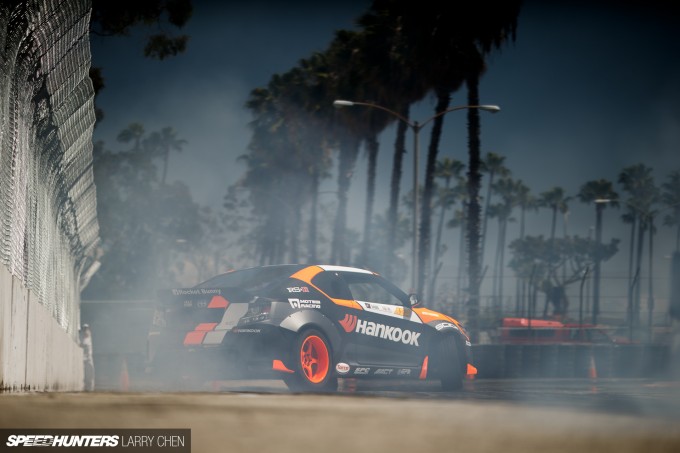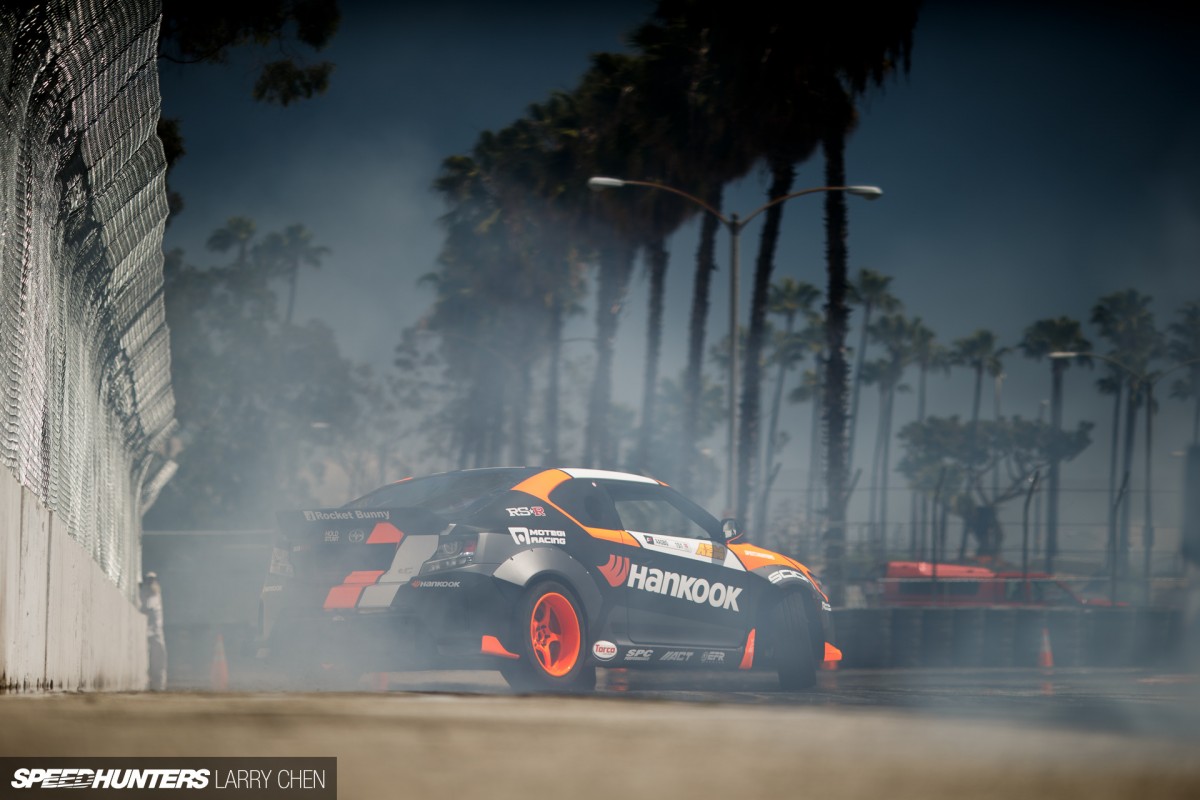 Fredric: I love it!
Larry: Really? That's all you have to say? 'You love it.' Why?
Fredric: It makes it even more of a spectacle. It makes it more exotic, even cooler. The cars are going to sound meaner; more tire smoke. In the end it's not a huge game changer, because what really matters is to grip with the cars.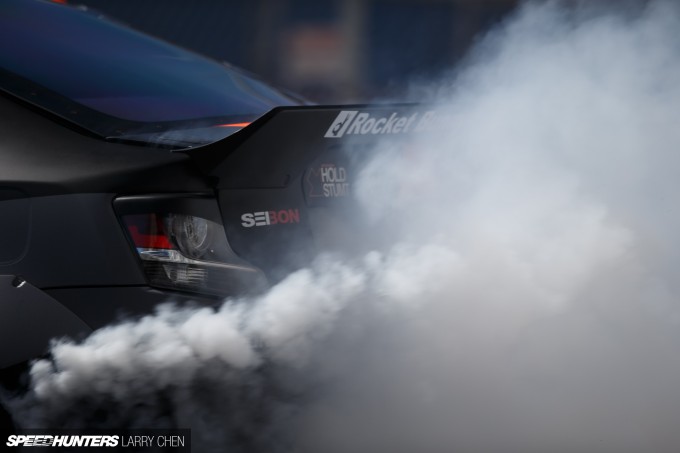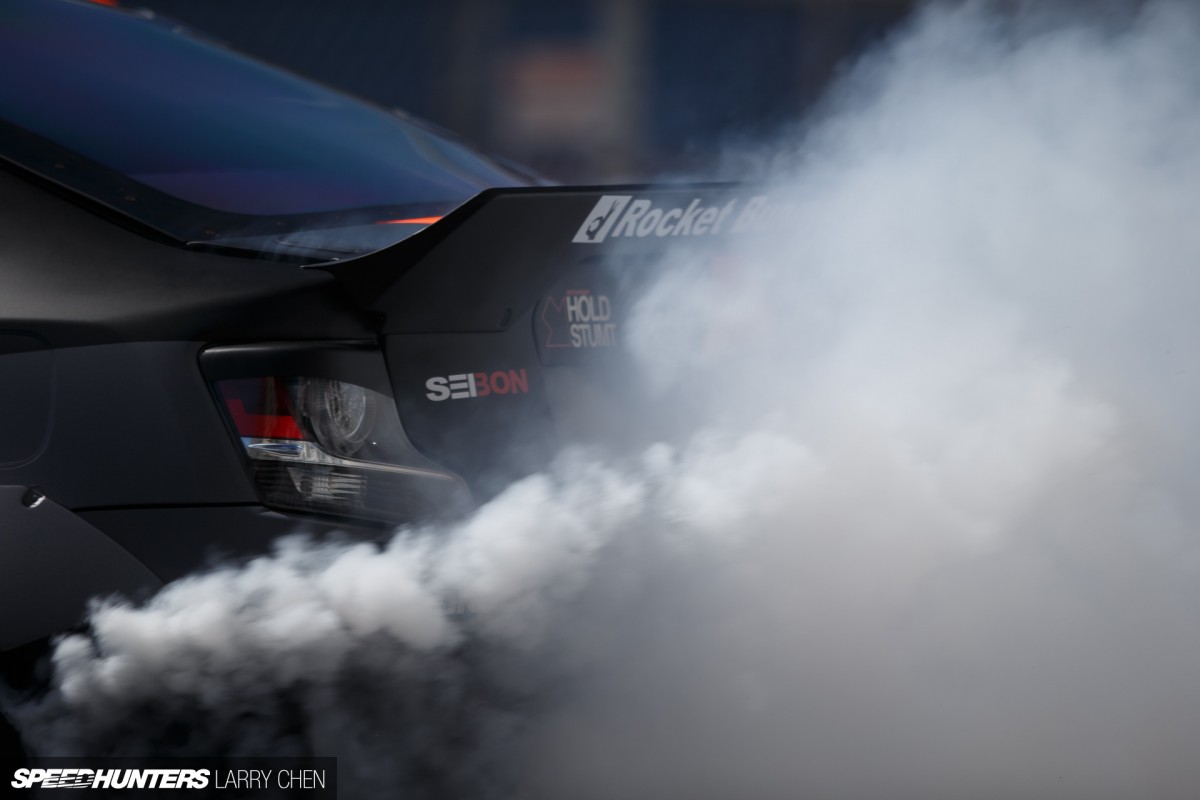 Fredric:  You can have all the power in the world, but what you really need to have in order to do well is to have grip. So I like it, and it's not even that expensive anymore.  Building an LS Turbo is not as expensive; getting 1,000hp is not as expensive as it was 20 years ago. So I love it!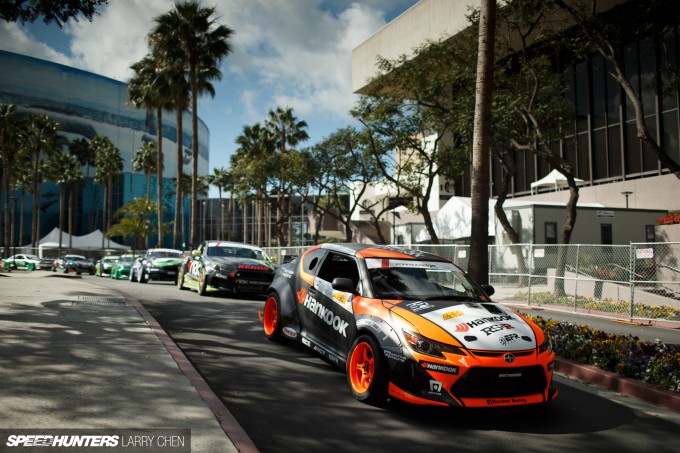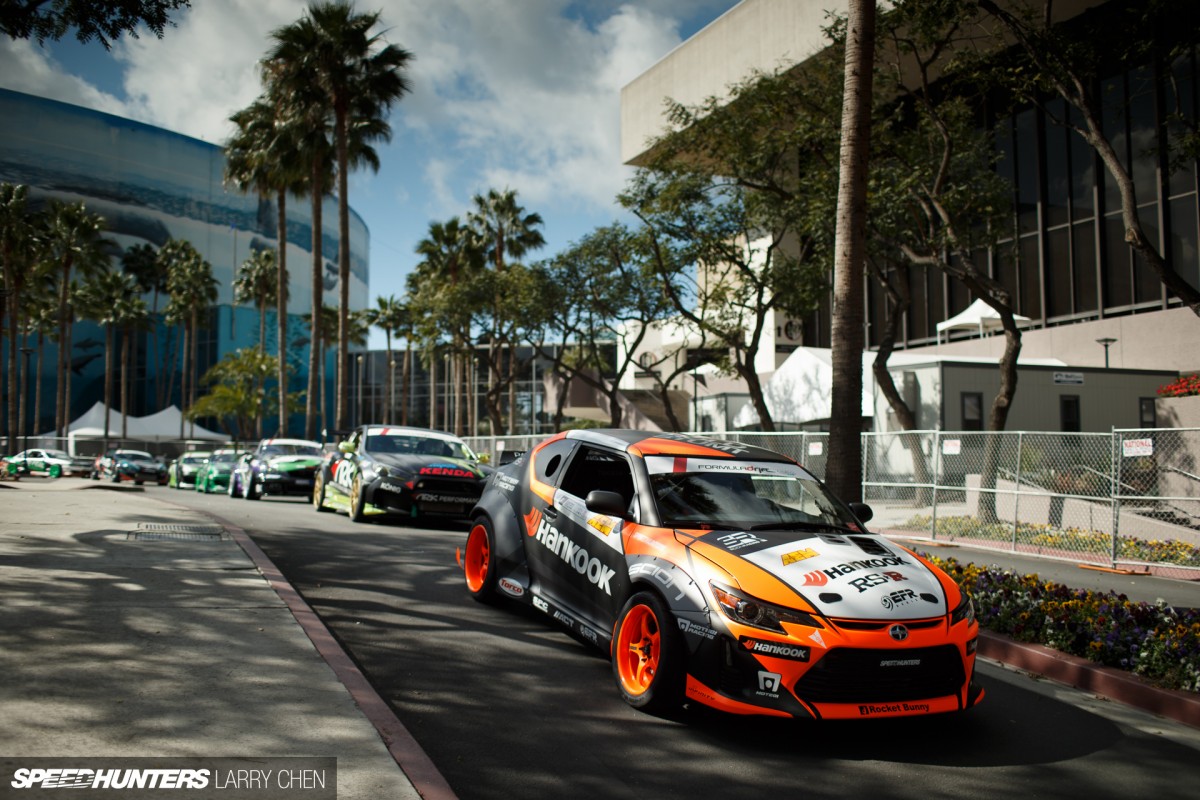 Larry: So is that's coming from someone who has probably the most powerful four cylinder engine in Formula D?
Fredric:  Uh…Yeah! And one of the very few four cylinders that are left too. But even though we're at a disadvantage with small displacement, for the sake of the sport, I still love it.
So that's what the pros had to say, now what do you Speedhunters out there think? Should there be limits on power, or are you happy to see this horsepower war continue. As the 2014 Formula Drift season kicks off, let us know your thoughts…
Larry Chen
Instagram: larry_chen_foto
larry@speedhunters.com