I have been interviewing quite a few drivers recently and I love the insight that they have on racing and what kind of experiences they have behind the wheel, but this time I wanted to interview someone who is almost never in the limelight, the all important crew chief. I caught up with Scott Dodgion during Thursday practice at Formula Drift Las Vegas. He is the crew chief for Darren McNamara and 2011 Formula Drift Champ Daijiro Yoshihara.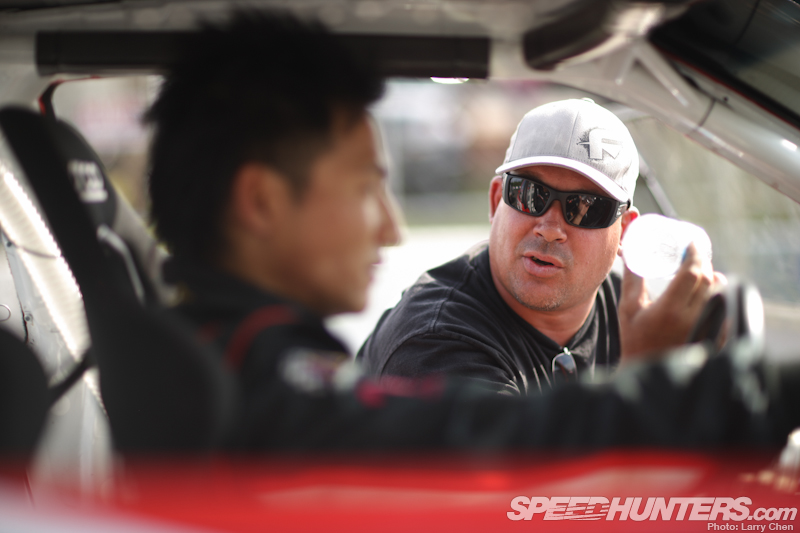 Larry: Scott, could you give the Speedhunters out there a little bit of your background and explain how you got into racing?
Scott: I was stationed over in Hawaii. I did four years in the Army working on helicopters, which turns out is a lot like working on race cars. When I was over there I took up drag racing and that is all we did on the weekends. It also took most of our spare time. That is where the whole motorsports thing started. I was more heavily into metal fabrication and welding prior to going into the Army and I learned all that stuff in high school.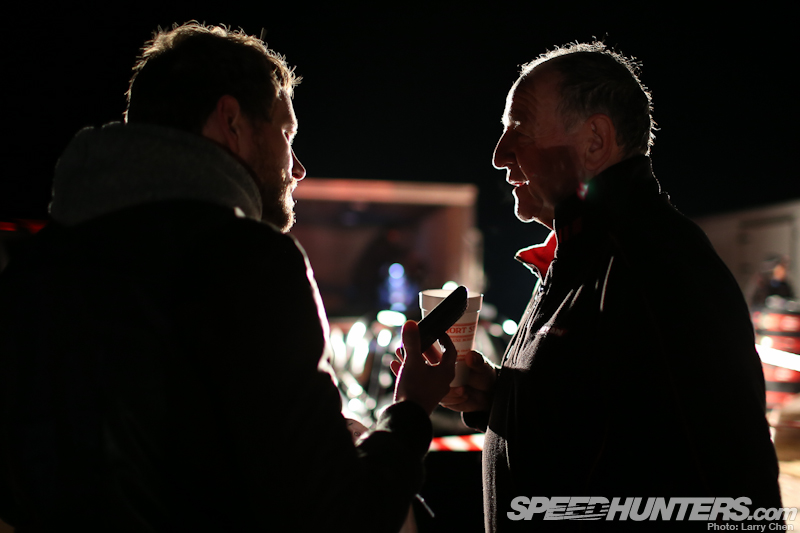 Larry: So how did you get into the drift industry?
Scott: I had worked for Rod Millen years ago and I was in between jobs so I stopped by Rhys Millen's shop in Southern California and dropped off a resume. I figured I could work with Rhys since I'd already worked for his dad. Long story short he was willing to take me on board, but he had to wait because he was waiting for a deal from Pontiac to run the GTO in Formula Drift.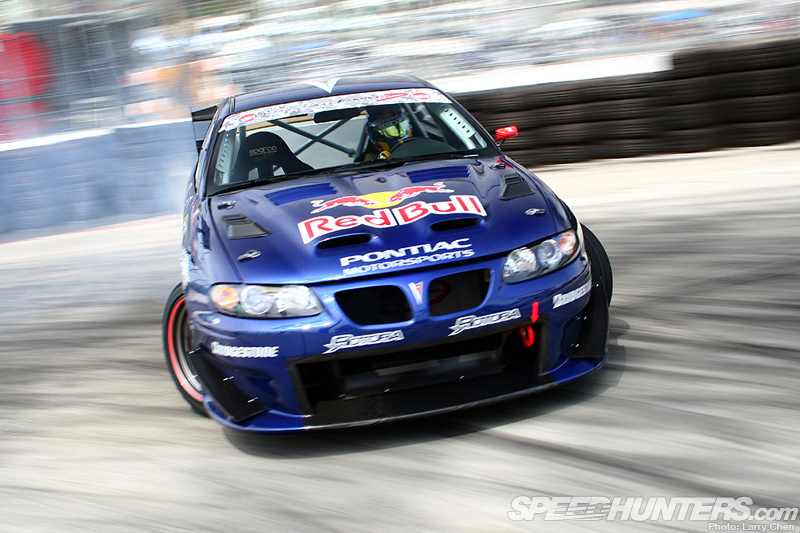 So a couple weeks after I saw him he called me and told me he got the deal with Pontiac, so I went down there and I was introduced to drifting. Before that I had no idea what it was. When I saw it for the first time I fell in love with it. I thought, "man this is cool." So I worked three years with Rhys' program and we got a championship there.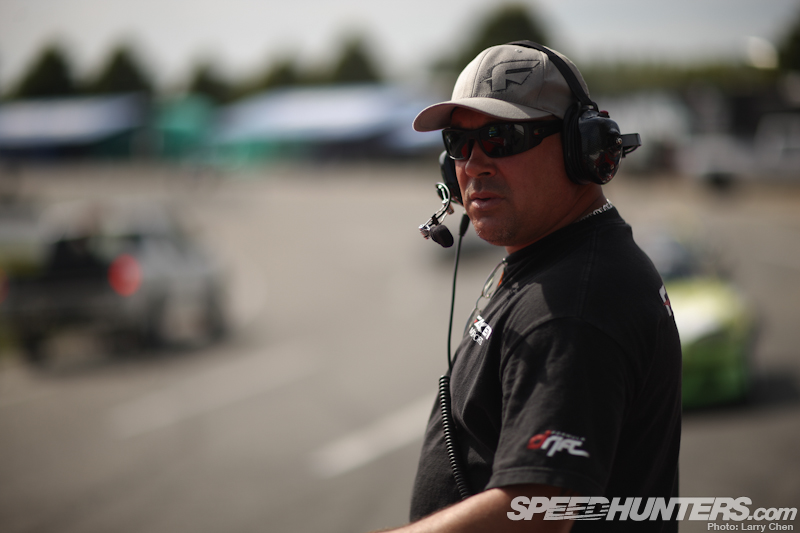 At the same time I was buying my own tools and welders and all the useful stuff needed to open a shop. I knew I wanted to work for myself so I started calling around looking for side work and I touched base with Falken Tire's drift team and they said they had something for me. Unfortunately, it meant that I had to quit my job with Rhys and it was definitely tough to do. I had job security, but I decided to quit and work on my own and have everything to worry about (laughs).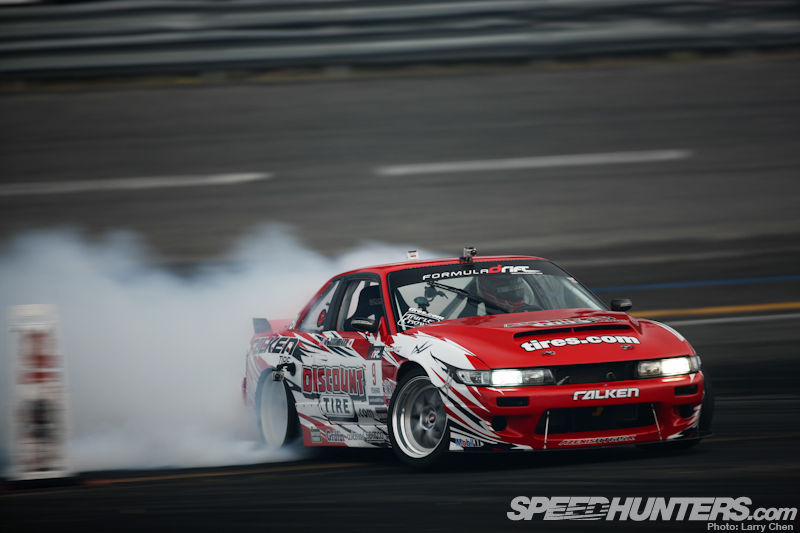 Larry: I see, so that is when you started SPD Metal Works. So what do you guys do for the Falken drift team?
Scott: We built and maintain Daijiro Yoshihara's Discount Tire car S13 and…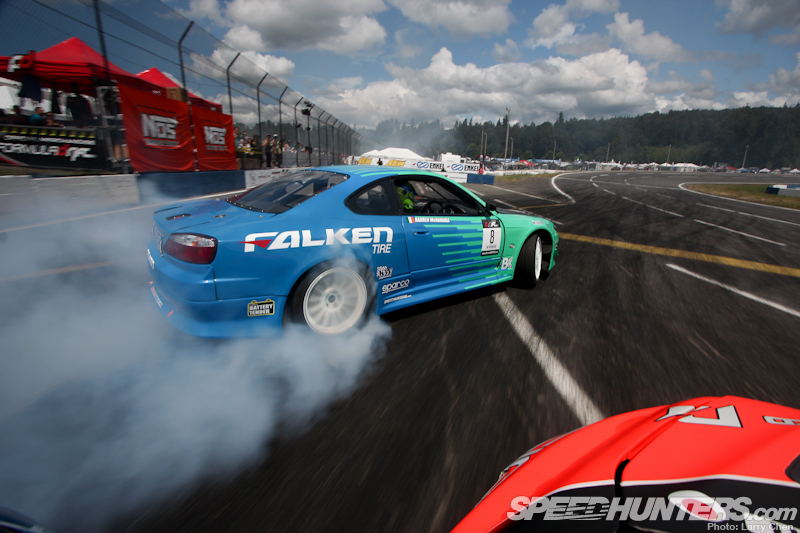 …mid-season this year we took over Darren McNamara's car, running the S15. I also run the day to day operations back at the shop. When we are not trackside we are constantly working on the cars. We go through checklists as we service the whole vehicle. There is a lot of stuff that we have learned over the years about what needs to be done to make these things run the whole weekend without having problems.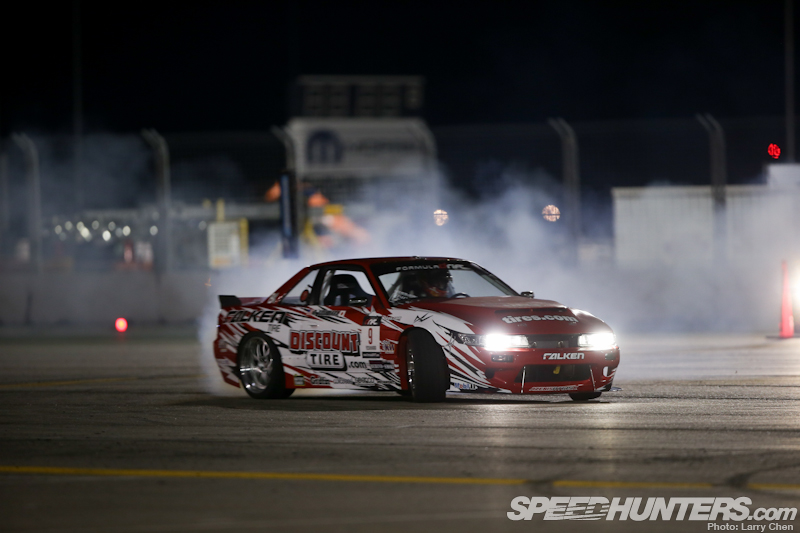 Larry: Tell me a little about Dai's car and what sort of things you had to do to get ready for this event.
Scott: Dai's car we've got very figured out as far as being competitive in the series. A lot of things that are implemented on his car are actually strictly designed for Formula Drift Las Vegas. It's usually super hot. The car is equipped with its own on board spray bar system so he can spray critical parts like the intercooler and radiator with water so we don't have to call five minutes just to cool the car down after a battle. A lot of the stuff is quick and easy to change. We have a spare fuel pump already mounted in the car, all we have to do is flip the lines.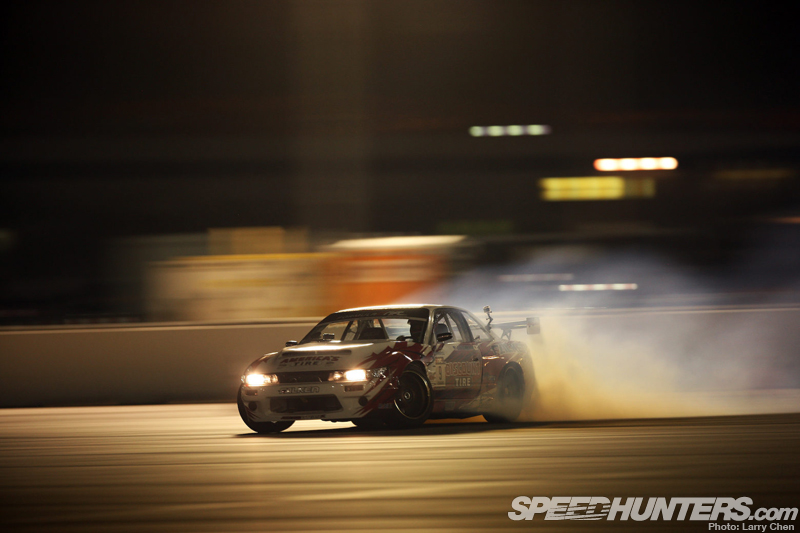 Larry: Oh wow, talk about redundancy.
Scott: Yeah, no kidding. Back in 2010 it vapor locked at Formula Drift Las Vegas against Tyler McQuarrie in the finals. So from that point on we told ourselves that we have to look at things differently. Even though we are running at night the track temps can still be 130, 145 degrees and the cars are just sitting there idling for a while so fuel is constantly heating up.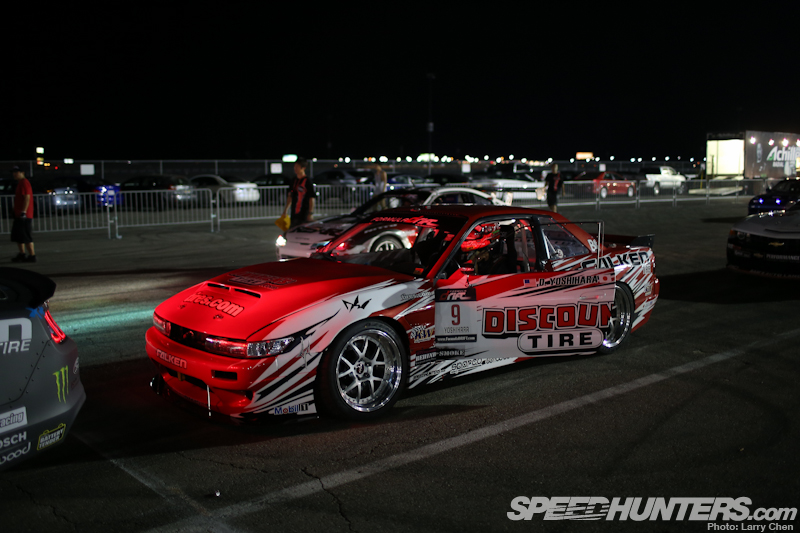 Larry: I remember last year practice ended at 2 am and it was still 102 degrees outside.
Scott: Yeah, it gets ridiculously hot. We've got cool cans on both fuel systems so we constantly ice the thing down. In between runs we will even shut off the cars and push them and lift the hoods, just to get all the heat out. It's just so brutal out here.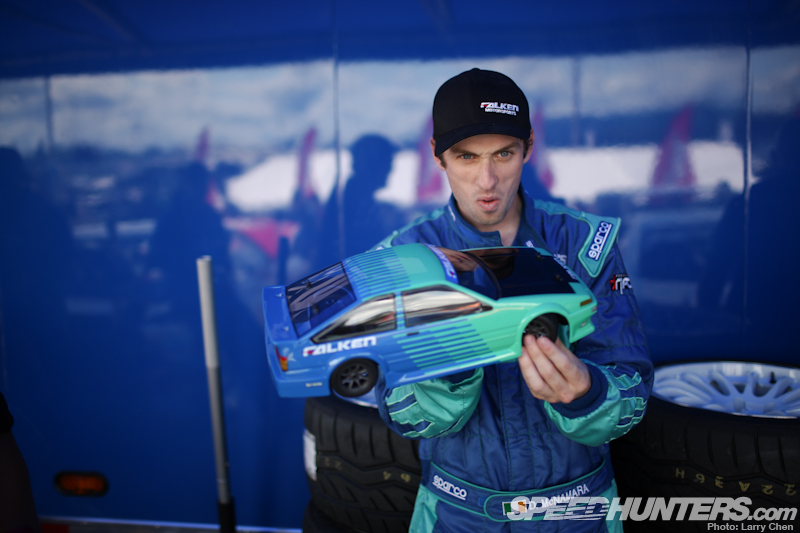 Larry: Was it a big challenge for you guys to go from a one car team to a two car team?
Scott: Well, last year the S15 had the SR20 in it still and during the off season we pulled it out and did the V8 swap. The whole intention was to have a reliable spare car for whomever needed it. So the S15 was just sitting around and when the opportunity came with D-Mac we decided to pull the car cover off and throw him in it.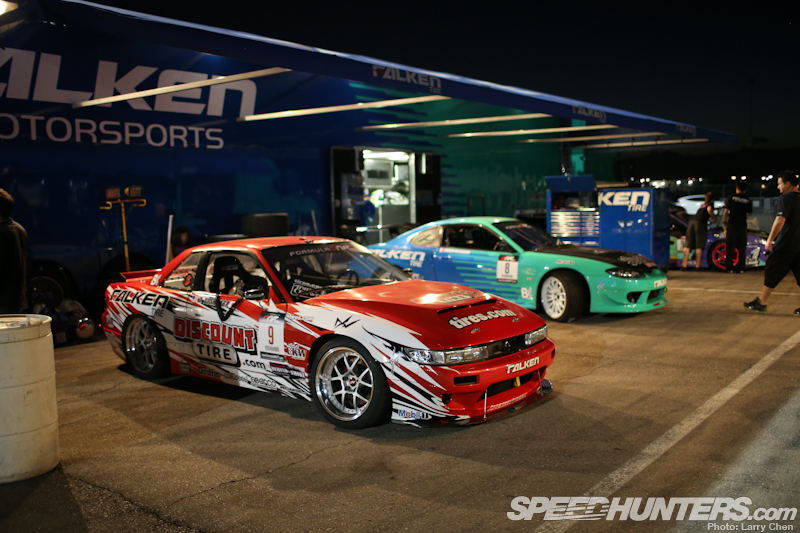 We figured he would adapt well. Both cars are pretty identical, from the bolt-ons to the alternator. The prep and maintenance is also very similar. It basically has the same power plant, but Dai's car has a lot more power. I'd say that is the weakest point with the S15, we definitely need more power. The S15 is a little more banged up than Dai's car (chuckles). It's been around for a long time.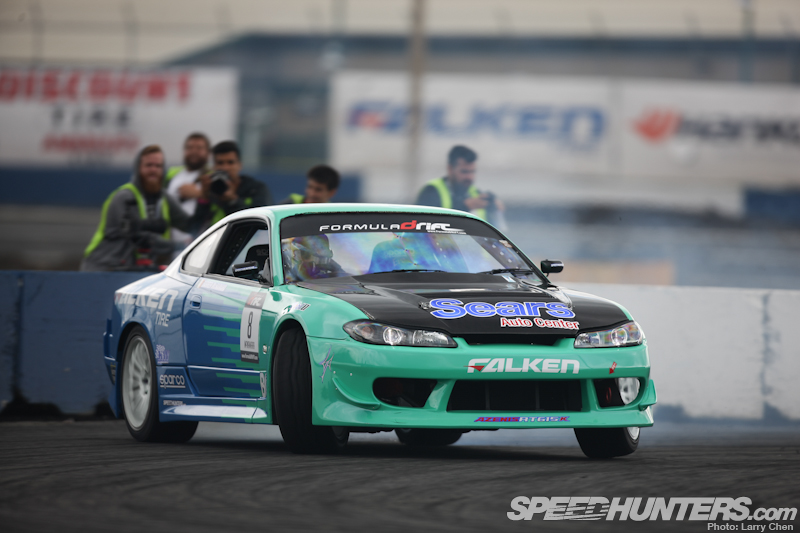 Larry: That car has a lot of history. It used to be Taniguchi's D1GP car, correct?
Scott: Yeah, lot of history in that car.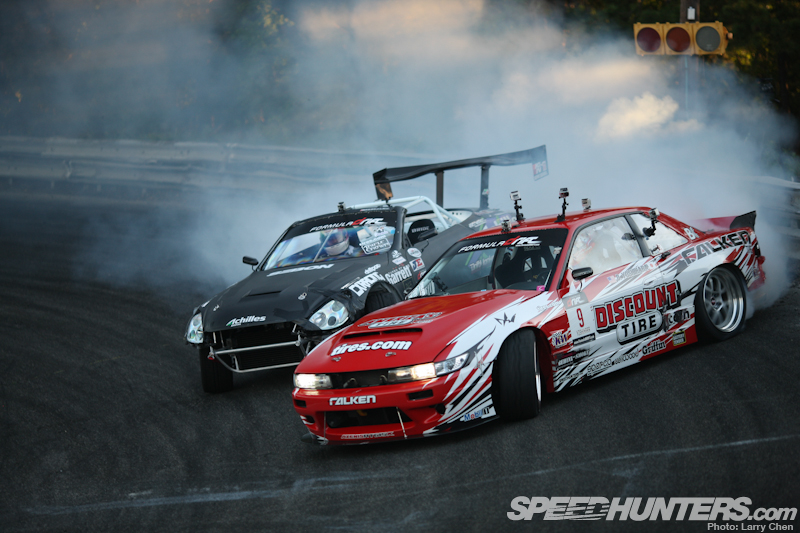 Larry: Do you see yourself running a three car program next year?
Scott: I definitely see opportunities coming as the season is wrapping up.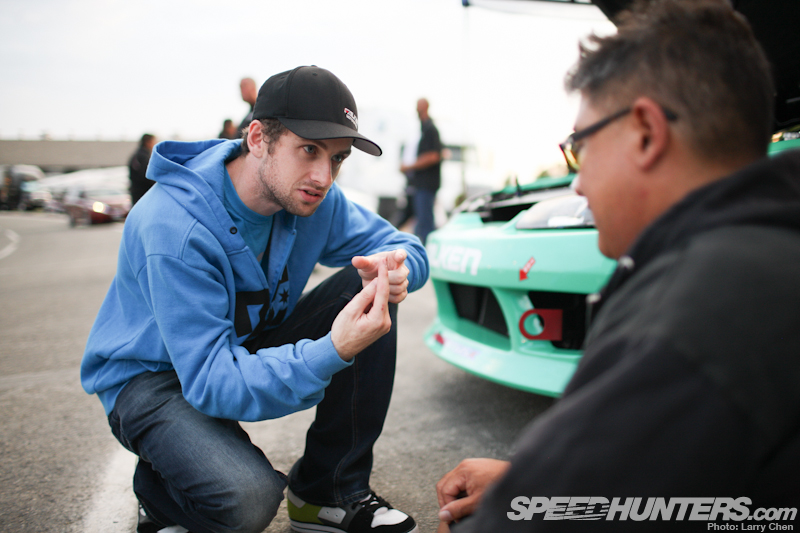 Larry: Do you thinki you are capable of running a three car team?
Scott: I don't see why not, It's a matter of finding the right guys, and it's been a little bit of a challenge finding guys I can trust that can travel and that can work on weekends here and there. I think we have a two car team pretty sorted out though, especially for this round in Vegas.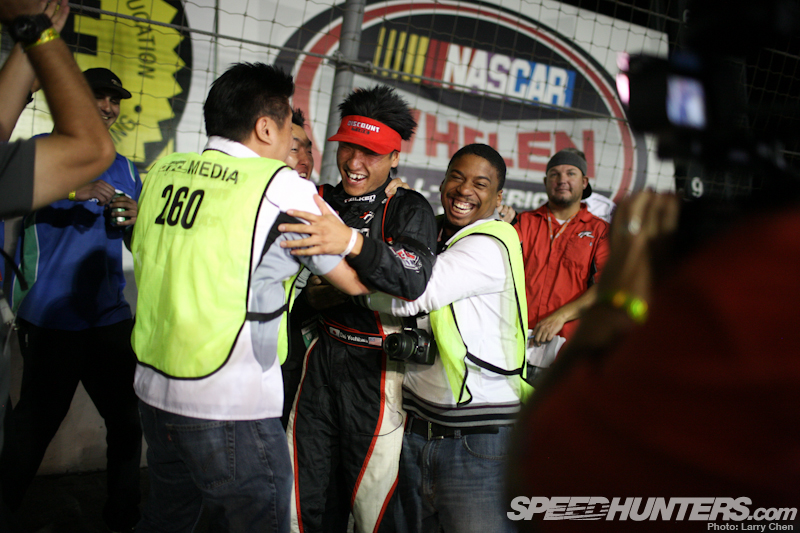 Larry: So you have two championships under your belt. What do you think about Dai winning the championship again and you earning your third championship?
Scott: This year we are 44 points out from 1st place. We have been slowly making up some points and obviously we have prepped the car to our best ability. We are also trying to be as consistent as possible and I hope that will be enough to get us back to the top again. We have a shot at back to back championships and we need to take it. It's very doable, because you have 112 points possible per round. It's right within reach.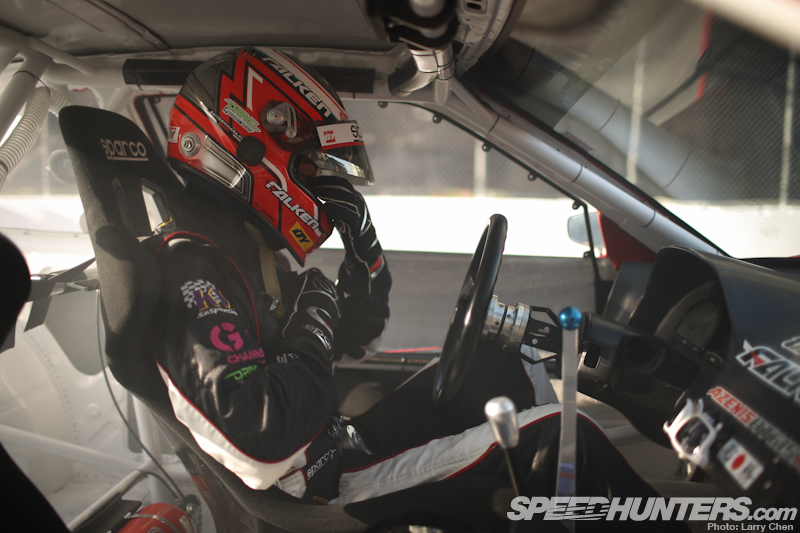 We need some guys to make some hiccups and have their bad events. We all have them. Hopefully we've got ours out of the way (laughs). We've had a couple bad ones this year.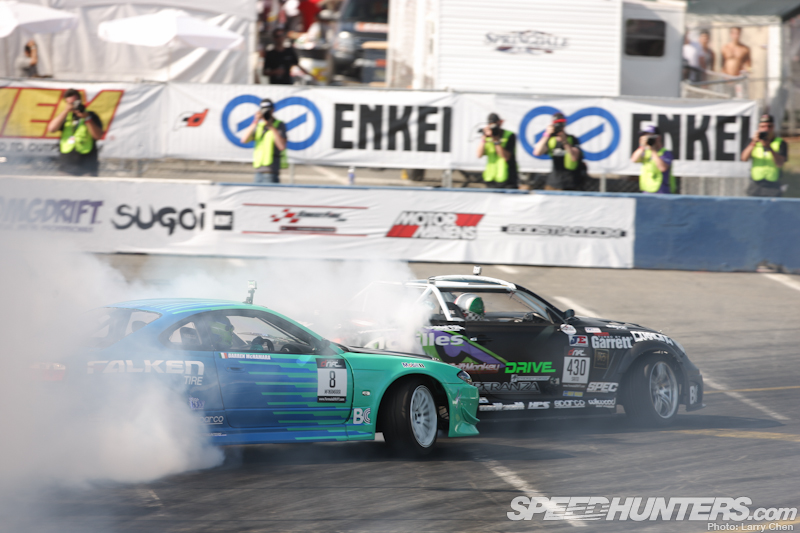 Larry: I have a feeling it's going to come down to the last event.
Scott: Last year was really tight and I wouldn't be surprised if it was even tighter this year. It may come down to the very last battles. The competition levels are crazy. Both of our cars got put on the trailer early over one mistake. It's very competitive. Everything is just bigger, faster, and more crazy. I think our consistency will pull through for us.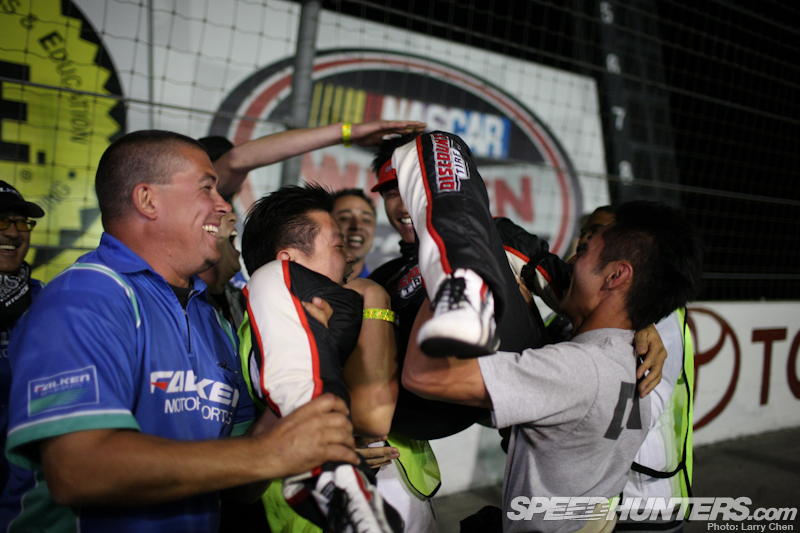 Larry: Well, thanks for sitting down with me. I know you are a very busy guy. Good luck.
Scott: Thanks, and no problem, anytime.
Scott and Larry
larry@dev.speedhunters.com
More stories from Formula Drift on Speedhunters