I think it's fair to say that these days drifting fans usually fall into one of two camps. On one hand there are those who've fully embraced what pro drifting has become in 2013 – an energy drink and tire smoke-fueled spectacle that's become bigger, faster and more competitive than ever.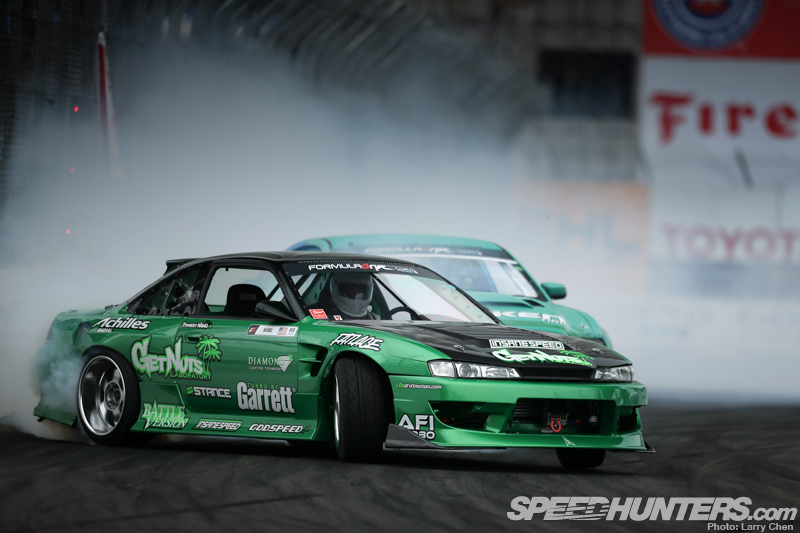 On the other hand, there exists a very vocal group of fans that feel pro drifting has strayed too far from its roots. Some of them feel that drifting should have never moved past what we saw in Option videos a decade ago and that anyone who puts an American V8 in a holy Nissan deserves the wrath of the ancient Japanese touge gods.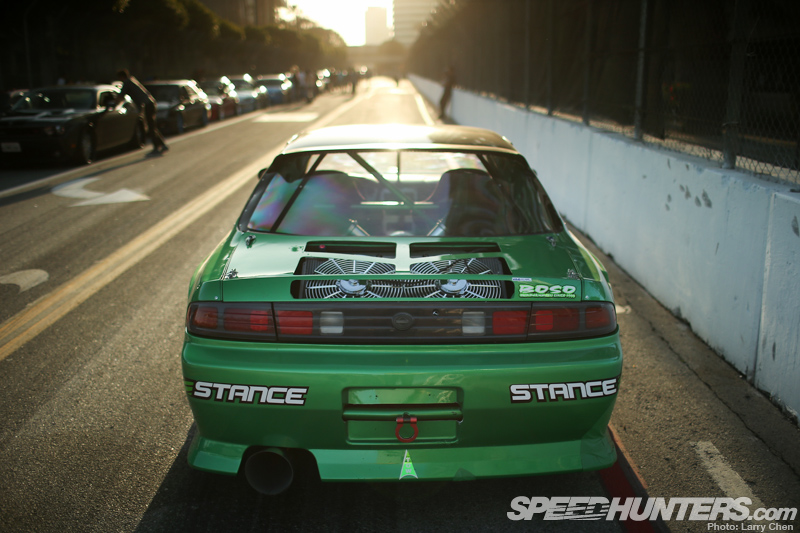 As for myself, I suppose I fit somewhere in the middle. Part of me completely understands how big professional drifting has become and the immense pressure that's on today's drivers to deliver results. Drifting for fun is one thing, but the extremely competitive, high stakes nature of today's Formula Drift warrants drivers and teams to continually push the envelope, even if it means drifting (great pun right?) further and further from the sport's roots.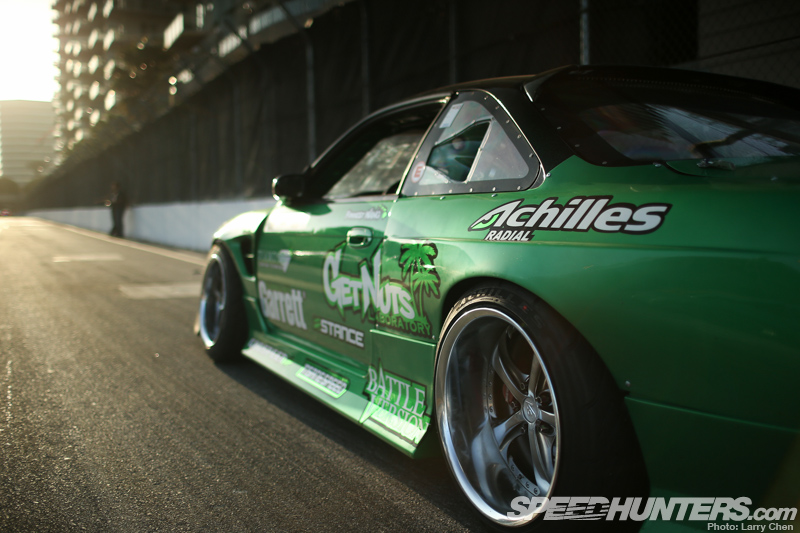 But at the same time, I haven't at all forgotten the things that made me fall in love with drifting in the first place. The stylish cars with badass wheels, sparkly paint jobs and lots of personality. Cars that looked amazing standing still and looked even better sliding through a corner, dragging body parts on the ground. Like many, I have no desire to see pro drifting progress into a sport where drivers battle each other in identical tube chassis race cars.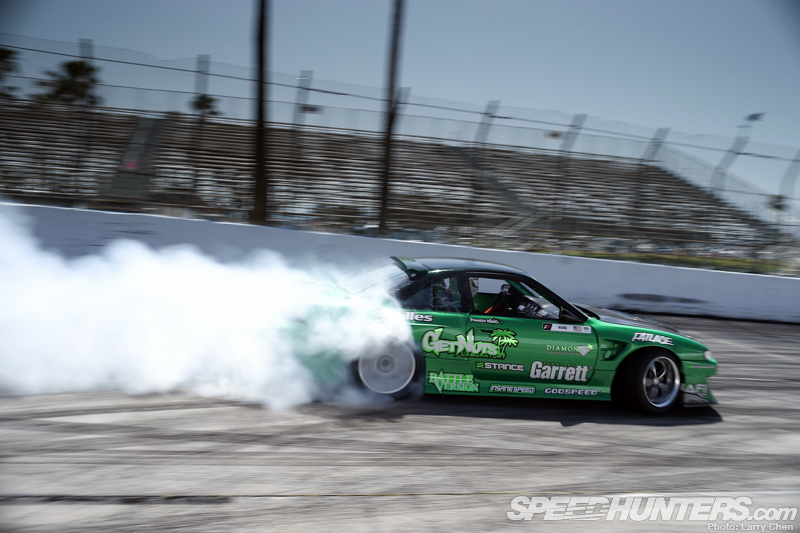 The question is then, do there exist cars that have successfully straddled the balance between these two ideals? Cars that are built to run with the best, but that haven't lost sight of their roots or an eye for the aesthetics. The answer is yes, and as evidence I present the S14 being driven by Forrest Wang this season in Formula Drift.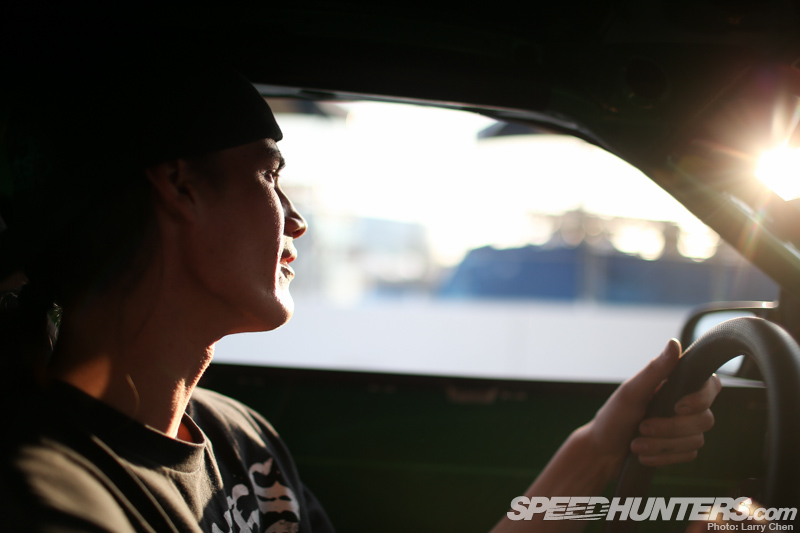 While he might not be one of the most famous names in FD, Forrest is anything but a newcomer when it comes to drifting. He's been building and driving bitchin' drift cars for the better part of a decade now.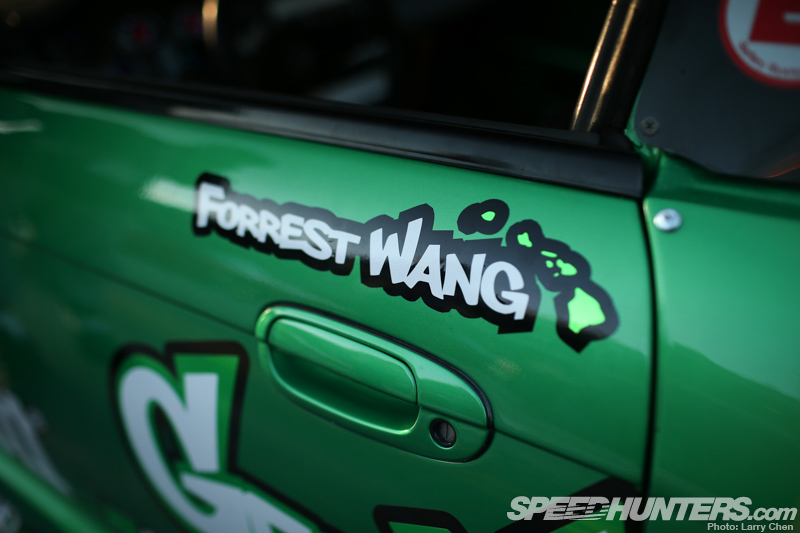 Besides having FD and D1GP experience, the Hawaiian native has also risen through the ranks of various grassroots and pro-am competitions over the years. In fact, I remember watching him drive at Just Drift! six years ago in a car that didn't look all too different from the one you see here.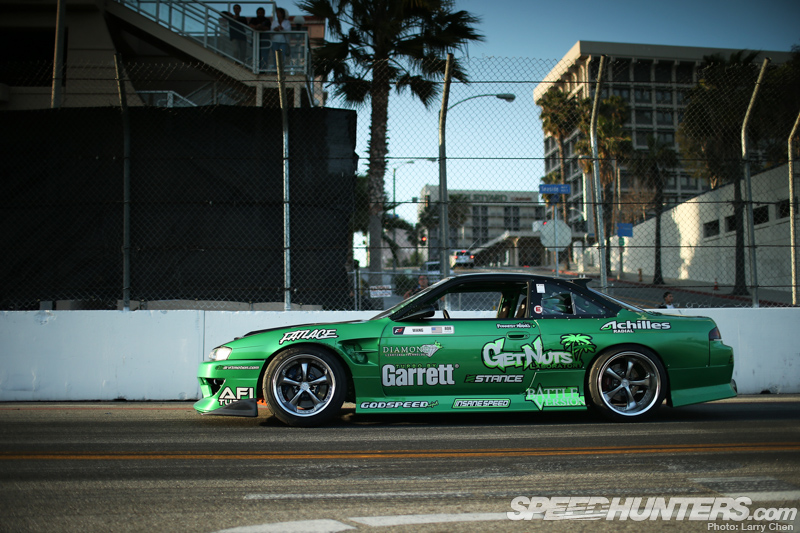 Besides having distinct green and black paint jobs, all the cars Forrest has built have had a very unique sense of style – one heavily inspired by the aforementioned Japanese street drift cars. Combine that with his very aggressive driving style and you have an entertaining package.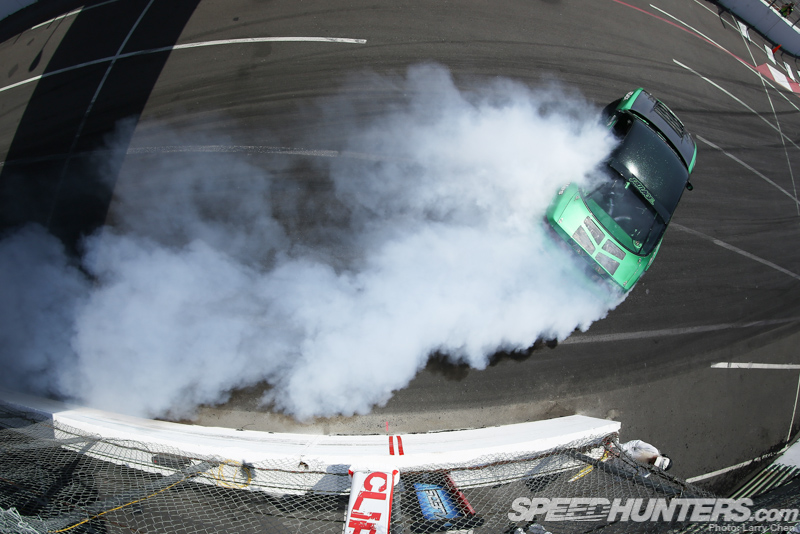 Forrest originally purchased this 1995 240SX from professional BMX rider Sean Sexton in Arizona, and started drifting it with a stock motor and full suspension before moving on through a few different SR20DET setups. The car was also seen at the Stance Suspension booth at the 2010 SEMA Show.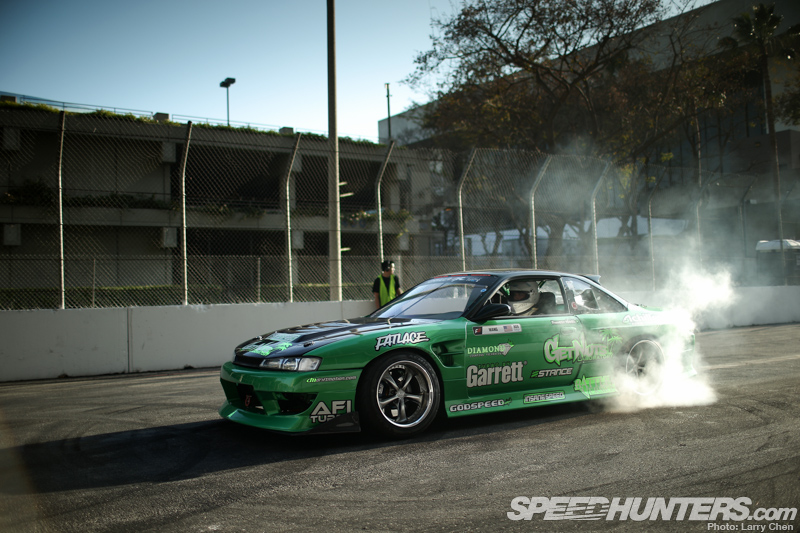 After that, the S14 sat engine-less for a few years at Get Nuts Lab, Forrest's shop in Las Vegas, Nevada. When it came time to build a car for this year's Formula Drift season, Forrest found that rebuilding his previous S13 to comply with the FD rule book would be too much work, so the old S14 was brought out of retirement.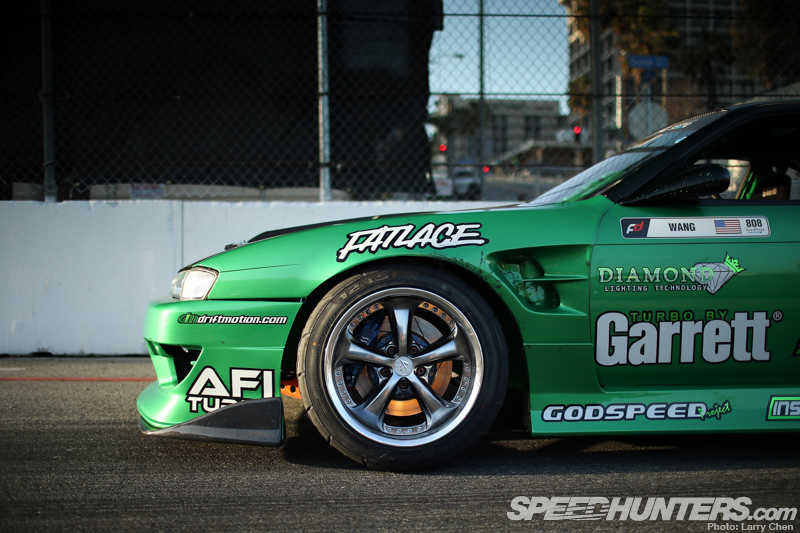 Over the course of about three months, Forrest and the Get Nuts crew worked every day to get the car ready for Long Beach – which given the current rulebook and level of competition was not an easy task.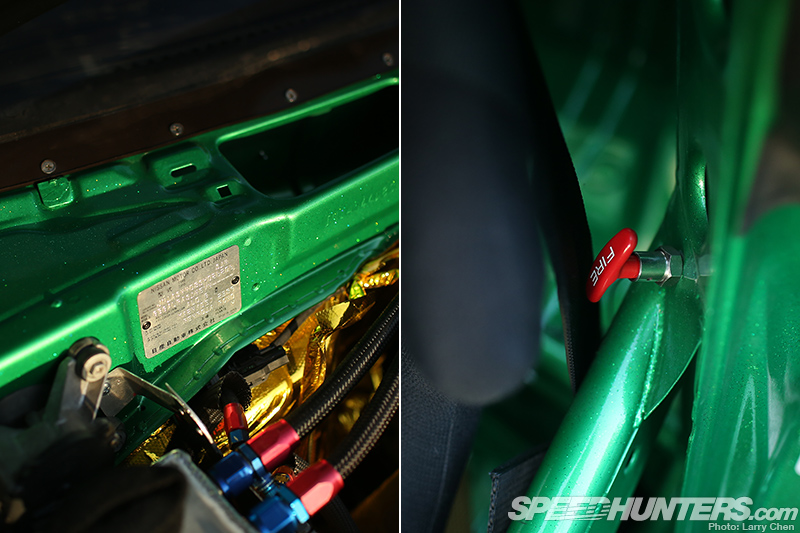 The work included fabricating a new rear tube setup and firewall, along with a bolt-on tube setup for the front end.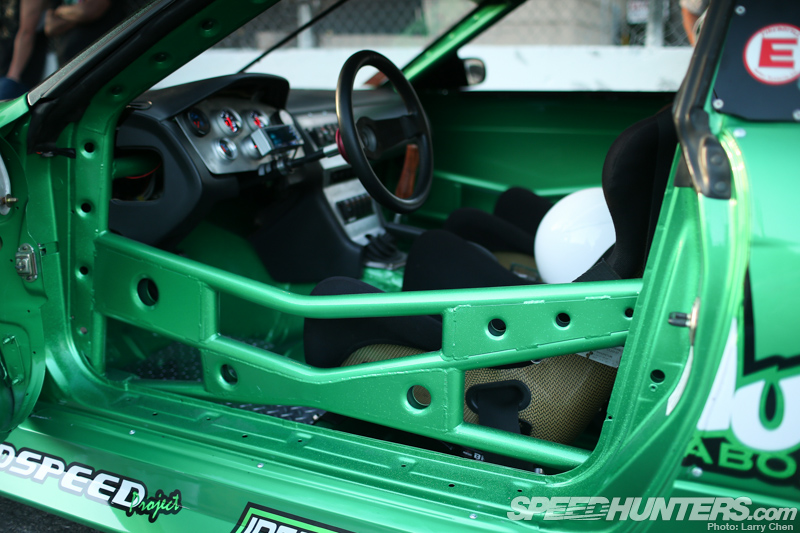 A brand new roll cage was also tig welded and installed to make sure the car met Formula Drift's strict safety standards.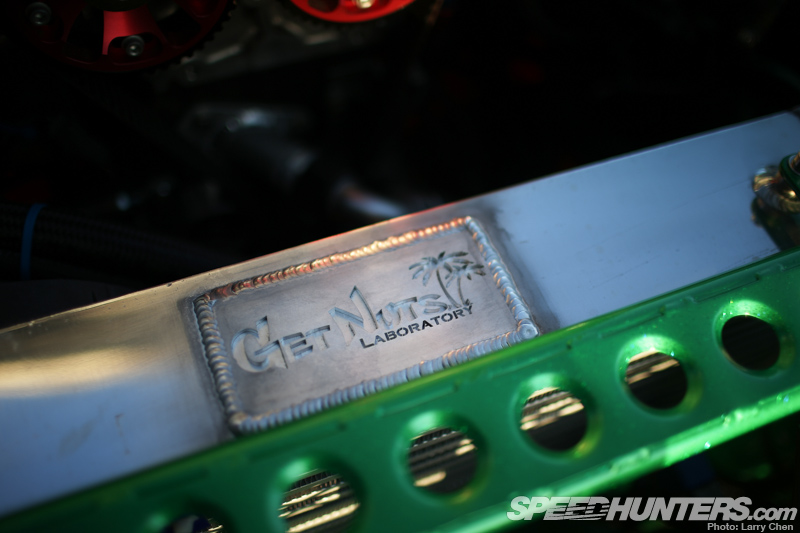 Besides the chassis fabrication, all of the paint and bodywork was also undertaken in-house at Get Nuts Lab.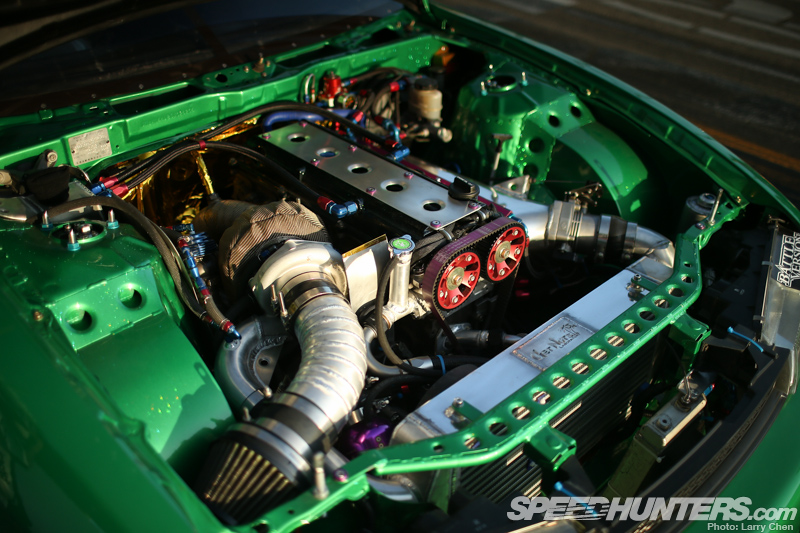 When it came to power the car, Forrest decided not to go with another SR setup nor with a V8, but with a Toyota 2JZ motor built by a Vegas-based shop called Insane Speed.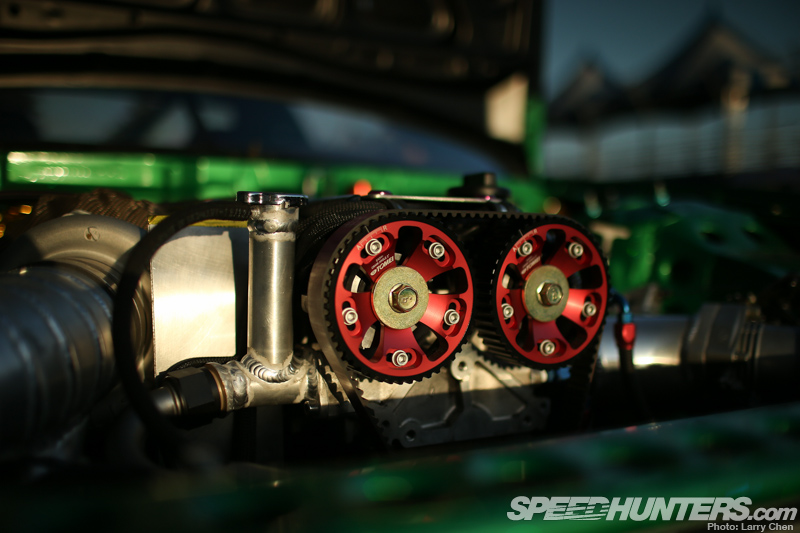 Among the parts inside the fully-built 2J are CP pistons, Brian Crower rods, cams, springs and retainers, and plenty of other parts built to take abuse. There's also a a custom modifed Godspeed intake manifold, an AFI exhaust manifold and Fuel Injector Clinic 2150cc injectors among other things.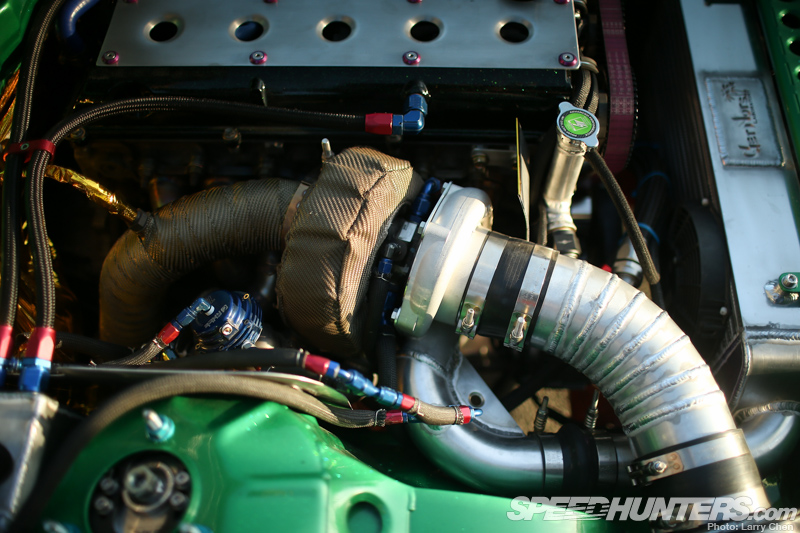 Forced induction comes via a Garrett GTX3082r turbocharger feeding through a Garrett intercooler with custom Get Nuts end tanks and piping.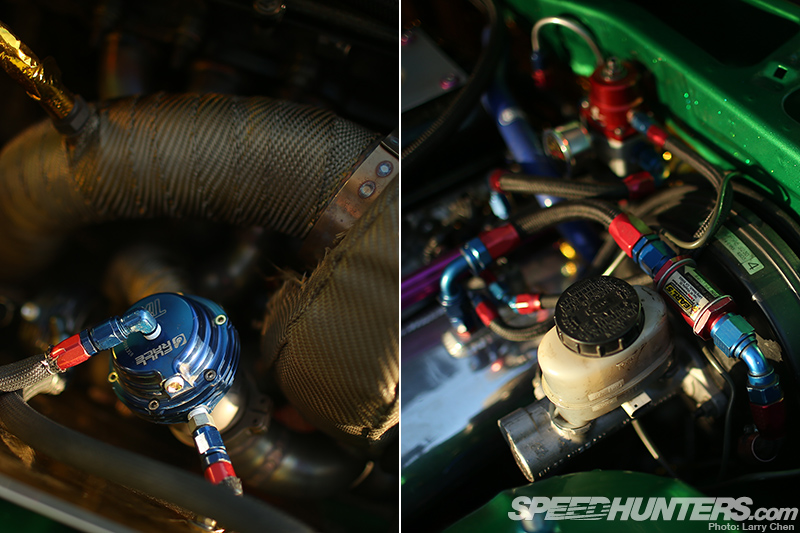 Yes, it seems the turbocharger is very much back in fashion in Formula Drift, and Forrest's car is just another example of this.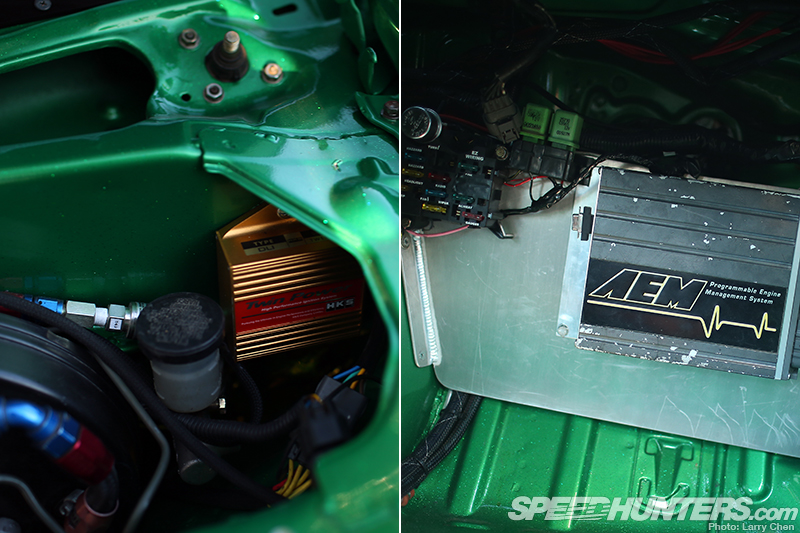 Besides building the engine setup, Insane Speed also handled the tuning for the car's AEM ECU system.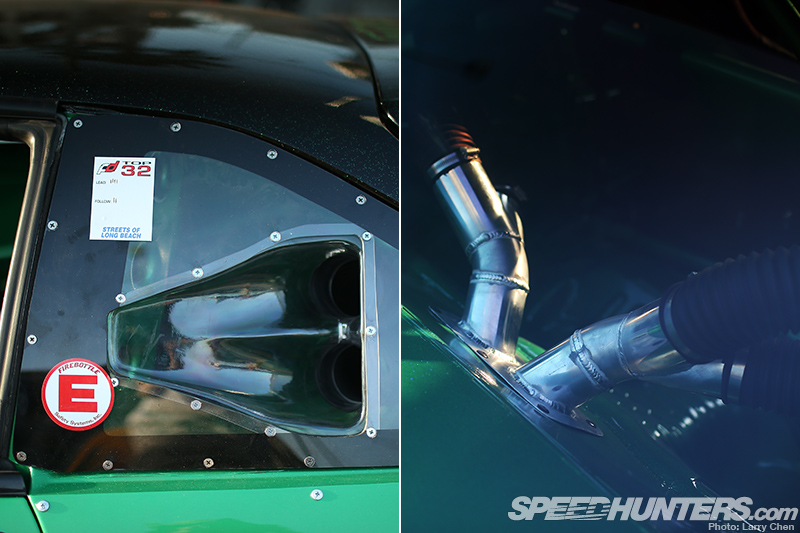 Being based in Vegas, Forrest certainly knows a thing or two about heat. To keep the S14 as cool as possible the car's also been equipped with a rear-mounted radiator setup.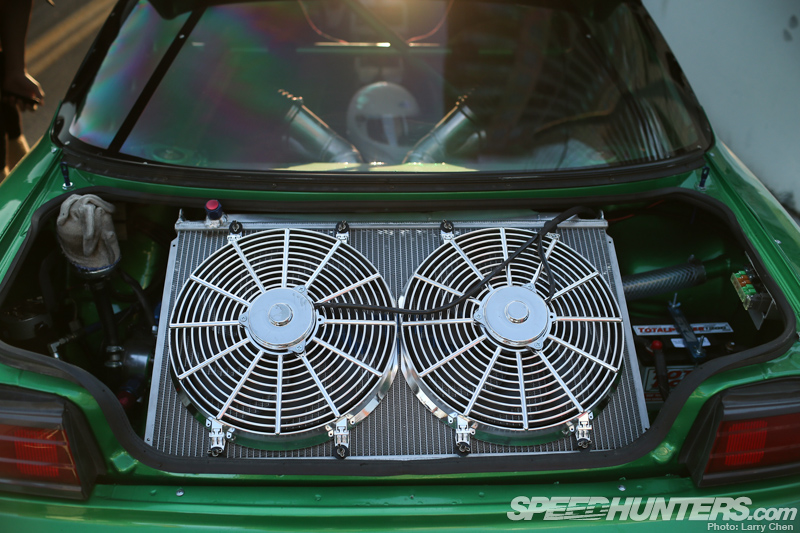 In addition to the giant Koyo radiator sitting in the trunk, there's also a set of Flex-a-lite fans and a CSR electric water pump helping to ensure maximum cooling.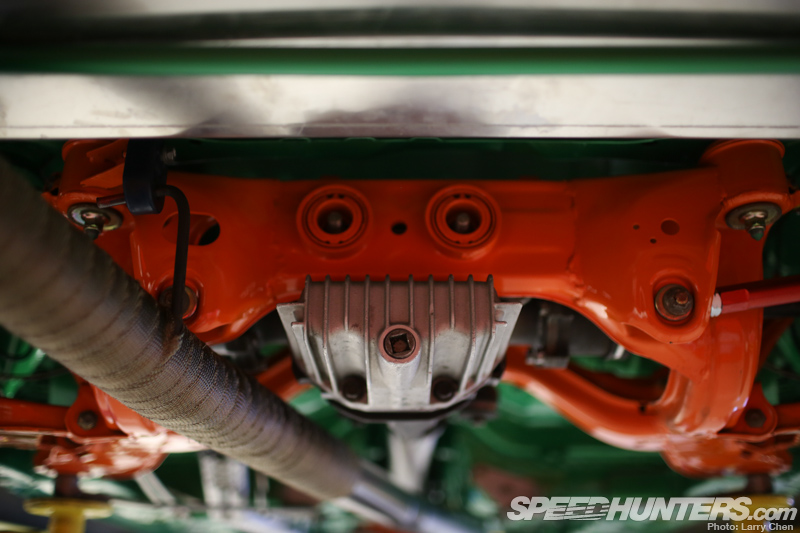 Beneath the car, you'll find Battle Version control arms all around, Godspeed sway bars, a custom power brace, solid subframe bushings and a diff and axles from a Skyline GT-R.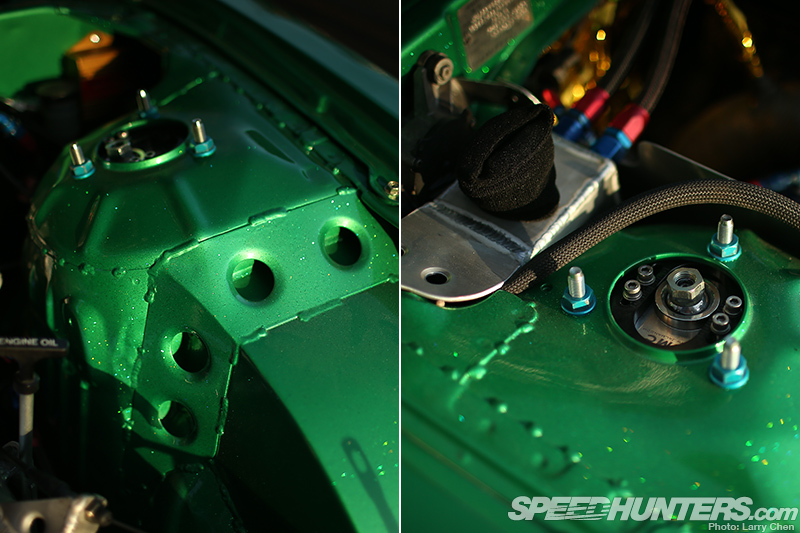 Elsewhere, the steering rack has been relocated and the car is running Get Nuts front spindles with Stance Pro Comp coilovers and Swift springs all around.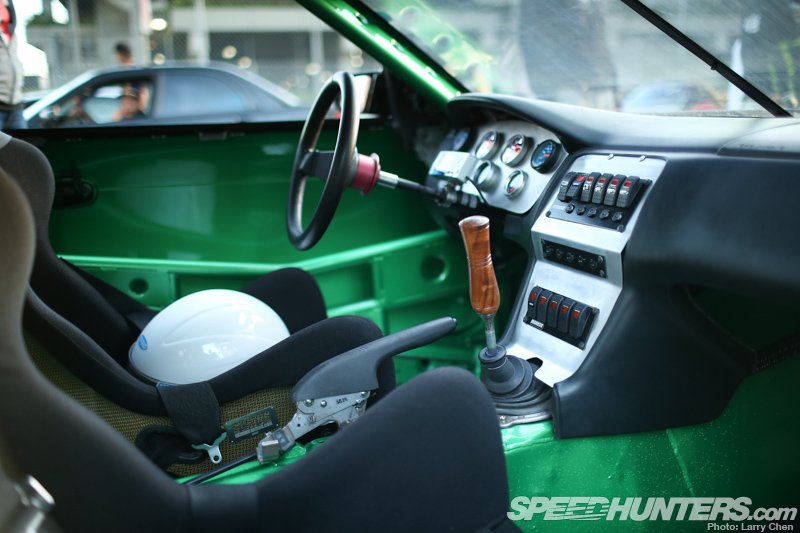 The cockpit carries the same attention to detail found throughout the rest of the car. Besides the aforementioned roll cage, there are a pair of Status carbon/Kevlar seats…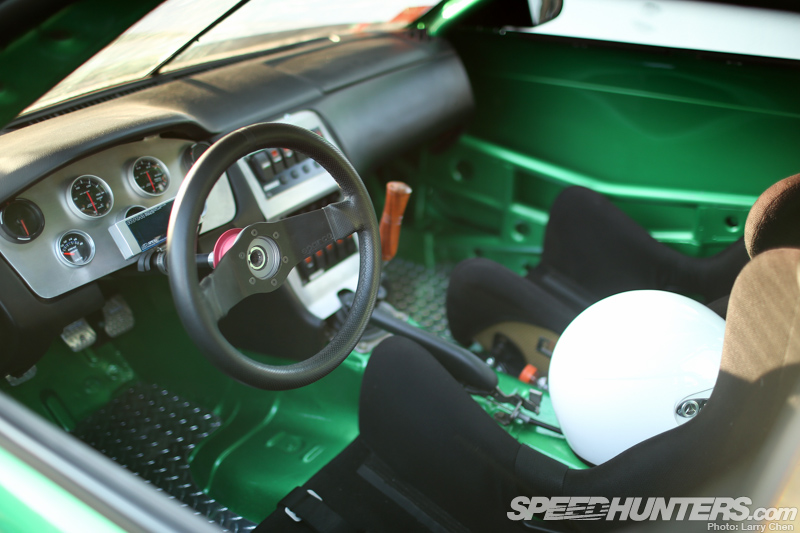 … along with a full of array of electronics all within easy reach of the driver. Better yet, everything is kept clean to the degree of looking like a show car.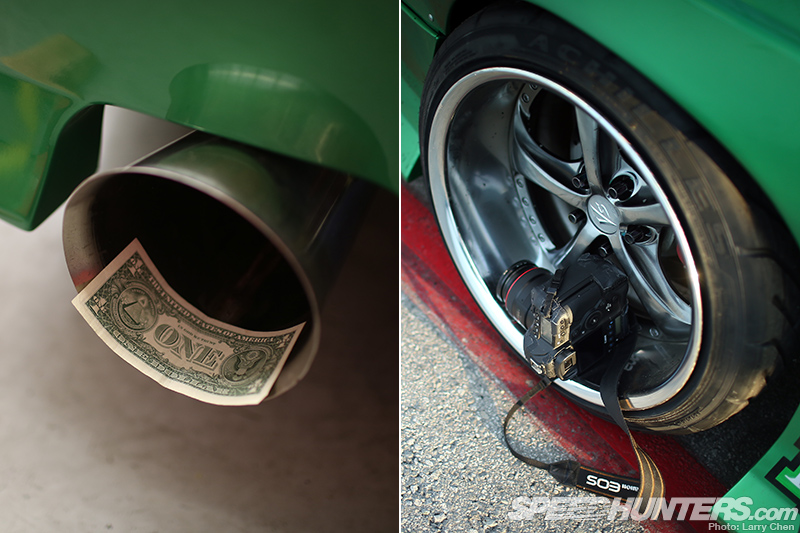 Last but certainly not least is the distinct exterior styling that truly sets the S14 apart when you see it in the paddock or battling on the track.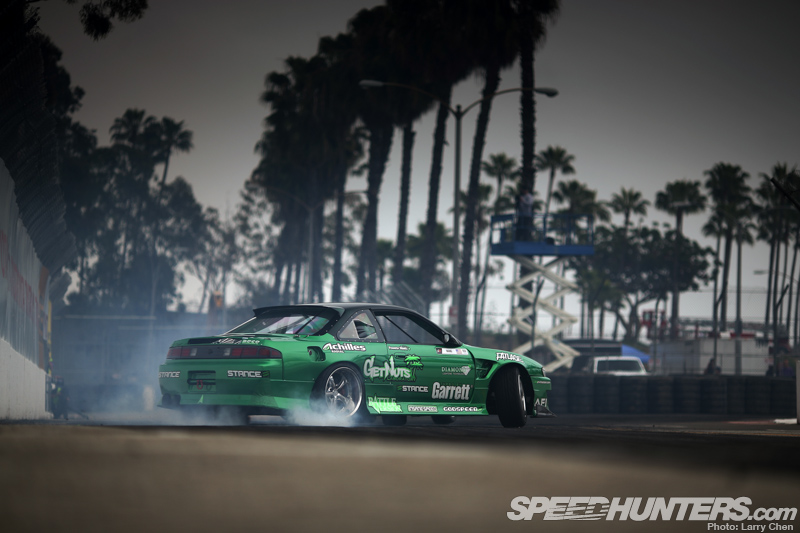 The body is equipped with a D-Max Type III aero kit with SuperMade fenders up front and Origin fenders in the rear. There other details too, like a D-Max roof wing and Origin carbon fiber canards, along with JDM headlights and taillights.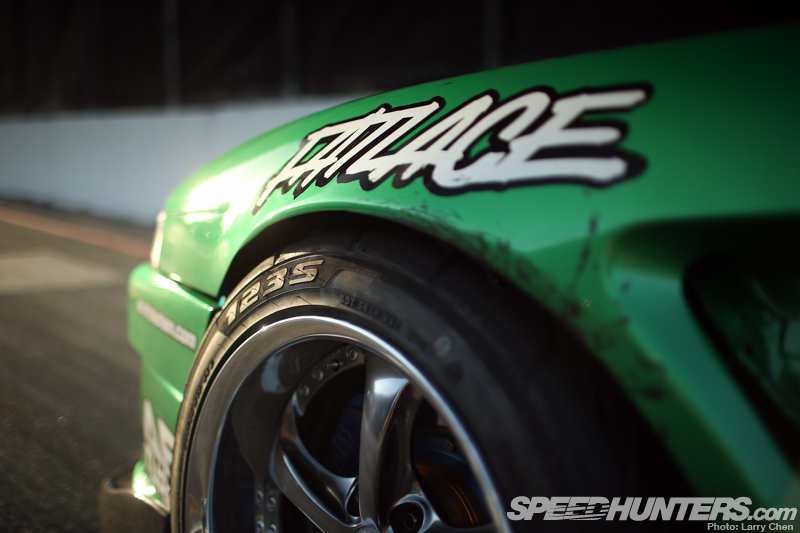 Then of course there are the beautiful set of Work VS-KF wheels which are the centerpiece of the car's stylish, street-inspired vibe.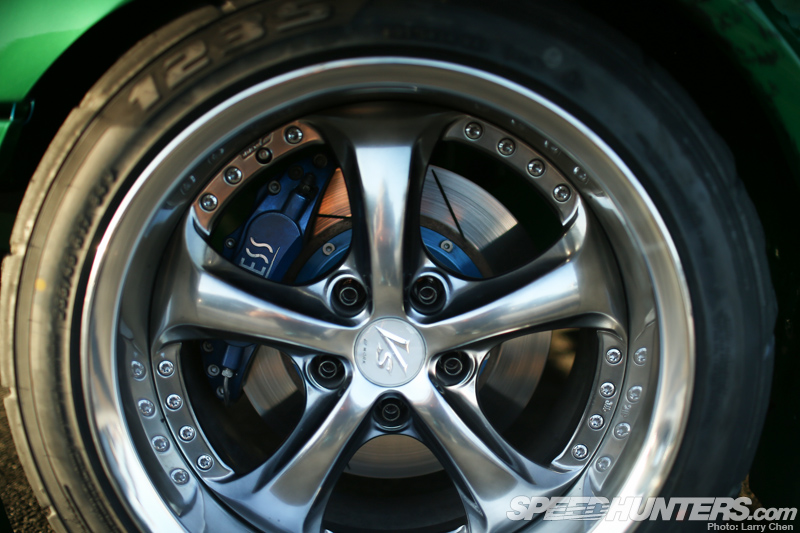 The wheels measure 17×9.5 inches up front and 18×11 inches in the rear and are mounted with Achilles 123 tires. Let's not forget the blingin' Endless six-pot brakes up front either.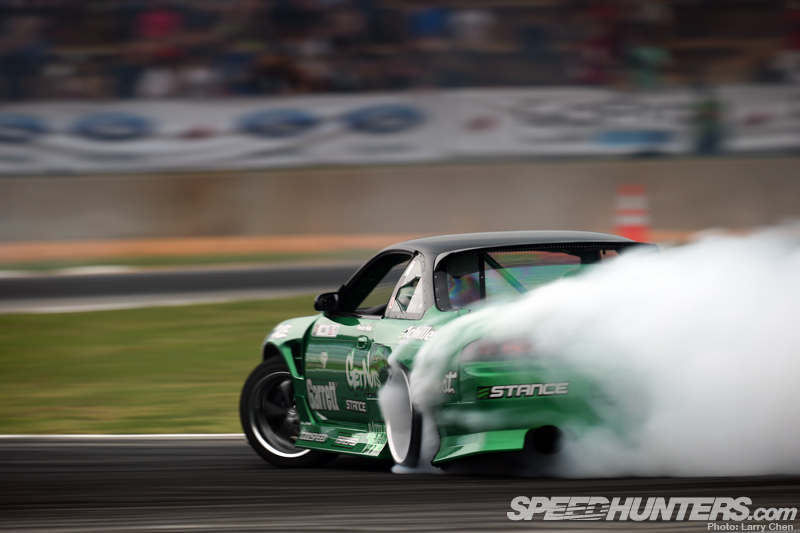 Of the course, the quest to make the car better will never end. Currently on Forrest's to-do list is the addition of a four-speed dog box and a quick-change rear end. Anything to help his cause in a field that gets faster and more aggressive each event.
But whatever happens to the car in the future, I think we can rest assured that Forrest will always do things with a sense of style and that this car will never forget its humble street roots. Once again, it's all about balance between form and function and I think Forrest Wang has very much found it.
Words by Mike Garrett
Instagram : speedhunters_mike
Email: mike@speedhunters.com
Photos by Larry Chen
Instagram: larry_chen_foto
Email: larry@speedhunters.com
Formula Drift stories on Speedhunters
Forrest Wang's Formula Drift S14
Engine
Toyota 2JZ-GTE swap, CP pistons, BC rods, BC cams, BC springs, BC retainers, ARP hardware, ATI damper, AFI exhaust manifold, Fuel Injector Clinic 2150cc injectors, Yellowjacket coilpacks, Tomei cam gears, HKS timing belt, custom Godspeed intake manifold, Garrett GTX3082R turbo, Tial wastegates, Garrett intercooler, Get Nuts end tanks and piping, Blitz oil cooler, RCI fuel cell, Get Nuts exhaust, AEM ECU, rear-mounted Koyo radiator setup, Flex-a-Lite fans, CSR electric water pump
Driveline
R154 transmission with Marlin Crawler parts, Carbonetic clutch, aluminum driveshaft, Skyline GT-R differential, axles and hubs
Suspension/Brakes
Get Nuts front spindles, Stance Pro Comp coilovers w/Swift springs 12k front 3k rear, Tein tie rods, Godspeed sway bars, Battle Version control arms, relocated steering rack, Endless six-pot brakes front, Skyline brakes with Project Mu pads rear,
Wheels/Tyres
Work VS-KF, 17×9.5J -5 (front), 18x11J -10 (rear), Achilles Radial 123 235/45R17 (front), 265/35R18 (rear)
Exterior
D-Max Type III kit, SuperMade front fenders, Origin rear fenders, D-Max roof spoiler, Origin CF canards, Seibon CF hood, JDM aero mirrors, JDM S14 kouki headlights & taillights, Diamond Lighting HIDs, Lexan windows

Interior
Get Nuts custom FD-spec roll cage, Status carbon/Kevlar seats, Bride low rails,  Sparco steering wheel, Quick release hub, Sparco pedals,