I hear it all the time. Yes I'd love for you to shoot my car, could you wait until I finish up and fit so and so parts. We all do it, me included which is also why I've never really properly shot my own car. But as far as perpetual-projects go, nothing and nobody could ever touch Under Suzuki and his Scorch Racing S15. This is the epitome of a project car, but unlike most of us out there that spend a little bit of free time now and again with our respective pride and joy, Suzuki devotes ALL of his spare time to his car and when needed makes extra time to get stuff finished. This is what happens when you build a car for a true purpose; obsession unavoidably sets in. Only then would you come close to reaching the level Suzuki now stands at with his car.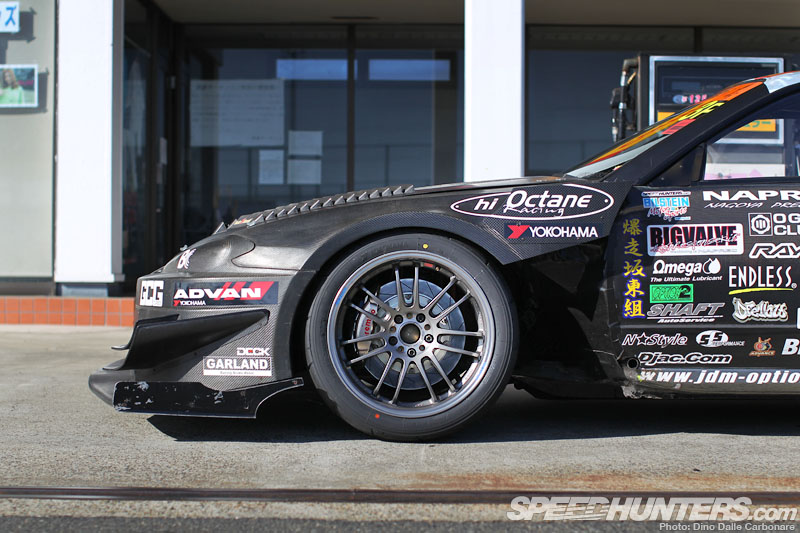 Since we looked at his Silvia years ago you will notice the drastic change the car has undergone. By bringing in Andrew Brilliant as a consultant Suzuki gained the necessary advice to start to seriously address the car from an aerodynamic point of view. As Andrew says "…balance is important. Too much rear downforce you understeer out of high speed corners and too much front downforce you oversteer. With a production car, the rear downforce is where you can adjust because it's a wing. So the progression for his car last year began with some advise on how to increase front end downforce."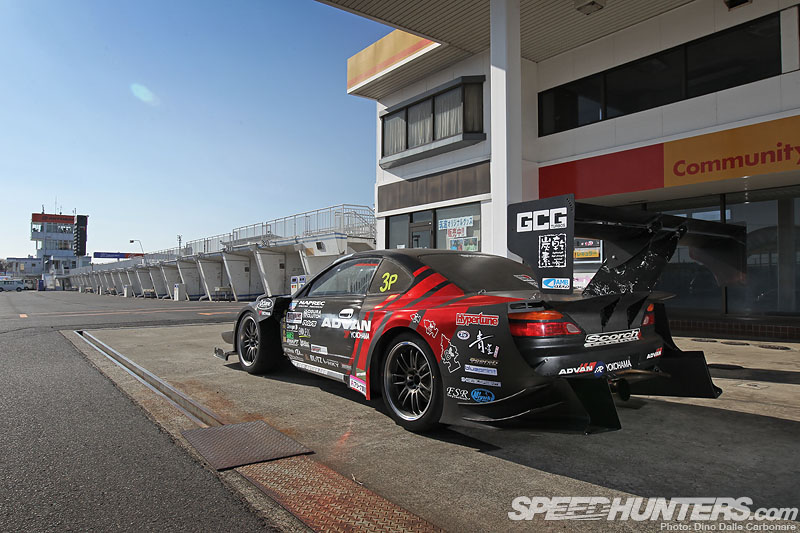 "We ended up maxing out the wing so came up with an all new design with more headroom and less drag." You can sew the new adjustable wing above.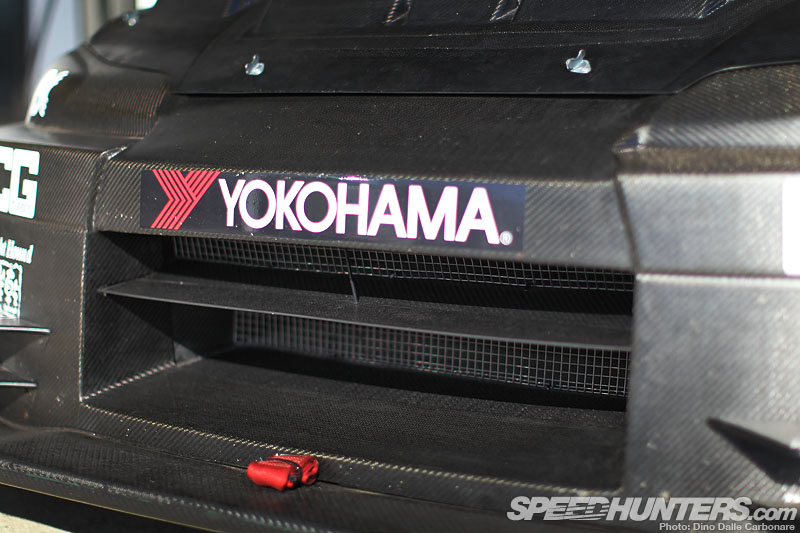 To boost front end downforce a lot of work went into creating a more thought out path for the air hitting the S15, not only around the side of the bumper and over the canards but also the air travelling into the engine bay, through the radiator and intercooler…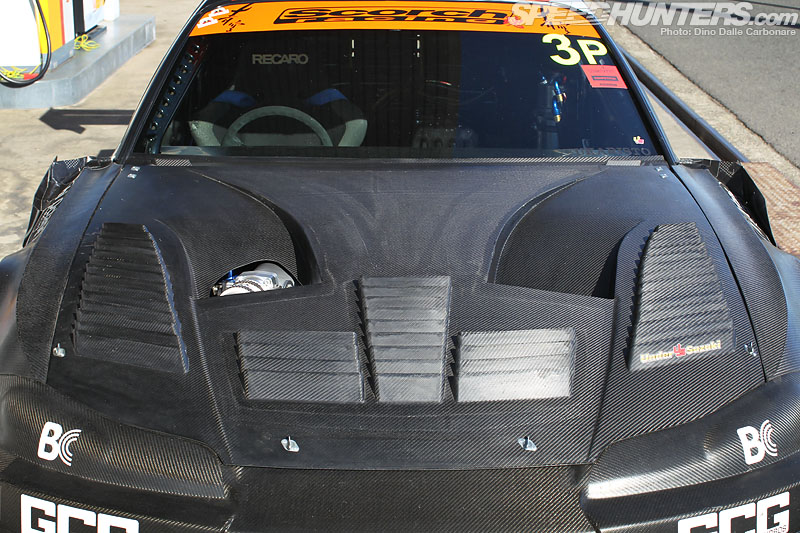 …and up, out through the louvered hood. As Andrew told me, what makes Suzuki-san stand out is that he has dedicated himself to learning the black art of aerodynamics through advice and lots of experimentation. Suzuki didn't study aero design, he didn't work in a pro race team, but continues to take small steps learning along the way. That's why his car is always changing and now that he has become quite the master at making his own carbon fiber body panels, it does give him lots of scope to harness all this advice and experiment continuously.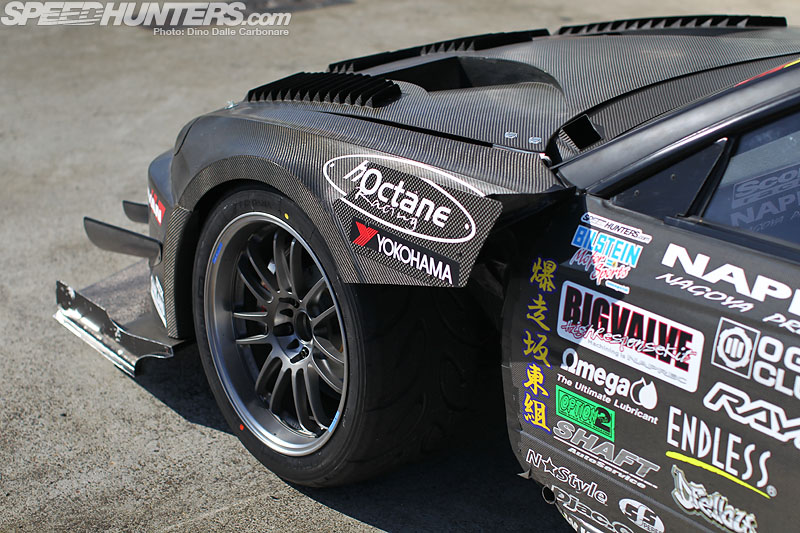 Up front the front fenders are an area he has really changed, from the actual design, width and shape to the portion of the chassis aft of the wheels that he just hacked away at (you will see what I mean further down in some of the interior shots) "…from here he wants to continue growing the front downforce…" and that is precisely what he is working on at the moment. Don't think for a second that now that he has the record at Tsukuba he is going to stop trying. Quite the contrary, he knows that his car still has a ton of potential left in it and will see it out until the end…whenever that will be!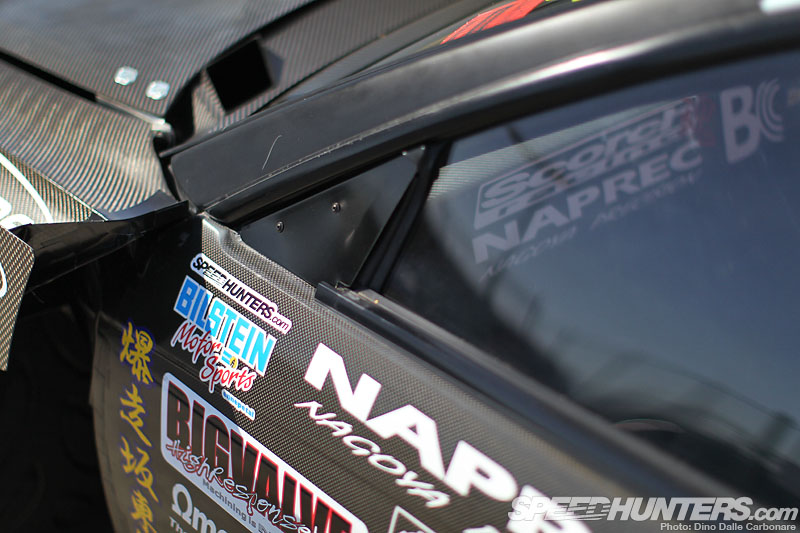 For his 52-sec lap attack, Suzuki even got rid of the Craft Square mirrors as he was the only guy out on track, so no need to check behind the car!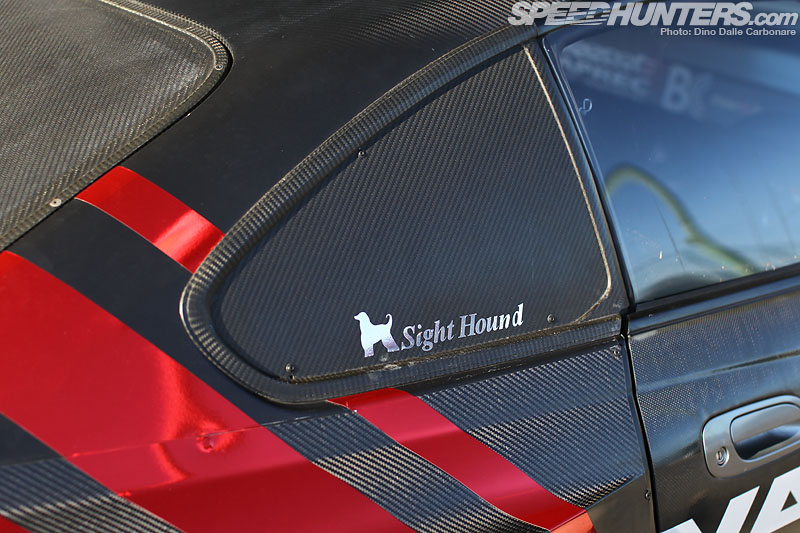 As you move further rearward you an see how the carbon treatment extends to the doors(these have actually been on the car for a while), side rear "glass…"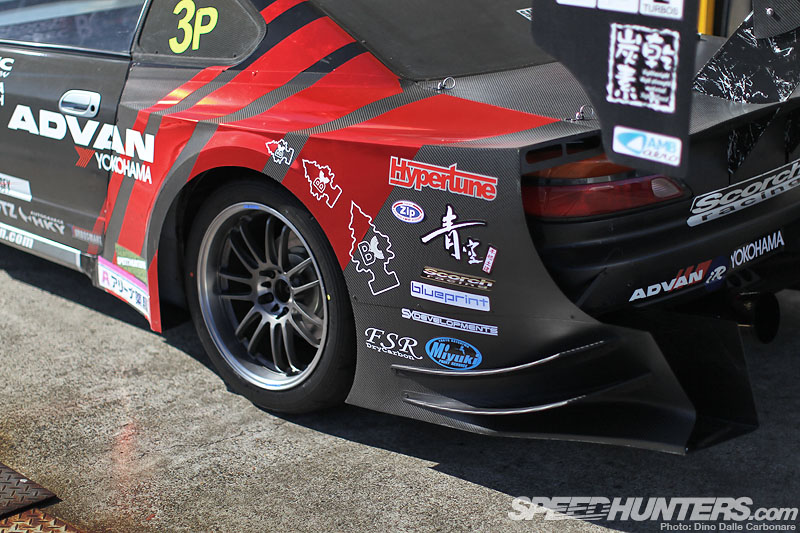 …the rear window and of course those huge overfenders we first saw when he was shipping his car to Australia for last year's WTAC. Everything is there to either improve or smooth flow over the car and in the process use that air to create more downforce, less lift…and whatever else these crazy aero guys are thinking!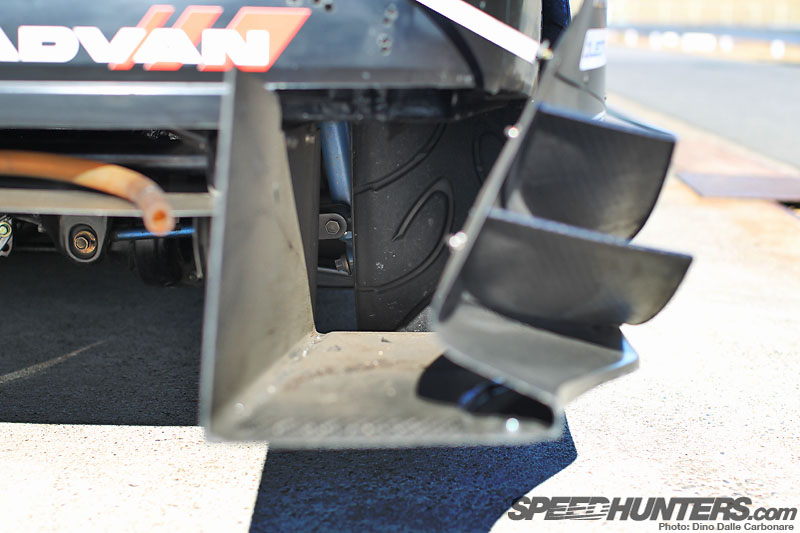 Here is a look into the elongated extractor sections that wrap around the rear of the car. If they have stayed on the car until now it probably means Suzuki-san has deemed them functional. That's how aero experimentation is pretty much approached on this car!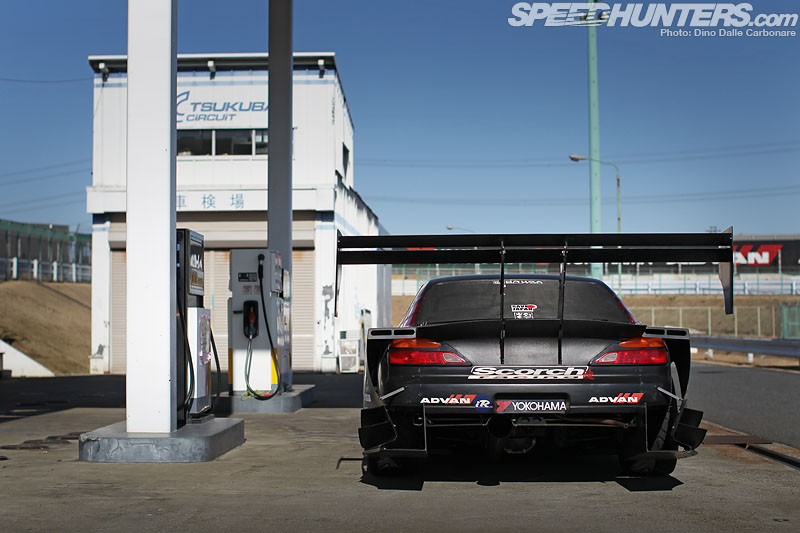 This view of the rear end gives a better look at the sheer dimensions of the rear wing Andrew designed, something that will be providing as much rear downforce as Suzuki will need for the foreseeable future.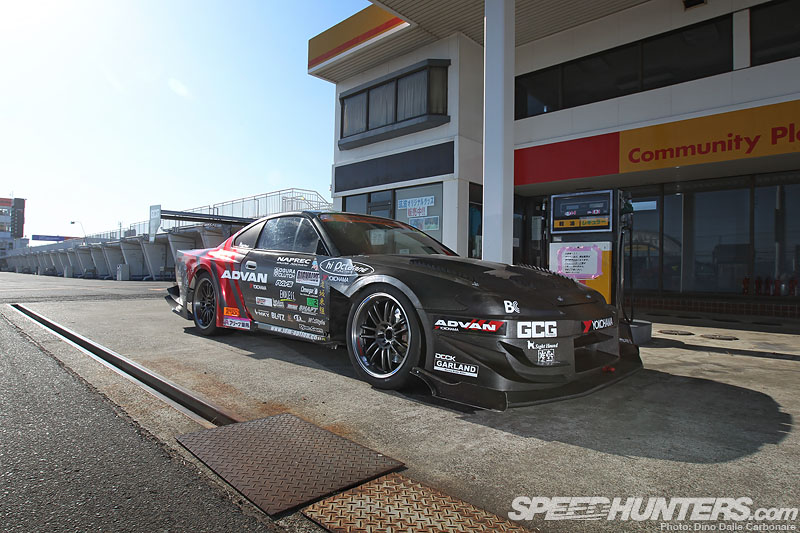 This car defines functionality in ever way, nothing is there without reason. And if you are wondering if Suzuki-san runs an underfloor, the answer is no. Maybe it will be something he will start working on this year, but the fact that he has achieved what he has without the use of one further adds to car's capabilities.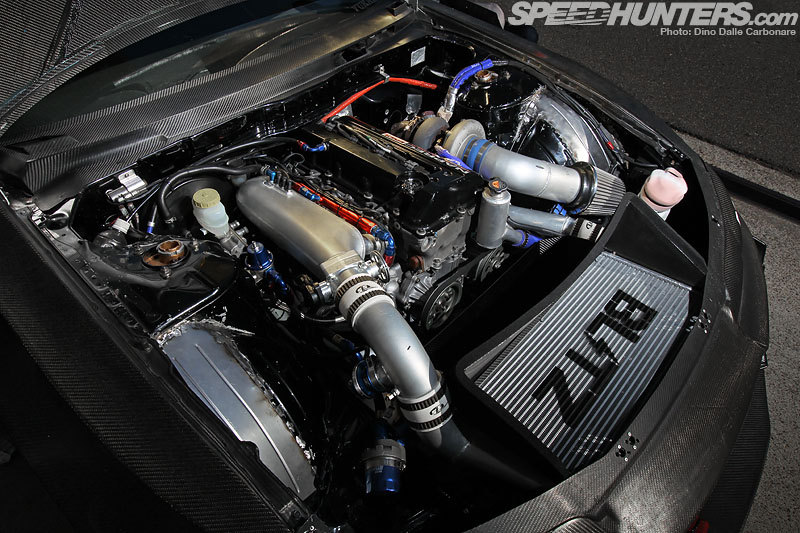 On to the engine. This part has been worked on with close assistance and advice from Takemura-san at Scorch and the basis remains similar to when we saw it before, except it has been rebuilt after the failure it had back in 2011. The 2.2L Brian Crower stroker is joined by a…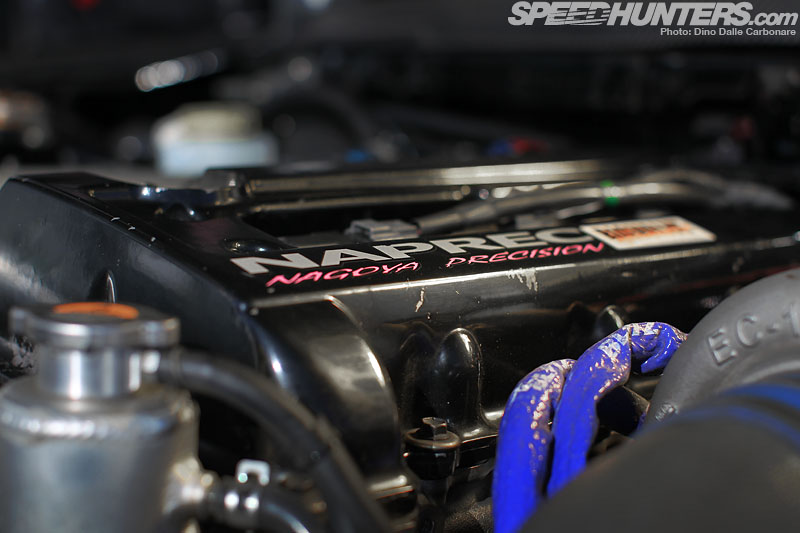 …reworked head from NAPREC boasting ported and polished intake and exhaust tracts and special "high-response" valve gear . Of course the head is off an SR20VE so has variable valve timing allowing for a broad spread of torque.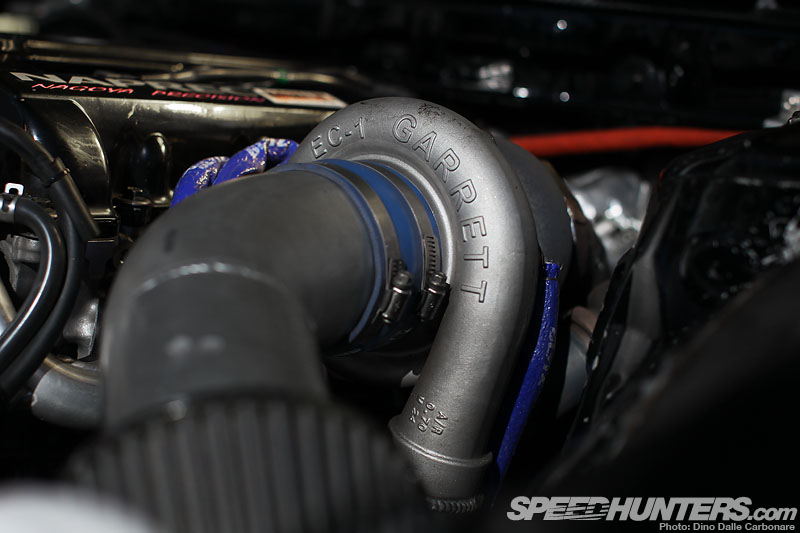 One of the main differences throughout last year was the adoption of a GCG turbo which replaces the previous KKK/Blitz K27 unit. The larger GTX3582R allows for better response and higher flow which has helped bump the power of the SR up to 800 HP. The turbo has been pretty much pushed to its limit, ran at 2.5 bar when Suzuki goes for serious time attack laps. He, along with Takemura-san, are looking to step it up to a Borg Warner EFR turbo to get more power, so 2013 will see quite a few changes under the hood too.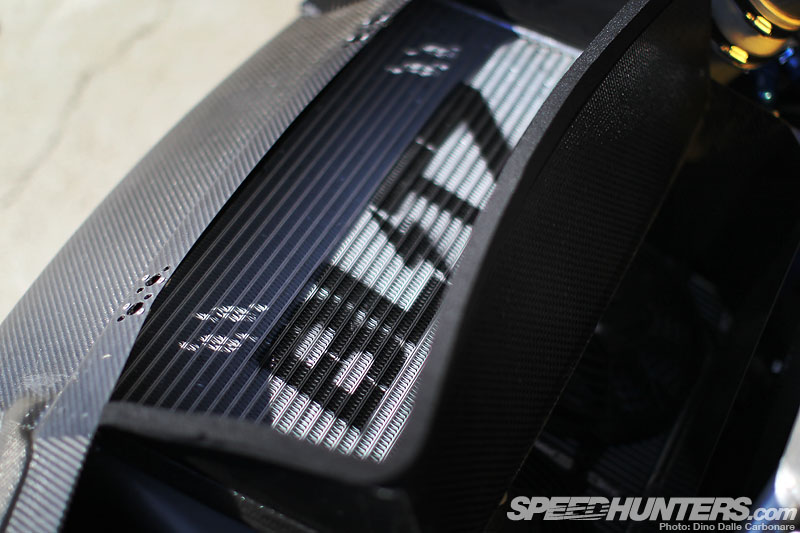 A horizontally mounted Blitz intercooler takes full advantage of the air the air dam and carbon shrouding directs through its core…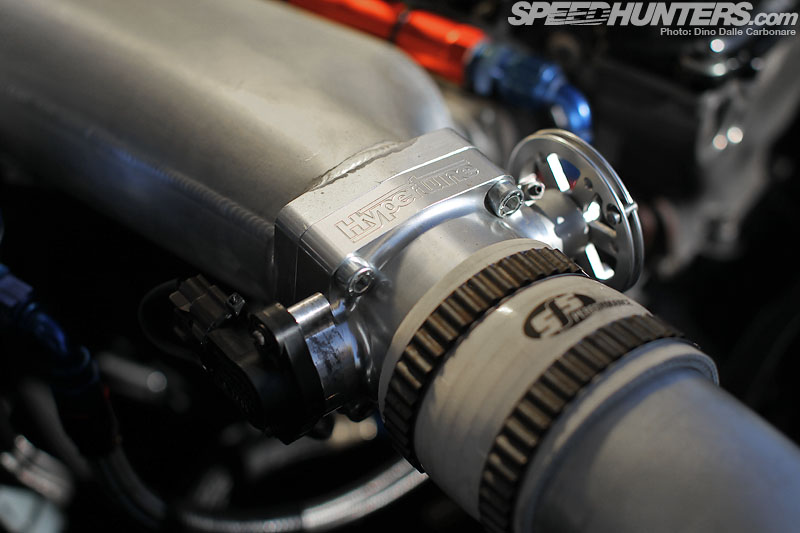 …before passing on the compressed intake charge to Hypertune throttle and plenum.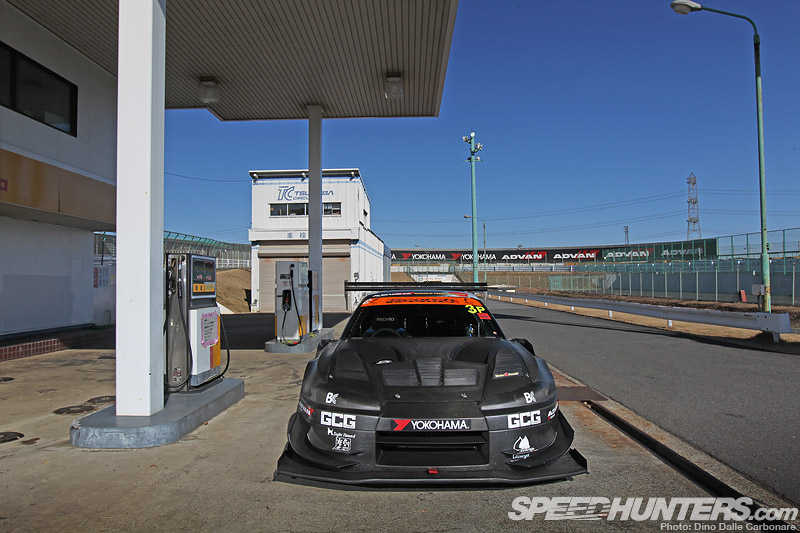 Specially set up and valved Ennepetal/Bilstein dampers are what Suzuki-san runs…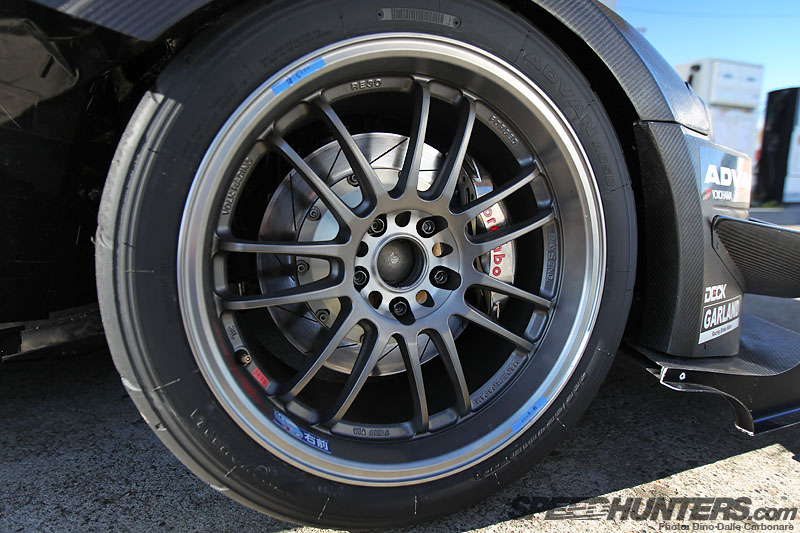 …with the car having received quite an evident brake upgrade. The older Brembo Racing forged calipers it was running have been replaced with these all-new items, boasting better construction…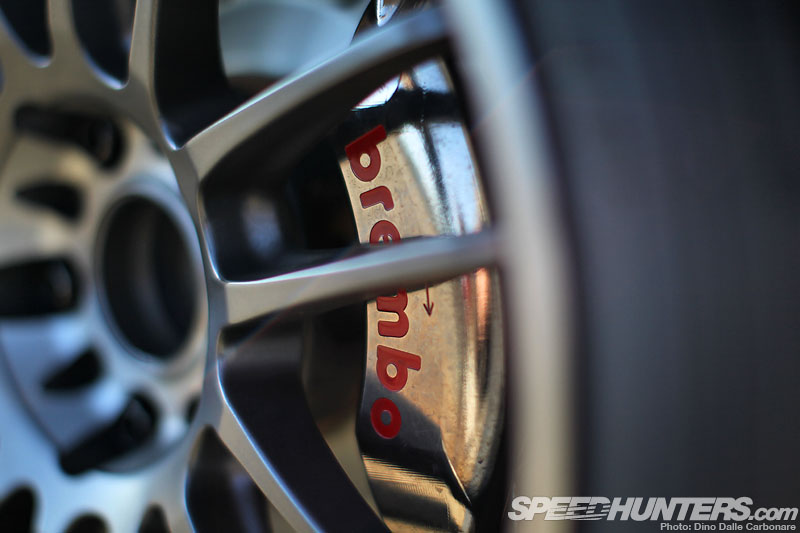 …lighter weight and better performance.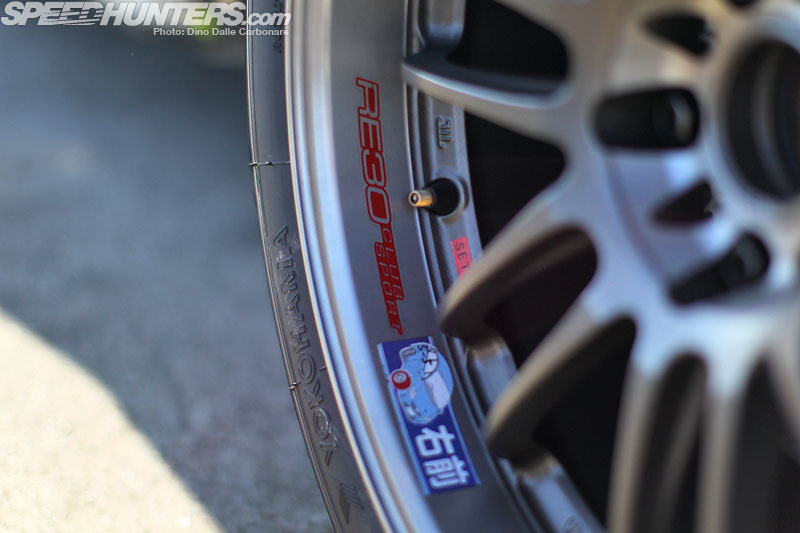 Wheels are courtesy of Rays Engineering, a nice and light set of Volk Racing 10.5Jx18″ RE30 Club Sport wrapped in the stickiest Advan A050 rubber available. As most time attack cars out there, Suzuki's S15 is running the new 295/30R18 size all round.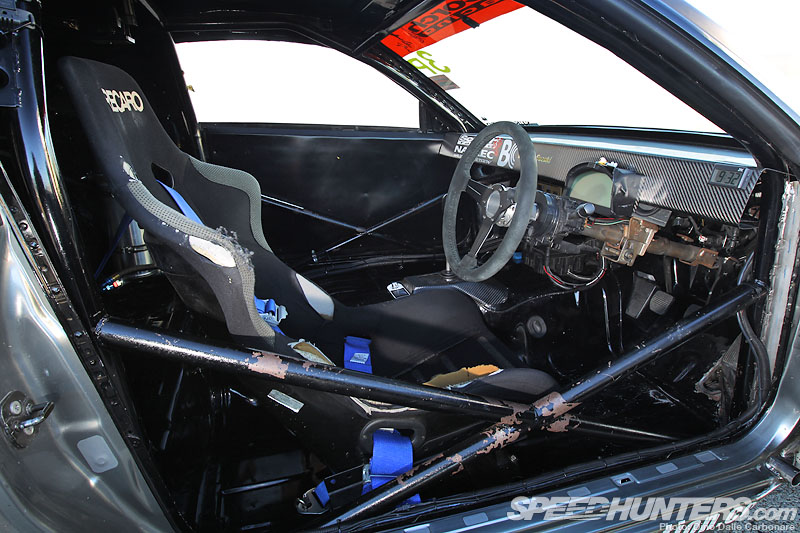 Much like everything else the interior oozes functionality; the chipped paint on the cage's crossbars and wear and tear of the Recaro seat  hints that this car gets used, and often.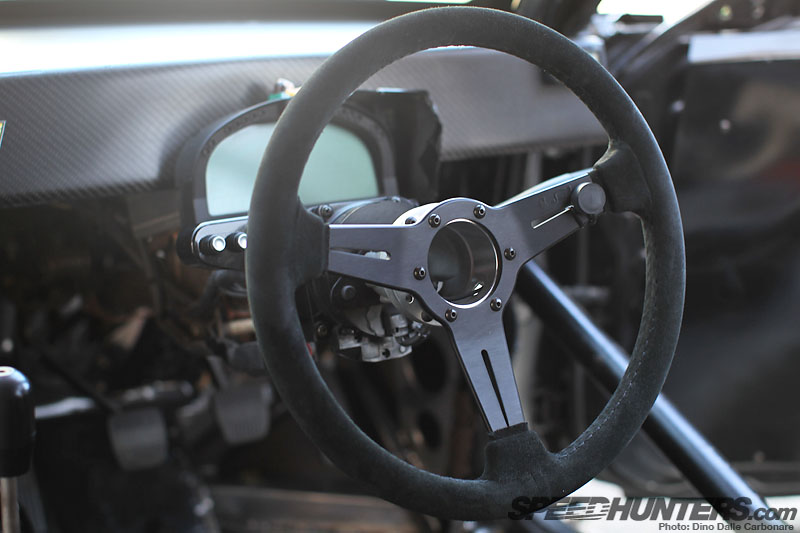 The suede-trimmed Nardi steering wheel has a little trigger button to actuate an overboost function…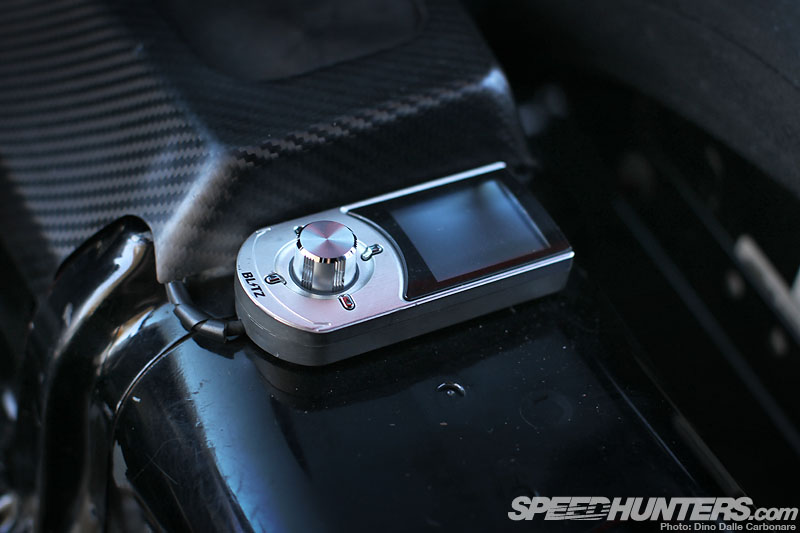 …allowing the Blitz SBC-iD boost controller to unleash full boost on the GCG turbo.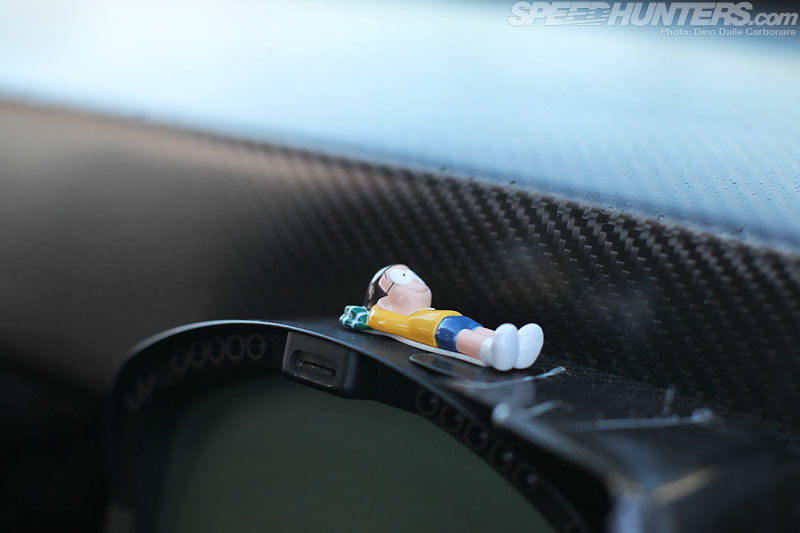 Suzuki keeps this little  Nobi-Nobita character from Doraemon on top of his Racepak IQ3 dash/data logger as a good luck charm.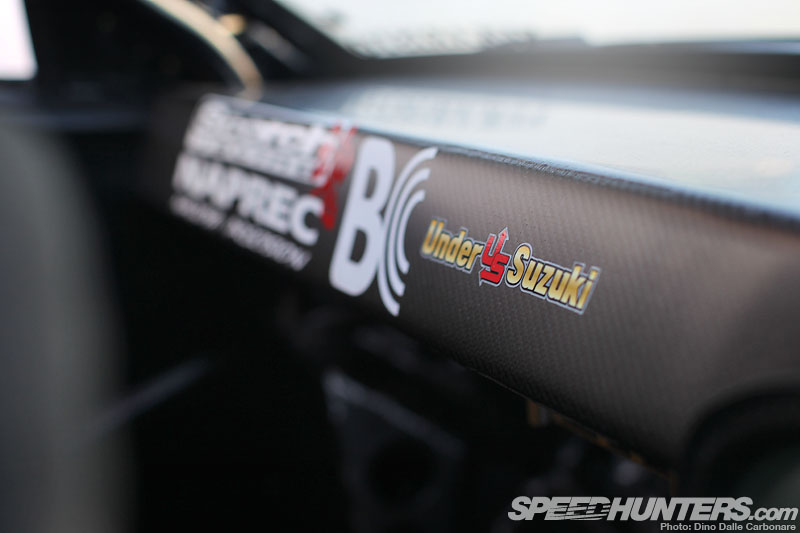 Since I last properly shot the car the interior has been cleaned up a lot, partly thanks to the carbon fiber dashboard…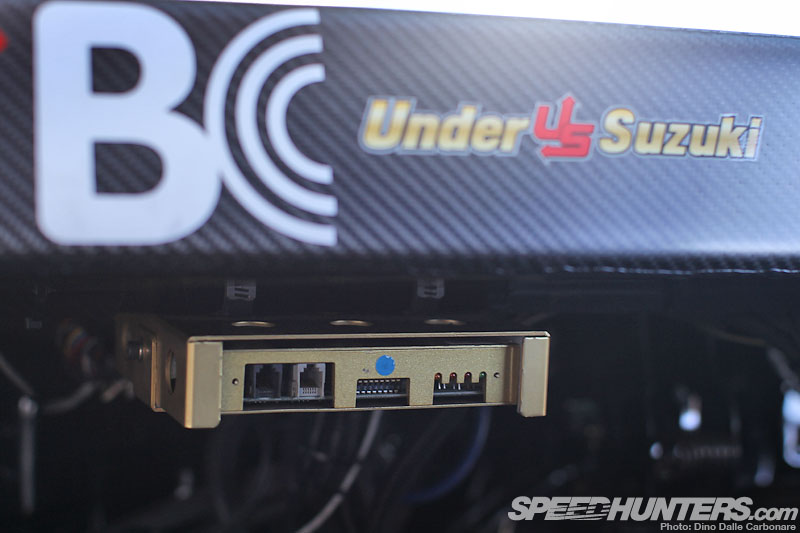 …which hides all of the wiring and electronics. Suzuki has recently gotten rid of the HKS F-Con V Pro ECU and moved on to a Motec unit which will not only allow him a ton more scope for more refined tuning but give him the option to run some sort of traction control in the first two gears to help him shoot out of Tsukuba's tightest corners more efficiently.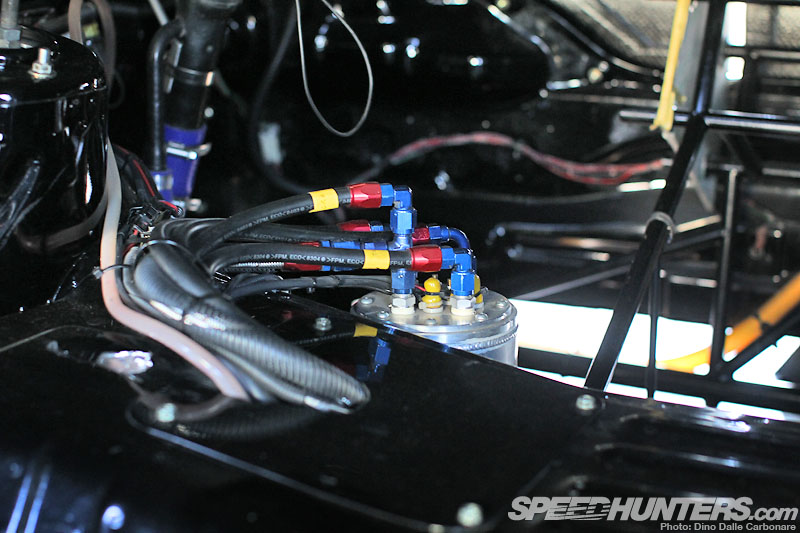 The whole interior has been completely gutted out, so one peek through the doors and you can see right through to the trunk area where the surge tank is located. You can also see the subframe that was fabricated to hold up the massive rear wing and transmit all that downforce onto the chassis.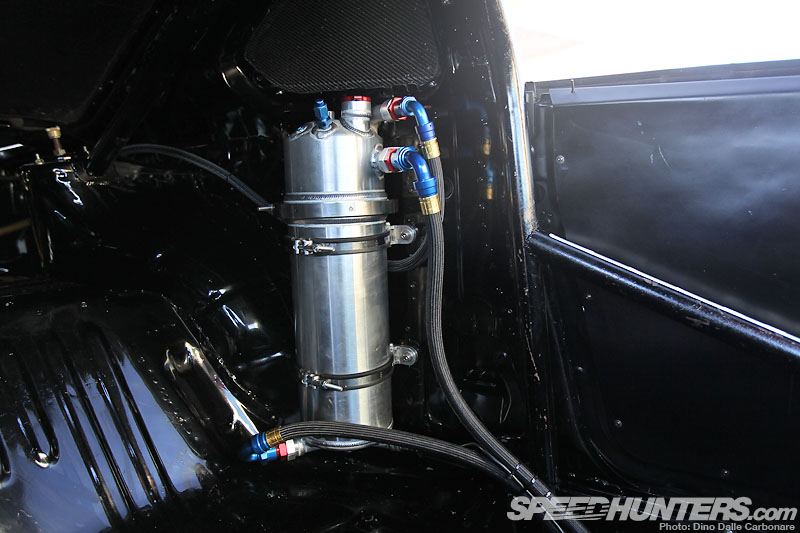 The SR20 has been dry sumped and the tall oil tank feeding the pumps has been located inside on the passenger side for best weight distribution.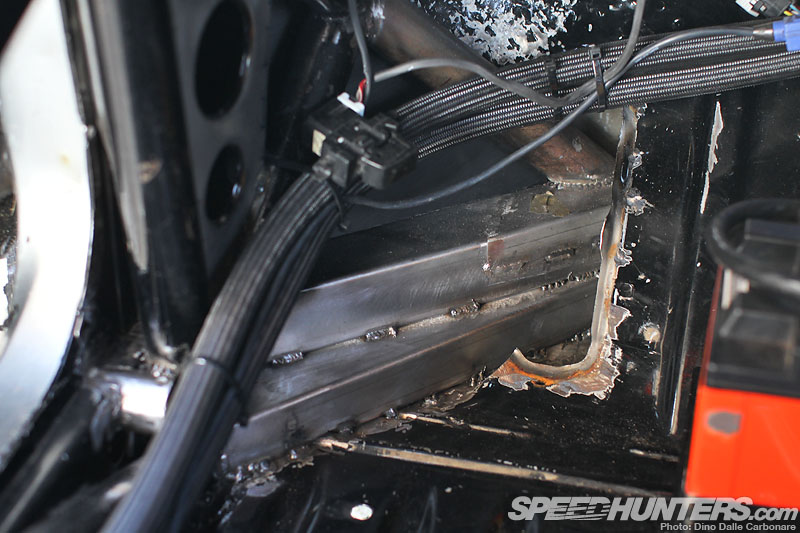 I mentioned that the sides of the chassis right behind the front wheels had been hacked up to allow better airflow. This is what it looks like from the interior.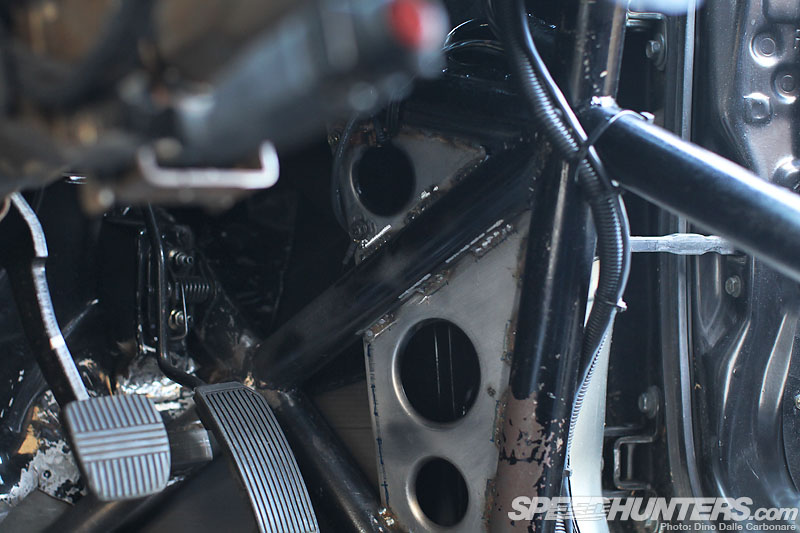 The whole area is of course strengthened up and gusseted to the roll cage to guarantee enough stiffness, but it's a good example of the extent Suzuki-san is prepared to go during his "experiments."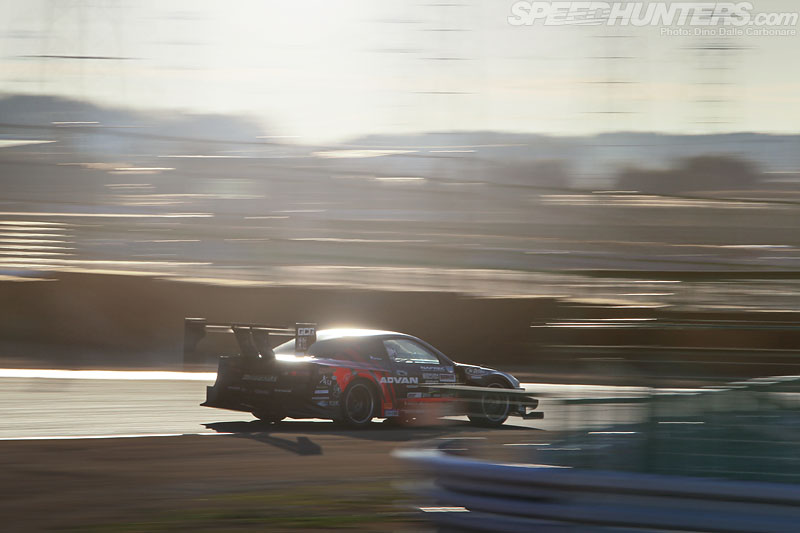 His year looks pretty busy; he has two more Battle Evome sessions to participate in and then lots of work to get the car upgraded and set up for the 2013 WTAC, which has been moved to the 18th and 19th of October. I think from now on I will be shooting this S15 at the end of each year, such is the advancement of upgrades, alterations and improvements that Suzuki and his team keep applying.
Thanks to Suzuki-san for sticking around at Tsukuba for a couple of hours to allow me to shoot his car and Andrew Brilliant for the comments about the car's aero.
Specs:
Max Power: 800 HP
Max Torque: 736NM (542 lb/ft)
Max Boost: 2.5 kg/cm2
Best time Tsukuba: 52"649 sec
Engine: Brian Crower 2.2L stroker kit, Nismo bearings all round, dry-sump lubrification, P12 Primera crank pulley, custom aluminium pulley for water pump, alternator & power steering pump, low-mount bracket for power steering pump, Denso lightweight alternator, SR20VE variable valve timing head, P12 Primera stock cams IN 228º~278º 12 mm lift, EX 244º~280º 11.15 mm lift, NAPRED high response head with: strengthened double valve springs, sodium filled EX valves, bronze valve guides, race cut valve seats, ported and polished head, Tomei t=1.8 mm metal head gasket ø 87 mm, Tomei head bolts, GCG Garret GTX3582R turbocharger, Turbosmart 40 mm comp gate external wastegate, custom ø 90 mm stainless steel front pipe, custom ø 90 mm exhaust system, custom intake pipe and Blitz mesh filter, custom intercooler piping, Blitz Type-J intercooler,  Turbosmart Race Port BOV, Hypertune intake plenum & throttle body, Hypertune fuel delivery pipe, Blitz 1000 cc/min injectors x4, Blitz Type-D oil cooler, Tabata triple core racing radiator, Custom twin electrical fan set-up, NGK Racing Plugs #9, Odyssey 925 dry-cell battery, HKS F Con V-Pro ECU
Transmission: ORC triple plate clutch, ORC lightweight flywheel, Hollinger H6S 6-speed sequential transmission, Nismo GT-Pro differential (4.08 final)
Suspension & Brakes: Ennepetal/Bilstein adjustable suspension, Hyperco springs 12 kg/mm front, 10 kg/mm rear, pillow ball arms, solid/welded members, Brembo Racing 4-pot front calipers, ø 340 mm 2-piece Garland slotted disc, 2-pot Brembo rear calipers & slotted discs, Endless Type-R brake pads
Wheels & Tyres: Rays Engineering Volk Racing RE30CS 10.5JJx18", Yokohama Advan A050 295/35/18 GS compound
Exterior: custom carbon bumper, custom carbon canards, custom headlight dummies, custom carbon vented hood, custom carbon fenders, custom carbon doors, custom carbon rear overfenders, T&E Vertex dry carbon roof, custom carbon side & rear glass covers, custom carbon trunk, Craft Square carbon mirrors, custom designed adjustable rear wing
Interior & Chassis: 14-point ø 40 mm cromoly racing roll cage, spot welded chassis, Recaro SP-G bucket seat, Nardi racing steering wheel, Racepak IQ3 data logger dash unit, Blitz boost controller, Lap-Shot LP-03 lap timer, oil reservoir catch tank
Under Suzuki related coverage on Speedhunters
-Dino Dalle Carbonare