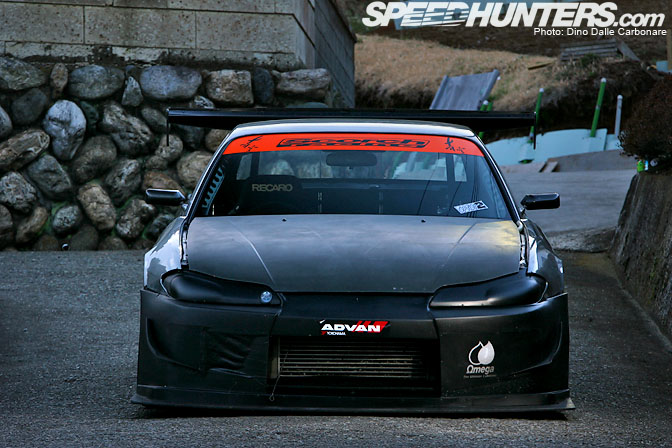 In many respects this is probably the most impressive car to ever be built in Japan. Forget all your high-budget, tuner-built, time attack machines that we have been seeing at events like the Lap Battle for years, as those cars don't even come close to this very special S15. Sure many might be faster, barely, but what makes this particular car different is that it isn't built to smash records in the pursuit of worldwide recognition. The only thing Suzuki-san, the owner, is after is personal satisfaction as every bolt, part and body panel has been tightened, fitted and painted by himself.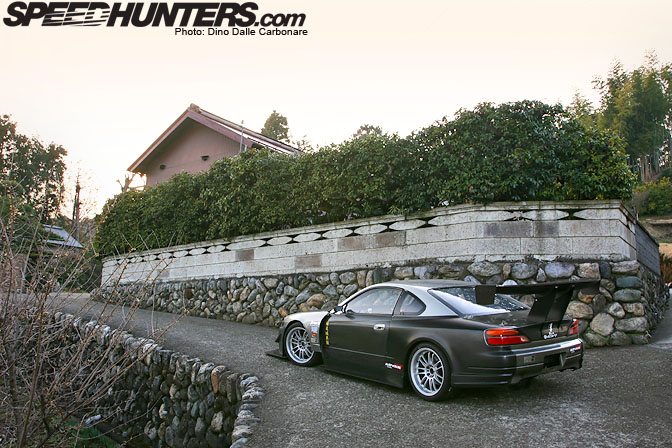 Suzuki-san takes care of the driving side of things too, so he is pretty much a one-man team, doing all of this out of pure passion. He competes in the Battle Evome time attack meetings…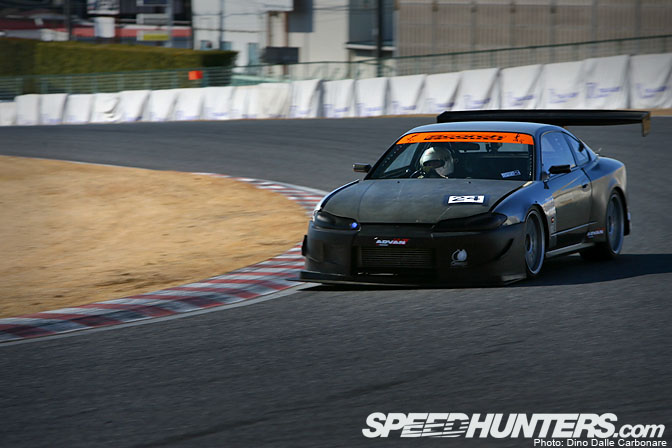 …which are held at Tsukuba a few times a year, from December through to mid February in order to guarantee the best possible track and weather conditions for fast times.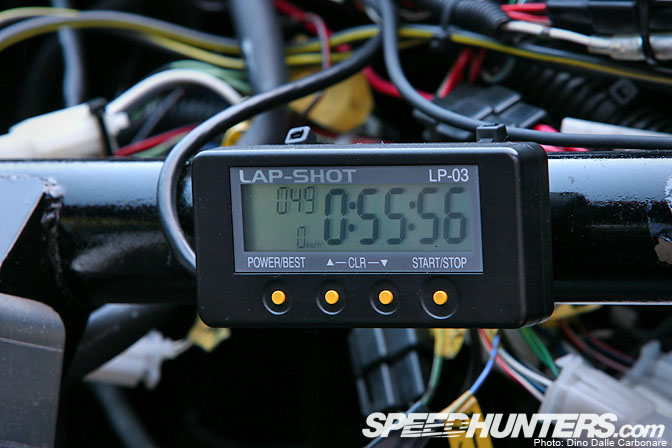 Las year Suzuki-san managed a 55.56 sec lap, a time that if he competed at the 2010 Rev Speed Lap Battle event would have landed him in second position behind the Revolution RX7 and in front of the Panspeed RX7. Pretty impressive right?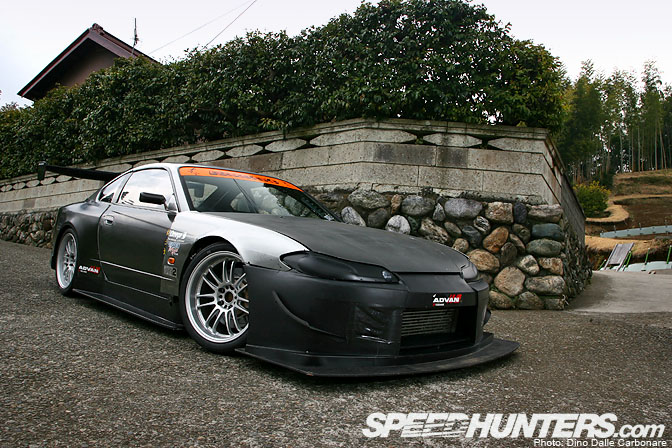 Suzuki, an office worker by day, spends most of his nights tinkering away on his car, slowly building and perfecting it. His friend Takemura-san, the owner of Scorch Racing, allows Suzuki to use a small space in the garage to work on the Silvia…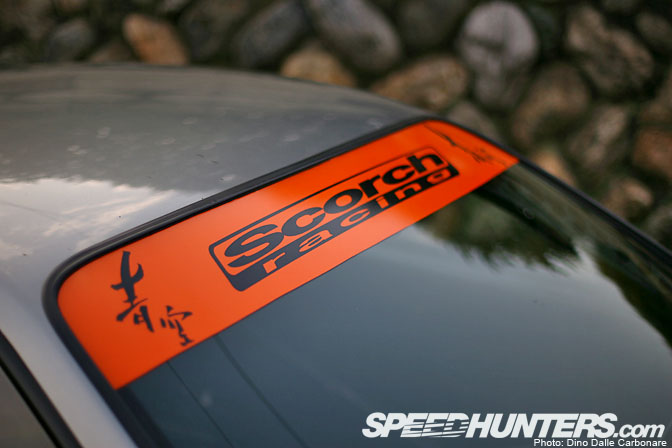 …which explains why it wears the Scorch Racing windscreen banner.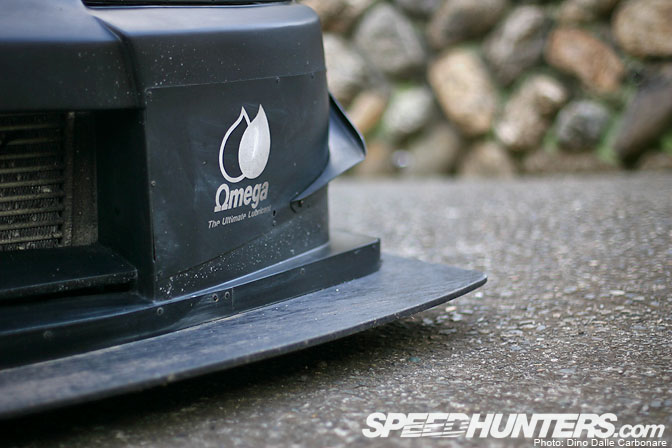 Suzuki began taking his S15 to tracks like Tsukuba for a little bit of fun, a stress-relieving way to forget about work. As his driving improved and a few choice tuning upgrades began making the car progressively faster it kind of all began to lose control. The interior was getting more and more stripped out, more upgrades were finding their way under the hood and again the times dropped. It all turned into a bit of an obsession and at one point it was decided to turn the car into a proper circuit-only racer.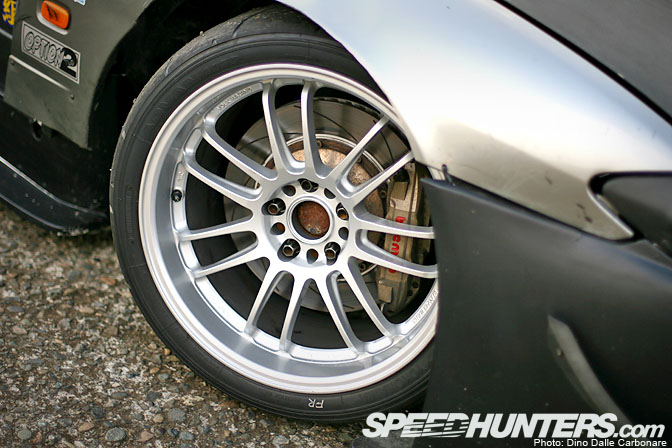 It might not be the cleanest of cars, most of the body improvements have been done to boost functionality in one way or another, like the spaced out front fenders that help contain the wider wheels and flow more air into the wheel-wells. Or maybe the protruding front splitter, there to boost front downforce and to smooth under-body airflow. Behind the lightweight 9.5Jx18″ RE30s, shod in GS compounds 265/35 Advan A050s, are prohibitively expensive Brembo Racing 4-pot calipers biting down on 340 mm slotted Endless discs.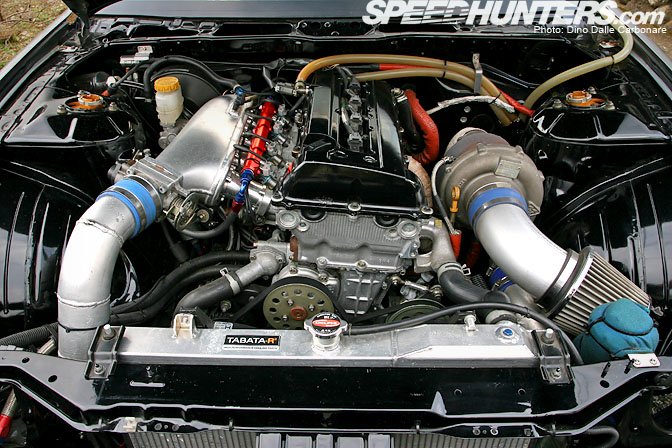 At the heart of the S15 is a very special SR. Response has been a goal throughout the development of the engine and Suzuki is very happy with what he has so far achieved. On the bottom end a Tomei 2.2L stroker kit helps boost capacity and sustain the 2.3 bar of boost that are pumped through the Hypertune intake plenum by the Blitz/KKK K27 turbocharger.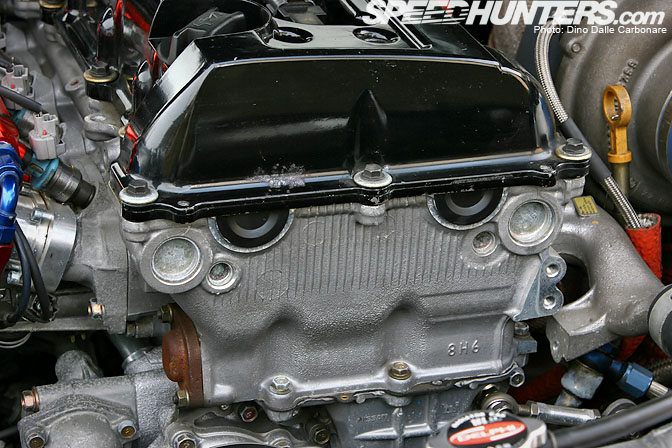 The top end is where things get special as it's been lifted off an SR20VE engine so has variable valve timing built in. This allows the use of very mild Primera P12 cams that are continuously varied throughout the rev range for a broad spread of timing. This supplies instant response and boost pick up at low rpm as well as a massively powerful top end where a max 700 HP is developed! Torque peaks in the mid-range with 470 lb/ft; these are numbers usually seen on 2.8L RB26s!! Suzuki explains that the engine is so responsive and so savage in its delivery that he has had to limit boost in the first three gear to avoid smoking the rear Advans!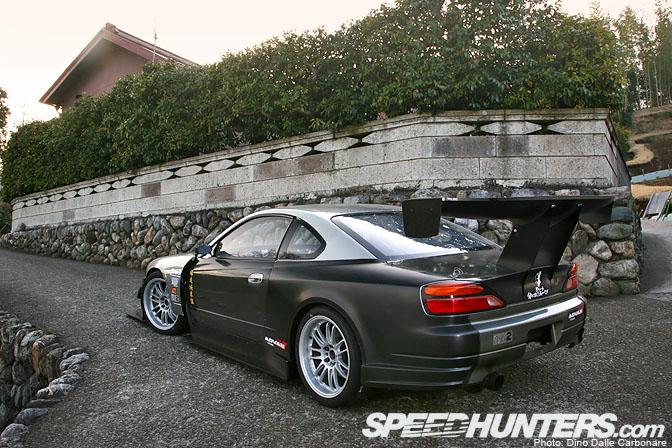 The hood, doors and trunk are all custom made in paper-thin dry carbon to shave off as much weight as possible. Scorch Racing gave a hand in the creation of parts like the front bumper, side skirts and wider rear fenders. It all comes in to weigh a little over 1000 kg.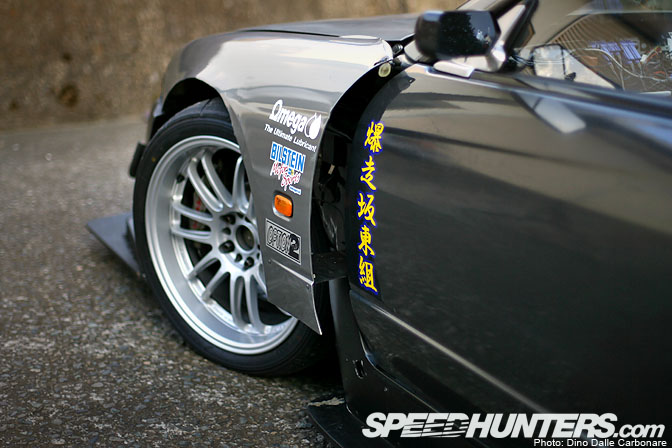 Just to give an idea of how much the rolled and cut stock fenders have been extended outwards! Ennepetal/Bilstein dampers and Hyperco springs take care of the handling along with a string of pillow-ball arms and links both at the front and rear.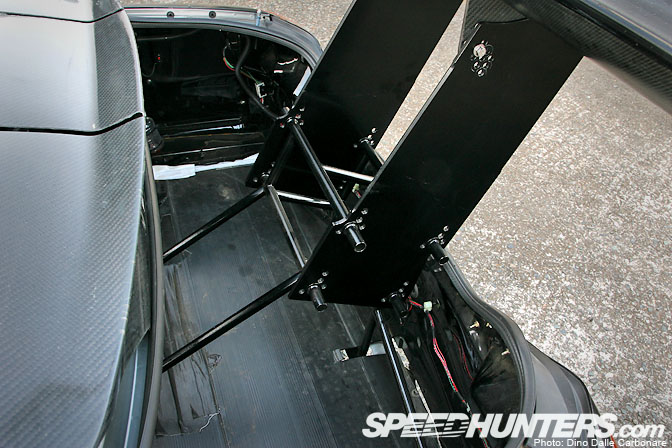 This is how you fix a GT wing onto a car! Even pro-built cars in the Japanese time attack circuit don't run spoilers properly braced to the chassis. The massive Scorch adjustable carbon wing can transmit every kilogram of downforce efficiently to the S15, keeping the rear tires planted allowing Suzuki to carry as much speed as possible through corners.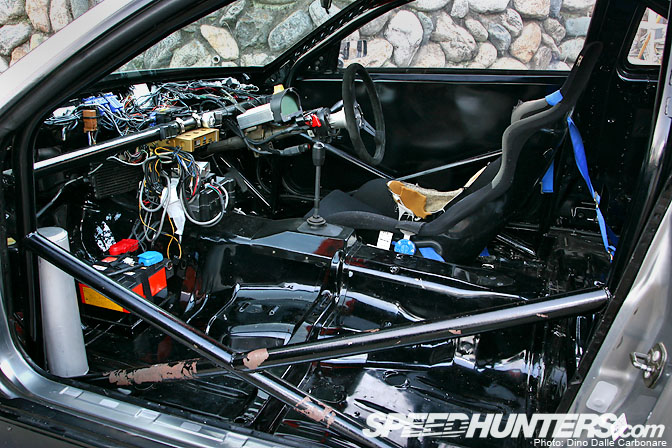 The interior is, well, functional! There isn't much going on except a lot of weight saving which has even seen the dashboard removed. A Racepak IQ3 and Blitz boost controller are the only bits of instrumentation while the HKS F-Con V-Pro takes care of the engine management. The big gear lever actuates the Hollinger 6-speed sequential transmission for those necessary instant gearshifts.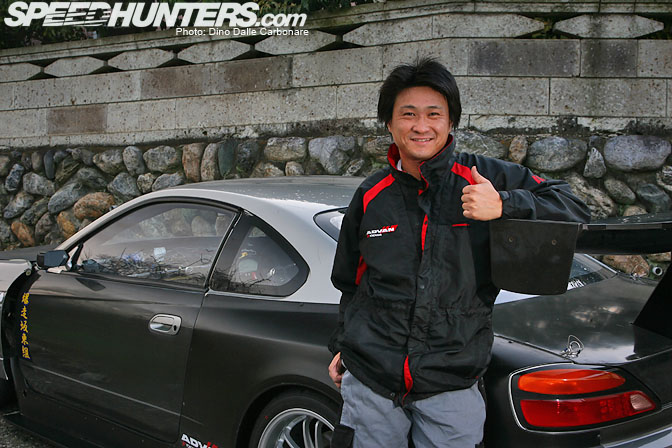 Suzuki worked through 2010 on the S15, even fitting a dry-carbon roof to help lower the center of gravity and shave a few more kgs off. The car should be looking a lot different now as he tries to make it more presentable, even thinking of fitting a dry-carbon dashboard in the interior to hide away all the wiring. His goal in the next Battle Evome meetings is to get into the 54-seconds, something a lot of people think the car will not have a lot of problems doing. For a privateer to achieve this with a car he has built and drives himself is nothing short of amazing. We take out hats off to you Suzuki-san!
Now, how about heading to Australia this year for the second WTAC? I know I'd love to see it out in action around Eastern Creek!
-Dino Dalle Carbonare