The message that popped up on my phone last week read something like, "I want to break the course record, I have rented out Tsukuba and will be driving my car alone." The message was sent by a certain Under Suzuki and those few short sentences certainly grabbed my attention. Having beaten Revolution's time only two weeks prior, Suzuki-san obviously knew there was a lot more left in his car, and himself. I immediately replied that no matter what day, I'd be there, this was something I was just not going to miss because, after seeing him out at the Super Battle, I too knew – or believed – his S15 was capable of more.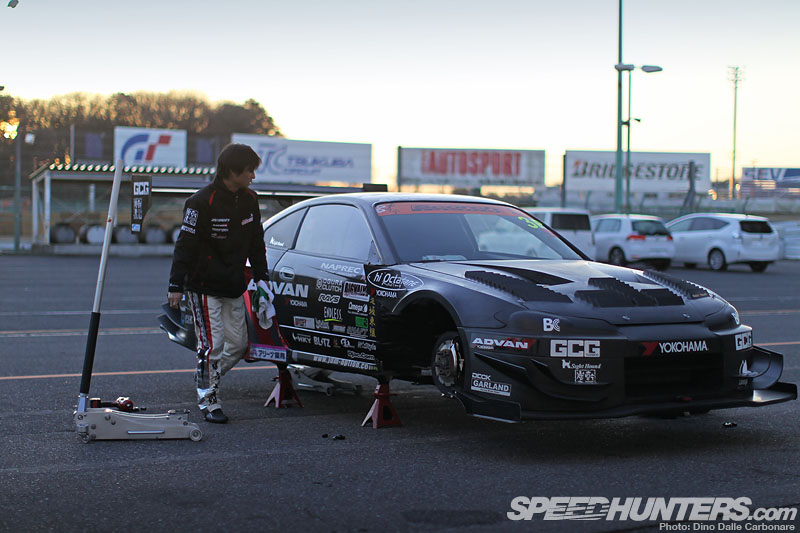 So that is why I found myself strolling the deserted paddock at Tsukuba Circuit before the sun had even come up this morning. Suzuki-san and his team had already arrived, having unloaded the Silvia, put it up on axle stands and removed its wheels which, along with another three sets of fresh Yokohama A050 semi-slicks, were sitting in a makeshift tire-warmer (i.e. the back of a station wagon with a bunch of electric heaters and blankets!)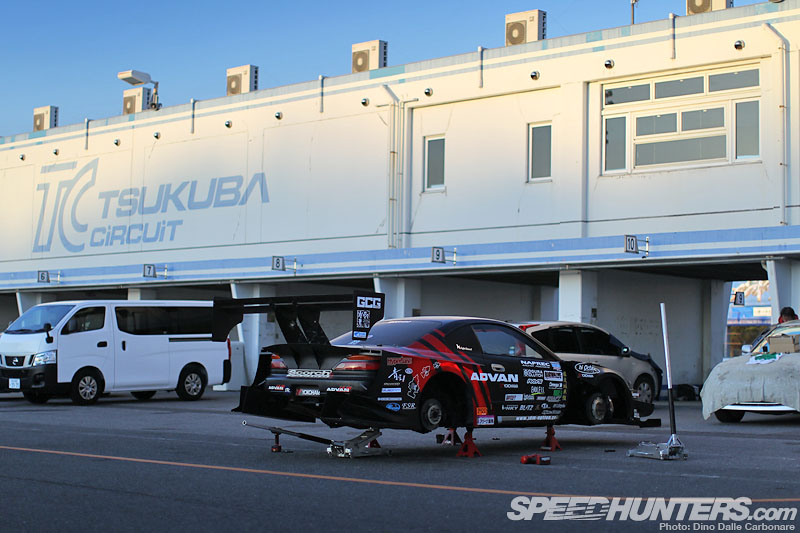 The schedule was a simple one. Since renting out a whole circuit to yourself is expensive business all that was available was a 30 minute session in which Suzuki planned to do a total of 4-time attack attempts. This would include one out/warm-up lap, a fast lap or two, and then a cool-down lap before a pit stop and tire change. Chasing tenths is already hard enough but with the pressure of having such a small amount of time available to do it in, not to mention knowing the whole world is watching, well let's just say Suzuki-san must be good at dealing with pressure.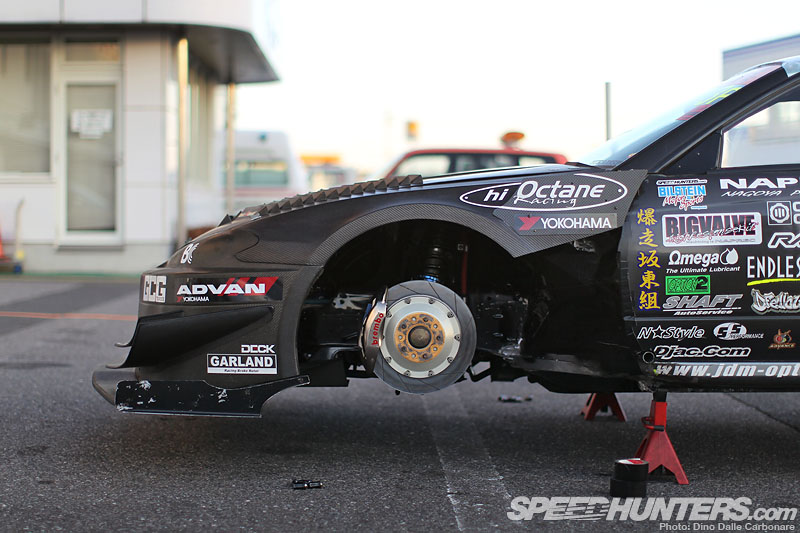 With over an hour to kill before the 8-am session start there was plenty of time to check out the S15 that Suzuki-san has developed over the years. The sheer pace this car has grown and evolved at is quite impressive, not even tuning shop demo cars change and improve so quickly, evidence that Suzuki-san is obviously a man on a mission.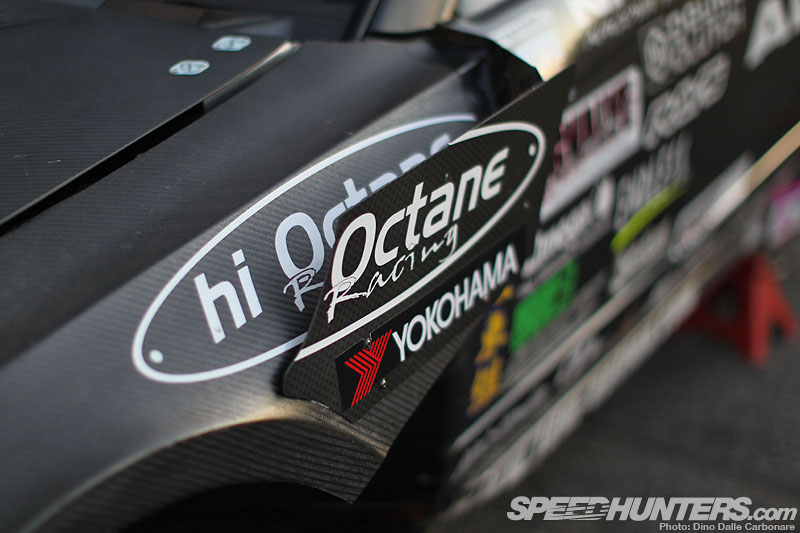 The aerodynamics hold the secret to unleashing the true potential of this 800 HP beast, and there are always things happening with the body like these new additions to the front fenders, there to help boost front end bite.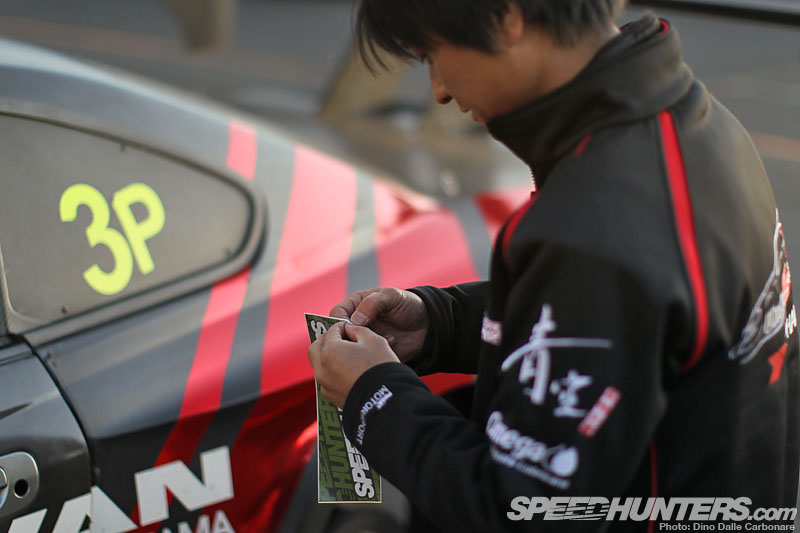 Noticing that his S15 was sporting some pretty dated Speedhunters stickers….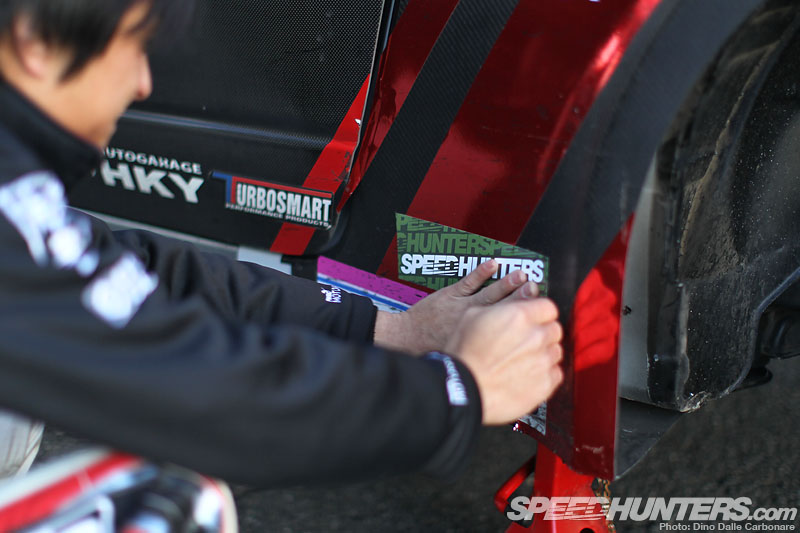 …I immediately whipped out some fresher ones to adorn the car…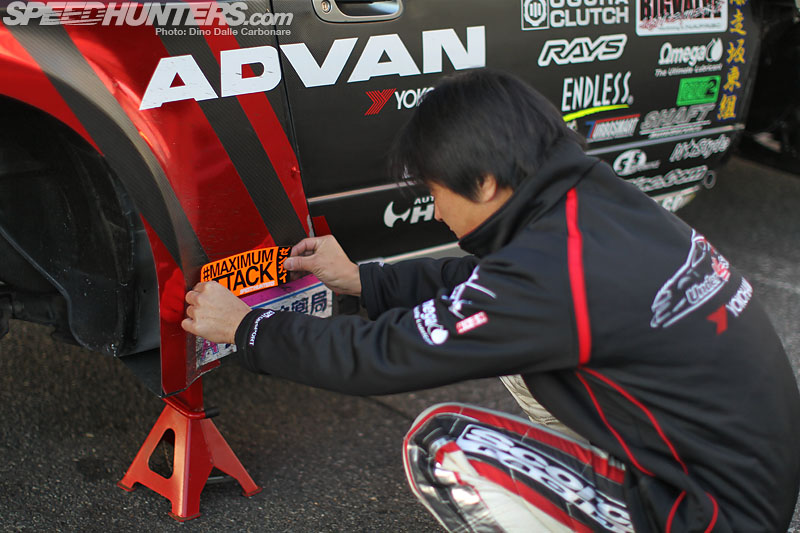 …which Suzuki-san immediately slapped on. We all though the #Maximum Attack ゼンカイ (zenkai) was a rather appropriate slogan for the day!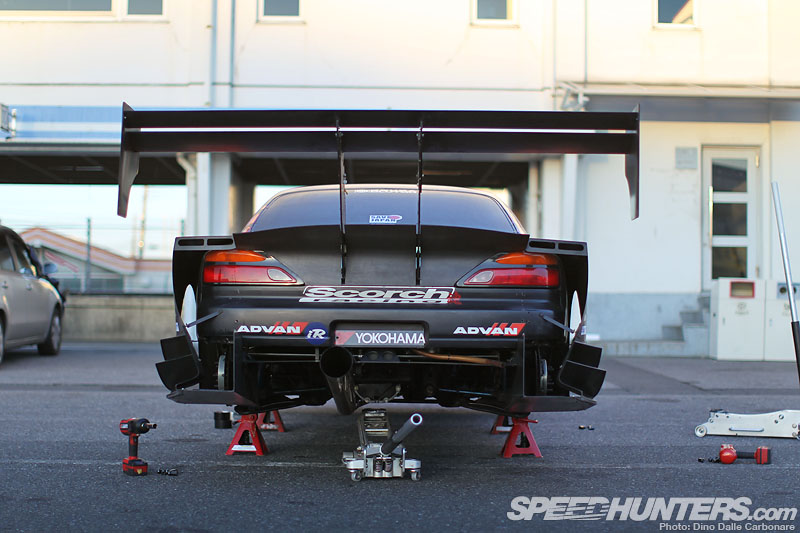 And while on the subject of aero, the rear spoiler is one of the most obvious changes, a part that was fitted half way through the Super Battle event three weeks ago. The idea behind the large bi-plane adjustable GT-like wing was to add much needed downforce to the rear section of the car which was suffering a bit after the new and improved front end design boosted downforce up front. This, along with the rear carbon fiber overfenders that Suzuki had designed, and made himself prior to WTAC this year, would help create a more balanced aerodynamic package. Suzuki had even removed the side mirrors since he would be out on track alone, potentially boosting top speed on the back straight by 1-2 km/h according to his calculations.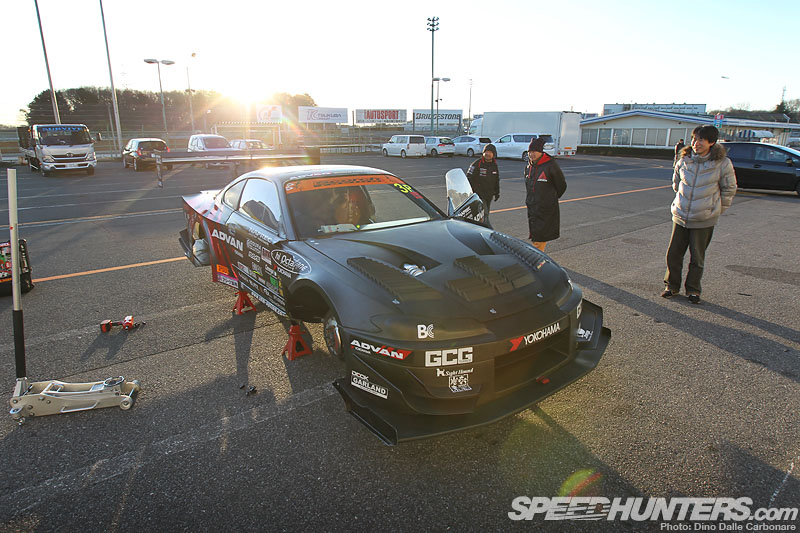 A little later, after more of Suzuki's friends and team mates had arrived so did the lazy winter sun…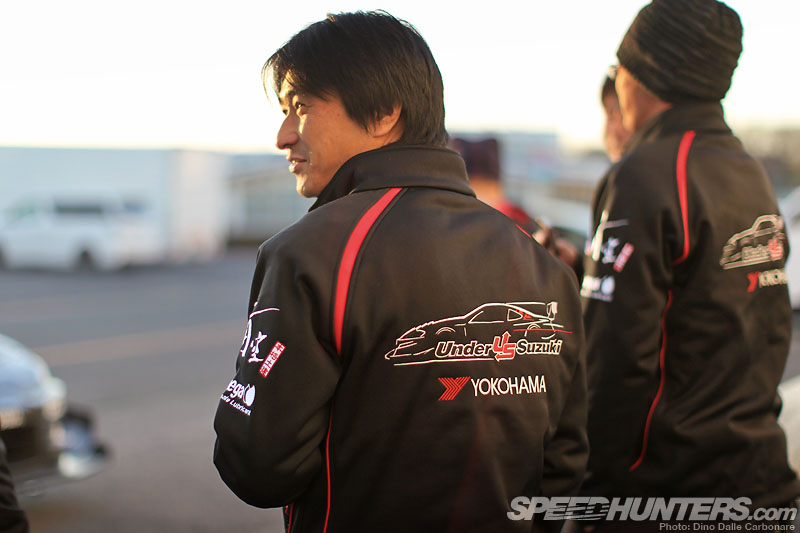 …illuminating the paddock with its faint warm rays.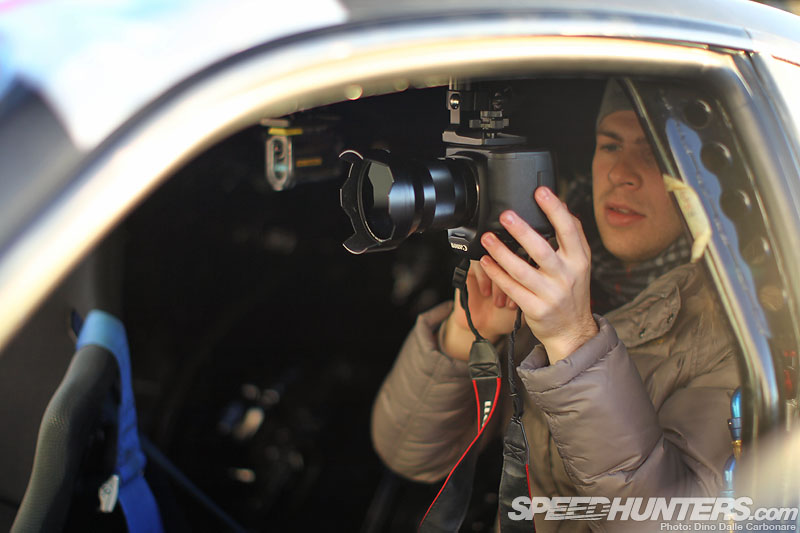 Luke Huxham from Maiham Media was also out at Tsukuba to document the record attempt and was busy strapping his camera upside down in the S15's cockpit. I'm sure his video will be making an appearance on the internets very soon.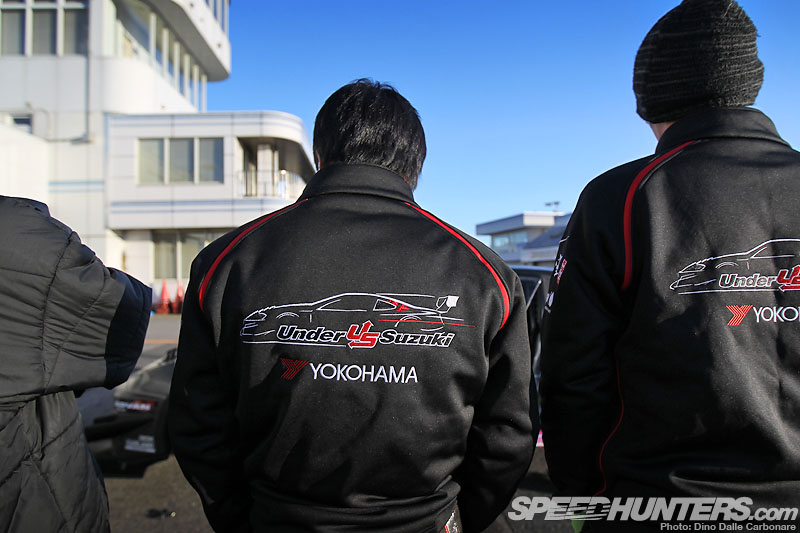 Cool jacket uh?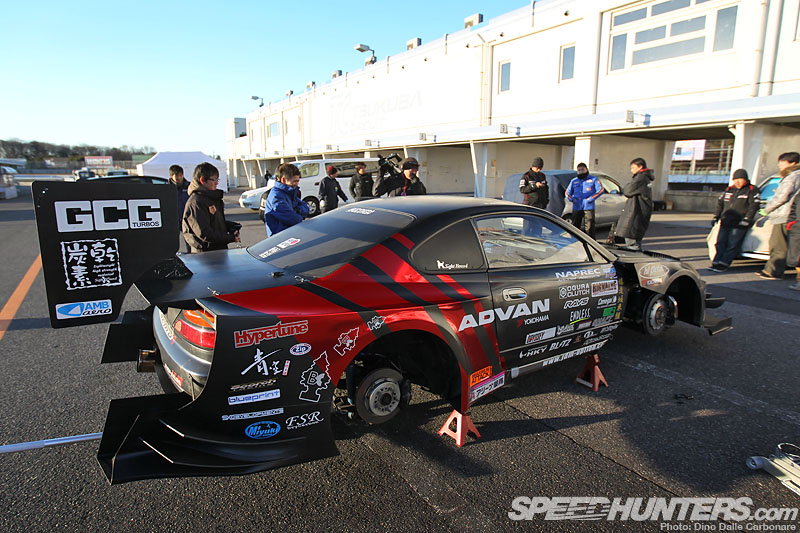 As I documented the record lap attempt on our instagram feed (@thespeedhunters) I noticed there was some confusion in the comments. The lap record Suzuki-san was shooting for is for the fastest "tuned car" running on street-legal semi slick tires like the Yokohama Advan A050 he uses. It has nothing to do with the 51-sec lap Keiichi Tsuchiya set years ago in the Arta NSX JGTC car, as that was a race car running on slick rubber, nor the one set even years earlier by a Formula Nippon single seater. And to those that asked, if he is a privateer why does he have so many sponsors. Well the simple answer to that is budget; racing and competing at this sort of level is very expensive, so Suzuki-san has accumulated the support of small sponsors that in their own little way allow him to keep doing what he loves. He doesn't own a tuning shop and all work on the car is done by himself and of course he drives it, hence him being categorized as a privateer. Hope this clears up any confusion.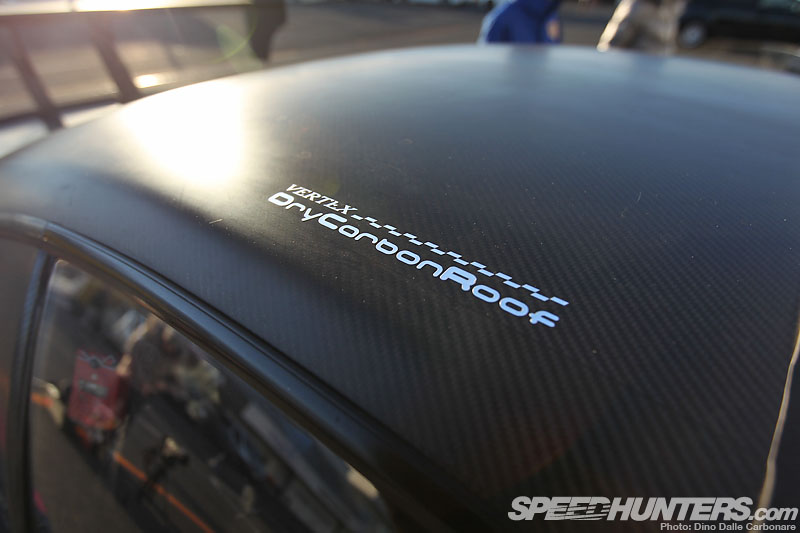 Like pretty much everything else on the S15, the roof is also a dry carbon item, but rather than making it himself, Suzuki picked it up from the guys at Vertex.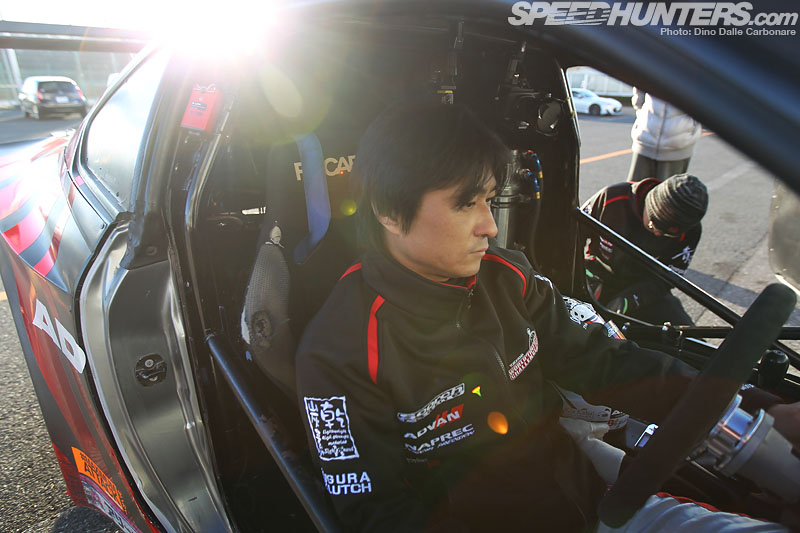 With 15 minutes to go before the session start Suzuki turned the S15's…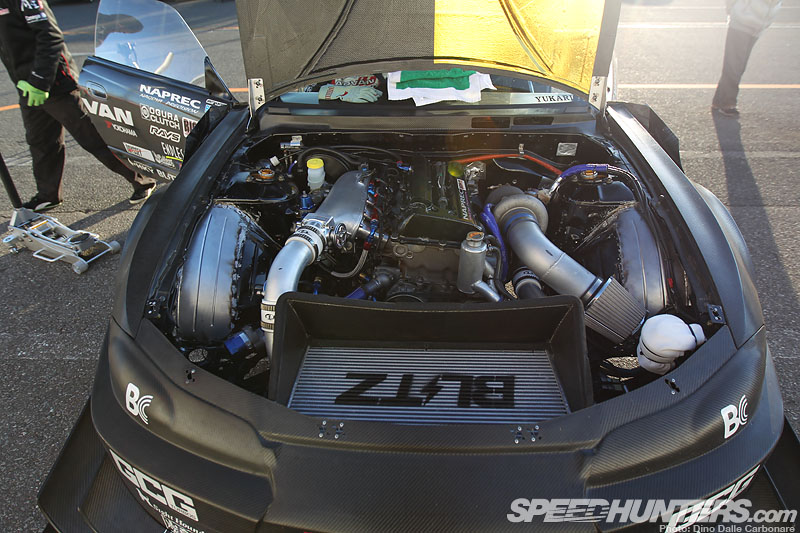 …highly modified SR20 on and let it idle and warm up for a few minutes. The most impressive thing about this 800 HP engine is the smoothness at which it idles. Since it's fitted with a "VE" head, armed with variable valve lift and timing, there is no lumpiness usually associated with high-powered motors that run aggressive cams and timing/overlap.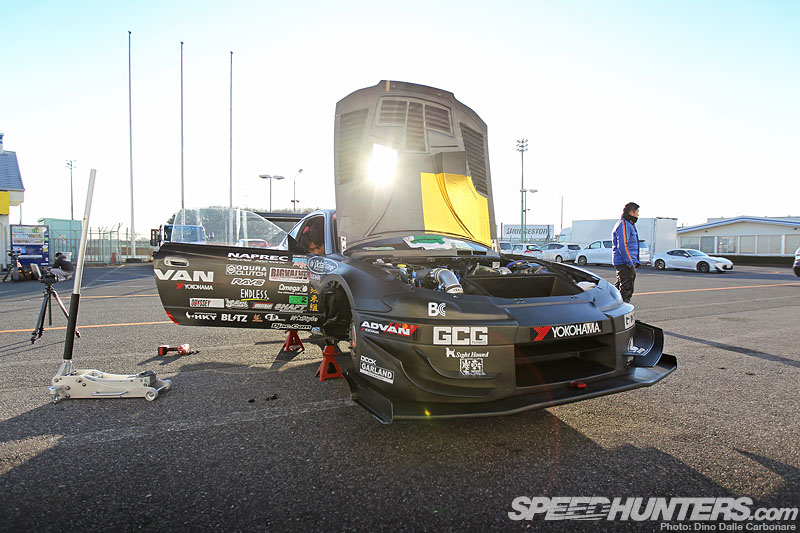 Suzuki's engine runs a full Naprec prepped head with all sorts of nice valvegear components that allows it to flow an impressive amount of air. Engine response is a crucial quality in any time attack build…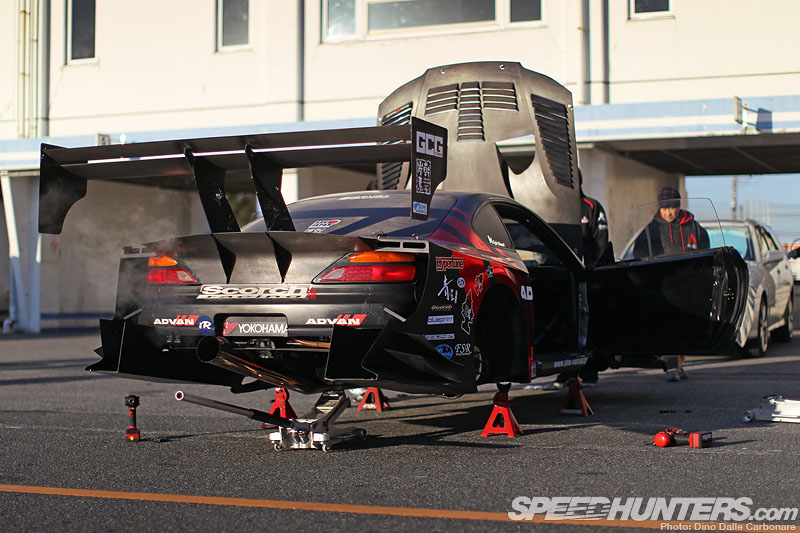 …as is downforce, because no matter how quickly and violently your power comes in, if you can't put it to the ground, well what' the point!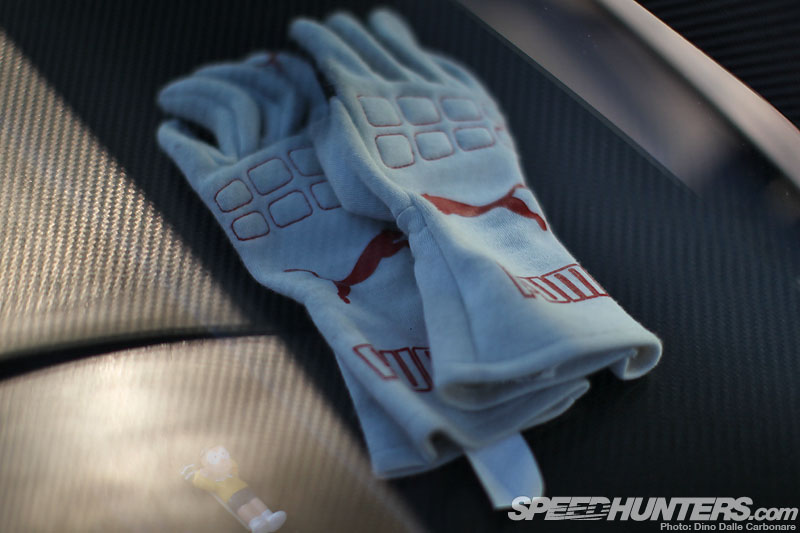 Suzuki's racing gloves were already on top of the carbon dashboard; everything was looking good to go but there were a few final checks that were needed.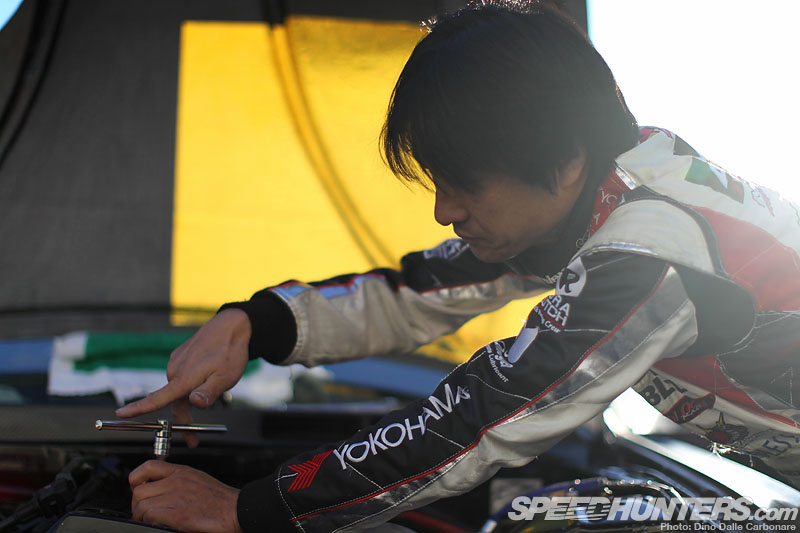 Like before each of his outings Suzuki always removes his spark plugs after the engine has warmed up and fits fresh ones with a higher heat rating.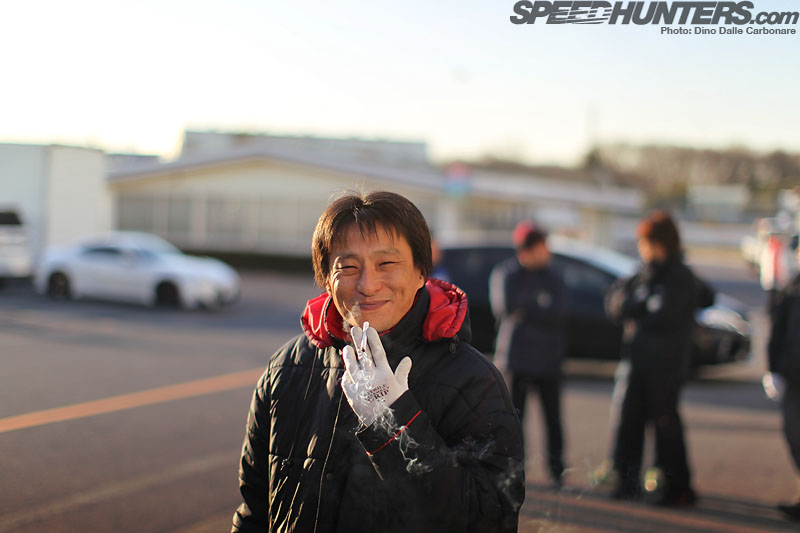 In the meantime Takemura-san of Scorch Racing was enjoying a final puff before the very hectic 30-minute session would begin.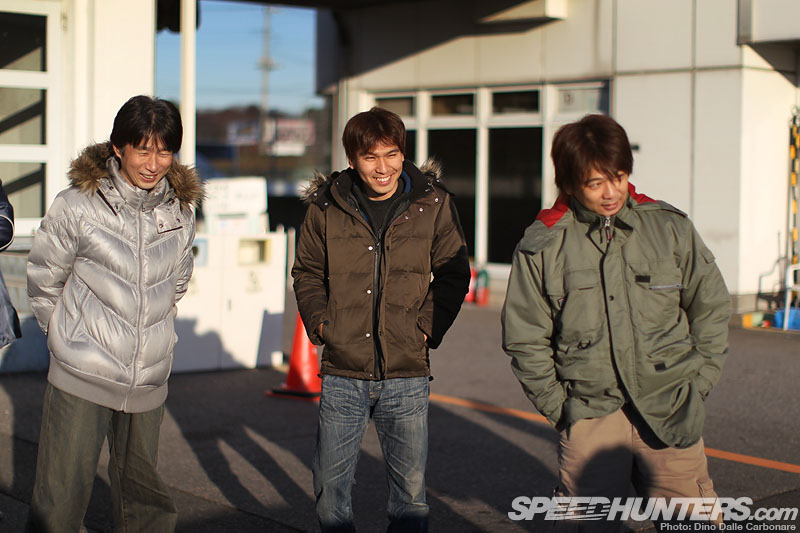 The Horikoshi brothers, owners of the two Exceed Moat Silvias were also there to support Suzuki, and lend a helping hand.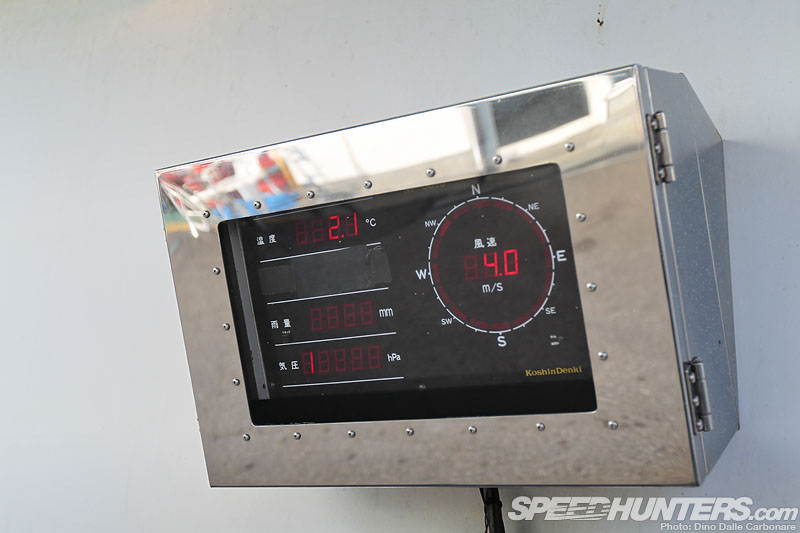 With the track surface just beginning to warm up, a slight breeze and air temperature just above freezing…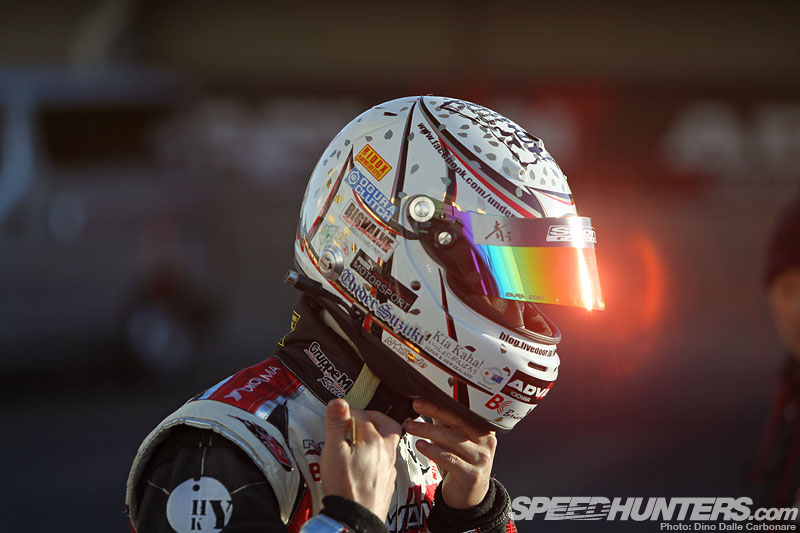 …it was time for Suzuki to get strapped into his car and hit the track.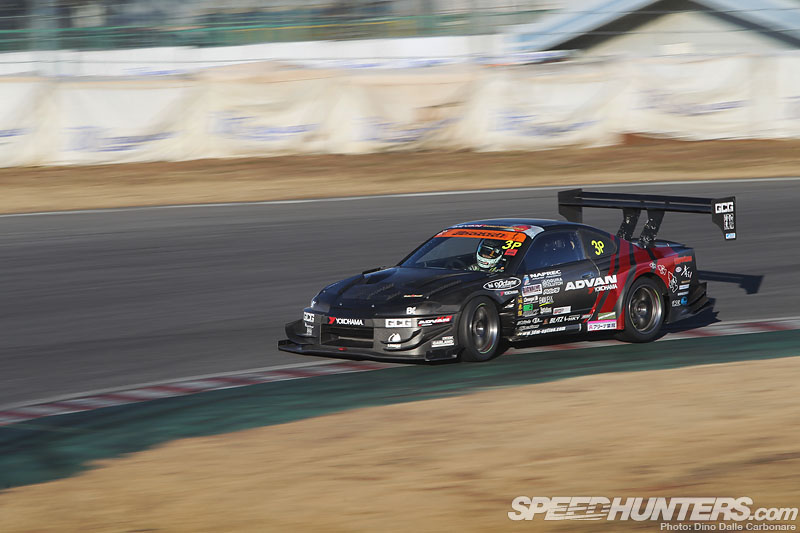 His first outing was nothing more than a warm up session, done on used tires…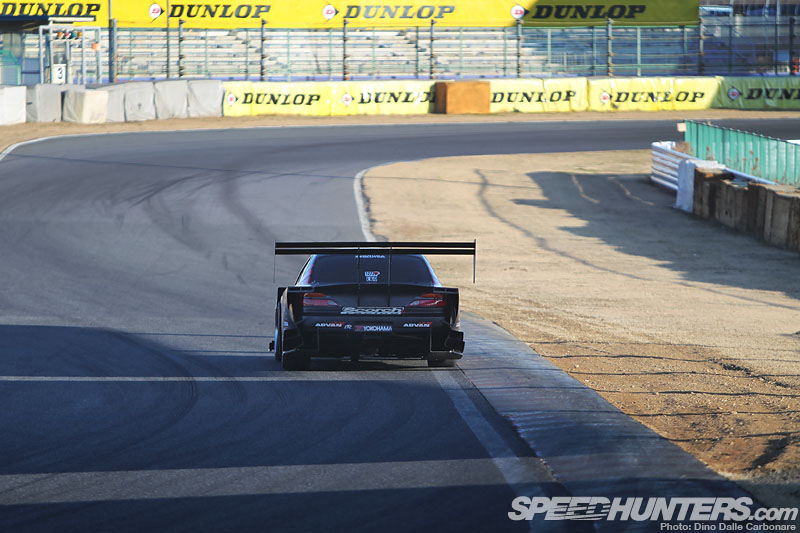 …a quick couple of laps that despite his leisurely pace…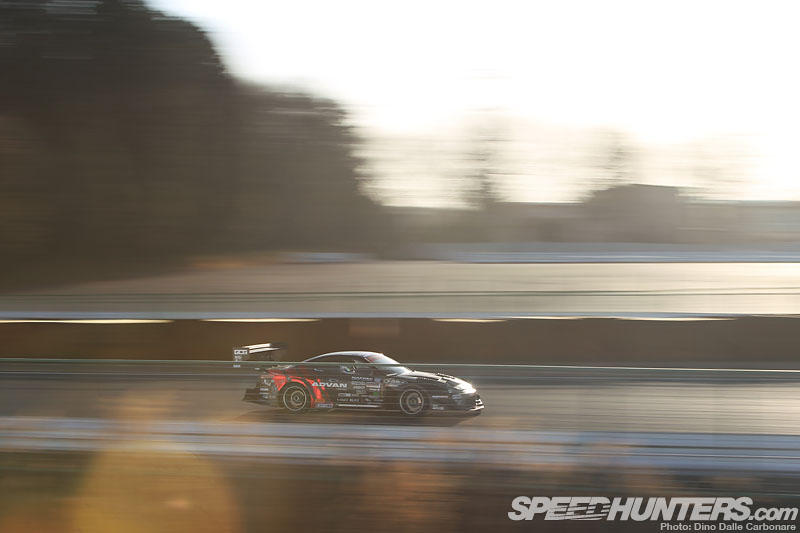 …yielded a lap in the 54-seconds!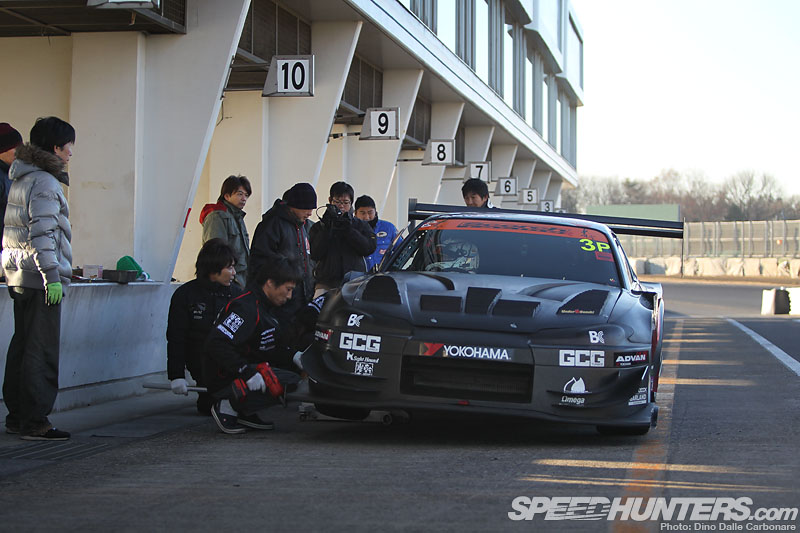 After three laps he pitted. The car was quickly lifted up and fitted with a set of fresh warm rubber…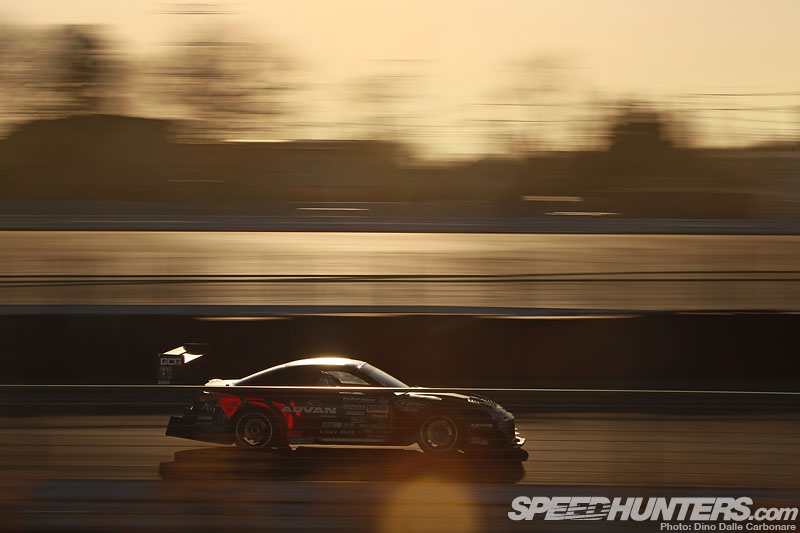 …and in less than five minutes he was back out again.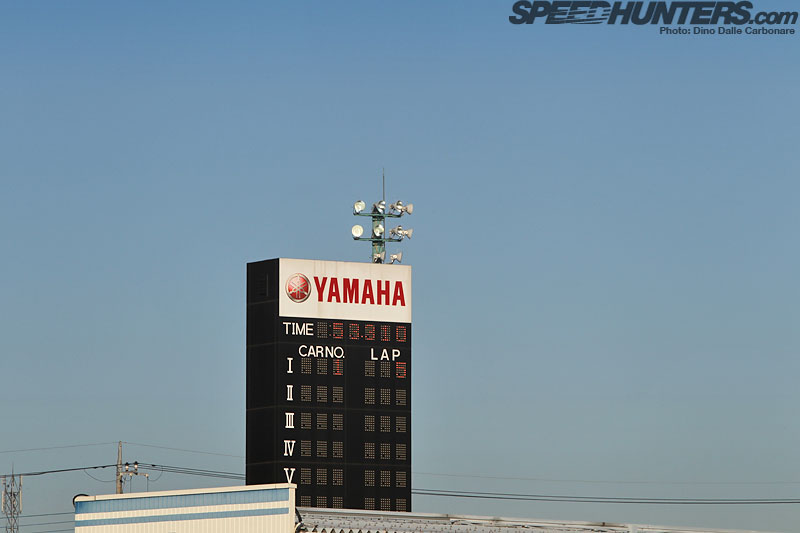 I had literally only arrived to the exit of the in-field hairpin after racing my car back from the pit lane when Suzuki had already done it. His first attempt, a 53.310, 3-tenths or so quicker than the Rev Speed Super Battle record he set three weeks ago.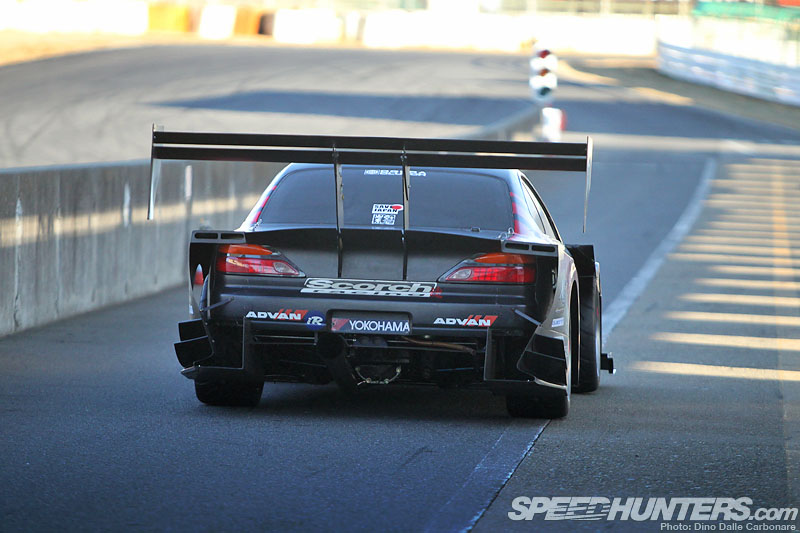 He immediately retuned to the pits for another fresh set of rubber…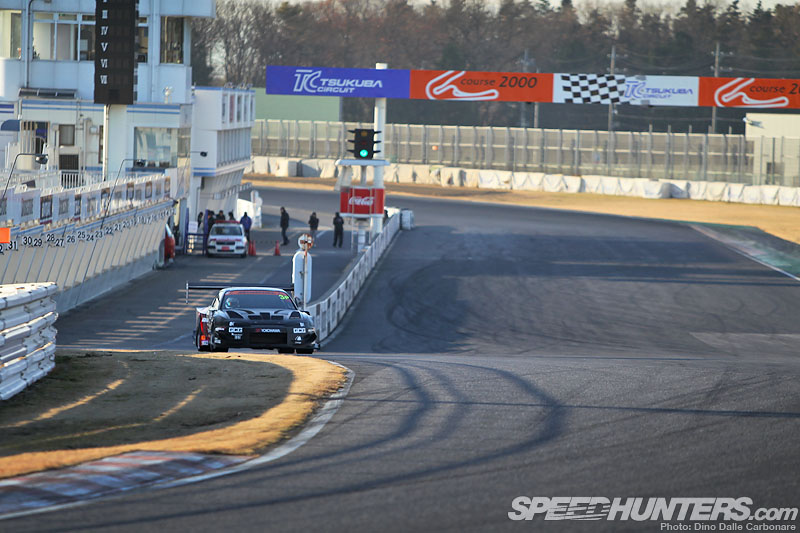 …and then was out again.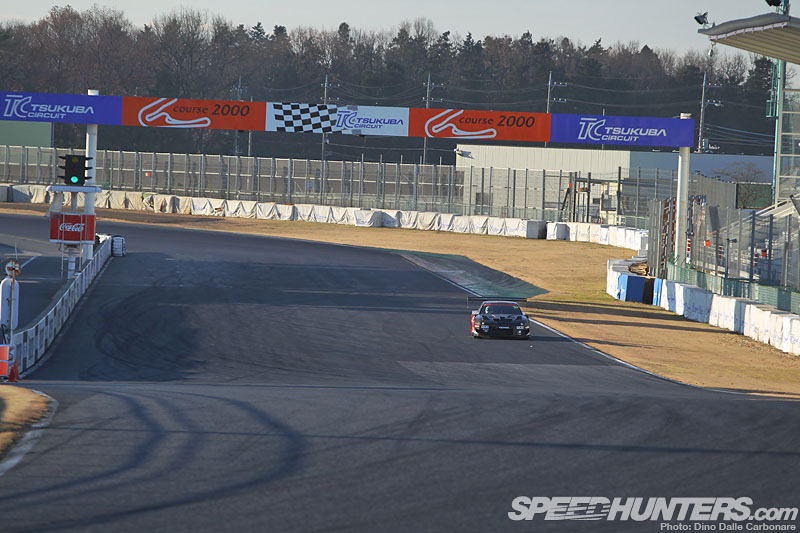 This time I positioned myself at turn 1, so I could see him charge down the short front straight…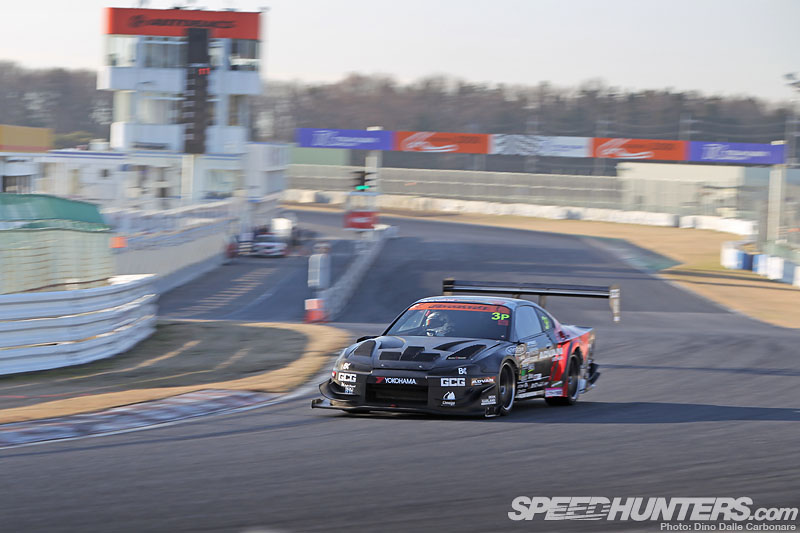 …get hard on the brakes and aggressively turn in, the car's front 295-section A050s biting hard with tons of grip.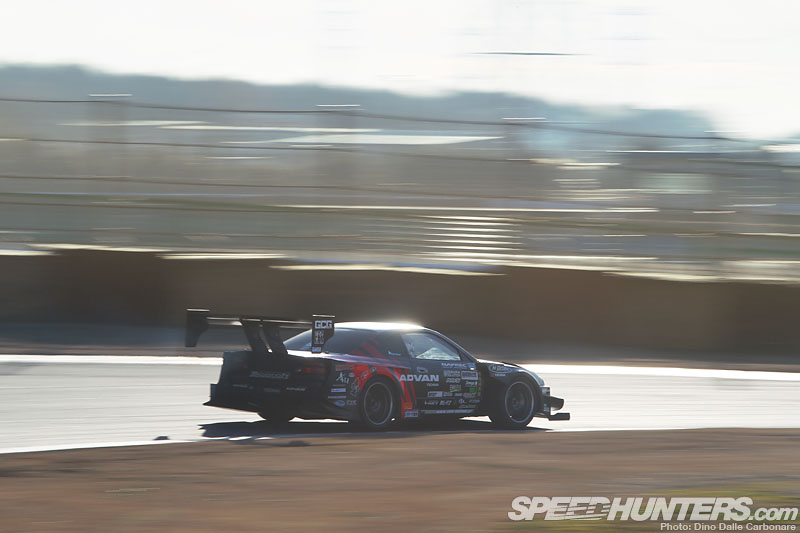 He went around one more lap and then, silence. I waited a couple of minutes but nothing happened. I immediately assumed there was some kind of problem so drove my car back down to the paddock and ran to the pit lane…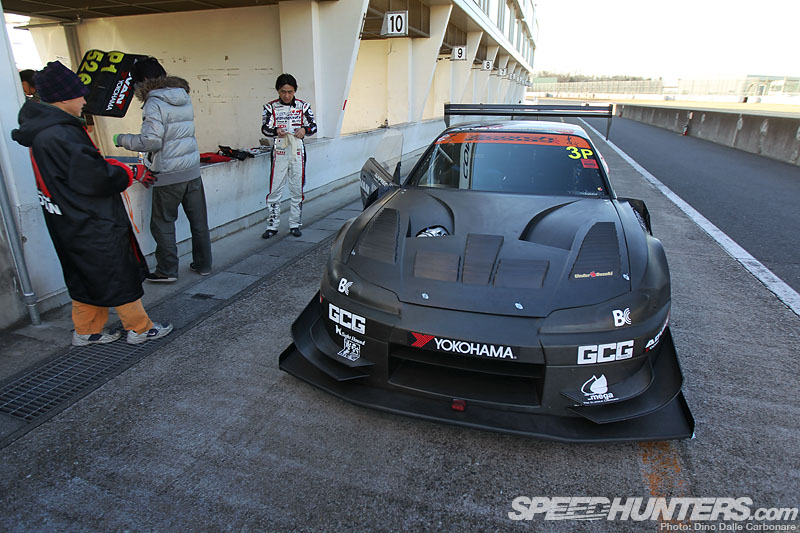 …only to find Suzuki-san out of the car and everyone with a big grin on their faces. Since I didn't have a clear view of the timing tower from turn 1 I was completely unaware that he…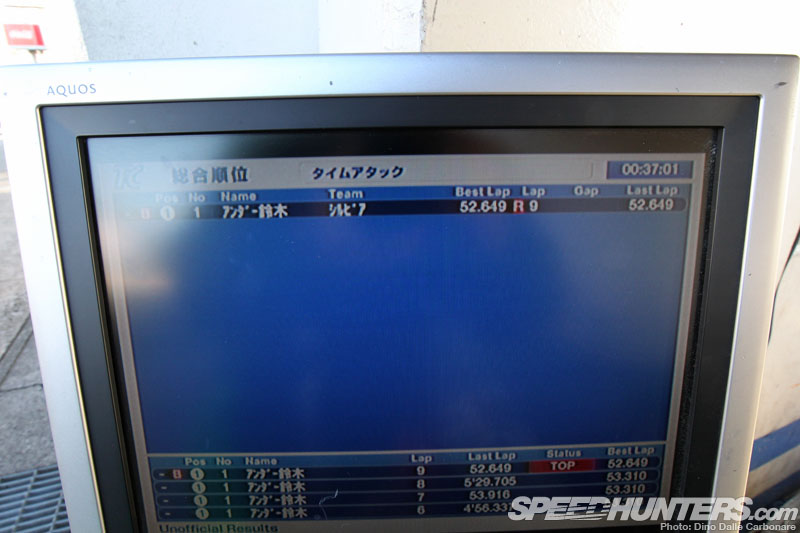 …had already set a course record, a 52.649! Content with his result and with only a few minutes to spare on his rented track time …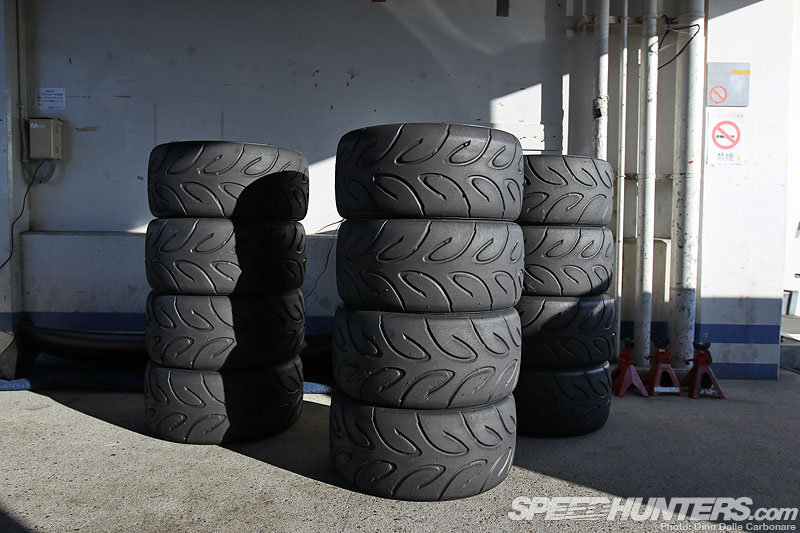 …having used all his tires…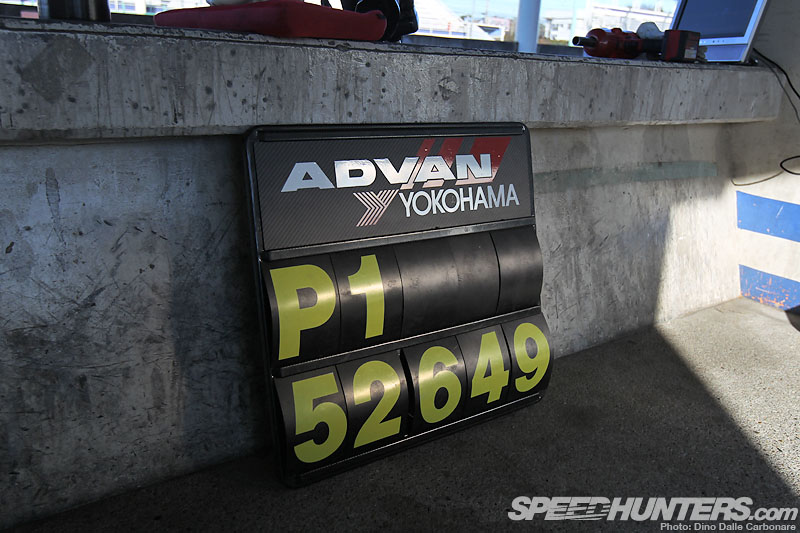 …he called it a day.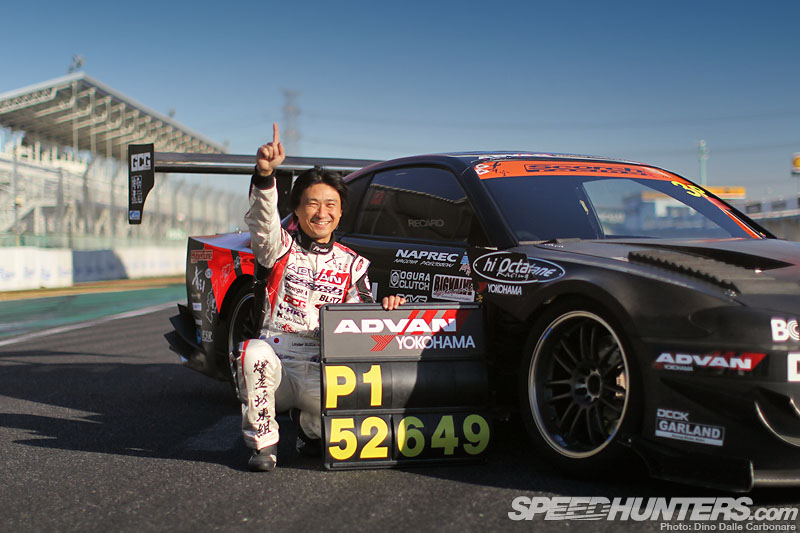 Now that is the face of a happy and content man! It has taken close to a decade of hard work and dedication to get to this point…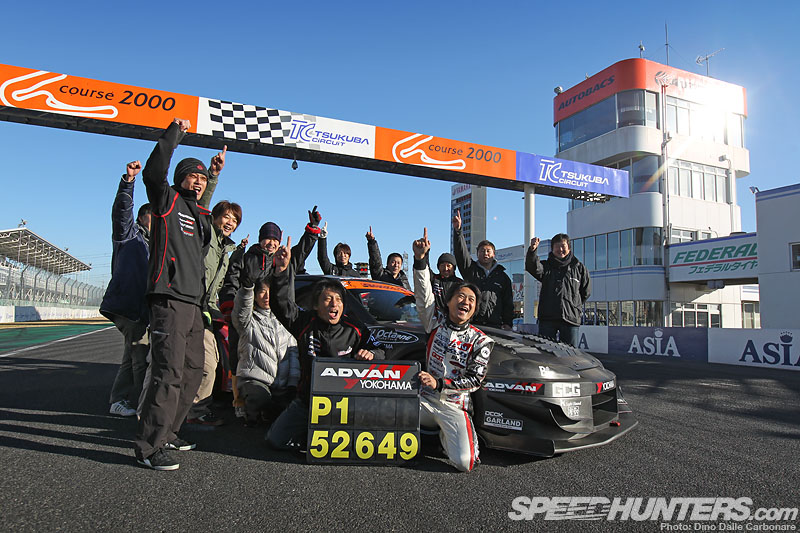 …not to mention the help and support of a lot of people and close friends. Today, on the 20th of December 2012 it all paid off.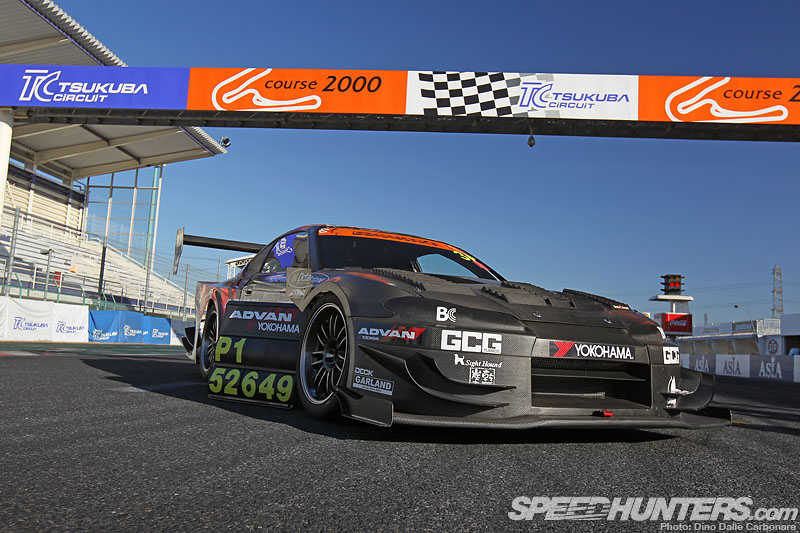 There is no question about it, the Scorch S15 is not done yet, Suzuki will not be resting on his laurels but will continue to push even harder. However, I think the question we should all be asking now is…what about Japan's tuners? Will they step it up now that they have been beaten by a self-founded privateer? Will HKS bring out the CT230R again? Surely this is the beginning of a new challenge for everyone in the world of Japanese time attack. What do you guys think?
-Dino Dalle Carbonare