14 years. That's a pretty long time to hold on to a car. Every time I jump in my R34 however there is always that feel of excitement, just like when I drove it for the first time back in 1999. Every time I park it I still can't resist a quick glance as I walk away. I don't quite know why, but the san-yon seems to have bewitched me; it's the only car I ever wanted and the only car I would ever want to keep. It may have been well and truly surpassed in every way, but no matter how many fast and capable modern day sports cars and supercars I drive, once I get back in my GT-R I can't help but smile. I've gotten to a point that I know the car inside out, I know exactly what it will do in pretty much every instance, I have developed a man-machine bond that can only happen when the car truly captivates its driver. Compared to most "R" owners I may have barely scratched the surface of the seemingly limitless tuning potential these cars have, but no matter how basic the modifications I have carried out so far may be, I have gotten a great deal of satisfaction from them. I will never understand people that drop off their cars at tuning shops and have big complete rebuilds because for me, feeling every little upgrade is what perfecting one's own car is all about. From this month you will be seeing a lot more of my GT-R as we begin to roll out our Project Car stories, documenting our journeys with our own rides, the best part of all – getting feedback from you guys. But before I get stuck in with fitting the exciting new parts that I have been stocking up over the last year…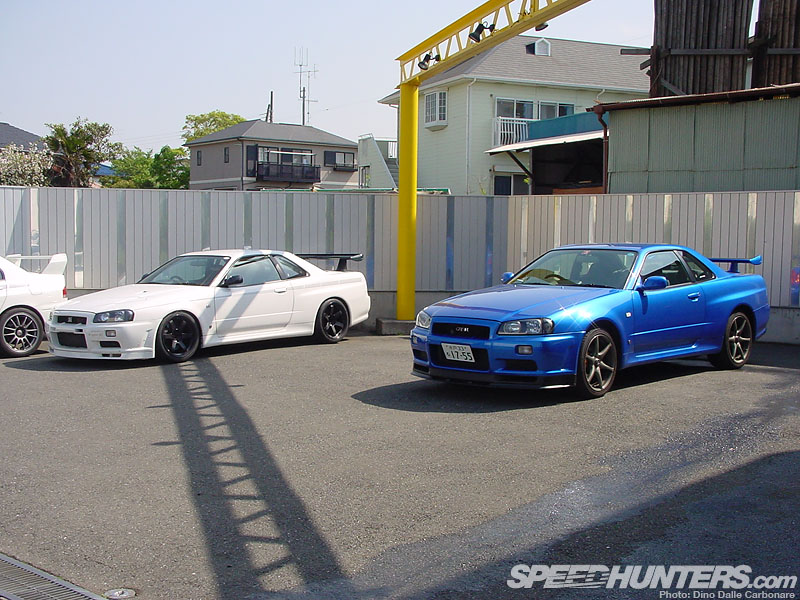 …I thought it would be a good time to take you through a short journey of how my car has changed over the last decade or so. For close to two years I did pretty much nothing with it. I was smitten enough with its performance that I enjoyed it as it was, limiting myself to little things like a Nismo dial cluster and Nismo clear front and side repeaters, a much needed first upgrade to any zenki R34 that came with those horrible orange ones! Thanks to a friend of mine who was also a san-yon owner I got the chance to visit Mine's for the first time and get a hands-on experience of what a 600 HP GT-R felt like. That's pretty much the moment I decided my attempt to keep the car stock and its warranty intact for the first 3 years of its life, rather futile. A second trip to Mine's was booked and this time the car received some goodies…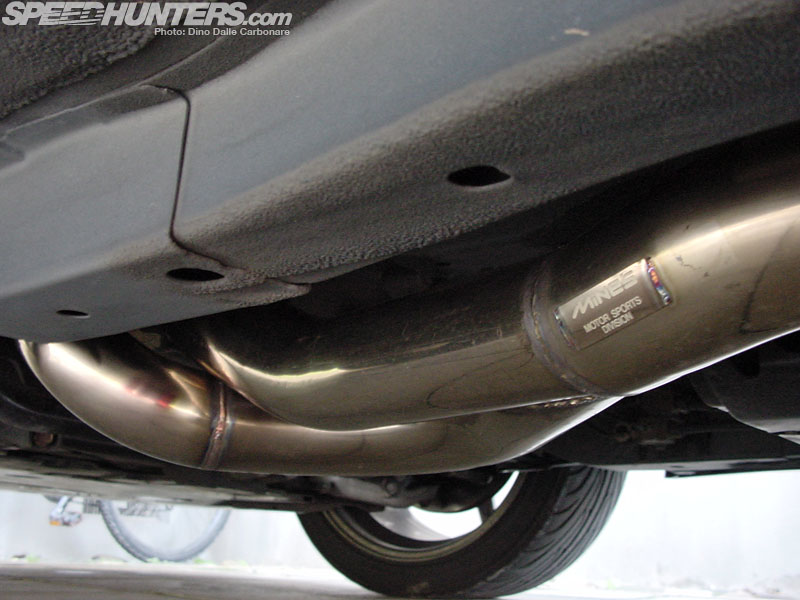 …in the form of their stainless steel front pipes, a sports catalyst…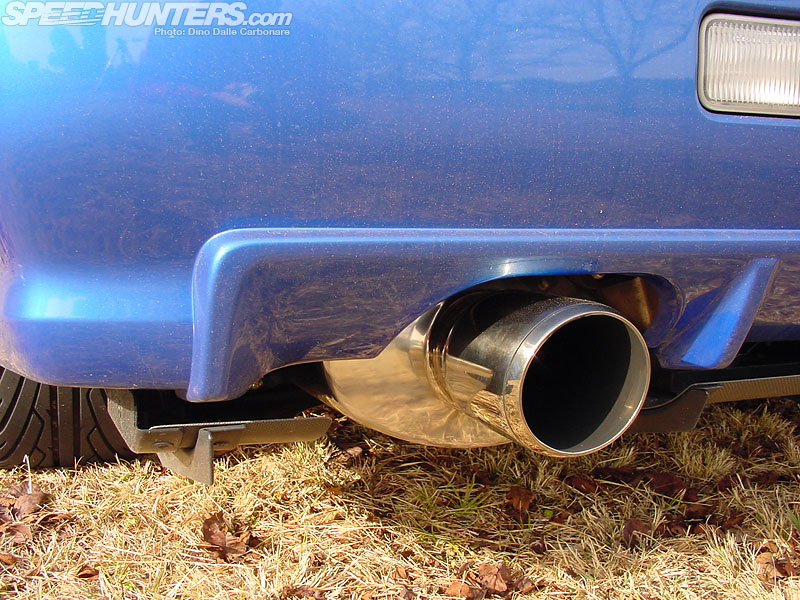 …and the VX stainless steel exhaust system.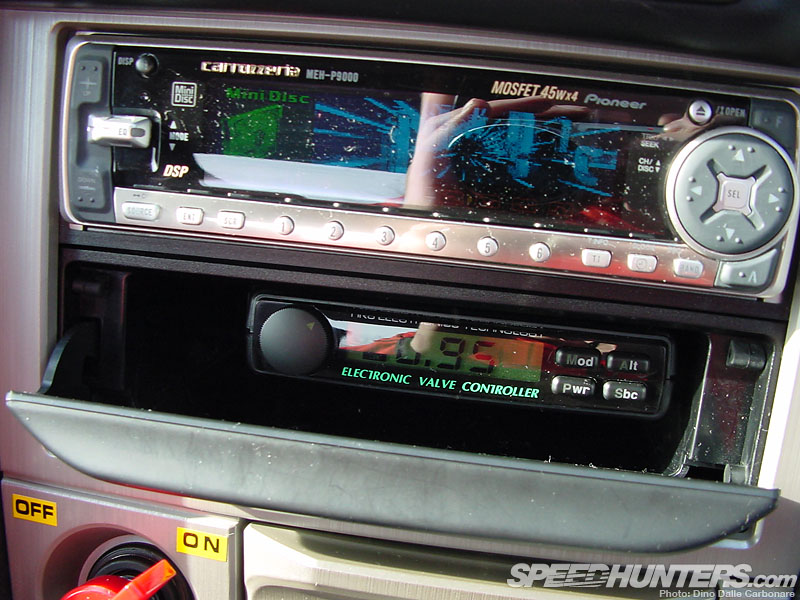 The exhaust was also joined by an HKS EVC boost controller and a Mine's VX-Rom, their reflashed ROM chip that they soldered into the factory Hitachi ECU. After a few hours of work the car came out of the workshop literally transformed, now boasting around 400 PS and an impressively responsive tune.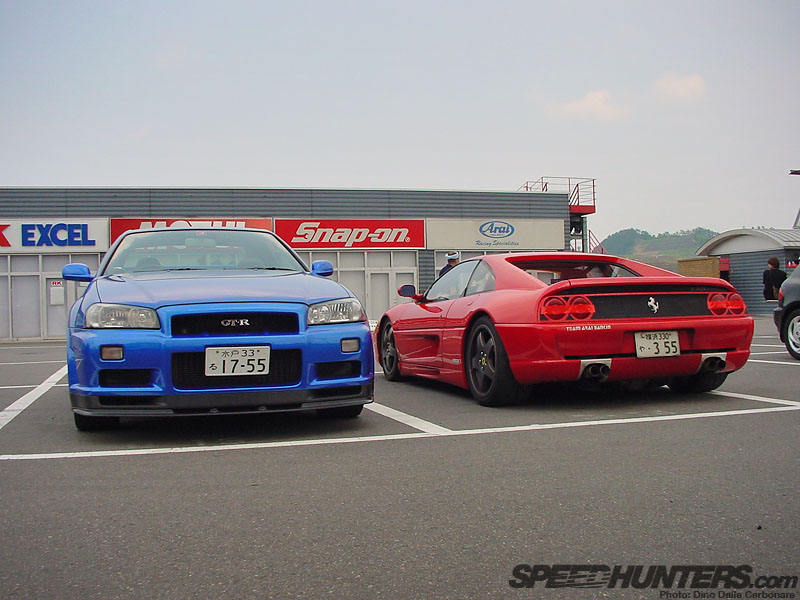 I ended up taking the car out to Twin Ring Motegi for a quick few laps, this was when the track was brand new, just opened a few months prior. Power wise it felt spot on out through the twisty corners of the superb circuit, but with the soft stock suspension I ended up spinning the car and ending up literally inches from the barriers. A heart attack to say the least!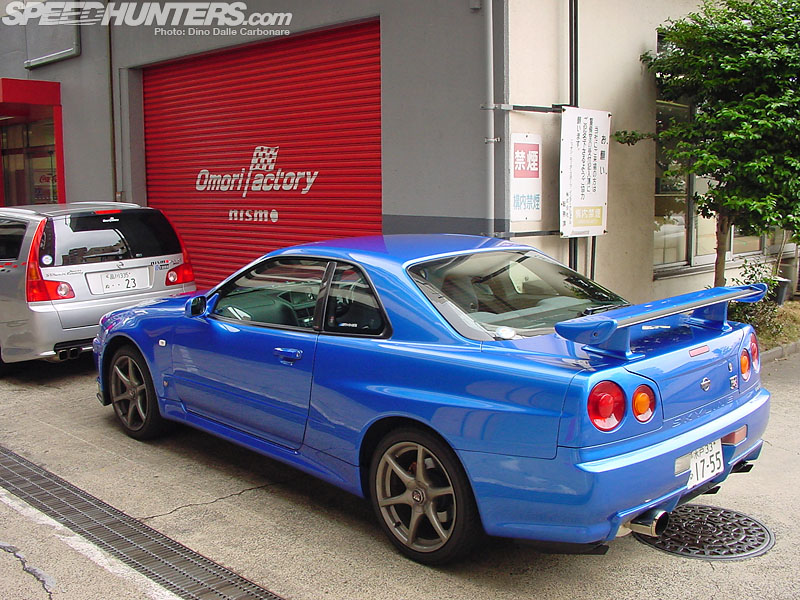 It's when I realized that I couldn't hold off any more, suspension – and a lot more practice – were needed presto! So I headed down to Nismo Omori Factory in Tokyo and had them install their S-tune suspension kit, a street oriented set up that would tighten up the handling and…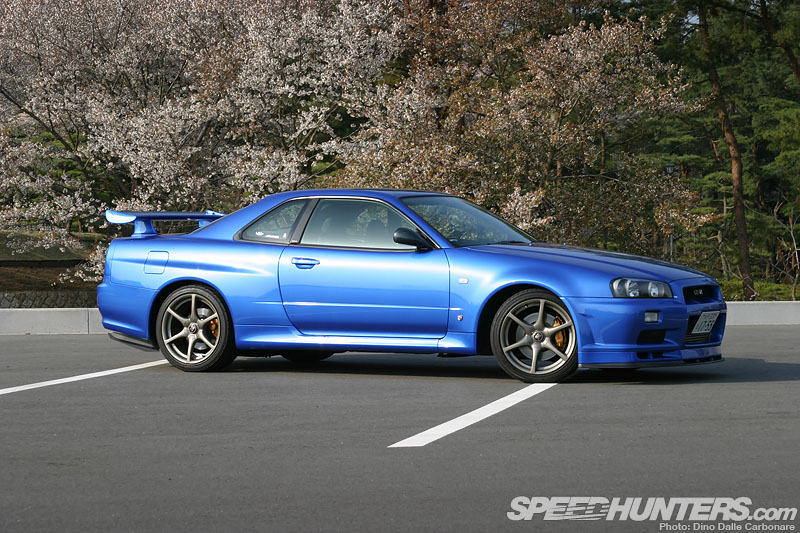 …bring the off-road-like ride height to a more sensible level. The handling and whole dynamics of the san-yon were altered, I could now really use the newfound performance, carry more speed into the corners and get on the power earlier, much earlier in fact, taking full advantage of the catapult effect that GT-Rs are so known for.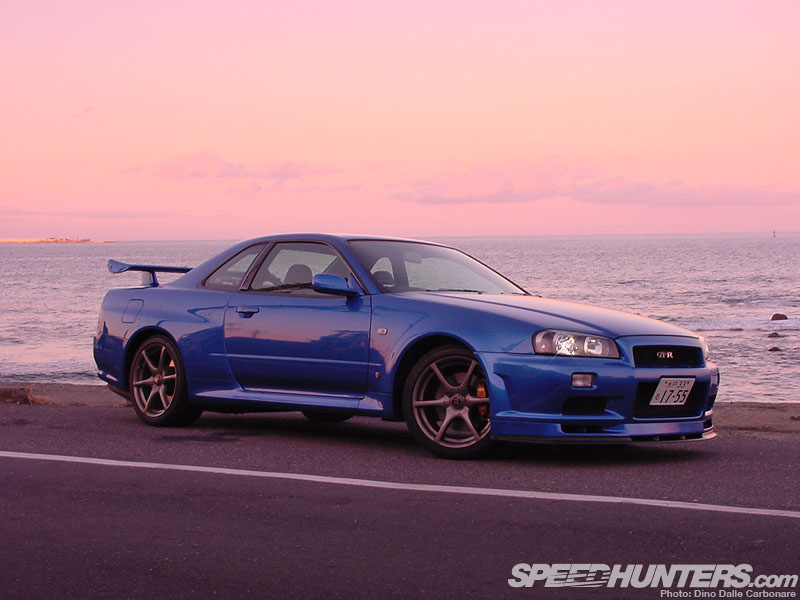 Plus the car looked so much better sitting lower to the ground, even if it was still sitting on the stock rims with their less than aggressive offset.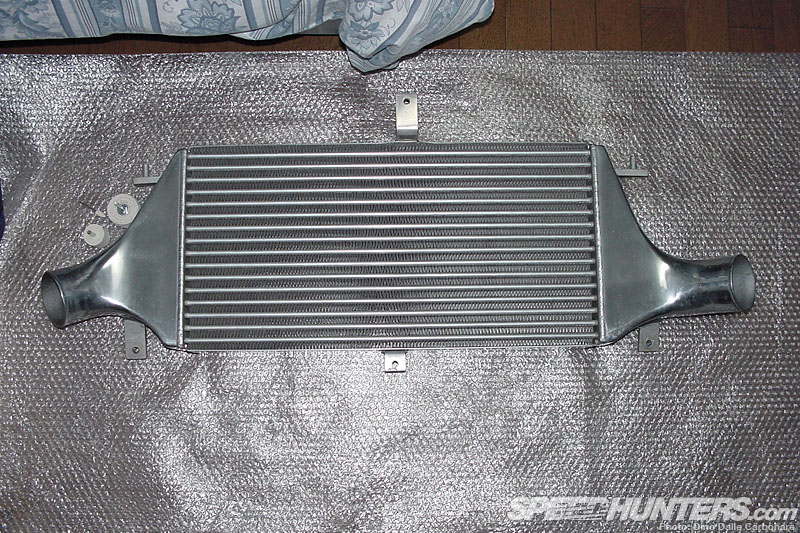 Next up on the mods list was the cooling. A friend of mine was replacing his Trust intercooler with a twin entry ARC unit following a ton of work at Top Secret so I picked this barely used item up at a decent price. I spent about a day polishing it back to its former shine…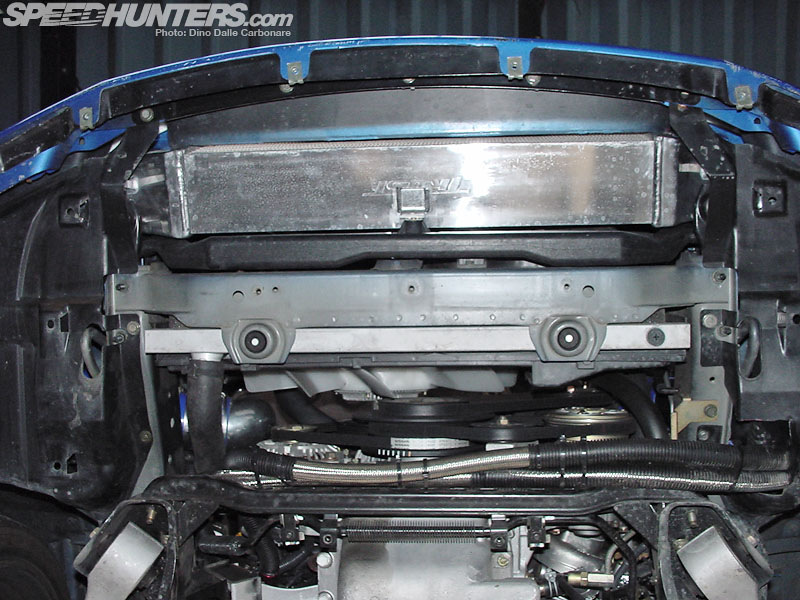 …before it was hidden behind the bumper! The design of Trust intercoolers have always been commended for their good flow characteristics and I was happy with the obvious cooling benefits this brought when driving hard, something that was easily noticeable via the intake temperature display on the MFD. However what I also did notice was a little bit more heat soak when sitting in traffic for example but that was kind of expected. The intercooler was fitted along with GReddy aluminum piping which replaced the nasty black rubber hoses.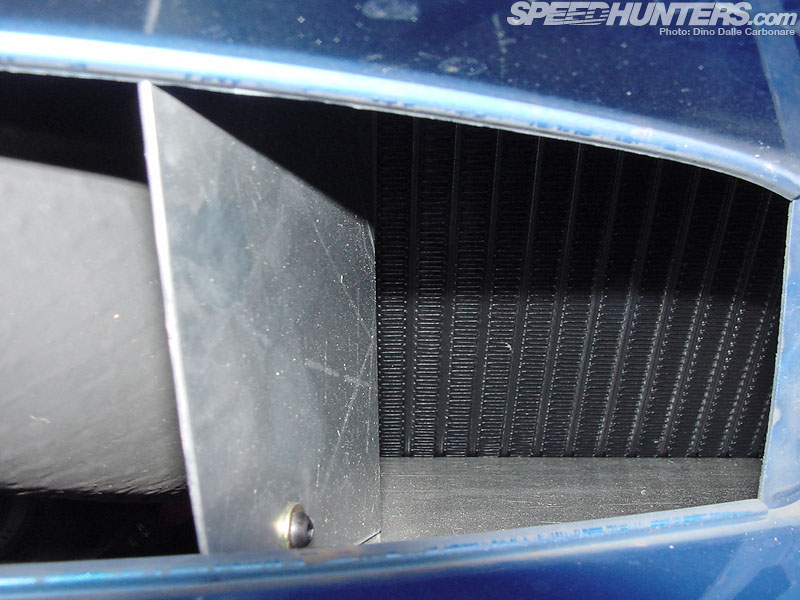 An HKS oil cooler followed too, fitted to the passenger side of the bumper along with an aluminium housing/baffling to direct the air from the intake towards the core. This is probably one of the best mods I carried out, after this the oil temperature has always been rock solid and when driving hard does a great job of keeping it all at optimum temperature, even during Japan's hot summers.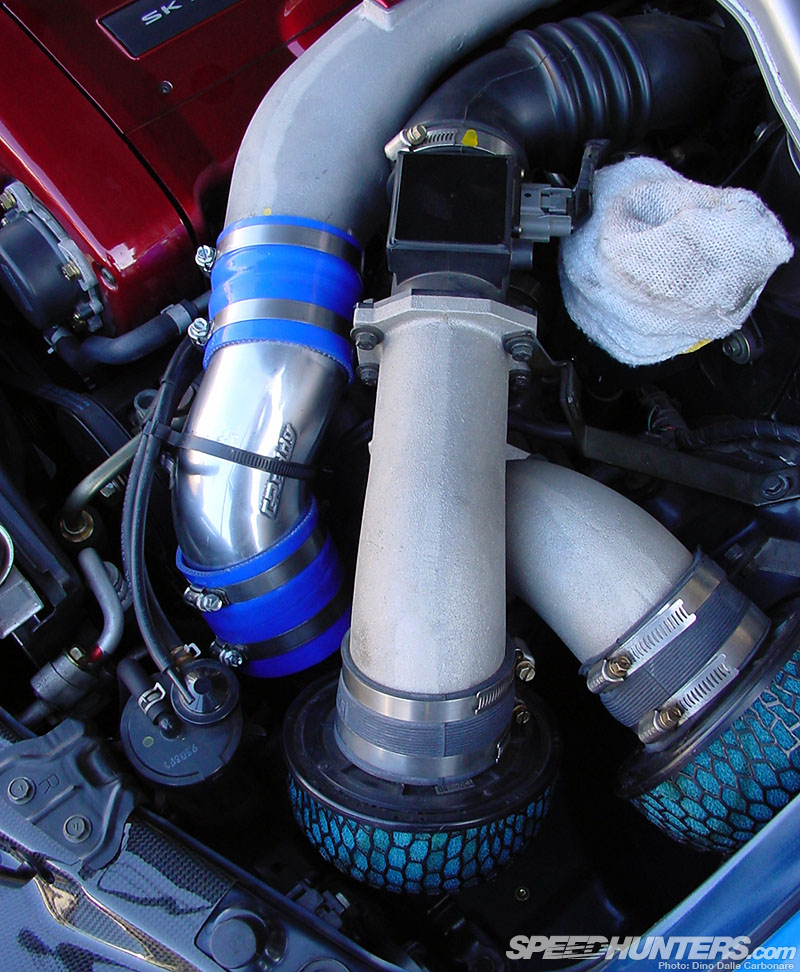 At one point I even got rid of the stock airbox, believing that a pair of HKS SPF filters would be a worthwhile addition. These probably stayed on about 3,000 km, as I just didn't like them. Aside from the dubious filtering capabilities of a pair of thin oily sponges, it was also the poorly sealed edges of the pods that concerned me. Add to this the absolutely horrible induction sound they made, and I got rid of them very quickly. What was left behind was a complete mess of sludge in the intakes, oil mixed with dust and worryingly large pieces of debris that had been "filtered" (and no, not all of it was from recirculated blow-by). So on went the stock airbox once again, along with a K&N/Nismo panel filter and what I found was a better low-rpm response and a well balanced induction raw.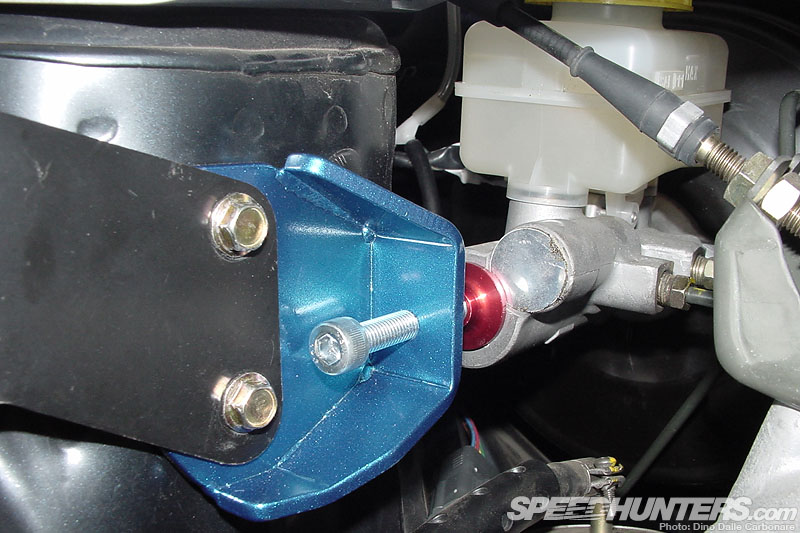 On the braking side of things I fitted some Ferodo DS2500 pads, Nismo braided lines and the must have Cusco master cylinder stopper, which all contributed to give a slightly firmer middle pedal and better braking performance. It wasn't all great however, a few up and down sessions on the touge and brake fade was very much unavoidable as were smoking brake pads!
I continued to enjoy the car and driving it like was meant to be driven, taking it up in the mountains around Hitachi and Takahagi and at times finding empty countryside roads to practice the odd launch…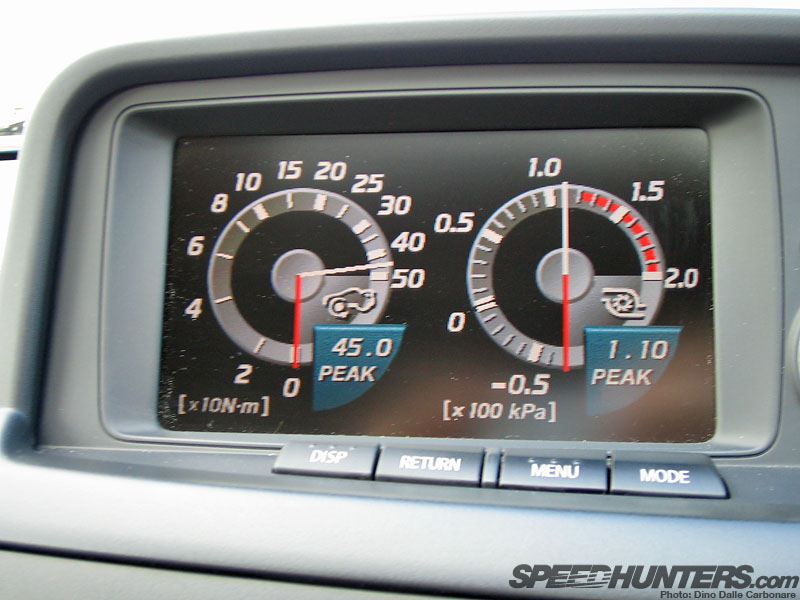 …trying to see how high I could get that torque split meter to go! Not surprisingly, it wasn't long before the stock clutch had had it…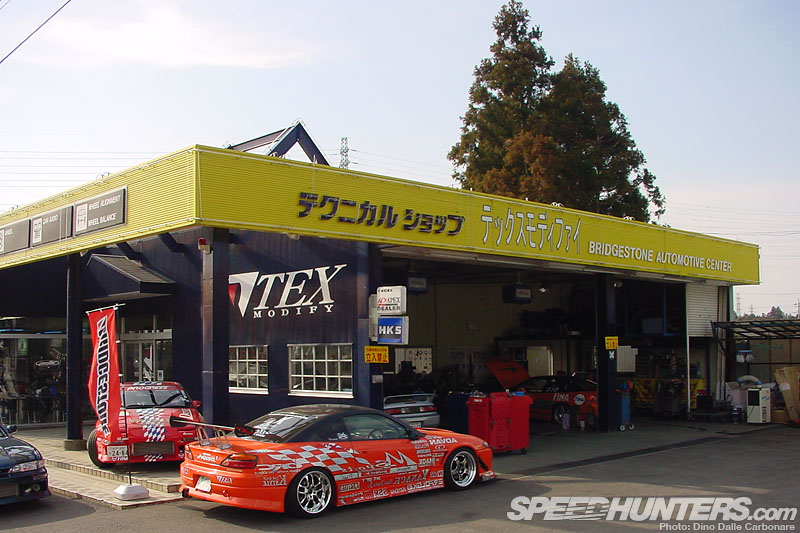 …so after much research I decided to go with what then was, and I'm talking of about ten years ago now, a very innovative clutch upgrade. To fit it I went down to my then local shop in Ibaraki, Tex Modify, which like many tuners in Japan had initially started with drag racing and had moved to drifting, building and looking after Tanaka's S15 in D1.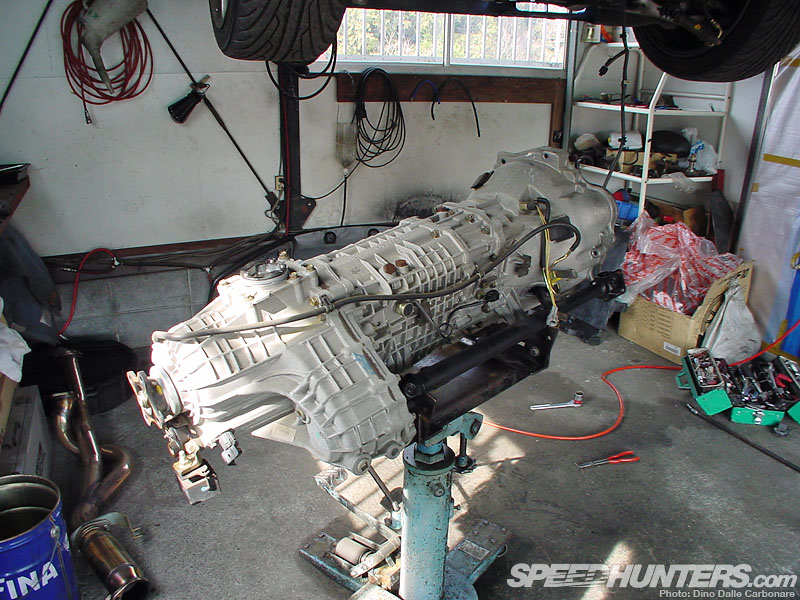 The Getrag along with the transfer box was dropped…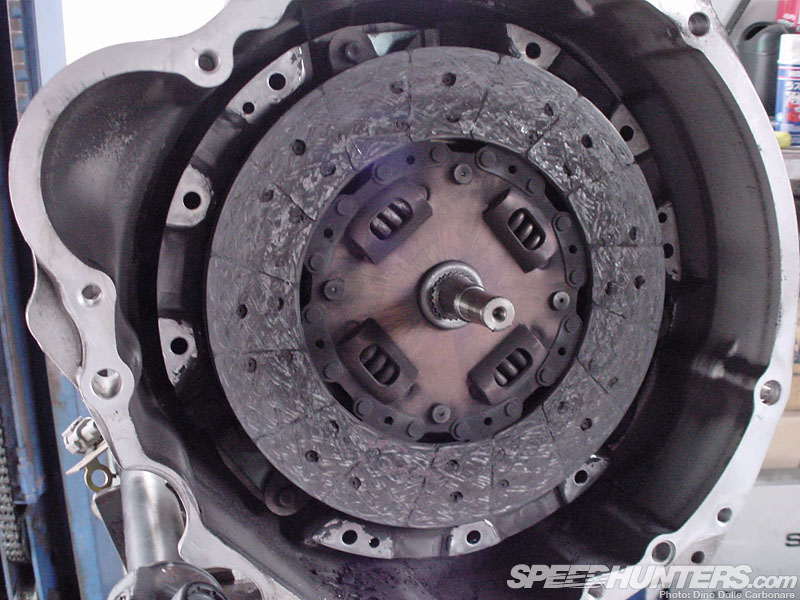 …revealing the well used clutch plate…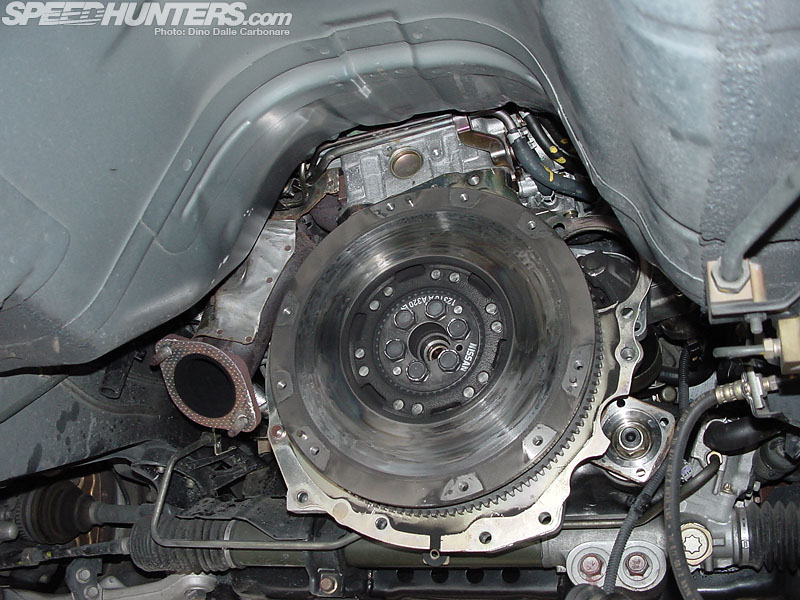 …and flywheel.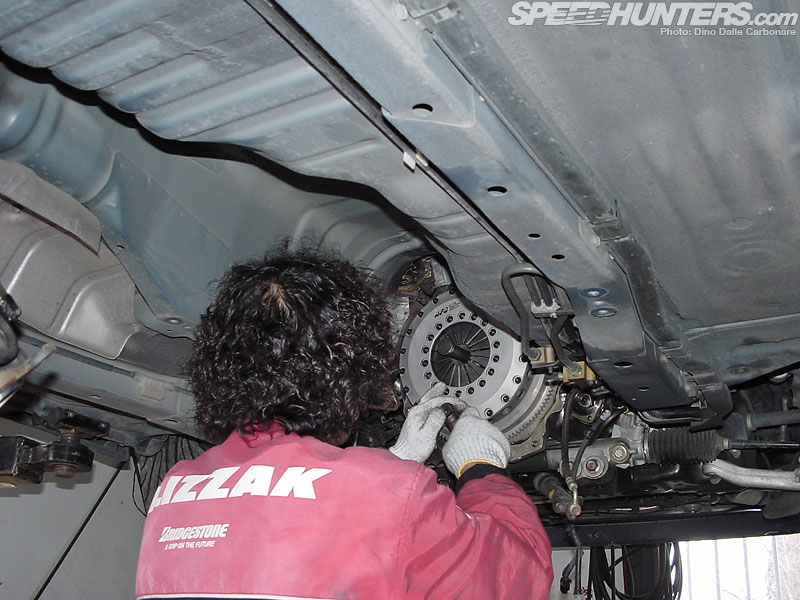 It was all removed and replaced with a twin-plate ATS carbon clutch…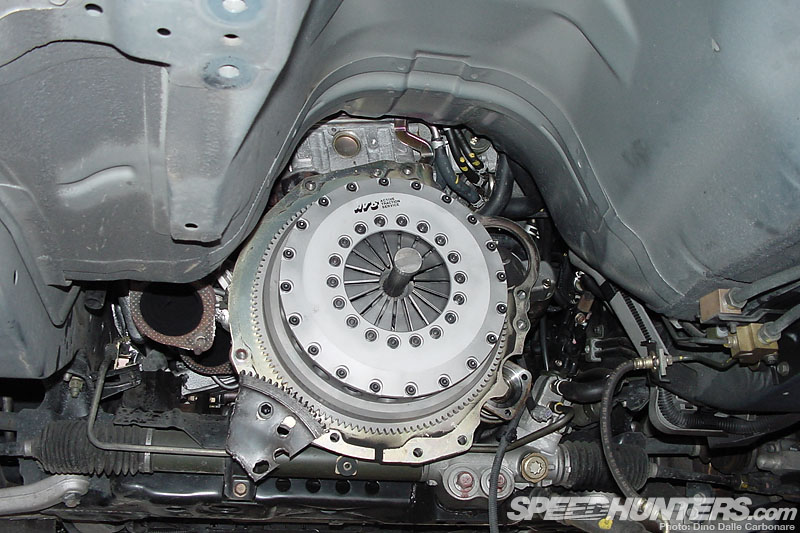 …along with a lightweight flywheel. What made me go for it were the countless positive reviews of how easy it was to live with and how less harsh it was on the driveline thanks to the unique friction characteristics of the carbon plates. All seemed to be true, it was – and still is as believe it or not after 25,000 km, I am still running it – almost as easy to use as the stock one but with an obvious better feel through fast gear changes. Drag-style launches became even more fun!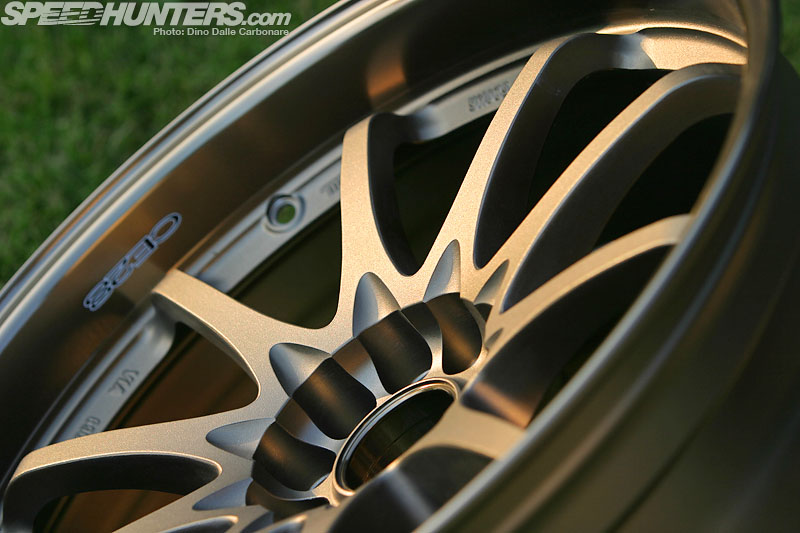 Some more time went by and the next upgrade I carried out were the wheels. Much like everything for the GT-R, there is so much choice out there that it takes a normal person ages to choose what brand or product to go for, even more so if you are anally retentive like myself. So, aside from the fact that I would never fit non-forged wheels to a performance car, I narrowed it down to either 18-inch Volk Racing TE37s or the then new 19-inch CE28Ns. Seeing these would be my "street" wheels it wasn't hard to go for the 19s as after seeing them fitted to another R34 at an event they filled the wheel arches fantastically well.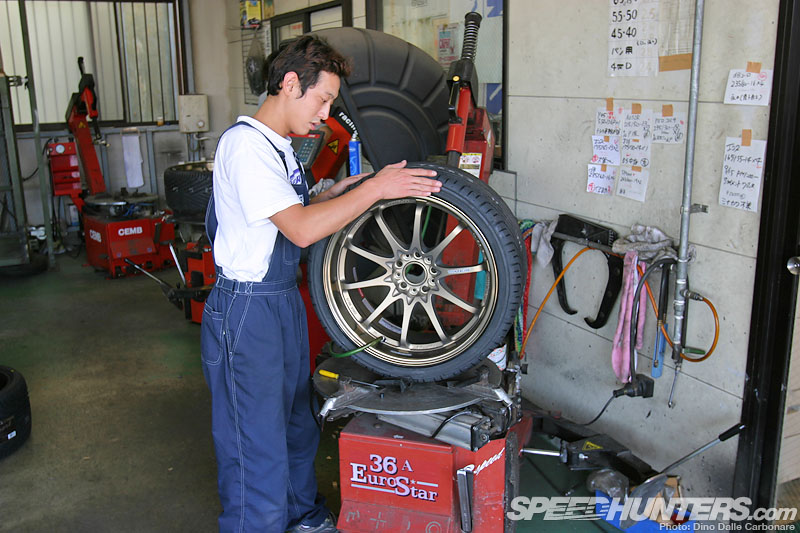 So that's what I went for, along with a set of Yokohama AVS Sports in 275/30.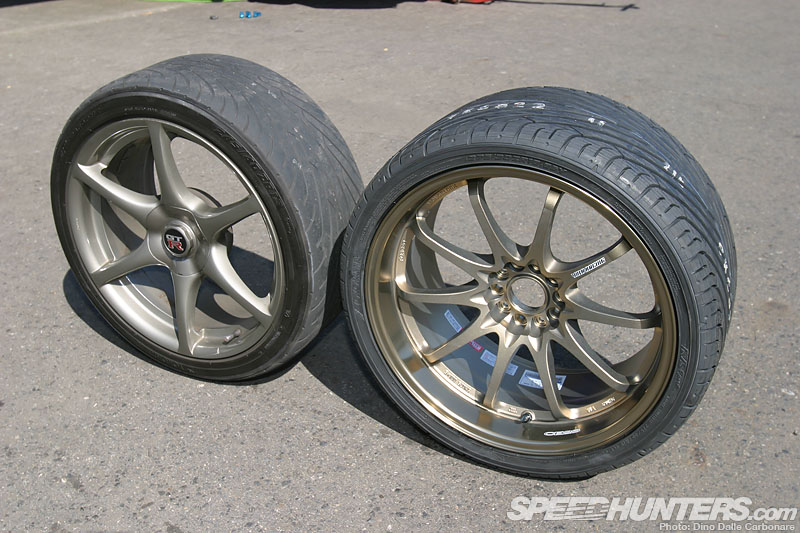 Here is a quick size comparison with the stock BBS items. The 19-inch CE28s were actually quite a bit lighter than the stock rims, except that weight benefit quickly disappeared once the tyres were fitted.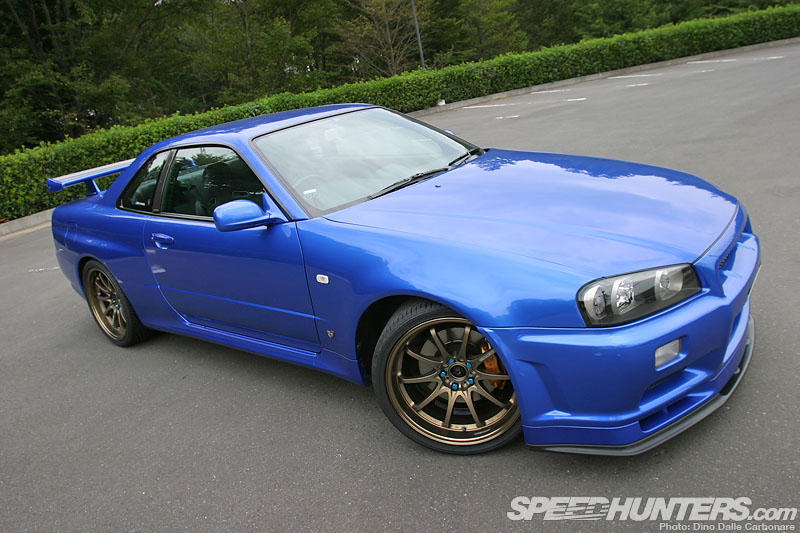 Anyway, to say I was happy with the result would have been an understatement.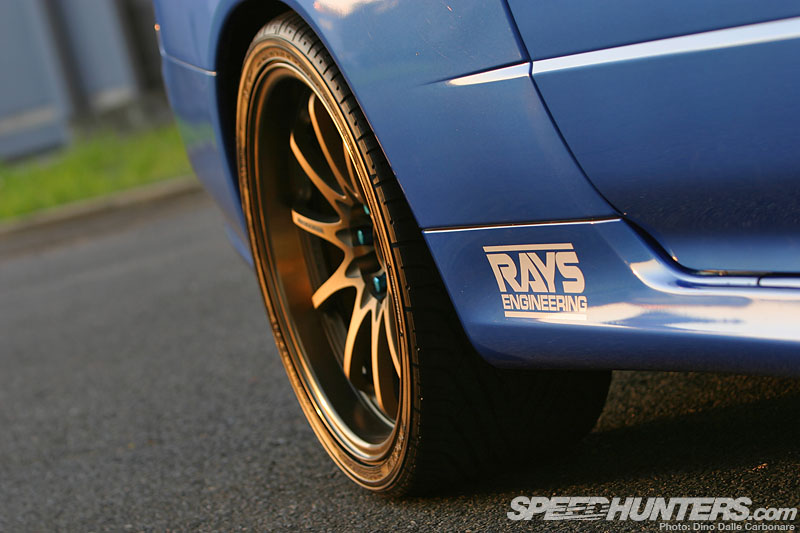 I still have these rims of course, I'm in the process of sort of restoring them after years of use and protecting/coating them. I've done two already thanks to the help of my equally OCD buddy who's GT-R you have seen on here before. Two more to go and a fresh set of Volk Racing spoke-stickers thanks the awesome guys at Rays Engineering and they will be good as new.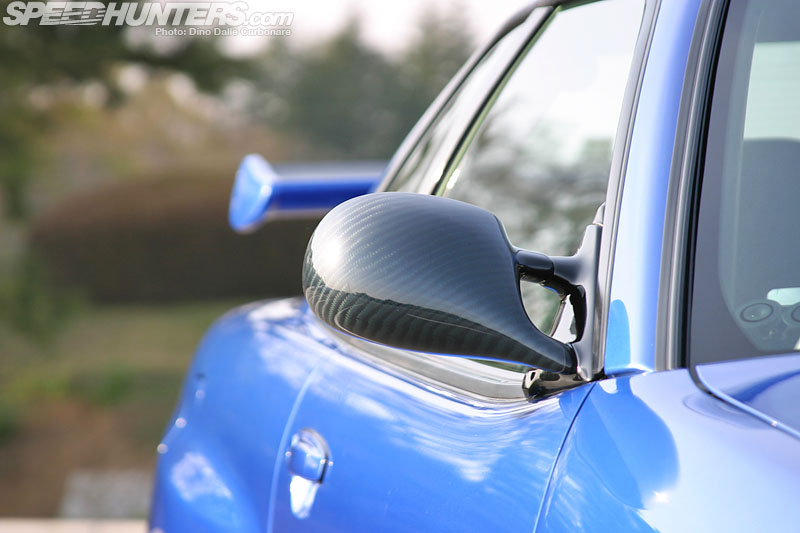 I am not one to go wild on the aesthetics of a car but there have been some minor changes to the appearance of the R34 over the years, things like the Mine's M3-look-a-like carbon mirrors…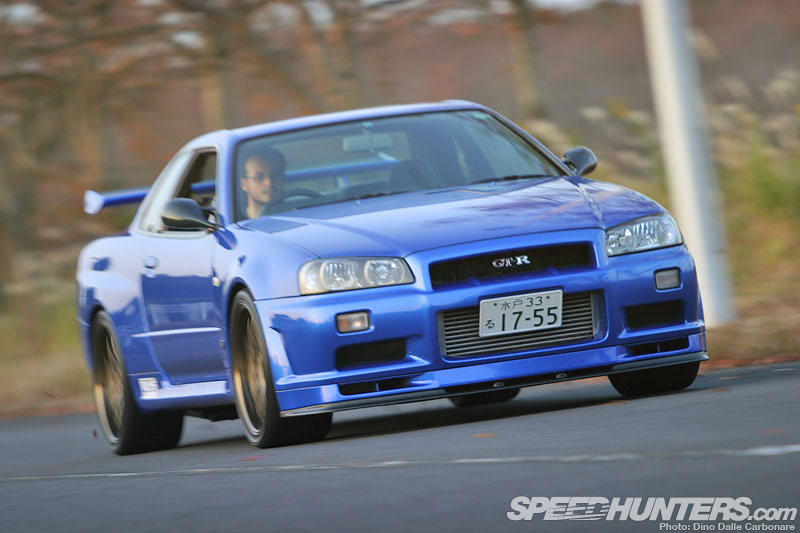 …and a painted middle front spoiler right above the diffuser. Oh and the oldschool GT-R badge! I am actually thinking of getting rid of the mirrors and re-fitting the foldable stock ones so your opinion on this would be great.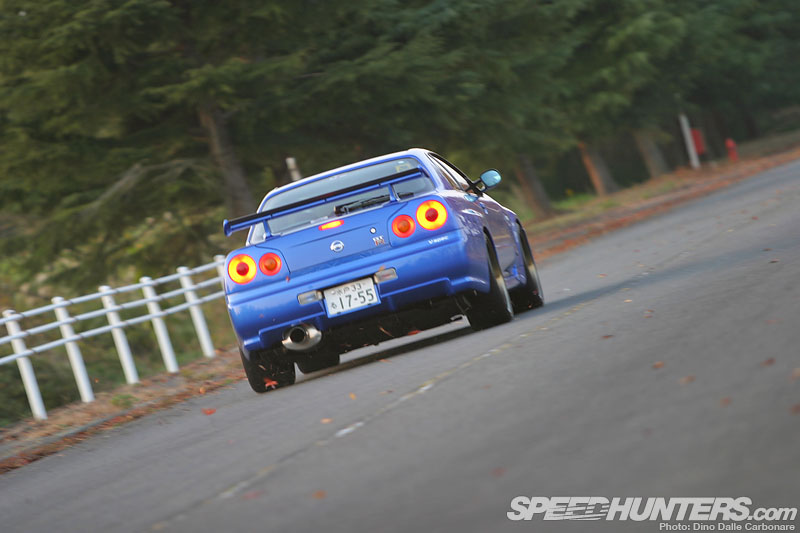 I even ended up changing the old Nissan badge for the fancier new one but I think I may just get rid of both this and the GT-R one in the future for a cleaner look. Again, thoughts?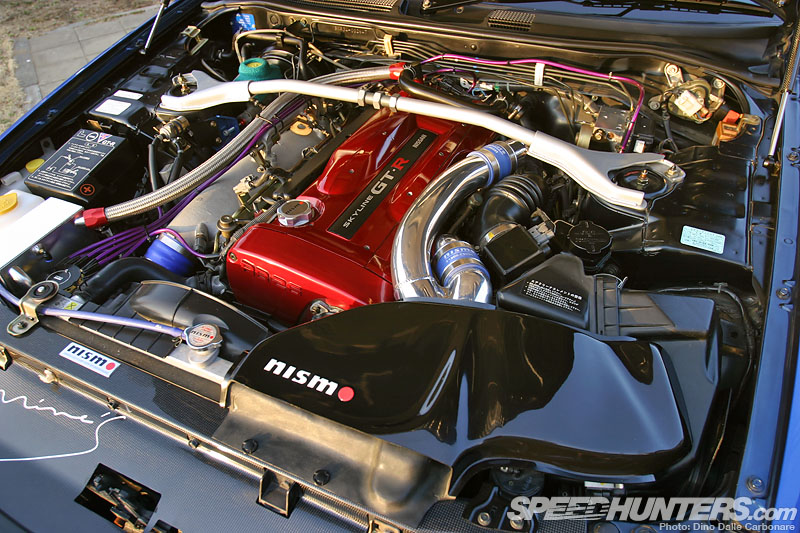 A few more additions were made under the bonnet too, the most important of which were the "Nismo inlet pipes" those shiny aluminum bits that replace the stock pipe with the "Twin Turbo" logo on it. These are very similar to what the Gr.A BNR32s used and transformed the throttle response and boost pick up of the engine thanks to a more flow-friendly design. In fact I had to get the HKS EVC boost controller reprogrammed as I was overboosting badly after fitting them!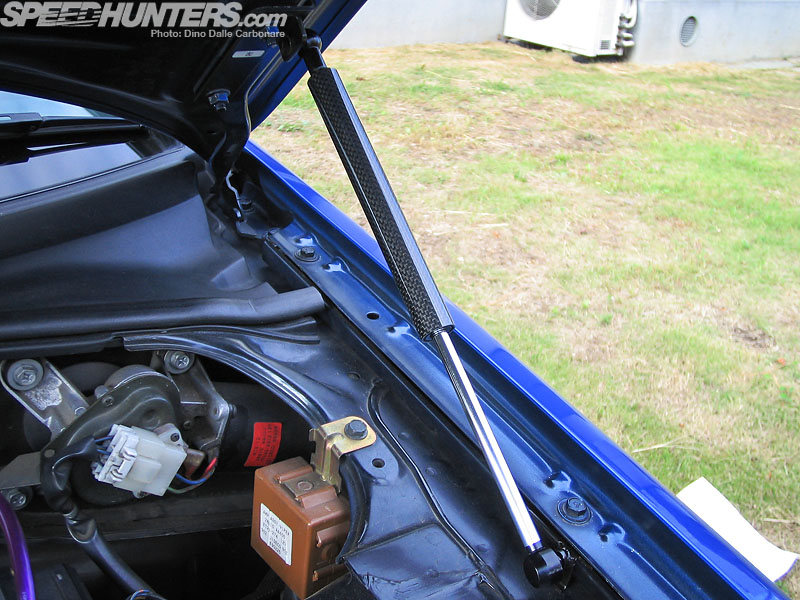 I also fitted Augment hood dampers and got rid of the stock pole used to prop open the hood, a simple but nice touch I always thought.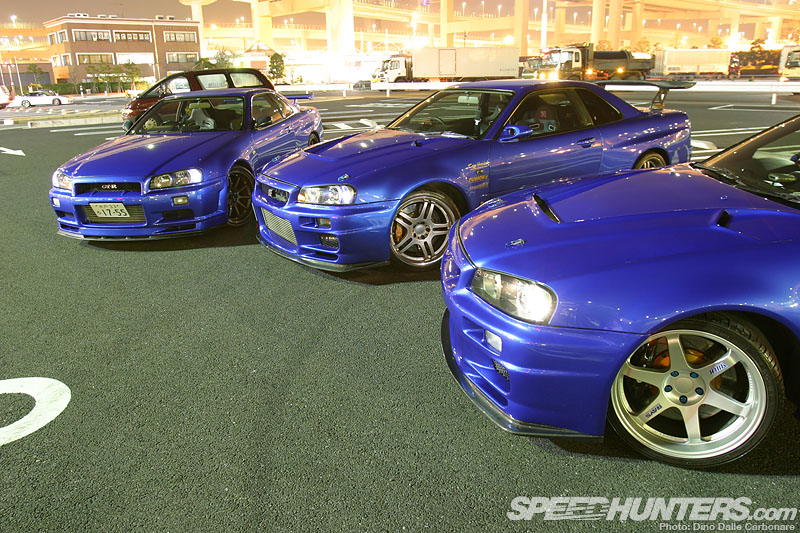 Here is a shot of the car back about eight or nine years ago at Daikoku PA with a couple of my friend's cars that had been heavily modified at Top Secret.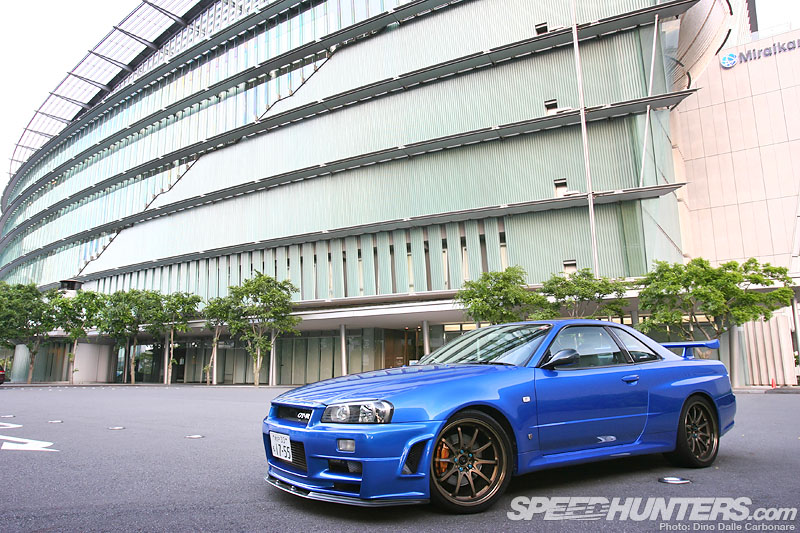 The final two upgrades I did to the aesthetics were the Nismo Z-tune front bumper which I literally fell in love the moment I saw the Z-tune unveil all those years ago…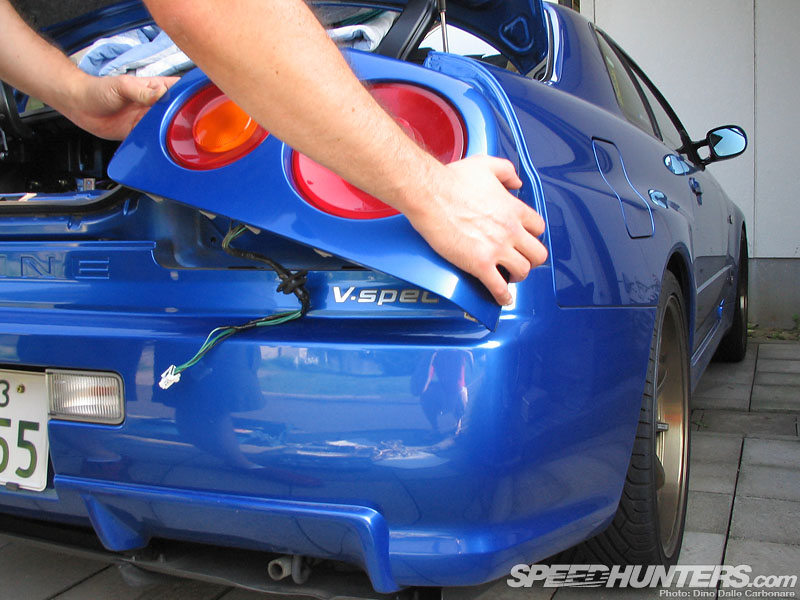 …and the Nismo GT LED tail lights…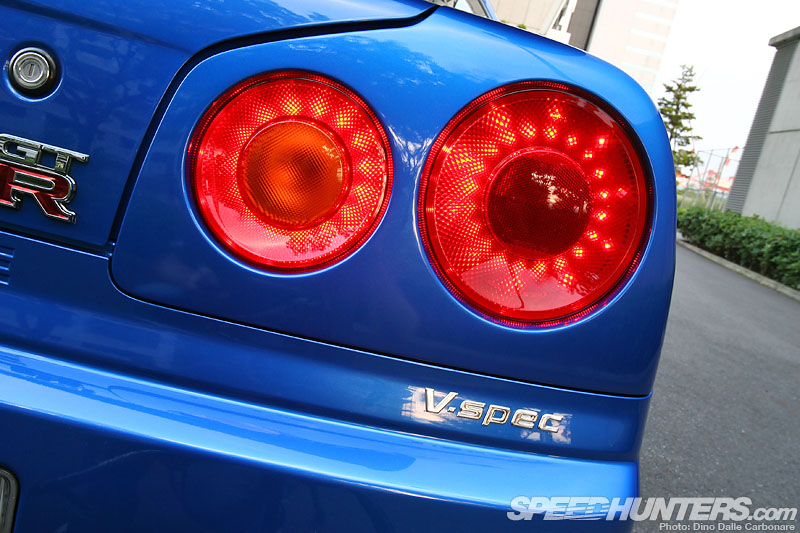 …almost identical to the ones that were used in Super GT R34s before they got replaced by the Z33s.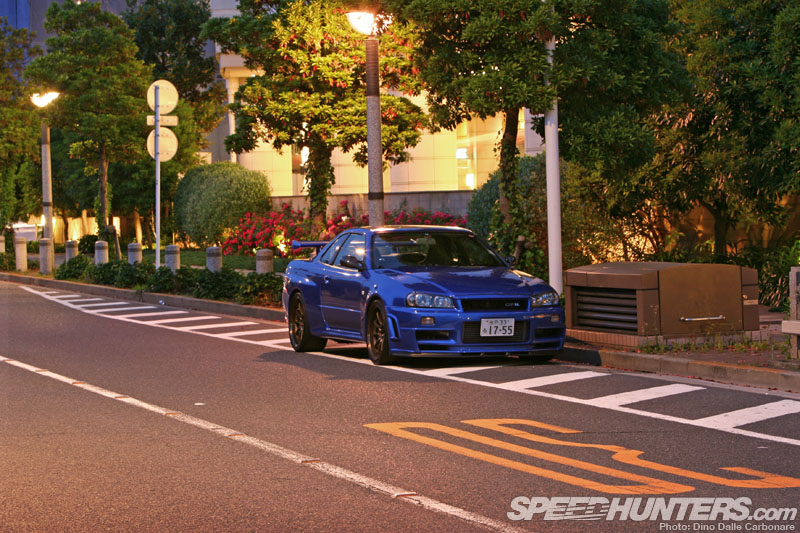 It may sound strange but I have never really taken many pictures of my car, neither have I done proper shoots on it, as I'm always waiting for it to be that little bit more complete. It is quite a vicious circle to say the least!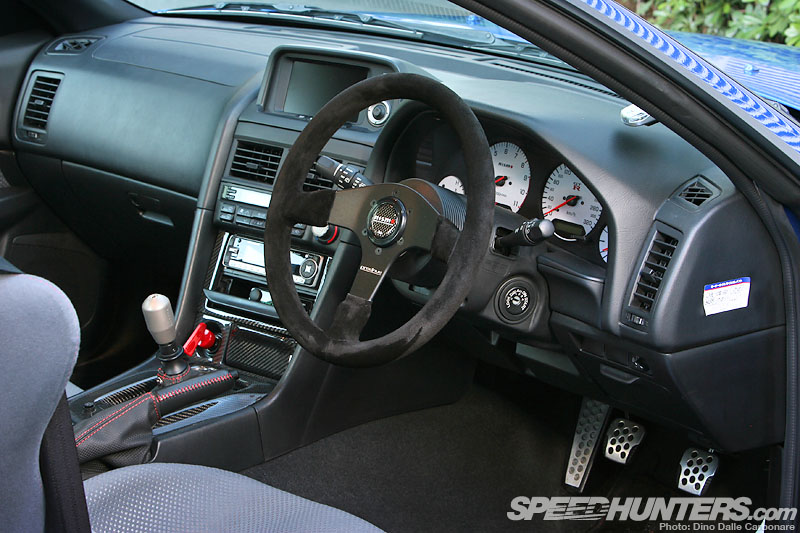 Upgrades in the interior have also been rather subtle. The cheap plastic center console has been replaced with a carbon fiber item from Robson Leather, while I've gotten rid of the stock steering wheel for a Sparco/Prodrive suede item which is great when wearing racing gloves but a bit slippery when not. For those with a keen eye you will also notice some kouki pedals, the same pedal set-up that Nissan recycled  on half of their lineup from 2001 and onwards.
More hooning around. This video was taken in 2008 when I had an R35 for a week to test and shoot.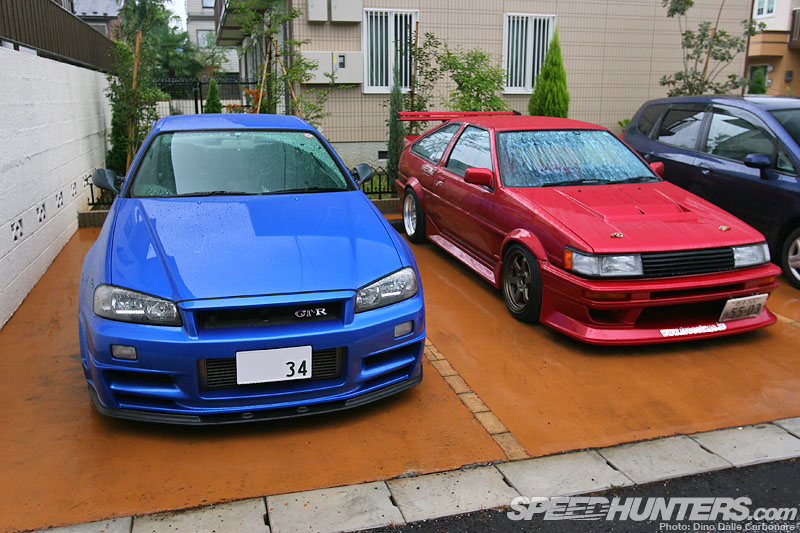 How about this for some contrasting colors. I had that pink AE86 on loan from Newera for a week or so, and after driving and shooting it, it was sold to a certain Allen Lorenzo from Tomei Powered. Thankfully Allen has since removed the matching pink GT-wing!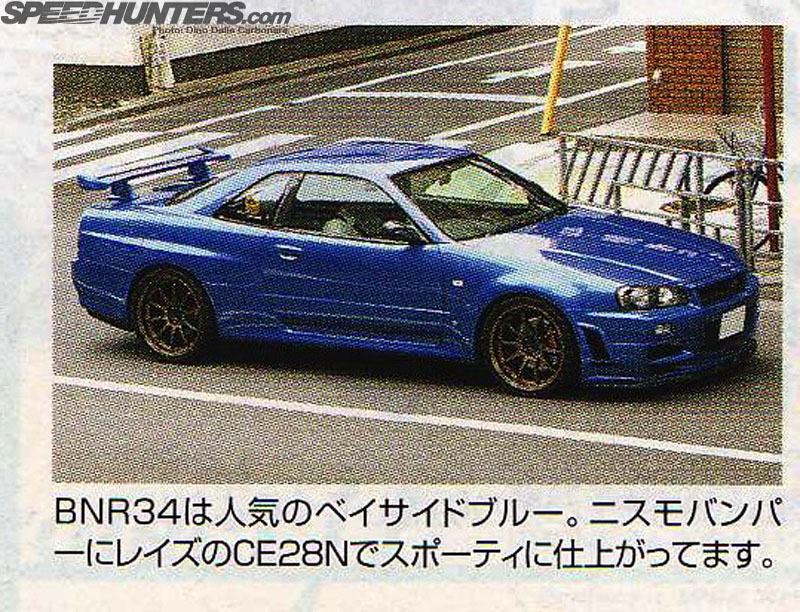 One day back in 2008 Option Magazine even spotted my car on the street as I was driving on Kuramaebashi-dori in Tokyo. Option regularly does "car spotting" features where they spend a day on a busy road and document the modified cars that drive by. Apparently they liked my car for it's sporty look. The car stayed pretty much as you see it above for a couple of years, the only thing that I added were Spoon's Rigid Collars that got the front and rear subframes nicely aligned and introduced a newfound precision into the steering and how the suspension reacted to road imperfections.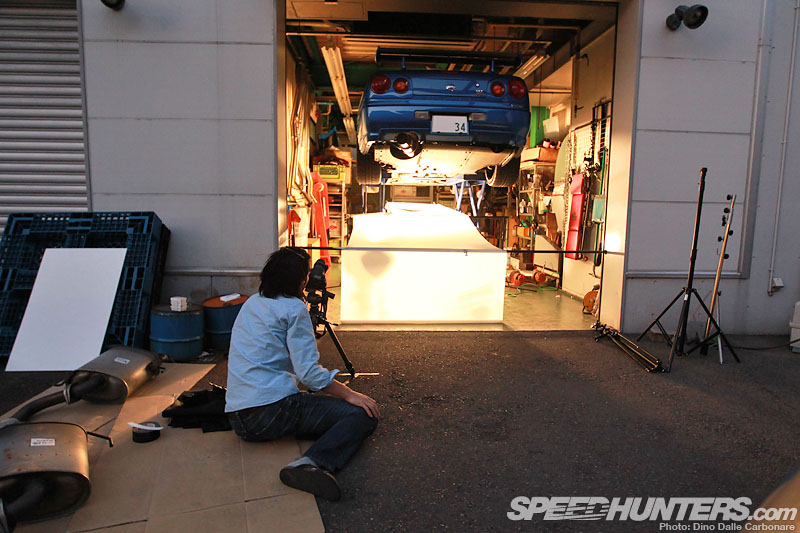 Fast forward a few more years and back in 2011 I donated the R34 to Tomei Powered so that their exhaust wizard could develop the Expreme Ti titanium exhaust system. Here is Yamamoto-san of Tomei…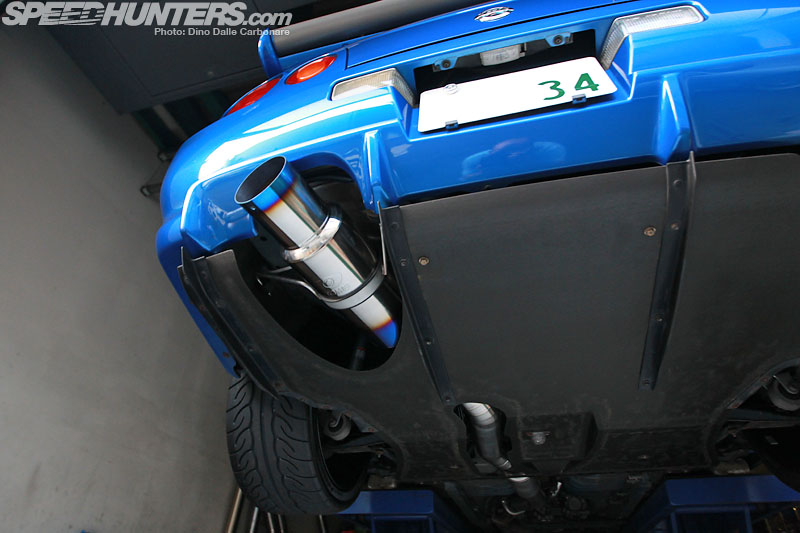 …grabbing a few catalogue shots for the underside of the car with the exhaust fitted.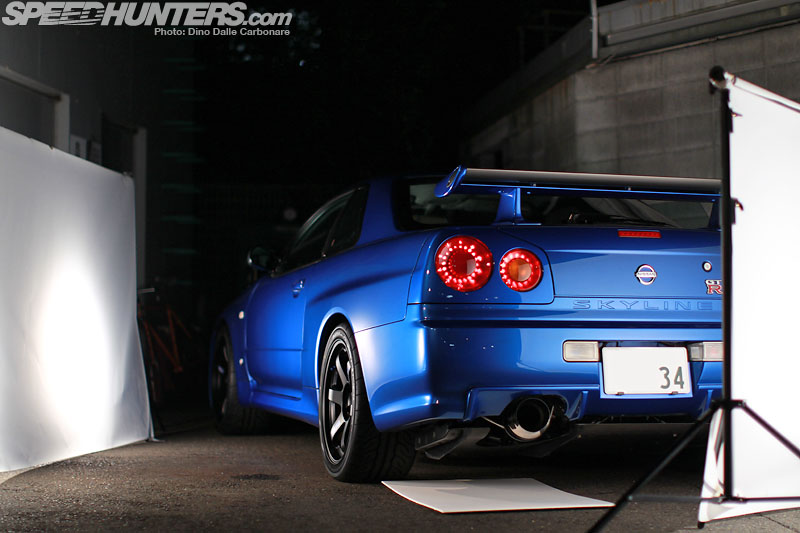 I forgot how good 18-inch TE37s look…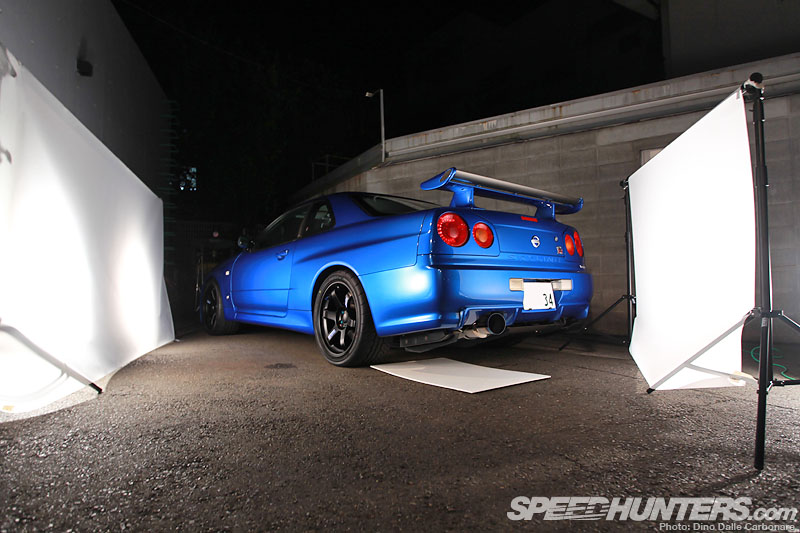 …against a blue R34! I've temporarily swapped these rims with a friend for a set of RE30s…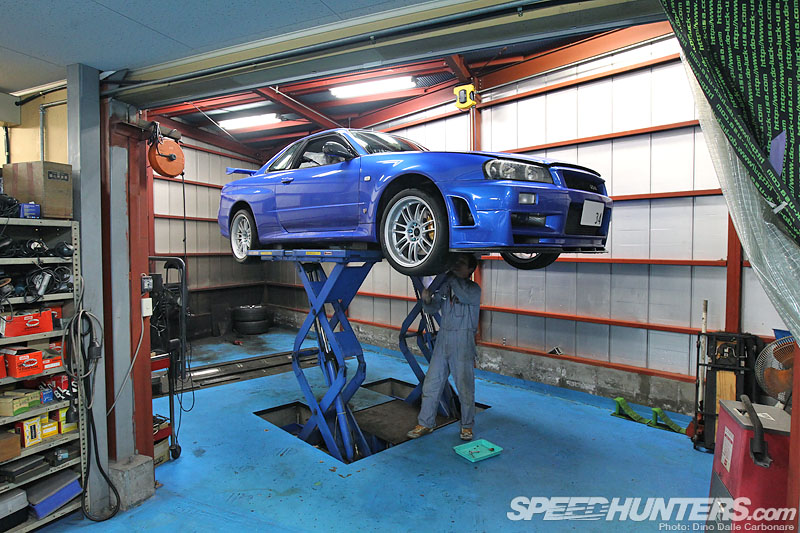 …which you can see fitted here. This is the car at Do-Luck in Yokohama being transformed to RWD prior to an ECU tuning sessions.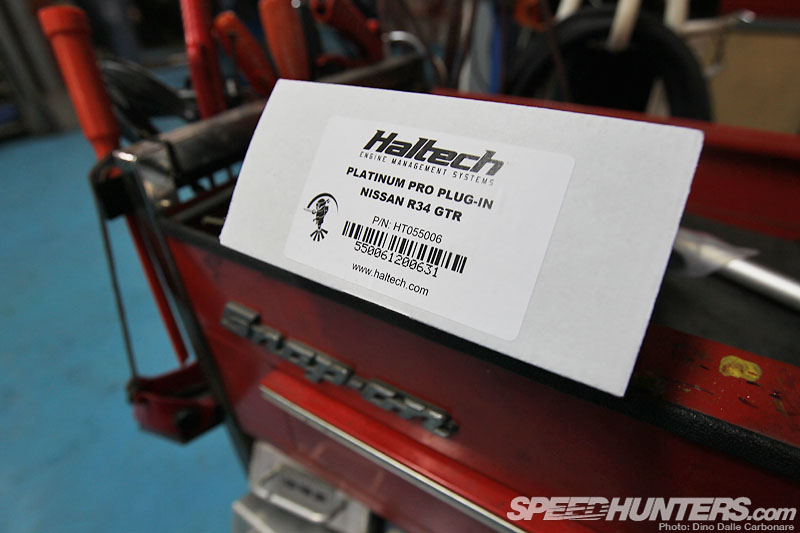 That's because if you recall back last year I had the pleasure of injecting more computing power in the R34 thanks to an advanced Haltech…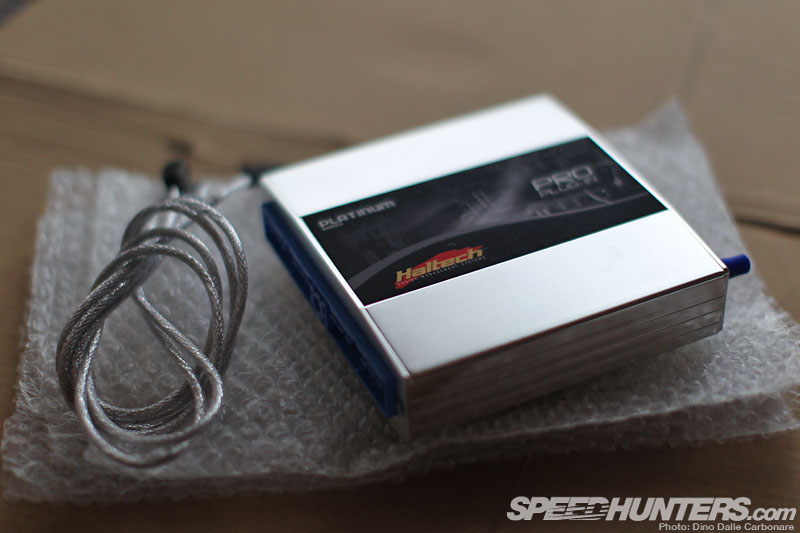 …Platinum Pro ECU, a plug and play computer which helps bring the old girl into the new millennium. This has quickly become my favorite upgrade as it unleashes a ton of potential, which I honestly haven't even begun to tap into yet.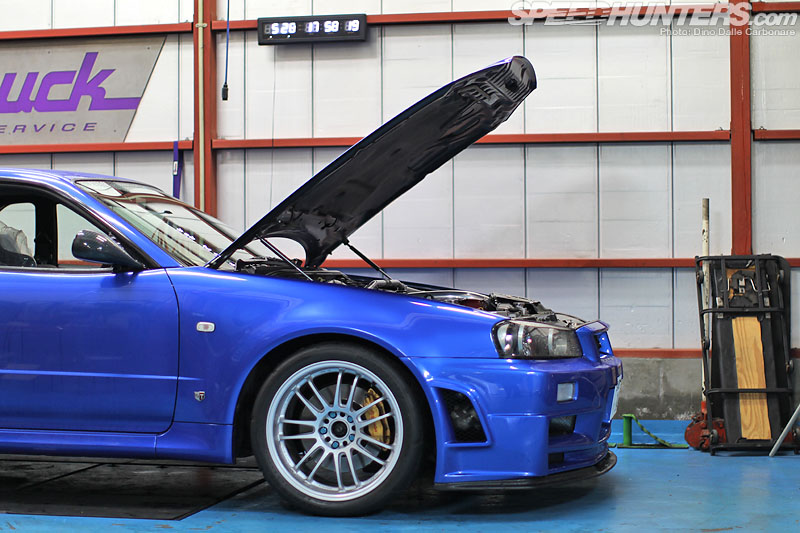 But more on that to come this year!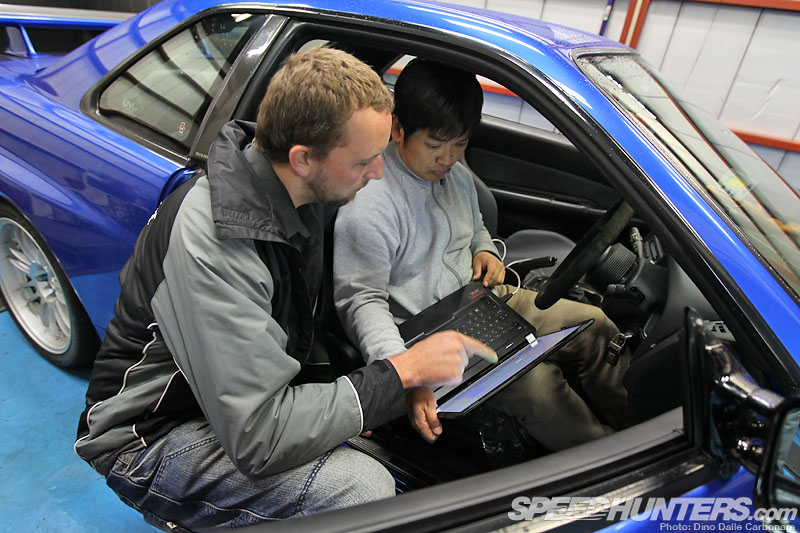 Scott from Haltech and Ito-san of Do-Luck spent a few hours getting the best out of the computer…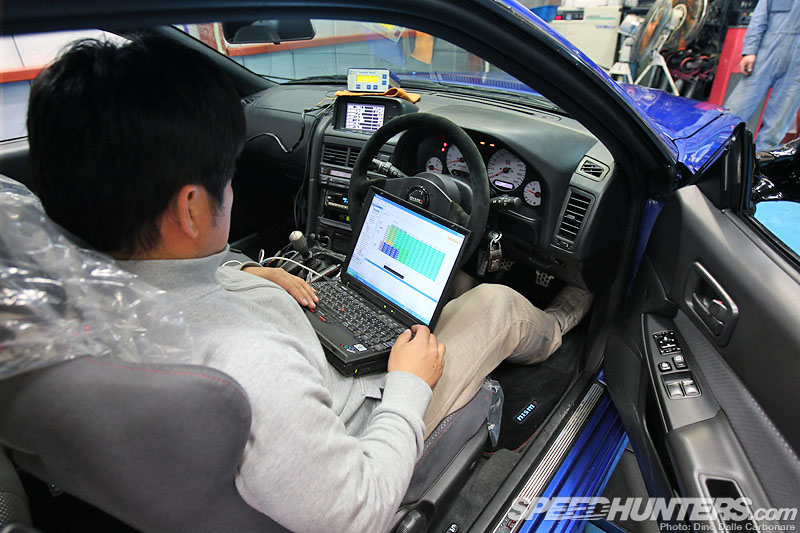 …until the next set of modifications which will require a complete retune. Maybe then I can turn on the "soft" anti-lag setting!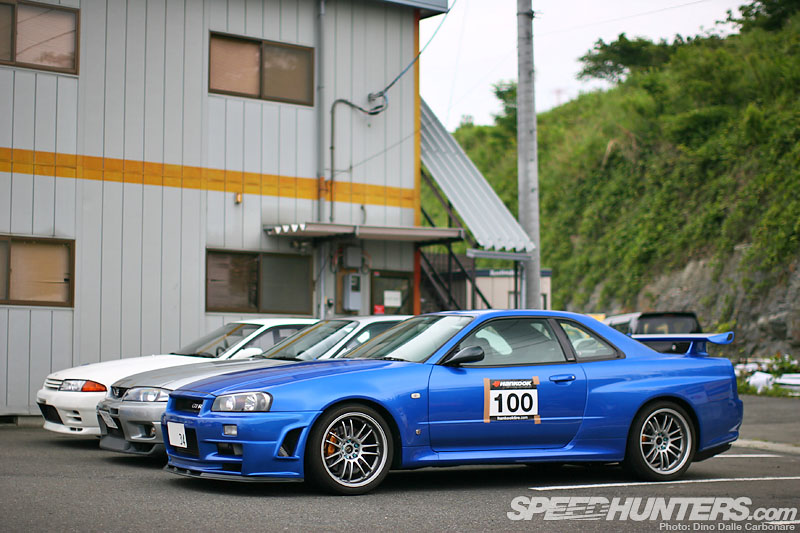 With work taking up most of my free time as well as weekends, it has become harder and harder to find time to hit the track. But in summer last year Ito-san and Tarzan Yamada invited me along to test out…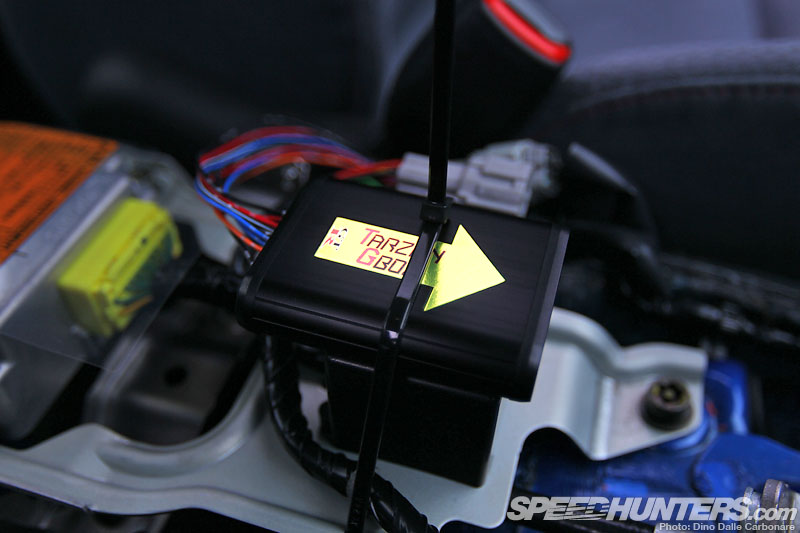 …the Tarzan G-Box, a digital G-sensor replacement for the archaic stock electro-mechanical item.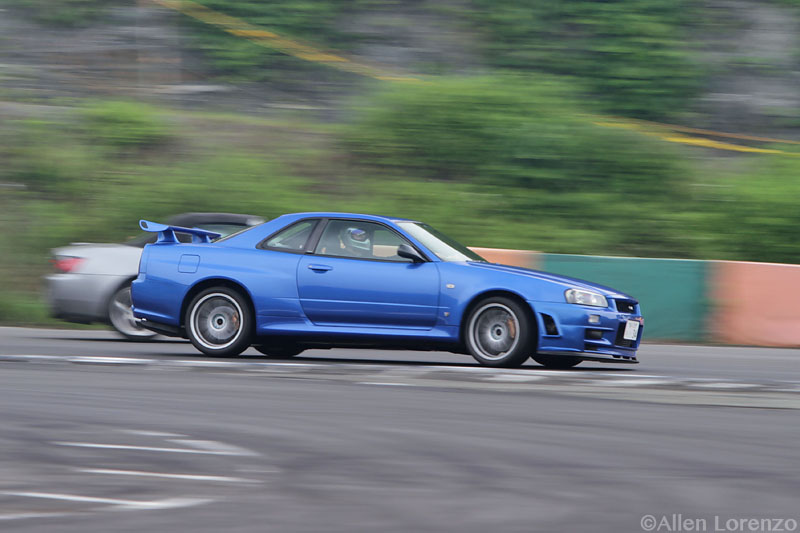 It was yet another awesome upgrade in my quest to modernize the car and set up in a way that it changed not only the reaction times of the Attesa AWD system, but the amount of torque that is delivered to the front wheels.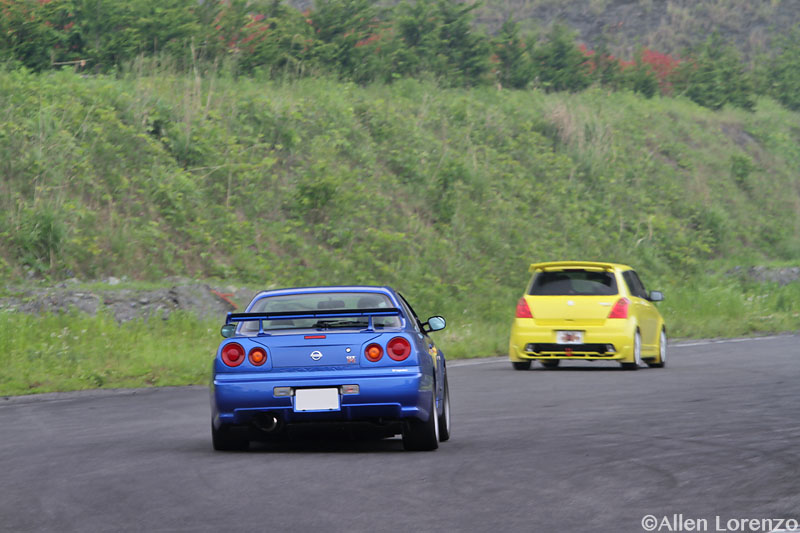 The car feels so different now, almost like an Evo in the way that it juggles drive front/rear, allowing for an even more aggressive driving style out on track.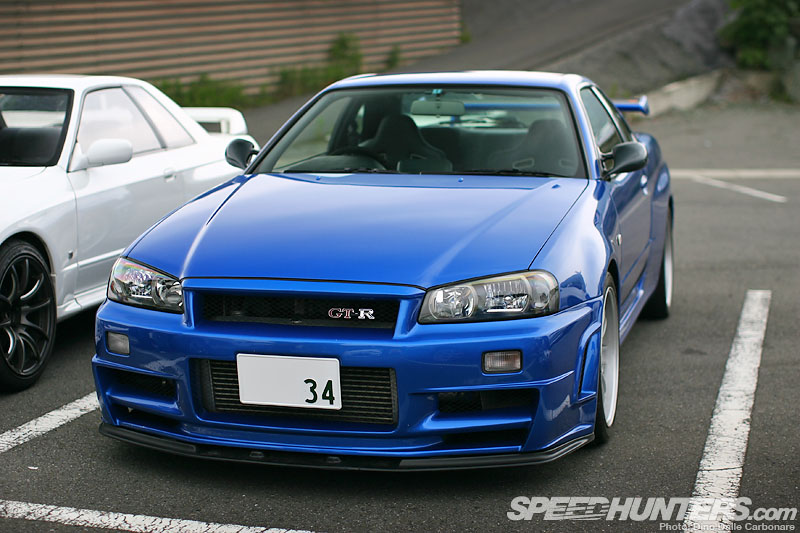 So this is where the car is at right now. I look forward to sharing all the upgrades and even the time I spend with the "R" with you all from now on, and will be looking at your comments carefully as I value all your feedback.
Let the fun begin!
-Dino Dalle Carbonare