And so my quest to modernize the R34 continues. In the last decade it's obvious technology has advanced in a lot of areas and aside from the obvious interesting mechanical products that continue to come out for the RB26 and the GT-R in general, it's the electronic side of things that I have been concentrating on lately. If you recall the other month I fitted one of the best modern ECUs around, the Haltech system that will really start getting into its own once the series of engine upgrades I have planned are fitted. But it's another part of the vast gadgetry that the BNR34 packs that I'm addressing this time round, the car's G-sensor. Last time I met with Ito-san from Do-Luck he told me of a product he had been working on with everyone's favorite Time Attack driver, Tarzan Yamada, a special version of the new-gen digital sensor that Do-Luck has been offering since last year. The "Tarzan G-Box," as it's called, is available for all three generations of the Skyline GT-R as well as the Lancer Evolution (models 7 through 9) and as Ito-san told me will transform the way GT-R car feels in pretty much every situation.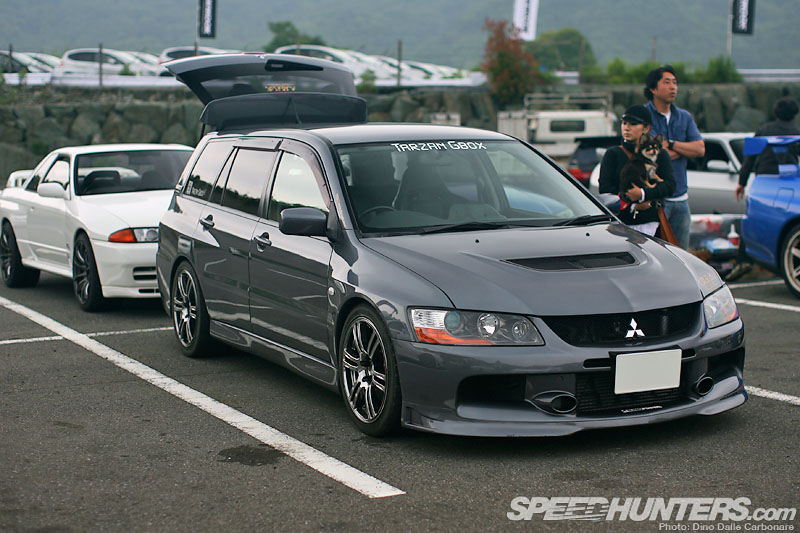 So when he invited me to try it out the other day at Honjo Circuit, it was an opportunity I couldn't really pass up! Upon my arrival at the tiny little track in Saitama-ken, Ito-san and Tarzan were already there with the impossibly mean Lancer Evo Wagon they are using as a demo car to show off the capabilities of the product. They had also brought a completely stock BNR32…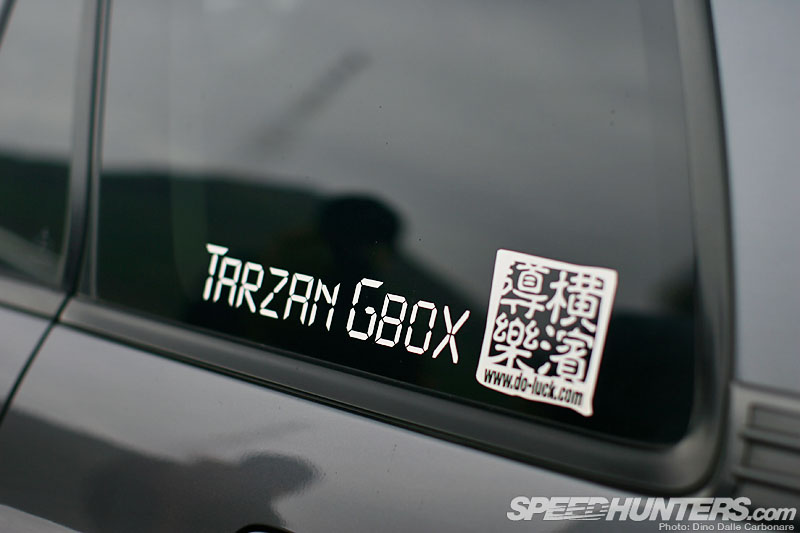 …so that Tarzan could give me an educational ride, to show the effects the G-box has at the very limit.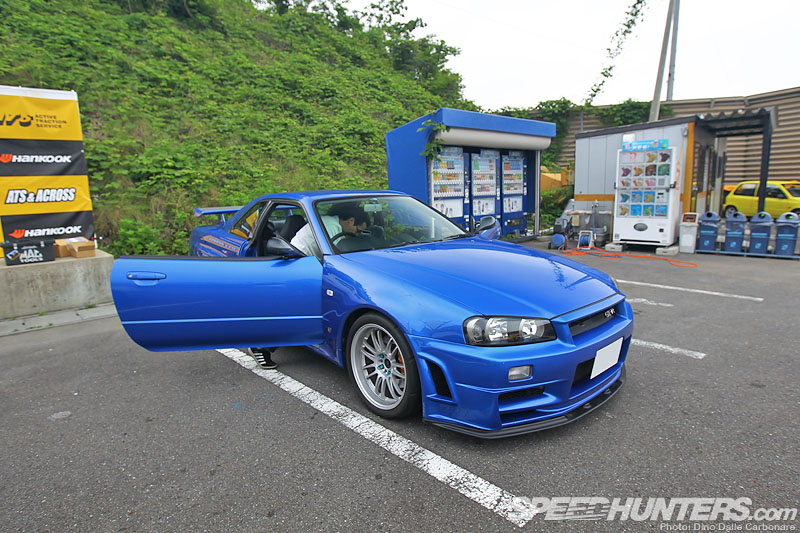 With only two sessions at our disposal we didn't waste any time. I moved my car to the back of the paddock and Orito-san, Do-Luck's chief mechanic…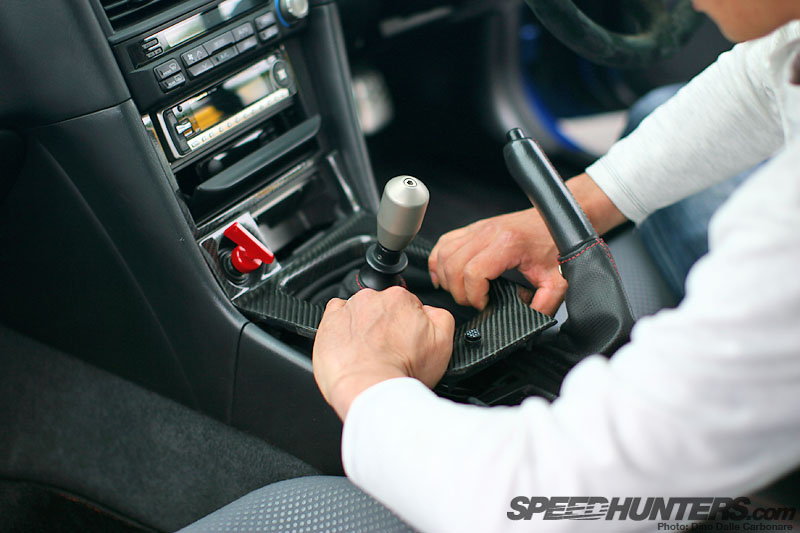 …went to work, taking apart the trim around the transmission tunnel in order to get at the stock G-sensor.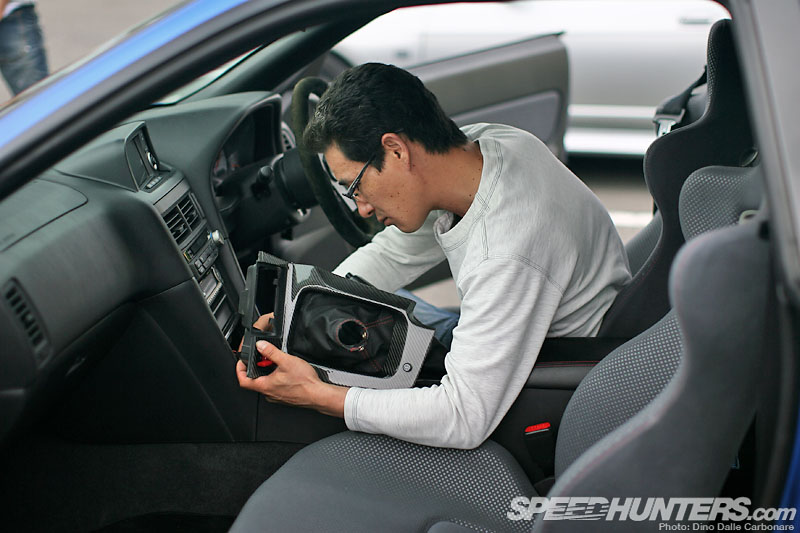 The fitting process is actually very simple; once you remove the trim around the shift lever you get access to a couple of more bolts…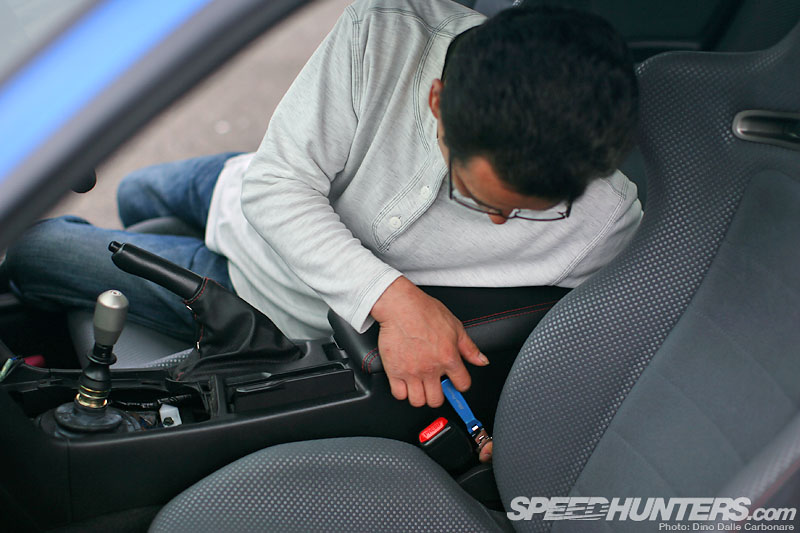 …undo a couple of more on each side of the main tunnel cover…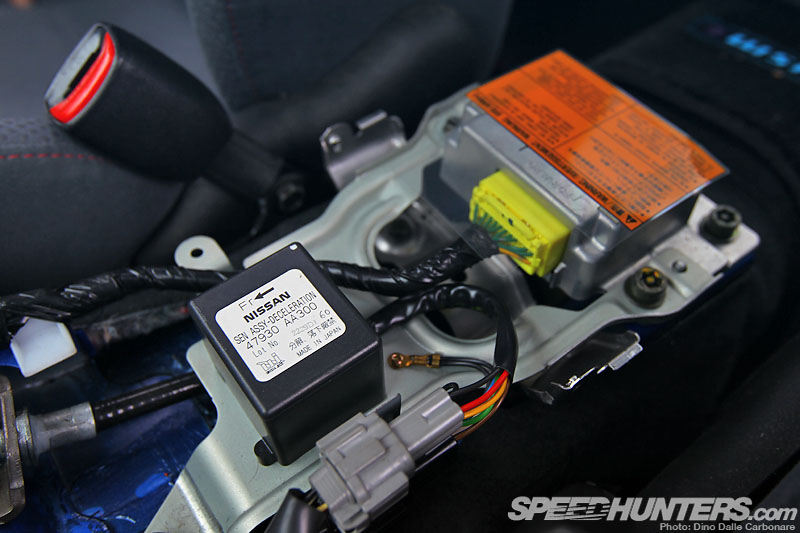 …and voilà some of the BNR34's brains are exposed. The little black box is the stock analogue G-sensor, what needs to be removed when you fit Tarzan's much lighter and smaller digital G-Box. The module right behind it is the ABS computer which, like a lot of the other gadgetry like the Yaw rate sensor and ATTESA ETS systems, needs a signal from the G-sensor to know what the car is doing in other to compute what to do and when.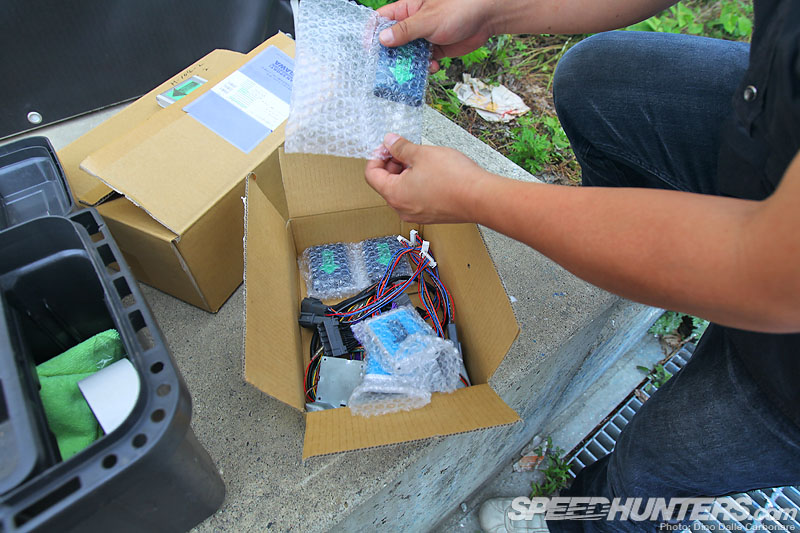 Ito-san grabbed a sample G-Box unit for me to try out…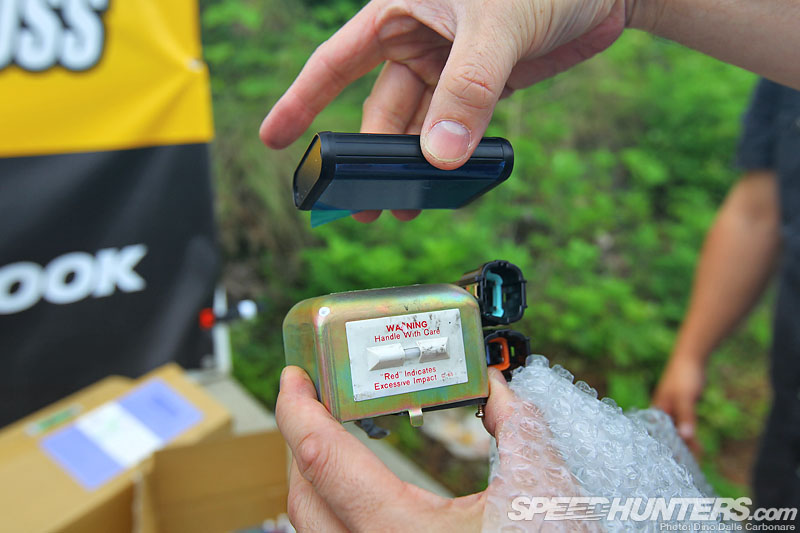 …and this is what it looks like compared to the stock G-sensor as taken from Aki's car, an R33 GT-R we have seen before at various Daikoku and Fuji meetings, there to also try out the little box of magic. The stock Nissan analogue item uses an oil-based spring pendulum system, which over time can wear out, get misaligned and return bad and inconsistent signals. The G-Box is said to be 30x faster at sending its signal out to the ATTESA ETS brains and the ABS controller.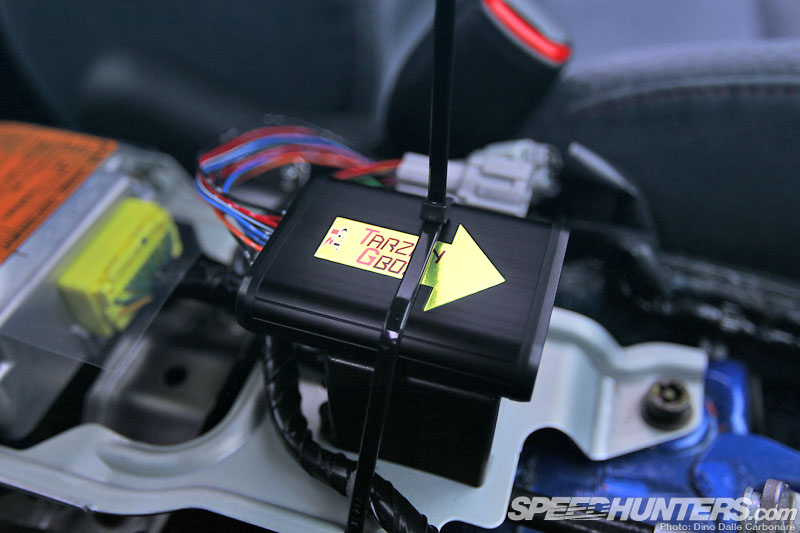 The G-Box was ziptied down on top of the stock item in my car, so once I had had a chance to drive and get used to how the GT-R felt through Honjo's tight corners, I could come in and Orito-san would disconnect the analogue one and plug in Tarzan's digital box. But wait. I hear you asking, how on earth can a digital sensor, even if it is quick, speed up the reactions of the other systems in the car? It's just a sensor sending out a signal, right? That's exactly what I was wondering at Honjo too. A quick word with Ito-san was needed to clarify this, and yes the digital G-sensor does react and send out its signal 30 times faster, but thanks to some additional circuitry a certain level of programming can be thrown in, to modify the signal and allow the ATTESA all wheel drive system and the ABS unit to react accordingly. Furthermore according to Ito-san the ATTESA itself was so ahead of its time it has no problem taking advantage of this reduced time-lag. But enough with the theory…on to the practice.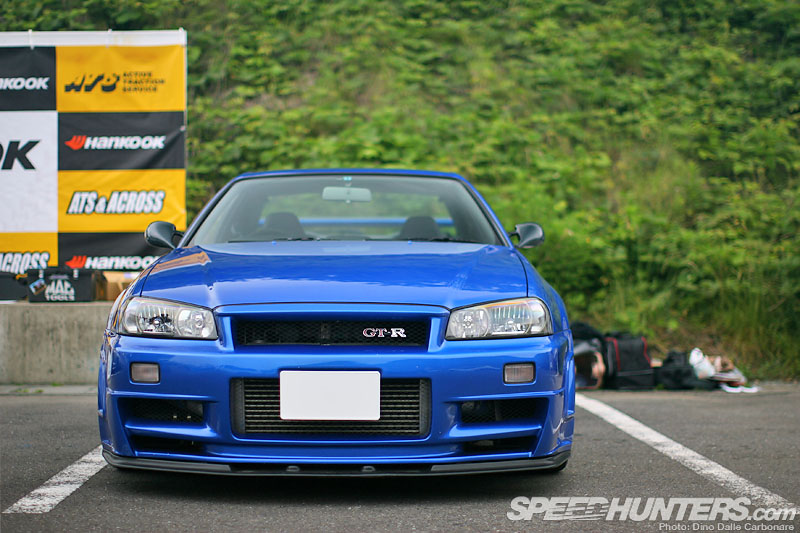 The car was all ready to go…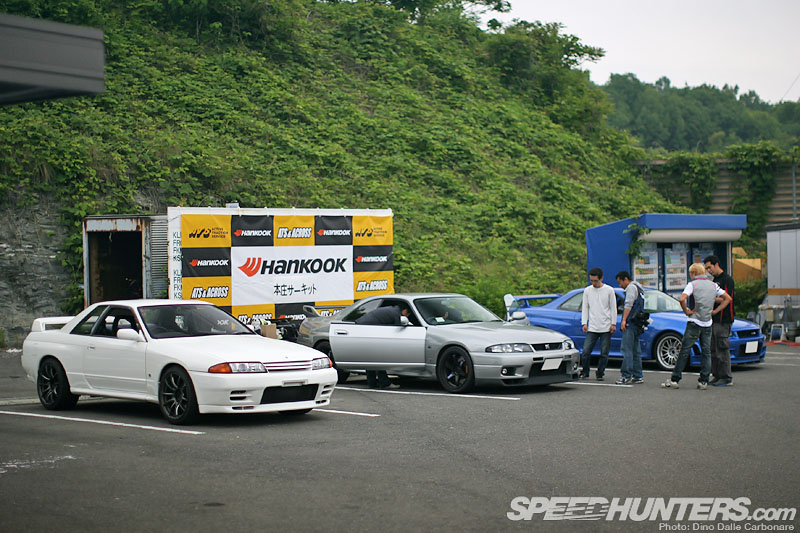 …and at the same time Aki's R33 was being prepared.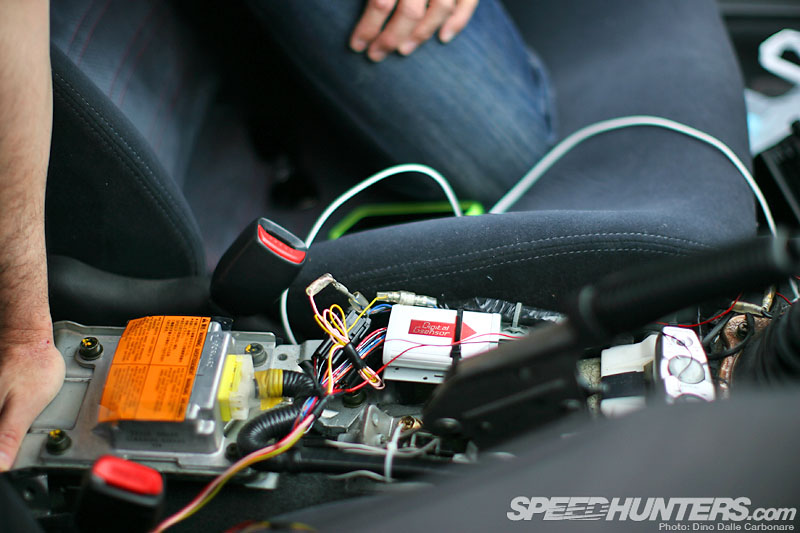 Aki would continue using the Do-Luck version of the sensor he had fitted last year (with milder settings) and then once comfortable with how it felt, test Tarzan's G-Box. Tarzan would be coming out on track with us with the white GT-R and observe our lines to then give us pointers where we should be feeling the G-Box doing its magic and what to look for.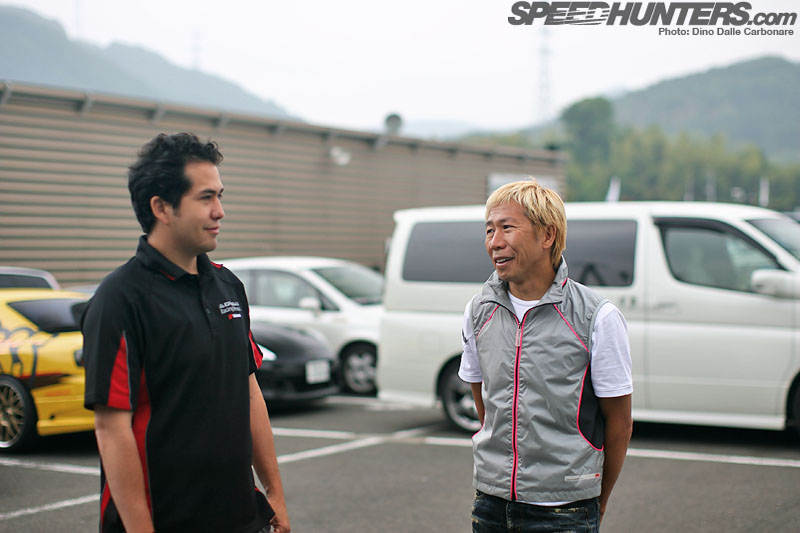 Allen Lorenzo from Tomei Powered dropped by Honjo to see what we were up to…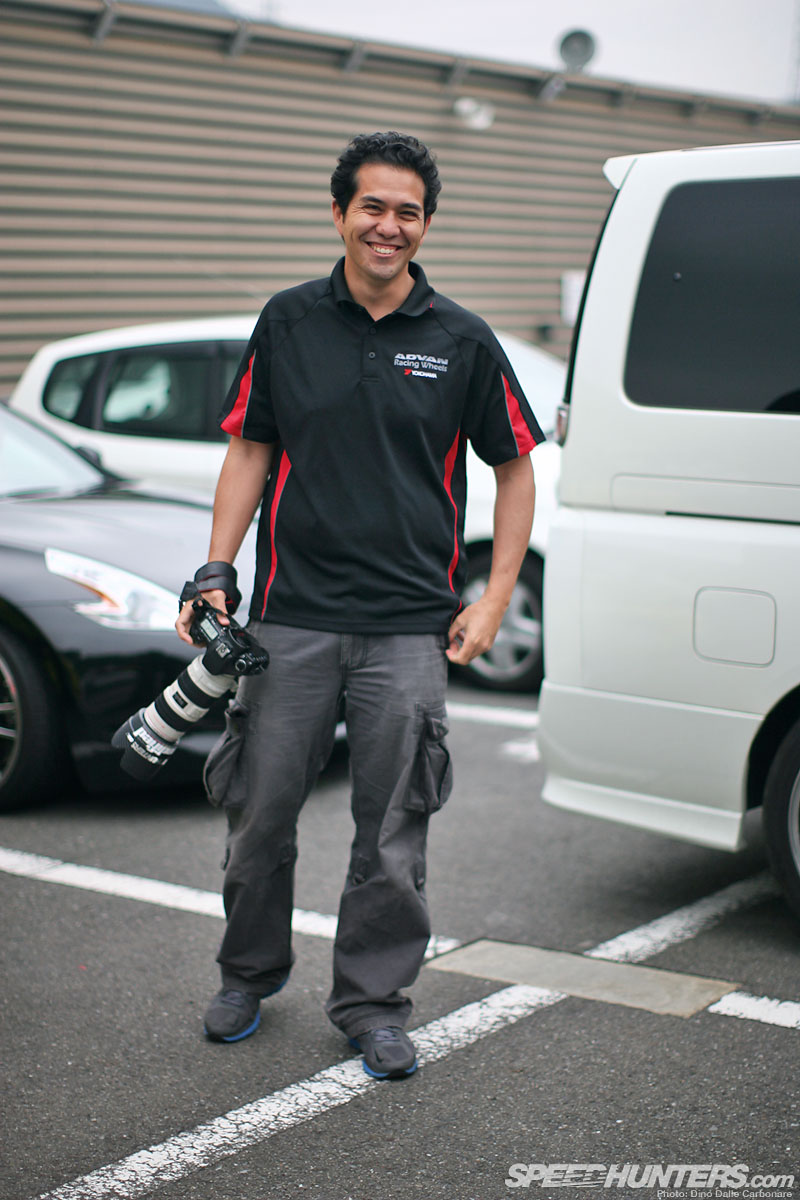 …and it's a good thing he brought his camera…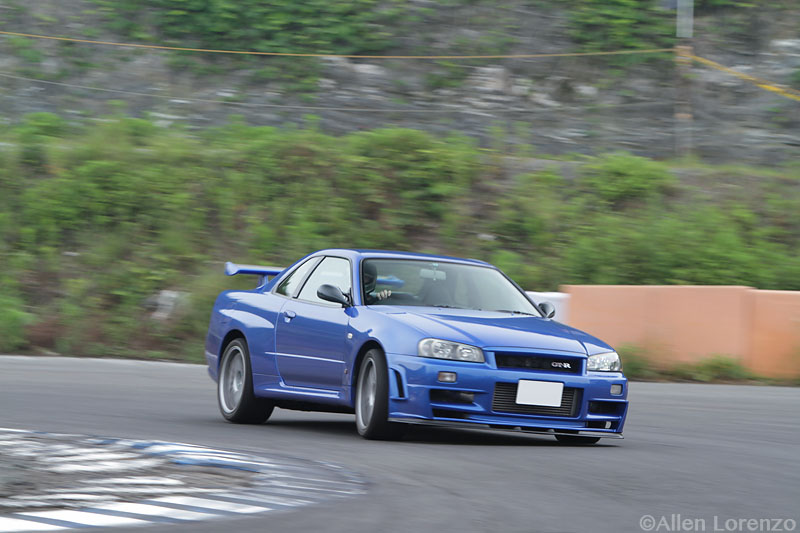 …as without him it would have been impossible to get shots of Aki and I out in action. It took me a while to warm up the semi slick tires on my car; I'd say a good 3-4 laps of the very small circuit. Like Tarzan said I made sure I felt how the car responded under hard braking as you shave off speed from the top of third gear, downshift and set up for the first hairpin after the main straight. Through the corners it felt superb, but there was a lot of sliding around as usual, both under power and under braking on one section especially, unsettling  through a slight chicane.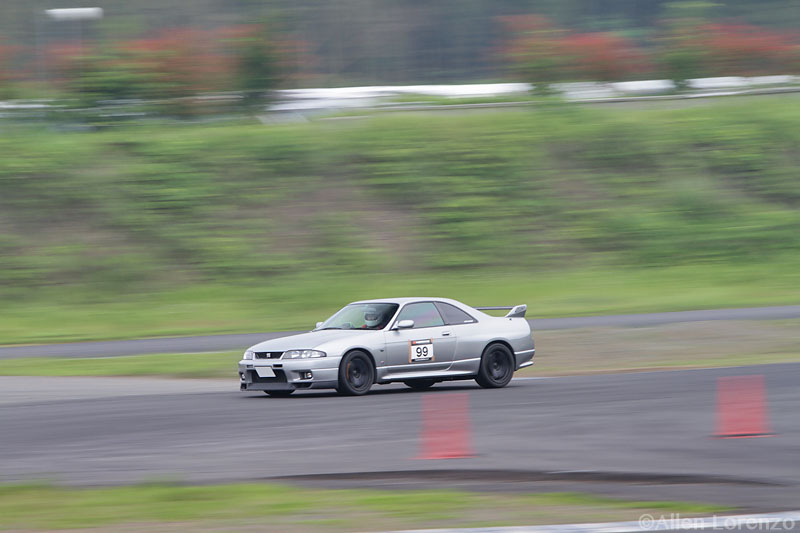 Aki was doing the same, although with about 150 more HP than me and on street tires he must have had his hands full.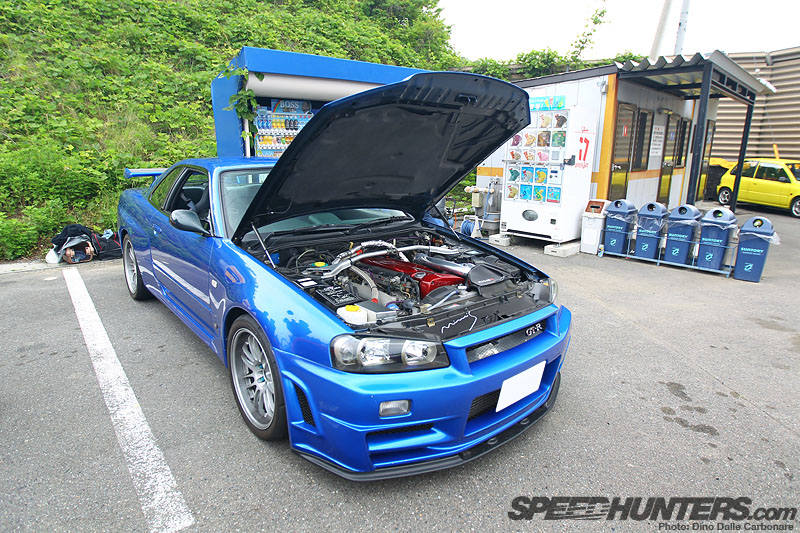 After a good 10 laps I came back into the paddock…and while I opened up the hood to help the engine cool while stationary…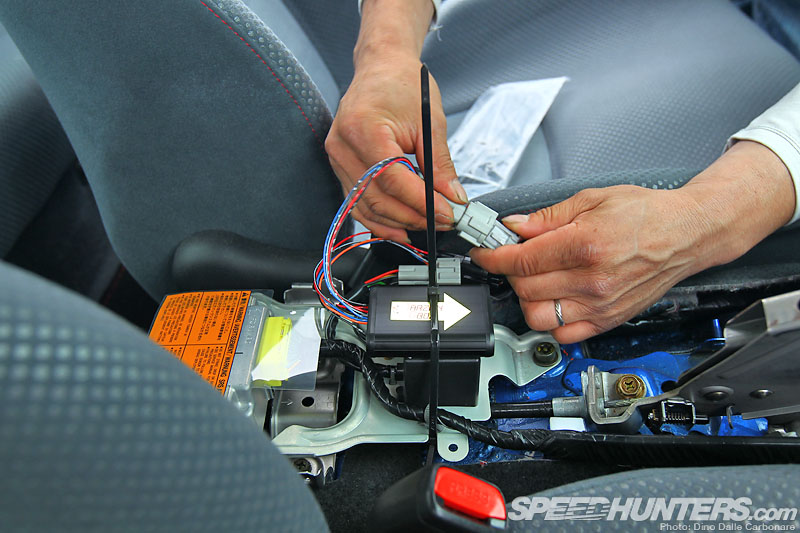 …Orito-san unplugged the analogue G-sensor and plugged in Tarzan's G-Box.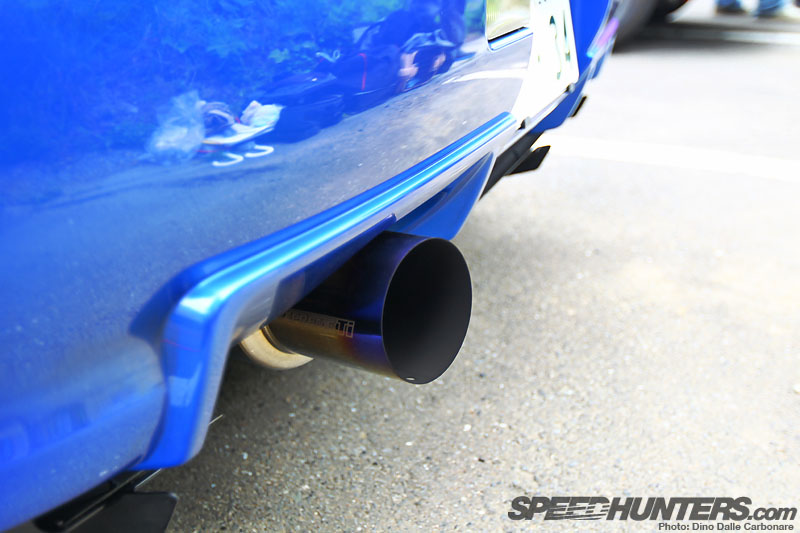 Since this was the first time I had used my car in anger with the new Tomei Expreme Ti exhaust I went around the back for a quick look, and just like Allen had anticipated the tail pipe had changed to a deeper blue and gold! Apparently after continuous hard use it should all go blue.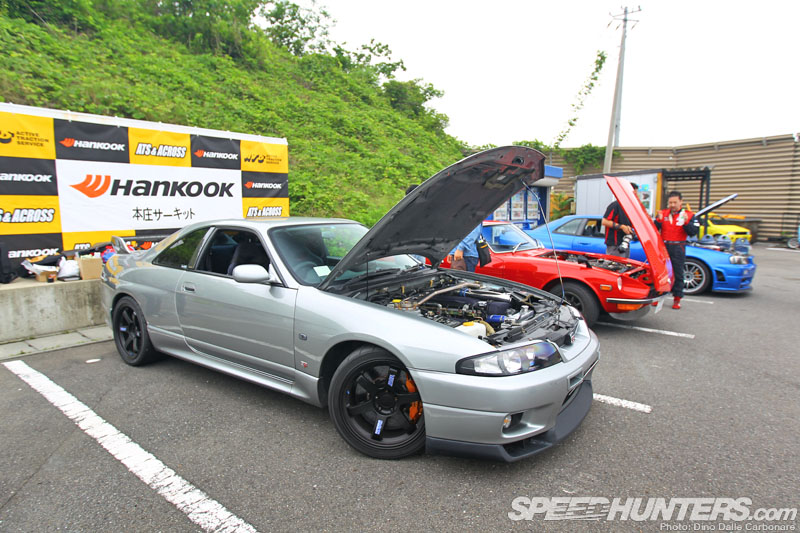 Aki came back for his G-sensor swap…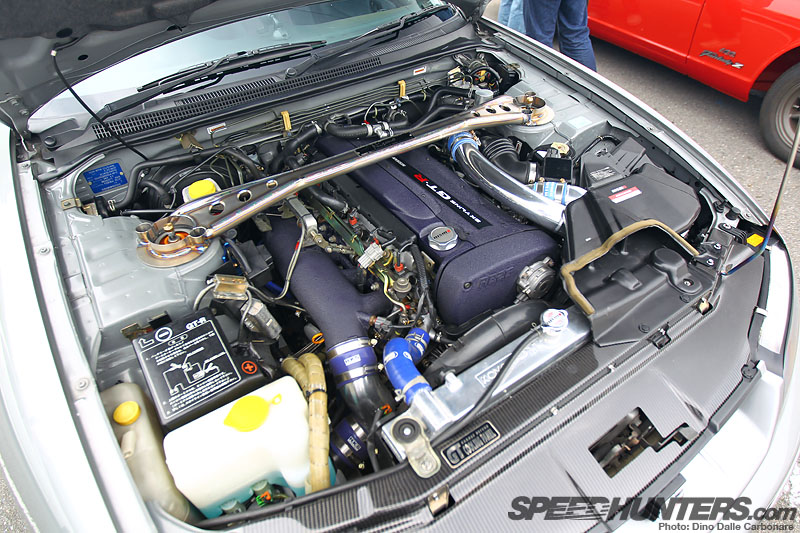 …and once he pops that hood it's hard to resist the lure of that blue-topped Mine's engine. I will eventually be running a complete feature on this R33, whenever Aki decides it is "ready," but for now this shot of his 550HP motor will have to do!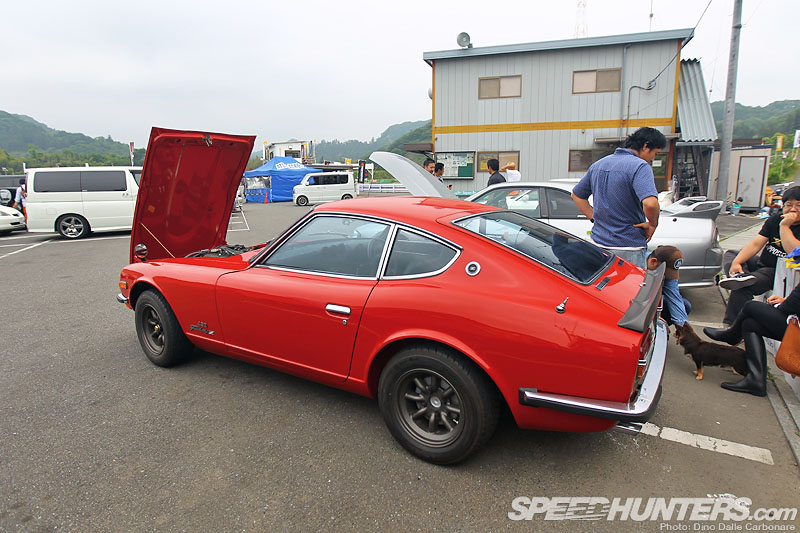 A friend of mine, who has recently picked up his fully restored and extremely rare S30 Z432, also dropped by, taking advantage of the warm and sunny day to put some more miles on…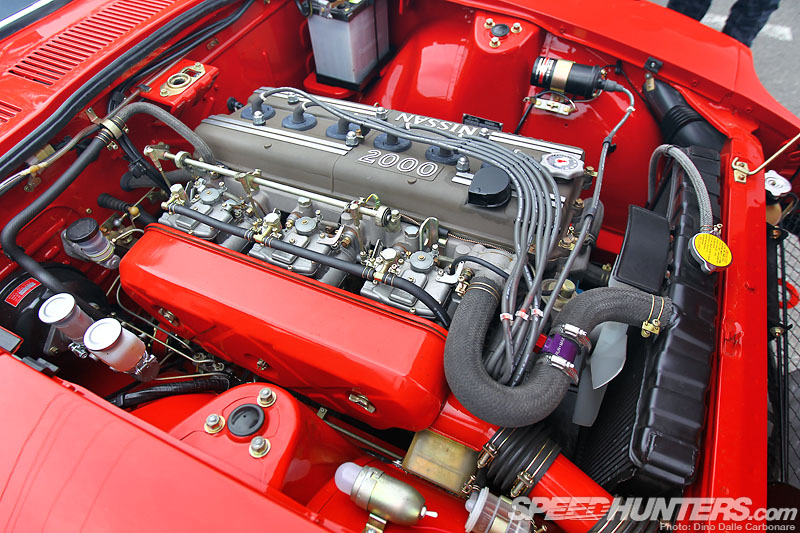 …that glorious S20. The Z432 was a limited edition (about 420 were built) model and along with the Z432R homologation special the most sought after S30 out there. This car was recently featured on the cover of Nostalgic Hero magazine in Japan, something that in the right sort of circles can boost the value of the car significantly. I think this might be needing a feature too, what do you guys think?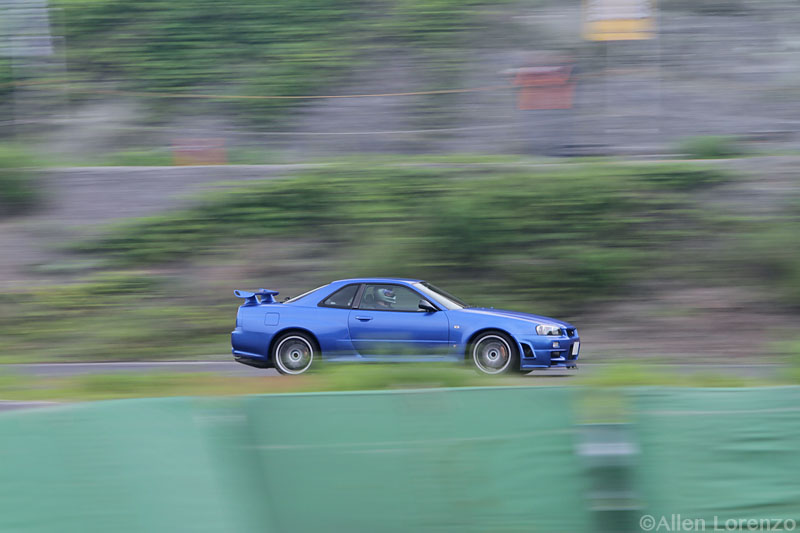 So with the G-Box fitted I was out again. I took a couple of slow laps first and then began to brake hard as Tarzan said, also deliberately getting on the power early on corner exit to see how the G-Box would make the ABS and ATTESA respond. Now I don't consider myself a particularly good driver, so I was a little afraid I would look like an idiot trying to figure out the changes this gadget would make…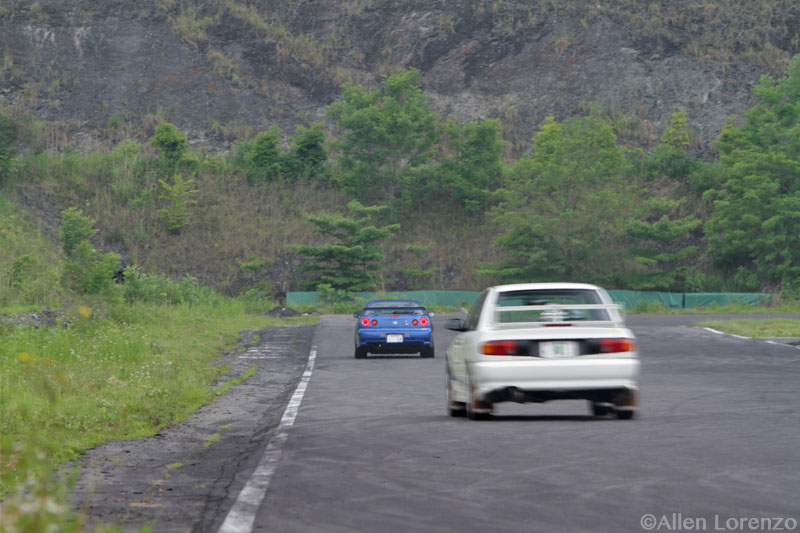 …but thankfully at the first press of the middle pedal at the end of the straight the changes were instantly noticeable. Where before, the relatively heavy R34, would wiggle its tail slightly due to the obvious weight transfer, the rear end remained planted as I shifted down into second and even as I was beginning to release the brakes while initiating to turn in.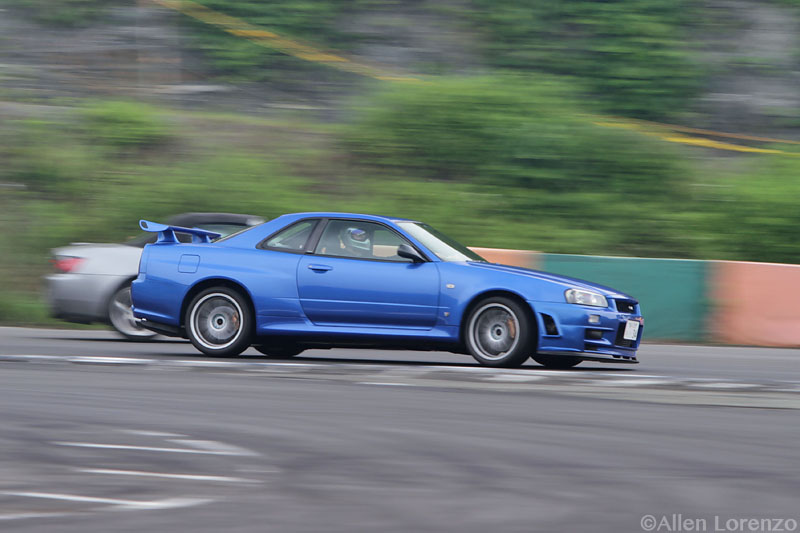 But it was under power that the G-Box obviously works its magic. I was literally blown away at how the car was able to put down all its power efficiently as I exited out of Honjo's second gear corners. On some instances where I'd have to wind in half a turn of opposite lock as the rear kicked out, losing speed and time, the car would only slide enough to allow me to set it up on the exit, using the throttle and steering to get it pointing in the right trajectory before stepping hard on the accelerator. It felts strange at first, but I began to lean on it more and more and after a few laps I was getting on the power much earlier than before and managing to shoot out without any drama. Looking at the front torque meter I was noticing that the ATTESA was now sending more drive to the front wheels under hard braking and of course on exit too, making it more of a 4WD car more of the time.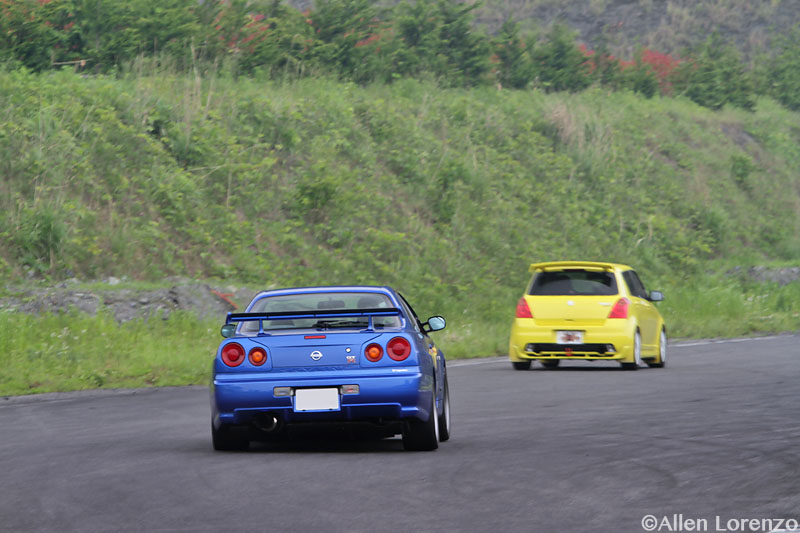 After about 10 laps I was flying by corners that before intimidated me, like the right hander that connects the Start/Finish area with the main straight, a place where you are required to shift up to third while cornering hard. Even here the R34 felt planted, not getting unsettled as I upshifted.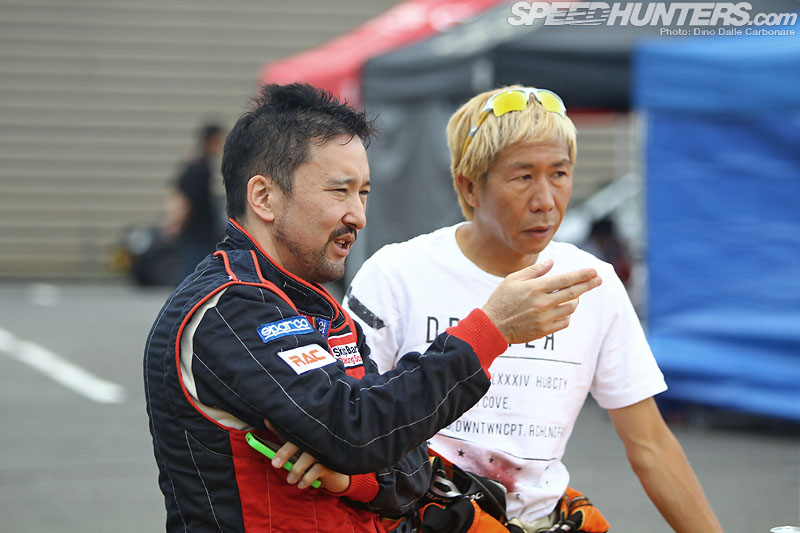 Aki too couldn't believe the difference the G-Box made over his Do-Luck sensor. While the hardware may be the same it's Tarzan's different program that sets them apart. And contrary to belief it's not made for time attack driving as I've been driving my R34 around for a few days now, doing a 440 mile drive yesterday up to Fukushima to cover an event. The overall effects of the G-Box are very similar and comparable to what Nismo did back in the day with the Nismo Z-tune. By reprogramming the ATTESA and ABS units they made the car feel more planted under power and braking, and I will always remember the first time I floored the Z-tune, seeing the front torque meter shoot all the way up to max at pretty much any speed. The G-Box is similar but in a more progressive way, and since it's dependent on lateral and longitudinal acceleration it's a variable effect so it feels like it's responding to what the car is doing through its X and Y axis and of course the Yaw rate.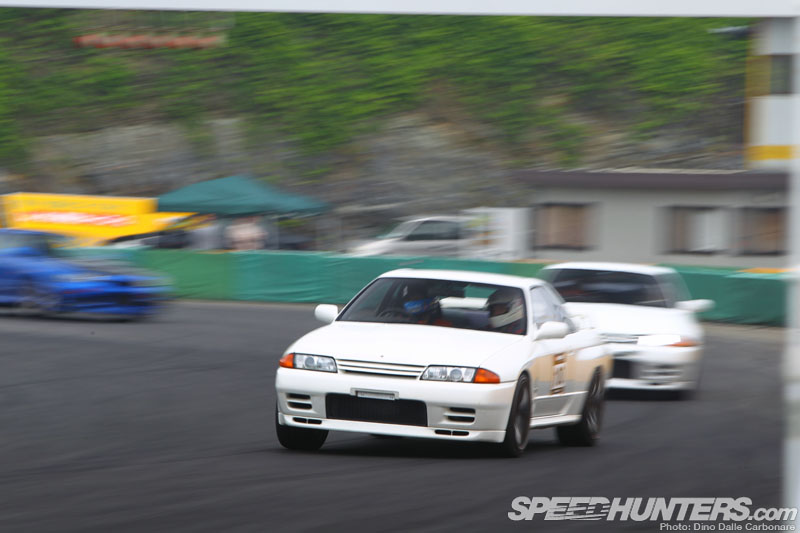 Tarzan then took me out for a ride in the white R32 to further demonstrate the effect. He deliberately drove badly to show me how it is very good at helping keep the car stable under overly hard use of the bakes, when overshooting your braking point and when you unsettle the car and get it too sideways as you try to overcorrect it. Then followed a proper lap, where he proceeded to make me feel like a useless monkey behind the wheel…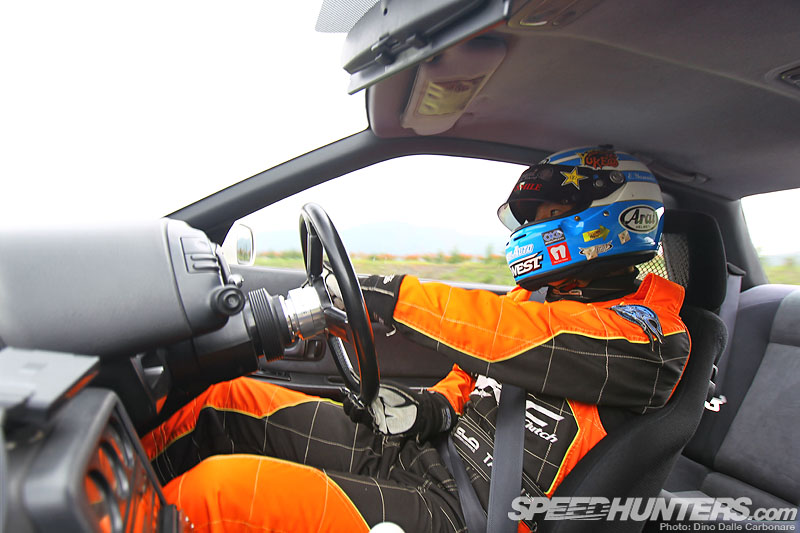 …driving the completely stock R32 GT-R with aggression but at the same time finesse, making optimal use of all the space on track, space I didn't even realize would be worth using to bring more speed into and out of corners!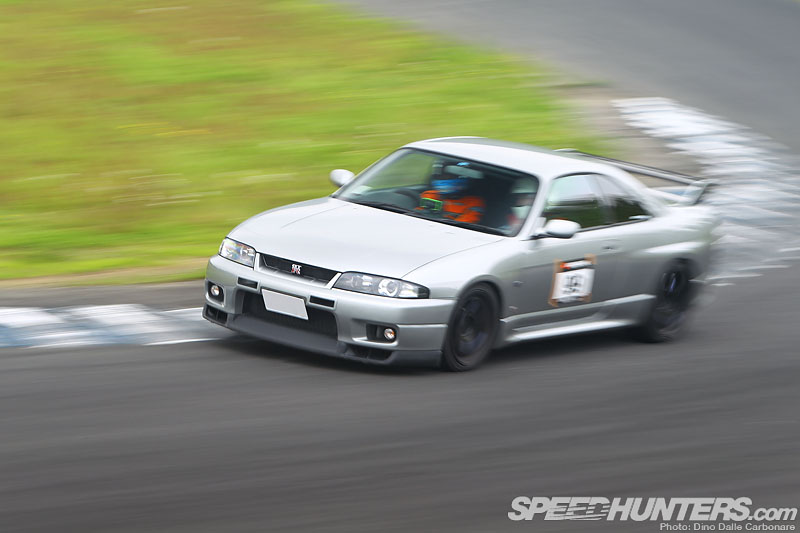 Aki had the same experience, and then asked Tarzan to drive his R33…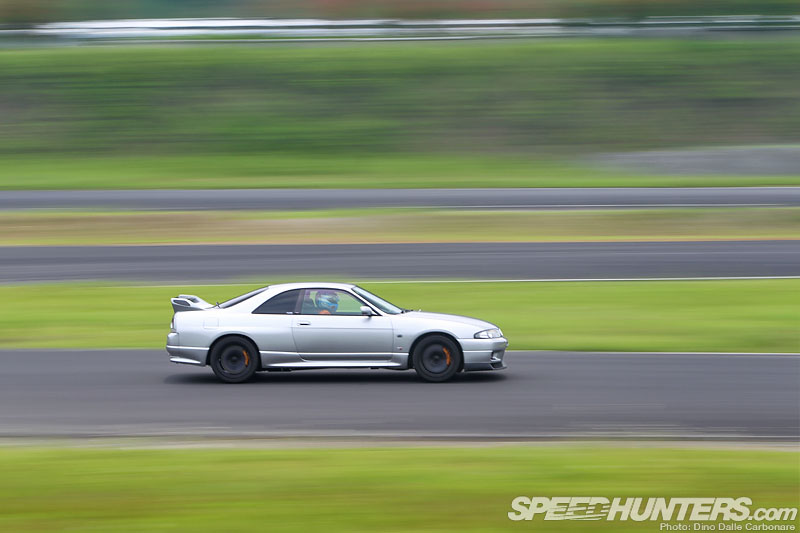 …just to see what a pro driver could do with his car. Let's just say he was blown away, calling Tarzan a driving God!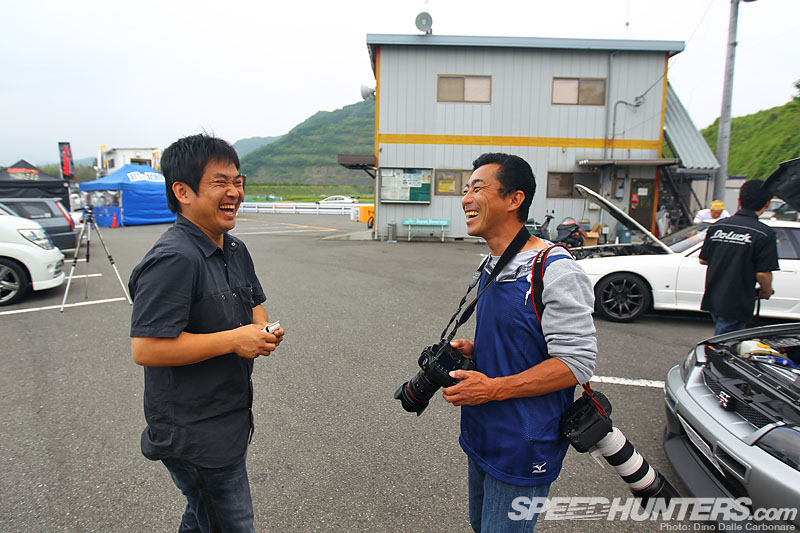 With the day over it was time for a bit of chit chat and for pro Japanese photographer Kaneko-san, who was there to shoot the day for the Do-Luck website, to grab some final shots.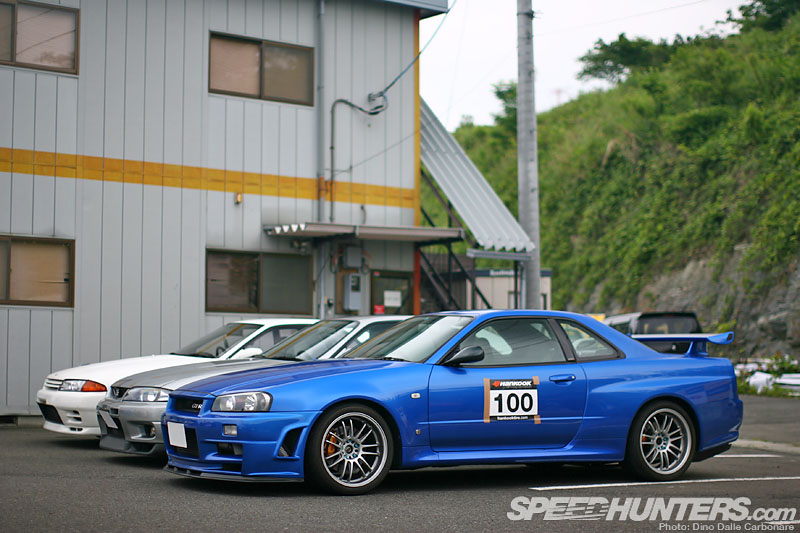 With a complete lineup of Skyline GT-Rs a picture like this is hard to pass up!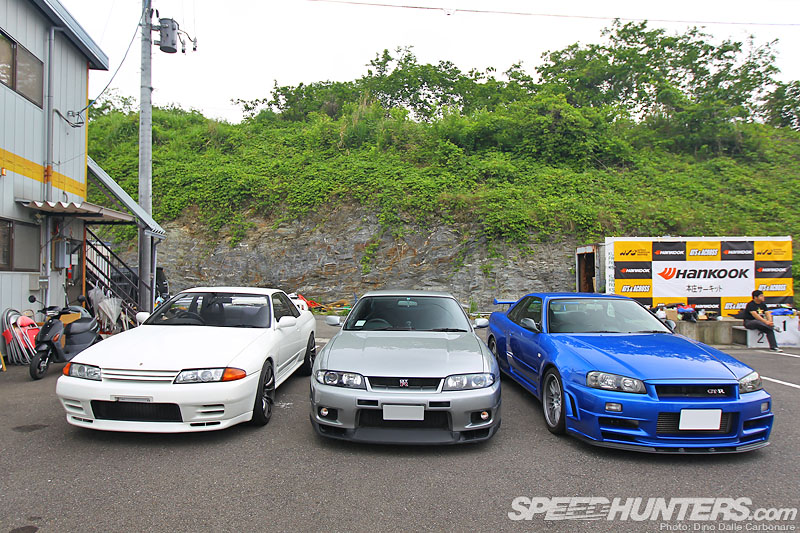 Which one would you choose?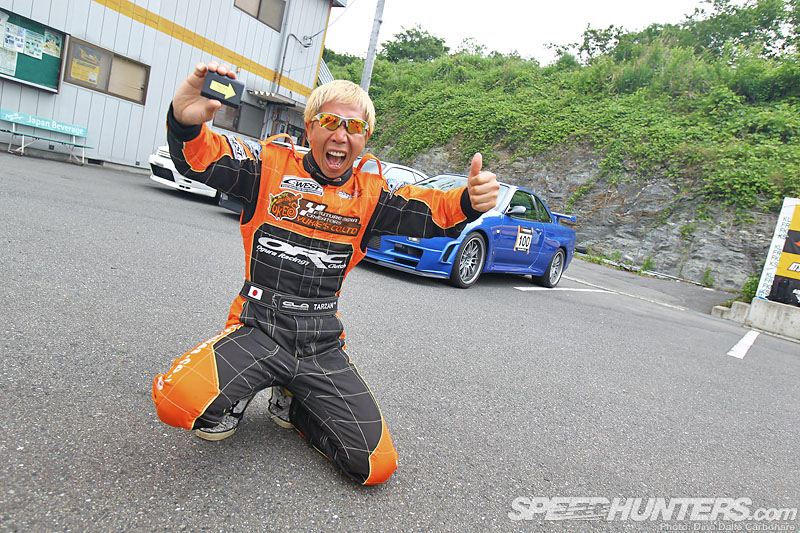 We also got Tarzan to pose in front of the cars, in his usual aggressive fashion!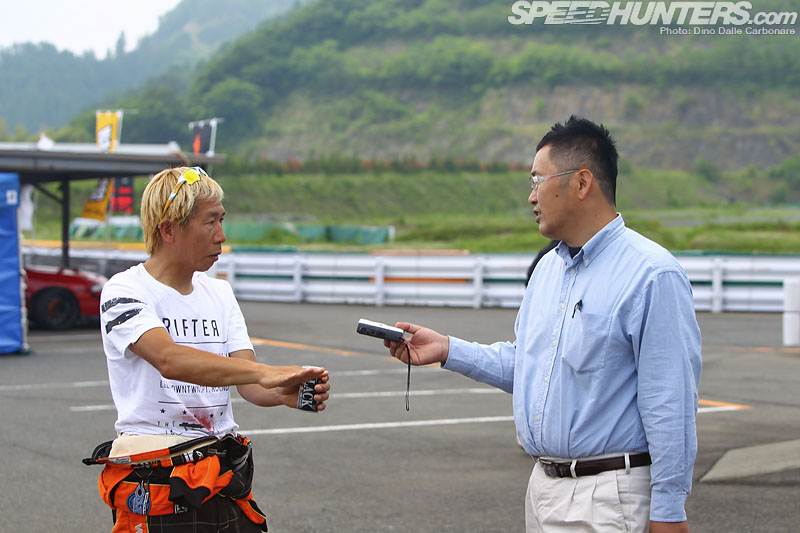 Tarzan was busy all day answering question from various members of the press that were there…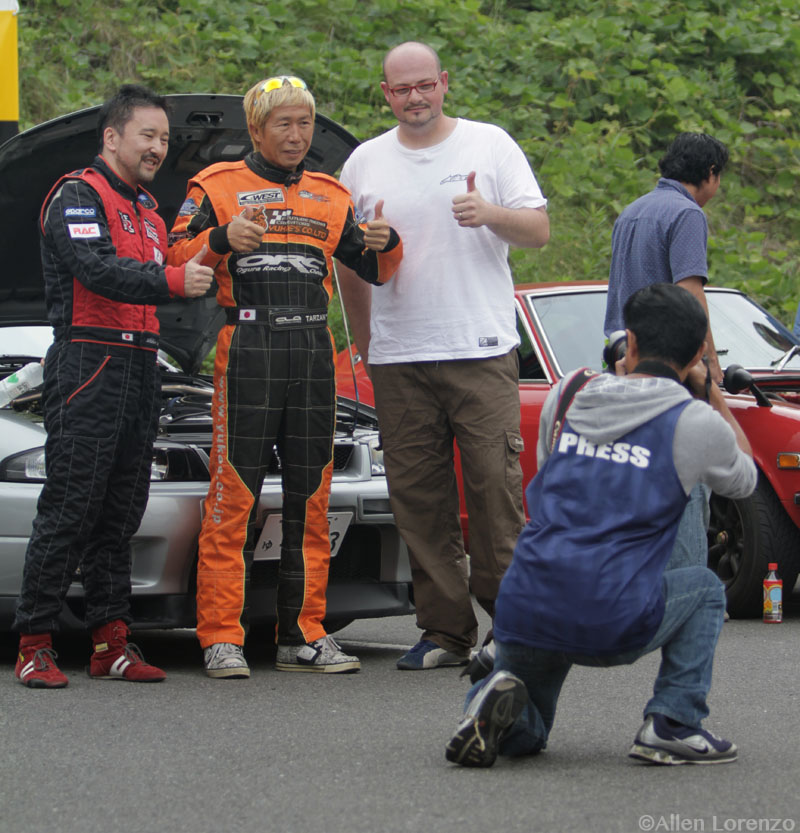 …before joining Aki and I for a little group picture.
So there you have it. The R34 further improves for the better thanks to a little input of new technology. Now it's on to a few little more mechanically-focused upgrades. Stay tuned for more!
-Dino Dalle Carbonare