With Formula Drift Irwindale just around the corner I can't help but get all nostalgic, especially since North American professional drifting will hit its ten year anniversary.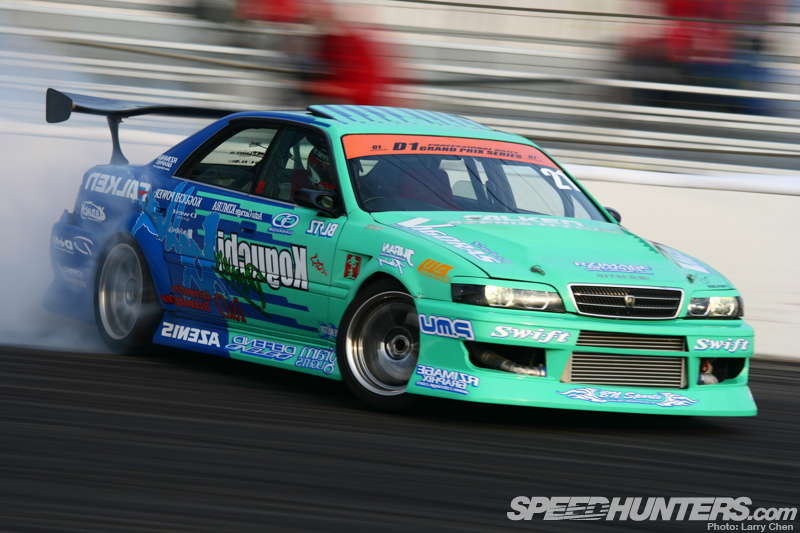 Before Formula Drift there were D1 Grand Prix exhibition competitions and even before that there was the Falken Drift Showoff.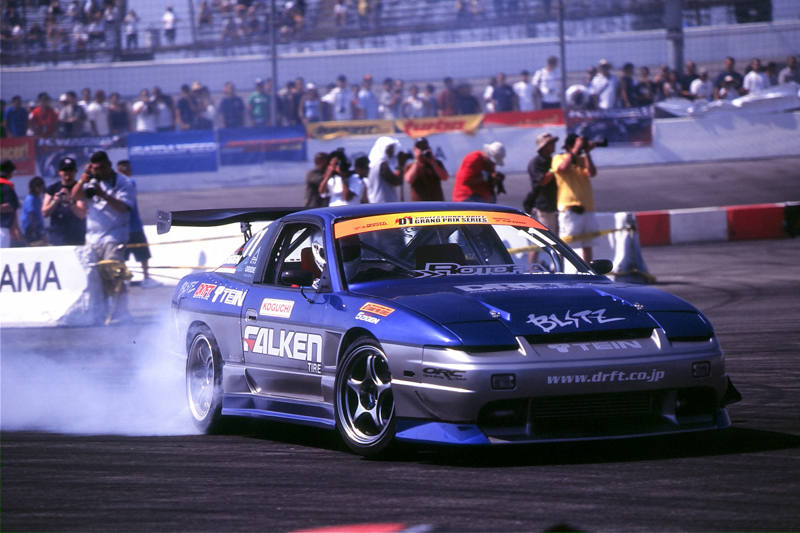 Prior to these demonstration events, drivers like Yoshinori Koguchi could only be seen in Video Option DVDs.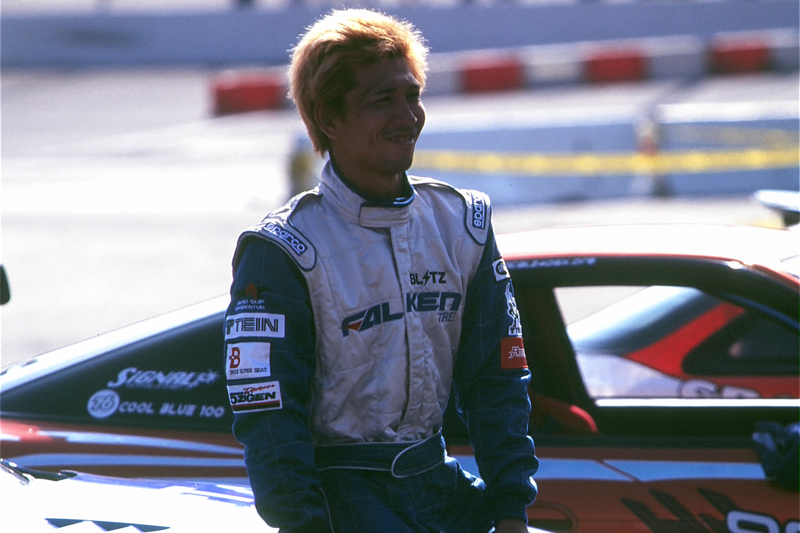 Falken basically took the chance and brought over Koguchi-san and Seigo Yamamoto to compete Stateside with the hope that drifting would take off.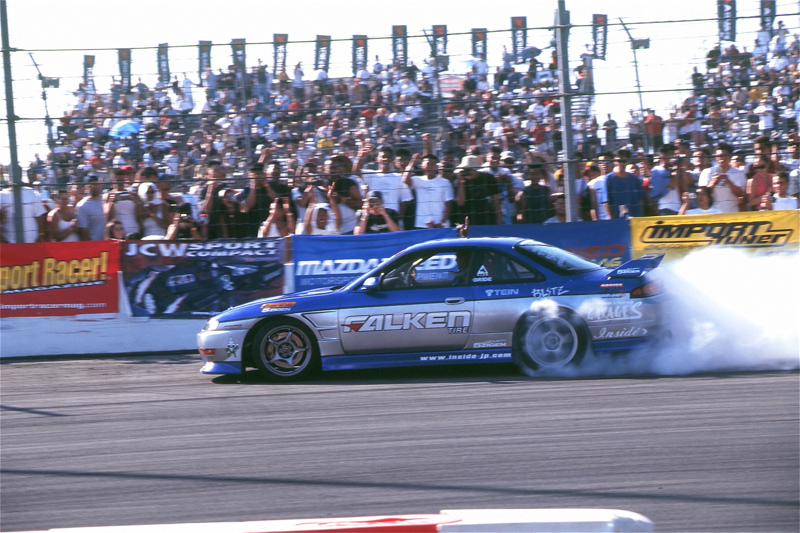 In a tribute to the teal and blue scallops I've put together a little visual list of the drivers of the Falken team and their cars.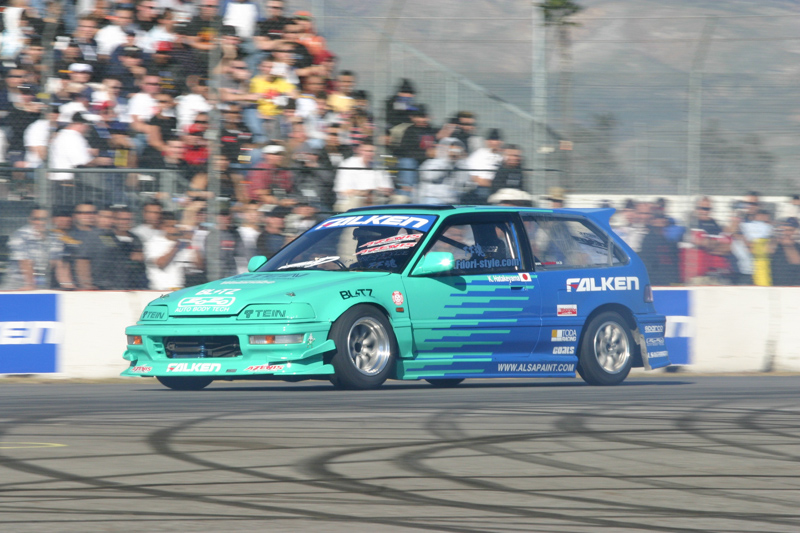 D1 Japan versus USA at California Speedway was actually my very first drift event. Before this I just watched those crazy Japanese go sideways through my television.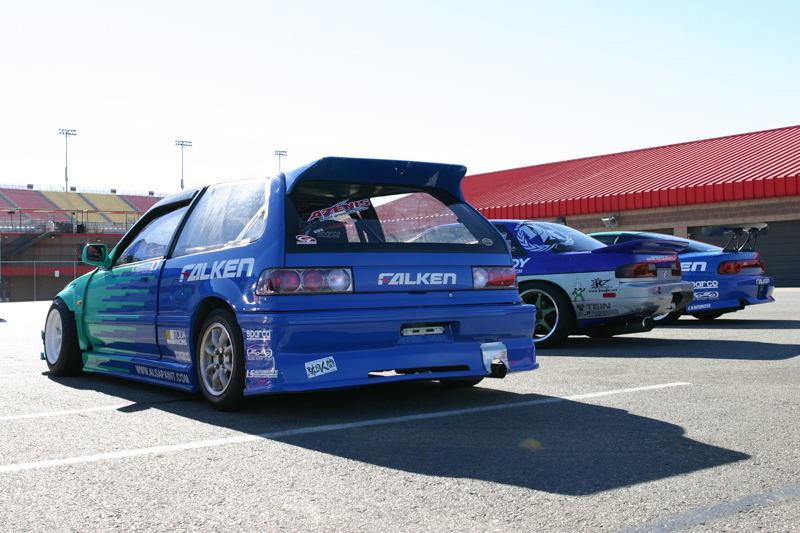 That day was also the first and last time I have ever seen front-wheel drive drifting. Keisuke Hatakayama is known for ass-dragging his 1991 Honda Civic SiR (EF) all over the world. He even thought about moving to Los Angeles to pursue a career in professional drifting with a front-wheel drive.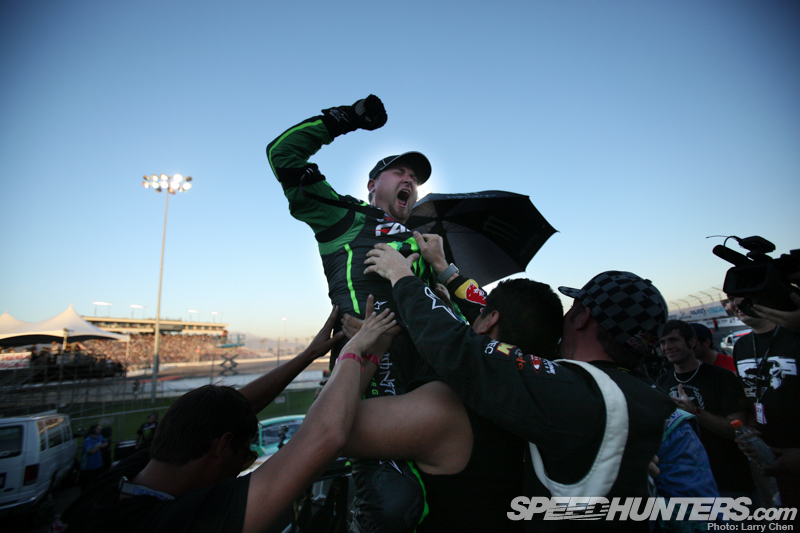 One of the very first American drivers to get picked up by any team was Vaughn Gittin Jr. You can read more about his story in my in-depth interview.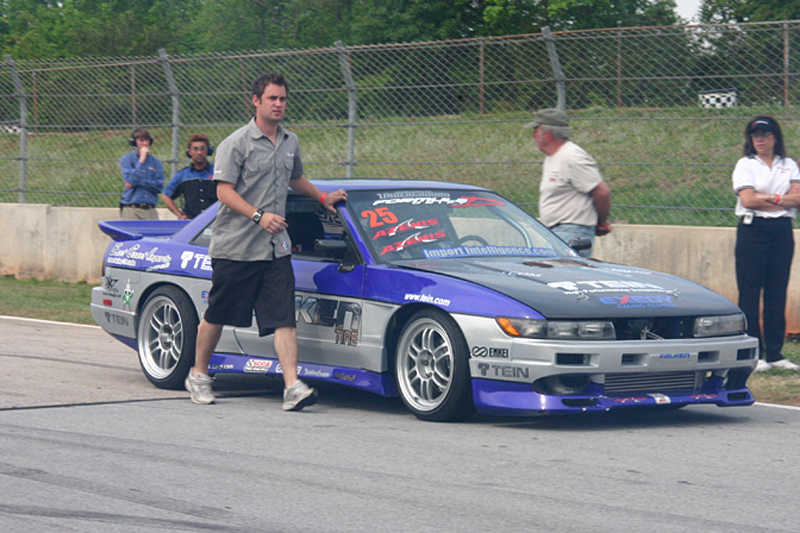 Like most guys at the time, Vaughn built his own car in his garage. It made a whooping 350hp, which was actually very competitive at the time. He still has this car in his garage and is planning on returning it to its former glory.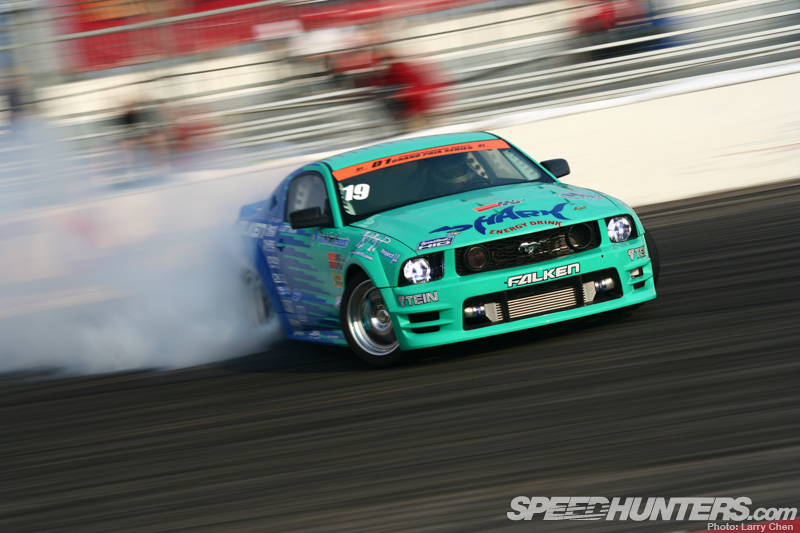 His second car was a 2005 Mustang, which earned the very first win for a foreigner in D1GP. The last time he drove this car was in 2008 for the Red Bull Drifting Championships. He also has this car in his garage; one day I think he will find enough time to restore all his old toys.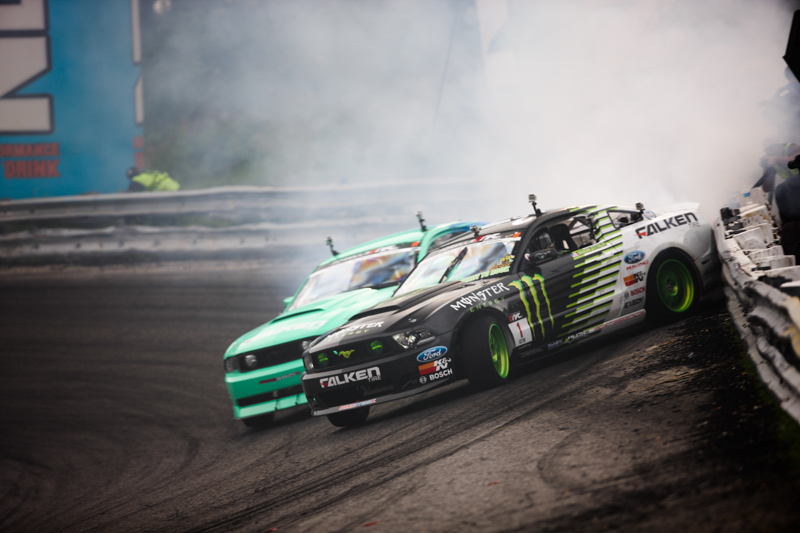 His third car was the one he piloted to his very first Formula Drift Championship. This one is retired now, but he still uses it for demos as it has his new livery.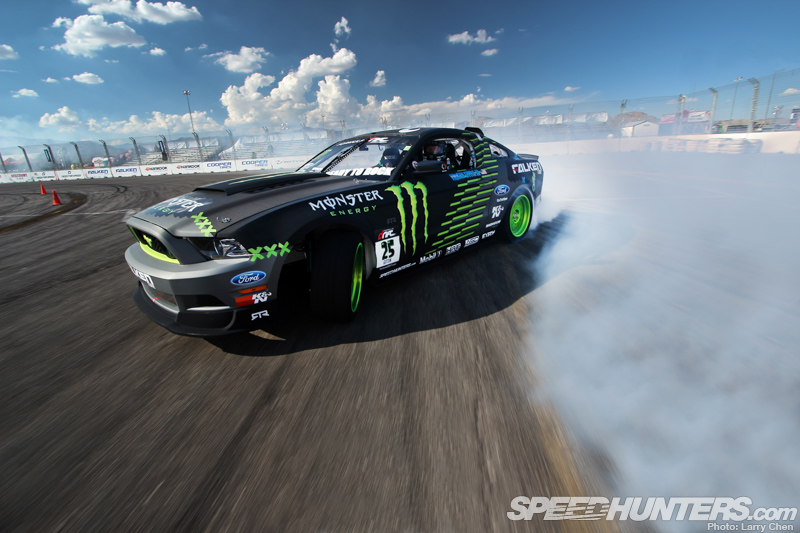 There are probably at least ten of these 2013 Mustangs scattered all over the world. This one was built from the ground up. Who knows, this may become a championship-winning chassis as well.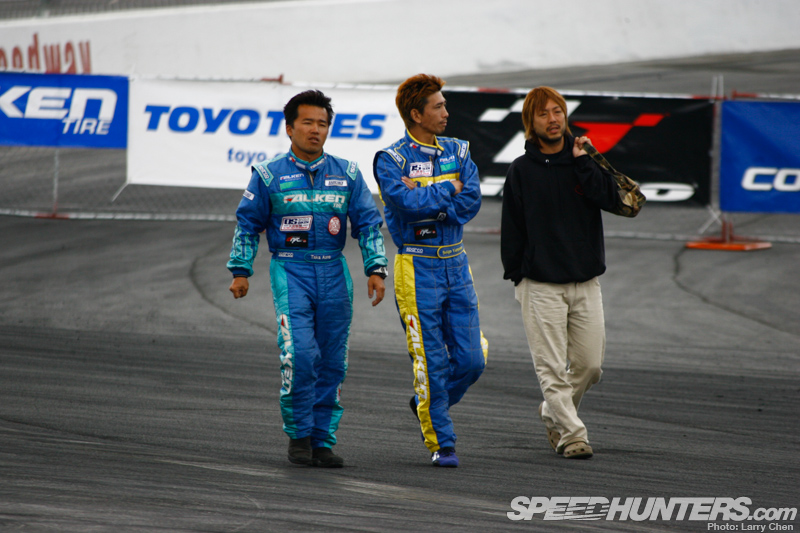 These three guys are the epitome of cool. Mitsuru Haraguchi is one of the few drivers who has an FD win under his belt.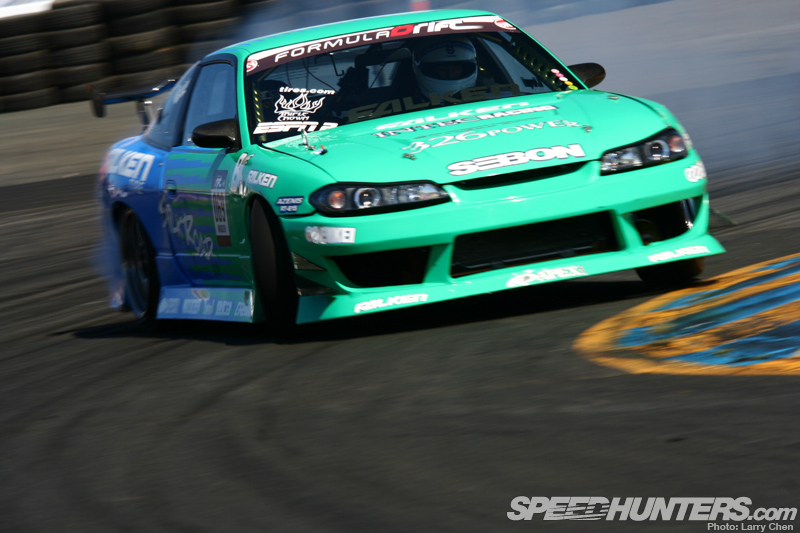 He drove an S13.5 as well as an S14 in competition, but he has not competed in a few years. He was actually spotted earlier this year in Seattle running his 326 Power booth. Hopefully he will start competing again.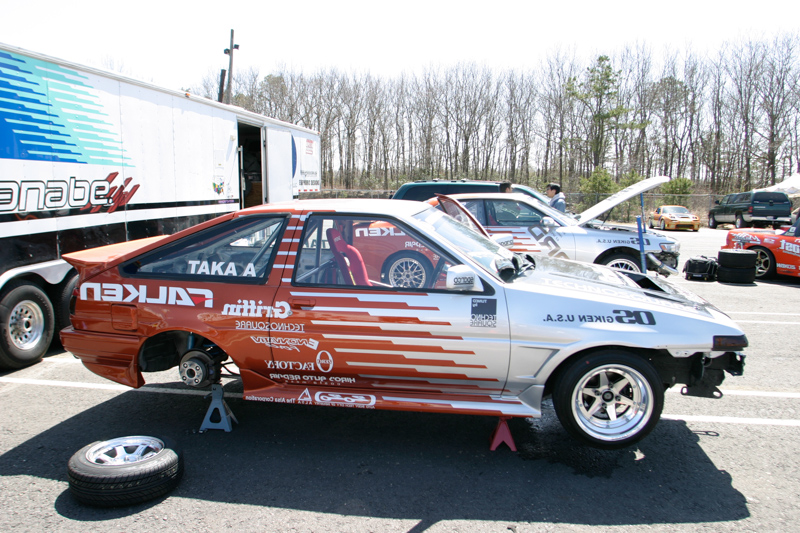 Everyone's favorite AE86 driver and the only one who still has an AE86 in Formula Drift is none other than Taka Aono.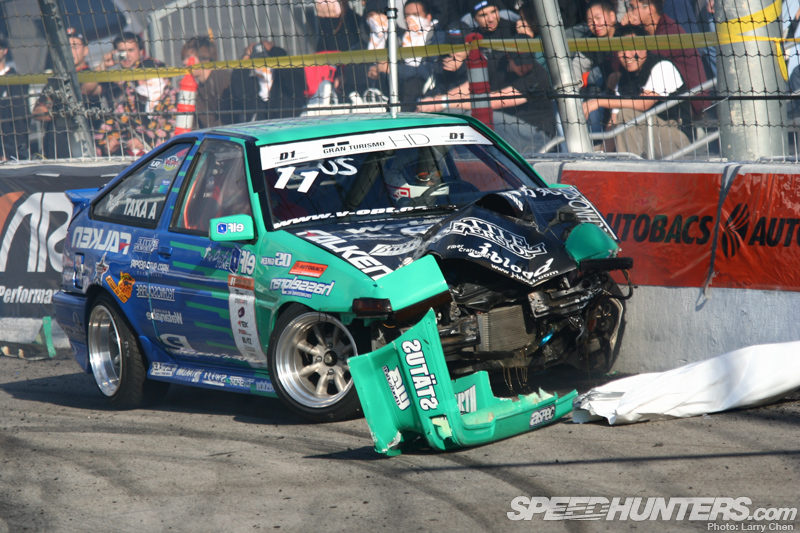 Although he has gone through quite a few different chassis over the years, as always he gets right back up after he takes a spill.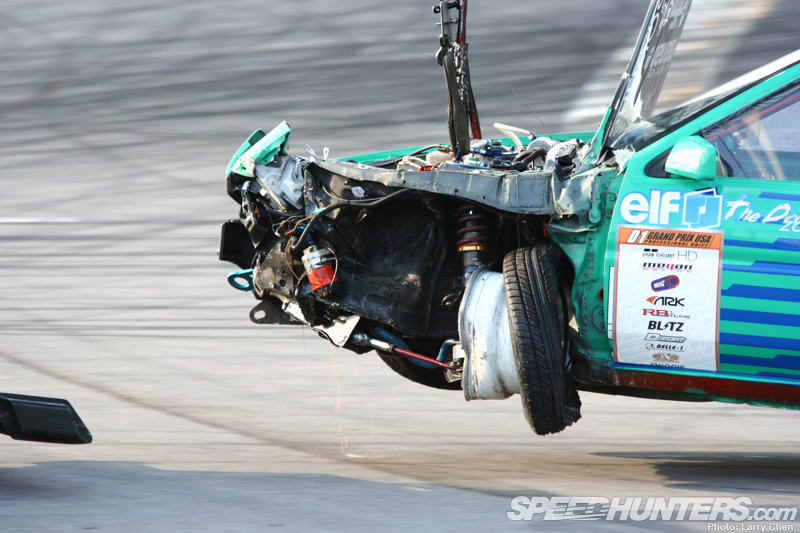 He has yet to miss a Formula Drift event, even when he broke his leg.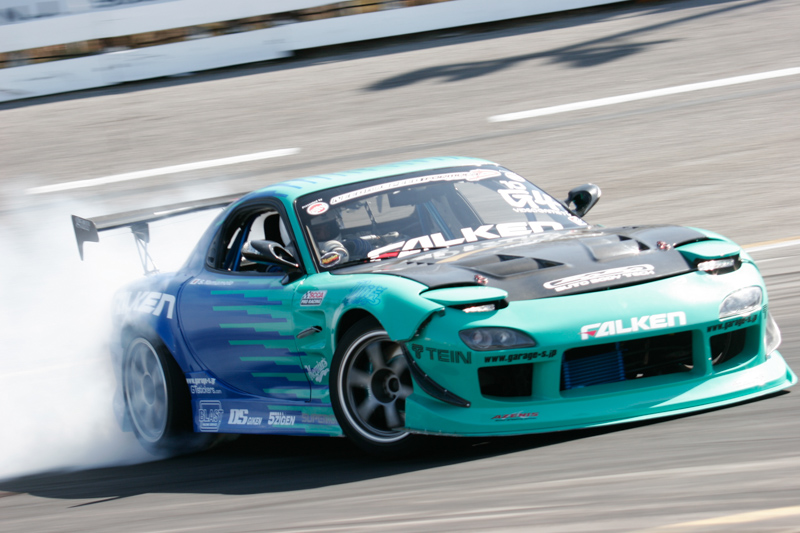 Seigo Yamamoto has driven the most teal and blue cars out of any other driver, including this RX-7. I never even got a chance to see his RX-8 before it was parted out. Now what is left of it is at Dmac's shop in Ireland.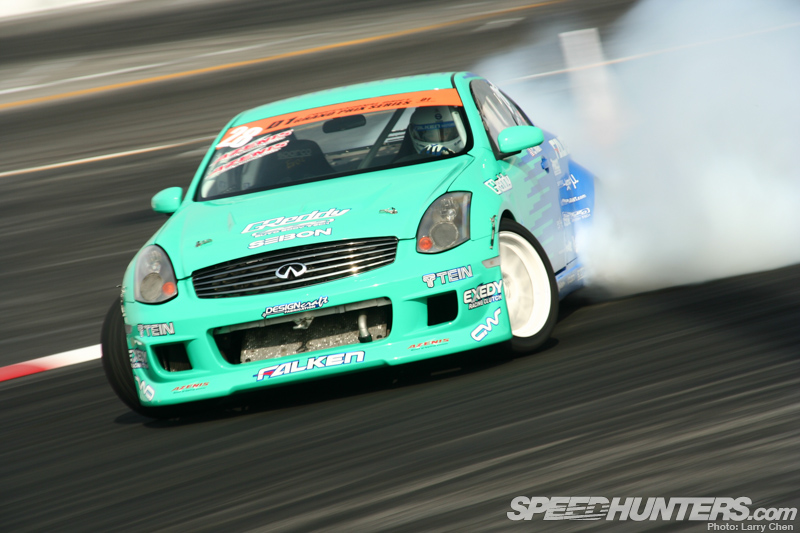 The first FD win in a Japanese car went to Calvin Wan in 2005 at Infineon raceway.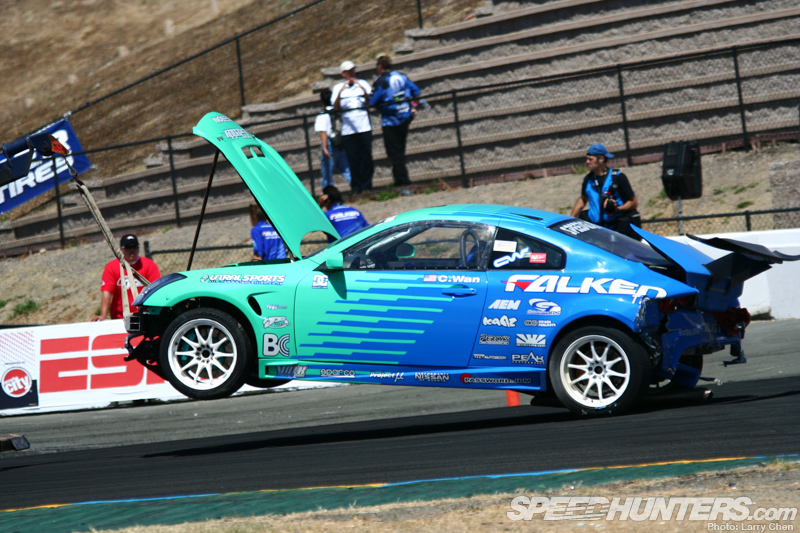 Sadly he wrecked the Falken G35 at the same track.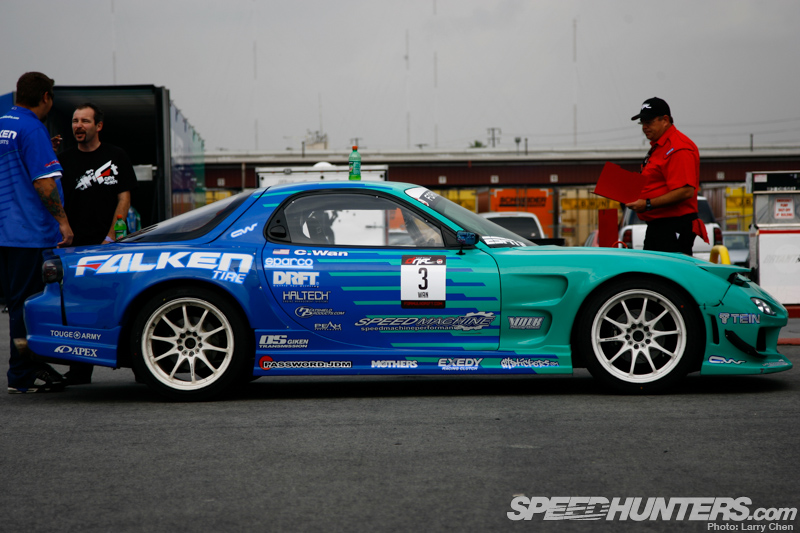 He then drove his personal FD RX-7 for a while before moving on from professional drifting.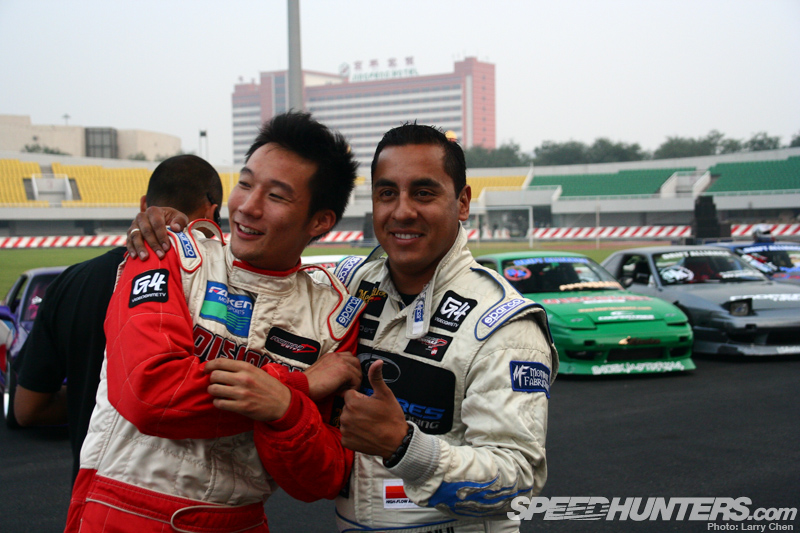 Hubert Young was your average Batman of the drifting world. Accountant by day and drifter by night.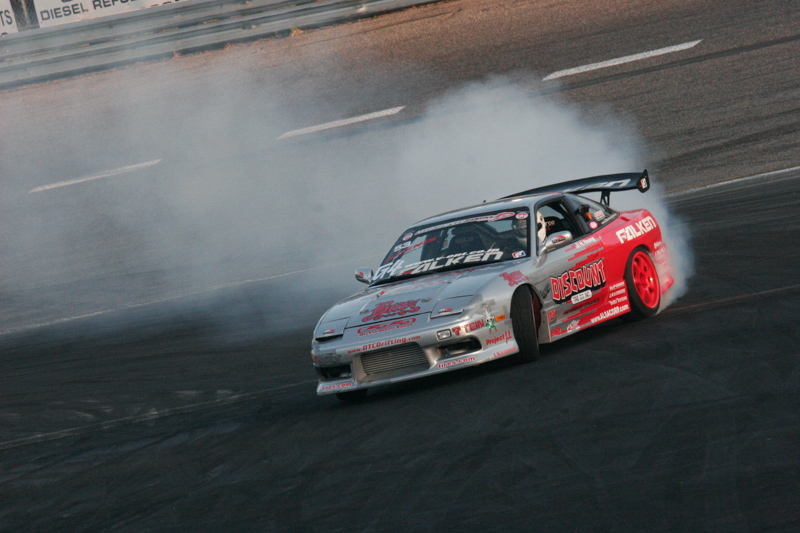 He drove his heart out in FD as well as other series like Nopi drift, but unfortunately drifting was not paying the bills so he moved on.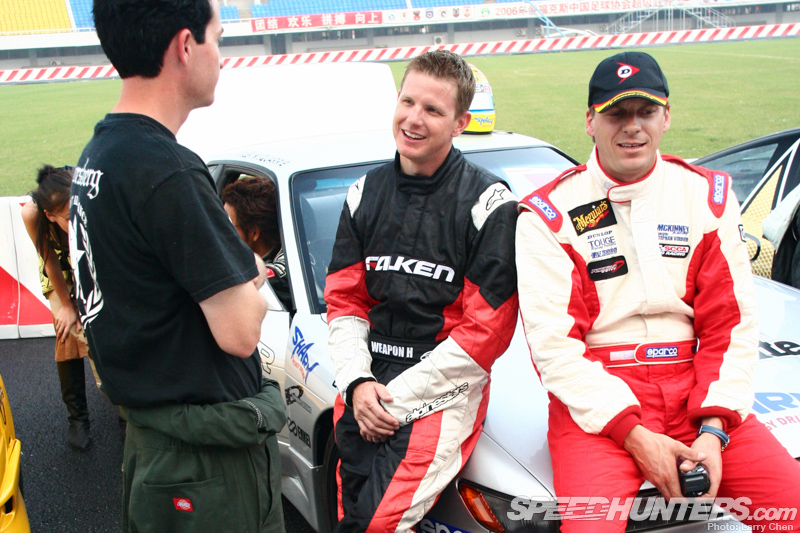 When I think of Ryan Hampton I think of big American V8 muscle, because the '69 Camaro he drove was one of the early V8s in Formula Drift competition (Rhys and Gushi being the first two). Believe it or not, Ryan was actually a member of Drift Alliance.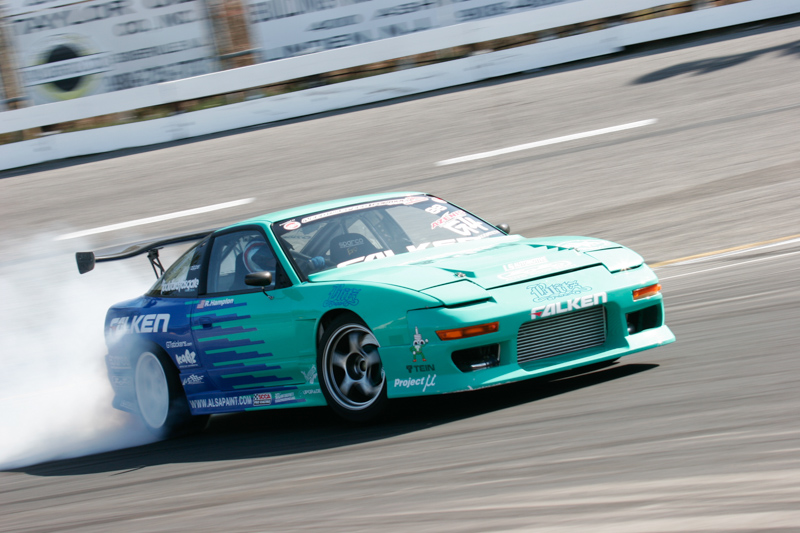 Just like most of the North American drivers, they all started in an S-chassis of one form or another.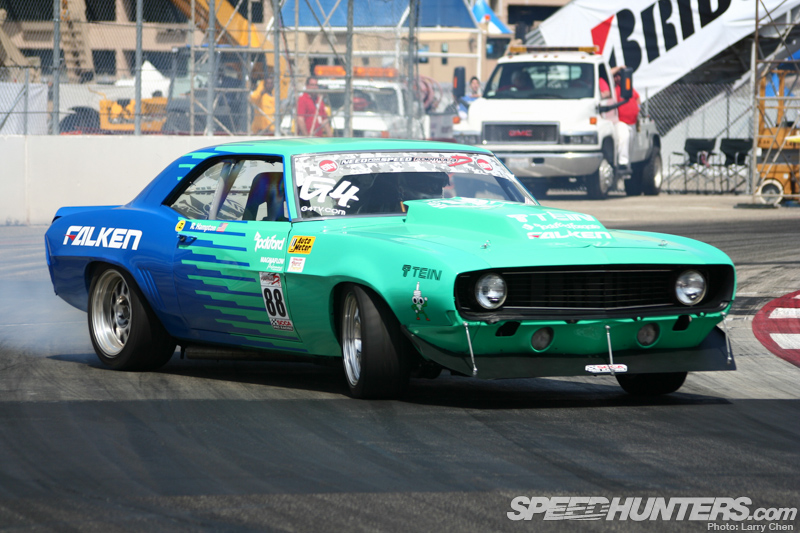 The Camaro was the loudest car out of the entire grid at the time. I kicked myself for not having ear plugs as I am sure this car gave me permanent hearing loss.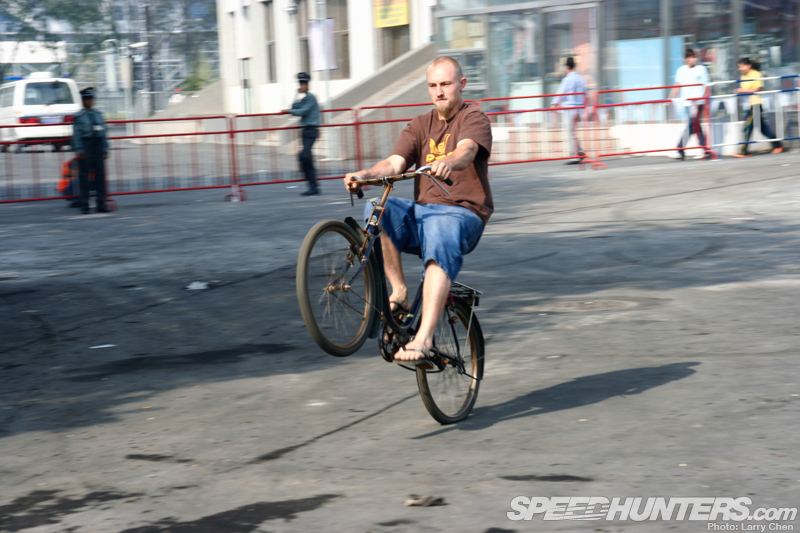 One driver that I always admired for his sense of style as well as his laid-back outlook on life was Ross Petty.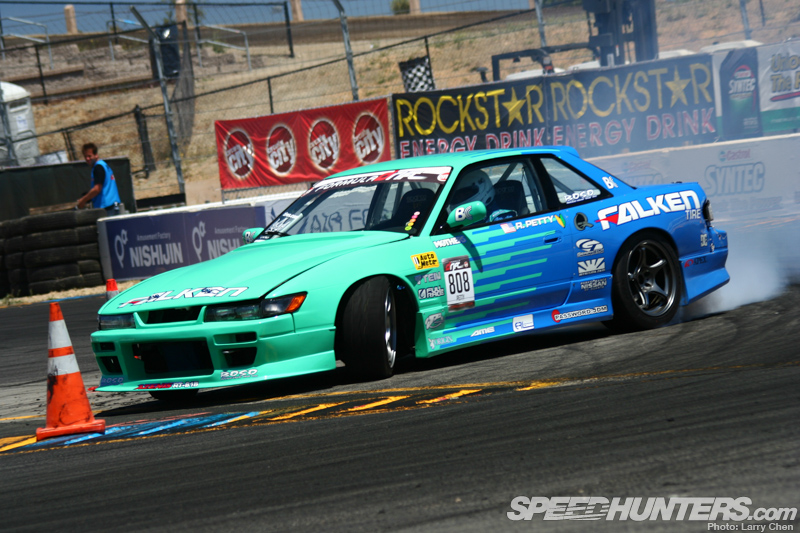 He originally piloted the S13 that Daijiro used to win his first championship, although back in 2007 this car was still powered by an SR.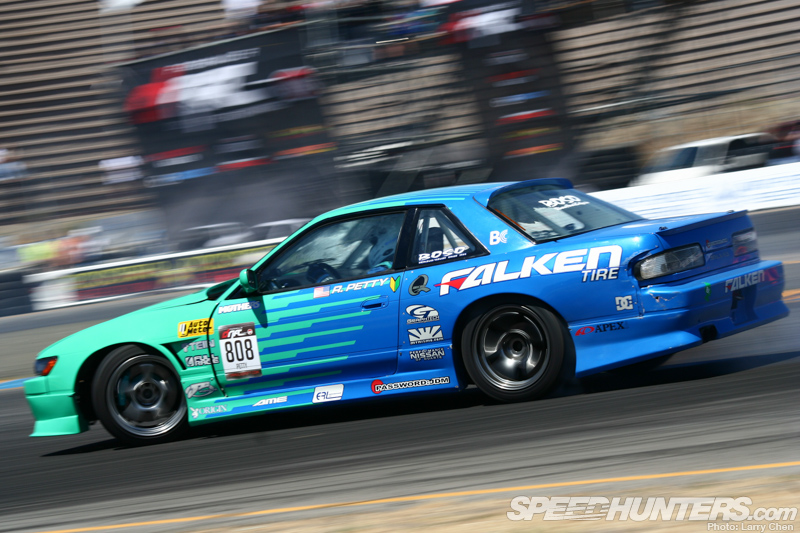 It is interesting because Ross complained that this car was too light and it was hard to drive…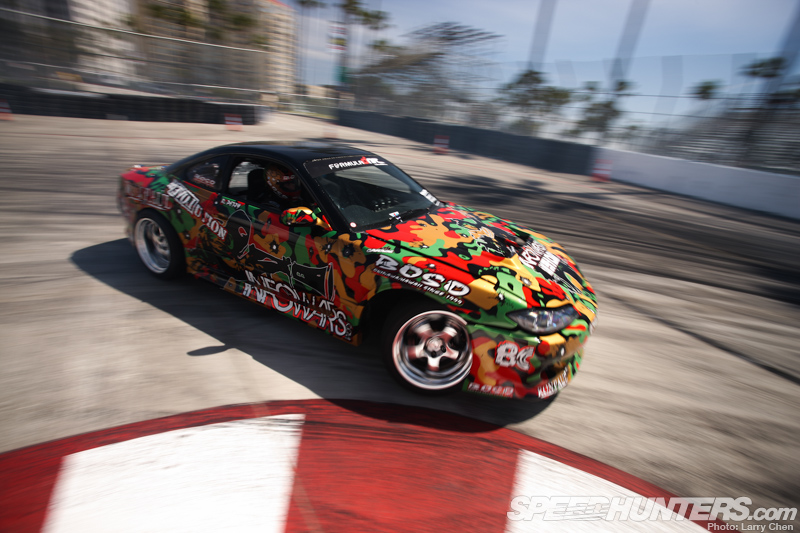 …but once he built his own S15 which was heavier he seemed to do much better.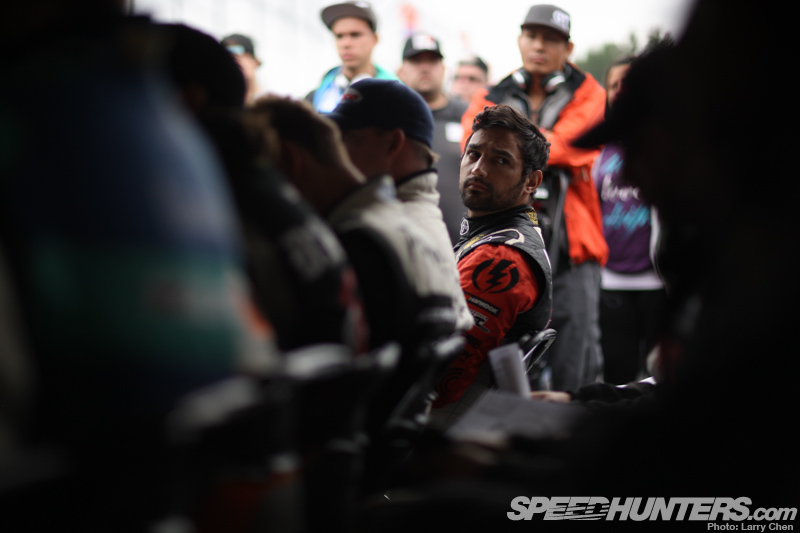 The sport of drifting is getting to an age where there are just so many new fans that don't know the roots of their favorite drivers.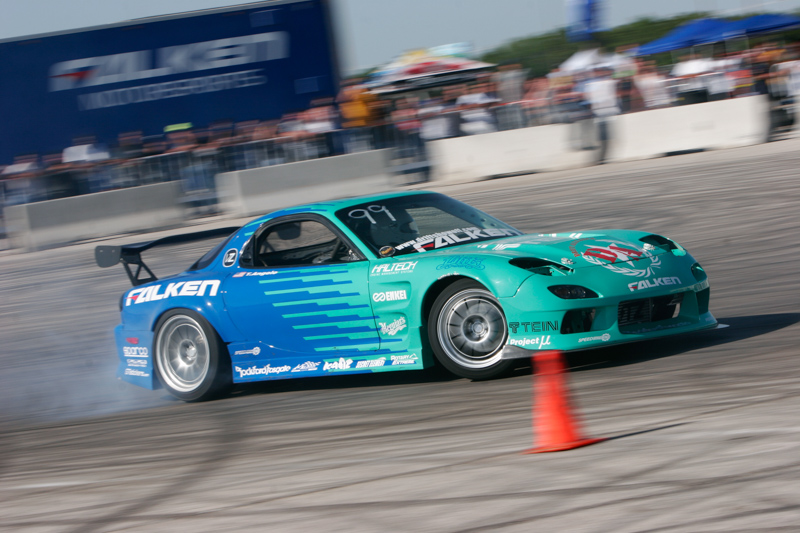 It is hard to imagine but Tony Angelo was once a Falken driver too, way before he was an FD judge.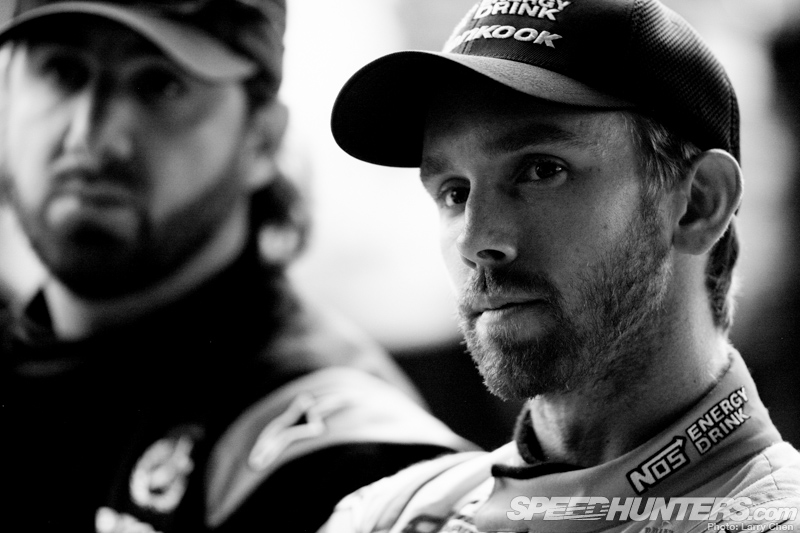 The same goes for Chris Forsberg. I bet it's hard for you guys to imagine him being a Falken driver.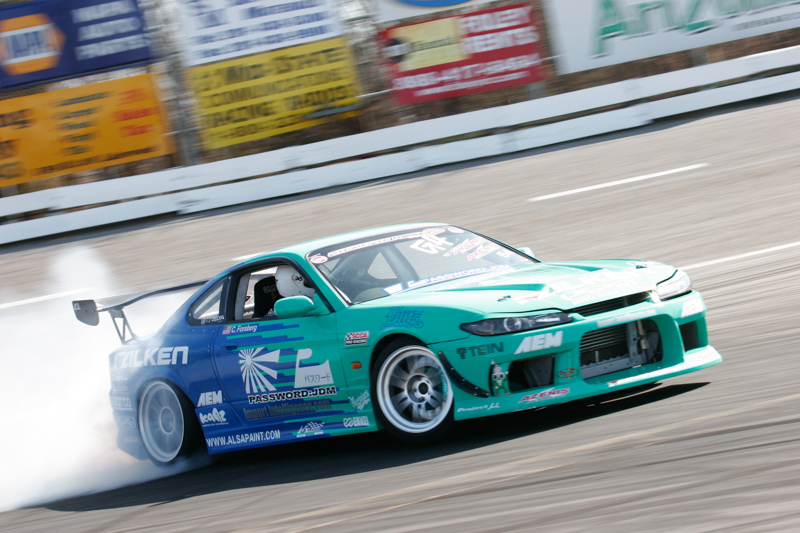 He actually helped build this S15 and it was quirky for him at first because it was right-hand drive, but he eventually got used to it and earned his very first win at Irwindale in 2005 with the car.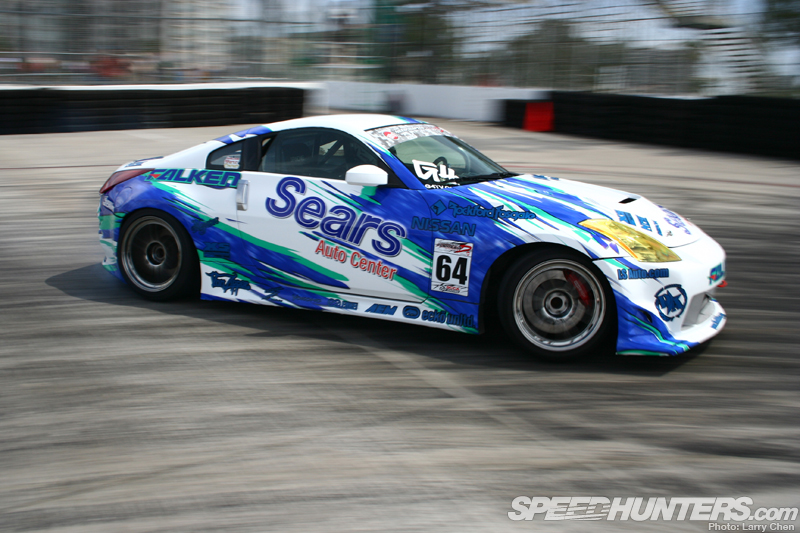 The next year he picked up Sears as his title sponsor, but he was plagued with car problems all year. It was his worst year in FD, but two years later he would earn his first championship.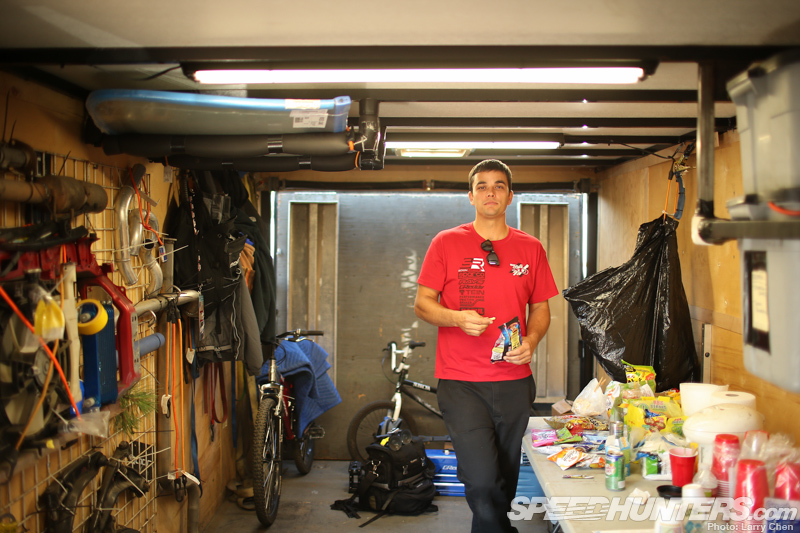 Ben Schwartz is another one of the pioneers of American drifting.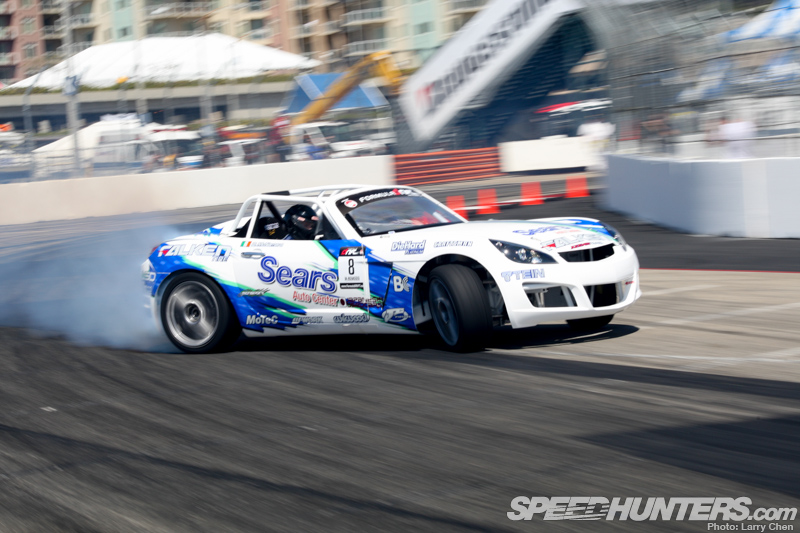 He was actually the first driver of the Saturn Sky before Darren McNamara took it over.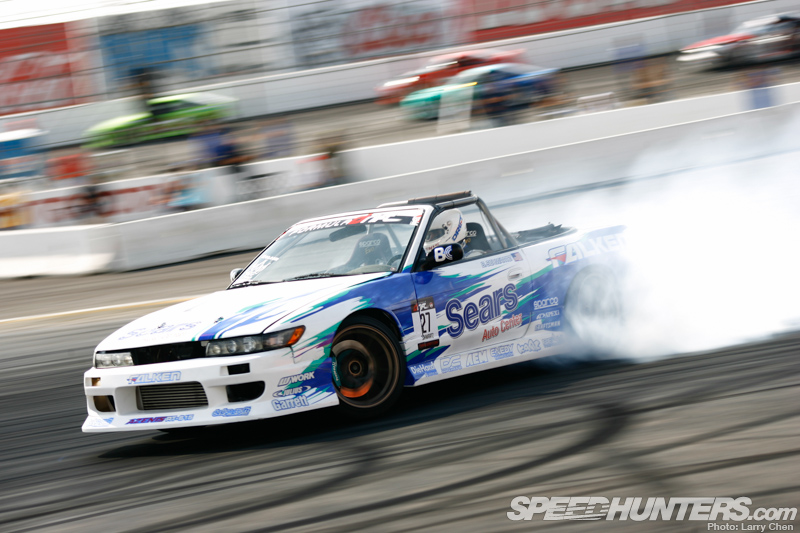 His stint in the Sky was short lived, so he drove his personal S13 'vert that was powered by a Honda S2000 F20C Turbo. Now he does not get behind the wheel much – instead he follows the Scion team around the North American Rally series.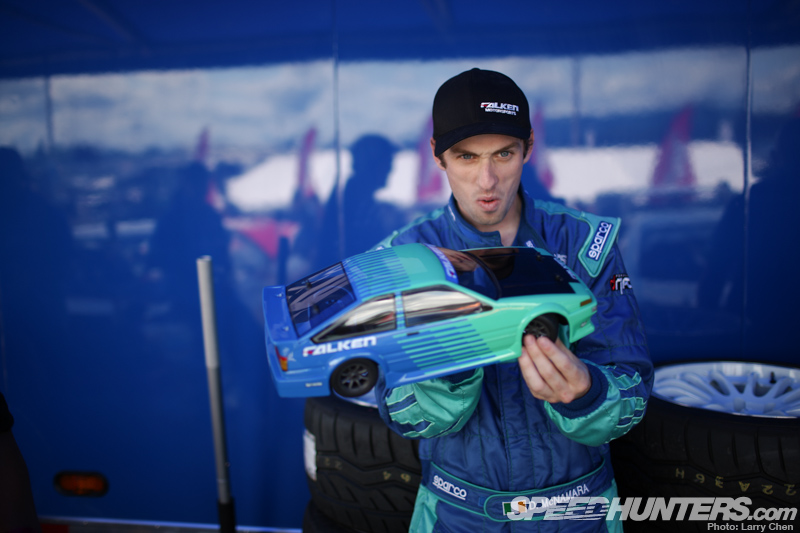 Dmac's role in North American drifting is pretty interesting. He is the gambler, if you will.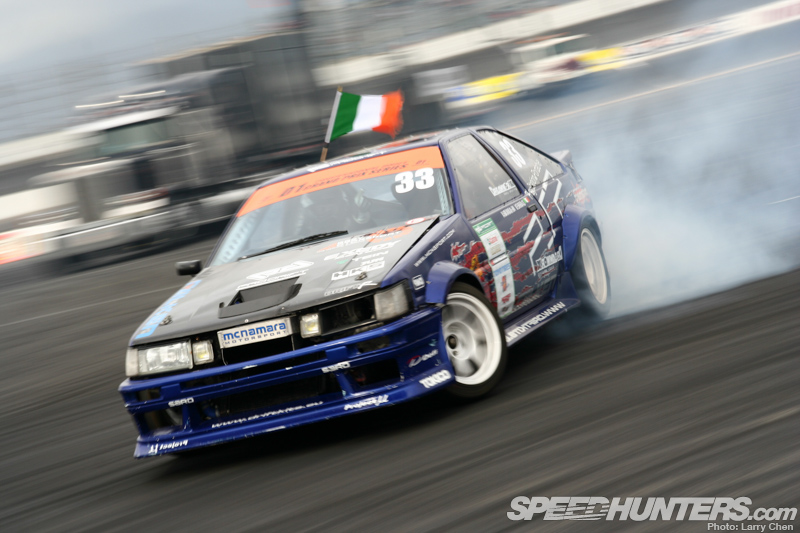 He put everything he had on the line by shipping his car to California one-way, in the hope that he would do well enough to get picked up by a major sponsor.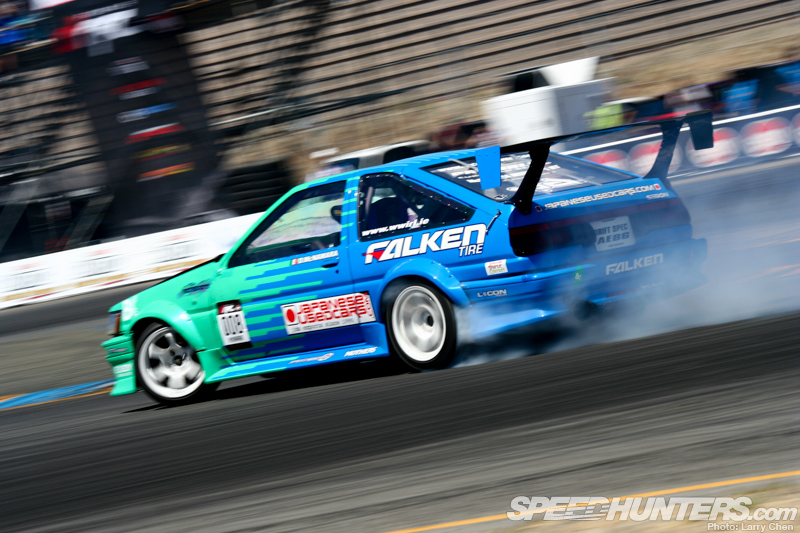 Well luckily it worked out for him and it was not a gamble after all. The following year he drove the entire season with his personal car painted in Falken colors.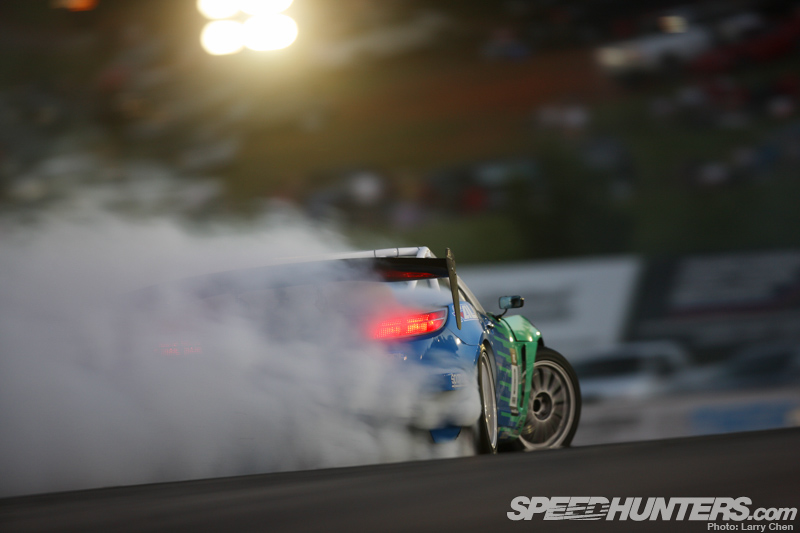 Then he drove one of the most beautiful drift cars I have ever photographed: the Saturn Sky. According to Darren it was super hard to drive, but boy did he make it look good.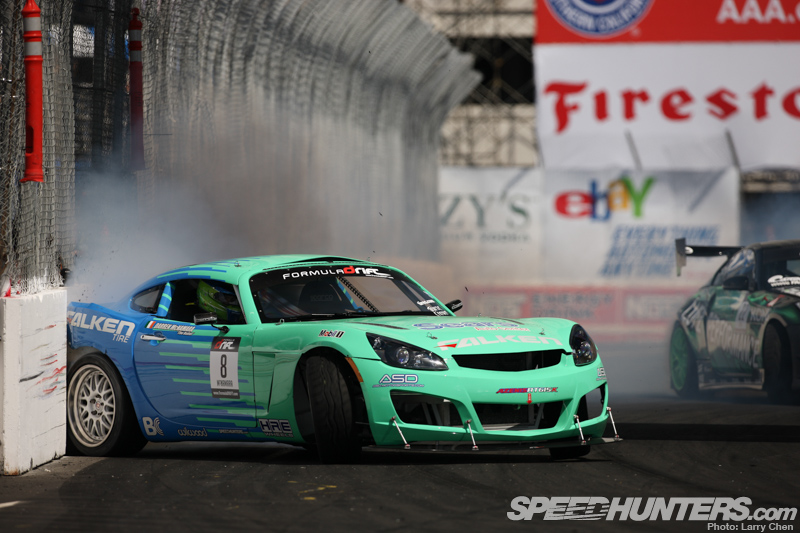 For the 2011 season the boys at ASD built an entirely new Saturn Sky, but this time it was a hard-top. Darren had an unfortunate incident with the walls of Long Beach this year and completely wrote the car off.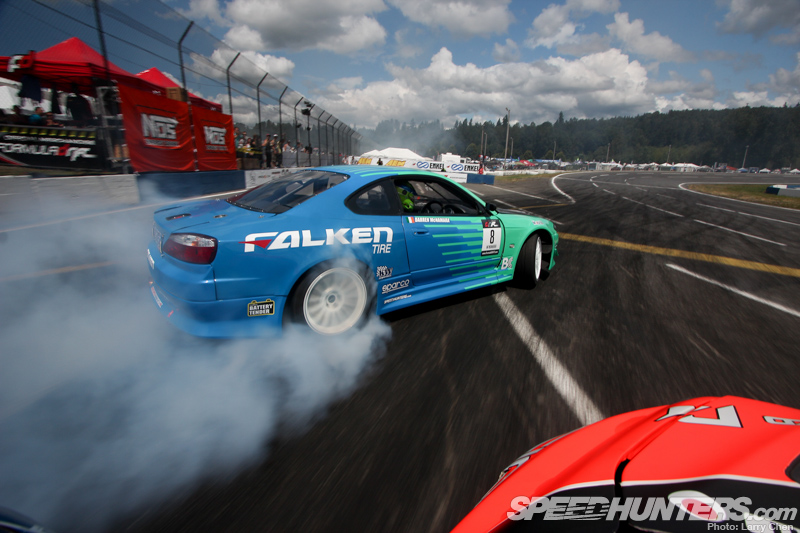 He jumped in the ASD 350Z, but it did not suit his driving style. So he moved on to the S15 which was newly refreshed with an almighty V8.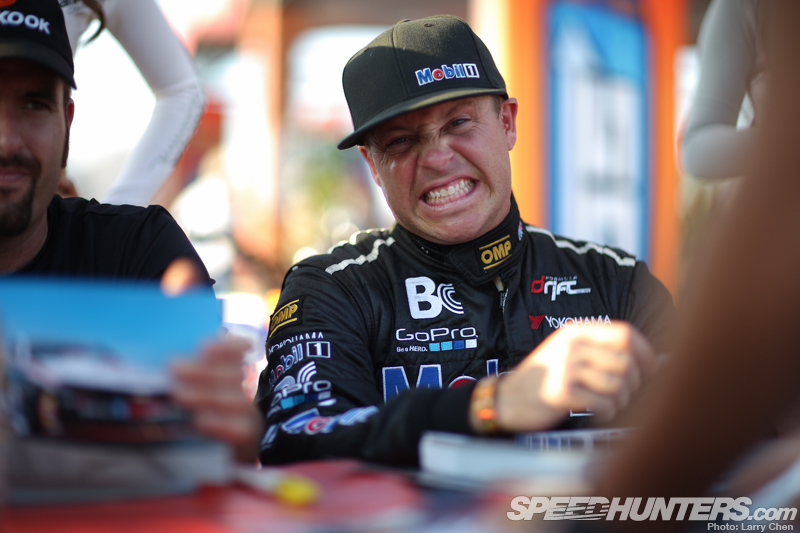 Tyler is another driver with a couple wins under his belt. It is neat because I also get to shoot his antics outside of drifting as he comes from a wheel-to-wheel racing background.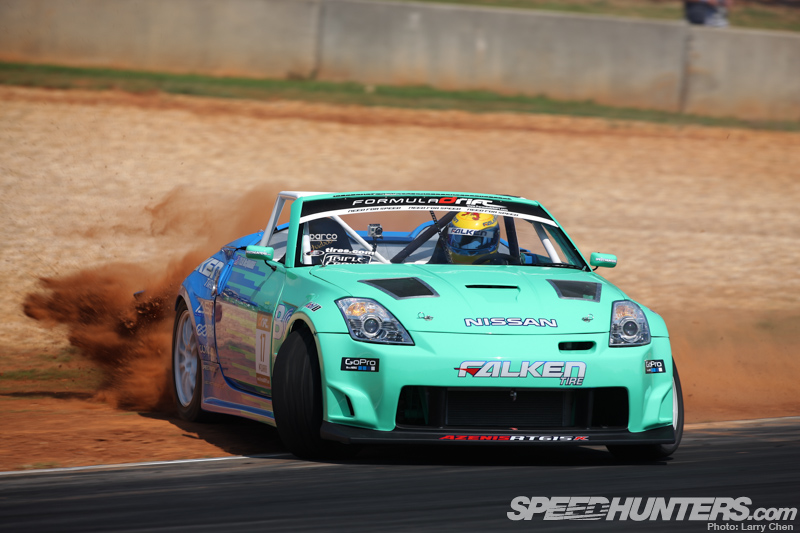 He first drove in the convertible LS-powered 350Z. That was wrecked at Irwindale, but it was rebuilt and it is currently sitting at ASD.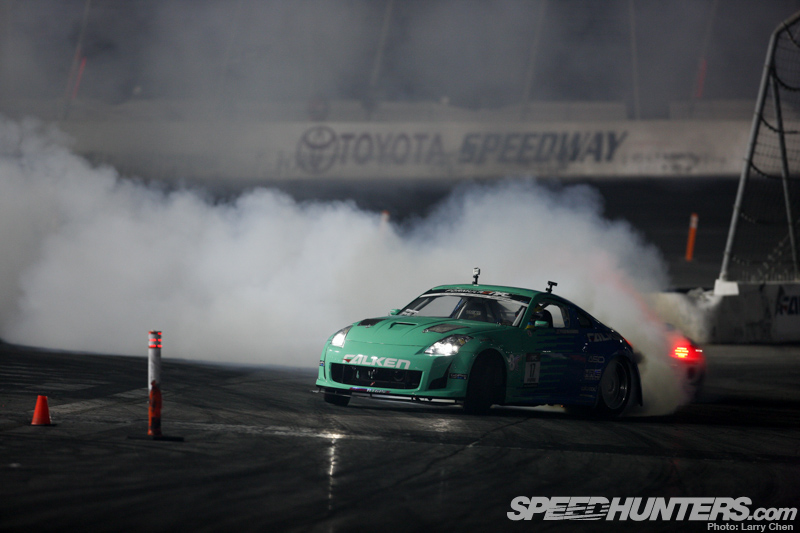 This hard-top version was the one that caused a bit of controversy at Las Vegas last year. At least he went out with a bang by winning his last race at the finals in Irwindale.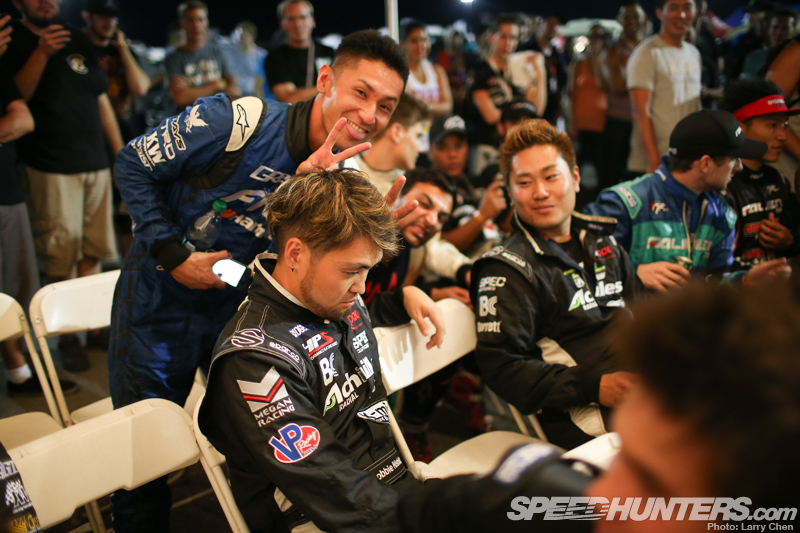 Before driving the Achilles Radial SC300, Robbie was driving a teal and blue Zenki S14.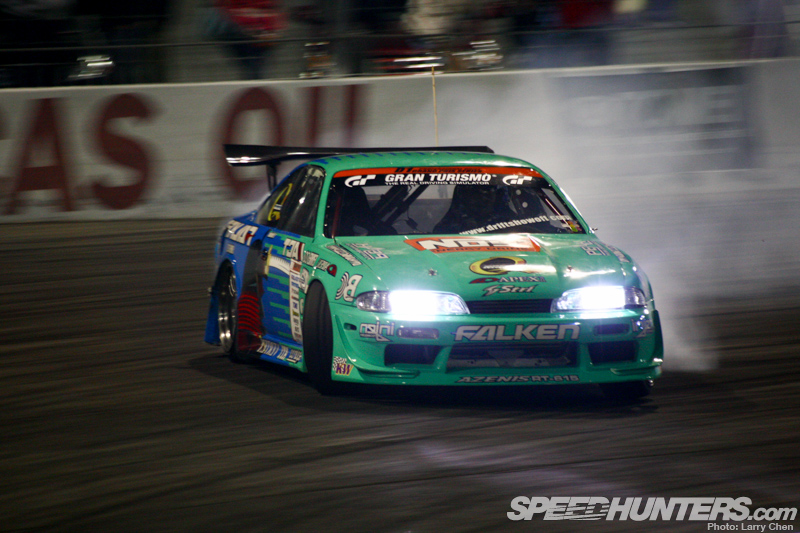 But even before that he was driving the S13 sil truck for Team Orange.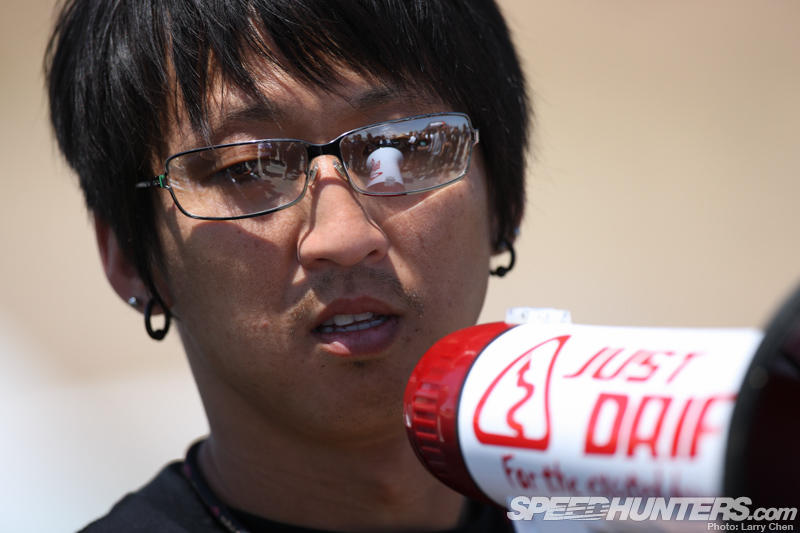 Hiro Sumida is one of the OG guys who started drifting way before it became popular.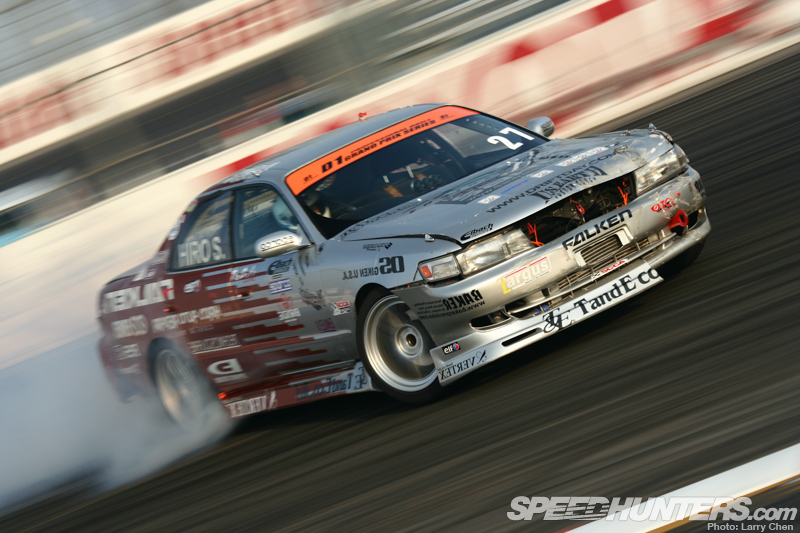 He was a force to be reckoned with, back when the cars were much less powerful and it was more about the driving. He even earned two third-place podiums in his personal Chaser.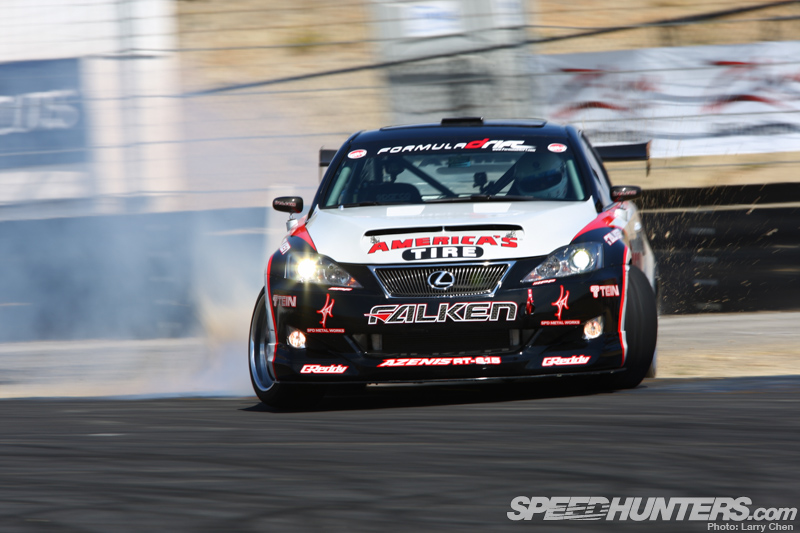 Hiro had a thing for four-door drift cars: he has always had them. Since he left professional drifting in 2007 he has just been doing stuff behind the scenes by helping out Taka whenever he can, as well as judging at local pro-am events.
Dai has also been around since the beginning, I am used to seeing him in an S-chassis, so when he started with Falken in the IS350 it felt weird to me.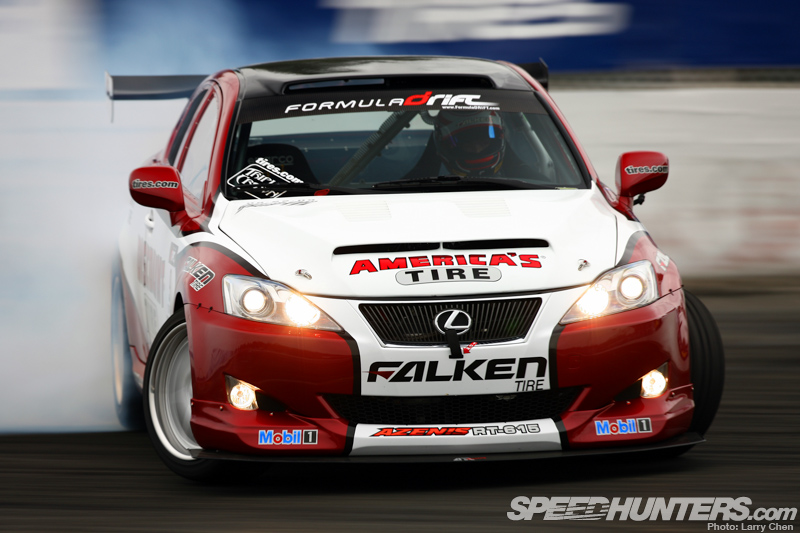 He said it was hard to drive at first and by the time he got used to it he stuffed it into the wall at Evergreen Speedway in 2009. After that the team only had a month to fix up Ross Petty's old car into…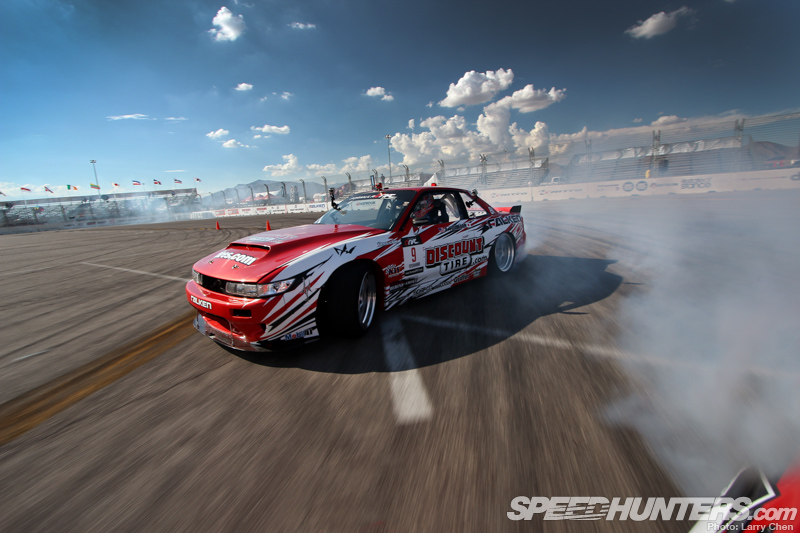 …the car he is known for, which is the LS-powered S13 that he piloted to his first championship. This is probably the most developed S-chassis in the world.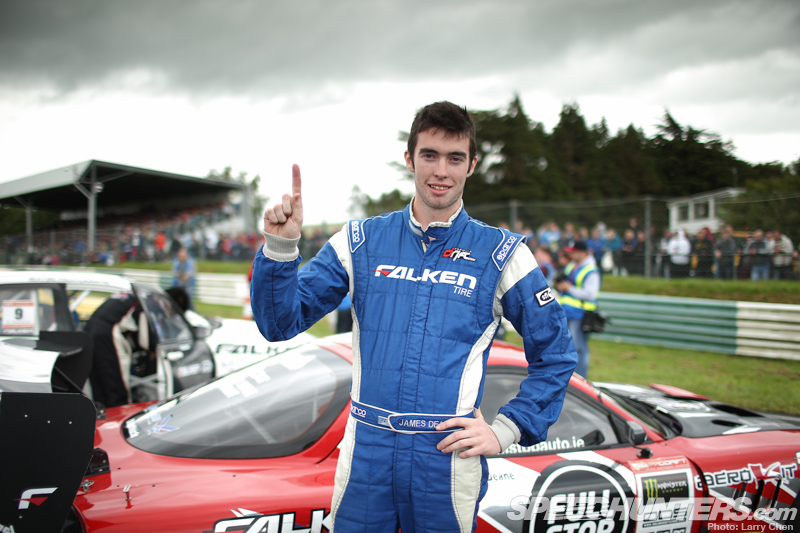 James Deane is a Falken-sponsored driver in Ireland, but he did come Stateside for one exhibition round so technically he has points in Formula Drift.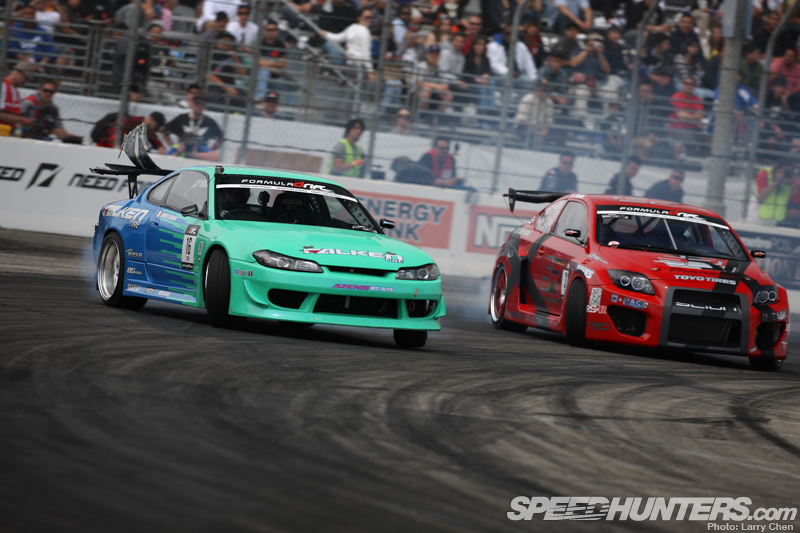 He drove the S15 that just about everyone has driven, but when it was still powered by an SR20.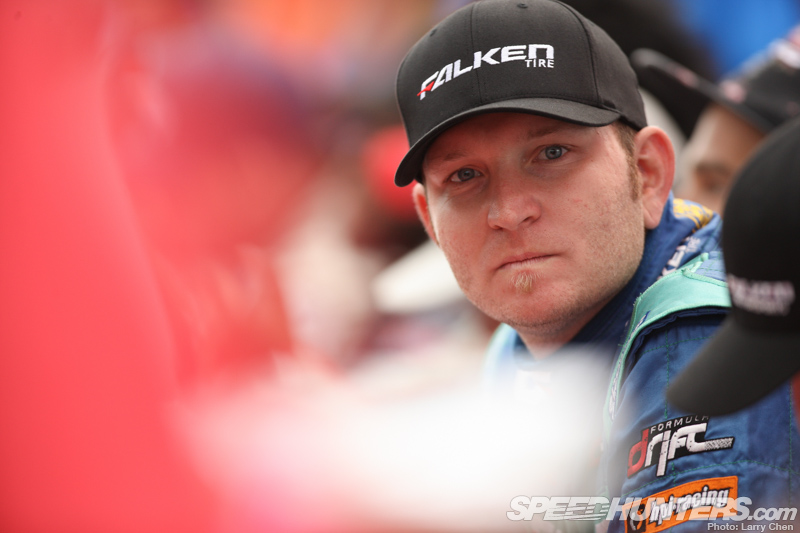 And last but not least we have Justin Pawlak. He is one of the last drivers to join the Falken team.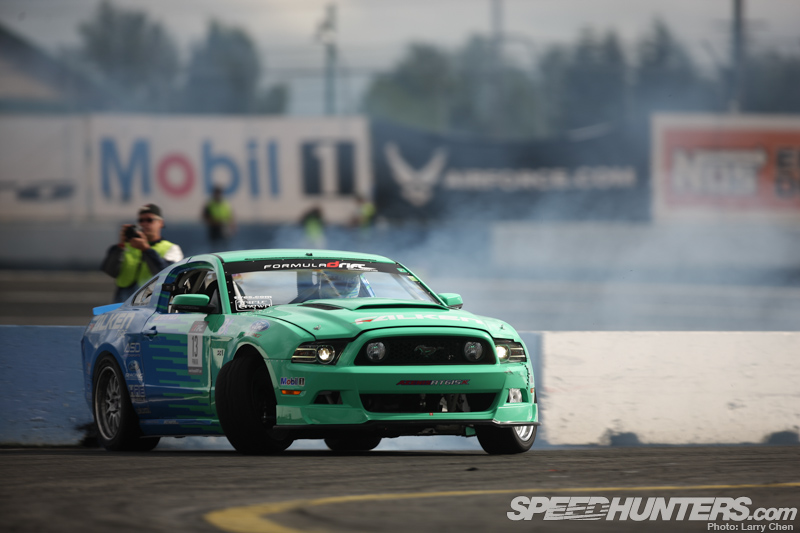 He came so close to winning his first championship last year. A perfect storm would have to happen for Justin to be able to take top honors this year, but you never know: the Irwindale banking has its ways with these drivers.
Over a span of almost 10 years there have been 19 Falken factory-backed drivers who have earned points in Formula Drift competition. Who will they pick up next? Whoever comes along, I look forward to the next 10 years of North American drifting.
Larry
larry@dev.speedhunters.com
More retrospective stories on Speedhunters
More stories from Larry Chen on Speedhunters
---
---
---
---