There is no doubting the popularity of the sport of drifting today. It took just one live action feature film staring Jay Chou for drifting to spread through all of China. Imagine having government-backed drift events with packed attendance and in venues that are Olympic worthy.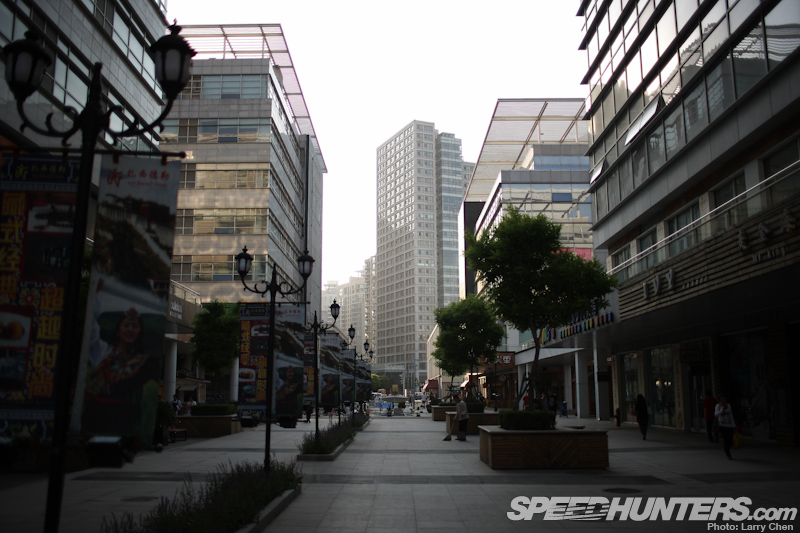 Well, that is exactly what you have in the port city of Tianjin. Just two and a half hours east of Beijing is a place where car culture is king.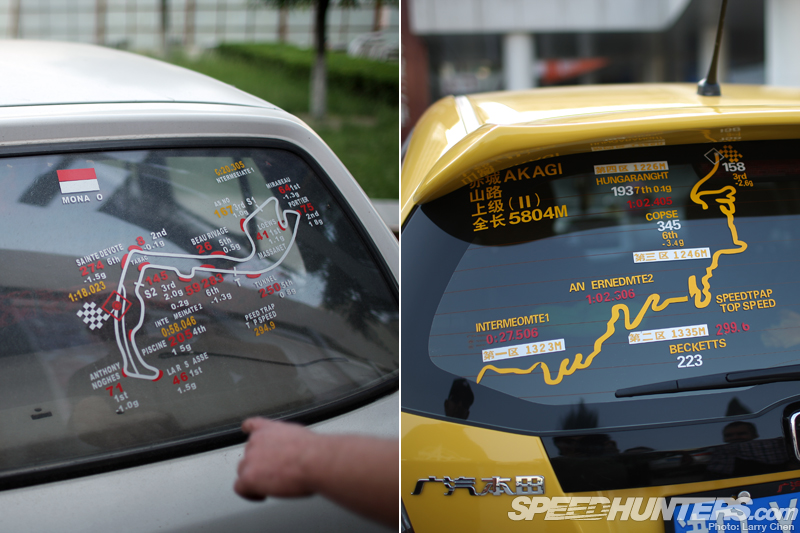 The people of Tianjin love racing. It shows just walking through the streets. Even though the cars are poorly modified, they are going toward the right direction.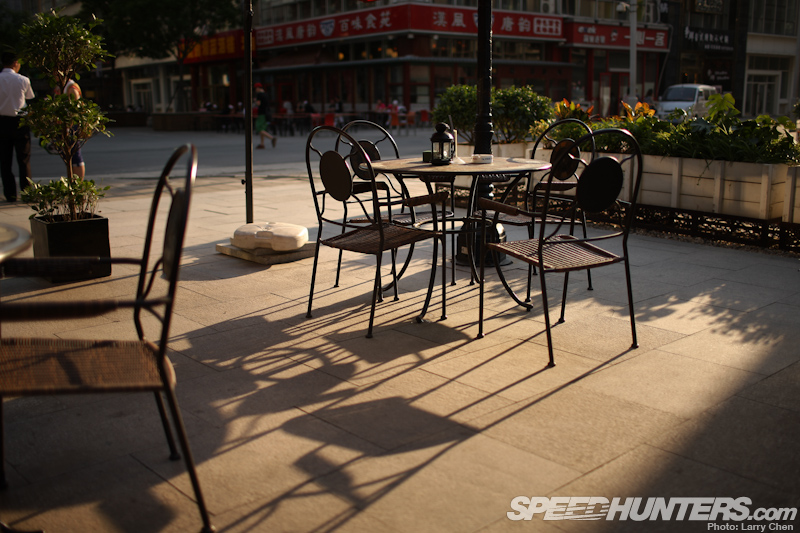 We start off with a lazy Thursday afternoon in downtown Tianjin. The air is so thick with dust and pollution that it gives the illusion of the sun setting two or three hours ahead of schedule.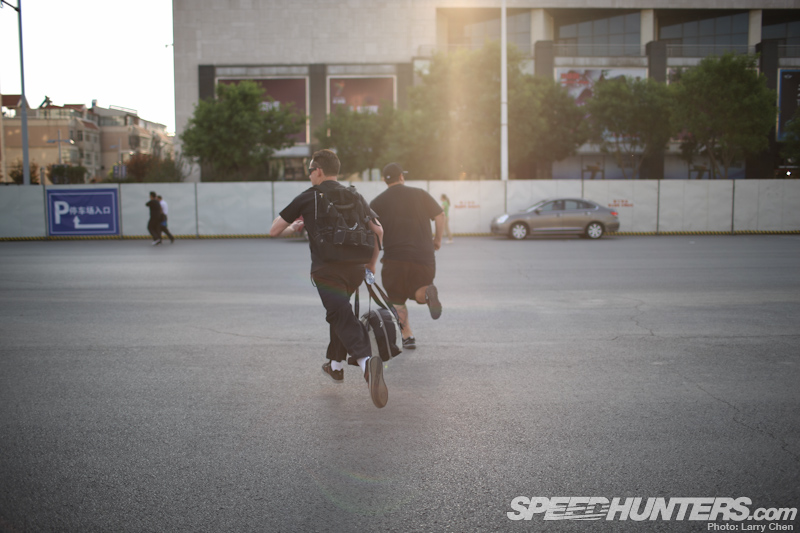 Just like every other city in China, one has to be careful when crossing the streets. Cars do not stop for pedestrians. It's like playing a game of frogger, except you don't want to loose.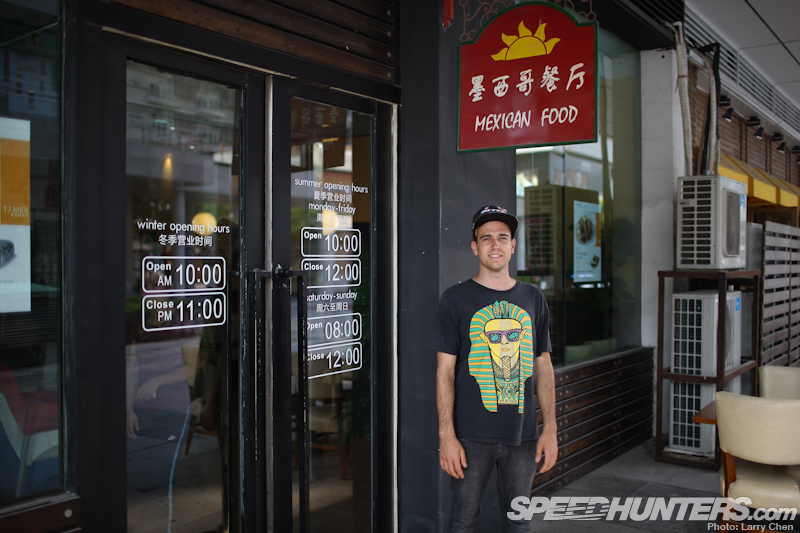 We were all hungry from a long flight and Matt Powers was hungry for some Mexican food in China. I will never understand vegetarians.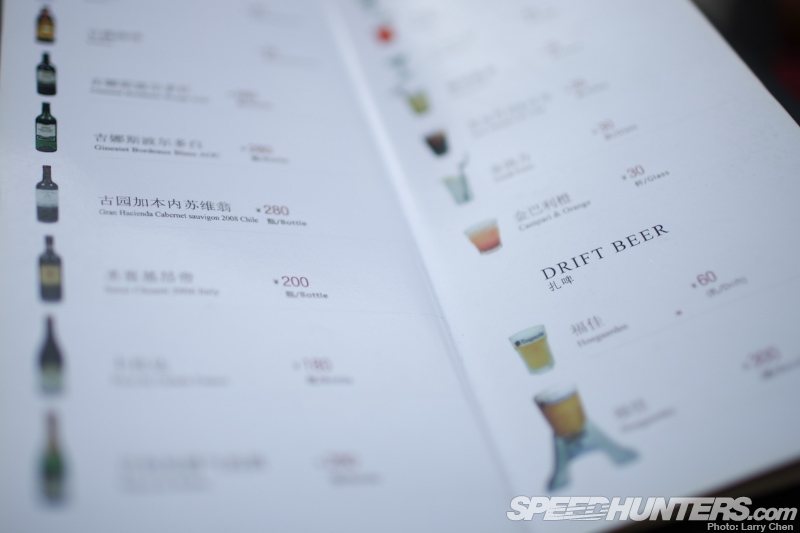 Somehow they knew how to cater to us.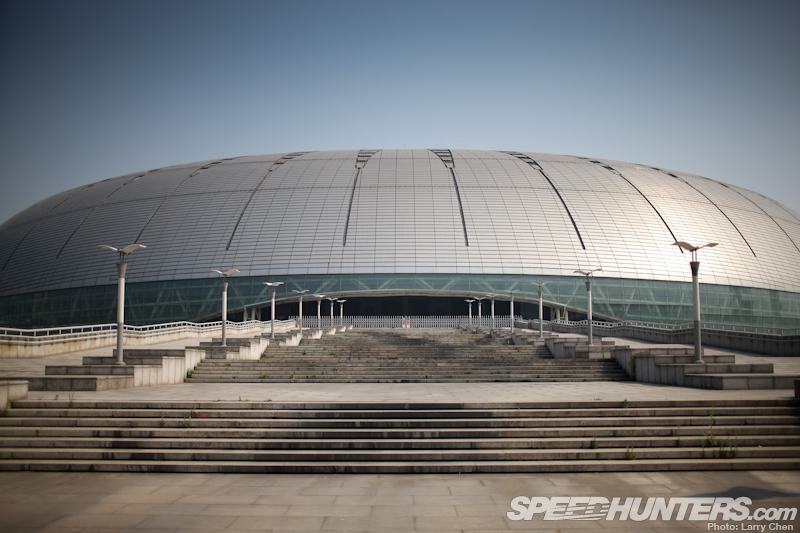 After a quick lunch we headed to the massive Tianjin Olymic Center Stadium, also know as the Water Drop because that's what it looks like from space. In the 2008 Beijing summer Olympics the stadium was used for the Football(Soccer) preliminaries.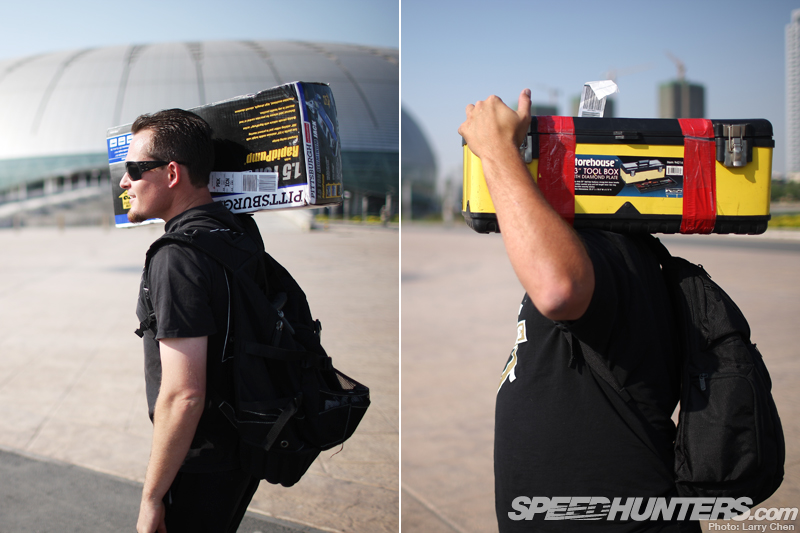 It is always a pilgrimage with tools and other miscellaneous items that the American teams bring to China.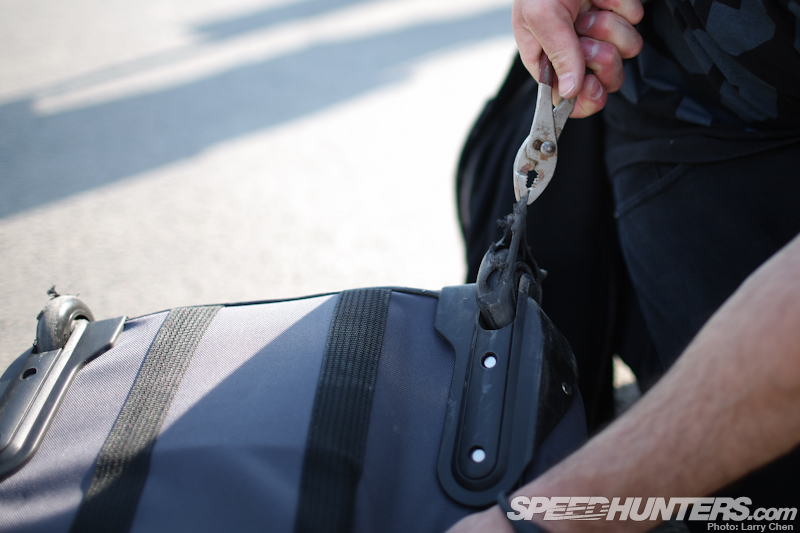 On the way to the stadium our luggage situation took a turn for the worst. Luckily we had Chinese made tools to fix our Chinese made luggage.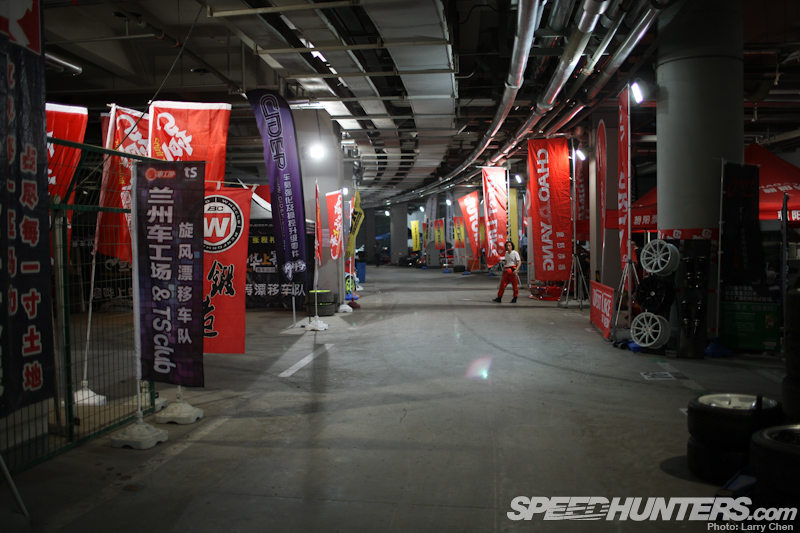 The paddock is just massive. More than 50 teams have pit areas that stretch through these massive halls.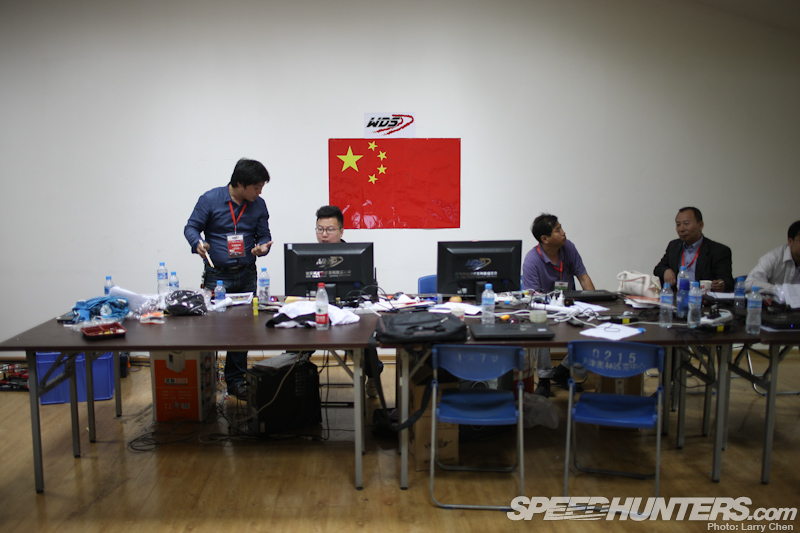 We are not in Kansas anymore….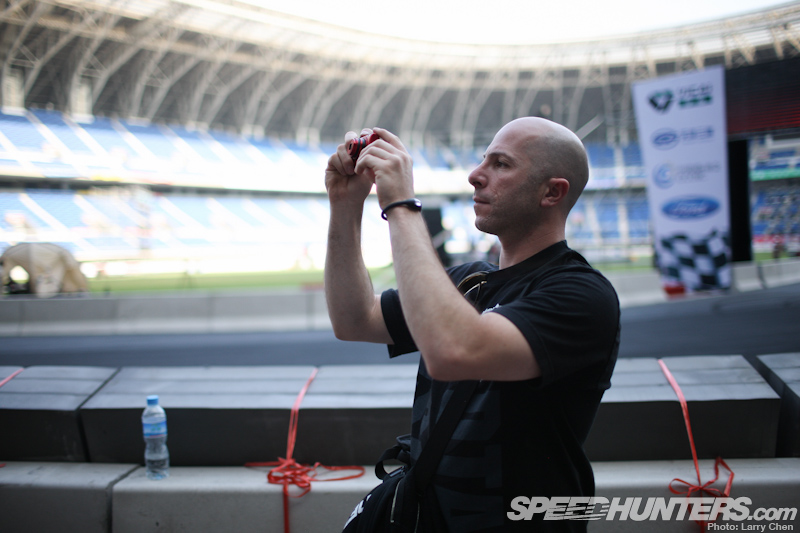 Stephan Papadakis was dumbfounded. He has never seen anything like this. This was his first trip to China.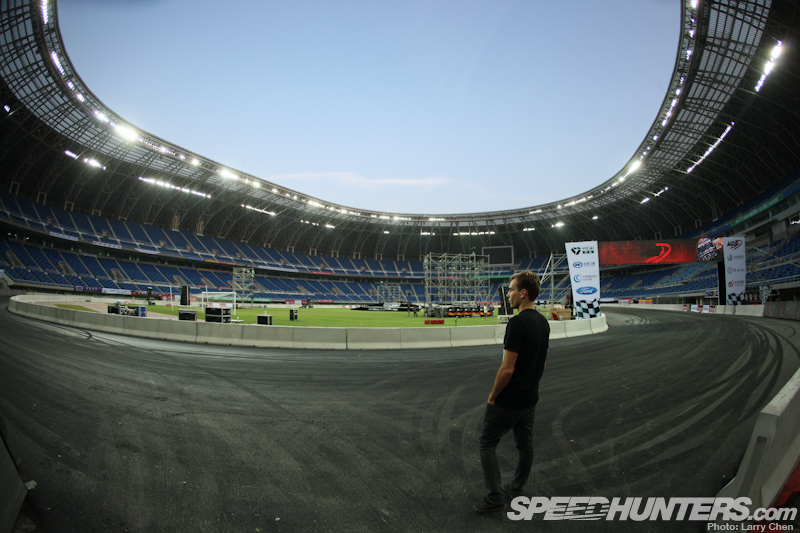 This was the same asphalt that was laid down for last year's events. They don't hold any track and field events here anymore, it has become a permanent drift stadium.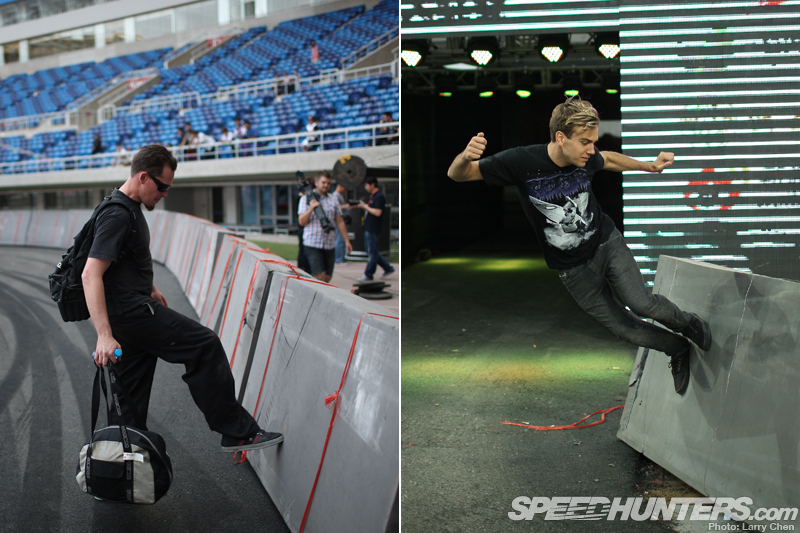 Lining the outside k-rails was a thick layer of jumbo sized foam padding. It seemed the Americans had a 'what the heck' moment.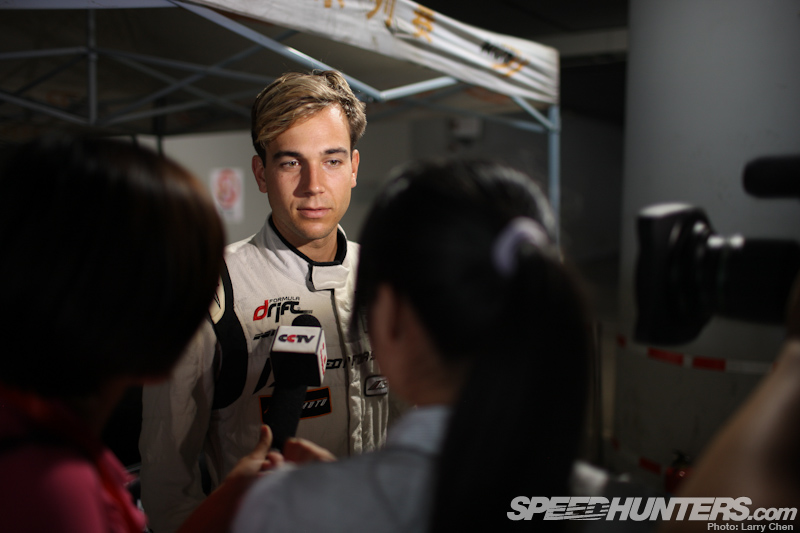 These were the drivers I followed throughout the event. The one and only Matt Powers has been drifting in China since 2009, but last year he stepped up his game and built his own demo car with an LS1 motor specifically for China duty.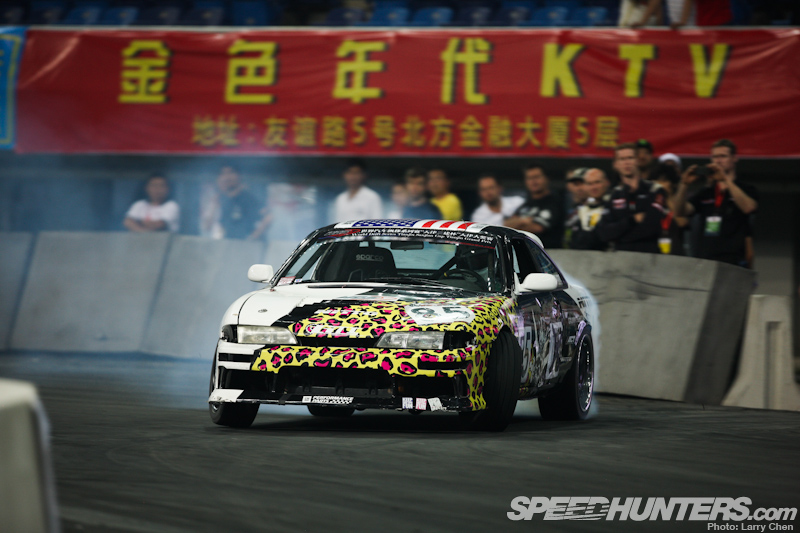 Matt took 2nd place last year at the same event and he is always a crowd favorite.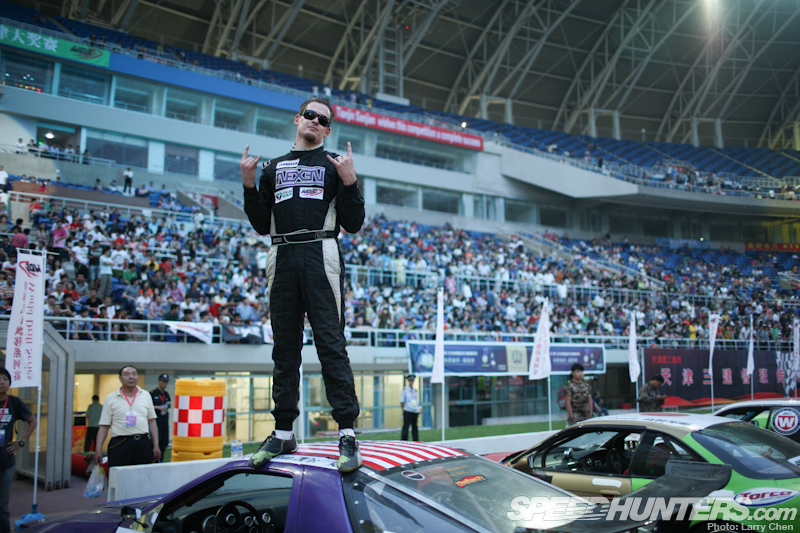 Here is Kyle "The Menace" Mohan and his entire team. That's right, he was the lone ranger over in the land of communism.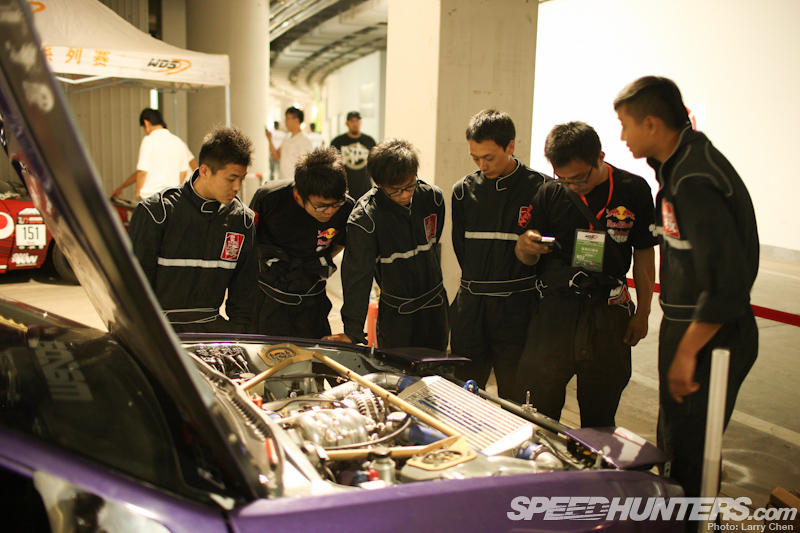 It also seemed like he was the only one in all of China to run a rotary car. As soon as he popped the hood there were hordes of people coming by to catch a peek at this mysterious engine that spits fire.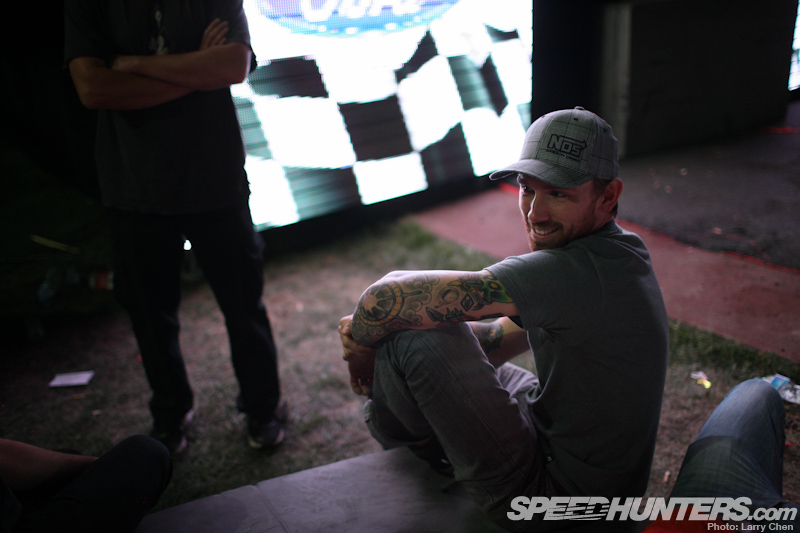 Our third driver was a Formula Drift Champion. Chris Forsberg had been to China once before back in 2006 for a drift demonstration, but this was his return and he's out for blood.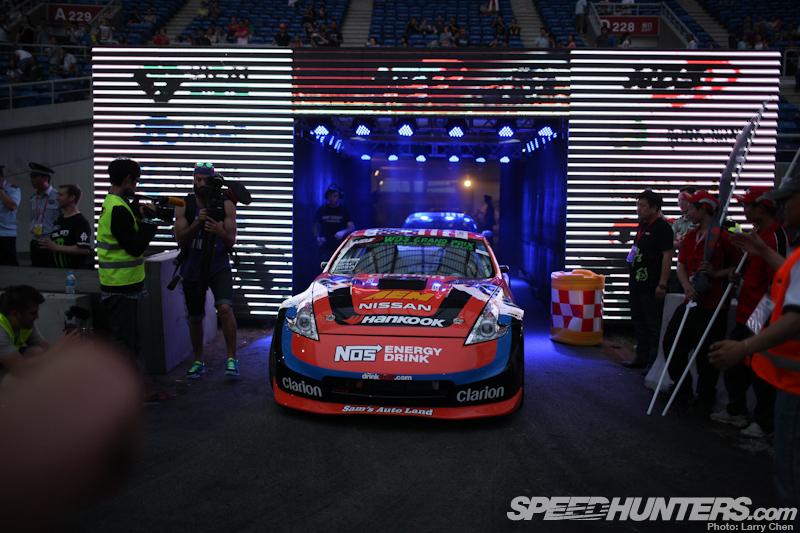 He brought the big guns this time. A Nissan 370z with a VK56DE should do the trick. This was also his 2010 Formula Drift competition car.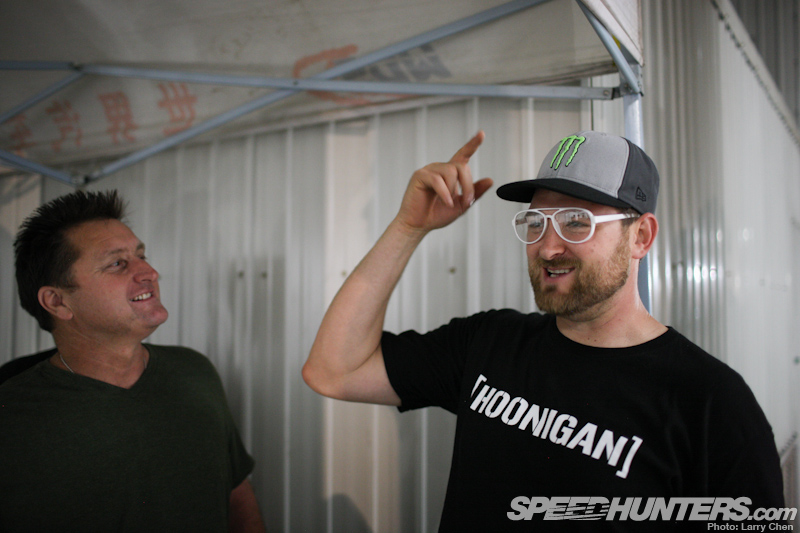 Our last American driver is none other than 2010 Formula Drift Champion, Vaughn Gittin Jr.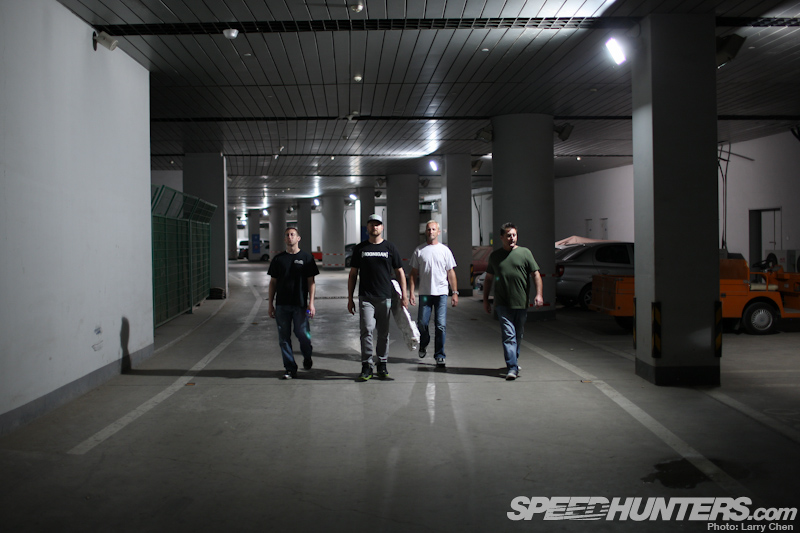 I swear he is one of the hardest working drivers in the drifting world, and as always he brought the REALLY big guns. The Autosport Dynamics (ASD) crew came along to take him to the top of the podium once again.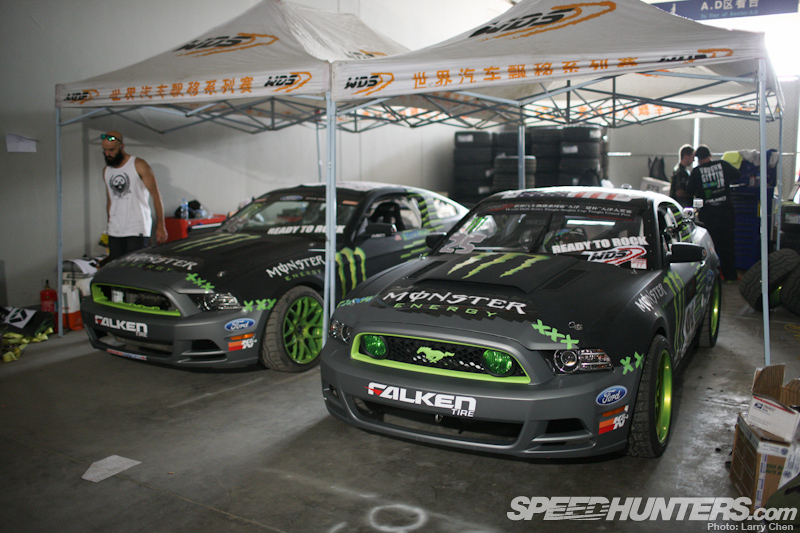 On the left was last year's car which was originally Ken Gushi's Mustang from back in 2005. On the right is an all new purpose-built car for competition in China. This is not a little kid's game anymore.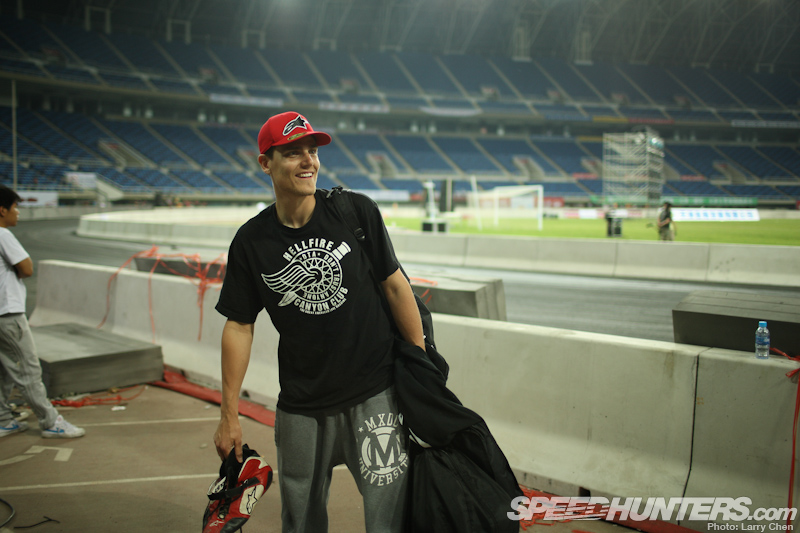 Our very own Fredric Aasbo rounds out the Formula Drift driver field. This was also his very first trip to China.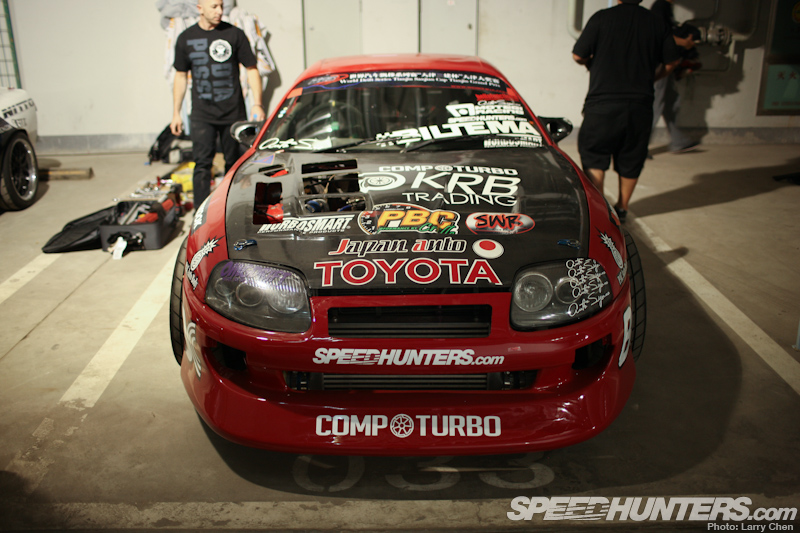 His weapon of choice was Chucky the big red Toyota Supra.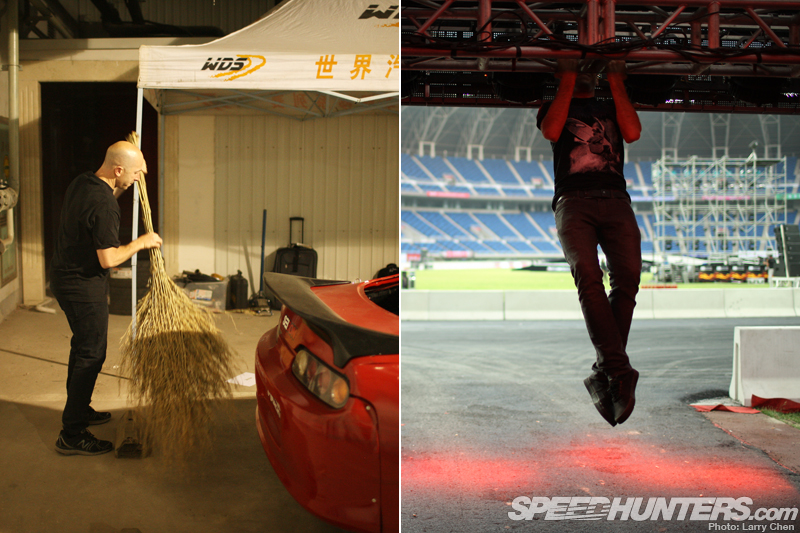 With all the drivers in town and qualifying the following day, Stephan decided to clean up the paddock a bit, while Matt worked on toning his arms.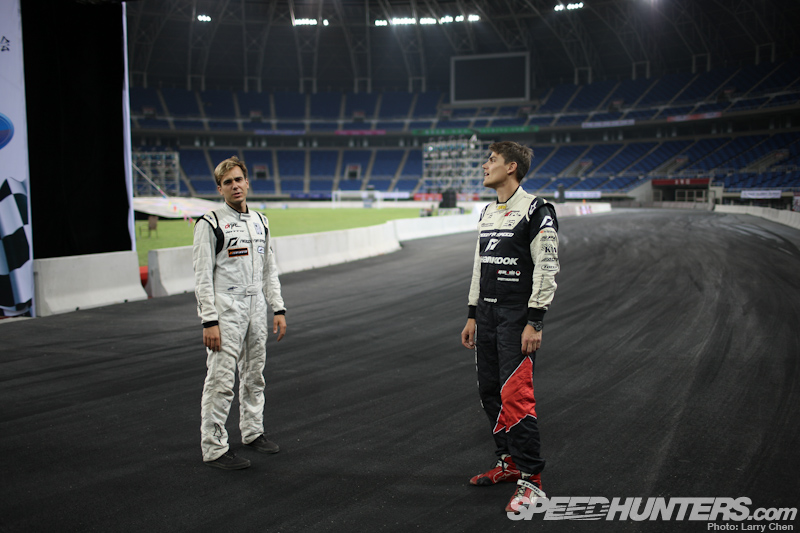 Afterwards Matt showed his Need for Speed teammate around the track…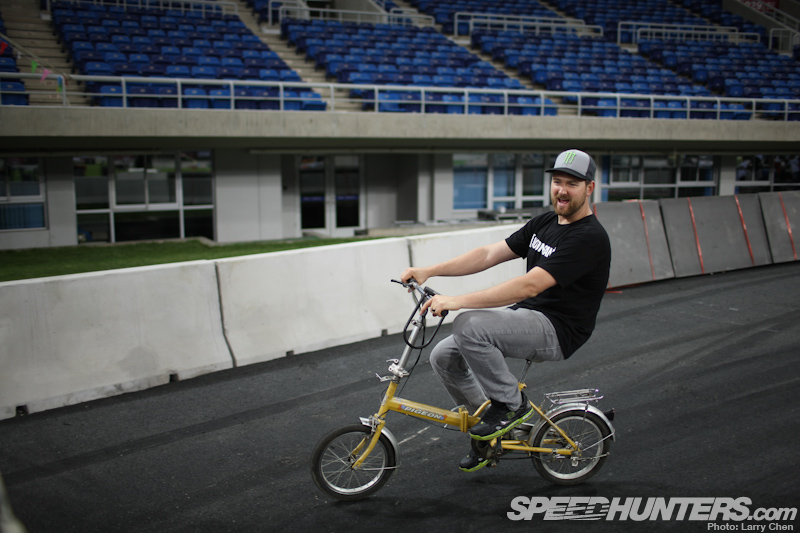 …while Vaughn rode around on his awesome new bicycle.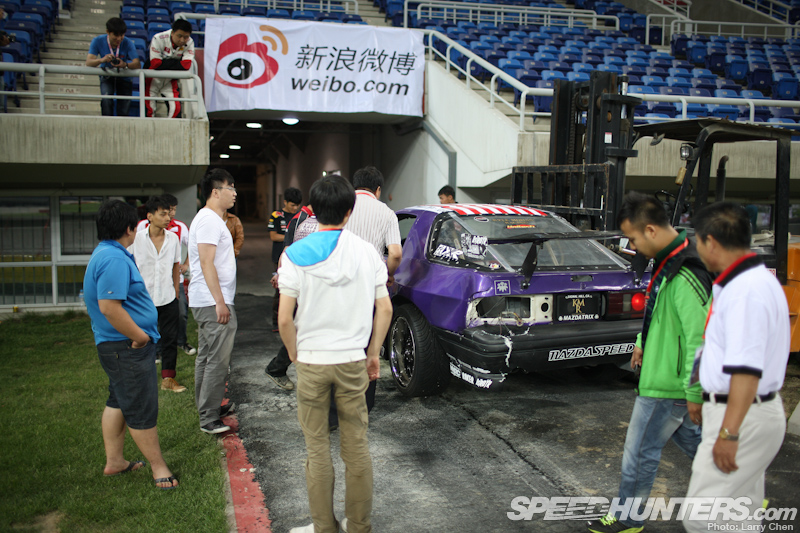 Kyle was the first one to test out the track and was the first one to find out why no one has ever used foam padding on k-rails.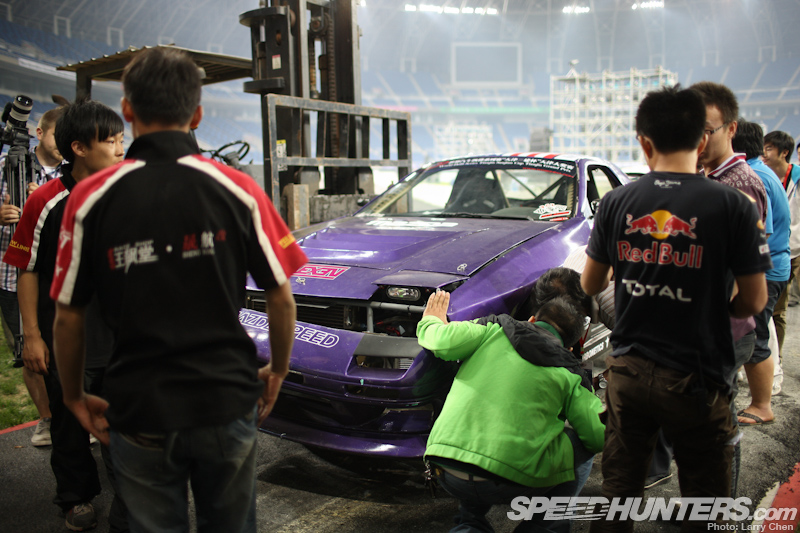 If you tap a bare concrete k-rail you can just slide off it without really interrupting your drift. However, with the foam padding in place it grabs your car and brings your front end right into it.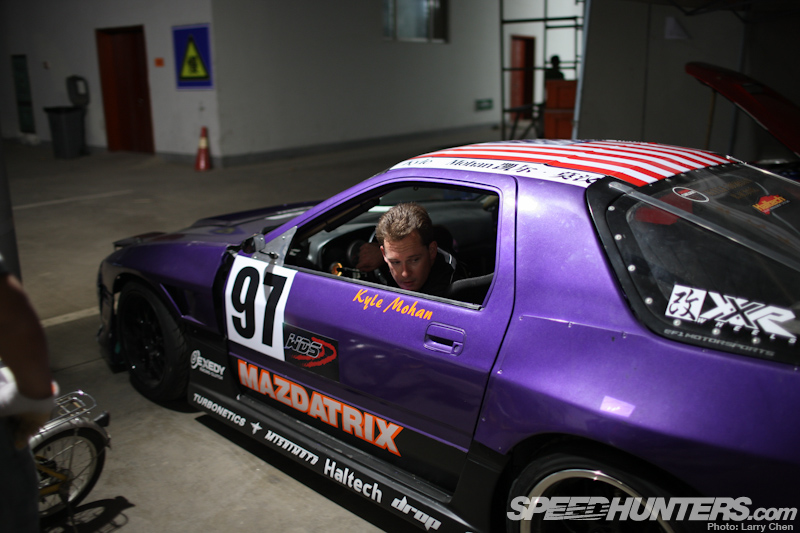 Kyle spent the rest of the night putting it all back together for qualifying tomorrow.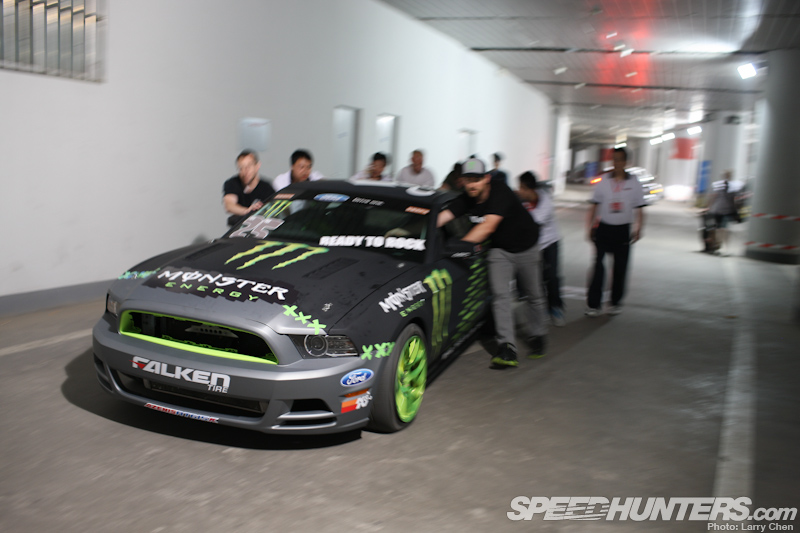 Both of Vaughn's cars arrived that night, so he did not have time to get in any practice.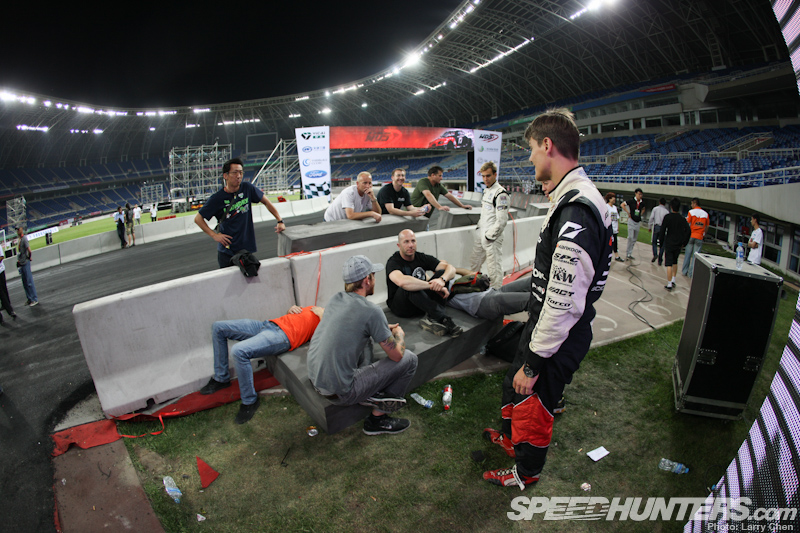 The boys hit the ground running, but it was time to retire for the night.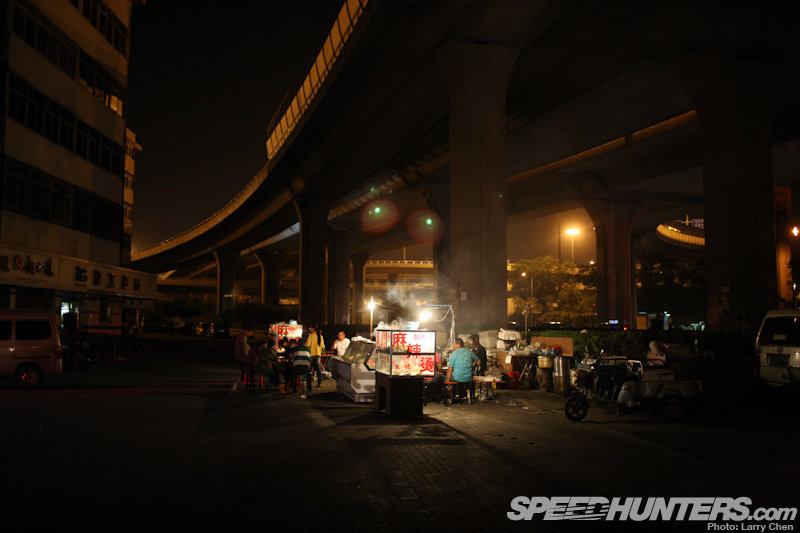 For dinner we just went outside of our hotel for some street food under a freeway overpass. Yum.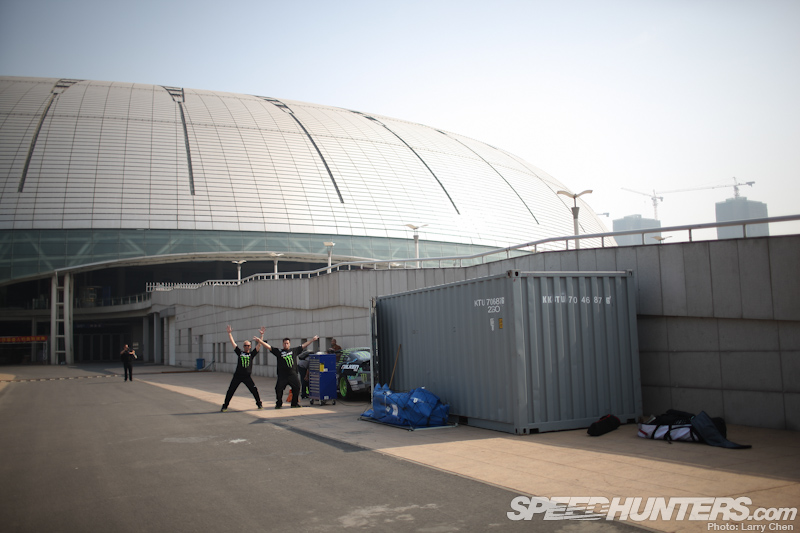 I headed to the stadium in the morning to find the ASD guys flagging me down to check out their new mobile workstation.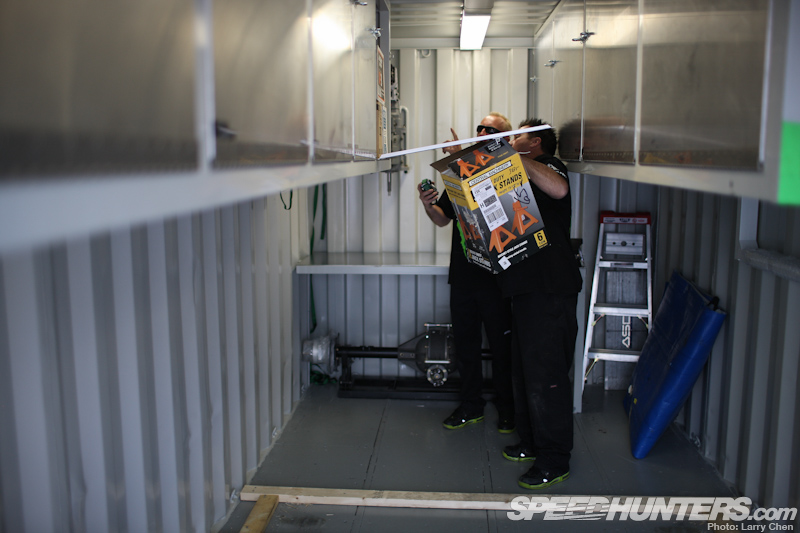 They built this garage at ASD headquarters in Charlotte with the intention of taking it all over the world.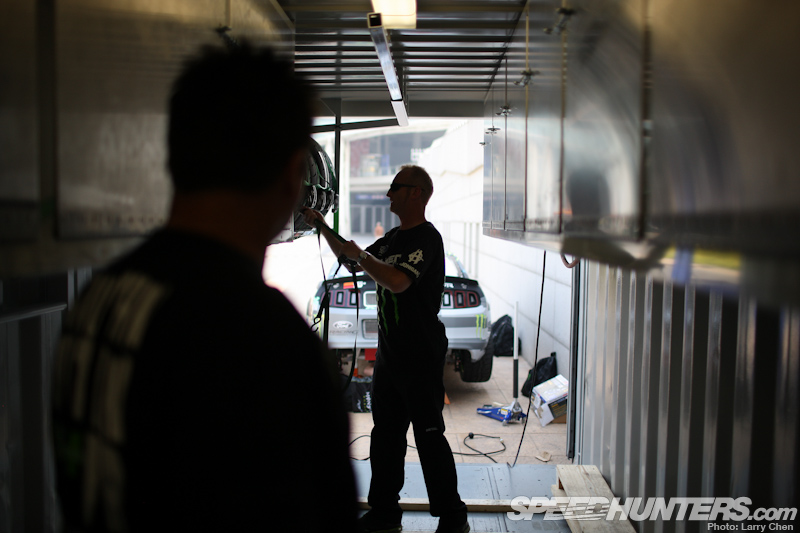 It was basically a home away from home, and it had almost everything they needed to run a proper race program. There's even a built in engine hoist just in case.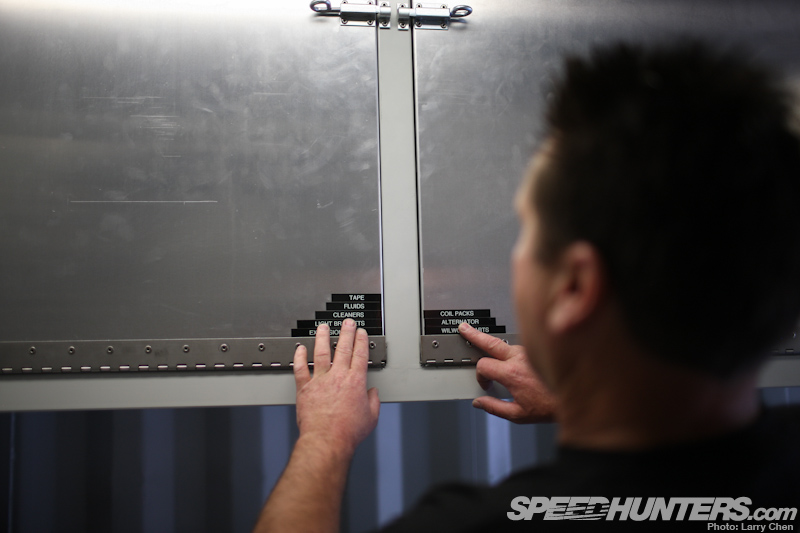 Everything is labeled properly so you can find what you need in a jiffy.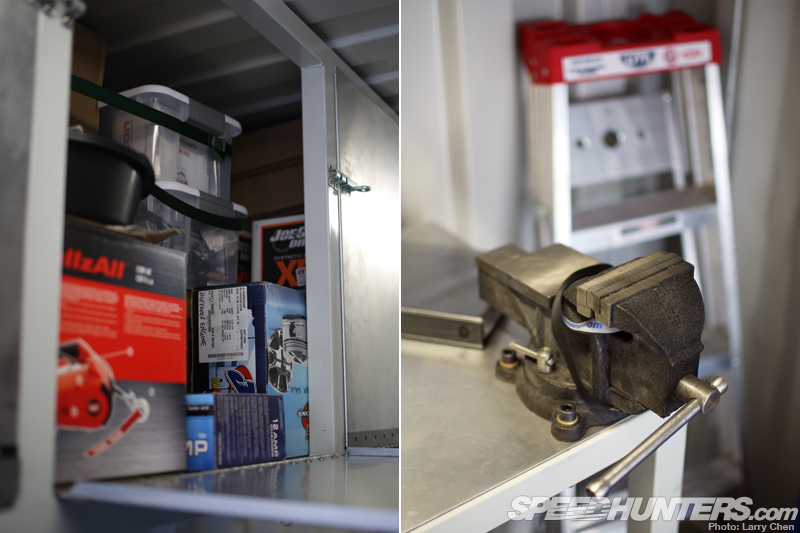 Spares of everything you can imagine are packed away neatly in the cabinets. There was also a work bench in case you need to tackle some intense projects.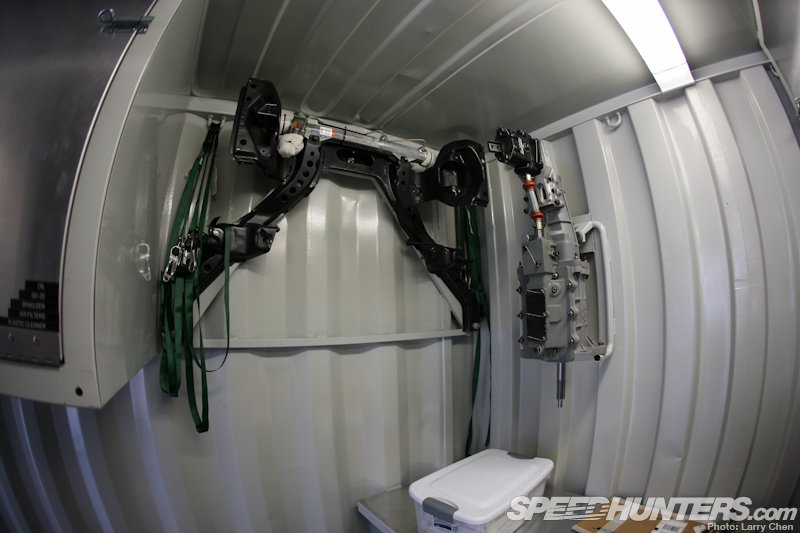 Leave it to ASD to build something this awesome.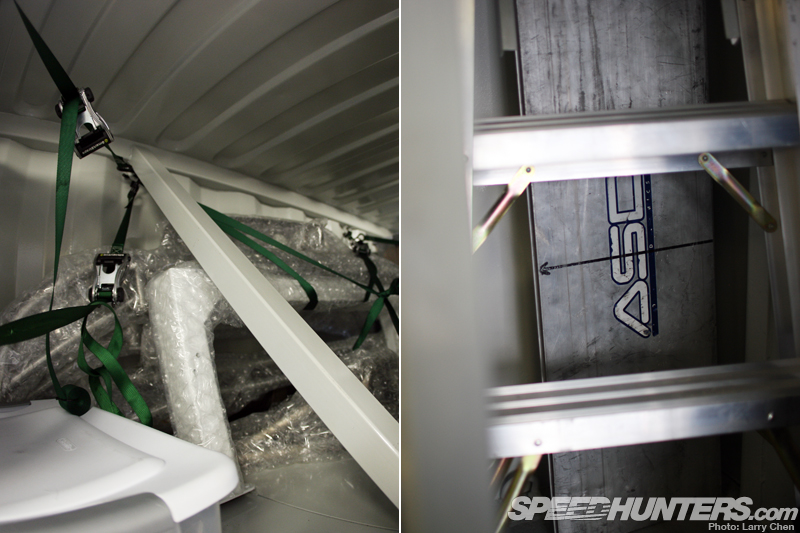 Now I'd like to see them build an airplane.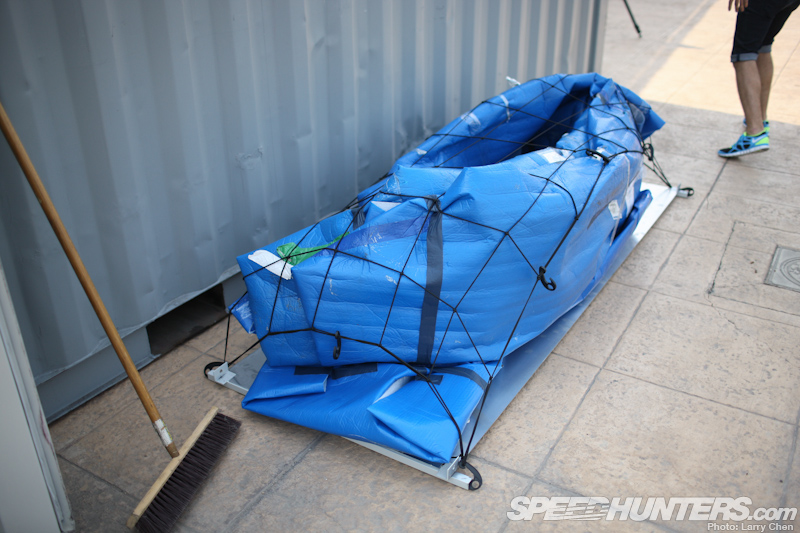 It even had enough room to store spare bumpers and body panels…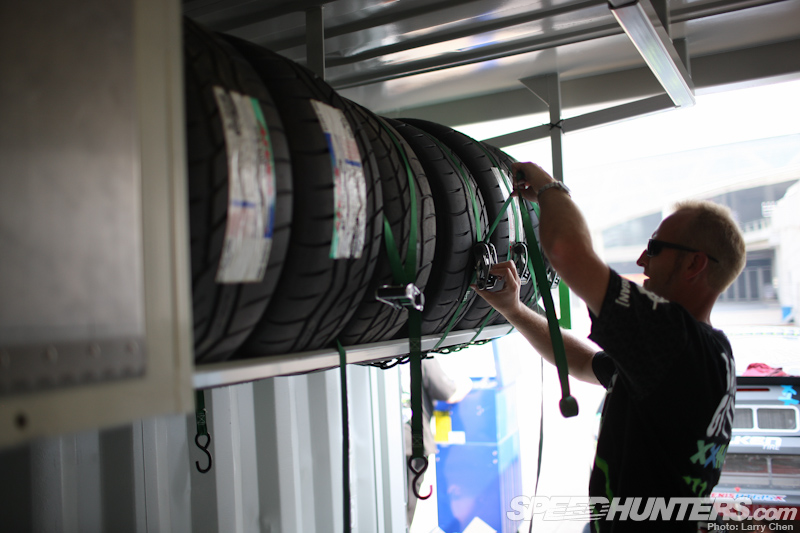 …as well as spare wheels and tires.
After drooling for a bit I headed into the depths of the Water Drop to find myself in the middle of a drivers meeting.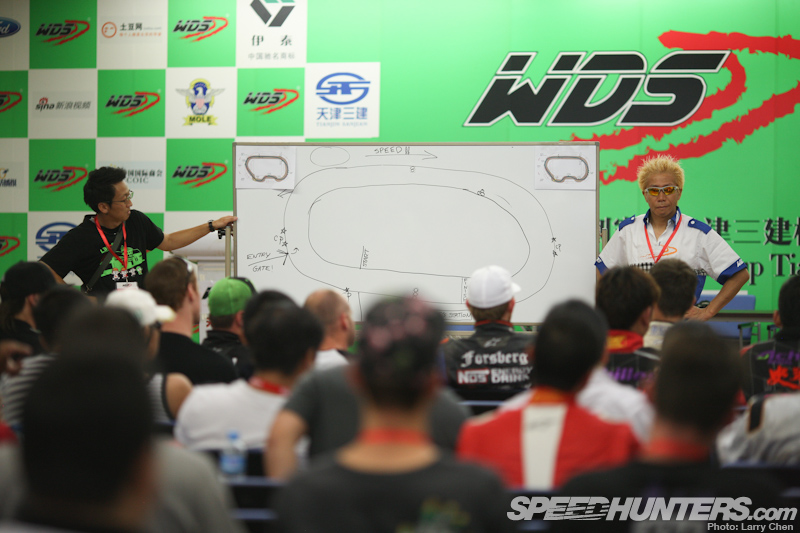 Two of the judges this year were former Formula Drift driver Hiro Sumida, and D1GP judge Tarzan Yamada.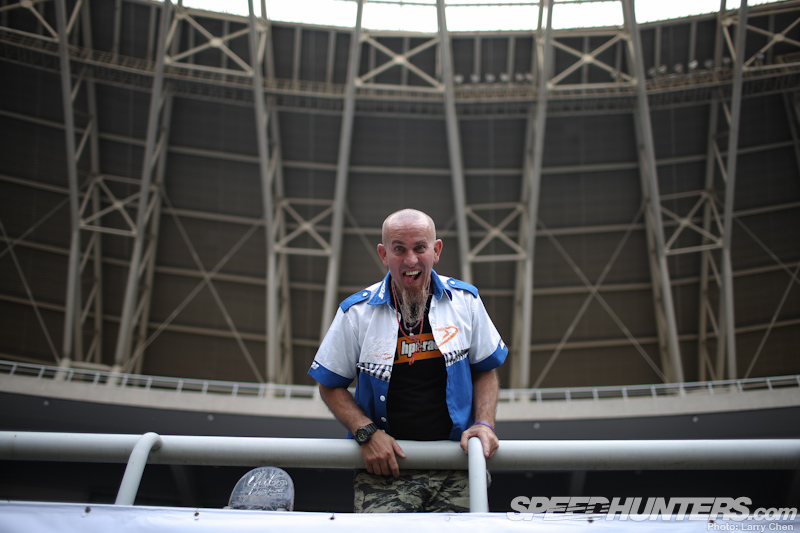 Once again John "Afro" Coetzee is the third judge who is from originally from South Africa. He was the comic relief of the group.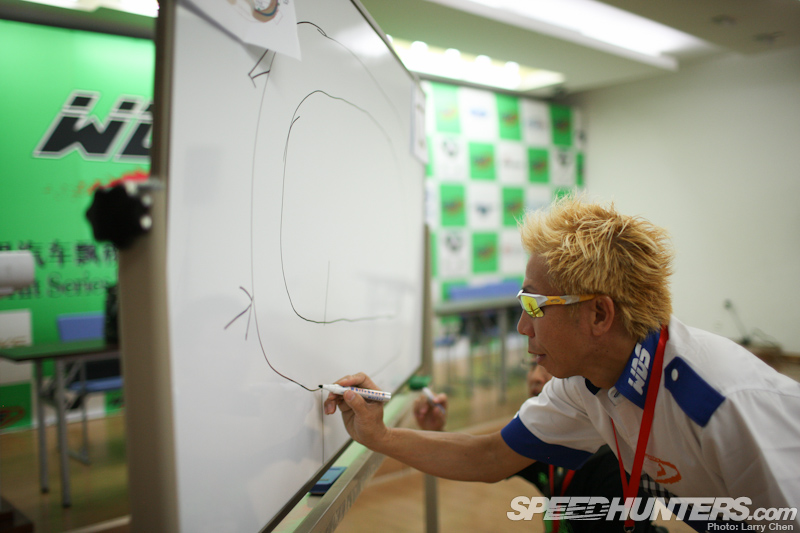 Tarzan's drawing skills are always put to the test during these drivers meetings.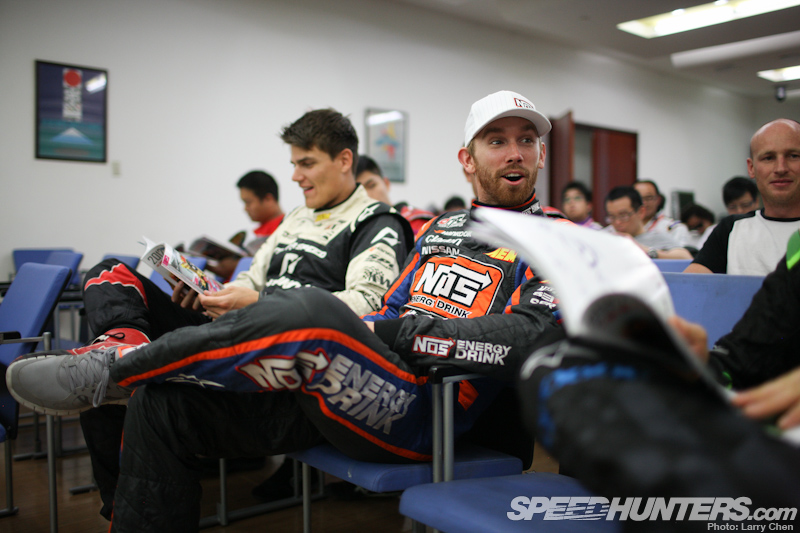 Chris looked pretty relaxed, but I knew he was worried because his car has not shown up yet. In fact it was 10 days late. At this point all he can do is hope the ship that is carrying his car makes it in time for the main event.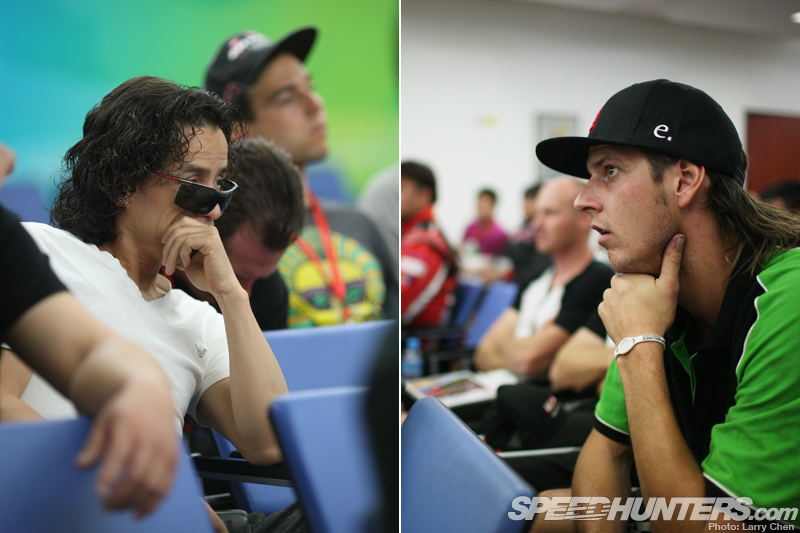 It's always interesting to sit in on one of these meetings because it's done in three languages, Mandarin, Japanese and English.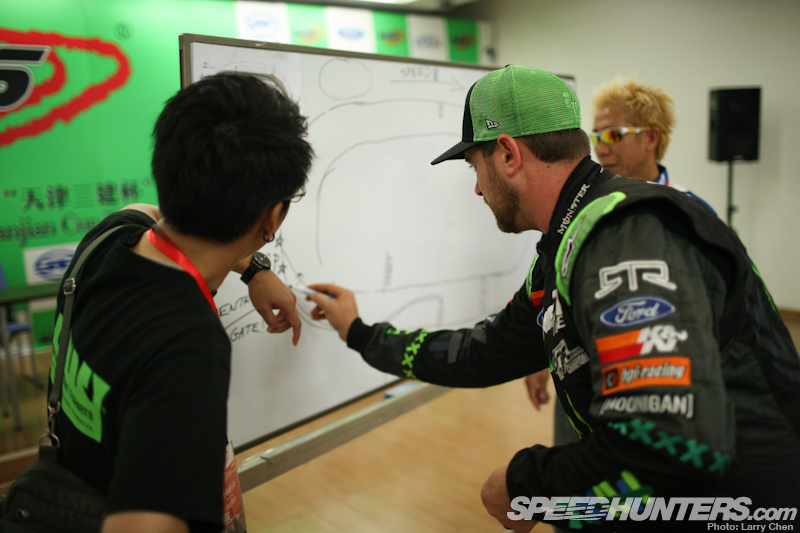 I figured it would be two or three more hours until they were done once Vaughn got up to draw on the white board, so I decided to do some exploring.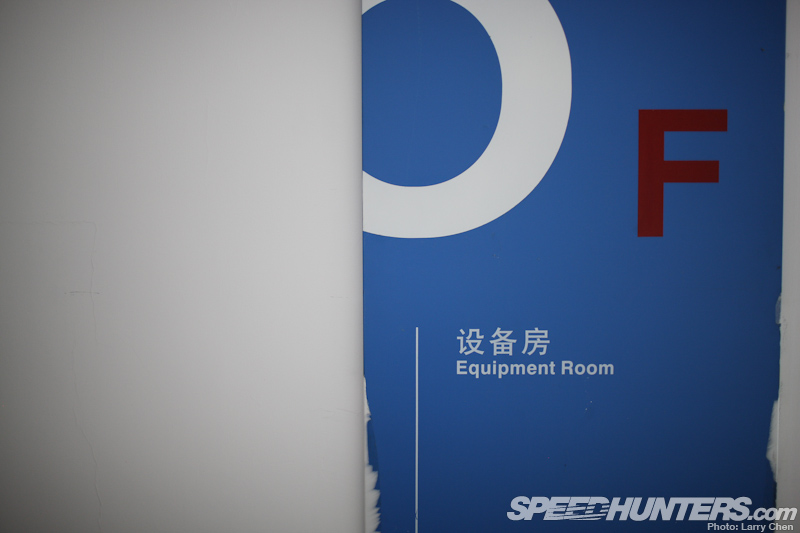 Last year I climbed the scaffolding at Yellow Dragon Stadium in the city of Hang Zhou so I figured I might as well make it a tradition.  I took the elevator to the top floor and headed for the stairs.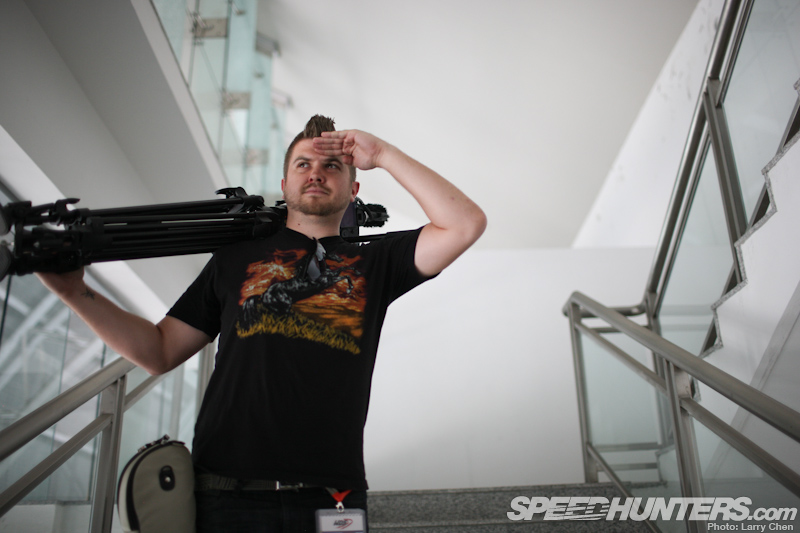 Coming with me was American videographer and editor of Keep Drifting Fun, Skylar Smith.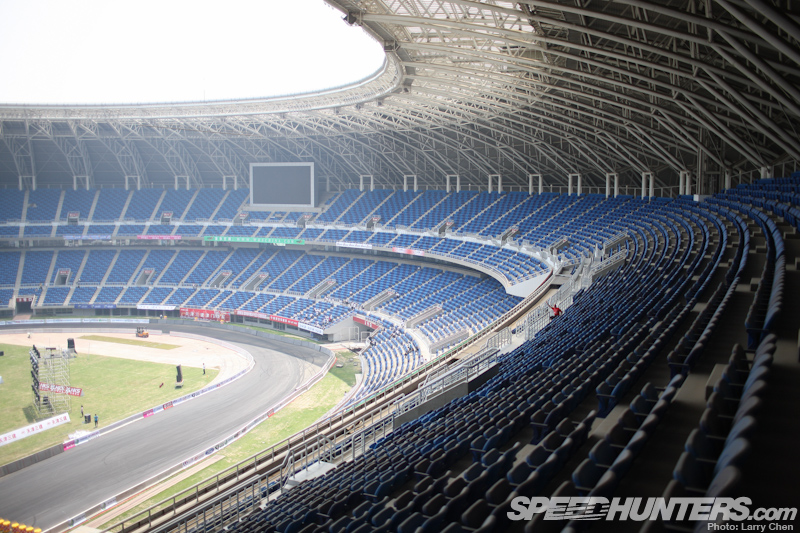 The stadium is so large that you can see the thick layer of smog from one side to the other. I noticed a little red dot waving at me and decided to investigate.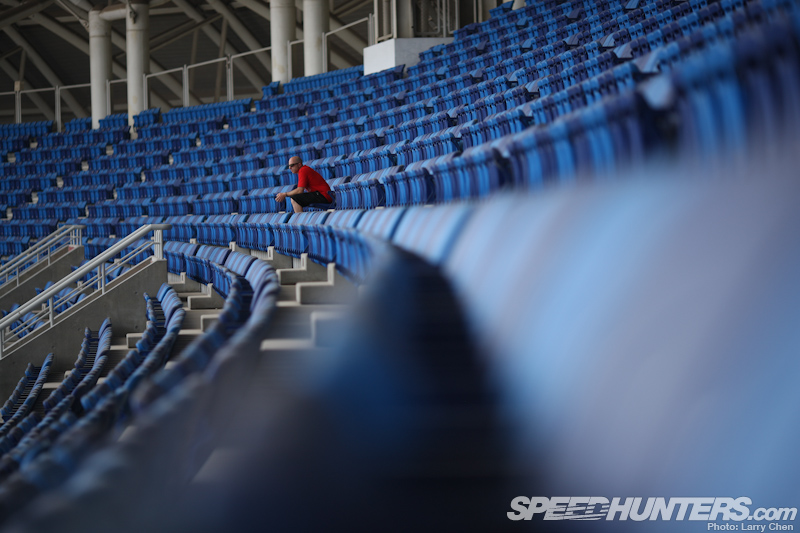 It turns out it was Stephan Papadakis and he was in the middle of his spotter duties watching the Chinese drivers practice. He was looking for an adventure so I told him to come with us.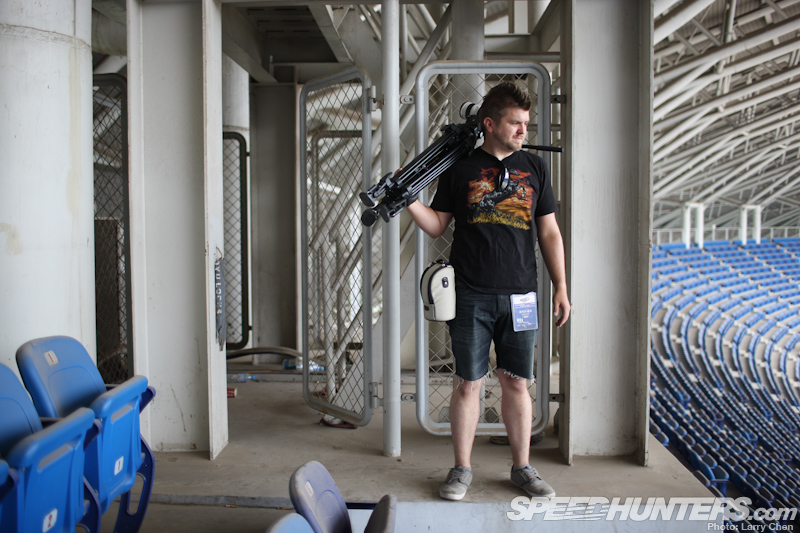 We quickly found the entrance which was quite inviting.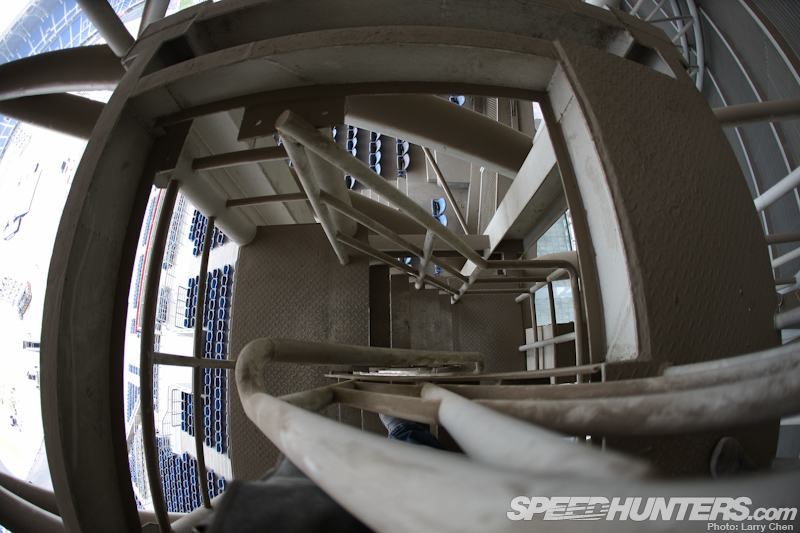 This was definitely a lot safer than the bamboo ladder we had at Yellow Dragon Stadium.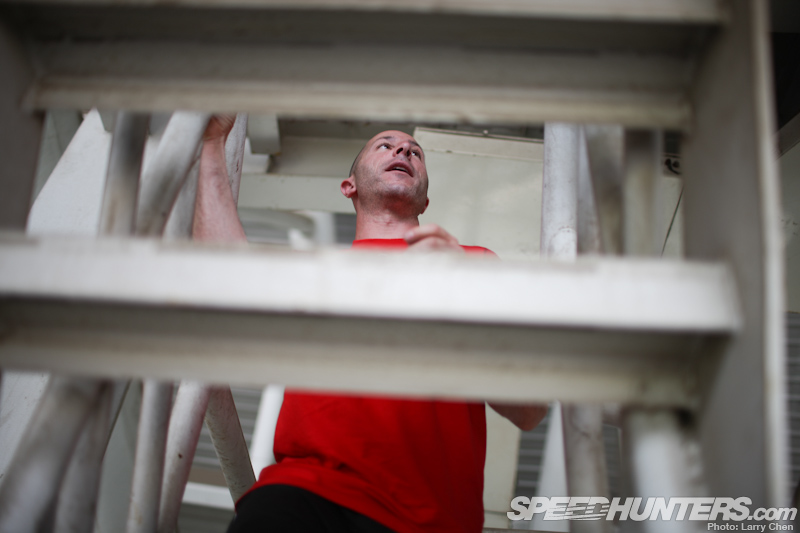 I made Papadakis go first in case there was a loose step. Bringing you this coverage was very important to me.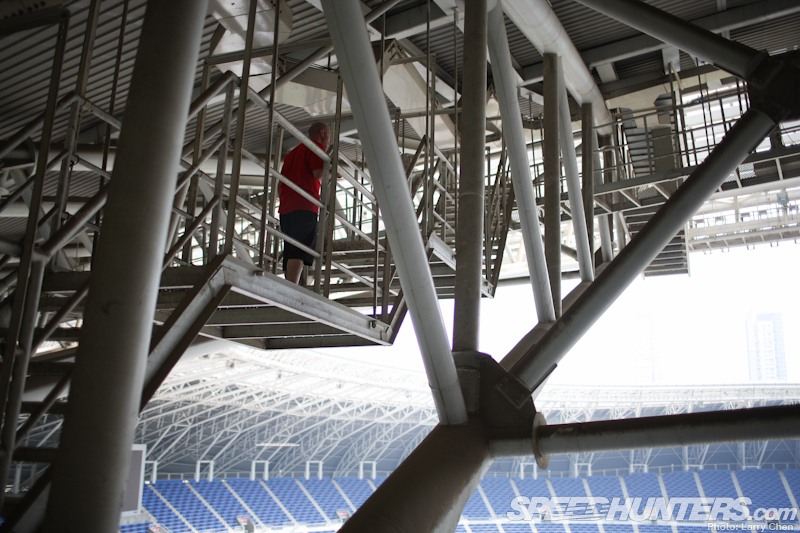 Inch by inch he worked his way up the 58 meter high scaffolding.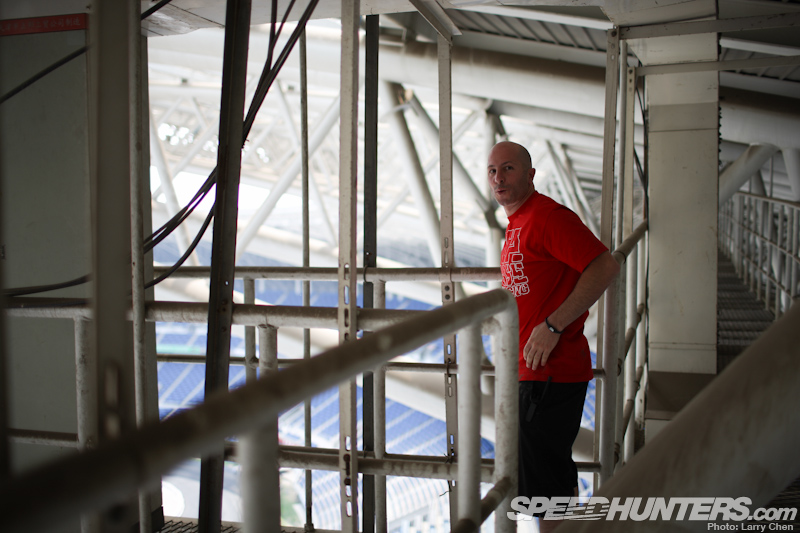 I think a bit of vertigo kicked in because he slowed down significantly. That is where I passed him.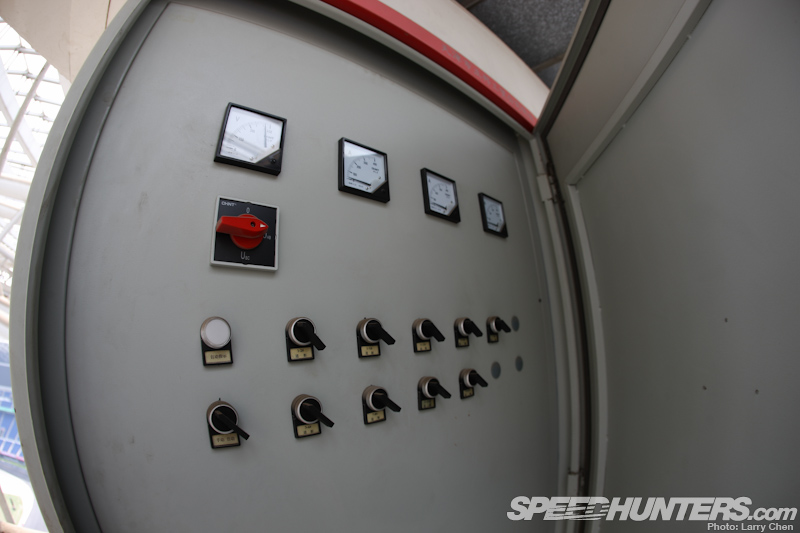 As we went up more I came across these controls for the stadium lights. This was not really the time or the place to play with knobs and switches, so I decided to move on.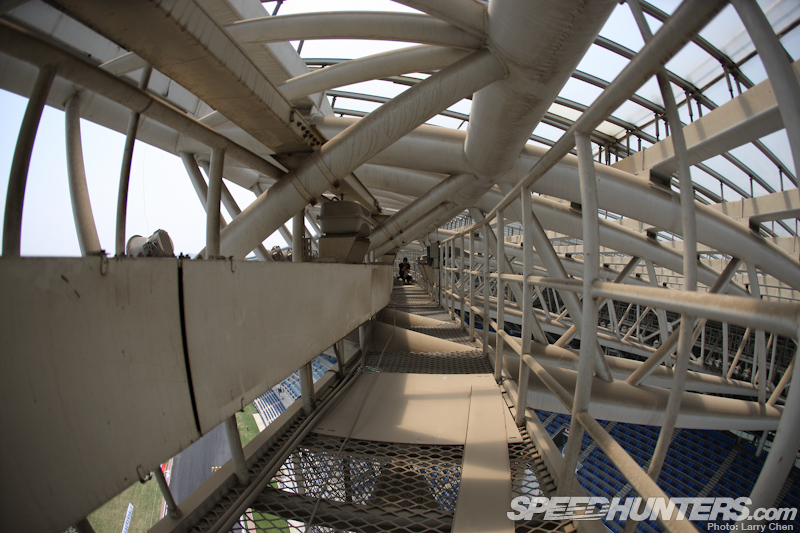 It was amazing how dusty it was at the top. It was thick and it covered every surface and smelled like rotten beef.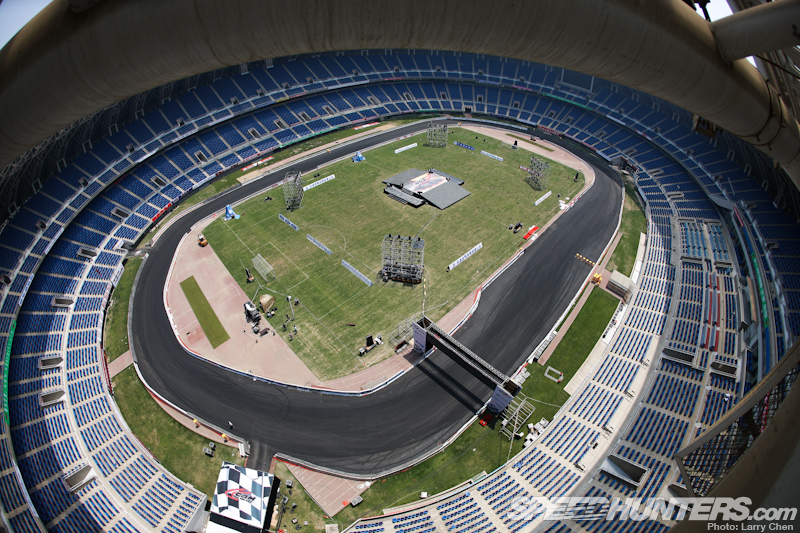 However, the view was worth the climb. It was evident this track is not a perfect oval. As Matt Powers would say, it's super bumpy and it has boobs all over the place (boobs = parts of the k-rail that stick out).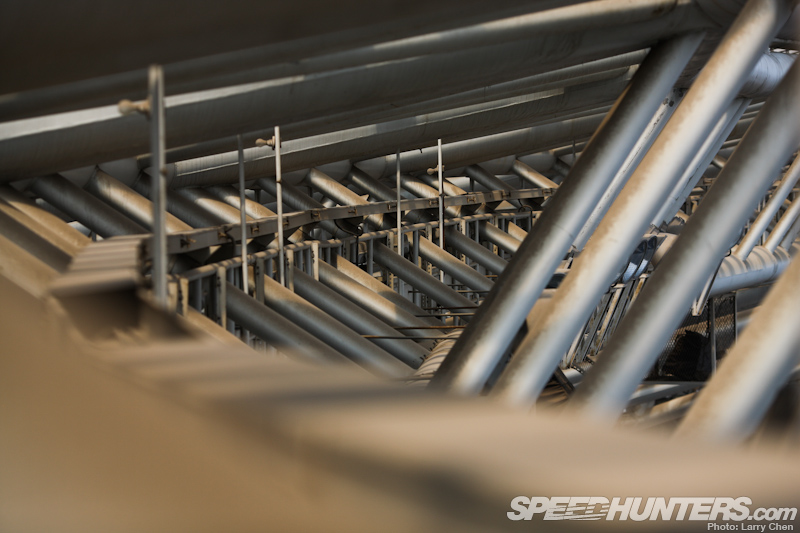 This structure is amazing to say the least. To think this cost 230 million US dollars to construct just blows my mind. It also seats up to 60,000 people.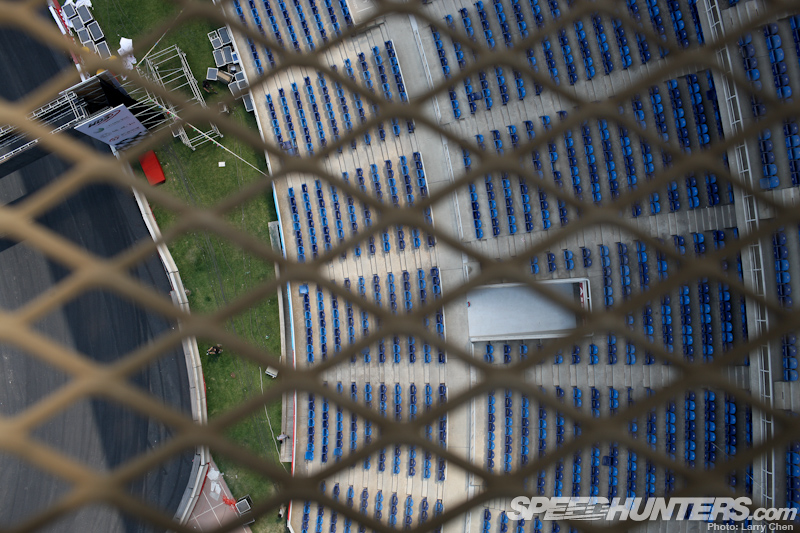 Bellow is a 50 plus meter drop to the bottom. You can bet I kept a tight grip on my camera gear.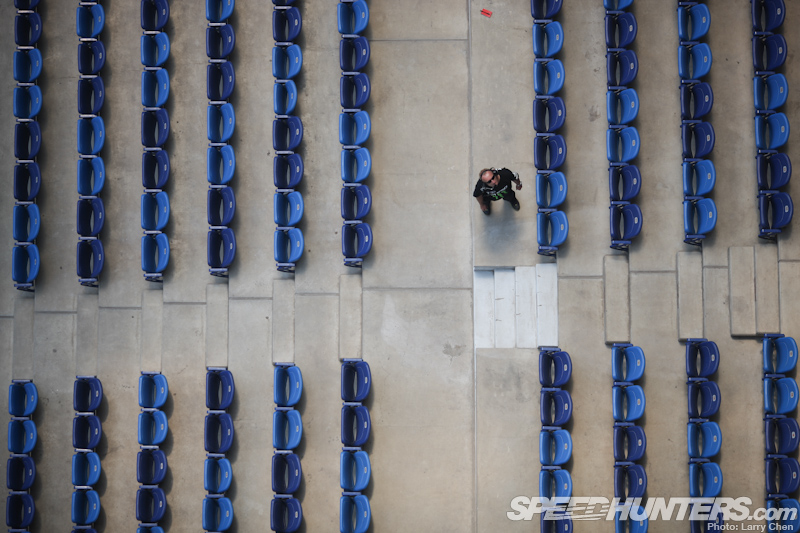 Down below was Ian Stewart, who is the crew chief for Vaughn Gittin Jr.. He was also doing his spotter duties.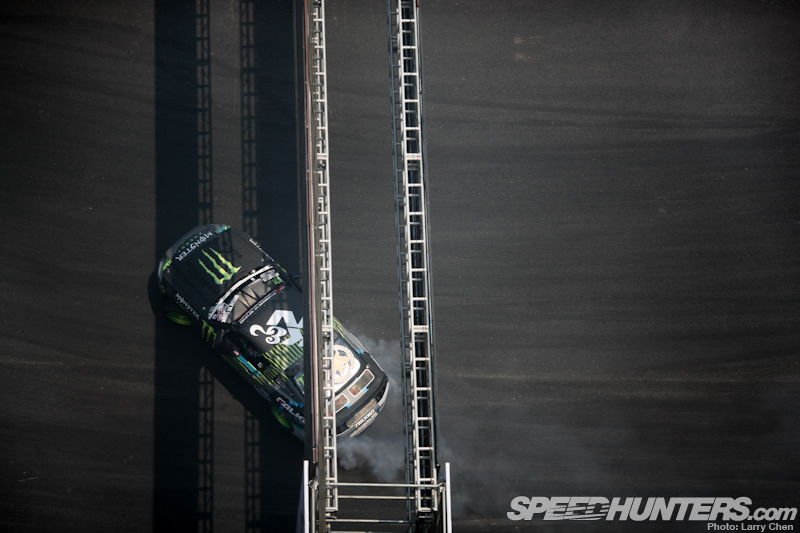 Vaughn was getting his first practice laps of the event and they looked great. The entire stadium filled with the sound of American Muscle. It was so incredibly loud that it vibrated the scaffolding.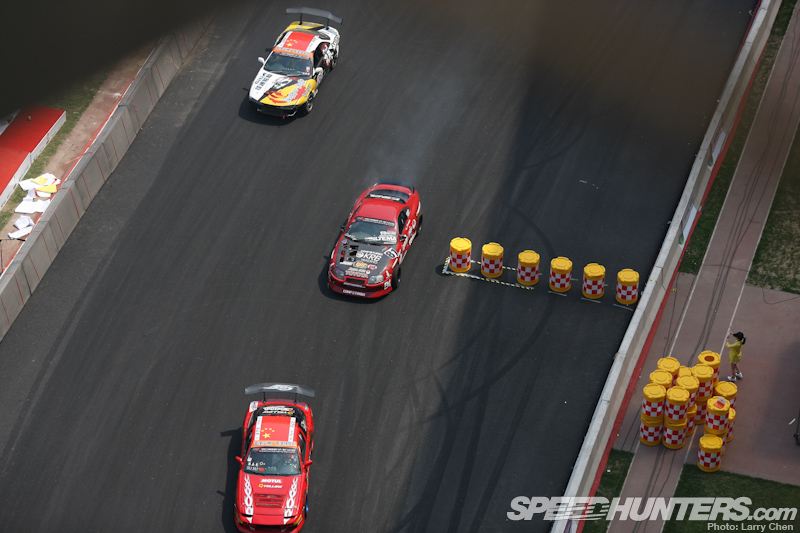 I then spotted Fredric doing some hot laps as he was getting his tune in line with the Chinese fuel. Behind him looked like a Matt Powers livery copy.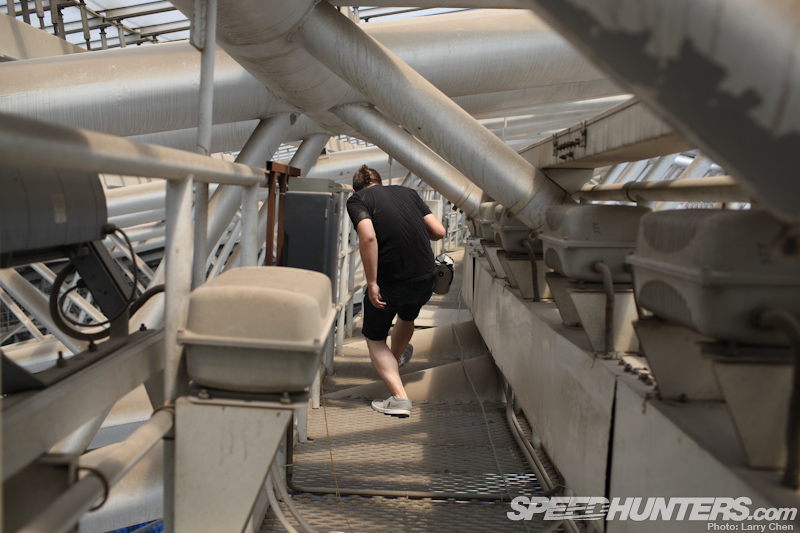 My nose could not handle much more of the dust, so we decided to head down.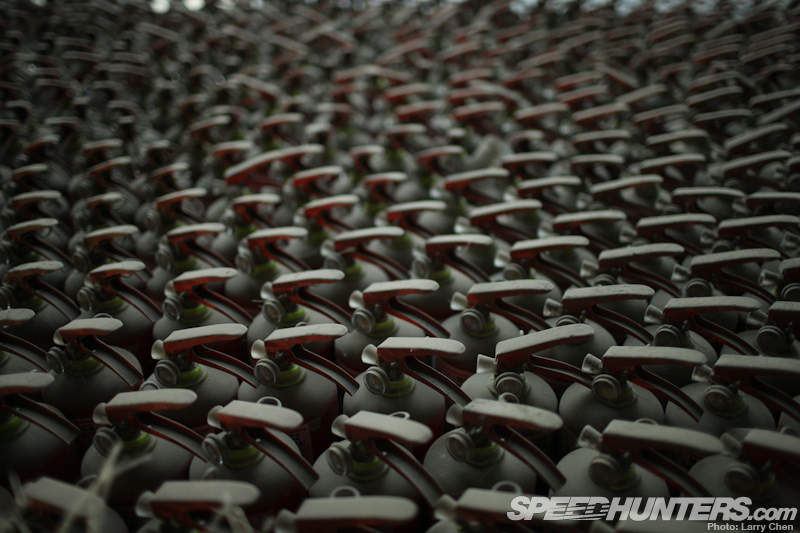 While walking around the pits I came across another dusty scene. This kind of reminds me of the Chinese Terracotta Warriors, expect these were fire extinguishers.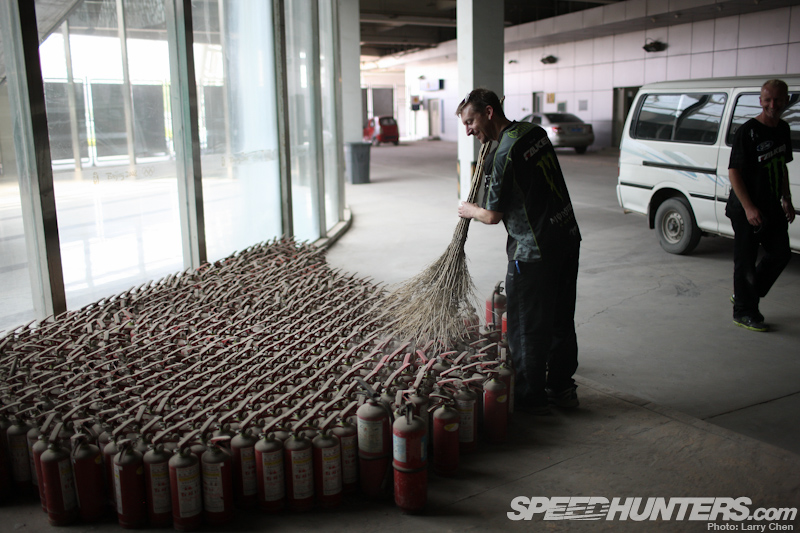 Vaughn's car tuner, Adam Browne, decided to tidy up the Chinese fire-station a bit.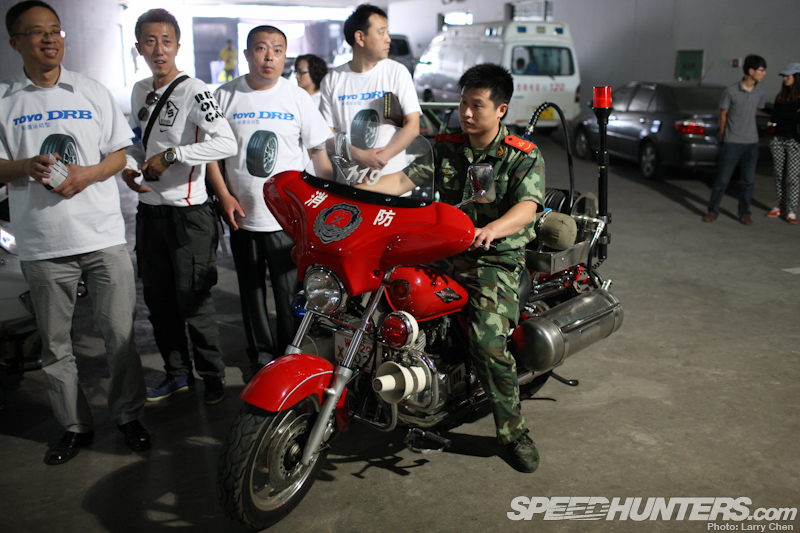 Near by was a Chinese fire engine. It even has a high powered water hose. Amazing.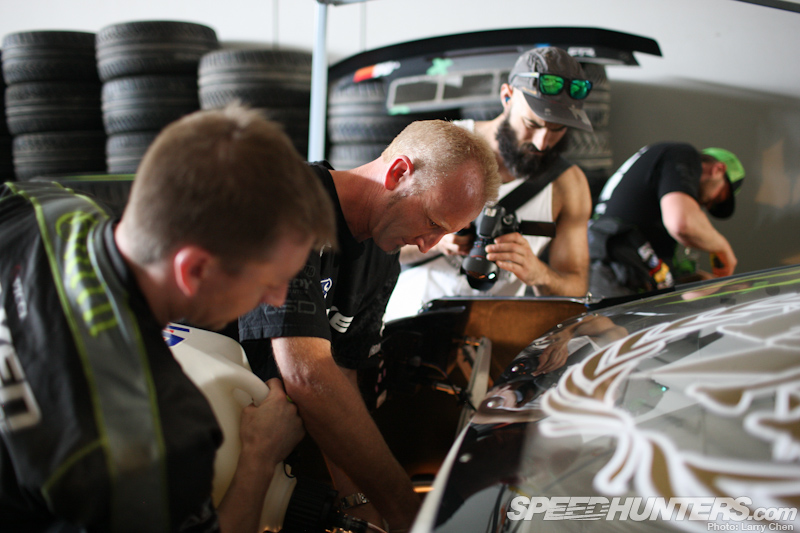 Eventually I made it back to the team USA paddock where I found the boys from ASD mixing up a cocktail of fuels to make their Mustang run better.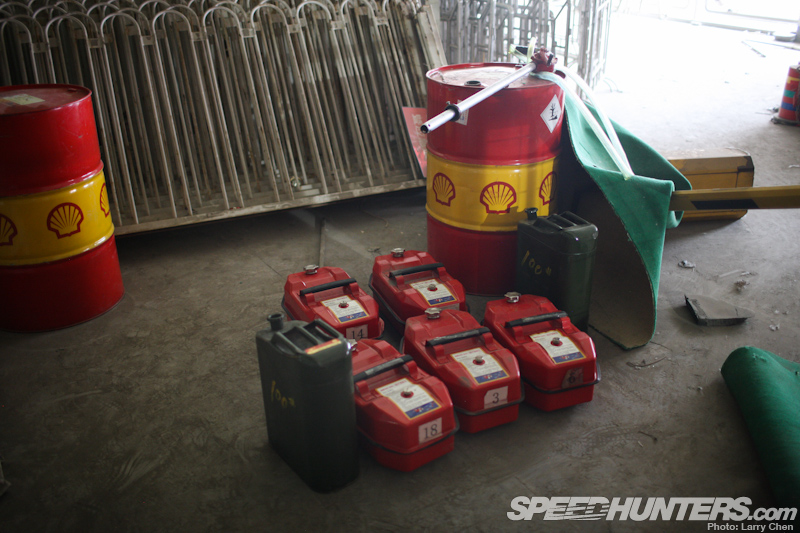 The best kind of fuel you can find at the pumps of a Chinese gas station is 98 octane, but it is more equivalent to the 85 octane we get here in North America. In all of China, team USA could only find two barrels of 101 octane race fuel, so they needed to use it sparingly by mixing it with other fuels and octane booster. When in China….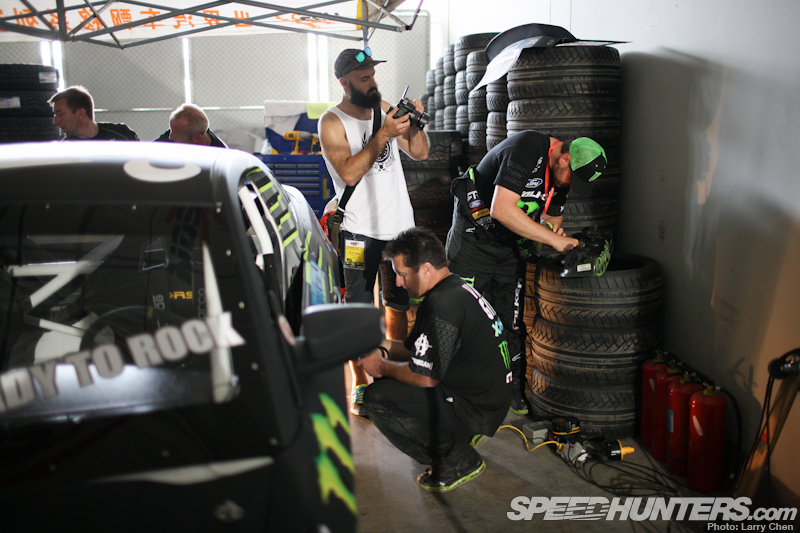 Everyone was helping out as there was not much more practice time before qualifying.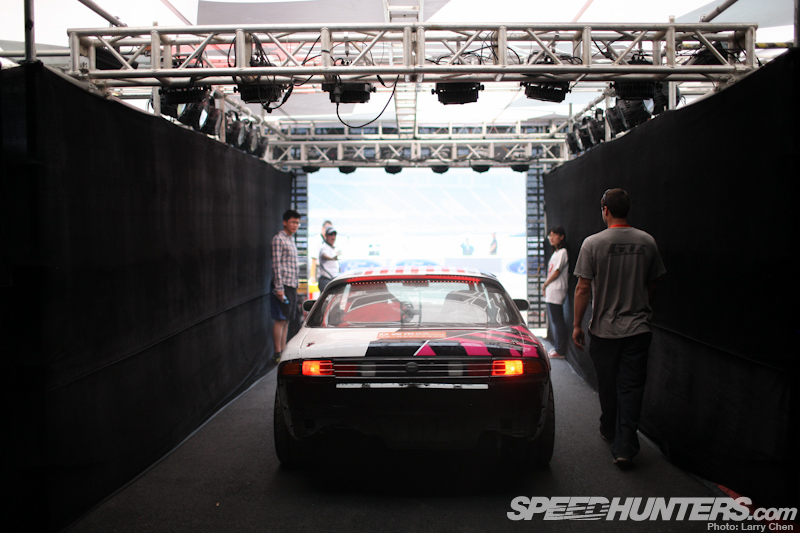 Matt has driven this track many times before so he went out guns blazing.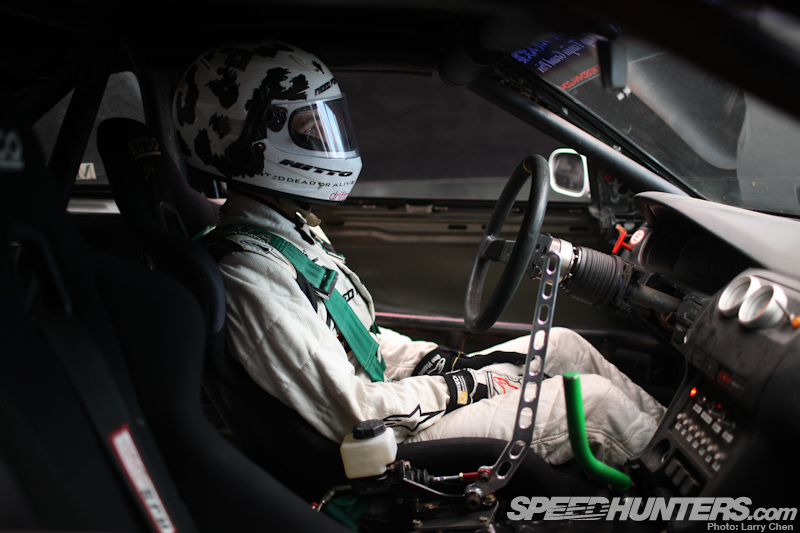 This car is down around 200 horsepower from his Formula Drift competition car, but it was more than enough for this tiny course.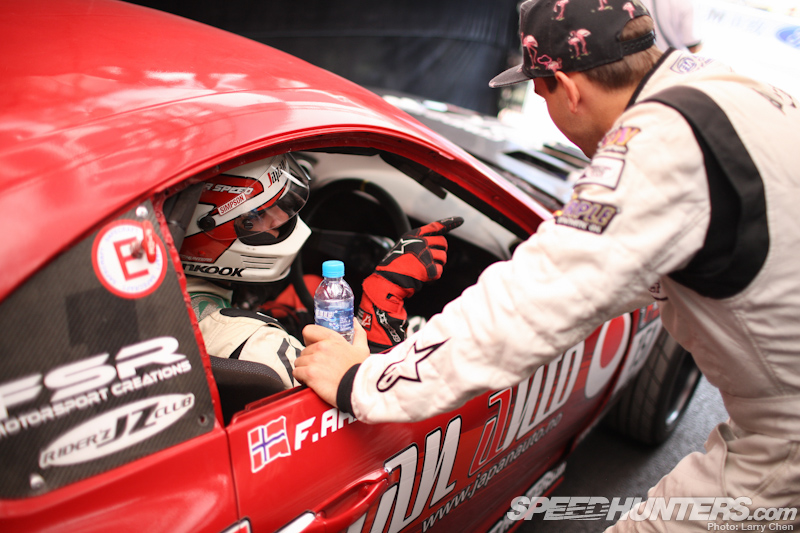 Next up was Fredric's turn to take a shot at the oval drift course. Matt gave him some quick pointers and he let Fredric know which parts of the track has boobs.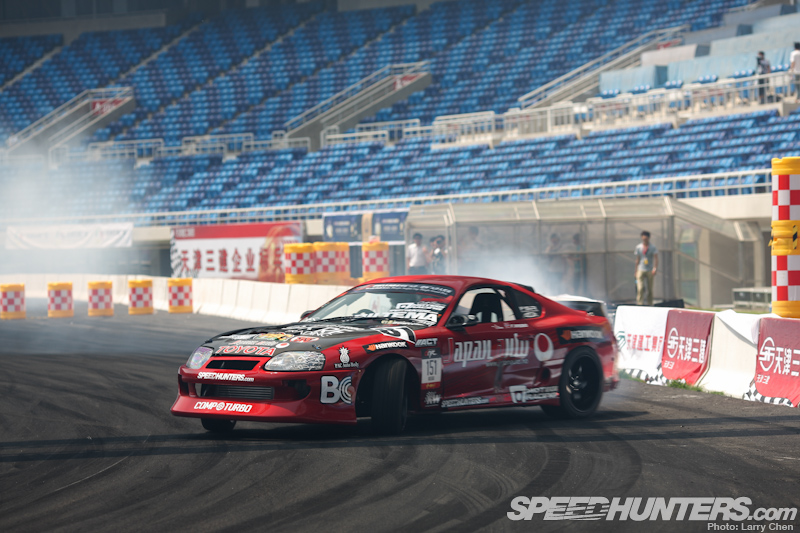 As always Fredric went HOLD STUMT right out of the gate. He was hitting 3rd and 4th gear due to his high gearing.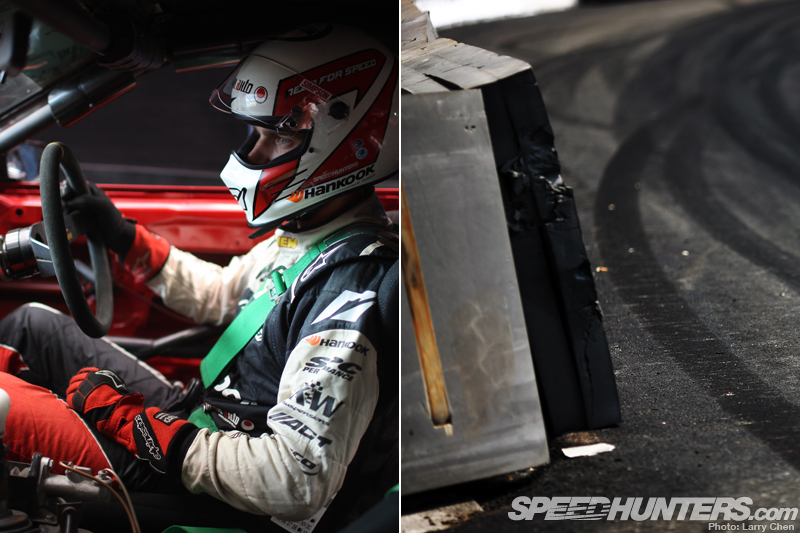 I don't know what exactly goes on in this guy's mind, but he made a new set of tracks around the entire course. He pretty much rode the foam all the way around.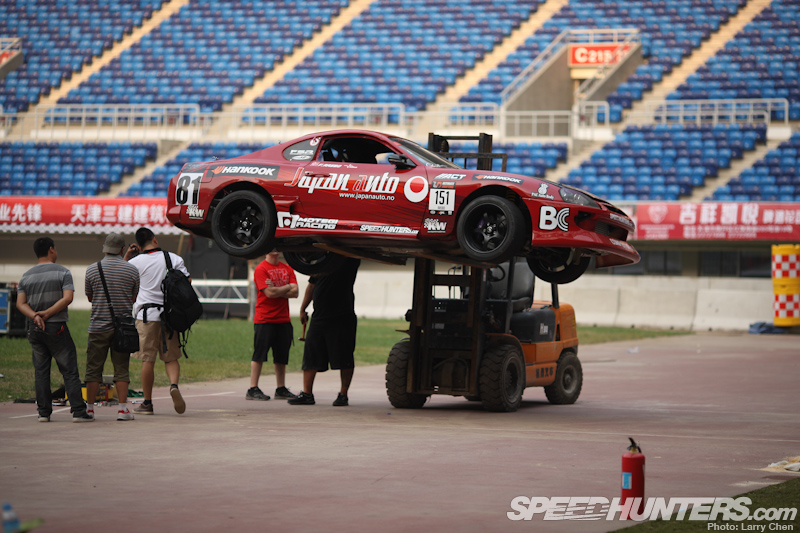 He may have gone a bit too far after a few more laps, because he gave the wall a slight love tap.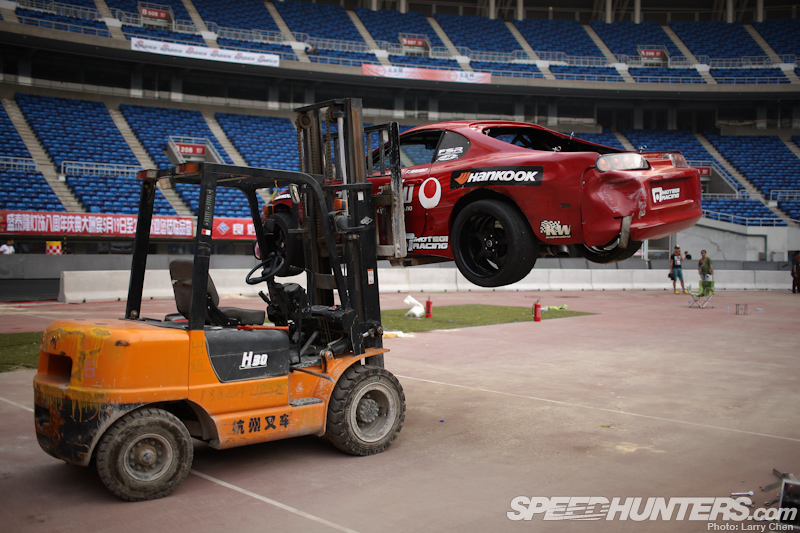 Chucky survived just fine but he was missing a critical part.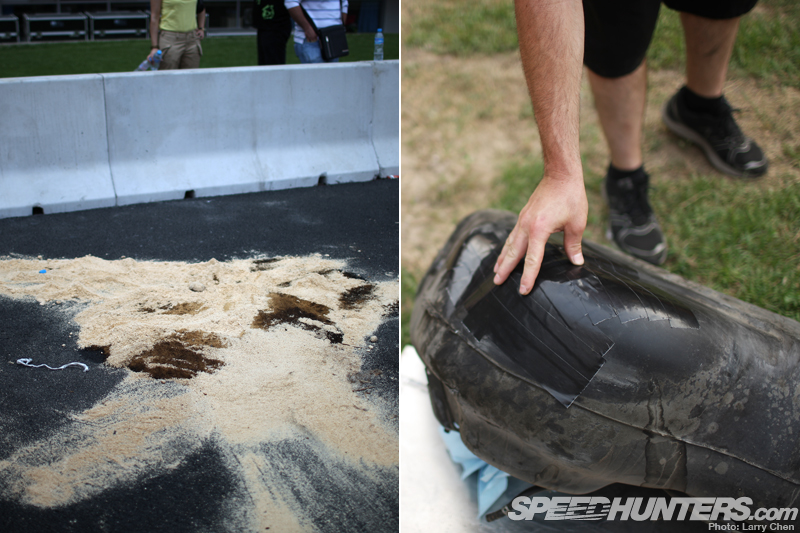 The gas tank had come loose spilling fuel all over the course. Nothing a metal plate and some quick dry epoxy and Gorilla tape can't fix.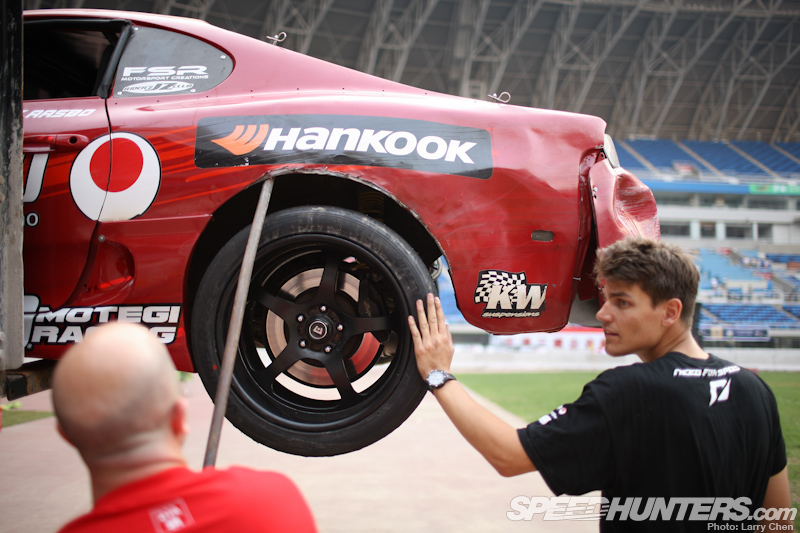 And for the body damage?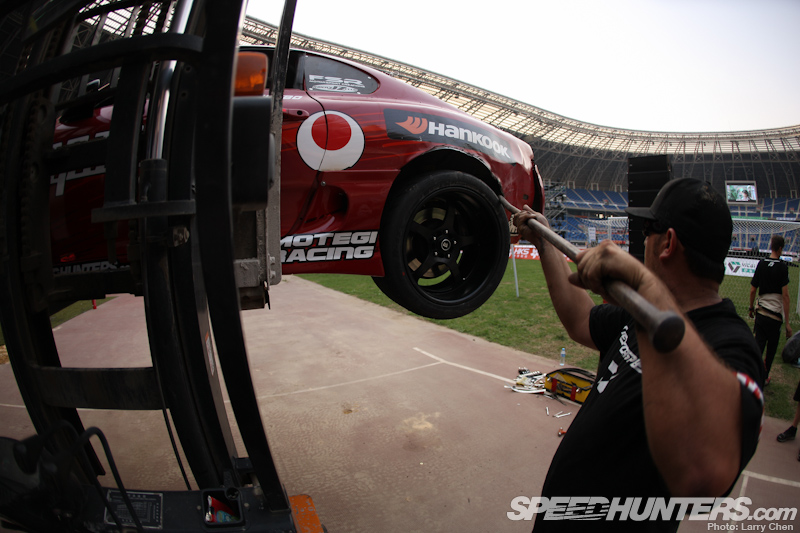 It was nothing a metal pole can't fix.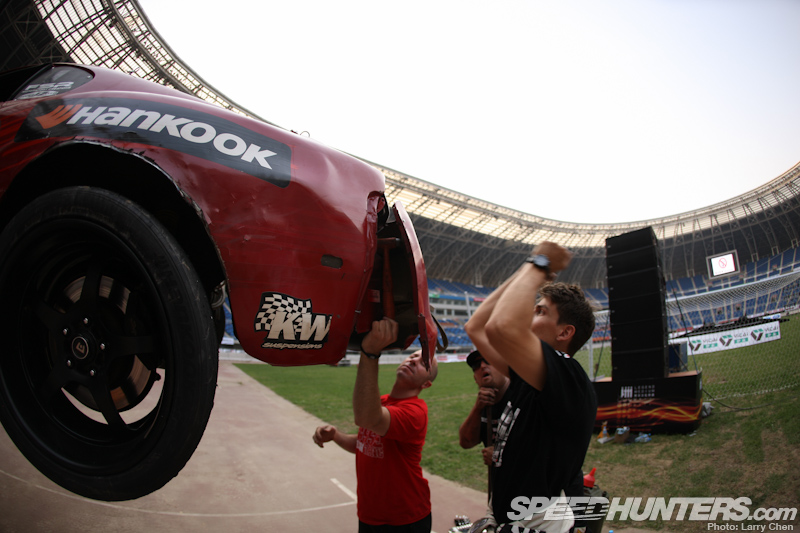 This is why he is called the Norwegian hammer right?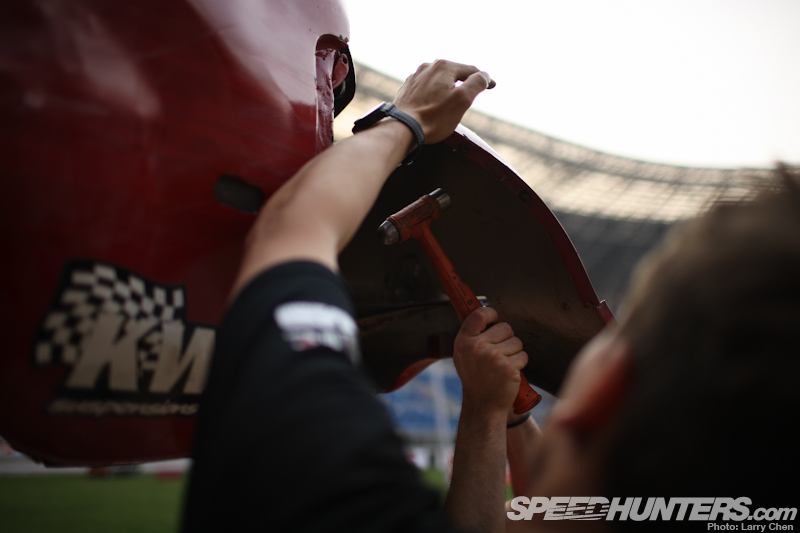 Just a few more bangs with the hammer…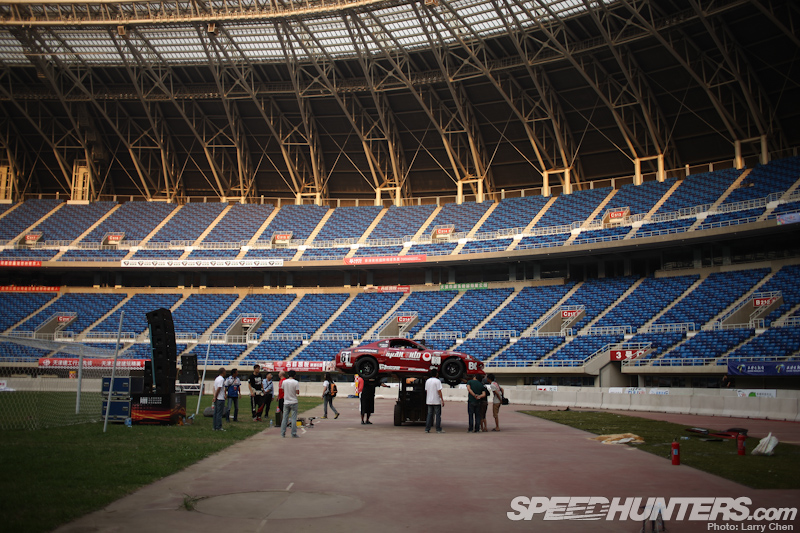 …and fixed. Just in time for qualifying.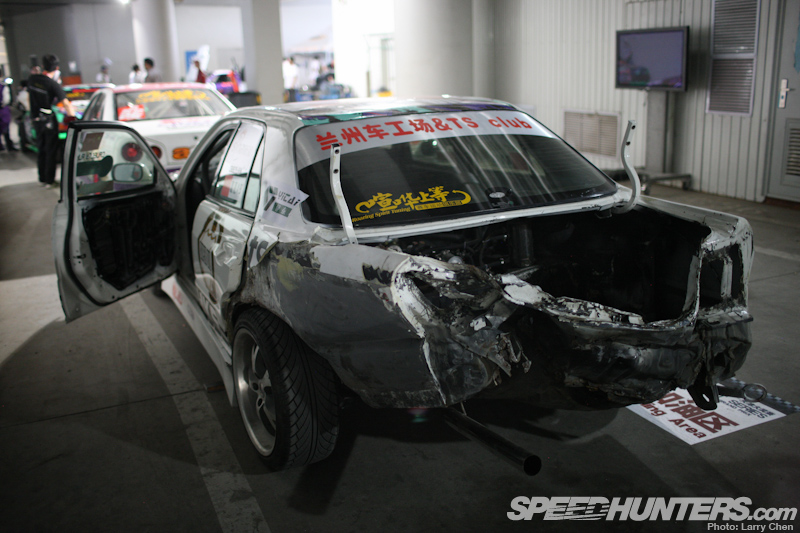 Some of the other drivers were not so lucky. I think this guy is going to need a bit more than Gorilla tape.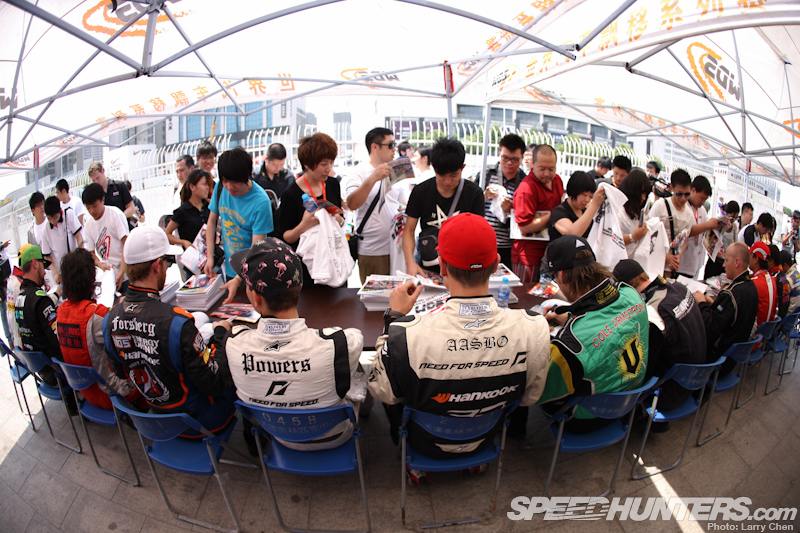 Before qualifying there was the matter of the hundreds of fans waiting for autographs.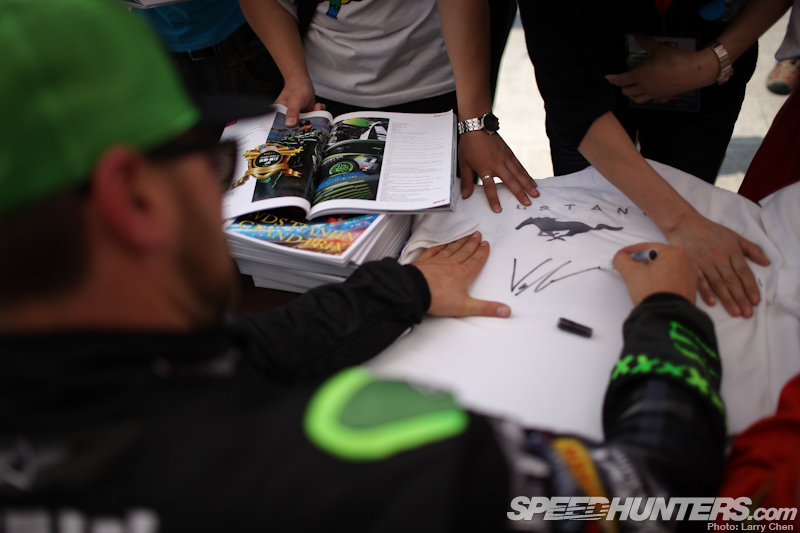 The boys signed shirts and magazines till their hands ached.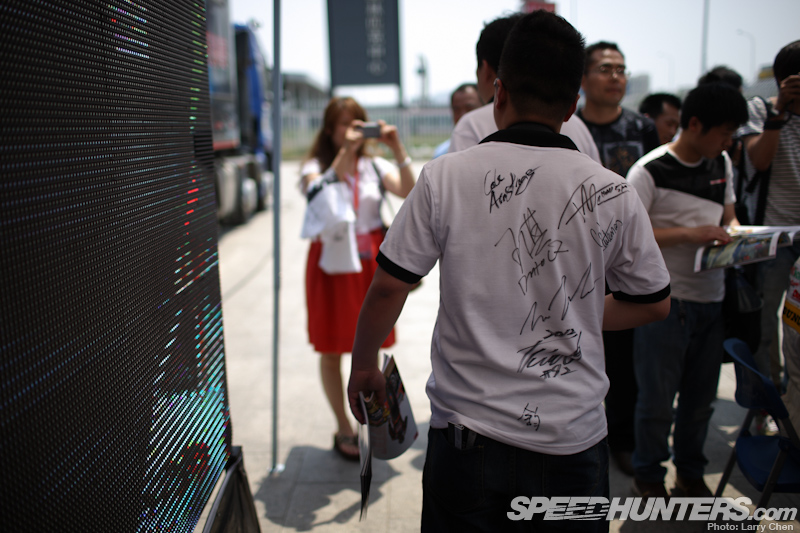 This was a pretty common sight from then on.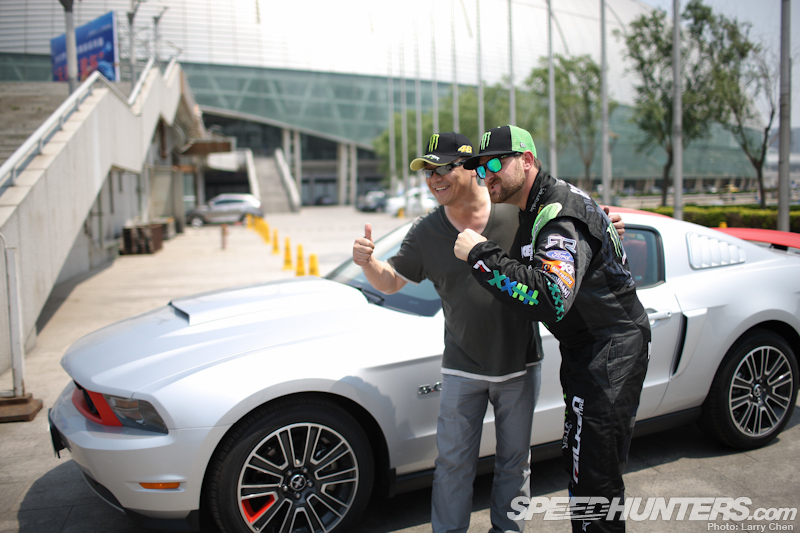 A few mustang owners showed up just to meet Vaughn. These cars are three times the price in China due to import taxes.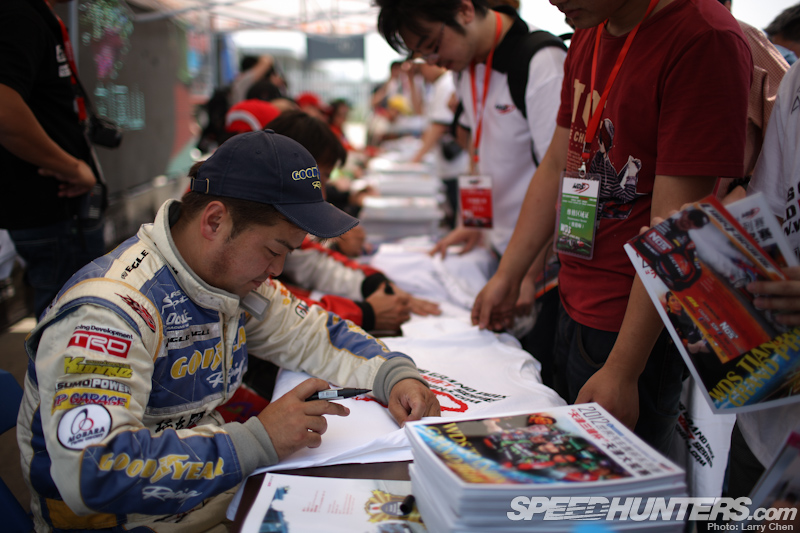 The lone Japanese driver to make the short trip over was none other than Goodyear Racing driver Kuniaki Takahashi. He actually did pretty well and got into the top 8 with a borrowed SR20DET-powered S14.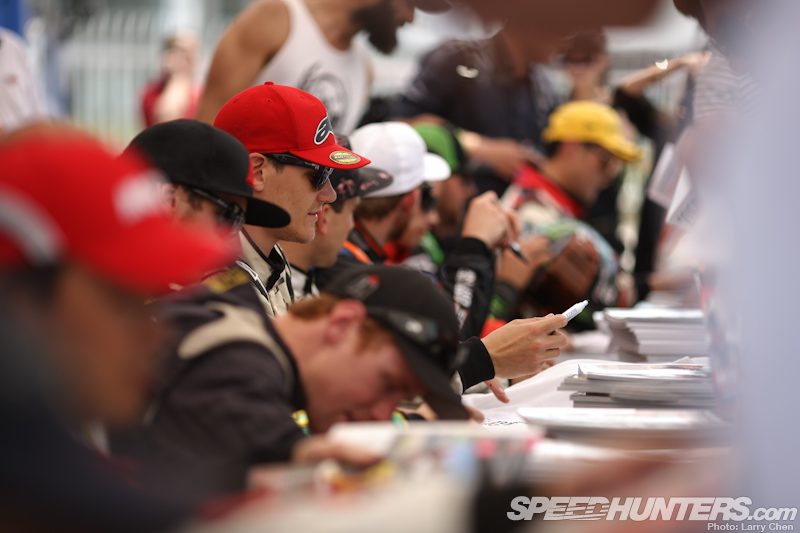 With qualifying coming up the drivers finished up and said their goodbyes.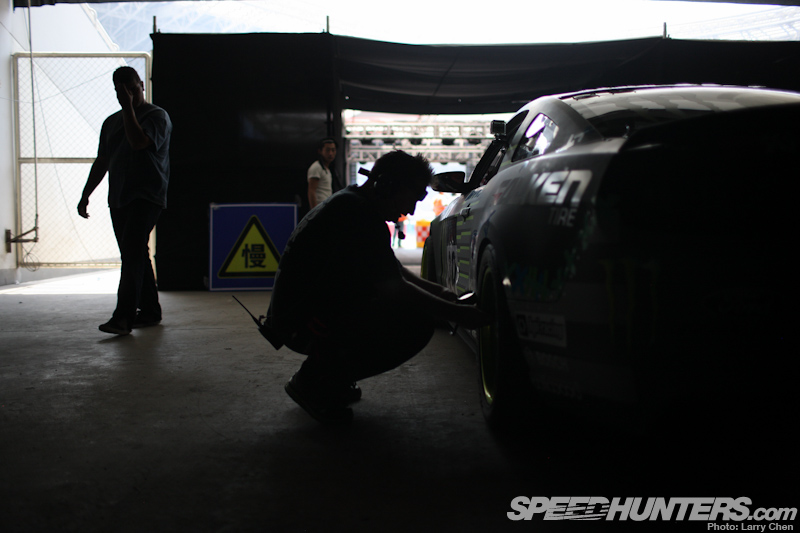 The Chinese guys went first which gave the international drivers a chance to get ready.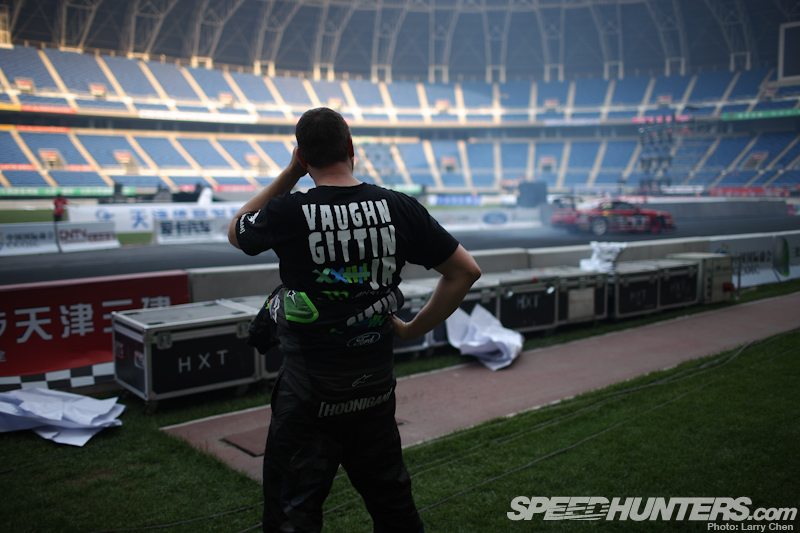 It was up to Vaughn to set the bar as he was up first.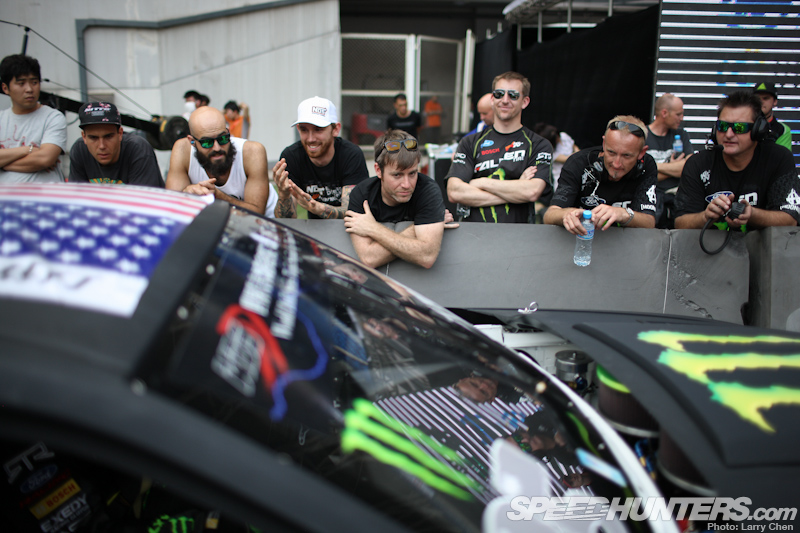 I think these guys made a great cheer squad.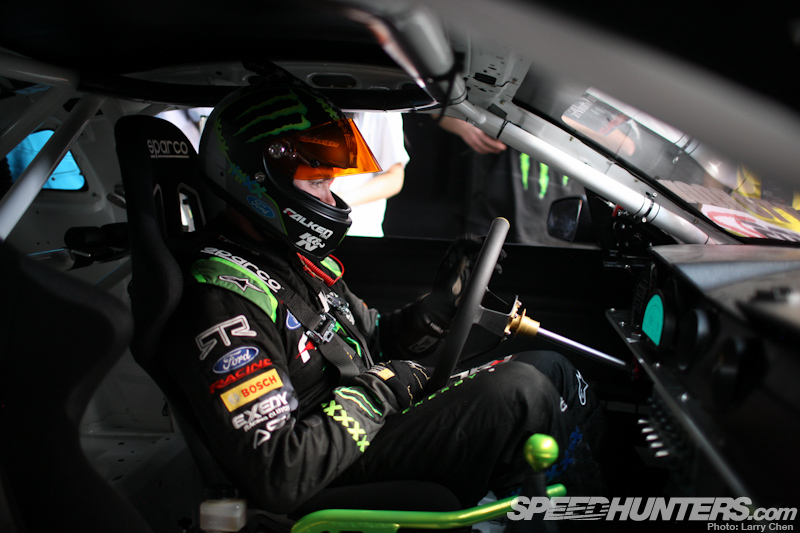 I am sure a lot goes through the mind of these drivers, especially considering they traveled halfway across the world to compete against a bunch of drivers they have never met before.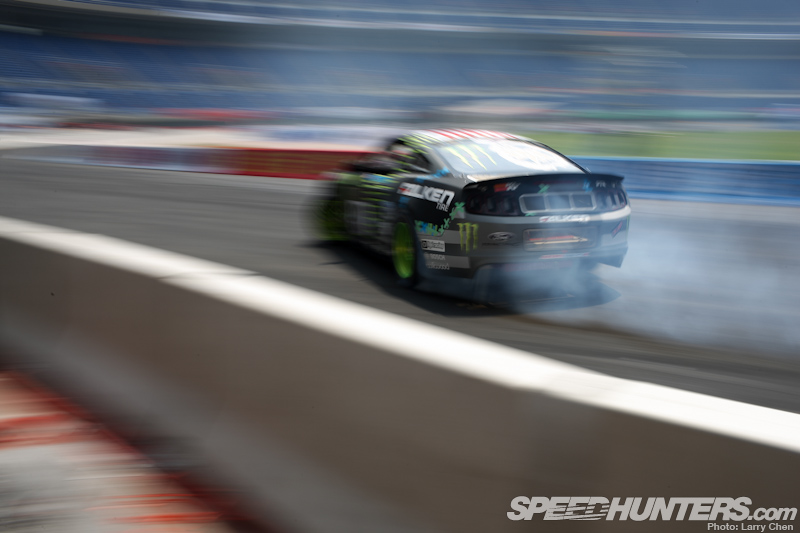 At World Drift Series China you may take your two qualifying runs consecutively if you want, but if your car breaks down after the first run you can also go to the back of the line to take your second run.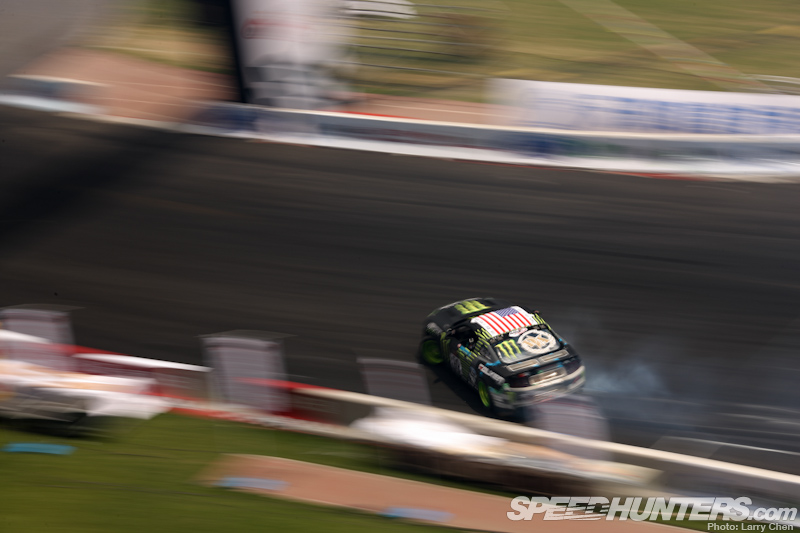 Vaughn took both of his runs back to back and qualified in a safe 8th position.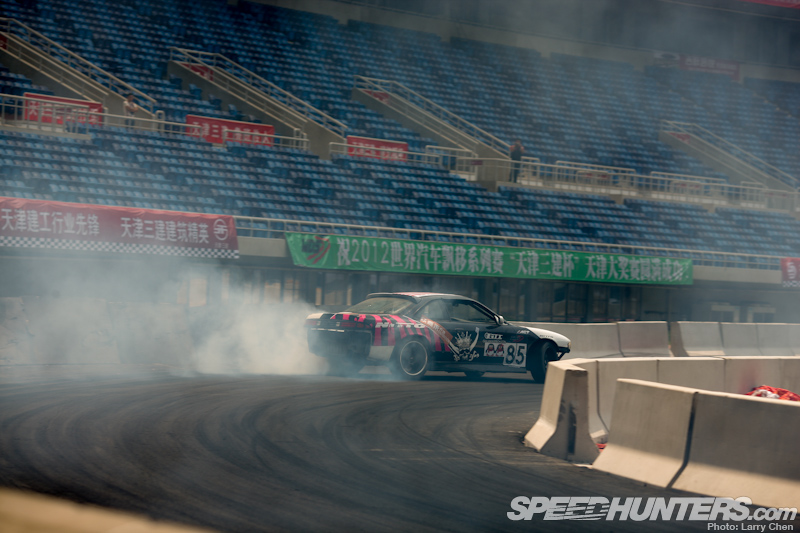 It was then Matt Powers' turn to put down his runs.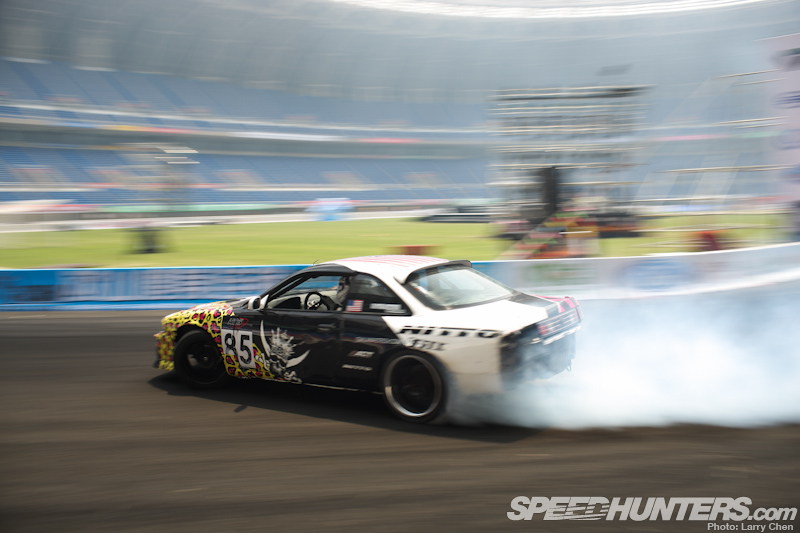 He lost his bumper, but he qualified in 3rd position.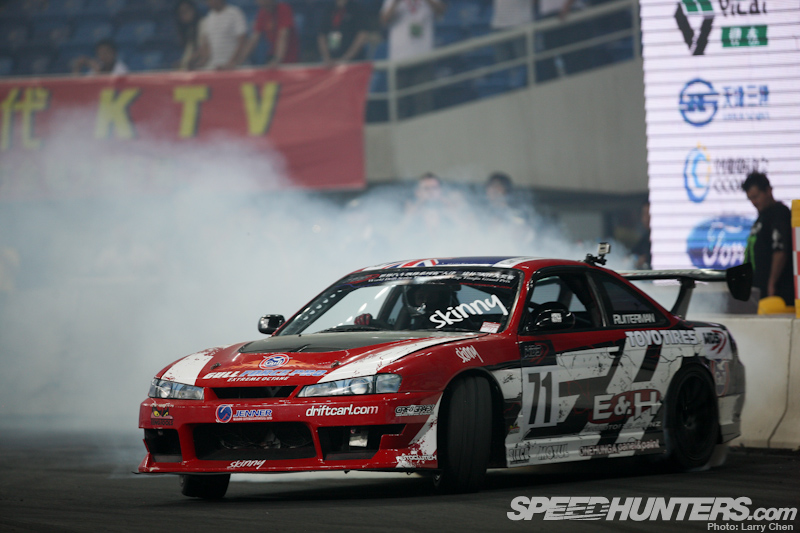 New Zealand driver Carl Ruiterman had the quietest car there, but that did not stop him from making a ridiculous amount of smoke and qualifying in 2nd position.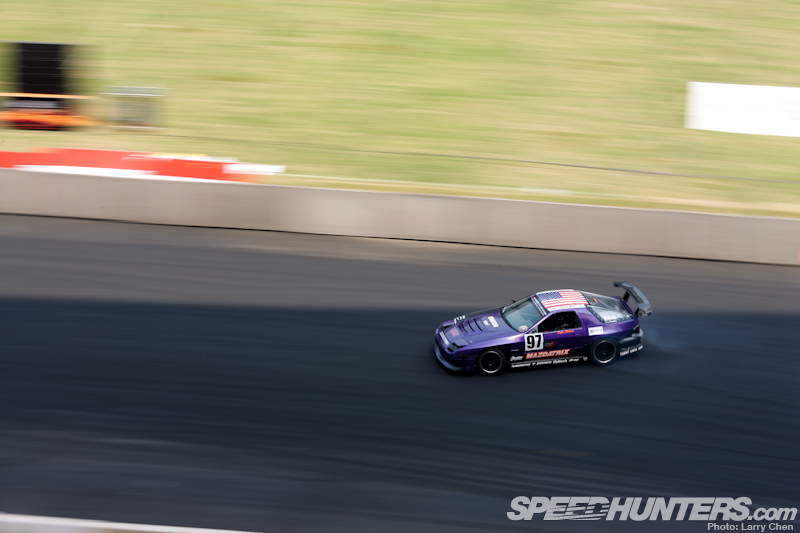 The Menace proudly displayed his flag on the roof and went out for his first qualifying run.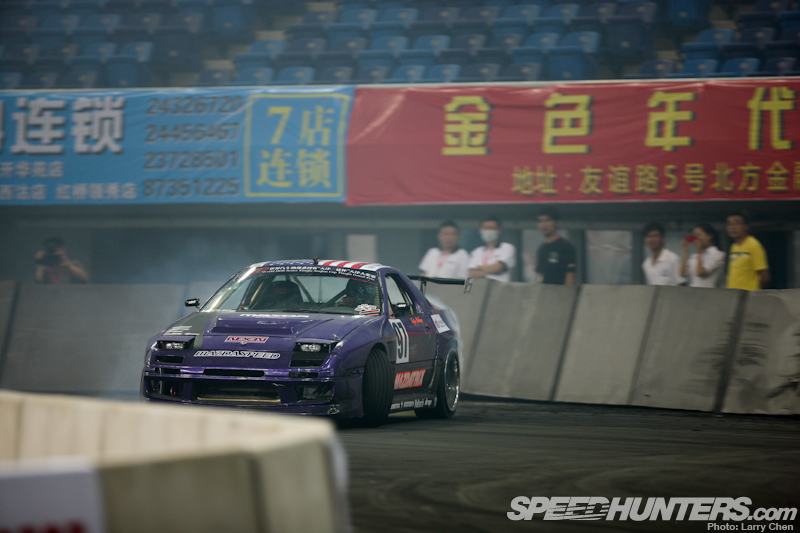 He qualified in 6th position after having a rough start to the weekend.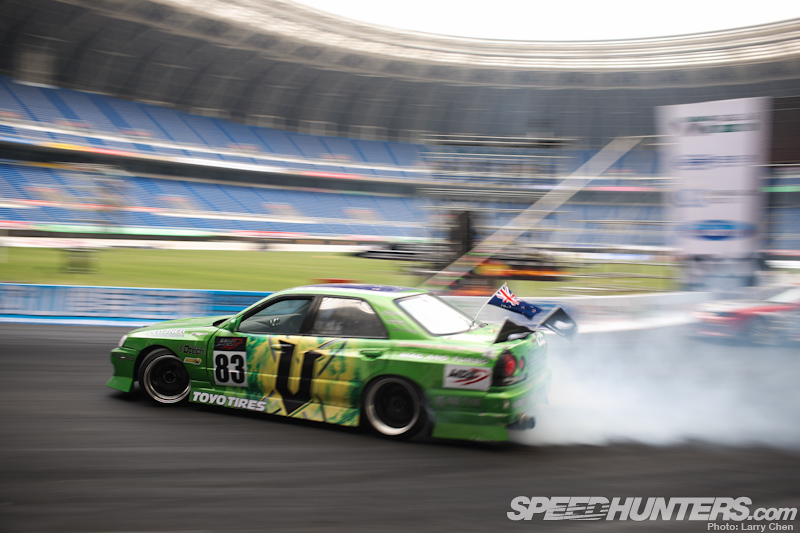 Cole Armstrong, another Kiwi driver no doubt made the most smoke of all the drivers at the event. He qualified in 11th position with his RB30det-powered ER34 Skyline.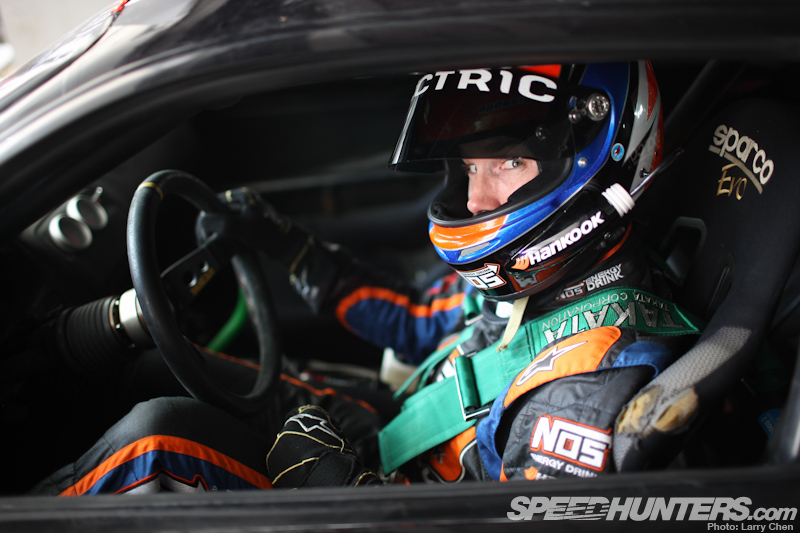 Chris Forsberg's 370z still has not shown up, but WDS China rules do not state you have to qualify and compete in the same car. Matt Powers stepped up to the plate and let Chris qualify in his LS1-powered S14. He ended up in 9th position.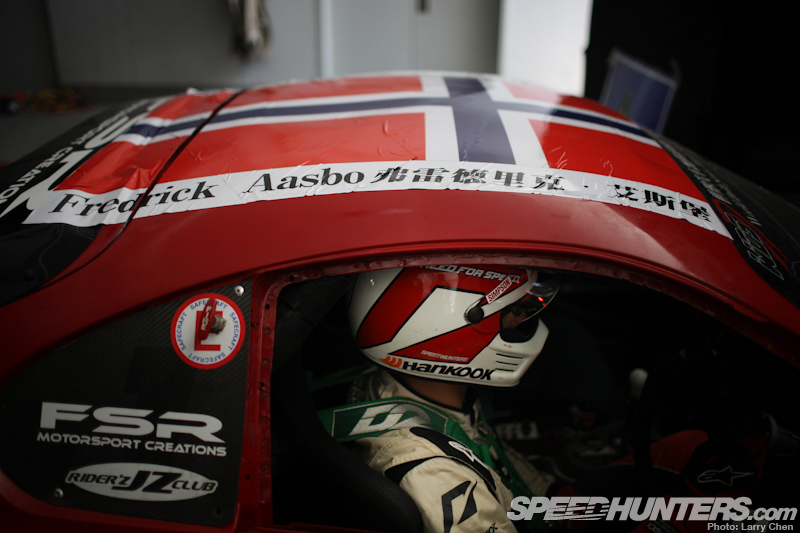 Fredric also got a rough start to the weekend. But again, he went HOLD STUMT right out of the gate and scored a 96.67 out of 100 which gave him 1st place.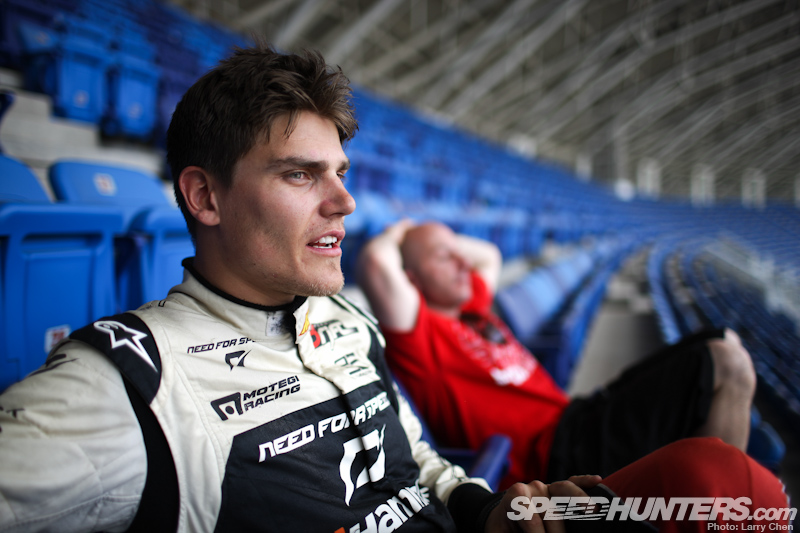 This also meant that he will be meeting Vaughn in the top 8 bracket if everything goes well.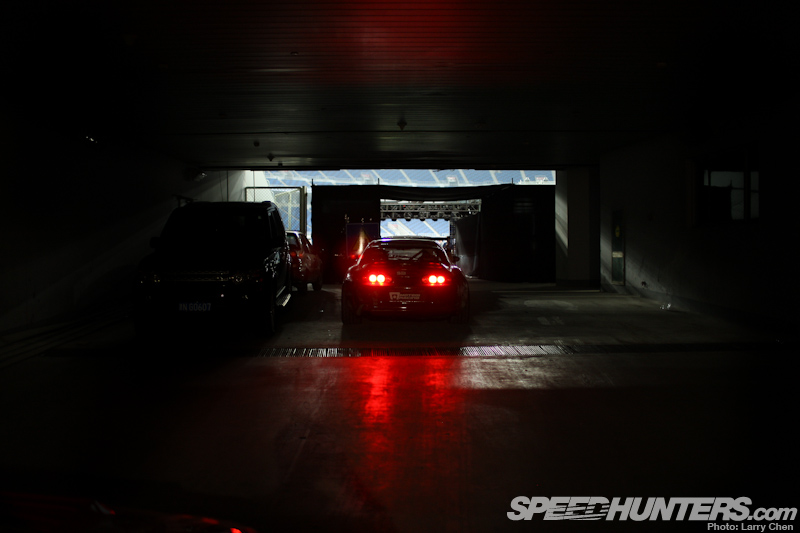 For now it was time to relax for the drivers, as tomorrow would be an action packed day – especially for Chris Forsberg and his crew as his car finally showed up to the stadium at 2am on competition day.
Stay tuned for part 2 of WDS Tianjin through my lens.
Larry Chen
Larry@dev.speedhunters.com