NZ Import Drag Racing
Of all the New Zealand events that cater to owners, drivers and fans of modified Japanese cars, the annual 'V' 4&Rotary Nationals is without rival. The weekend-long extravaganza of polish and power is nothing short of a local institution, and almost two decades since its inception there's no signs of things slowing up.
Earlier this week Pedey gave you a taste of the 'Show' aspect and what it takes to pull off Kiwi style, which means it's time for me to follow that up with a look at the second day of the event: the Drags.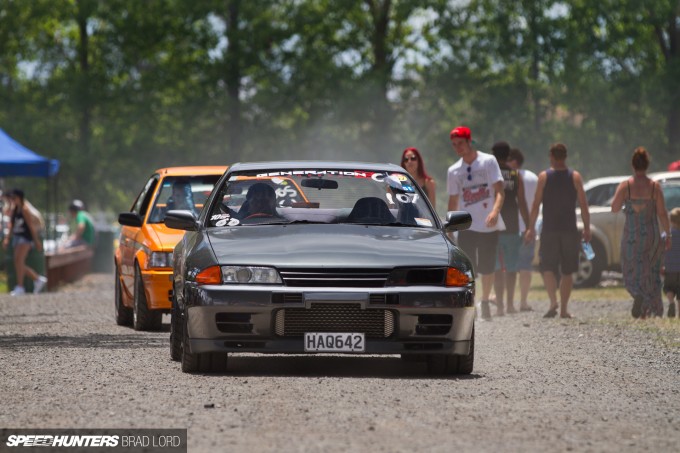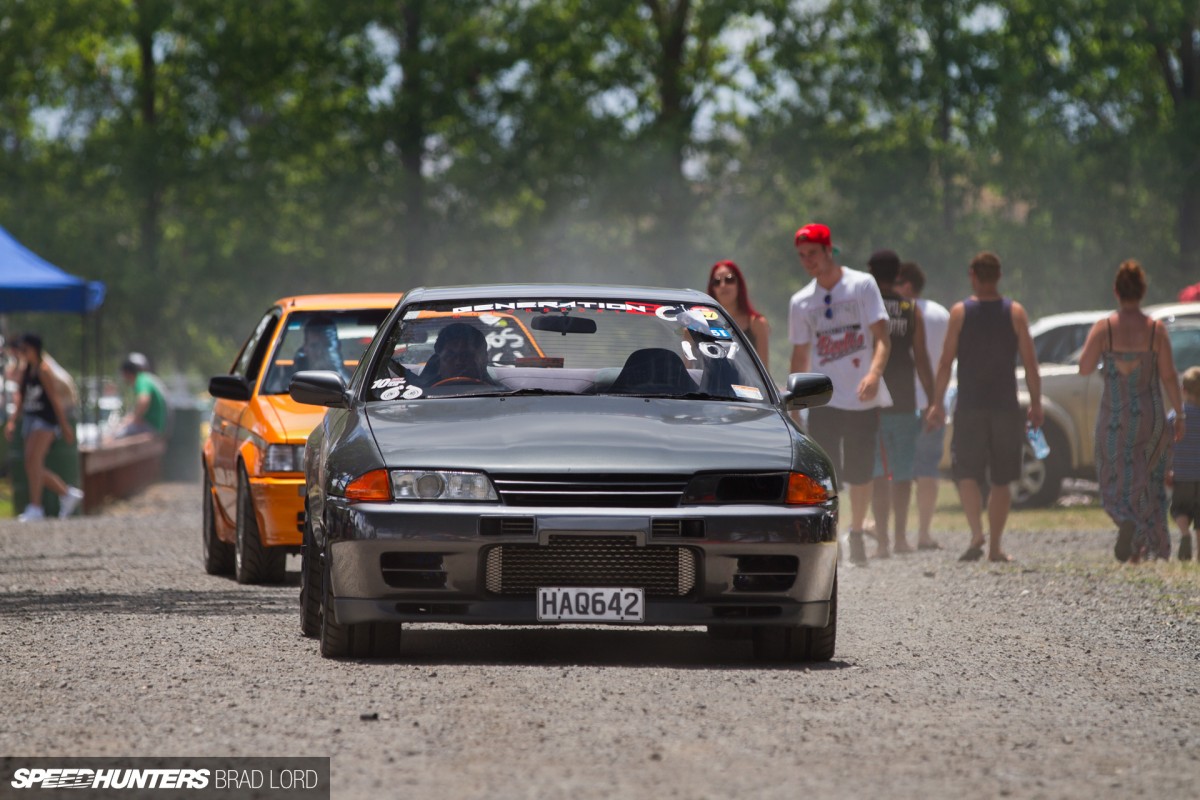 To me, this is what the 4&Rotary 'Nats' is all about. Yes, the show side of the equation has always been a big deal and attracted lots of people, but if wasn't for the growth of import drag racing during the late '90s and early '00s, I'm pretty sure this event would never have gained the traction (sorry) it did during that time.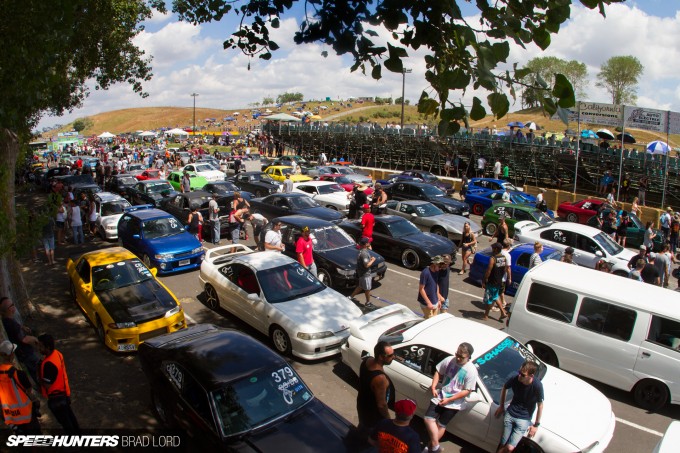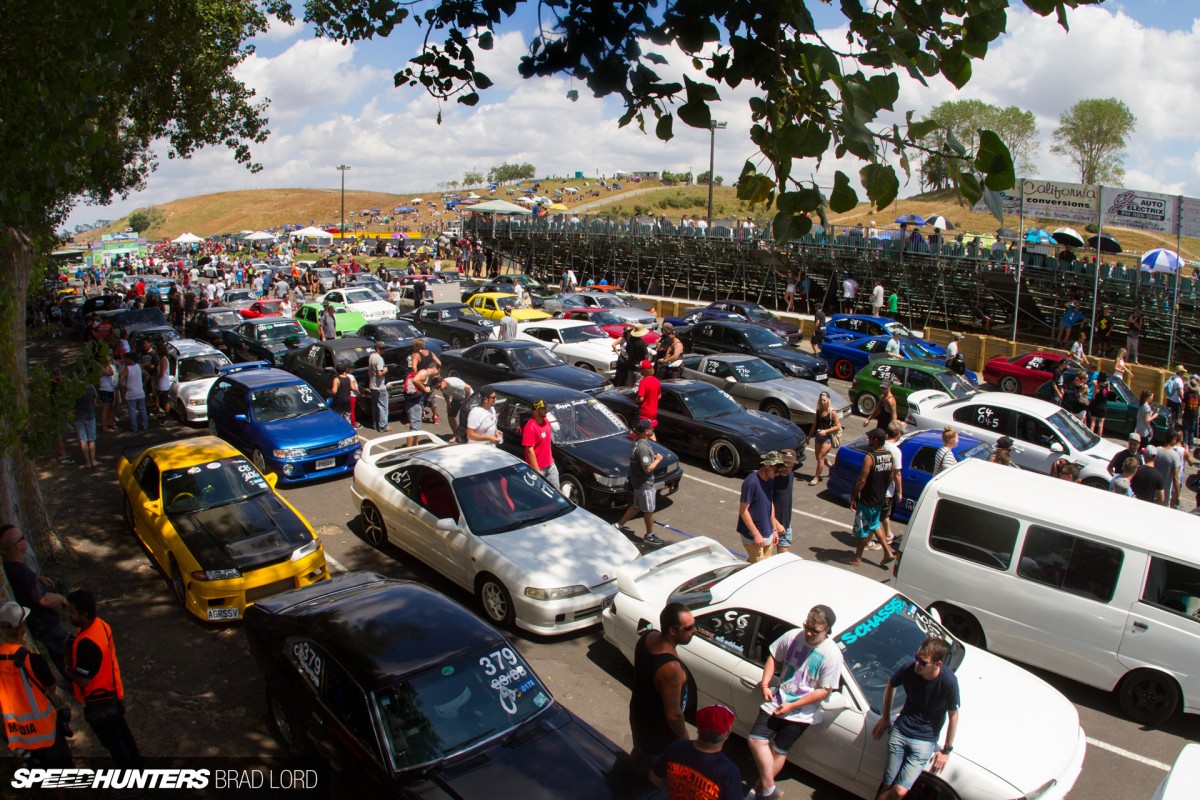 New Zealand import drag racing's popularity peaked around a decade ago, but in more recent times I think it's fair to say that its following waned somewhat. Looking at this view from the staging lane tower however, it's hard to not think that the tide may be turning…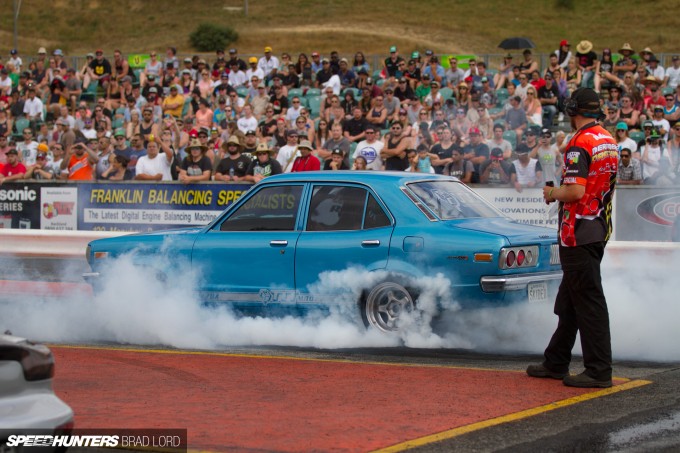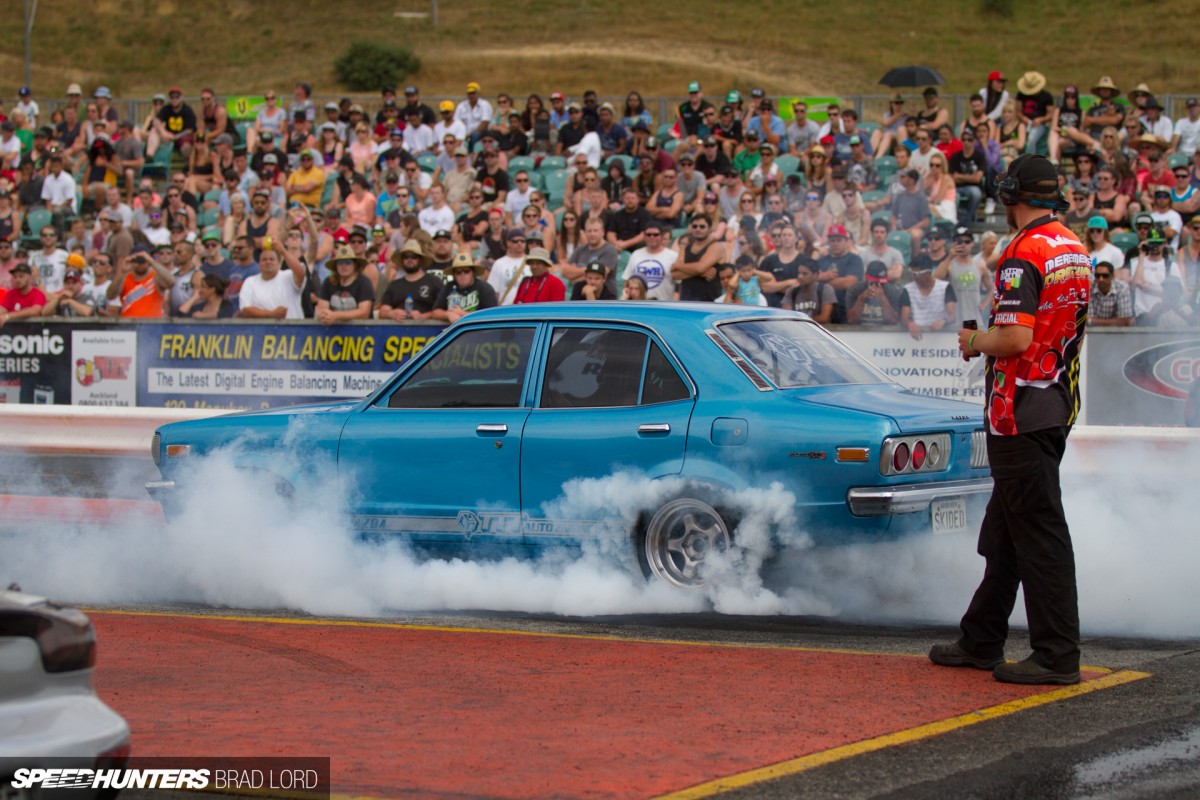 By the time midday had rolled around a pretty solid crowd had built too, which was good to see. A continual stream of (mostly) street car pairings rowing through their gears down a straight 400-metre stretch of black-top might not sound as exciting as two cars initiating sideways within centimetres of each other at 180km/h-plus, but there's something about the atmosphere at this event that other forms of Kiwi import-oriented motorsport aren't able to replicate.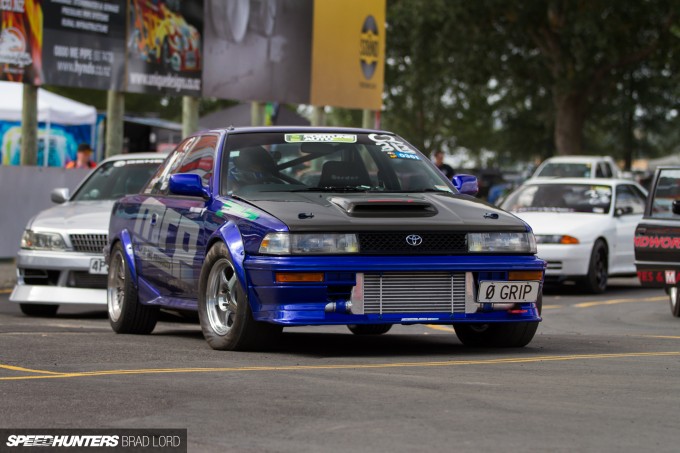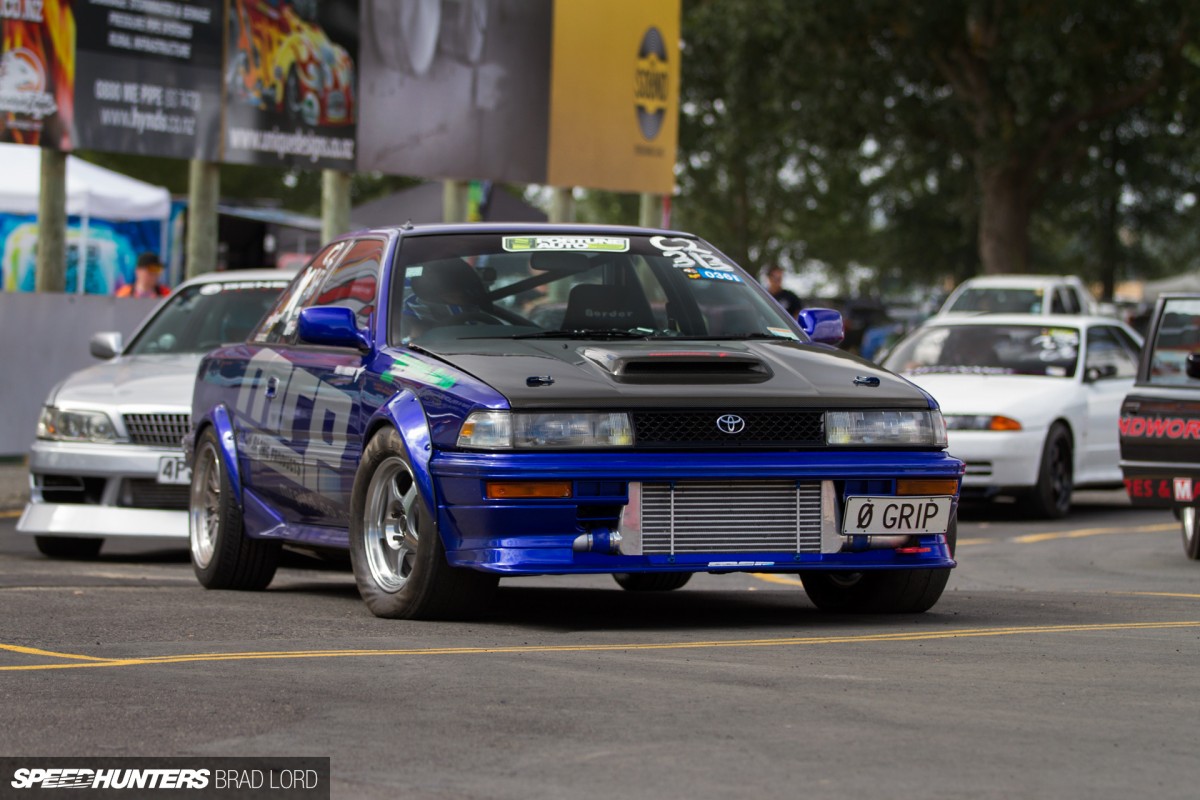 The cars have something to do with it of course. Because where else could you see a front-wheel drive AE92 Toyota Levin GT-Z with a built turbo 7A-G laying its 10-second-ET-capable might down?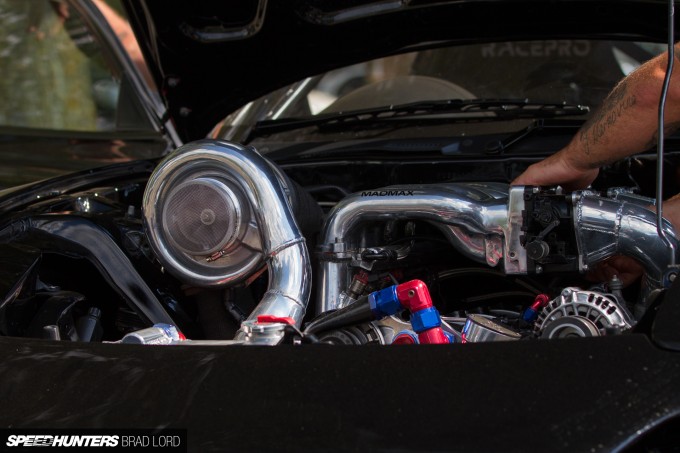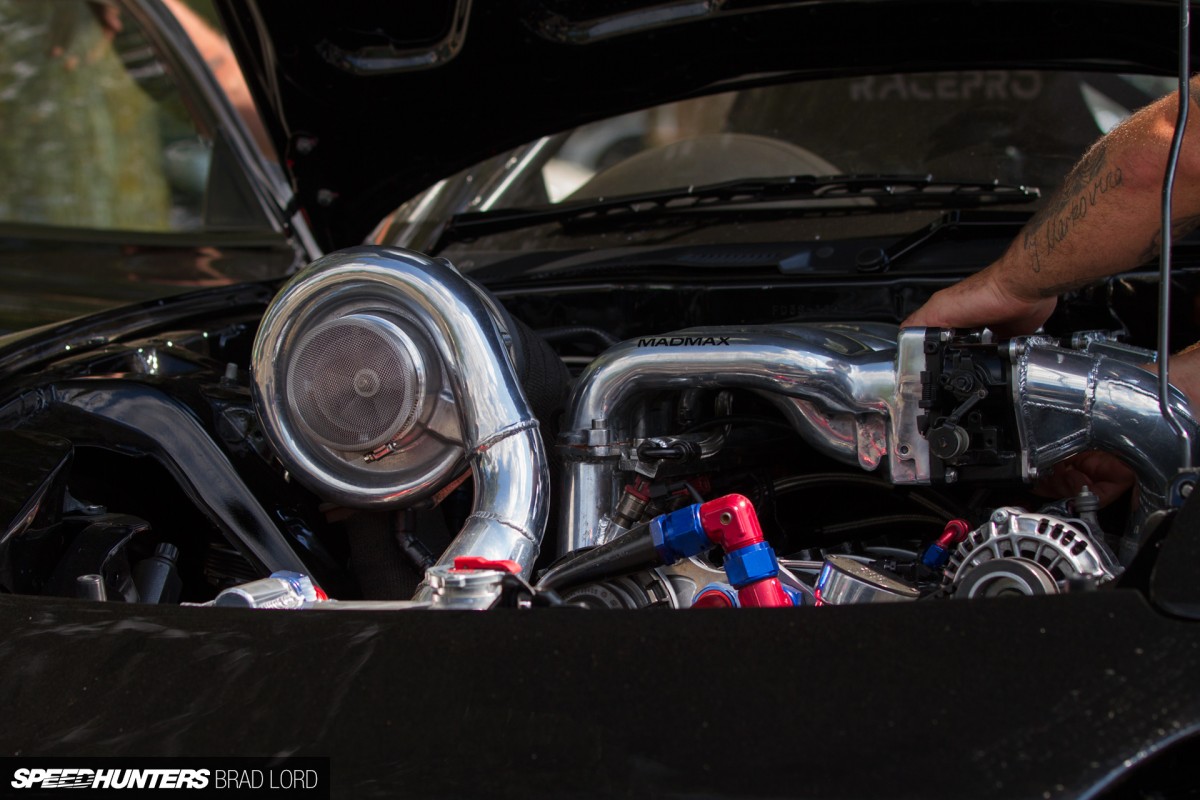 Or how about a 26B 4-rotor FD3S RX-7 street car with a giant turbocharger poked through its bonnet, being prepped to unleash hell? The 'V' 4&Rotary Nats…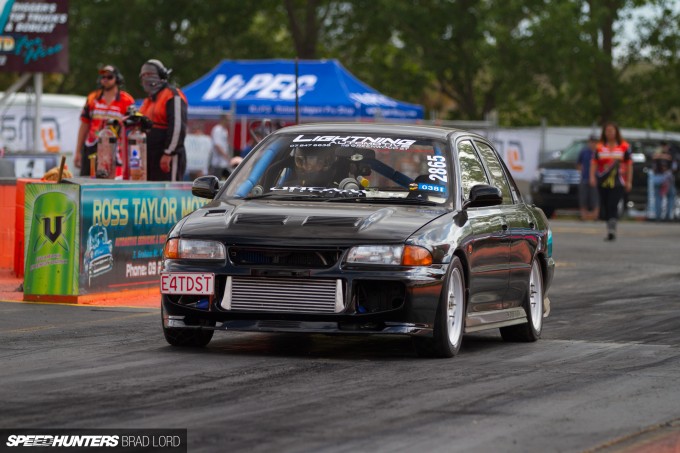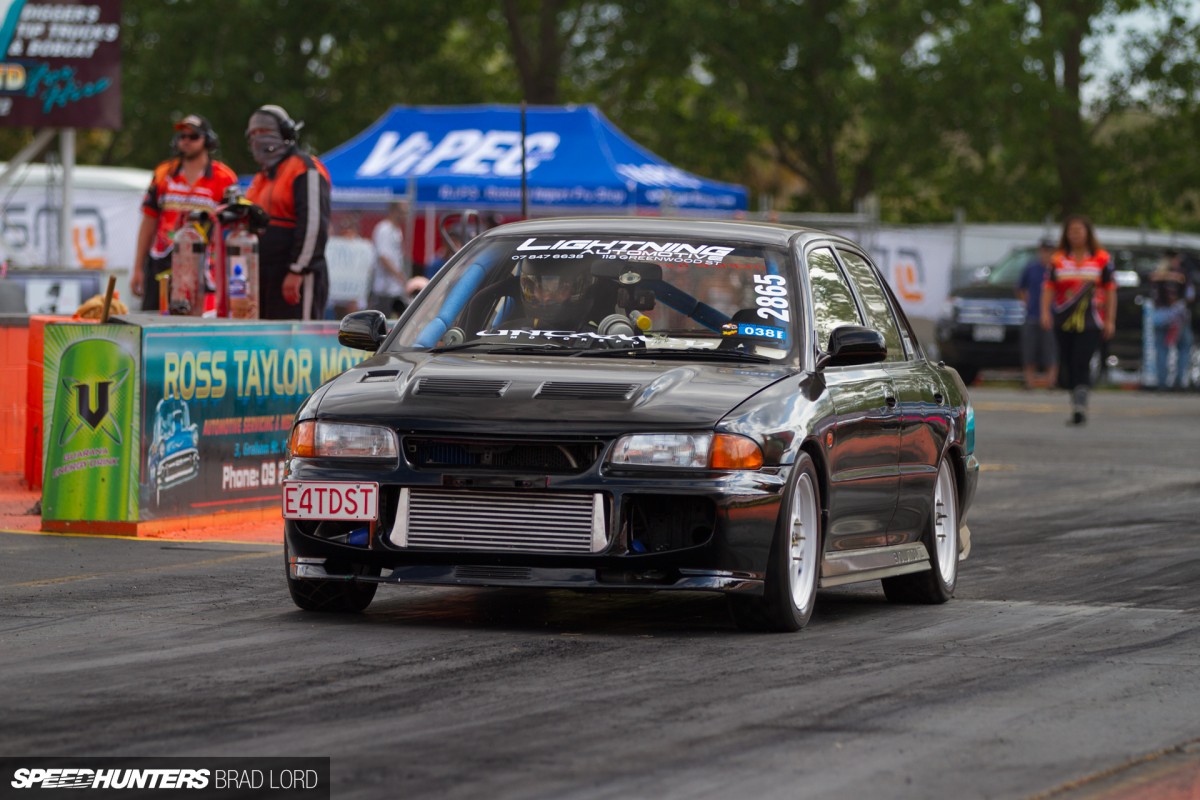 I think it also has a lot to do with the relatable nature of drag racing at an amateur level, and the fact that the vast majority of the cars that race at the Nats are driven to and from the strip.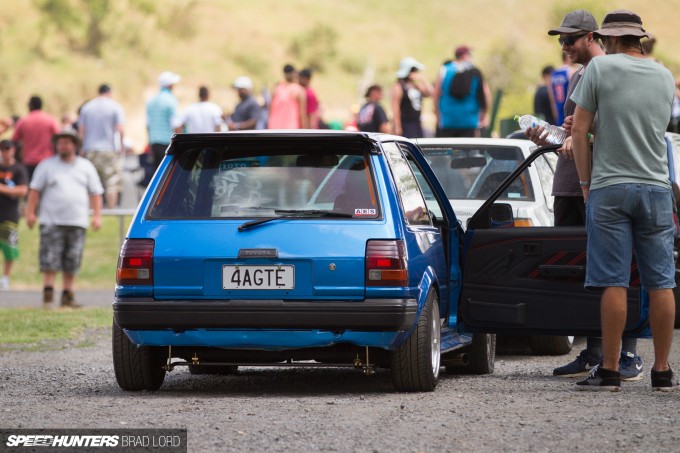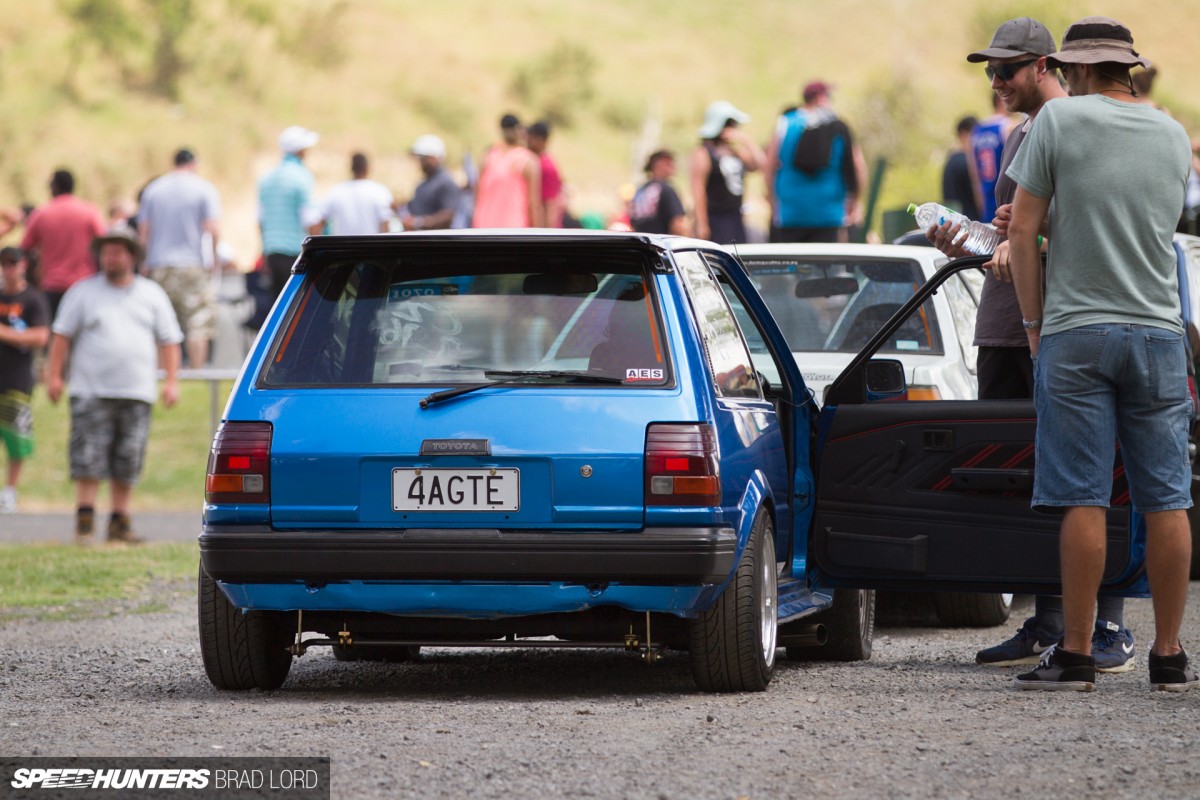 For many of those who compete, the opportunity to be a part of the annual event is all of the incentive needed to create something unique. Regardless of the motivation to build outside of the box, this little side-piped EP Toyota Starlet was pretty cool, and certainly not slow.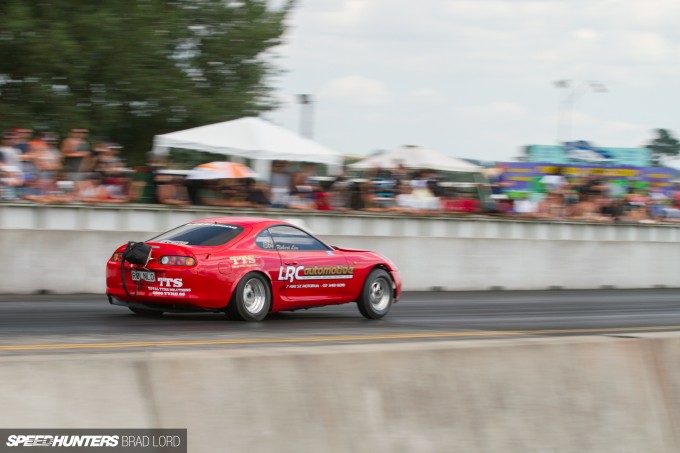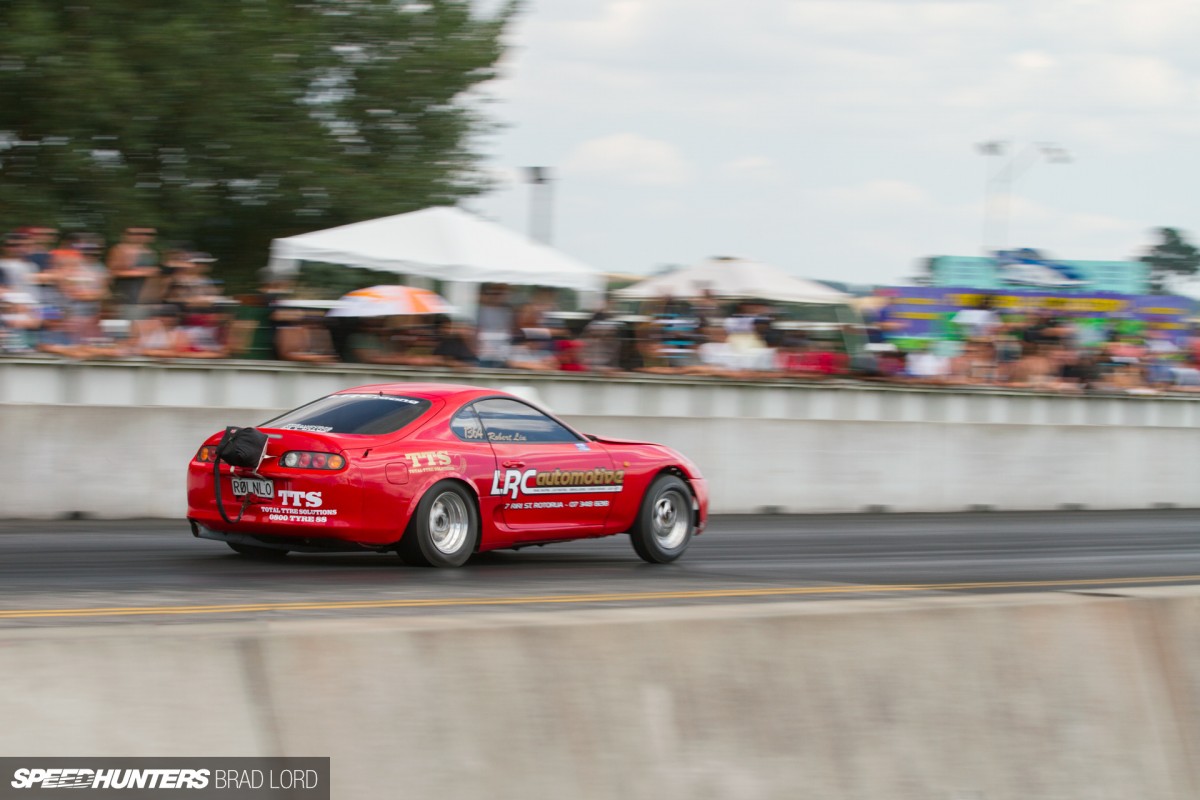 Given that this is New Zealand, and that Japanese cars rule the roads – many of which having arrived as used JDM imports – the 4&Rotary Nationals Drags brings out the sort of hardware you'd expect to see at an event like this. Strangely though, there aren't a huge number of Supras specced for quarter mile duty in this corner of the world.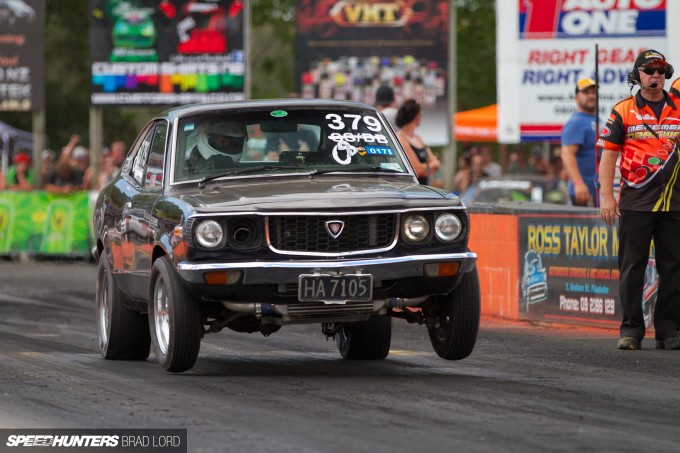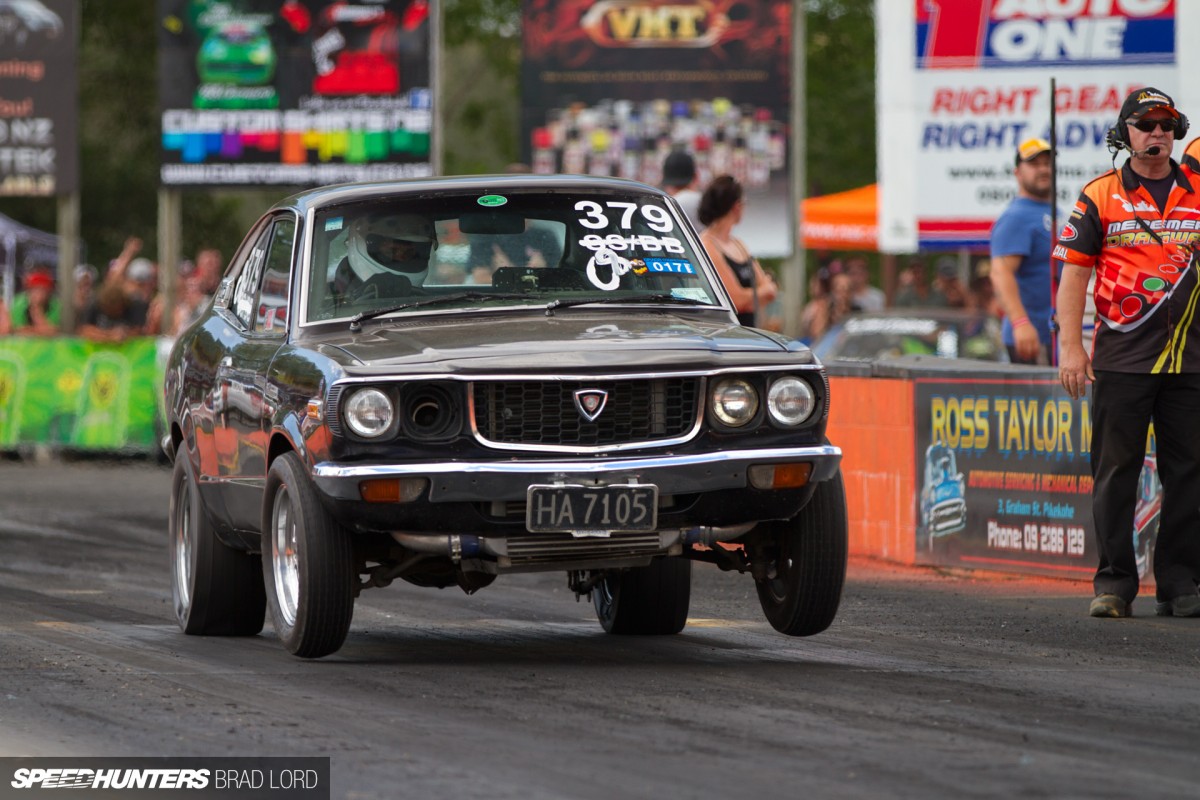 Rotaries on the hand, well, I'm pretty sure I don't need to reiterate what's already been said many times before about this scene's infatuation with the Wankel engine and the old school Mazdas that were originally fitted with them. I love this '74 RX-3 coupe, which mixes a largely stock-looking exterior with supercar-destroying performance. Wheels up and running in the 9s – what's not to love about that?
Serious Speed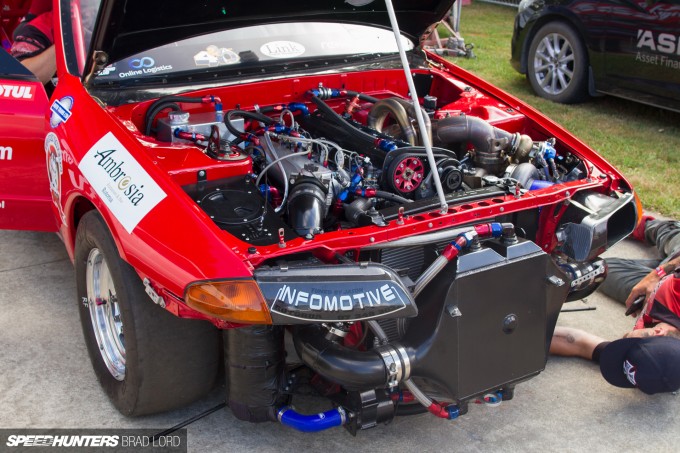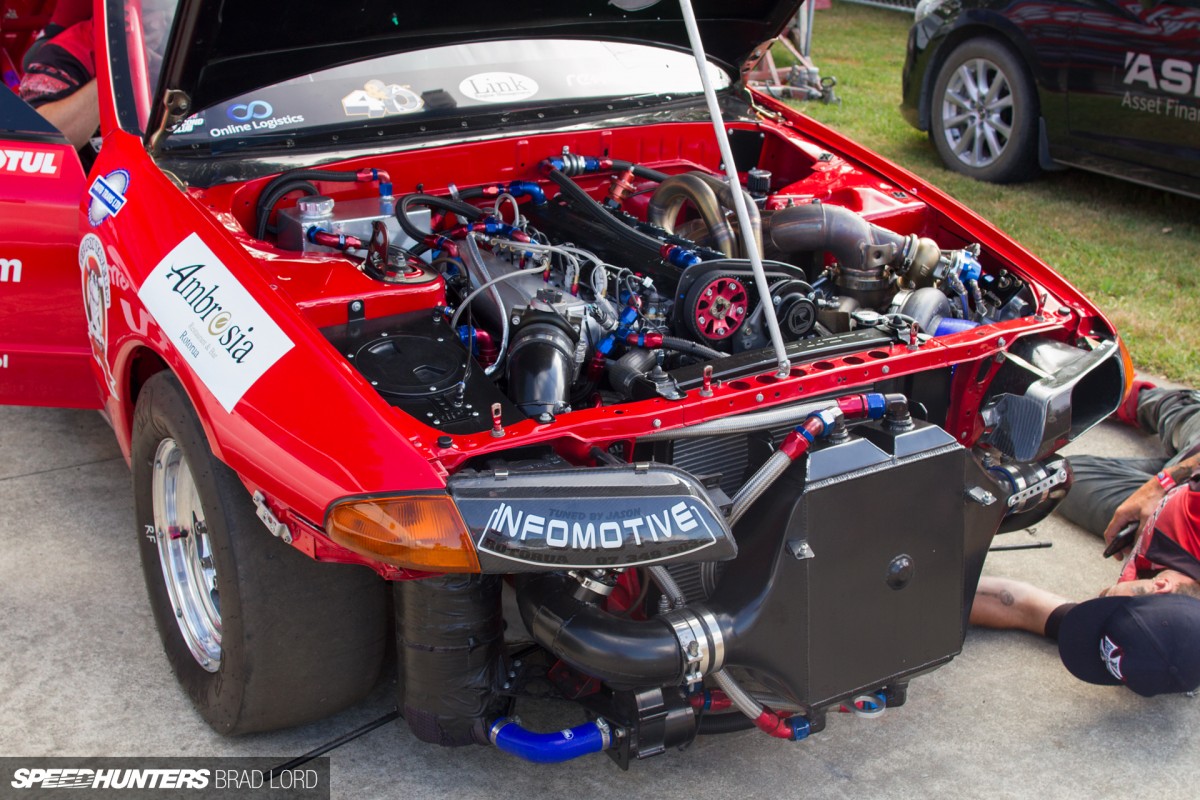 While numbers in the top-rank Sport Mod and Pro Import divisions appeared to be down on recent years, there was no shortage of quality – or big guns. In Nissan drag racing circles the name RIPS needs no introduction, and heading into the pits first thing in the morning I was amped that I'd be getting to see MGAWOT III run.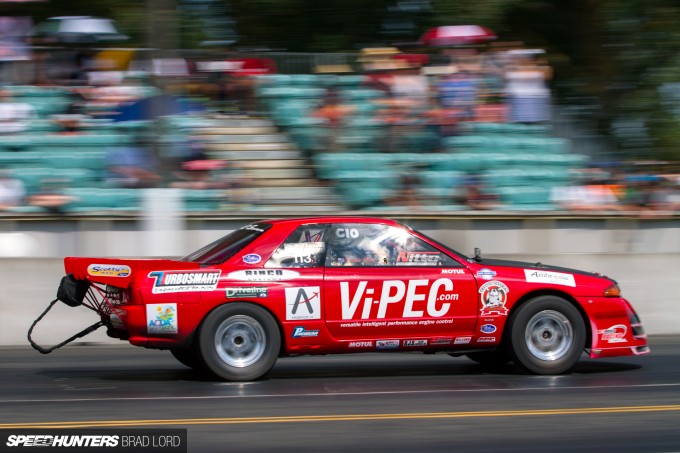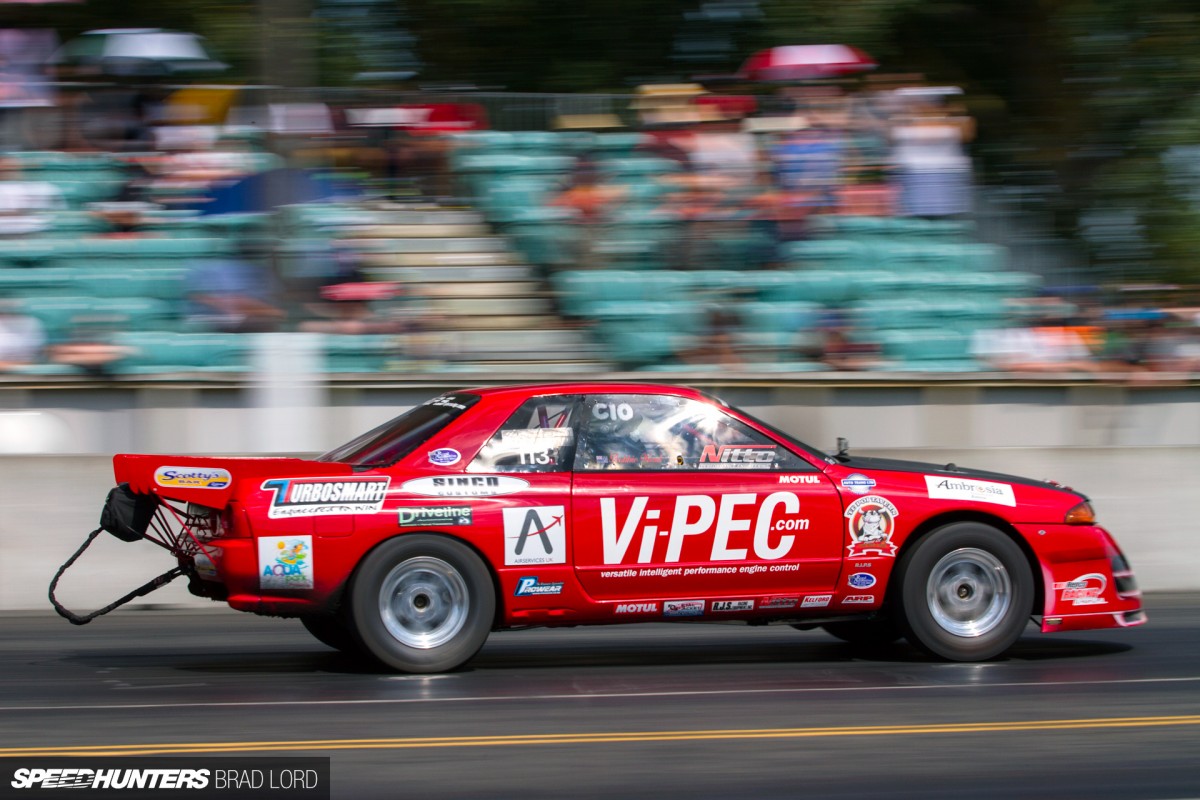 Despite being a relatively new addition to the RIPS family, the Skyline actually has history in New Zealand. Some of you might even remember the feature I put together on GDS Motorsport's 'Red Baron' in early 2013. Back then the genuine BNR32 GT-R was all but retired having run a best ET of 7.91 at 292km/h (192mph), and was still powered by its methanol-fueled, 1,600hp-plus 2.7L RB26-based engine and Holinger sequential 'box. RIPS bought the car as rolling chassis and promptly set it back up for quarter mile duty with one of its world-famous RB30-based engines and modified 2-speed Powerglide-based transmissions.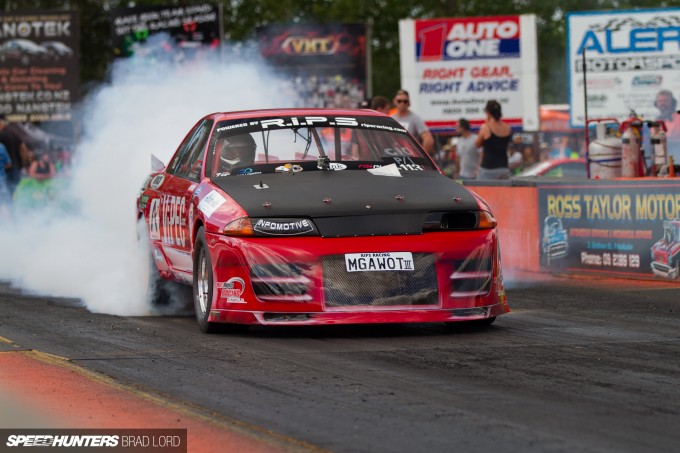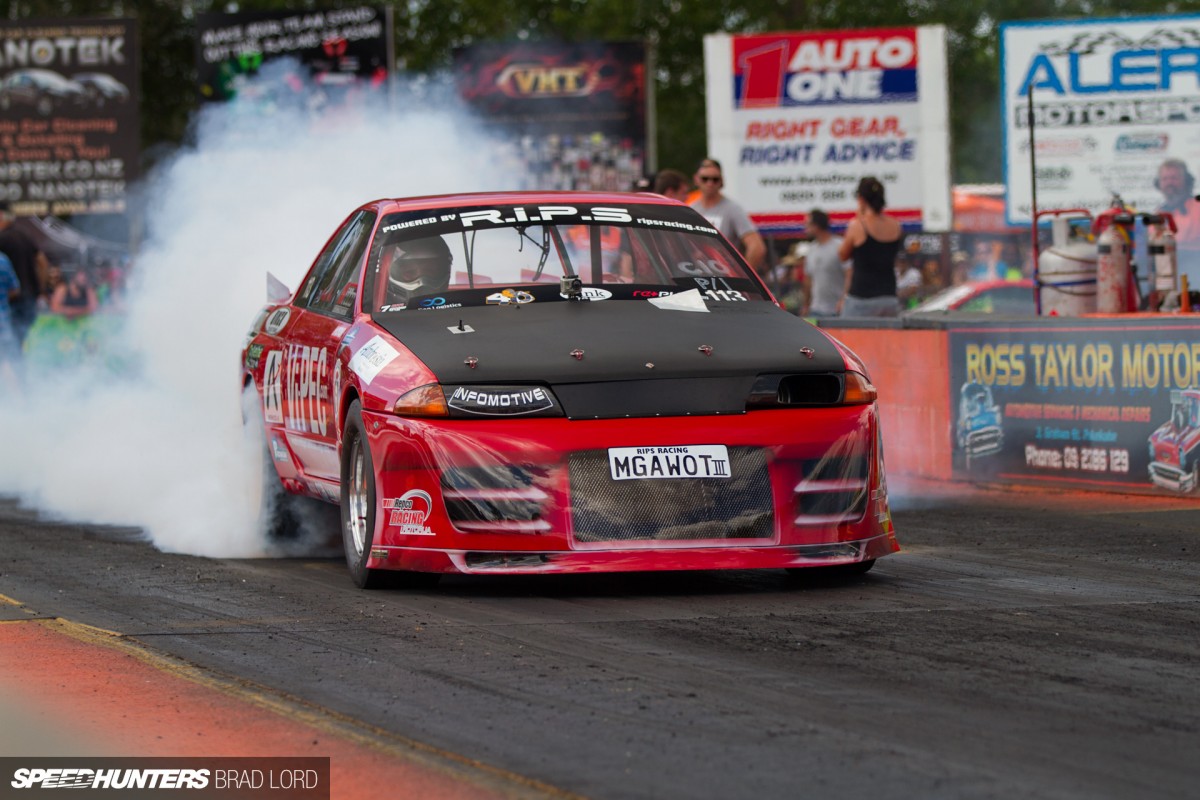 The RIPS team have made no bones about what they want to achieve with this car, but of course, it still all has to come together on the day. The summer heat did no favours last weekend, and that was reflected in a failing track and some less than average 60ft times. Still, Robbie ran 7.84 at 290km/h (180mph) on his quickest pass, and it's not everyday you get to see a Skyline do that!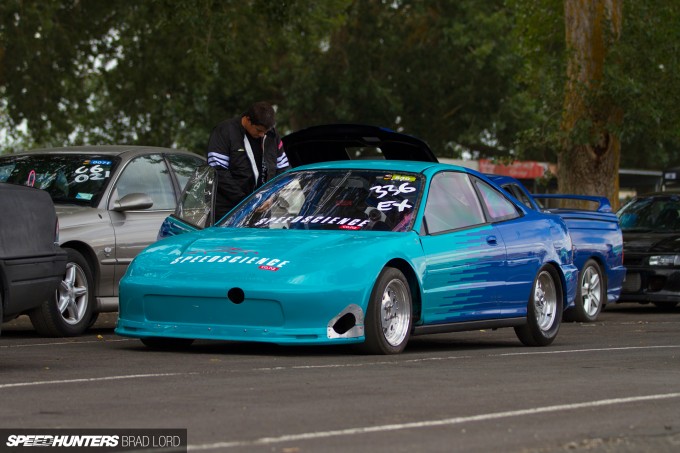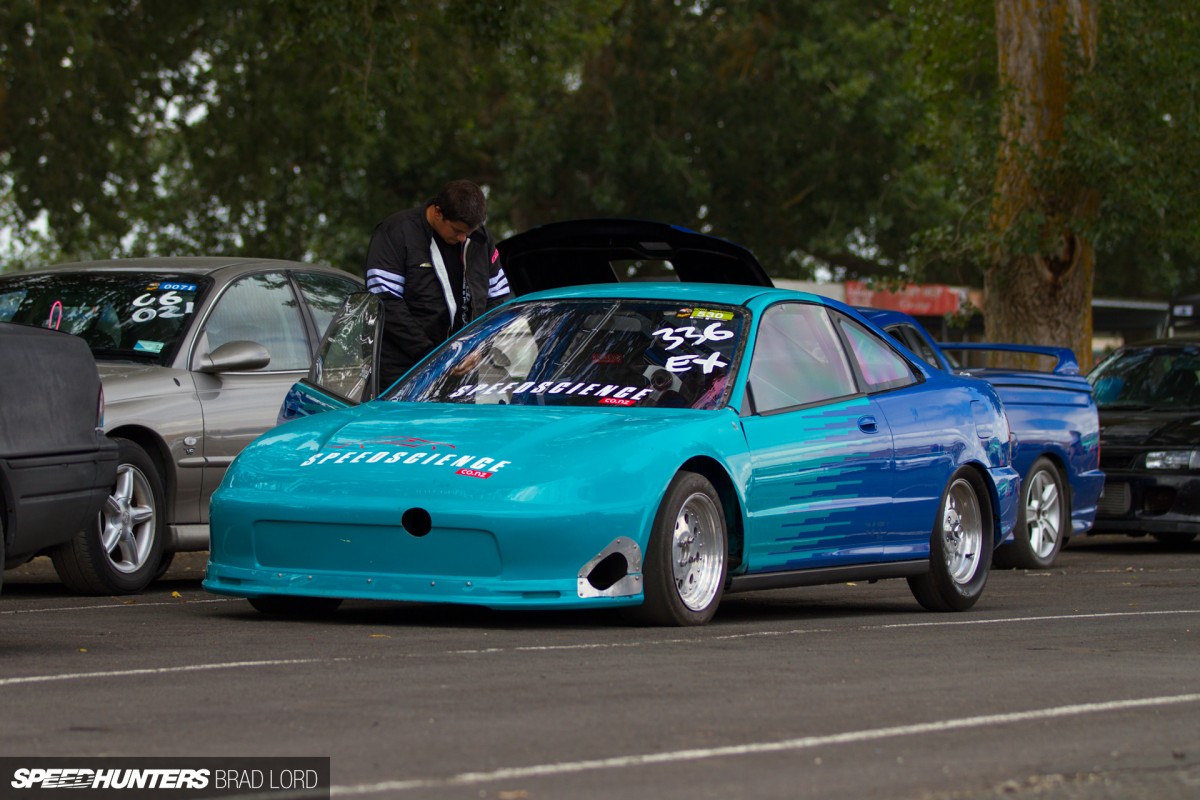 Sticking with iconic Kiwi import drag cars for a moment, it was very cool to see this Integra back in the staging lanes at Meremere Dragway. One of New Zealand's original Pro Import machines, the Honda was a strip regular during the golden era, eventually cracking the 9-second barrier at the hands of its owner/driver, Ronnie Lim. Inspired by the crazy front-wheel drive sport compact drag cars being run in the US at the time – think Stephan Papadakis's Civic and Ed Bergenholtz's CR-X – I have some really fond memories of watching the RSL/Mag & Turbo Warehouse DC2 power down the quarter mile. I also shudder to think how many CV joints and axles Ronnie replaced in his quest for low ETs…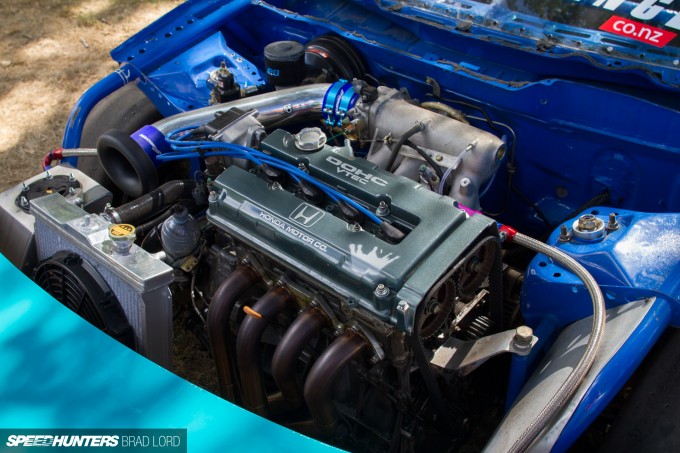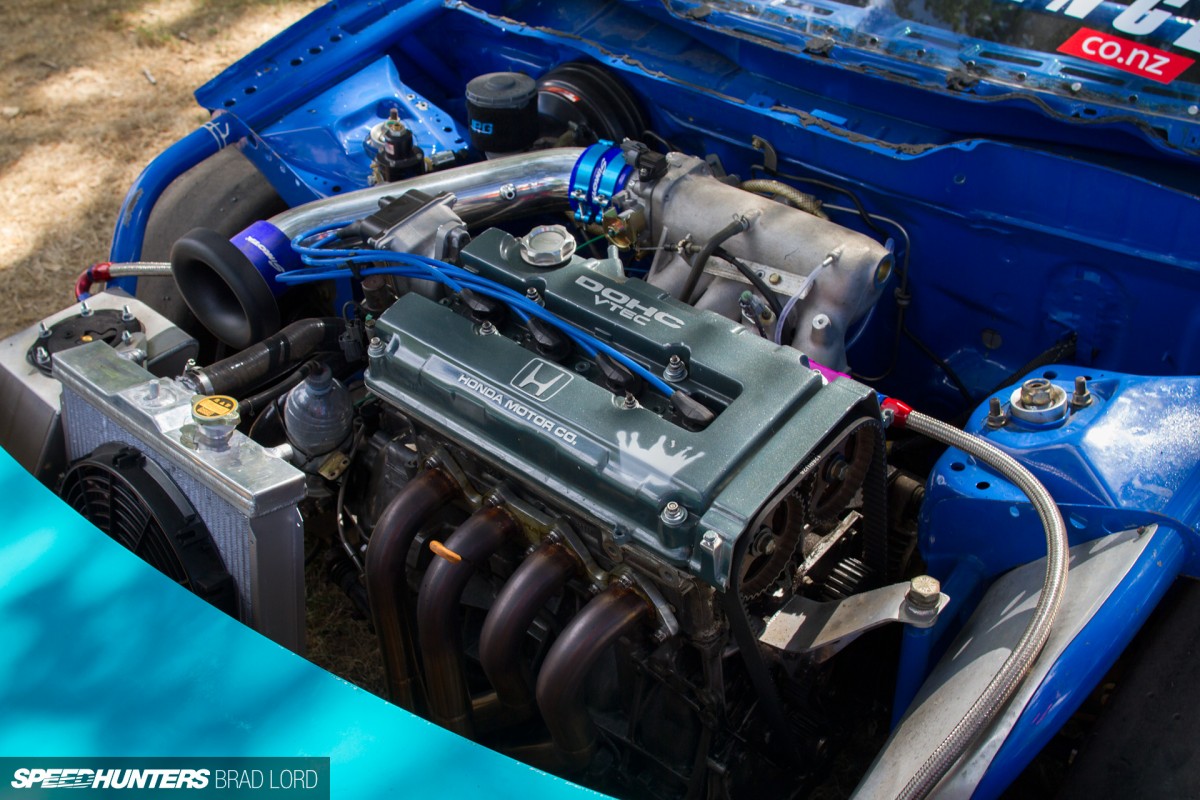 When the car was retired and split up it disappeared for a few years, but it eventually turned up and has since been brought back to life by its current owner, Andrew Browning. While it's only running a basic N/A B-series setup at the moment, I really hope we'll get to see it back in a turbo guise and outputting big power numbers for single-digit passes once again.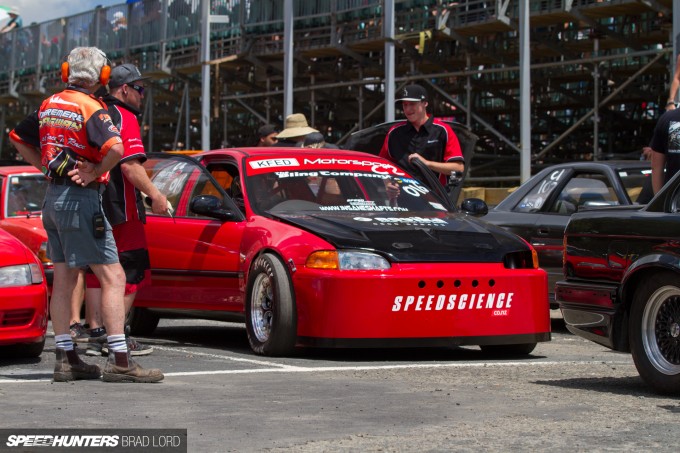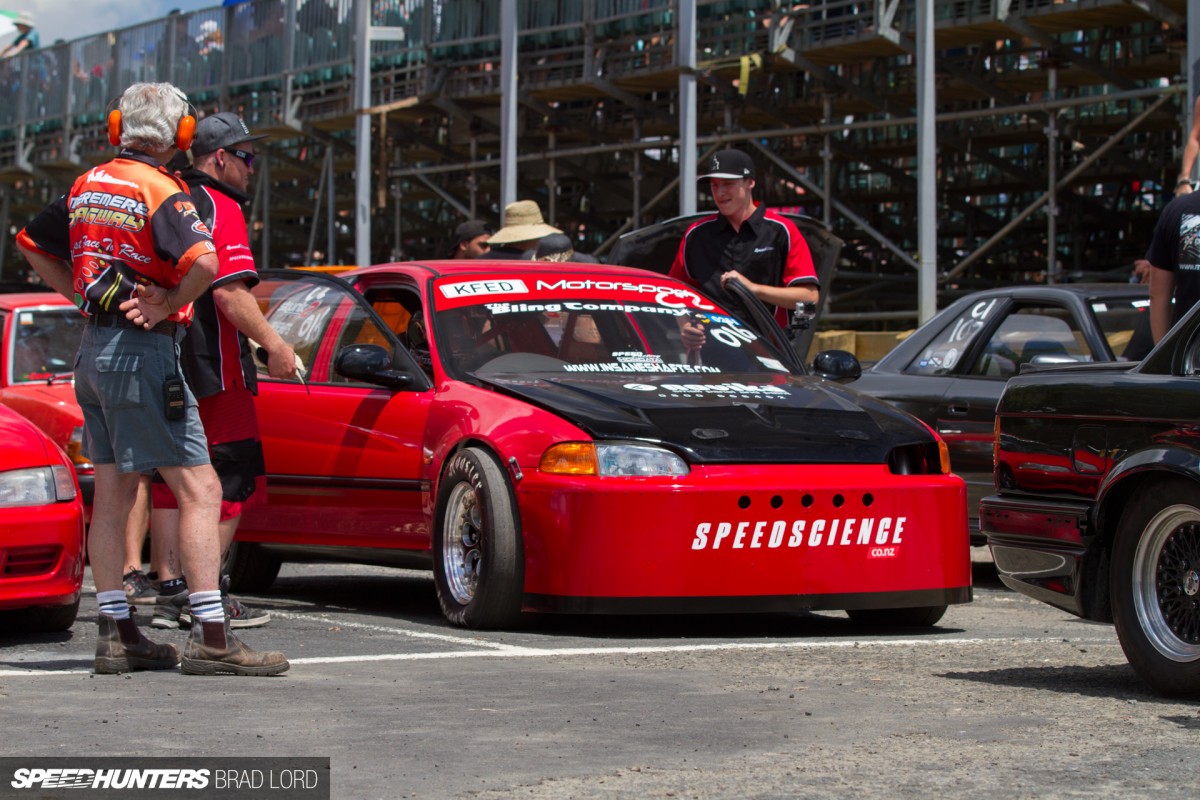 Even better would be a few more FWD Hondas in the drag ranks. I'm sensing big things from the KFED Motorsport EG Civic in the future – it's definitely on the right track in the engine department with a Garrett GT3582R-equipped K20A in the hole.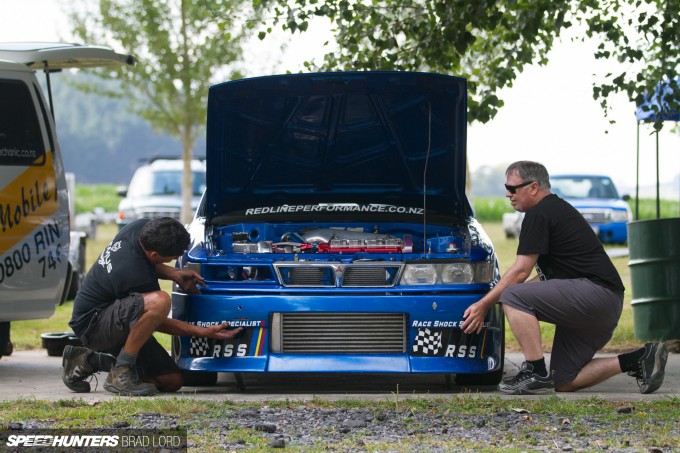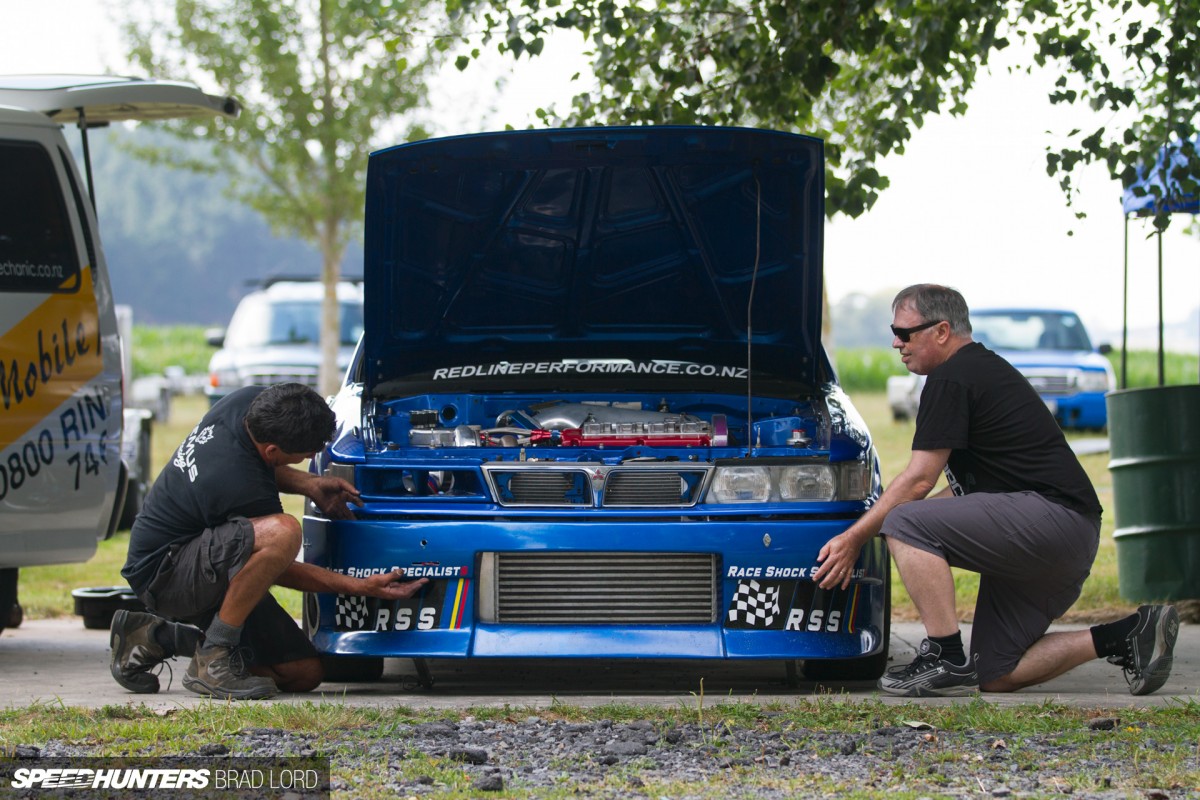 Another car I hadn't seen for a long time until the weekend was the Redline Performance Mitsubishi Galant VR-4. It's probably close to decade since this thing was saved from a Japanese wrecking yard and sent down to New Zealand where it was transformed into a 9-second, street-legal, straight-line warrior.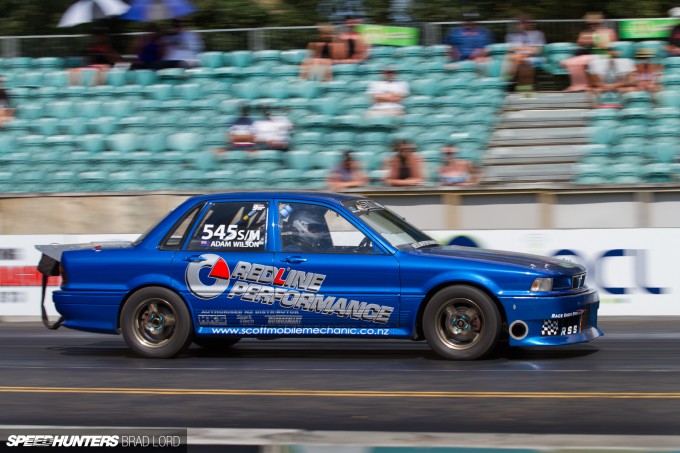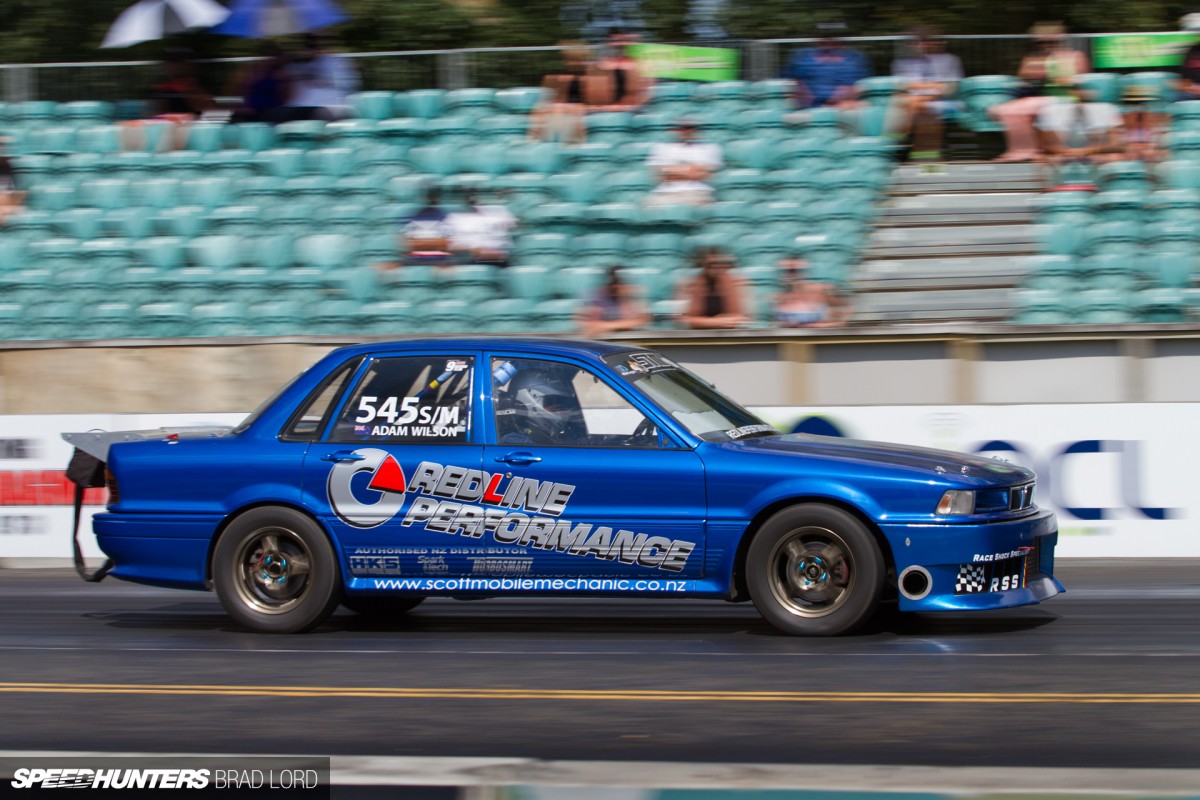 Not content with just running in a straight line, owner Adam Wilson ended up modifying the car for tarmac rally duty, but I'm digging that it's back on the strip, and with a 1000hp-plus Speedtech Motorsport 4G63 engine package under the hood.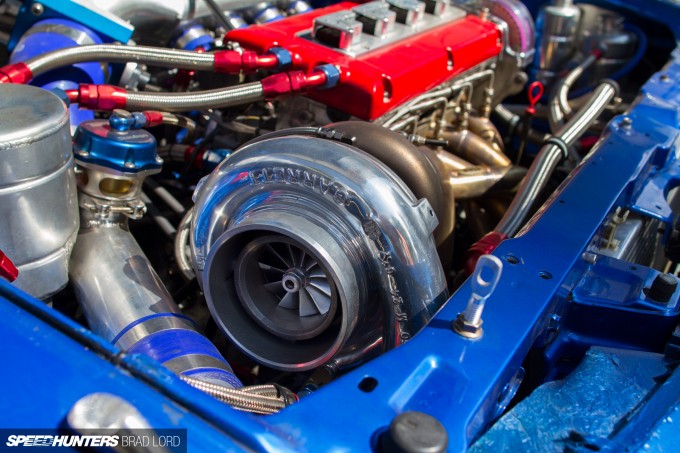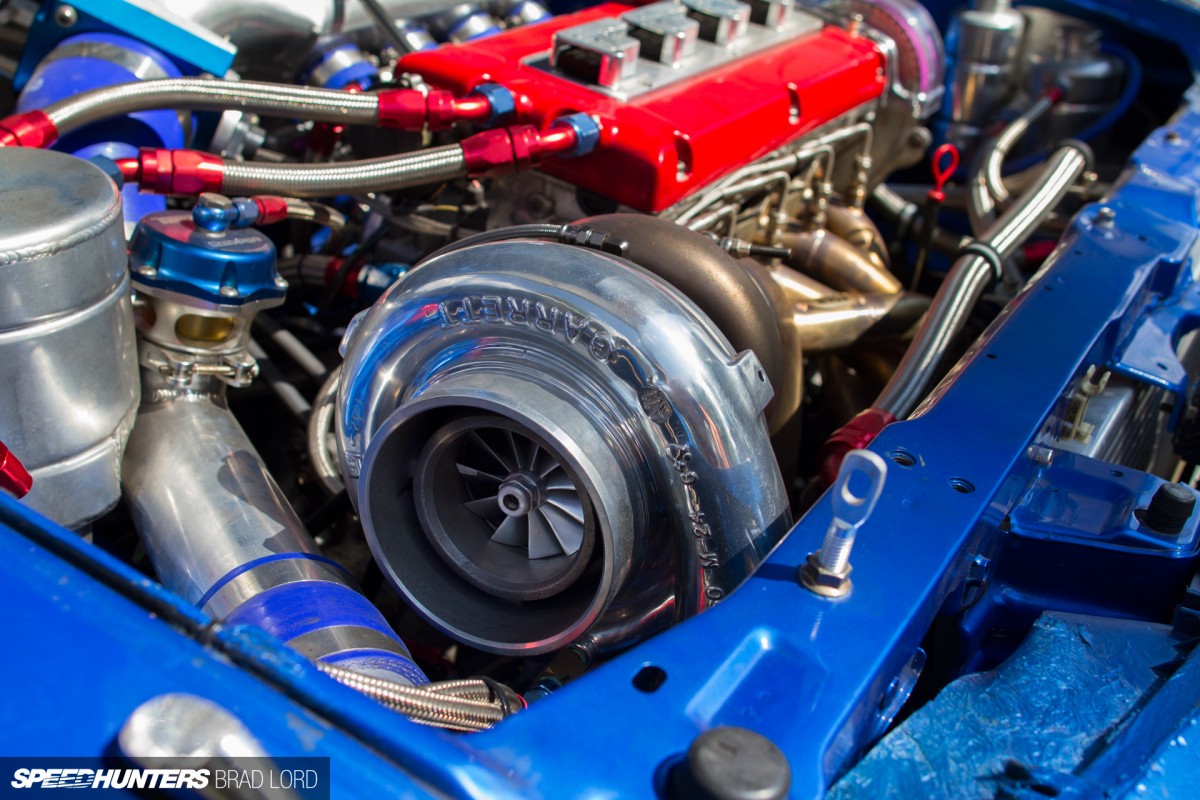 I think I should take a closer look at this thing soon…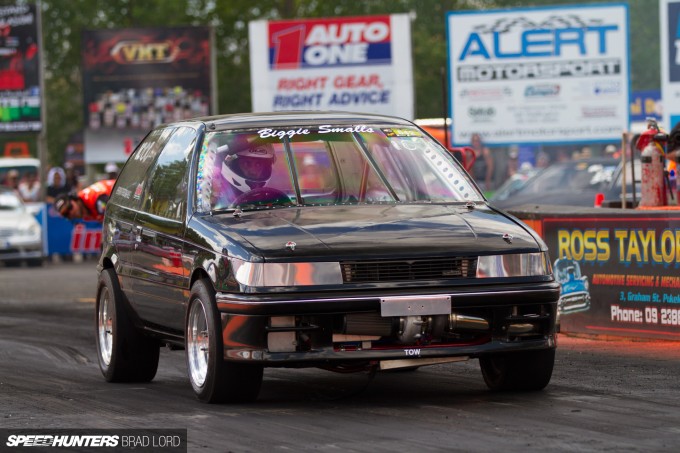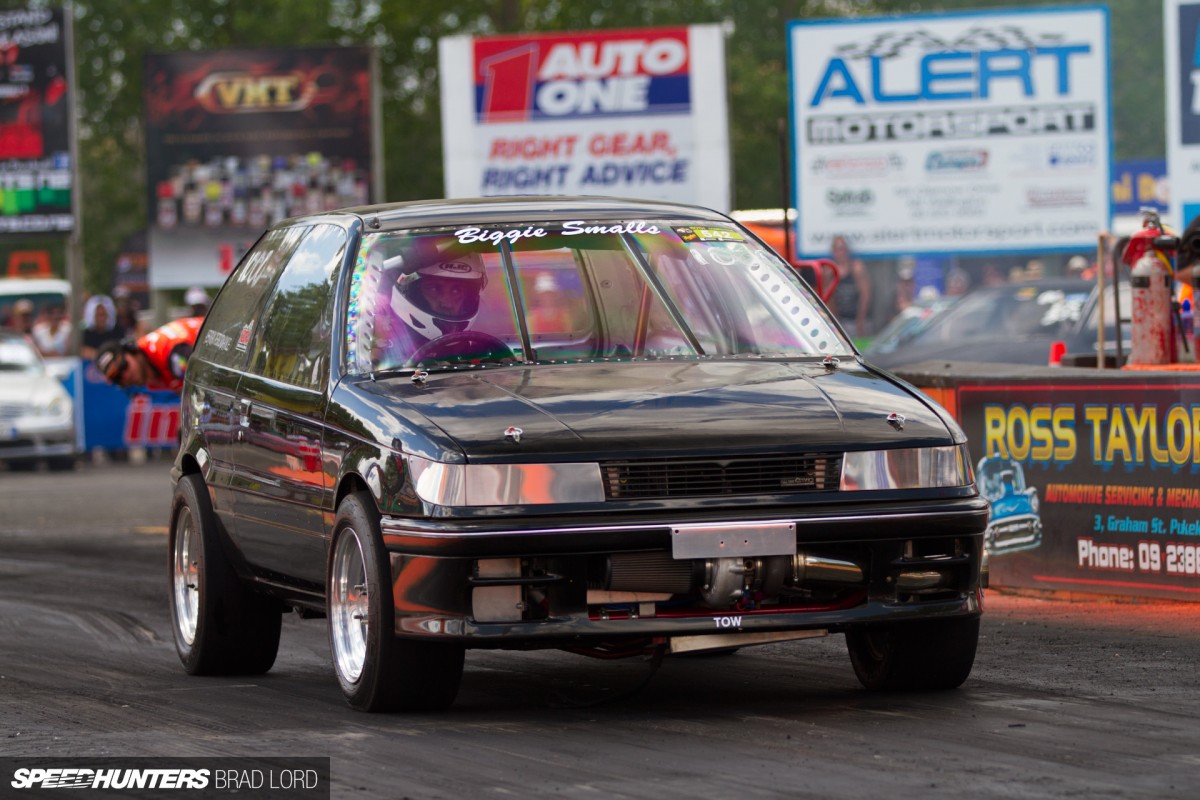 The Redline VR-4 wasn't the only quick Mitsubishi in the mix either. There's some nice engineering on this old school Mirage, and a 4G63 you could eat off.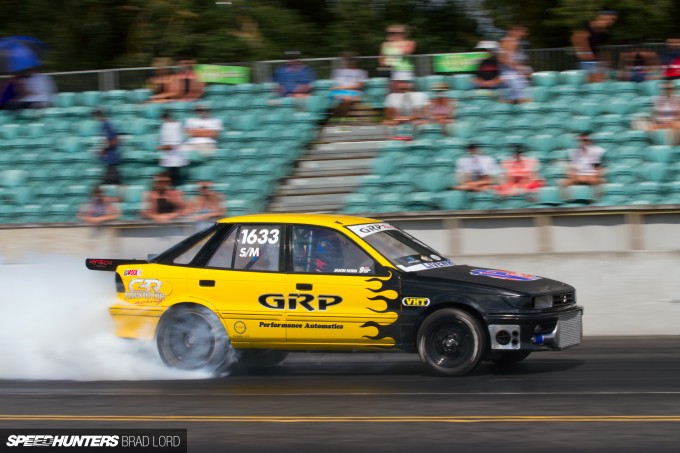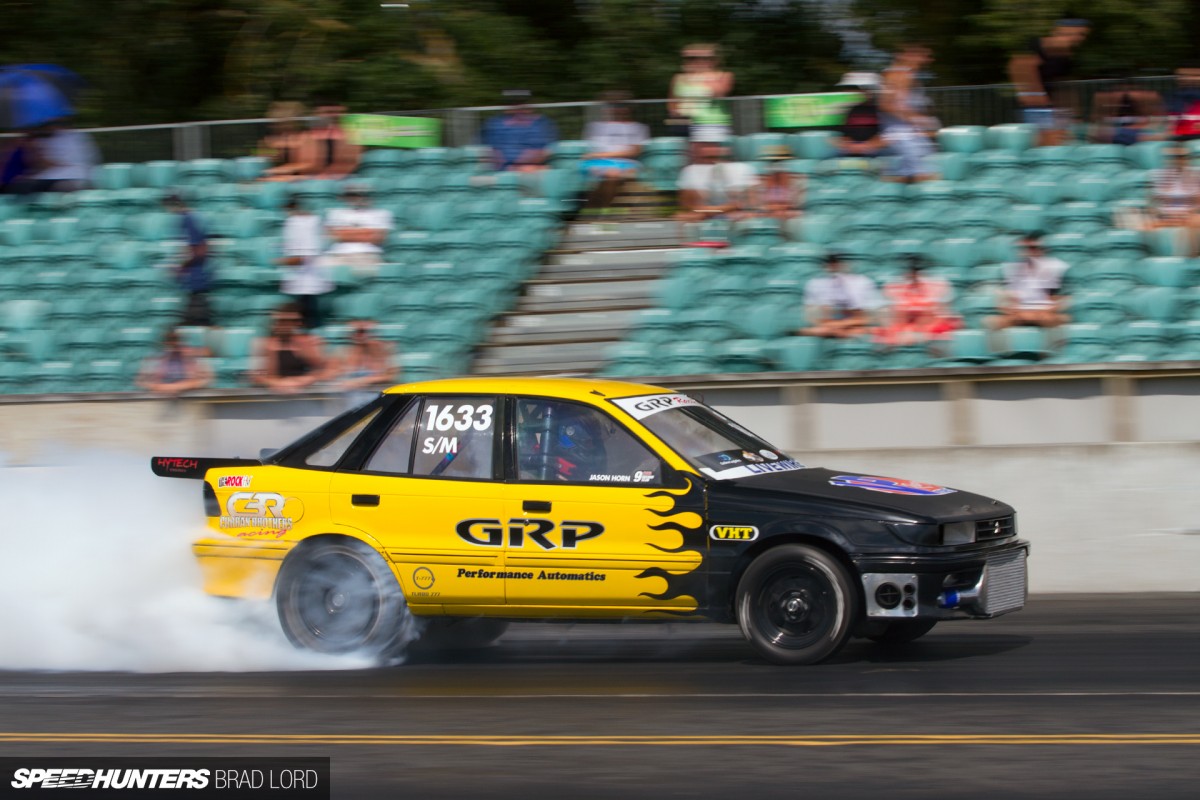 There's triple diamond power in Jason Horn's Lancer too, but it's not used in a conventional manner. The smoke pouring off the rear tyres might give you a hint…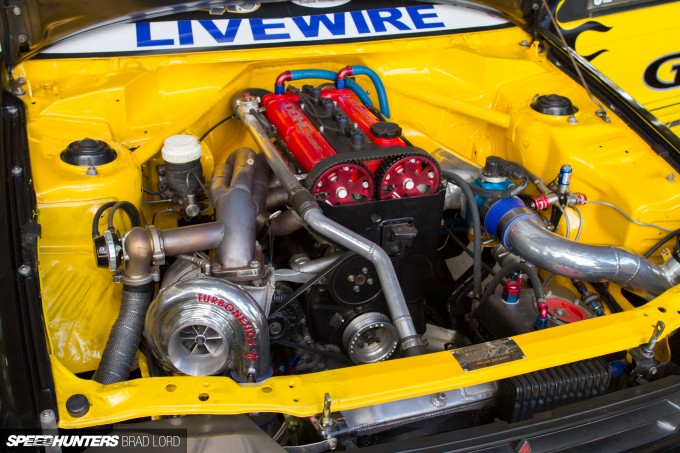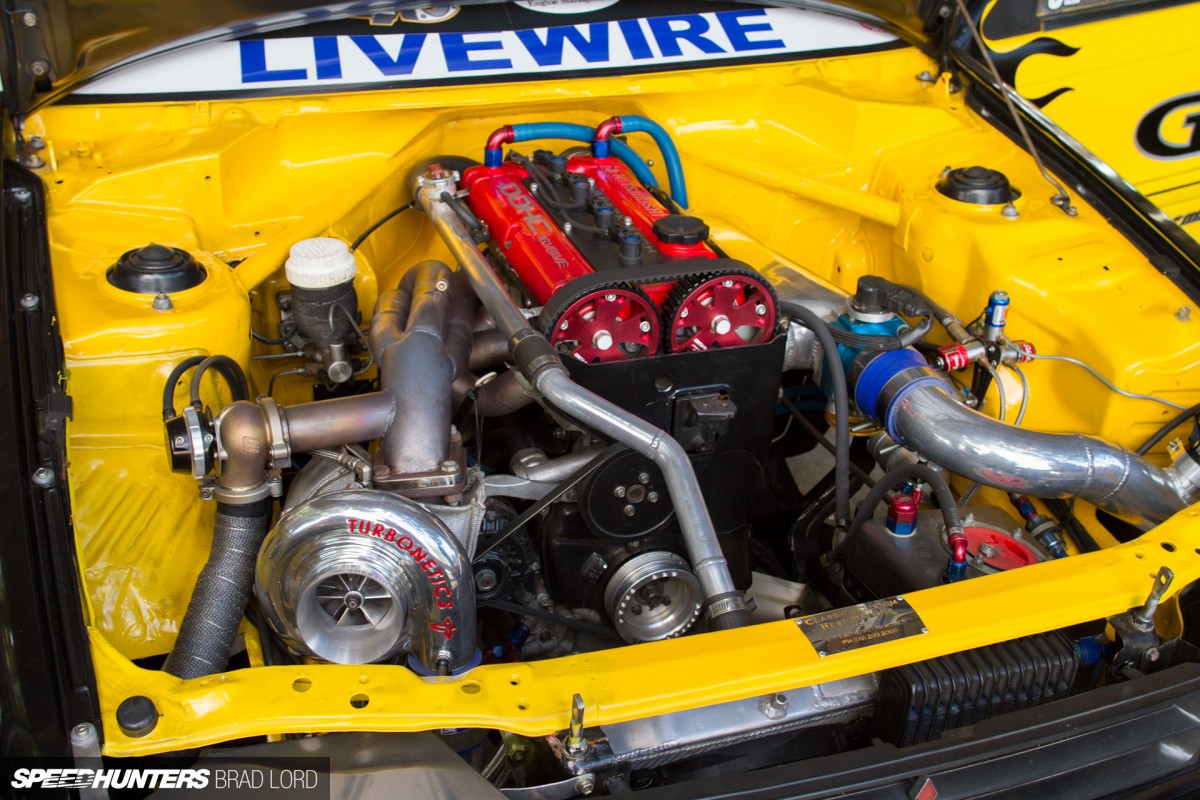 When you're running big power through a Mitsubishi-based all-wheel drive system and make brutal launches with slicks fitted up at all four corners, you get used to fixing broken things. This is one solution to that problem…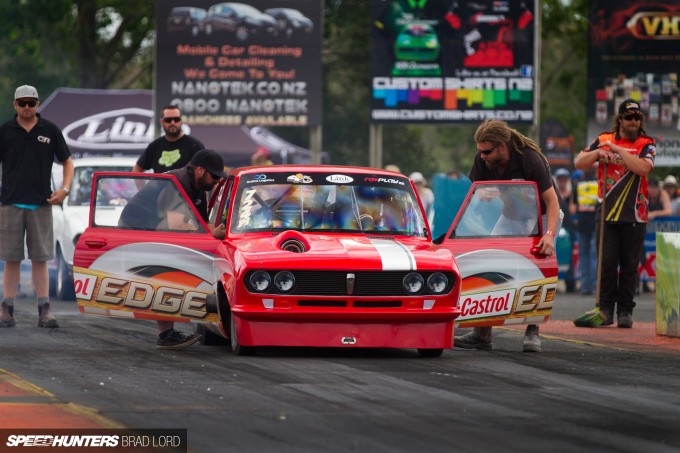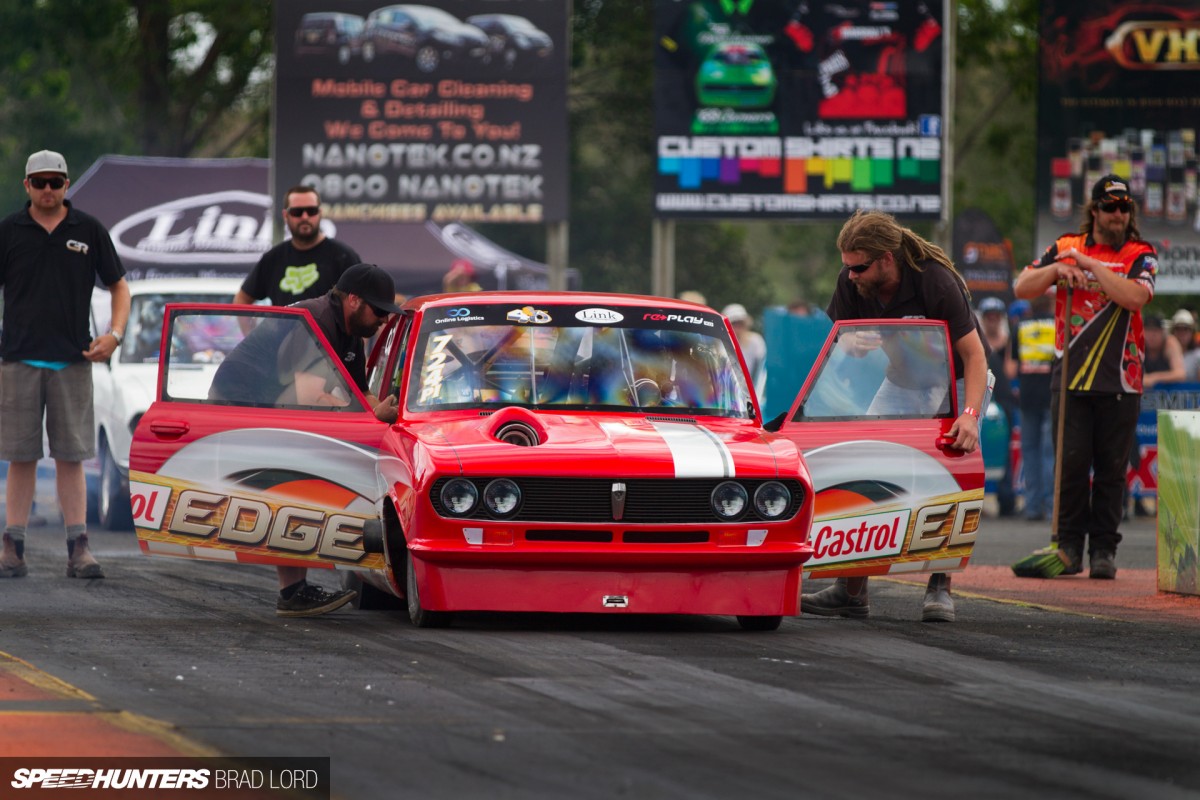 Of course, there's no way I can talk about some of New Zealand's quickest and fastest sport compacts without having some rotary-powered weaponry in the mix, right? The wildest of all is Brent Curran's Mazda RX-2 – a car that early last year become the world's first 6-second 4-rotor after running 6.89 at 327km/h (203mph). I was really hoping to see some of that magic at the Nationals, but unfortunately for the Curran Brothers Racing team they damaged the motor after a misfire issue so were forced to pack it in early.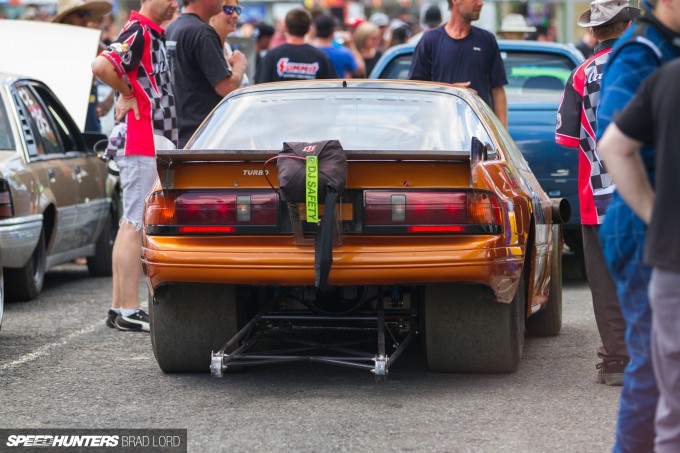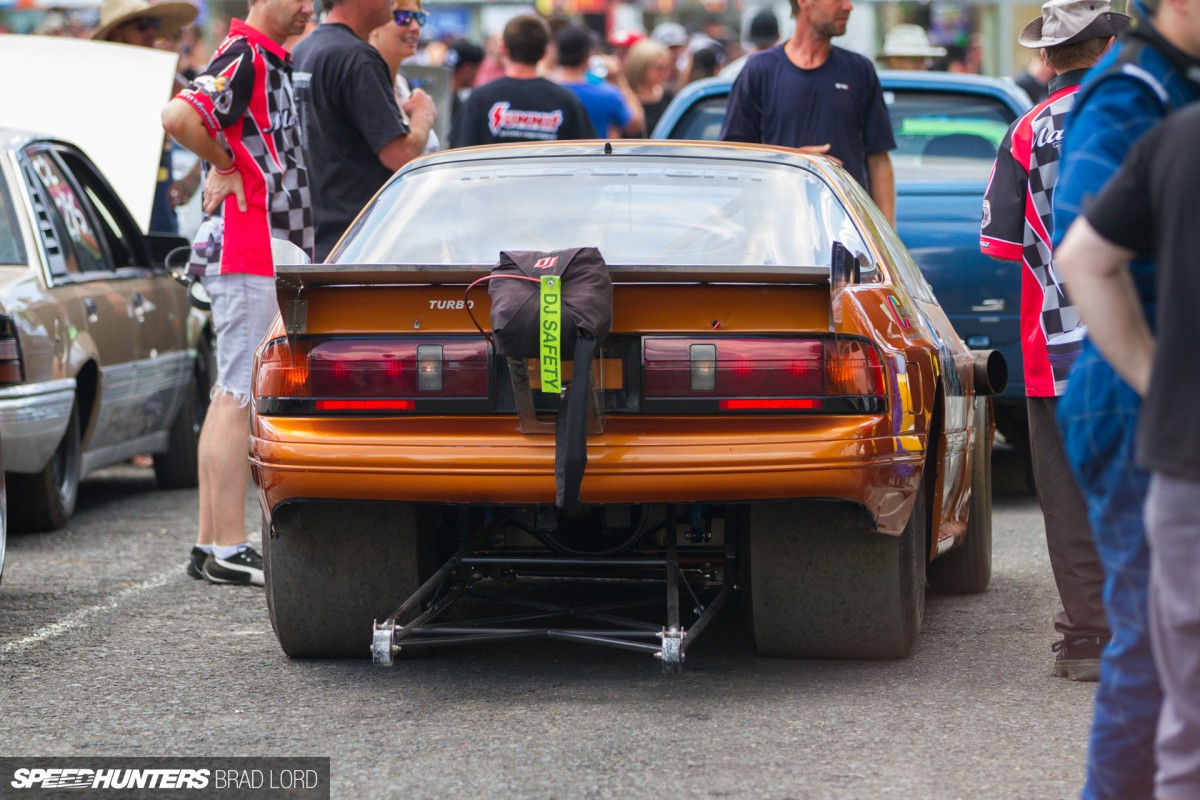 There aren't too many Pro Import cars that have competed continuously since the early days of the movement, and in fact, the Mazsport FC3S RX-7 might very well be the sole survivor.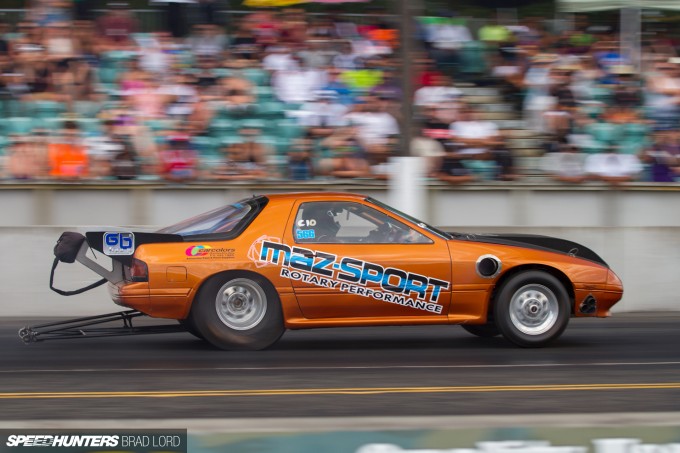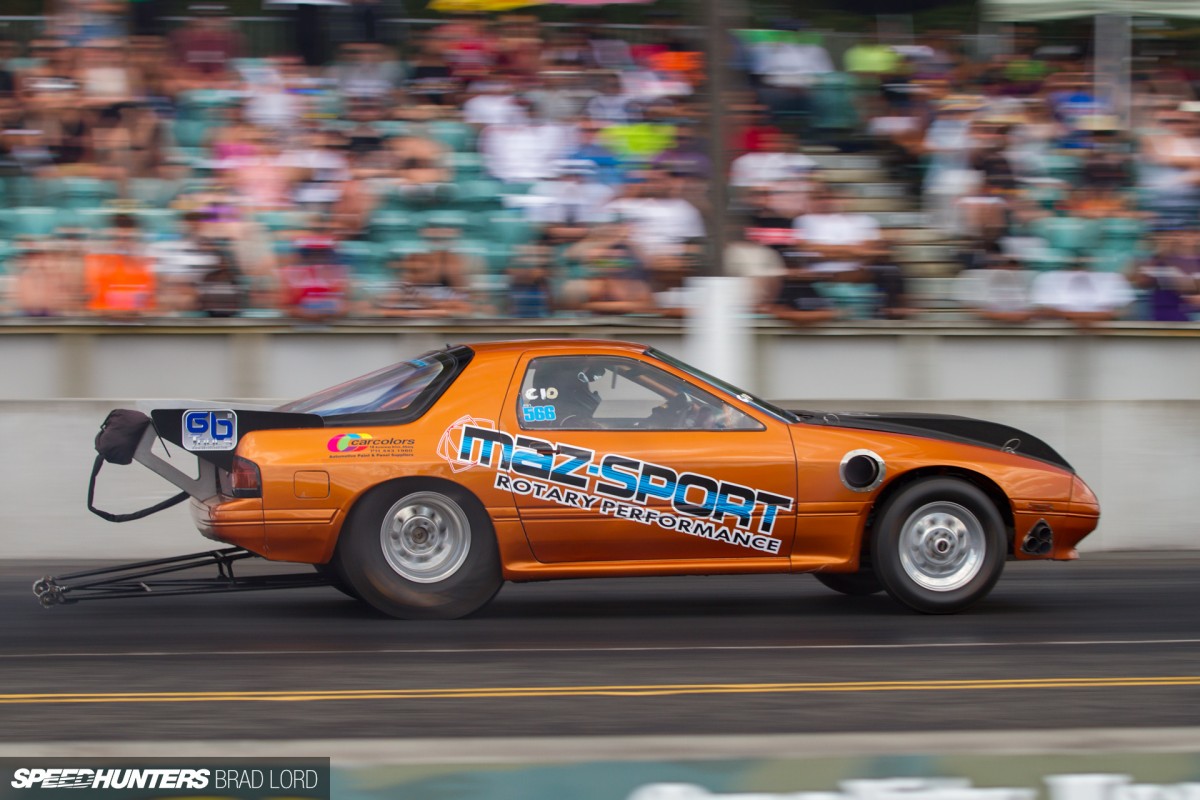 It's been a long road to quick ETs for the 20B-powered machine, but with a recent switch to a PTE Pro Mod-spec turbocharger I know there's more fast times ahead for this icon of the local scene.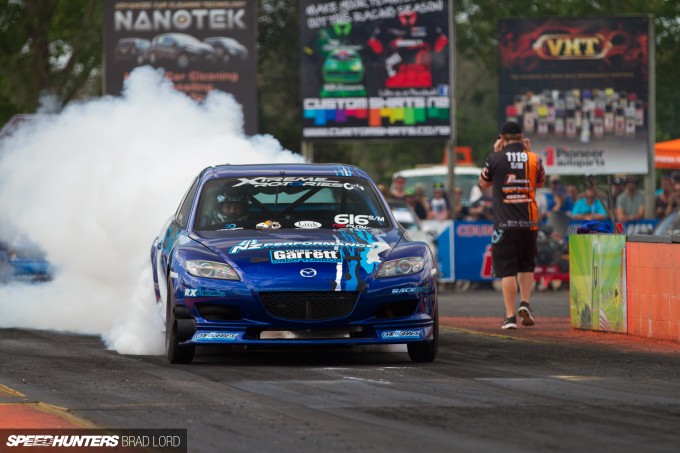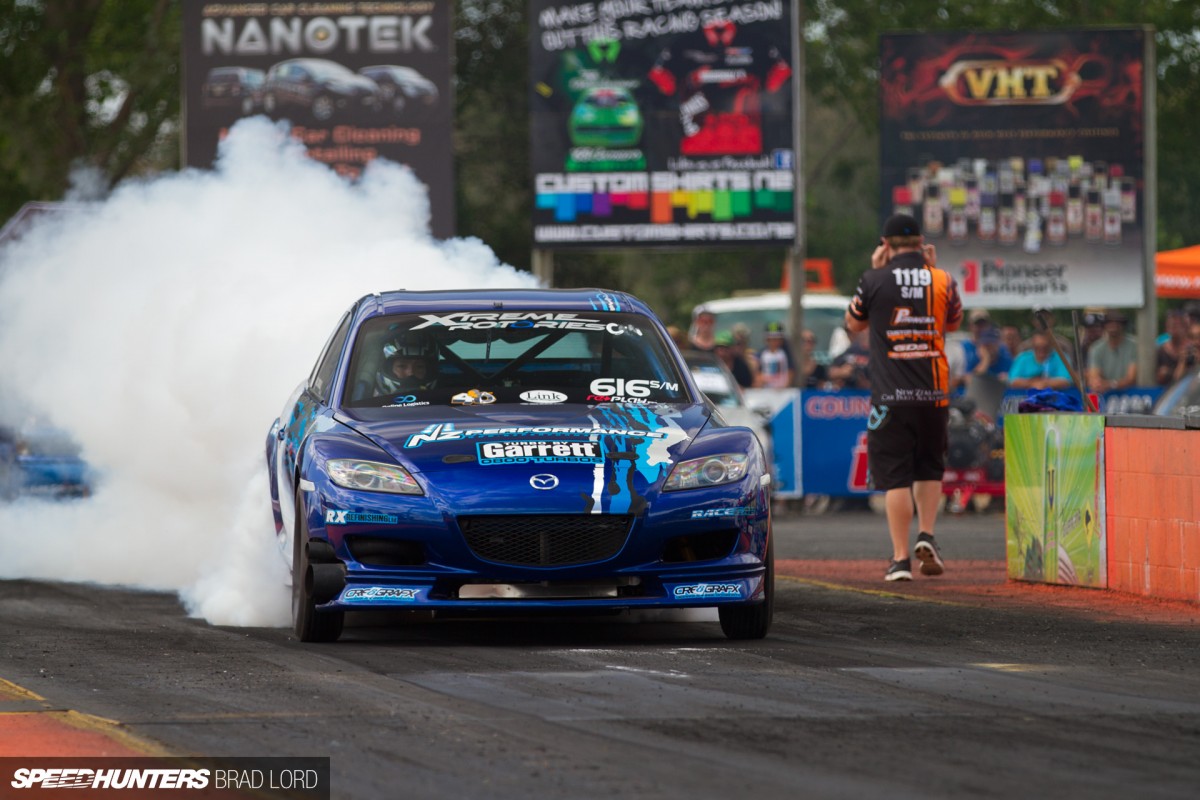 Paul Dowdell is a consistent performer in his NZ Performance RX-8, and as usual was turning some quick ETs in the Sport Mod division.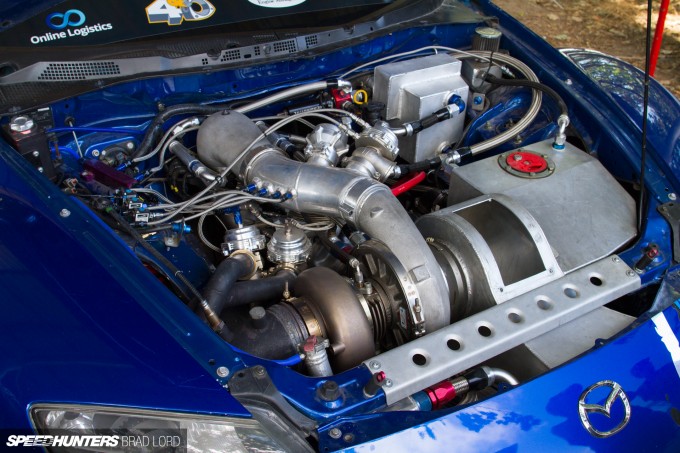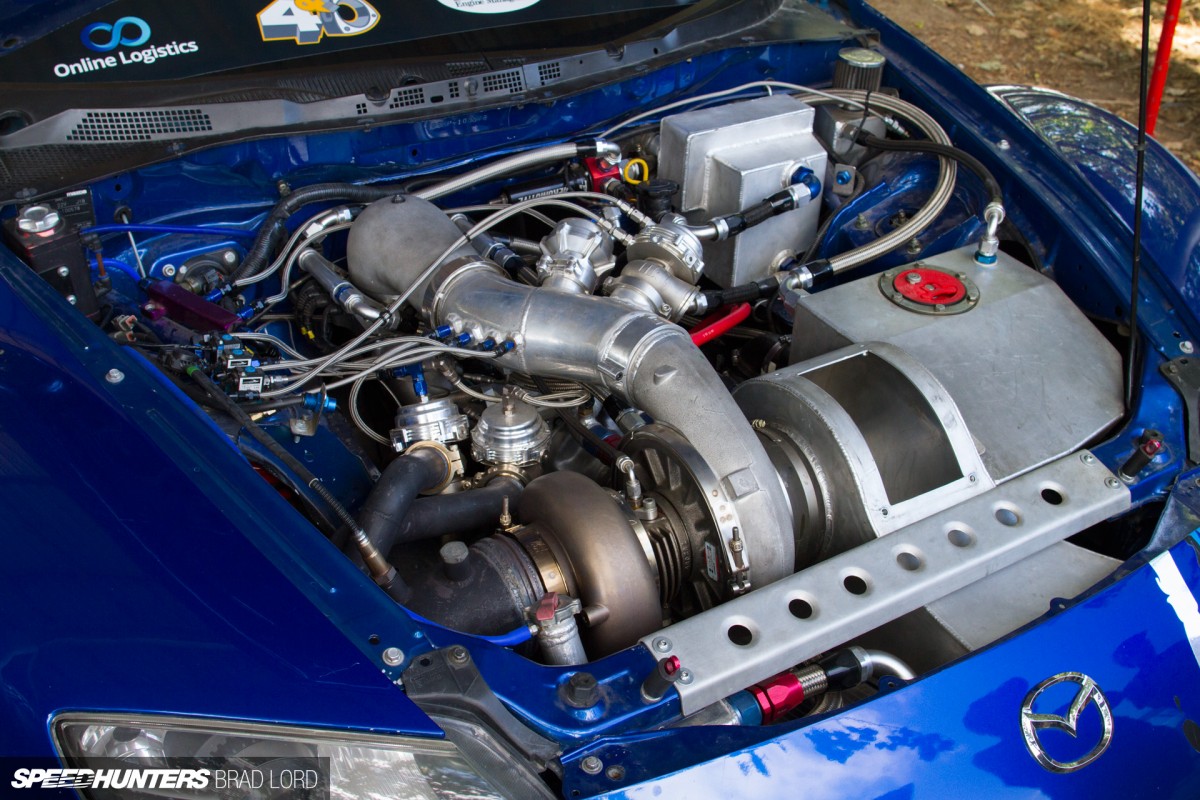 The Mazda is a good looking machine, but it's under the bonnet, with its killer 13B setup, where this car really impresses.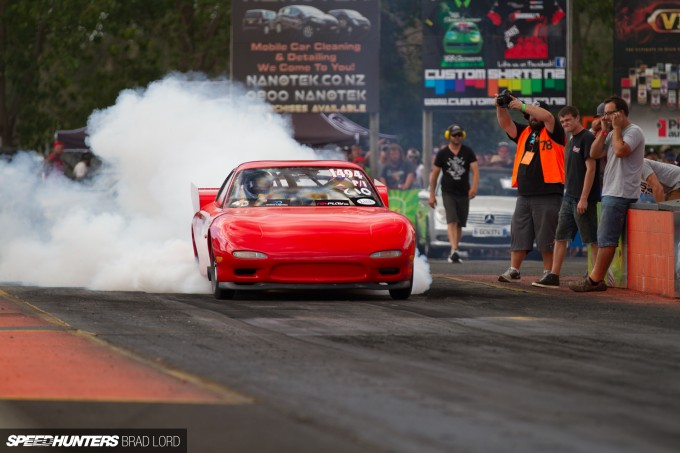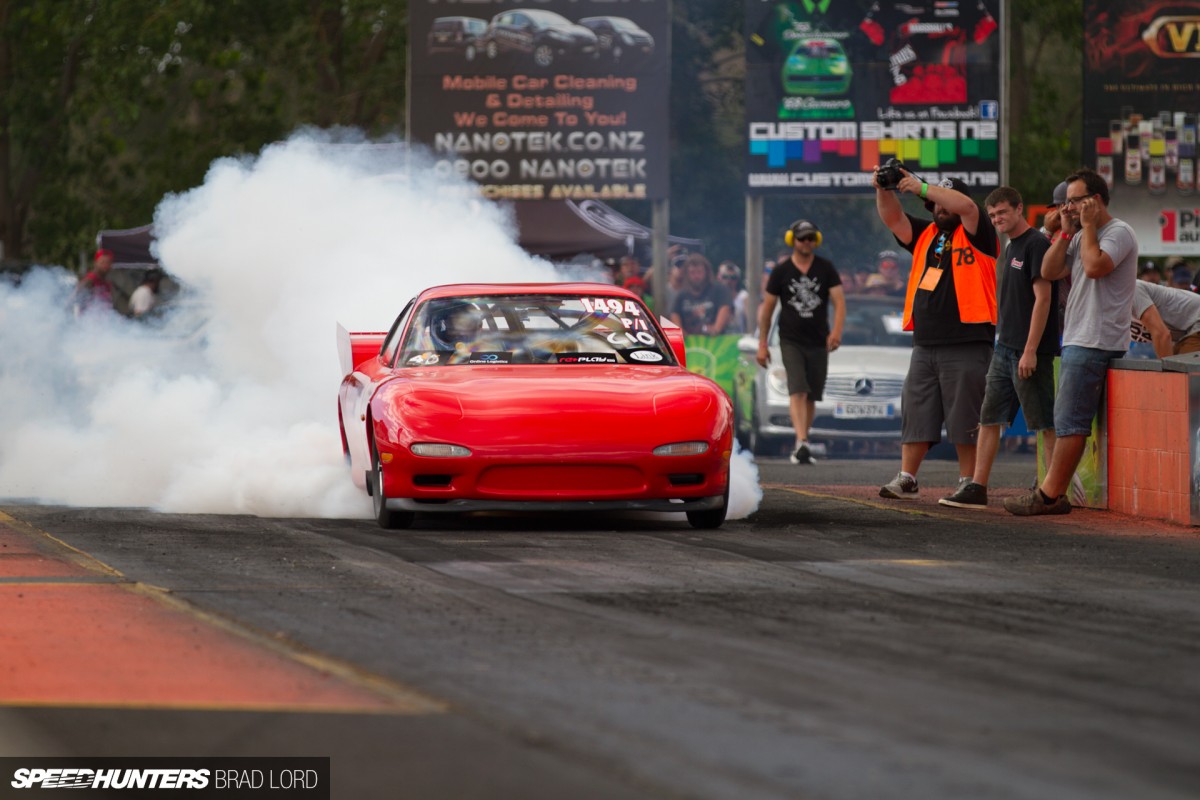 Abbott Brothers Racing are small team that make a big noise with their FD3S RX-7, and it's 13B-powered too. Driver Cory Abbott has previously run a best ET of 7.23 (at 187mph), but in less than favourable conditions, they were a few tenths off that number at the Nats. I love the fact that these guys have stuck with the twin-rotor motor, and it was singing a beautiful tune on the day too.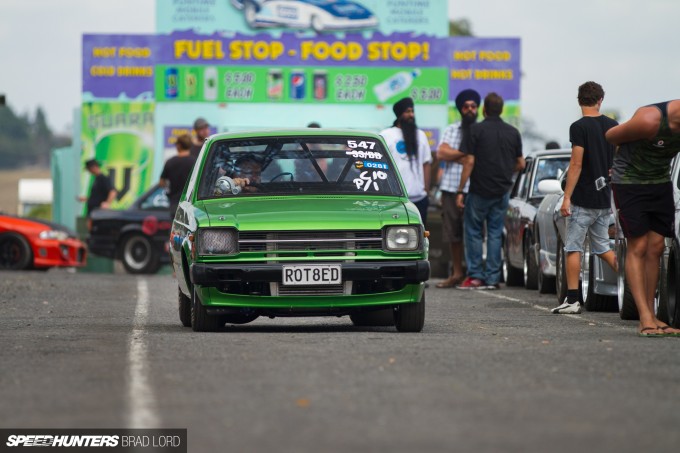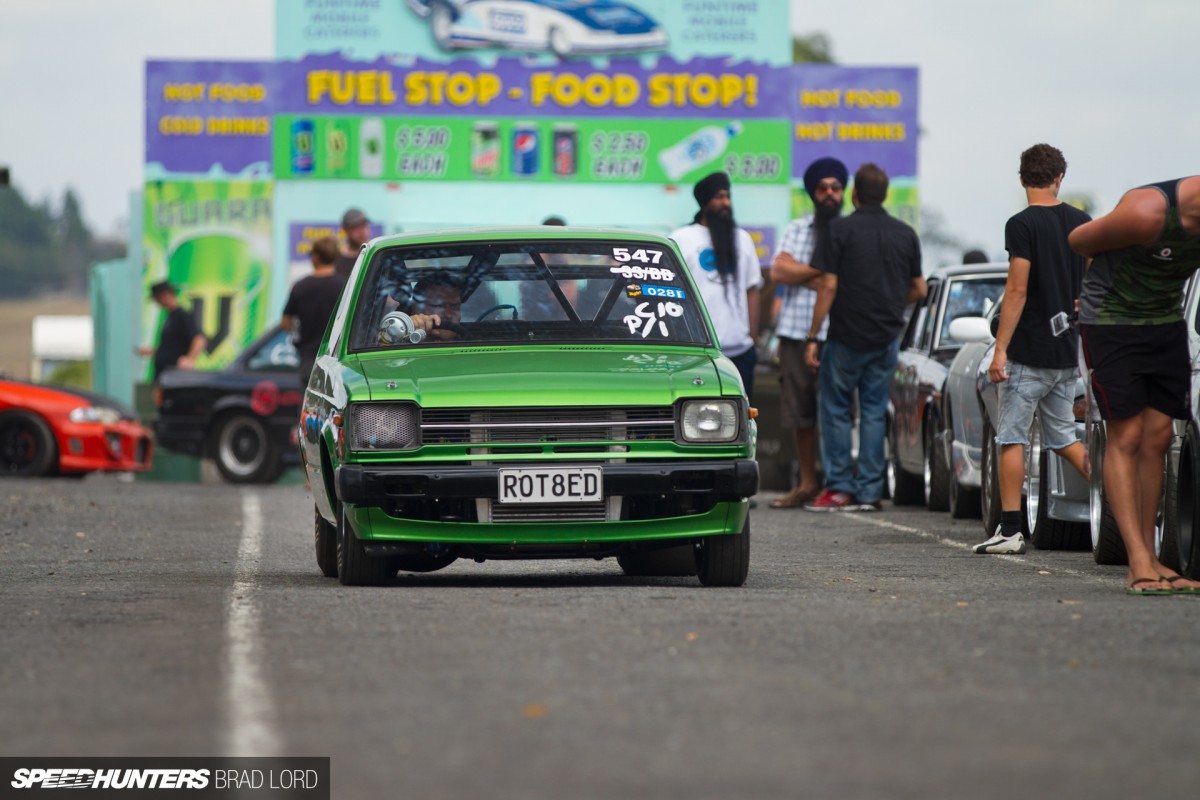 For many years, one of the highlights of the Nats were the cars that were brought over from Australia to compete. For 2015 4&Rotary have flipped the script, and are instead sending four Kiwi cars over to Australia to compete in the Brisbane Jamboree in August. Pro Import division winner Jeremy Hewson is one of them.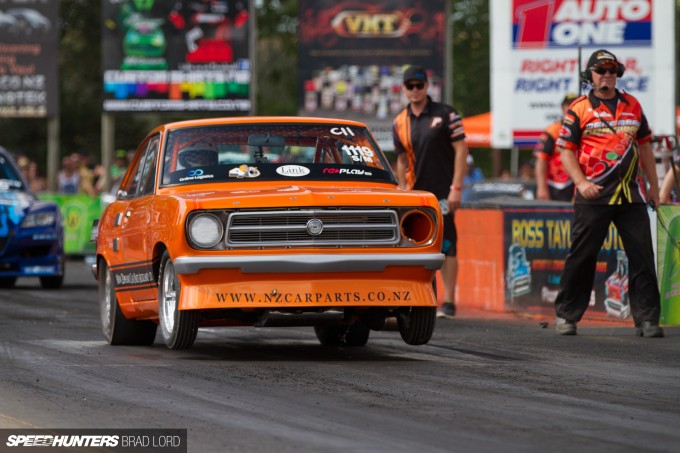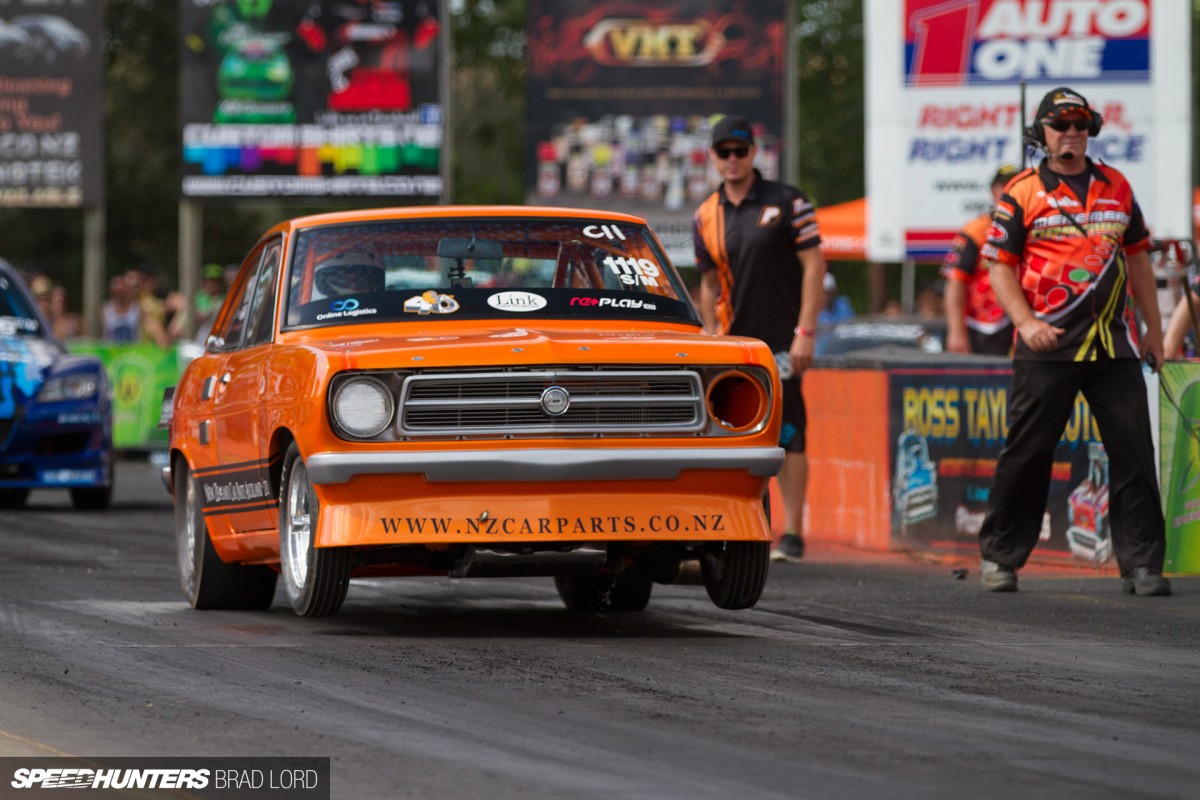 And in taking out the Pro Mod class, Ben Cox – whose oh-so-cool SR20-powered B110 Datsun 1200 Coupe has featured on Speedhunters before – is another. The final two cars will be decided by public vote. Are you ready Australia?
Run What You Brung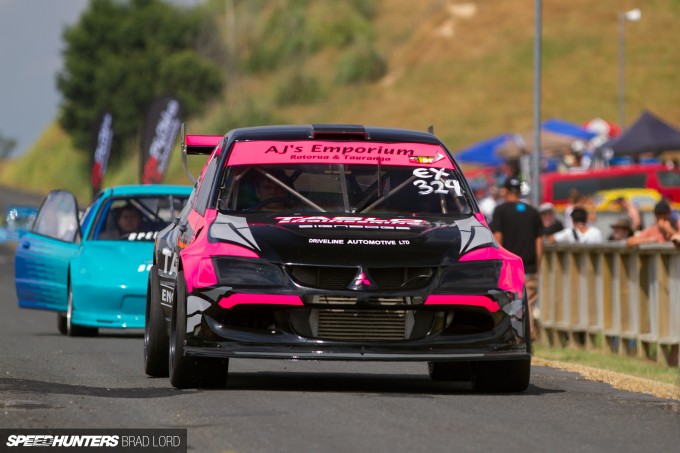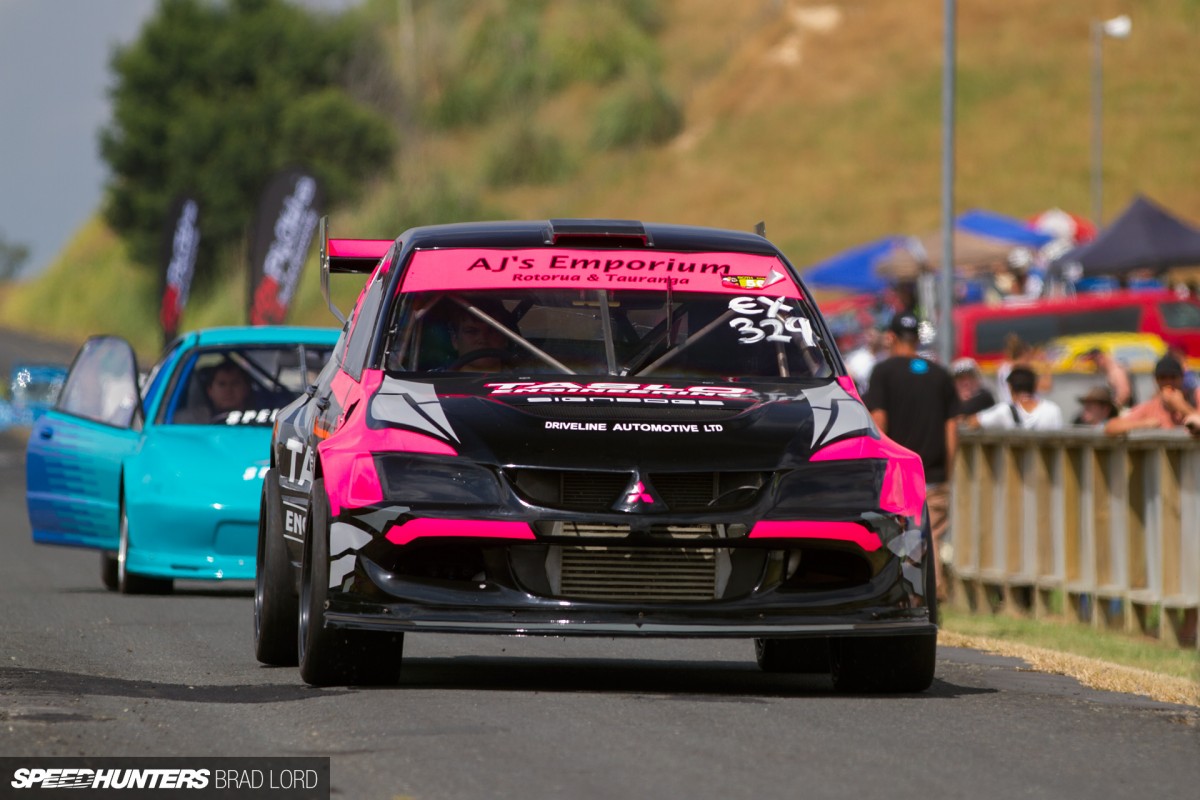 For as many competitors that are out there chasing low ETs and new PBs at the Nats, there are those who sign up to race for a little bit of fun. This tube-frame Evo, which was originally built for hill climbs and previously campaigned at Pikes Peak, was being demo'd by its new owner Sloan Cox. I knew it was quick, but the 10.42 at 217km/h (135mph) it ran, proved it.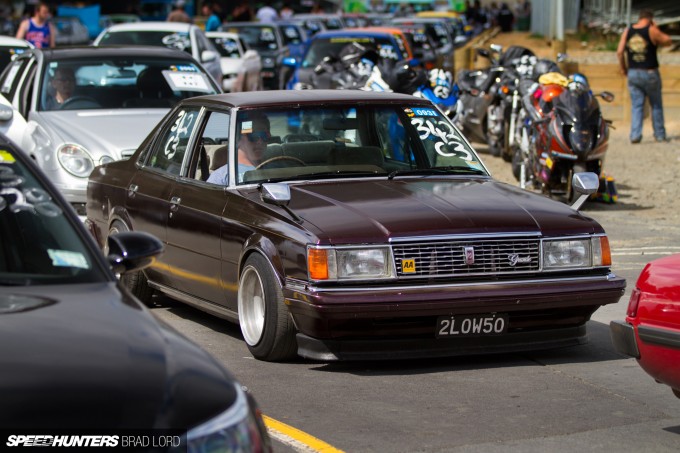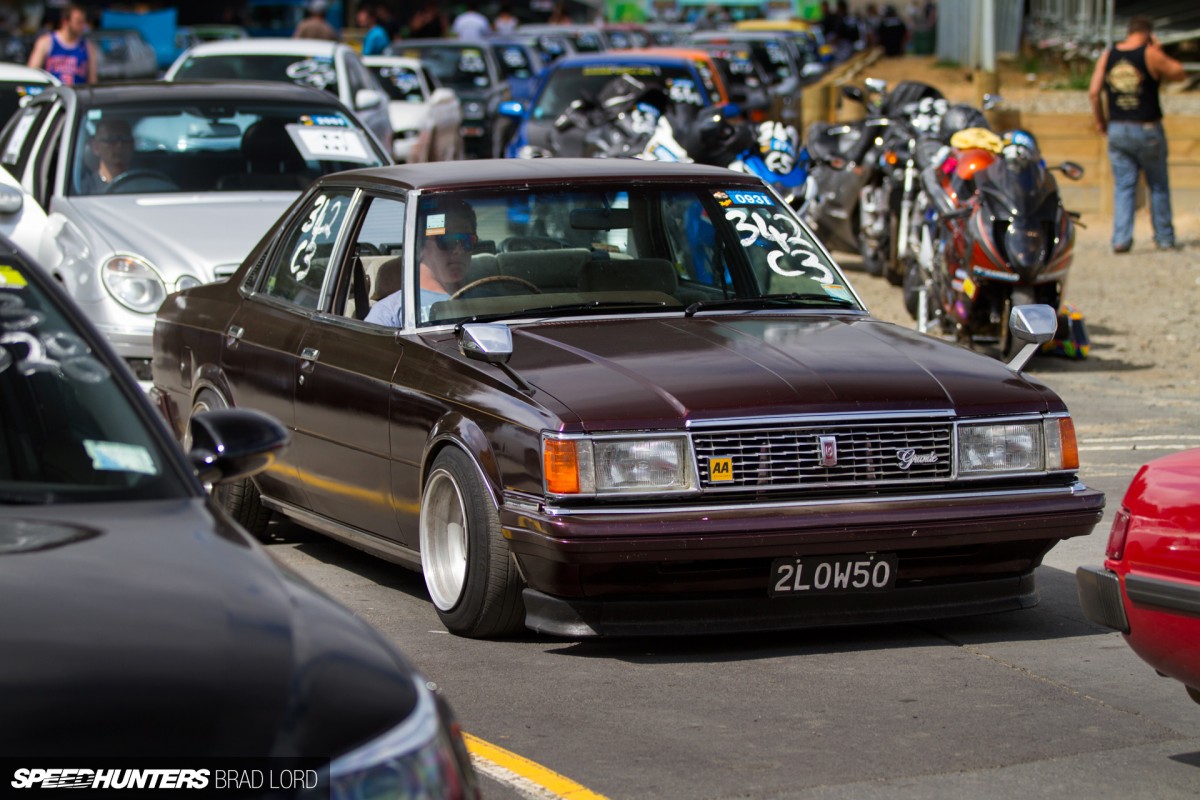 I didn't catch the time for this '82 Toyota Corona, but that's hardly the point of something like this, right?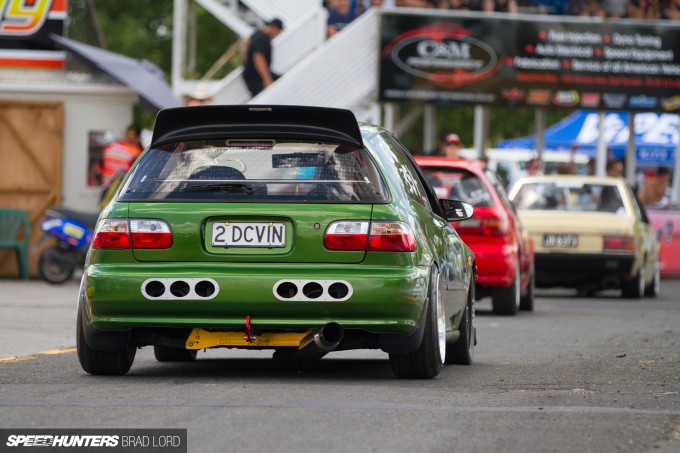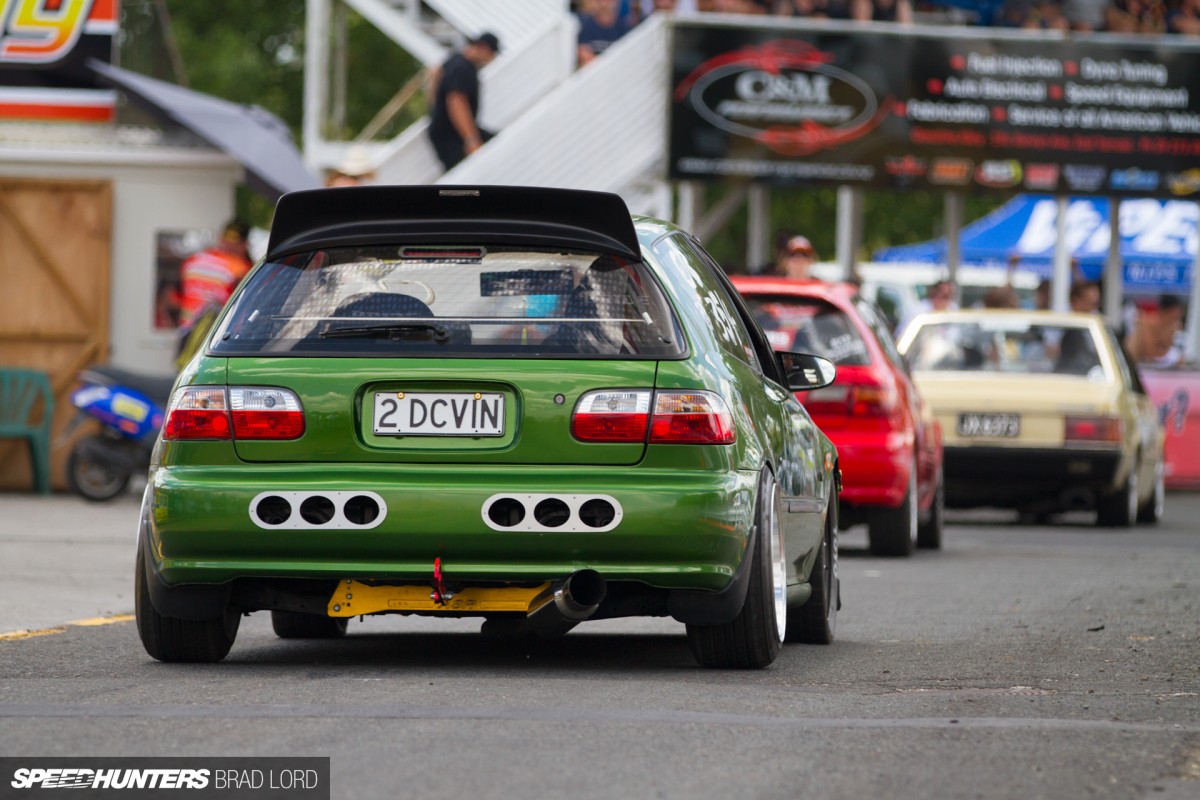 Form and function? This EG Civic hatch was ticking both boxes with stretched tyres in the rear and drag rubber up front.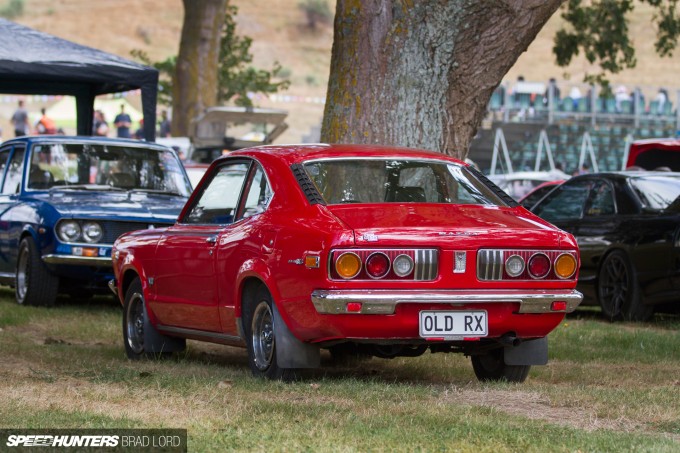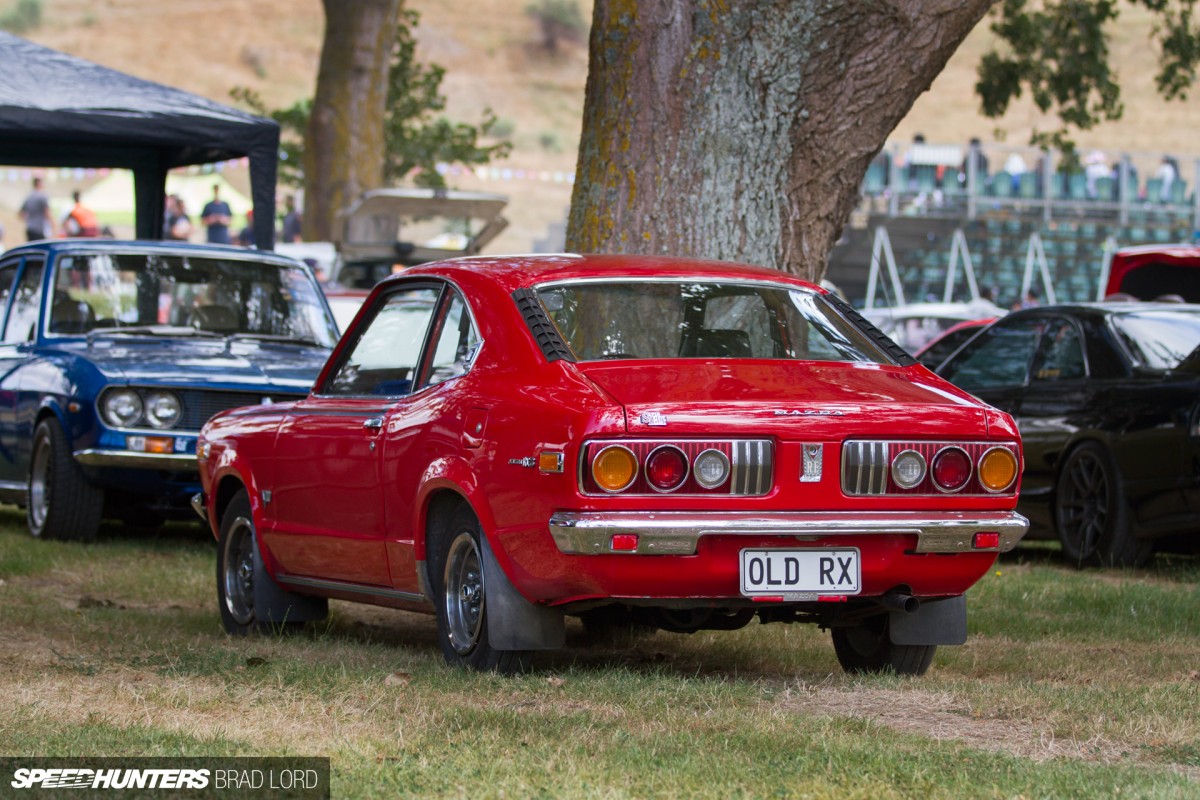 Even cars that weren't racing provided a nice distraction. This original 10A Mazda RX-3 was just awesome! Oh how I wish I had bought one of these when they could still be picked up for chump change. Those days are definitely gone, and as Pedey mentioned in his post, models like this now command big money on New Zealand's collector car market.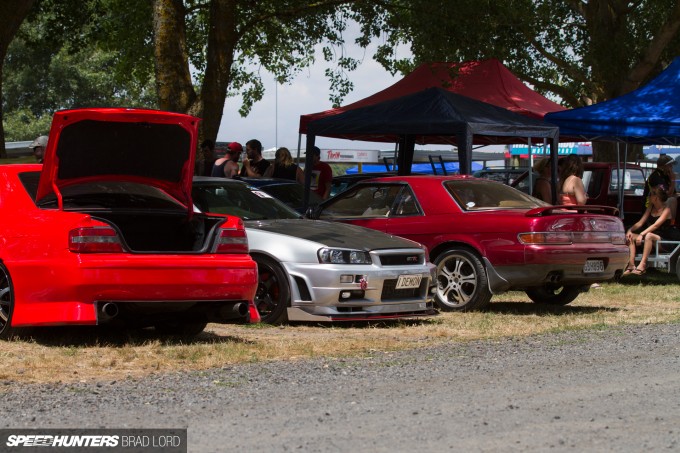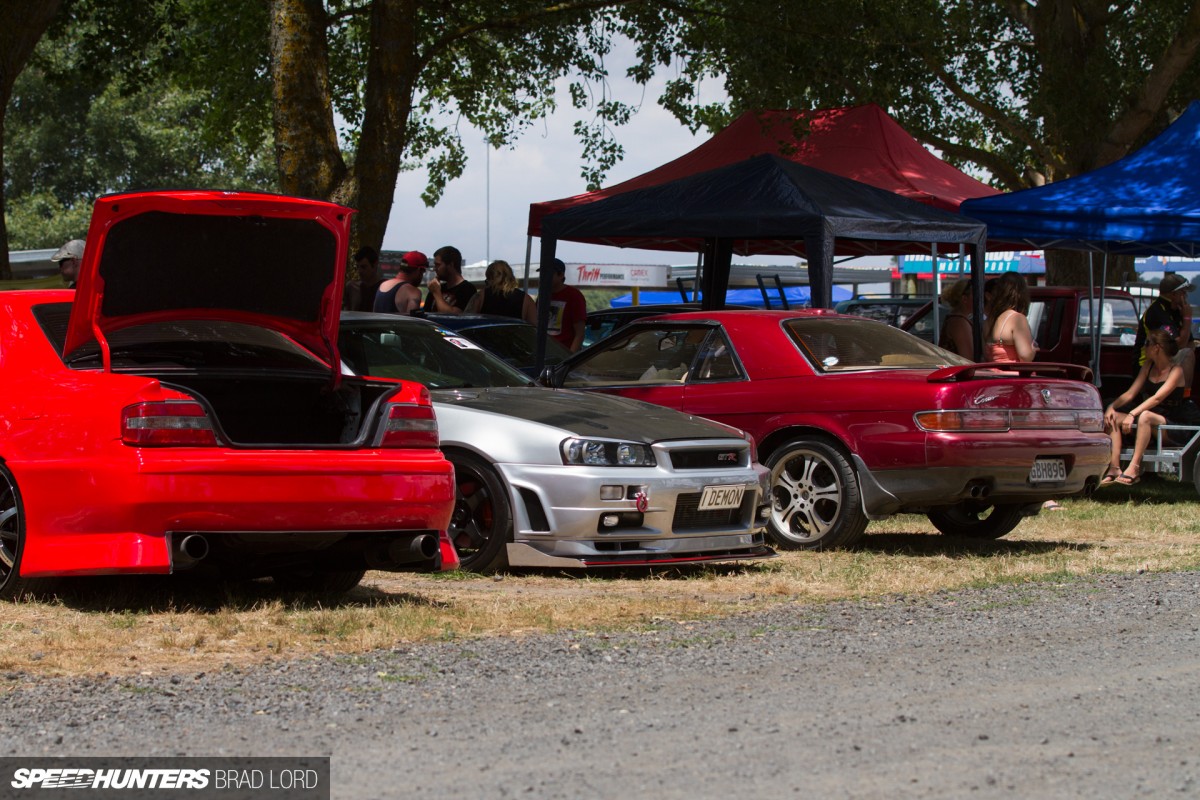 Chaser, Skyline, Cosmo – yep, us Kiwis are pretty lucky when it comes to Japanese cars.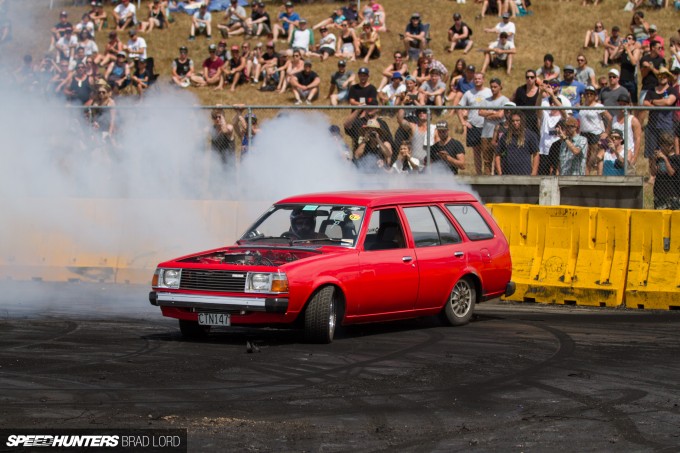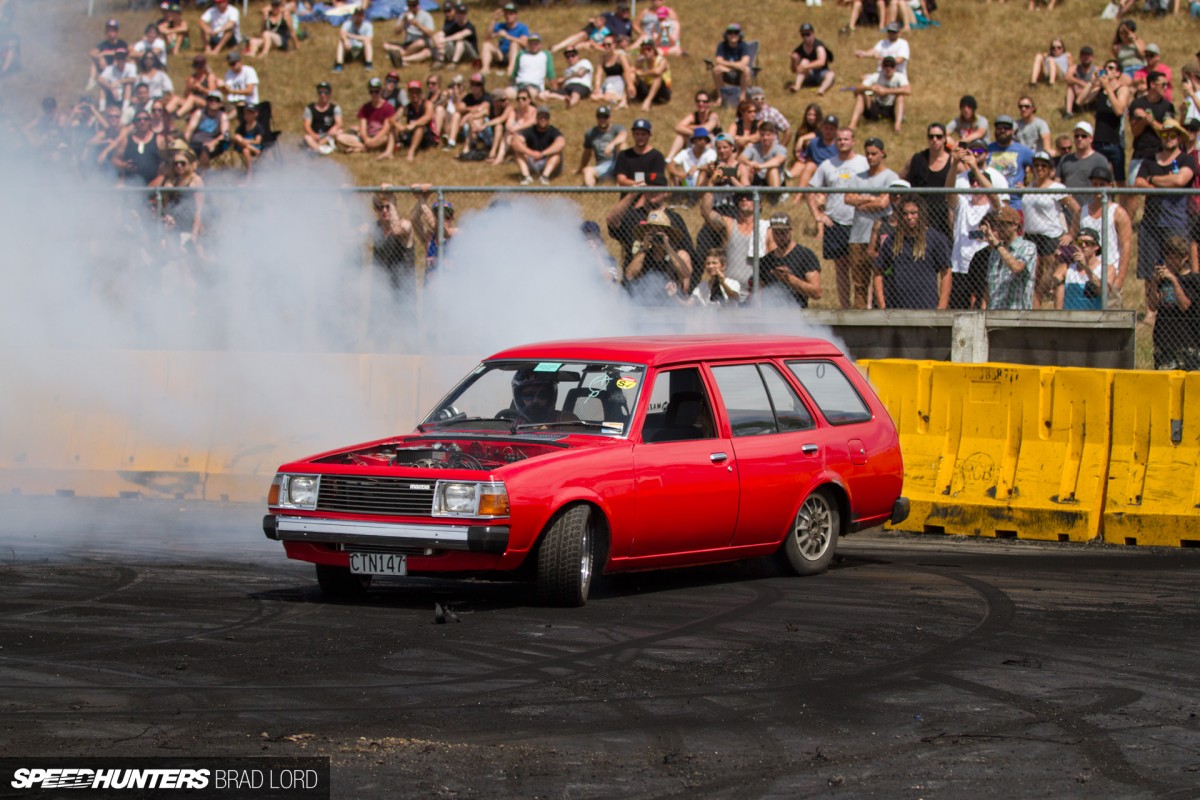 While the main focus is drag racing, the second day of the 'V' 4&Rotary Nationals has other attractions too. The burnout pad is popular amongst spectators, and as always there were plenty of eager participants ready to show off their tyre-destroying skills to an audience with expectations of flying tread, flames and thick plumes of smoke.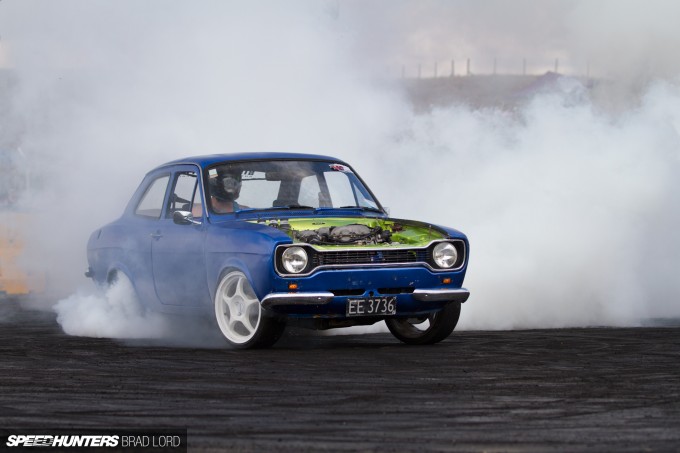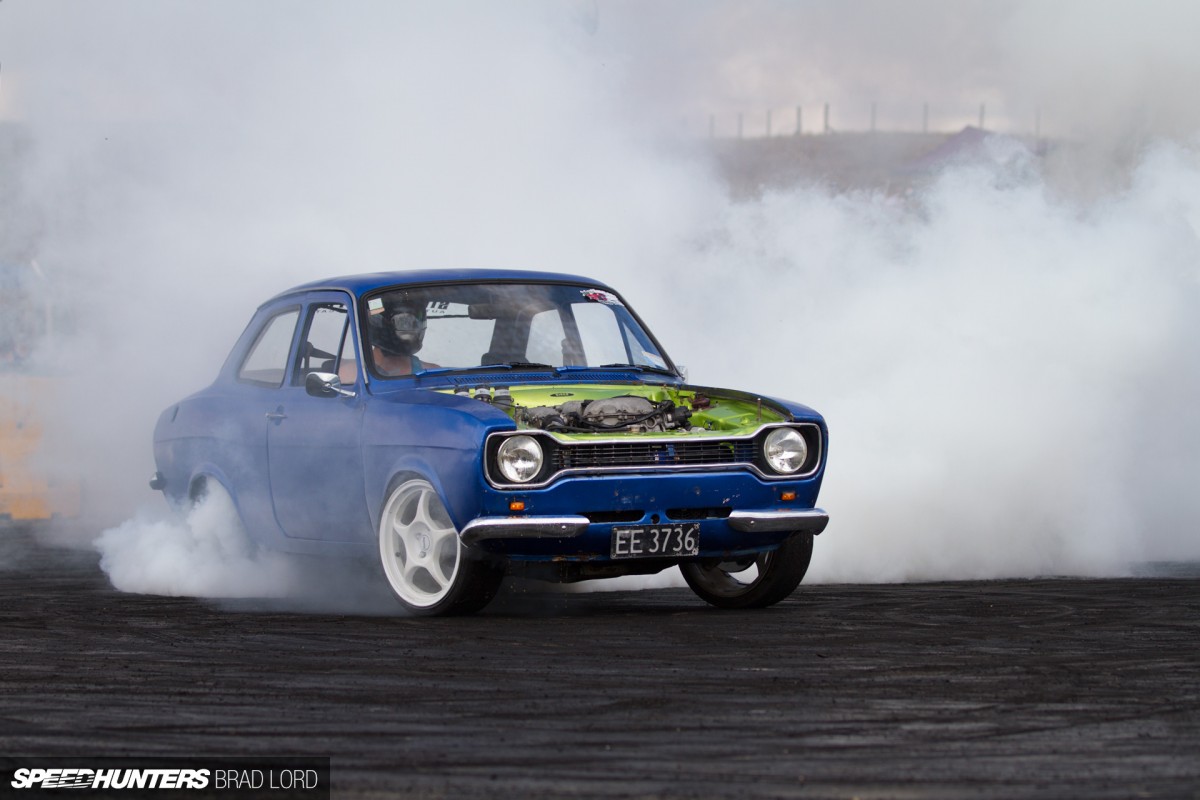 Given the amount of rubber laid on the pad you need lots of power or a good technique to keep the wheels spinning – preferably a combination of both. The Mk1 Ford Escort only appeared to be running a naturally aspirated twin cam engine, but it generated some decent clouds.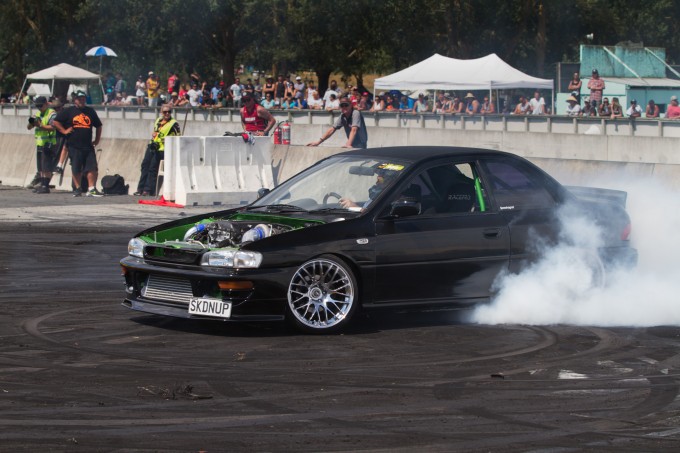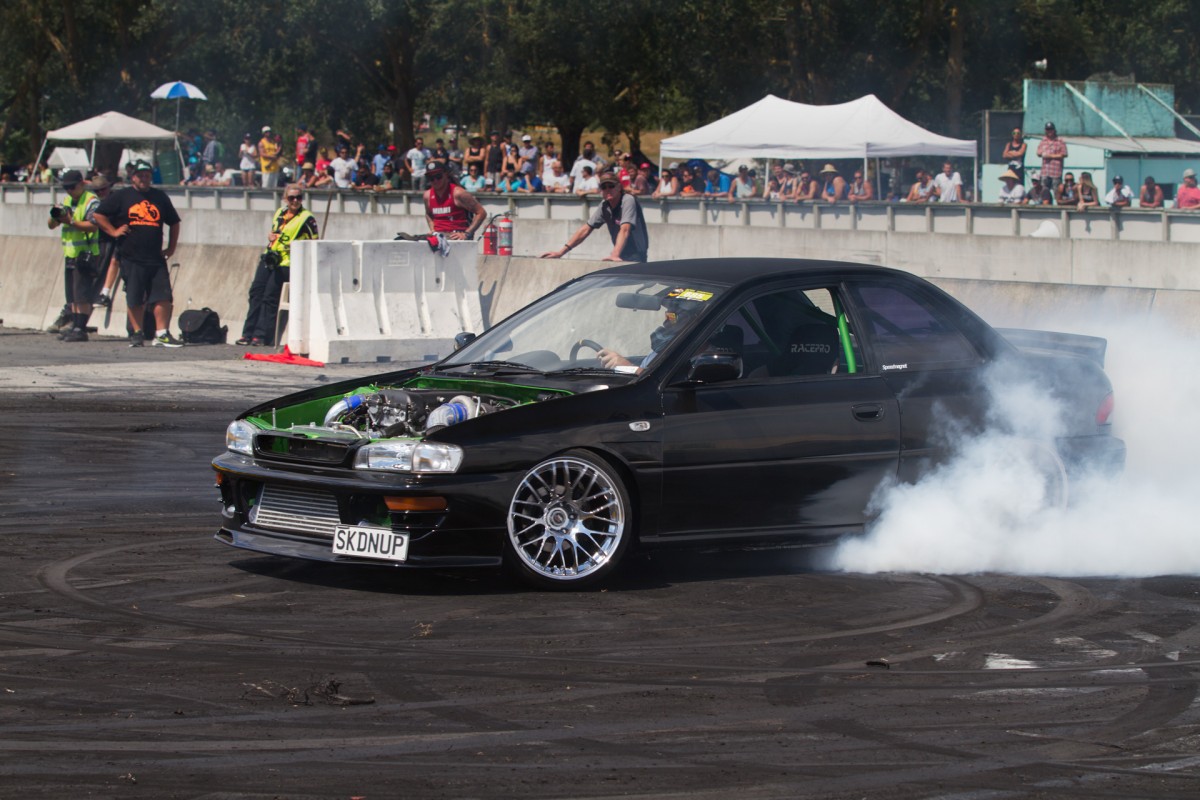 Remember the SR20DET-powered, rear-wheel drive Subaru Impreza WRX from Pedey's coverage? In New Zealand you don't often see show-clean cars going nuts in burnout competitions, but this one definitely lived up to its license plate.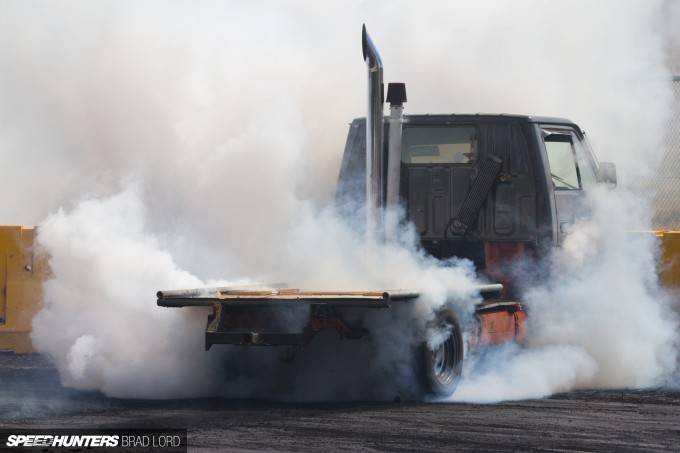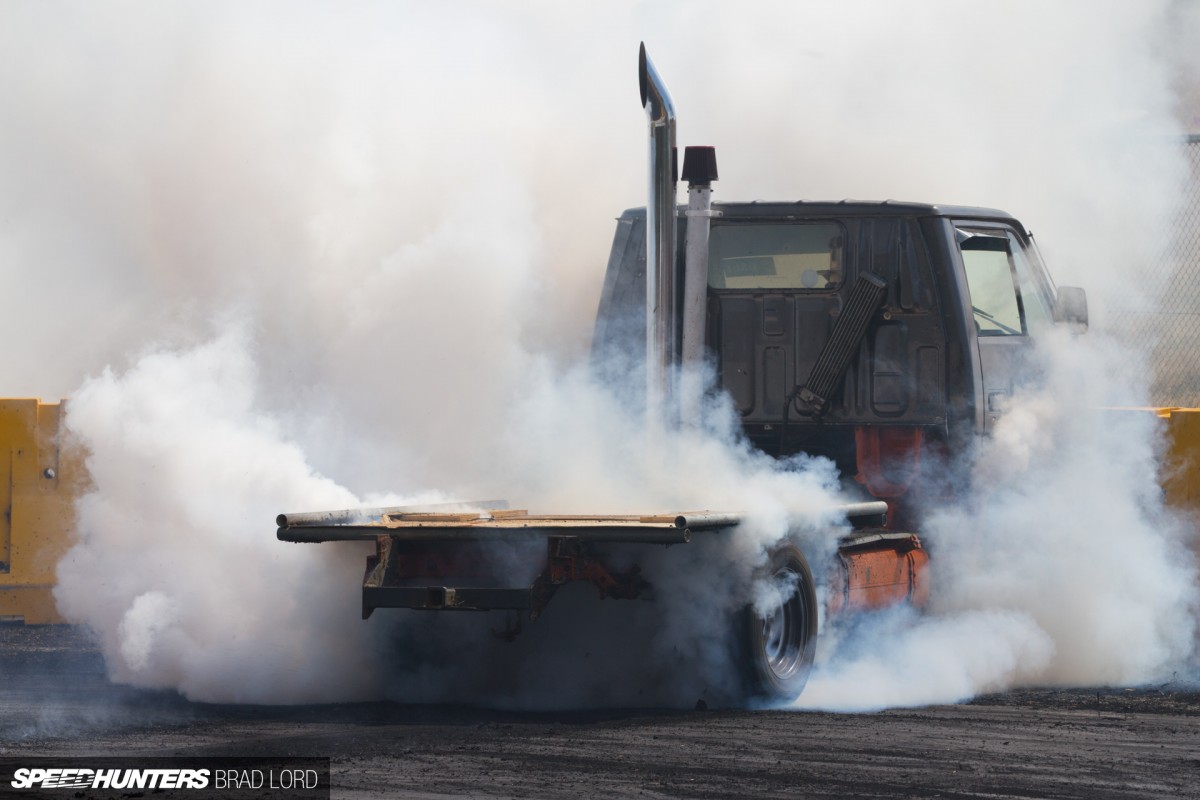 I'm not quite sure what's going on here, but hey, smoke was made so no one was complaining!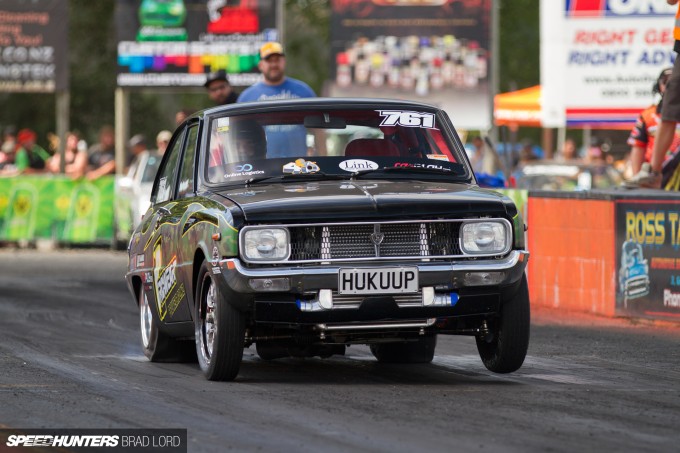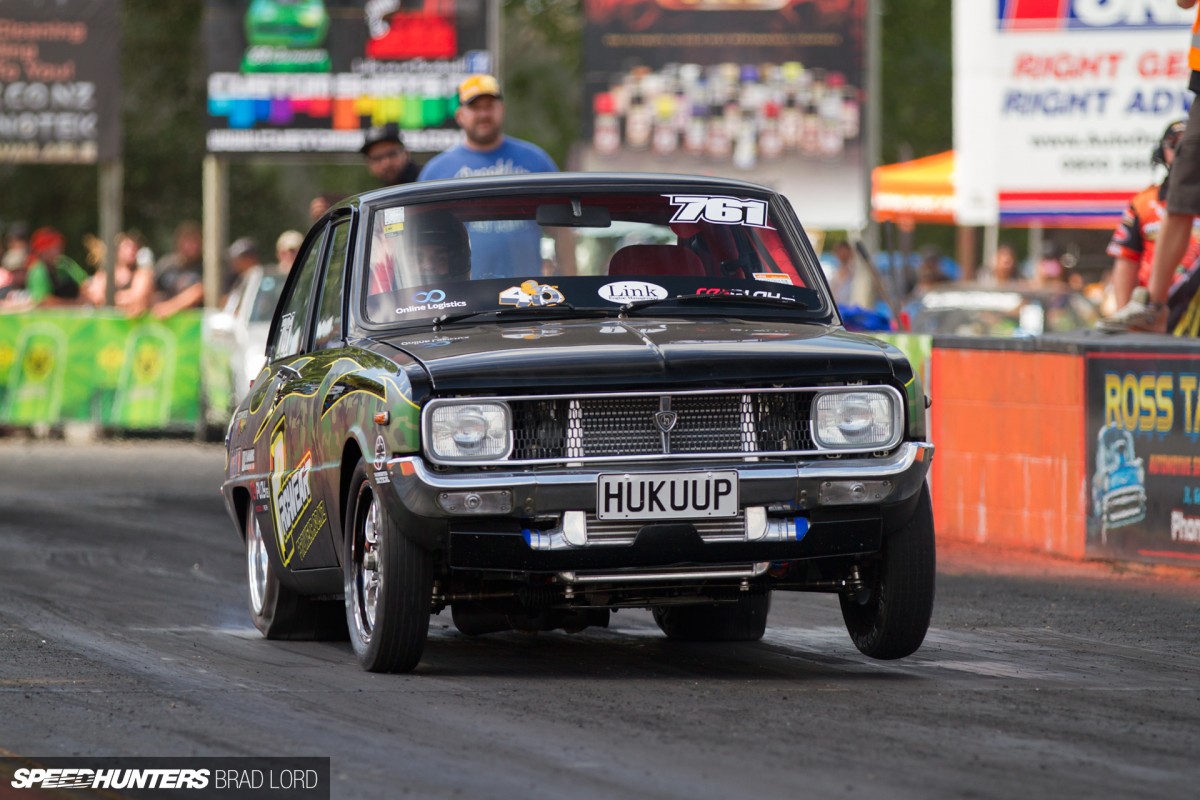 I've been lucky enough to have seen the Nationals grow from a small, club-based event into one of the biggest motorsport events on the New Zealand calendar, and as I alluded to at the beginning of this post, it's so pleasing to see it continuing to thrive many years on. Much of that success can be put down to the passion exuded by the 4&Rotary team, and in particular its head, Azhar Bhamji. Given his commitments, he wasn't driving his Mazda R100 on the day, but renowned Australian rotary tuner and racer Craig Dyson stepped up to give the street-legal coupe a good squirt.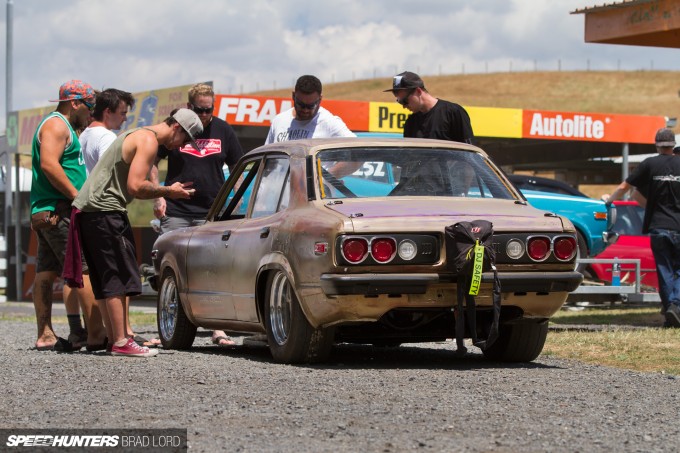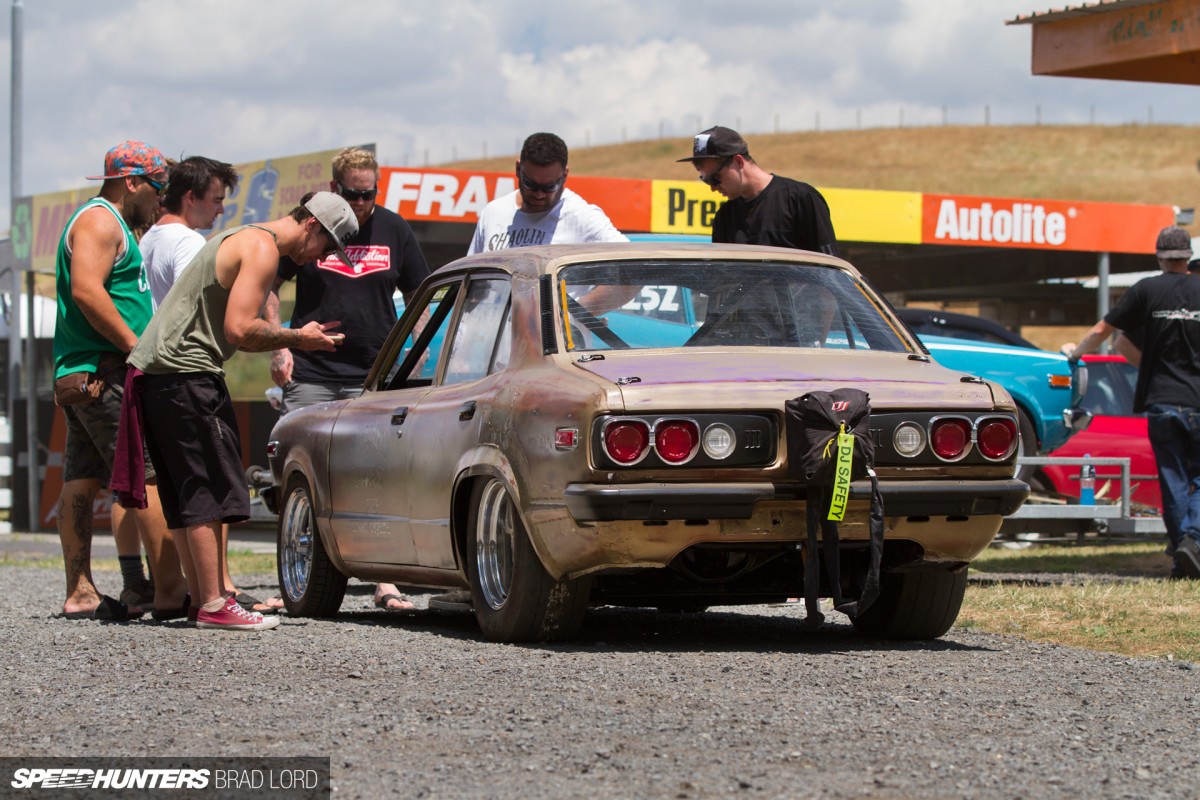 Where to for the 4&Rotary Nationals? For me, the fact that there are new cars coming on the scene really bodes well for its future, and that of local import drag racing as a whole too. That's a good thing.
Brad Lord
brad@speedhunters.com
Cutting Room Floor