Motorsport is addictive. I probably don't need to tell you that, but of all the codes out there I'm not sure than any fuel the fire of obsession quite like drag racing does. In a sport where success is often measured in one-hundredths of a second or less, that's understandable of course. Consistency is one thing, because that's what wins races, but setting a new PB in the process – whether you're running seven seconds or 17 seconds – only challenges you to go faster. It's the very reason why machines like the GDS Motorsport GT-R exist.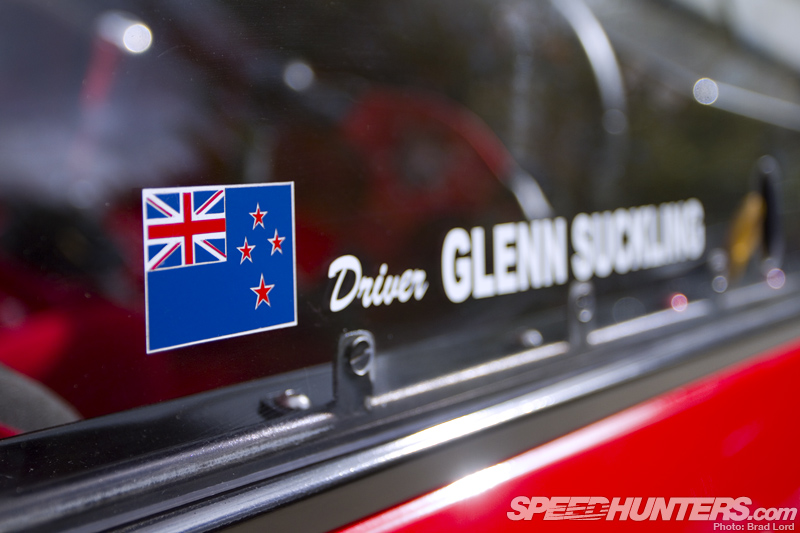 When owner Glenn Suckling built this car back in 2003, he did so with the intention of creating a reliable and consistent 8.8-second performer. Of course, as so often is the case in motorsport, goals often change, and sometimes totally by chance. For Glenn, the tipping point came on the car's very first competition event when the GT-R ran 8.57 at 255km/h. By the end of the season it had gone as quick as 8.08 at 277km/h and was knocking on the seven-second door.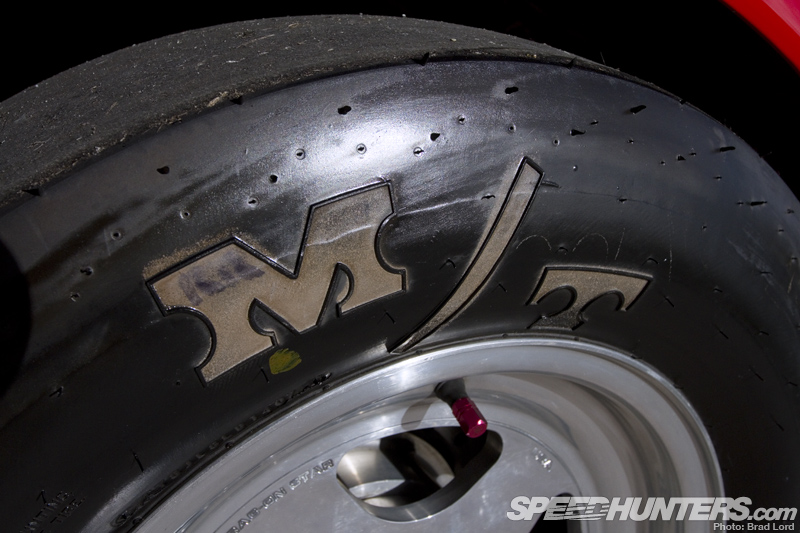 Glenn knew the car would be quick (a shakedown a couple of weeks prior proved that) but within one meet the car had exceeded all of his expectations – expectations that had been built on the success of another world-class Skyline drag machine, the Croydon Wholesalers Racing GT-R. Over the course of three years, Glenn had – for the most part solely – not only developed that car into the quickest street-tyred GT-R on the planet, but he had helped create one of the most influential drag cars on the burgeoning New Zealand import/sport compact drag racing scene. At the same time the Croydon car was beginning to go quick, the Heat Treatments Racing team – also from New Zealand – pulled the covers off its new drag GT-R, a car that would go on to become a world-beater.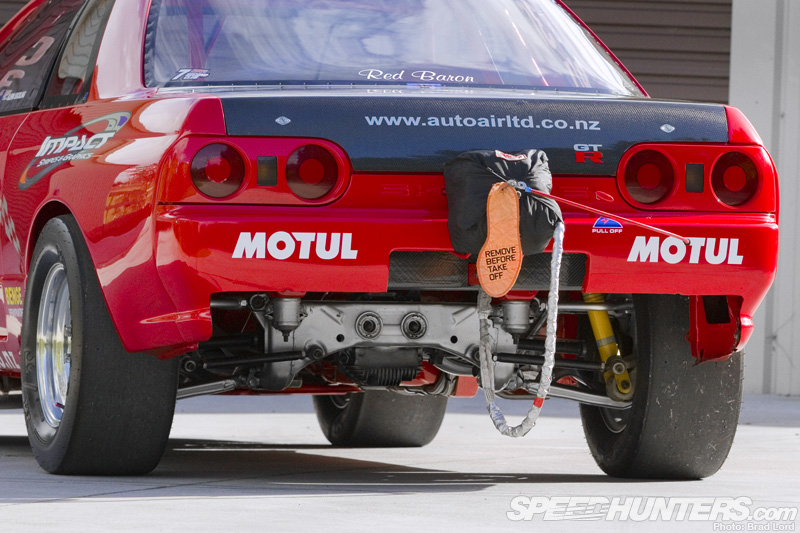 What eventuated was friendly rivalry that lasted a few seasons, and one that ultimately pushed both teams to explore the upper limits of GT-R drag tuning. After the Croydon car ran a best ET of 8.55 in 2003, its owner, Nick Jenkins, put it into retirement. Glenn still had unfinished business though, and decided that if that car wasn't able to be developed further, he'd engineer a GT-R for himself using the knowledge he had gained, plus other ideas he still hadn't had the chance to fulfill, and see how far, and fast, he could go.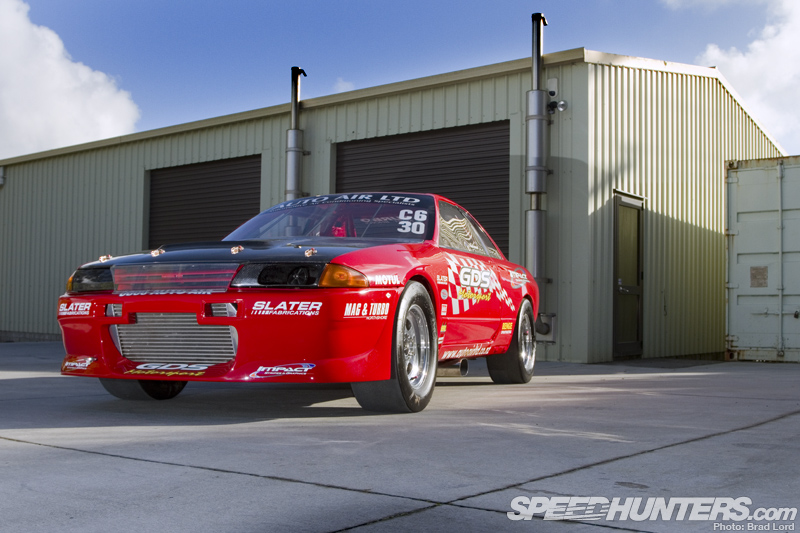 When it comes to his owns cars, and the cars that he builds and tunes on a daily basis under the GDS banner, Glenn is a perfectionist. The GDS Motorsport GT-R – aka the Red Baron – is proof of that. It might be eight years old now, but it's as meticulously maintained as it was the day it was finished. Today it's also one of just a handful of four-wheel drive GT-Rs around the world that has managed to break the eight-second barrier with an all-time best pass of 7.91 at 291km/h, backed up with a 7.92 at 293km/h. Even more impressive, it runs the numbers with a manual shifter, making it the absolute quickest of Japanese 'Pro GT-R' style drag it was based upon, anywhere in the world.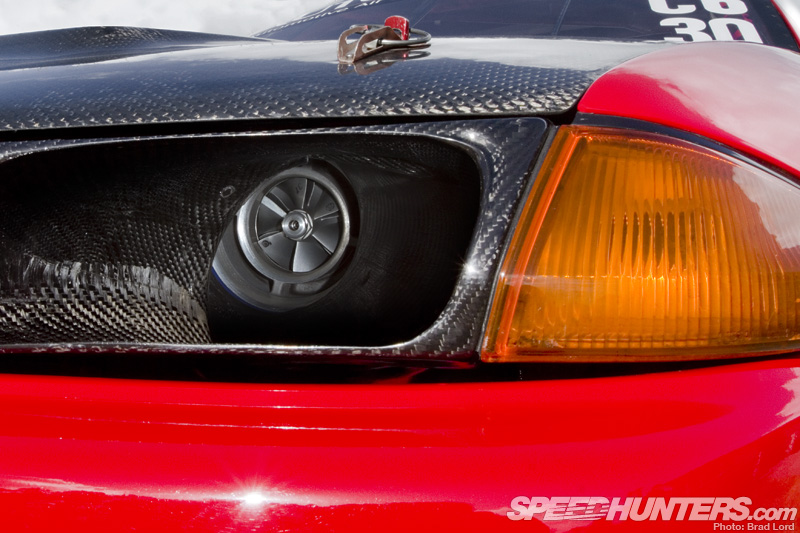 While all aspects of the car contribute to its ability to cover the standing quarter mile and go zero to almost 300km/h in a similar time it'll take you to get this far through the sentence, it's beneath the carbon fibre bonnet – at the GT-R's heart – where you get some idea of the extent of modification.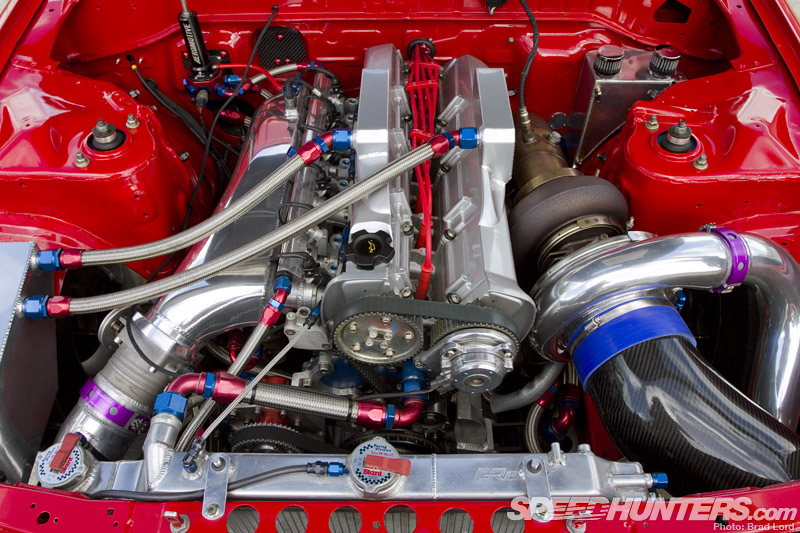 The basis of the engine is a rare NISMO 'RRR' block, the same component used in Nissan's Le Mans GT2 and Super GT GT500 class racers of the time, and also NISMO's Z-Tune BNR34 GT-R road car. The motorsport-grade block is well-suited to the task here, featuring superior material, thicker walls and extra strengthening over a standard production-spec RB26. Internally it's far from stock too, and Glenn has built the engine up around a Trust stroker crank that lifts capacity to 2.7 litres. Carillo rods and JE forged pistons complete the rotating mass.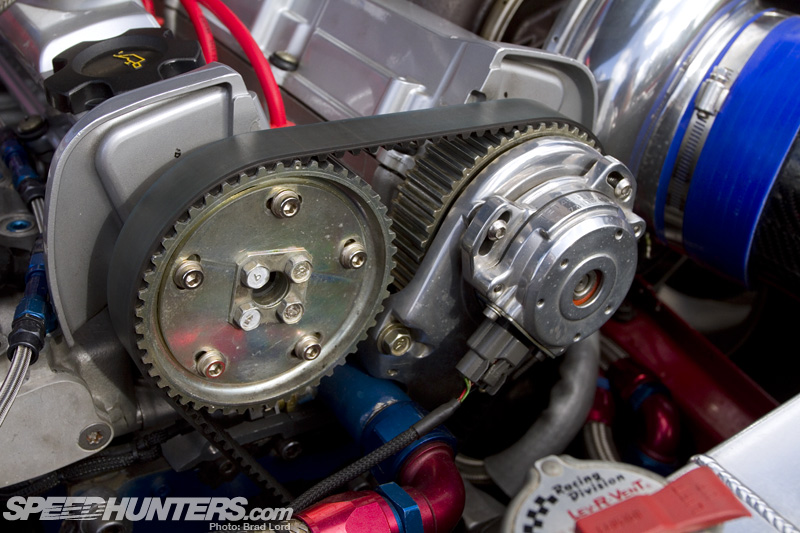 Although it started life as production fare, the RB's DOHC 24-valve cylinder head was given the full treatment by Glenn and features larger ports, bigger valves and a pair of Tomei camshafts.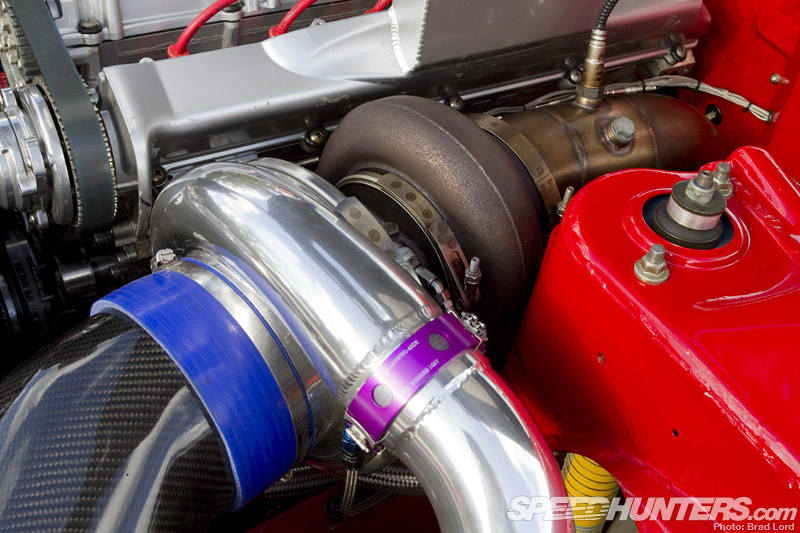 It's not hard to see why it needs the extra flow either! A hybrid Garrett GT47-series turbocharger sits atop a GDS exhaust manifold, with an HKS GT 60mm wastegate employed for boost control.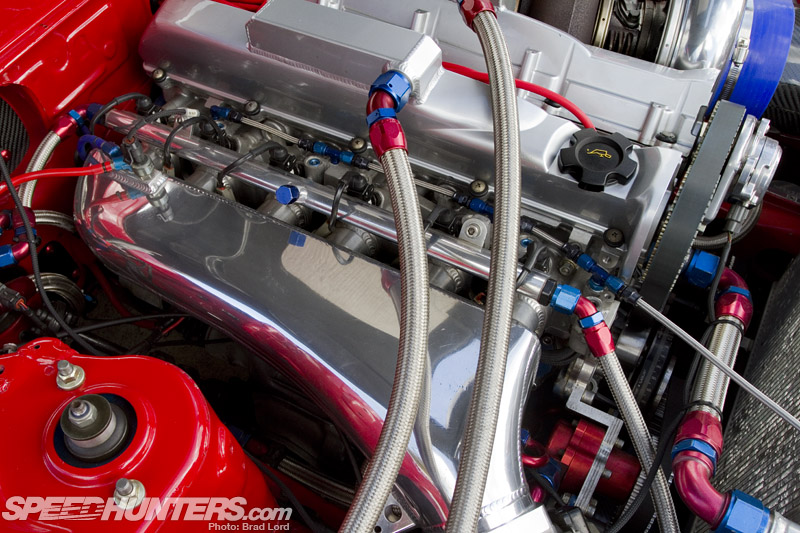 Of course, there's a big appetite to satisfy here, and an equally impressive intake and fuel system which includes a beautifully fabricated intake plenum from Japanese tuning house Top Secret and one dozen 1500cc MoTeC Indy injectors fed from a custom fuel rail.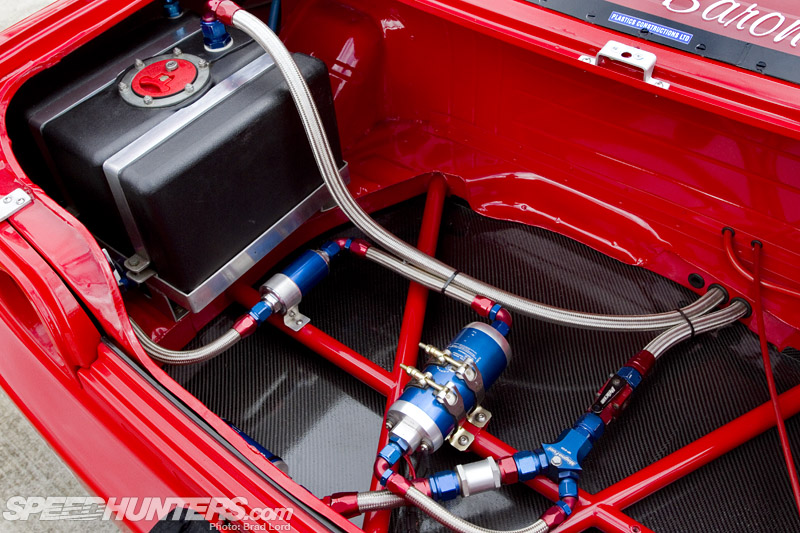 As you might have guessed from the injector size, cool-burning VP M1 Racing Methanol is the engine's fuel of choice, and a key ingredient in the power-making strategy that's been employed here. As you'd expect to find when you remove the carbon fibre boot lid, Glenn's done a really nice job of the fuel system fit-out in the Skyline's boot cavity, too. Carbon fibre is also used as a replacement for the car's heavy original spare tyre well.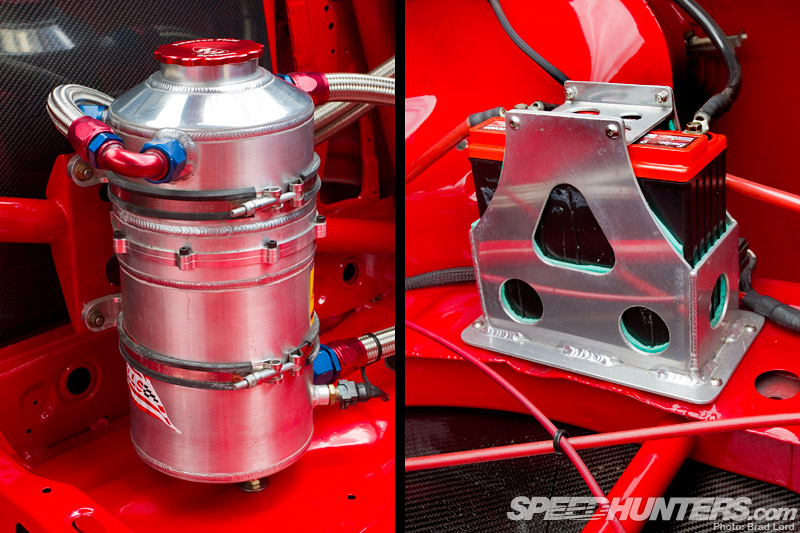 The boot is also home to a small, lightweight racing battery, while the oil reservoir tank for the engine's Peterson dry sump system is mounted ahead of where the front passenger seat would normally bolt in.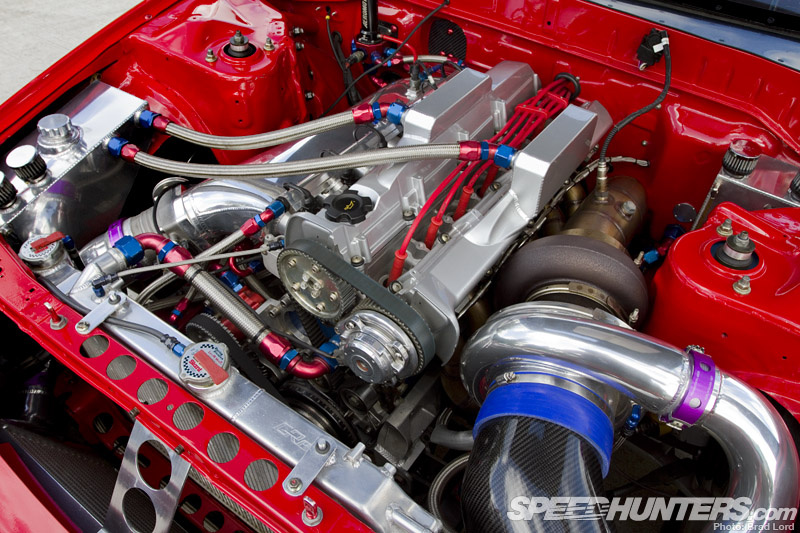 Not only does the engine sound every bit as angry as you'd expect it might, but tuned by Glenn through its MoTeC M800 engine management system it make some serious numbers too. 1628 horsepower is the official figure, which equates to 602hp per litre – or almost six times the engine's original output.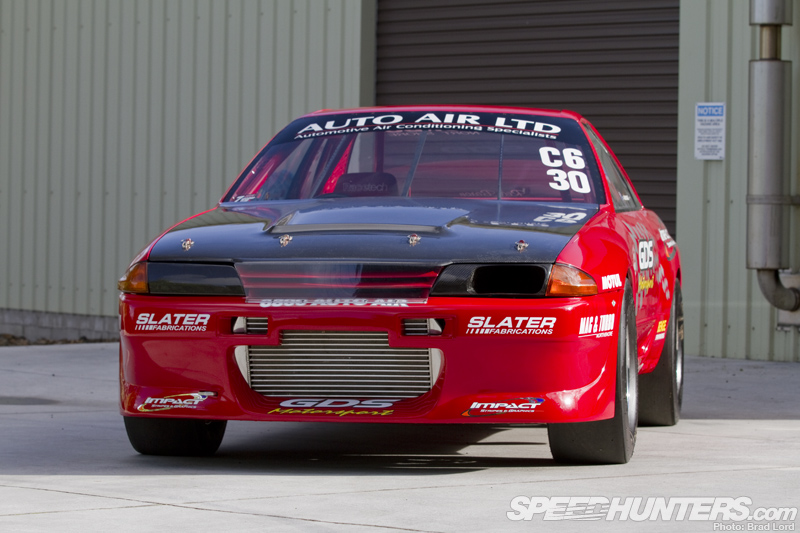 Glenn could have gone down the RB30 route of course, and with a 3.2-litre kit grabbed an extra half-litre of capacity over the current set-up. But that's not what this build was all about. Staying true to the basic Skyline GT-R script was the intention from day one, so whether or not he'd stick with an RB26 base was never in question.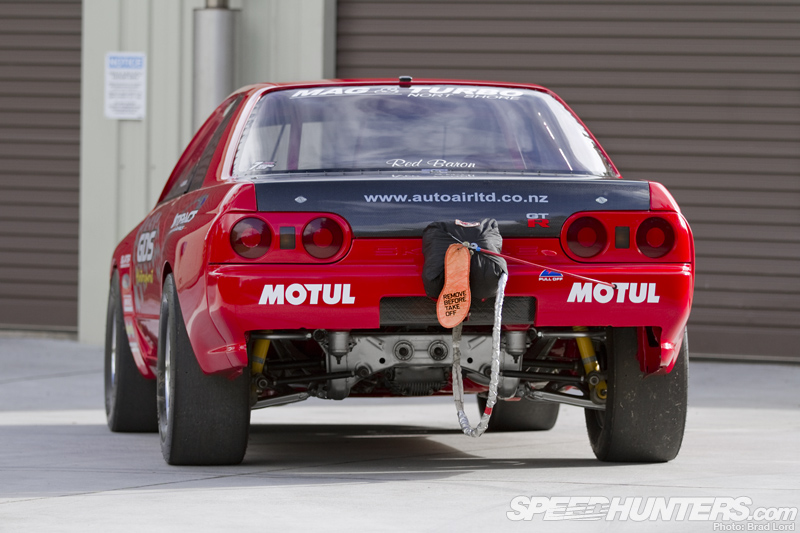 I don't know about you, but for me there's something so right about the way this car looks.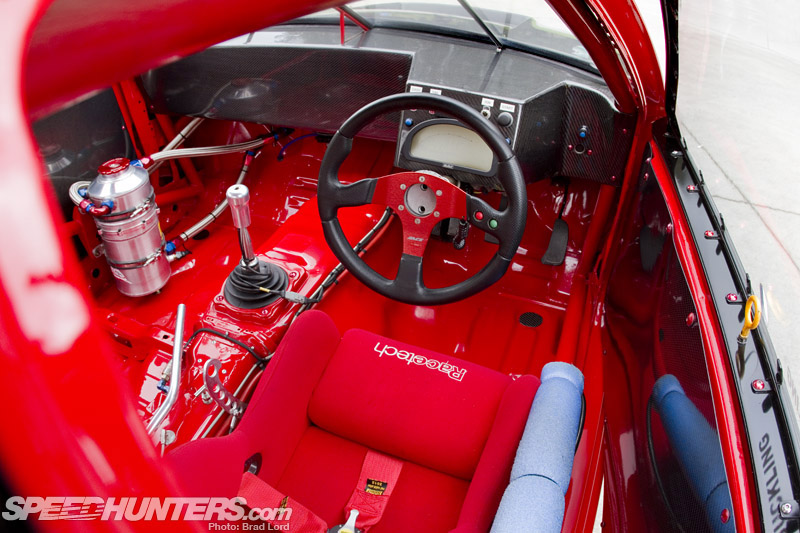 As you'd expect with a car built around lightness (it weighs just over 1100kg/2425lb wet), the interior fit-out is basic, but nicely executed. The carbon fibre dashboard and door cards were custom-made especially to Glenn's specifications.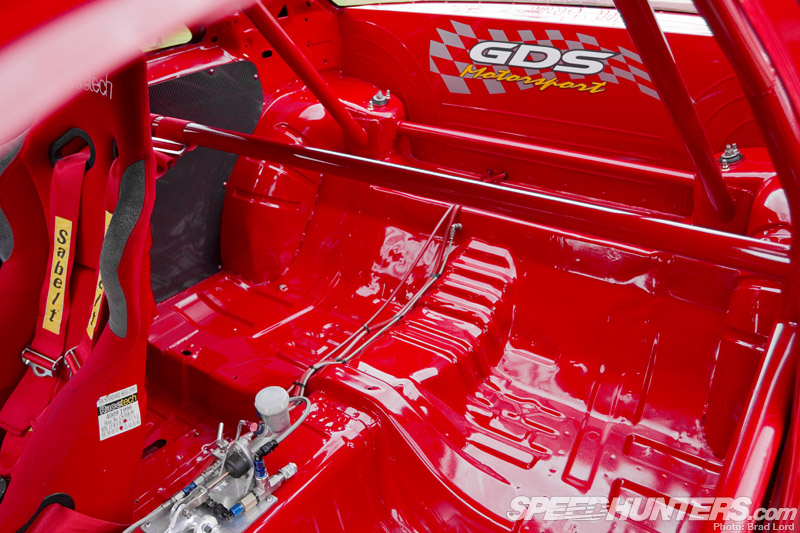 There's not much to look at facing rearward into the cabin either – just the essentials: the NZDRA-spec roll cage and evidence of chassis strengthening. Since the fuel's kept there, the boot cavity has been completely sealed off from the cockpit, too.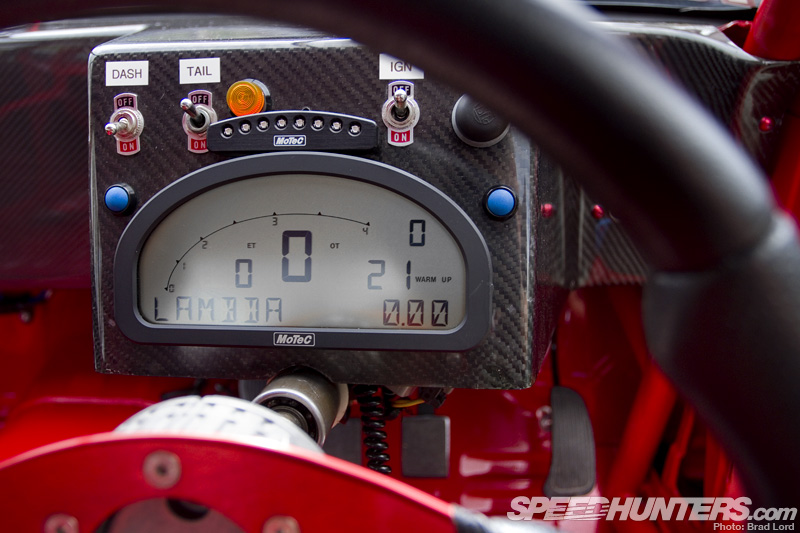 Everything Glenn needs to know immediately before, and during a run down the strip, is displayed on the MoTeC ADL dash unit, which also logs a huge amount of data for post-pass analysis.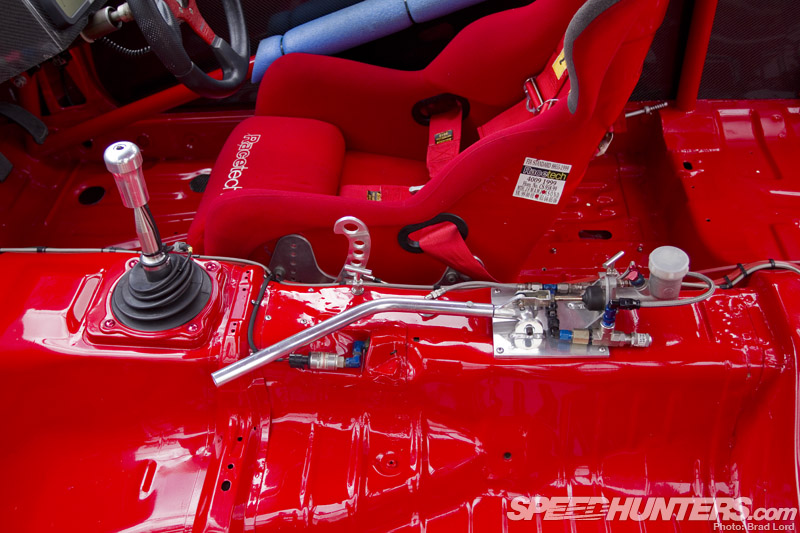 To allow the car to compete, a 100 percent rear-wheel drive burnout torque split is controlled manually, with the system pumped back up to four-wheel-drive via this lever while the GT-R is being reversed back down the track and into stage.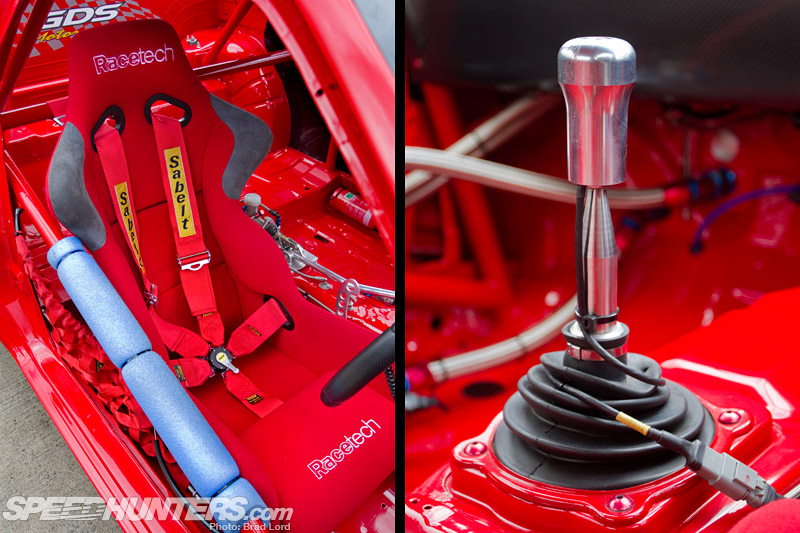 Keeping it Kiwi the GT-R uses a New Zealand-made Racetech 4009 seat. The shift knob was custom-made for the Holinger sequential transmission (itself modified with five forward gears instead of six) and features a Bosch load cell programmed through the MoTeC ECU for flat changes.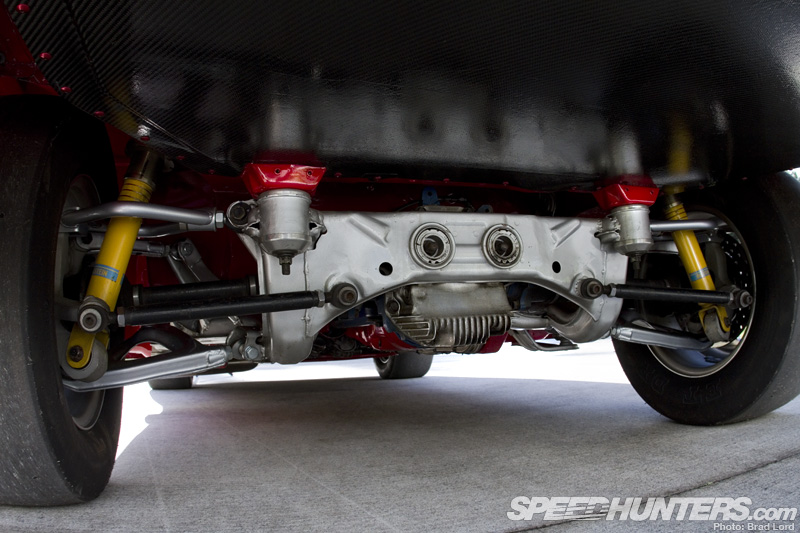 There has been plenty of work in the suspension department with the rear end being the recipient of altered pick-up points and reworked geometry. The driveline features Cusco limited slip differentials front and rear, along with custom-built driveshafts to get the power to the wheels.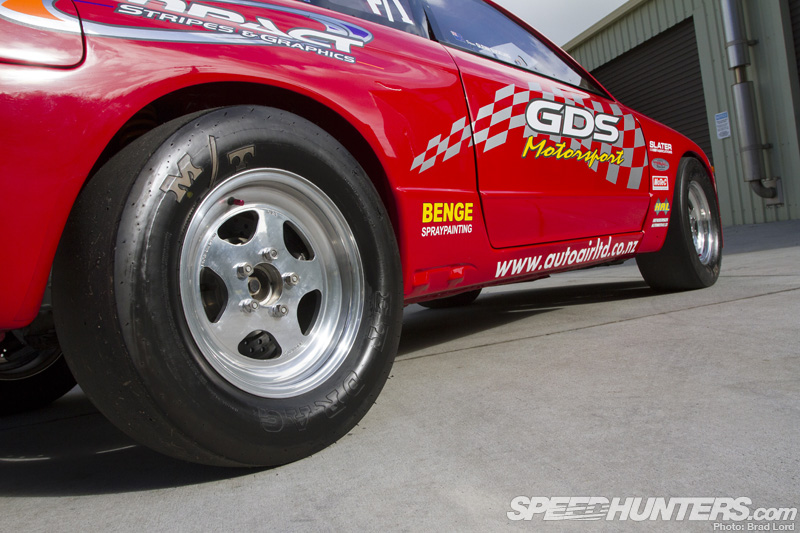 After achieving his seven-second goal, and with his business and family consuming most of his time, Glenn only brings the car out for special occasions now. The last time was a few months back when he pointed the GT-R down a rough, puddle-laden section of airport runway at 4&Rotary's Wings vs Wheels event. I've watched the in-car video, and let's just say that only once Glenn reached 8700rpm in fourth did the car straighten up and find any real grip on its way to a 278km/h top speed. Glenn really wanted to crack 200mph (321km/h) given there's no doubt the car could achieve it, but had to pull the parachute on the attempt when he began running out of enough room to stop.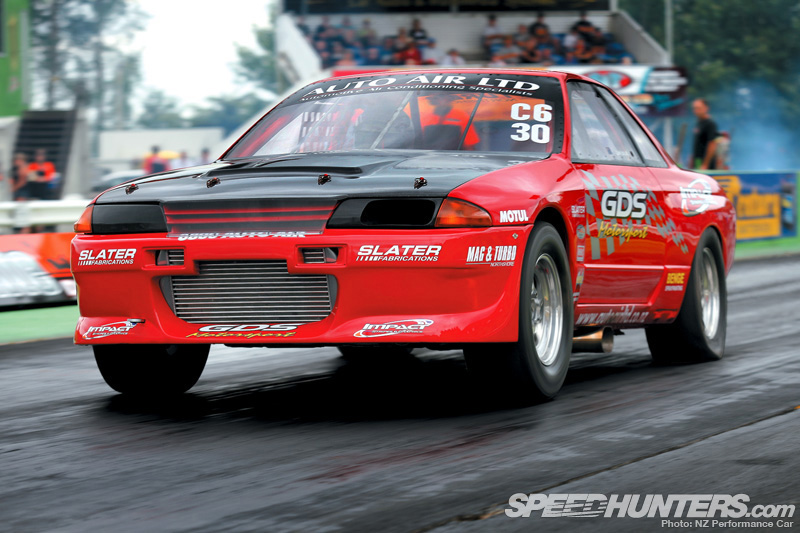 Considering the power output and the speed that the car is capable of, an aero upgrade – at least in the form of a rear wing – would need to be on the cards if Glenn pursued the build. But that's looking unlikely now though, as a new project – one again centered on those three beloved letters: G, T and R – is a likely prospect for the future. If that GDS creation turns out to be even half as impressive as the Red Baron, it's going to be something special.
Brad Lord
brad@dev.speedhunters.com
Gibson Motorsport Group A BNR32 Skyline GT-R on Speedhunters
Pro Stock Racing BNR32 Skyline GT-R Time Attack Machine on Speedhunters
GDS Motorsport 'Red Baron' Nissan Skyline GT-R BNR32
Numbers
Max Power: 1628hp, Best 0-400m: 7.91 at 192mph (292km/h)
Engine
Nissan RB26, GDS Motorsport-prepped RRR block, Trust 2.7-litre stroker crankshaft, JE forged pistons, Carillo rods, GDS cylinder head prep, Tomei camshafts, GDS valves & retainers, custom Garrett GT47 turbocharger, HKS 60mm external wastegate, GDS tubular exhaust manifold, GDS carbon fibre intake, Trust intercooler, SX Performance primer fuel pump, Aeromotive mechanical fuel pump, Aeromotive adjustable fuel pressure regulator, 12x MoTeC Indy 1500cc injectors, MoTeC CD18 ignition module, MoTeC CDi coils, MoTeC M800 engine management system, Peterson dry sump system, GReddy radiator
Driveline
Holinger five-speed sequential transmission, GDS shift knob with Bosch load cell, Tilton triple-plate carbon fibre clutch, GDS flywheel, Cusco limited slip differentials (front/rear), GDS driveshafts (front/rear)
Suspension/Brakes
Bilstein custom-built coilover dampers, Dobi Sport springs, Wilwood 4-pot calipers, Wilwood rotors, GDS hats (front), BNR32 GT-R calipers, Wilwood rotors, GDS hats (rear)
Wheels/Tyres
Bogart Racing Wheels 15×9-inch Drag-On Star alloys, 26.0/10.0-15 Mickey Thompson ET Drag slicks (front/rear)
Exterior
BNR32 GT-R factory body kit, carbon fibre bonnet, carbon fibre boot lid, carbon fibre front undertray, carbon fibre headlight air duct, Simpson parachute
Interior
NZDRA-spec roll cage, Racetech 4009 seat, Sabelt five-point harness, Momo Race steering wheel, MoTeC ADL digital dash display and data logger, MoTeC SLM (Shift Light Module), custom carbon fibre dashboard, custom carbon fibre door trim