Thanks to a barrage of new cars from the late '60s and an onslaught of grey imports from the late '80s, Japanese car culture in New Zealand is as diverse as it is far-reaching. But it was on the drag strip in the late '90s and early '00s where the scene as it's known today really got its start. The NZ-new '72 Datsun 1200 Coupé (aka Sunny B110) I'm about to share with you wasn't cutting quarters then, but its owner/builder/driver Ben Cox was.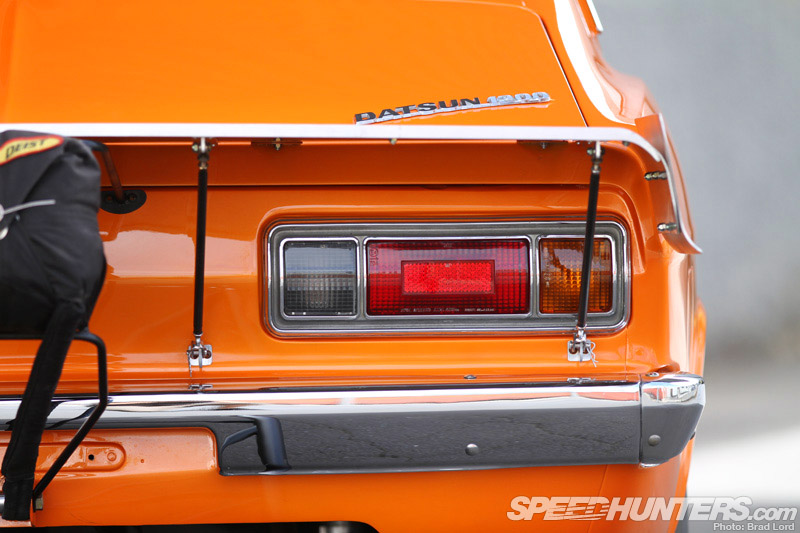 Back in the day Ben's weapon of choice was another B110 Coupé – a bonafide street car that he built from his daily driver and took racing. That car had originally been bought to replace his first daily (another B110 Coupé) which somewhere along the line had metamorphosed into a competitive Super Sedan-class circuit racer. Ben's street car/drag car on the other hand ended up with a high-powered SR20DET and the ability to turn 9.8-second quarters on the strip, and then drive home.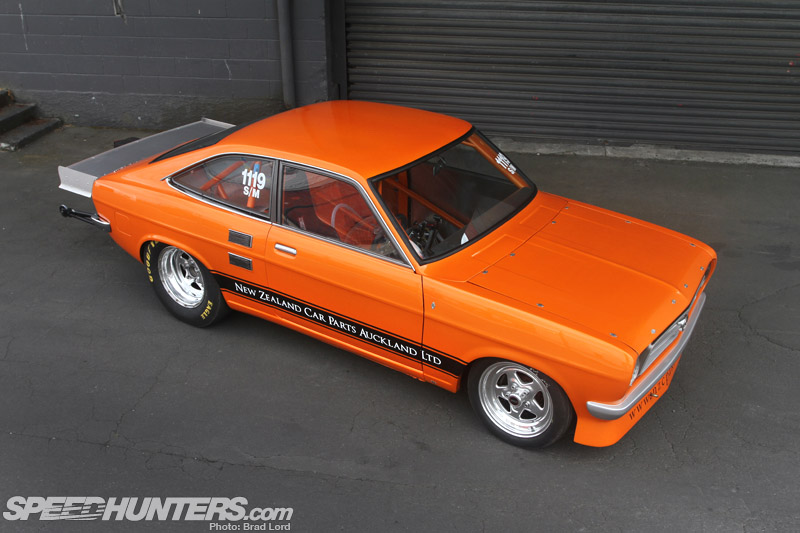 Ben's penchant for B110s and going fast eventually ended up here. Not only does the Datsun rate as one of coolest sport compact machines currently doing drag duty in New Zealand, but it's undoubtedly one of the most well-built cars to boot. And the fact that Ben created it in his garage, on a strictly after-hours basis, makes it all that more impressive.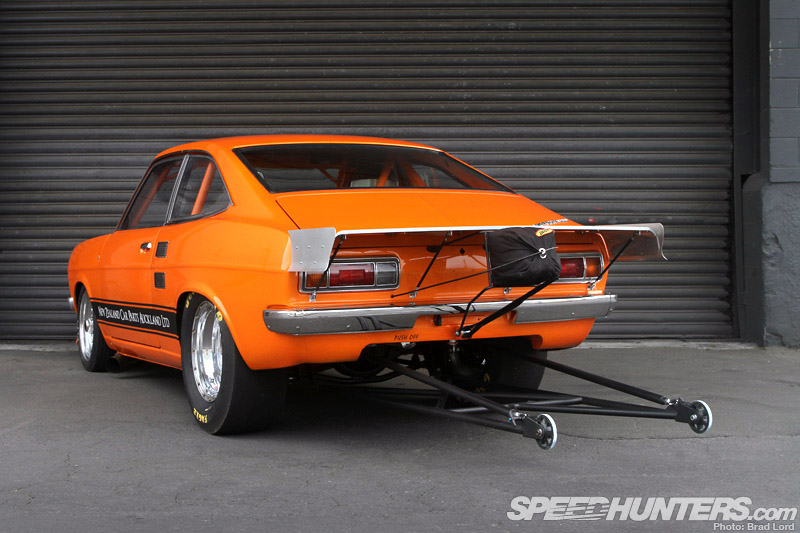 Long before the first tool was waved over the car Ben had a clear idea of what he wanted to achieve and how the Datsun would all come together. That included retaining a mostly metal exterior (only the single-piece front clip and bonnet are fiberglass), and full glass windows. Because of the extra expense that comes with building a chassis car (or even a rear-halved car for that matter) going down the full tubbed rear-end route was financially never an option. Instead, Ben opted to design the car around the 28×9″ rear tire standard that's become very popular in Australasia, using nothing more than his own experience.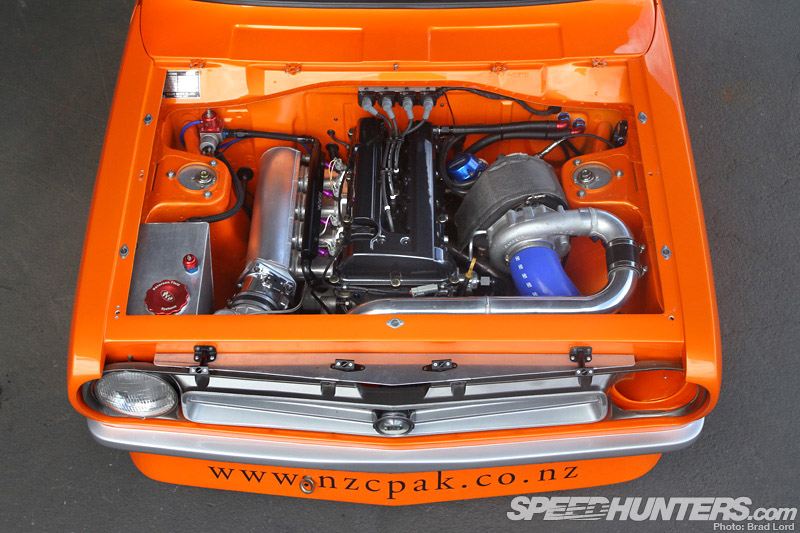 Of course, scooting down the 1320 quickly requires more than a well-engineered chassis. Having had plenty of success with the SR20DET in his other car, going down the SR' route with this build was a no-brainer.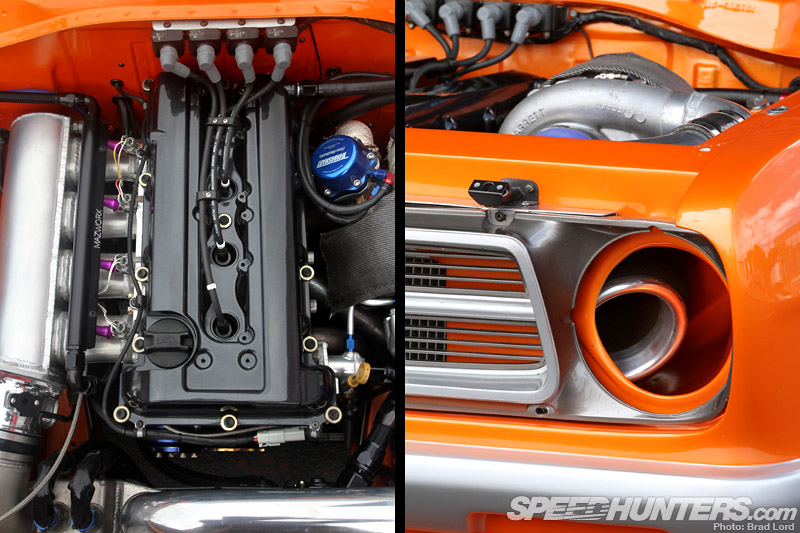 Although the Datsun is now into its third summer season of racing, the current engine set-up is brand new for 2013. The original engine had been good for 8.80-second passes, but as Ben explained, it was "turned all of the way up" to achieve that result, and as such it began to break.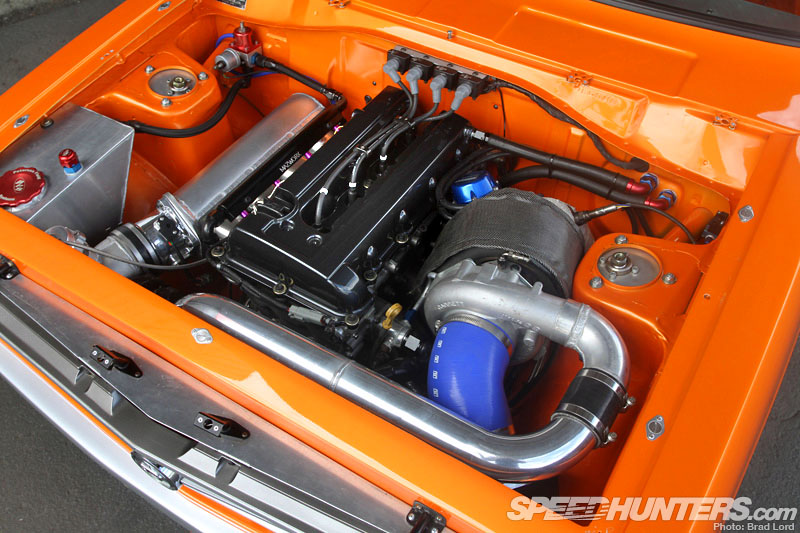 The new package however, has proven to make a lot power with a lot less stress. Built around a stock SR20DET block by Ben and Glenn Suckling from GDS Automotive, the bottom end features CP forged pistons, Carrillo rods and the original OEM crankshaft. But up top an SR20VE cylinder (from a P11 Nissan Primera) has been fitted for its ability (by design) to handle high-RPM levels without destroying rocker gear. Of course it's been race-prepped with some serious port work; had its VVT system ditched for a pair of NZ-made Kelford Cam camshafts; and been kitted out with SuperTech valve gear.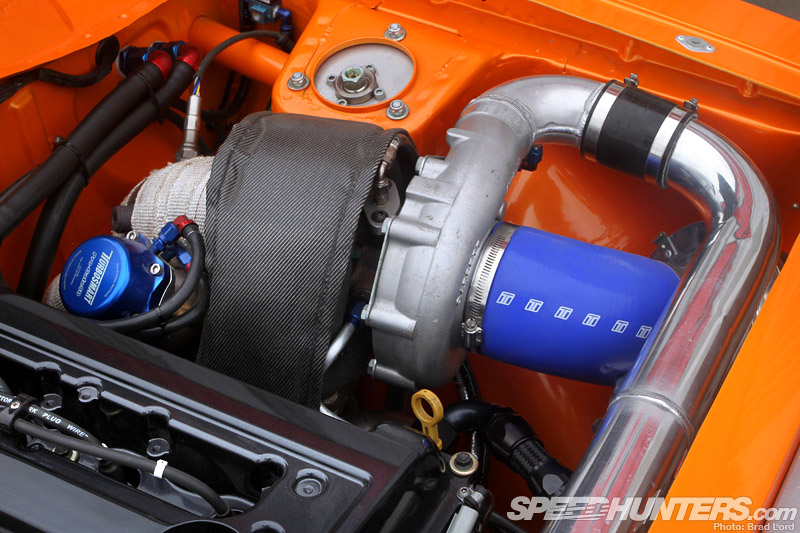 The turbo system revolves around a Garrett GT40 mounted on a custom-fabricated RSL tubular exhaust manifold. Boost pressure is controlled through a TurboSmart ProGate50 external wastegate.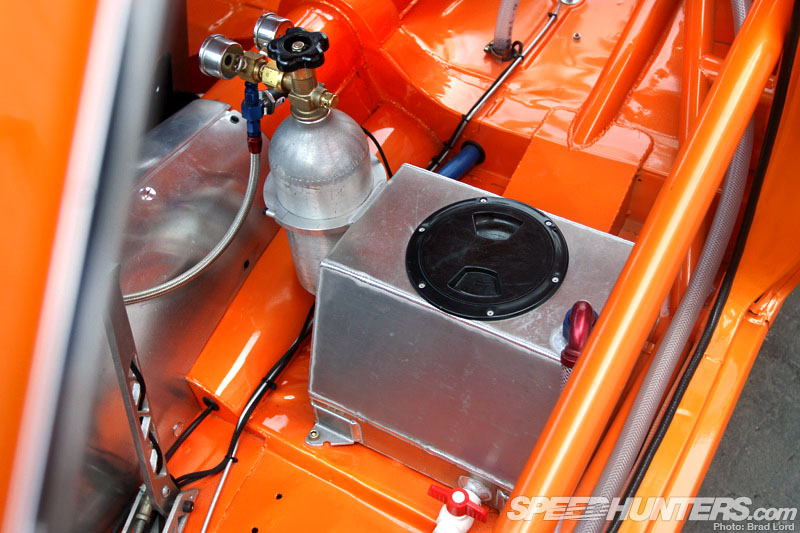 To keep the intake charge cool, air passes though a custom-built water intercooler arrangement in the engine compartment that's fed from this aluminum tank in the cabin. Before each pass it's filled with ice and water, which in-turn fills the intercooler tank that the compressed intake air passes through.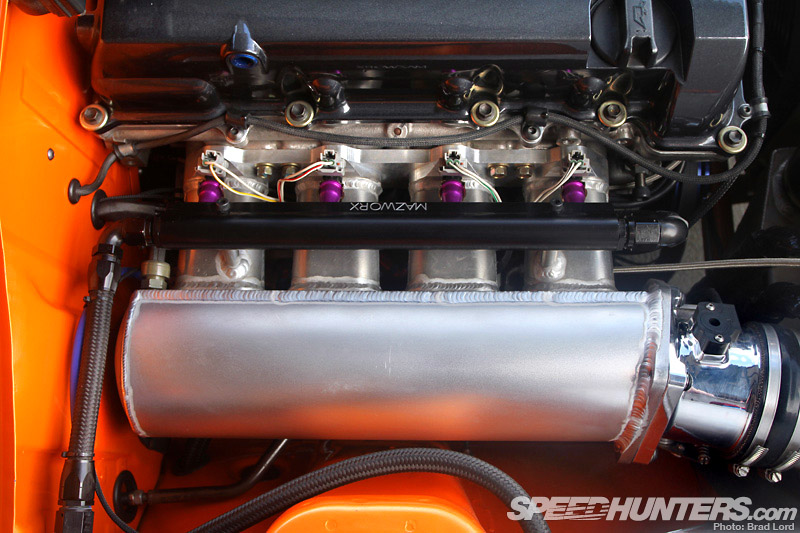 That charge is then force-fed into the engine via an Accufab throttle body and modified Mazworx intake manifold; and mixed with E85 supplied from an engine bay-mounted custom cell through a Weldon electric pump, Mazworx fuel rail and four ID2000 injectors.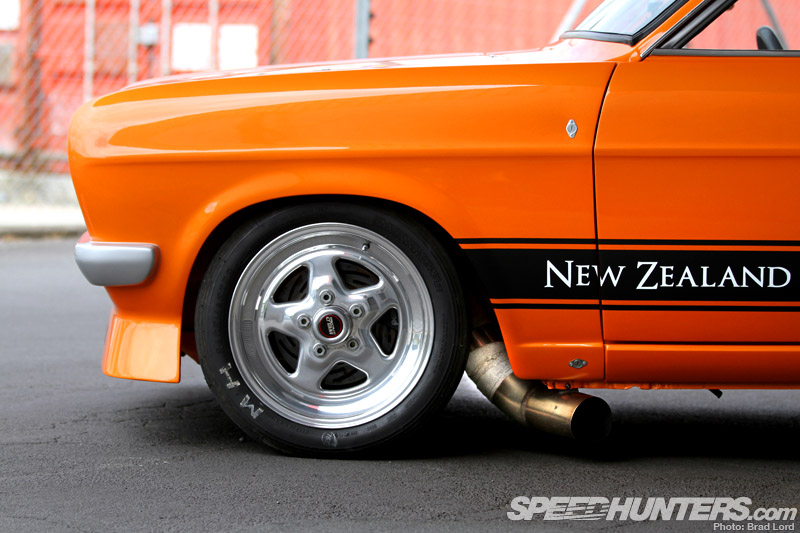 On the other side of the turbo, exhaust gasses escape through a 4″ stainless steel side-exit pipe that shoots fireballs and makes all the right noises.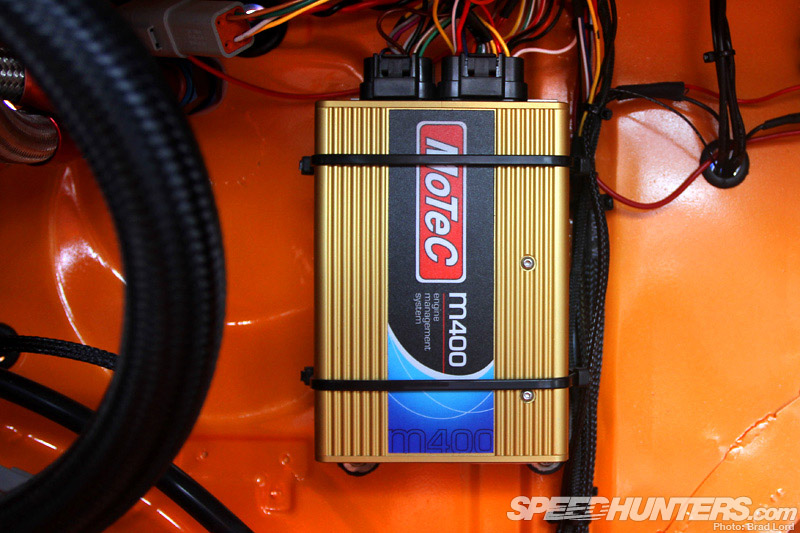 There was no shortage of options when it came to choosing an engine management systems, but Ben has stuck with MoTeC for main ECU duties as well as the four-channel CDI unit for spark.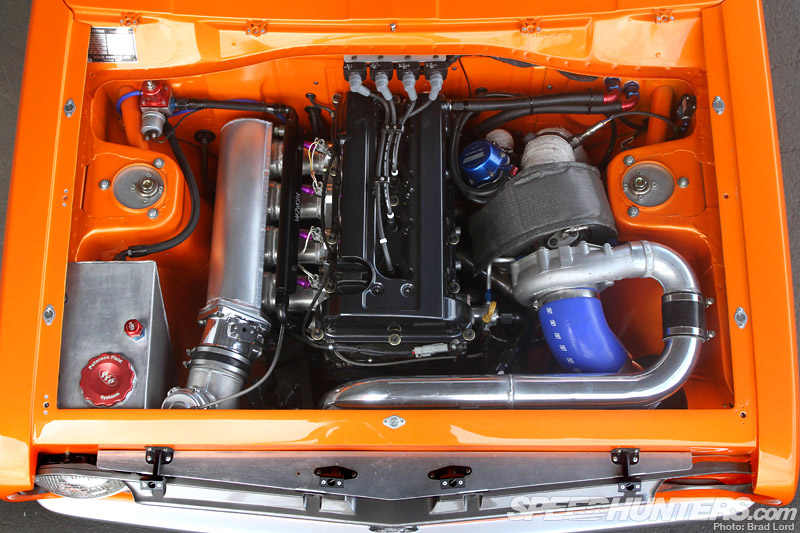 The engine is uncomplicated and straightforward, but it's been built right with quality parts. The proof of that's in the 801hp it threw to the Datsun's rear wheels when Glenn tuned it on his Dynapack dyno. I'm told there's more in it too, but Ben's not keen on finding the limit of the engine – or more specifically the engine block which will likely give way to cracking before anything else fails – just yet.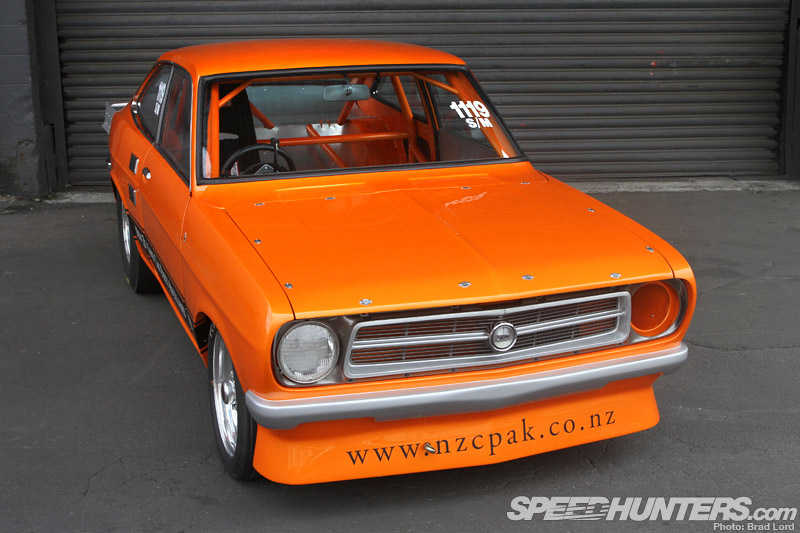 Since the car only weighs 970kg (2138lb) gassed-up with Ben on board, it's fair to say that 801whp is more than enough power to be playing with. For the time being at least anyway.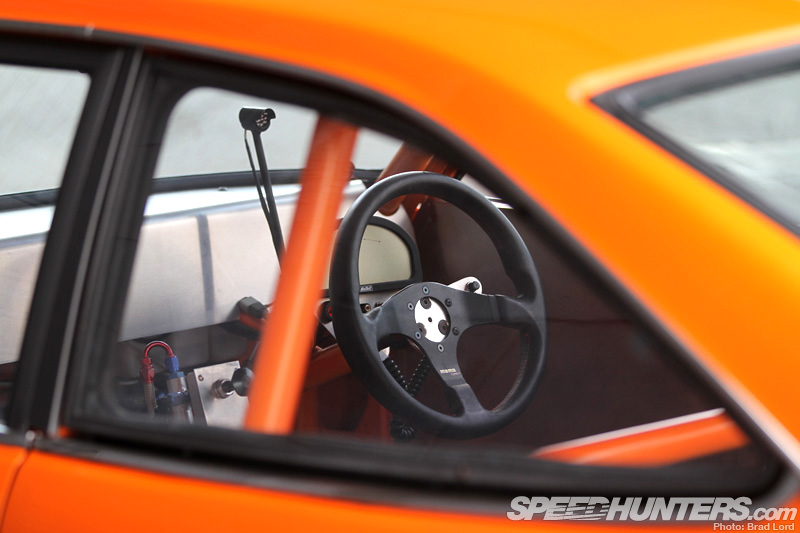 Before the shoot I hadn't seen much of the inside of the car, but given his meticulous preparation everywhere else throughout the B110, I already knew what I'd be in for.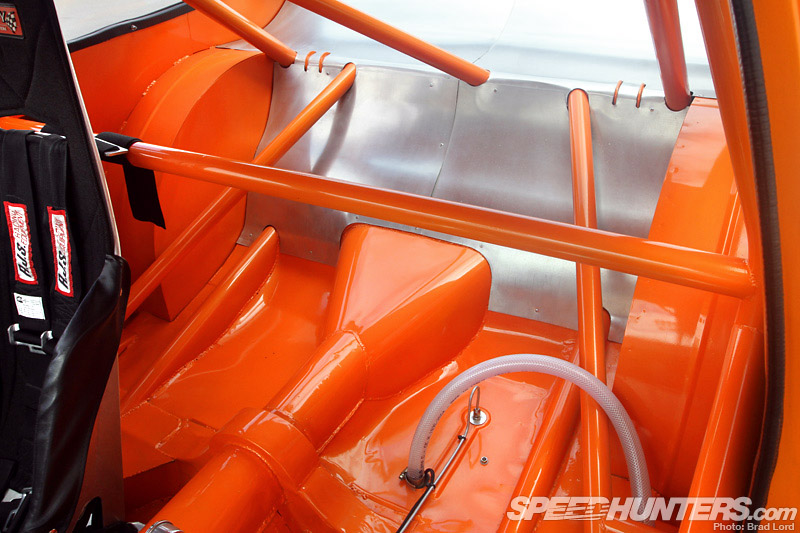 I wasn't disappointed either. Given that it's all Ben's own handiwork and that fabricating and race car engineering isn't his day job, I'm sure you'll agree that there's a lot for him to be proud of here.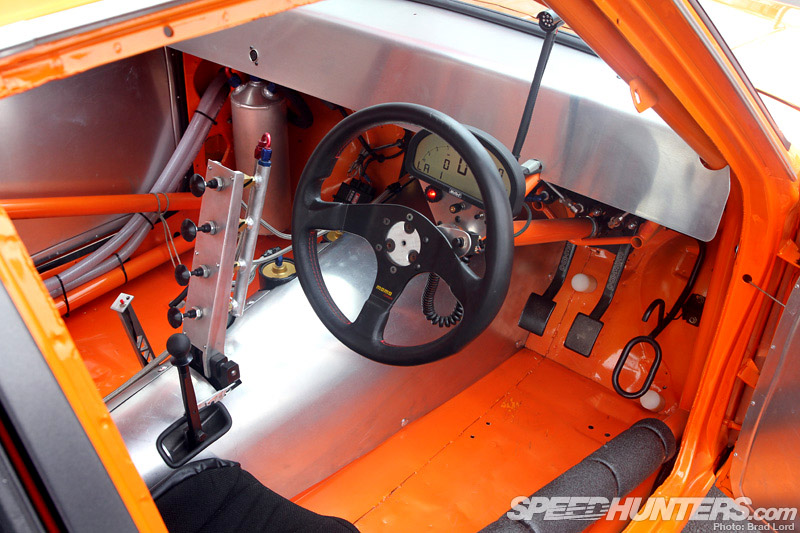 Along with an entirely new floor section, a much larger transmission tunnel was required to fit the car's Lenco 5-speed gearbox. The black lever on the side of the tunnel selects forward, neutral and reverse.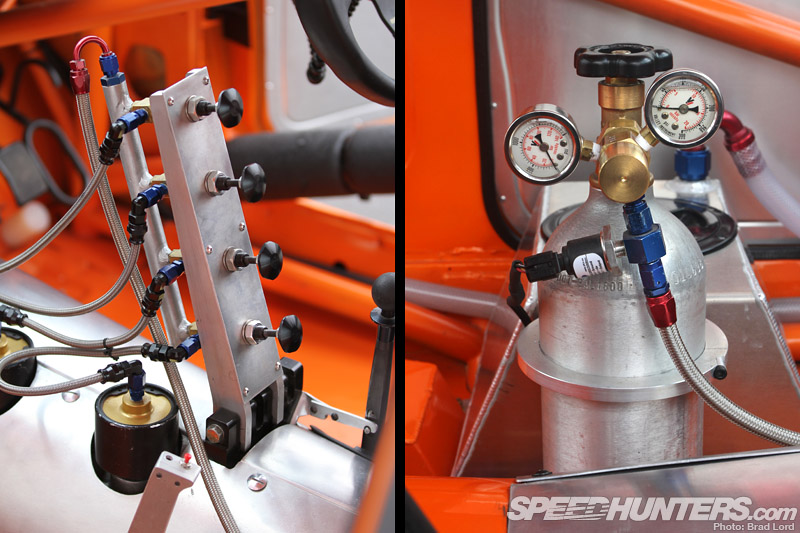 Subsequent gear changes are then made by pushing buttons, which in-turn actuate air-shift mechanisms.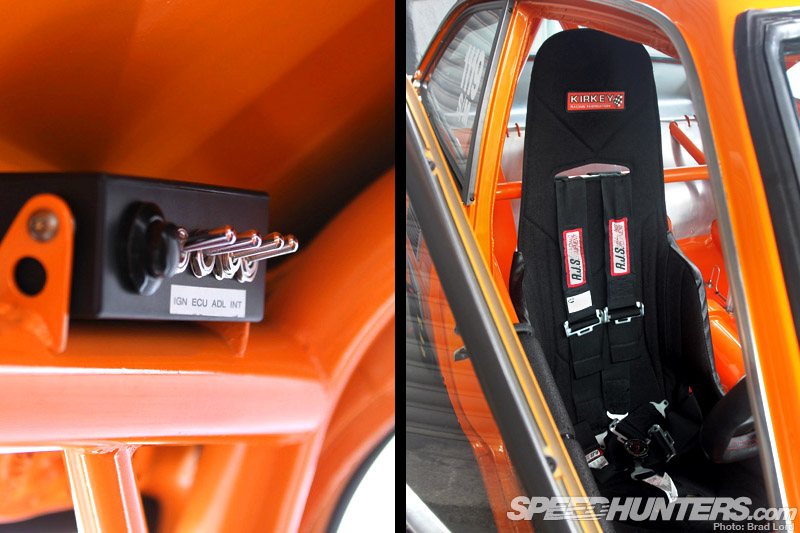 Machines built for exclusive quarter mile duty don't require cabin clutter, but there's been a lot of thought gone into the interior space which only adds to the overall appeal of this car.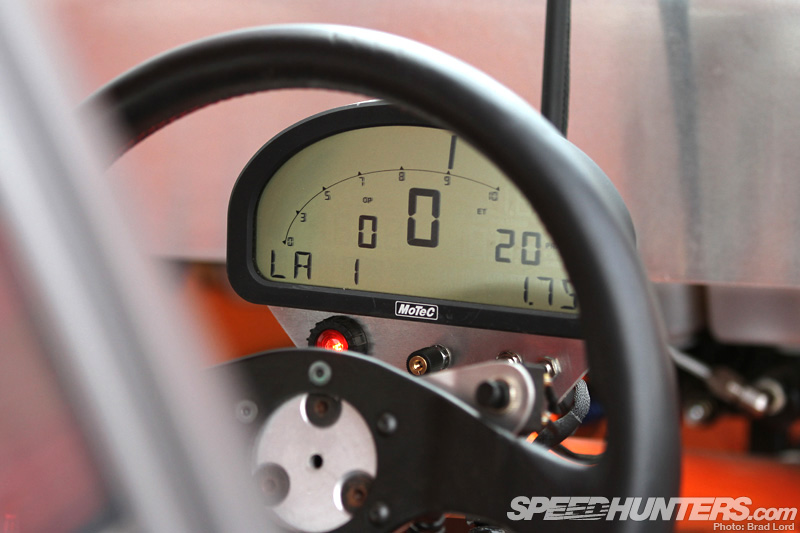 Vital statistics get displayed on a MoTeC CDL3 digital dash display, which connects to the ECU and other MoTeC devices.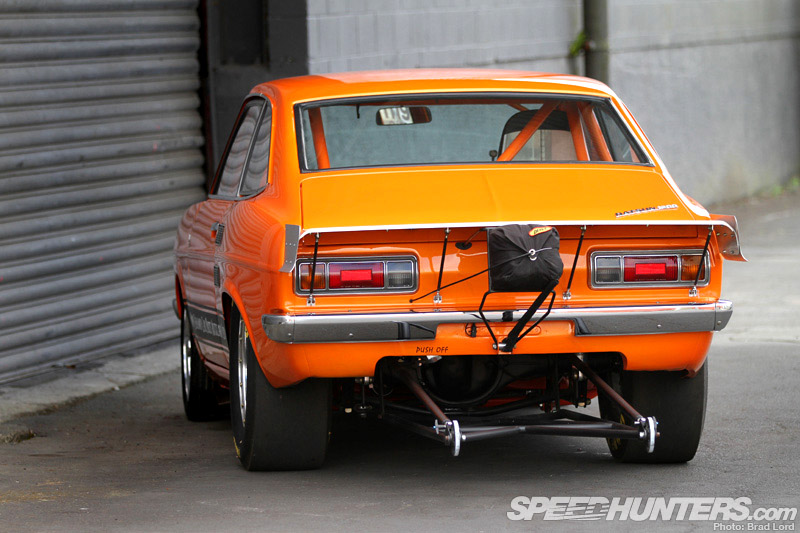 Function and form: this B110 has it in spades. The bespoke alloy rear wing, parachute mount and wheelies bars were all custom-tooled by Ben too.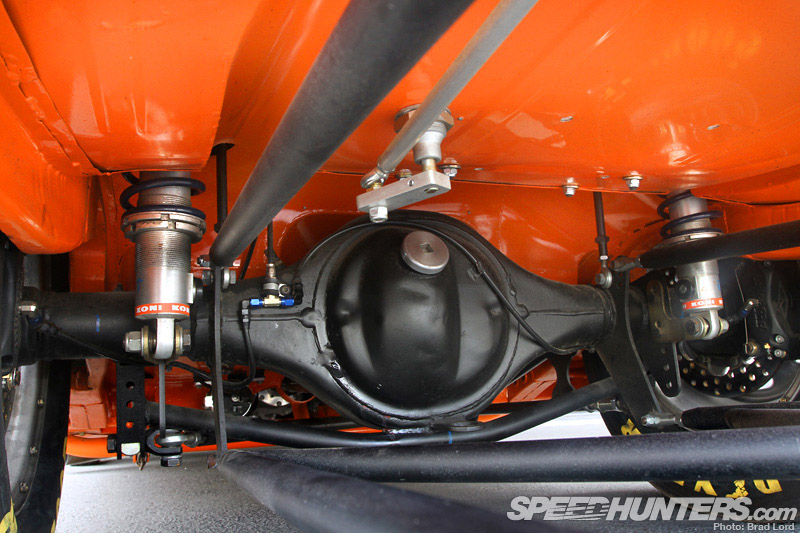 Out the back is a custom-modified 9-inch rear end featuring a Strange diff head and Moser axles. The rear suspension uses a ladder bar design with Koni coil-over dampers. From this angle you can also see the rear brake arrangement which relies on a Wilwood Dynalite kit featuring 4-pot calipers and drag-specific drilled rotors. The front set up uses Bilstein struts and a Wilwood Dynalite single-pot caliper set-up.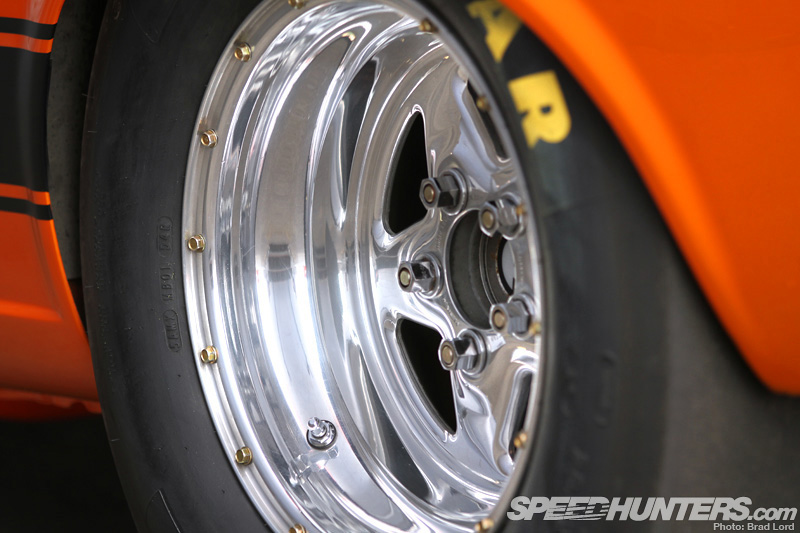 The last piece of the puzzle are the rear tires: namely 28.0X9.0-15 size Goodyear Eagle Dragway Special slicks wrapped around classic Weld Racing Pro Star wheels.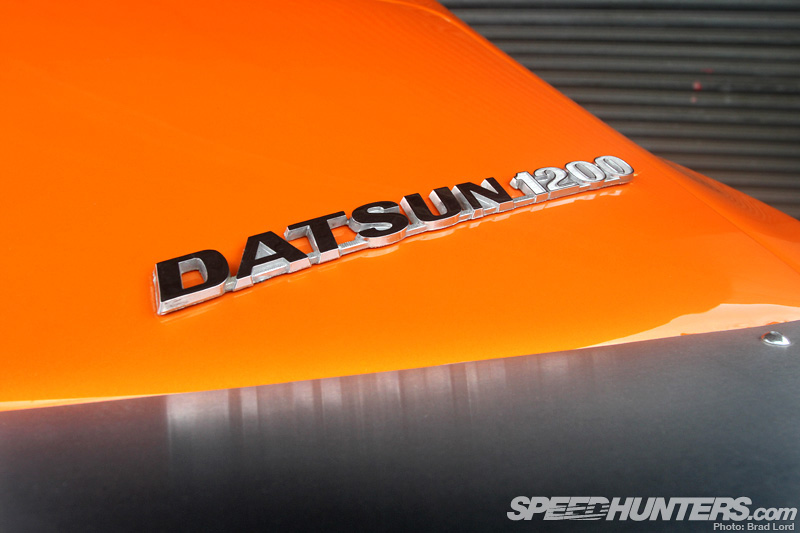 It all adds up to an old school sport compact package that's run a best ET (to date) of 8.75 at 153mph (246km/h).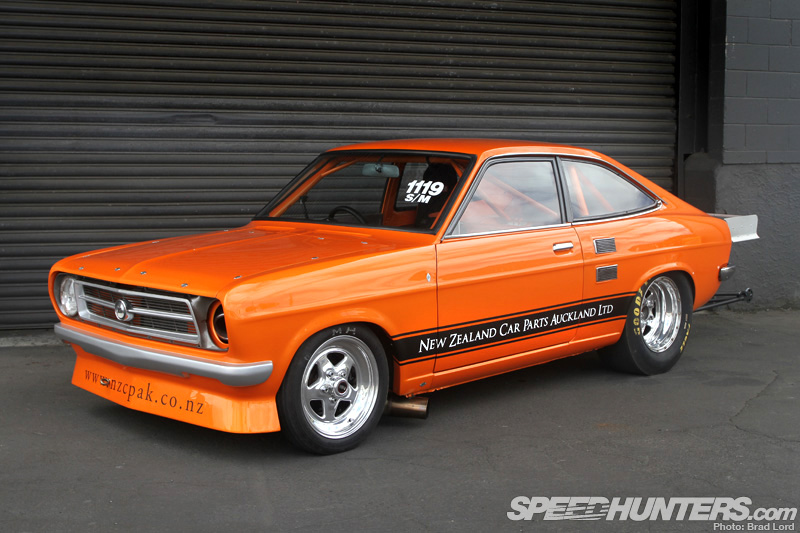 That sort of time might seem impressive enough in its own right, but Ben assures me that there's plenty to come once they really lean on it. The PB pass was achieved with much less boost (and therefore much less power) than the numbers achieved on the dyno, and apparently it's only being revved to 9,500rpm.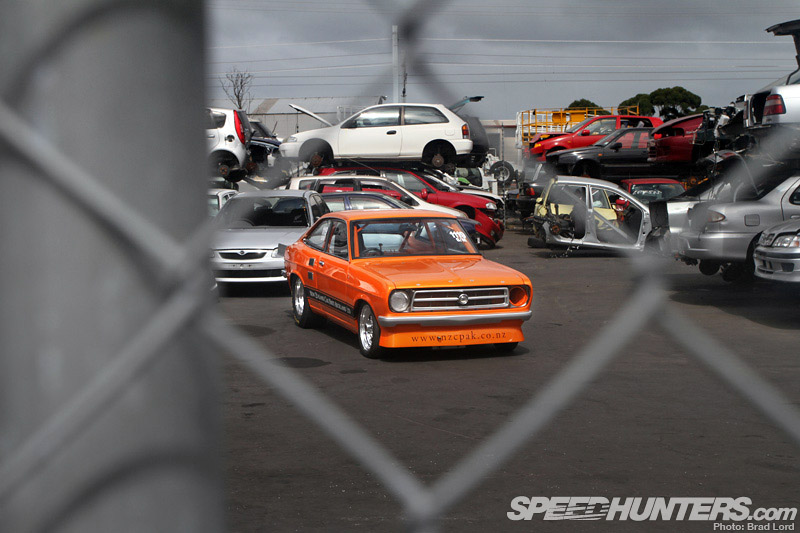 I asked Ben how quick he'd like the car to go and was met with the answer I kind of expected from him: "As quick as it'll go!" As is the case with his 9-second B110 streeter which is currently in the throes of being resurrected, he's resigned himself to never parting ways with the car so there's plenty of time to keep chipping away at tenths anyway. In the meantime the next upgrade on the list are the wheels which are soon to be swapped for blacked-out Weld AlumaStar equivalents. They won't just look cool against the Datsun's orange paintwork, but being wider on the front end will accommodate a wider tire, which can then be run a lower pressure and in-turn improve ET performance. But regardless of how quick down the strip and fast through the traps the Datsun ends up running I'm sure Ben will be content. With so much blood, sweat and tears poured into the build and an amazing end result, how could he not be.
Brad.
Spec
1972 DATSUN 1200 COUPE (B110)
Engine: Nissan SR20DET 2.0L DOHC 16-valve inline-4; OEM block; CP forged pistons; Carrillo rods; OEM crankshaft; Mazworx main studs; custom ported SR20VE cylinder head (VVT delete); Kelford Cam camshafts; SuperTech valves; SuperTech valve springs; SuperTech retainers; Mazworx head studs; RSL tubular exhaust manifold; Garrett GT40 turbocharger; Turbosmart ProGate50 external wastegate; custom 4″ side-exit exhaust; custom water intercooler; custom intercooler pipes; custom alloy fuel cell; Weldon electric fuel pump; SX Racing adjustable fuel pressure regualator; modified Mazworx intake manifold; Accufab throttle body; Mazworx fuel rail; ID2000 E85 fuel injectors; MoTeC CDI 4-Channel; 4x coils, MoTeC E888  expander module
Engine Management: MoTeC M400
Driveline: Lenco 5-speed air-shifted transmission; Direct Clutches twin-plate clutch; custom 9-inch rear end; Strange diff head; Moser axles
Chassis: Mini tubs, ladder bars, NZDRA-spec roll-cage
Suspension/Brakes: Bilstein front dampers; adjustable camber plates; Koni rear dampers; coil-over springs front/rear; Wilwood Dynalite 1-pot front calipers; Wilwood Dynalite 4-pot rear calipers; Wilwood Dynalite drag rotors front/rear; Wilwood adjustable pedal box; Deist parachute
Wheels/Tires: 15×4″ Weld Racing Prostar wheels; M&H Skinnies (front); 15×8″ Weld Racing Pro Star wheels; Goodyear Eagle Dragway Special 28.0X9.0-15
Exterior: Single-piece fiberglass front clip; custom aluminum rear wing; full glass, wheelie bars
Interior: NZDRA-spec roll cage; Kirkey race seat; RJS harness seat belt; Momo Race steering wheel; MoTeC CDL3 digital dash display; LED shift light
Thanks: Glenn @ GDS Automotive; Nyle Buckley; New Zealand Car Parts Auckland Ltd; & everyone else that's lent a hand
Desktops