"…and tomorrow I'm going to shoot Bisi and Dave walking around the show talking about turbos."
I'd been in Vegas less than a day and I'd known Keiron for less than an hour and he'd already roped me into a style of article I've never done before with one of the most polarizing figures in the aftermarket tuning world.
Before I had a chance to put up any sort of objection, Dino's eyes had lit up at the idea – or at least as much as they can light up behind his signature white glasses – cementing my fate. We weren't at the card tables, but I had to use my best poker face regardless when I delivered my response. "Sure, that sounds good."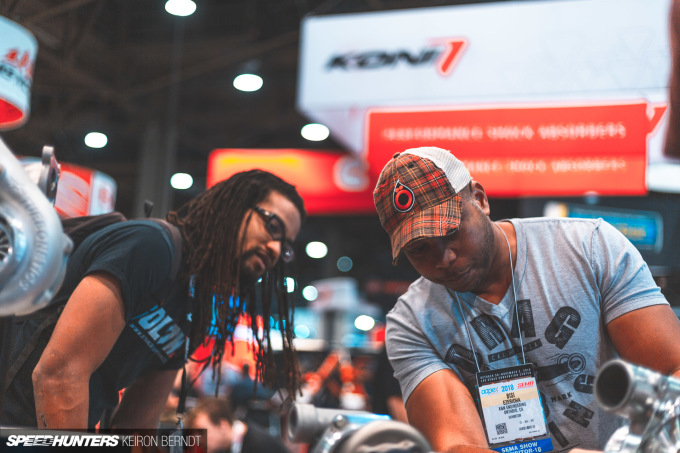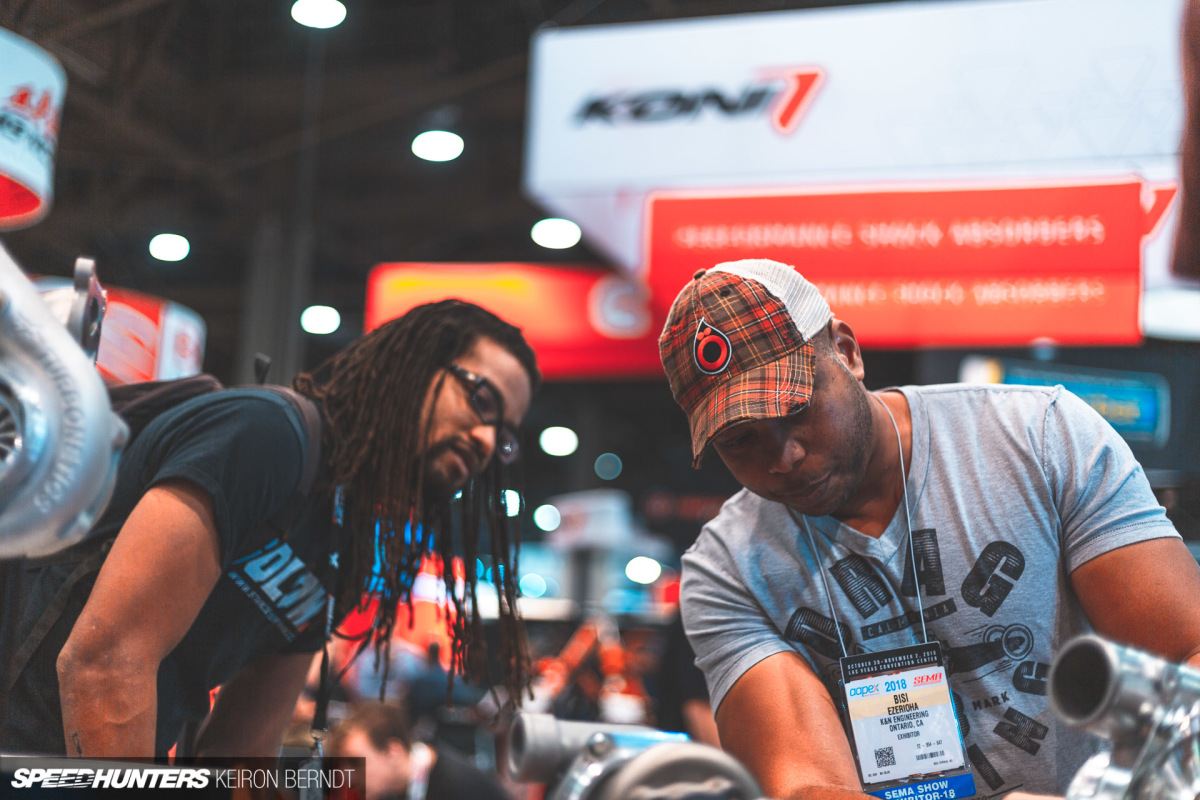 Two days later, with Paddy's mantra of saying yes to adventure in the back of my mind, I stuffed any reservations I had about appearing in front of the lens in my bag and traded my camera for a pen and paper.
Finding Common Ground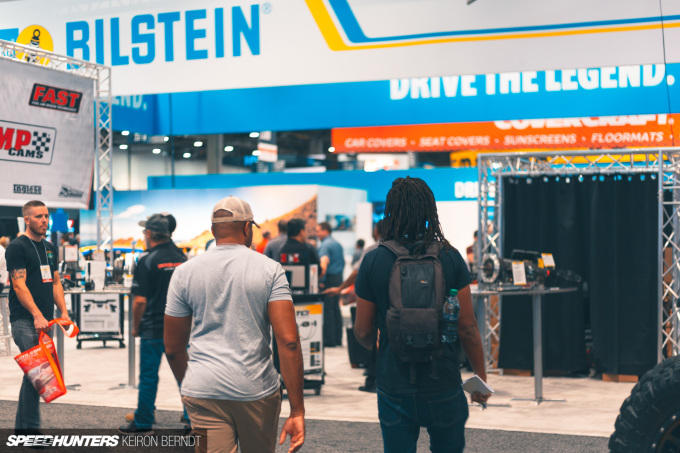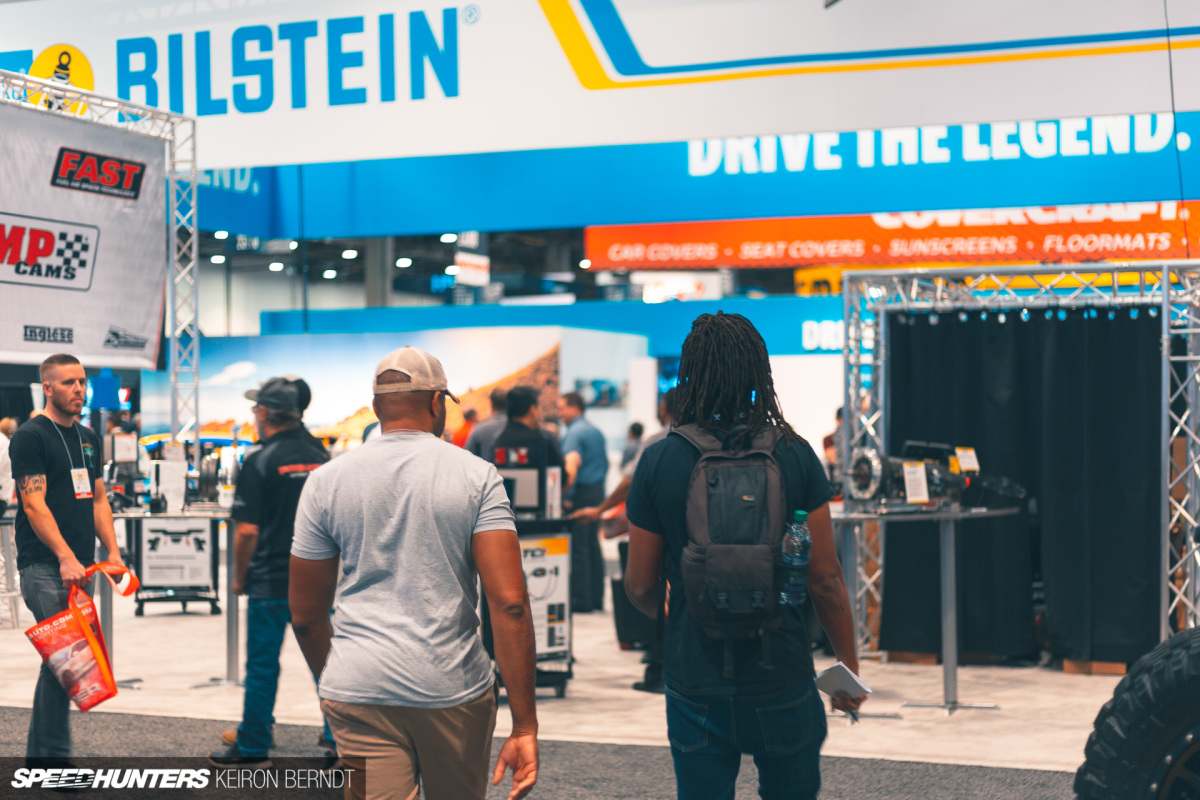 Having already met Bisi Ezerioha previously, Keiron provided the initial introduction and general plan, but it was on me to keep the conversation moving. Thankfully, in person Bisi is exactly the same as he presents through media: He's very well spoken, easy going, and genuinely quite approachable.
Active in the community since the early 1990s Bisi is quite popular at an event like the SEMA Show. At no point did we make it more than 10-feet without someone stopping to ask Bisi a question, compliment his work, or pose for a photo opportunity.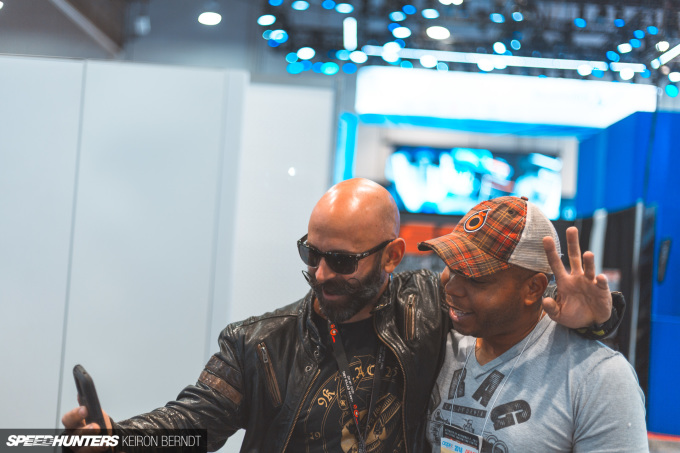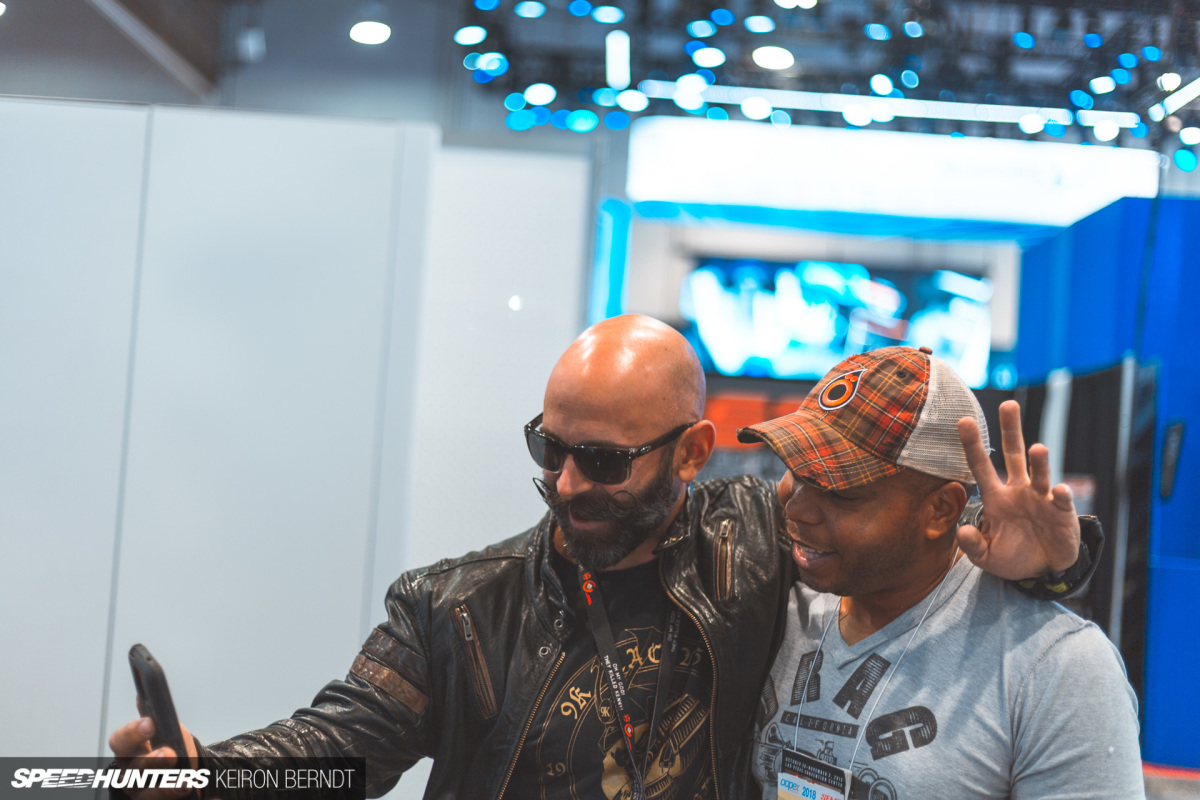 I haven't been around many automotive celebrities, or celebrities in general, so it was a bit surreal watching this all unfold. Bisi however is a pro, and this is something he's quite used to. But more importantly, he's not jaded by the fact that he's easy to pick out in a crowd. Fan or colleague, Bisi gave everyone the same level of attention and respect.
That's no small feat, but one that goes a long way in portraying professionalism. Suffice to say you're not going to get a cold shoulder from Mr. Ezerioha if you catch him in the wild.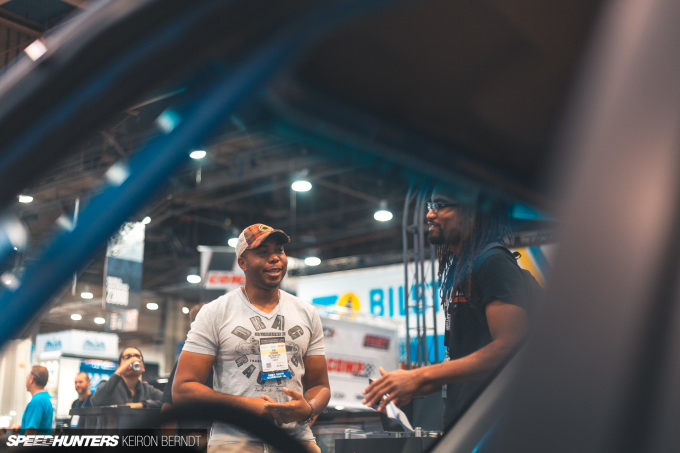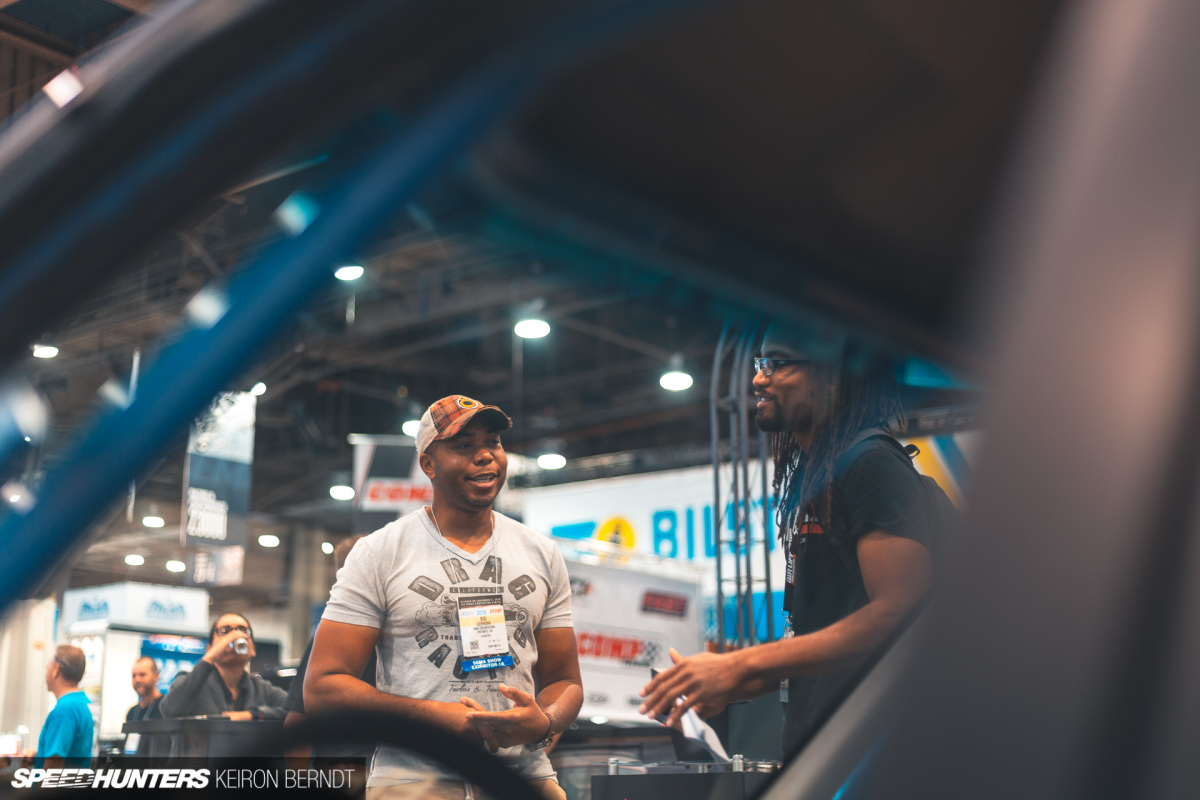 At this point I felt like I'd been around Bisi long enough to get an idea of his character, but I didn't meet the real Bisi until we started talking about building cars. I have no problem admitting I was technically out of my league in this conversation – his job is building cars, mine is documenting them – but we were able to find common ground through our mutual enthusiasm for wheels and horsepower.
So What Excites A Man OF Science & Horsepower?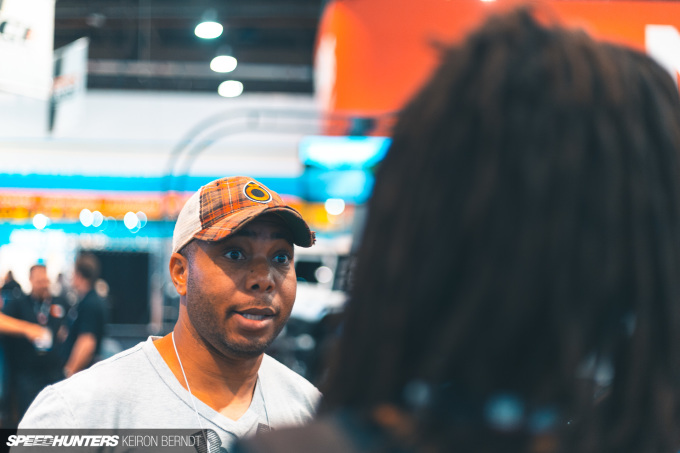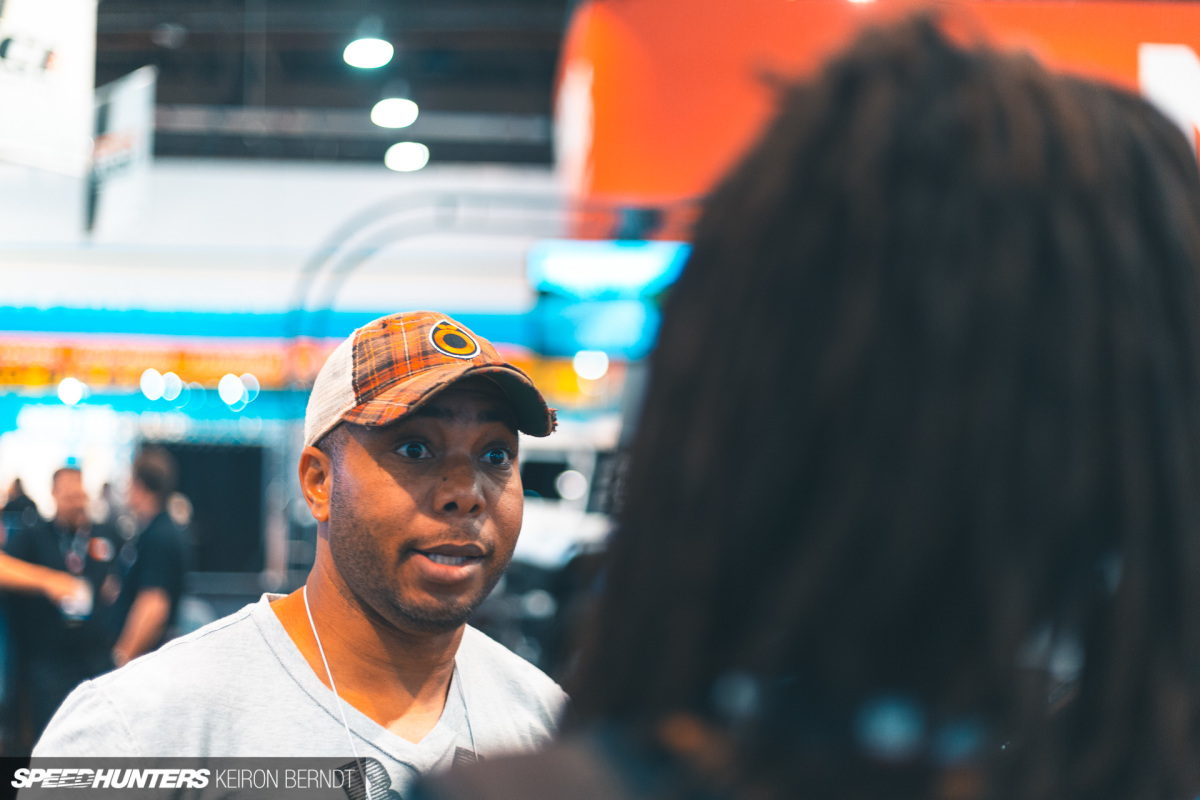 The main goal of our SEMA Show walk-through was to see what parts and project excite someone like Bisi.
As an individual that's never hid his scientific approach to modifying cars, Bisi often views things through a different lens than his peers; he's always looking for ways to improve any system that exists in a car, be it a pre-existing one, or one he's created. That's what led him down the path of forced induction in the first place.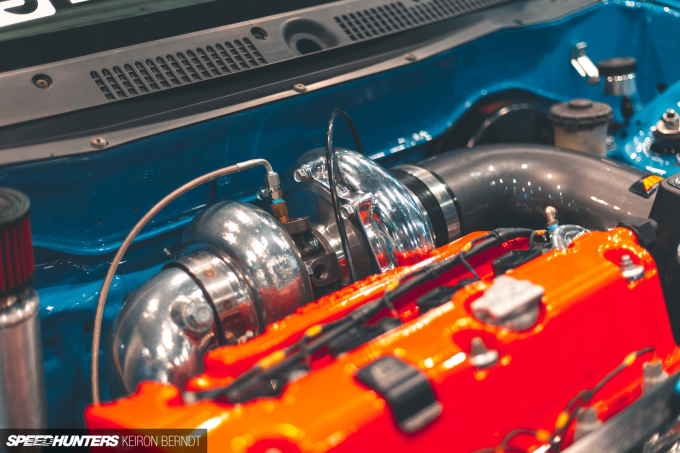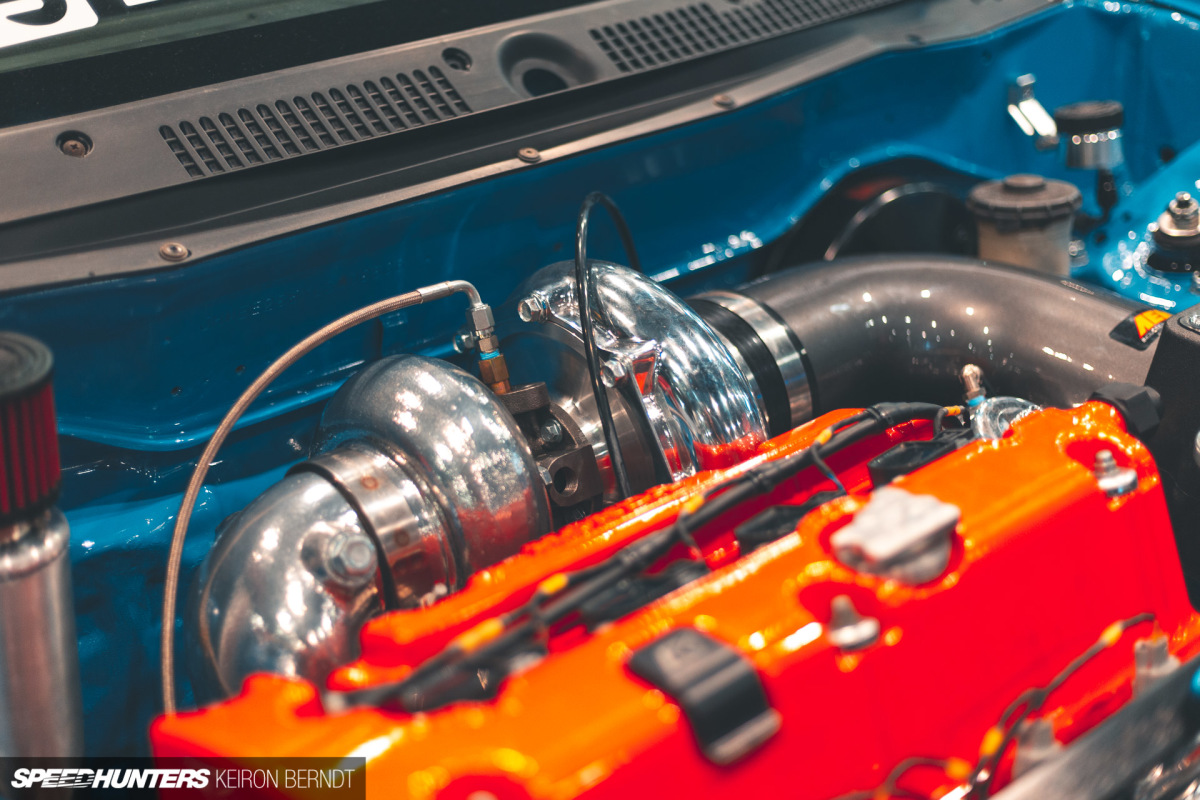 Originally a devout student of the school of natural aspiration, Bisi didn't build his first turbo car until 2009. And that car only became reality after he entered an engine shoot out with an NA build and lost. Loss isn't something Bisi humbly accepts – see his current Civic Shuttle built for revenge – so he dove head-first into the land of turbos.
His first turbo build put down 725hp, which was 75hp over what he originally estimated. As a result he's been hooked ever since.
So to circle back around to this chapter's title – what excites Bisi most about turbos, turbo builds and turbo technology? In a word, efficiency.
This might sound a bit boring, efficiency in the world of performance, but it's where Bisi feels reliable power comes from. Turbine efficiency, heat management, internal aerodynamics – manufacturers have come so far in these areas, but Bisi feels there's still plenty left on the table.
Bisi is actually interested in small turbo technology as much as he is big turbo; particularly his interest lies in the advancements in compressor wheel design. Anytime Bisi noticed a company experimenting with vane design, vane count or even variable vane technology he took the time to hear what they had to say.
He was also quite intrigued at how OEM manufacturers were increasing turbo lifespan in smaller applications. With many OEMs turning to smaller displacement motors with turbochargers installed, they are naturally going to design turbos that last longer and put up with the abuse of neglectful car owners.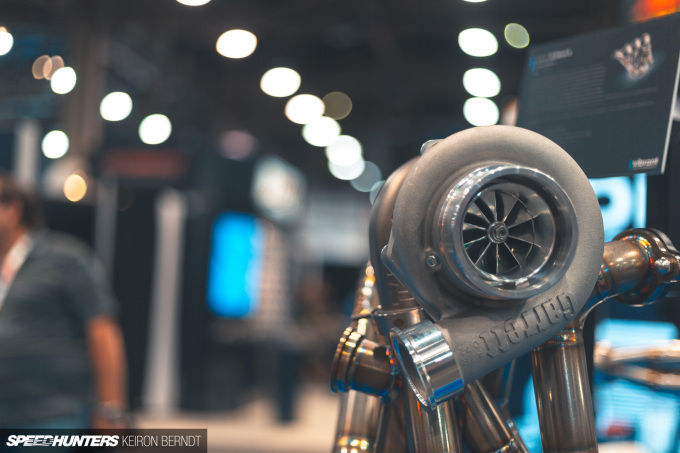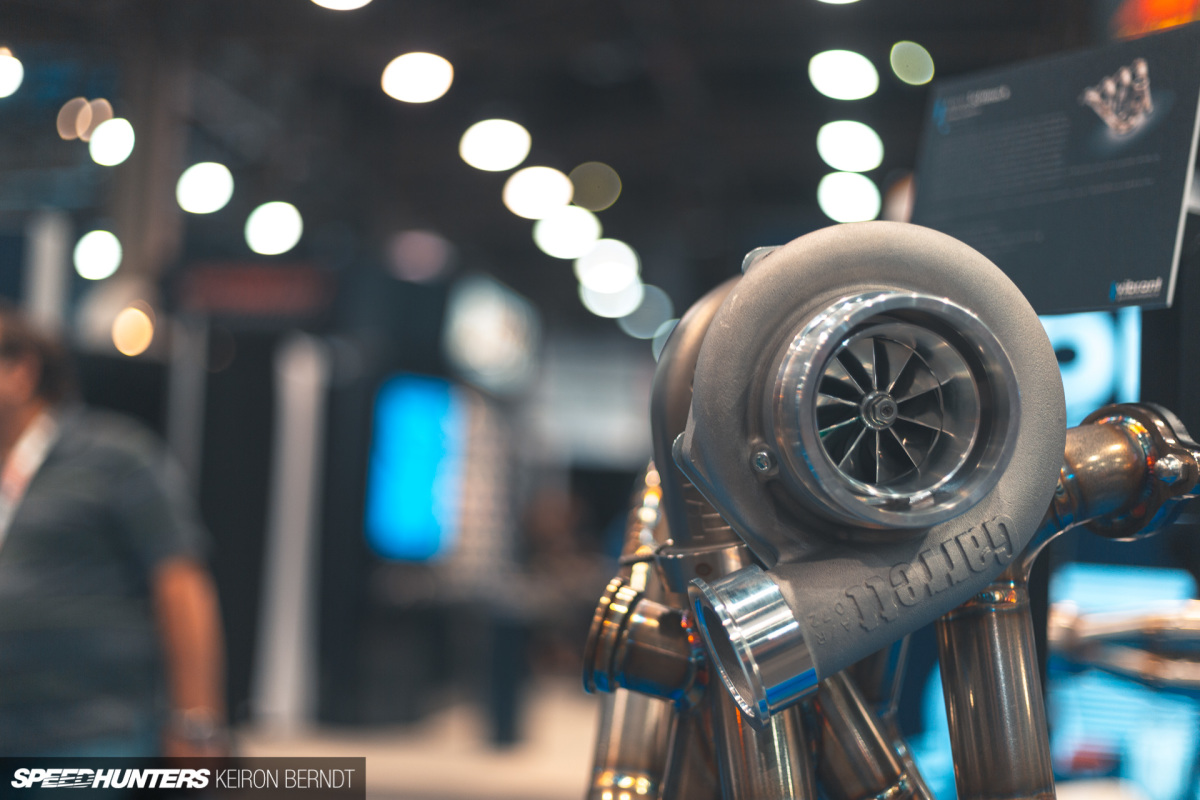 Everyone wants highest performance for the lowest cost, but perhaps no one wants that more than OEM manufacturers. Bisi has had the chance to play with a few pre-release turbo vehicles and he says there's lots of exciting power plants just around the corner.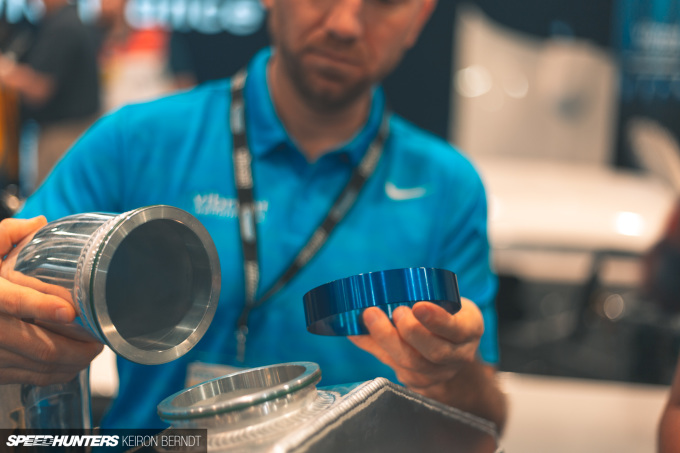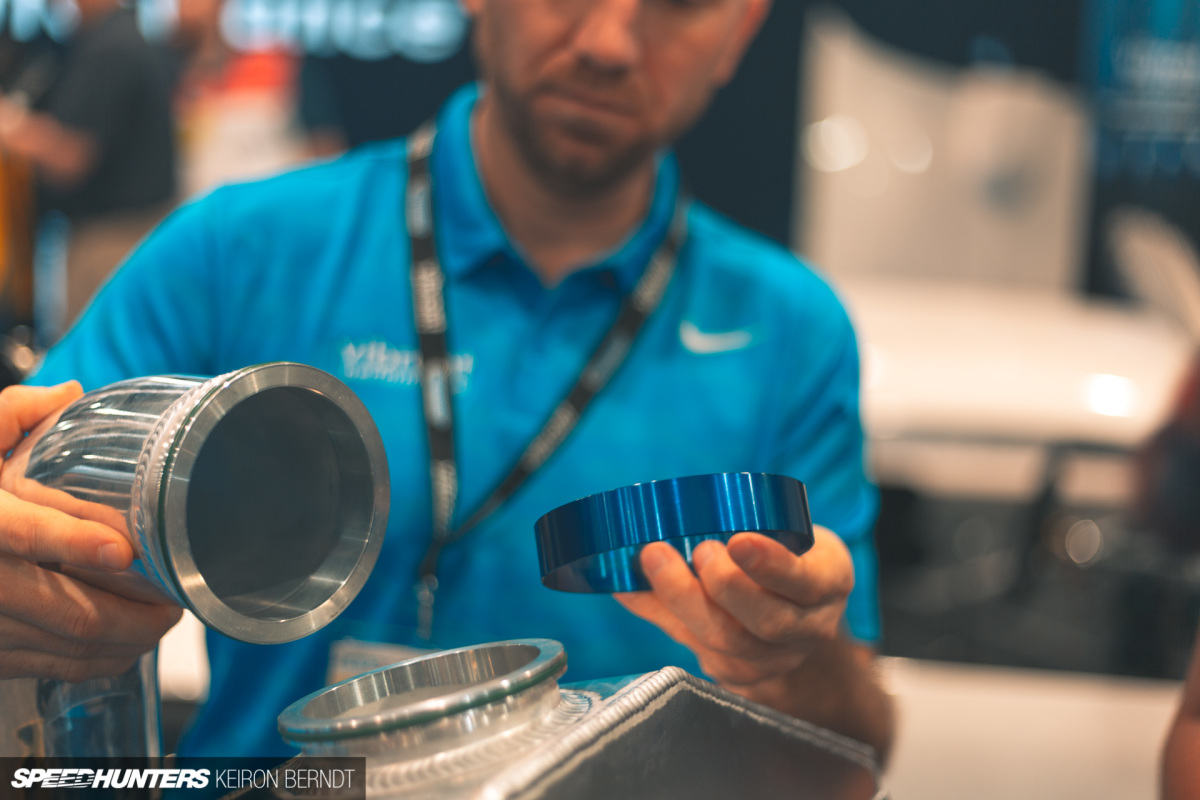 Outside of the turbos themselves, piping management was extremely important to Bisi. He's experienced fitting failures in high-boost applications before and since then he's moved away from gear-based clamps almost entirely. These days he uses Vibrant Performance clamps almost exclusively; they're solid 6061 billet and hold pressures up to 800psi. Vibrant's HD clamps also allow for up to 12 degrees of movement, meaning they're less likely to fail under extreme conditions. As an added bonus they also look a treat.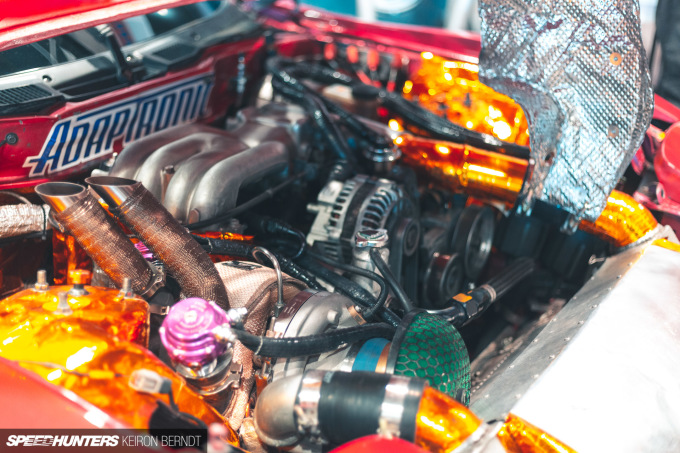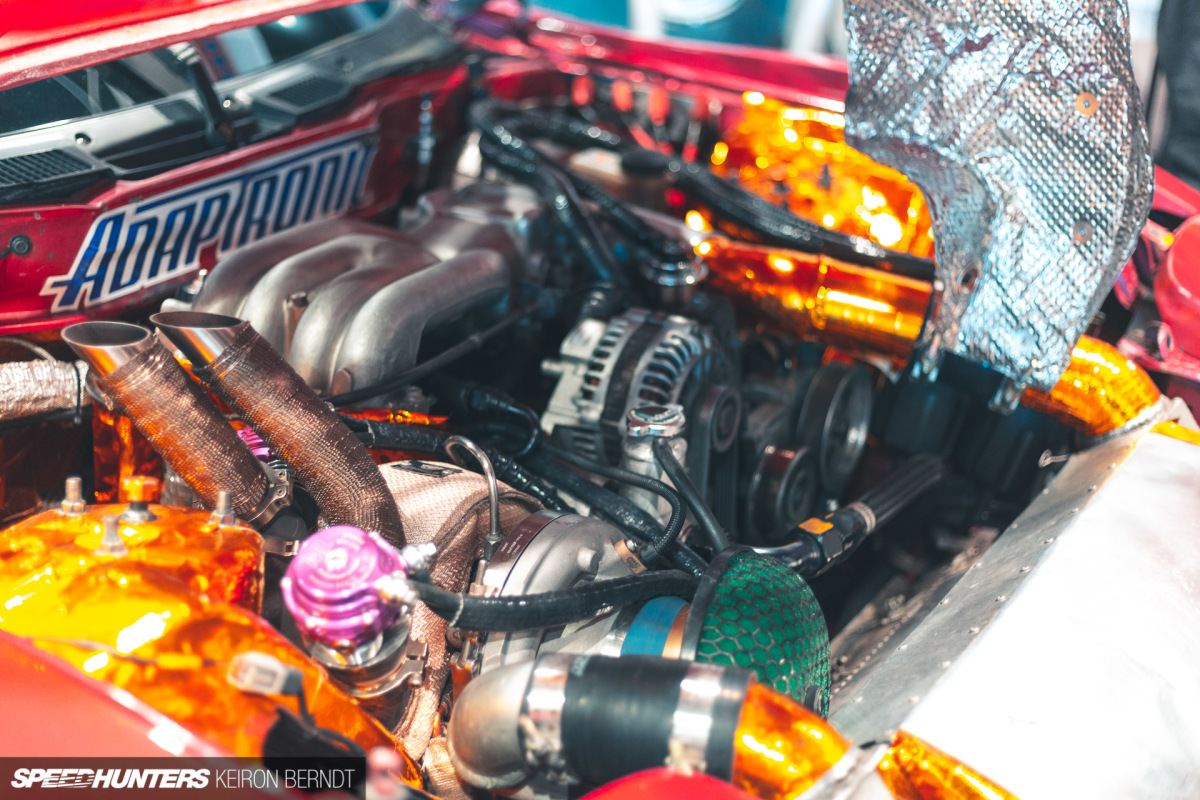 Finally, thermal management is also, a literal hot topic at the Bisimoto offices. On our way through the show we stopped by PTP Turbo Blankets to get the low down on their products.
As a fan of the scientific method, Bisi was particularly interested in the fact that PTP Blankets products have gone through independent heat management testing at Austin University where they have showed verified, unbiased gains. Will we see PTP Blankets in the next Bisi build? Time will tell…
Walking The Show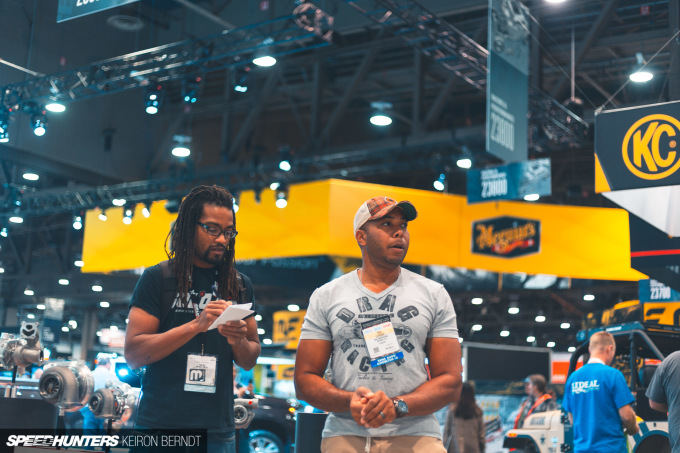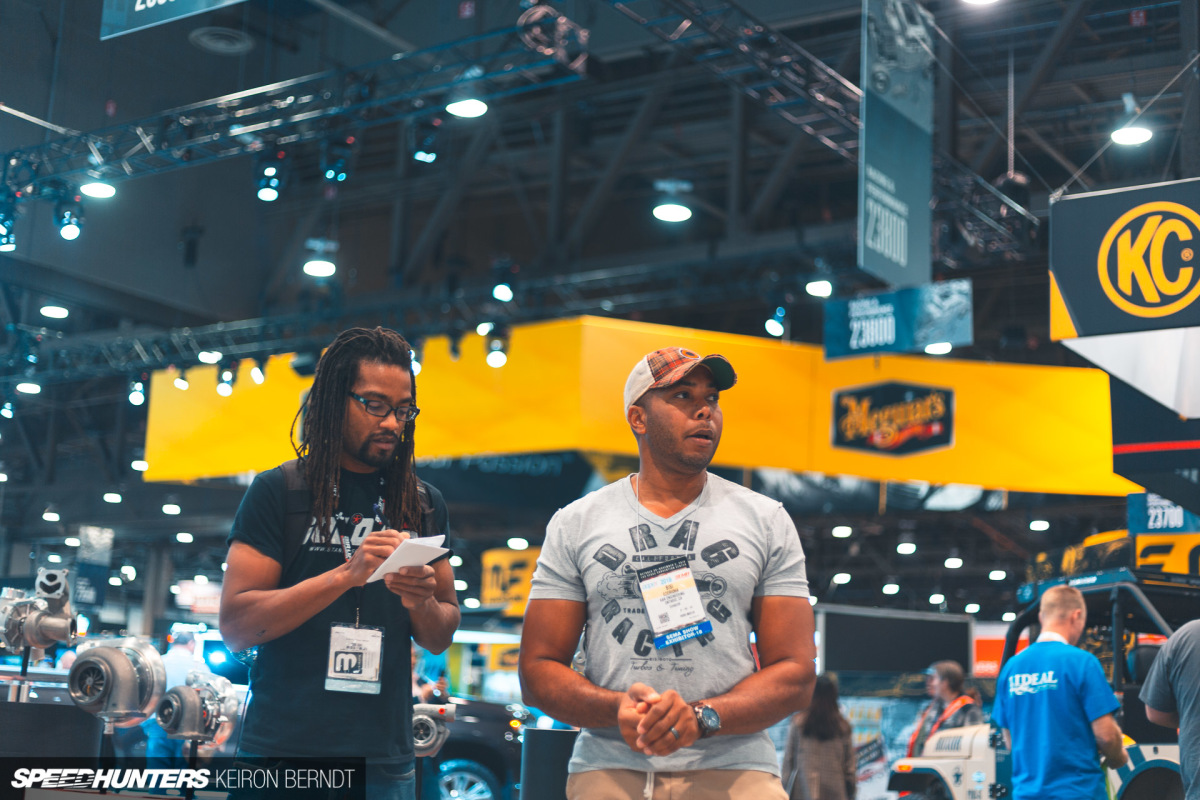 With plenty of obligations at the SEMA Show, Bisi doesn't get a chance to see much of it. However, when we asked him to show us a few of his favorite builds at the Las Vegas Convention Center this year it didn't take him long to identify one car we had to look at.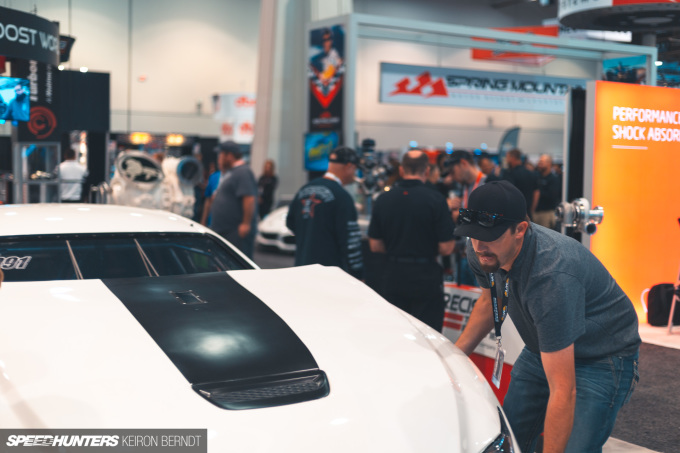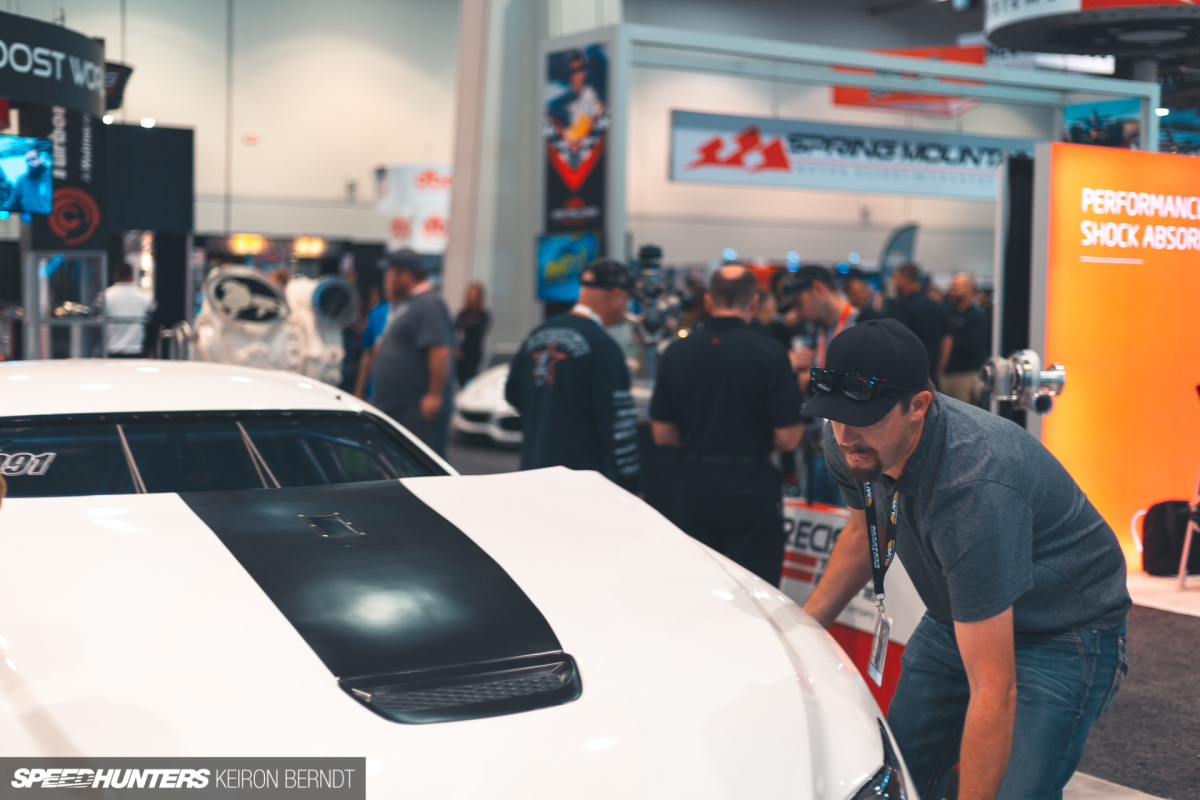 That car was the Ekanoo Racing Lexus RC F parked in the Precision Turbo booth. Capable of running the eighth mile in a blistering 4.10 seconds at 195mph, the stage four 481x V8-powered car runs two XPR 88mm Precision Turbos and makes over 3,000hp.
Bisi was as impressed with the car's numbers as he was the packaging and presentation; the exterior is recognizable as a Lexus and under the fiberglass front end it was a mechanical beauty. "Very impressive" was a phrase said several times during our walk-around.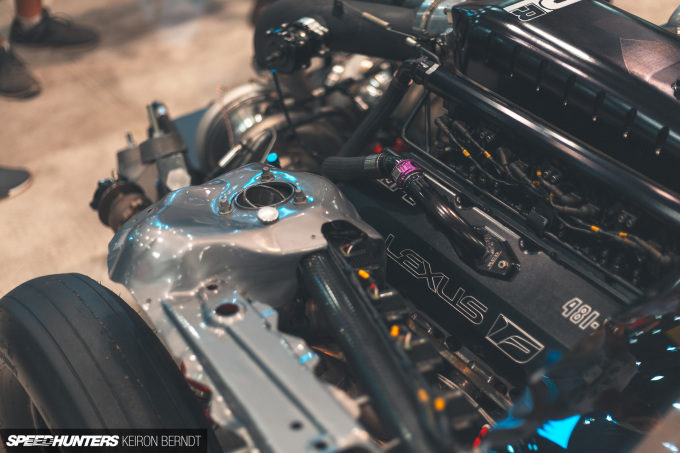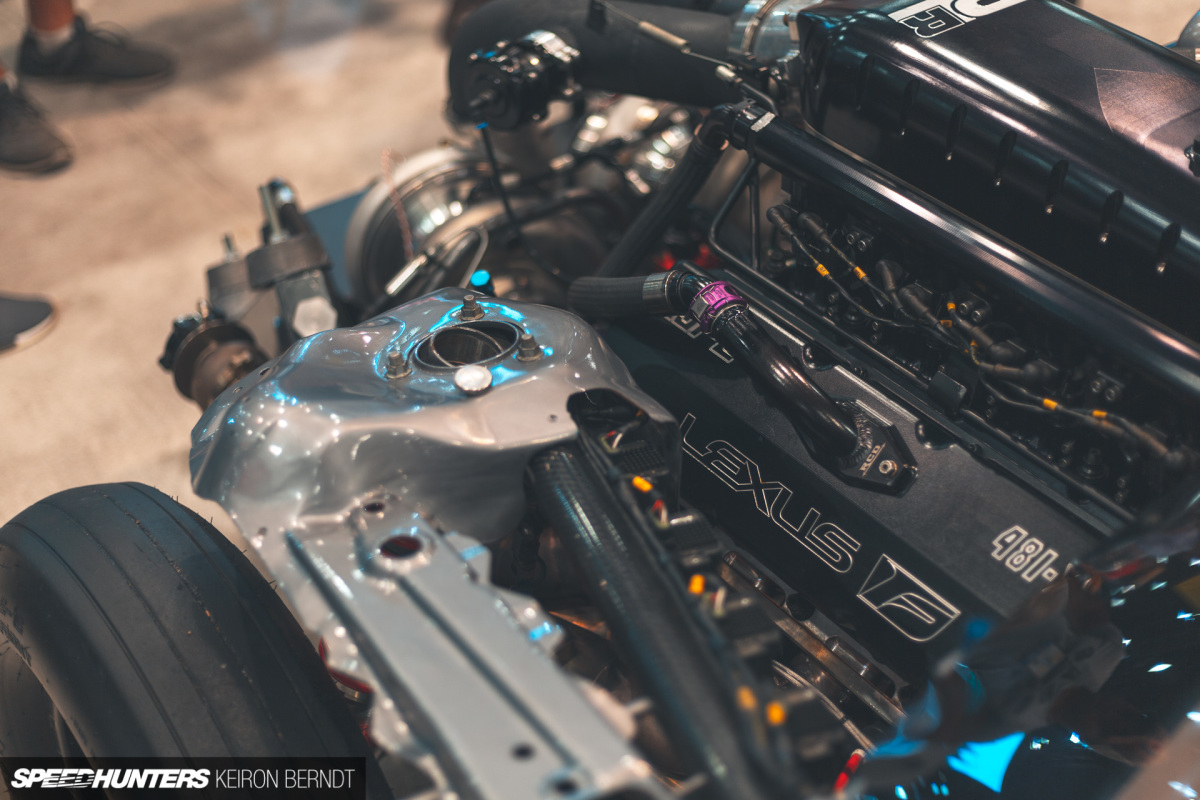 Bisi revealed that he's a man who values function over form at nearly every junction, but he appreciates those that manage to incorporate both in their builds. In that regard, it made sense that some of his other favorite builds included the 2JZ-powered S2000 in the Sparta Brakes booth and Chuckles Garage's Pikes Peak Ford F1 truck in the Moton Suspension booth.
When we ended up at the HKS booth Bisi was quite impressed with their new turbos, particularly the models fit with their billet 18KX3RC compressor wheel.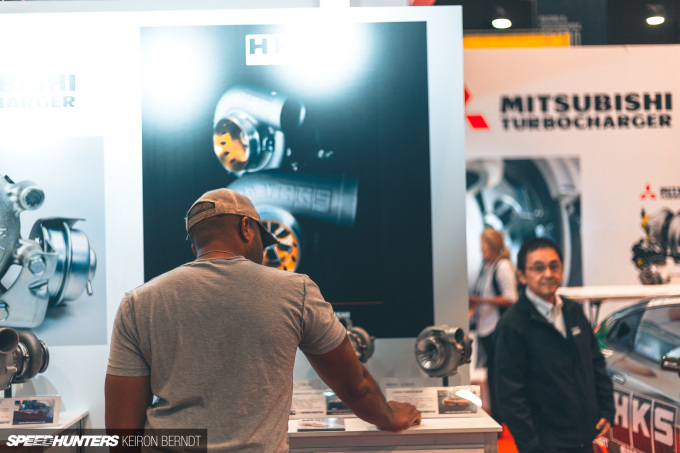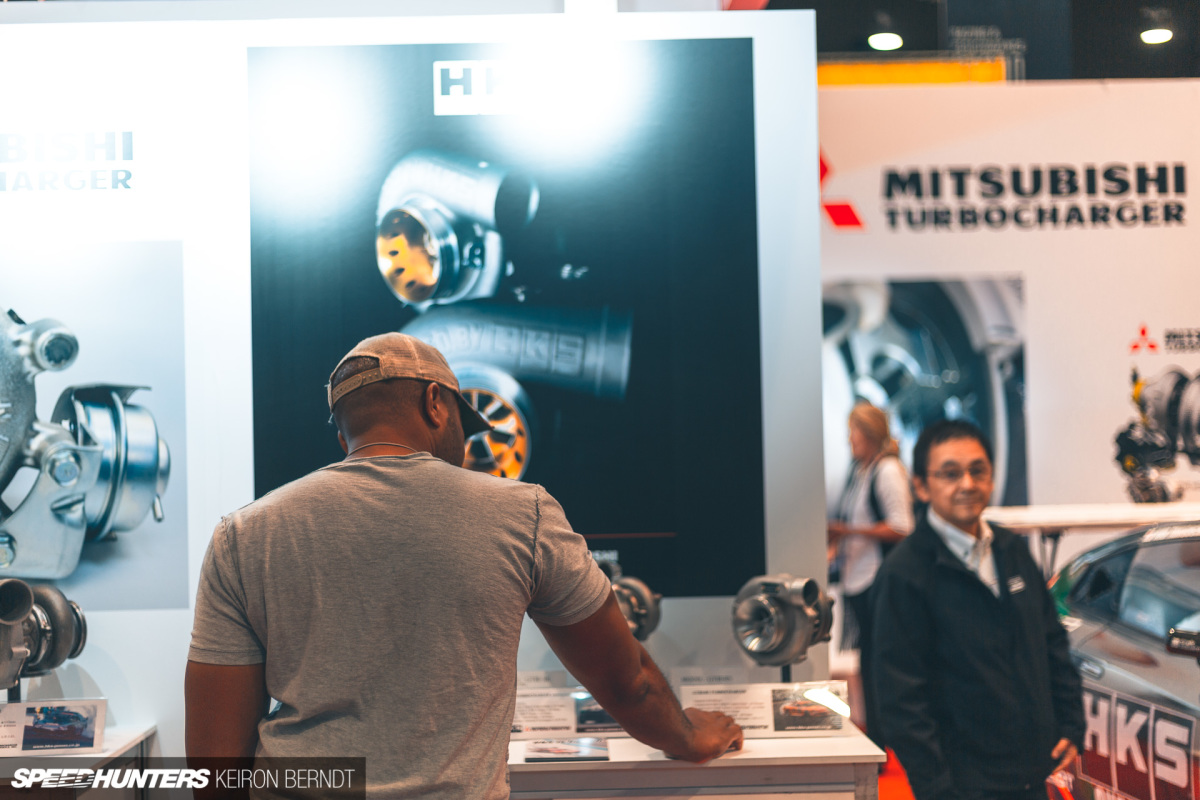 However, swinging back to piping management, when looking at their demo R35 GT-R he couldn't help but notice a few areas where piping could have been run more efficiently.
He wasn't trying to knock the legendary tuner by any means; Bisi's brain just simply doesn't stop looking for areas of improvement.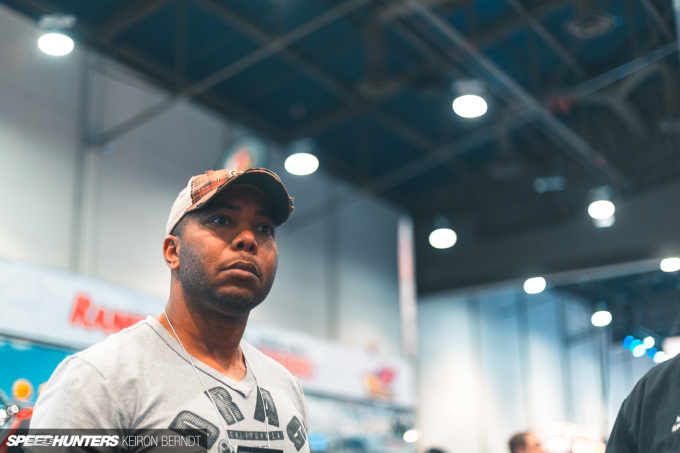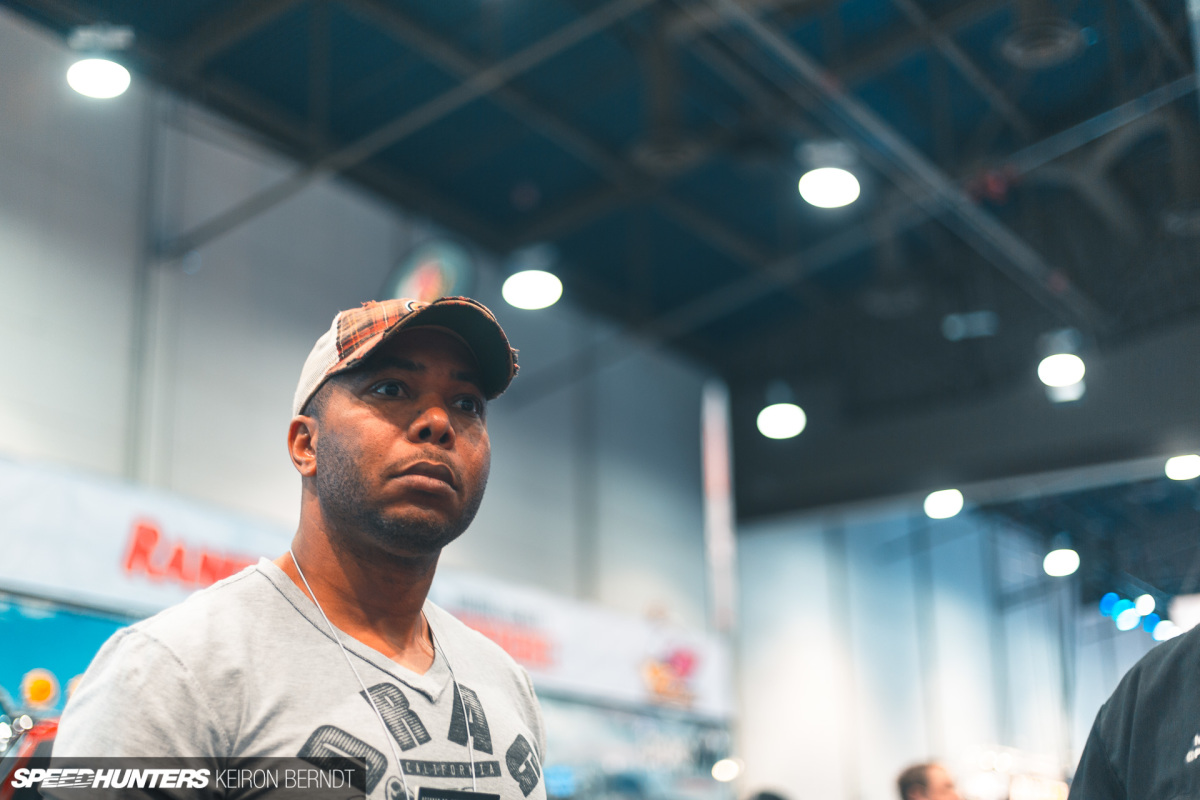 Before parting ways I had to take Bisi to see one of my personal favorite vehicles of the show, the Corruptt Mustang. Somehow, he'd managed to make it to Thursday without anyone letting him know about the car. Having followed that build since the beginning it was a rare moment in the conversation where I (briefly) knew more about a build than Bisi did.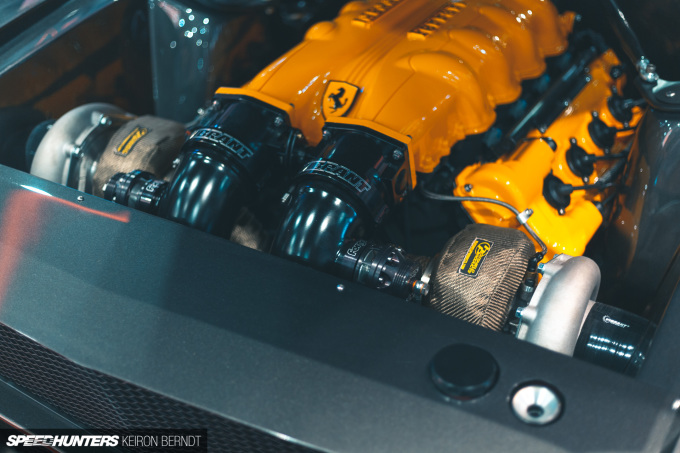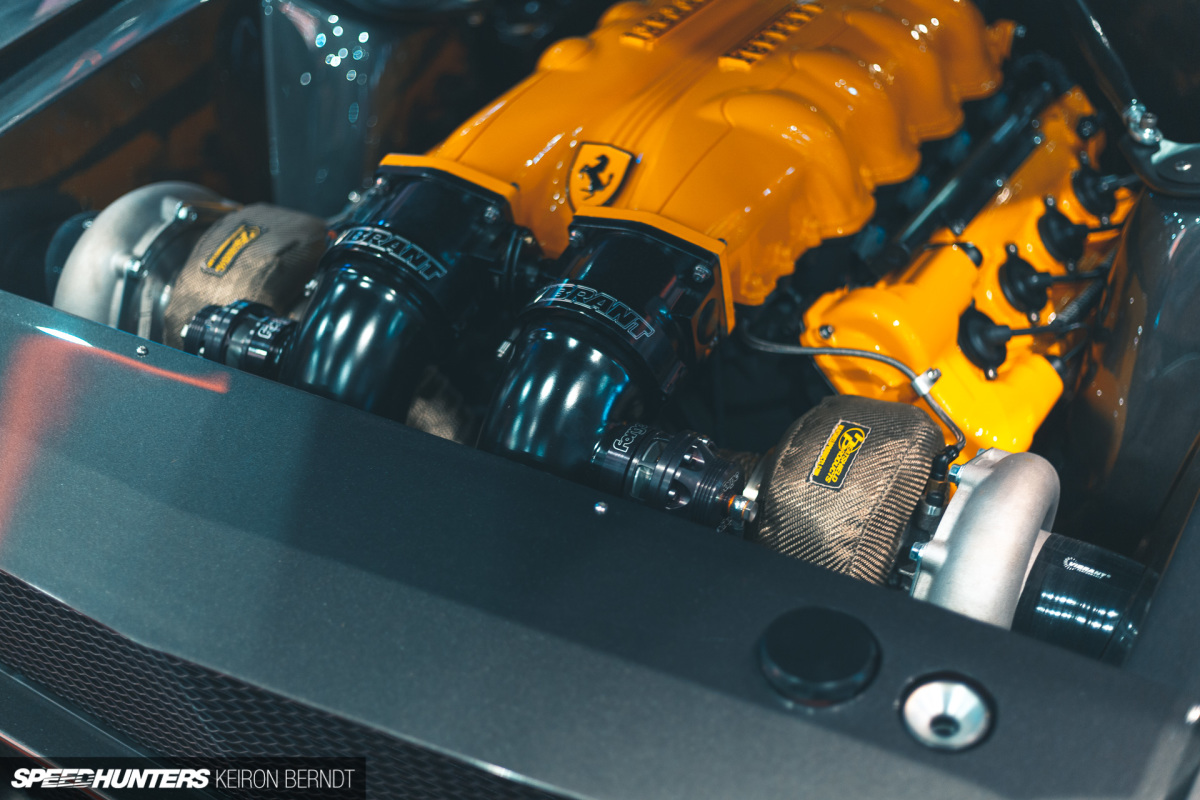 Keiron did a great job of capturing his mix of confusion and intrigue at a twin turbo, Ferrari-powered '67 Mustang. A car guy through and through. Bisi absolutely loved this build – once he was able to wrap his head properly around the lunacy.
About Criticism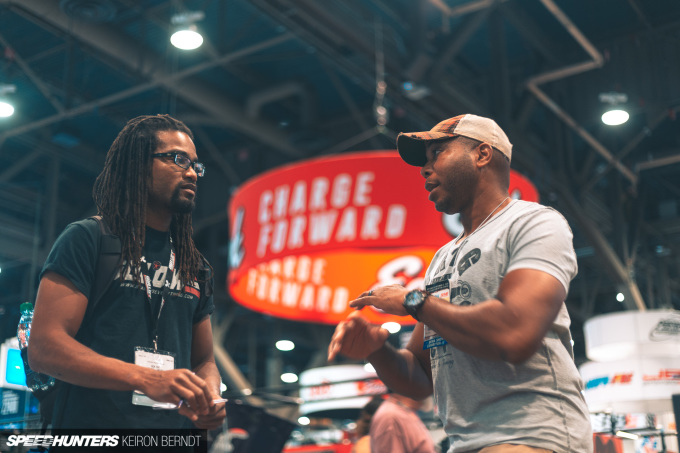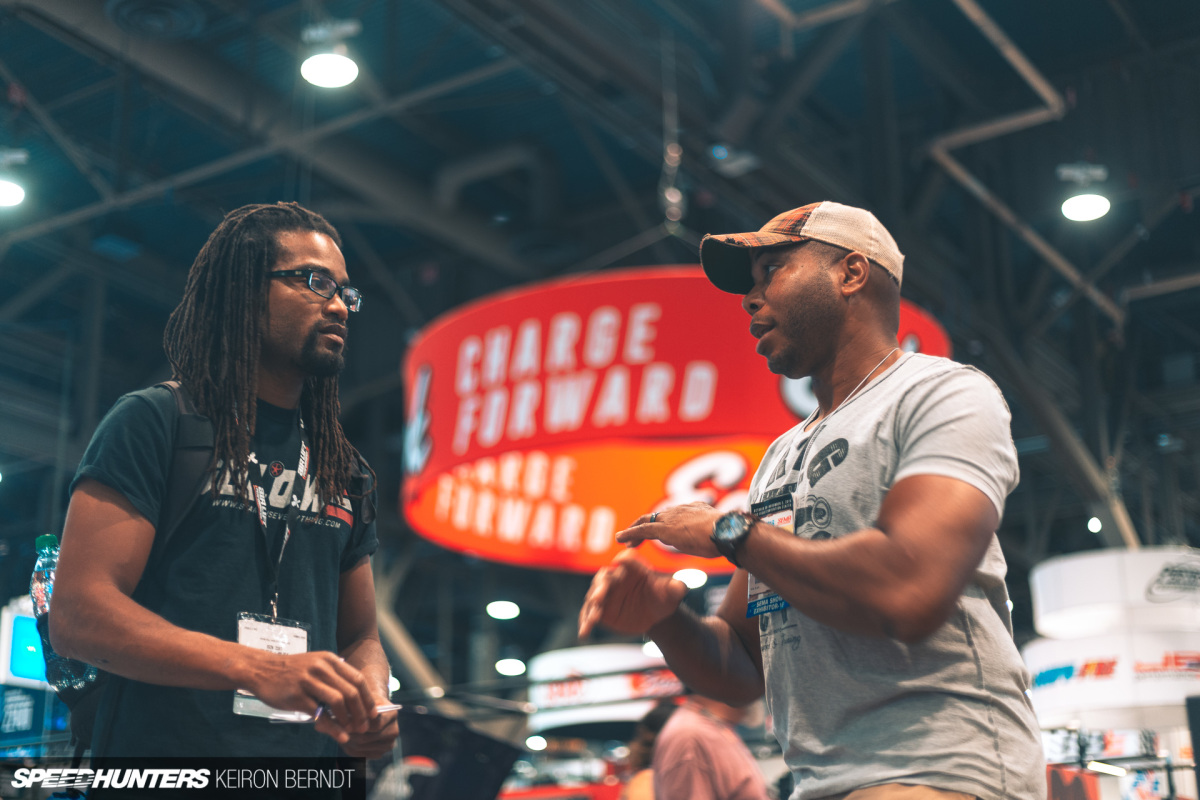 Prior to interviewing Bisi, I'd been made aware of the various levels of controversy and criticism around some of his builds, products, and claims, and I knew if I did this post without touching on that I would get lit up in the comment section. Walking up to someone I just met and saying "Hey, they internet says x, y and z about your business," isn't my preferred method, so to broach the subject tactfully I first asked Bisi about a build he brought to SEMA in 2014.
A white 911, with the turbo hanging out of the driver's side rear bumper, it caused quite a stir. However, after the show it was never seen again provoking some to assert that the car never ran.
With this car in particular, Bisi openly admitted that while it ran he didn't much like it when complete. Every day being a school day, sometimes you need to tear the page out and start again. The white Porsche in particular has a new plan of attack written, but hasn't made its way back into the immediate Bisimoto schedule.
Bringing that car back out with a vengeance and getting back to his drag racing roots with his latest Civic Shuttle are however on his immediate radar when time permits.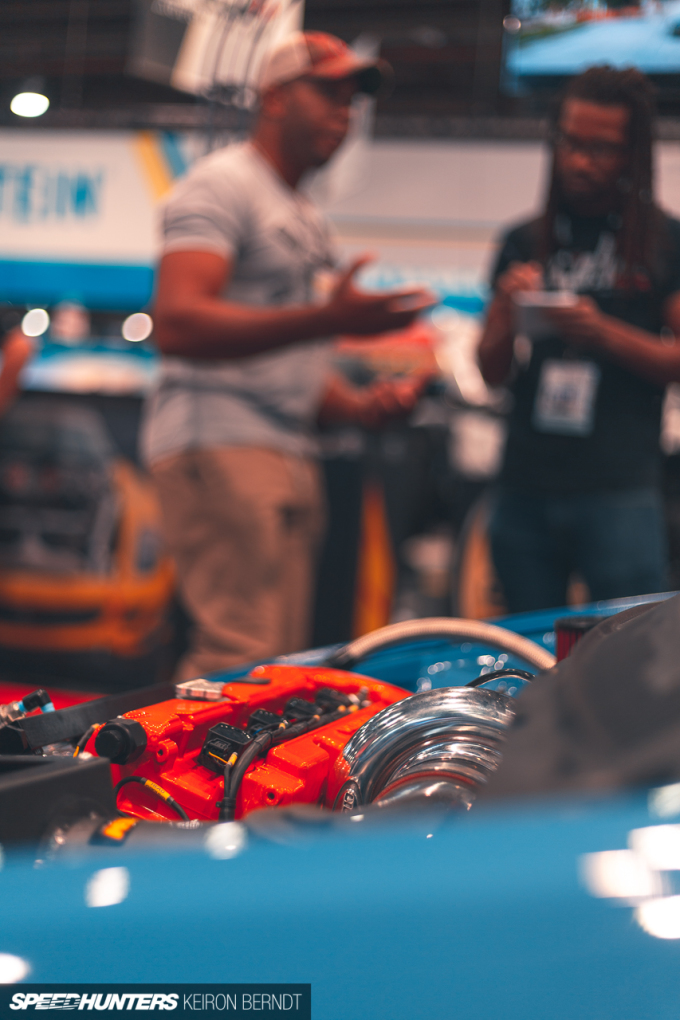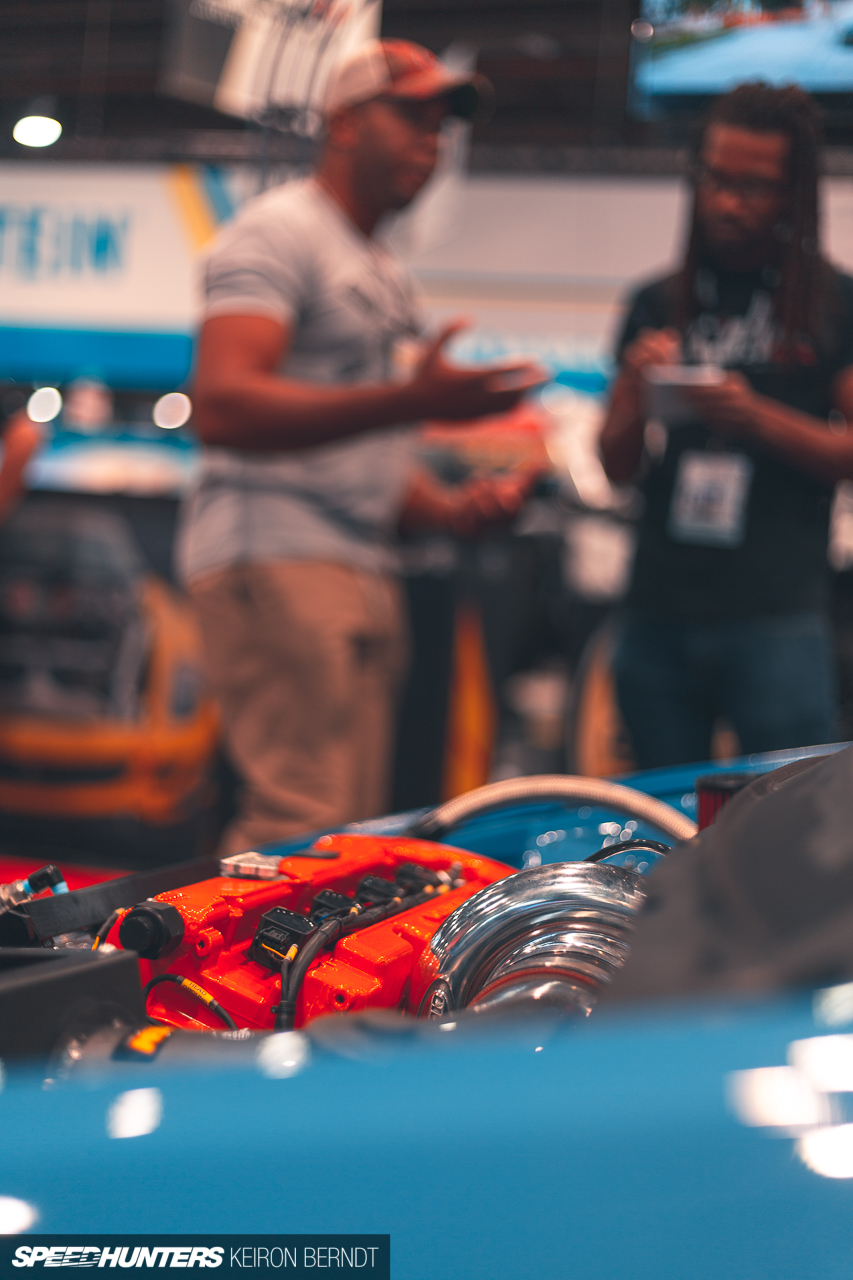 In regards to the allegations that his parts don't out perform his competitors. Bisi says he stands behind his product, and that several records that have been broken and held with them, including his personal F-series drag car that ran a 9.2-second ET, a Leslie Durst's B series that ran 9.7, or Jeremy Lookofsky that has ran 9.9, to name a few. These records, often set by others, do a better job of representing his product than the negative reviews of his critics.
Instead of focusing his efforts on the detractors, Bisi devotes his time and effort into improving his company's offerings in both physical product and customer service. Satisfaction isn't reached until every Bisimoto product is the best it can possibly be in terms of reliability, and performance.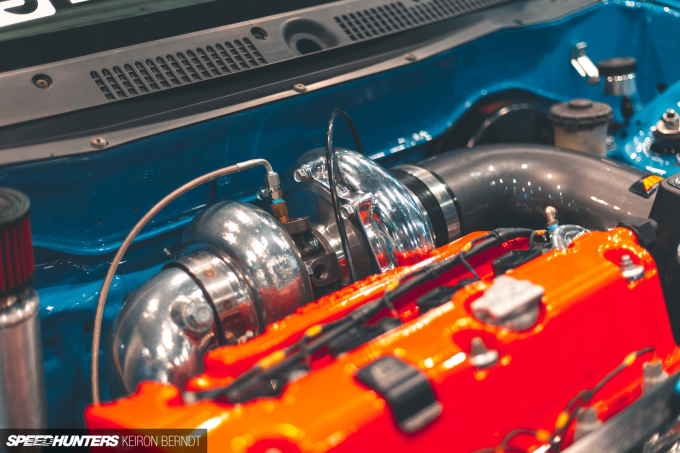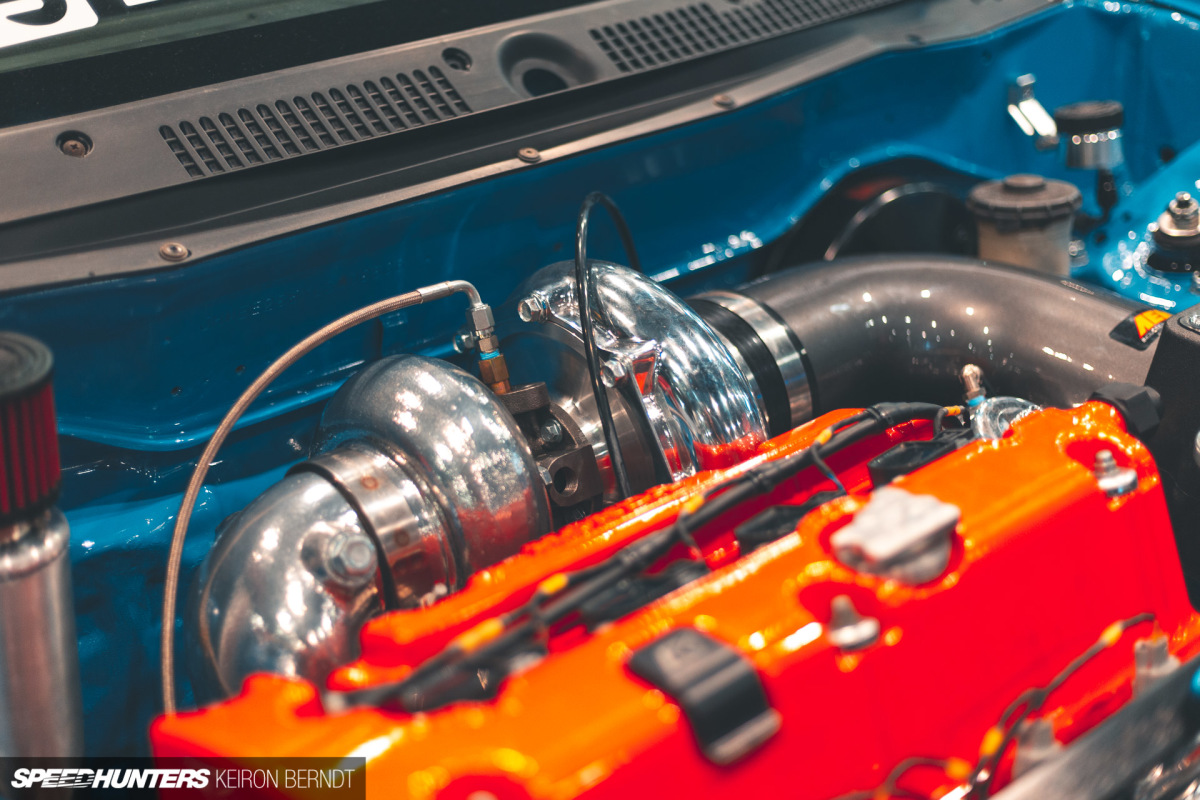 An ambitious goal, and a very thoughtful answer, but after hanging with him for an hour I honestly wouldn't have expected anything less. Of course, if you still have lingering questions you're more than welcome to contact Bisi directly on social media, or at an event.
Take my word for it, he's extremely approachable and if he senses you're coming from an area of genuine enthusiasm or curiosity he'll have no problem giving you the time of day.
Dave Thomas
Instagram: stanceiseverythingcom
Photography by Keiron Berndt
Instagram: keiron_berndt