I don't get the chance to go to SEMA every year. Vegas isn't a town that encourages the more responsible sides of my decision making so I approach it sparingly. That said, earlier in the year I caught wind of a project that was well worth a trip back to the city of sin. Better judgment be damned!
Tony's approach to introducing the project was pretty slick. The words "check this out, it's for SEMA" along with three photos: a side shot, a rear shot, and one final under hood shot.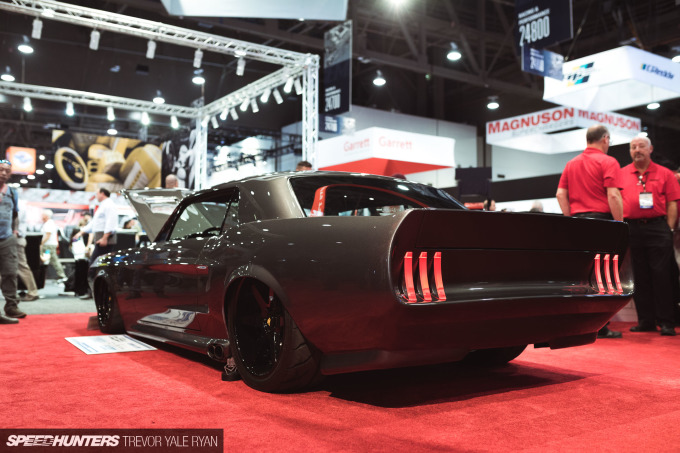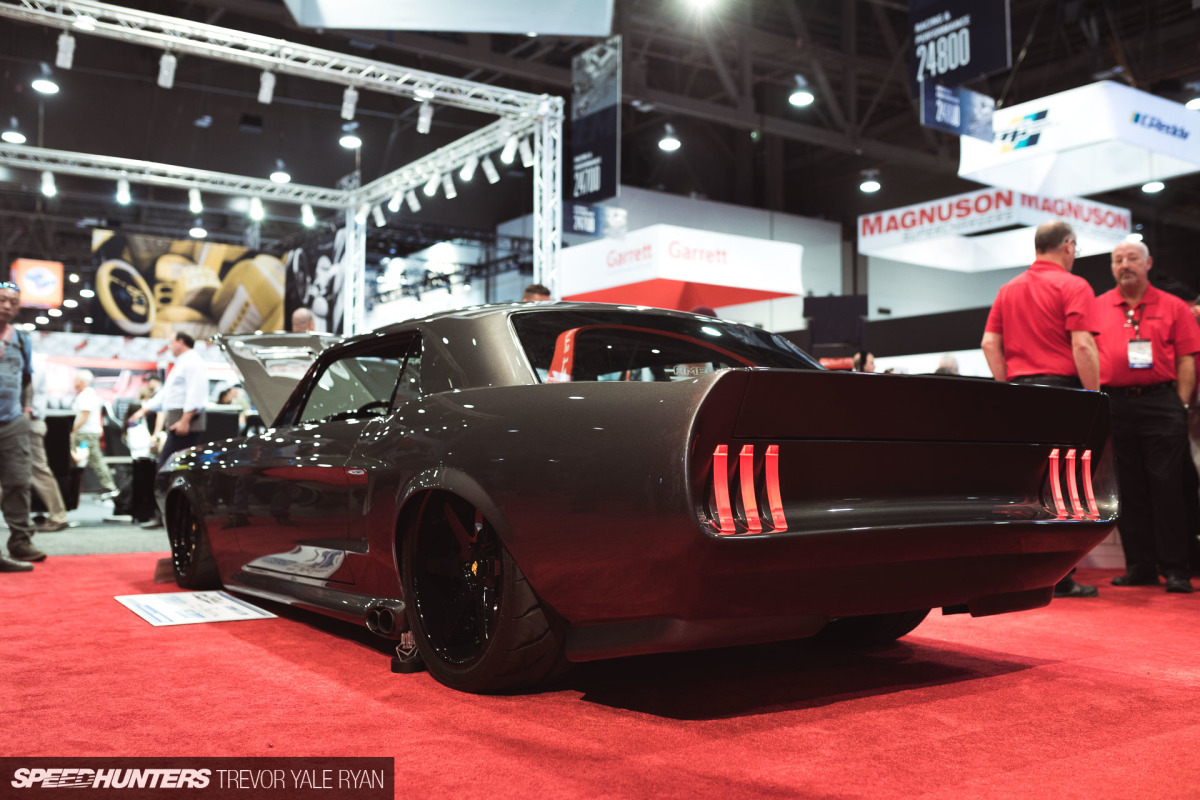 The side shot showed the then primered version of Tony's 1967 Mustang. It was a project he started over a decade ago at his shop American Legends. The then very-much under-construction car had already had its roof chopped 2.5″, moldings and handles shaved and wheel-well openings widened. Going a bit further still, Tony also fabricated his own steel deck spoiler, molded the rear bumper, crafted side skirts and constructed a custom front bumper just for good measure.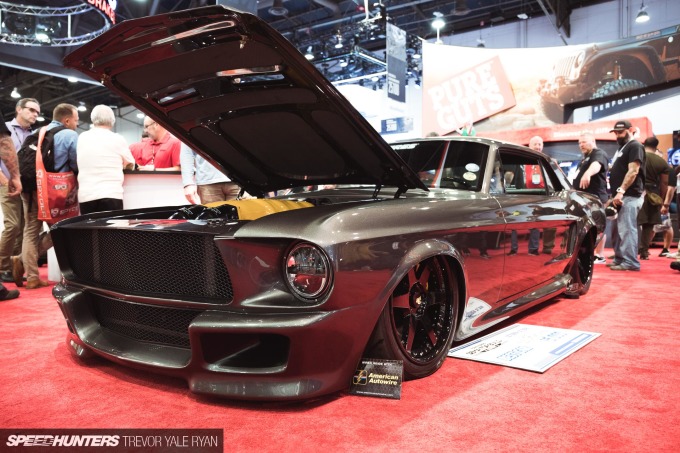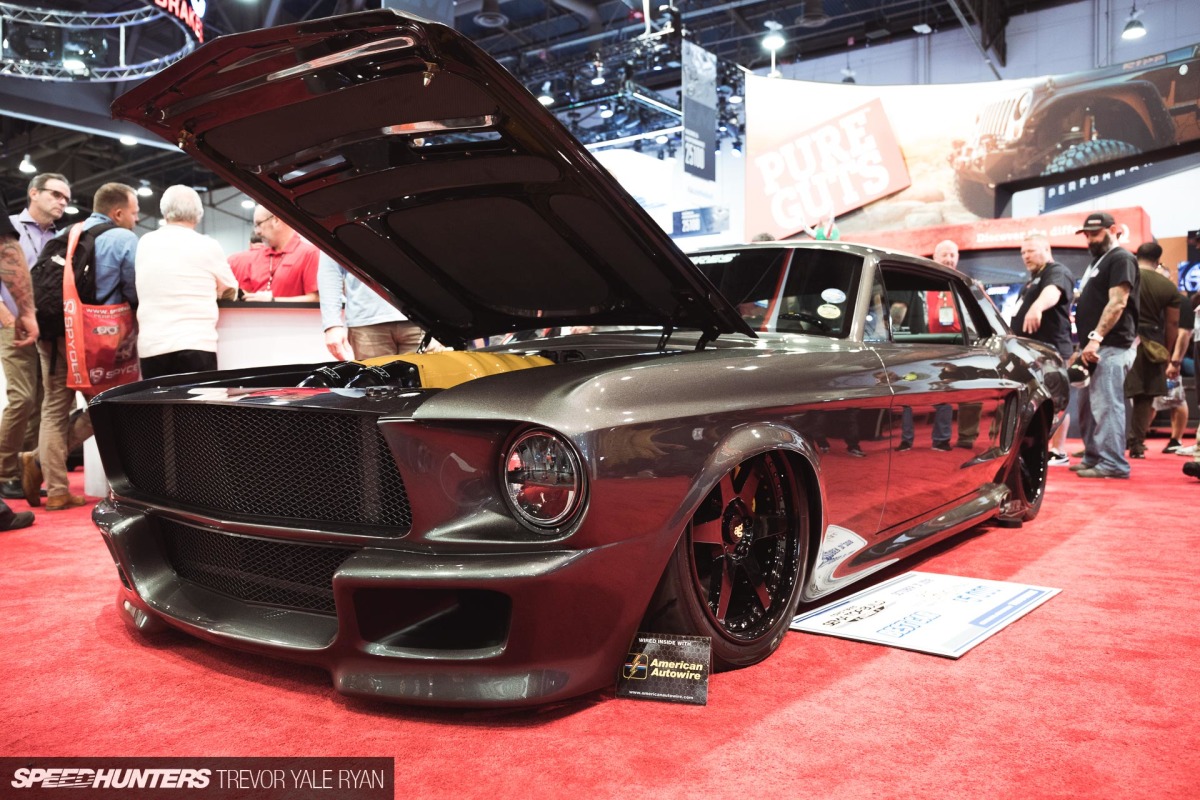 As non-purist as it could possibly be, I was on board with photos 1 & 2. I respected the fact that he was building the car himself, the way he wanted with the potential for something epic clearly there.
When I scrolled to photo 3 I darn near booked my flight to Vegas then and there!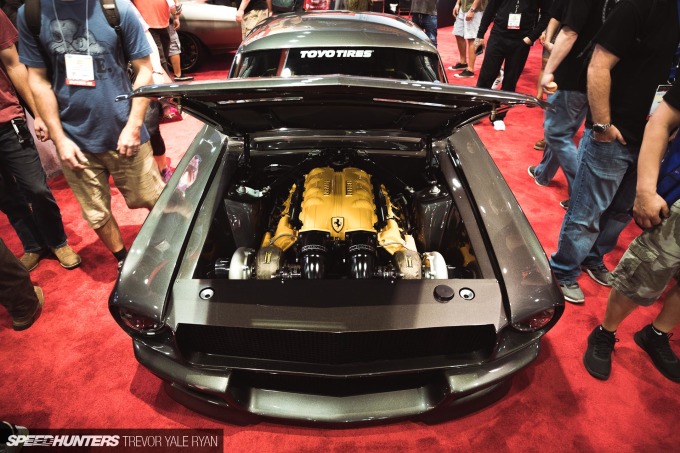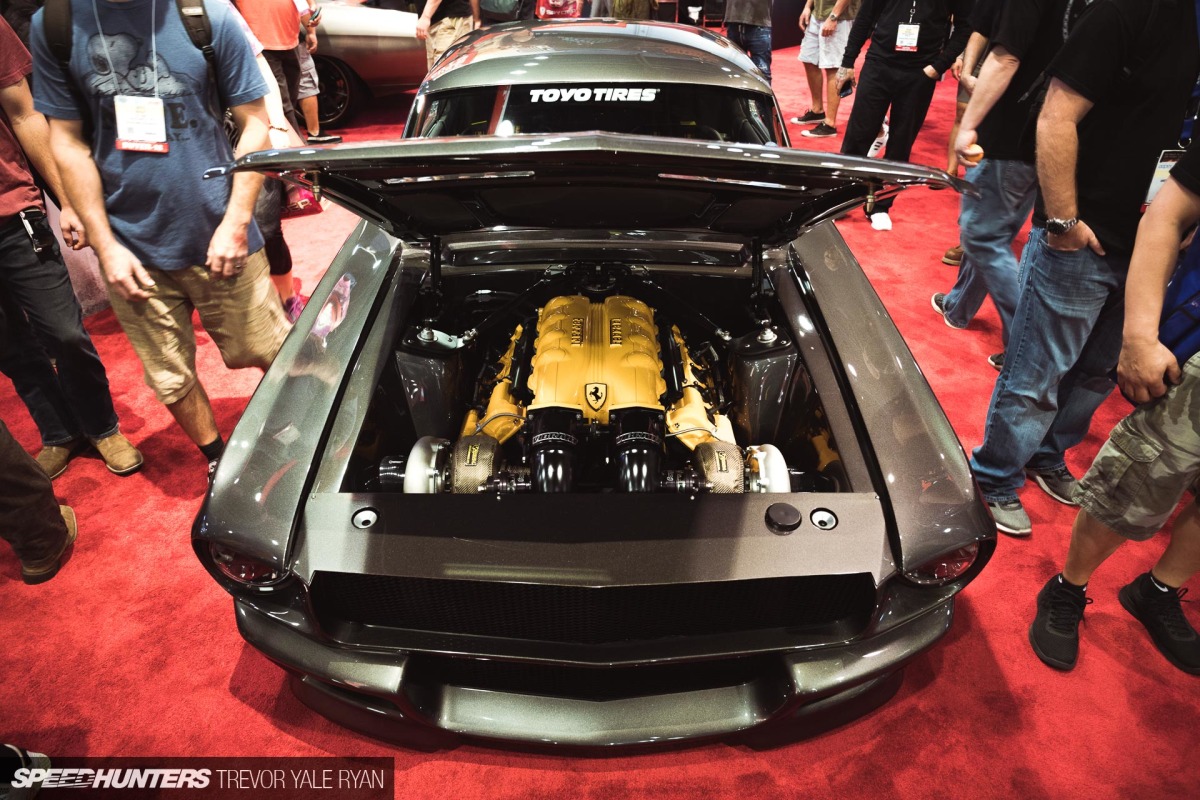 With such a unique exterior any motor from the Ford catalog was instantly viewed as too mundane. Chevy's LS and Toyota's 2JZ were also never really a consideration. Both have been done and this wasn't a lather rinse and repeat sort of affair. Tony wanted something that would be as much of a technical challenge as a creative one.
There isn't a single person that can argue a Ferrari 4.3L F136 swap in a Mustang is anything but that.
However, should you be the argumentative type, to double down (or is it triple if you include the motor?) in the insanity, Tony didn't stop at just the swap. He also installed mirrored Nelson Racing turbos on either side of the flat-plane crank V8 and dropped the whole lot into an impeccably-shaved engine bay.
Pictures hardly do it justice, such is the high level of execution. Considering the lunacy of this swap, everything seems to look right at home.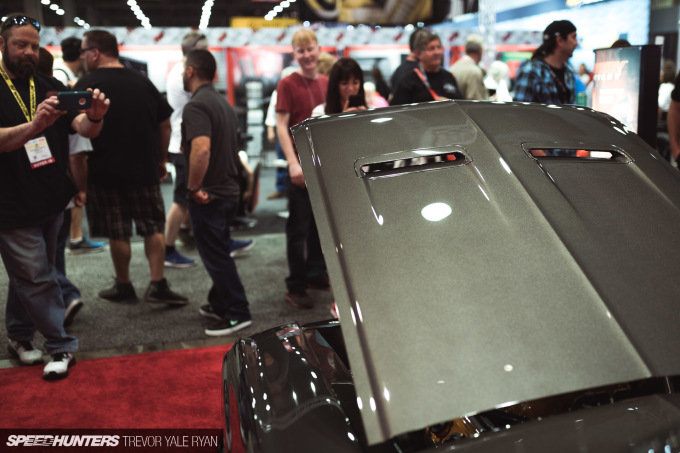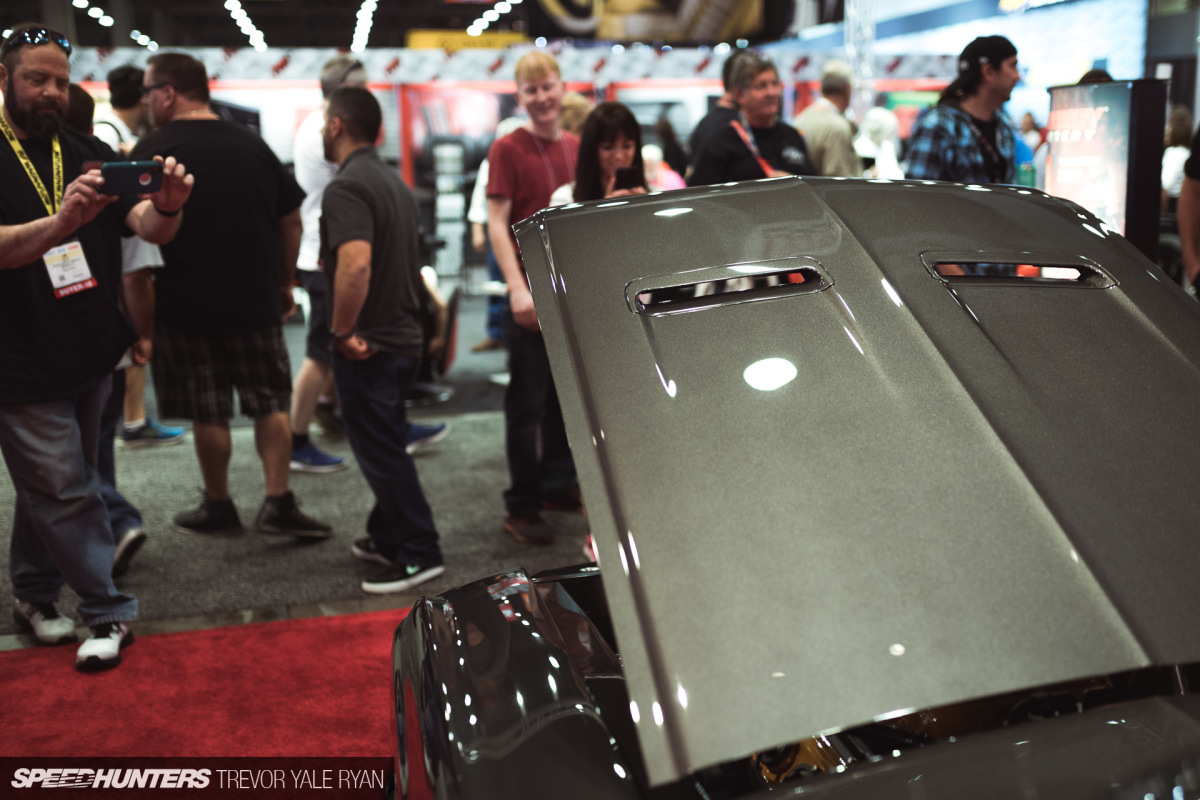 If you want to talk show stoppers, scratch that – show stealers – the Corruptt Mustang is as good as they come. The red carpet in front of the car had practically worn pink from the amount of people stopping by the Odyssey Battery booth for a closer look. Toyo Tires even awarded it with their SEMA Top Build award.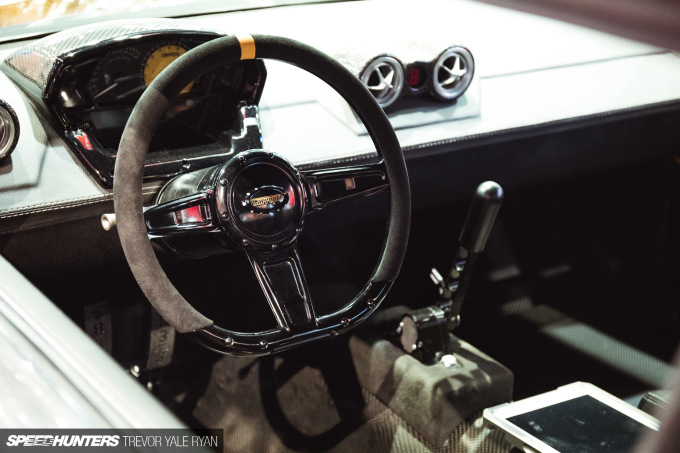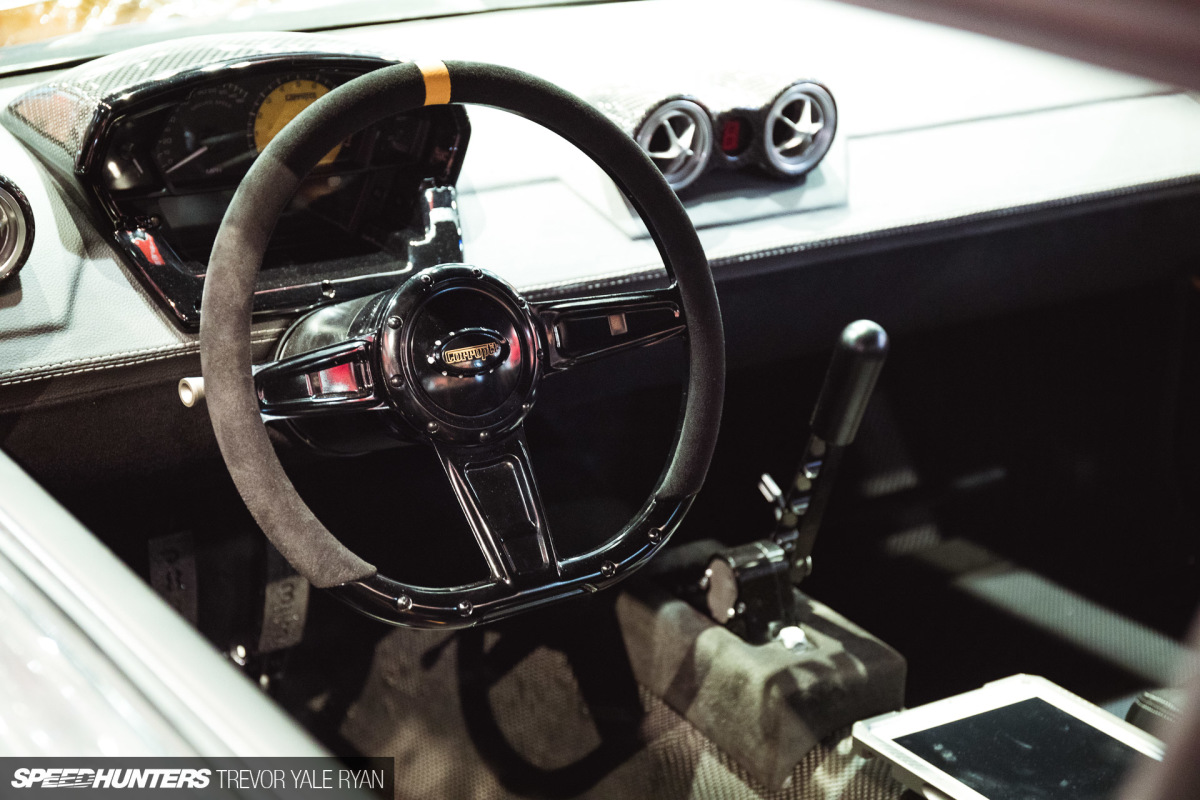 After leaving such a mark on the Ford's exterior and engine bay, Tony turned his attention to the interior. Like the power plant it's one of a kind, and extremely advanced.
Sitting on a carbon fiber floor pan and between custom door panels are one off seats with Schroth harnesses. The rear seat has been jettisoned and replaced with an exposed Odyssey battery set up.
Tony does plan to drive the car, so he's installed heat, and air conditioning. Engine vitals are monitored via Dakota digital gauges and the power windows, locks, and even air suspension can be controlled via tablet or phone.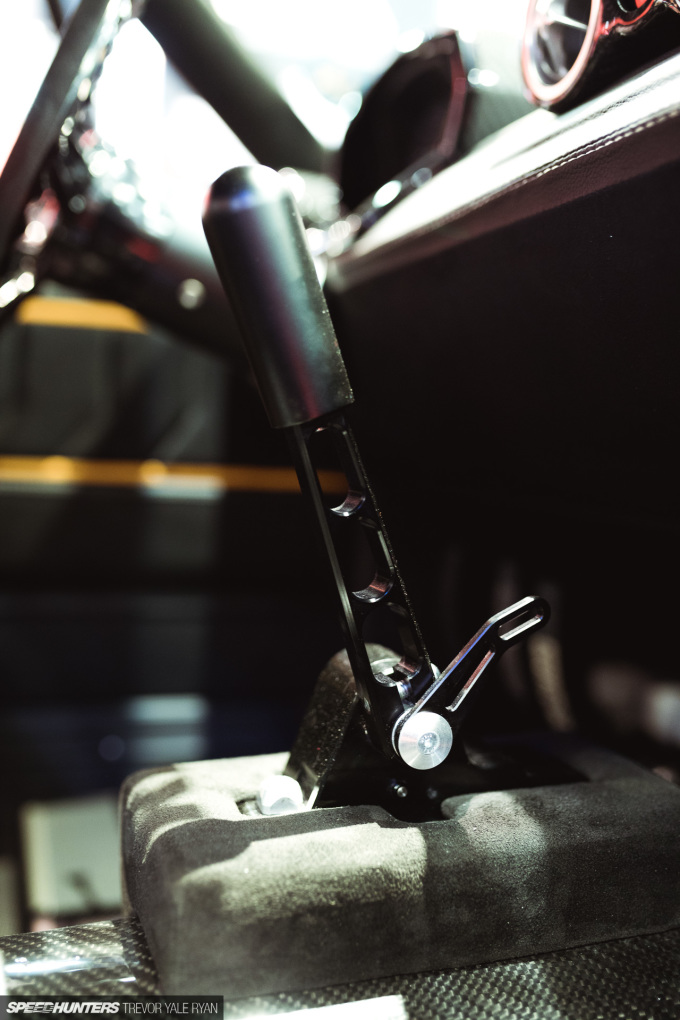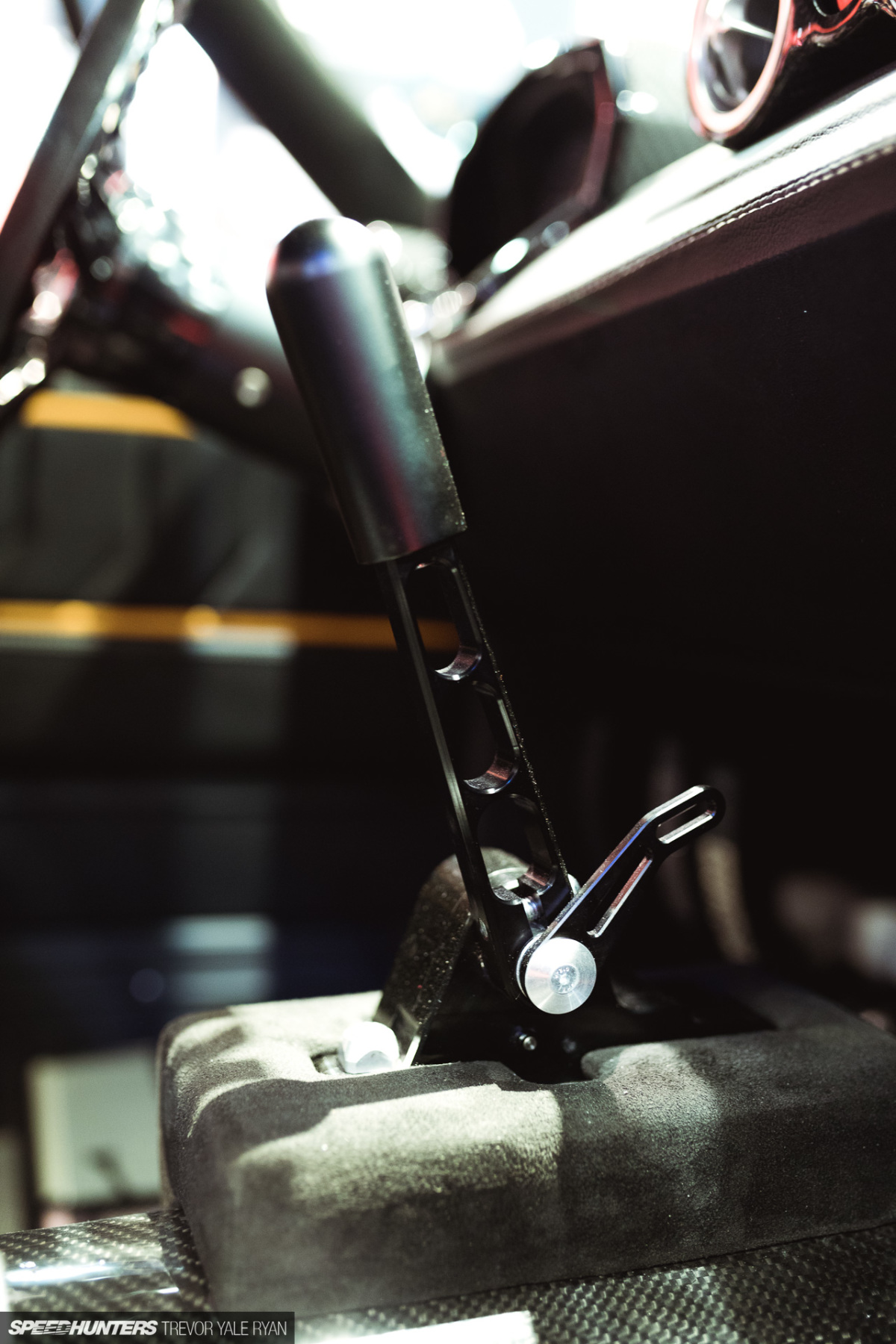 While much of the car is digitally controlled, Tony stuck with analog for the transmission. This car has three pedals, and a Tremec T6 mounted via a custom adapter plate.
Footwork consists of Avant Garde F461 wheels 18-inches in diameter. Toyo R888R tires are on all four corners, 225s in the front and a healthy 285 in the rear.
Behind the wheels are Wilwood calipers customized with the Corruptt logo. The paint on the calipers matches the same yellow of the intake manifold tying everything together.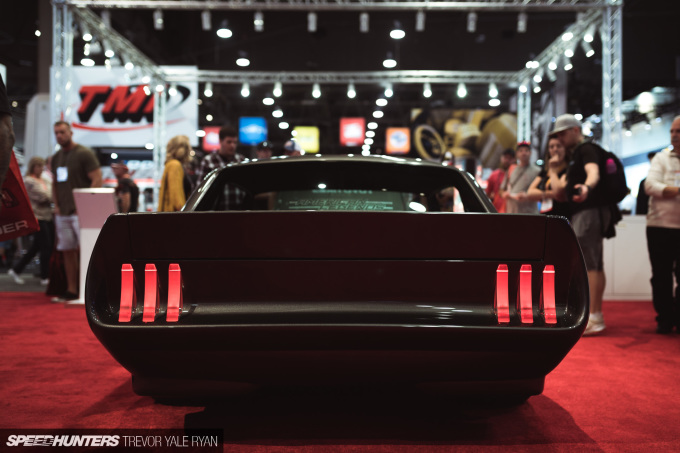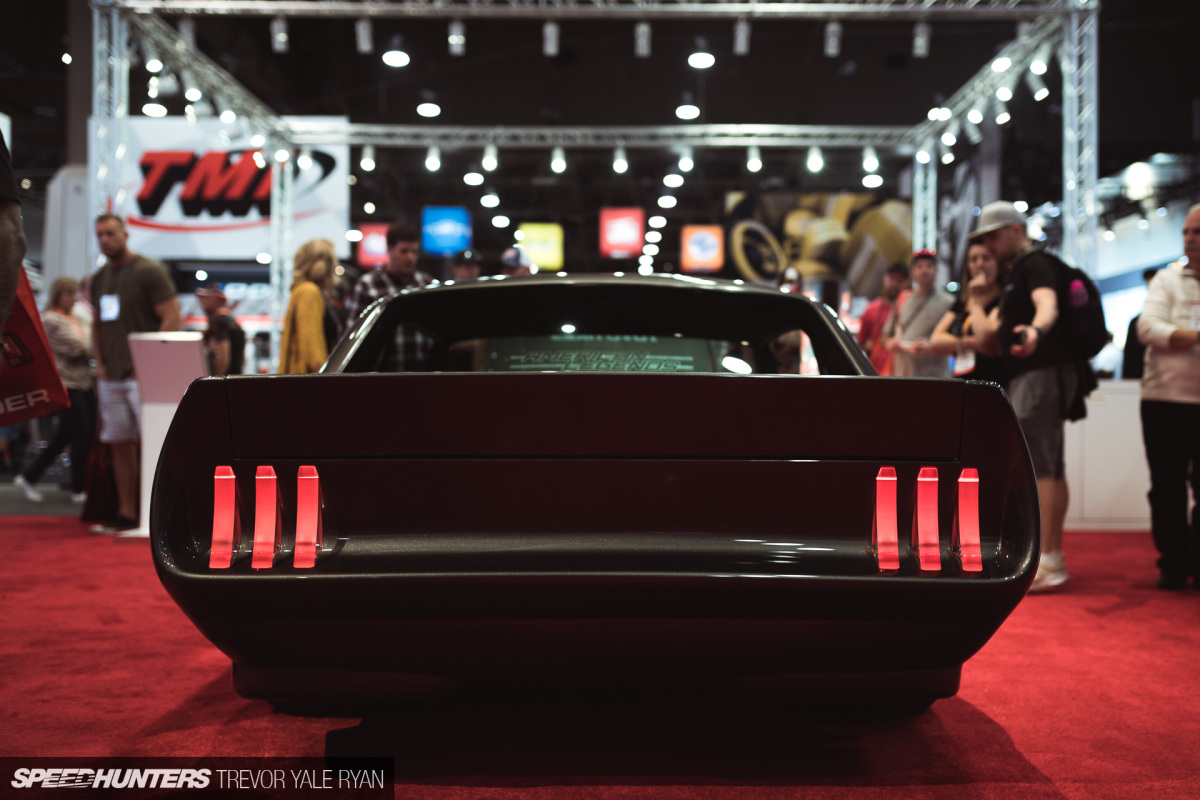 The gunmetal BASF paint gives the car as understated a look as a car like this can get while the custom LED/acrylic lights really give the rear end a unique modern feel.
If you think this car is deserving of a more robust feature, along with a sound bite or ten, we agree and will have more to come on this project at a later date. Until then, if you want to take a look back at how Tony made this all work, take a wander through his Instagram profile @corrupttmustang.
Dave Thomas
Instagram: stanceiseverything
Photography by Trevor Yale Ryan
Instagram: Trevor Yale Ryan