Garage Goals
It's the Speedhunters mantra.
Along with 'drive fast, take chances and talk to strangers', these are words that will guaranteed make your life more exciting and often a far more interesting experience. They are words that have lead me to places that I never would have seen otherwise. They are words that have introduced me to people I never would have met and they are the words that lead to how this day unfolded.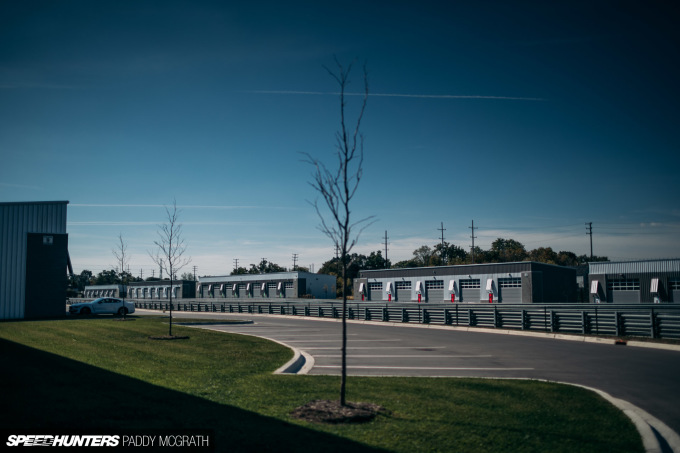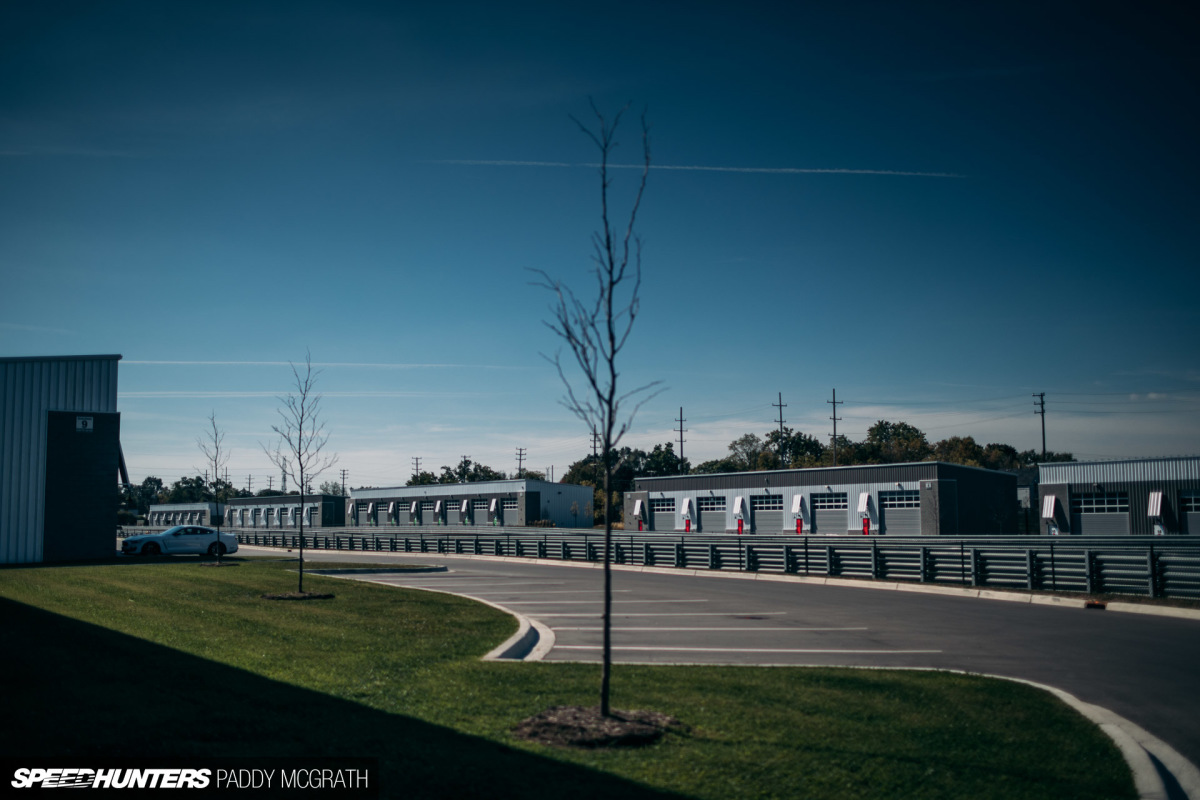 Ben Chandler and I were in Pontiac, Michigan for the second annual Speed Ring event. I was documenting Cody Miles' adventures that weekend, while Ben was doing 17 daily return trips between M1 Concourse and the local Starbucks. Either the coffee was really good, Ben was having internet withdrawal symptoms or there was a particularly beautiful barista working there. I never found out.
M1 Concourse is a relatively new race facility built on the grounds of an old GM factory outside Detroit. Its track is just one part of the equation, with the venue also home to private garages which can be purchased or rented from the track owners. There are some seriously special things hidden in here, but we can only show you so much for obvious enough reasons.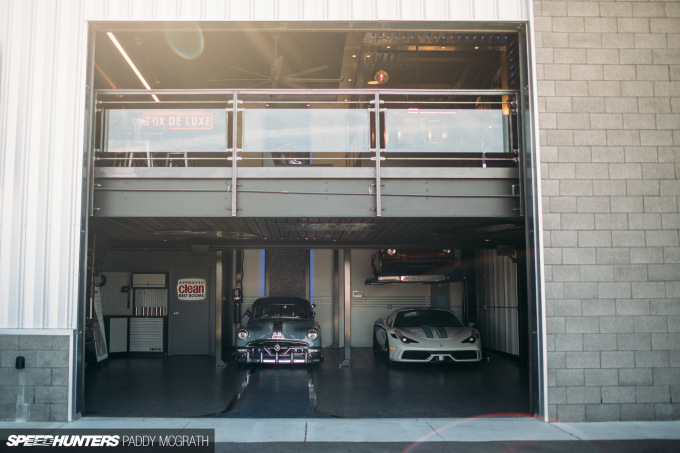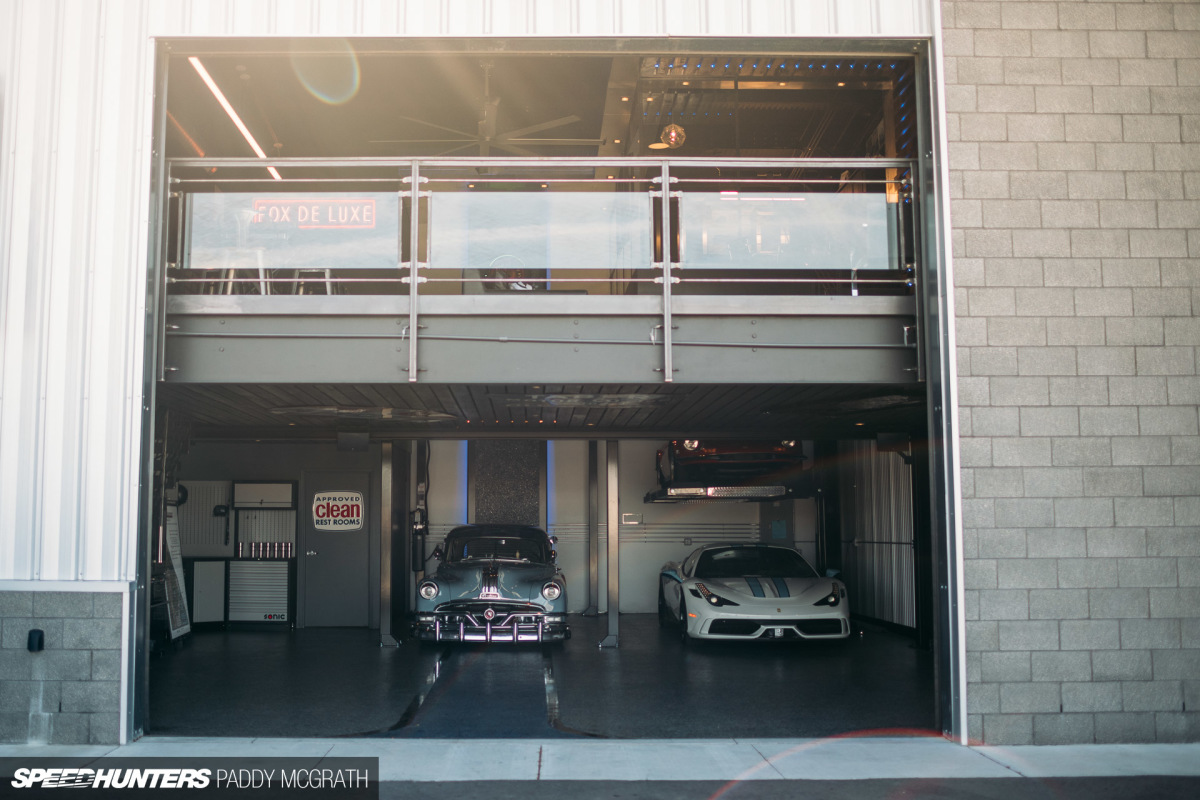 One of the garages exists purely as an example of how the units can be utilised. While they are supplied completely empty, they can be fitted out to the new owner's taste. This makes every garage completely unique, despite their identical appearance from the outside.
It was through a trackside discussion with M1 Concourse's resident photographer, Ken Cox, and his friend / accomplice, Matt Trombley, that I got to see inside this show garage and our conversation moved on to other things. But more on that in a moment.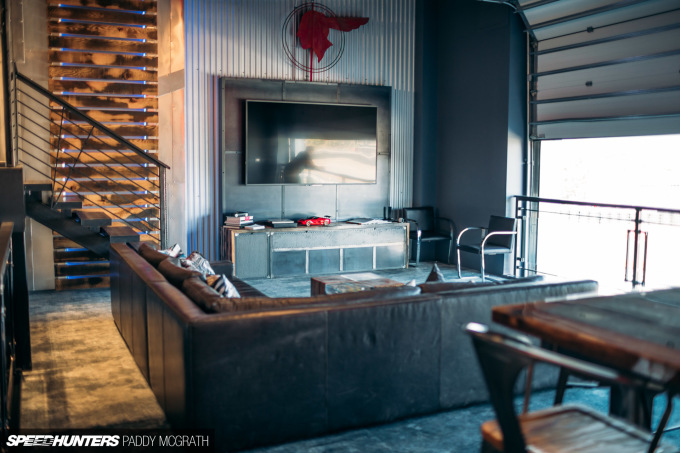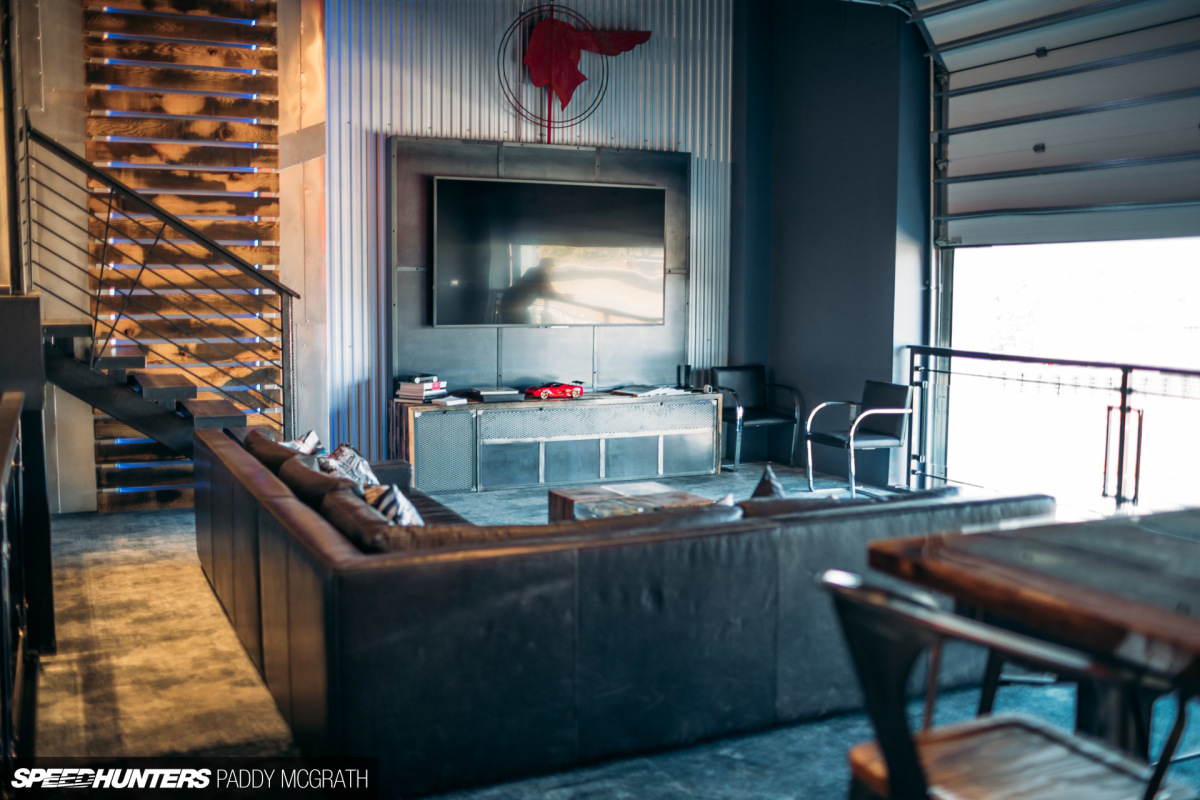 This unit has been converted into a dual purpose garage with a living area upstairs. RV lifts have been used to get the cars high enough, so that one car can be raised practically into the living room.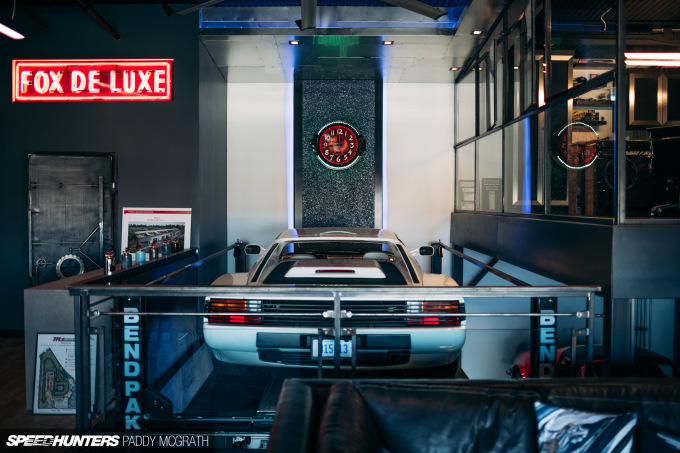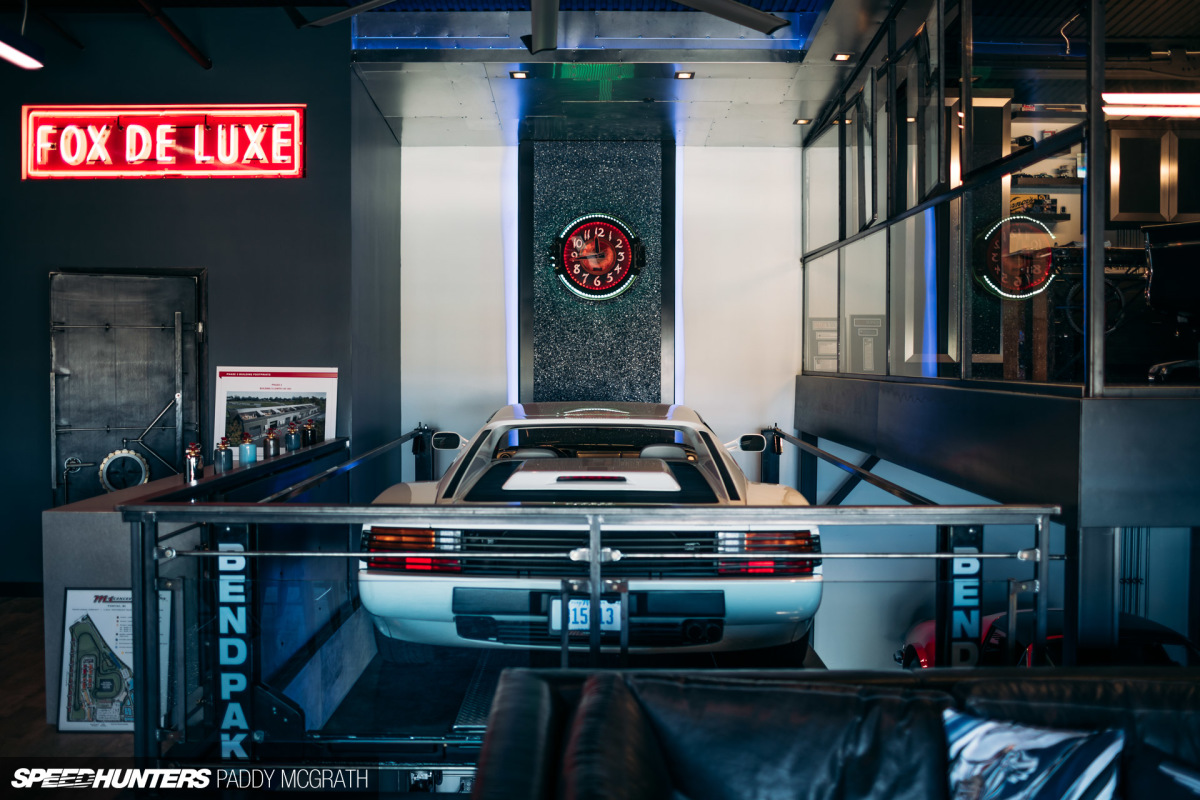 That particular car I'm told is the actual Testarossa from the opening of the Wolf of Wall Street, where Jordan Belfort (played by Leonardo DiCaprio) points out that it was actually a white Ferrari that that he drove, like Don Johnson in Miami Vice, and not a red one.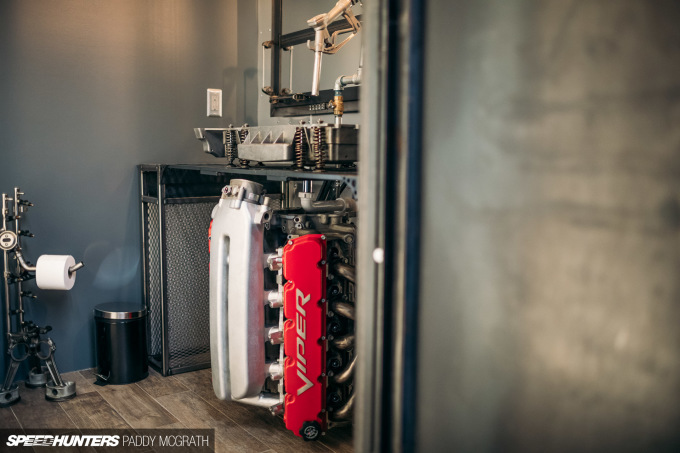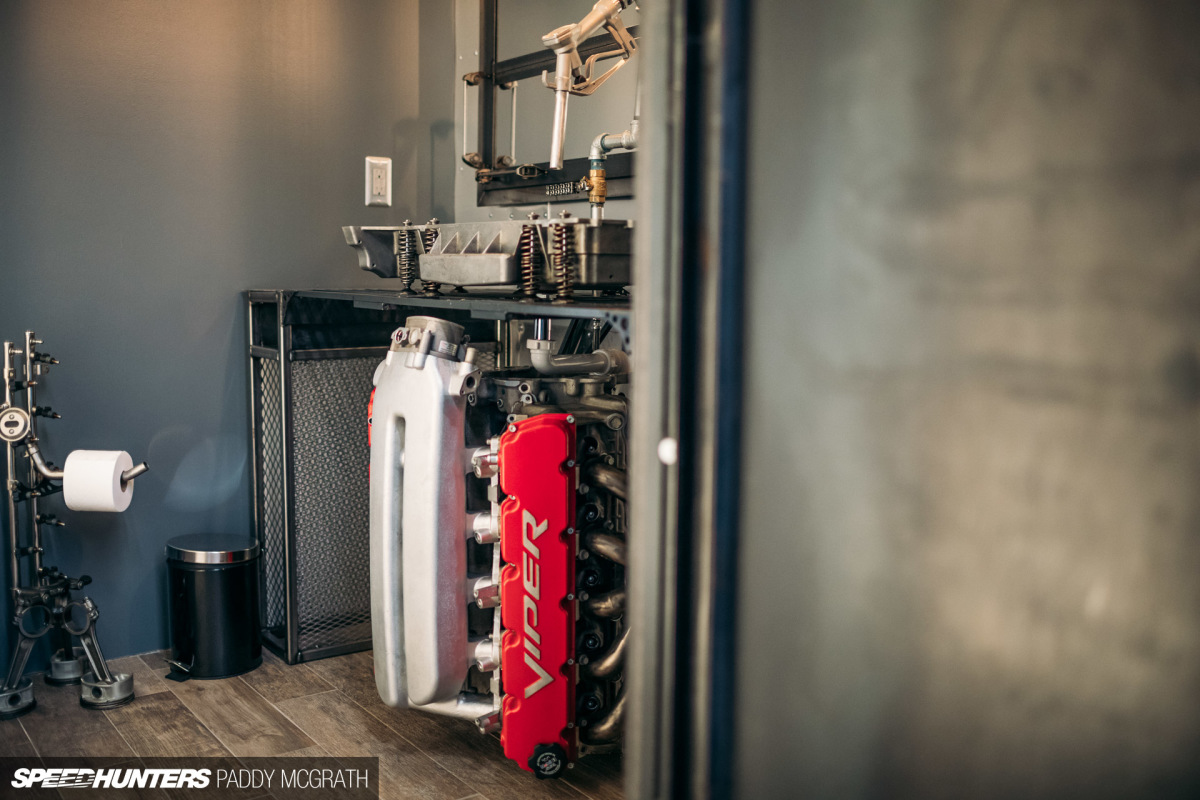 The bathroom features some interesting decor, with a Dodge Viper motor being used in maybe the best way a Dodge Viper motor can be used. I kid, of course, although I did suggest to Formula Drift competitor Dean Kearney that this could be a good use of the engine he blew at Irwindale. Dean correctly pointed out that his might not be much use as a sink, considering the size of the hole in the side of it, but might make a nice coffee table instead.
It's a bathroom that most of us can only dream about, as we know that the significant others in our lives would probably beat us to death with the repurposed toilet roll holder if we ever attempted to implement it in our own home.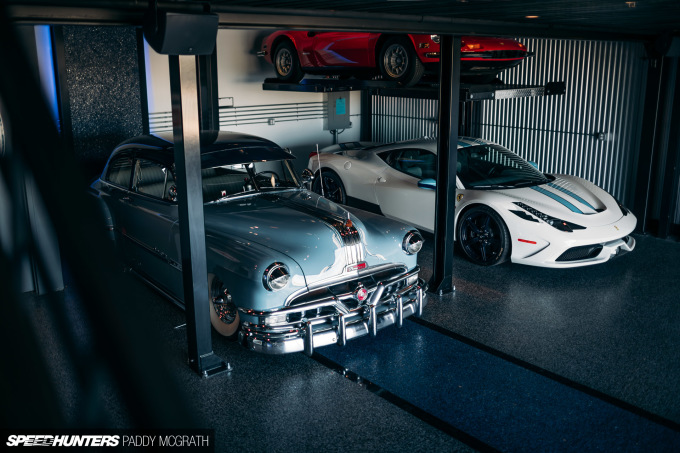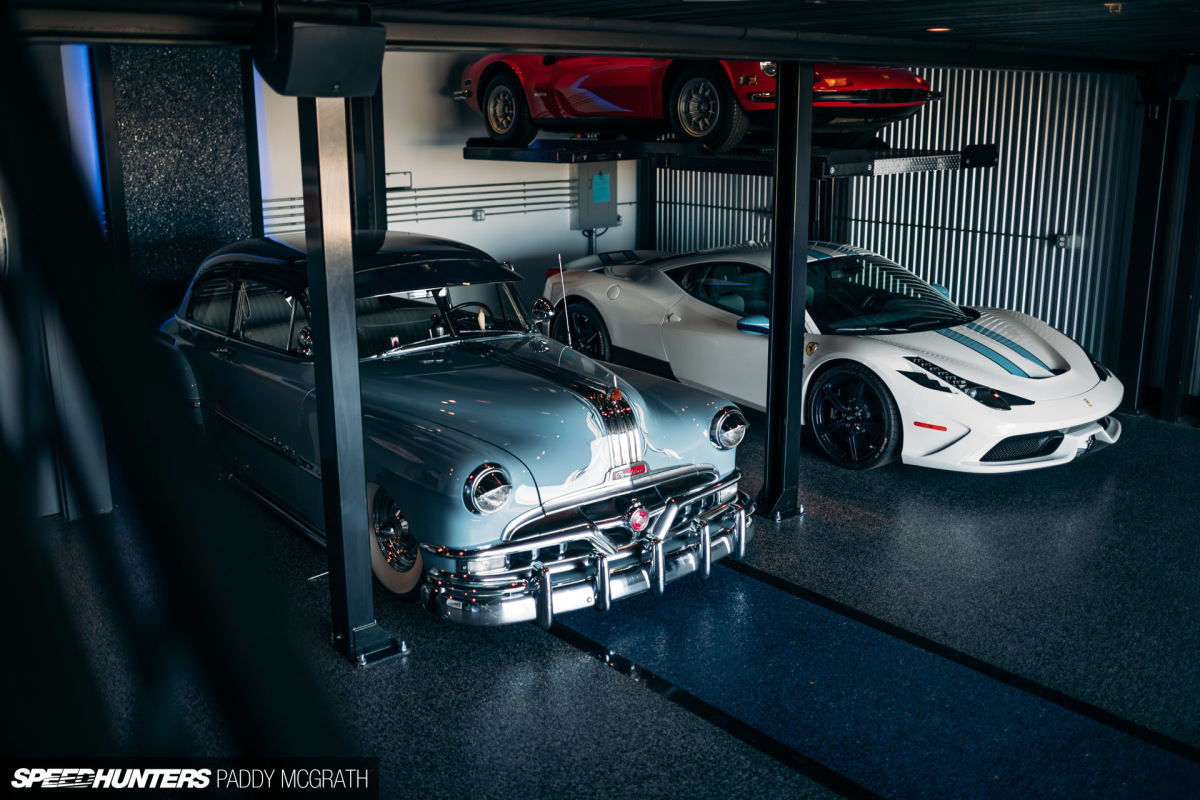 You might think that a day that involved copious amounts of Time Attack, a GT-R suffering brake failure at 136mph and a Dodge Viper powered bathroom would be a good haul for a Speedhunter. You would be right, but this day had a lot more in store for us than we ever imagined when we woke up that morning.
Before we left the track, Ken asked if we would like to see a friend's Ford GT who lived nearby. The alternative was going with Ben to Starbucks, again, so of course the low slung Ford sounded far more interesting. I just don't think we realised what lay ahead of us.
Real World Performance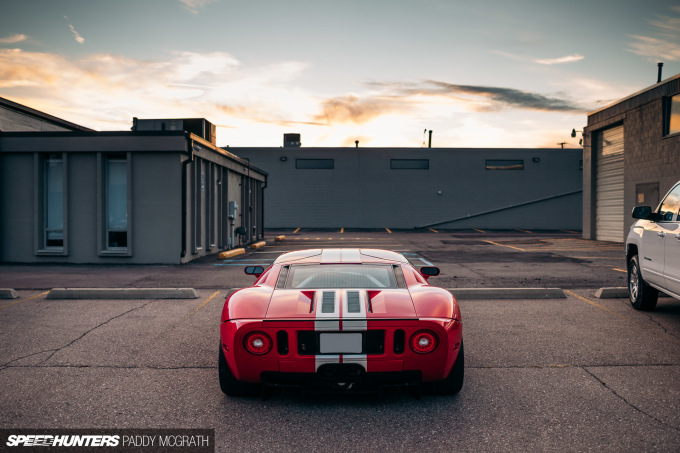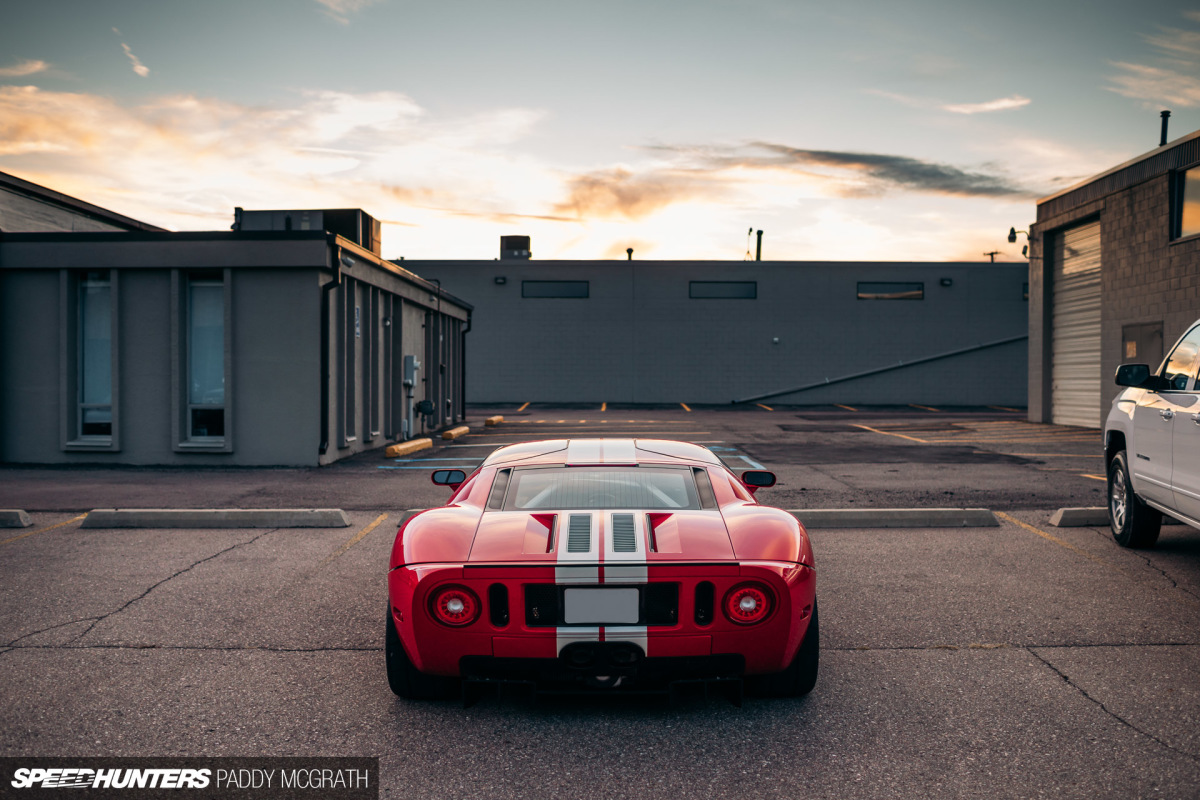 Again, for obvious reasons, I can't disclose precisely where this is. To be honest, I couldn't find my way back now if I tried, but the quasi-urban / industrial area reminded me a lot of similar places at home. It was a business area on a Sunday evening, with no traffic or other people to speak of. Outside a non-descript building, Ben pulled our Chevrolet Silverado up beside a glorious red Ford GT.
We were in the right place.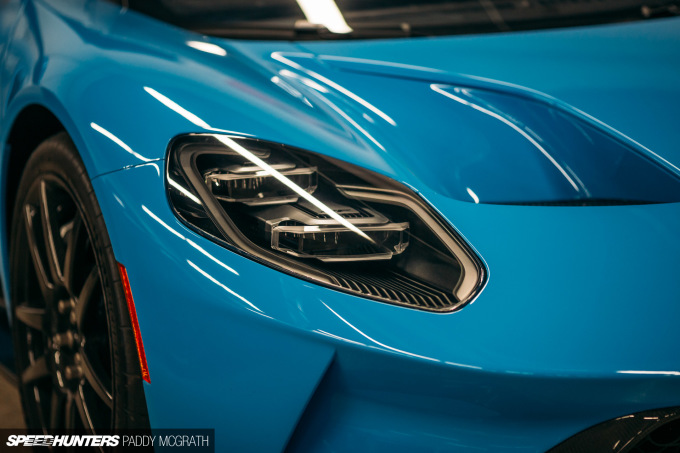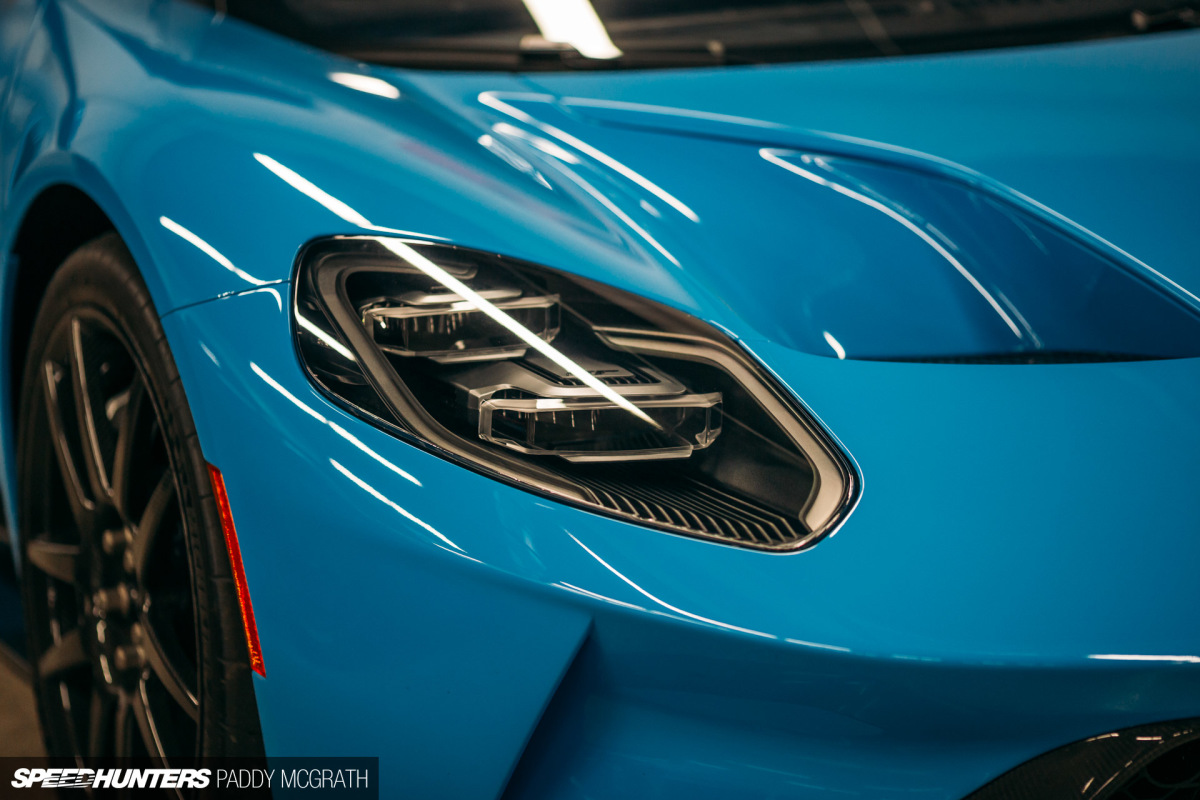 It wasn't the Ford GT that we were here to see, however, it was this one. A rare Porsche Riviera blue custom painted example by Ford themselves. It was in illustrious company, but with light fading fast, our introduction was brief before we asked if could get some rolling shots of Ford's new supercar on the street.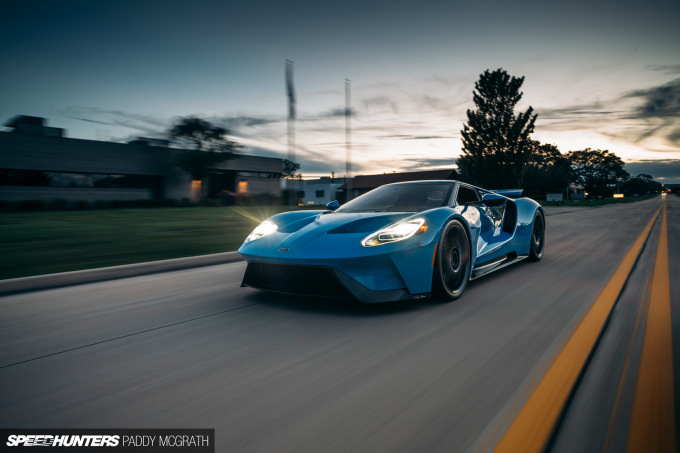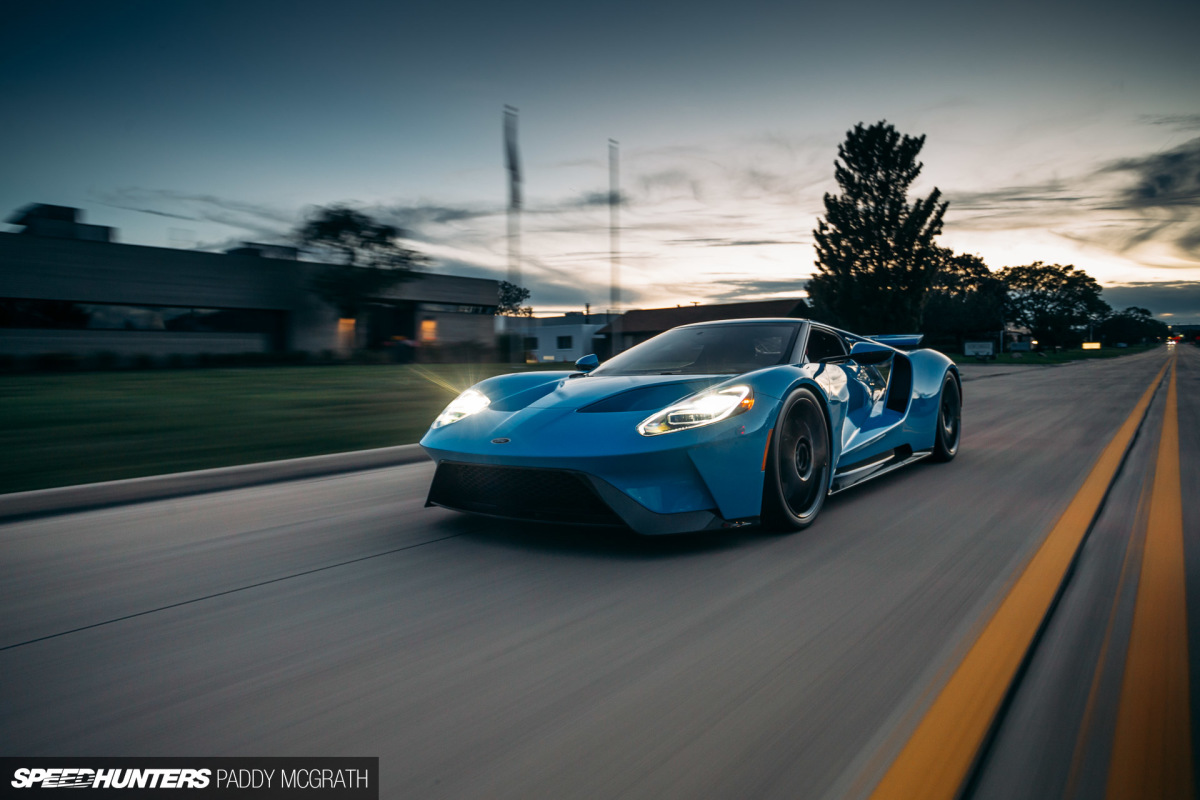 There was just enough time, and I mean barely enough, to catch the last of the light passing over the distinctive carbon body of the GT as I hung from the open passenger door of our hire truck. At this point I had no idea why any of this was happening, but I was just happy to go along with it.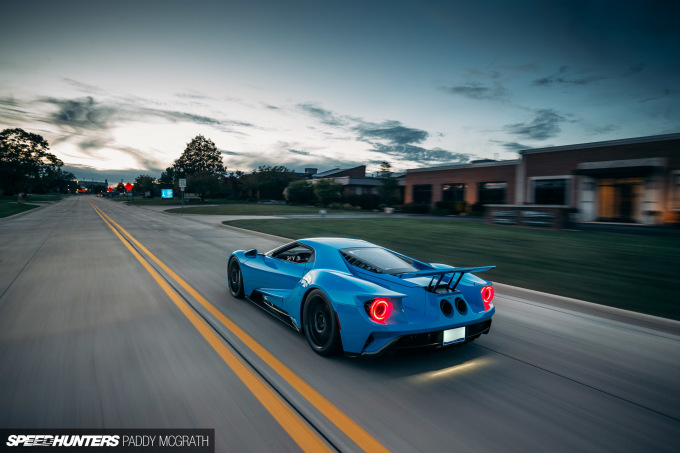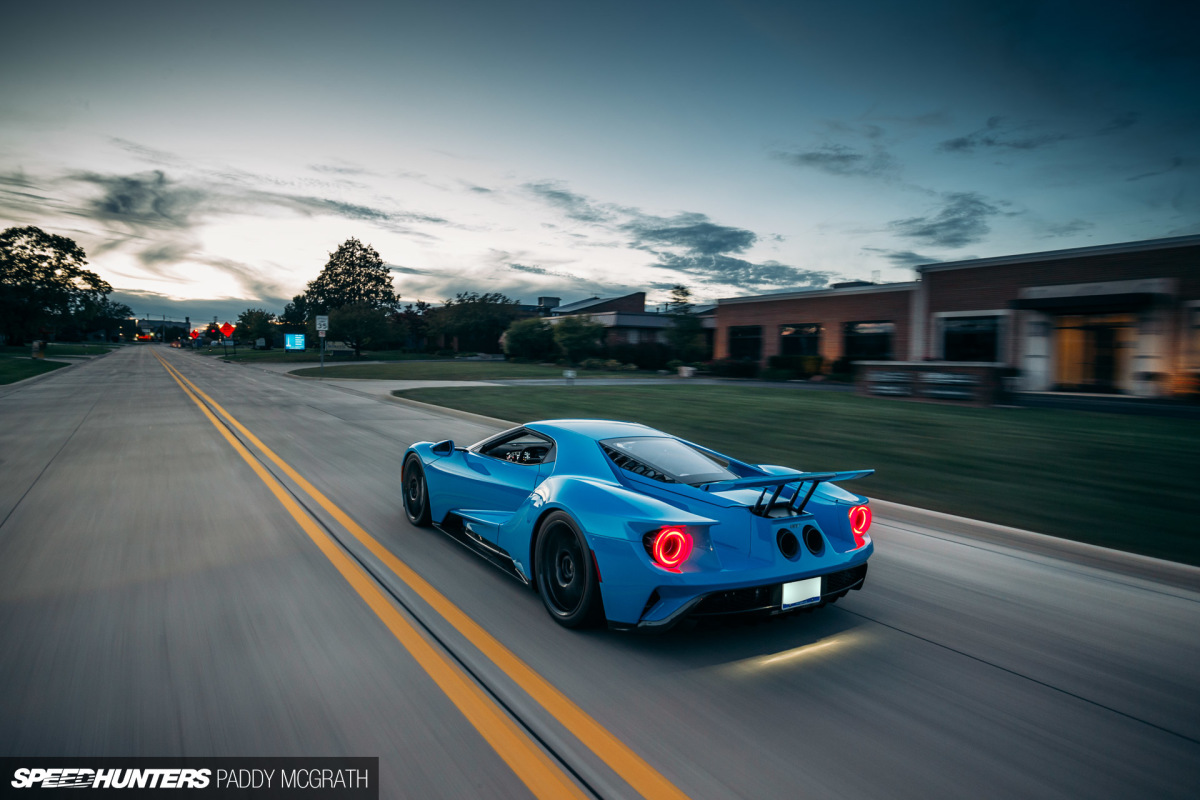 I'm sure that you're all familiar with the car at this point, so I don't need to go into too much detail. However, I can't help but stress how different a car like this makes you feel in person compared to just seeing it in photographs or videos online.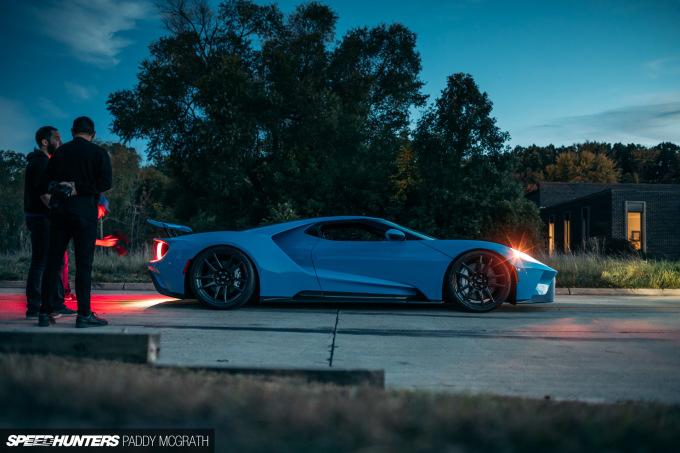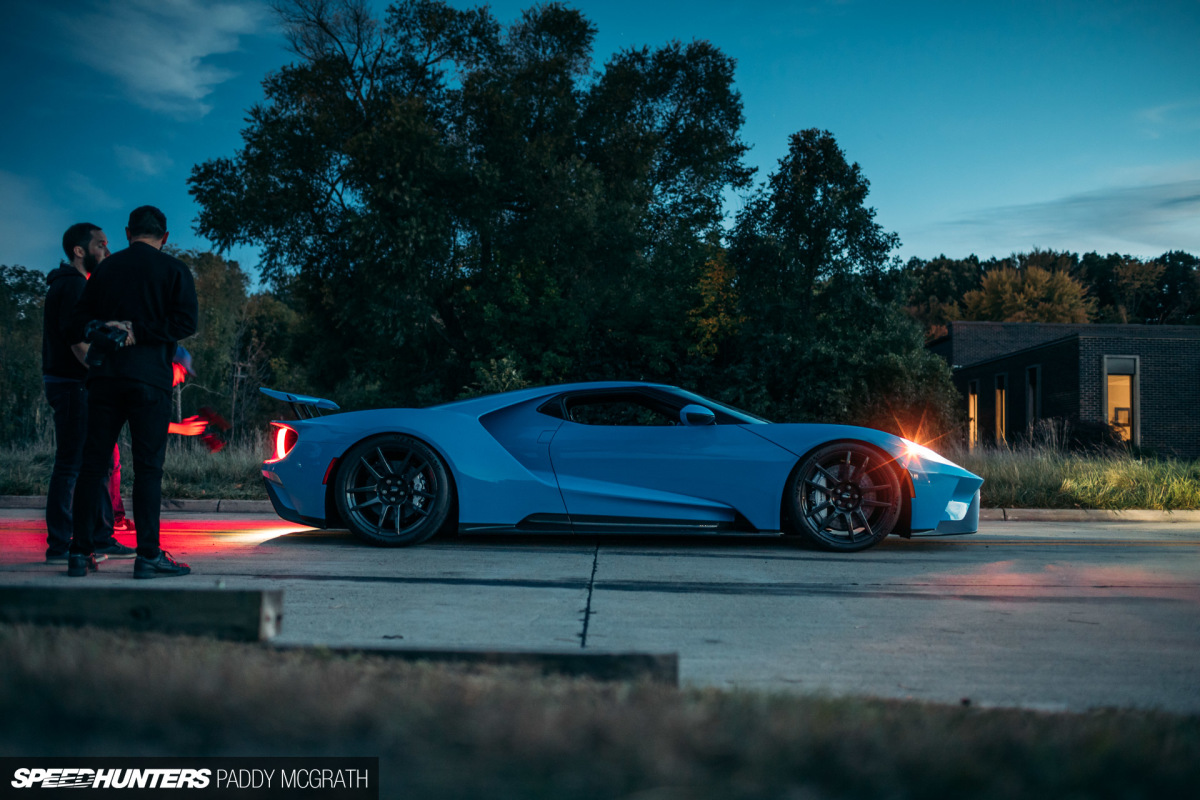 In person, it's so long that it's barely believable. I had seen the car earlier this year running the Goodwood Festival of Speed, but its proportions never struck me until I walked around it.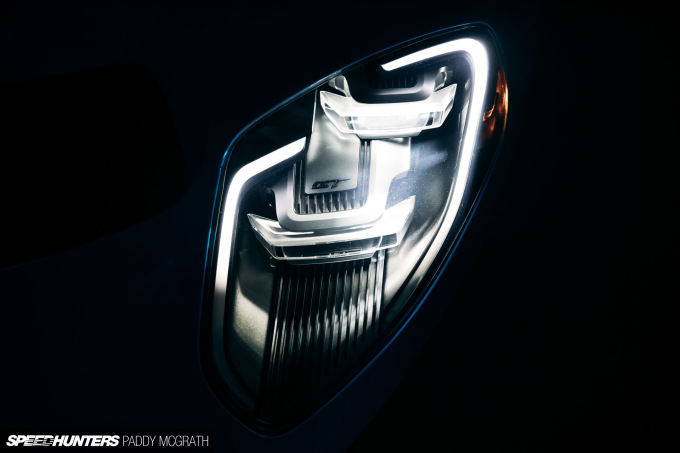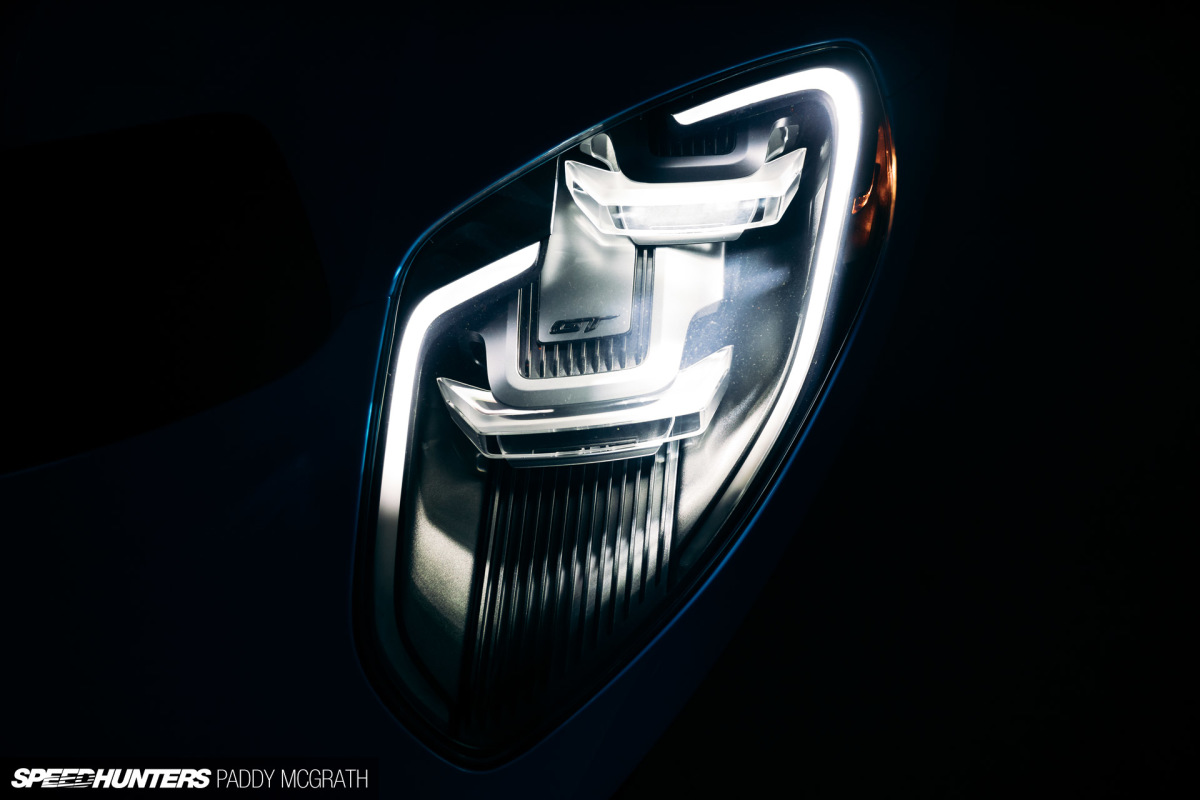 There are thousands of fascinating details all around the car, which were unfortunately vanishing into the darkness. Even compared to other supercars, there's nothing else really quite like it at the moment.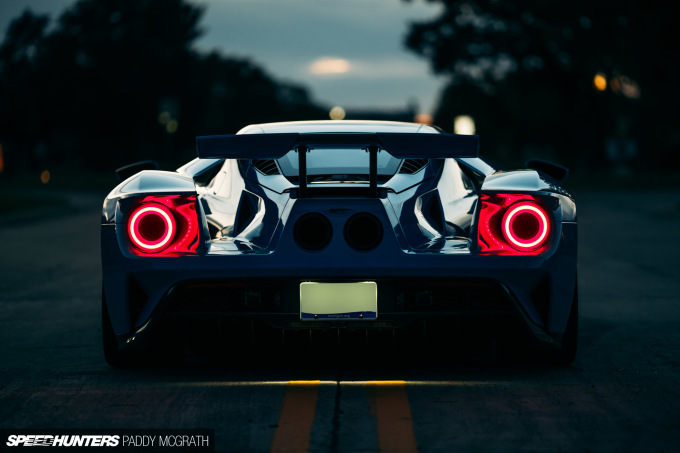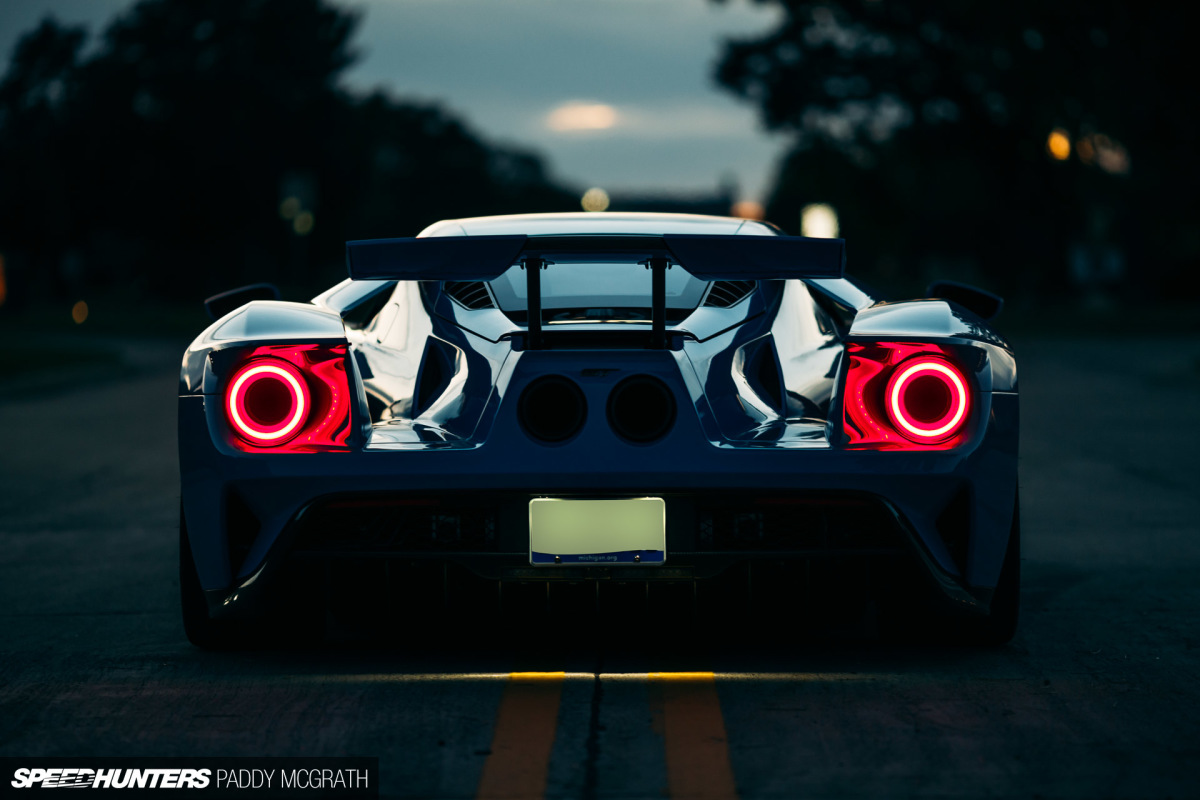 The rear in particular is a prime example of this. While the saying of 'race car for the road' is clichéd to the nth degree, this is actually the case with the new Ford GT. Ford wanted to win at Le Mans with this new car, so they built a race car and then figured out how to make it a production street car afterwards.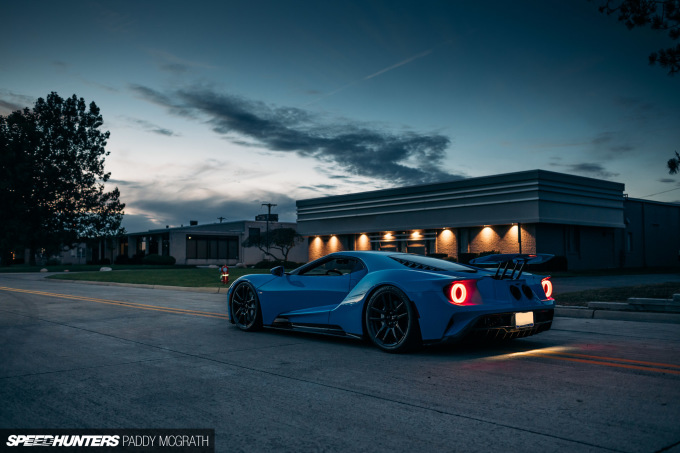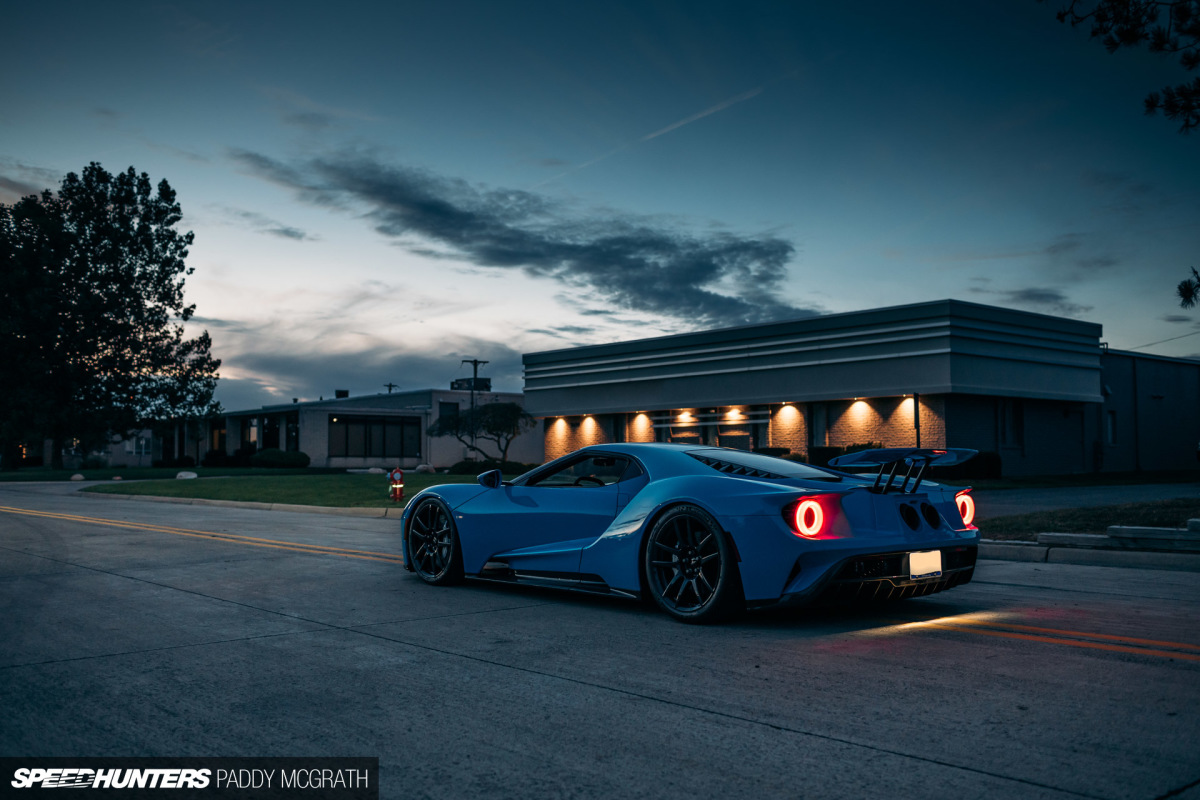 With the sun having long since dropped behind the horizon, I was still trying to capture as much of the car as possible while it quietly idled away at the bottom of this street. I had no real reason to shoot it, in fact this entire story is a complete afterthought, but I just wanted to photograph it.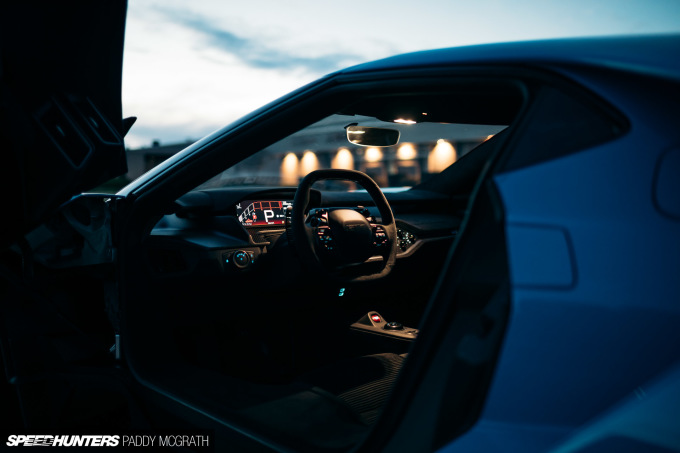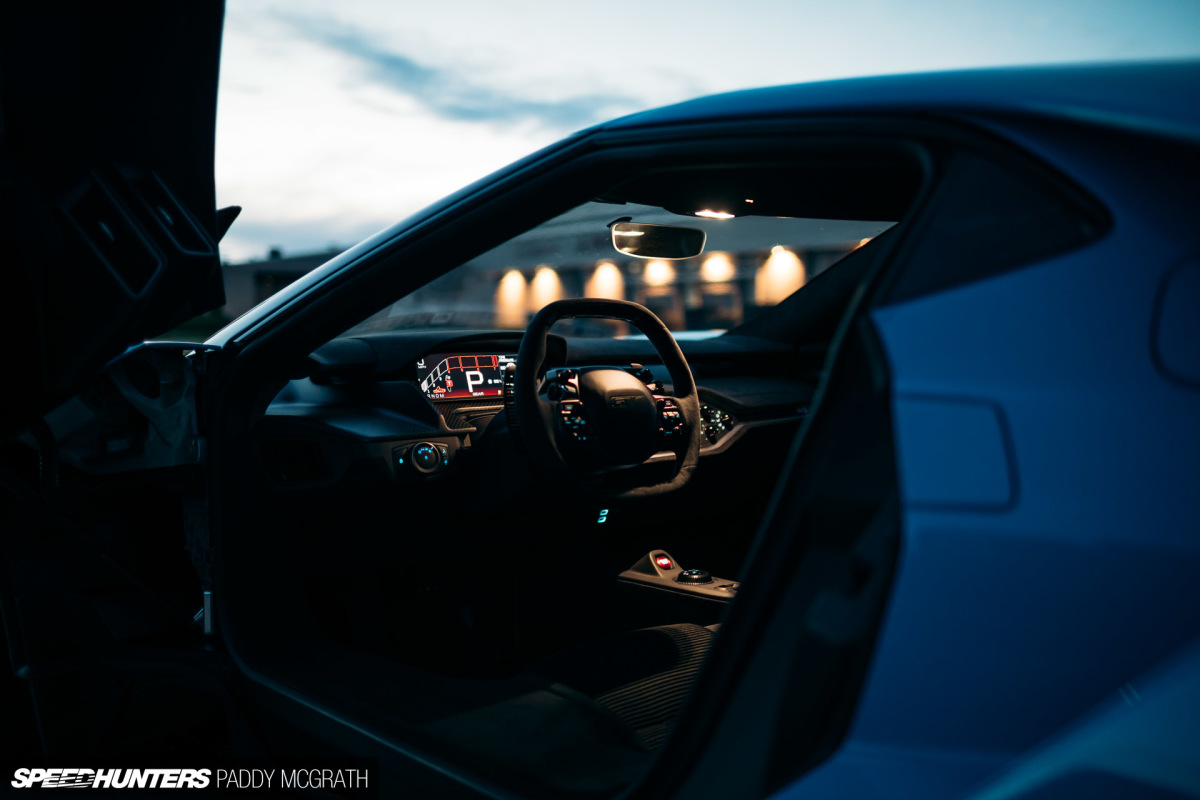 Its owner and our host for the evening after Ken and Matt introduced us, was a gentleman that goes by the username of DBK on the Ford GT forums, a site which he founded. We'll call him Dave. Because, well, that's his name.
Dave had the unenvious role so far this evening of speaking with Ben, a task which he soon found unbearable and asked if anyone was interested in coming for a spin in the car in order to get away from the rambling Englishman. I don't like to sit in the passenger seat, but there are occasions where one must take one for the team. Selfless, I know.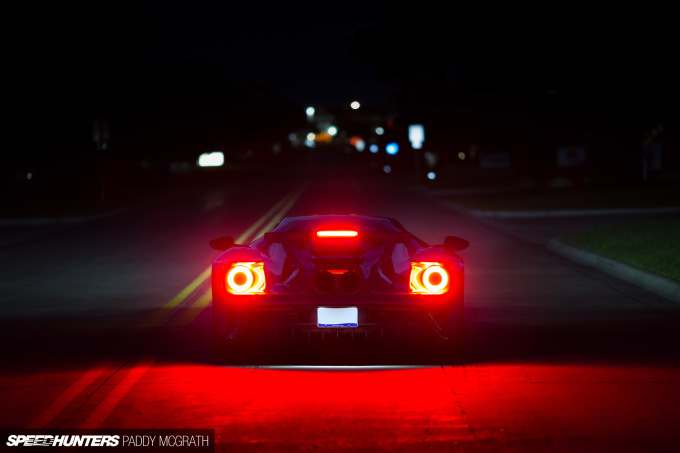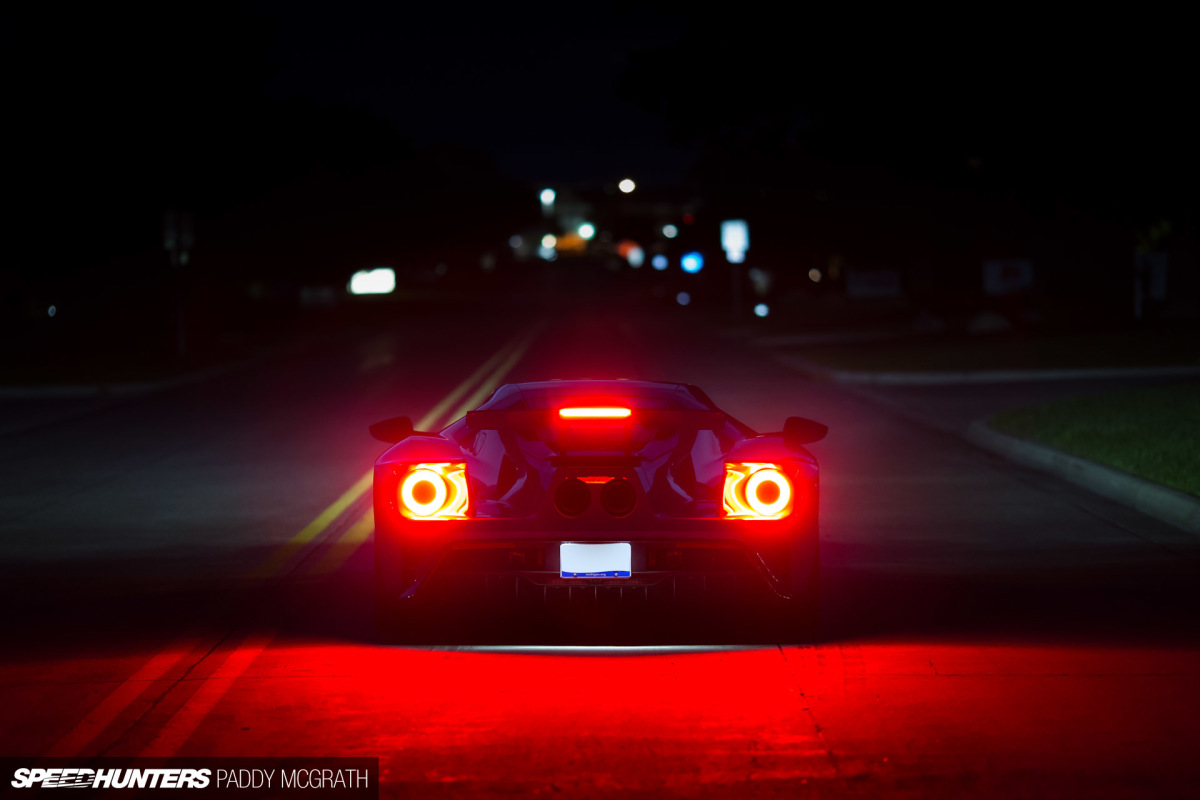 Dropping into the seat and lifting my legs over the considerable carbon fibre sill, I strapped in as best as I could. The seat bottom is secured to the body, so there's no adjustment in that regard. I have experienced relatively fast cars before, so I knew it would be wise to brace myself as much as possible once the words 'launch control' were mentioned.
"It might sound like everything is breaking" Dave advised me, as he instigated the launch control procedure. He wasn't wrong.
For a change, there is a video.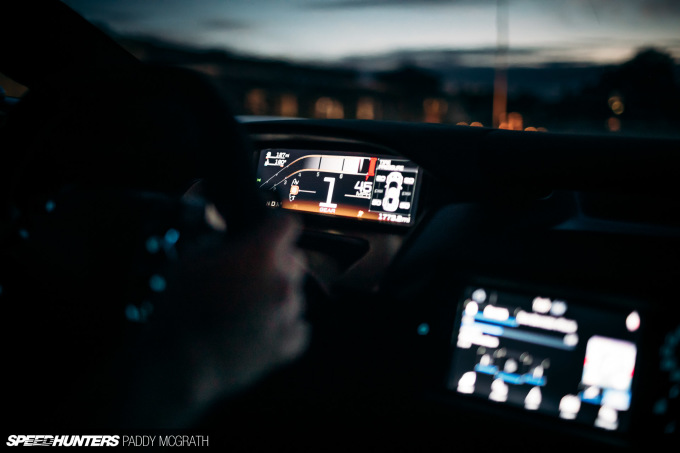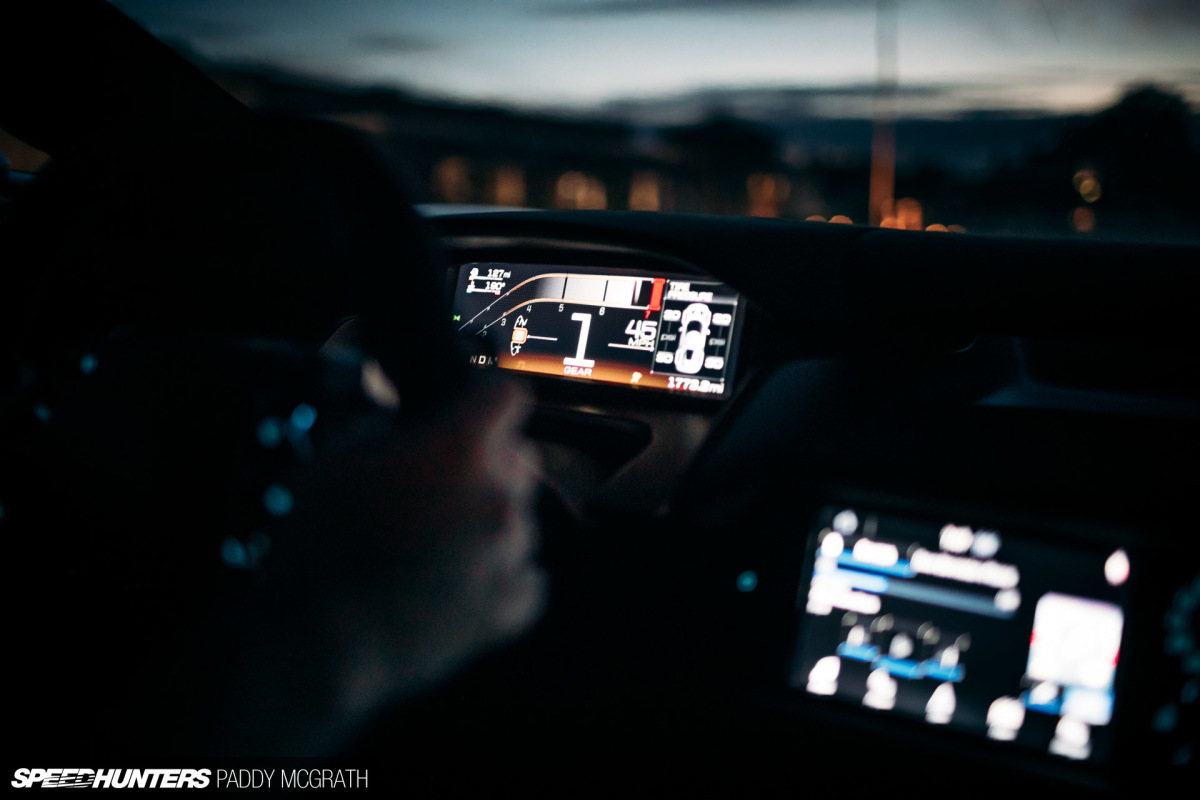 There was a brief moment when the brake was released and as the car sought grip on the concrete surface where things felt almost in control, but then the car hooked up, and everything changed.
I can't ever recall the discs in my lower back trying to escape so badly as they slammed into the seat back. The acceleration was relentless, as you would expect, during our short but rapid burst.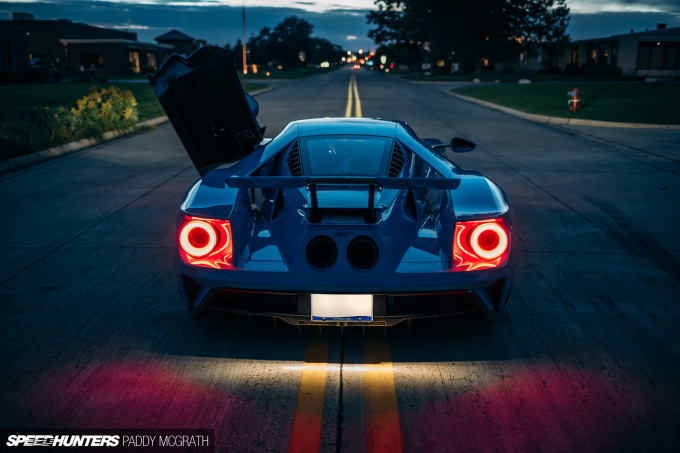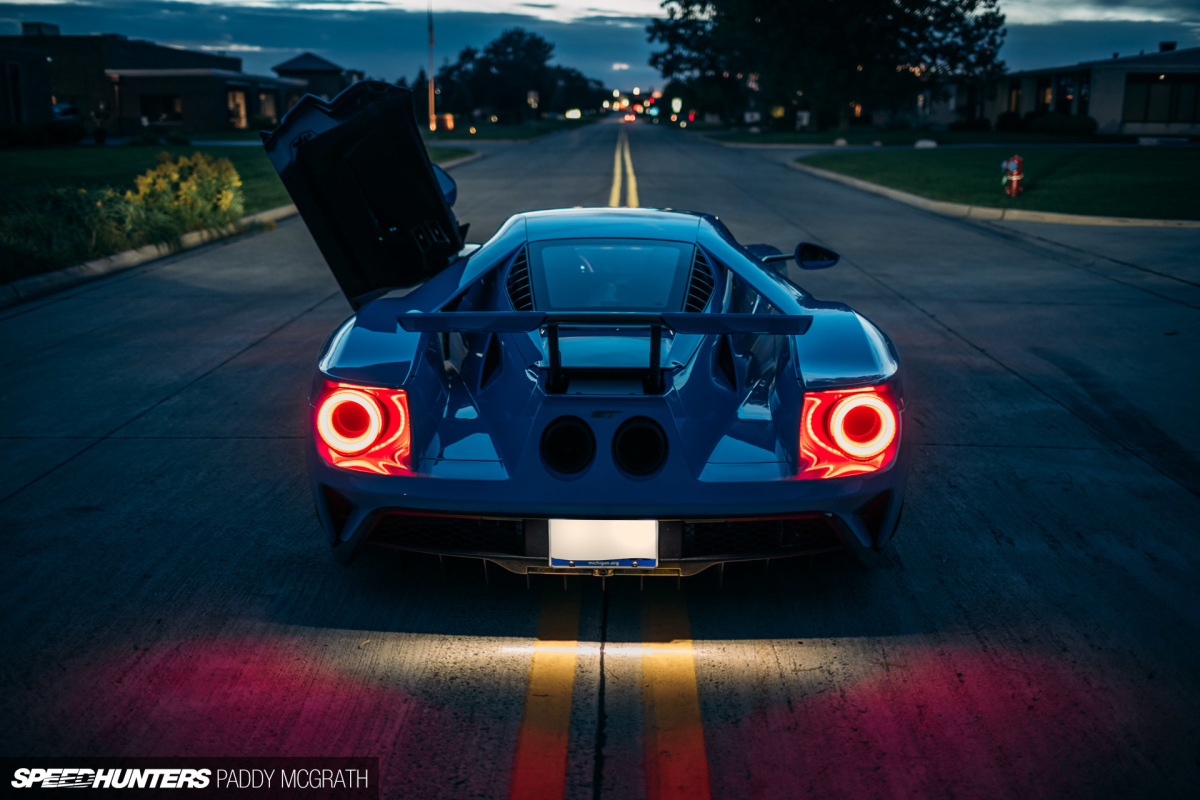 When we reached the top of the road, Dave casually turned the car around and launched back in the direction we just came from. Despite knowing what was going to happen, I was powerless to take any more control of the situation and again I was pinned back in my seat.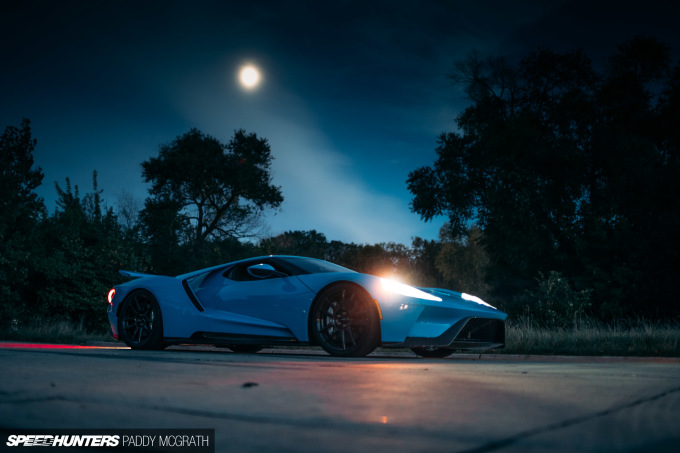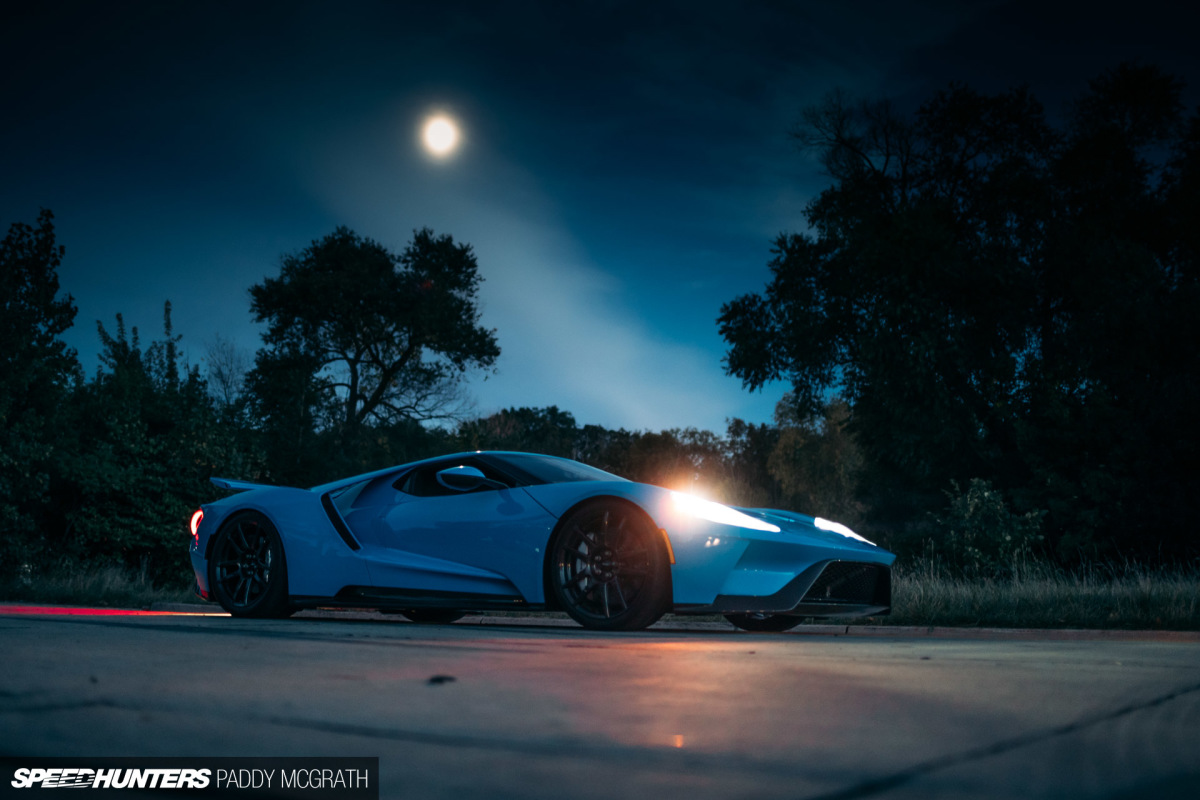 On paper, it just doesn't seem that exciting. A 3.5-litre twin-turbo V6 making around 650hp is almost average in a world where hypercars are making 1,000hp+ and Porsche even have a 700hp 911.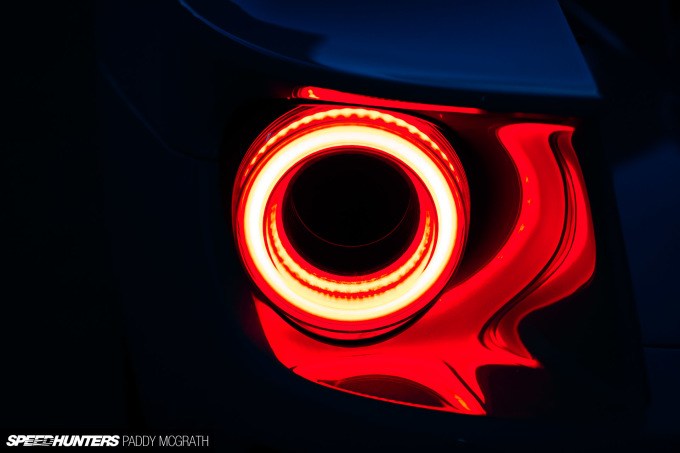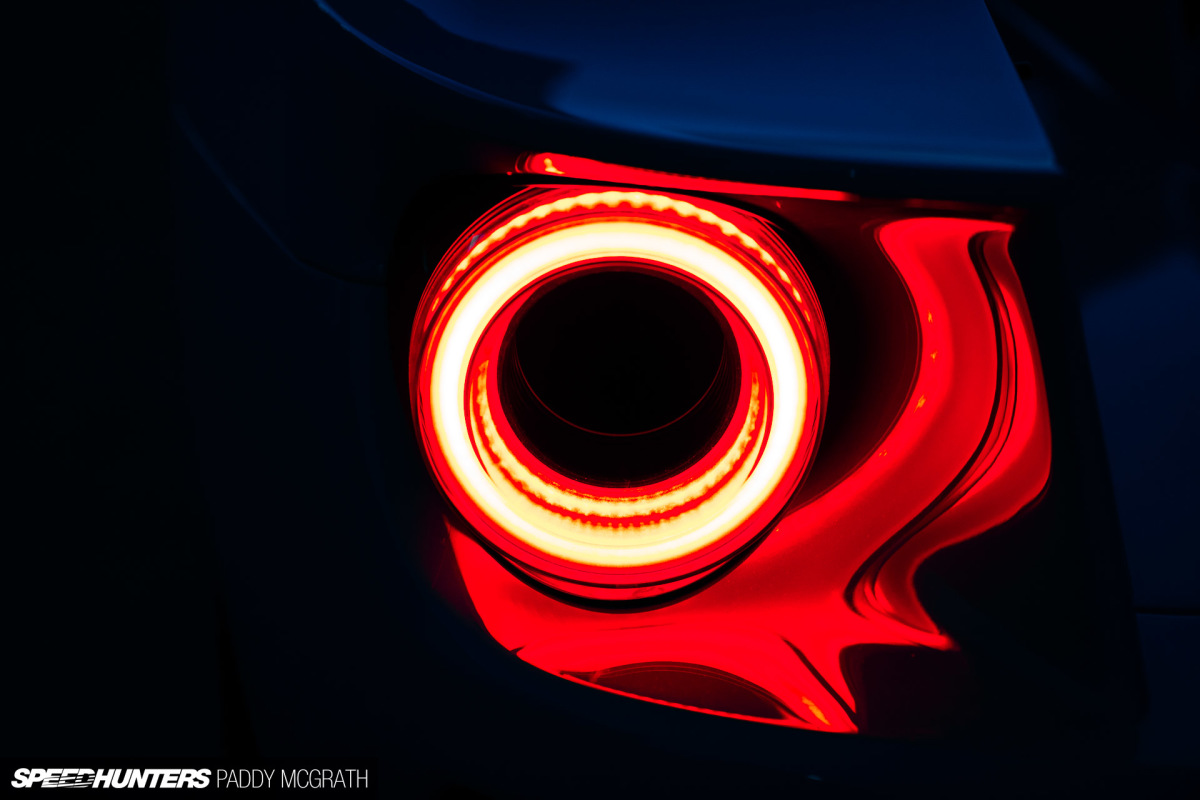 Cars don't exist on paper, however, they exist in the real world. And in the real world, the new GT is properly f*cking quick, by any measure. A burst of acceleration from a standstill would – allegedly – see you north of 120mph in less than 10 seconds. Unless your name is Leah Pritchett or Antron Brown, you don't get to turn your nose up at that level of speed. And even then…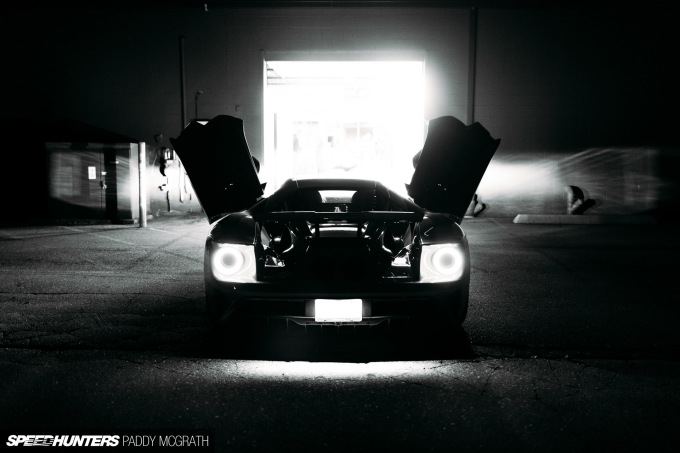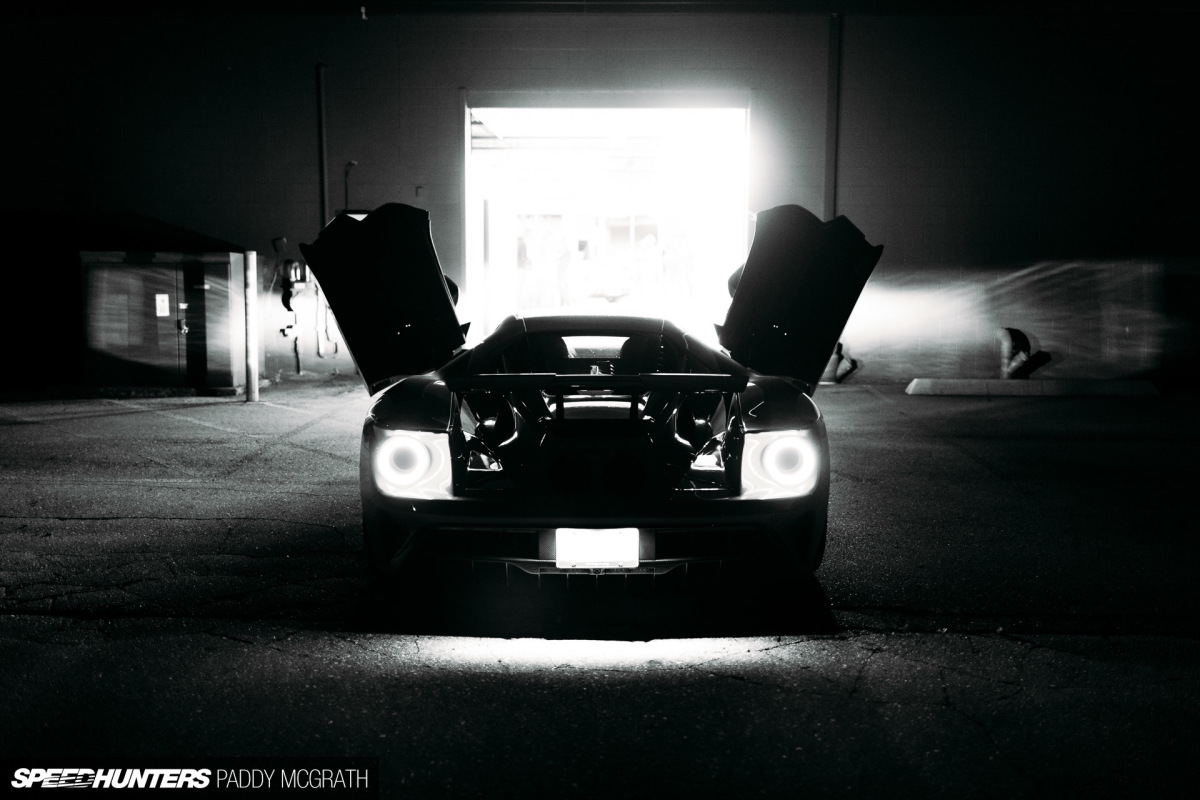 A couple more launches later and darkness had fully enveloped this corner of the United States, so we called it a night and headed back to the garage.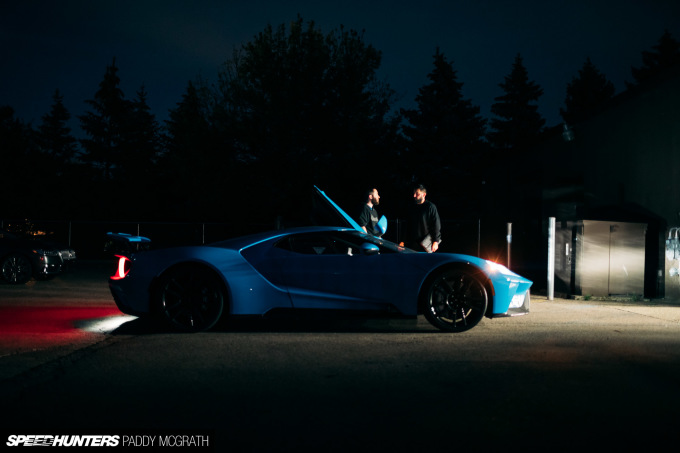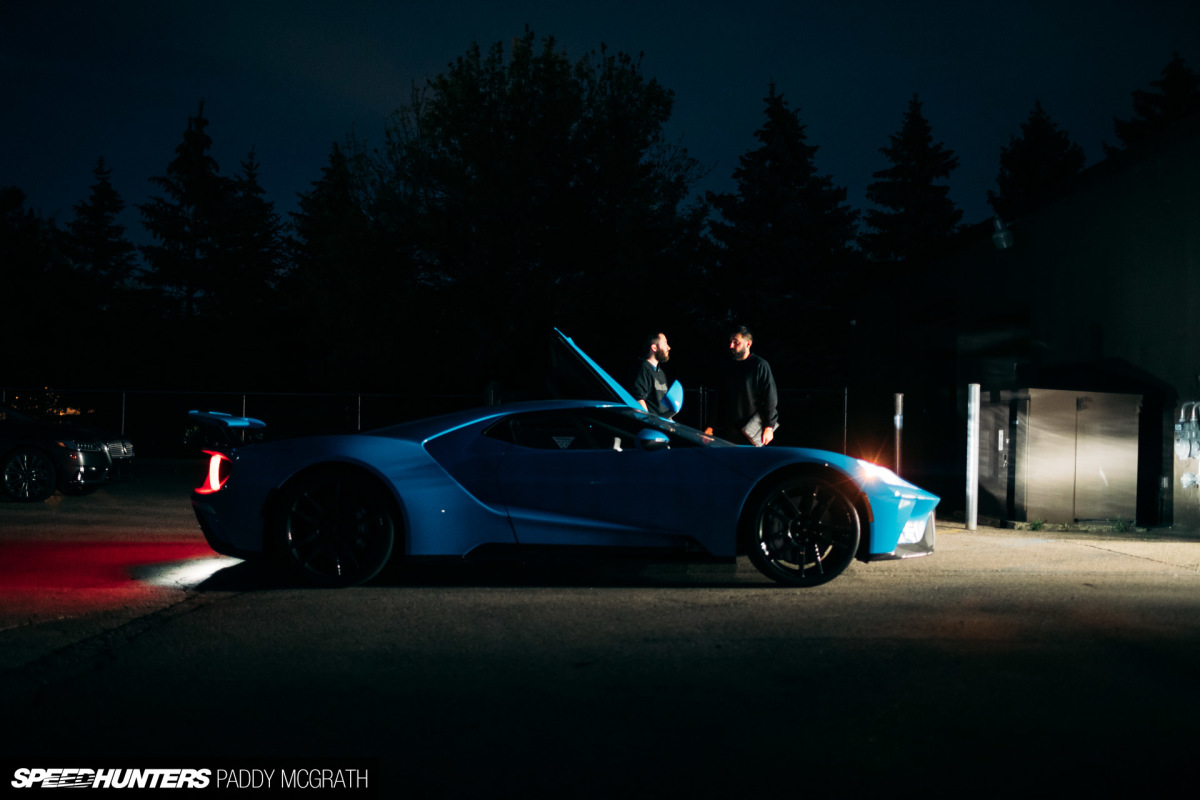 As it turns out, the Viper equipped bathroom would only be the second coolest garage on this particular day…
Blue Blood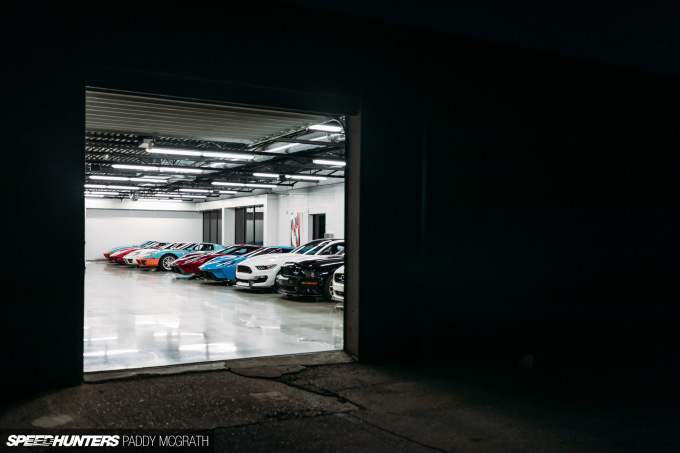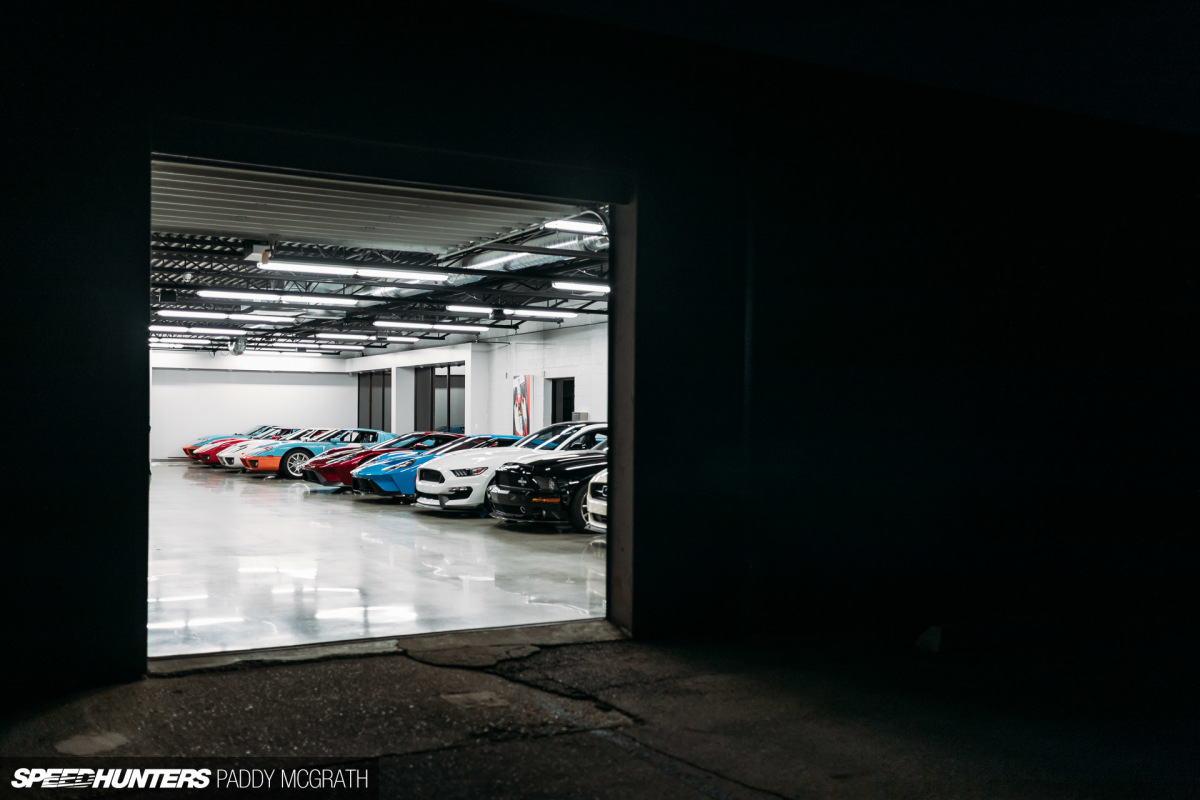 I've had the privilege to stand in some pretty special places over the years, and this most certainly was one of them. There was however a certain bias which you might notice once we step inside, but I'm sure you can appreciate it all the same.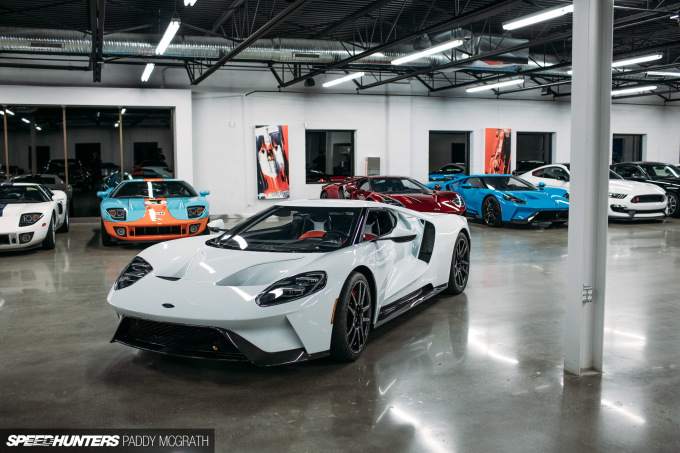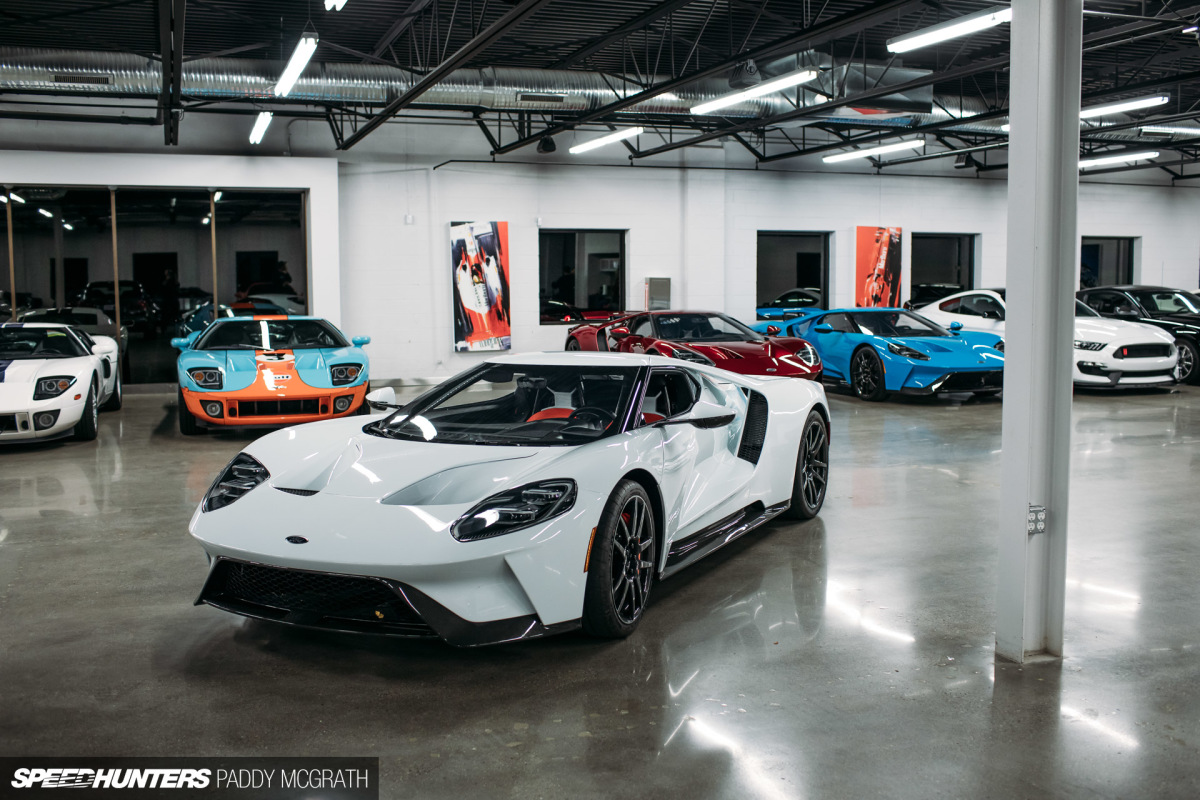 Inside is what I believe to be the most amount of Ford GTs stored in one place, anywhere in the world. Including the new and previous generation of the GT40 inspired sportscar, there were 11 examples present along with a couple of Mustangs including a new Shelby GT350R amongst others.
As an aside, I waited all year to see a GT350R in person, only to see three of the things, in three different places in the space of about six hours on the same day. Typical.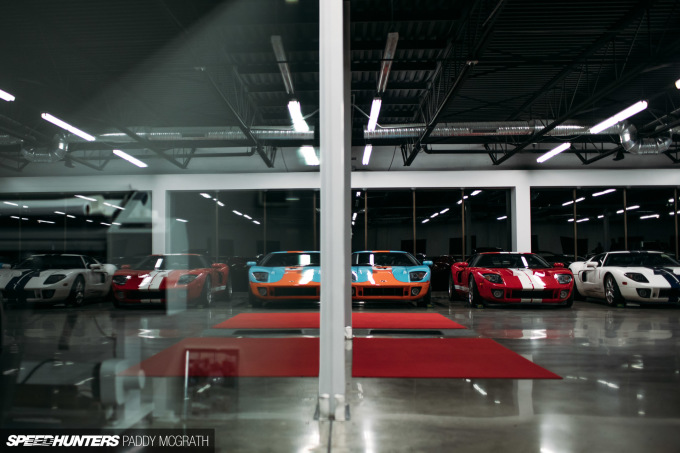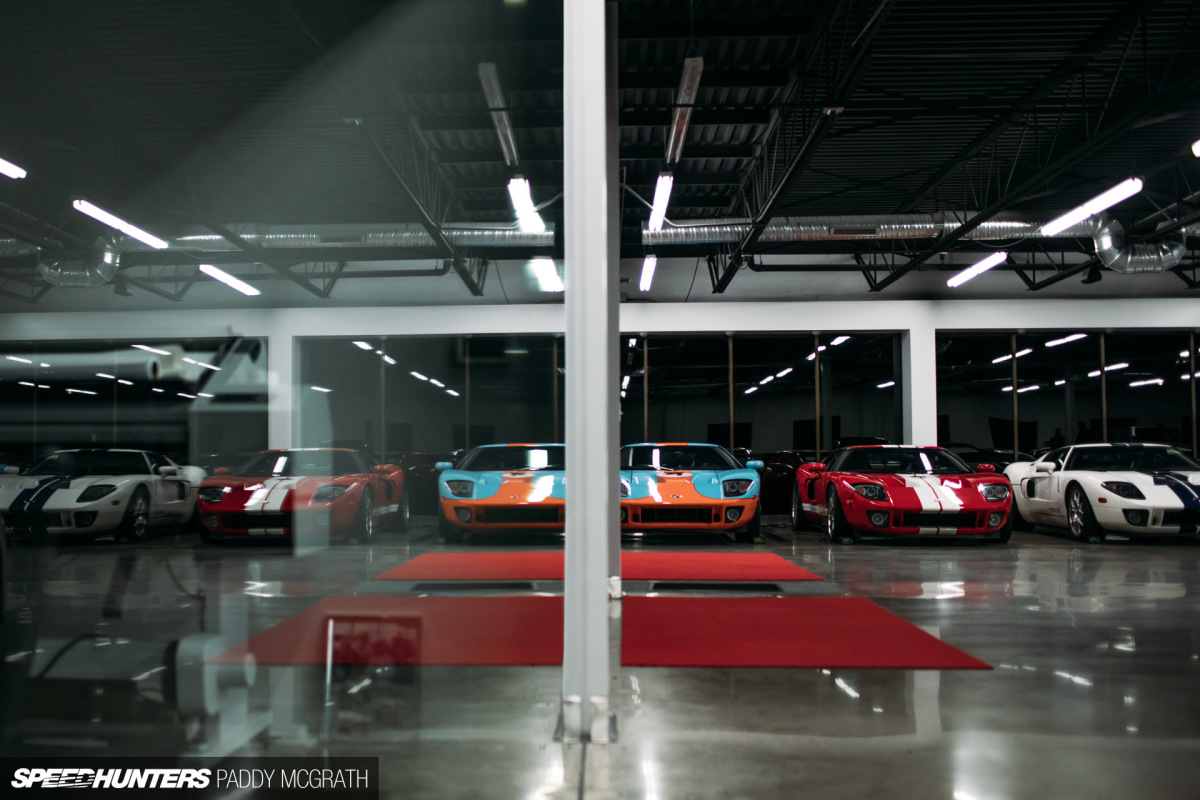 As a collection, I guess 'significant' is the best descriptor that I can use. I'm not sure why all these cars are assembled under one roof, as Ben had resumed his harassment of Dave (sorry, Dave) but it possibly serves as either storage or it functions as the greatest clubhouse in the world. When you realise that some of the cars belong to the Fords themselves, you can probably appreciate just how impressive this is.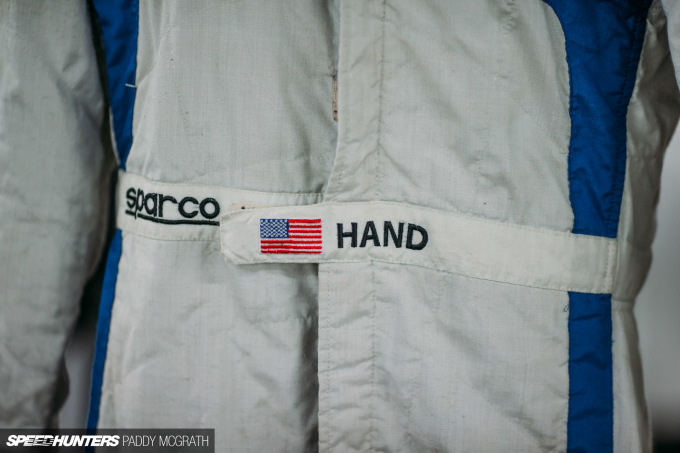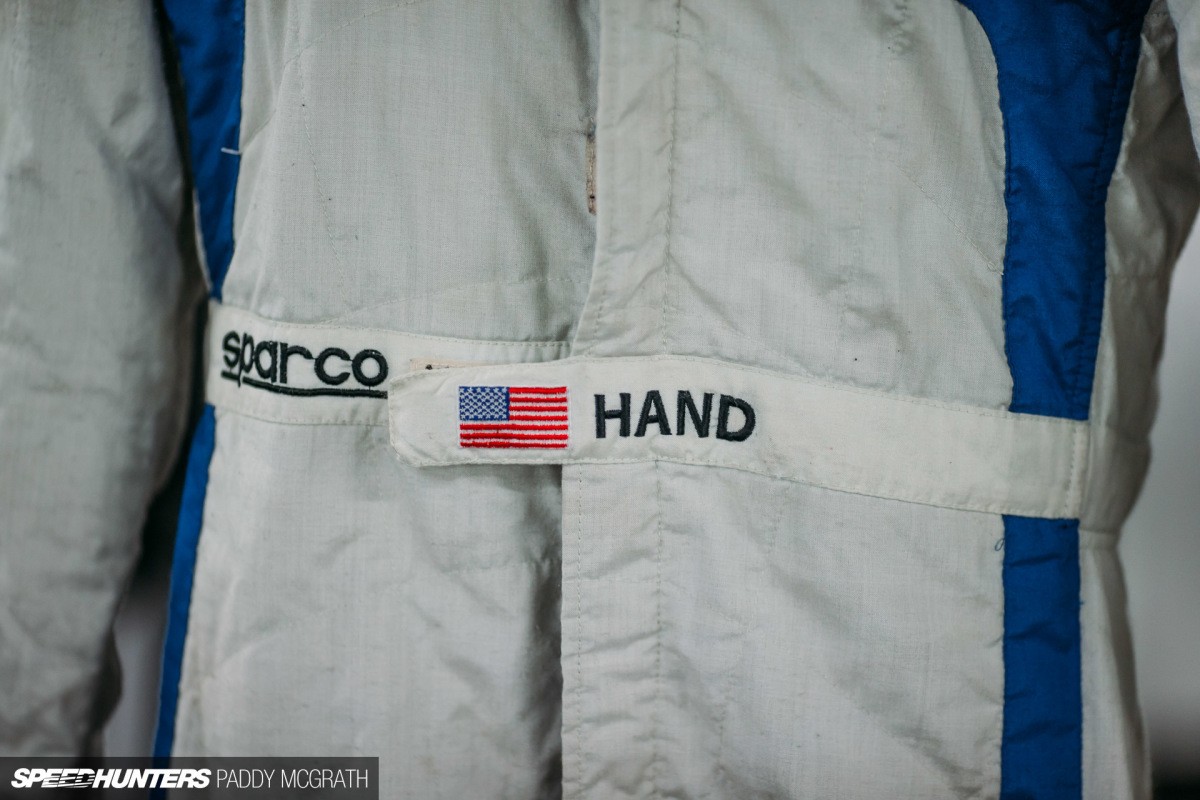 Unsurprisingly, there's no shortage of Ford GT related memorabilia on… hand. From magazines to race suits, shoes and gloves. Which reminds me, we are long overdue a Speedhunters print project.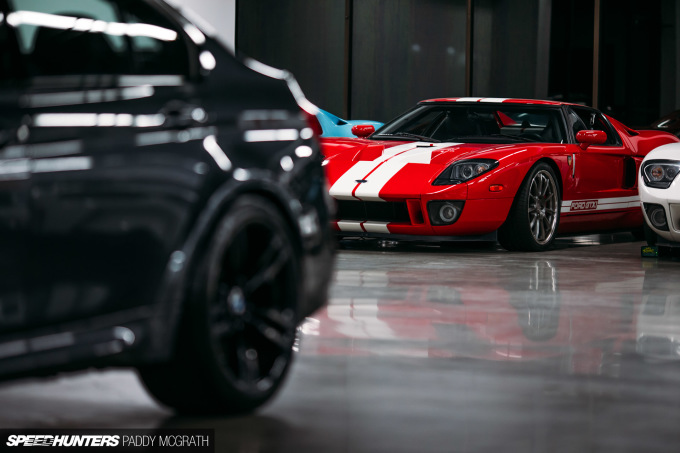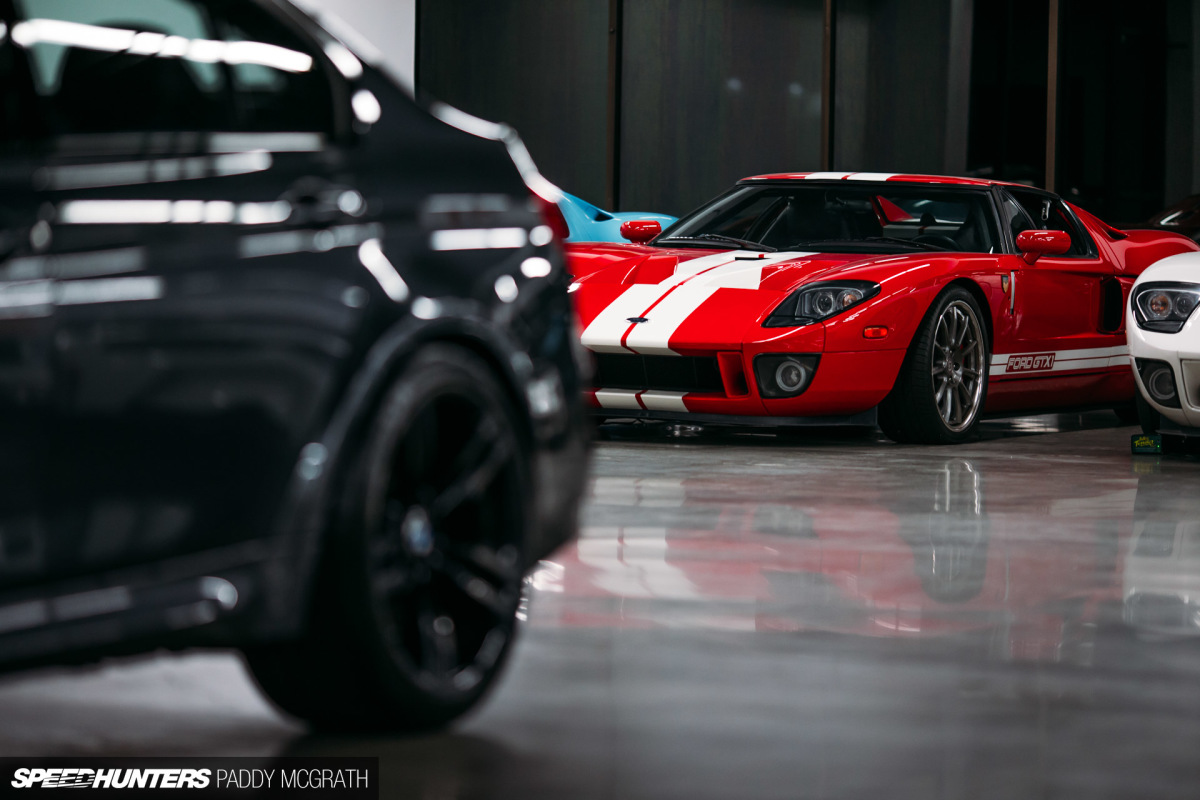 Some of the cars present were a little bit more than your average GT, too. This Gennadi designed GTX1 is one of a limited run of GT Roadsters, for example.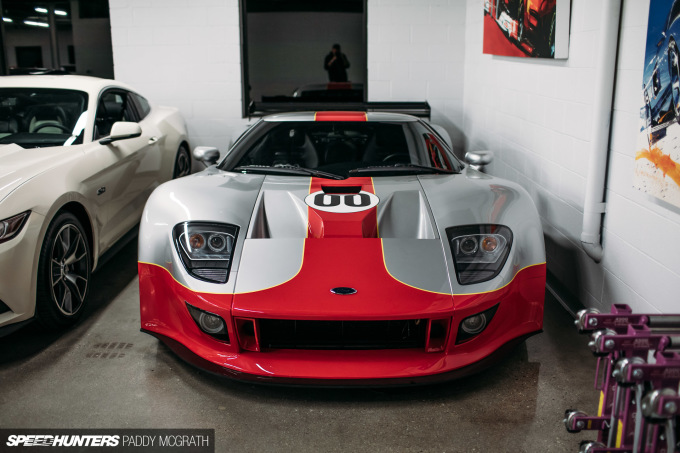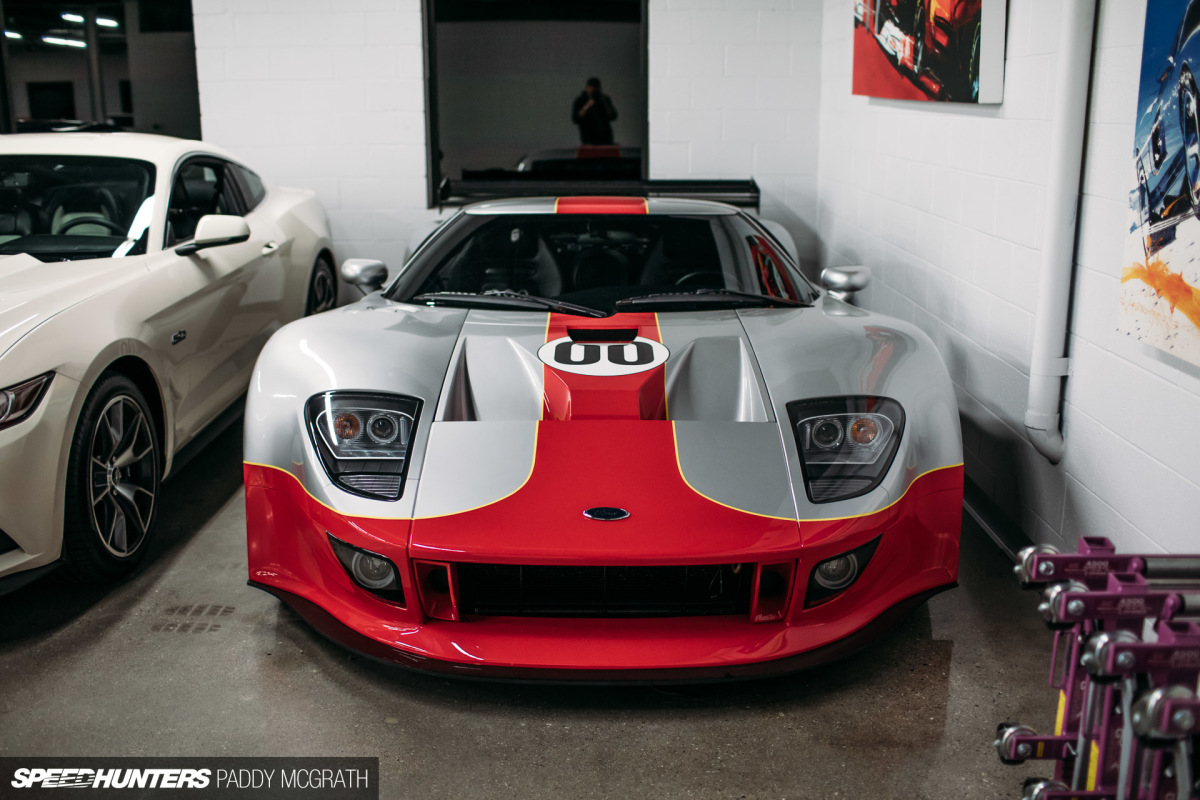 Where as this is an even rarer example of a prototype widebody GT. The car was created by a GT collector, who molded the carbon fibre bodywork from a Ford GT GT1 class race car. The widebody conversion also involved completely re-designing the suspension and was due to be built as a limited run of special edition cars, but the owner passed away before his dream could be realised.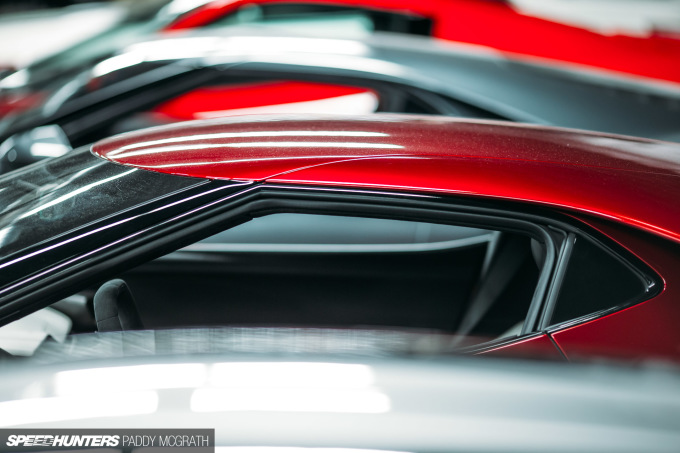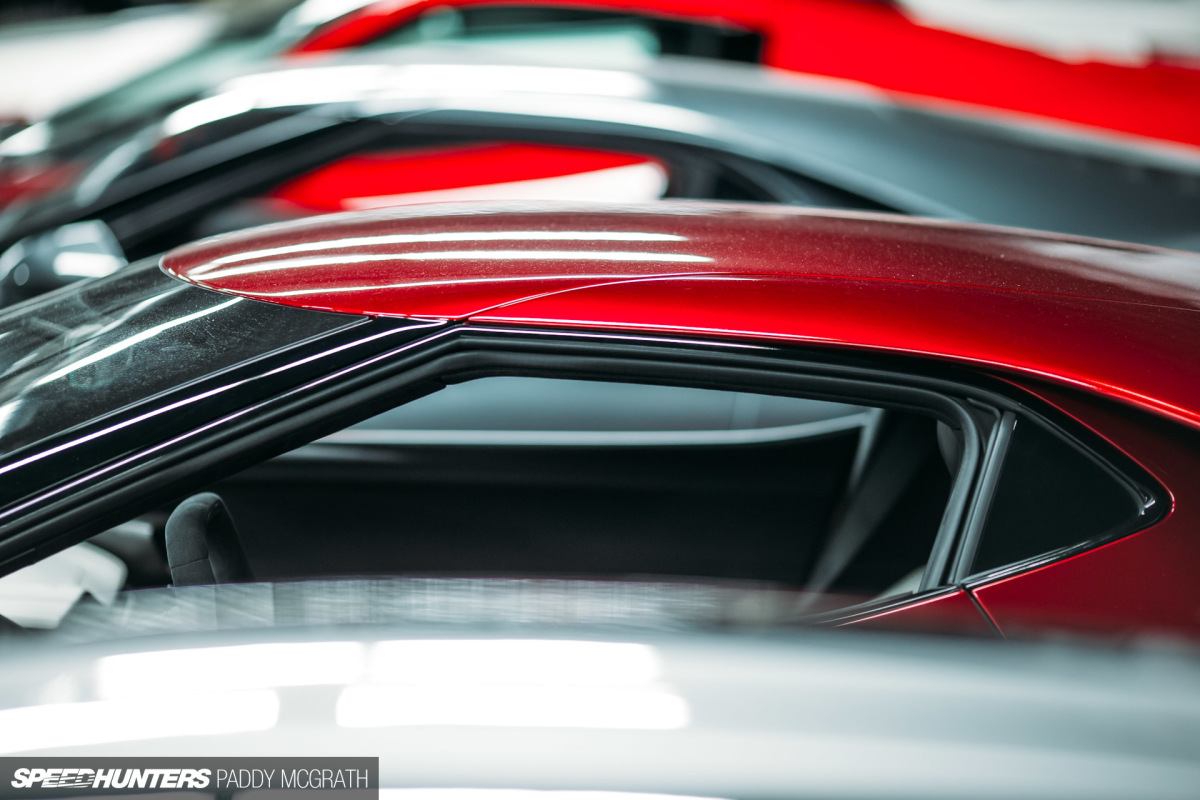 It does get to a point where all of this starts to feel overwhelming, and that you can't really appreciate everything because there's so much to look at.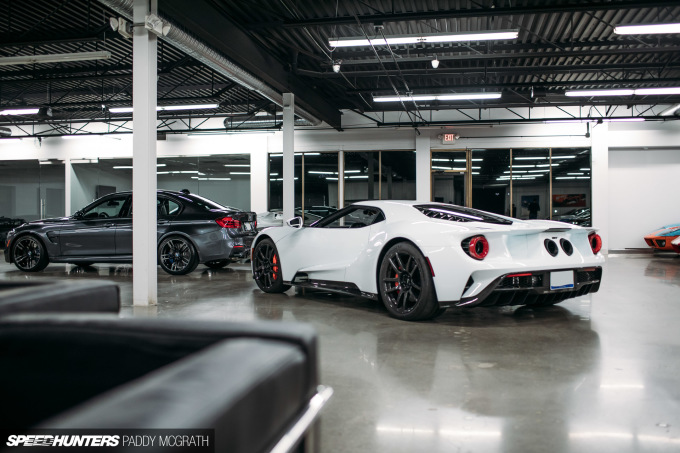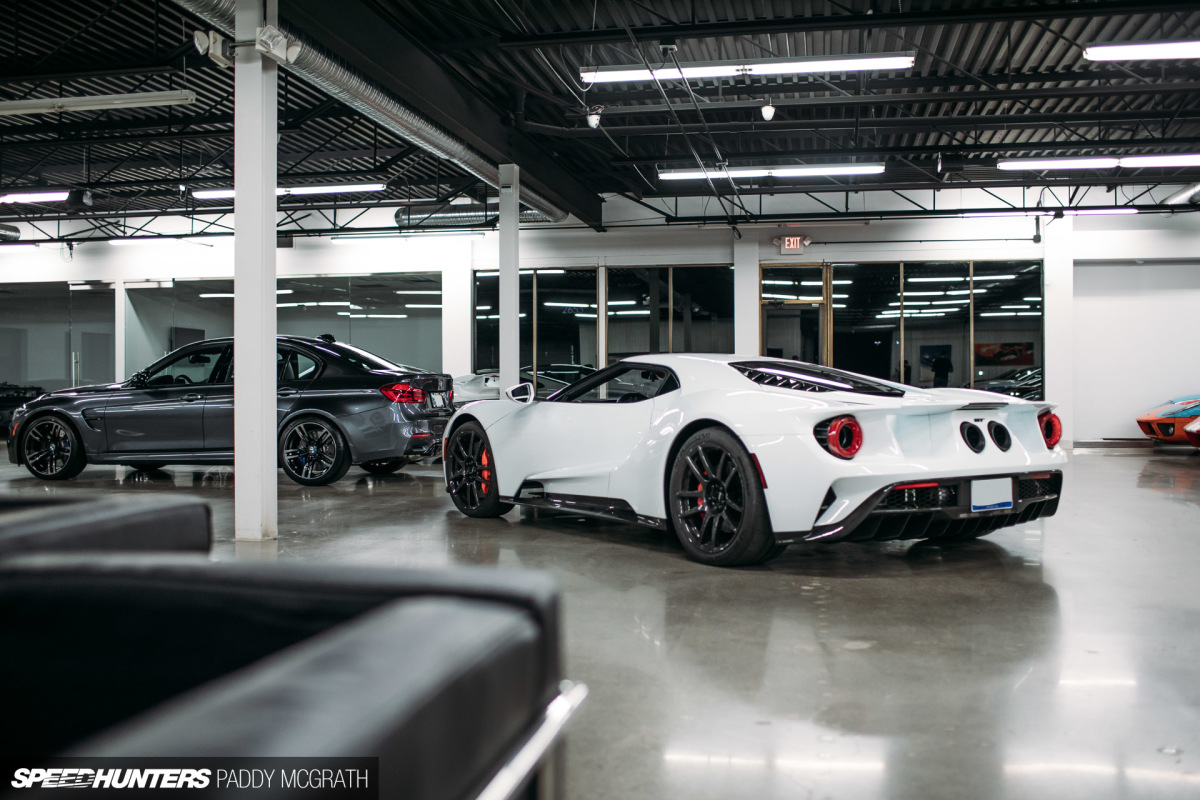 It feels like taking them for granted in many ways, but when you regain focus and start to look closer, that appreciation returns. It's something that often happens when in the field for Speedhunters, that you don't truly acknowledge how special a moment or situation is until weeks later when you sit down to write about it.
I'm far from an engineer, but when I take it all in, it just blows me away. Every piece is by design. Every curve, cut, fold, shape, material, decision. All of it. They've all been afforded a level of thought and care that I can't even fathom.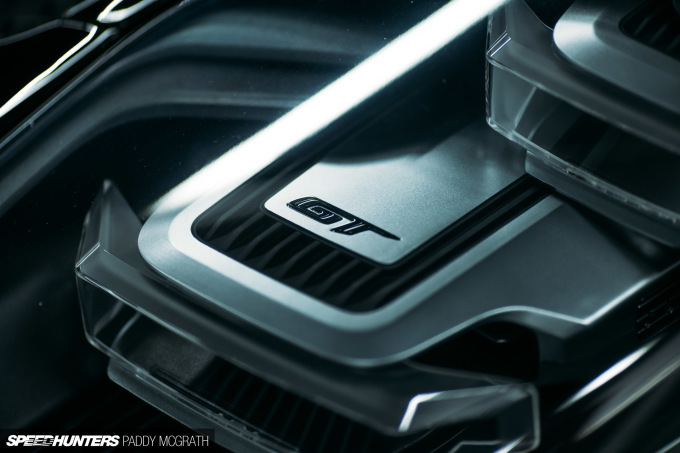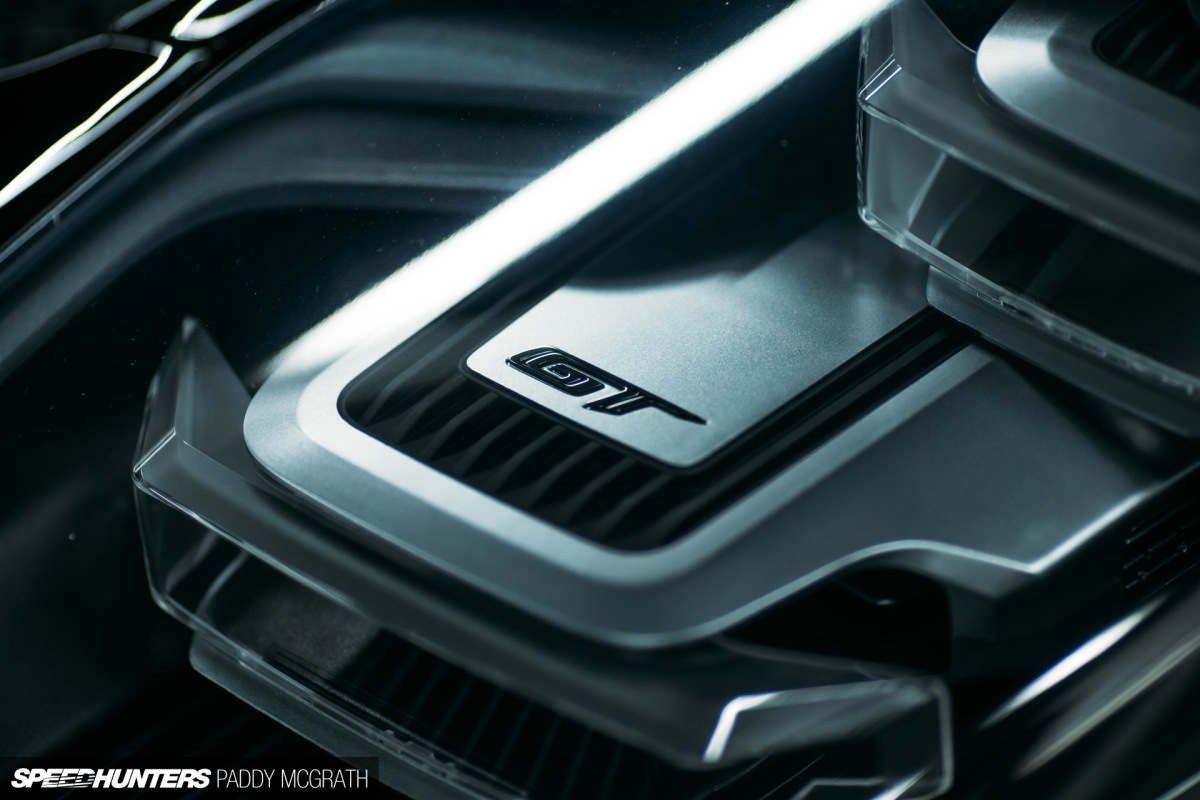 I understand that cars like the GT can feel unrelatable, as they've ventured into the realm of pure unobtanium. But when you break them down, that relationship can be recovered by looking at their parts in isolation. When you look at the parts like this, you remember that somewhere along the line, a human being crafted the idea and eventually made it into something real. There's humanity in the machine.
This is the inside of the front headlight, tell me it doesn't belong in a museum of modern art. (Don't actually tell me, Jordan.)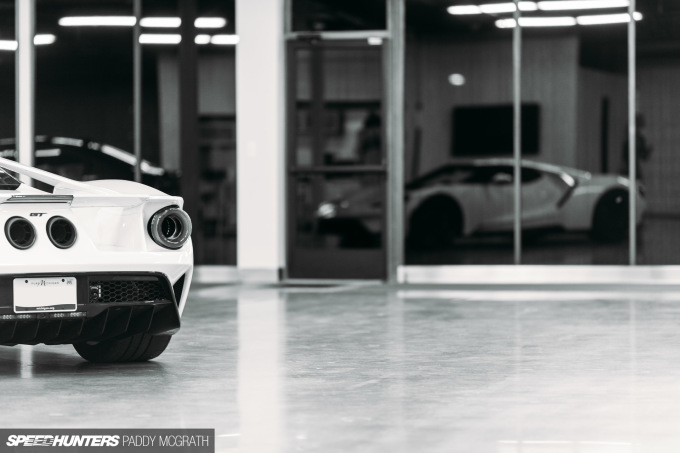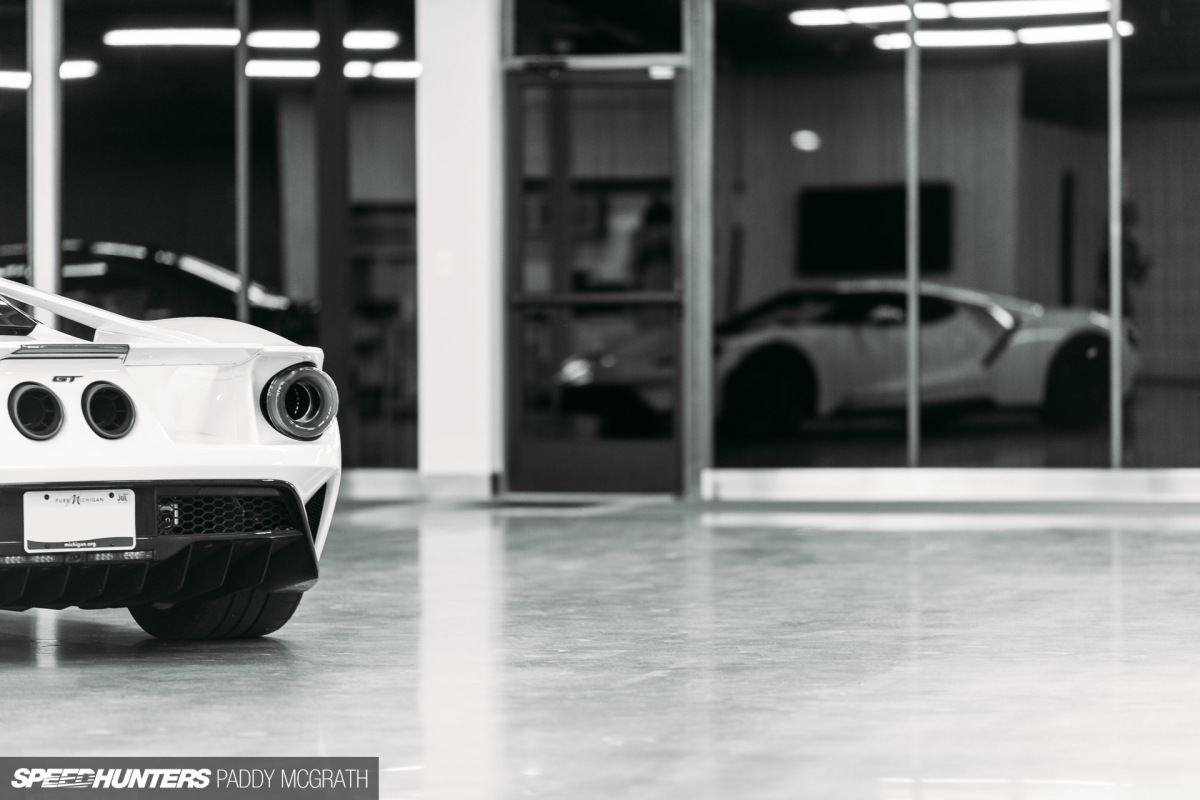 Everything about this story came about by starting a conversation at the side of a track with two, then, strangers. I feel very, very fortunate (as I always do) to have had an experience and a day like this. It was a day that re-affirmed everything that I love about cars and how they're the great leveller. I just hope that with this story, I can bring you even a tiny bit of that feeling.
Remember; say yes to adventure, drive fast, take chances and talk to strangers.
You never know where it might lead you.
Paddy McGrath
Instagram: pmcgphotos
Twitter: pmcgphotos
paddy@speedhunters.com
Cutting Room Floor