I've asked this before, but it's worth asking again; do any of you watch car television?
If you do, have you watched the Netflix series Fastest Car? The premise, for those of you who have not seen the show, is that three 'sleepers' race against one super car in a side-by-side-by-side-by-side drag race.
Episode one, of season one, featured Bismimoto's 1029hp Honda Odyssey as one of the sleeper cars. We can debate the sleeper merit of a van with an intercooler for a grill later, but when the flag dropped Bisi was left in the dust. The culprit in this case not power, but traction.
Bisi, being the always positive individual he is, went home smiling, but defeat isn't something he easily accepts. Thus, a plan was hatched to build the car you see today; his revenge car.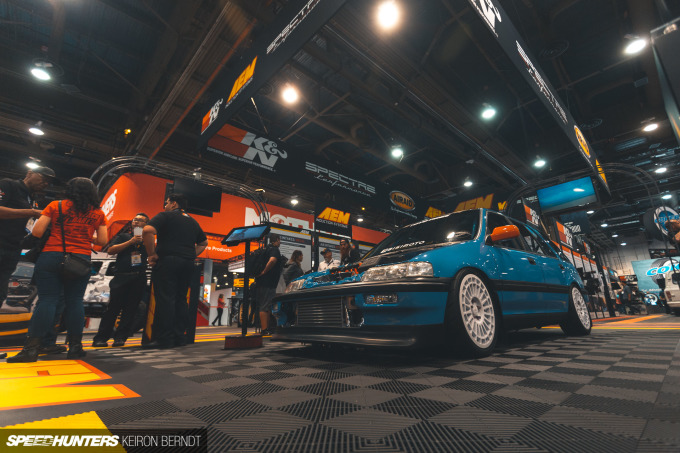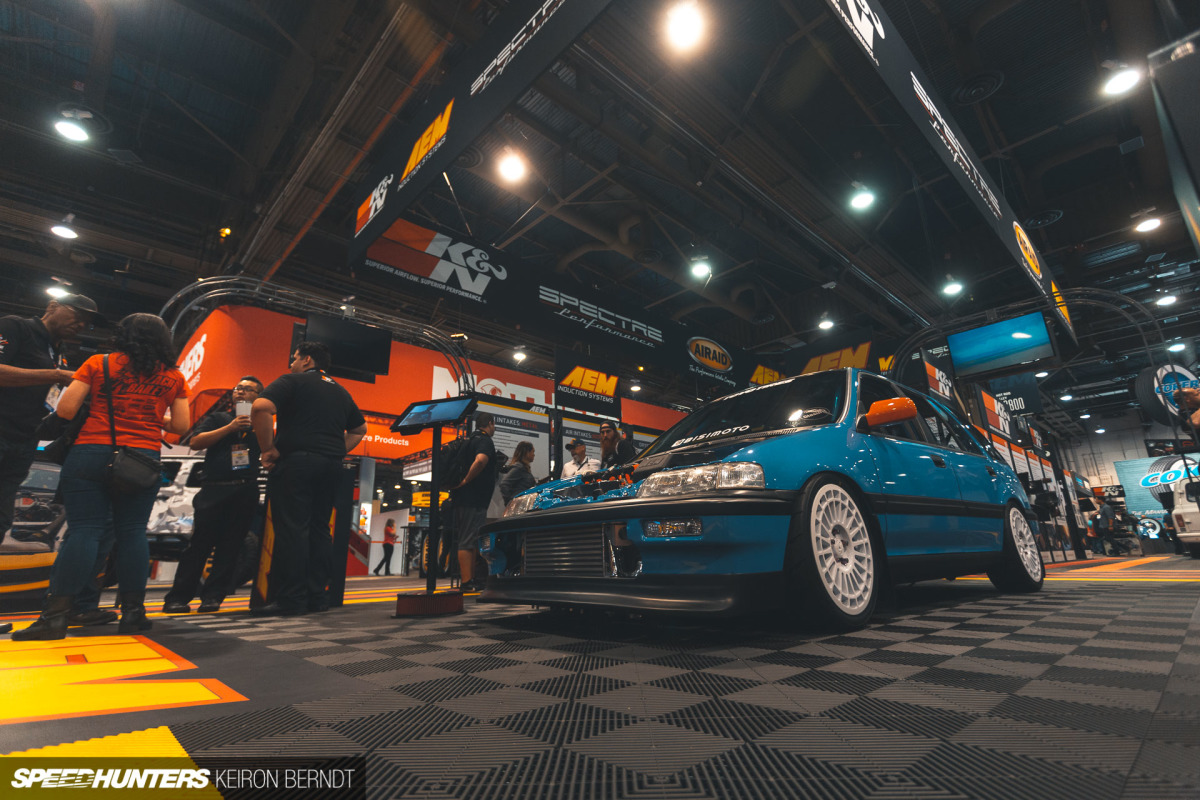 This van has been built to surpass his Odyssey's capabilities in every aspect but passenger capacity. It's smaller, nimbler, more powerful, and most important of all, capable of delivering power to four wheels rather than just two.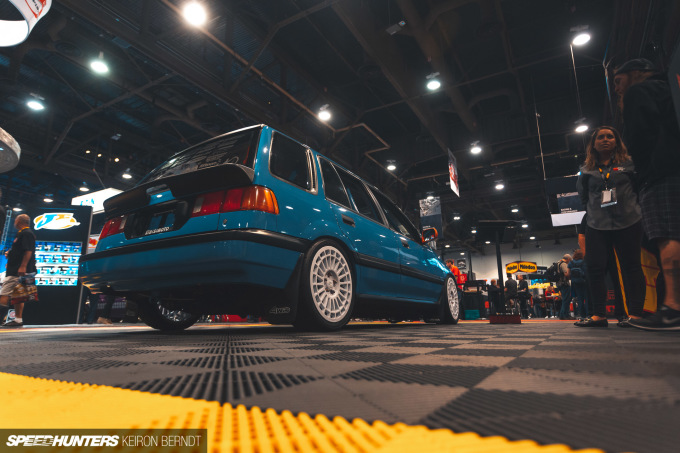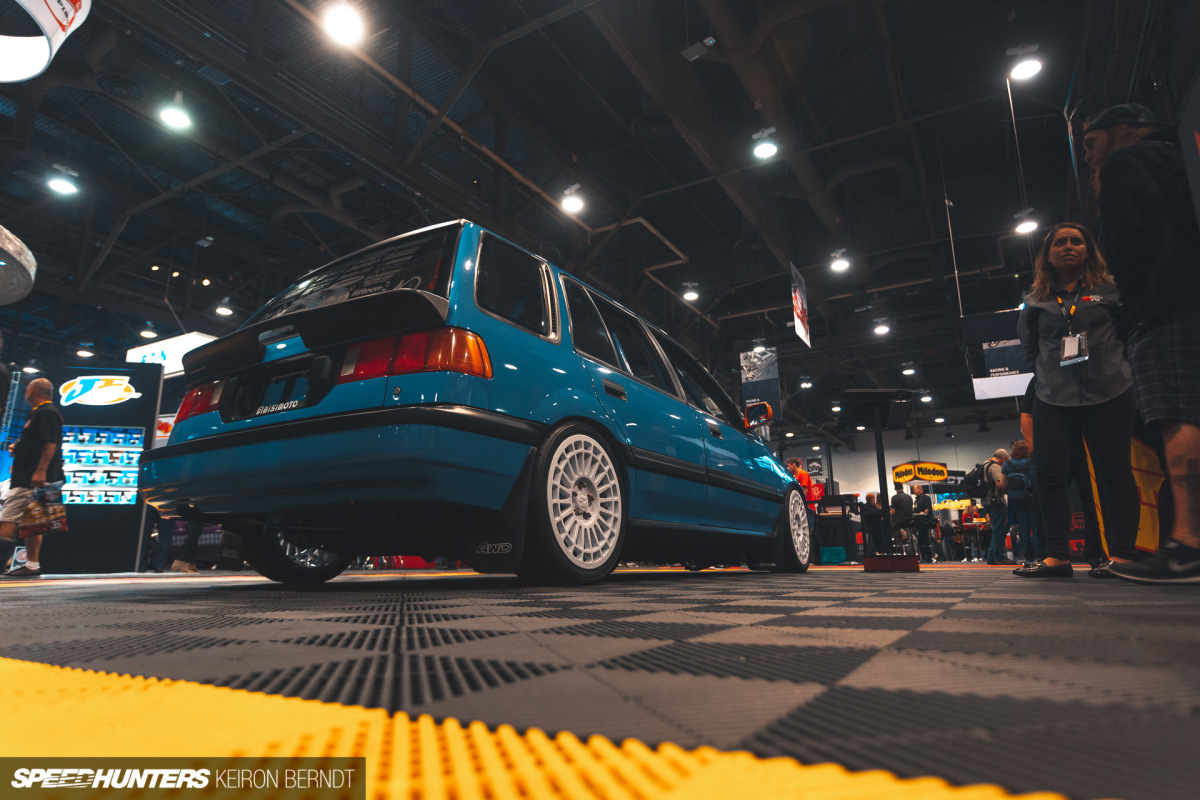 Initially I thought this car was version 2 of the Wagovan he built in 2010, but it's actually a different car altogether. Shockingly, a mere five days prior to the show, this car was little more than a painted rolling shell.
Bisi and his team of Deron, Erin, Hedi, Marvin, Kevin, Andy, Zach, Carlos, Sam, Marcel, Randy and Mark gritted their teeth and sacrificed sleep in order to get this car ready for Vegas. Sitting on the black and yellow interlocking floor of the AEM booth, this car was a testament to their hard work.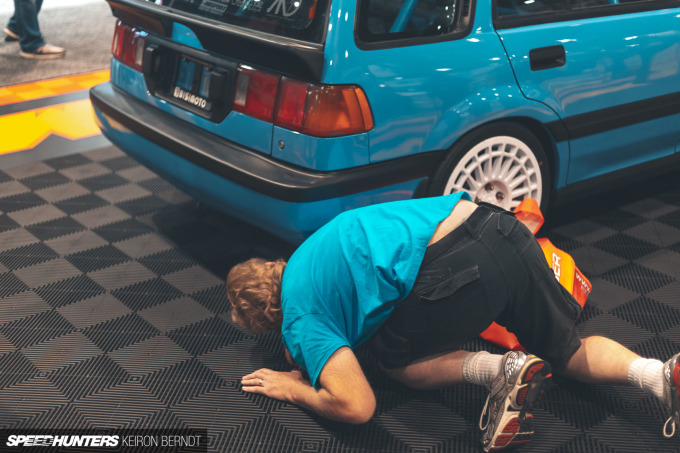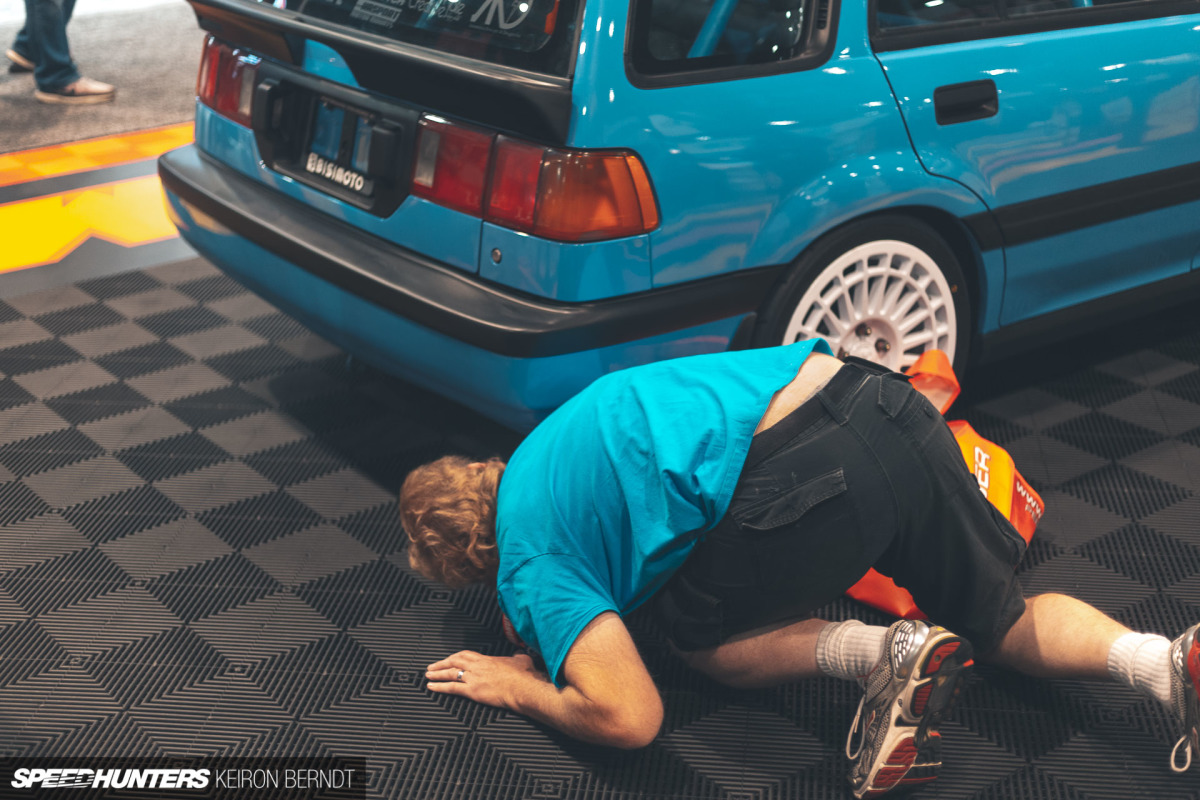 Realtime 4WD was a factory option for the Wagovan, but this particular example started life as a two-wheel drive model. Bisi converted the van to four wheel drive using the rear end from a Honda CRV. The CRV rear differential is mounted with modified CRV trailing arms while the axles and hubs were brought along as well, allowing for a five lug conversion.
Bisi uses CRV parts, instead of Wagovan parts, simply because they are easier to come by. A CRV replacement rear end is one quick junkyard trip away. An original Wagovan rear end? Well, that's going to be a lot harder to find.
A matching five lug swap was performed up front and KW Variant 3 coilover suspension brings the body closer to the ground. There's no excessive camber here, just a simple stance which is reminiscent of the golden era DTM cars.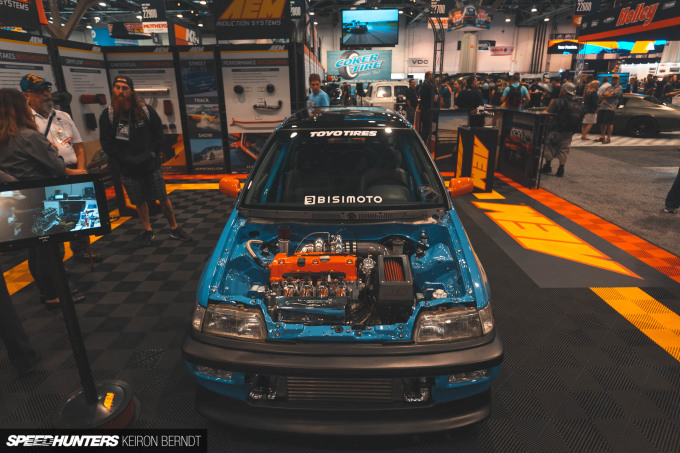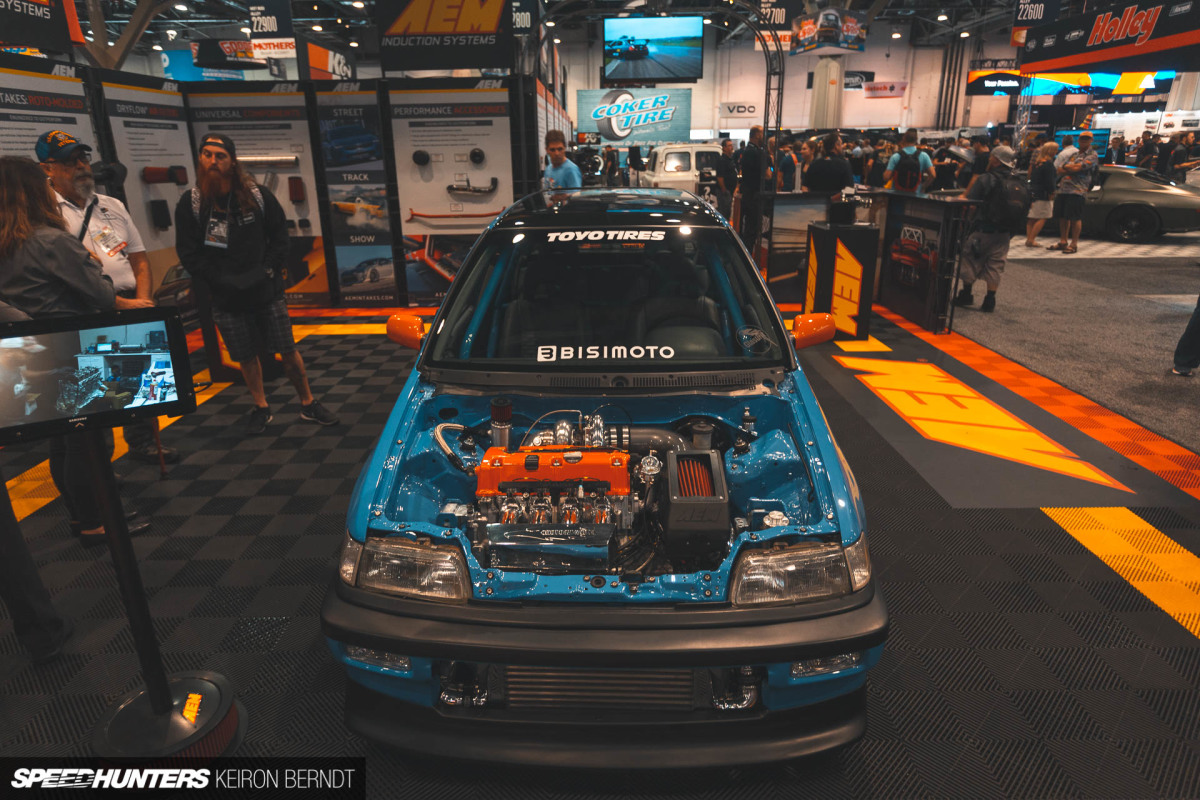 Under the hood is a Bisi spec K-series motor. For reliability and performance, Bisi has combined a K24Z7 head with a K24Z3 bottom end. Bolted to the motor is an experimental reverse 72mm Turbonetics turbocharger. Bisi and his team originally mocked up the motor with a standard turbo, but were not able to route the necessary plumbing in a way they felt was either beneficial to performance or visually appealing.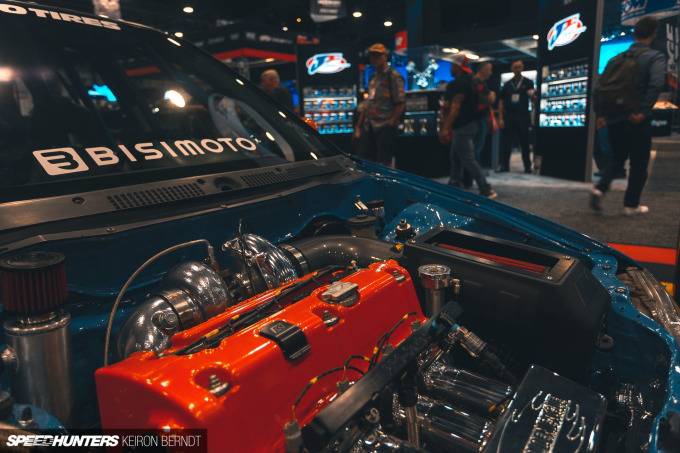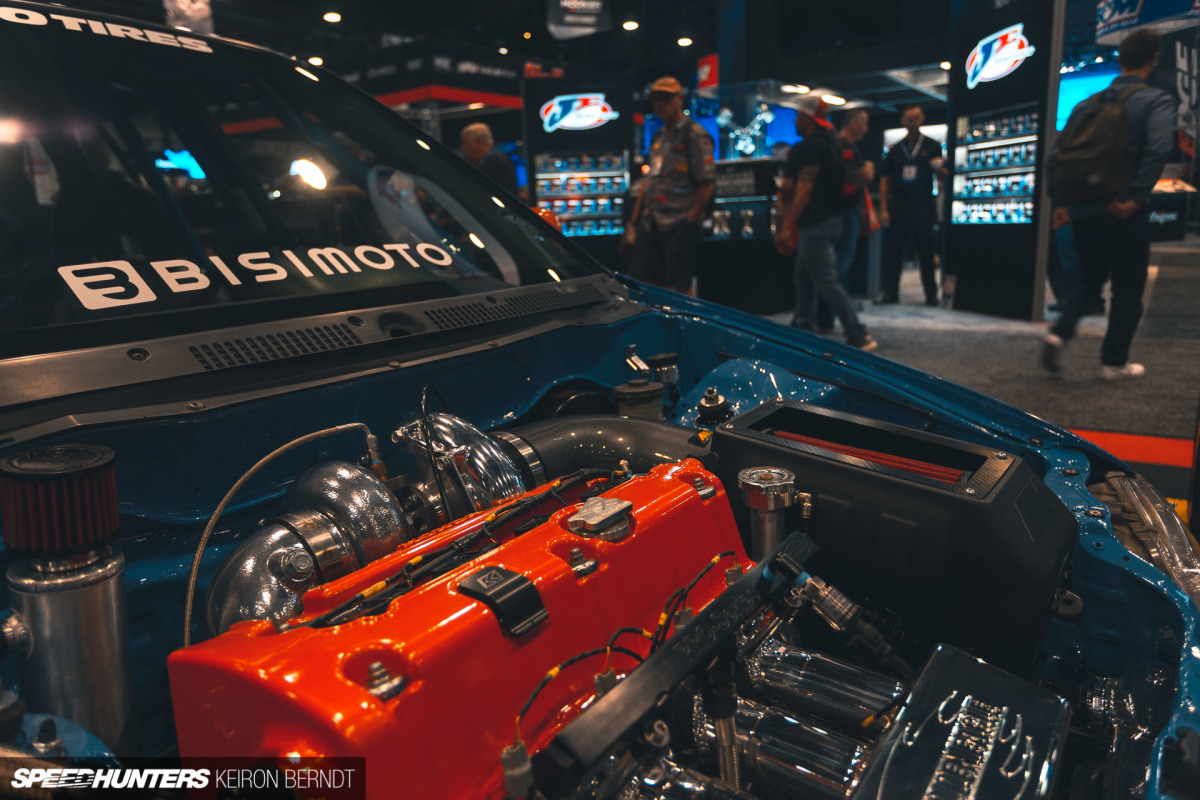 Power wise, Bisi's immediate goal is to match the power output of the Odyssey on Flex fuel. From there, the sky is literally the limit as he plans to continually evolve the motor setup. Good enough, simply isn't good enough at Bismoto.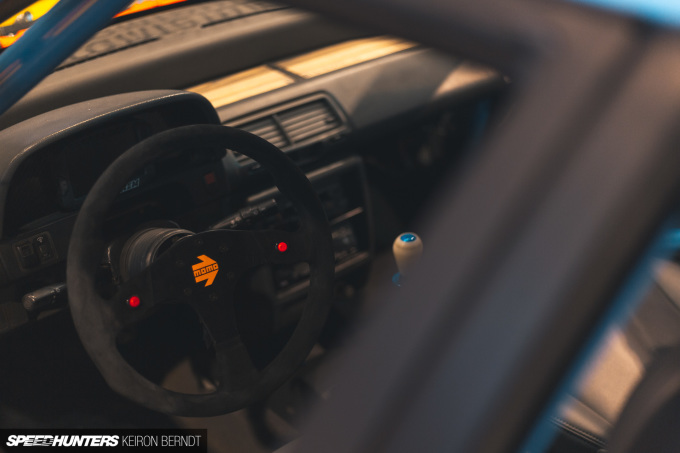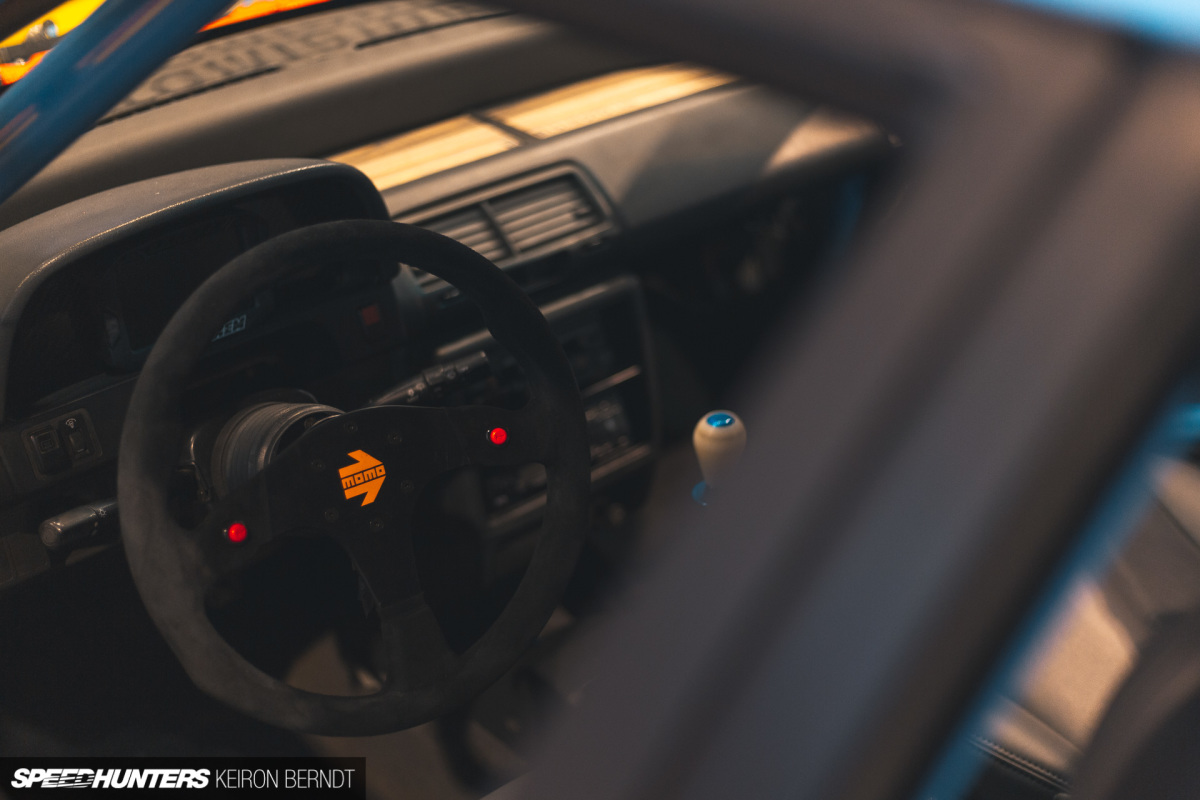 Bisi is the first to admit that he is not a show guy. He finds beauty in function, and as a result this car's interior is fairly restrained. A simple Momo wheel and a collection of refurbished and new old stock interior pieces make up most of the revisions. Some of you might be disappointed to learn that the red buttons flanking the Momo logo don't activate any sort of Sneaky Pete nitrous system.
However, one of the buttons does the next best thing, by activating the rolling anti-lag. Press that button and the AEM Infinity system retards timing and adds fuel allowing for lag free pulls through the sedate streets of Mexico.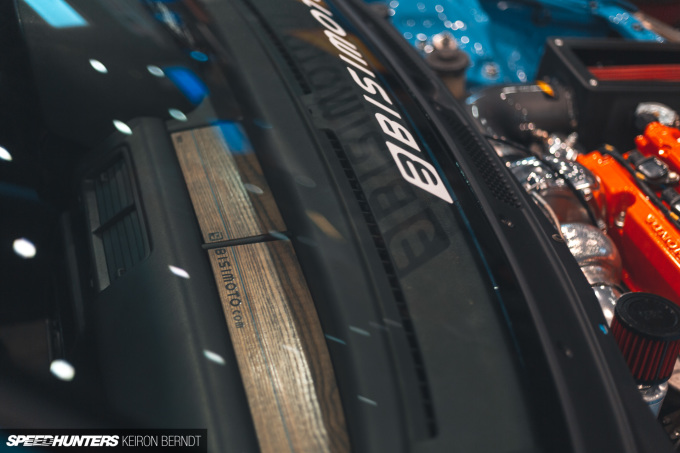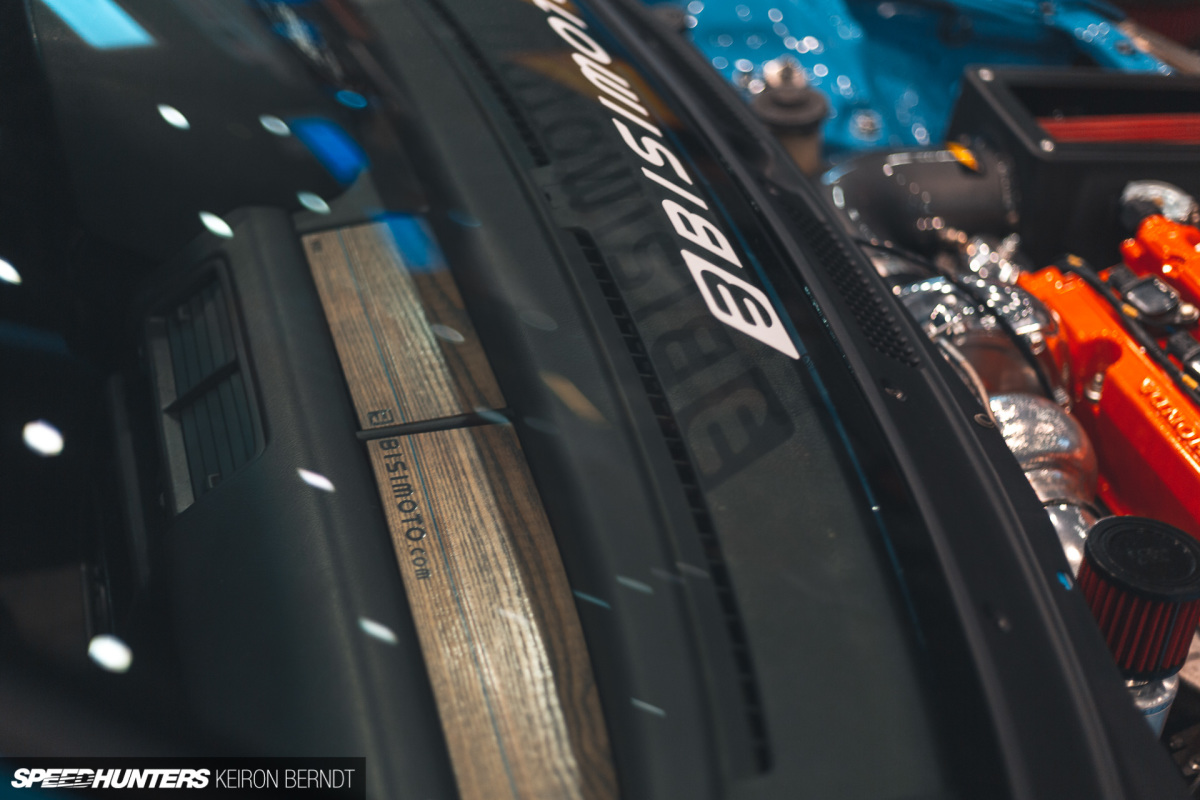 While admiring the upholstery of the doors and seat inserts, the wood inlay atop of the dash caught my eye. That piece was actually custom made for Bisi by a fan specifically for this build.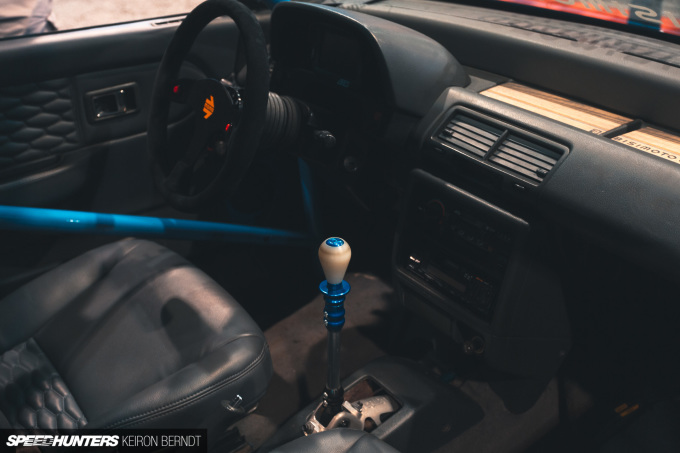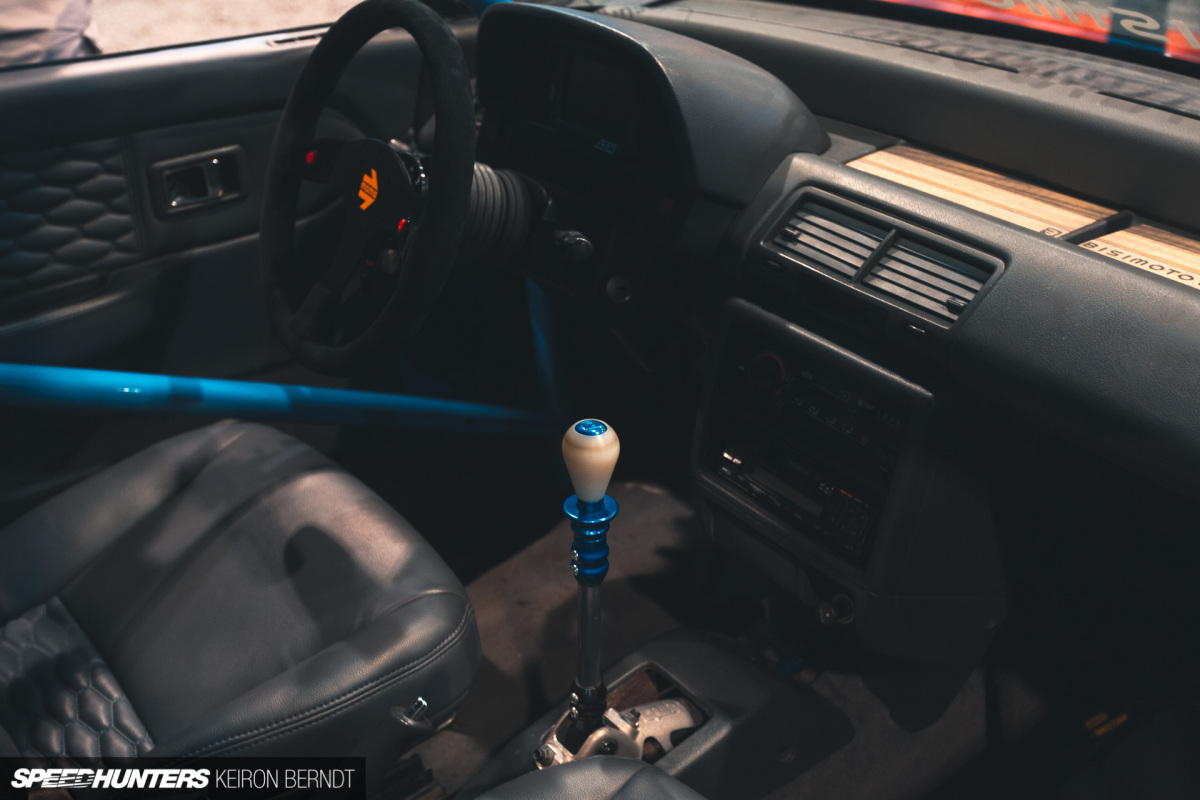 The Wagovan uses a Quaife sequential transmission, that's hydraulically operated thanks to a Hush Performance cable-to-hydraulic conversion. Switching from cable to hydraulic gives Bisi some piece of mind, and allows the transmission to be tuned to a finer degree than the cable set up. In comparison to the cable set up, this is much easier to maintain as well.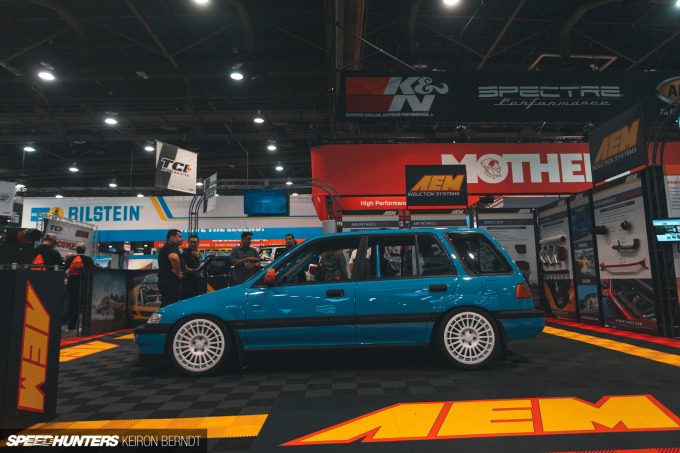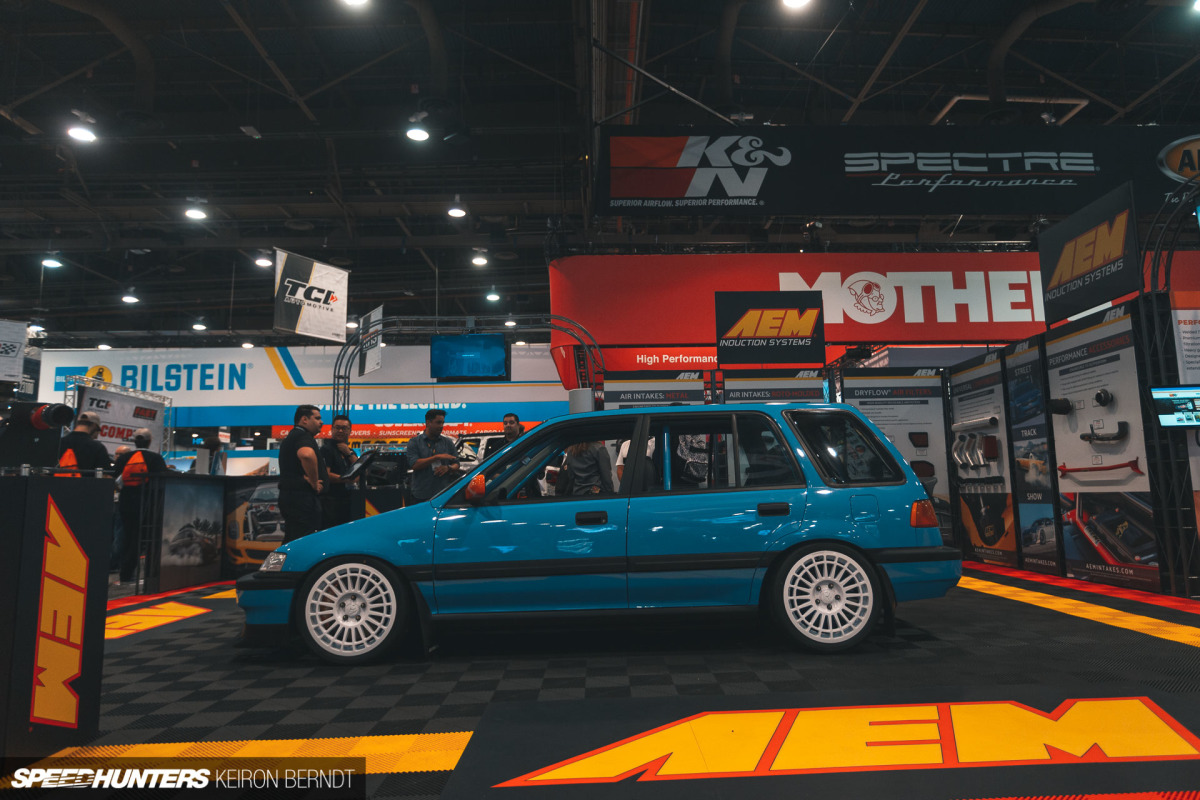 Bisi and his team at Bisimoto plan to use this car as a development platform to further their product line up, especially in the realm of all-wheel drive.
That is, of course, after they get their revenge in the next side-by-side-by-side sleeper, super car, David versus Goliath battle…
Dave Thomas
Instagram: stanceiseverythingcom
Photography by Keiron Berndt
Instagram: keiron_berndt